What clothes should you pack for cruise wear when you're going to spend your vacation on a ship? There's always the obvious like shorts, swimsuit, sandals, t-shirt. But those things won't suffice for all activities. What are you going to wear if it's a little too cold for shorts or to get you into a dining area other than the buffet? Maybe you want to go to the formal night. You probably asked yourself how much cruise wear do I bring? How will it look after being stuffed in my suitcase? Let me tell you about an easy to travel with, high-quality clothing line called Bluffworks that I used recently on a 12-day cruise.

What is Cruise Wear?
Cruise wear is clothing that will take you from casual to dressy in the same day and always includes swimwear. Most nights on a cruise are more casual than dressy so do not panic over dinner attire. You can normally count on two formal nights on a seven-night cruise, with the remaining evenings more relaxed. Cruise wear needs to not wrinkle. Very few cruise ships have irons for you to use. Some offer ironing as a service but it can be costly.
Cruise Wear that Works
Bluffworks is a travel clothing specialty company. They spent years looking for the right material to design the perfect travel blazer, shirt, and pants to take with you on a cruise or any travel. Not only are these clothes machine washable, quick drying and wrinkle-free, but they have these unique hidden security pockets to keep your valuables safe.
Here's how I define the perfect cruise wear. I don't want to pack a lot, so I need to be able to mix and match. Since laundering clothes on some cruise ships can be expensive, they need to be wrinkle-free and have the ability to wash out any problems in the bathroom. And of course, they need to look good and be comfortable. The Bluffworks clothes that I took on my cruise had all of these qualities making them perfect cruise wear.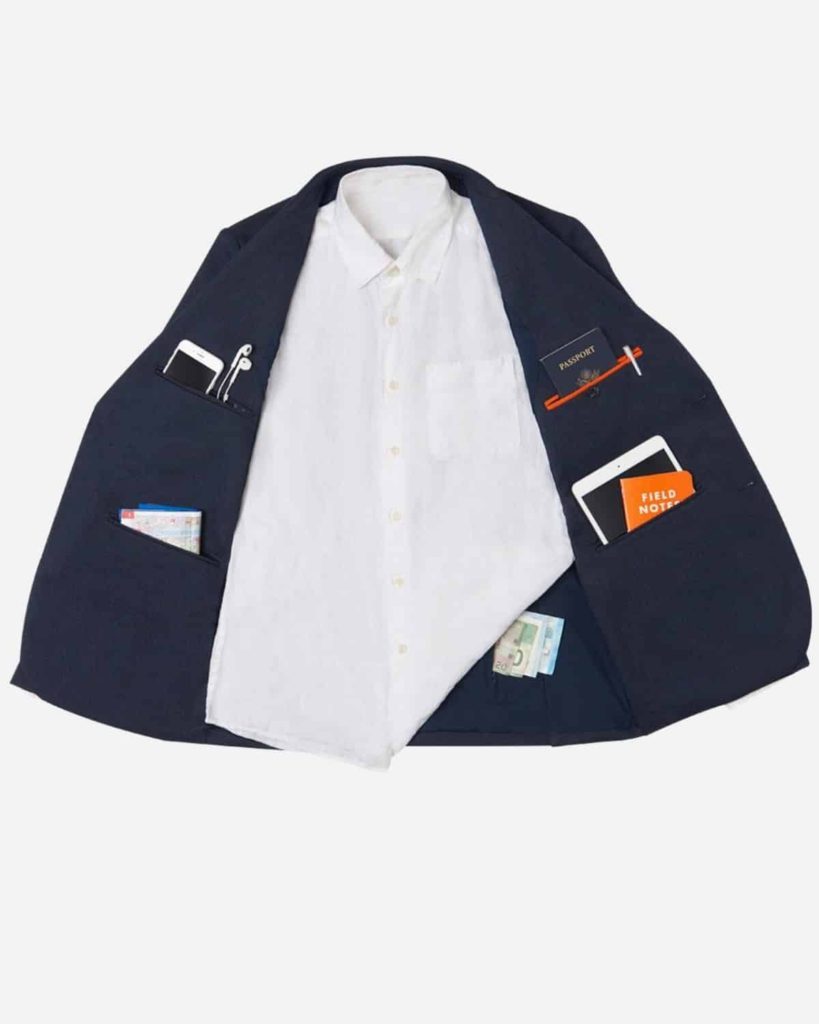 Dirty, No Problem
What if something gets dirty? Not a problem. Whether you are at home or on the road, you have options. You can do the normal washing machine and dryer or better yet, wash in a sink in your hotel or cruise cabin. Bluffworks makes their clothes from a material that cleans easily, dries quickly and comes out looking great. Dry cleaning this cruise wear is something you never need to do.
A great tip to keep Bluffworks clothes looking great is to wash in warm water, that's it, it's so simple. If machine washing, the key to great results is to remove the clothes from the washer or dryer as soon as the cycle is complete. Don't let them sit.
Shopping Online is Easy
If you haven't shopped for clothes online before, Bluffworks makes it easy. They have a very detailed fitting guide. All you need to do is take a few measurements and compare them to the chart to ensure you get a great fit. And if something doesn't fit quite right, no problem. They offer free returns for the right size. There's no fear of shopping online with Bluffworks.
Mix and Match Options
What I like most about these clothes is the ability to mix and match. This keeps the cruise wear you need to pack at a minimum. Here are some of the ways I wore the blazer, pants, and shirts both on the cruise and ashore.
What do You Need
Bluffworks makes three types of clothing. The travel blazer, pants, and shirts.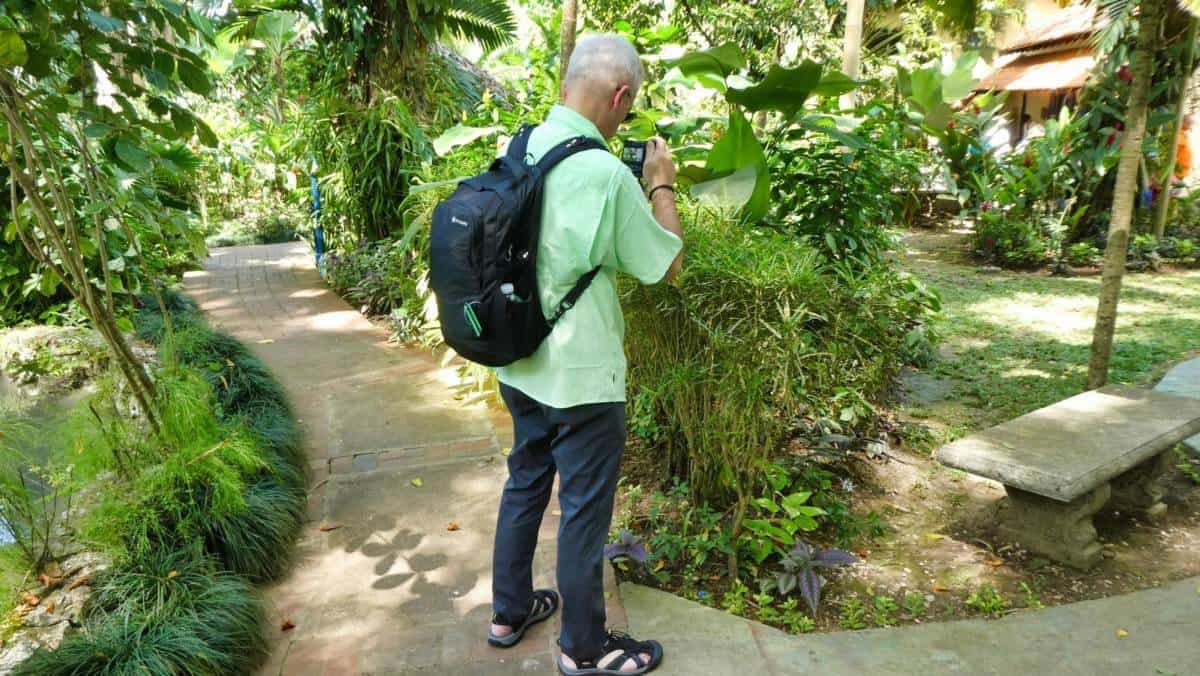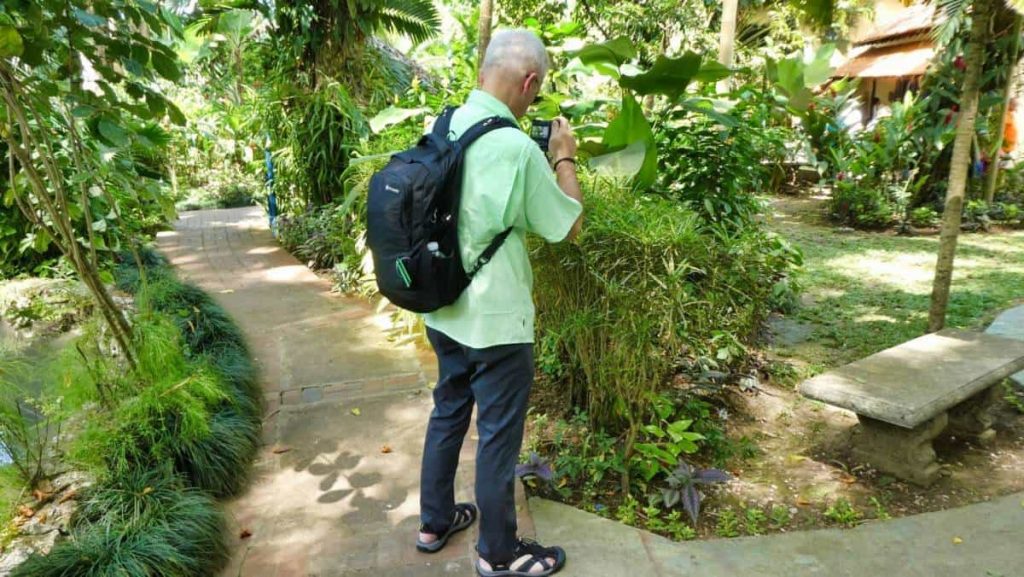 Three Style of Pants
The Bluffworks pants come in three styles. Original, Chinos and the Gramercy.
Original
The Original pants are the best in hot weather. These pants are what I wore while traveling around in Costa Rica. It was hot but these pants kept me cool. Plus they kept the bugs off when I was walking through the rainforest. The sturdy, non-stretch material is very lightweight and breathable. They slide as you move making them great for hot weather tours. You can run in these pants if you needed to like when the guy in the picture below dropped out of a tree onto my neck. Ok, he didn't really fall out of a tree but I still could have run if I wanted to.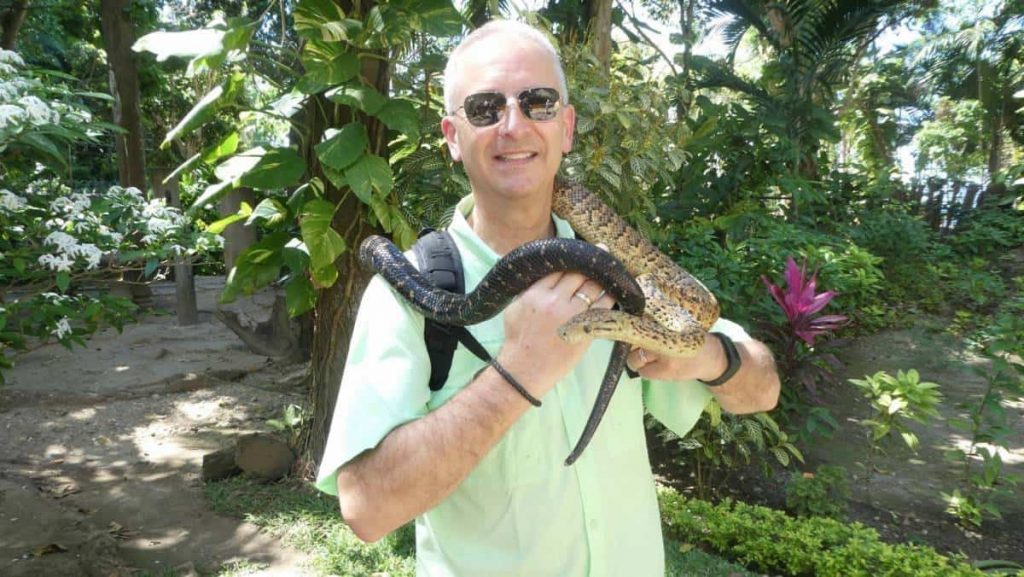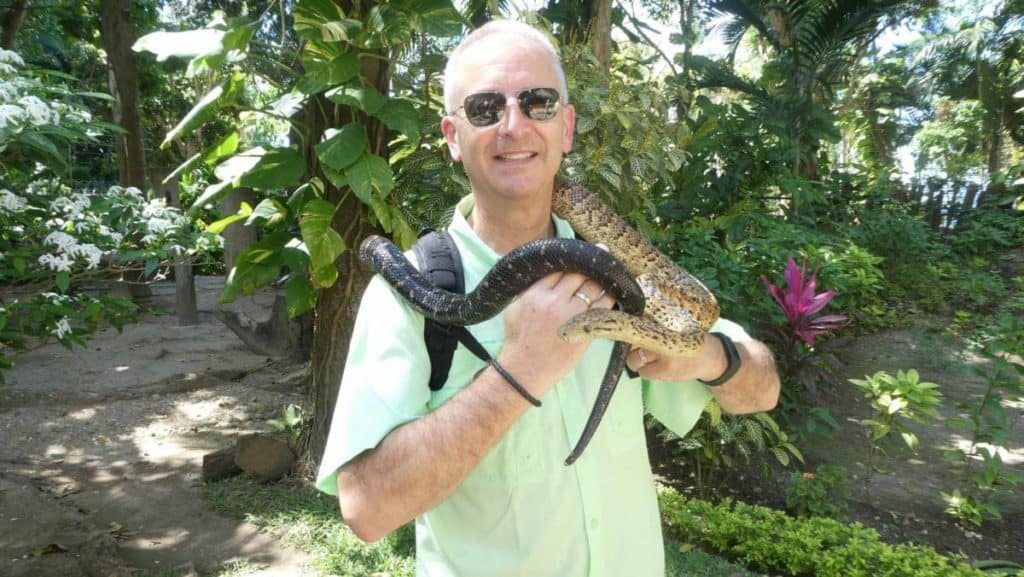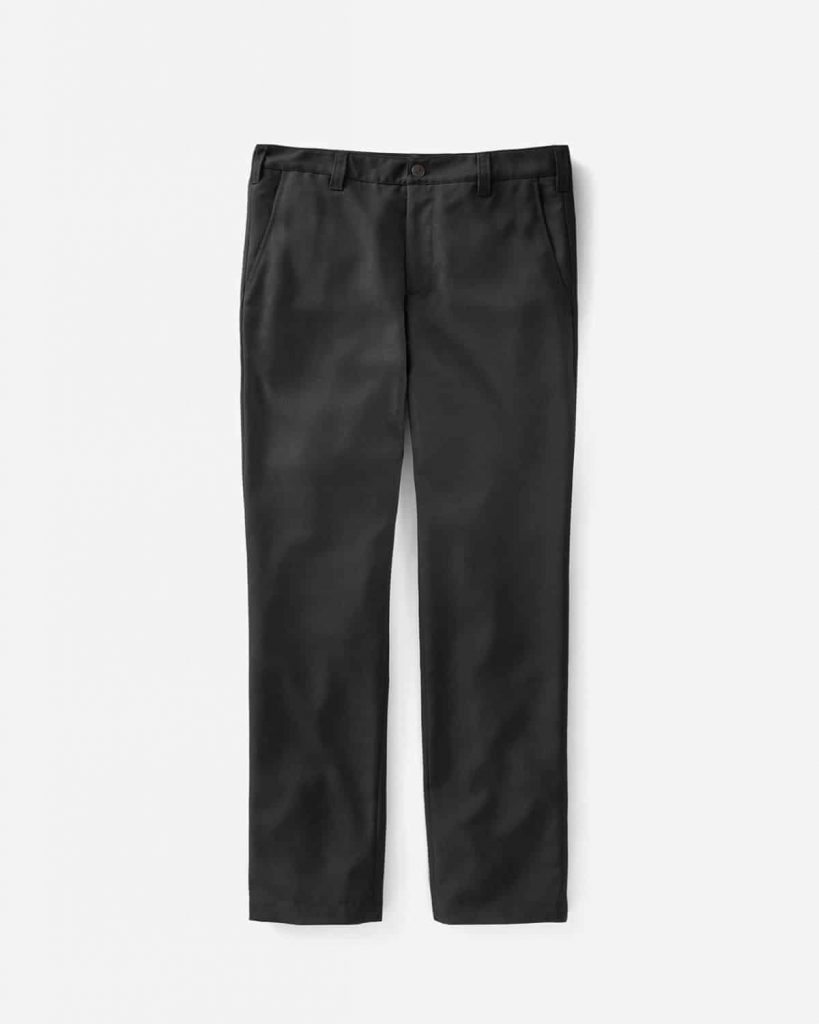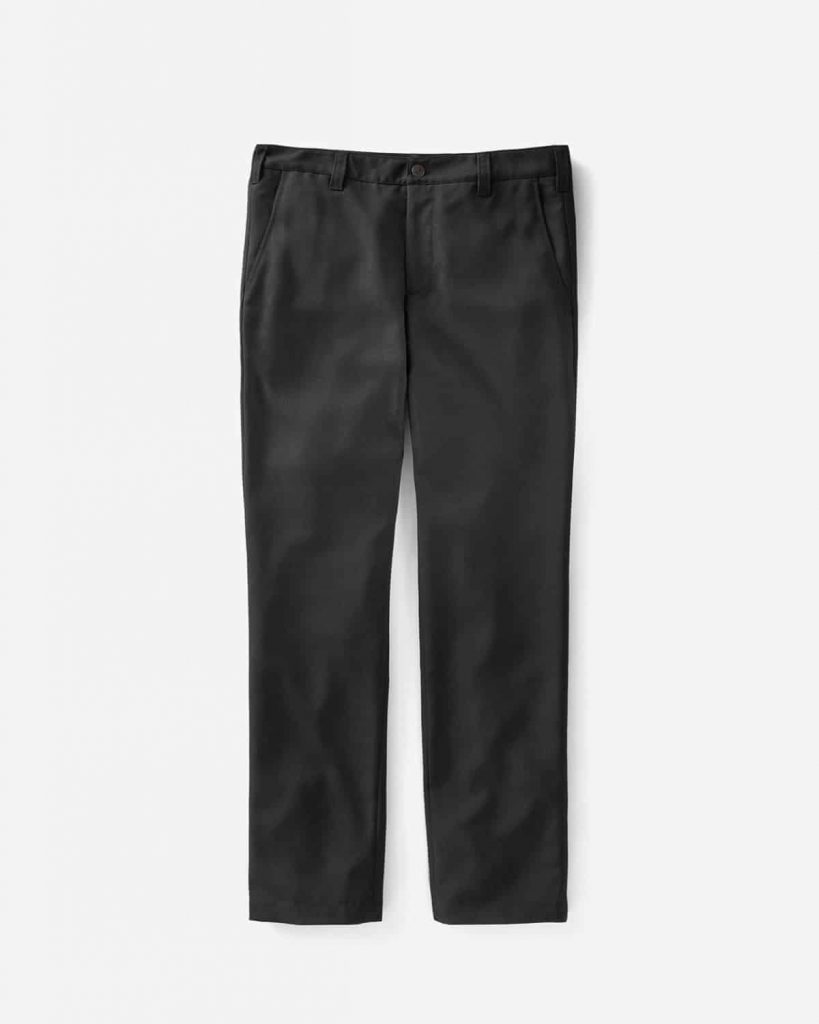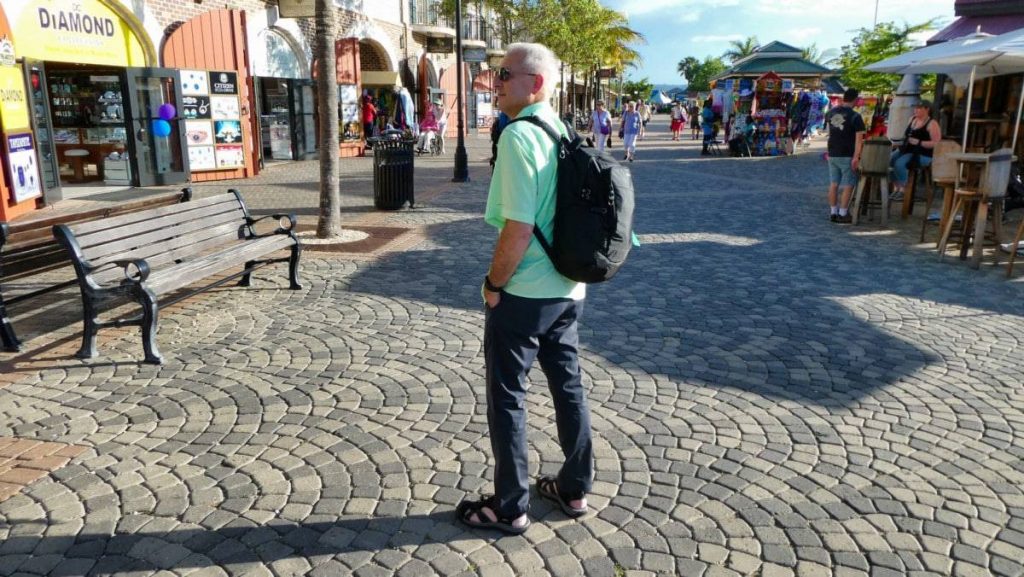 Here I'm wearing the Bluffworks Original Pants and Columbia Tamiami II Shirt. I accessorized with KEEN Men's Venice H2 Black Sandals, Ray-Ban Aviator Sunglasses, Fitbit Charge 2 Heart Rate Band, and the PacSafe CamSafe V17 Backpack.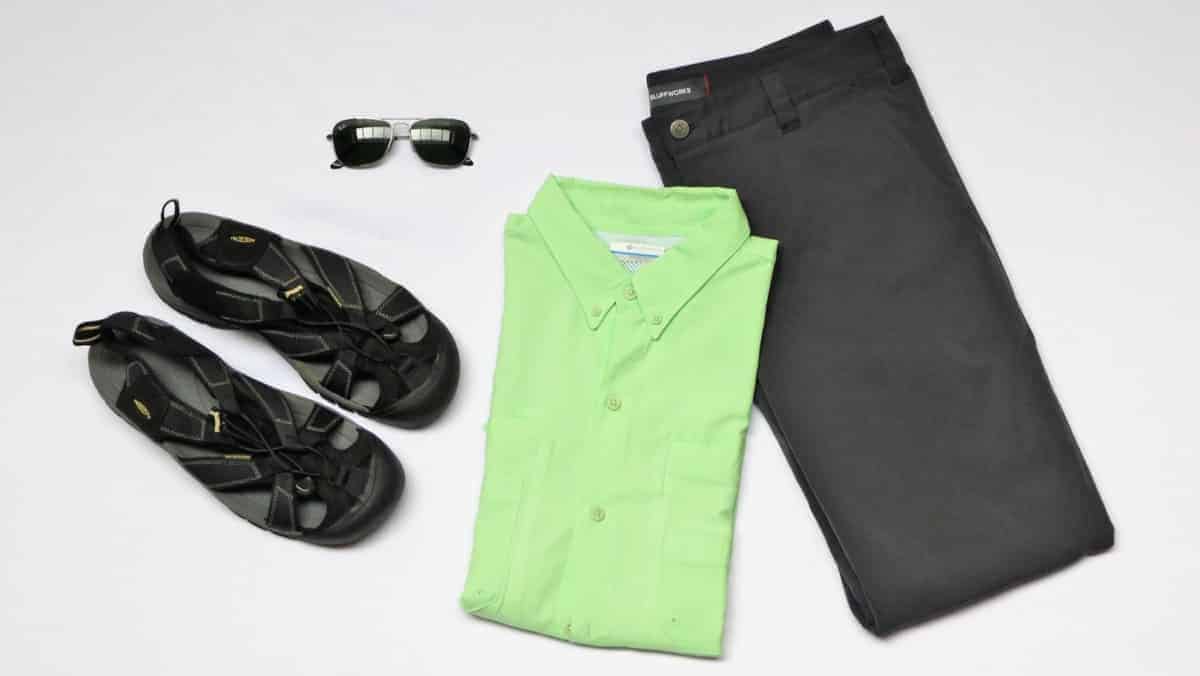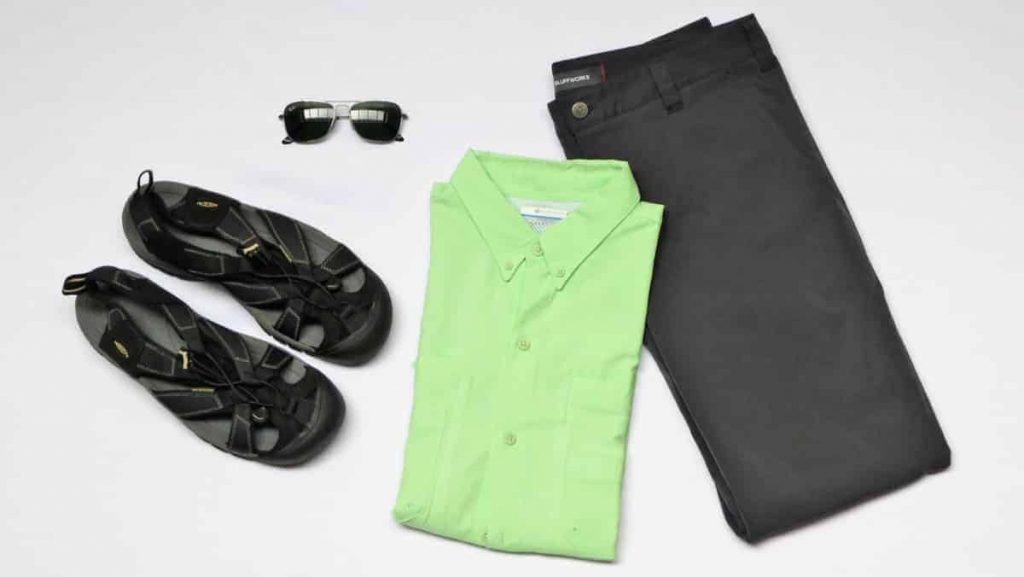 Chino
The Chino style is an all-time favorite. They have more stretch and are a softer material than the Originals. They look more like cotton. I'd consider these a medium weight and have a little more casual look. The Chino style has always been my most go to for everyday pants. They can be worn casually or dressed up a bit with the travel blazer.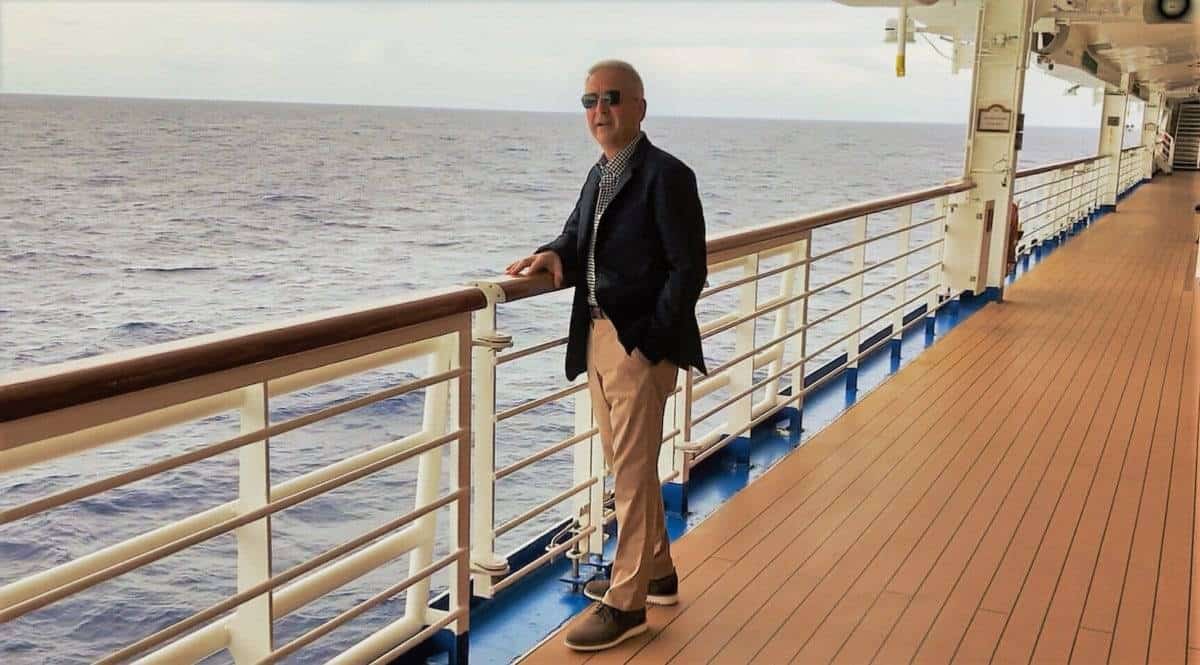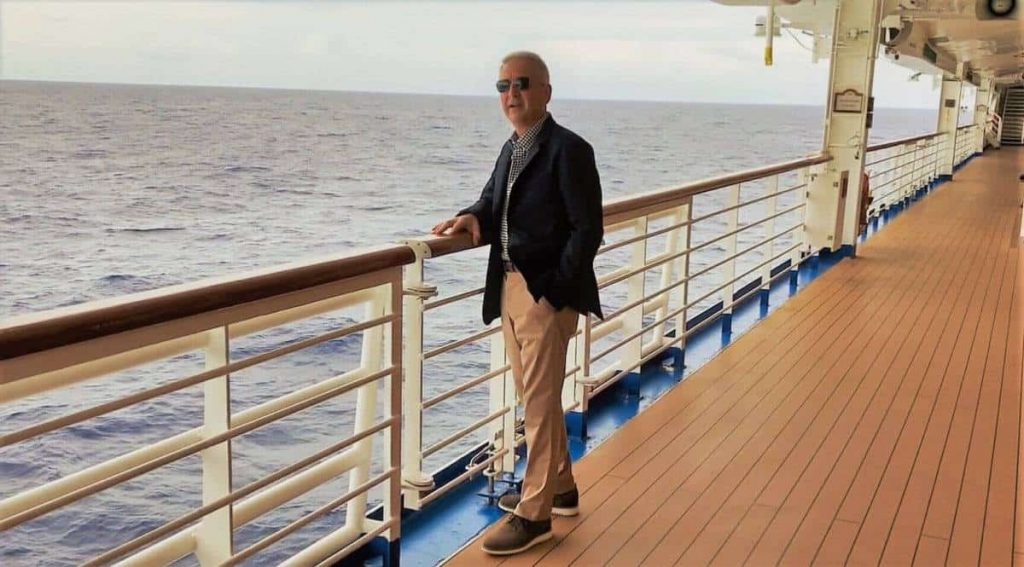 Here I'm wearing the Bluffworks shirt, Bluffworks Chino Pants, and the Bluffworks Blazer. I accessorized with Alfani Gregor Casual Hybrid Oxford Shoes, Perry Ellis Men's Portfolio Park Ave Brown Belt, and Ray-Ban Aviator Sunglasses.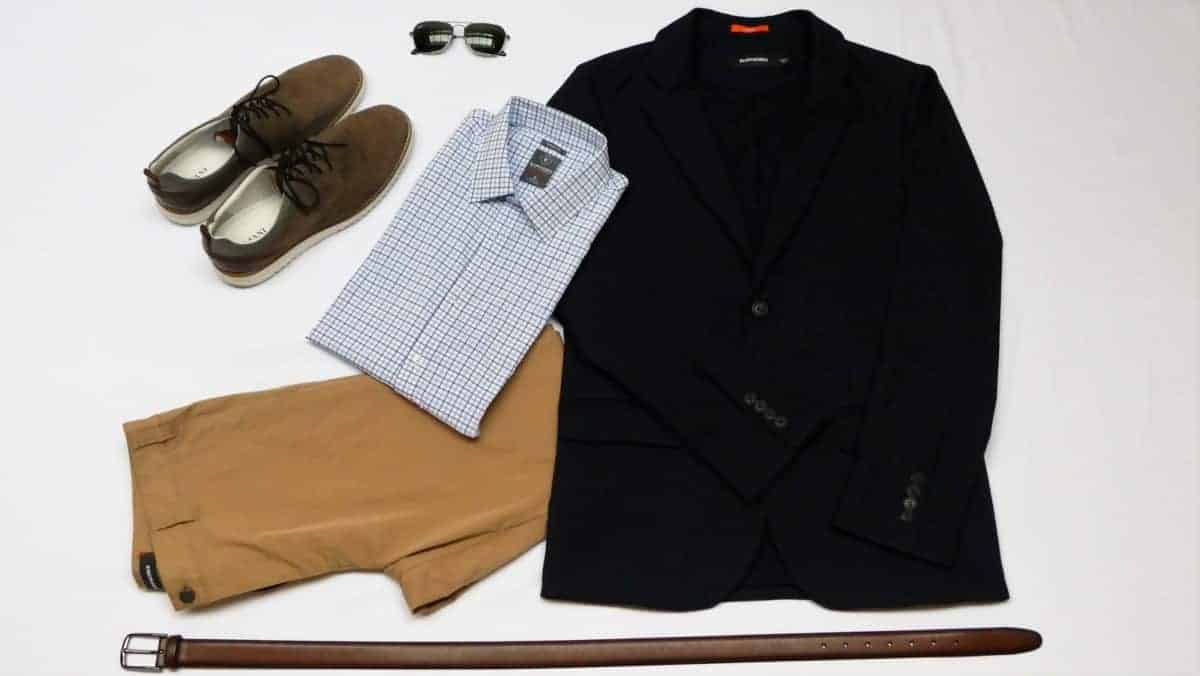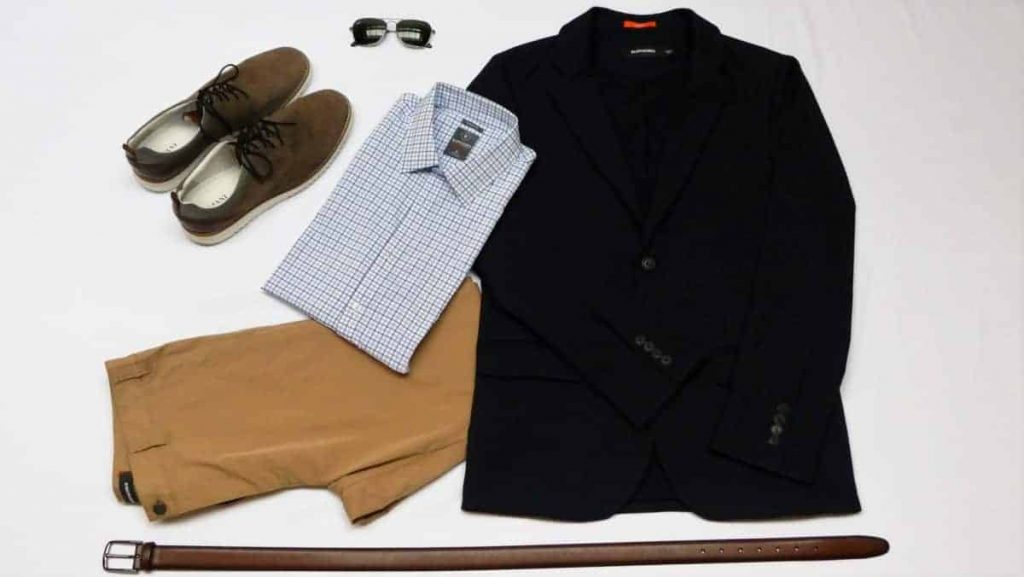 Gramercy
The Gramercy pants are designed to match the travel blazer. You can mix and match the colors of the pants and blazers or match them exactly for the most formal look. These pants are the softest and offer the most stretch. I wore my matching jacket and pants with a white shirt, tie and laced up shoes for the formal events aboard ship. The suit has the look and feel of a wool blend, just like any good suit would. When I was working the normal 9 to 5 corporate job, this Bluffworks suit would have fit right in at our board meetings. For travel attire that you can pack in your suitcase, this suit comes out perfect and looking sharp.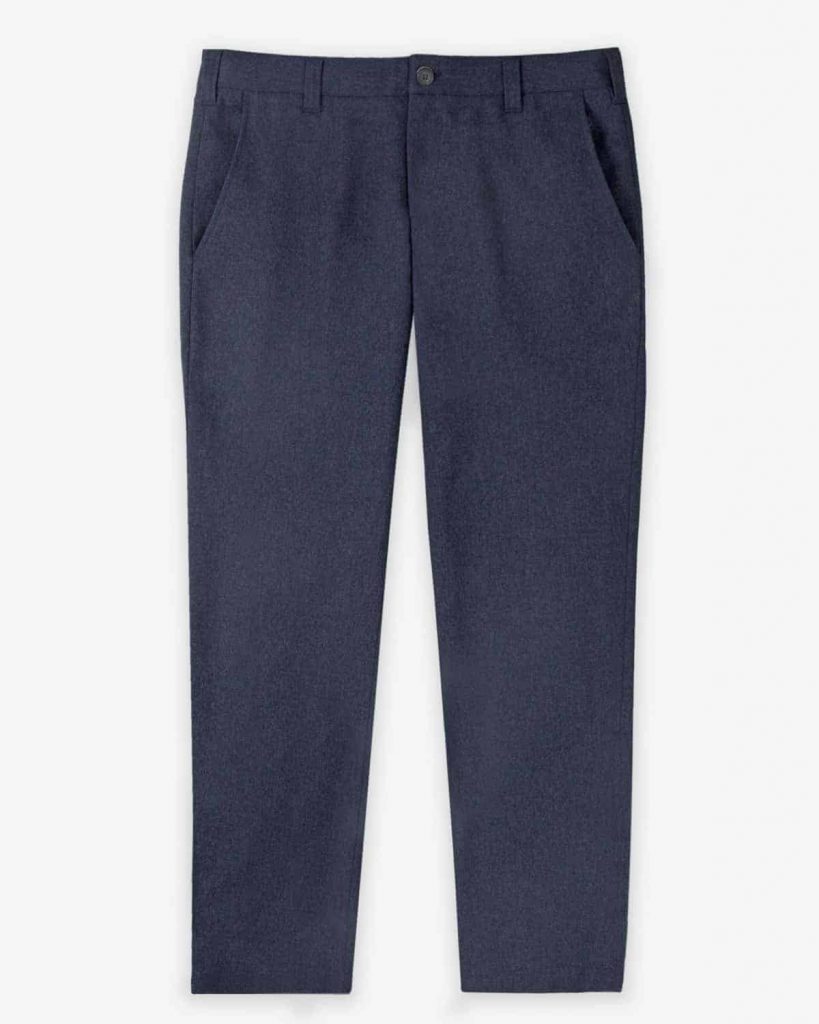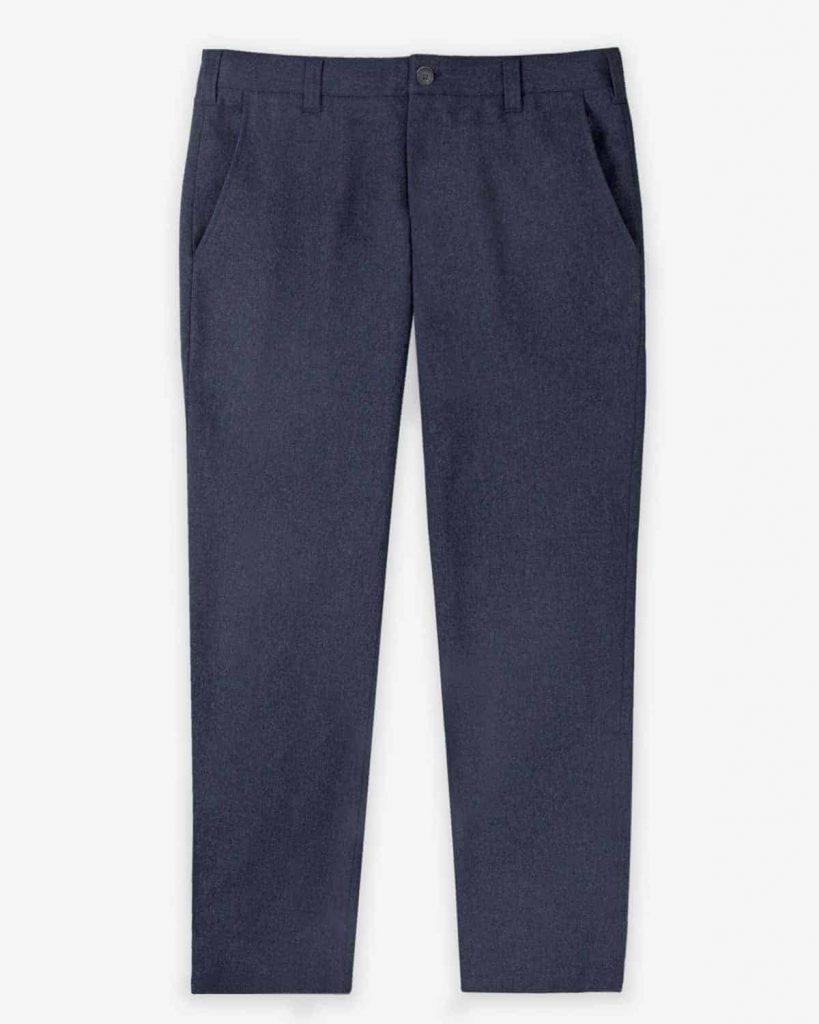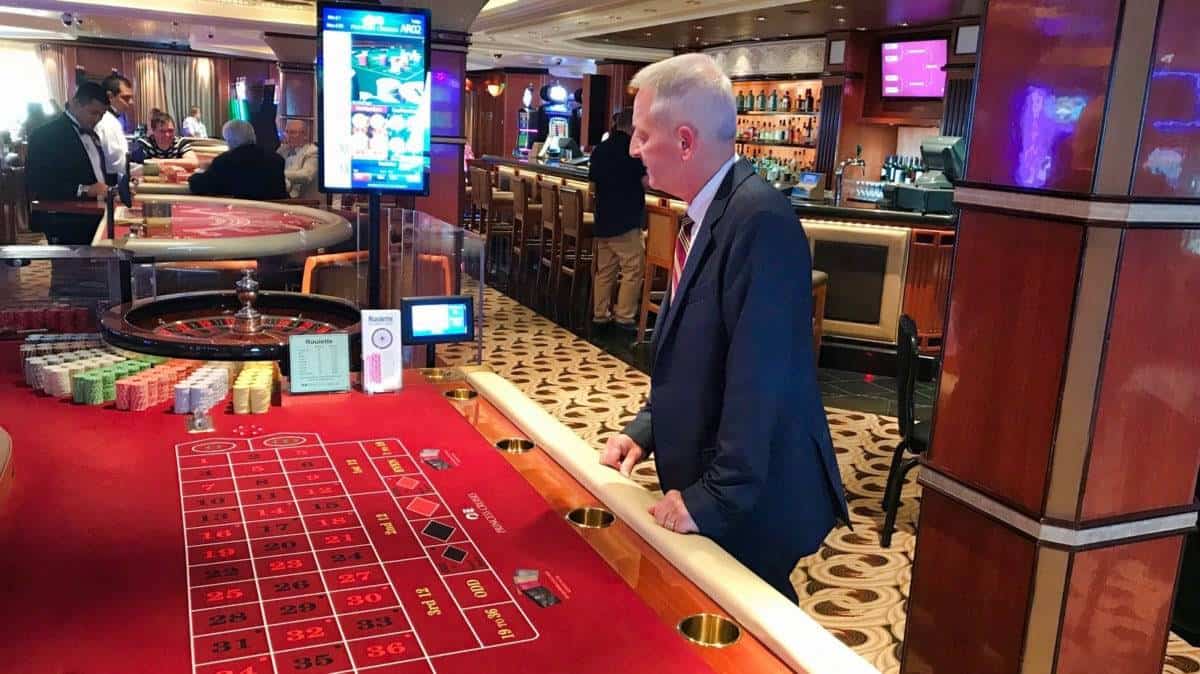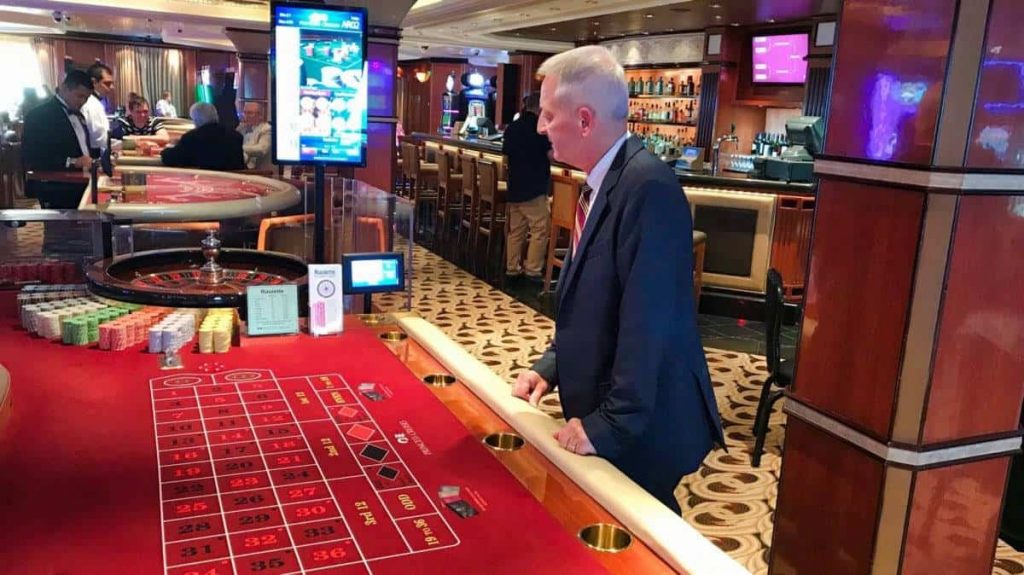 All of these pants have security pockets, which are hidden inside the regular pocket and have a zipper. Thus making these some of the best pickpocket proof pants around.
The No Wrinkle Shirts
Next are the Bluffworks shirts. They make three color choices with a look and feel of cotton. It's amazing how well they feel and yet not a wrinkle when I unpack them. The shirts are lightweight and breathable. They are even anti-microbial which means you can wear them for five days without washing. These all-around pattern/colors look great with everything from shorts to a blazer and tie.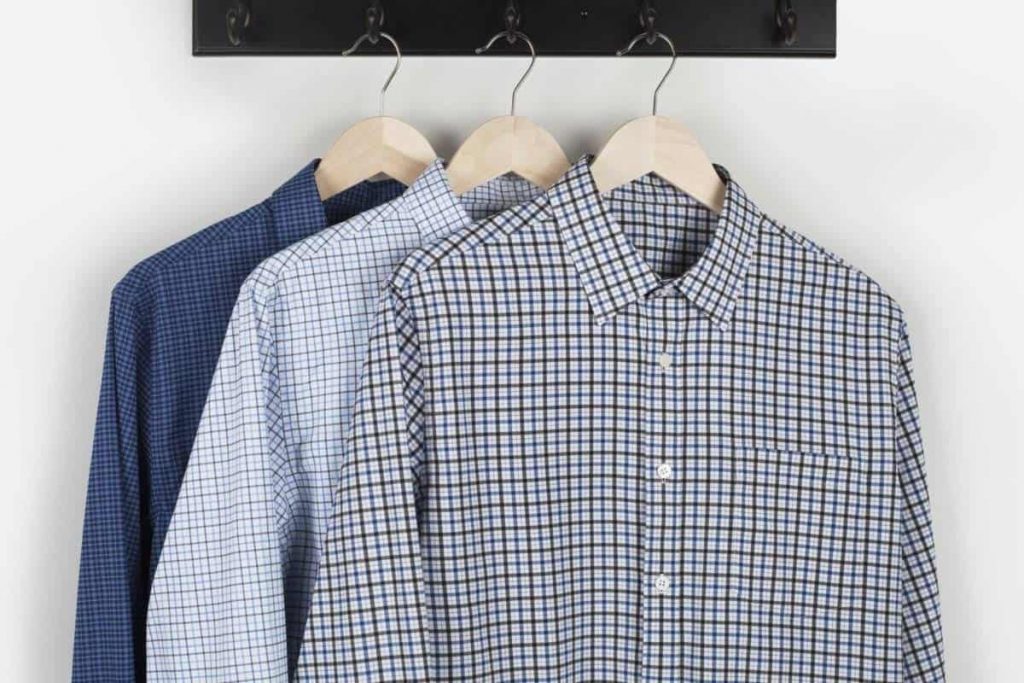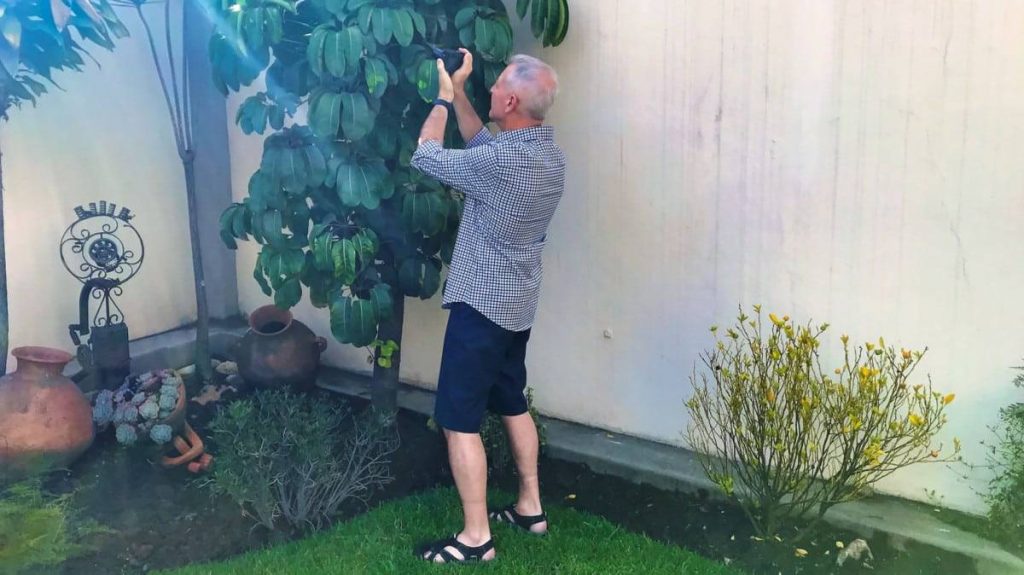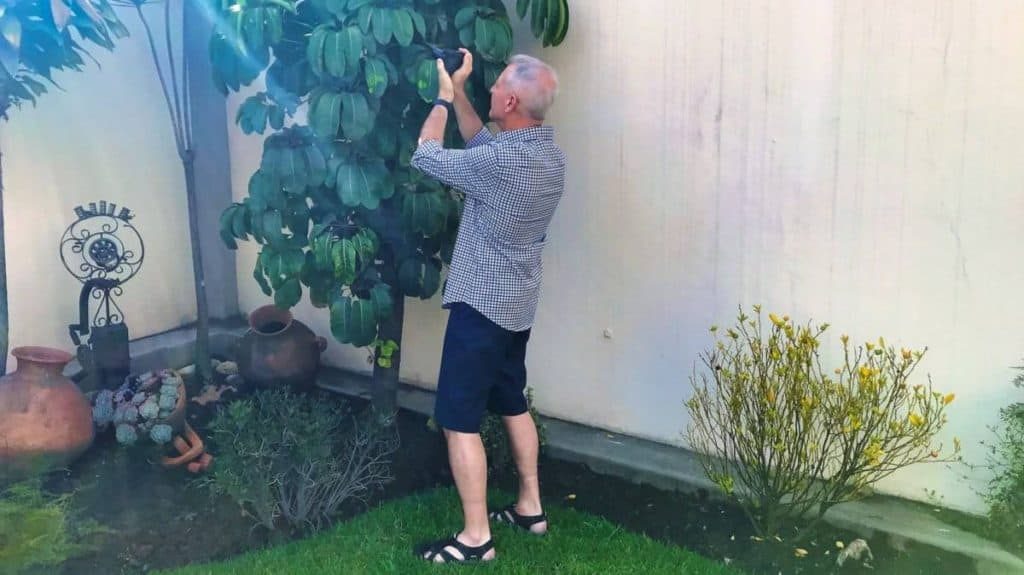 Here I'm wearing the Bluffworks Shirt, KEEN Men's Venice H2 Black Sandals, and a pair of O'Neill Delta Plaid Shorts.
The Travel Blazer
Lastly is the travel blazer. If you have only one travel blazer/suit, I'd go with the blue one. I recommend this because I (and most experts) feel blue is the most versatile. You can wear this blazer casually with jeans (coming soon from Bluffworks) or dressed up to a full suit and tie as I did on the cruise formal nights. I take this blazer with me on every trip. It's so easy to dress up even the most casual attire with a blazer. The material they use has a look and feel of wool and is lightweight. Amongst its ten built-in pockets, there is one in the back where you can put your passport or money. No thief would ever think to look there.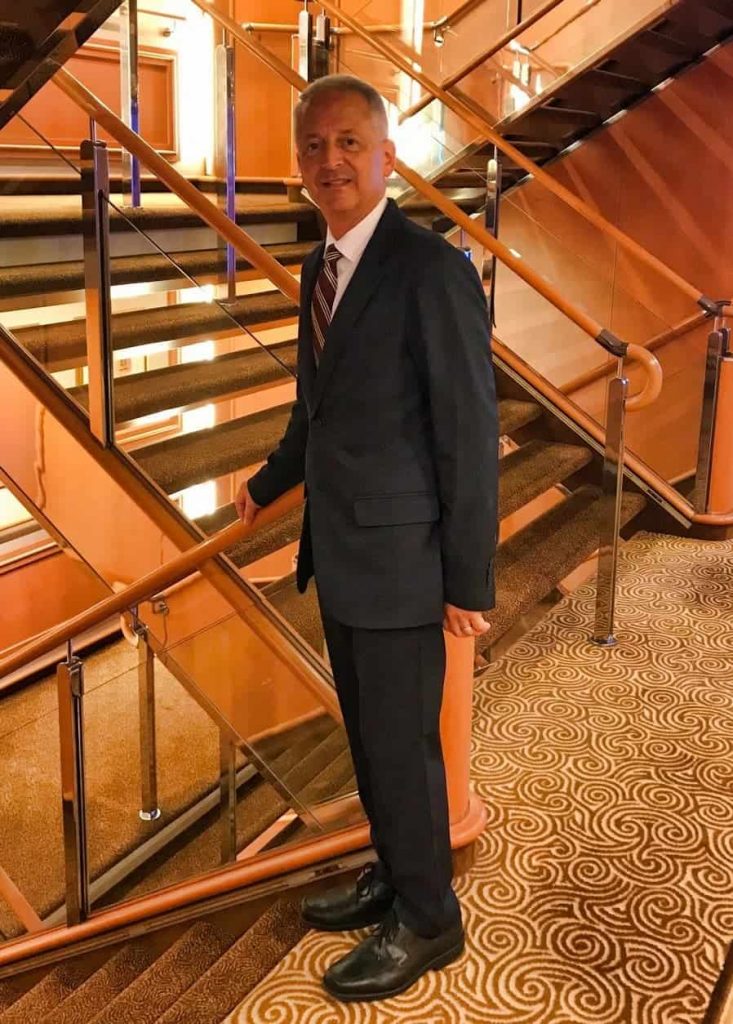 Here I'm wearing the Bluffworks Blazer, Bluffworks Gramercy Pants, and Calvin Klein Non-Iron Herringbone Point Collar Dress Shirt. I accessorized with ECCO Men's Helsinki Cap-Toe Oxford Black Dress Shoes, Nautica Men's Tie, and Tommy Hilfiger Black Belt.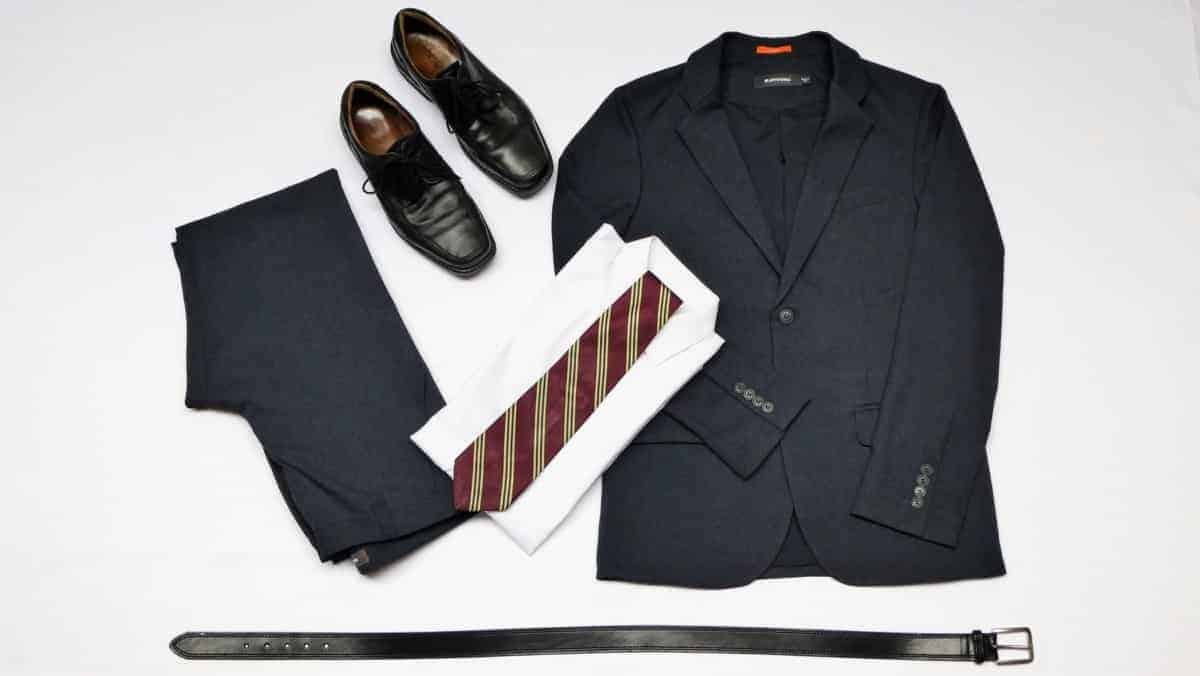 Cruise Wear that Works for All Travel
The bottom line is that you can do everything from a formal night on the cruise to a day trip in a Costa Rican rainforest wearing Bluffworks attire for cruise wear. With its wash anywhere and wrinkle-free fabric to its stylish fit and good looks, you'll have something for every occasion while having the ability to travel lite.
We took a 12-day cruise and as you can see, I packed very little. By combining my Bluffworks clothing with a few extra things I already had I was able to create a versatile 12-day wardrobe.
Here's a great video by Bluffworks that explains the design and versatility.
You might also be interested in our post Take a Walk on the Wild Side in the Rainforest of Costa Rica.