Alaska the last frontier; many people dream of visiting but how many do? I don't know about you, but visiting Alaska has been on our bucket list forever. We wondered how we should see Alaska? By land or by sea? This year we decided we would visit Alaska. It was important for us to see glaciers up close. So, we decided to take a Holland America Line Alaskan Explorer cruise. Our Alaskan cruise started in Seattle and returned to Seattle. Our itinerary in between included Juneau, Glacier Bay National Park, Sitka, Ketchikan, and Victoria, British Columbia.
Well, I can tell you we made the right decision. We loved our Holland America Line Alaskan Cruise. We sailed on the Eurodam. First off, we spent almost a full day viewing glaciers, so that checked off something from the bucket list.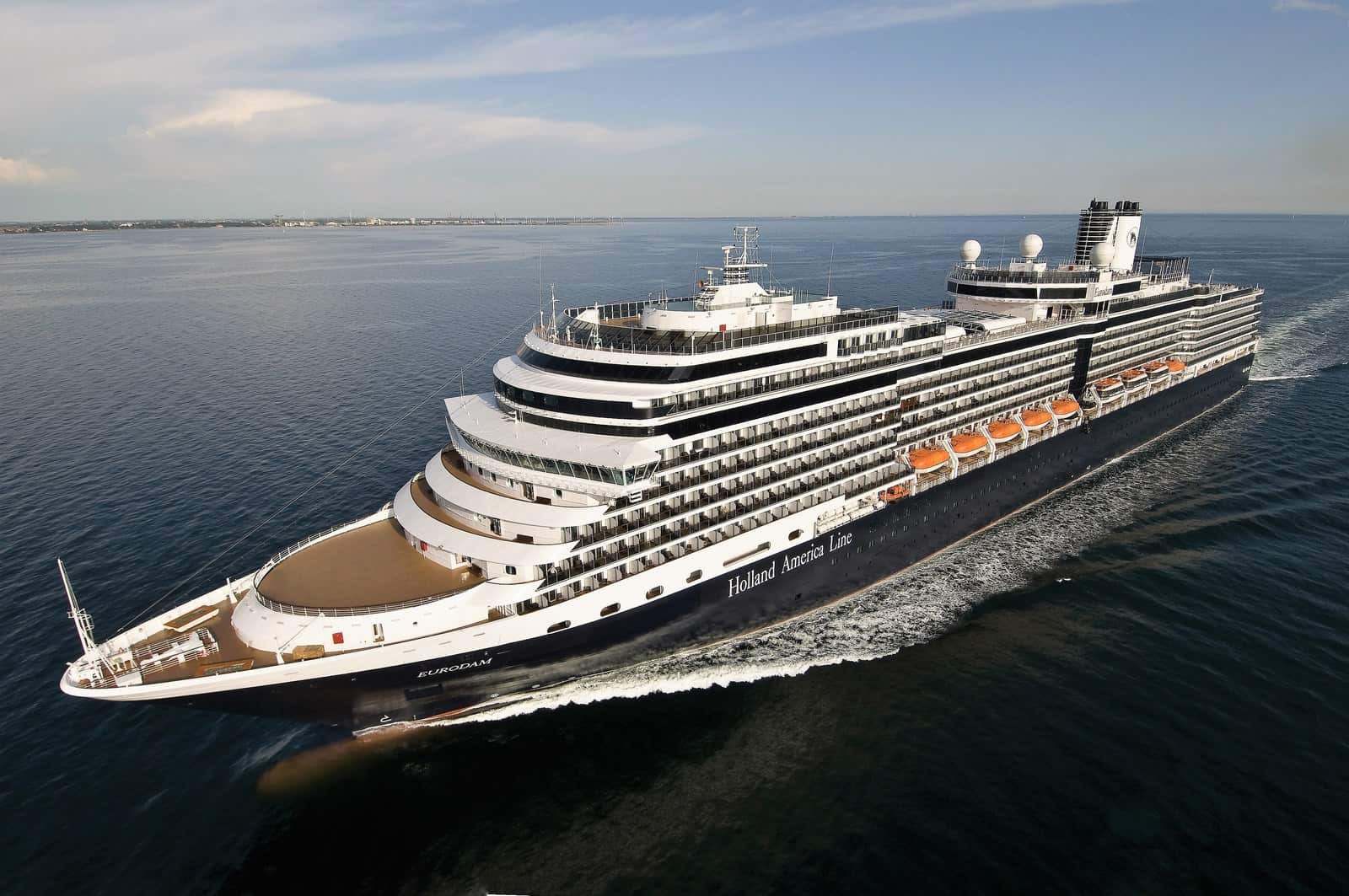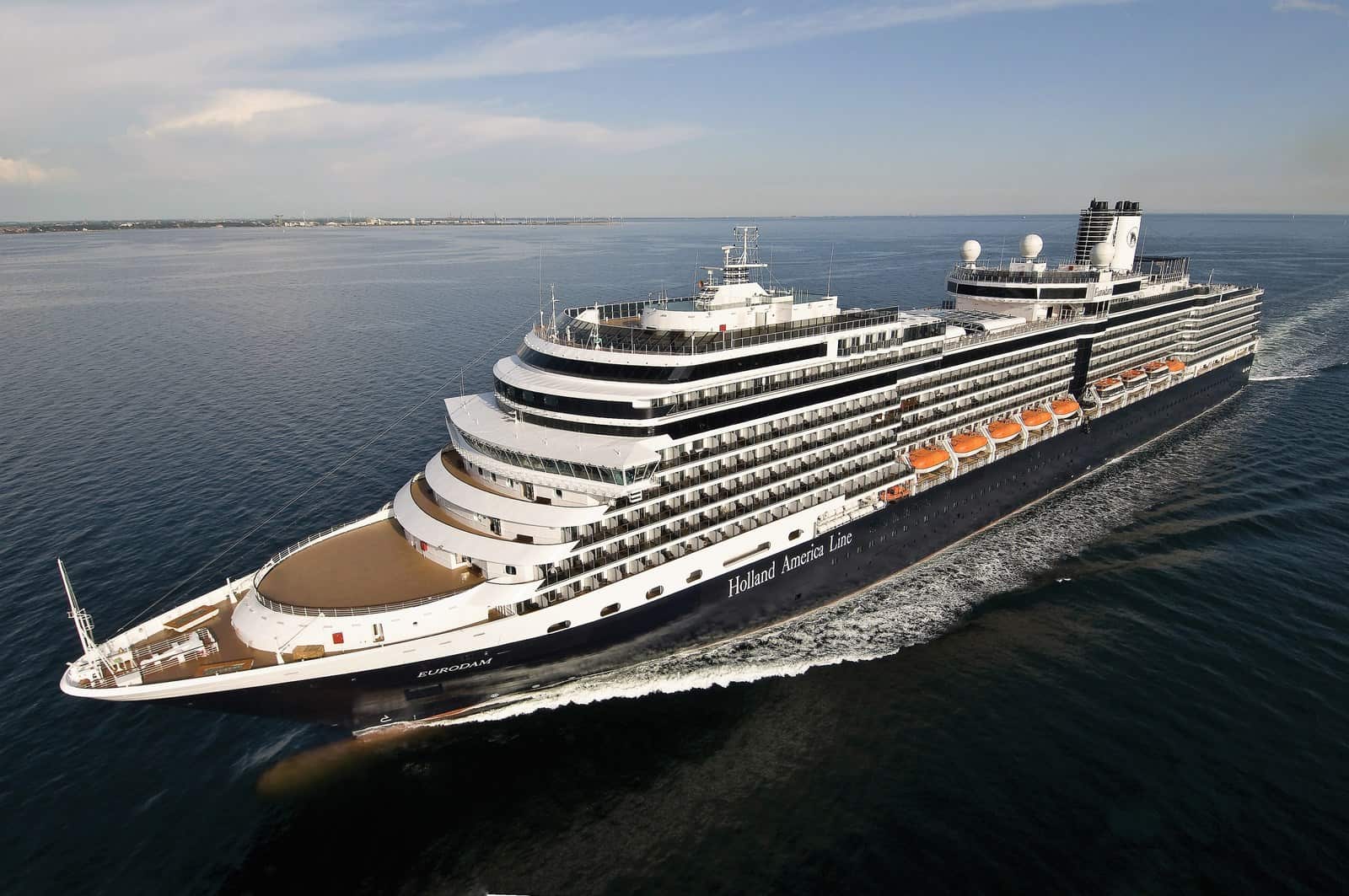 Much to See of Alaska from the Water
Keith and I do not take a lot of cruises, but sometimes it is the best way to see an area. Similar to visiting the Amazon jungle, there is so much of Alaska to see from the water. We highly recommend a Verandah (balcony) room on the Eurodam since you will have lots of time to enjoy the view from your private balcony.
In addition to a private balcony, our room had a king bed, a couch with a coffee table, and a desk area. The bathroom was much larger than we anticipated. On the coffee table was a fruit basket which our room attendant kept full every day. In the closet, there were two bathrobes.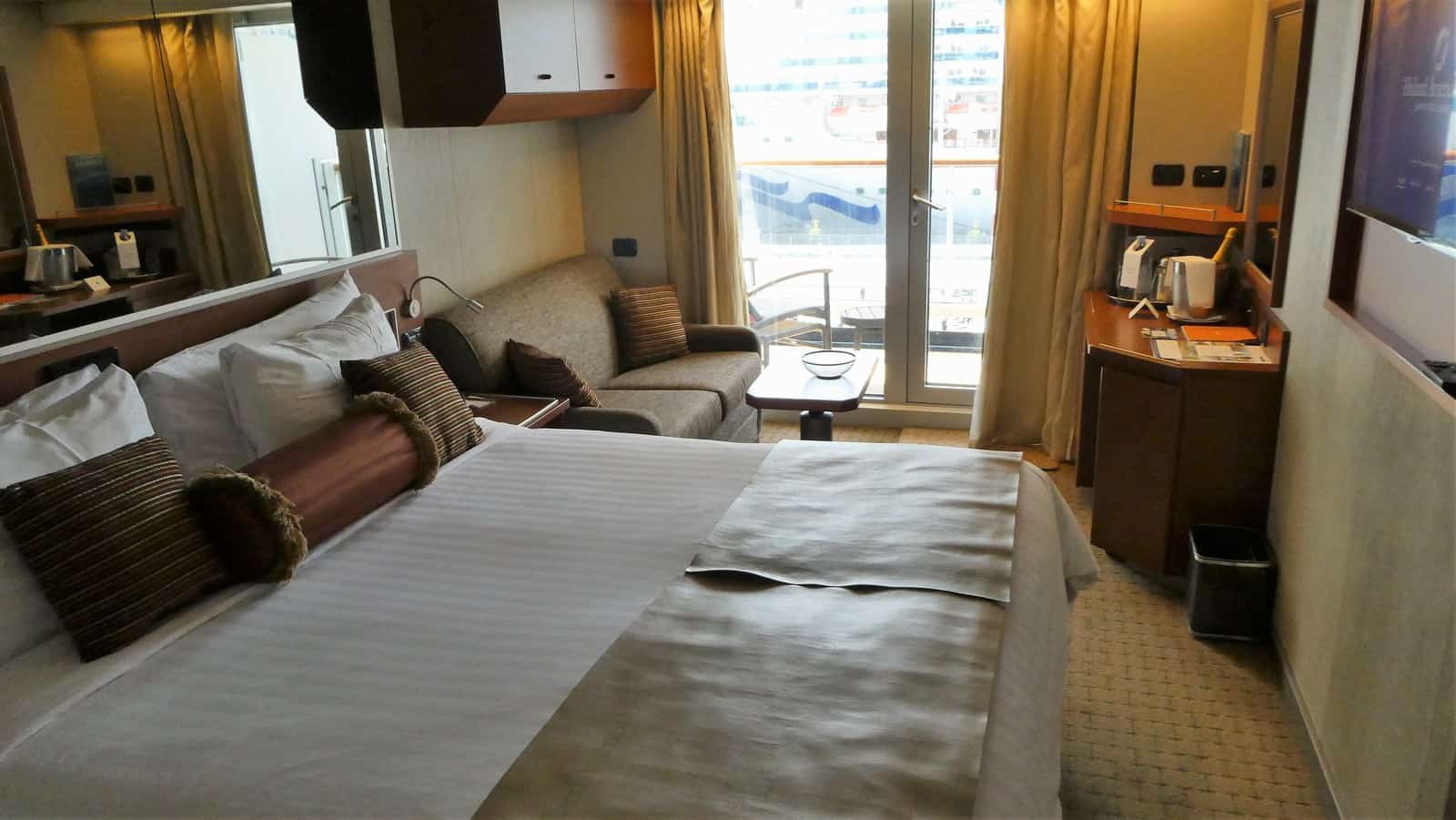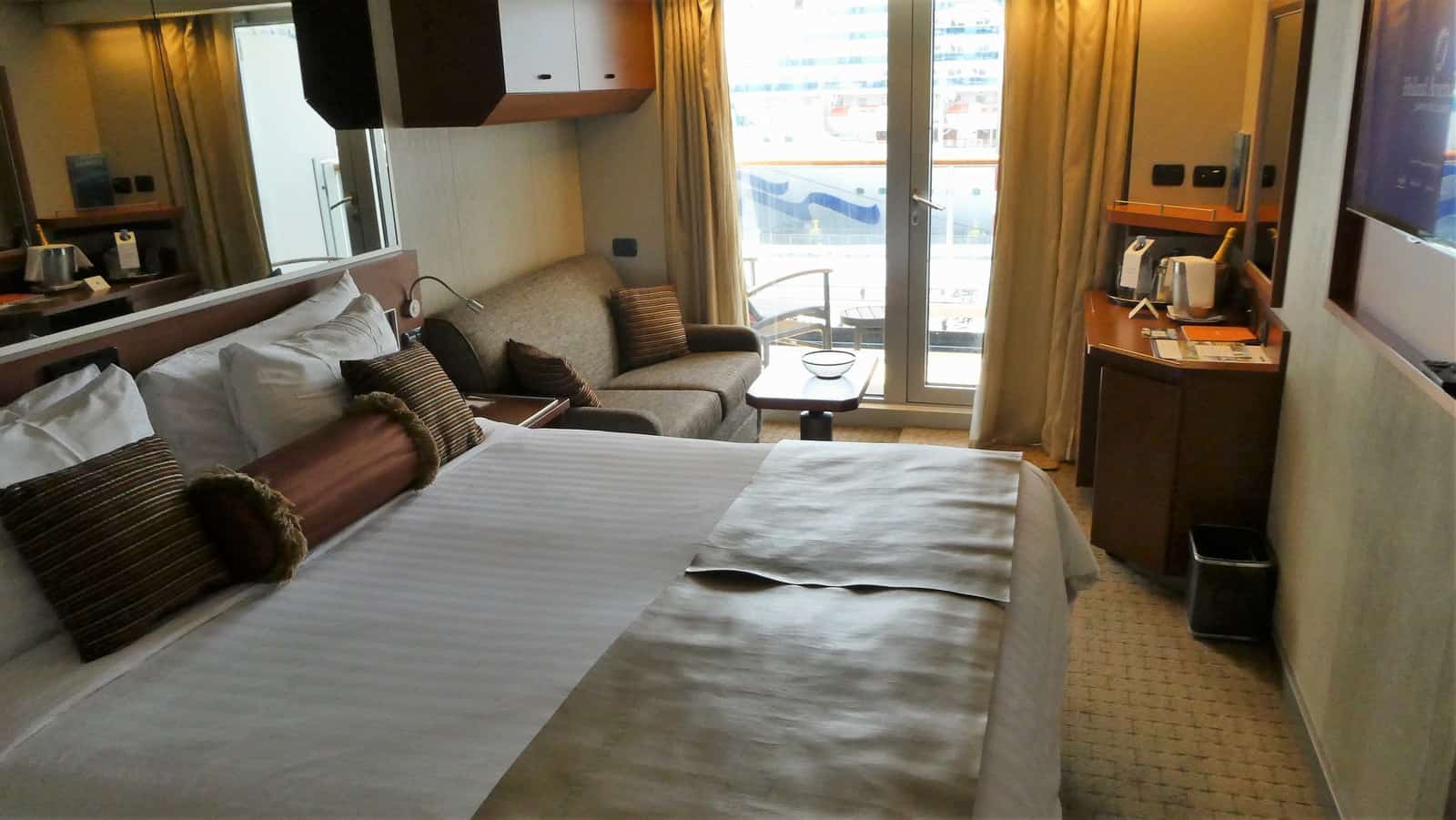 Lots to Do On Board an Alaskan Cruise
We also loved that there were always workshops going on. Since this was an Alaskan cruise, there were lots of classes that taught us about Alaska. In Glacier Bay, we had talks by the Glacier Bay National Park rangers. The Rangers boarded our ship early in the morning and stayed aboard all day teaching and answering questions. There were also great photography classes and wildlife seminars. Since we love photography and always feel we can improve, we loved attending those. Holland America also offers live cooking demonstrations where you learn to prepare easy recipes called America's Test Kitchen. We picked up some great tips and delicious recipes.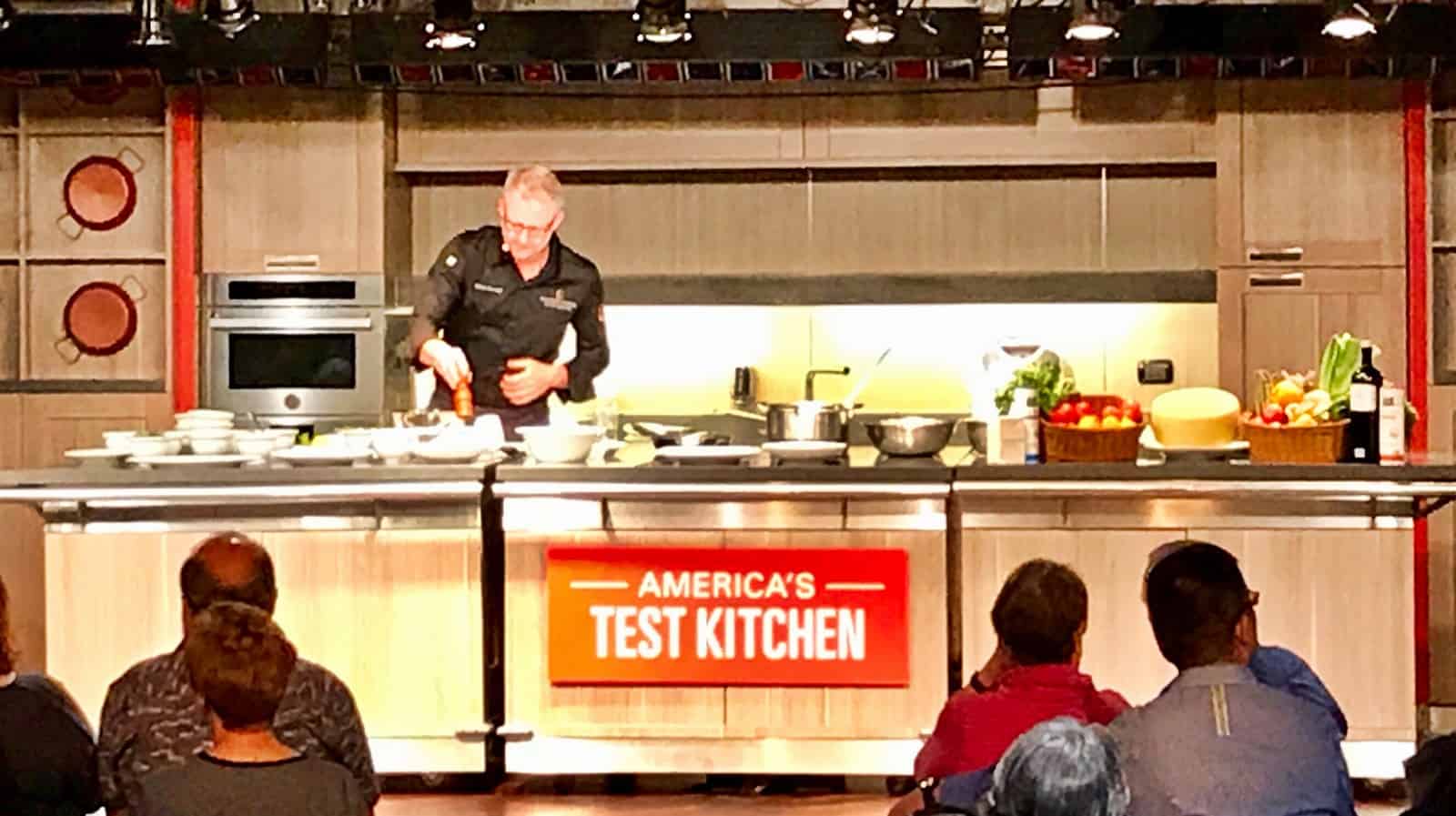 Food
Of course, you can't go on an Alaskan cruise and not talk about food, so much food! The one thing I do love about cruise ship dining is the chance to share a dining table. We have found it is a great way to meet other travelers.
So the Eurodam has a Main Dining Room, but they also have the buffet style, Lido Market. Unlike other cruises we have been on the Lido staff served you keeping the food area much cleaner for all. Keith and I had coffee and breakfast in the Lido Market every day except one in which we had room service. Room service is free aboard the Eurodam which can be very convenient at times.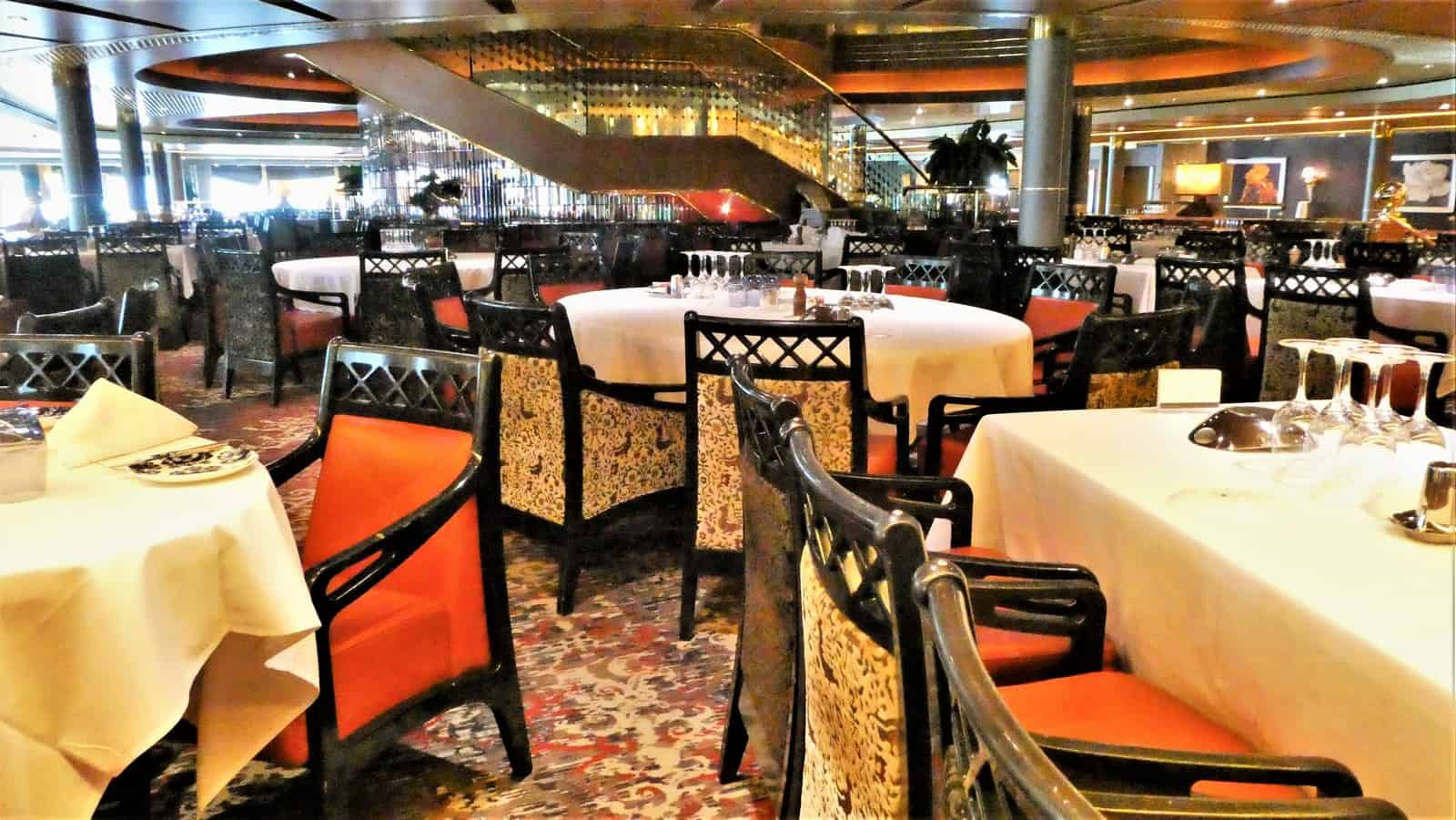 Likewise, there is a pizza place on the outside pool deck where you can customize a personal pizza. Then there is the Dive Bar, a hamburger and hotdog place, both of which are made to order items. Also, the Lido Market has a great salad station. A person makes your salad in a huge bowl. You pick everything from the type of greens to veggies, nuts, and protein if you wish. I eat a plant-based diet, so I loved the salad bar as did others, and the ingredients were always fresh!
The Ship also has three specialty restaurants that charge an additional fee, and we tried all of them.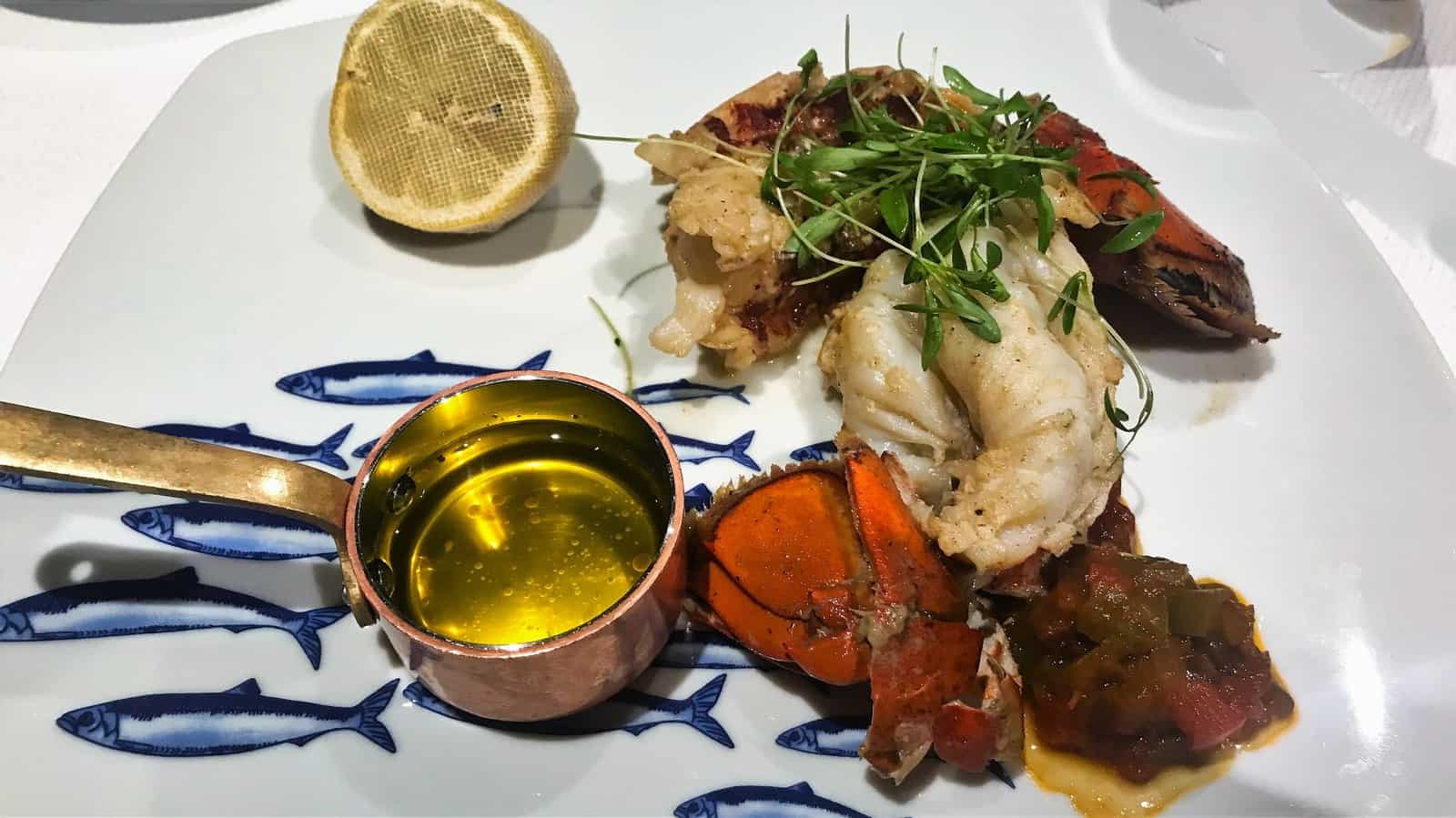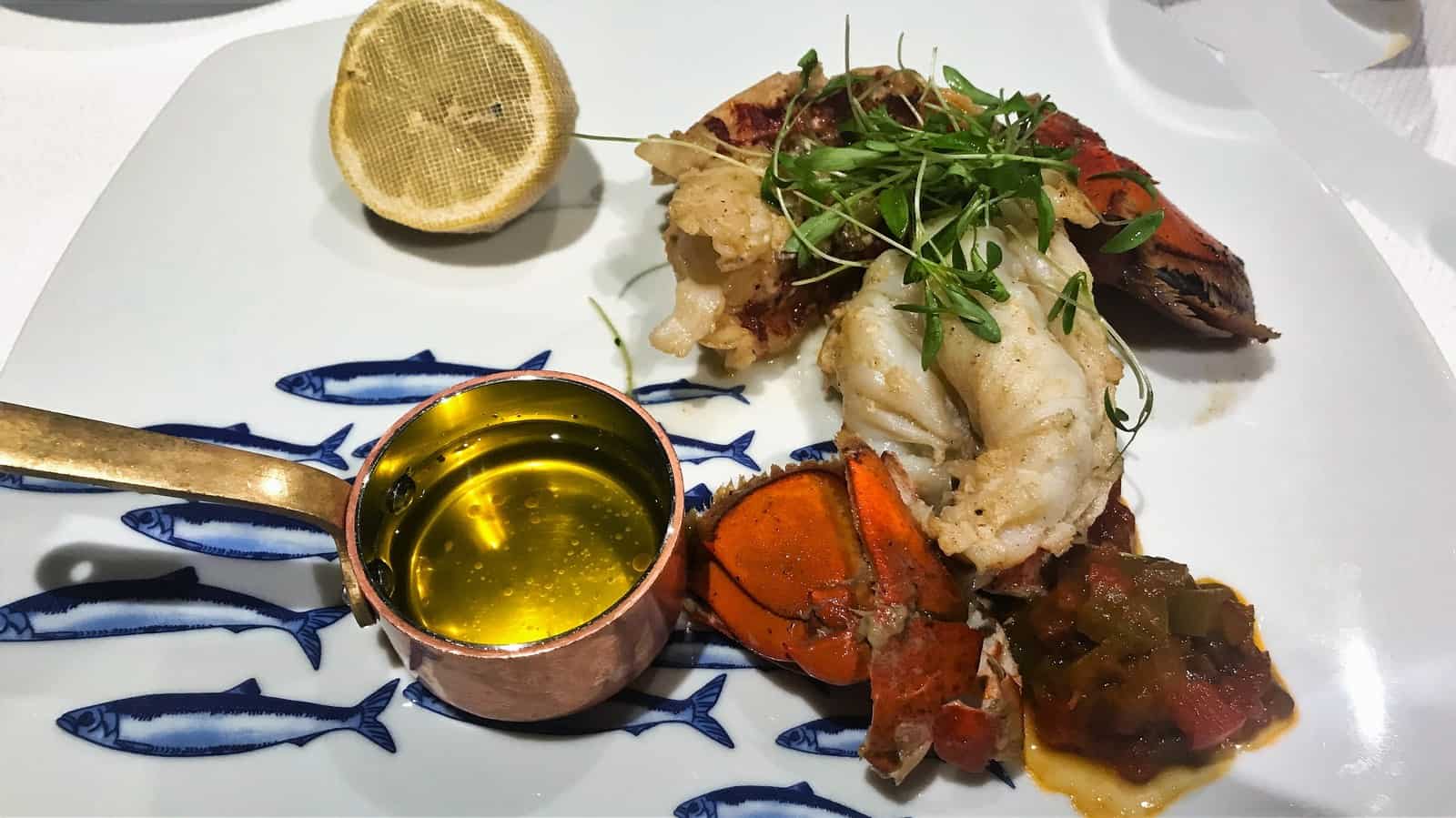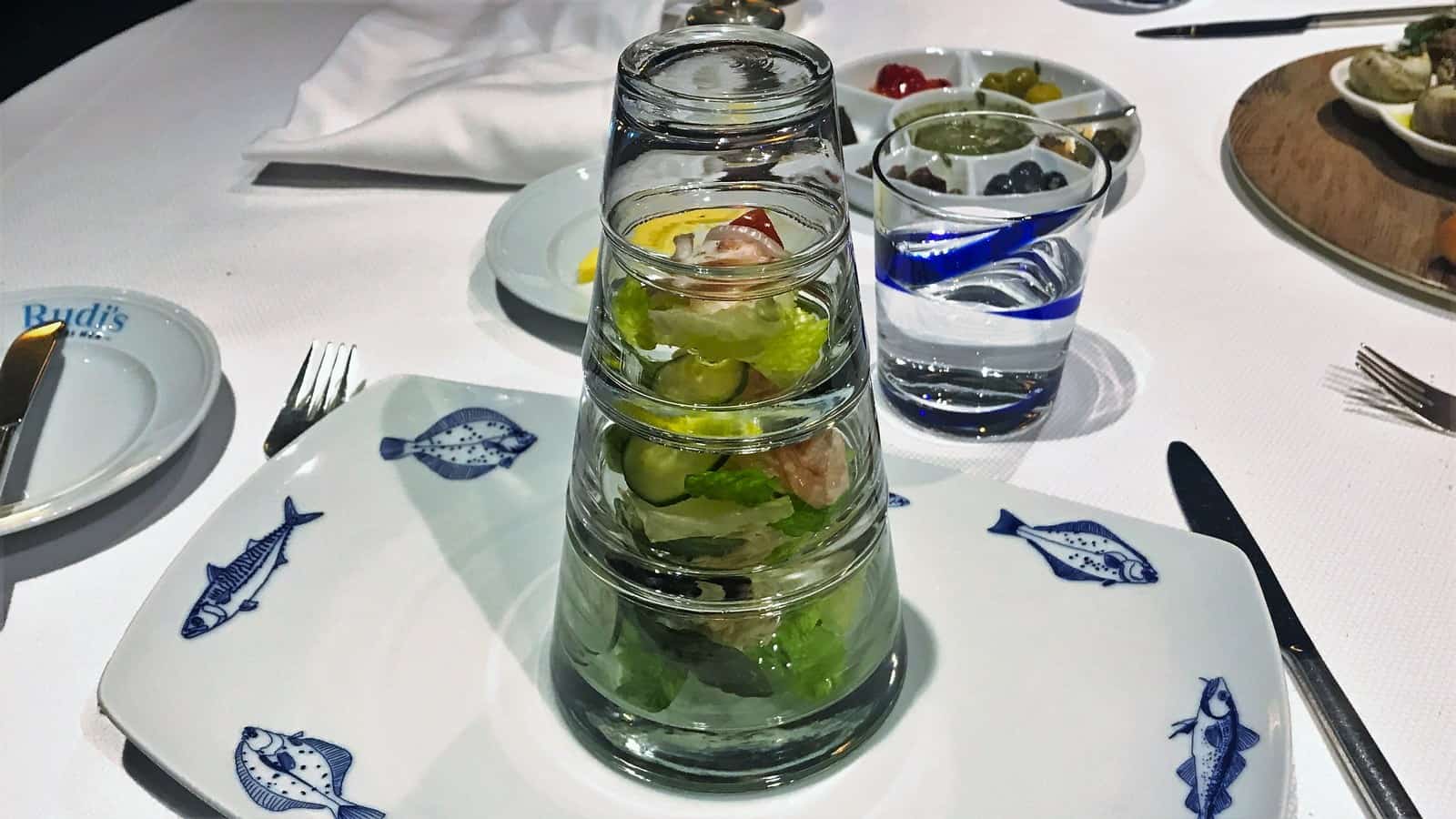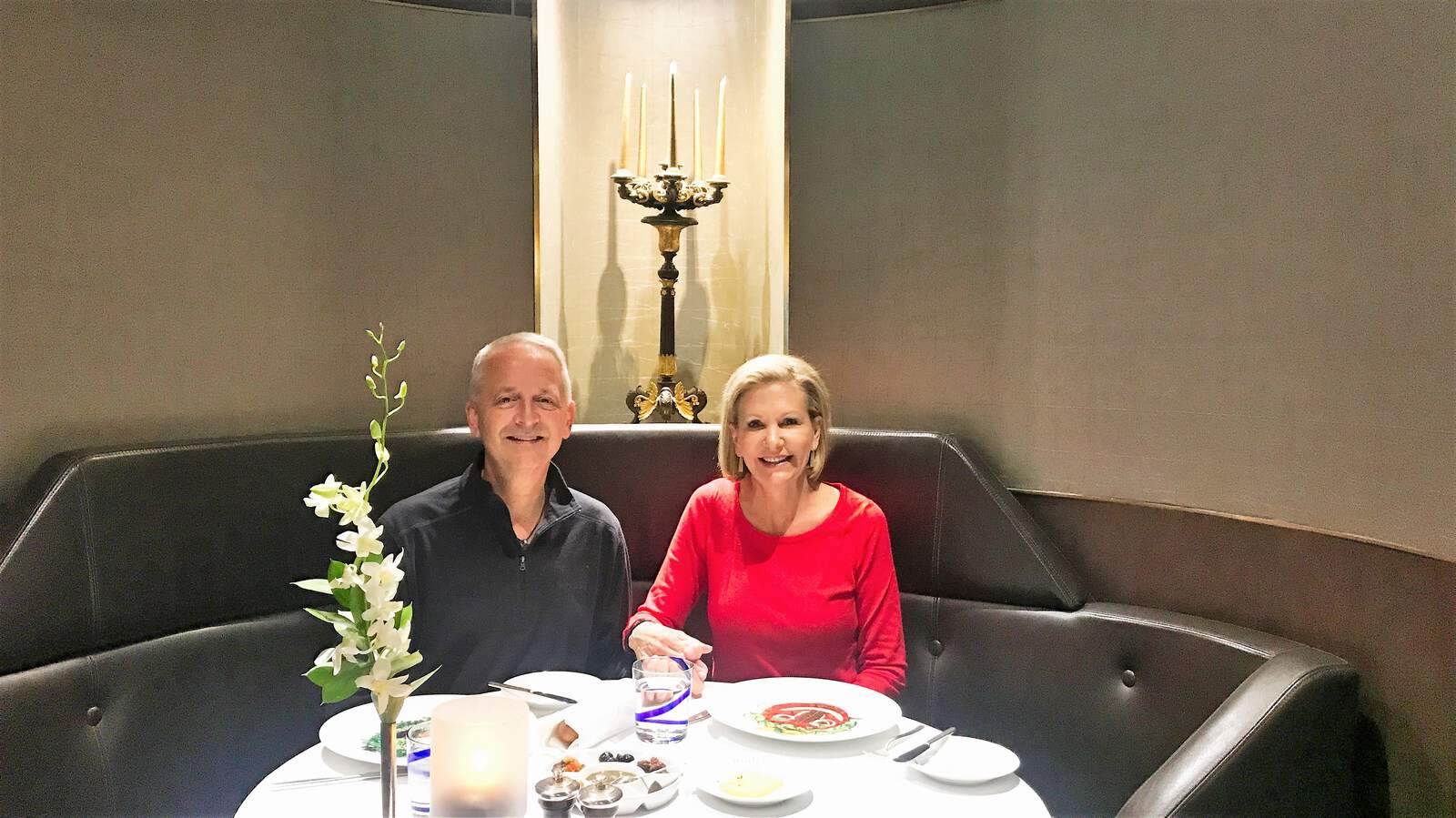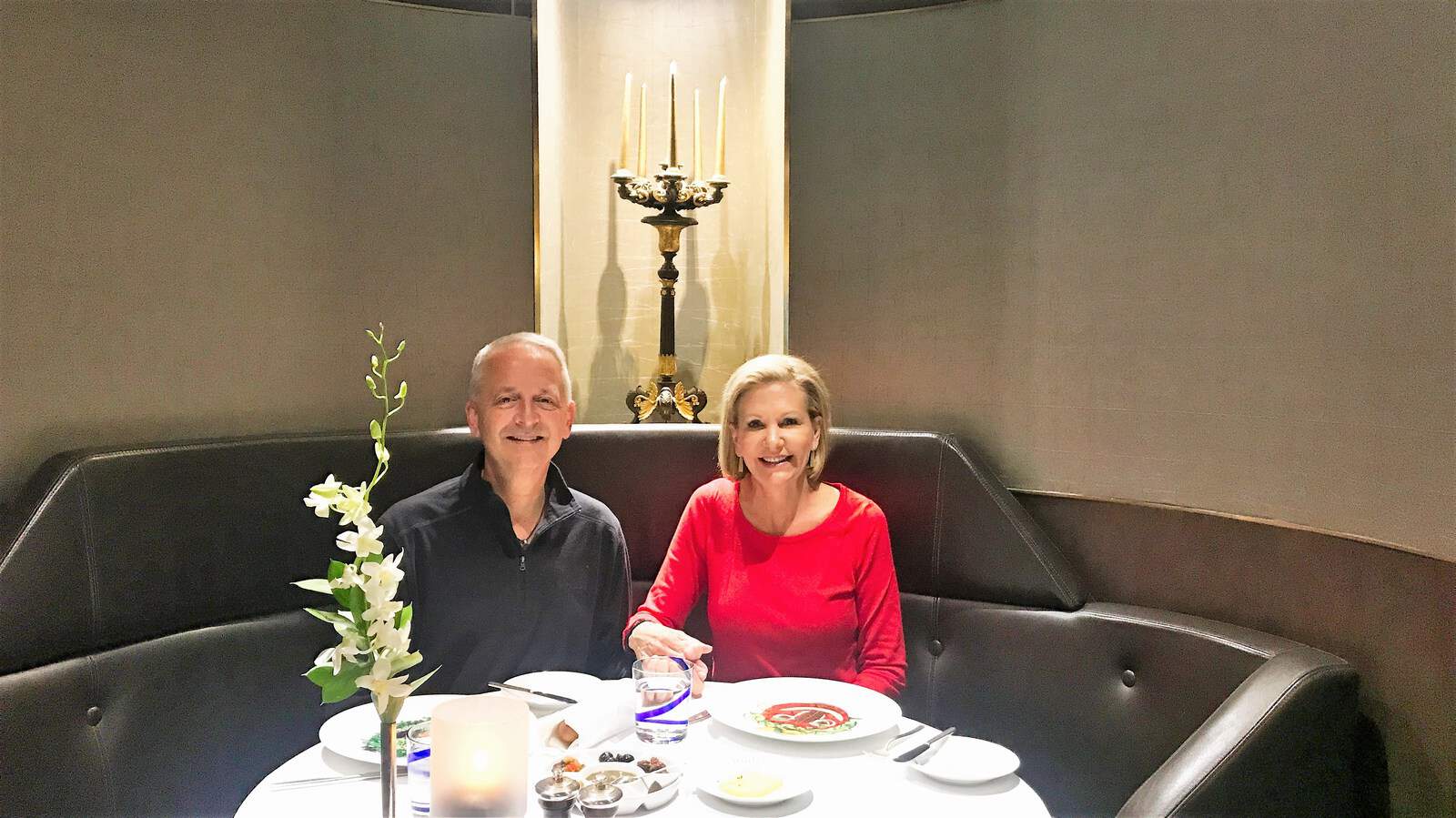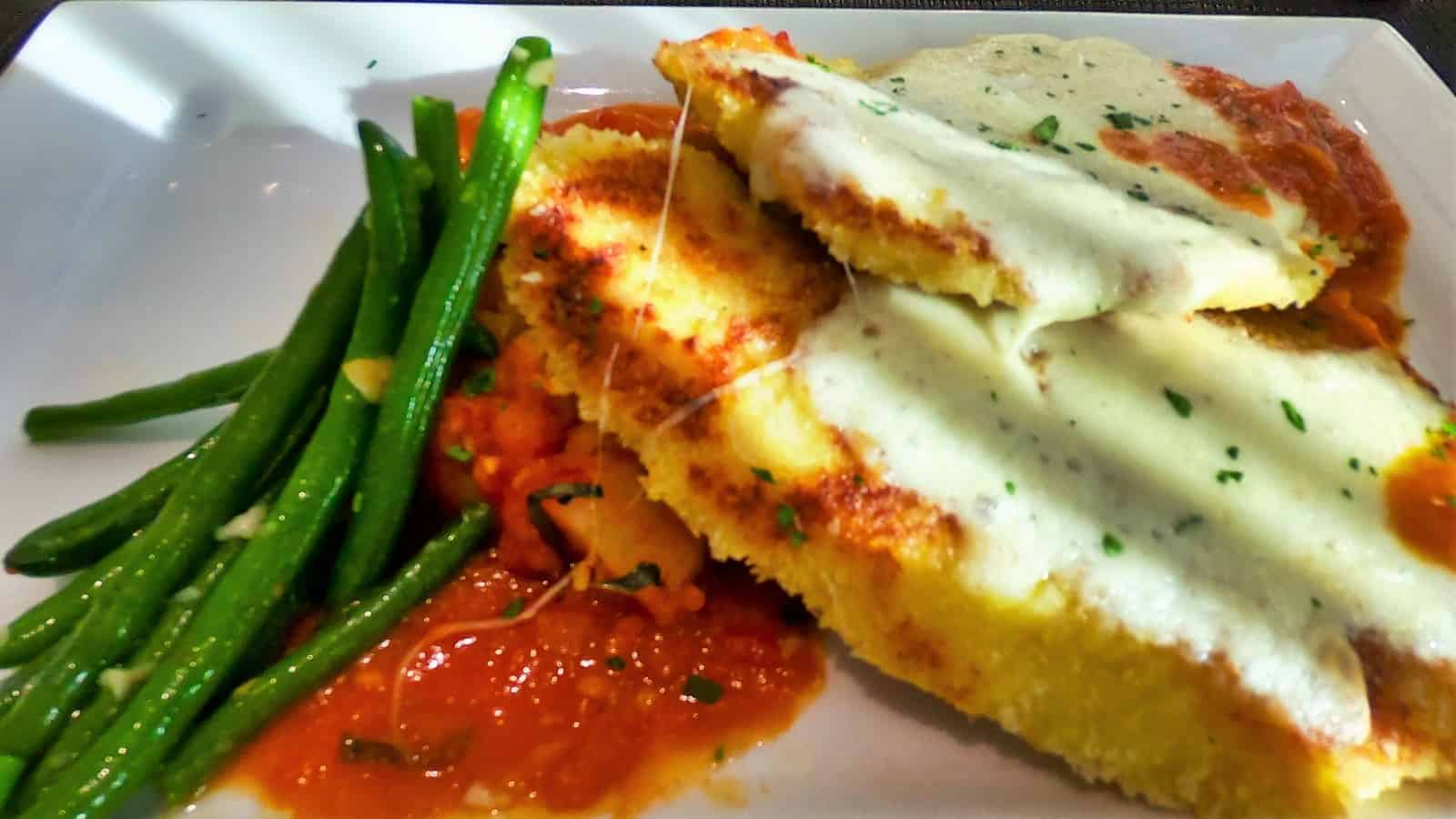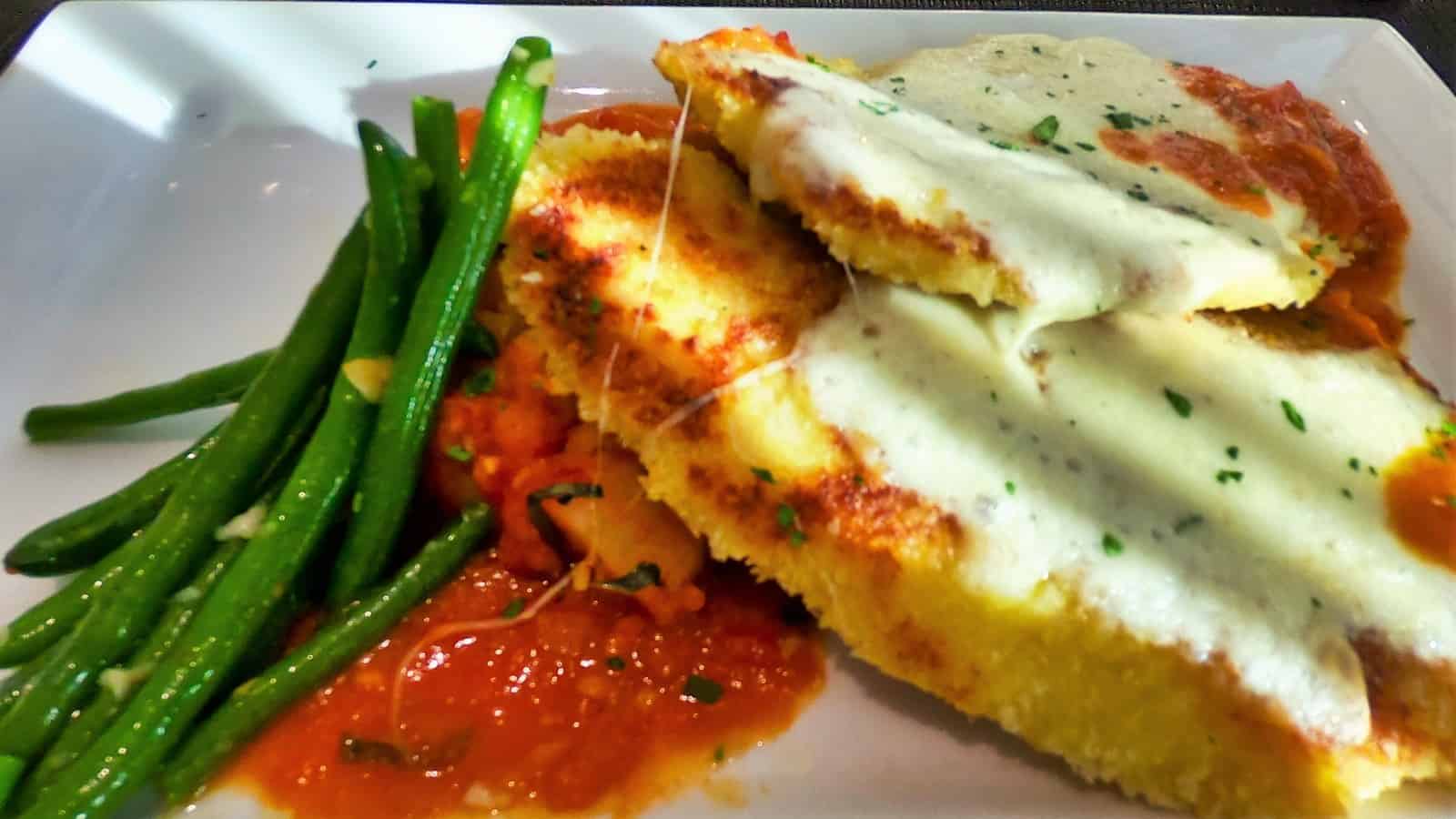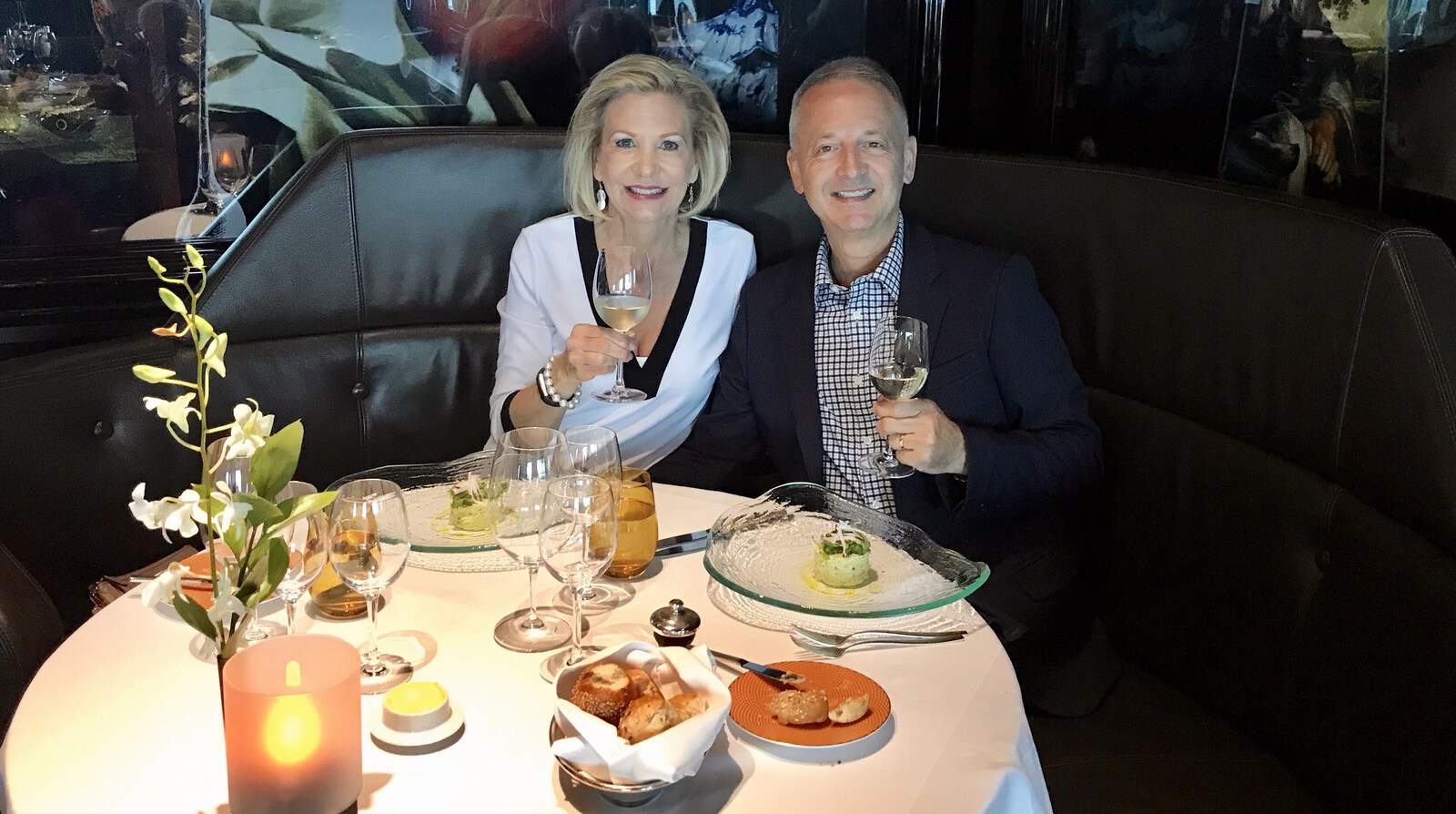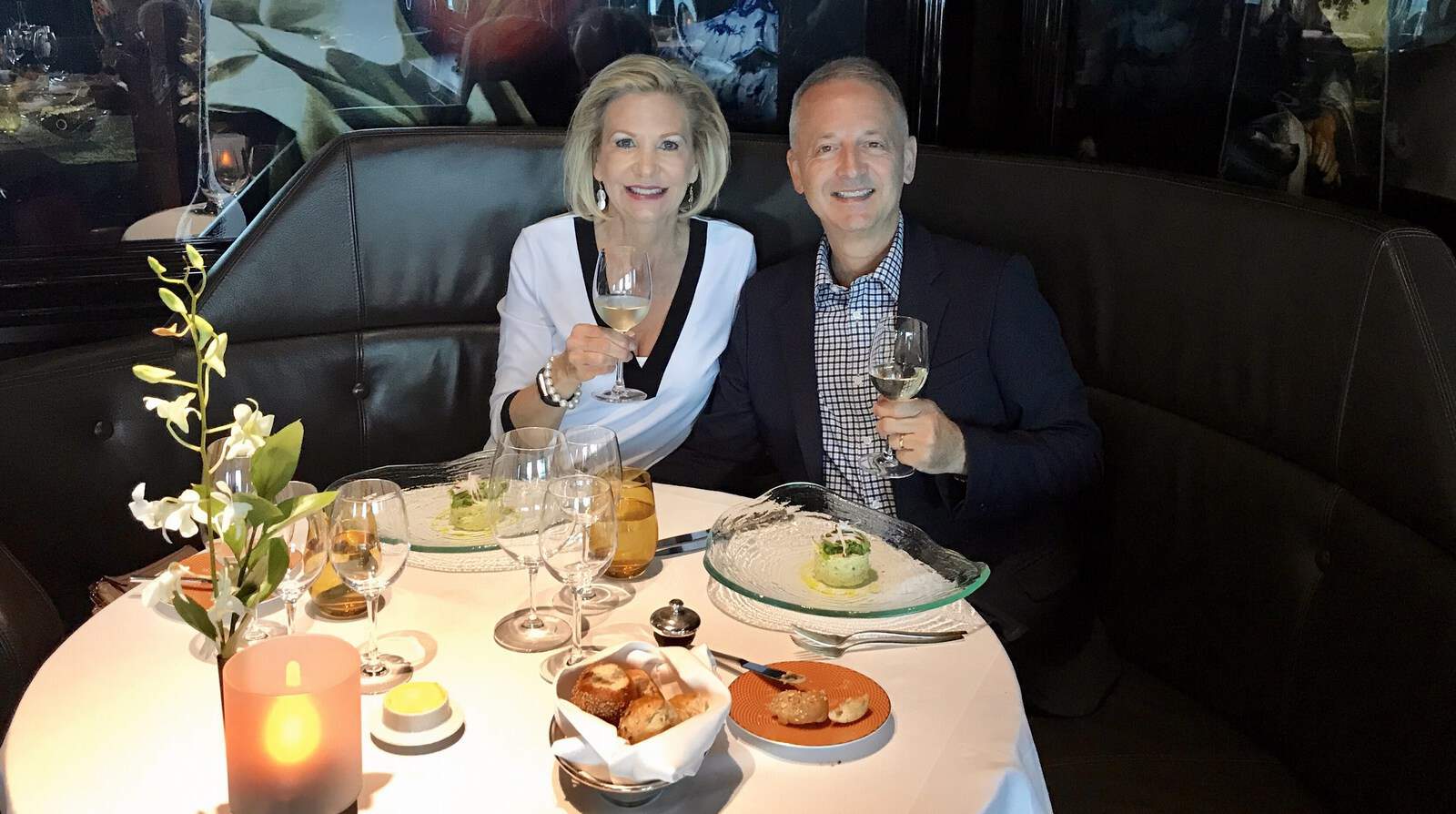 Eurodam Lounges
The ship has lots of lounges or bars, and almost all of them have windows with great views. Keith and I prefer to have a before dinner glass of wine or drink, so we loved the various options. We really love wine, so we were pleased that the lounges all offered several wines by the glass, but unfortunately the different bars had the same wine list. The Eurodam Wine Bar had a great section of bottled wine. They even had some California heavyweights such as Opus One and Caymus.
Before we even set sail, Keith and I signed up for a Wines of the World Tasting event. On the day of the event, we tasted five whites and five reds from all different countries. In addition, they had cheese, fruit, guacamole, salsa, and chips to eat along with the tasting. As a wine lover, I felt there should have been a few higher-end wines in the mix. But, the good thing was that the wines we tasted were not any of the wines by the glass offered on the ship at the lounges or bars.
Evening Entertainment
In the evening The Onboard Billboard lounge had two piano players singing hits that everyone knows. When we visited, they were singing songs from the '70s, and lots of people sang along. The art lounge off of the casino had no windows but was colorful and cozy. Also, Holland America has a BB King's Blues Club. While I enjoyed the piano players the most, Keith's favorite was the show at BB King's Blues Club.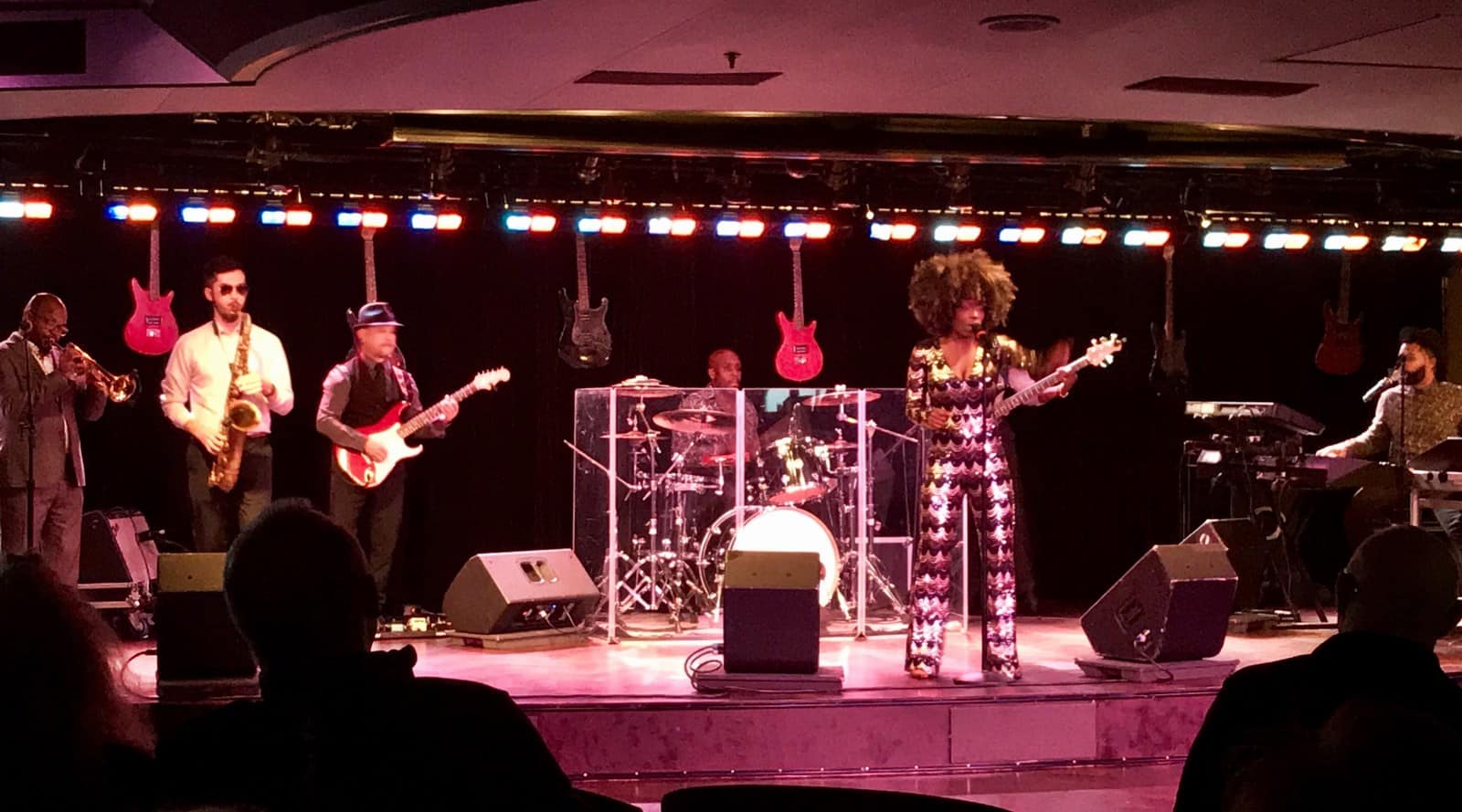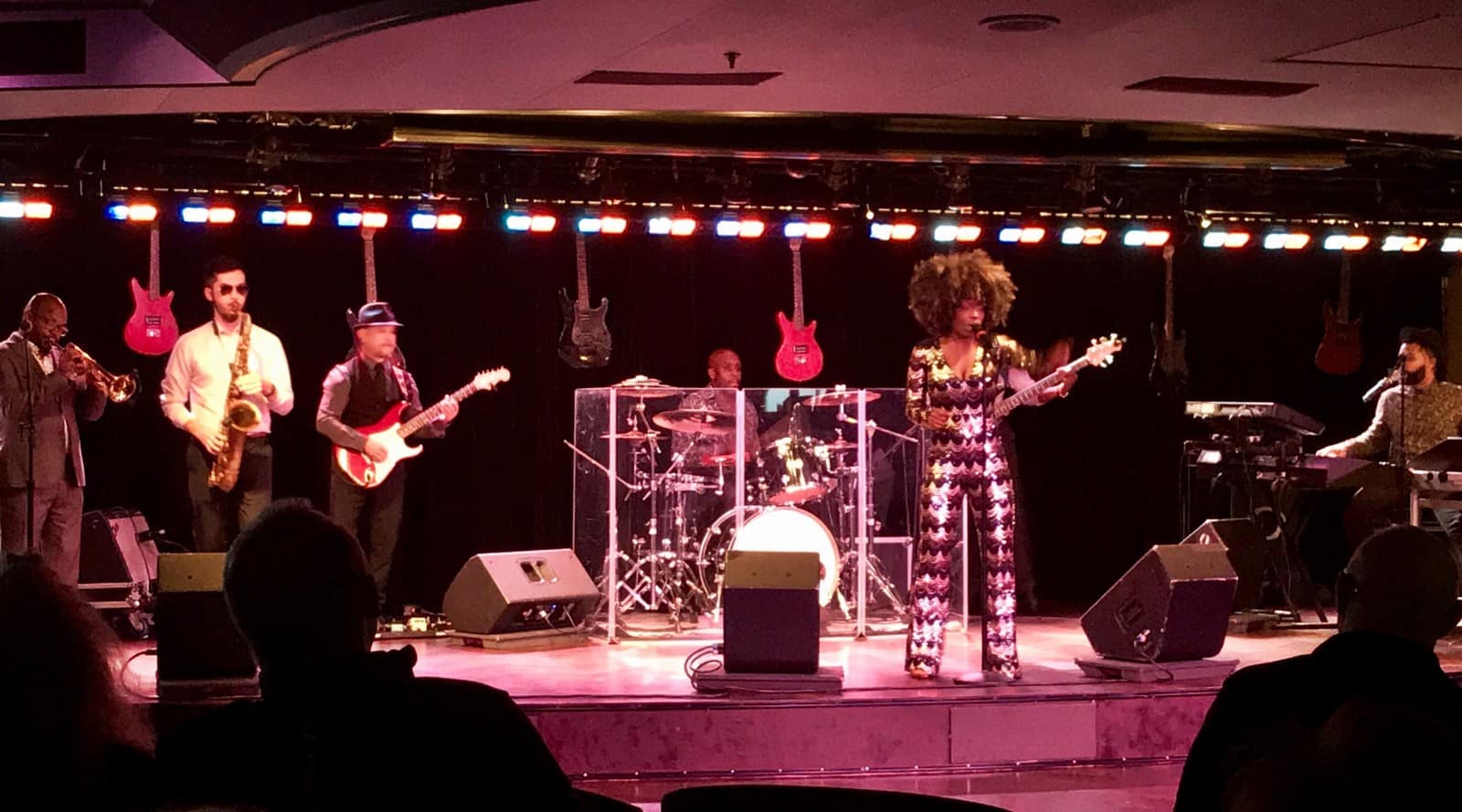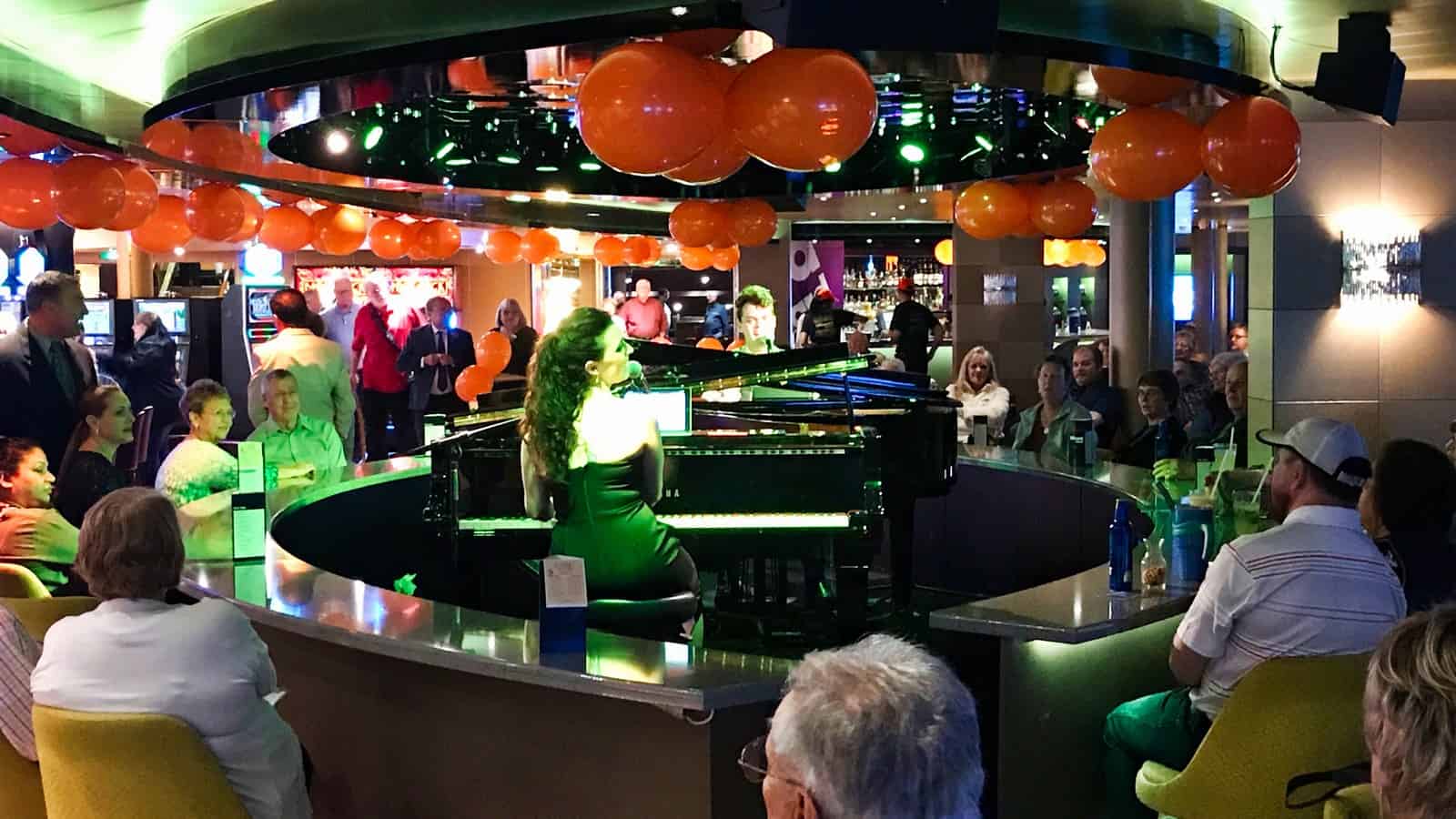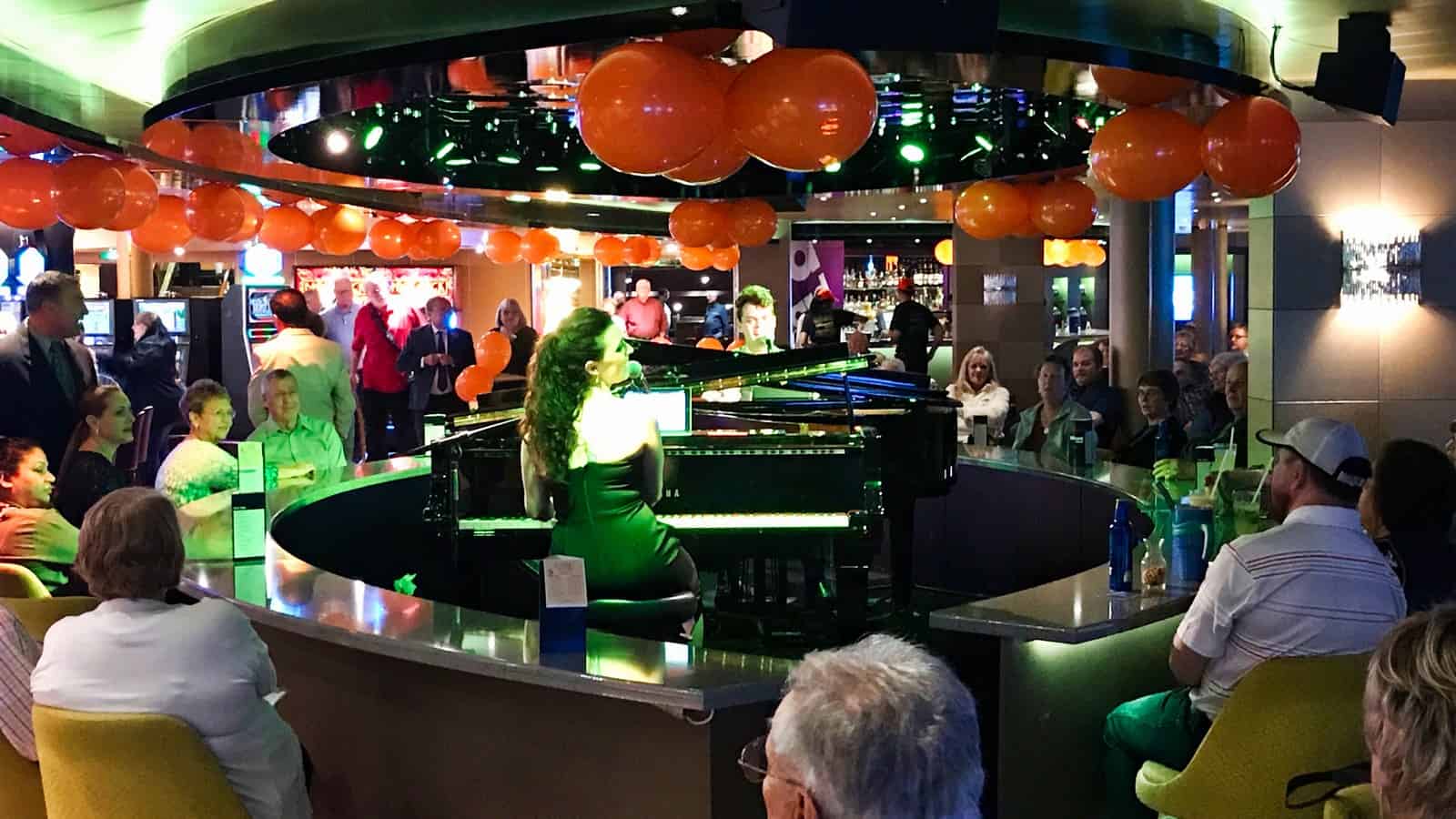 The Lincoln Center Stage featured classical chamber music. Therefore, at the Lincoln Center Stage, you will enjoy timeless pieces and unfamiliar jewels played by exceptional musicians.
Also, as I mentioned, there is a small casino onboard. The slot machines ate all our money quickly, but I won at the roulette table. Thankfully I do not like to lose money for sport, so I don't think I will become addicted to roulette. But it was fun to leave the casino ahead.
The Crow's Nest
At the front of the ship, there is a large lounge called the Crow's Nest. In the Crow's Nest, they had hundreds of books that you can take on the honor system, plus games and puzzles. In addition, the center has a coffee bar where they sell espressos, lattes, iced coffees and more. The large lounge also doubled as a lecture place for the National Park Ranger talks when we arrived in Glacier Bay National Park. The views from the Crows Nest were spectacular and you could keep up on the ship logistics from the monitors.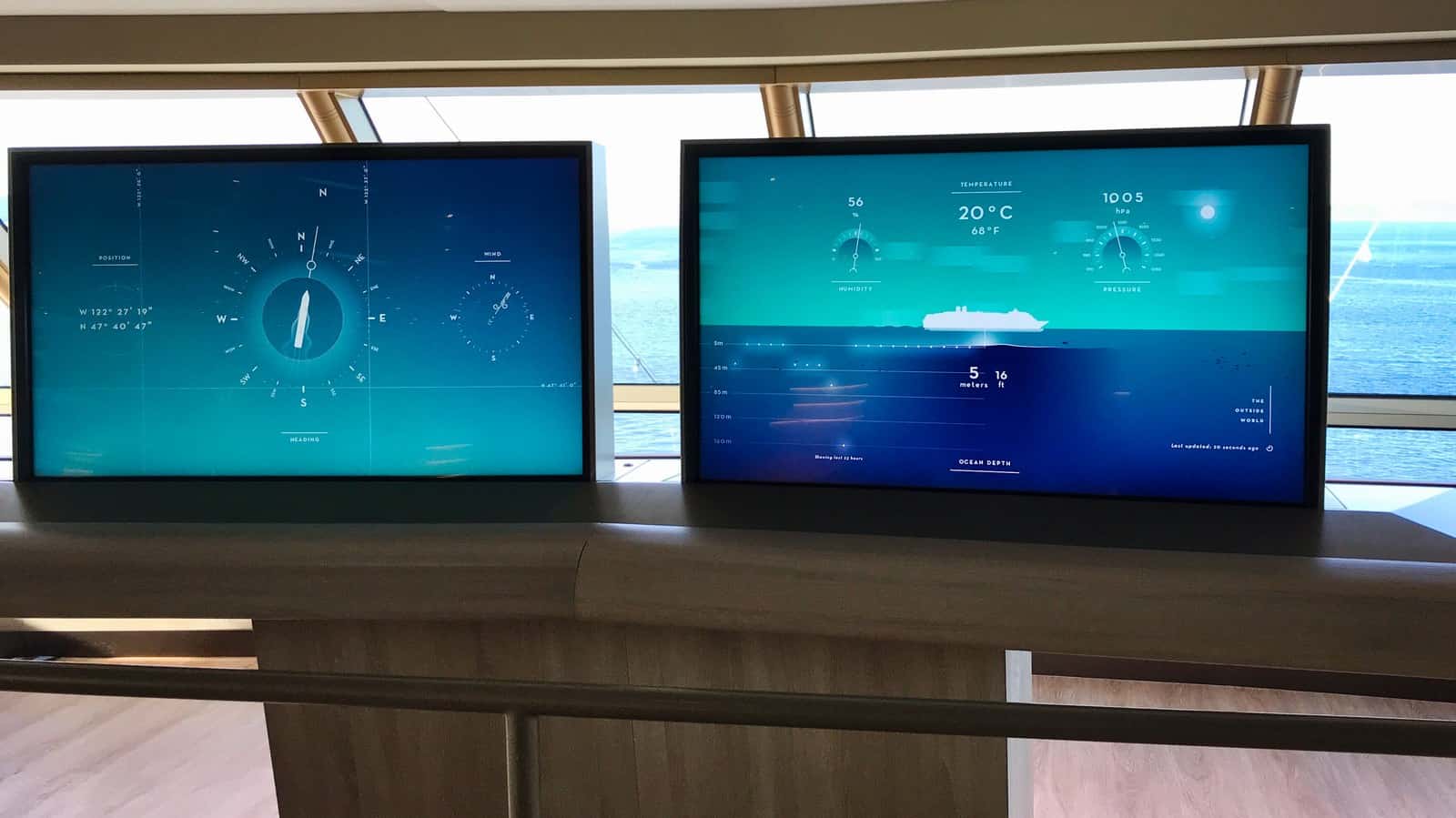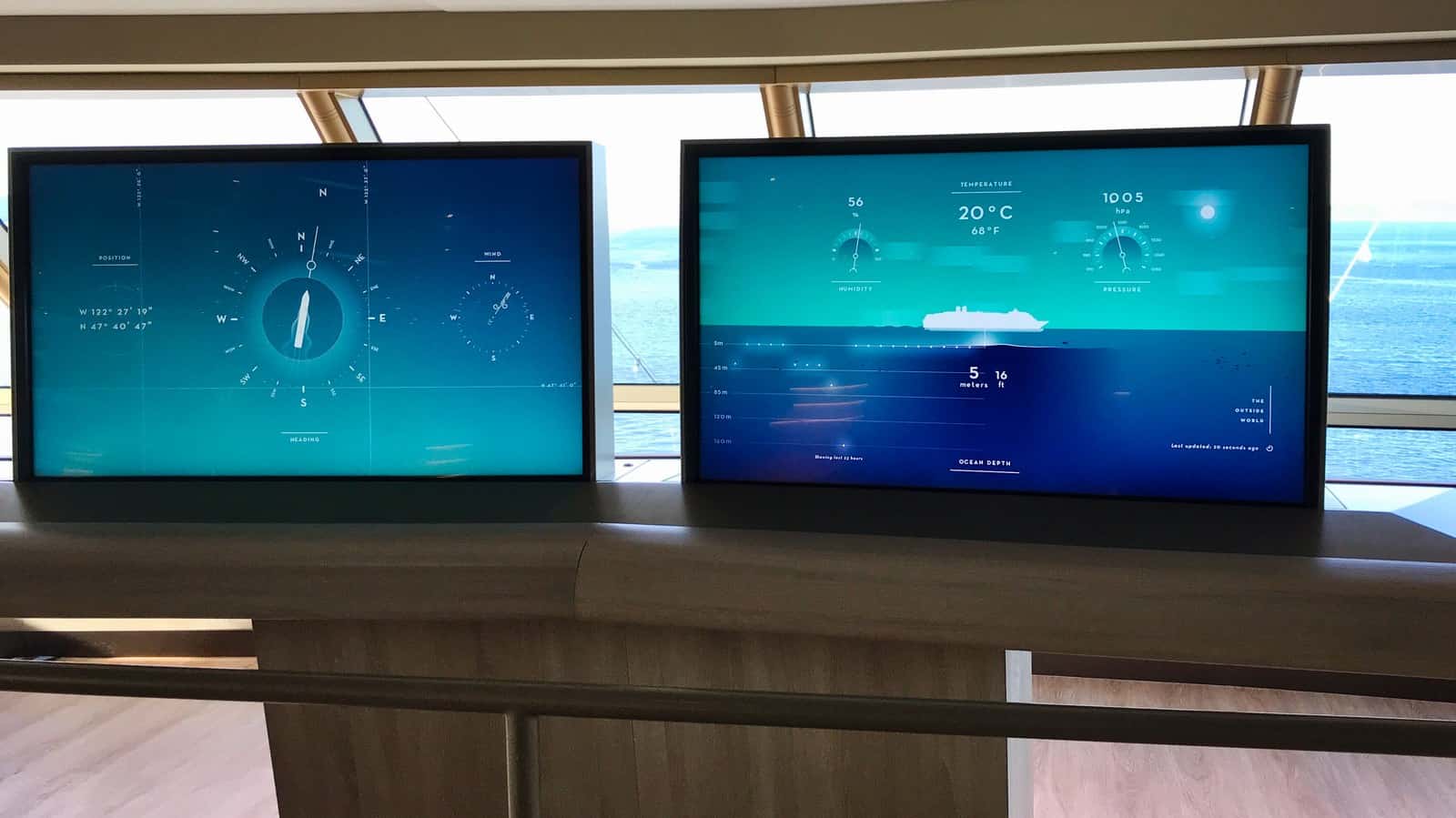 Life onboard the ship is very important because you spend a lot of time there, but the travel itinerary is important also, especially if this is a once in a lifetime trip like it was for Keith and me.
Day 1
On our first day, we departed Seattle between four and five pm. So since we would just be at sea, we decided to have dinner at one of the specialty restaurants, the Tamarind. The Pan-Asian Tamarind restaurant served traditional culinary treats of Southeast Asia, China, and Japan. We had our best meal aboard our Alaskan cruise ship at this restaurant. Not only was the food fantastic, but the service was outstanding. Without a doubt, our wait staff, Panatda, and Dayanti made us feel that they were delighted we were there. They were both always smiling. And they took the time to talk to us about their home country of Indonesia.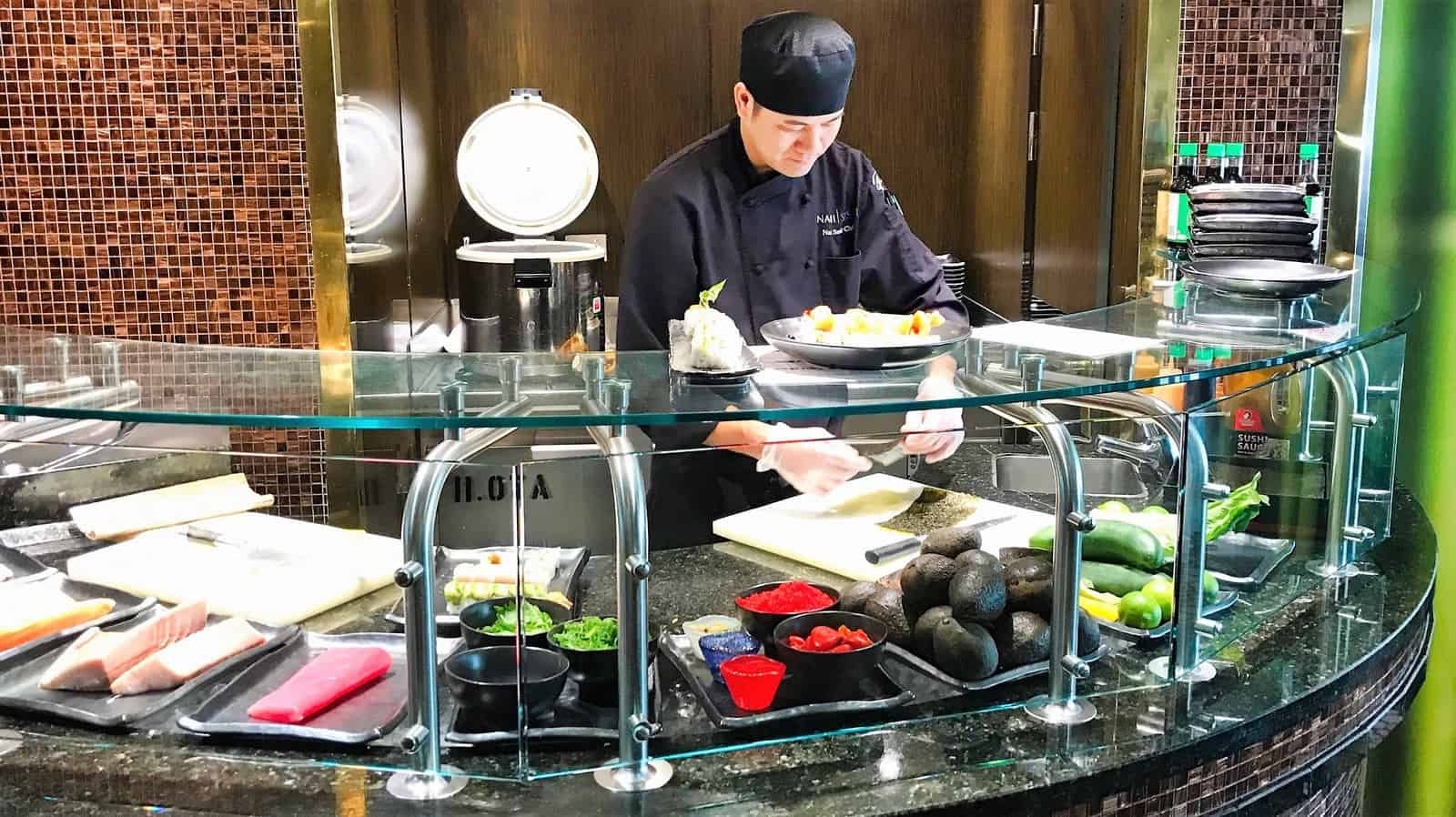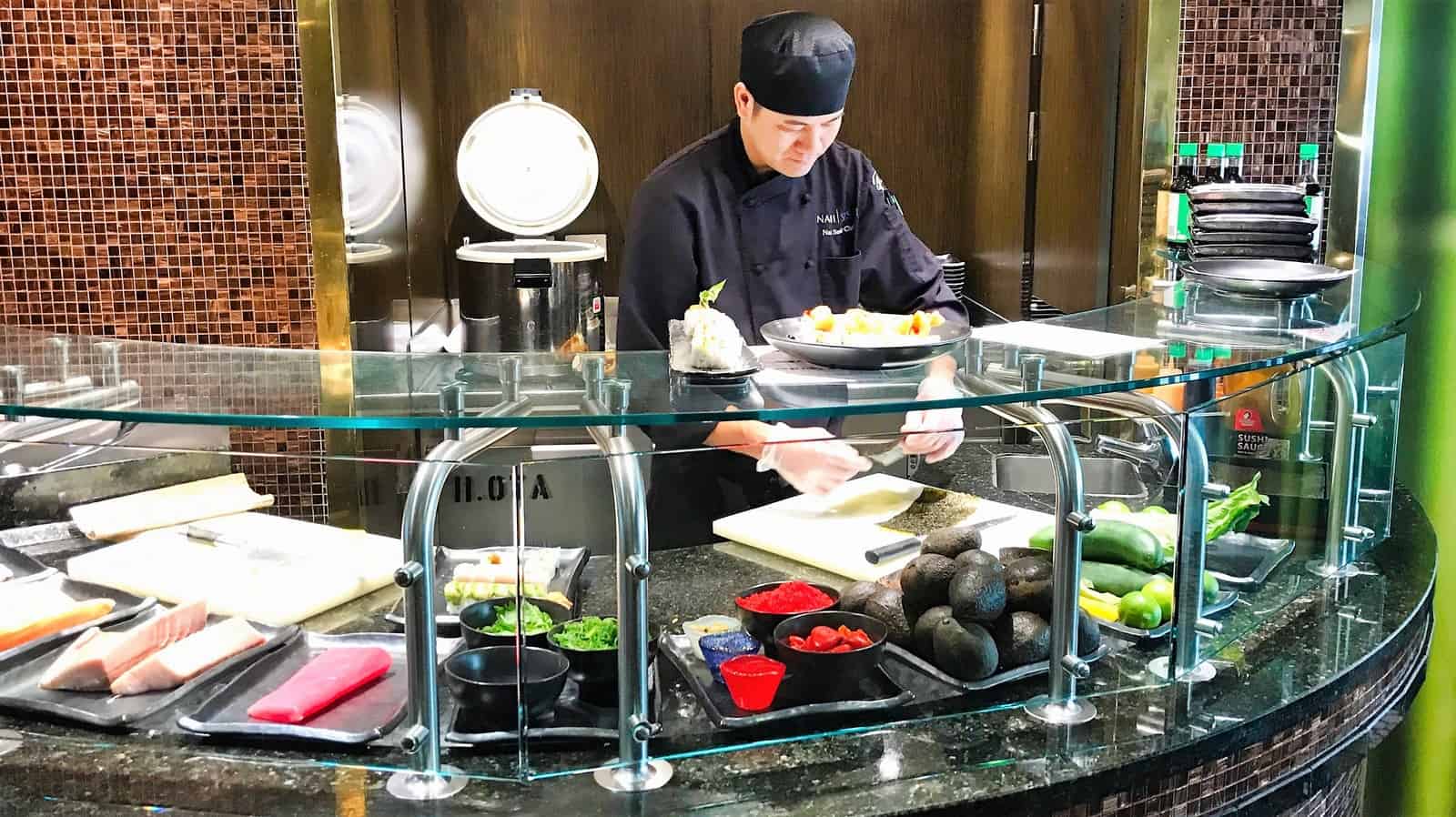 Additionally, we had a great conversation about the foods they missed from home. It was such a pleasure to dine at Tamarind that we truly hope if you take this Alaskan cruise, you will dine there too. In addition to great food and great service, we had great panoramic views because the Tamarind is on the top deck.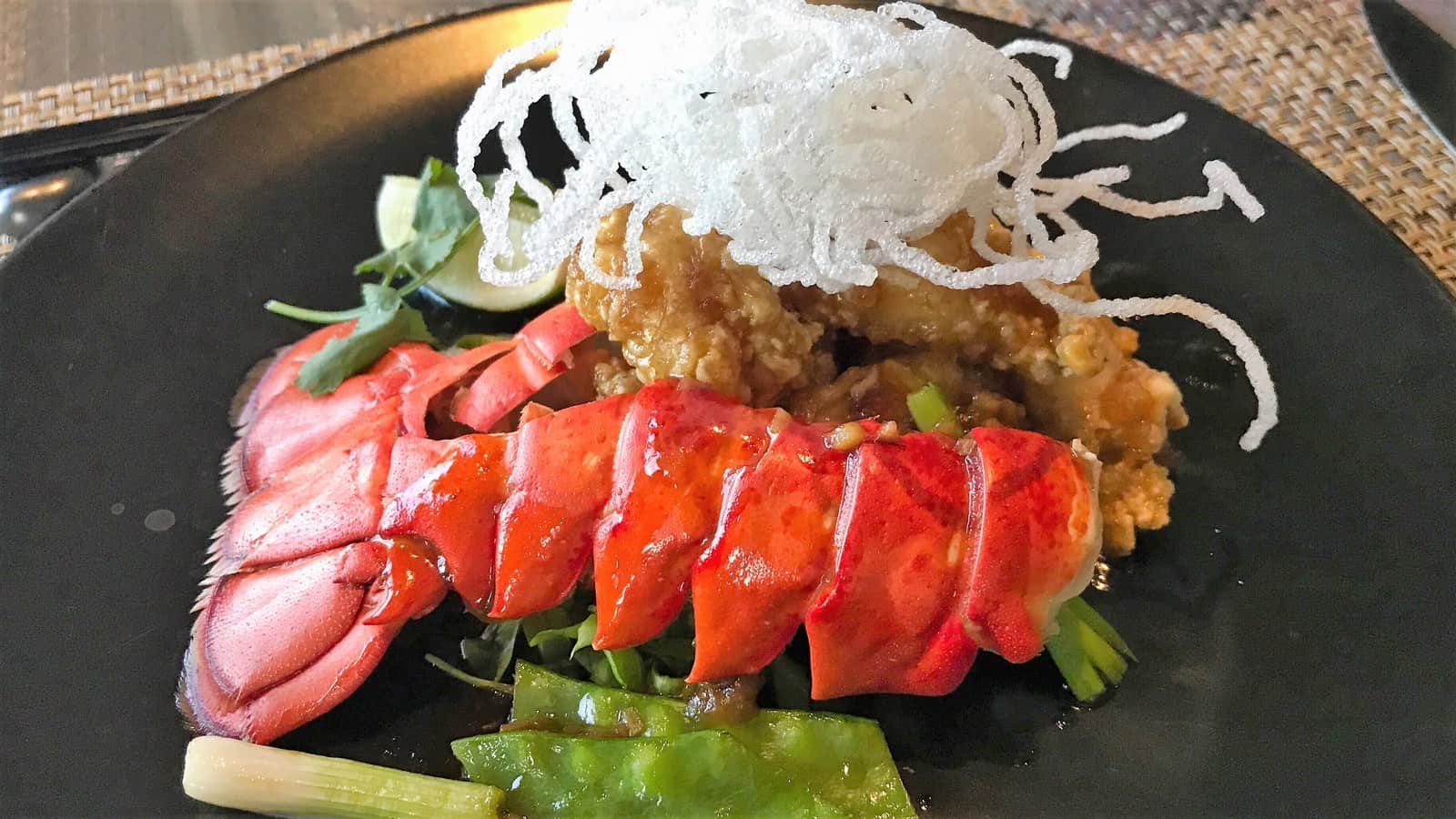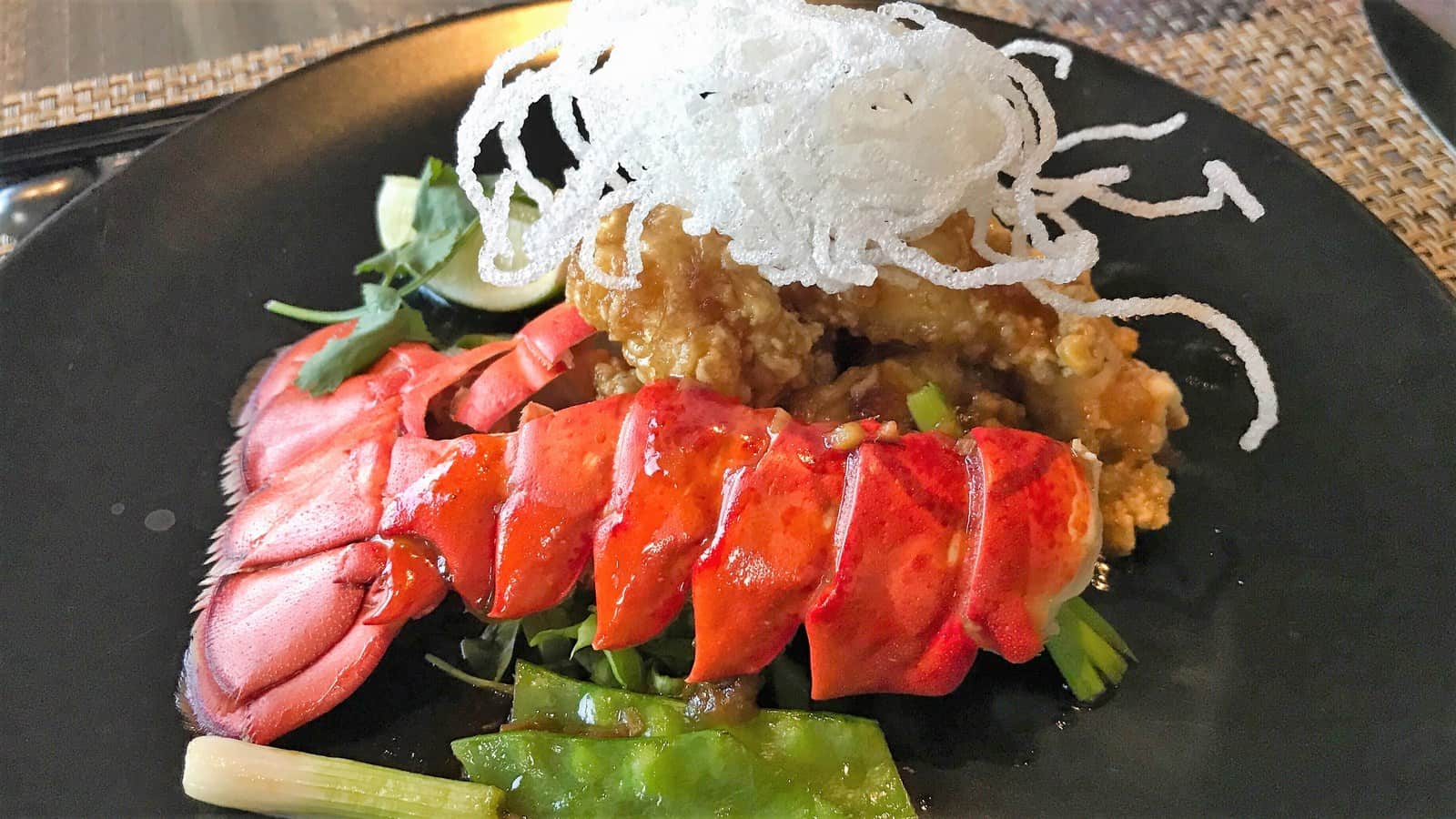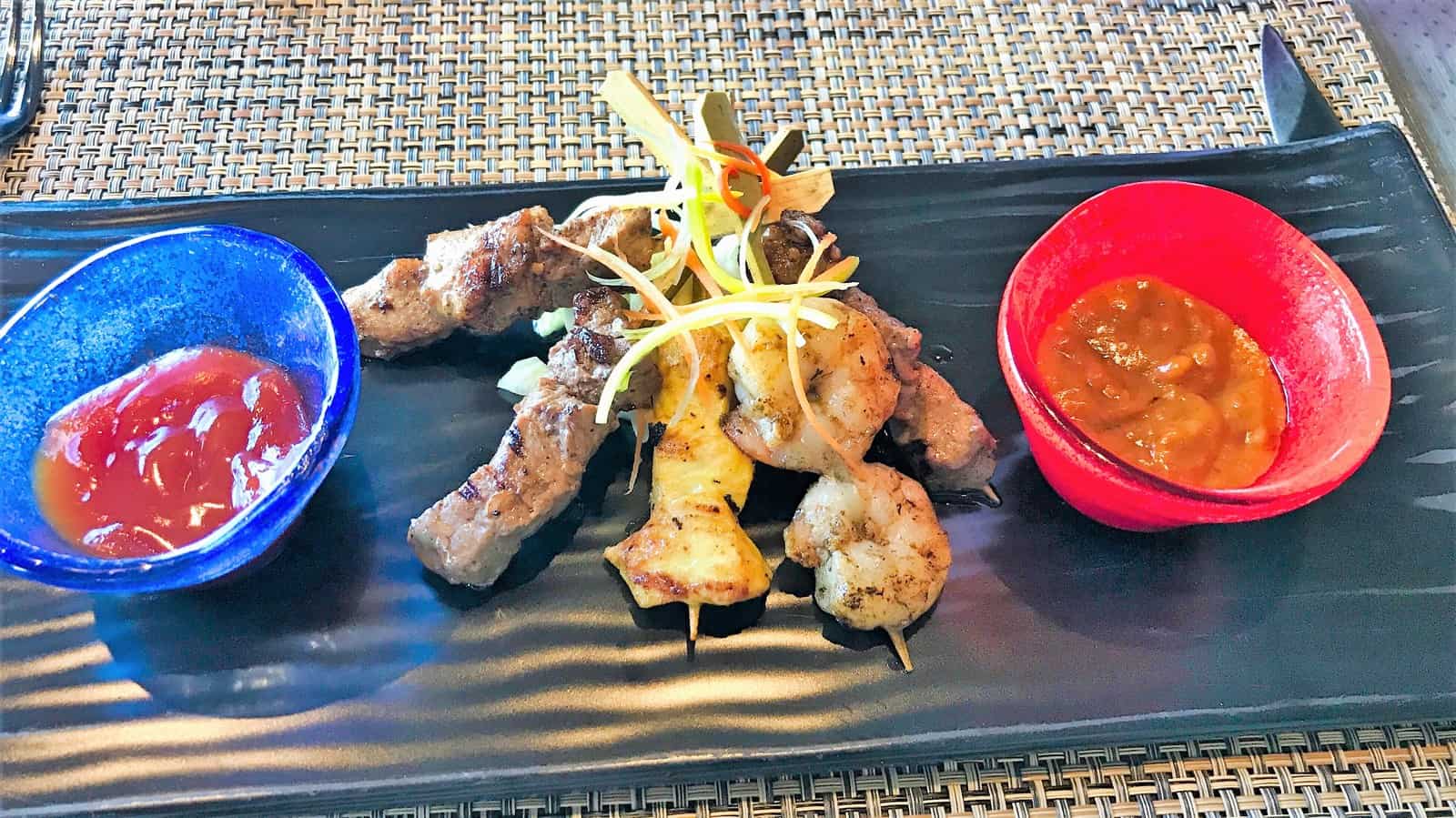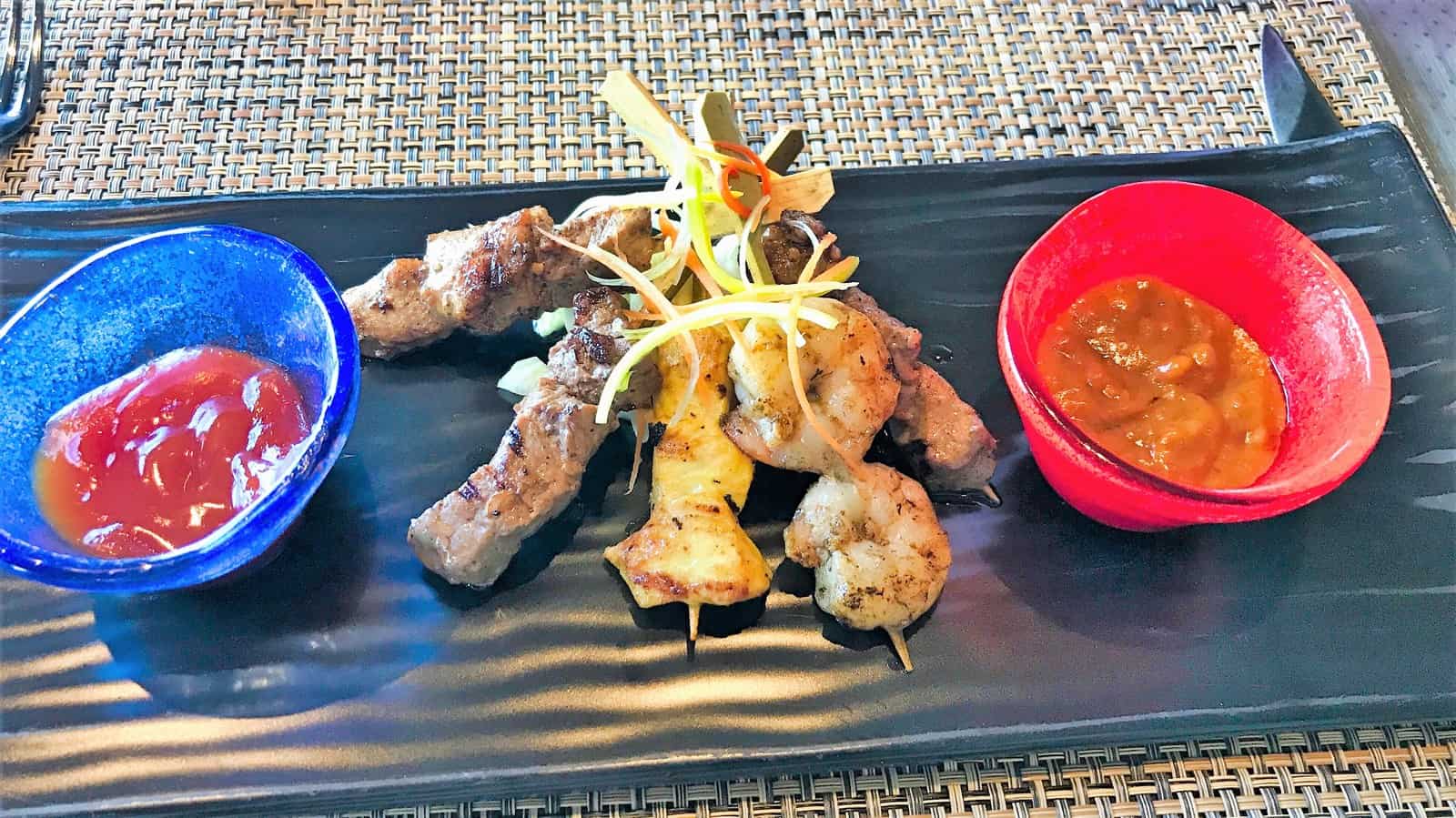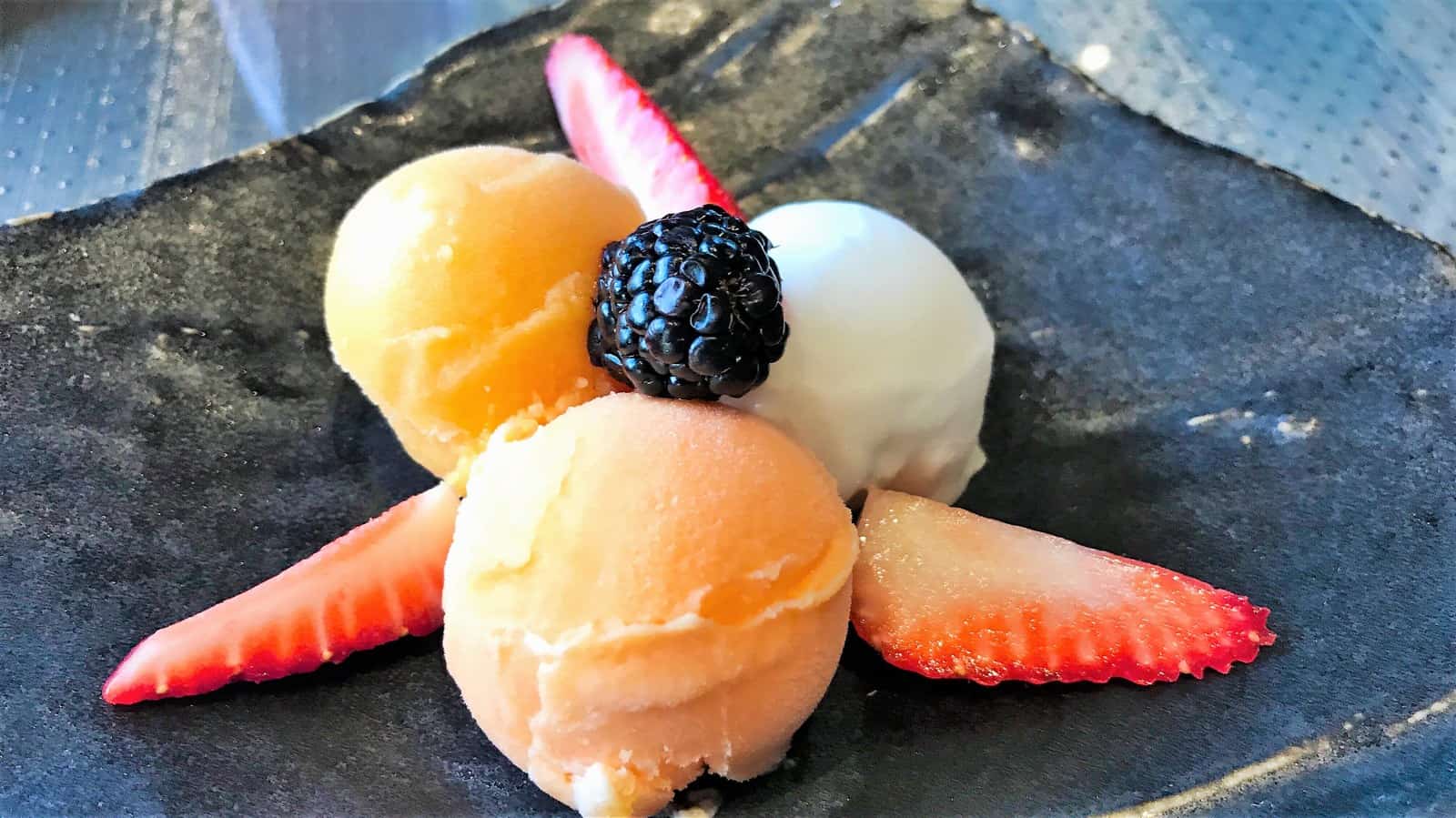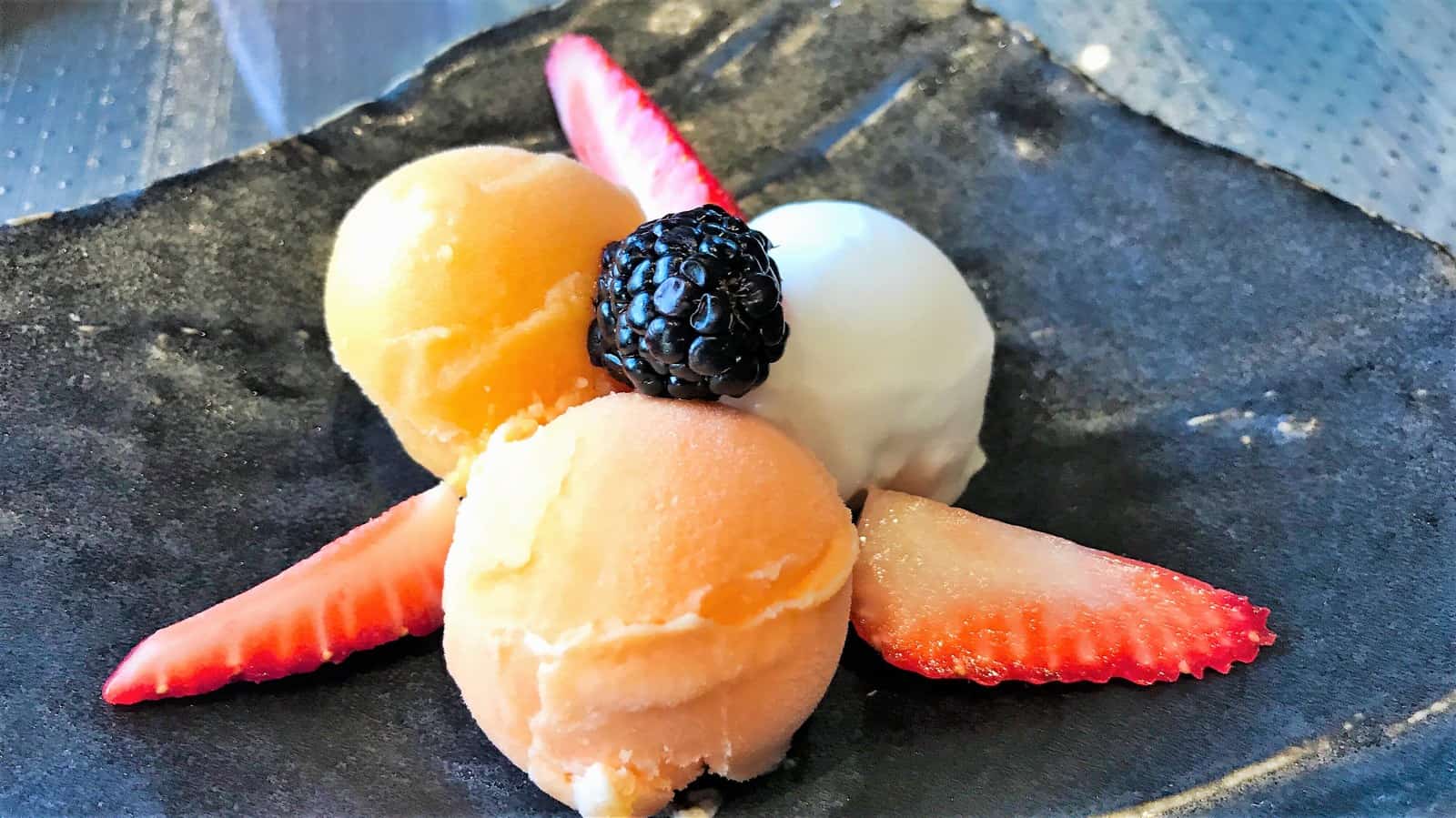 Day 2
Day 2 was at sea all day. Keith and I relaxed, had coffee, and read before a late breakfast. Keith attended a couple of Alaska classes and some photography classes, and I played bridge. We had been traveling a lot before the Alaskan cruise, so we needed some downtime.
Day 3 Juneau
Day three, we arrived in Juneau, Alaska. We travel 882 miles from Seattle to Juneau. Now that we were in Alaska, Keith and I finally visited all 52 states in the United States, yay!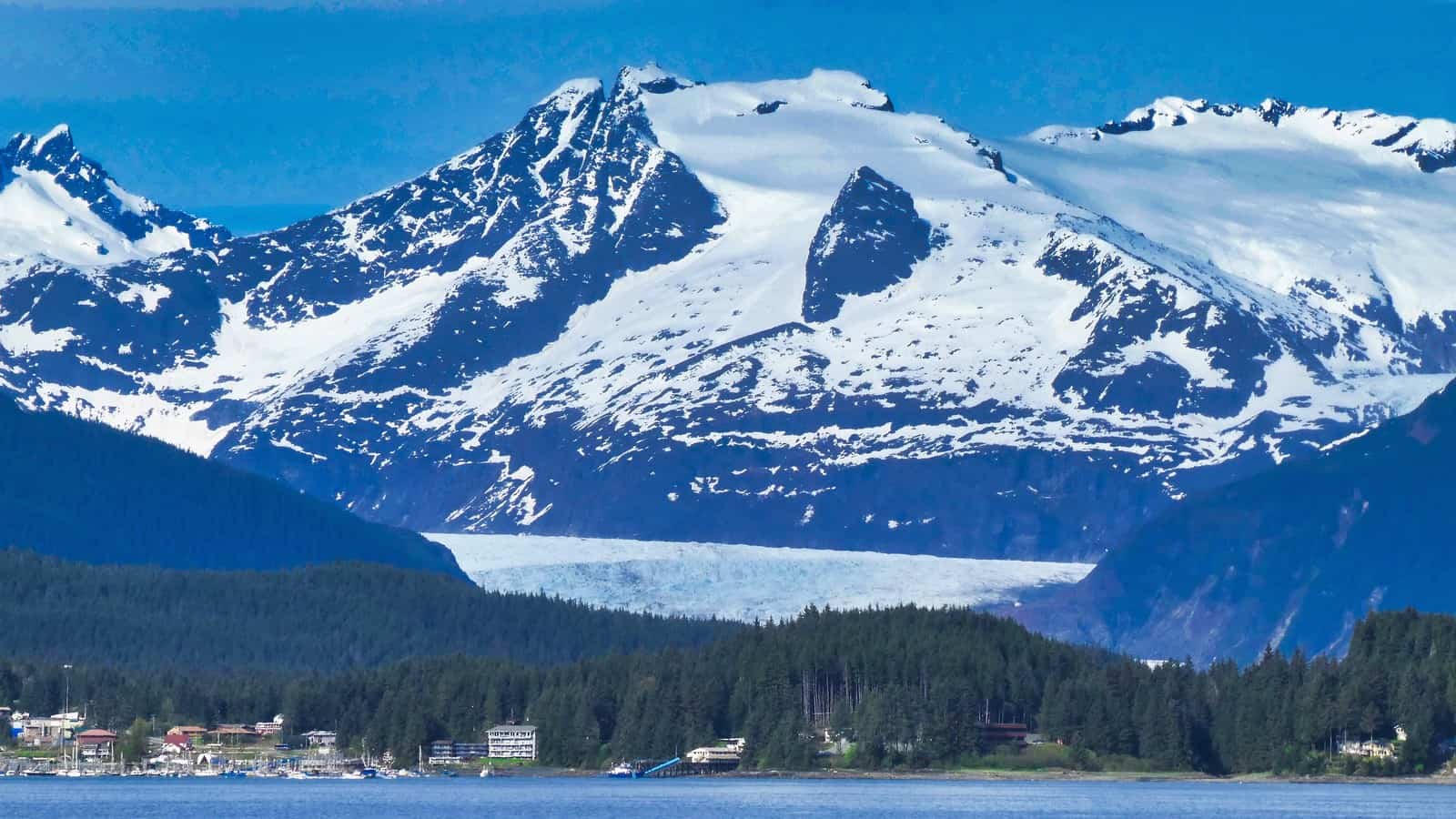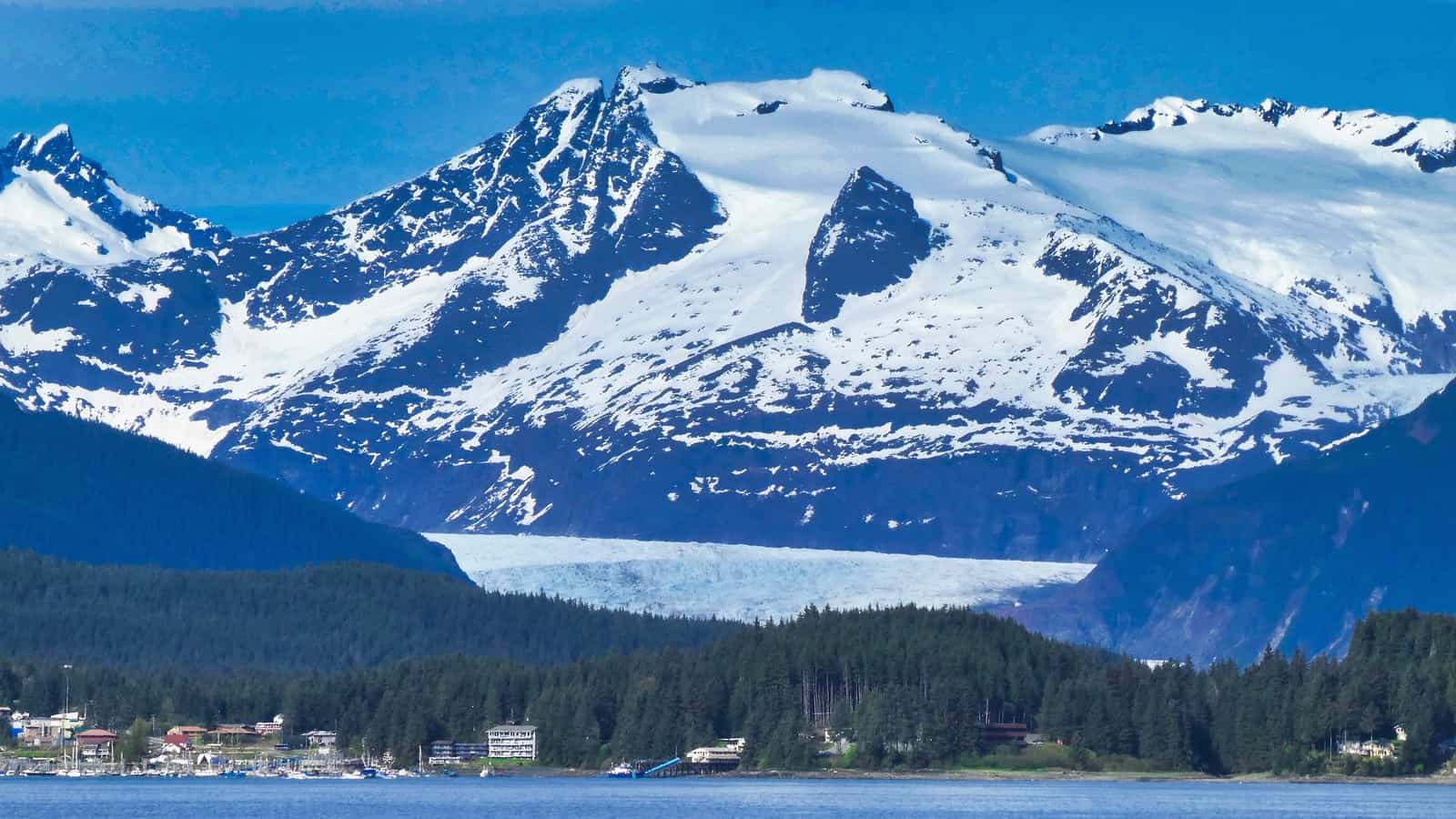 We had wonderful spring weather as we left the Alaskan cruise ship to explore Juneau. Keith and I decided that we wanted to do a photography whale watching experience. So the experience we chose included a 1.5-mile rainforest walk to view the Mendenhall Glacier. The tour was called Whales and Mendenhall Glacier Photo Safari. We had to take a bus for about 30 minutes to our whale-watching vessel. Along the way, our guide Griffin of Gastineau Guiding talked about the area we transversed and about Juneau. We also saw numerous eagles, just hanging out in the trees.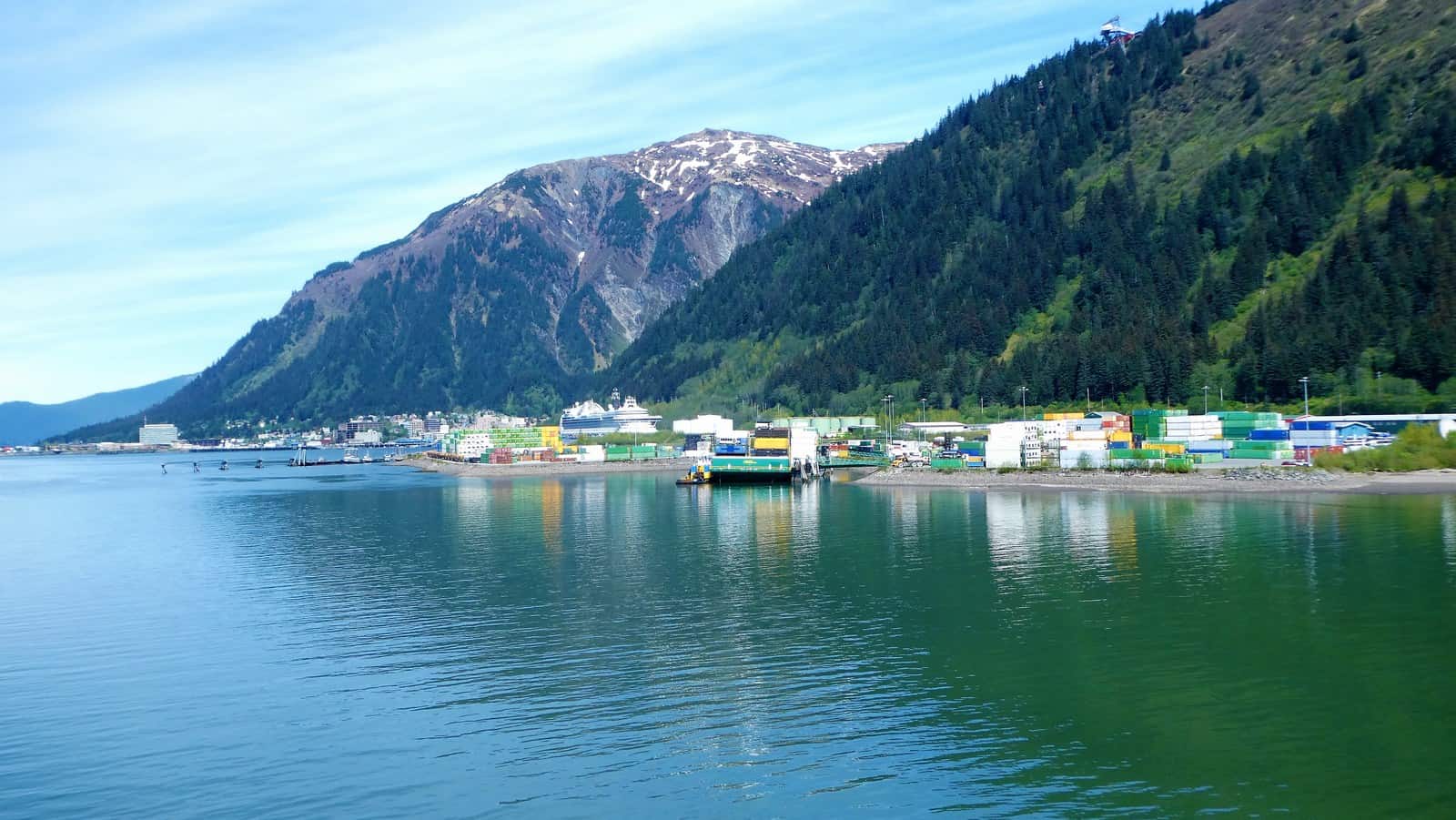 The History of Juneau
So, did you know that Juneau is only accessible by either plane or boat? The lack of a road system connecting it to the rest of Alaska, Canada, and the US is due to the extremely rugged terrain surrounding the city. Although Native Americans have been in the area of Juneau for a very long time, it was not until the late nineteenth century that prospectors came to the area looking for gold. Juneau was originally called Harrisburg and then Rockwell. And then ultimately the miners voted to call it Juneau after one of the first two prospectors to the land; Joe Juneau, a gold prospector from Quebec.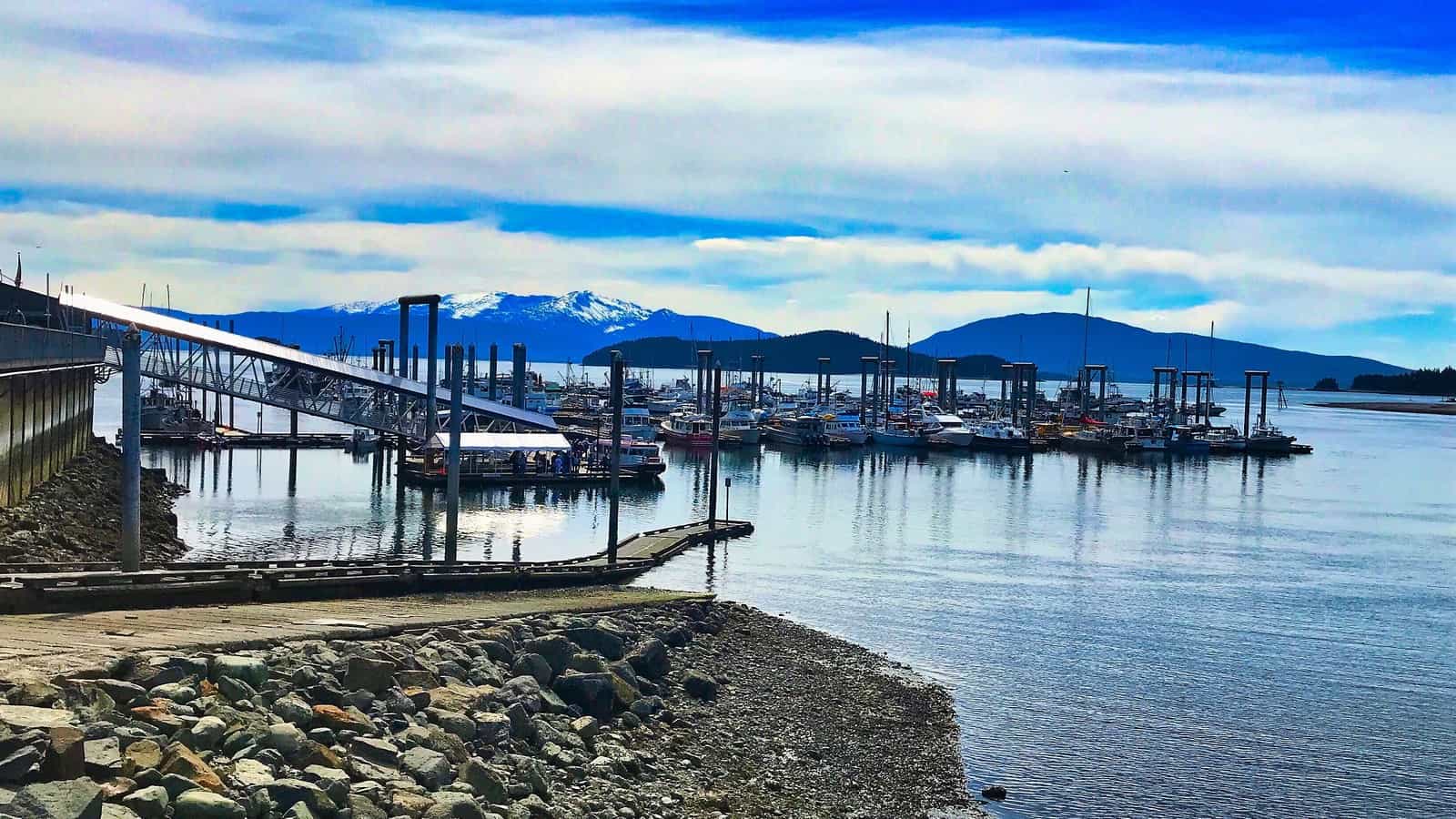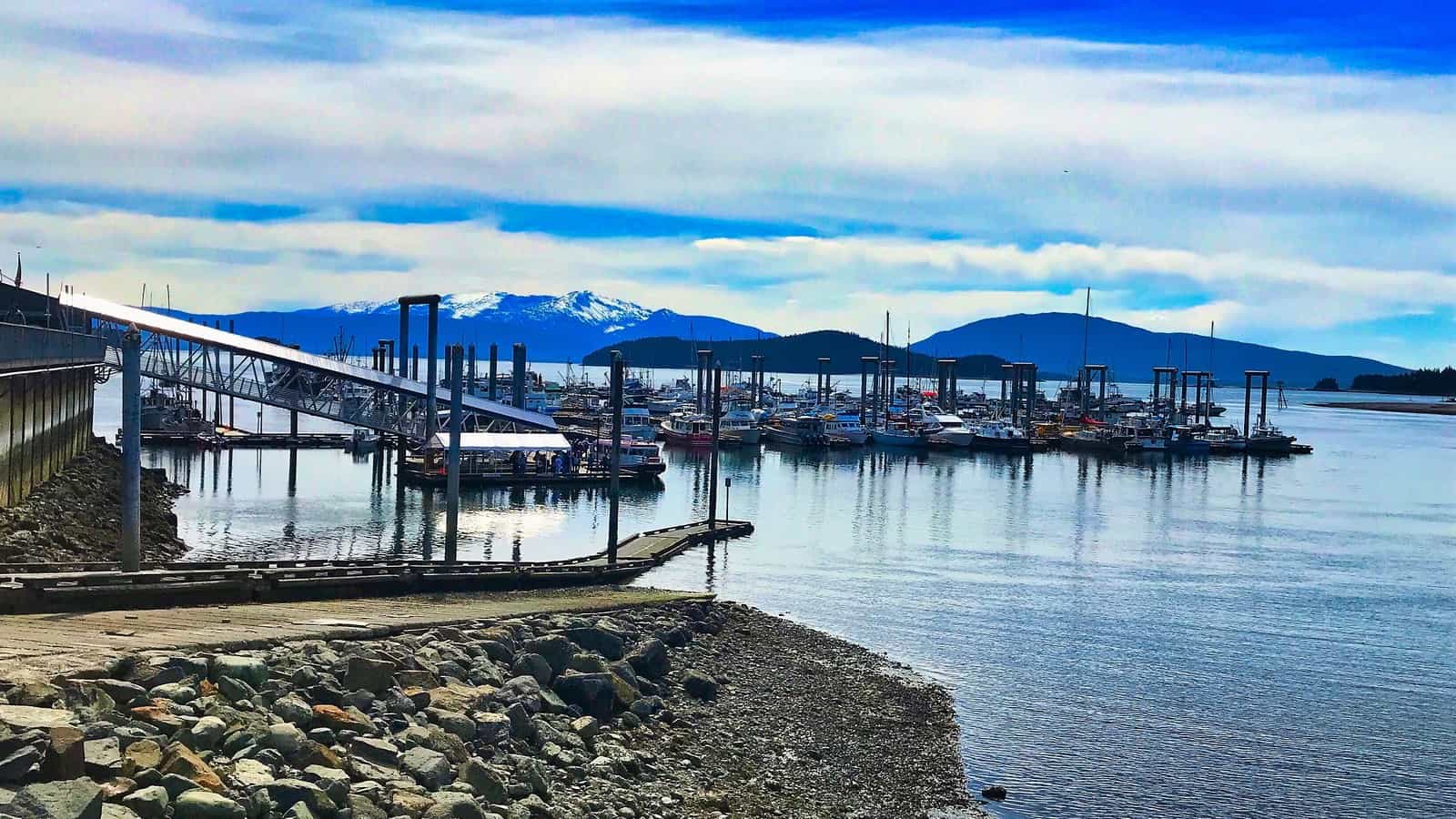 Did you also know that Juneau, again a city that is only accessible by ship or by plane, is the capital of Alaska? Even though it's the capital, the historic center still retains its gold rush architectural heritage not typical of a capital city.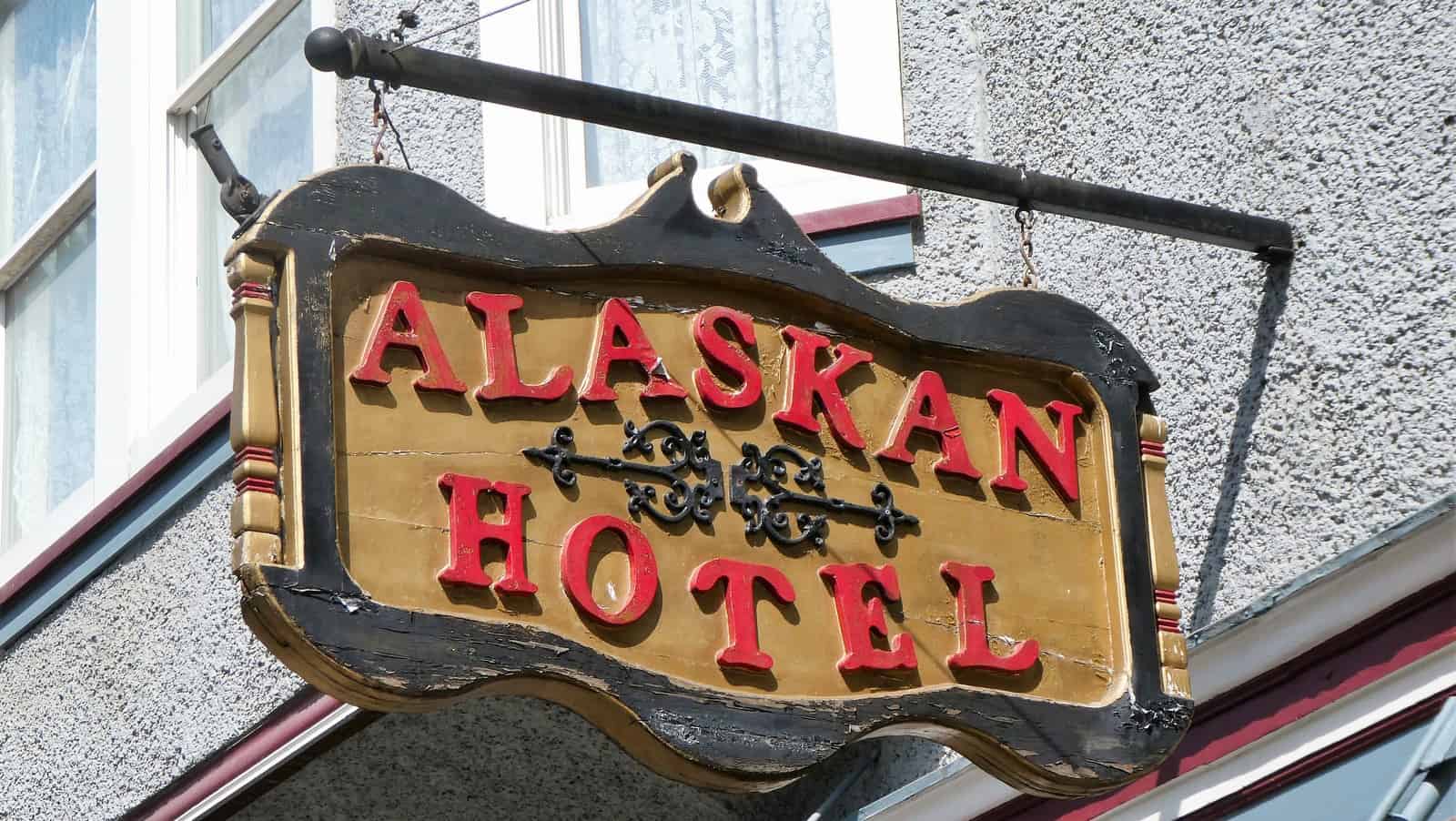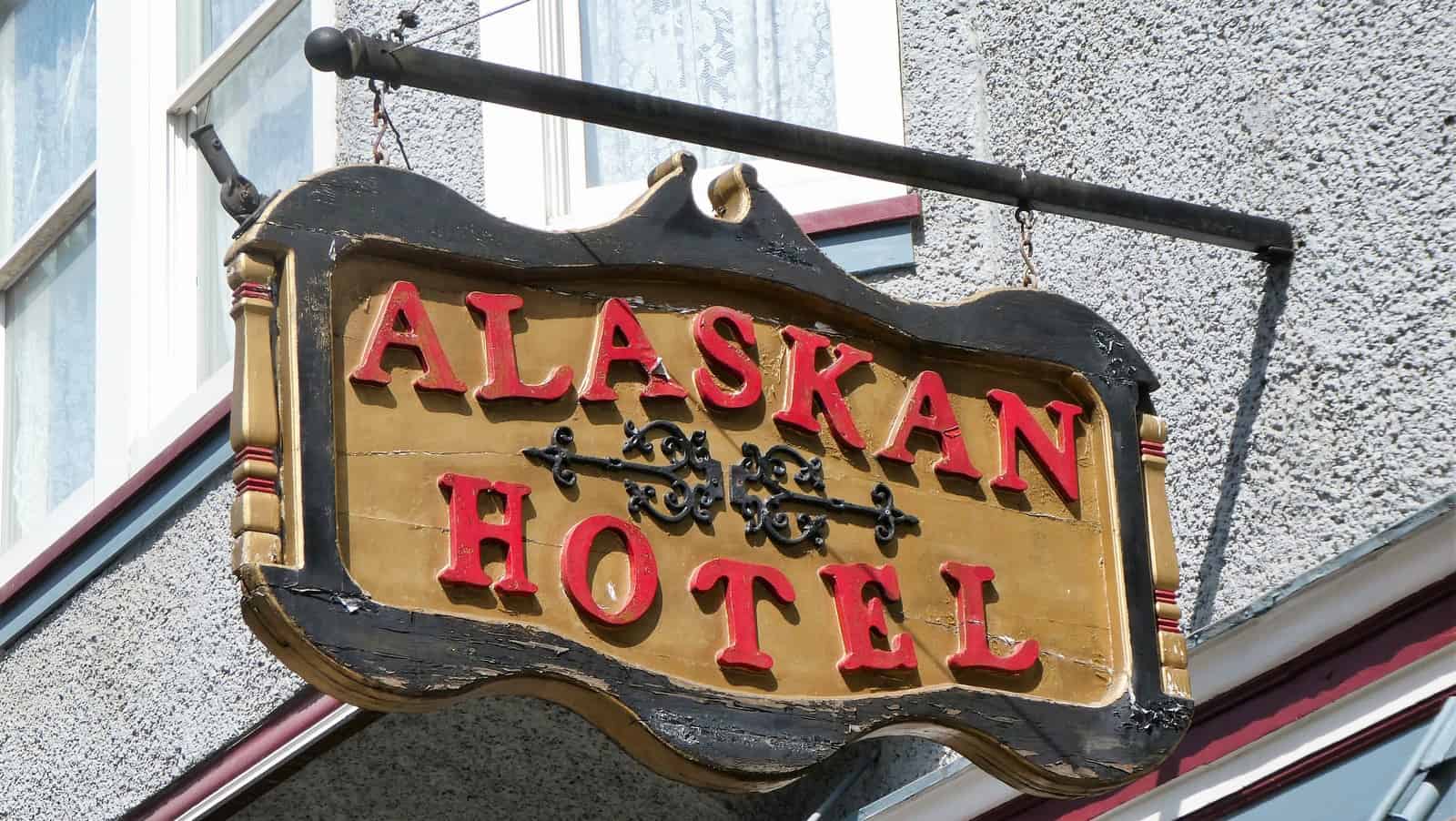 So, ladies If you need some time to shop or just want some alone time, Juneau has inexpensive husband daycare.
Time for Whale Watching
Once at the marina, we boarded our vessel to begin our search of whales. As we sped across the water, we took in the beautiful, unspoiled views of Juneau. Today, we were in luck as we spotted a humpback whale. Moreover, she breached (jumped out of the water). A few minutes passed with no above water activity.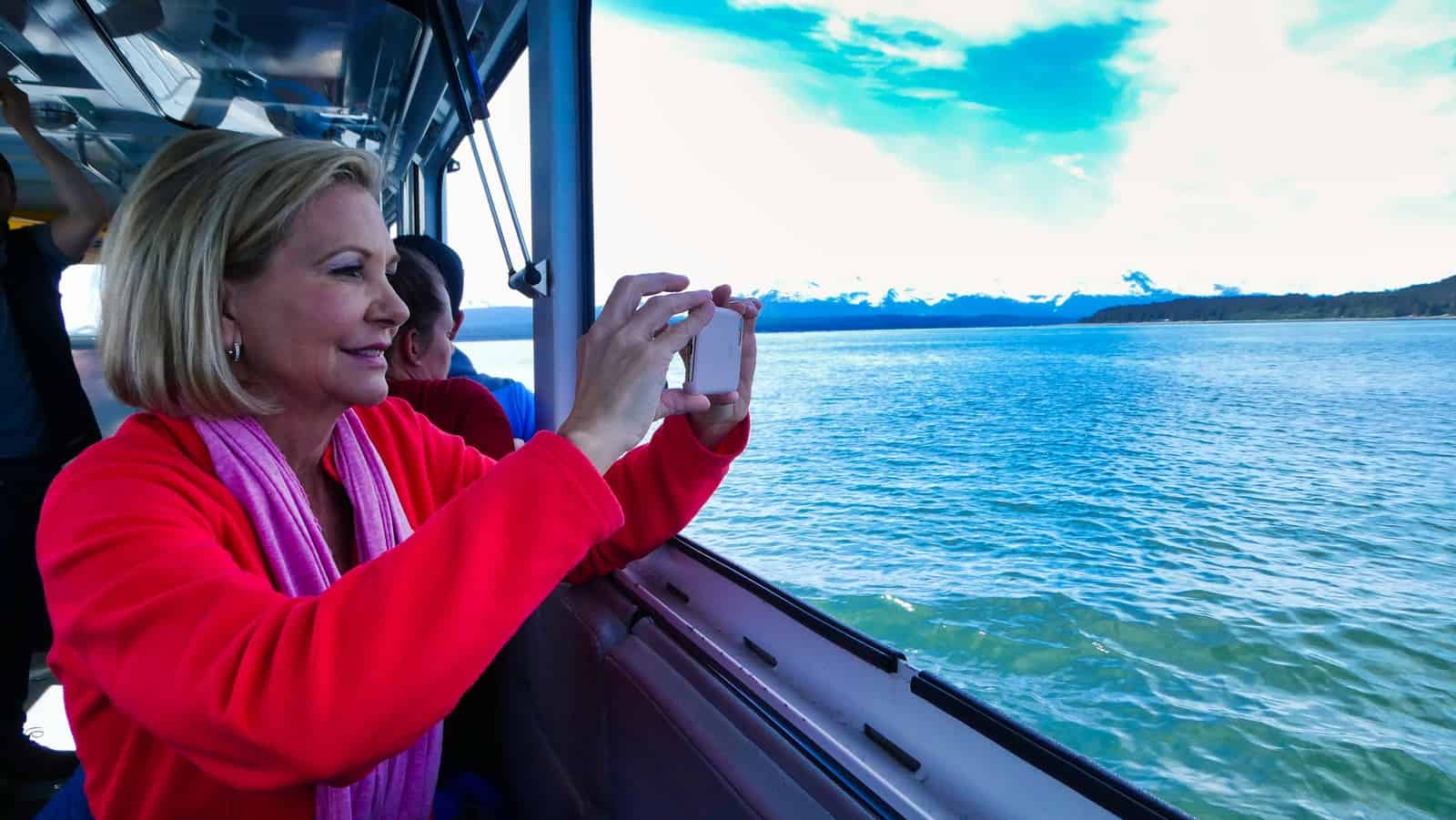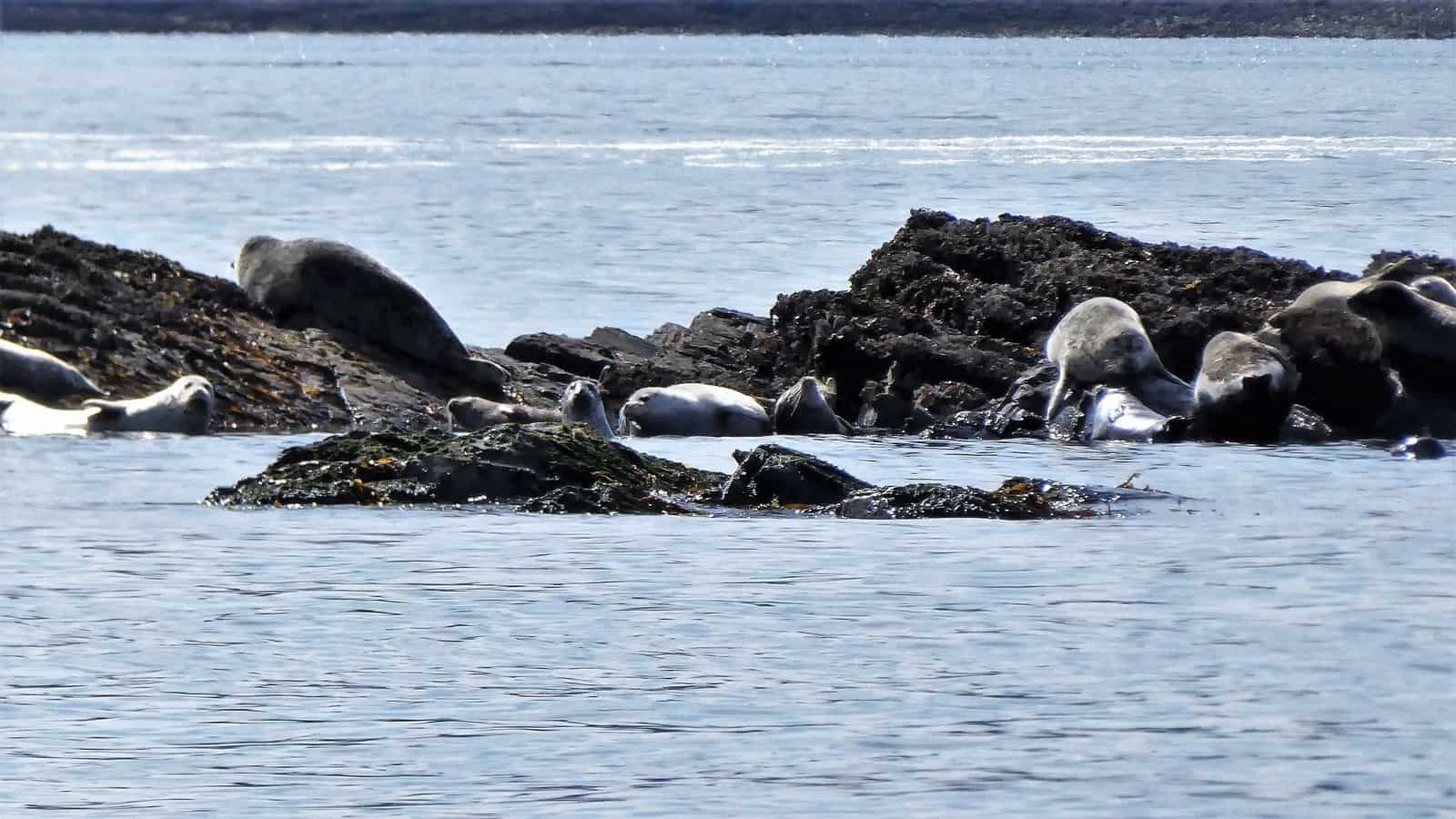 Meanwhile, we tried to anticipate her next move when all of a sudden, we saw two humps peeking out of the water and moving in different directions. We realized rather quickly that we were watching two whales. So it turns out this was a mother and her half-grown baby. We were very lucky that we were able to see multiple breaches of the whales. Unquestionably it was spectacular to see a school bus-size mammal soaring out of the ocean.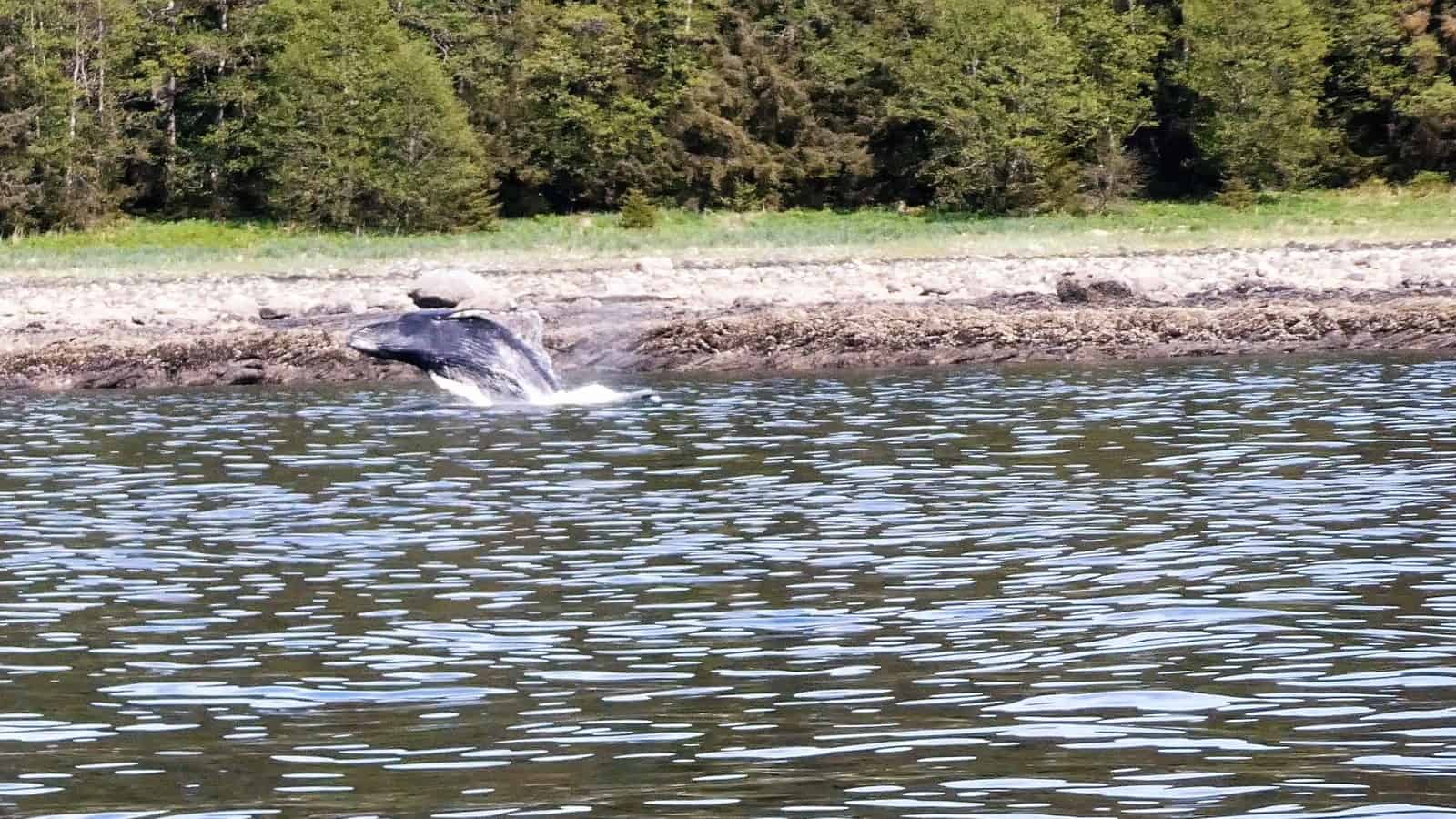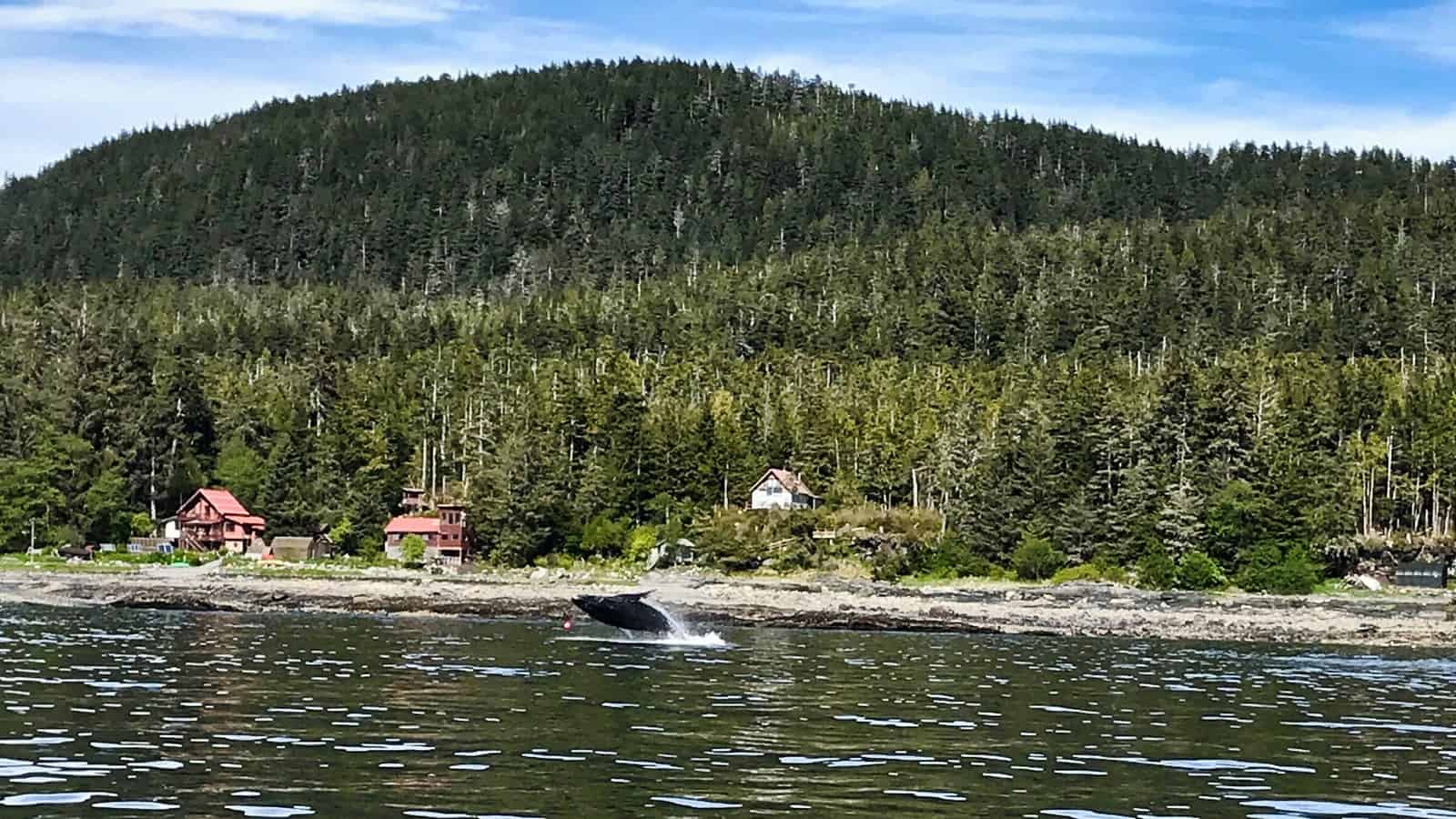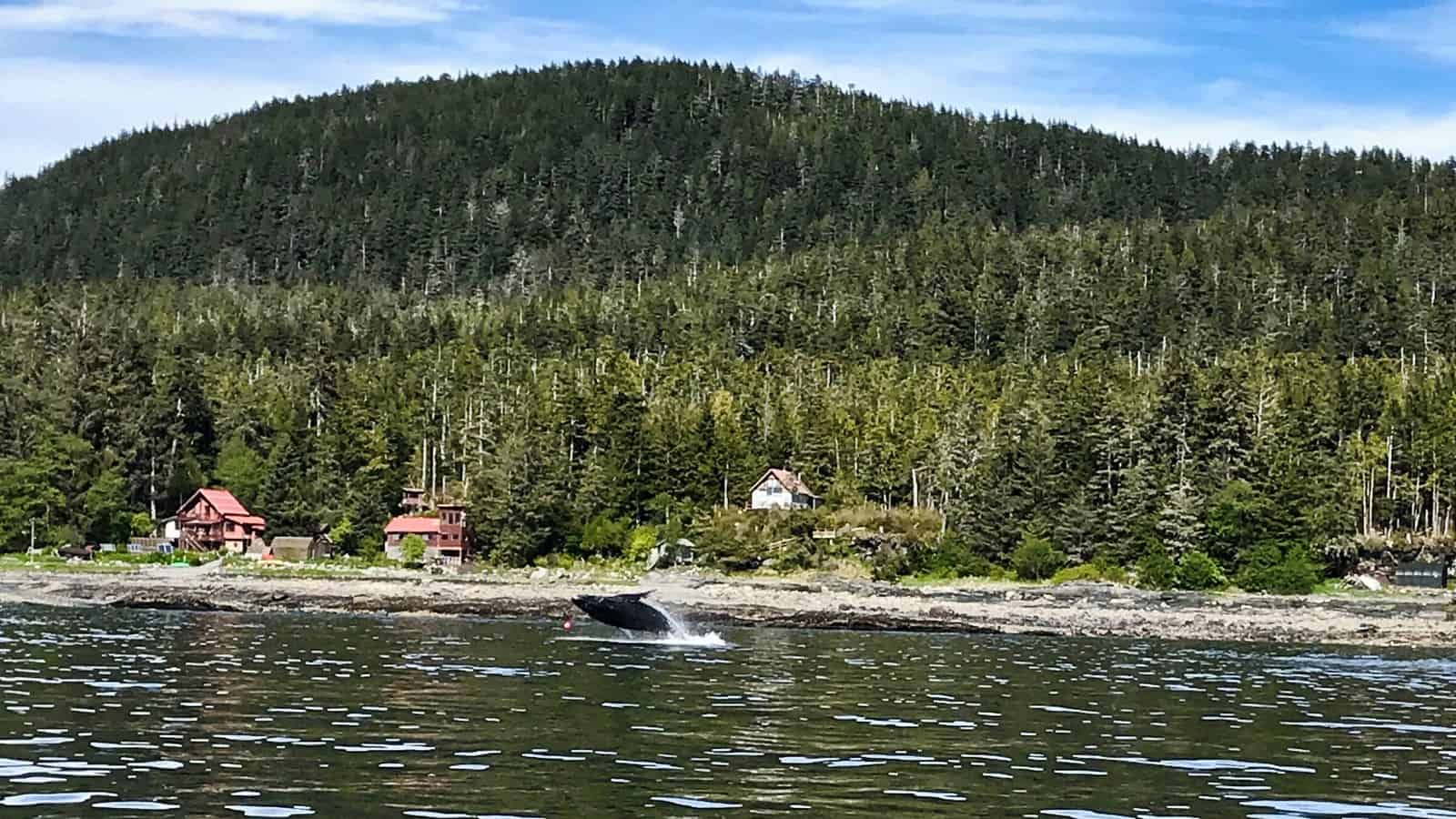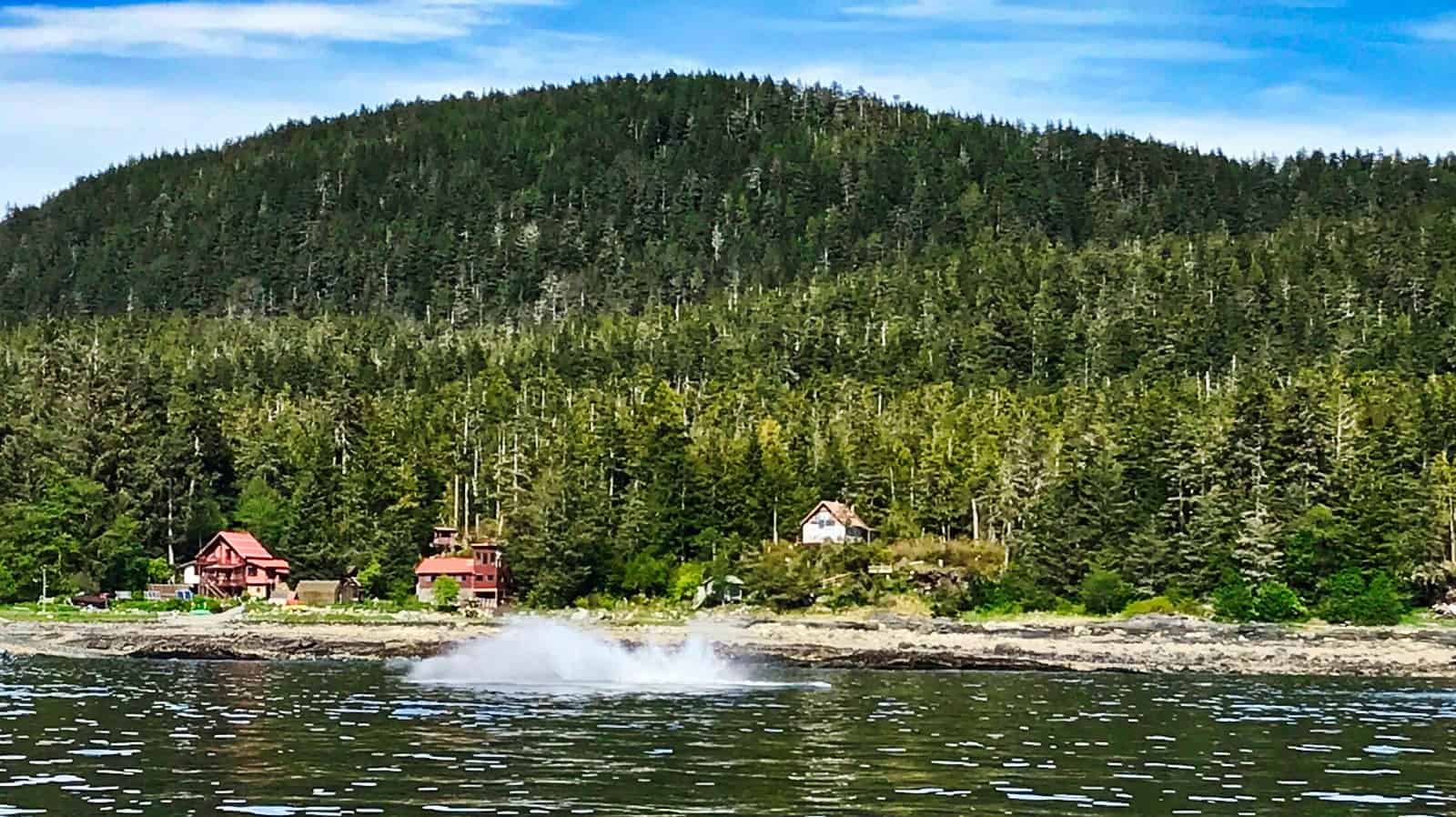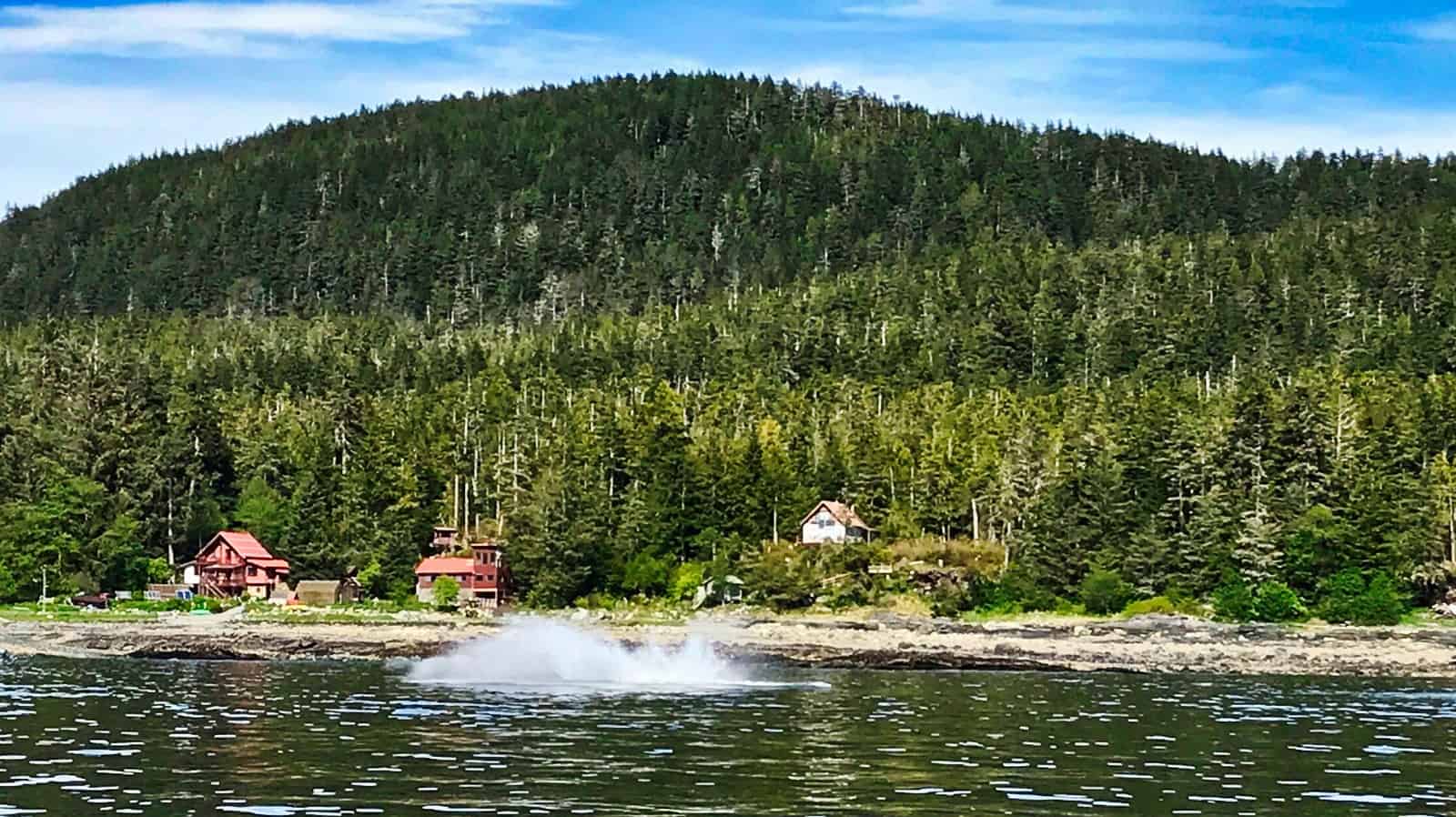 As we swept across the water, we saw more than just whales. At this point, we came alongside a buoy where five seals lay sunny themselves. We also saw numerous eagles.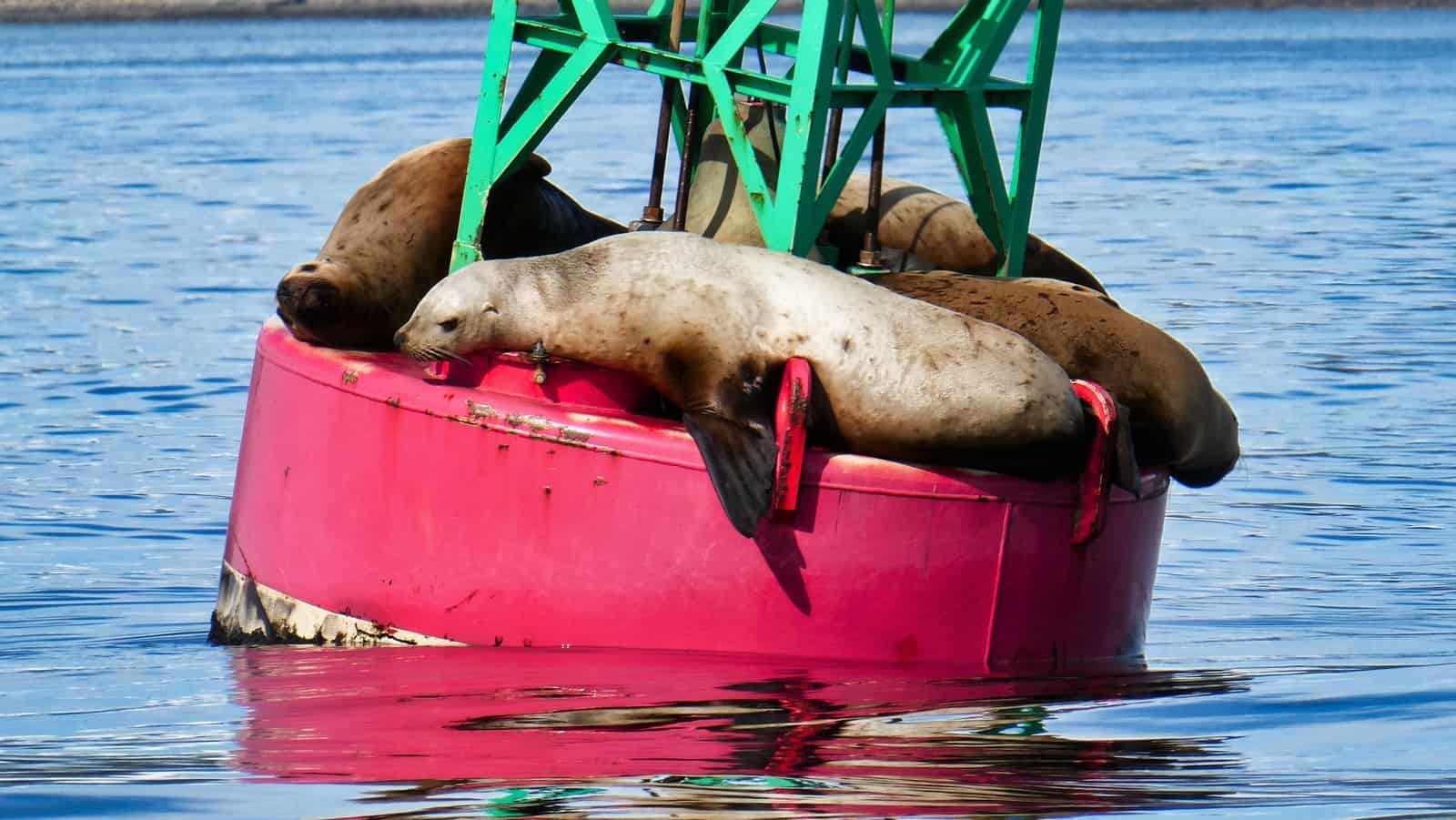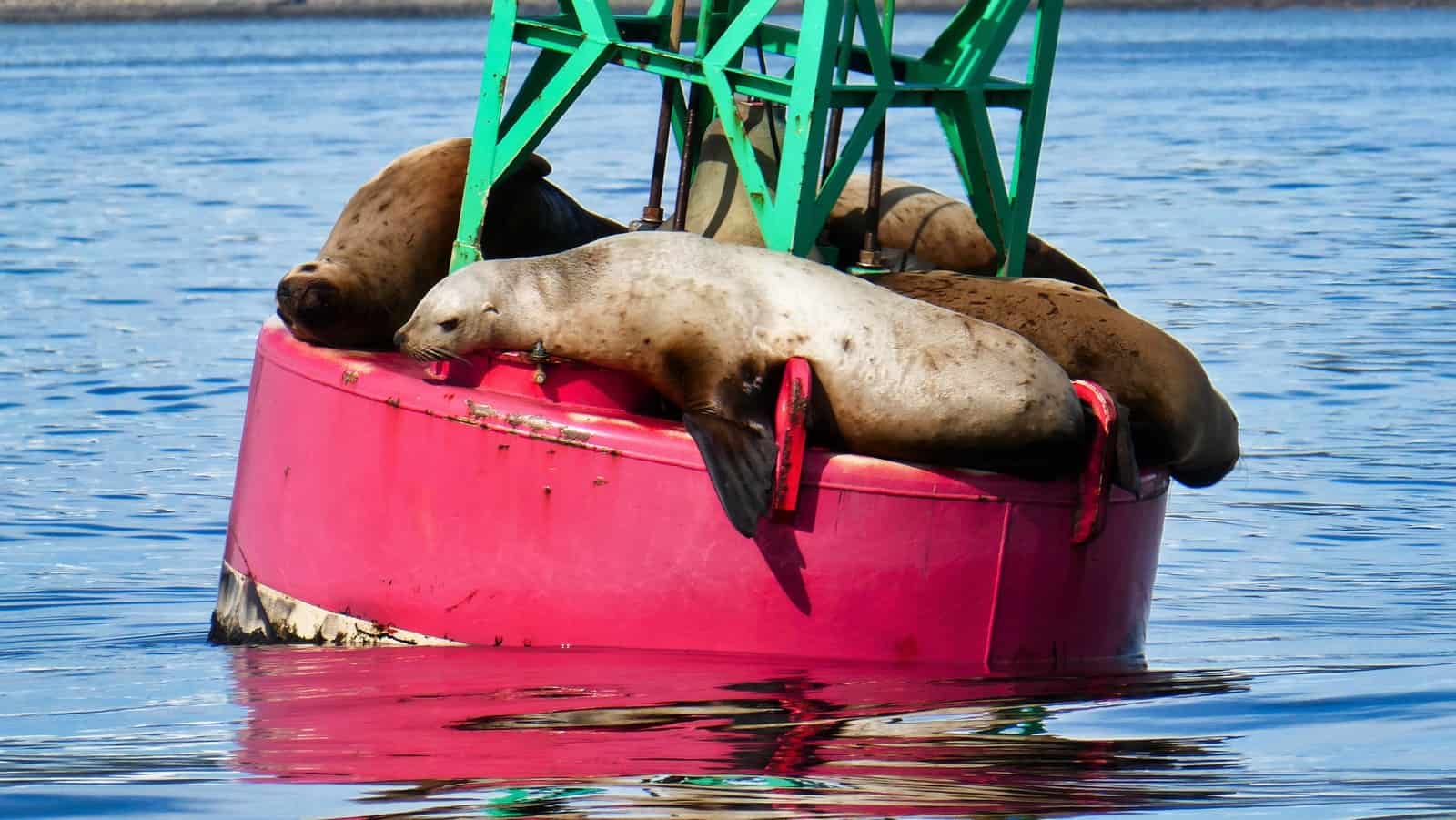 Conversely, we admired the beauty of a simple lighthouse with the keeper's house behind. The two white dwellings with red roof sat on green grass with a backdrop of snow-covered mountains behind them.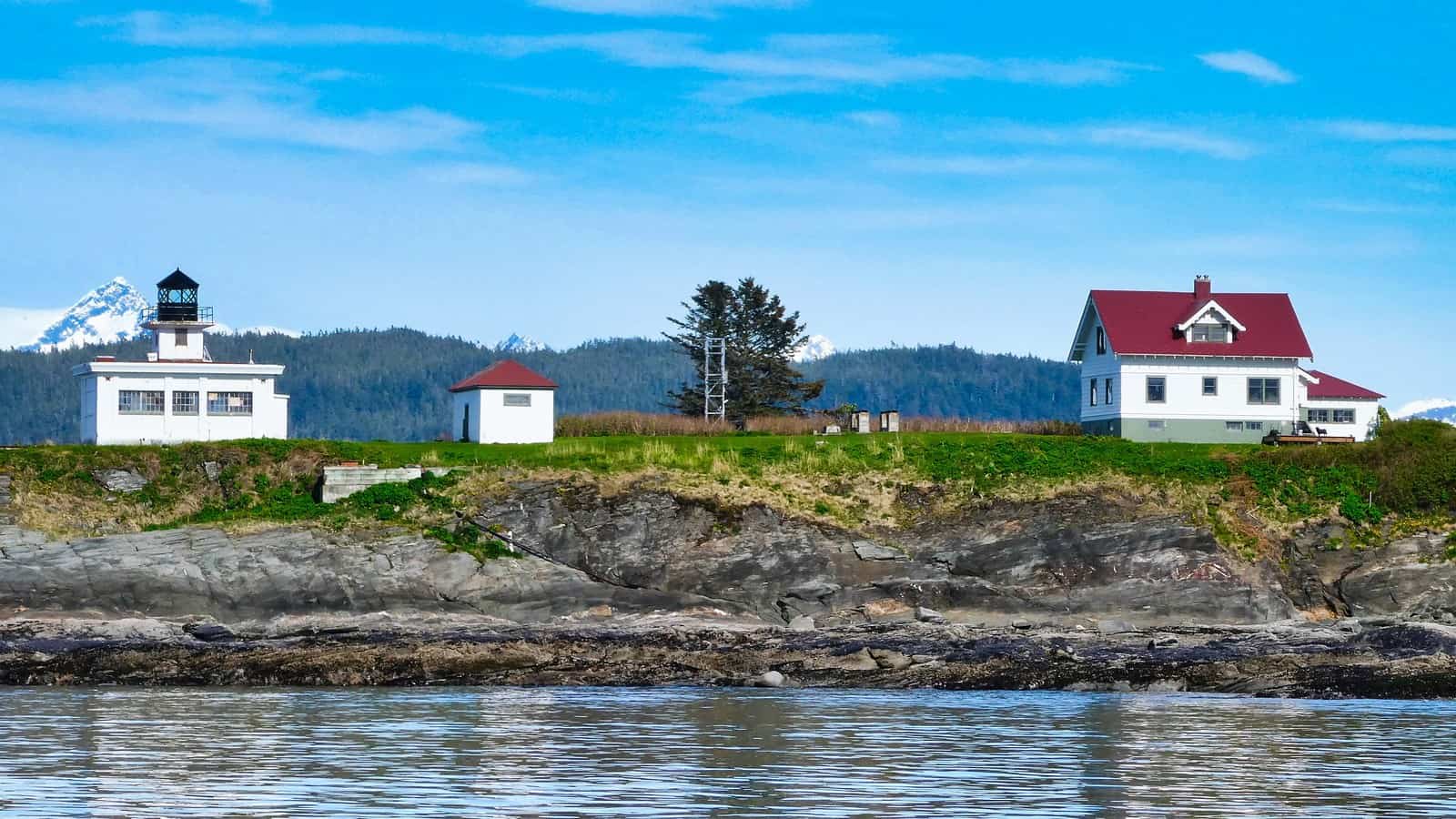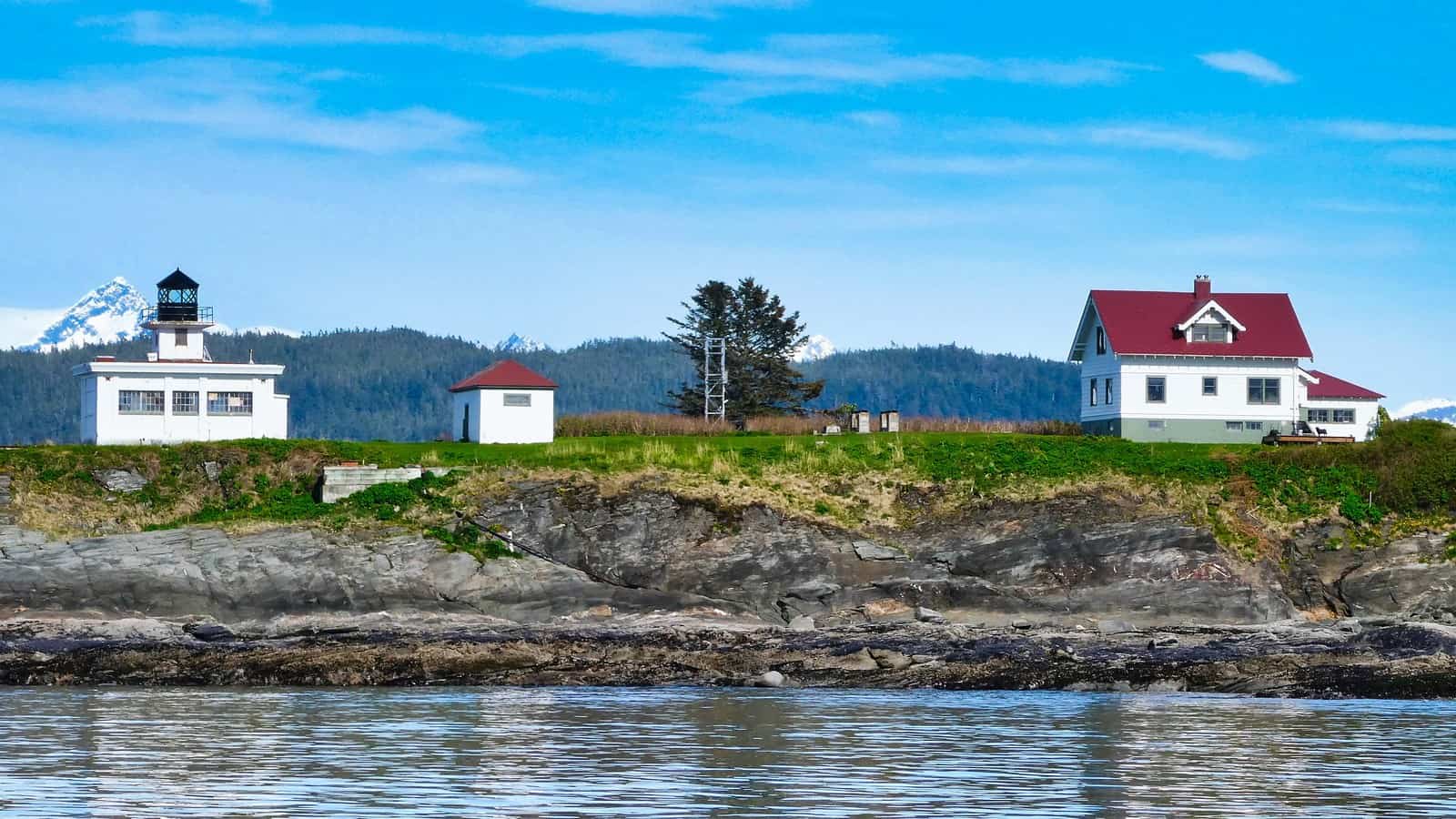 As we approached the marina on our return, an eagle sat at the top of a tree as if to greet us.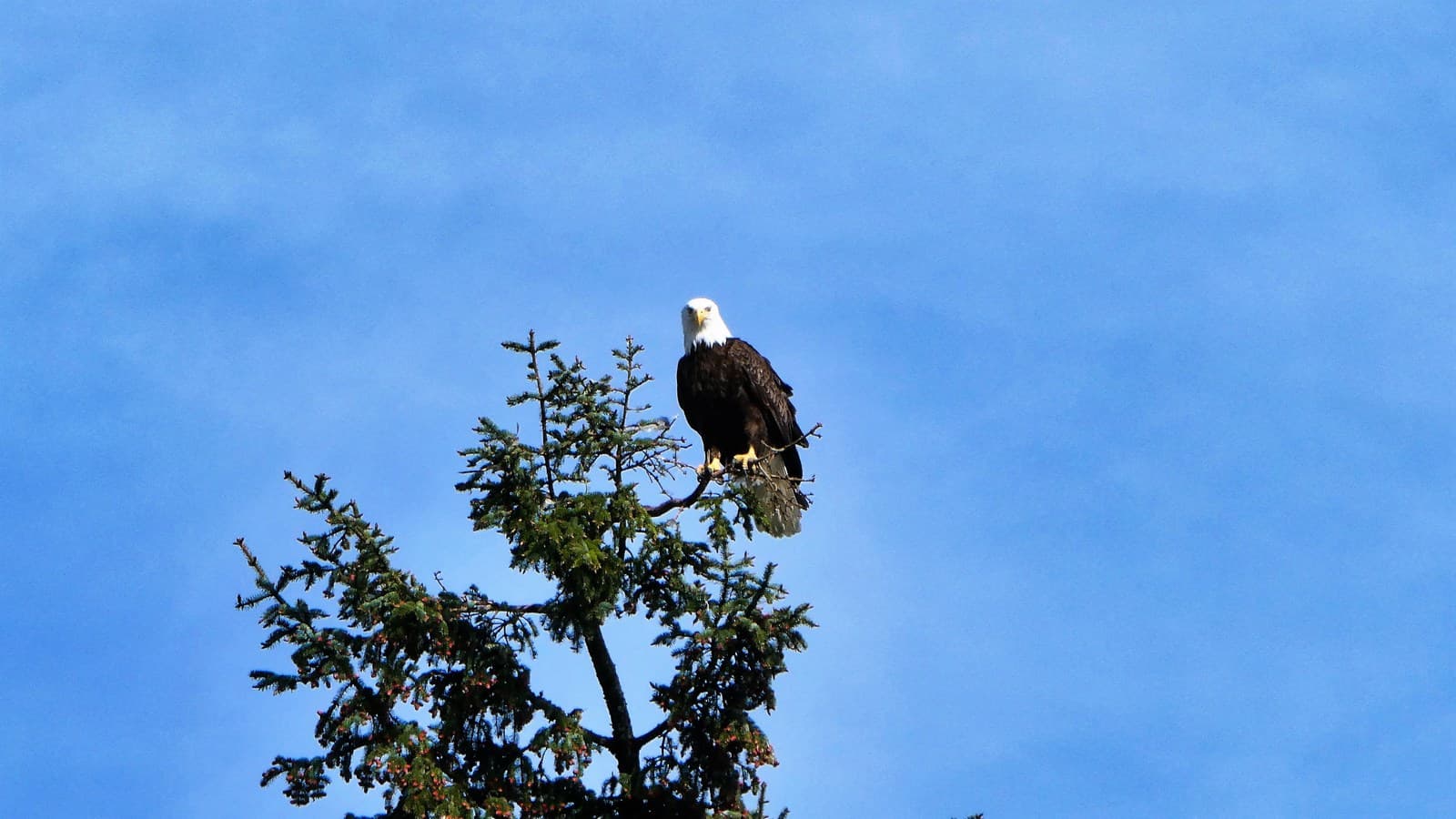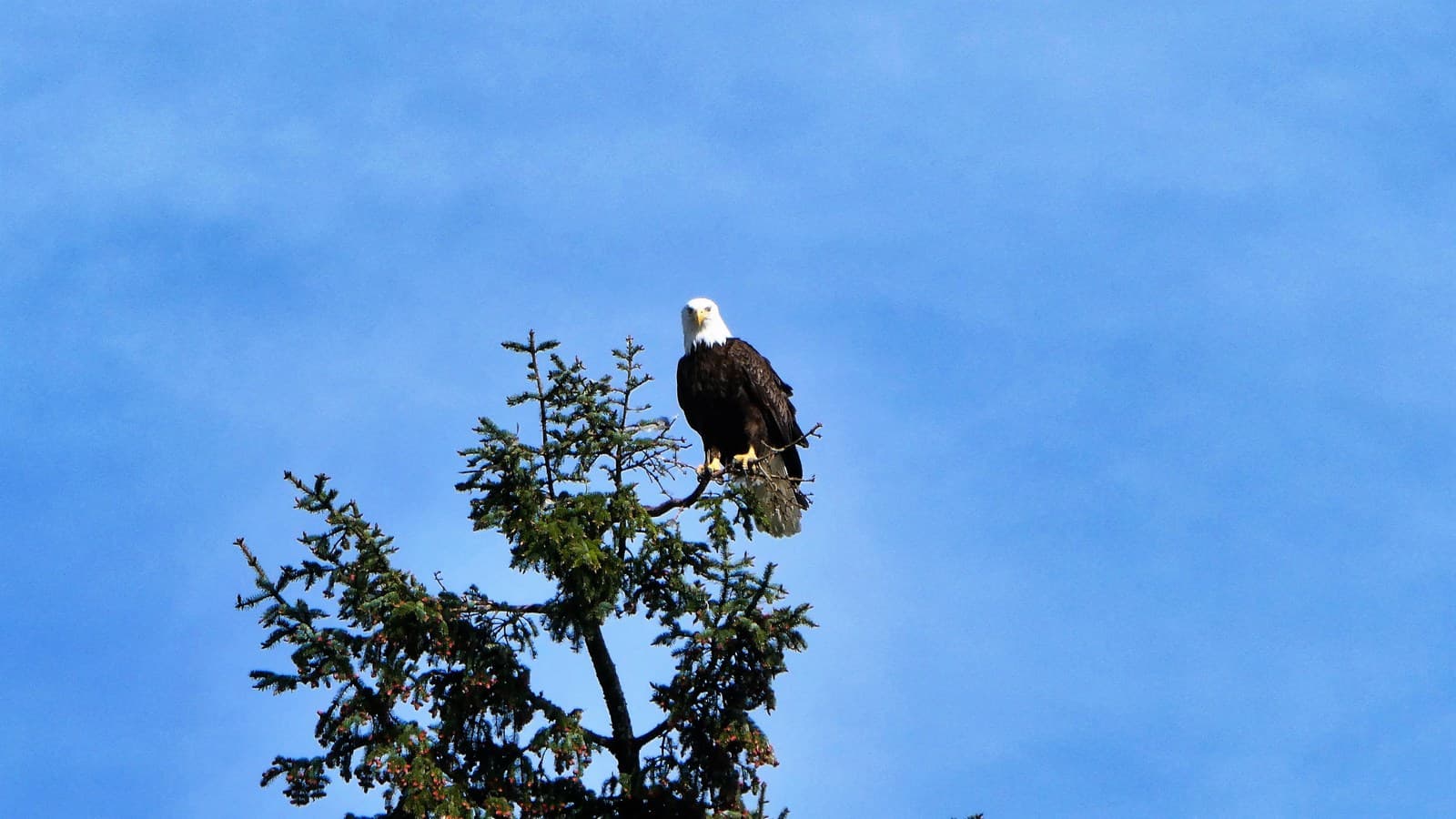 A Walk Through a Juneau Rainforest
Now we were back on the bus for a short ride to the point where we would begin our rainforest hike to see Mendenhall Glacier. At the present time, we are just twelve miles from downtown Juneau. As we began our walk, our guide reminded us to keep an eye out for bear. You see we were in Juneau in springtime, which is a time when bear are out and about possibly with their young. Unfortunately, we did not see any bears.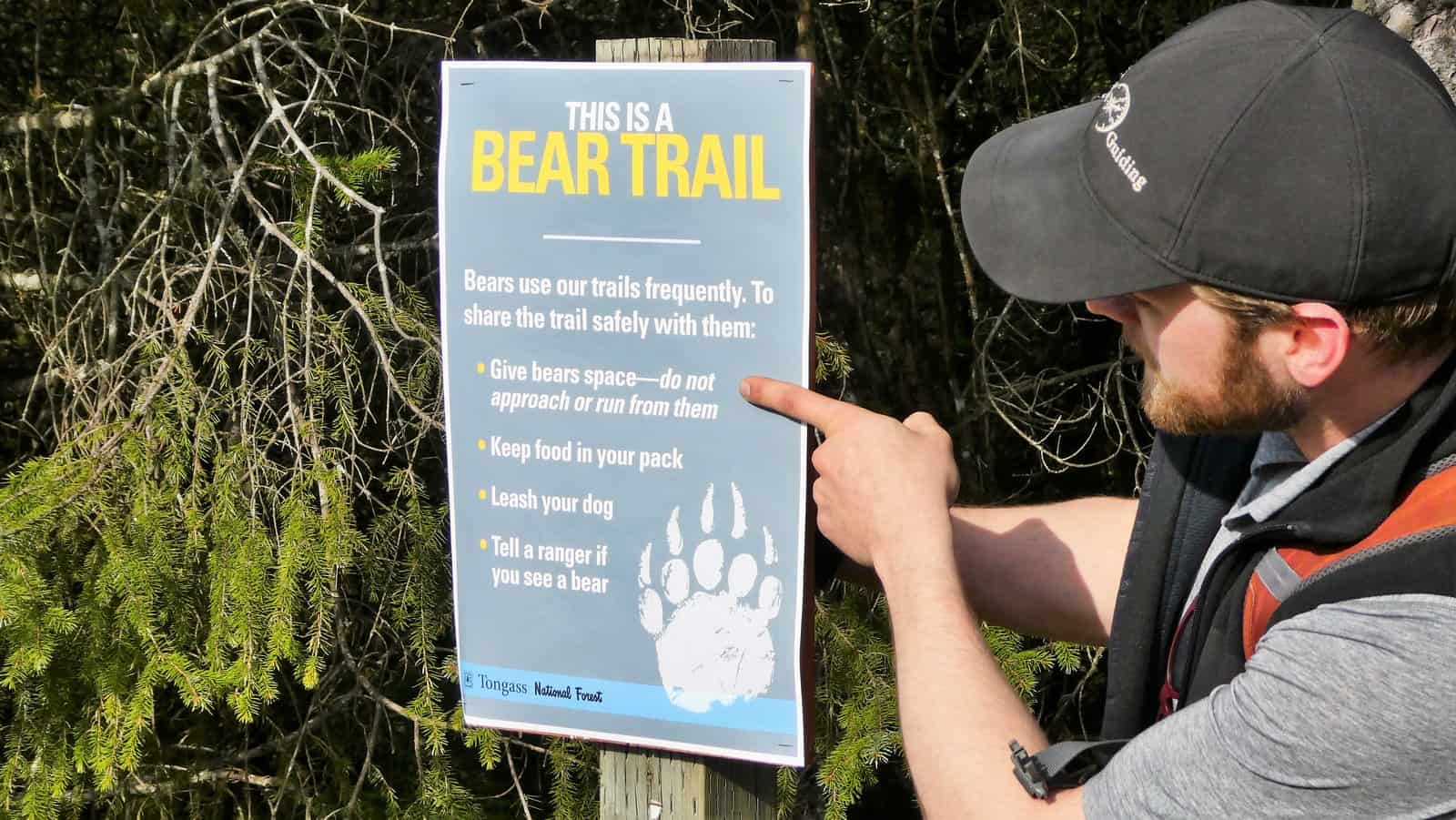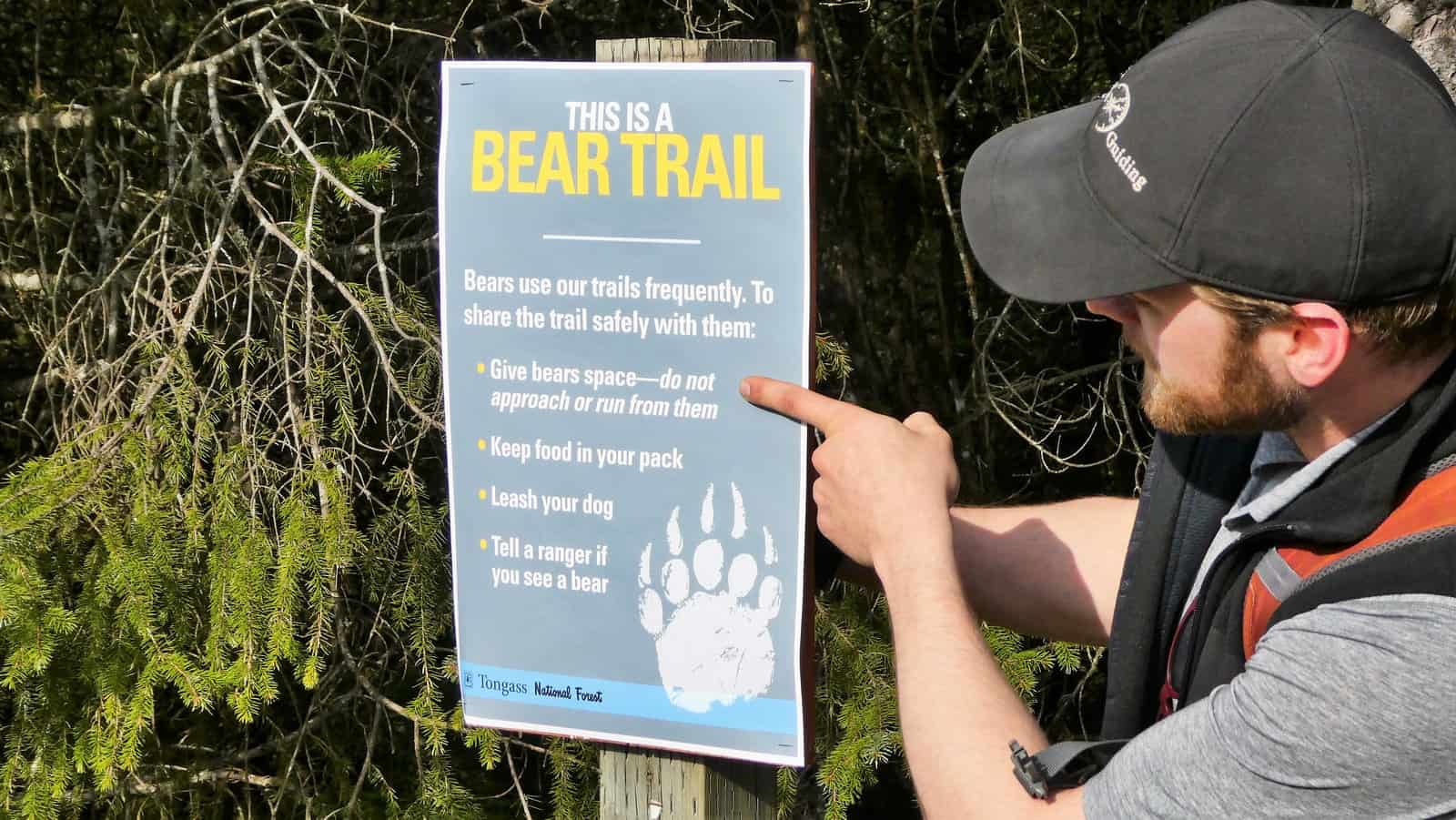 However, as we strolled through the moist rainforest laden with moss and young spring plants, we did come across a porcupine. The porcupine was eating. Neither Keith nor I had ever seen a porcupine in the wild and were a little amazed at how large they are. It was a great experience to watch him eat. For some reason, it reminded me of watching an anteater eat in Costa Rica.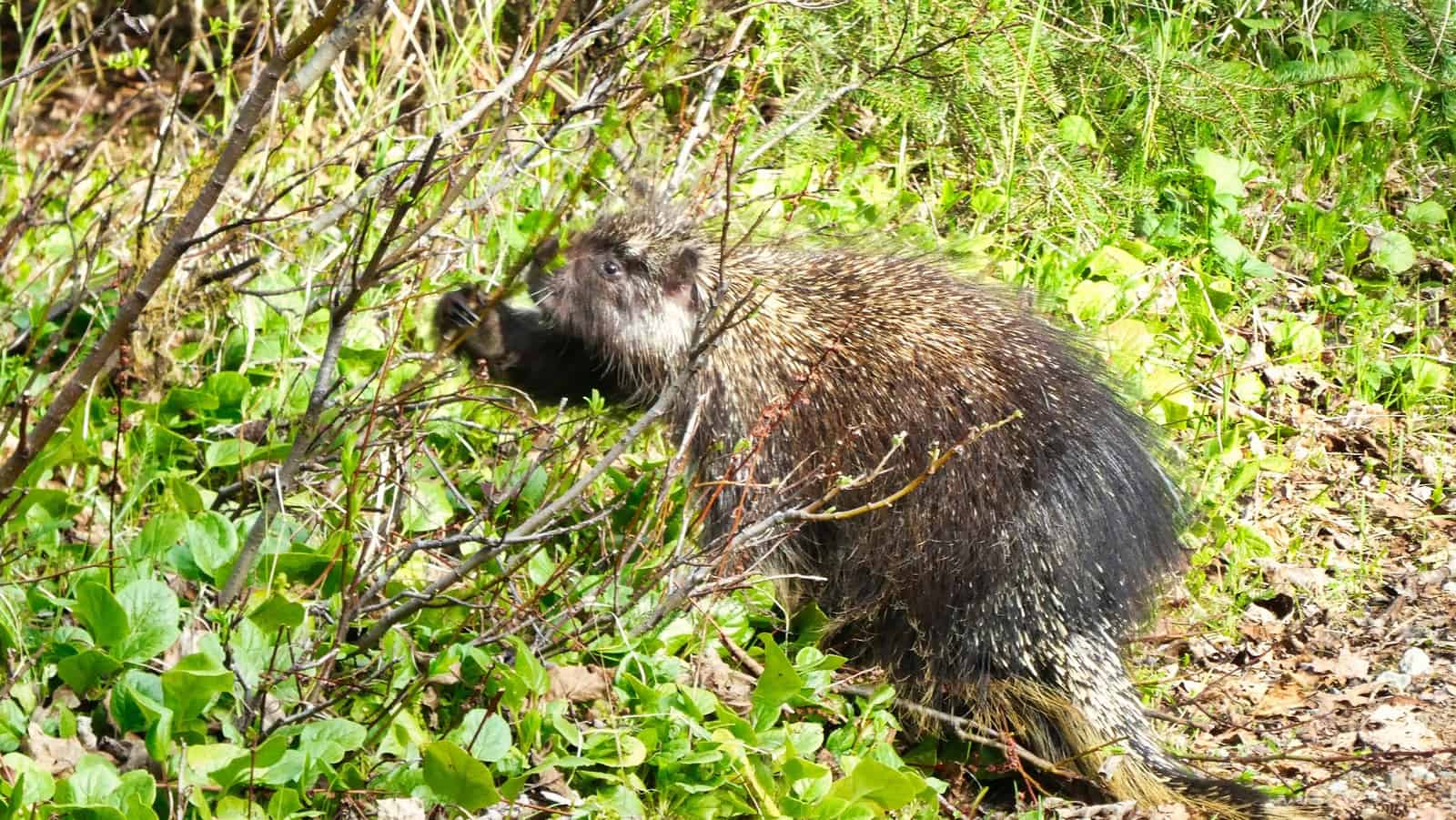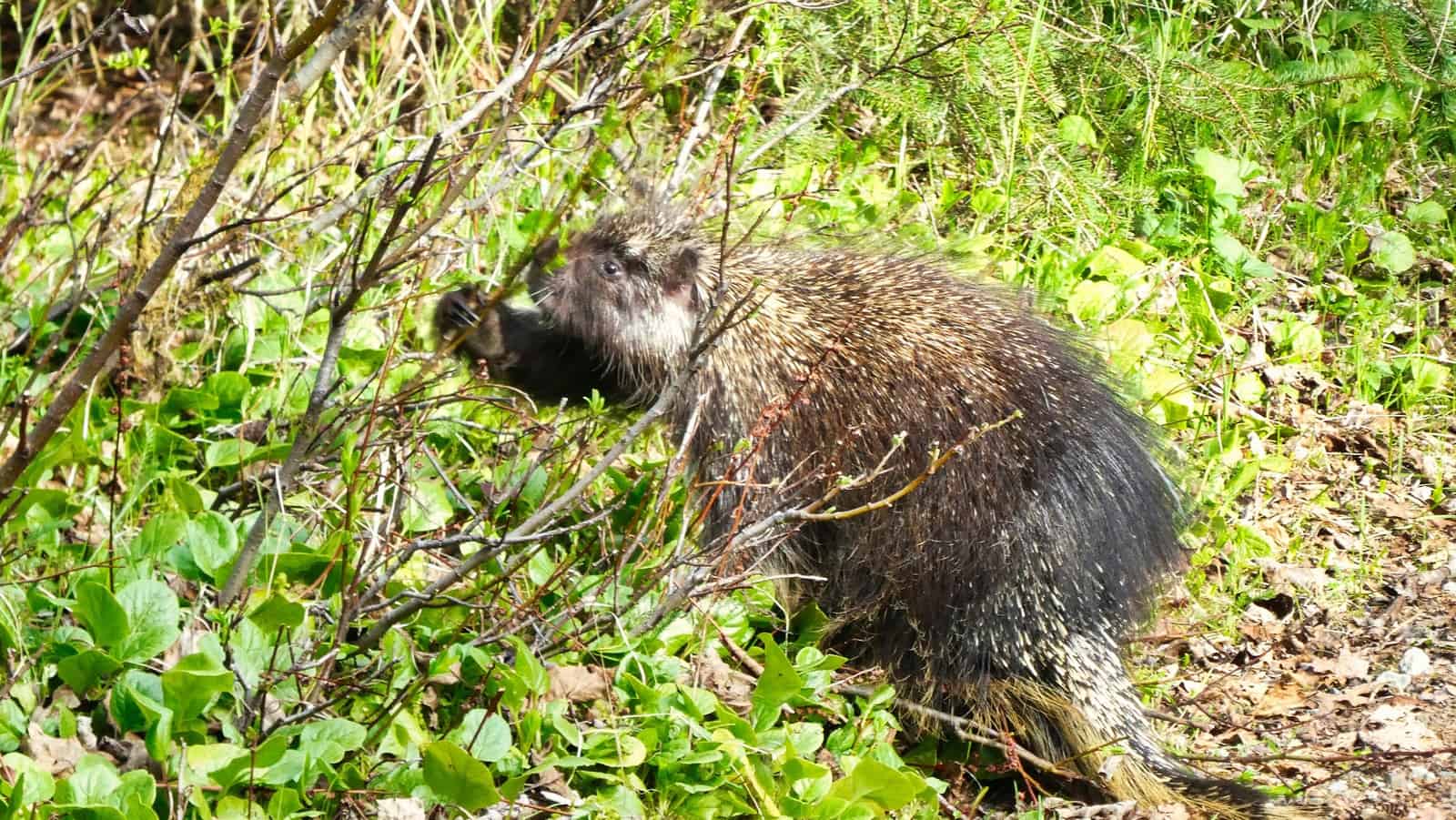 As we walked, we also came across this massive pipe. It looked lonely now in the forest covered in moss and hugged by trees. However, in 1914 this steel pipe carried water over a mile to a powerhouse where it was transformed into electricity.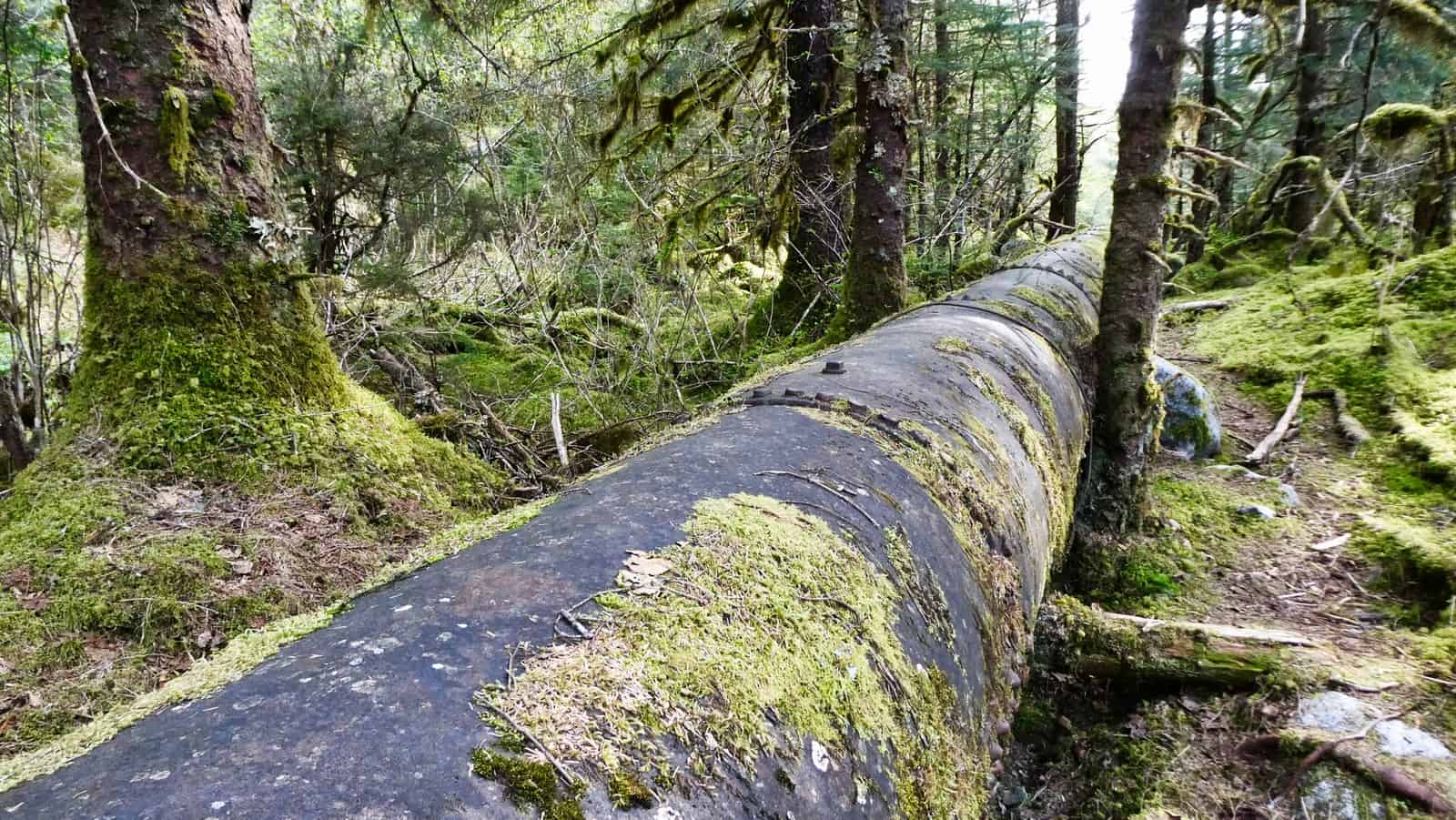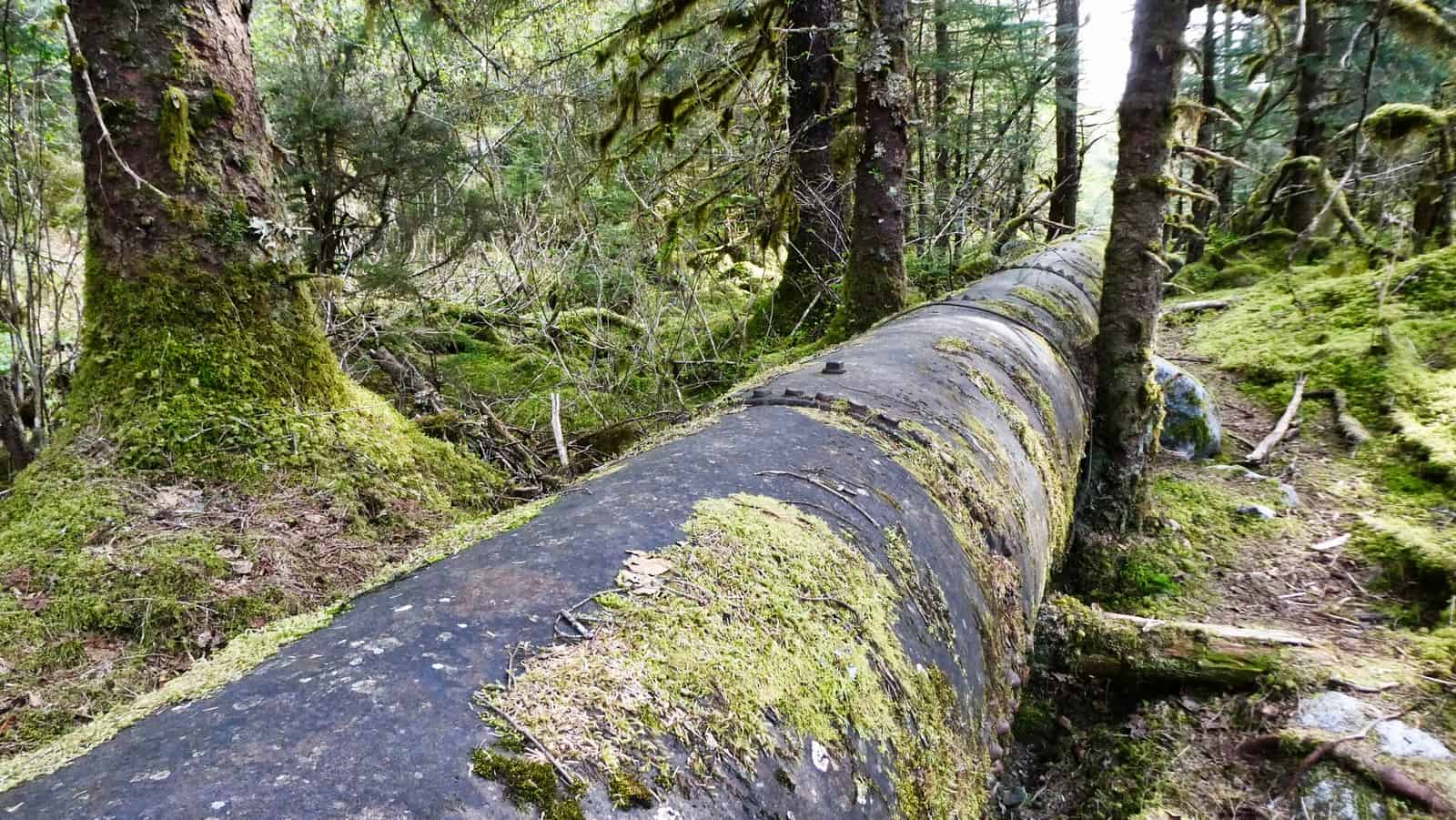 Glacier Viewing Area
As we walked toward the glacier viewing area, there were stones with years that marked where the glacier was in that year. Early on in our hike, we saw a marker that read "Ice Limit 1916." It was quite evident that the glacier is receding, but there is good news; the melting ice has formed the Mendenhall Lake. The lake is a result of the run-off from the glacier and is increasing in size as the glacier retreats. The lake formed in 1929 and has grown since. Thus, the lake's ecosystem is special and is a nursery for a variety of fish.
Mendenhall Glacier and the Beauty that Surrounds It
Finally, we could see Mendenhall Glacier and Mendenhall Lake. It was a stunning site. The front of the glacier is lower than the surrounding mountains. But, you can see the un-mistaking blue of the glacial ice in what at first glance looks like snow between two mountains. Even though it is a warm, comfortable, sunny day, you know the lake water is cold when you see large pieces of glacial ice floating in the lake.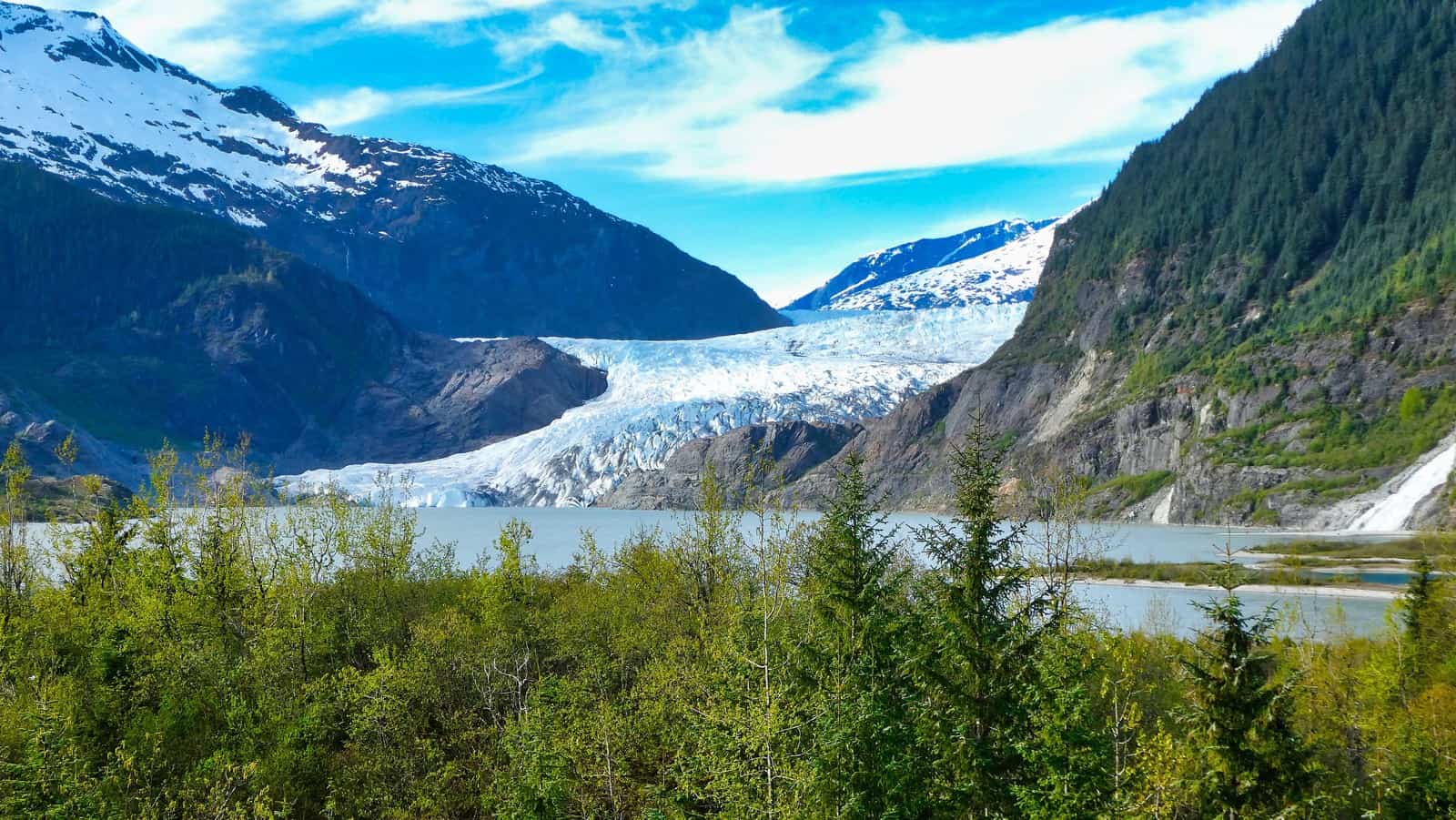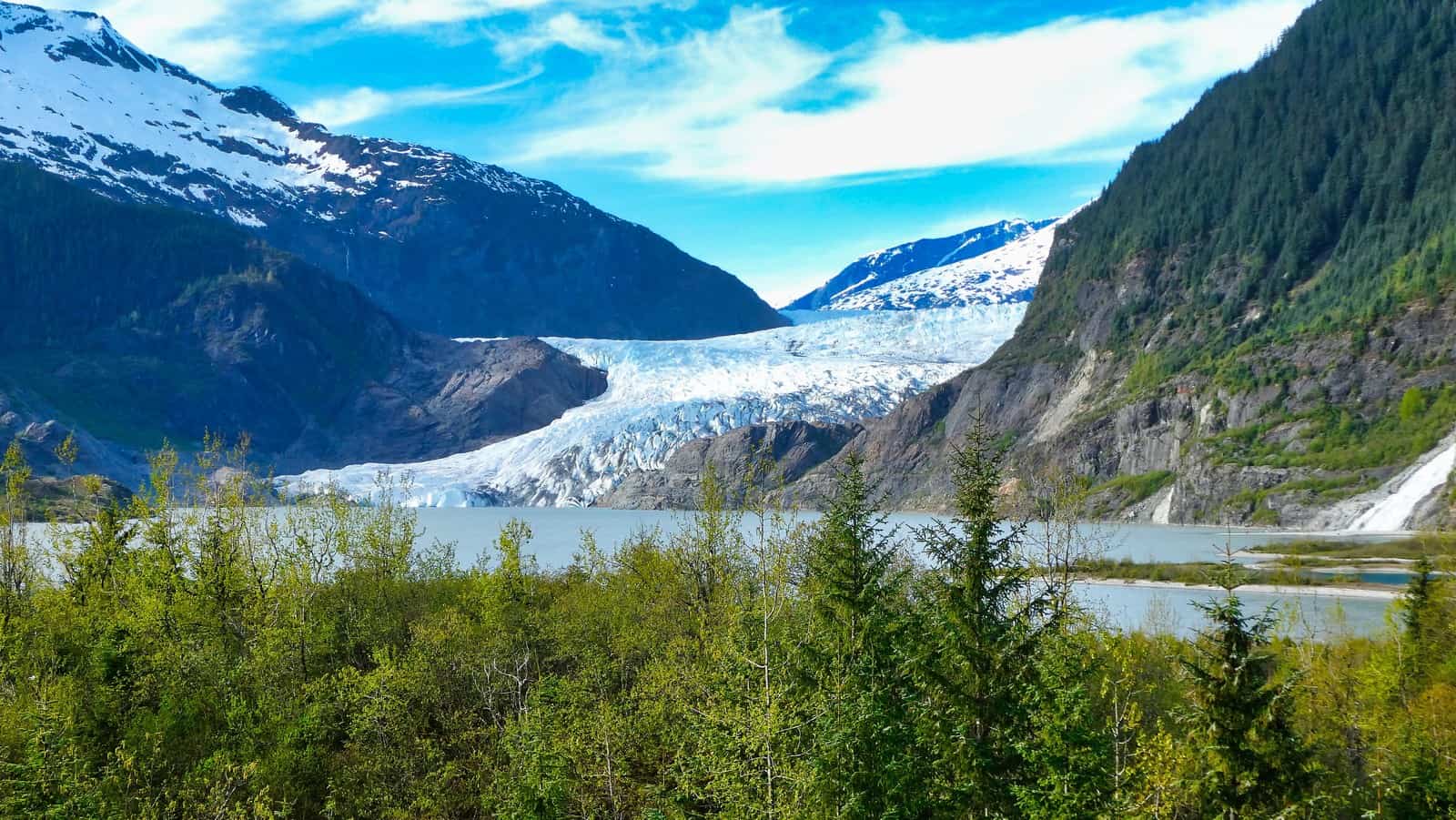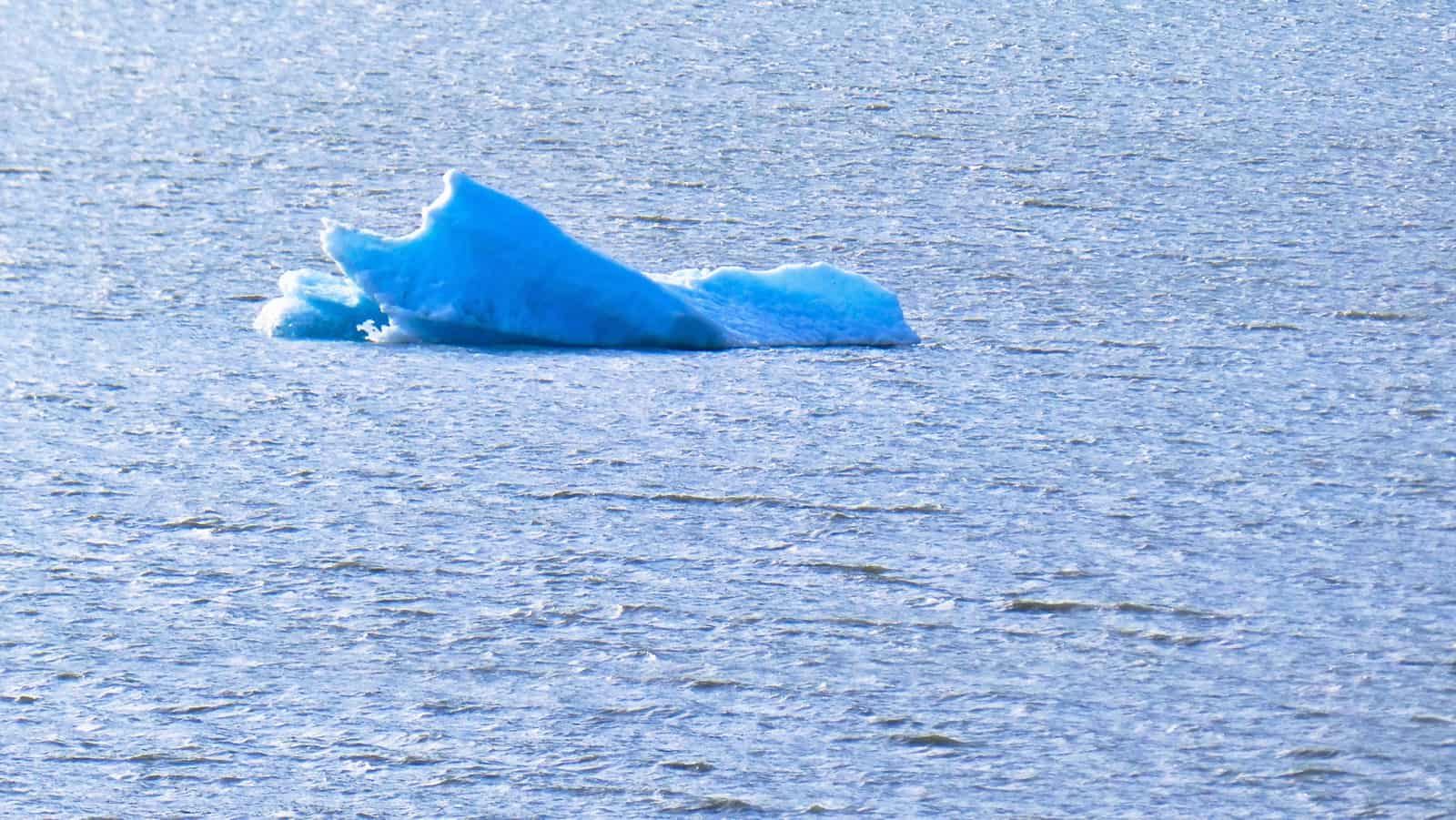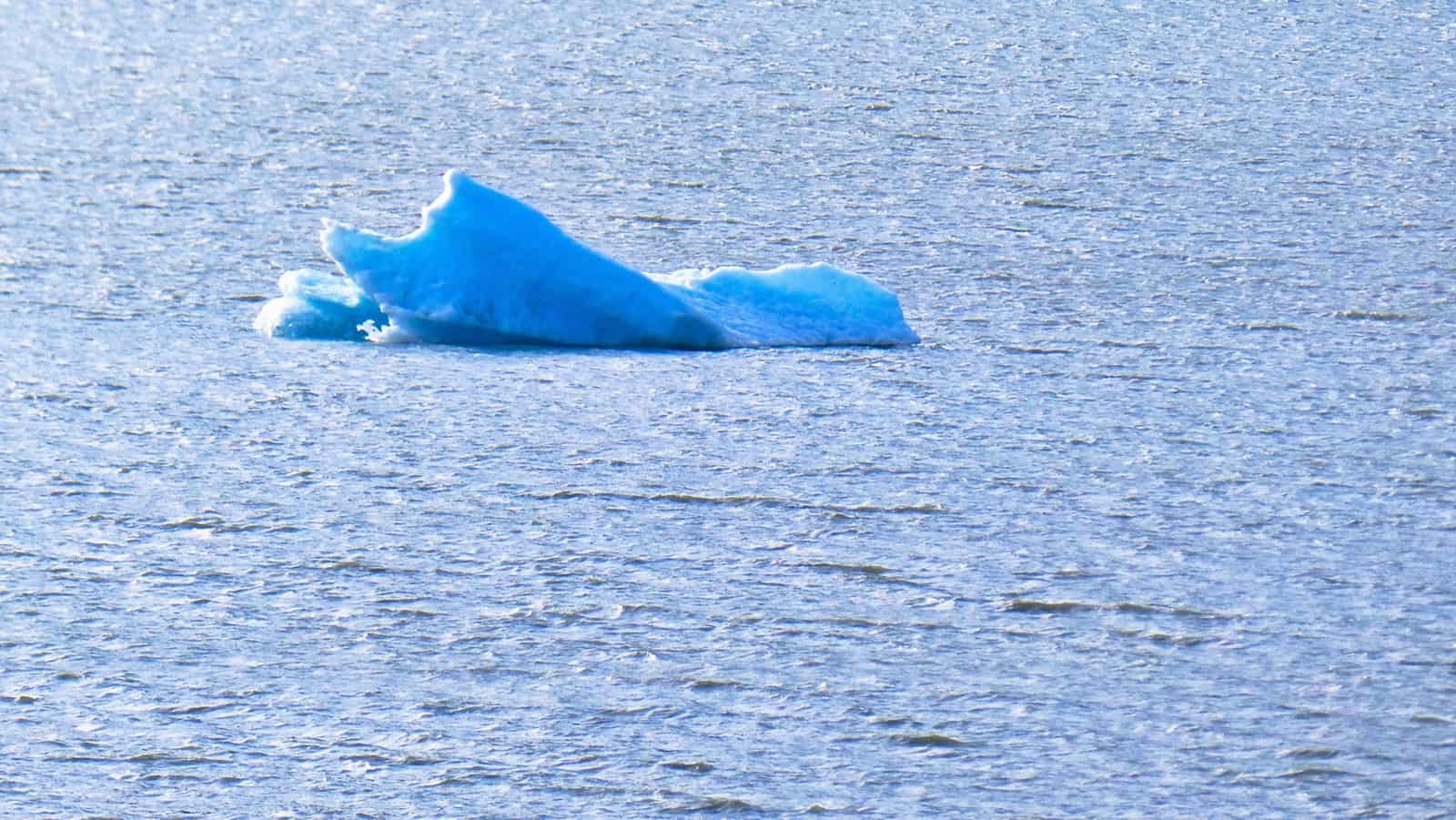 So if you are thinking of taking the Whales and Mendenhall Glacier Photo Safari, we highly recommend it. We were not disappointed!
Day 4 Glacier Bay From an Alaskan Cruise Ship
We traveled 218 miles from Juneau to Glacier Bay. Today we appreciated having a balcony on the Holland America Line Alaskan Cruise. Although we spent a lot of time on the front deck, the never-ending views on the starboard side of the ship allowed us to witness so much of Glacier Bay from our room. It was great that the captain would turn the Alaskan cruise ship slowly around so you could get a good view of the glacier from all sides of the ship.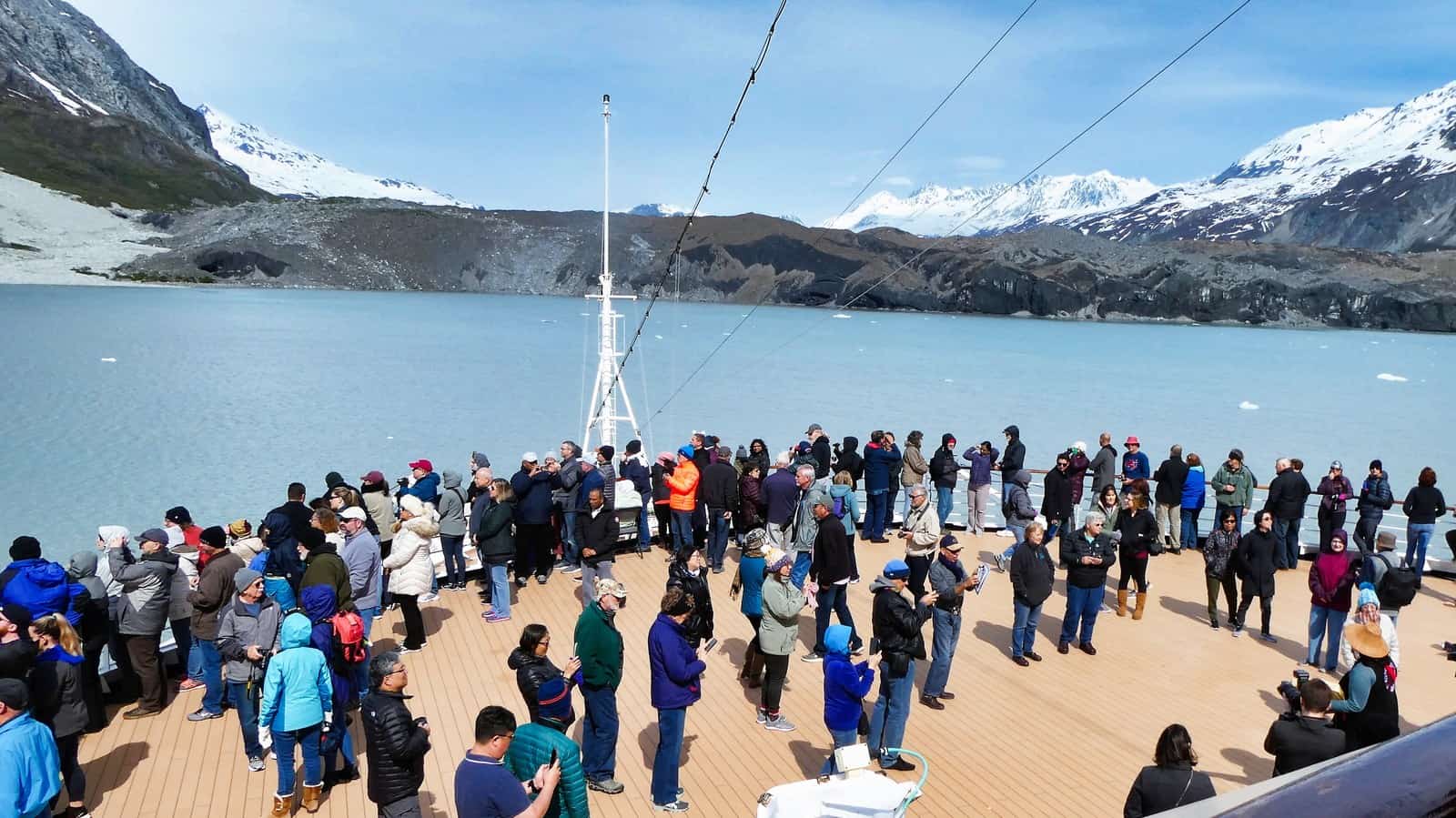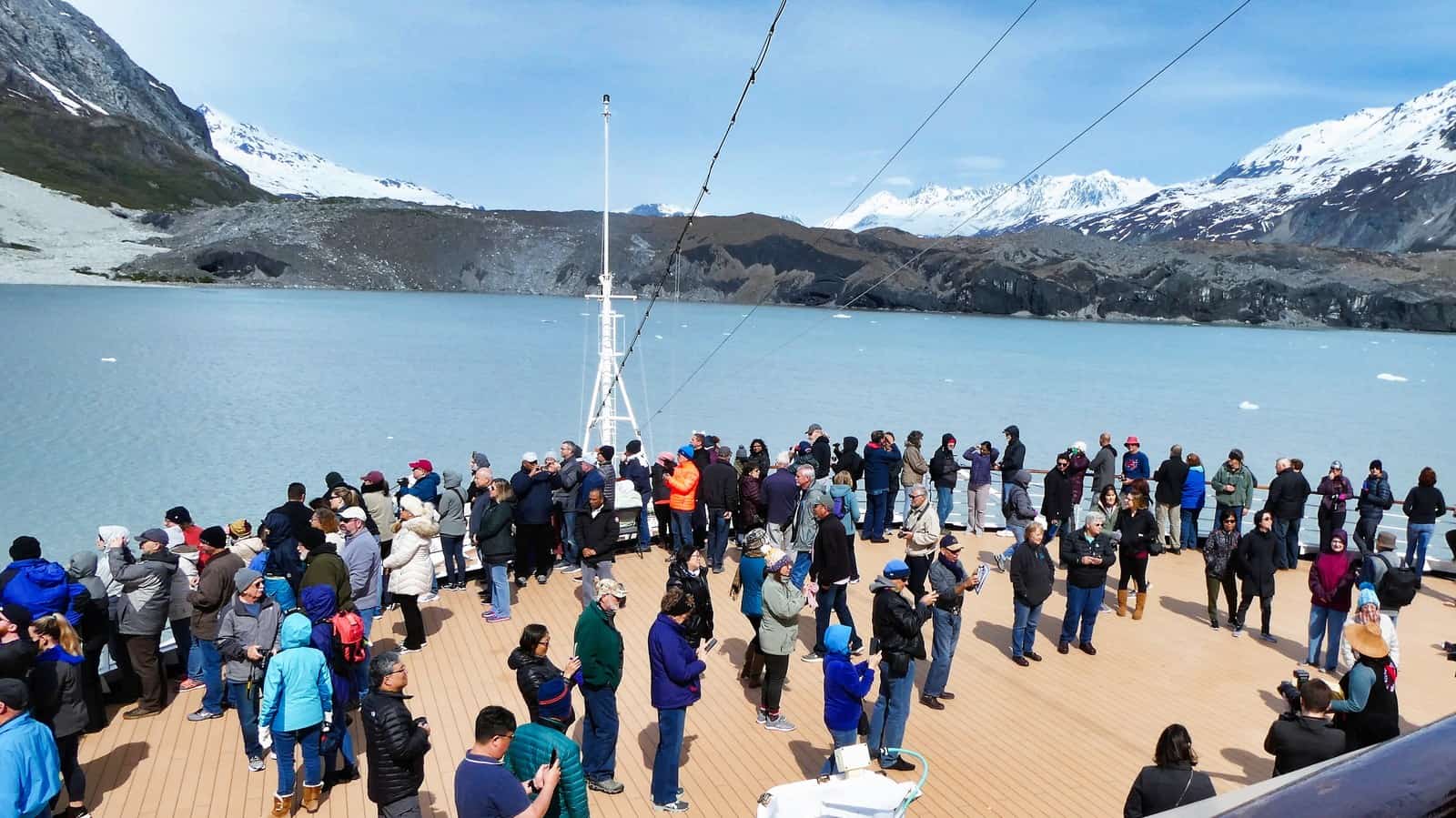 As John Muir said so well in his book, Travels in Alaska, "To the lover of pure wildness, Alaska is one of the most wonderful countries in the world."
These Glaciers are not that Old
Glacier Bay is less than 250 years old. In the 1700s Glacier Bay was simply all glacier and no bay. Some good news, in Glacier Bay some glaciers are retreating while others are advancing. Thus, Glacier Bay today is the result of a Little Ice Age that reached its peak in 1750.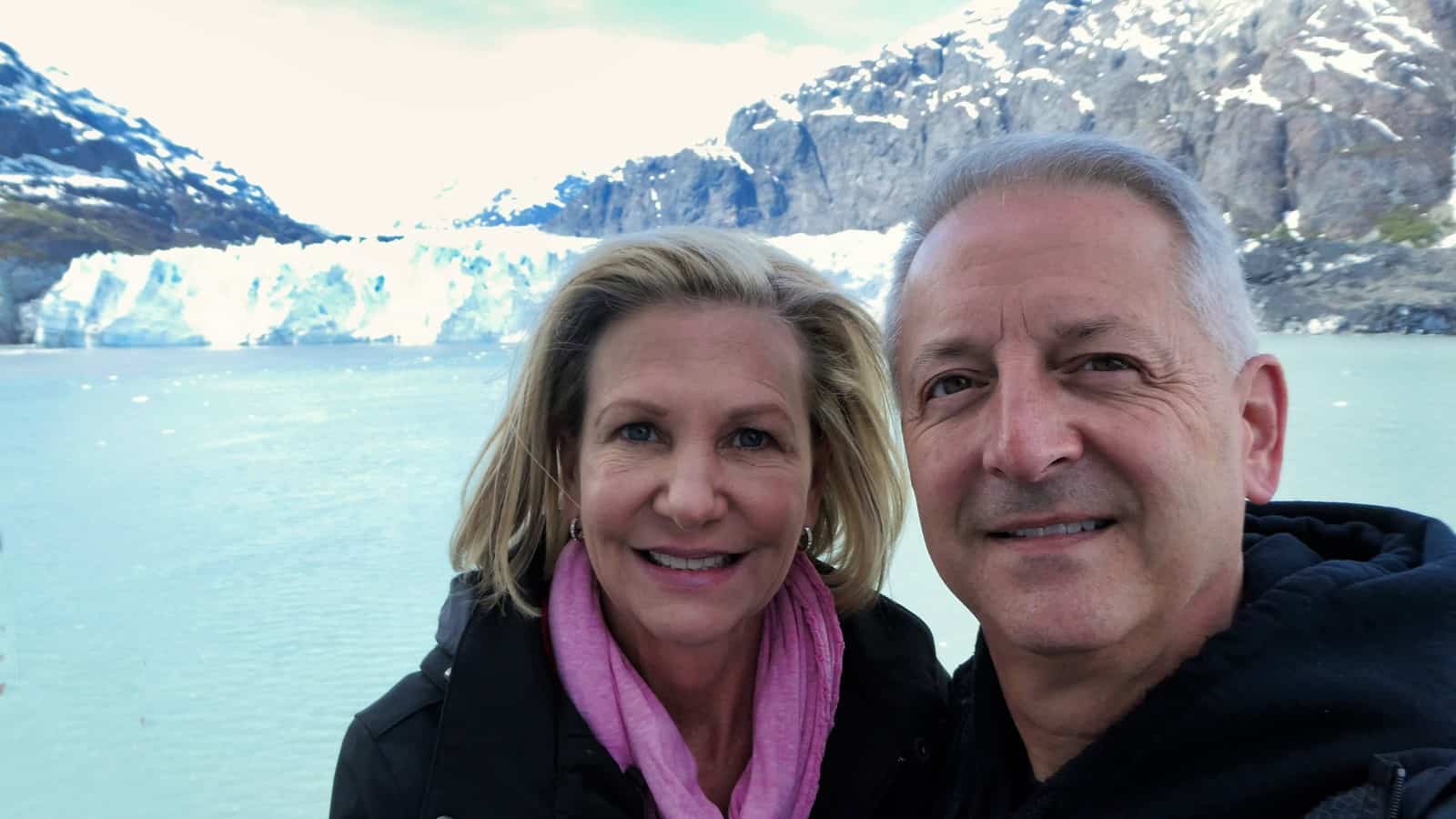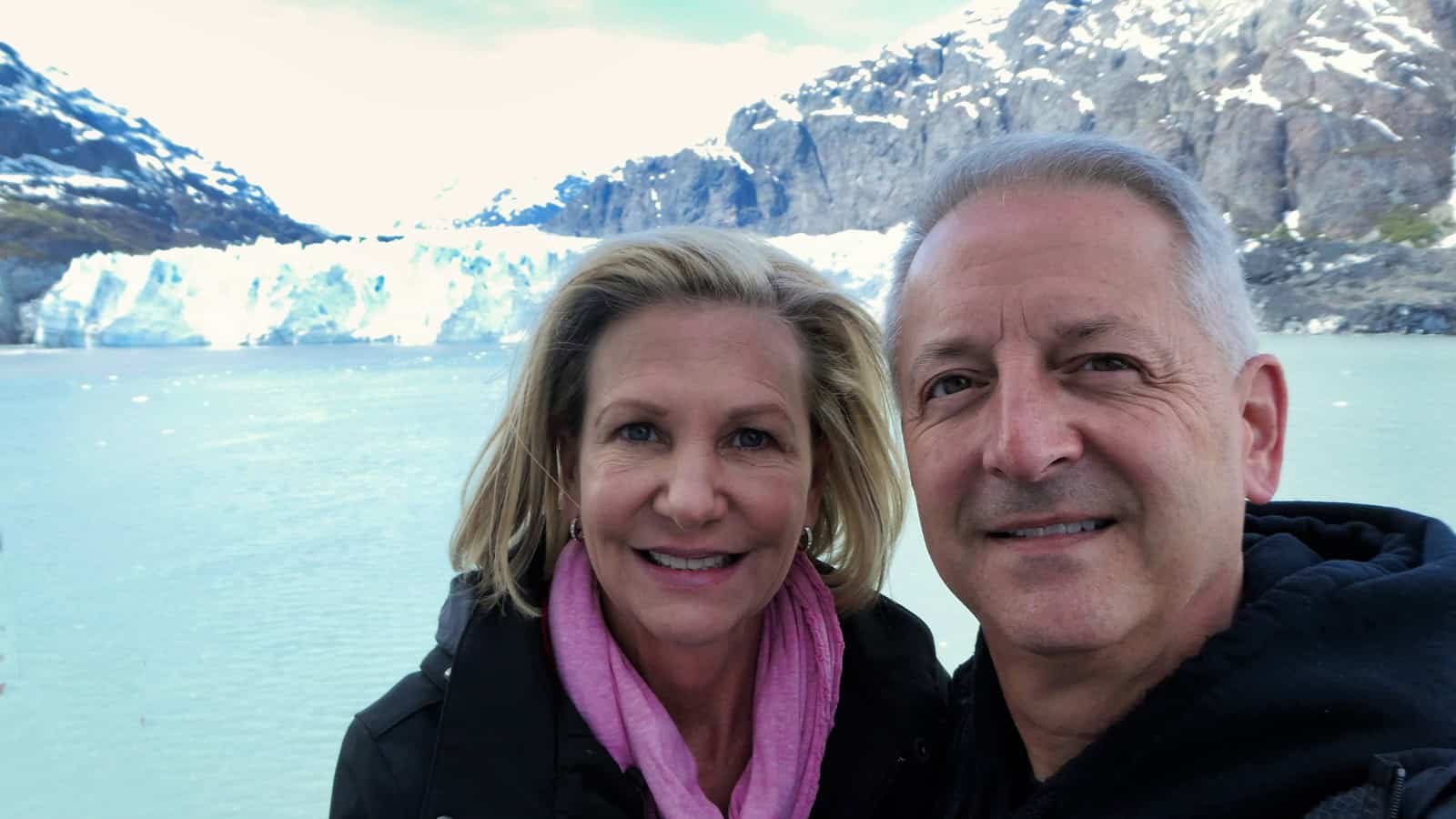 The landscape of Glacier Bay is a combination of forests, mountain peaks and of course glaciers. As we made our way 65 miles deep into the bay, we did see a smaller Alaskan cruise ship on its way out of the bay. But once we were close to the glaciers, we were the only people there. Now I realize that there were over 2000 other people on the ship, but if you had a balcony room, you felt alone in this magnificent place.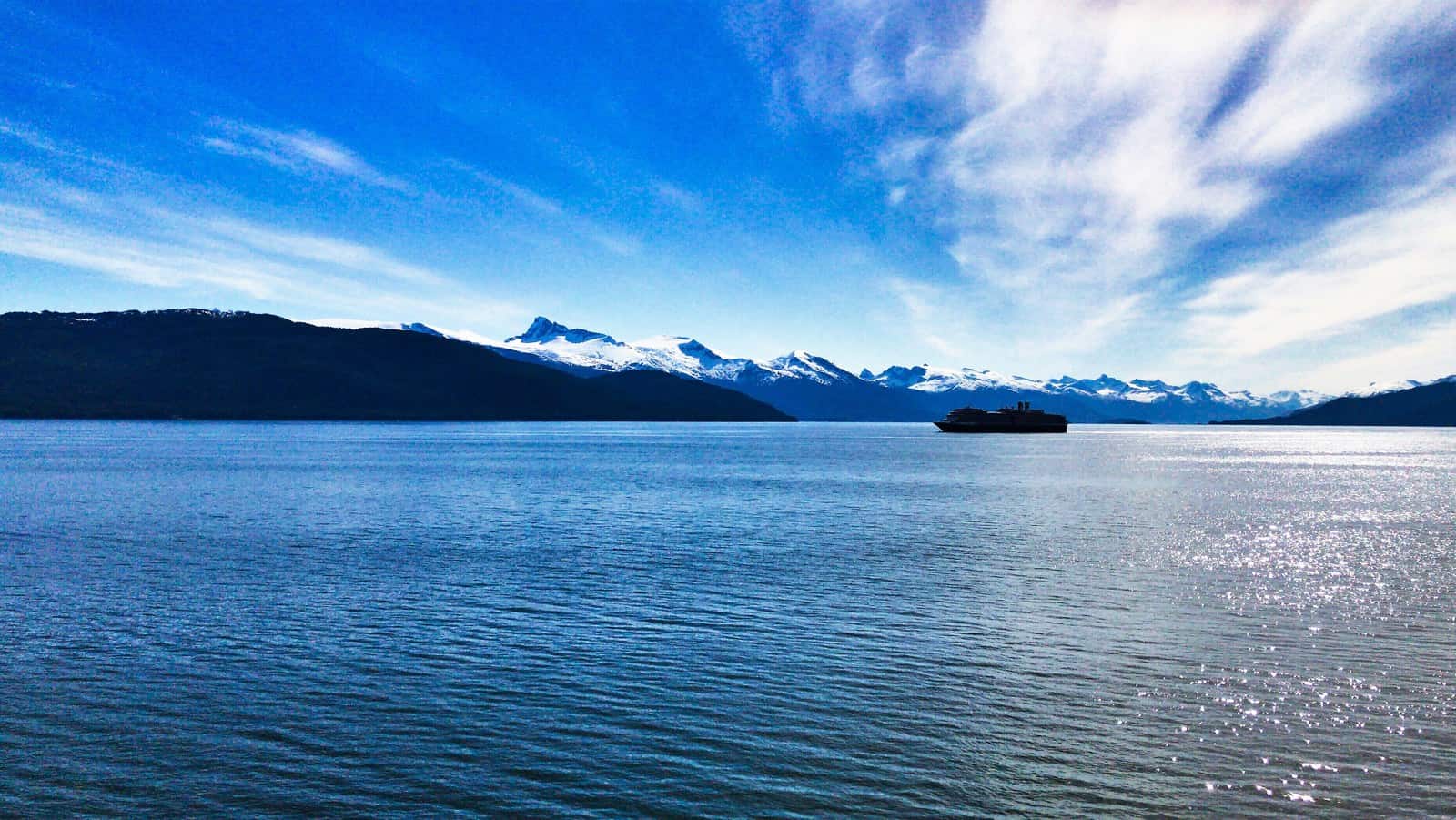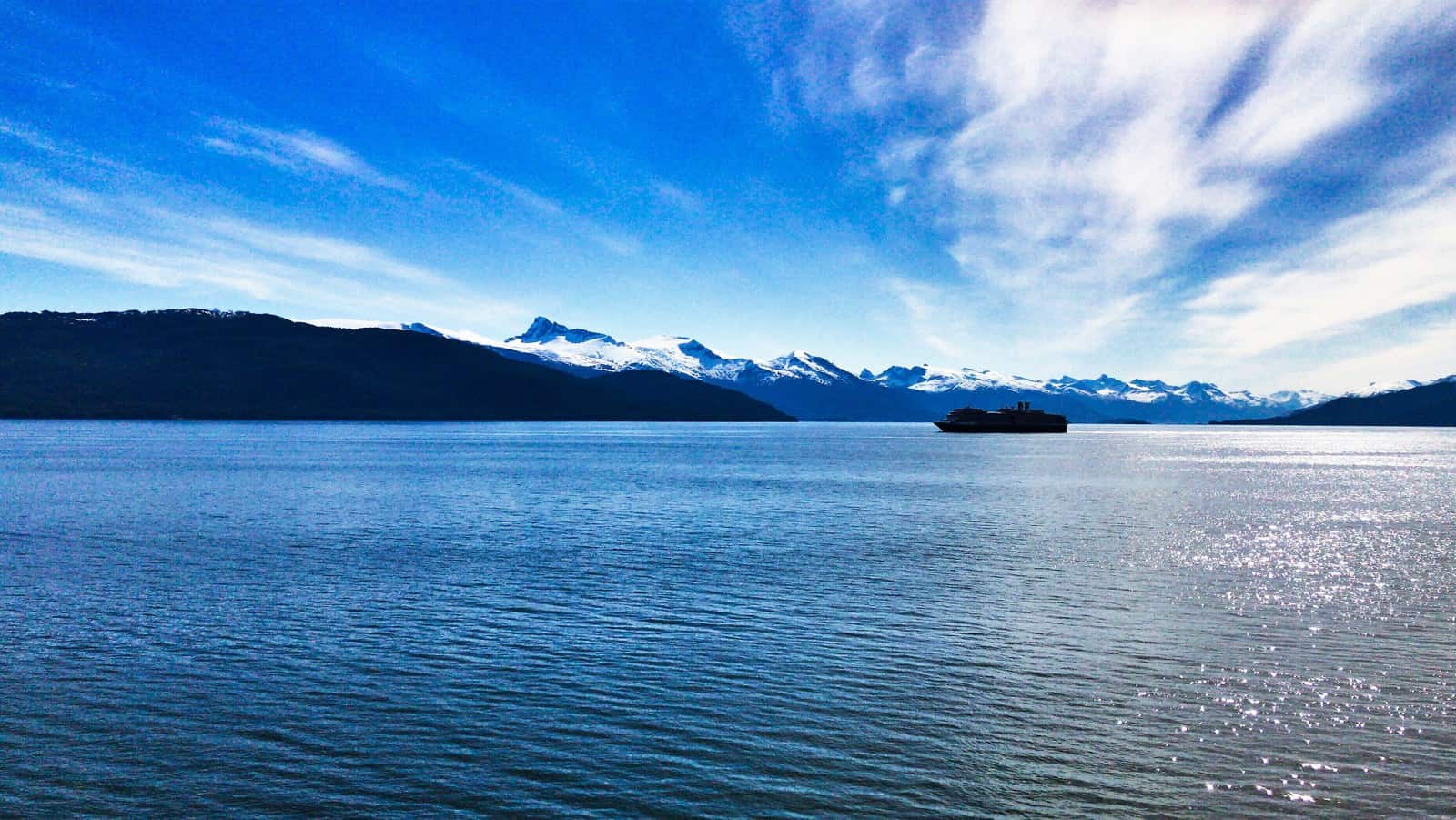 Margerie Glacier is a Spectacular Tidewater Glacier in Glacier Bay National Park
Unquestionably, the most spectacular glacier we saw was the Margerie Glacier. The Margerie is a tidewater glacier. Tidewater glaciers are fed by heavy snow and extend into the sea. Also, tidewater glaciers calving (break off) large chunks of ice into the ocean, and that is what we were hoping to see. We did see some calving but on a small scale. There is a thunderous crack before you see the calving. I can only imagine the sound of a large piece of ice breaking off and falling into the ocean!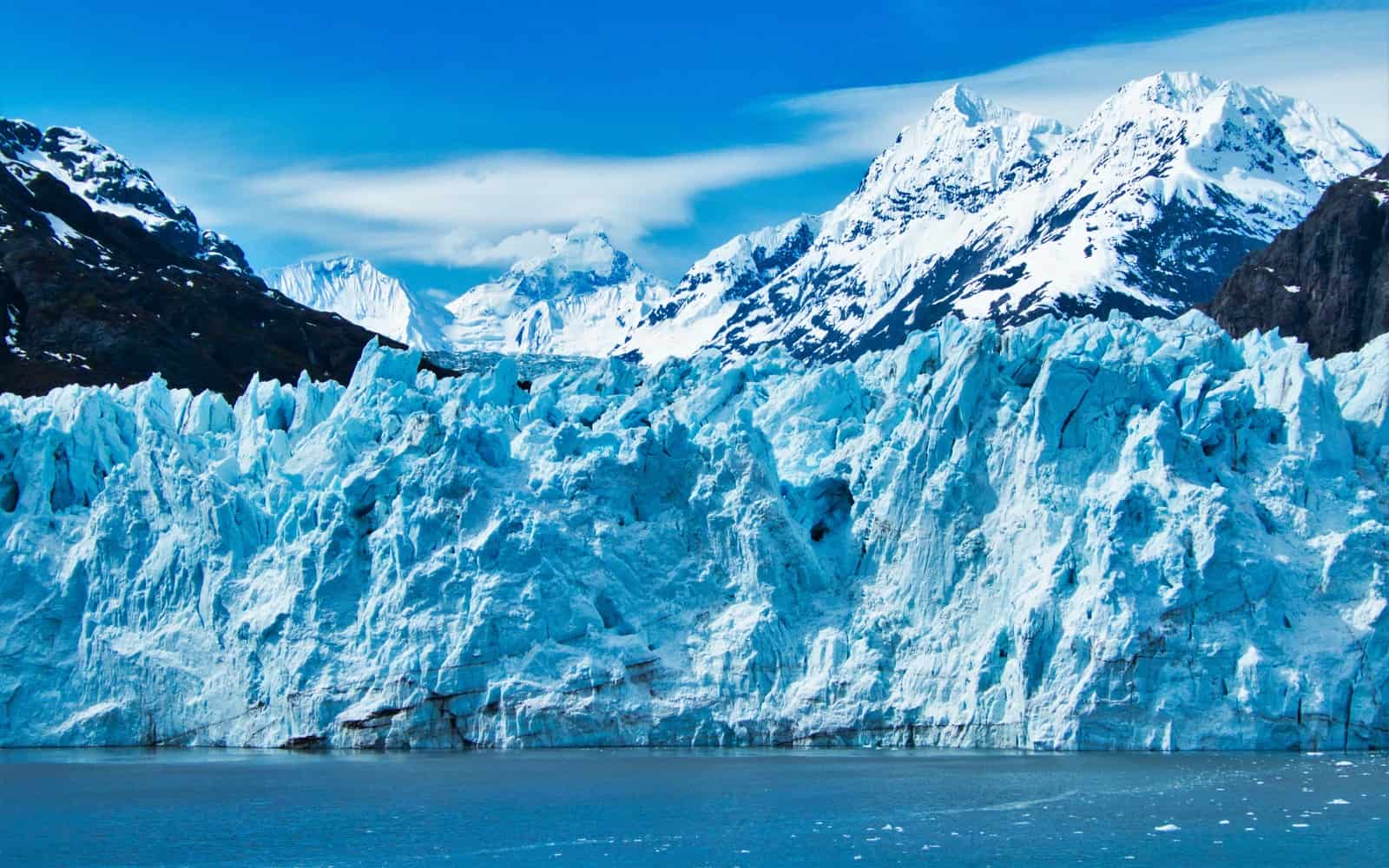 The Margerie Glacier is about a mile wide with an ice face that is 250 feet above the water line.
Why is Glacier Ice so Blue
The Margerie Glacier has a deep sky blue color in parts. The ice is so blue because when light hits this compacted glacier ice, long wavelength colors like red are absorbed while short wavelength colors like blue reflect.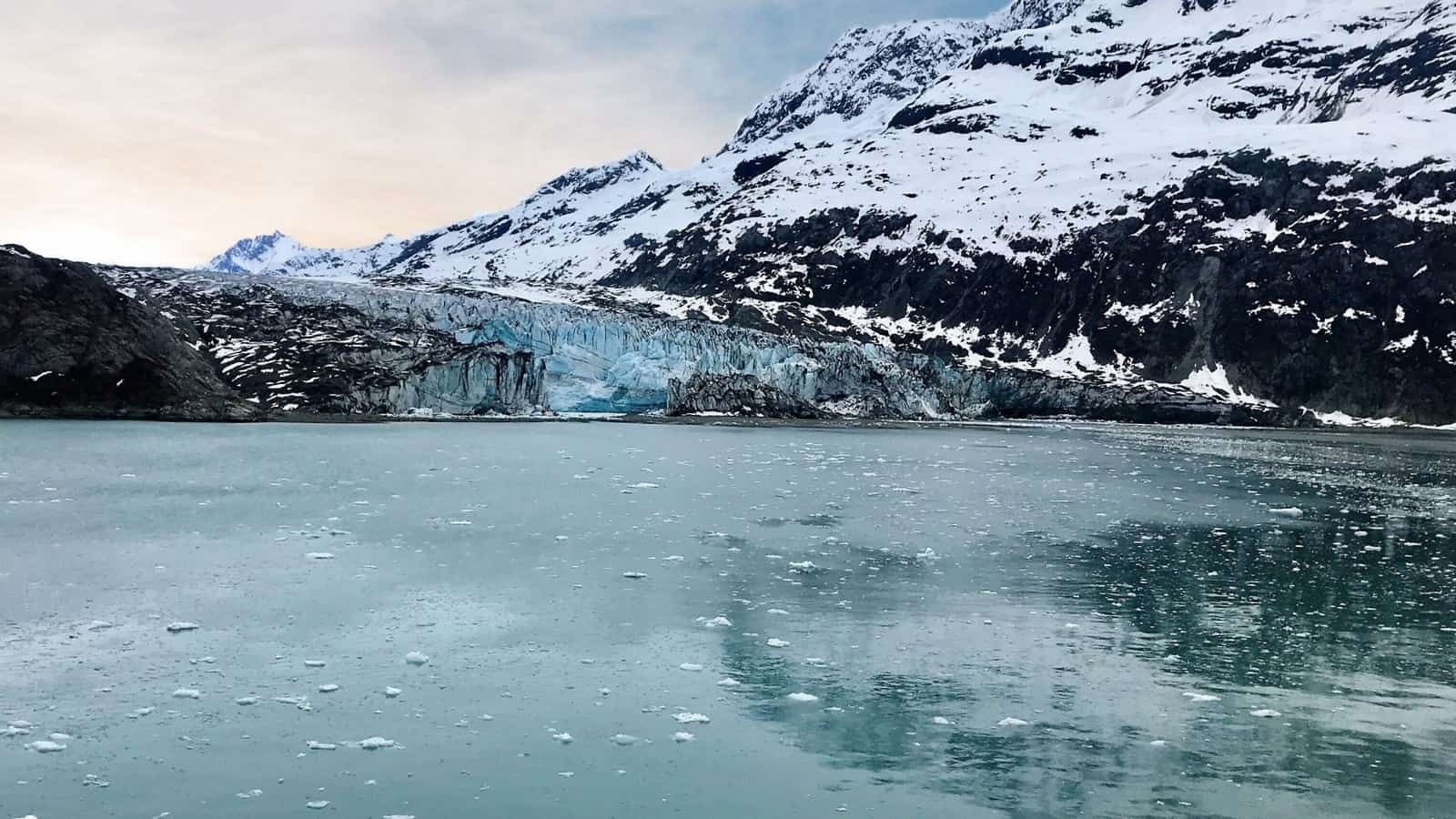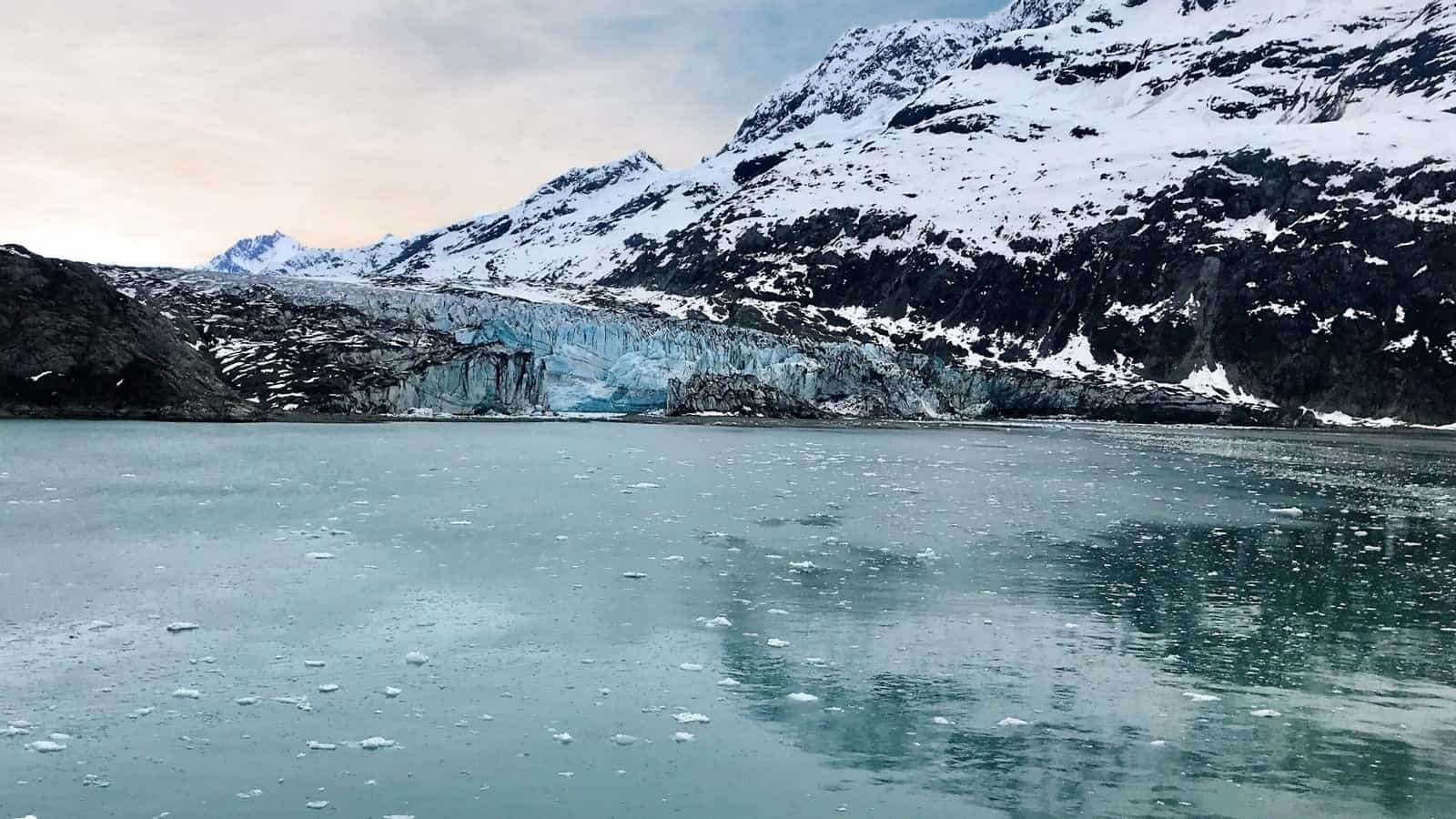 Glacier Bay is also home to an abundance of wildlife. As a result, we saw animals ranging from goats precariously climbing the mountains to seals who seemed to be playing with the ship. Also, our Alaskan cruise saw a bear and numerous eagles.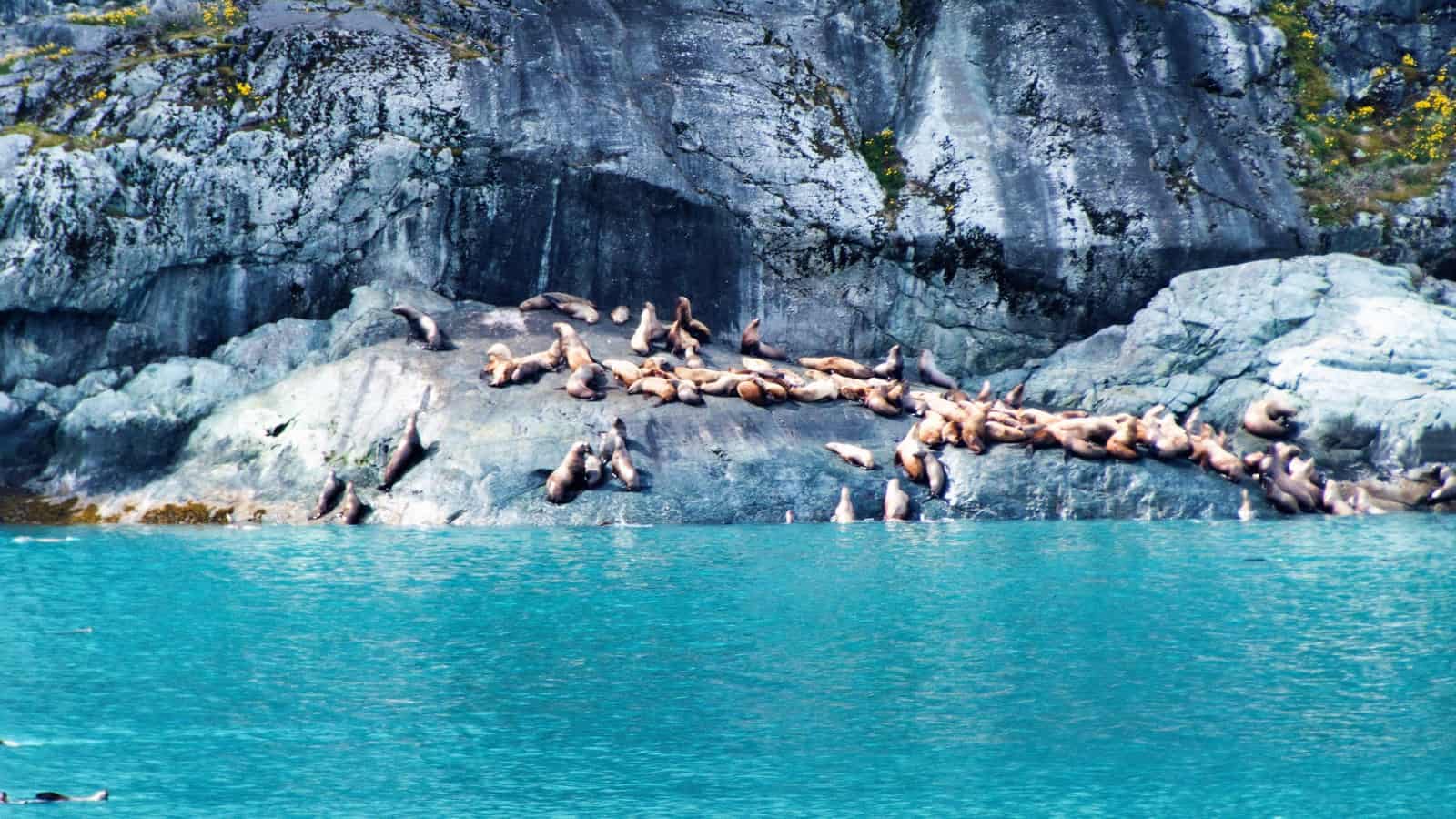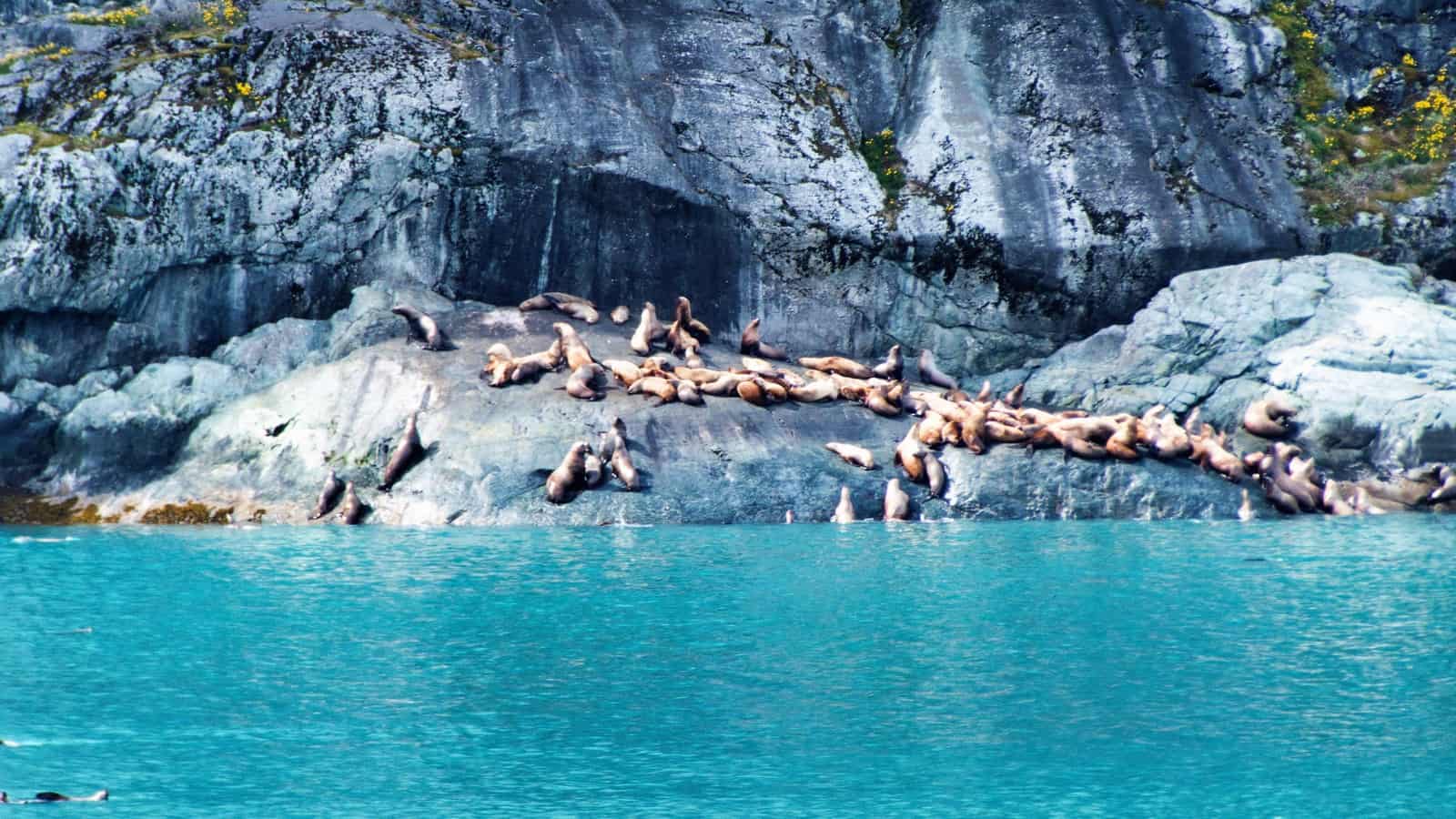 In addition, we saw some crazy kayakers who obviously wanted a cold close encounter with a glacier.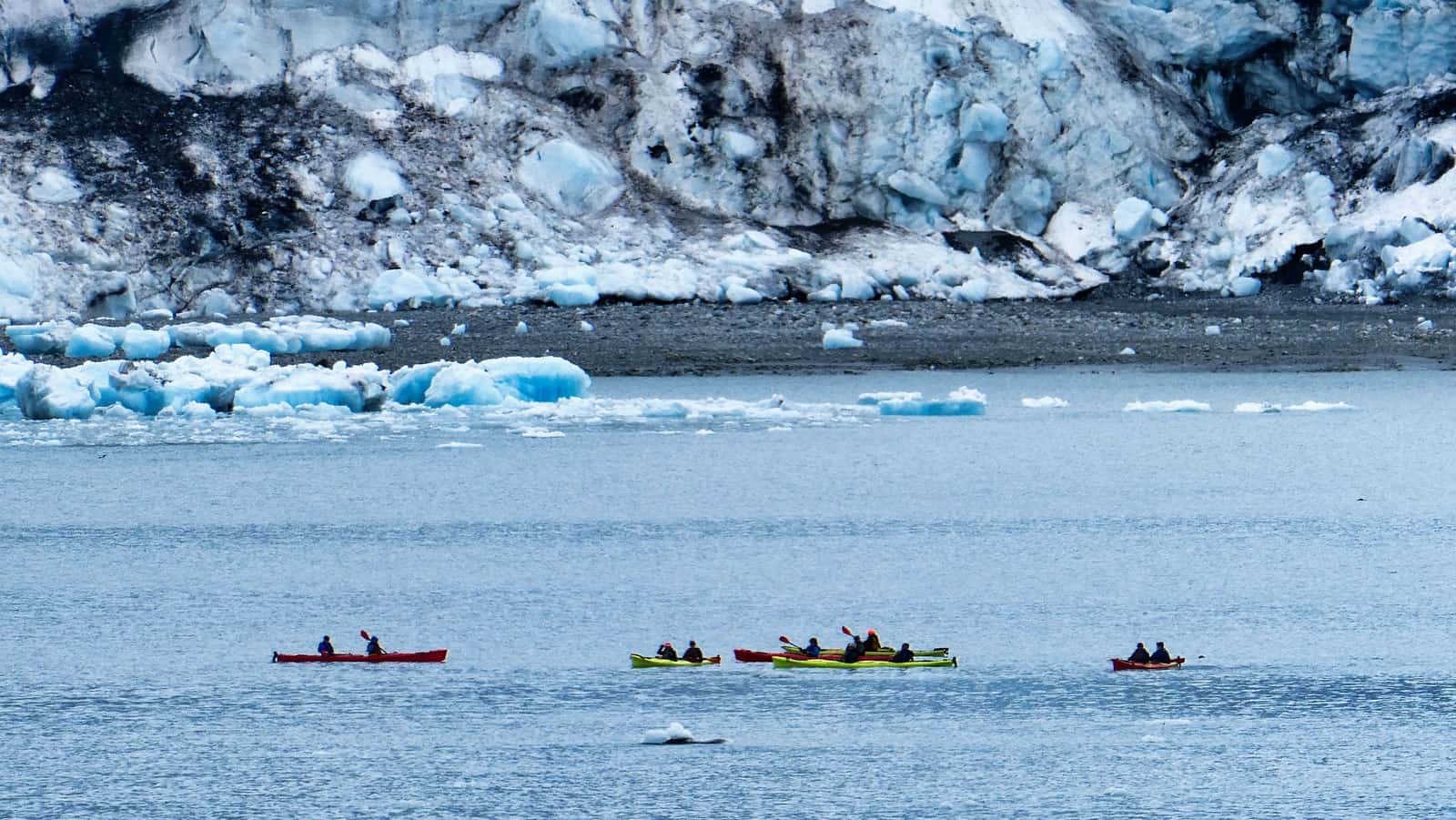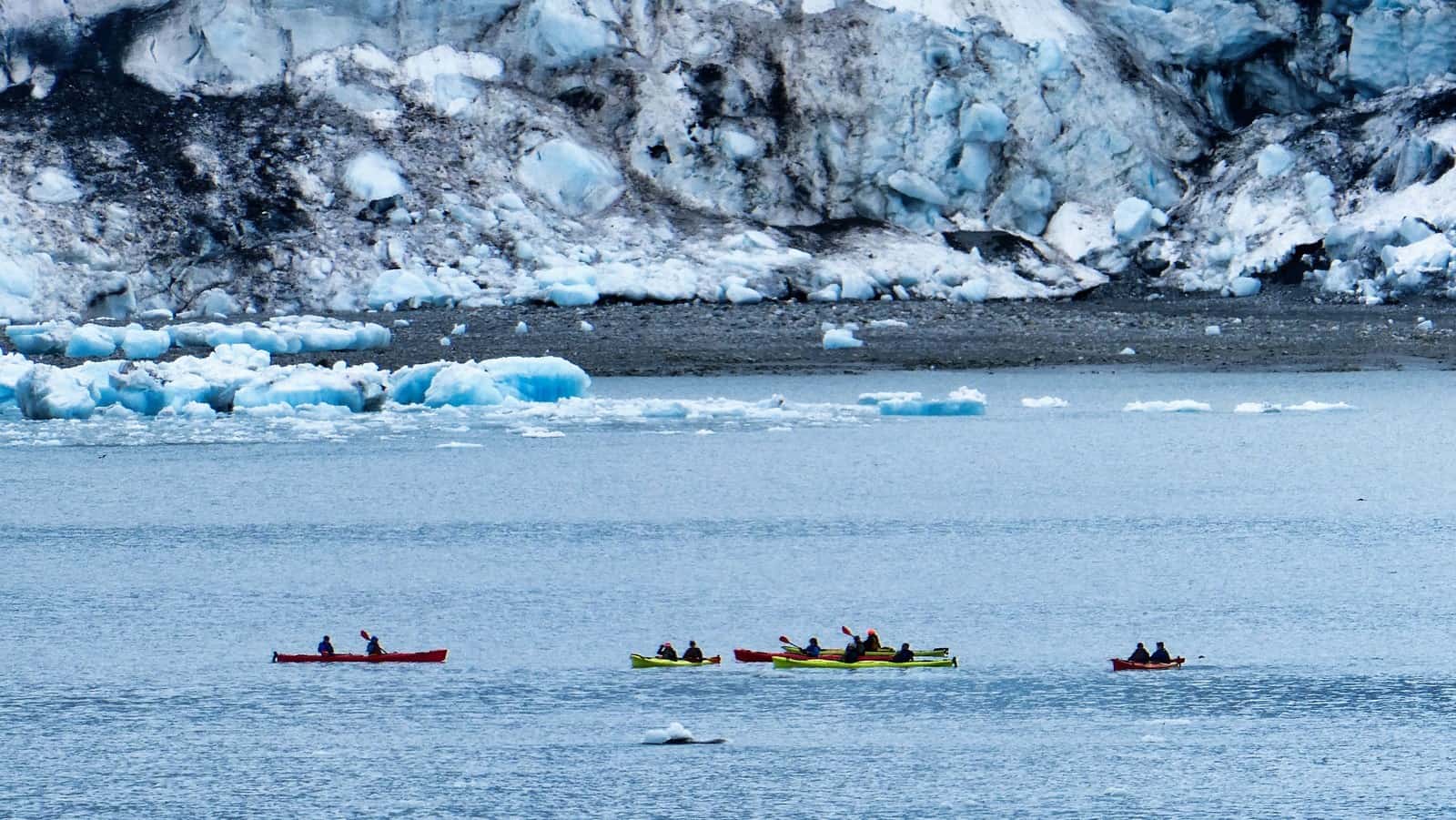 As we left Glacier Bay National Park, the ranger boat came out to pick up the rangers we had onboard during our stay.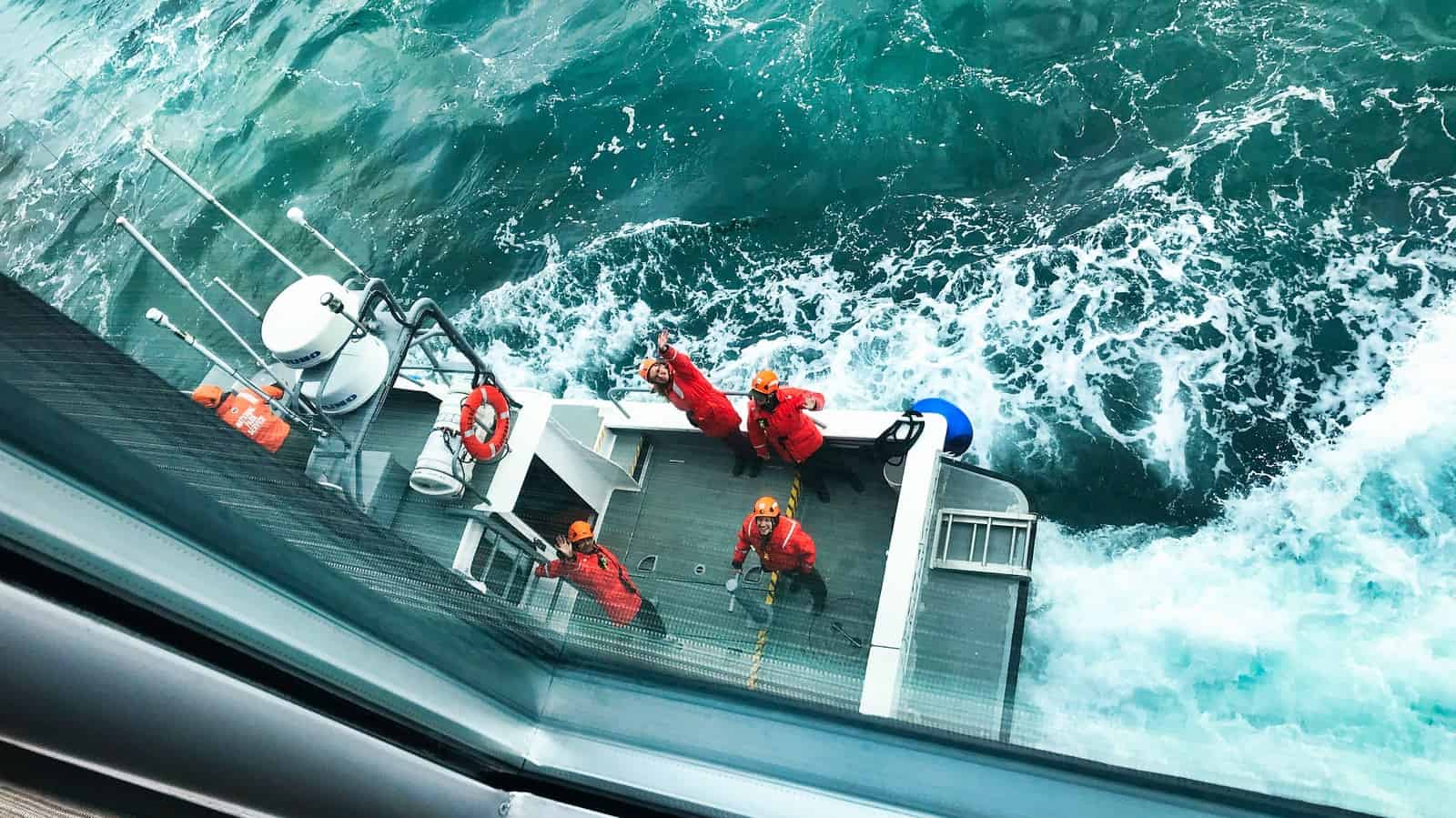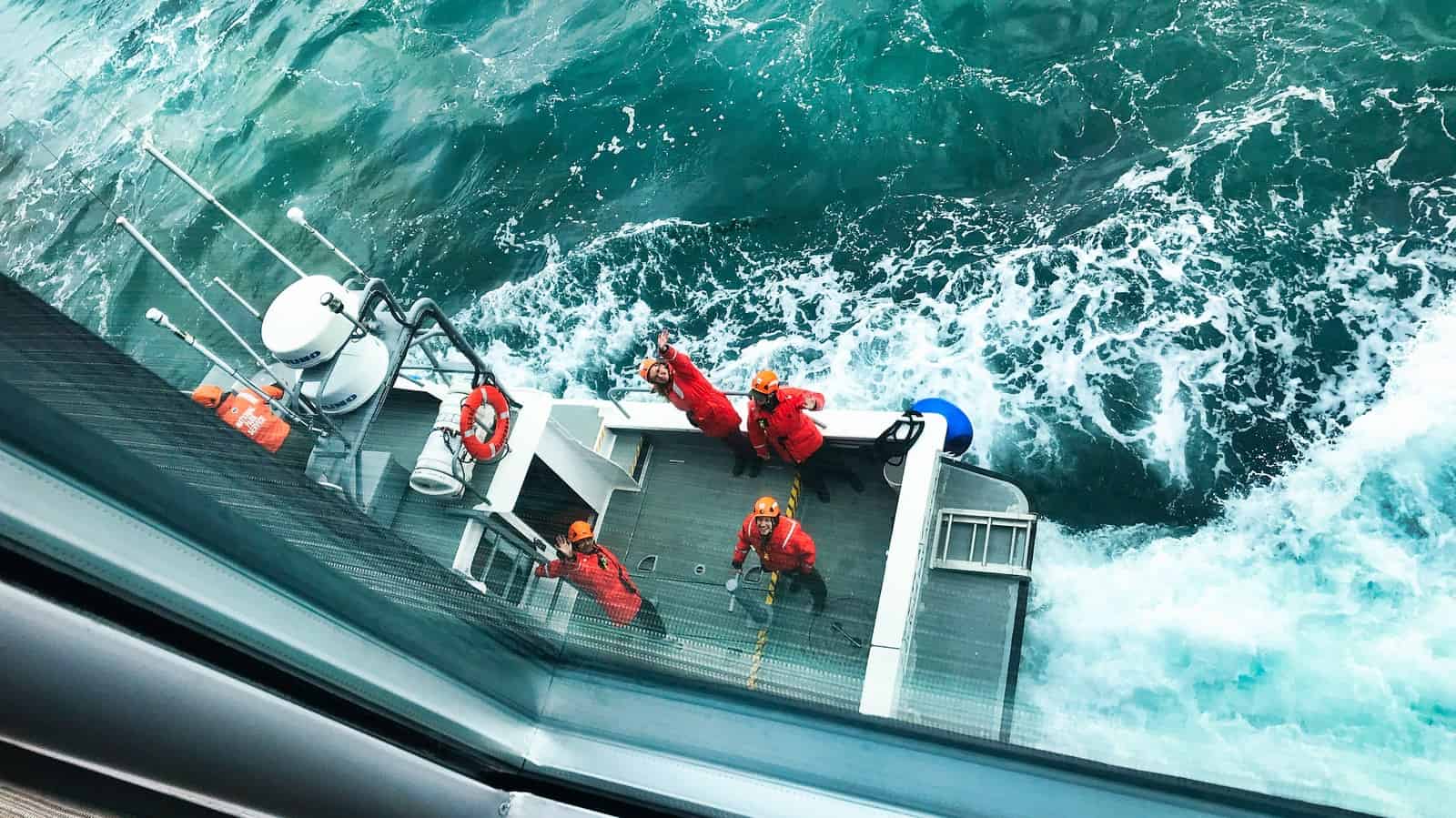 Day 4 Sitka
From Glacier Bay, we traveled 142 miles to Sitka. Most Important, Sitka is the largest city in the US in terms of land with a land area of 2,870.3 square miles. So, Sitka is almost four times the size of the state of Rhode Island.
Presently Sitka is a US city, but that was not always so. The Russians settled Sitka in 1799. And then after losing the Crimean War to Britain, France, and the Ottoman Empire, Russia decided in 1867 to sell Alaska to the US.
Sitka is an island community brazenly living between the mountains and sea.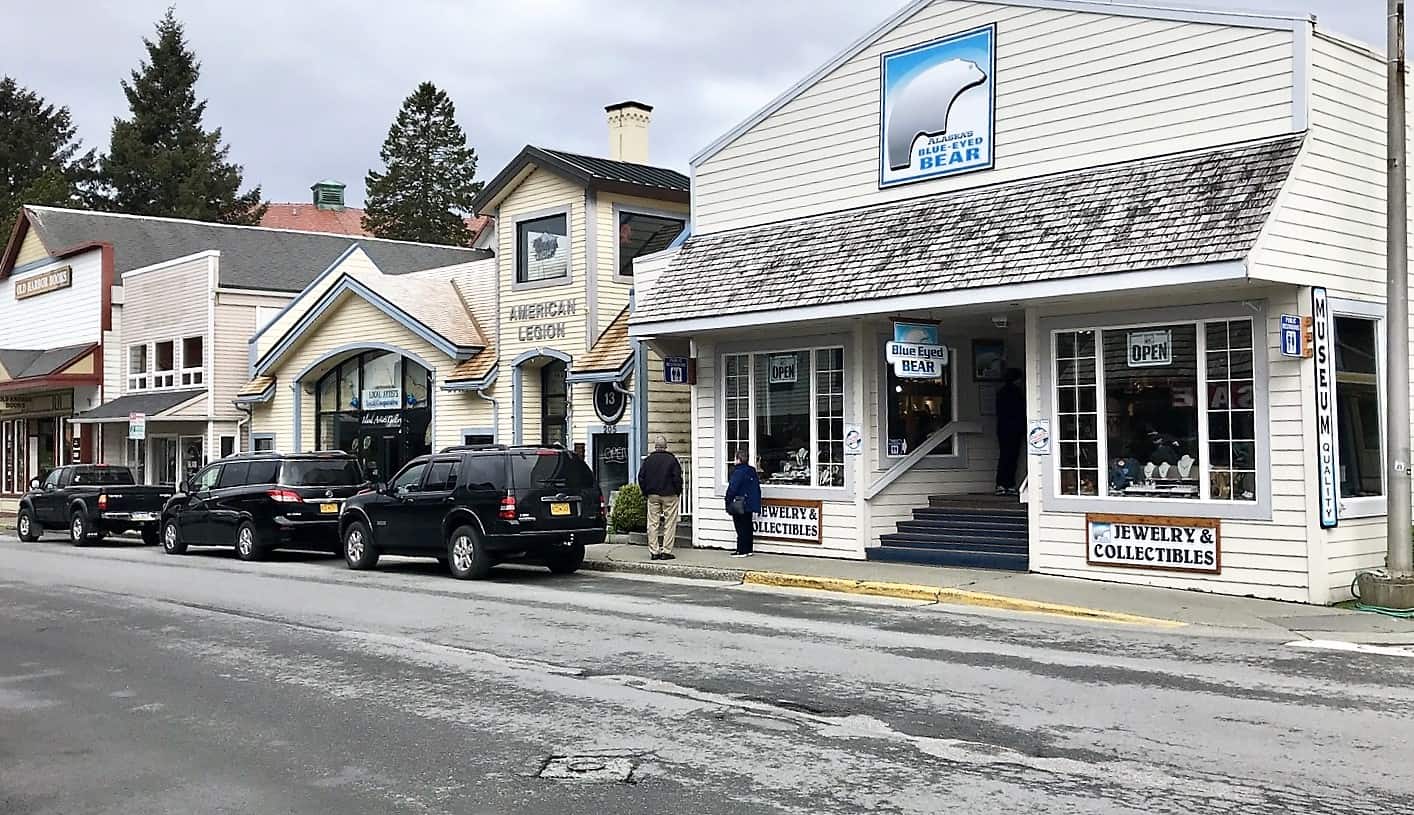 Presently, cultural influences from the Tlingit (Native North Americans), Russian and Americans influence the vibe of the town. Keith and I decided we would get off the ship and check out Sitka on our own. Our Alaskan cruise ship docked at the Old Sitka Dock at Halibut Point Marine, which is about 5 miles north of the city proper. So we boarded a free shuttle to downtown Sitka. Our shuttle driver chatted to us about Sitka with his deep Russian accent as we made our way into town.
Haunted Sitka
It was a cool overcast day as we walked into Sitka. We knew we wanted to see Princess Maksoutoff's Grave and St. Michael's Russian Orthodox Cathedral. In addition, we were hoping to do some kind of walking tour. As luck would have it, shortly after leaving the shuttle, at Centennial Hall, we saw this gal dressed in late 1800s garb. She was promoting her walking tour, Haunted Sitka. Emily, the owner, and storyteller told us we would learn of adventurous Russian explorers and Gold Rush pioneers. To that end, we would hear the legends and history of the historic Sitka. She also said we would visit a cemetery and a red light district. That was it Keith, and I said yes!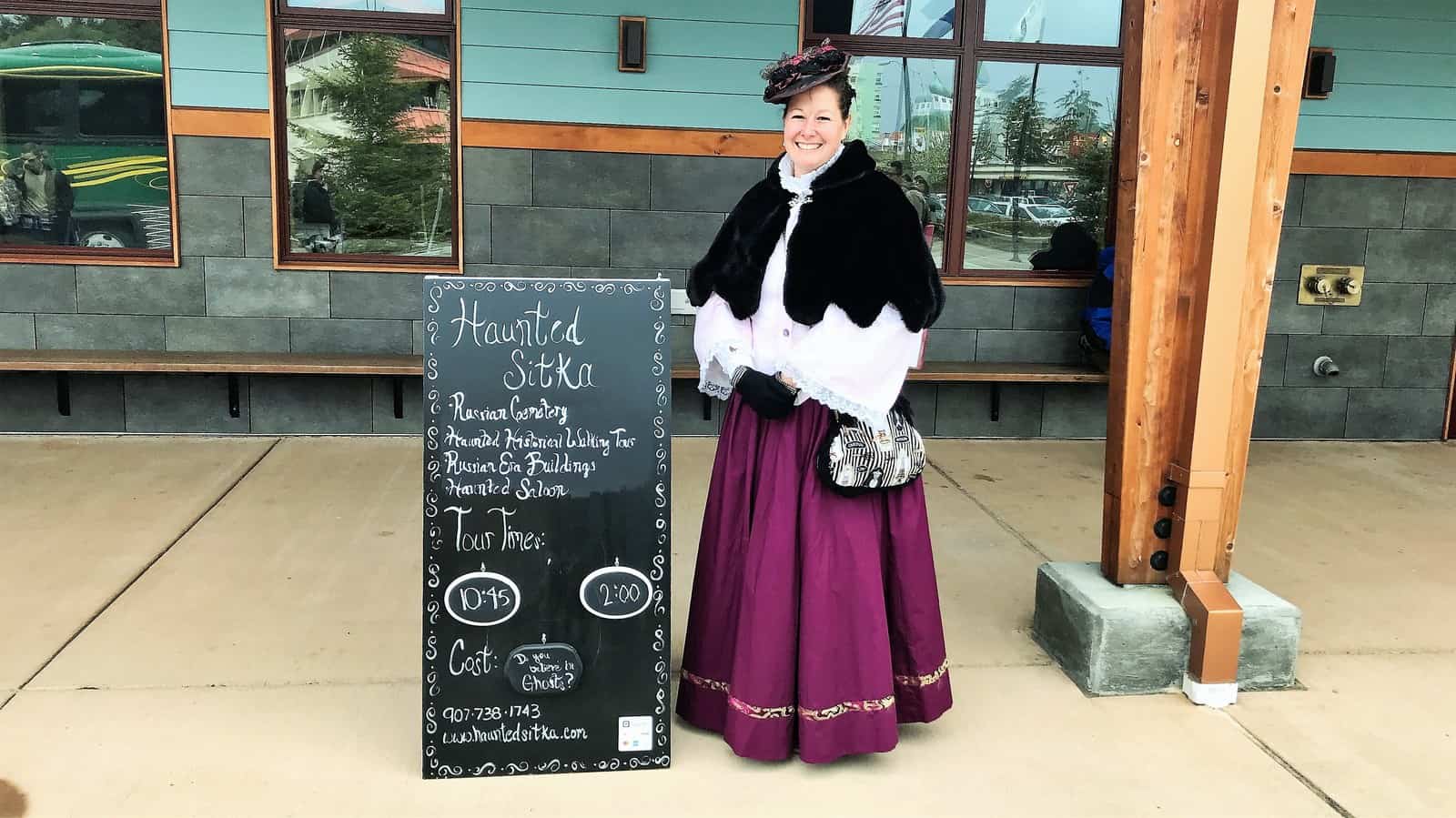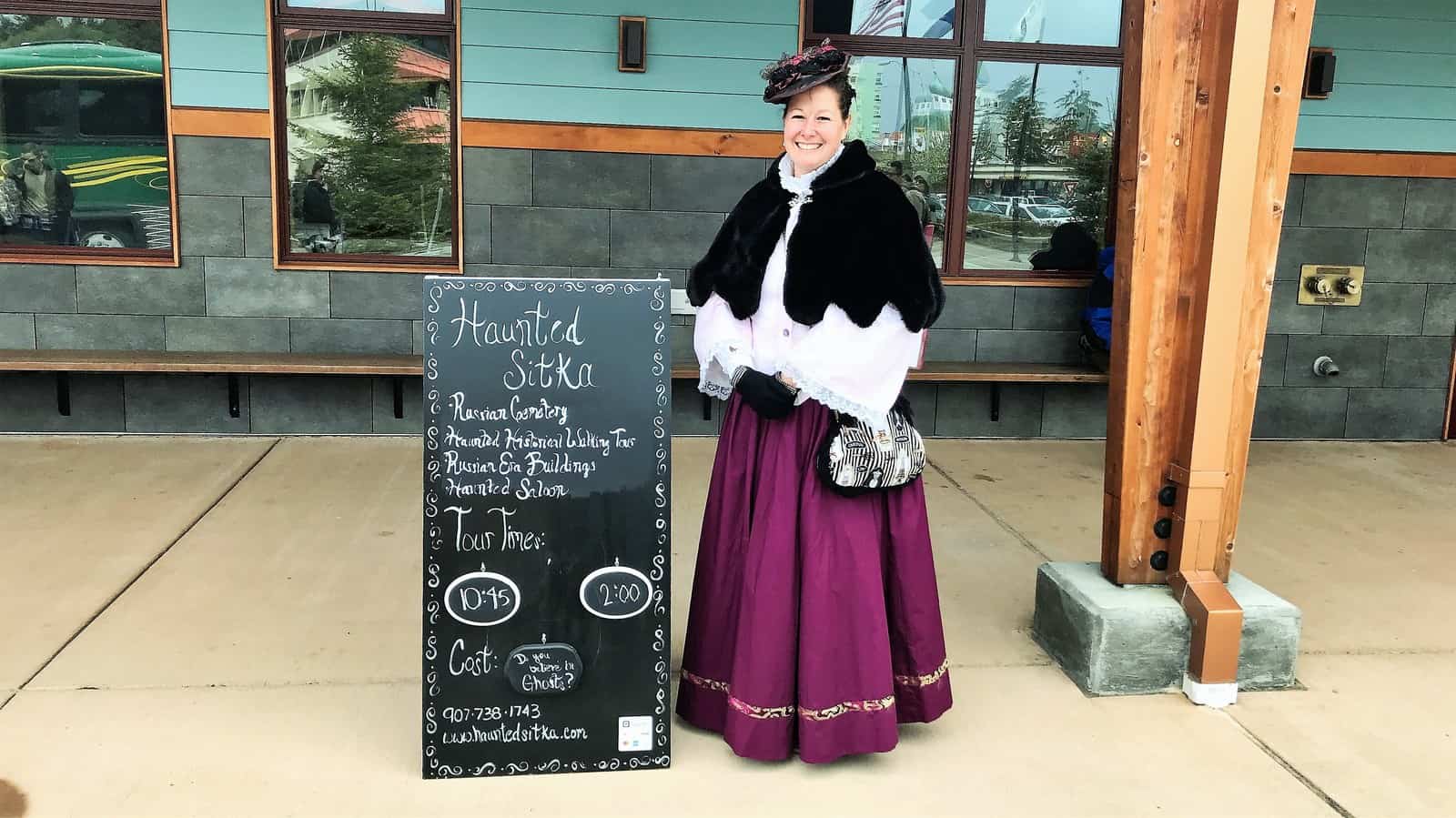 One of the first things we learned was that October 18, 1867, was a sad day for the Russians living in Sitka. October 18 was the day that Russia handed Alaska over to the US, and the last day the Russian flag flew in Sitka. Sitka was the capital of Russian America since 1808, and many considered it the "Paris of the Pacific." As an illustration, in Sitka, they dressed in Paris fashions, held magnificent galas all while dining off of imported china. For the United States, it meant an end to Russia in North America.
Another Tragic Tale
On our walk, we heard the tragic tale of children who sadly died very young in the 1800s, but whose ghosts occasionally are still seen playing today.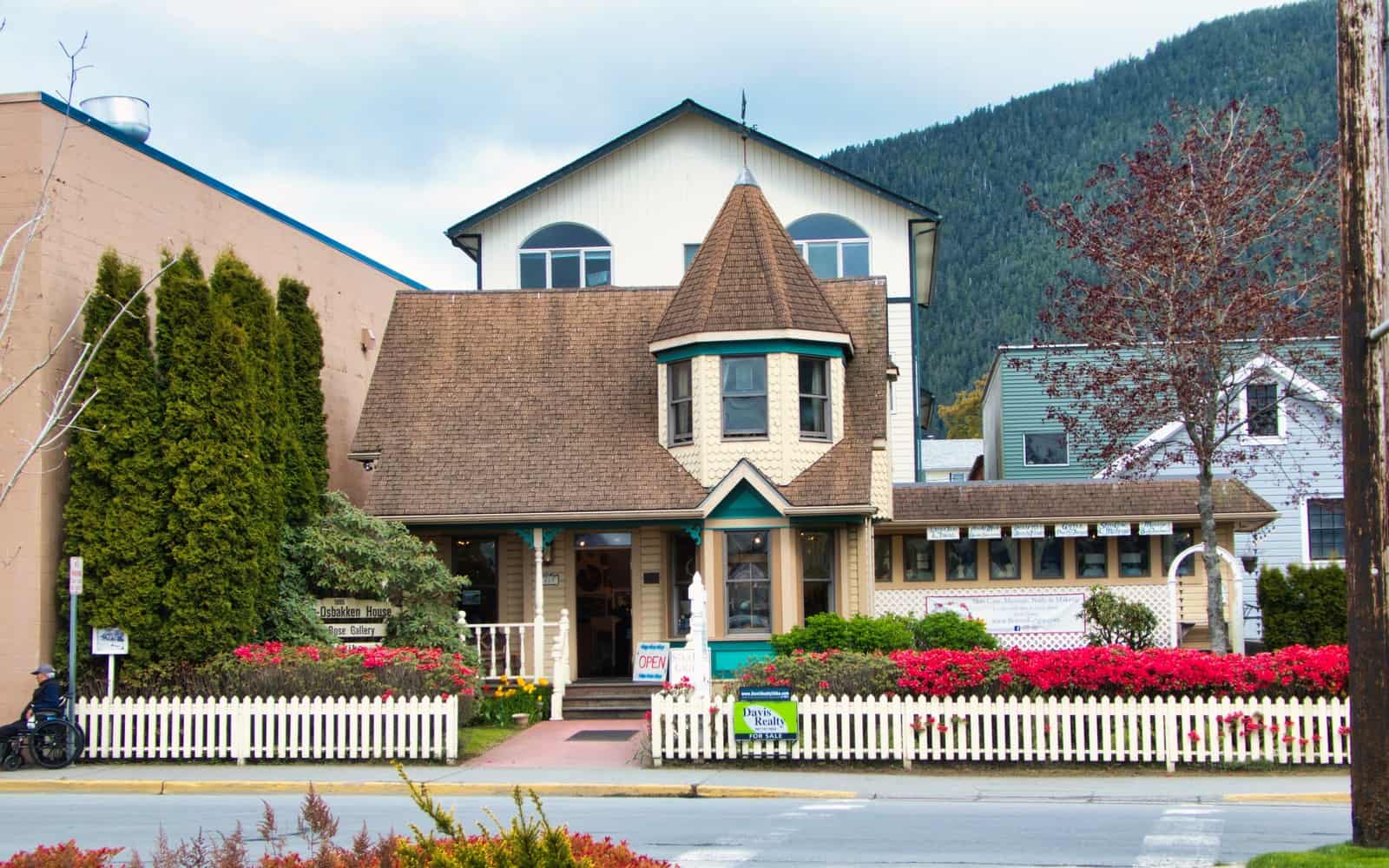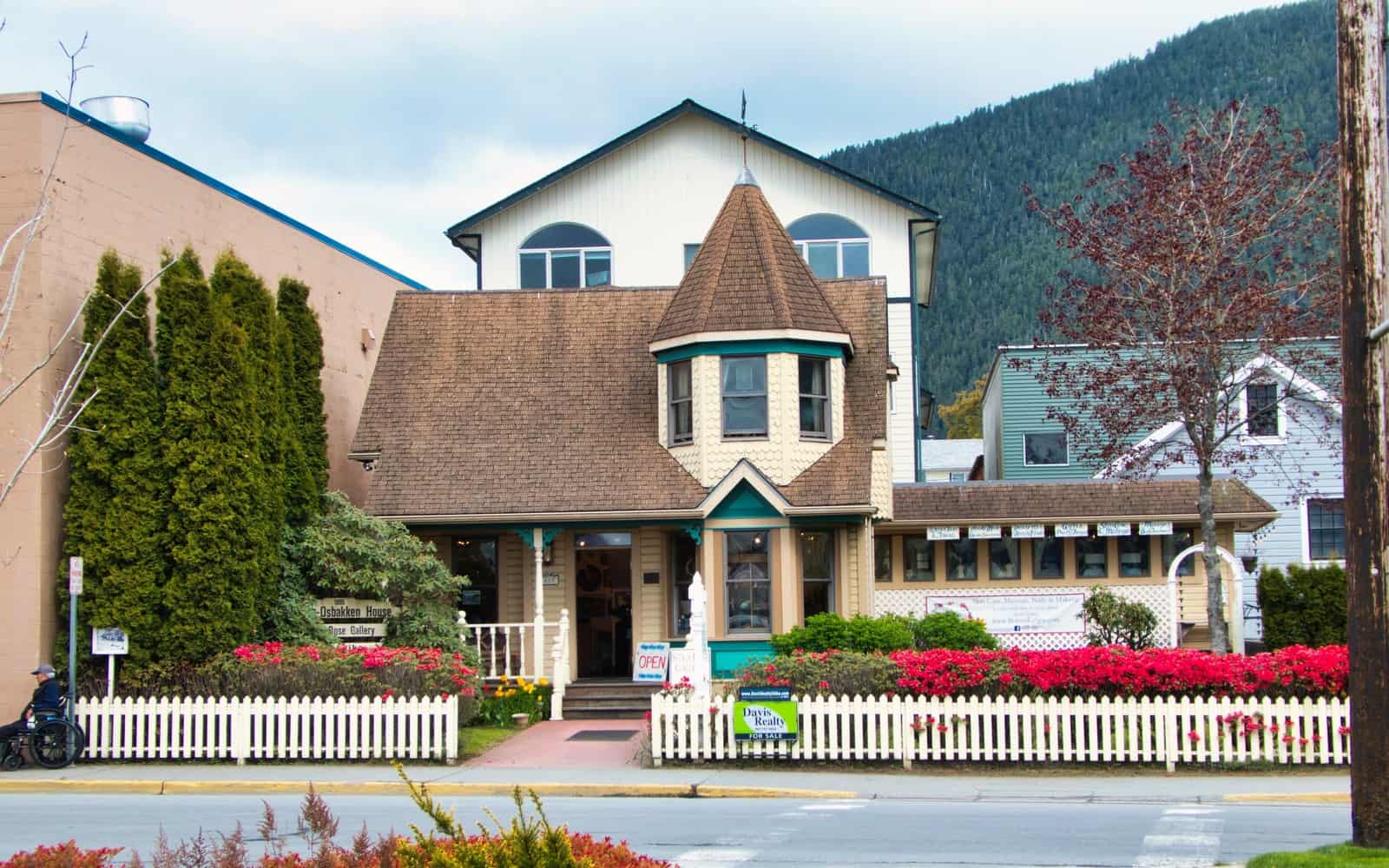 We stood outside of the lovely Rose Hill House and heard the story of May Mills. May never married, but she did open her home to orphans. Various owners have since owned the home. Previously, it was a Bed and Breakfast. One morning a guest complained of children running up and down the halls and even one who came in her room. However, the owner of bed and breakfast explained that no children were staying in the inn. Could it have been some of the orphans?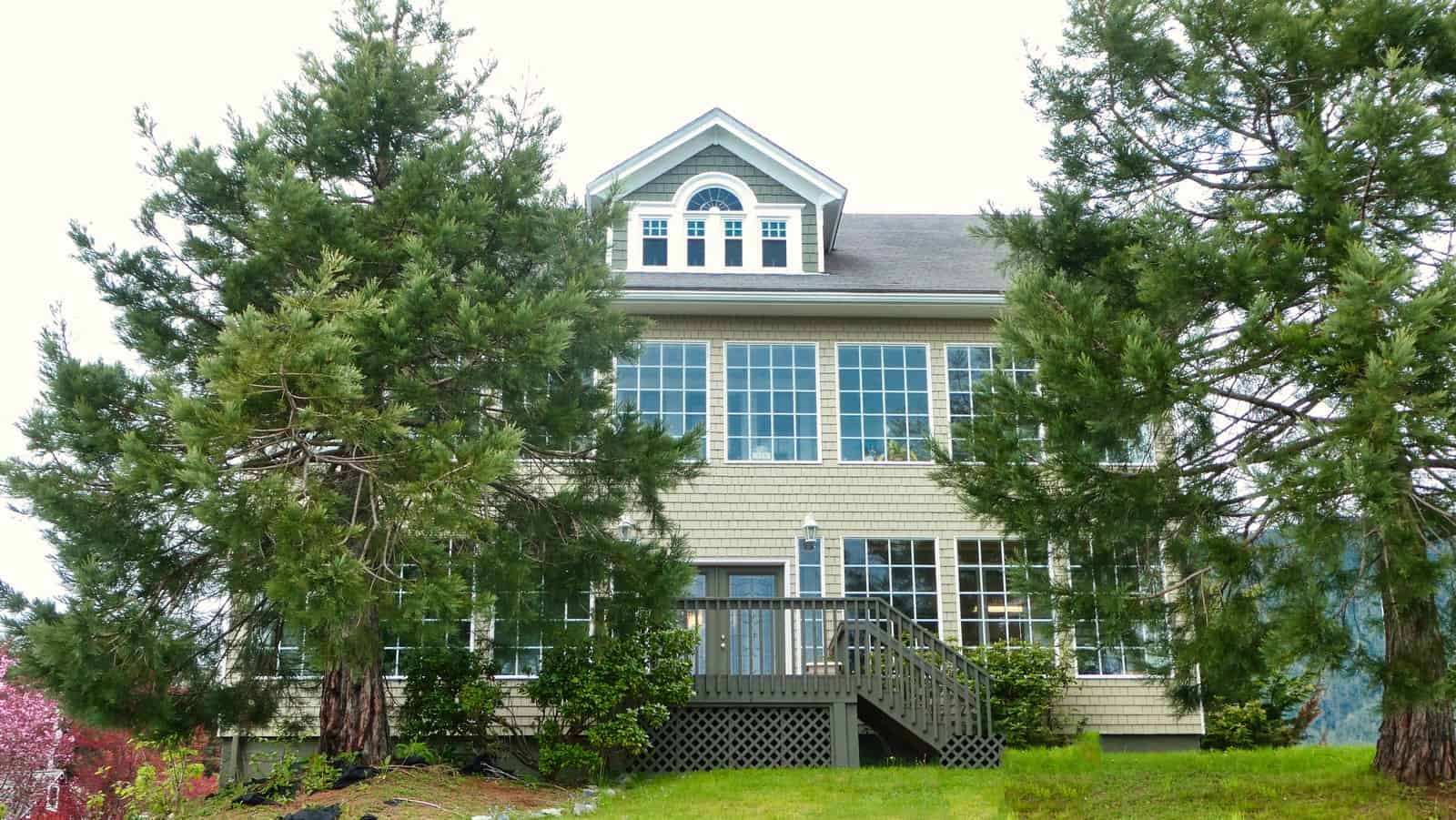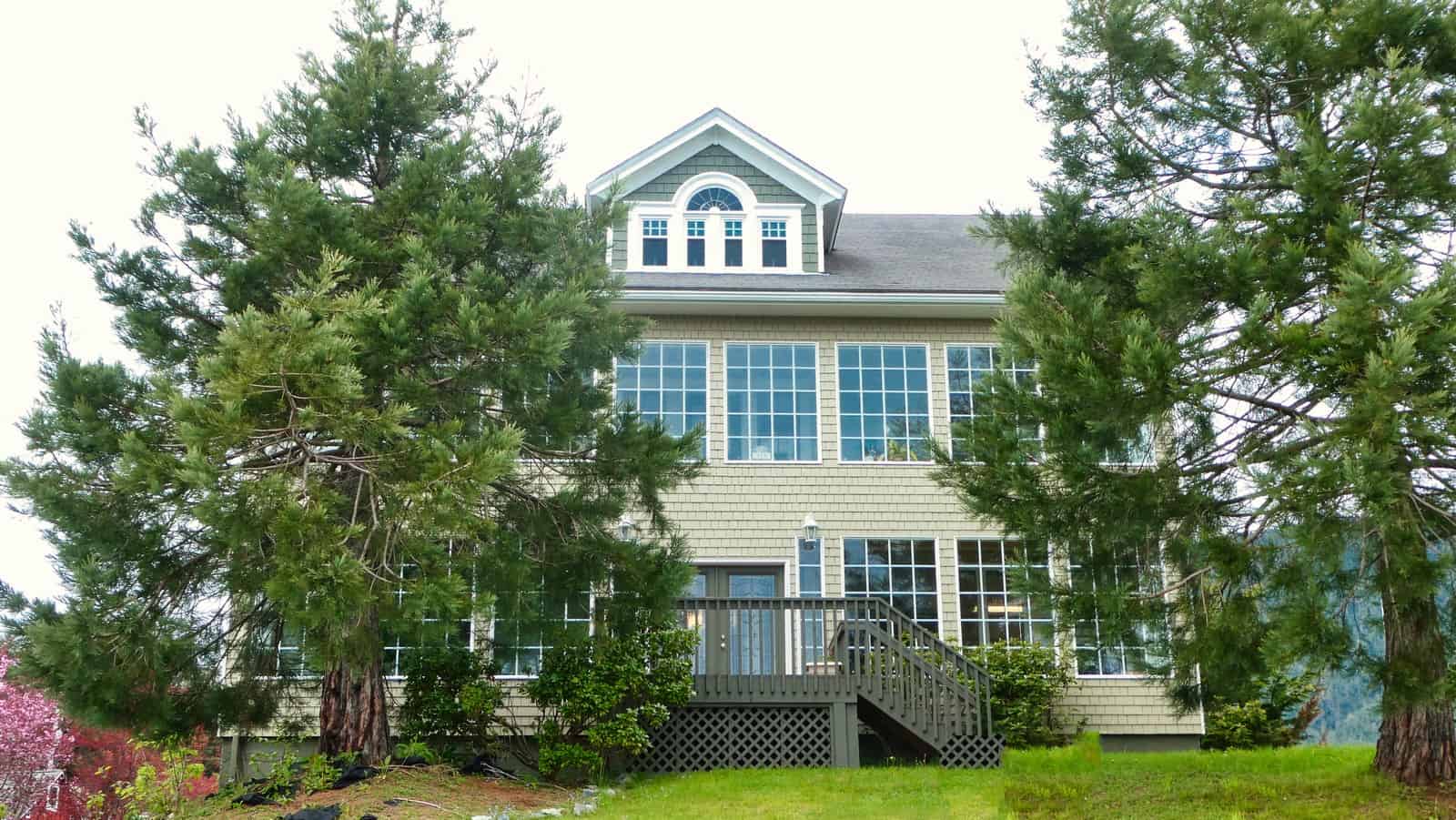 In addition, we visited what is today a hair salon and learned that in the 1880s it was a brothel.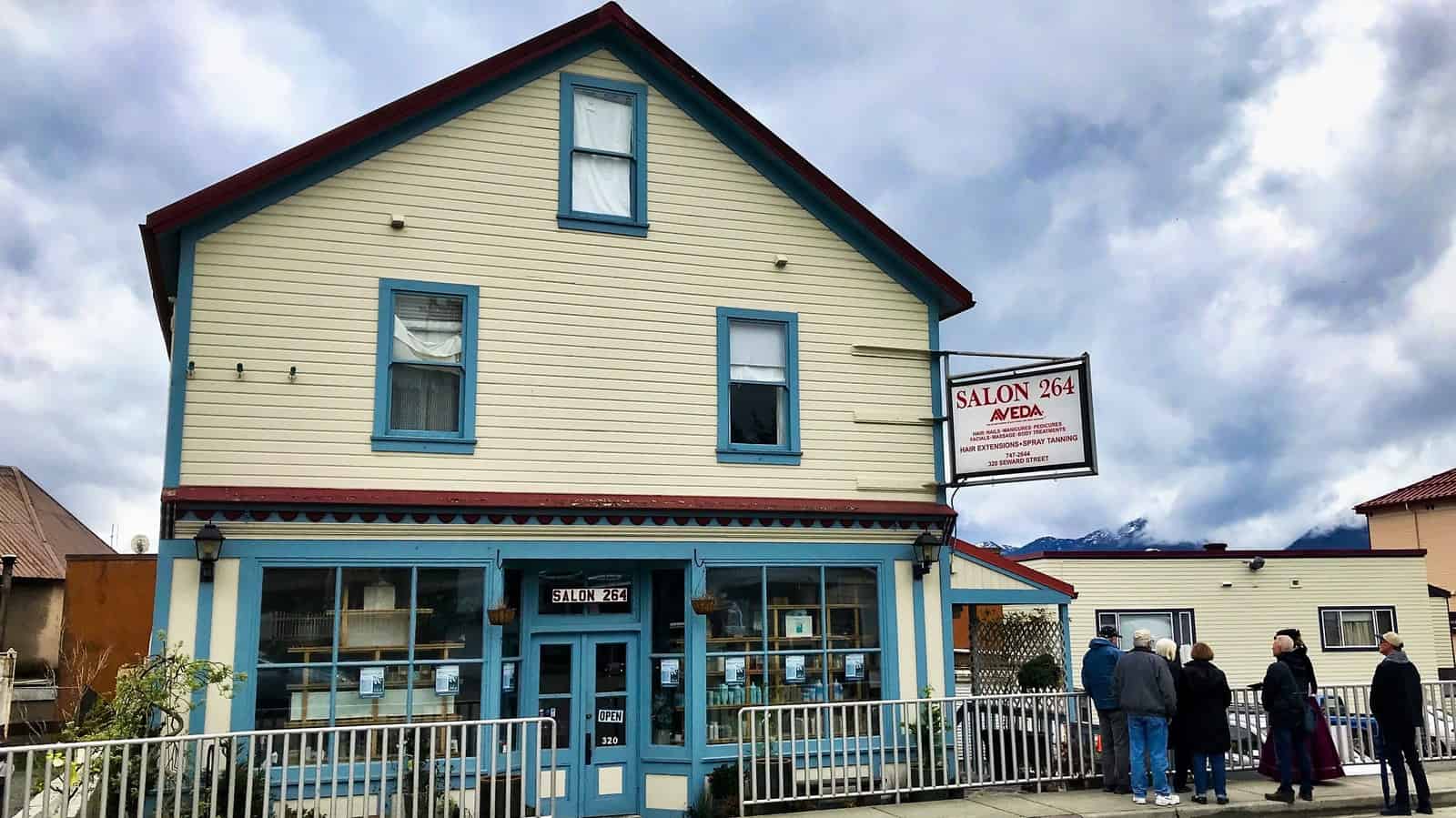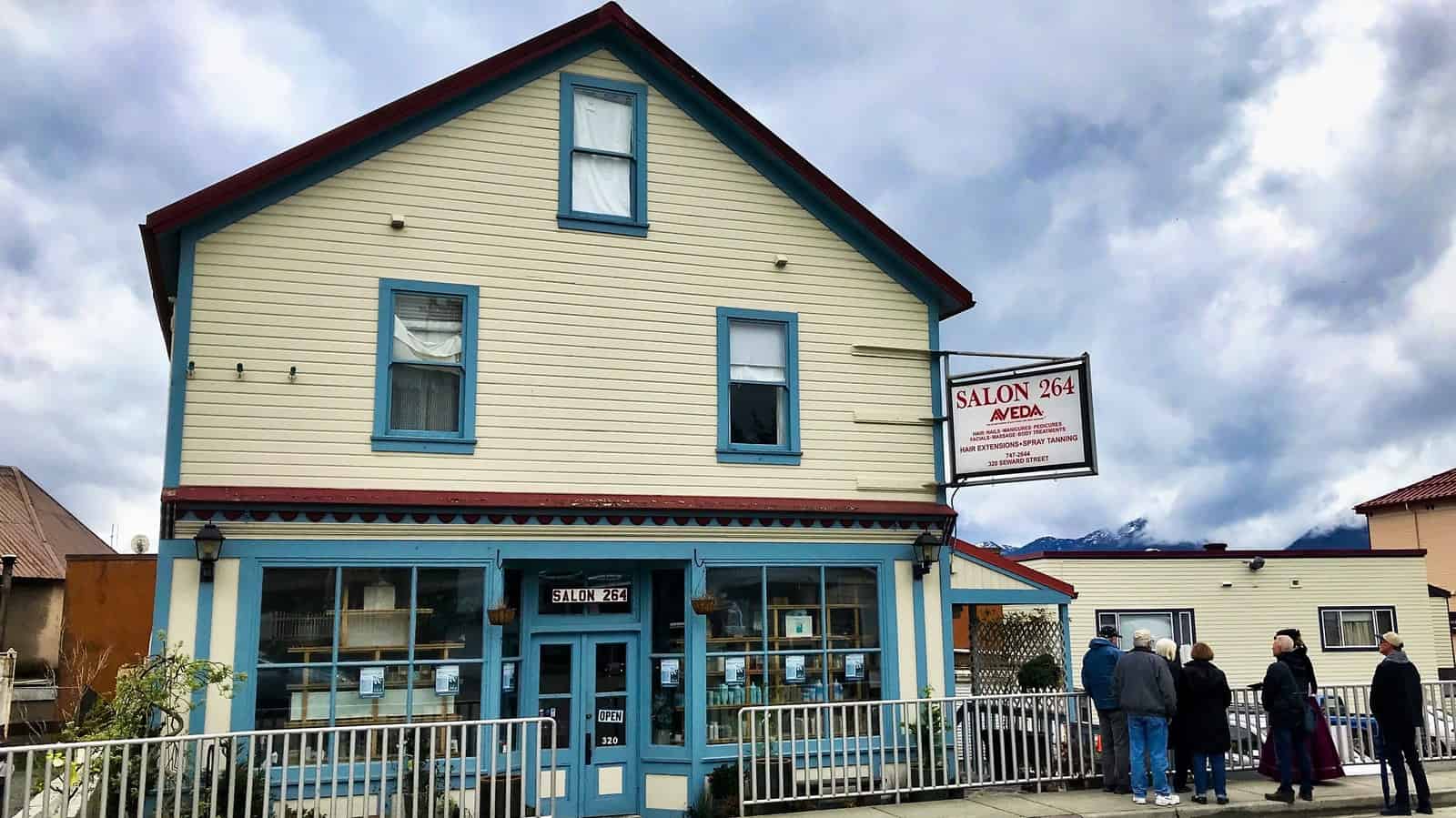 In Search of Paranormal Activity on the Haunted Sitka Tour
Additionally, at the old Russian Cemetary, we embarked on a paranormal investigation. With this intention, we strolled through the cemetery looking at the old gravestones. We saw old headstones, and Russian Orthodox crosses in this extremely overgrown and essentially creepy yet quiet Russian Cemetery. Our guide gave us all ghost detectors. They were basically electromagnetic detectors. She said they have gone off many times on her tours but not for anyone in our group that day.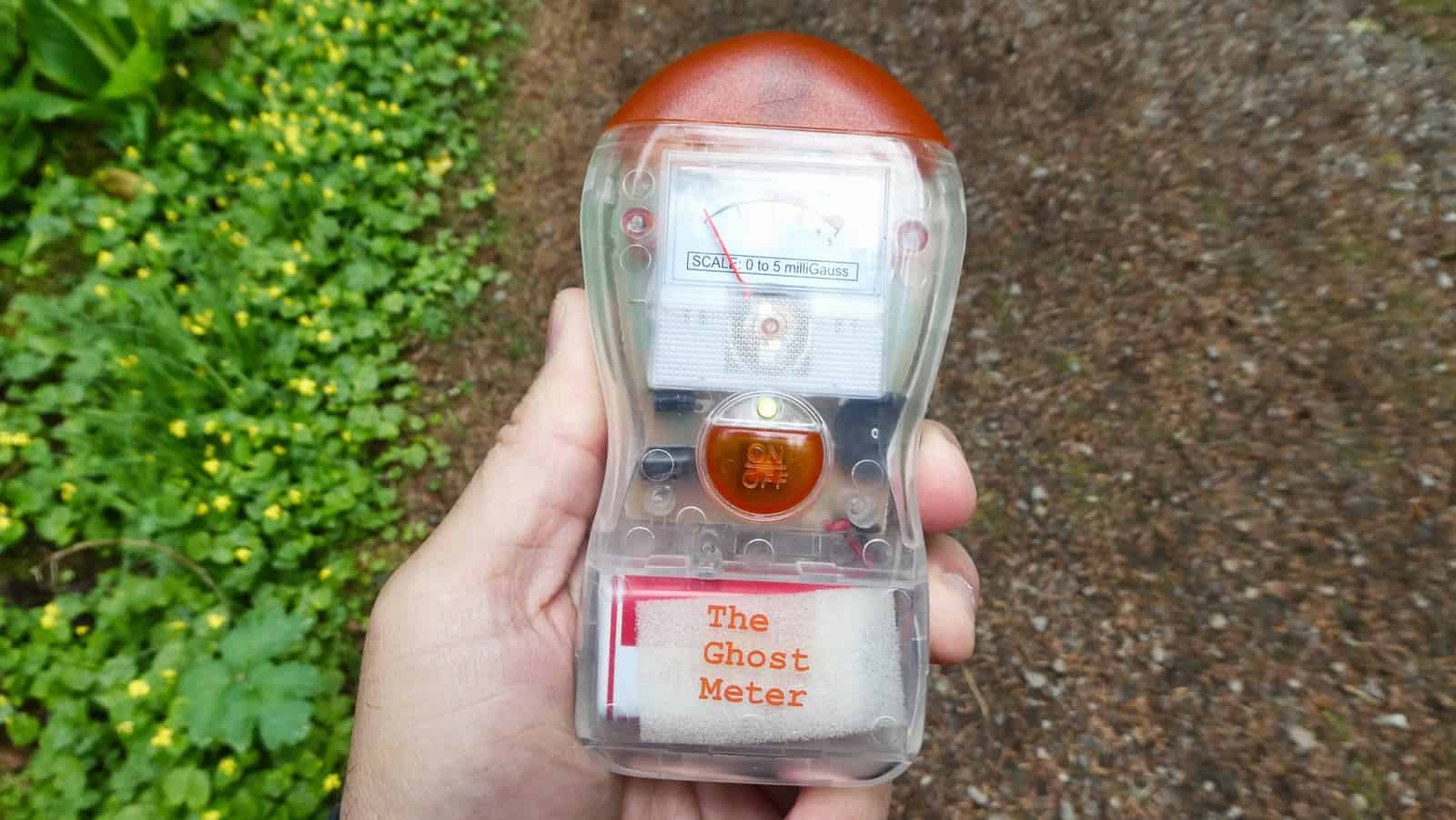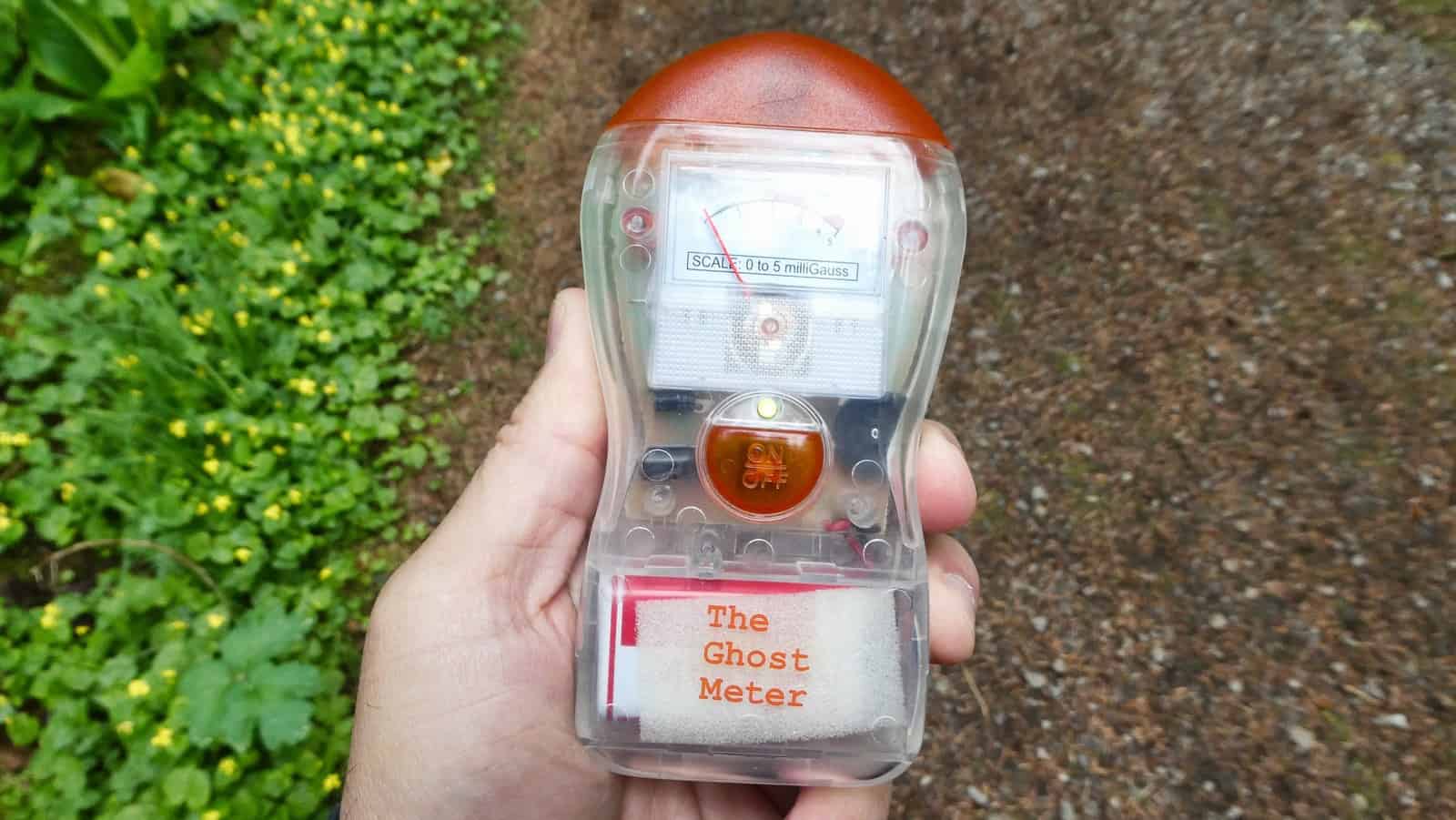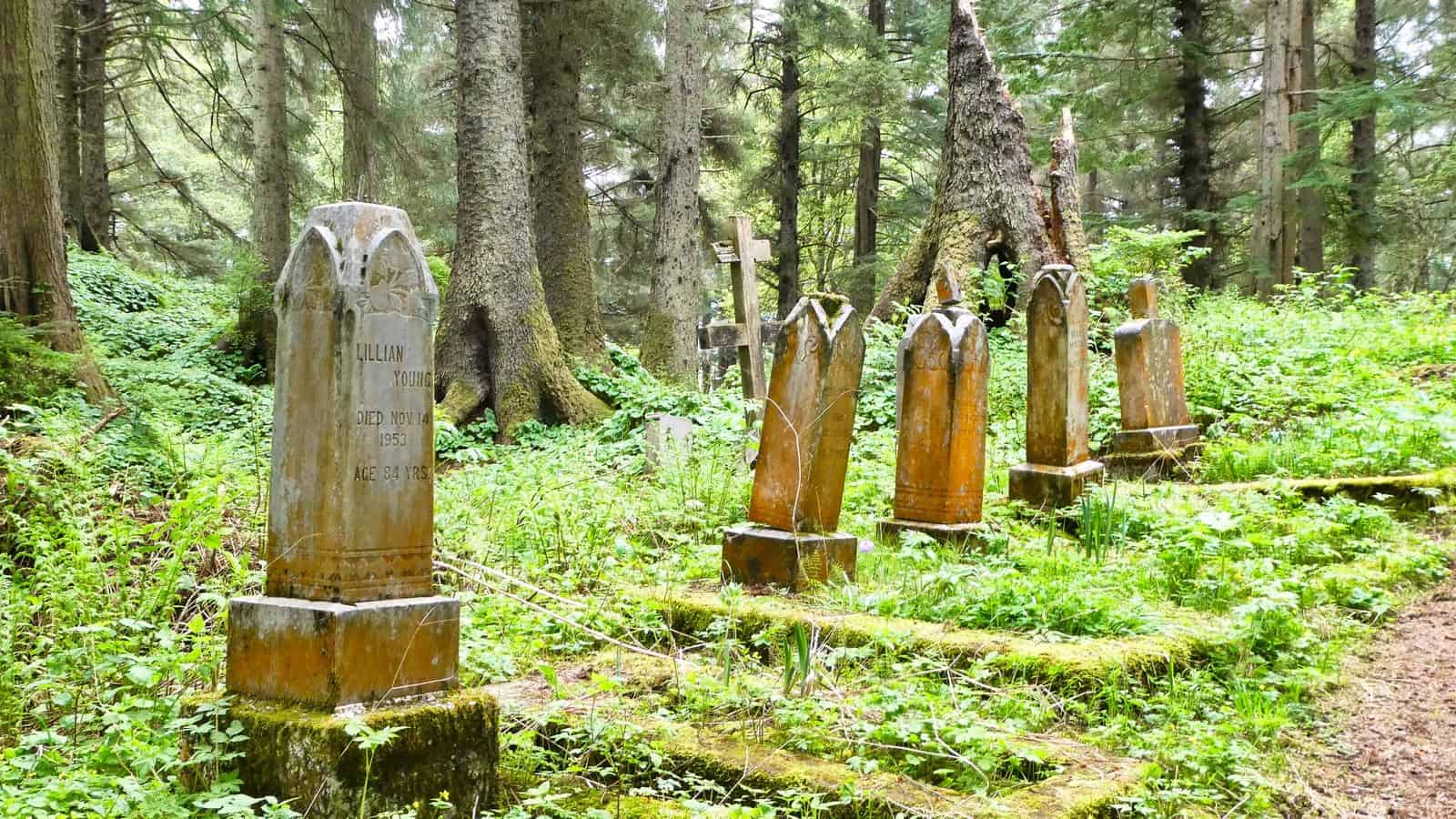 A Haunted Saloon
Lastly, we visited a bar that is said to be haunted by a soldier killed there. Up until last year, you could still smoke in this bar. The bar had something we had not seen since we were teens, a cigarette machine.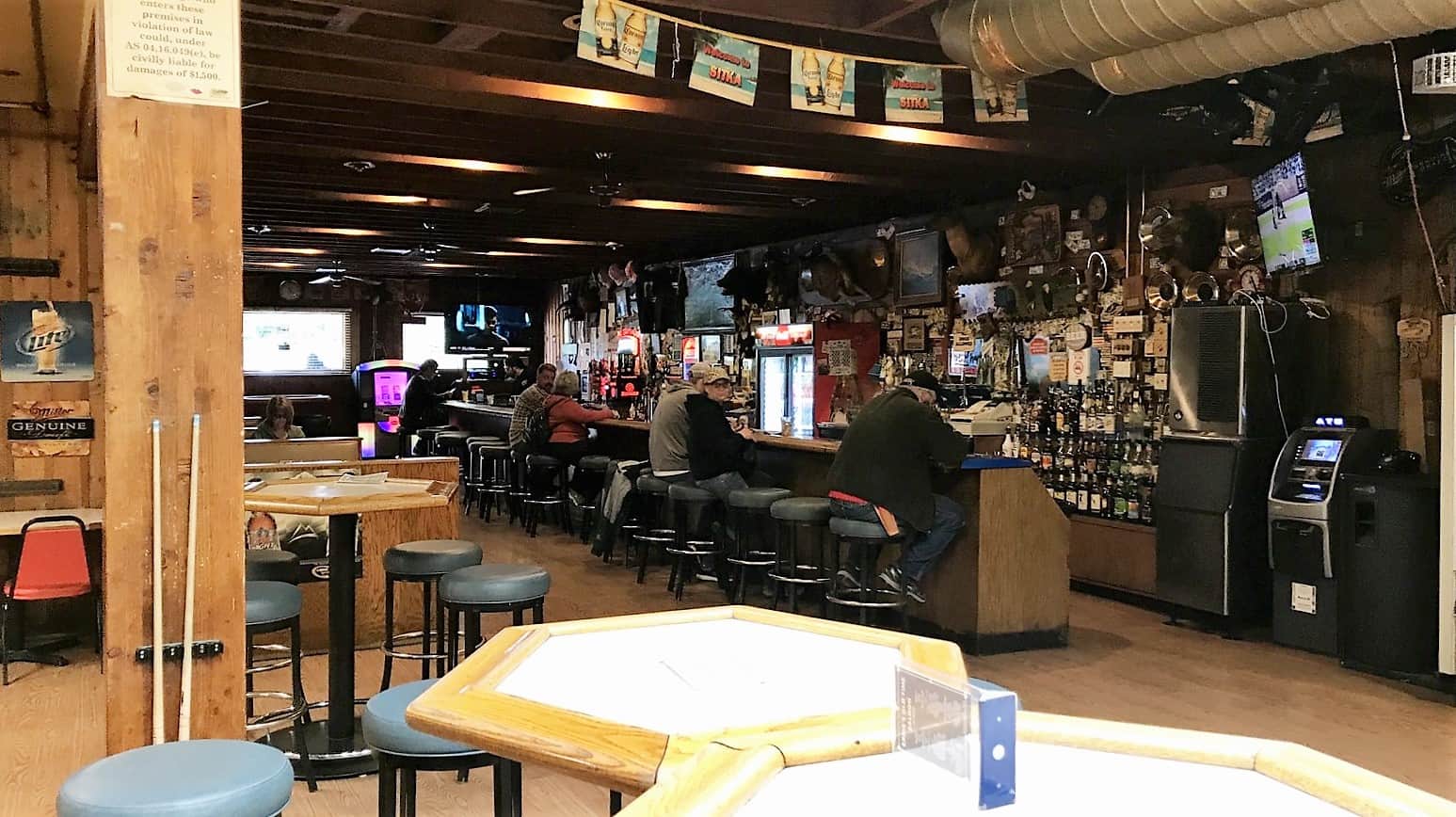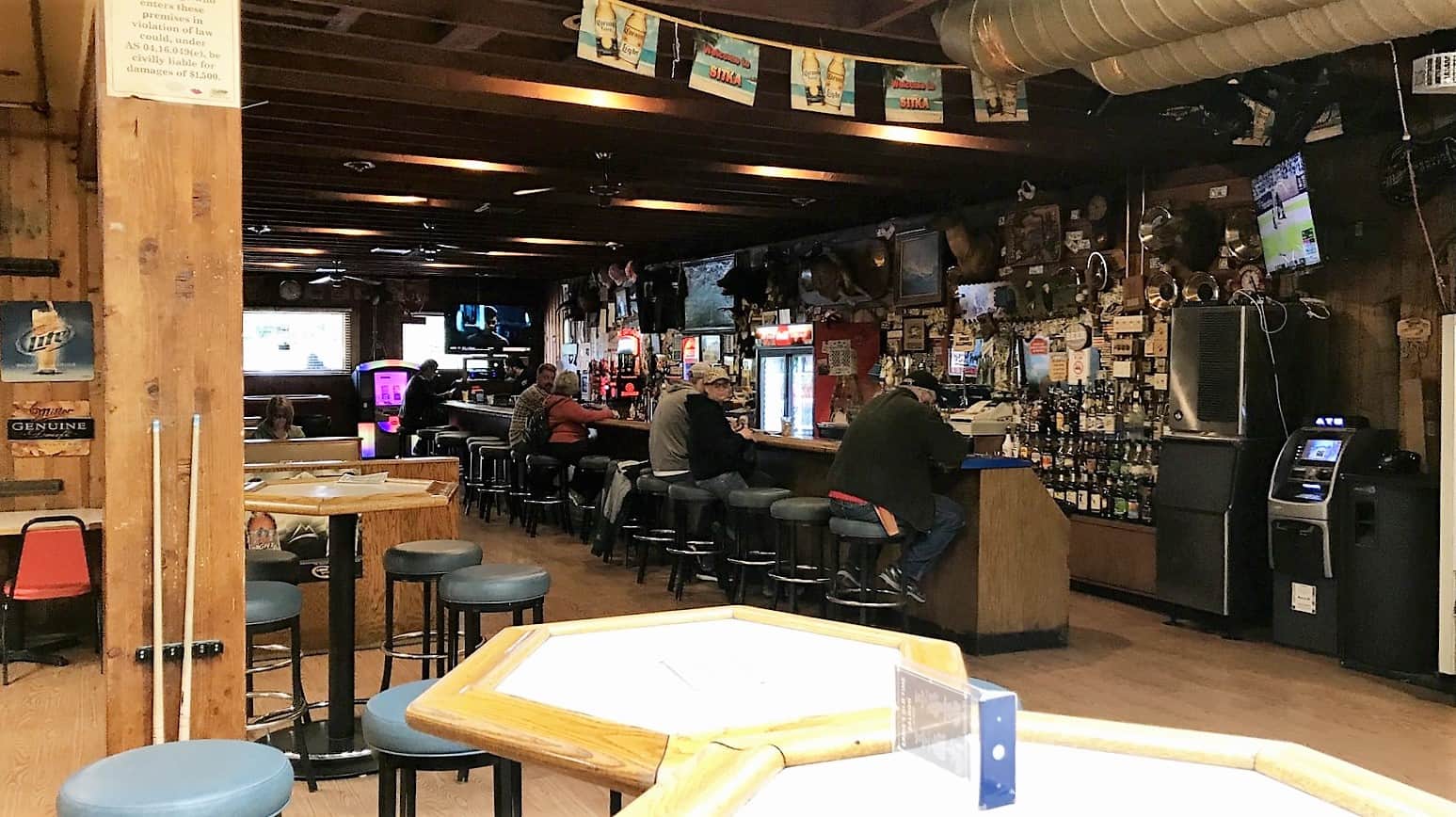 Our haunted tour lasted an hour and was informative and entertaining.
St. Michael's Russian Orthodox Cathedral
After the tour, we went into St. Michael's Russian Orthodox Cathedral. The cathedral completed in 1848, became the center of life in Sitka. Hence, it had a profound cultural impact on Native Alaskans. They adopted a new religion and thus a new way of life, but also provided them with education and health care.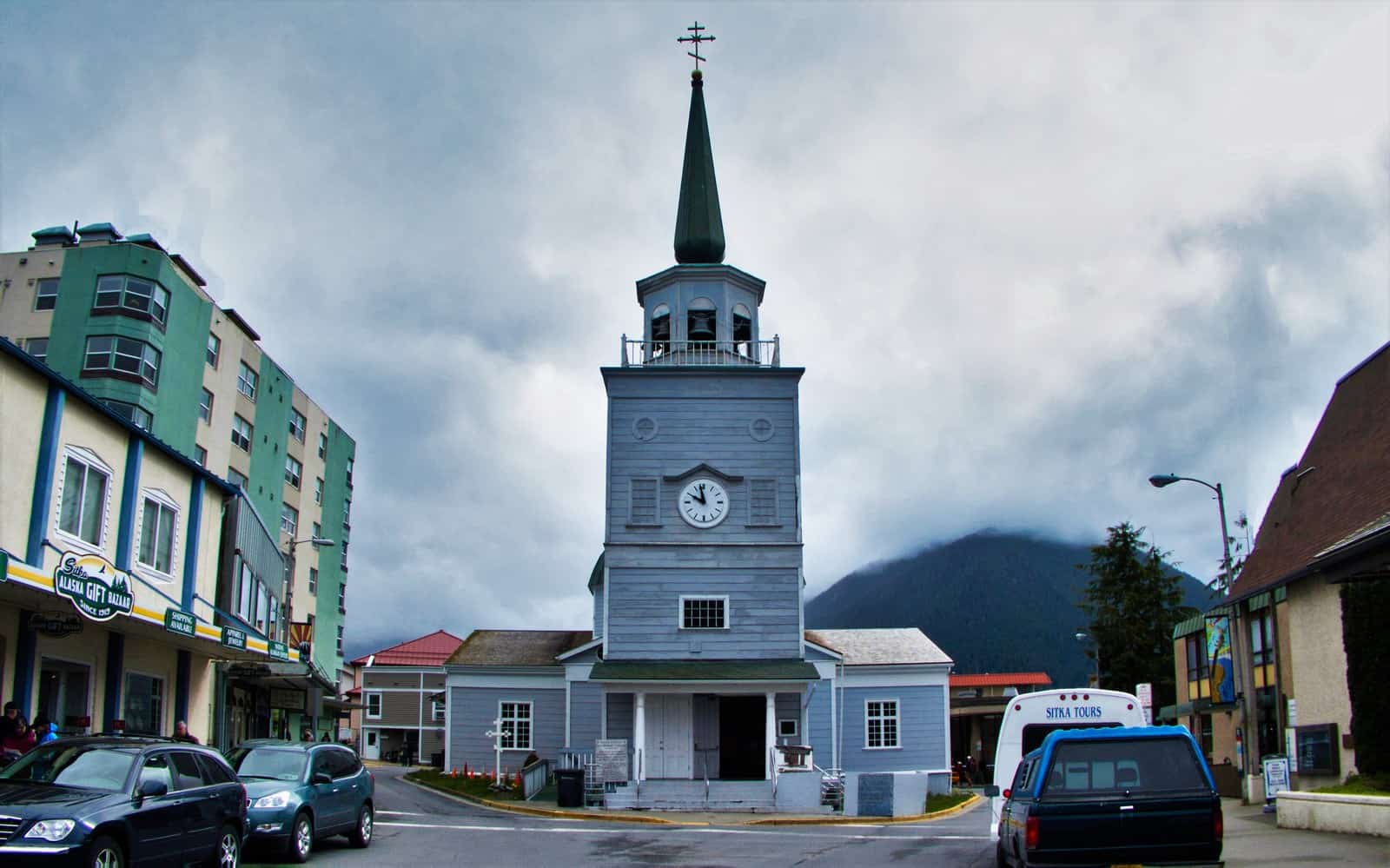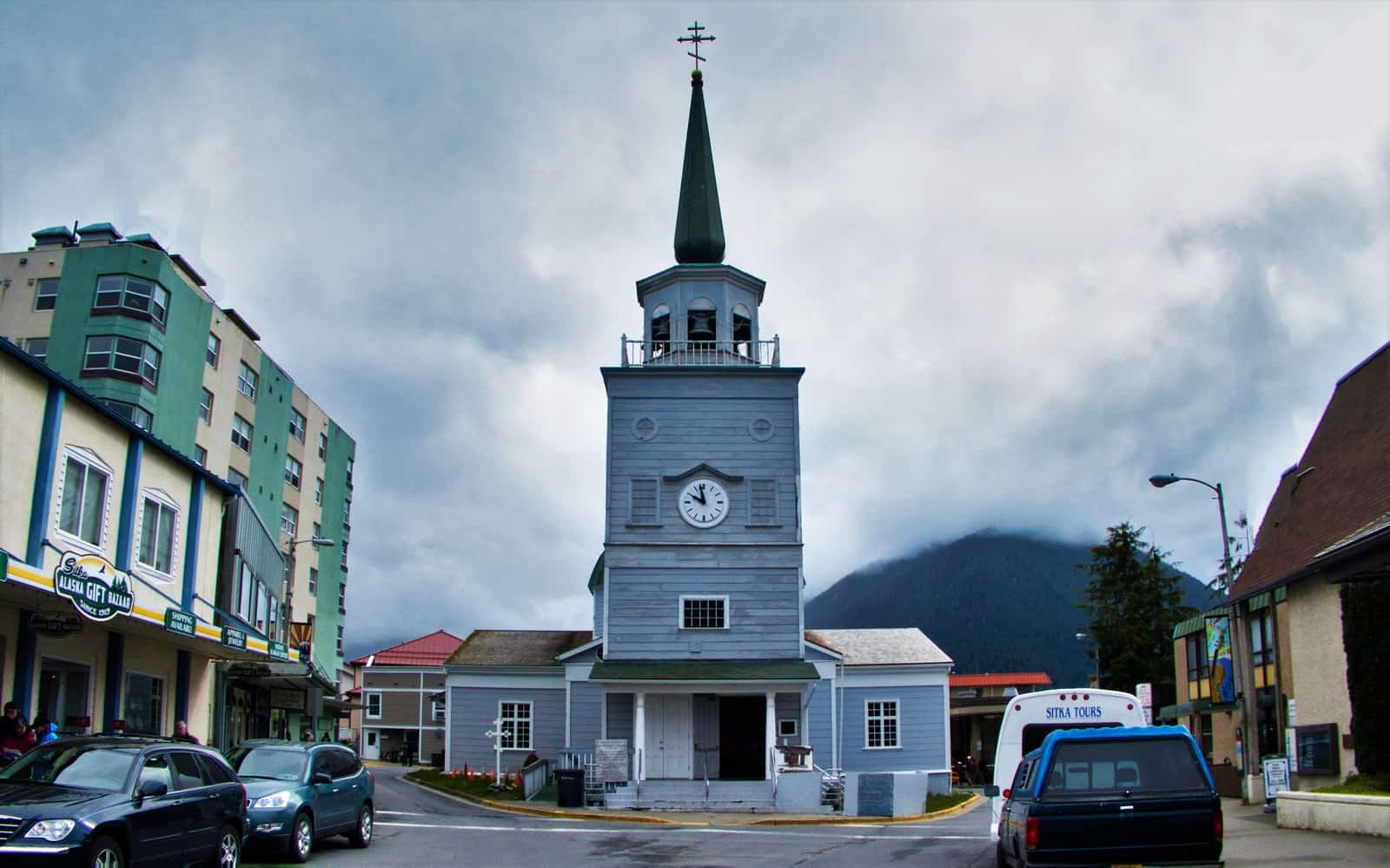 Presently, the Cathedral is a reconstruction of the original church, which was destroyed by a fire in 1966. Back in 1966, 100 Sitka residents banned together, forming a human chain to save most of the beloved treasures, pieces of Russian Orthodox art and religious objects. Accordingly, these gems now adorn the Nave of the Cathedral.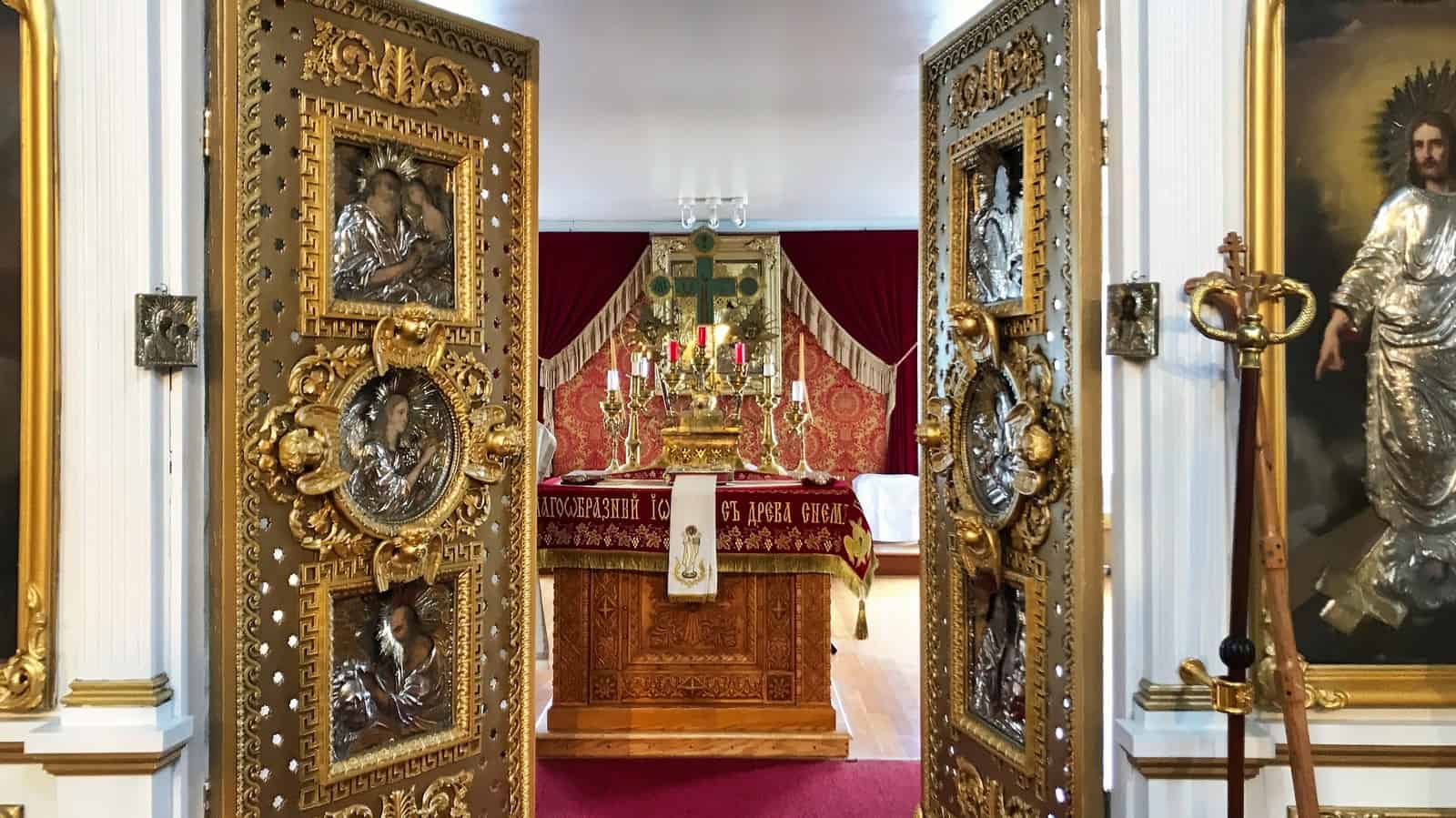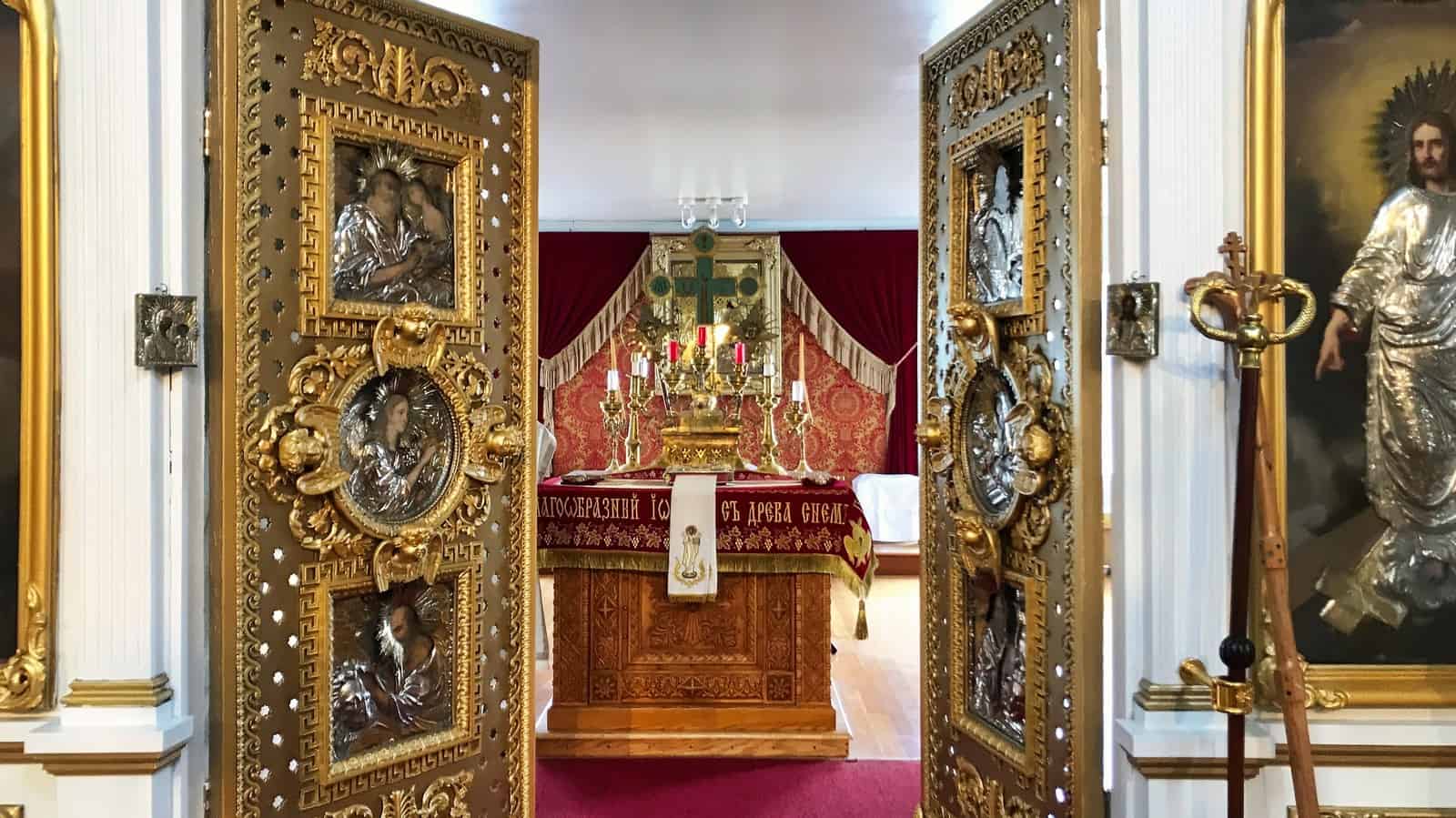 Princess Maksoutoff's Grave
After visiting the church, we walked uphill a bit to visit the grave of Princess Maksoutoff. The princess born in 1834 and died in 1862 was just 28 when she passed away. She was the wife of the last Russian, American governor, Dimitri Maksoutoff. There is a sign detailing that this tiny three-grave site is the Lutheran Cemetery.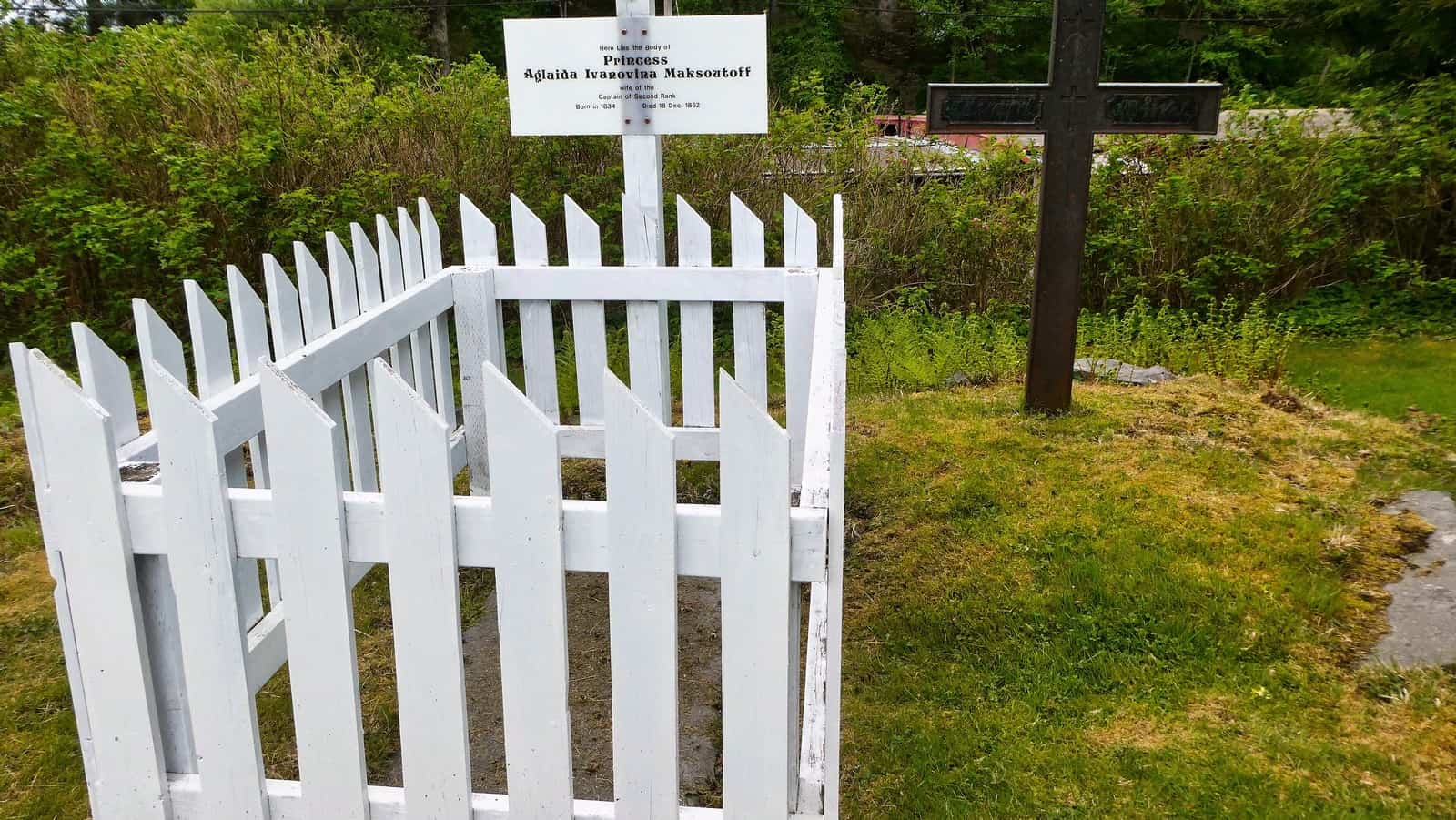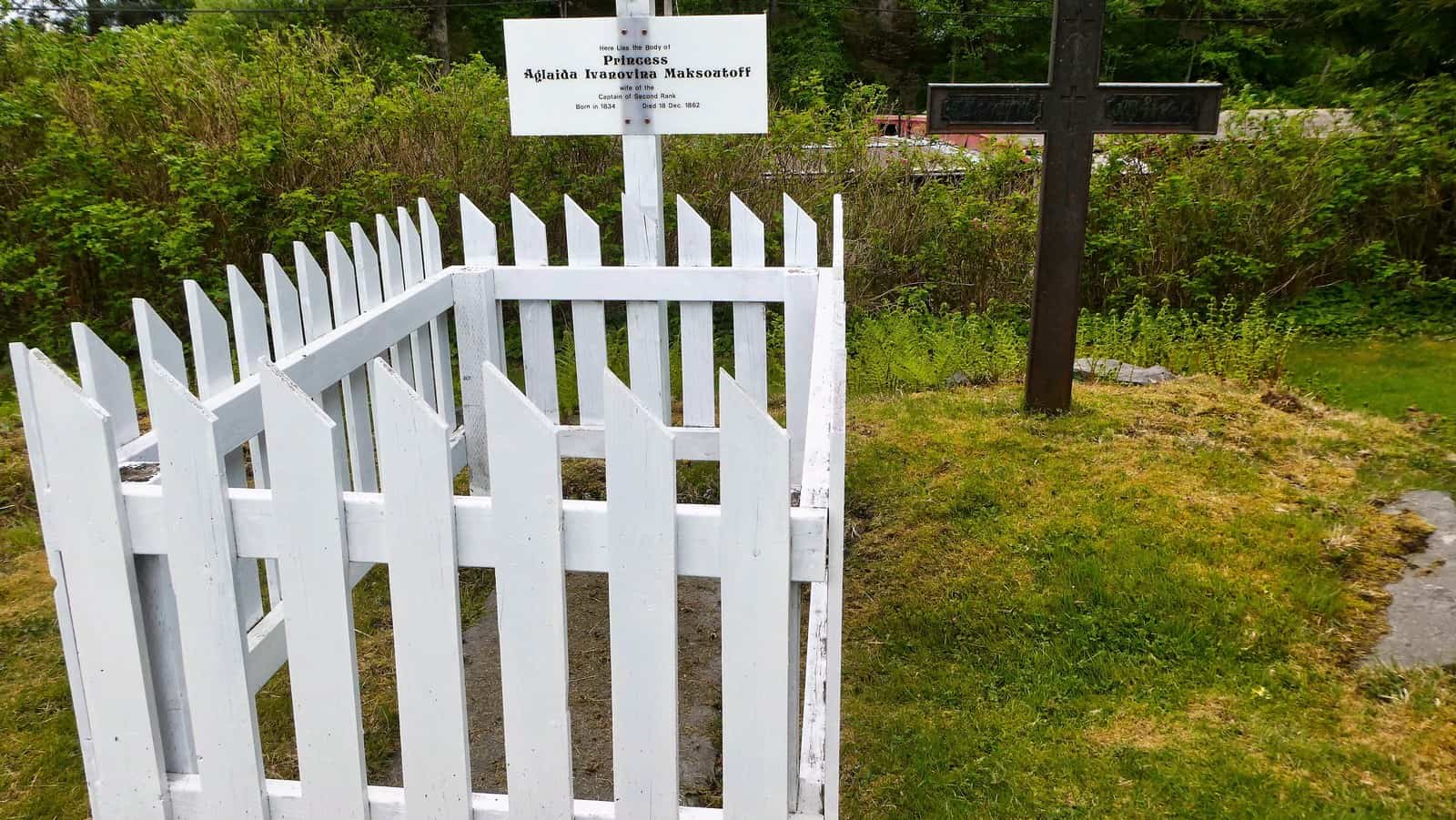 You Never Know What You Will Find When You Explore – Pioneer Home
As we were walking around Sitka, we noticed this lovely large yellow building and decided to investigate. Upon reaching the building, the first thing we noticed was the landscaping. Particularly beautiful flowers encircled the building. In front of the building stood a monument titled The Prospector. Most important the monument is modeled after real-life pioneer William Clark "Skagway Bill."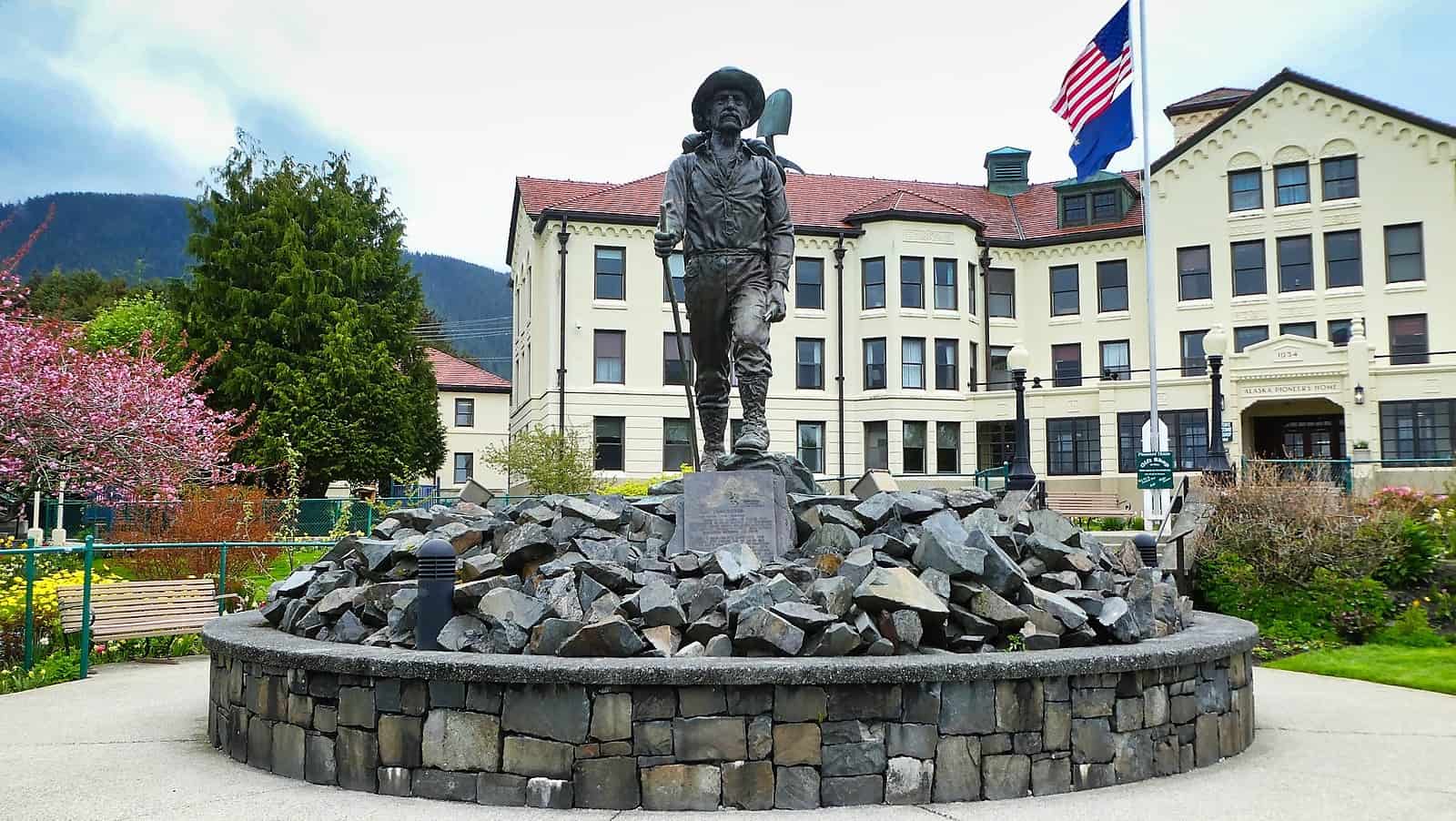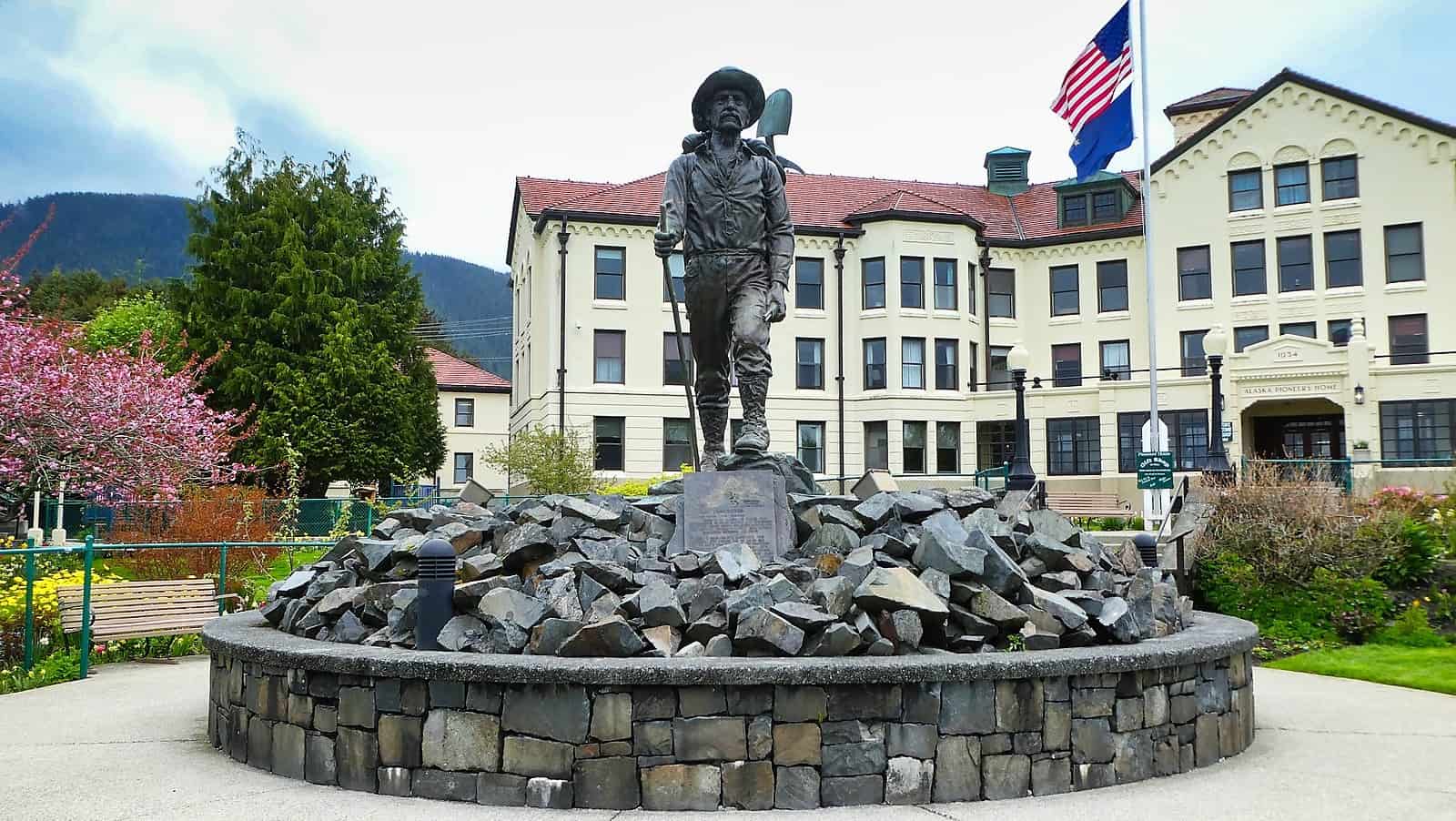 The building was called the Pioneer Home, and a sign said there was a gift shop. So, still having no idea what the Pioneer Home was we ventured in. Fairly quickly, we determined it was a senior center or an assisted living center. The people living there were so friendly and so happy we came in. The Sitka Pioneer Home is a wonderful homey place with an Alaskan history that provides assisted living to seniors. Thus, the gift shop was small, but it provided a true taste of Alaska. The residents made a lot of the items for sale in the gift shop. All the proceeds go back to the home.
Russian Barracks
As for the history, originally the Pioneer Home was a Russian barracks built in the 1800s. And, from 1879 to 1892, the U.S. Marines were stationed there.
Today's Sitka Pioneer Home can serve 75 men and women and provides care at three different levels: Independent, basic assistance and 24-hour care for Alzheimer's Disease and Related Disorders.
Walking is one of the best ways to see Sitka. Since the town is small, it's easy to get around. There are lots of shops to explore and many dining options too.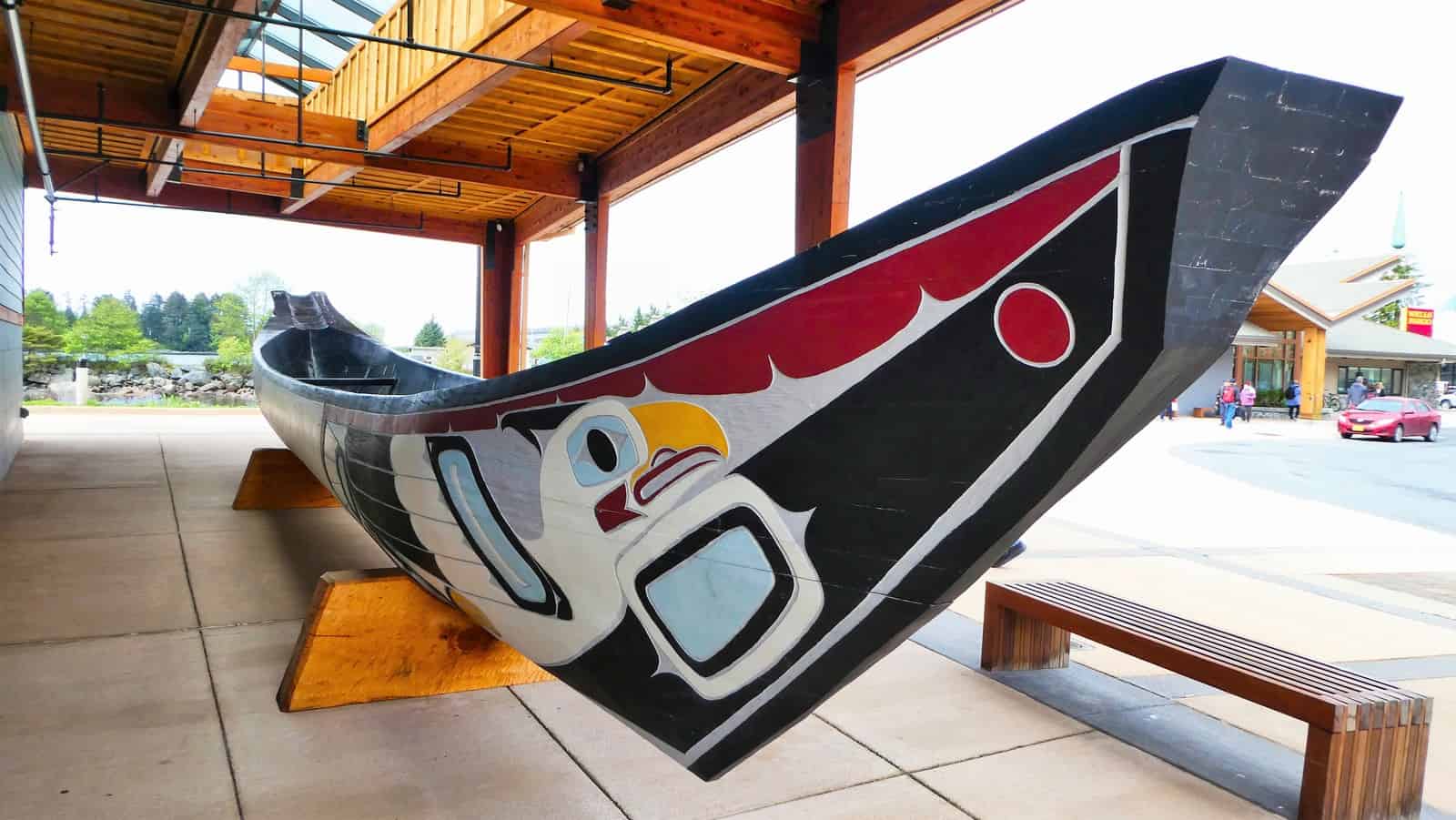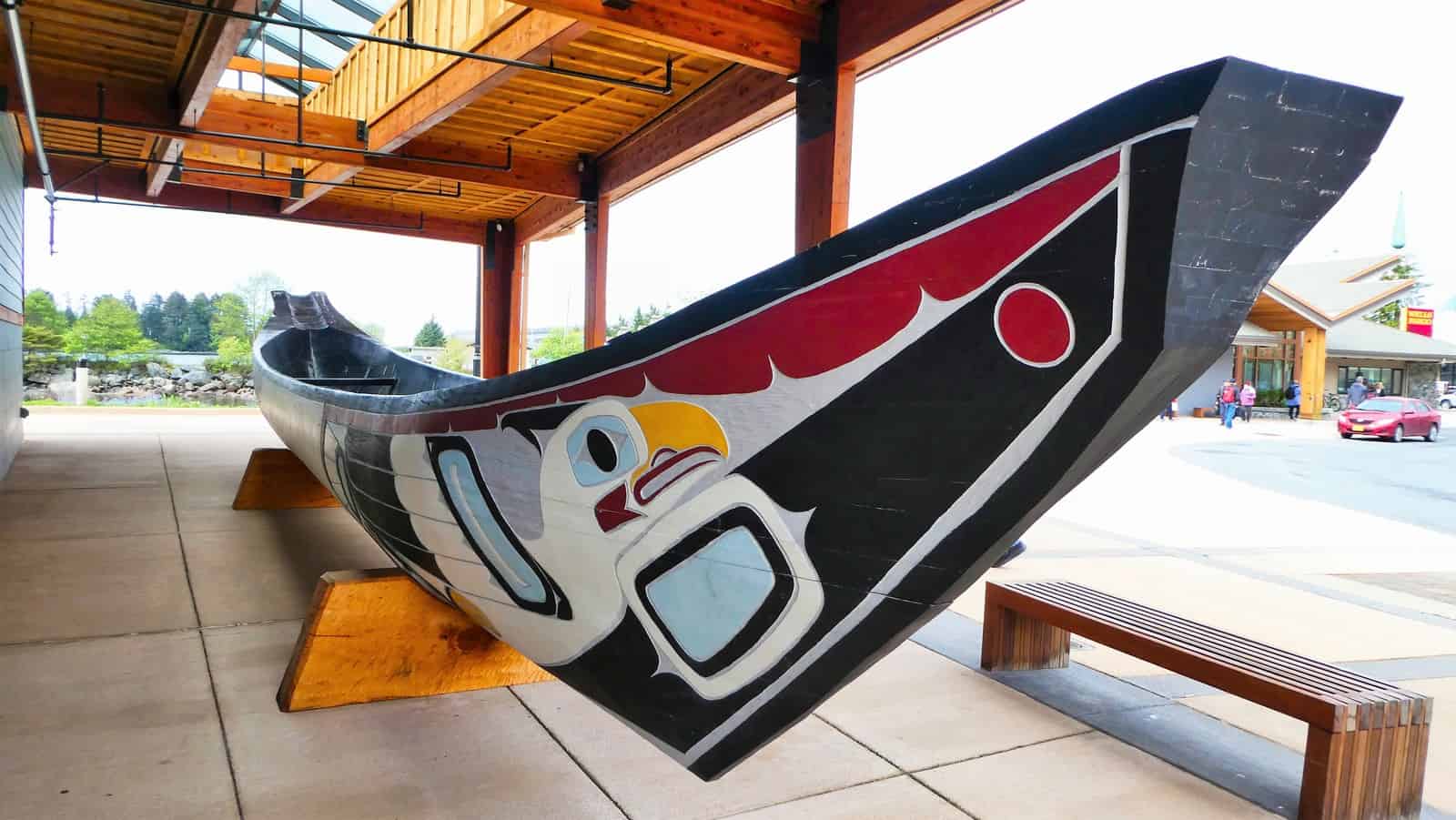 Day 6 Ketchikan
The next stop on the Holland America Line Alaskan Cruise was Ketchikan. So from Sitka, we traveled 230 miles to Ketchikan. Ketchikan is an Alaskan city facing the Inside Passage. Ketchikan is best known for four things: salmon, tranquil scenery, an incredibly rich Alaska Native history and rain.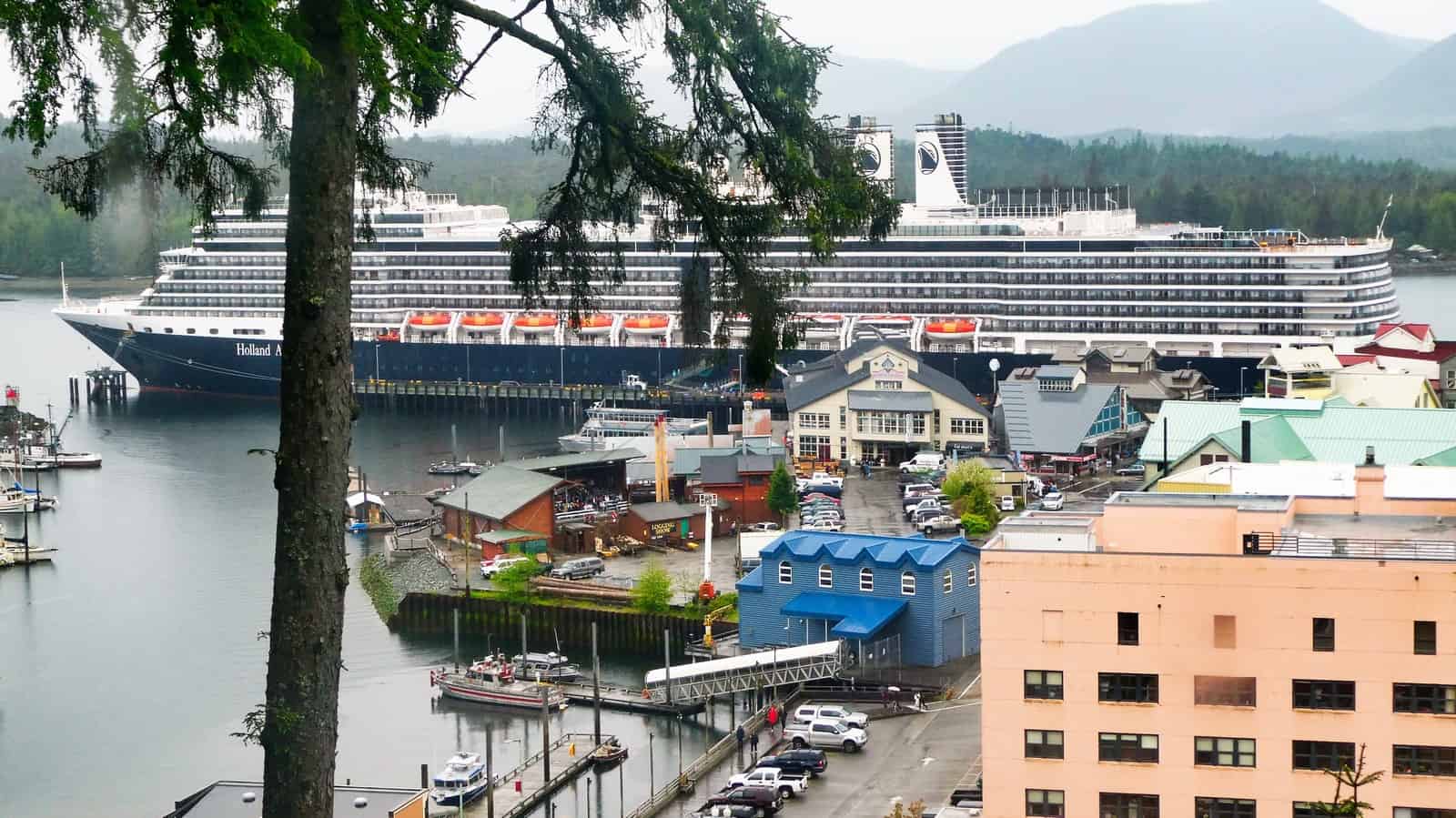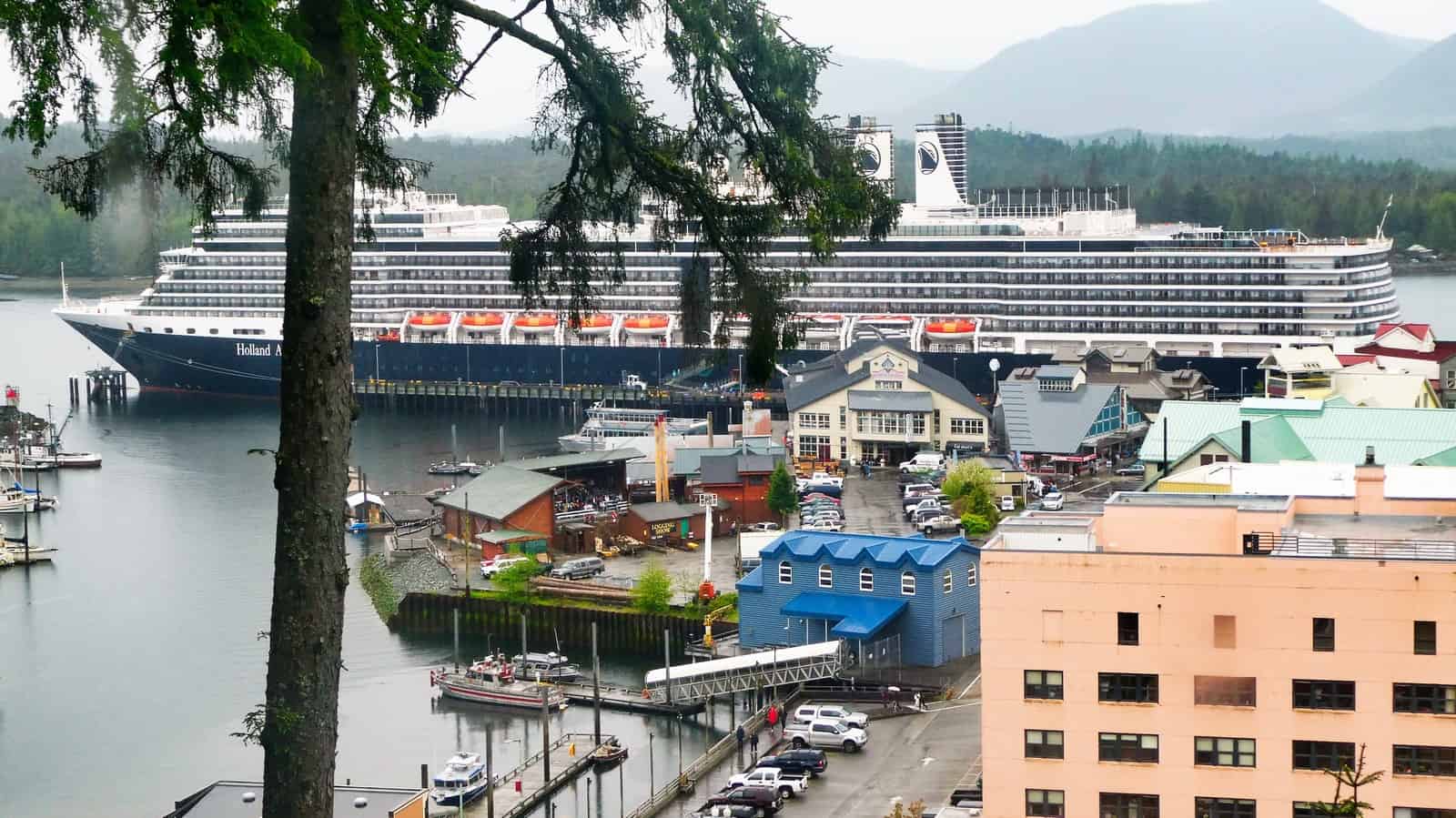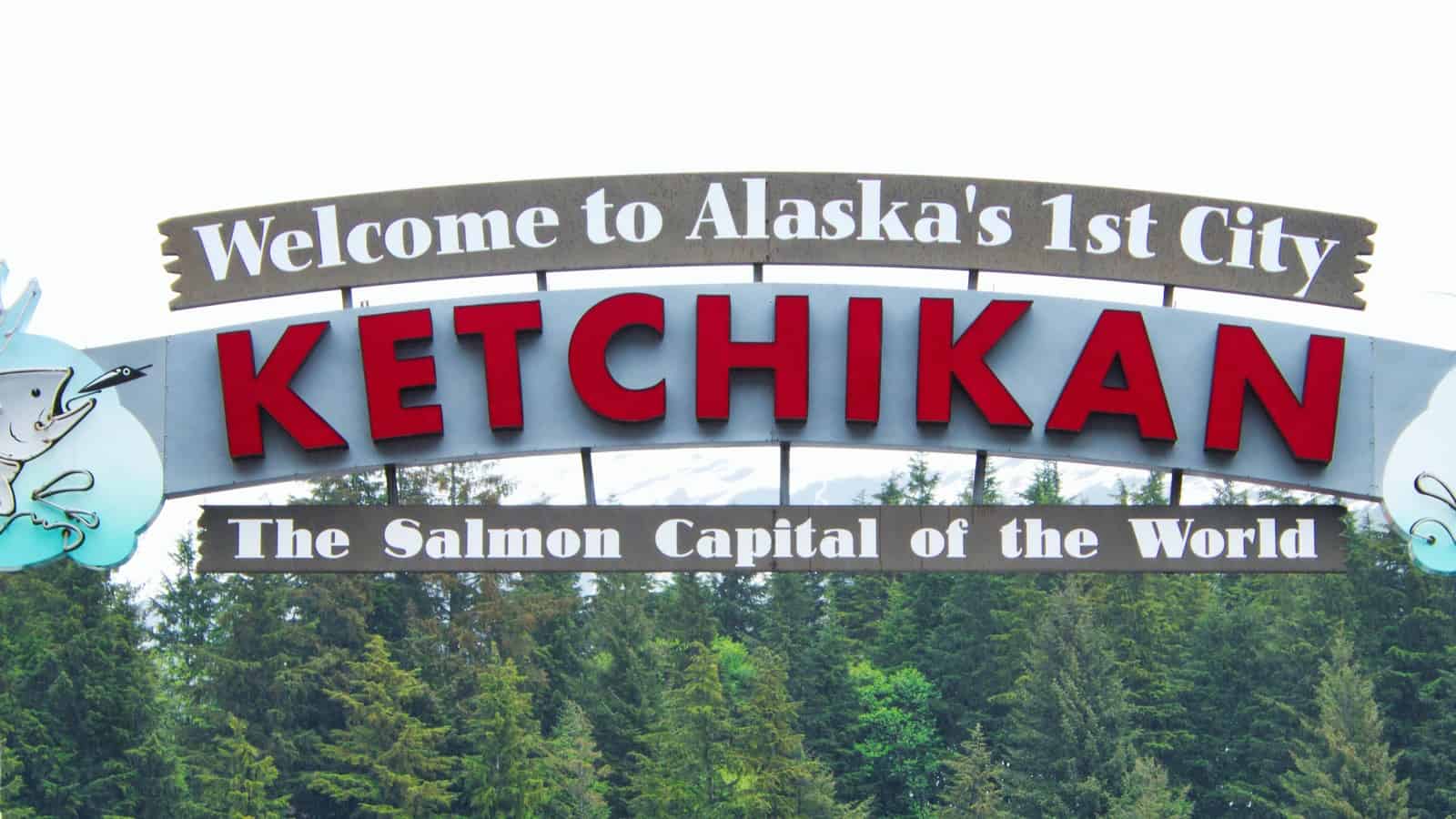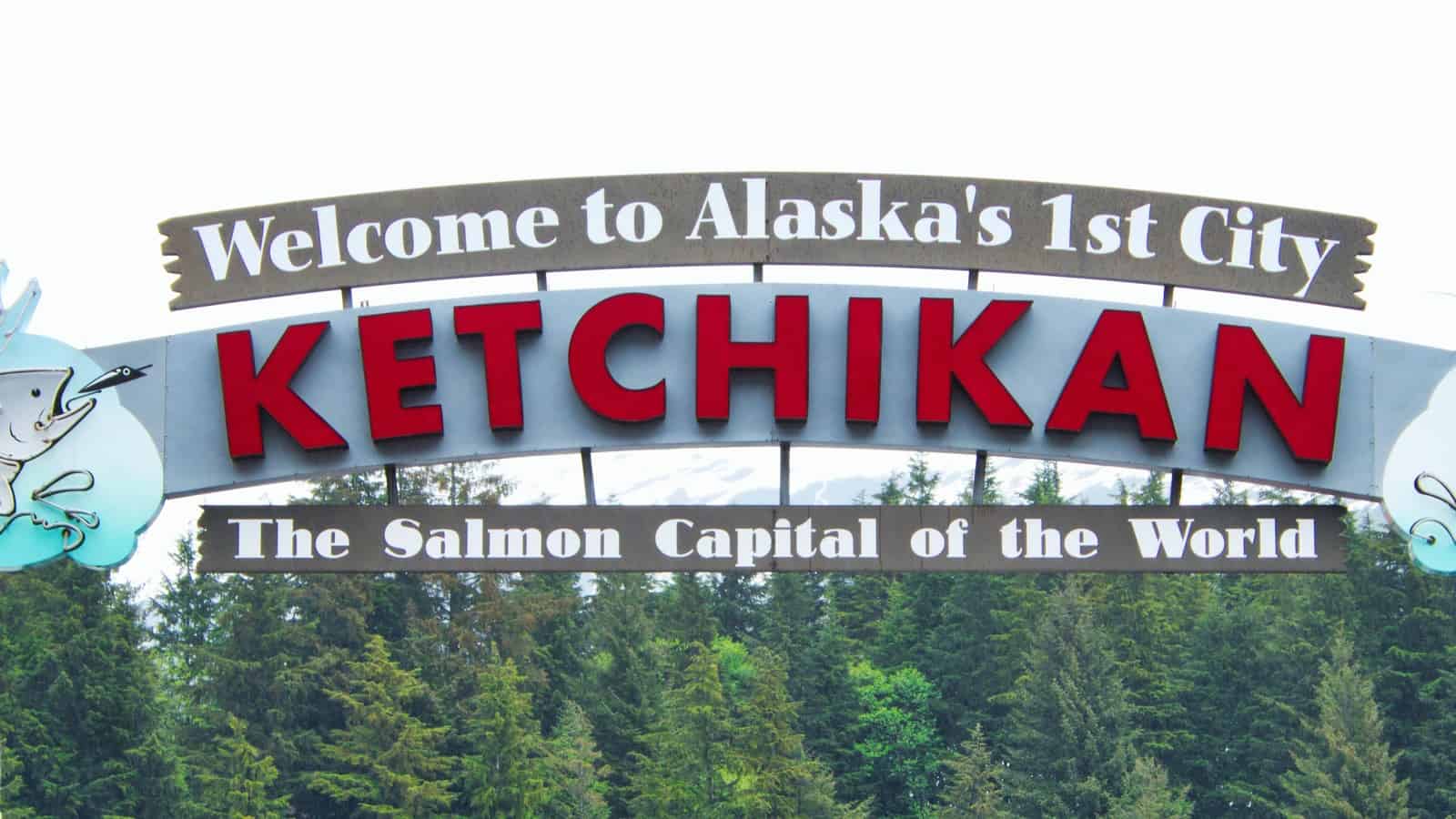 Again in Ketchikan, we decided to do a small group photography safari. Our guide, driver, and instructor for this safari was Mike Cooke. He is originally from the UK and now an over 25 year resident of Ketchikan. He says there is no other place he would rather live than Alaska. Even though our day in Ketchikan was a bit rainy, which is quite normal for Ketchikan, Mike took us to a variety of places for some great photos.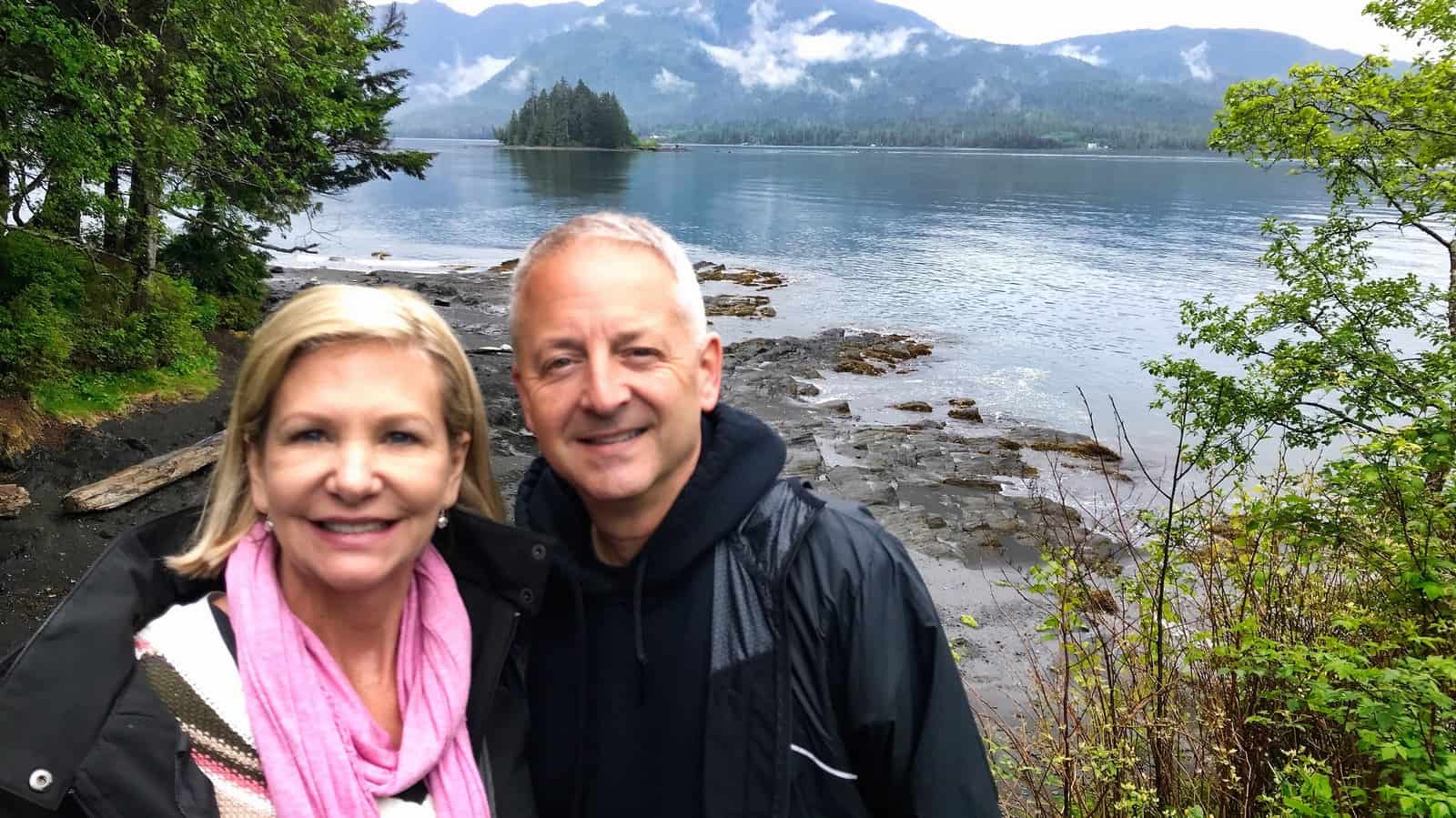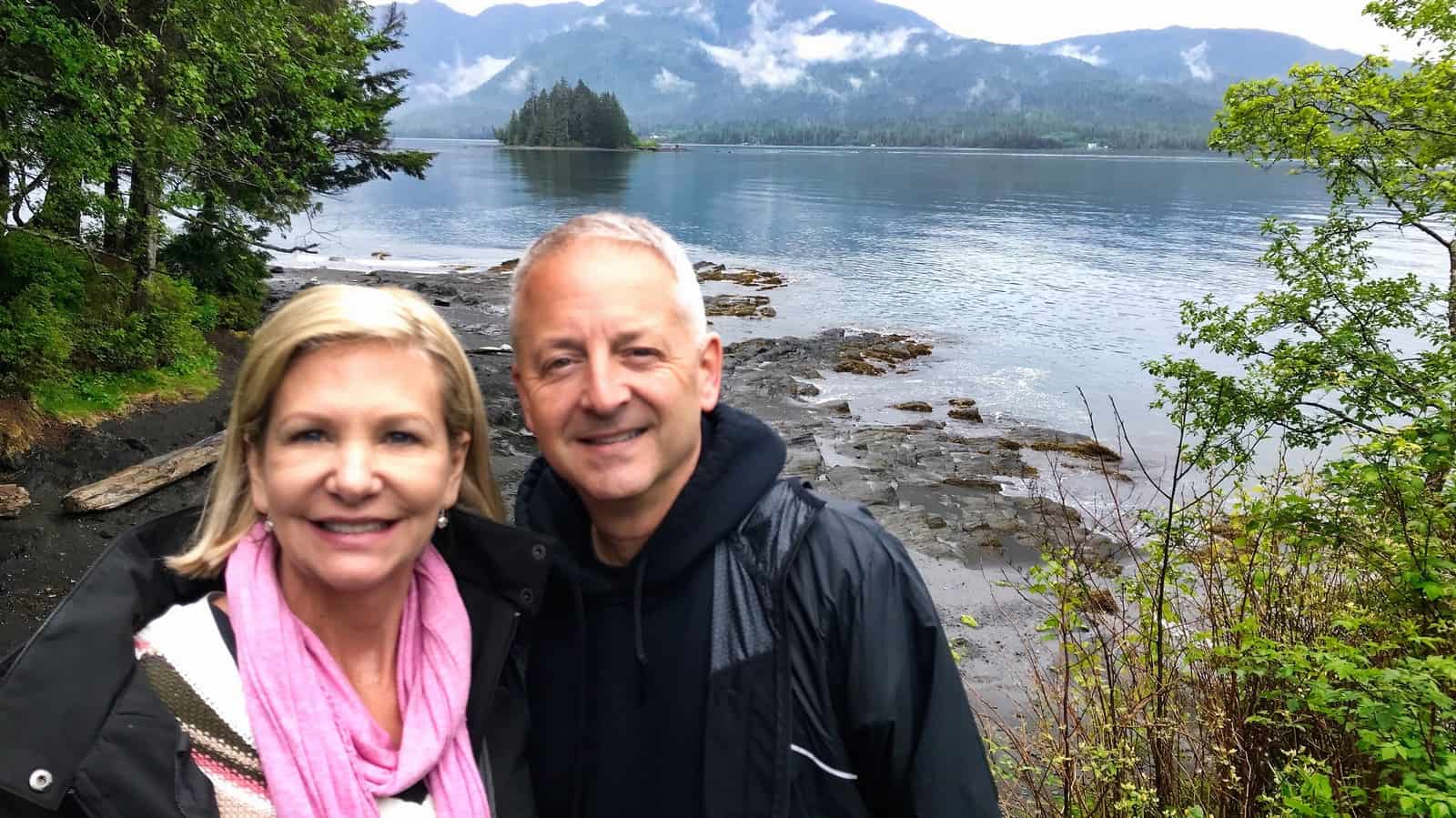 Our guide, Mike, showed us the salmonberry flower. To clarify, it is a wildflower native to Ketchikan. Thus, Salmonberries are found in moist forests and close to streams and are a bright pink color. In late June, the berries ripen. Salmonberries are red, orange, or yellow, are sweet when ripe, and look like a raspberry. Mike explained that the berries these plants produce are an important food for the Native people.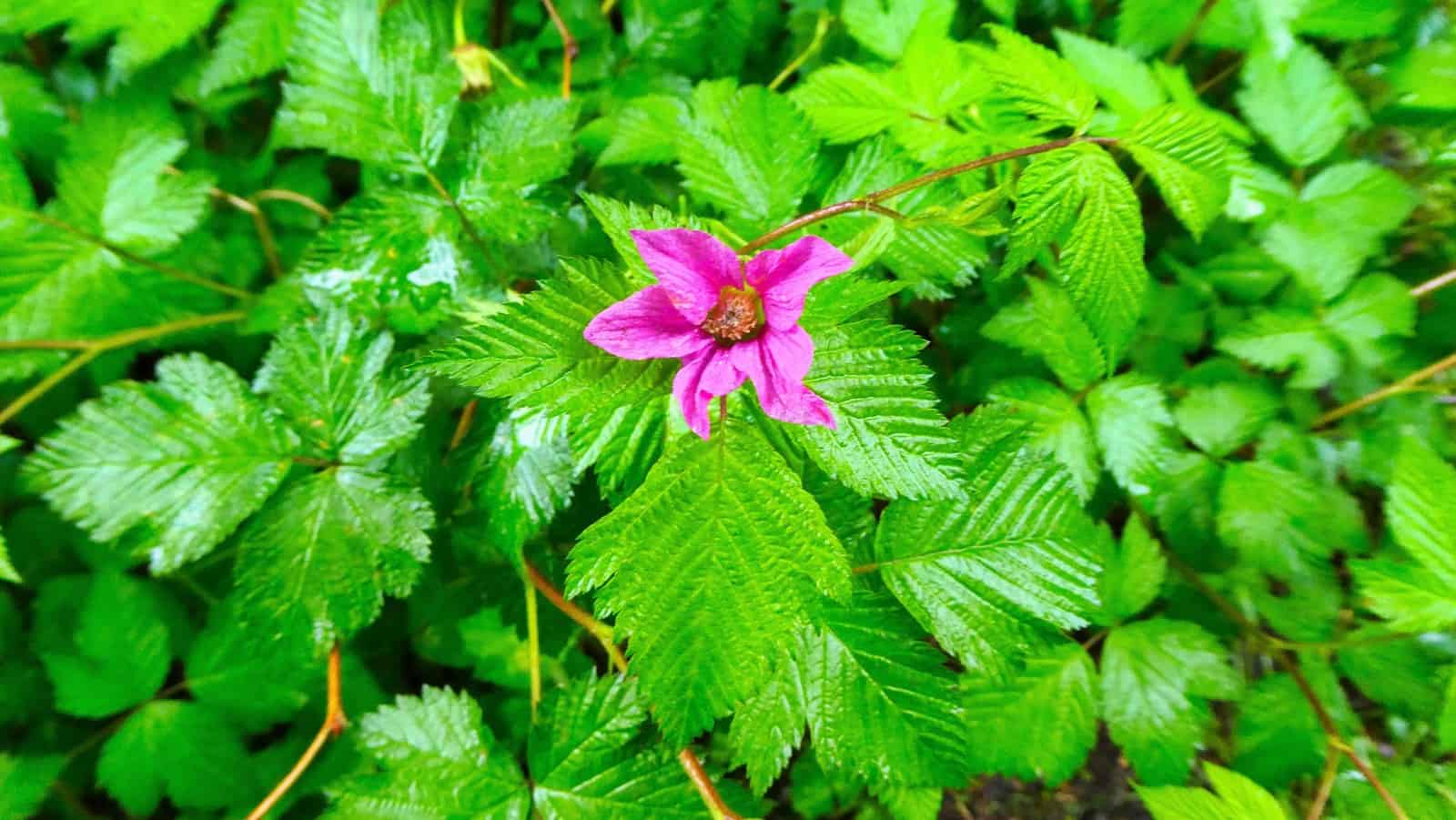 The Totems
We visited the Totem Heritage Center. The Totem Heritage Center preserves and maintains the artistic traditions of the Tlingit, Haida and Tsimshian peoples. Thus, totems made from large cedar trees are works of art. The carvings may symbolize or memorialize ancestors, cultural beliefs or recount legends.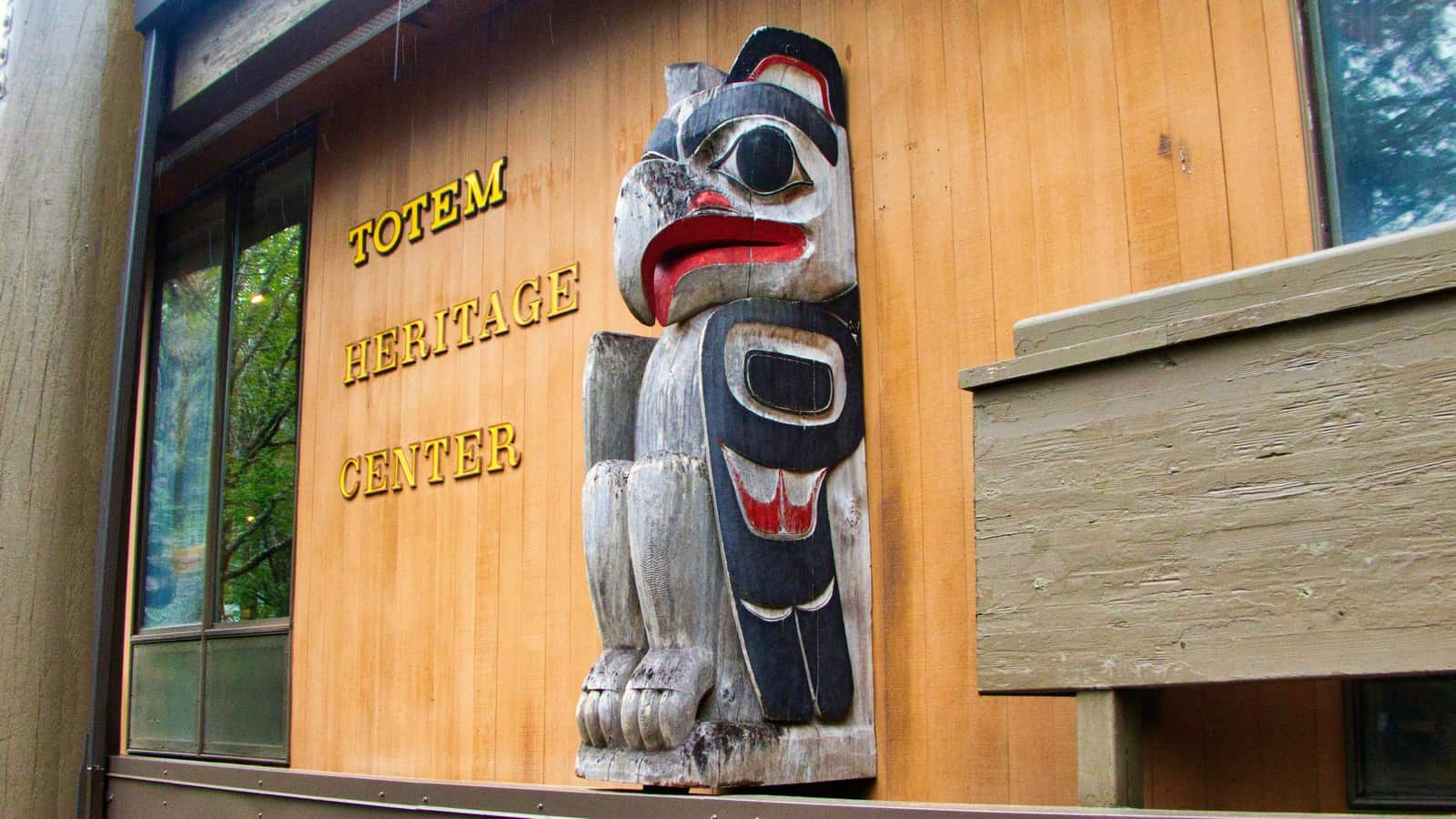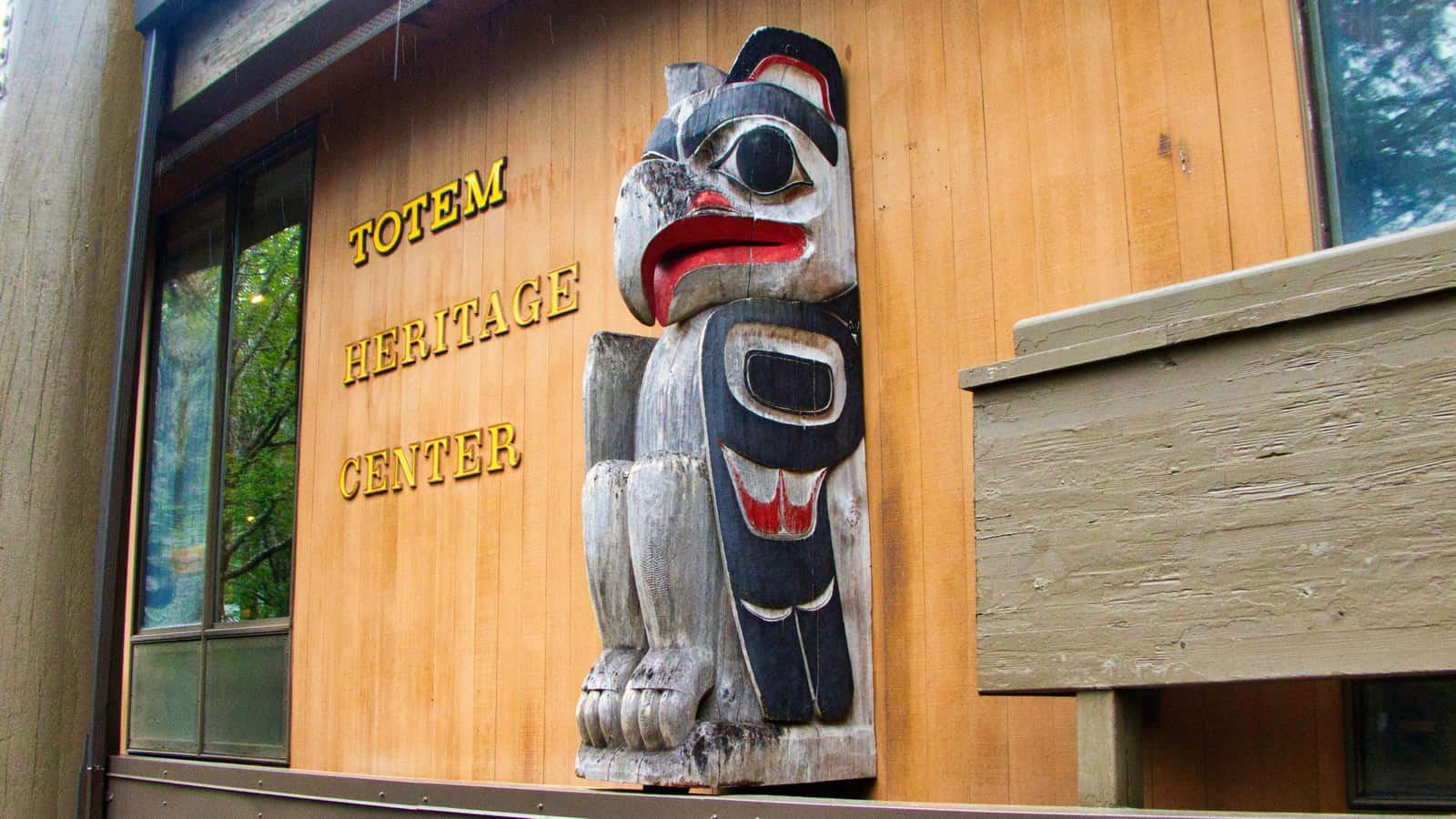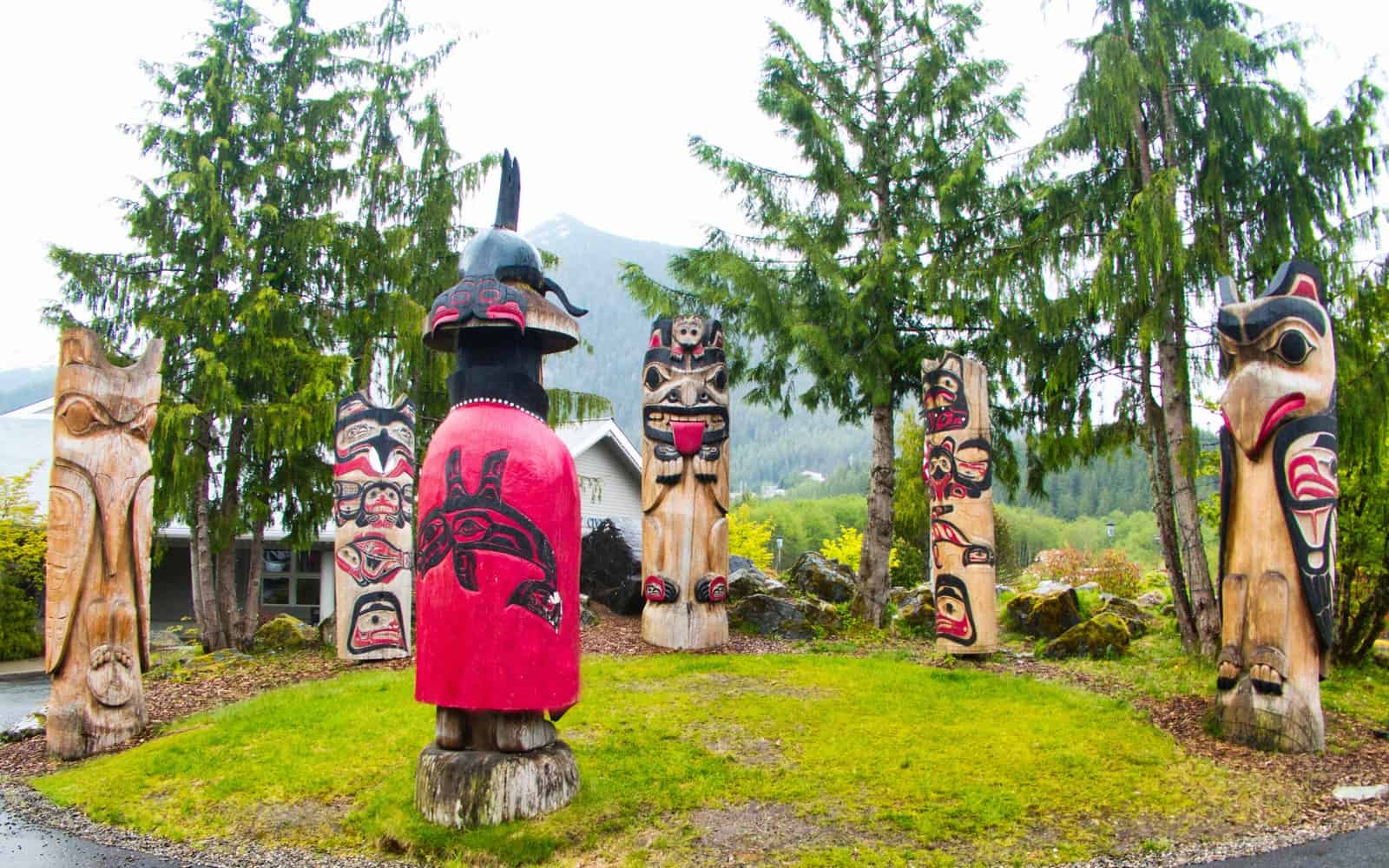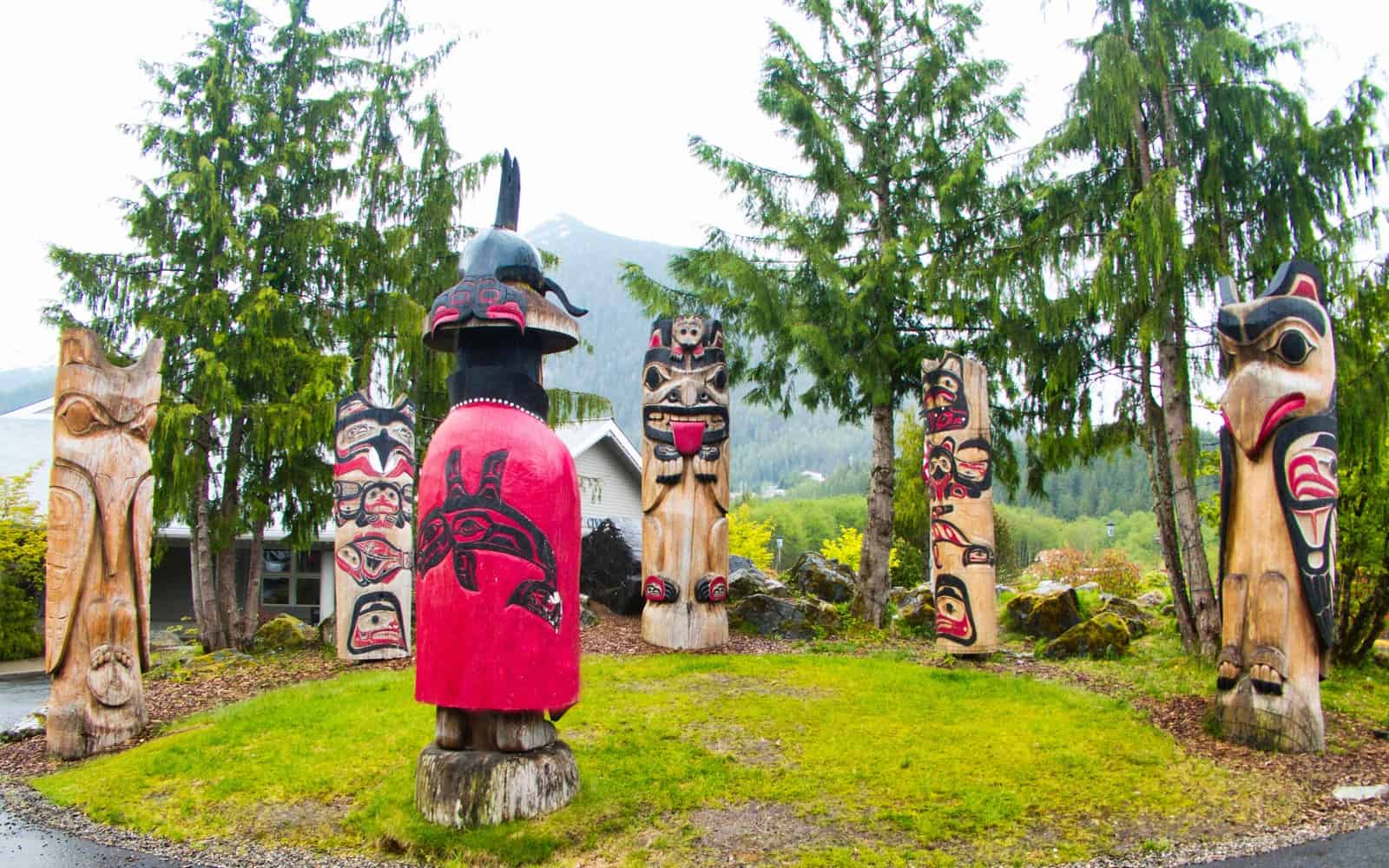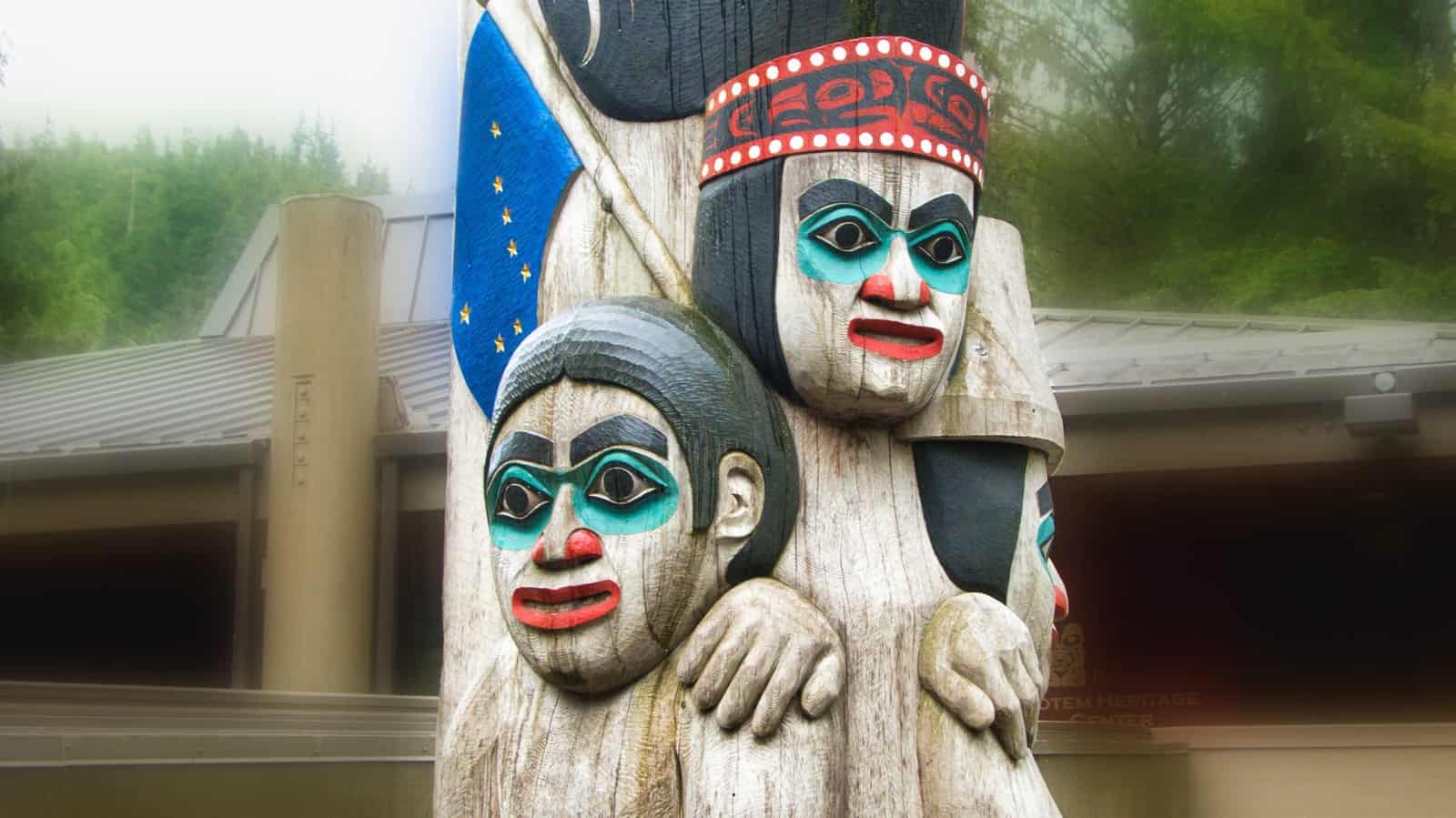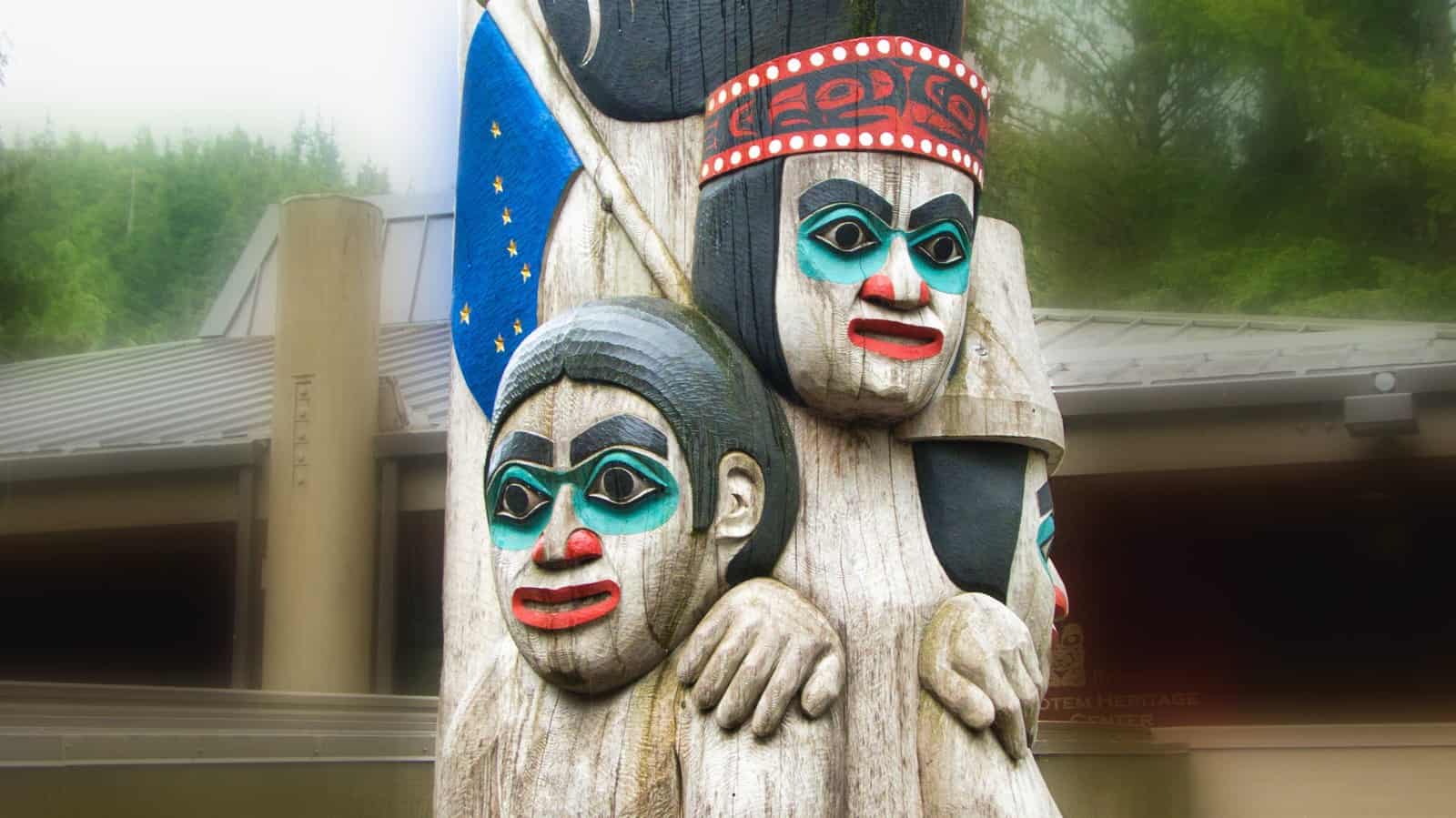 We also visited a marina. The marina provided us some amazing shots of fishing boats, old derelict boats and also views of our Alaskan cruise ship. But, what was truly amazing for me was to see sea anemones living on the docks.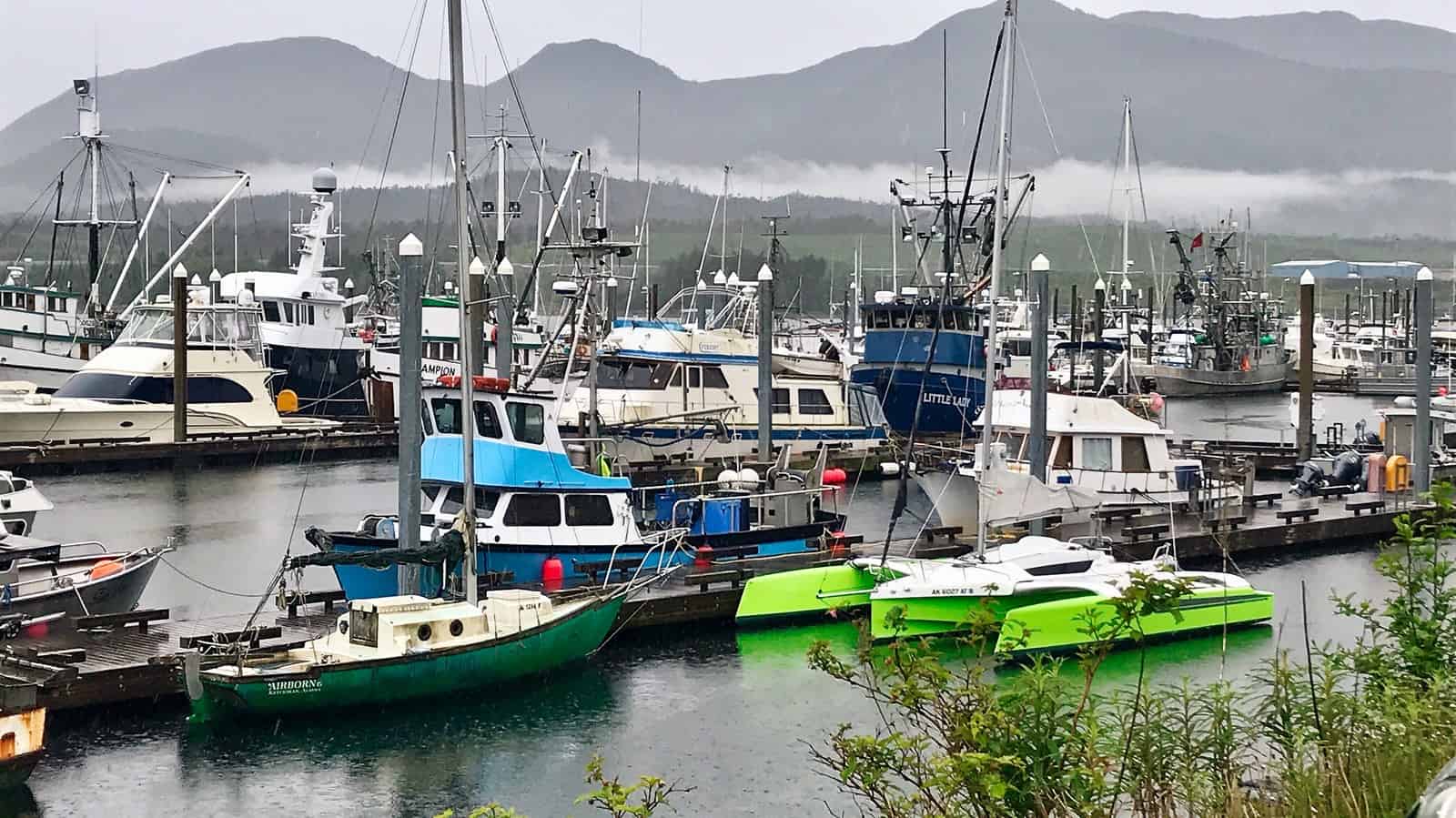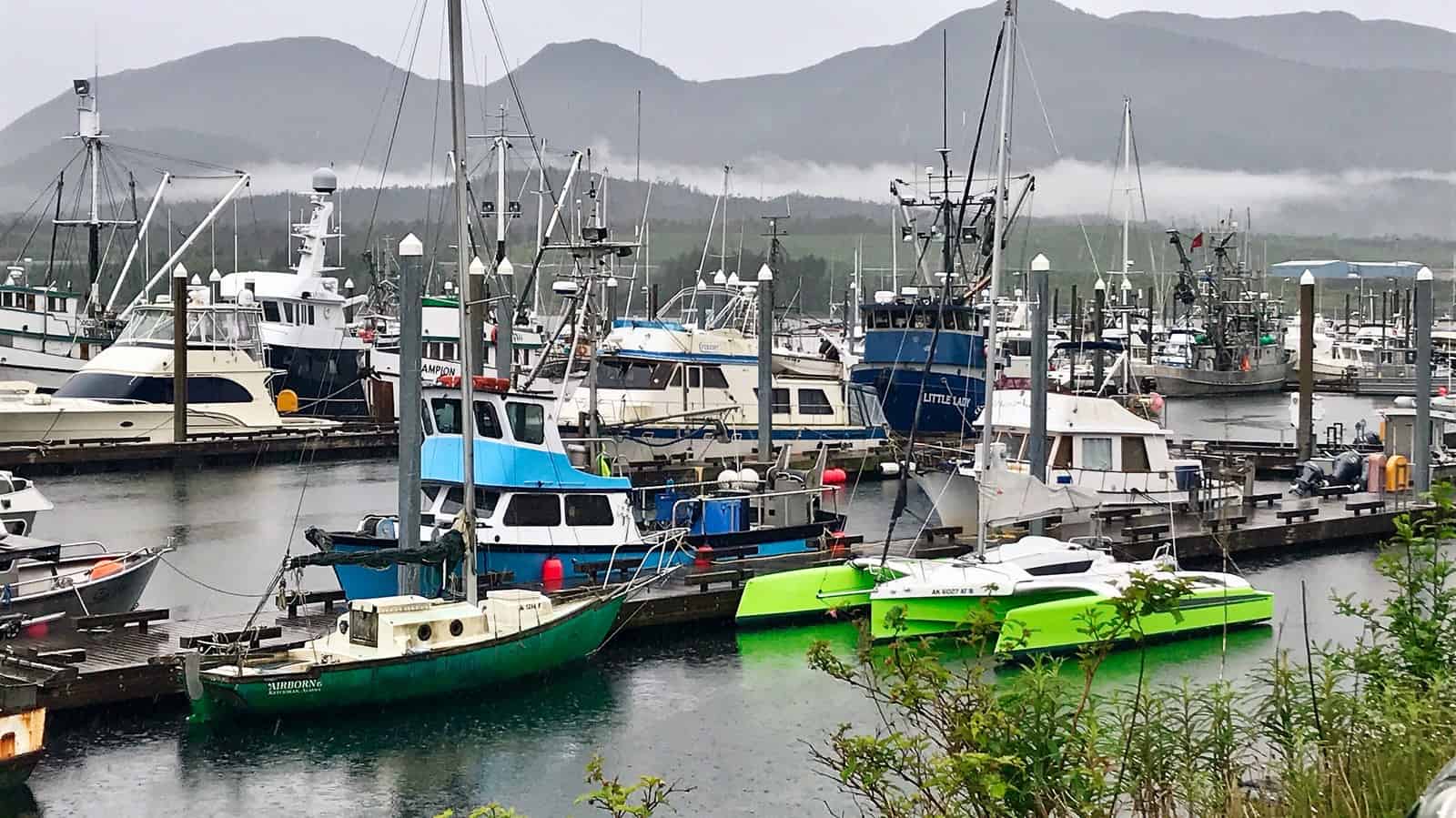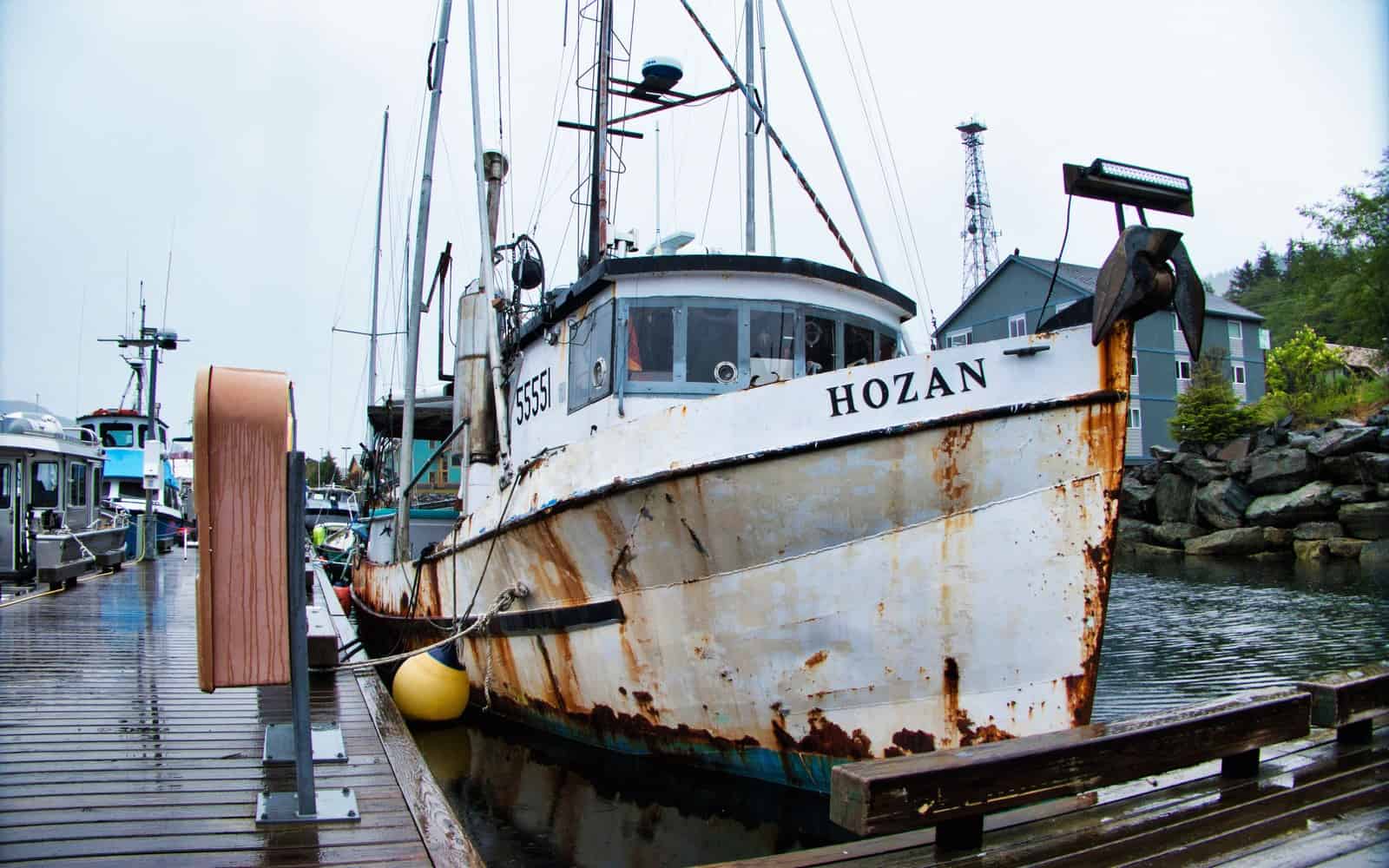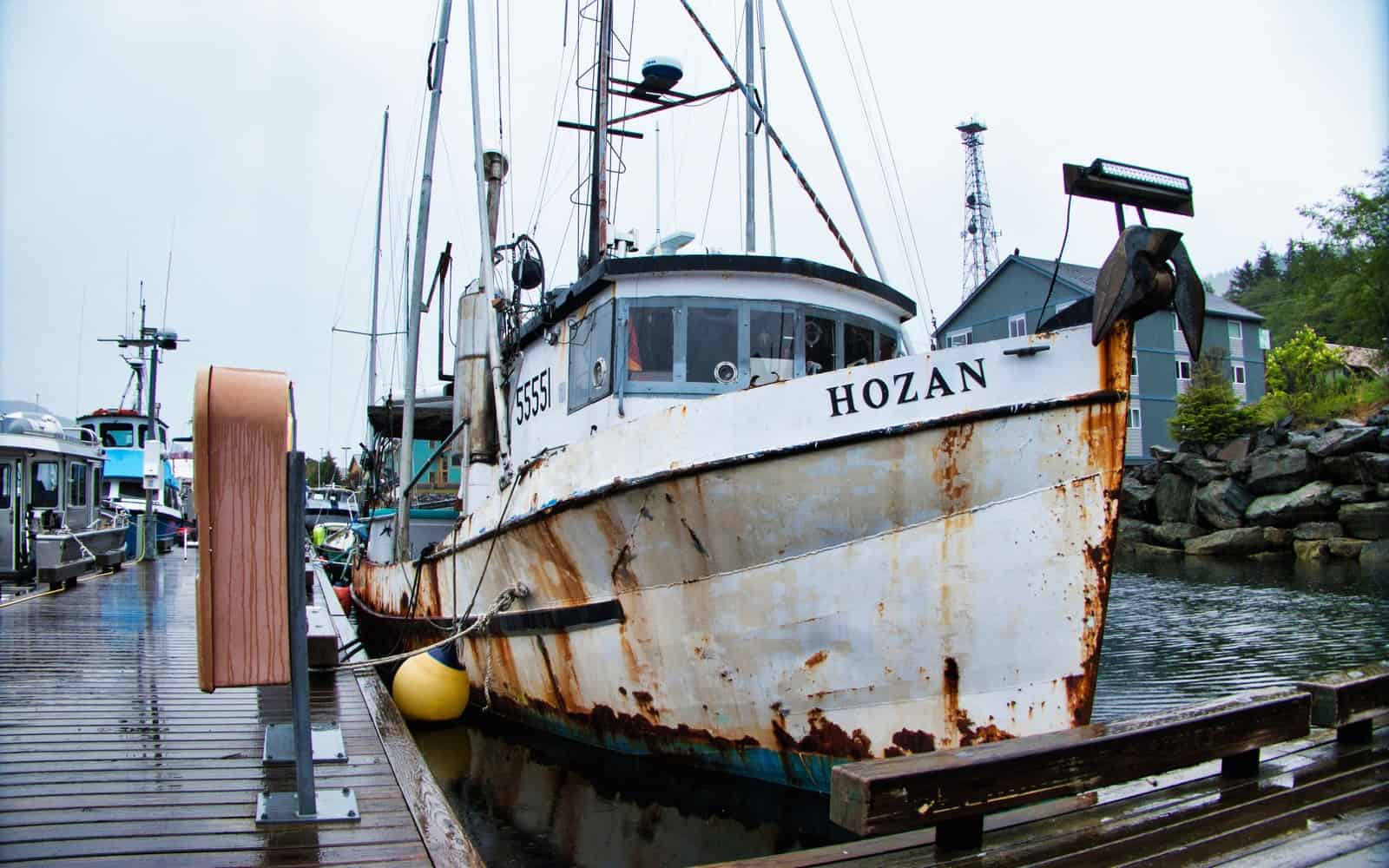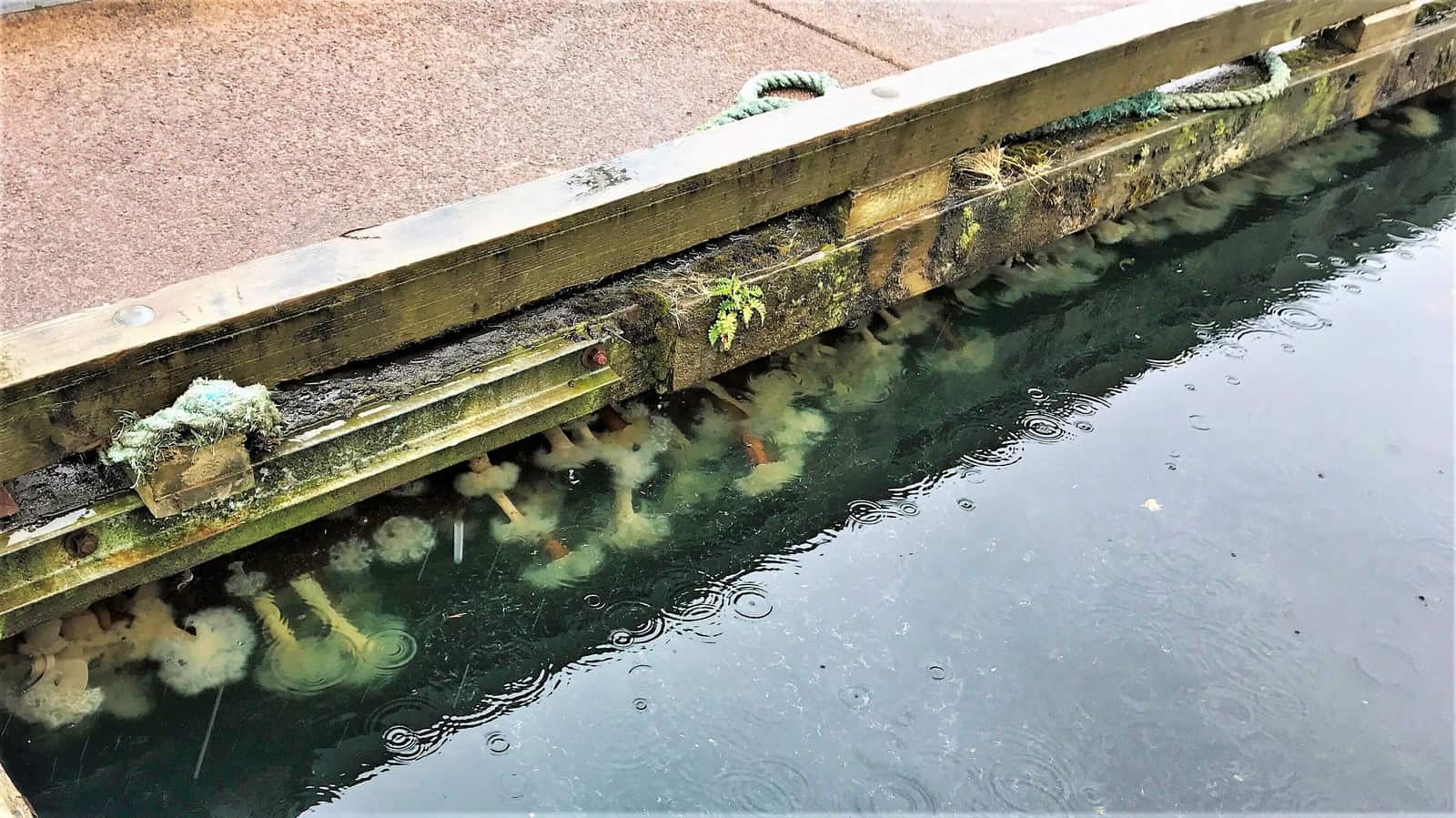 We visited yet another place where we saw giant pieces of driftwood on the shore.
Afterward, we stopped at a place called Frog's Pond. The pond or lake scenically sets in a valley surrounded by a forest.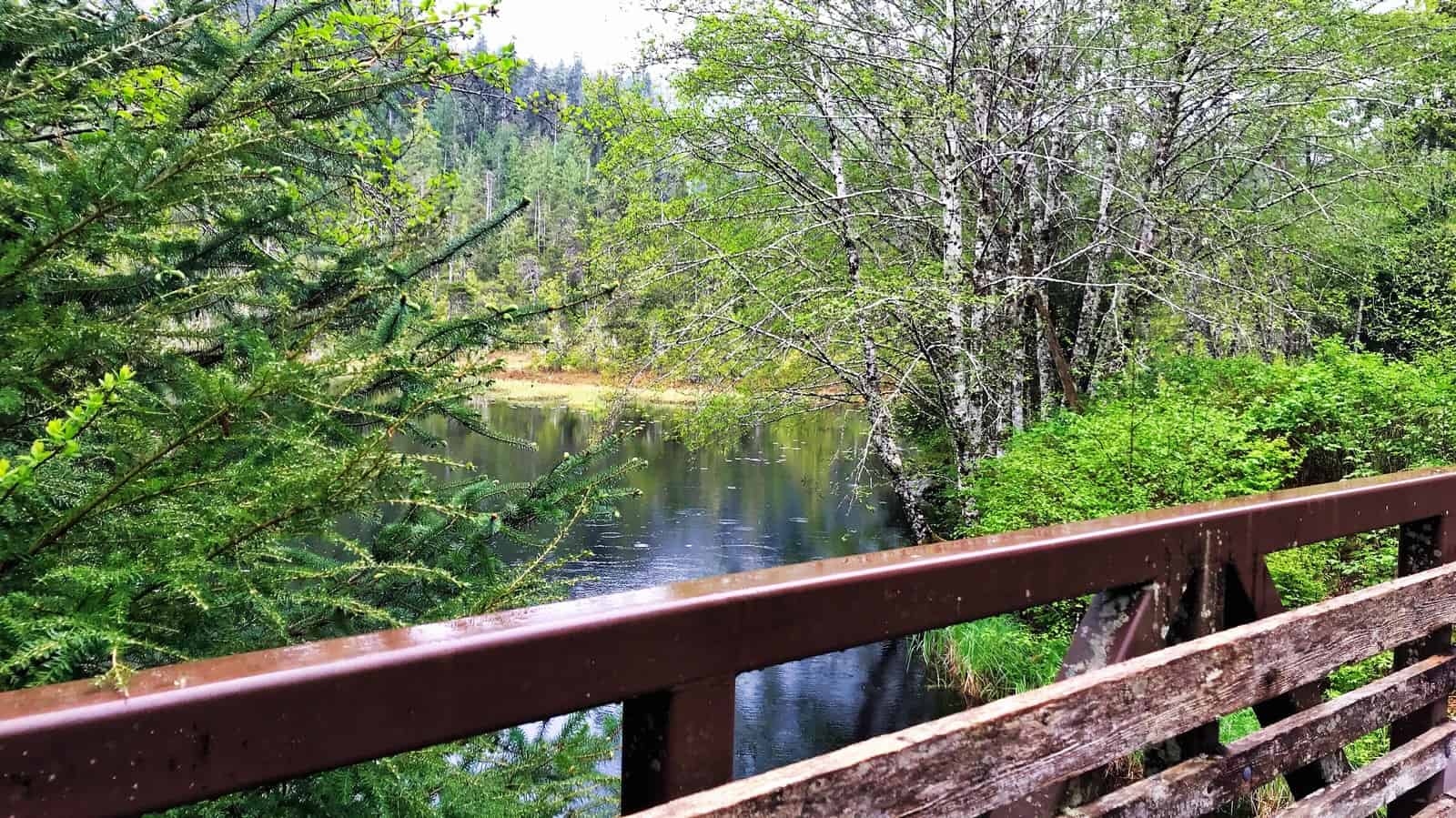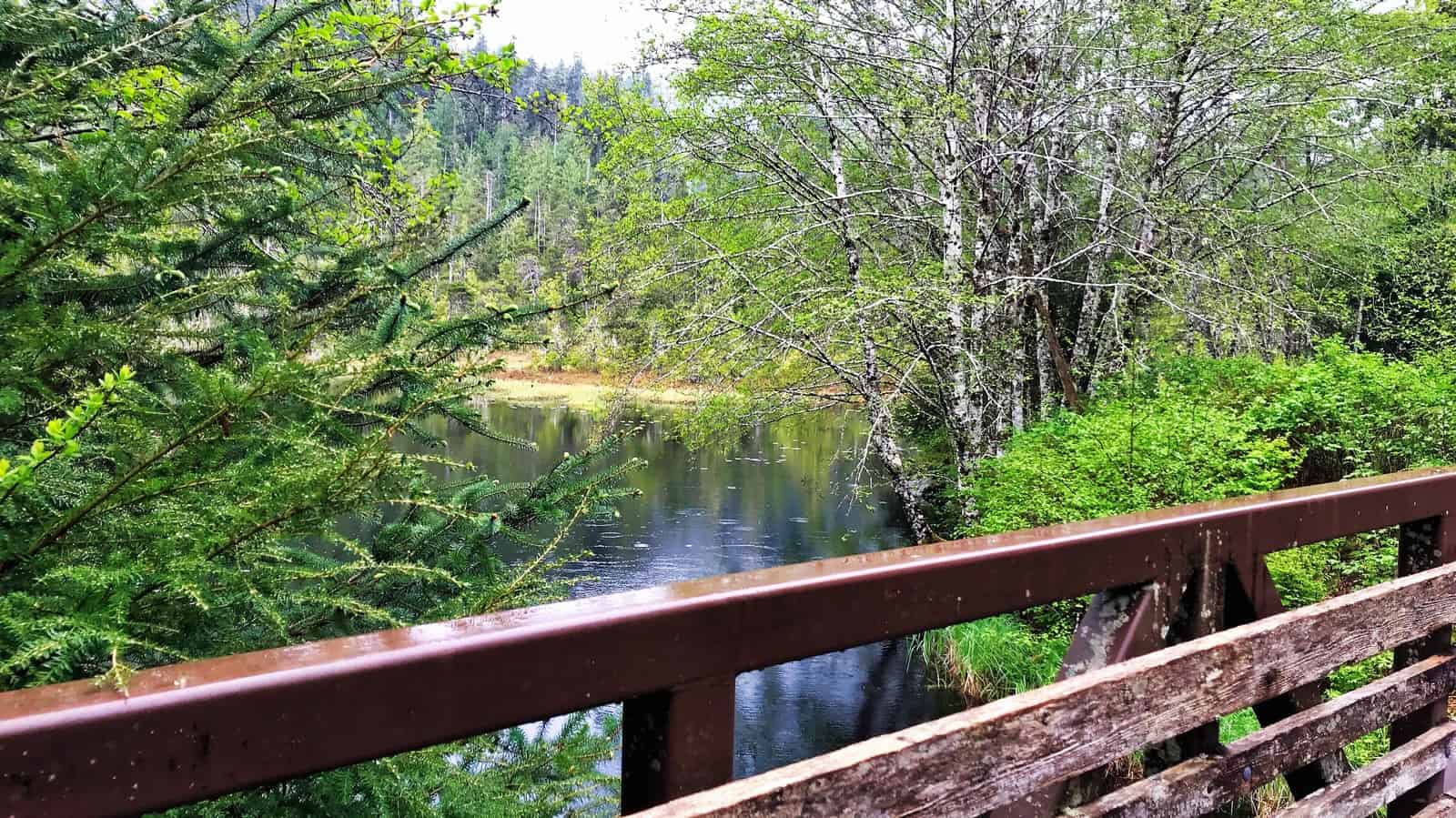 Creek Street, Ketchikan
Following our visit at the pond, we travel into historic Ketchican for views of Creek Street. Creek Street isn't really a street, but rather it's a boardwalk that runs through Ketchikan's historic center to the east of Ketchikan Creek. Today, the colorful places on Creek Street filled with shops, galleries, and local eateries are all beckoning visitors to explore.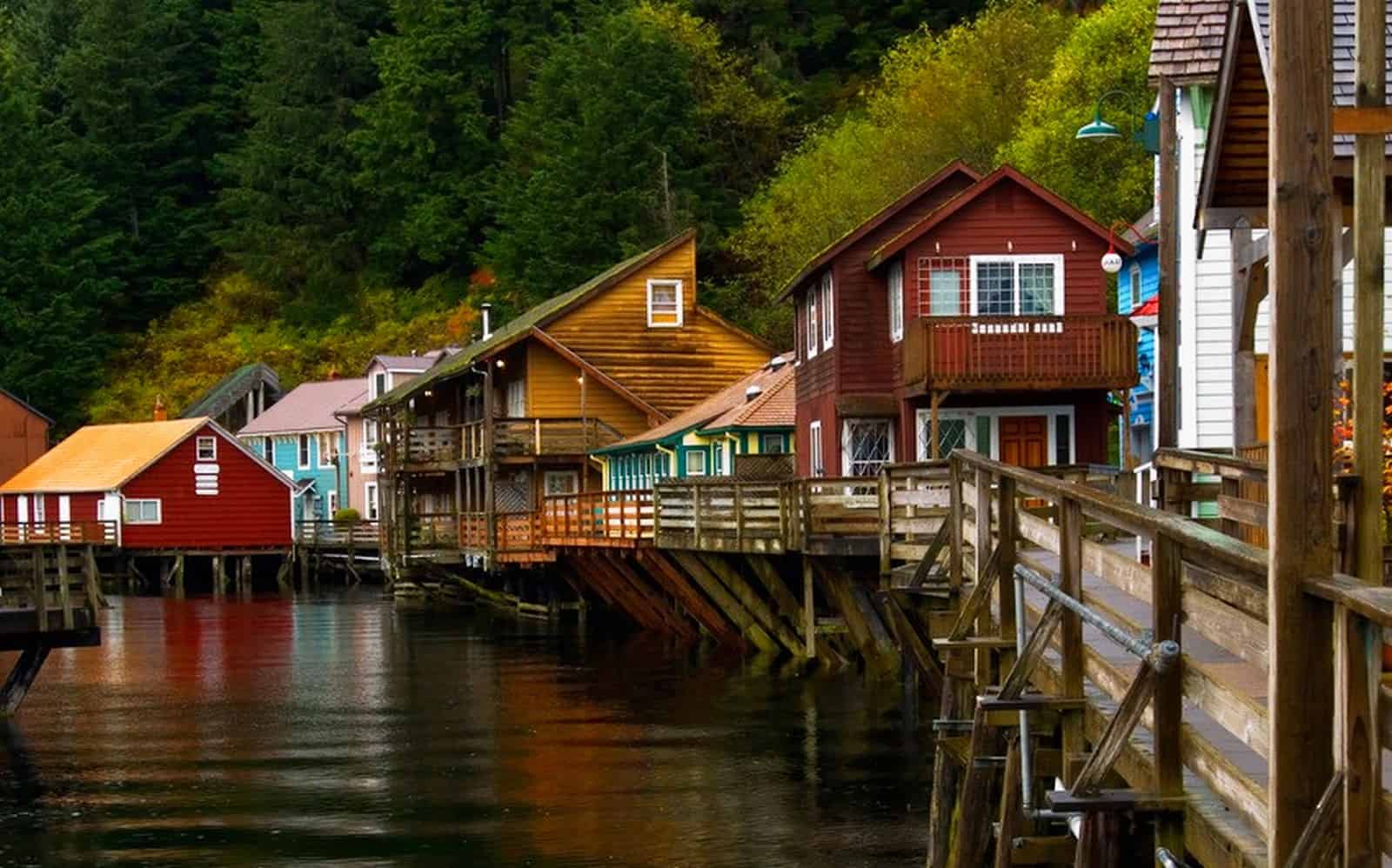 Lastly, we went to a place along the Ketchikan Creek not far from Creek Street. In late spring to early summer, the salmon who were born in this creek make their way back here to spawn in the same water from which they come. Depending on the species a single salmon can produce 5000 eggs. Unfortunately, we were a couple of weeks early, and hence, we did not see any salmon.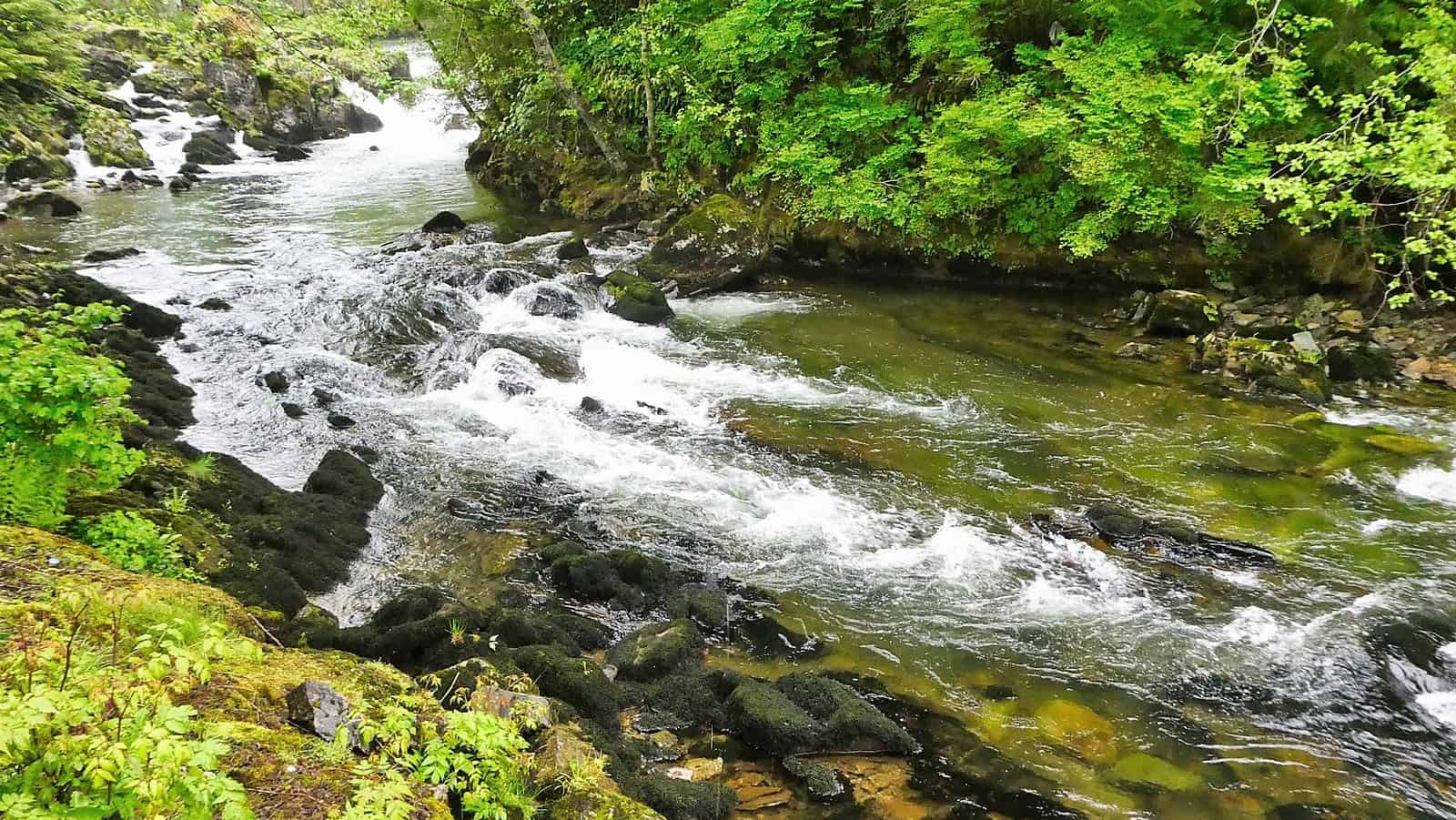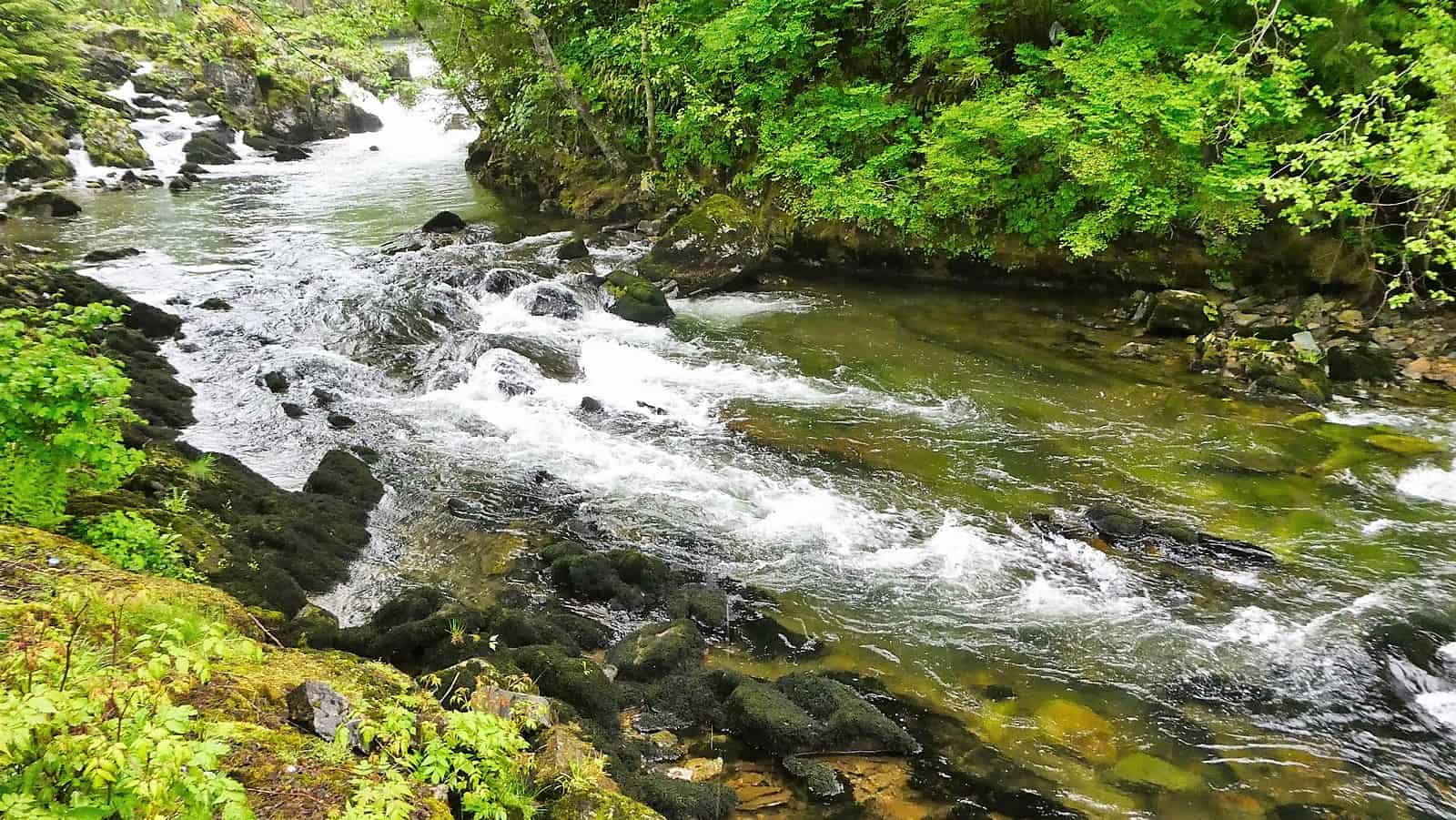 Day 7 Victoria, British Columbia
From Ketchikan, we traveled 587 miles to Victoria, British Columbia. Most of this day we spent at sea on the Holland America Line Alaskan Cruise. We arrived in Victoria close to 6 pm.
Keith and booked a shore excursion thru the ship that was a walking tour of Victoria. The walking tour was a big group, approximately 40 people. In retrospect, we would not do this again. We know that we like smaller groups or private tours, and at the docks, there were both for hire.
The problems with a big group are taking photos and hearing the guide. Our guide should have been miked but was not. For example, we came upon this enormous Chartuse Rhododendron shrub in full bloom. But there were so many people clamoring to take pictures of it that only a few people actually got a good picture without other people from the tour. The tour did not stop at this shrub, so unless you were the first or second person to see it; you were not getting a good shot. As a side note, we did learn that Victoria has a very mild climate, so gardens bloom year-round.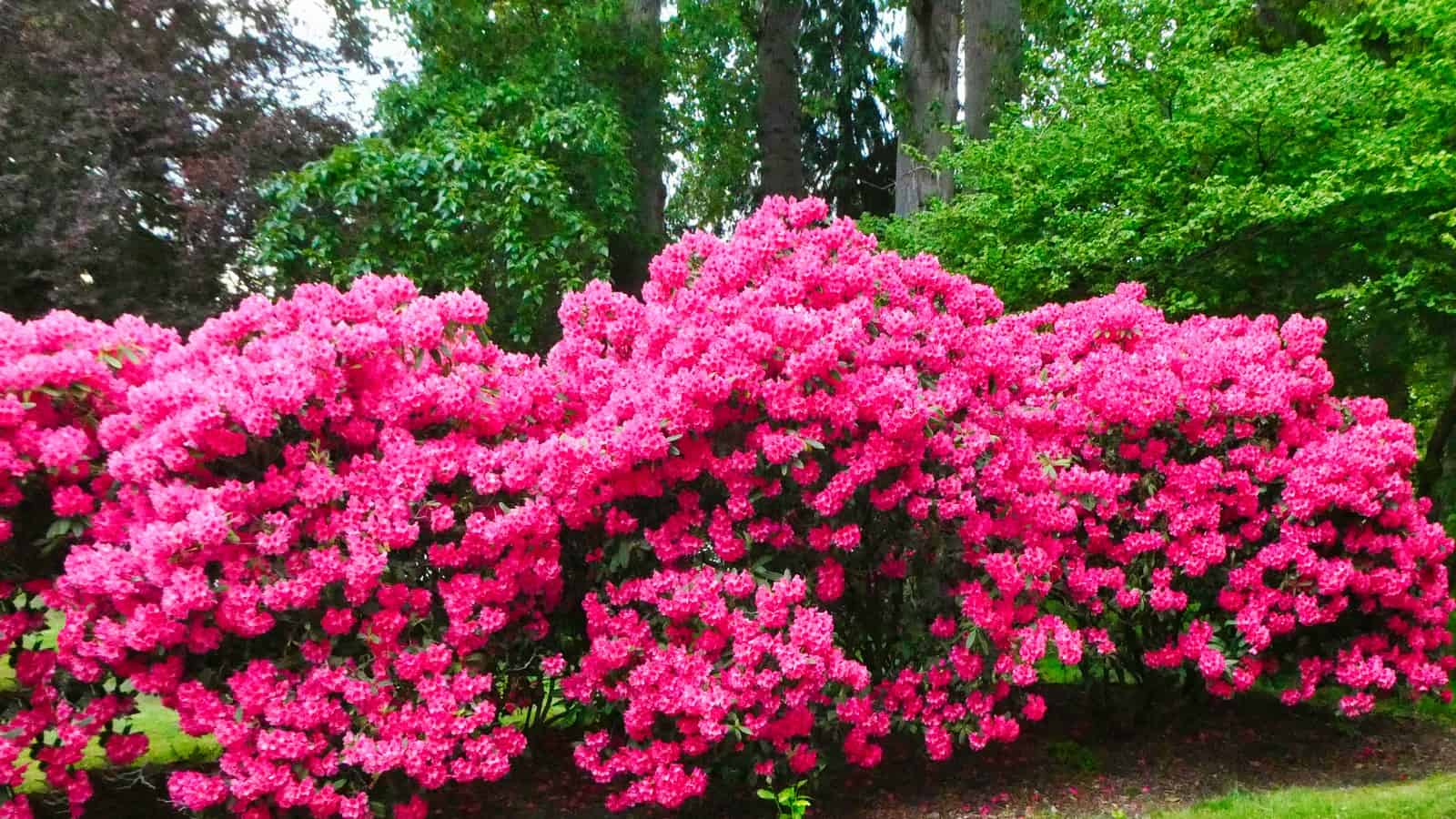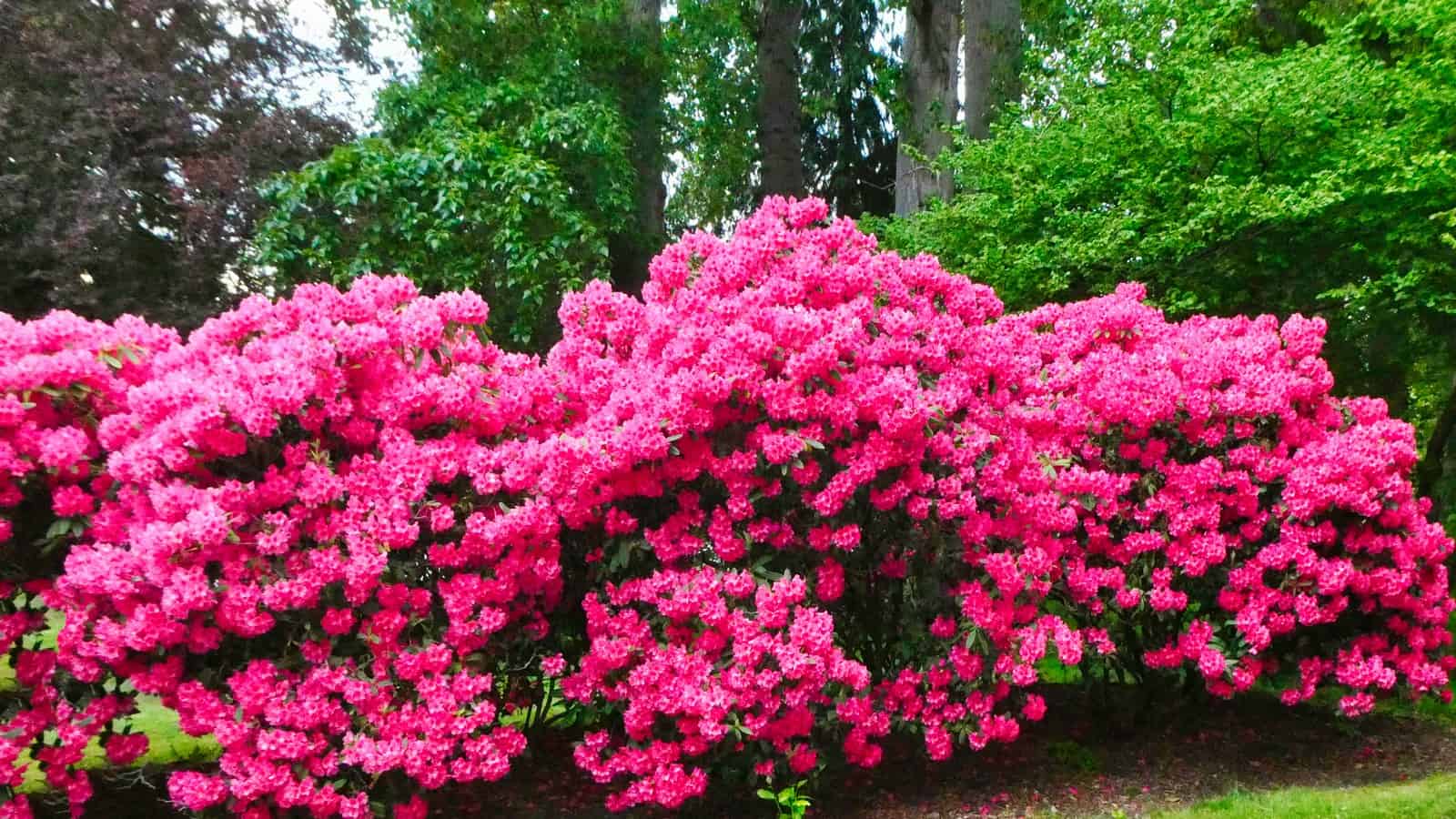 Walking Tour
On the positive side, our tour began with a walk along the sea. Along the way, we saw strikingly blue wildflowers as we heard stories of early Victoria. Then we made a turn towards town and through the neighborhood known as James Bay.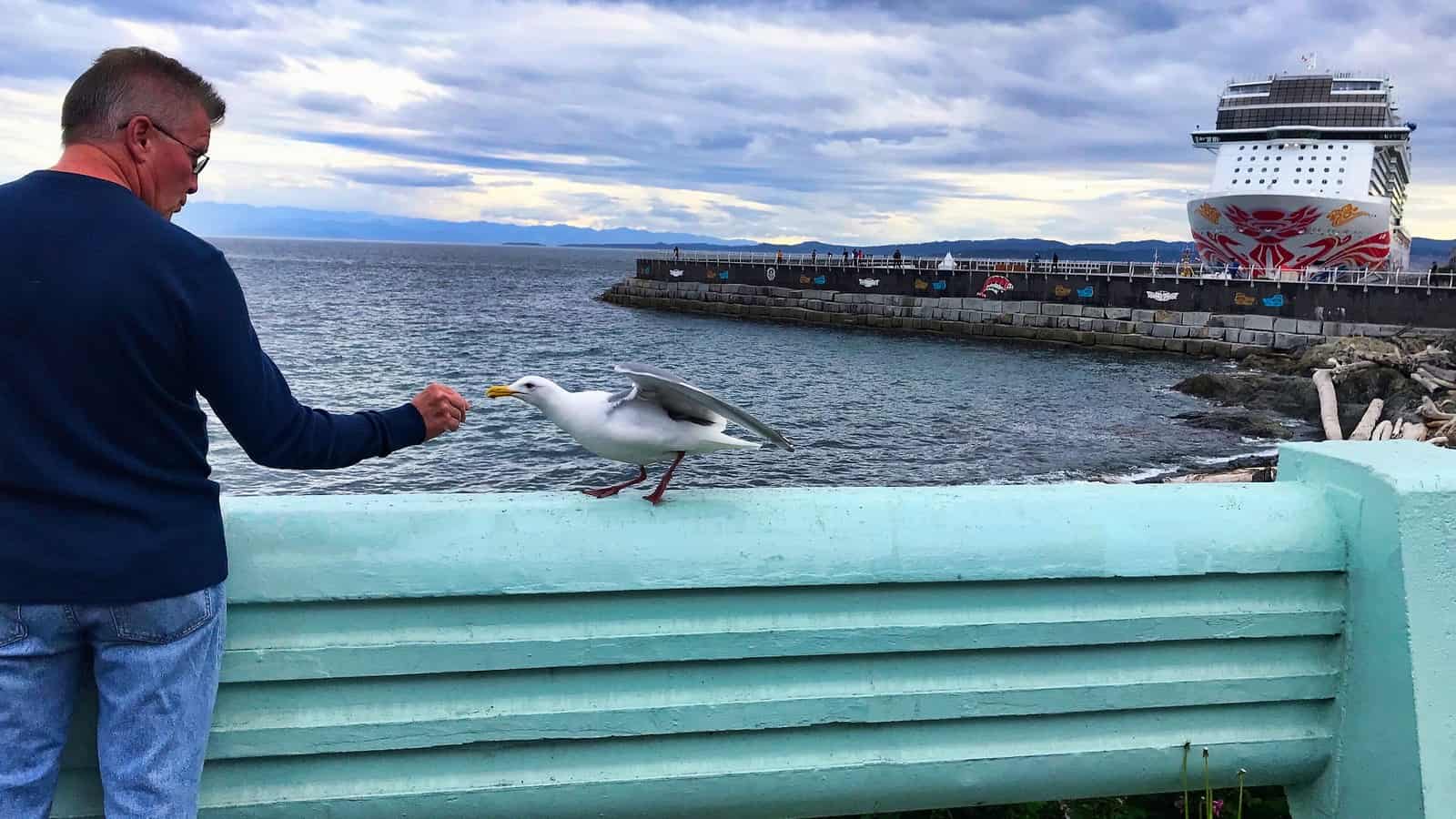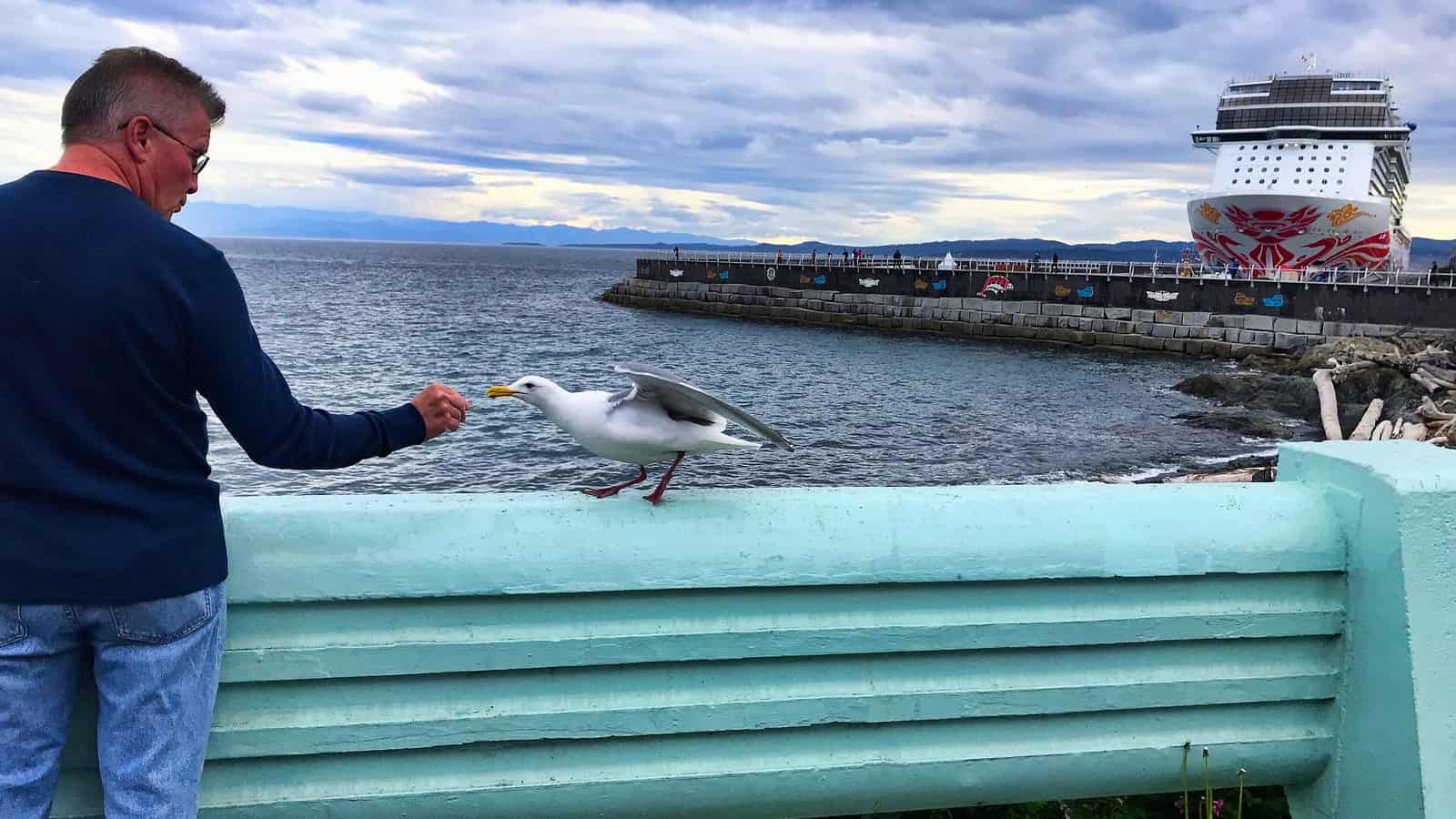 James Bay is Victoria's oldest neighborhood. As we walked through the streets, we saw many historic homes. Moreover, many of these homes built between the 1800s and the early 1900s make for lovely streetscapes.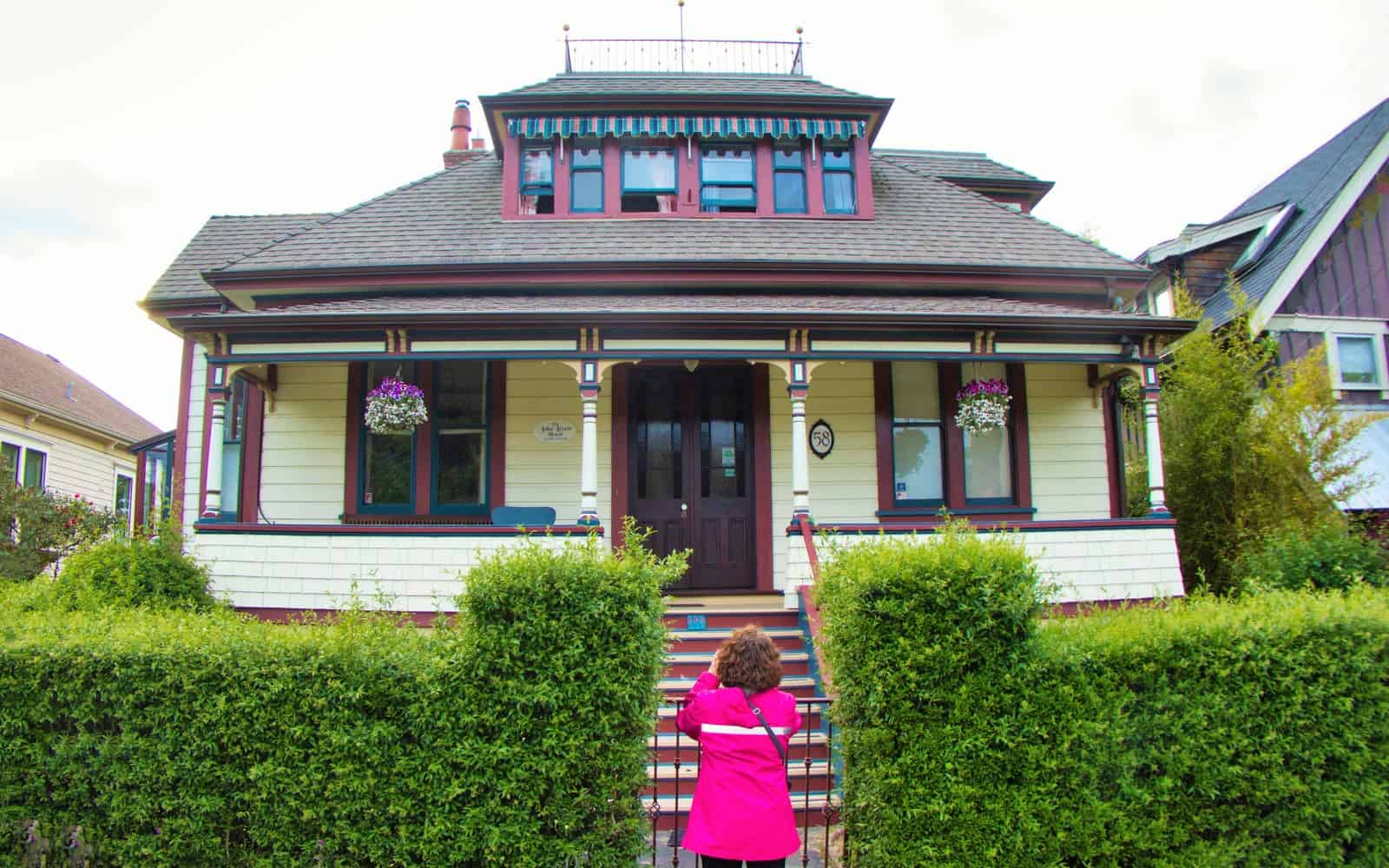 We also visited a lovely yellow sided home that was the birthplace of a Victorian artist and author, Emily Carr. Emily loved to paint her version of the western coast Indians and landscape. She also loved animals. Unfortunately, in the early half of her life, her art was not well received, so she found it hard to make a living from her art. Ultimately to provide for herself, Emily ran a boarding house.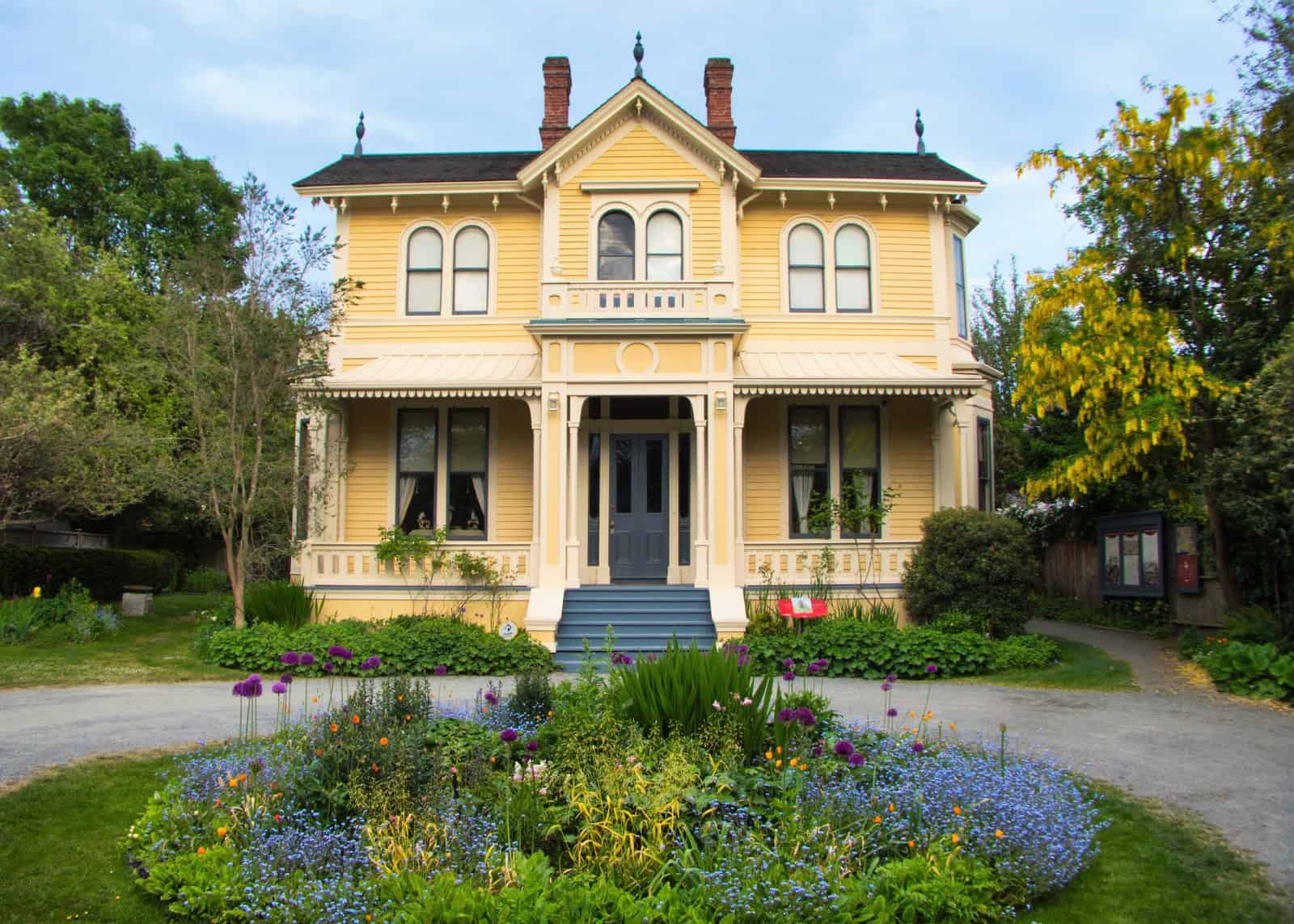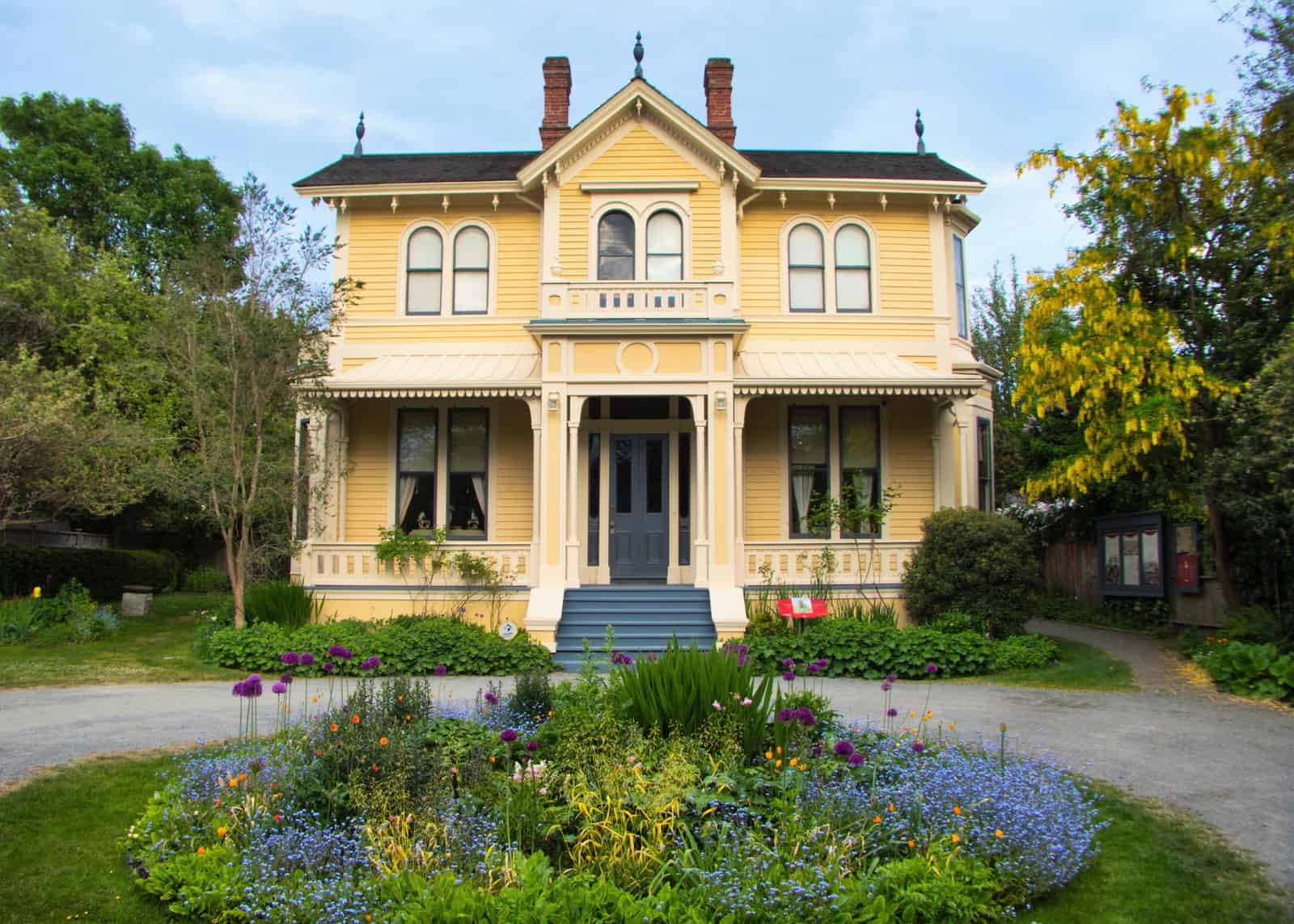 In the late 1920s, her work caught the eye of a few prominent people. She was asked to exhibit her work at the National Gallery as part of an exhibition on West Coast aboriginal art. In her later years, she wrote more than she painted.
Just outside James Bay, we stopped at South Park School. No not the school from the adult animated sitcom. This school originally opened for students on August 13, 1894. It is a two-story Queen Anne Style brick building. Also, the oldest continually functioning school, west of Montreal.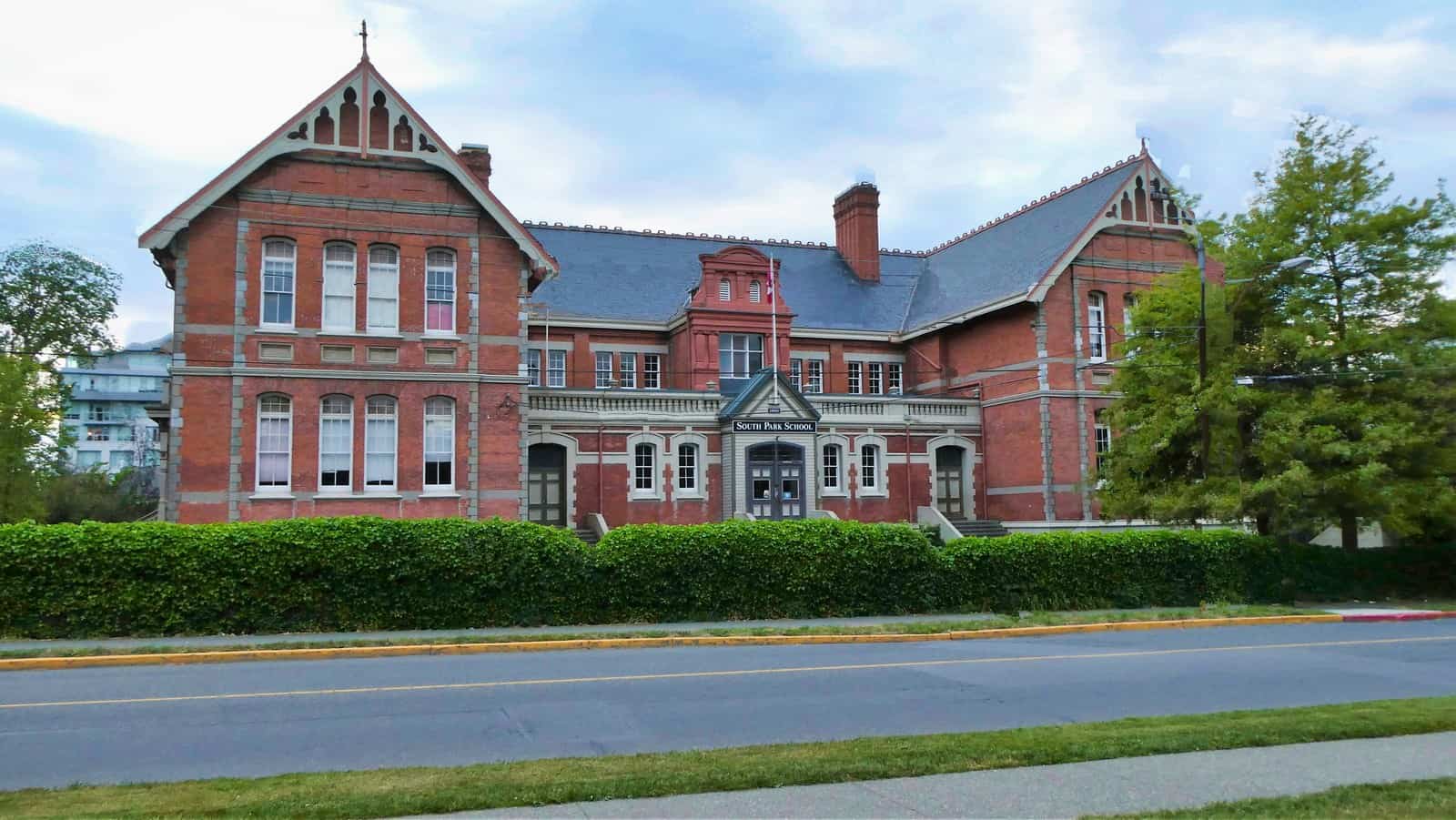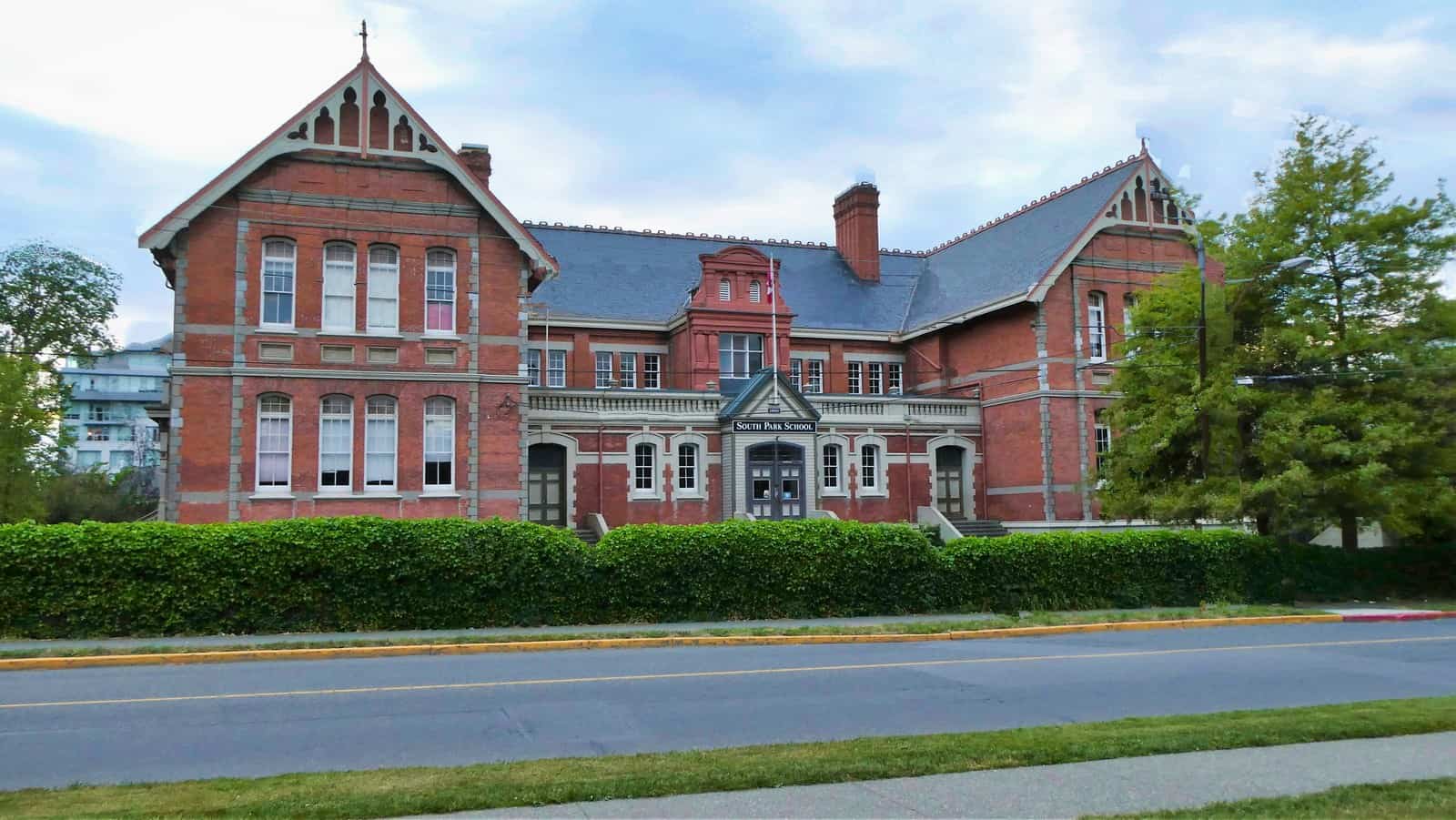 Beacon Hill Park, Victoria
We also walked through what is known as the jewel of Victoria, Beacon Hill Park. This park is where we saw the huge Rhododendron. In the park, there are many meandering footpaths lined with manicured flower beds, ponds, green spaces, and an abundance of wildlife. Thus, we saw peacocks taking a stroll as well as the ducklings going out for a swim.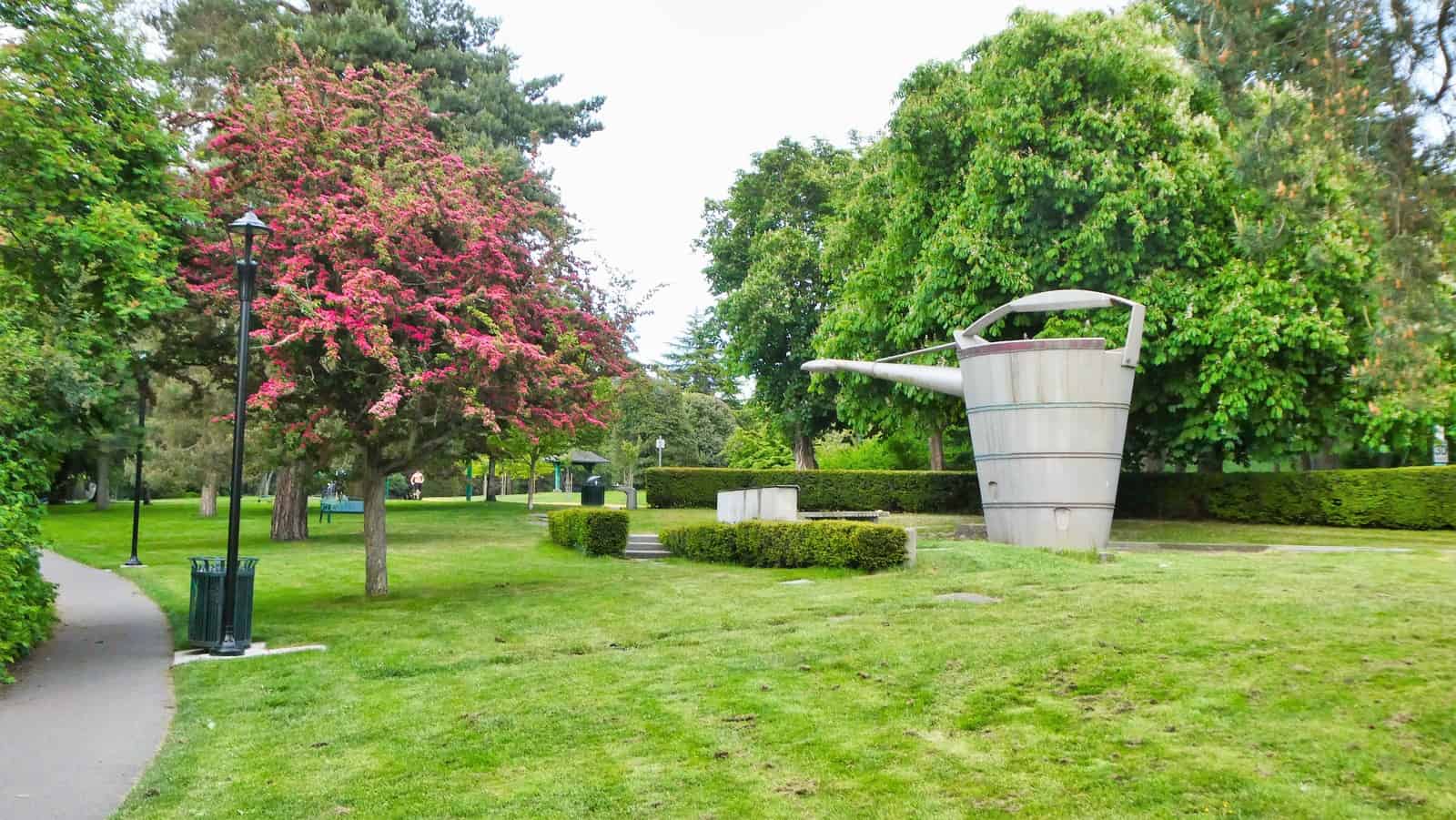 Victoria is the capital of British Columbia. In 1858 approximately 500 people were living in Victoria, but then came the discovery of gold. And the news of gold in the area spread quickly. Within two months, the population swelled to over 30,000. People came from as close as California and as far away as Australia to get in on the gold rush.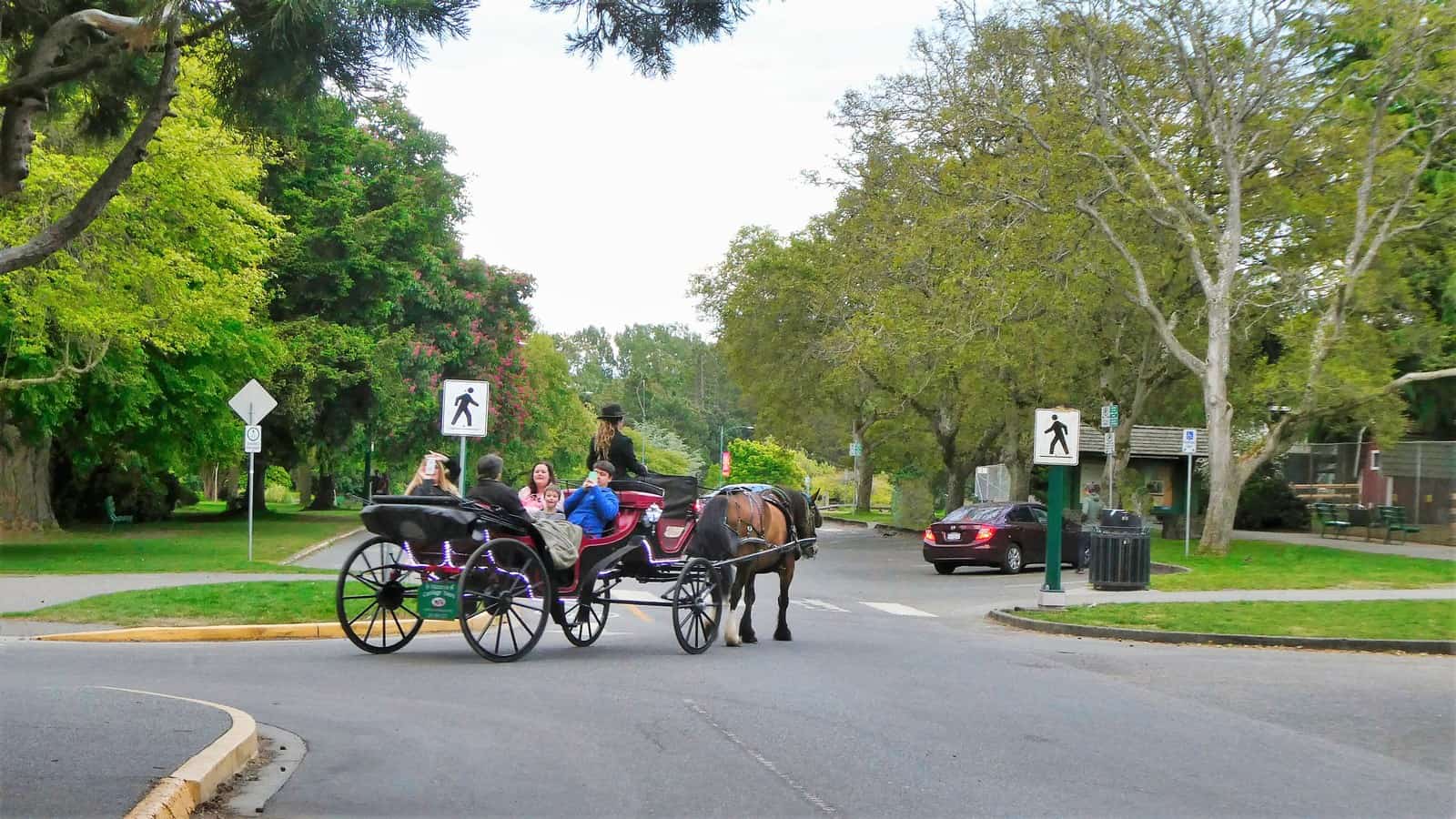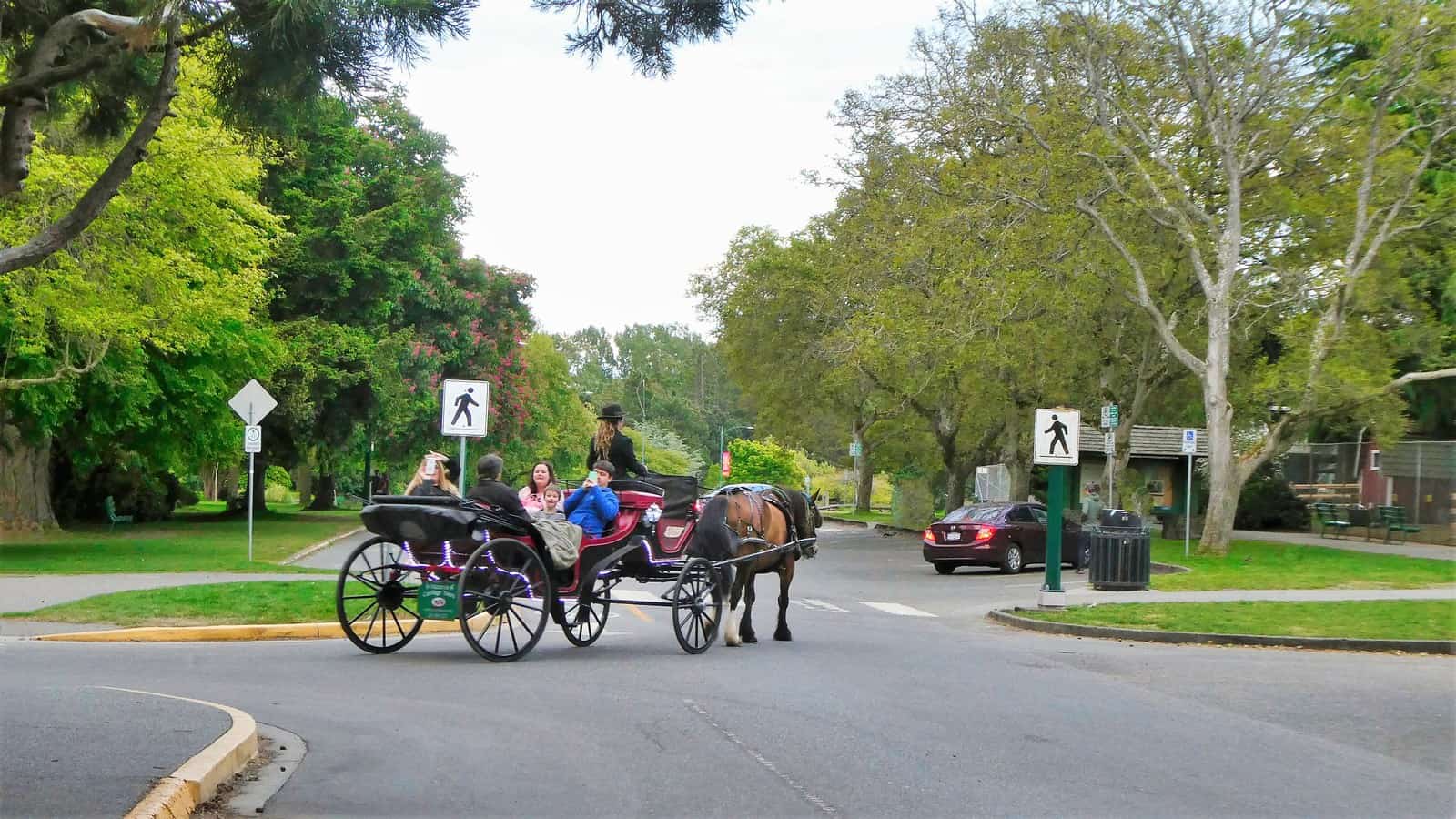 Victoria's City Center
Once in the historic city center, we visited the Empress Hotel and the British Columbia Parliament Buildings.
The Empress is a lovely building and is one of the oldest hotels in Victoria. Accordingly, it faces the city's inner harbor and is one of Canada's grand railway hotels. Markedly, Canada's grand railway hotels are a sequence of railway hotels across Canada, each a local and national landmark, and most of which are grand representations of Canadian history and architecture. A fun fact is that the hotel serves an average of 750,000 cups of tea a year.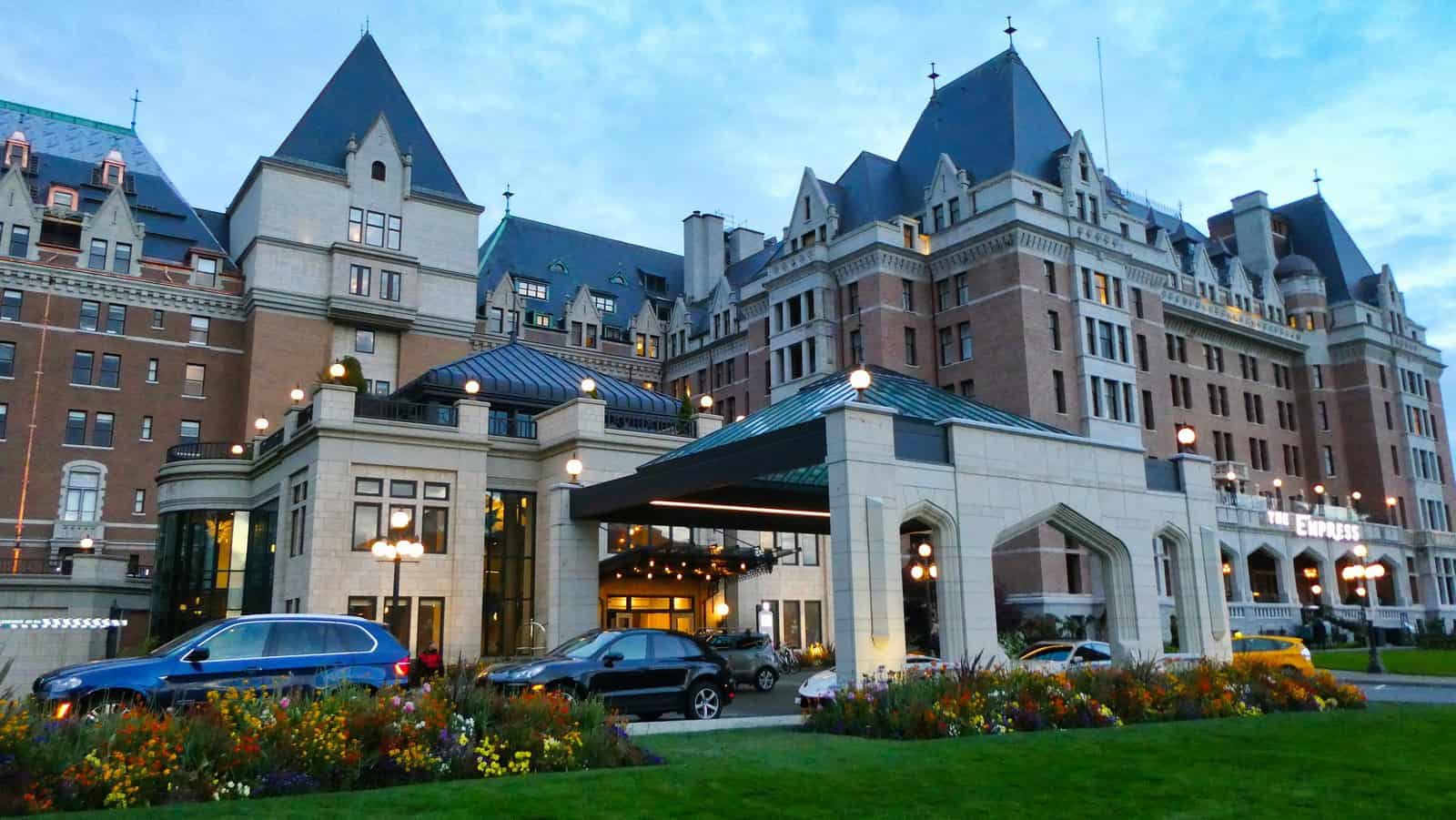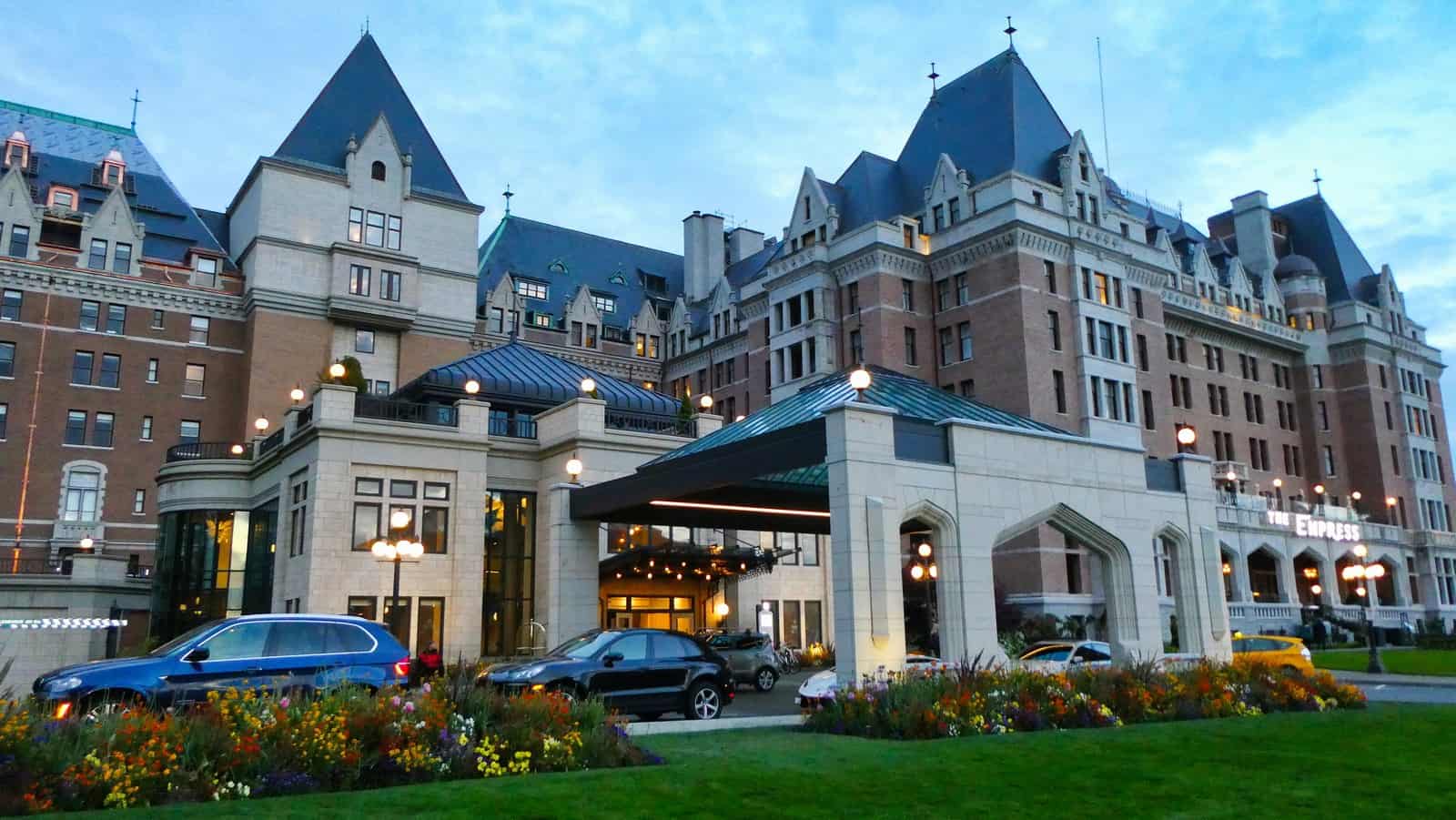 The Neo-baroque British Columbia Parliament Buildings also face the Inner Harbour and are diagonal across from The Empress Hotel. A statue of Queen Victoria stands on the front lawn. We visited right at sunset. Thus the building with its 3,333 lights was stunning.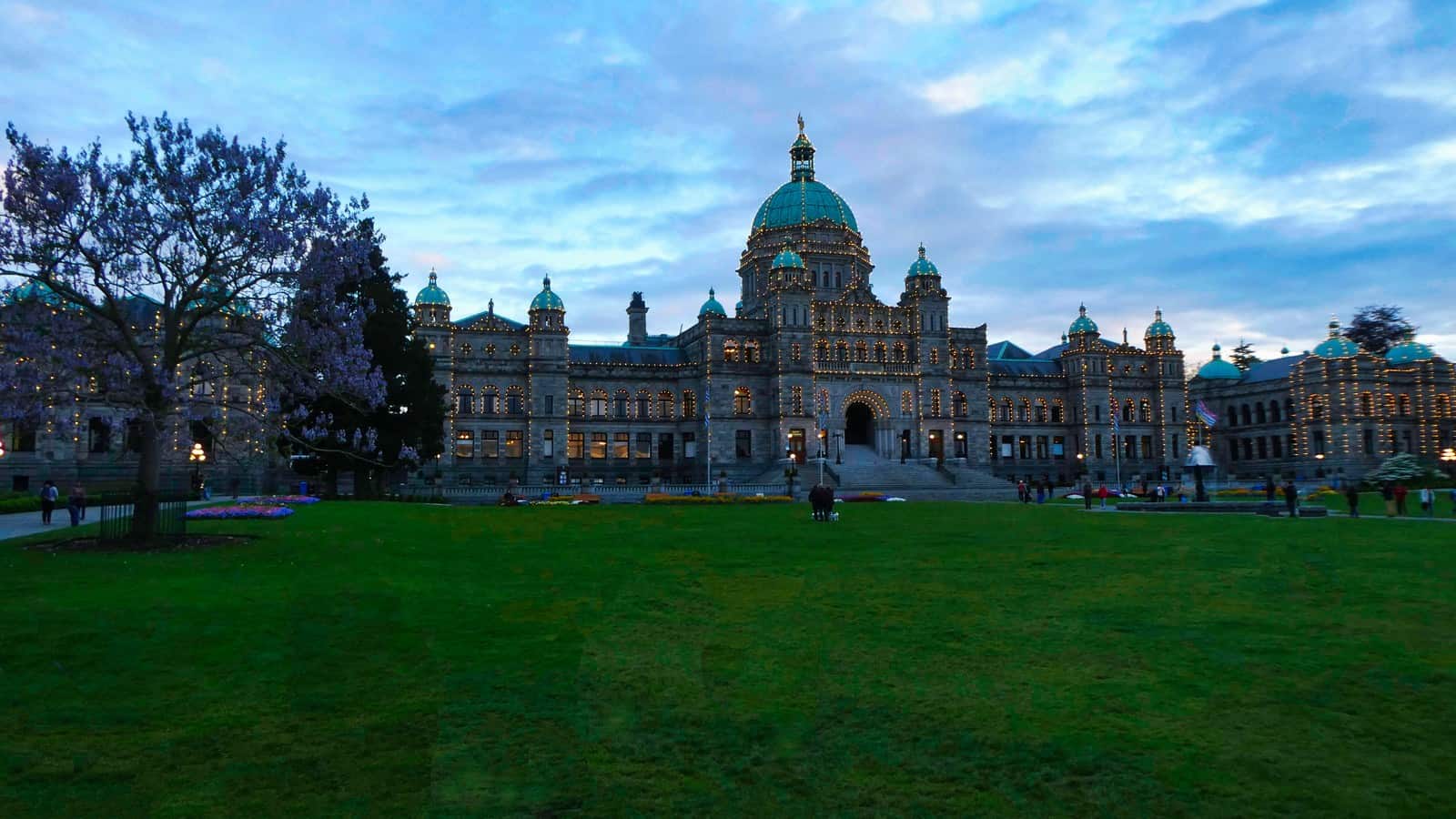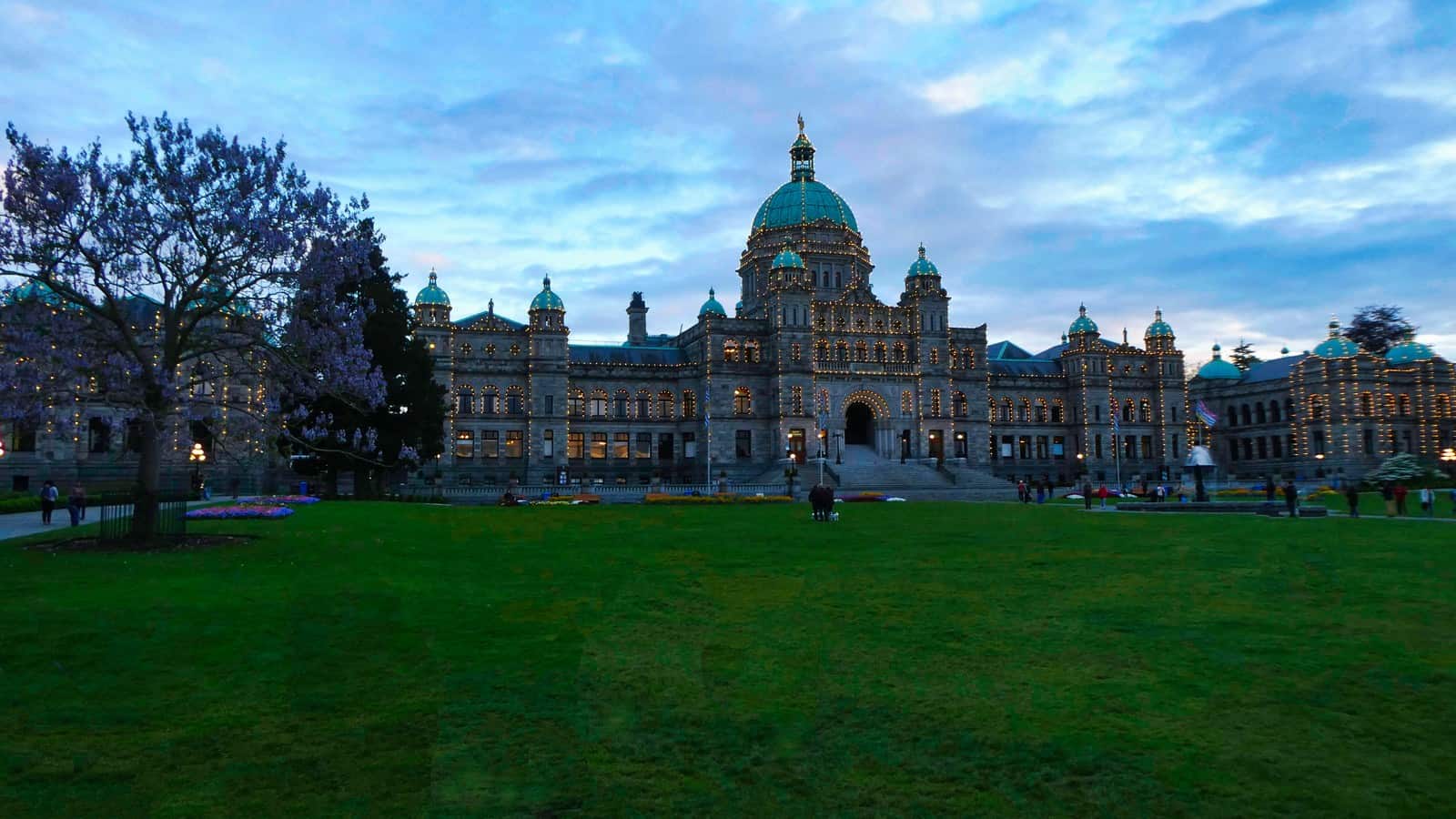 Undoubtedly Keith and I plan to go back to Victoria. There are so many places to explore in this lovely city center that we did not get to see. In addition, Victoria is a fantastic place to grow flowers, and the city delights in showing off its beauty. For example, Victoria has 950 lamp posts, each with flower-filled baskets.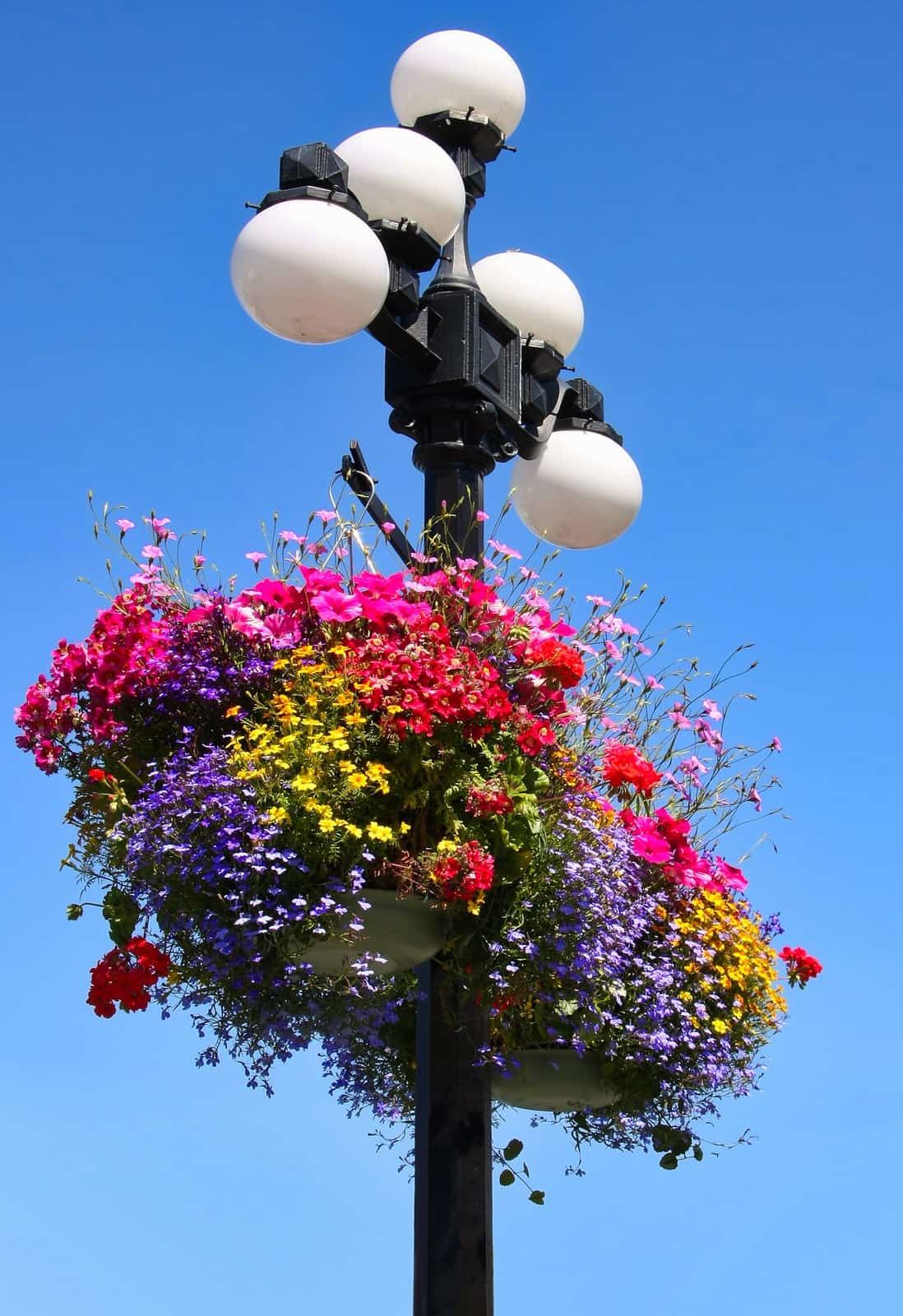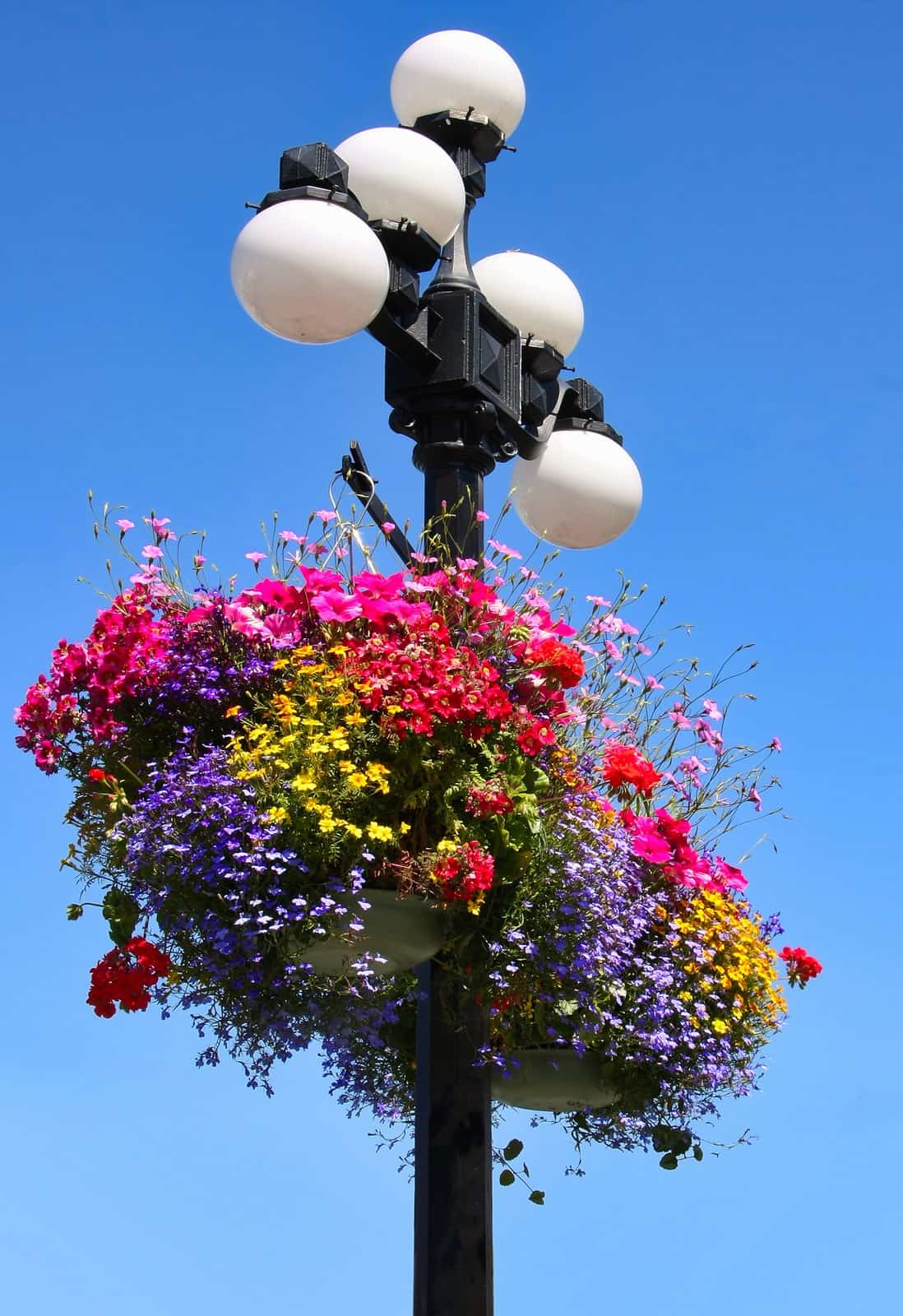 In summary, Victoria is a great city to visit. Victoria has a beautiful and charming historic downtown. It also has a beautiful natural island-like setting and scenic seascapes. Additionally, Victoria has wonderful period homes.
Back on Board
We were back on board the ship at 9 pm. And we would travel 86 miles before reaching our port of call, Seattle.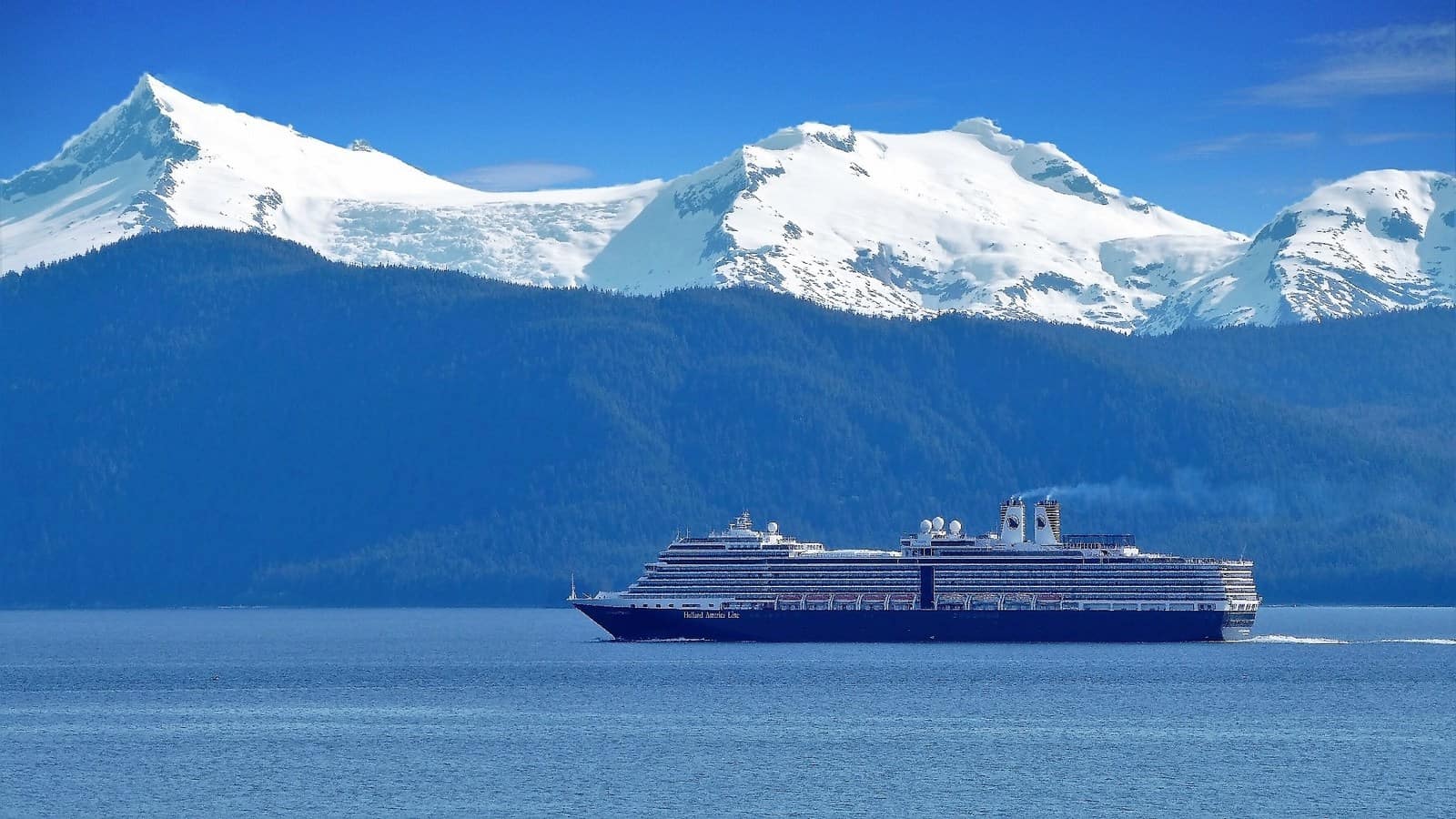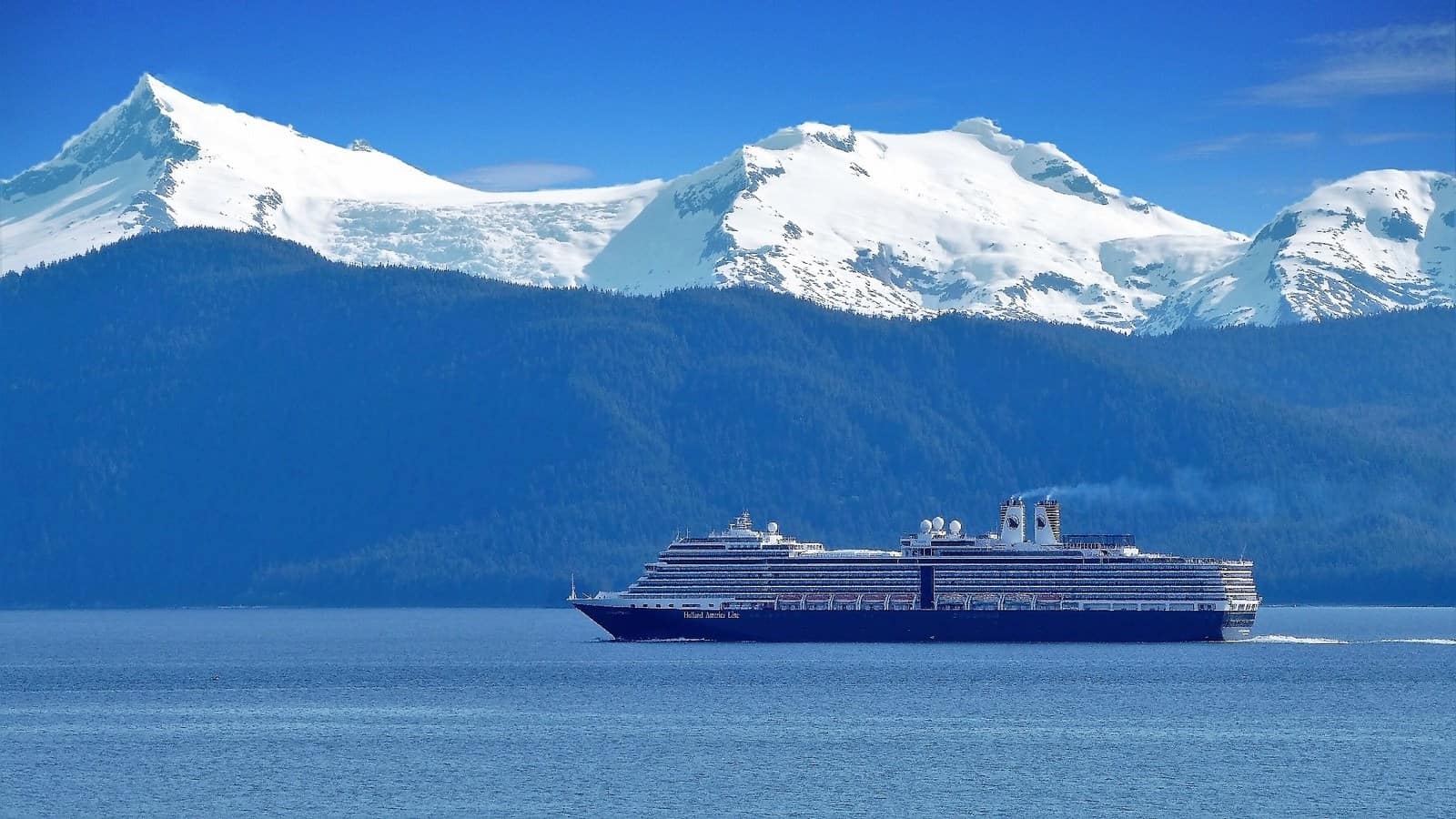 Day 8 Back in Seattle From our Holland America Line Alaskan Cruise
We ordered complimentary room service for our last breakfast on board the ship. Keith and I had packed up most of our things the night before to make disembarking easy. We were sad that the adventure was over on the Holland America Line Alaskan Cruise, but we look forward to discovering where our next journey takes us.
QUICK ANSWERS
What's the best way to visit Alaska, land or sea?
To see the coastal towns and the glaciers, sea is the only way to go. Juneau, Sitka and Ketchikan are only accessible by boat or sea plane.Taking a cruise to see these coastal cities and to get up close to the glaciers is the best way to travel.
How old are the glaciers in Alaska's Glacier Bay?
Most of the glaciers are less than 100 years old.
---