If you love sultry, cobblestone streets and colorful colonial buildings, as I do, you will love old town, Cartagena. Old town Cartagena is a well-preserved city lying within several, kilometers of centuries-old colonial stone walls. Old Town Cartagena is a UNESCO World Heritage site with balconies covered in bougainvillea and many Catholic churches. It was also the first Spanish colony on the American continent. For us, Cartagena is a place where you want to walk the streets, take your time, stop for a drink, and listen to the stories. Pausing to enjoy the many cafés and bars will help you bare the humidity. Obviously, I am not a fan of hot and humid, but I am a fan of old town Cartagena, and if done right you can enjoy its beauty and not notice the humidity.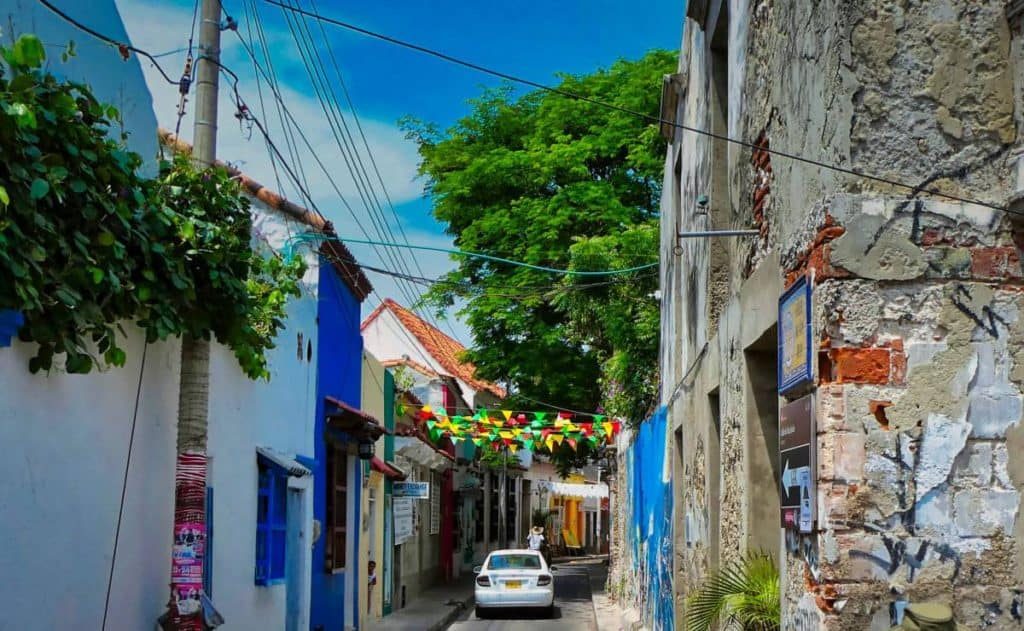 One of the Most Well-Preserved Cities in South America
Founded in 1533 Cartagena shortly became a major port city for the Spanish empire. As you walk the streets of Cartagena, you can easily see the Spanish influence on the architecture of the city. Cartagena is probably one of the most well-preserved cities in South America.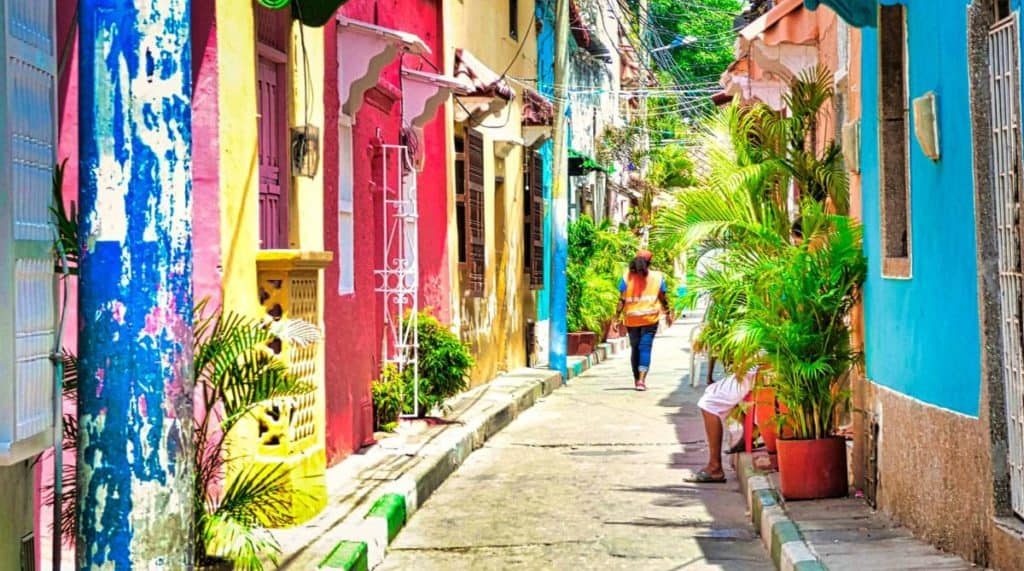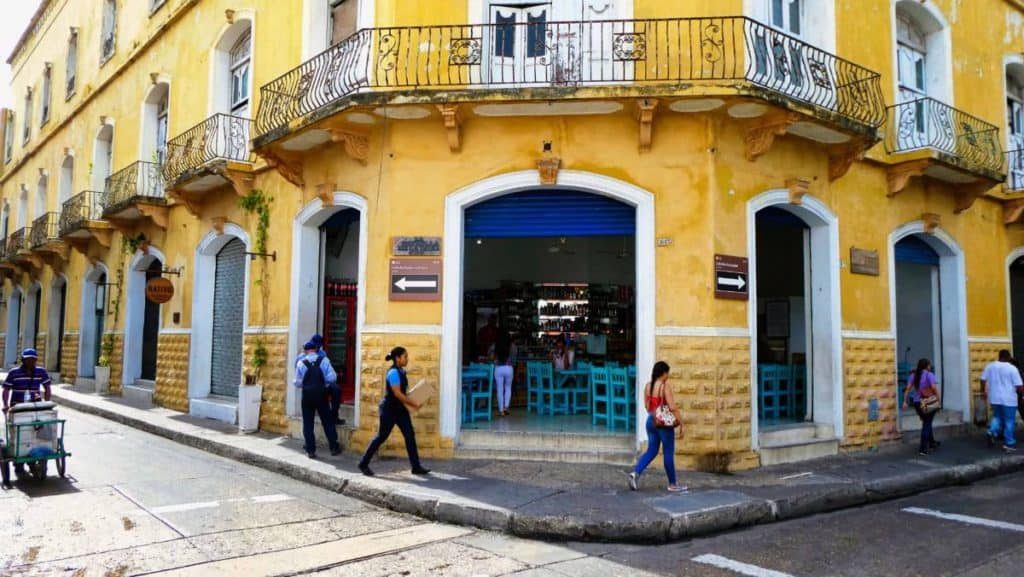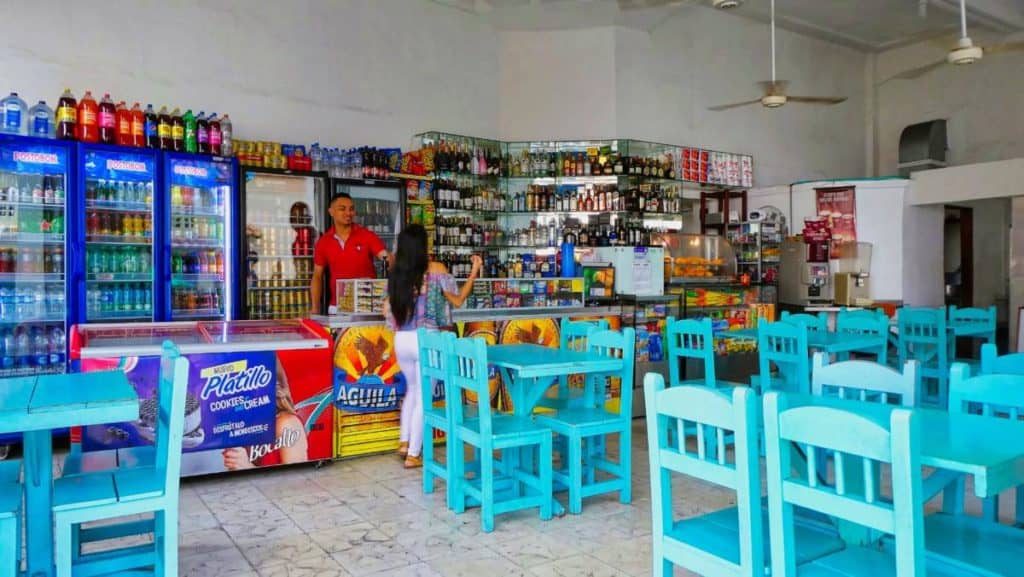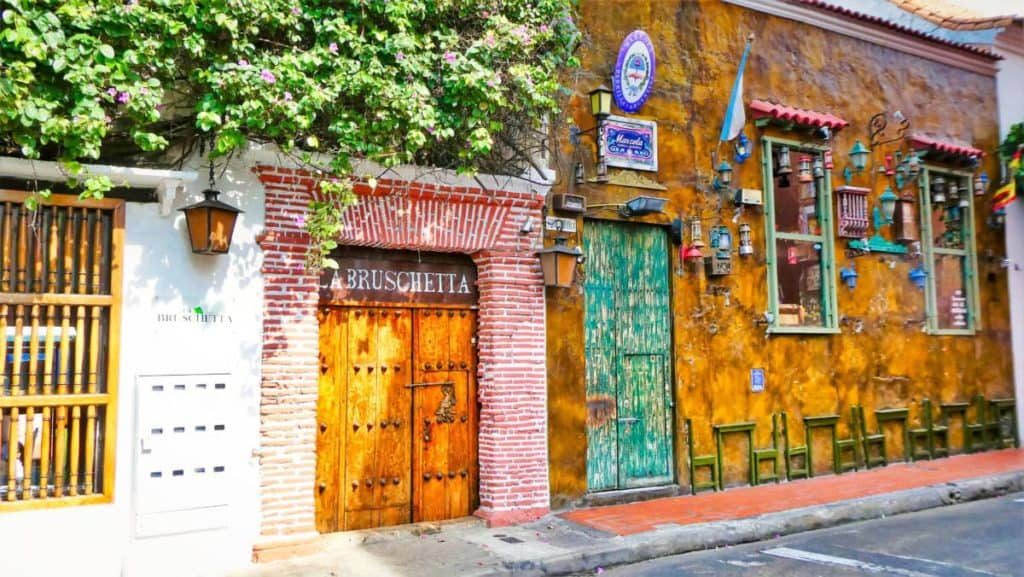 La Presentacion Casa Museo Arte y Cultura
Walking around the streets of old town Cartagena, we found this small hidden gem, La Presentacion Casa Museo Arte y Cultura. This museum is free and located in a stunning old Colonial home in Old Cartagena. The gallery of this museum is just a few rooms on the first floor alongside a beautiful garden area. The first piece of modern art you will see is in the entryway. The main entry has a chandelier made of recycled bottles. Enjoy a cappuccino or latte in their café as you people watch.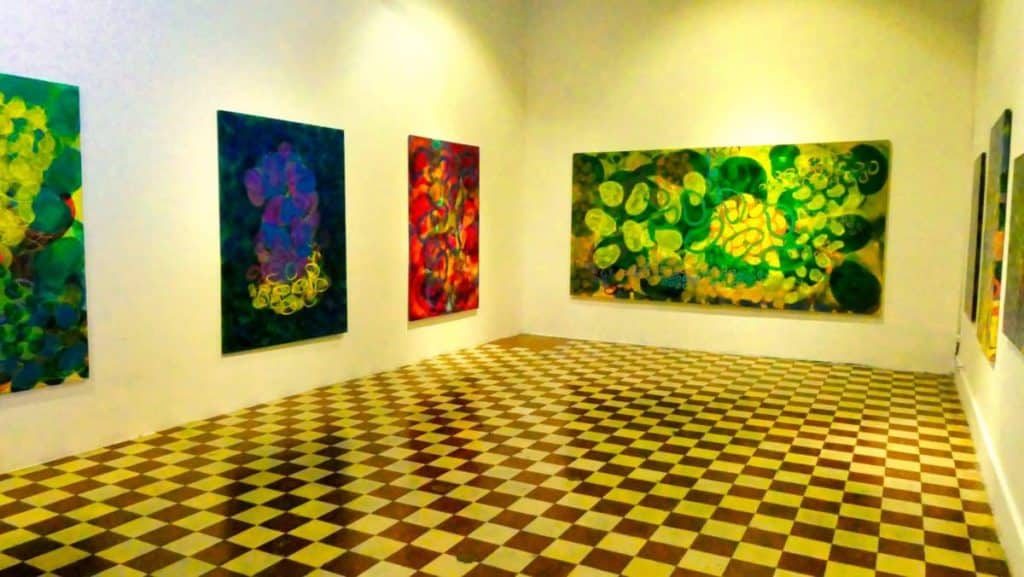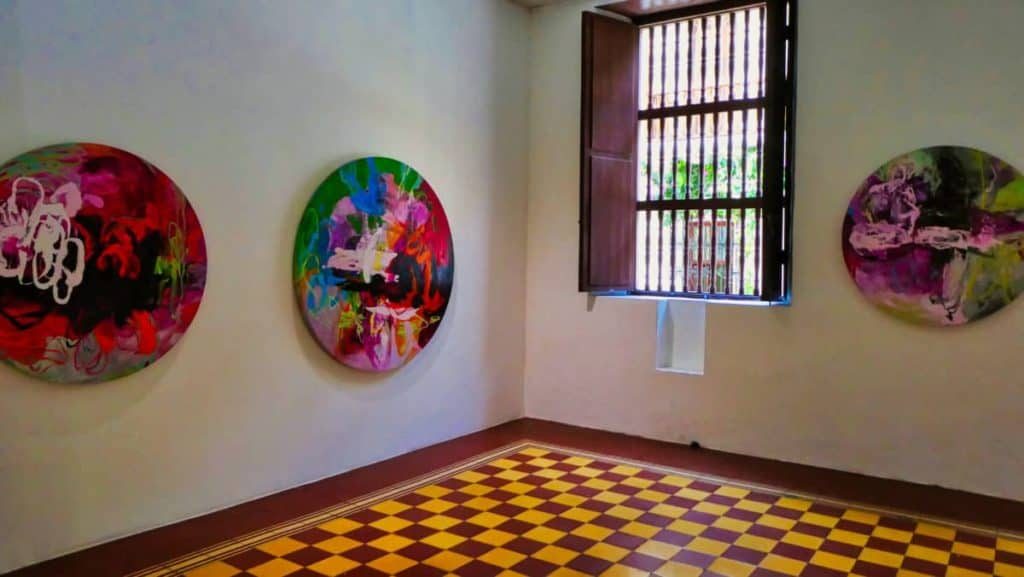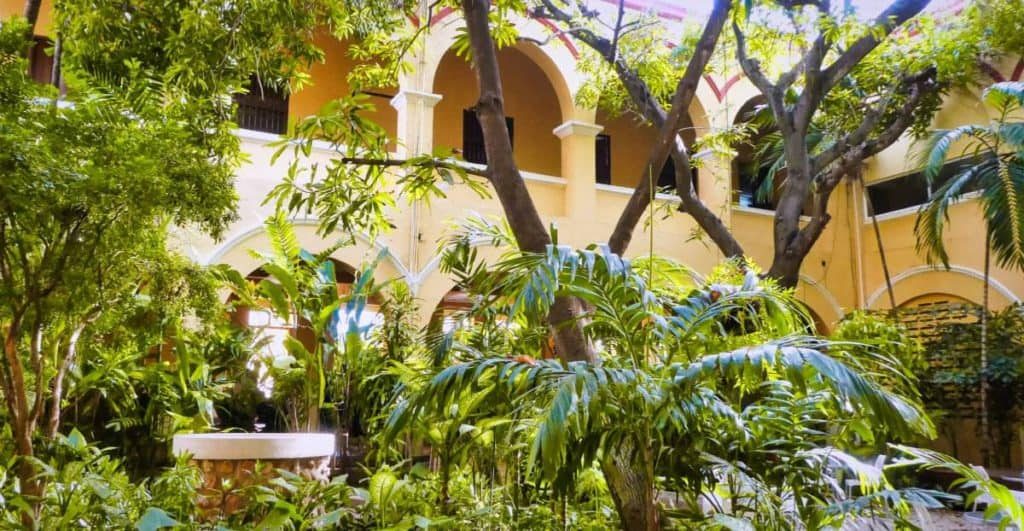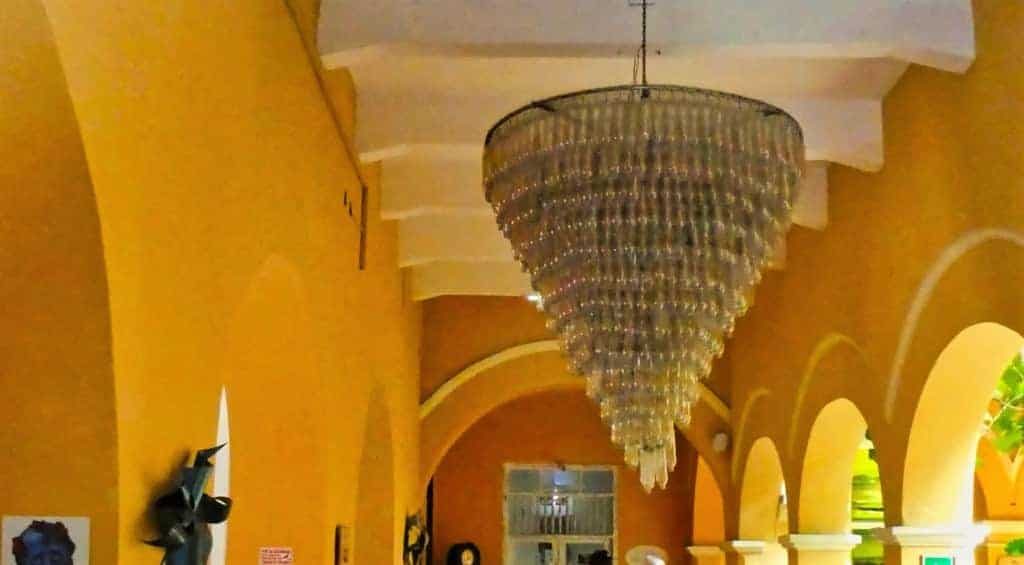 Albabas or Door Knockers
As I said before, Keith and I love old city architecture. As we walked the streets with our guide, we could not help but notice that many doors had ornate door knockers. I saw several homes or businesses with the same knocker, I was sure. After questioning our guide, we found out that these door knockers are called Aldabas. Different Aldabas have special meanings and most date back centuries. They originated in medieval times when families were eager to display their social status. Each knocker represents the owner's profession or social status. It was a daily reminder of one's place in society in Cartagena.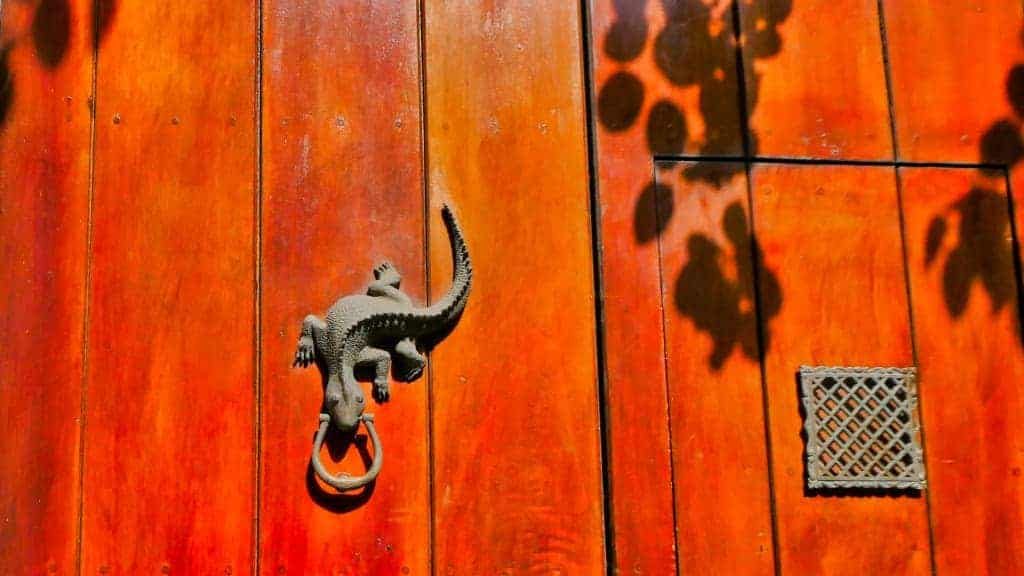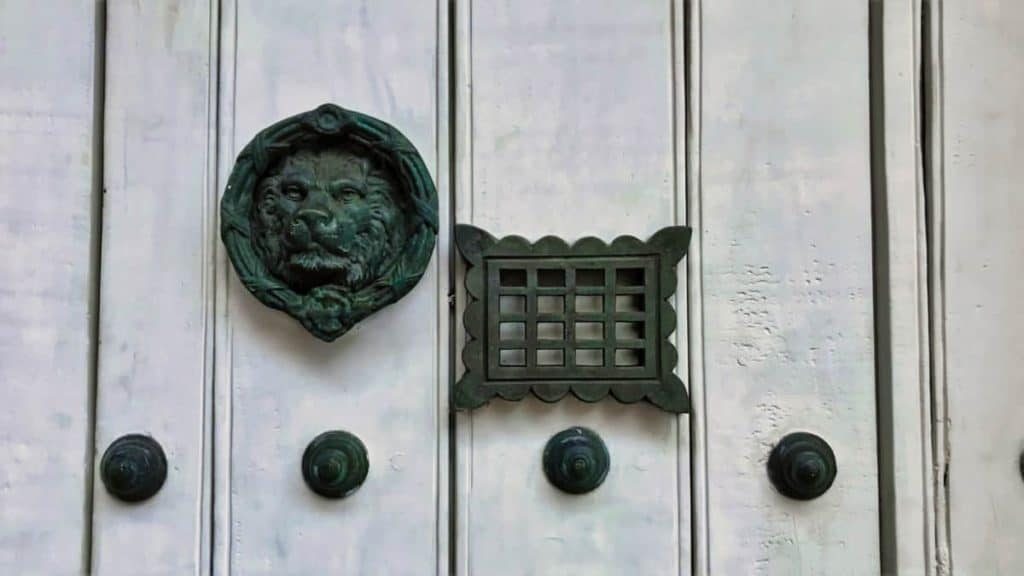 We saw several different door knockers along the beautiful streets of Cartagena. Our guide said the lion head meant that your family was in the military. The aquatic creatures like the seahorse, turtle, fish or mermaids meant you were a type of sea merchant. The lizard meant you were part of the Spanish Royal family or could lay claim to a family connection. A hand meant you were a member of the clergy or a religious sect. Dog knockers represented slave merchants and owls represented teachers. It was fun trying to watch for as many of these door knockers we could find.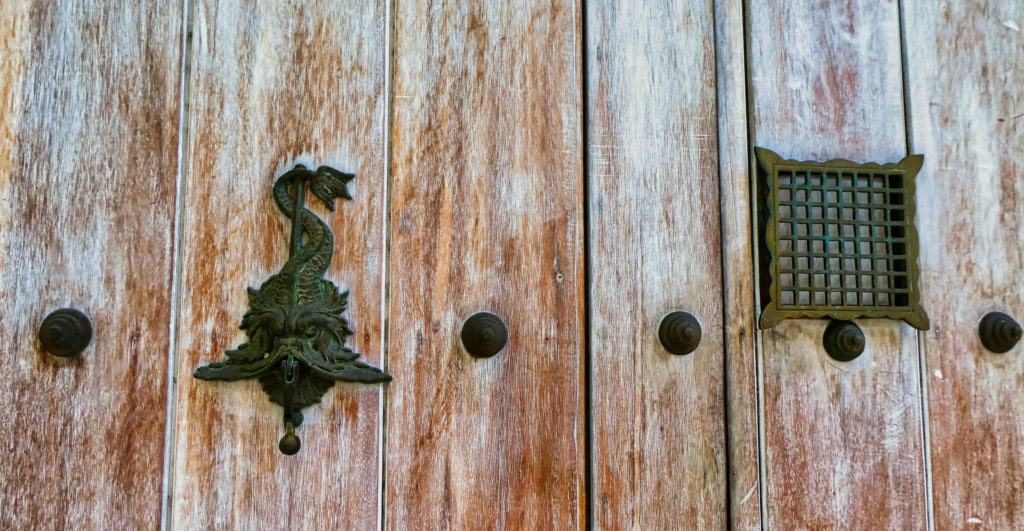 Beautiful Balconies
Something else we admired tremendously in the old walled city of Cartegena is the lovely balconies with their intricate railings. Beautiful pastel buildings and homes line narrow cobblestone streets adorned with these lovely balconies. You can only imagine what life was like in the days gone by in this sun-drenched city.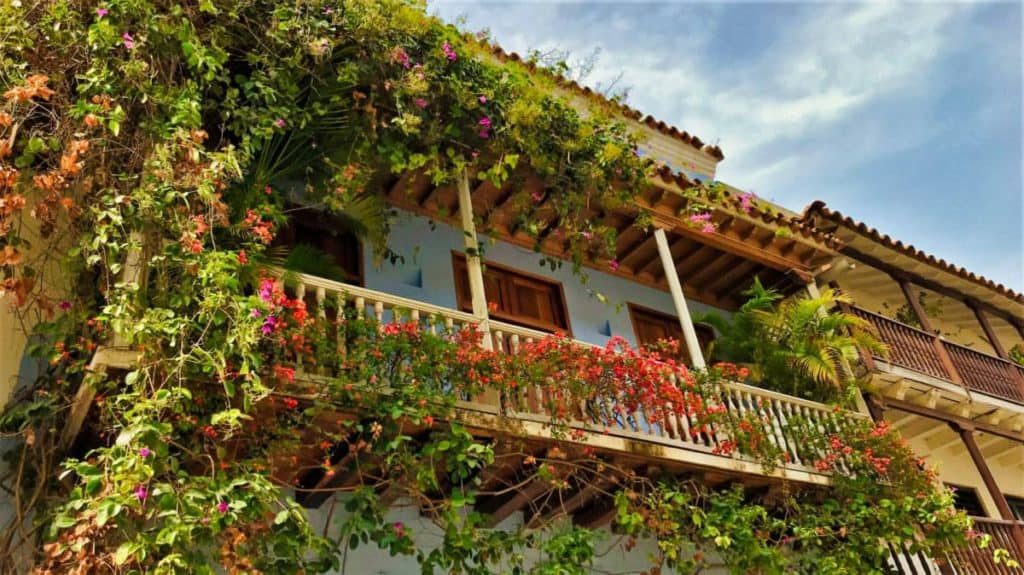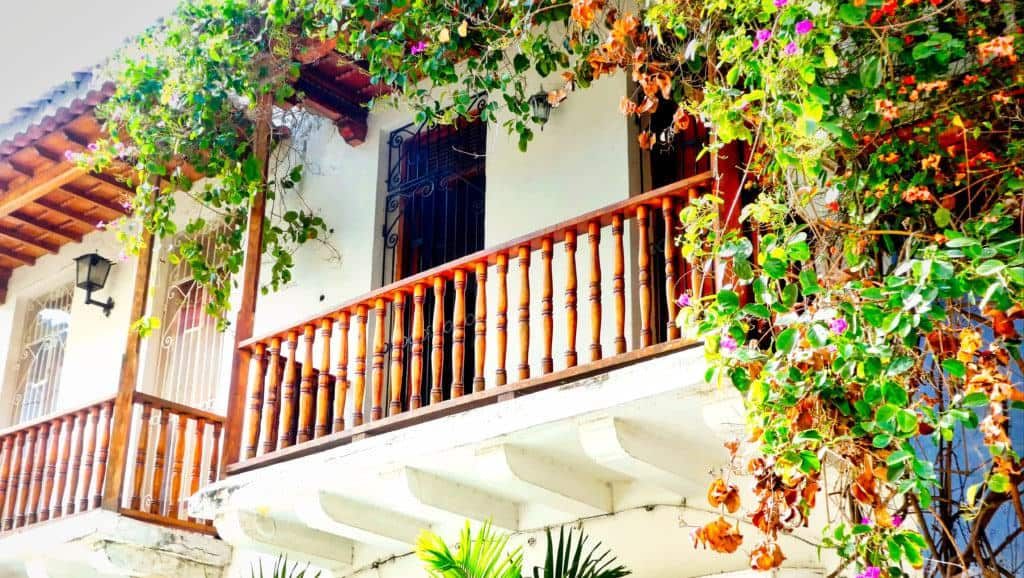 Many of these balconies are flower covered adding to the charm of the city. You can tell the age (period) of the balconies by looking at their support structures. The wood balcony supports, represent the Colonial period while the cement balcony supports represent the newer Republic period.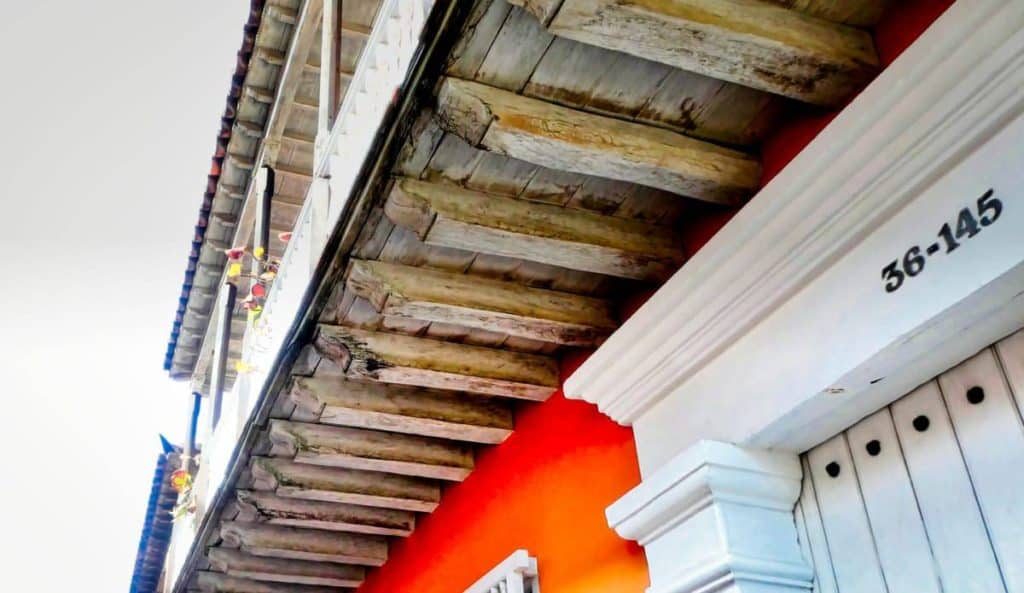 Cart Vendors
It is difficult for people living in the old city center to get to shops to purchase fresh food. So vendors take their goods to the people. The vendors have carts they push along the streets. One will sell produce, another fruit, others sell root vegetables and still another sell freshly made juices.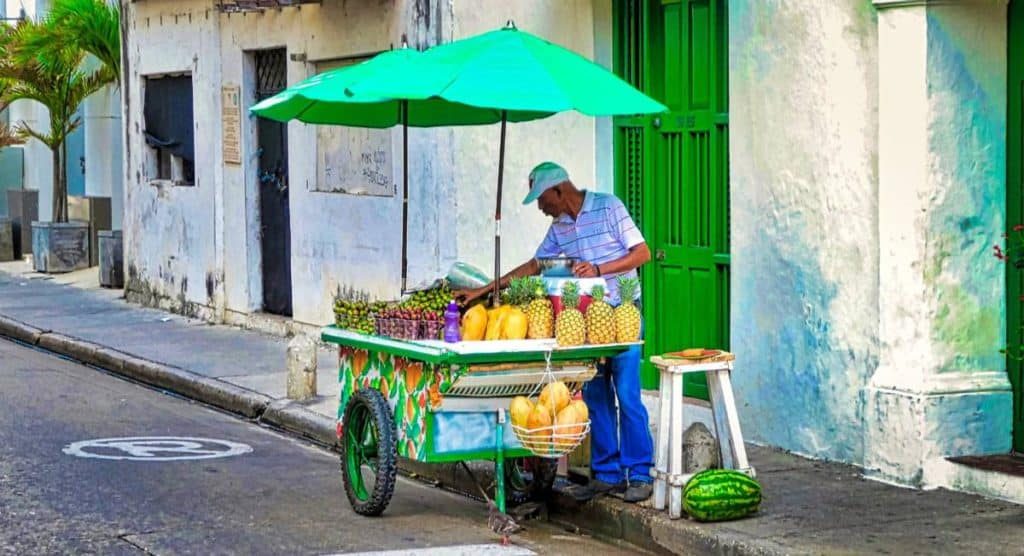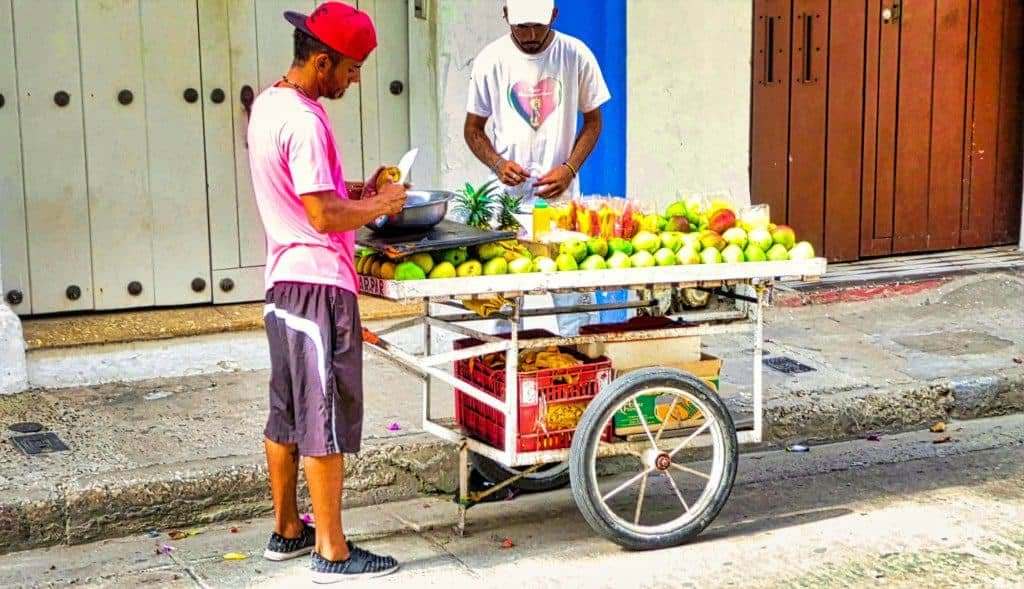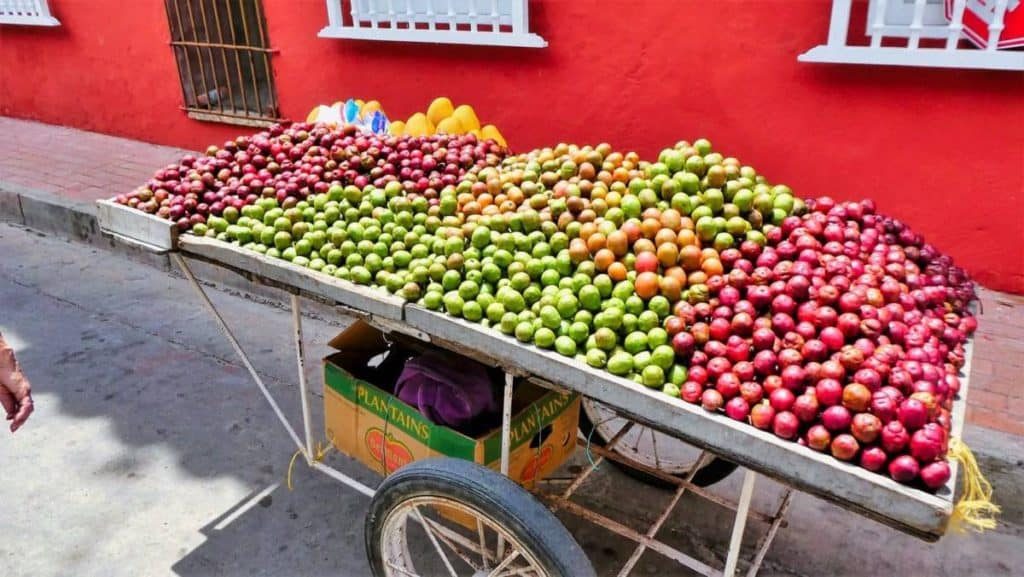 Movie Shoot
We did not entirely escape the crowds and glitz of the US. As we were walking down what should have been a small, quiet street we came along a crowd of people just standing and looking at this hotel. I asked an onlooker in my best Spanish what are you watching? The reply…" they are shooting a Will Smith movie, and Will and his son are inside the hotel now. We are all waiting for him to walk out so we can get pictures." There were guards and movie cameras outside the hotel. We waited about 20 minutes, but no one left the hotel, and we continued on our tour of the city.
Street Art
As is usual in many South American cities, Cartagena has terrific street art. Artist will paint pictures and murals to depict their political views, their dreams or to beautify the street.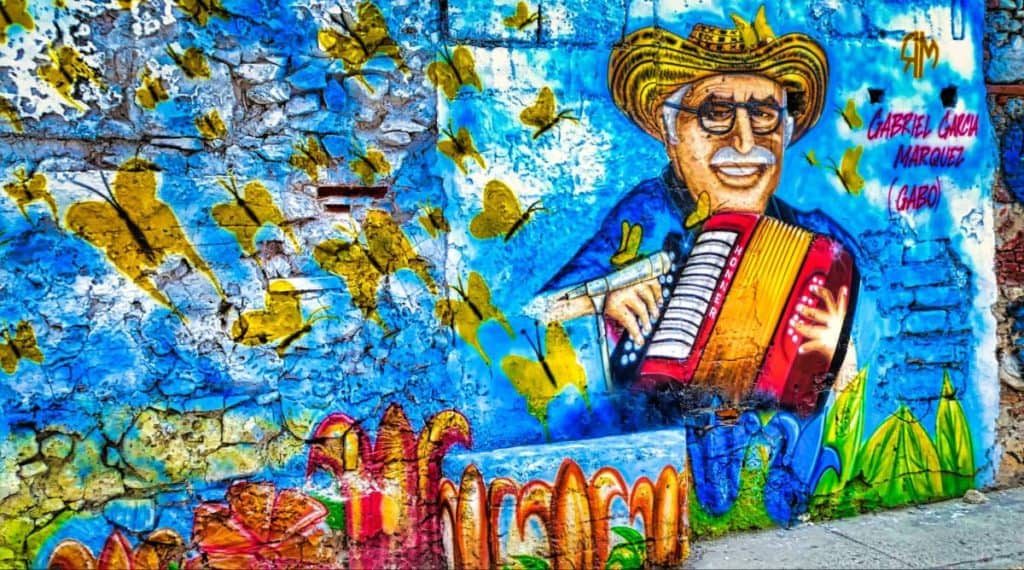 Have a Cartagena Favorite Drink When its Time to Cool Off
As I said before, the streets of old Cartagena are hot and sultry, so Keith and I went to the roof of the Armeria Real Hotel for a drink and to catch the breeze. From the roof, we had great views of the high rise skyline of downtown Cartagena. They served us a Cartagena specialty drink called "Limonada de Coco." It consists of cream of coconut, lime juice, sugar and crush ice. They blended it, and it was delicious.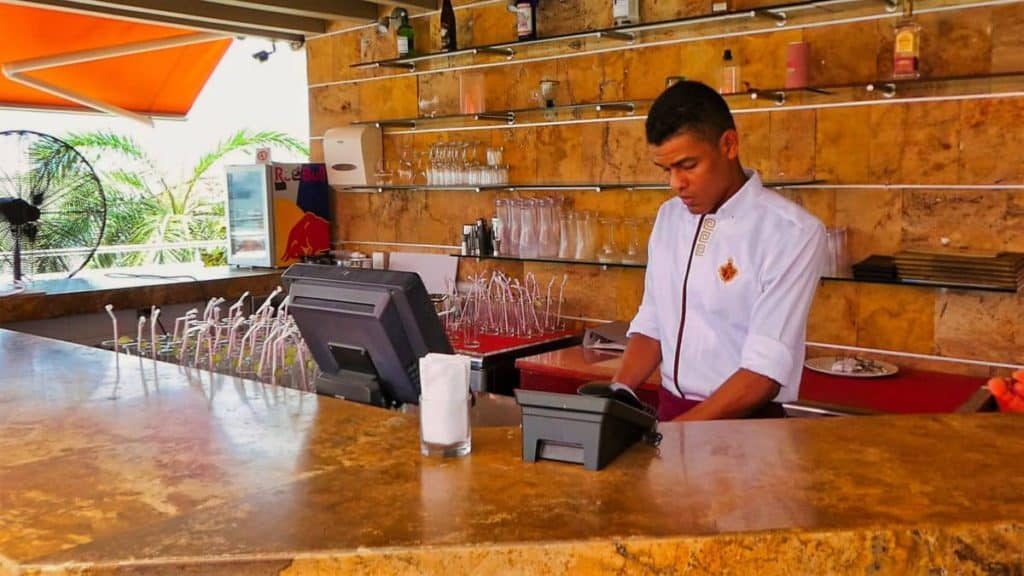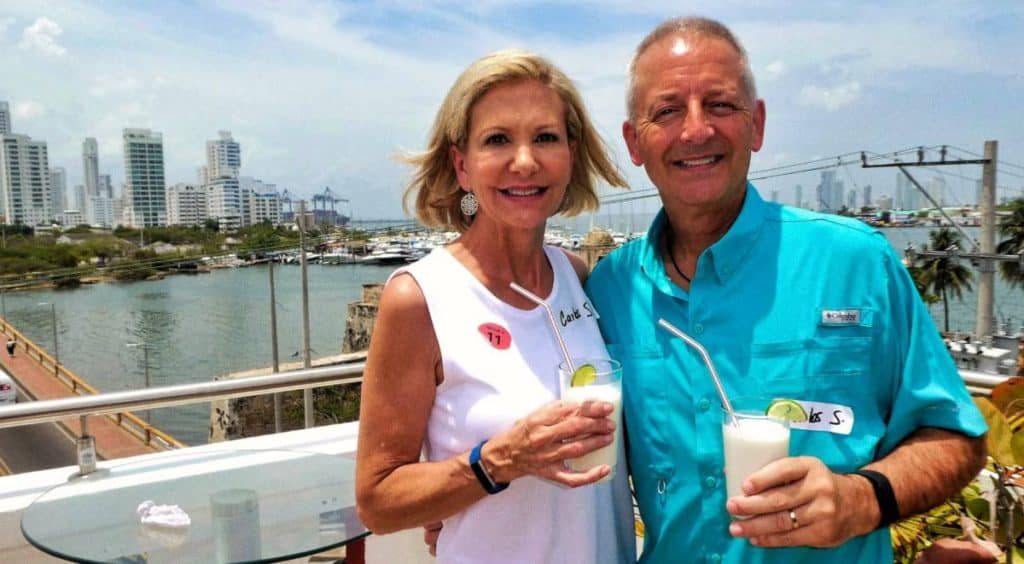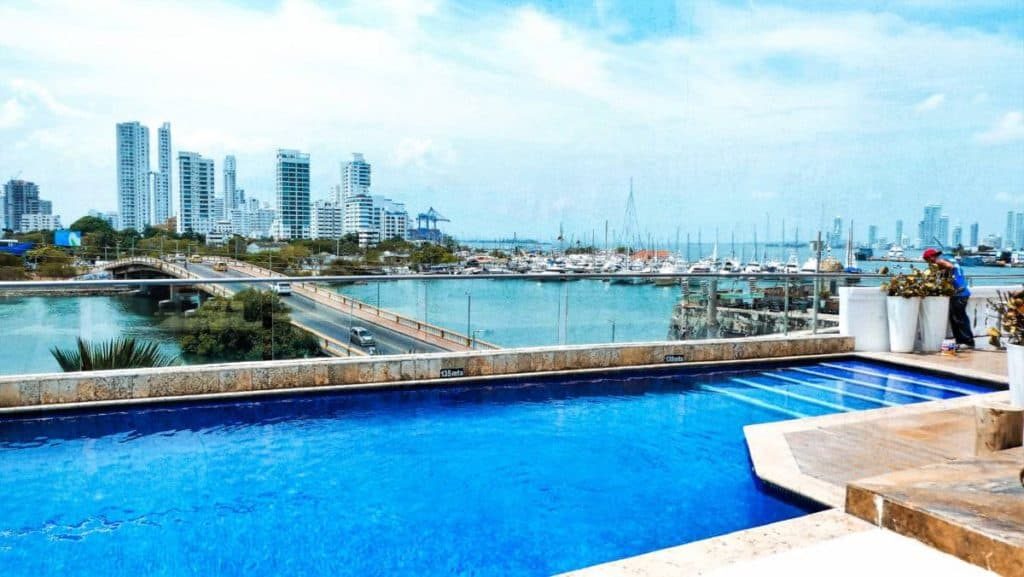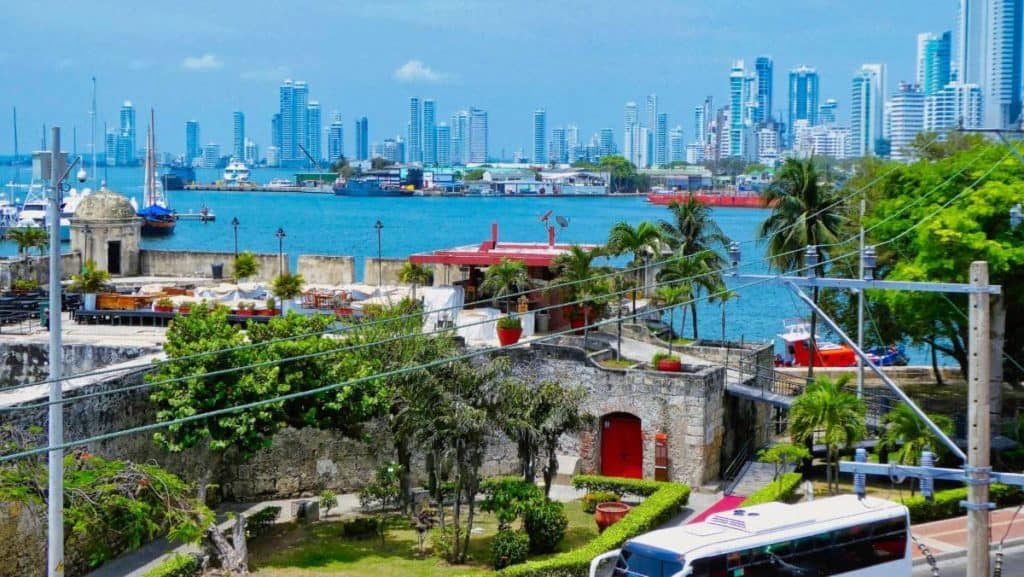 The Shops at Las Bovedas
Last but not least we strolled the shops at Las Bovedas. Las Bovedas is a street lined with souvenir shops built in the old cells of the former Cartagena prison. Located in Cartagena but not in the old city, it is a place we recommend you not miss, especially if you like to shop. We found everything from clothes, souvenirs, and even food. There was also a guy who roasted his homegrown Columbian coffee which we had to bring a pound home to try.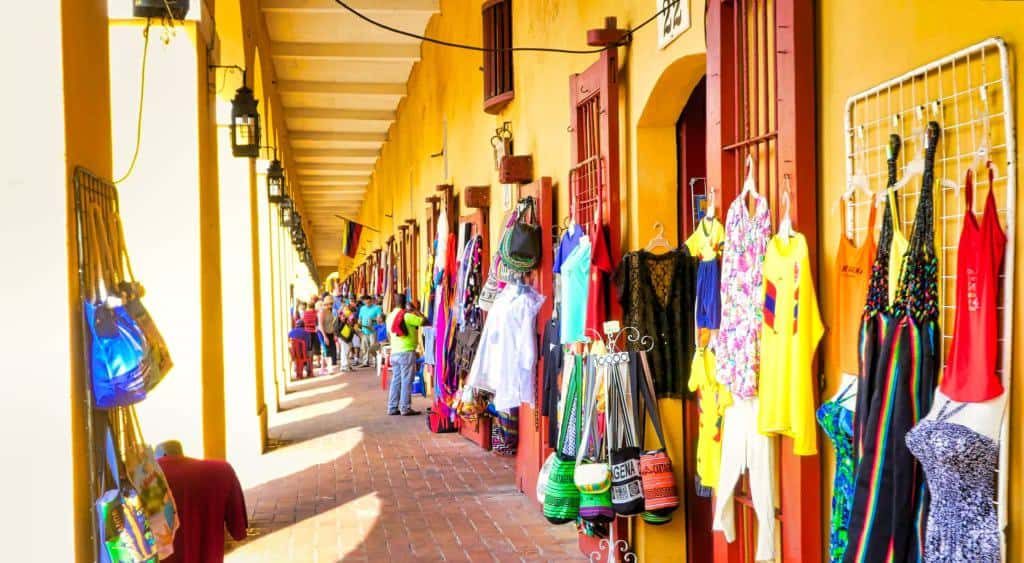 We only spent a short time in old town, Cartagena. We wished we had longer. It is a city we would love to spend a week visiting. There are so many exciting shops, cool little cafés and interesting people to watch in this peaceful city.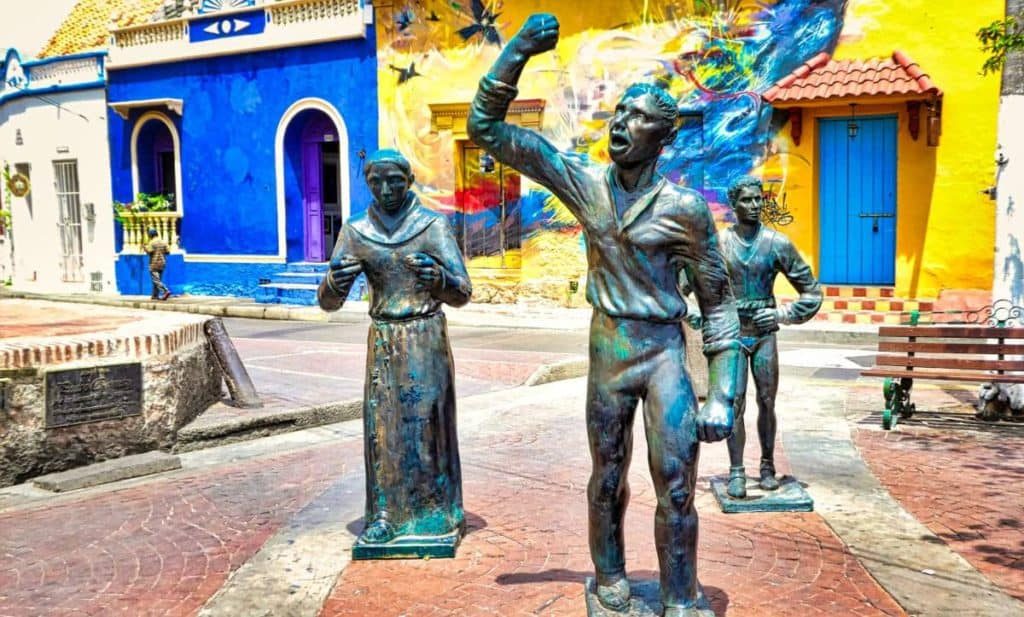 Check out this 5-minute video of the Old Town
[fusion_youtube id="Izyt4sM8-ns" alignment="center" width="" height="" autoplay="false" api_params="" hide_on_mobile="small-visibility,medium-visibility,large-visibility" class=""][/fusion_youtube]