Riding a train through Europe with Eurail is something we always wanted to do. However, as we got older, we thought that Eurail was mostly for backpackers. Many backpackers use the Eurail system because it is so cost effective. After traveling through Europe for 42 days, we are here to say that just about anyone of any age can have a wonderful travel experience with Eurail. We learned so much of the do's and don'ts of European train travel. Things I wish we knew before we left. We love train travel, and we would do it again, but there are things you need to know to make it easier and less stressful.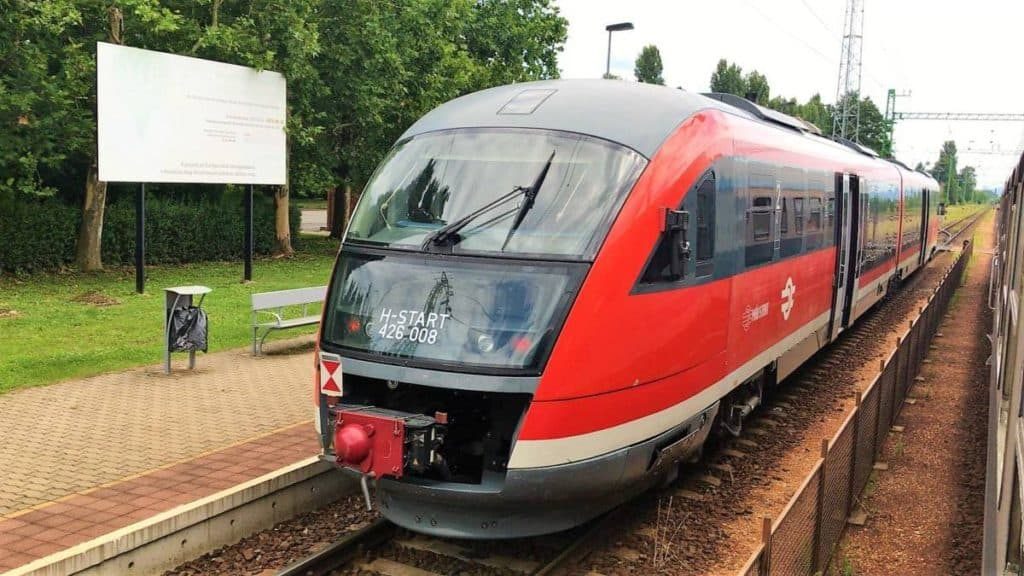 Buying the Pass
Let us start by creating a schedule and booking the tickets. You probably heard about the freedom you have with a Eurail ticket. Just show up at the train station and get on the next train going to your destination. Yes, that is possible, but we are planners. Moreover, just showing up in the hope that there is room on the train or that there is even a train going to your destination that day is something we did not want to experience. Our preference was to find the train we were going to take ahead of time, and since we purchased a first-class Eurail pass, we could buy a seat reservation (sometimes mandatory) for a little extra money.
The first thing you need to do is purchase your Eurail pass. The Eurail website has an excellent system that will help you choose the best pass to buy. You enter the number of days traveling and the countries and/or cities you are going to, and it will suggest the best options. We had the Eurail Global Pass for ten train days over 2-months. That means we could travel on trains ten days over a 2-month period. We went to nine countries, so this worked out perfect.
Reservations
Once you receive your Eurail passes in the mail, you can begin any needed reservation requests. The easiest way to see the train schedules and make reservations is through the self-service Eurail reservation system. From this system, you can enter the country and city you want to depart from and arrive at, and you will see the options for that day. It is straightforward. It will show you if you have to change trains or if reservations are mandatory. Once you make all of your selections, you submit it to Eurail for processing. You need to allow time for Eurail. It took almost two weeks to have my choices processed and approved. Once they email you that everything is right, you can go into the system, accept and pay for the reservations.
The tickets are either e-tickets or paper. Of the nine trains we took in Europe, not one was an e-ticket. I found it very strange that they still used paper tickets. We had our reservation tickets sent to the first hotel we stayed at in Europe. They were there when we arrived
First Day on the Train
We flew into Zagreb Croatia. That is where our Europe trip started. Our first trip on the train was to our second destination, Ljubljana Slovenia. We got to the train station about an hour early. However, it turns out; there is really no need to get to any station much earlier than 30 minutes. Because the station does not assign a platform to the train until 30 minutes before arrival. Therefore, you have to stay in the central area looking up at the signage waiting for your train's platform assignment.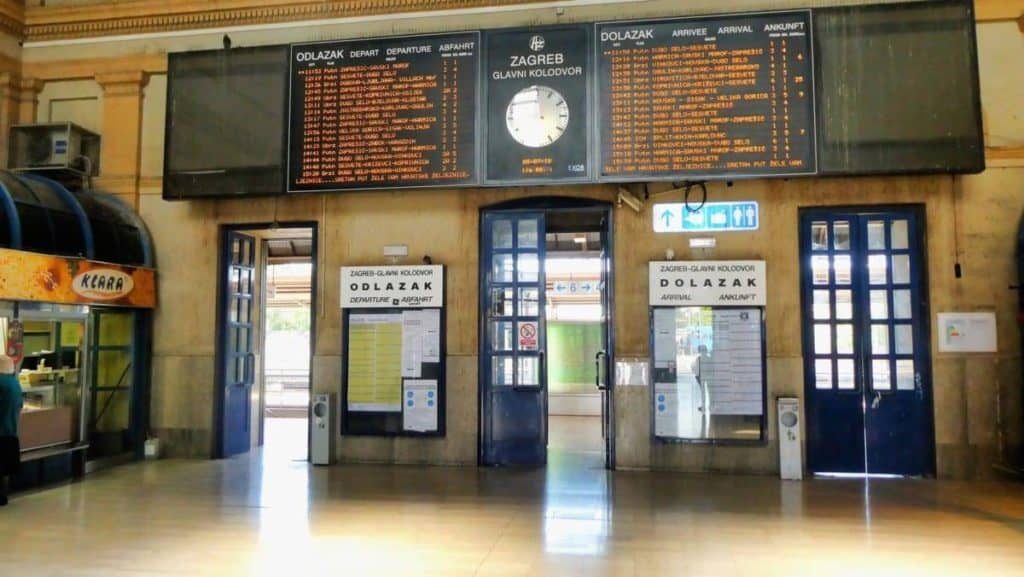 Once our train was assigned, we made our way to the bottom of the platform and came to the stairs. In this station, there was no elevator or escalator. We both had suitcases of about 50 lbs. So we (or should I say "I") had to carry them up the stairs. It would have been easier if we could have packed lighter but being away for six weeks and toting a bunch of camera gear made that difficult. Once on the platform, we just waited for the train.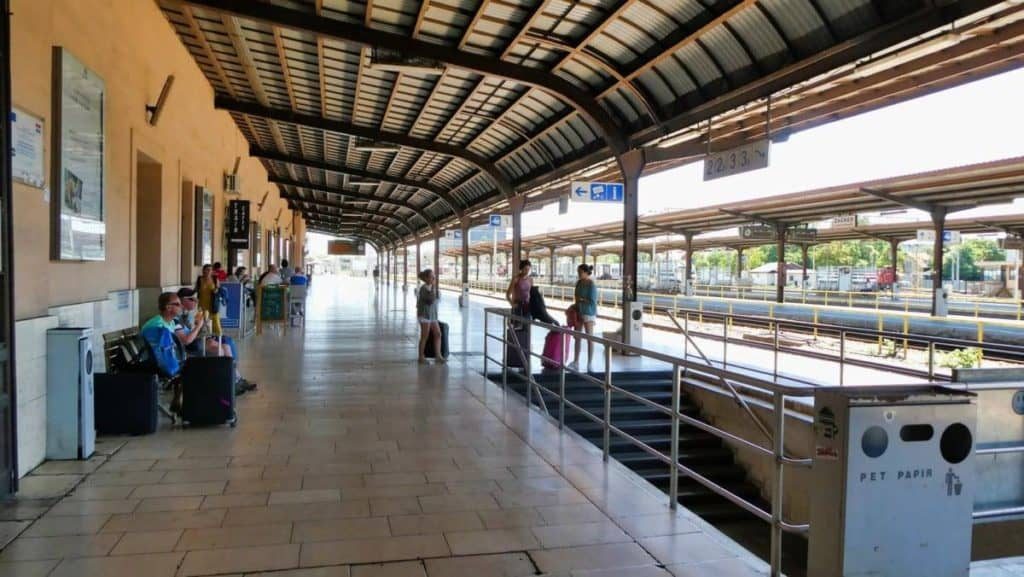 Trains Don't Stay Still for Long
One thing you have to remember is that the trains do not stop at the stations for very long. Maybe three or if you are lucky, ten minutes. Therefore, you have to get on the train quickly. The challenge is finding the car you need to get on. This only applies if you have a reservation with an assigned seat. When the train comes in, you watch for the car with your number on it and then quickly head for it. Once on the train, you need to find a place to stow your luggage.
There is always overhead storage by your seats but not always big enough if you are carrying medium or large suitcases. So we learned that you put your luggage anywhere you can find a place that does not block the aisle. Only on a couple of the trains we took did they have a dedicated luggage area. One time, there was no place but over our heads to put our suitcases. Luckily, I am in decent shape so lifting the 50 lb. suitcase overhead to the storage went without incident.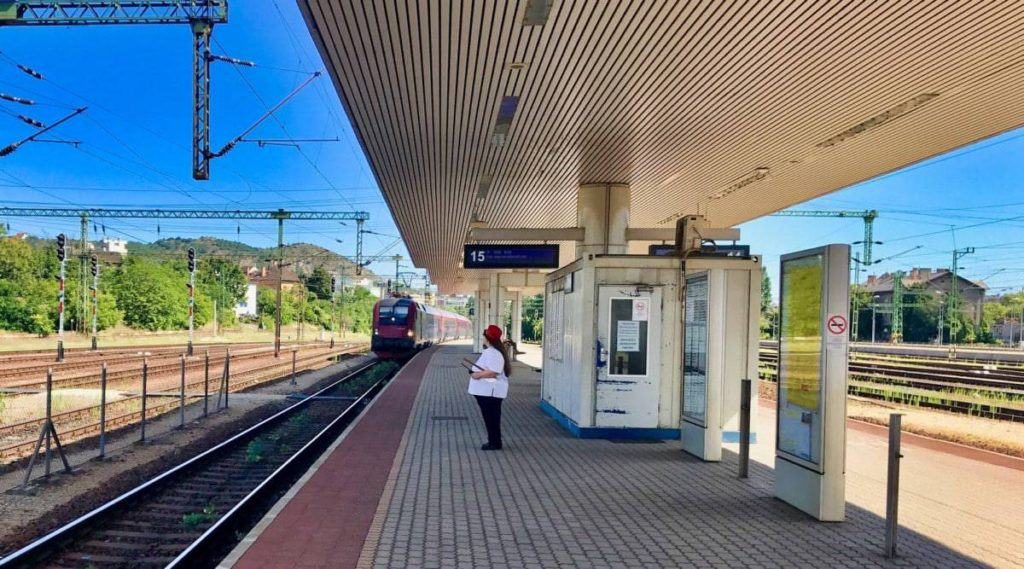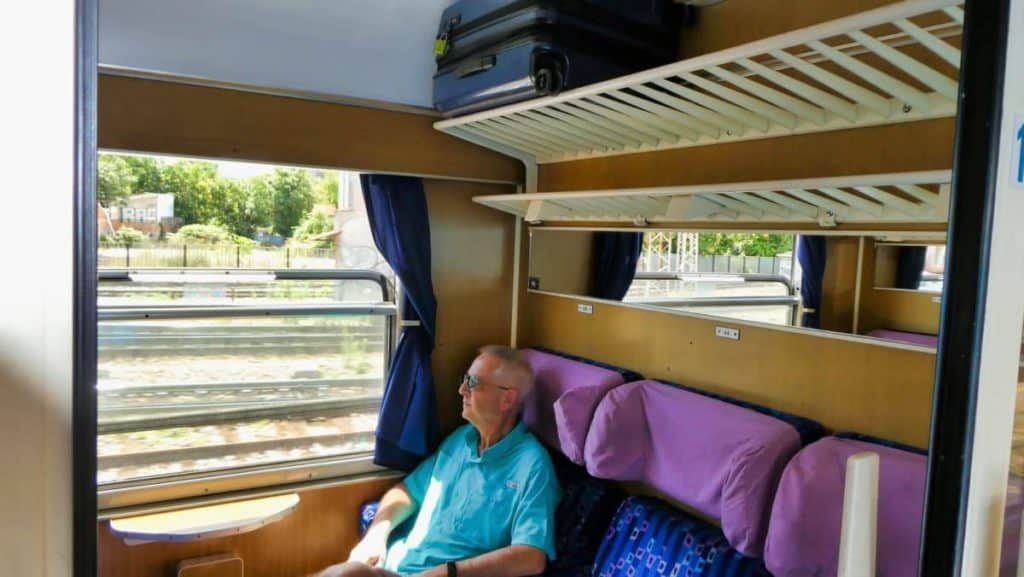 Lessons from Train Rides through Nine Countries
The first train ride was a little stressful but only because it was unknown. After the first one, we were pros. We continued to learn new lessons on European train travel throughout the nine countries. I decided to summarize what we learned in hopes that it will help you ease the fear of traveling through Europe on Eurail.
First Class or Not? We looked at the seats on every train, and I can tell you that the first class seats really were more spacious and comfortable. Therefore, if you can afford the little extra, I would go for it.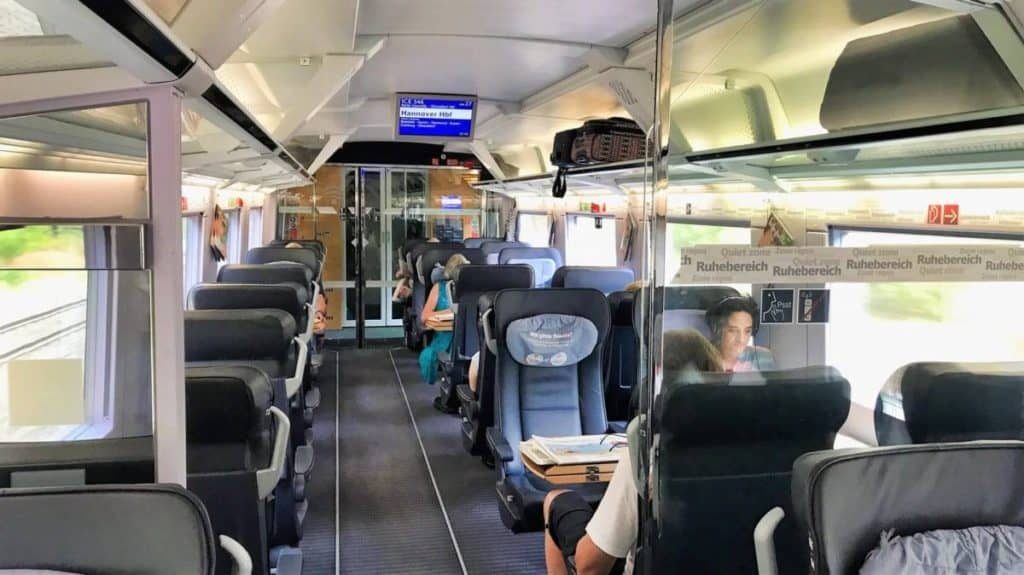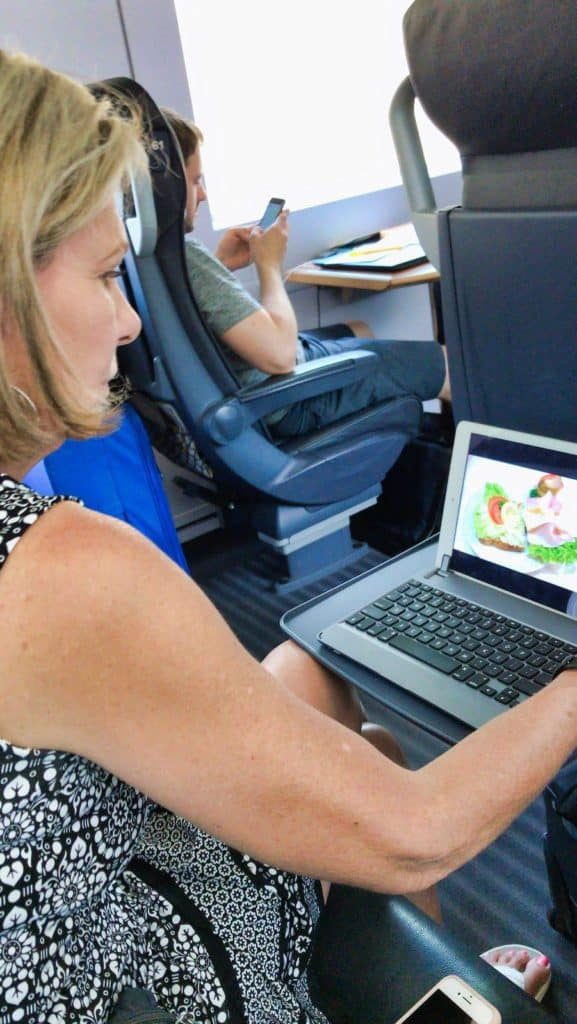 Allow Enough Time. Remember that it took 2 weeks to hear back from Eurail for reservations so make sure you allow enough time including the time needed to mail you any seat reservation tickets.
It's not an Airport. Don't bother arriving too early. There's no need. Since you already have your ticket (Eurail pass) and possibly a reservation, you just go right to the train platform. Most stations don't assign a platform to the train until 30 minutes before arrival.
Luggage. Keep in mind that you might have to carry your luggage up the stairs or put it overhead. Therefore, if you have any disability or are not that strong, you might have a problem. Some stations had elevators and some had luggage assist conveyors along the stairs. Moreover, nowhere in any of the countries we were in did we see porters at the train station to help you with luggage.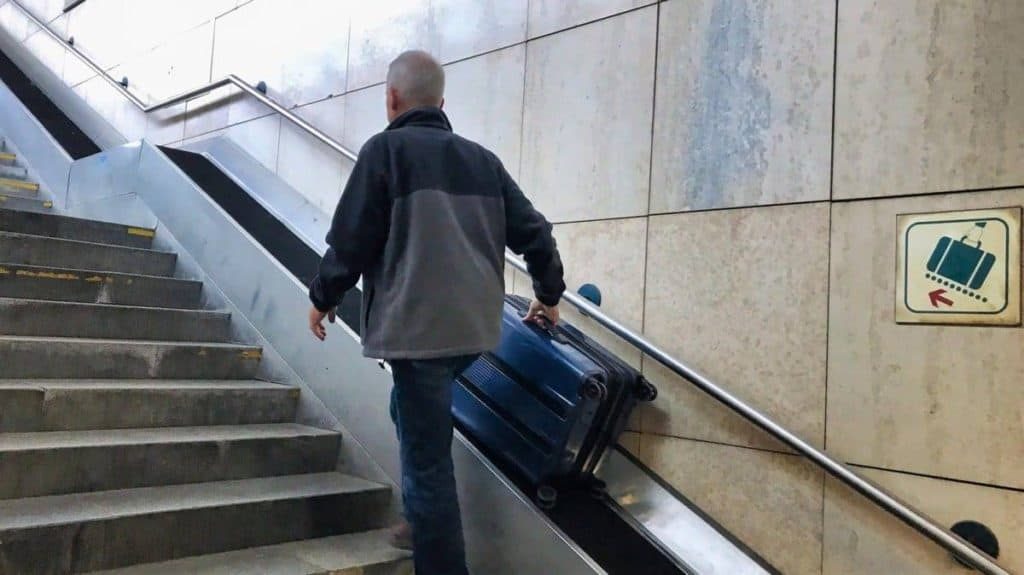 Here's a 20-second video of the luggage lift in action
Be Quick. The trains do not stop at the stations for very long, so you have to be quick getting on and getting off. When you are approaching your stop, you need to have your luggage ready and be waiting at the exit door. You will see everyone doing this. For your arriving train, some stations have displays that tell you where your car number is in line so you will know in advance where to stand on the platform. We found that to be very helpful in getting on the train timely.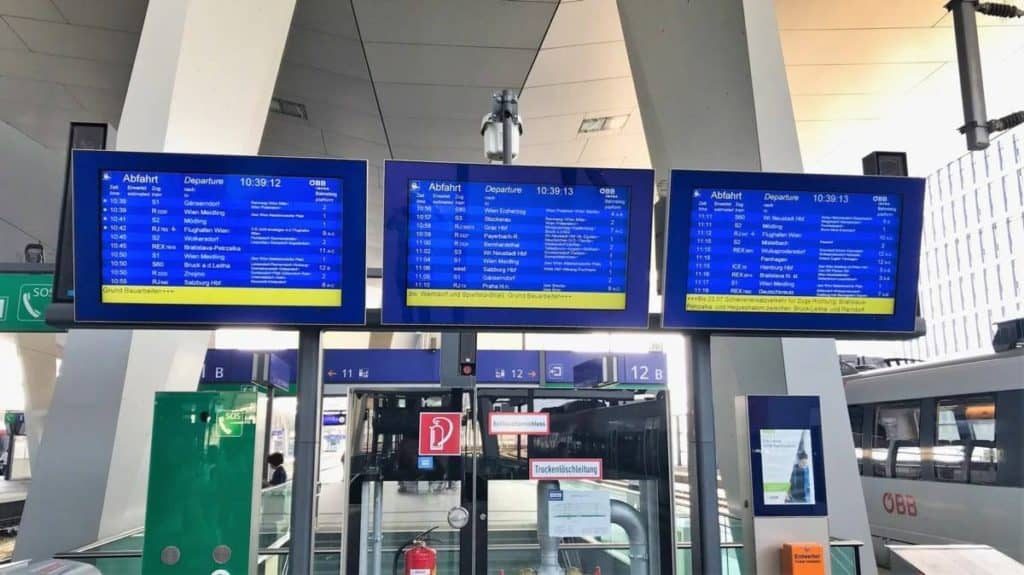 Connections. If you have to make a connection, make sure you allow yourself enough time to get to the next train. Some stations are multi-level, and you might not know the platform to go to ahead of time. We had one connection in Berlin that was only 10 minutes. I would never advocate cutting it that close, but this was the last train out that day, so we had to try. Germany was one of our last countries on this trip, so we already were experienced train travelers and felt comfortable.
During the first leg of this train trip, the train was late. Therefore, we were apprehensive that we would make the Berlin connection. Luckily, Germany has a great train system. We talked to the train attendant, told him our problem, and asked him if he could find out the platform, our connecting train was on. A few minutes later, he came and told us the platform number.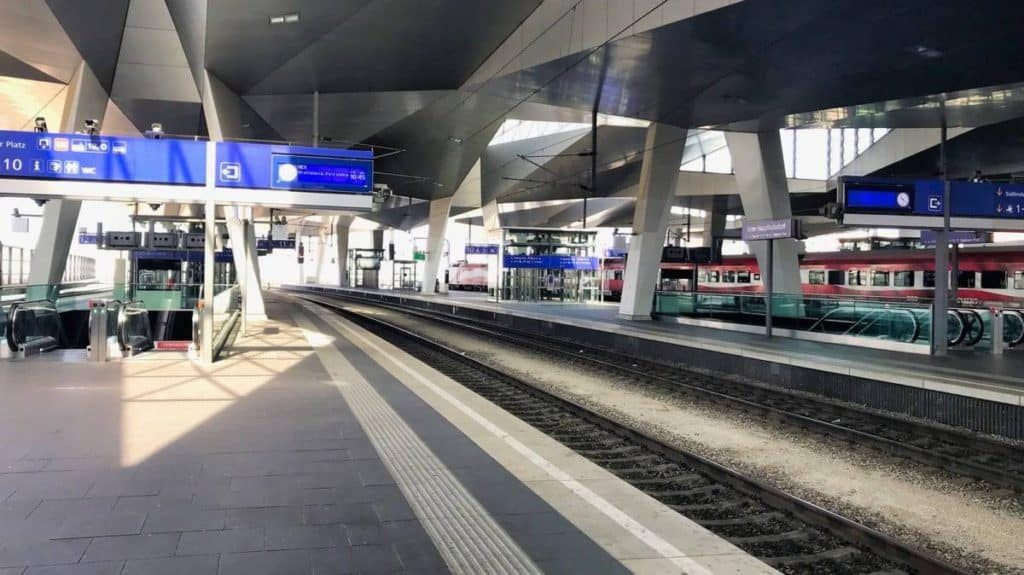 The train never made up the time so we thought we would miss the connecting train. Nevertheless, we jumped off and hustled to the next train. It was already a minute over, but we saw the train still on the platform. We made it to the train 2 minutes late. A few minutes later when the train attendant took our ticket, he told me our previous train attendant radioed him and told him our situation. He said they held the train just for us since it was the last train out. So lesson learned, do not give up. You never know what could happen. Here is a shot of the train timetable app on my phone where you can see they waited for us.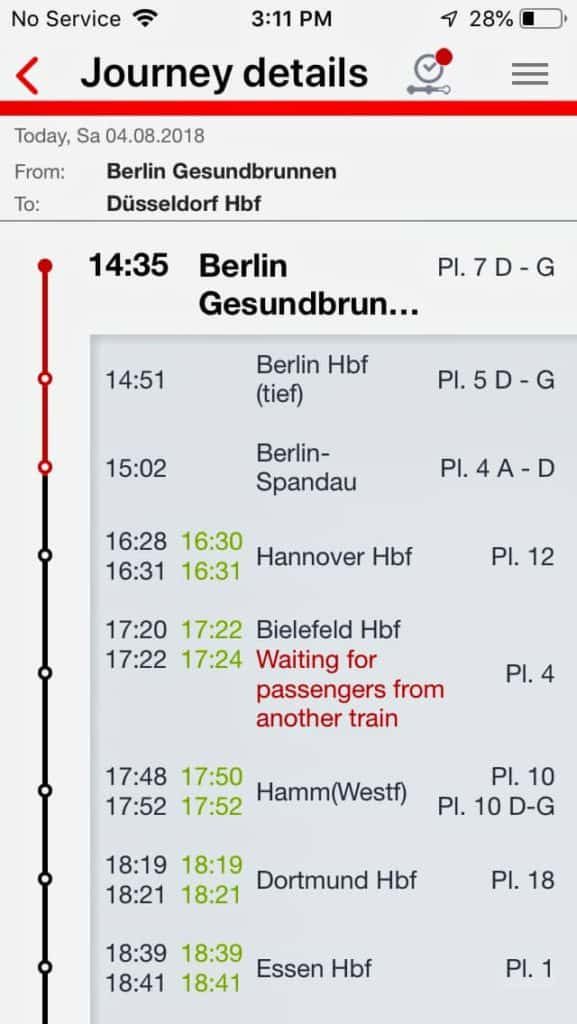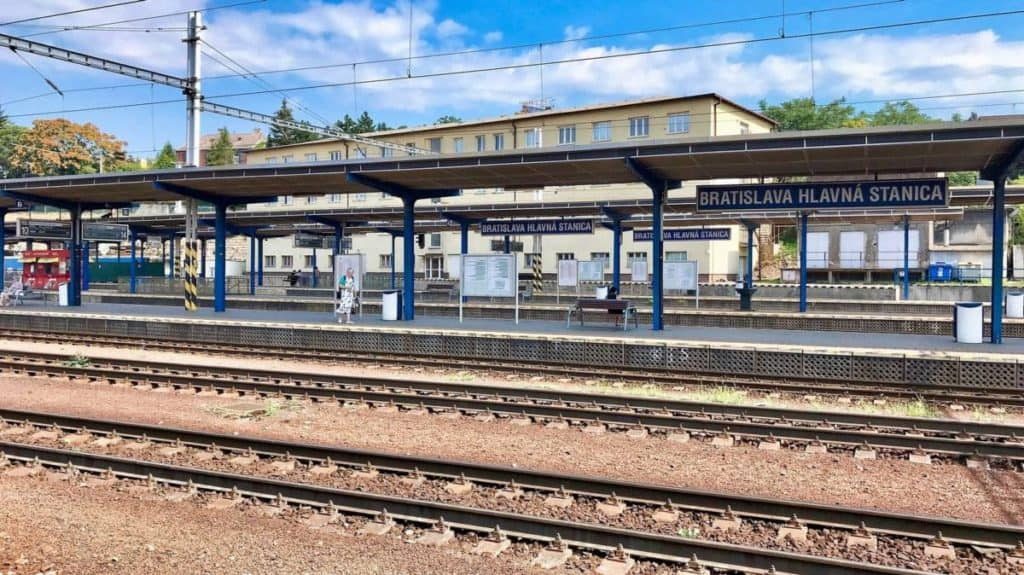 Not All Trains are Created Equal. We found that the trains varied considerably from country to country. It was 90 degrees out and only 50% of the trains had air conditioning so dress appropriately. They also don't all have the greatest bathrooms. Be sure to bring your own toilet paper or tissue. About 1/4 of the trains had none.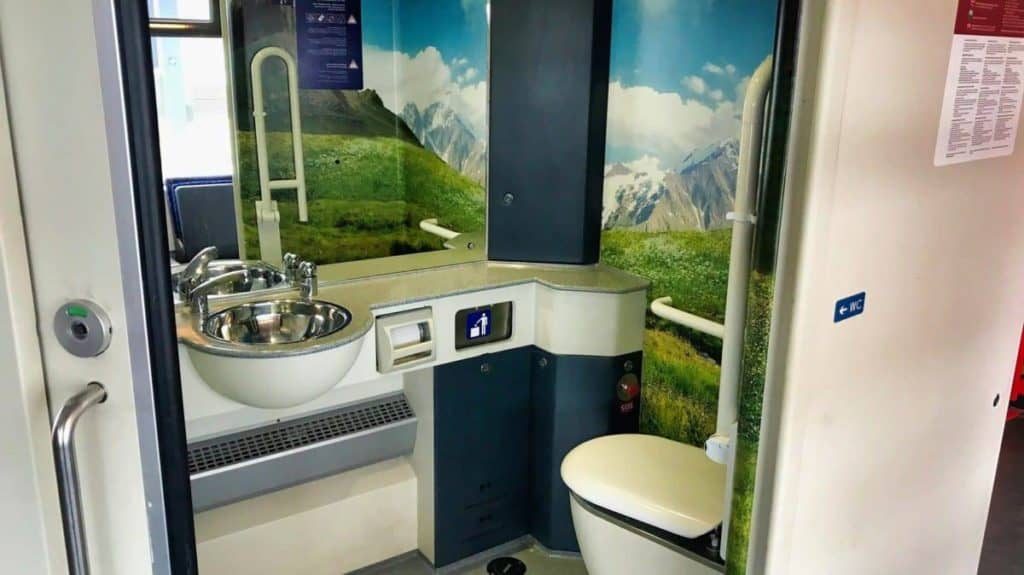 Hunger Pains Aren't Fun. Not all trains had a dining car or sold any food. We had an 8-hour train ride, but luckily we brought our own food for the trip. I saw a couple people run off the train at stops to try and buy something but they risk not making it back in time. So play it safe and bring your own food.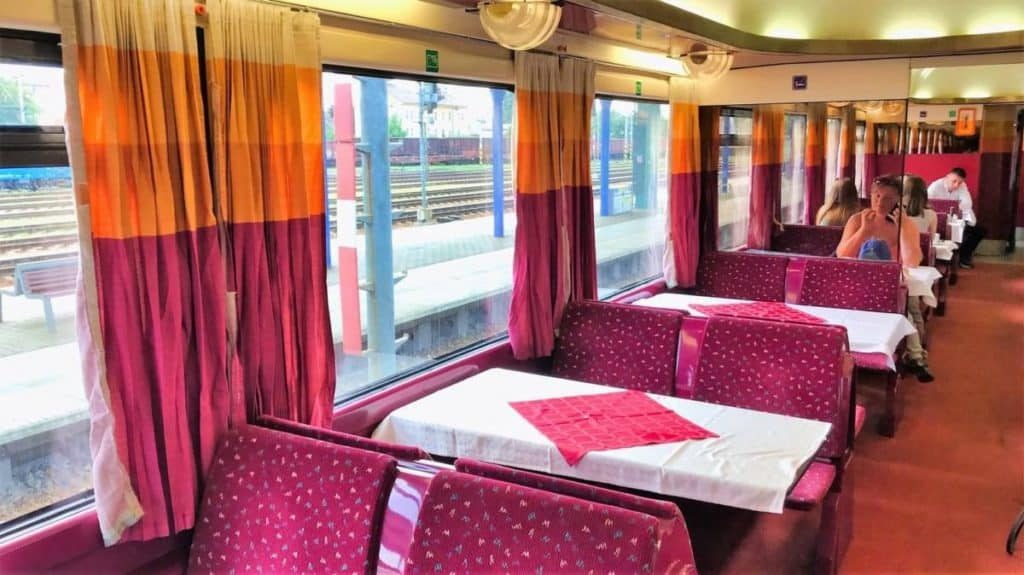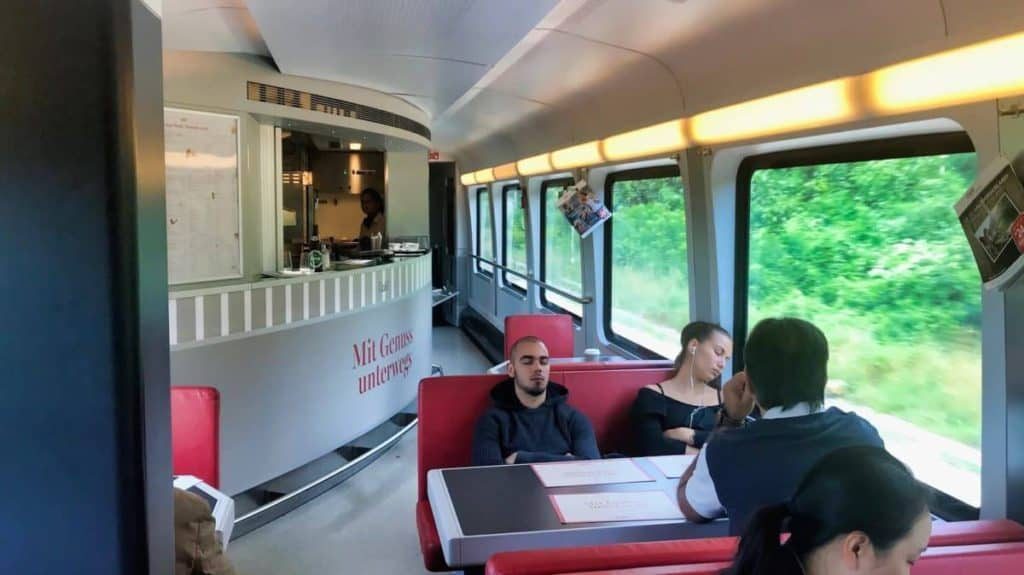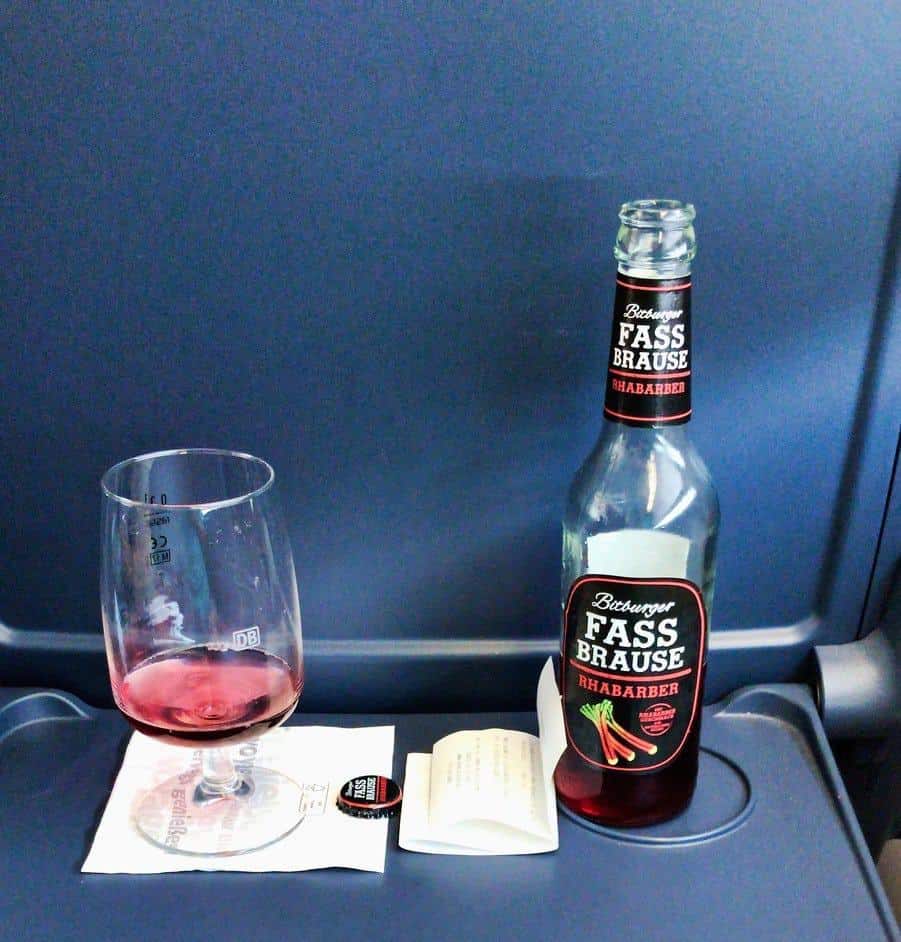 Eurail across Europe
European train travel with Eurail truly was a great experience. We were a little apprehensive at first but soon realized it was easy. With train travel, you get more than a 30,000-foot airplane view of the landscape. You get to see small villages and meet new people along the way. Anyone can travel on a train with Eurail. It's not just for backpackers.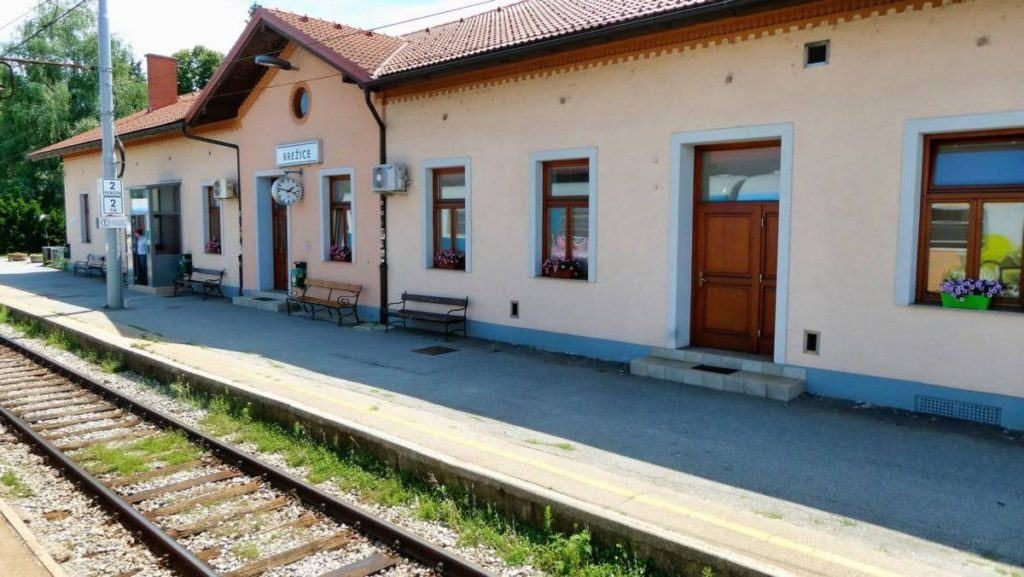 A sample of the scenery from the train
To read about Vienna visit here.
If visiting Germany check out this post on Dusseldorf.
Or, if you going to travel to Slovenia check this out.