A trip to India will be a trip like no other, and most people want to visit the sites of the Golden Triangle.  The Golden Triangle consists of three cities, Delhi, Jaipur, and Agra. They call it the Golden Triangle because of the triangular shape formed by the three cities on a map. Delhi is the capital of India and Agra is the home of the Taj Mahal.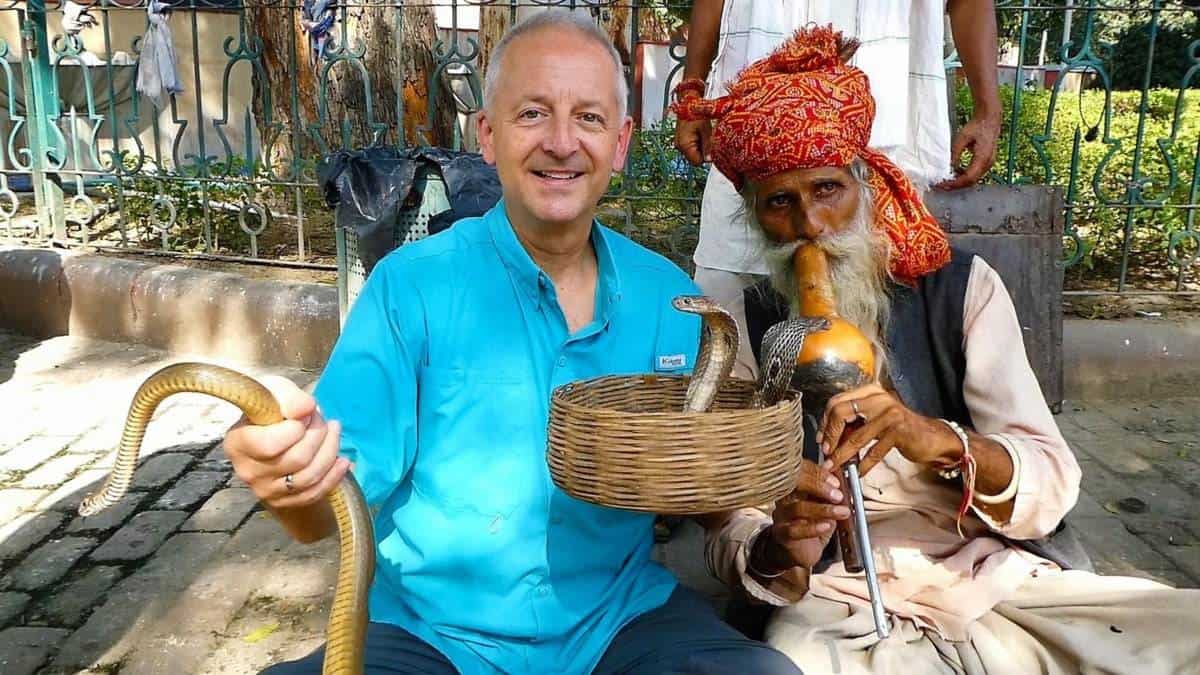 India is a big country with so many places to see and things to do. Thus making it challenging to figure out on your own where to go, what to do, and how to get there. Driving alone is very difficult. The driving culture is unique onto itself. Cars share the roads with tuk-tuks, mopeds, motorcycles, camels, oxen, and cows. In addition, Indian people also drive on the left side of the road. They make 2 lanes into 3 and use the car horn constantly to pass. Based on our experience, we couldn't imagine driving a rental car in India. We highly recommend you use a private driver. You will enjoy your trip more, get from point A to point B faster, and not have to worry about finding a place to park at the site seeing destinations.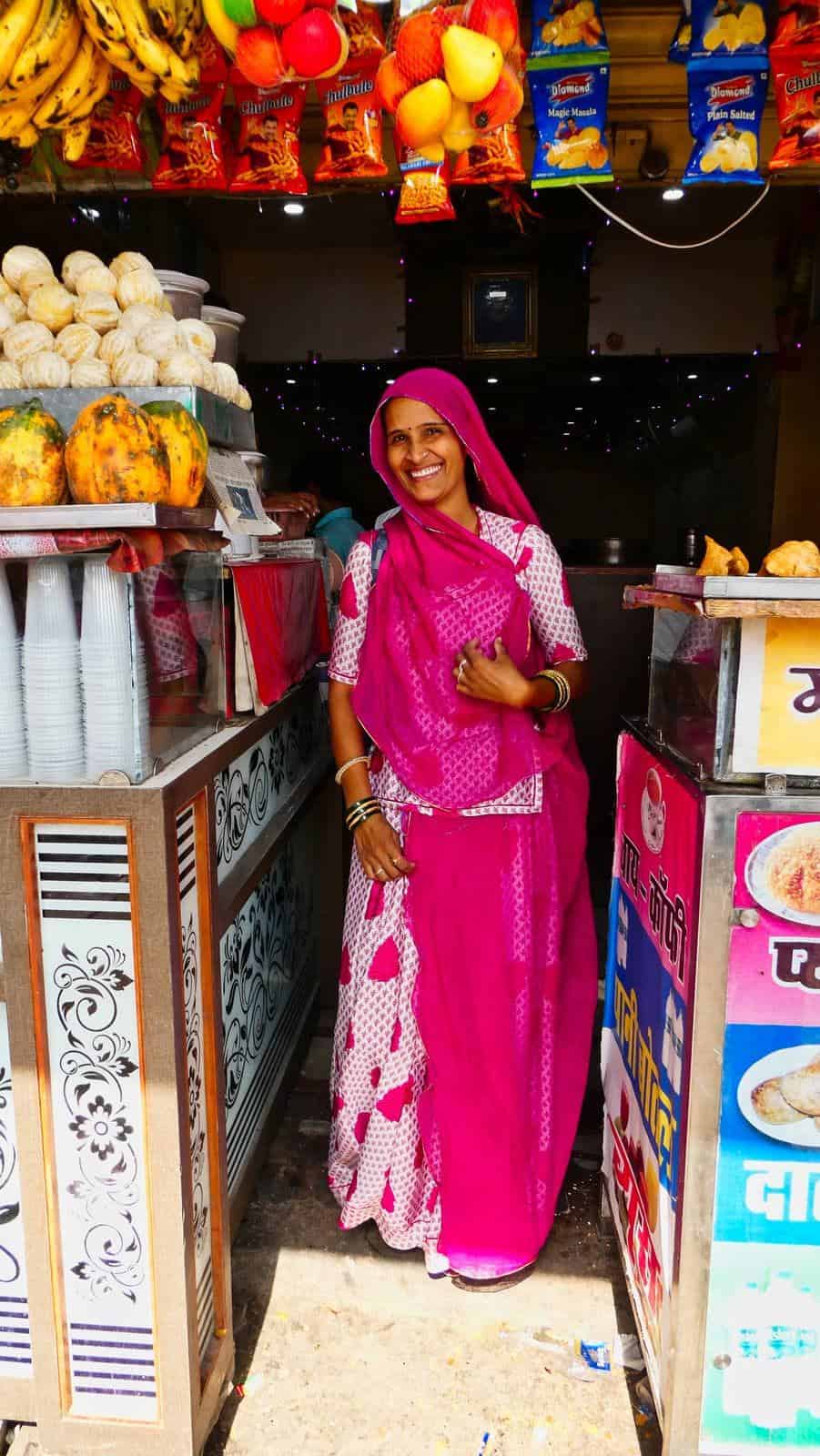 India Someday
How can you put together an itinerary including the driver, sites to see and hotels? Use experts like India Someday who will do all the legwork for you. India Someday is a  team of passionate travelers who provide planning assistance for those who want to explore India independently. THus, they will use their extensive knowledge to make sure you won't waste a single moment of your time trying to navigate the roads of India. Whether you are a budget traveler or a luxury traveler they can put together an itinerary that is right for you.
We used India Someday and had a wonderful experience. They emailed us lots of useful information on India before our trip. Then they gave us a complete itinerary that clearly detailed where and when the driver would pick us up, the hotel, and sites we would see. This is a very custom experience.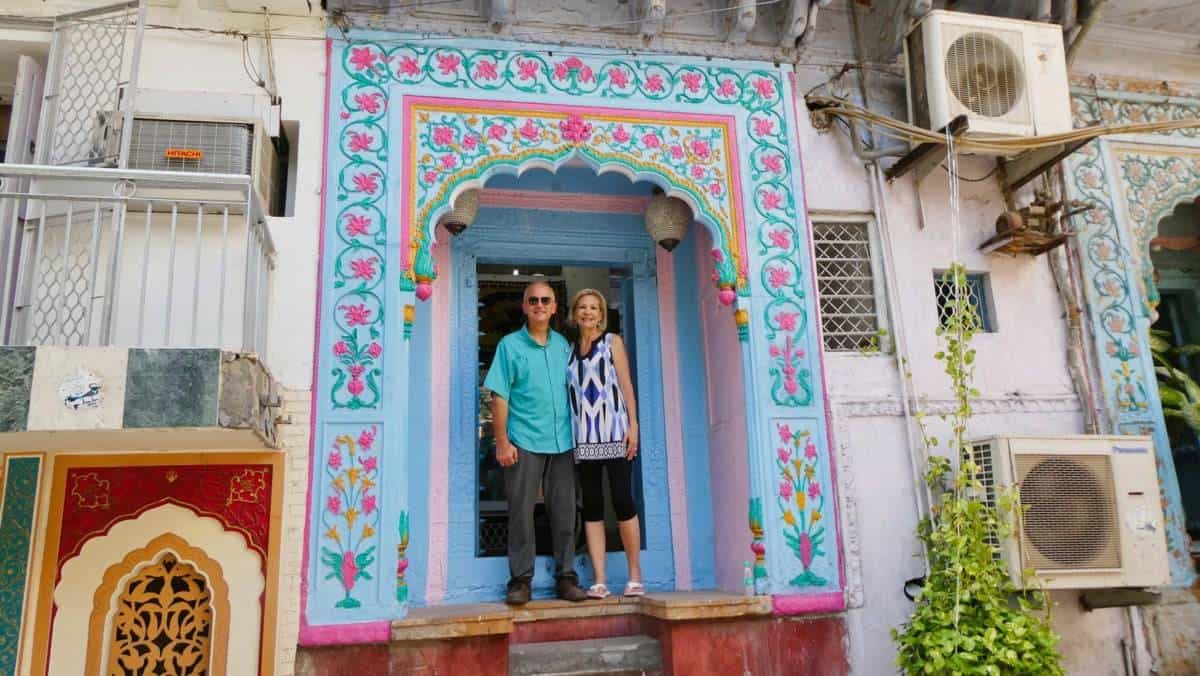 Delhi Itinerary
Delhi is the best place to start a tour of the Golden Triangle. It has a major international airport and most likely, the airport you will fly into. Delhi is a huge city of over 20 million people and is the capital of India. Therefore, we recommend two days to see the sights of Delhi.
The India Gate
This is a First World War Memorial dedicated to the 70,000 soldiers of the British Indian Army who gave their lives in the war. The memorial is located on the eastern edge of the "ceremonial axis" of what is now called New Delhi and is 138 feet tall.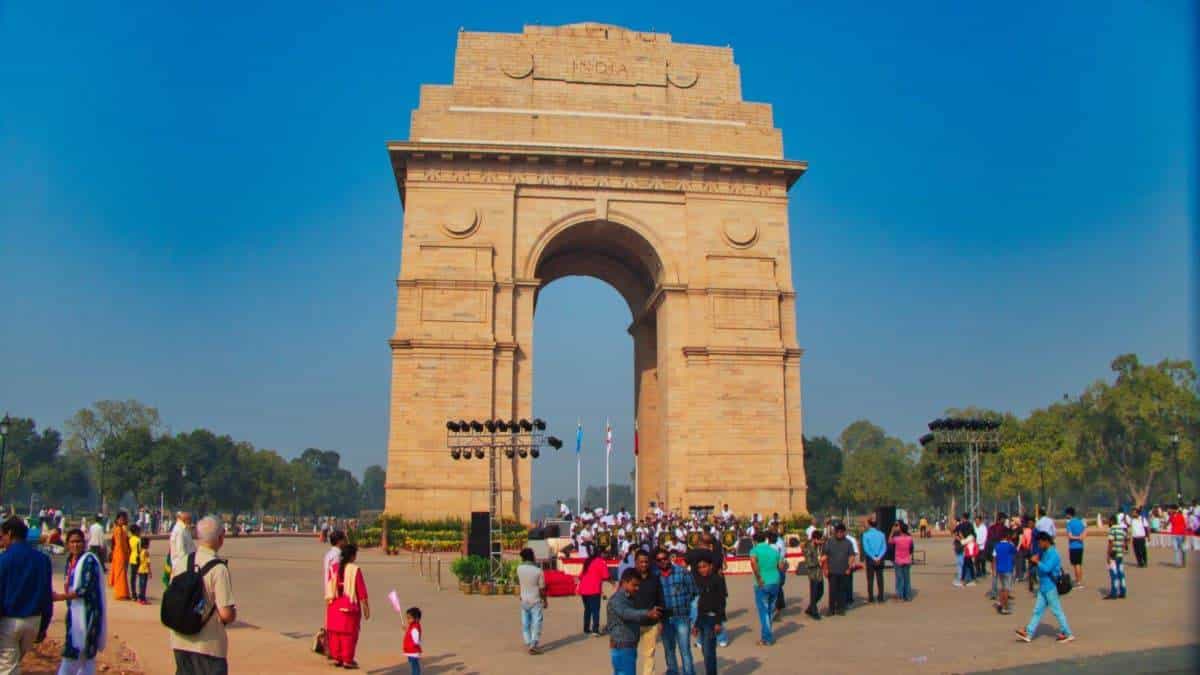 The Rashtrapati Bhavan
This is the residence of the president of India. The presidents home has 340 rooms. This presidential estate also includes the Mughal Gardens, large open spaces, residences for bodyguards and staff, stables, and other offices within its walls. In terms of area, it is one of the largest residences of a head of state in the world.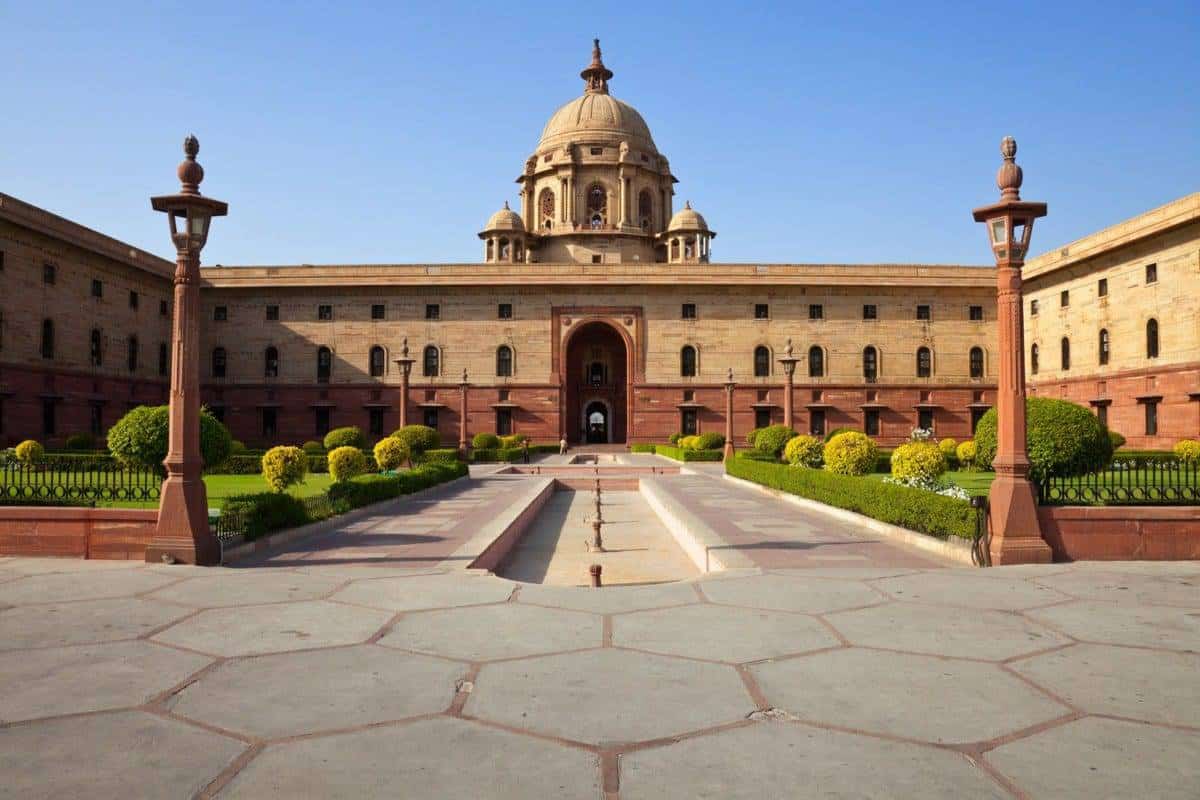 The Laxminarayan Temple (Birla Mandir)
This Hindi temple dates back to the mid-1930s and was inaugurated by Mahatma Gandhi. The beautiful temple covers 5 acres and was the first large Hindi temple in Delhi. Adorned with shrines, fountains and lovely gardens the temple attracts many devoted Hindi people daily. Consequently, we would put this at the top of the list in terms of what to see in Delhi.
The Qutub Minar
This is the second tallest minaret (a spiral or tower) made of bricks in the world. Minarets are usually adjacent to a mosque. The Minar and the surrounding monuments date back to the early 1300's and are a UNESCO World Heritage site.
Humayun Tomb
This is a tomb built in 1569 for the Mughal Emperor Humayun. Architecturally, it was the inspiration for the Taj Mahal.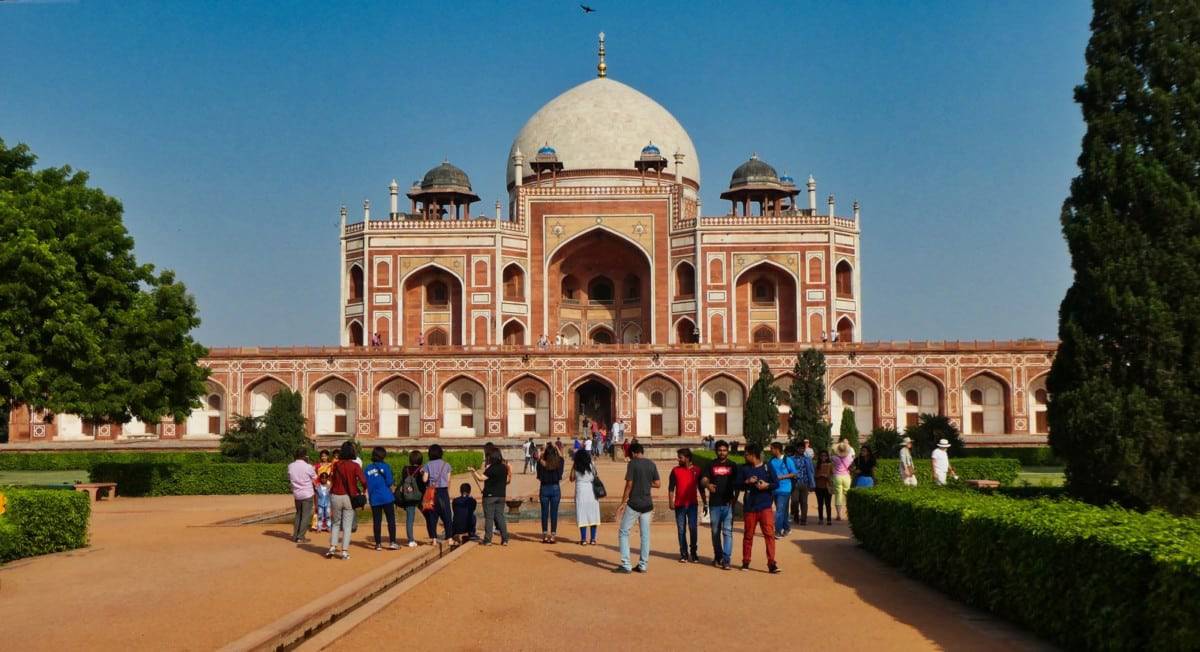 Gandhi Memorial Museum
The National Gandhi Museum has a very rich collection of everything from journals and books to artwork connected to Mahatma Gandhi. Gandhi envisioned an India in which all people lived in harmony. Through it displays, the museum hopes to motivate all guests to contribute to the betterment of all of society. When visiting you will have a sense of how Gandhi lived as well as a sense of peace.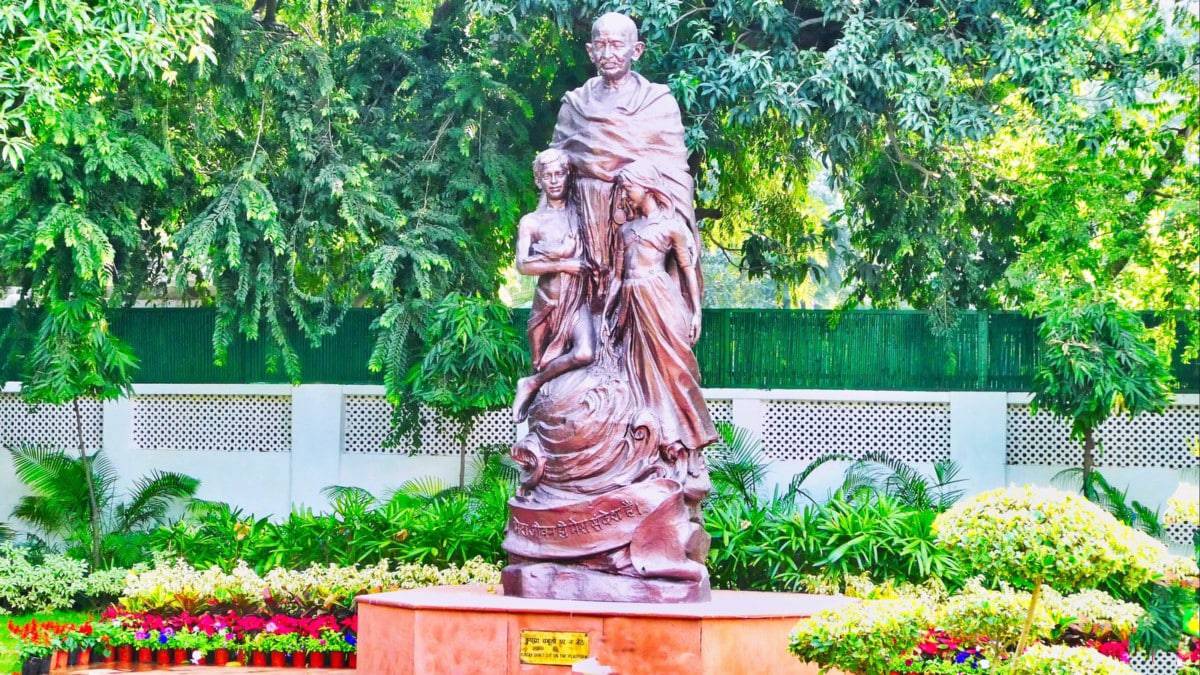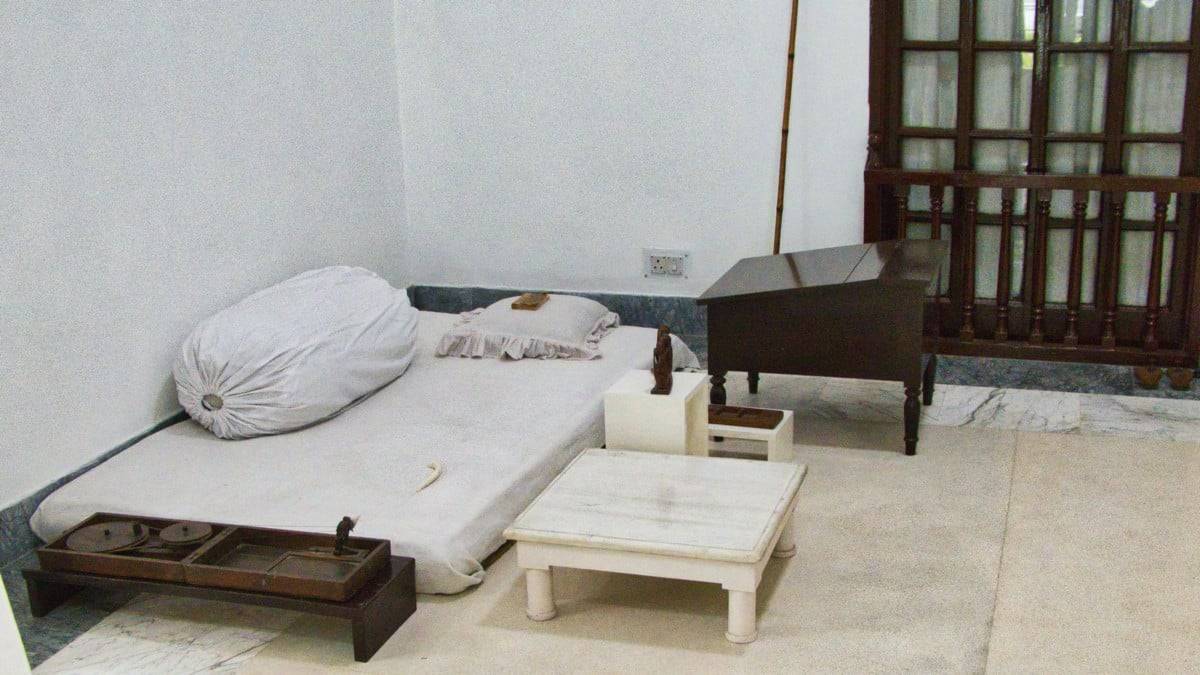 Swaminarayan Akshardham
Swaminarayan Akshardham is a Hindi house of worship. In the early 2000s, over 8000 worldwide volunteers helped build this temple.  More than 300,000,000 volunteer hours went into making this complex.  Believing that each soul is divine and that prayer improves oneself is the mantra of this temple.  This temple is beautiful and super clean. Unfortunately, along with shoes, cameras are not allowed in the temple. The temple, operated daily only by volunteers, encourages prayer, compassion, and non-violence.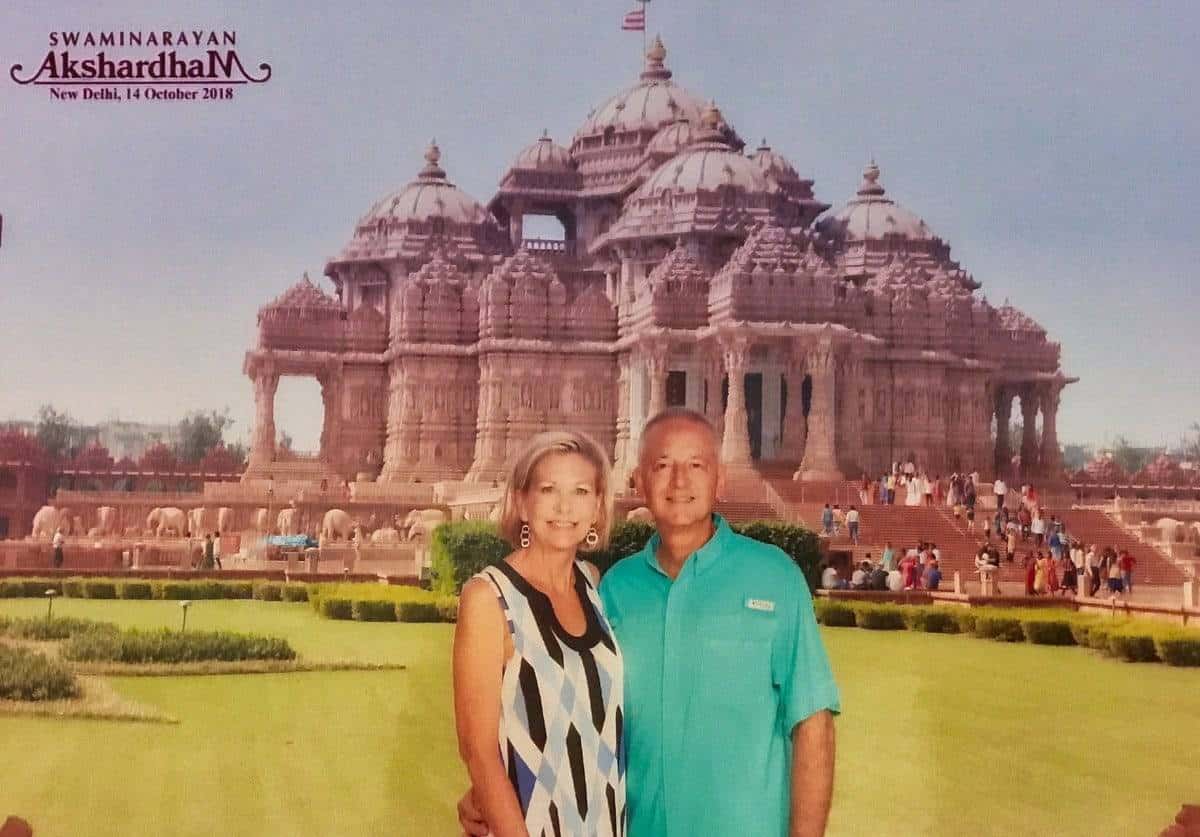 A Rickshaw Ride through Old Delhi
A rickshaw is a perfect way to get around in old Delhi. It was a totally walled city and much smaller than the Delhi of today. Old Delhi once filled with mansions of nobles and members of the royal court, along with elegant mosques and gardens is very overcrowded today. A rickshaw can get through the streets of old Delhi much easier than a car. Our rickshaw driver showed us all of the sights. We told him we wanted to shop for spices so he was able to park and walk with us to the spice market vendors, which was much appreciated. Despite being extremely crowded and dilapidated, old Delhi is the symbolic heart of Delhi.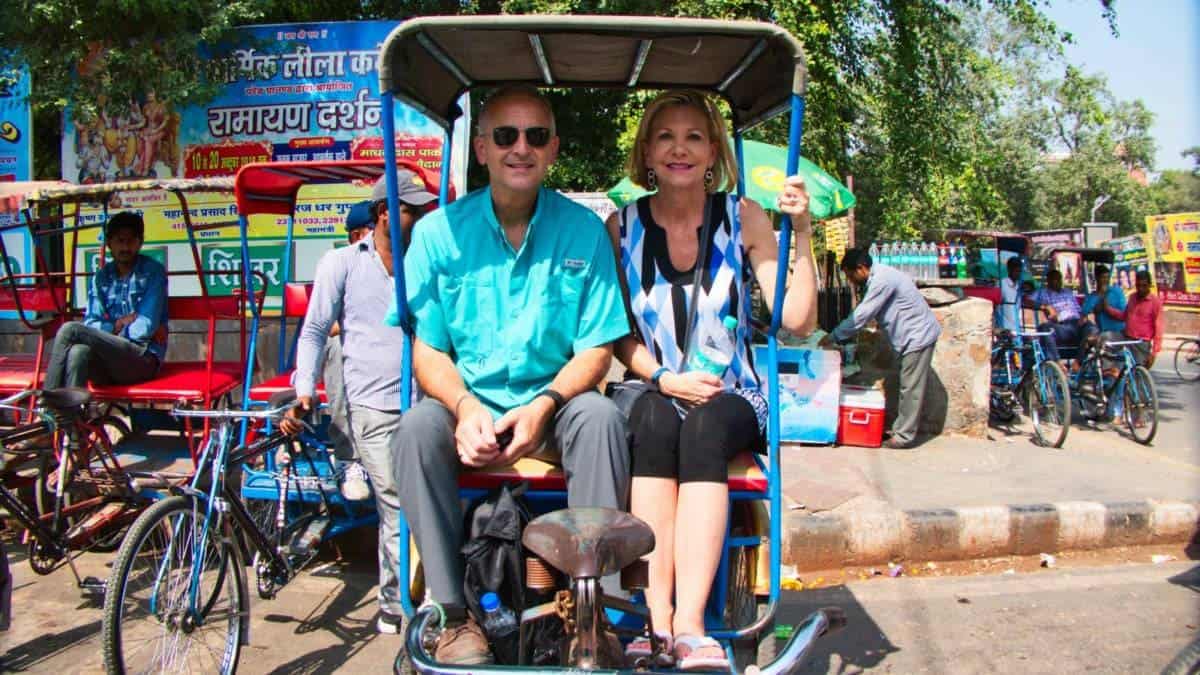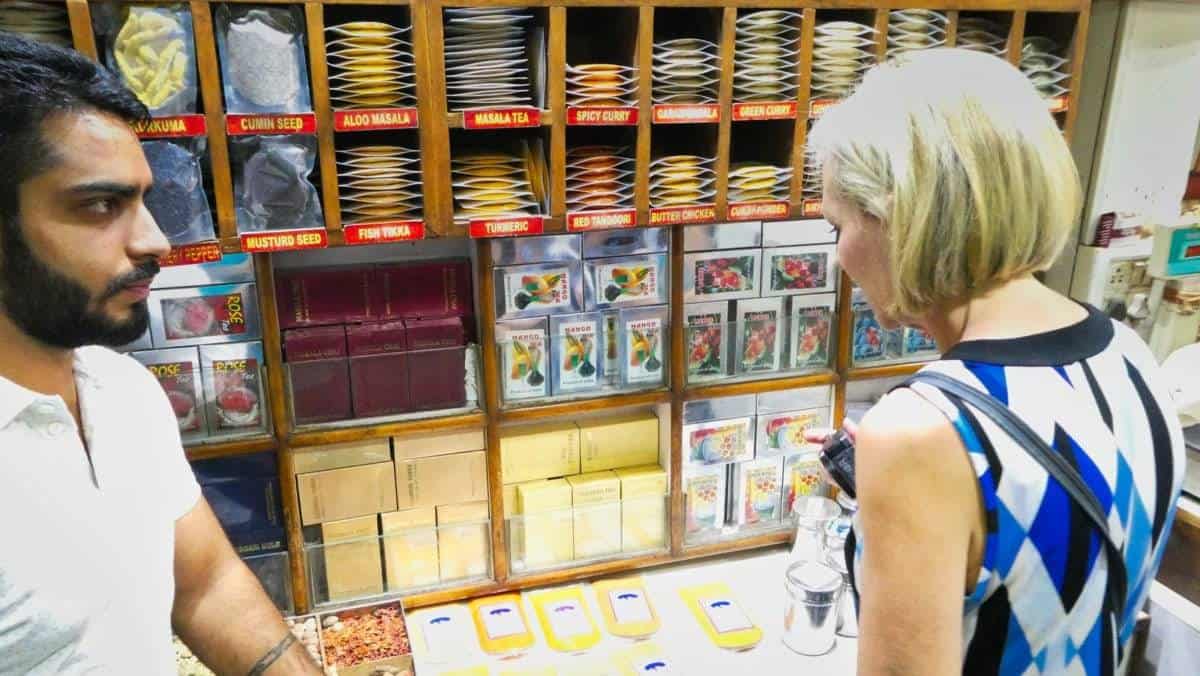 The Lotus Temple
The Lotus Temple is a modern temple built in 1986 at the cost of 10 million dollars. We say it is worth going to see the architecture and get some photos. The inside is unremarkable, and they do not allow photos so unless you wish to pray we suggest you skip the inside tour and long line that goes with it.
While in Delhi, we stayed at Eleven Delhi, a colonial bungalow bed and breakfast. The owner was very helpful with suggestions of places to eat and see. When we asked our host for a dinner recommendation, he recommended a café within walking distance. However, he was not sure they would take credit cards. There was no ATM's nearby, and we had not picked up any rupees yet. He opened his wallet and lent us 1500 rupees or $21 US dollars so that we could go to dinner without worry. That is just one of the personal touches you get with these type of properties.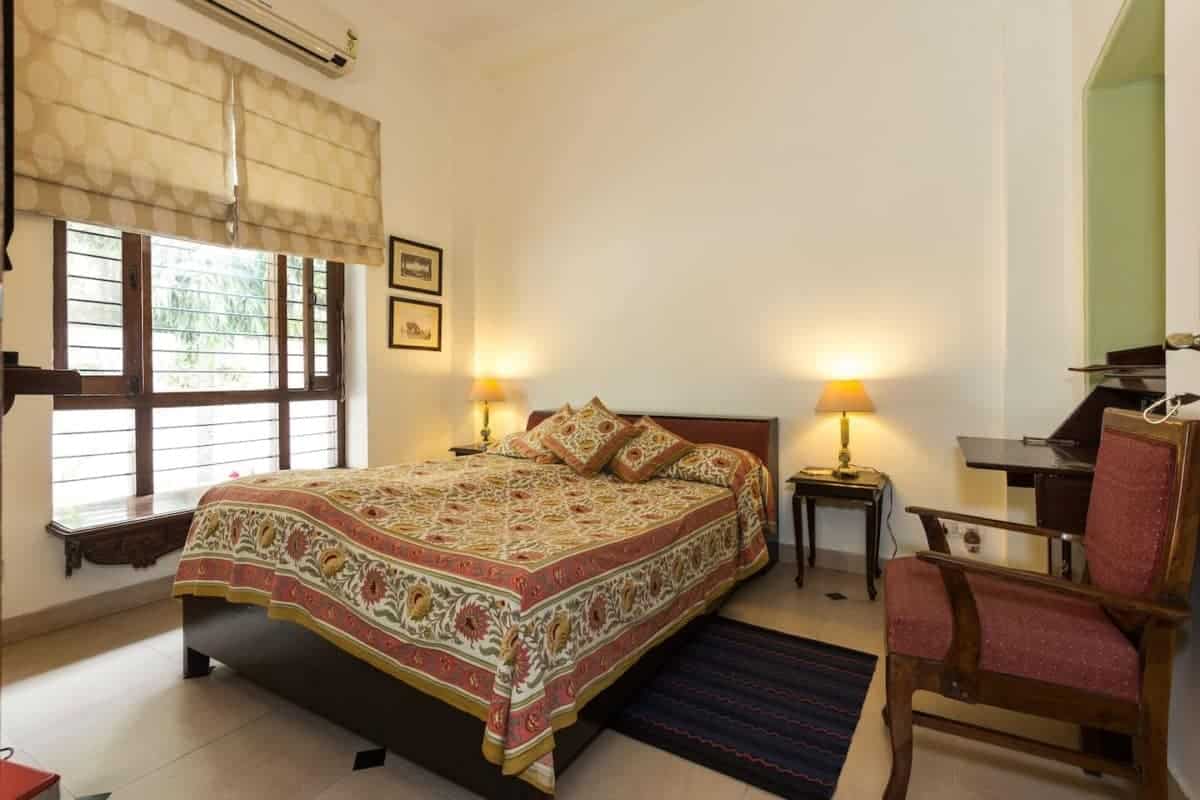 Stop in Mandawa to See the Fescos 
The next stop in the Golden Triangle is Jaipur. However, on the way, we recommend stopping for a couple of days in two cities, Mandawa and Bikaner. In Mandawa, you will see the ruins of many havelis with their beautiful frescos. A Haveli is another name for a mansion in India. The havelis you will see in Mandawa have historical and architectural significance because they once belonged to wealthy merchants as part of the silk road. Courtyards are a common feature of these homes. The havelis of Mandawa are best known for their frescoes depicting images of gods, goddesses, animals, and scenes from the British colonization. Some of the havelis are open to the public while others have a caretaker who charges ten rupees, about fifteen cents to enter.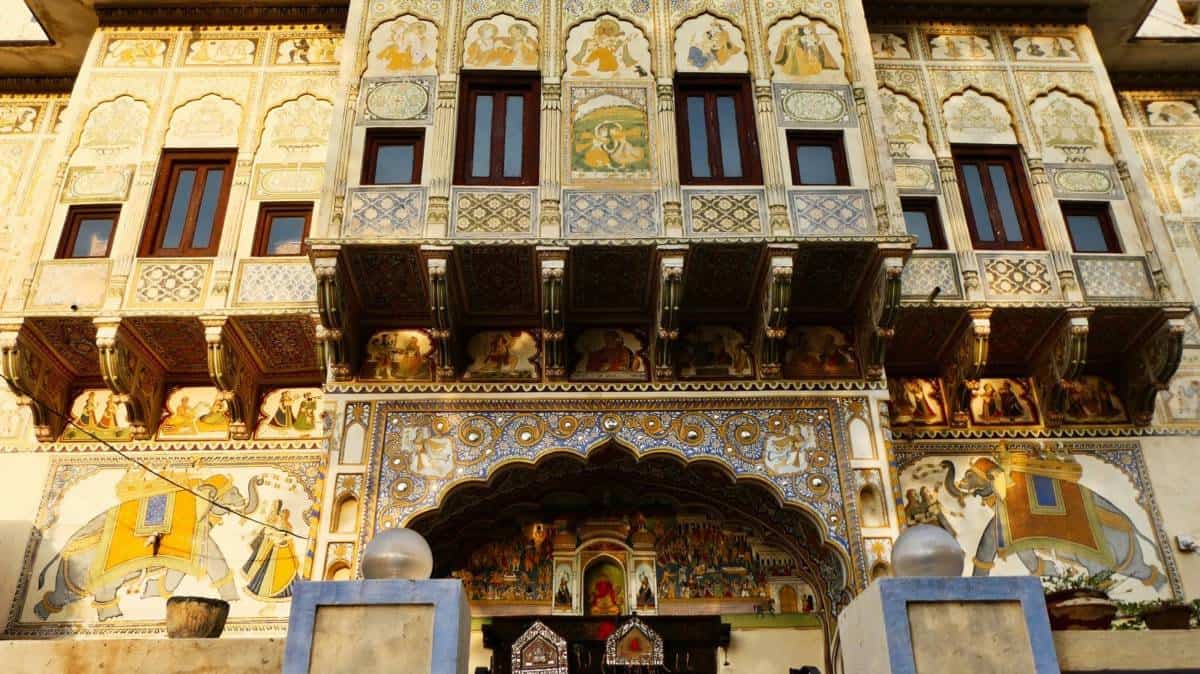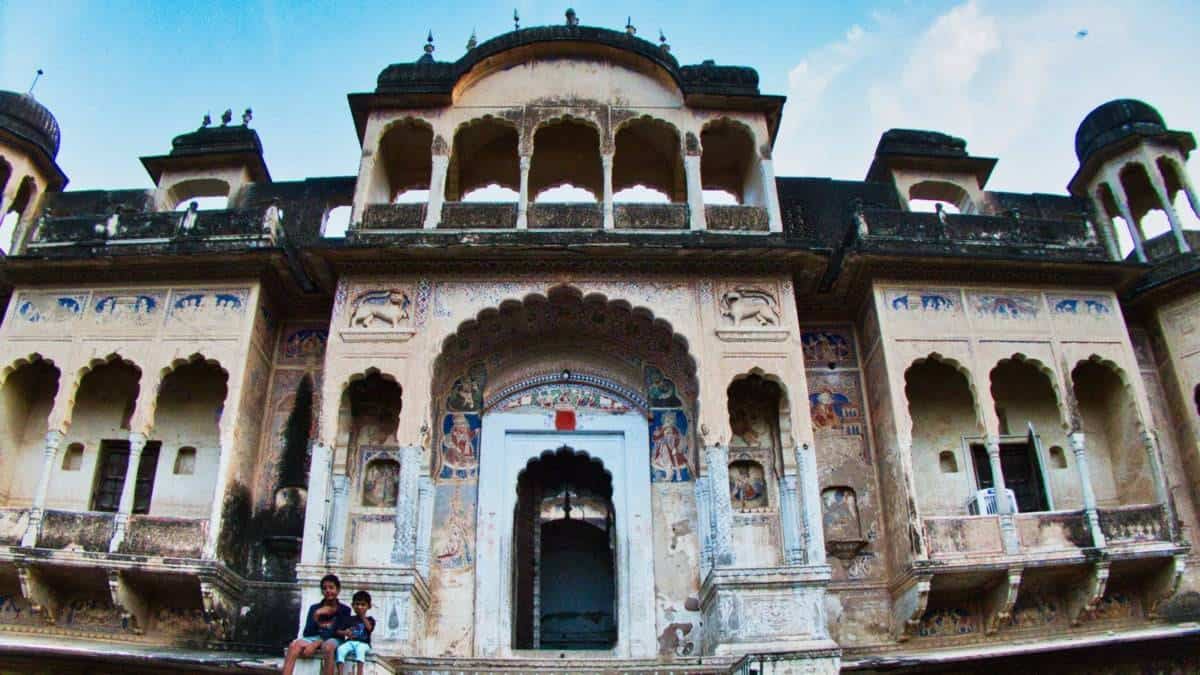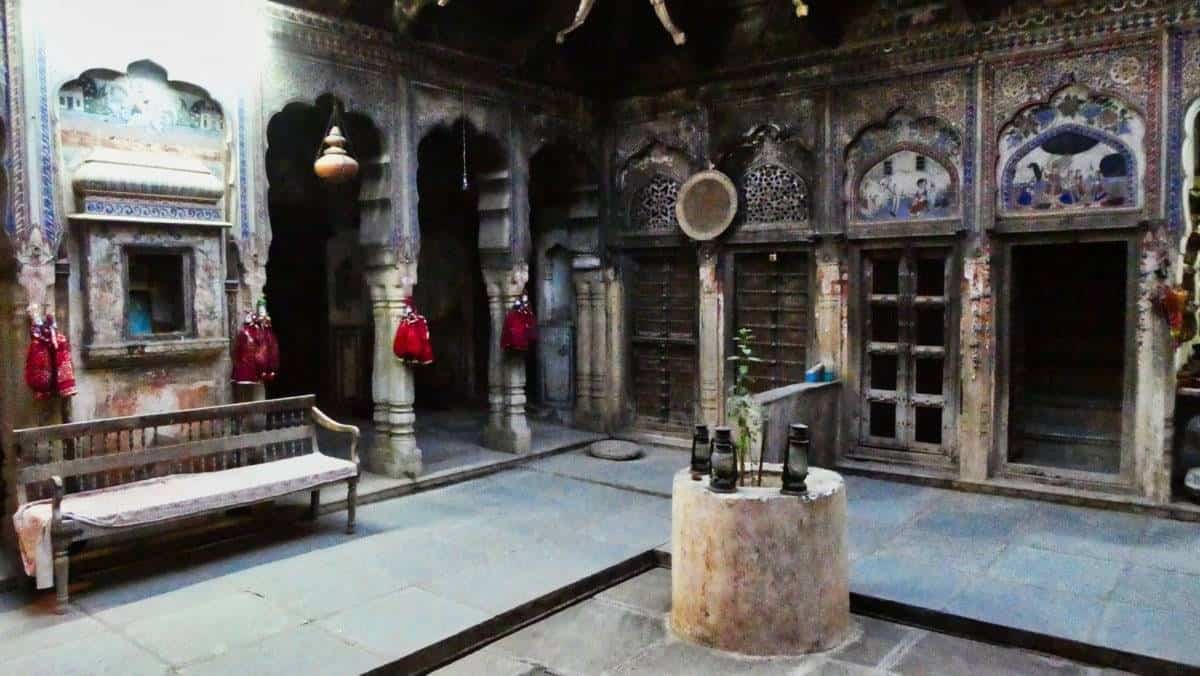 We stayed two nights in Mandawa at Vivaana, a restored 19th century Haveli. Both the exterior and interior have wonderful and rare artifacts and frescos. They have a restaurant and bar with an option for outdoor garden seating. The service was outstanding and friendly.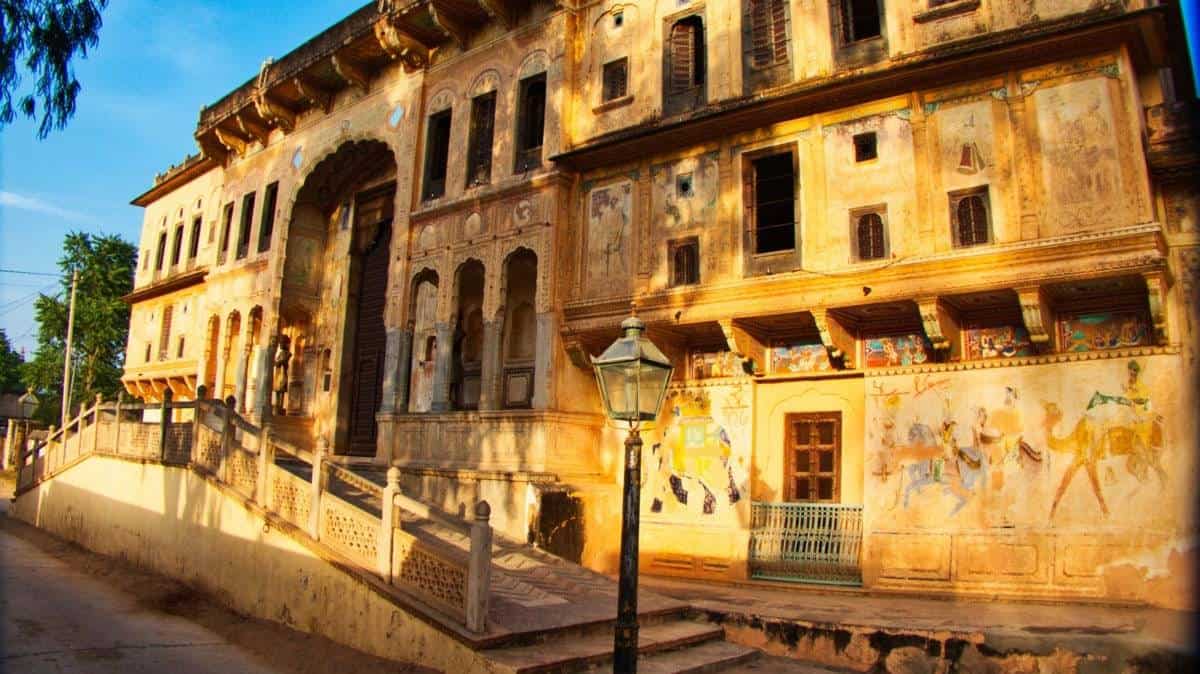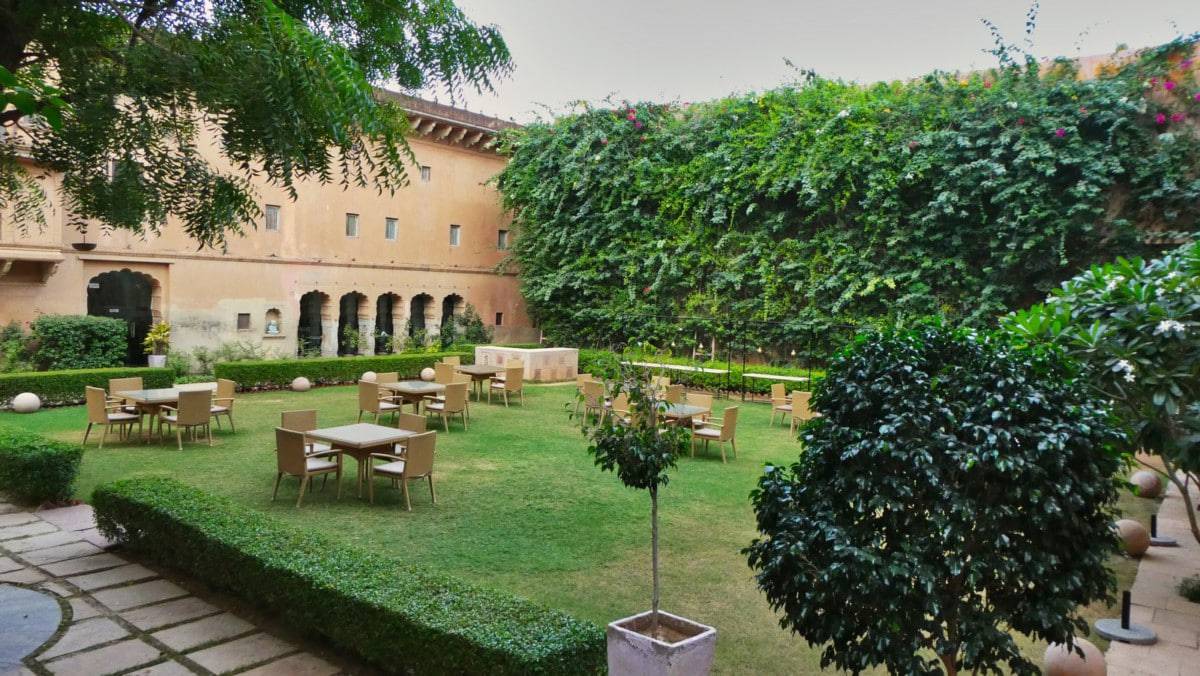 The 18th-century fort of Mandawa is also worth a visit. The fort is the dominant feature of Mandawa with it's a painted arched gateway adorned with frescoes.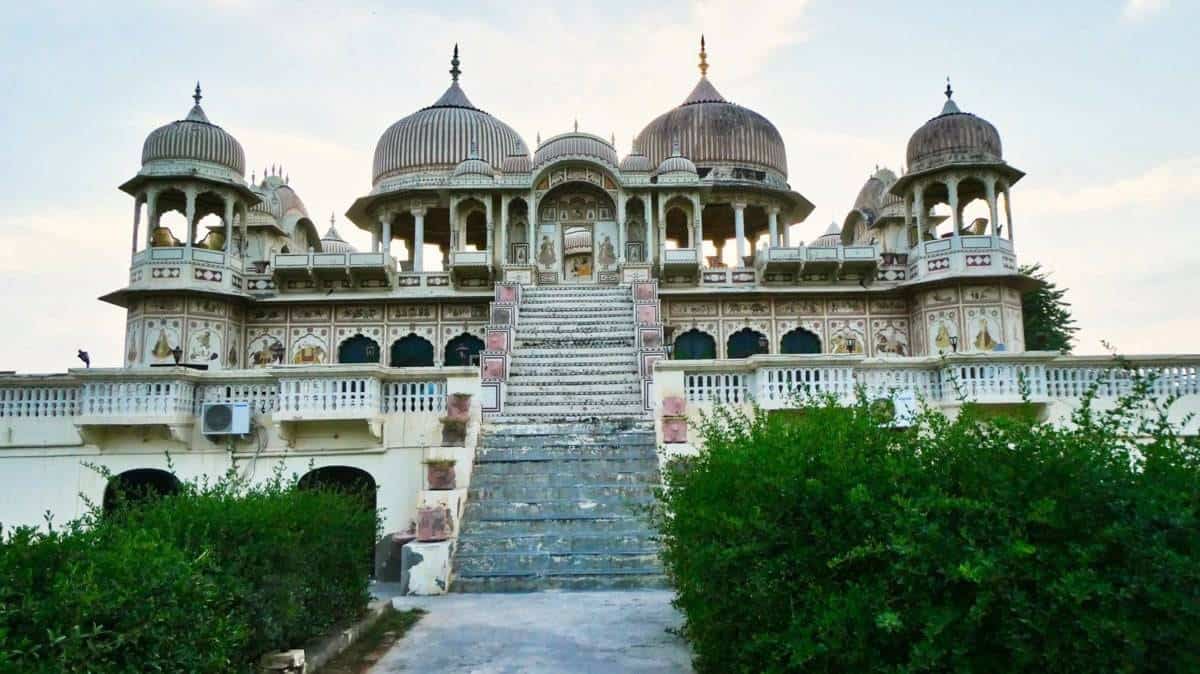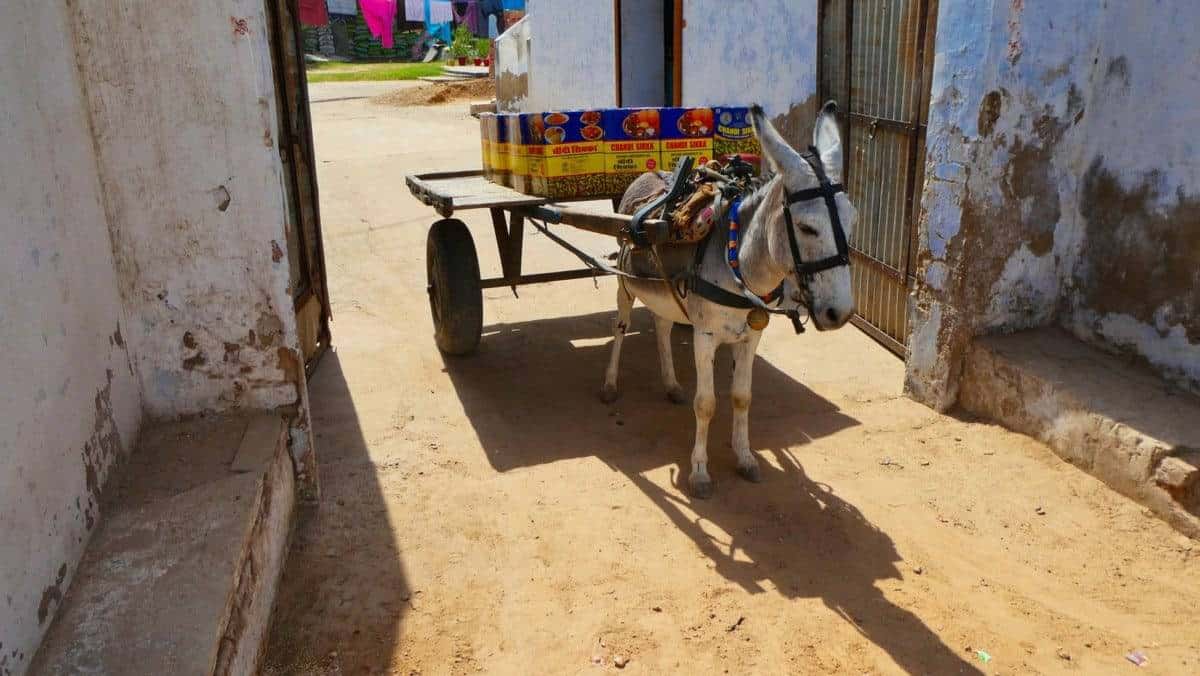 Bikaner, Home to a Sandstone Fort, Royal Palaces and The Rat Temple
There are a few great things to see in Bikaner. The city of Bikaner built around the Junagarh Fort takes you back to a by-gone era of palaces and temples. The Junagarh fort built in 1588 of red sandstone houses some magnificent palaces built of marble.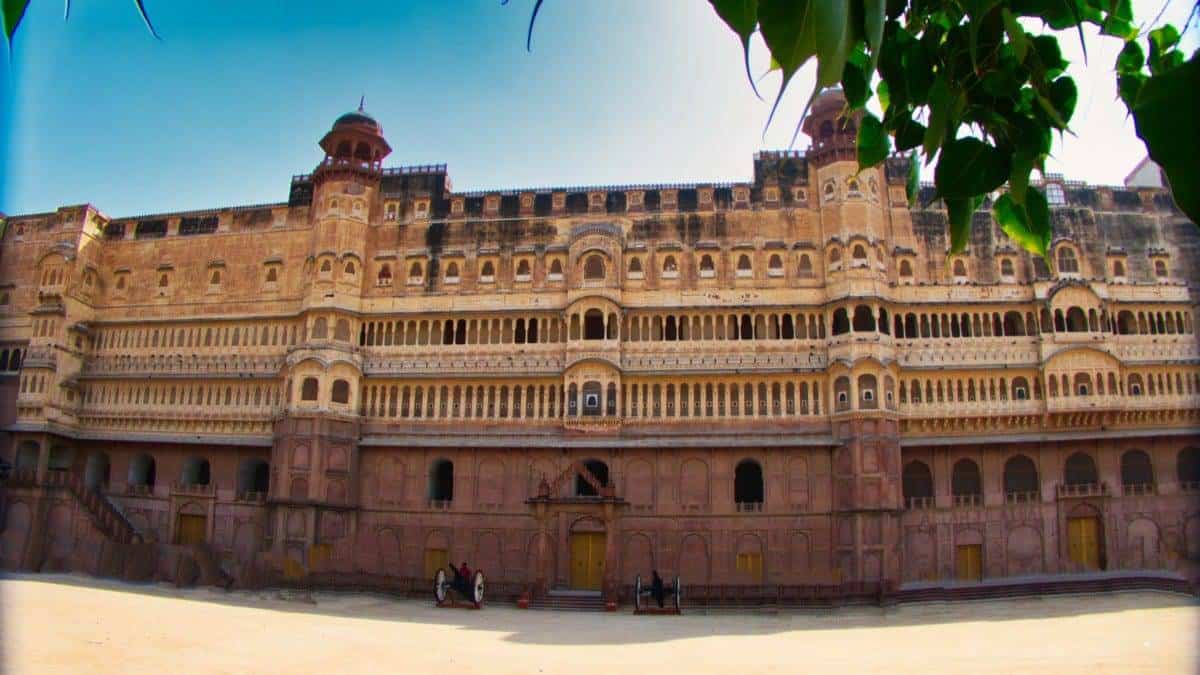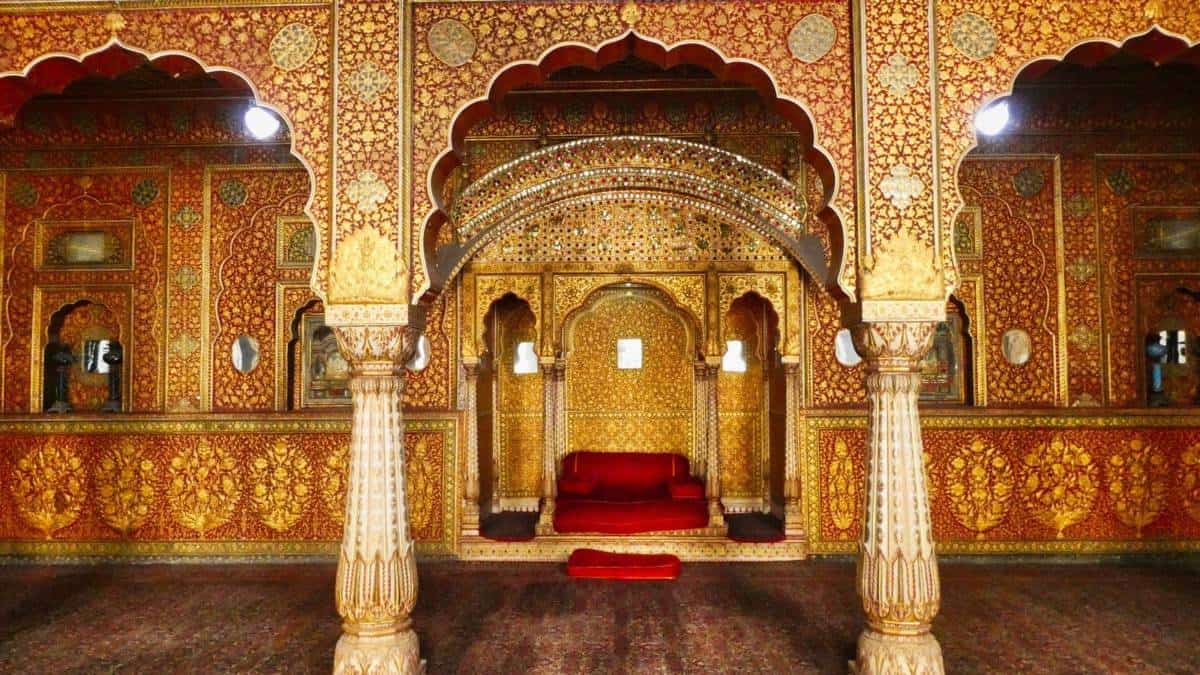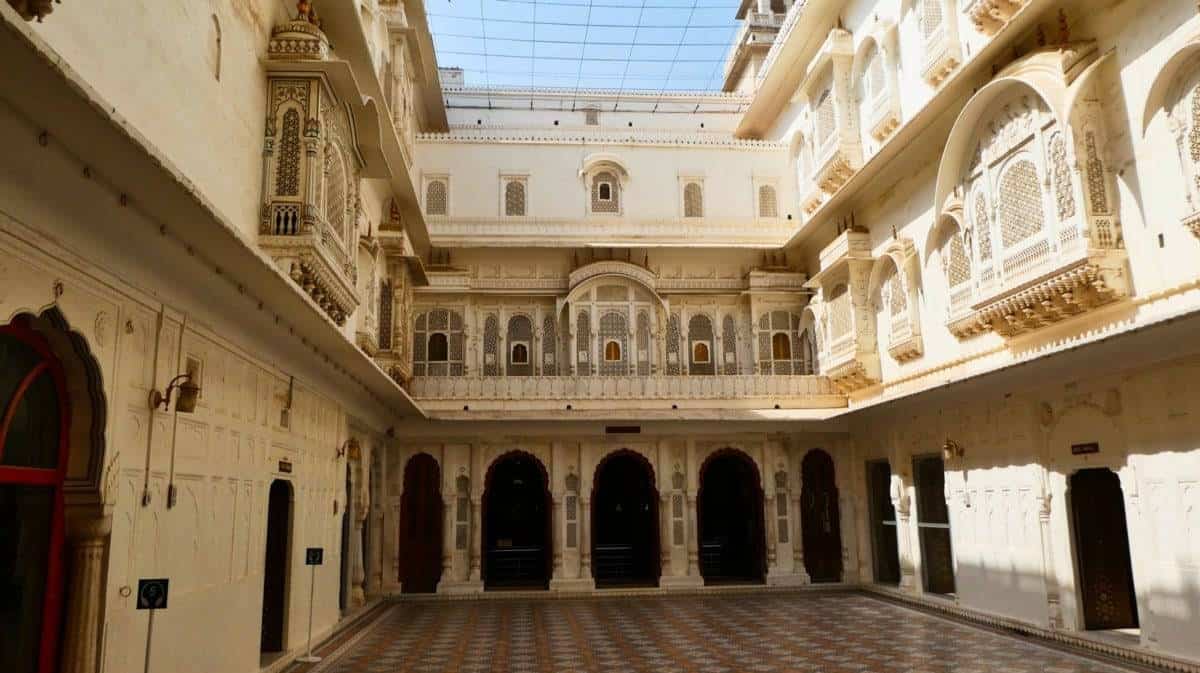 The Laxmi Niwas Palace built 1902, and now a luxury Heritage hotel owned by the royal family of Bikaner is also worth a visit, possibly dinner. Similarly worth a visit is the Narendra Bhawan. Narendra Bhawan is now an elegant hotel but was the residence of the last reigning Maharaja of Bikaner, His Highness Narendra Singhji. The expansive lobby contains many of Narendra Singhji's things from his travels to destinations near and far. For a glimpse of the Majaraja's things and exquisite service, we recommend having a meal or drinks here.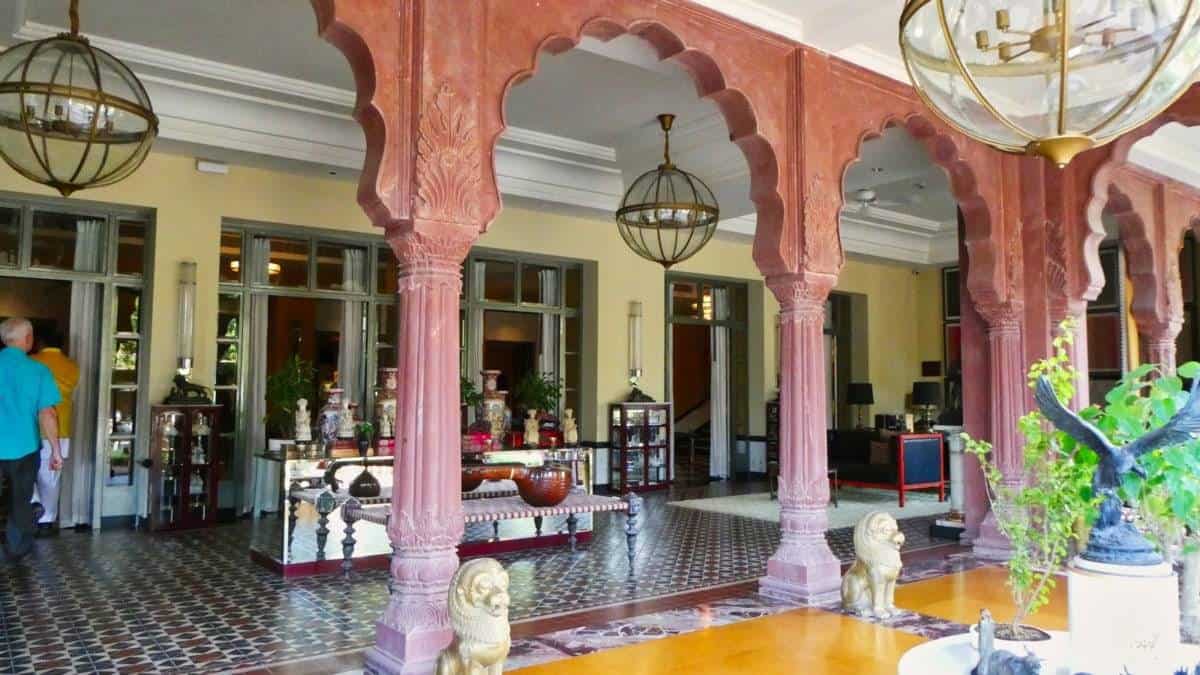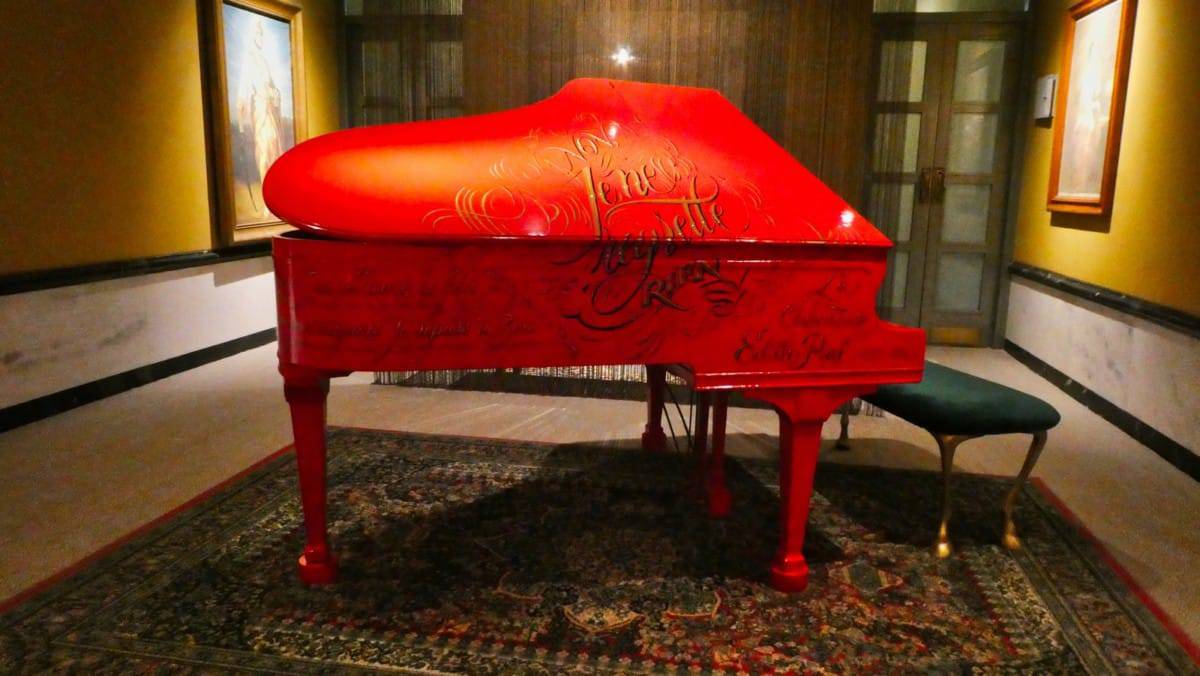 The Rat Temple
Lastly, as gross as it may sound you simply must visit the Karni Mata temple (rat temple) for a true cultural experience. Built of stone and marble, the Karni Mata is a temple. Inside stands, an image of the Karni Mata adorned with a tiara and garlands with images of her sisters on each side of her. This Hindu temple is dedicated to rats and draws many devoted Hindus daily to pay their respects. Living in the temple are approximately 25,000 rats. If you are lucky, you may see one of the few white rats in the temple, which they consider to be especially holy.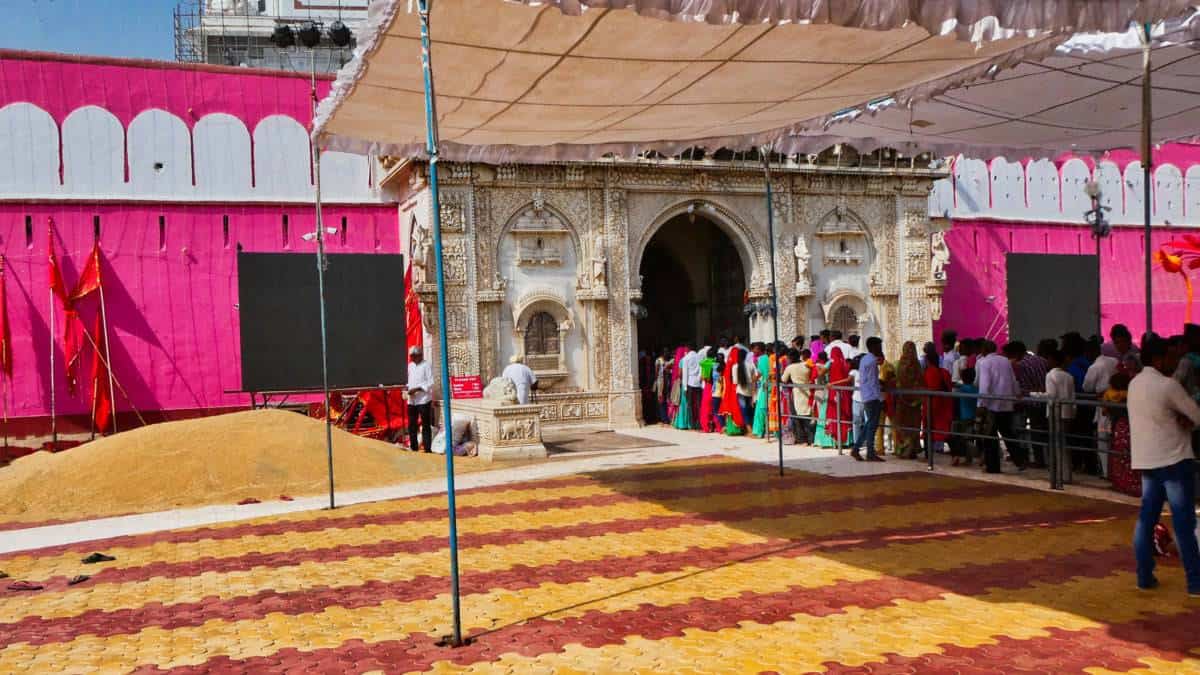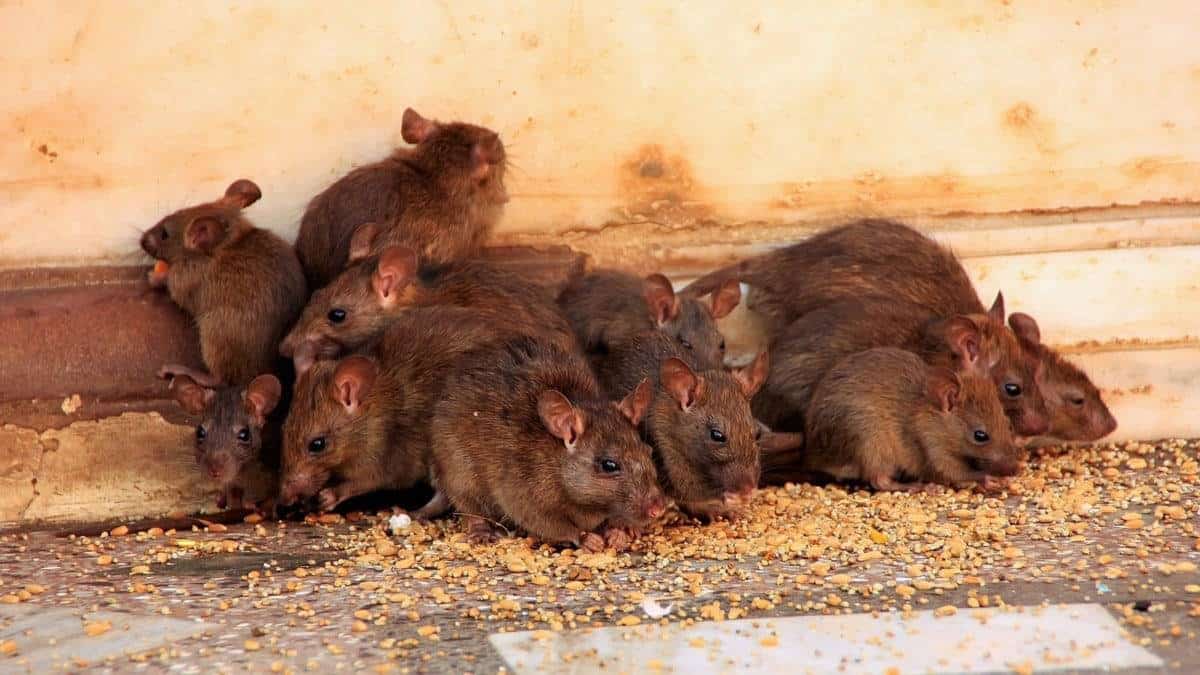 Legend has it that the son of Karni Mata, drowned in a pond while he was attempting to drink from it. Karni Mata implored the god of death, to revive him. Karni Mata believed the god of death reincarnated all of her children as rats.
In Bikaner, we stayed at Vesta Bikaner Palace. The hotel, built in the true heritage Rajasthani fashion with a large courtyard like the havelis of past has great service. They have a pool and restaurant where we had a delicious traditional Indian breakfast each morning.
Jaipur the Pink City
There are many things to see and do in Jaipur. It's a city of 20,000,000 people, the capital of Rajasthan and a university town. Jaipur is also known as the Pink City, due to the color of its buildings. It has two UNESCO World Heritage Sites, the Jantar Mantar, and the Amer Fort.
Jaipur Itinerary
Amber Fort
Located high on a hill, the Amber Fort is not in Jaipur but the nearby town of Amber. The fort uses red as well as white stone marbles in its construction. The 16-century fort is a mix of Hindu-Muslim style elements. Thus with its large ramparts and series of gates and cobbled paths, the fort overlooks a lake.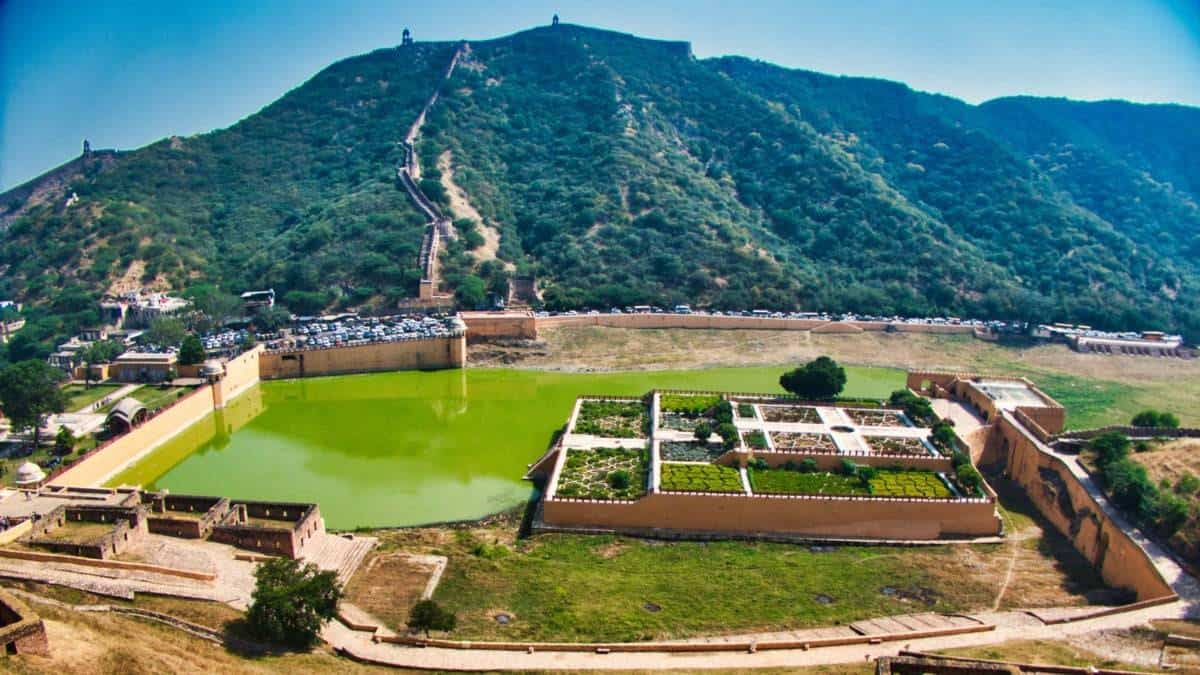 Jantar Mantar
The Jantar Mantar is an early 18th-century equinoctial sundial. This sundial provides the local time with an accuracy of 2 seconds and is a UNESCO World Heritage Site.
Hawa Maha
The Hawa Maha or Wind Palace is a 17th-century palace made of pink and red sandstone in the Pink City portion of Jaipur. This palace's five-story exterior is similar to a honeycomb with its 953 small windows called jharokhas all decorated with intricate latticework. The royal women were able to watch the festivals and other comings and goings on the street below without being seen by the commoners through the small windows.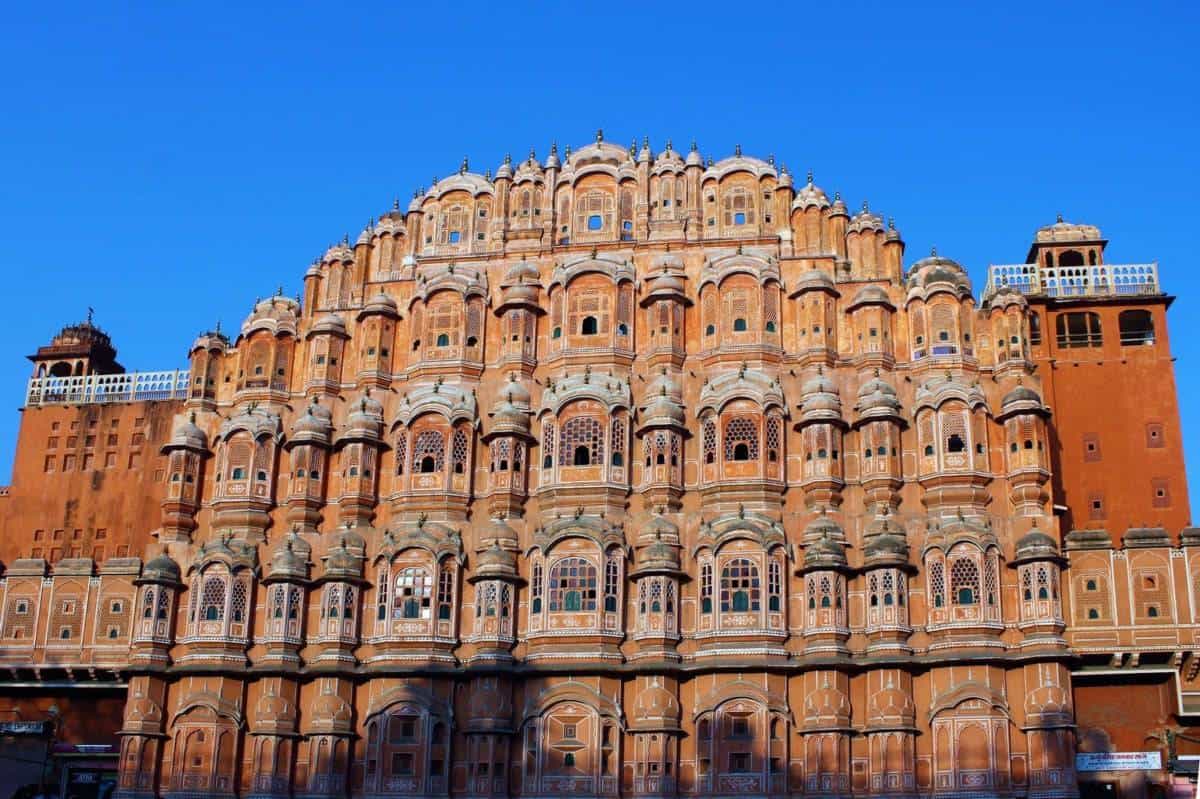 Jal Mahal
Jal Mahal means Water Palace. This palace sits in the middle of the Man Sagar Lake in the heart of Jaipur. The palace is a five-story building made of red sandstone. Four floors are underwater when the lake is full, leaving only the top floor exposed. We visited in the early evening as this palace is very photogenic and capturing its reflection in the water is lovely. You may even want to visit after dark for a night shot.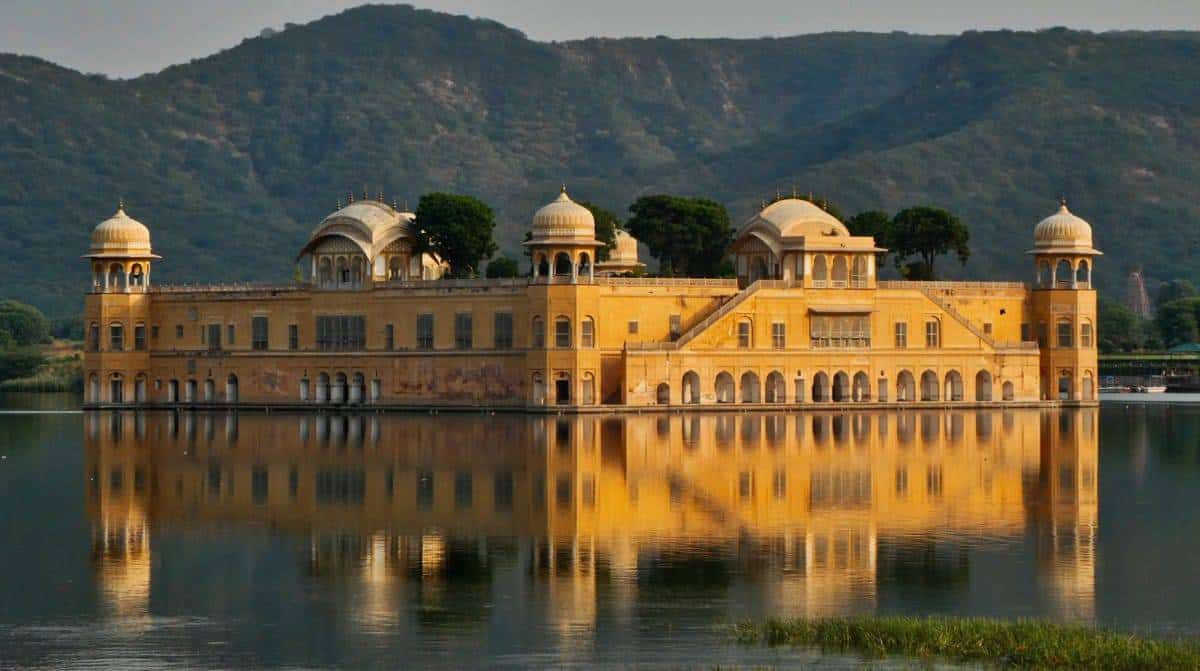 City Palace
The City Palace is actually a complex of palaces in the heart of the old city of Jaipur. The complex spread over a large area occupying one-seventh of the old city of Jaipur has many gardens, courtyards, and a temple. Like most edifices in the old city of Jaipur, this palace also reflects the fusion of Mughal and Rajput architecture.
Elephant Sanctuary
India is known for its elephants, especially in Rajasthan, the state Jaipur belongs. Elephants are such gentle creatures. It's natural to want to spend time with them. There are a lot of working elephants in India, especially in Jaipur. Spending money visiting a sanctuary allow them to feed and care for the elephants without having to work. It costs upwards of $42 a day to care and feed an elephant in India. We visited an elephant sanctuary. They do not tether the elephants at this sanctuary. To help us understand them better, we were able to feed and bathe them. It was amazing to watch the elephant take a banana from my hand with its trunk and put it in her mouth.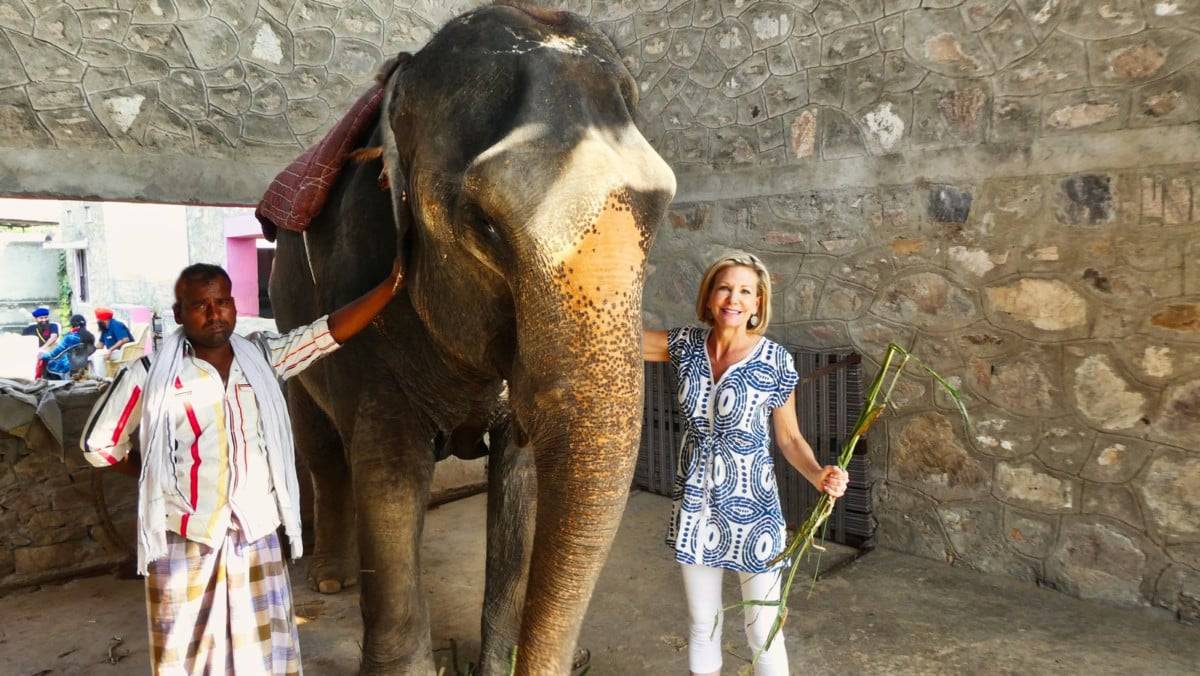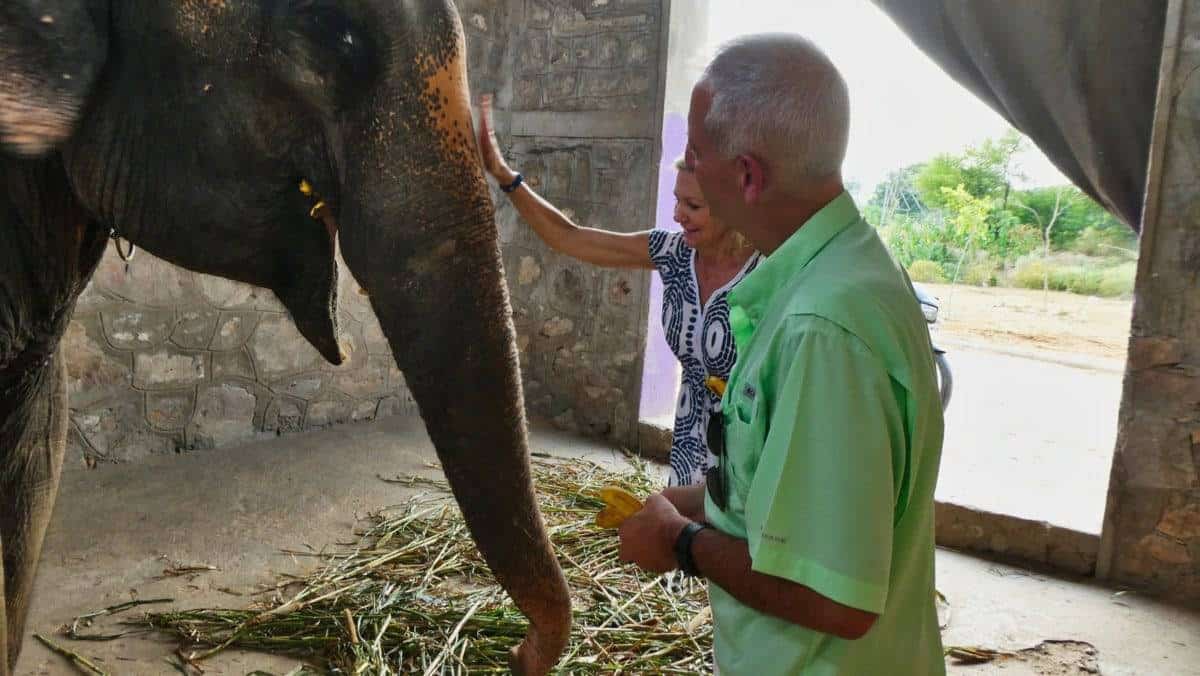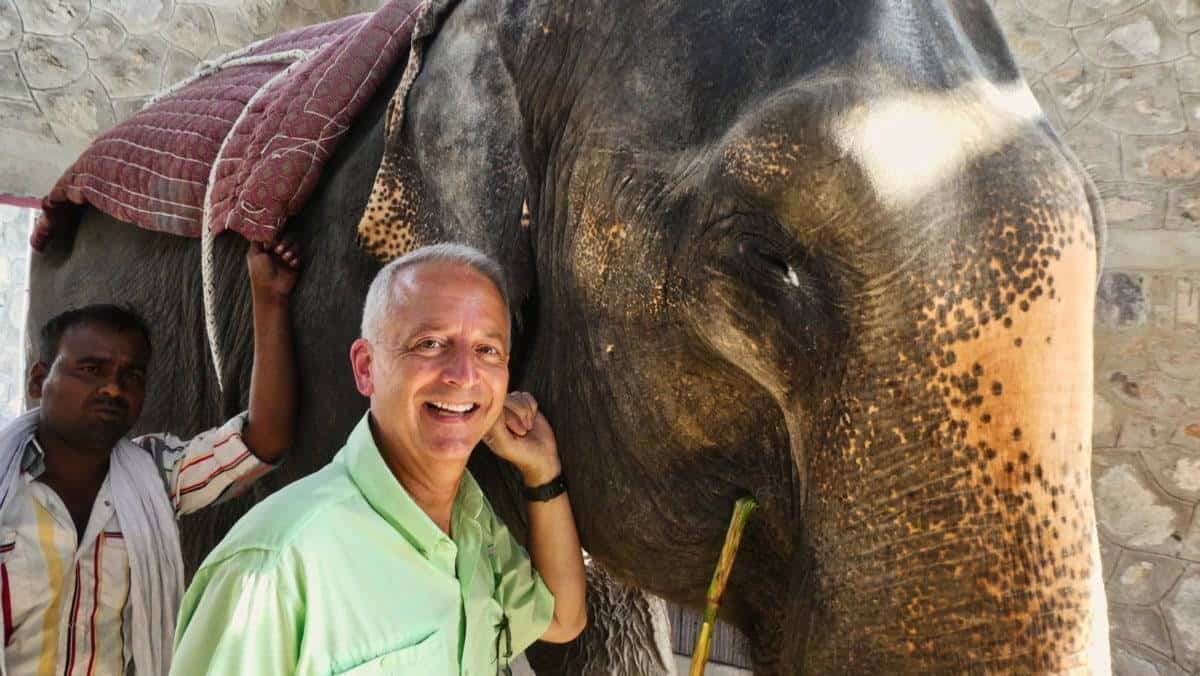 Cooking School
A trip to India would not be complete without learning to cook authentic Indian food. We attended Payal's Cooking School. Our education started with a trip to Payal's local spice, legume, and grain market where she explained the difference in the local grains and legumes. Our next stop was to her favorite produce market to pick up the needed vegetables for the meal we would learn to prepare. Keith and I learned to make chapatis, marsala, vegetable Pulav (a rice dish), Lauki Ke Kofte (croquette), and yellow dahl. Keith and I both have a hard time with many hot spices, so Payal showed us what spices we needed to reduce to make it palatable for us. Our dinner was amazing! Leave us a comment below if you're interested in the recipes of what we made.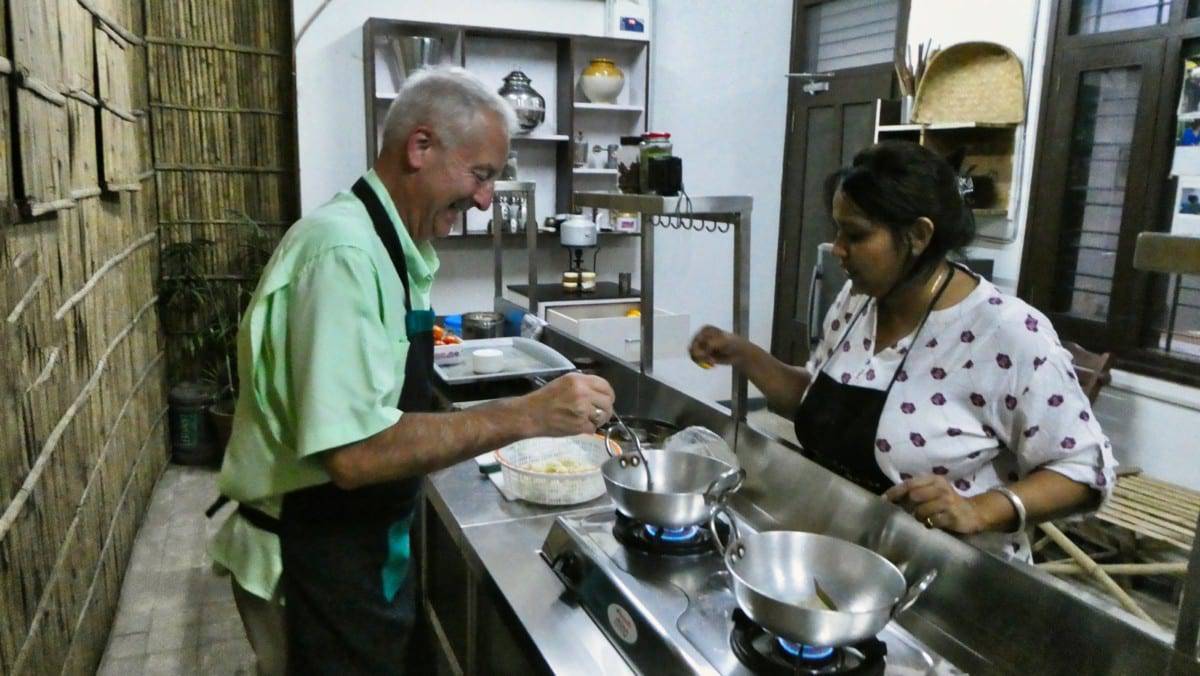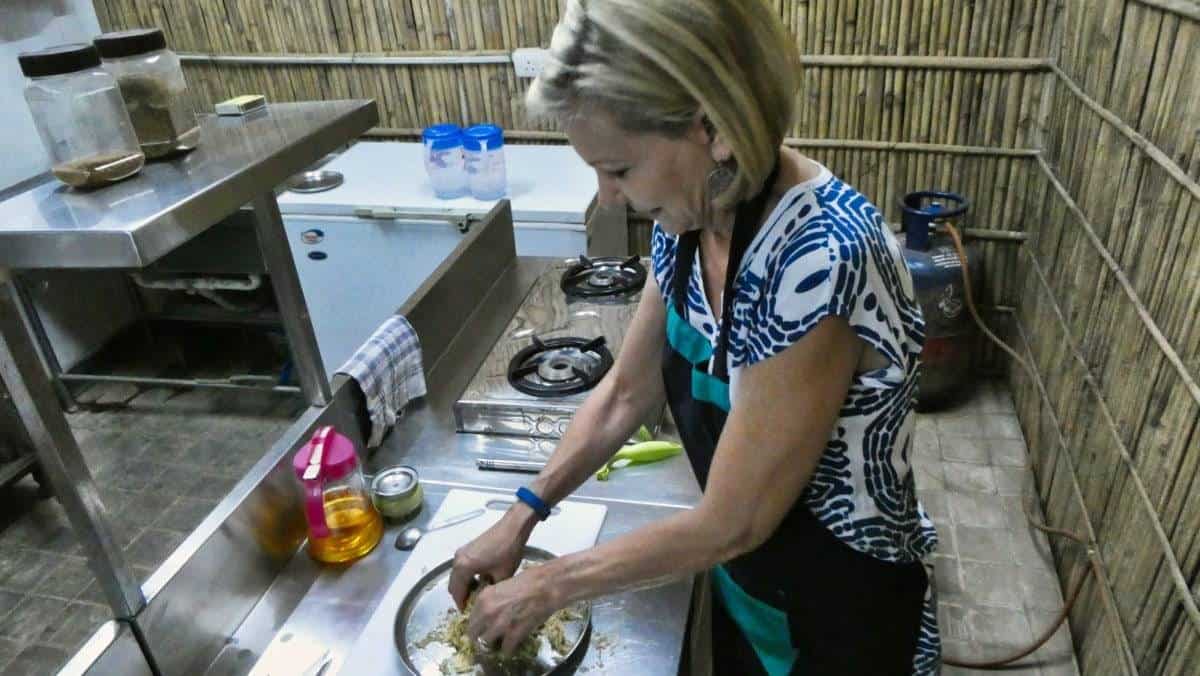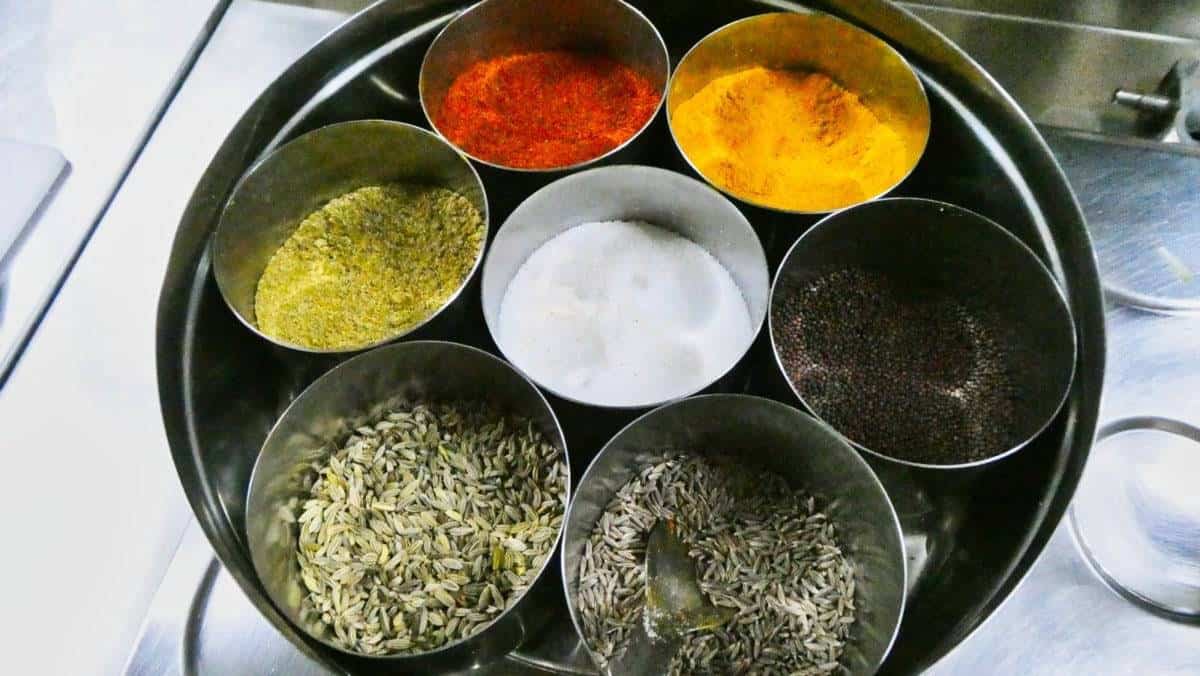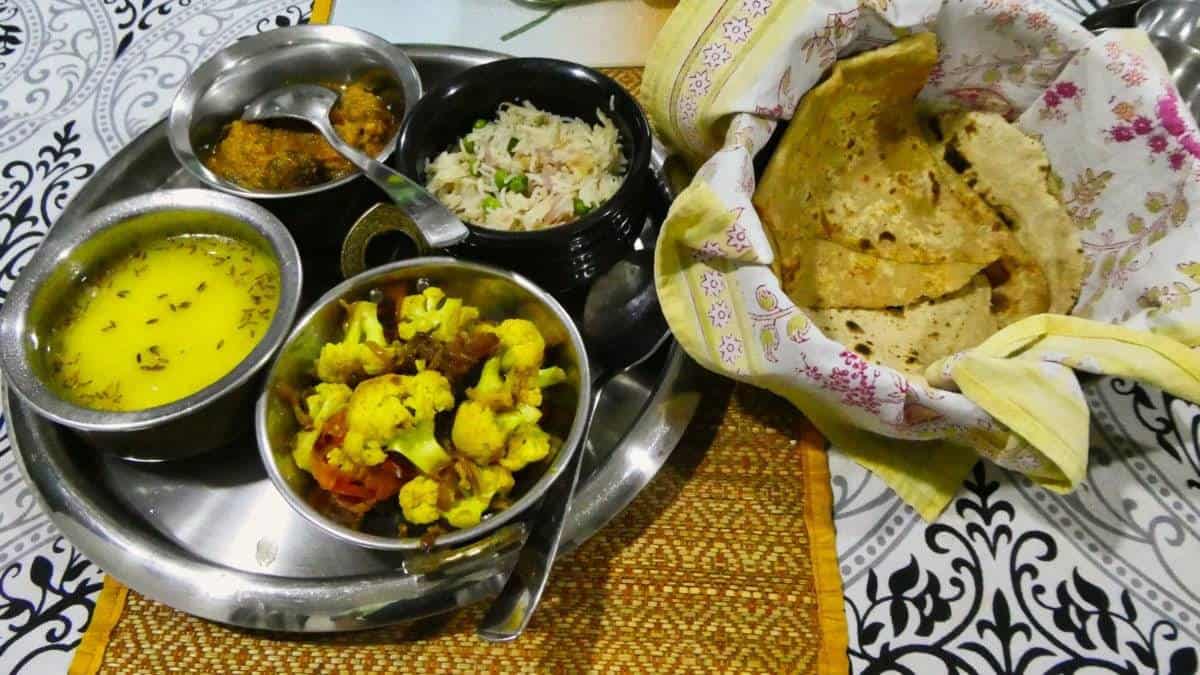 In Jaipur, we stayed at Shahpura House. Owned by descendants of the royal family of Shahpura this hotel was the royal residence. We loved our stay at this beautifully remodeled historic hotel. We received care and hospitality in every aspect of our stay. This beautifully decorated hotel seamlessly blends history with the comforts of the present. They have a lovely bar and restaurant.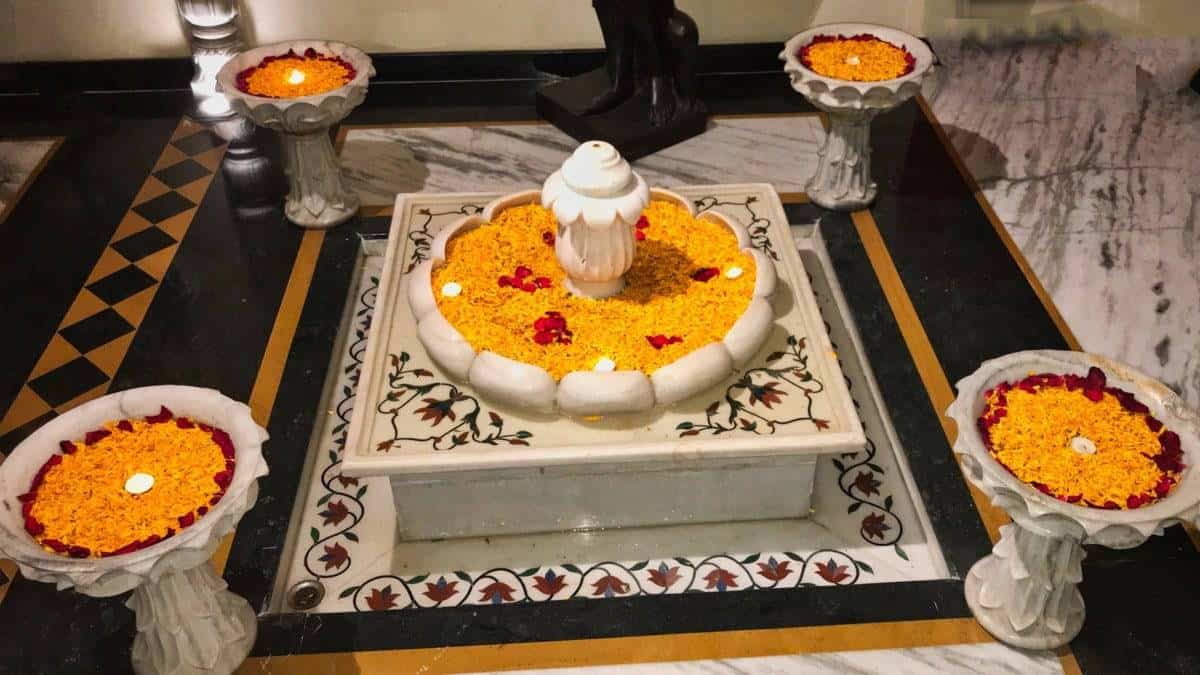 The Grand Finally of The Golden Triangle, the Taj Mahal
The final city of the Golden Triangle that we visited was Agra. Agra is home to the iconic Taj Mahal, one of the New 7 Wonders of the World. The Taj Mahal, a mausoleum built for the Mughal ruler Shah Jahan's favorite wife, Mumtaz Mahal, is grand. She died while giving birth in 1631. Completed in 1643 the tomb is the focus of a 42-acre complex, which includes a mosque, guesthouse, and formal gardens bounded on three sides by a fortified wall. The stunning white Marble Taj Mahal is even larger than you imagine. Moreover, the cost, 32 million rupees, which in 2015 would be approximately 52.8 billion rupees or 827 million dollars. Gosh, what a tribute of love!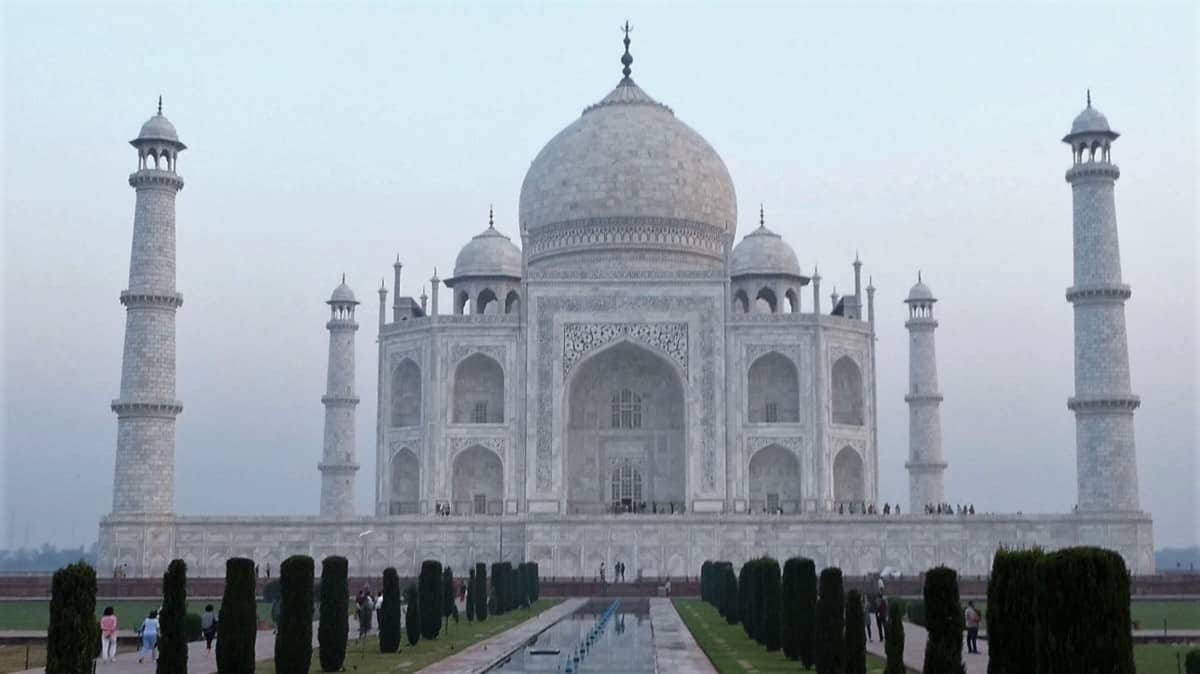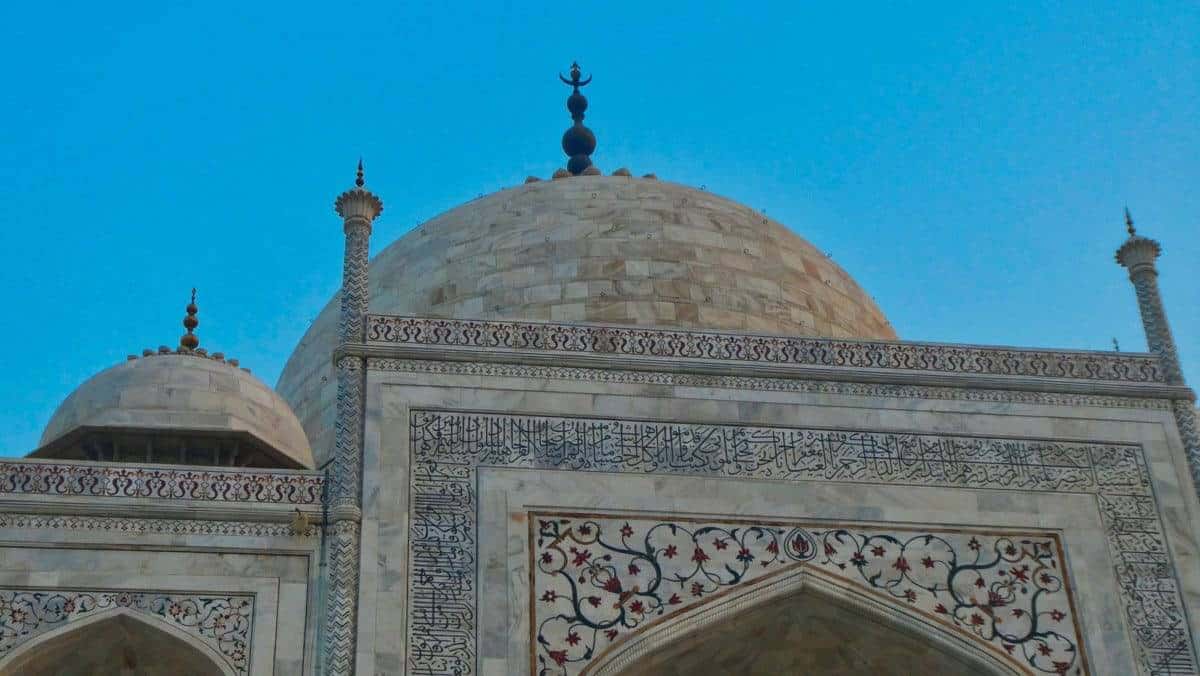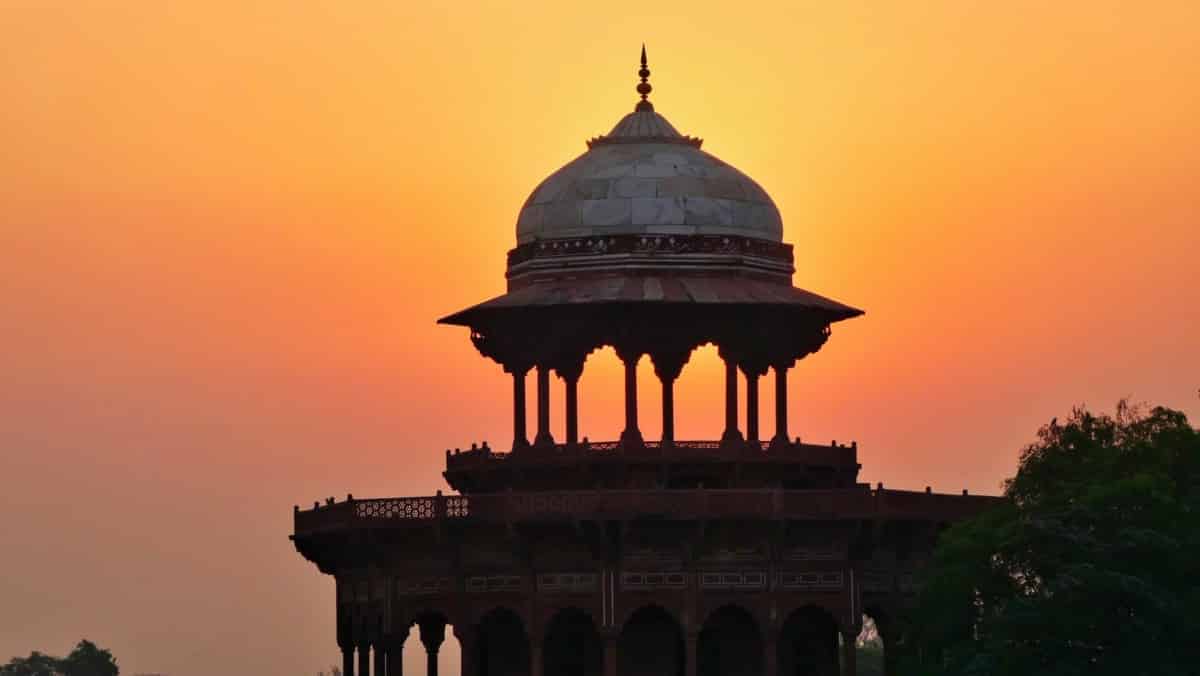 Chand Baori
Constructed in the year 800, Chand Baori is a stepwell.  A stepwell is a utilitarian, multi-storied well dug deep into the earth. In short, they made stepwells to provide dependable, year-round groundwater in the arid areas. The Idea being is to make it easier for people to reach the groundwater and maintain the well. It was incomprehensible to stand and look at this enormous well and imagine that people built this by hand over 1000 years ago.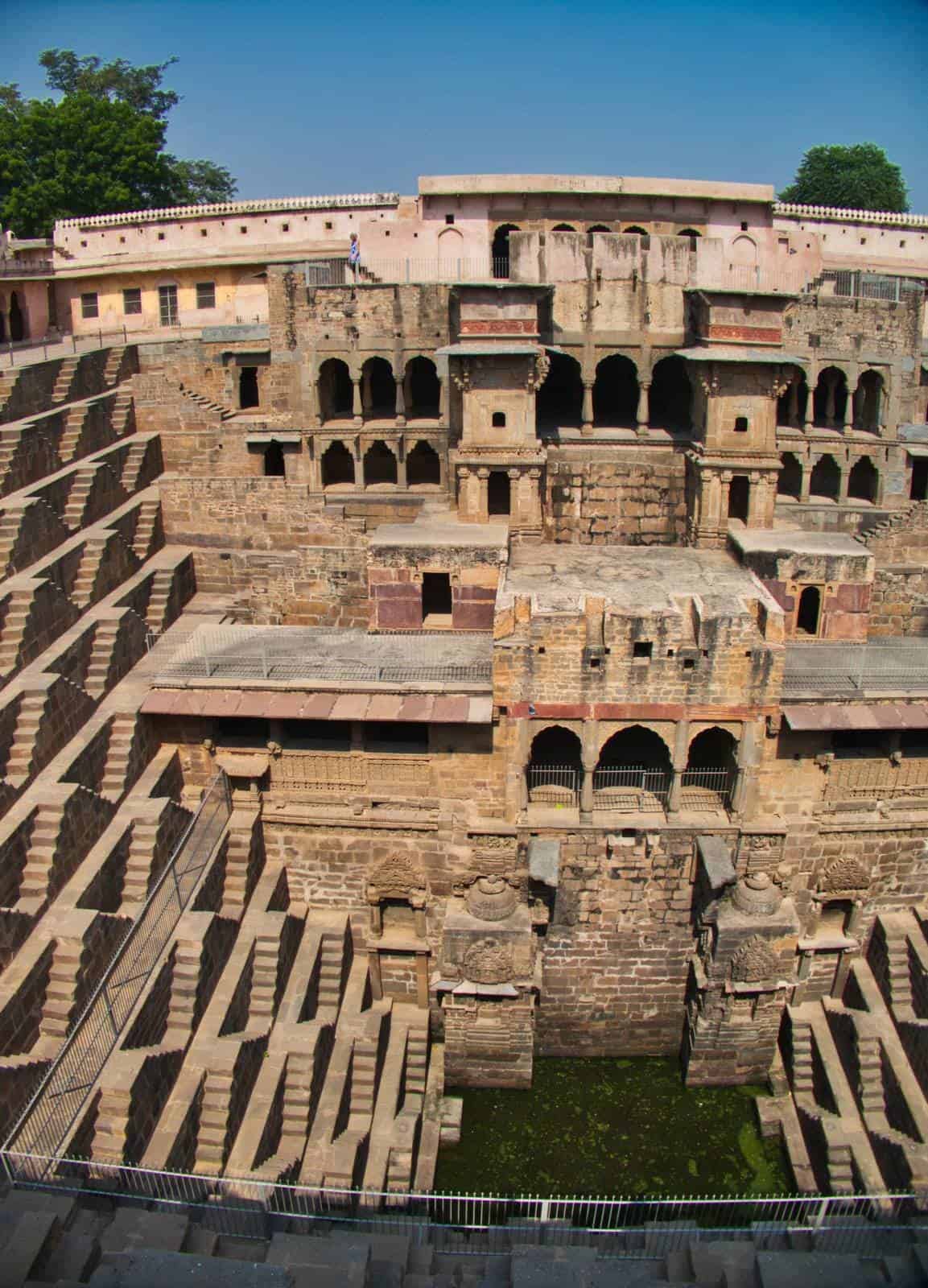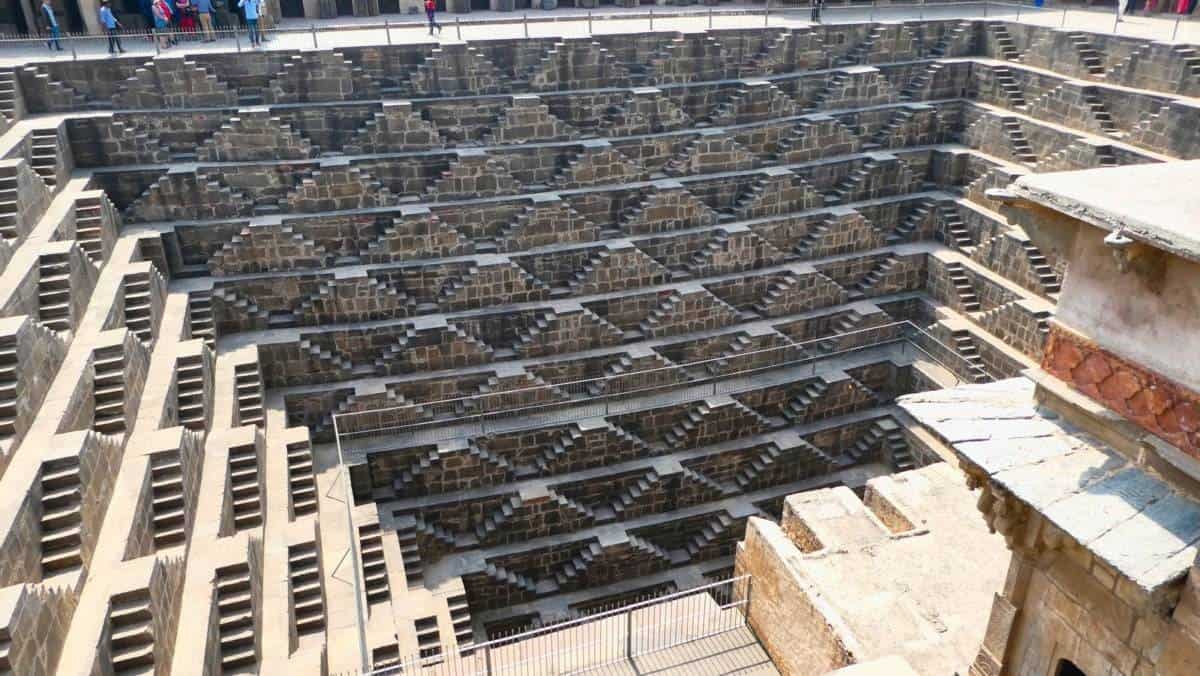 In Agra, we stayed at Safarnama. An Indian homestay that is very close to the Taj Mahal. Since we visited the Taj Mahal at 6 am to avoid the crowds, being only 10 minutes away was perfect. Even though it is close to the city, it is in a residential area, so it's quiet and quaint.
India is a huge country with so much to see. Seeing the Golden Triangle area is a great way to see some of the best in India. Using India Someday to arrange your trip takes the guesswork out of what to do, where to stay and how to get there. It's a great feeling to know that all the arrangements are handled for you when you arrive.  Starting with the driver meeting you at the airport to the driver taking you back to the airport.
India Someday is offering a huge 20% discount off their fees for solo travelers. And, Retire Early and Travel readers get an extra 5% discount. Just type in RETIREEARLY5 in the promo code or where they ask how you stumbled upon them.  You can either fill out their travel questionnaire here or for a quick inquiry, go here.
We have a great video covering the entire trip so be sure to watch below.
For more of India's culture visit here.
To see more of the beautiful colors and faces of India visit here.