La Mirage, Hidden Treasure
If you think that you will have to settle for second-rate accommodations in a developing country like Ecuador, you haven't been to La Mirage Garden Hotel and Spa. Perched on the Andean hillside of the charming city of Cotacachi you will find La Mirage. La Mirage offers European décor, a world-class spa all combined with a native Andean flavor. Less than a 2-hour drive from Quito, this resort sits on the site of a 200-year-old hacienda.

Well Appointed
We stayed at La Mirage for two nights. From the moment we walked in the door until we checked out, all of us felt like we were staying with friends. All of the staff was welcoming and unpretentious. Friends with excellent taste that is. The reception area is home to a grand piano accompanied by a vase of over 100 fresh perfect roses. Wood beamed ceiling drapes the room while the walls are adorned with beautiful works of art. Most importantly, friendly staff waiting to attend to your needs.

Gorgeous Room
Our room was a deluxe king suite. All of the 23 rooms at La Mirage have a garden view, and ours was beautiful. Our large bath with a well-positioned skylight was bright and contained fine shampoos and amenities. Our king, canopy bed, was adorned with rose petals.  In the living area, equipped with a fireplace, we found a Persian rug, Ecuadorian art, Louis XIV-style furniture and best of all a plate of delectable chocolate "postres." A separate meditation room, with a door to the garden, finished our comfortable yet elegant space.


Amenities
Included are breakfast and a three-course gourmet dinner with every stay. While we were there, we took advantage of all the spaces available. There is a rusticly elegant chapel, a library bar, pool, and spa. Each night we were there we played cards in the library bar. They provide a personal attendant who made drinks, brought us snacks and just took care of anything we wanted.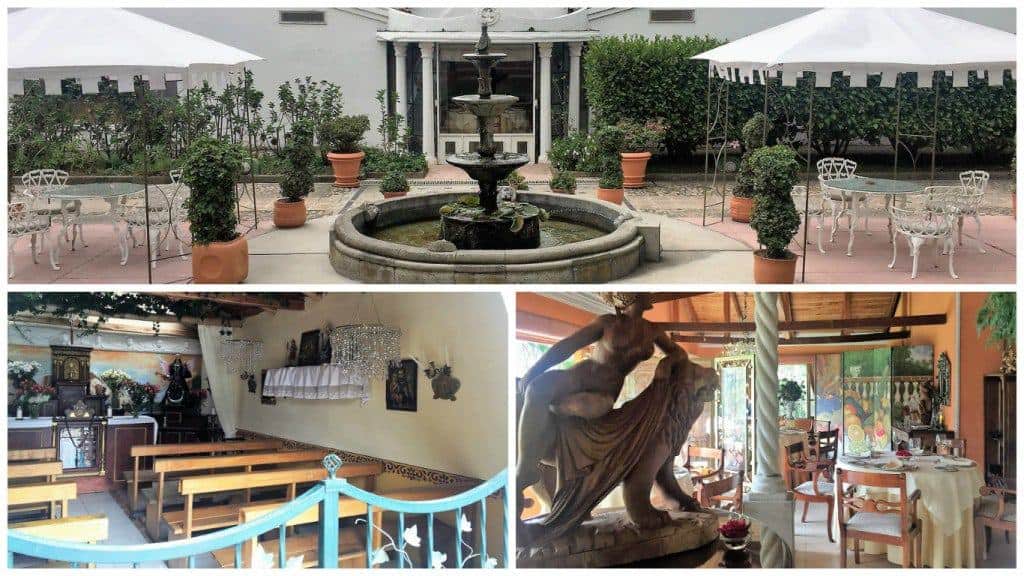 Spa
My husband and I both had a facial and a massage at the luxurious spa located within the solar heated pool area. We felt more than pampered and left feeling refreshed yet relaxed.

Splendor and Pampering
My favorite part of the stay was the beautiful and delightful peacocks that live on the hacienda. They roam the grounds continually and love to come to the windows to view the new guests. They are a grand addition to the stunning garden of colorful flowers. Every night when you return from dinner, you'll find a fire going in the fireplace, and when you crawl into bed, you will find a hot water bottle encased in an elegant cloth bag warming the sheets for your feet.

High Expectations Met
La Mirage did not disappoint with its infusion of European décorm fine cuisine and excellent, friendly service. We think that a yearly trip to Cotacachi to stay at La Mirage is in order.
Planning on visiting Quito/Cotacachi, don't miss this treasure. If you have been there, I would love to hear about your experience below. Have a question; please do not hesitate to ask!
Be sure to read about things to see in Quito.
For a great day trip to Quito check out our post The Basilica of the National Vow.