Paxis Backpack
I just purchased a Paxis backpack for my trip to Peru with my last stop being Machu Picchu. I've never been a fan of backpacks for my travel because it's difficult to grab things from it quickly.  My travel carry bag has always been a messenger type bag. Then I saw an advertisement for the Paxis. And what I saw seemed to solve my problem of quick access for things like camera gear. The Paxis backpack has a pod that swings around from the back to the front on an arm. It makes for quick and easy access. So I thought I'd give it a try for my trip to Peru.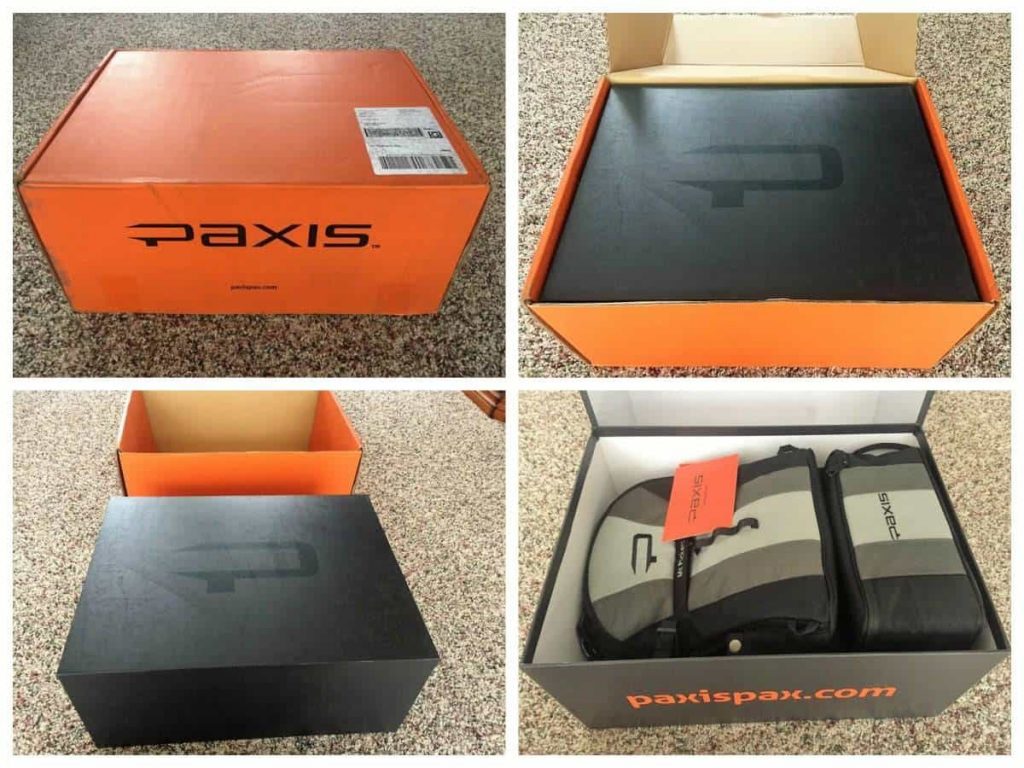 Timely Arrival
The backpack arrived timely in a very heavy duty box. In fact, the back pack was well protected packed in a box that was packed in yet another box. At first glance, it seemed very well made with nicely padded straps and back pads. The zippers are well made, and there are plenty of loops to attach things. I put it on to try the swing around pod. The mechanism is quite ingenious. It worked very well making access to the pod simple and quick. I purchased the Paxis model Mt Pickett 18. I wanted the smaller of the two models just for better mobility on my travels. The pack measures 18" x 12" x 7" and weighs about 5.2 lbs. The swing around pod itself measures 11" x 4" x 5.5" (inside). There was plenty of room for my mirrorless camera, extra lens, and other miscellaneous camera gear.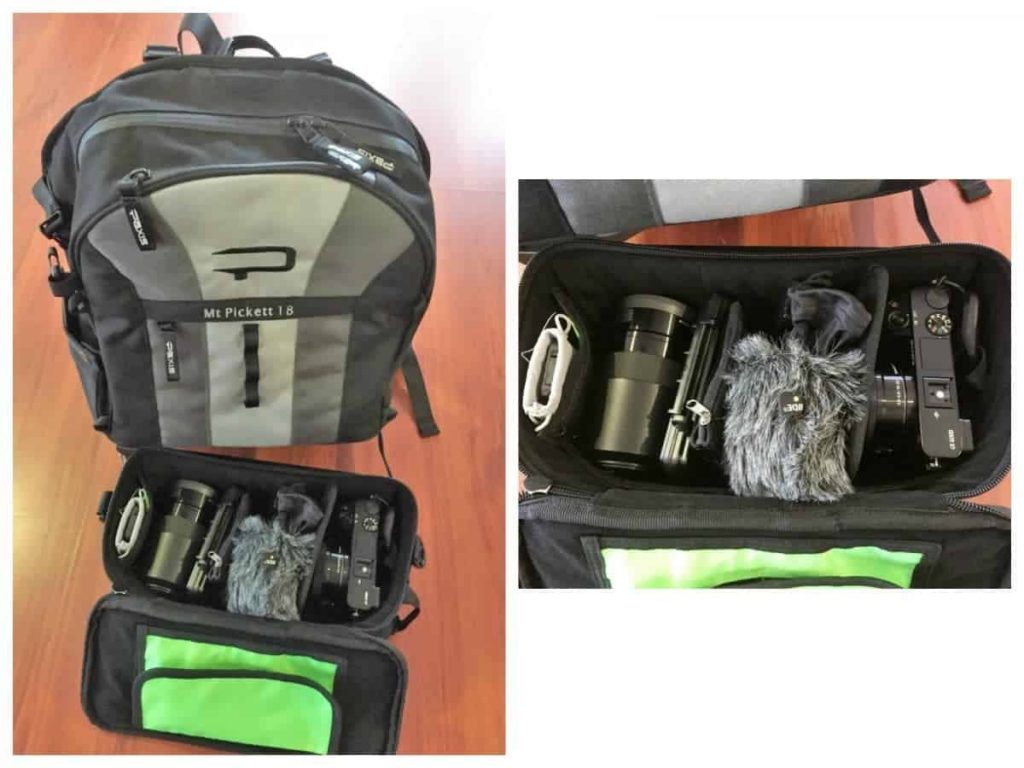 Trip to Peru
I used the Paxis backpack as my carry on. It fit comfortably in the overhead. I wanted to see if it would fit under the seat in front of me and it did for every flight I had. So it makes for a perfect carry-on bag. At the airport, I thought I'd get an extra inspection because of the metal swing around arm, but I didn't get even a second look. I liked that the bottom of the backpack is flat. So when you're sitting down, the backpack stands up easily and is not going to fall over making it off-the-back friendly.
We toured many cities in Peru including a 10 ½ hour train trip to Cusco for the Machu Picchu visit, and the backpack worked great. It was big enough for a day trip worth of stuff in the inside and my camera gear in the pod. It was easy to make a lens change or grab a new battery when I needed it. I did get a few looks and a few questions when I swung the pod around. People asked how it worked. So for the city, air, and train travel, the Paxis backpack worked perfectly. I did not miss my messenger bag at all. But the real test for this bag was the hike up to Huayna Picchu which overlooks Machu Picchu.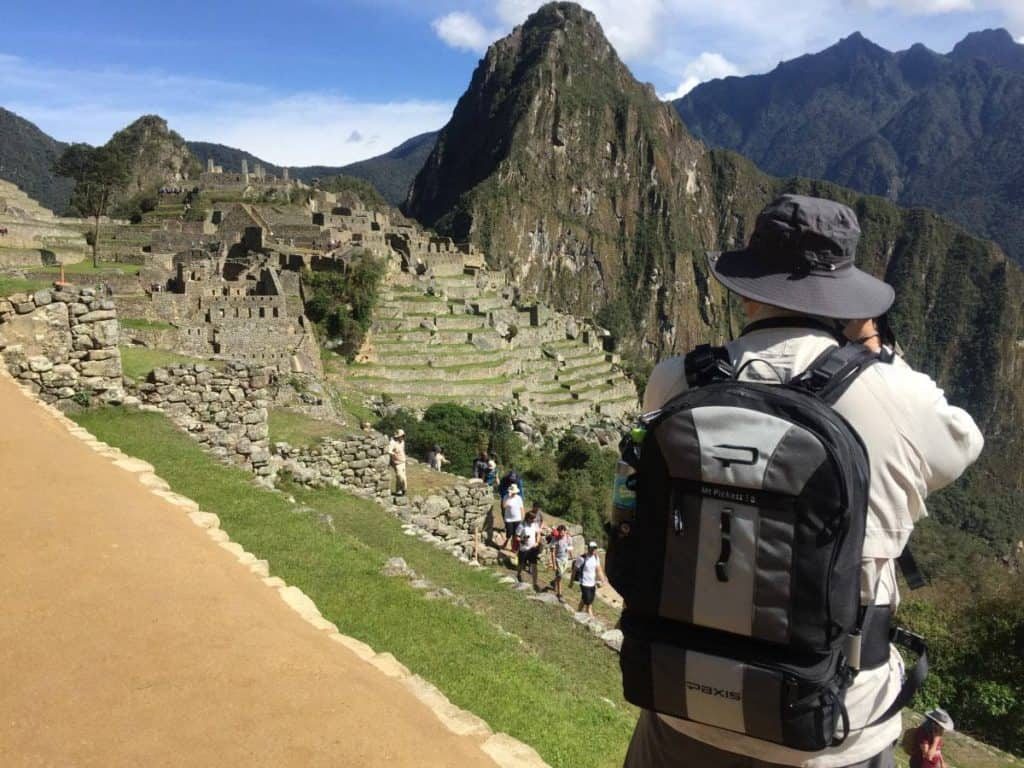 Huayna Picchu
I didn't know it at the time, but Huayna Picchu turned out to be the most dangerous and difficult hike I've ever done. This was a good test for the backpack since the climb was very steep, narrow passageways and even a crawl through a cave. On this hike, I carried water in the pack which I did not carry previously. After about an hour of hiking over 1200 feet vertically, the Paxis backpack worked like a charm.
There were times that I was on such a narrow rock path, that taking off the bag to get to something would have been impossible. The swing around pod worked well in tight spaces. The pads in the back and the wide shoulder straps made carrying the pack painless. The fact that it wasn't any wider than my shoulders made navigation easy. Navigation was especially easy when I crawled through a small cave entrance.
Overall I'm elated with my purchase of the Paxis Mt Pickett 18 backpack. It's ideal for day trips and makes accessing camera gear and other things so easy. It survived our two week Peru trip and I expect it to continue to be my go-to travel carry bag for our upcoming adventures.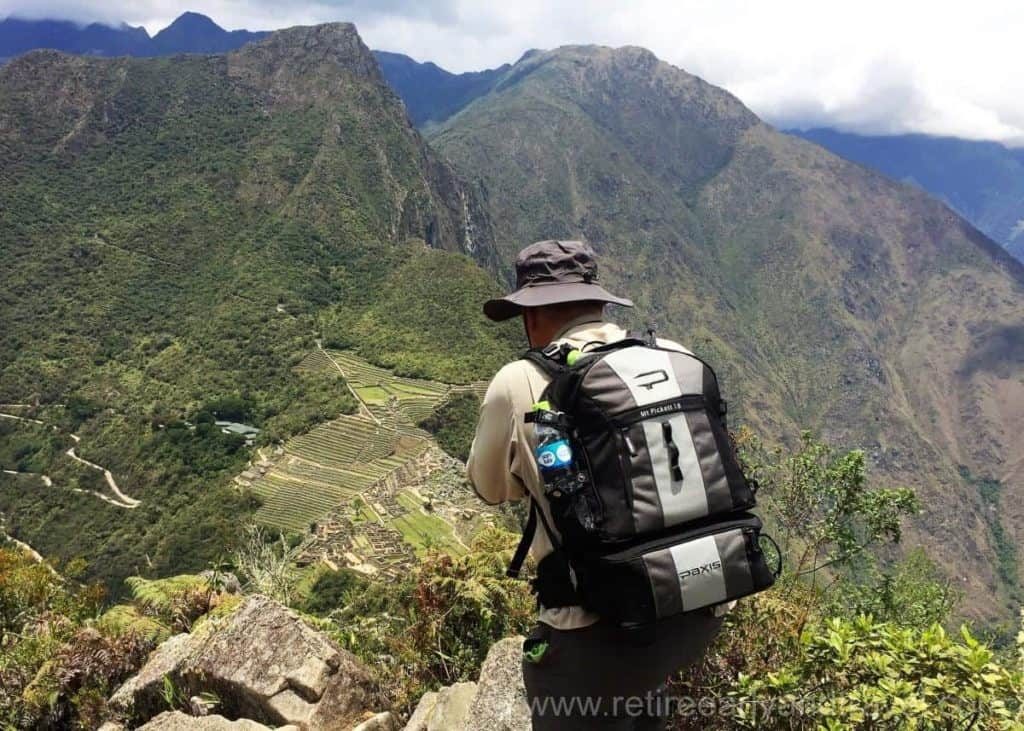 If you're interested in this Paxis backpack or the latest model, CLICK HERE.
Be sure and check out my Top 7 Best Gear post.