For a beautiful day trip from Zagreb, take a drive northwards about an hour to the Zagorje region of Croatia. The area is full of rolling hills and vineyards, small quaint homes, medieval burgs, and castles. The best sights to see in this area are the city of Varaždin and Trakošćan castle. As you probably know when traveling, Keith and I often like to take private tours. Taking a private tour allows us a chance to get to know a local, the guide. We also like having enough time to ask all our questions, and we like having the option to stay longer or less at a particular place.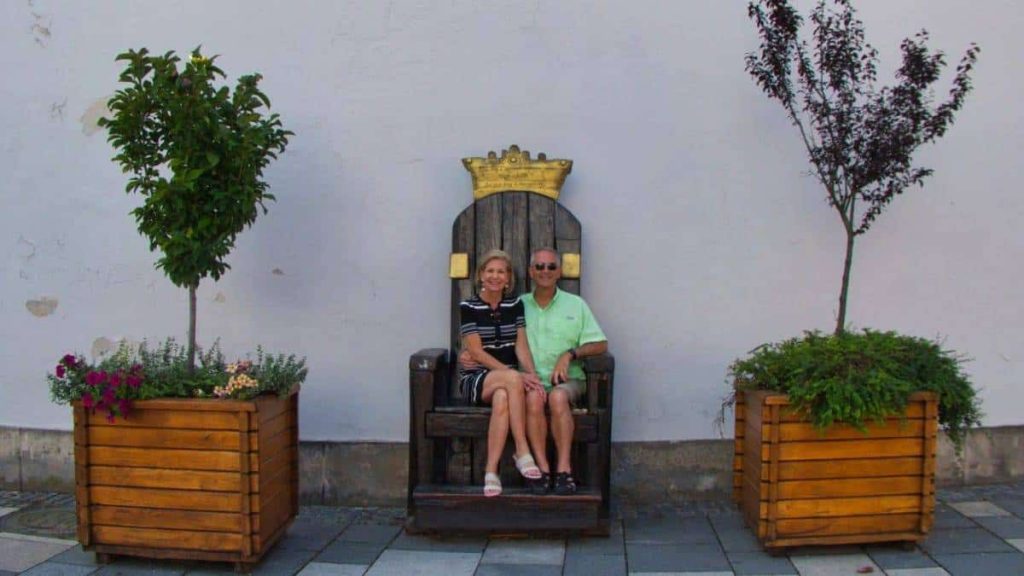 Zico Tours, Varaždin + Trakošćan Castle
The private tour we took to the Zagorje region, Varaždin and the Trakošćan Castle, provided by Zico Tours was fantastic. Our private guide, Dijana, met us at our hotel. She had an SUV and driver waiting. While our driver concentrated on the road our guide, Dijana, began informing us about the area we were going to visit.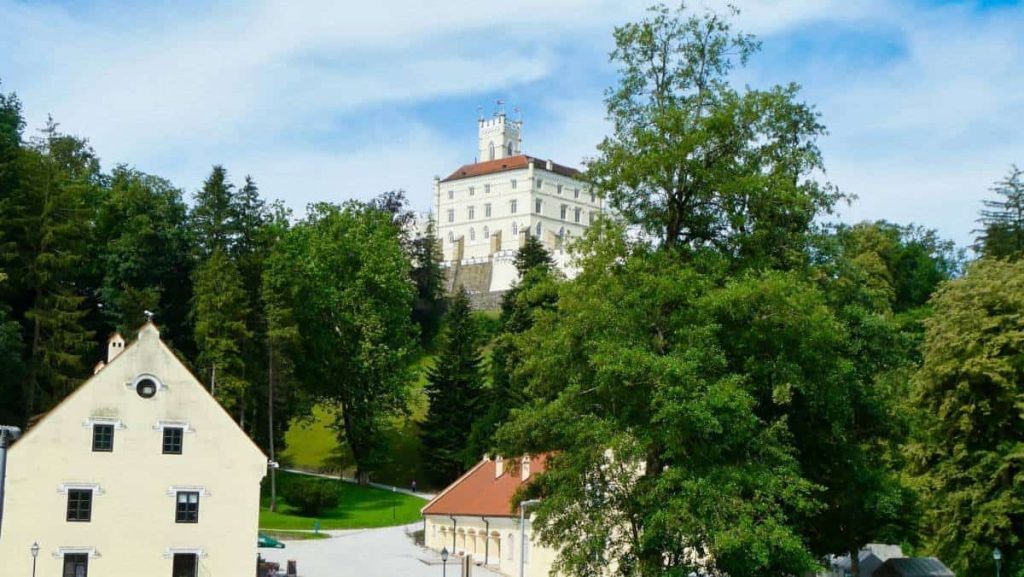 Trakošćan, a True Fairy Tale Castle
First up on our agenda, Zico Tours took us to the 13-century Trakošćan castle. Trakošćan castle perched on a hill overlooking a park and forest is a fine example of a fairy tale like fortification. In the eighteen hundreds, the owners and residents renovated the castle developing the romantic park setting around the perimeter. In 1944 the owners were forced to emigrate to Austria. Soon after that, the castle became nationalized and is still owned by the Croatian government today. Today it is a museum available to tour with a knights room, hunting room, music room and more. All of the weapons housed in the museum were those used by the residents of the castle or their help. The piano from the first half of the 19th century located in the music room is extremely valuable.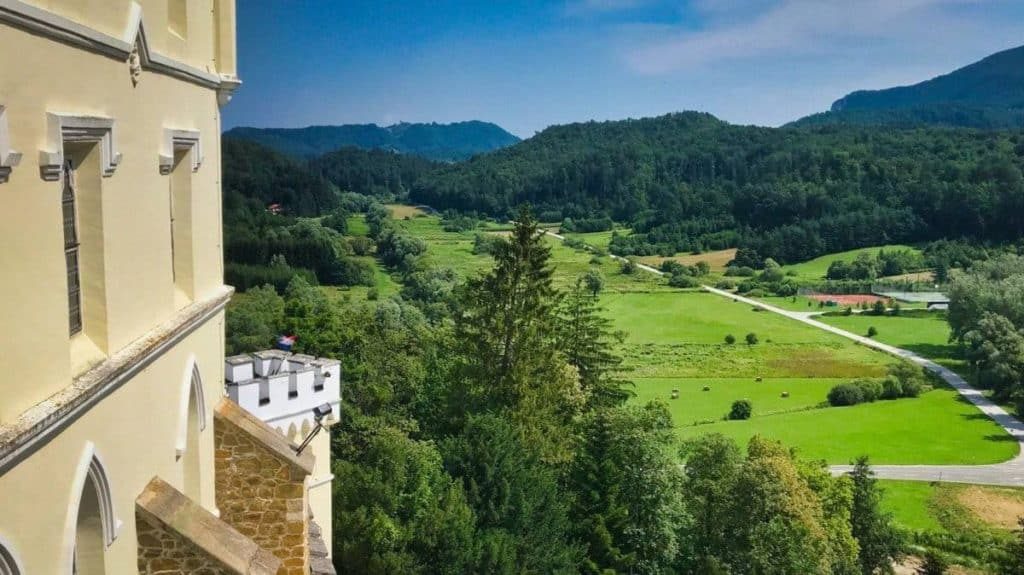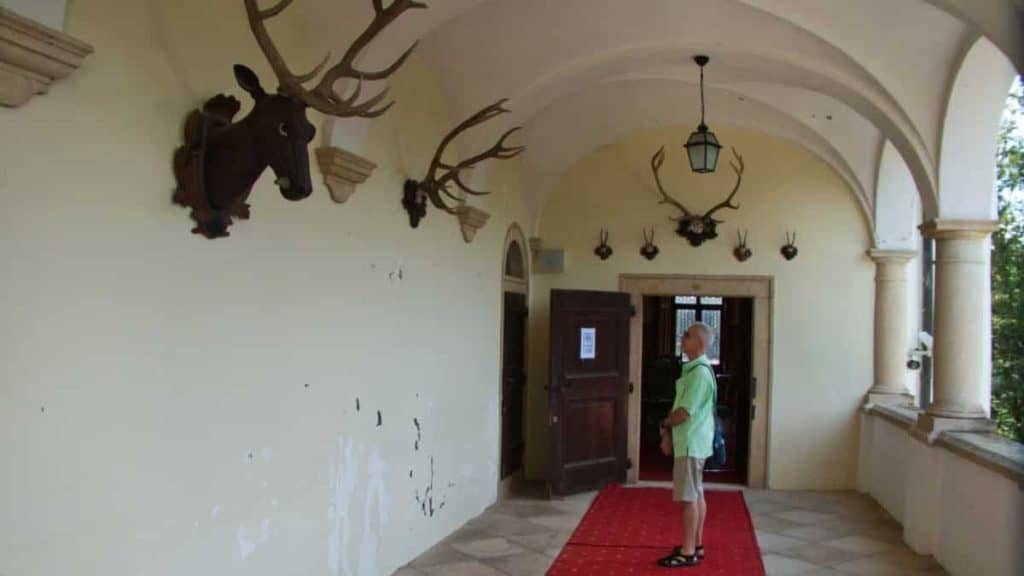 Touring the castle is interesting and not to be missed, but the real jewel is seeing the castle from across the lake. Originally the castle had, Romanesque features but in the mid-19th century, restoration of the castle took place in the neo-Gothic style. The beauty of the castle today took shape in the 1800's. Keith and I have traveled a lot and have seen our fair share of castles. The view of Trakošćan castle sitting up on the hill, across the small lake, surrounded by stately green trees is a real treat. This part of the Zagorje area makes you feel as though you are in fairy tale land. The setting is so romantic, idyllic and picturesque you will want to take photos there for hours. In fact, we have this picture below made into a piece of art for our living room.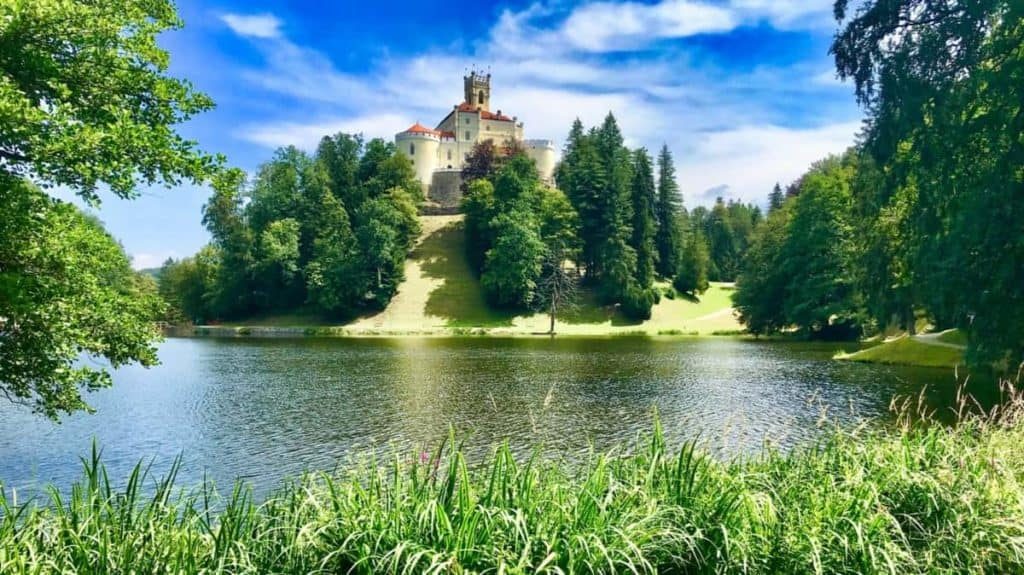 830+ Year Old City of Varaždin in Zagorje
Next up we visited the very old yet very beautiful city of Varaždin. Because Varaždin is so charming and filled with Baroque architecture, it is often called little Vienna. This city dating back to the 12th century was home to some of Croatia's wealthiest and also many artists. In the late 1700's it was even the capital of Croatia.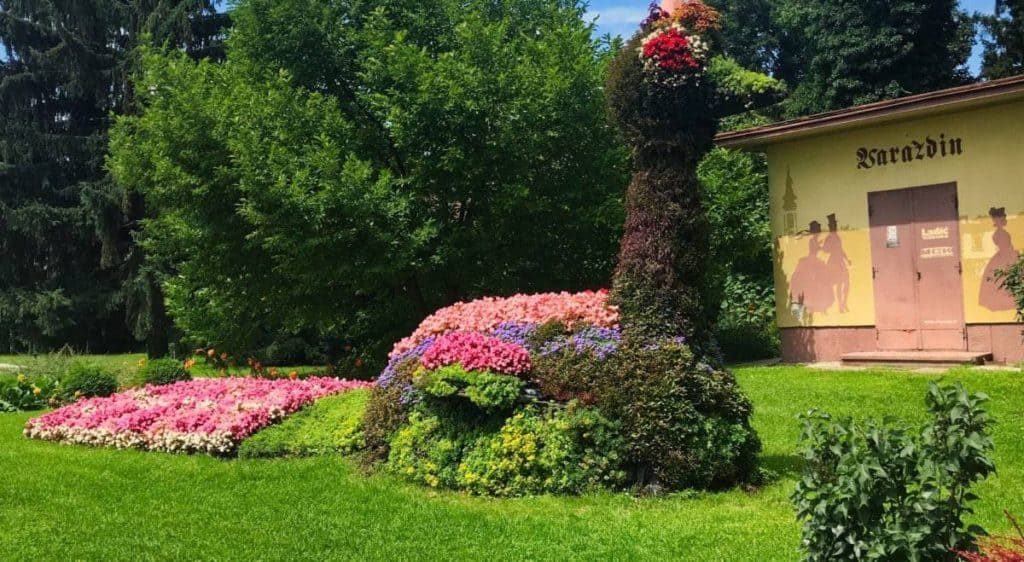 Our first stop was in the old town where there is a real castle, complete with a drawbridge that leads directly into the main square. Varaždin is also a college town. Many people visit this lively destination for art exhibits, music, and flowers. Walking around the town, you truly feel like you are reliving a by-gone era. The architecture is stunning, the streets and walkways are artfully laid out with a sense of purpose as well as beauty. Everywhere you look, there is something picturesque to enjoy.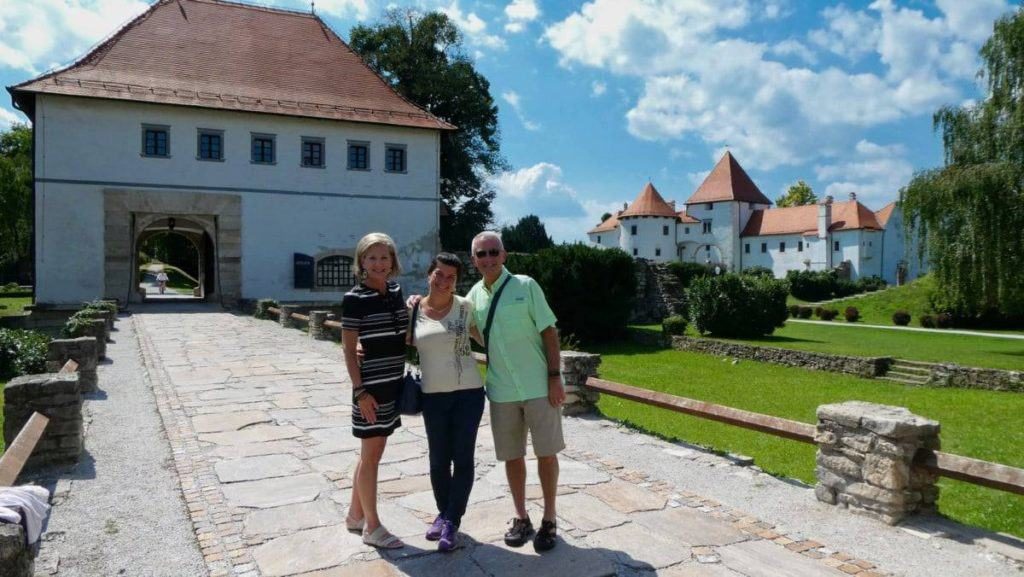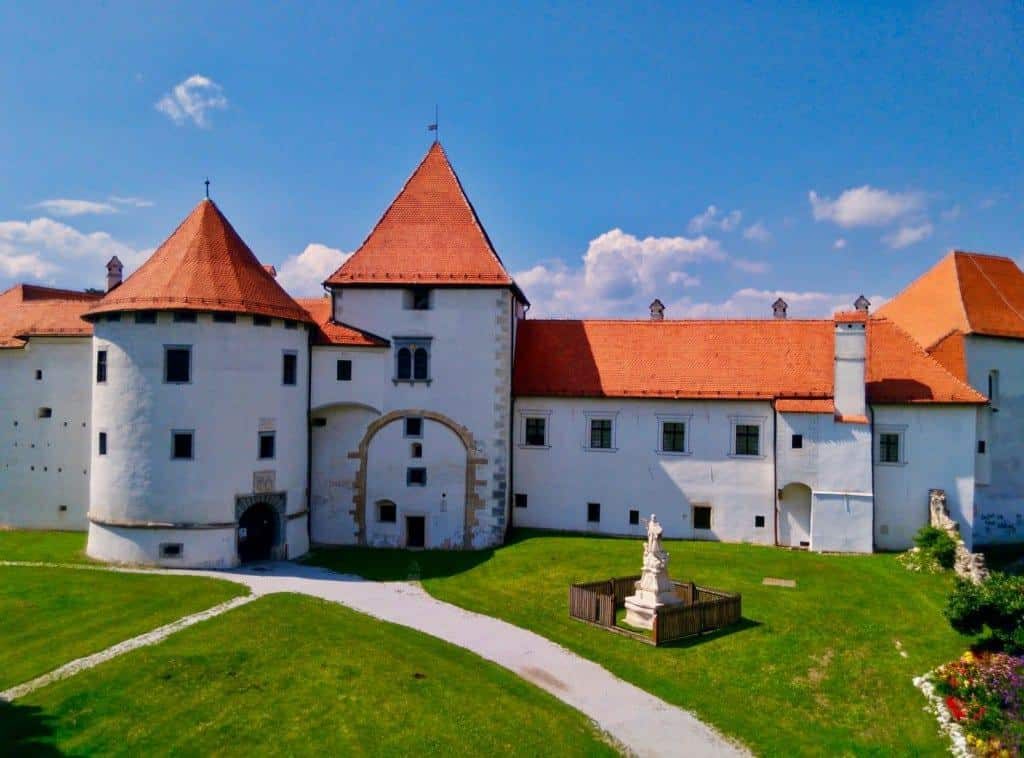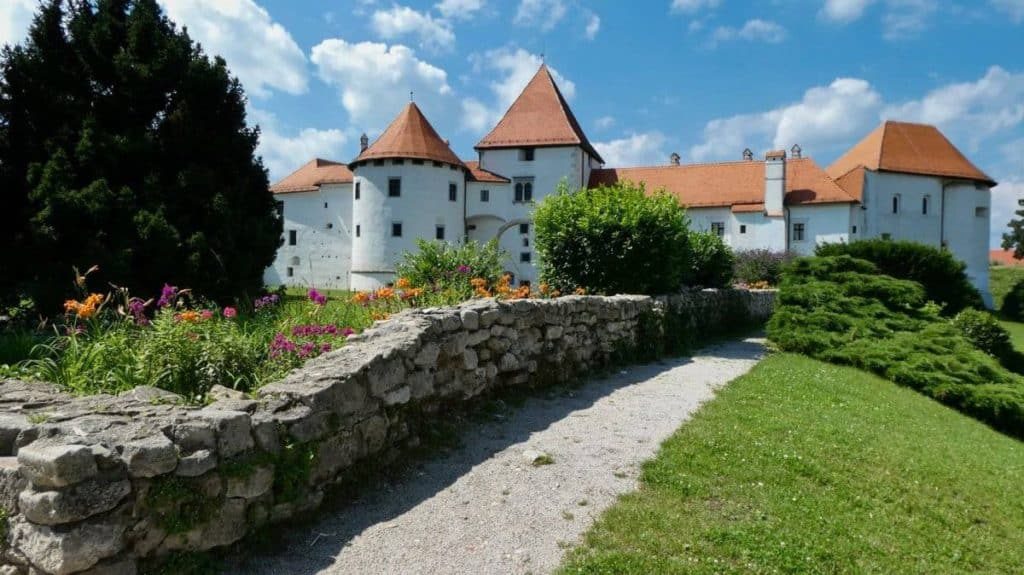 Guilds from Many Years Ago Exist Today
Varaždin is like an outdoor museum, for instance, between buildings we saw small niches with beautifully carved figures. Many shops had old signboards like a mermaid, which our guide told us represented exotic imports back in time, spread over a Chocolate shop. On the side of a building, we saw an iron man which Dijana said meant it was a blacksmith's shop and today is a hardware store. We also saw this cute turtle hanging outside a shop, and that Dijana said stood for a grocery store.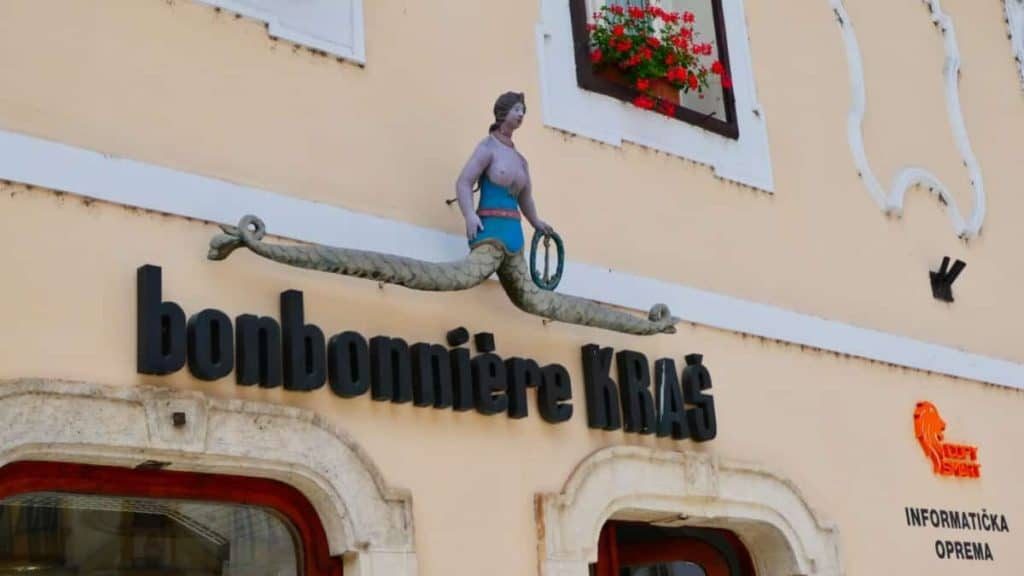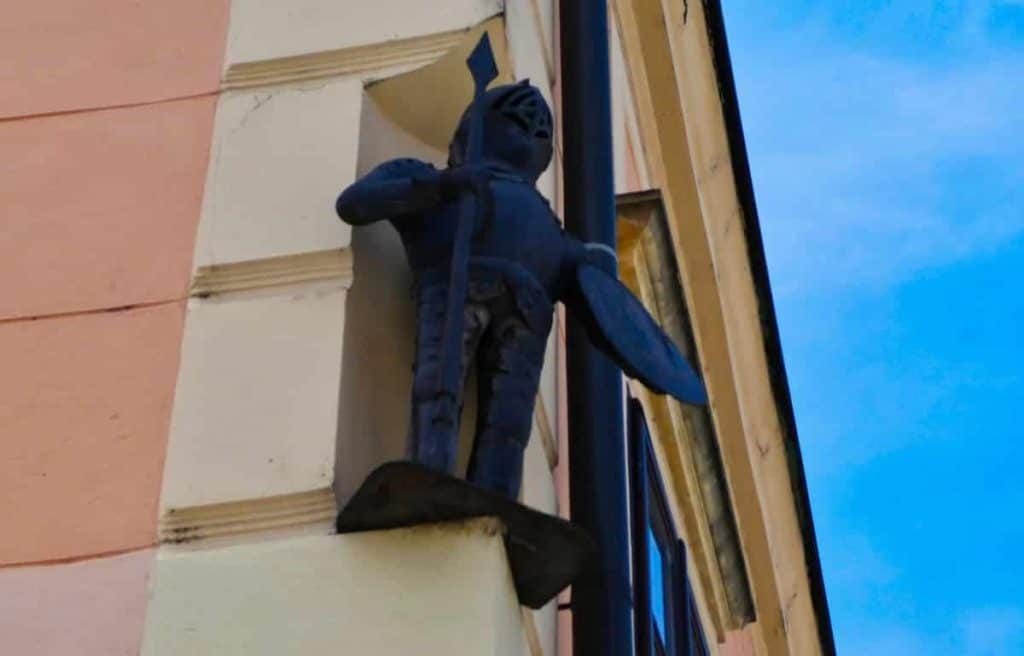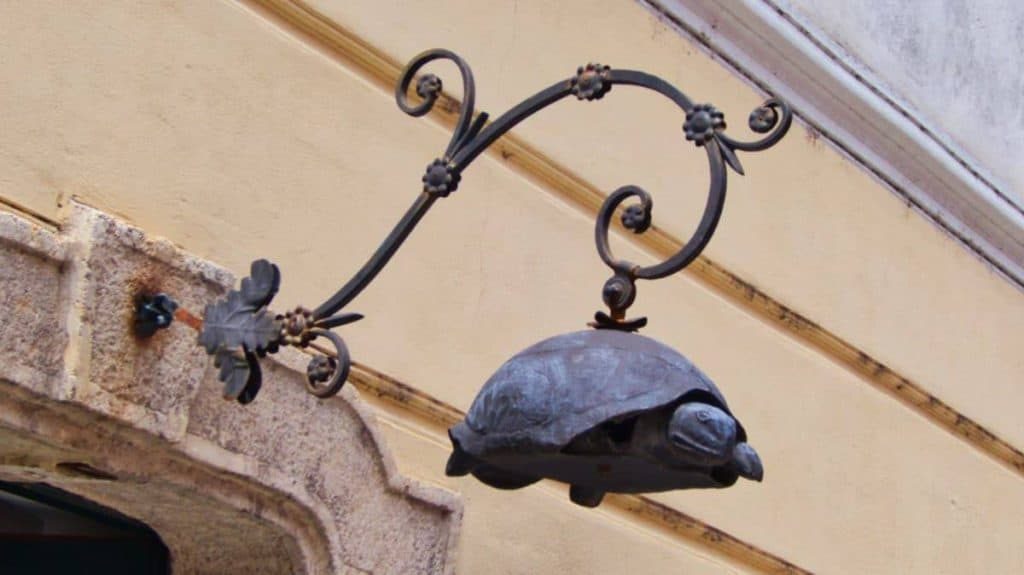 In Varaždin there are all these little surprises. While walking along some of the side streets, we came across what we think is a sundial painted on the outside of a wall. Varaždin is not just a tourist city; it is very much a lived in a city with a vibe that only college towns have.  Varaždin is such an amazing city that the New York Times voted it one of 52 Places to visit in its 2014 list.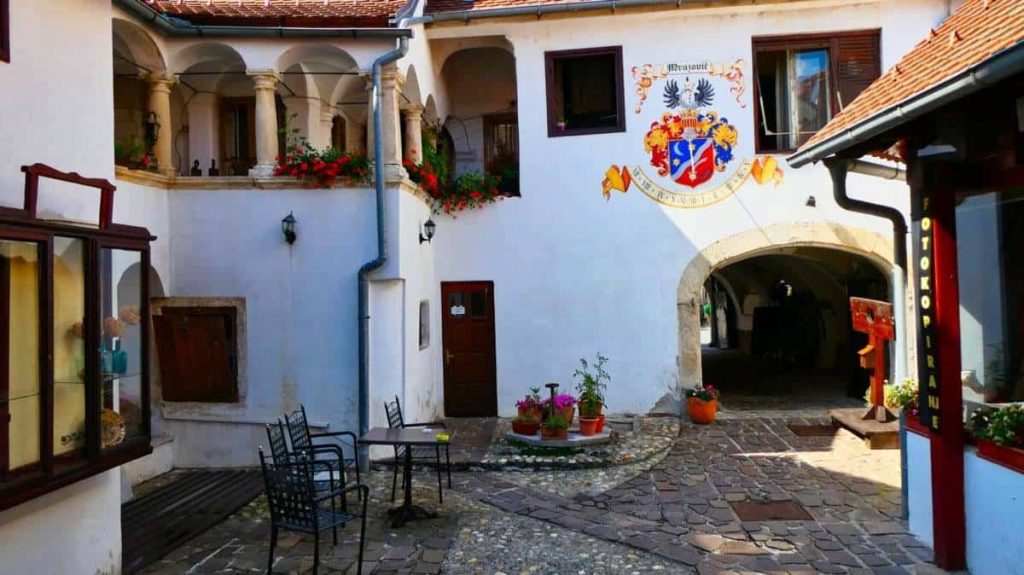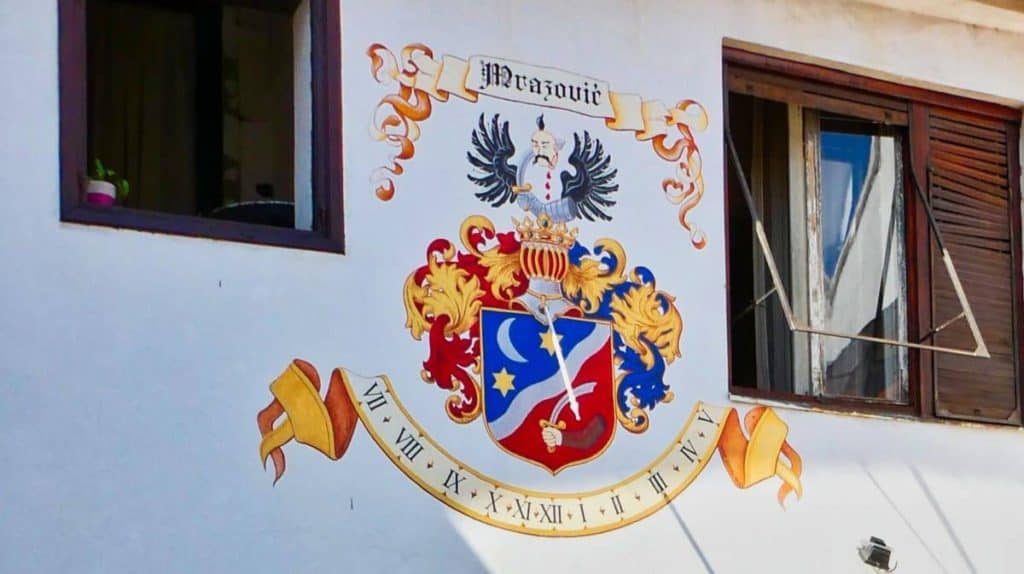 Where the Angels Sleep
When people think of Croatia, they think of Dubrovnik and Split. But the inland city, in the Zagorje region, of Varaždin is one of the most well preserved and picturesque cities in the country. It is also the city where the angels sleep. Over thirty years ago a local artist, Željko Prstec began painting motifs of Baroque angels under the banner of "Varaždin: the City where Angels Sleep." Since this time others have joined in to make Varaždin the city of angels. If you have a keen eye as you walk the streets and visit restaurants and shops, you will see that these fairy tale like angels are everywhere.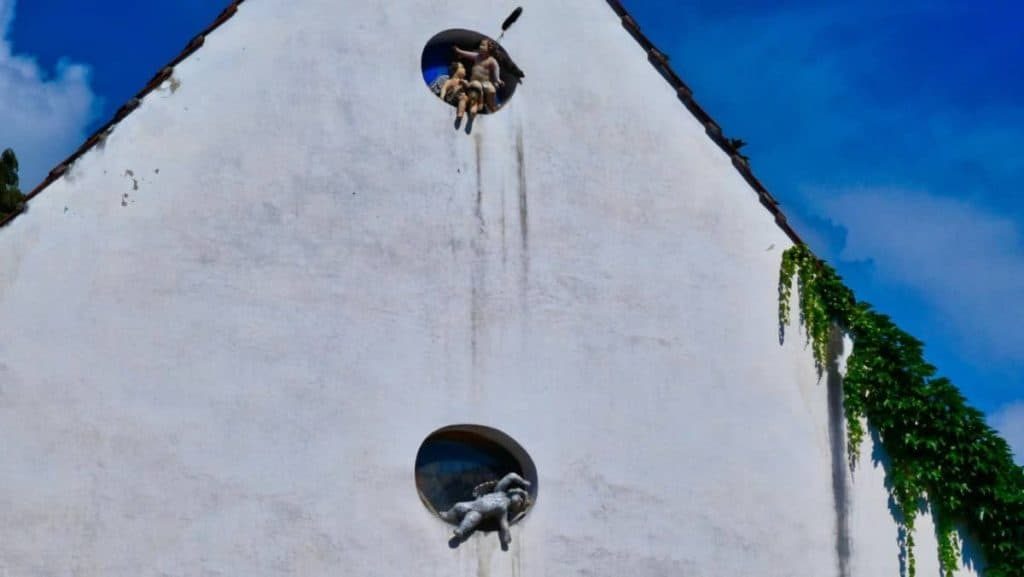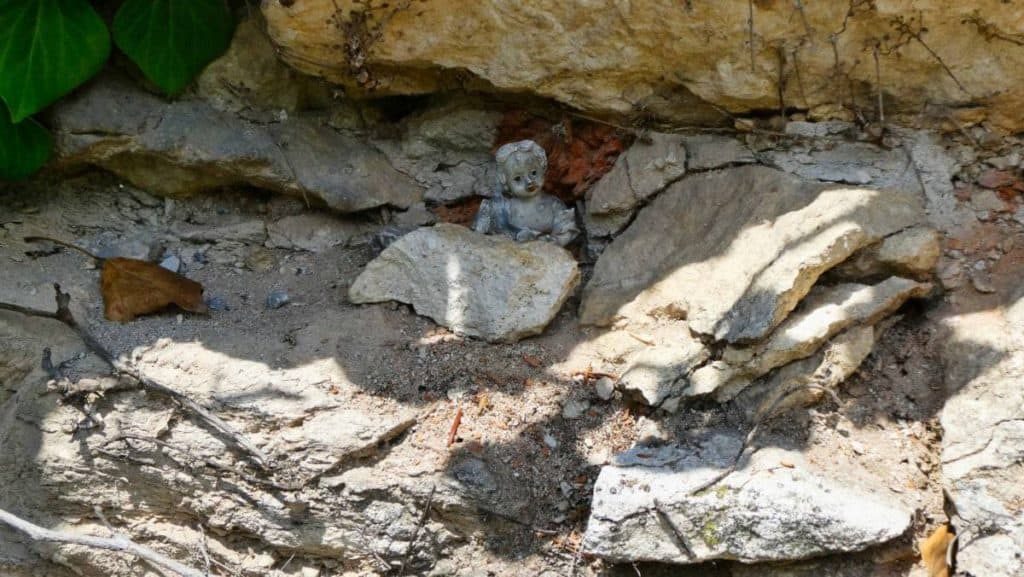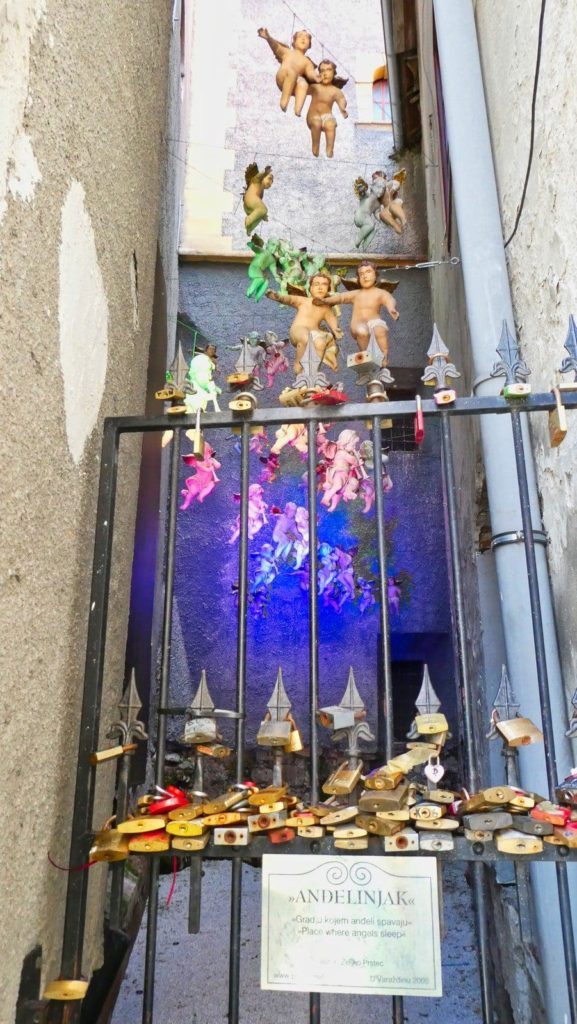 A Street Organ and Authentic Croatian Food
For lunch, our guide suggested Verglec restaurant. This restaurant was a real treat. The restaurant takes its name from the barrel organ, an example of which sits at the entrance. A barrel organ or street organ as you may be more familiar with is a  mechanical musical instrument consisting of bellows and racks of pipes housed in a case, usually of wood, and beautifully decorated. Wooden barrels inside the organ contain encoded pieces of music. The basic principle is the same as a traditional pipe organ, but rather than an organist playing, the barrel organ plays once a person turns a crank. Of course, with something so cool as this I had to try playing!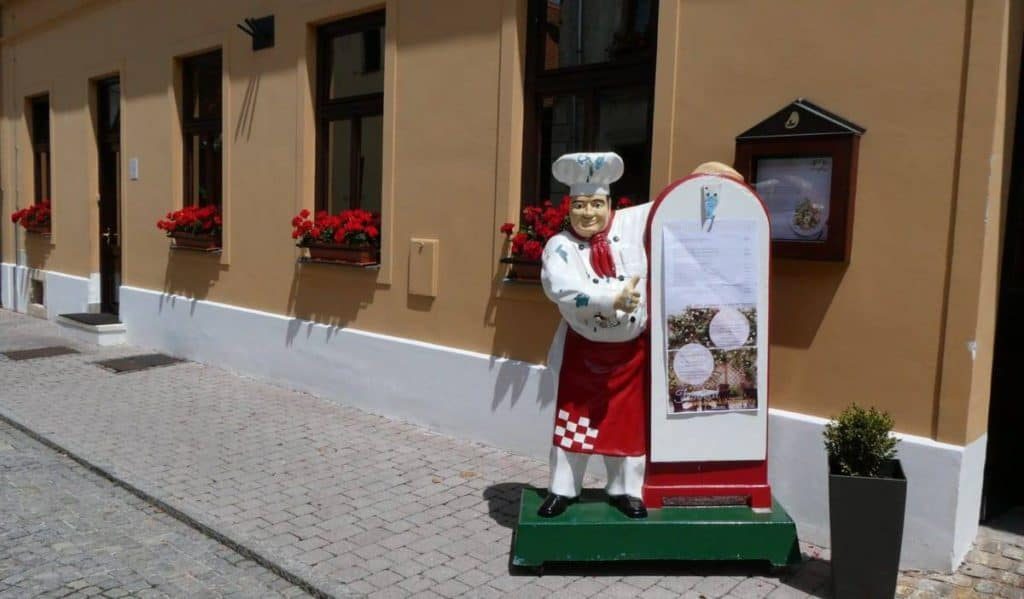 Once I was able to drag myself away from the barrel organ, we sat at our table. We sat in a section of outdoor tables on a patio with climbing roses. We ordered some wine and perused the menu.
Dijana said that Verglec is known for having the most authentic Croatian food in Zagorje. For this tour, our driver was Dijana's husband, a well known Zagreb artist. I asked him what people of the Zagoje region would have eaten regularly 50 years ago, and he told me cabbage and pasta. As kids, he ate it all the time. I would never have put those two things together, but that is what I ordered. The dish came, and it did not look spectacular, but one bite changed all of that. It was delicious. I could see why this was a popular dish. It was simple, cost-effective and the seasoning used on this brought all the flavors together. Everyone at the table voted it the best dish of lunch.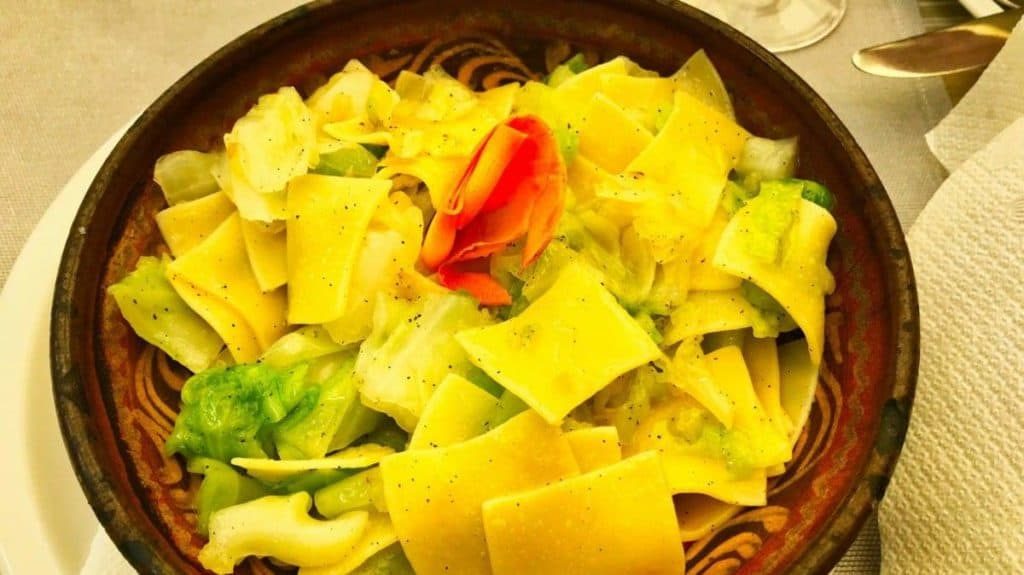 Possibly Europe's Oldest Town Hall
After lunch, we walked around Varaždin some more. Dominating the central square of Varaždin is possibly Europe's oldest town hall. This once old stone house was given to the people of Varaždin in 1523 and has been the town hall ever since. The coat of arms displayed proudly above the door depicts the city in the hands of angels!  There used to be a market in front of the town hall, but today it is filled with summer terraces offering a bite to eat or a coffee.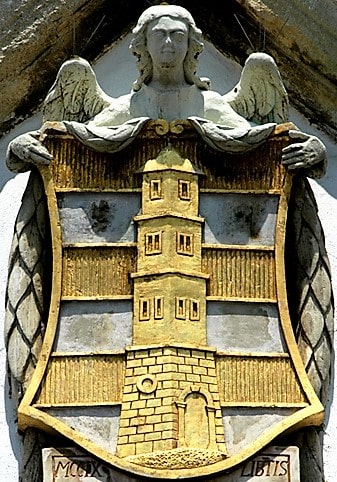 Varaždin Catherdral
In the 17th century, the Jesuits built this beautiful baroque church, St Mary's Assumption, but is today Varaždin Cathedral.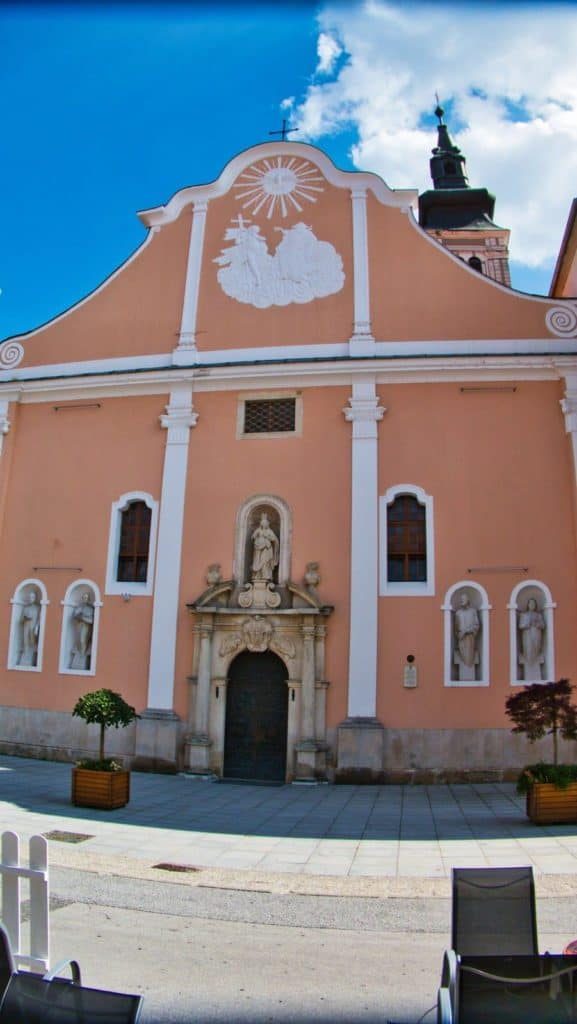 There's the square of Traditional Craftsmen
We saw hats and crafts in the square of traditional artisans.
The Same for Centuries
Gajeva Street is a popular pedestrian promenade. The baroque facades of the many Varaždin buildings lining the street are spectacular. The front side of the many townhomes of Varaždin's old streets are the same as they were a few centuries ago.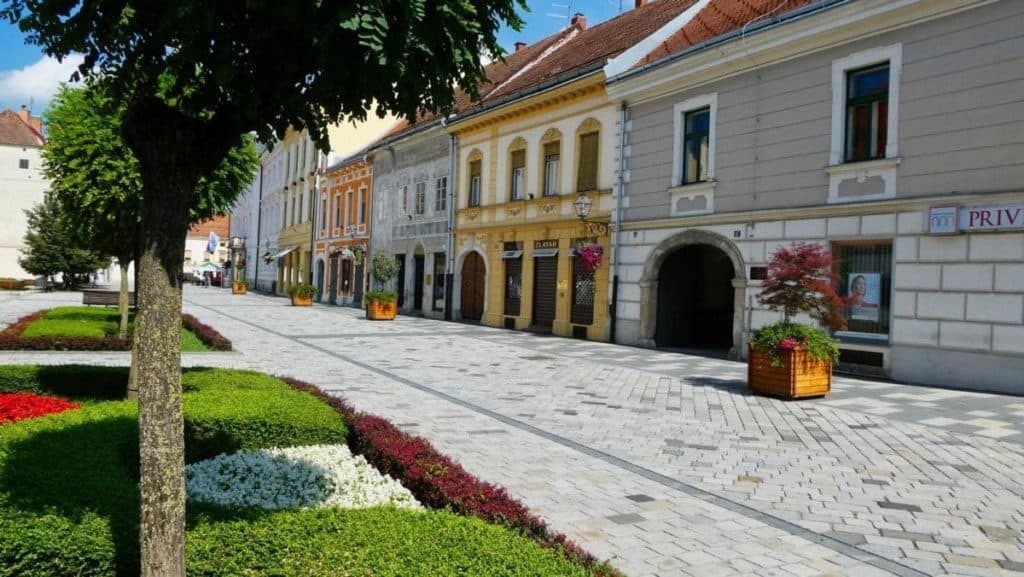 Zagorje offers so much to see and do while in Croatia. It is like a trip into fairytale land with its beautiful castles and fortresses. The lovely maintained baroque architecture of Varaždin will charm you. Then there is the gastronomy of Zagorje known for its aroma, rich tastes, and home to some authentic Croatian food. To experience a true Croatian holiday, you must visit Zagorje! And be sure to do it with a great tour by Zico Tours.
Check out our 4-minute video of the castles
Make sure and read Zagreb Croatia – An Amazing Timeless City that Cruises Miss