If you're visiting the Amalfi Coast, then a day exploring the coastline and Capri by boat will give you a different perspective and less crowded way to see the sights. A boat trip is a perfect way to discover the beauty of the Amalfi Coast in one day.
It's also an excellent way to visit the charming island of Capri including a cruise around the island. There are boat rentals that you can take out yourself but having a captain also gives you a tour guide. And honestly, I don't think you would find the caves and grottos along the coast without someone who's been there before. The cost isn't much more than a typical all day tour for 2 (or 4 depending on the size boat you rent).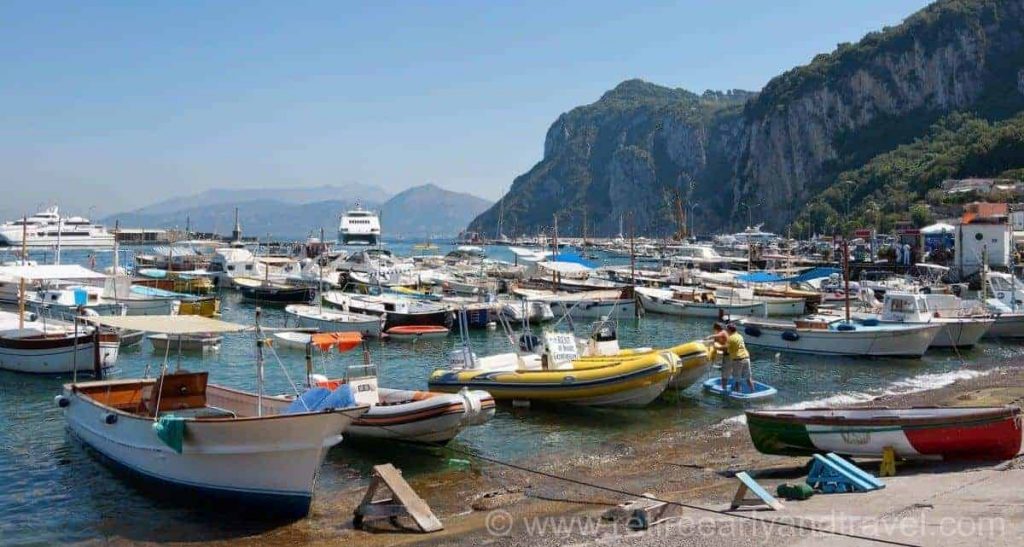 Full Day Rental
A full day boat rental is usually 8 hours and starts around 10 am. You meet your boat and captain at one of the local marinas or beaches in one of the Amalfi coastal towns. What's nice about having a private rental is that you can set the schedule. If you feel like staying at a place longer, then you can. Want to move in closer to a cave you spotted, you can do it. It's your 8 hours, so it's up to you. A picture of the boat we rented is below. To use the helicopter does cost extra. Ok, I'm just kidding. That's not the boat we rented but rather just a boat we cruised by as it was anchored off the coast of Positano.

Captain Knows Best
There are lots of sites to see from the boat and of course, on Capri itself. An experienced captain will offer suggestions. He may suggest doing some visits at certain times of the day. He most likely knows when to avoid a cruise ship that is going to dump thousands of people off onto Capri or when the tides are too high making entering into a cave impossible. The Amalfi Coast is rich in little bays and small beaches only reachable by boat.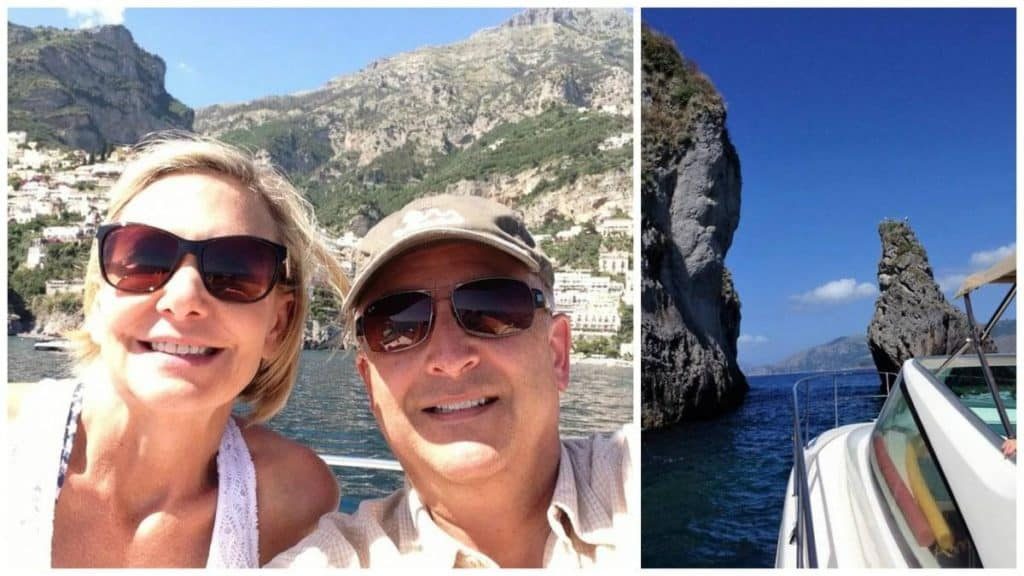 Anyplace is Good for a Swim
You will see many secluded beaches along the way. Be sure to stop and swim up to some. You'll also come across caves. The water is not cold so you can swim wherever you please. We came across some local kids jumping from a high platform. We decided to give it a try. From the top, it's a lot higher than it looks.

The Island of Capri
Capri is one of the most charismatic and exclusive islands in the world. The history is ancient in that the Phoenicians first settled it. Two principal towns divide the Island, Capri, and Anacapri. Capri is glamorous and known for its five-star hotels and its famous Piazzetta. In contrast, Anacapri has romantic walks and captivating sea views. Capri is a great midway point to have lunch and explore the island.

Sites to Visit by Water
Here are some places you'll want to check out during your boating day.
Emerald Grotto: Unlike the blue grotto, this grotto has no above the waterline entrance to the ocean. The refracted sunlight entering the cave below the waterline gives it a unique lighting condition that creates a natural green glow.
The Faraglioni Rocks: A fascinating oceanic rock formation formed by wave erosion.
The Fiordo di Furore: A natural Fjord that has a secluded beach. If you're lucky, you may witness the diving contests they have off of the bridge crossing it.

On Capri
Villa Jovis and Tiberius's Leap:  A Roman Palace which according to legend, a place where disobedient servants and unwelcomed guests were thrown over the cliff by order of the Emperor
The Natural Arch:  The arch dates back to the Paleolithic age. It is made of limestone and is the remains of a collapsed grotto that is 60 feet high and spans 40 feet.

Villa Malaparte: This house is one of the best examples of Italian modern and contemporary architecture. In 1937, the well-known Italian architect Adalberto Libera designed the house.
Marina Piccola:  Augustus and Tiberius used this marina which is located near the Faraglioni sea stacks. The famous Via Krupp is a switchback paved footpath that connects the Charterhouse with the Marina Piccola.
Punta Carena: An active lighthouse, located on the island since 1867.
Blue Grotto:  This most famous grotto is only accessible by boat and when the tide is low. Sunlight passes through an underwater cavern and shines through the seawater, creating a blue reflection that illuminates the cavern.
Amalfi Coast
Renting a boat for the day is a great option, but you can also rent a boat as your hotel while in town. You can find them on AirBnb. All in all, you owe it to yourself to spend a day surrounded by nature, with no traffic, and noise.  The Amalfi coast from the ocean is utterly unforgettable.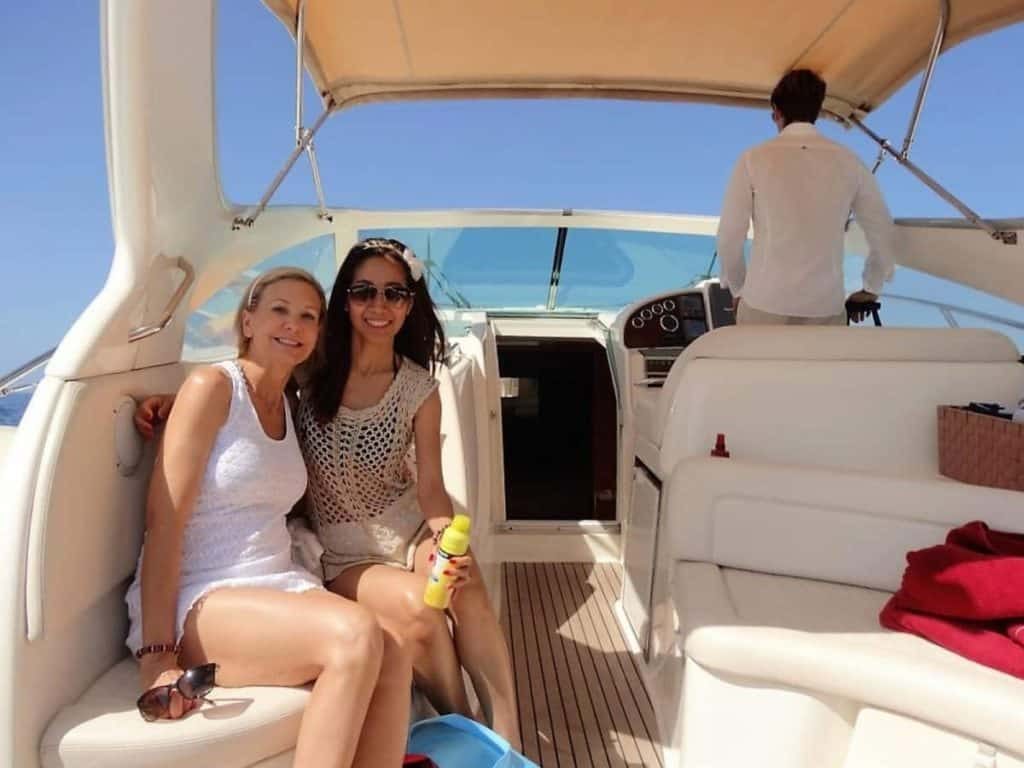 Does a day on the water sound interesting to you?  Or are you a strict land-lubber? Leave me a comment below.