Things to See in Quito
Before I tell you the 5 fantastic & affordable things to see in Quito, let me tell you where Quito is. Quito, the capital of Ecuador, sits high in the Andean foothills at an altitude of 2,850m or 9350 ft. It sits at the highest elevation of any capital city. Quito is constructed on an ancient Incan city. The city is known for its well-preserved colonial center, rich with 16th and 17th-century churches and buildings blending European, Moorish, and indigenous architecture. Quito is the world's first UNESCO World Cultural Heritage site. The sweeping panoramas of the city make this a must see in Ecuador destination.
1. City Tour
The first thing we usually do when visiting a new city is to find a tour that gives you a good overview of the city and sites. Sometimes it's the double-decker buses or the Duck boat tour and if the town is small, one of the more personal walking tours. This time, we took the hop on, hop off Quito double decker bus tour.  This tour offers 11 stops where you can get on and off the bus at your leisure. As you tour the city, you get an English and Spanish historical narrative and explanation of the sights. This is a great way to see a little of everything to help you decide what to see in Quito while there.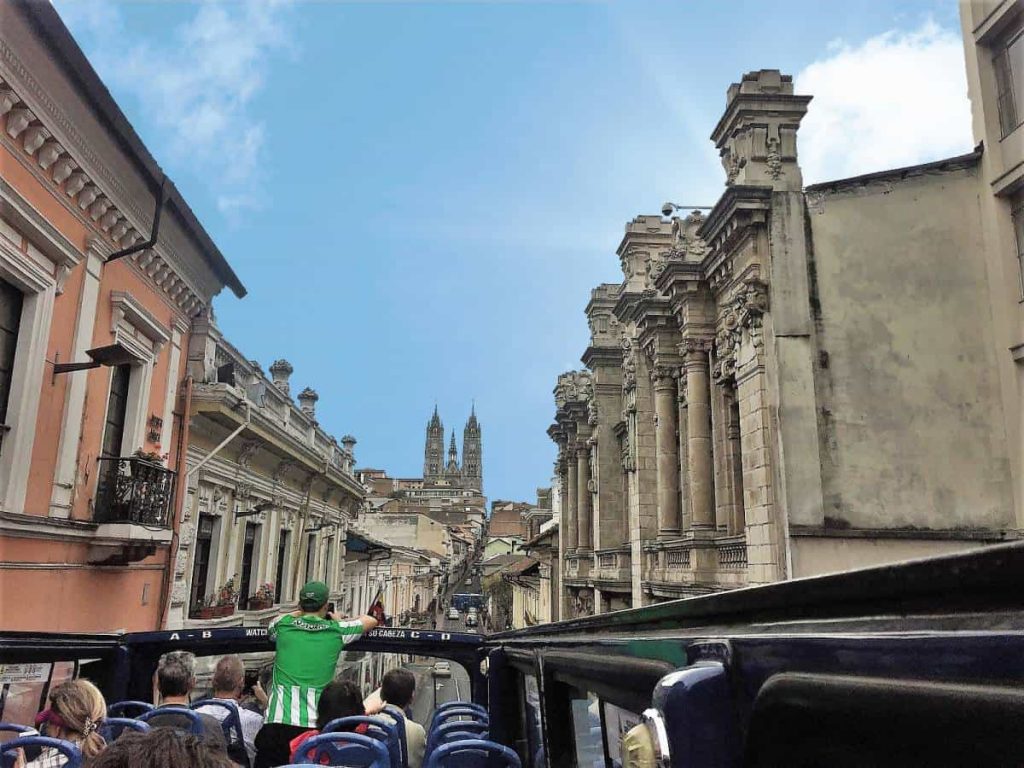 2. Winged Virgin Mary
We had to see La Virgin del Panecillo or the winged Virgin Mary since it is visible from almost any place in Quito. She sits atop a 200-meter-high hill of volcanic origin. The statue of the Virgin Mary consists of 7,000 pieces of aluminum and is a replica of the winged Virgin Maria of Iglesia y Monasterio de San Francisco on Plaza San Francisco. Once you enter the monument, there is a mini-museum and a narrow staircase the ascends three floors. Each floor has an informative historical display. The views of colonial Quito are spectacular.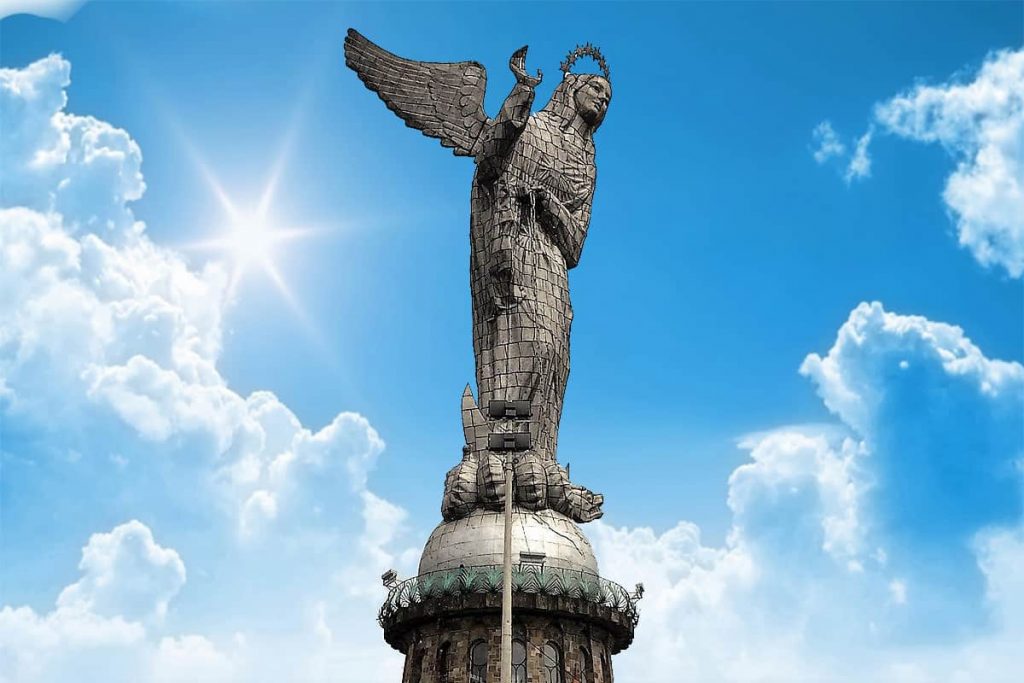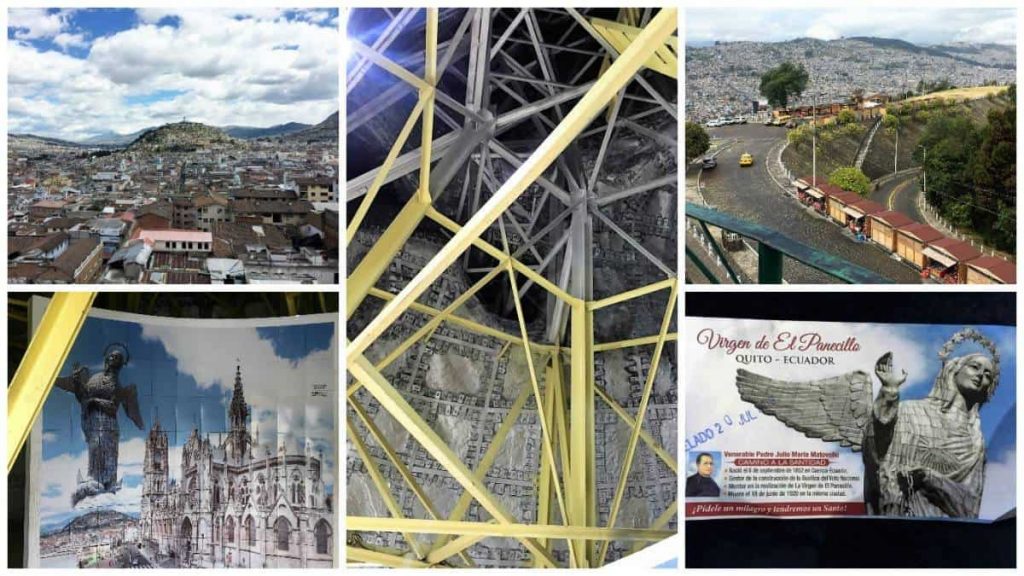 3.  Quito Cable Car
For those thrill seekers and adventure lovers, there is Quito's cable car, the Teleférico, which takes you up to the base of the Pichincha Volcano, 4053m  or 13,300 ft. The 2.5-kilometer ride takes about 20 minutes.   As your gondola leaves the station platform, stunning views of Quito emerge. Once the cable car reaches its destination, there's a trail where you can trek into one of the peaks of the Pichincha volcano.
Remember to bring a jacket and sunscreen if you plan to hike for any length of time since it was quite cold and windy once we got to the visitor center. At the top, we took amazing photos of the city.  We could see how far Quito stretches and how it runs through the valley. The trail to Volcano Pichincha starts at the visitor center. Take the path that leads away from the city and passes a little church. We only hiked about 20 minutes on our visit as it was just too cold.

4.  La Ronda Street Stroll
A perfect place to enjoy Quito's lively culture was with a stroll through La Ronda Street in downtown Quito. At night, the street fills with people. Not really apparent during the day, but at night the street is full of a wide variety of bars and restaurants to explore. We stayed at a hotel on this street, and we knew we were in for some lively nightlife when we saw that they provide earplugs on each night stand. The music and street noise were a bit heavier on Friday and Saturday nights, but that's the price you pay to stay in the heart of the action.
5.  Guayasamin Museum & House
The Guayasamin Museum is the former home of Ecuador's most famous artist, Oswaldo Guayasamin. Sadden by the fact that most of his work resided outside of Ecuador; Guayasamin decided to establish a non-profit organization; Fundación Guayasamin. He left his vast collection, his home and many pieces of his work to the city of Quito to be used as a museum upon his death. Born in 1919 Guayasamin passed away in 1999. Guayasamin collected more than 4500 pre-Colombian pieces, religious and colonial art in his private collection that are on display throughout the house.
Oswaldo was a native born Ecuadorian, of Maya, Quechua Indian, and Spanish descent. Guayasamin is mainly known for the intense emotion and power expressed in his artwork. Guayasamin traveled through much of Latin American and witnessed poverty and oppression. Haunted by what he saw, his expressionist art reflects the pain and misery that many people endured. Guayasamin's art is intended to expose humanity's cruelty, but he also hoped to convey the love for humankind that resides in everyone. The house is expansive. His art studio remains as it was when Oswaldo passed away in 1999. And the outside grounds are equally as impressive as the inside.
I hope this helps you decide on what to see in Quito. Also be sure to take a quick side trip to the actual equator.
Have you been to Quito? Which of these things did you enjoy the most? We would love to hear your experiences.