Banos An Adventurist Dream 
Baños Ecuador, located in the central Andes, is an outdoor adventurist dream. Situated in an area filled with waterfalls and hot springs, Baños is a popular destination for travelers from around the globe. What makes this location so popular with outdoor enthusiasts is the year-round temperate weather. While in Baños you can go; rafting, zip lining, rock climbing, paragliding, biking, hiking, canyoning, slacklining, swinging (not the kind for small children), bungee jumping or ride in an open cable car.
Zip Lining
Our adventures in Baños began with zip lining. We chose Puntzan Canopy Tour located in the foothills of the Sangay National Park. Having never zip lined before we were not sure what to expect. Our zip line guides spoke perfect English and had safety as their priority. Actually, zip lining through the canopy was a bit like flying. We zipped from tree to tree. The scenery was beautiful, and the ride was exhilarating. These incredible zip lines took us over lush rainforest, waterfalls and a raging river. Most of all, we even did it Superman style. They have six zip lines ranging from 150m to 550m in length.
Rafting
River rafting is always a blast, and Baños is no exception. White water rafting takes place on a river that has a significant number of rapids. When a river's gradient increases enough to create turbulence, it forms a rapid causing white water. In all honesty, battling rapids and trying to keep the raft upright is an adrenaline rush. The Pastaza River in Baños is the perfect place to experience rafting, the water is clean, and the scenery is spectacular. The Pastaza River has two sections suitable for rafting. The rapids are a class III+.  During Baños' summer, they offer a class IV rafting trip.

Cable Car Ride
Another exciting activity in Baños is taking a cable car over the Rio Pastaza gorge to get a close-up view of the Manto de La Novia falls. I boarded a small open-air cable car (called a tarabita in Spanish) and started gliding over the canyon. Finally, I could hear the loud thundering sound of the waterfall getting closer and closer. The close-up view of the waterfall is definitely worth the ride. On the other hand, Keith decided he was happy taking photos and videos from solid ground.
Paragliding
Paragliding has been on my bucket list forever. Seems like, ever since I went skydiving, it has been my dream to go paragliding. Paragliding is like skydiving after you pull the cord and the chute opens. The problem is that quiet, visually amazing ride is over in minutes when you skydive, but paragliding lasts longer. To tell the truth, I was so happy to find out that there is a lot of paragliding going on in the area. I was looking forward to seeing the picturesque town of Baños, the volcano, and the rolling hills. So, we made a reservation and paid to go paragliding the next afternoon.
The day came and the morning was beautiful. We went into town and had lunch. So, as we were eating our lunch the weather outside began to change. It became dark and windy. We finished lunch and arrive at the tour operators office. They told me not to worry because the weather here in the valley can be dramatically different than our take-off spot at the top of the mountain. Well, let just say paragliding is still on the bucket list. Seems like, mother nature decided that this was not to be the day I go paragliding. See the video below.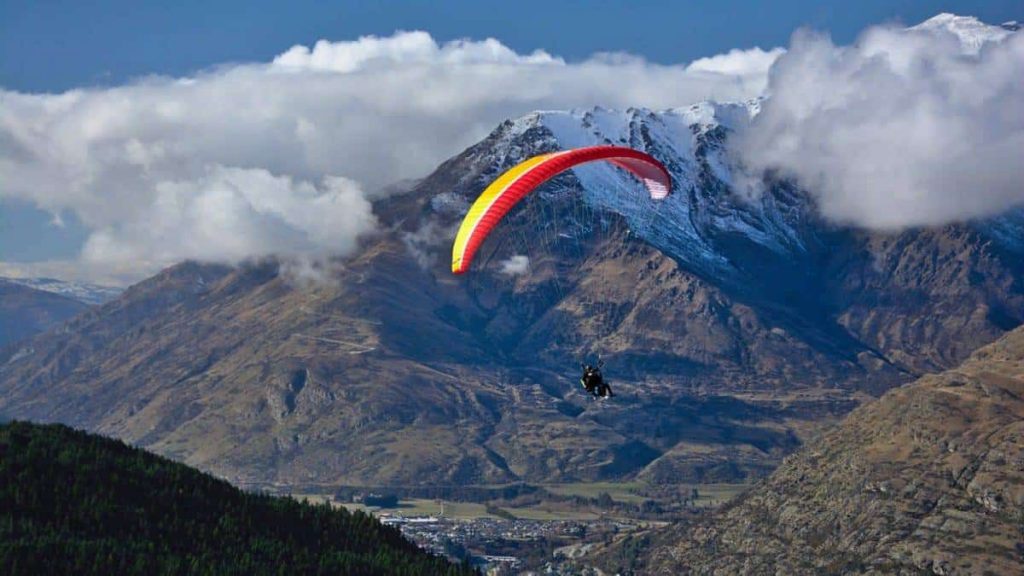 Consequently, if you are a thrill seeker or just want a little adventure in your life, you cannot miss Baños Ecuador. In Baños you can experience every adventurous thing that you can imagine. So, with the stunning volcano as a backdrop and numerous waterfalls, Baños is a natural visual wonderland. To see where we stayed while in Baños, check out this article.