There are so many fun things to do in Portland Oregon. We spent two days there and had such a great time. But before I tell you about the things we did, a few interesting facts you probably didn't know about Portland. Portland is a walkable city filled with green spaces making it a great place to visit. Most nature lovers do not think of city centers when they think of nature. But Portland is a nature lover's dream.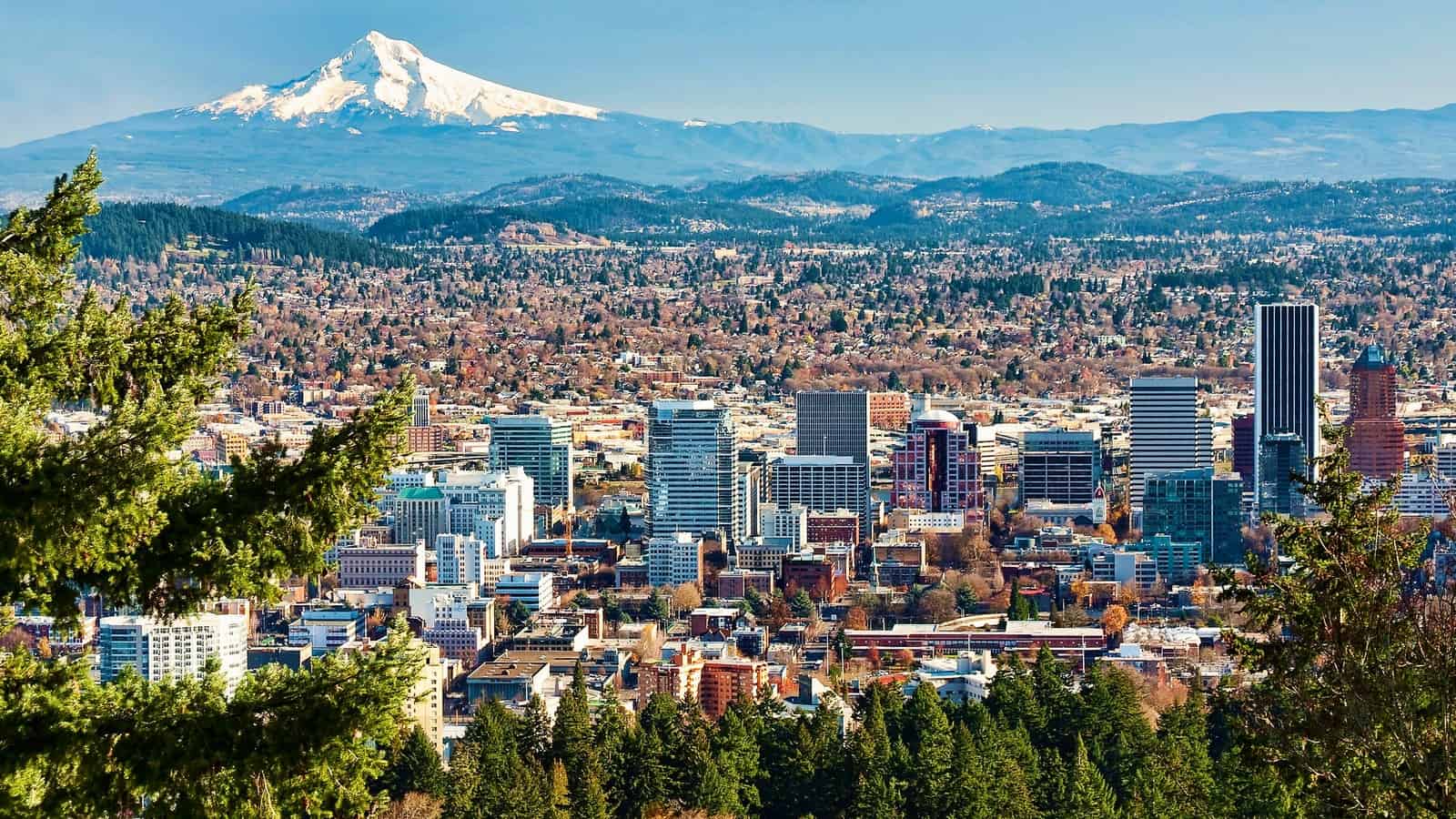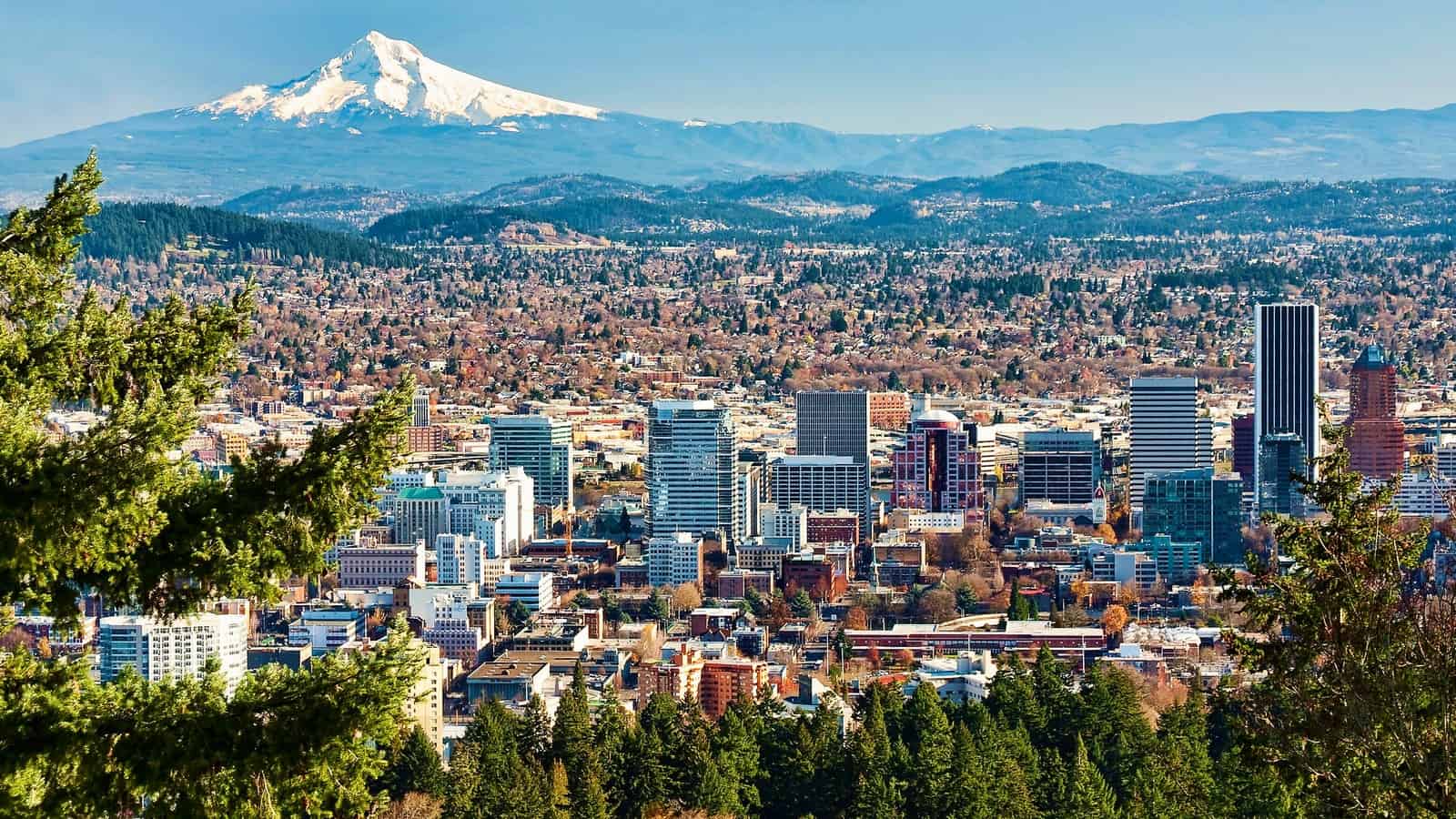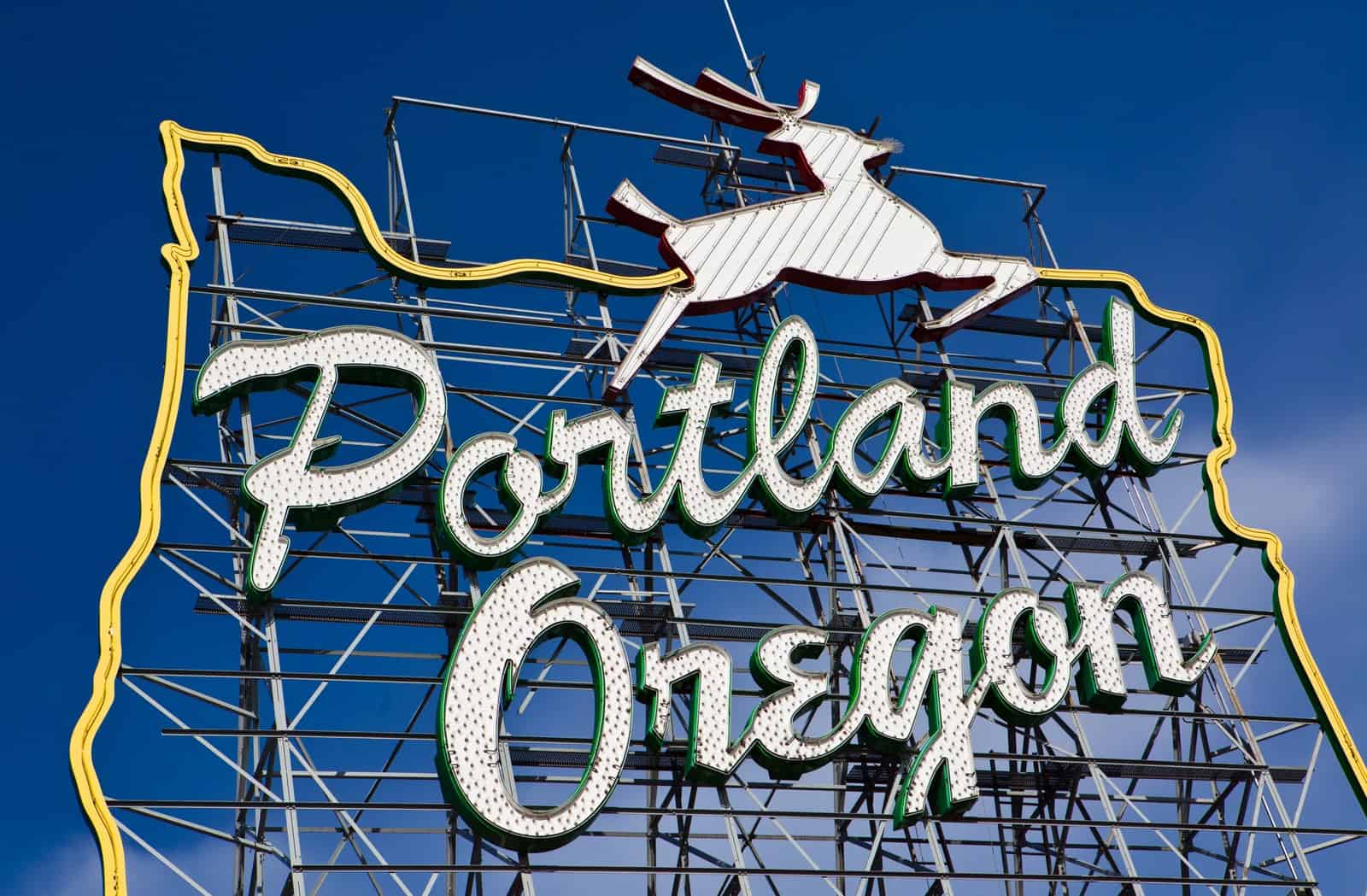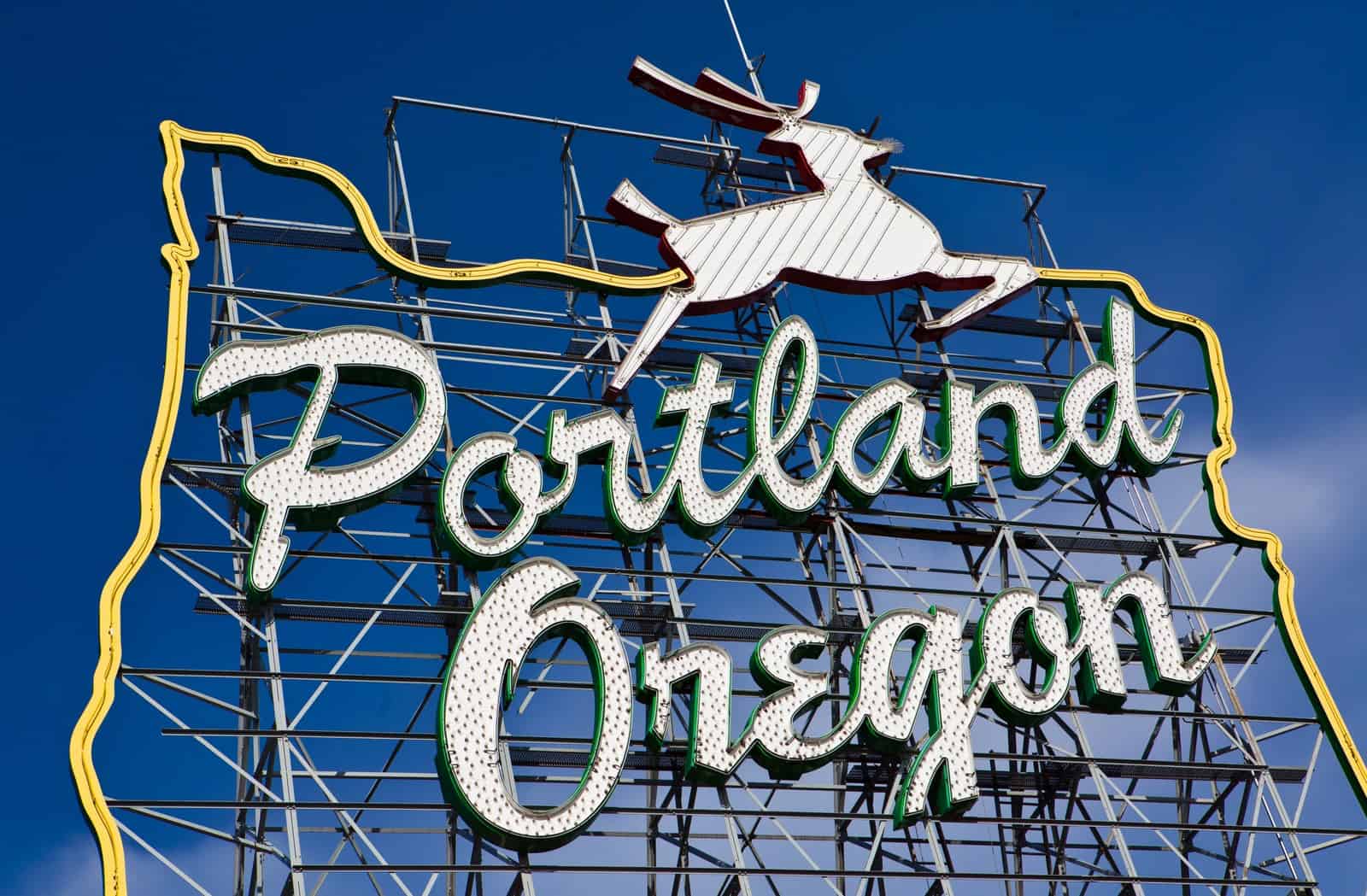 Portland Oregon's largest and friendly metropolis set amidst a beautiful backdrop of the Pacific Northwest is also a port city. Sitting at the juncture of the Columbia and Willamette Rivers, Portland claims both waterfront beauty and outstanding views of Mt. Hood.
But, there is more to Portland than beauty. Portland is a friendly city with a laidback vibe. Portland is one of the world's most environmentally conscious cities. You will love that you can easily walk the city. But, you can just as easily bike thecity if that is your preference. And, Portland has more than 10,000 acres of public parks.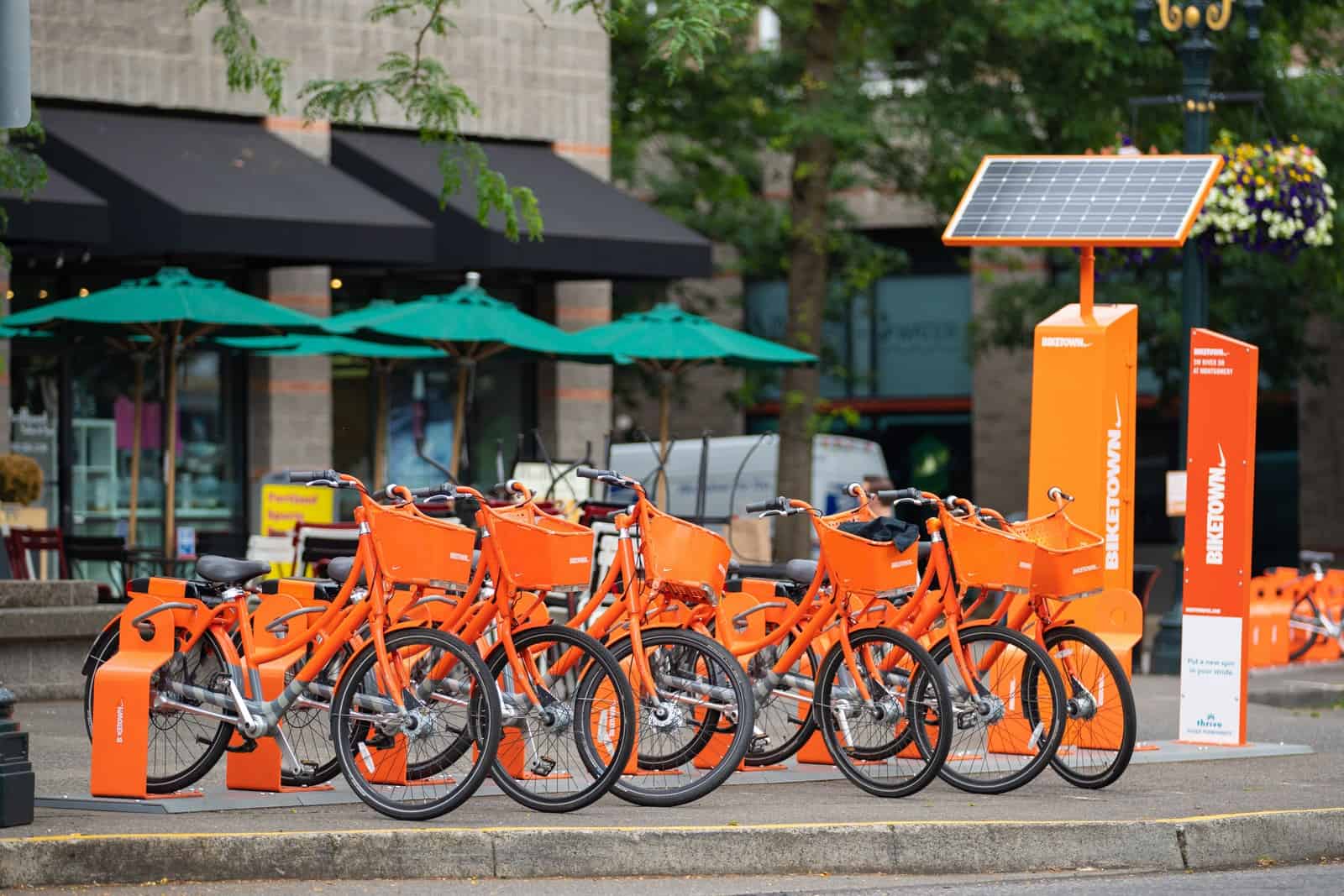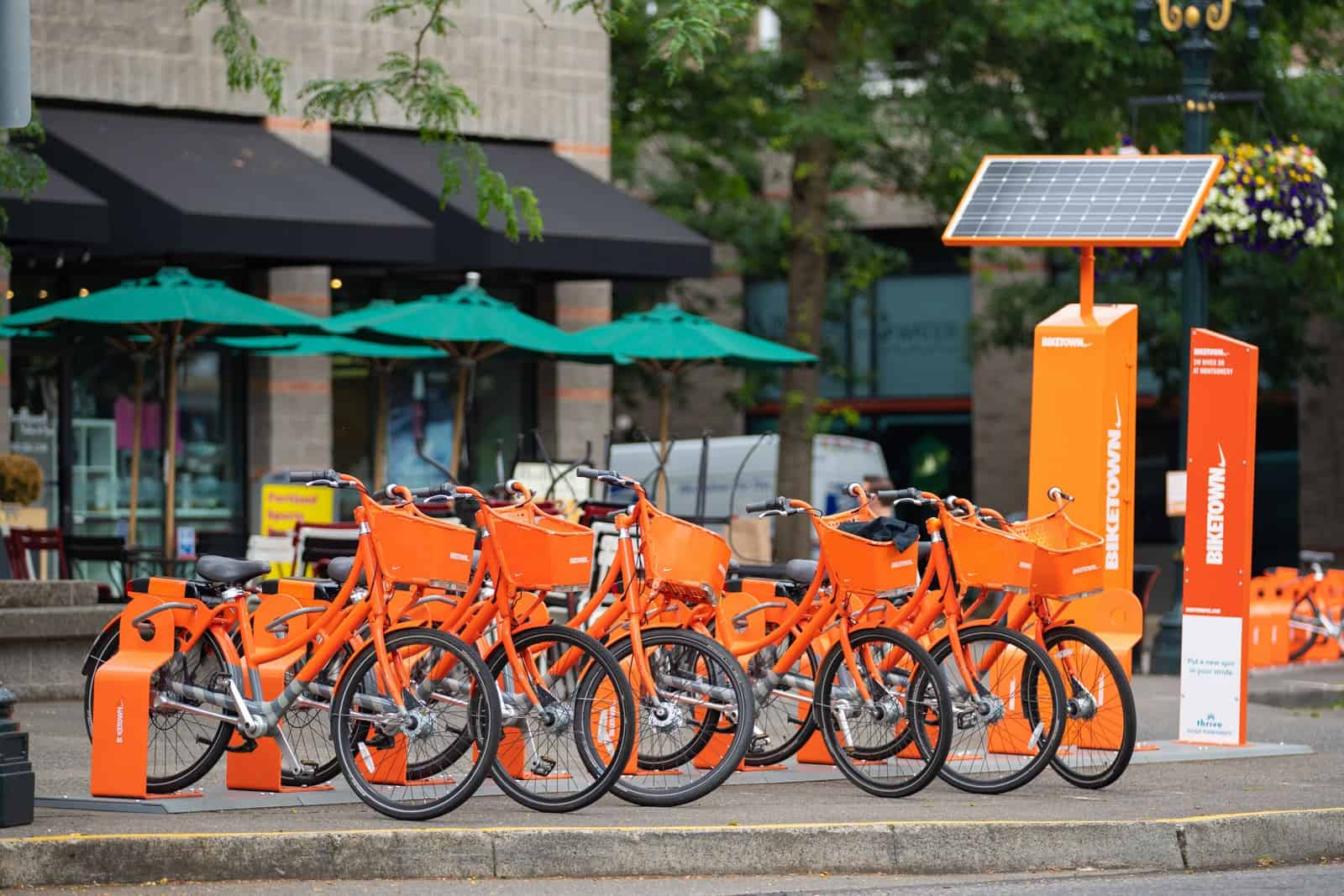 Portland also celebrated for its microbreweries, coffeehouses, and a thriving art and music scenes give you lots to explore not to mention that farm-to-table dining is the norm. Finally, Portland is full of history, offbeat shops, and art. Keith and I visited Portland in spring and, here is our list of fun things to do in Portland Oregon.
Discover the Secrets and History of Portland on a Walking Tour
The first fun thing to do in Portland Oregon is to take a walking tour. We took Erik's, Secrets to Portlandia, free walking tour. Erik is knowledgeable yet entertaining. Our tour met at 11 am in front of Pioneer Courthouse in Pioneer Courthouse Square or also affectionately known as Portland's living room. We love walking tours because they allow you to acquaint yourself quickly with the city.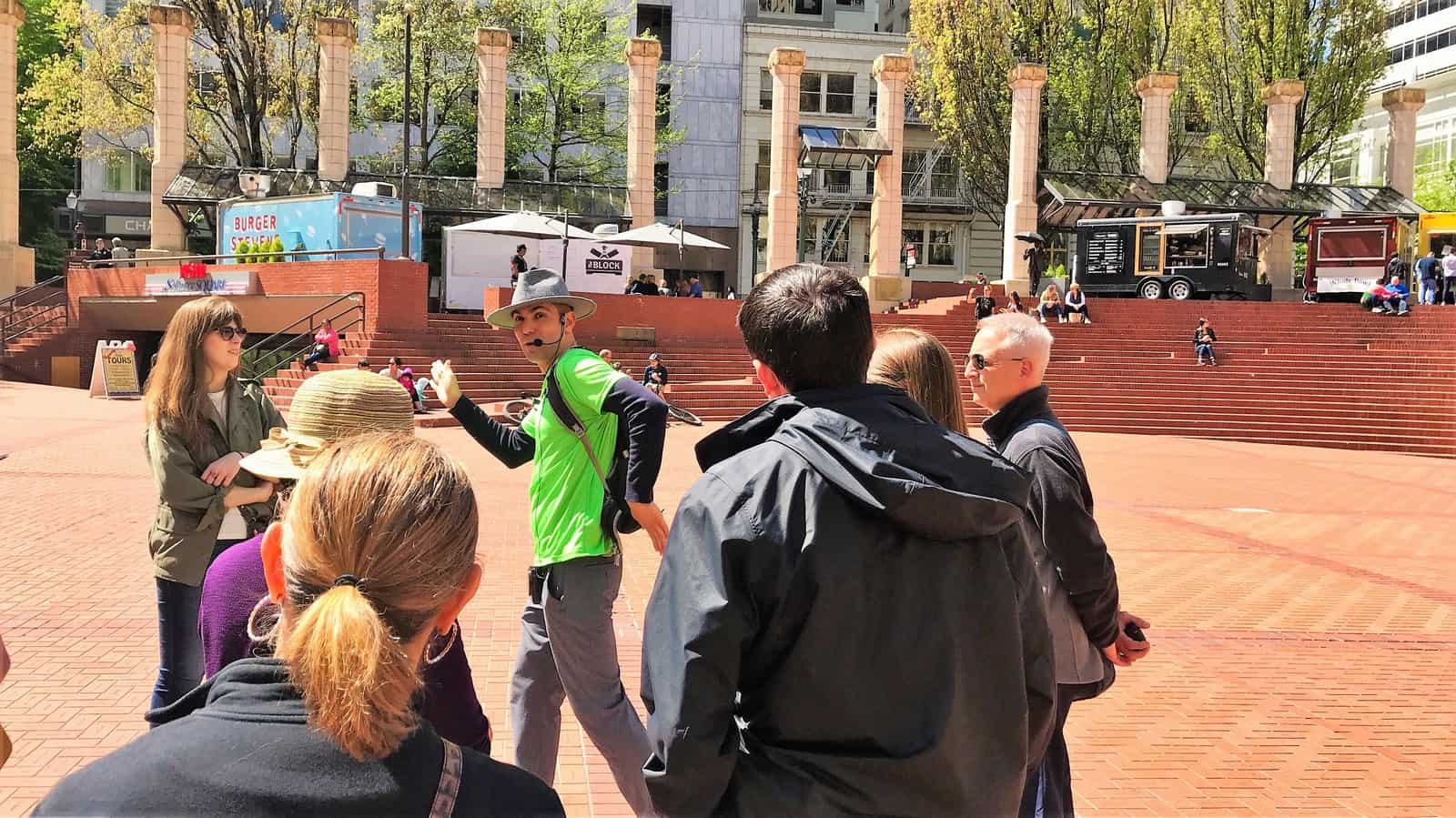 One of the first things we learned on Erik's tour is that Portland has a hidden weather machine. Moreover, a work of art that forecasts the weather. The weather machine is a spinning contraption perched in Pioneer Courthouse Square. Local artisans came together to produce this functional lamppost-like piece of art. Consequently, you would never even notice this weather machine if someone didn't point it out.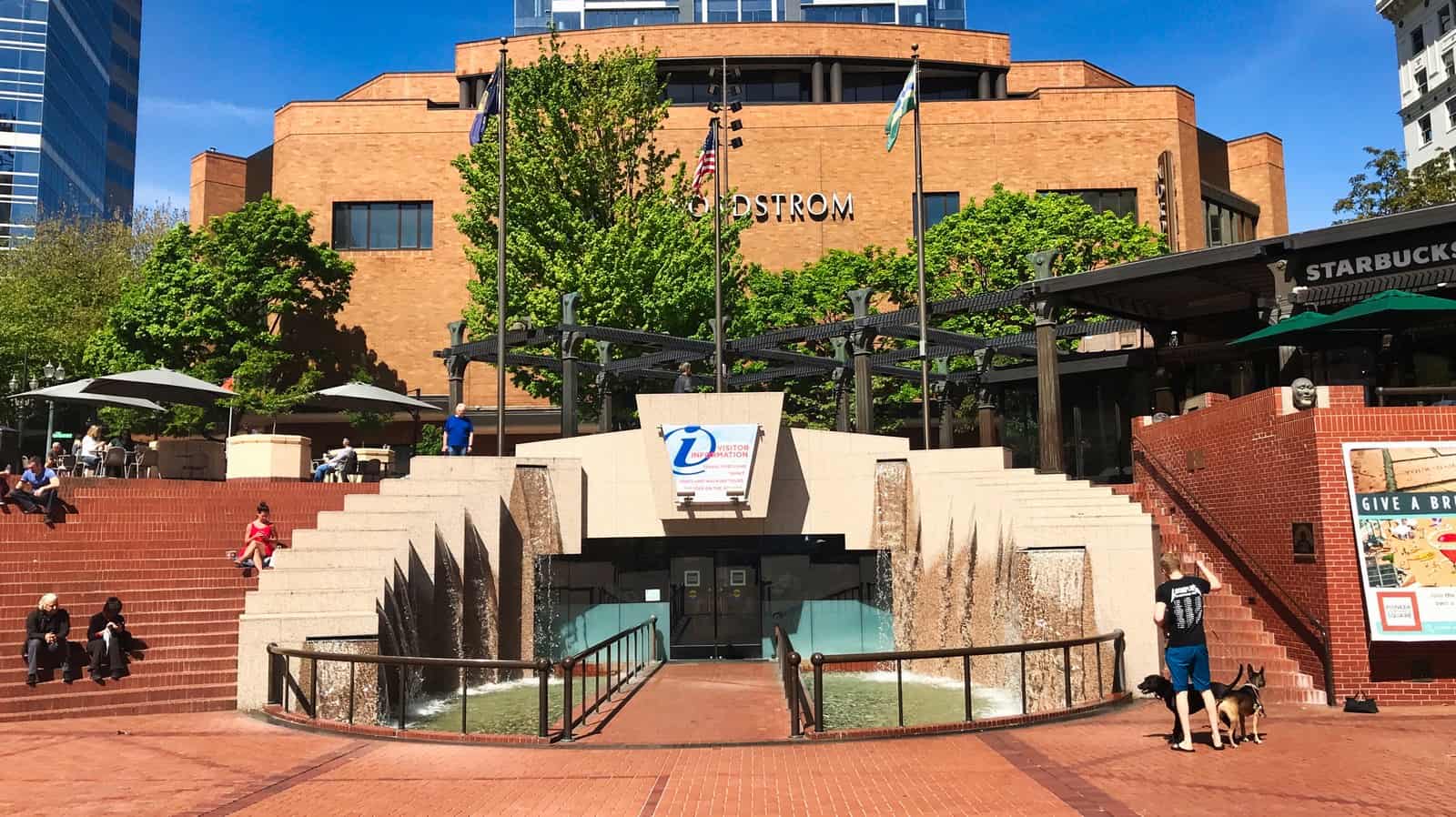 A Twentieth-Century Weather Machine
Each day at noon, trumpets play, and an icon rises from the weather machine to tell the weather. From the orb on top of this pole, one of three symbols appears. Therefore, if the weather is clear and beautiful, the machine produces a golden sun; if the weather is in-between or just a bit drizzly, the machine produces a blue heron (the official bird of Portland); if it's a full-on rainy day, a dragon appears.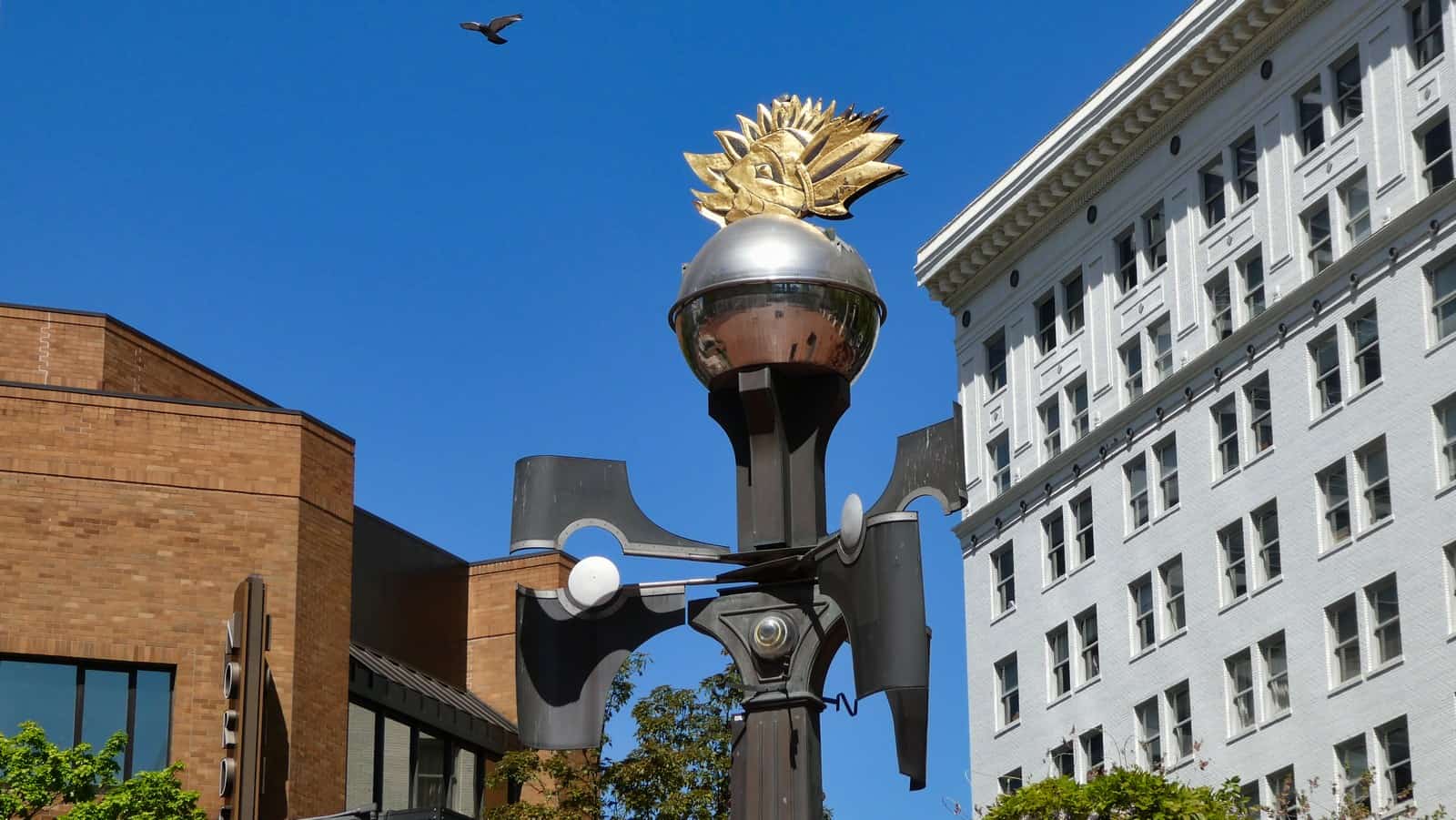 Benson Bubblers in Portland Oregon
Another fascinating tidbit of knowledge we learned had to do with water fountains. Erik took us to see a Benson Bubbler, an iconic bronze drinking fountain named after businessman and philanthropist Simon Benson who donated the fountains to the city. In brief, Erik suggested that Benson donated the fountains to Portland in hopes that they would reduce the consumption of alcoholic beverages on hot days during lunch breaks. At the same time giving people another source of quenching their thirst.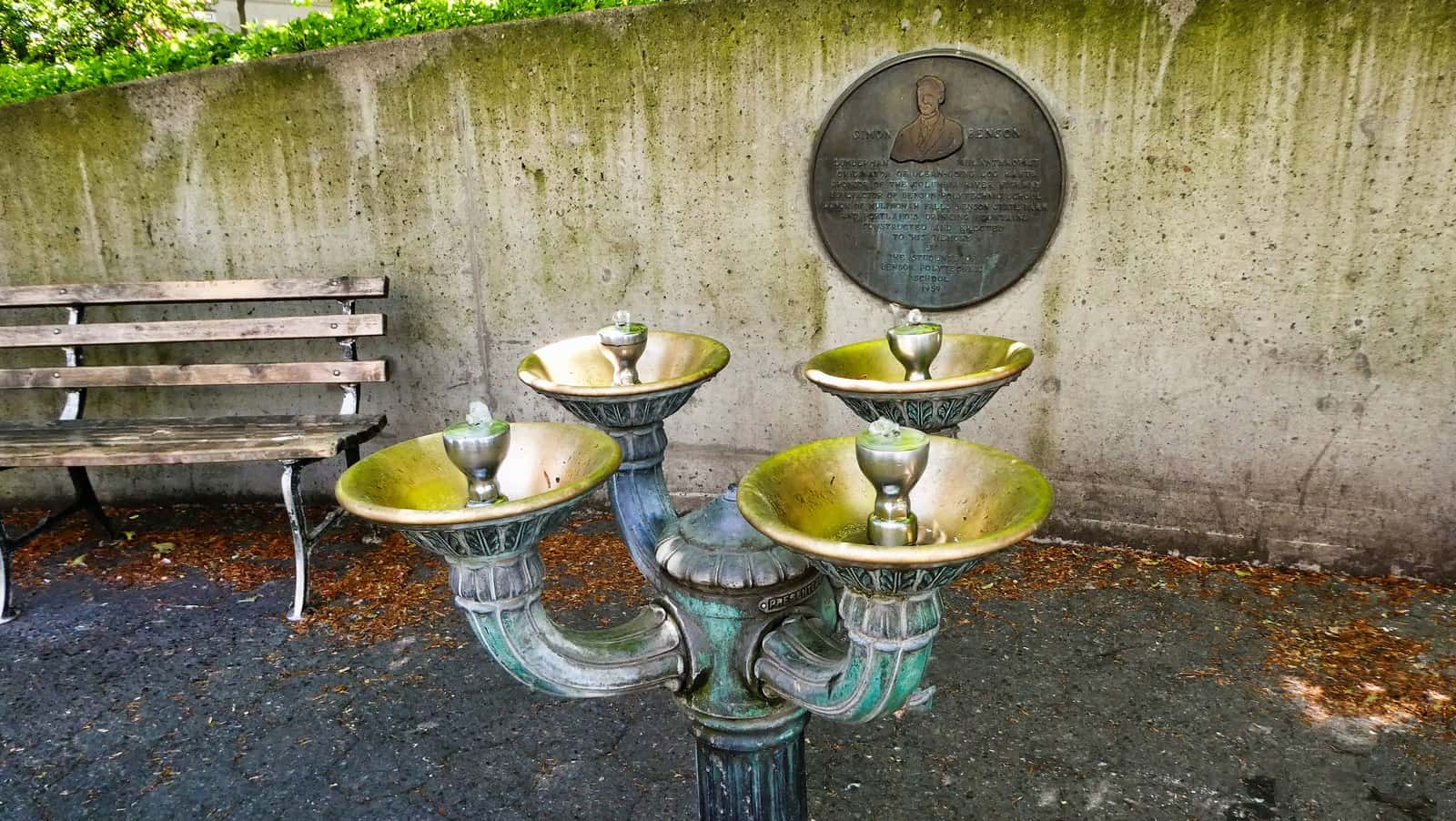 Law to Swim in All Water Fountains
Since we are talking about water, did you know that since 1970 all water fountains must be swimmable? In some places, like in Italy, people are not allowed in fountains, but in Portland, the fountains are a place to cool off in during hot days. When temperatures get too warm, Portland has no shortage of public fountains for splashing and wading in. (Note: All city fountains are turned on by Memorial Day weekend and operate through September.)
Chapman and Lownsdale Squares
In a similar fashion, we love all of the green squares. With Erik, we visited Chapman and Lownsdale Squares. Both squares were lively places where orators brought their messages and citizens assembled. And the squares were filled with large old elms and gingko trees. Overall, Chapman Square, was exclusive to women and children, while Lownsdale Square was the gentlemen's gathering place. Today everyone enjoys these green space together.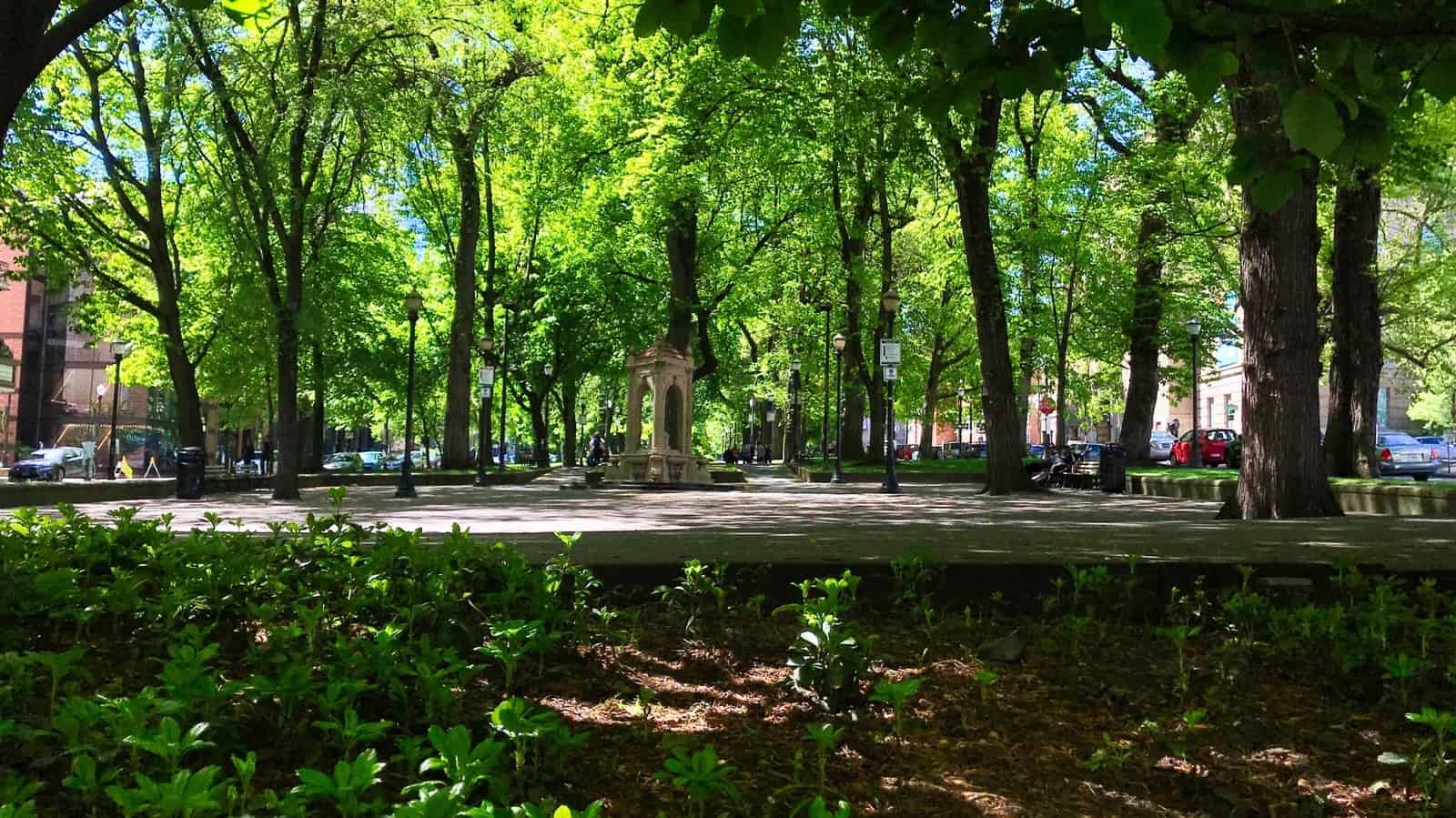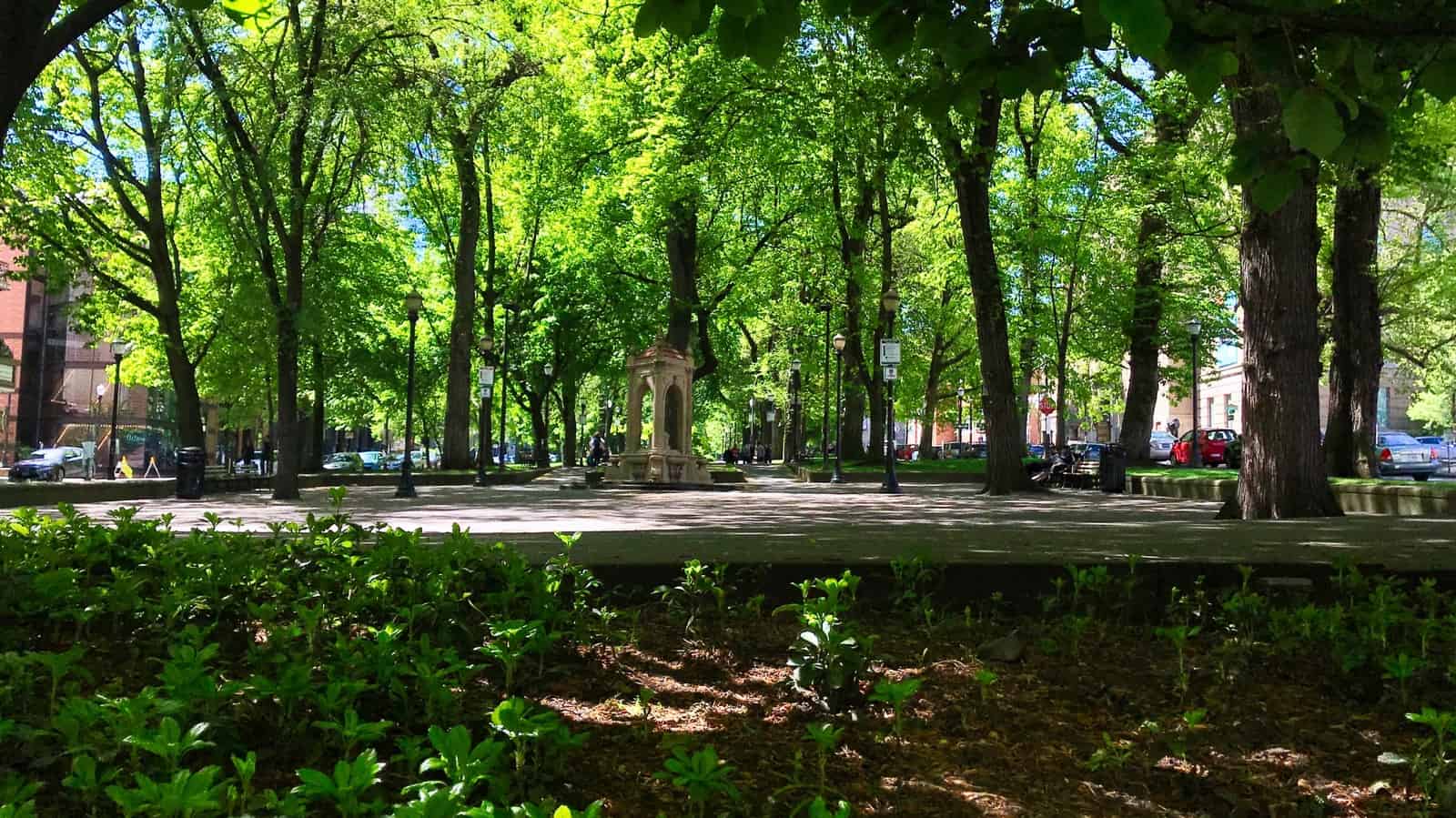 Neon Signs
We came to Portland after visiting the Columbia River Gorge wine country. While we were there, we visited the National Neon Sign Museum. Now we have a new appreciation for neon signs that are still in use.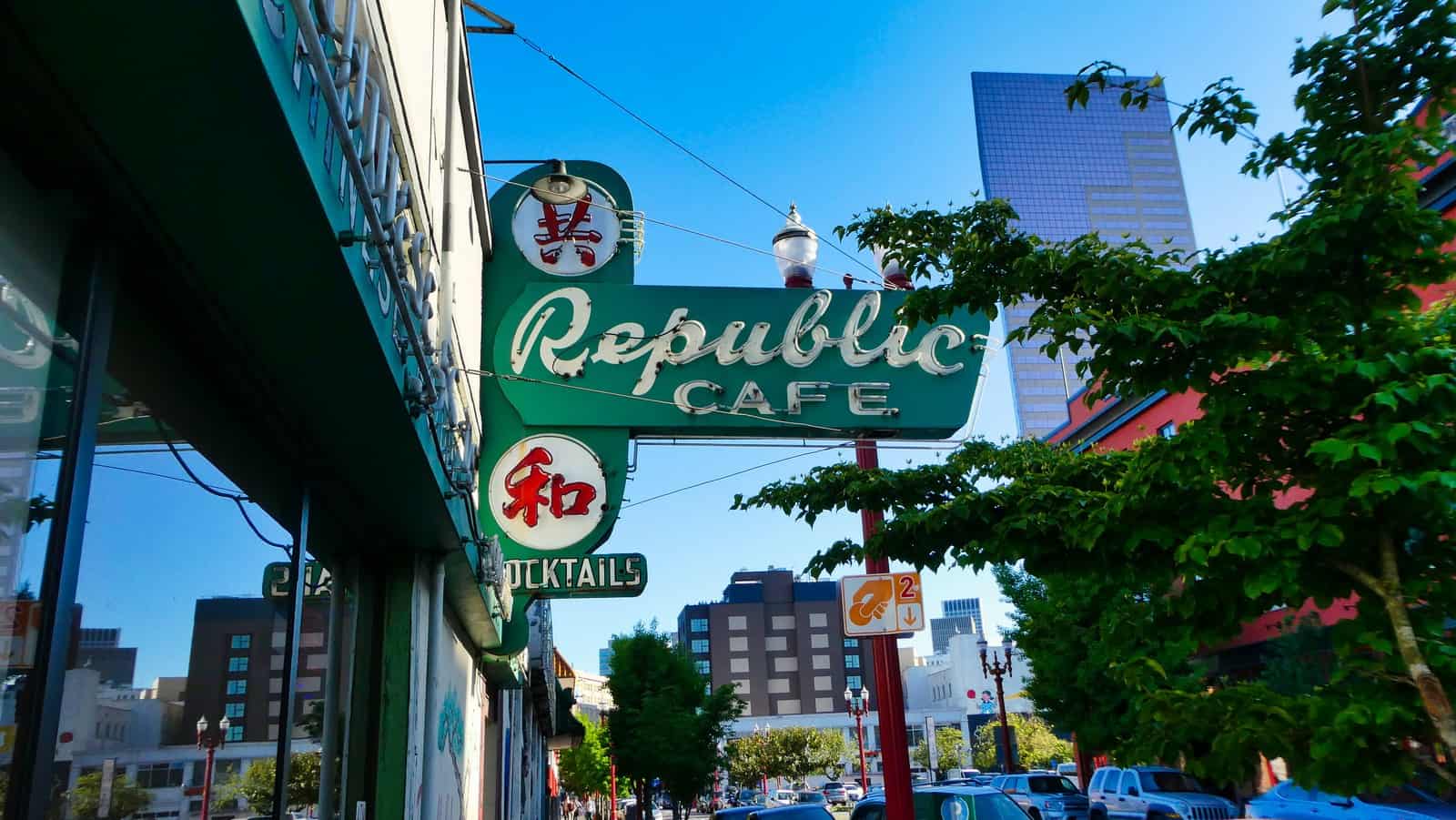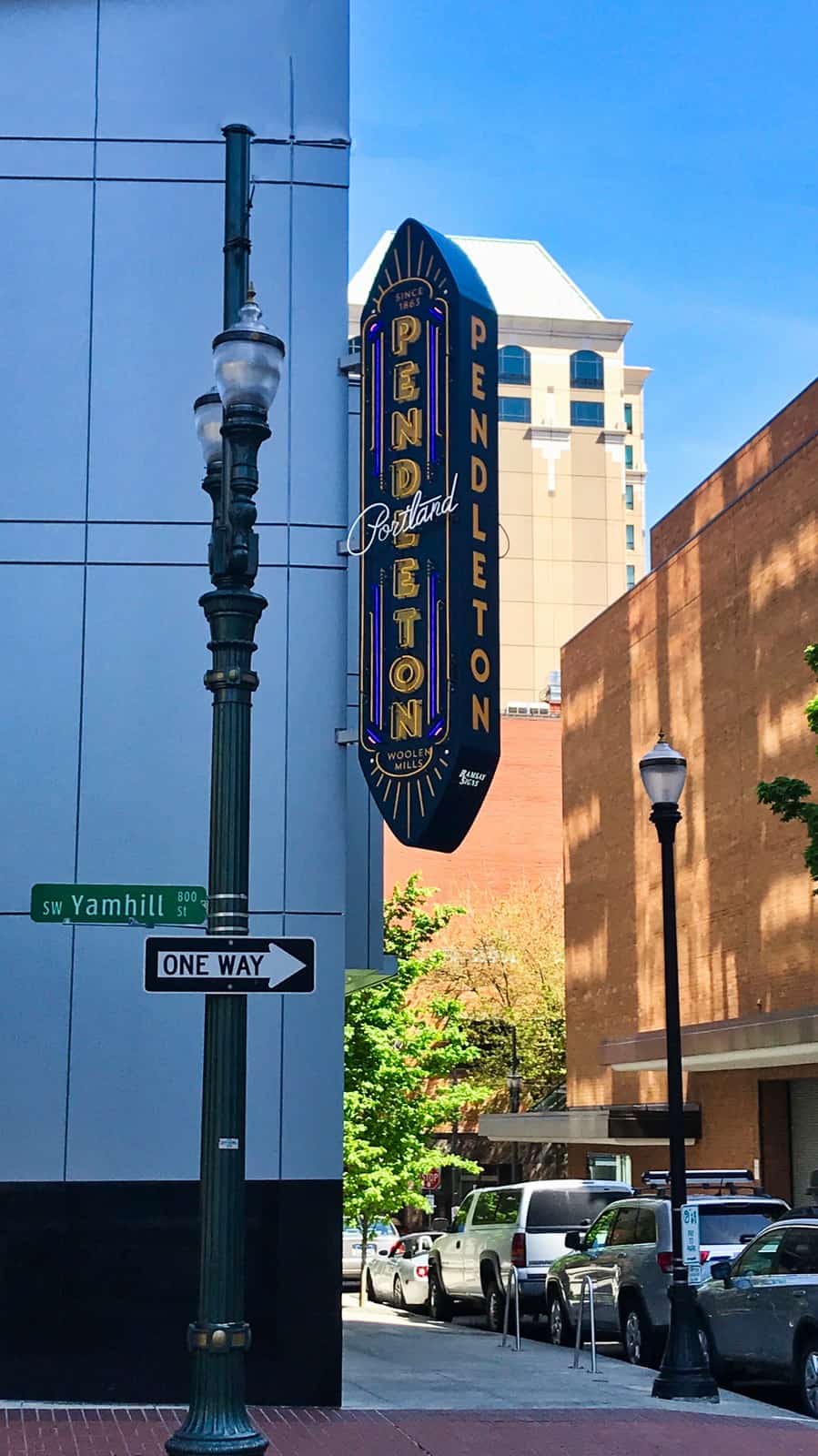 Experience the Luck-of-the-Irish at Mill Ends Square
Unquestionably, the most interesting site we visited was Mill Ends Park. The story of Mill Ends park's origination is what makes it so interesting. Dick Fagan, a WWII vet, and journalist with the Oregon Journal had a view of a busy street but also an unused hole in the median intended for a light pole. When no pole arrived for the hole, weeds took over the space. Fagan decided he needed a better view, so he took matters into his own hands and planted flowers in the hole.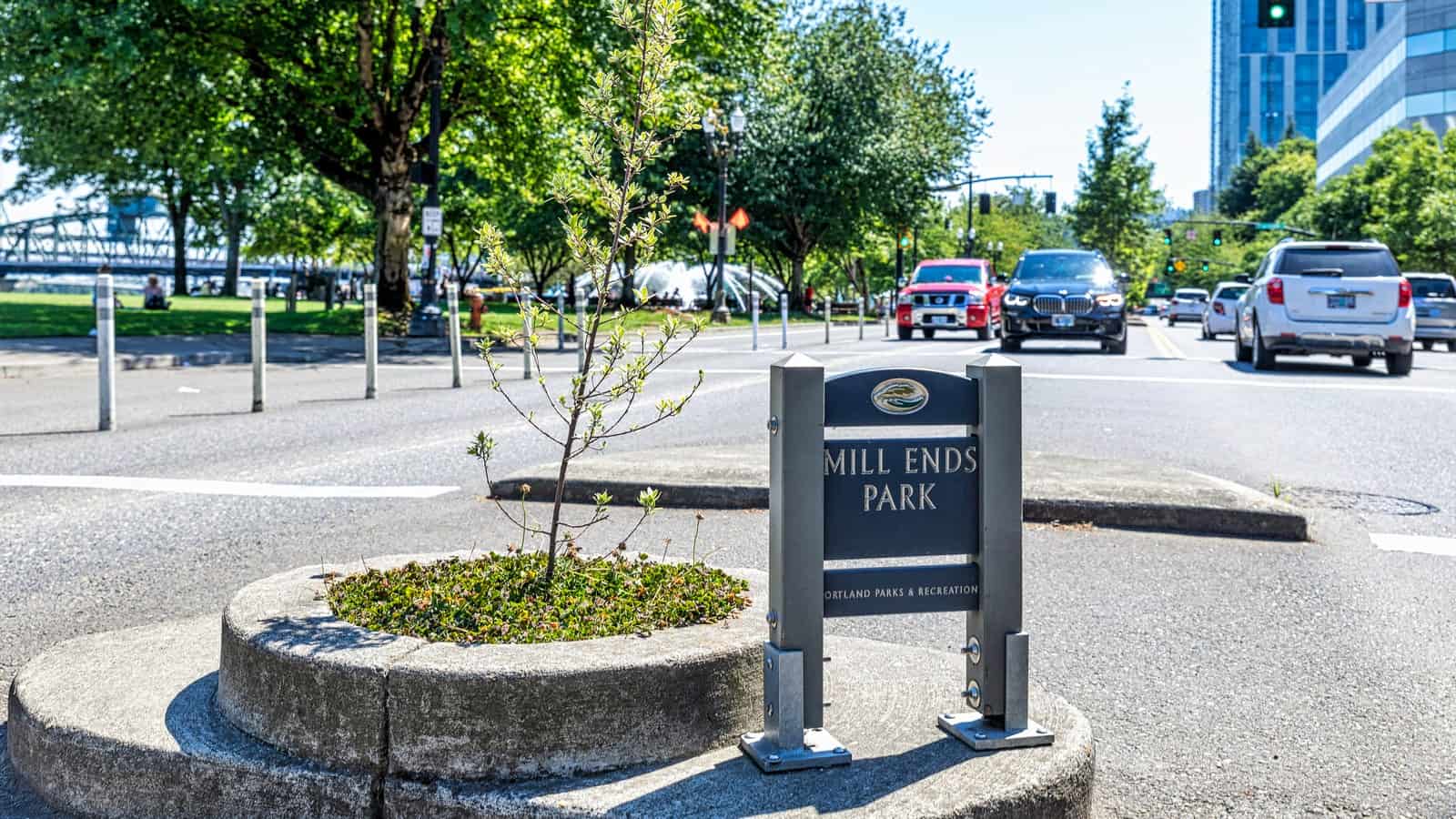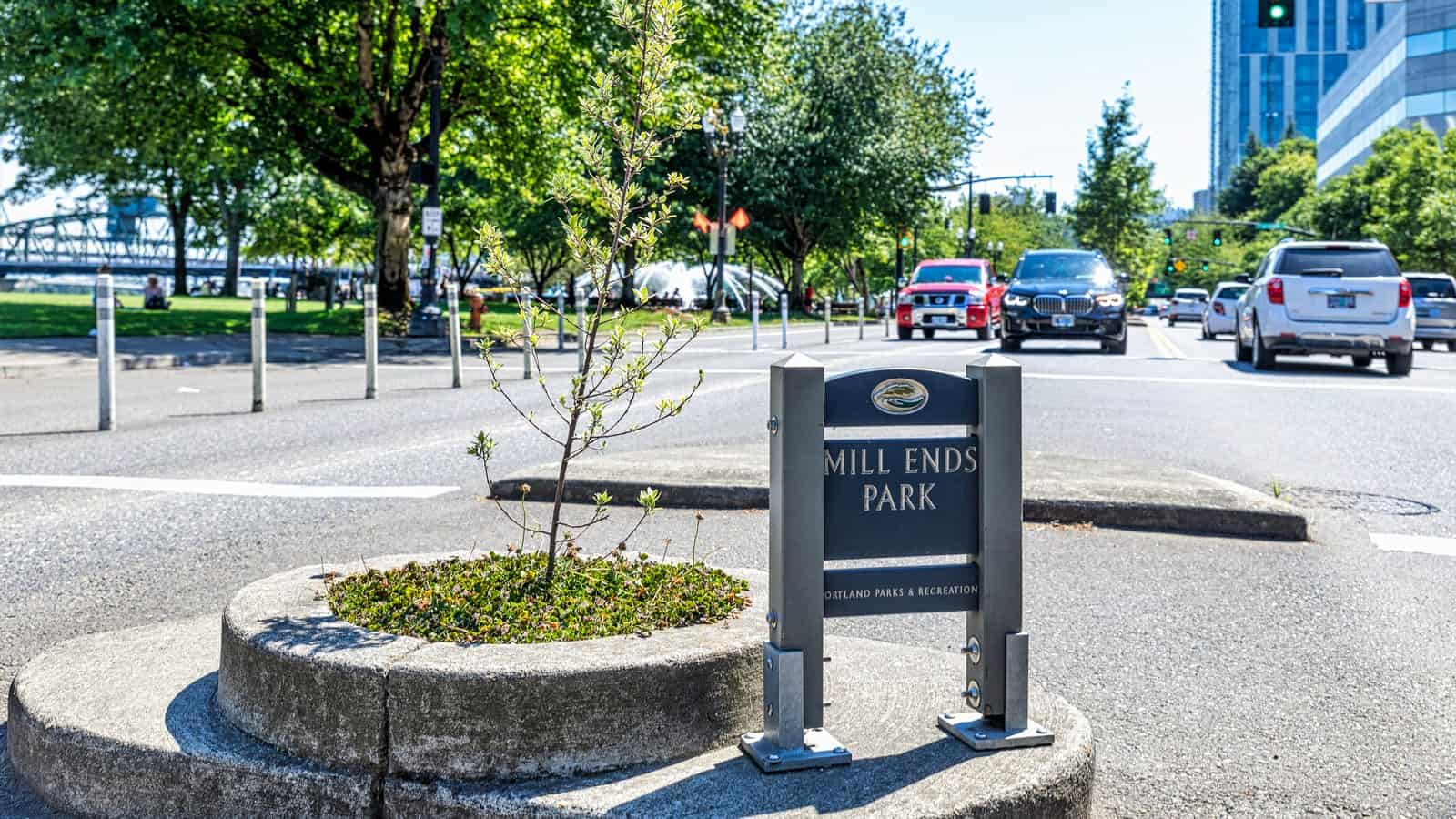 Fagan authored a popular column in the Oregon Journal called Mill Ends. He wrote about this small garden and dubbed it the "World's Smallest Park." He wrote about the lives of a group of leprechauns living in the park up until he died in 1969. Fagan was the only person who could see the head leprechaun, Patrick O'Toole. This story reminds me of Kevin Woods, the Leprechaun Whisperer who lives in Carlingford, Ireland. Kevin communicates with "Carraig, " the elder of the 236 surviving leprechaun clan.
Surprisingly, Mill Ends officially became a city park on St. Patrick's Day in 1976. Today the park continues to be the site of St. Patrick's Day festivities.
Portlandians love this park. Thus, over the years many people have continued to bring life to Fagan's park by contributing miniature statues and such. Erik told us the true story of how a miniature Ferris wheel which was installed by a normal-sized crane. Which according to Portland, the Guinness Book of World Records lists Mill Ends Park as the smallest park in the world with a diameter of 24 inches and 452 square inches of land.
Enjoy the Coffeehouses of Portland
Remember at first I said that coffeehouses are popular in Portland, well we found a great one while walking to the Portland Historical Society. Caffe Umbria, located in a lovely Georgian style building, is an elegant coffeehouse in a chic sort of way. Also, the seating area was welcoming, comfortable, and full of natural light from the big windows. However, the day was warm and sunny so Keith and I grabbed one of a few small tables on the sidewalk outside so we could also enjoy the weather.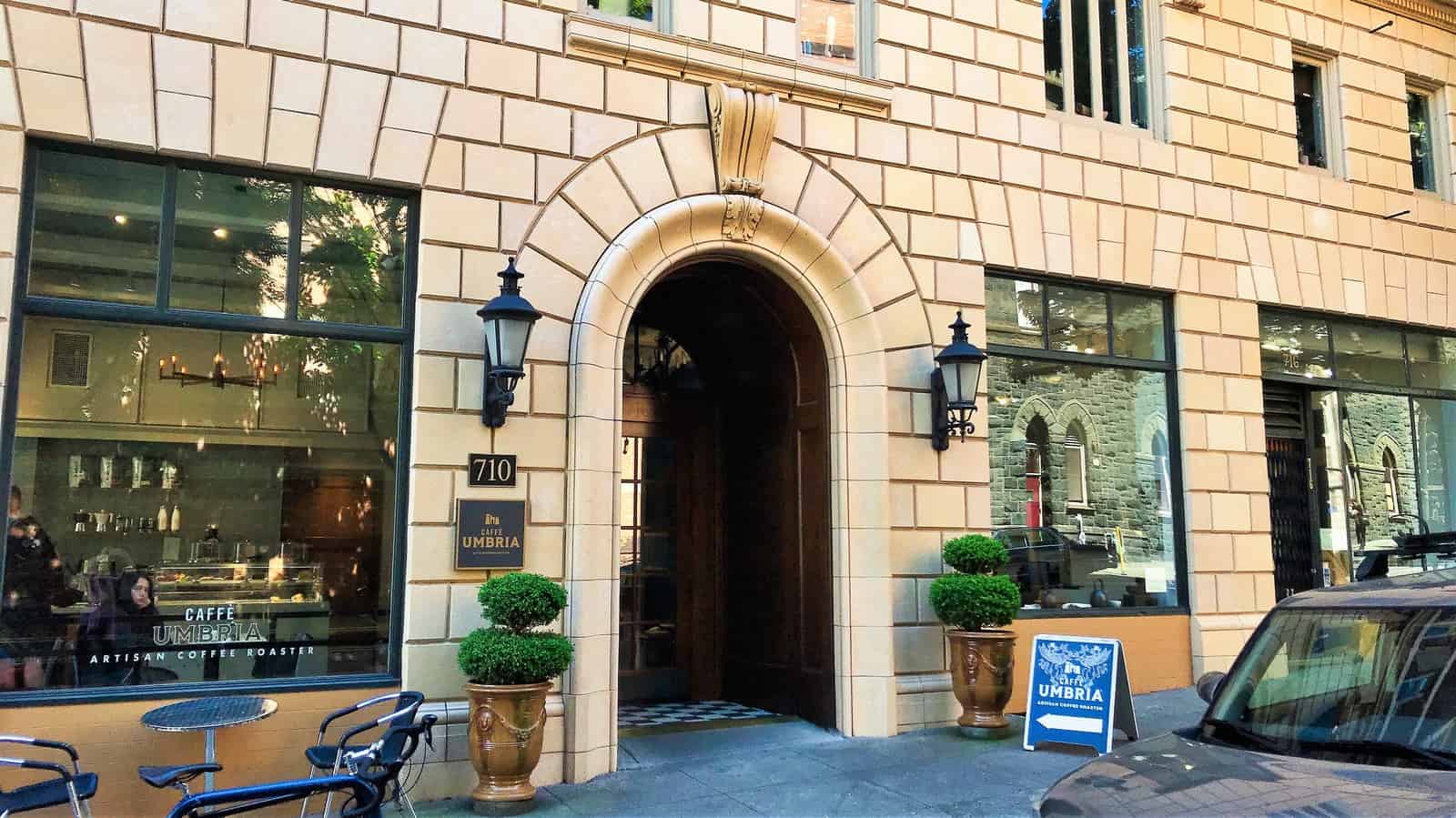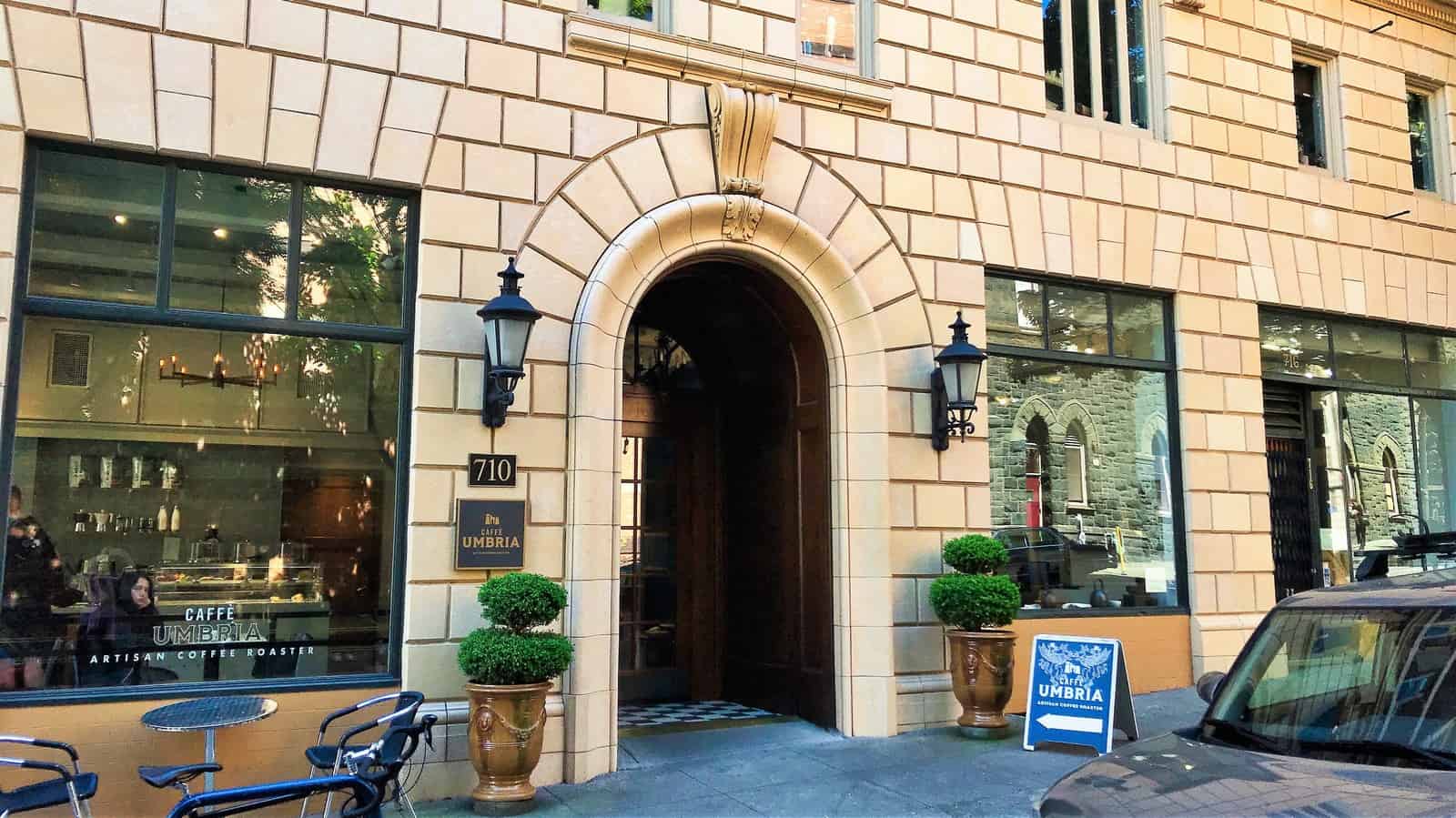 Keith and I shared a cappuccino and a slice of banana cake. The cake was so good we bought a second piece. Most importantly, the coffee was smooth and rich. Caffee Umbria believes that much like wine espresso is best when it's a blend of coffee beans. They select the best varietals from each coffee growing country to produce each of the blends of Caffè Umbria. So stop for a coffee before visiting the Historical Society.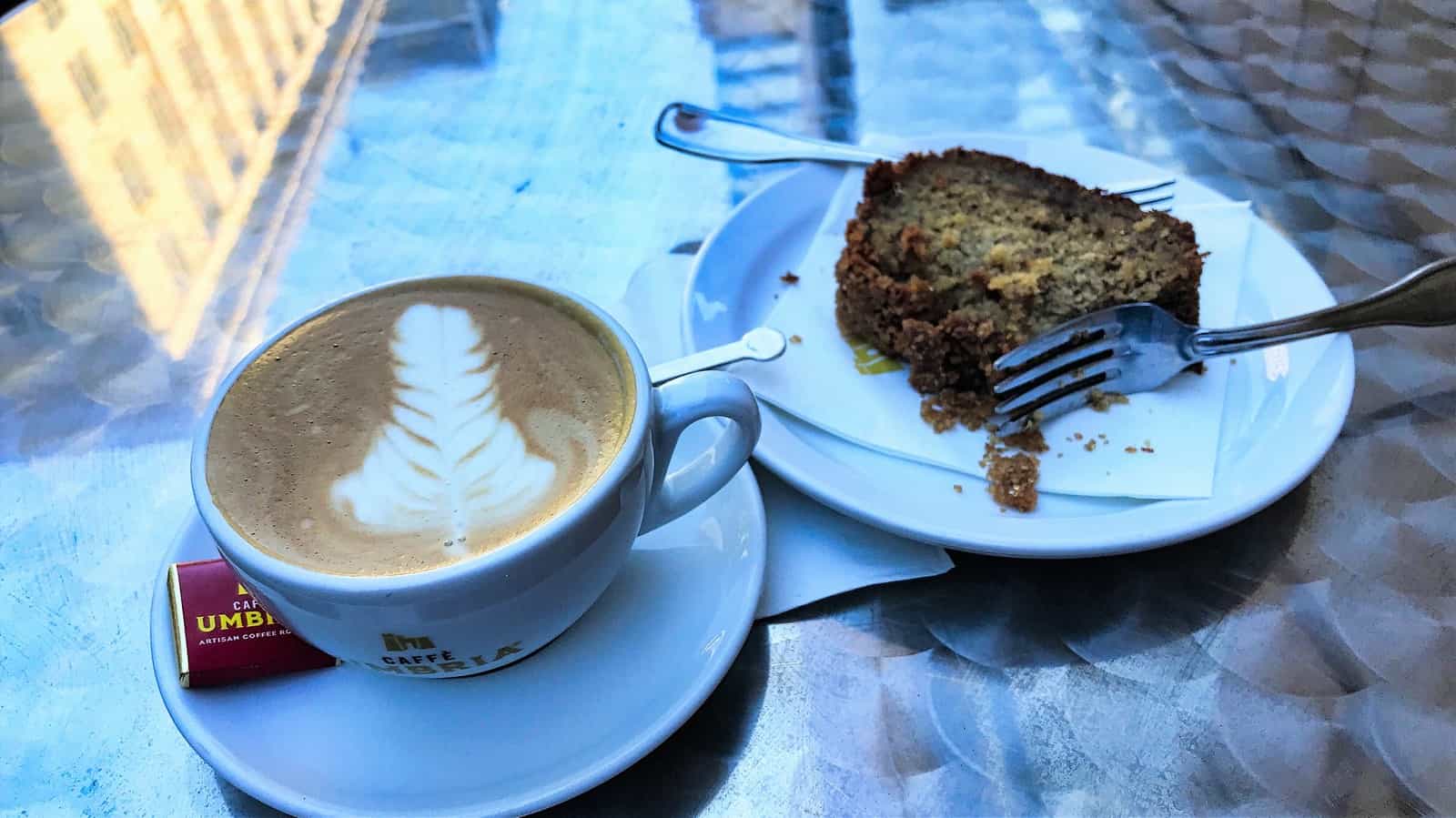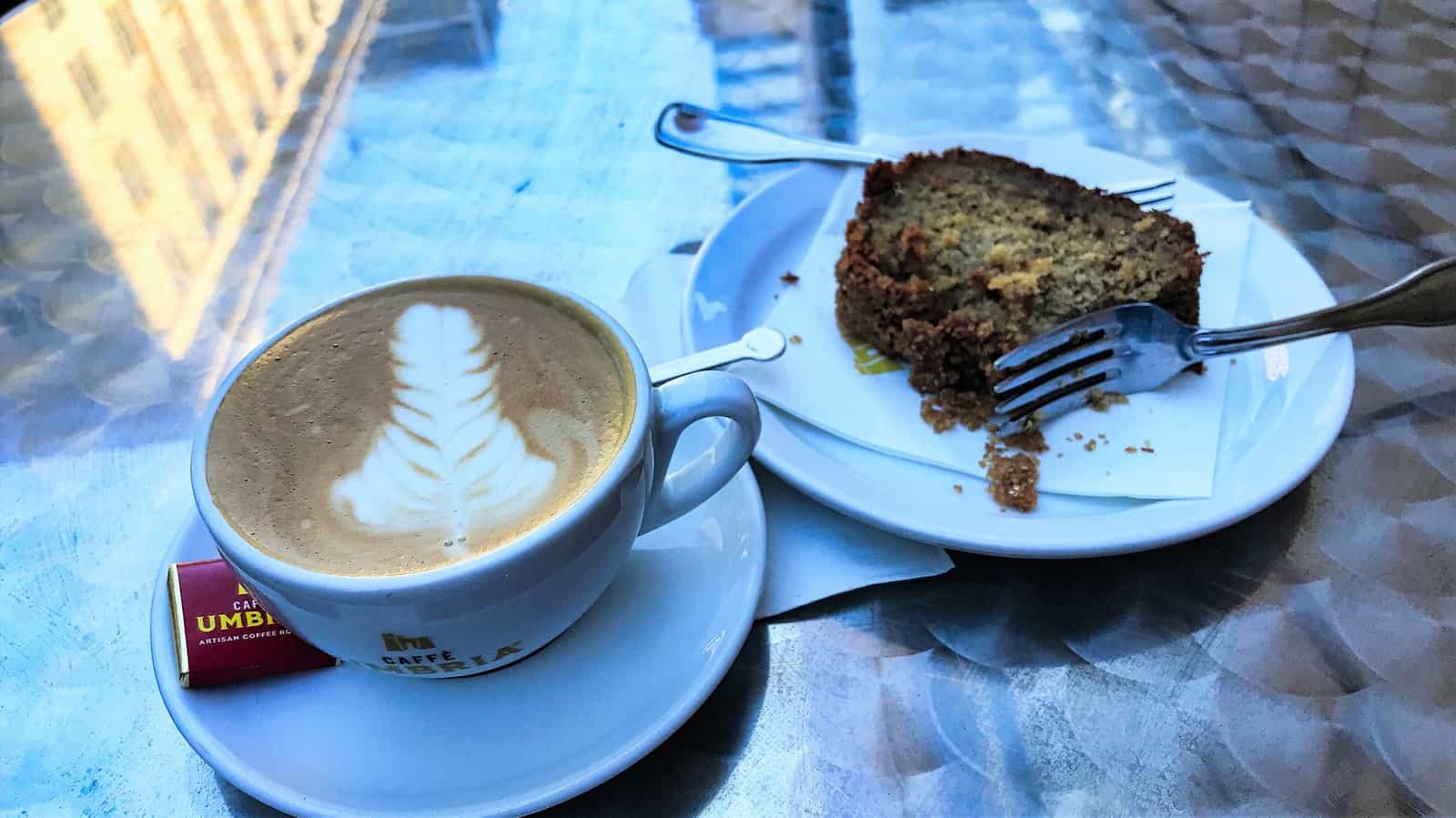 History Comes to Life in Portland
The next place on the list of fun things to do in Portland Oregon is a visit to the Oregon Historical Society's museum. Located in the heart of Portland's Cultural District, the museum is open seven days a week. The museum brings to life Oregon history. So the Oregon Historical Society encourages and promotes the study and understanding of the history of what is today the state of Oregon.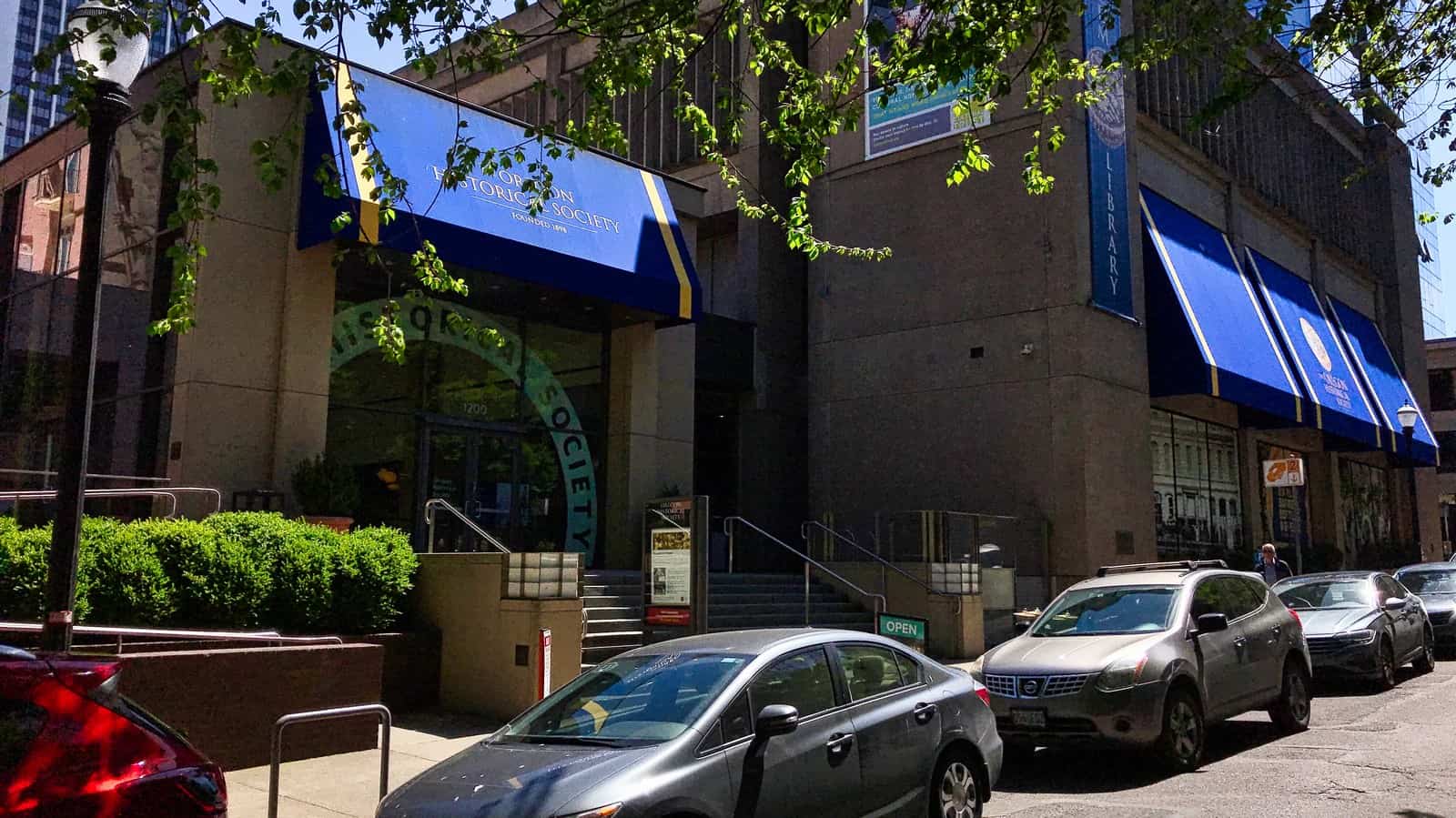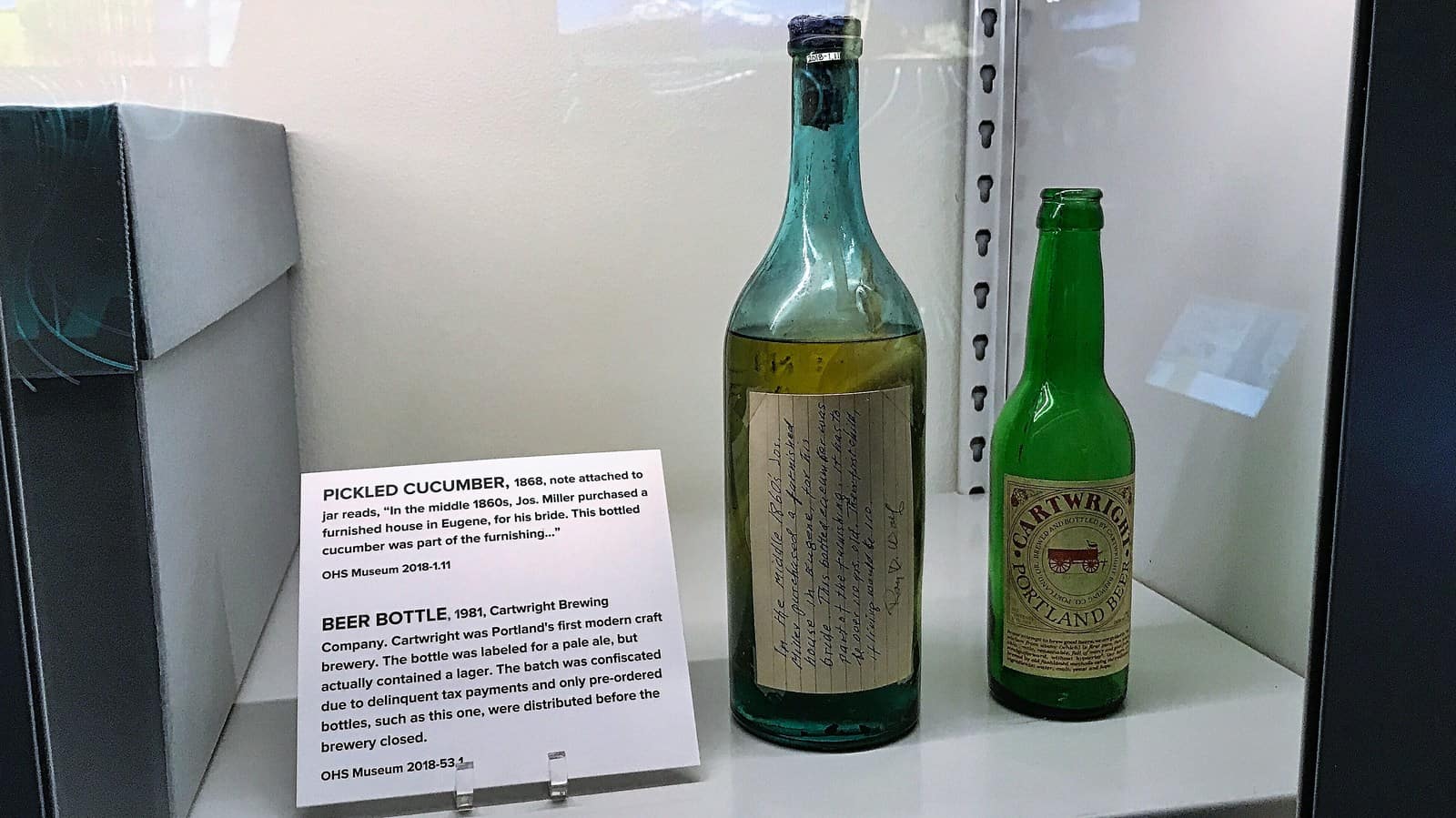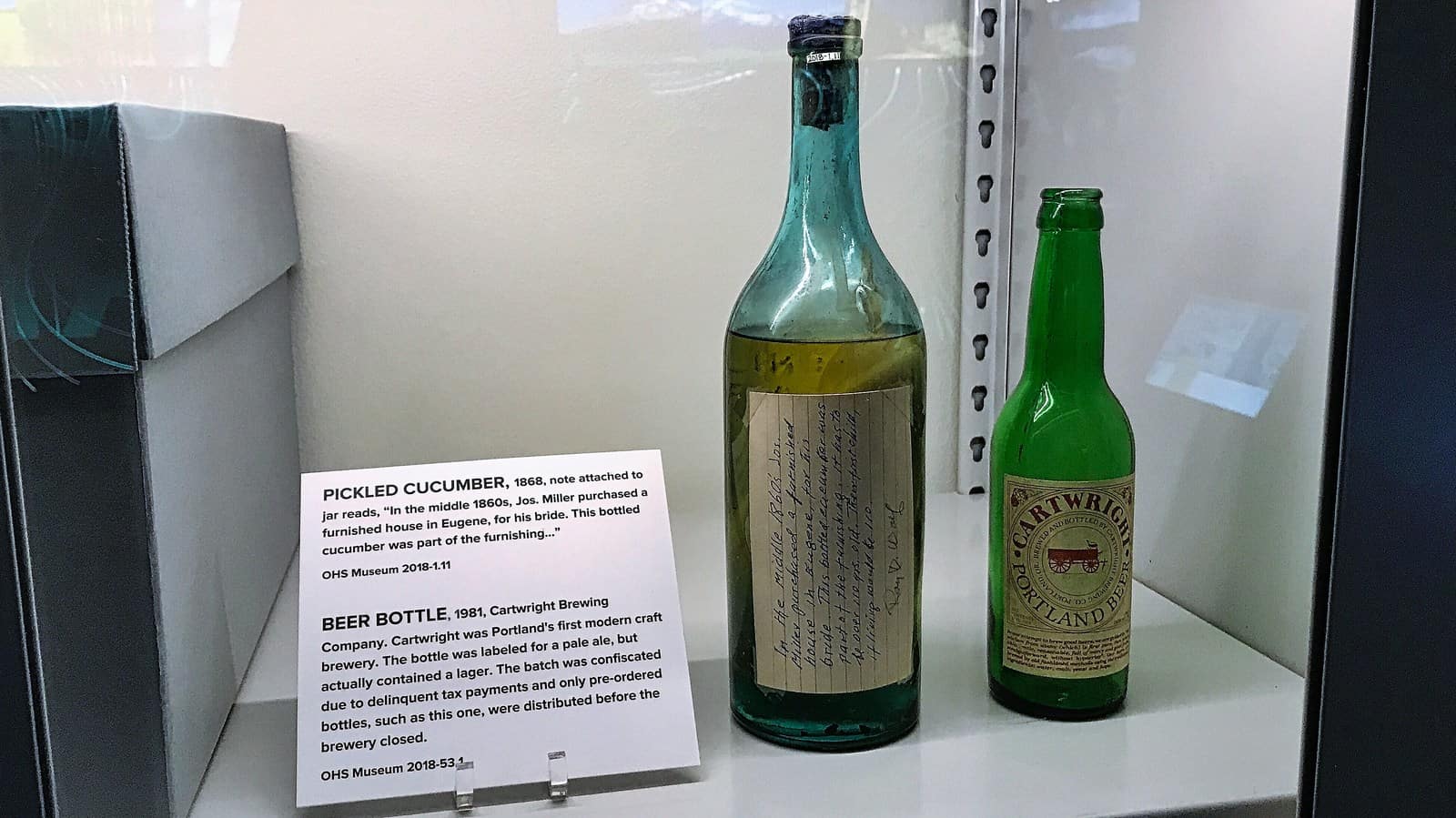 As a result of the Oregon trail ending in Portland, the Historical Society owns some of the best-preserved covered wagons and you will see them in the museum. Before trains in the US, the covered wagon was the dominant form of transportation. So when people moved from the east to the west, they brought their belongings in covered wagons along the Oregon Trail.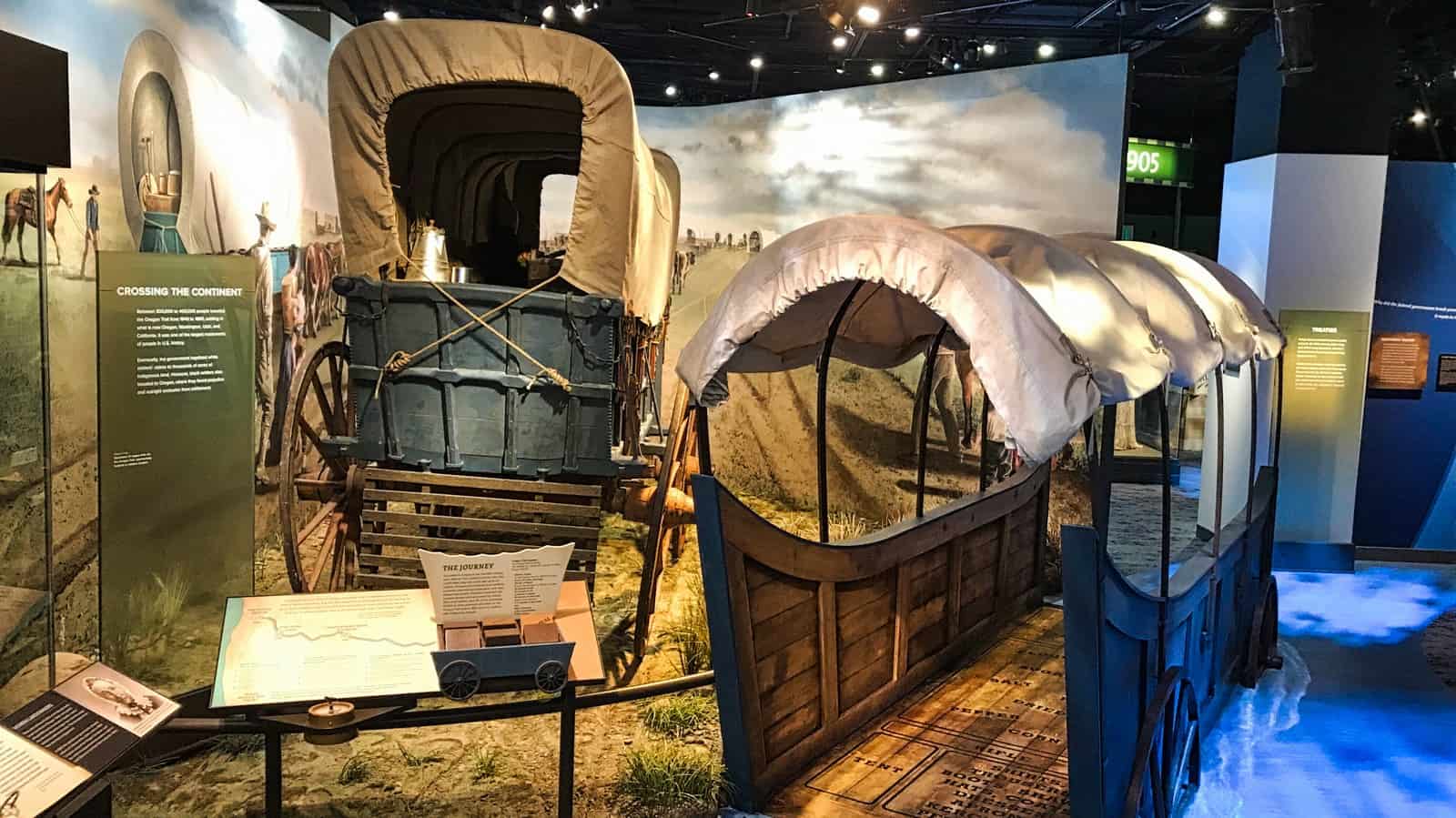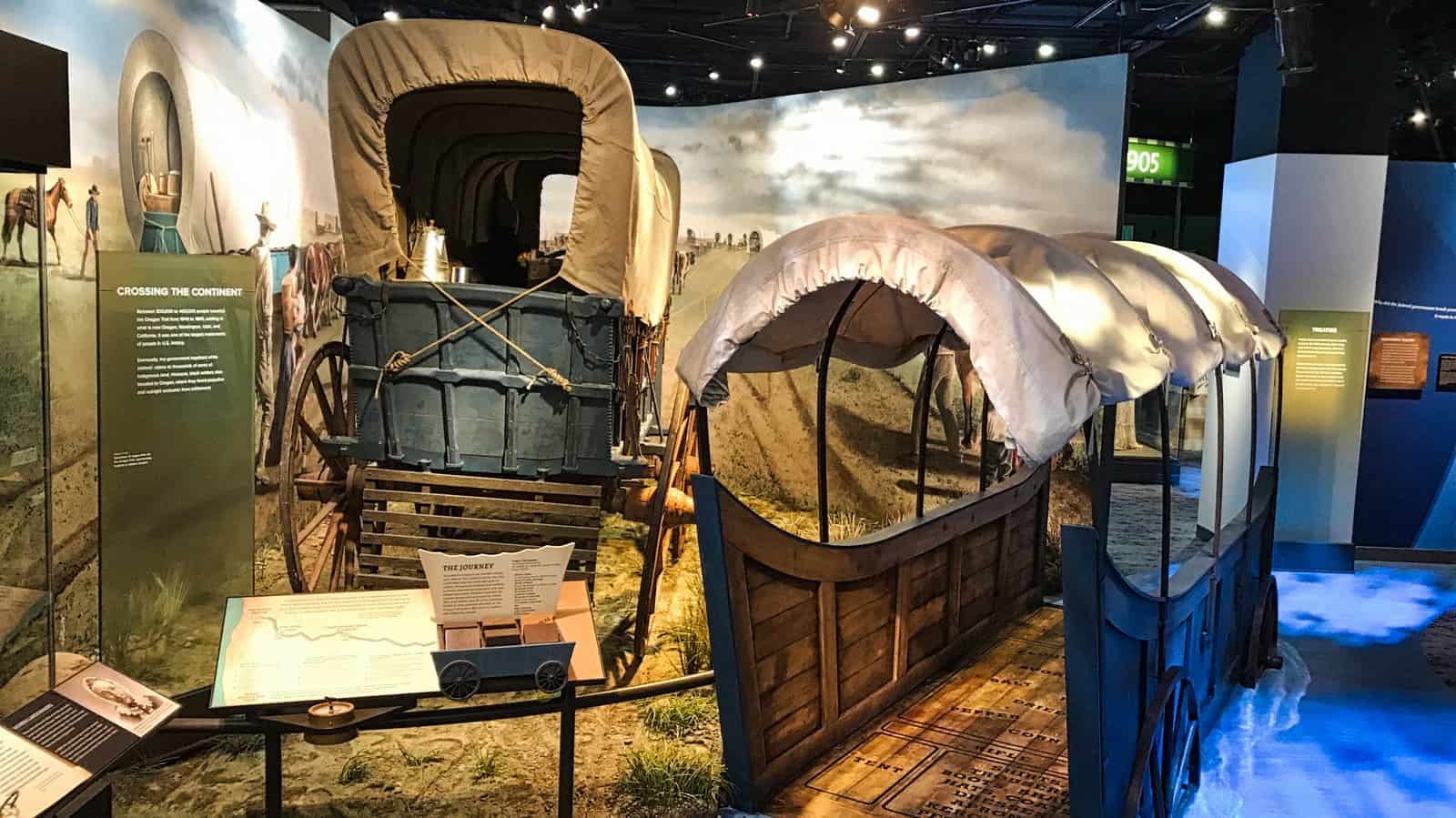 In the 1840s a Mr. Pettygove from Portland, Maine and a Mr. Lovejoy from Boston, Massachusetts each had half-interest in a 640 plot of land on the bank of the Williamette River. So, together they decided that this tract of land would make an excellent port city. As the two were plotting the layout of the town, they could not agree on a name for the new city. Thus, Lovejoy wanted to call it Boston while Pettygrove wanted to name it Portland. So the two decided to settle the matter of the name with a two out of three coin toss. They used one of Pettygrove's one-cent coins. Pettygrove chose heads. With two of the three tosses being heads, the new city was named Portland.
The Oregon Historical Society Owns the one-cent coin that Pettygrove and Lovejoy used for the toss. It is proudly on display near the front of the museum.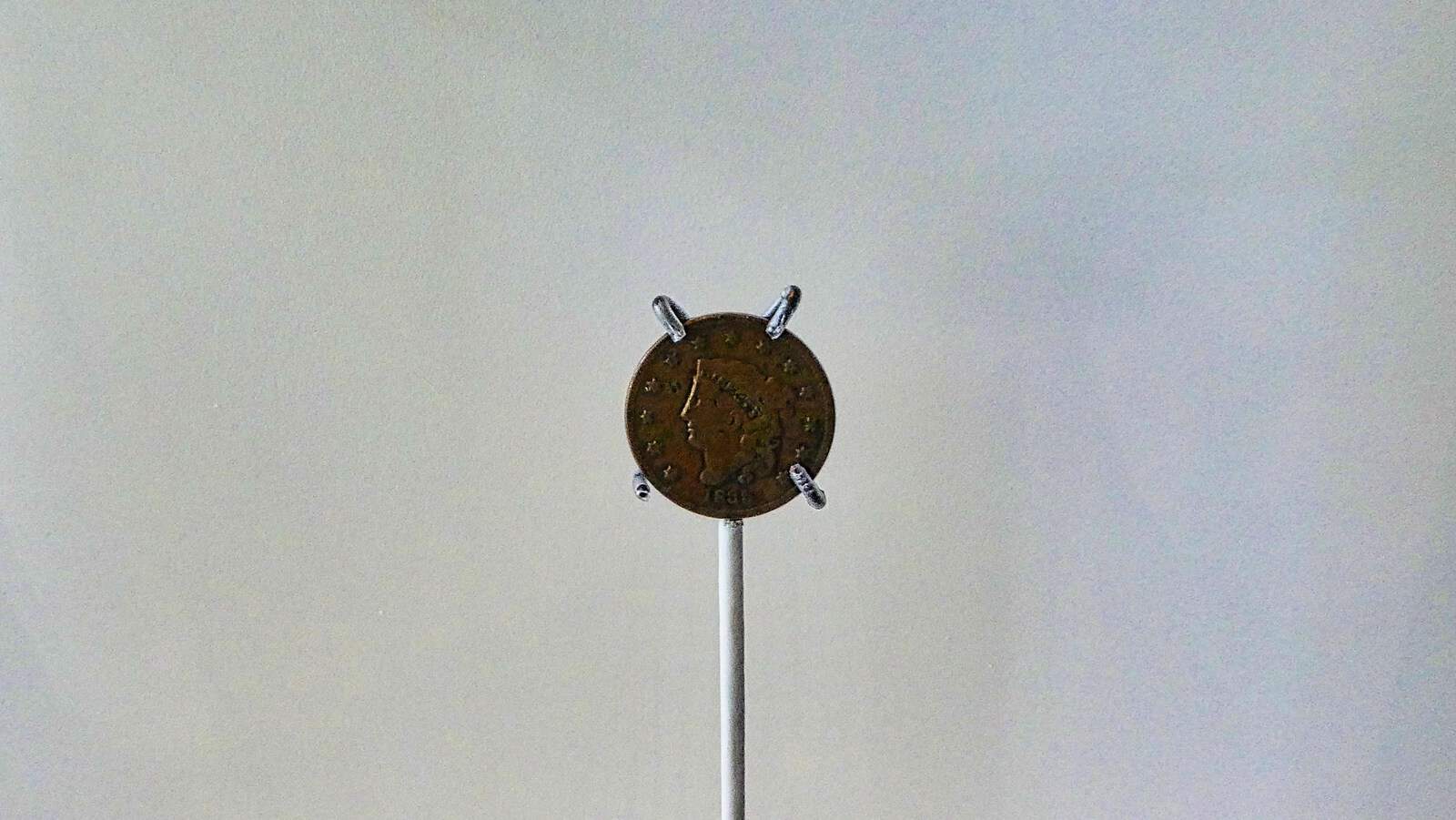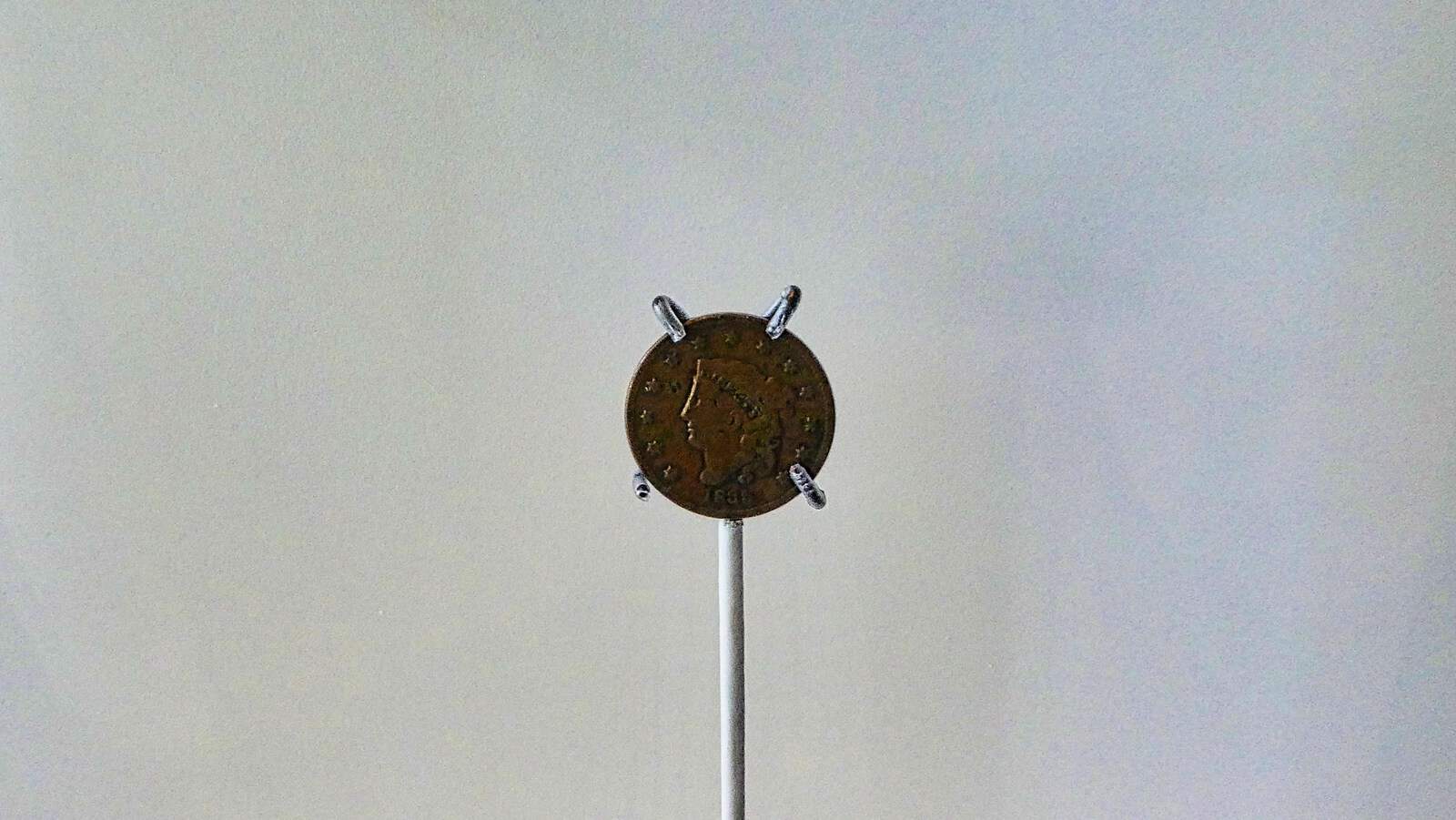 Wine Tasting in Downtown Portland
After a day of touring around Portland, you are probably ready for some wine. The next place on the list of fun things to do in Portland Oregon is a visit to The Portland Wine Bar. The Portland Wine bar conveniently located in downtown Portland not far from the Pioneer Courthouse Square serves handcrafted local wines.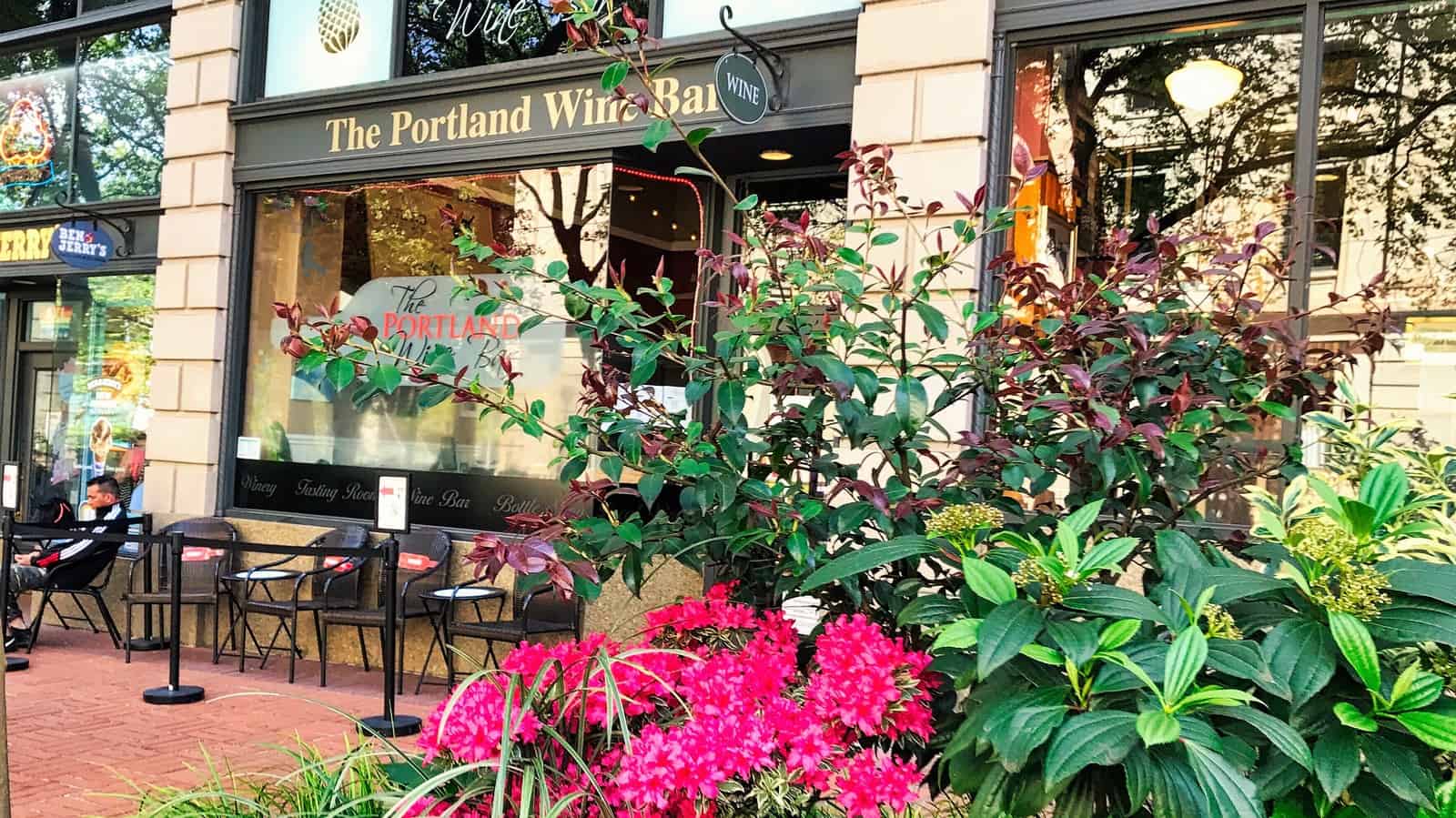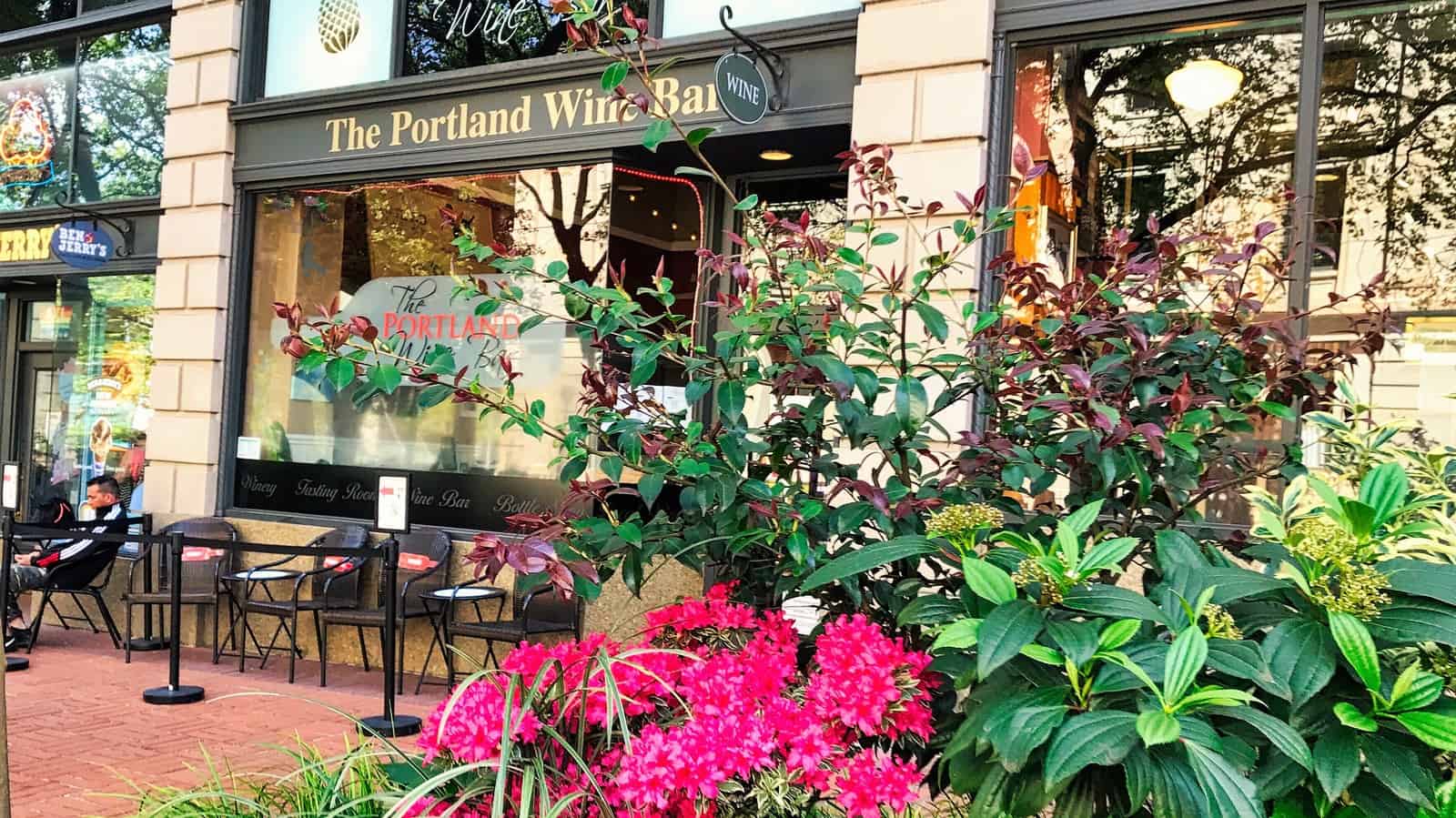 On the afternoon of our visit, many other people had the same thought as. When we arrived, the Portland Wine Bar was a happening place. Eventually, we knew the popularity of the Portland Wine bar was due in large part to Joe, the manager. Joe held a conversation with every group drinking at the wine bar. Also, he was knowledgeable about the wines and personable. He even introduced us to a new and cool looking way to aerate the wine in your glass. So, be sure to watch the video at the end to see how he did this.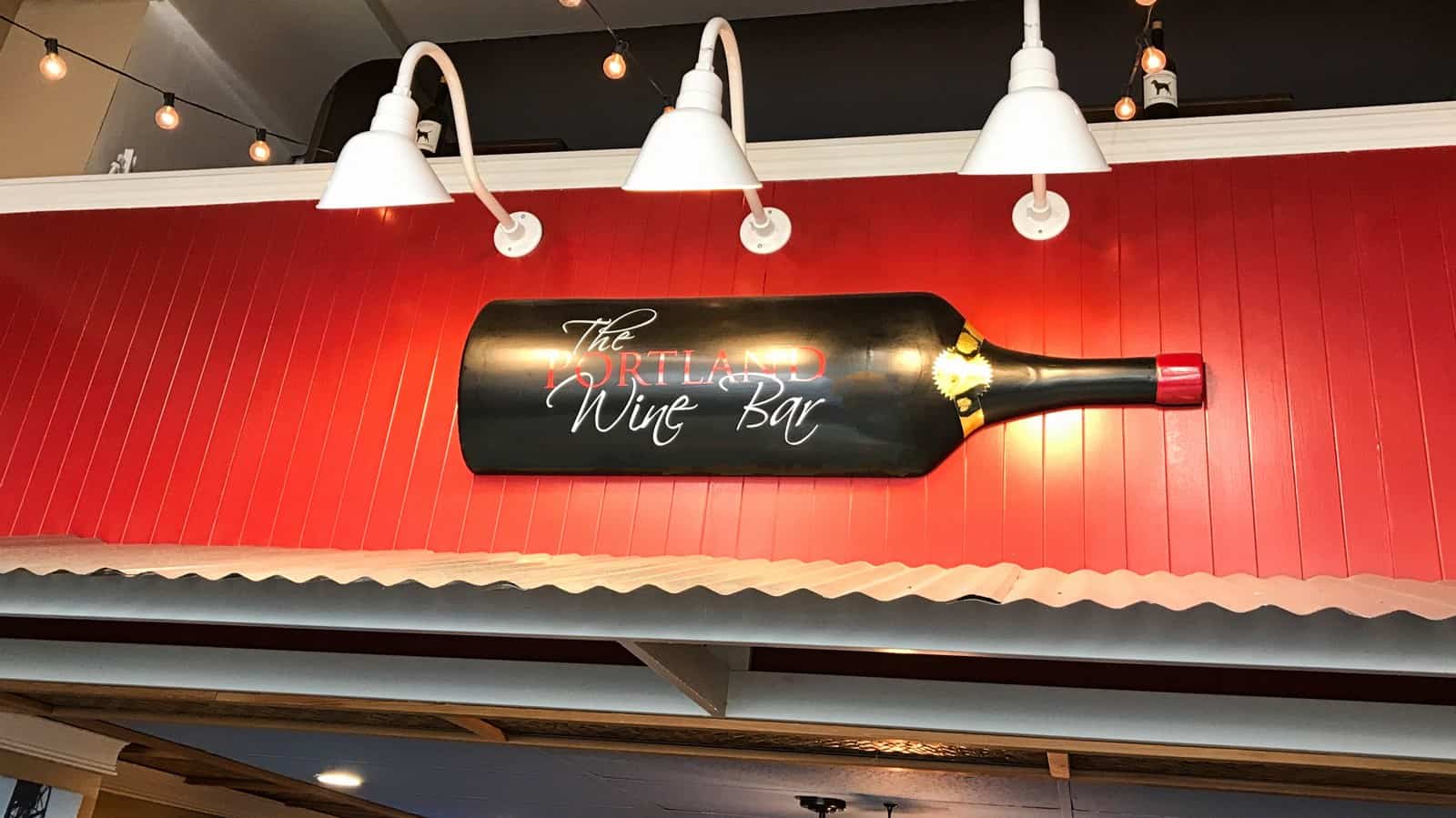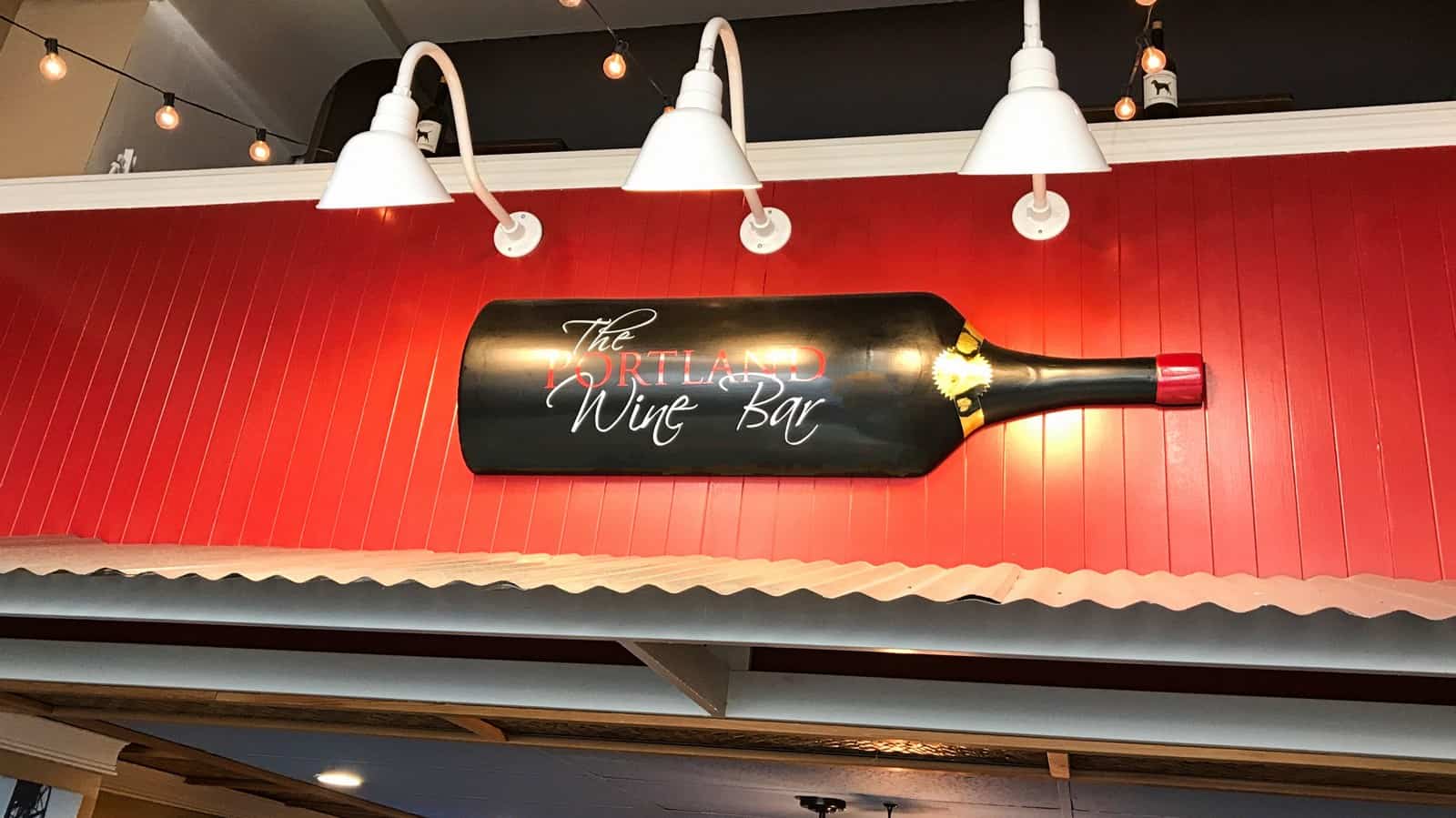 The Portland Wine Bar focuses on local, small-batch wines from small Oregon and Washington wineries plus wines made by the owner, Mark. The wines may be small batched, but they are big on taste. Mark makes an Oregon Pinot noir, and for those that aren't strict "wine made by grapes" people, a line of dry Hawaiian tropical fruit wines sourced from all-natural and organic fruit.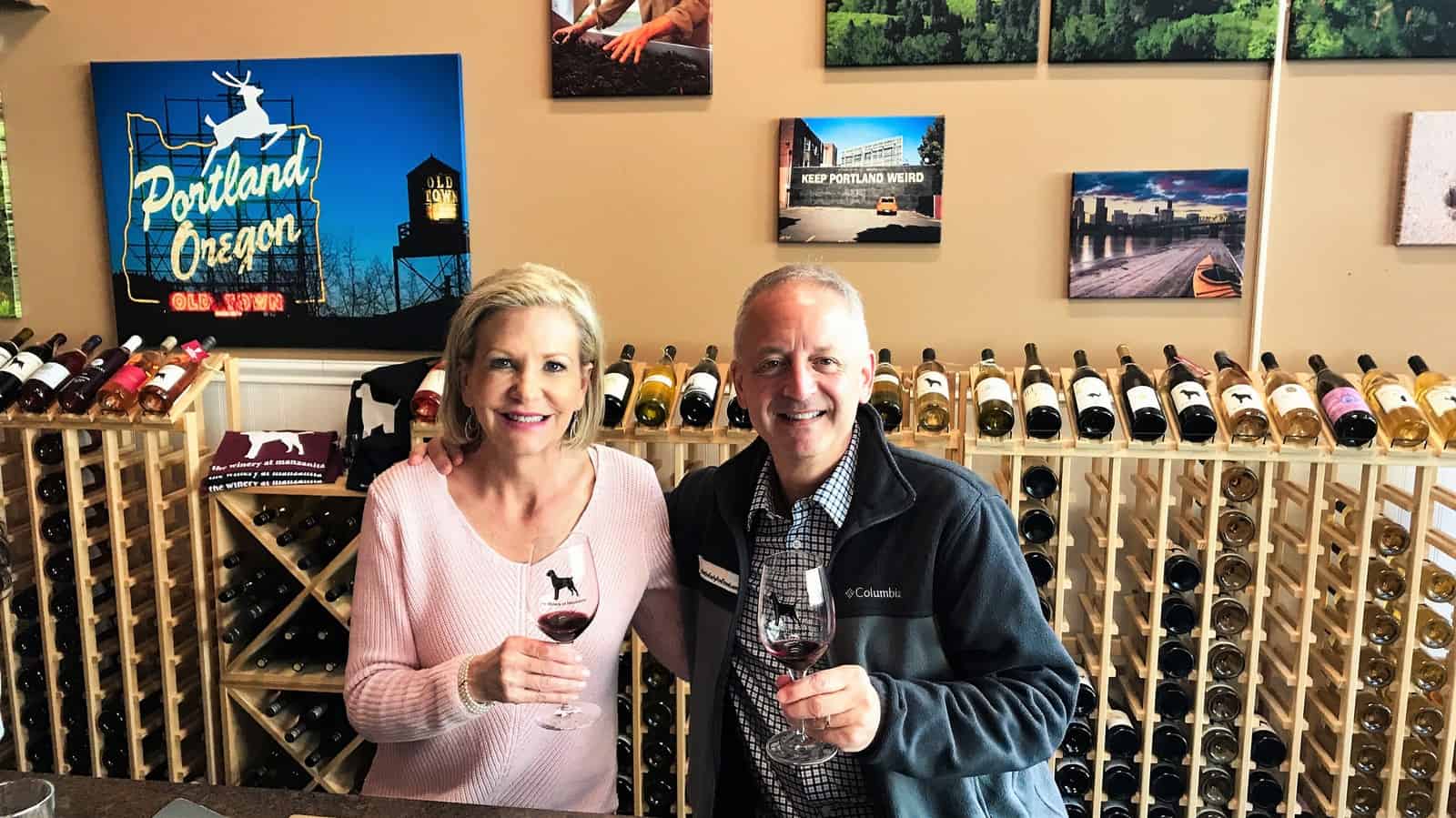 They Will Rock You in Portland Oregon
If you are attracted to rocks and crystals like Keith is, you will love the Fossil Cartel in Portland. The Fossil Cartel specializes in stone and crystals from in the Pacific Northwest, and stones unique to Oregon and the area. They sell individual stones and jewelry as well as minerals, crystals, fossils, and even meteorites. Just think, what a great souvenir to have from Portland; an Oregon Opal found in only one place in the world Opal Butte, Oregon.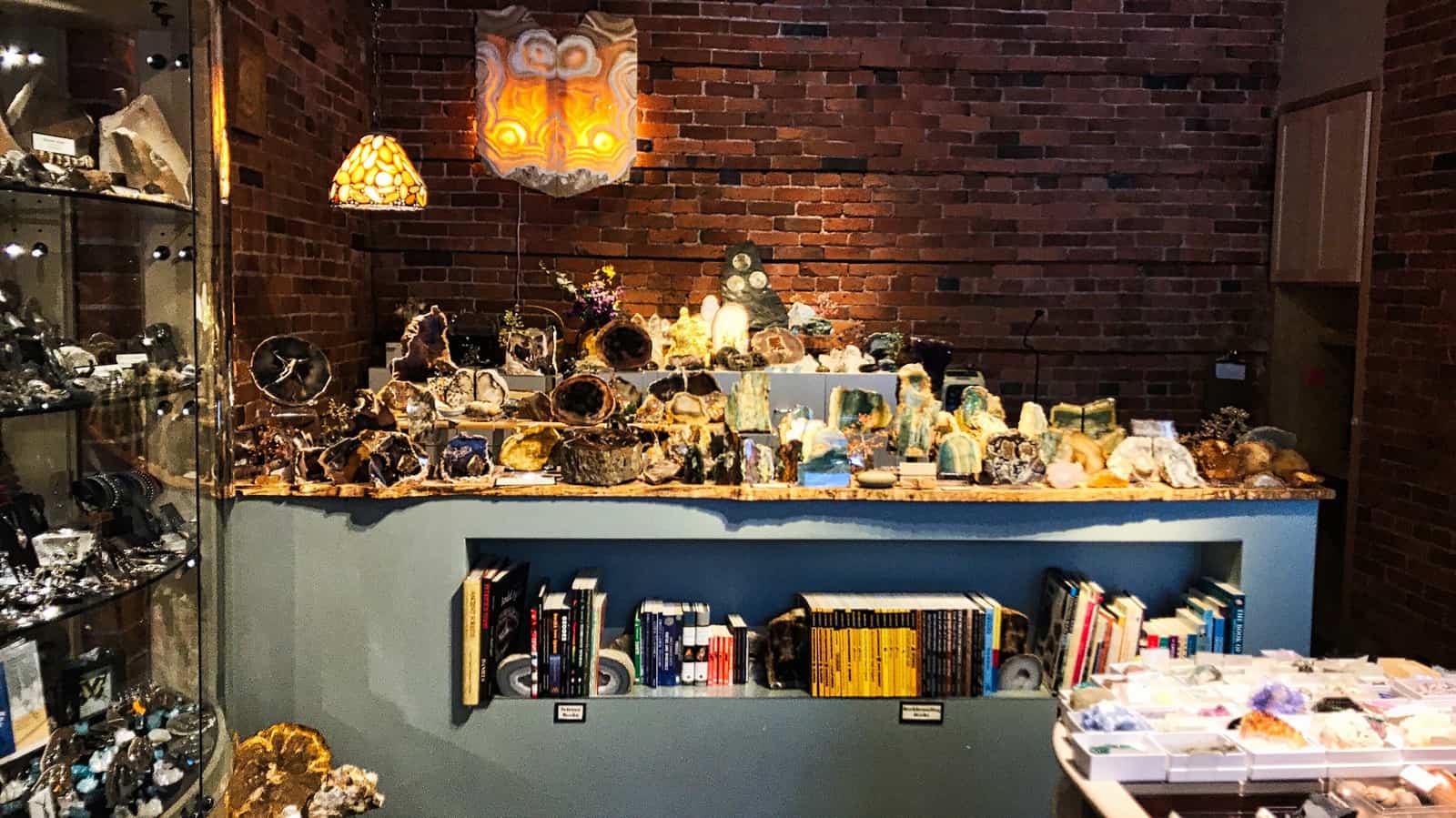 Oregon Museum of Science and Industry
Also on the list of fun things to do in Portland, is the Oregon Museum of Science and Industry. The museum is an interactive science and technology museum that is great for kids. Oregon Museum of Science and Industry is a science center providing science learning to a range of audiences, but we found it mostly gear to children.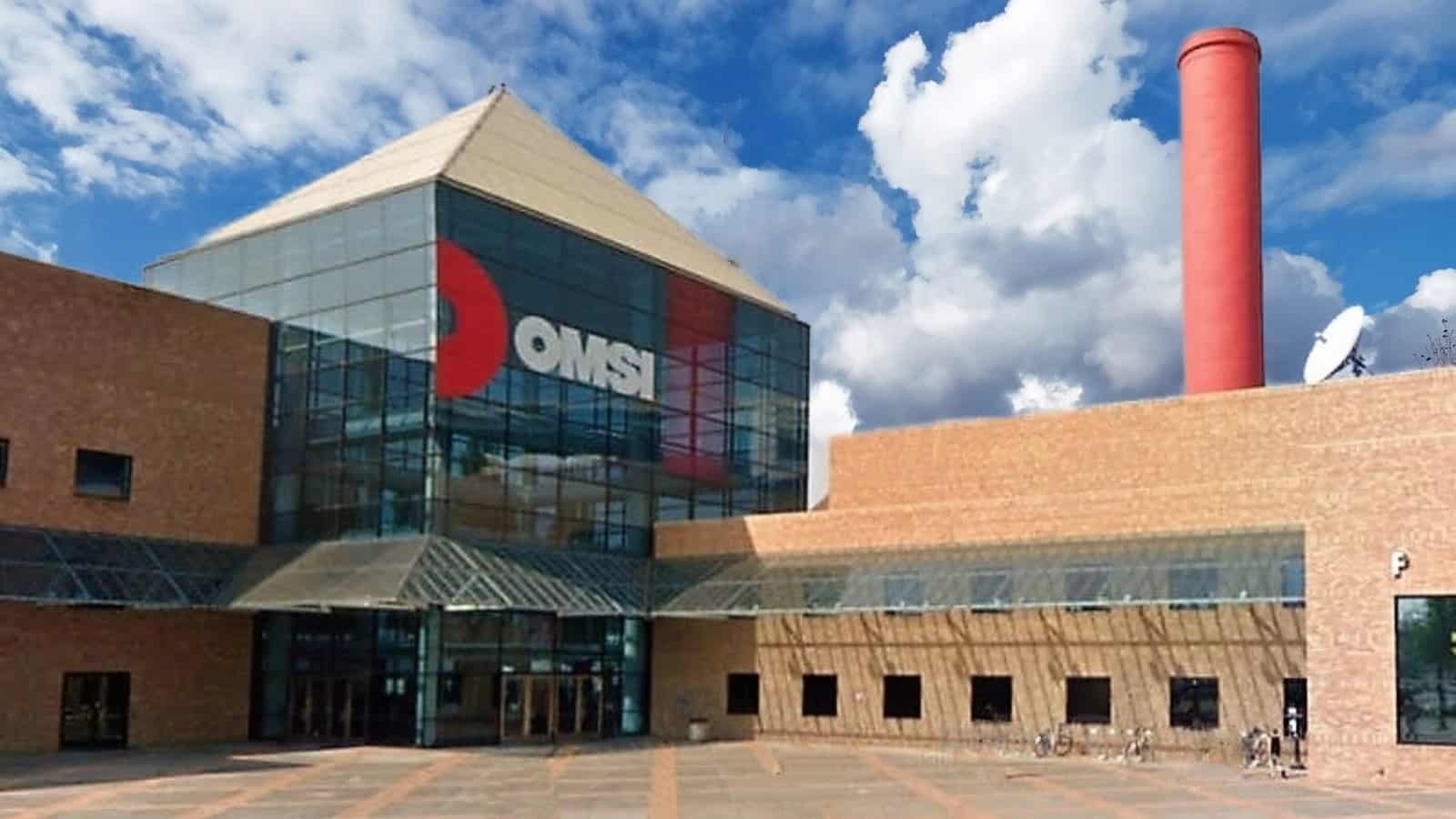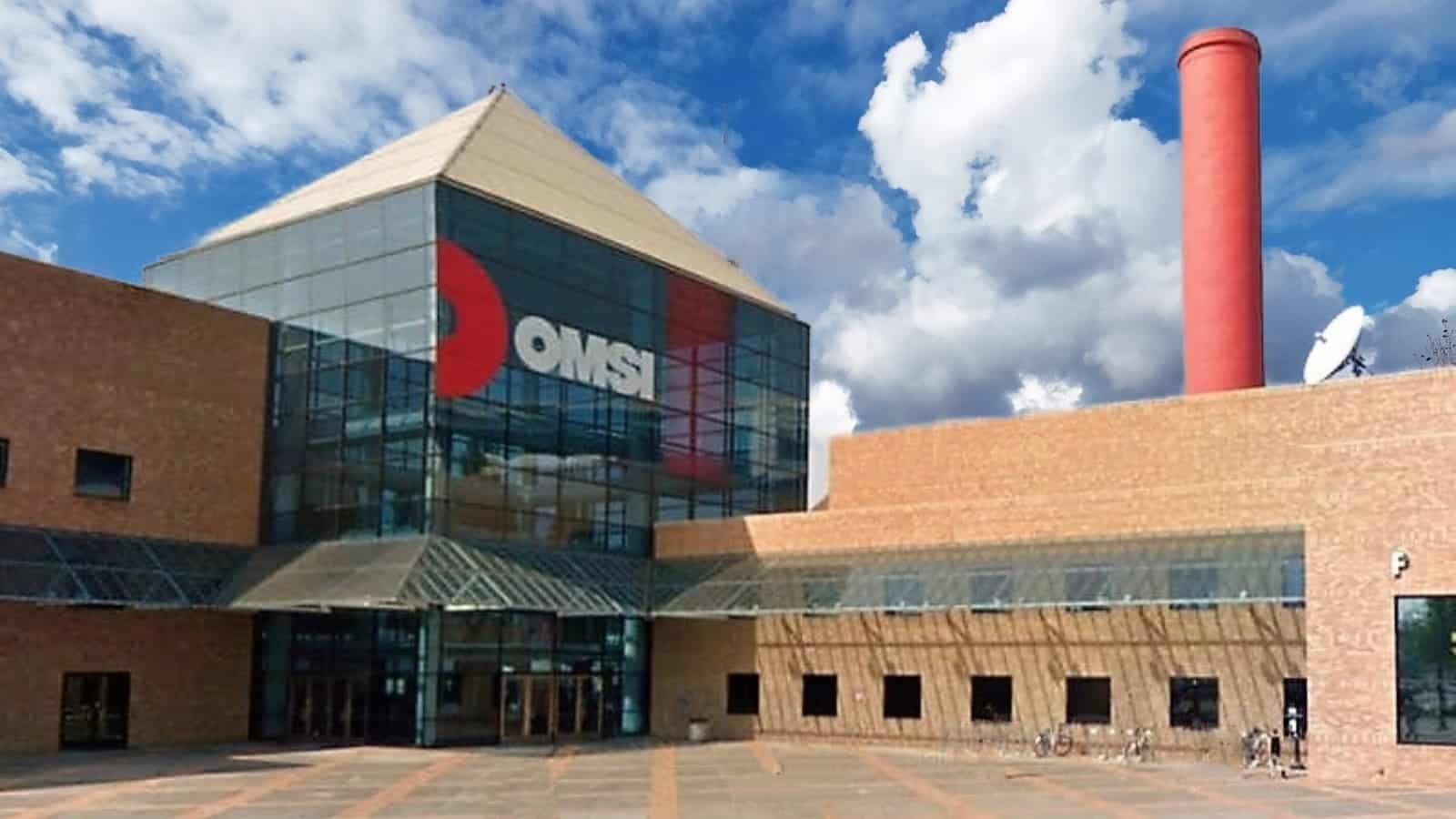 They also have an exhibit called The Science Behind Pixar. In this exhibit, you can enjoy a special look into the Pixar process, and explore the science and technology behind many well-loved animated films and their characters.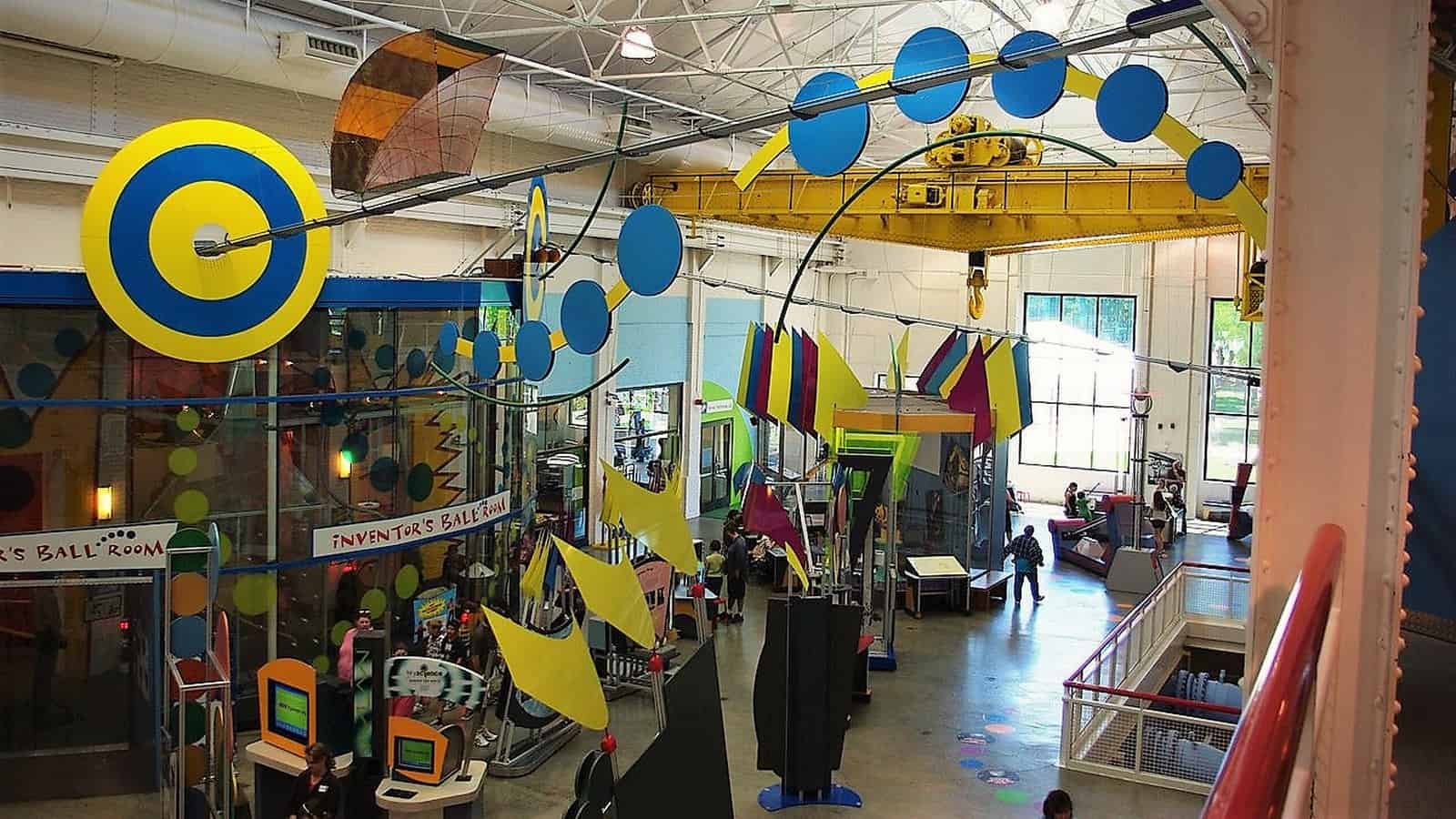 Enjoy a Bye-gone Era and One-of-a-Kind Views with a Visit to the Pittock Mansion
Above all, one of the best fun things to do in Portland Oregon is to visit the Pittock Mansion. Located high in the West Hills above Northwest Portland, the historic turn-of-the-century Pittock Mansion offers picturesque views of the city and its surroundings. Also, it provides a revealing glimpse into Portland's past.
Most important, the Pittock mansion saved from demolition in 1964 is now a Portlandia treasure. The Pittock Mansion is a 16,000 square foot chateau of the French Renaissance style built in 1914 as a private home for Henry and Georgina Pittock. Furthermore, Henry was the publisher of the Oregonian newspaper, and Georgiana was one of the founders of the Portland Rose Festival.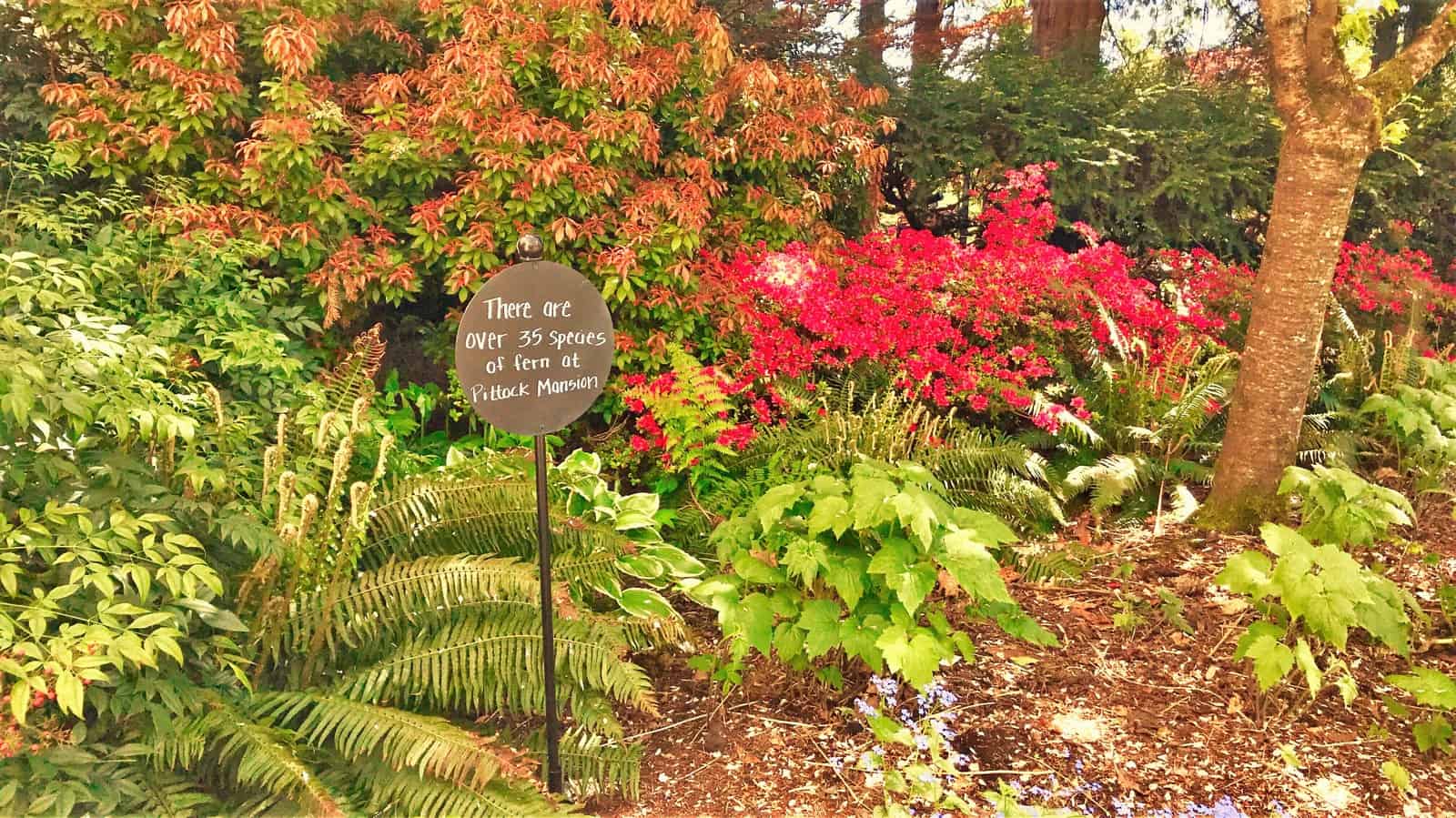 Surprisingly for the early 1900s, the mansion had the newest features, including intercoms, indirect lighting, and even a central vacuum system. Above all, Oregon craftsmen and artisans worked to build the home, and they used materials found in the Northwest for construction. The estate, including the mansion, had a greenhouse, a servant's residence, a tennis court, and a three-car garage all gracefully arranged on 46 acres of land high above downtown Portland. Henry and Georgiana built Pittock Mansion later in life. When they moved into their new home, Henry was 80 years old, and Georgiana was 68. Thus, the couple only lived in the Mansion for approximately four years before they died.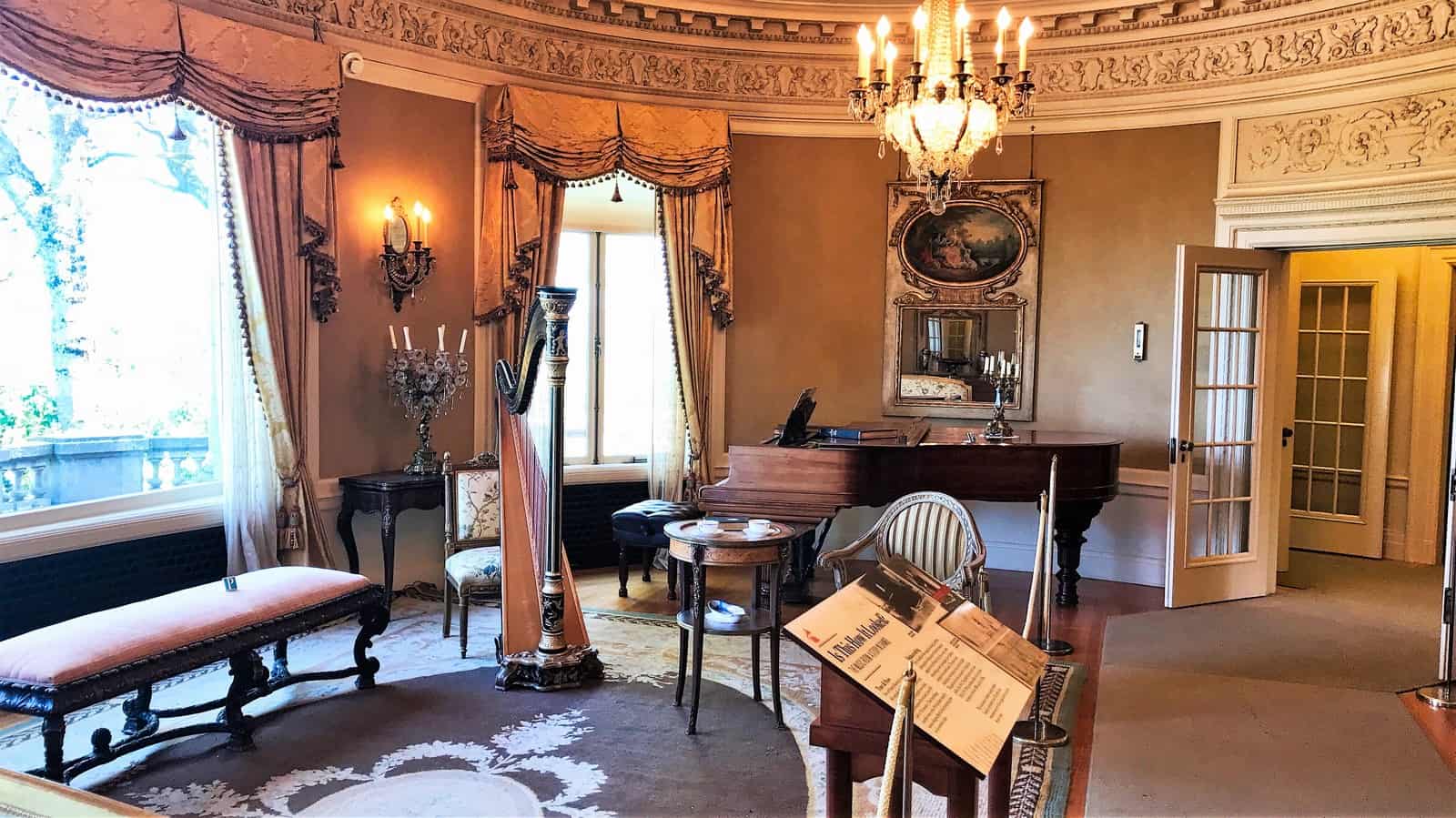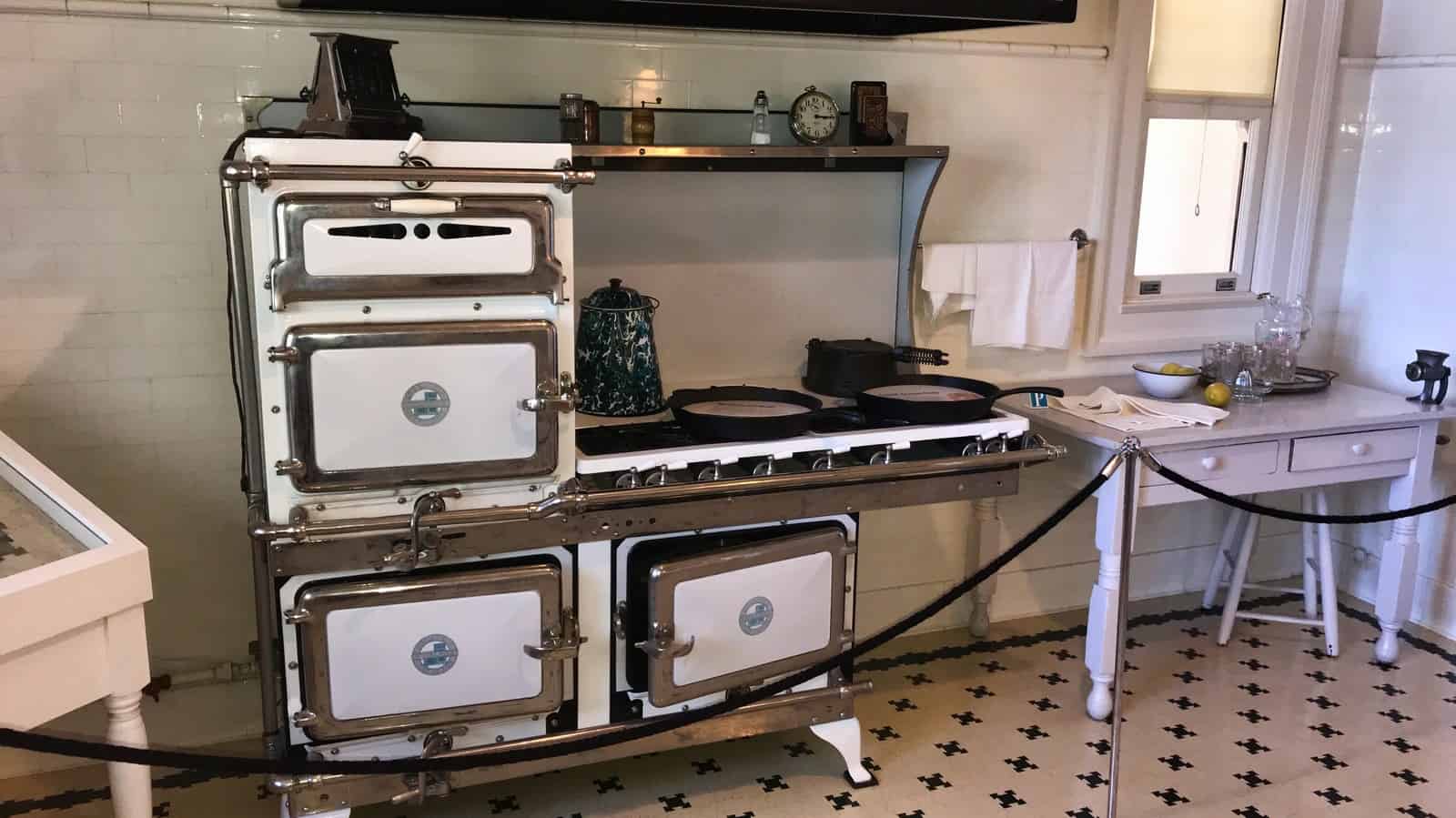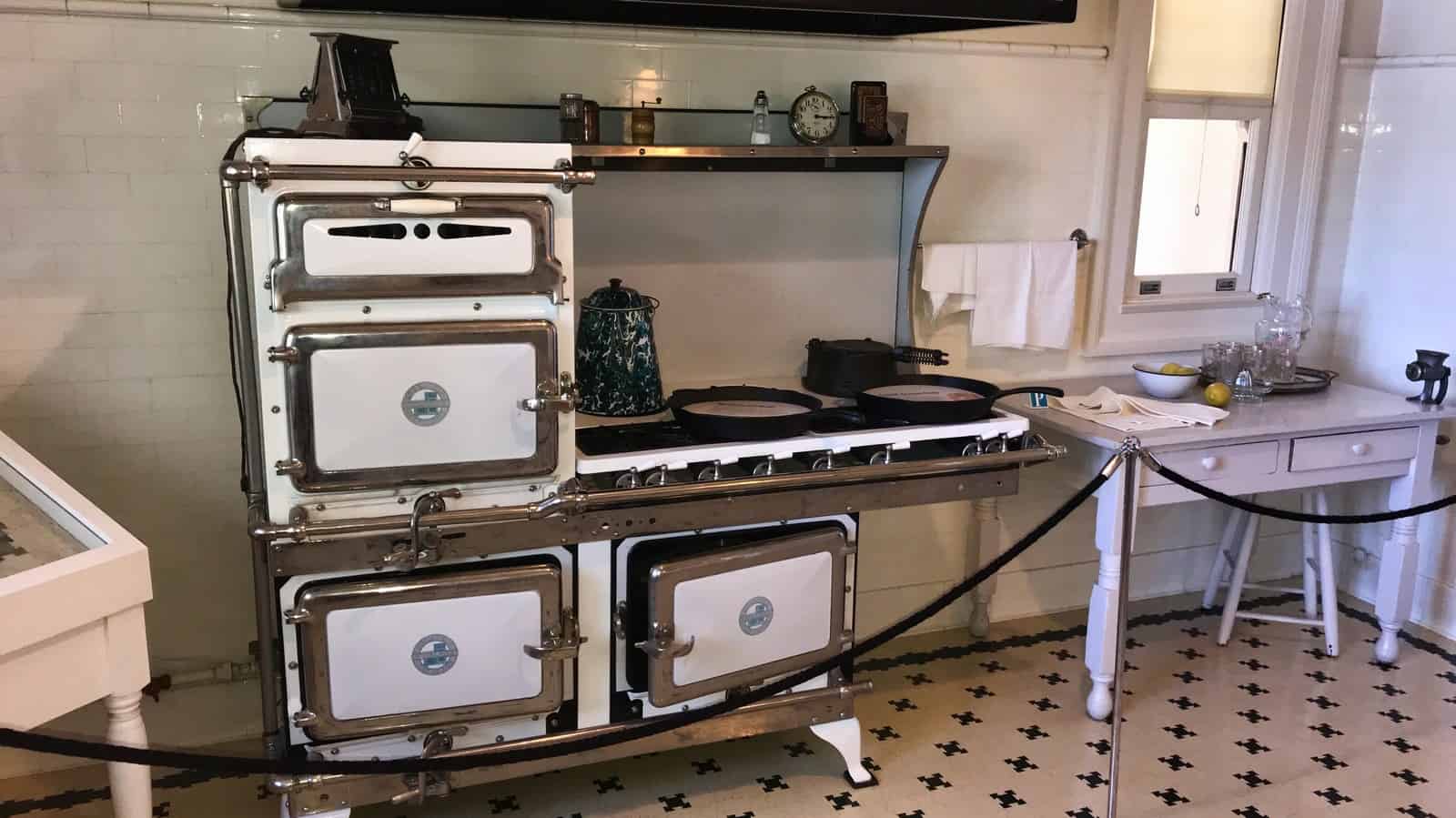 In 1964 the mansion was damaged by a devasting storm. So the citizens of Portland worked to raise the money to buy and restore the home. And today, the Pittock Mansion Society, a nonprofit organization, is responsible for the day-to-day museum operations.
The Million Dollar View
Pittock Mansion probably has the best views of Portland. Therefore, on bright and clear days, you can see vistas of Mount Hood, Mount St. Helens, Mount Adams, Mount Rainer, and Mount Jefferson in the background. Similarly, in the foreground, you see the cityscape of Portland. Today, the grounds around Pittock Mansion are a public park open daily. So, since the grounds are public, on nice sunny days, you will see more people on the grounds than touring inside the mansion.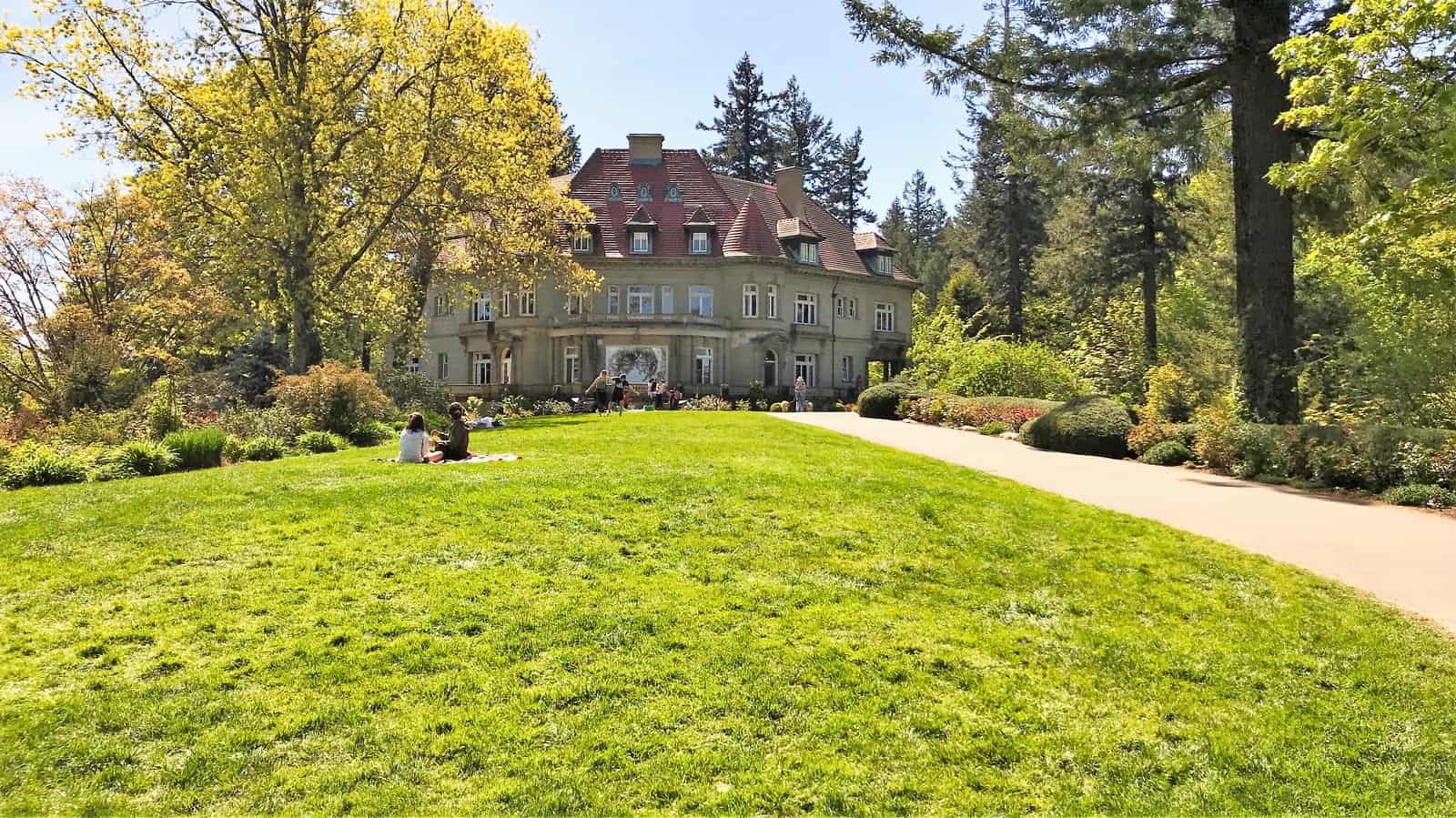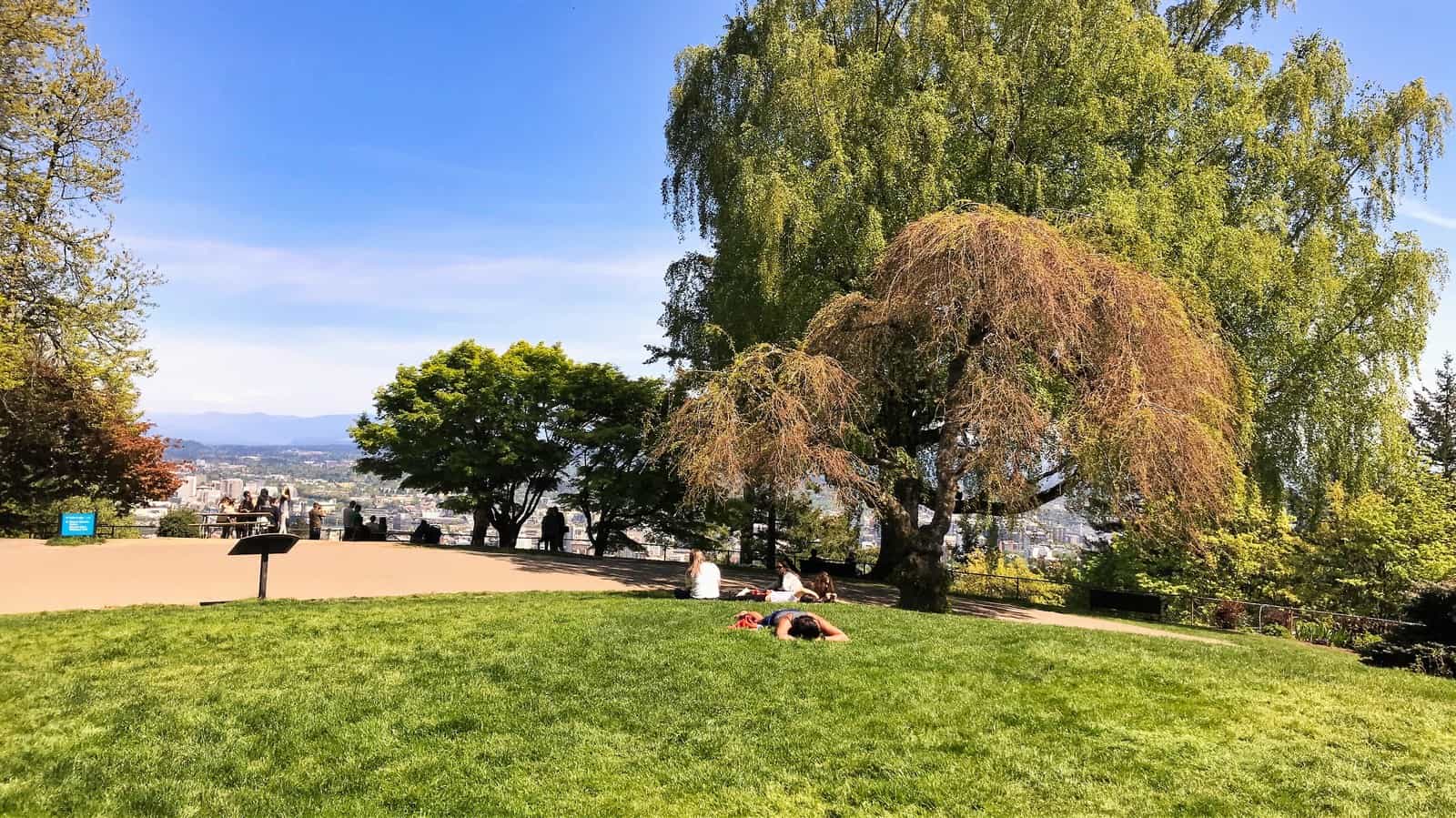 Take in Panoramic View of Portland at the Portland City Grill
Lastly, on the list of fun things to do in Portland Oregon, is to have drinks at the Portland City Grill and enjoy the views from the thirtieth floor. Keith and I took in the wonderful sweeping city and landscape views of Portland as we enjoyed a great cabernet and a lite bite. It is always great when you can get a view from above, so to speak of any city.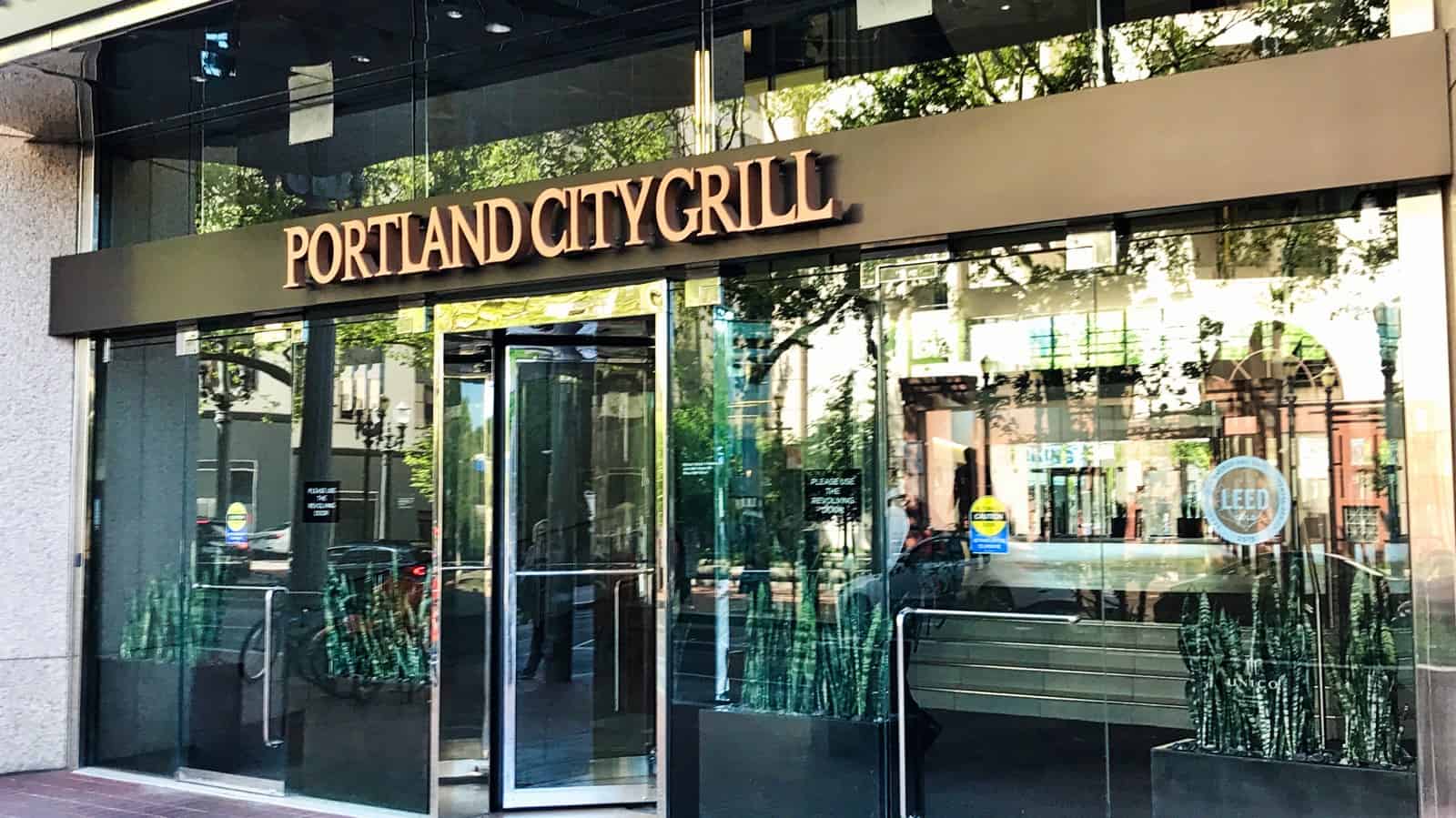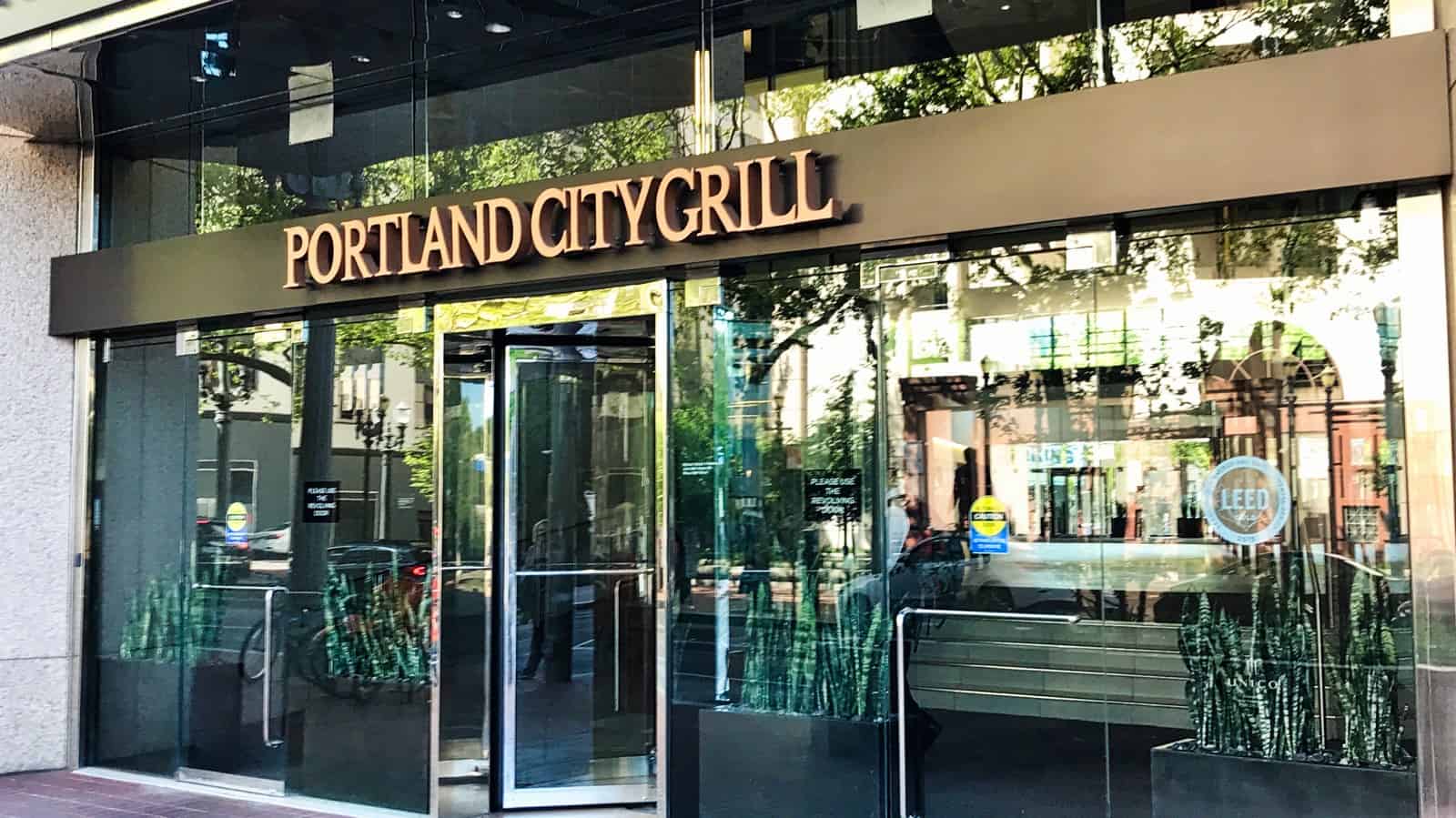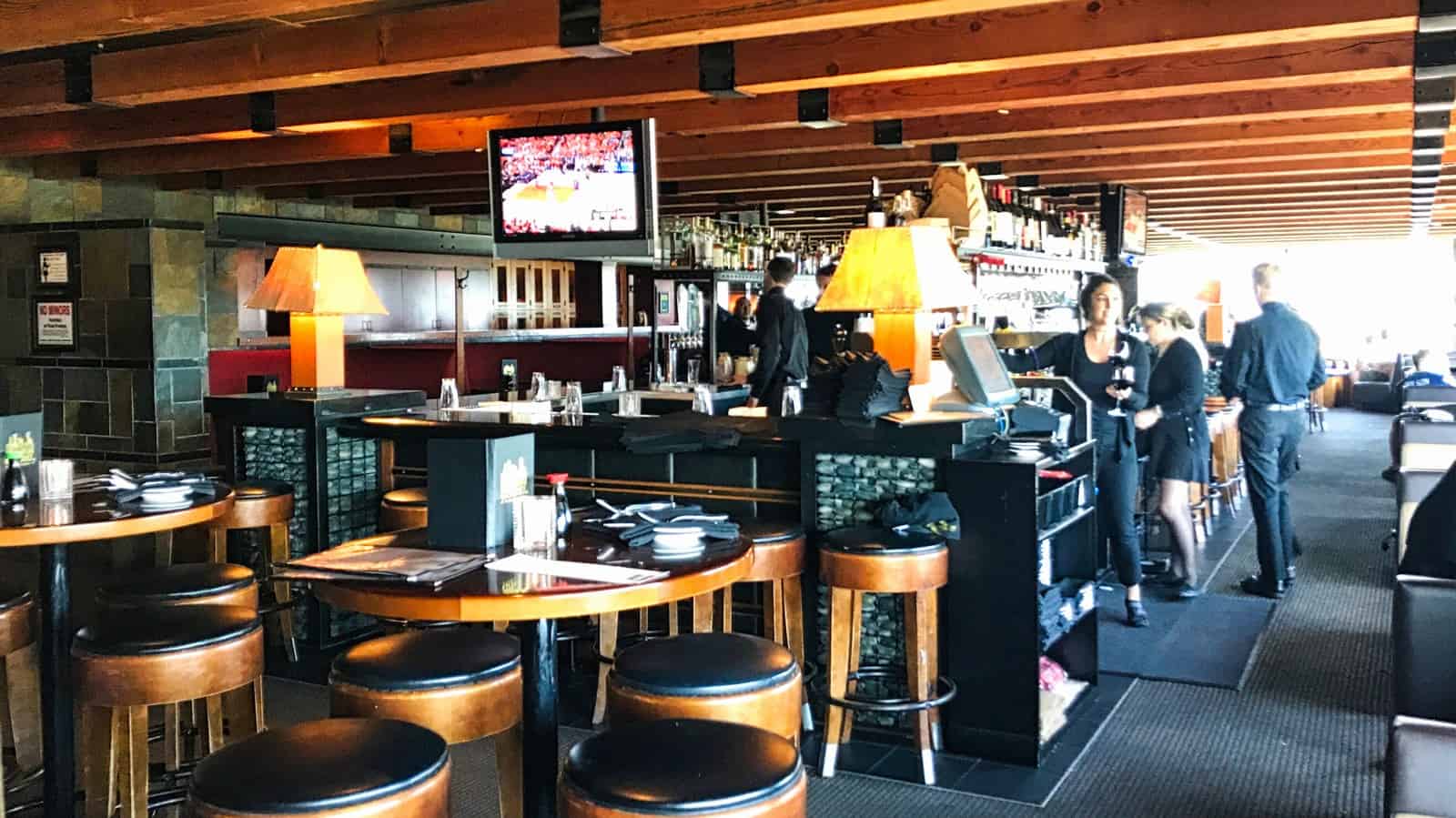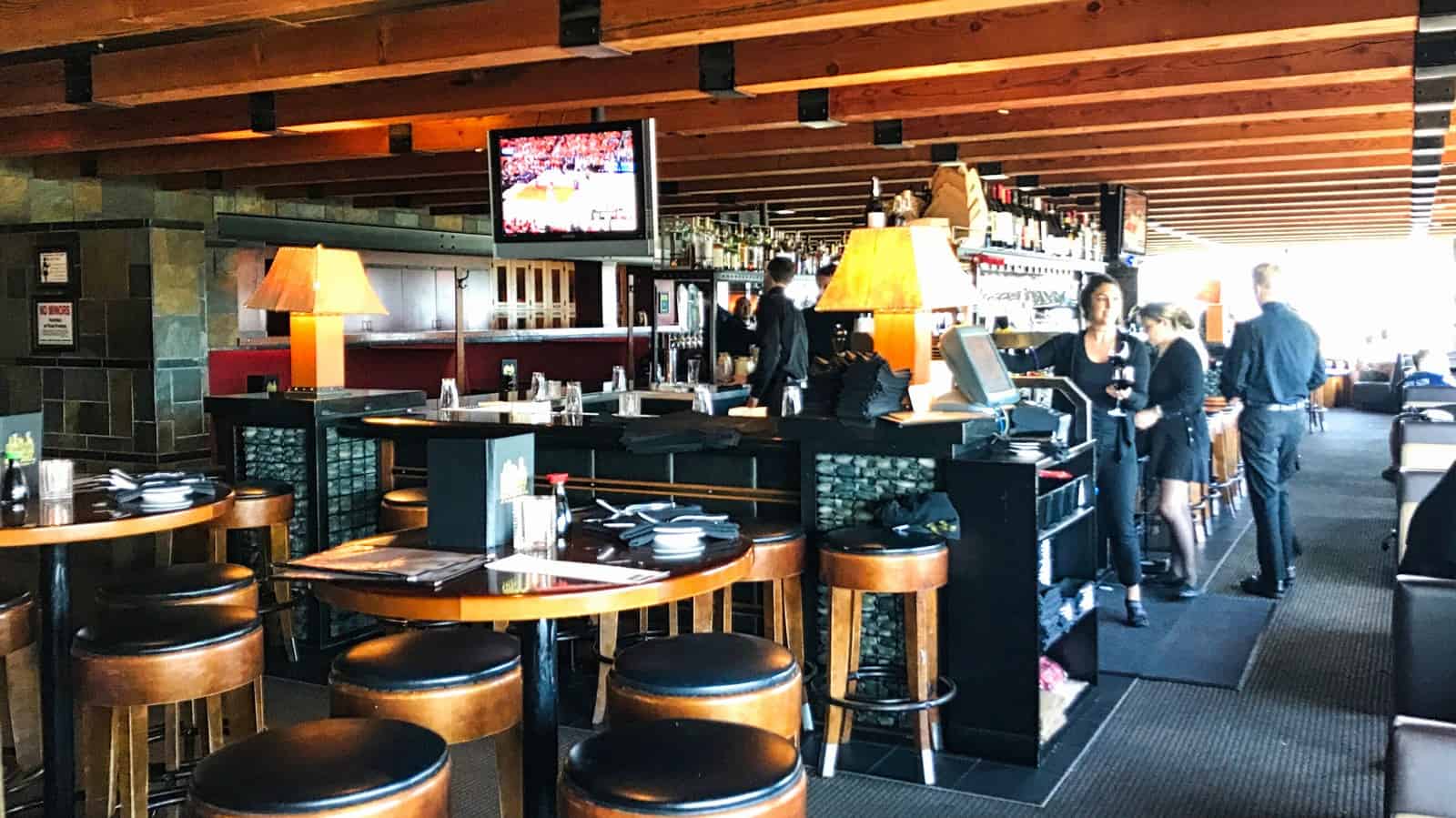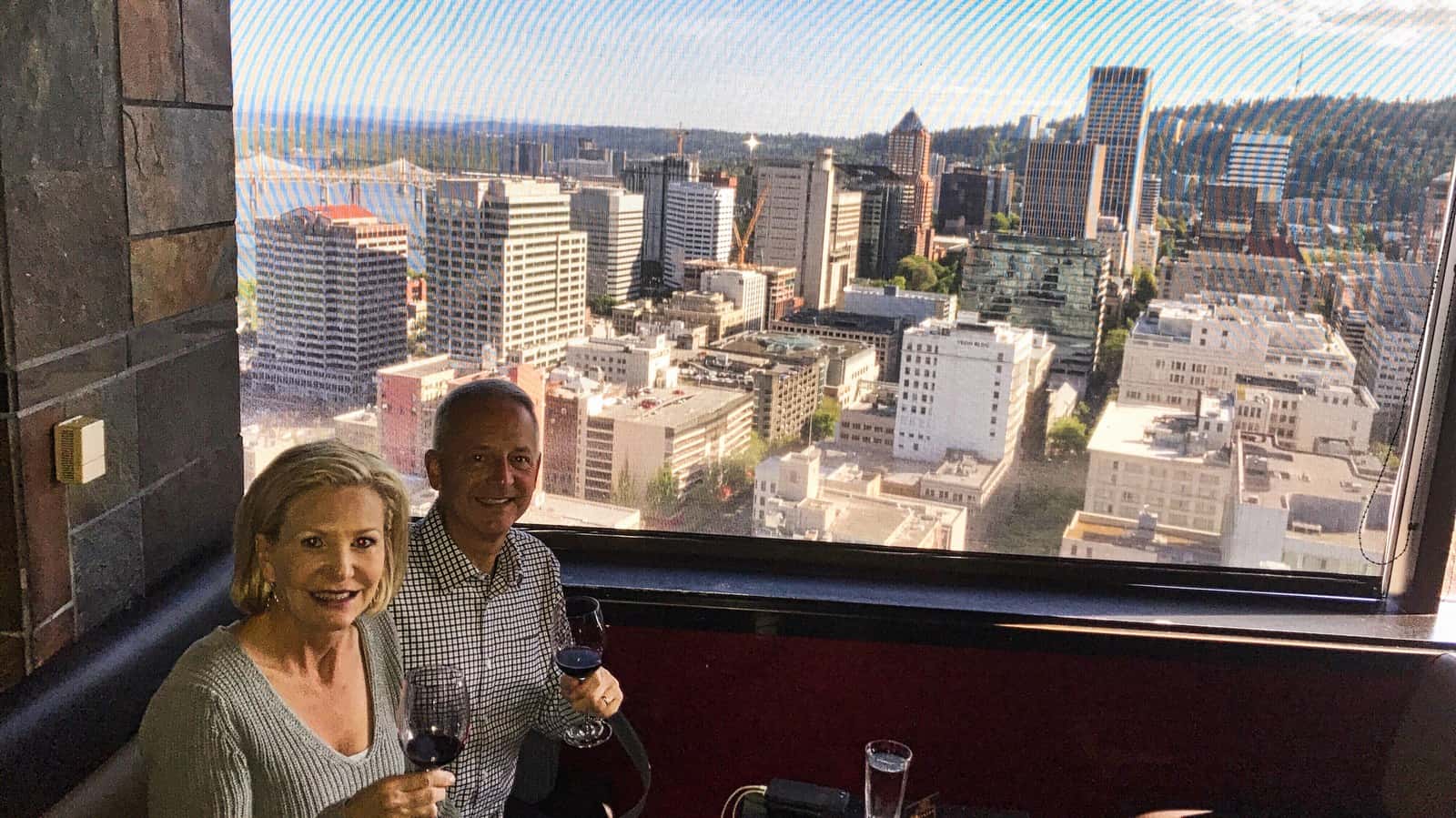 The Kimpton Hotel Vintage, A Wine Lovers Dream
While in Portland, we recommend staying at the boutique Kimpton Hotel Vintage. The Hotel Vintage, located in a historic building in downtown Portland, keeps Portland weird while providing a five-star nights stay. The hotel features graffiti-inspired cork art, a lobby that doubles as an urban tasting room in the afternoon, and a game lounge for adults. Moreover, there's no need to go out for a happy hour, the Hotel Vintage serves up appetizers, live music and a good glass of wine at the end each day.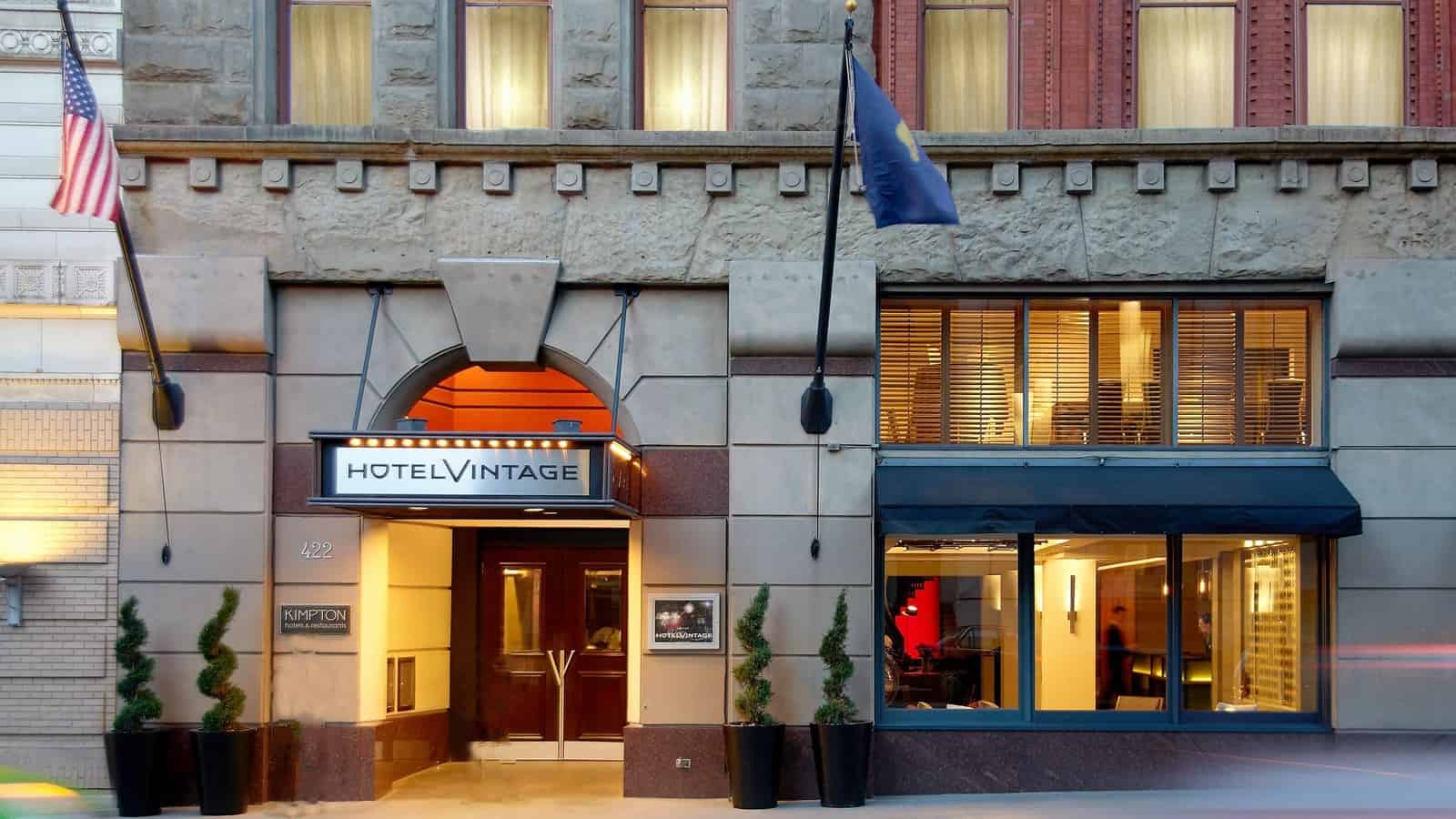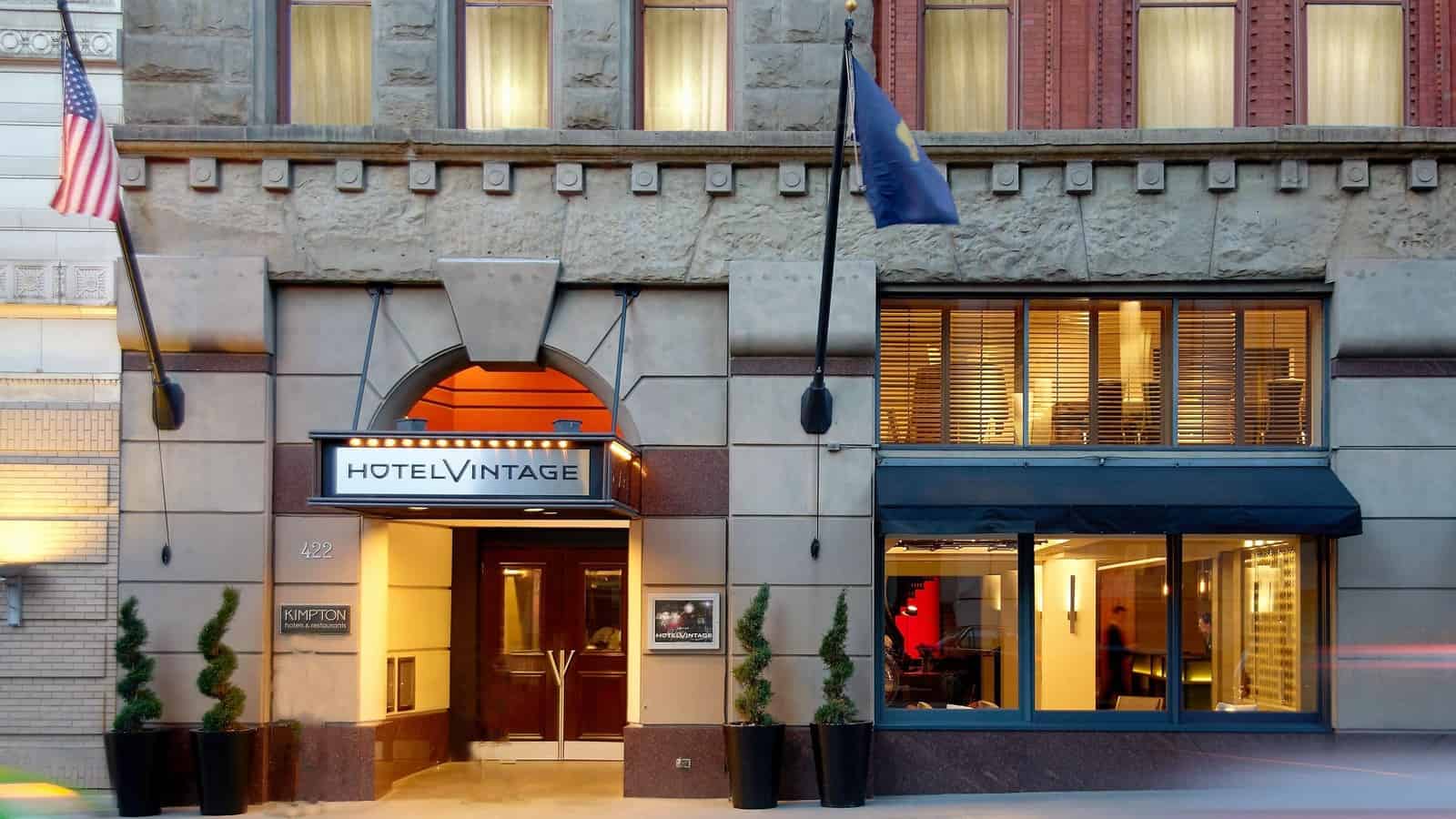 We selected this hotel because it pays homage to Willamette Valley's wines. So, each floor is dedicated to a different Willamette Valley AVA (American Viticultural Area) and each room to a local winery. Also, you know how much Keith, and I love wine!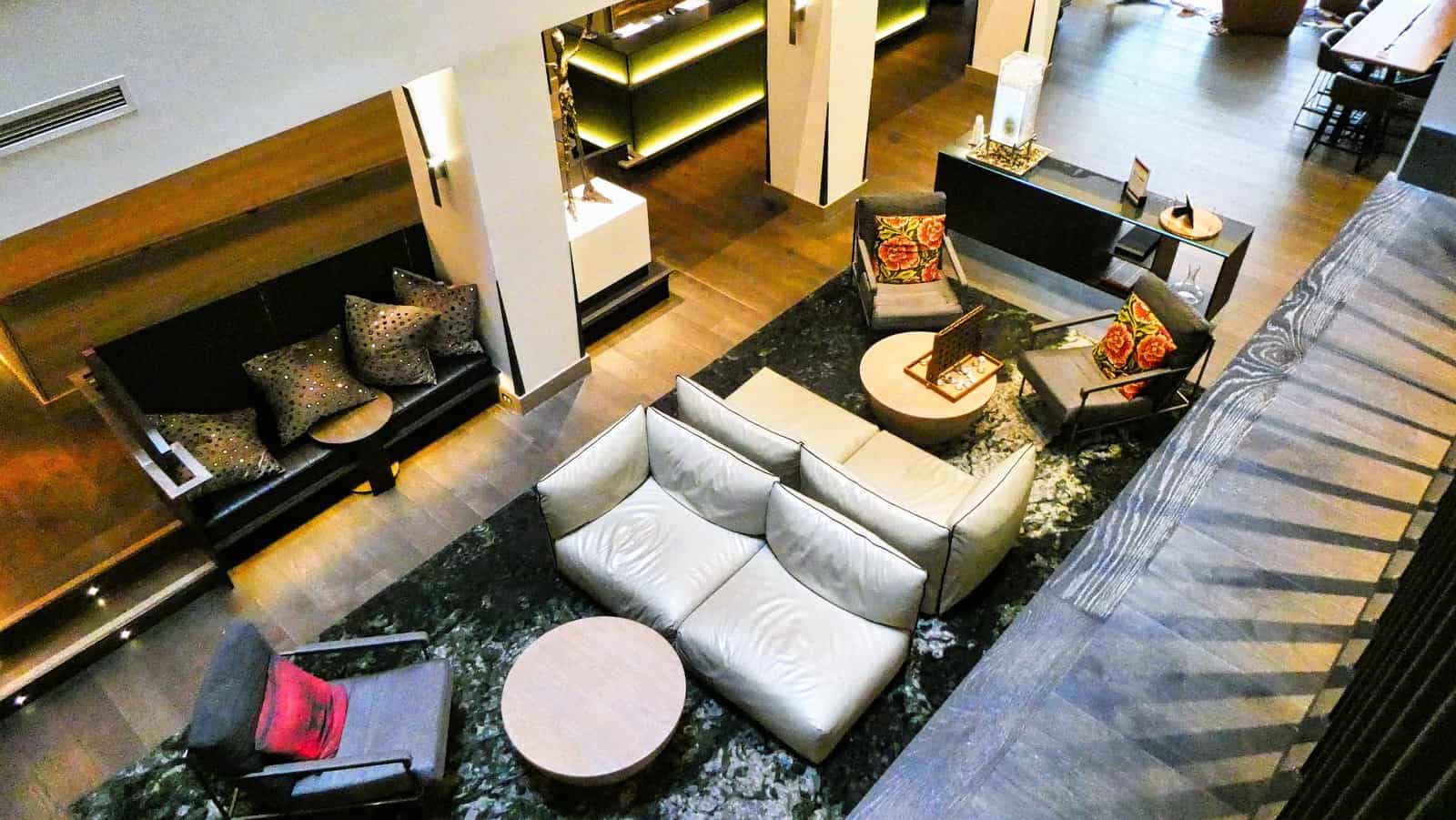 We stayed in a lovely King Studio Suite with a sitting area. We stayed two nights in Portland, and returning each night to the Hotel Vintage was amazing.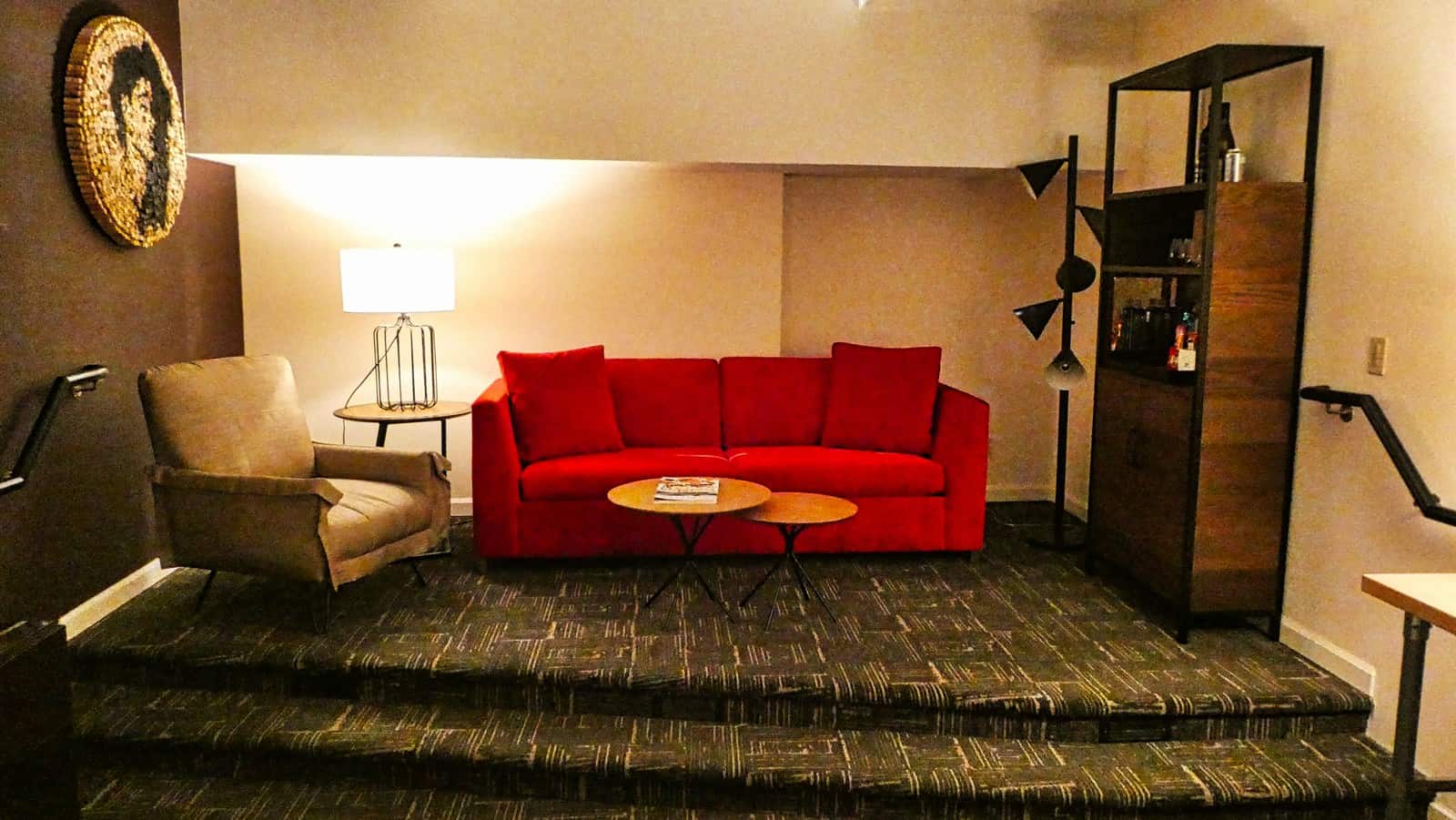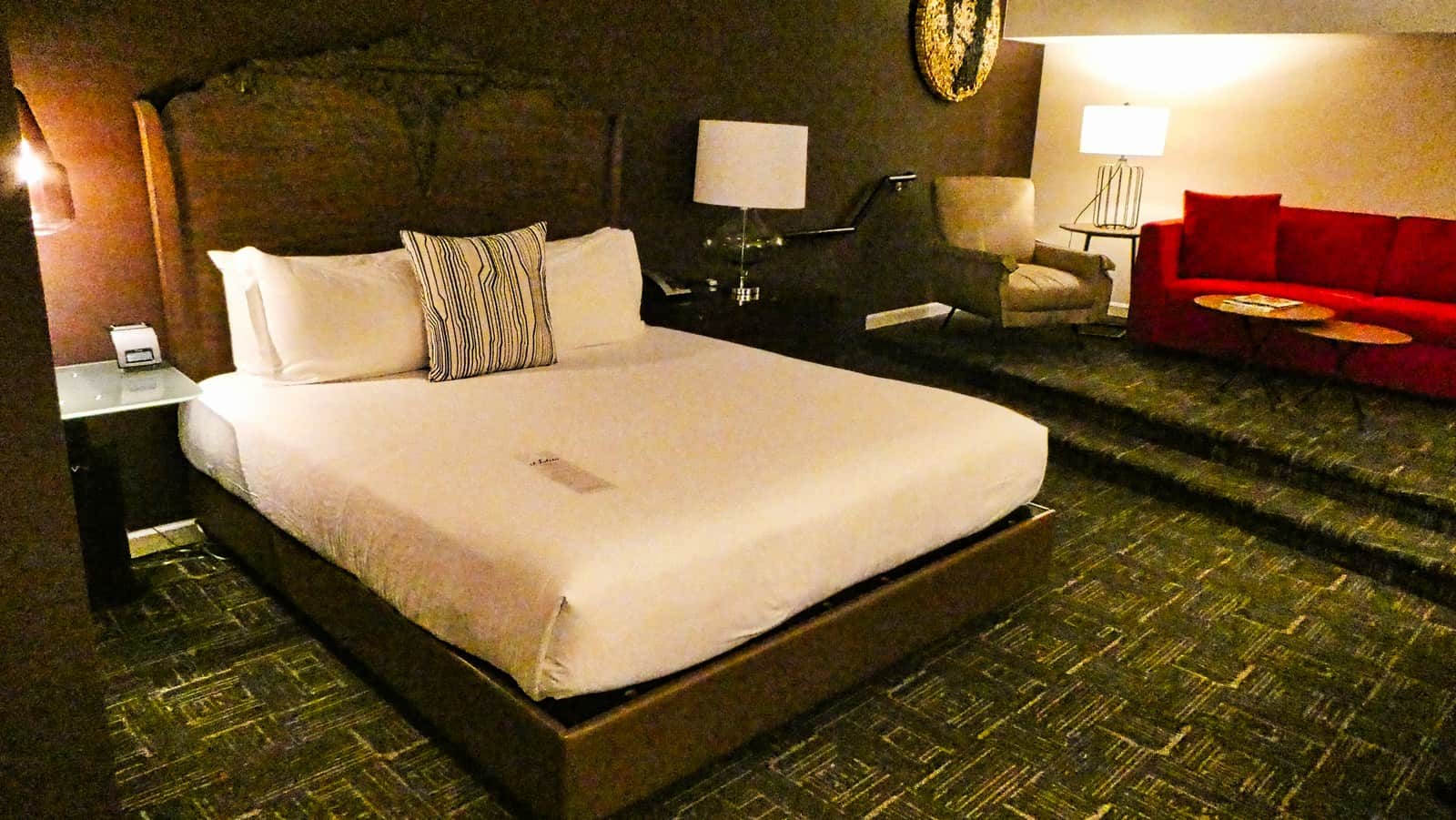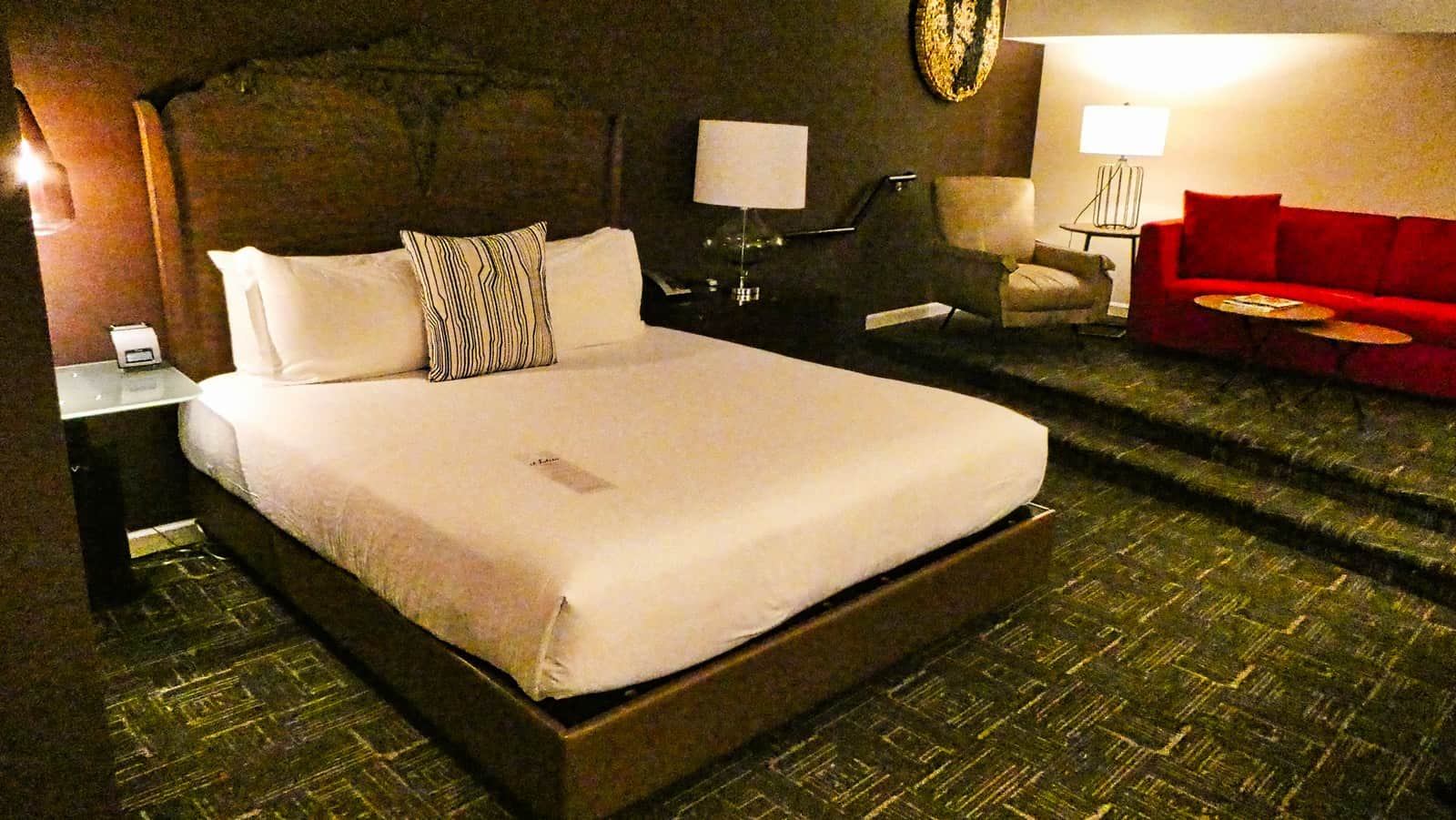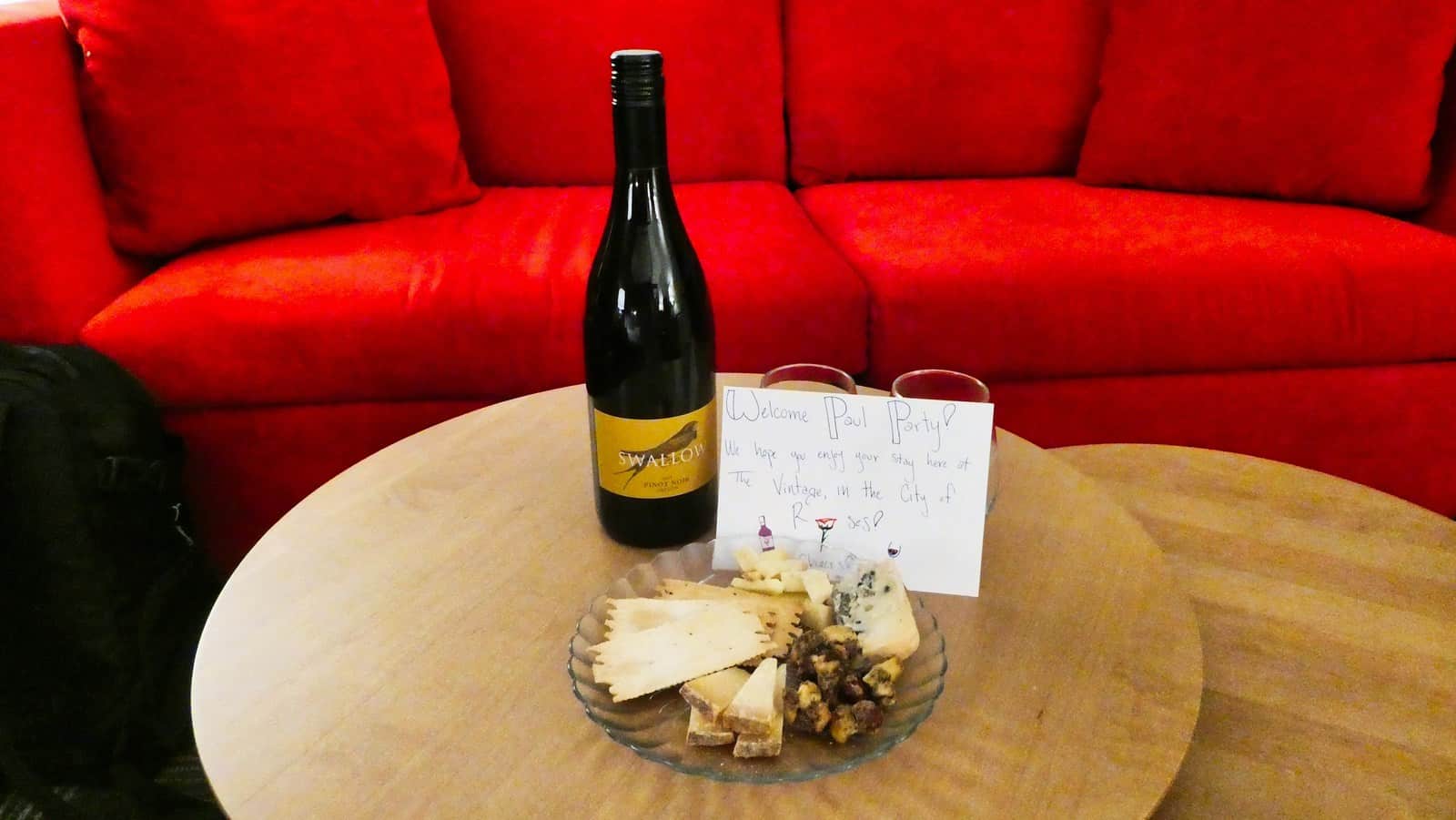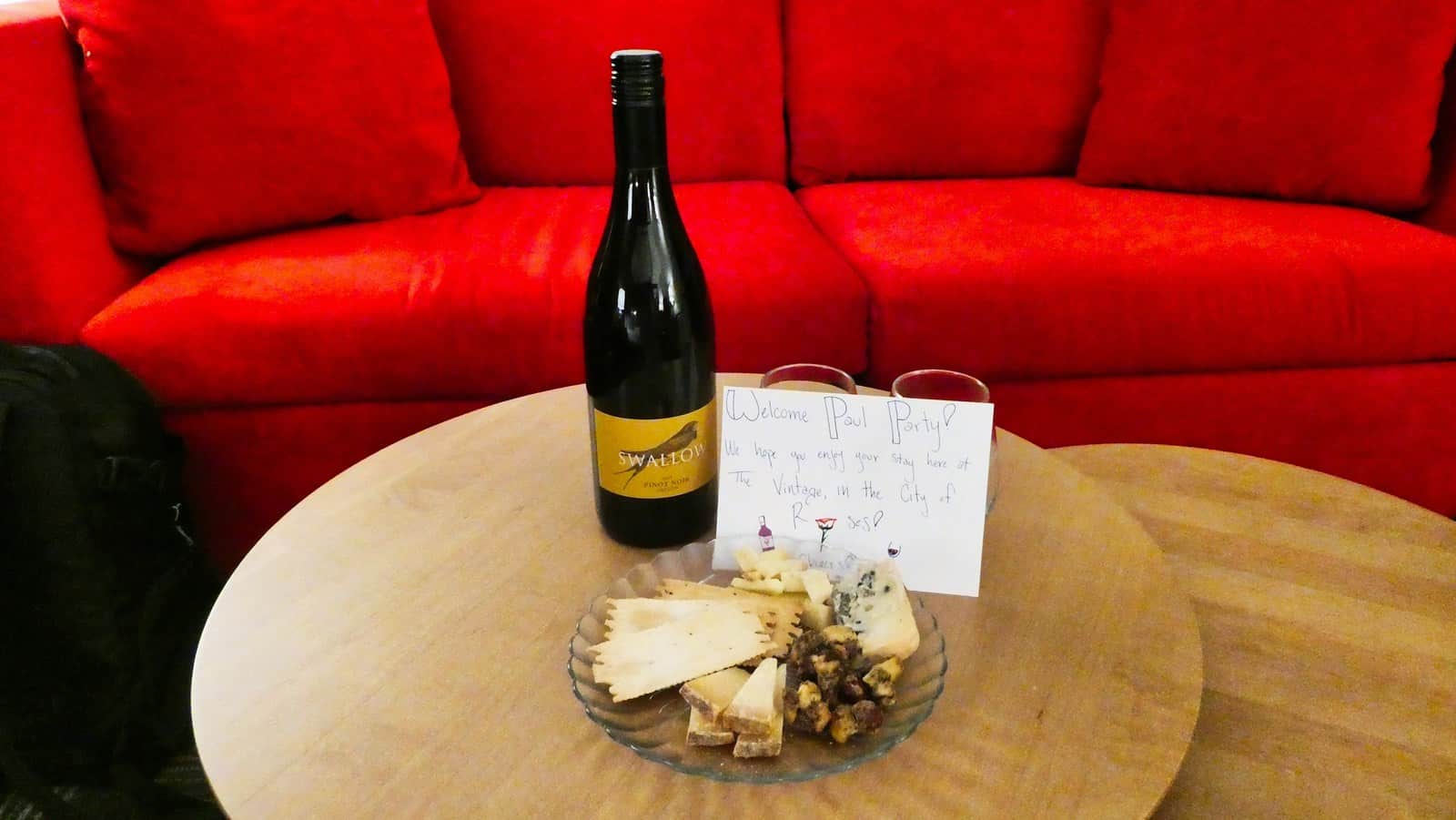 Dinner at Il Solito
After wine and appetizers in the lobby, its time for dinner. For dinner, we recommend not going anywhere and staying put at the Hotel Vintage and dining at their attached restaurant, the Il Solito. Il Solito, or "The Usual" in English, is an American-Italian restaurant. But it is not your typical hotel restaurant. Il Solito serves East-Coast Italian food in downtown Portland. Also, run by an Italian American, his aim with each dish is to serve simplistic, comforting foods. Additionally, they serve great Italian wines and Italian influenced cocktails.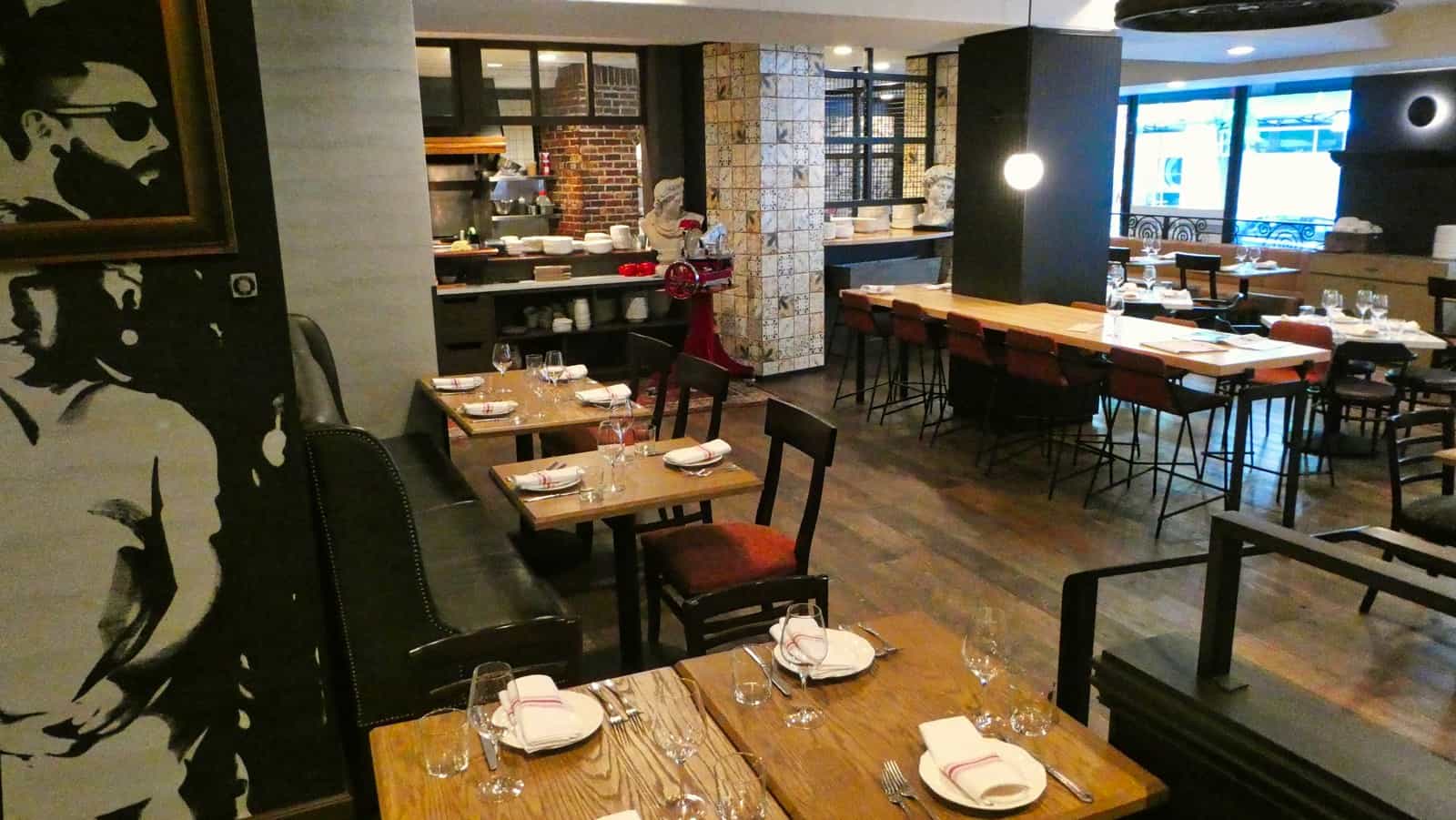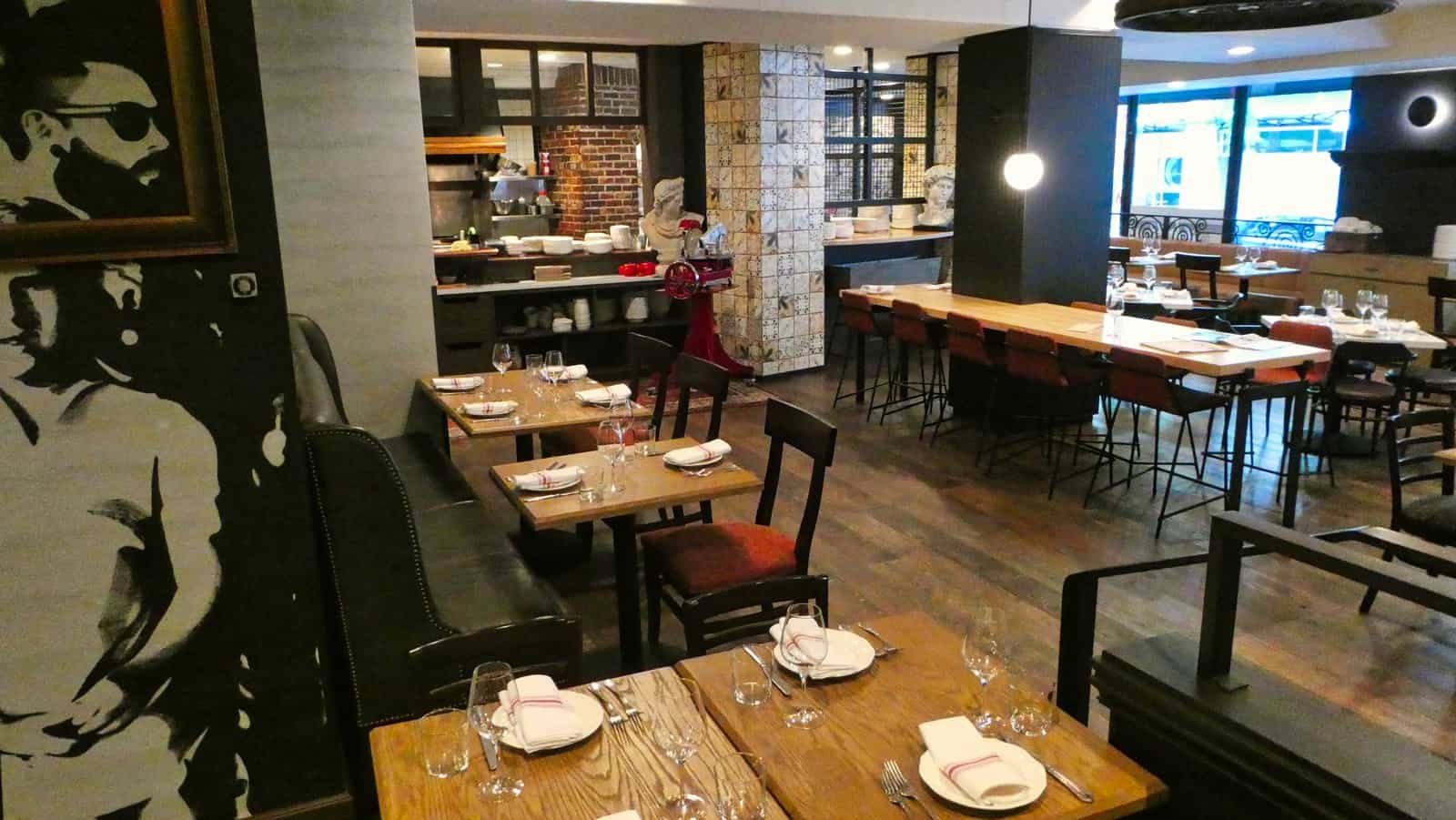 Keith and I enjoyed a delicious Coccoli (cheese, prosciutto, and honey) for a starter. Then, some buttered noodles and a to die for grilled Albacore Tuna. All the food was simply fresh and delicious.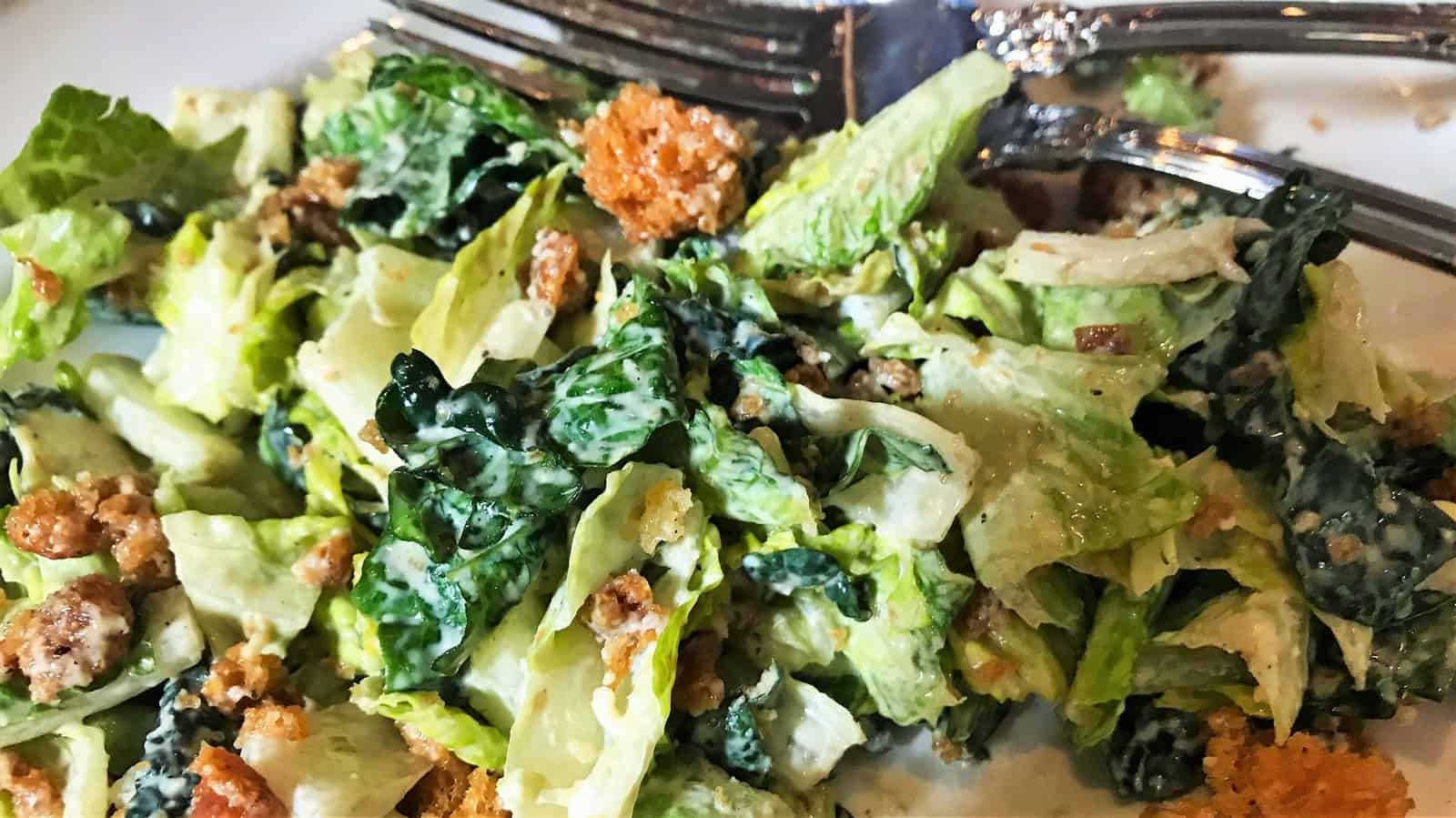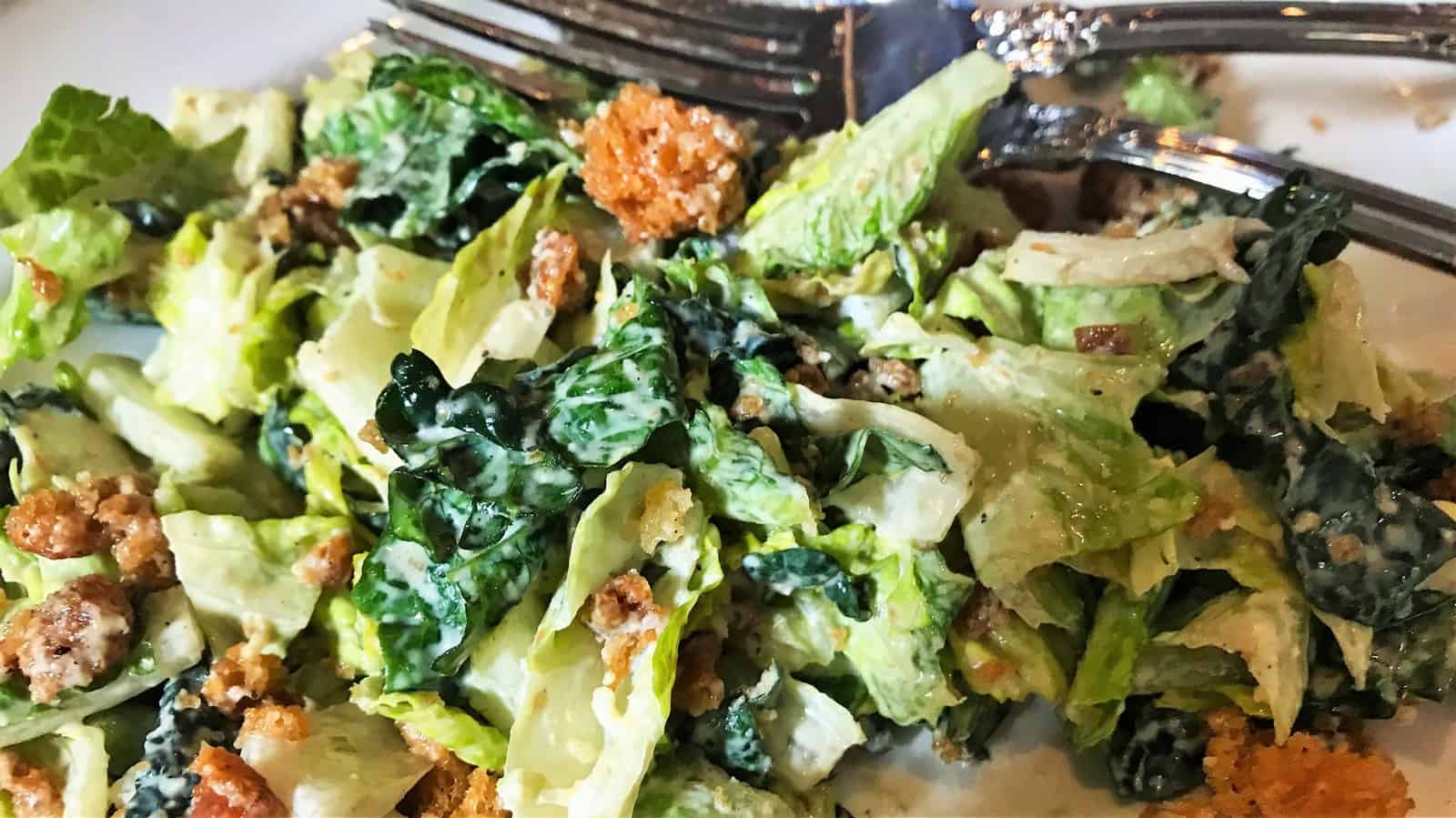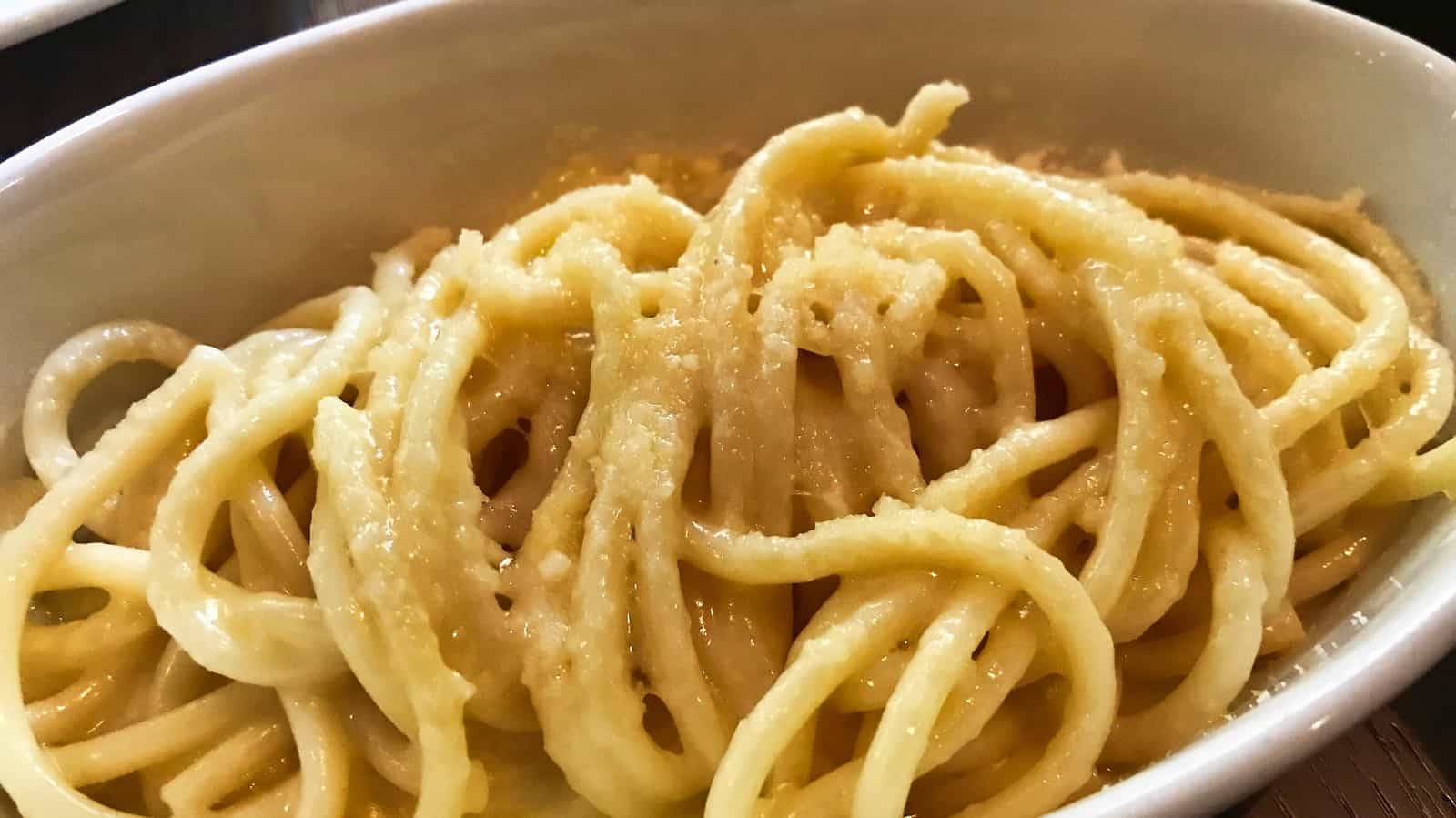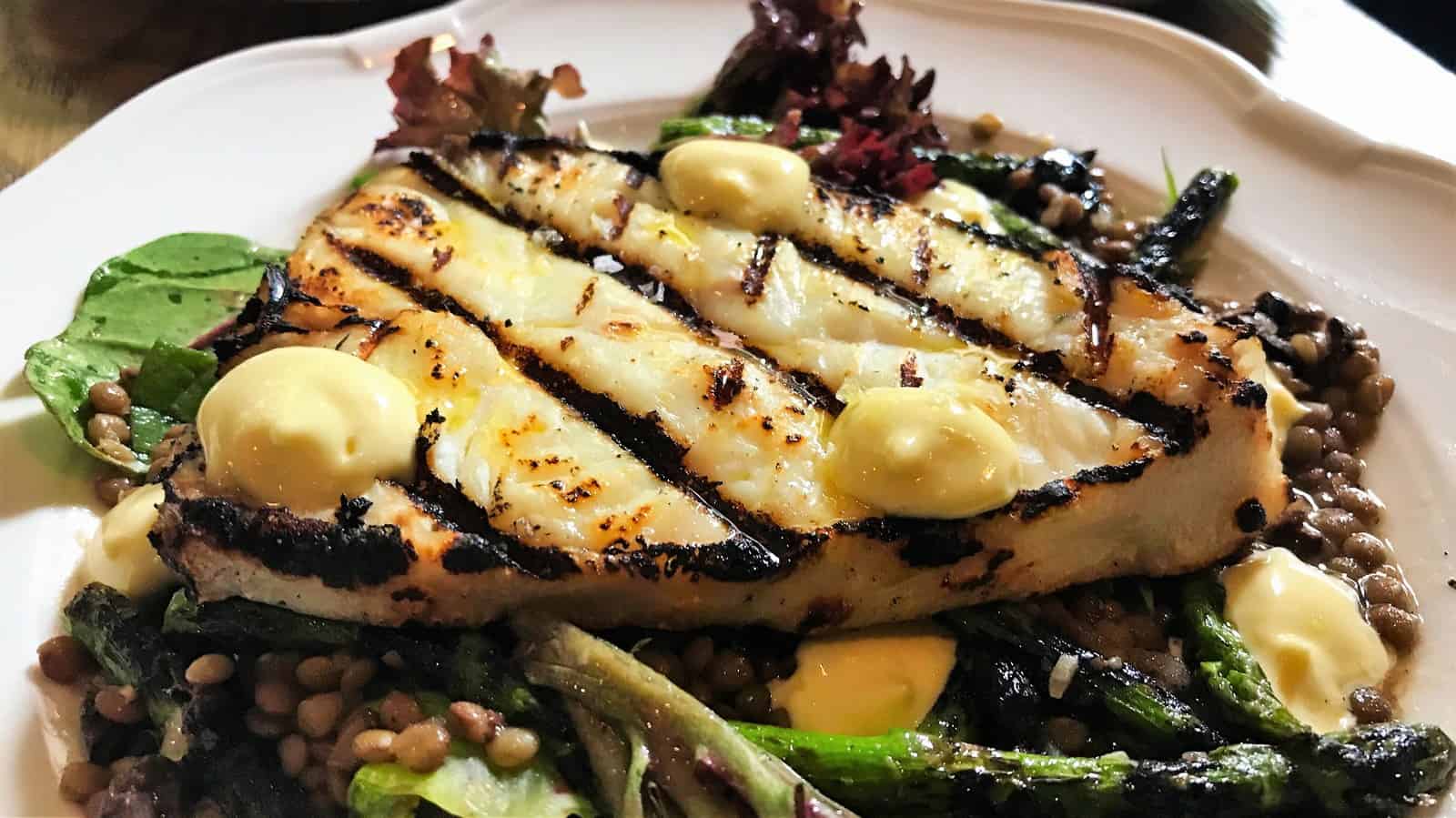 Since our hotel was located in a great downtown location, we decided to go for a short walk after dinner to see some of the city. Top on our list was Powell's bookstore. Since I used to sell new, used and collectible books, I knew of Powell's well. It's the largest independent new and used book store in the world. Above all, it didn't disappoint. One could spend hours browsing the books at Powell's.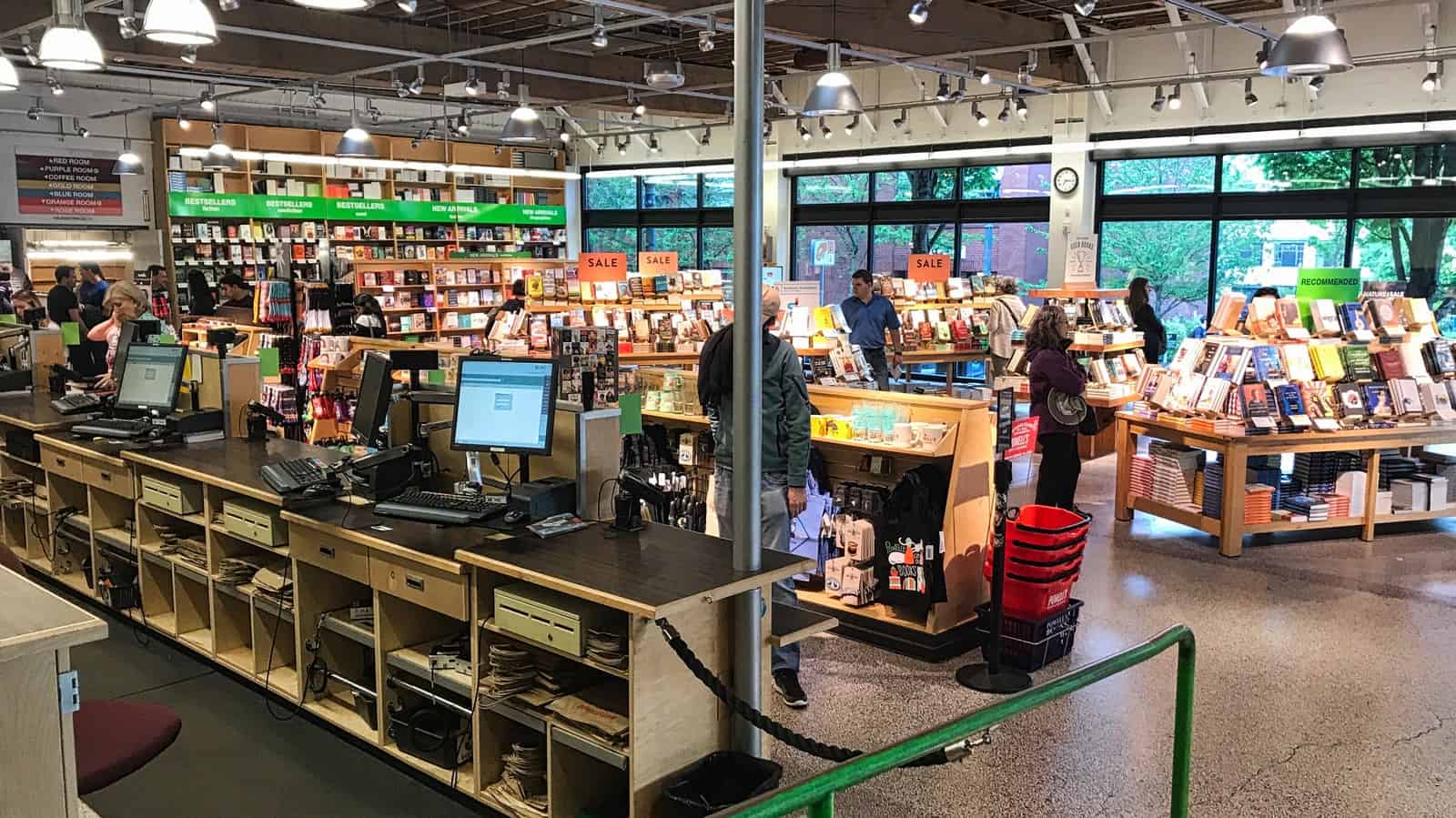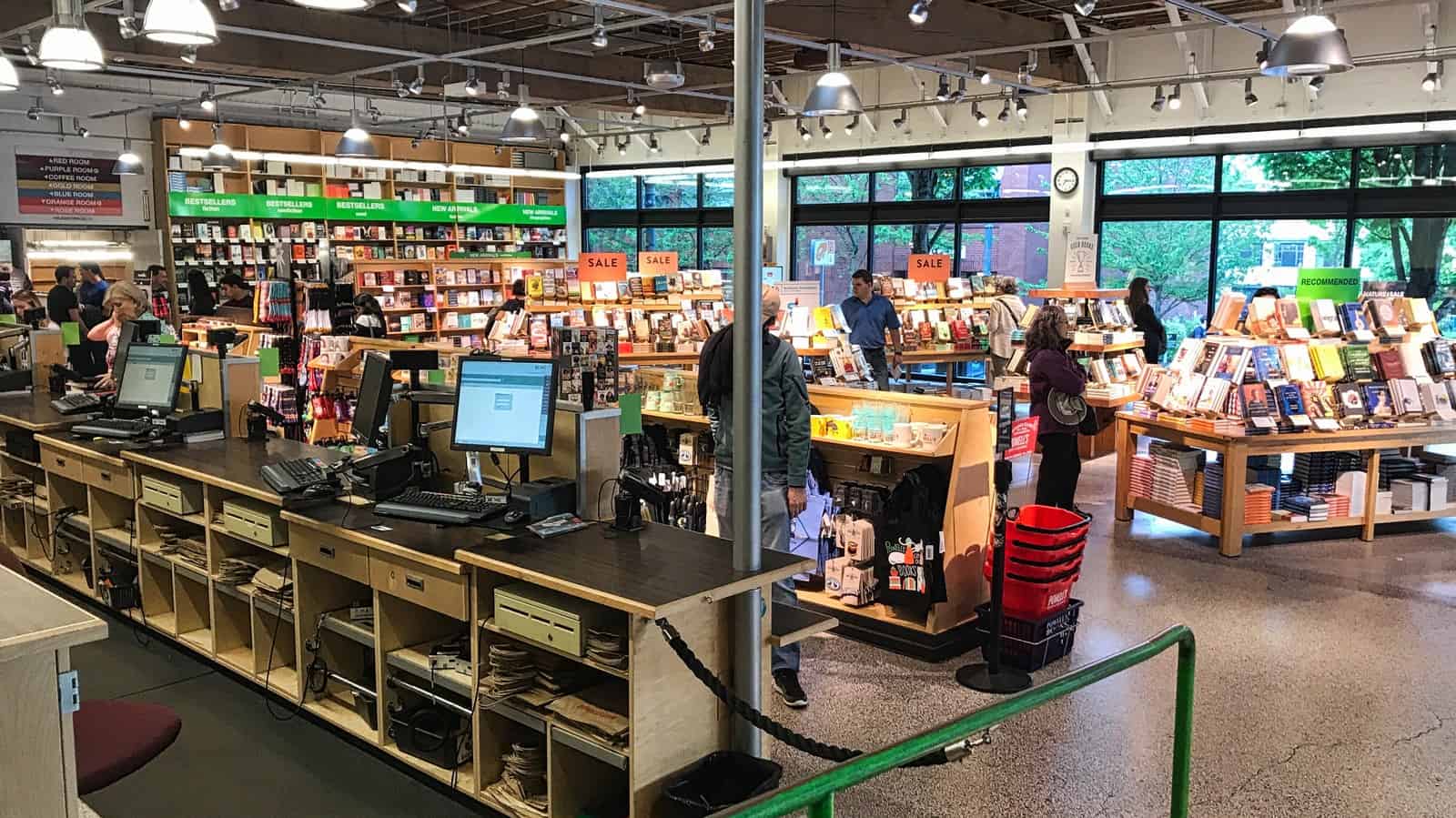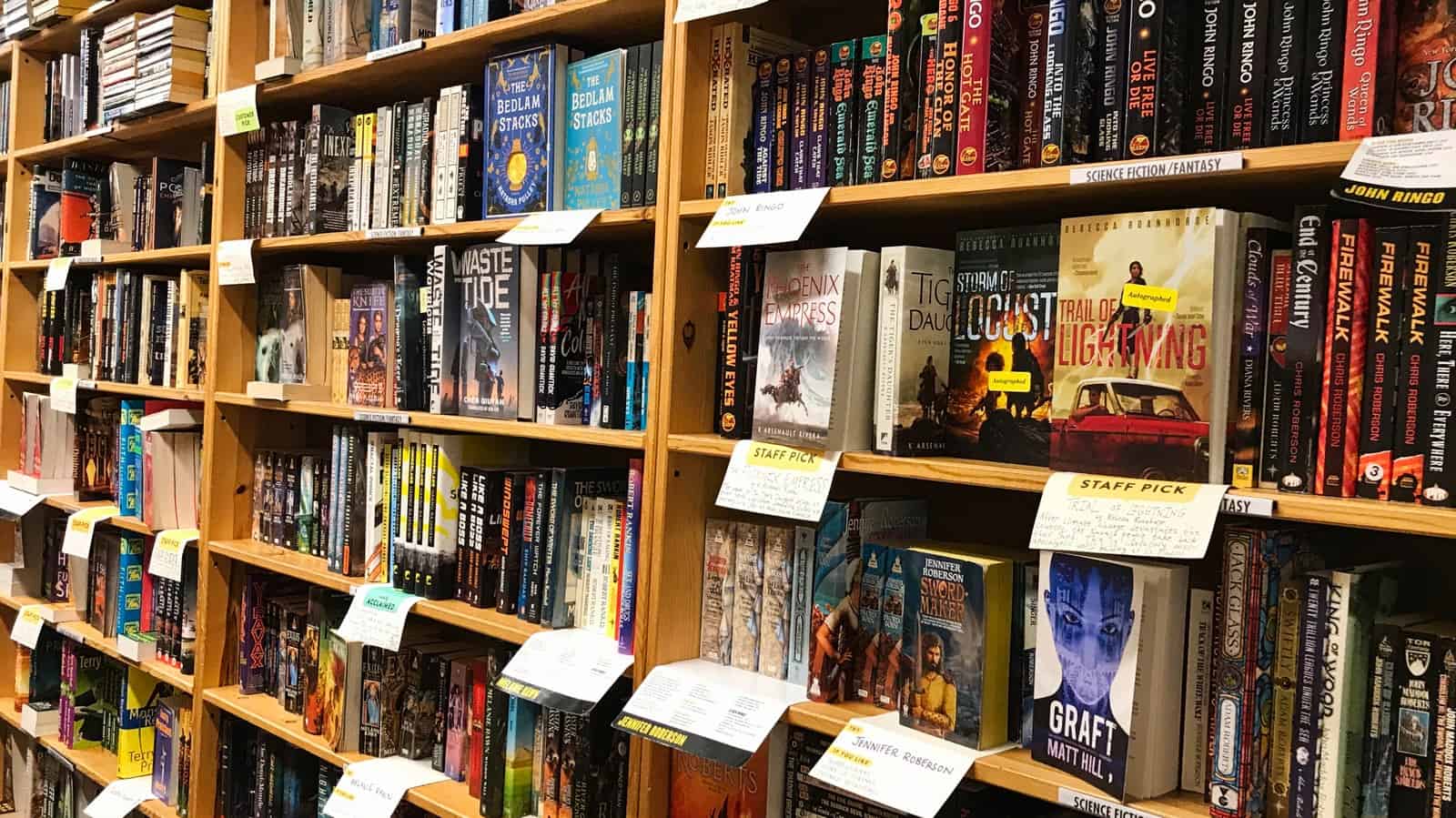 So Many Fun Things to Do In Portland Oregon
There are many fun things to do in Portland Oregon. As one of the US's best towns for weirdness, history, green space and much more, Portland is the kind of city you visit for two days and then want to live. Also, Portland is a food lovers delight. So, it's no wonder that Portland was named one of the best cities in the world for street food by several publications and news outlets, including the U.S. News & World Report and CNN. See for yourself. Put Portland on your must-visit list, you will have a wonderful time. Also, for more information on Portland Oregon, visit Travel Portland at https://www.travelportland.com/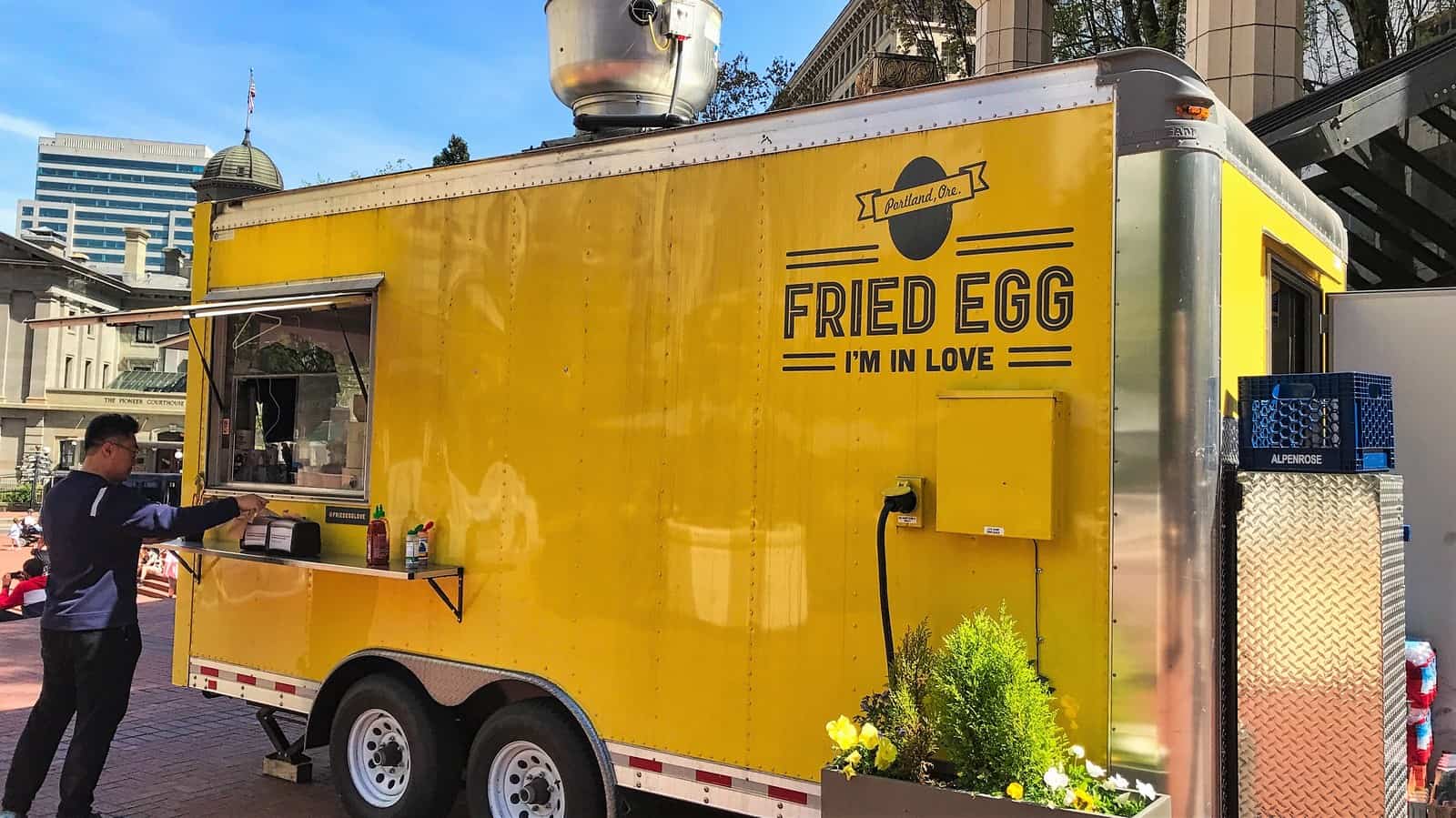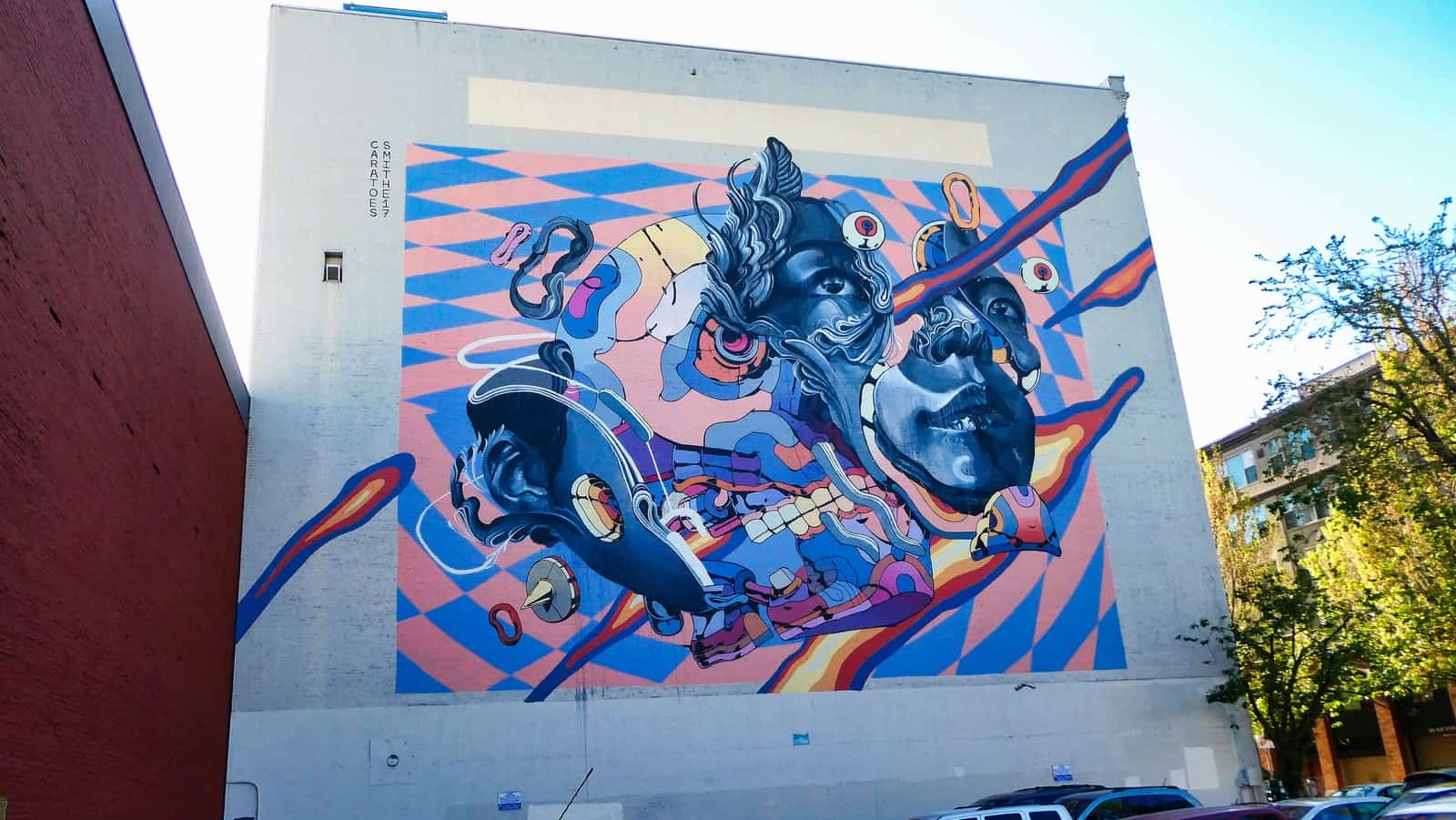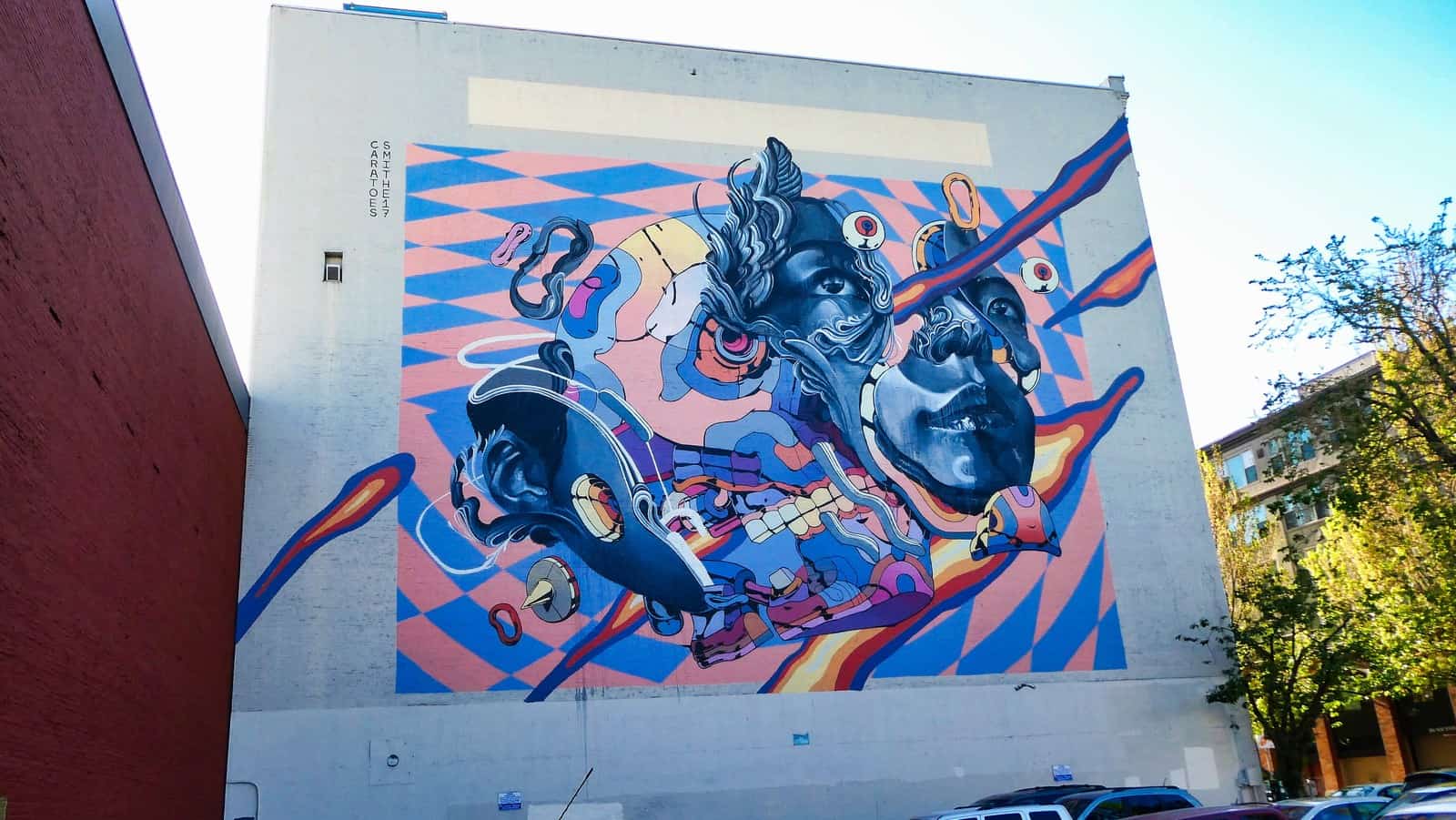 QUICK ANSWERS
Where is the world's smallest park?
Mills End Park in Portland Oregon is, according to the Guinness Book of World Records, the world's smallest park.
What cities name was determined by a coin toss?
Two of Portland Oregon's founders couldn't agree on a name. So they decided to toss a coin with the winner getting naming rights. Francis Pettygrove won the toss and since he was from Portland Maine, decided on Portland.
---
While in Portland, try doing some wine tasting in Oregon's Columbia River Gorge.