If you are a wine lover, foodie or historian you want to visit the Columbia Gorge Wine Country. In short, flanked by the Hood River, the Columbia Gorge Wine Country with its breathtaking views is diverse. Given these points, it is the perfect choice for a girls getaway, weekend wine tasting, or exploring. For a relativity small region, it has extremes in climate, scenery, and styles of wine, making it interesting and fun. Additionally, we all know wine grapes love extremes.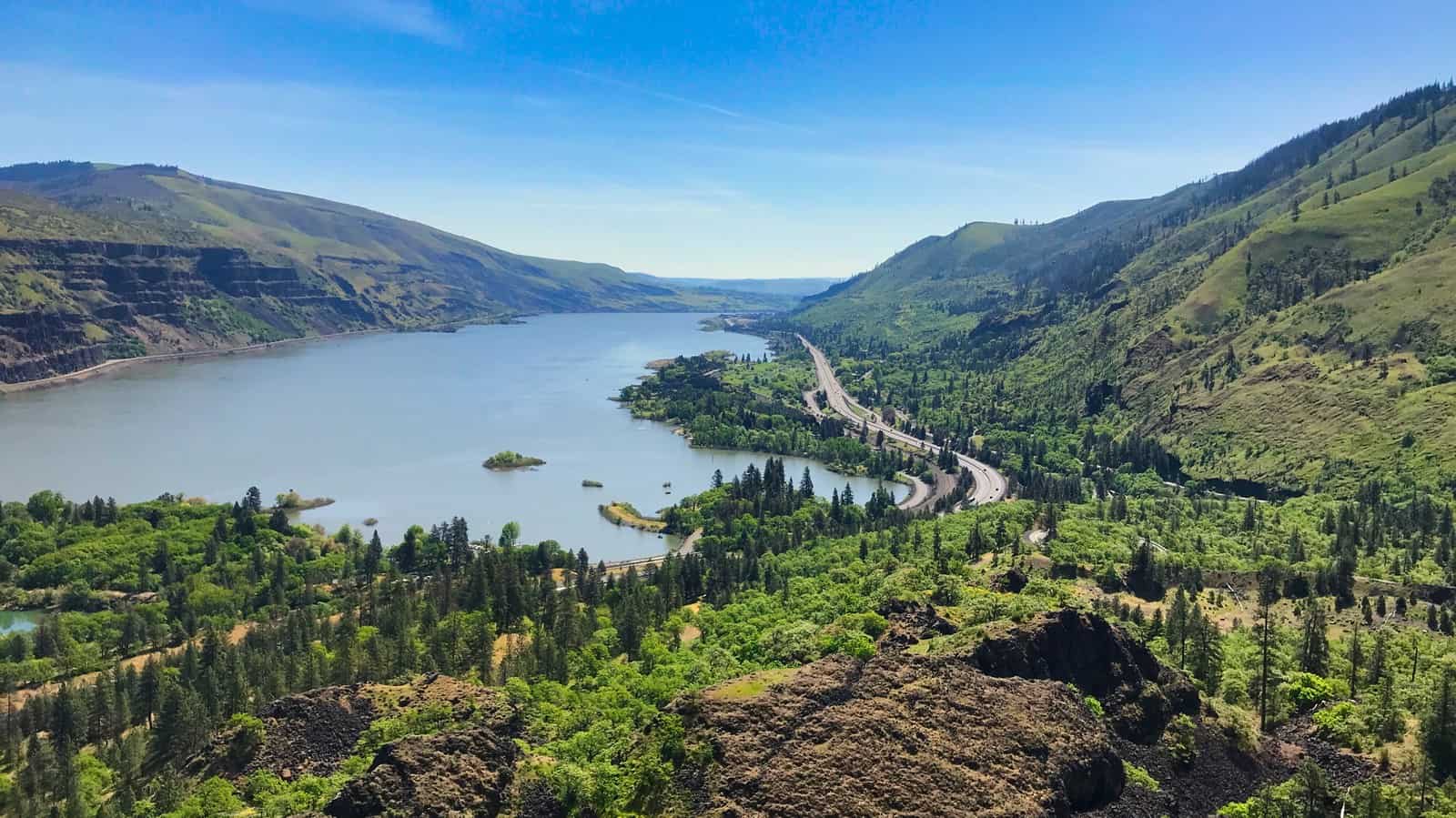 Columbia Gorge Wine Country is east of Portland, and in the shadow of the Cascade volcanos, so it gets far less rain than Portland. Annual rainfall may only be between 36 inches and 10 inches depending on how far east you are in the region. The further east you move through the Columbia Gorge, the rainfall drops. Elevation also plays a role in the region. Elevation increases as one travels from the Columbia River to the plateaus on either side. Another factor creating diverse conditions in the Columbia Gorge are the strong winds. Hence all of these different extremes allow for the wide variety of grapes grown in the Columbia Gorge. Thus, the region has nearly 40 vineyards, growing a wide variety of grapes, including Syrah, Pinot noir, Zinfandel, Cabernet Sauvignon, Sangiovese, Chardonnay, Gewürztraminer, Pinot Gris, and Riesling.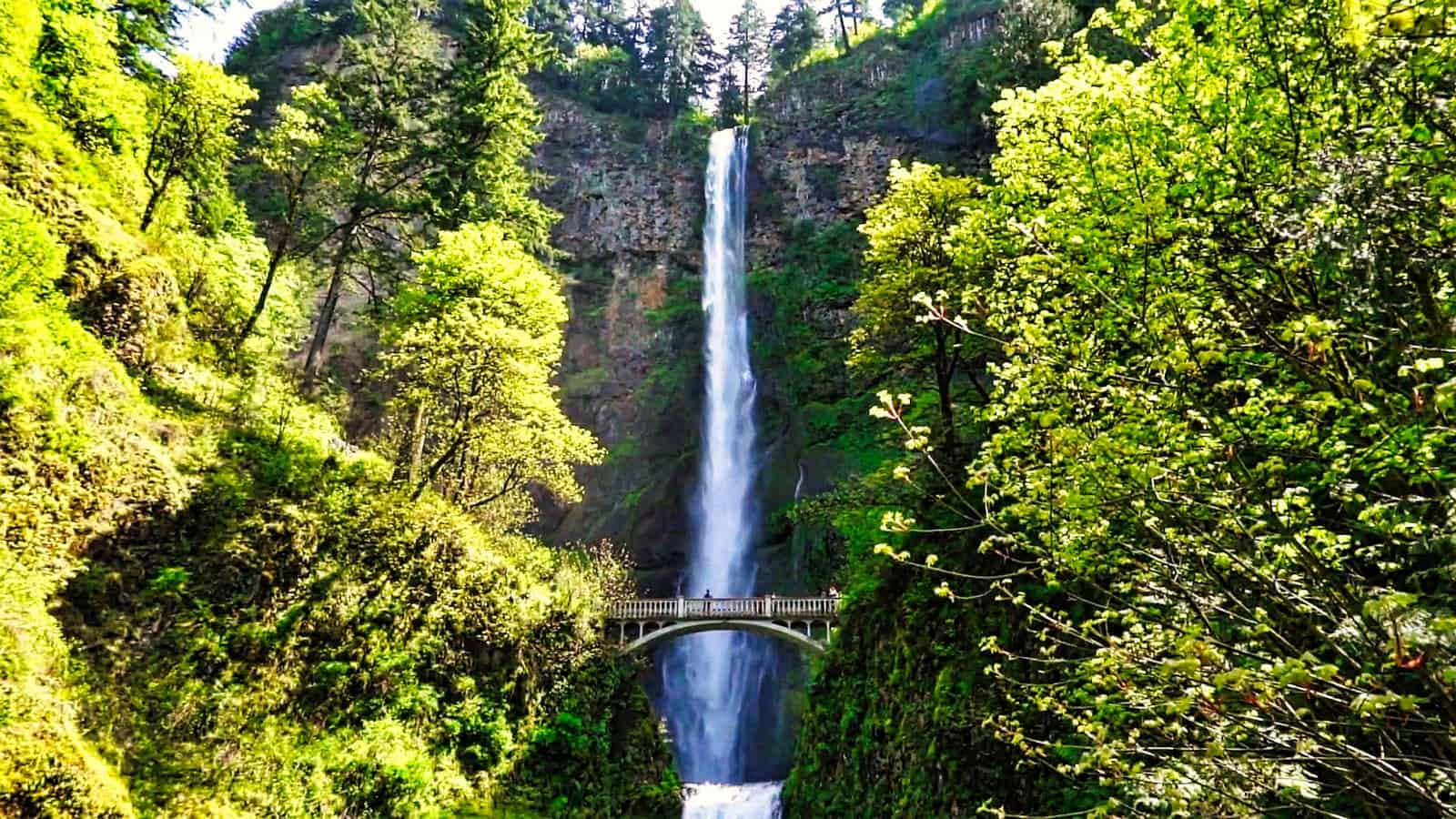 3 Day Trip to Taste Columbia Gorge Wine
Keith and I spent three amazing days in the Columbia Gorge Wine country. We made our trip by car traveling from Seattle to the wine country and then to Portland. Once we arrived in Oregon, we headed east to the Hood River. Below are our recommendations for wine tasting, where to stay and where to dine. In addition, we've outlined some cool things to do in the Columbia Gorge wine country in between tastings.
Wine Tasting at Mt Hood Winery
Our first stop was at Mt Hood winery to do some early afternoon wine tasting. Mt Hood Winery, located in the beautiful Hood River Valley, produces award-winning wines. As soon as we entered the tasting room, we saw a display saying welcome to the Oregon Winery of the Year for 2016.
We tasted wine in the modern tasting room with Linda Barber, the general manager of the winery. Thus, she explained that Mt Hood Winery won the award for the winery of the year given by Wine Press Northwest.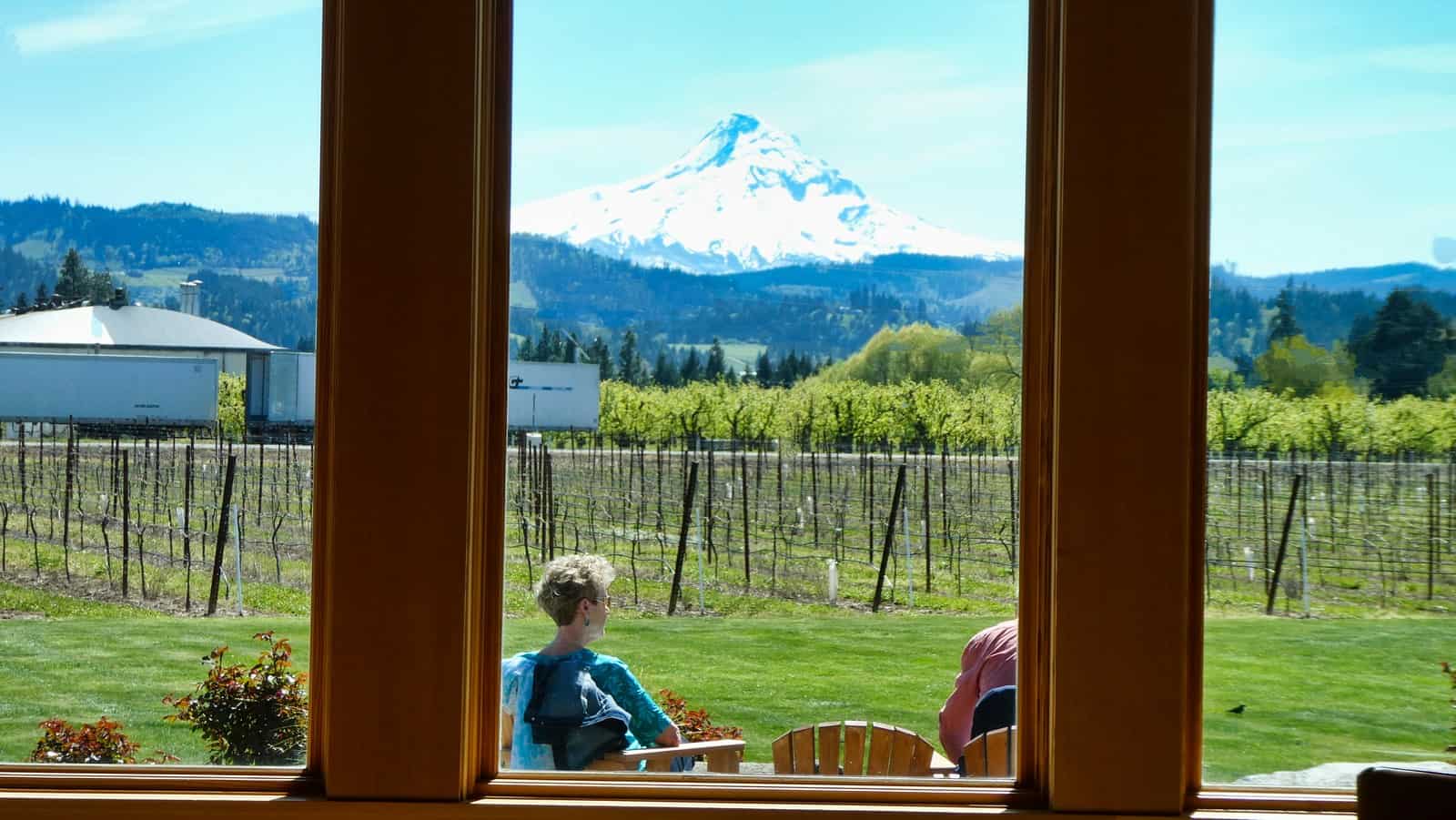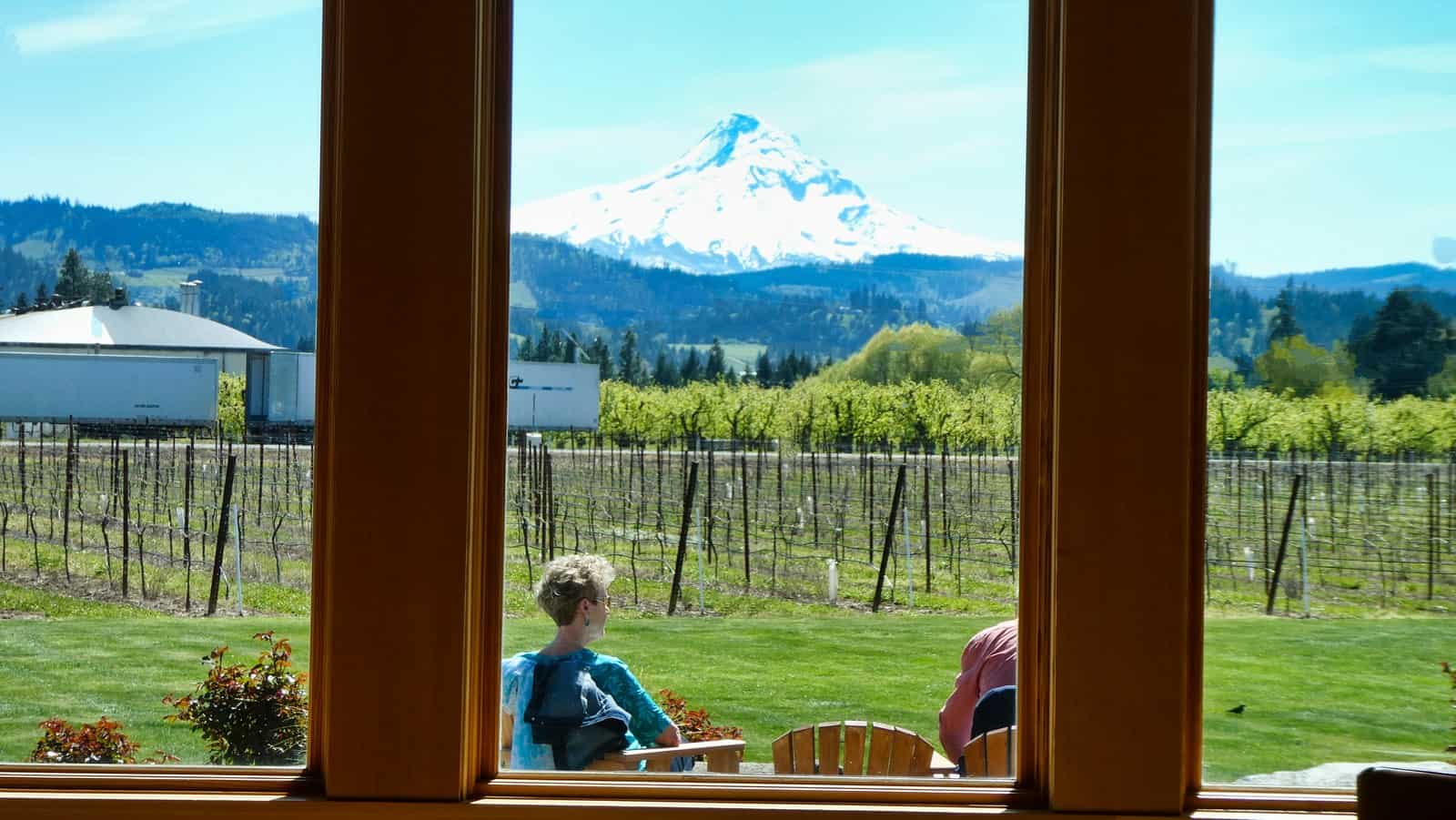 For six generations the Bickford family has farmed the land that is now Mt Hood winery. For generations, they grew pears and apples. Presently, they still have some orchards, but their focus is grapes. They began the winery in 2002, and it has been full steam ahead ever since. Every part of the winemaking, including sales, is completed in-house; so it is a true vine to bottle winery. What's more, the expansive tasting room is bright and cheery, and they have a great outdoor deck that provides gorgeous mountain views.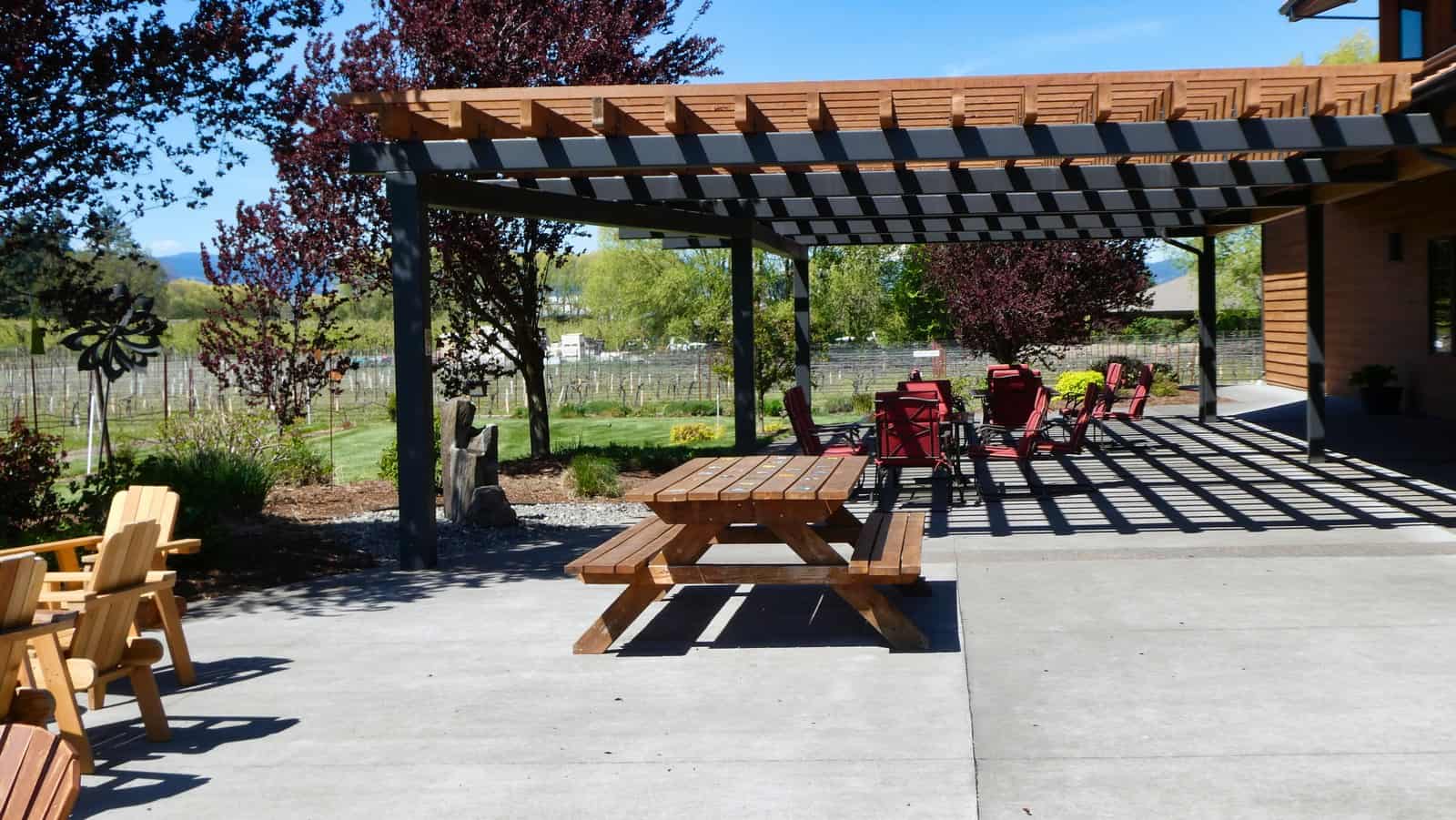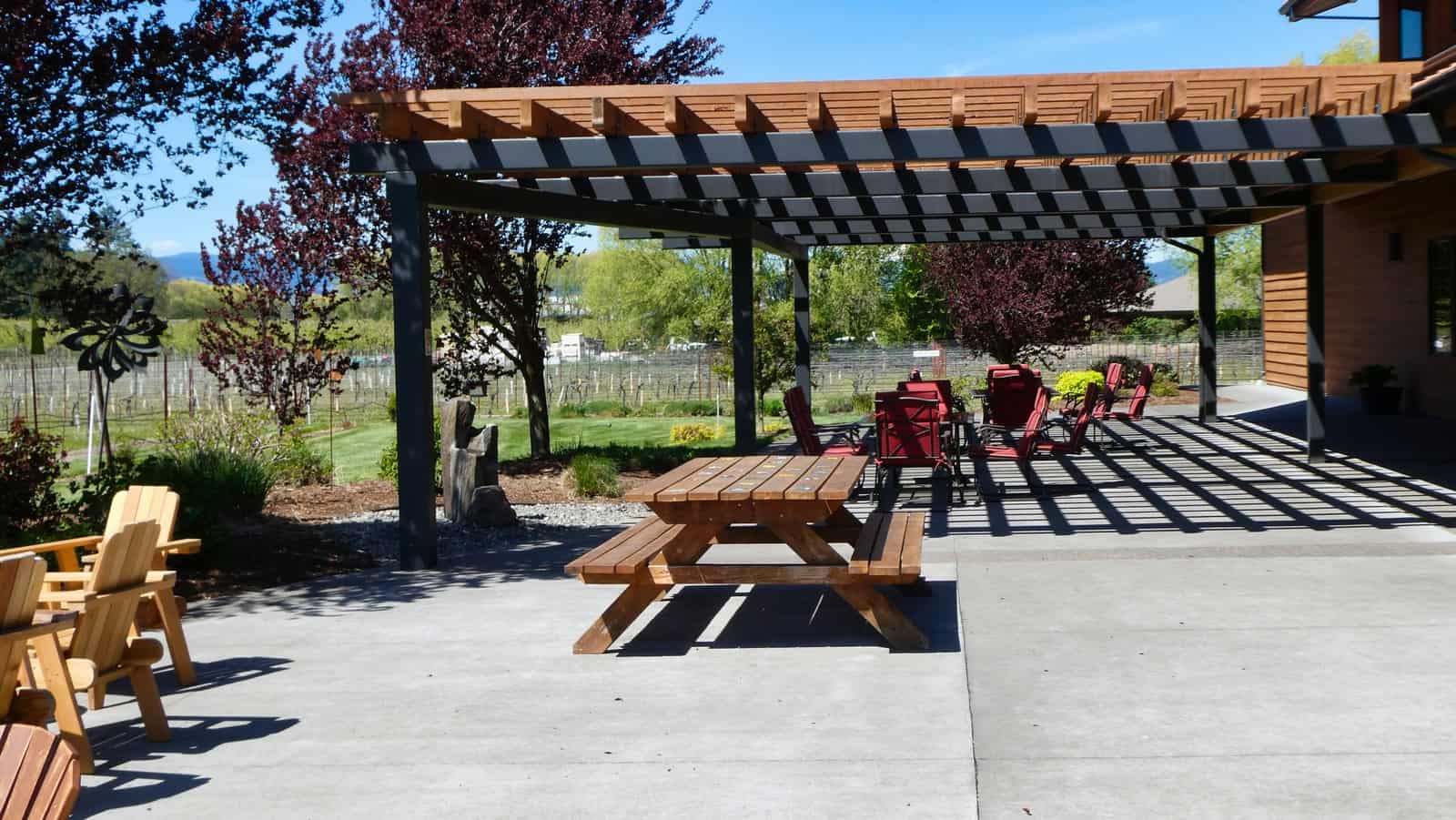 Our favorite wine at Mt Hood winery was 2016 Estate Dry Riesling.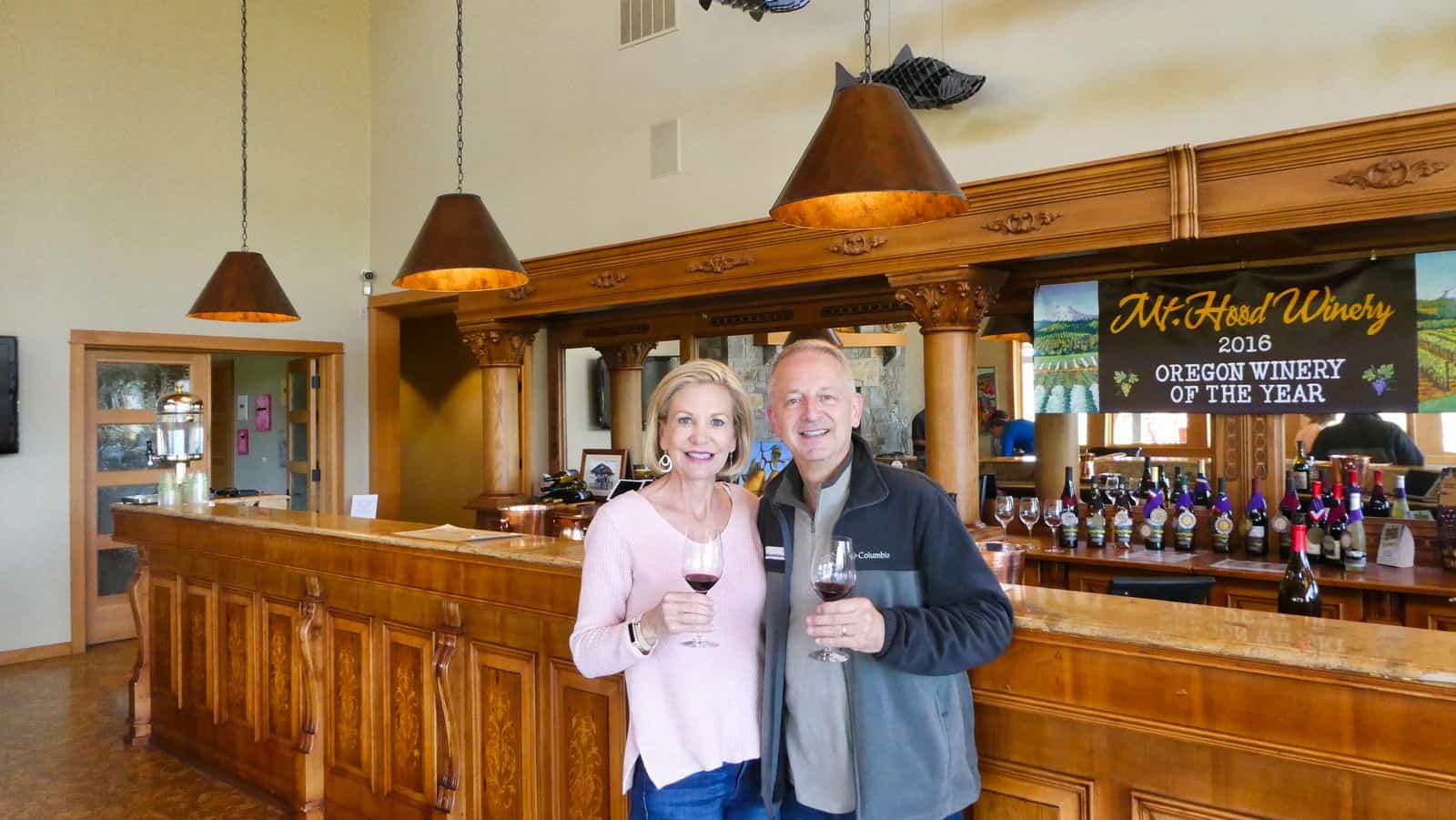 Wine Tasting at Stave & Stone Winery
Afterward, we were on to Stave and Stone Winery. Like Mt Hood winery Stave & Stone is a multigenerational pear and apple orchard turned winery. But, here it is the Fletcher family who has owned this farm for five generations.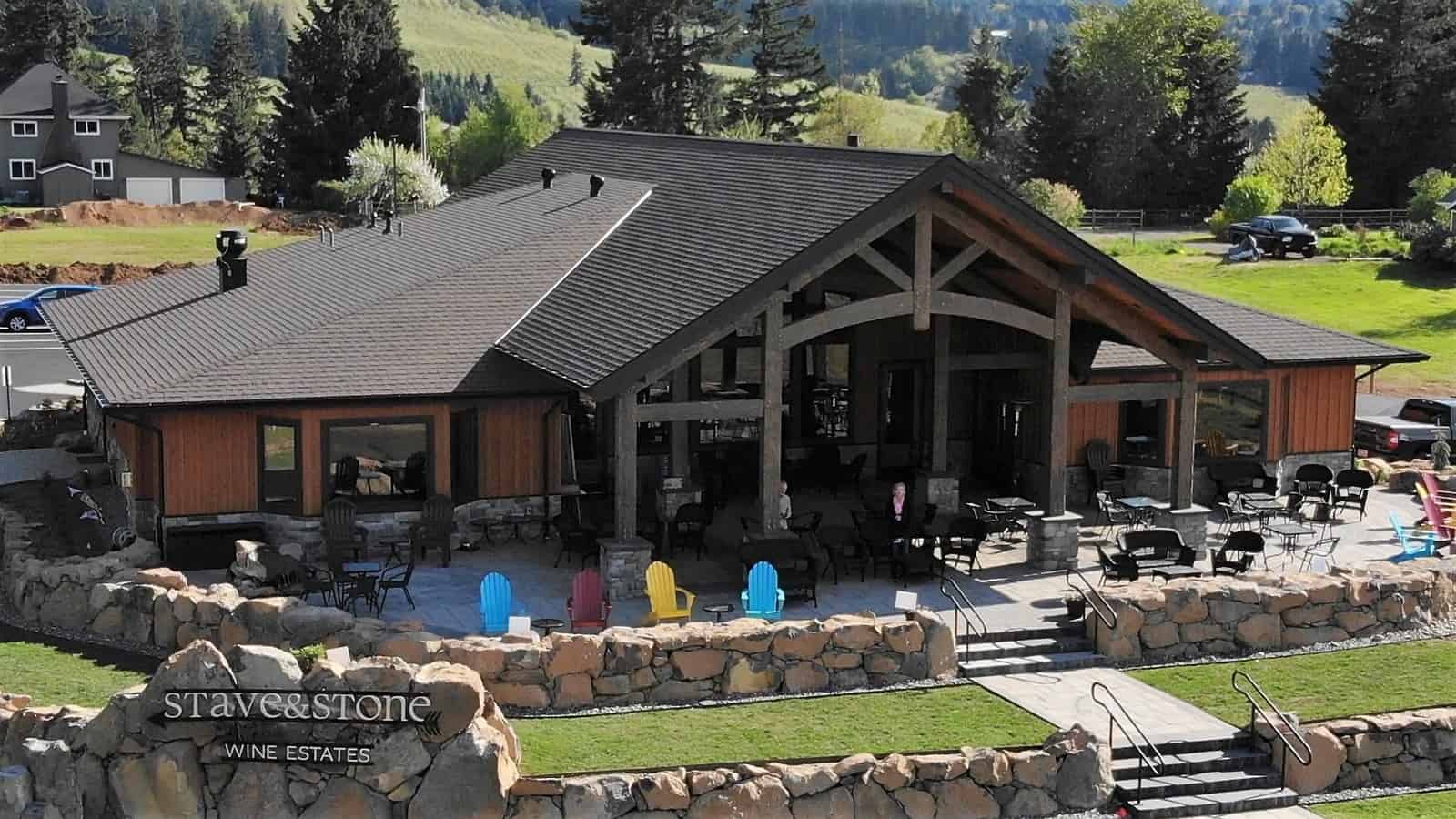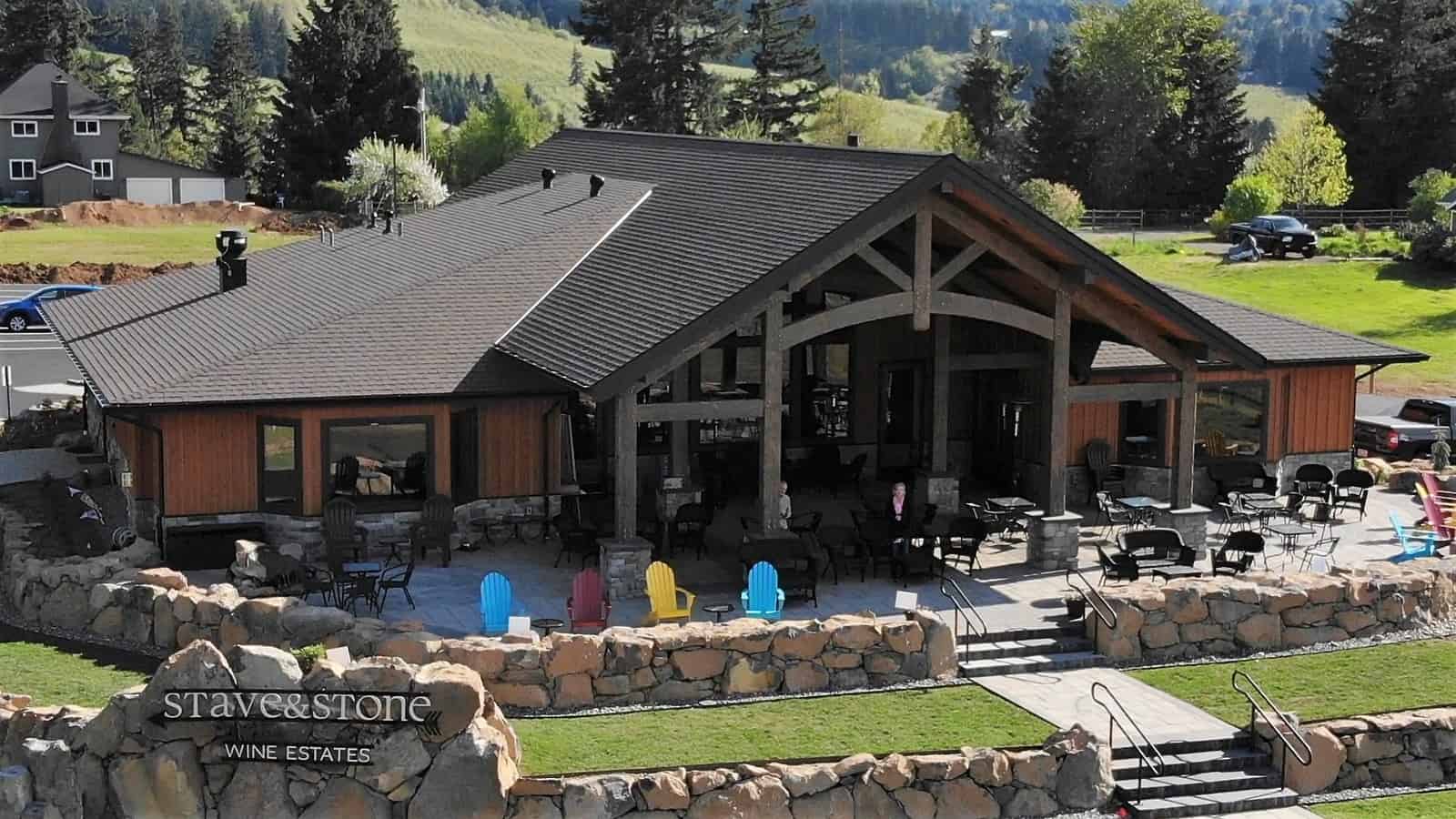 Stave & Stone has a gorgeous, cozy, new tasting room in the shadow of Mount Hood. In addition, they have created a place you want to share with your friends. We especially liked that the tasting room, designed for sitting, encourages guest to take their time enjoying their wine. Or, on nice days you can enjoy your wine on their covered patio surrounded by the vineyard and views of Mt. Adams and the valley.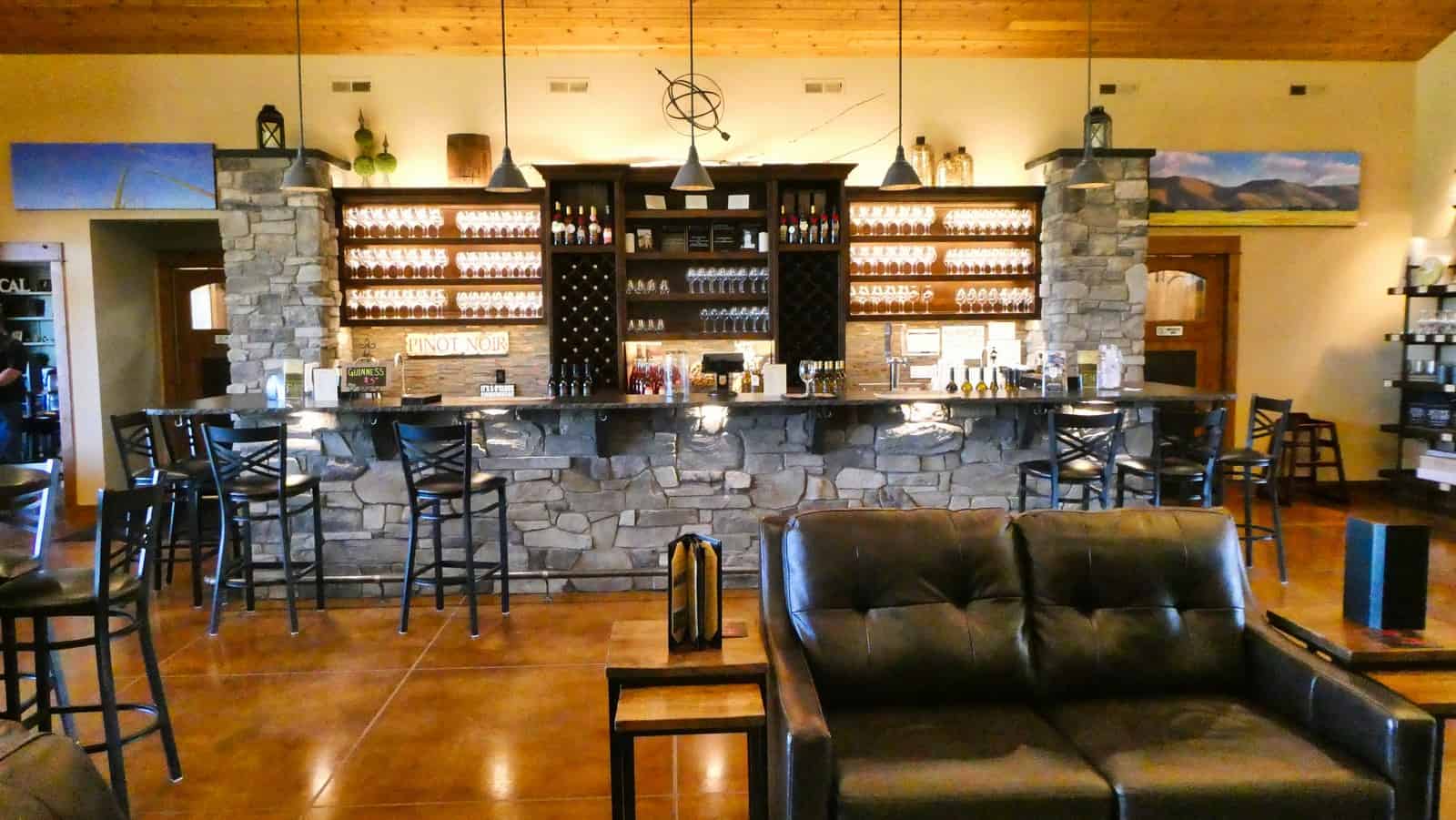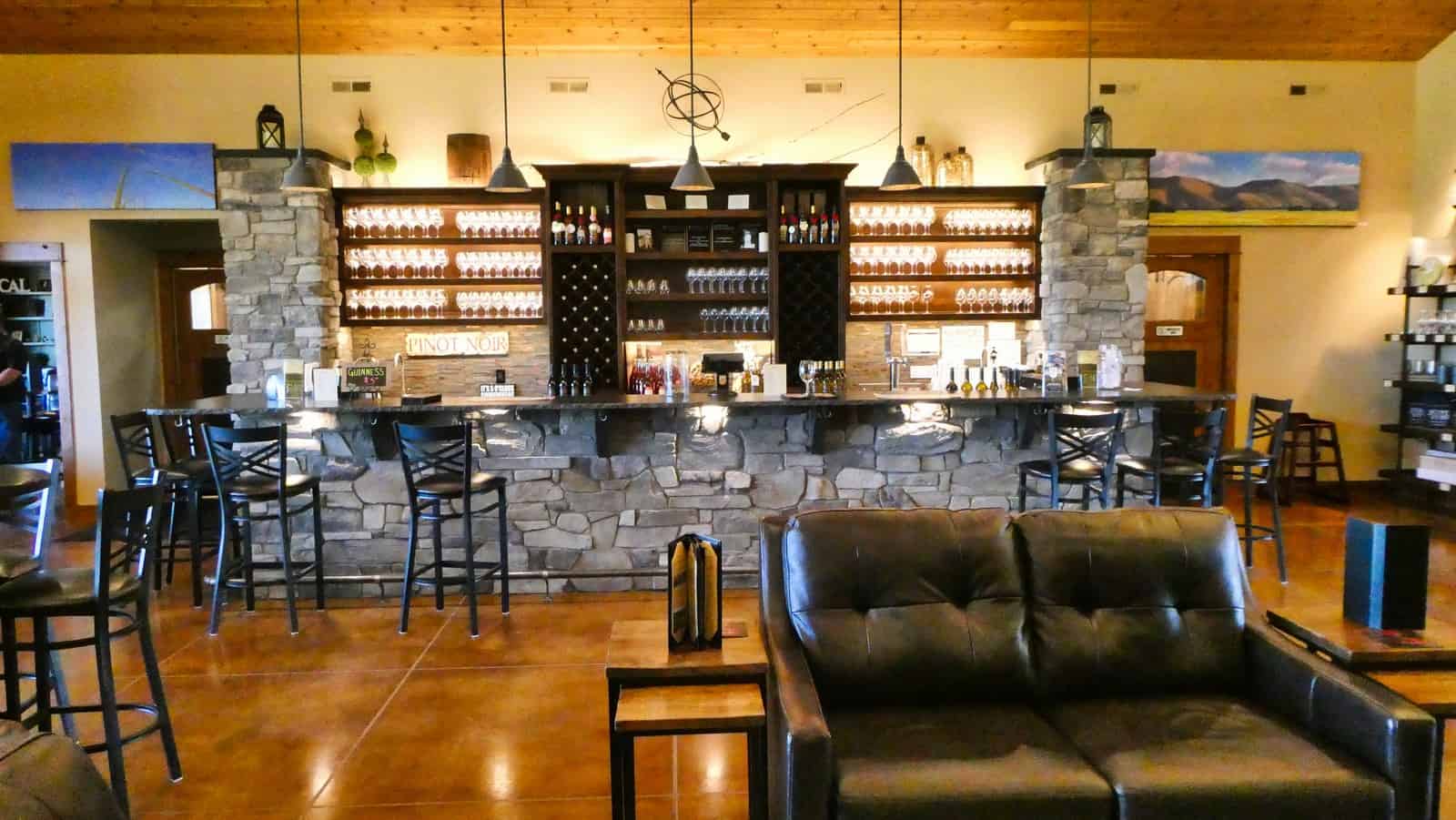 Surprisingly, the Stave and Stone winery vineyard is called Broken Boulder Vineyard. The name comes from the enormous basalt boulders scattered throughout their fields, many of which had to be moved to plant the vines. Accordingly, thousands of years ago, these boulders belonged to Mt Hood.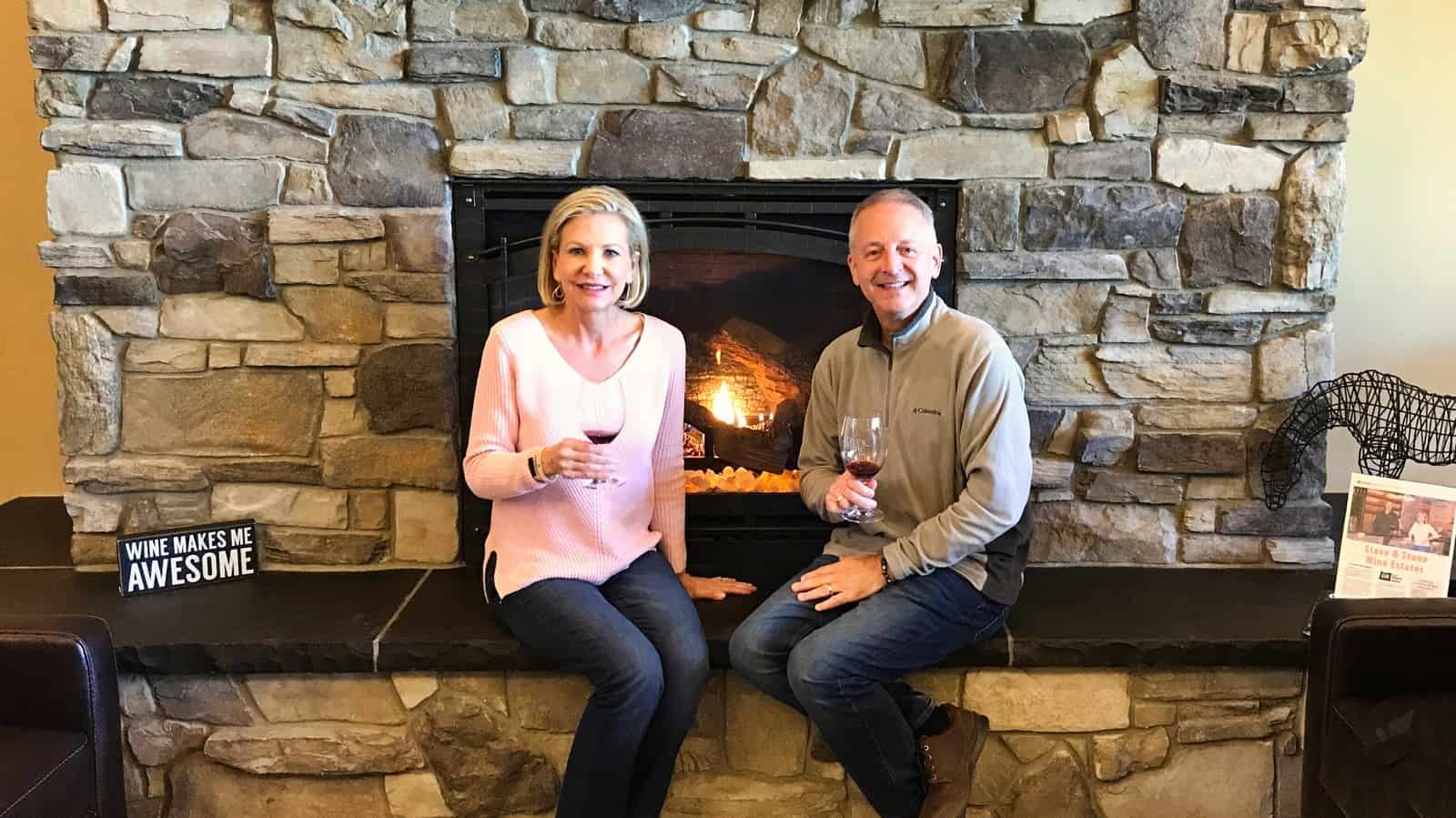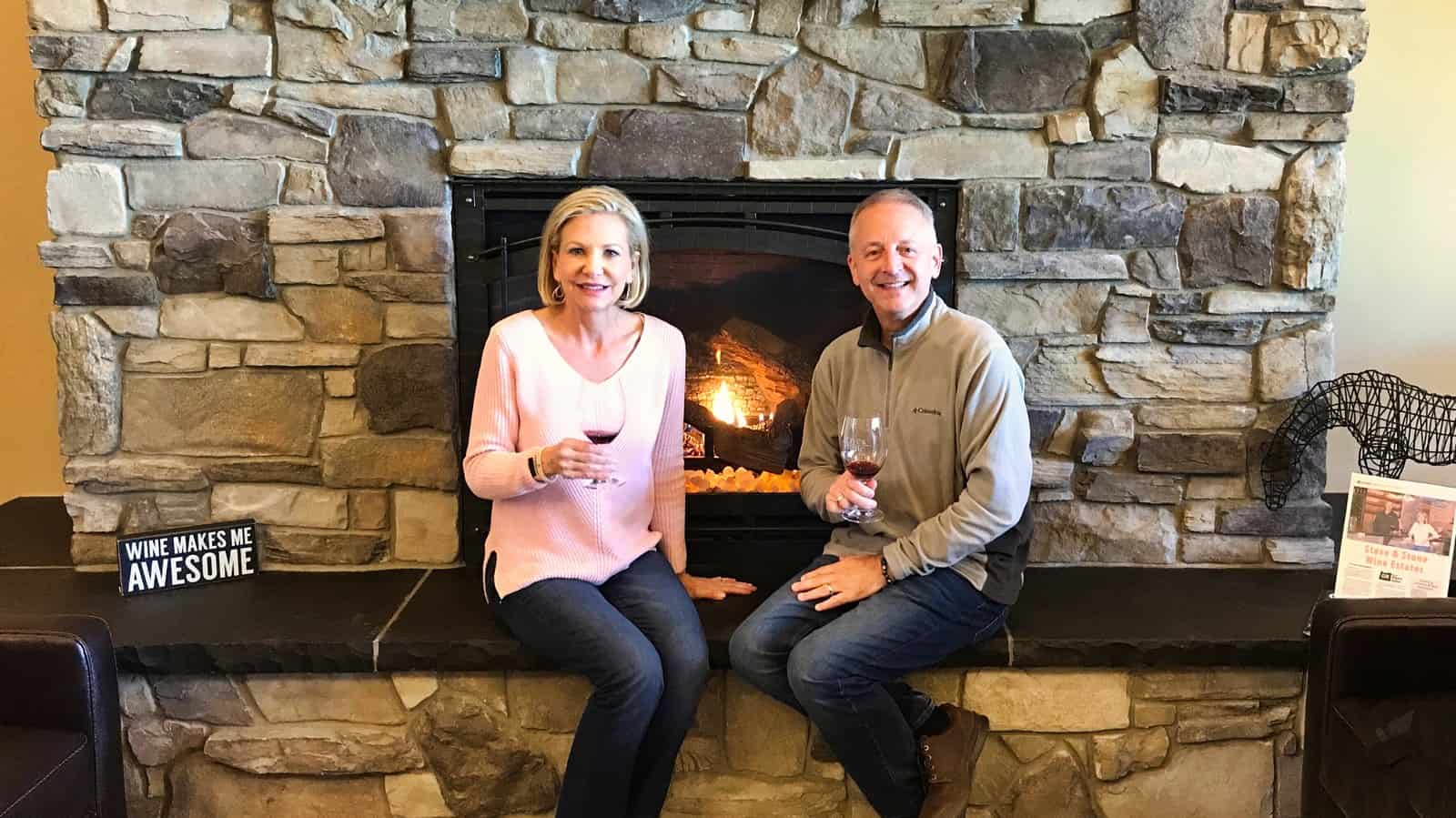 Tasting Paired with Food
Keith and I did a wine pairing experience where we tasted perfectly paired food bites with each wine. We also had a huge charcuterie plate. So, plan to spend some time here because it is a place to enjoy with friends or to make new friends.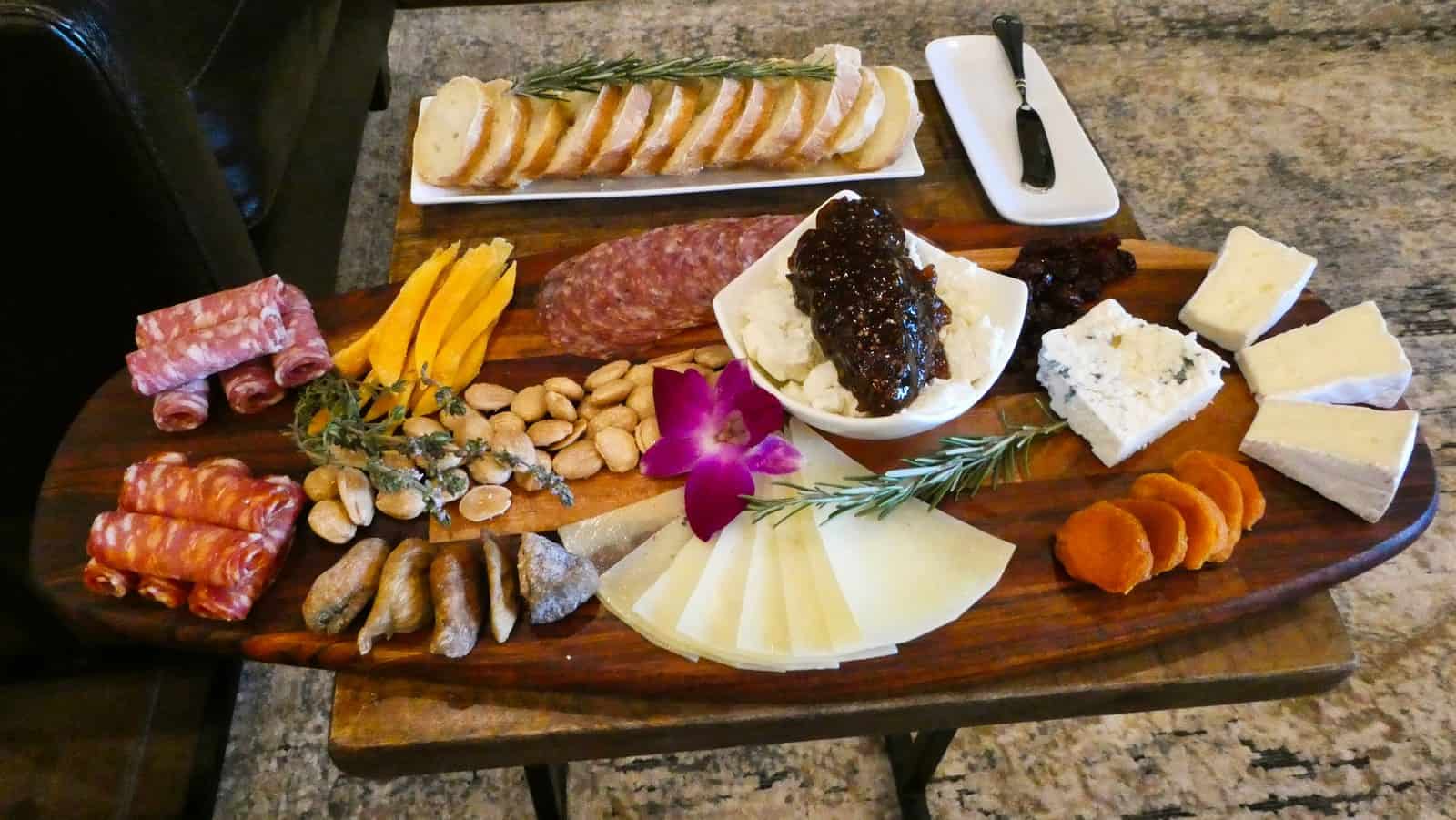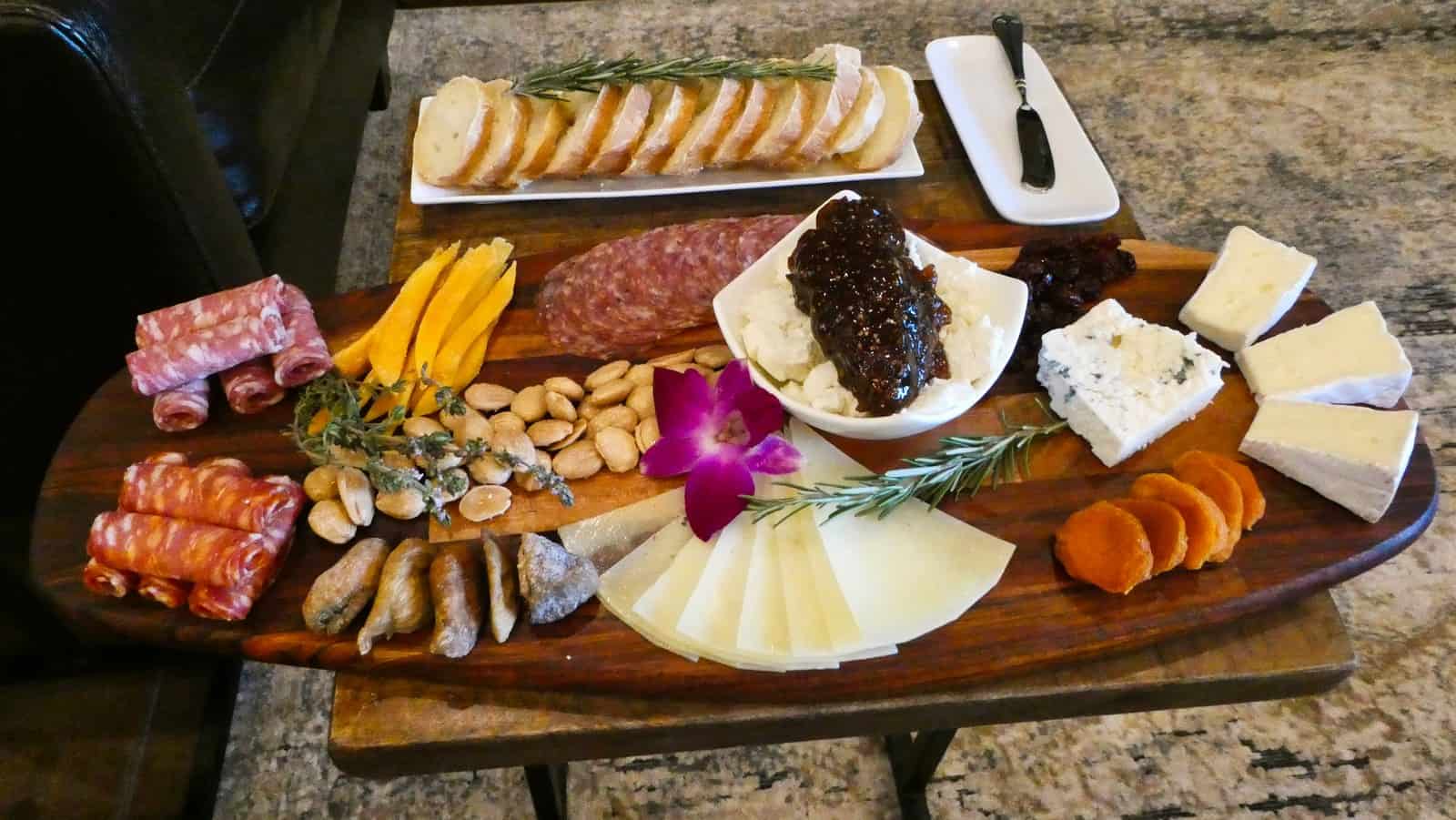 Stave and Stone also has an urban winery in downtown Hood River. But, we visited the new tasting room at the vineyard. We loved the panoramic views of Mt. Adams and the valley from both the gorgeous tasting room and the lovely outdoor patio.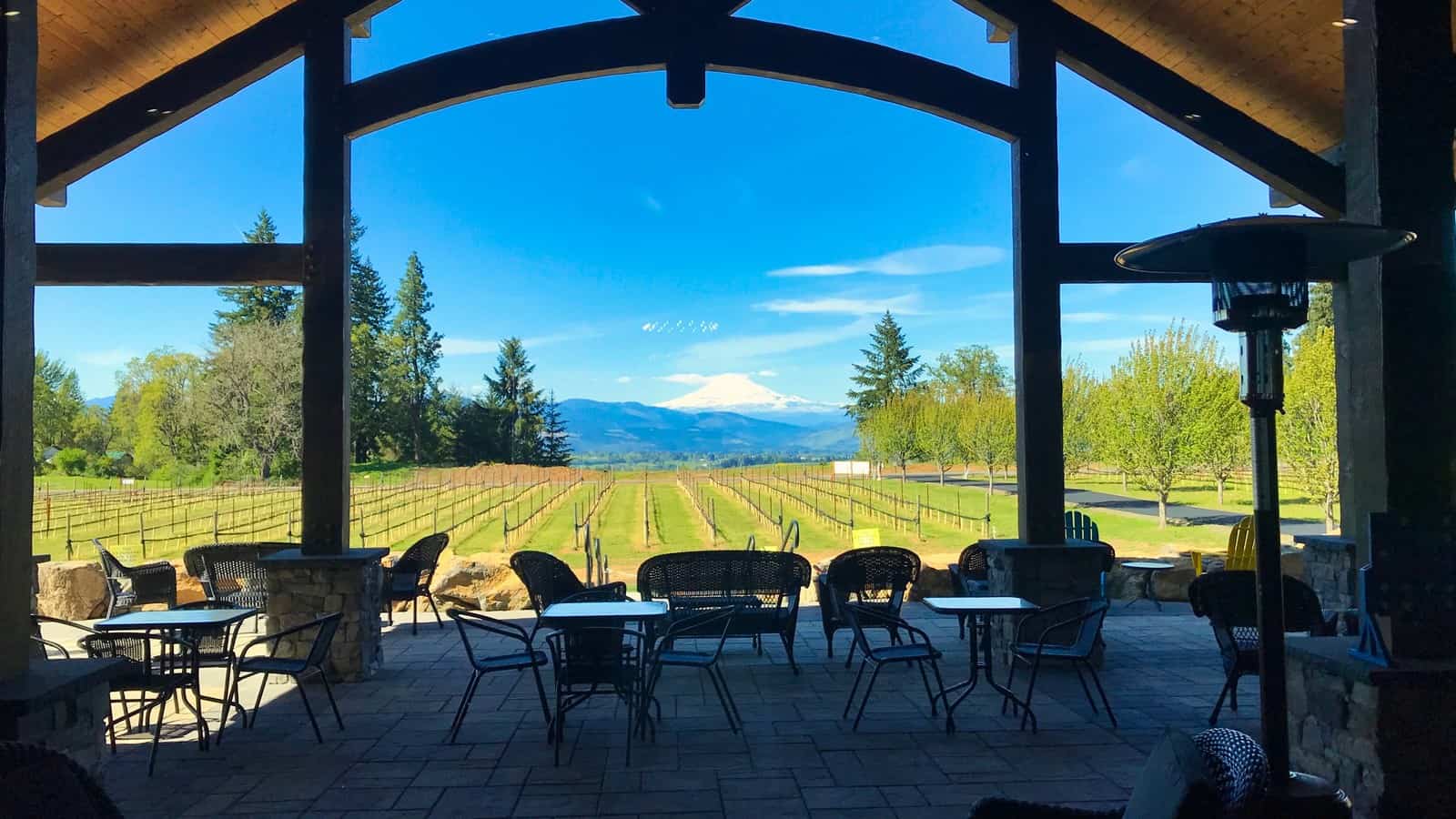 At Stave and Stone, our favorite wines were the 2018 Riesling and the 2016 Cabernet Sauvignon.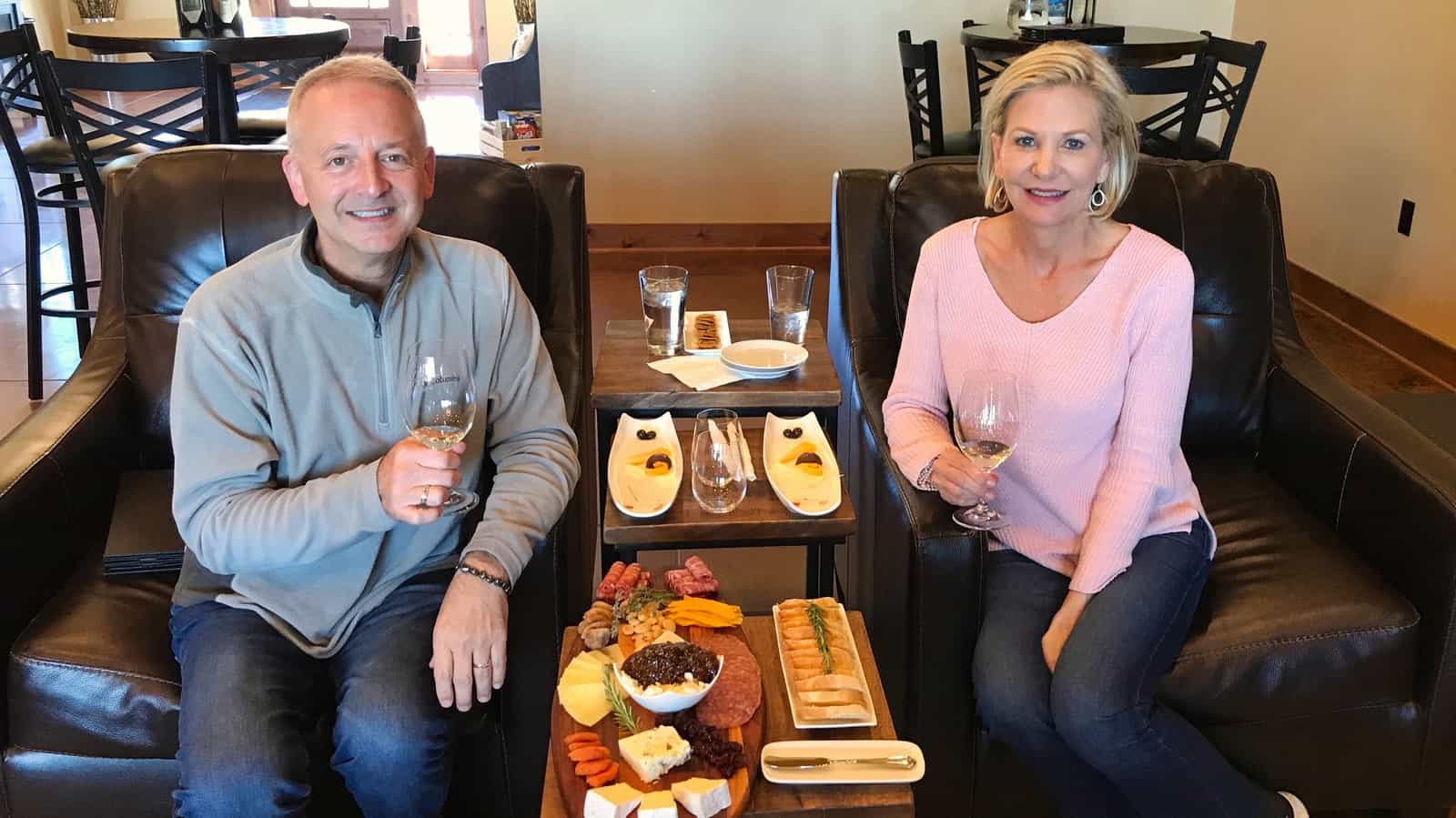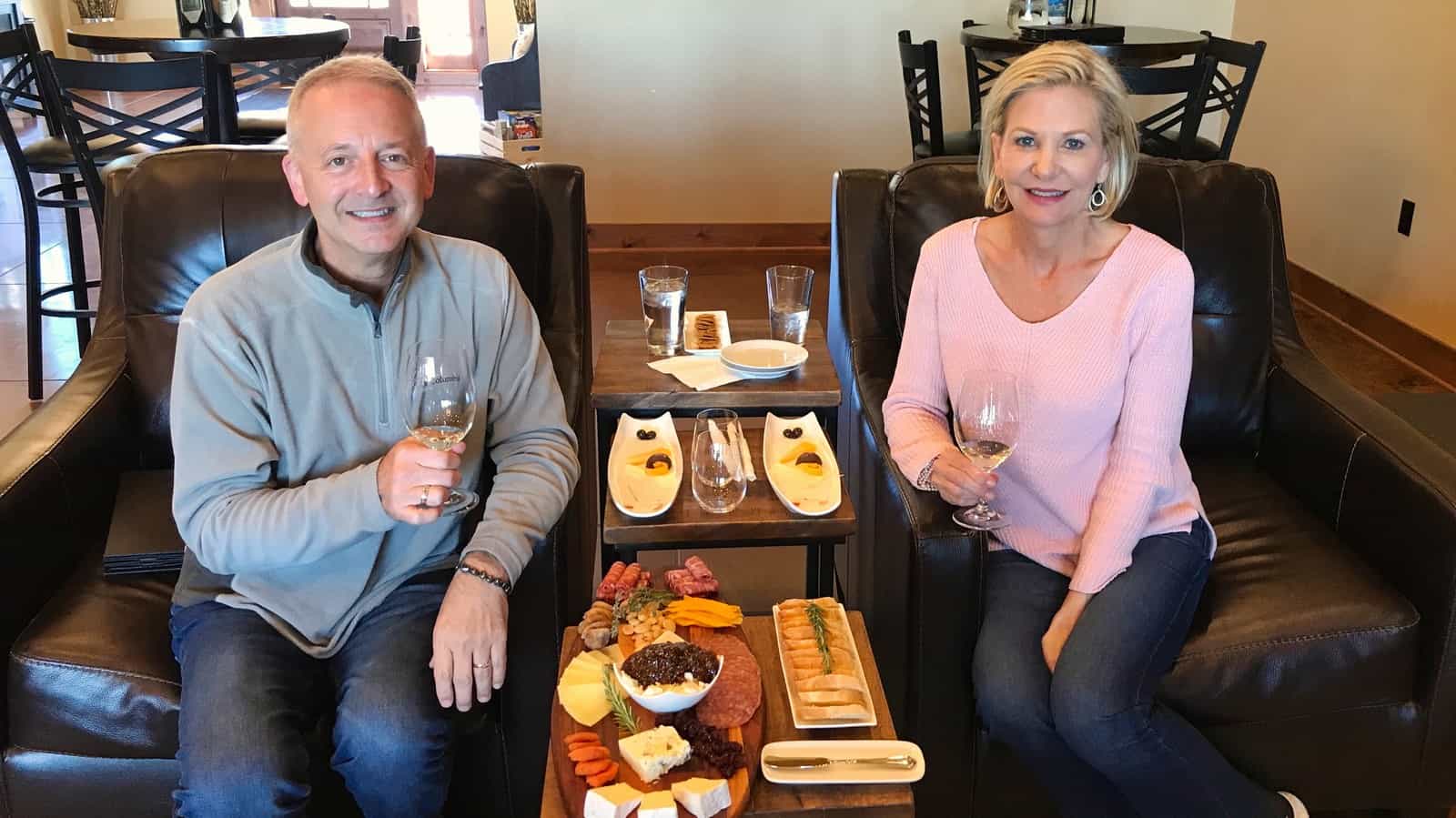 Oak Street Hotel
While in Hood River, we recommend staying at the Oak Street Hotel. This charming, boutique, historic hotel has modern amenities. Furthermore, the hotel located at the quiet edge of downtown Hood River in the heart of the Columbia River Gorge. Built in 1909, the hotel has nine rooms decorated with handcrafted furniture.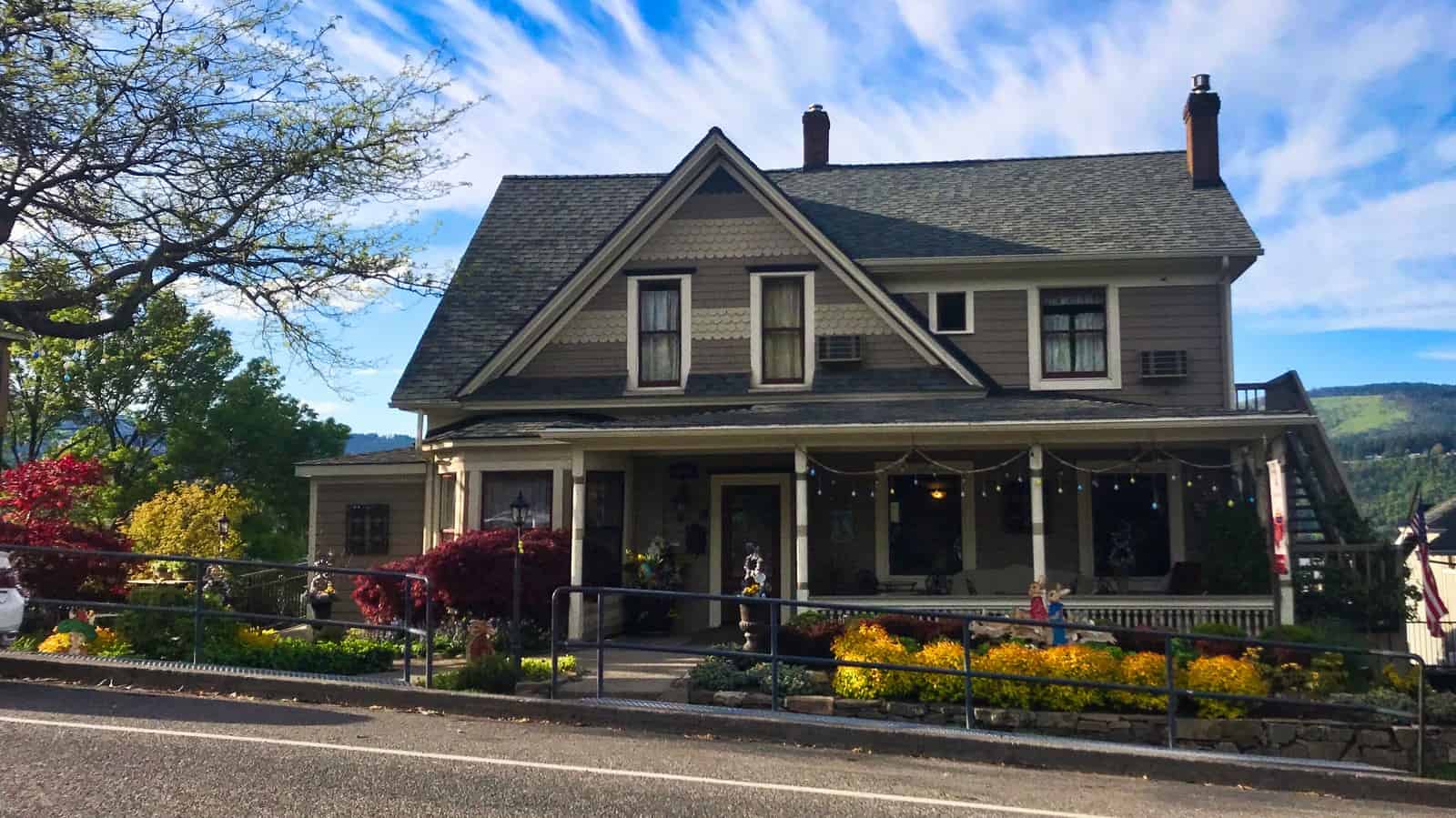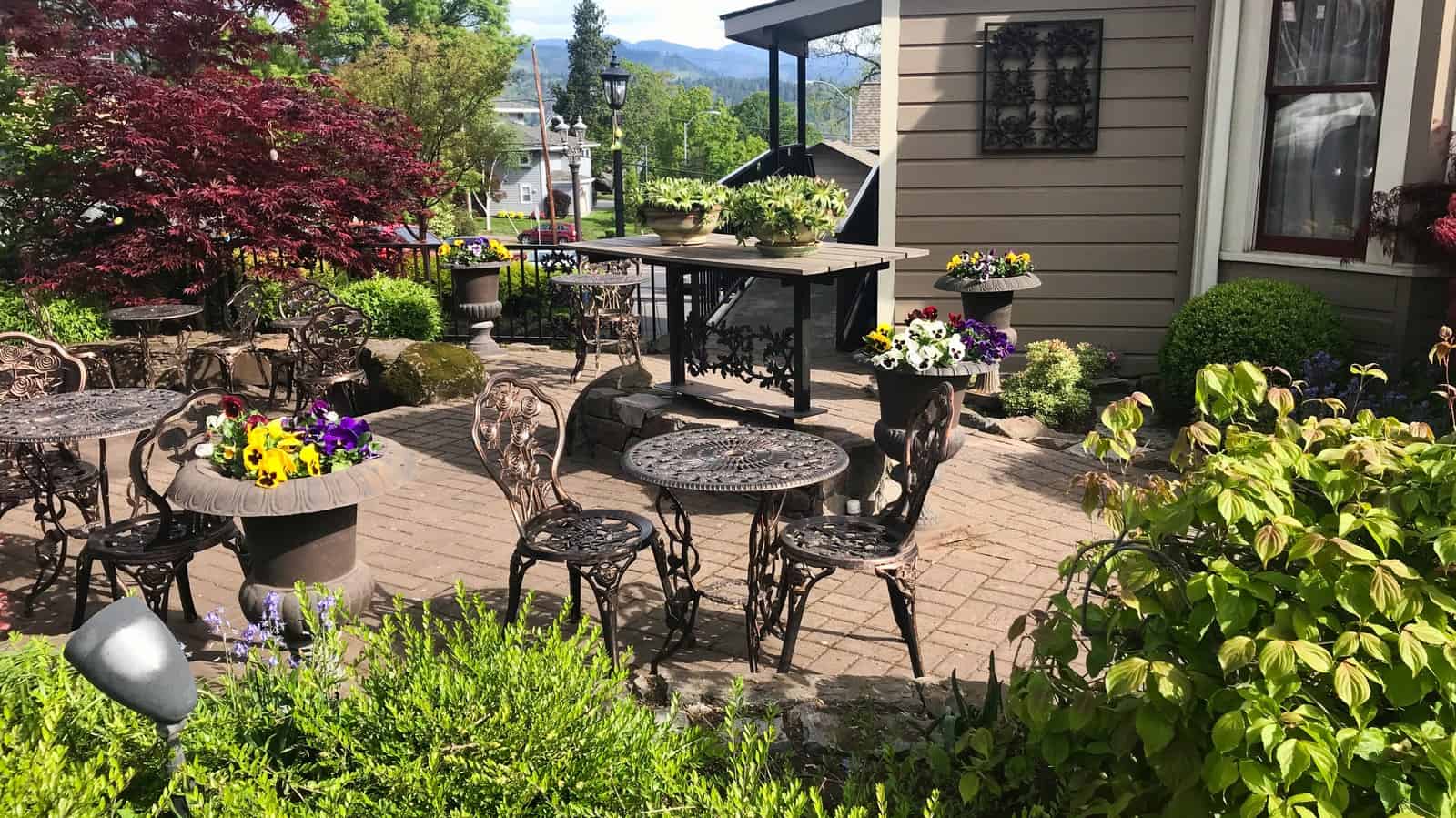 In the morning, Keith and I enjoyed a great farm to table breakfast crafted from foods mostly grown on their family farm. However, what's not grown on the family farm is sourced from the Gorge. Pie for breakfast is Oak Street's specialty.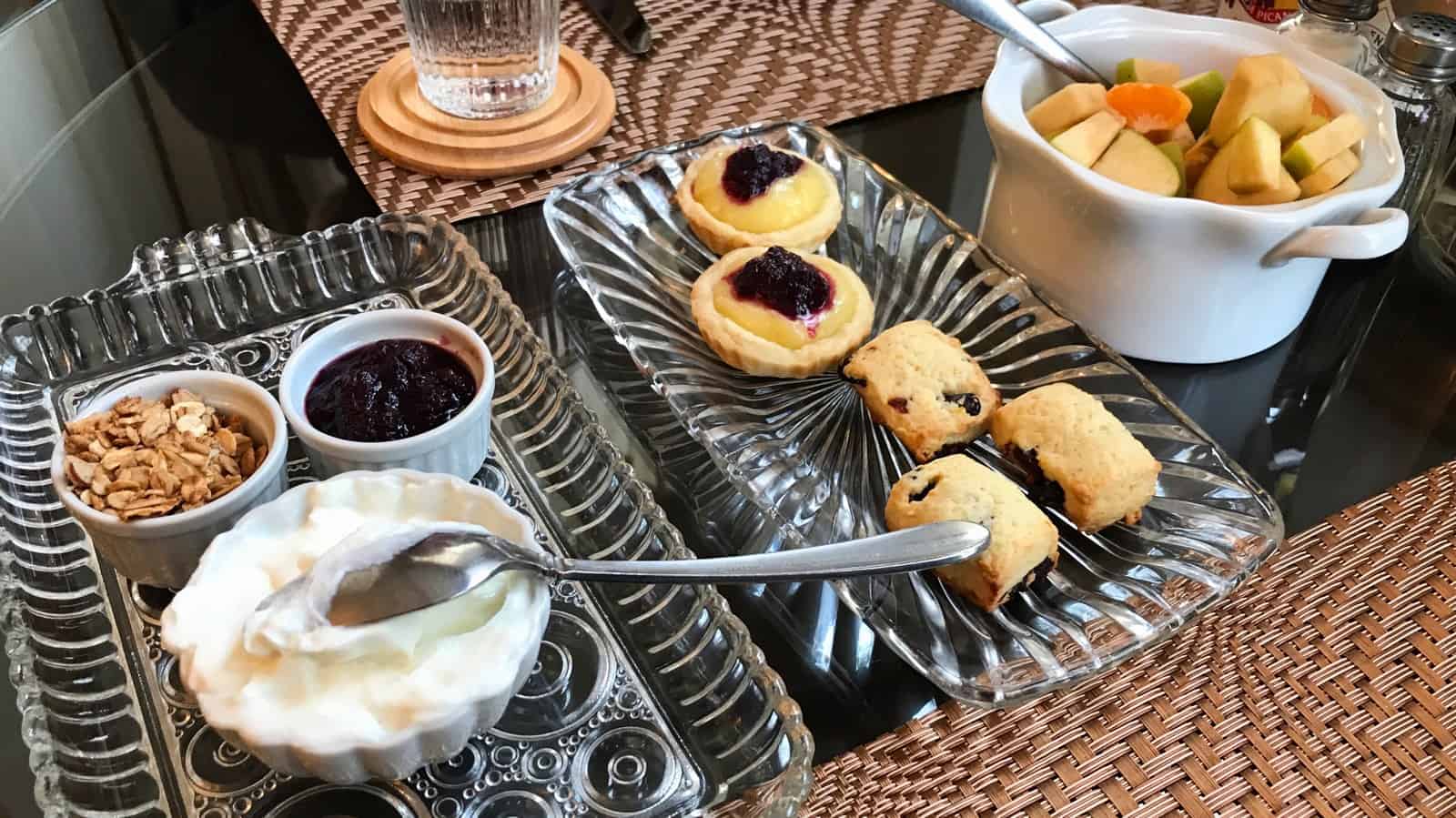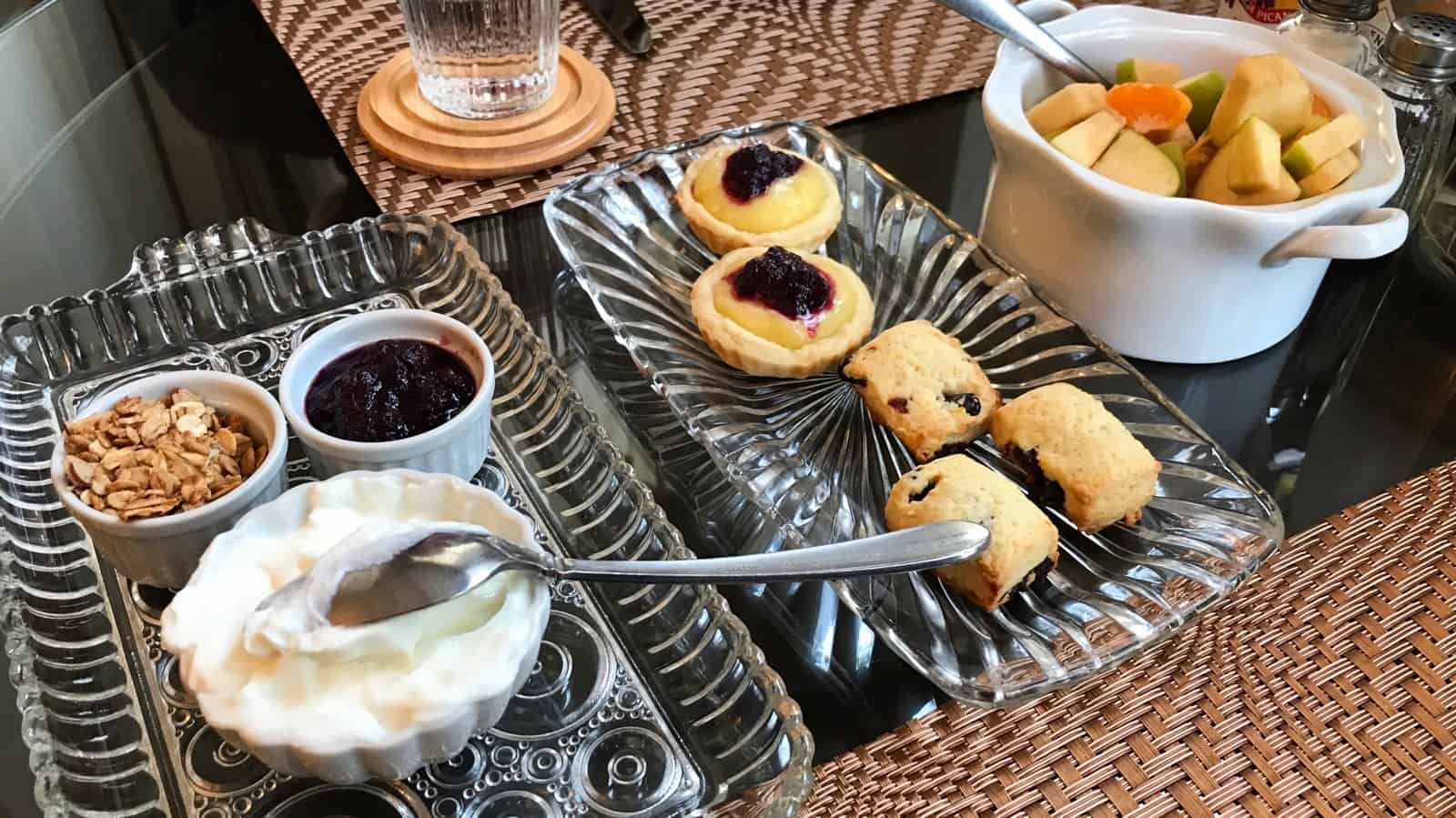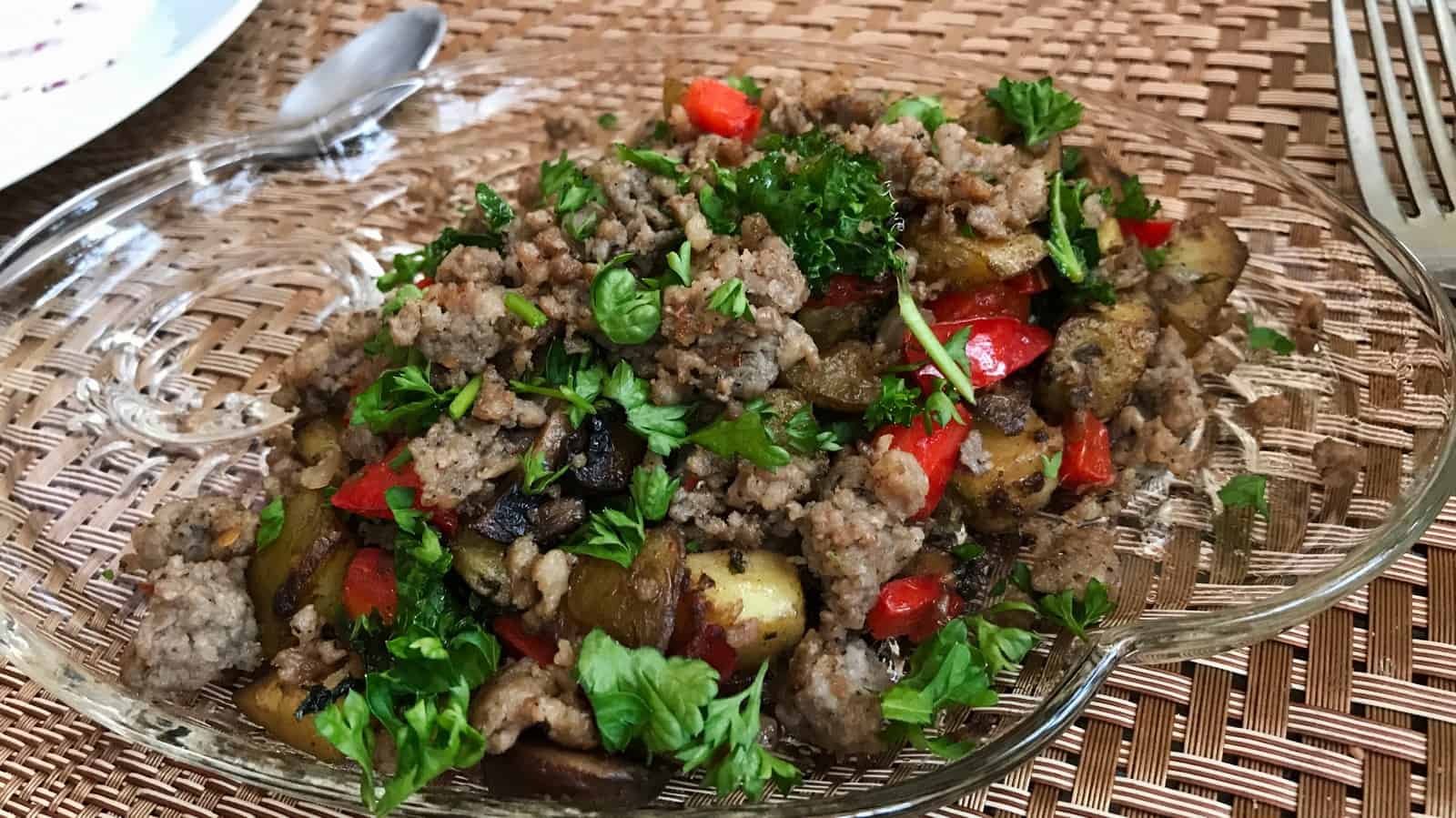 Best of all, downtown Hood River is within walking distance from the Hotel. So, Keith and I walked to town to check out the local shops, and we walked into town for dinner.
An Amazing Dinner at Celilo
Speaking of dinner, if you are a foodie or just a wine lover, you must try Celilo. We dined in downtown Hood River at Celilo Restaurant and Bar after hearing that they are a farm to table type of restaurant. Consequently, Celilo features a menu of fresh ingredients, complemented by a far-reaching wine list.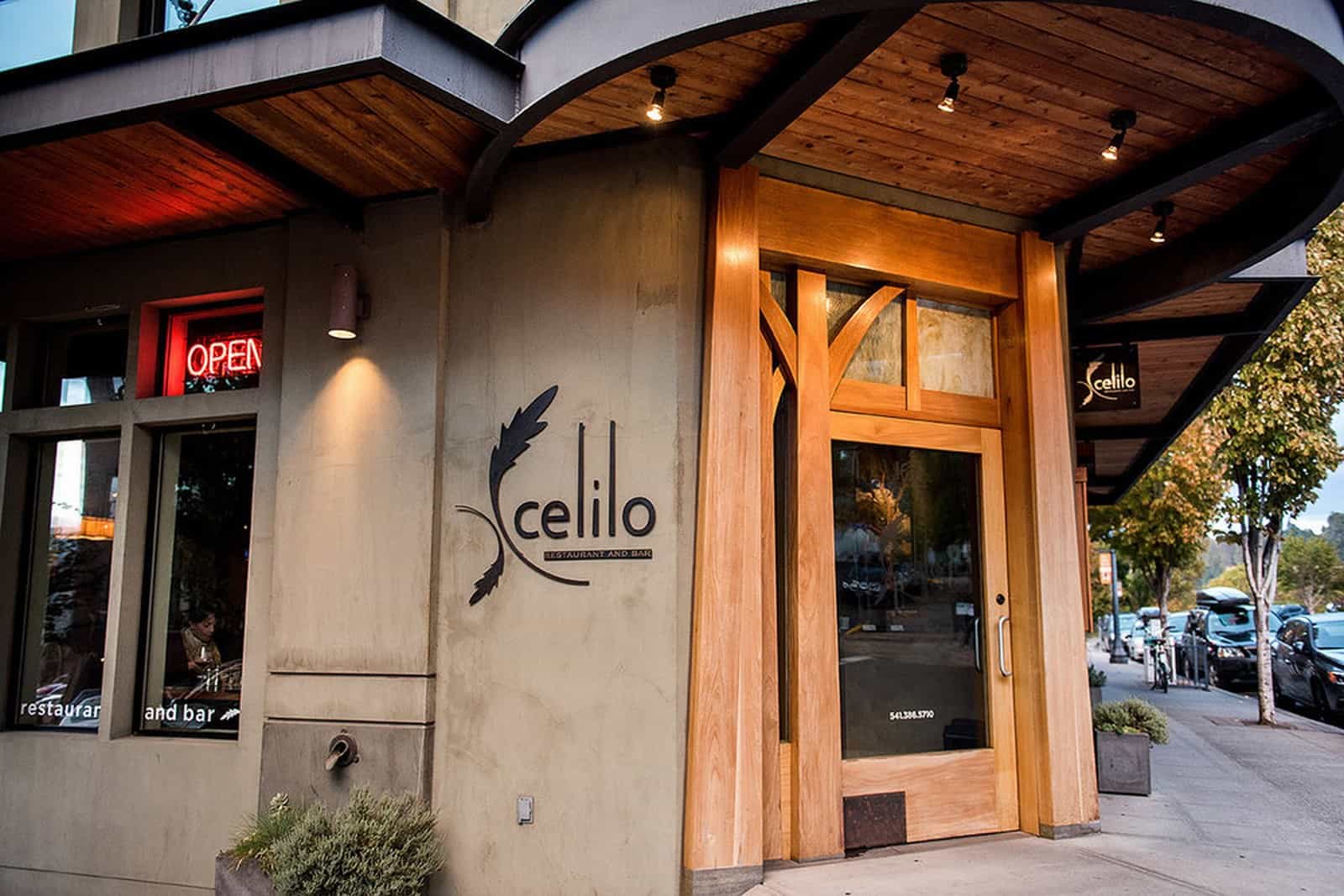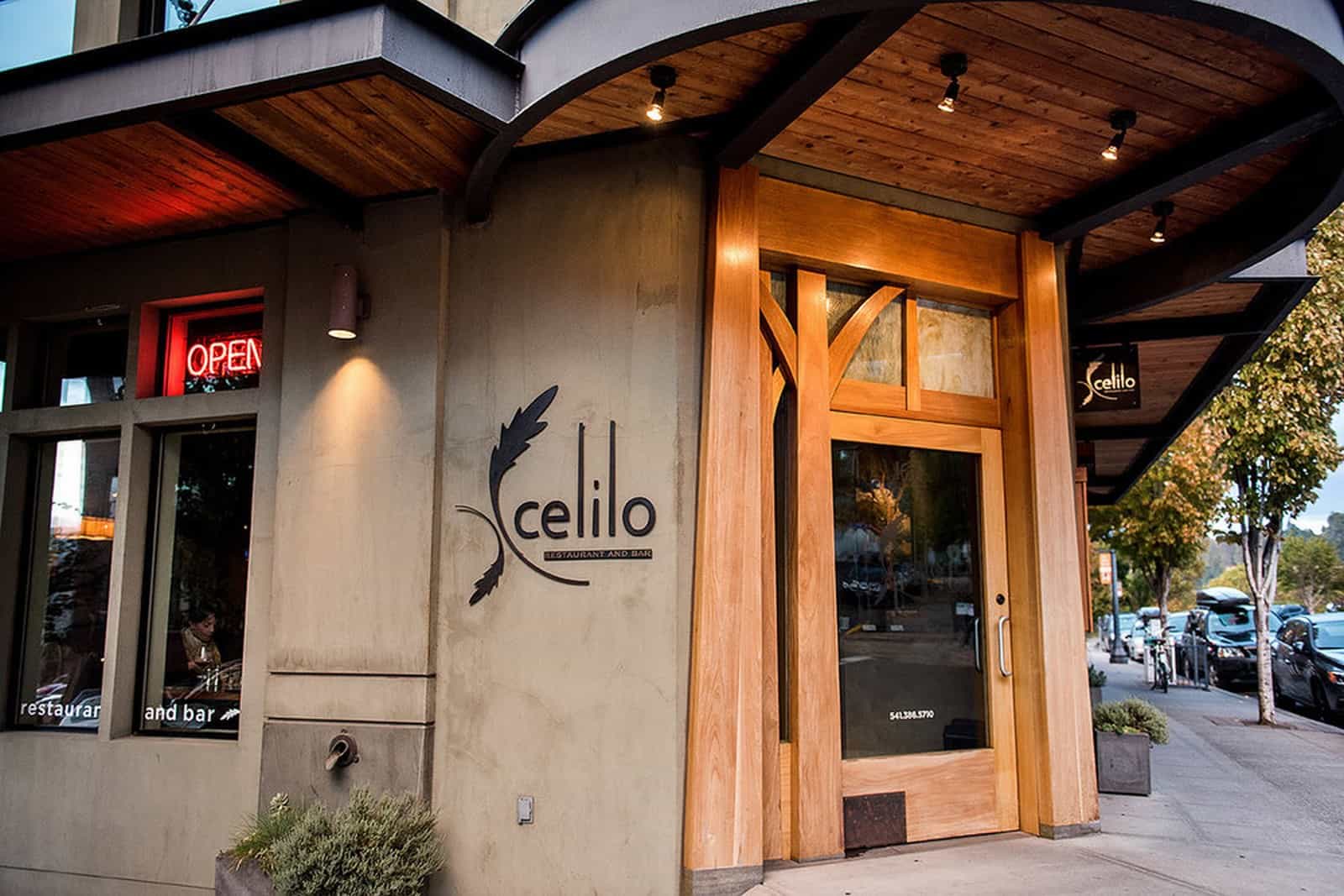 Jacqueline Carey, the house manager and partner of Celilo explained that their location in Hood River, a place of abundantly grown food, allows them to create a menu from many different types of foods and flavors.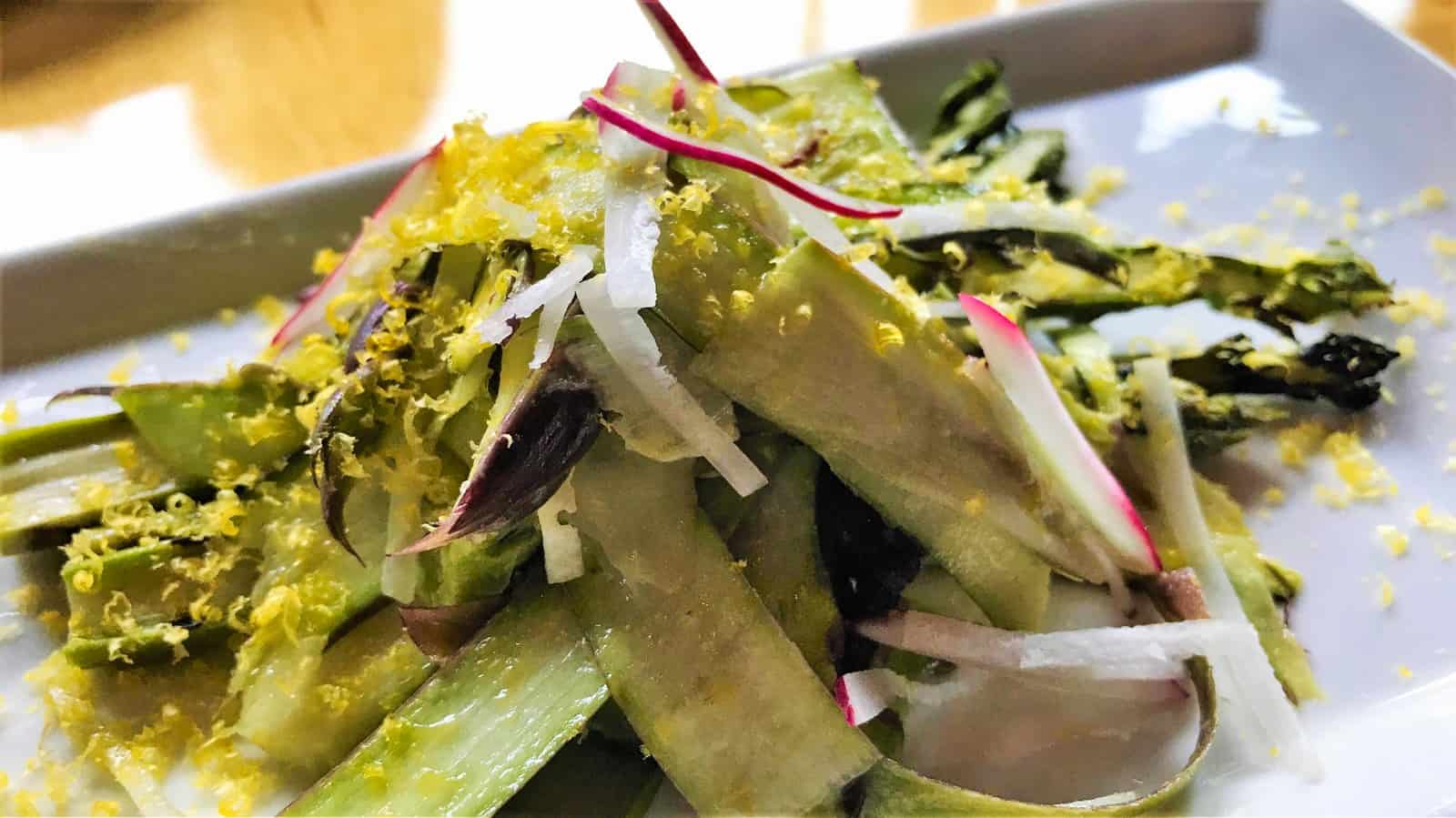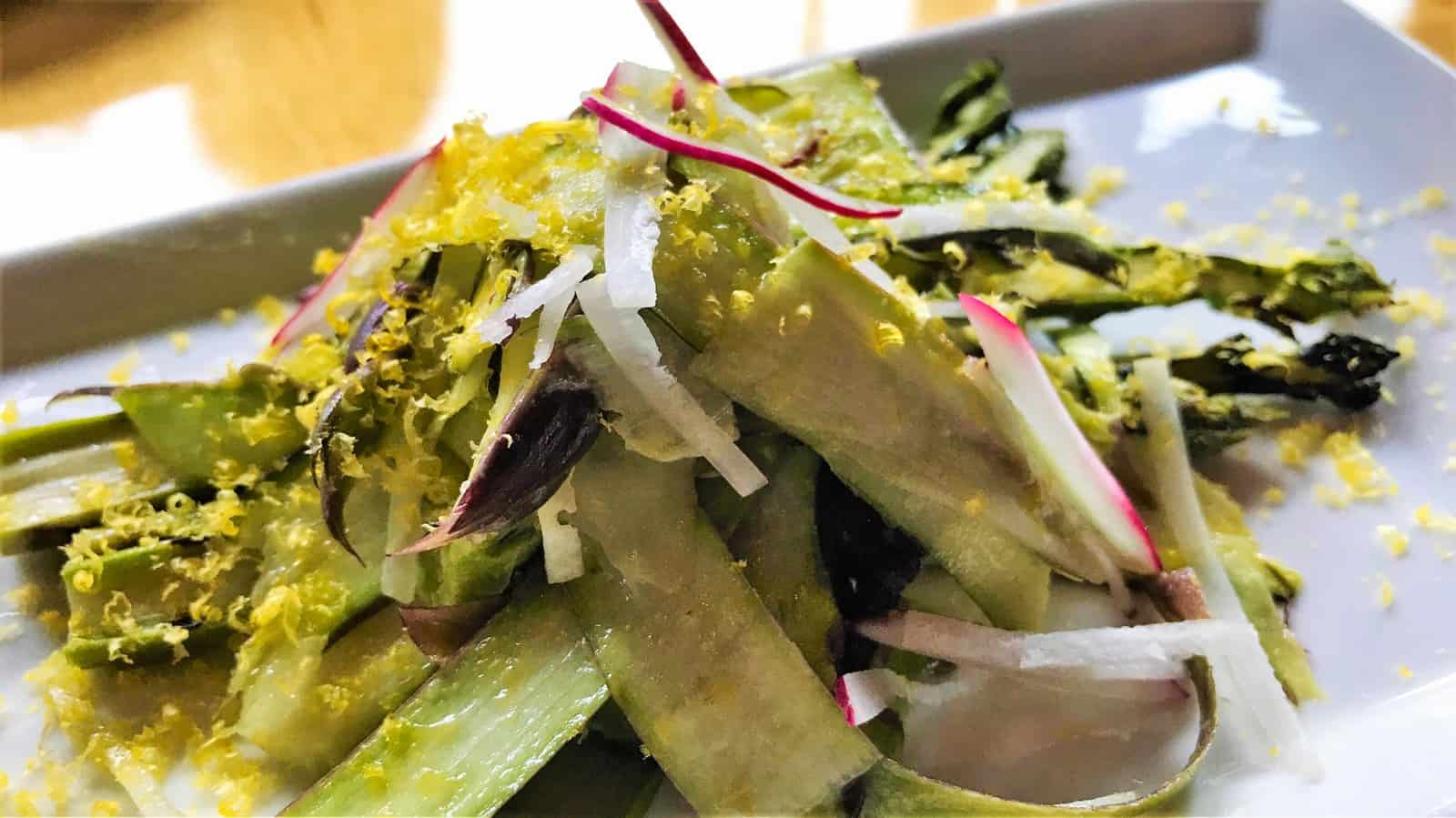 Keith and I were there in May, and the Morrel mushrooms were in season. I had a Morrel and asparagus house-made pasta that was so delicious and so unique it is hard to find the right words to describe it. I had never had anything similar. But it did not stop there, Jacqueline knew the local place and people who grew the mushrooms and the asparagus, and she loved bragging about them. We enjoyed a local wine that Jacquline paired with each wonderful coarse.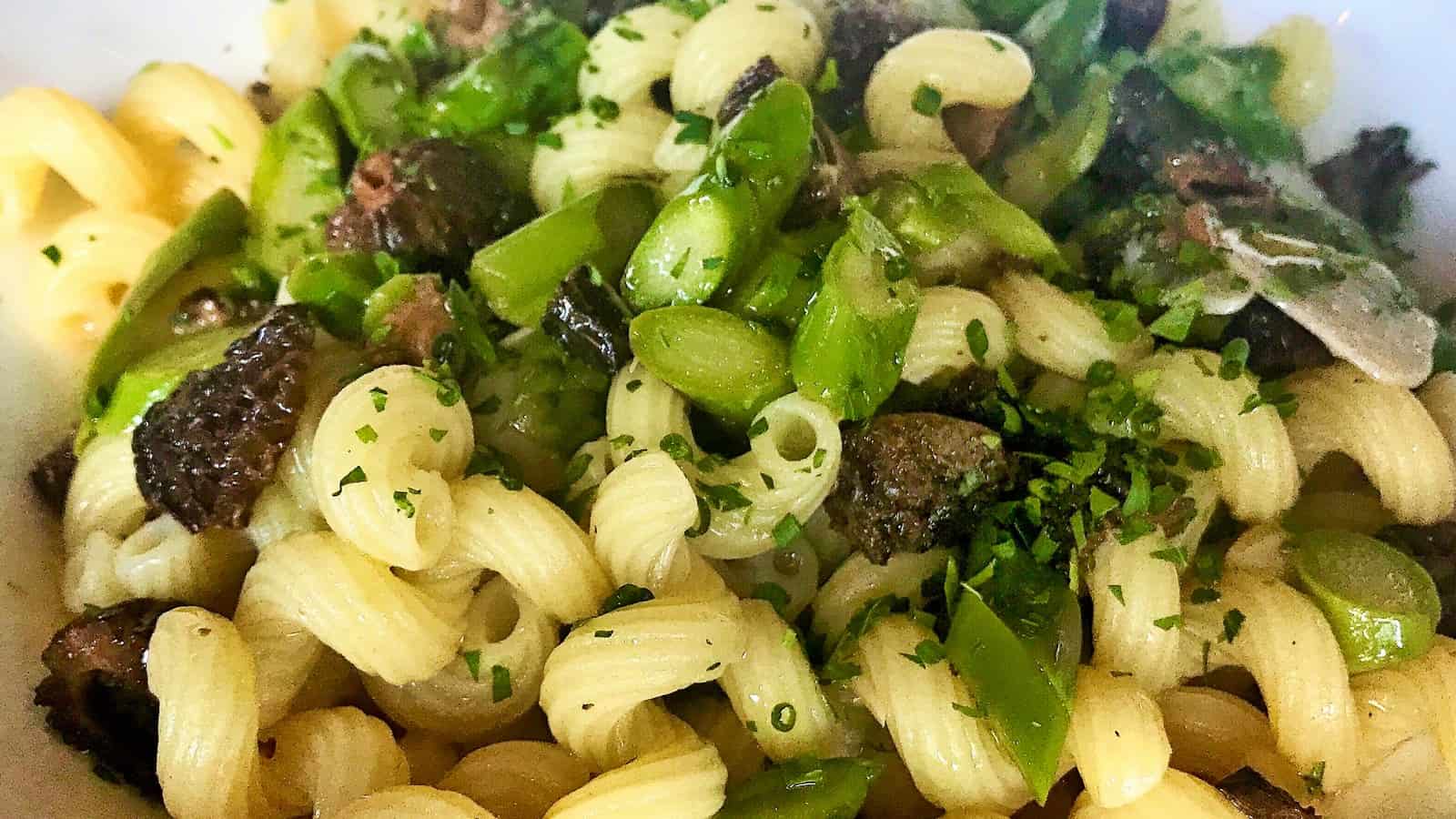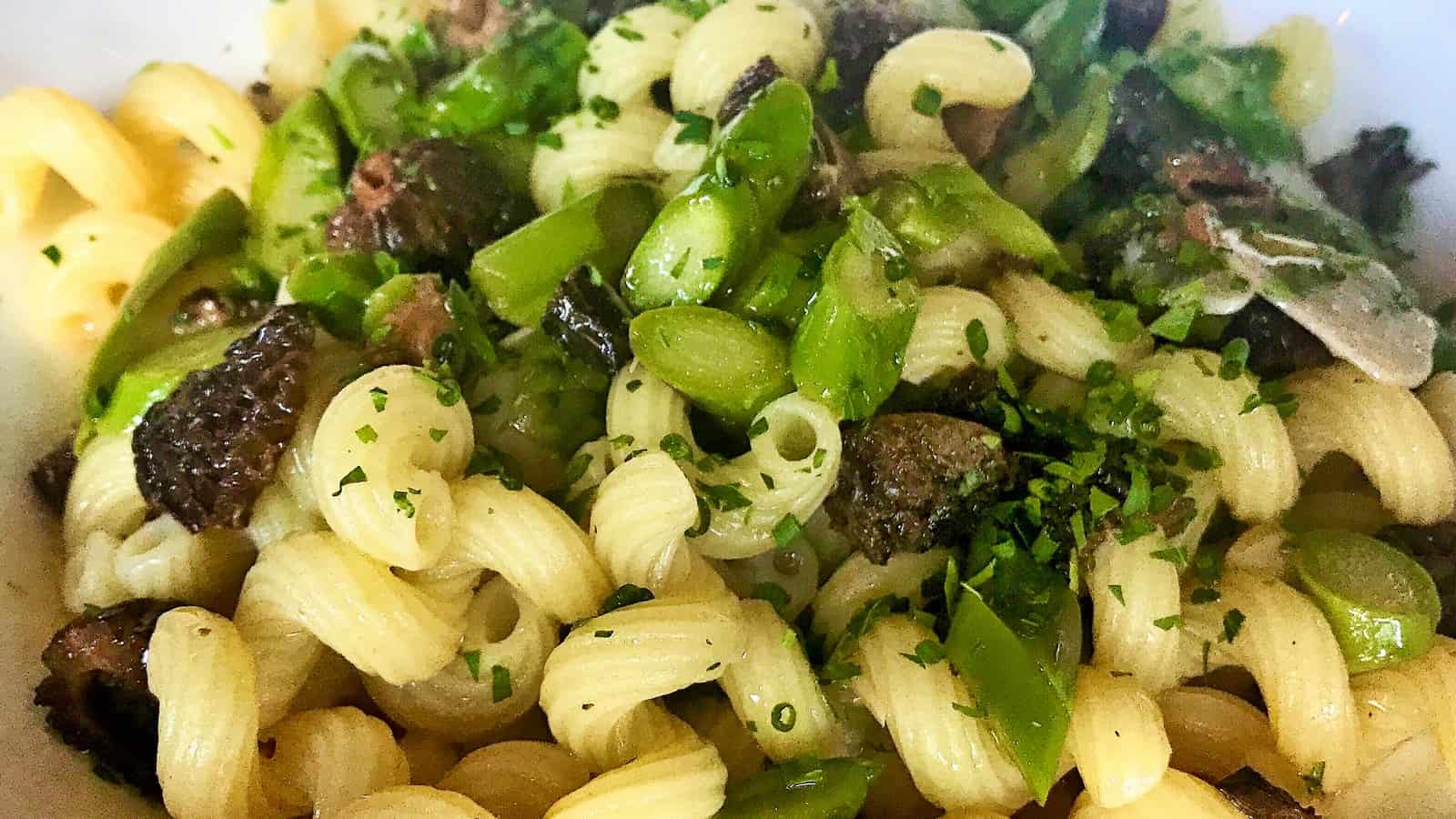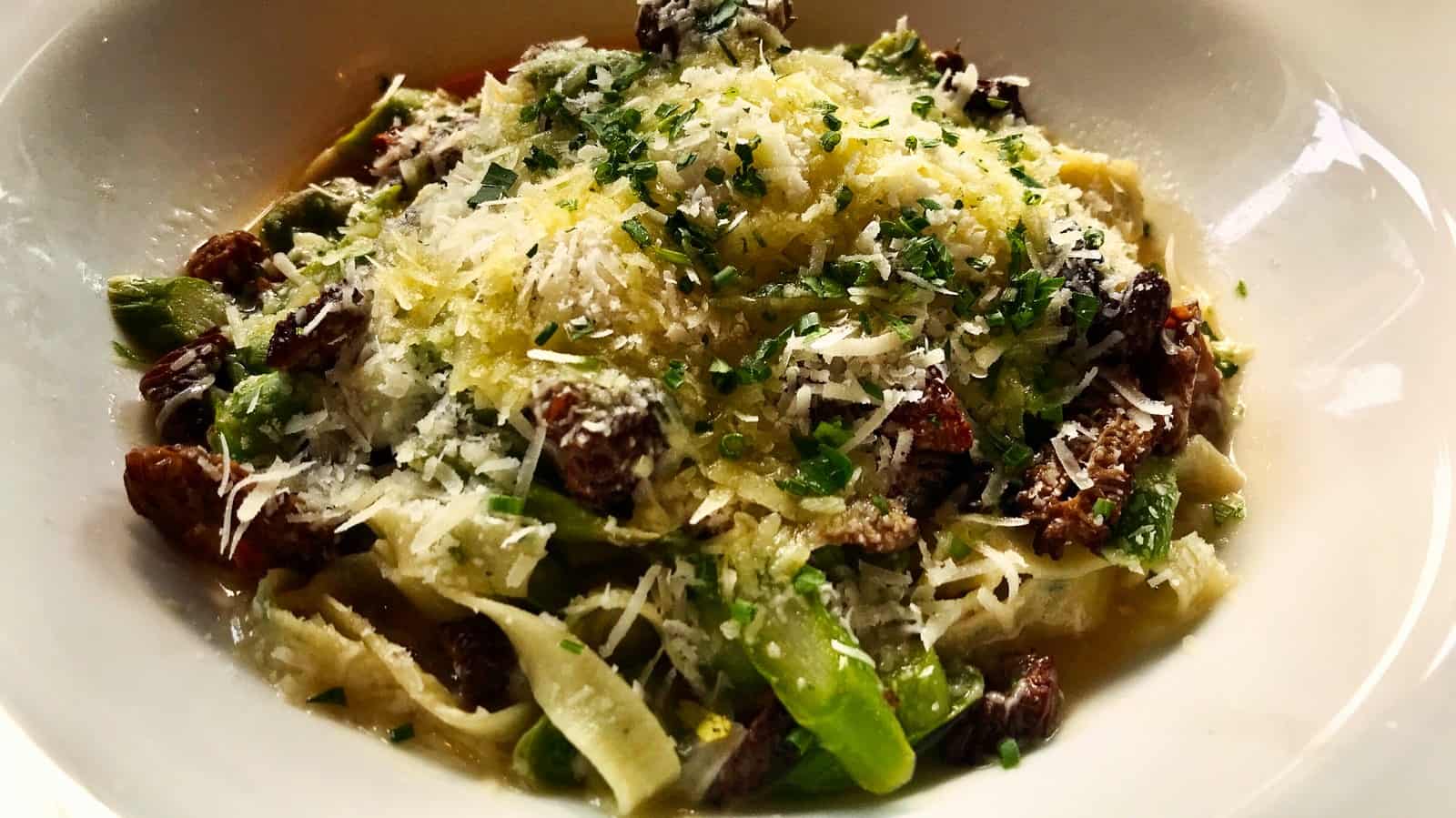 Dessert and Wine
The extraordinary flavors did not stop with the main course. For dessert, we had a tasty pear, cranberry, huckleberry trio of sorbets.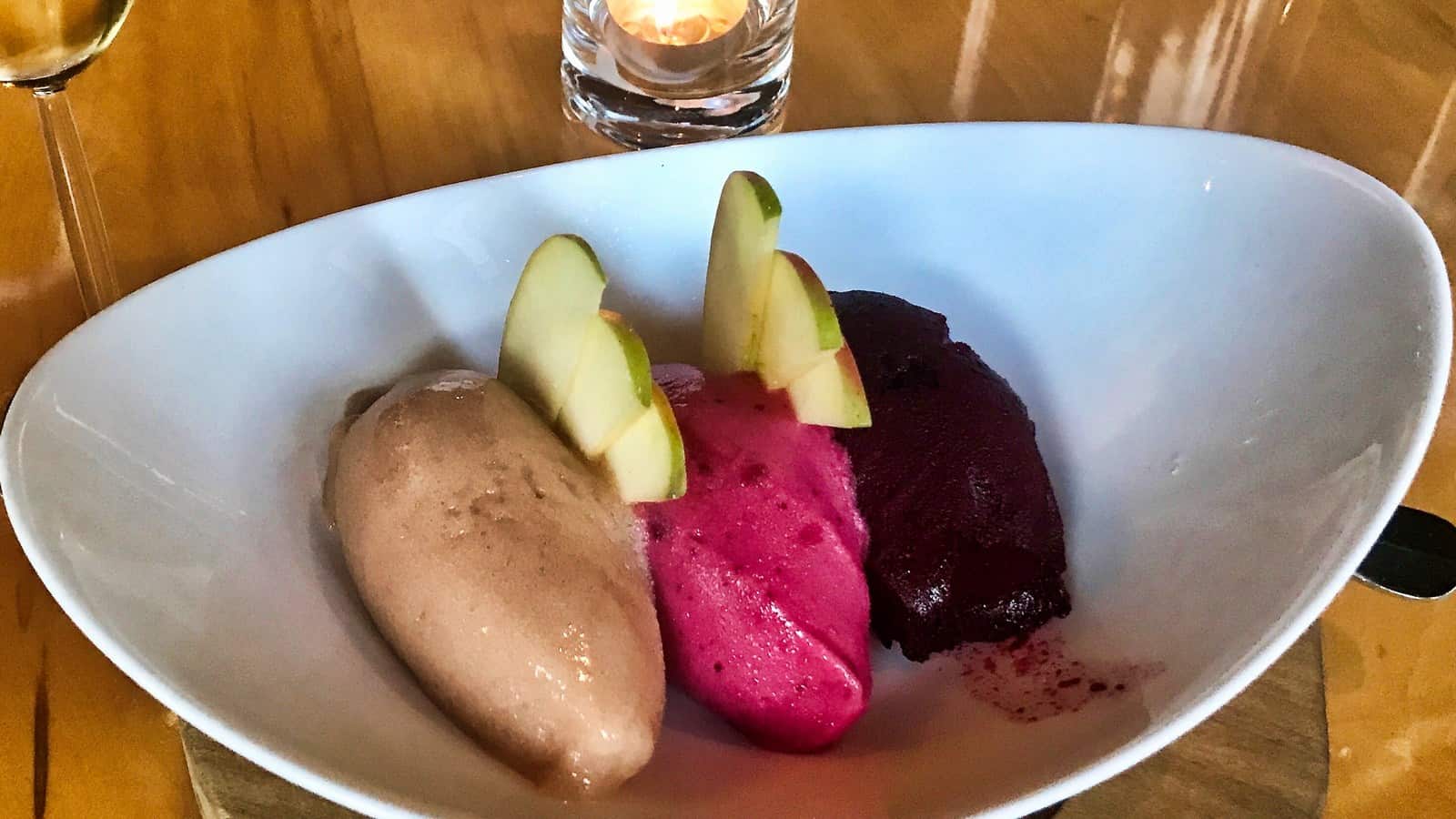 Of course, wine is an important reason for choosing to visit the Columbia Gorge. Celilo also has a great selection of wines. One of Jacqueline's favorite parts of her job is selecting the wine that makes the list. She has passed her Level 1 Court of Master Sommelier's Course. Undoubtedly it is Jacquline's passion to learn about the overwhelming subject of wine.
Maybe one of the reasons why the menu is so unique is that chef Ben Stenn is the managing partner of Celilo. So, Ben takes full responsibility for the food that comes from the kitchen of his restaurant.
Enjoy a Wine tour with MountNBarrel
We began our second day in the Columbia Gorge wine country on a wine tour with MountNBarrel. Keith and I are always looking for new ways to experience and taste wine. So we decided to do a wine country bike tour.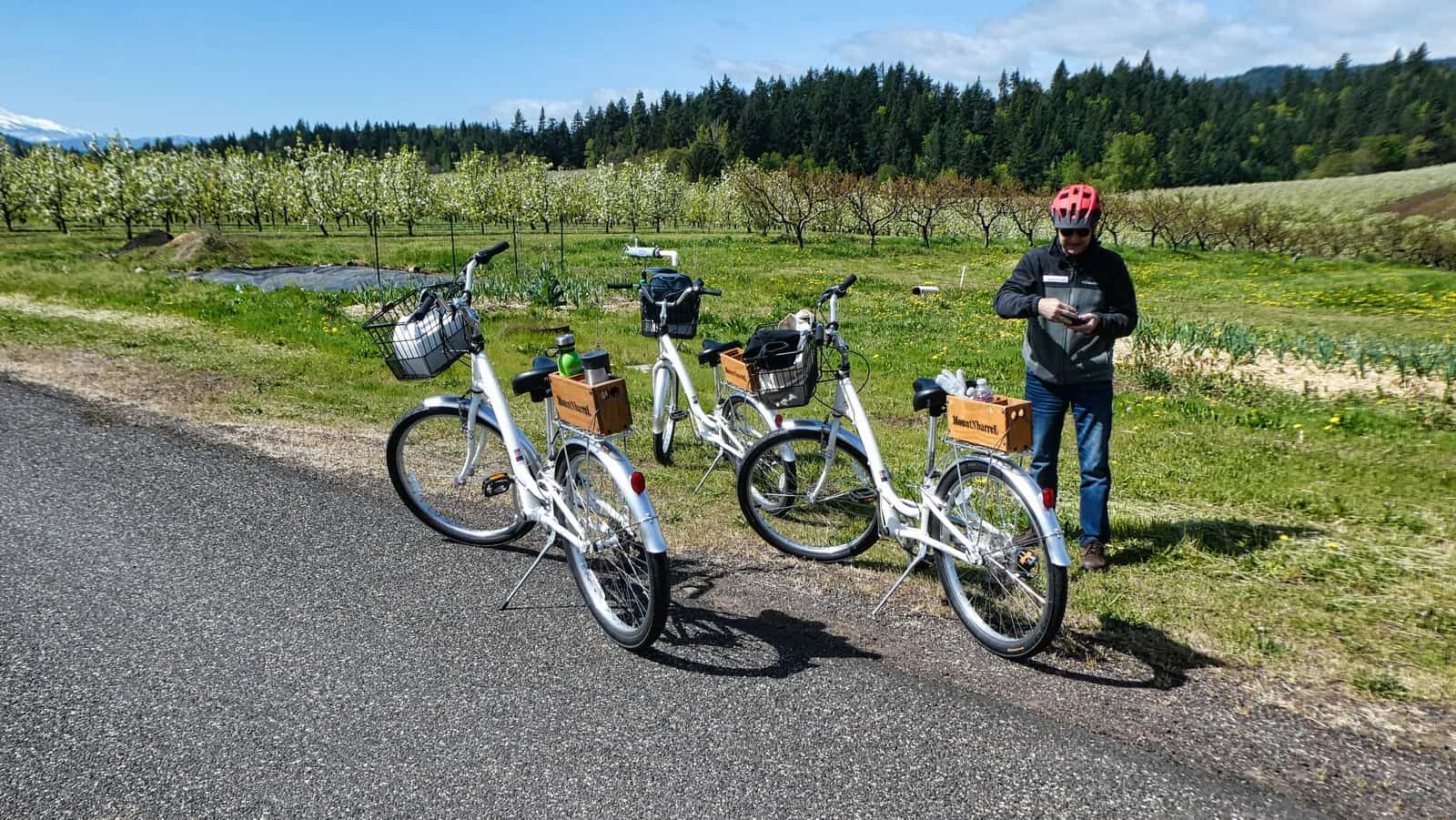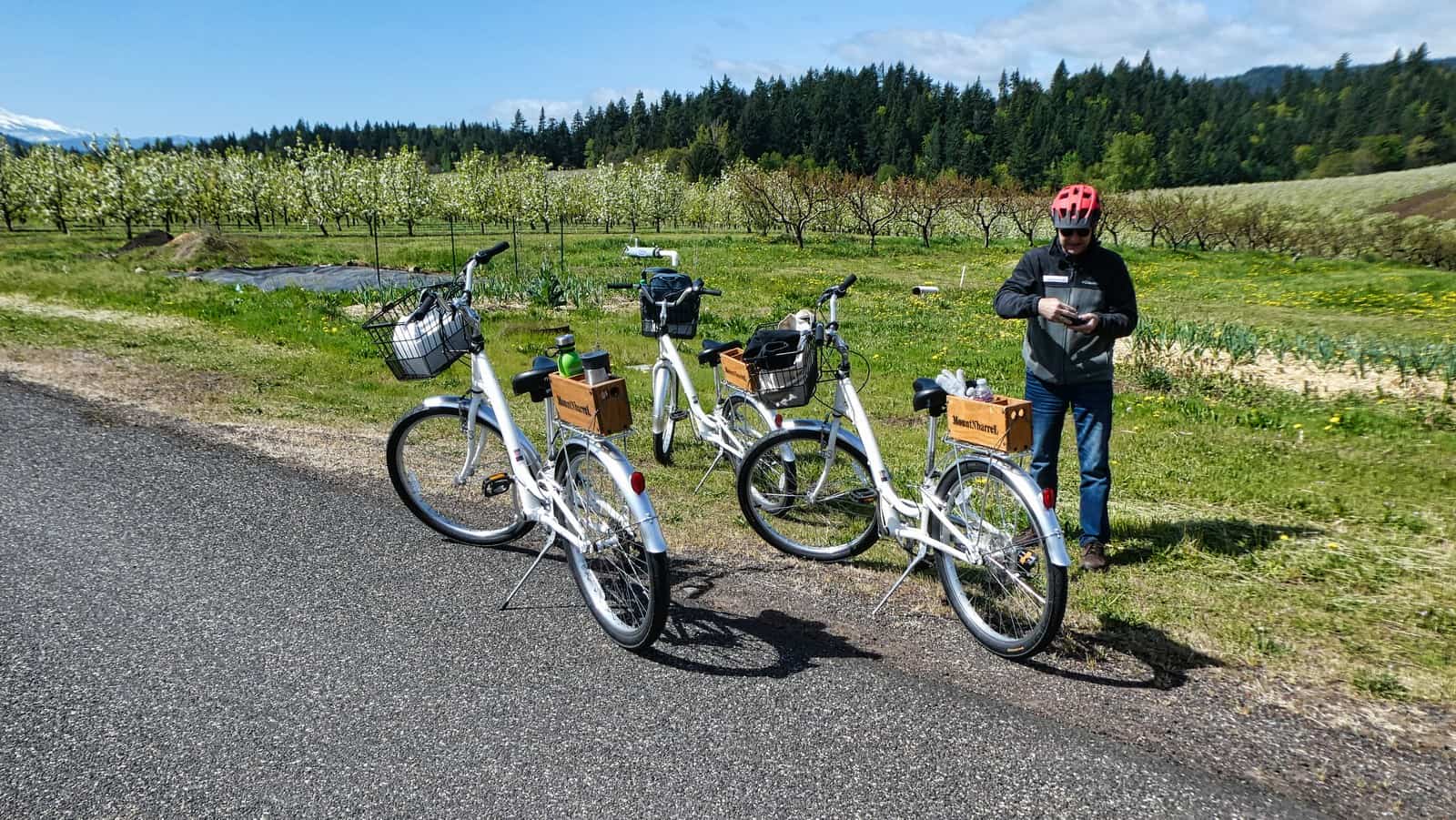 Ali McLaughlin, the owner of MountNBarrel, met us in the lobby of our hotel. She drove us to their location in her new 15 passenger shuttle. At her cute location, Ali and a helper fitted us with a hybrid cruiser and a helmet. Equally important, the bikes have a cute rear bottle box that will hold three bottles of wine.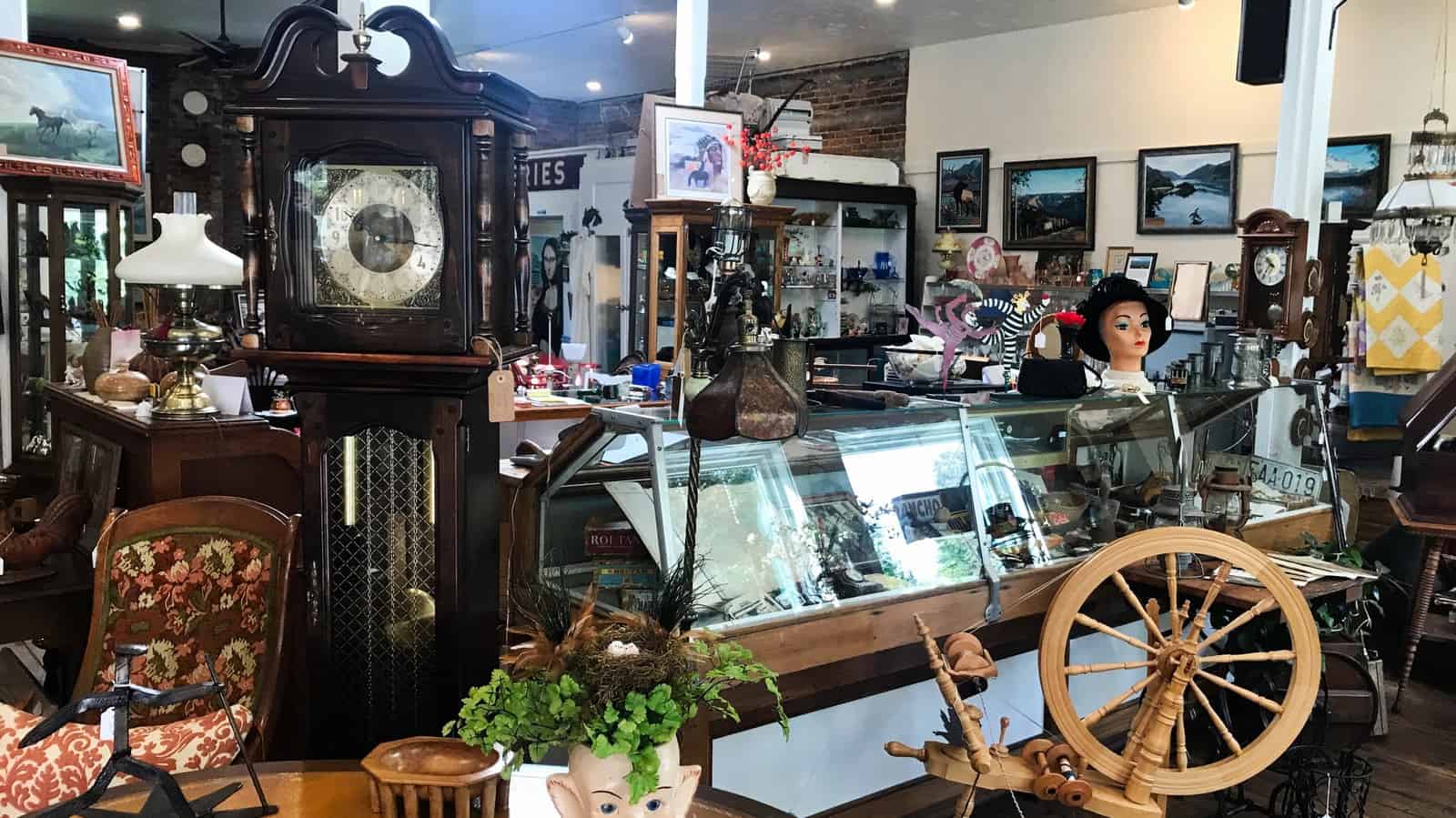 Ali began MountNBarrel after riding her bike to the wineries in the area. And after tasting wine and then biking past breathtaking mountains, with vineyard, and orchard views, she knew she was on to something special. She had a dream that one-day bike-riding and wine-tasting would come together to form a special Hood River experience; something she wanted to share. Presently, Ali has a team of guides who share their love of riding and their love of wine in an always unique adventure.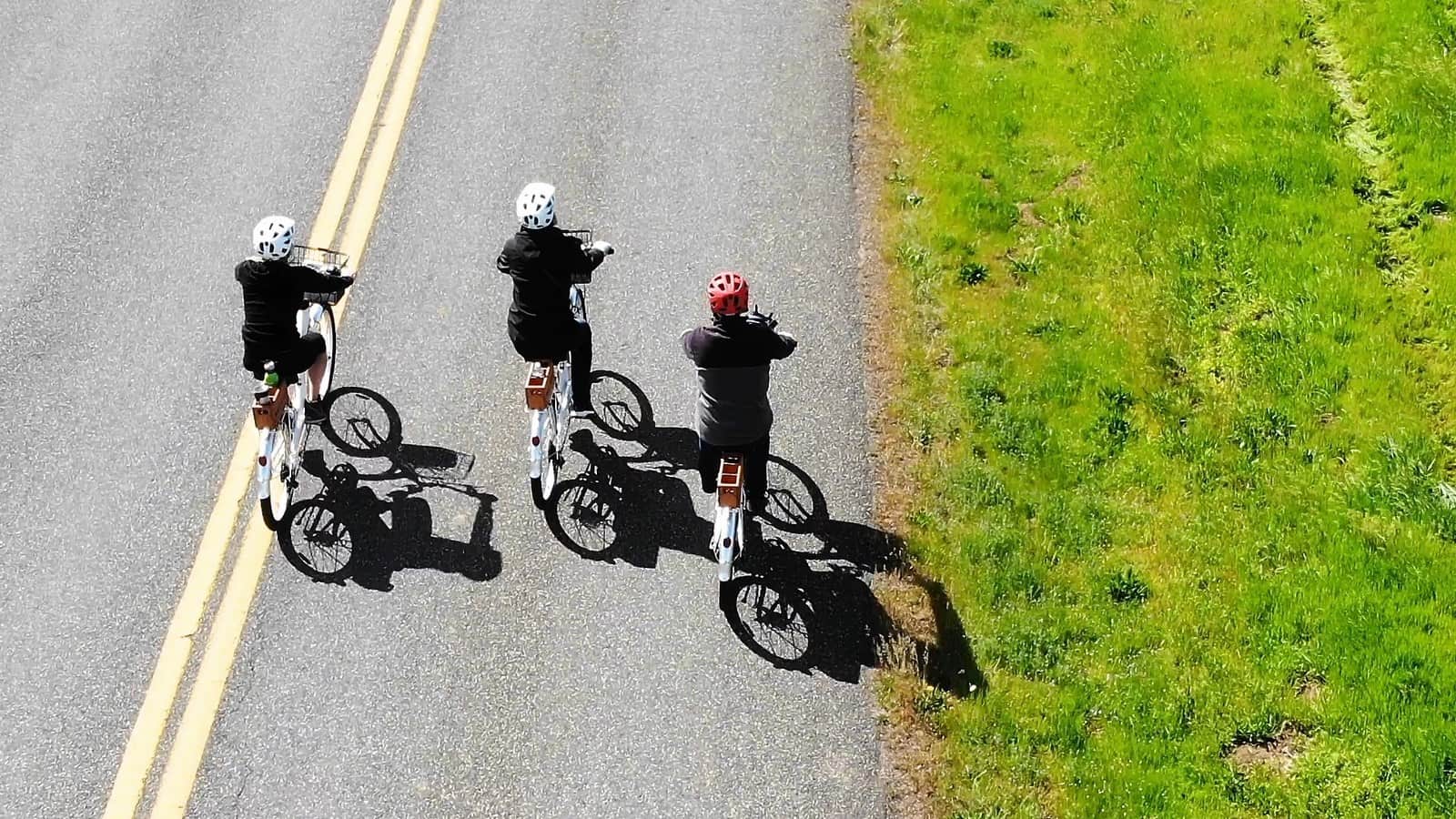 MountNBarrel puts safety first, so once Ali was sure, our bikes and helmets fit properly, we were on our way. Most of the roads we traveled were quiet — we road through beautiful orchards and past budding vines.
First Stop, Marchesi
Our first winery visit was to Marchesi Vineyards & Winery. At Marchesi, they grow Italian varietals. Thus, the owner of Marchesi was raised in Piedmont Italy and settled in Mt Hood because it reminded him of home. Marchesi says the Columbia Gorge soil and perfect climate give his wines their full-body flavor, depth, and color.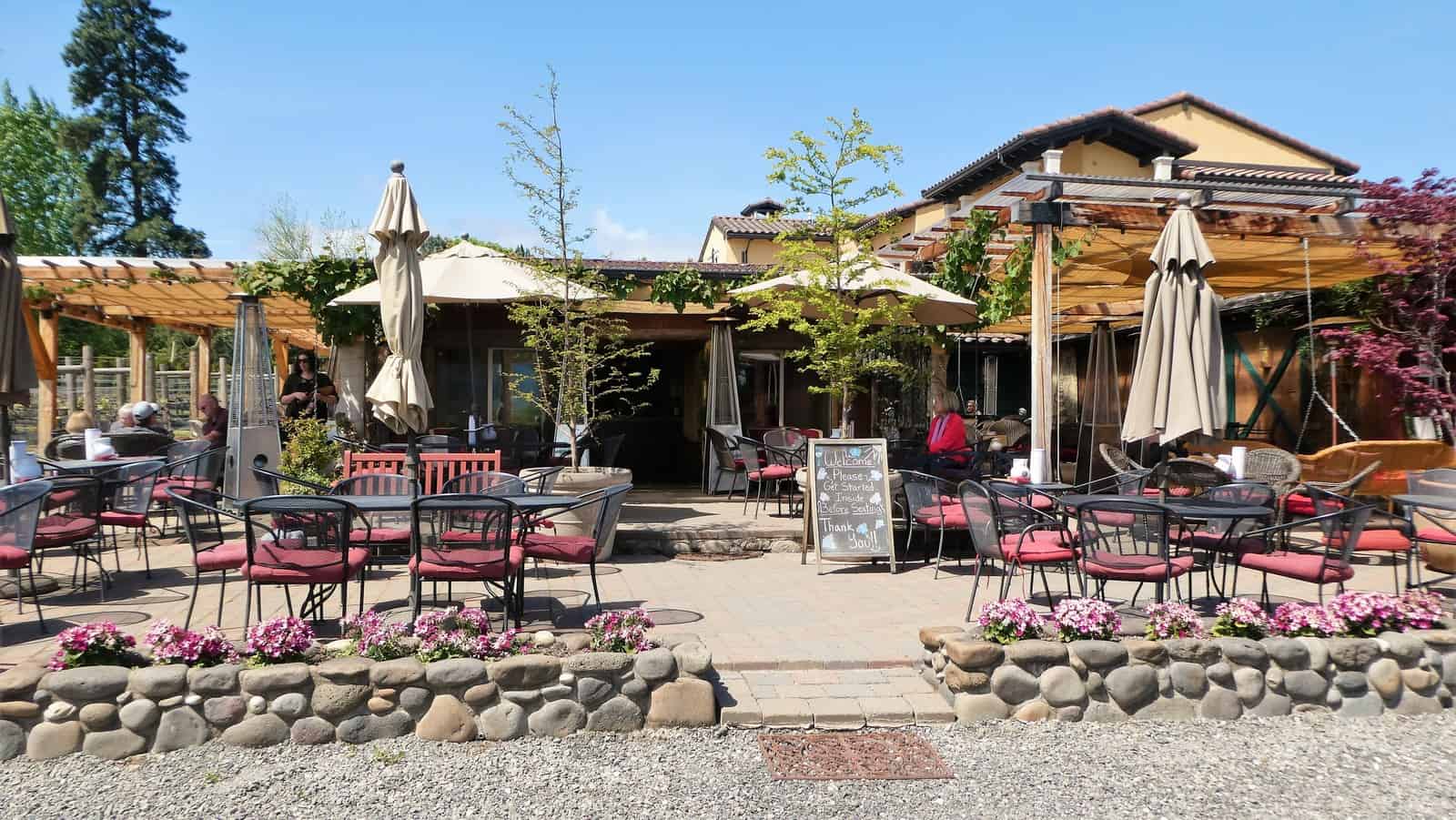 In addition, the tasting room decor was Italian with a mural from Piedmonte. There are also black-and-white photos portraying historic wine-making scenes. Plus there were shelves filled with books about wines and winemaking.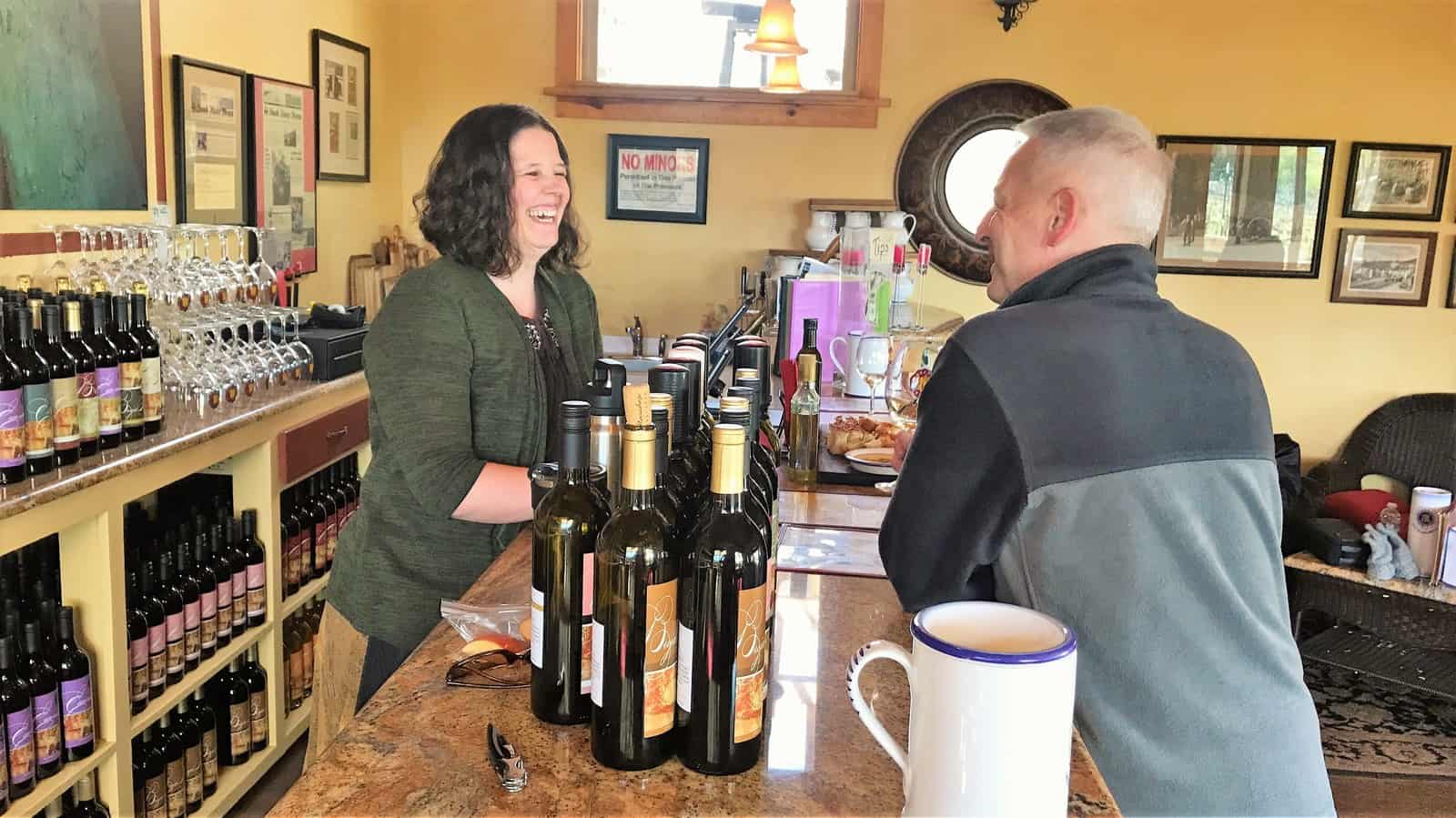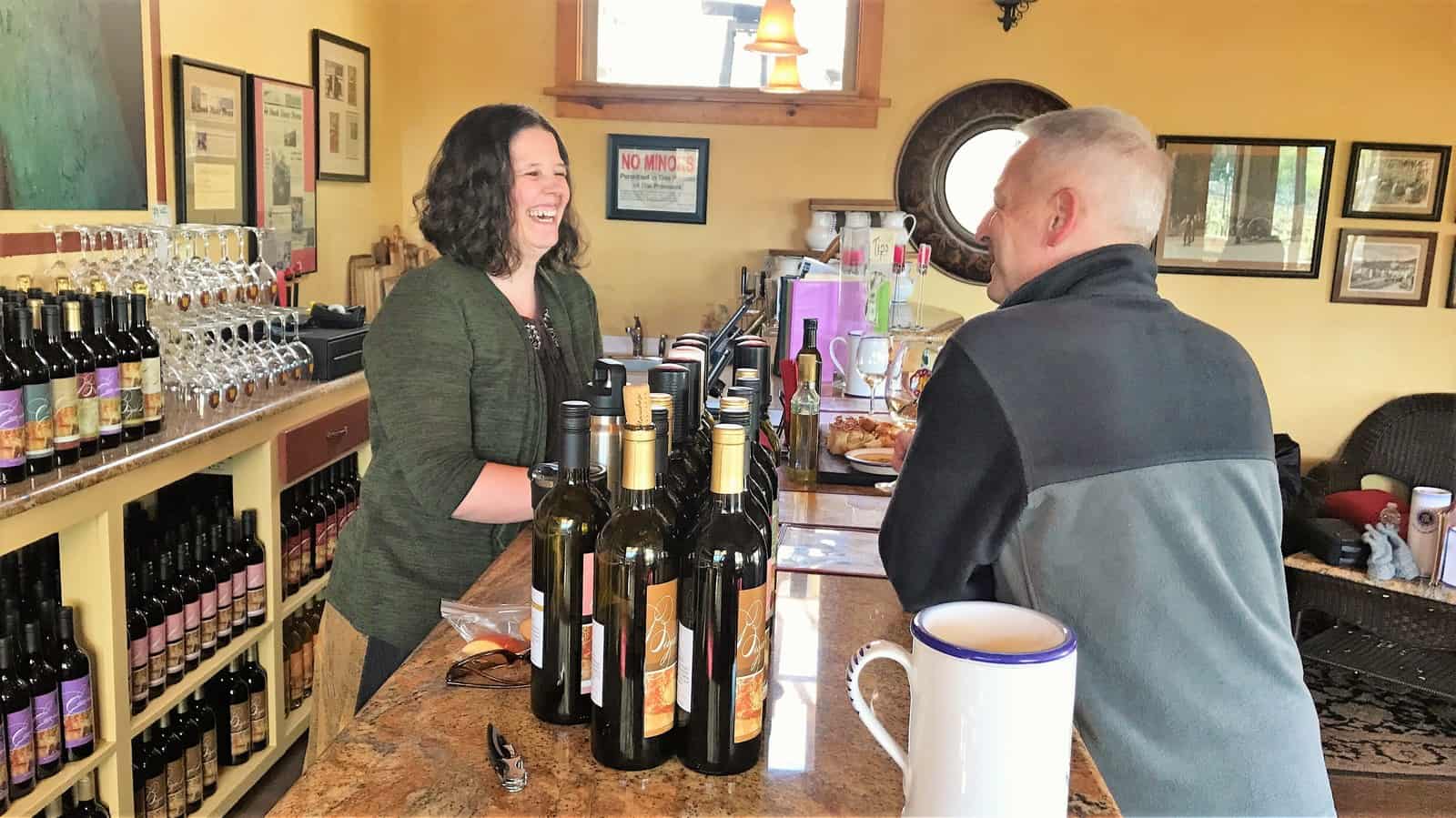 The tasting room was charming, but the day was beautiful, so we tasted wine on their outdoor terrace just feet from grapevines. The views were spectacular, and you almost felt like you were wine tasting in Europe.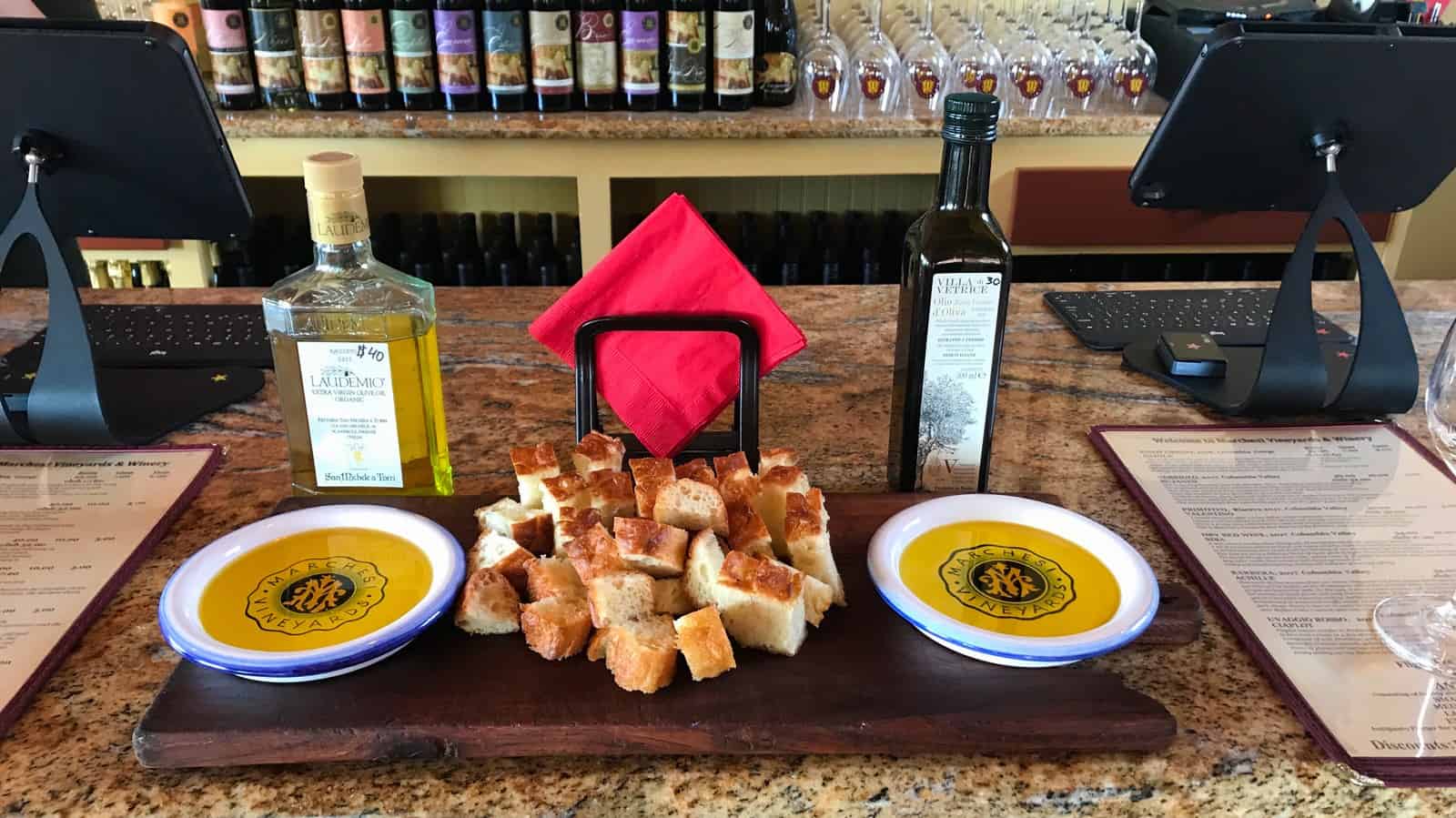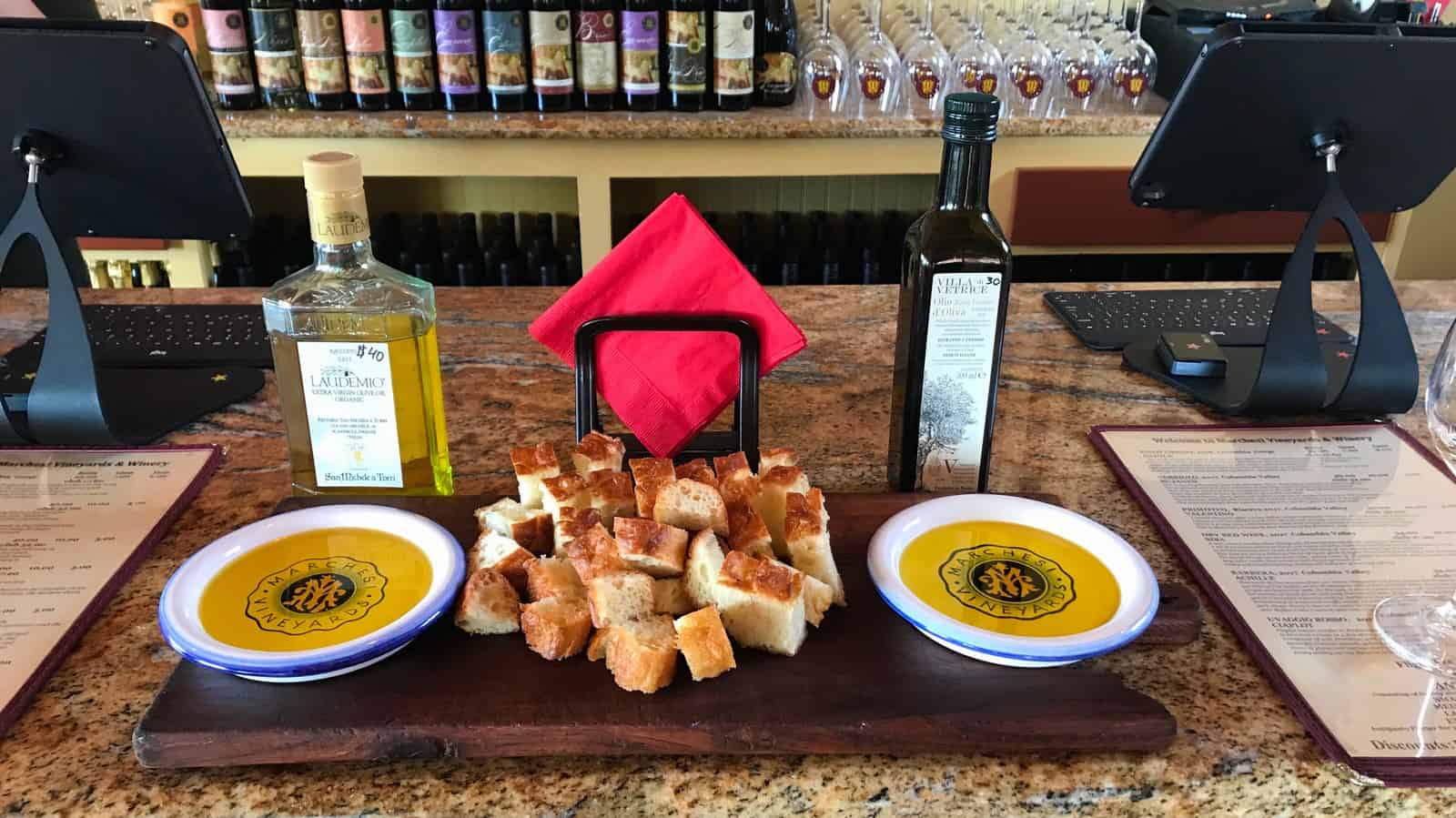 Our favorite wine at Marchesi was the 2017 Primativi Riserva.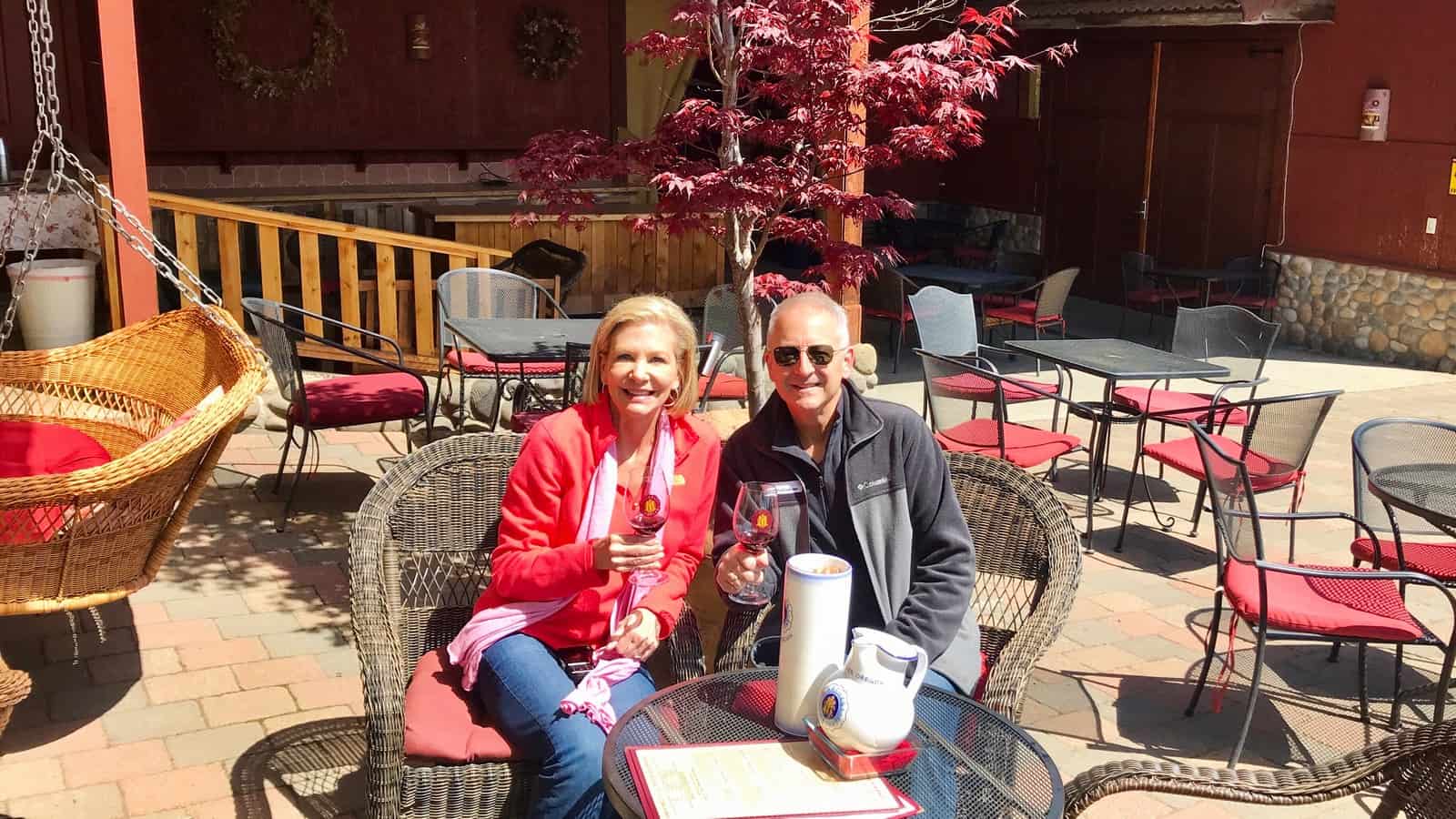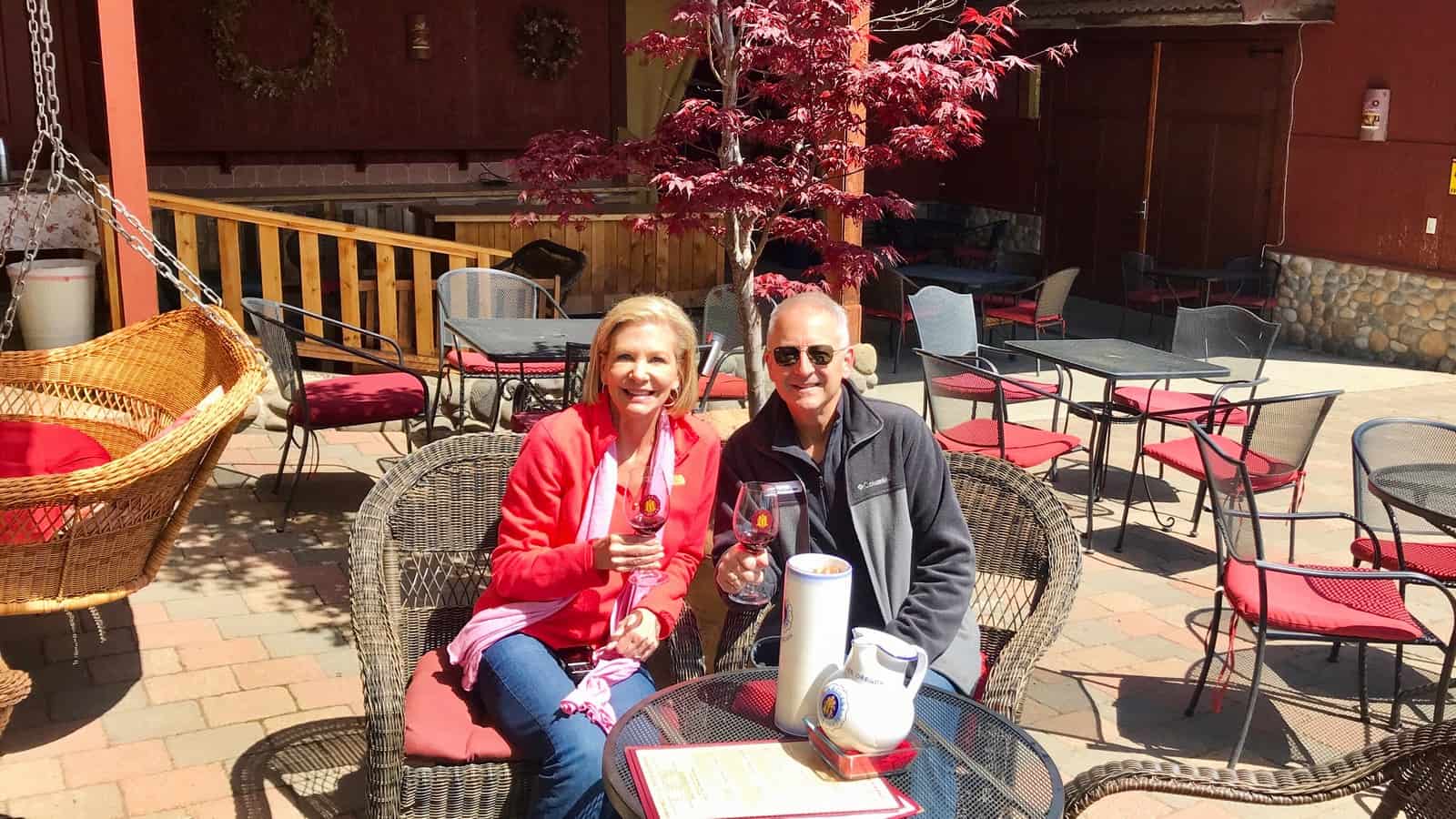 Second Stop, Cathedral Ridge
Our second winery of the day was Cathedral Ridge Winery. Cathedral Ridge prides themselves in producing wine with optimal freshness and flavor. Their grapes are picked and crushed in under six hours.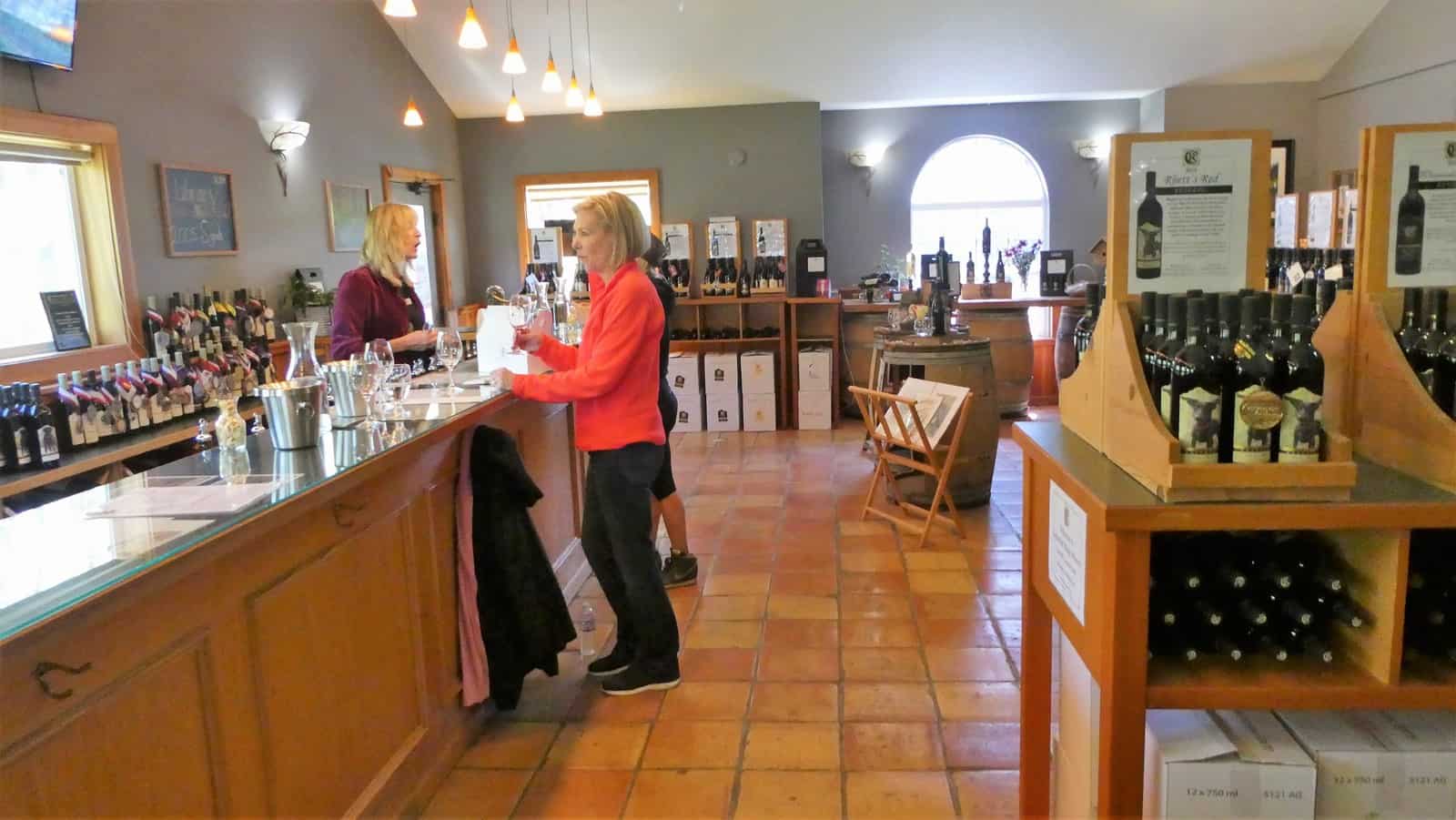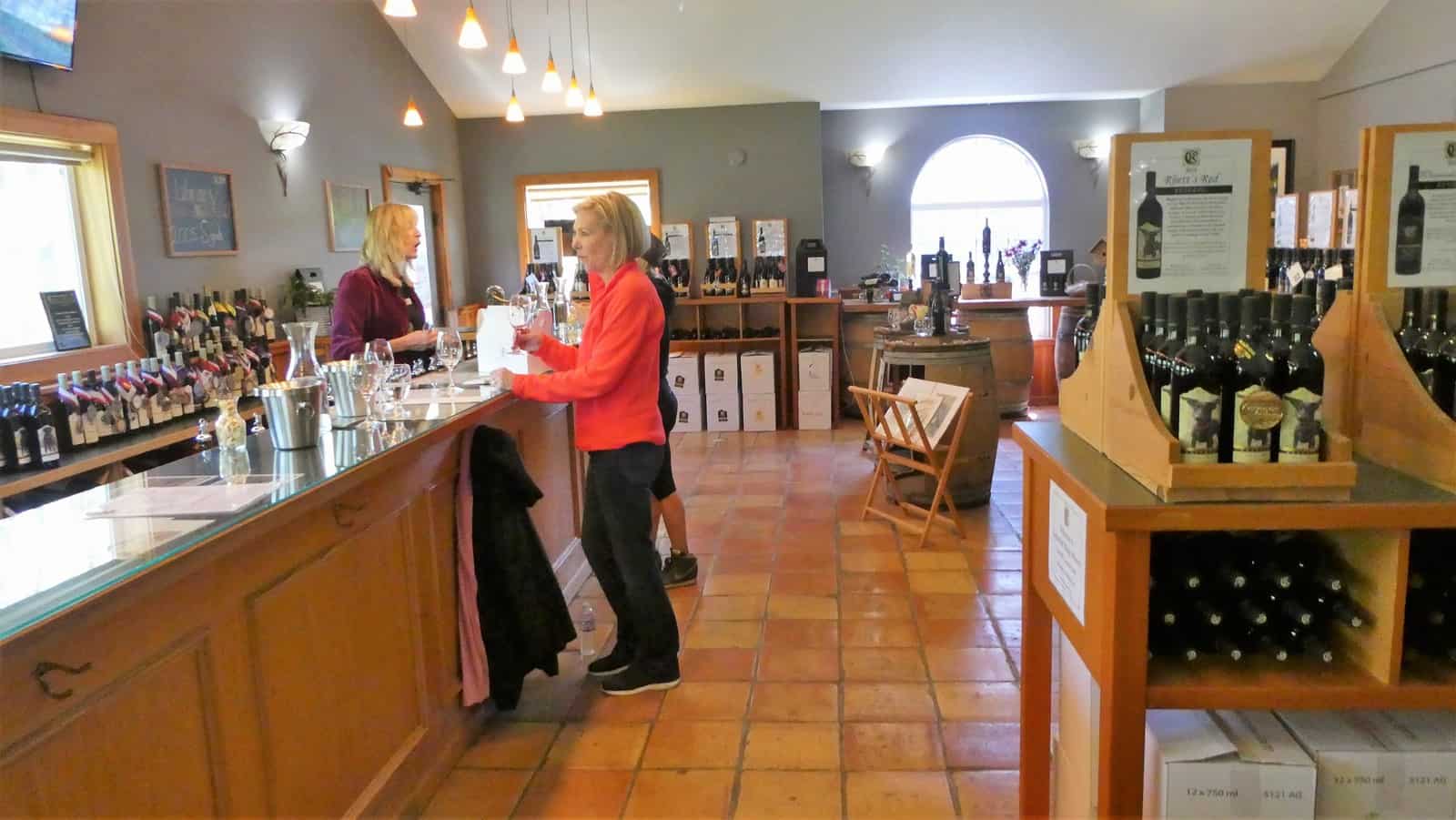 So, Cathedral Ridge Winery has 25 award-winning wines ranging from big, bold reds, select blends, to whites. Tastings are held either in the tasting room or on their picnic seating lawn, which has stunning mountain views. We did a traditional tasting in their tasting room.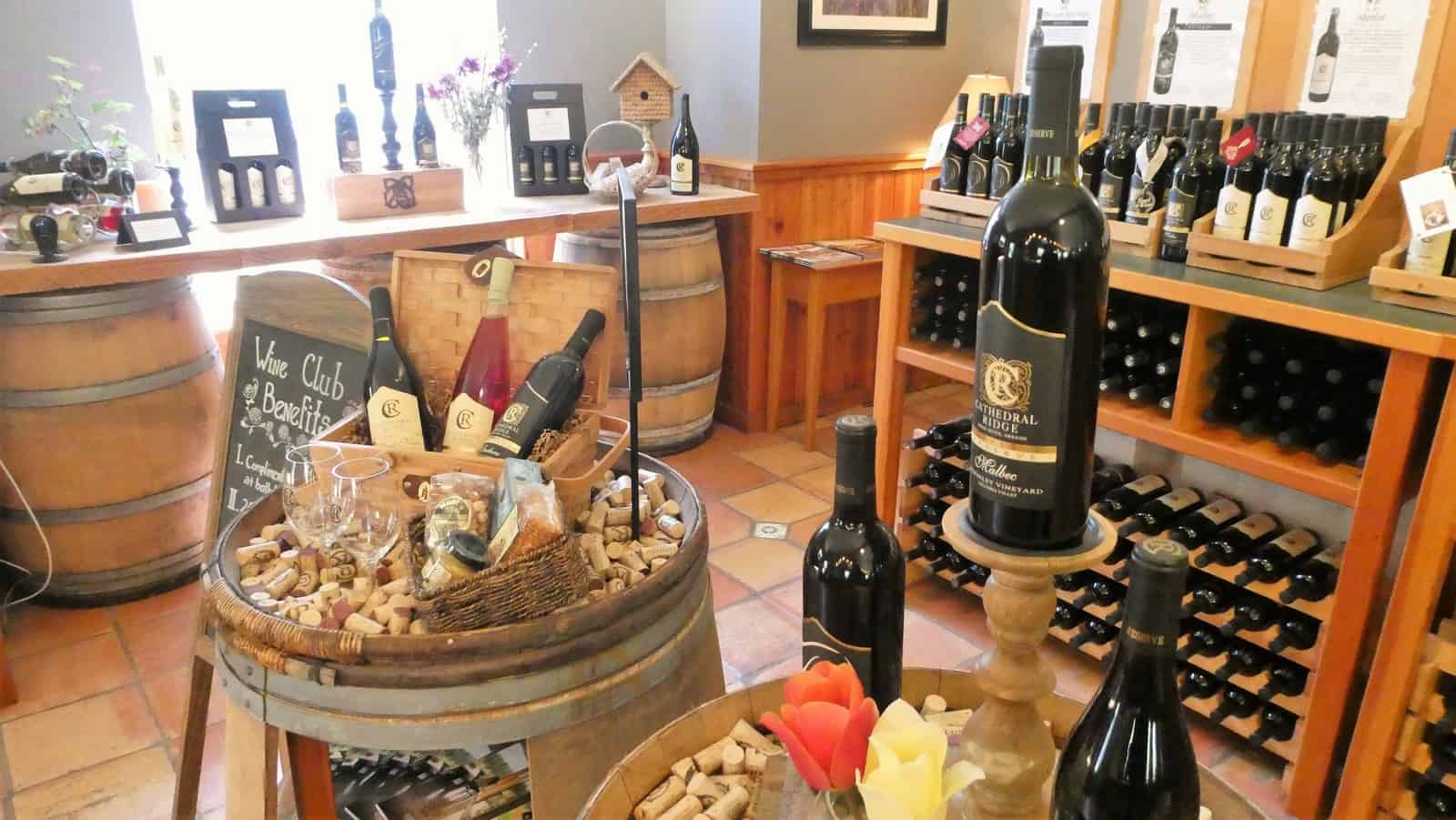 As we made our way to our third and final winery of the day, Ali had the most amazing boxed lunch for us. I eat a whole food plant-based diet, and Ali had something perfect for me. She also had handcrafted local chocolate and nuts for us to nibble on.
Third Stop, Phelps Creek Vineyards
Our Third wine tasting took place on the top of a mountain on the Phelps Creek Vineyard. Lynette, one of the owners of Phelps Creek met us for a private tasting at her favorite spot of the vineyard. Undeniably, our visit with Lynette was the highlight of this adventure we took with Ali. Not only did we enjoy some great wine, but we also had spectacular views of the vineyard with Mt Hood as the backdrop.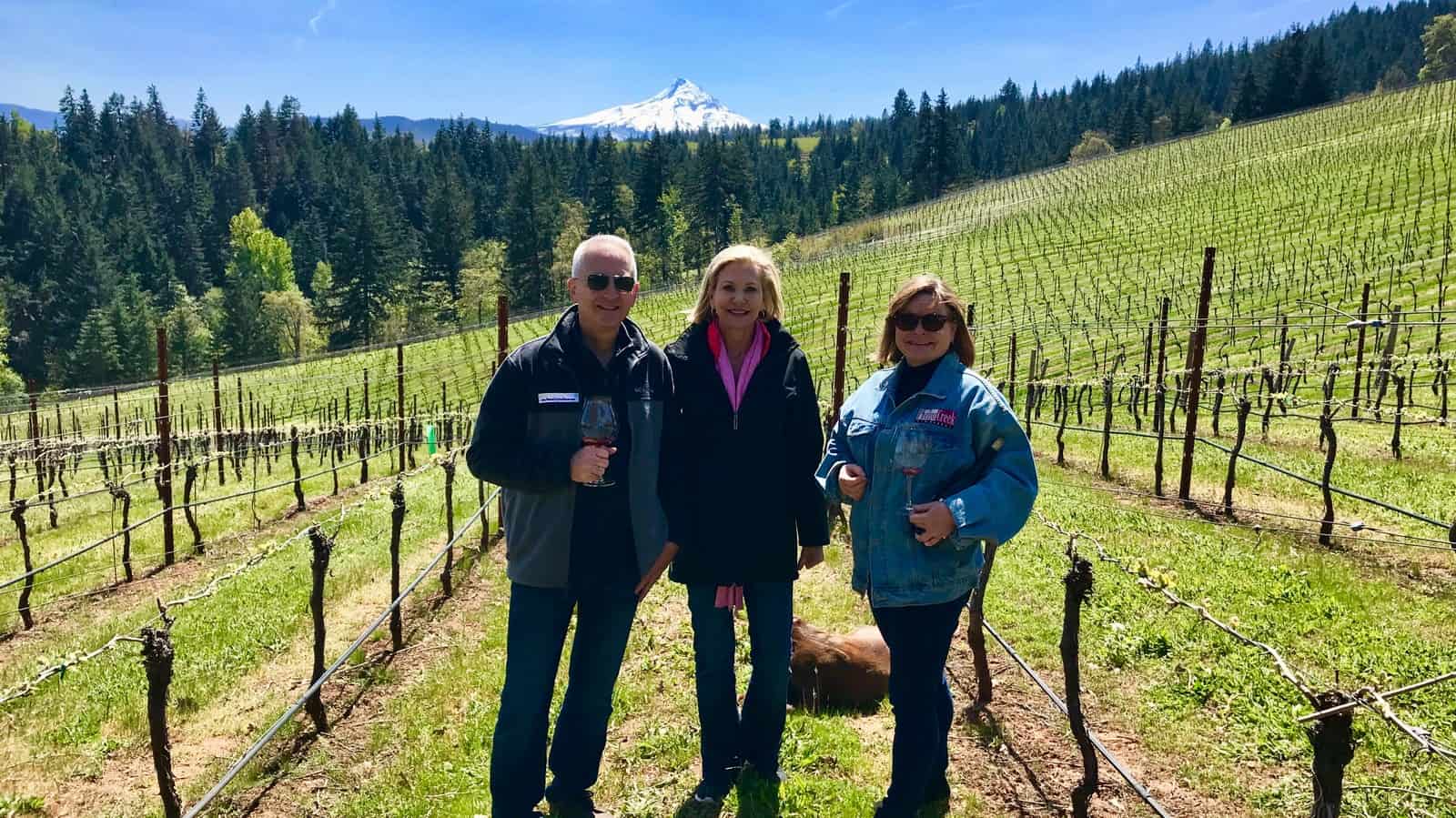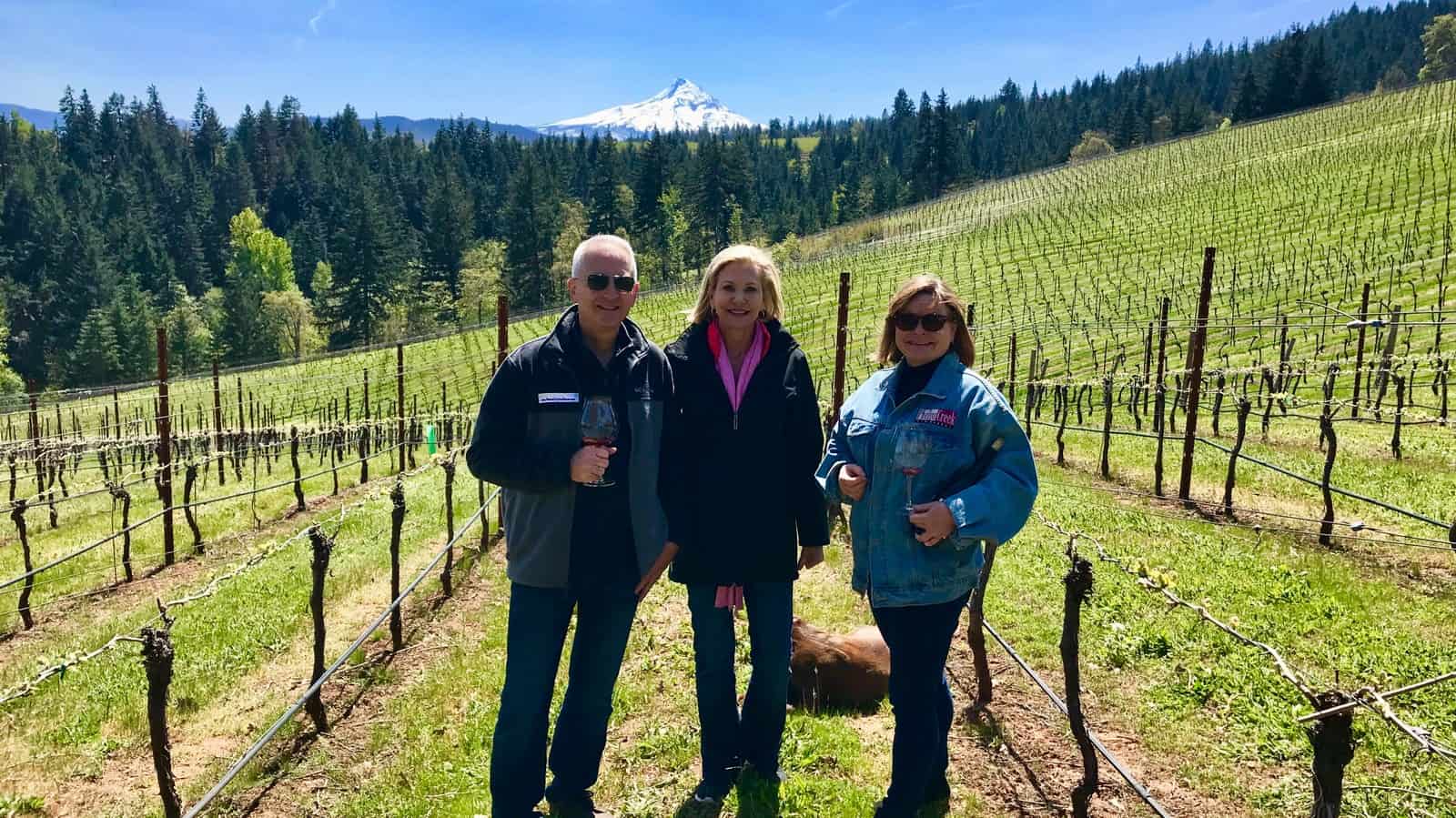 We heard the story of a Canadian gal from the prairie, living in Hong Kong and falling for a vineyard owner in Oregon. Now here we are, drinking wine together on a grassy hilltop in Oregon gazing upon a snow-capped Mt Hood. Unquestionably its moments and experiences like these that make me love travel.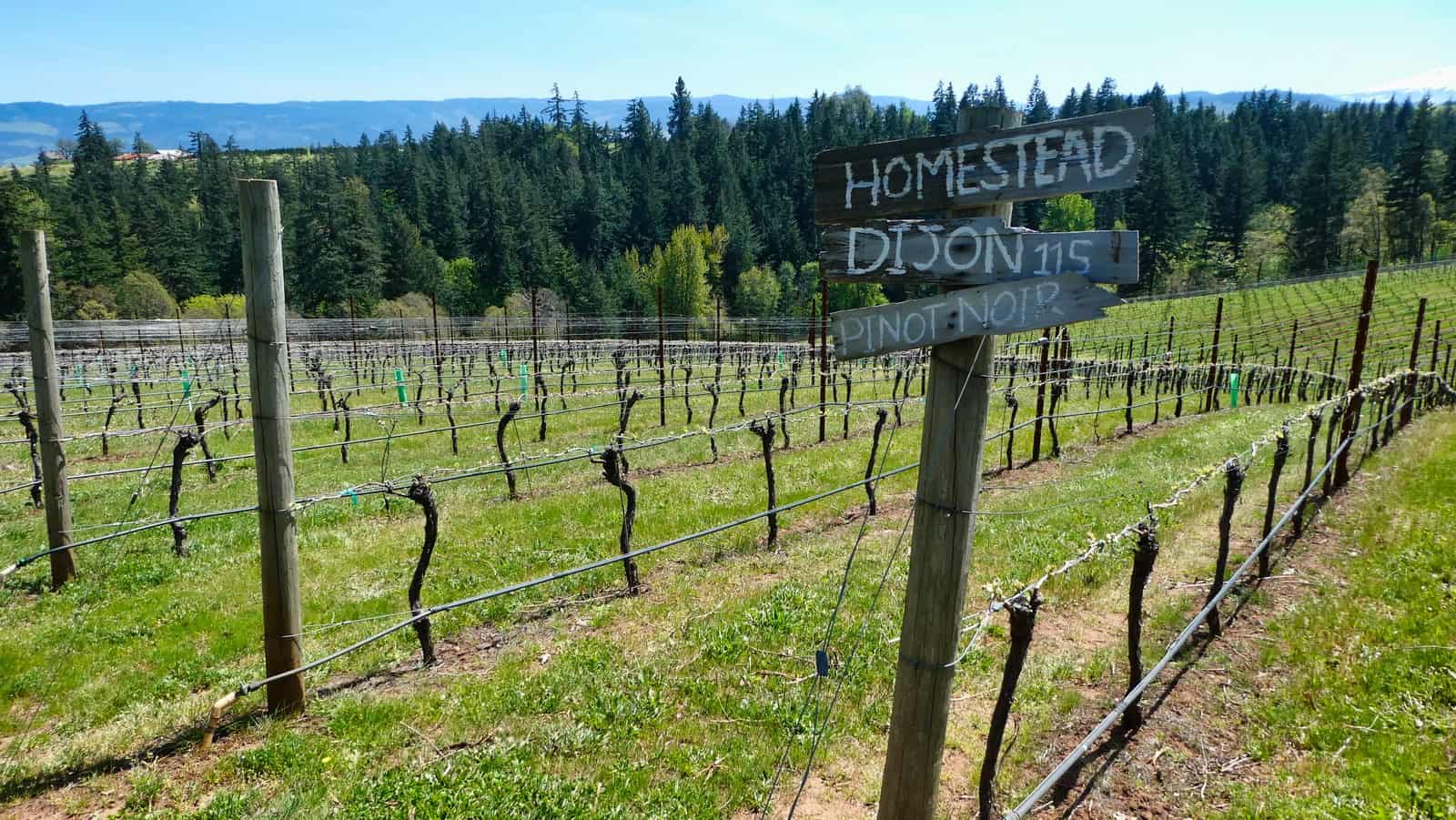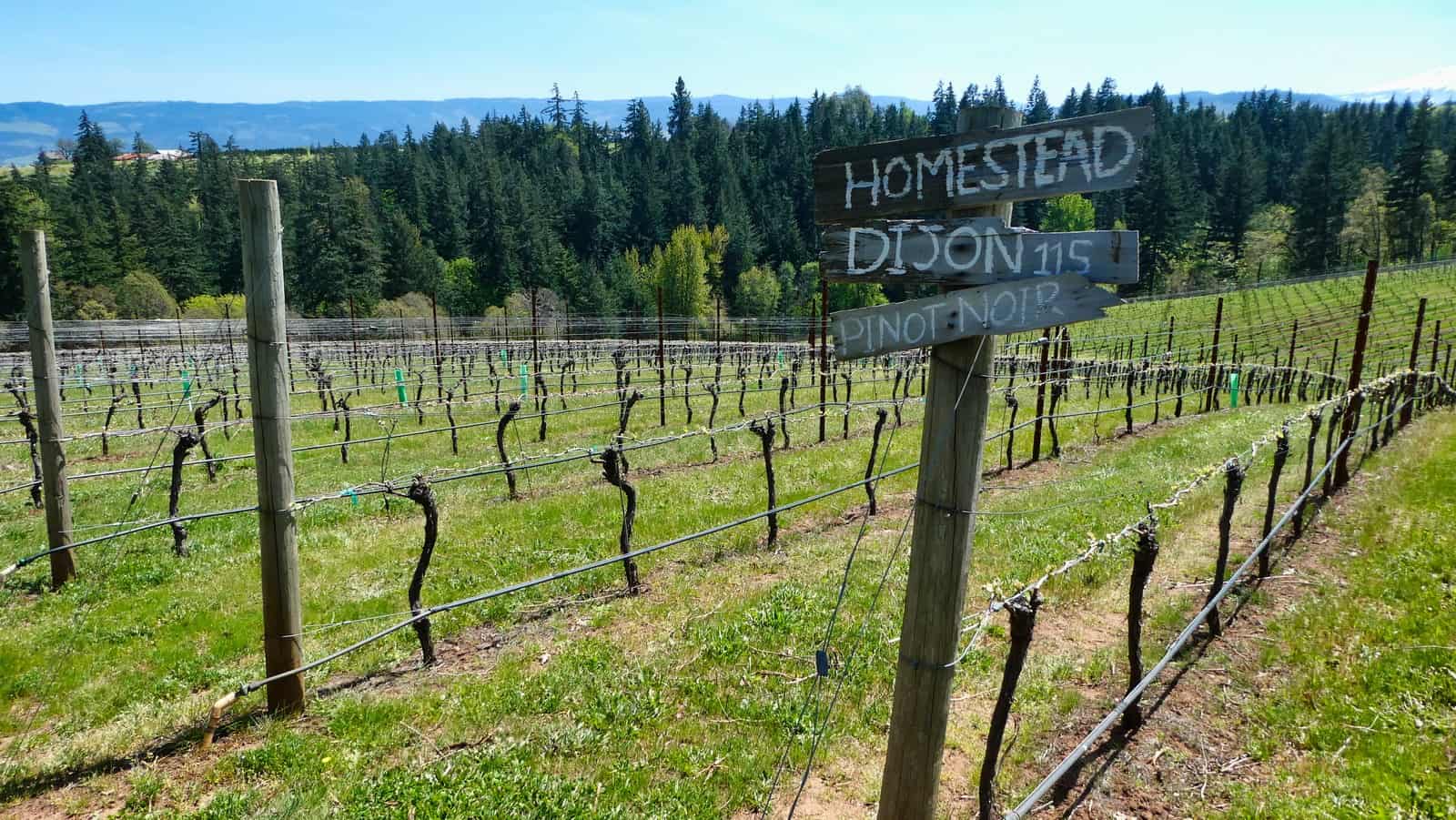 We had a fantastic library Pinot Noir that was absolutely fabulous and our favorite.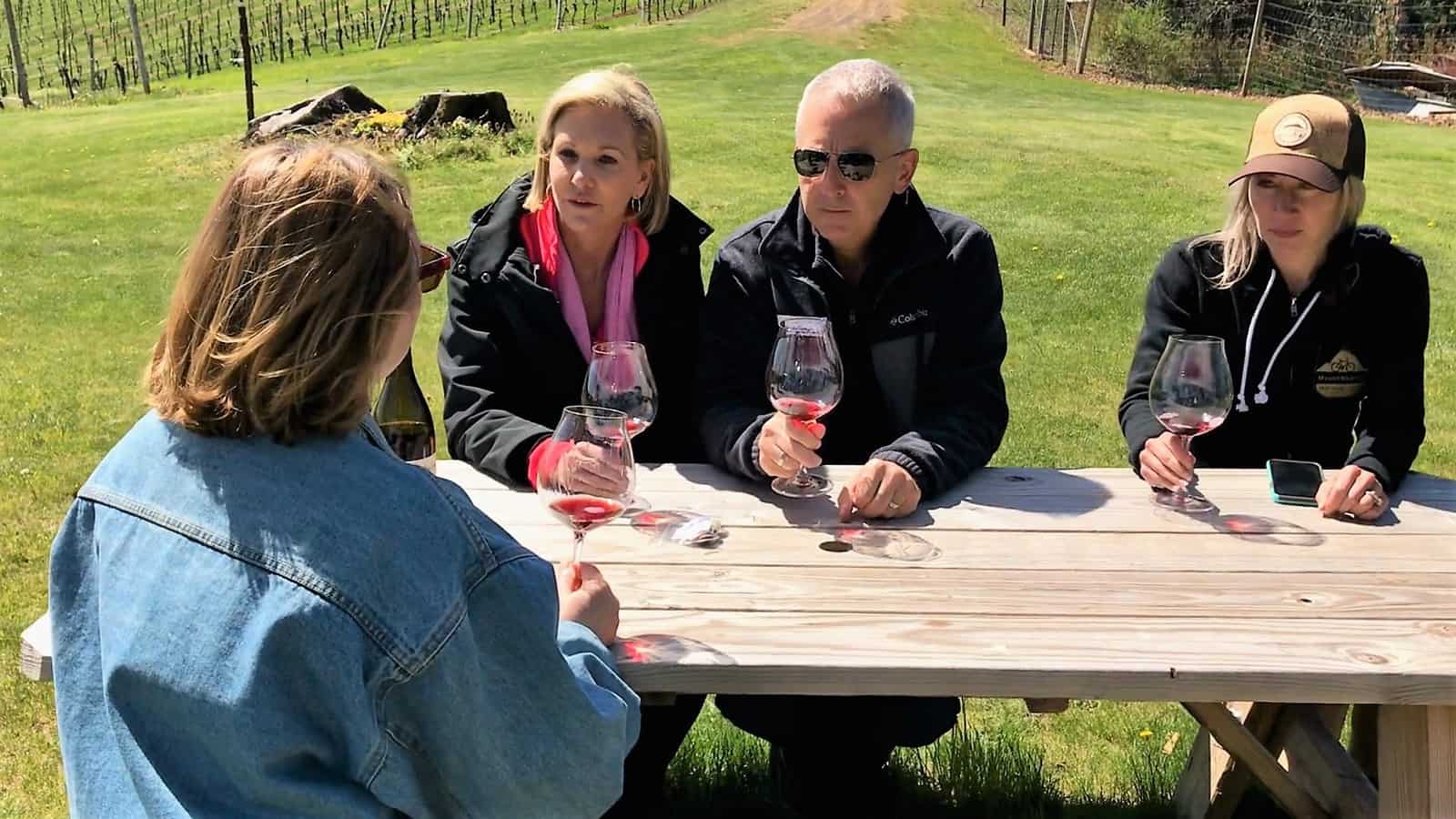 Eagle Creek Trail Fire
Lynette told us the story of the September 2017, Eagle Creek trail fire. Lynette spoke of the hundreds of heroic firefighters who fought the blaze. She said the fire did not reach their estate, but nothing stood between them and the fire. As a result, soot-covered much of their vines.
Consequently, the wildfire burned nearly 50,000 acres in the beautiful Columbia River Gorge. The frontline of the fire which began with a firecracker came within a mile of their vineyard. Lynette and her husband knew they were fortunate. July 2017, they released a smoky Pinot Noir, which we tasted, it was fantastic! A portion of proceeds is donated to the Eagle Creek Restoration Fund to rebuild trails lost in the blaze.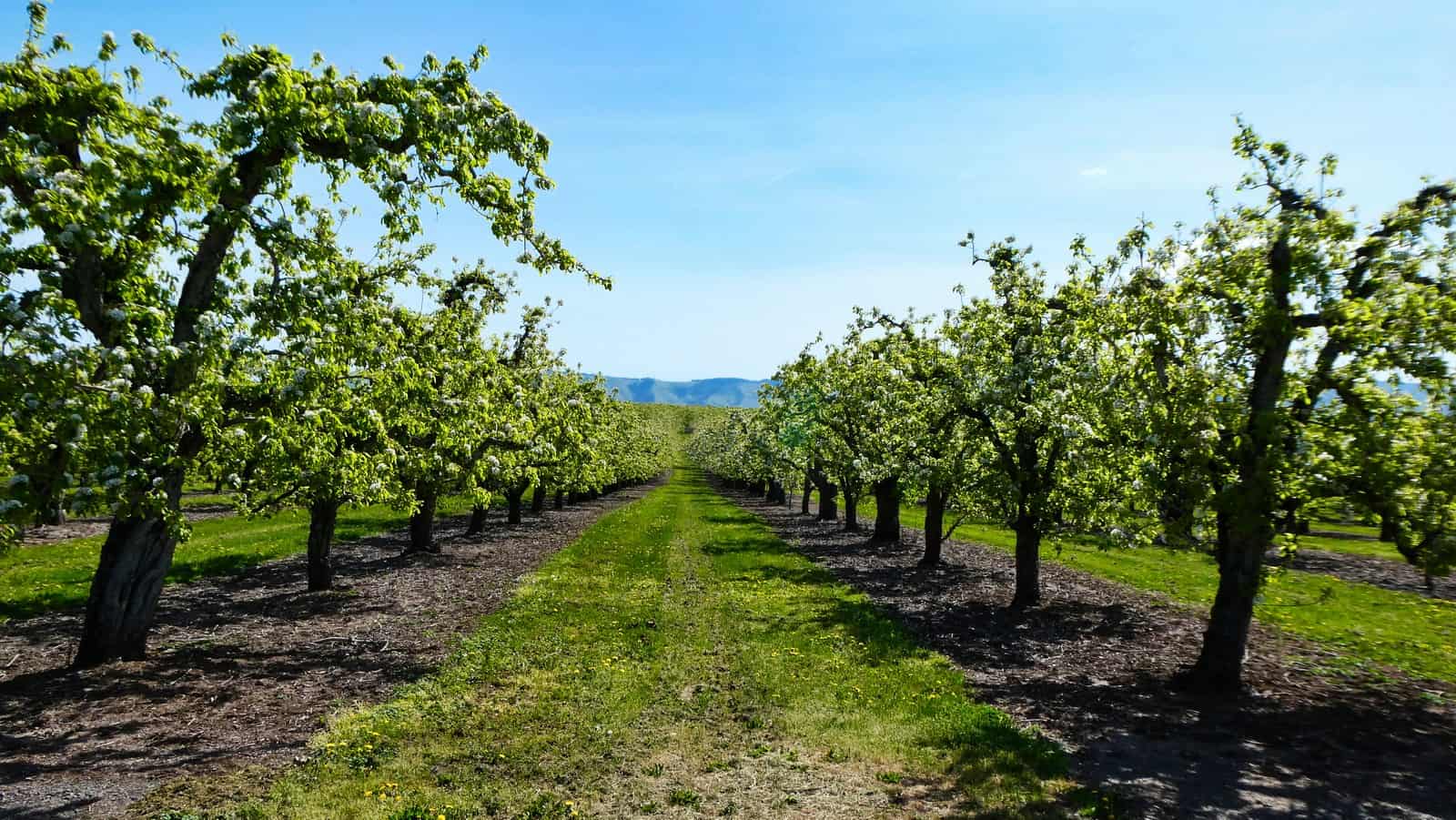 If you love wine but don't think you could do the mostly downhill bike ride, they offer a van tour or a hybrid tour. Because we were running out of time to get to the last winery, Ali had our bikes loaded into the van, and we drove there. So there's something for everyone touring with MountNBarrel.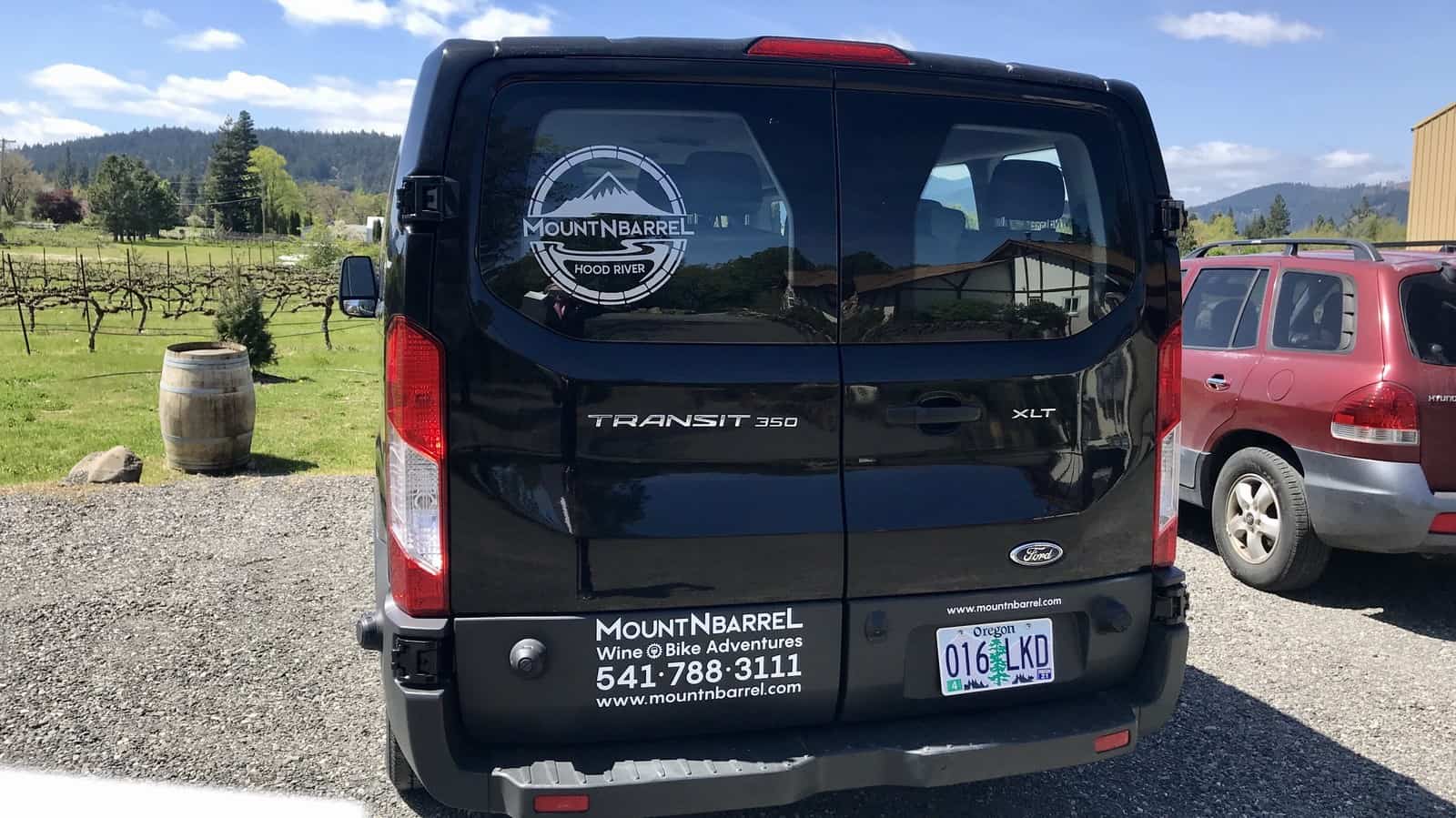 After our wonderful adventure, we headed to the city of Dalles taking the scenic route to continue our Columbia Gorge Wine adventure. From I-84, we took Highway 30 through Mosier to Rowena Crest where we had epic views of wildflowers.
Wildflowers in Bloom in the Columbia River Gorge
Before traveling to Oregon, we heard about this amazing place to see wildflowers in the spring. Since we were in Oregon in May, we had to see these wildflowers. The place is called the Tom McCall Preserve.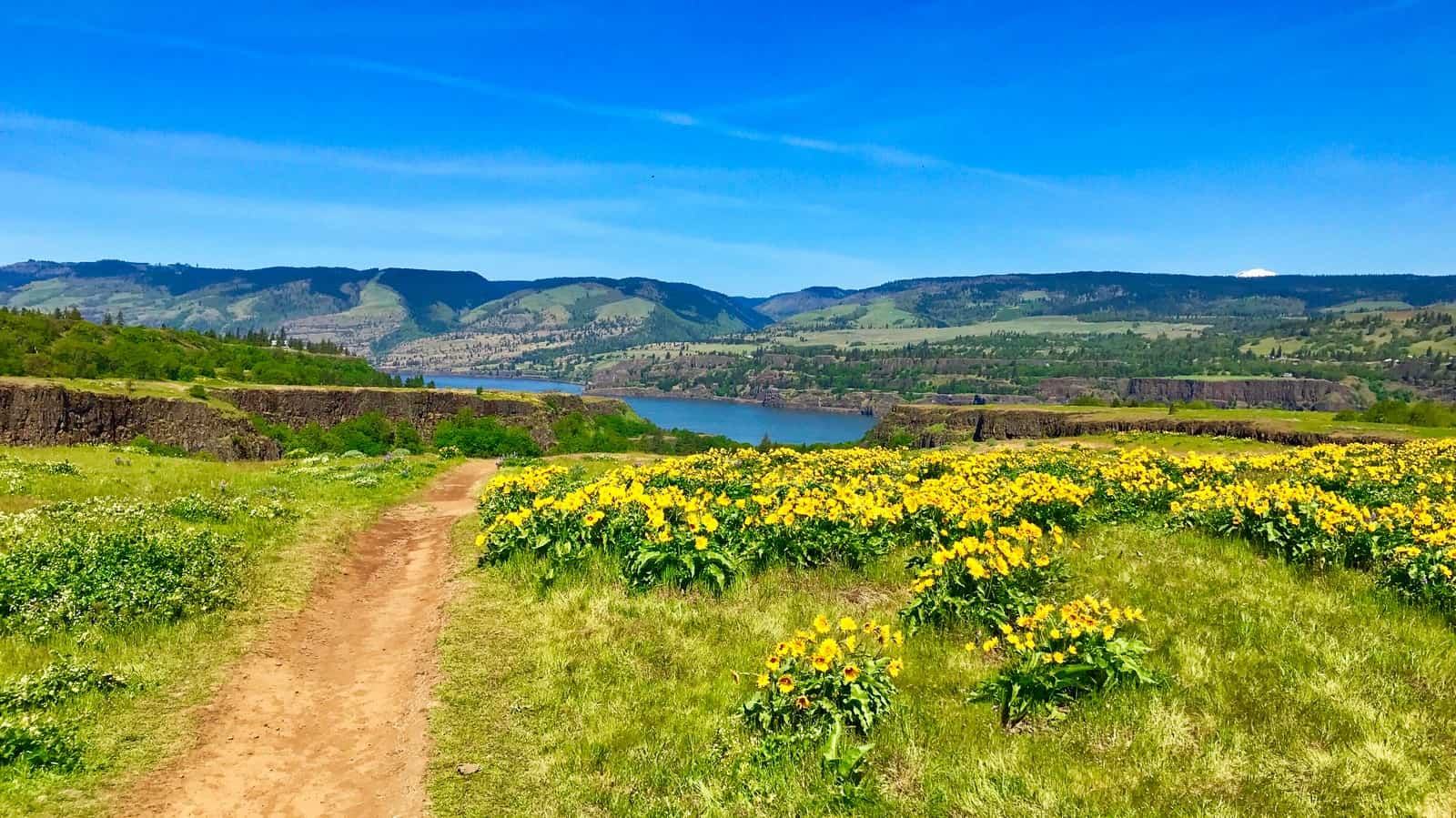 The preserve nestled in a transition area between the moist, heavily-forested land west side of the Cascades and the drier almost desert-like prairies of the east is pure beauty. Specifically, if you are in the area, to get to Rowena Crest from Portland, take Interstate 84 east to exit 69 for Mosier. Then, turn right on U.S. 30 (Historic Columbia Highway) and follow it for 13 miles to the Rowena Crest Viewpoint.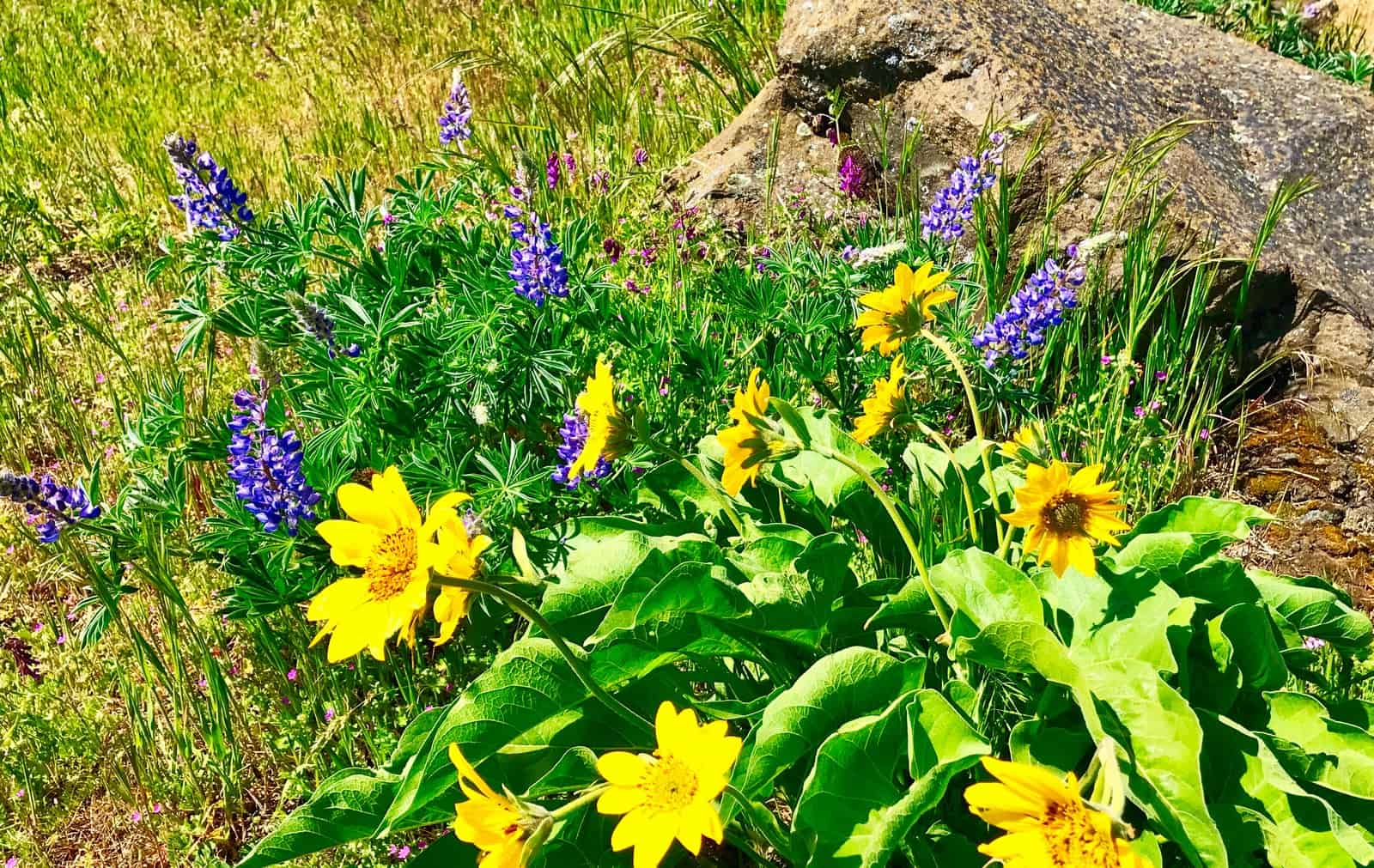 During our visit, we saw spectacular yellow and purple wildflowers bobbing in the breeze on a huge plateau overlooking the Columbia River Gorge. From the placards at the preserve, we learned that lava flows, catastrophic floods, and volcanic ash deposits gave birth to this area. Later, we learned that the flowers were yellow balsamroot and purple lupine flowers.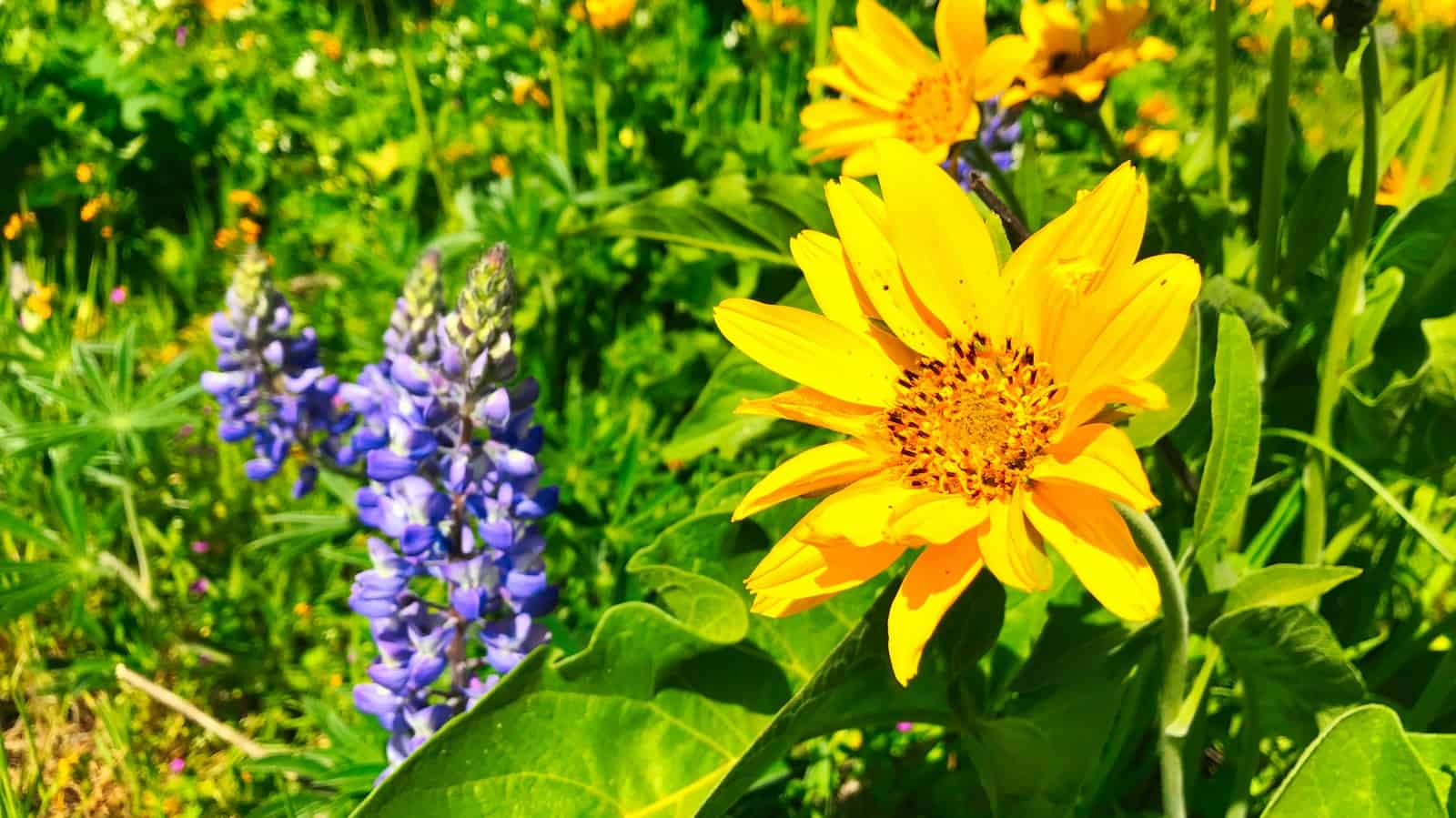 Not only were the flowers breathtaking, but the views of the gorge were also fantastic. We saw lots of birds in the area as well.
Relax in the Historic Balch Hotel
We made our way to the city of Dufur for a two-night stay at the Balch Hotel. The Balch is a 1907 boutique hotel with on-site spa services, sunny patio, and beautiful garden grounds with mountain views.
The afternoon Keith and I arrived, homemade chocolate chip cookies greeted us at the front desk. Once, checked-in we were guided from the turn of century lobby to our room, tastefully appointed with charming antiques and a comfy bed.
The Balch provides plenty of areas for relaxation. You can order a glass of local wine or a cold beer to enjoy in the parlor. Or if you prefer, there are books and games in the library. Additionally, you can relax outside under an umbrella on the slate patio or on the lush lawn facing Mount Hood.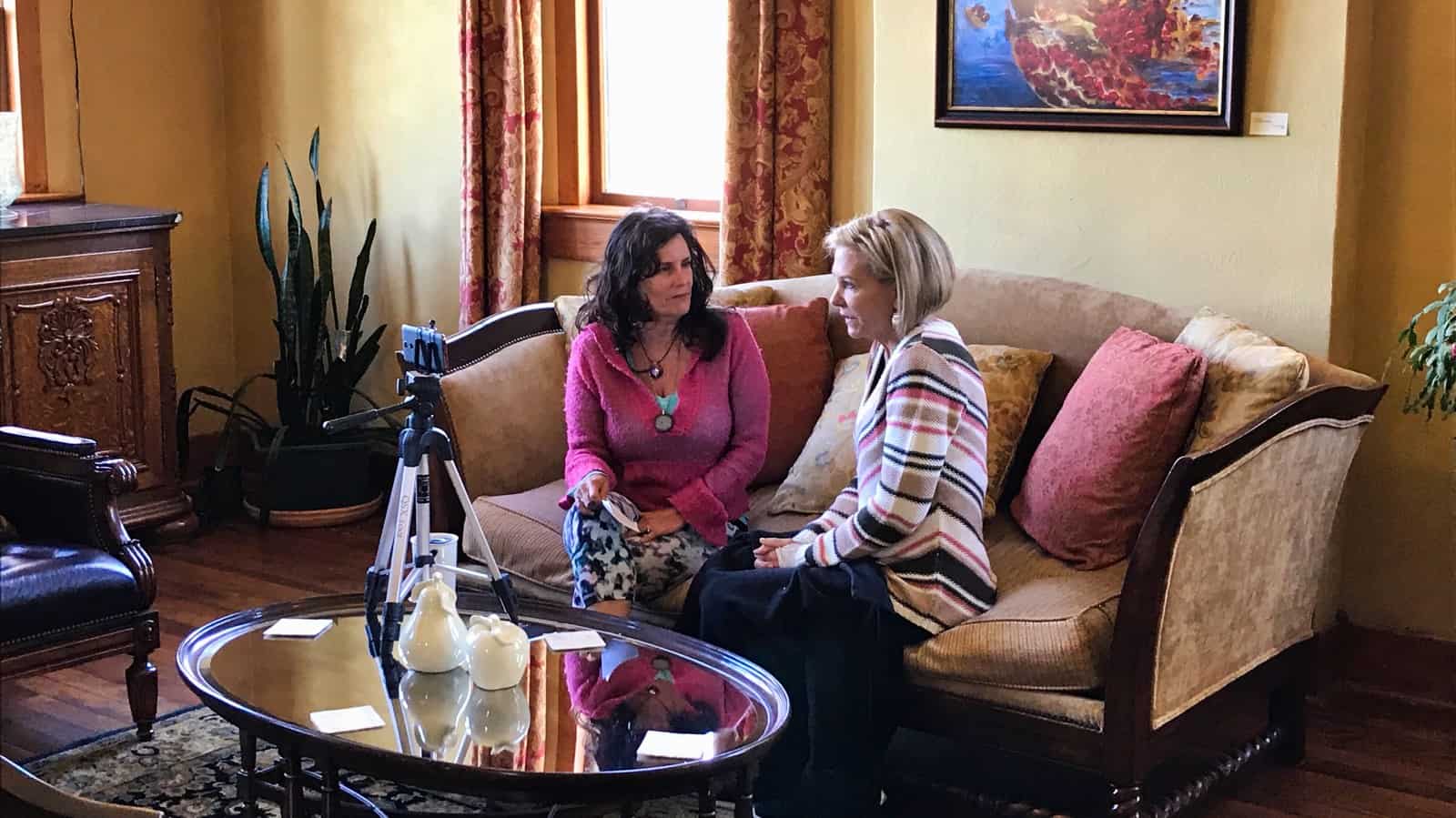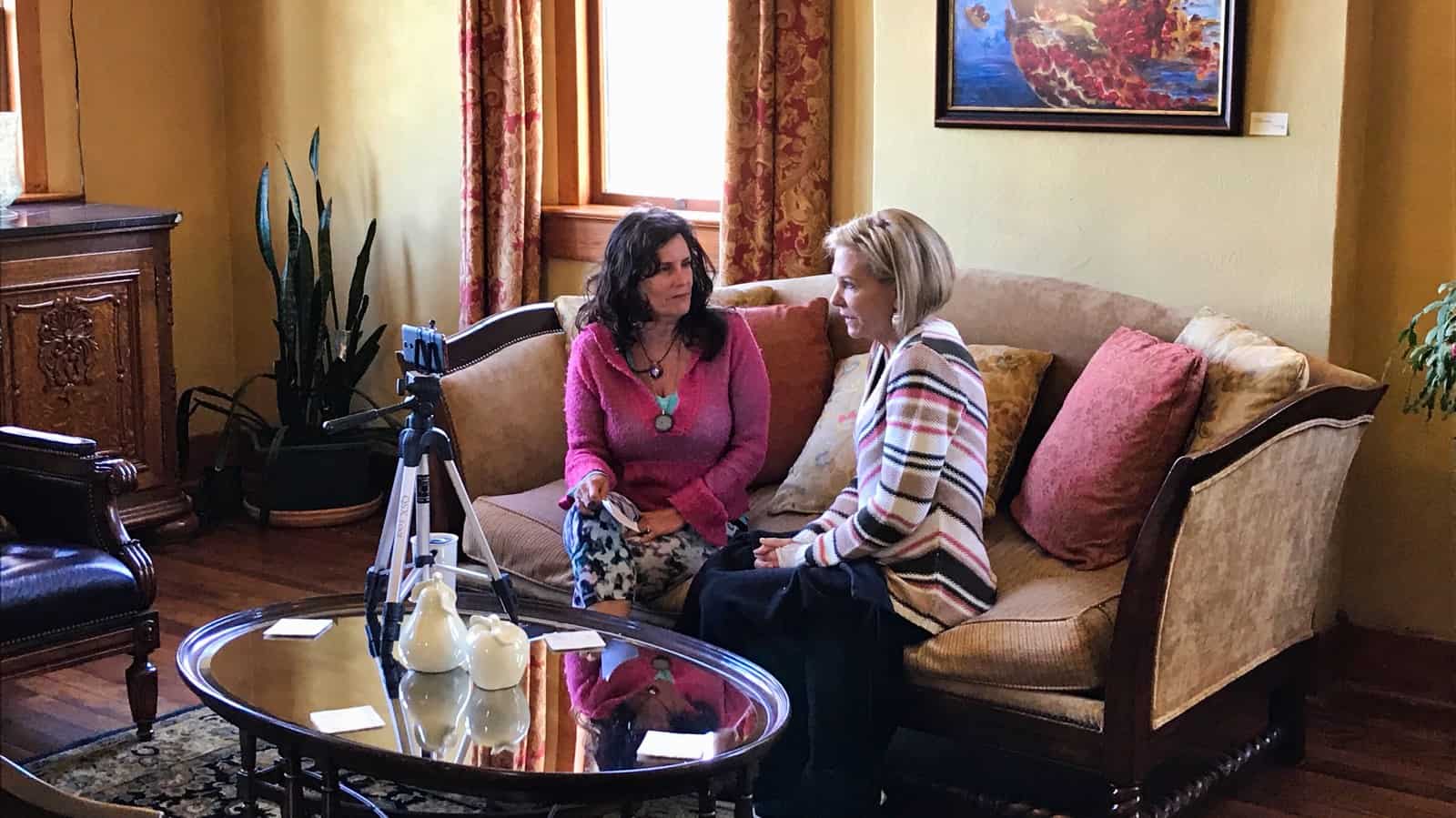 Charming Food Choices
Breakfast included in your stay is hearty. So you will wake up to locally roasted, freshly brewed coffee or organic tea, plus a rustic breakfast buffet with something for everyone.
For dinner, we recommend staying where you are and dining at the Balch Bistro. Dinner is available in the Balch dining room offering simple handmade food with rustic, artisan specials on the weekends. They also serve wine, beer, cider, or artisan sodas.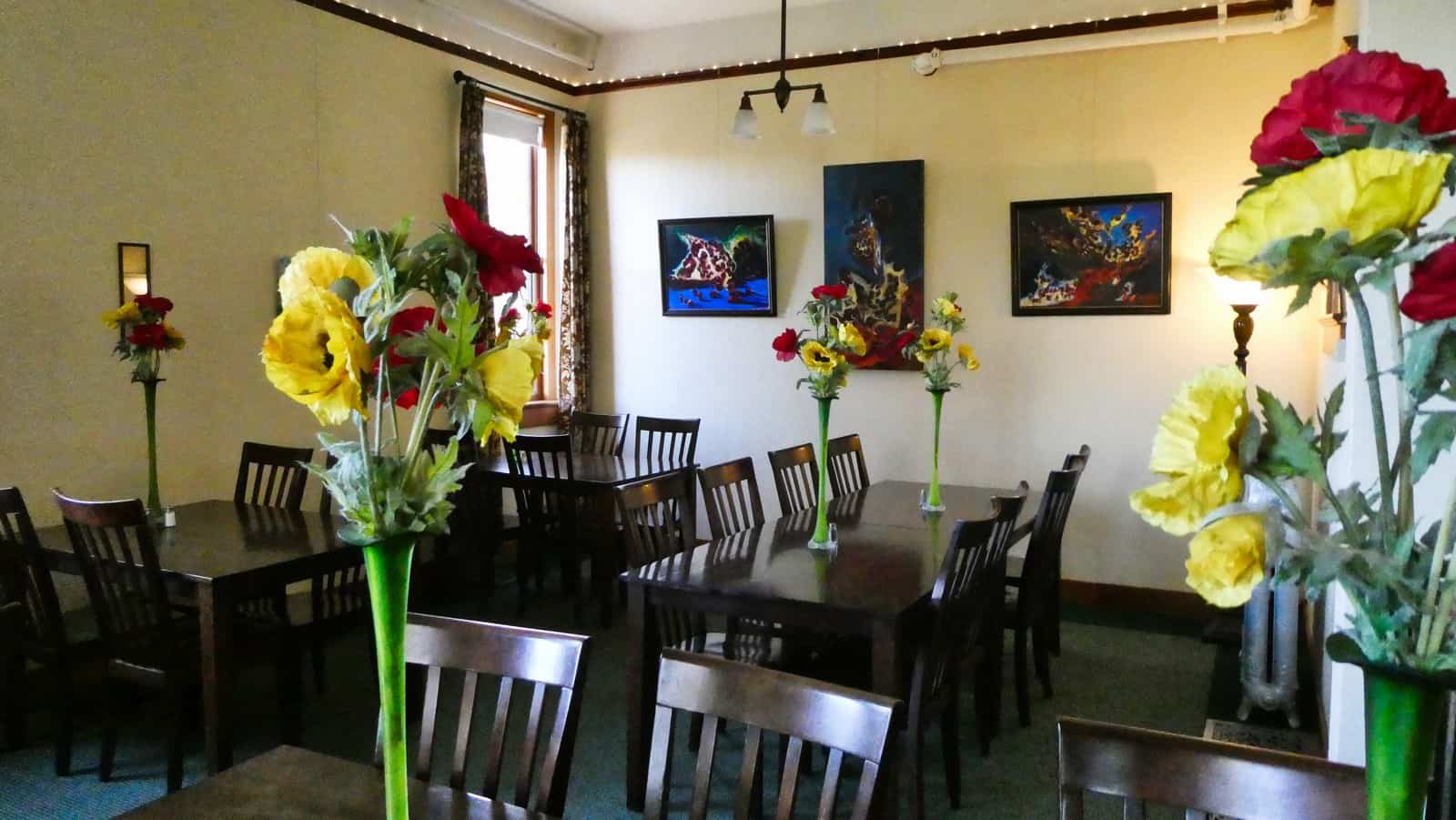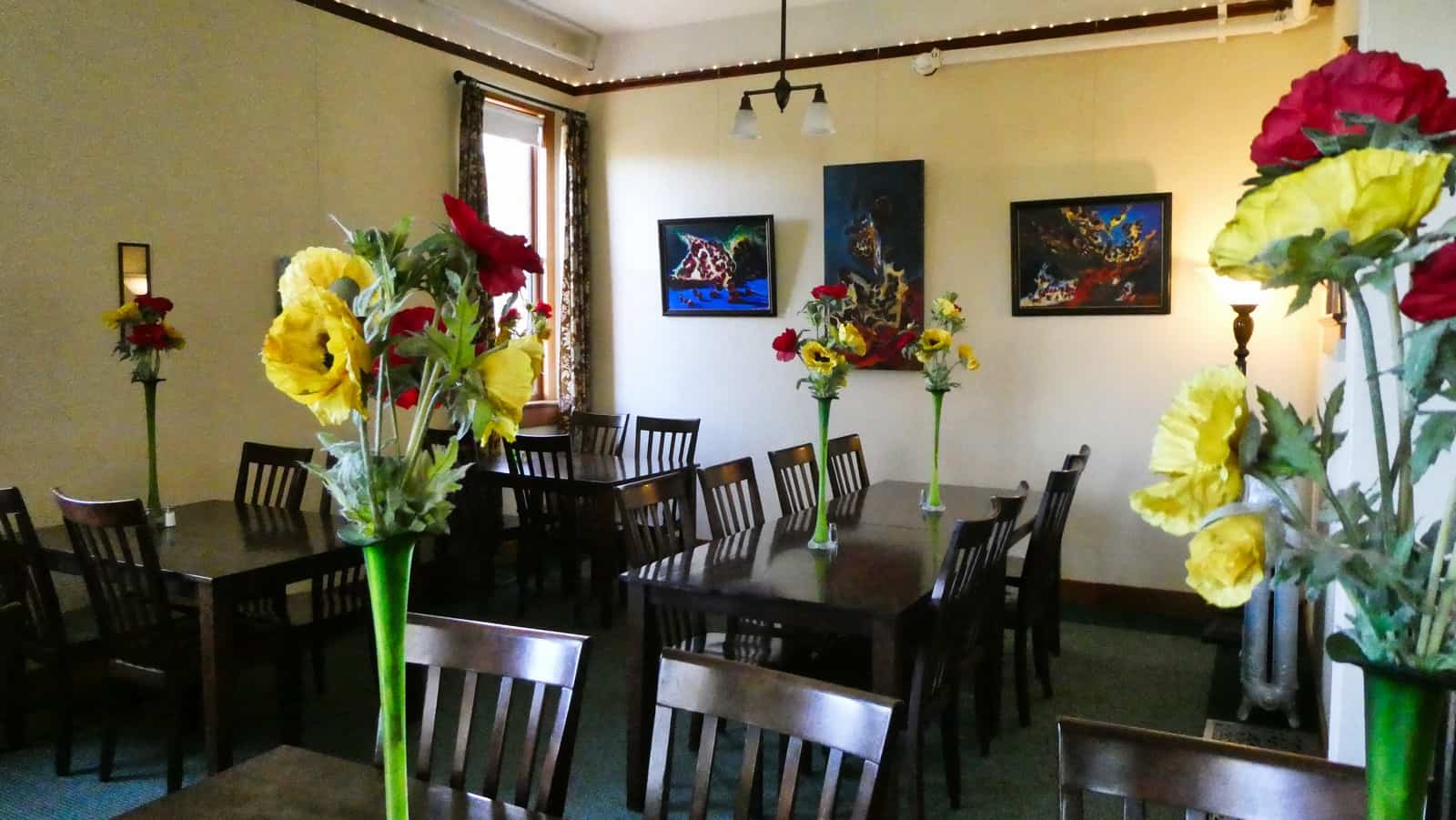 We had the pleasure of sharing dinner with the owners Claire and Josiah. Consequently, we talked about travel, life as innkeepers and Oregon wild Flowers. One of the greatest pleasures of travel is meeting new and interesting people like Clair and Josiah. Also, we enjoyed some Columbia Gorge wine with our dinner. In addition, the food was great! I had an amazing Vegetable Hummus Wrap. The wrap filled with mixed grilled vegetables, hummus and greens severed in a warmed spinach tortilla was fresh and tasty. Keith had Salmon Cakes with lemon-garlic aioli served on a bed of mixed organic greens. The food was simple but fresh.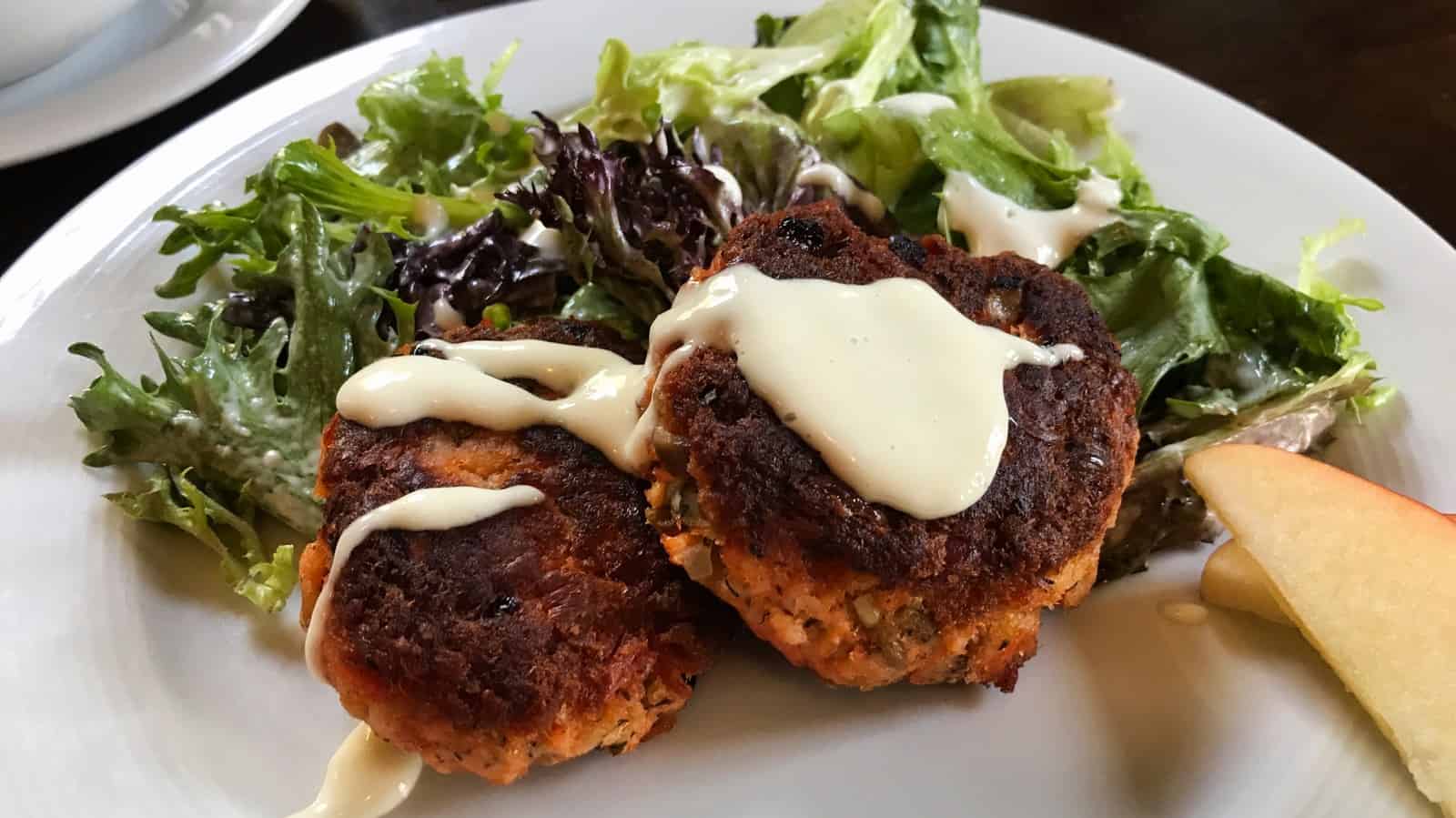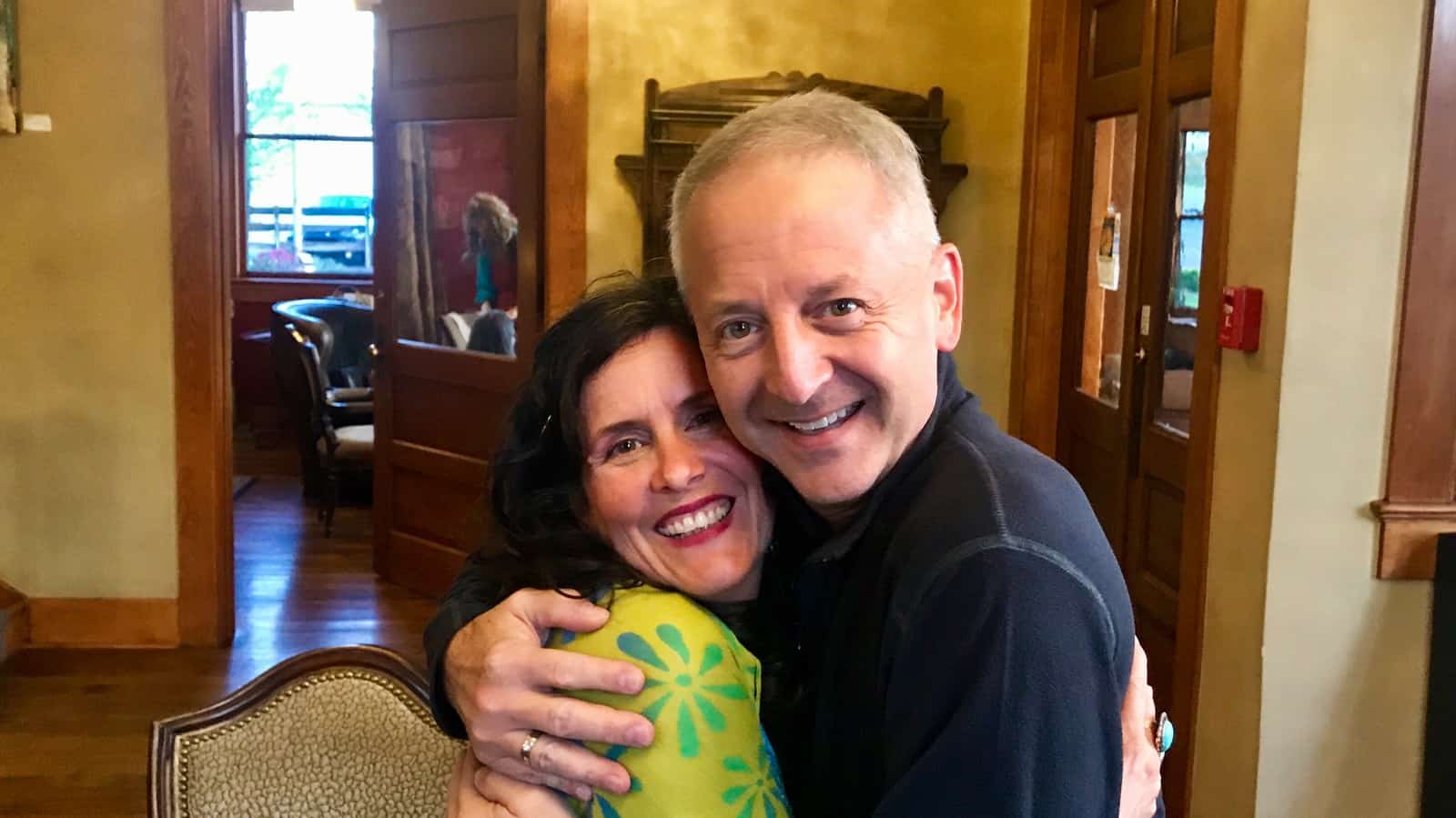 Step Back in Time at the Fort Dalles Museum
The next morning we visited the city of Dalles. Our first stop was the Fort Dalles Museum. The museum, once the former Surgeon's Quarters is now the only remaining officer's quarters of the 1856 Fort Dalles military complex. Also, the museum is one of Oregon's oldest history museums having first opened its doors in 1905. The museum provides a glimpse into daily life in Oregon during the mid-1800s to the early 20th century. In addition to a unique collection of pioneer and military artifacts, the museum also has a fantastic collection of antique wagons.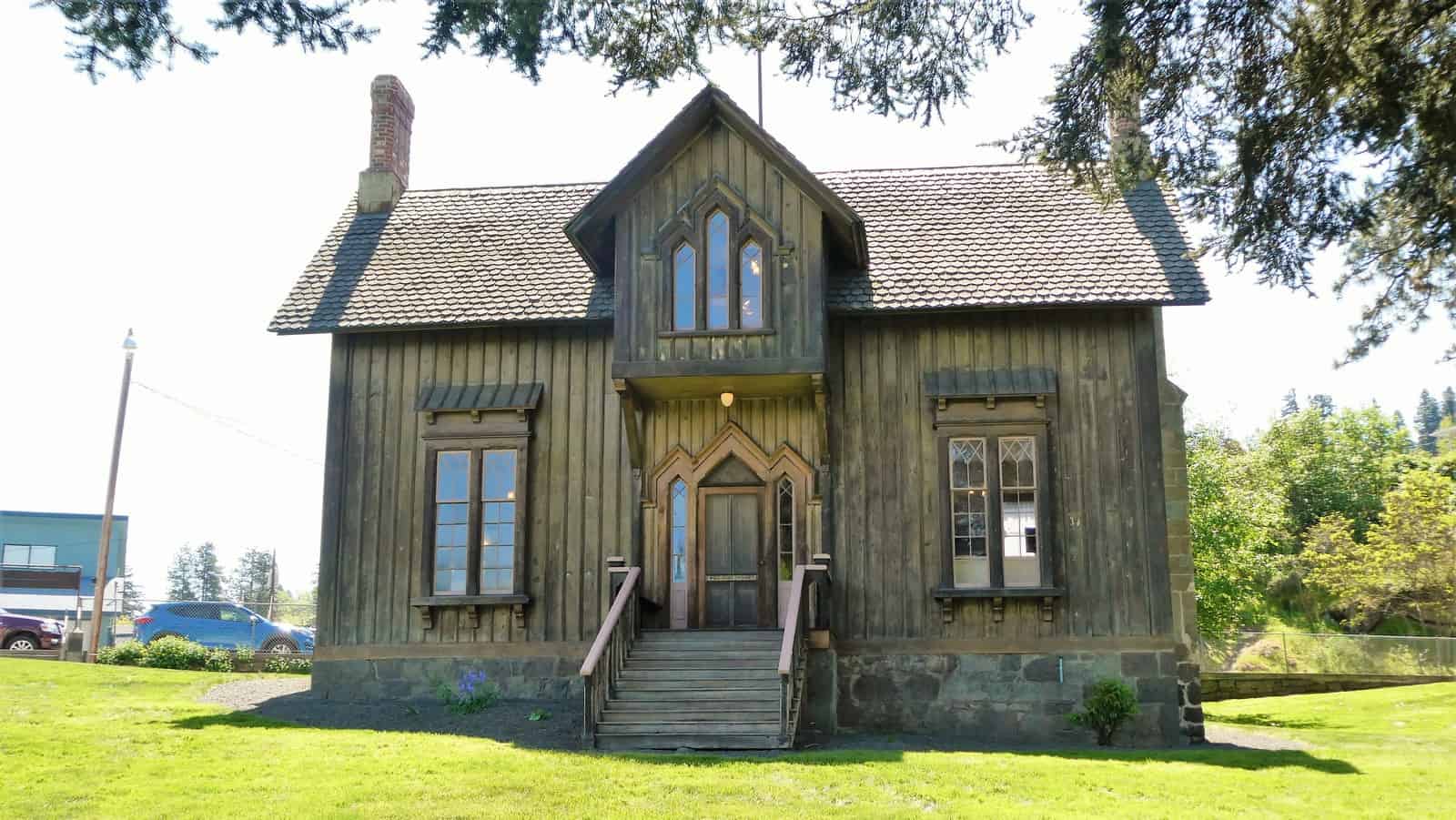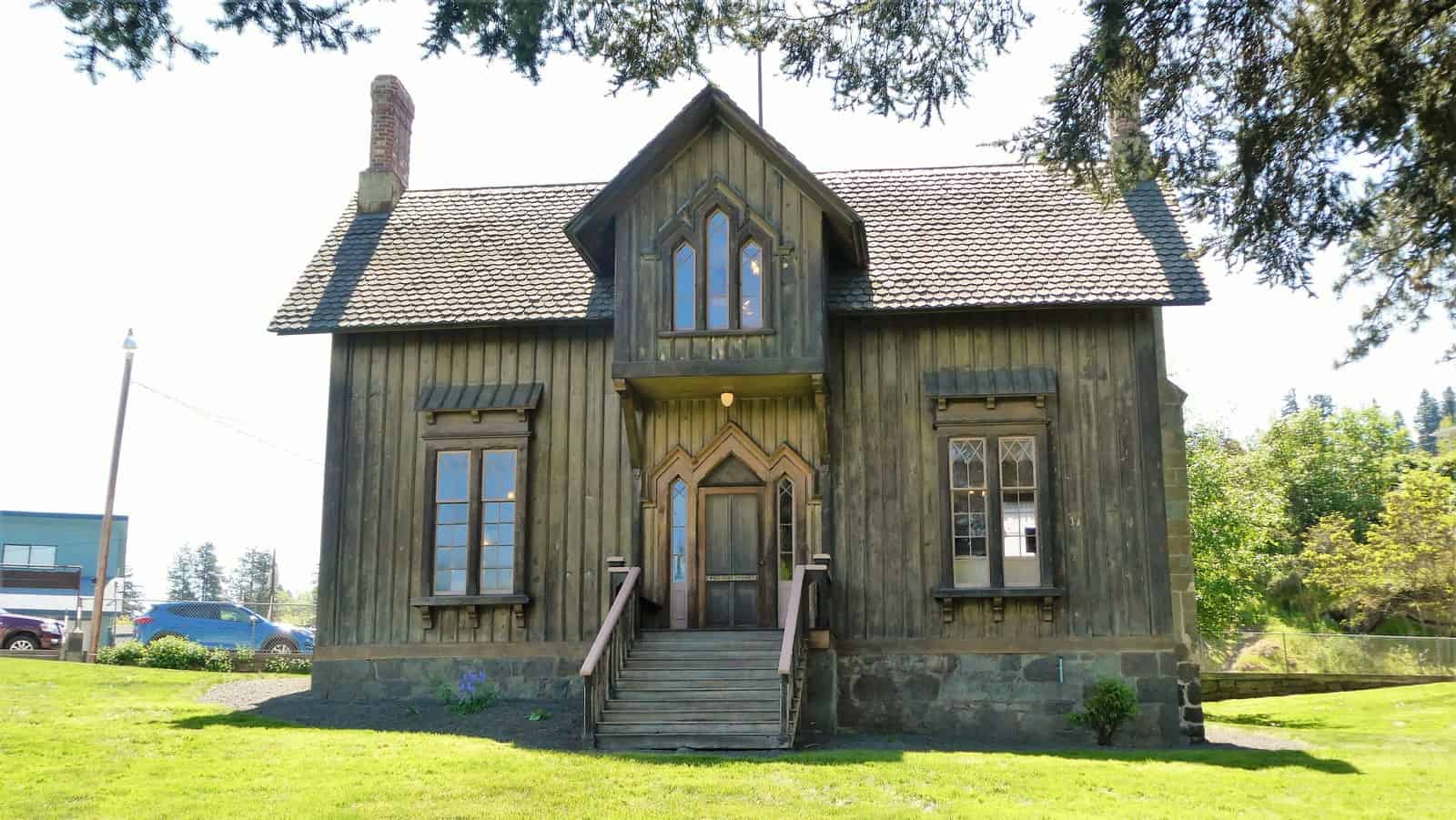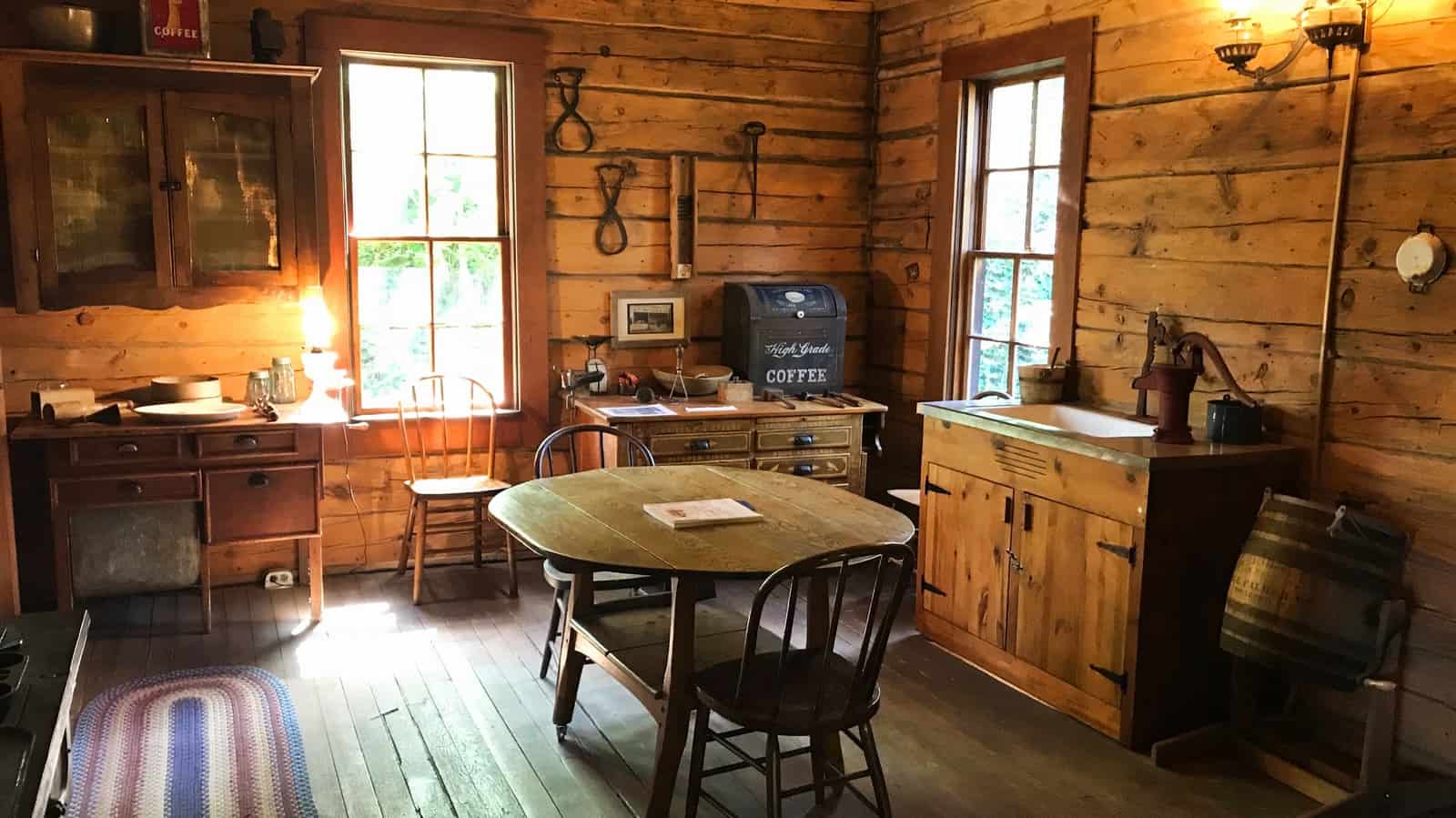 Ft Dalles is an interactive museum, and the docents know everything about the local pioneer history. For example, the museum still has the town's original fire alert bells. Interestedly, the different tones of the bells would alert the townspeople as to which section of town the fire was burning. Keith actually rang a bell.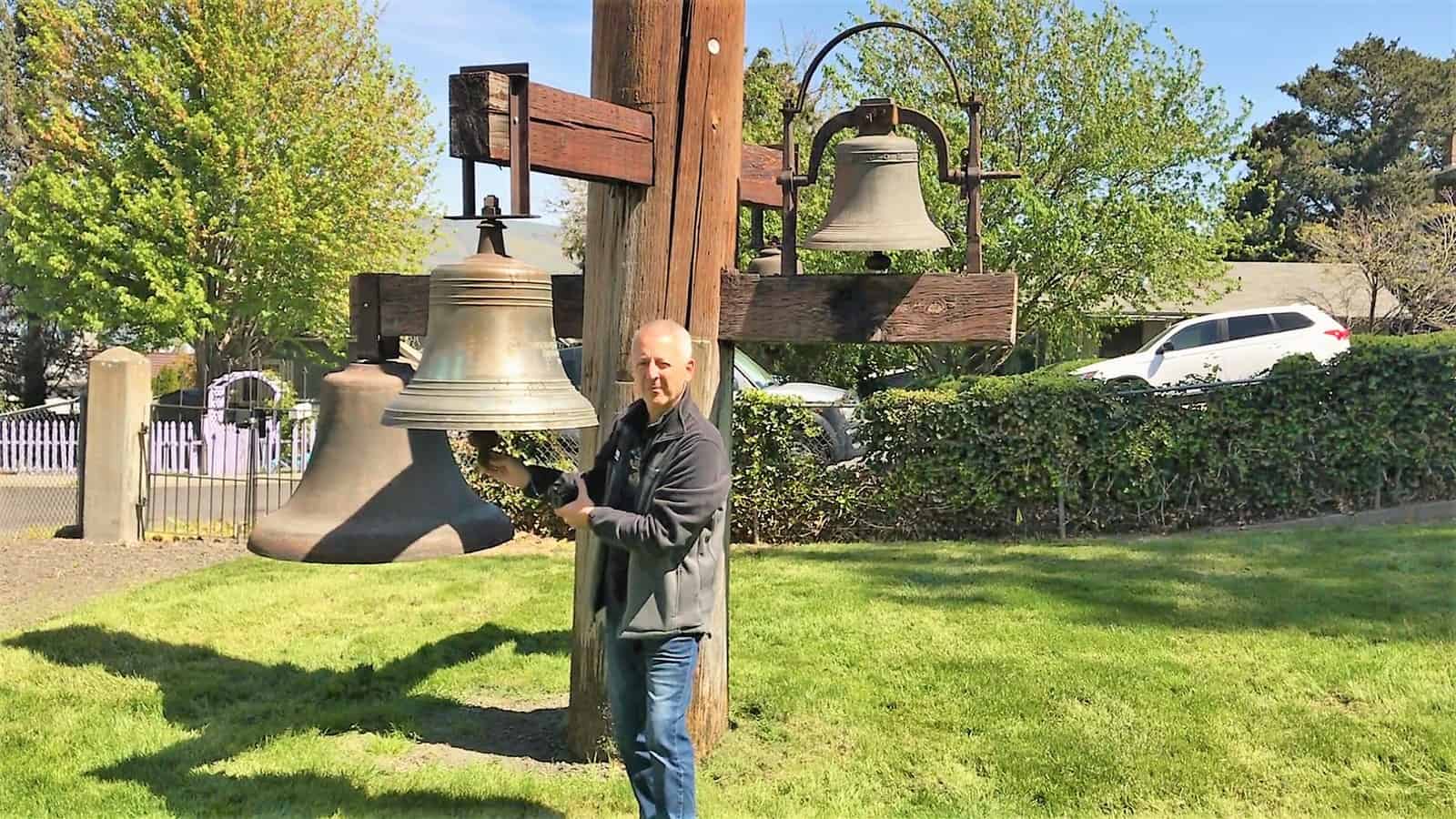 We were able to listen to music played on an Edison wax cylinder phonograph; the earliest commercial medium for recording and reproducing sound. Subsequently, we learned that there was no volume control on a cylinder phonograph so people would shove a sock into the horn. Hence we now have the phrase "put a sock in it." You can listen to music from the phonograph in the video at the end.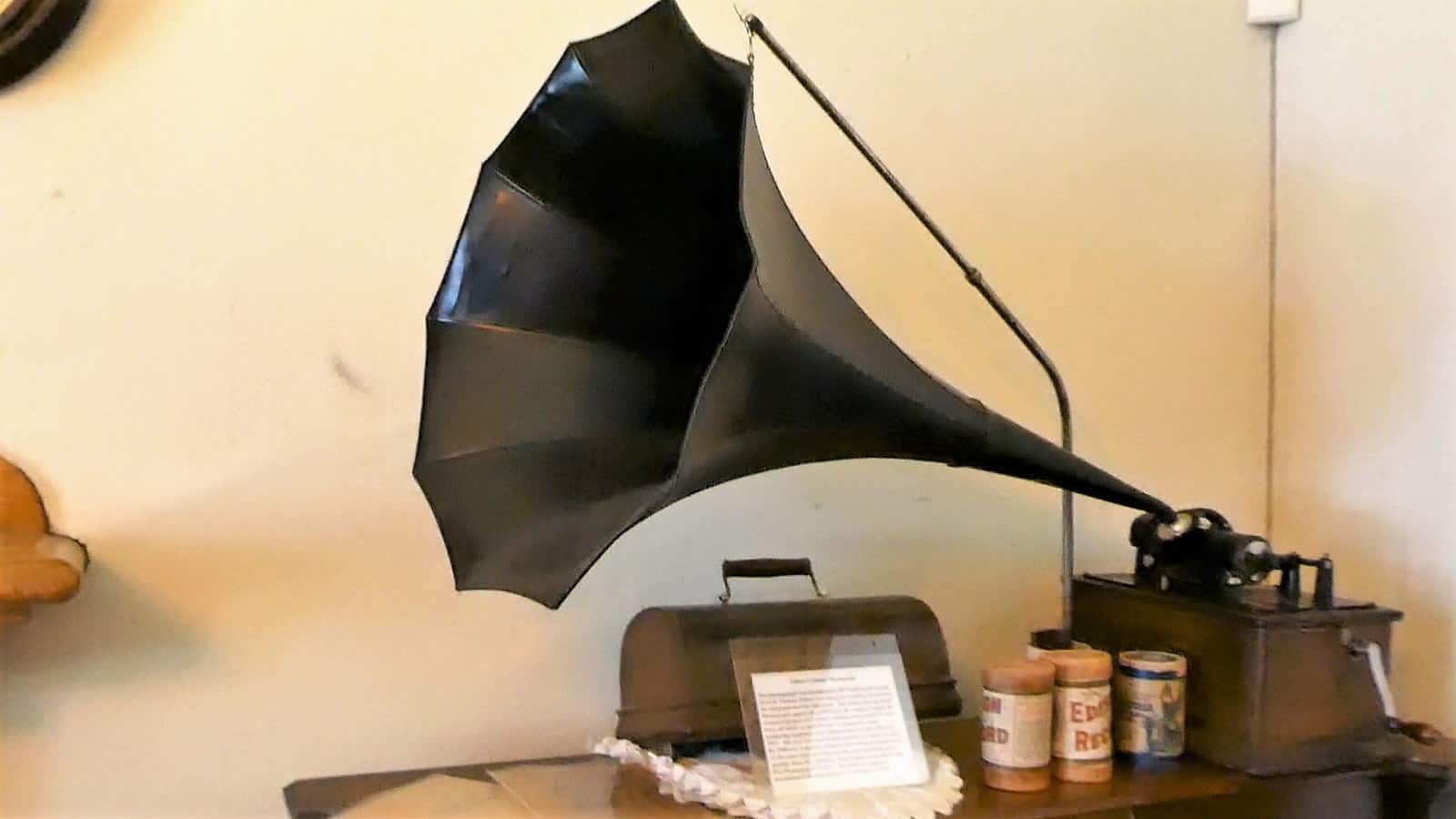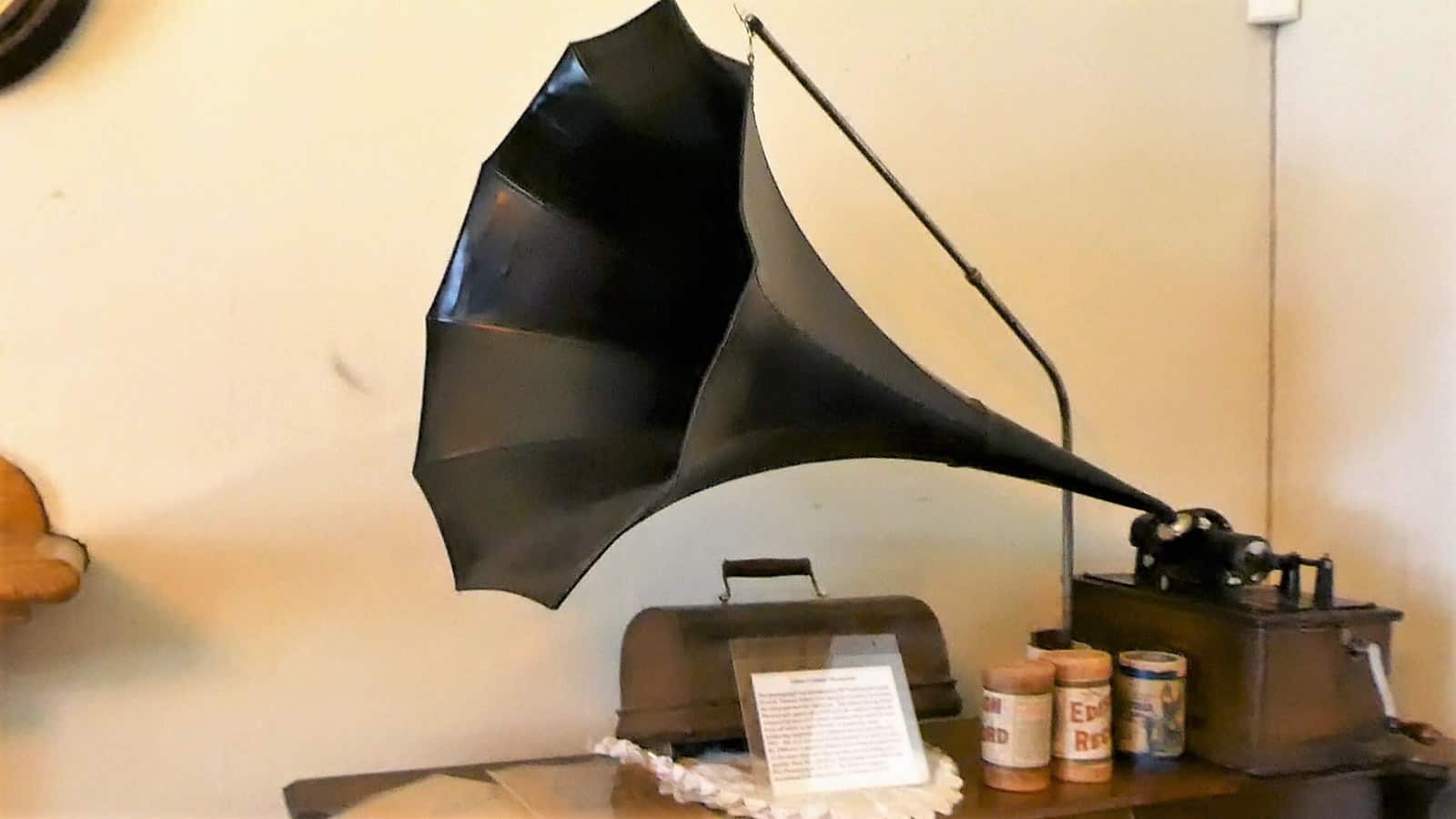 One thing we found so interesting was their large collection of old cars and wagons. The museum director told us that there are plans to build an enclosed building to house these treasured relics.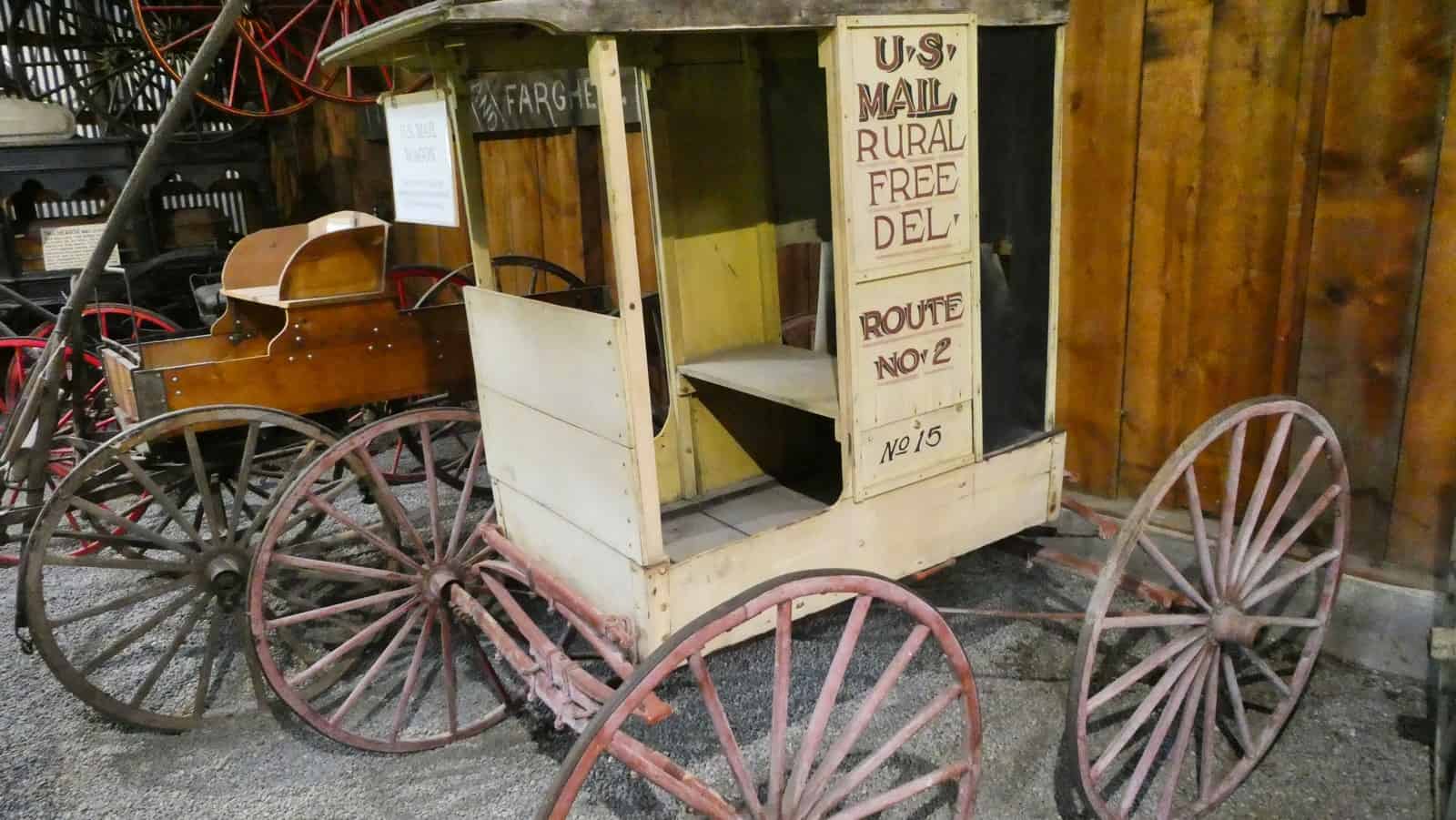 Check Out an 1800's Bookstore
Next, as we wandered the streets of the Dalles, we came across a charming book store called Klindt's Booksellers. We learned that this book store has been selling books, stationery, and office supplies since 1870. I had a business that sold new, used, and collectible books for eight years. I love books. It was great to walk into this shop and find that they had the original floors, shelves, and cabinets.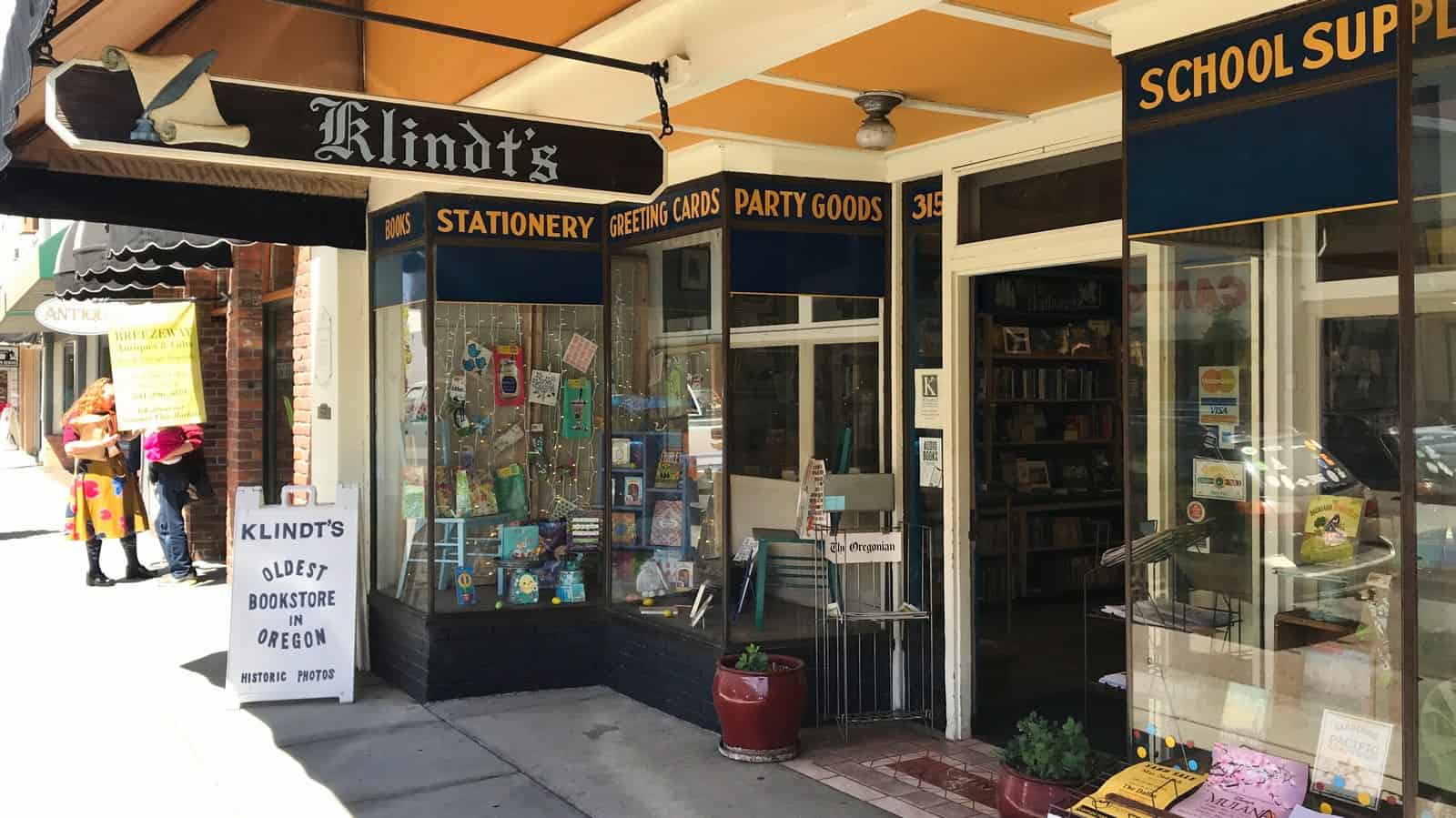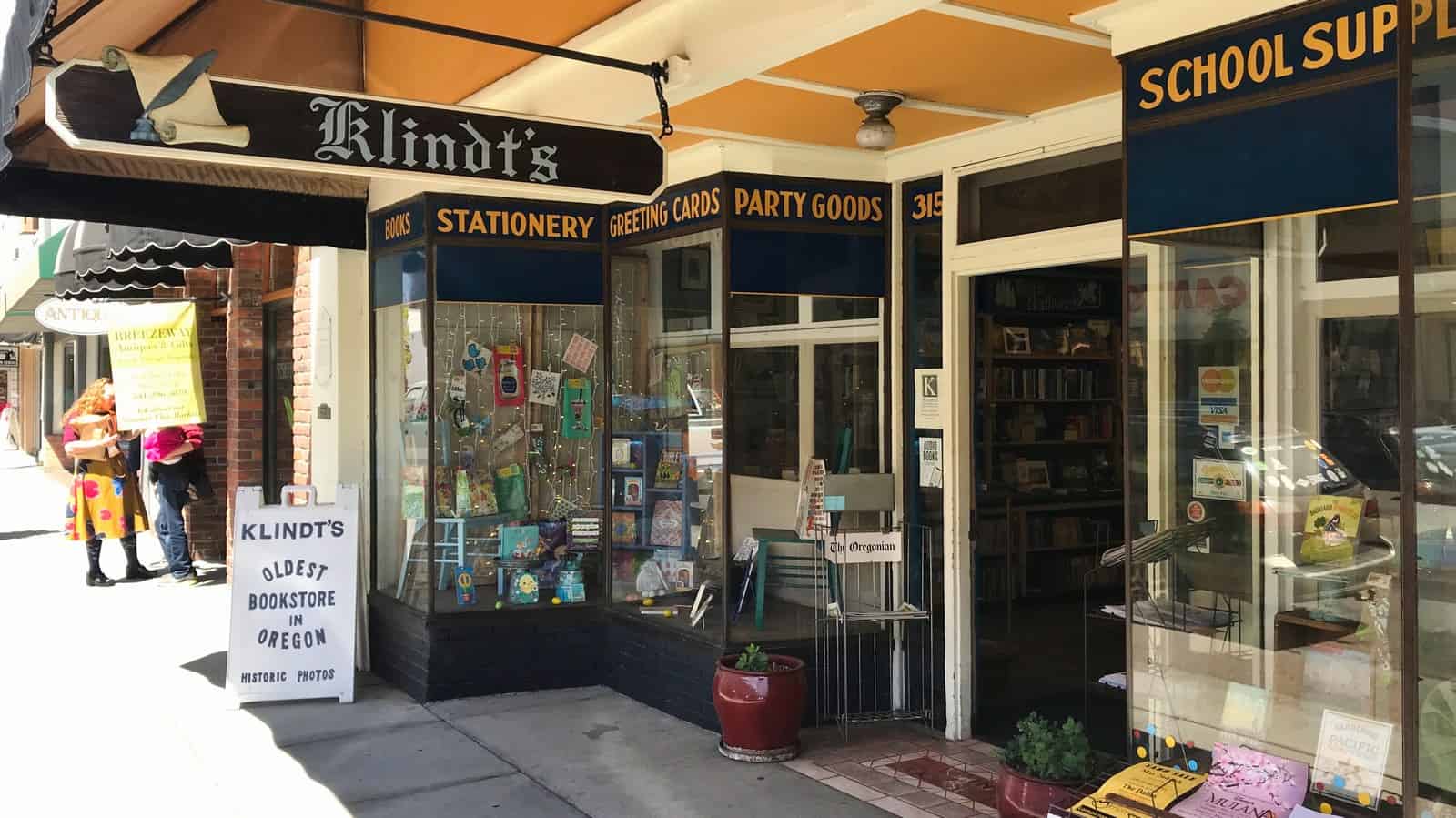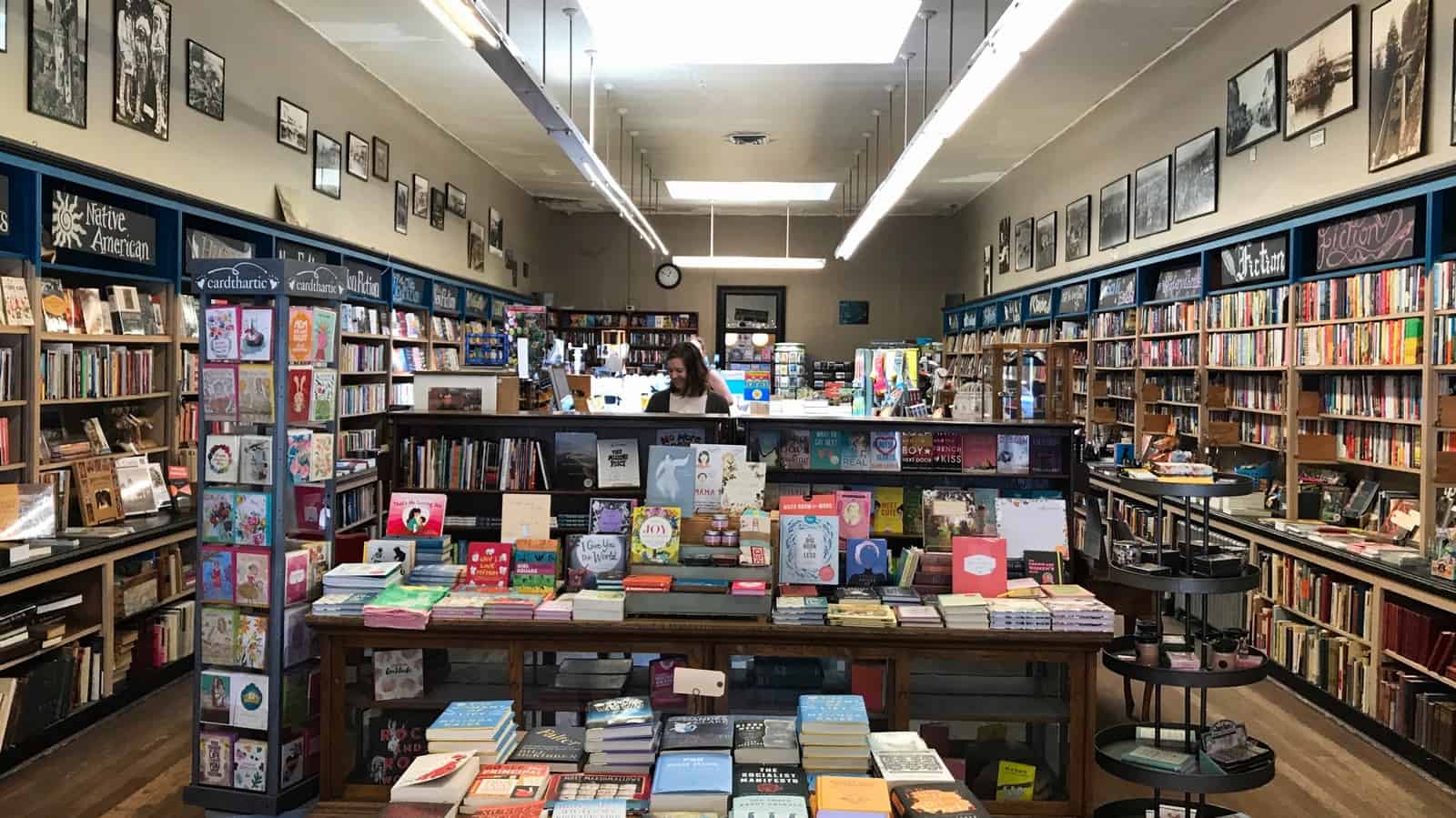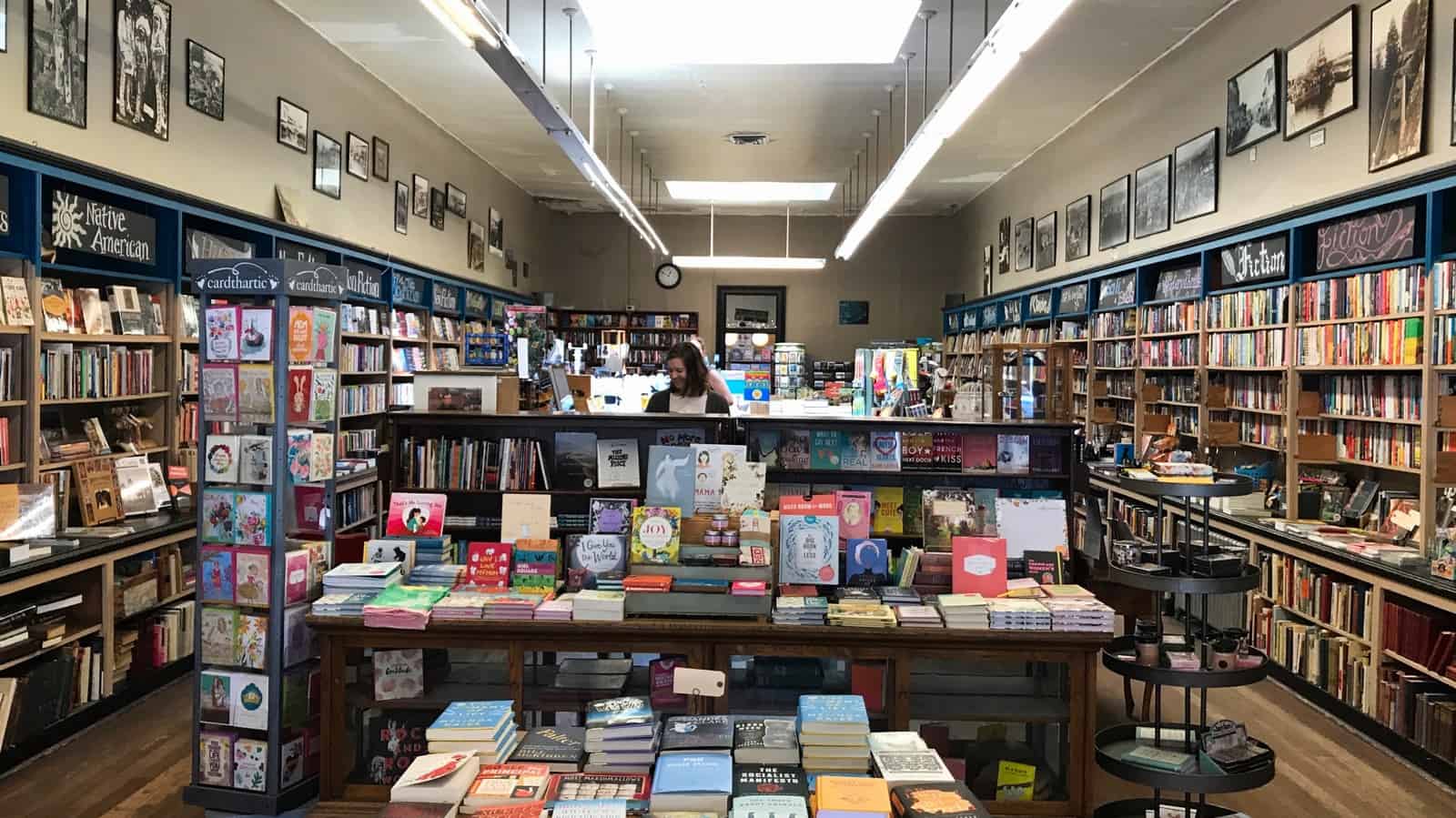 Discover Illuminating History in Columbia Gorge Wine Country
After our visit to the book store, we found a real gem, the National Neon Sign Museum. At the museum, we met David, the owner, and collector. He has been fascinated with neon signs since he was just a boy. Thus, David has purchased the signs, displays and more throughout his life and now shares them with the people like us who come to visit.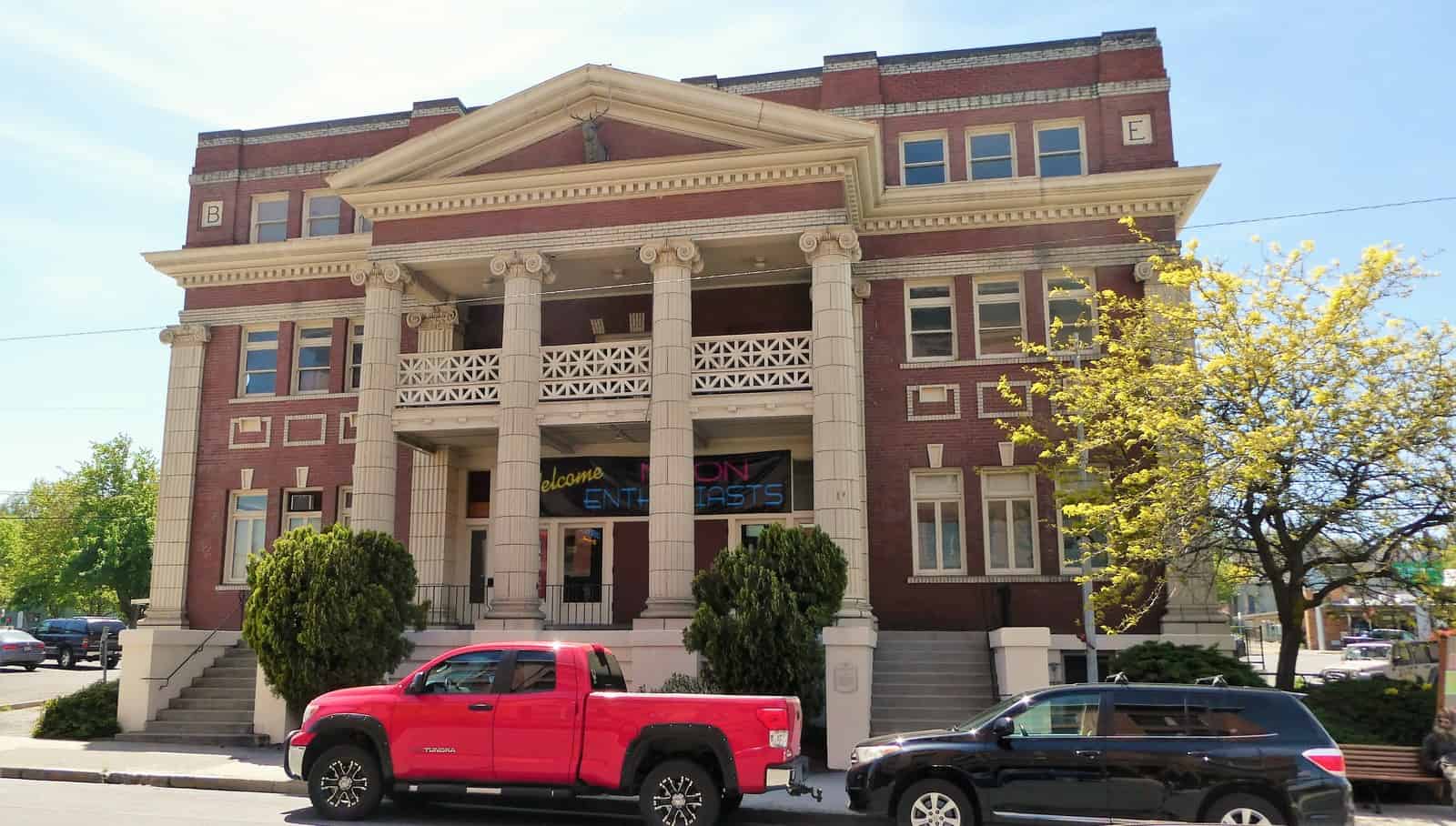 David told us a fascinating story about purchasing the first neon tube (the patent tube) of a French physicist and inventor Georges Claude. He got special permission to bring it back on the plane from France as a carry-on item.
The neon sign museum is huge, with over 20,000 square feet of exhibits, some interactive. There is a film running that shows the fascinating making of neon signs. Undeniably, many one-of-a-kind signs burn bright in this museum that cannot be seen on public display anywhere else in the world.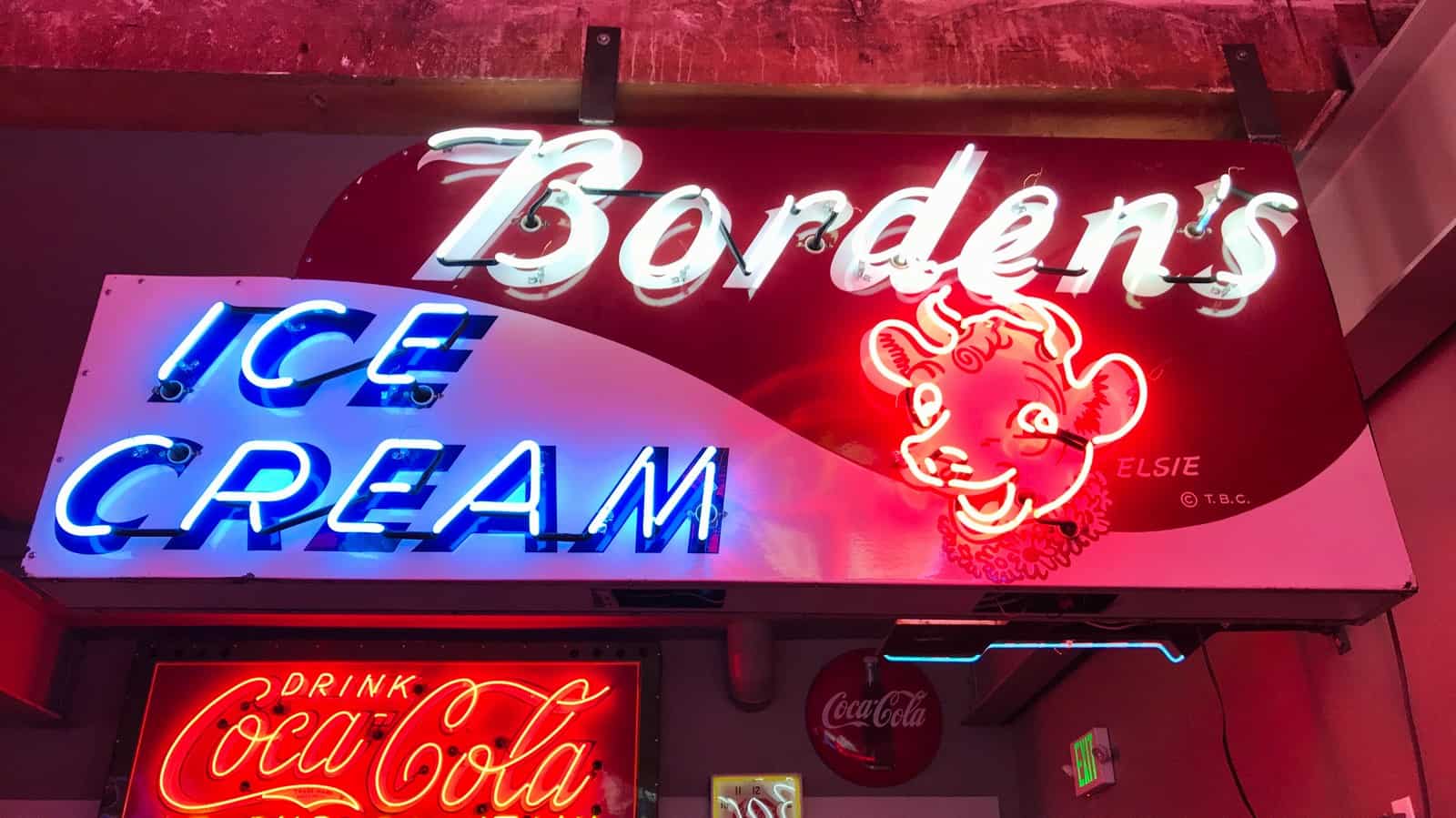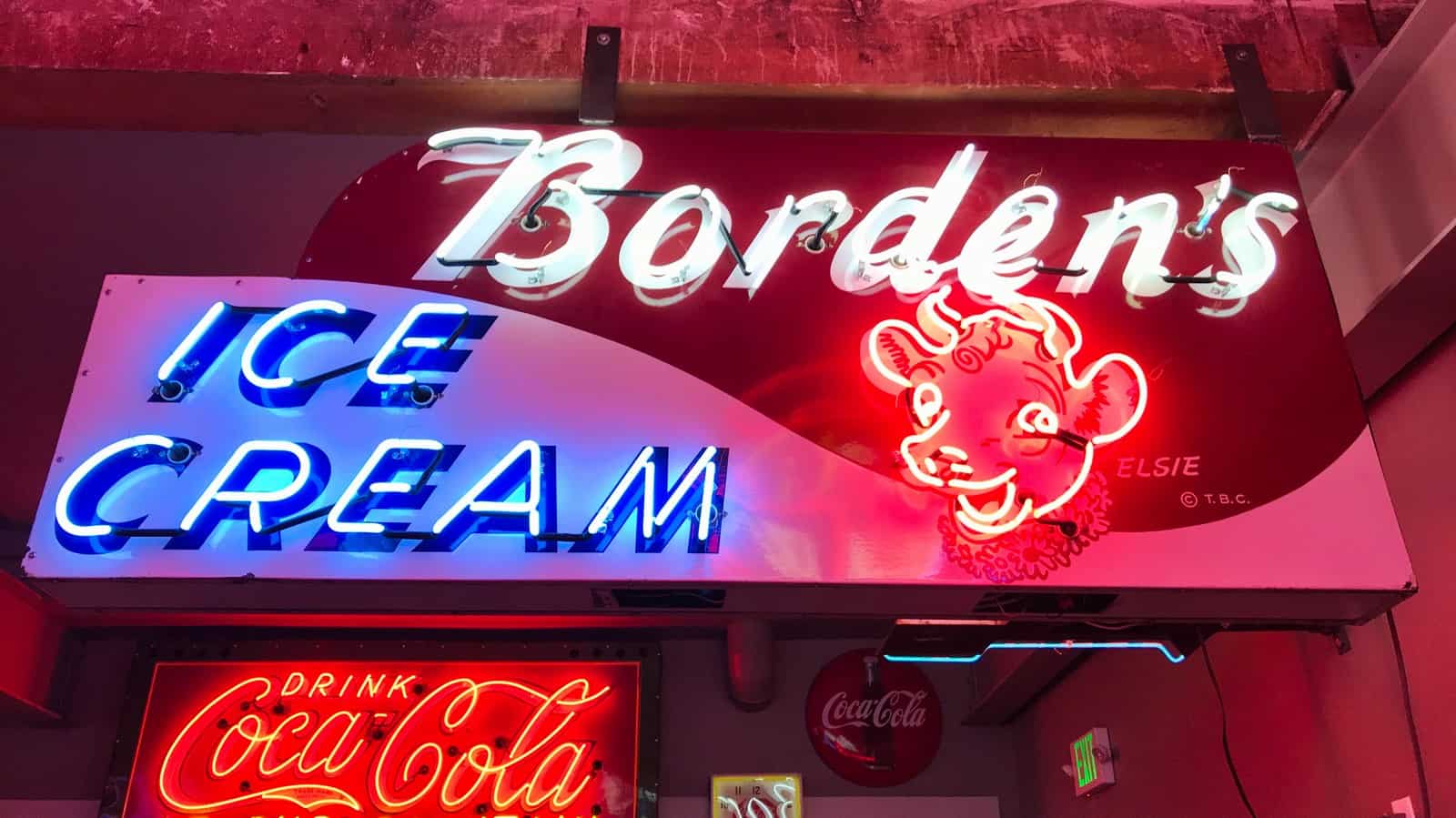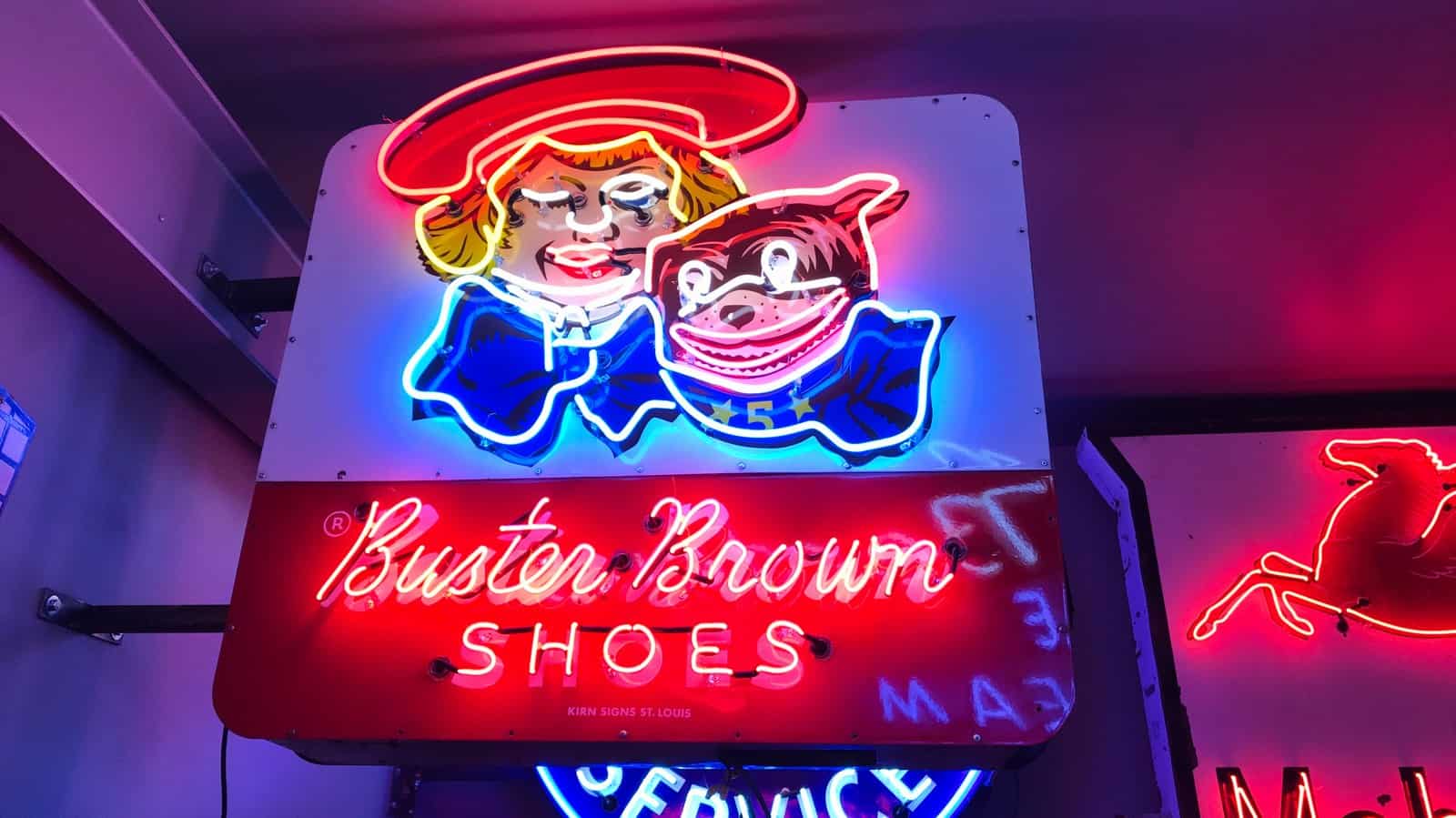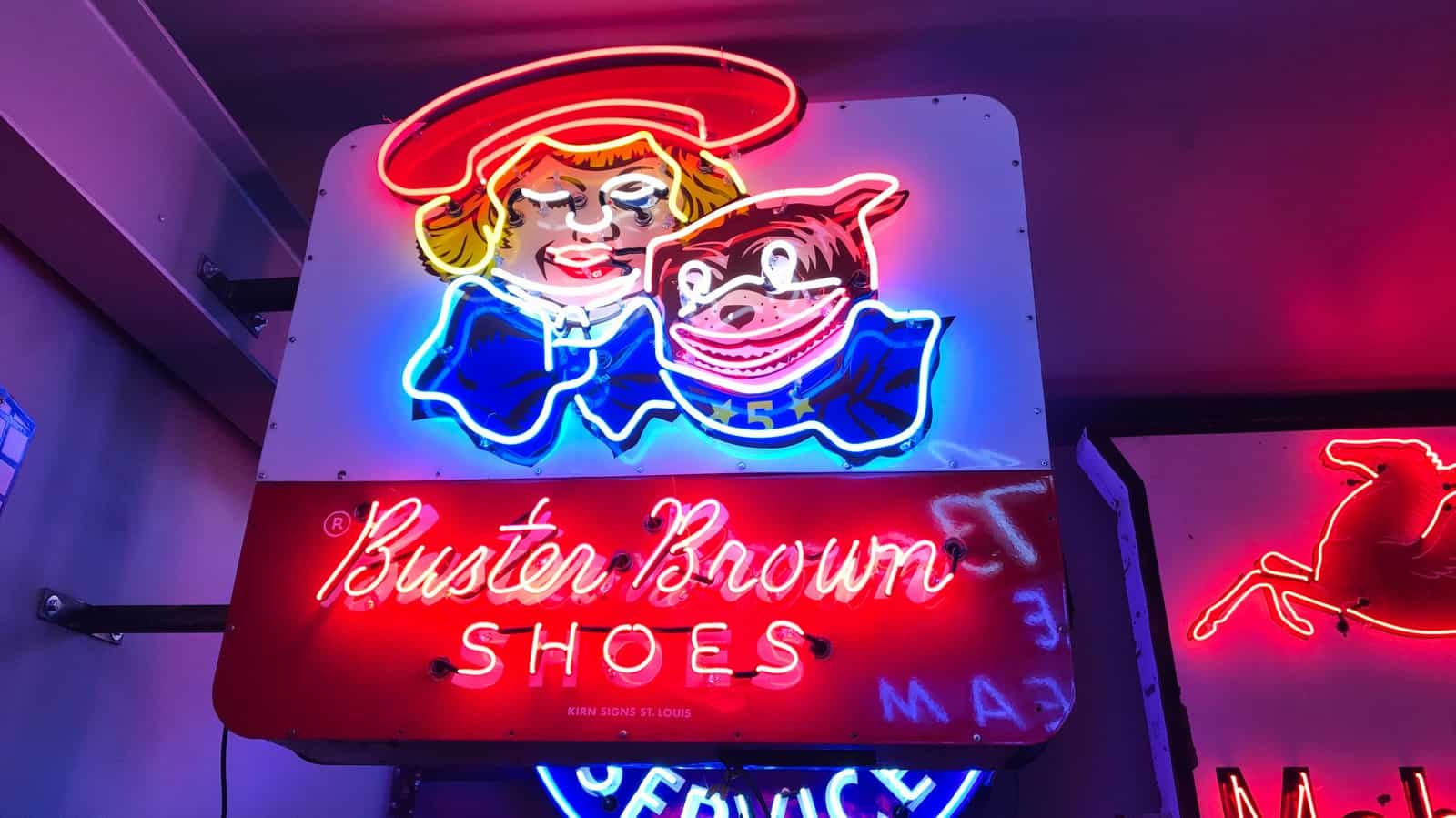 Upstairs, you can step into the streets of the early fifties in the USA when comic books were a nickel, hamburgers a dime and glitzy signs glowed. Undeniably, you will feel you are walking the streets of a bygone era as all of the storefronts are full size. With the invention of neon signs, the transformation of cityscapes and skylines began as it was now possible to advertise after dark.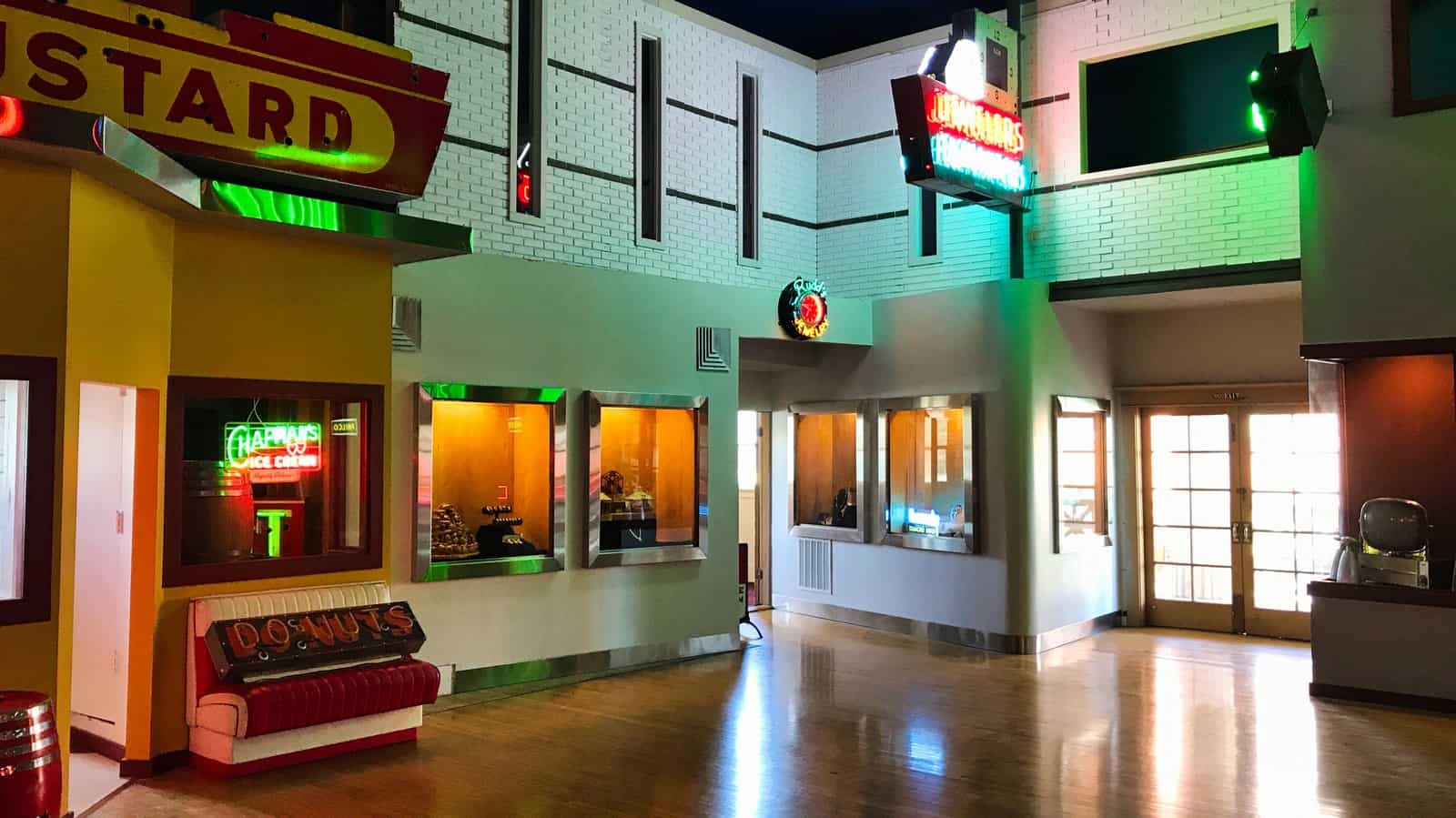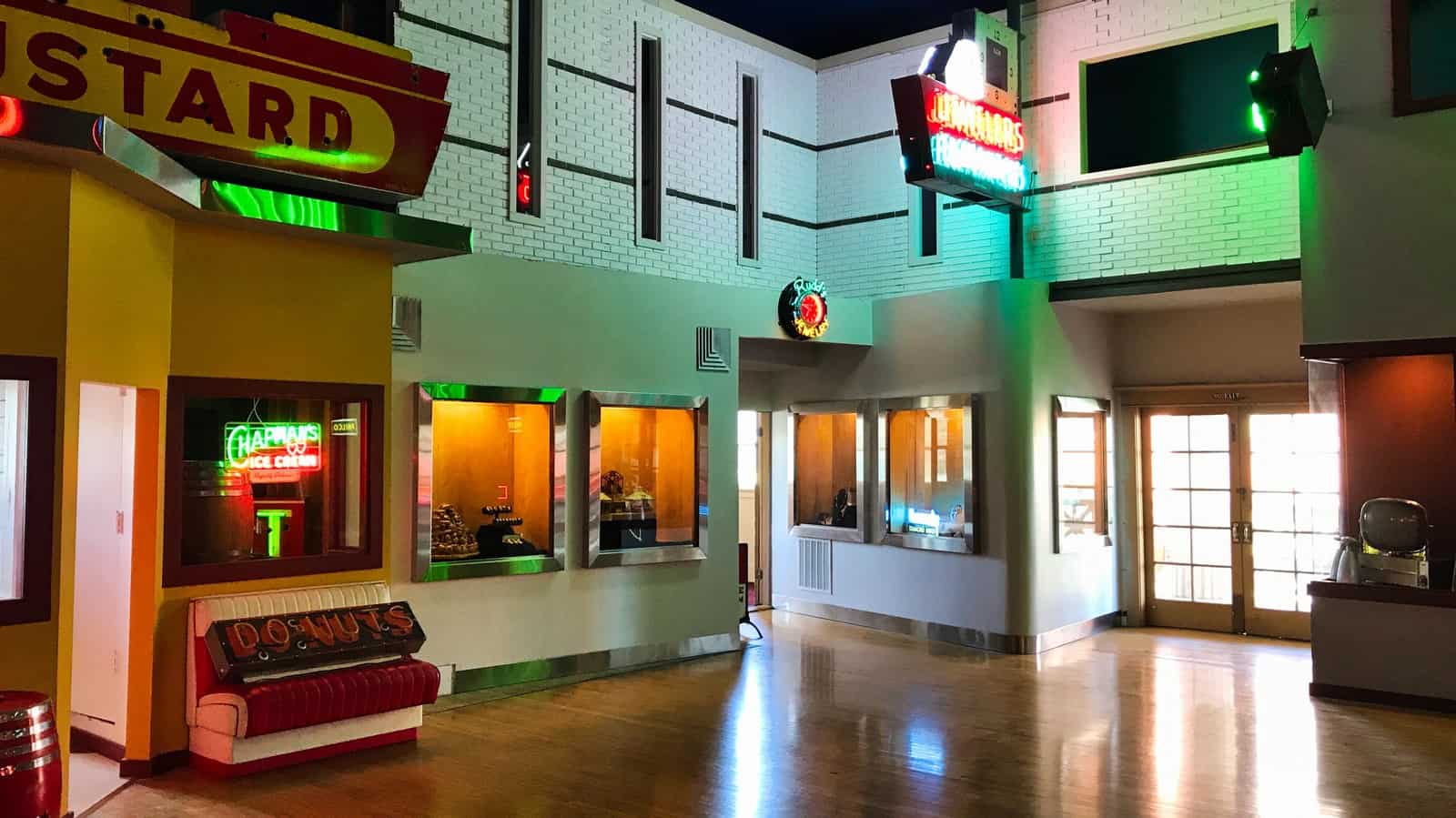 Wine Time at Tierra De Lobos Winery
Now it was a respectable time to wine taste again. Our first stop on this day was at Tierra De Lobos Winery where we enjoyed artisanal wines while enjoying the view of the Columbia River Gorge.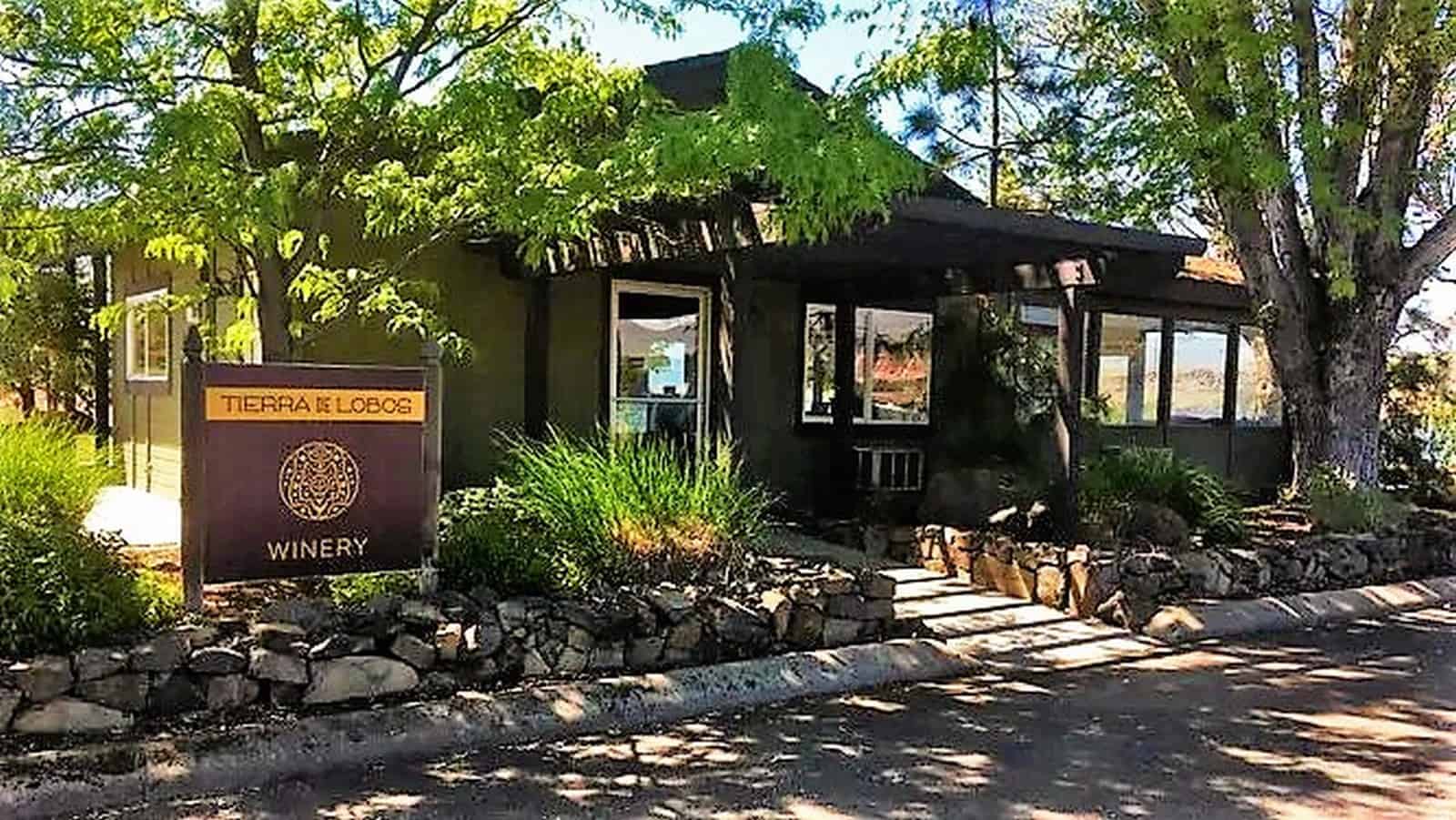 Tierra De Lobos Winery is a 2-man operation. Thus, the owners pride themselves in growing their own grapes and handling all of the winemaking. From harvesting to bottling, everything is done by hand in small batches to ensure the best quality in their wines.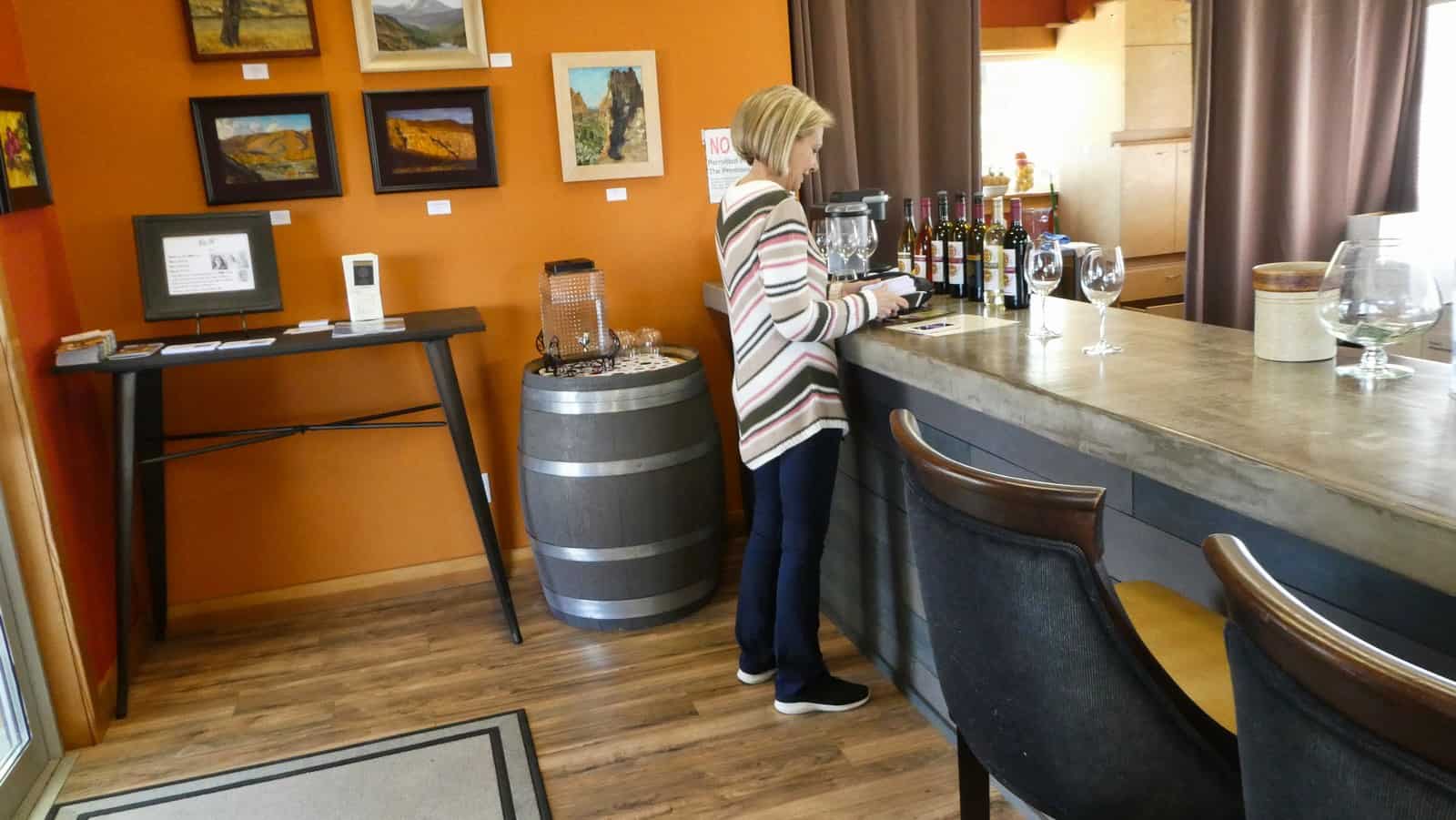 When we tasted the wine, we learned that the name Tierra comes from the fact that good wine starts with the land. In the same fashion, the owners of Tierra De Lobos Winery use sustainable and environmentally friendly farming practices.
While tasing at Tierra De Lobos, you can taste in their charming tasting room, or on their enclosed patio with a view of the river or on their covered outdoor patio with views of the Columbia River and the Dalles dam.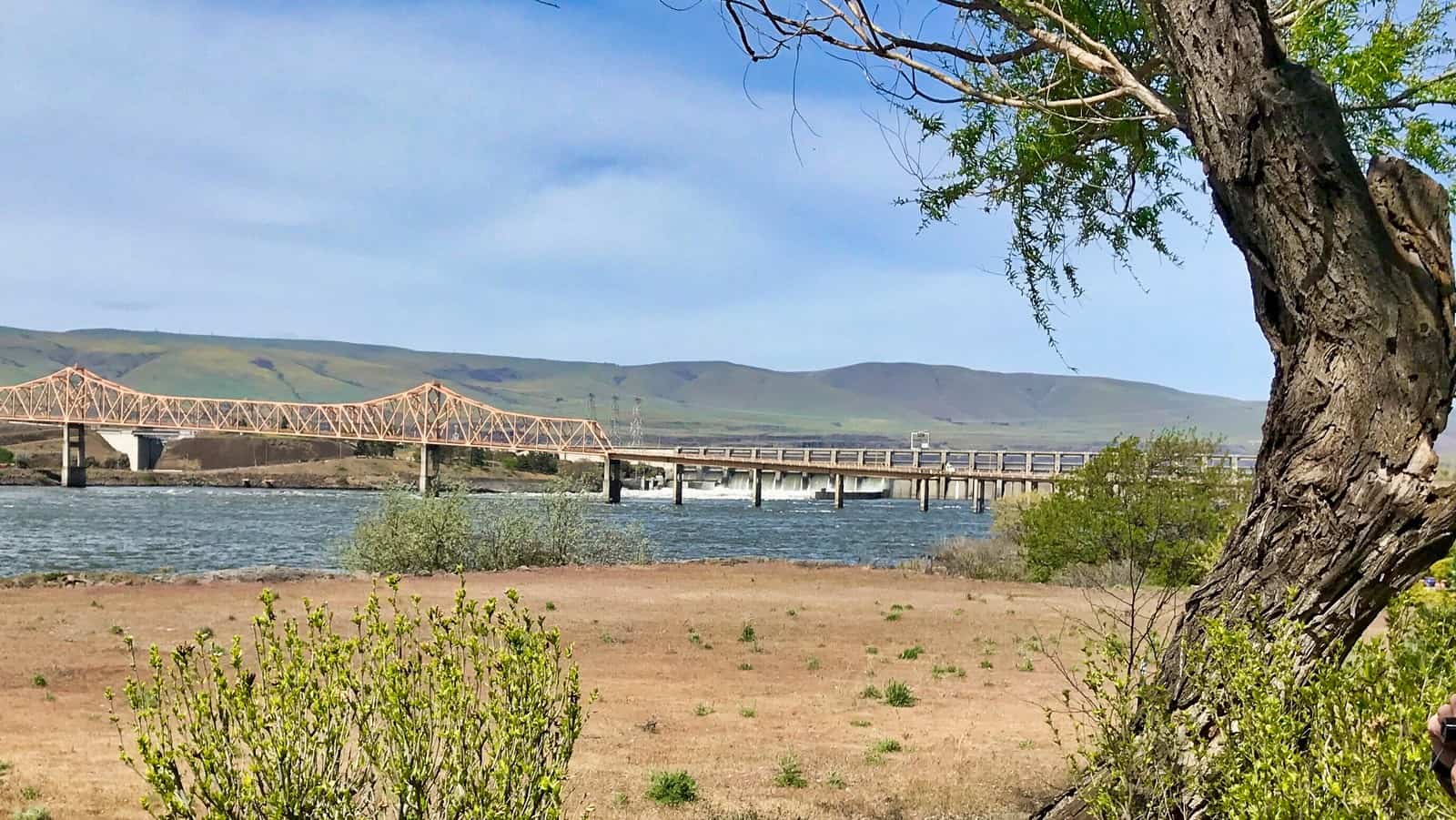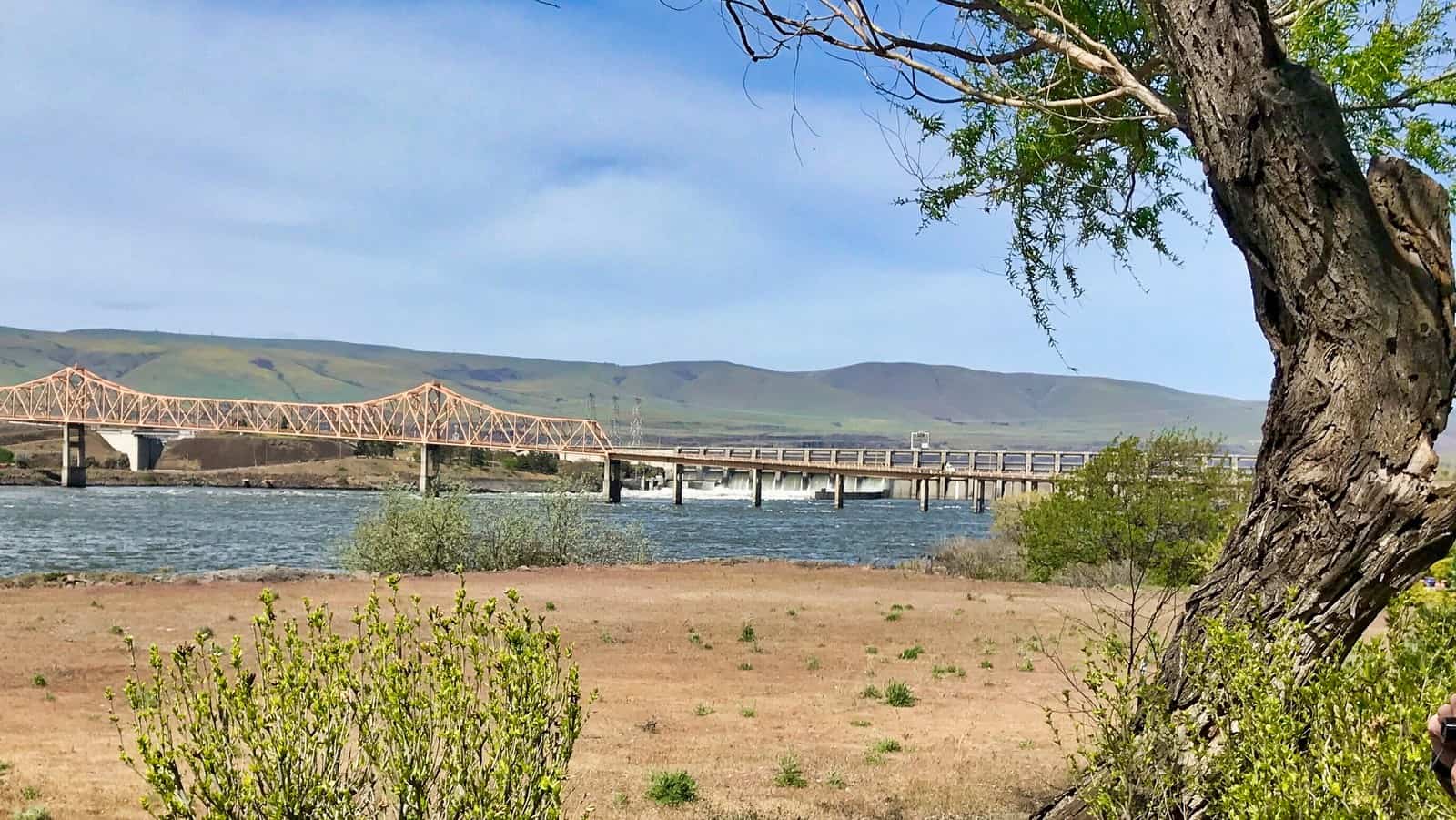 Our favorite wine here was the 2012 Cabernet Franc and the Lobo Noble.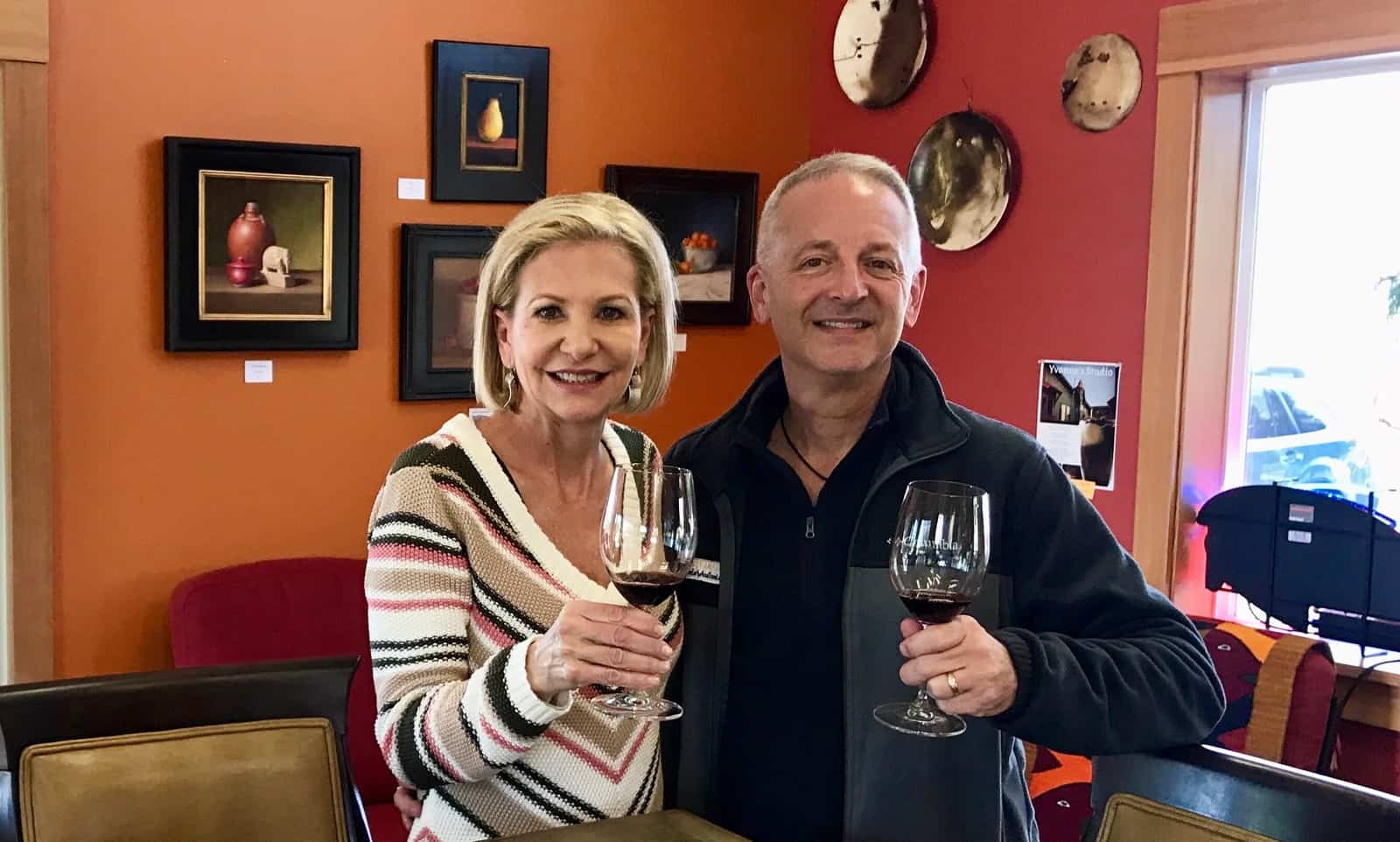 From Crackers to Wine
For our next wine tasting, we went to Sunshine Mill Winery. You won't miss this winery as you drive in the Dalles. The silos with the name Sunshine Mill are enormous. So, Sunshine Mill winery, located in the former Sunshine flour mill, has an eclectic and fun tasting room. You all know of the famous cracker that is the result of this mill. The Sunshine Biscuit Company once owned this mill, and the wheat milled here was used to make…the Cheez-It! Surprisingly, much of the milling machinery is still intact as are the concrete grain silos looming over the Dalles.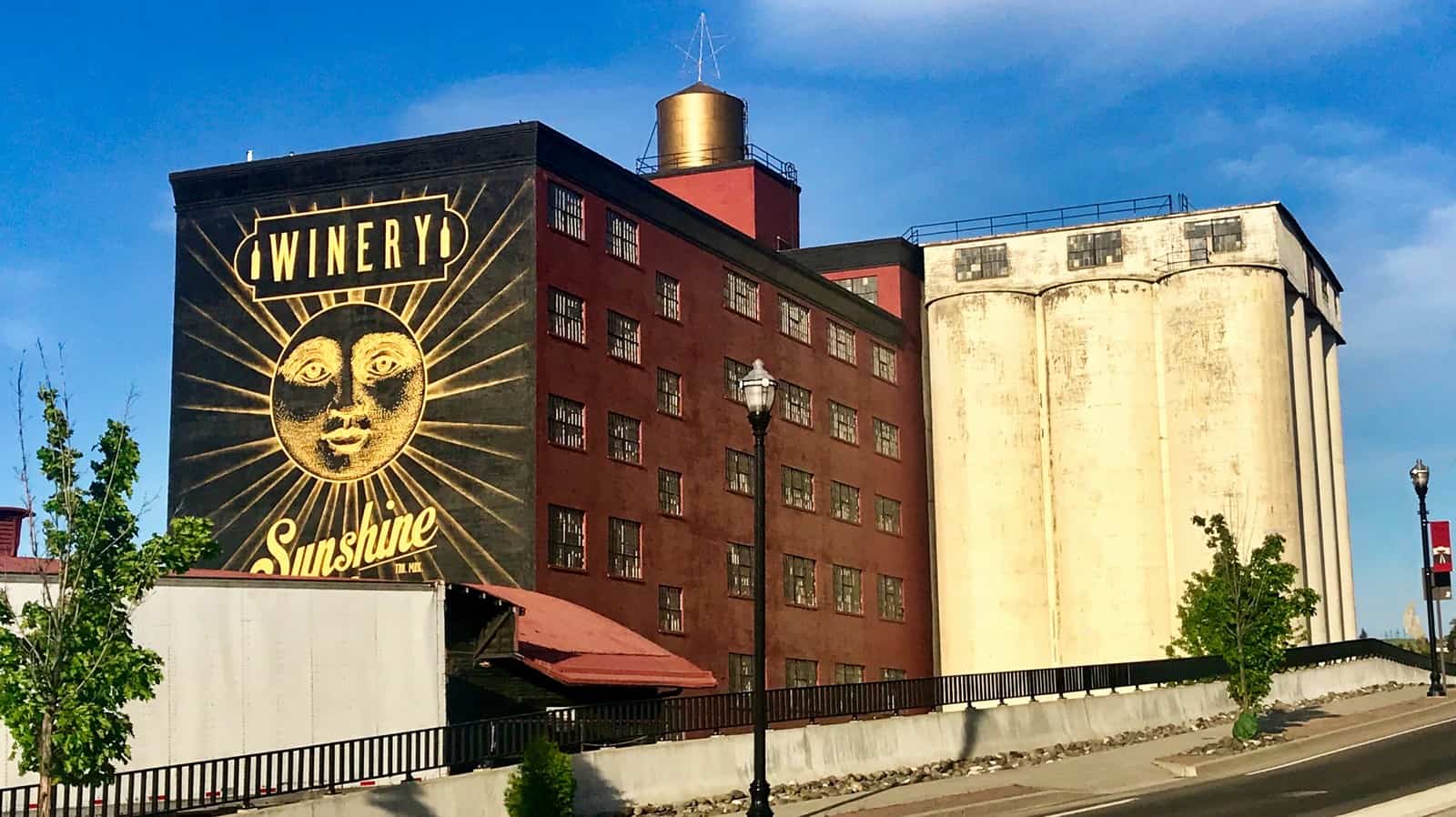 As you walk in the tasting room, the first thing you notice is that a lot is going on. Hence, there are people drinking wine, and there are brightly colored decorations everywhere, like chandeliers hanging from a 100-year-old pulley system and bar stools made out of wine barrels. Also, repurposed articles from the mills milling days make up the winery furnishings, giving the place a distinct character.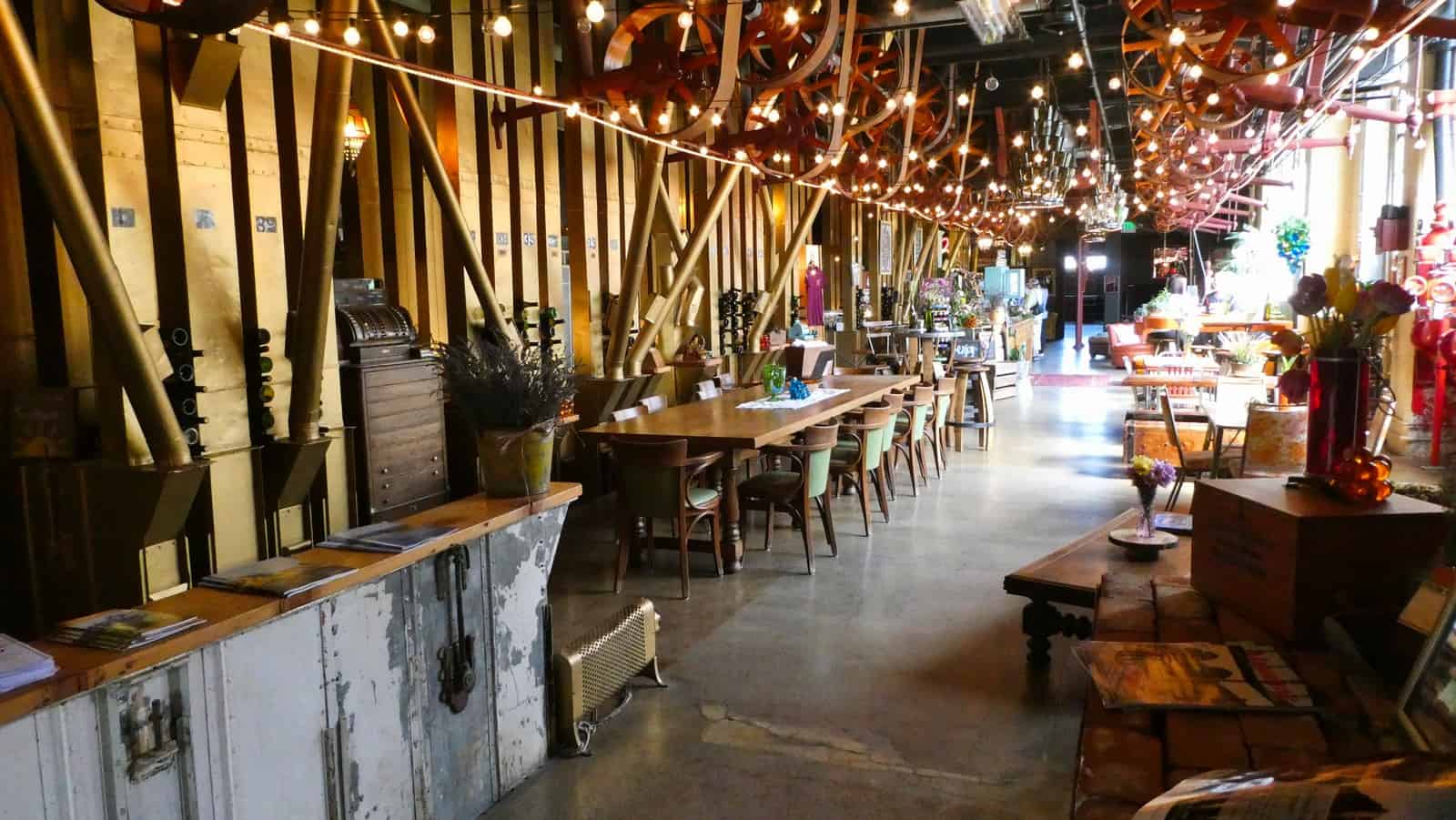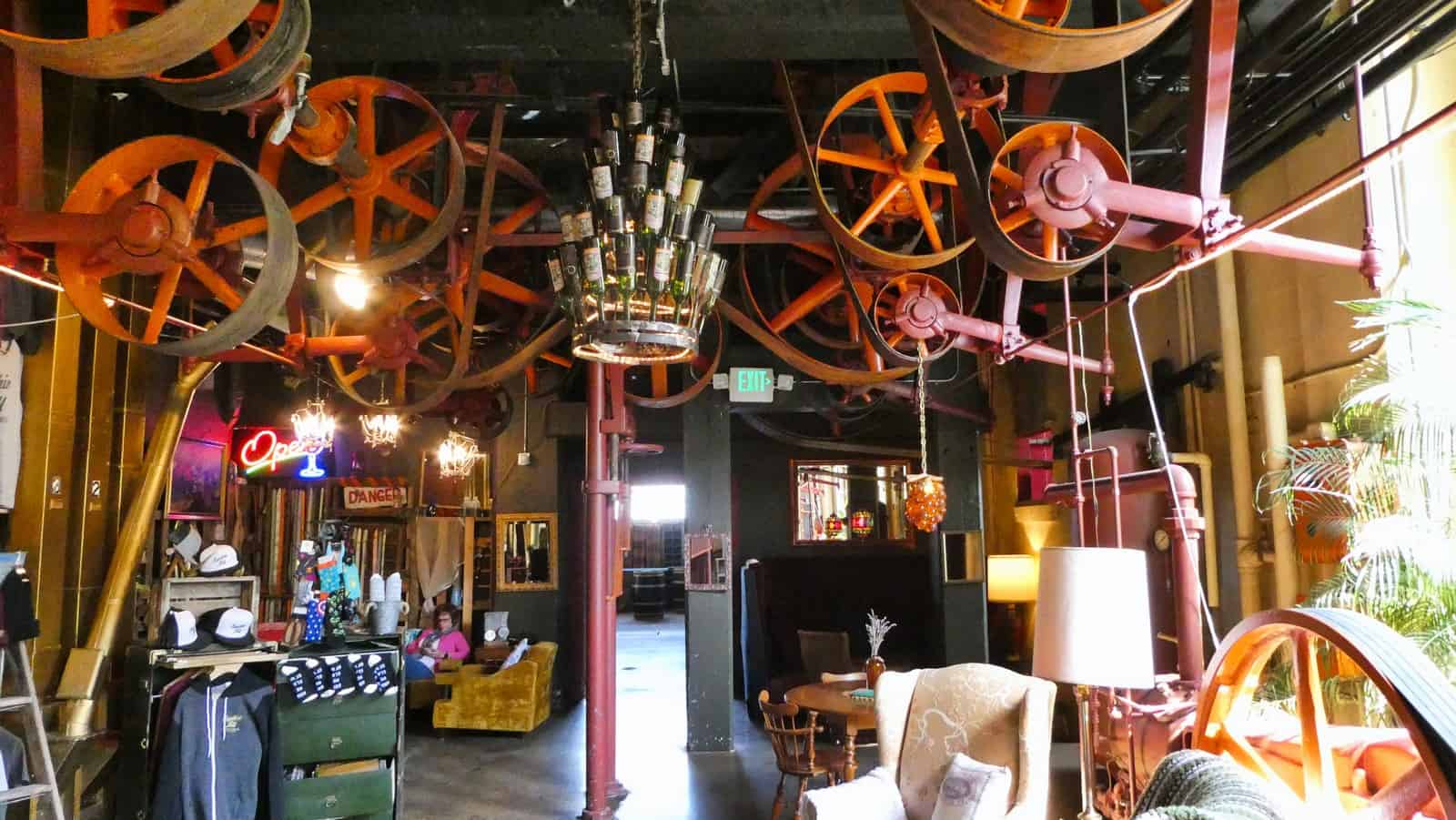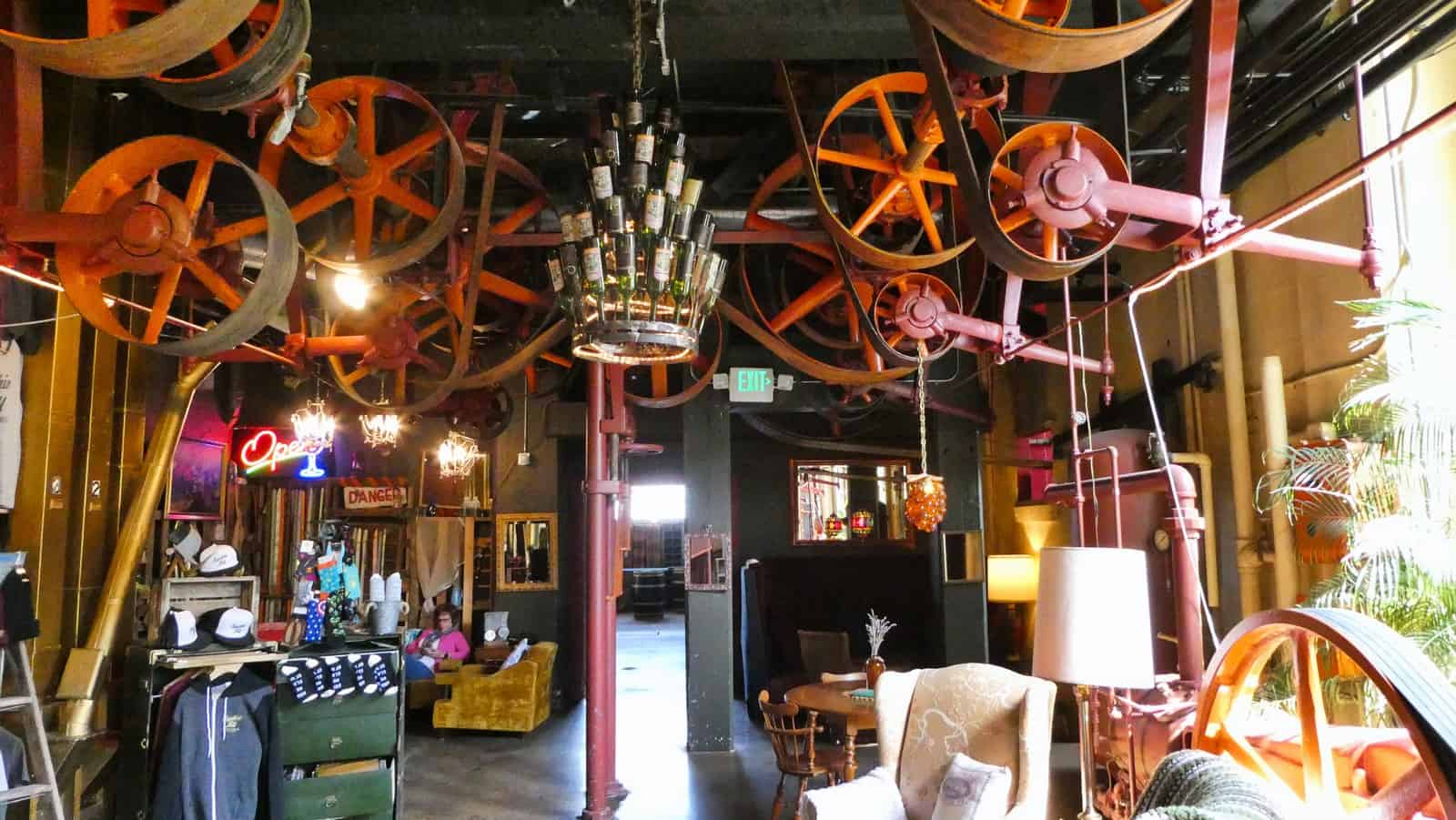 We saw people hanging out and reading while enjoying a glass of wine. We also saw large groups of friends meeting up here for some catch-up time. The tasting room hosts which included Vickie the day of our visit were friendly and fun.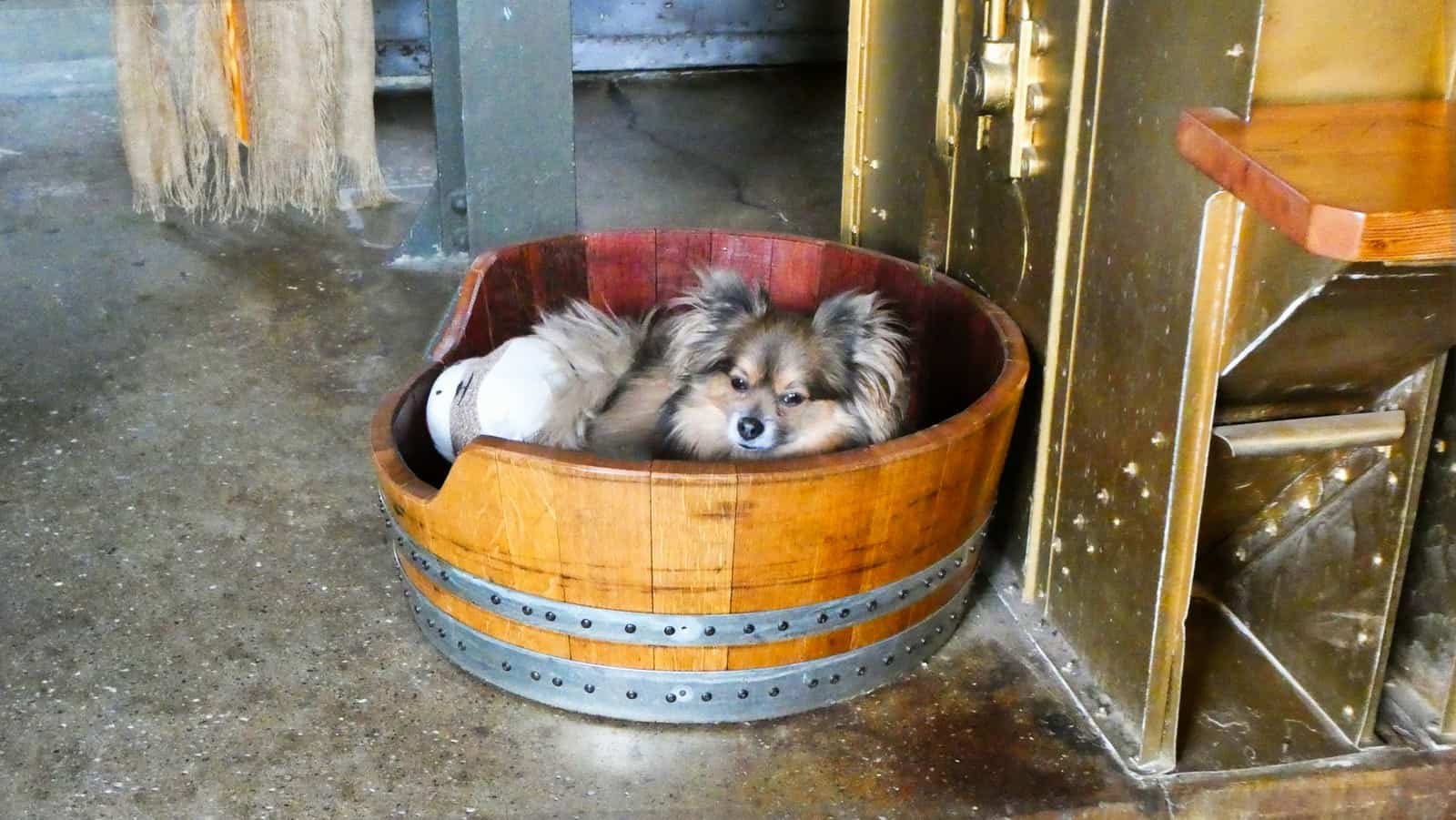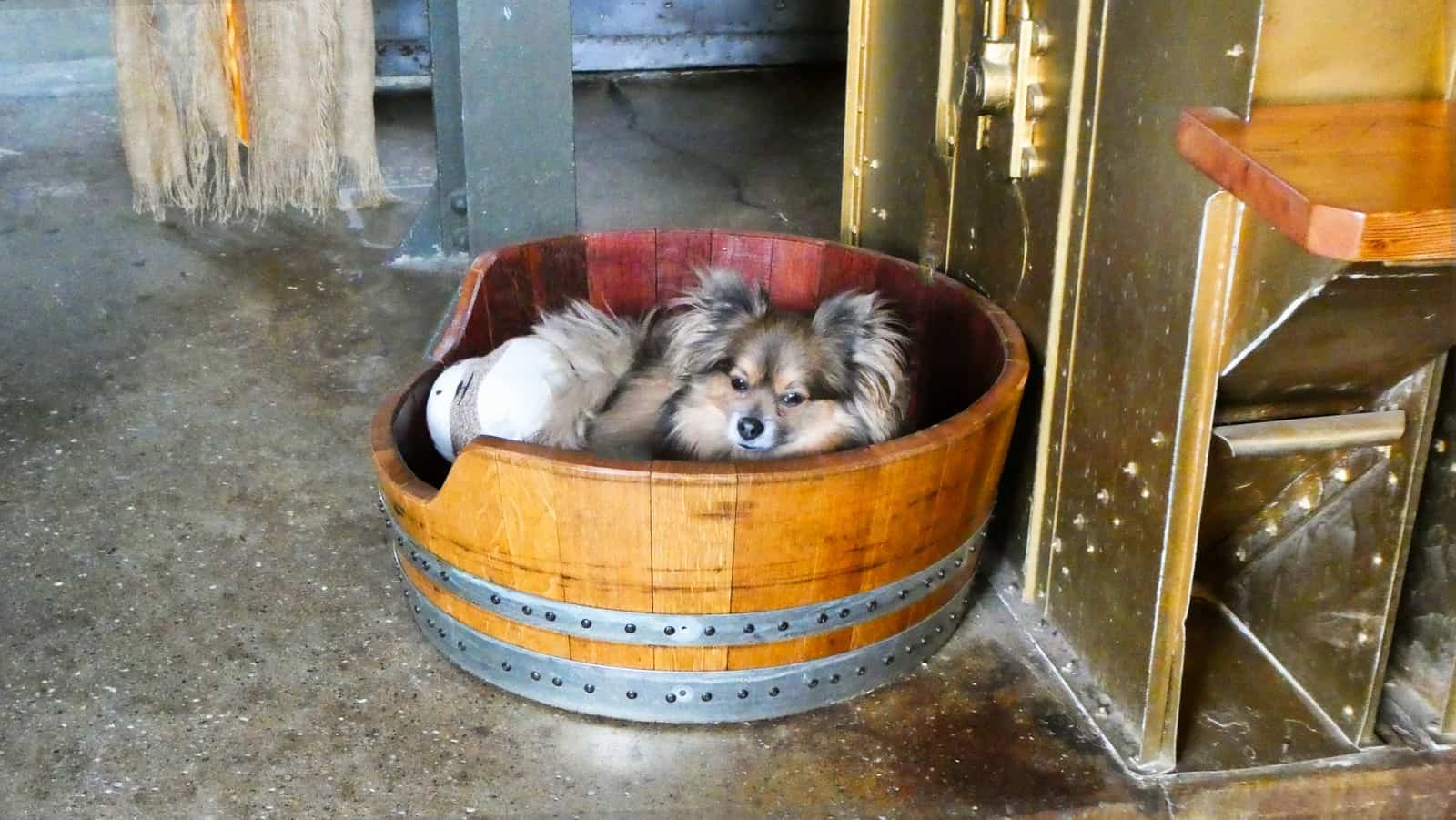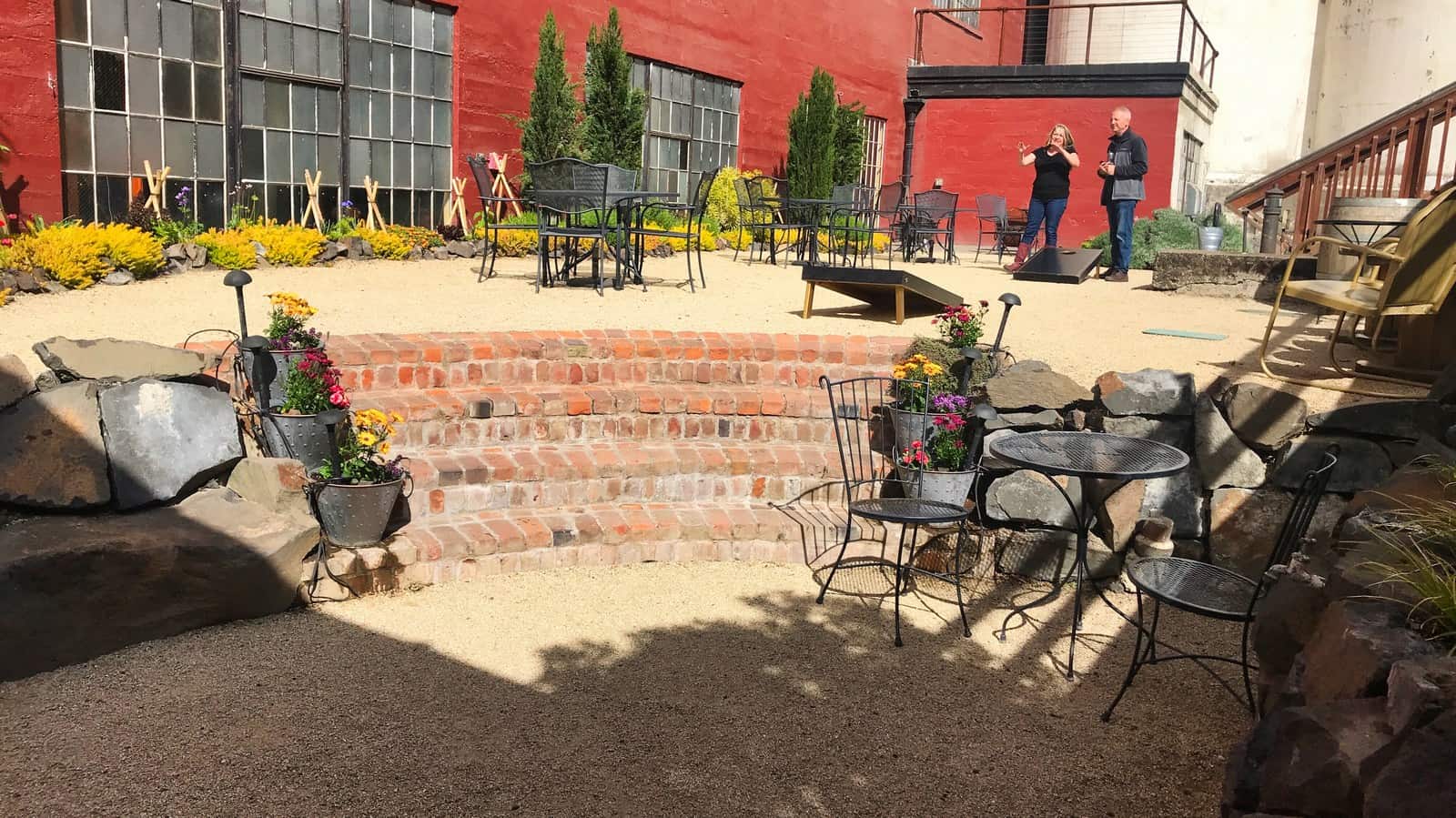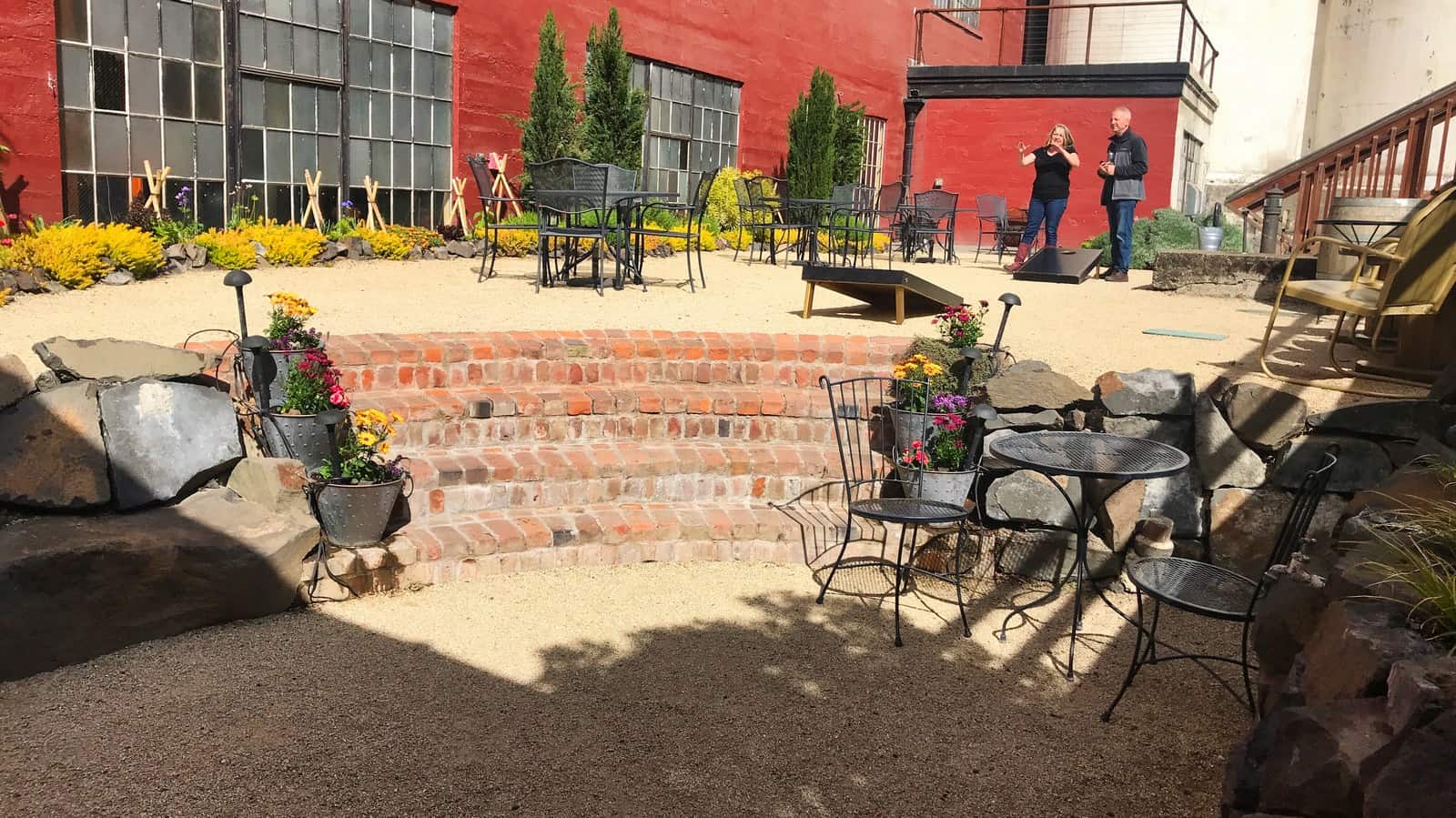 Thomas Edison Motor
Vickie, the sales manager, gave us a tour. Evidently, there is lots of history at this winery. Previously the Sunshine Mill ground wheat on this property for more than 130 years. Also, it was the first place in the Dalles to have electricity, powered by a Thomas Edison Motor. You can still see the motor at the winery. Speaking of electricity, we learned that the Balch Hotel was the first inn in the Dalles to have electricity in 1913. During the day the mill had electricity. At night when the work at the mill completed, the mill turned over the use of the electricity to the Balch Hotel, the same hotel we are staying.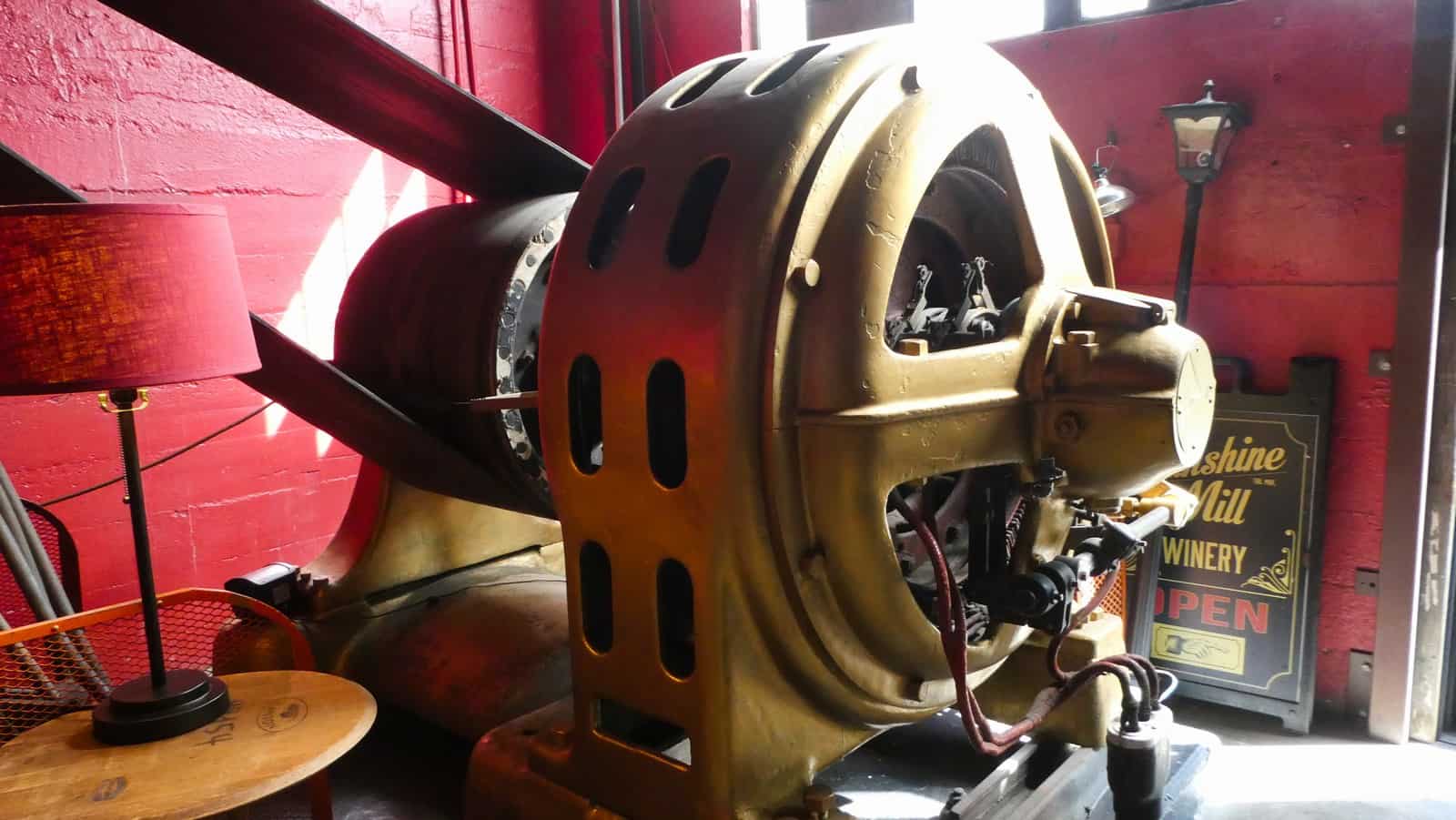 Additionally, have you heard of Copa Di Vino? Its that ready to drink wine by the glass sold in many liquor stores and wine shops across the US. The owners of the Sunshine Mill rehabilitated the Mill and made it a production site for their wines by the glass. Additionally, they have been on shark Tank and featured on 20/20.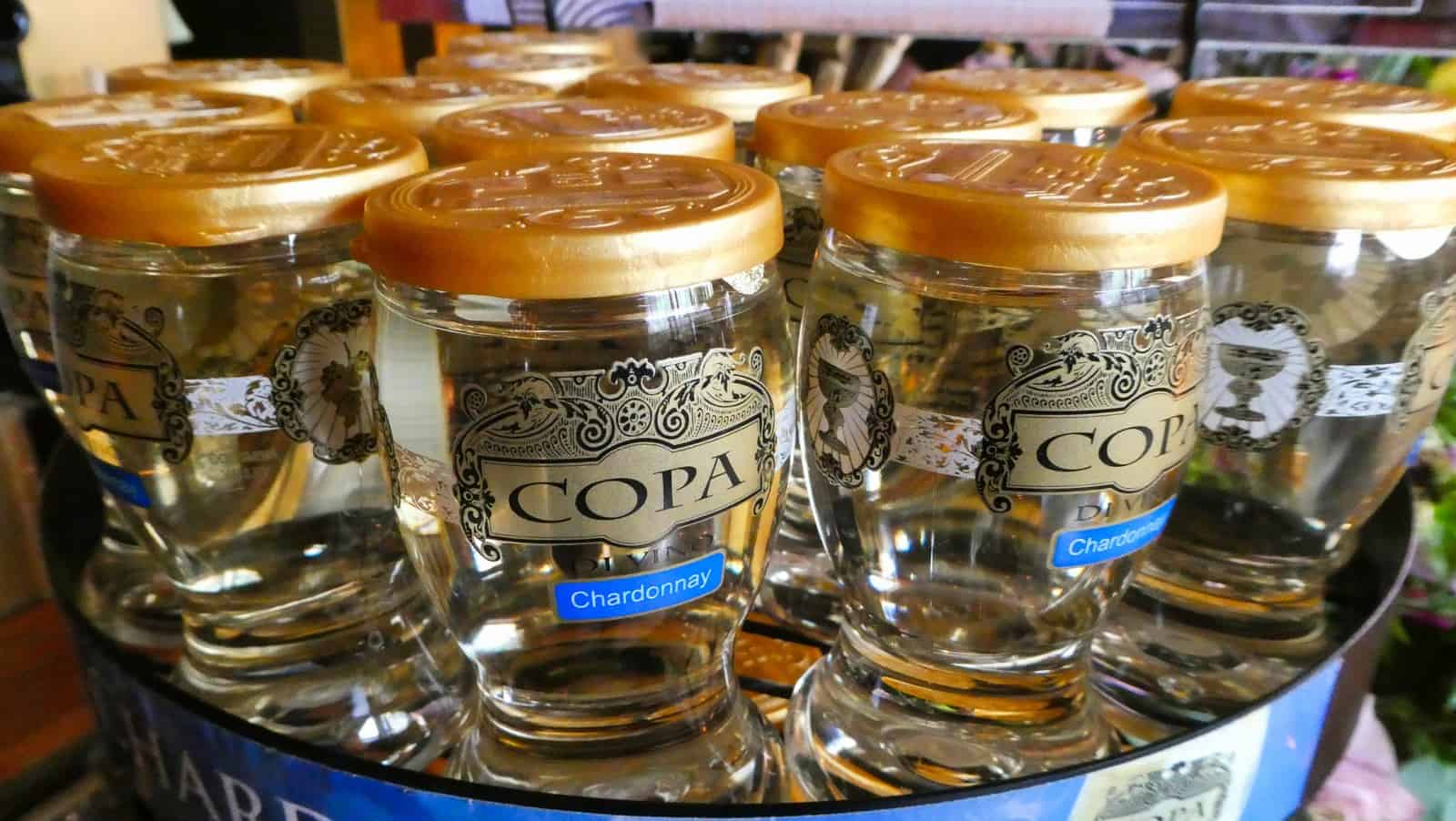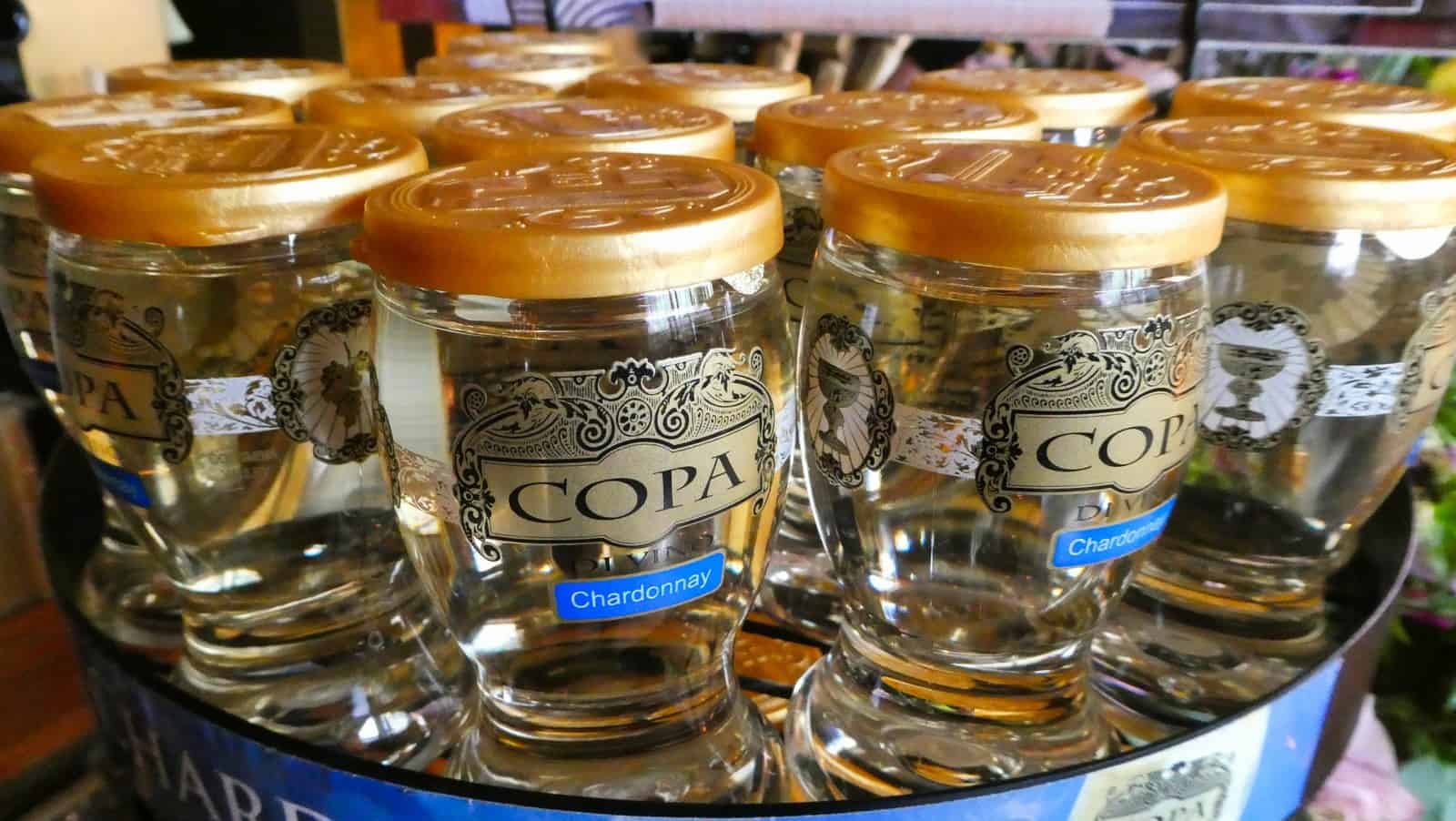 The owners of Sunshine Mill took a property that sat idle for more than 30 years and created a historical experience that includes their wine. You can't help but appreciate the effort and thought that went into creating this one of a kind place.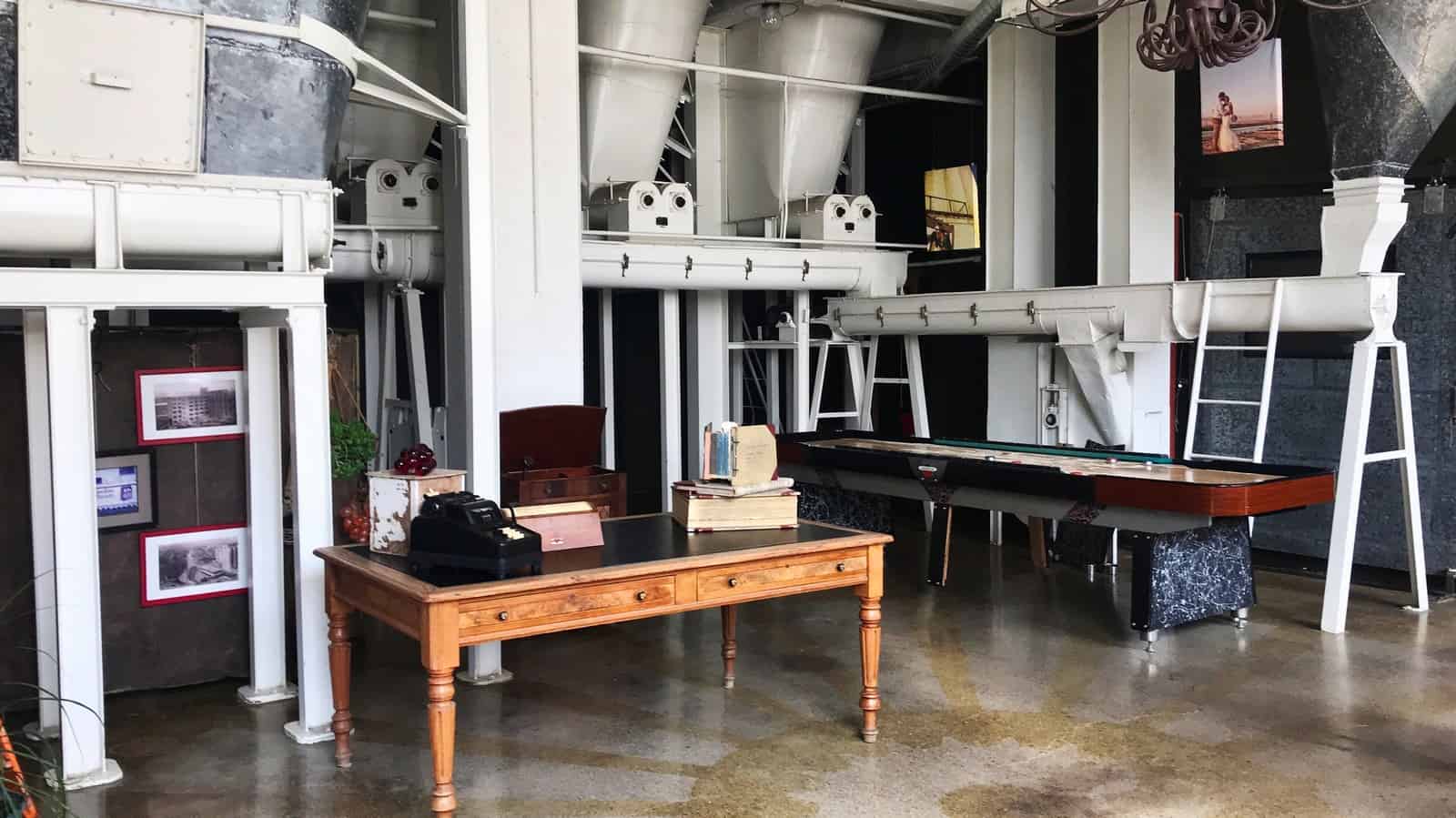 Our favorite wine here was the Syrah.
Oregon Columbia Gorge Wine Country
So, as Thomas Jefferson said, good wine is a necessity for me. And, if it is for you also, you will find good wine in the Columbia Gorge wine country. If you have a chance, you really must visit this up-and-coming wine region nestled along the Washington/Oregon border. Unquestionably, the Columbia Gorge wine country is young, established in 2004, but they have fantastic mountain views, a relaxed vibe, and some great wines. The Columbia Gorge is split in half by the lovely Columbia River. So, as the river travels from west to east, the landscape changes dramatically from a cool, damp climate to a dry, desert-like environment. As a result, the variety in climate allows the region to grow almost every grape varietal and makes for some fantastic wines.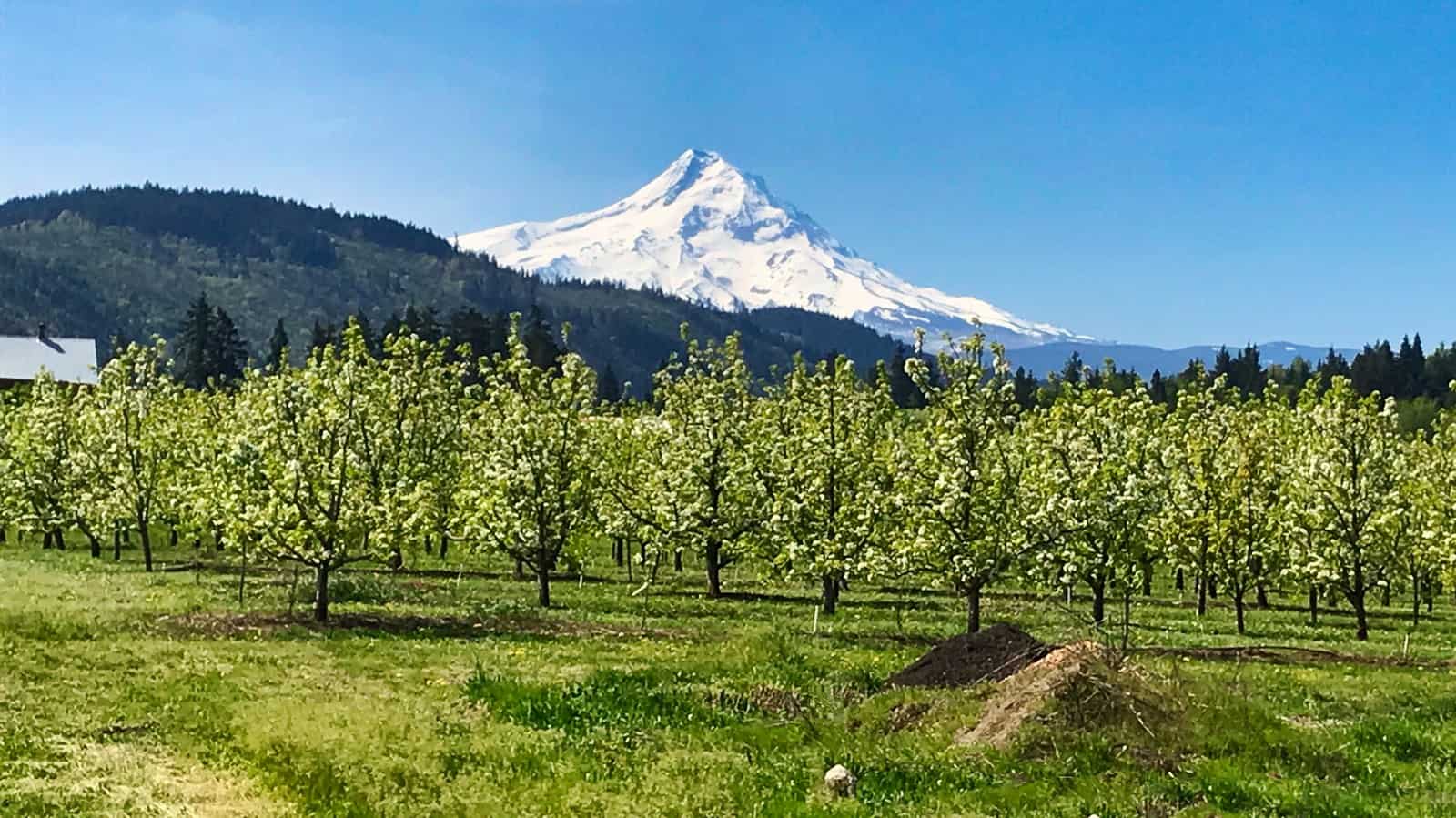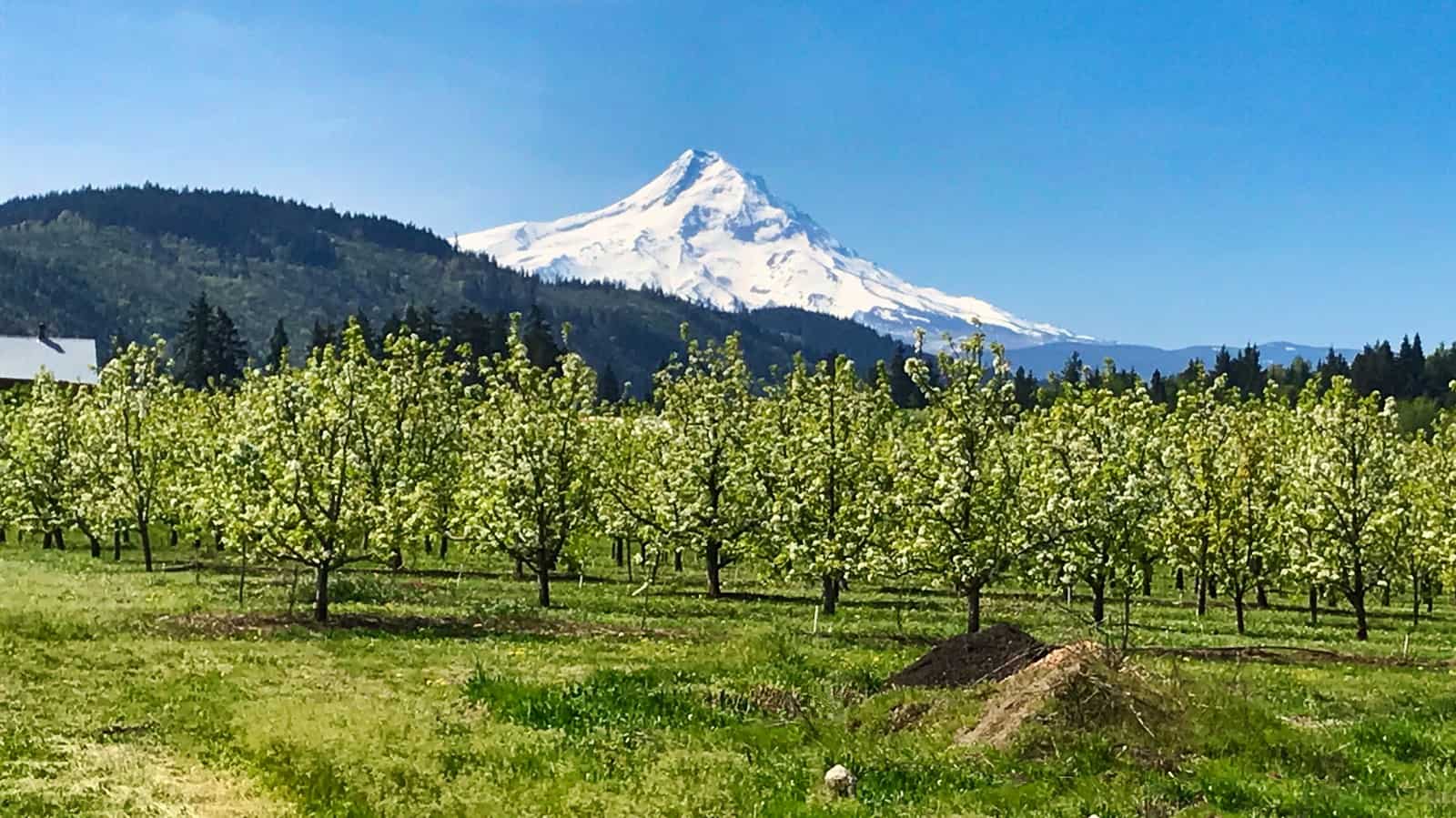 Thus, if wine is not enough, there are many interesting places to visit in the area, from museums to nature preserves. In addition, this area is a great place for hiking and biking.
So whether you're on the search for an adventurous getaway or looking for a fun place to sip wine, the Columbia Gorge has it all. Visit while it is still a hidden gem. Trust me; it won't be long before this place is crawling with visitors. For more information about Oregon, visit Travel Oregon.
QUICK ANSWERS
Where to go wine tasting while in Portland?
The Columbia Gorge wineries are only a 1-hour drive from Portland. There are so many wineries and quaint towns you can visit along the way.
What are Oregon Wines like?
Did you know that Oregon is the 3rd largest wine grape producing state in the U.S. They produce over 50 varietals of grapes. They make a wine that will satisfy anyone's palette. Most wineries are small boutique types meaning you will have a tasting experience you won't forget.
---
While in Oregon, be sure to visit Portland. Then hop on over for a couple of days in Seattle.