Santa Maria Valley is an American Viticultural Area located in Northern Santa Barbara County and San Luis Obispo County. Santa Maria Valley, with its sunshine and cool Mediterranean climate, is perfect for growing wine grapes. In truth, there is so much more to Santa Maria Valley than just wine. The valley is also known for its authentic Santa Maria Style Barbecue. The Santa Maria wineries will bring you to the valley, but the laid-back vibe and friendly smiles will keep you returning.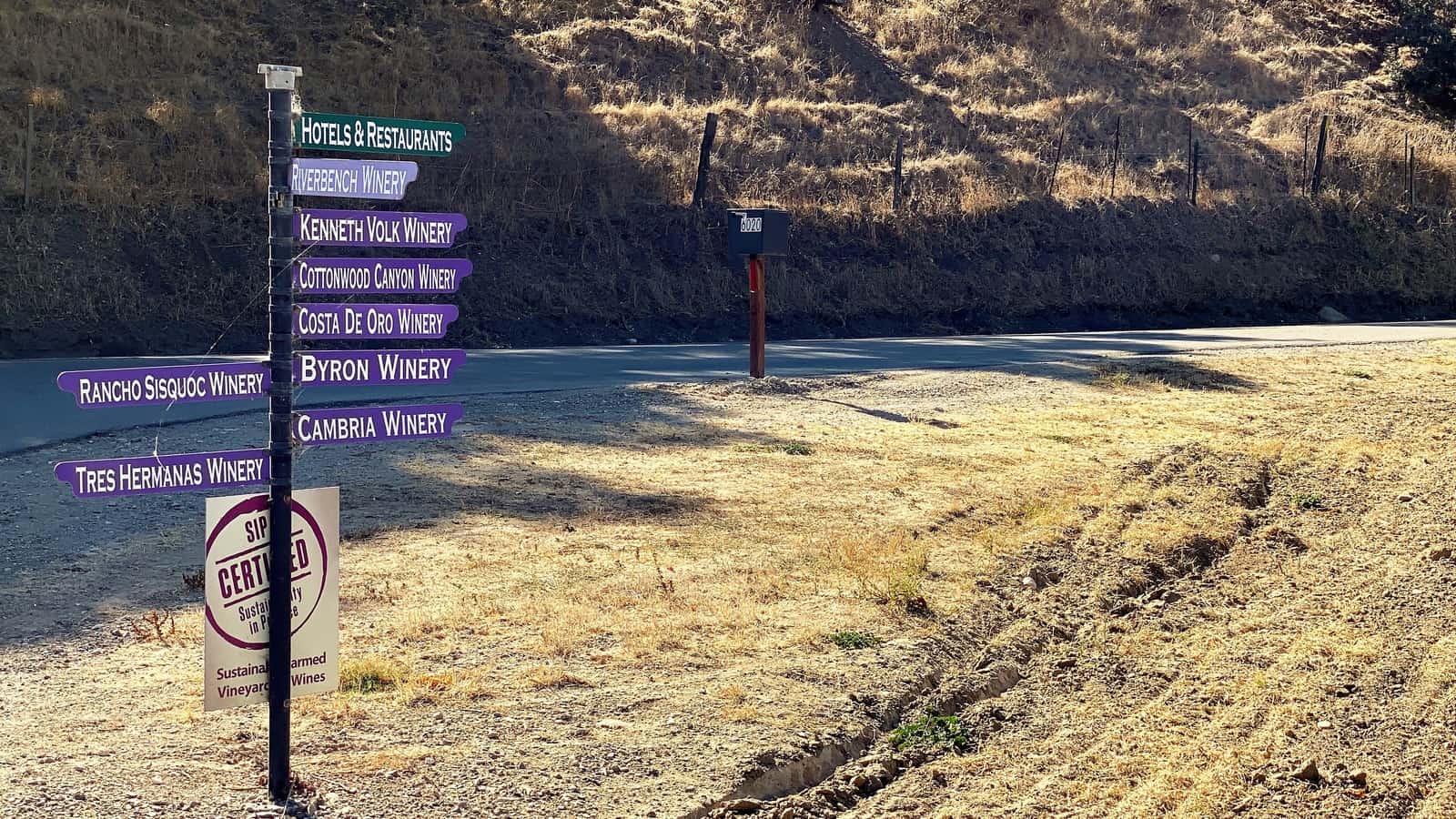 Santa Maria is a perfect weekend get-a-way destination. Santa Maria Valley wineries are on the same quiet country roads where lettuce and strawberries grow. Tasting rooms tend to be intimate, fun, and some real architectural stunners. So, follow along as we take you to five great Santa Maria wineries. Along the way, we will recommend a couple of great restaurants to introduce you to Santa Maria BBQ, and we will recommend a great place to stay.
Riverbench Winery
The first recommendation we have for Santa Maria wineries is Riverbench Winery. Riverbench's tasting room is in a restored 1920s craftsman-style house on the Foxen Canyon Wine Trail. They specialize in Chardonnay and Pinot Noir wines.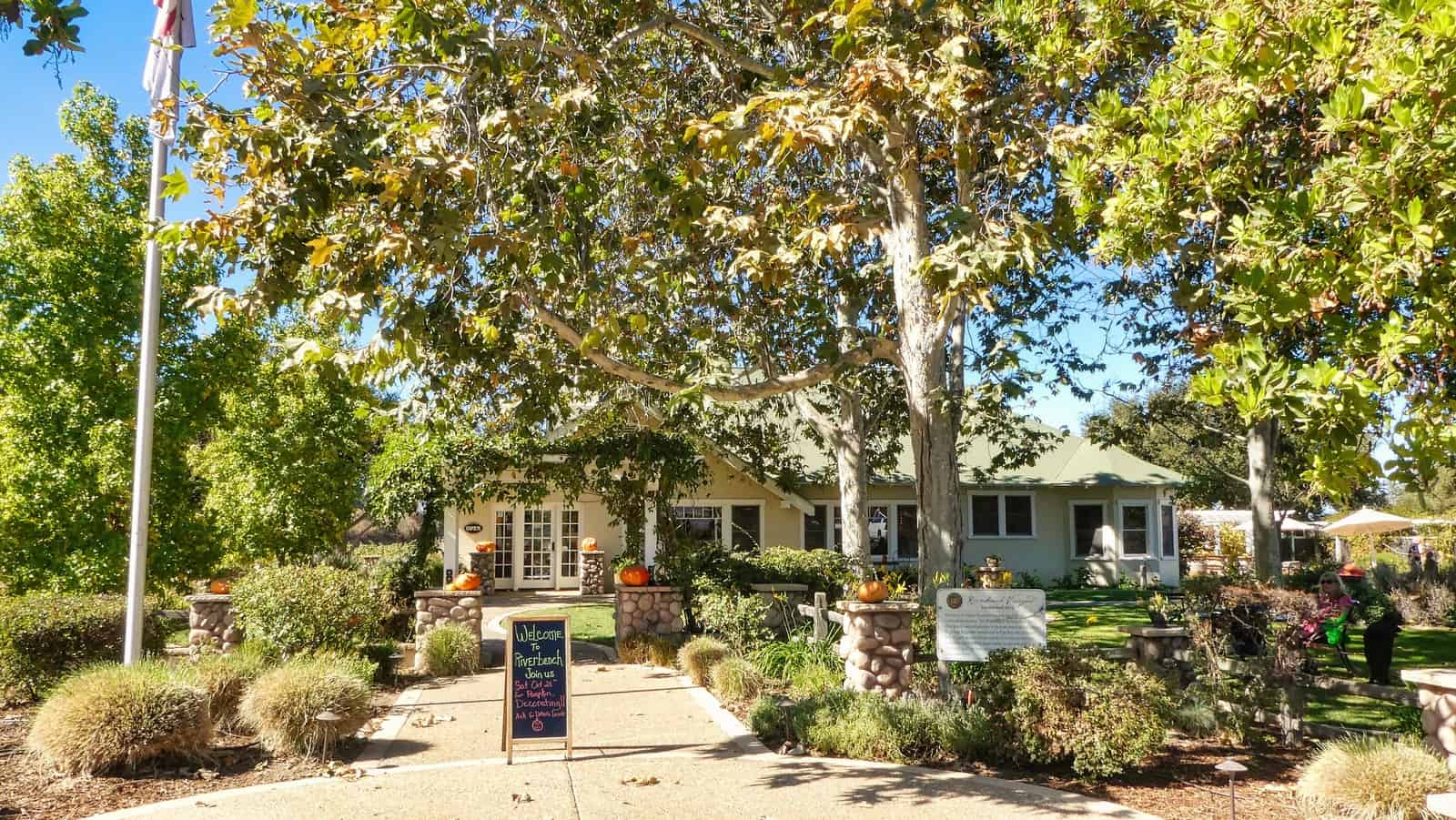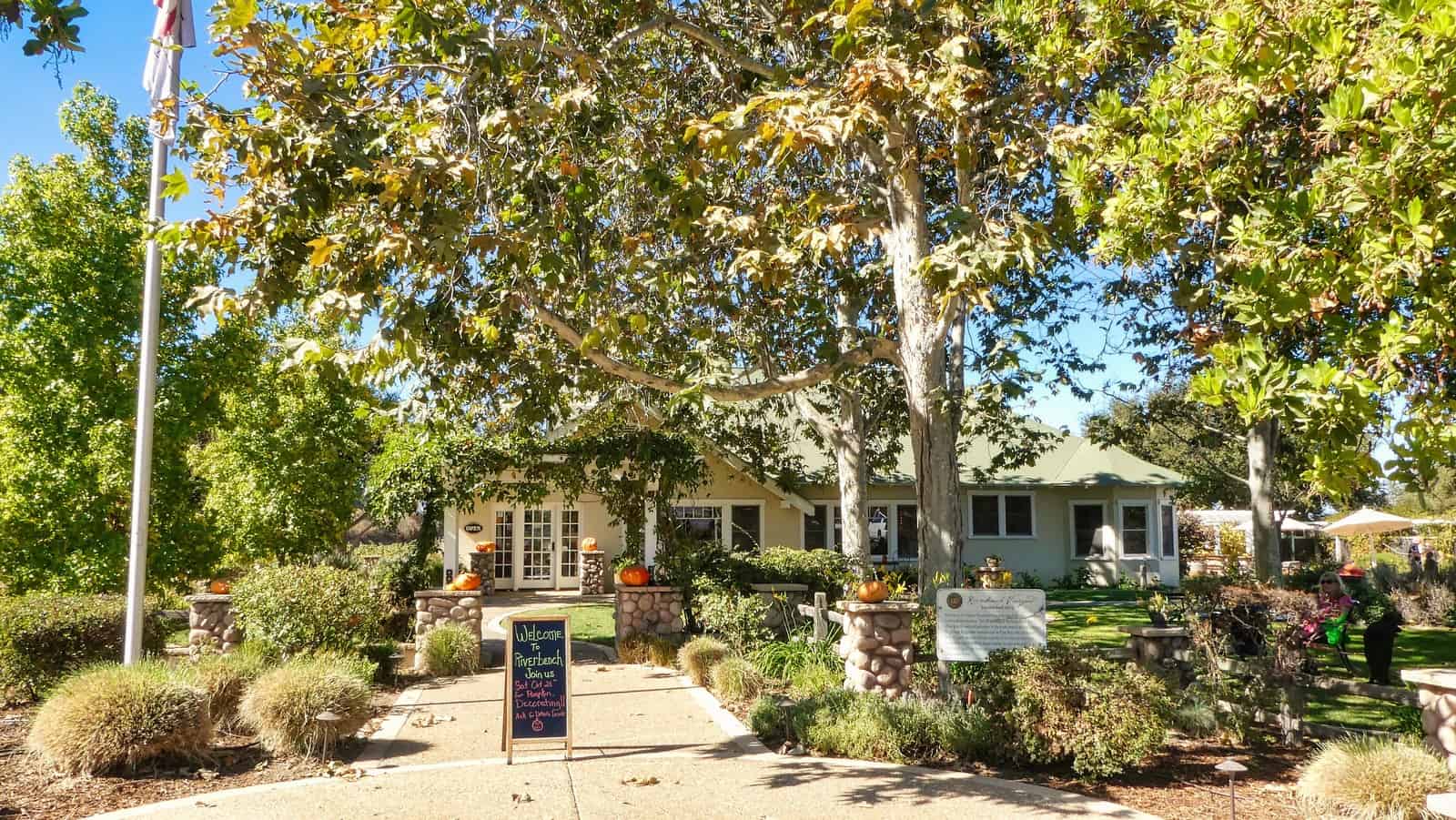 The tasting room is cozy and inviting. We found this cute wine art on the wall. The artwork was for telling time, coffee cups for morning time, and wine glasses for evening time.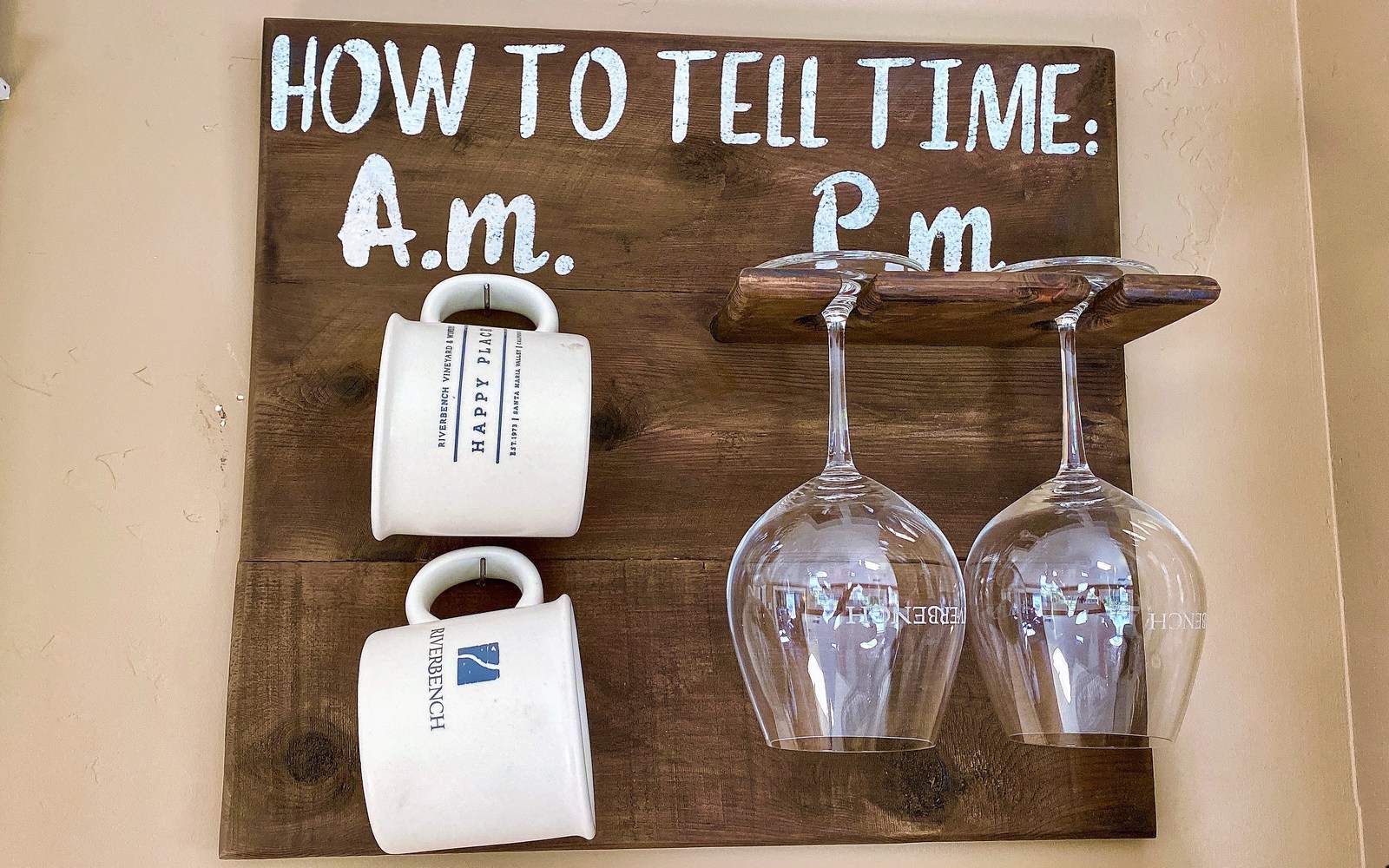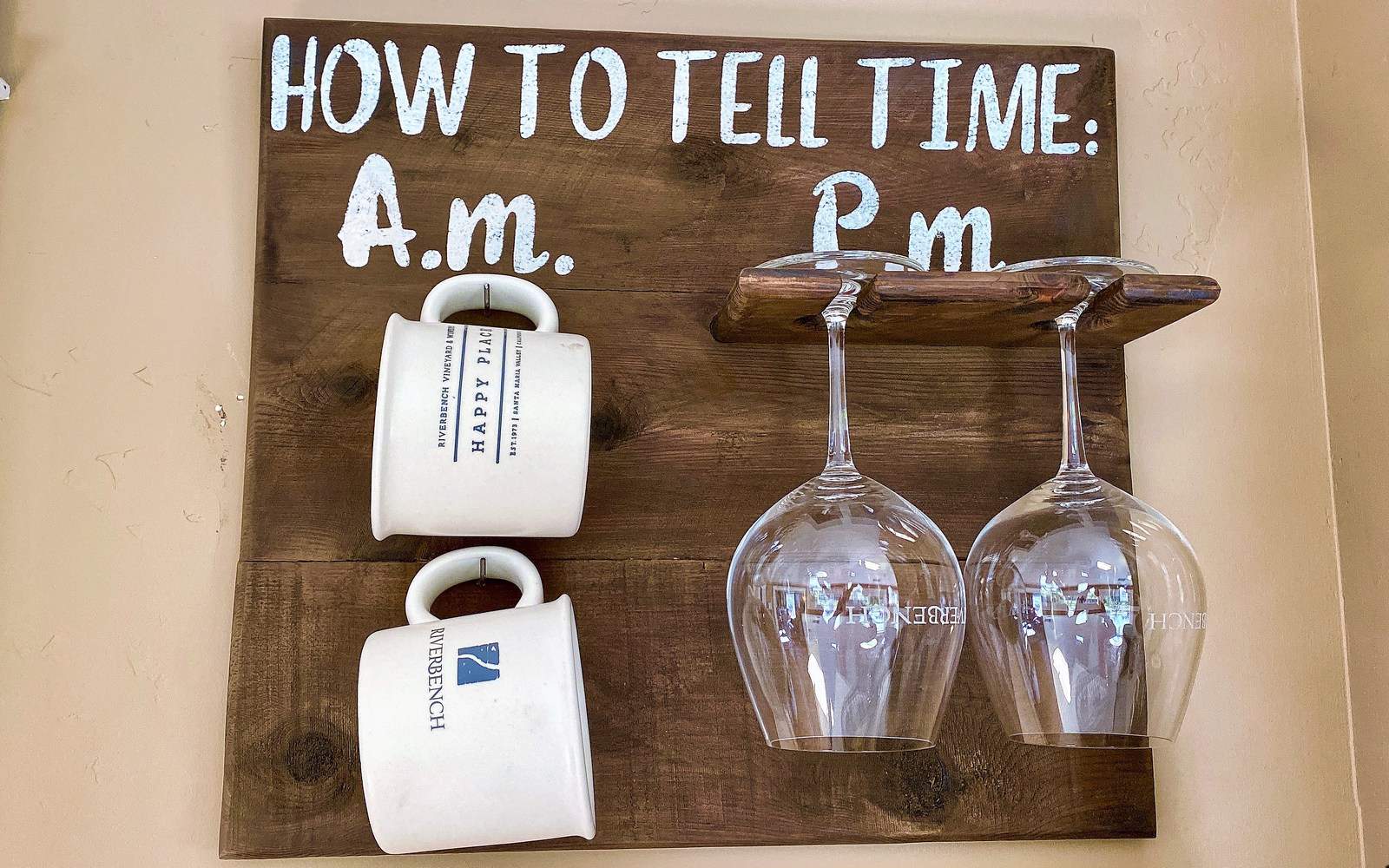 If the weather is beautiful, you will want to do your wine tasting outdoor. Riverbench has a great wine country garden and picnic area complete with a bocce ball court and horseshoe pit. The views from the winery are breathtaking and tranquil.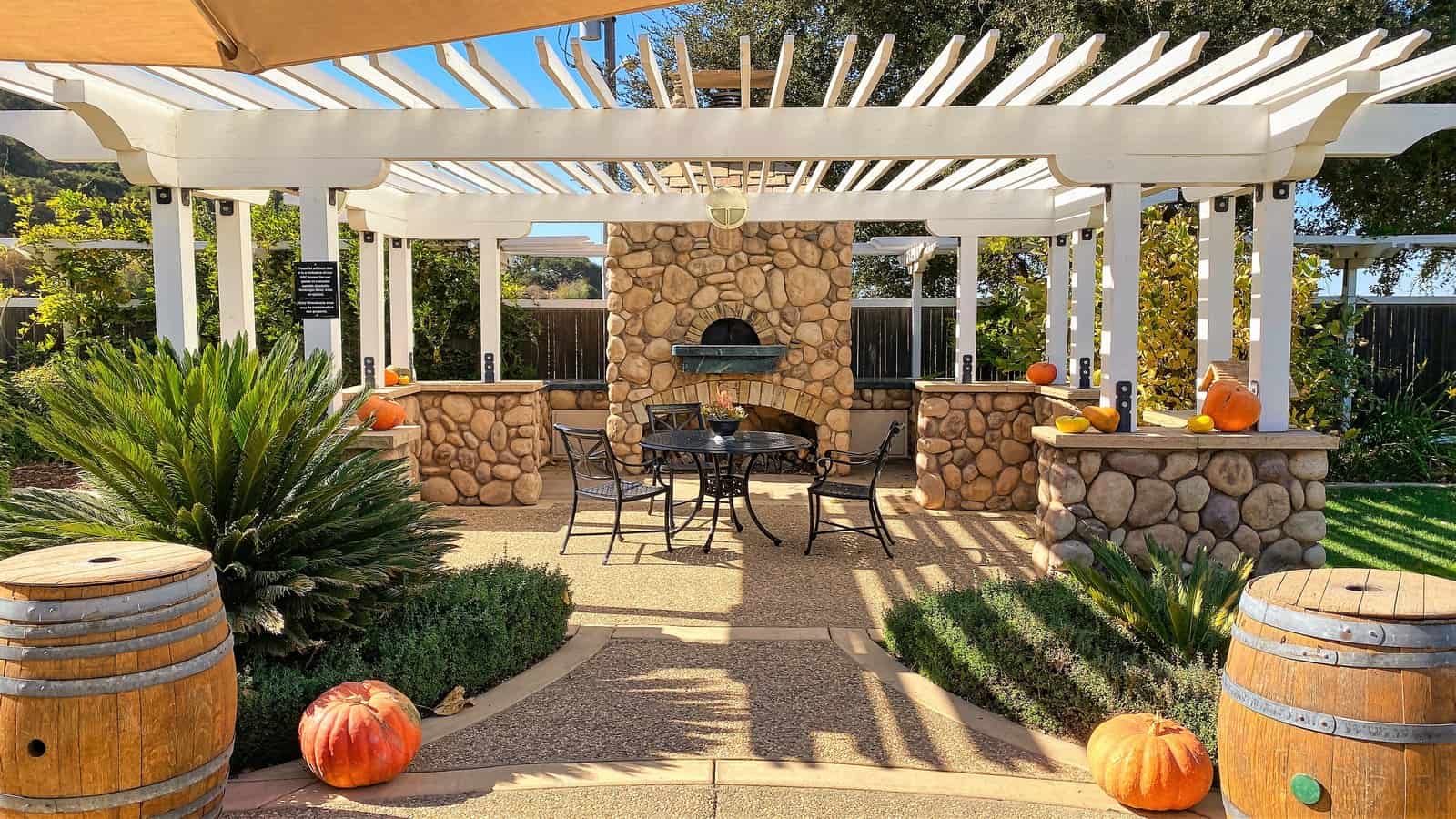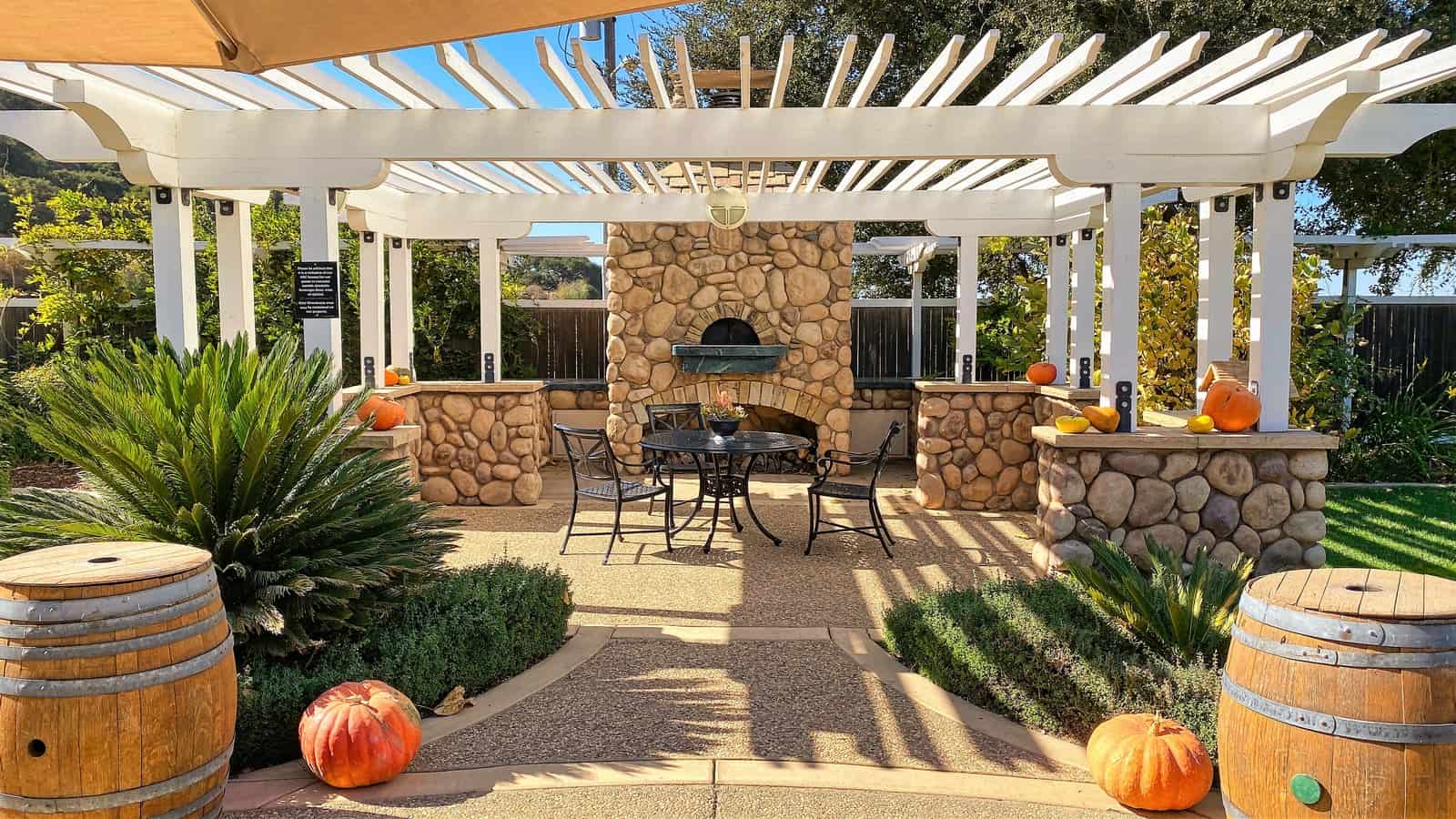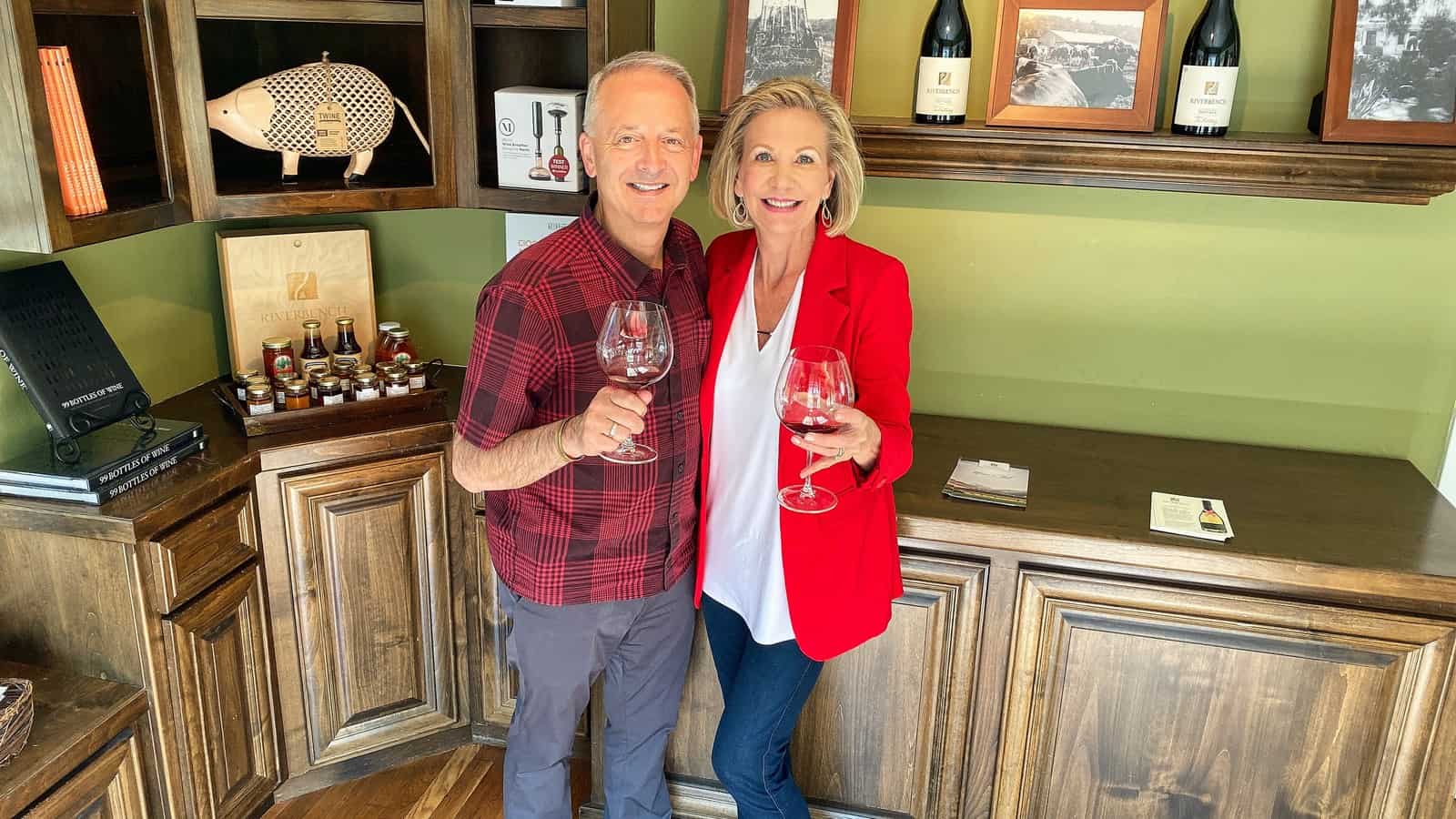 Enjoy Wine and Friends at Vino et Amicis
Orcutt is a small town in the Santa Maria Valley. And, Orcutt is where you will find our next recommendation, Vino et Amicis. This recommendation is not a winery but a unique wine bar. Vino et Amicis has a considerable menu of wines by the glass, but you can also buy bottles of wine.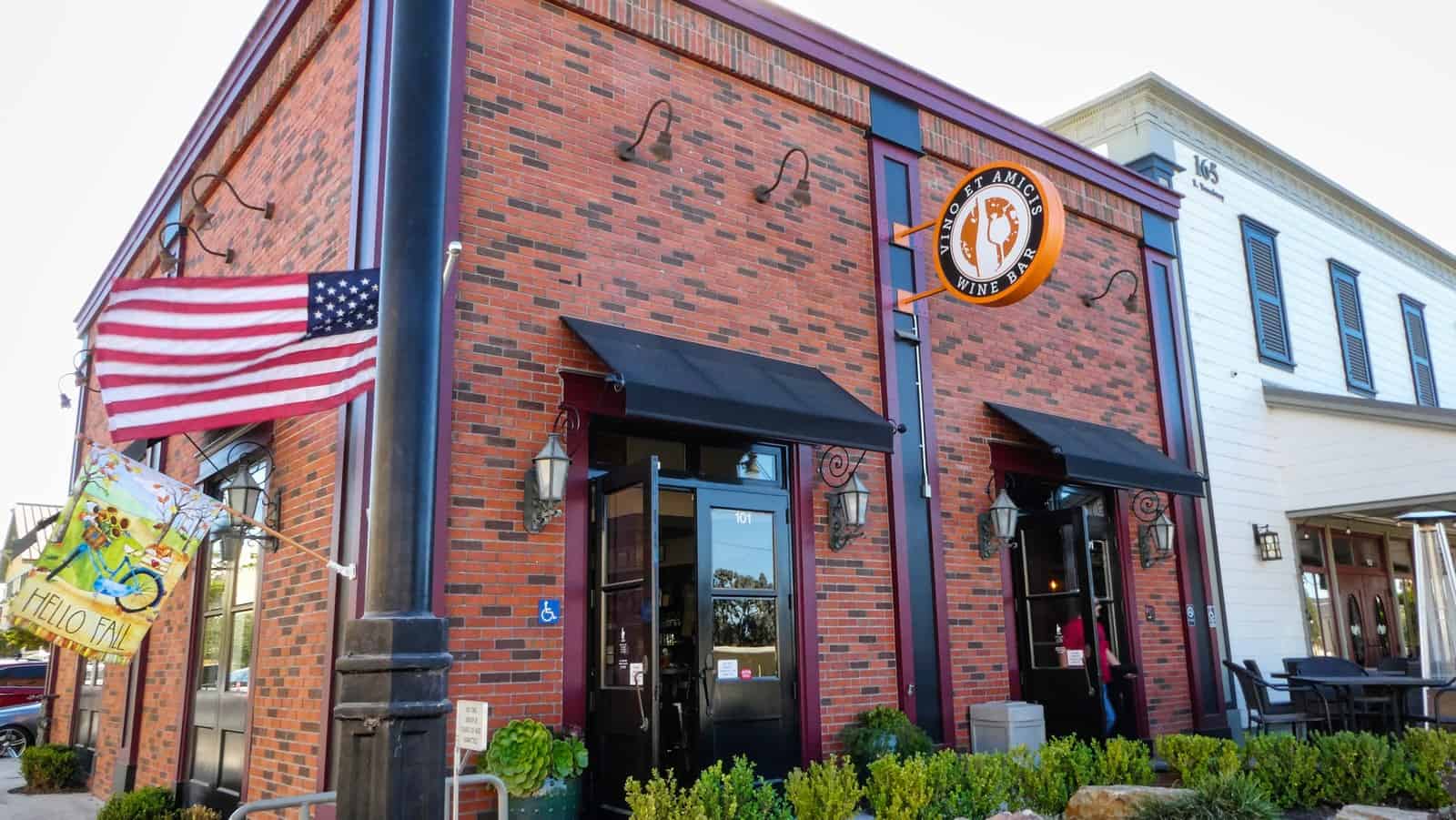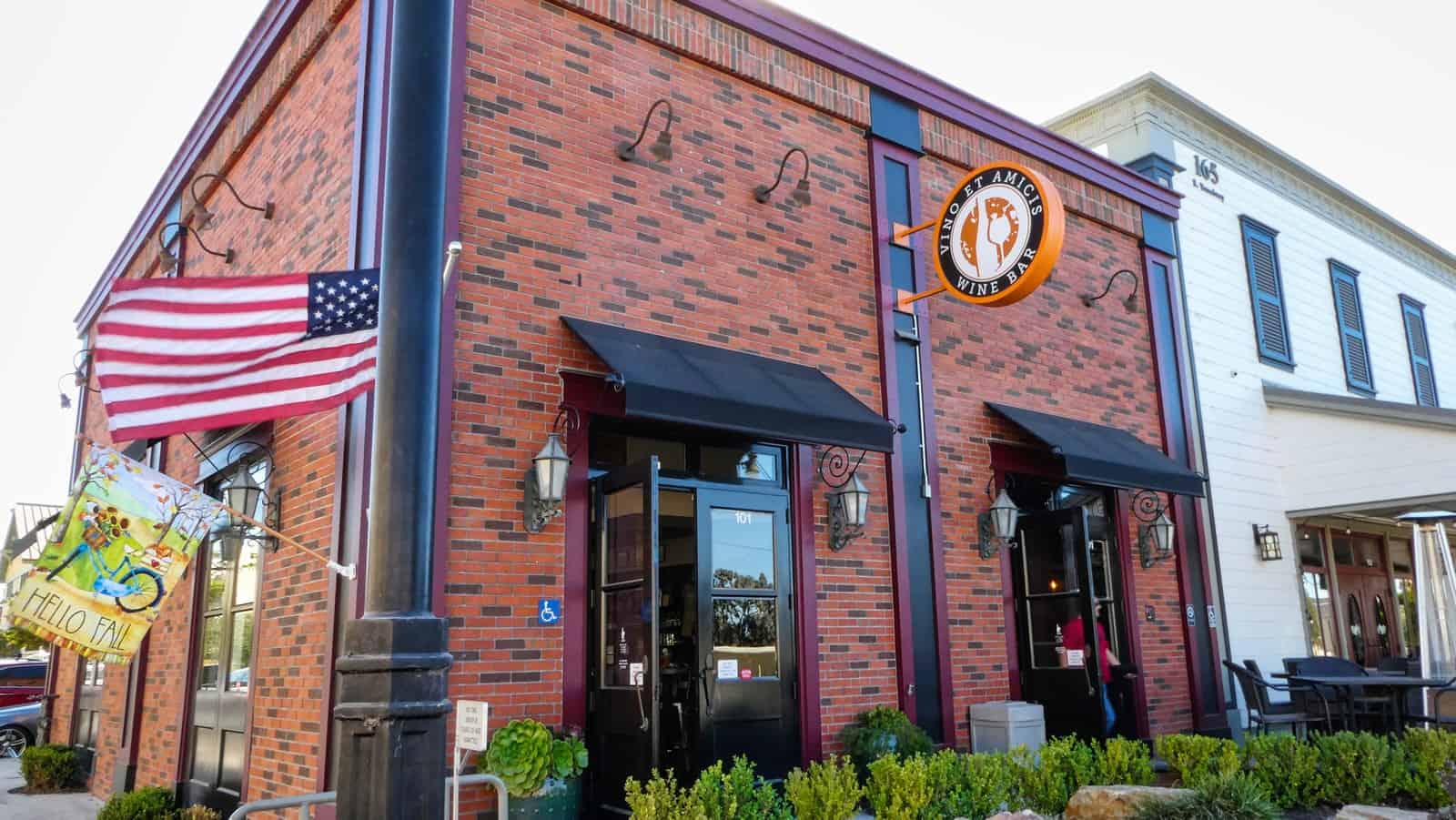 The owners, Dawn and Kurt, of Vino et Armicis, work directly with boutique Central Coast wineries, not through distributors, so the wines are local. They guarantee you will never see the wine that you drink at Vino et Amici's at a grocery store.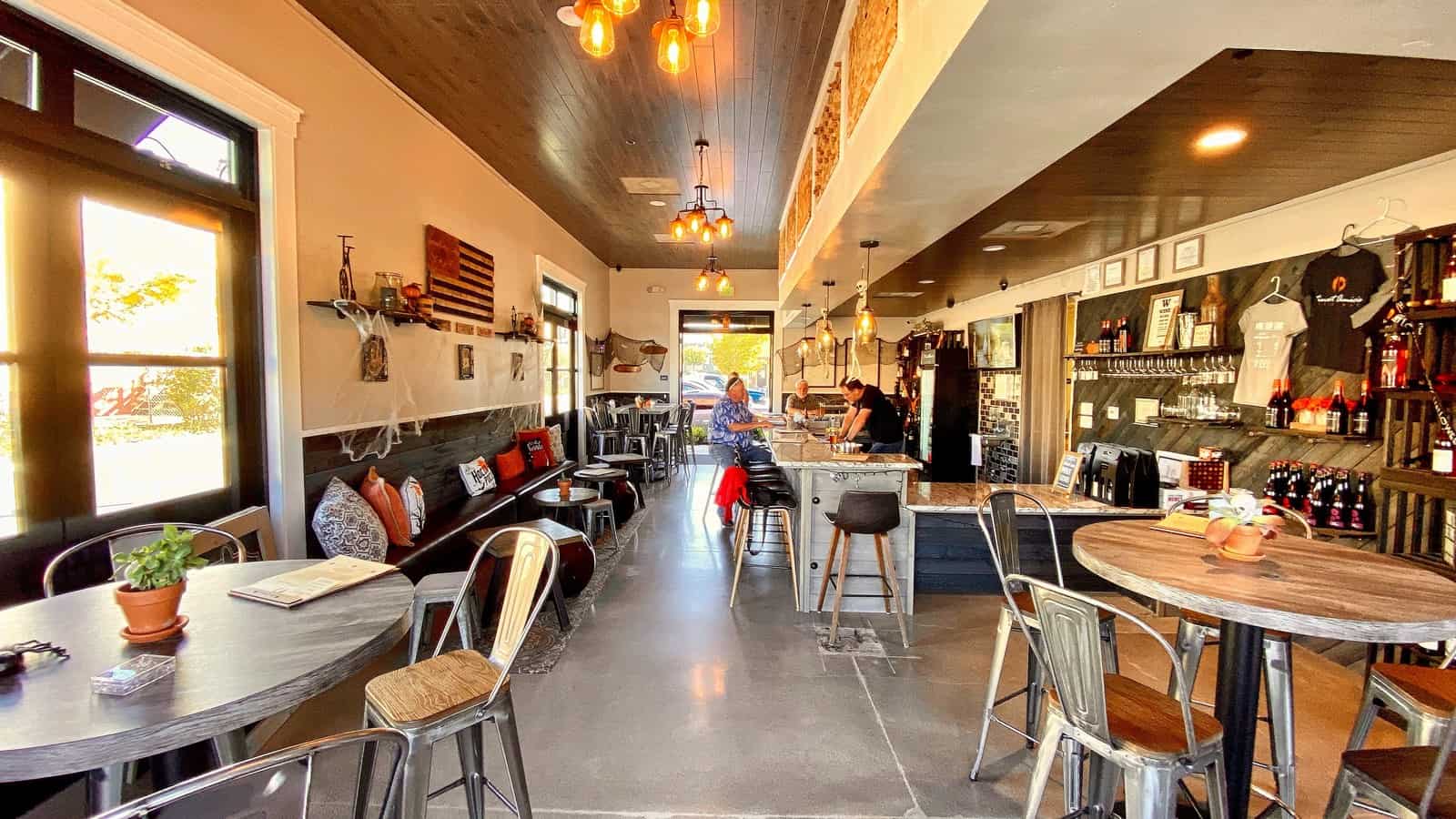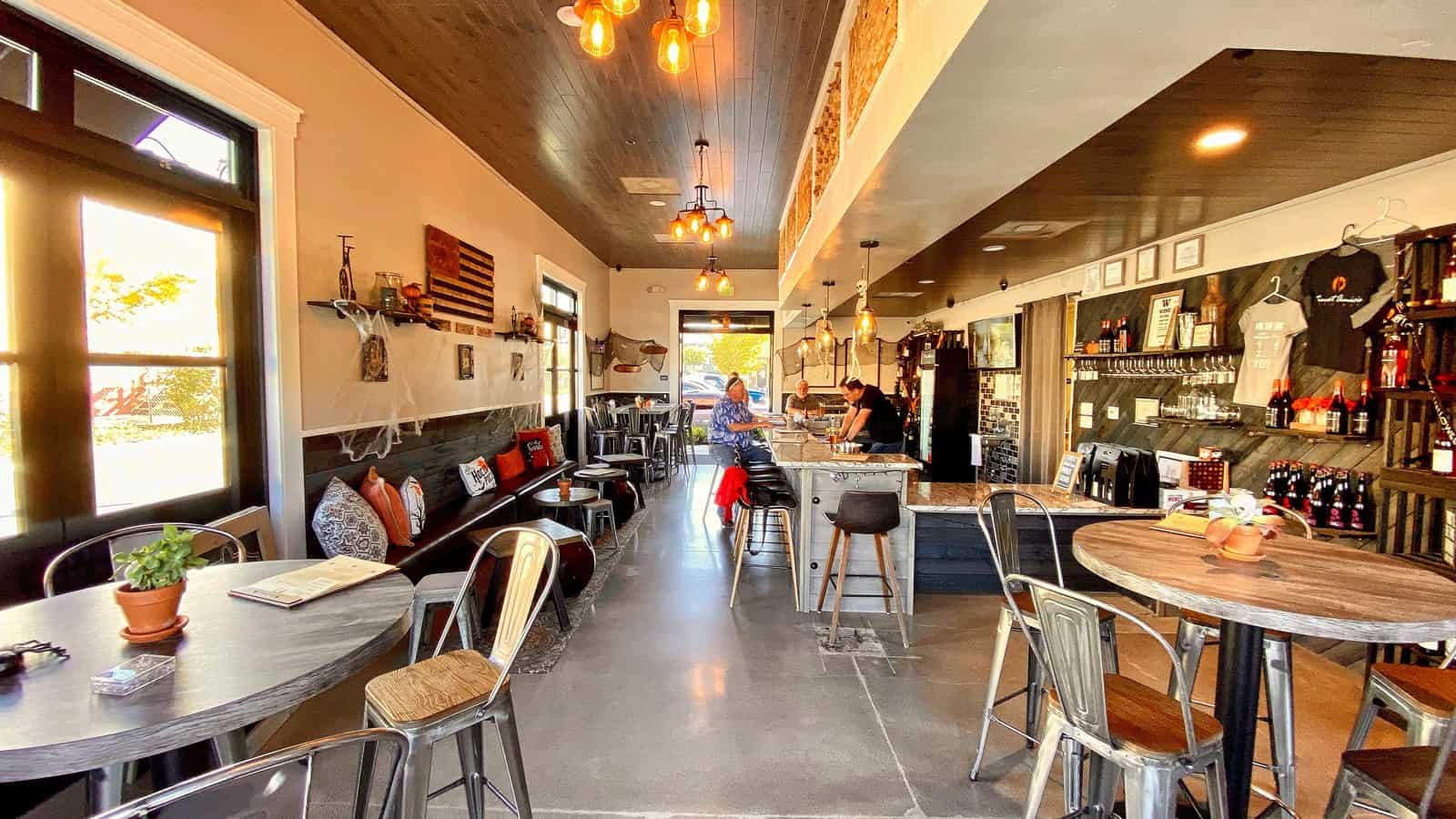 How does Vino et Armicis have so many open bottles of wine at one time? They use a unique system called a Coravin. This system allows for the extraction of wine from the bottle without removing the cork. It uses a needle that pierces the cork to expel the wine. Then argon gas is pumped in to replace any air to preserve the wine quality. And we all know that air is what causes wine to go bad eventually. Wine tastings are $15 for any five wines they serve.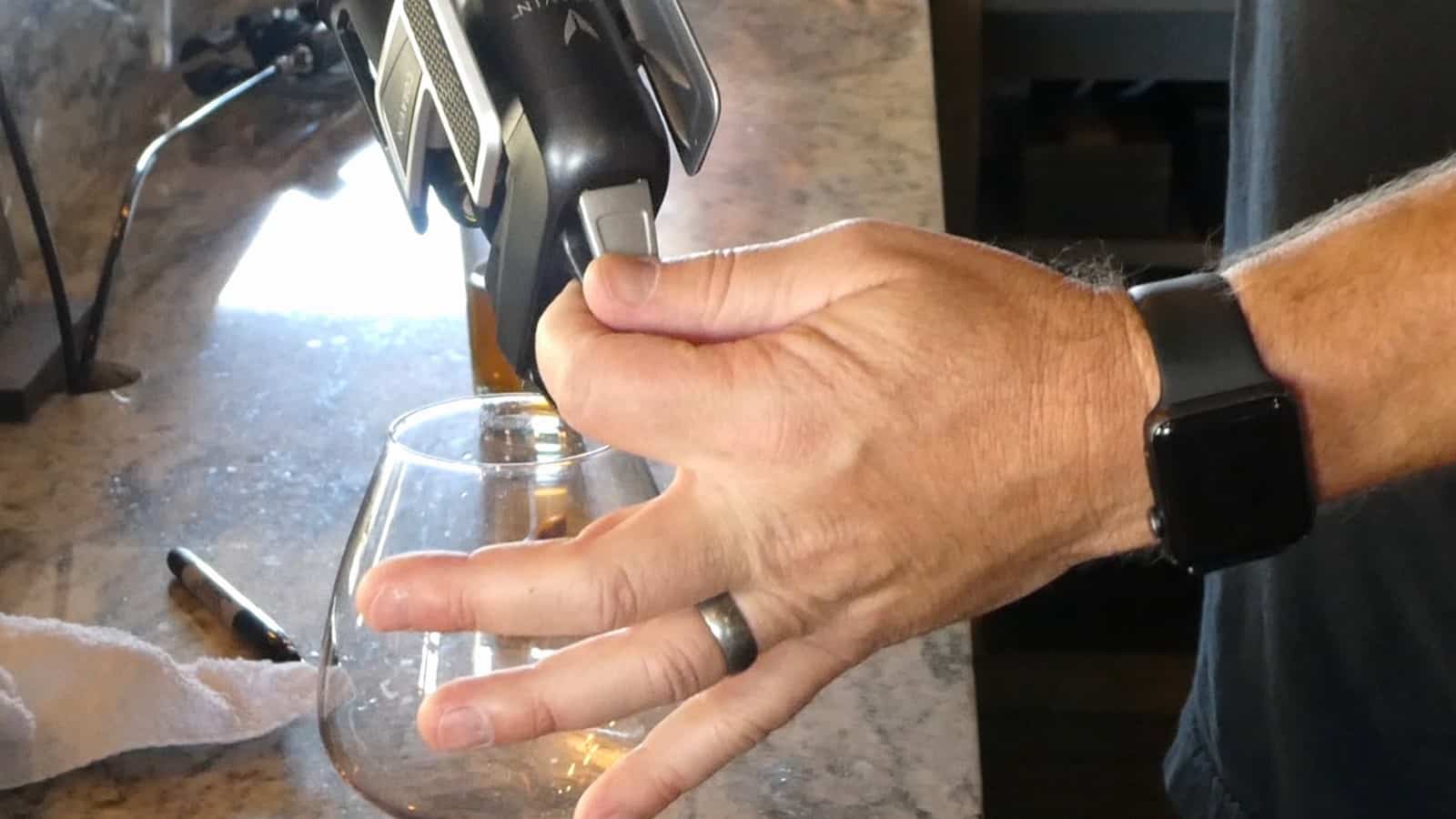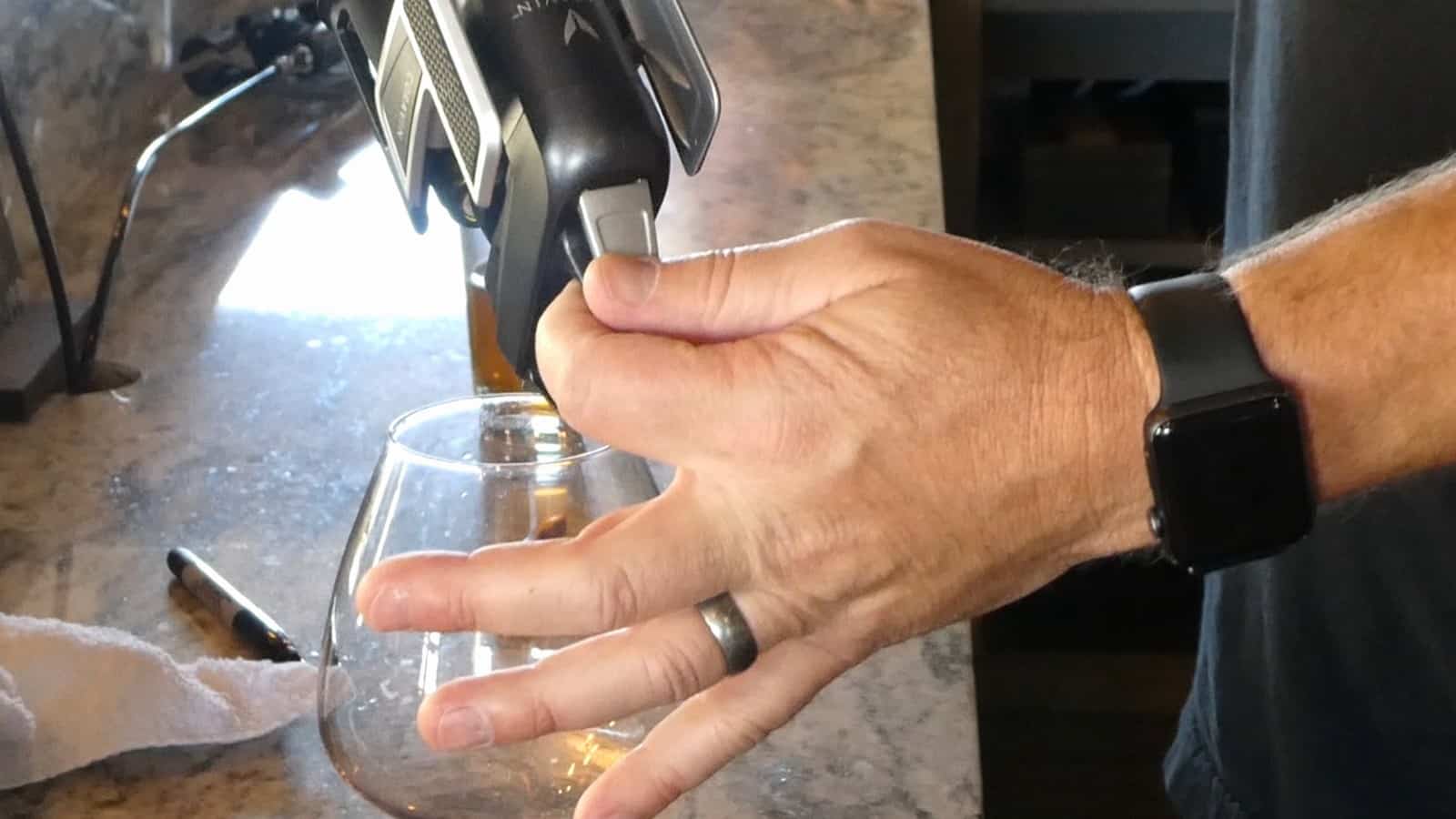 Vino et Amicis means wine and friends. So Dawn and Kurt created a warm, friendly place to relax and enjoy wine from the local wineries. The wine bar has an urban-loft feel with chalkboards decorating the walls describing wines.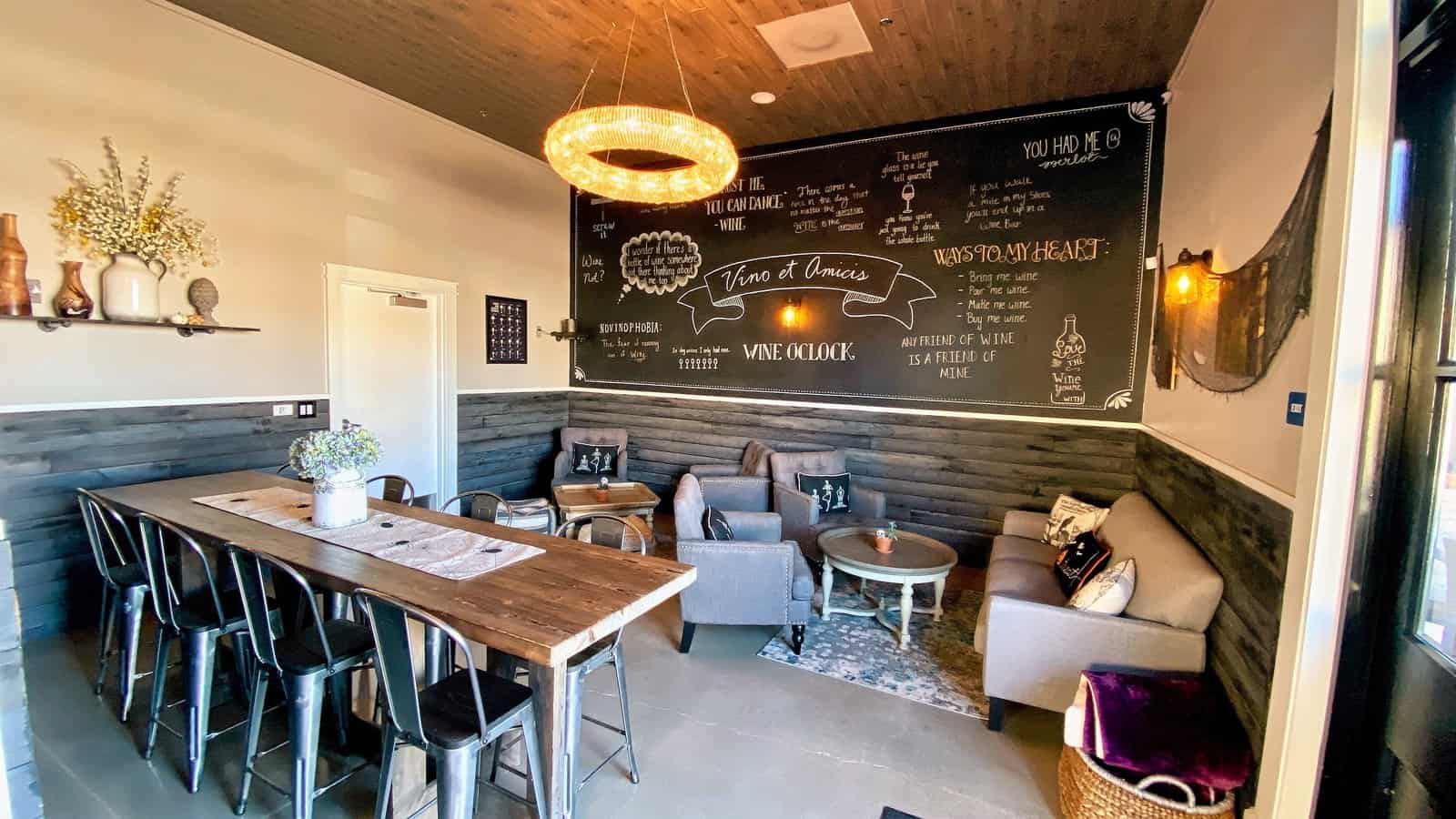 We talked with Kurt on our visit. He explained that he and Dawn would go wine tasting but hated that wineries closed at 5. He said that they wanted a place that would stay open later, so you could relax and hang out with friends.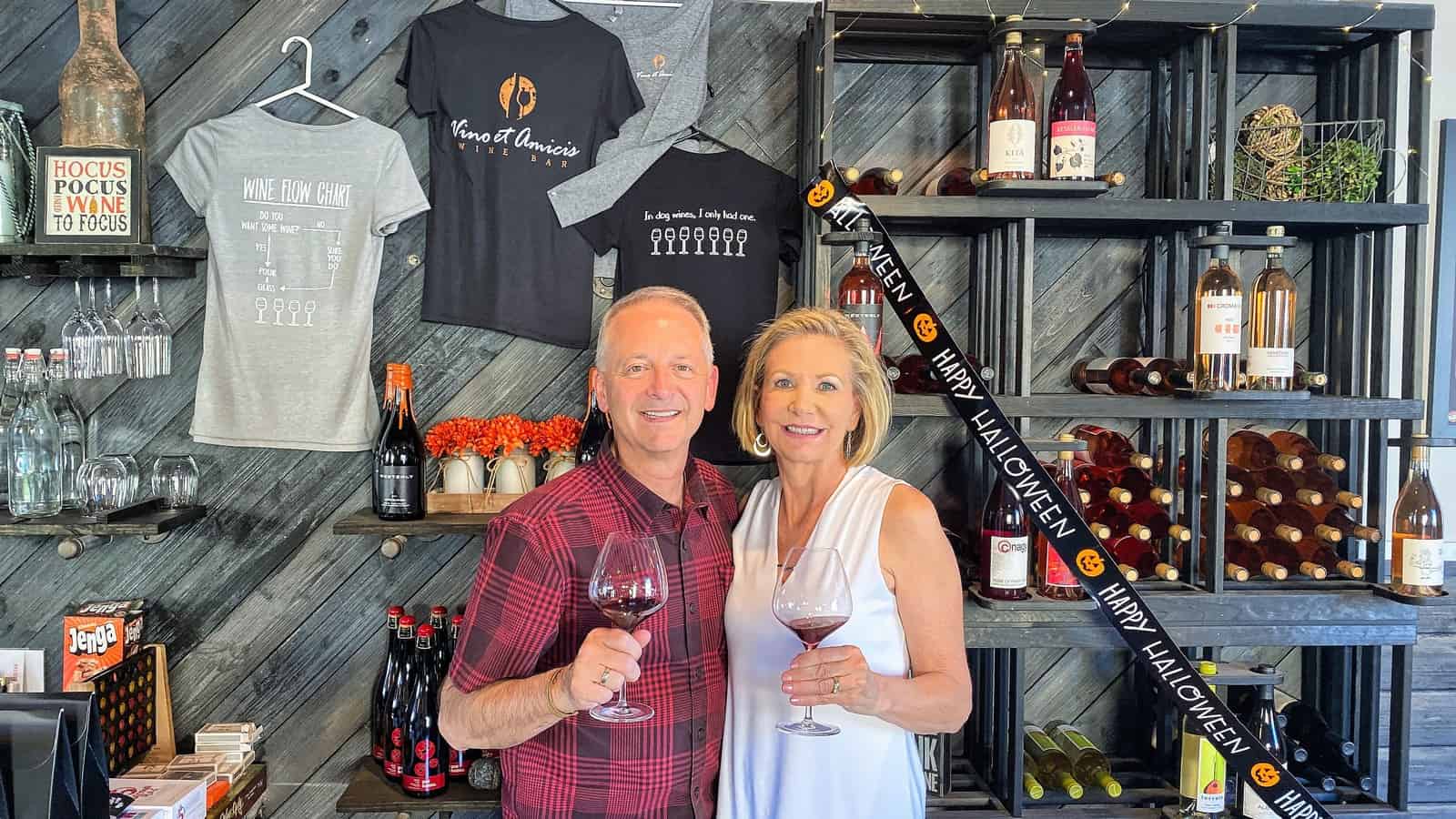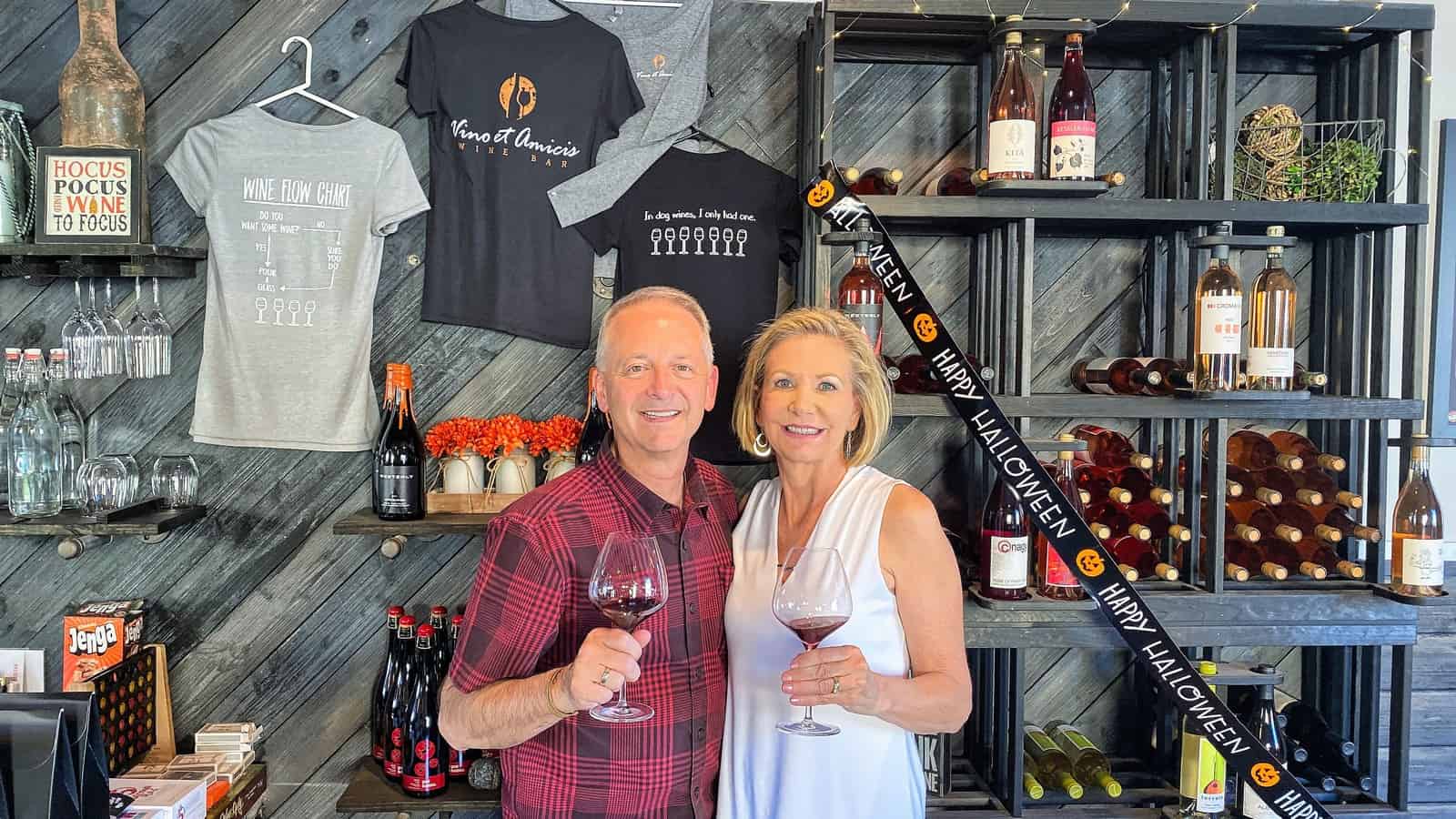 Feel Warm and Welcomed at the Fairfield Inn and Suites
While visiting Santa Maria wineries, you will need a place to stay, so we recommend the Fairfield Inn and Suites in the city of Santa Maria. If you have followed Keith and me for any length of time, you know that we prefer a suite over a room. We like to take our time as we travel, so we want a place that has a living room or at least a sofa and coffee table. We want the room to spread out.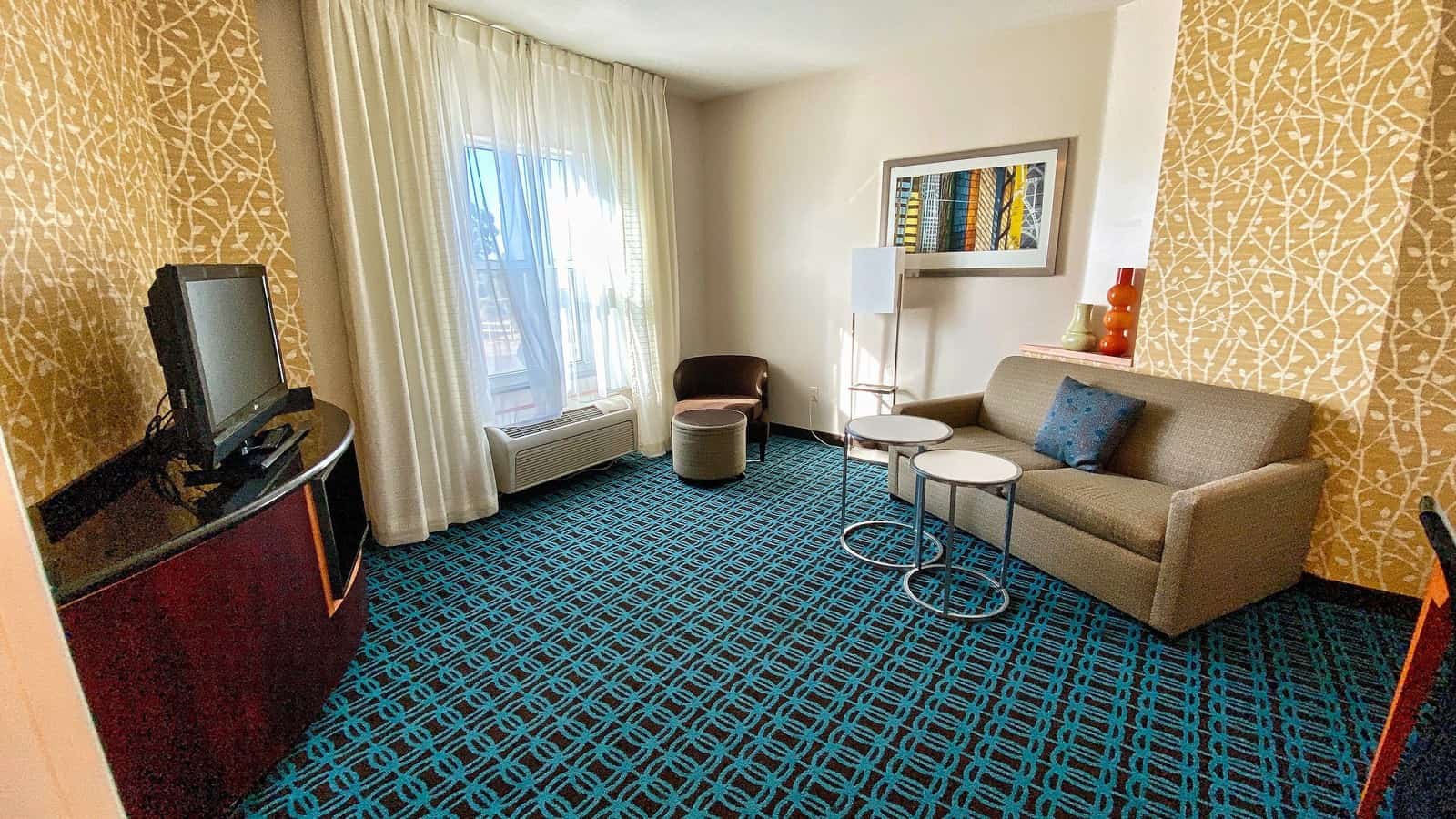 The Fairfield conveniently located in the heart of the Santa Maria Valley AVA has large rooms. We stayed in their largest room, a king two-room suite. We had a bedroom with a king bed, bathroom, refrigerator, coffee station, and a living room with a desk.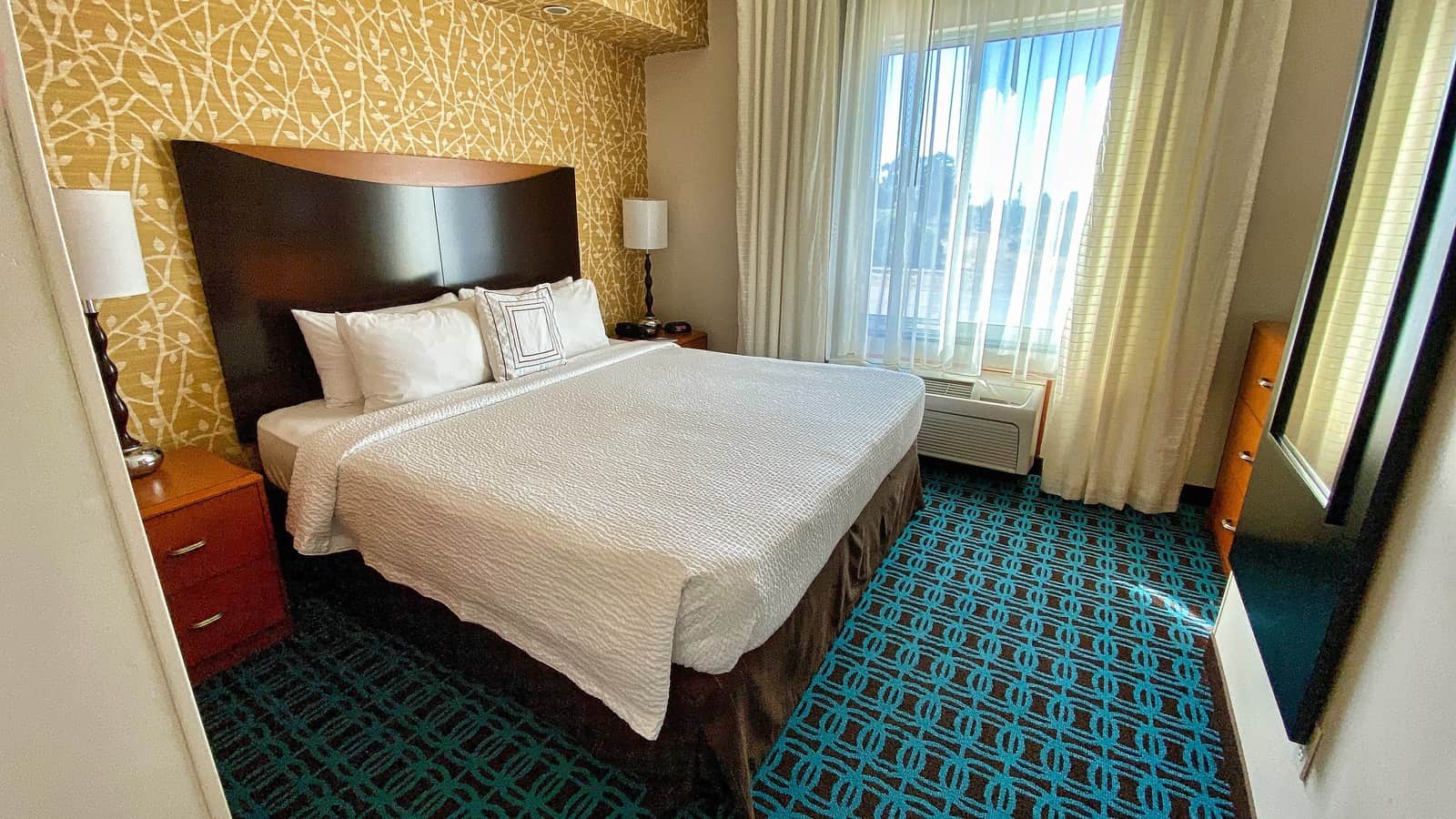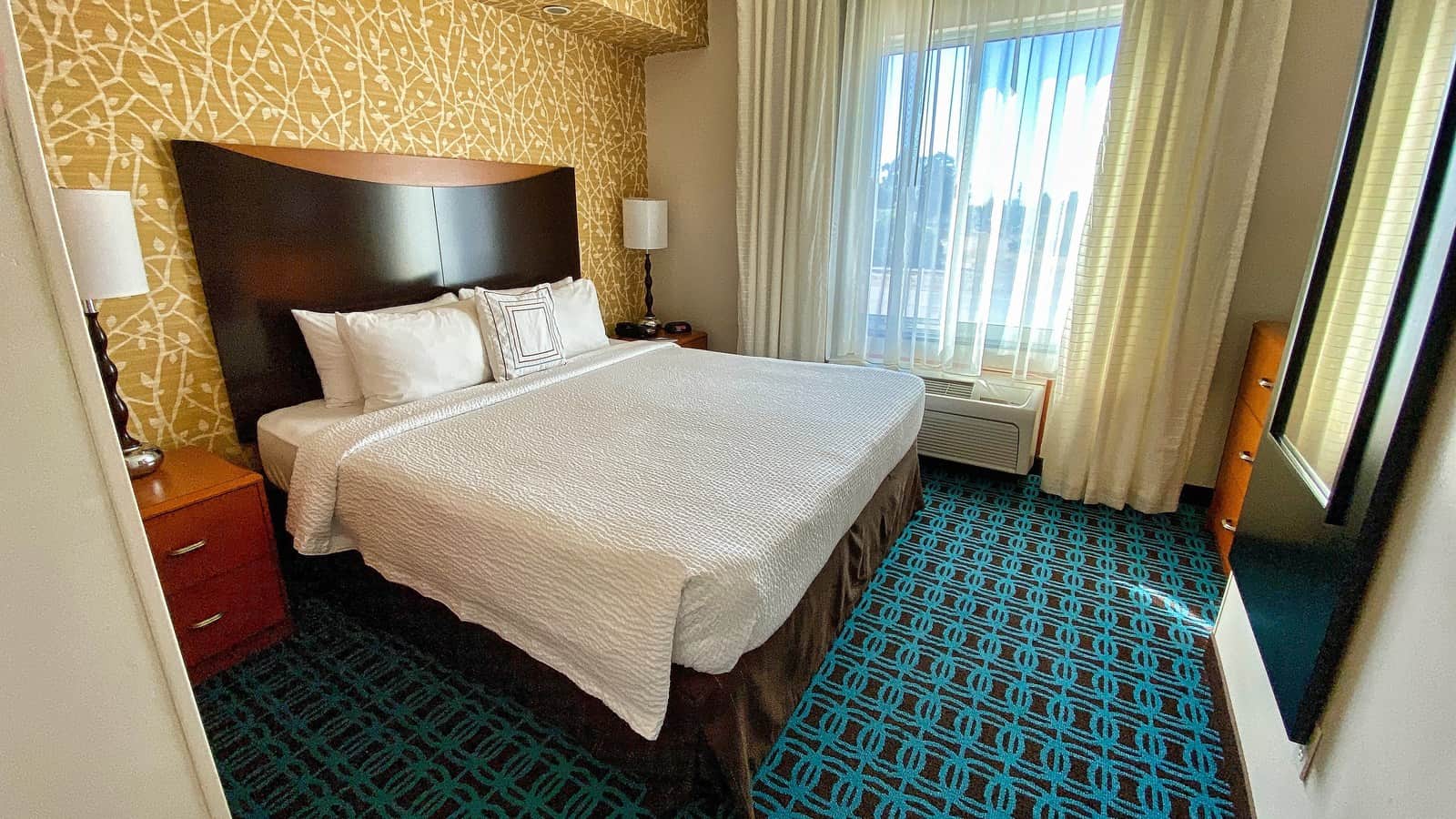 The hotel served a breakfast buffet every morning plus it had a heated pool and whirlpool.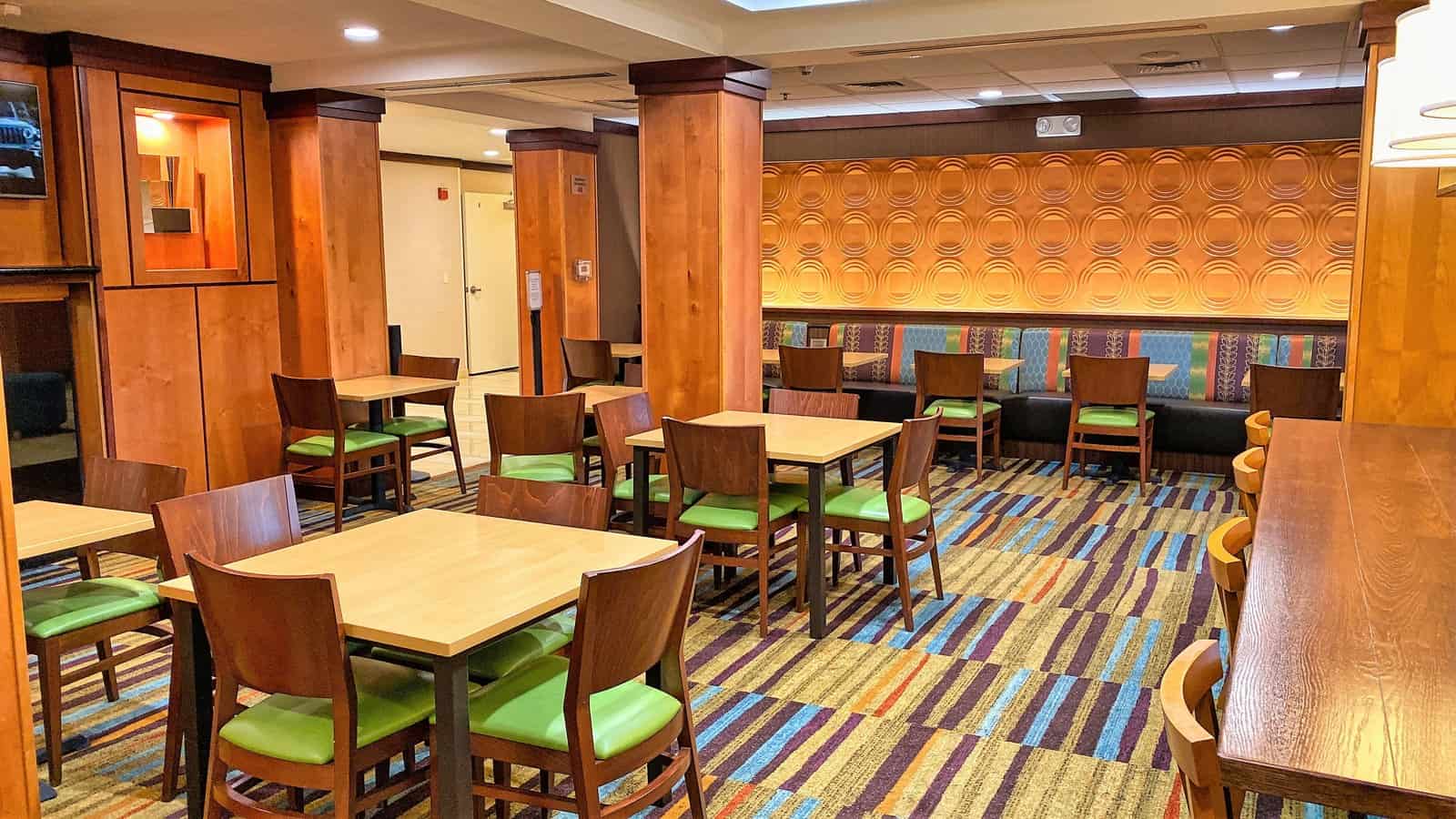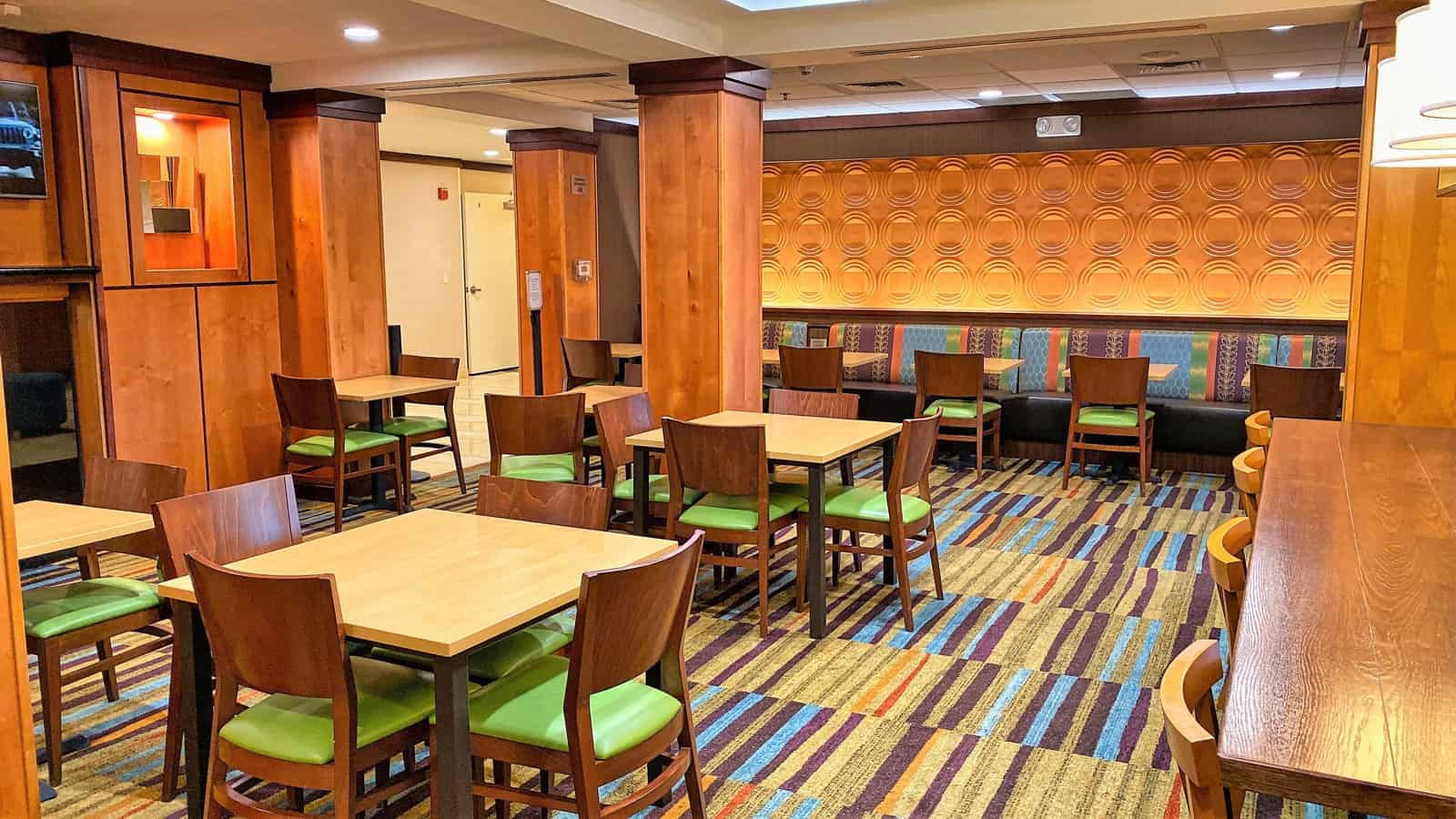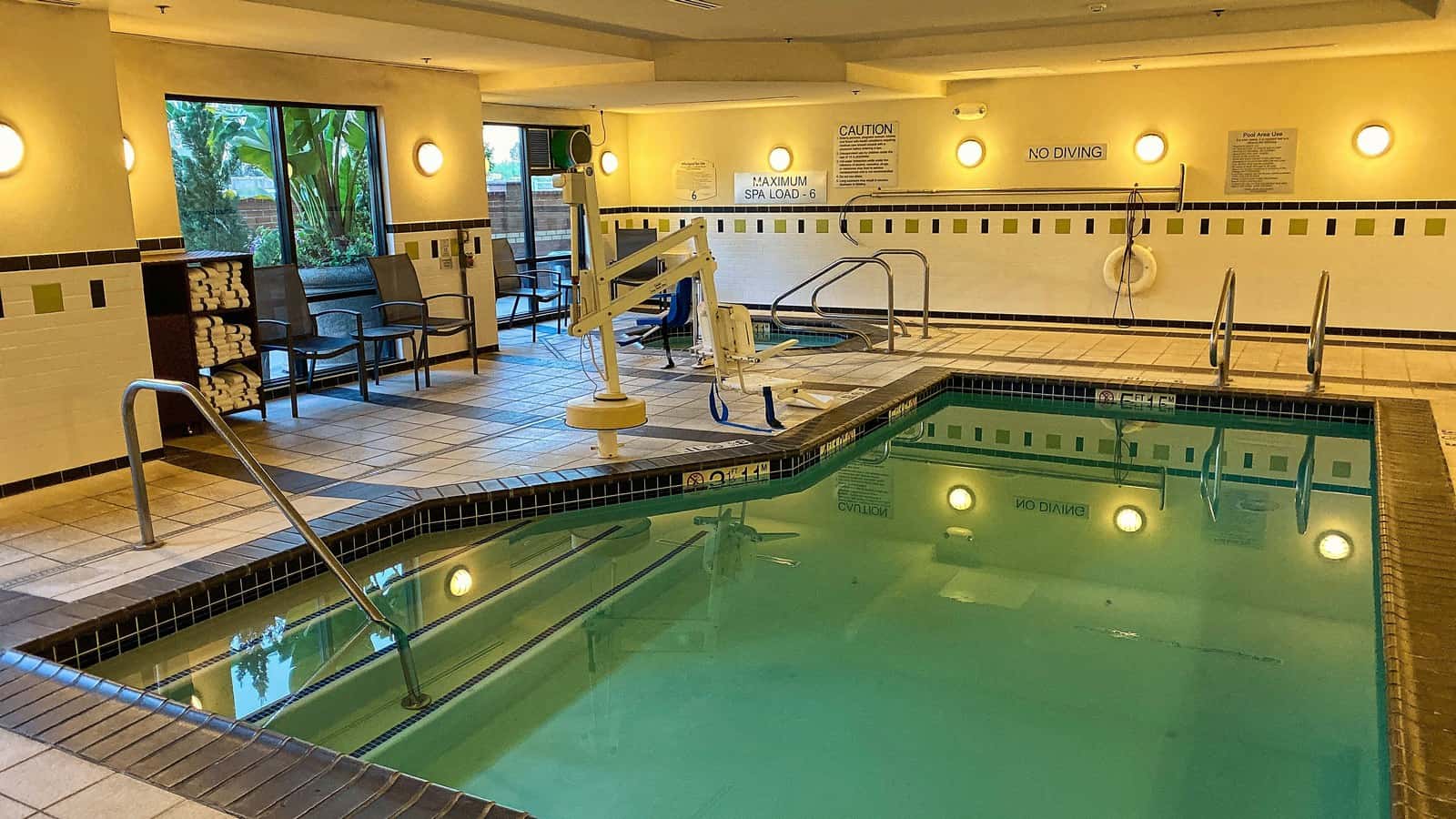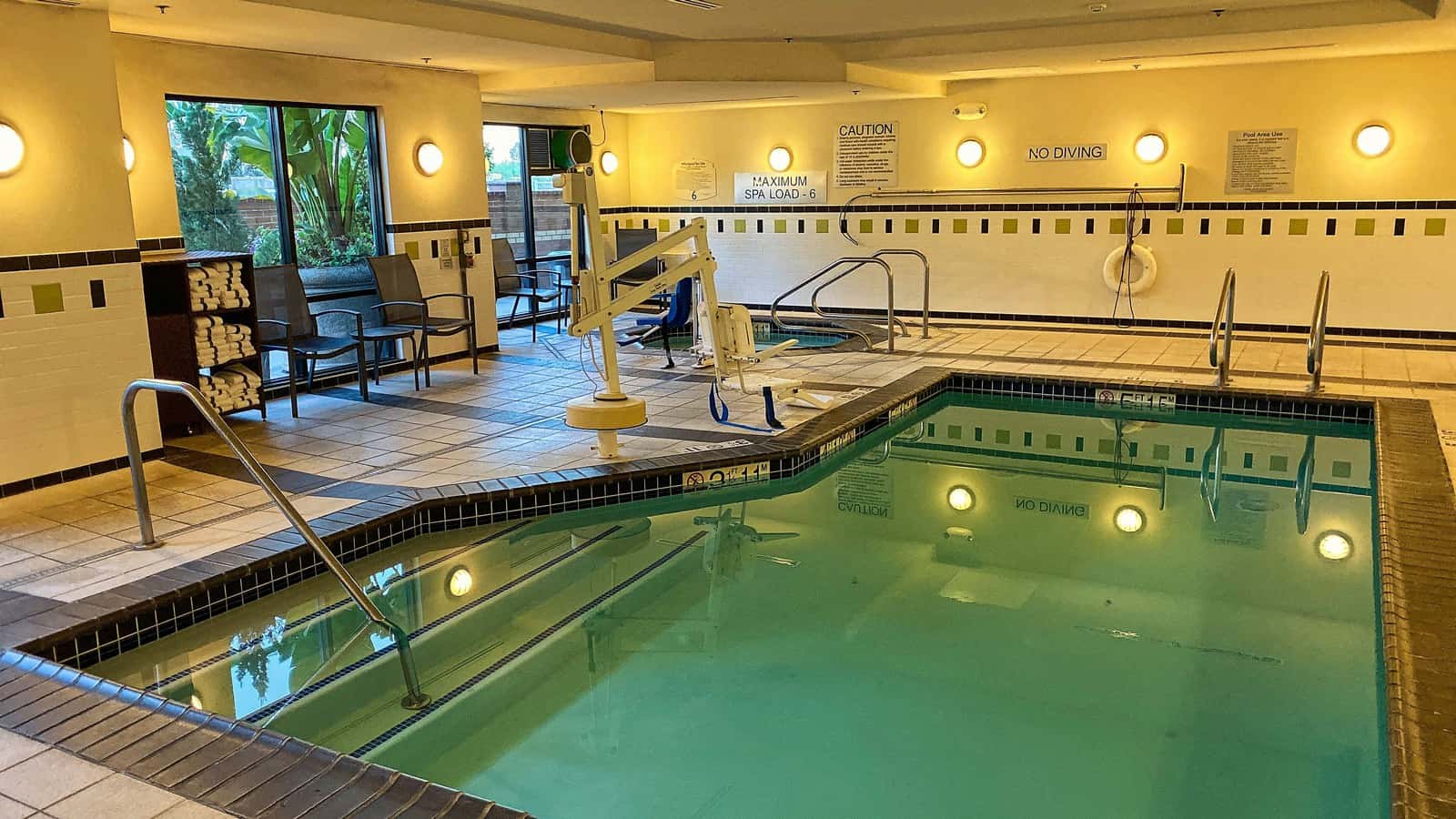 Fairfield Inn owned by the Marriott Corporation has a story behind its name. Fairfield Farm was Marriott's founder, J Willard Marriot's favorite vacation home because it was warm and welcoming. When you stay at a Fairfield Inn, it is the duty of each employee to make you feel warm and welcomed. 'It's the little things that make the big things possible", J. W.Marriot said.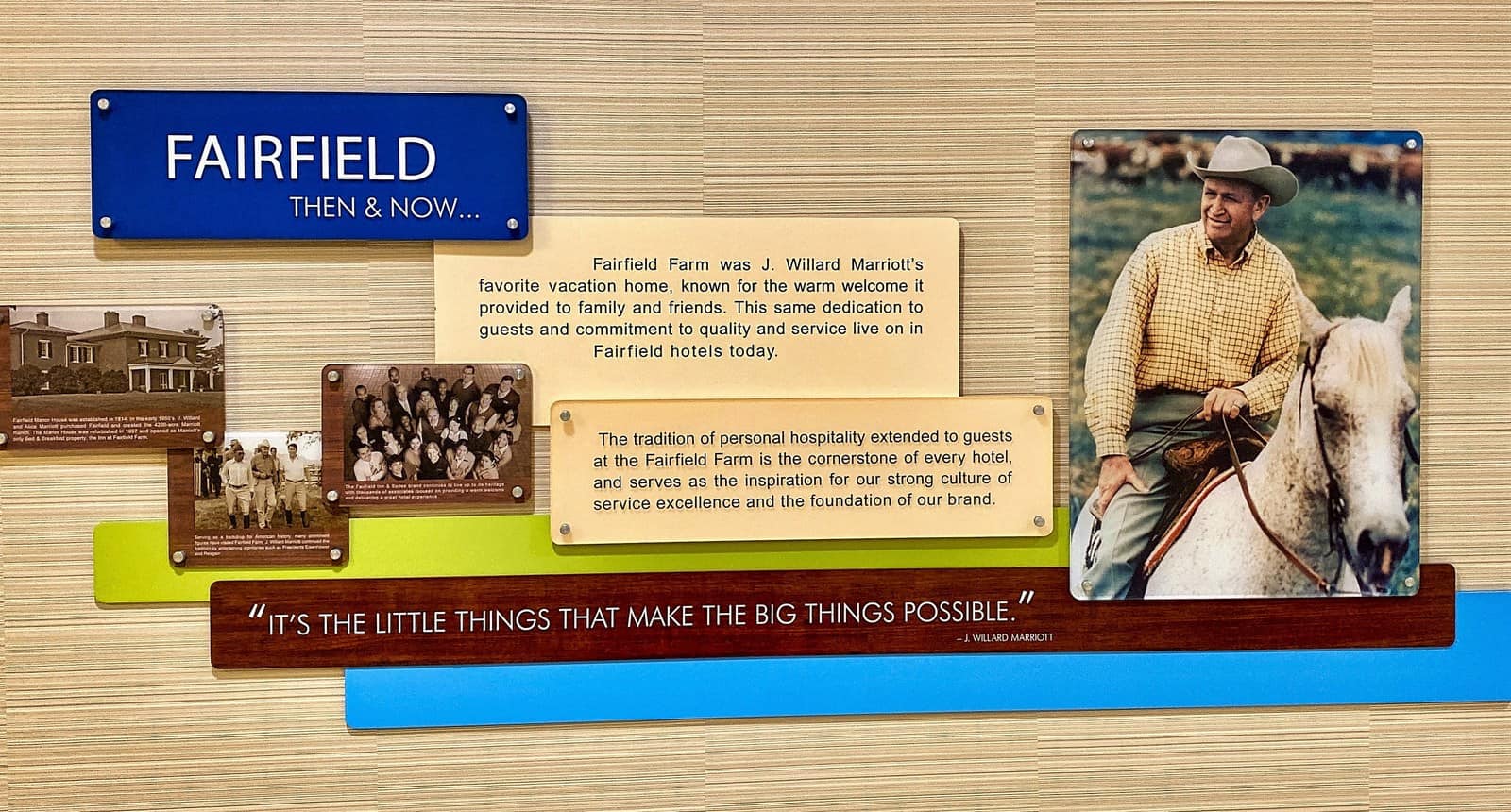 For Some Santa Maria Barbecue Have Dinner at Far Western Tavern
For dinner on your first day of visiting Santa Maria wineries, we recommend eating at Far Western Tavern in Old Town Orcutt. At Far Westen Tavern, they serve contemporary yet local California ranch cuisine. Here you can try Santa Maria-style Barbecue, a regional fare rooted in native ingredients brought to the area by 19th-century rancheros.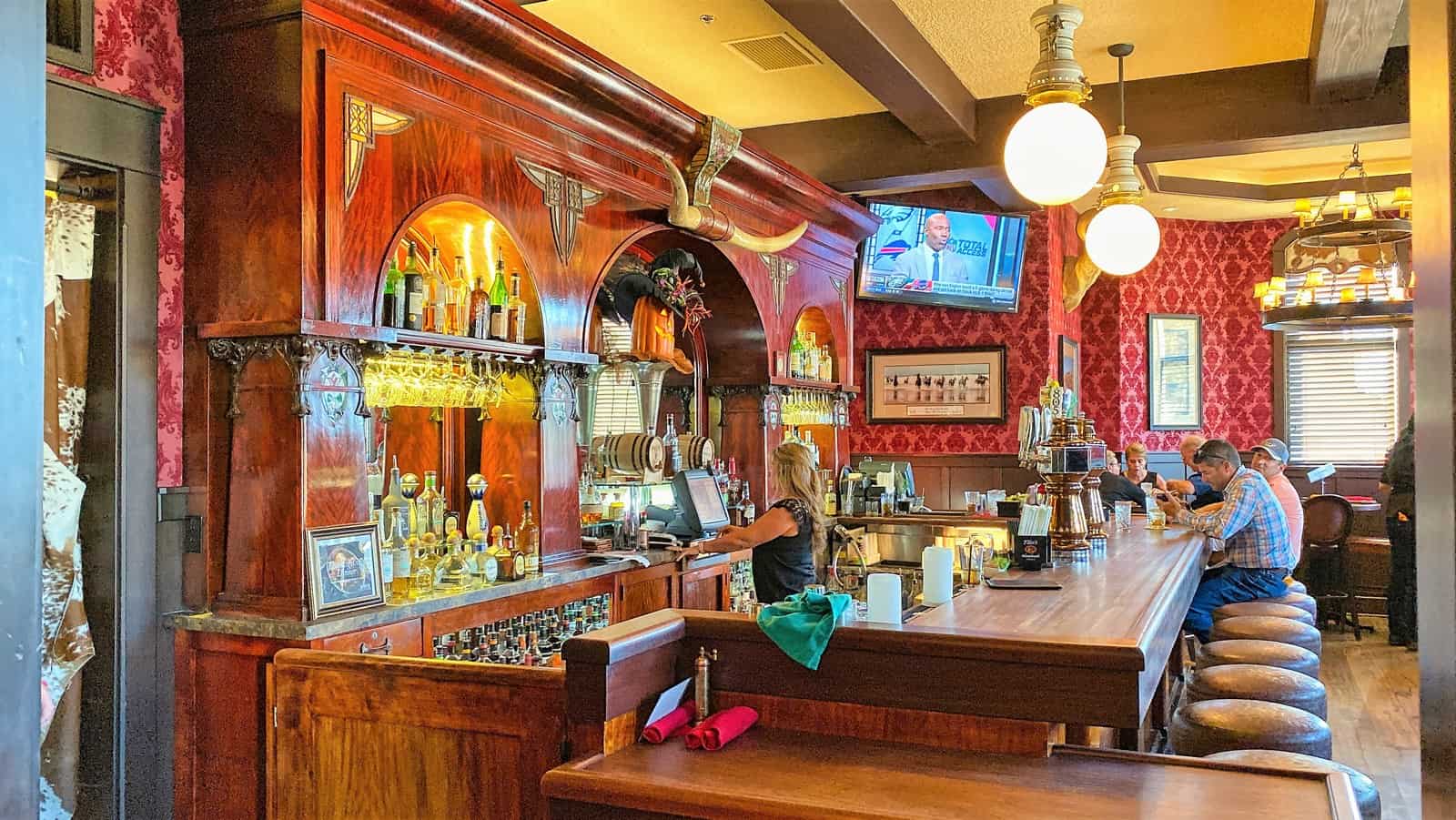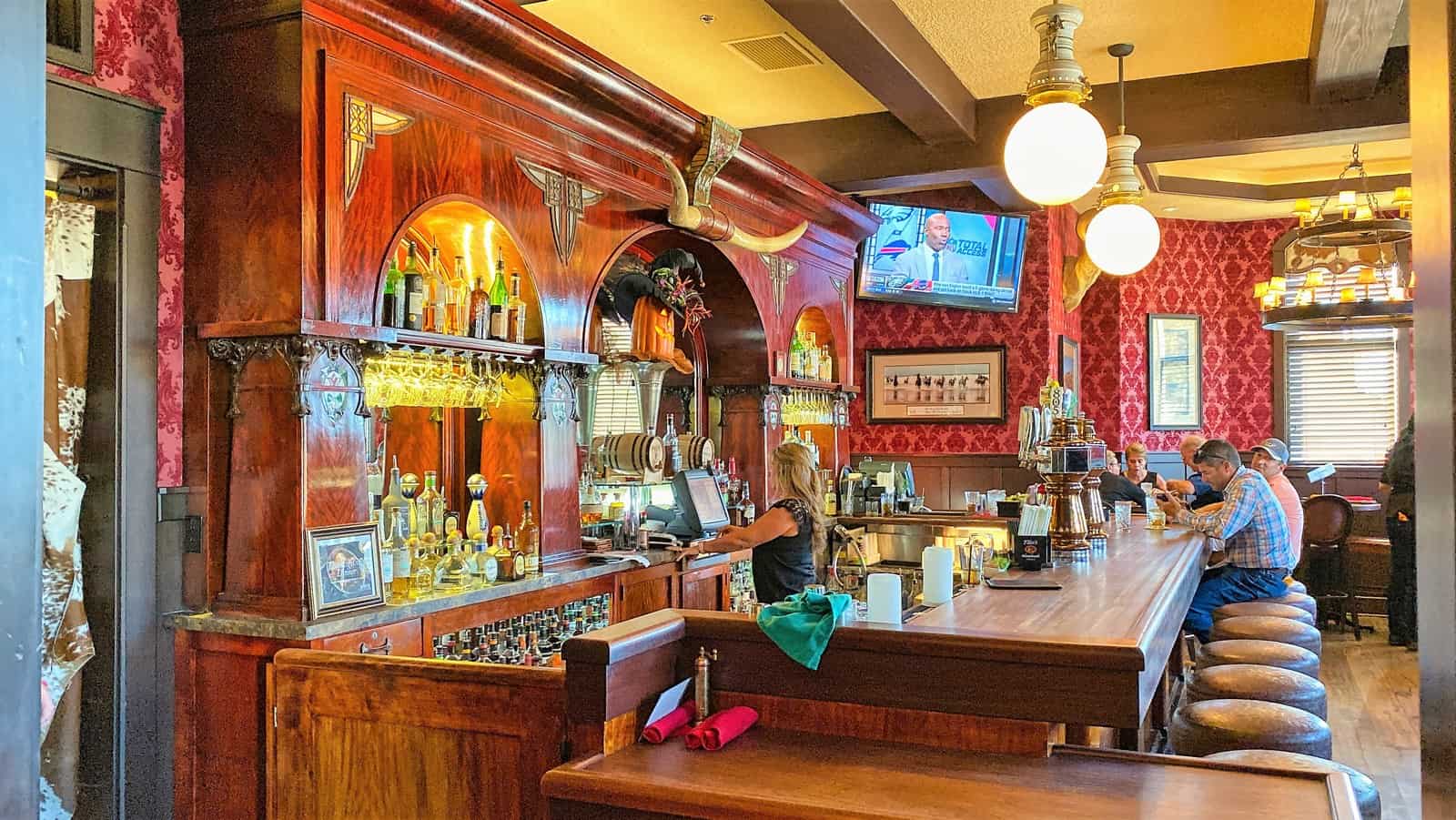 The family that owns Far Western Tavern comes from Swiss-Italian ranchers. Their menu blends Santa Maria barbecue style with other dishes that reflect their family's heritage. Cattle brands adorned the plates in clear tribute to the humble beginnings of the cuisine.
All dinner entrees begin with a starter of bay shrimp in a small bowl, covered in a home-made cocktail sauce. Then you choose between a soup or a salad. Keith had the grilled tri-tip, and I had the Portobello mushroom for our entrees. Both were delicious along with the famous side of seasoned pinquito beans.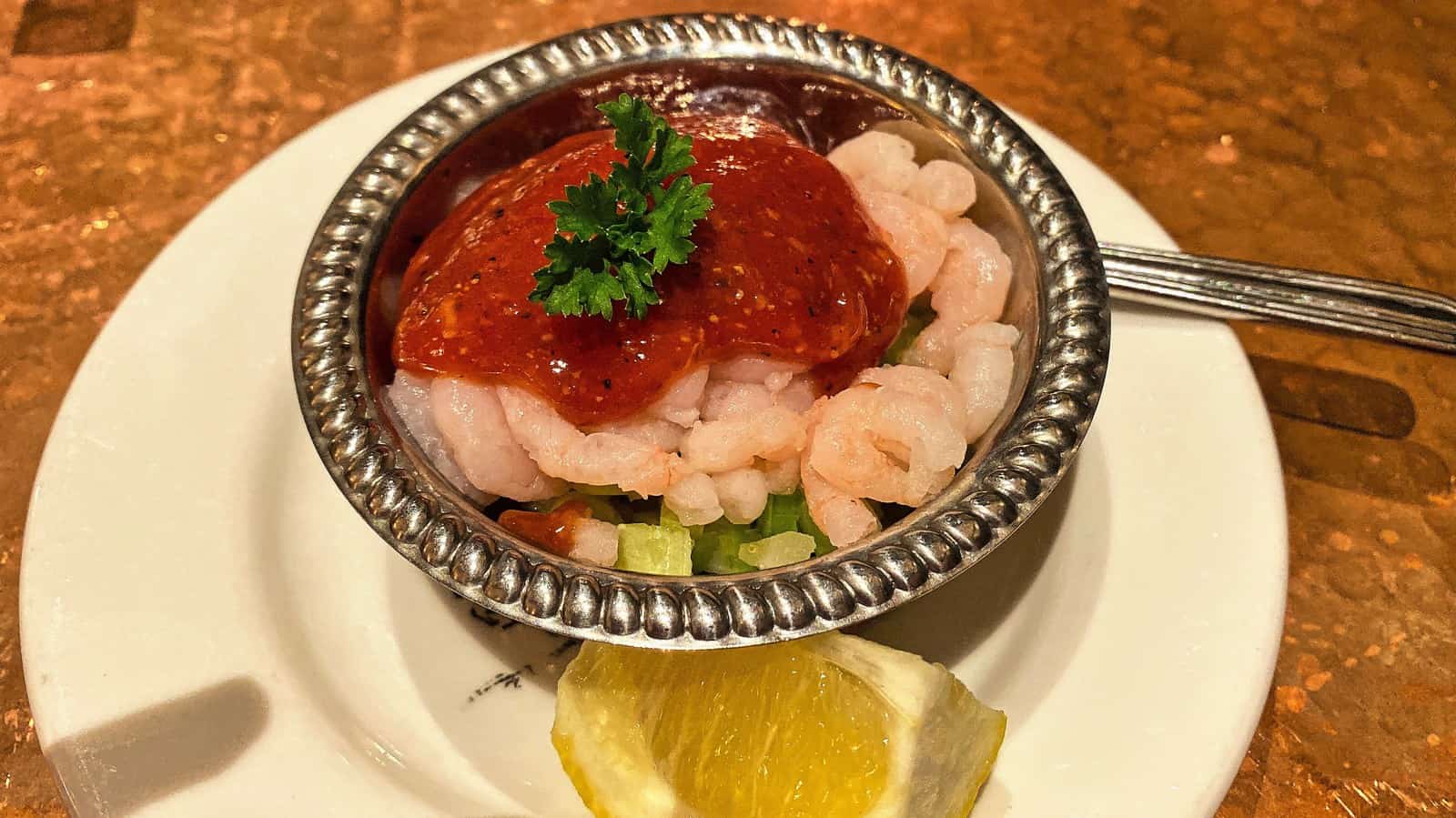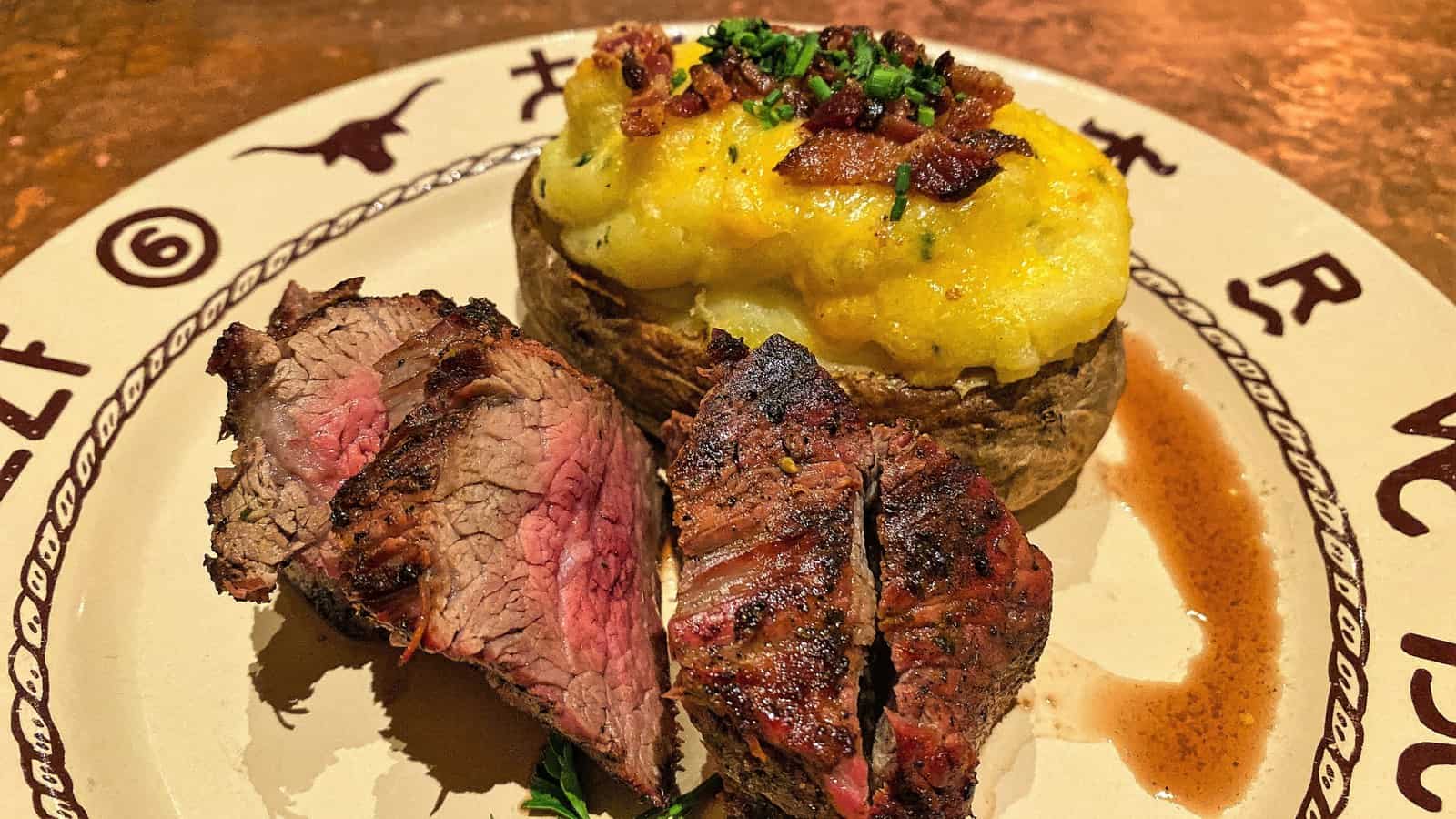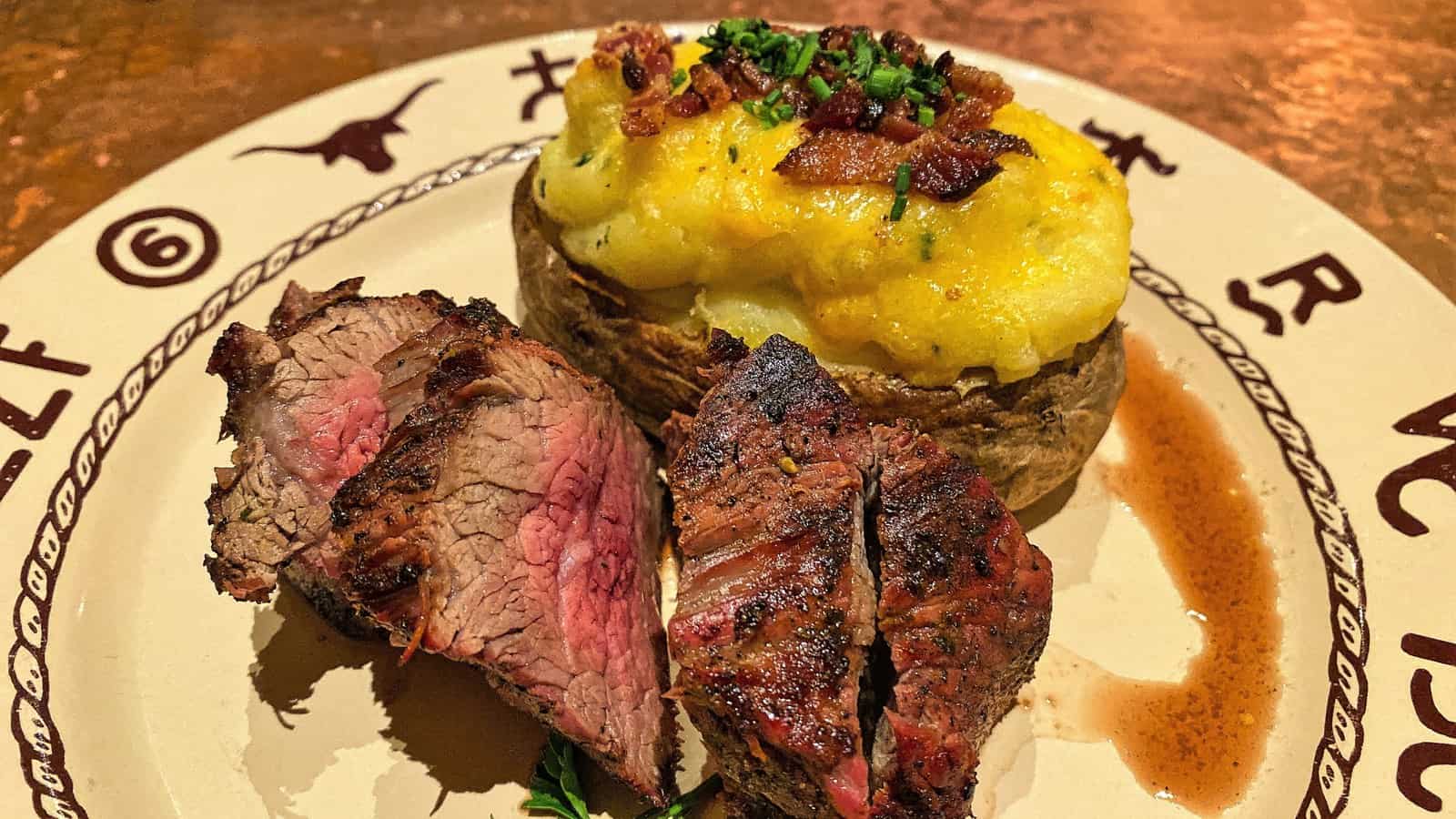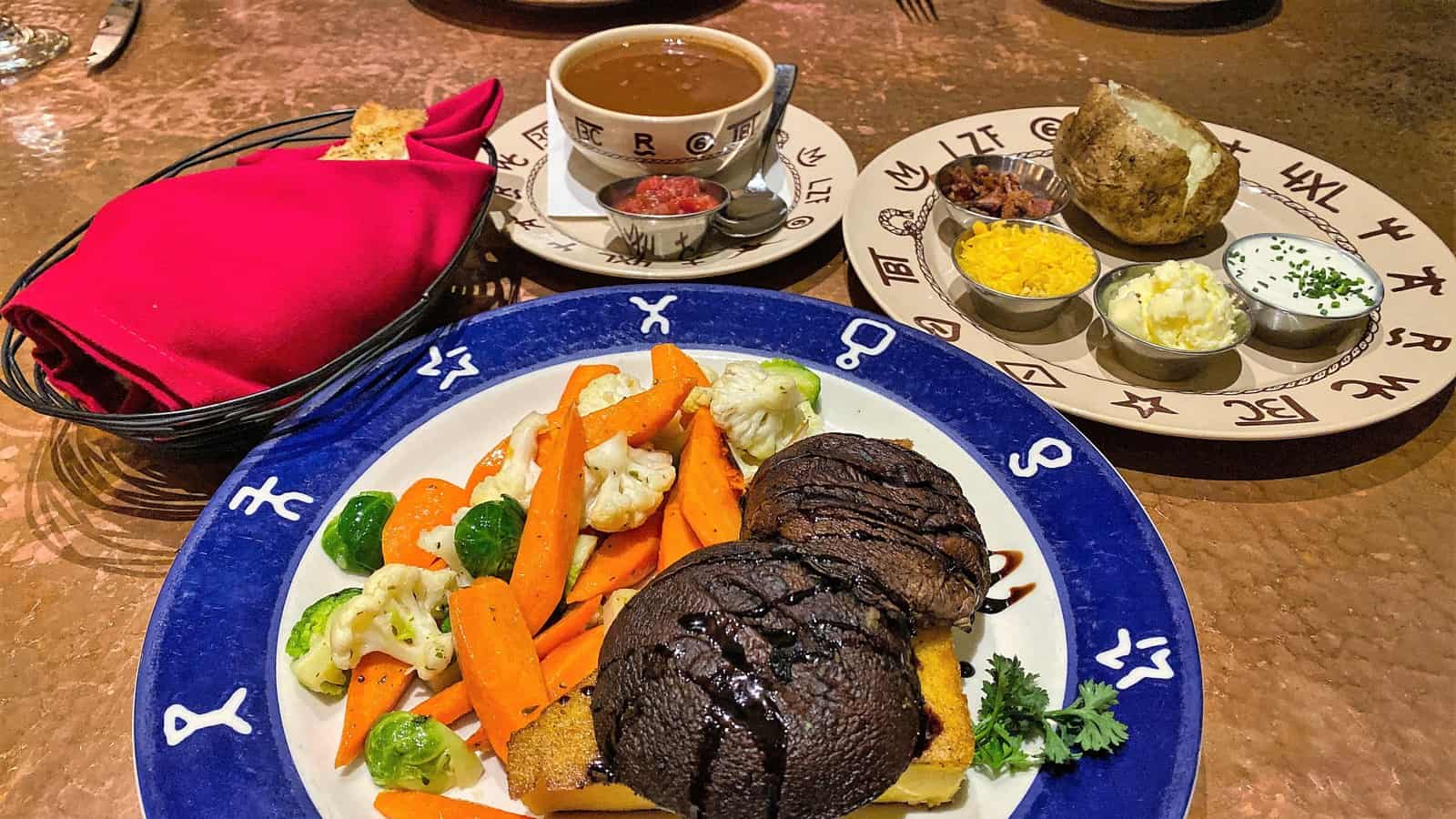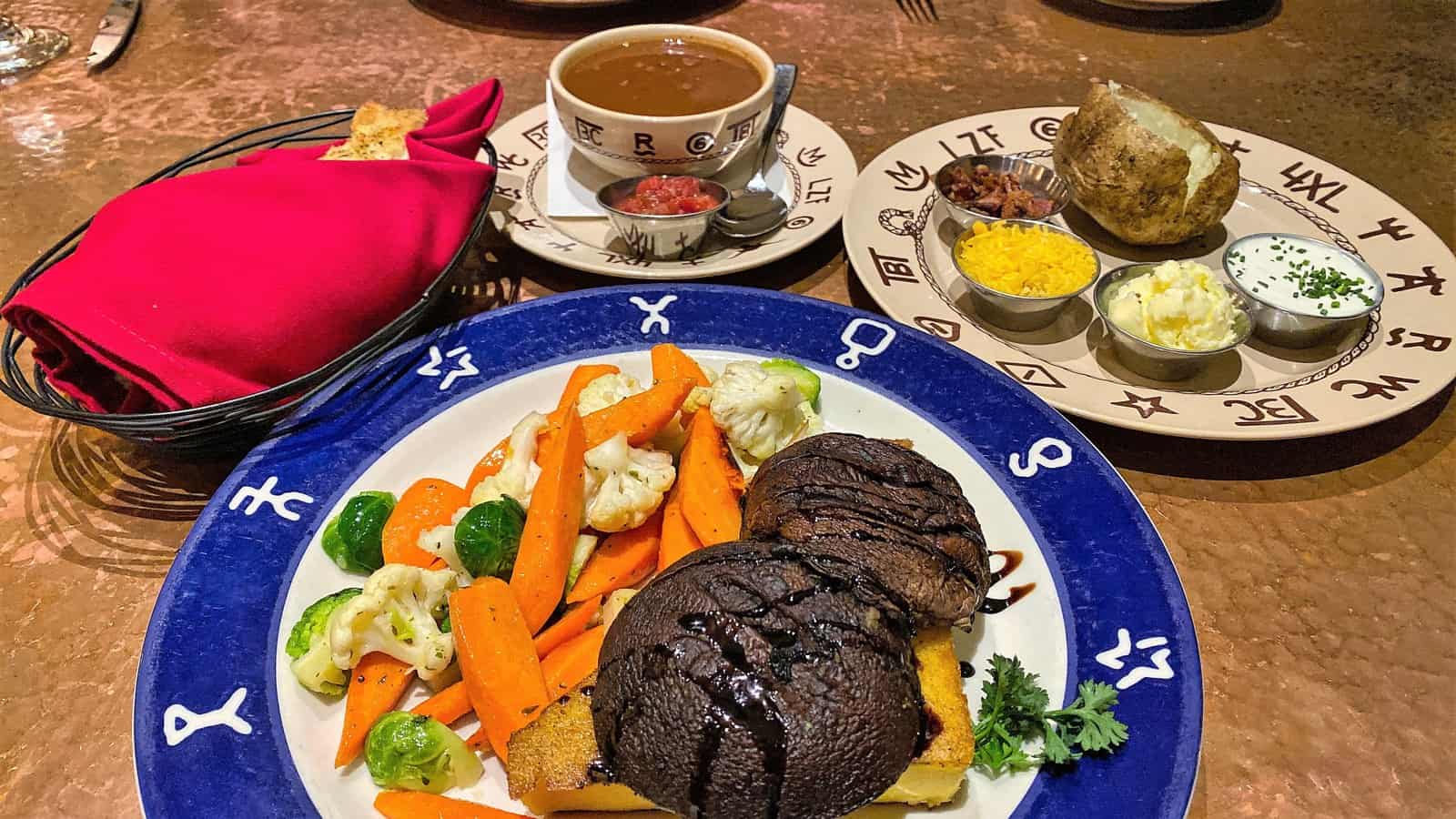 For dessert, we had lemon meringue pie and an apple tart. Both were fresh and tasty.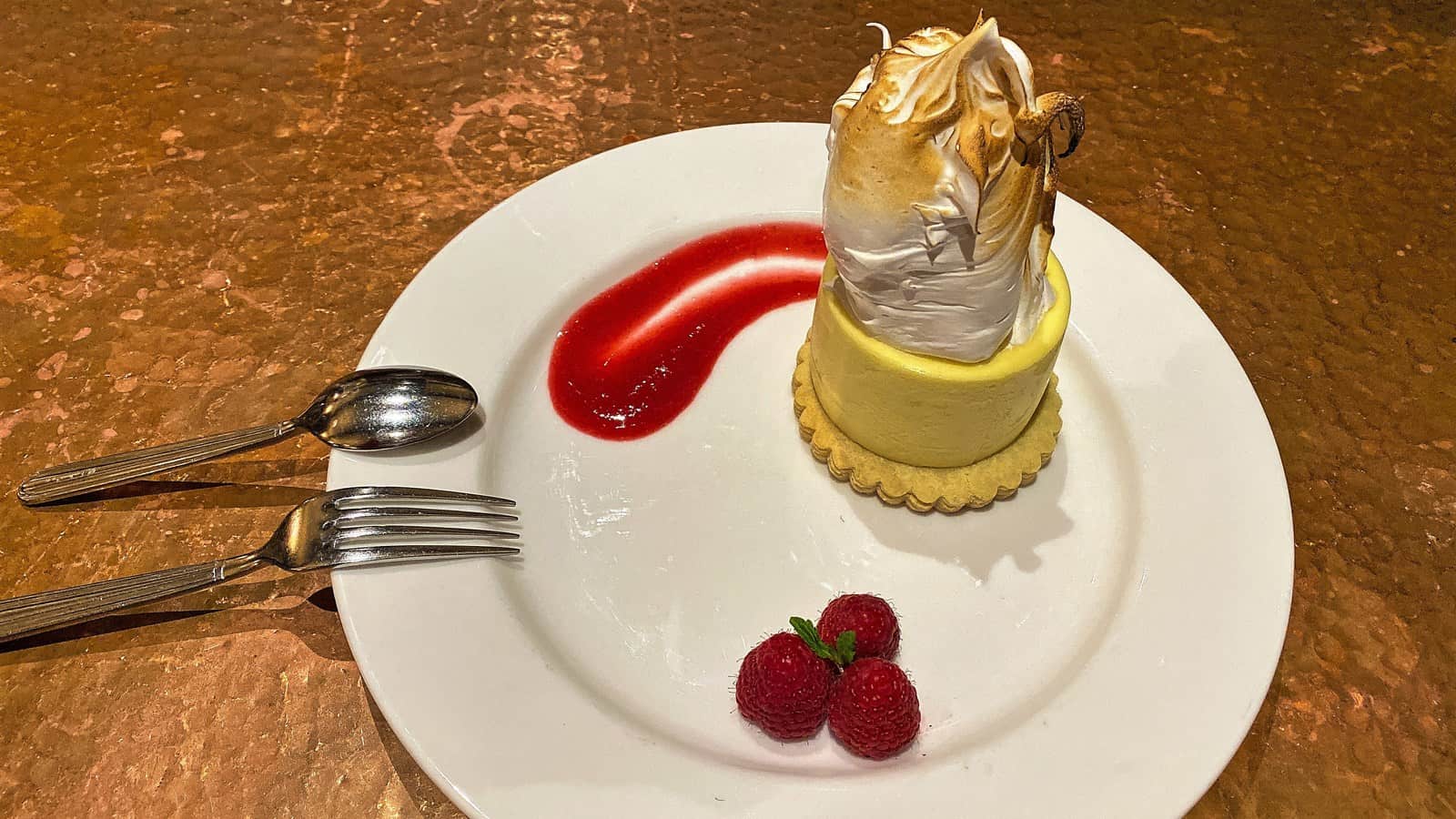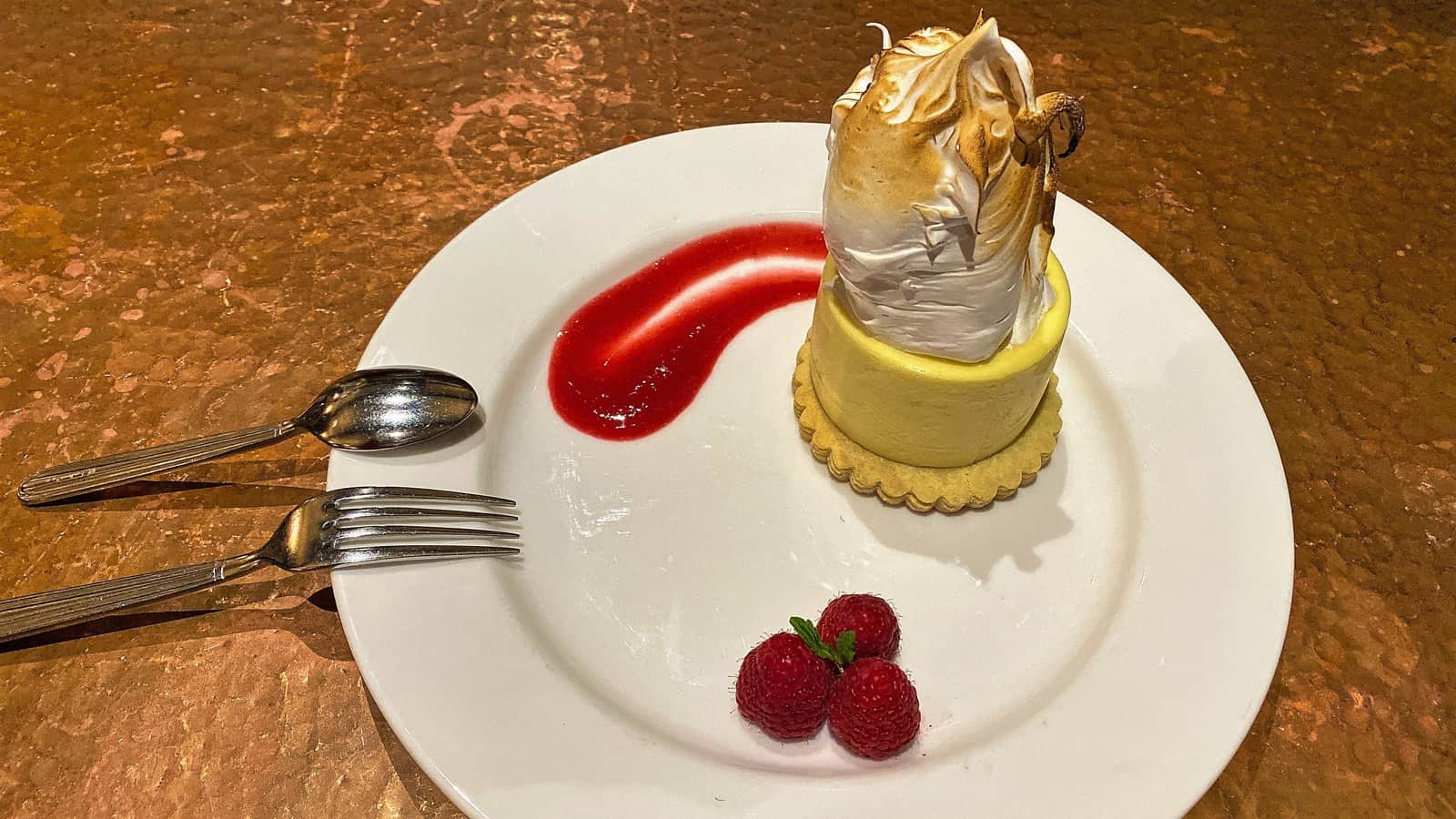 Fresh, Local and Healthy, Moxie Cafe
On day two of visiting Santa Maria wineries, begin by picking up a boxed picnic lunch from Moxie Café in Santa Maria. Because our first winery recommendation is a great place for a picnic, what better way to have lunch than with something from Moxie. At Moxie, they serve amazingly tasty food that supports a healthy lifestyle. Everything they serve is local organic farm-to-table food. They can meet every dietary need as they make everything fresh.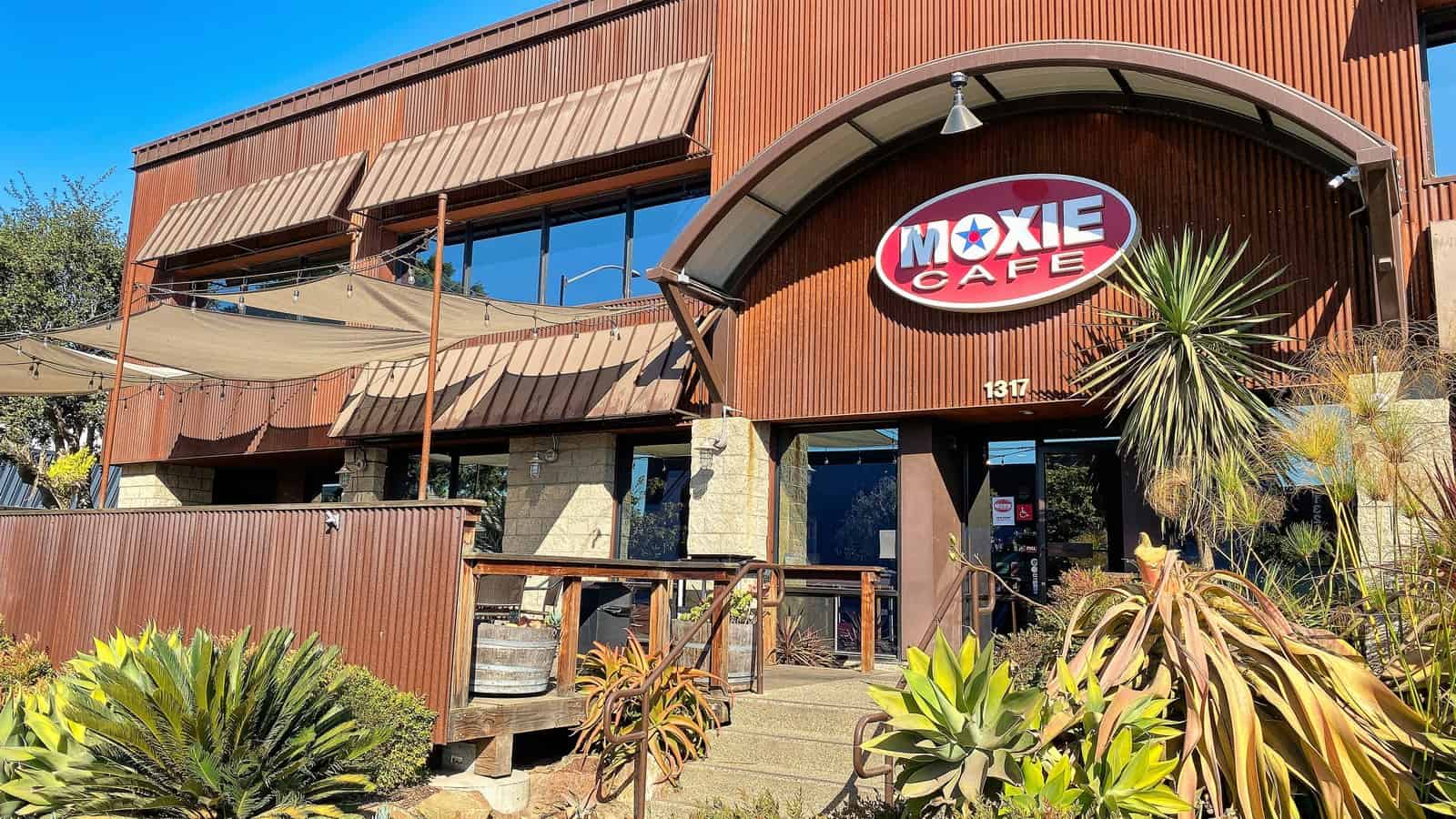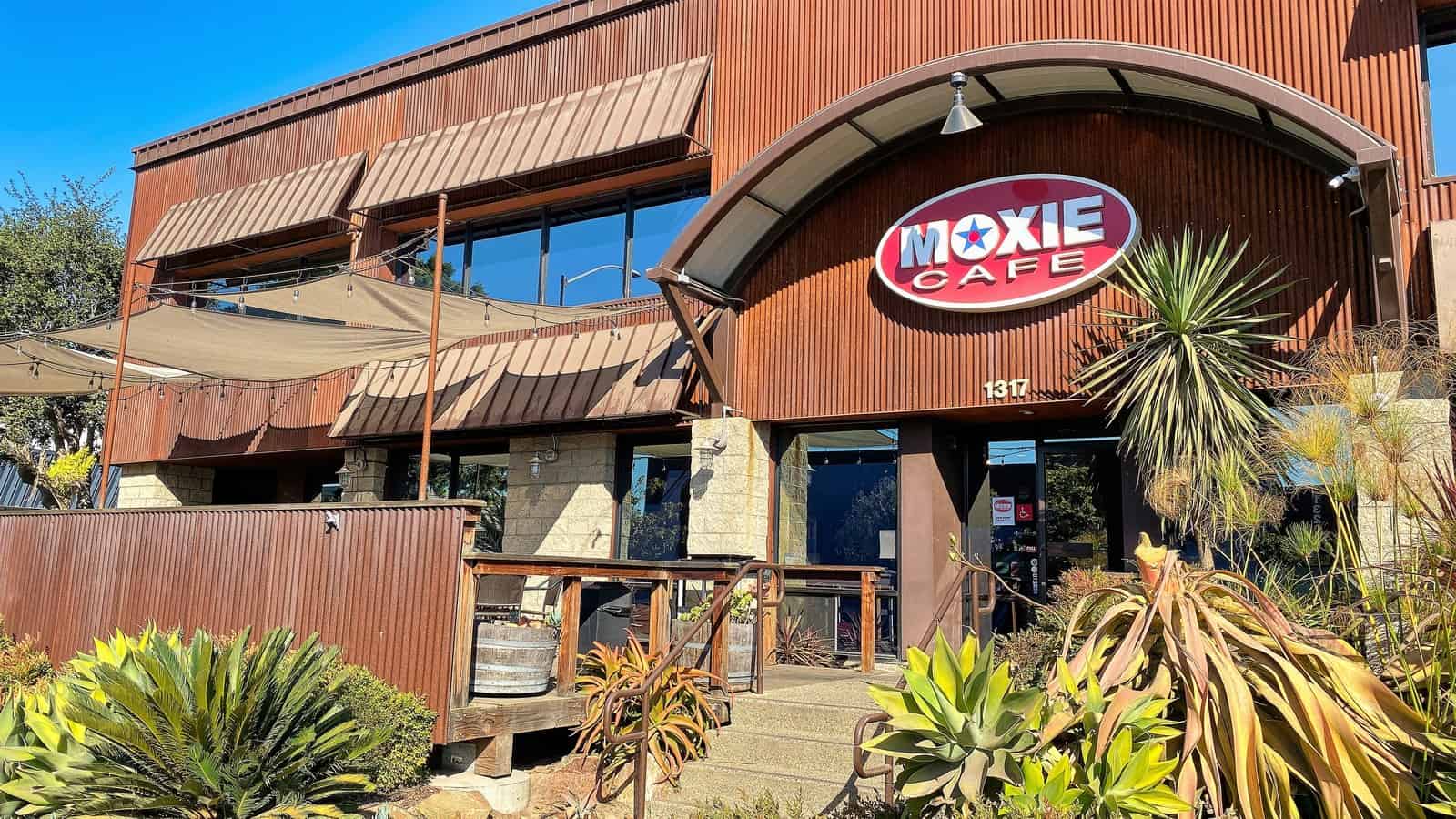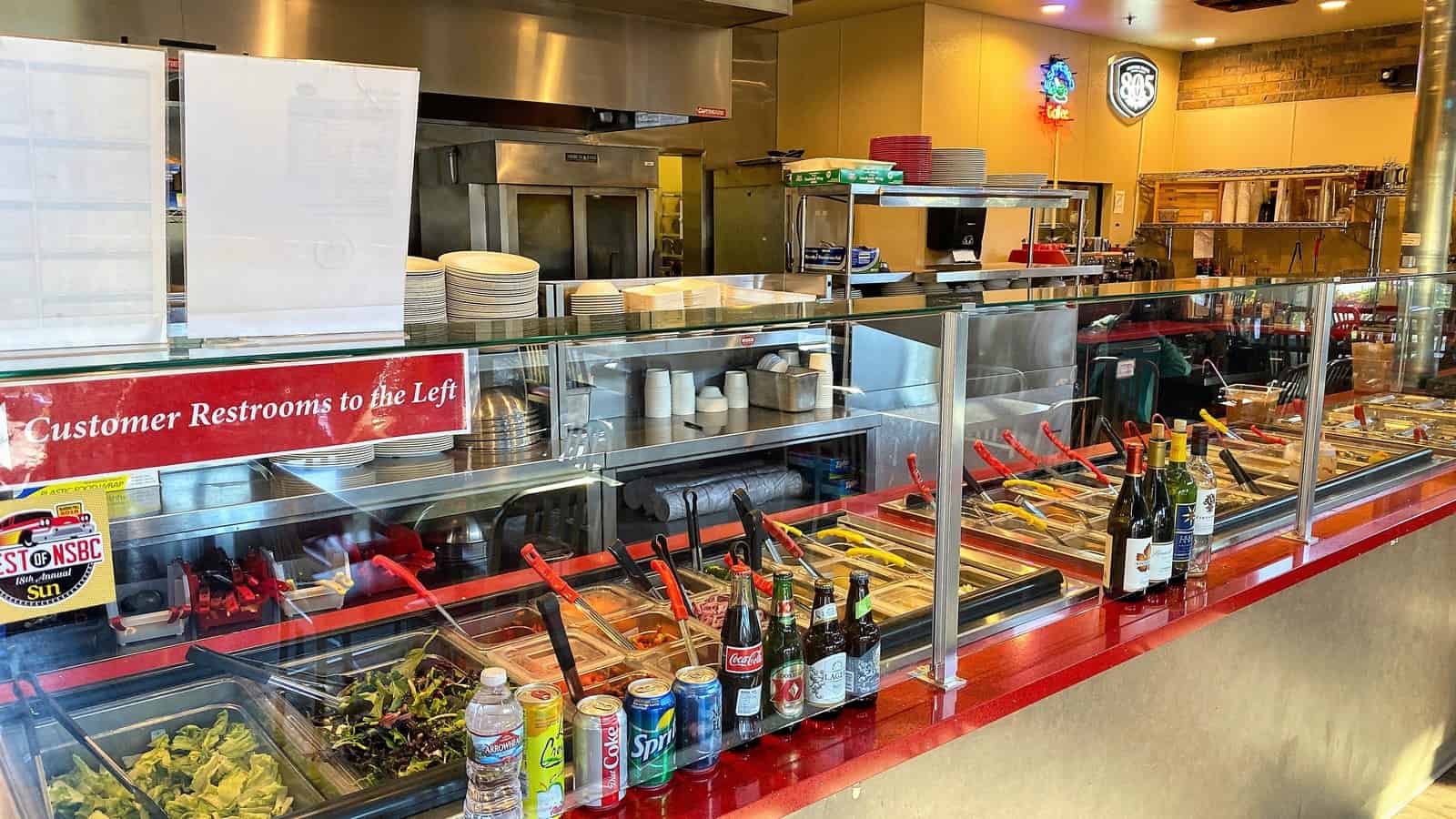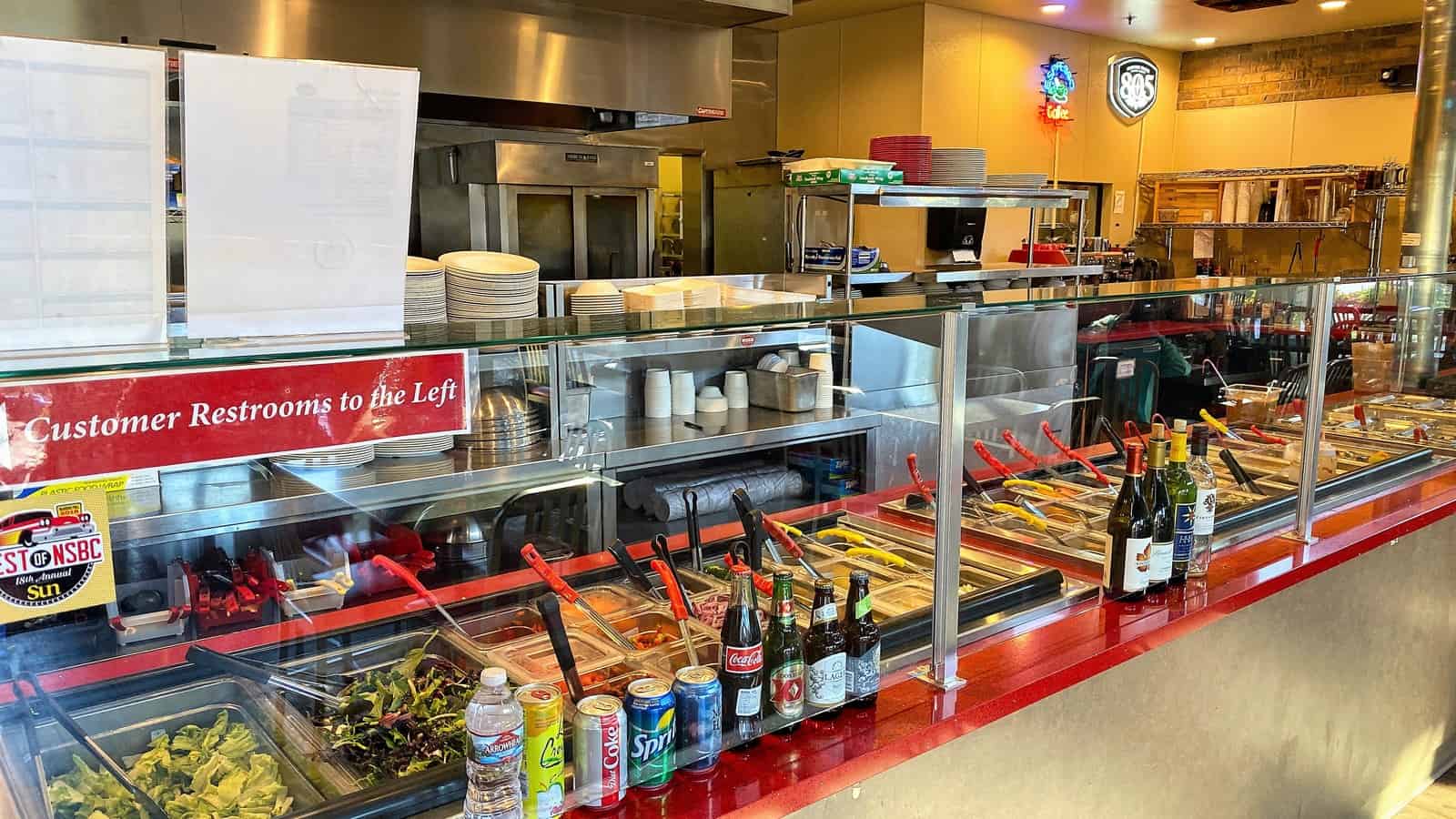 Women-Owned and Run, Cambria Estate Winery
Our first recommended winery for today's Santa Maria wineries is Cambria Estate Winery. Cambria, located on an appropriately named road, Chardonnay Lane in Santa Maria, is lovely. Owned by the Jackson family women, mom, and two daughters, Cambria is a sustainably farmed winery.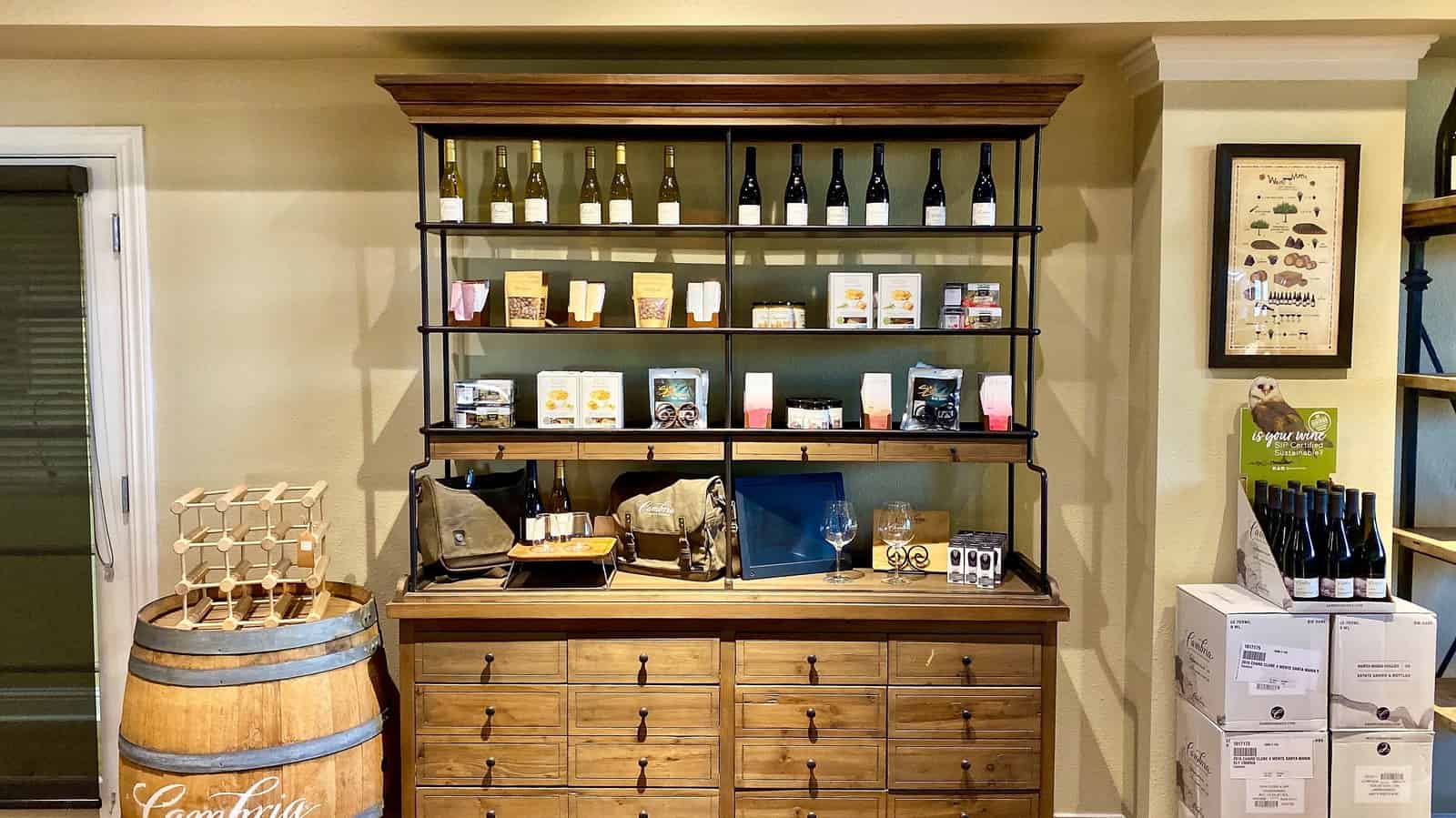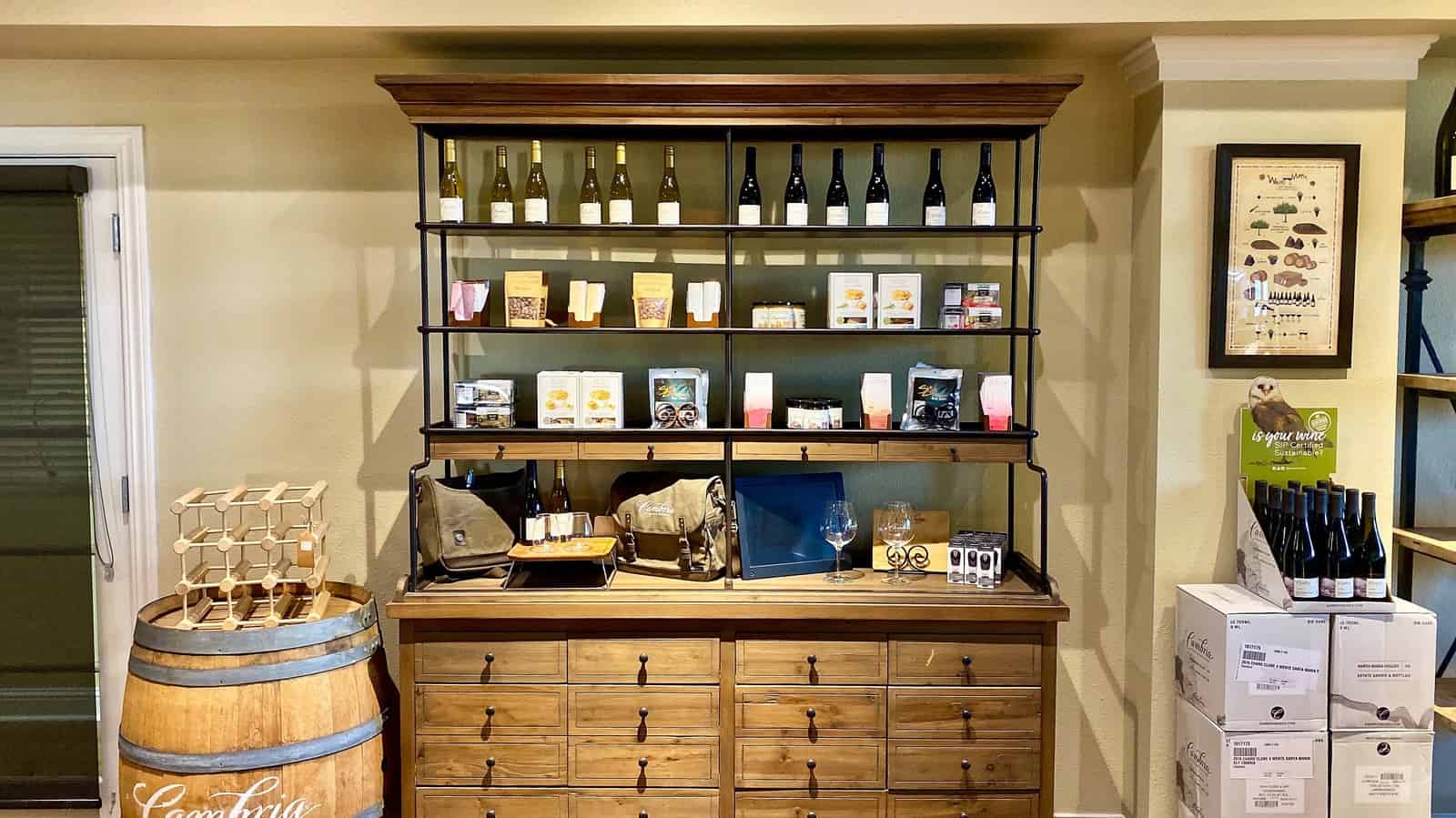 Sustainability for Cambria means they rotate cover crops, compost, and conserve water. Also, they respect animal habitat corridors that keep the land wild.
The sun here is fierce, and the days are long, making chardonnay and pinot noir the most widely grown grapes here.
We tasted wine in Cambria's elegant yet casual tasting room. Outside the tasting room, they have a lovely patio, but the sun was scorching the day of our visit, so we opted for the inside tasting bar.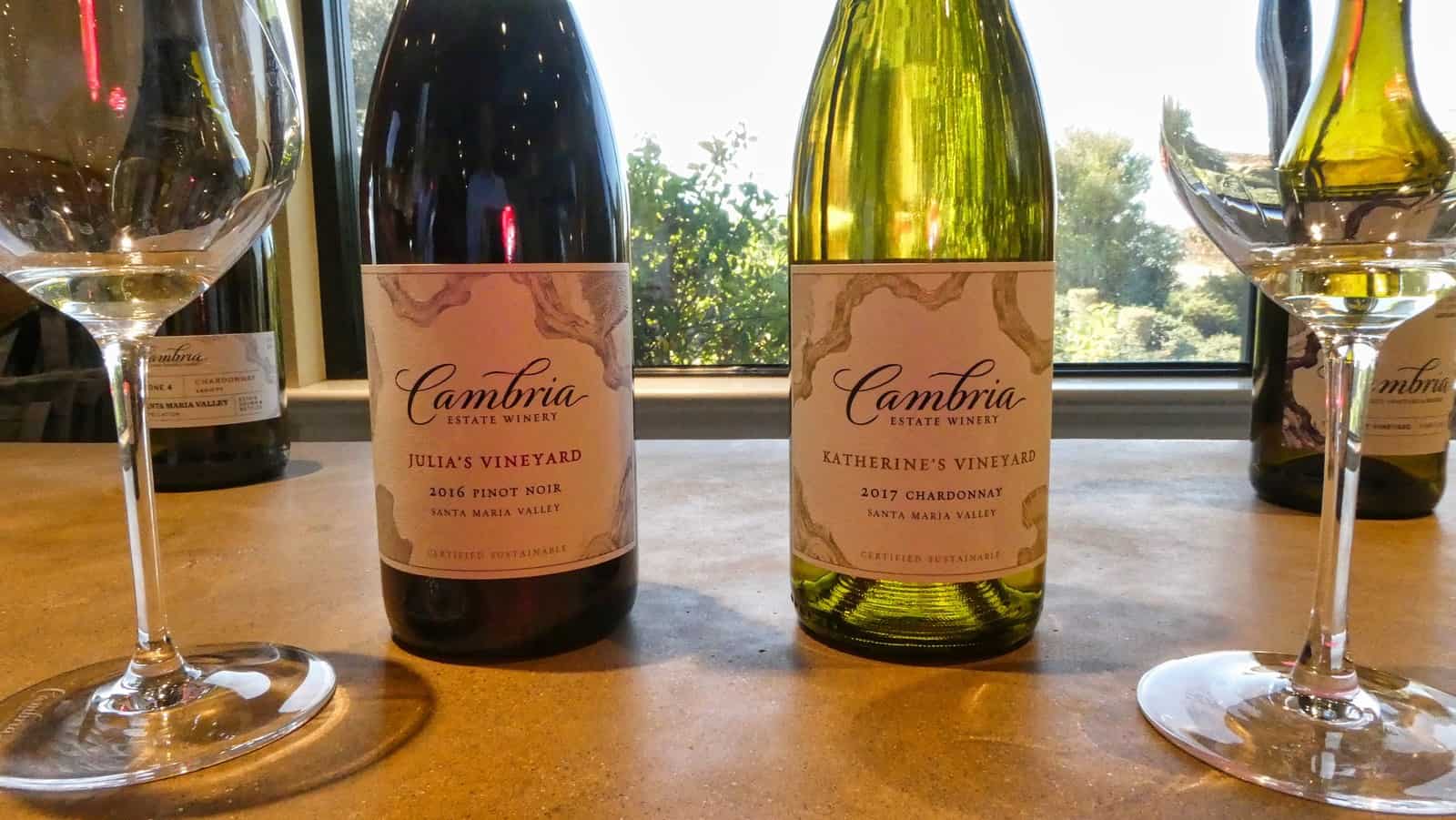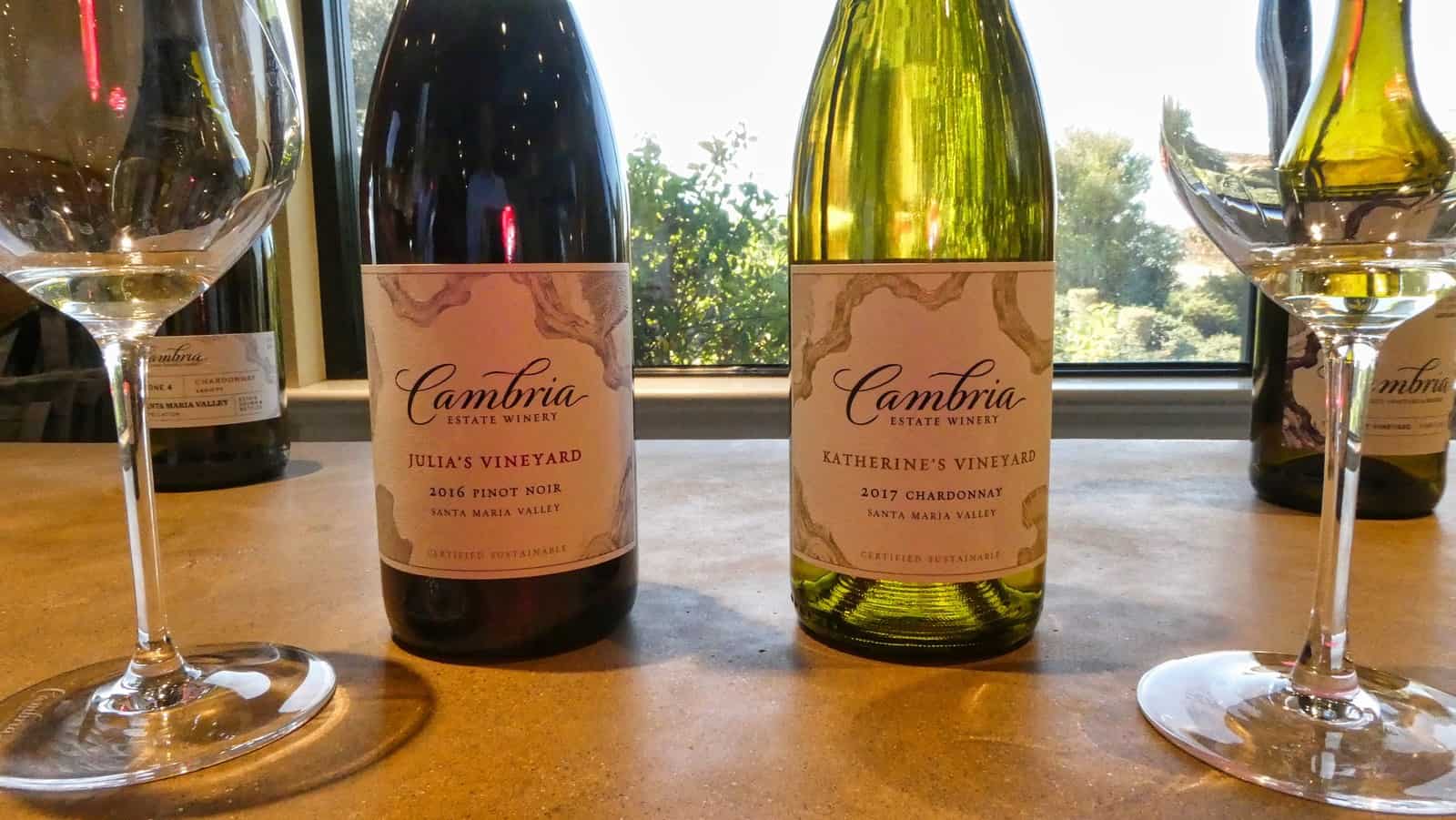 All Cambria wines are single-vineyard varietals, and estate-grown and bottled. There are two vineyards on the estate named after the two Jackson daughters, Julia's Vineyard growing pinot noir and Katherine's vineyard growing chardonnay.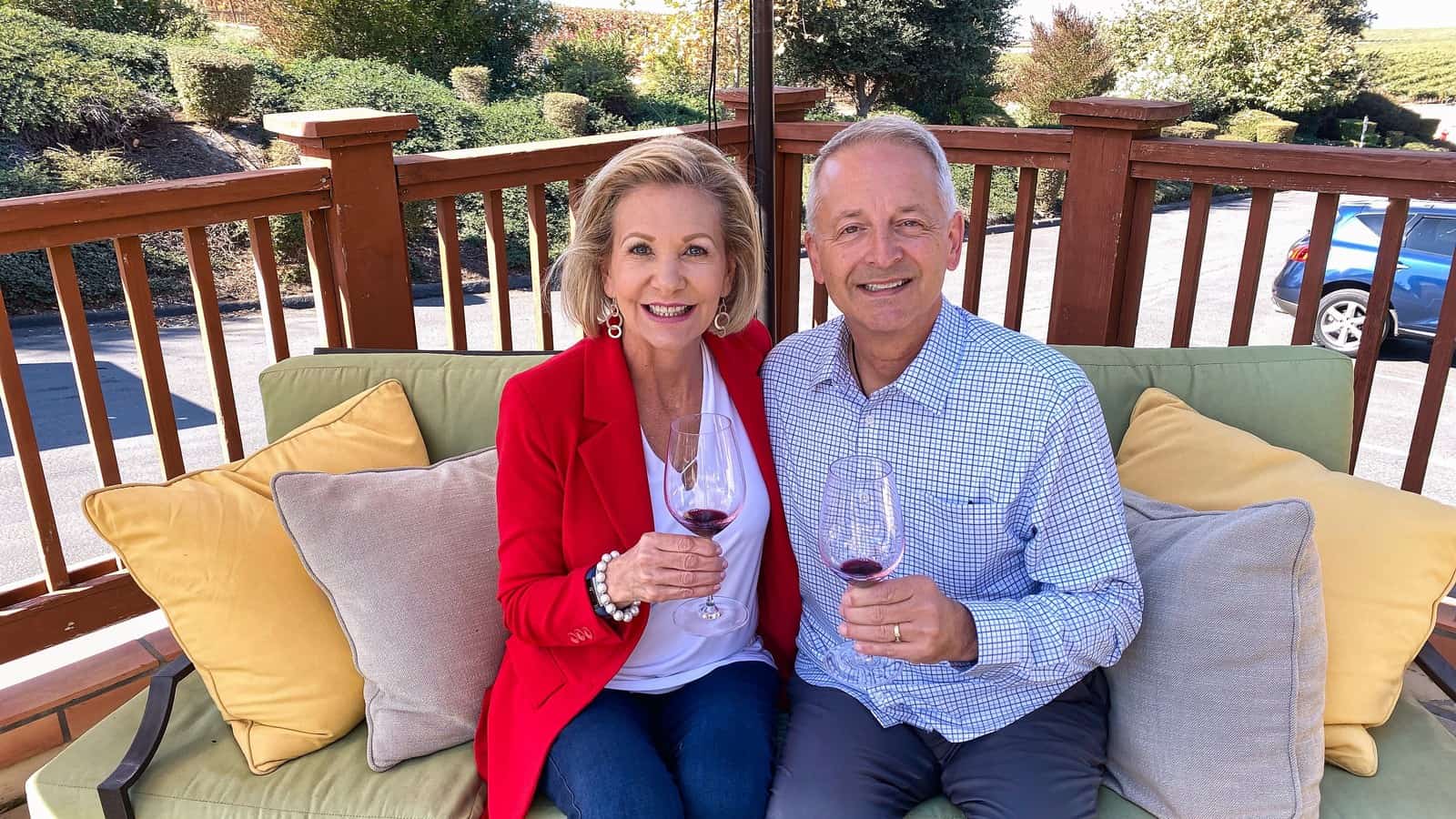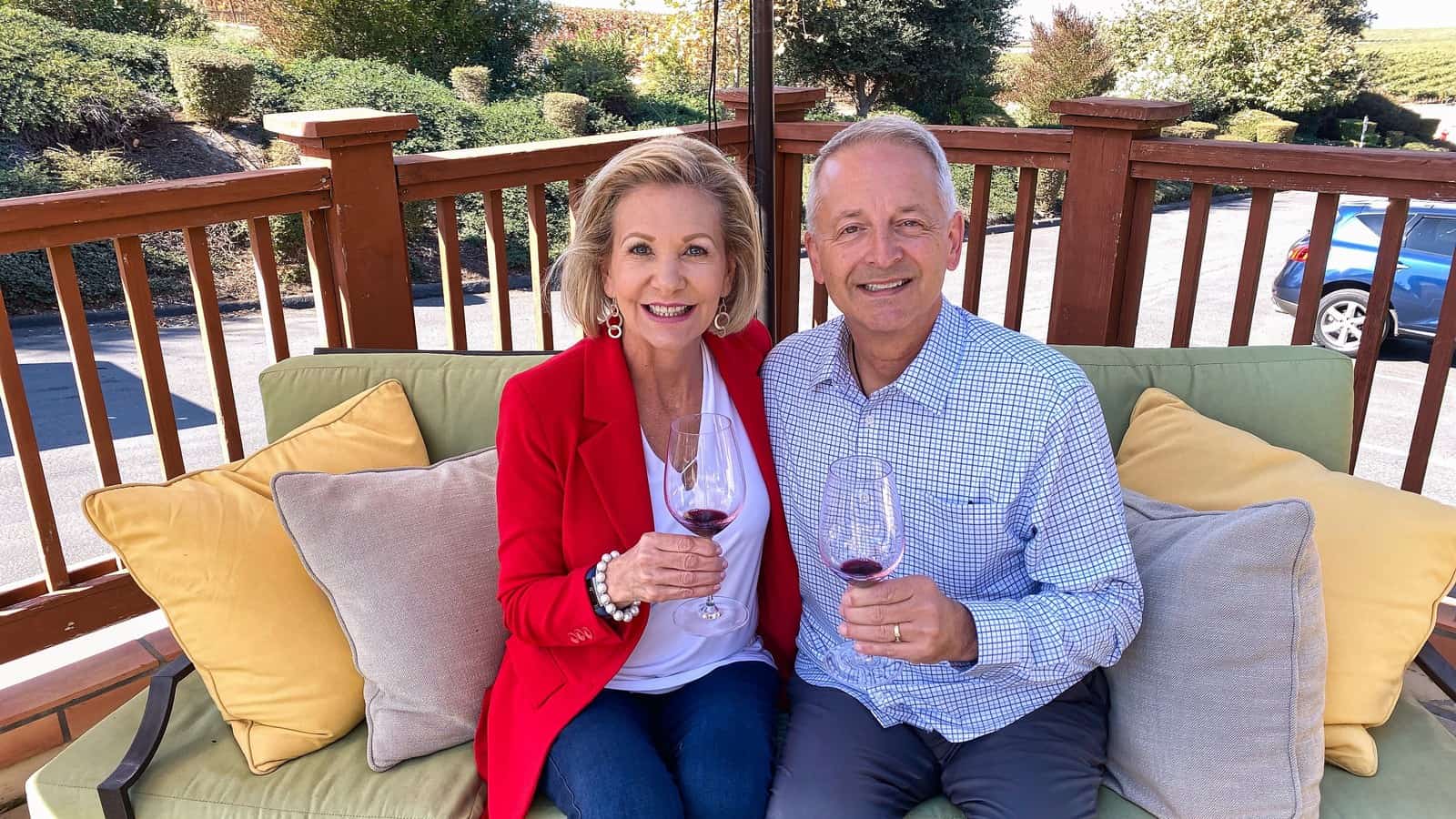 After our wine tasting, we took our Moxie Café picnic to a shady, breezy picnic area overlooking the vineyards. I had a vegetable wrap and a super fresh fruit salad. Keith had a Cobb Salad wrap. The food was fresh and perfect, as was the setting.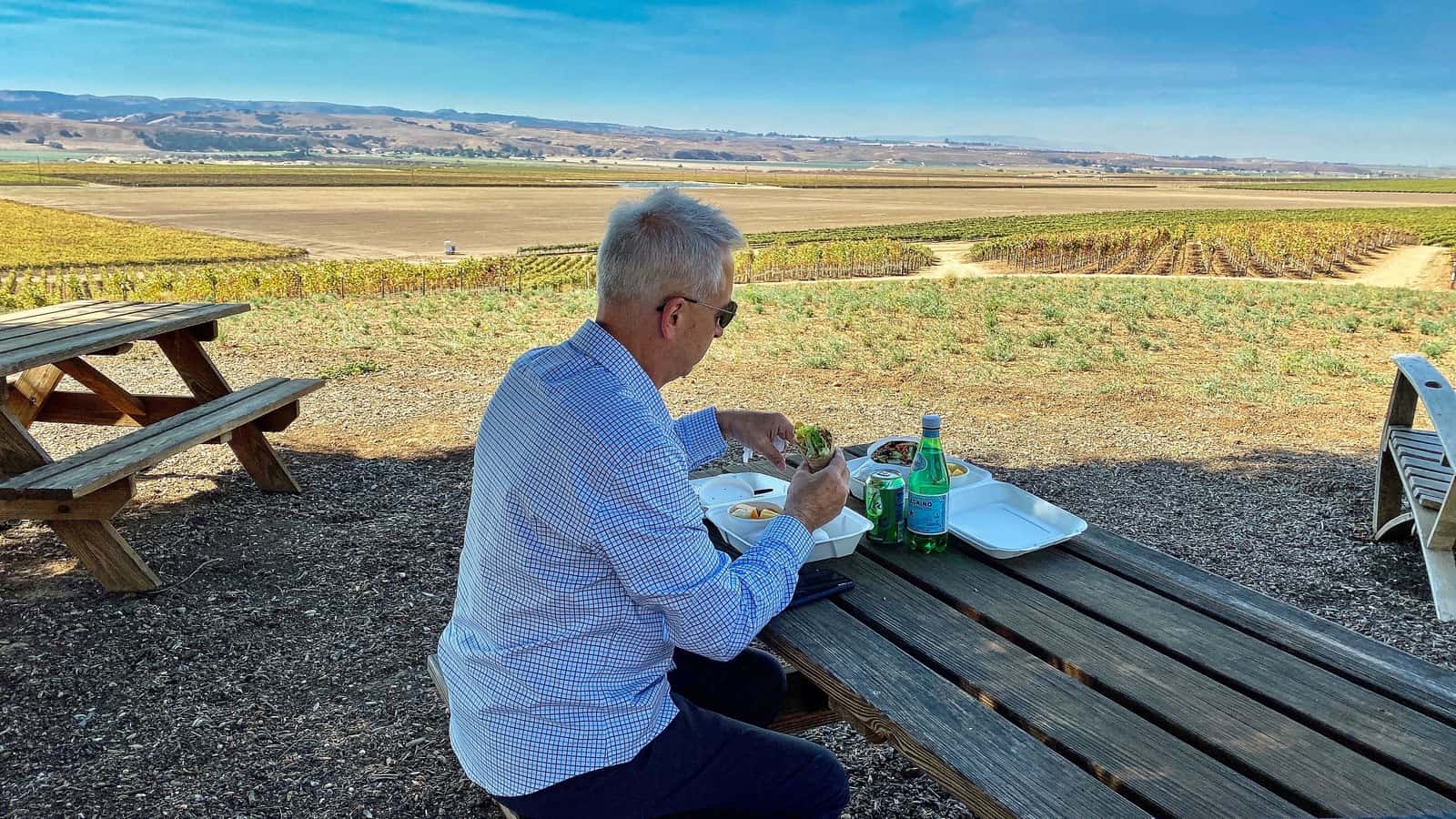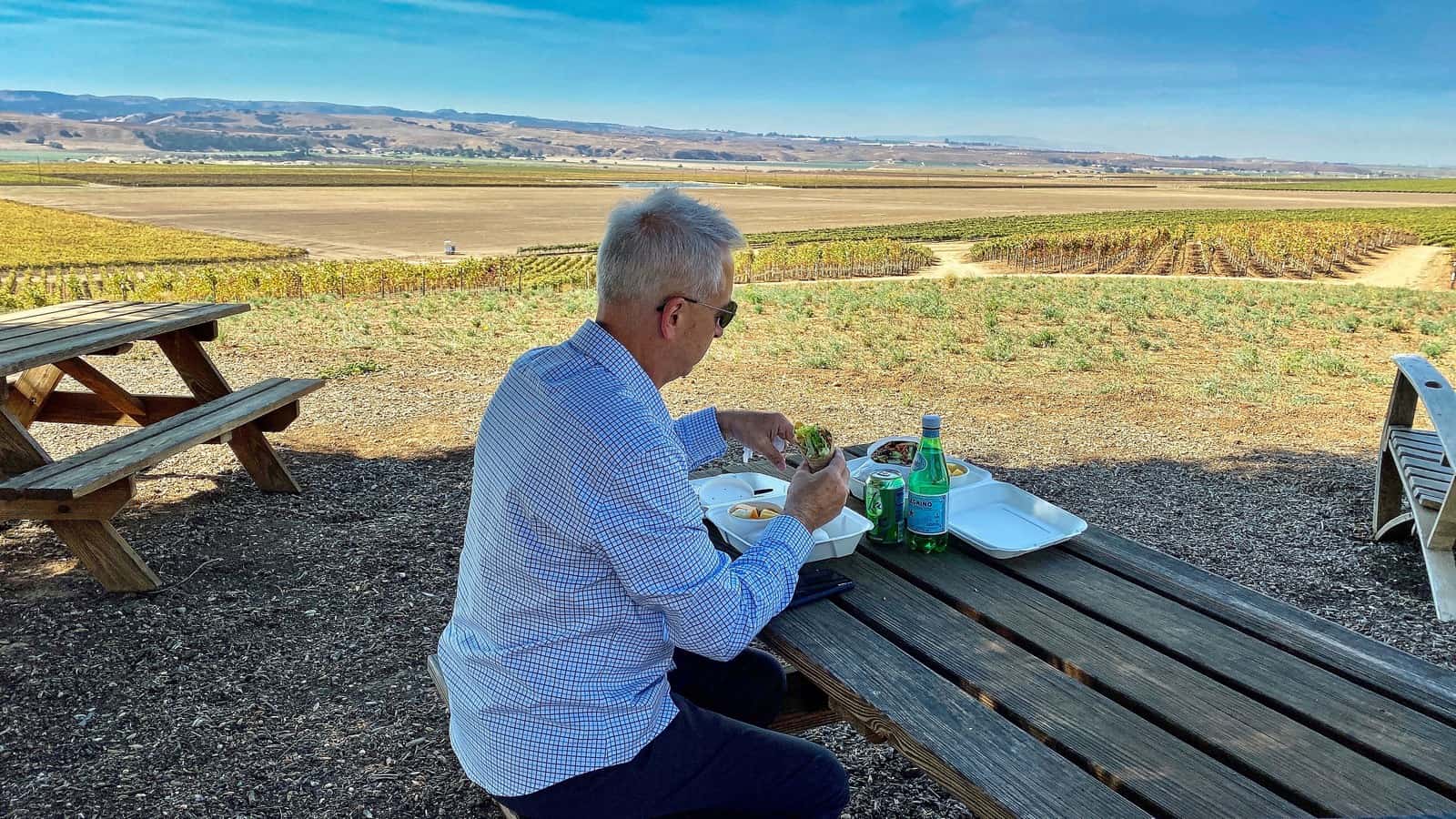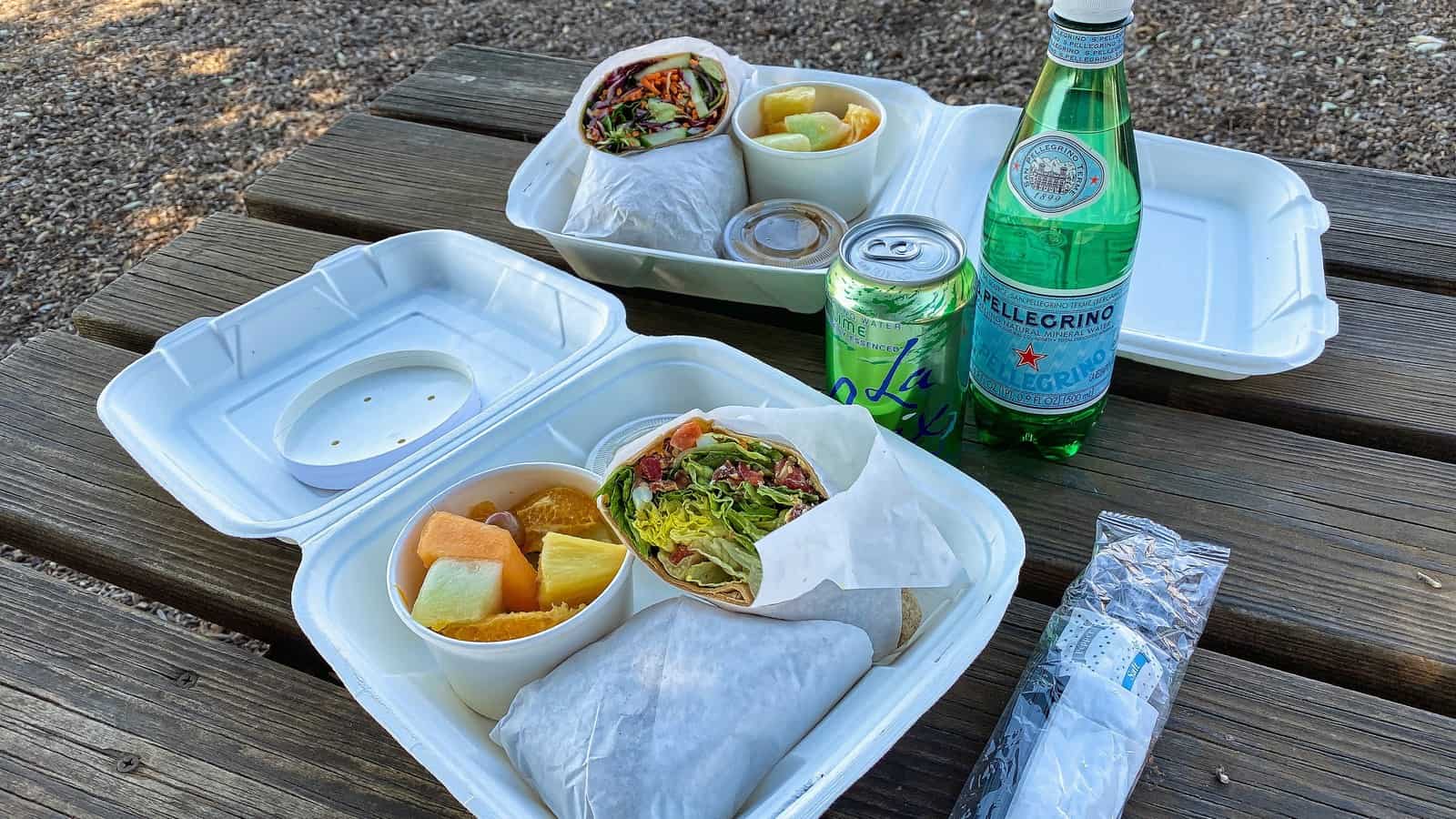 Foxen Winery
Next, we recommend visiting Foxen Vineyard & Winery. At Foxen, they specialize in Burgundian and Rhône-style wines. The tasting room is a rustic and straightforward ranch-style structure with native landscaping surrounding. We saw lots of hummingbirds on their hummingbird feeders.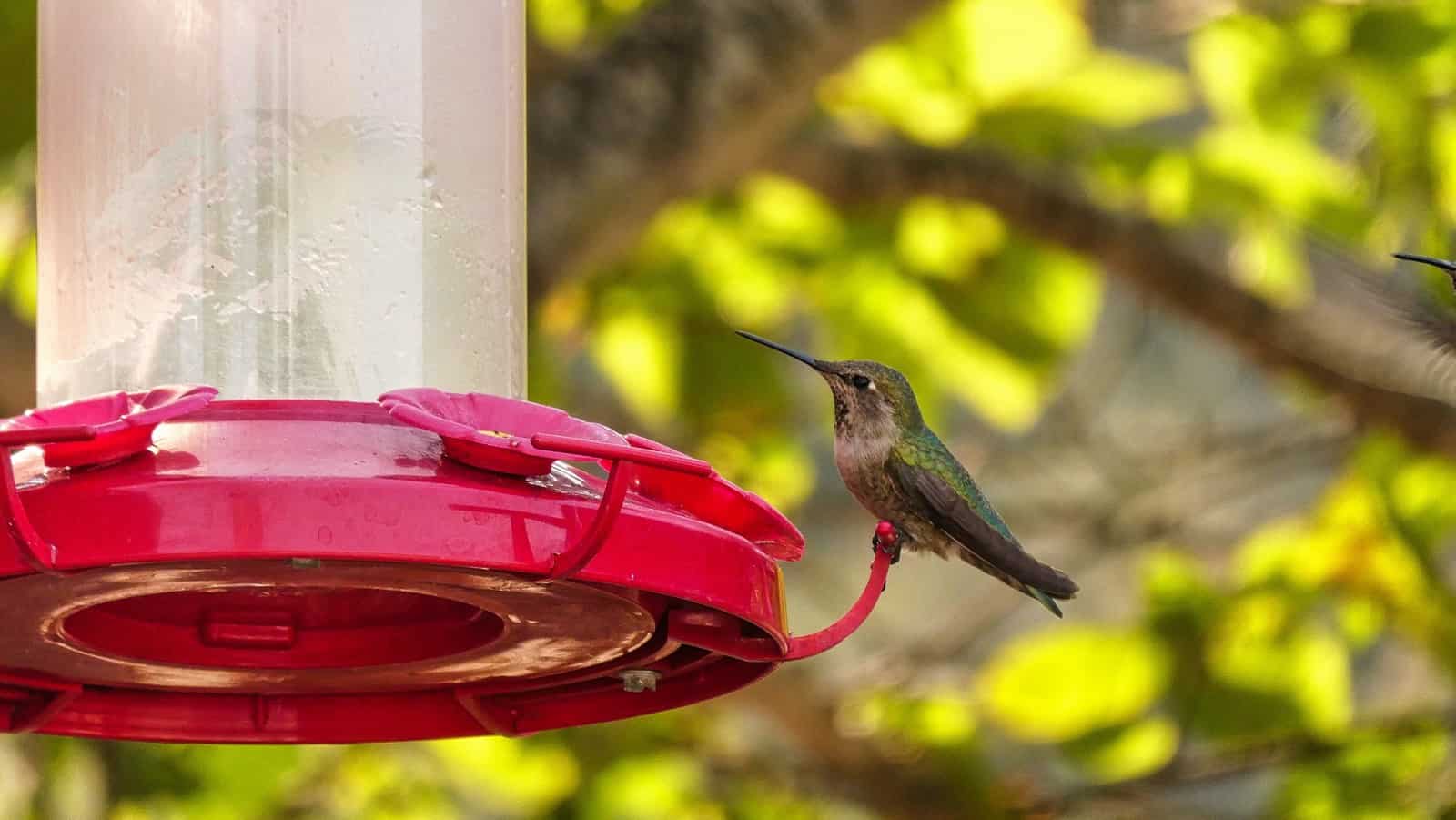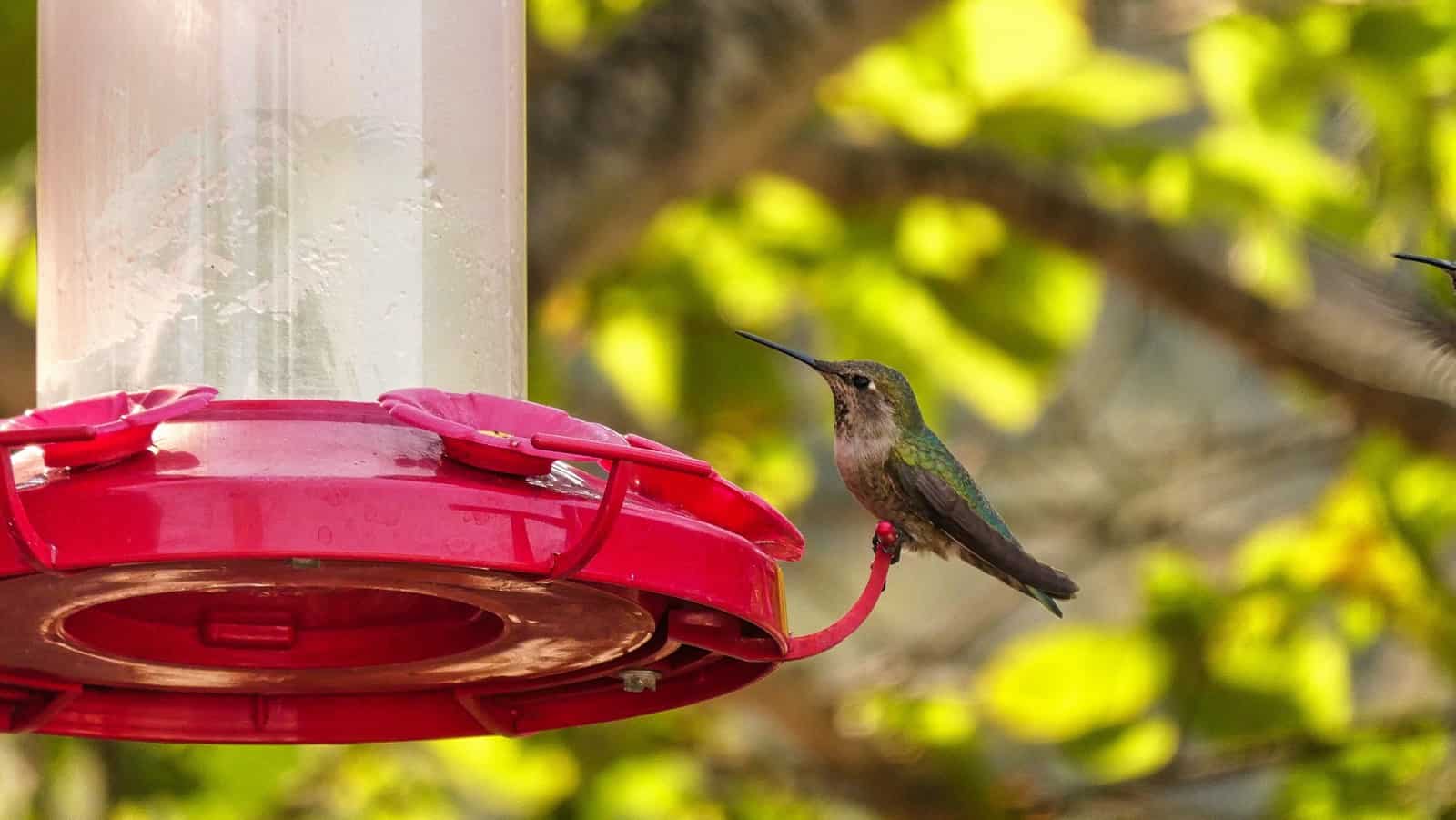 The mission at Foxen is simple; "the creation of small production, sustainably-farmed, vineyard-focused wines using a minimalist approach to winemaking." On the day of our visit, it was a popular place with lots of other guests.
The story of Foxen begins with Bill Wathen and Dick Doré making wine together in 1985 when they founded Foxen Winery & Vineyard at the historic Rancho Tinaquaic in northern Santa Barbara County.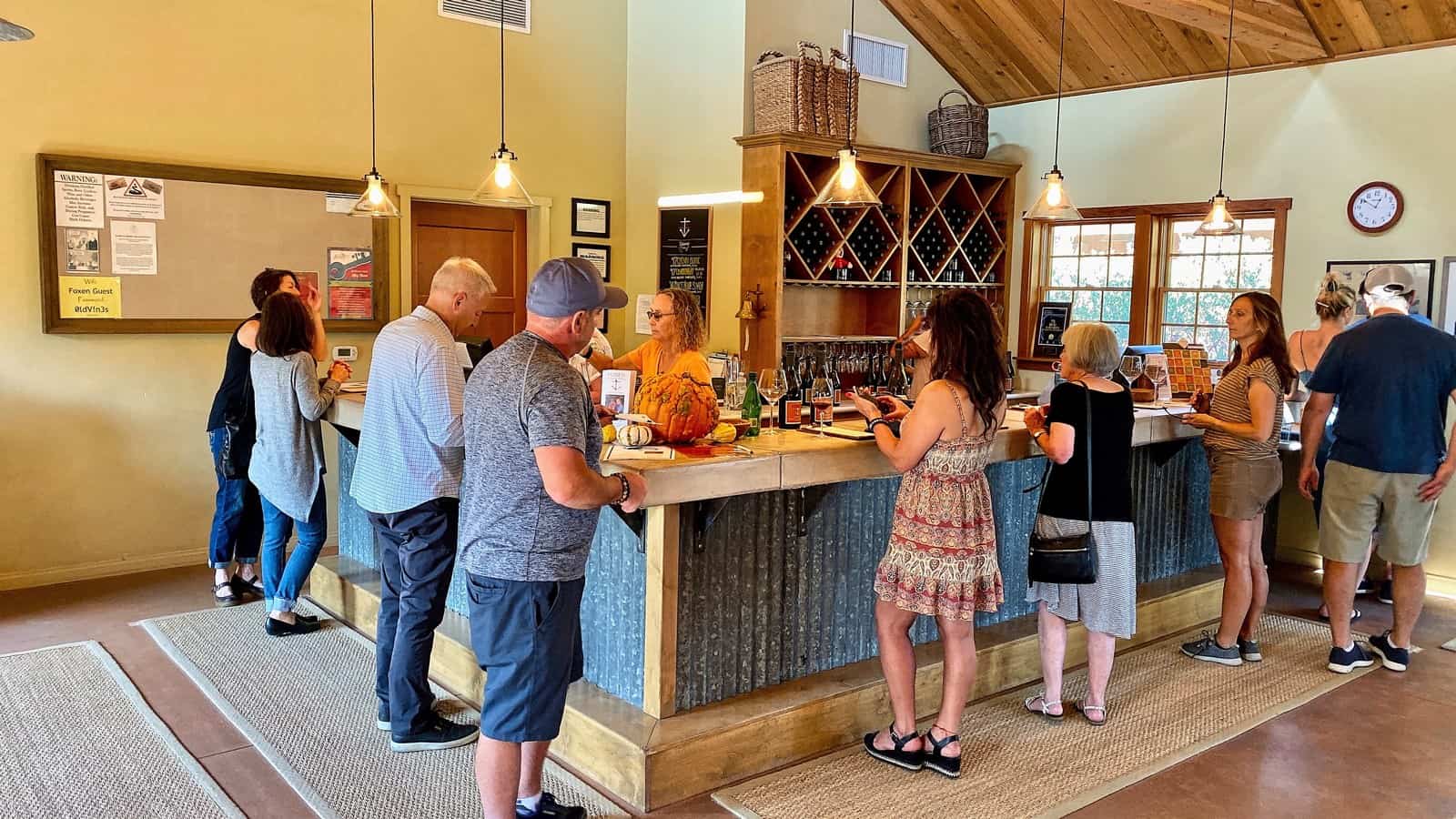 The winery name is a memorial to William Benjamin Foxen, an English sea captain, and Dick's great-great-grandfather. Benjamin Foxen came to Santa Barbara in the early 1800s and purchased the historic Rancho Tinaquaic in 1837 with a Mexican Land Grant. His property totaled nearly 9000 acres that encompassed most of what is now known as Foxen Canyon. Being a sea captain, Foxen adopted the distinctive anchor as his ranch cattle brand, which became the symbol of the Foxen Vineyard & Winery. Foxen is now on 2000 acres of the Rancho Tinaquaic, which remains in family hands.
The tasting room we visited began in 2009. Before that, there was just Bill and Dick's beloved historic "Shack." The shack renamed Foxen 7200 and now focuses on their Bordeaux and Italian-style wines under a different label. We stopped and visited the shack, but we could not taste wine there as we still had one more winery to visit for the day, and we need to be responsible drivers.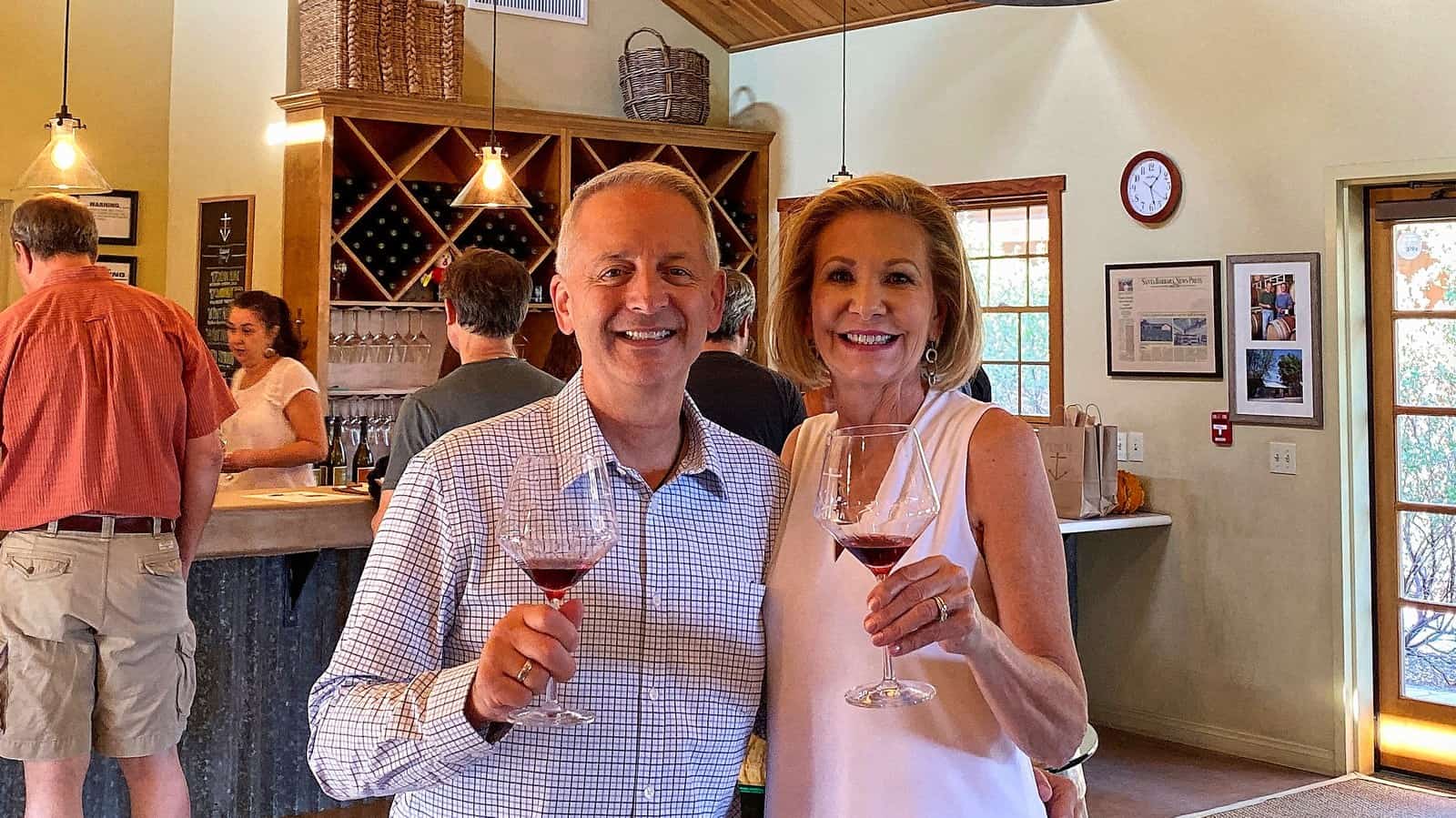 The Winery Atop a Hill, Presqu'ile
Lastly, when visiting Santa Maria wineries, we recommend visiting Presqu'ile (pronounced press-KEEL). The winery dedicated to making exceptional cool-climate Pinot Noir, Chardonnay, and Sauvignon Blanc is lovely.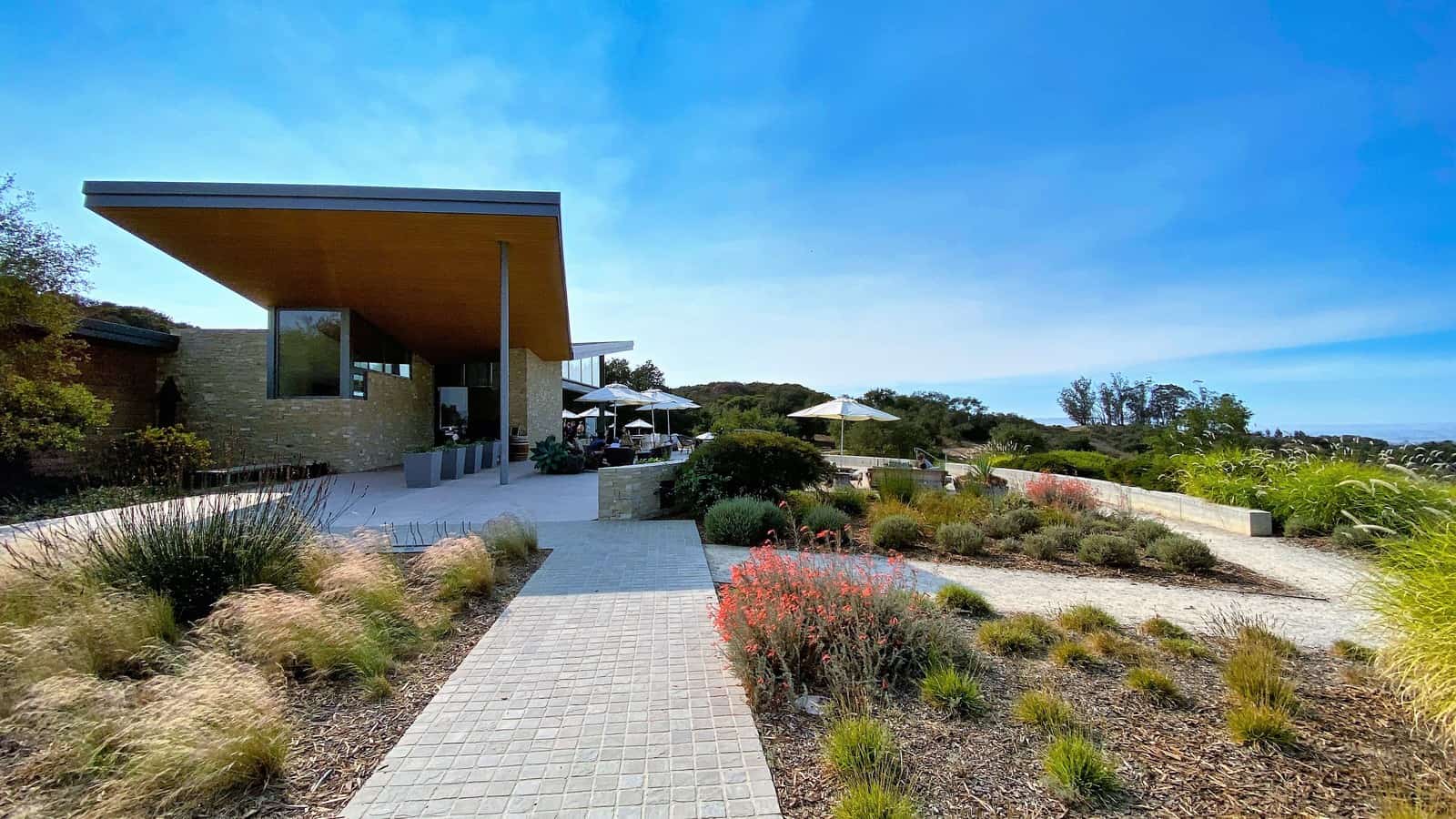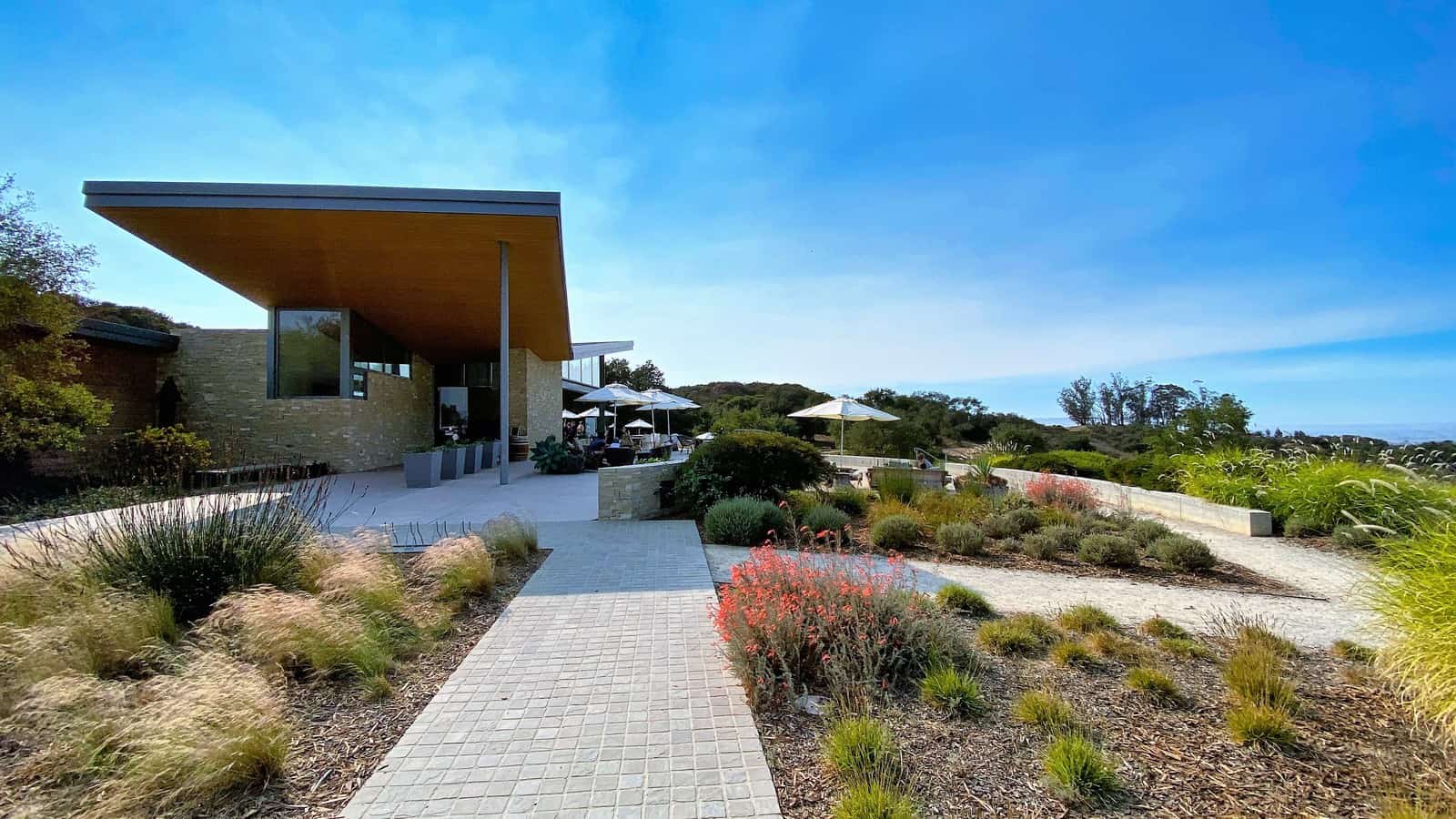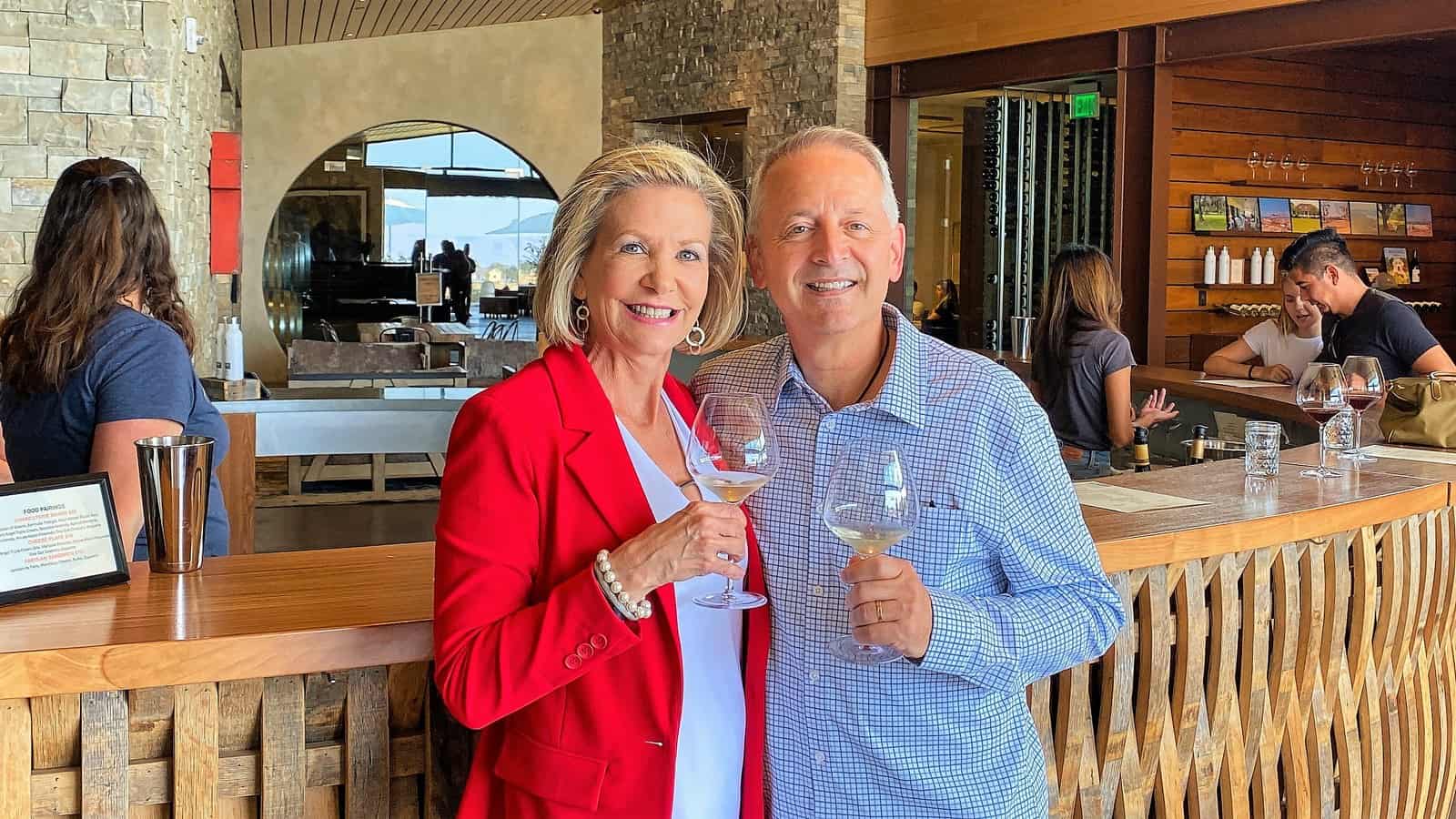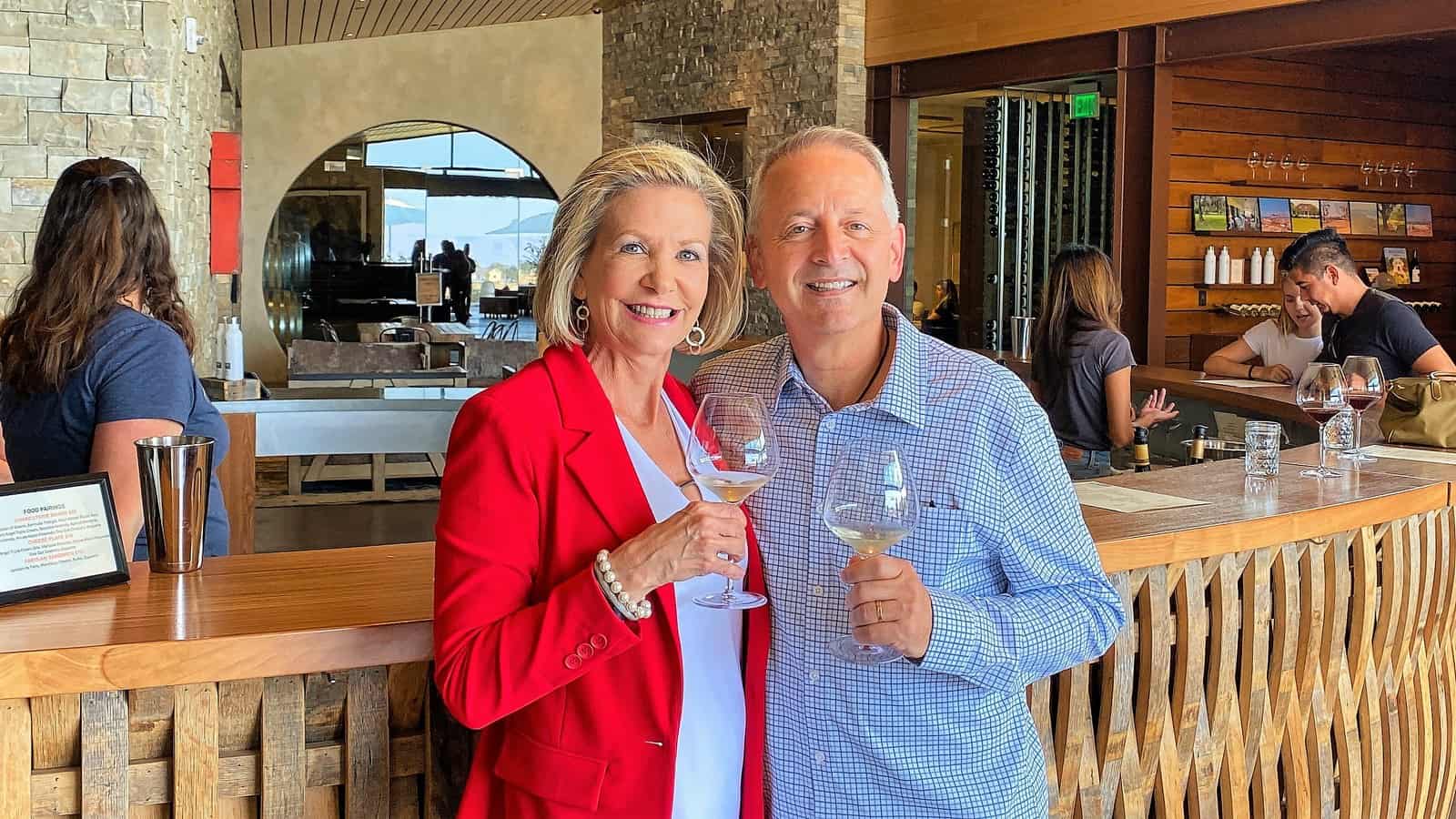 In 2007, after an extensive search, the Murphy family bought an unplanted 200-acre property in the hills of the Santa Maria Valley. It took them two years to plant vines to maximize the diversity of row directions, spacing, clones, and rootstocks.
We tasted a few wines in the tasting room and then took a tour of the winery and grounds. Because the winery sits high atop a hill, with the ocean and vineyard as backdrops, the views from the terrace were spectacular. If you love architecture, you will enjoy visiting Presqu'ile. The space is modern with gorgeous vaulted ceilings but also blends well into the hilltop it calls home.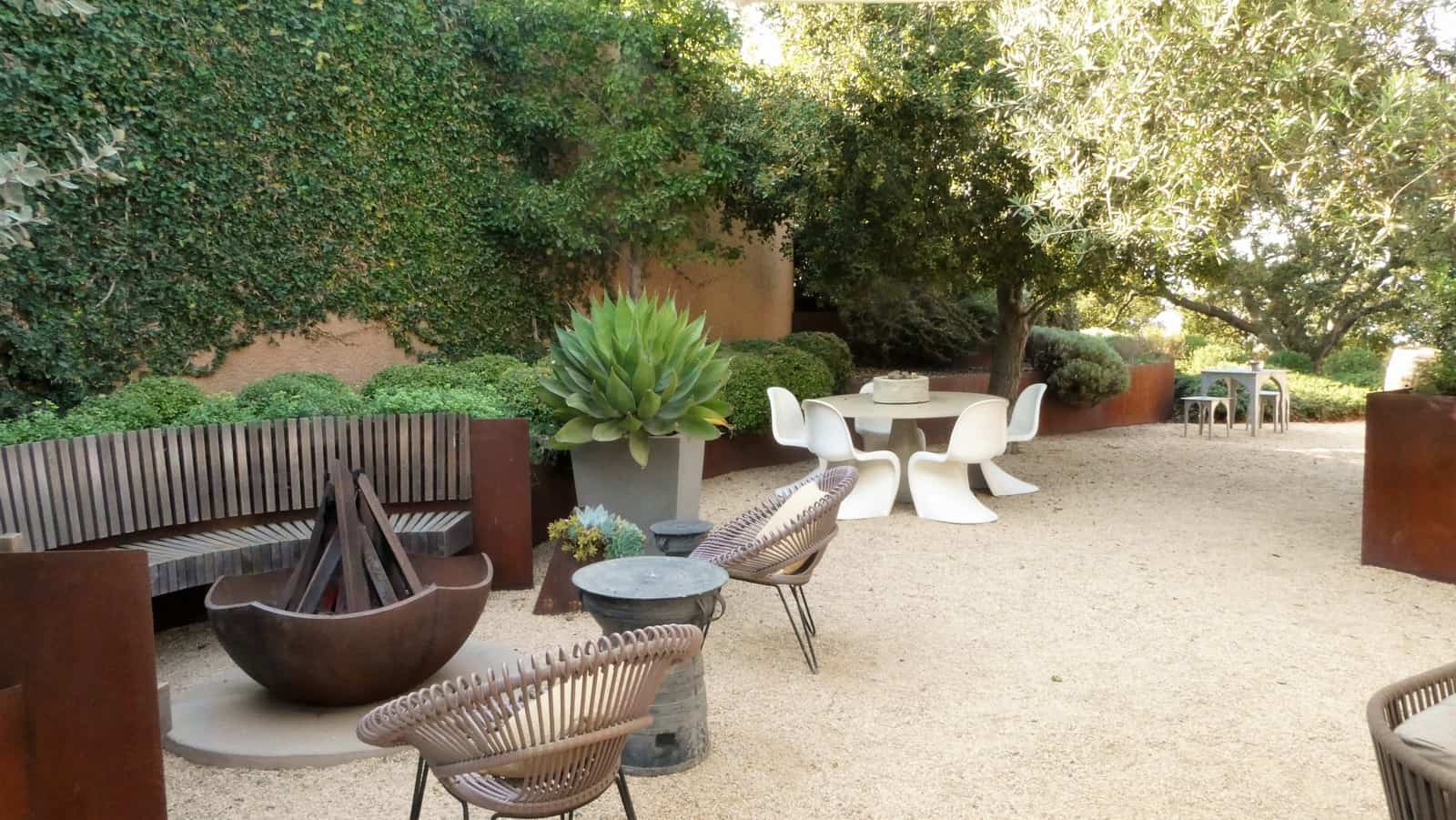 The outdoor tasting space was quite busy on the day we visited. There you can bring your own picnic food to enjoy with their fantastic wine.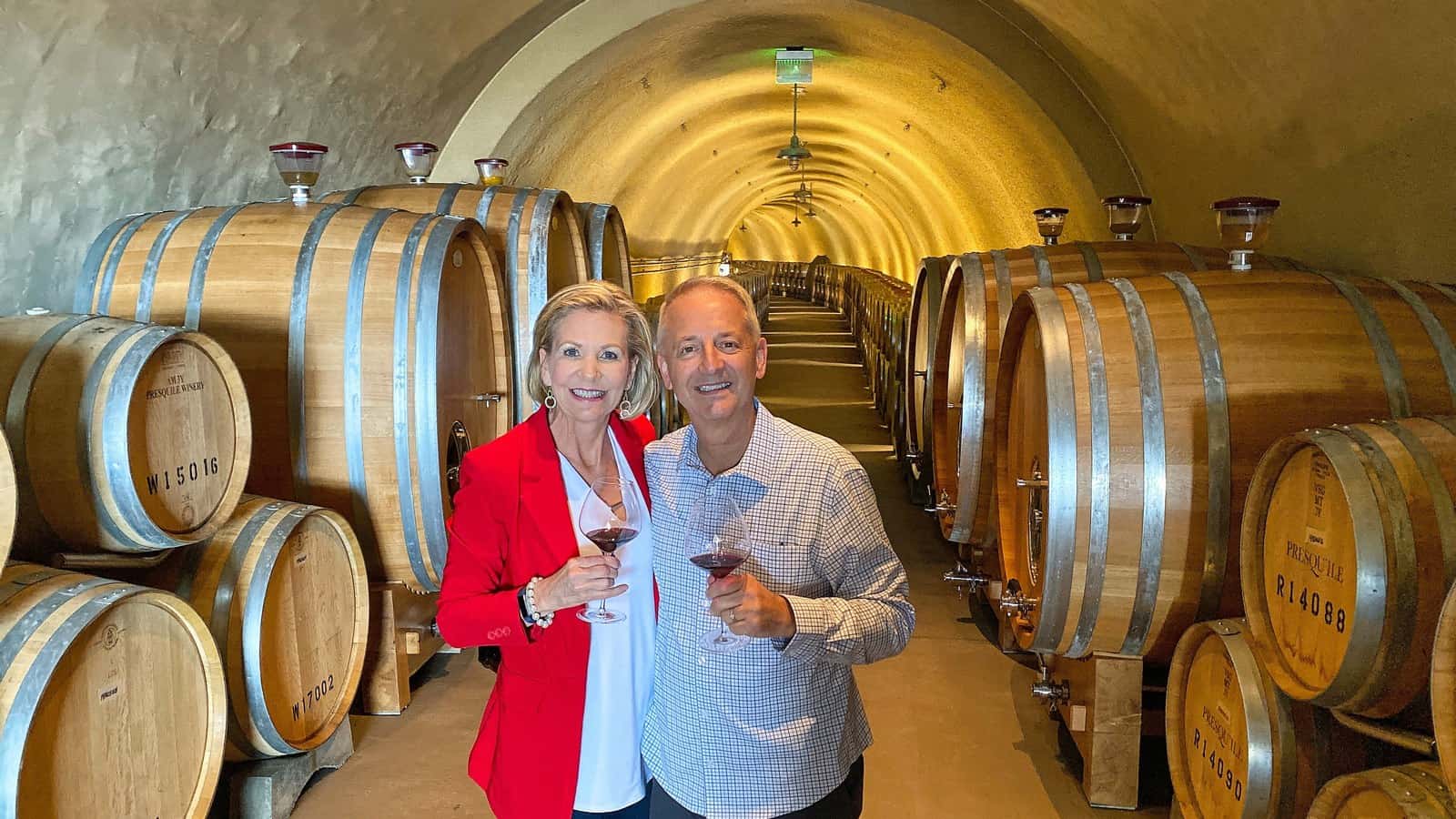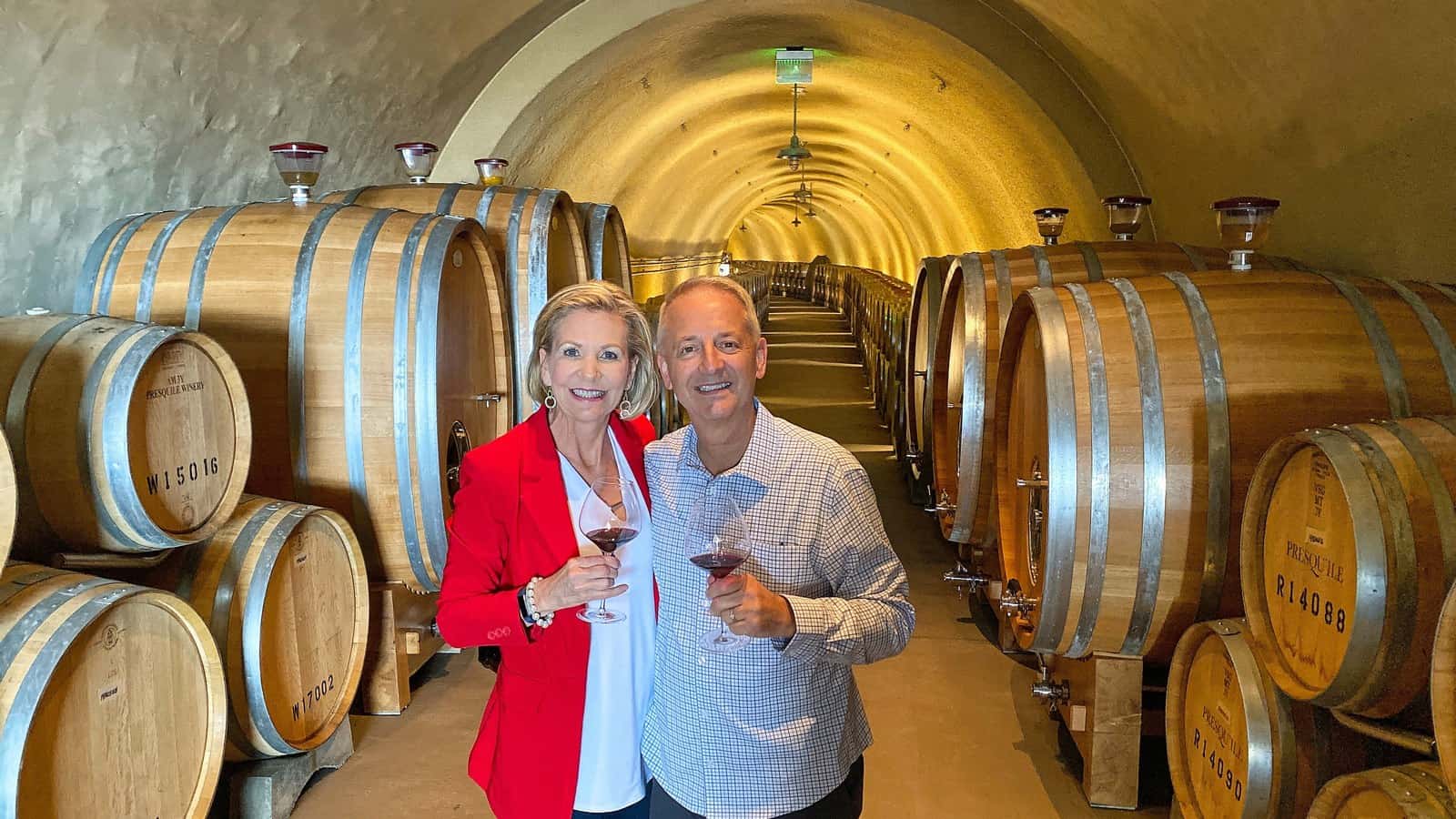 Have Gourmet Wood-fired Pizza and More at Pizzeria Bello Forno
For your last dinner, we highly recommend Pizzeria Bello Forno in Orcutt, CA. The passionate owners are successful caterers in the area who also traveled a lot. At Pizzeria Bello Forno, they serve wine country gourmet wood-fired cuisine with an Italian influence.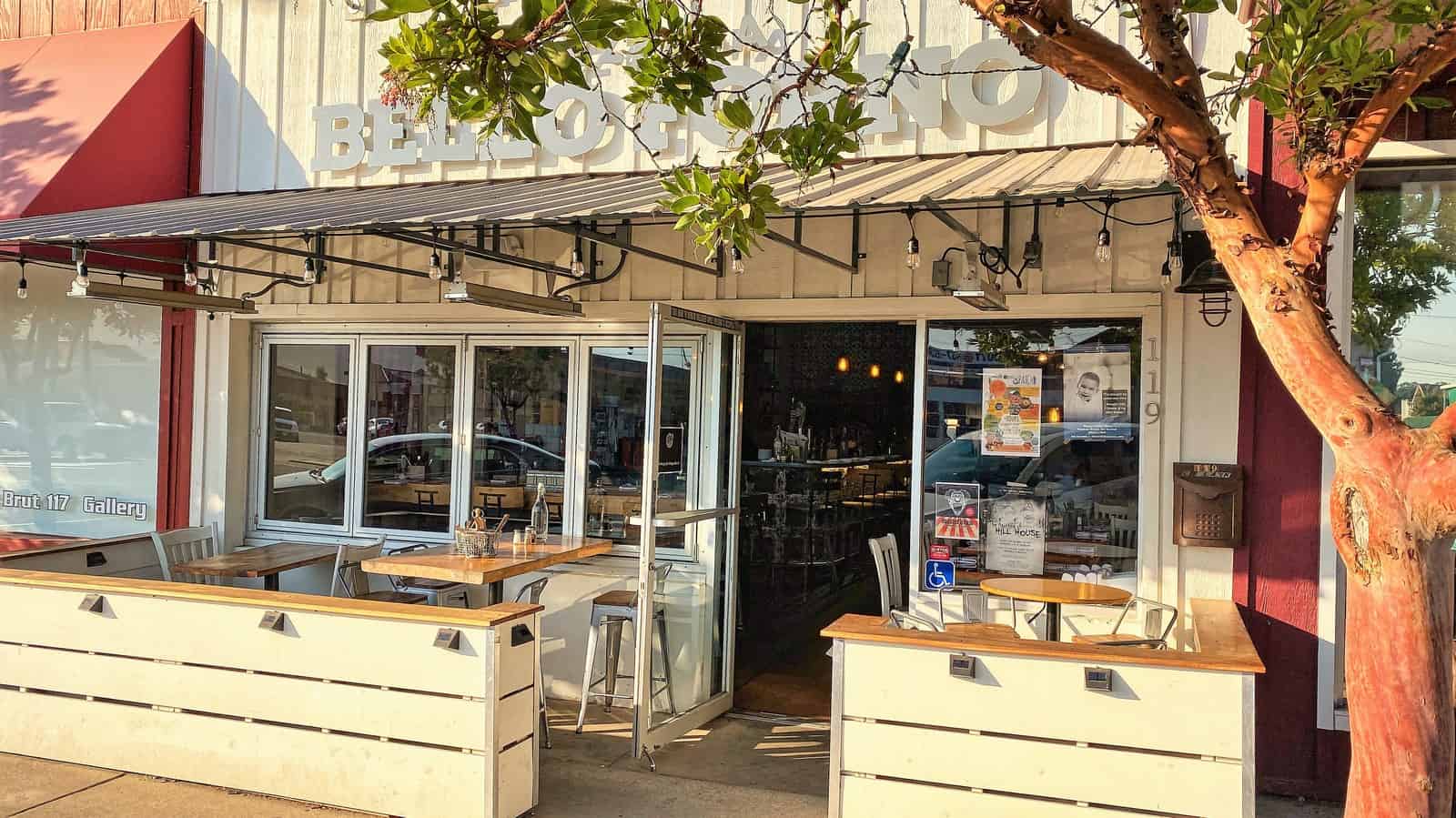 Our food was amazing. Everything was fresh. While dining, we found out that Bello Forno even makes all of their sauces from scratch!
The restaurant is small and cozy, and you will feel like family dining here. As you know, I eat vegan, and the menu here is vegan-friendly.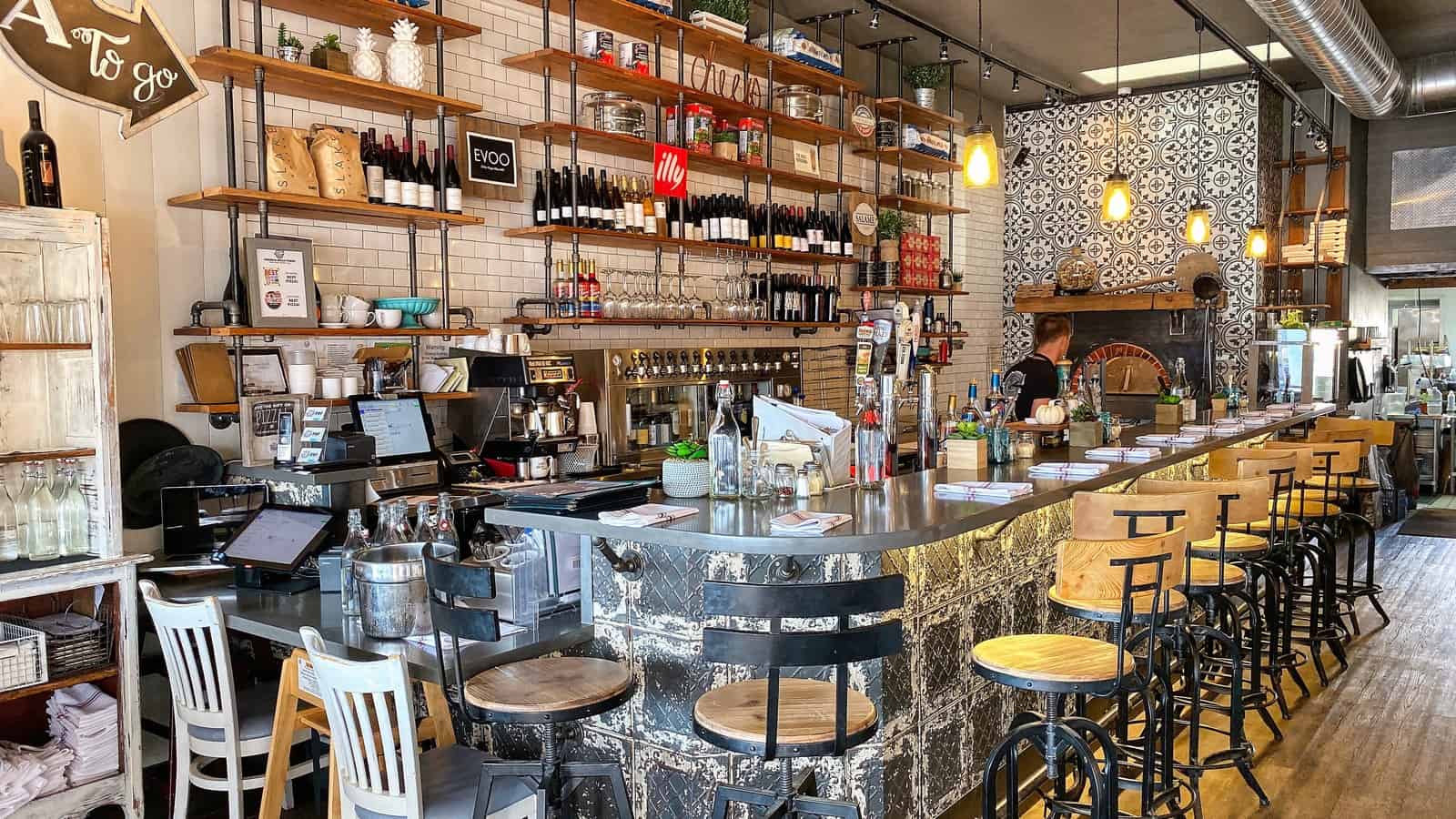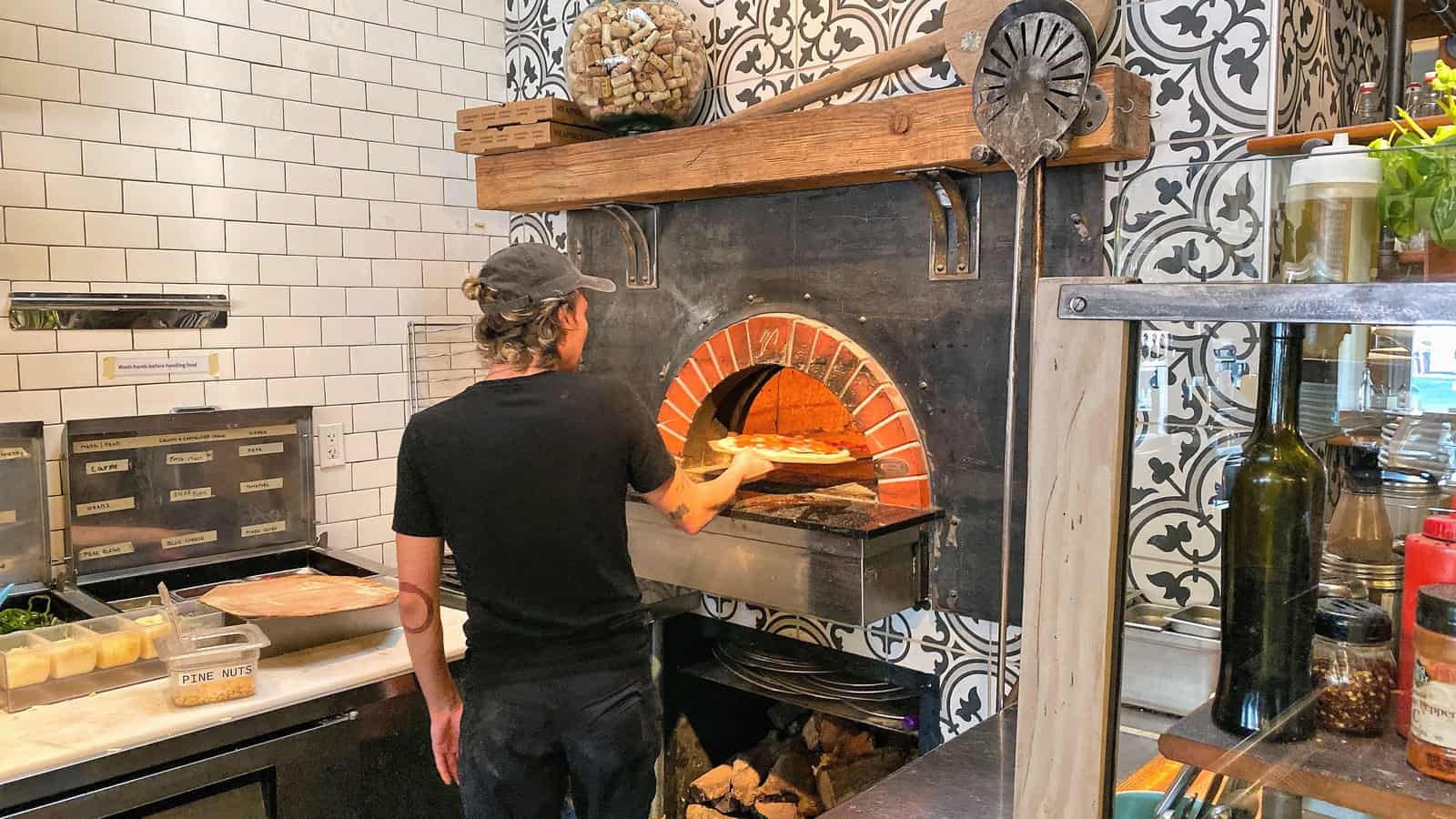 We started with an appetizer of wood-fired mushrooms that were deliciously garlicky. Then a bowl of roasted red pepper tomato soup. For our pizza, we had a classic margarita pizza with some added arugula on top. Wood-fire pizzas are so good.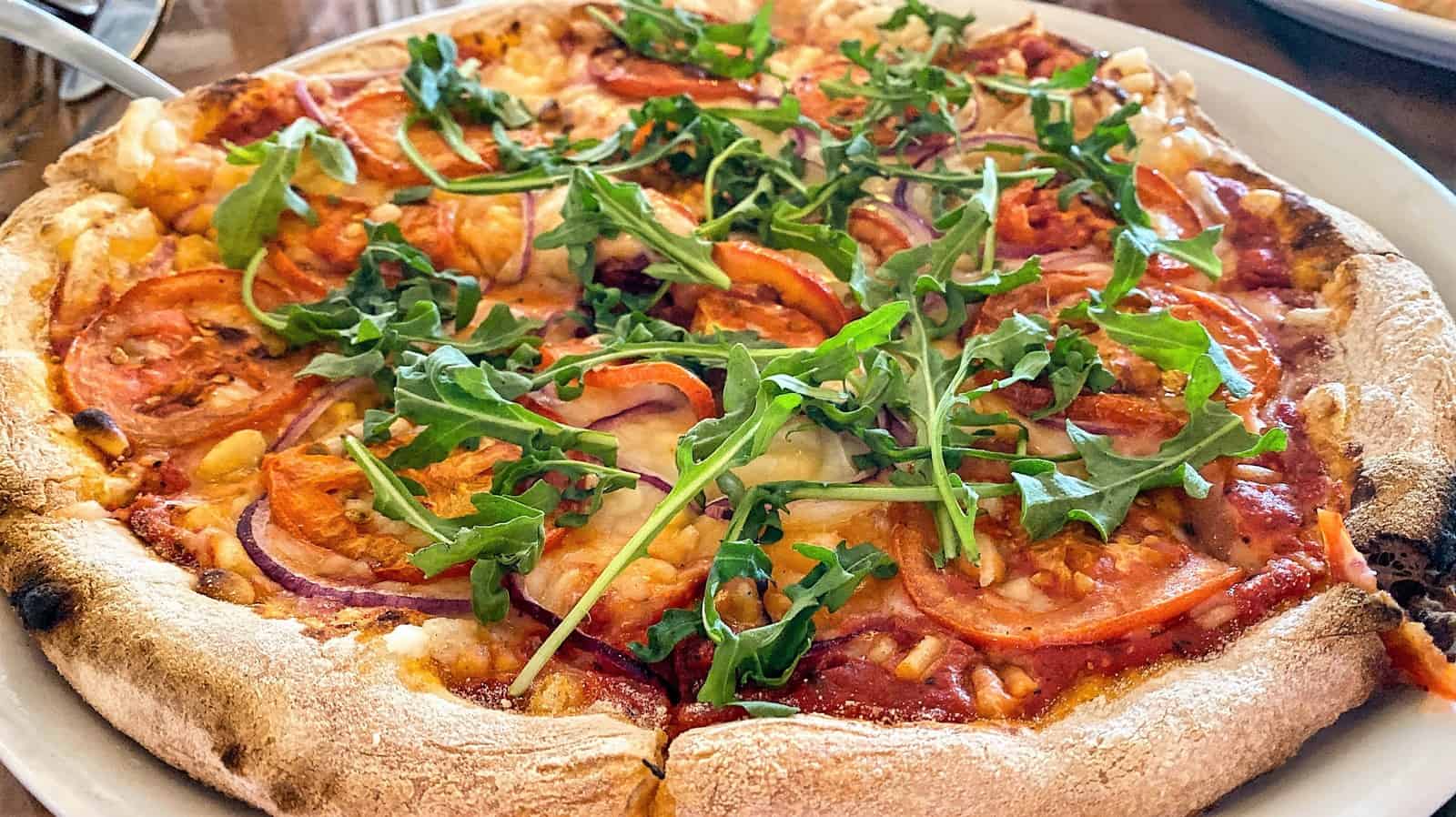 We split two desserts. First, we shared an Affogato, which is an Italian dessert. Its a scoop of vanilla ice cream with a shot of espresso poured over. We also shared a piece of chocolate lovers cake.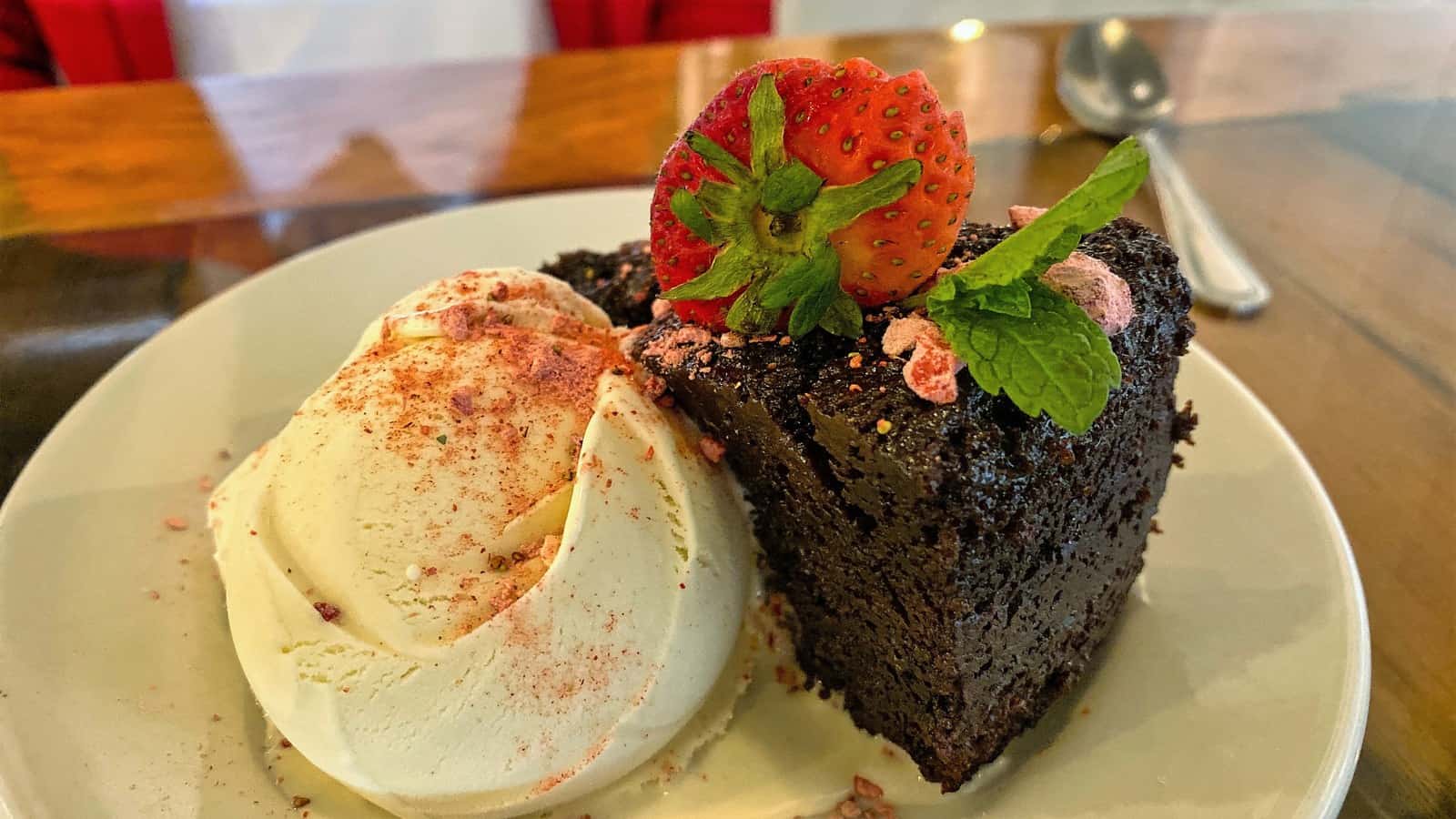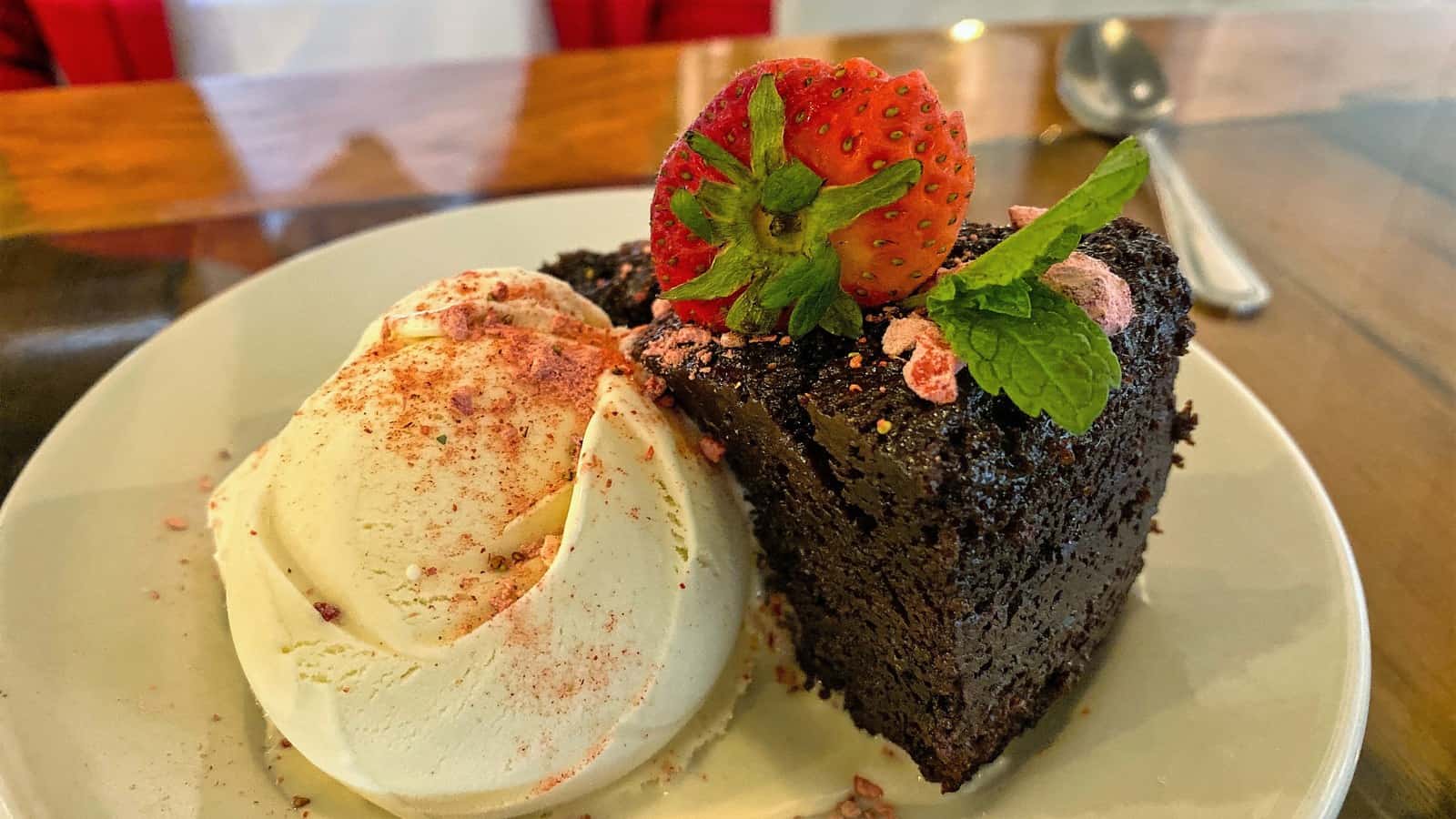 Great Santa Maria Wineries Make for an Amazing Get-a-way
The Santa Maria Valley blends its historic ranching and farming traditions with its ever-growing winemaking to produce an excellent place for a get-a-way. This northern Santa Barbara County region has succulent Santa Maria-style barbecue, to combine with wine tasting and tranquil country views. What could be better?
QUICK ANSWERS
What makes strawberries grown in Santa Maria Valley so special?
Most of the strawberry fields are replanted each year. Although this is more costly, they produce better quality fruit and a higher yield.
Where is the oldest Buddhist temple in California located?
The oldest California Buddhist temple is located in the city of Guadalupe in Santa Maria Valley.
---
If you like wine, be sure and read our Paso Robles wine getaway. Or the close by Buellton wine adventure.