You may not know this, but Buellton is known for great eateries and wine, especially Pinot Noir and Chardonnay. Buellton's unique weather is the secret behind its Pinot Noir and Chardonnay. The combination of warm days and cool nights is just the right balance for producing these delicate grapes. The pleasant weather also makes this city a perfect year-round getaway destination.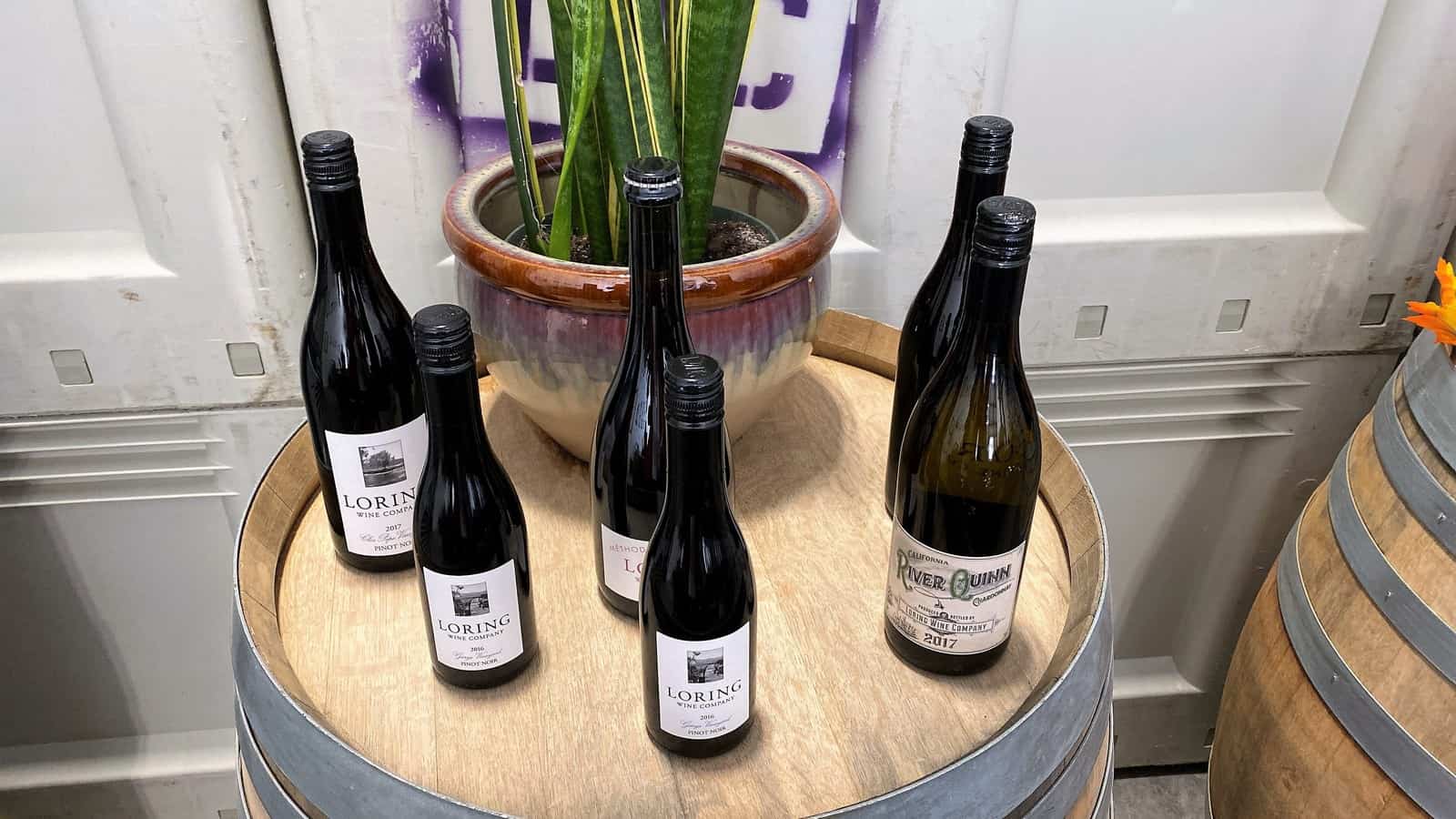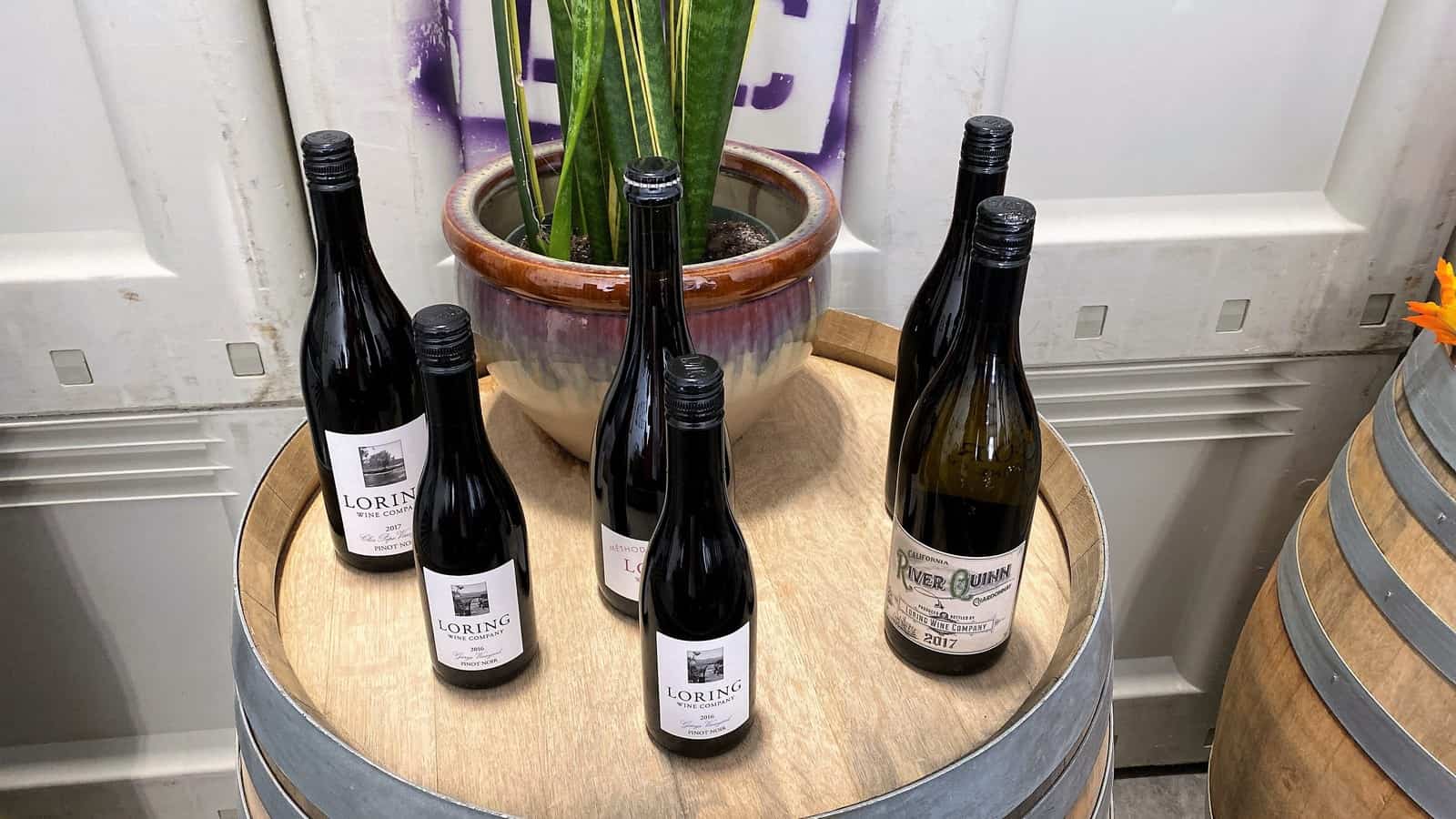 Buellton is a charming small town located approximately 45 minutes from Santa Barbara in the Santa Ynez Valley. Buellton and the Santa Ynez Valley were made famous by the movie Sideways starring Paul Giamatti. Because of the film, Merlot wine sales fell, and Pinot Noir's soared. We have some great recommendations for where to taste, dine, and stay on your Buellton getaway.
In Paso Robles, they have Tin City, and In Buellton, they have Industrial Way. Industrial Way is a hotspot of wine tasting rooms, trendy dining options, a craft brewery, distilleries, and a sweet shop.
Search for Great Wine at Buscador
First up, we recommend tasting wine at Buscador Wine. Buscador, located in Industrial Way, produces more than Pinot. Buscador produces limited boutique wines that are bold but smooth. They produce Bordeaux varietals such as Cabernet Sauvignon, Cabernet Franc, and Merlot. They also produce a Chardonnay and Grenache Rose'.
Buscador means searcher in Spanish. Buscador is own by a couple named Matt and Stephanie. Because Matt spent many years searching for the meaning of life a spiritual friend nicknamed him Buscador. When he realized his dream was to make wine, he called his winery Buscador.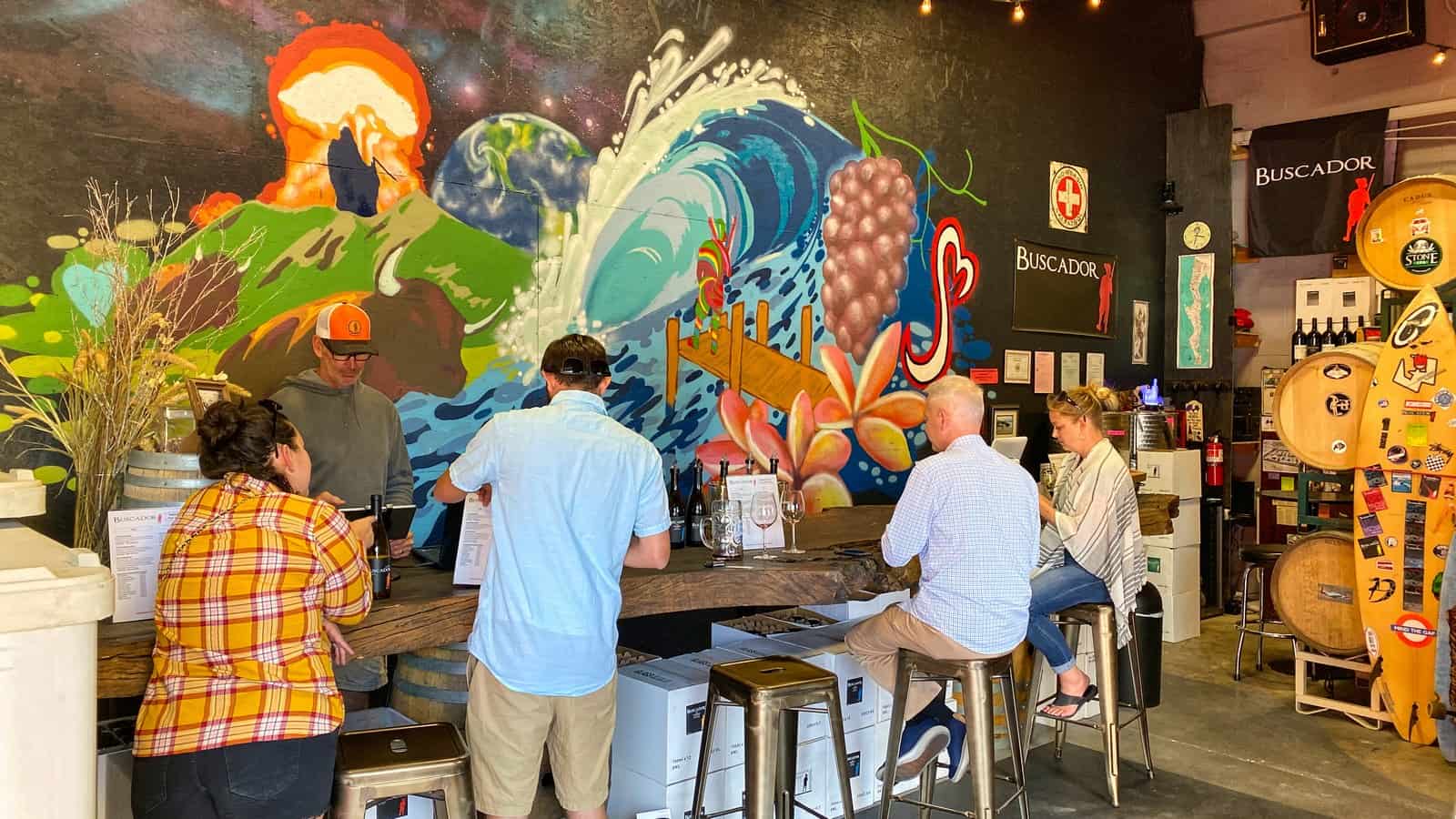 On the wall behind the bar in the tasting room is a massive mural. The mural tells the story of Matt's life. In the tasting room, you also see barrels and a surfboard because at one-time surfing was very important to Matt.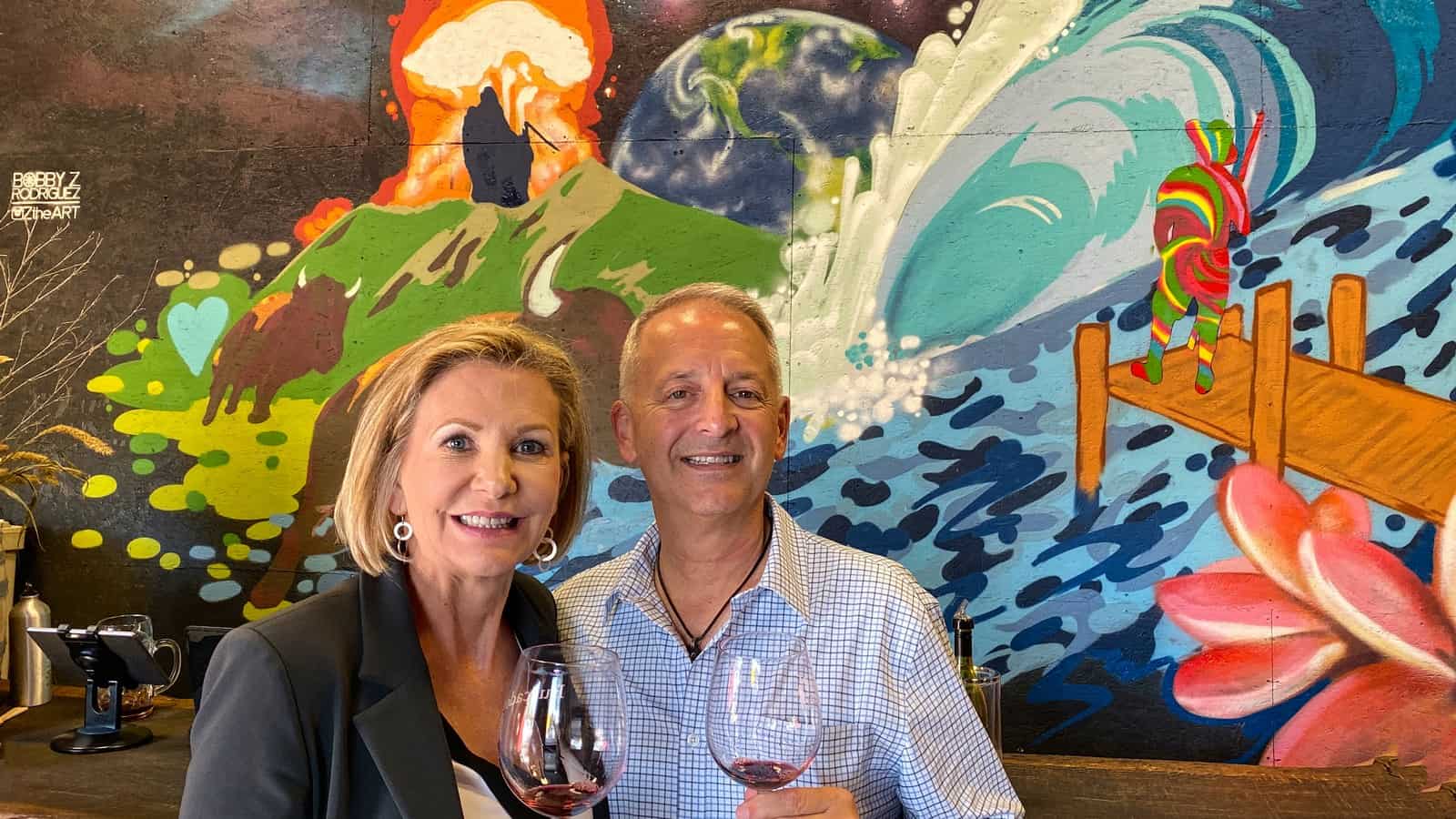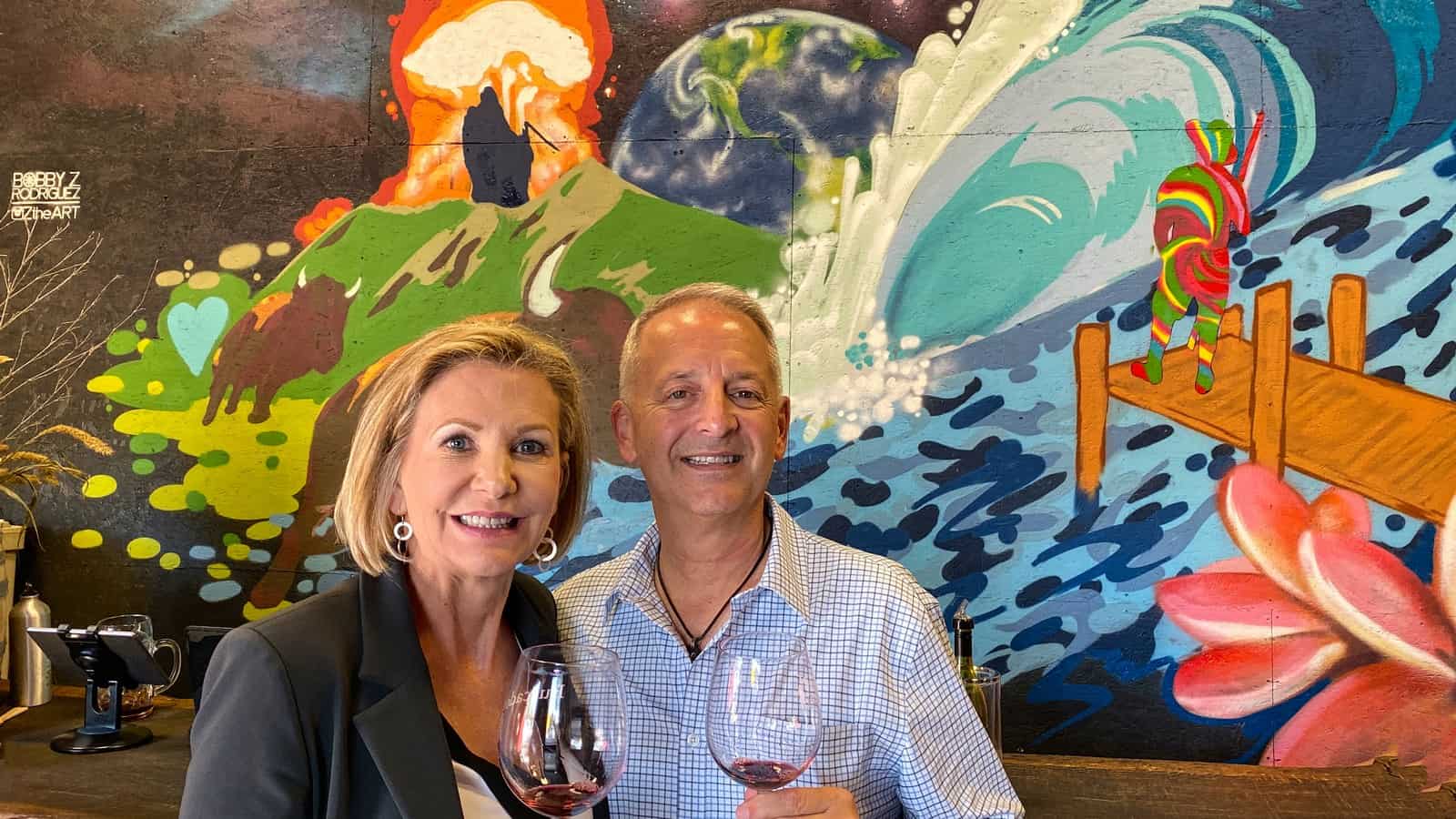 For Bold Reds Visit Cholame
Staying in Industrial Way, we recommend visiting the Cholame Vineyard Tasting Room. Most tasting rooms are adjacent to their vineyard, not so with Cholame. Cholame vineyards is a small production winery located in San Miguel, CA, at the southern tip of Monterey County. Not far from Paso Robles, but the tasting room is in Industrial Way, Buellton.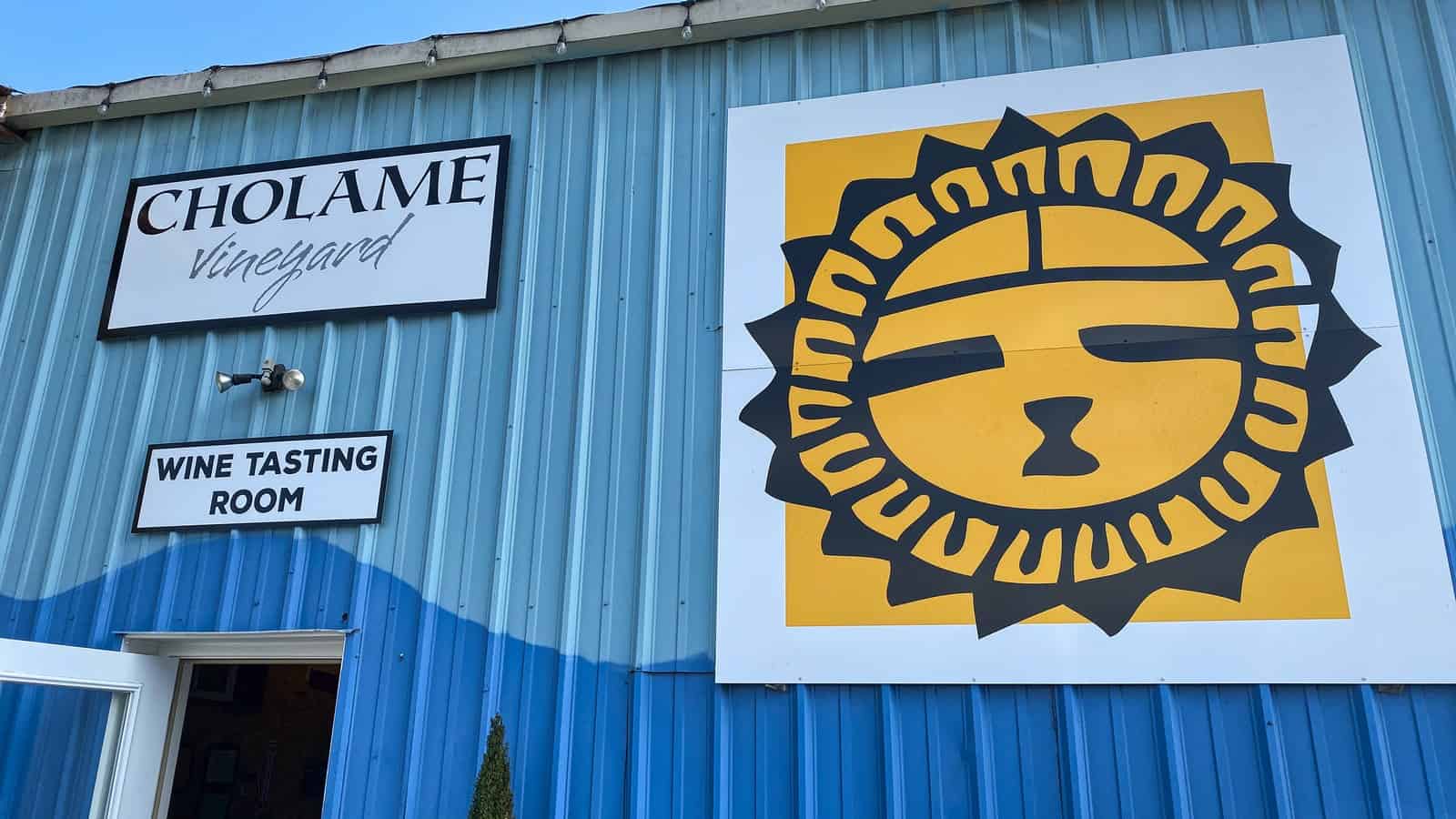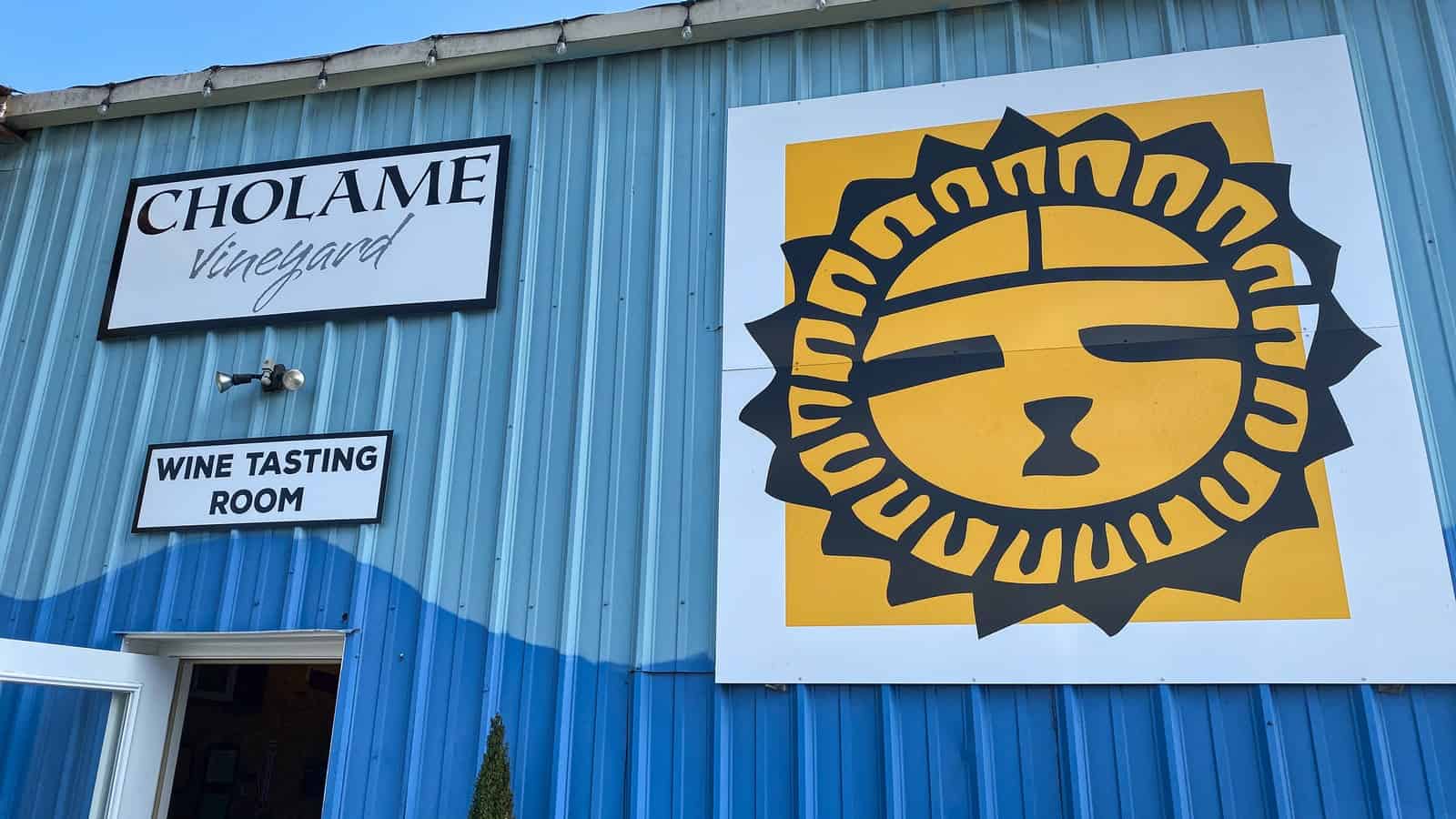 At their location in Monterey County, Cholame grows Grenache, Mourvedre, Petite Sirah, Syrah, Tempranillo, and Zinfandel because these varietals thrive in that region. Also, Cholame purchases both Grenache Blanc and Chardonnay from La Presa Vineyard, which is one of the oldest vineyards in Santa Barbara County's Central Coast.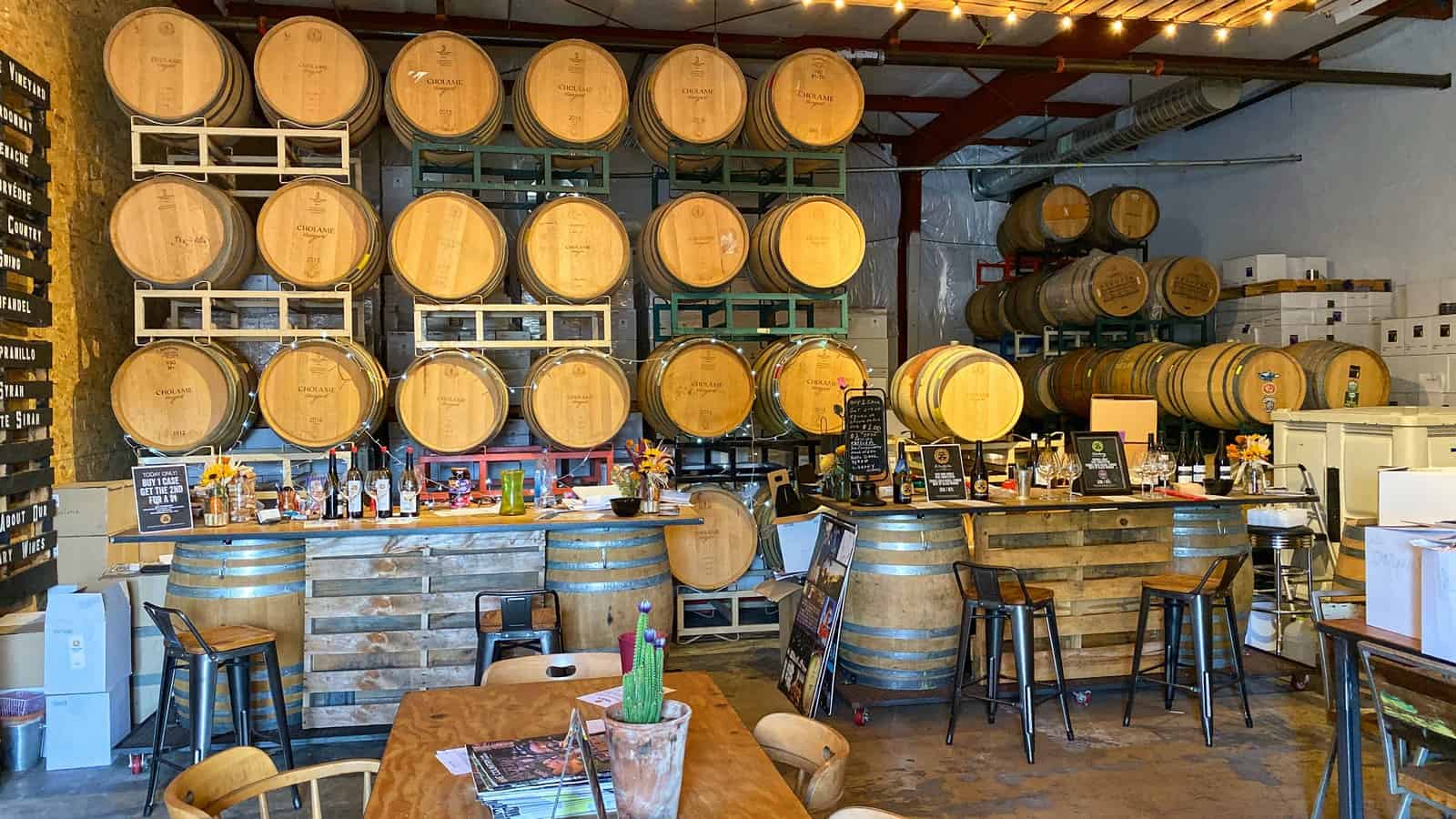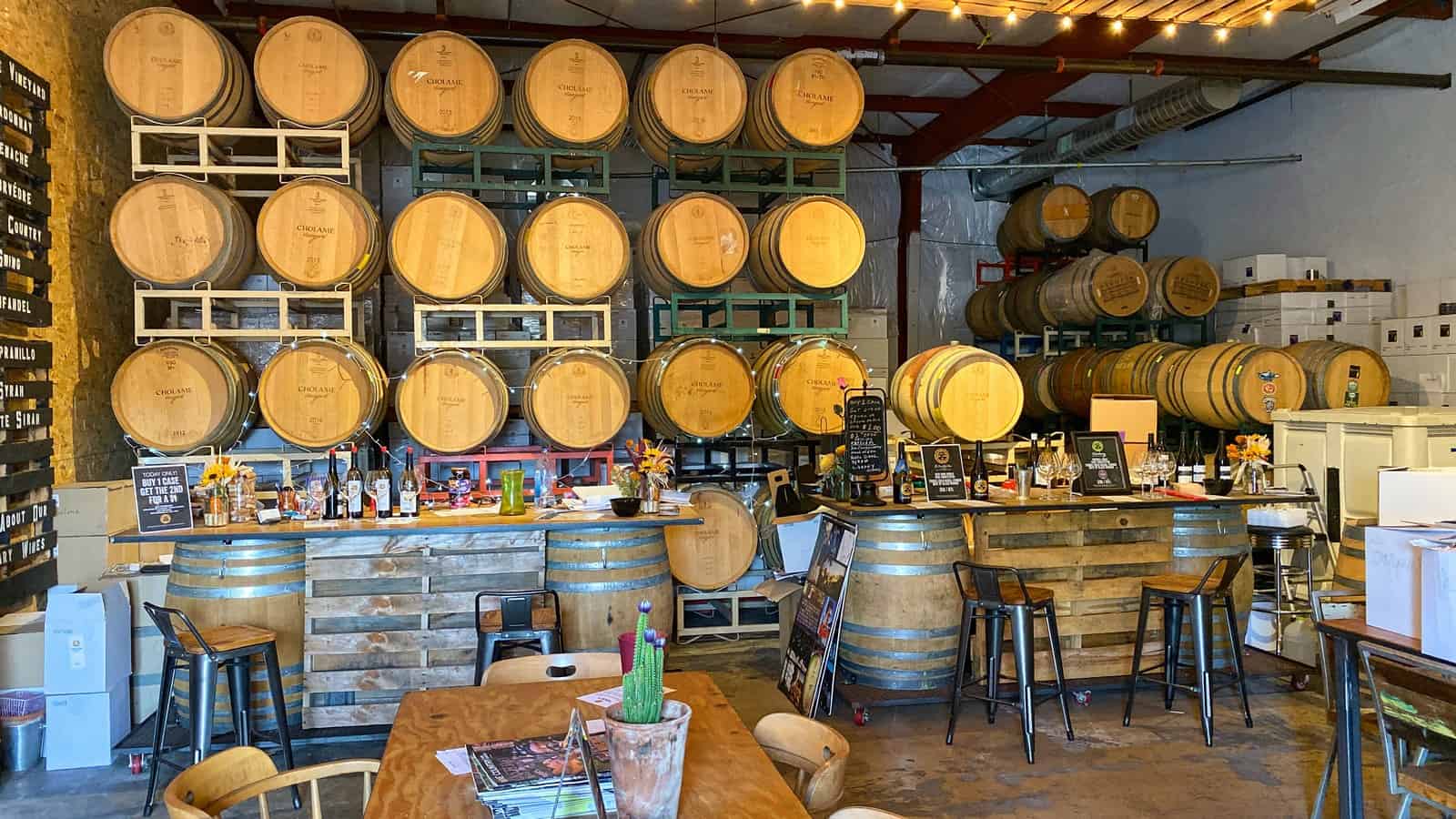 Cholame's tasting room is in Industrial Way because their winery is there. Well, before they had a tasting room in Industrial Way, they were making wine there. So the wine is produced and tasted in the same place. The vibe is fun and unpretentious.
We loved Cholame because the wines are different for Buellton. And if you love bold, smooth reds, you will love Cholame.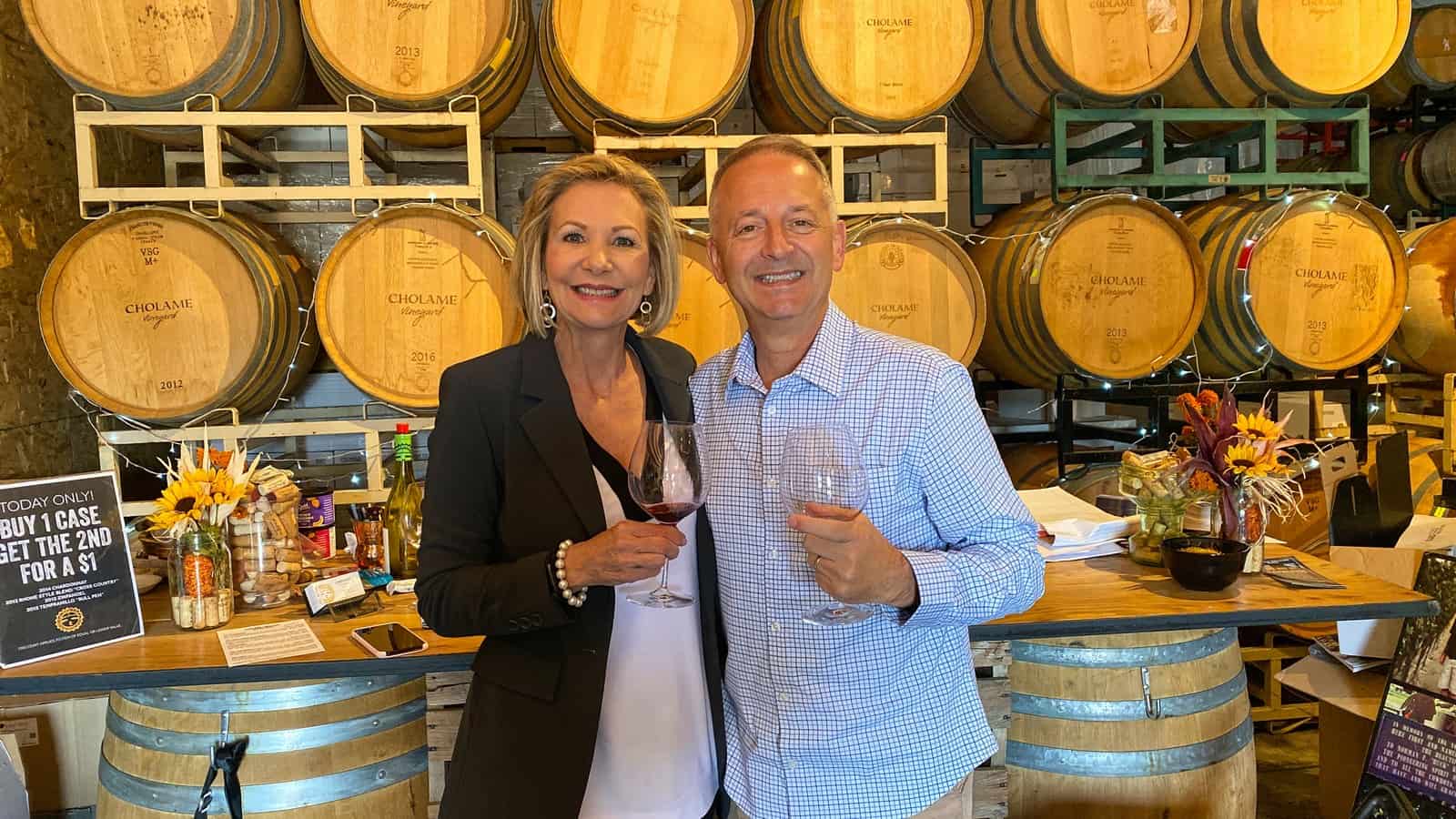 Please note that Cholame is only open Friday, Saturday, and Sunday. We went back to Cholame to buy a case of wine on Monday and sadly found them closed.
Seated Tastings at Alma Rosa
Also located in Industrial Way is Alma Rosa. You would never know that Alma Rosa is housed in an industrial park once you walk through the door. Alma Rosa's tasting room is stunning. At Alma Rosa, you do seated wine tastings in a welcoming and well-appointed tasting room that is bright and comfortably furnished.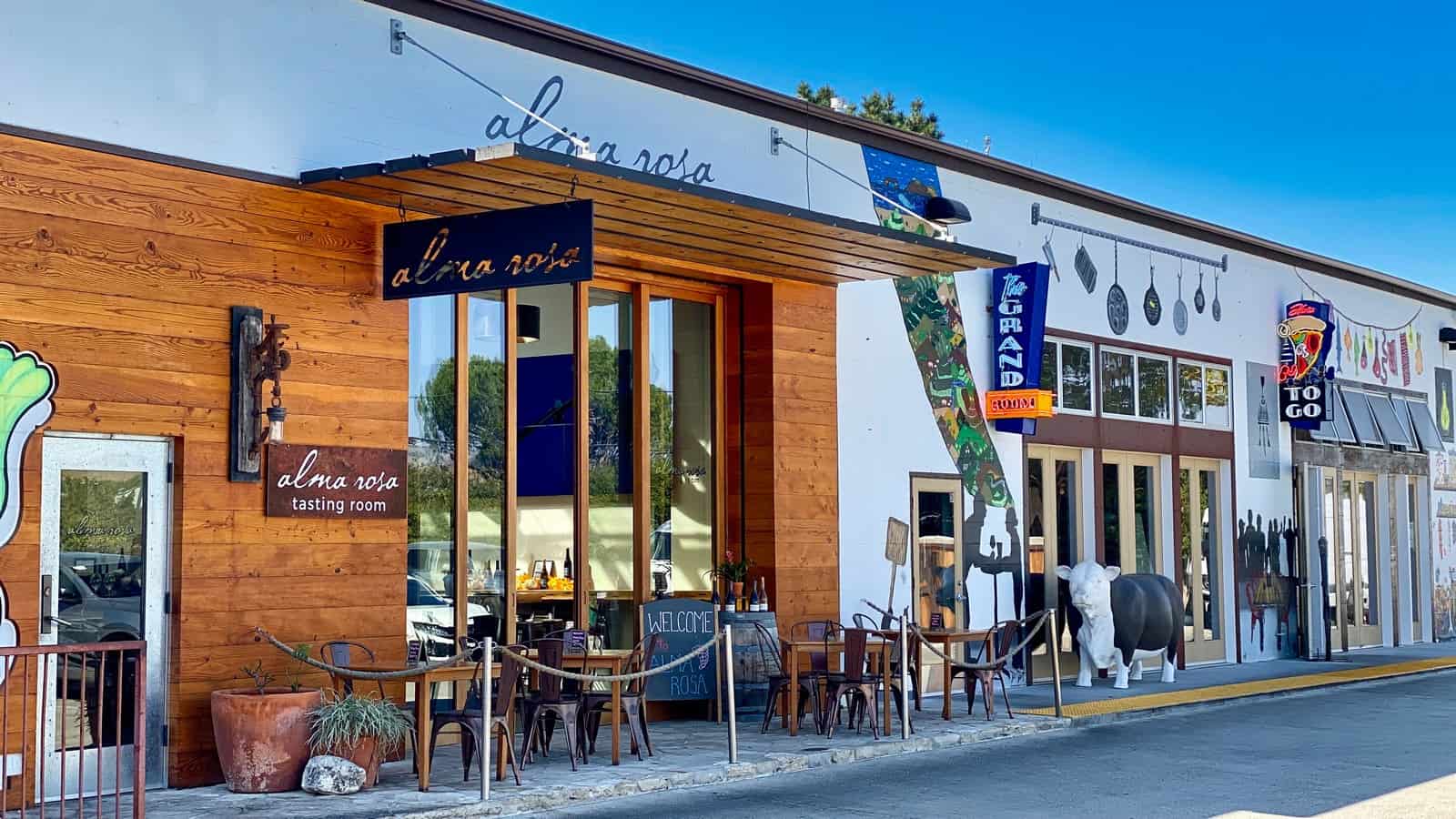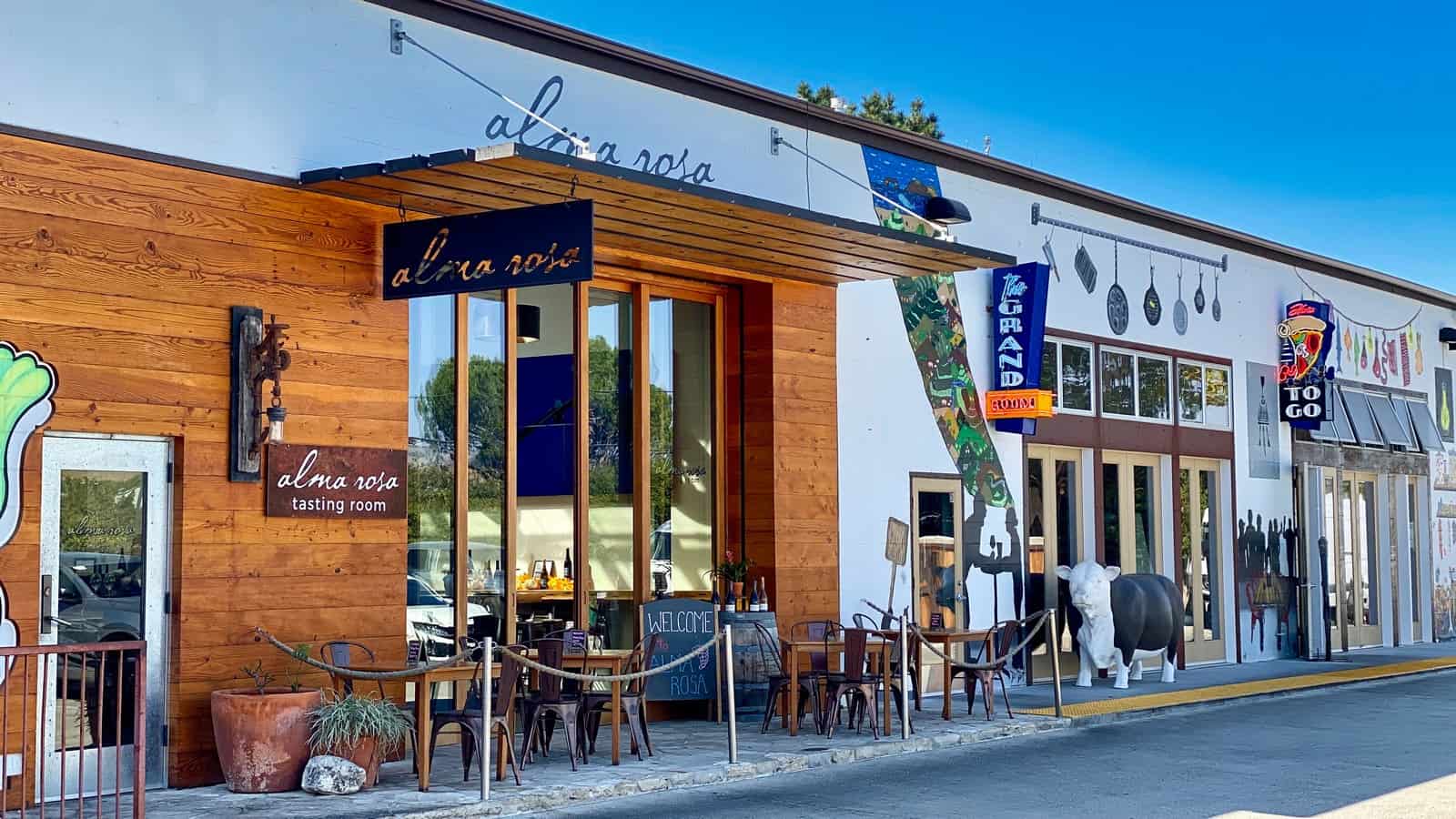 Alma Rosa features Pinot Noirs, Chardonnays, Rhone varietals, and sparkling wines. Unlike most other tasting rooms in Industrial Way, they are open seven days a week.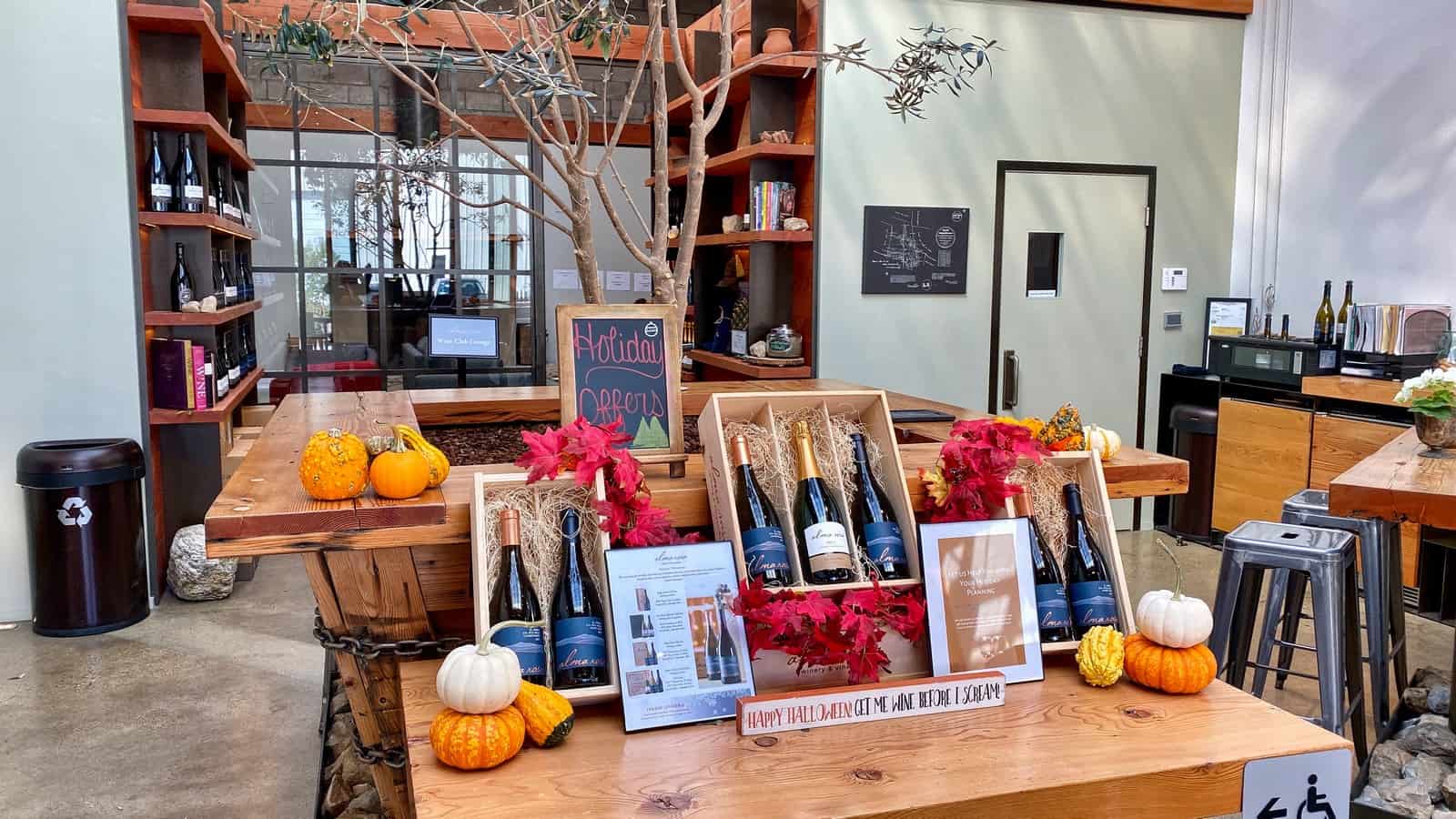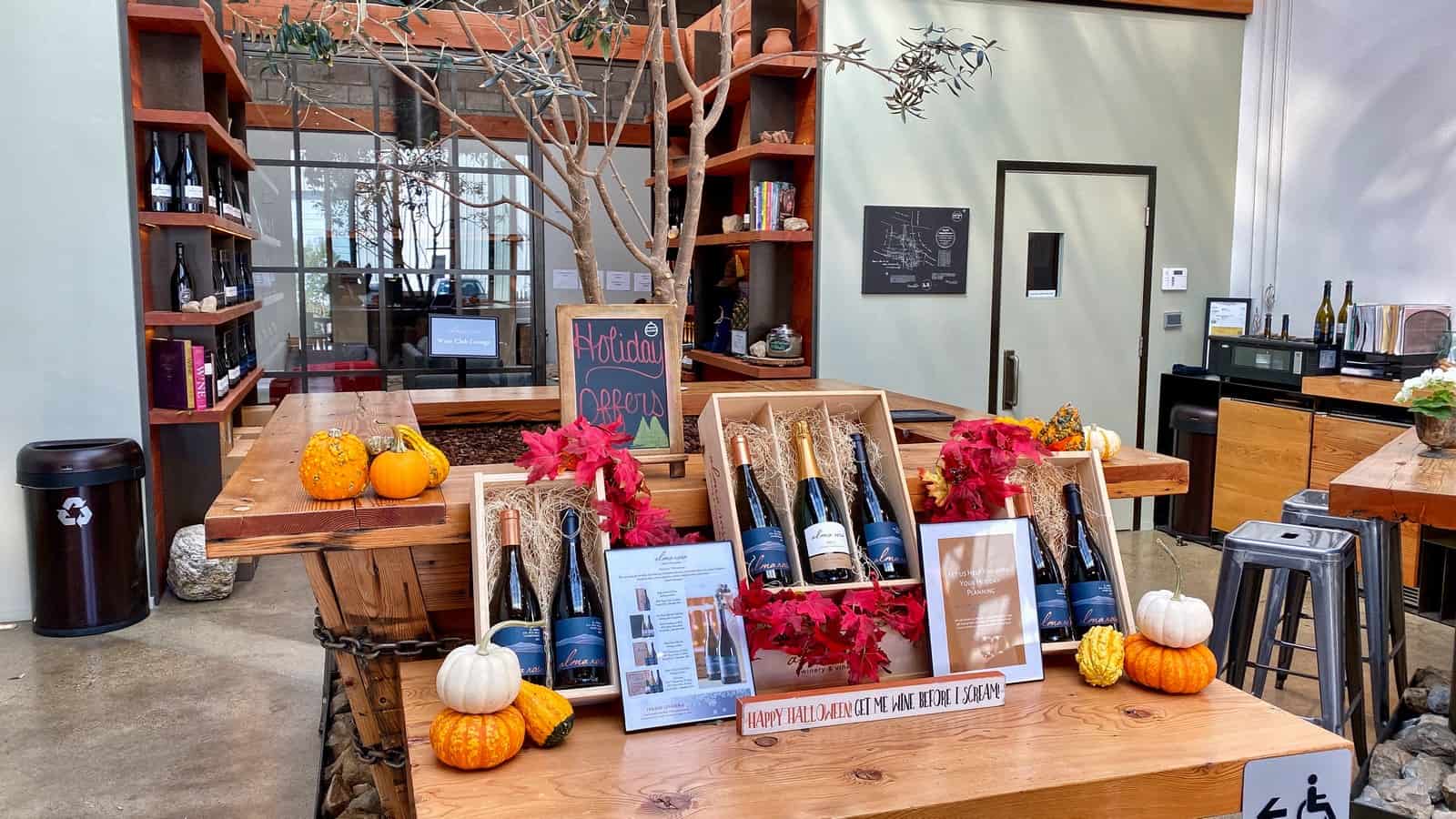 Alma Rosa's Winery, located on the north-facing slopes of the Santa Rosa Hills in Santa Barbara County, benefits from cool Pacific ocean breezes.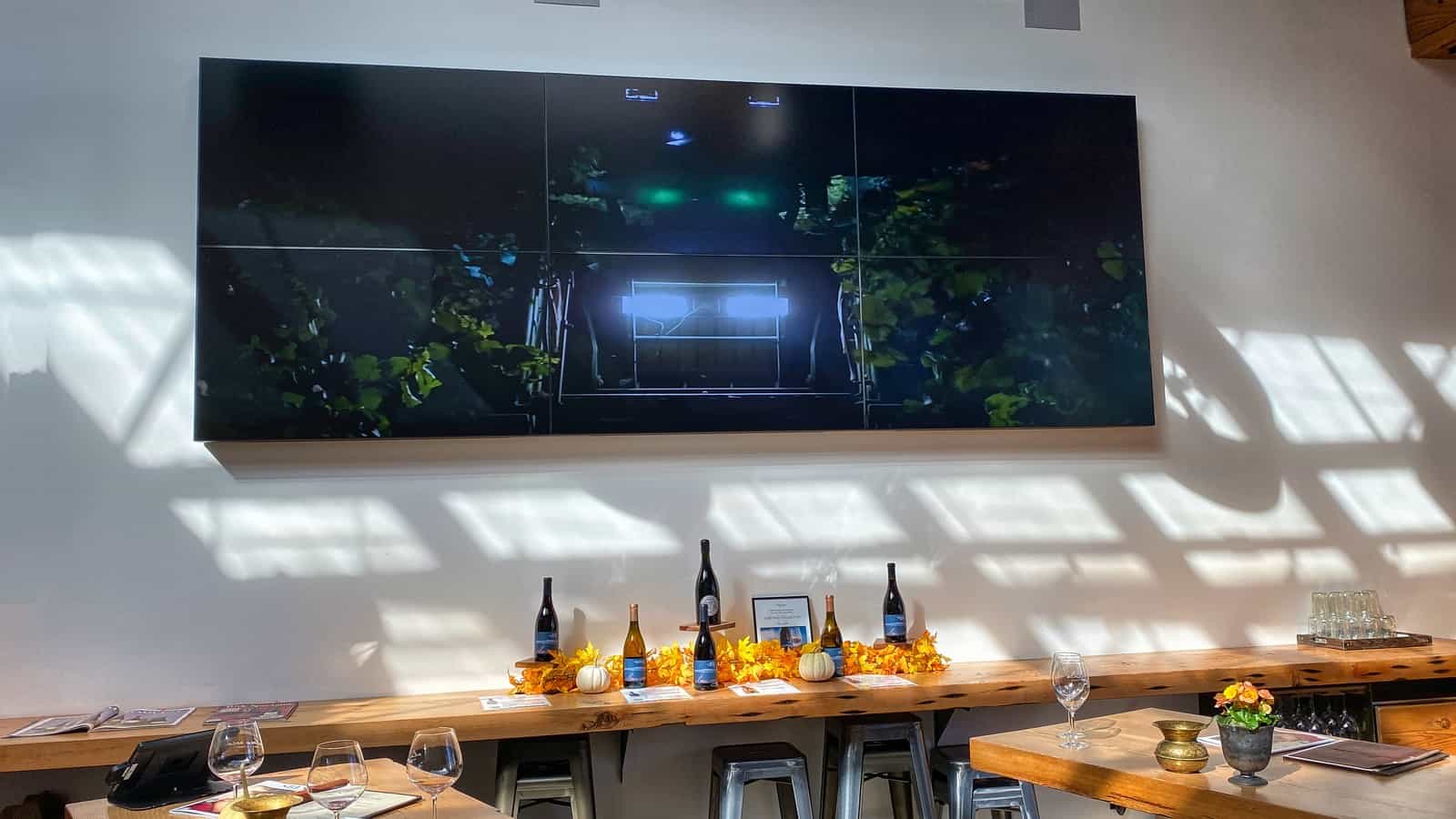 The Boutique Hampton Inn and Suite of Buellton
There are so many great places to taste wine in Buellton that you will want to have at least two days. We suggest staying at the Hampton Inn & Suites Buellton. Now I know you are probably saying "a Hampton Inn, you guys usually recommend boutique hotels."  Well, this Hampton Inn is a boutique Hampton Inn unlike any other we have stayed.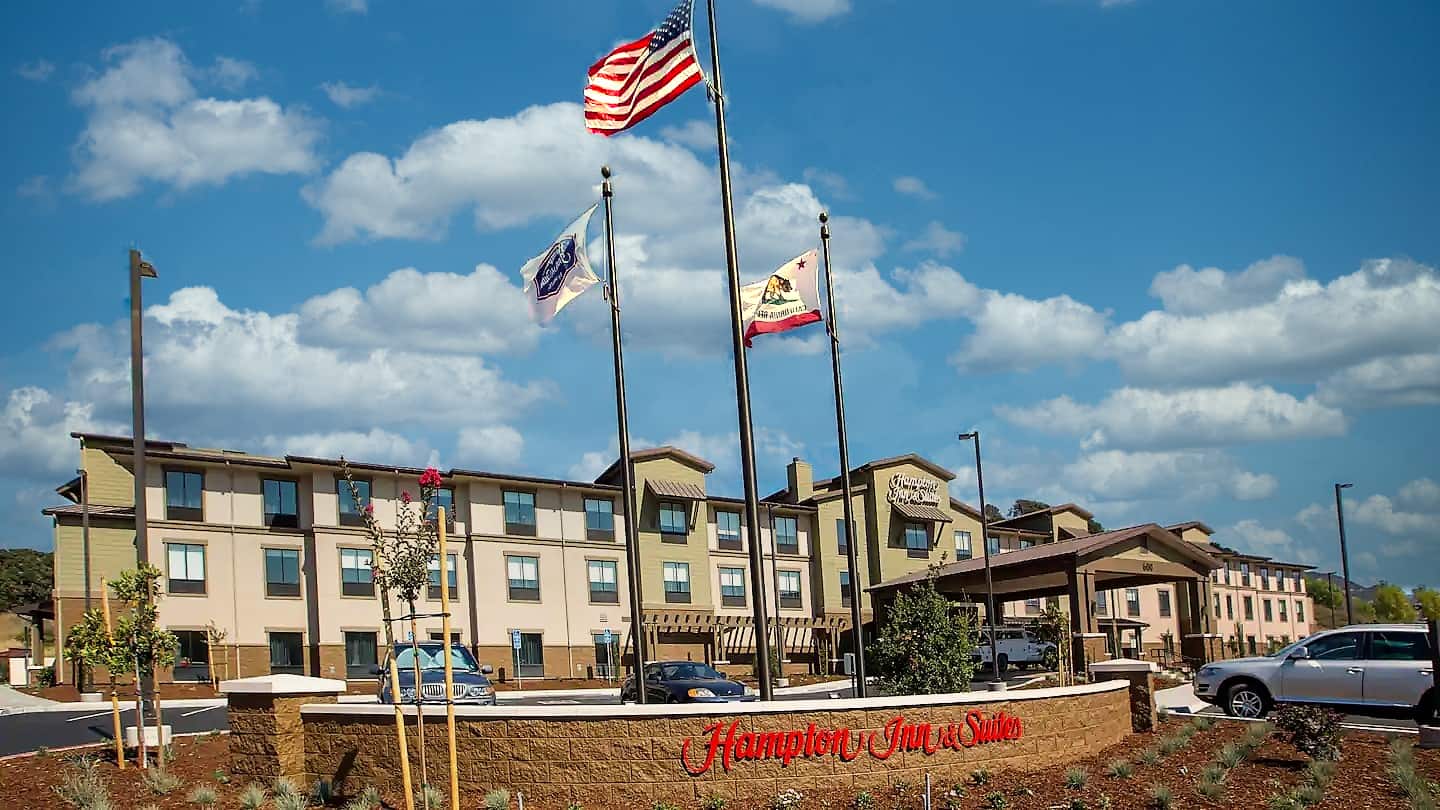 The Hampton has an outdoor pool and a fitness center. Both their dining room and lobby are a little more sophisticated than most Hampton Inns, but where this Buellton location stands out is its patio. The patio has classy fire pits with lots of table seating, complete with umbrellas. Additionally, they have a bocce court. During the week, they offer a free evening wine reception. This Hampton is a perfect couples-getaway hotel.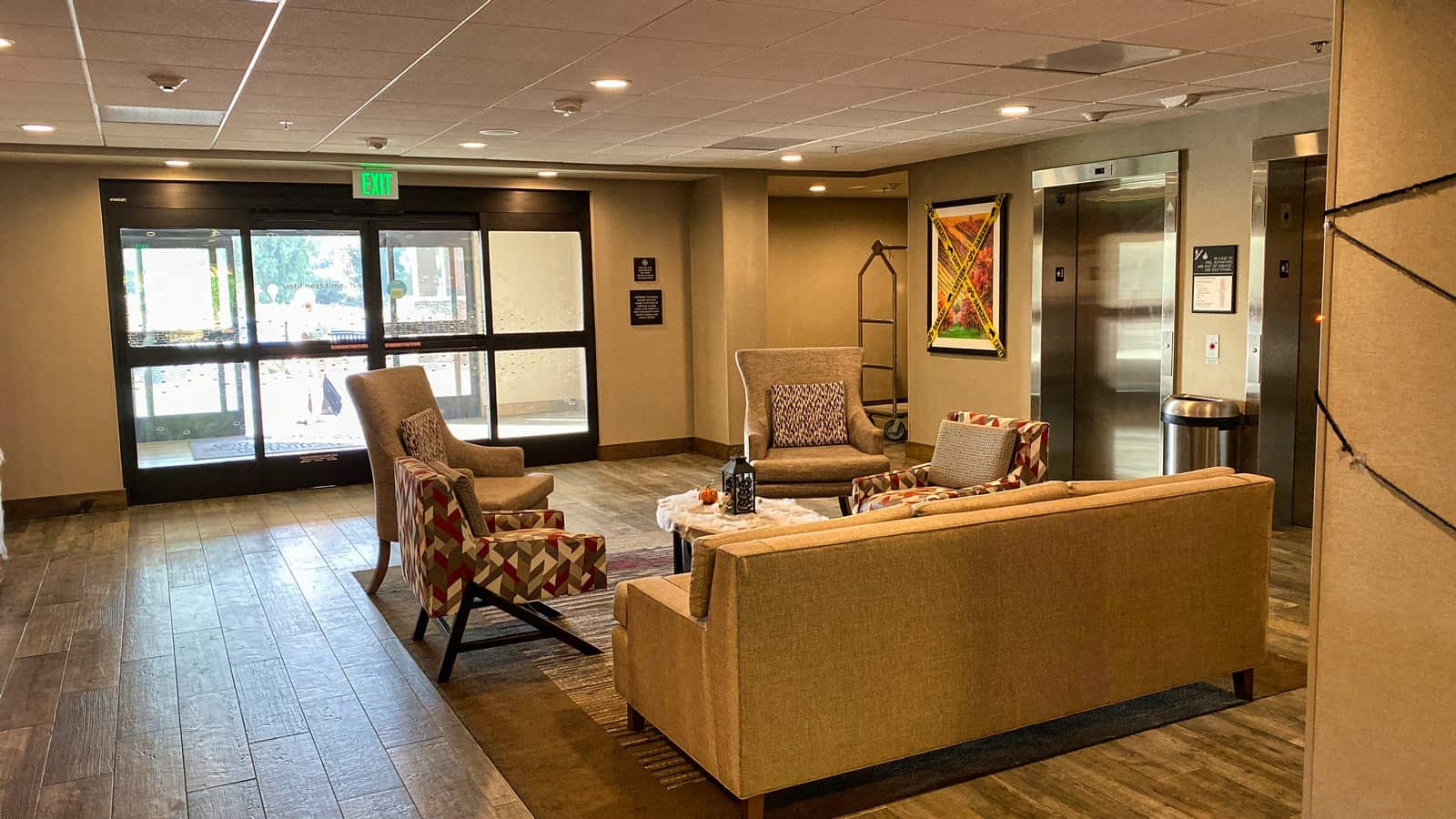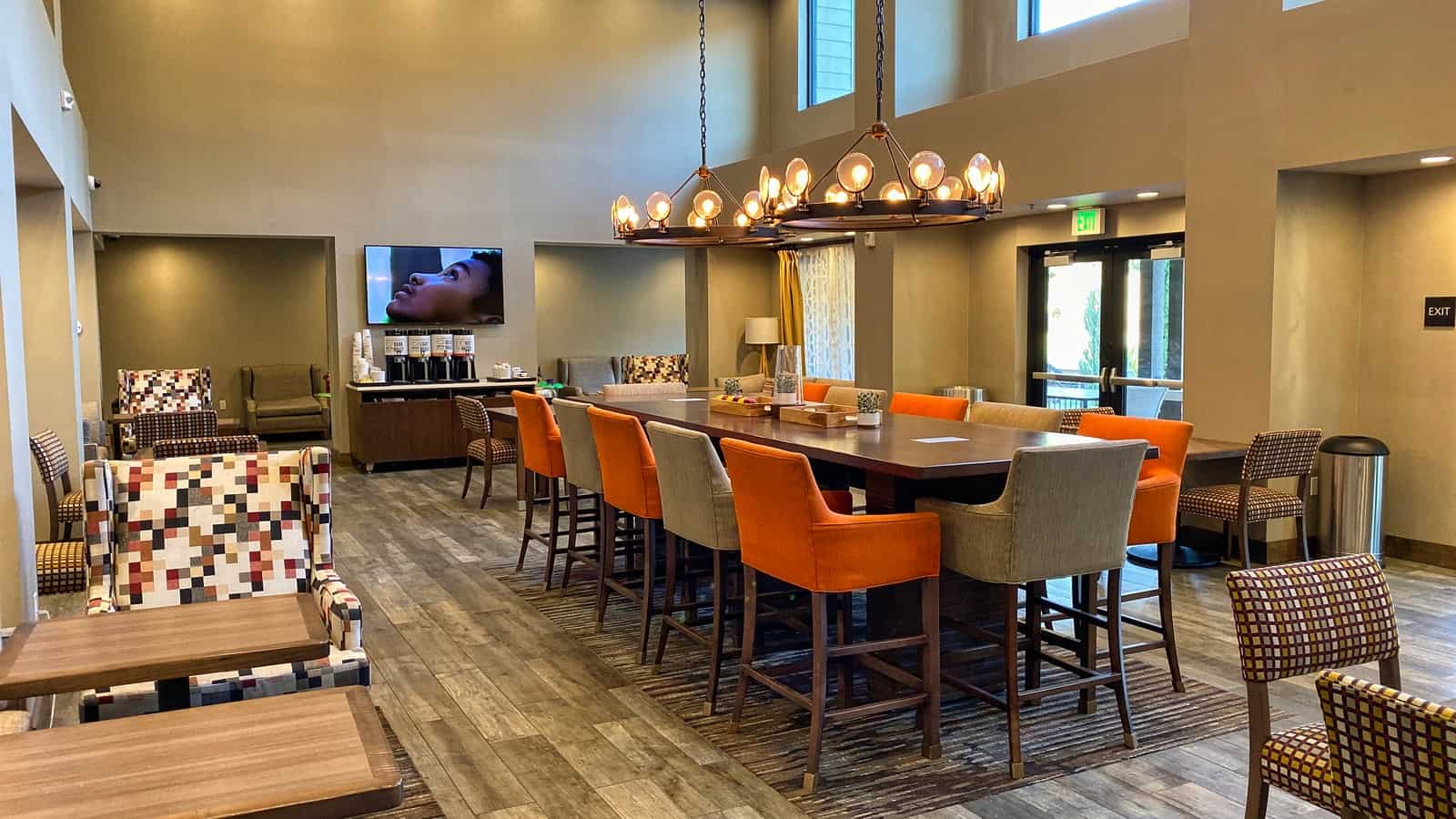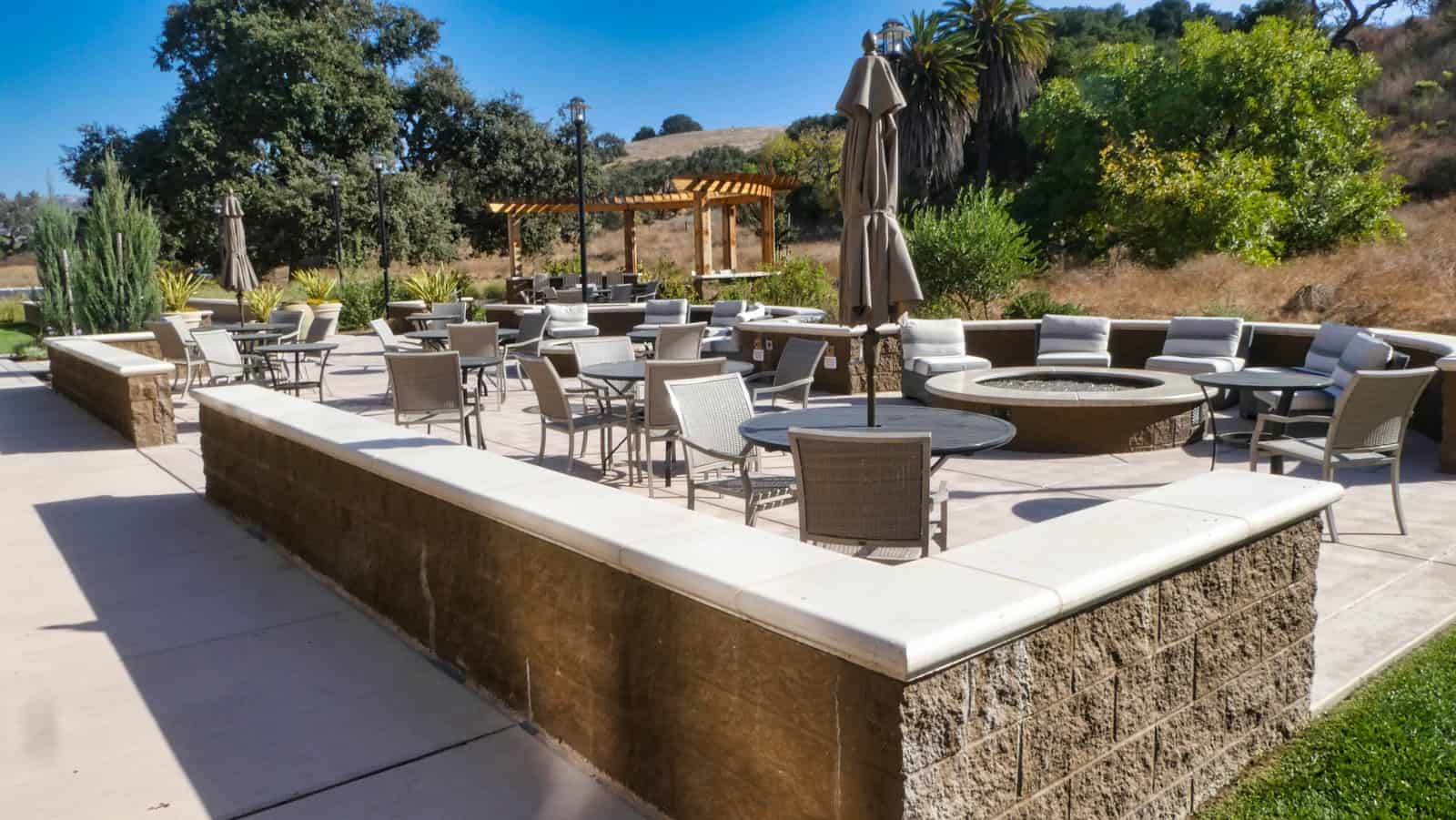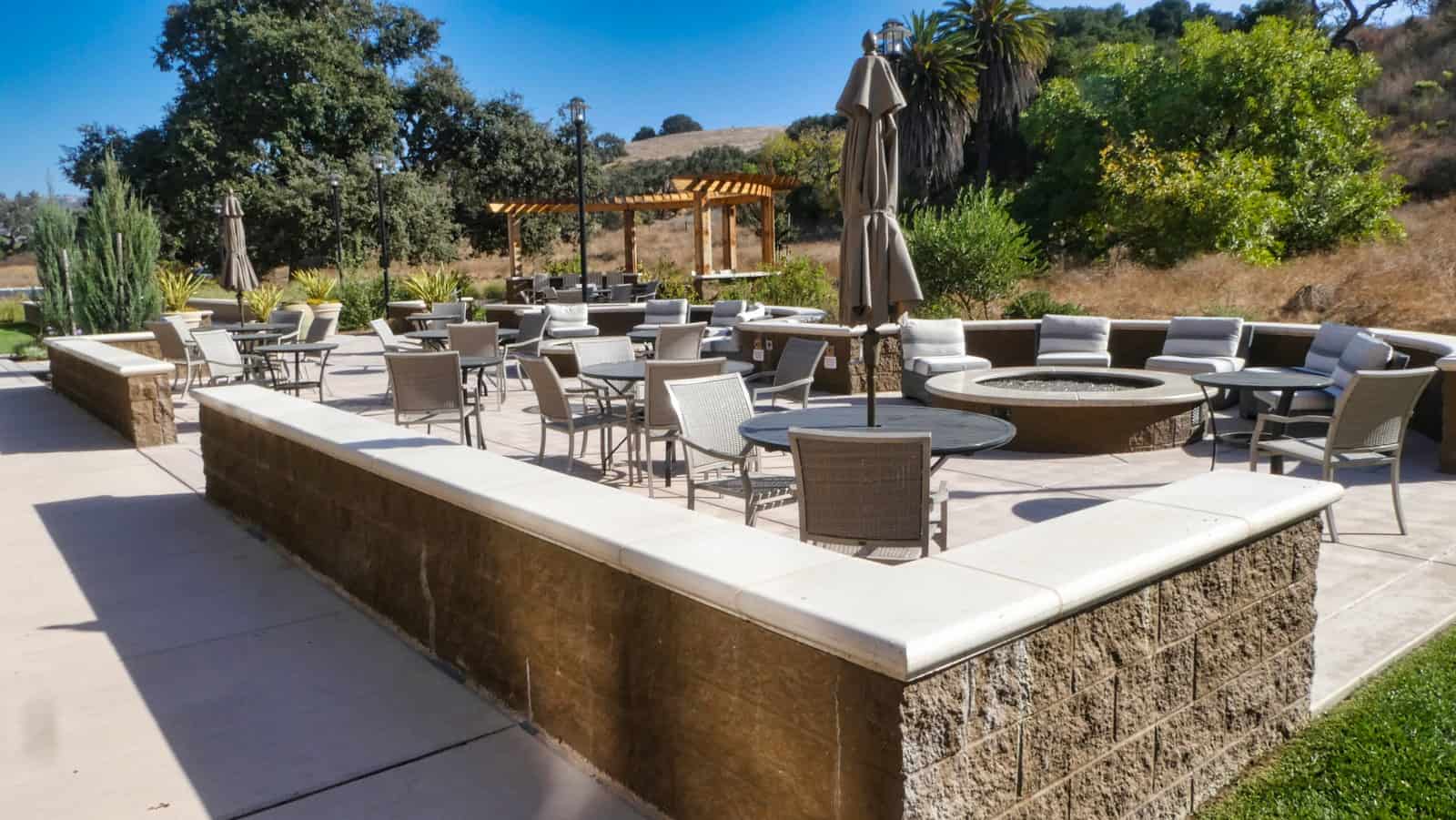 Our king room had a refrigerator, microwave, wet bar, sofa bed, large HDTV, and WiFi. It also had a desk and chair plus a sofa bed. The furnishings were modern yet classy.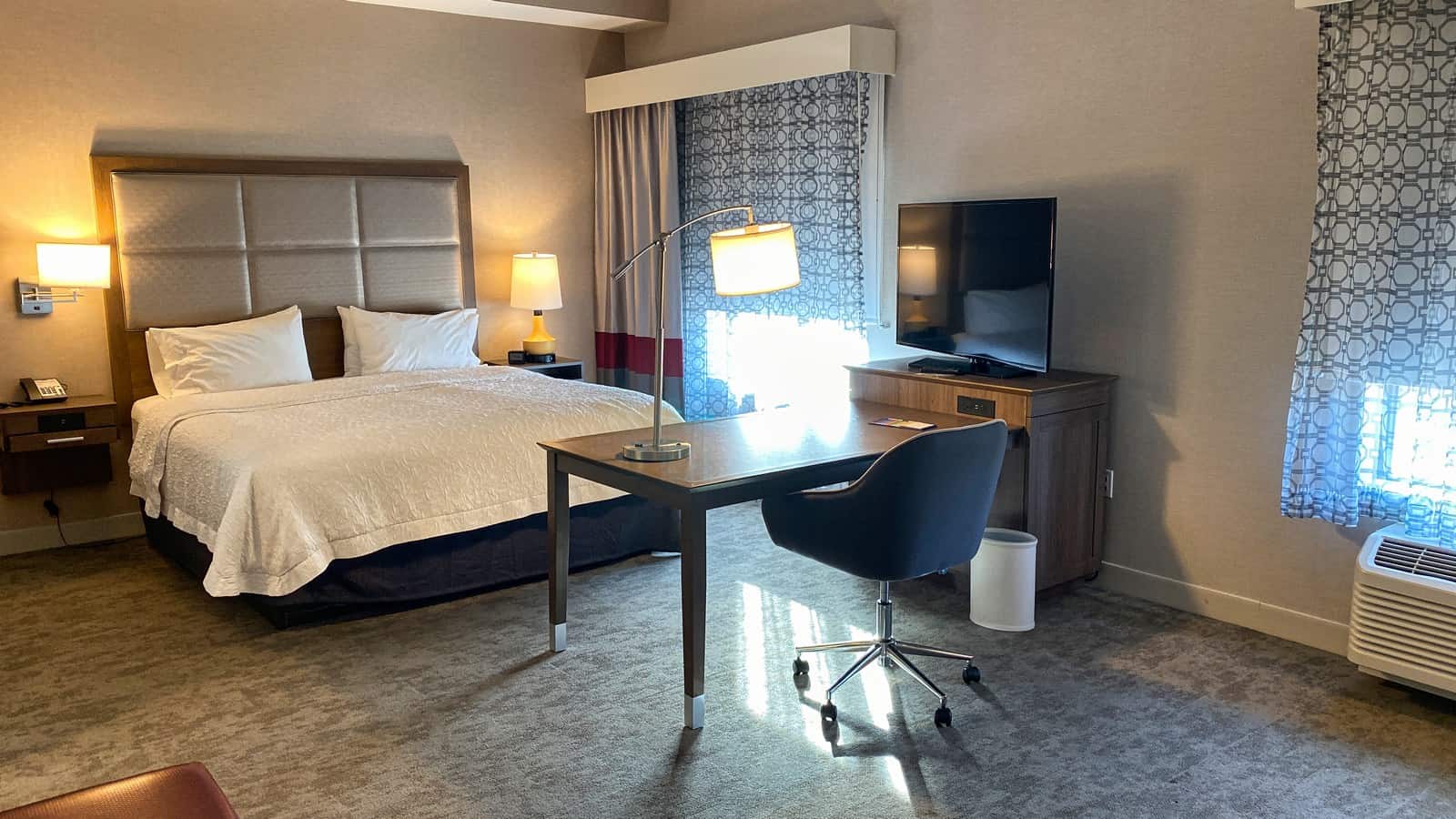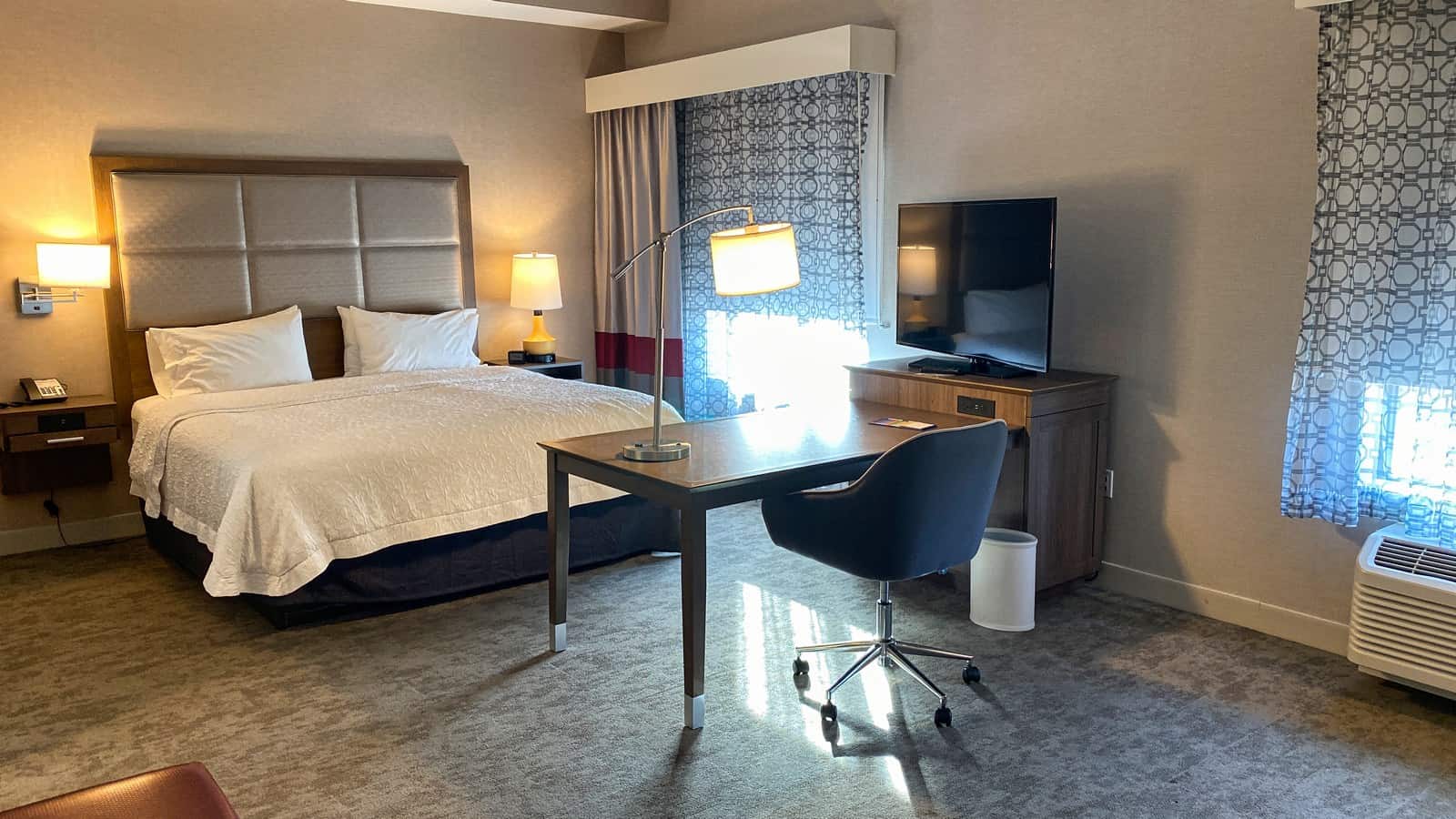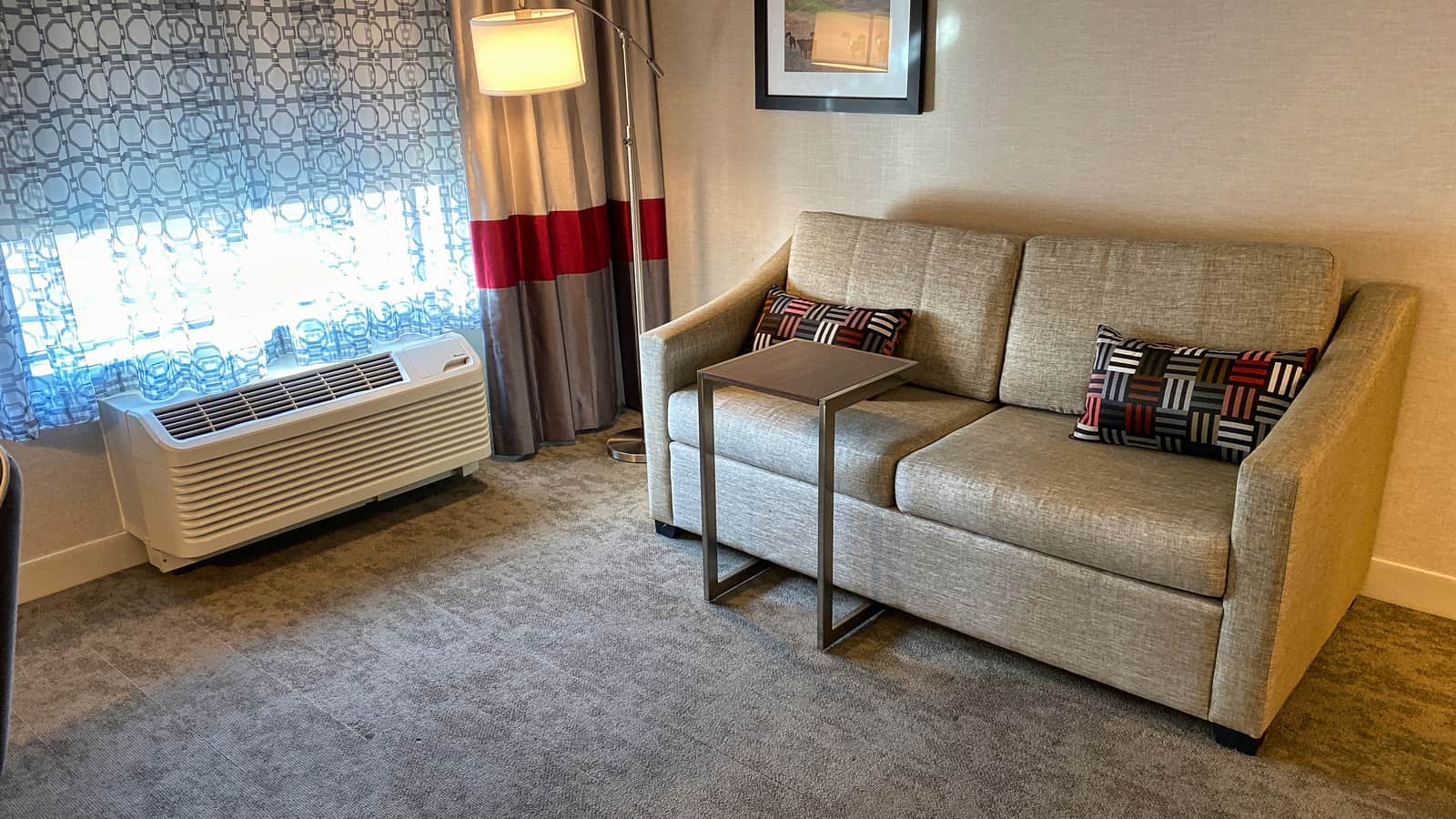 Another great thing about the Hampton Inn is that it is with walking distance of Industrial Way. Plus, they serve a breakfast buffet.
Loring Wine Company
To begin day two in Buellton, we recommend wine tasting at Loring Wine Company, also located in Industrial Way. Brian Loring owns Loring, and he is obsessed with Pinot Noir. He is the winemaker too. He buys his grapes from vineyards throughout the surrounding area. Brian believes that the wine is a reflection of the vineyard owner as much as it is of his winemaking skills.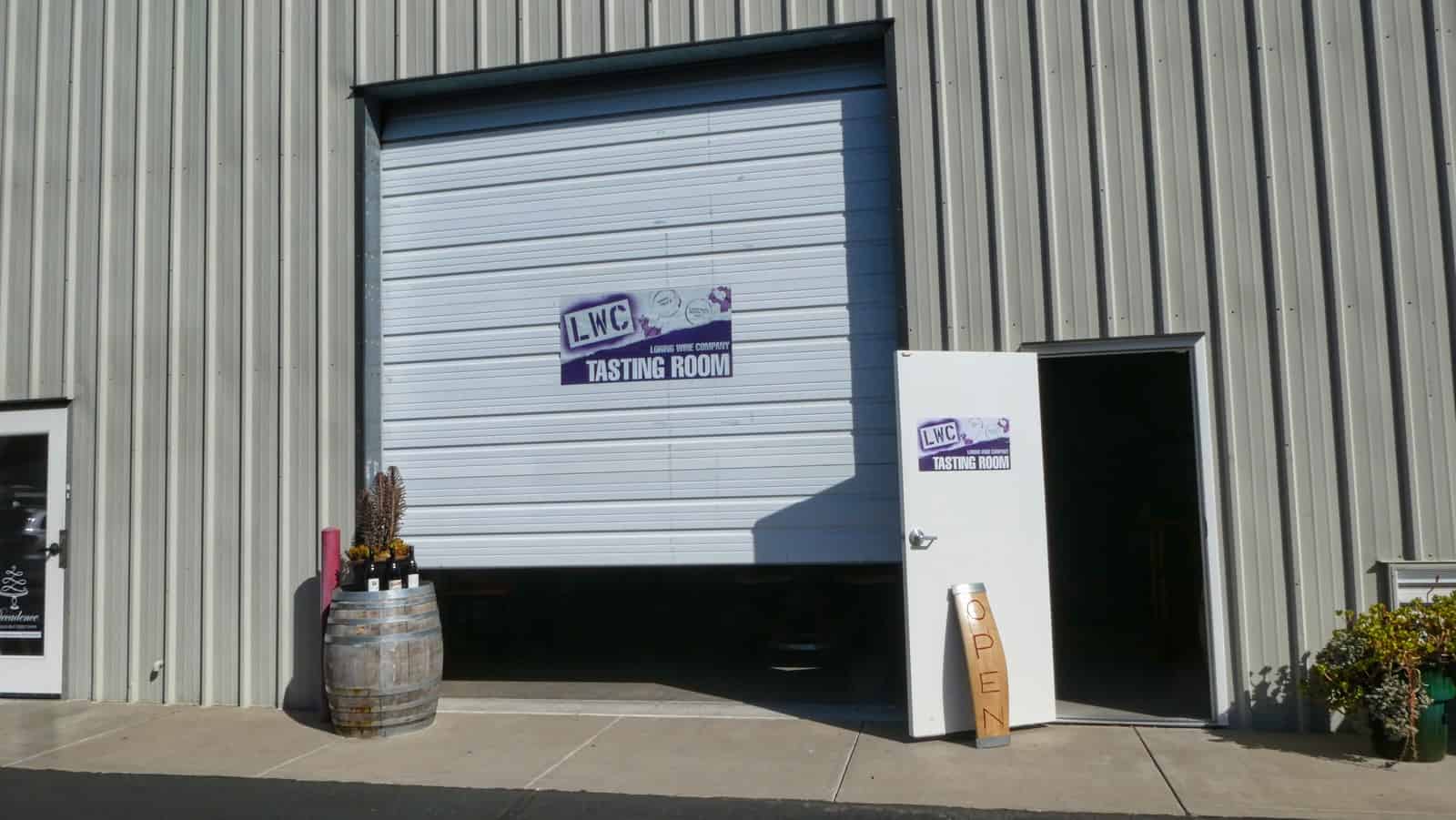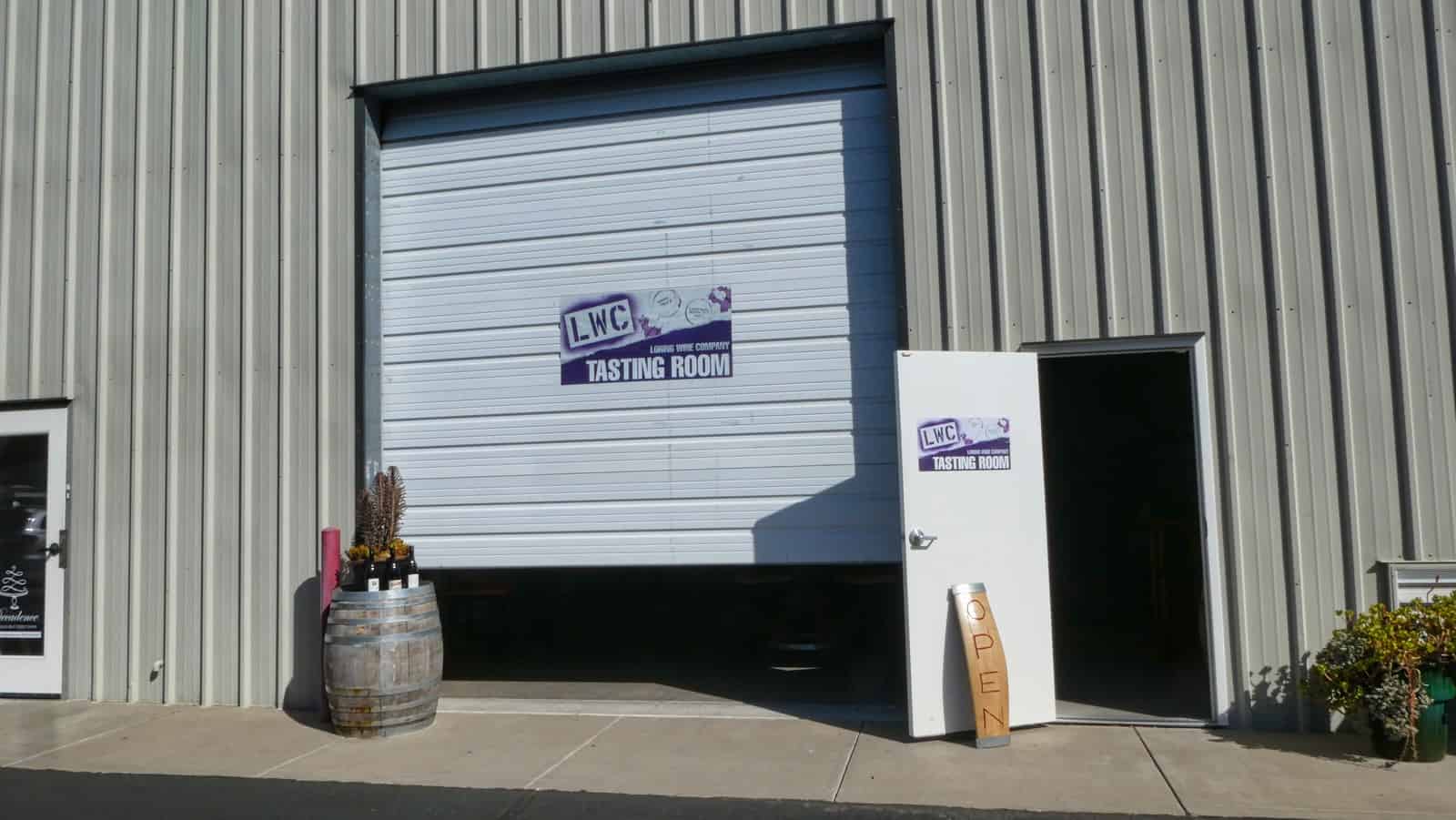 The tasting room, with its bright lights and the exposed ceiling, has an urban vibe.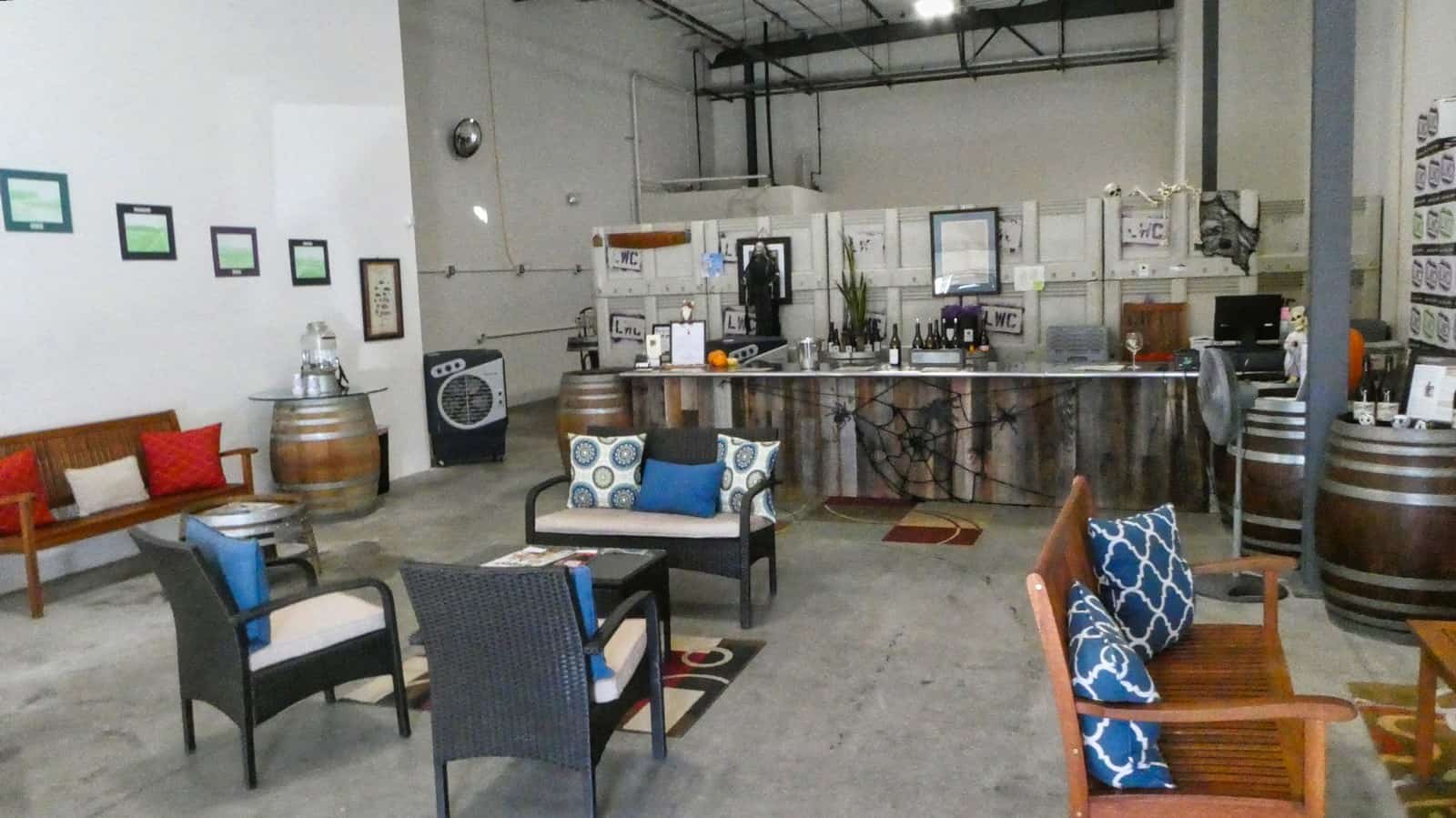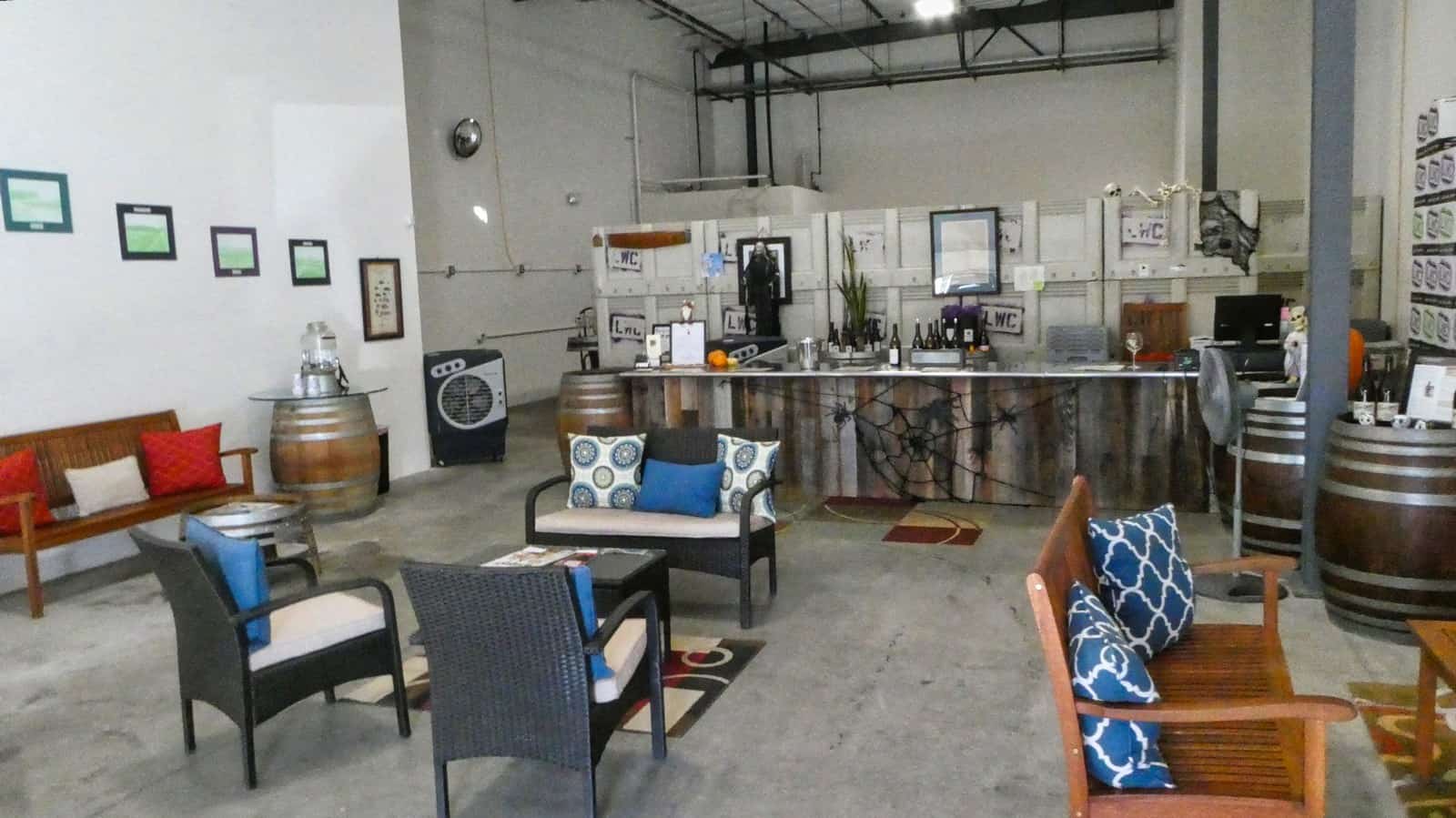 Something unique at Loring is that they do a cookie and wine pairing. The cookies are unusual, but each cookie perfectly complements the flavors of the different wines.
Known as one of California's top Pinot Noir producers, Loring Wine Company produces fifteen Pinot Noirs as well as some other exceptional varietals. You are welcome to bring food or snacks to the tasting room to enjoy with the excellent wine.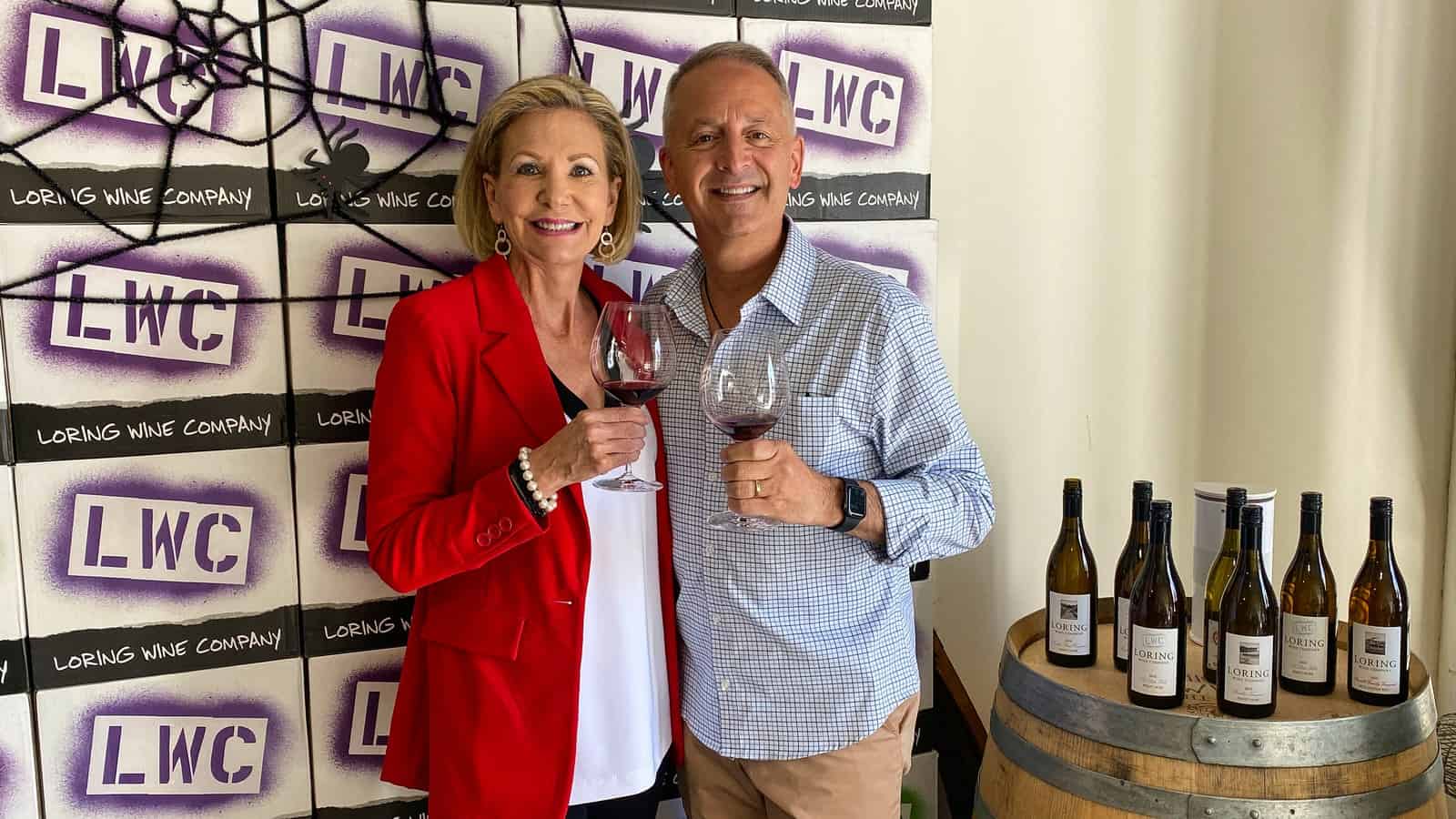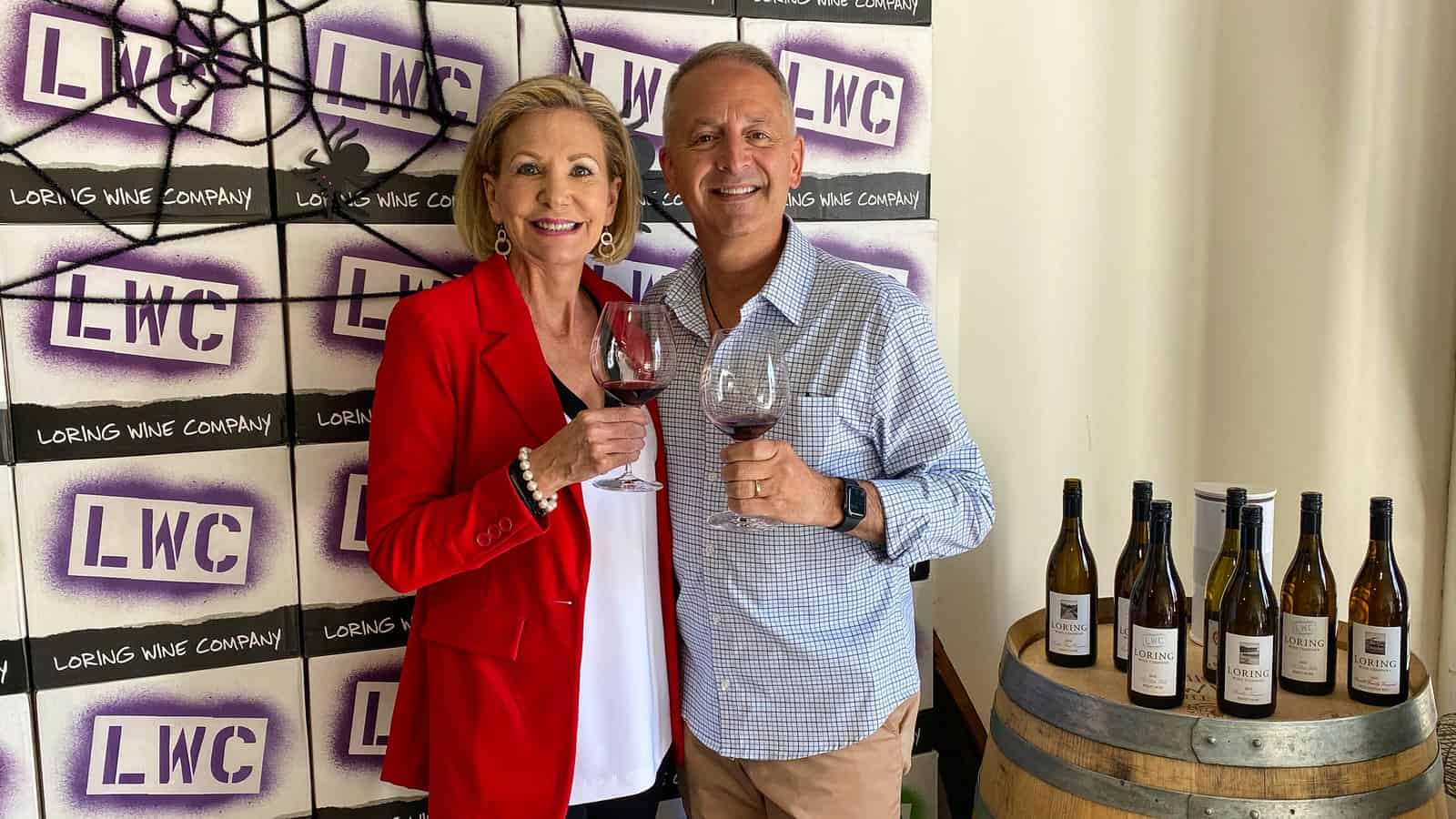 The Hitching Post Made Famous by the Film Sideways
Next, is a must-visit place, The Hitching Post Wines. The Hitching Post is known for being featured in the Rex Pickett novel Sideways and the Academy Award-winning 2004 film adaptation of the same name. The hitching post is where actor Paul Giamatti's character Miles meets the lovely waitress Maya, played by Virginia Madsen. Additionally, wine snob Miles loved the Highliner Pinot Noir at The Hitching Post.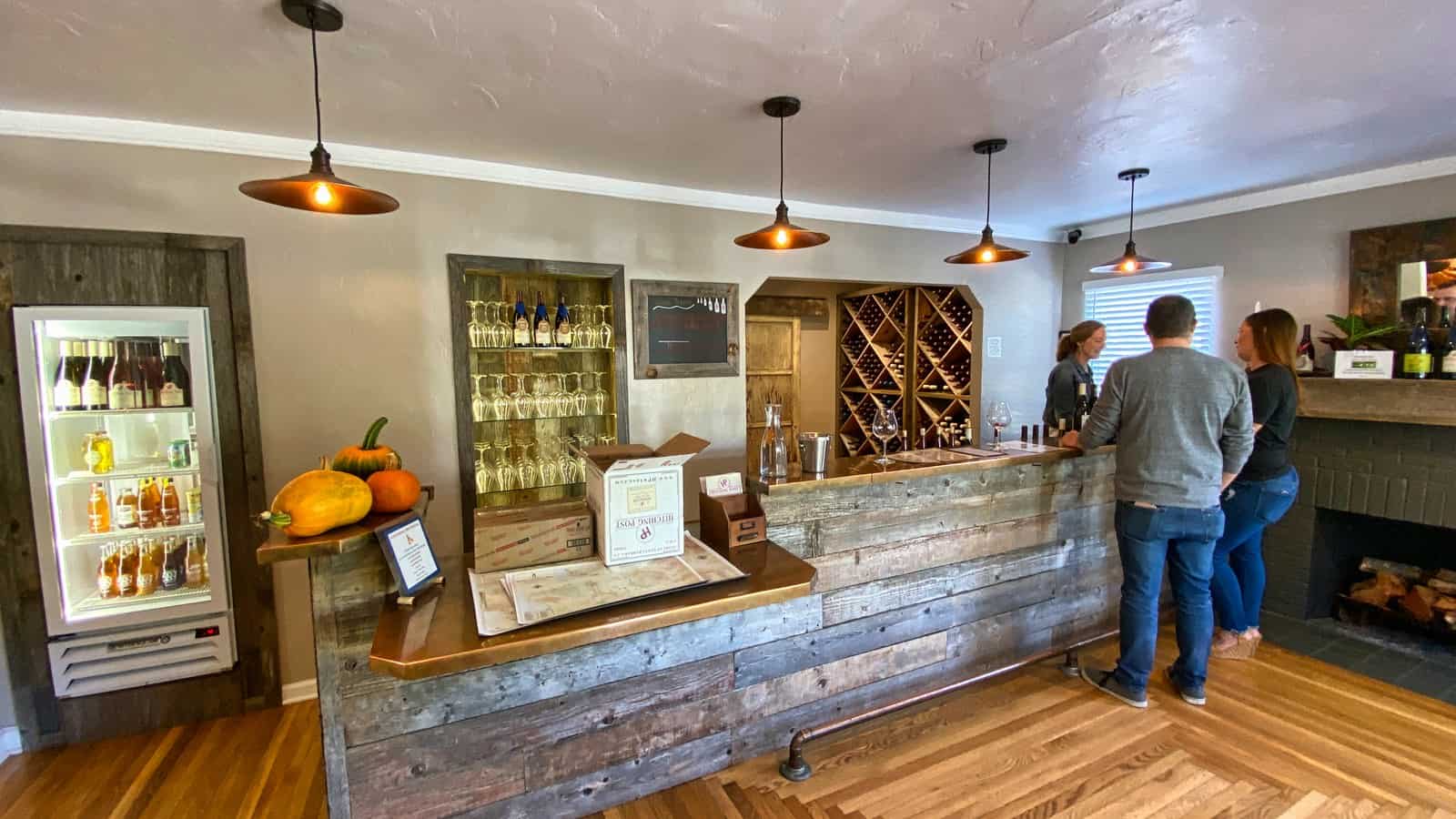 Gary Hartley, an Alaska fisherman-turned-winemaker and co-owner of the Hitching Post named his Pinot Noir, Highliner because it's blended from the best barrels of that year, like the best fisher in the fleet. Its been fifteen years since the film debut and Pinot is still quite popular. Many people visit Buellton each year just to visit all of the movie locations.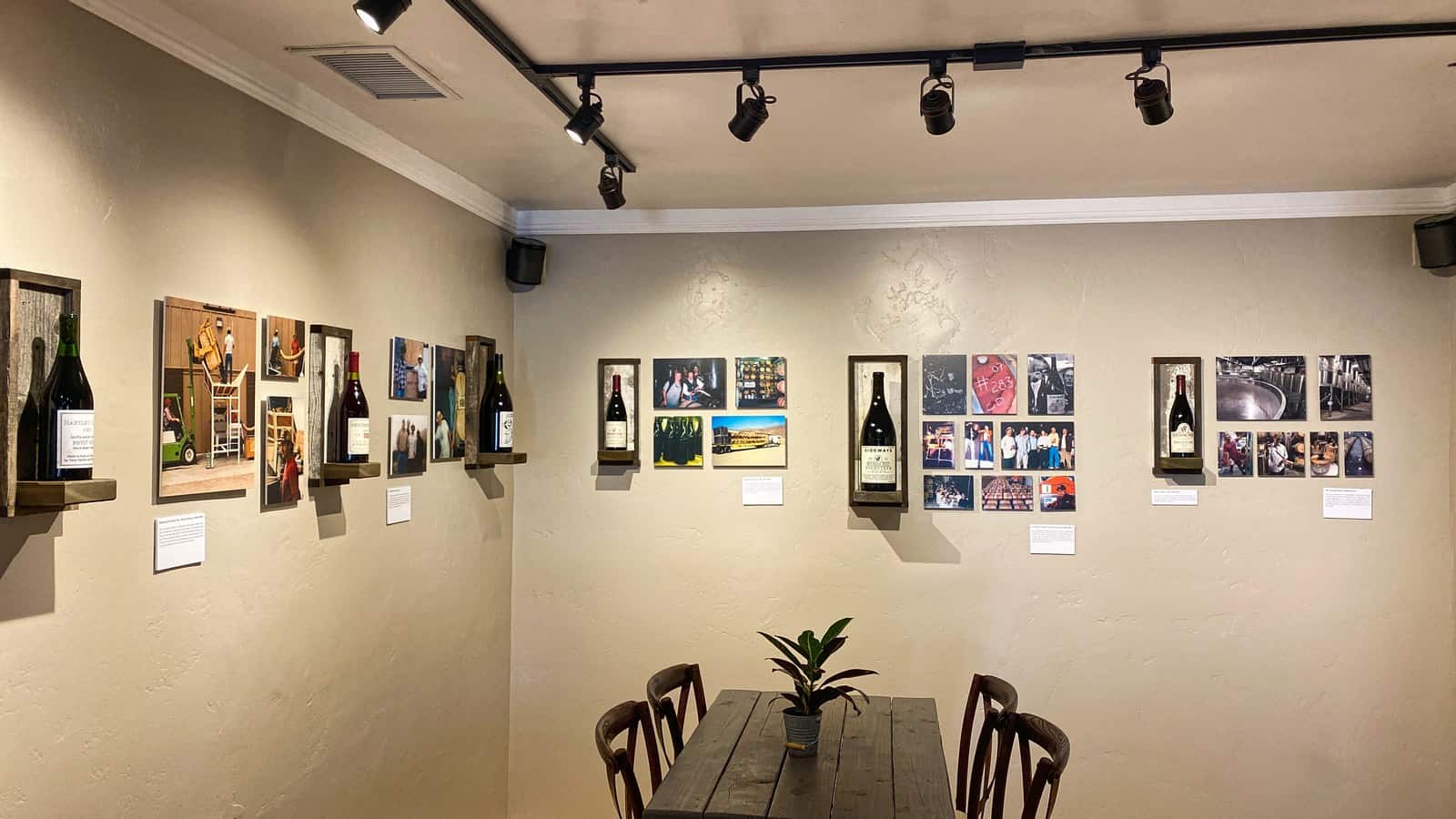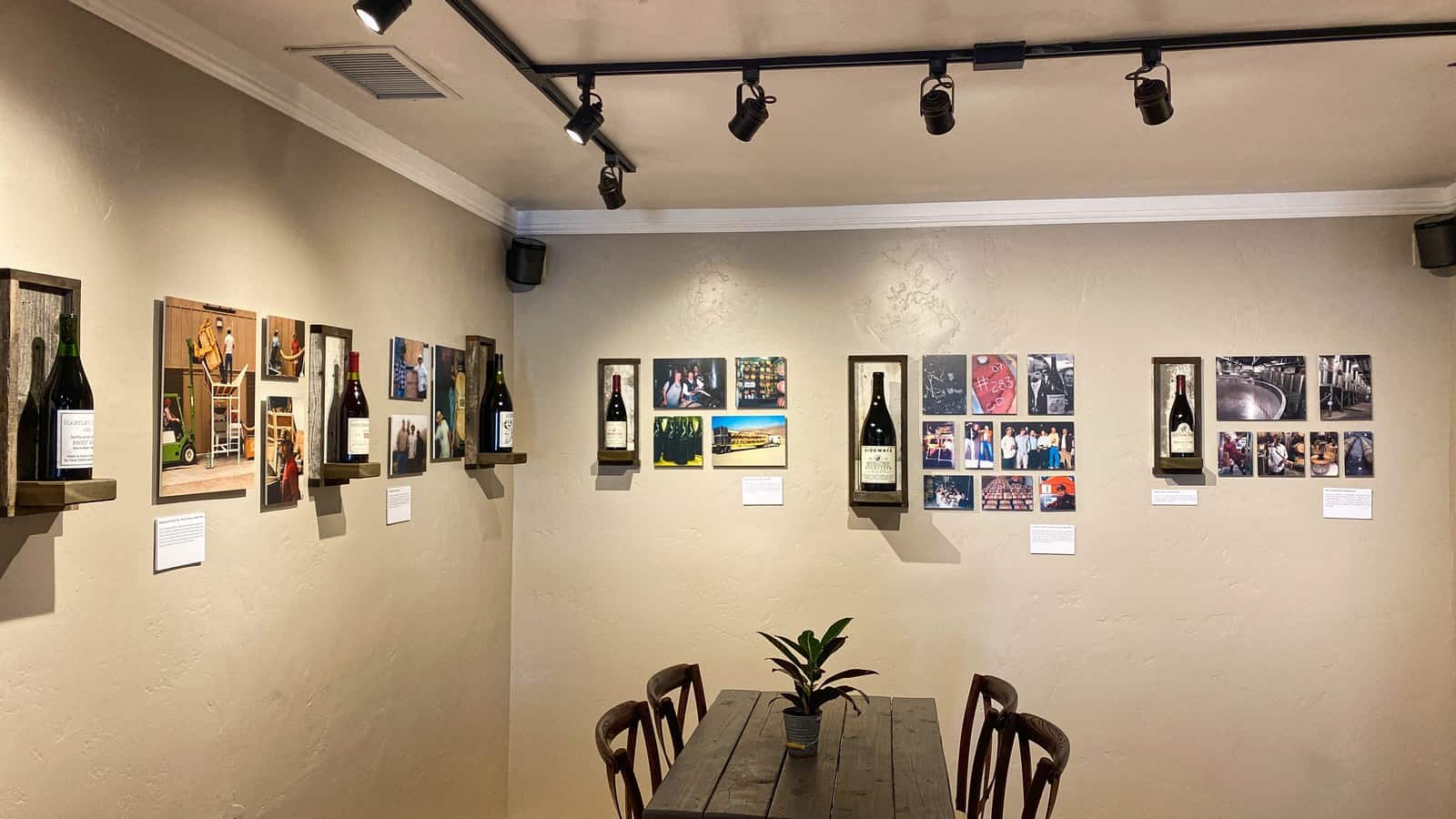 We sampled the hitching Post wines while enjoying lunch and Gary's company and storytelling. We decided that the day was so lovely we would sit outside, but their tasting room is gorgeous and inviting, so the choice was difficult.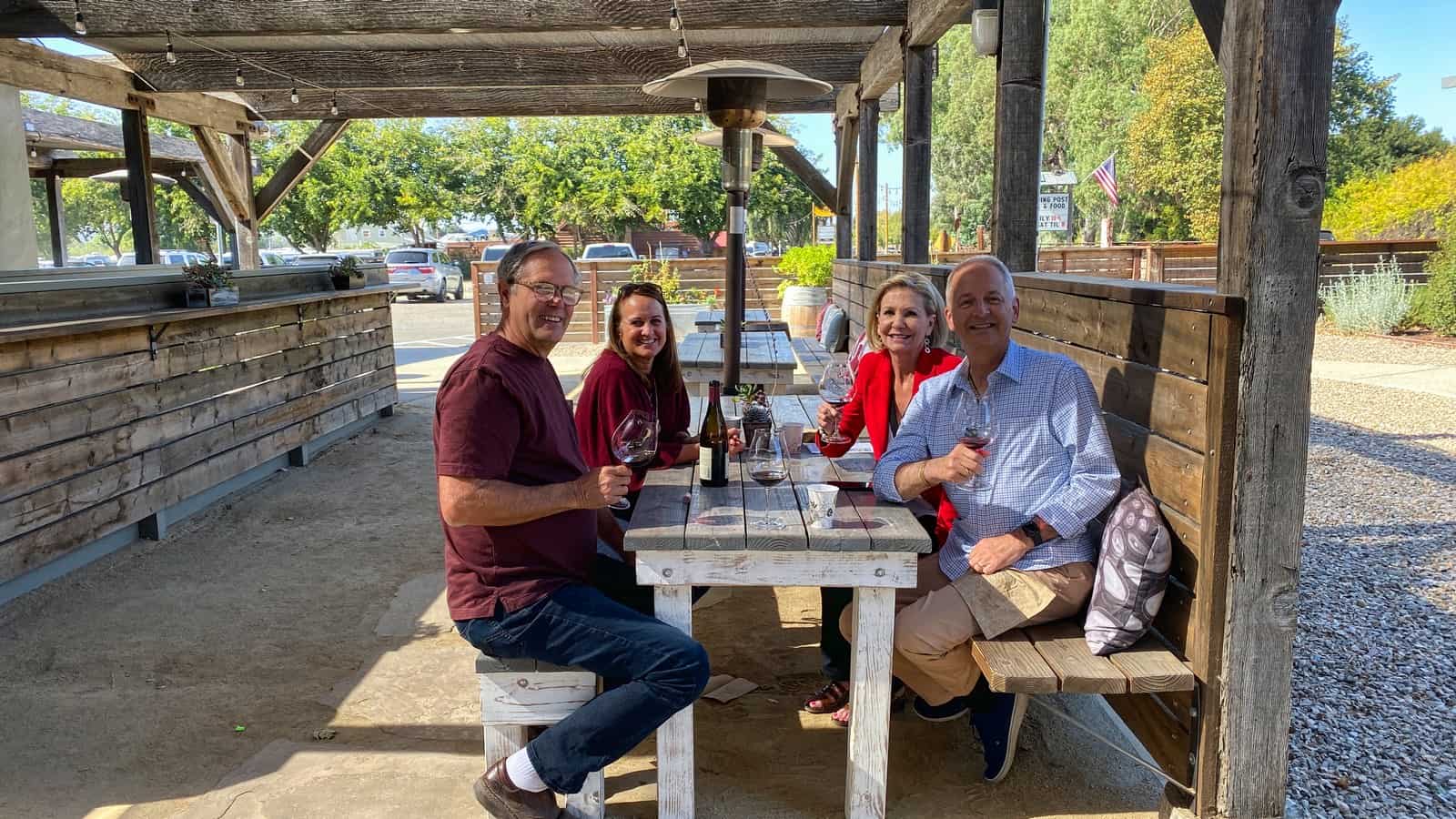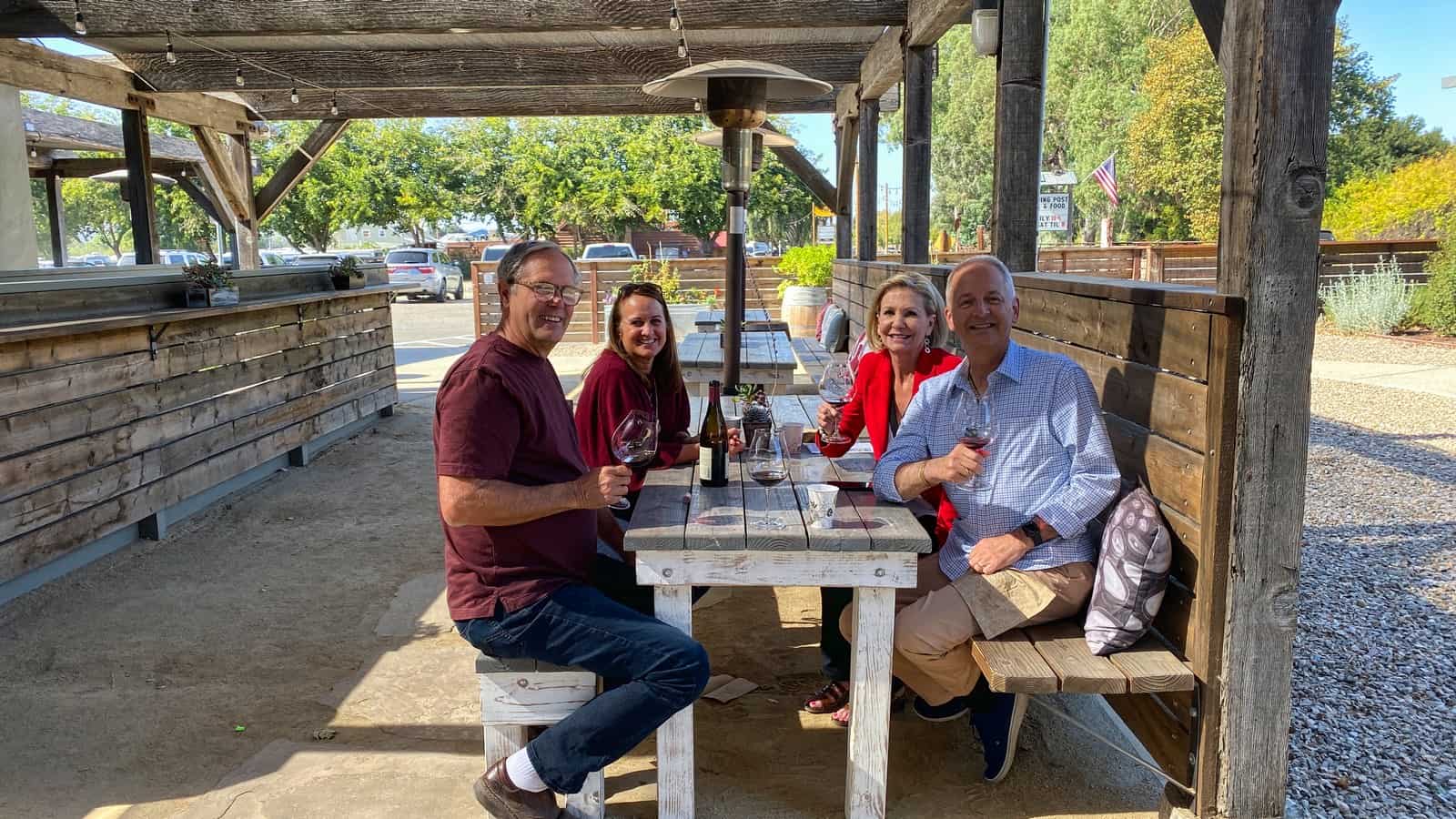 Keith had the Grilled Chicken Salad with corn salsa, and I had a vegan Beyond Burger. Both grilled with Santa Maria-style barbecue seasoning. We can tell you the food is as amazing as the wine.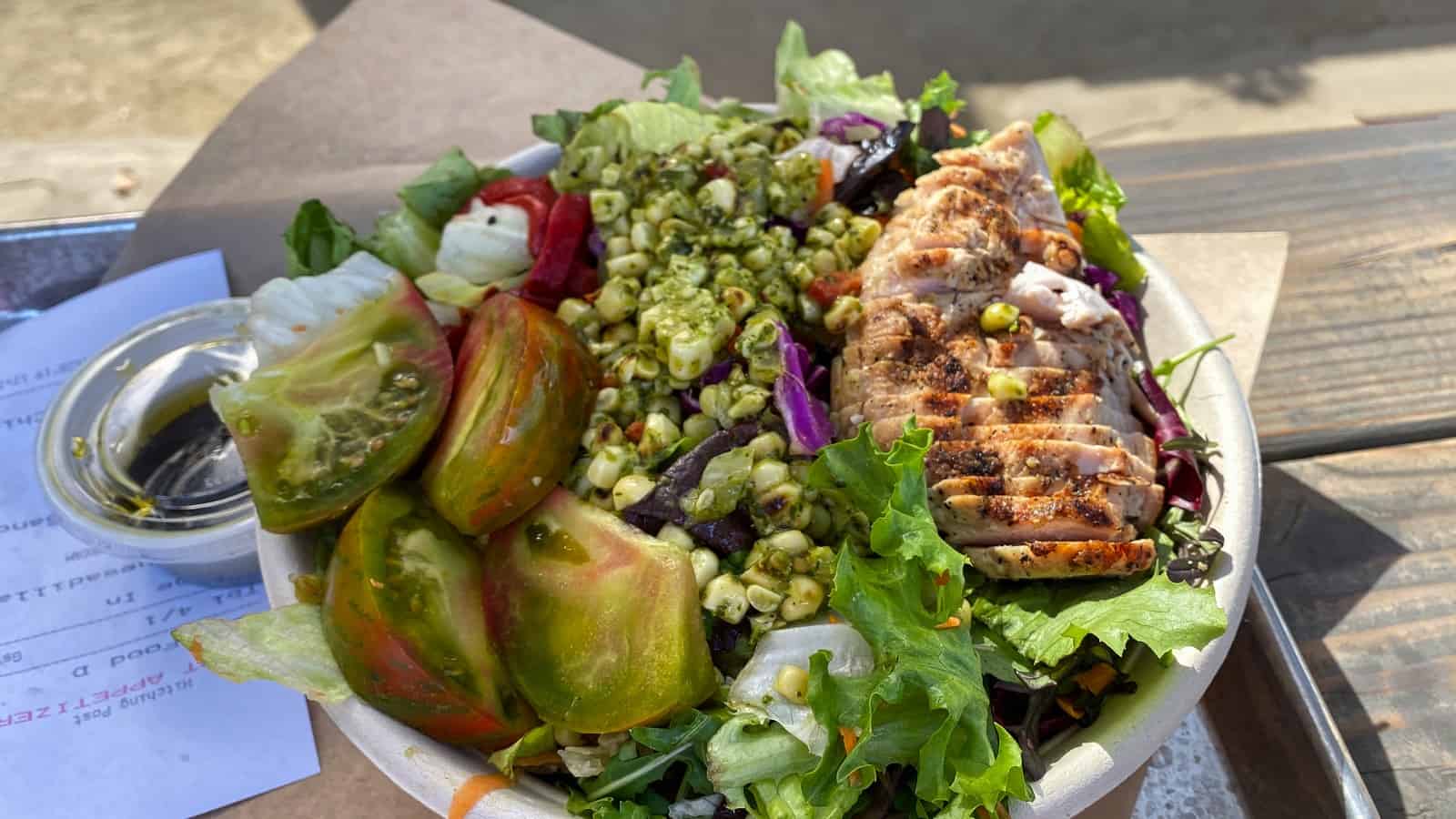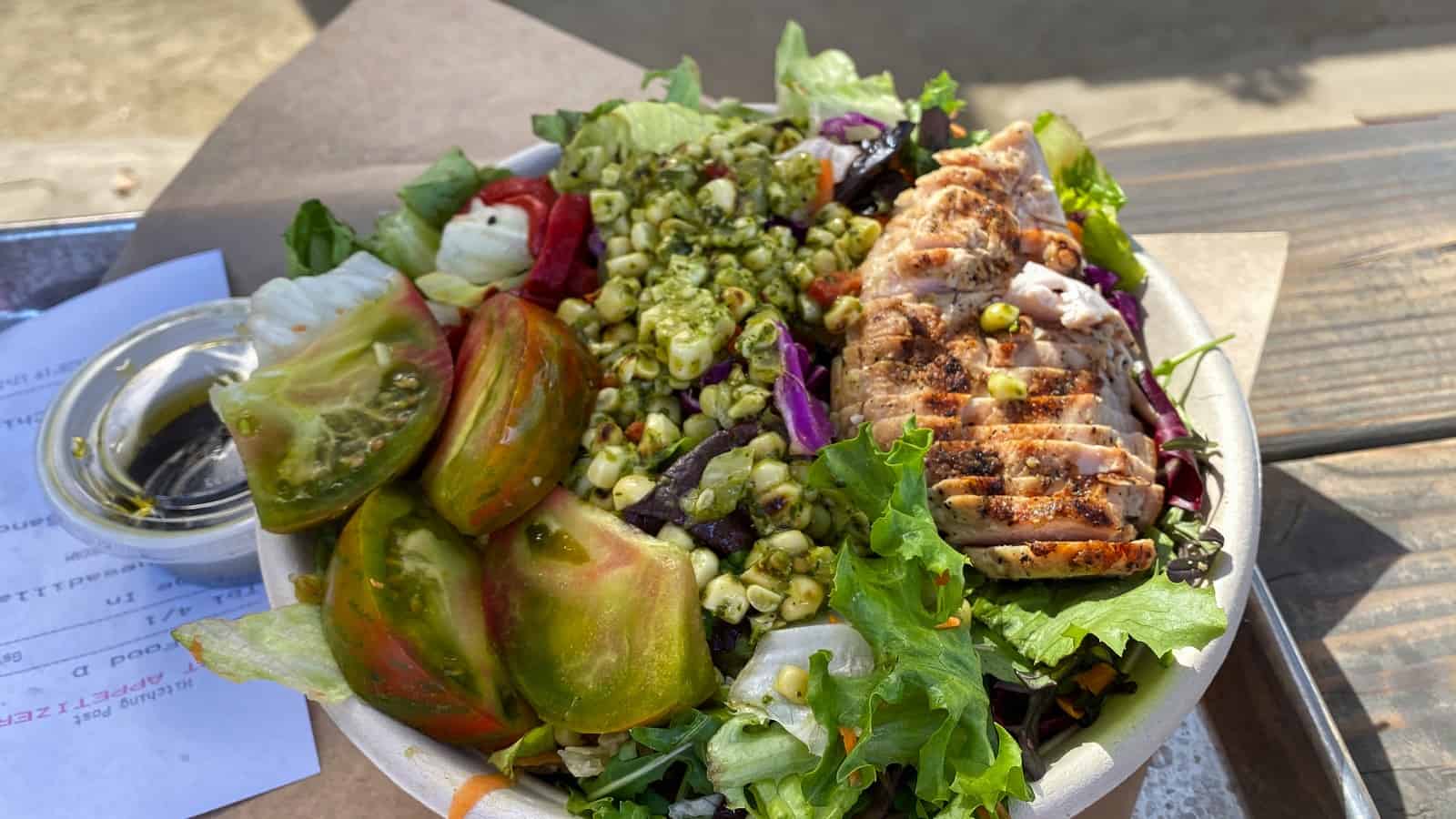 From Horses to Wine at Brick Barn Wine Estate
After lunch, visit Brick Barn Wine Estate. Brick Barn is a lovely winery with elegant decor. Tastings are available at the bar, on the comfy couches, or cozied-up fireside under ancient oaks on their patio.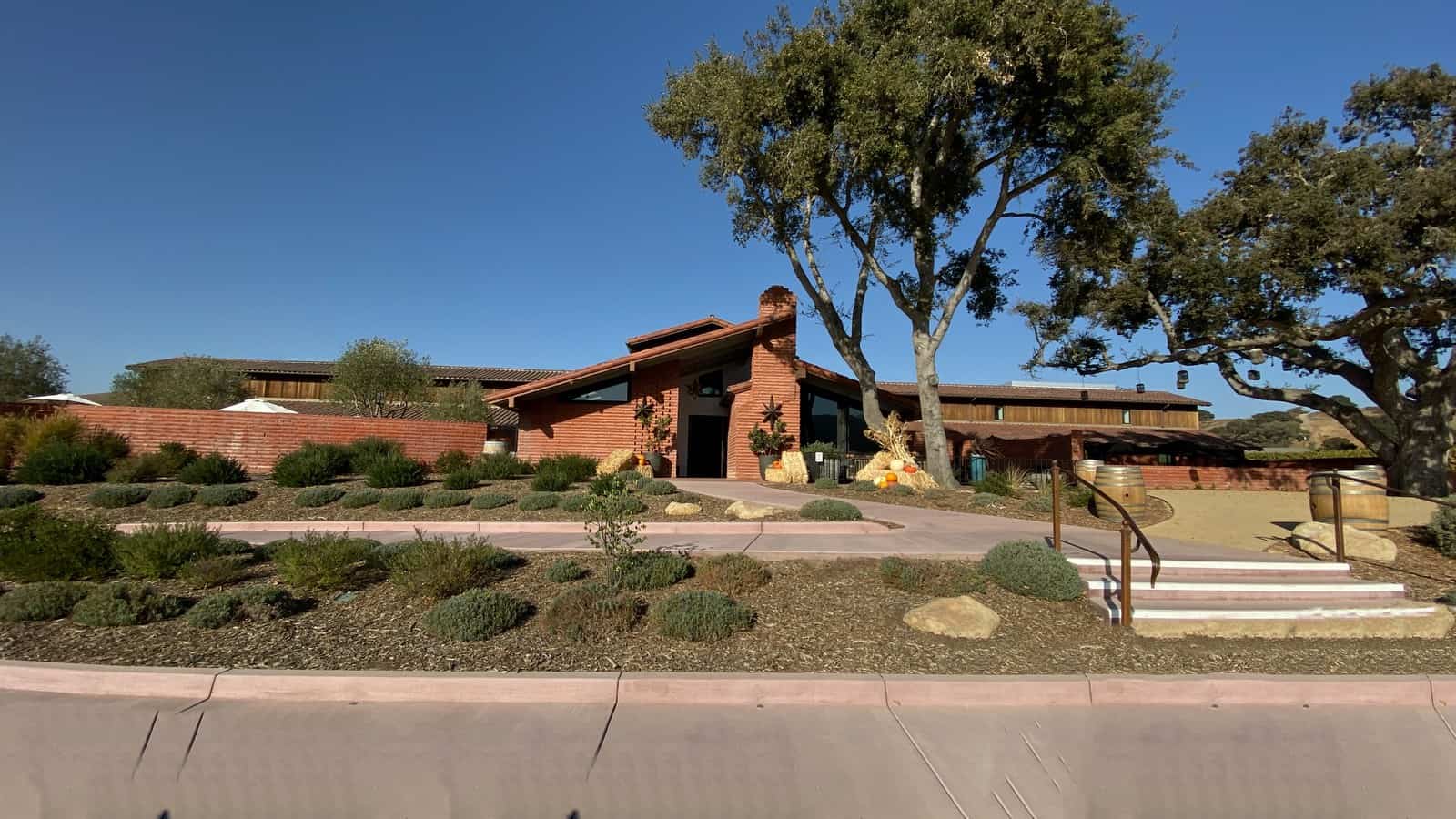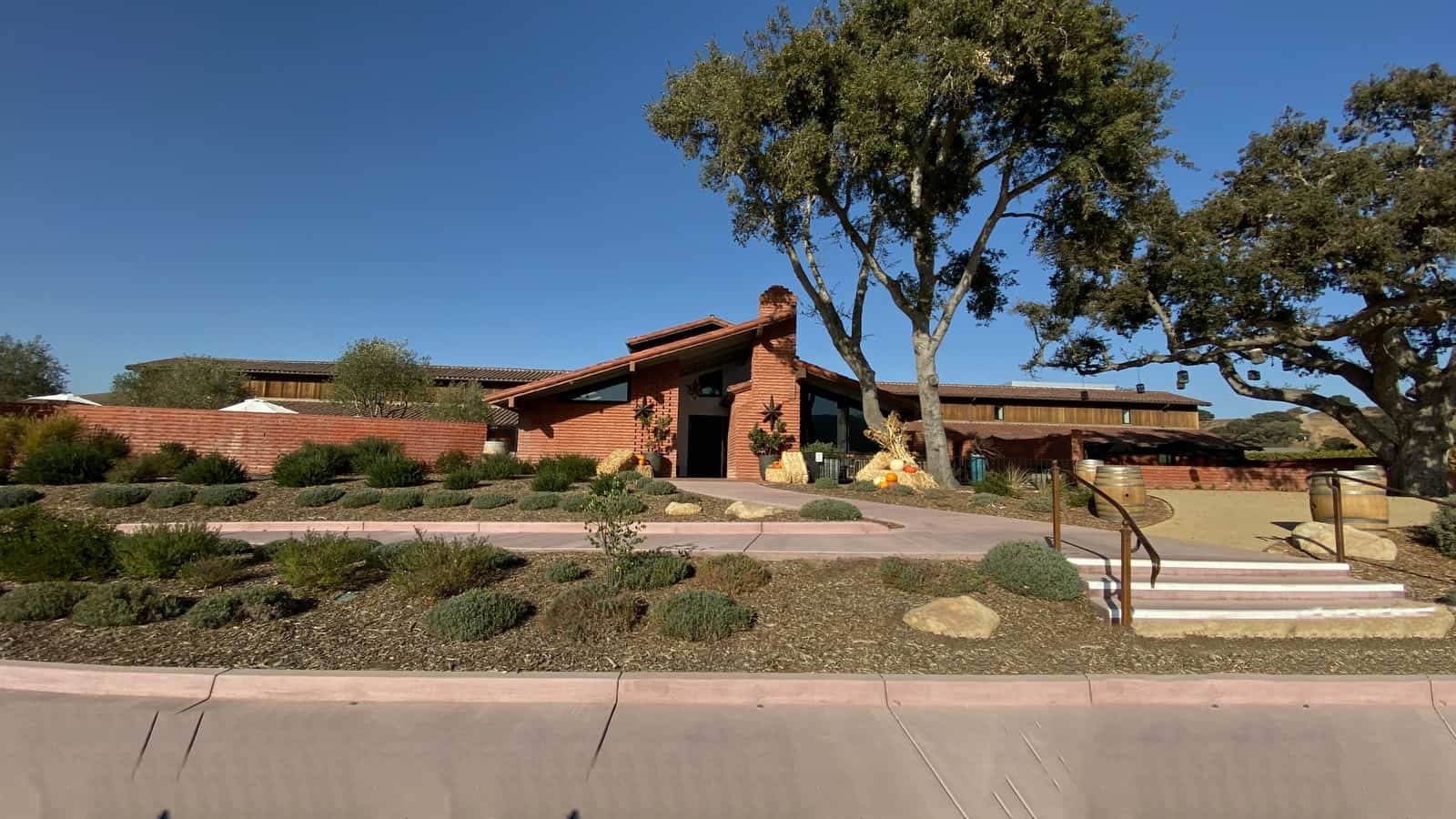 Brick Barn began as a world-class Arabian horse farm. An Italian stonemason created a 36-stall brick barn with a mid-century modern roofline. Forty years later, the barn is a gorgeous wine tasting room surrounded by a 50-acre wine estate located on a historic 1,100-acre ranch.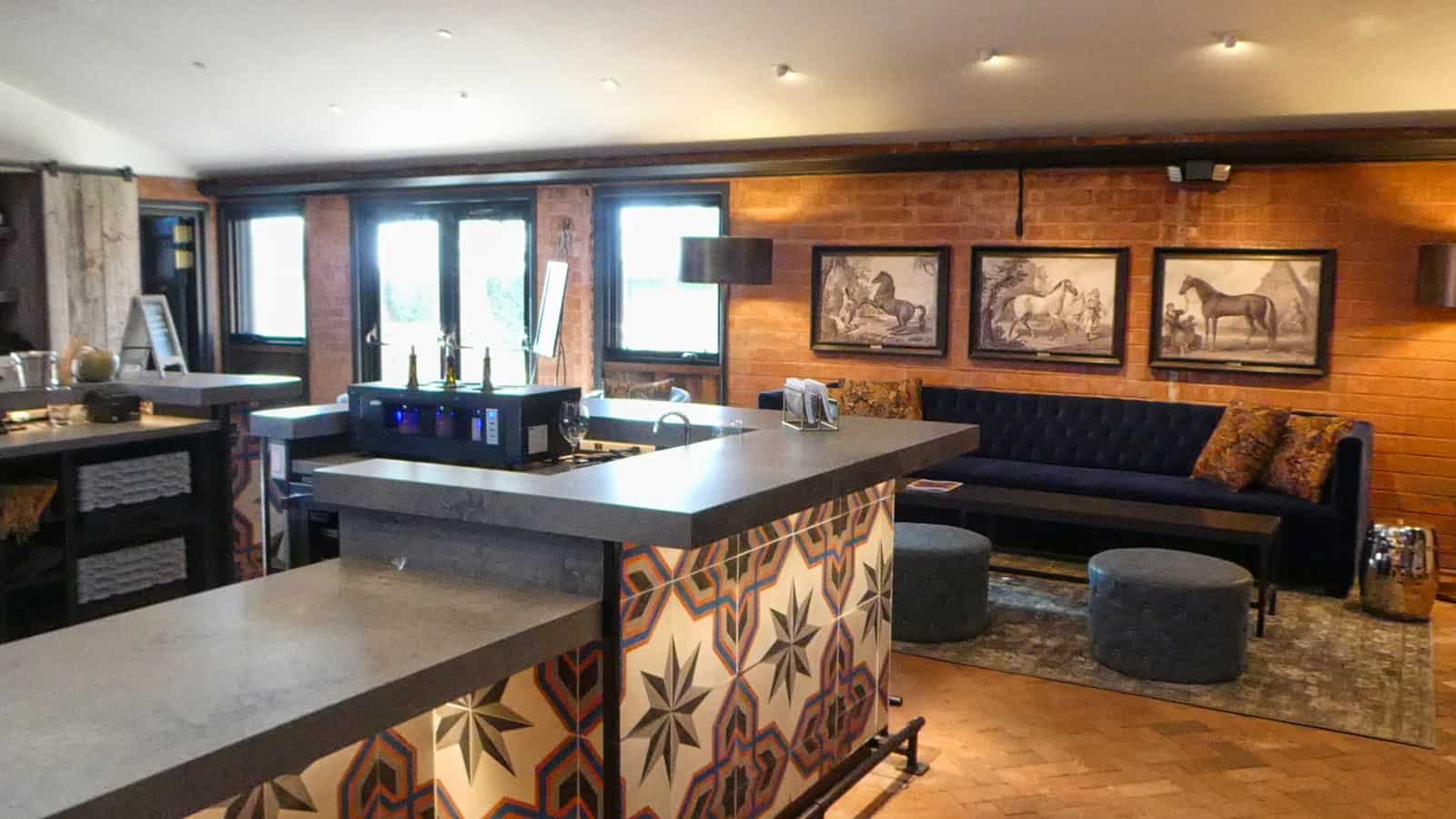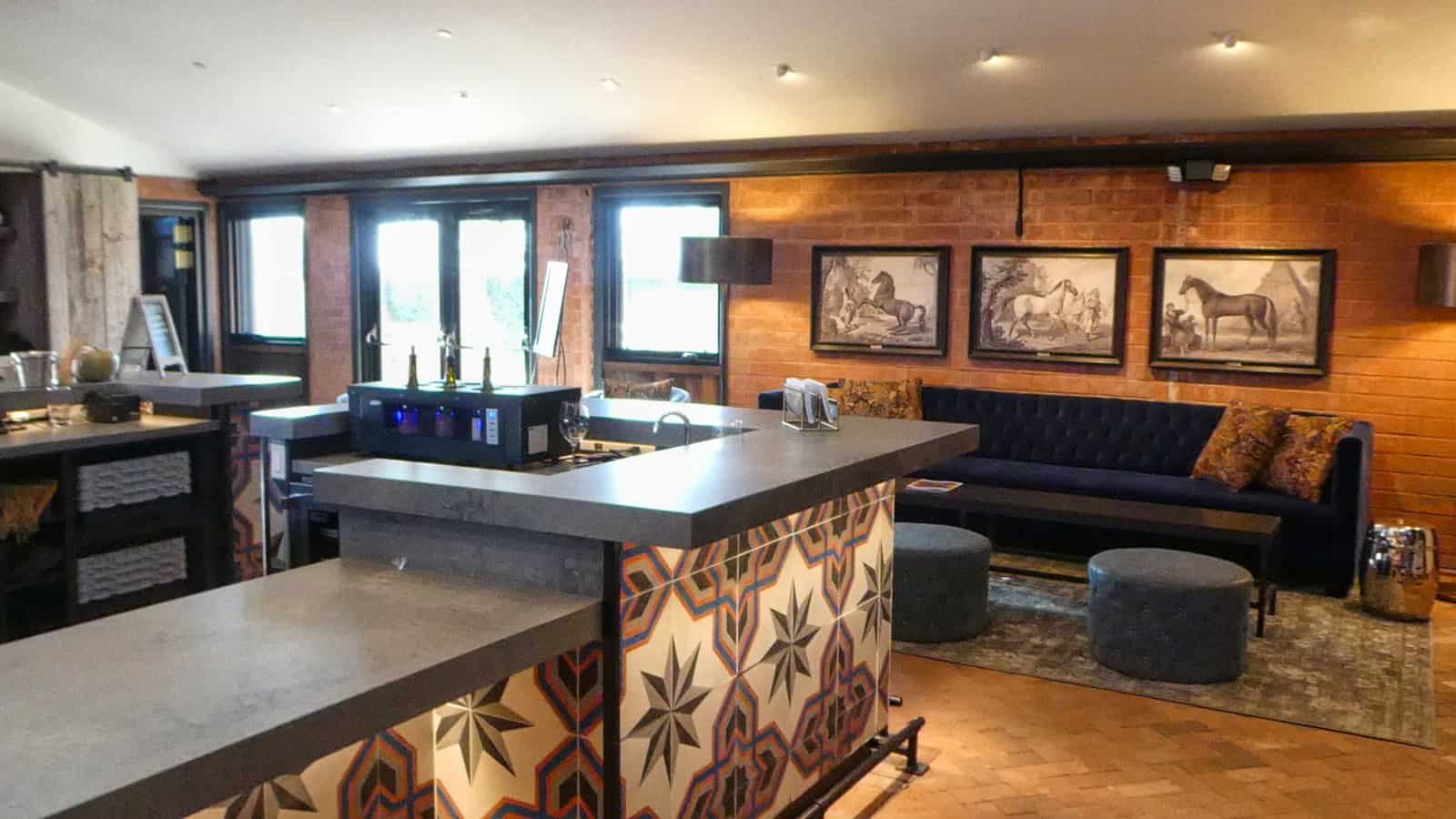 Brick Barn Wine Estate vineyard lies just north of the Santa Ynez River just outside of Buellton. Brick Barn grows their white varietals in their river basin land and their reds in the upper highland area of the ranch, where rocky loam and limestone soils impart qualities of intensity. Additionally, the back hills of the ranch remain uncultivated, populated by ancient oaks, wild pigs, red tail hawks, and other wildlife.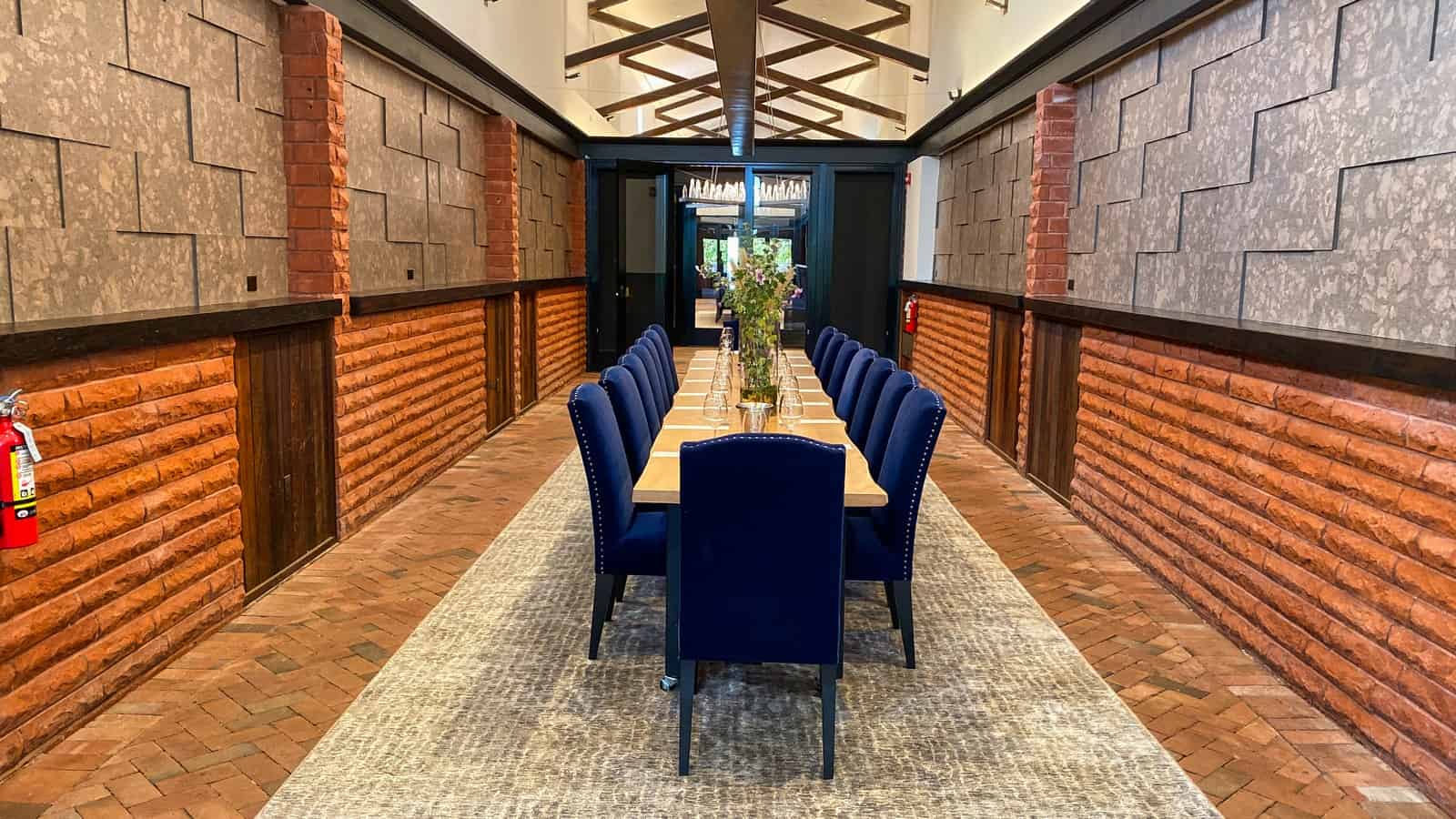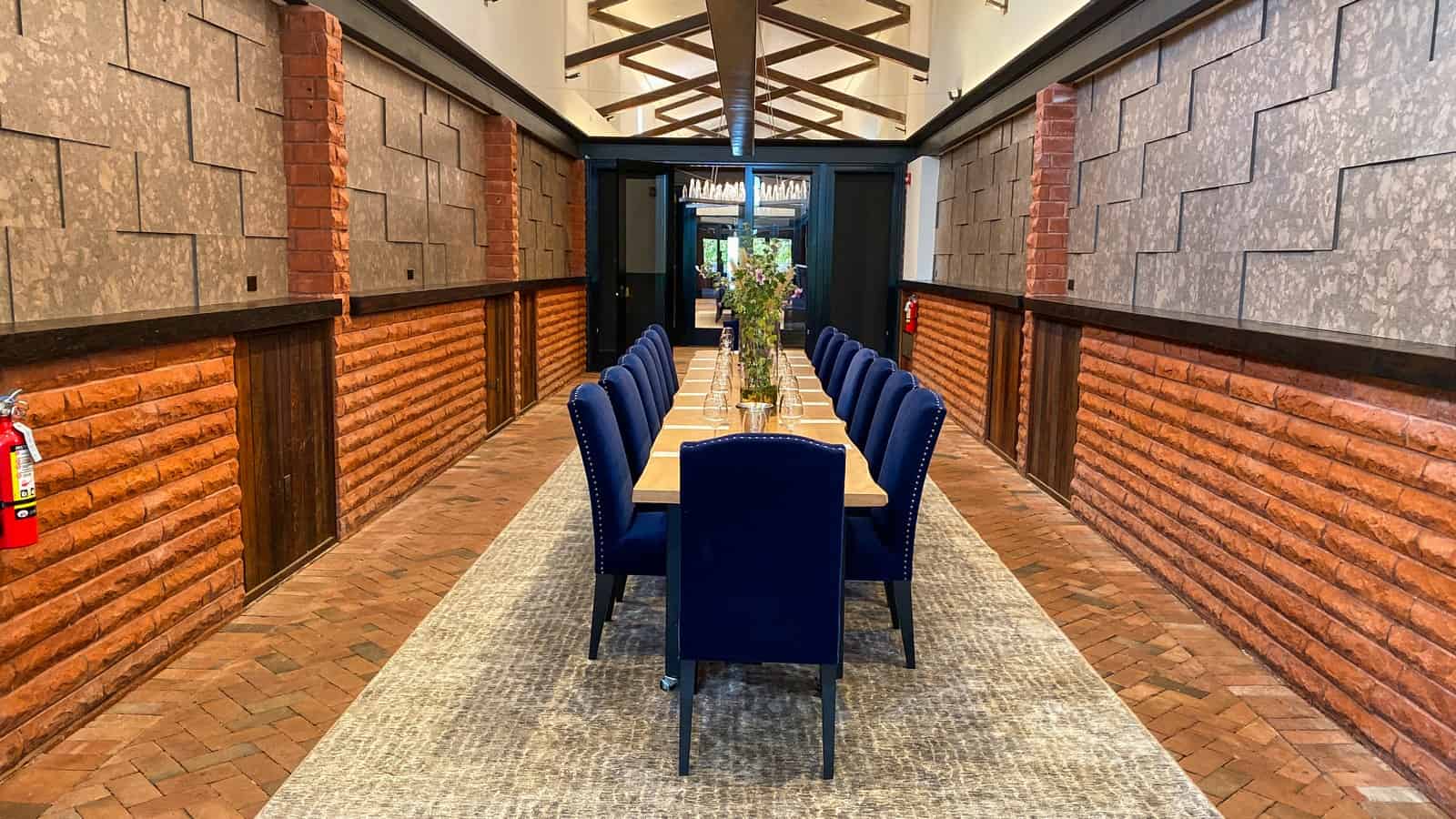 We toured the winery as we tasted wine. Our favorite wine was the reserve Cab Franc.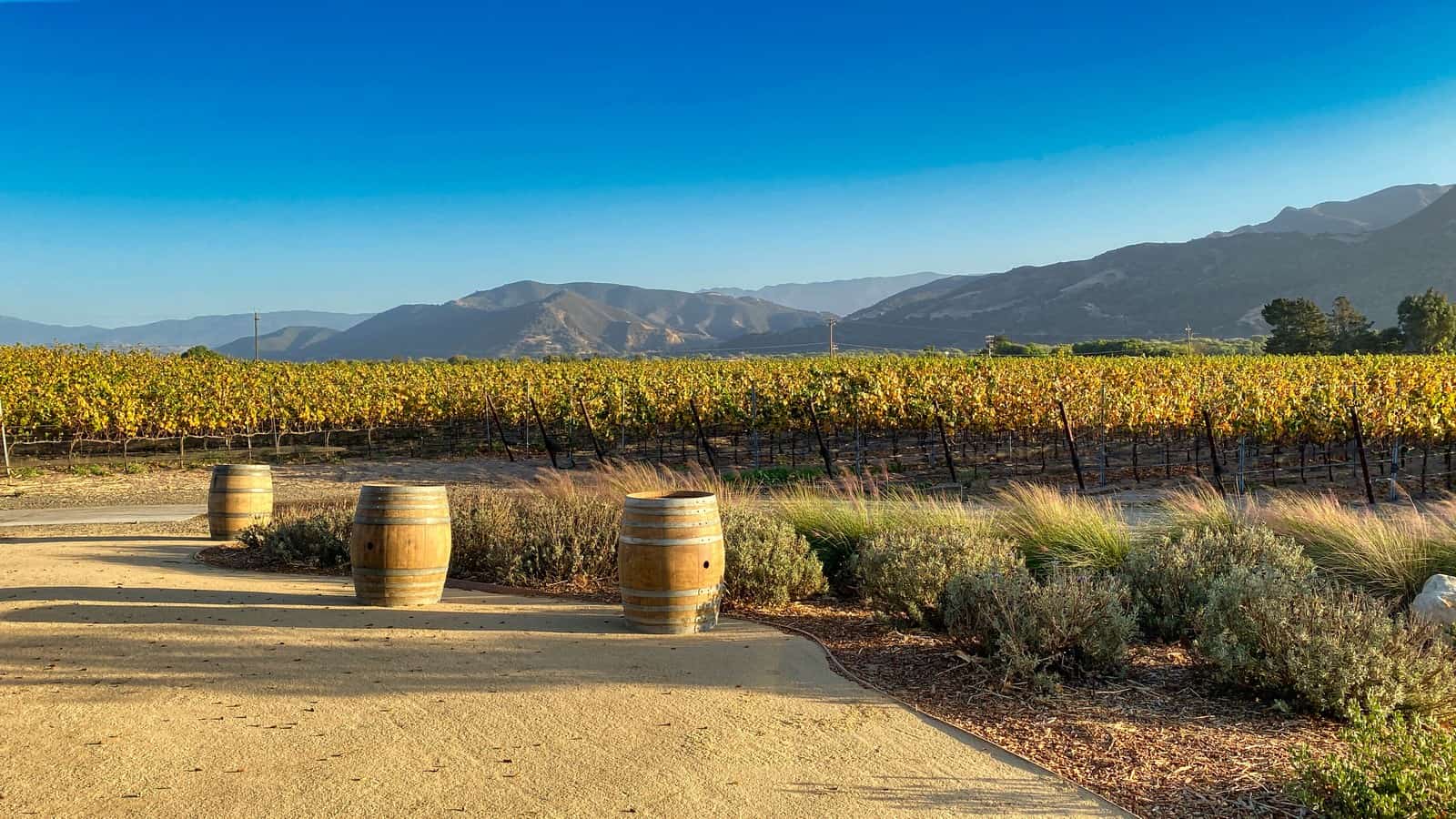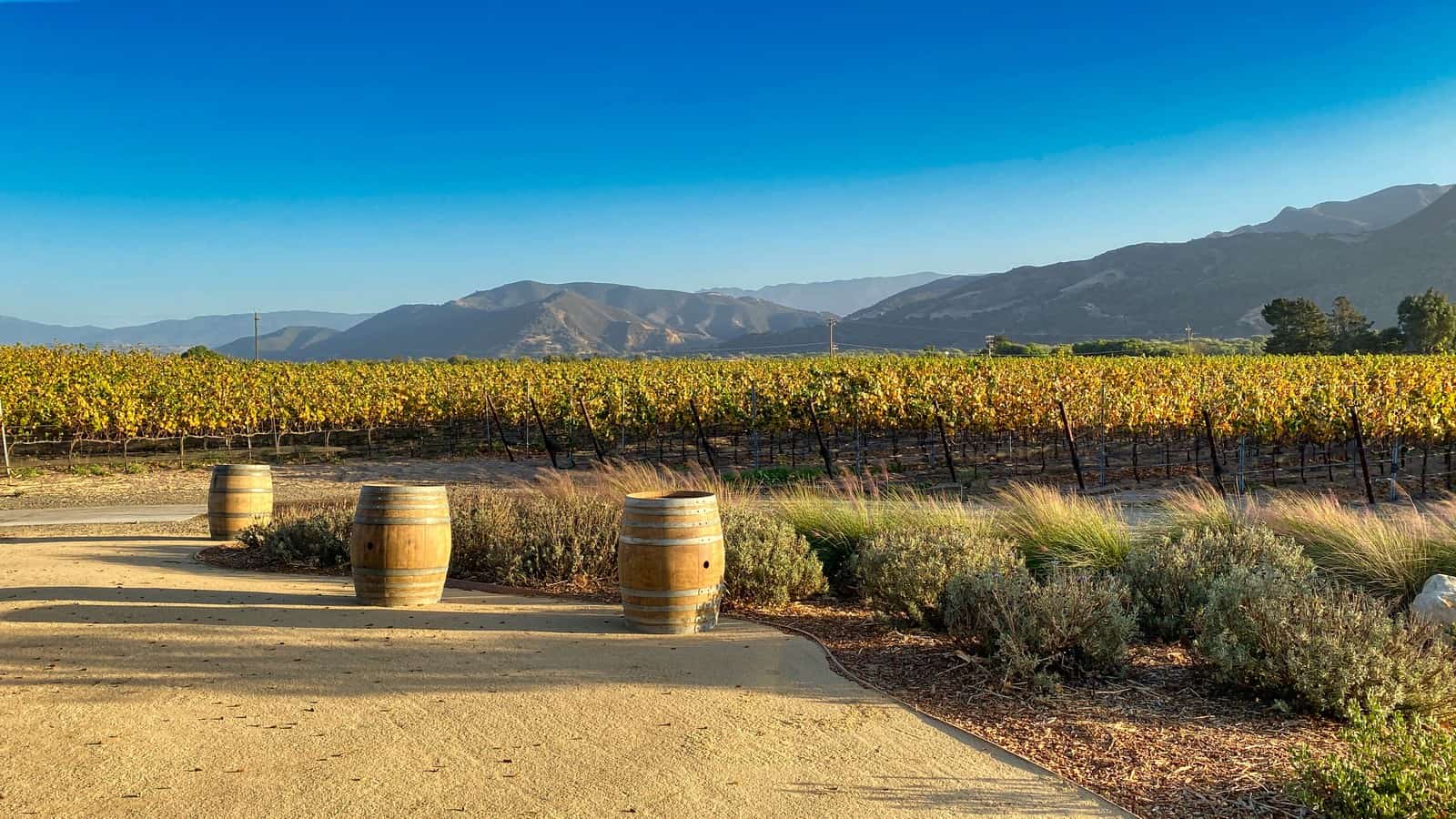 The vineyard is stunning.
Ostrich Land, Buellton's Favorite Pets!
No visit to Buellton is complete without visiting Ostrich Land. Living on Ostrich Land are over 100 ostriches and emus that are considered Buellton's favorite pets. They have an eclectic gift shop, and most importantly, you can buy food to feed the ostriches.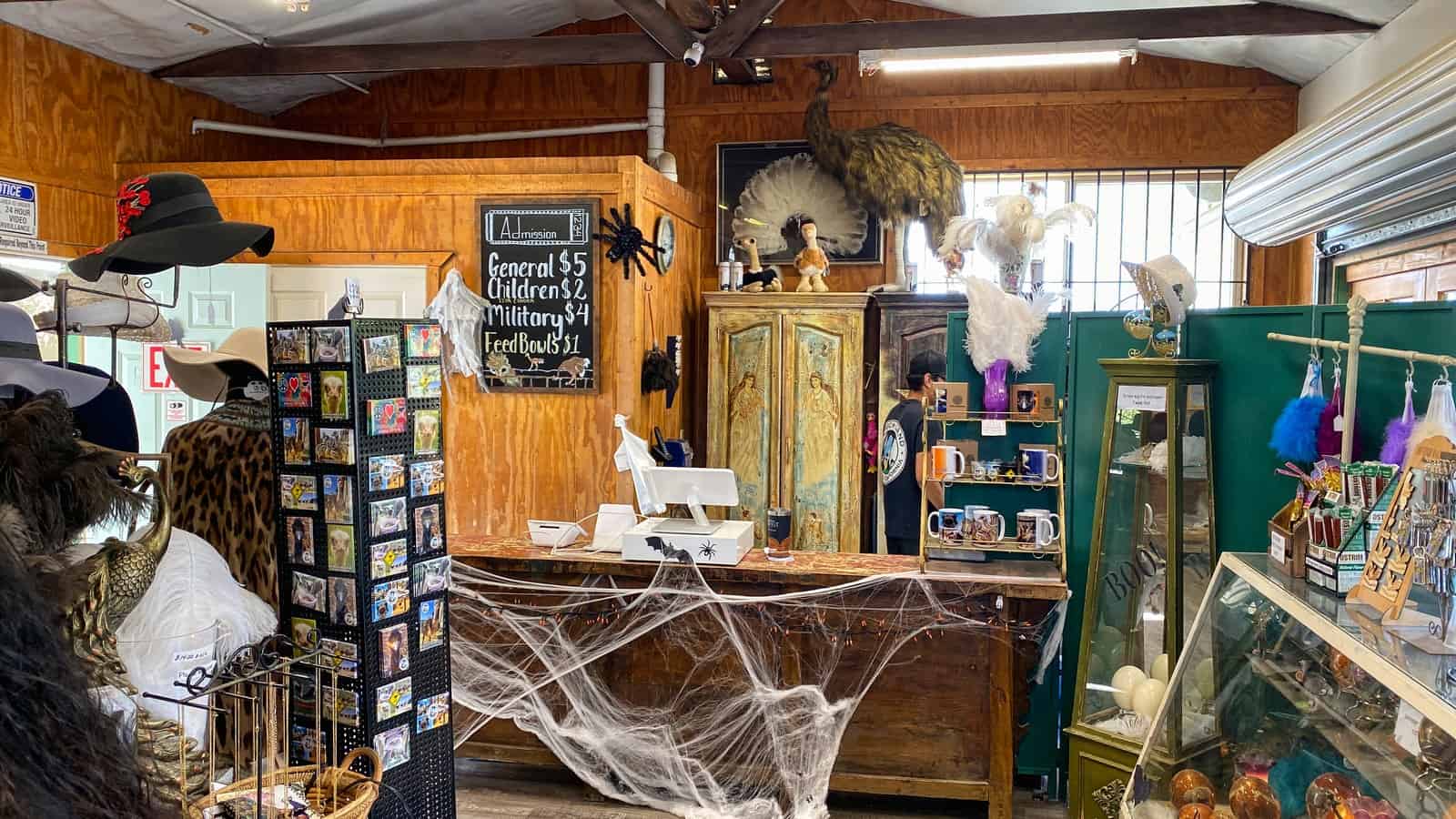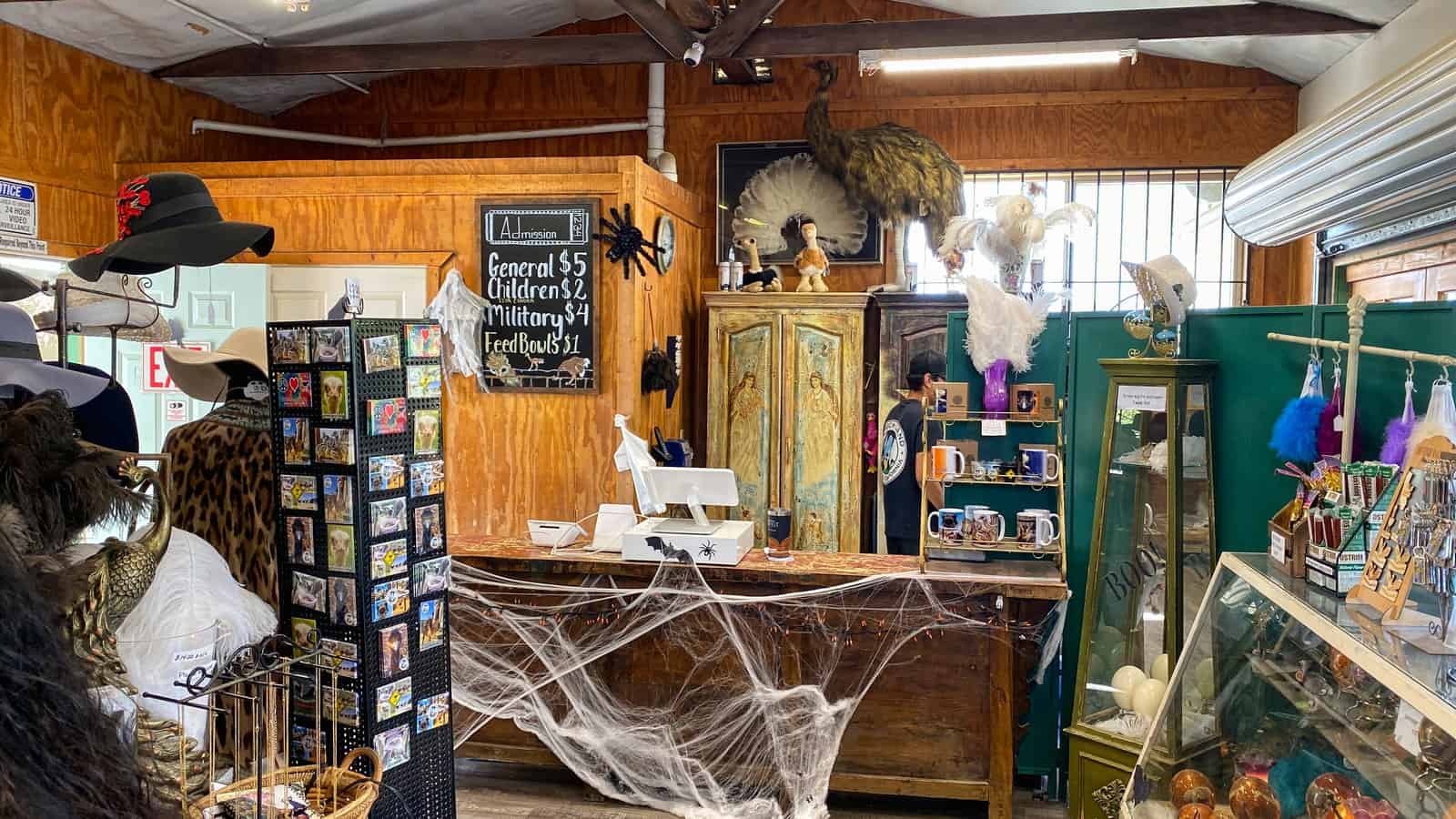 Besides being flightless, ostriches are the world's largest birds. Even though they cannot fly, ostriches are fast, strong runners. They can sprint up to 43 miles an hour and run over a distance at 31 miles an hour. Additionally, they use their wings as rudders to help them change direction. Their stride is between 10 and 16 feet. In a similar fashion, their legs are strong, and their kick can kill a human. So Ostrich Land has wooden fences to protect you from the birds should they want to kick.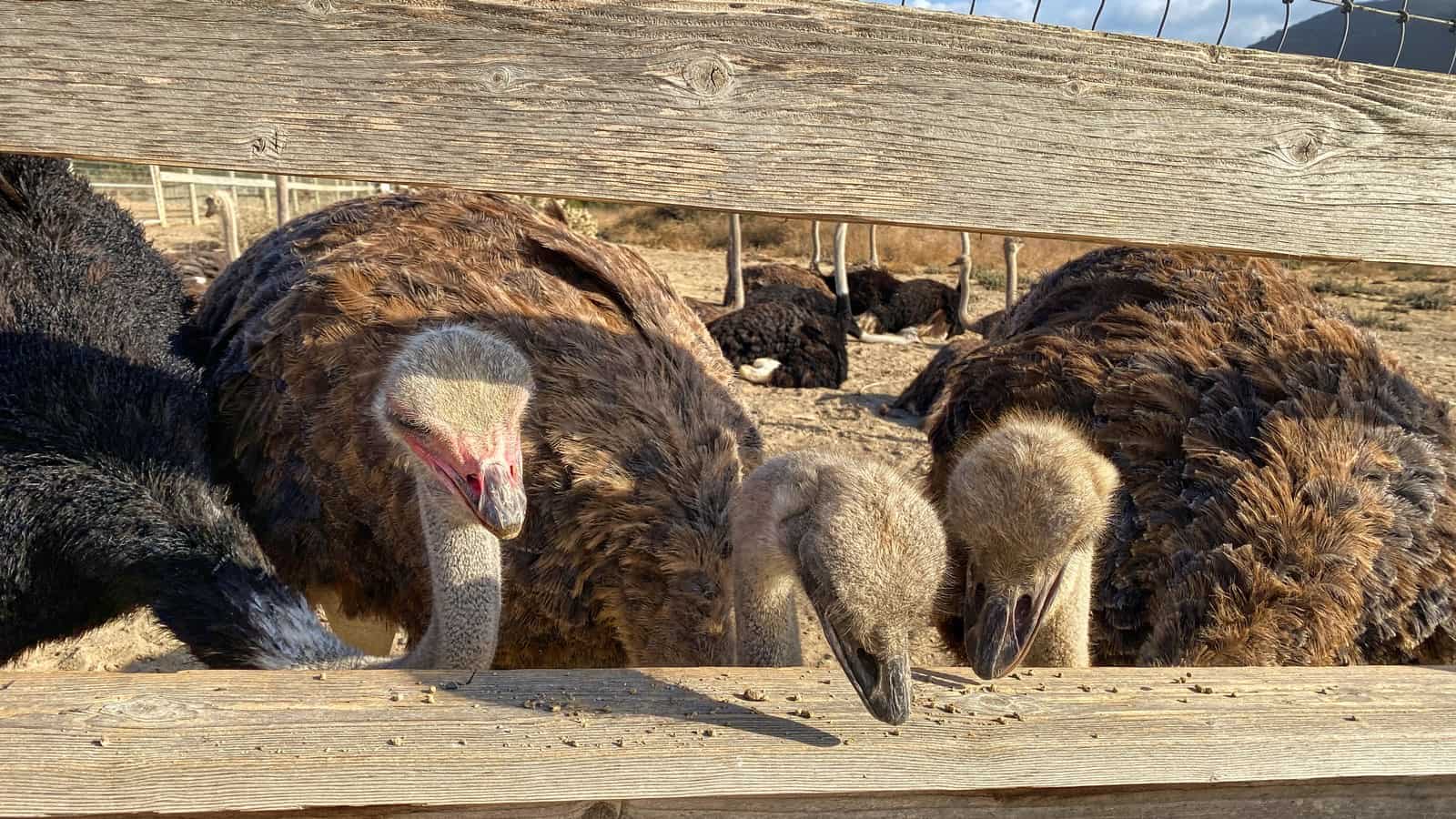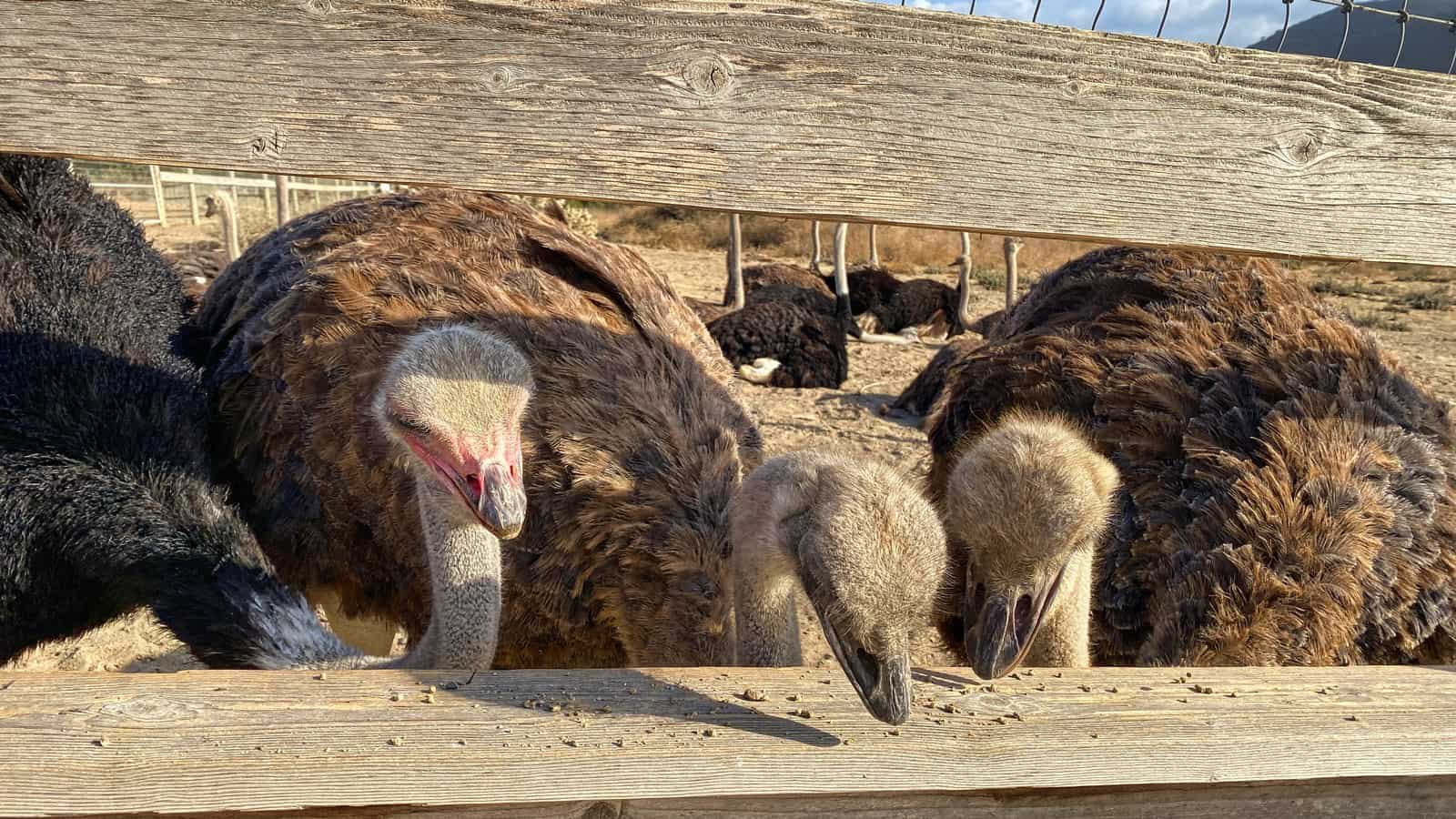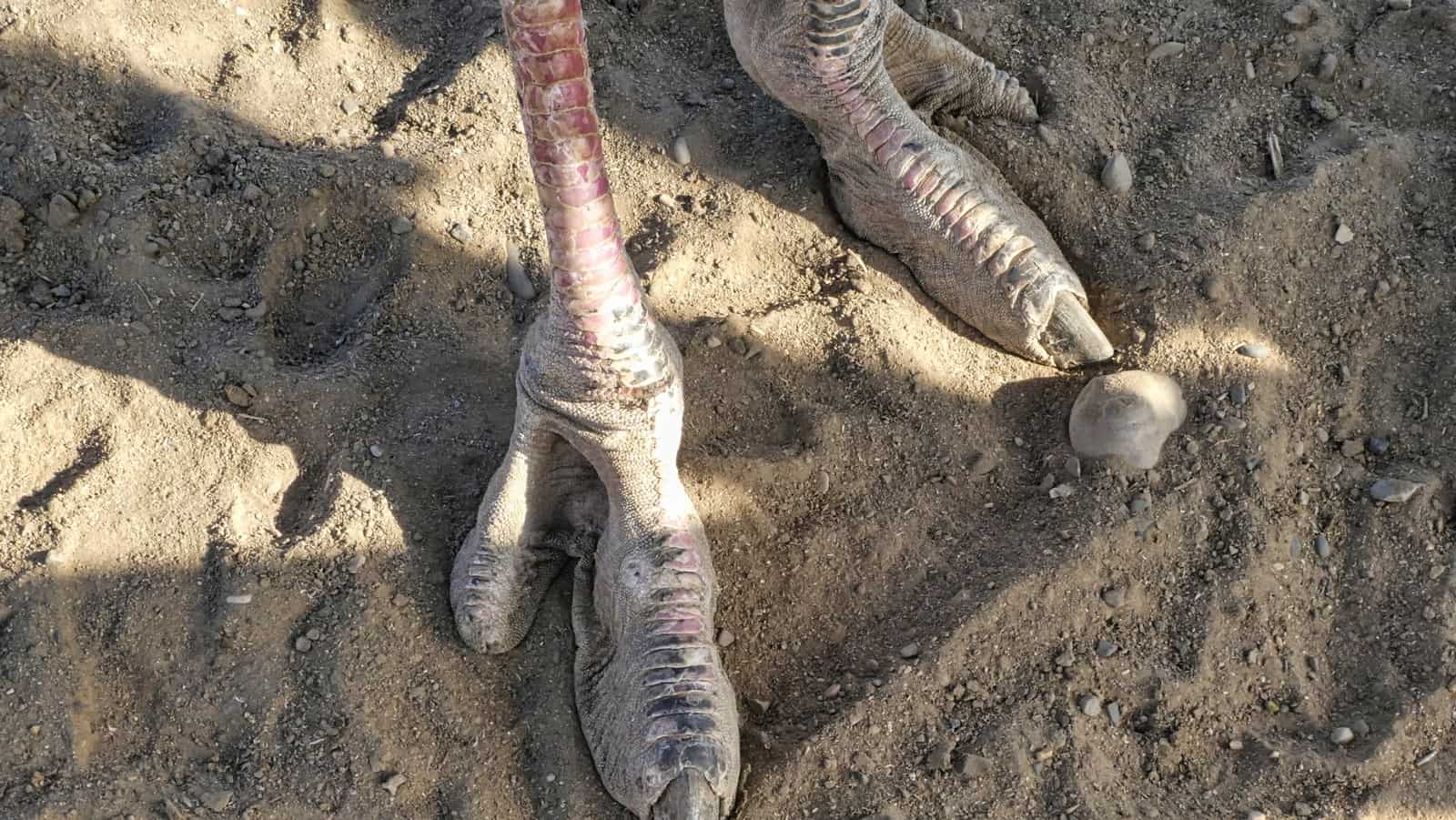 Feeding the ostriches is an excellent photo opportunity. Ostrich Land also featured on Sideways, is open seven days a week. The two-toed flightless birds have their first cameo appearance while Miles, Jack, Maya, and Stephanie are driving to a picnic. Later, Jack gets acquainted with them on his trip from Buellton to Solvang.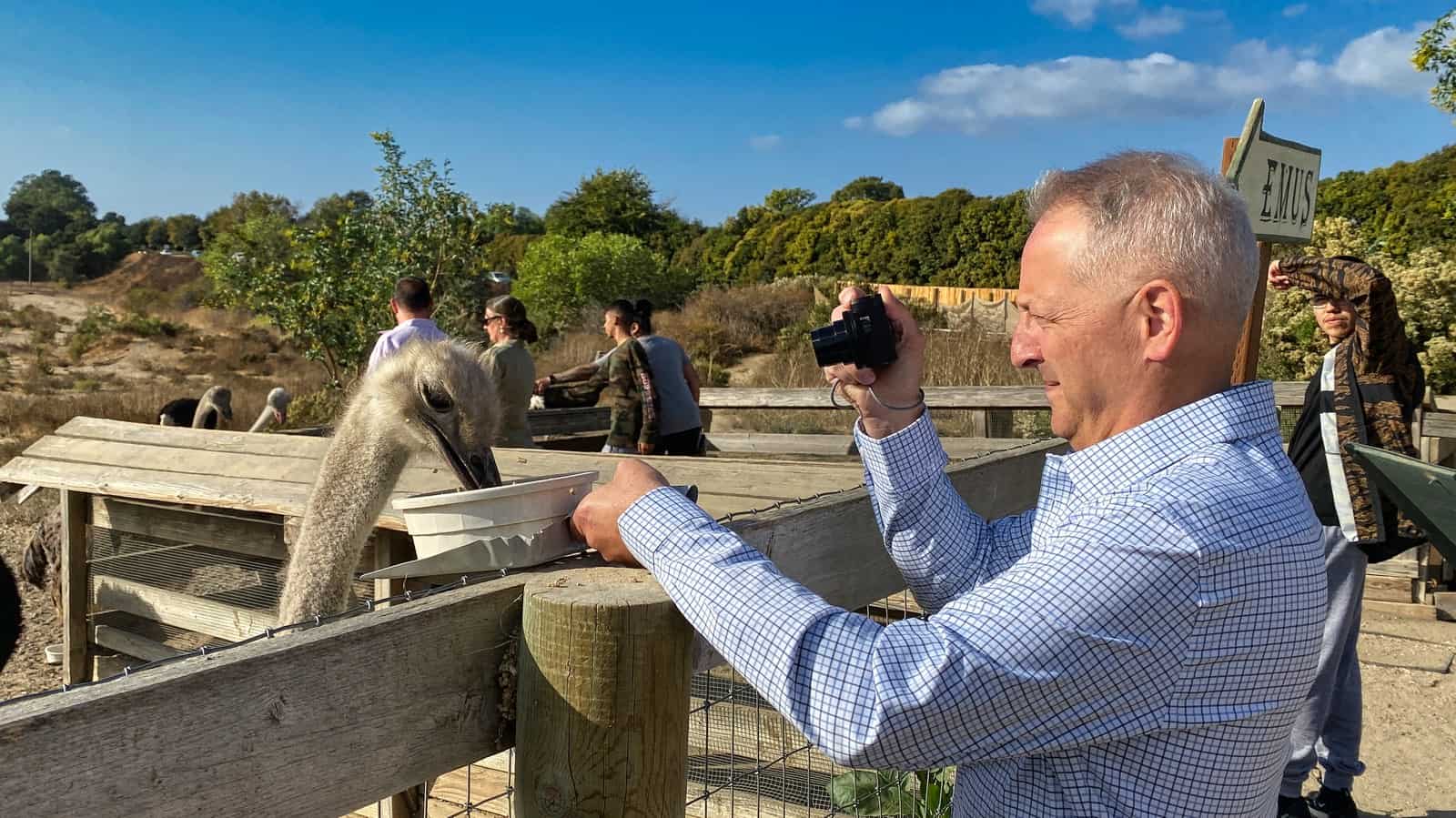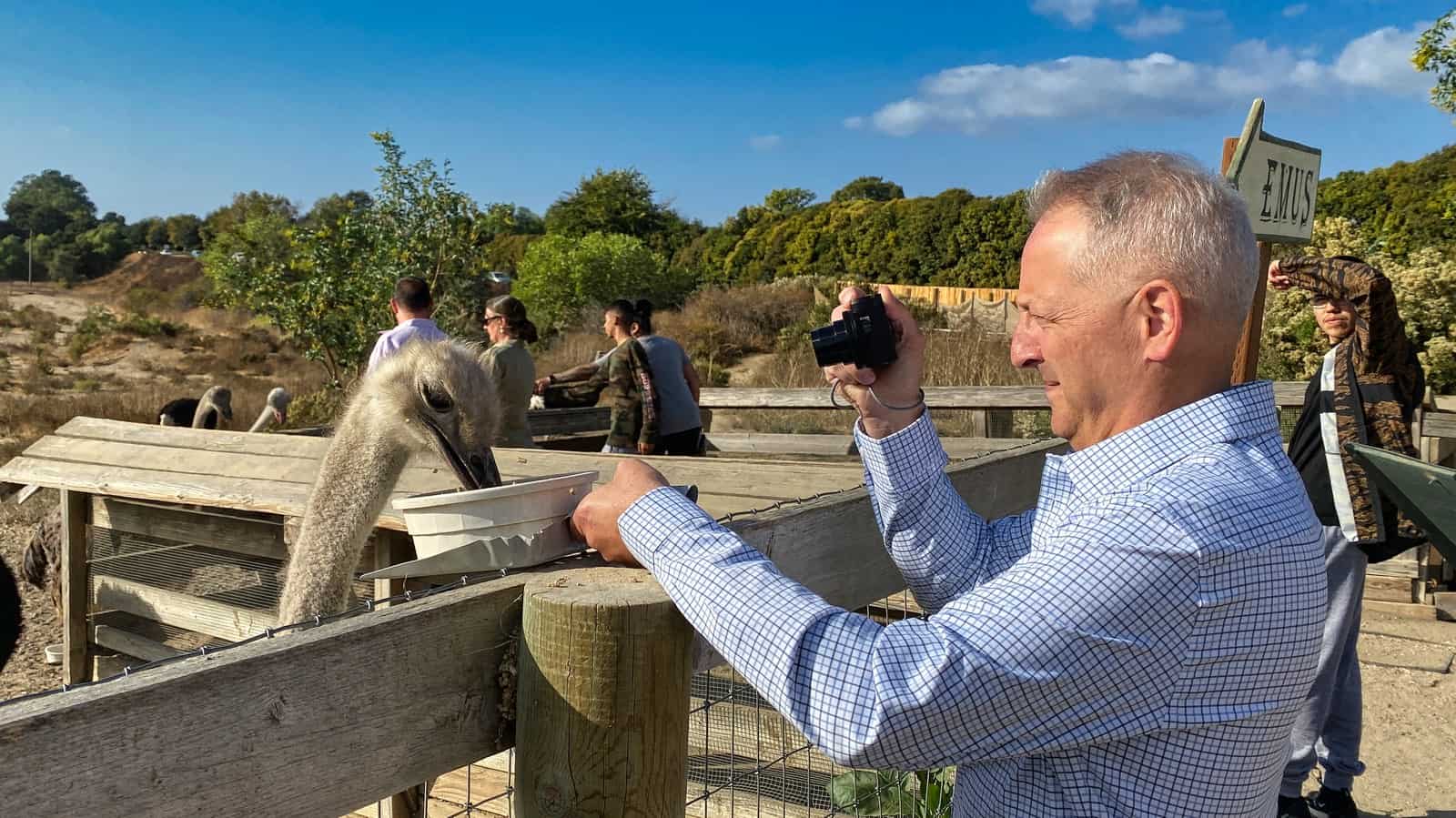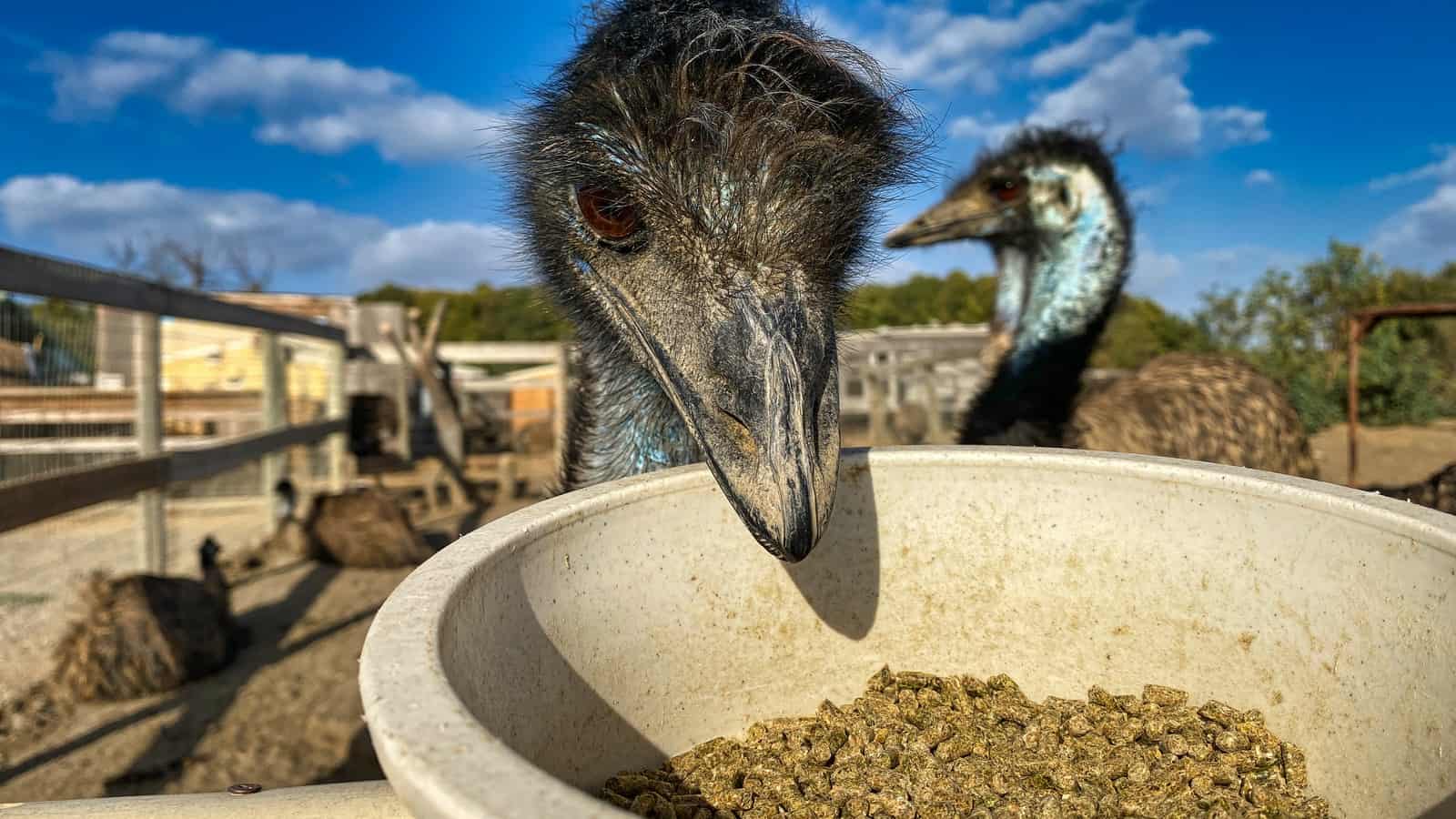 Firestone Walker Brewing Company
Lastly, before leaving Buellton, have dinner and drink some great beer or wine at Firestone Walker Brewing Company. We ate in the Taproom.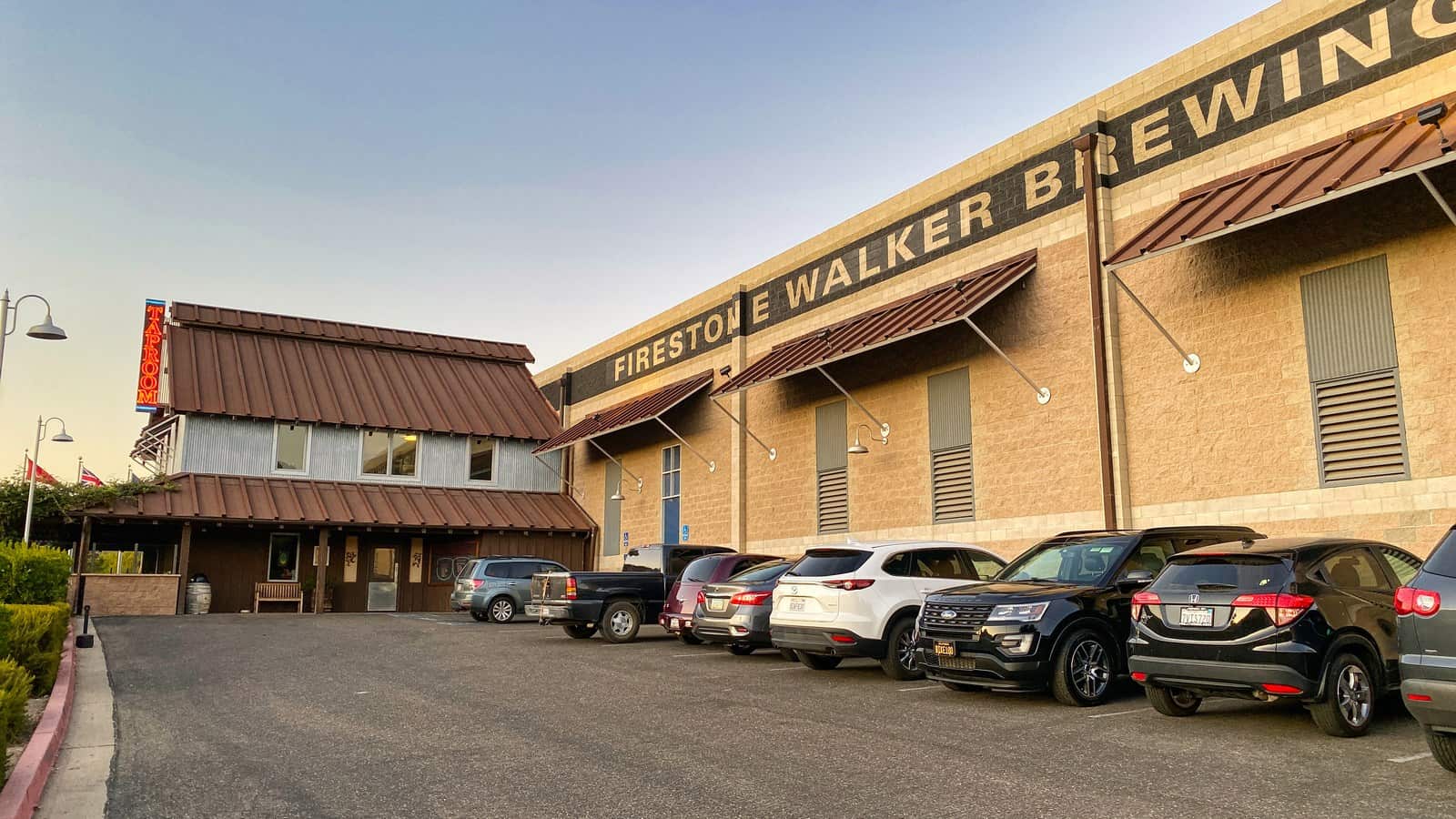 Firestone Walker Brewing is a comfortable, friendly pub. The Firestone Walker Brewing has a vast beer and wine selection. The ambiance of the restaurant is colorful and lively.
Keith loved his German pretzel. We also tried the cauliflower appetizer which was delicious. For our main course, we had some roasted veggie tacos. Then finished it off with peanut butter chocolate dessert.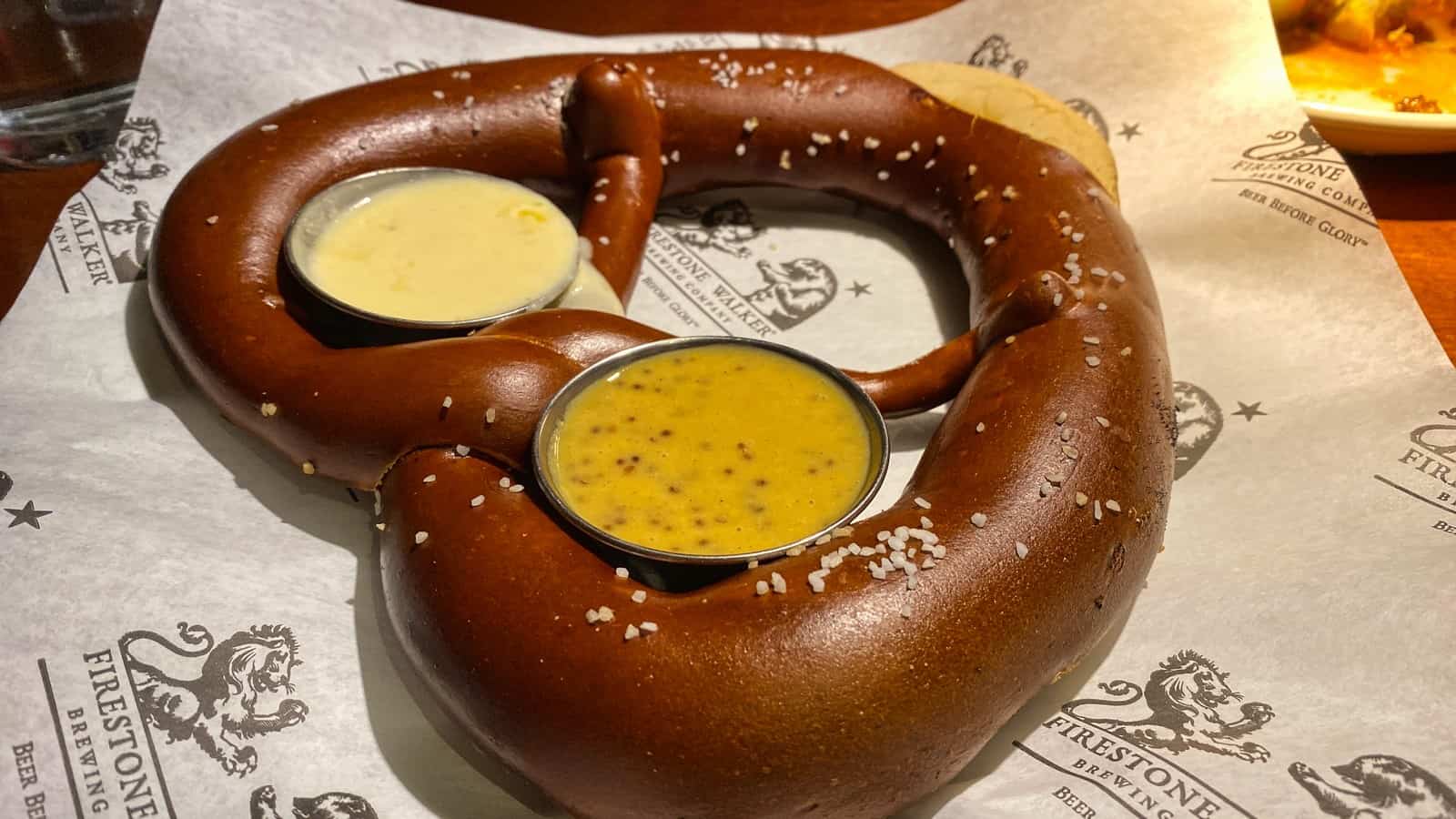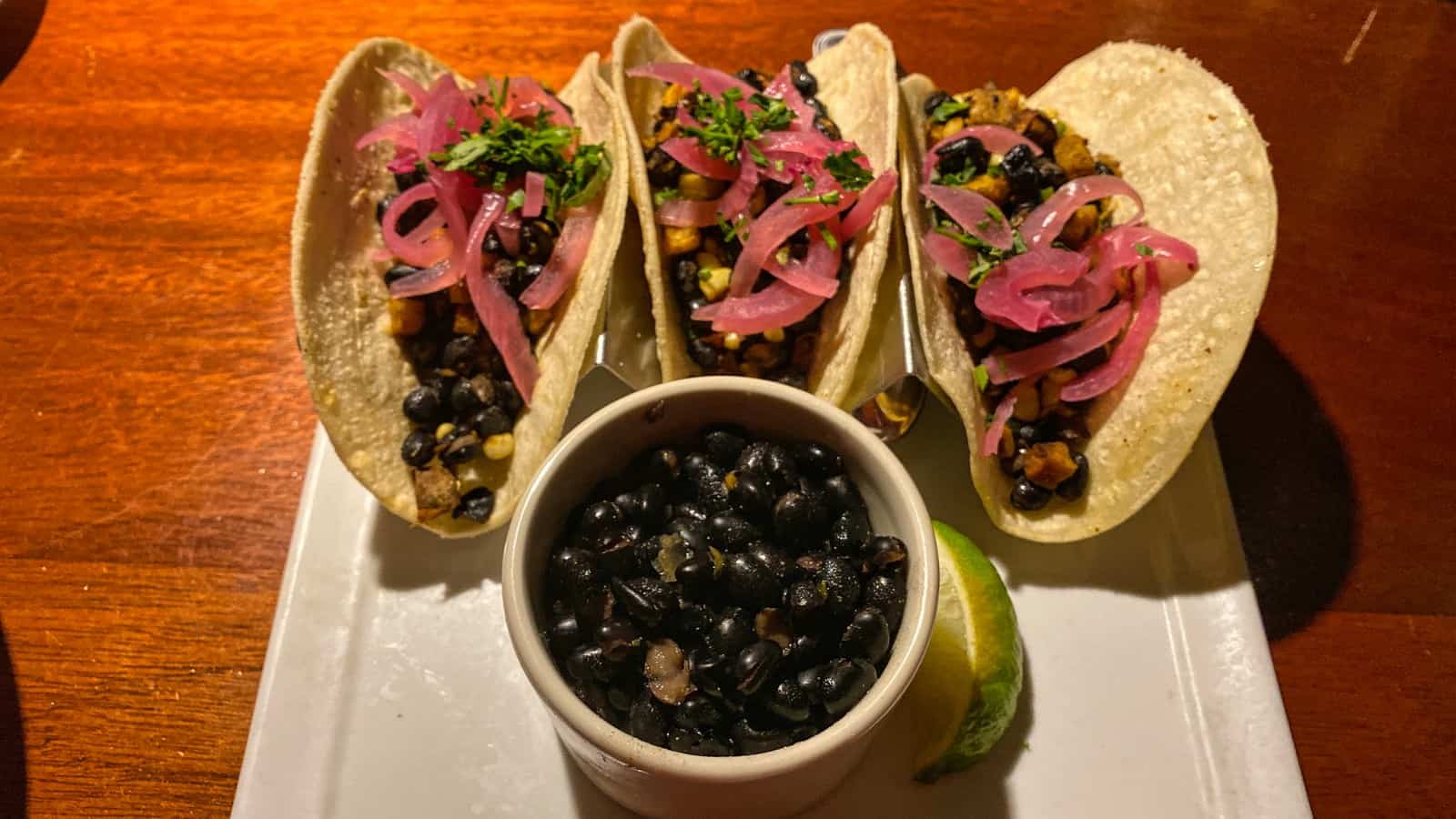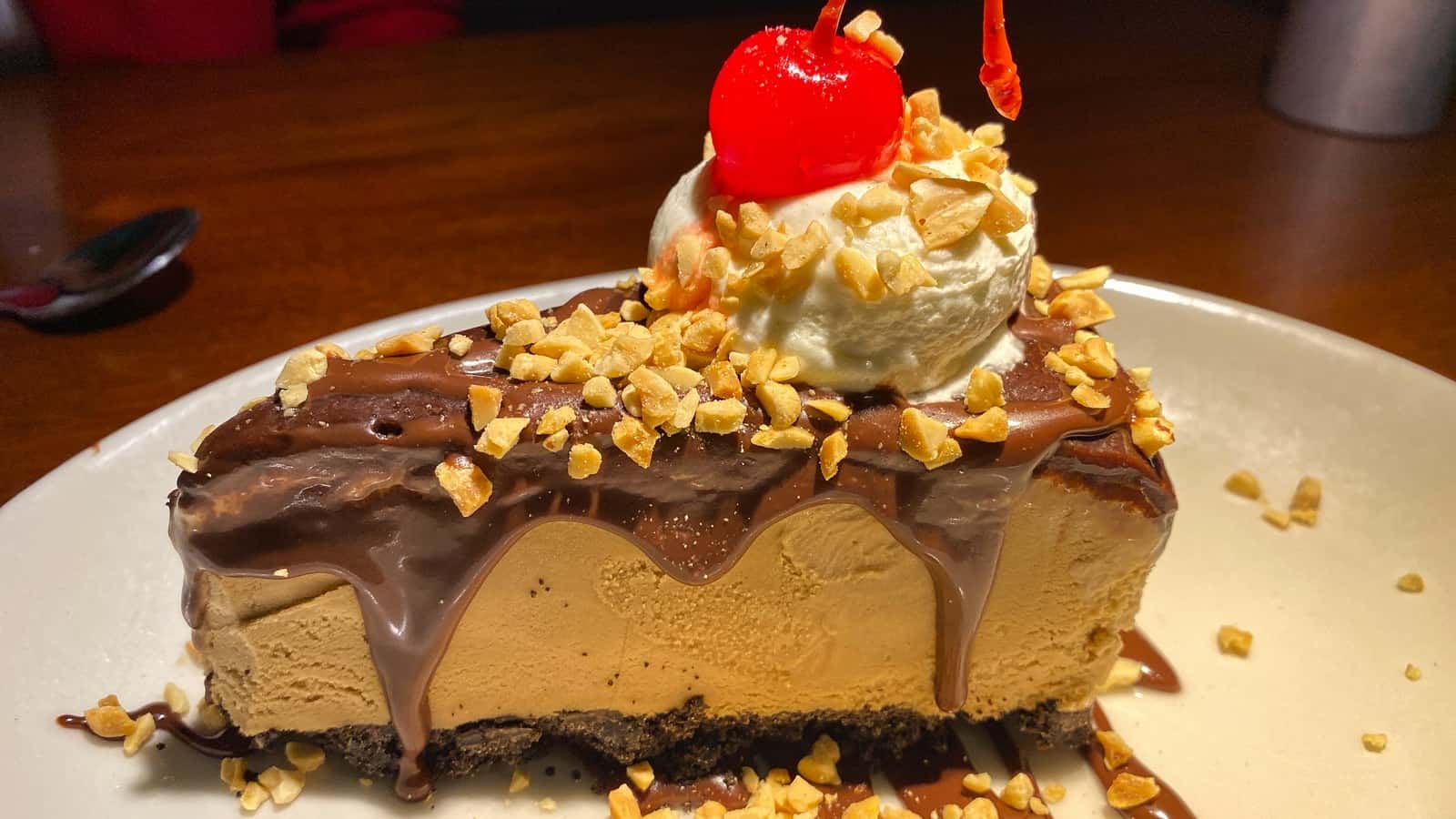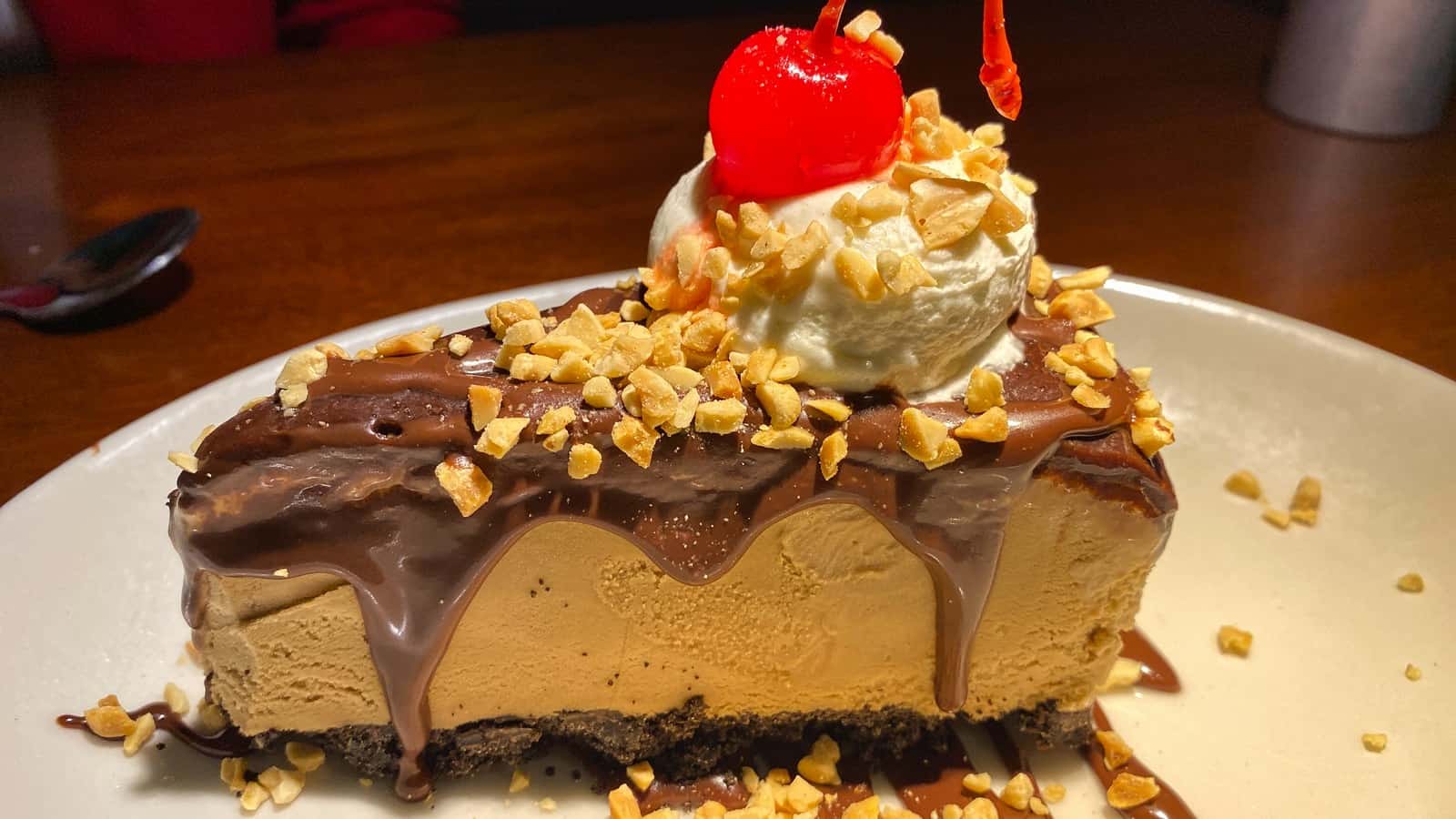 Buellton is the Place for People Who Like Things a Little More Intimate
People who will love Buellton are those who want to skip the big cities. Additionally, they love wine and small towns. Visitors come from all over the country to savor the sunshine and to see first hand the places they saw in Sideways, the wine cult film. Additionally, the mountain views are amazing yet peaceful. Lastly, Buellton's incredible weather is why they are famous for Pinot Noir and Chardonnay.
Like California wine? Be sure and read about our trip in Tri Valley Livormore or Santa Marie Valley.
QUICK ANSWERS
What famous movie was shot in and around Buellton?
The movie Sideways starring Paul Giamatti, Thomas Haden Church, Virginia Madsen and Sandra Oh was shot in and around Buellton California.
---