Sonoma is a great day trip from many places. Also, Sonoma is a historical city in northern California nestled in the heart of the Sonoma Valley winemaking country. Downtown Sonoma, known for its art galleries and the colonial-era Sonoma Plaza, has a rustic charm. Hence, surrounding this plaza are19th-century adobe buildings, including Mission San Francisco Solano and the Sonoma Barracks. Sonoma locals run the gamut from down-to-earth locals, farmers, winemakers, to acclaimed chefs at farm-to-table restaurants. So, we have put together this one-day Sonoma wine itinerary to help you make the most of a short stay.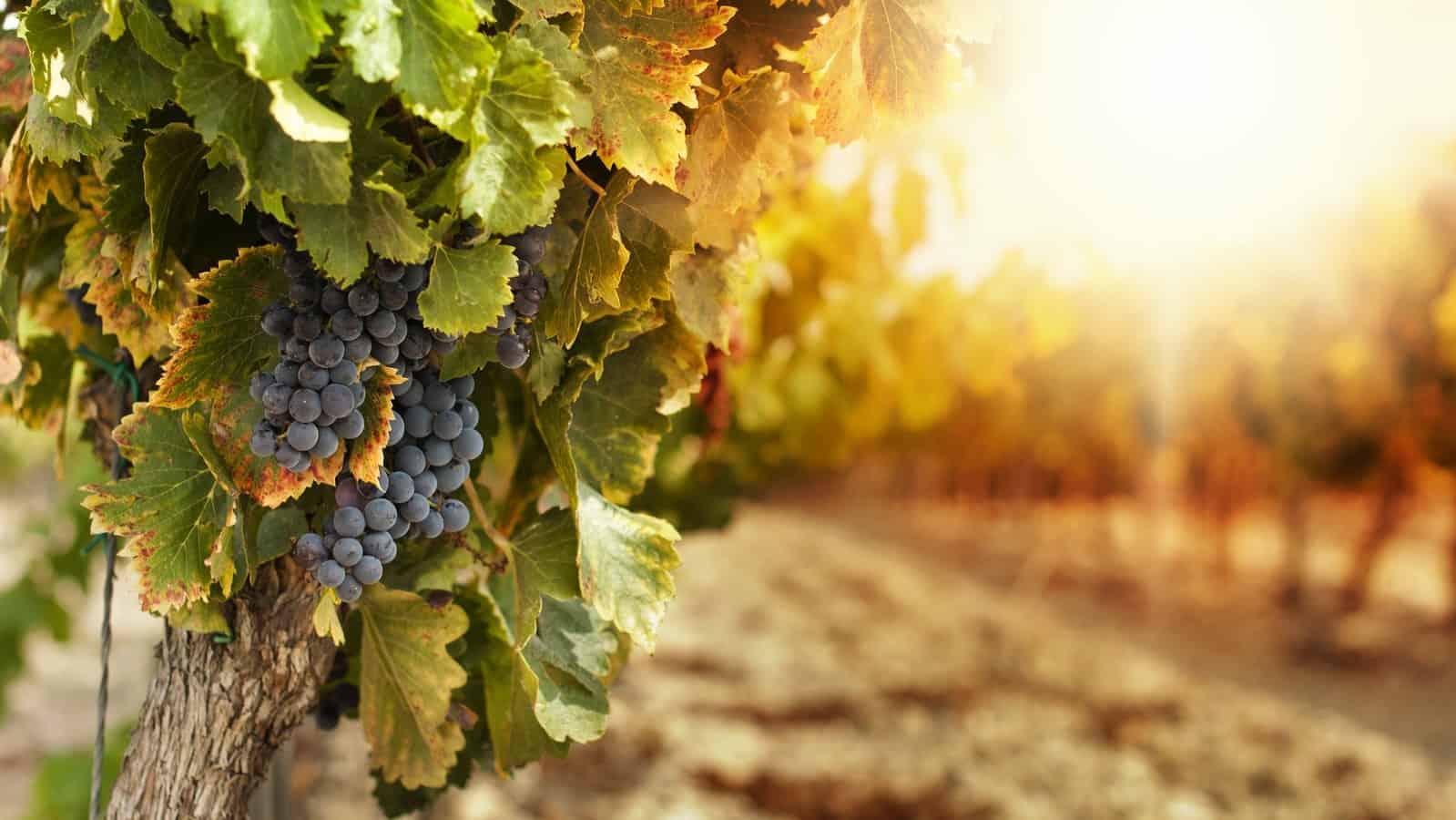 When we think about exploring cities, we think of relaxation, entertainment, and education. The places we have chosen for this Sonoma wine itinerary encompass all three of these things.
Enjoy Some Great Wine at Meadowcroft Wines
Unquestionably, the first recommendation on our one-day itinerary of Sonoma is a visit to Meadowcroft Wines located in Sonoma's Cornerstone. Thus, Cornerstone Sonoma is a wine country marketplace hosting world-class shopping, boutique wineries, tasting rooms, artisanal foods, art-inspired gardens, and home to the Sunset's Gardens + Outdoor Test Kitchen.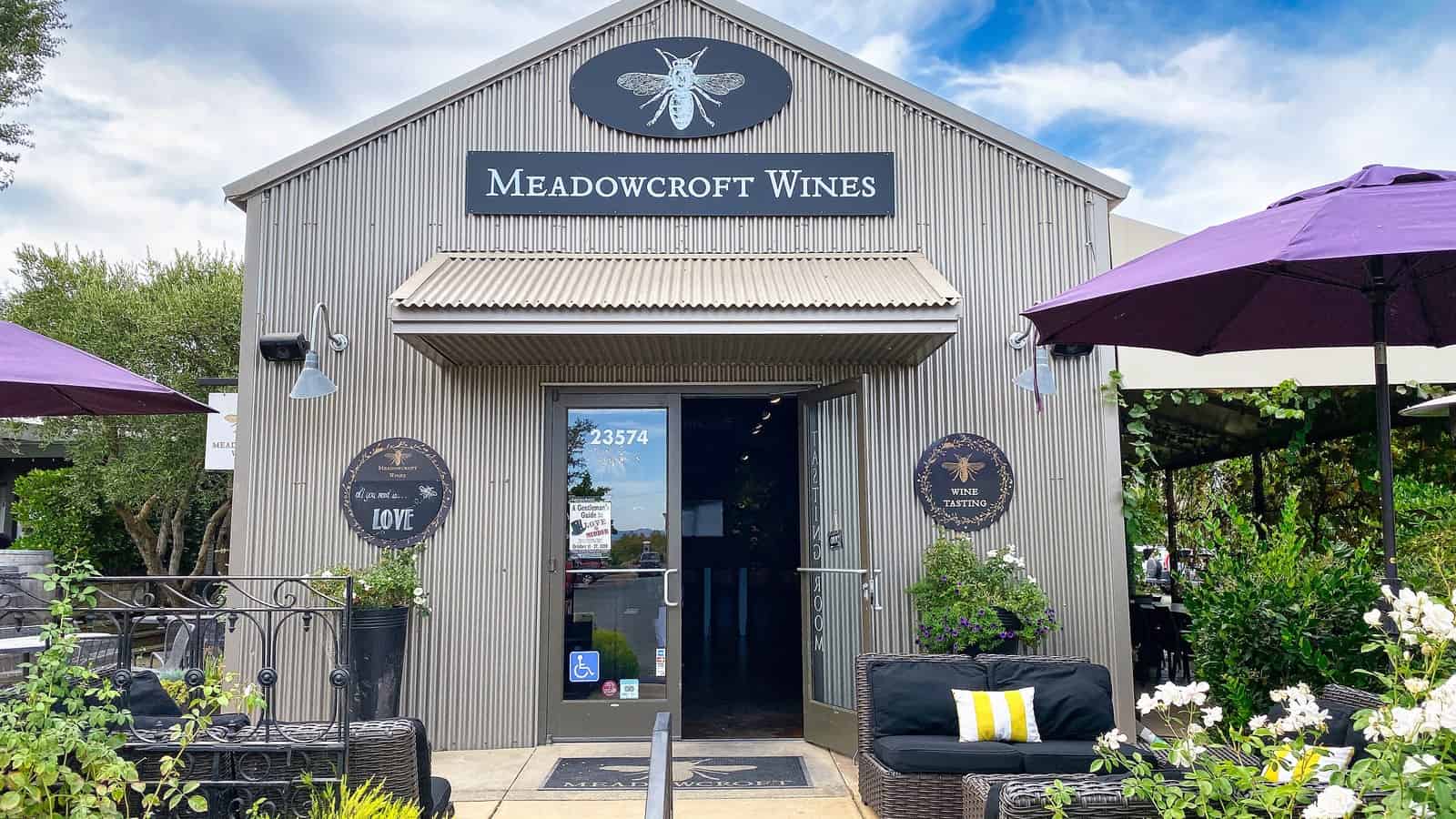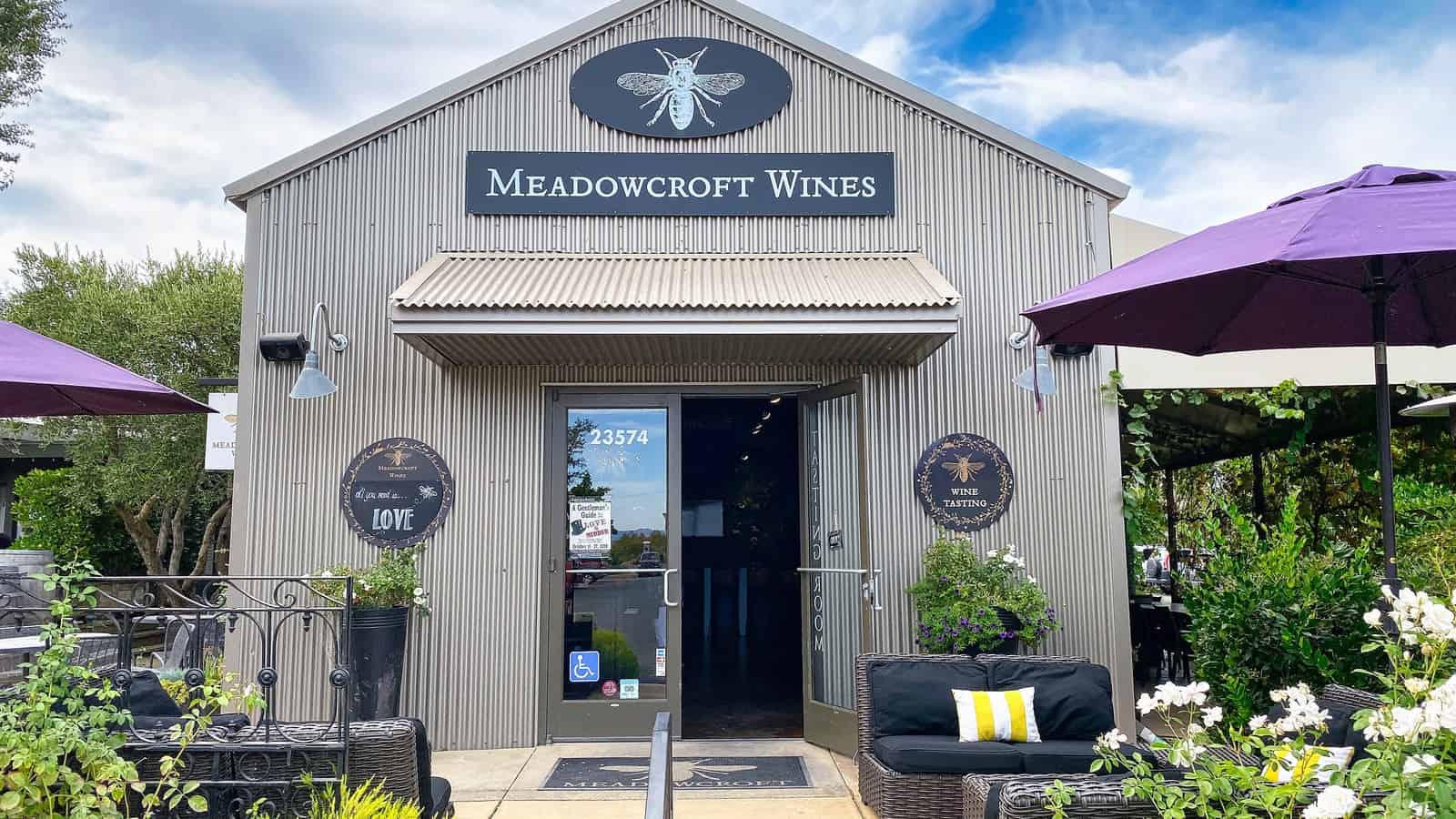 Arriving at Cornerstone was unquestionably a lovely surprise. Cornerstone mixes art with nature, creating a quiet little haven tucked away in a most unexpected location. Even though Cornerstone is not in downtown, it's a short 10-minute drive, so you need to check it out when you visit Sonoma.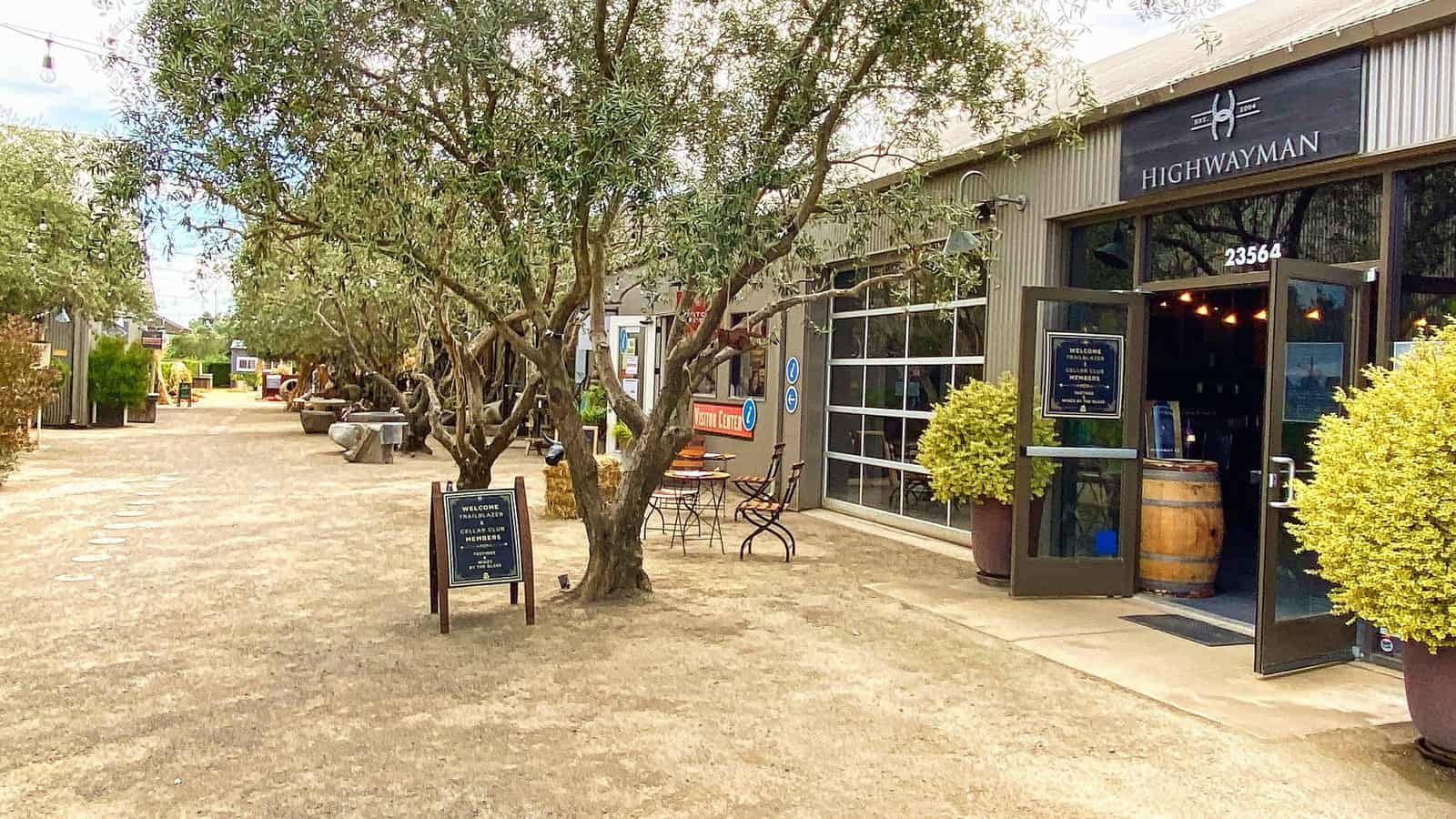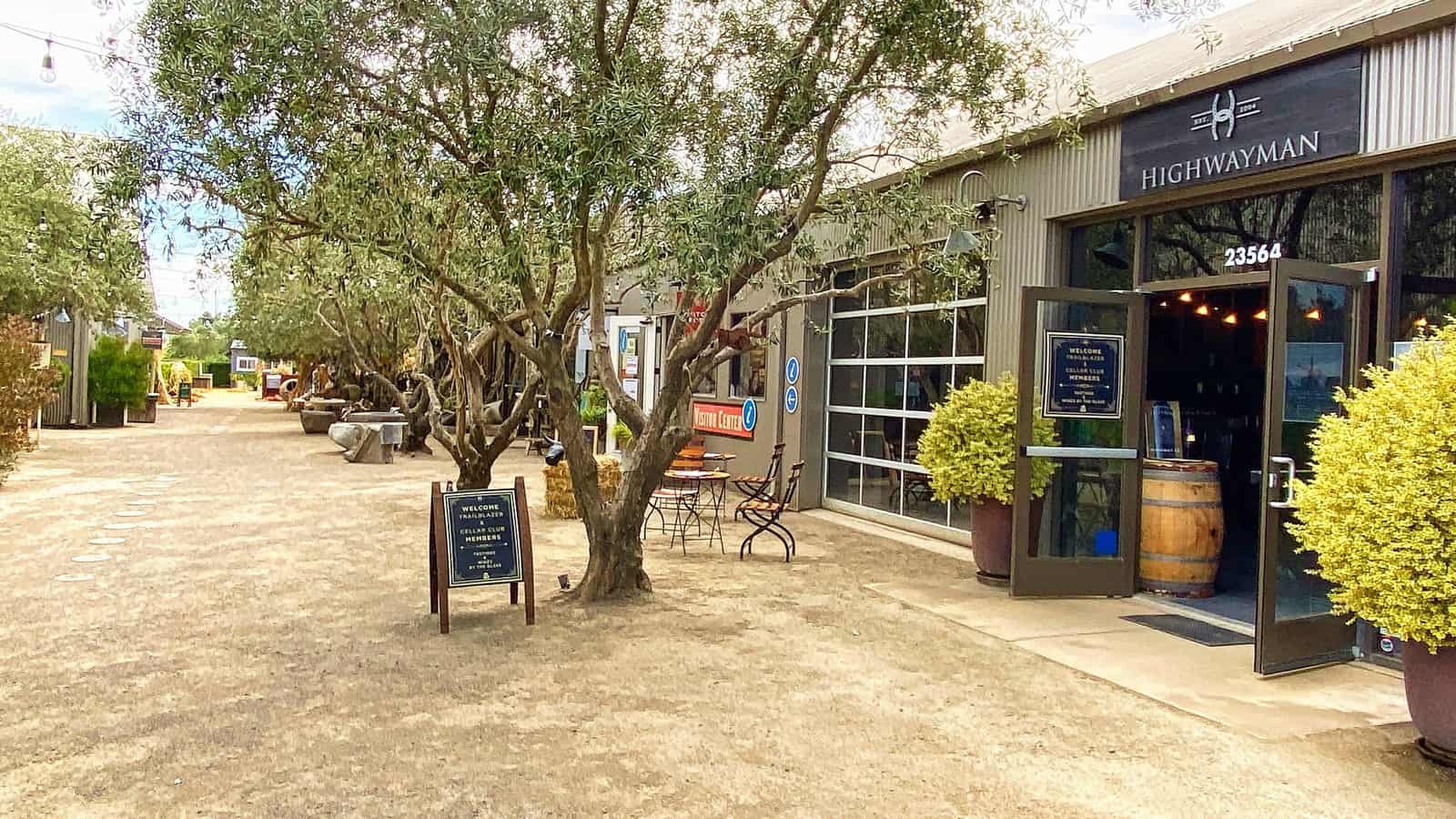 The Meadowcroft tasting room, reminiscent of a tin barn, is casual and friendly. Additionally, Meadowcroft is a place where you are encouraged to take your time getting to know their wines and hang out with friends.
Not surprisingly, Meadowcroft, named for the winegrower Tom Meadowcroft are reserve wines. The meaning of Meadowcroft is a fertile field or meadow, and croft refers to a cultivated garden nurtured over time.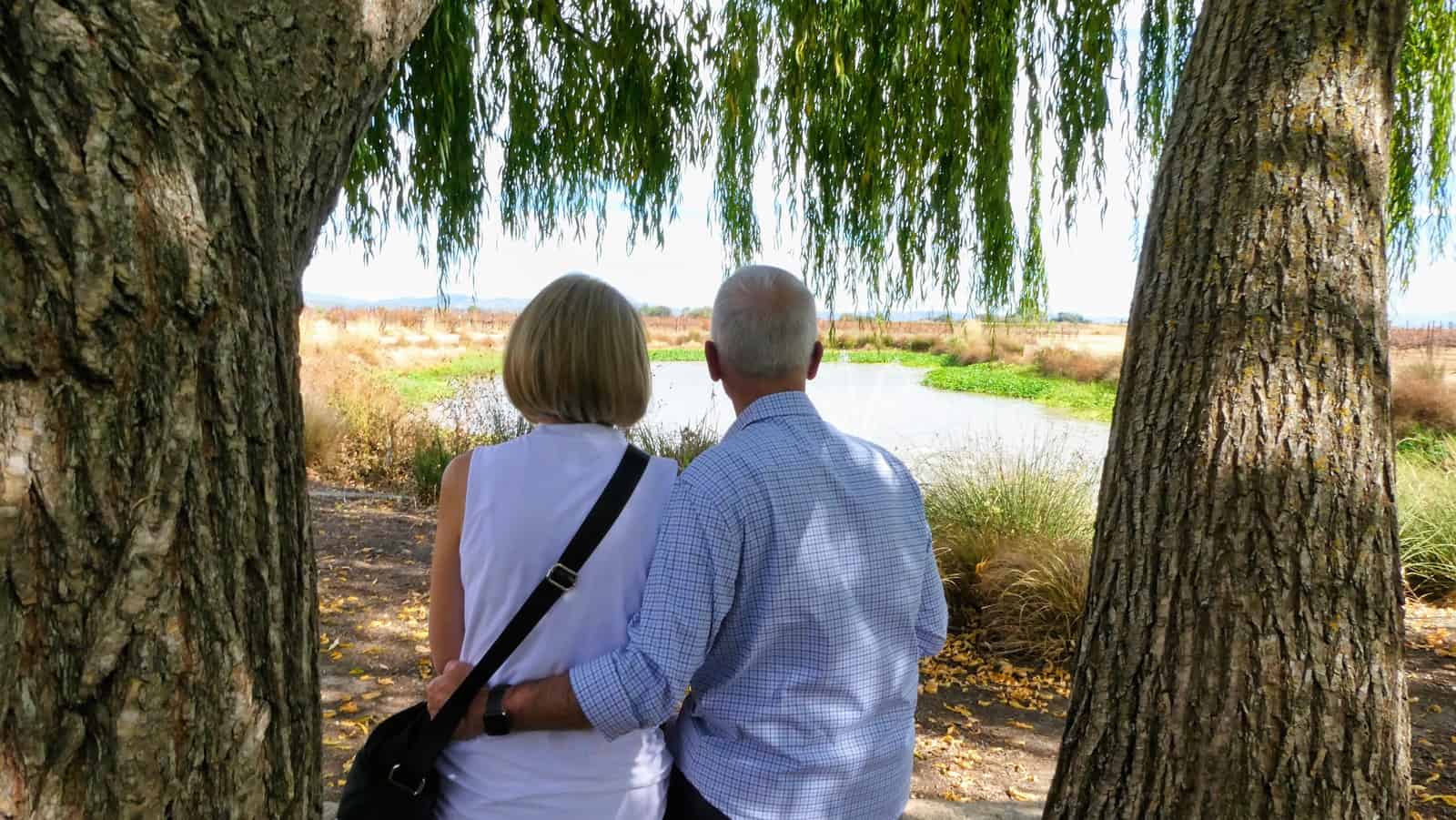 Meadowcroft Wines are vineyard specific and limited in production, conveying both European and California wine heritage creativity. Tom Meadowcroft hopes his wines create memories for those who enjoy it.
The wines produced from small family-owned vineyards within Sonoma and Napa County are hand-crafted. Meadowcroft features a variety of wines from classics like Cabernet Sauvignon, Pinot Noir, Zinfandel, and Chardonnay to more rare varieties such as Roussanne, Viognier, Malbec, and many more.
The Sunset Test Gardens
The Sunset Test Gardens (in conjunction with Sunset Magazine) is a quarter-acre space. Thus, in the garden, they grow an interesting variety of plants and trees while experimenting with design techniques. The gardens separated into distinct areas are the Cocktail Garden, the Farm Garden, Gathering Space, Backyard Orchard, and the Flower Room. For example, the container garden highlights all of the botanicals that go into making great cocktails.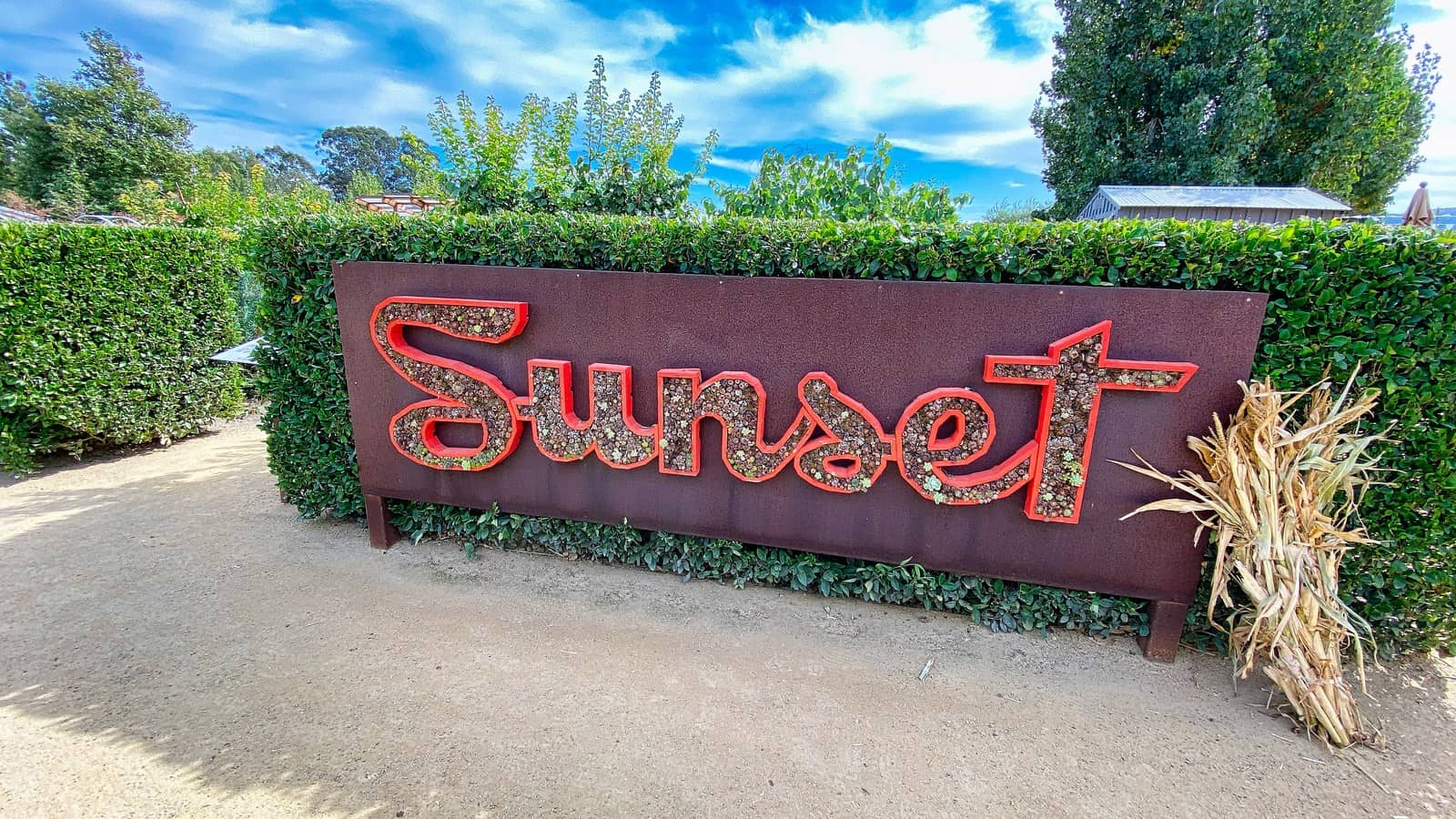 The Sunset Test Gardens are separate from the Cornerstone Gardens. But, both gardens located next to one another are fabulous. We loved walking through the gardens.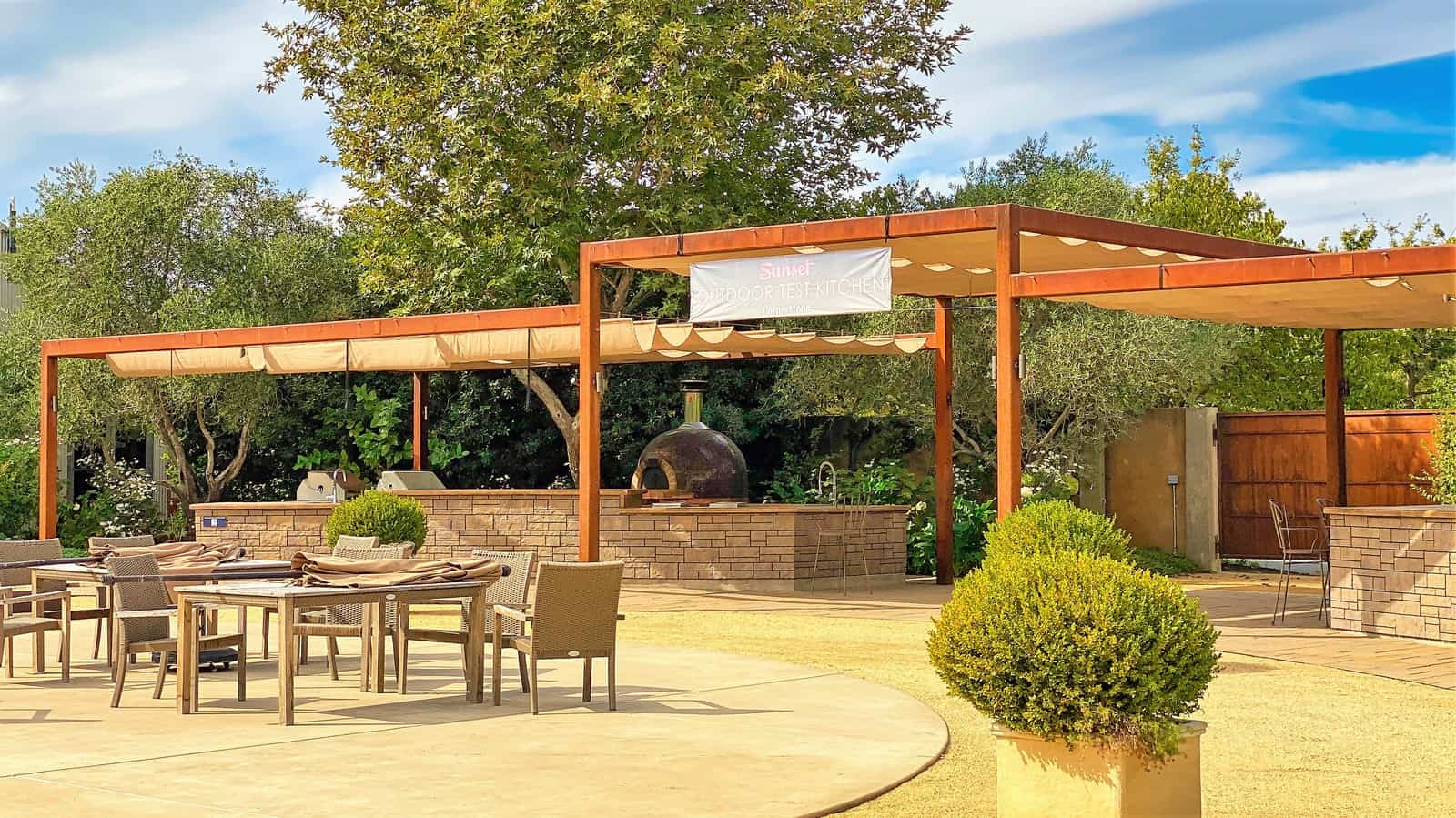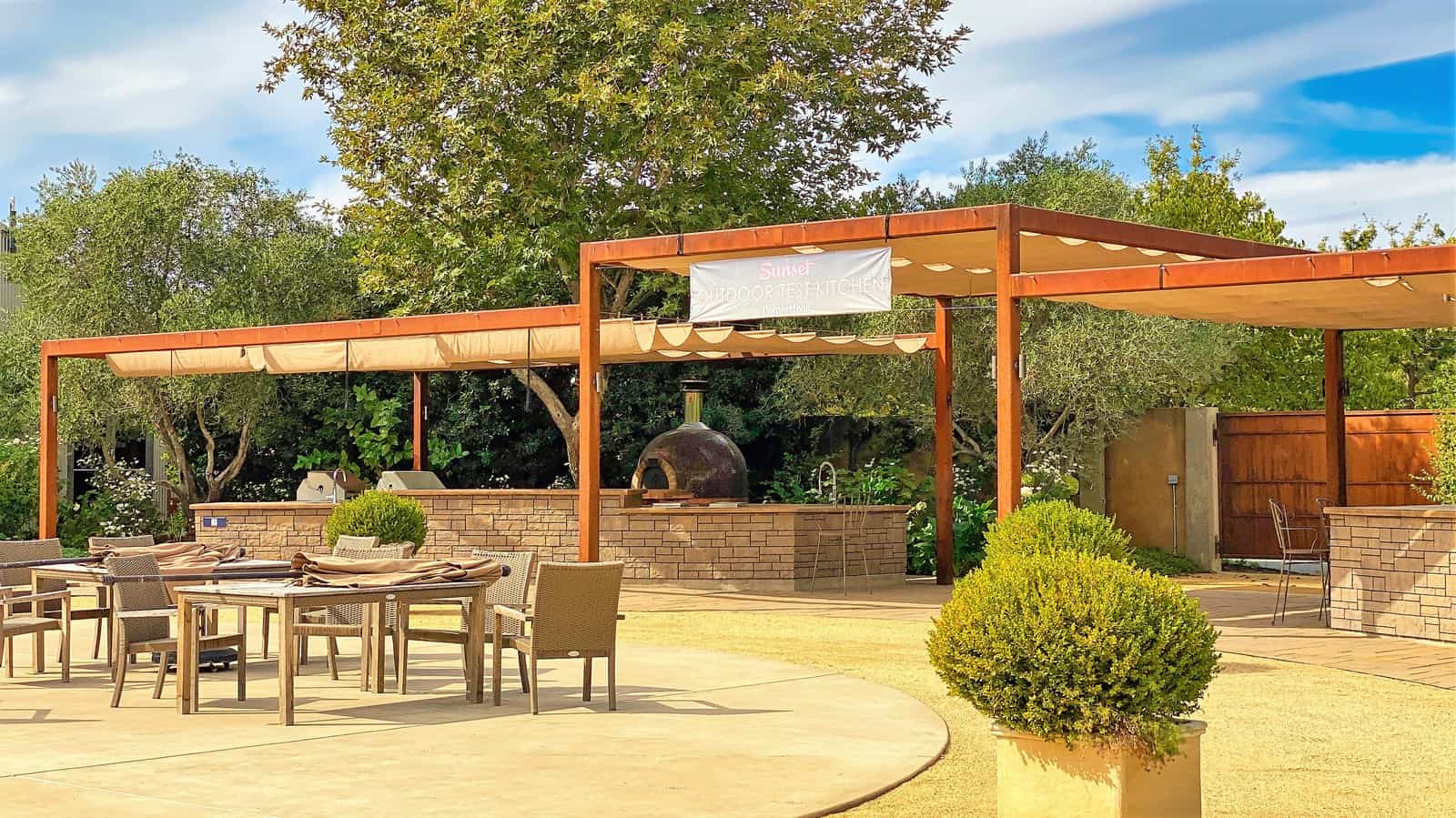 An Educational, One-of-a-Kind Wine Tasting Experience at Corner 103
Following, we recommend Corner 103 in Downtown Sonoma. Corner 103 is a winery named for its tasting room location. Accordingly, 103 W Napa Street is a street corner, historic feed store building, now a tasting room in downtown Sonoma.
Corner 103, owned by Lloyd Davis, is a result of his passion for wine and recognizing that most people are intimidated by it. So, Lloyd aims to make wine approachable. Tasting wines at Corner 103 is a unique experience where wine is explored and discussed in a relaxed and fun environment. Unquestionably, Lloyd wants you to learn all about his wines in a friendly, non-intimidating way.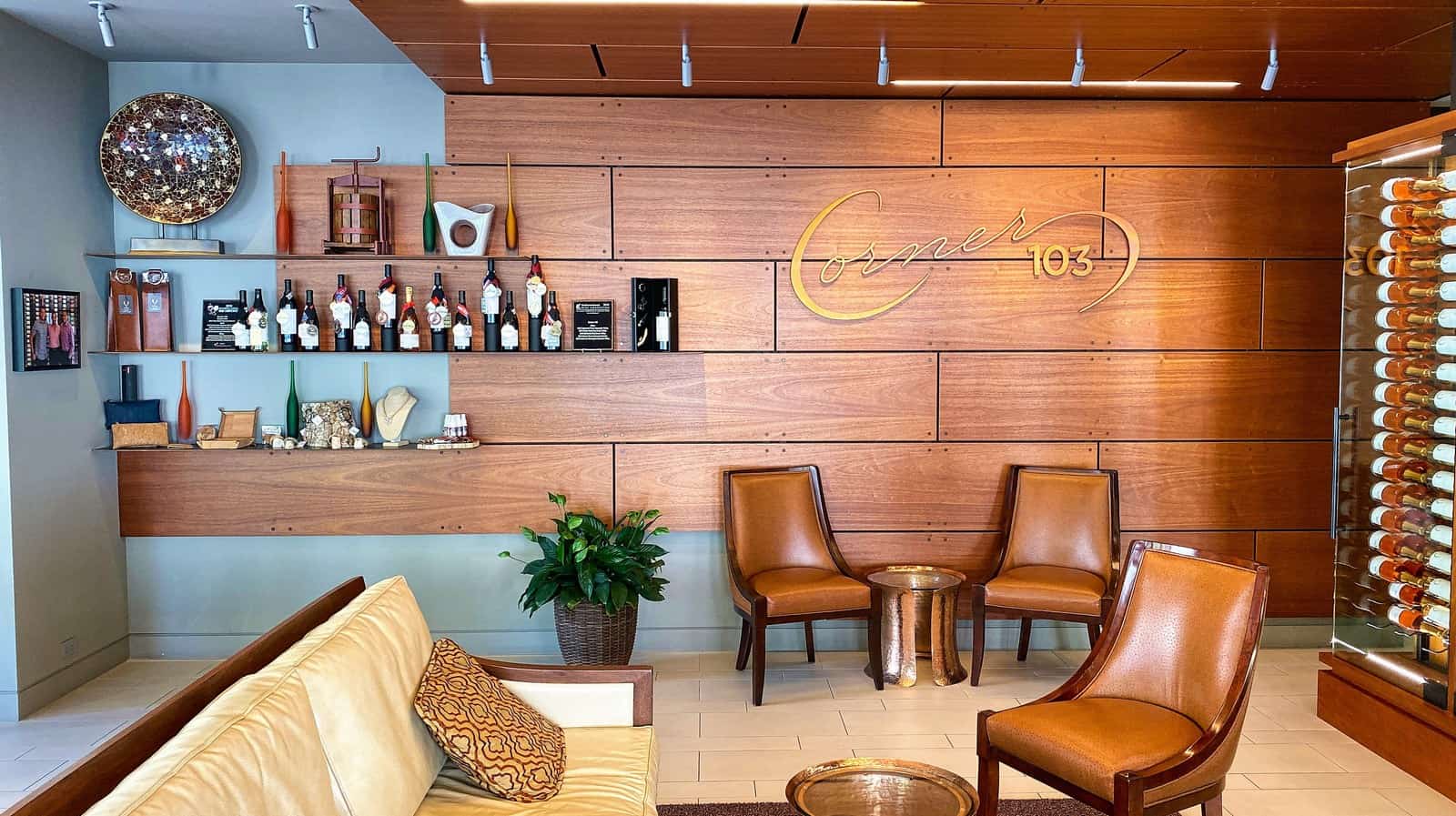 The tasting room at Corner 103 is a modern, clean space with leather furnishings, caramel earth tone colors, and picture windows where you can watch the comings and goings of Sonoma. Corner 103 is not your typical tasting room. Instead, the tasting room is food pairing based and has no bar.
Lloyd developed this space to create an experience rather than a traditional tasting room. He wants his guests to learn what makes wine special for them. Thus, Lloyd wants his guests to find the wine they really like and enjoy. He accomplishes this through his wine and food pairings.
For our visit, Keith and I sat at a corner table, pun intended. A collection of wine glasses sat in front of us. Additionally, under each glass was an accompany coaster with a map, cases made, and a wonderful description of each wine from Davis.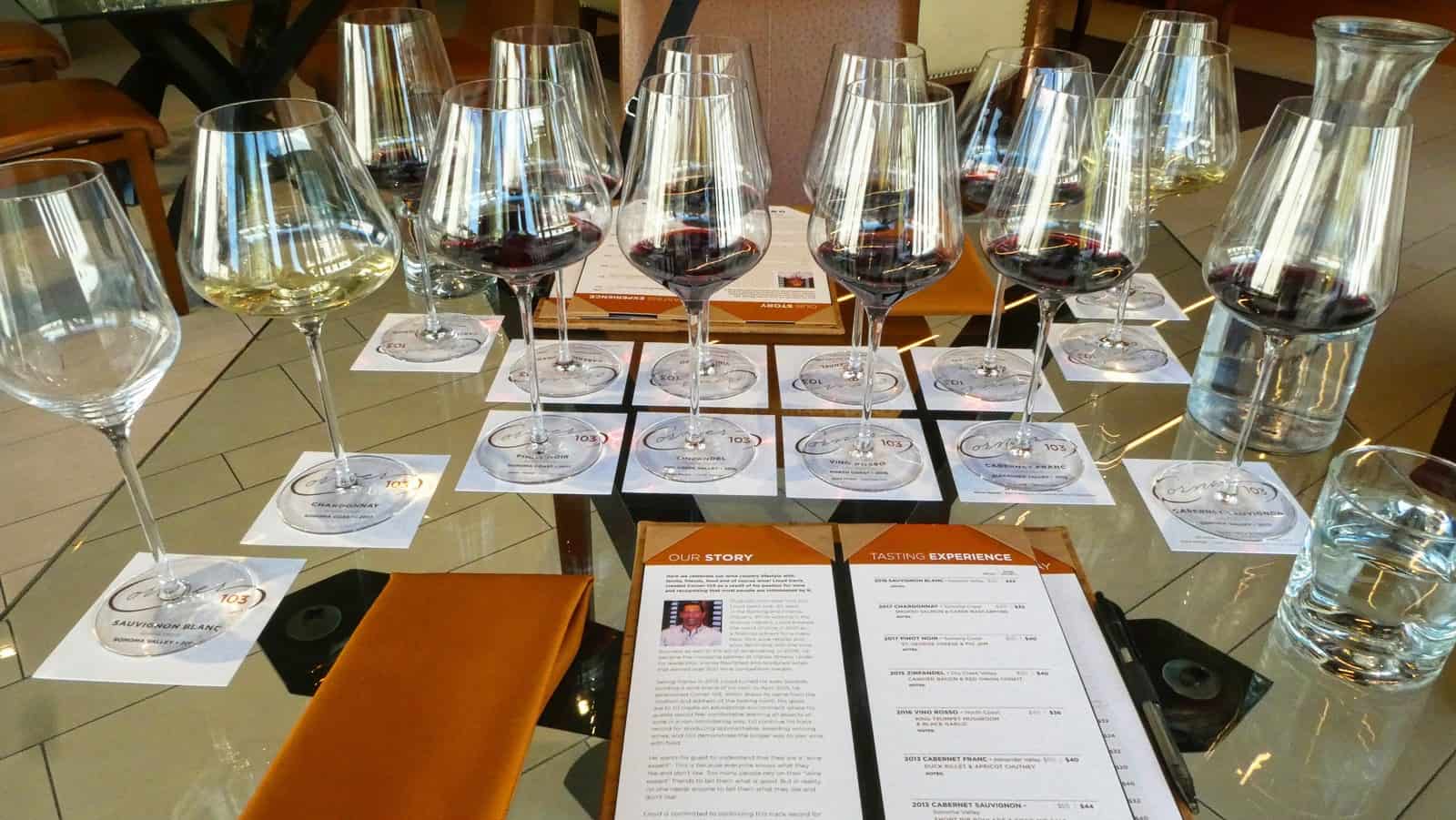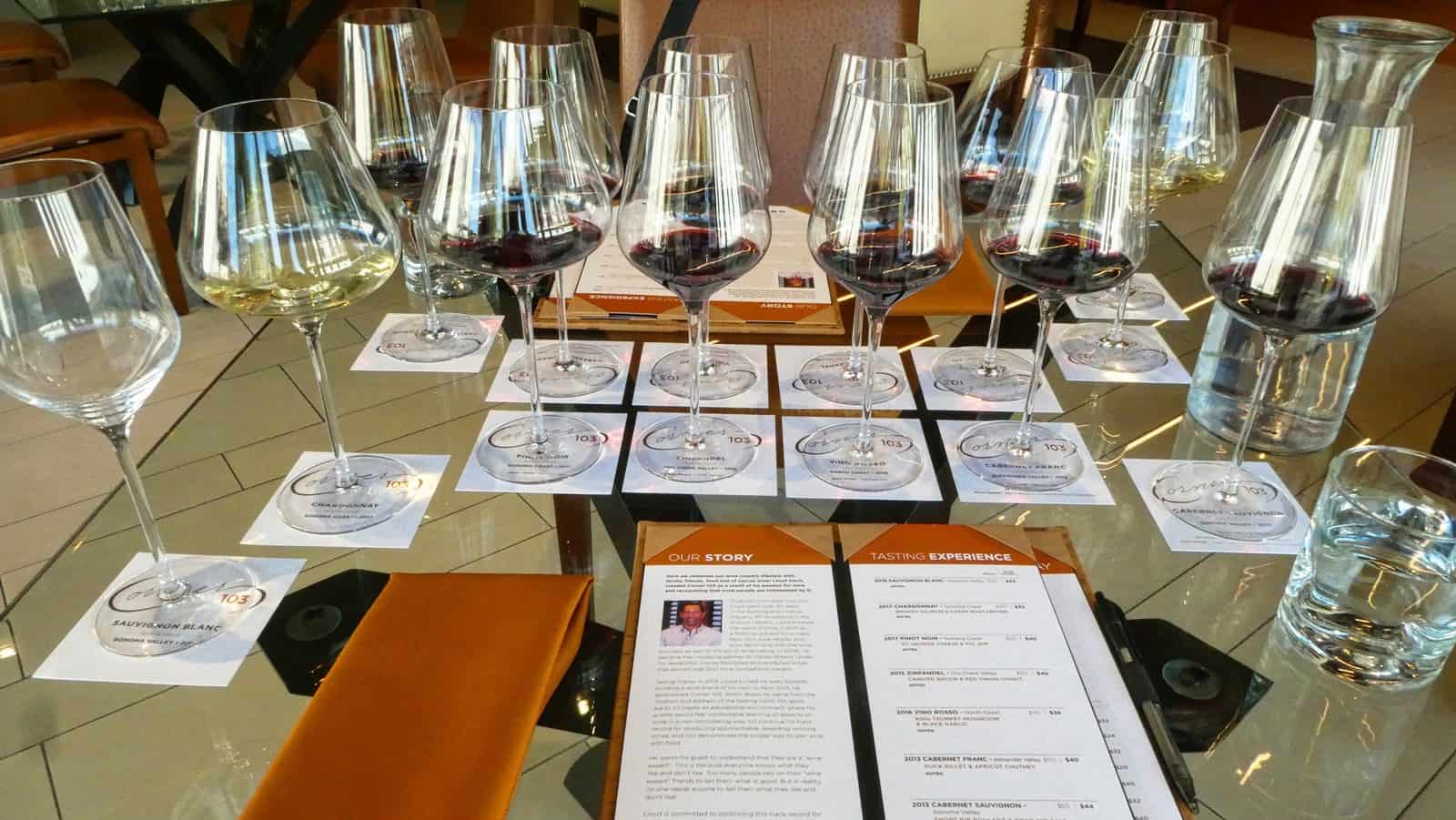 Wine and Food Pairing
As we proceeded, we first tasted each wine alone and then explored each wine with food pairings. Lloyd said we need to mix the food with the wine when we tasted it. Interestingly, we found it amazing how this changed the wine. For example, we tasted a wine, then we tasted the wine with some aged cheese, and then we tasted the wine with fig on the cheese. Each of those three tastings was dramatically different.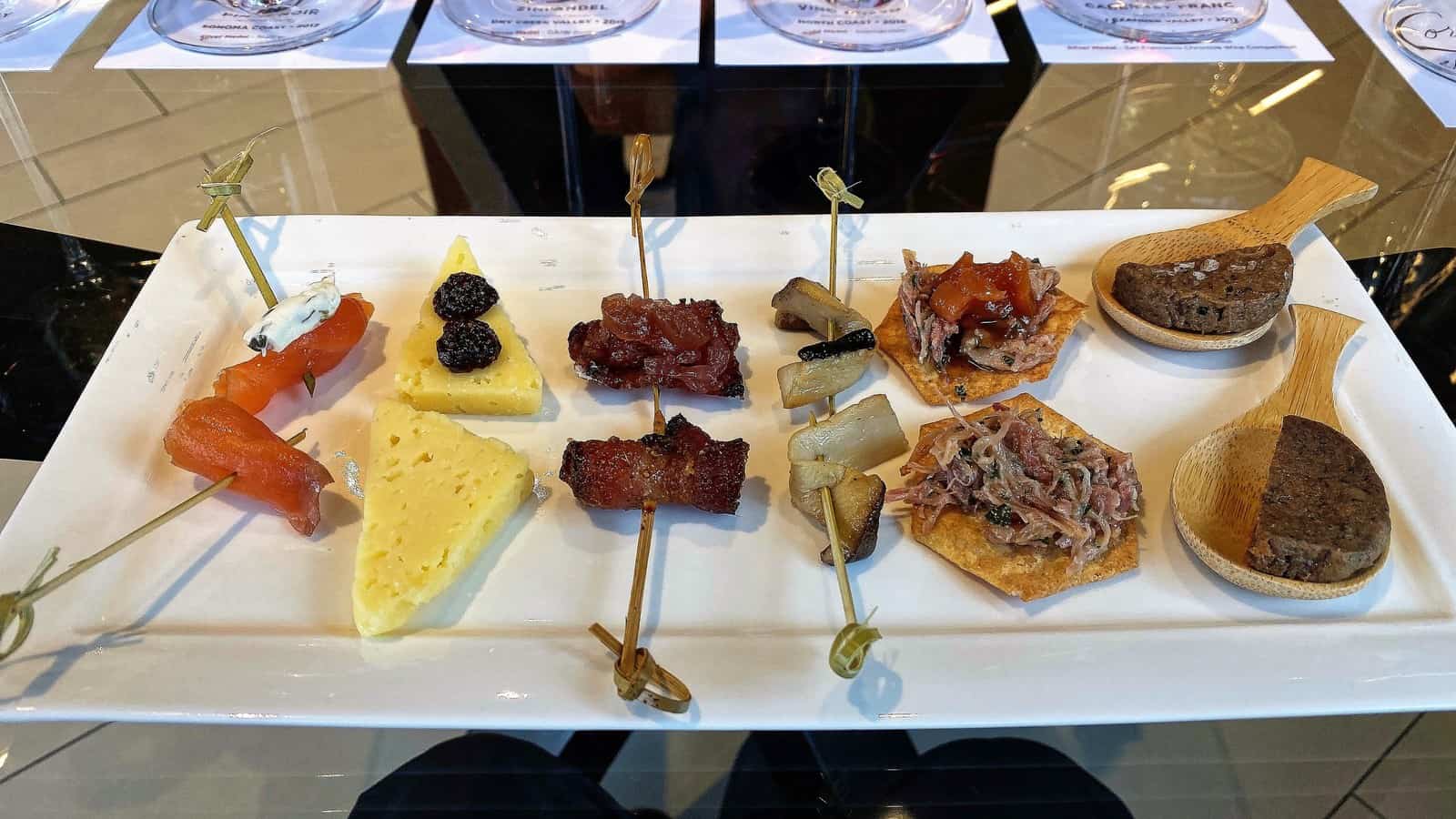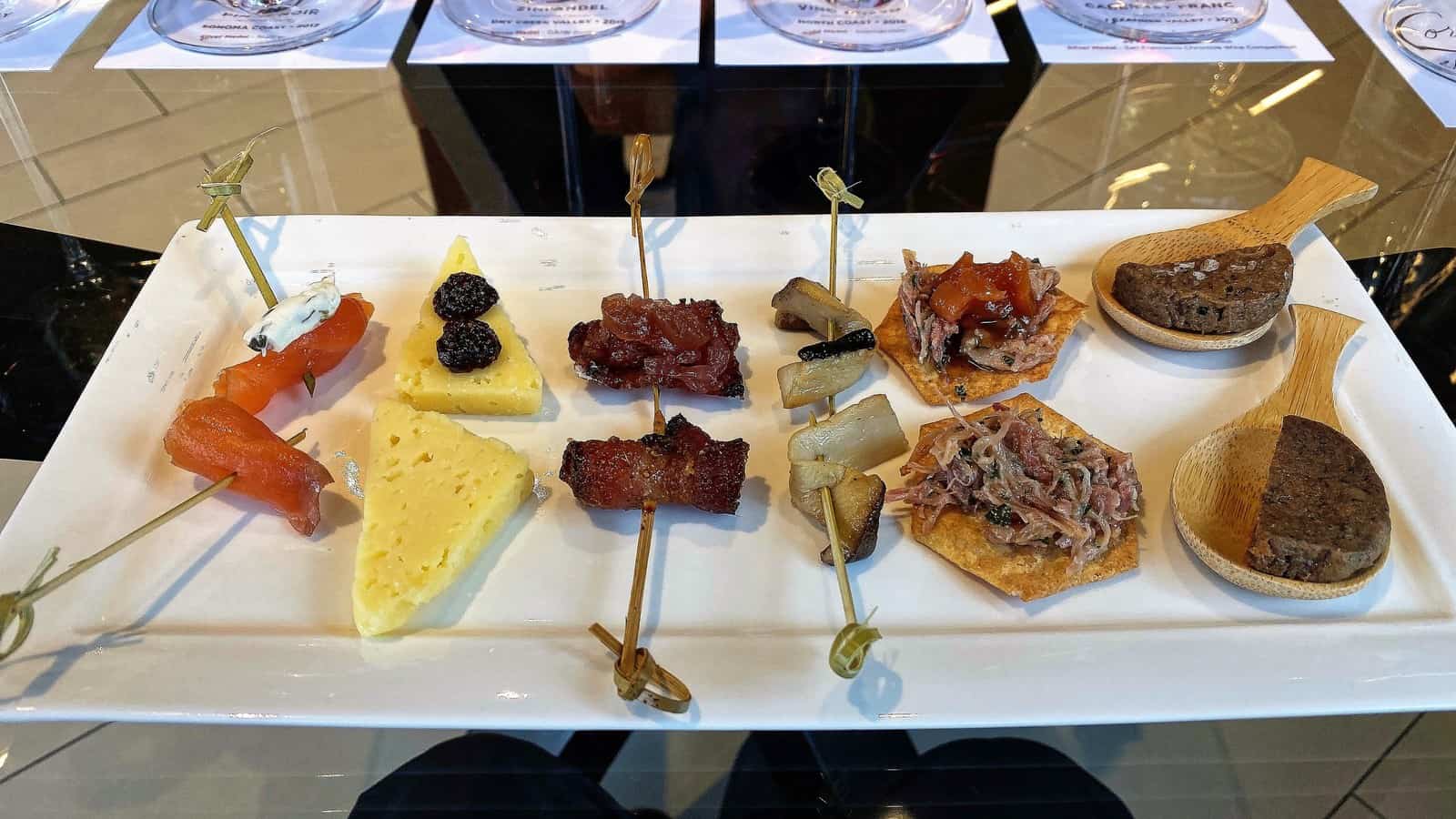 There was one wine that neither Keith nor I particularly like, so Lloyd suggested we taste another wine that he brought out to us. We both liked the second wine better. But in the end, it was the same wine in a different shaped glass. So, the glass used made the wine taste and smell differently. This glass change explains why different wines are served in glasses that compliment the wine. Some of the different wine glasses are Cabernet, Burgundy, Bordeaux, Zinfandel, Pinot Noir, Chardonnay, and Champagne. There are even others.
Llyod is approachable and unpretentious, as are his wines. Lloyd's education and the great pairings helped us learn more about what we like, don't like, and how we can enhance our meals with the right wine. He also made my wine pairing completely plant-based.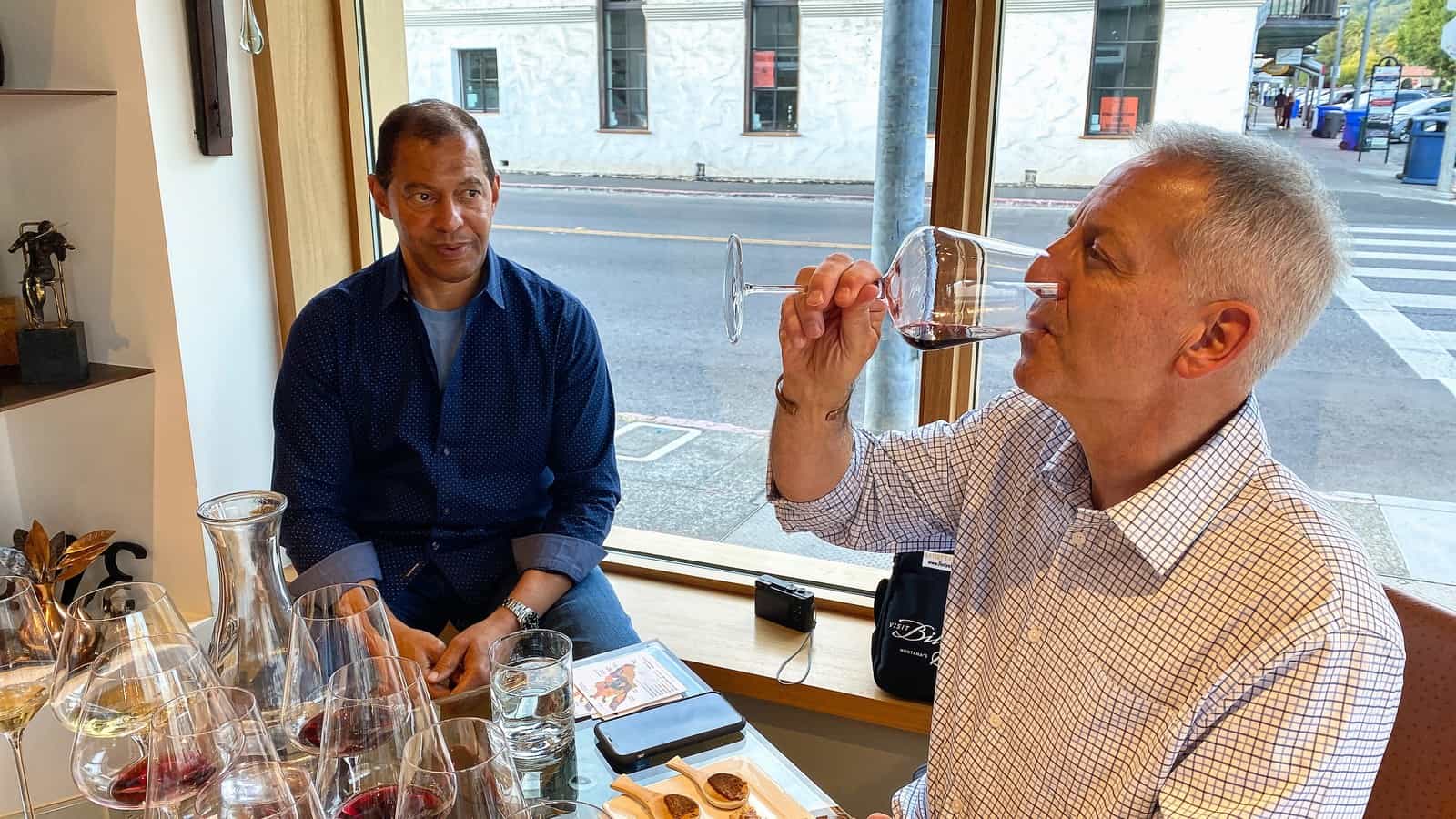 Furthermore, each wine we tasted came from a different American Viticulture Area (AVA) of Sonoma County.
Starting Corner 103 is a dream come true for Lloyd, who used to be in banking and finance in New York City for 30 years. Lloyd is a great teacher because great teachers lead their students to knowledge, not dictate what they should gain from the information or experience.
Keith and I hope to hold a wine pairing experience like this at our home to share our new experience with our friends.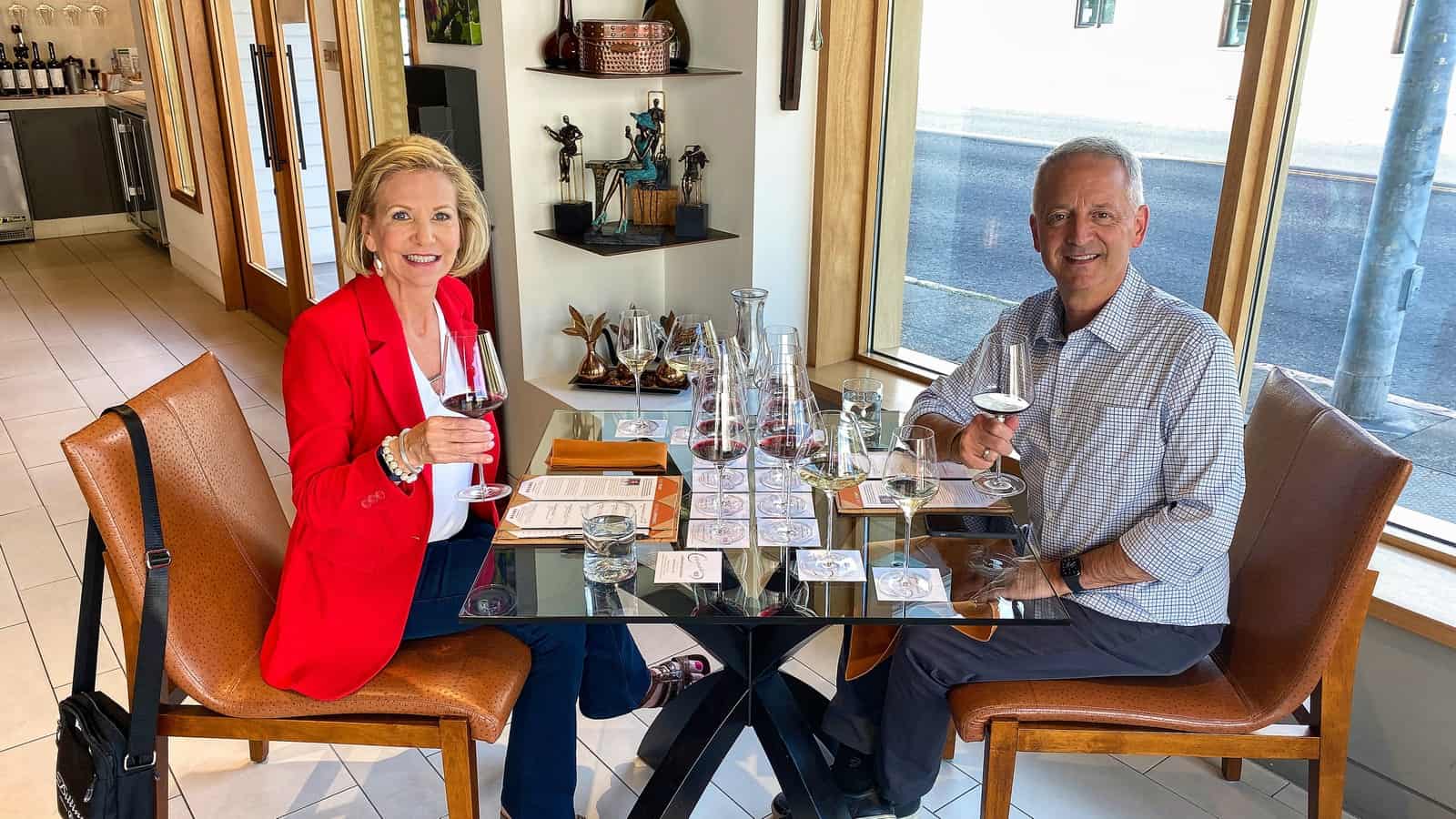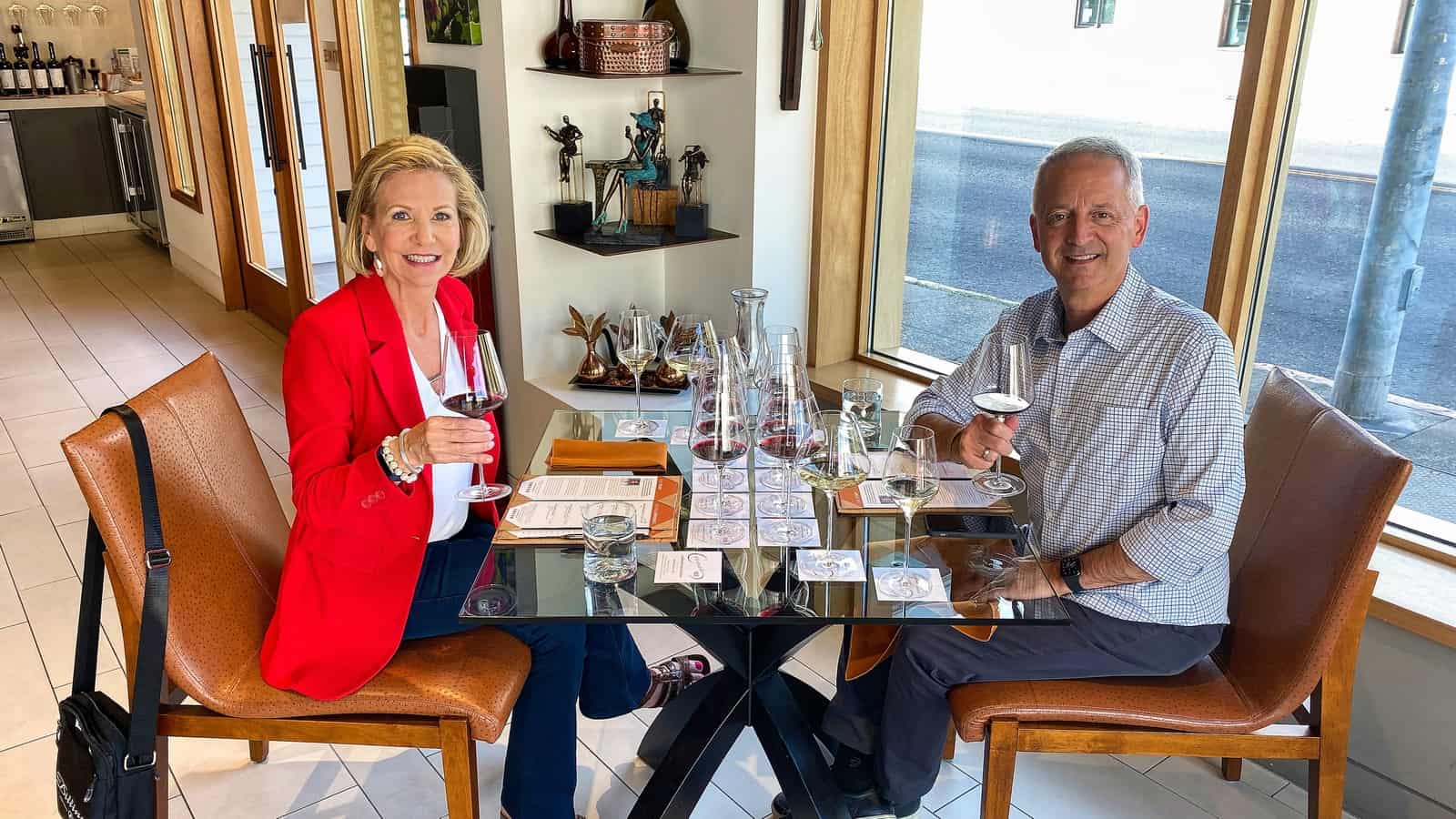 Stay at the Lovely Sonoma Valley Inn
At this point, you are probably ready to find a place to stay for the night, and as part of our one-day Sonoma wine itinerary, we recommend the Sonoma Valley Inn. Specifically, the Sonoma Valley Inn is a Best Western property with spacious accommodations in a picturesque setting.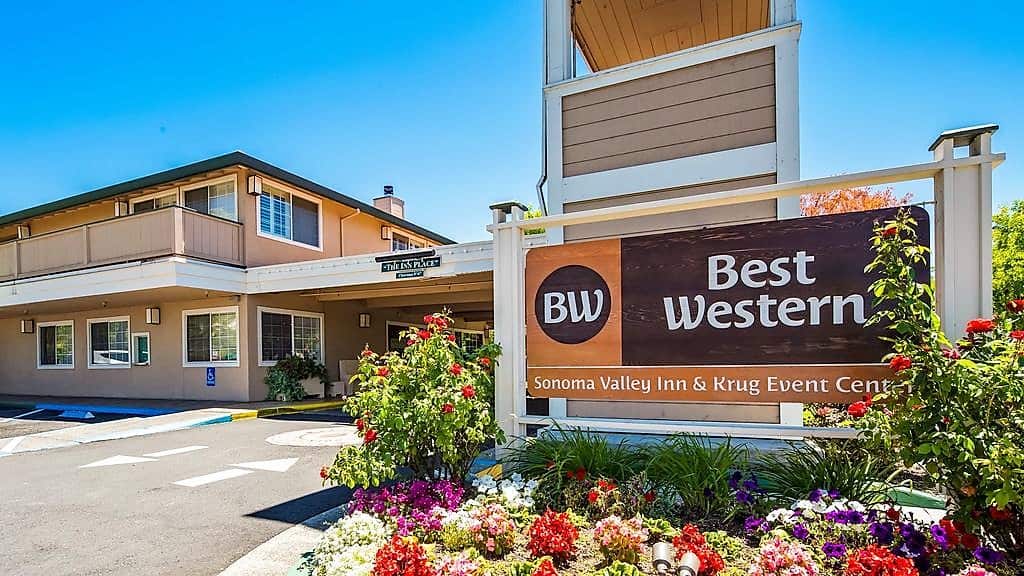 Remember, I said that Sonoma locals are down-to-earth, well, you will find that here; the staff is casual, friendly, and full of hometown warmth. Additionally, the boutique inn provides a complimentary full breakfast, a heated saltwater pool, a sauna, and a hot tub.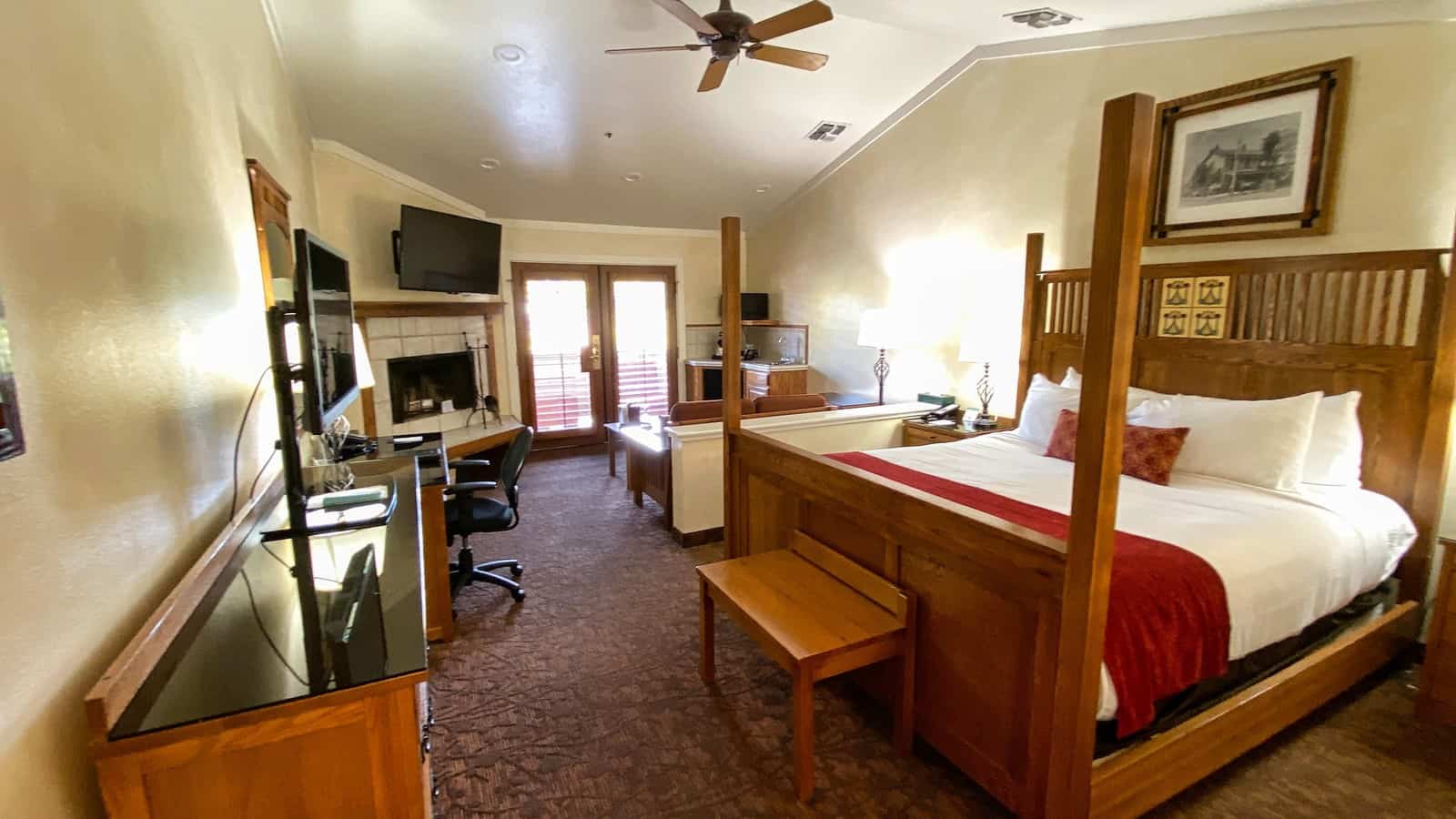 So, Keith and I stayed in a junior Jacuzzi Suite room with a fireplace and private balcony. Space is very important to Keith and me when we travel. This room was fabulously spacious.
For Fresh, Healthy, and Bursting with Flavor Meal Try The Girl & The Fig
For dinner, as part of this one-day Sonoma Wine itinerary, you simply must try The Girl And The Fig. The Girl and The Fig features a wonderful antique bar with French aperitifs, unique cocktails, an award-winning extensive wine list, a seasonal menu, cheese & charcuterie platters, and an outdoor garden as well as indoor seating. The setting is kind of shabby chic meets rustic bistro. But, let me tell you this is a popular place so try to get reservations or be prepared to wait. Either way, The Girl and The Fig is worth it.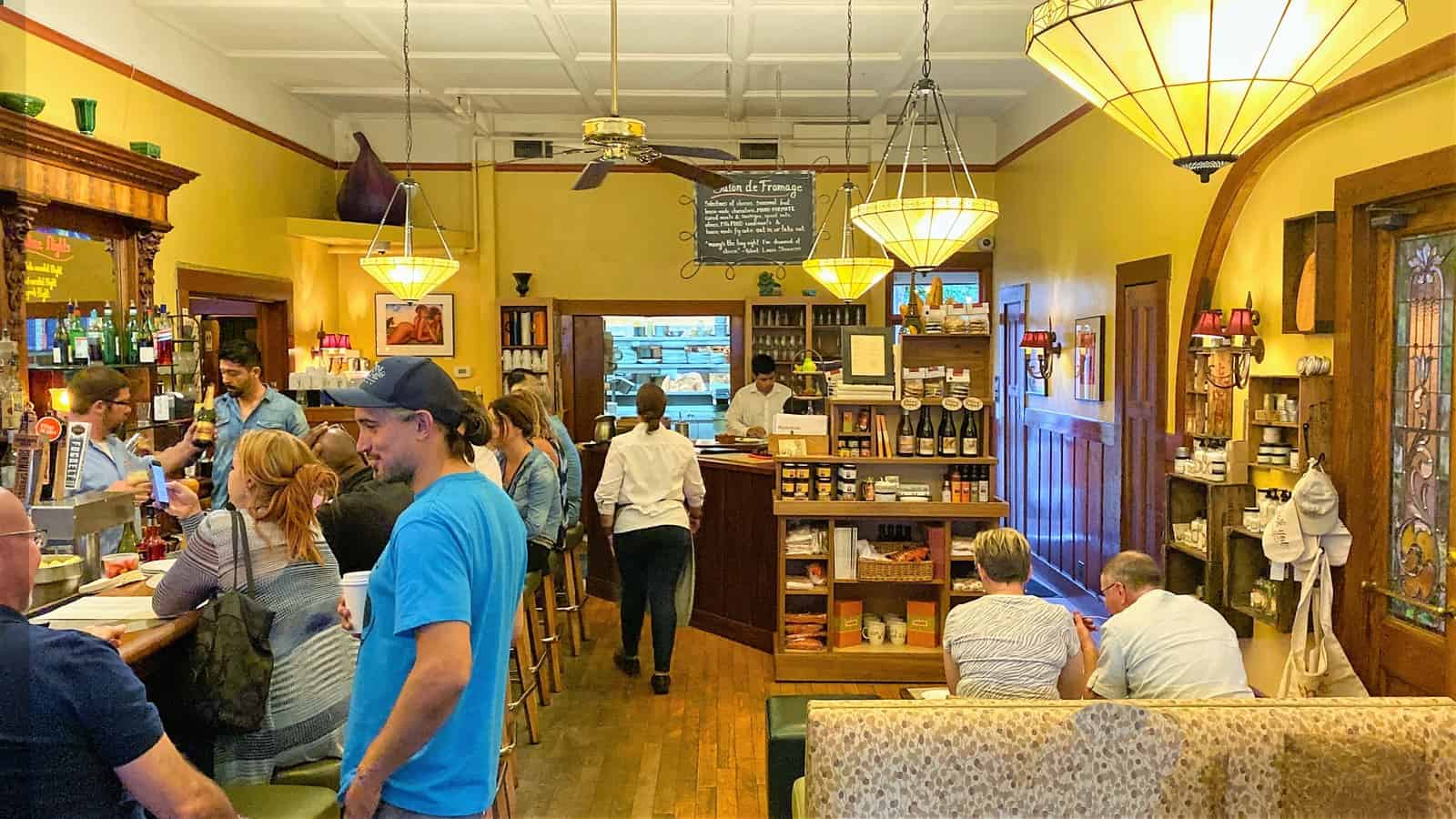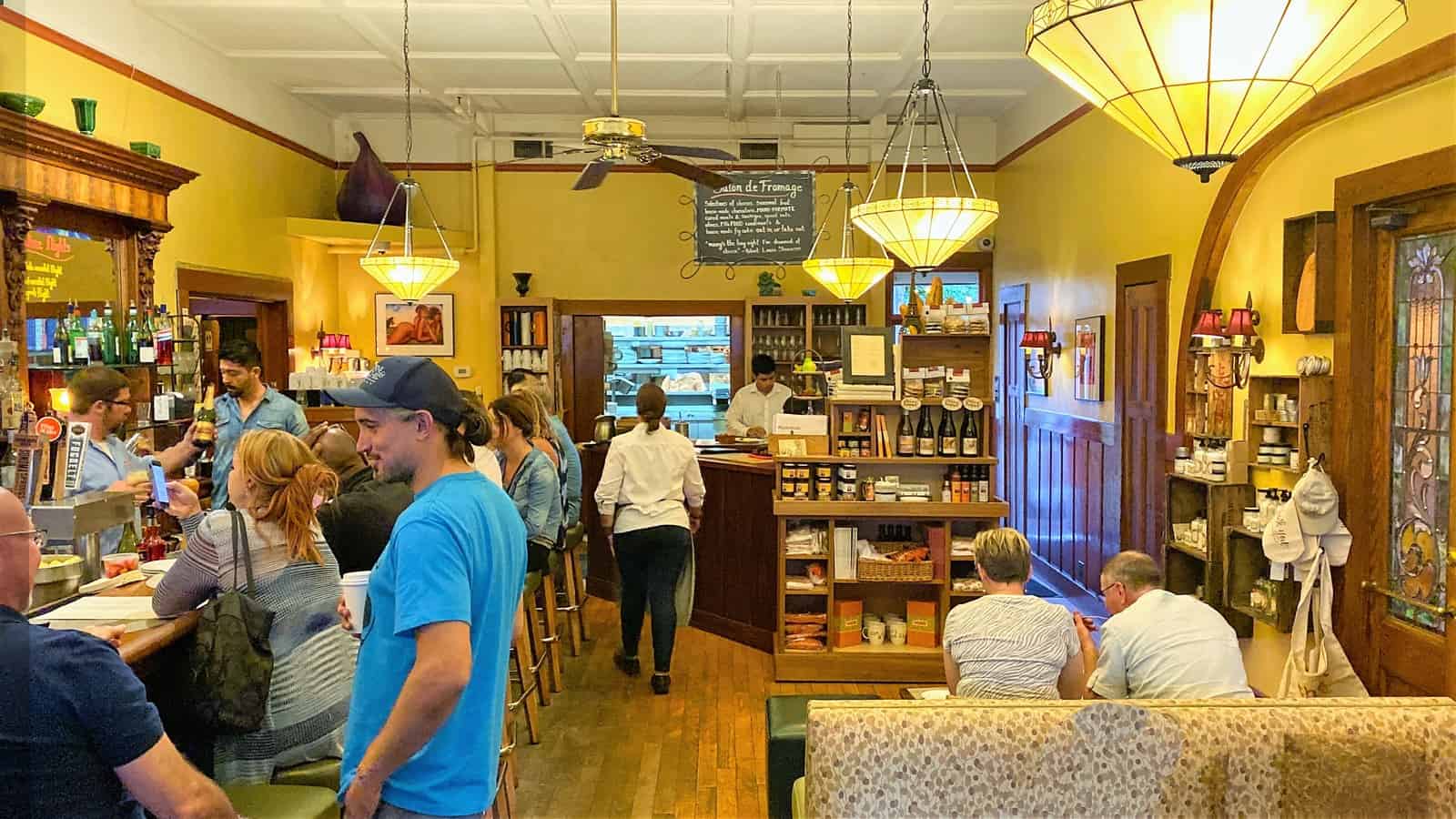 The cuisine, I would say, is French with a Californian twist made from fresh ingredients, including you, guessed it, figs. Another interesting fact, most of the produce served in the restaurant is from the restaurant's organic and biodynamic Sonoma garden.
Firstly, we had the Brussel sprouts with apples and honey mustard vinegarette as a starter. We also had a delicious Flounder Meuniere and a simple grilled cheese with local cheeses and tomato confit.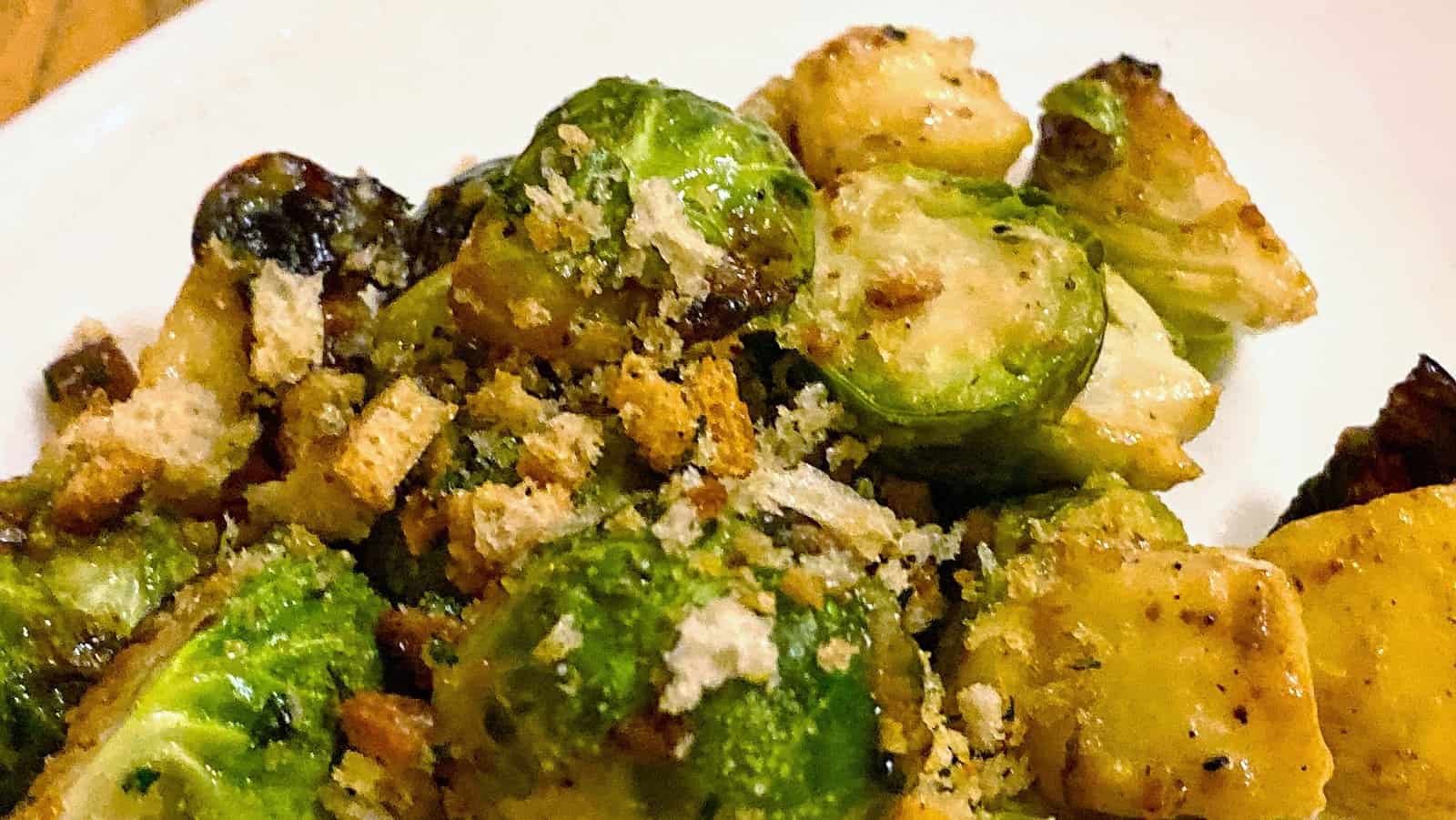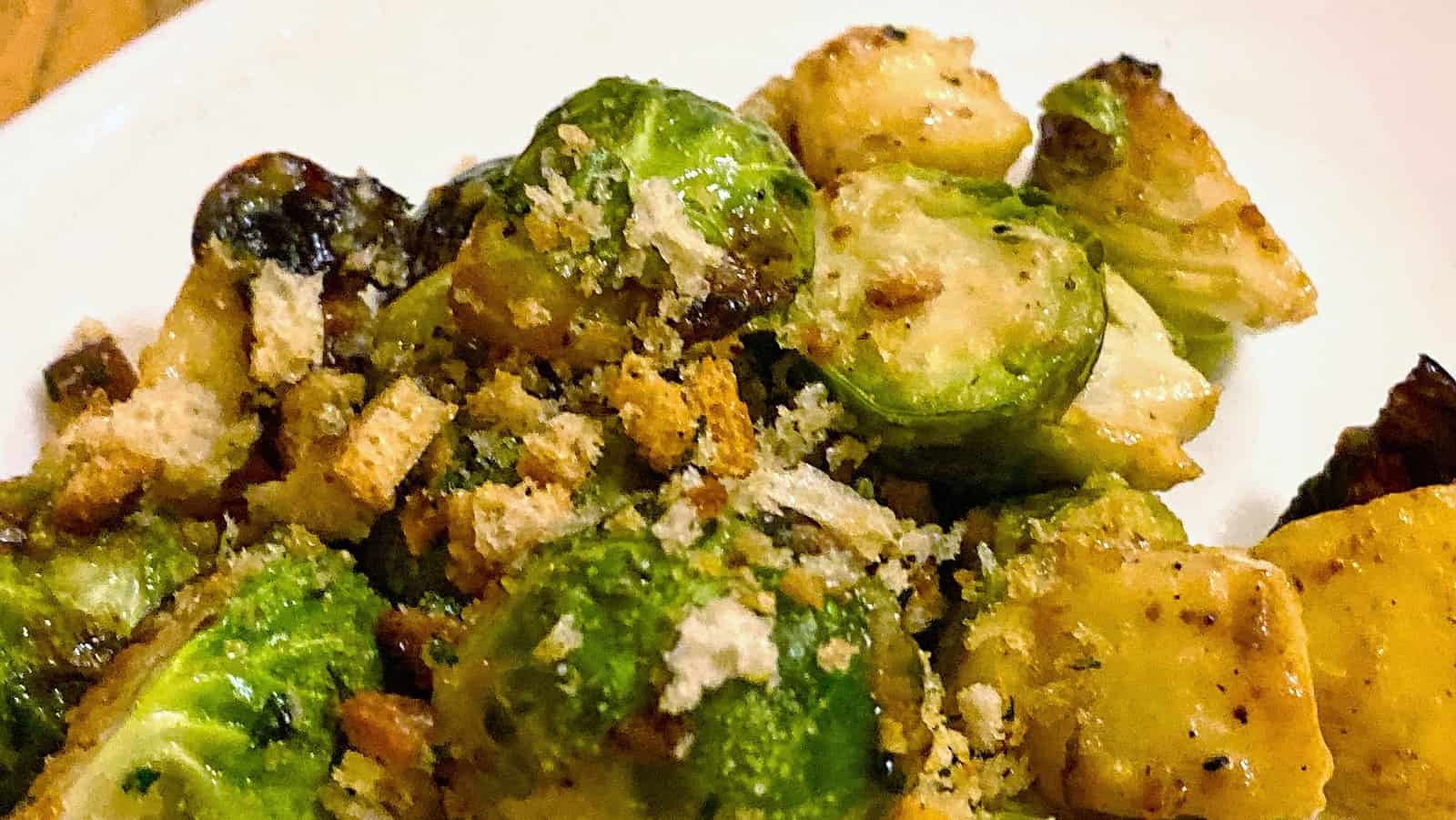 Follow this One-Day Sonoma Wine Itinerary for a Great Day
Downtown Sonoma is rustic and charming, so you will know you are in the west. Additionally, there is great shopping, great restaurants, and of course, great wine. Cornerstone, although not downtown, is idyllic and should not be missed.
QUICK ANSWERS
Where was the last Spanish mission built in California?
The last Spanish mission was built in Sonoma California.
Where is the largest plaza in California?
The largest plaza in California is in Sonoma. It encompasses 8 acres.
---
Be sure not to miss our visit to nearby Santa Rosa for some great wine. Or Sonoma's neighbor Napa!