Napa Valley is a food and wine lovers fantasy come to life. Spanning towns such as Napa, Rutherford, Yountville, St. Helena, and Calistoga, Napa Valley has lovely vineyards and charming downtowns. In addition to the great Napa wine tasting, there are many Michelin-starred restaurants in Napa. But you do not have to spend a fortune to have amazing food. Napa also has craft breweries, pizzerias, and unbelievable fast food. If you think Napa is too "high-end" for your tastes, after visiting, that was not our impression. Along with century-old chateaus, and historical wine spots, we saw a growing array of contemporary tasting rooms all very approachable. We want to share our recommendations for Napa wine tasting.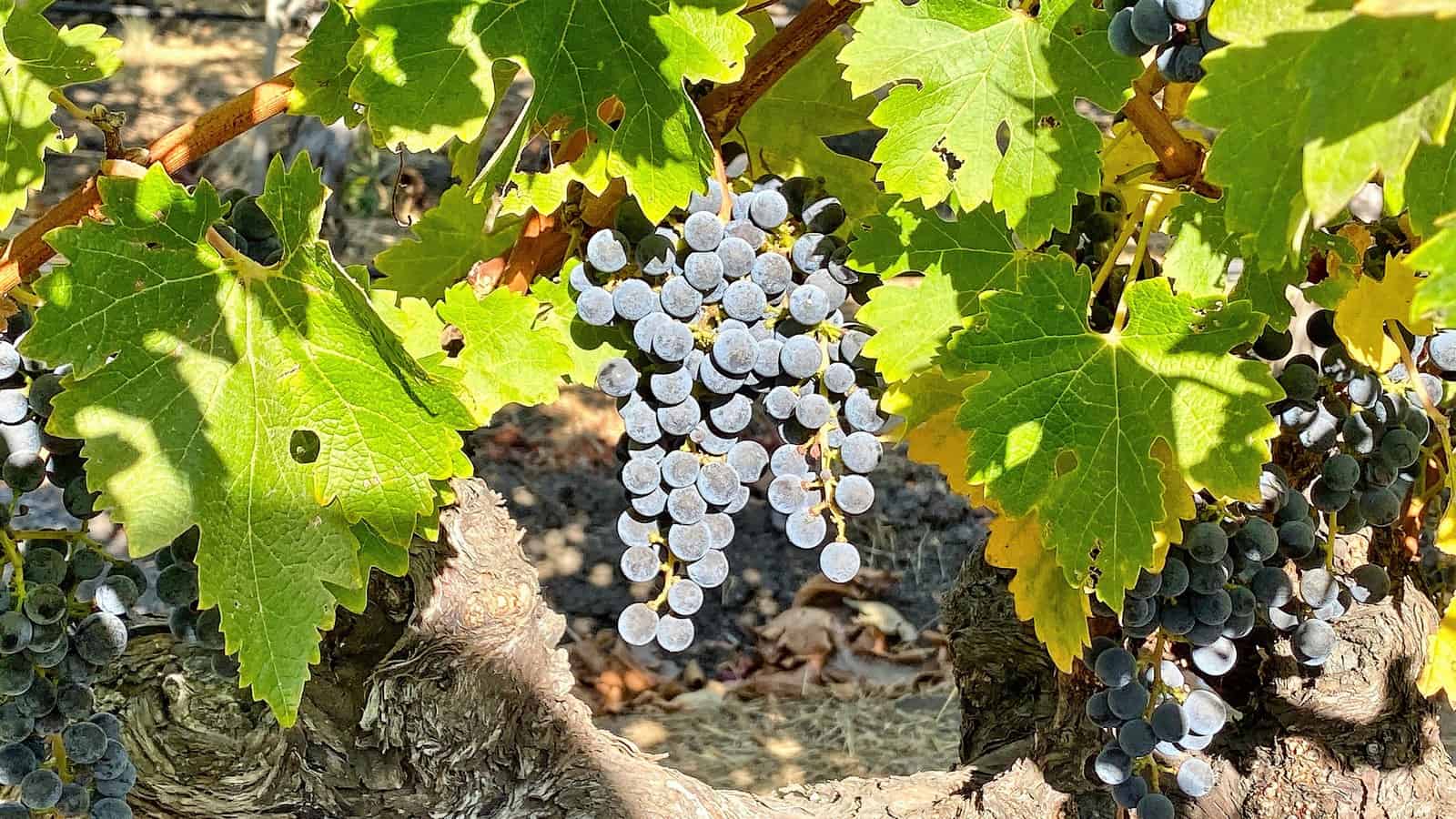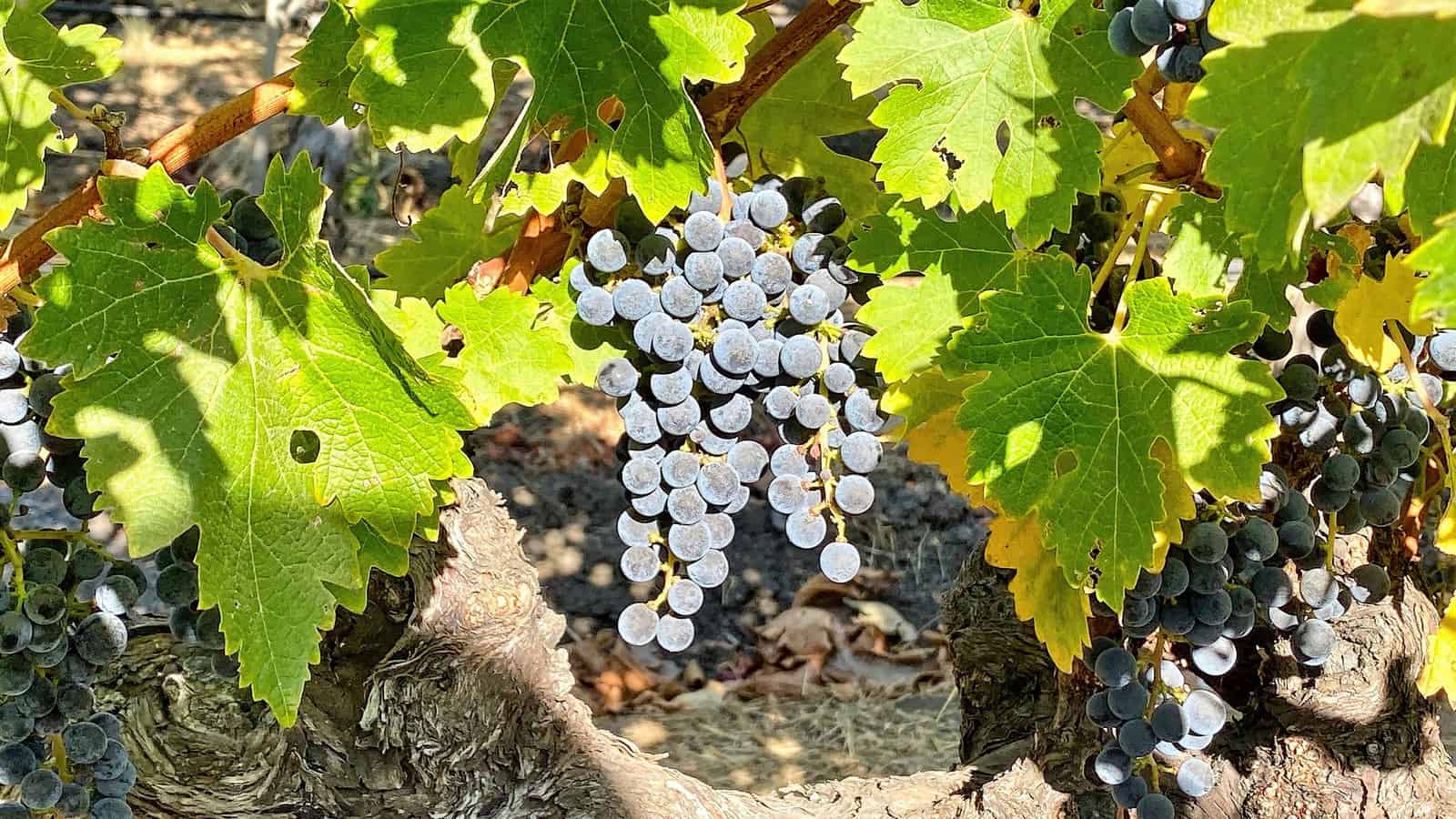 Taste Remarkable Napa Valley and Anderson Valley wines at Cakebread Cellars
Firstly, we recommend tasting wine at Cakebread Cellars in Rutherford. Whether you are new to wine or a diehard wine enthusiast, Cakebread offers a range of unique experiences for choosing. If you love everything wine and hearing the history of the winery, we recommend calling ahead and booking a tasting in the vineyard. We had a guide that took us around the vineyard as we tasted their amazing wine. Luckily for us, it was also harvest and crush time. We got to see a lot of winery action!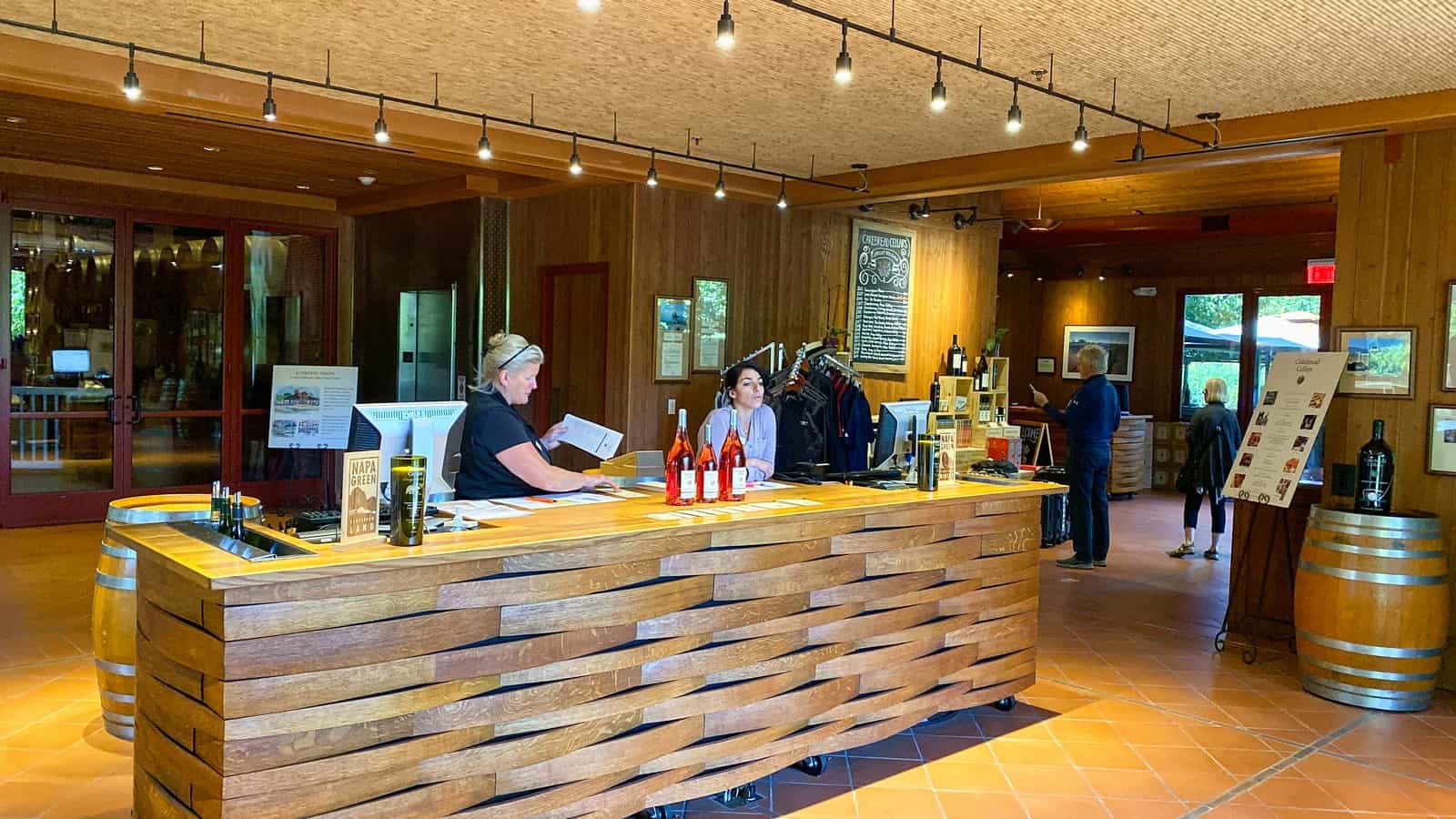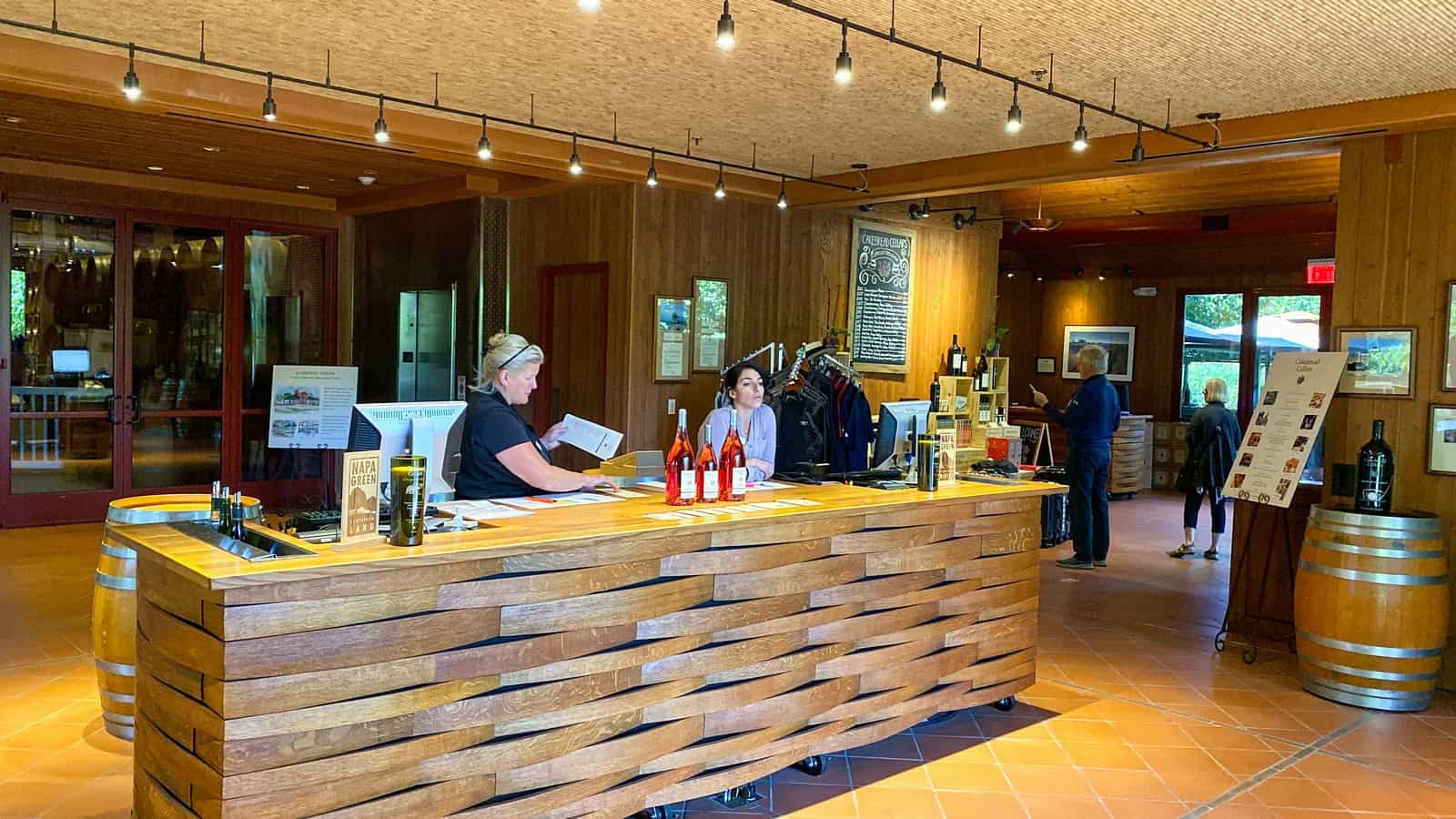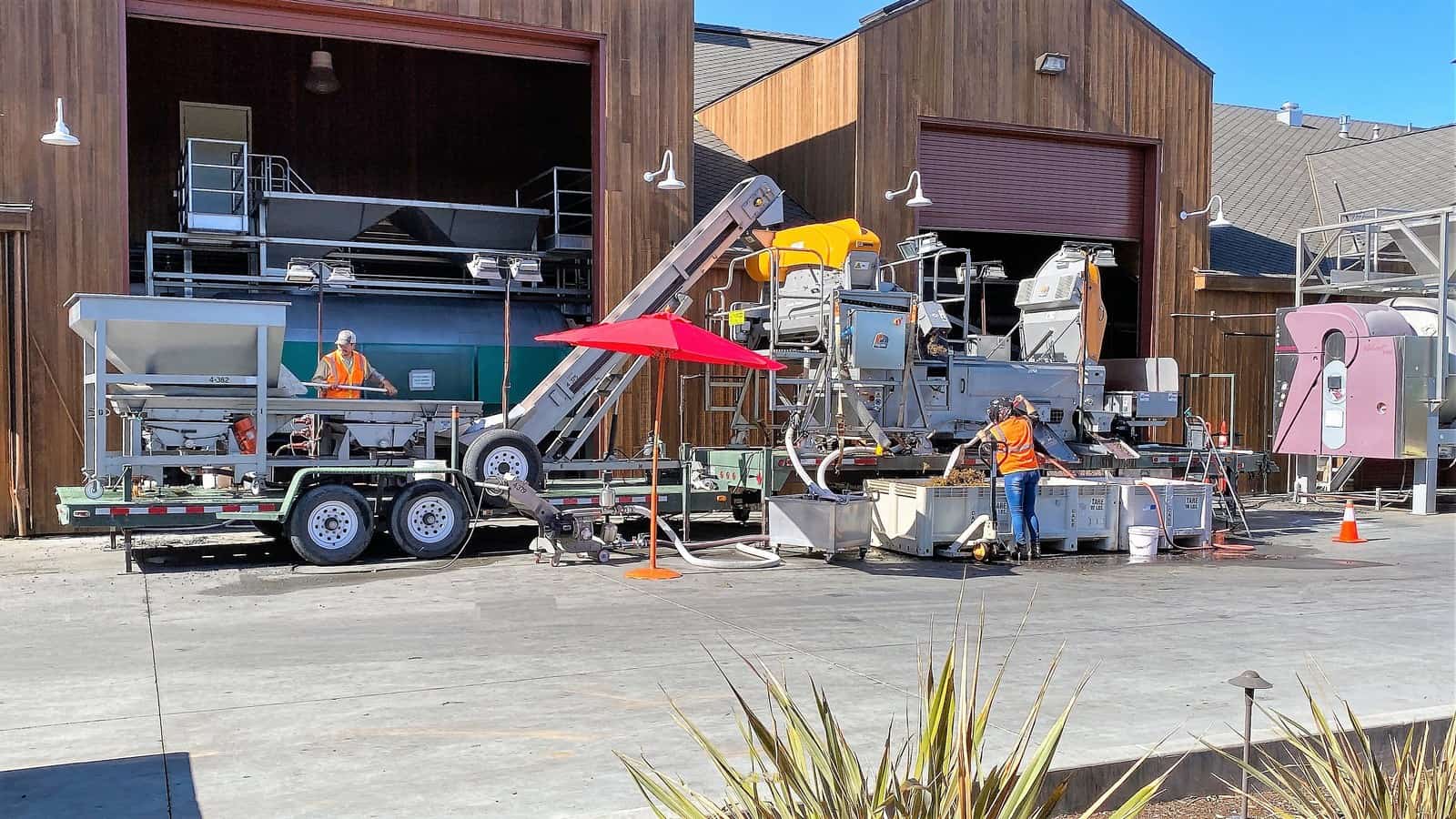 As we were walking through the grounds, we were lucky enough to be able to meet the owners, Jack, and Dolores Cakebread. In 1972 Jack and Delores brought a ranch, and in 1974 they built their first winery. They released their first wine in 1973, a chardonnay. In 2013 Cakebread Cellars celebrated its 40th anniversary.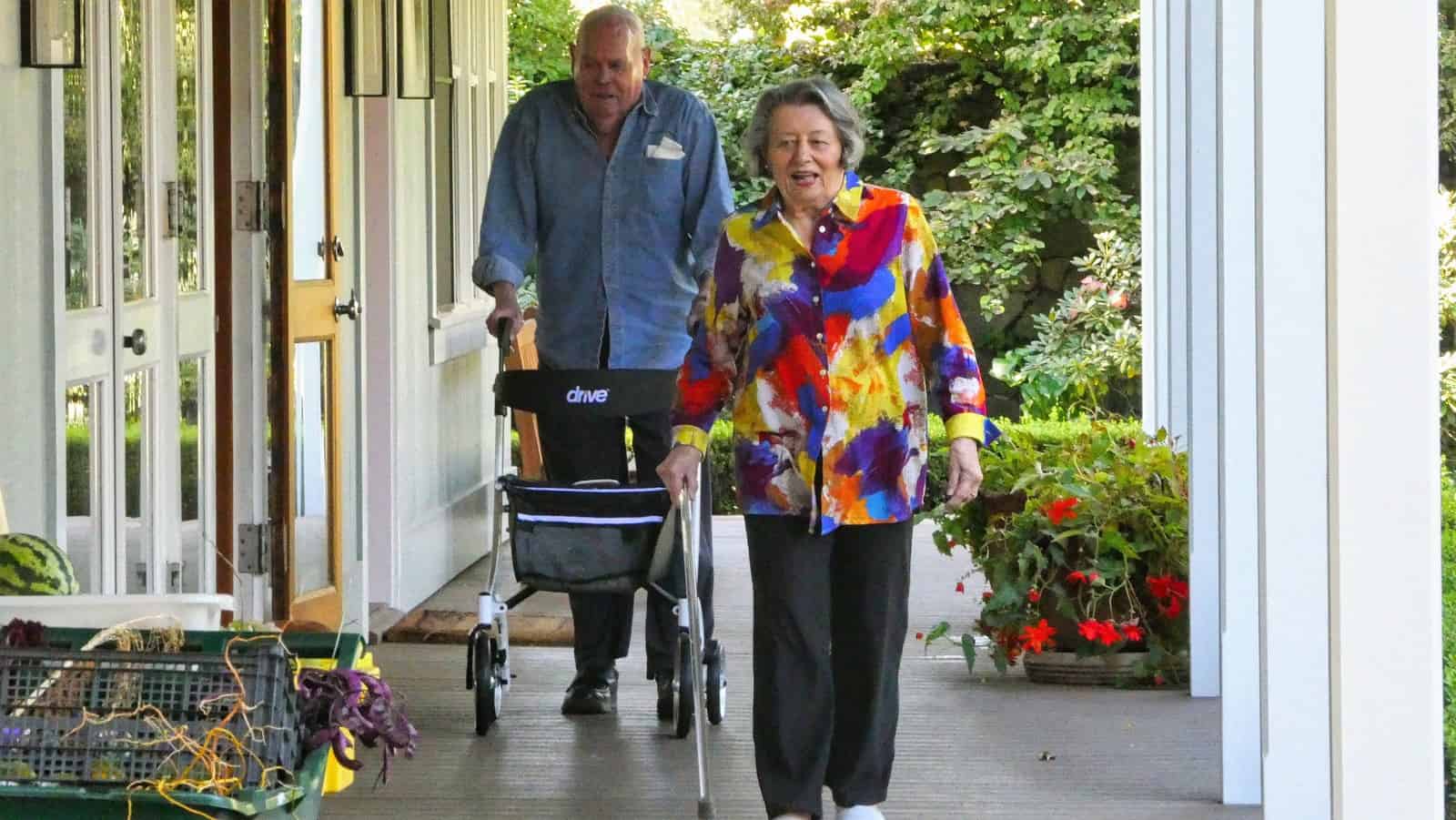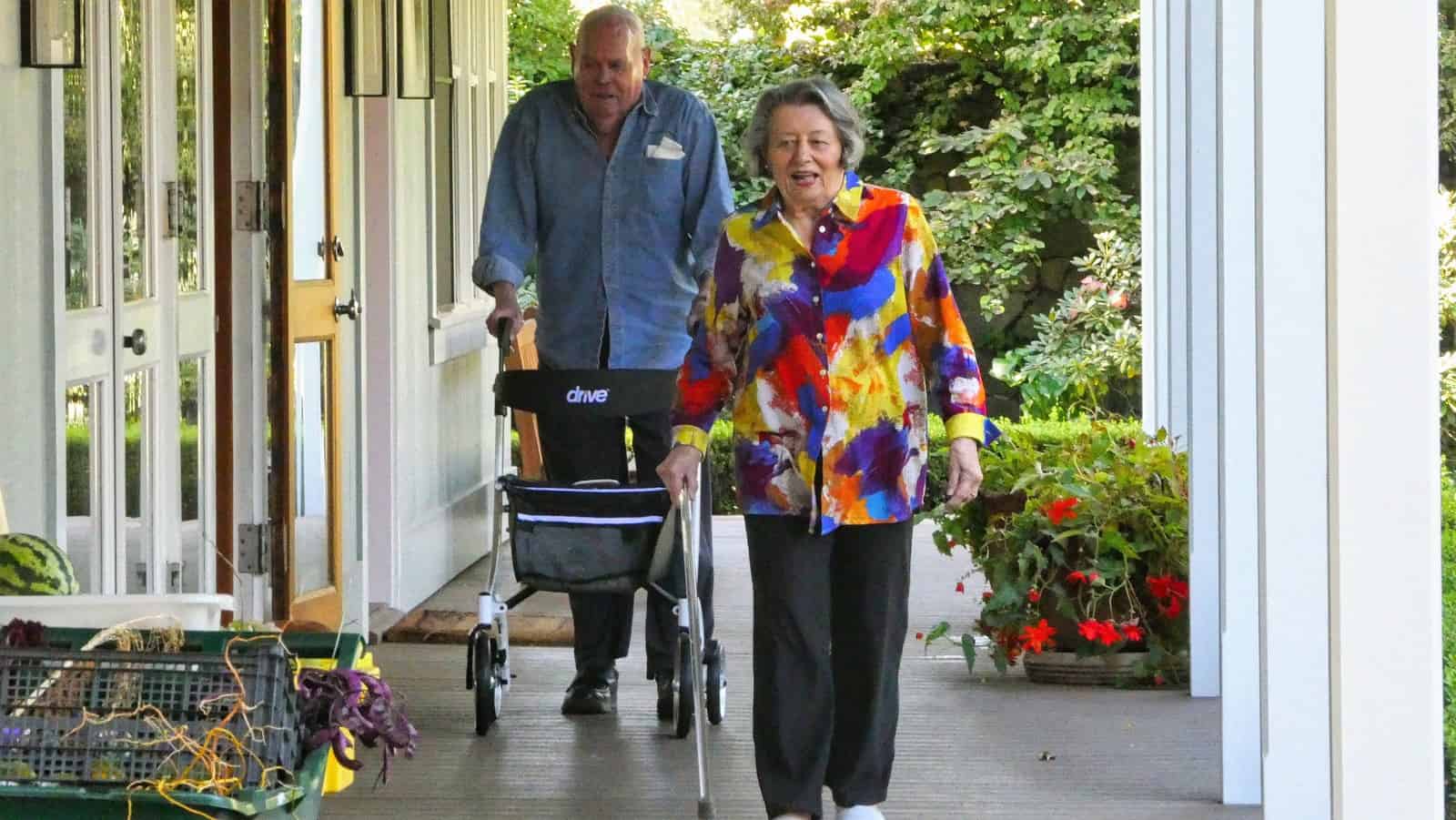 Cakebread offers library tastings for serious wine aficionados and collectors. Or you can choose to do a reserve wine and cheese-paring. If when you think of wine, you think of food not to worry, Cakebread offers an educational wine and food tasting. With produce from their estate garden, Cakebead's chef will prepare four recipes and then thoughtfully pair them with a special selection of wines.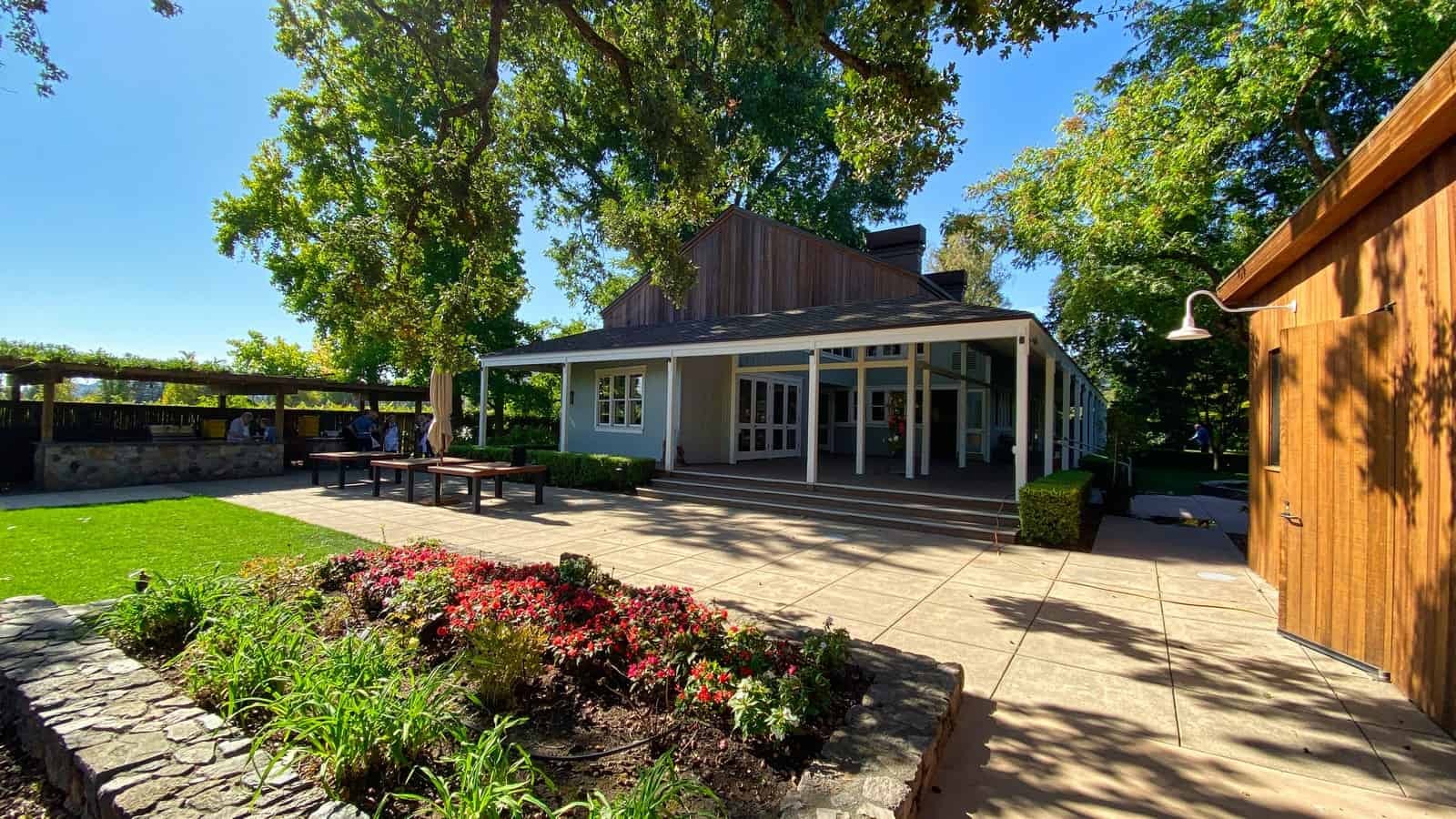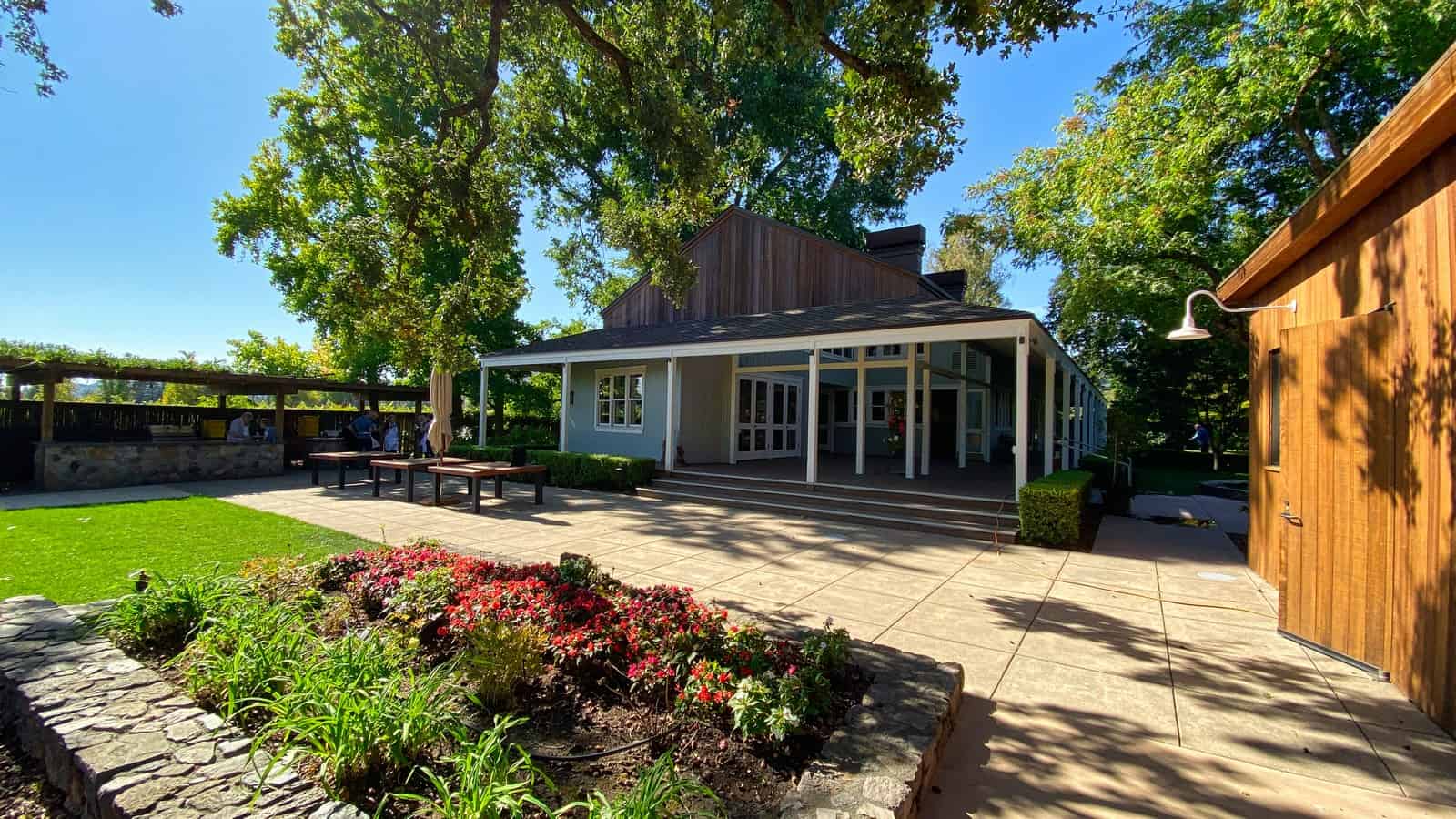 If you are simply looking for a fun, educational wine tour featuring a mix of red and white wines, they have that too. Likewise, you can request just reds or just whites.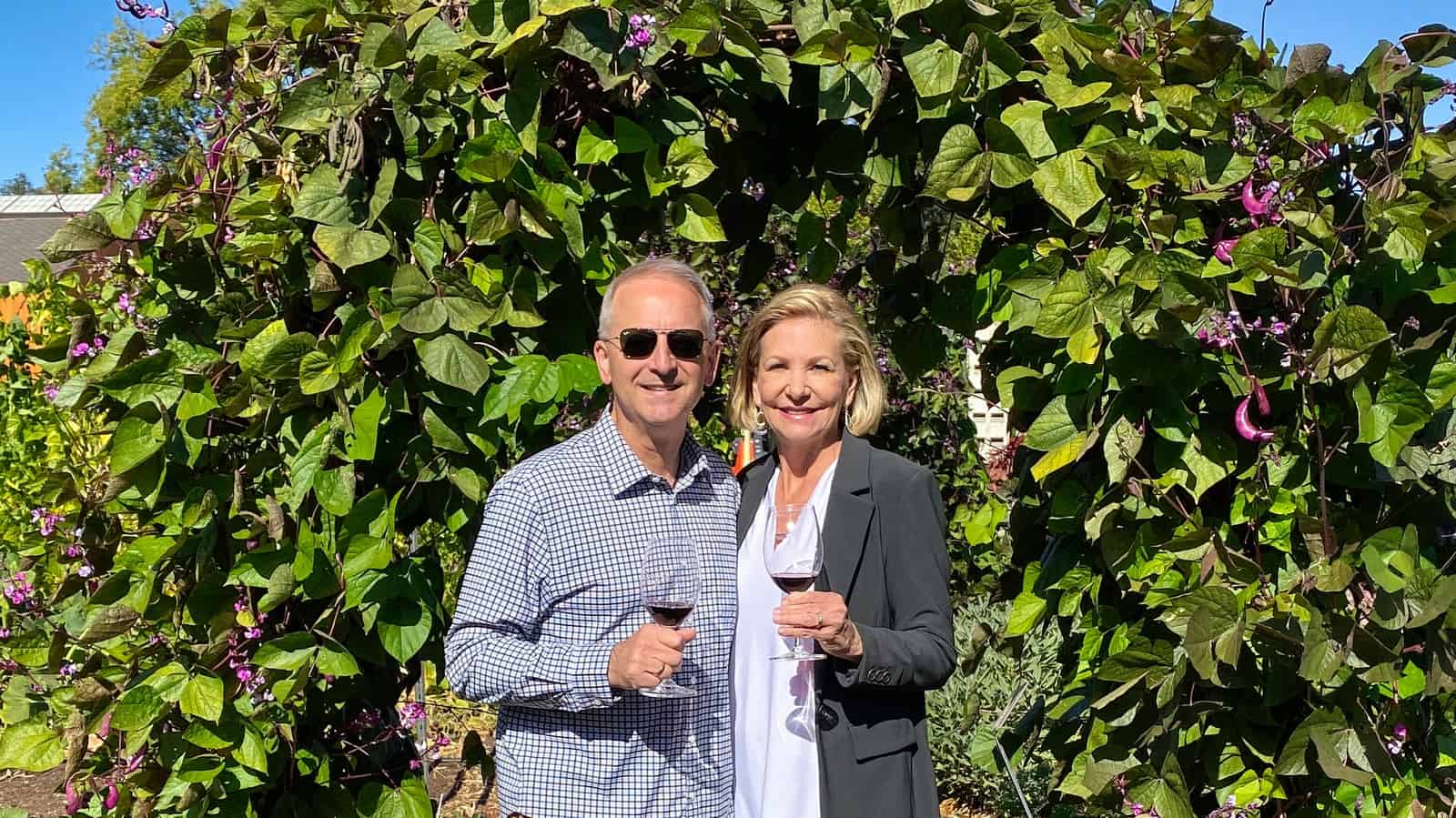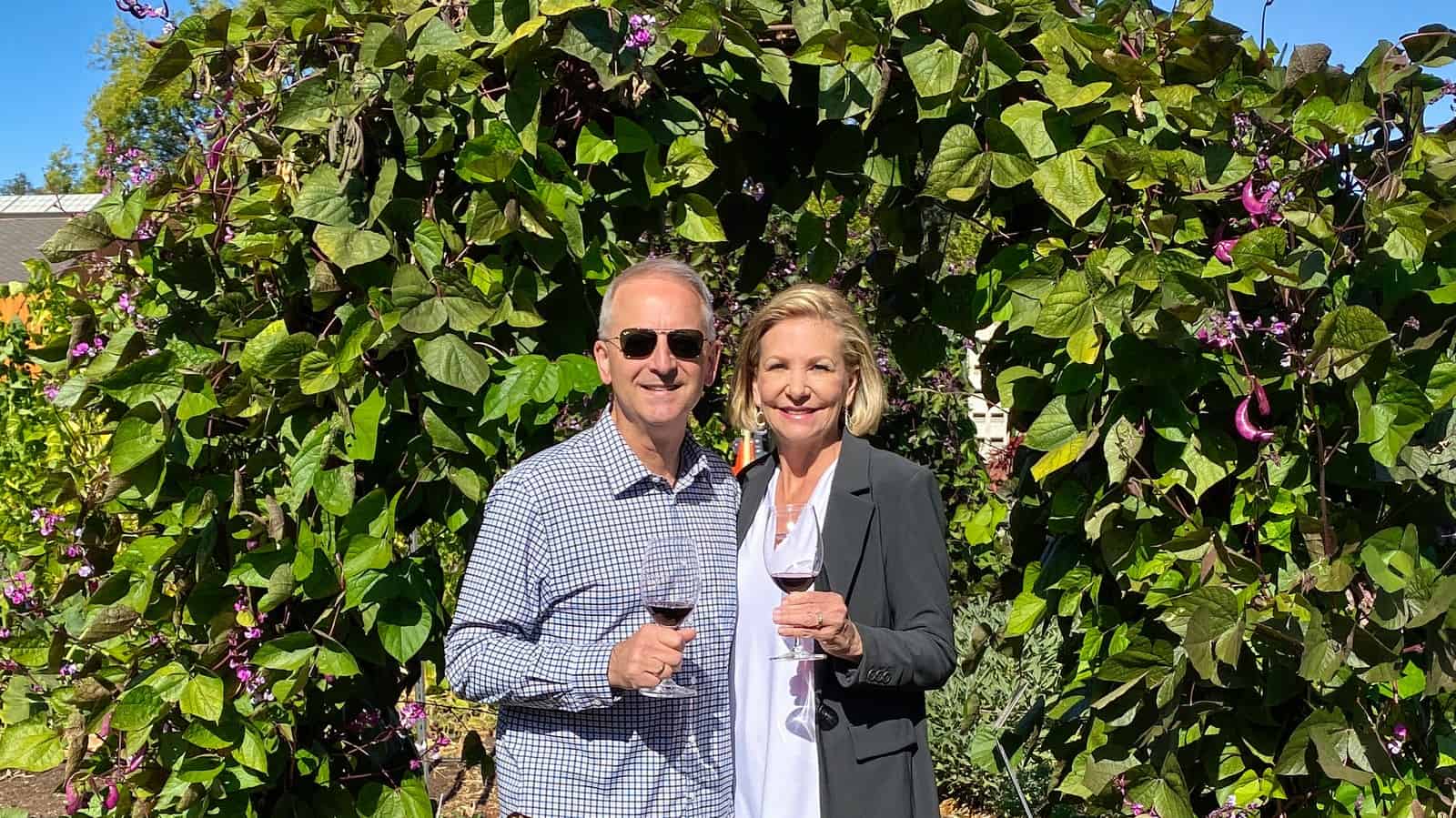 Sleep Peacefully at Roman Spa
While visiting Napa, you will need a place to stay, and we recommend the Roman Spa Hot Springs Resort. Roman Spa Hot Springs Resort, located in the charming town of Calistoga, CA, is in the foothills of Mt. St. Helena. The boutique Roman Spa hotel has an amazing location. It is just one block off the main street of downtown Calistoga. The Roman Spa is world-renowned for its natural healing geothermal water.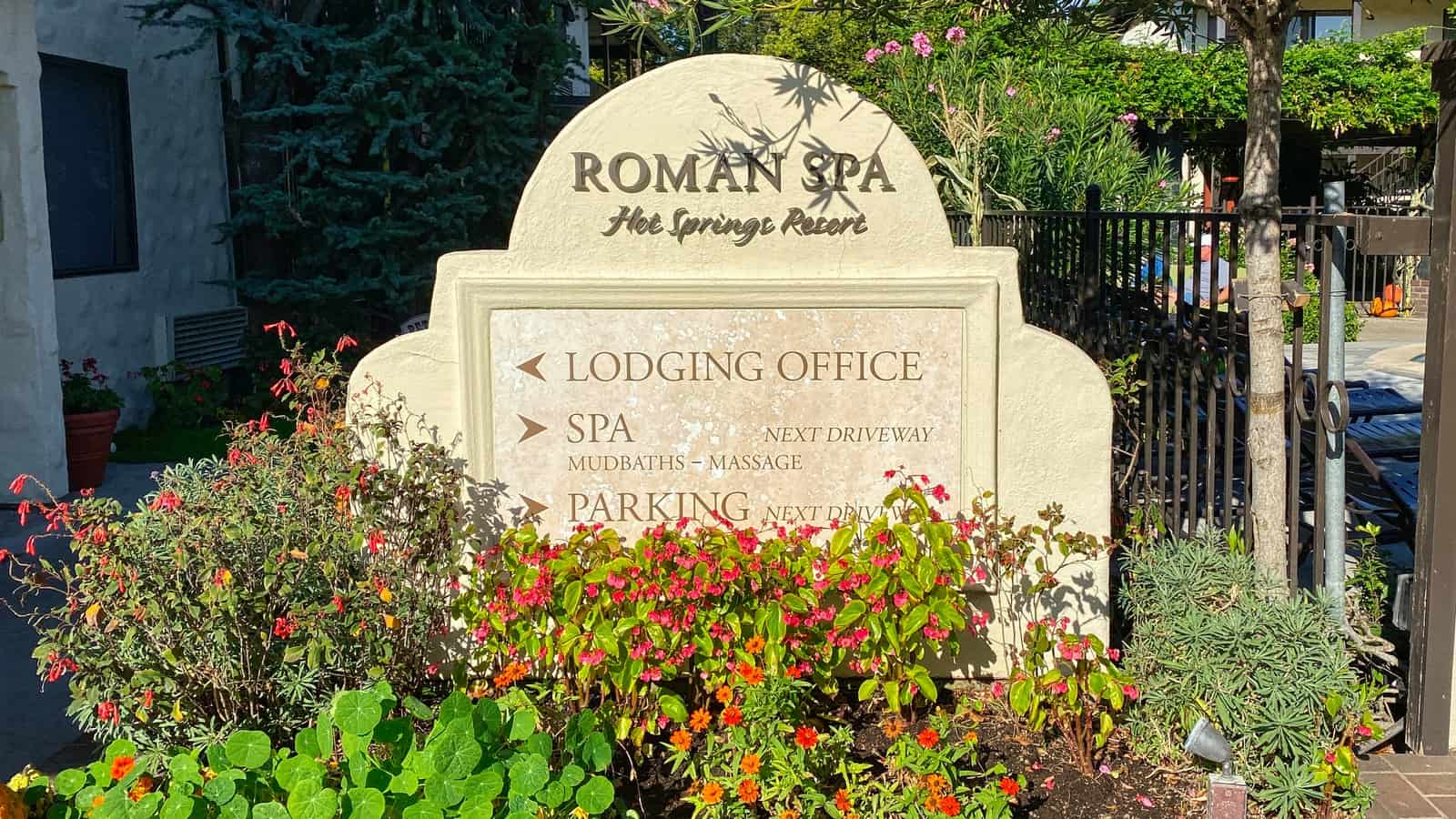 Most importantly, you can relax, renew, and rejuvenate your spirit in the baths, or indoor and outdoor pools at Roman Spa. Poolside, they have special wine and champagne coolers to keep the beverage you are enjoying at the pool cold.
We spent a wonderful afternoon soaking in the sunrays and soaking in the geothermal waters. Our only regret was that we did not plan for another day at the pool in the thermal waters. When you book your stay, make sure you plan enough time to enjoy the pool.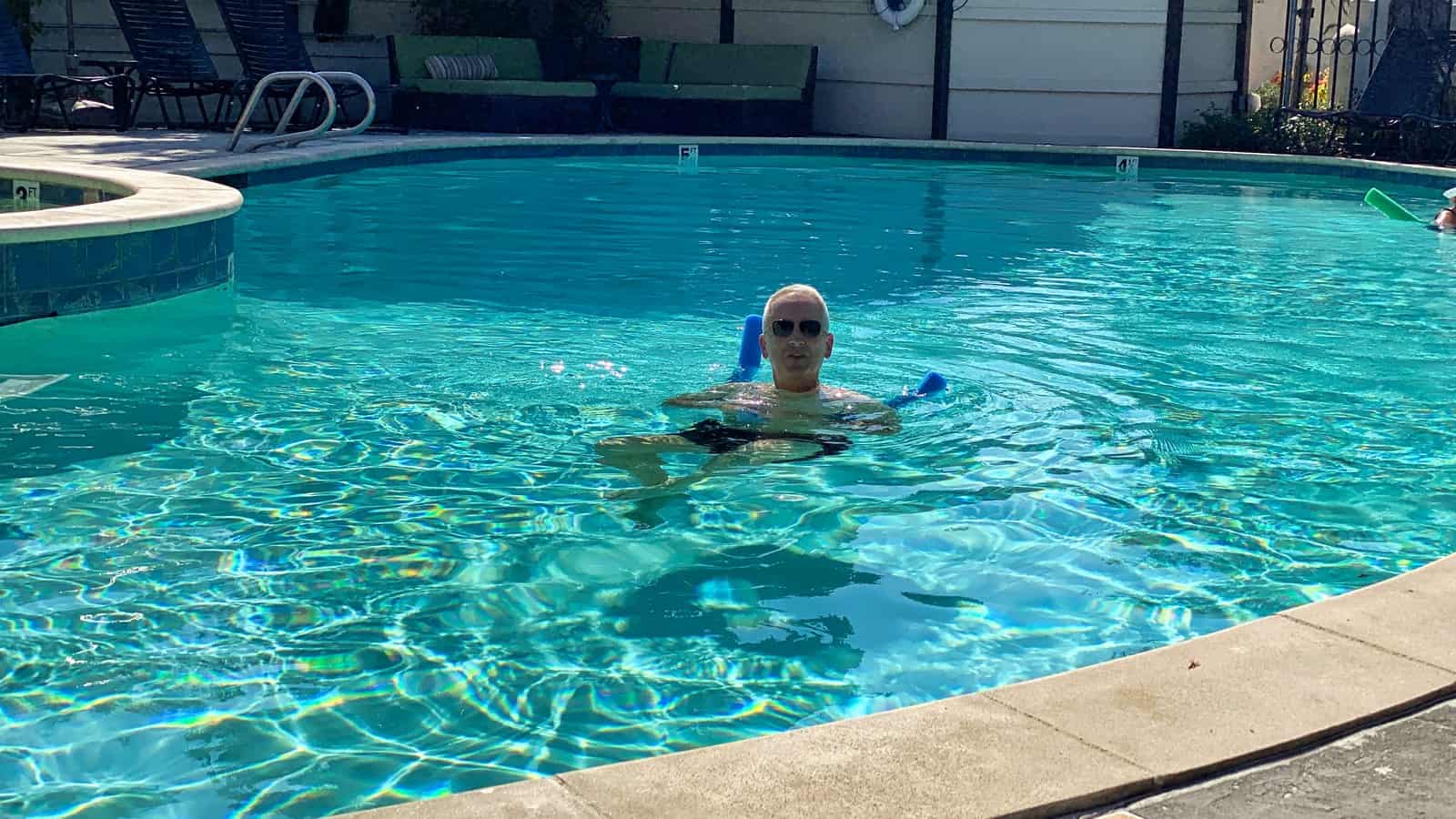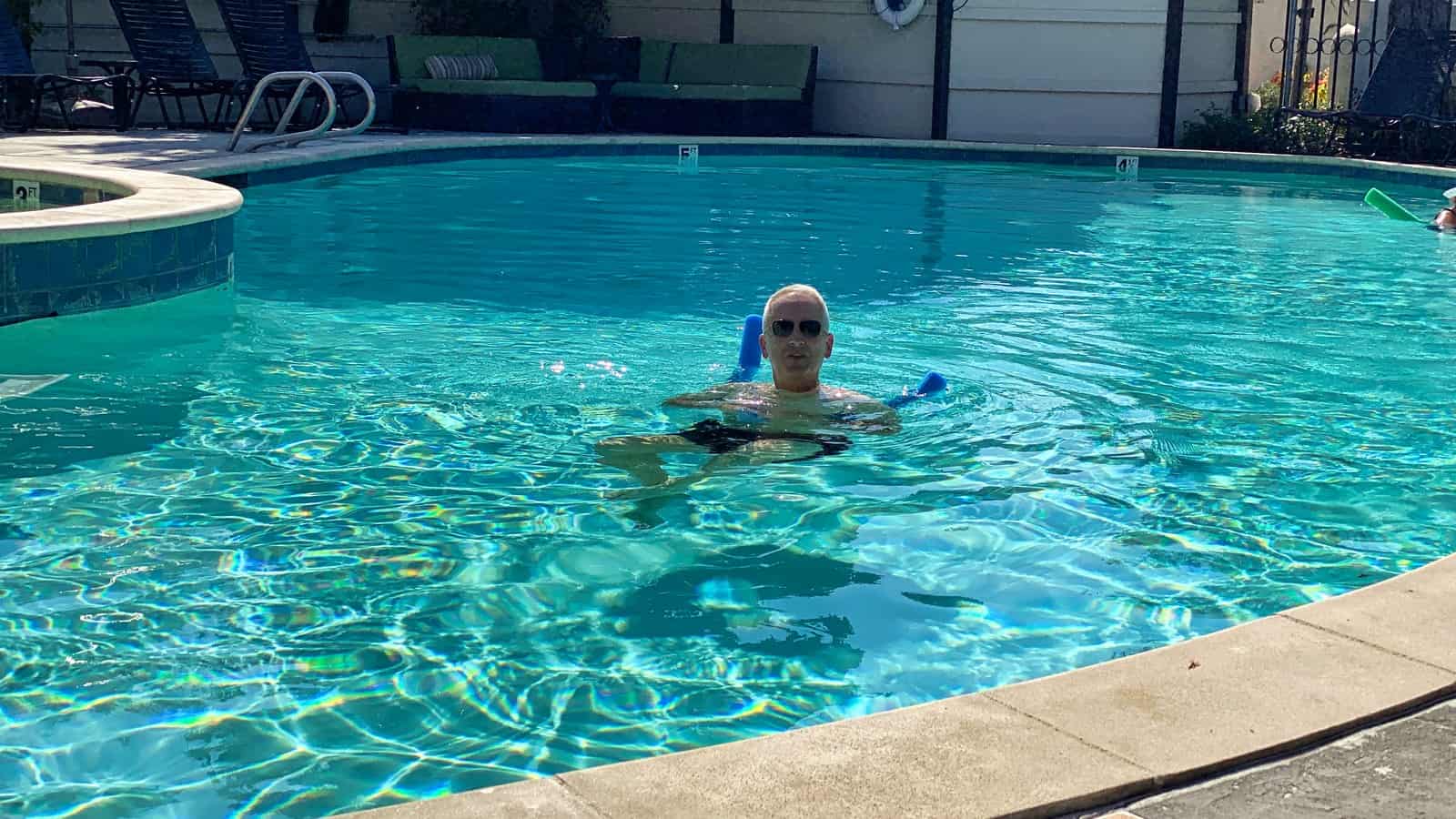 In addition to all of this, they have a full spa. The spa offers guests complete tranquility. You can immerse yourself in head to toe treatments such as their mudrooms. With private mudrooms for two, treat your loved one and enjoy a couple's retreat or experience a girl's getaway with friends. From massages, facials, mud and mineral baths, and deluxe spa treatments, the spa at Roman Spa offers a unique blend of services designed to elevate your senses for the ultimate experience.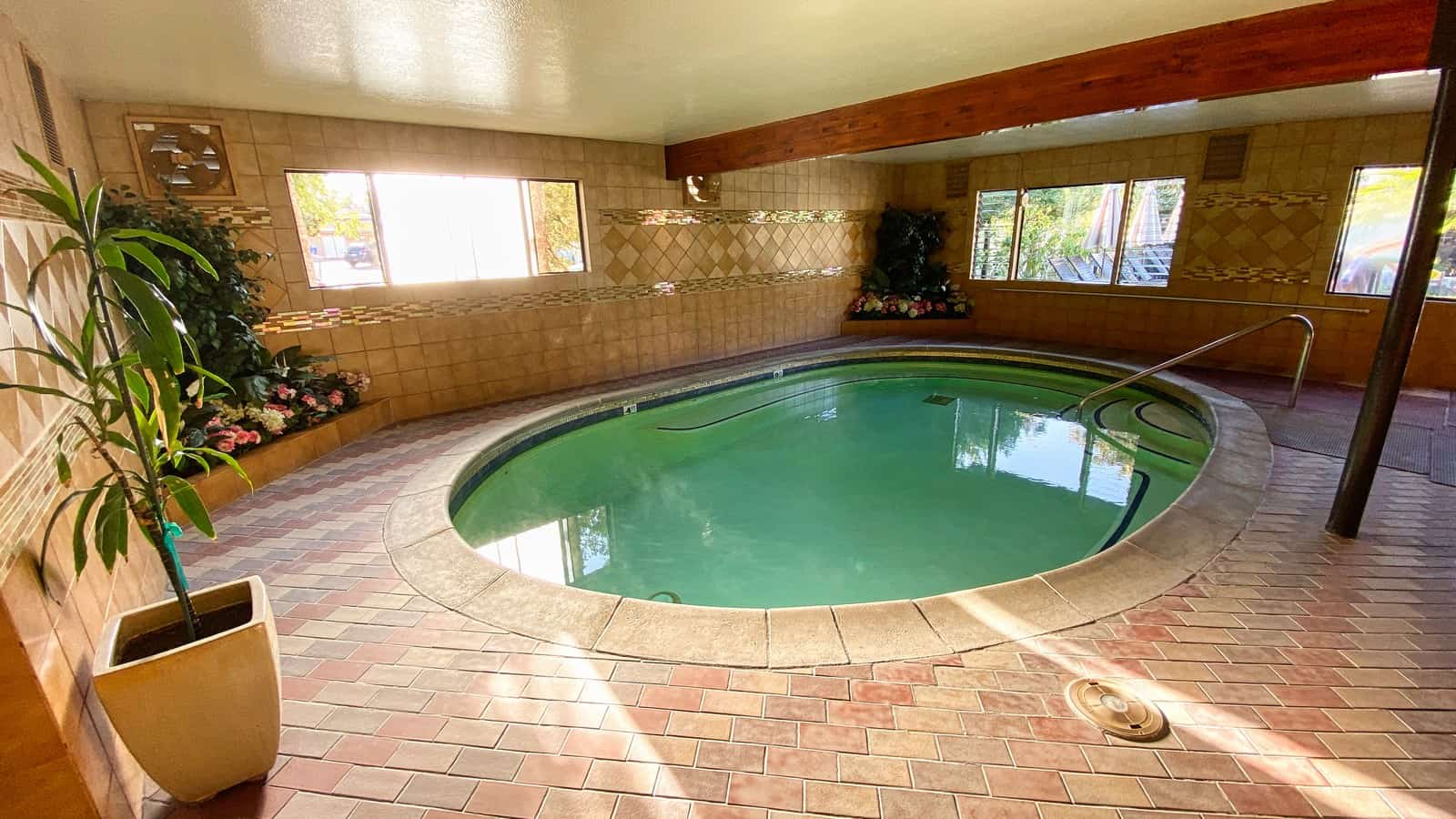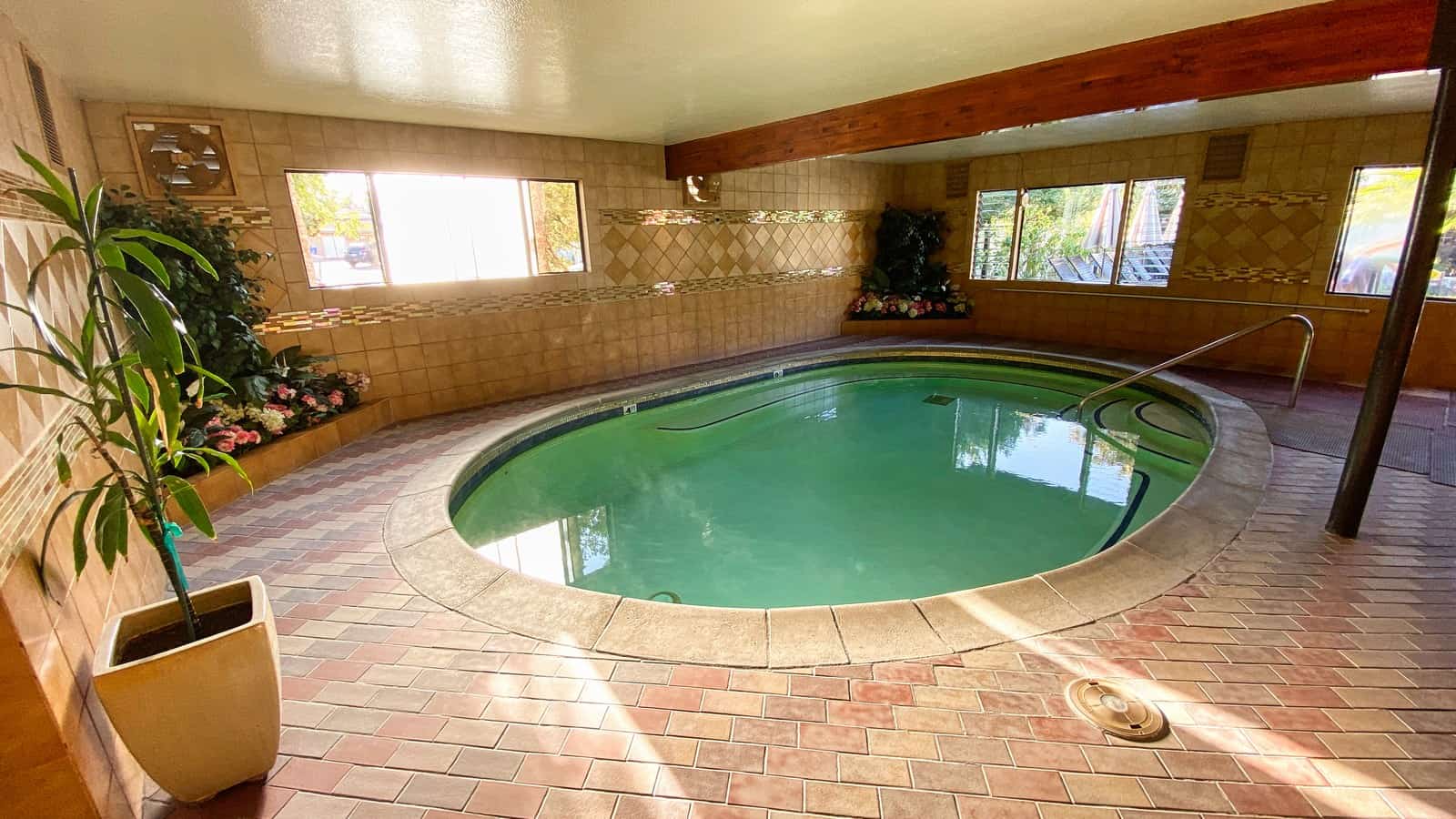 We stayed in a superior king room at Roman Spa. While in the room, we felt as though you are in a Tuscan Villa. The bed was very comfortable and had fine linens.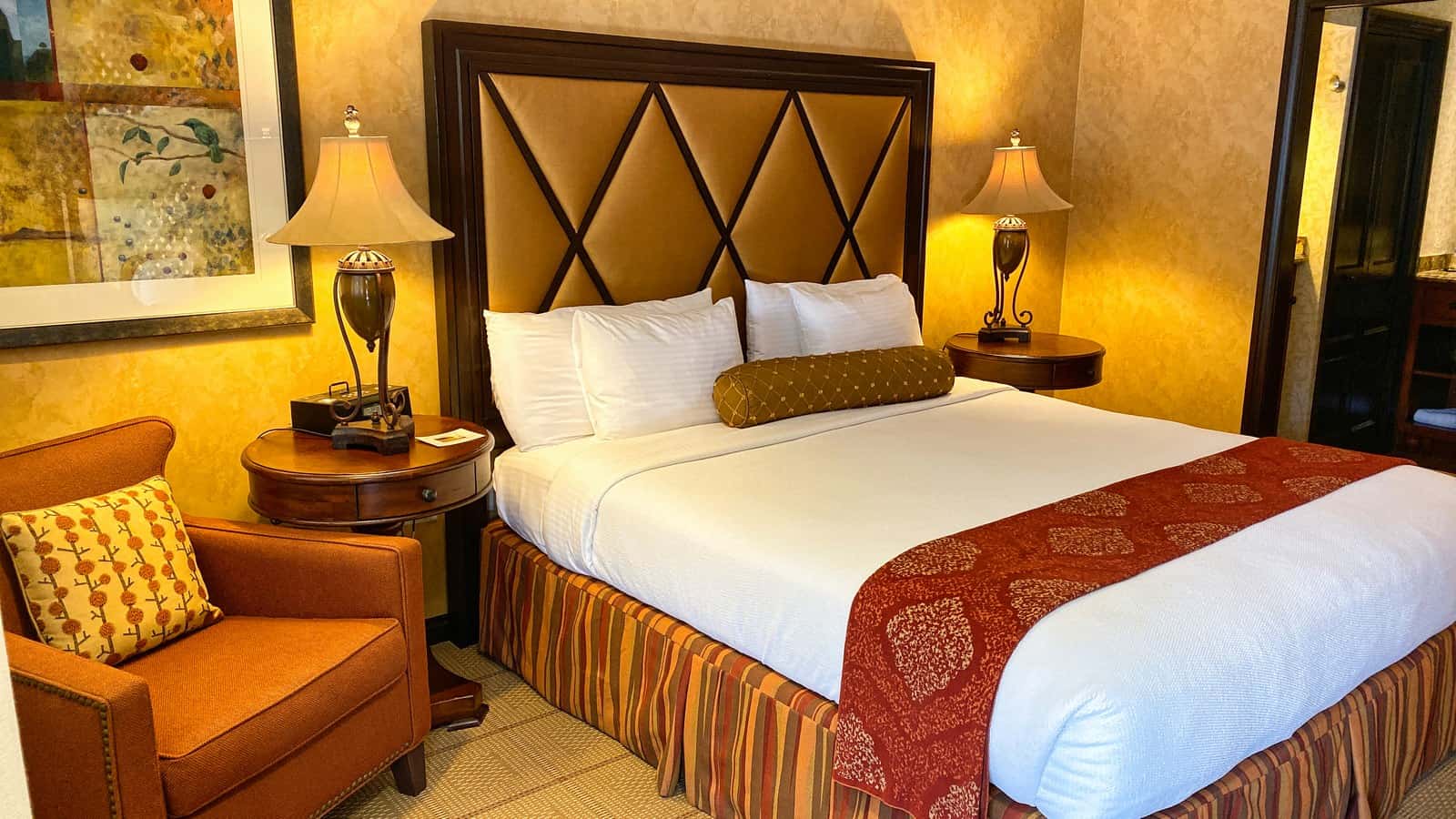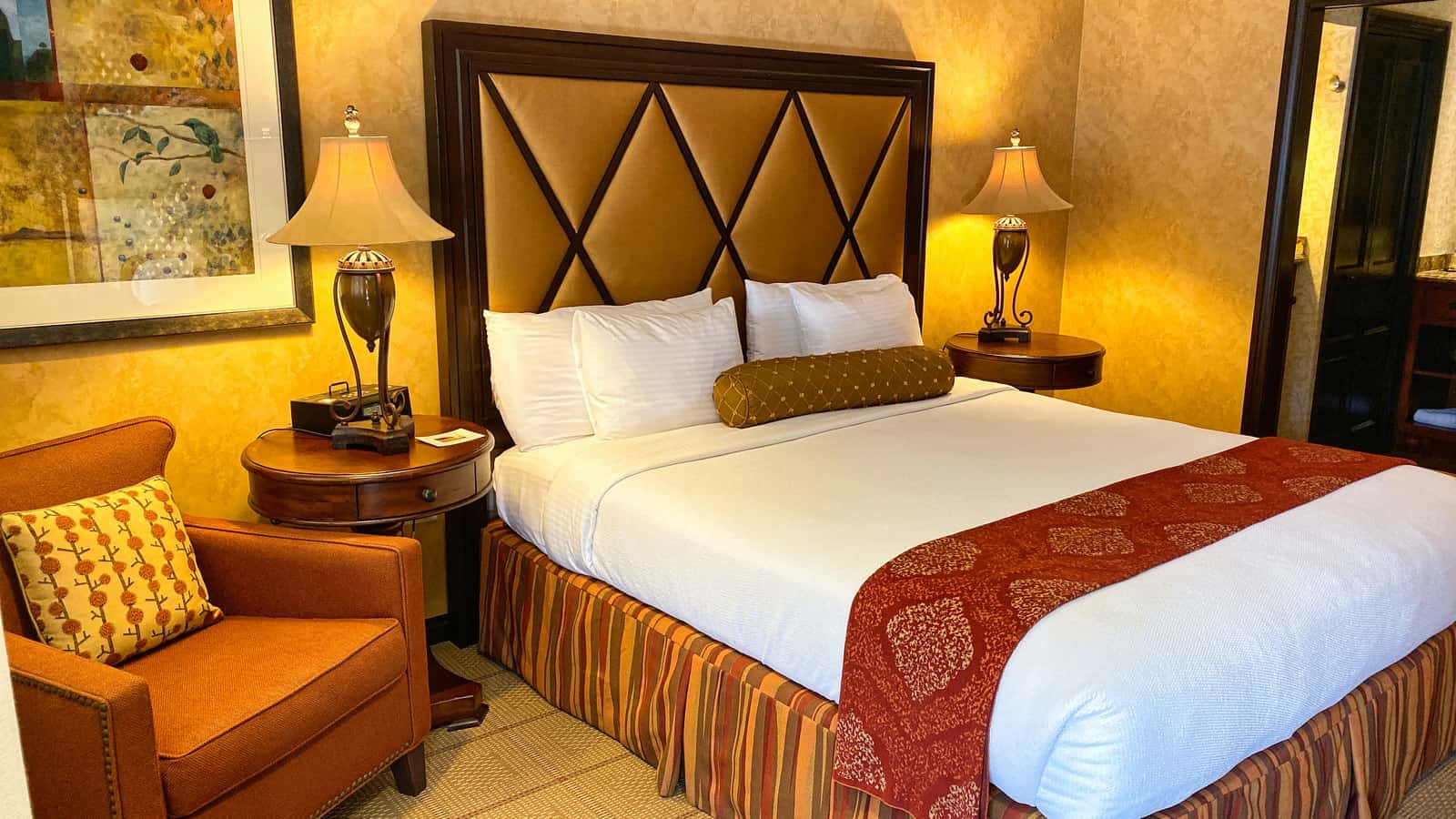 A Not-So-Typical Fast Food Roadside Grill
For dinner, we recommend Gott's Roadside in nearby in Saint Helena. Brothers Joel and Duncan Gott stated Gotts in 1999. They serve California-inspired dishes and seasonal specials using locally sourced ingredients as fast roadside cuisine. The food is served relatively quickly, and you eat at picnic tables, but this is hardly American fast food; rather, it is closer to gourmet fast food.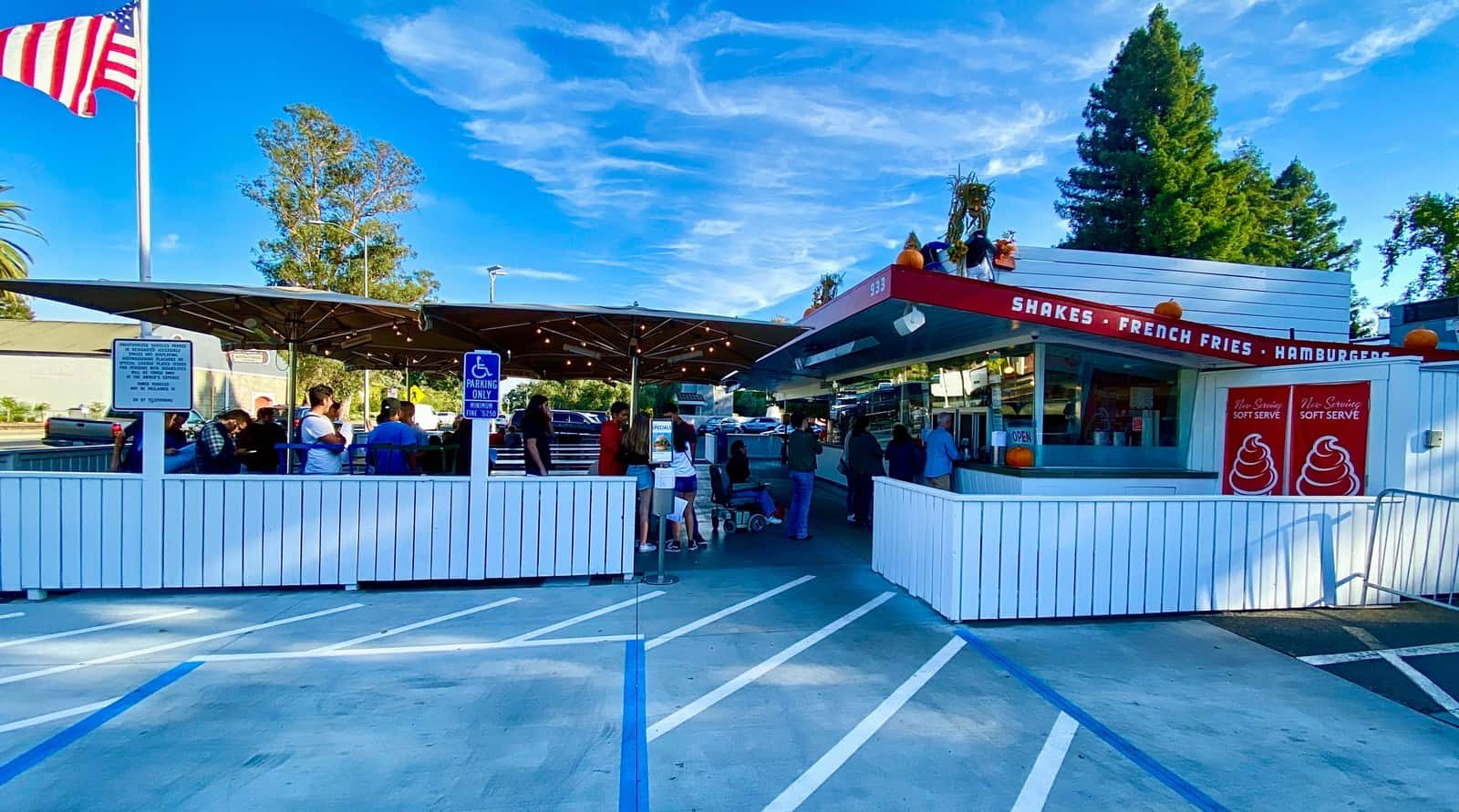 Gott's modern approach to American roadside classics has something for everyone. Also, as we said earlier, there are lots of Michelin restaurants in Napa Valley, however, you don't have to break the bank to have amazing food while visiting Napa.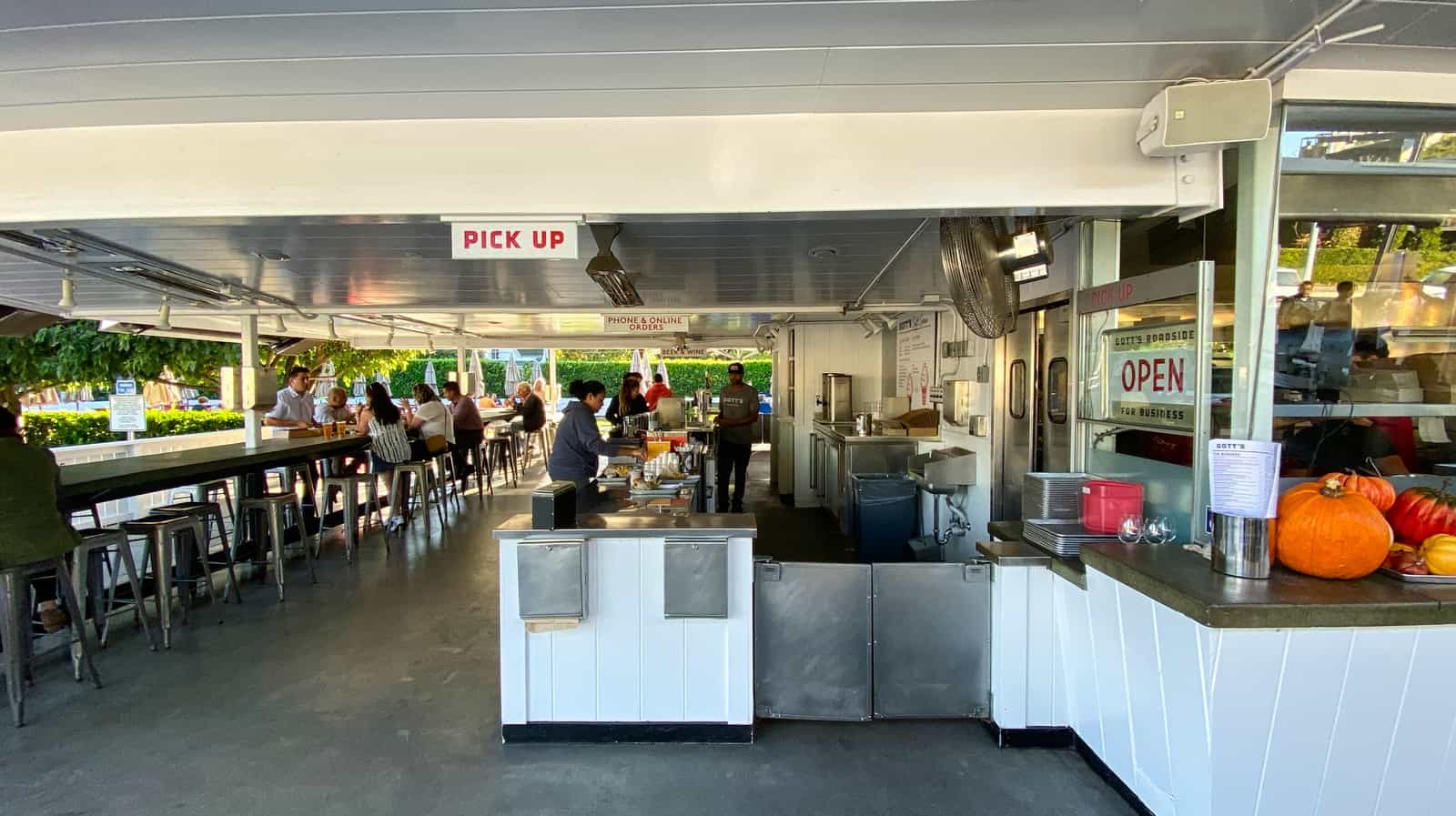 Gott's offers burgers, sandwiches, fries, shakes, salads, and seafood. They also have a great beer and wine selection. And in typical roadside fashion, they serve soft-serve ice cream.
Keith had a Westen Bacon Blue Ring Burger with a side of onion rings. The burger had a beer-battered onion ring, Point Reyes crumbled blue cheese, bacon, pickles, red onion and BBQ sauce on a toasted egg bun. Tina had the Falafel Salad with a side of veggies, hummus, and fries. The salad had arugula, romaine, red cabbage, tomatoes, cucumber & quinoa tossed with a lemon tahini dressing & topped with spiced, fried chickpeas, avocado, feta, pickled beets, hummus, and falafel.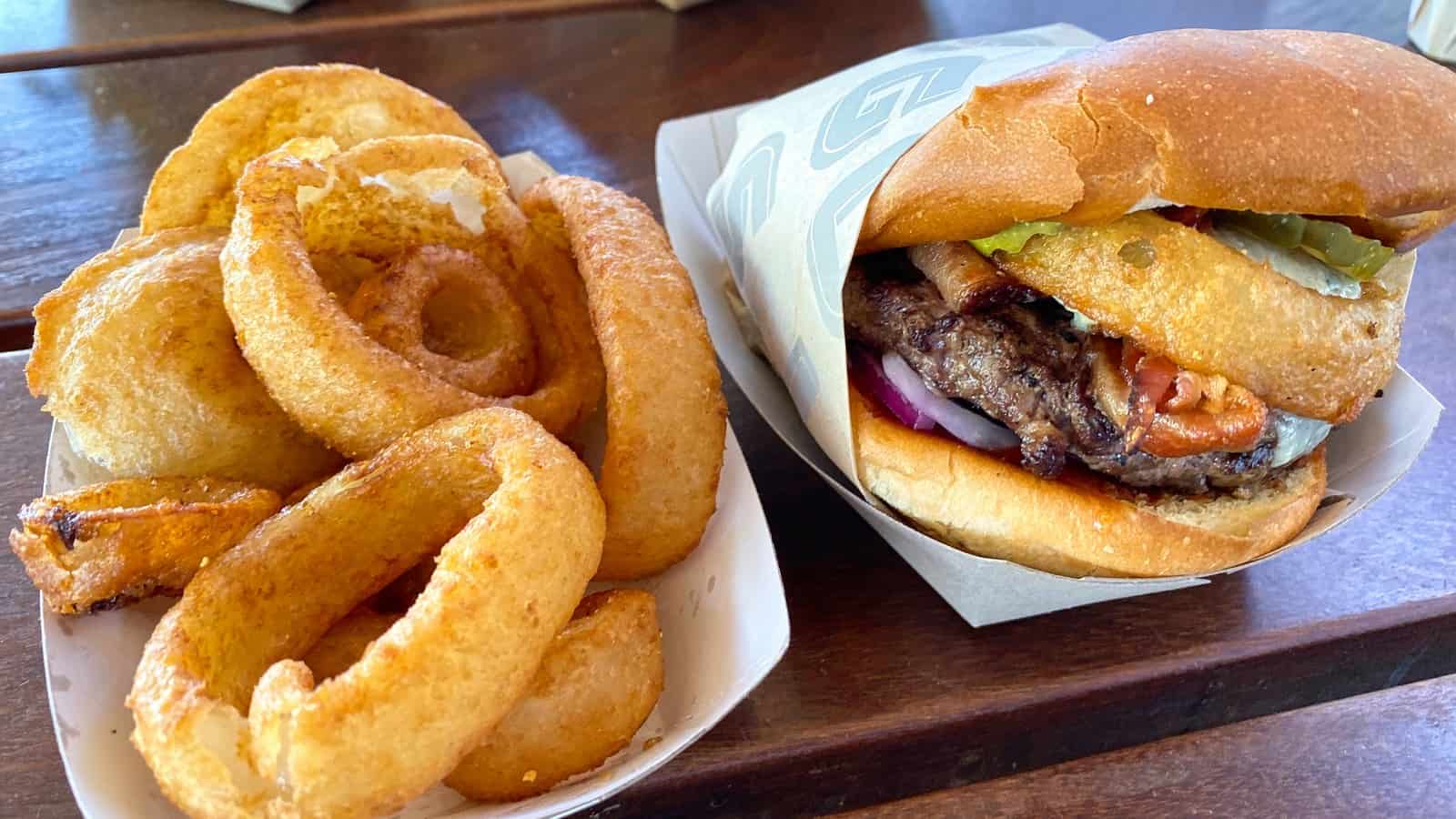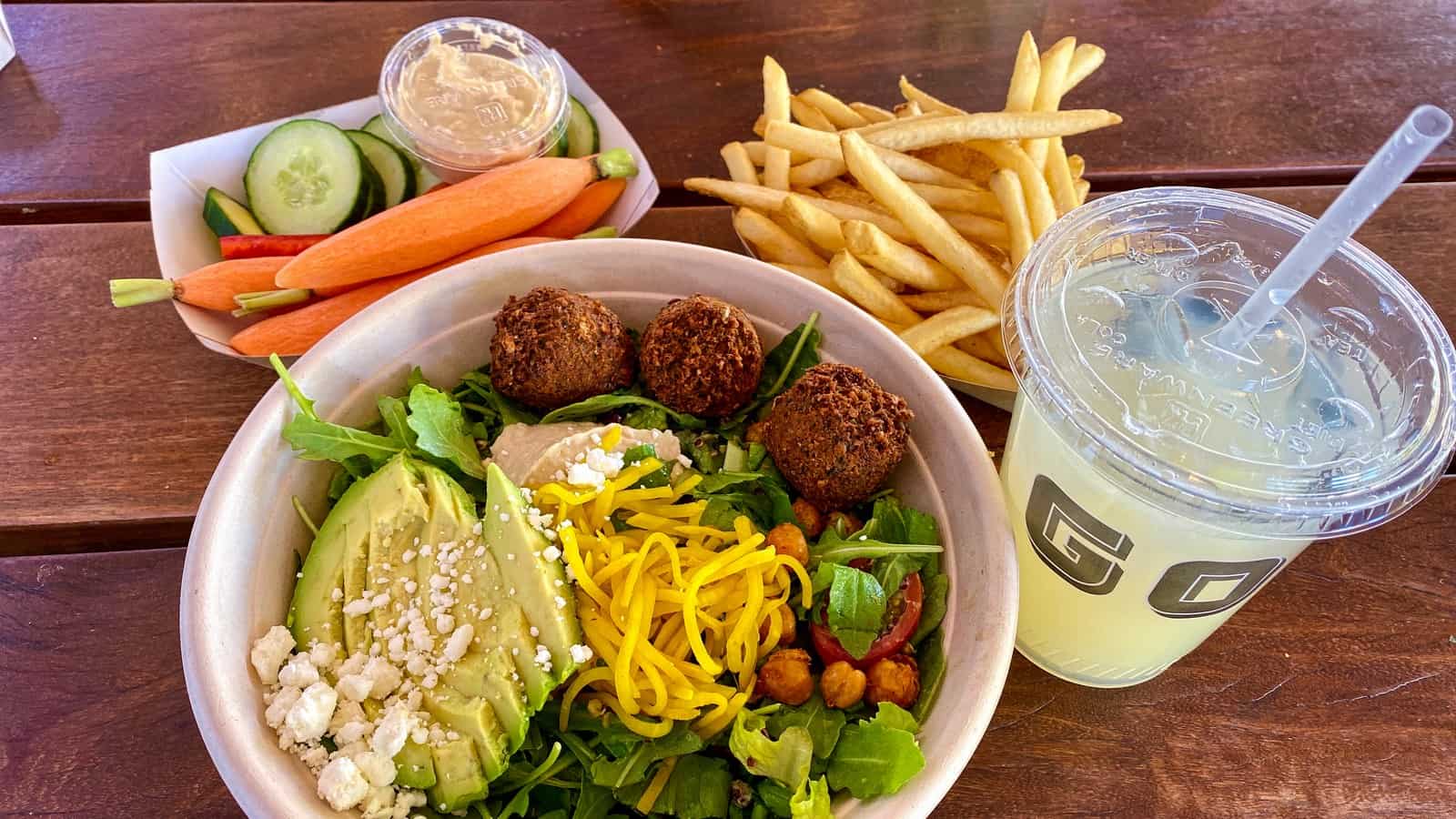 Sometimes after a long day of driving and wine tasting, you don't feel like dressing up and going out to a fine dining restaurant. Instead, you just want good food at your time. At Gott's, we were not disappointed.
Historic Freemark Abbey
On day two, we recommend Napa wine tasting at Freemark Abbey. Freemark Abbey also offers an array of remarkable tasting experiences from casual to exclusive.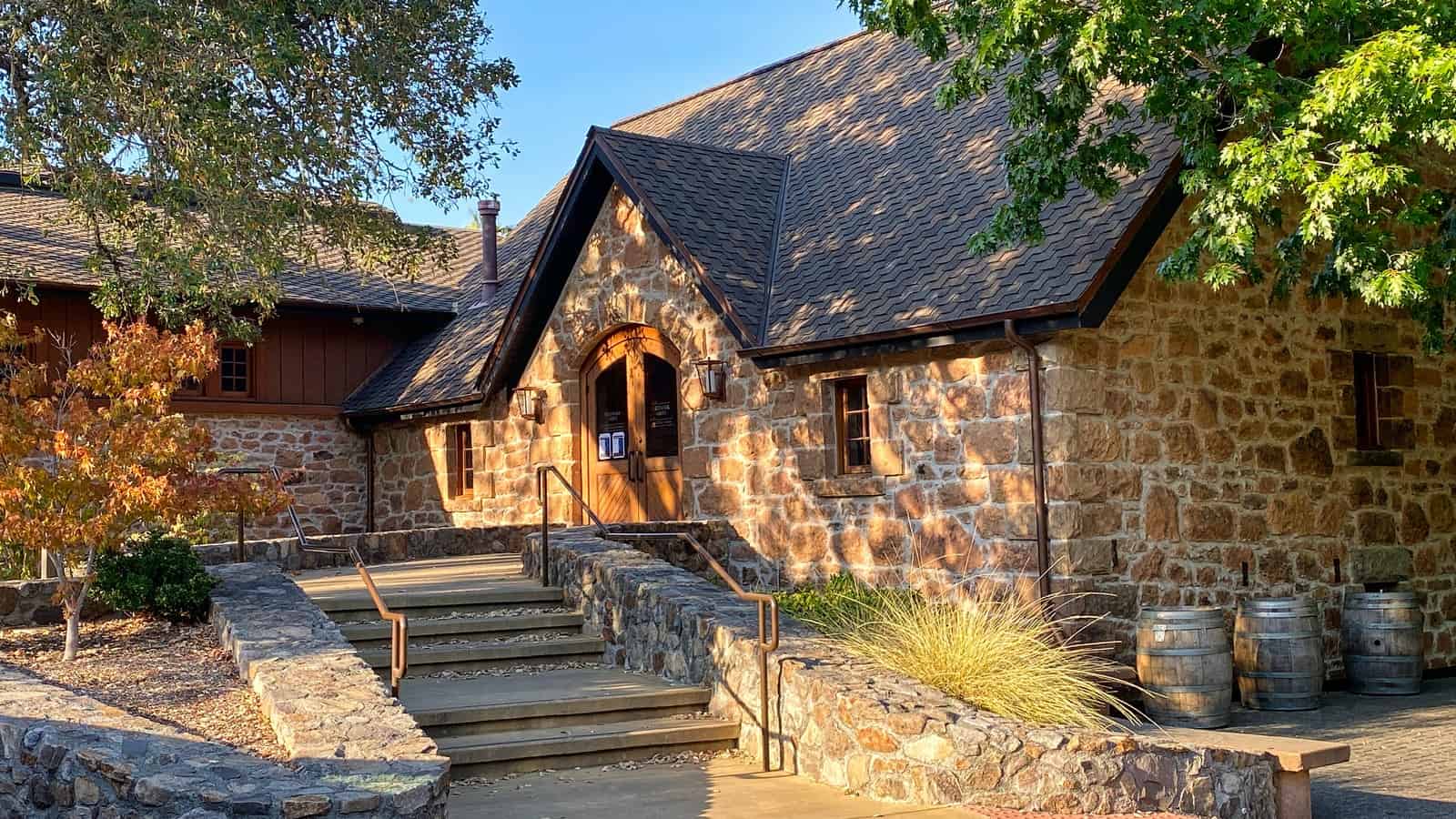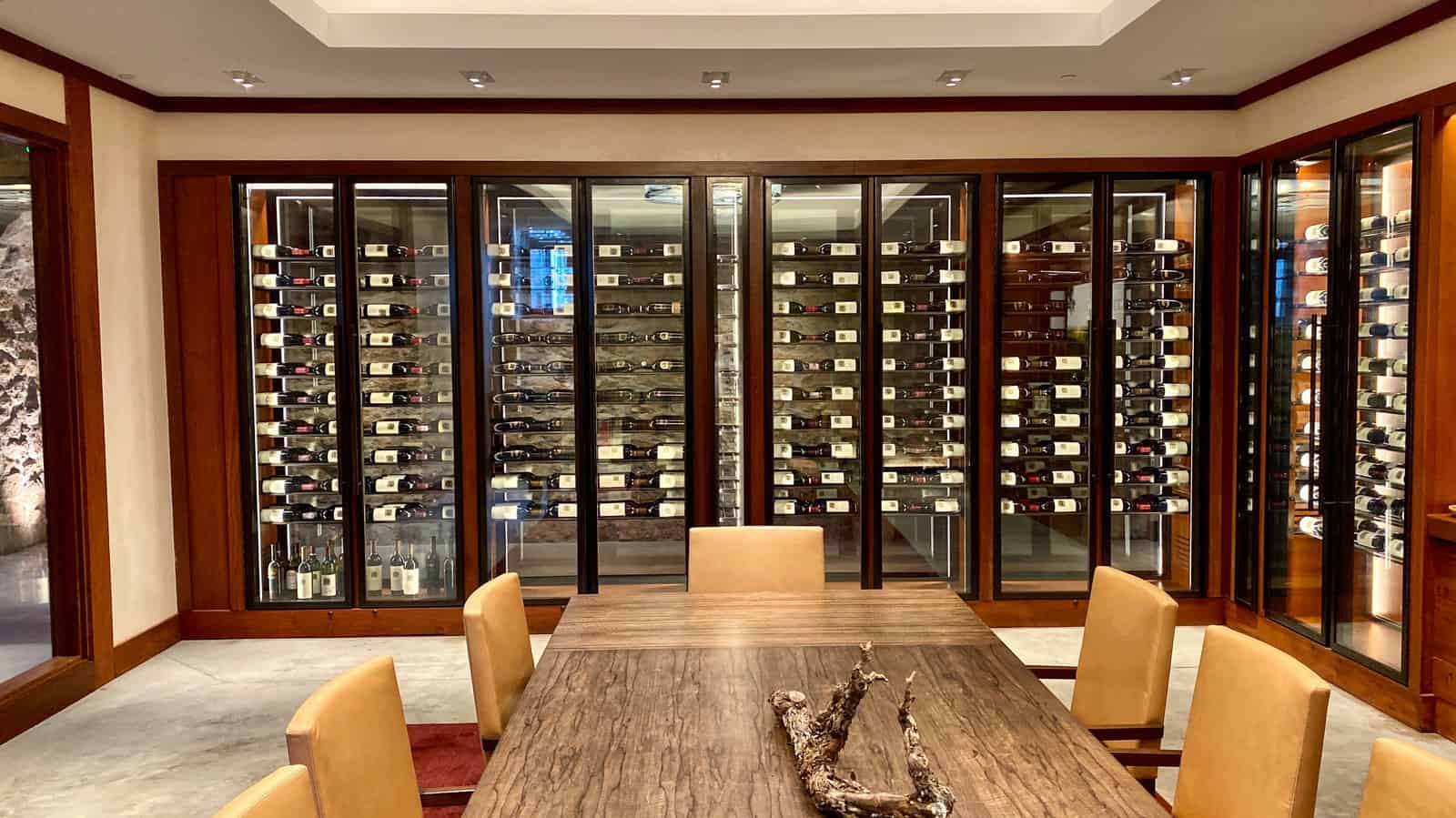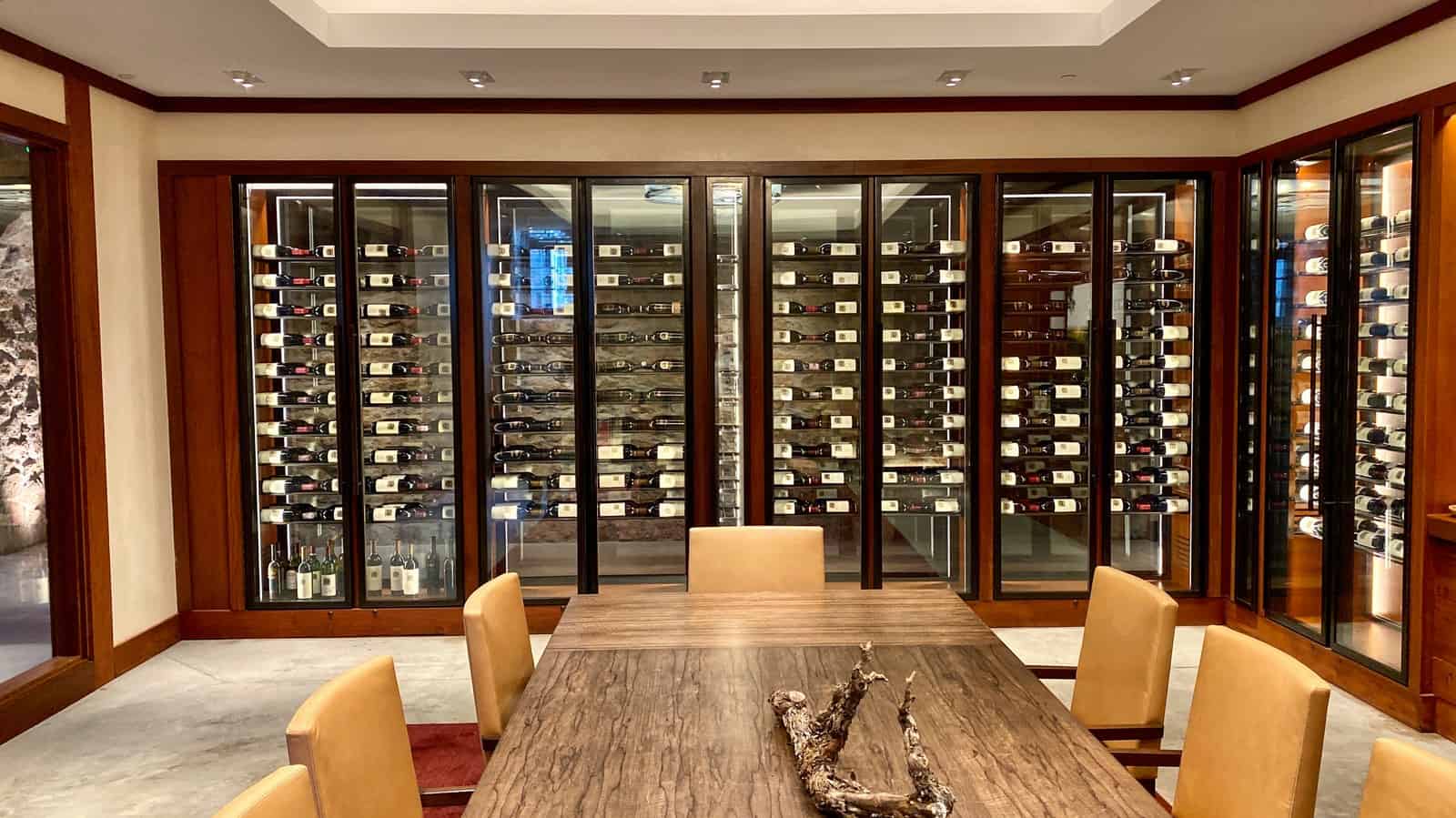 Freemark Abbey was a winery and cellar as far back as 1886 when a Victorian widow became the first female winemaker on record in Napa Valley. Fast forward to 1976, Freemark Abbey was one of twelve U.S. wineries chosen to compete in "The Judgment of Paris" blind tasting and the only one with both a red and a white wine entry. We all know that California wines won in every category, propelling Napa Valley onto the world stage for wine.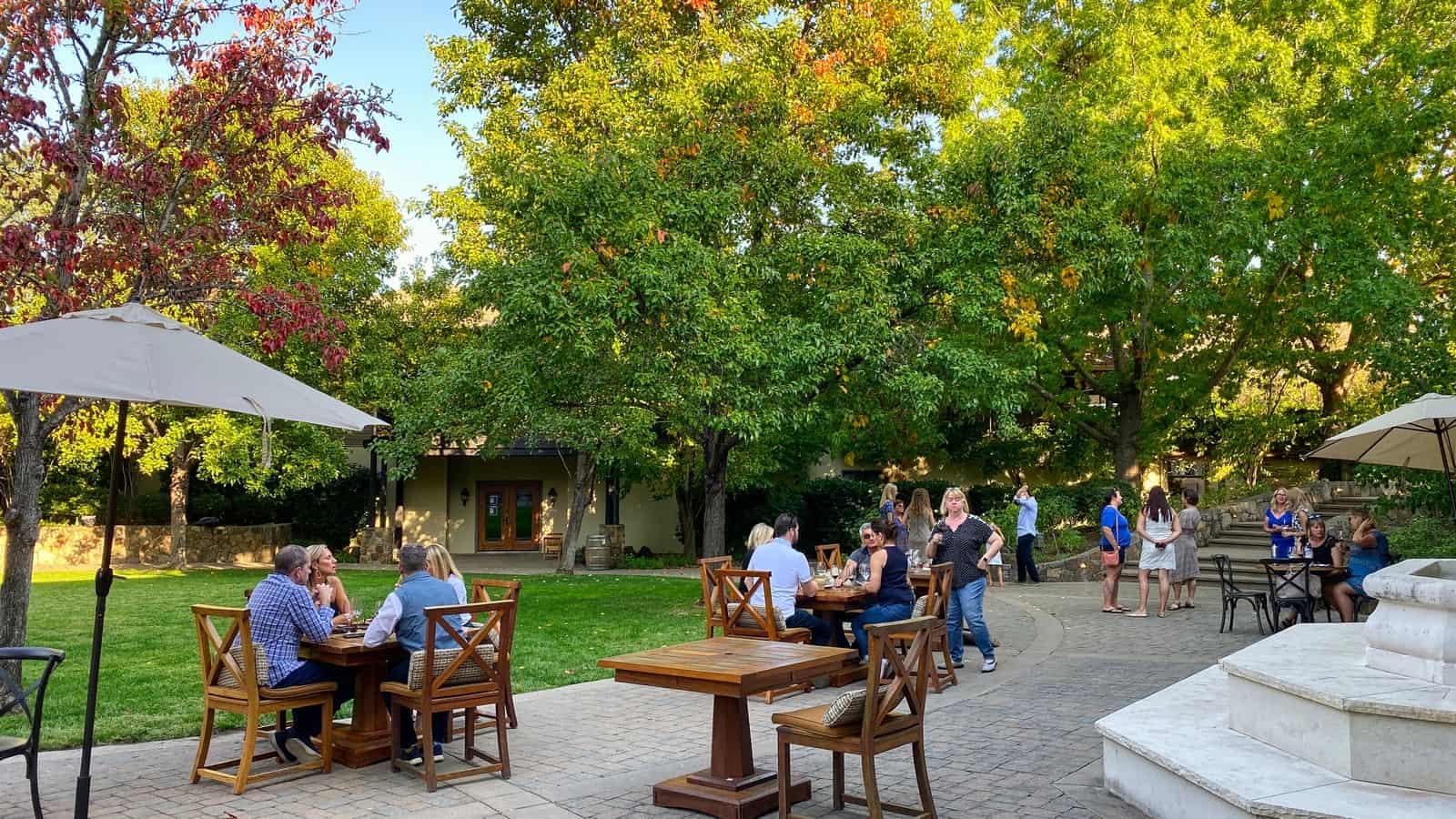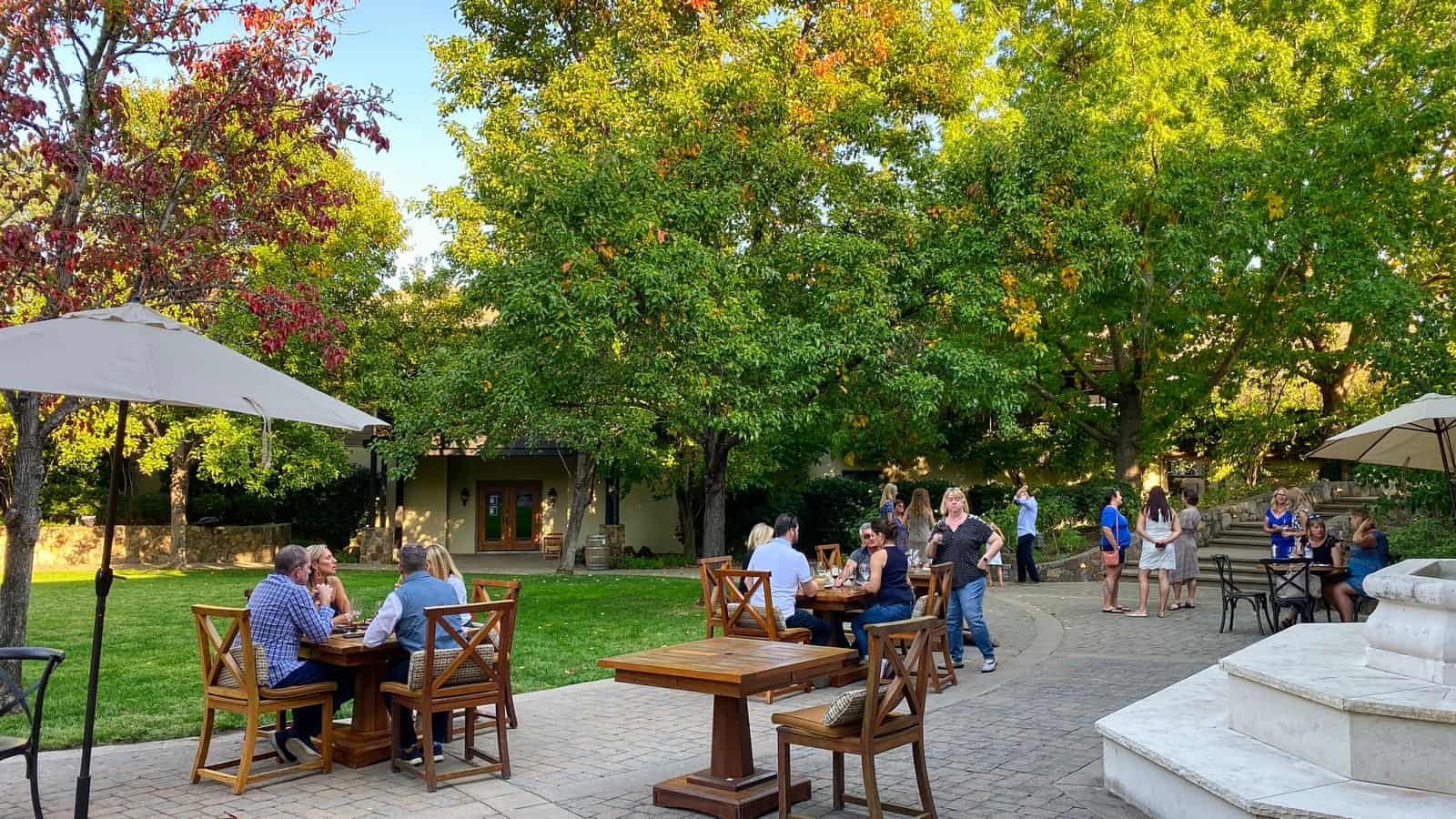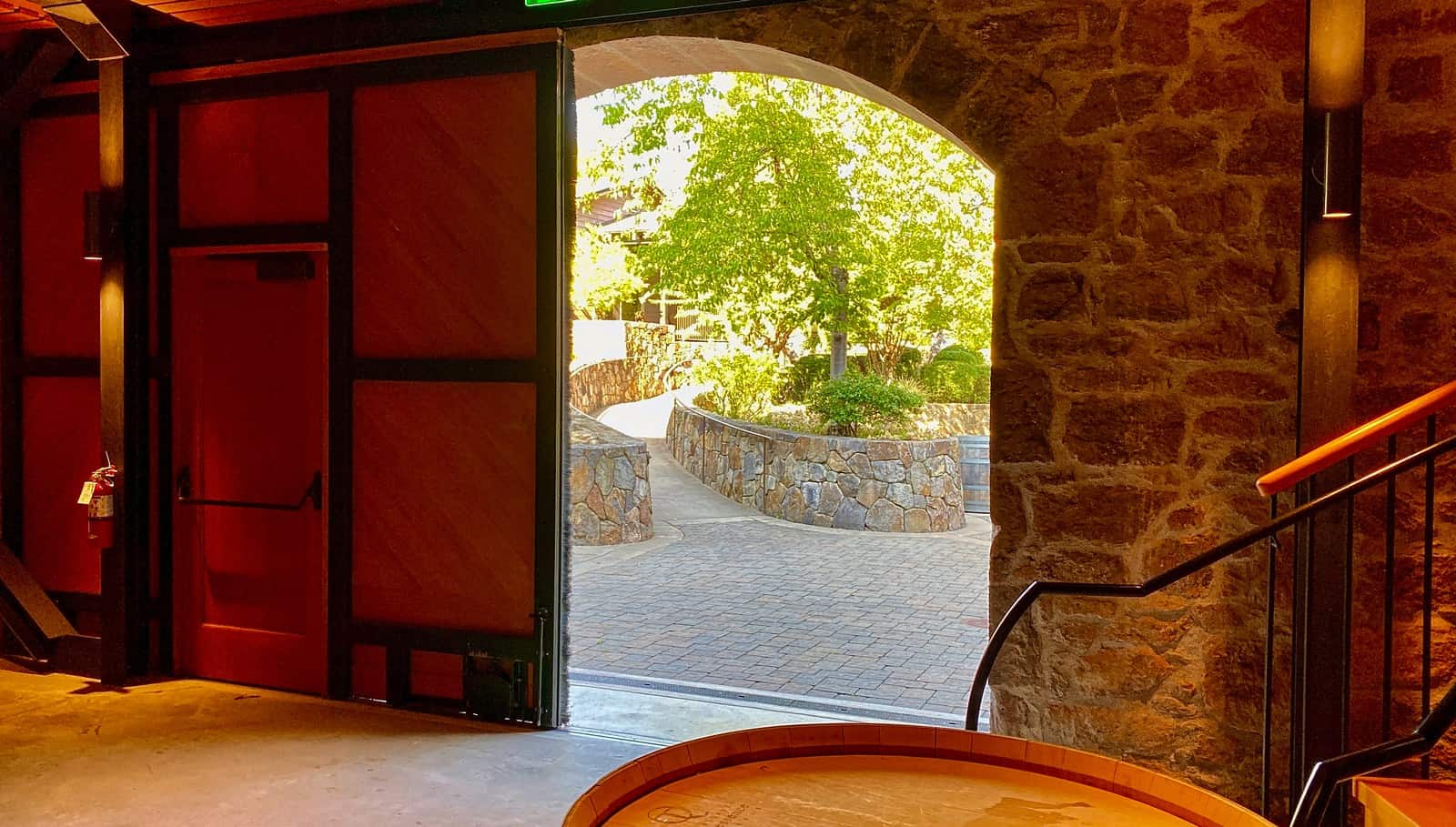 Freemark Abbey is notably known for its Cabernet Sauvignon.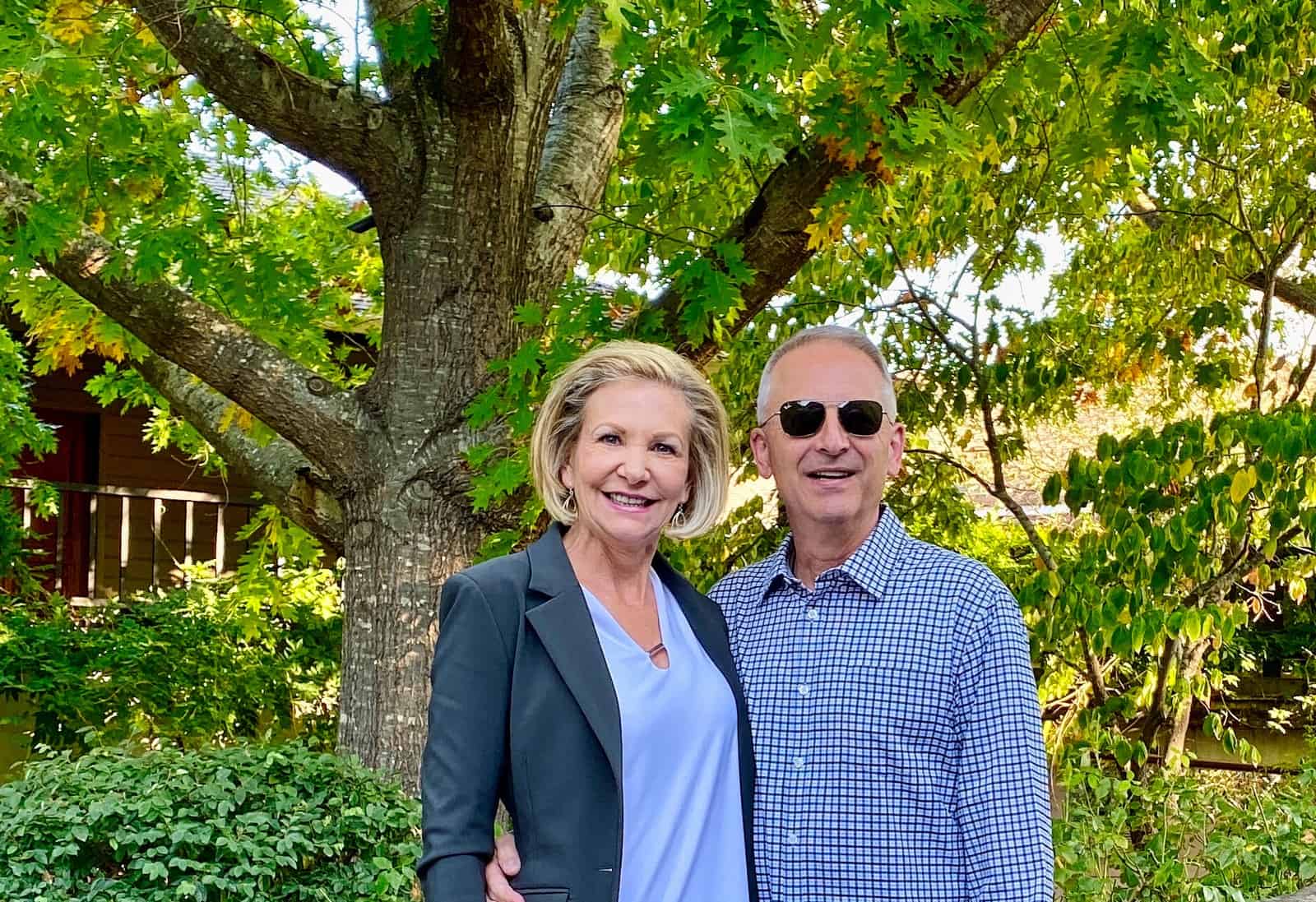 Charles Krug an Iconic Napa Winery
Next, we recommend visiting Charles Krug, especially if you love wine history. Napa wine tasting would not be complete if you missed Charles Krug. Charles Krug is Napa Valley's oldest wine estate. Most importantly, proudly stewarded by the Mondavi family since 1943. First opened for public tastings in 1882, Charles Krug is home to California's very first tasting room. Today they have a world-class tasting center, known for its exceptional wines, stunning design, and storied heritage.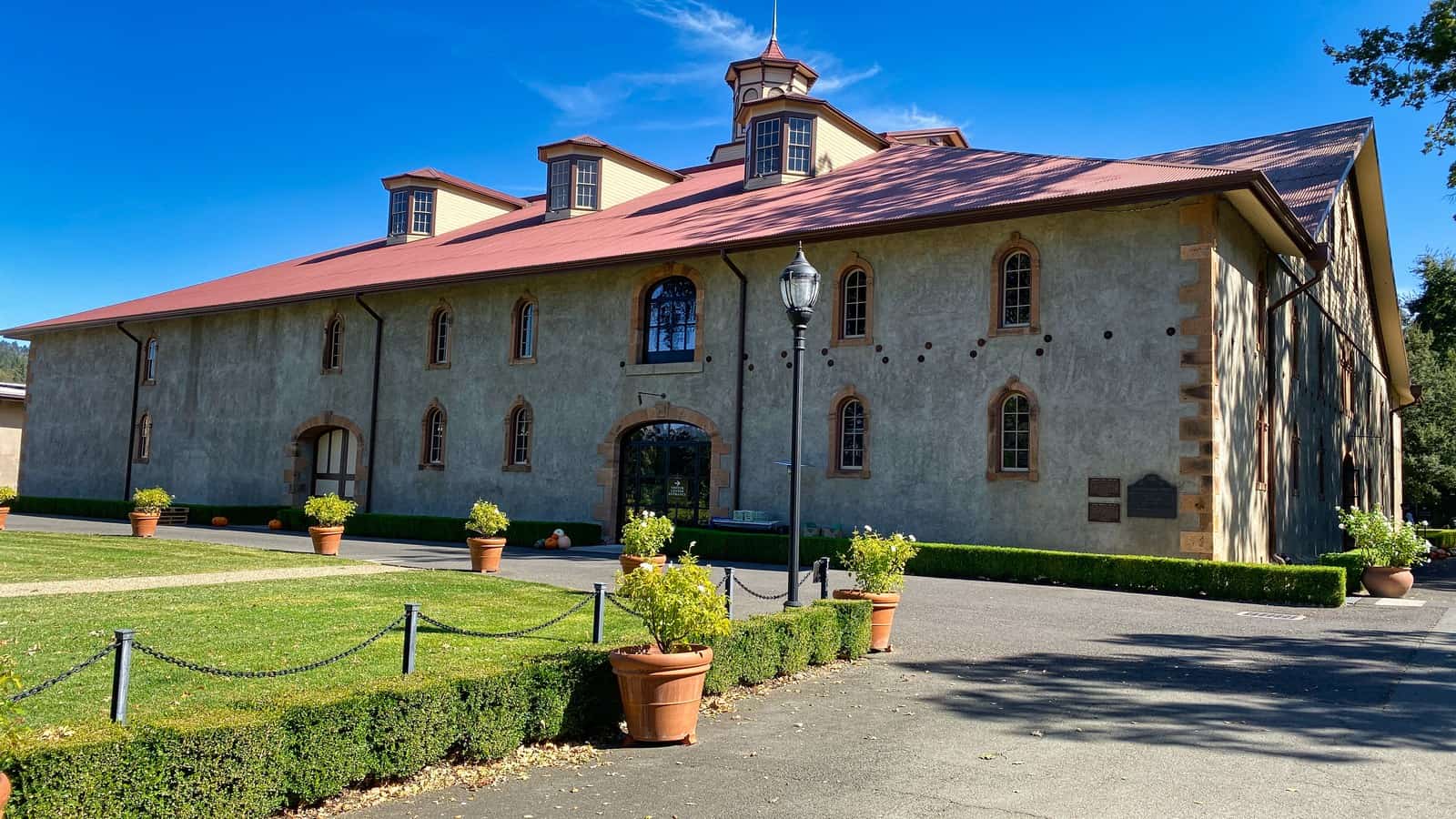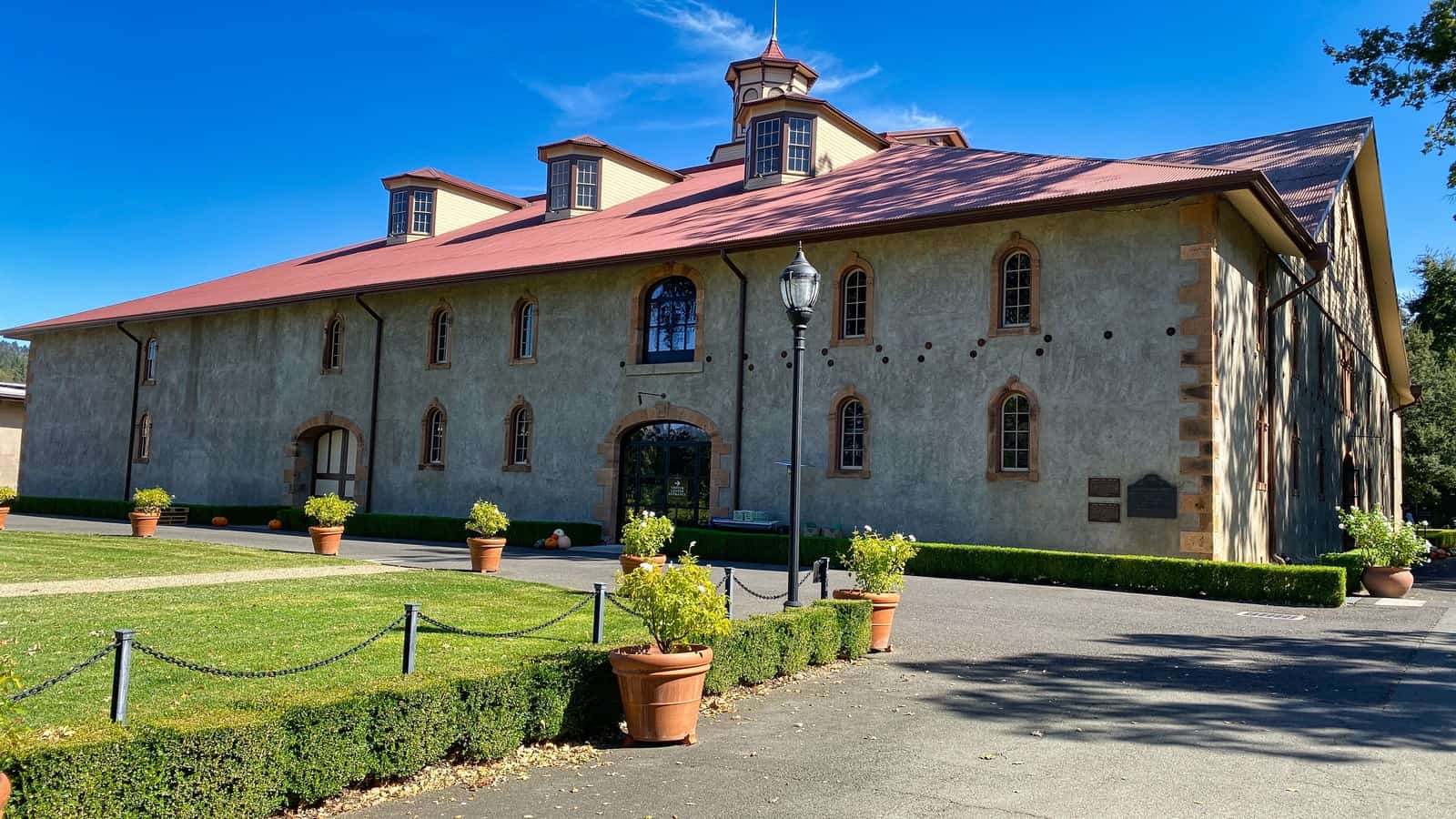 We love history, and our favorite history is wine history. At Charles Krug, we immerse ourselves in the rich history of Napa Valley winemaking. It was here that we learned about the legendary Mondavi family. Actually, we had heard the Mondavi name mentioned at almost every winery we visited.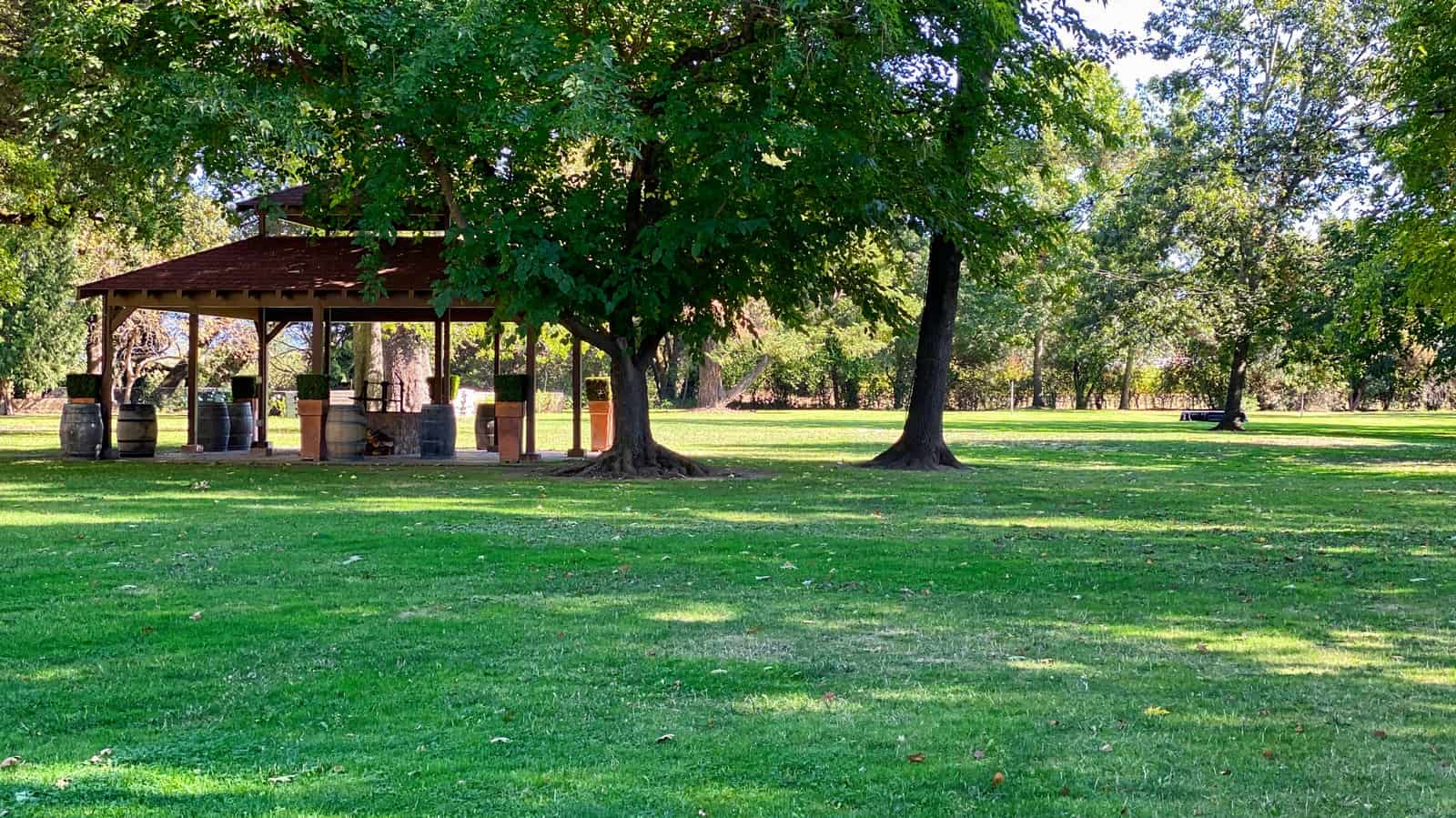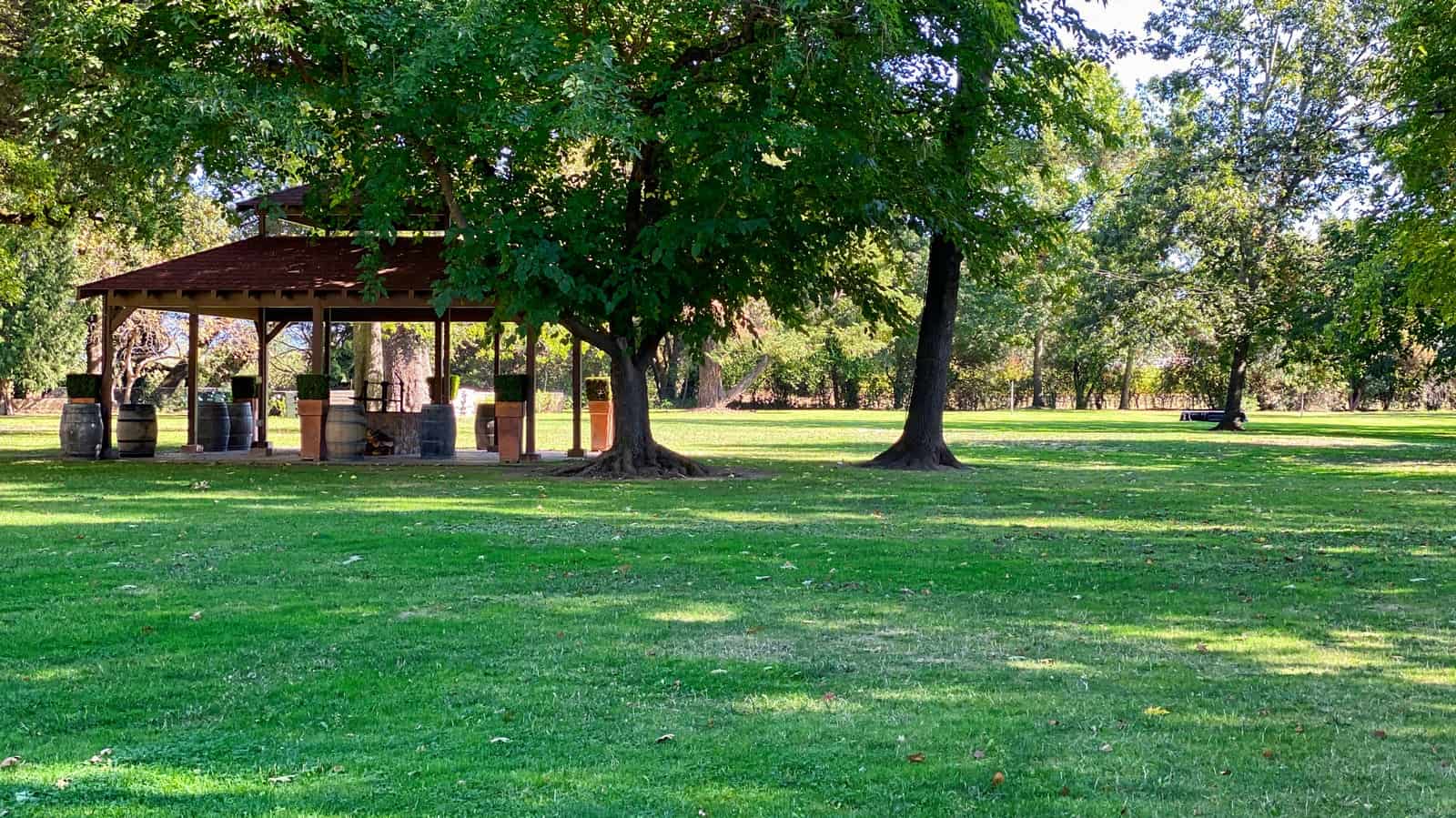 Robert Mondavi was not just interested in bringing recognition to the wines of the Napa Valley but to all of California. In 1943, Mondavi joined his father and brother Peter after the family acquired the Charles Krug Winery from James Moffitt. Mrs. Krug sold the winery to Moffitt with a stipulation that the name never changes. Today the winery is owned by Robert's younger brother Peter Mondavi.
Tra Vigne Pizzeria Because Sometimes You Just Want Really, Great Wood-fired Pizza
For dinner on your second night, we recommend dining at Tra Vigne Pizzeria for great food. What could be more satisfying and filling after a day of wine tasting than pizza? They are known for their thin-crust, wood-fired, sourdough, authentic Neopolitan pizzas. Tra Vigne is a casual, upbeat pizzeria with amazing food. It's a great place to end an afternoon of wine tasting.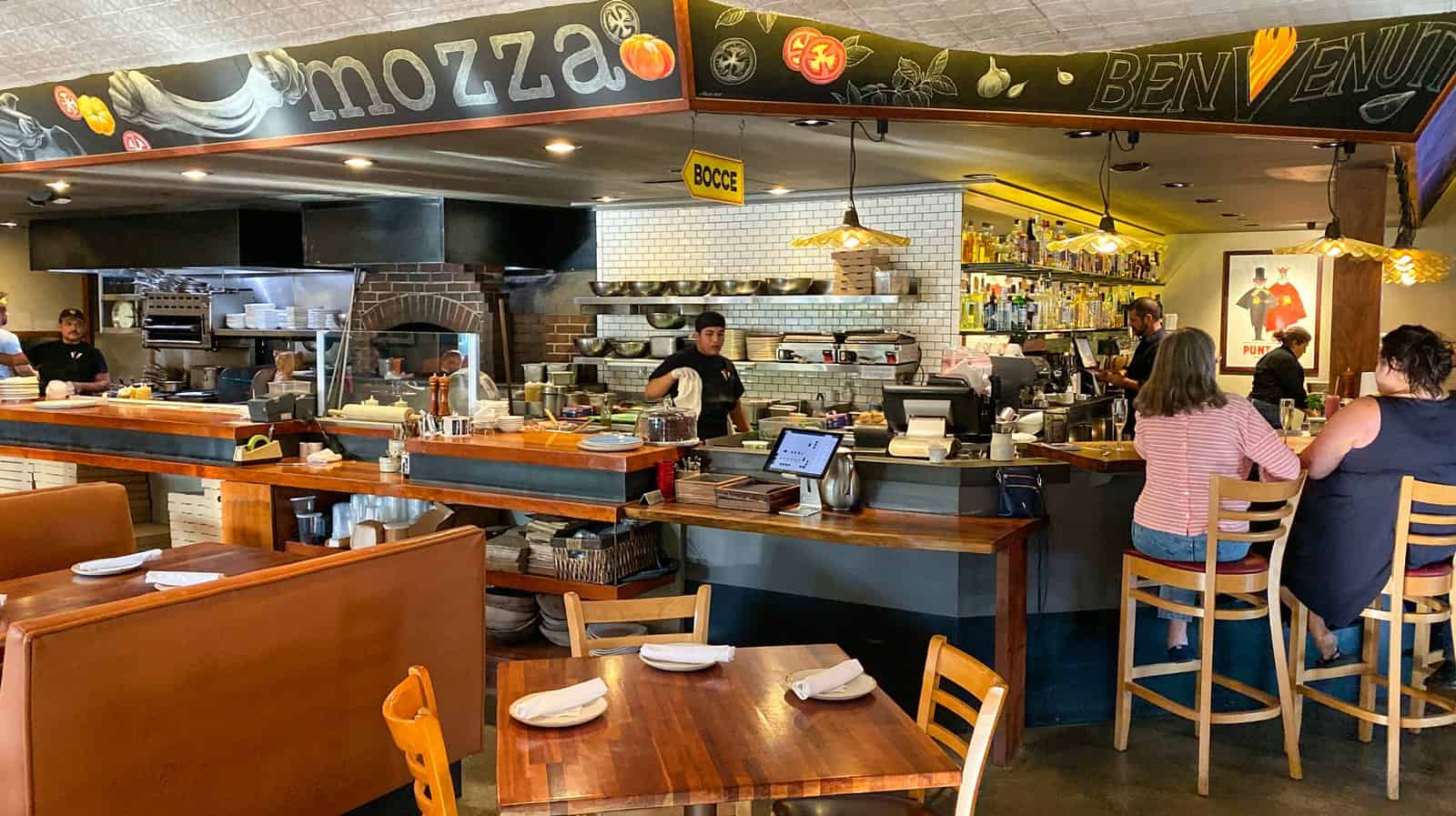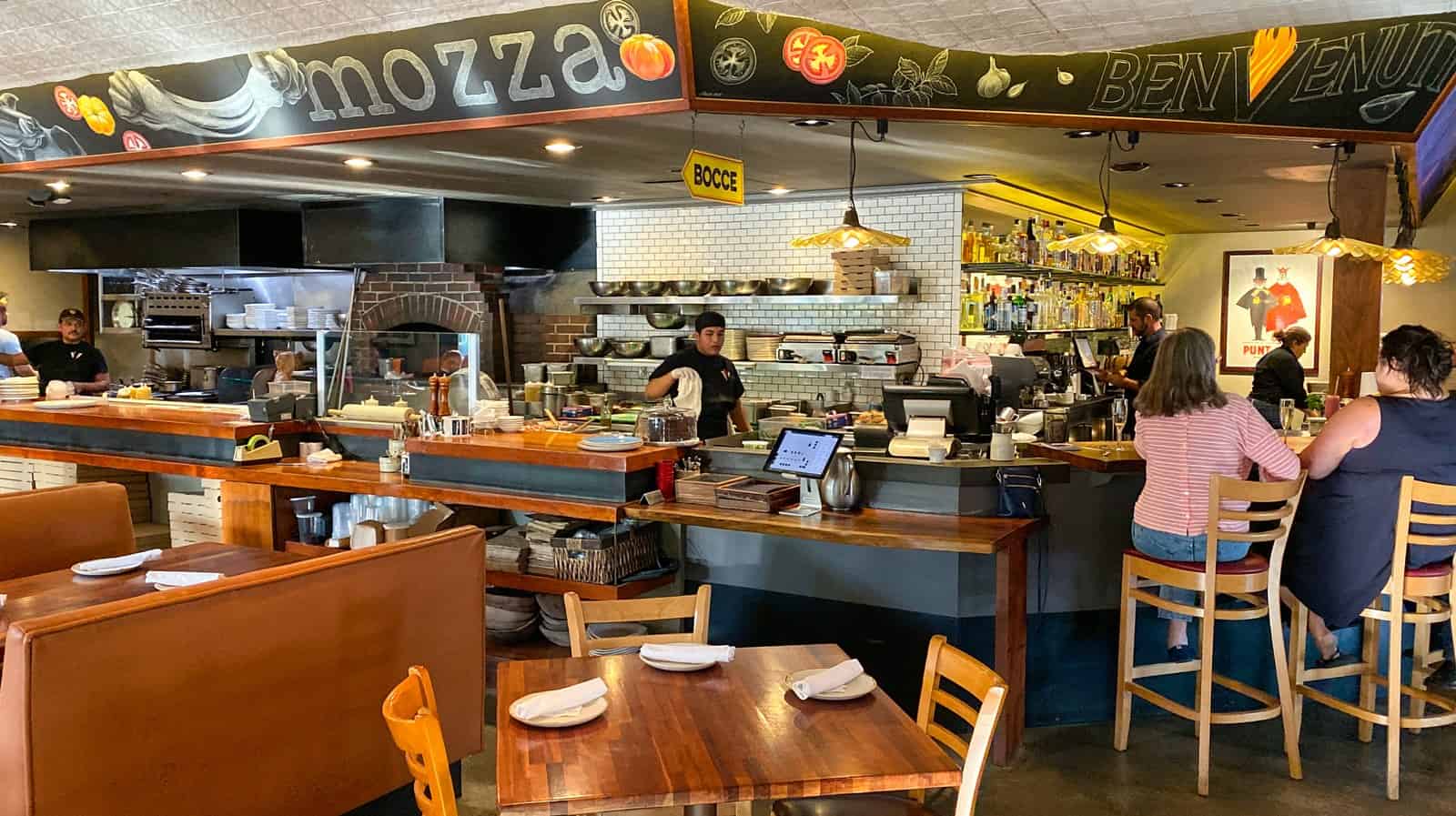 In addition to pizza, they make salads, pasta, small plates, and fantastic minestrone. Along with an intensive wine list, they also have a full bar.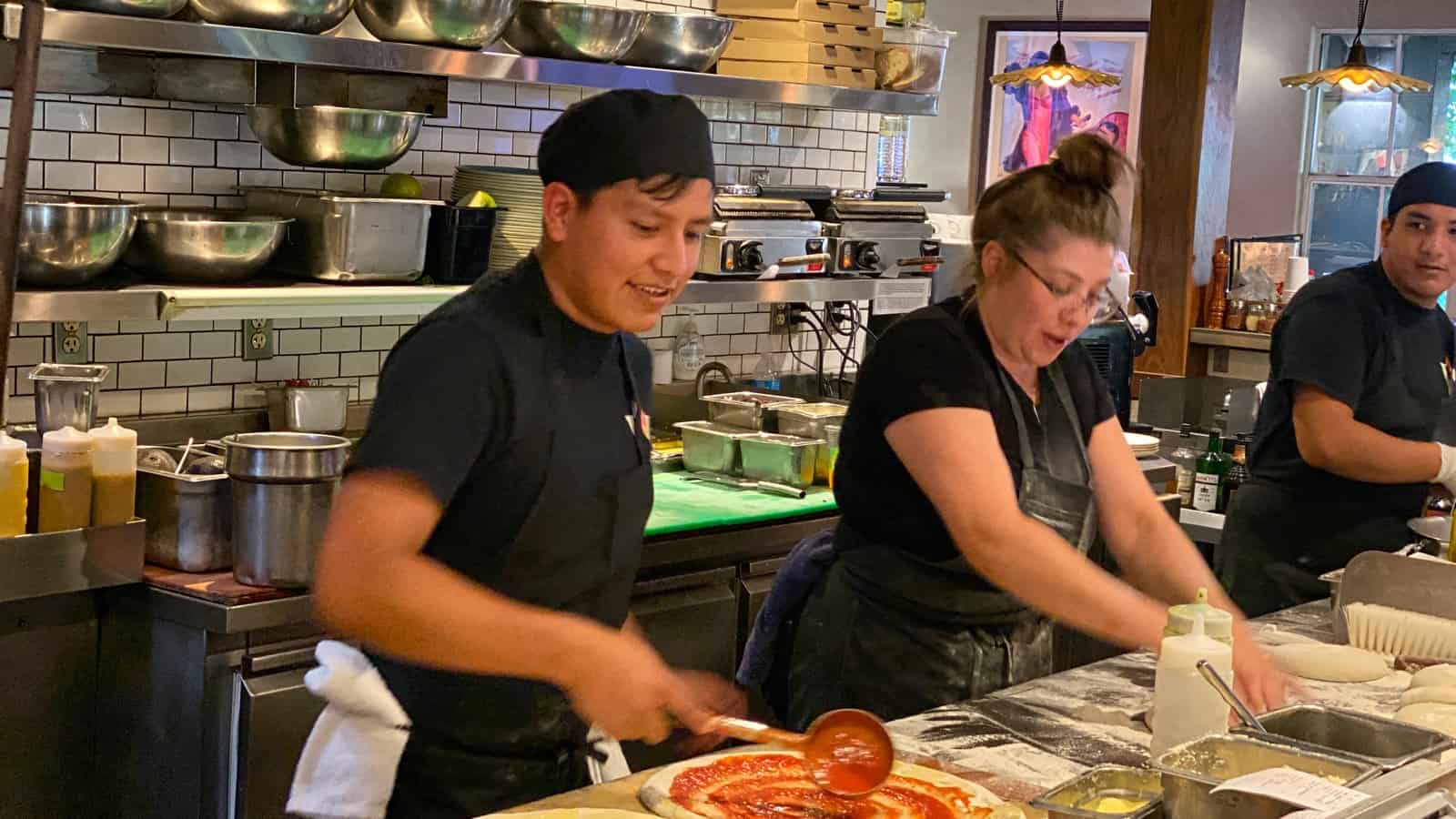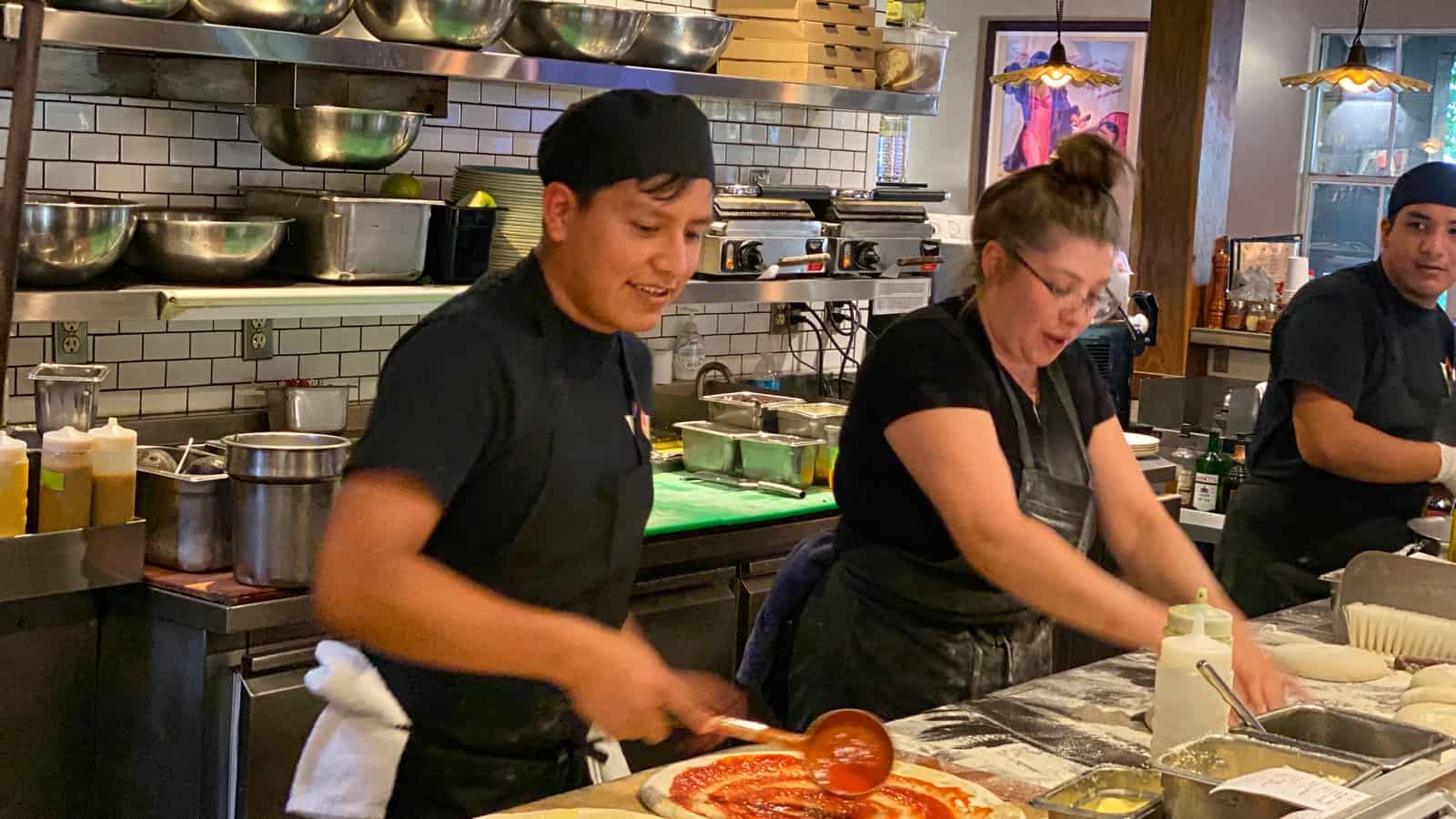 For dinner, we each ordered a pizza topped with our favorites. I had extra sauce, no cheese, basil, onions, extra garlic, and arugula. I also had a bowl of their minestrone; it was amazing!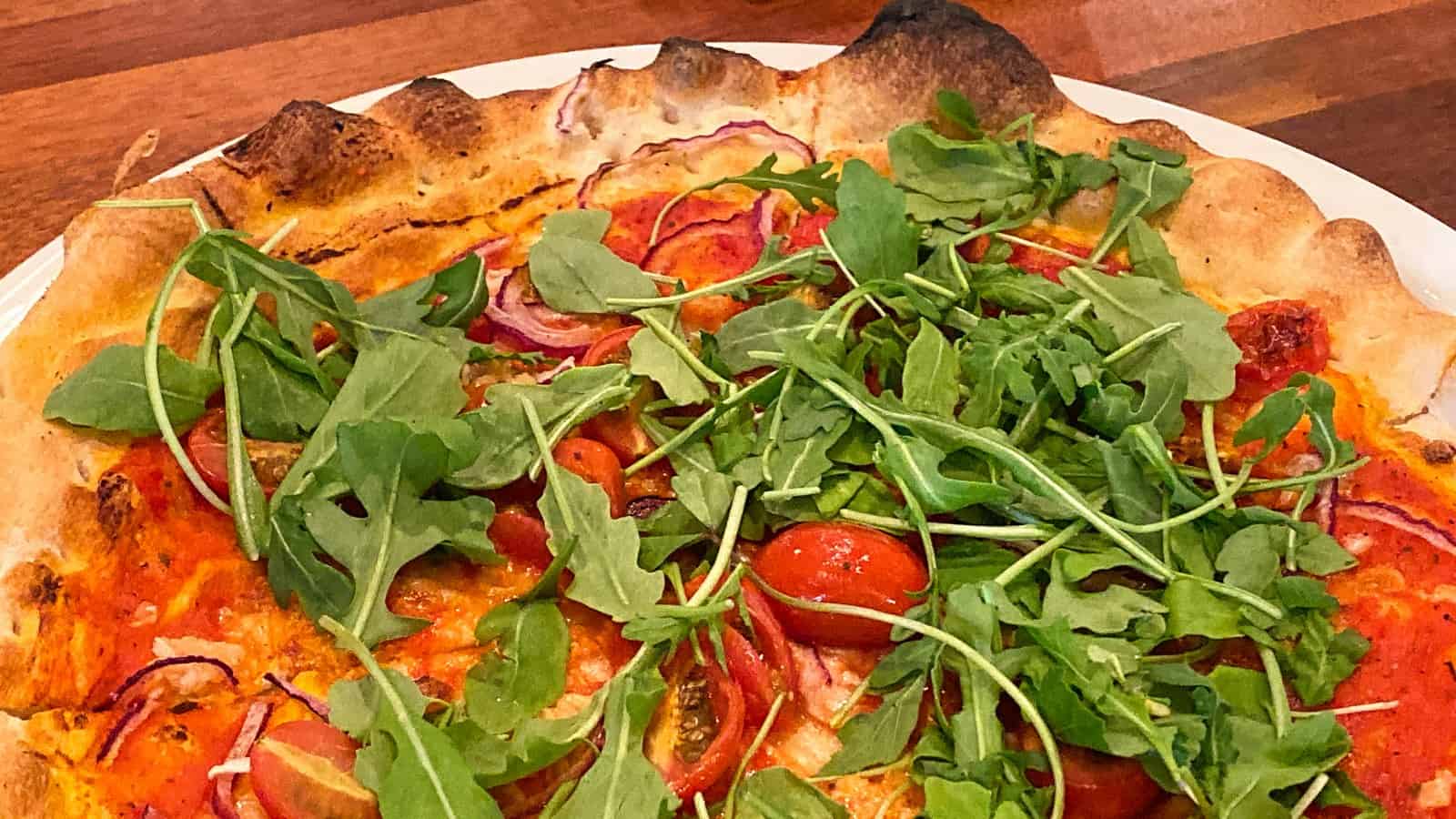 In Italy, we fell in love with affogato for dessert (gelato with espresso). Tra Vigne had affogato on the menu for dessert, so we had to try it. The presentation was nothing fancy, but the taste was straight out of Italy, fantastic!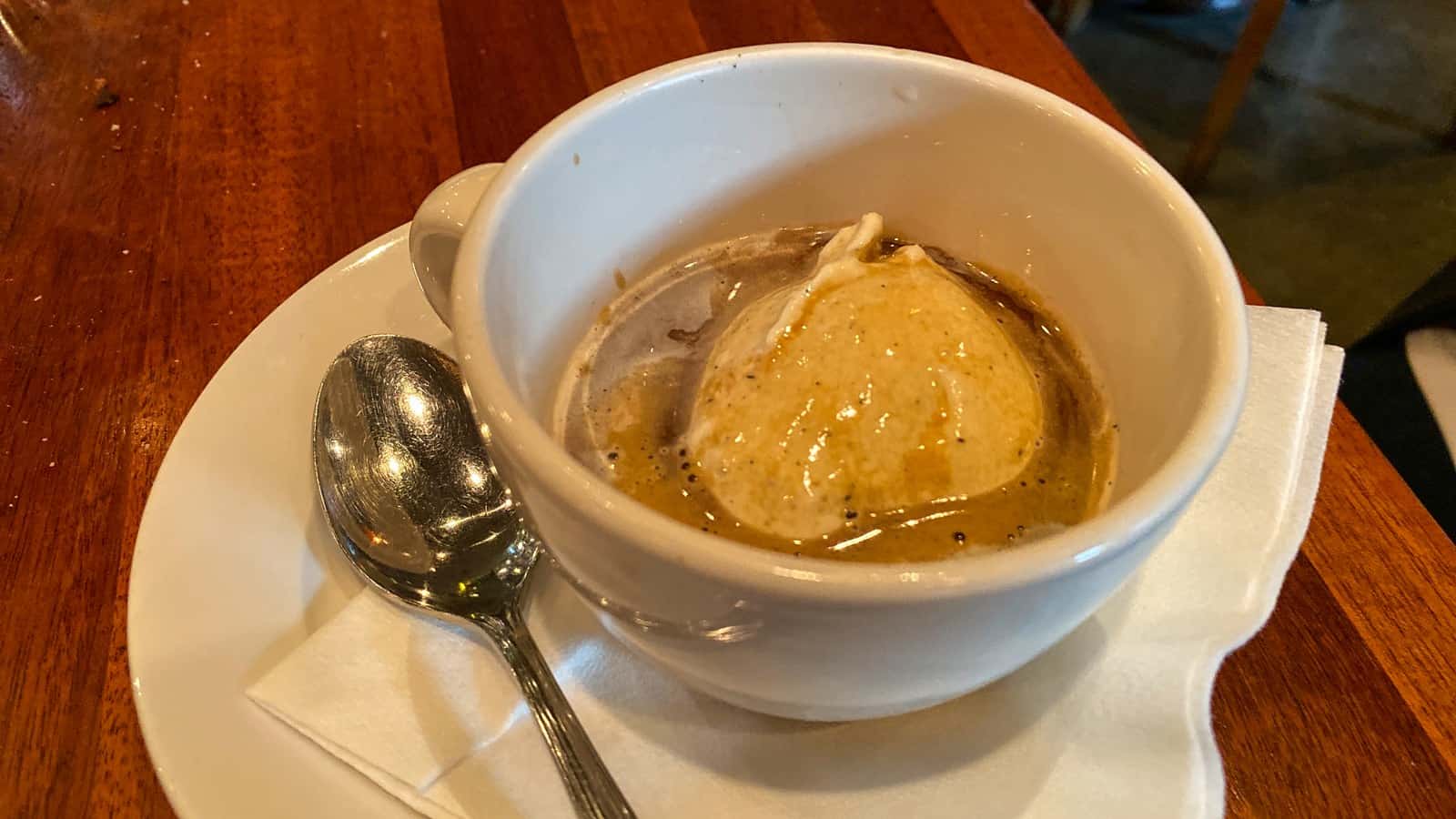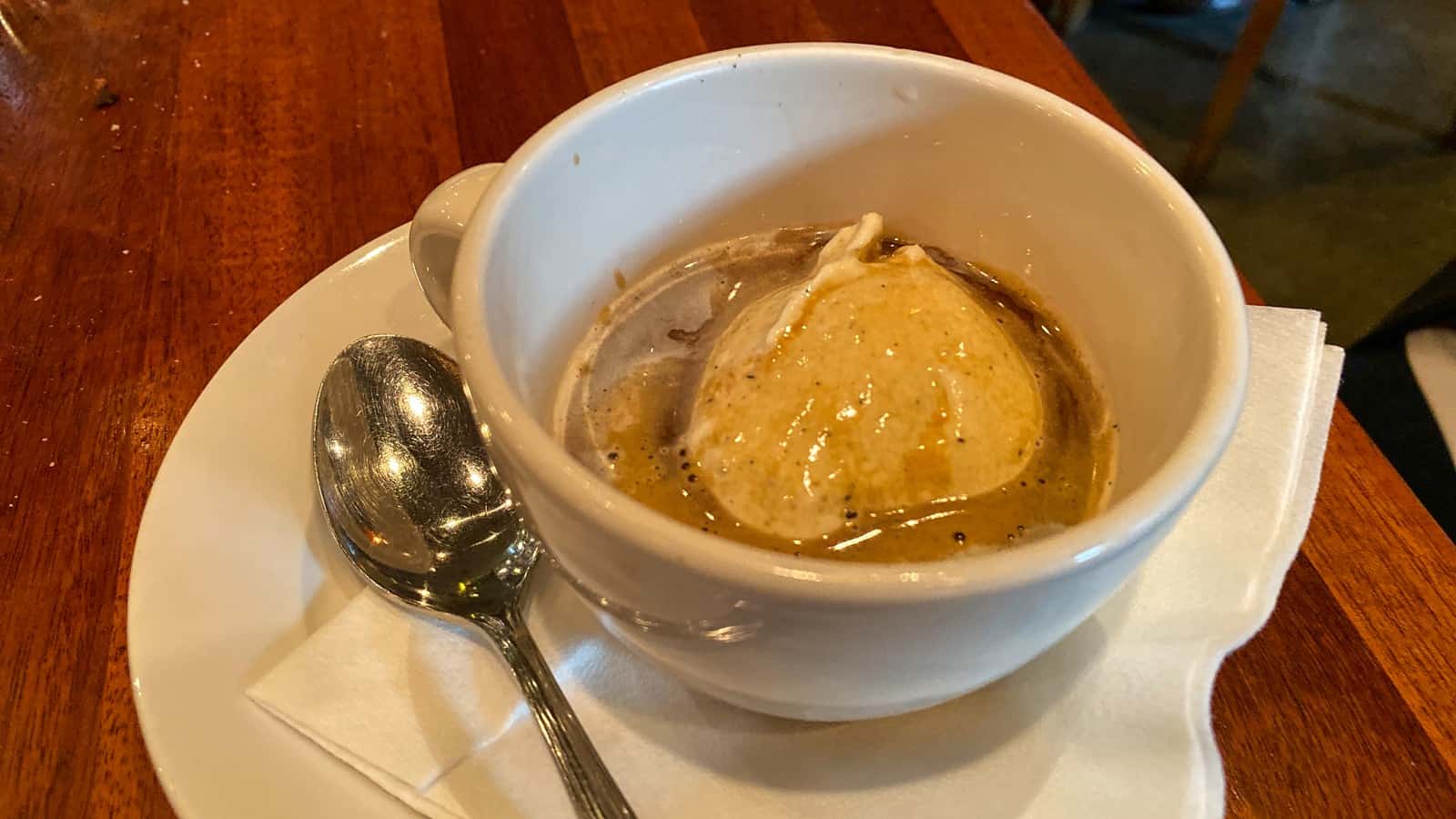 The restaurant is casual, and it feels as though you're dining in Italy, with its neo-Italian dining room, a grand bar, and a spacious, shade-covered Tuscan courtyard.
Napa Wine Tasting Has Something for Everyone
Napa Valley is more than lovely vineyards and great wine. Contrary to popular belief, Napa is approachable. It also has great food and is home to geothermal waters. In Napa, you will find something for everyone.
Be sure and read about Napa's next-door neighbor, Sonoma.
---
QUICK ANSWERS
What was the first winery in Napa Valley?
The first commercial winery in Napa Valley was Charles Krug established in 1861.
How many wineries are there in Napa Valley?
There are about 430 wineries in Napa Valley.