Vilcabamba, the Fountain of Youth
Vilcabamba is a town in Ecuador where in the 1970's it was discovered that people lived into their 130's. Still today, these claims are under scrutiny as many researchers have studied the inhabitants and environment to determine if and how people live such long lives. Scientists from around the world have conducted studies with many differing conclusions. One says it was diet and lifestyle. While, another stated that the fruits, herbs, and roots contained some of the highest antioxidants in the world being so near the equator. And another study determined that the fresh mountain water that people drink is high in colloidal minerals. But no matter how you look at it, the people there are relaxed and happy.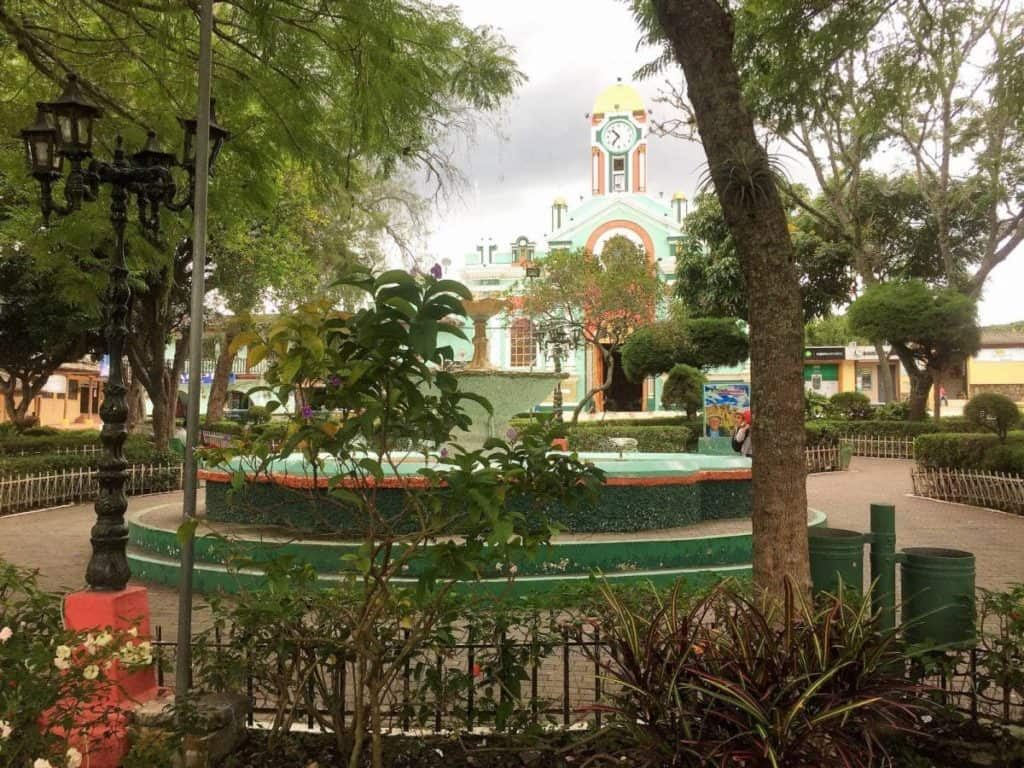 This "valley of longevity" has undergone quite a change since Expats from around the world moved there, and brought in different cultures creating a diverse cultural mecca.
Since my wife is a traditional naturopathic doctor and I being an alternative health person, Vilcabamba has been on our bucket list for quite some time. We decided to drive there ourselves instead of taking a bus so that we could explore the countryside and stop in the town of Saraguro along the way.
Saraguro
Saraguro is a notable city where the indigenous people have maintained their ethnic identity. The people are well known for their black dress. The men wear black, just below the knee length pants, black ponchos, and black Wellington type boots. The women wear black pleated skirts and black shawls. Both wear black felt hats and keep their hair long, often in a single braid. Some say the black dress is worn out of respect for the death of an Incan prince who was murdered by the Spanish. In Addition, many Saraguro's say they are direct descendants of the Inca. Saraguro is a great place to visit if you have the ability to stop over just to see the indigenous culture.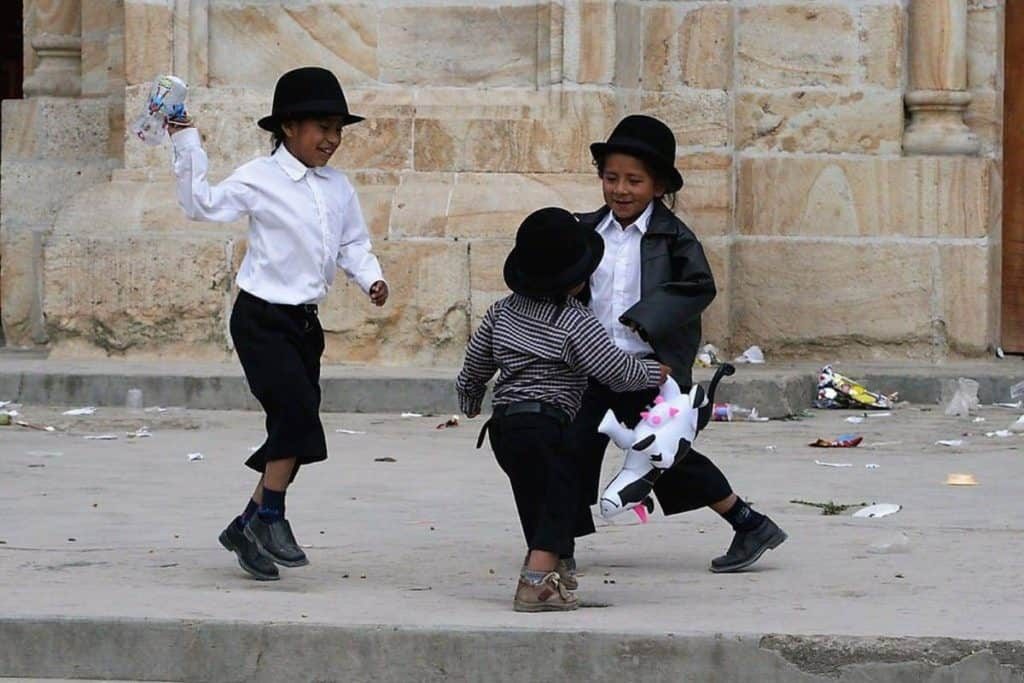 If you have the time, you also need to have lunch here. We recommend the chef's tasting menu at Shamuico Espai Gastronomic. It's a little pricey by Ecuadorian standards, but it rivals the culinary delights of a Michelin star restaurant. An unexpected gem in this small town.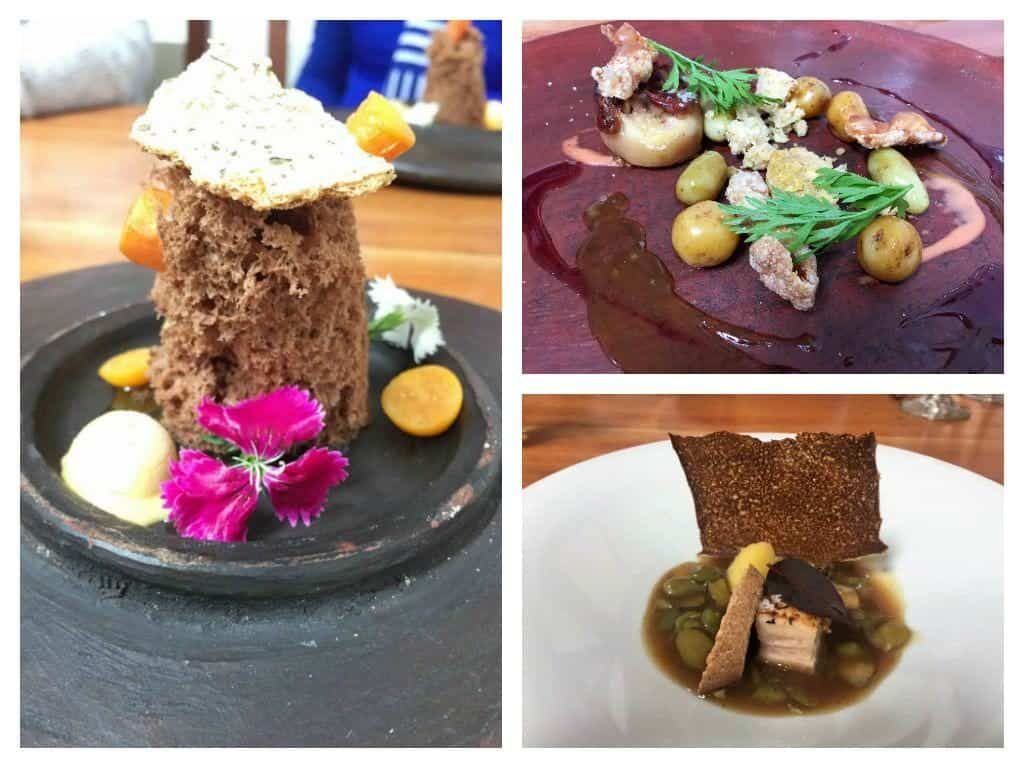 Sharing the Road
After lunch, we continued our journey to Vilcabamba. Parts of the road are winding, and due to the recent rainfall, there were a lot of landslides that left mud and rocks on the road. This made some of the roads into one lane. We also had to watch for animals. In this part of Ecuador, you need to share the road with livestock. We encountered horses, donkeys, and cows. Nestled in a lush green valley we finally arrived in Vilcabamba. It is small, quiet, and a little bit of a through back to the 60's culture.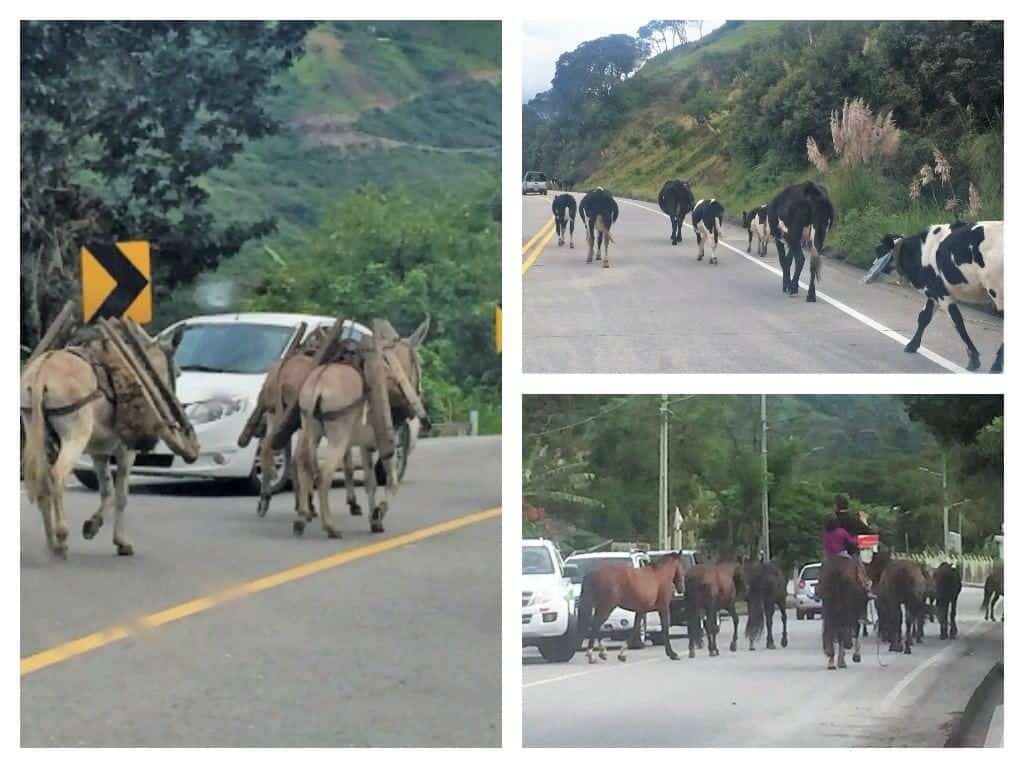 Beauty and Tranquility
When we arrived, we found it to be a little warmer than where we live in Cuenca and somewhat more humid. We also found it to be much quieter. After a few days, we almost missed the neighborhood house and car alarms. Laid back is definitely the vibe here. We saw many North Americans hanging at coffee shops and bars (I read that about 20% of the residents of Vilcabamba are North American or European Expats). Quite often we saw backpackers and cyclists coming into town. The town itself is tiny. There are a few restaurants, bars and coffee shops along with various tiendas that carry all the necessities the locals may need. A square park with a fountain in the middle marks the center of town. Across from the park is a large colorful Catholic church.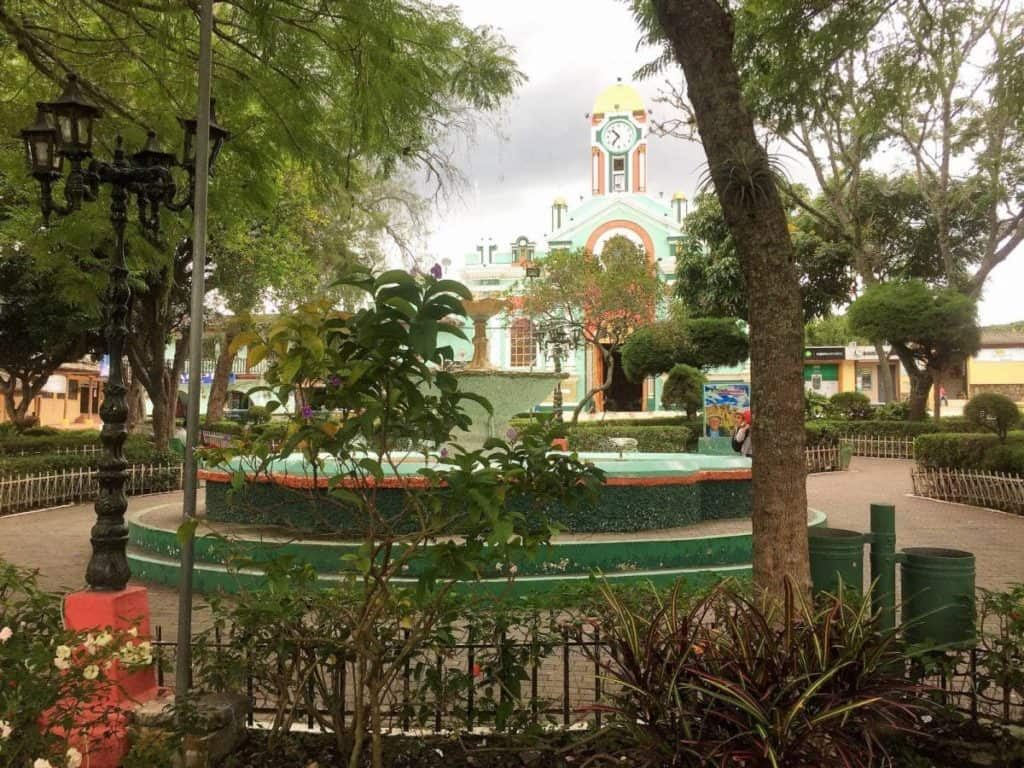 The real beauty of Vilcabamba lies in the lush, green land that surrounds the town. It is a backpacker and outdoor enthusiast dream. At night you hear the crickets and their friends enjoying the darkness.
In my opinion, you go to Vilcabamba to relax and enjoy the peace and quiet, or you go there to hike, bike or do some horseback riding. If you are looking for more than relaxation, or a chance to be one with nature than you will be disappointed.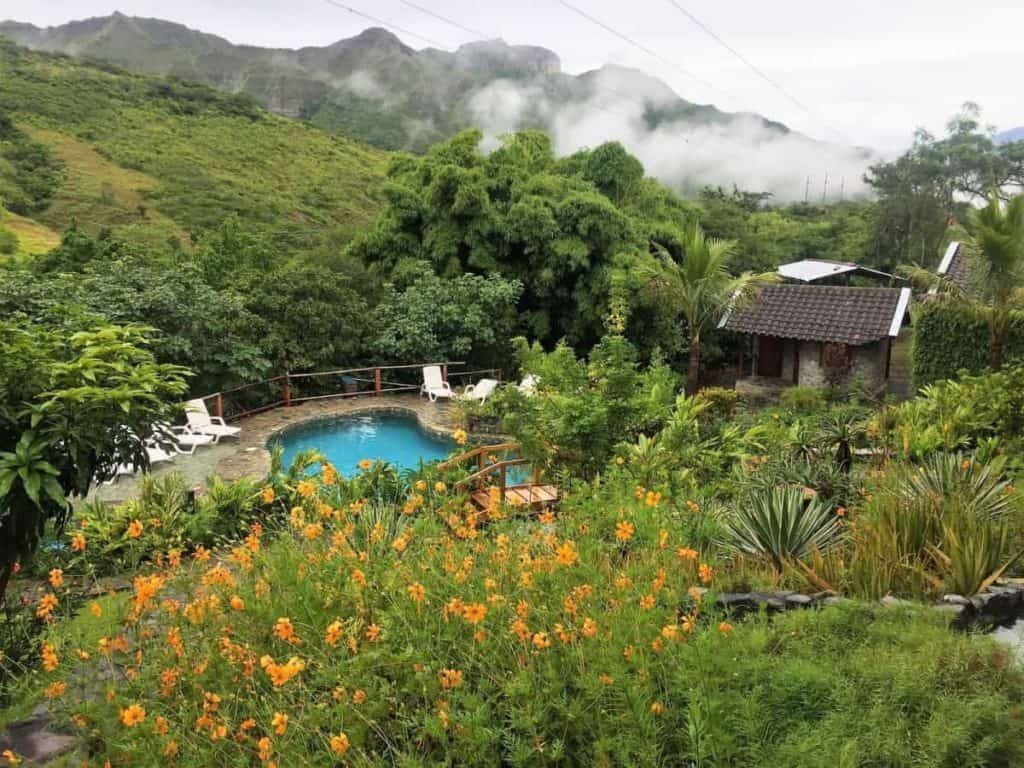 Izhcayluma
We stayed at the very popular Hosteria Izhcayluma and could not have been happier. The resort complements nature. We opted for the best they had, a private cottage at $59 a night. Our cottage had a stone floor, lots of big windows, a large terrace and an open stone shower. It is a treat just to walk the flower filled paths inside the resort. One evening on the way back to our cottage, we saw our first lemur in the wild climbing a tree. The hostel offers free yoga for every level at seven in the morning in a beautiful yoga studio with incredible views of the valley. Izcayluma also has a fantastic spa. While we were there we each had a 75-minute massage for $22 per person and a facial for $16.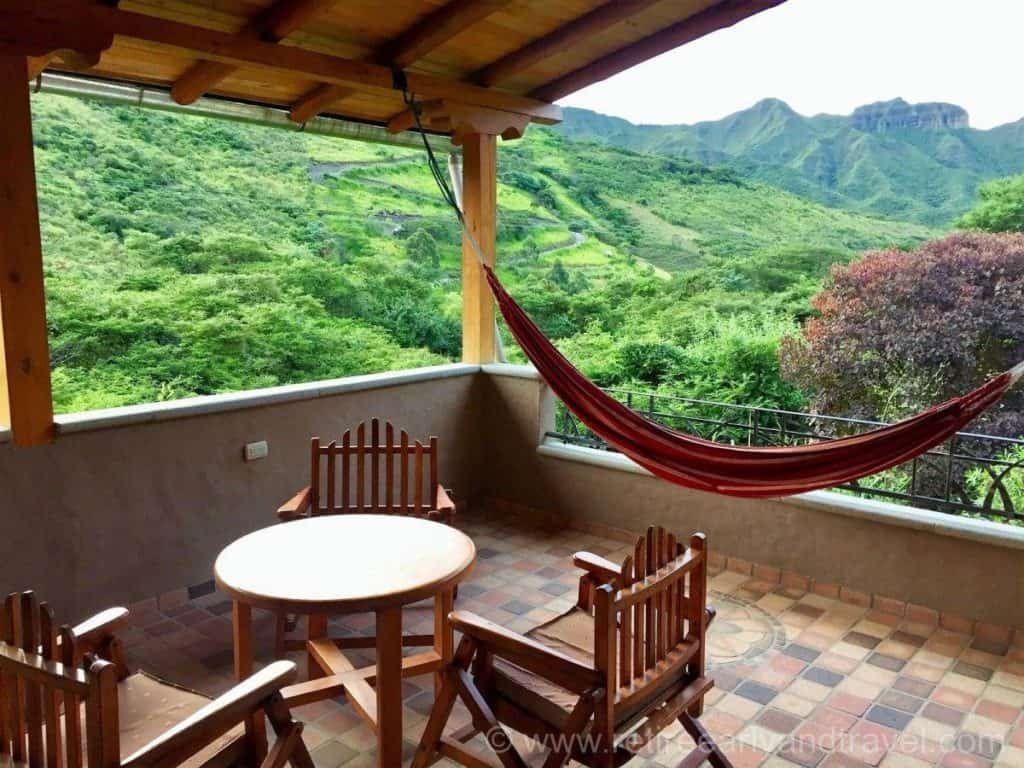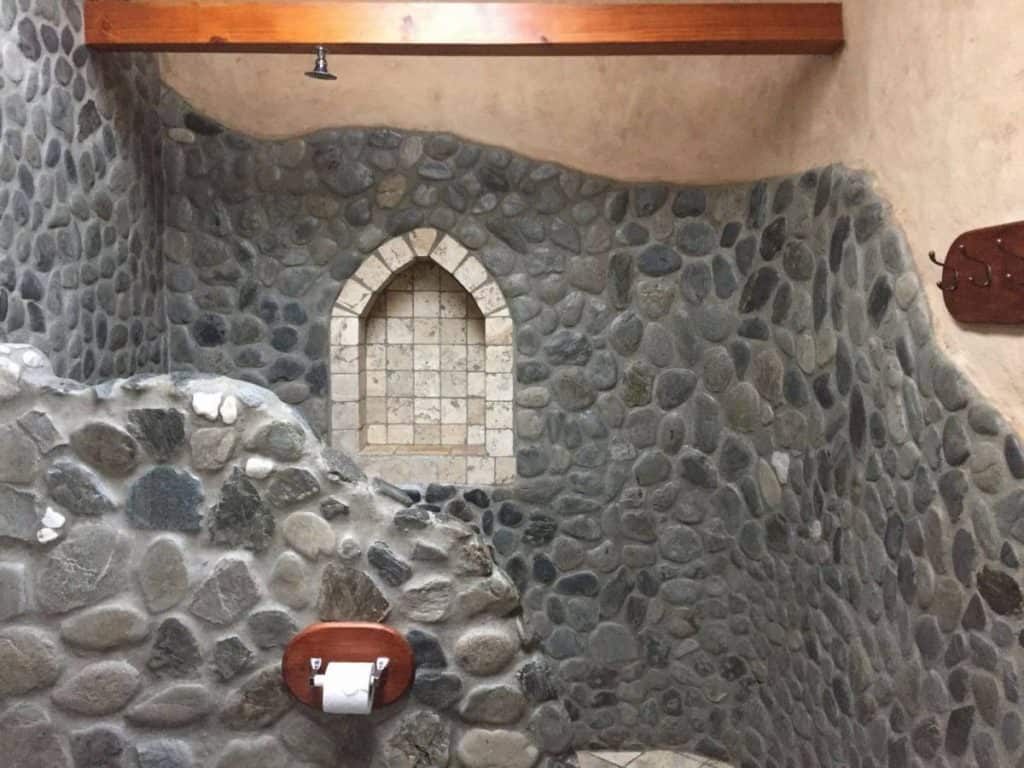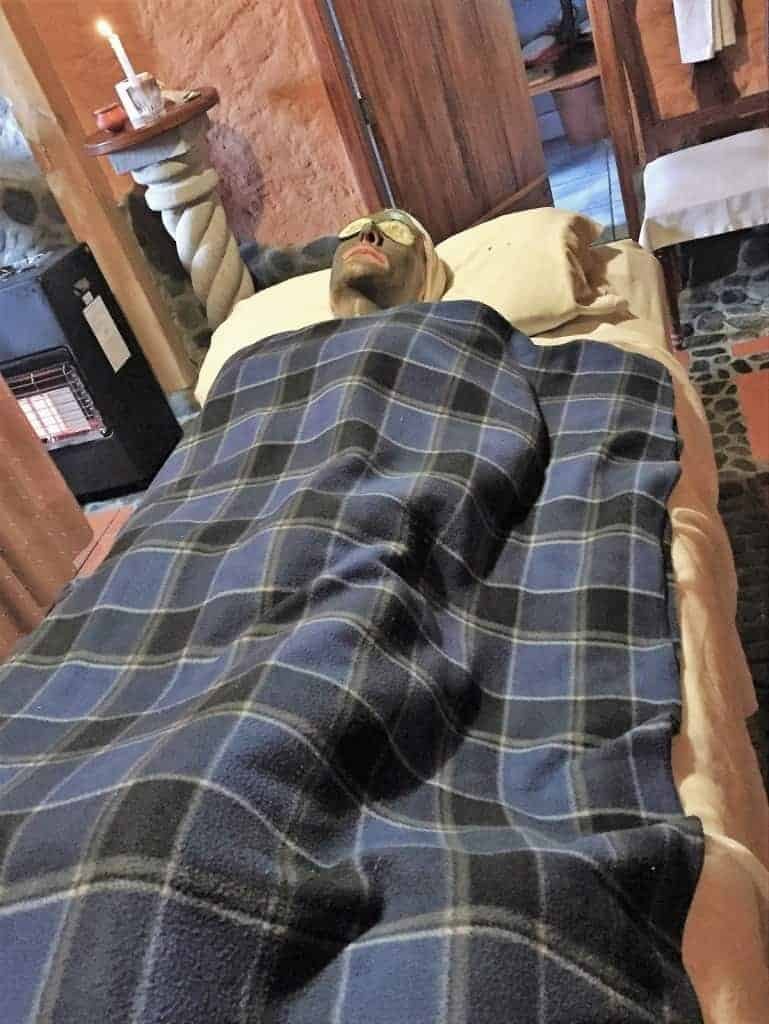 Besides Izhcayluma, there are a bunch of other hostels in the area. Don't be fooled by the word hostel. While they do offer the bunk bed, shared bathroom type of accommodations, you can also always get the typical room with private bath or your own cottage. I find it strange that they don't call them resorts or hotels, but I'm sure it's to keep with the culture of the city.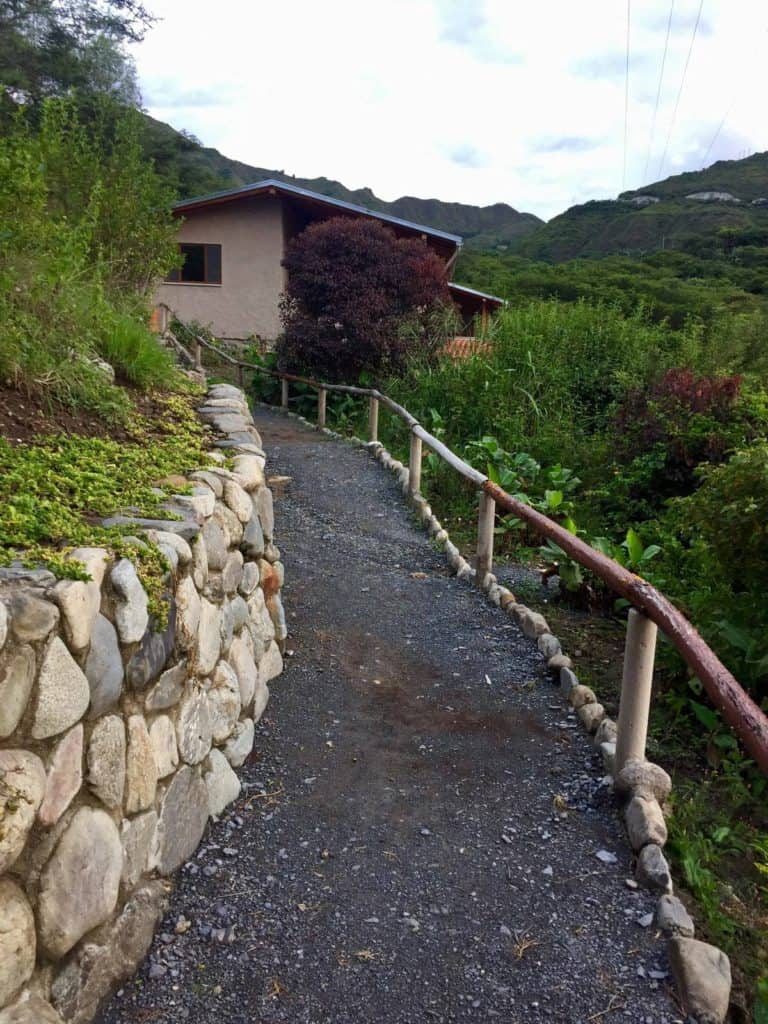 Vilcabamba
We went to Vilcabamba to enjoy the natural beauty, spend some quality time with good friends and possibly have some of that magical longevity wear off on us.
Here's a short video of a walk through the grounds of Izhcaylum
If visiting Ecuador, here's another amazing adventure in Banos. If you're more of a beach person, check out our Salinas Beach post.
You might also be interested in this Eco Lodge post if you're looking for a place to stay in Banos.