We've partnered with Hotels.com to bring you this northern California adventure…
We lived in California for almost eight years and never visited Yosemite or Sequoia National Parks. This year we planned a seven-week California wine road trip that included both parks. We were so happy we did. Yosemite, located near the charming town of Mariposa, is awe-inspiring.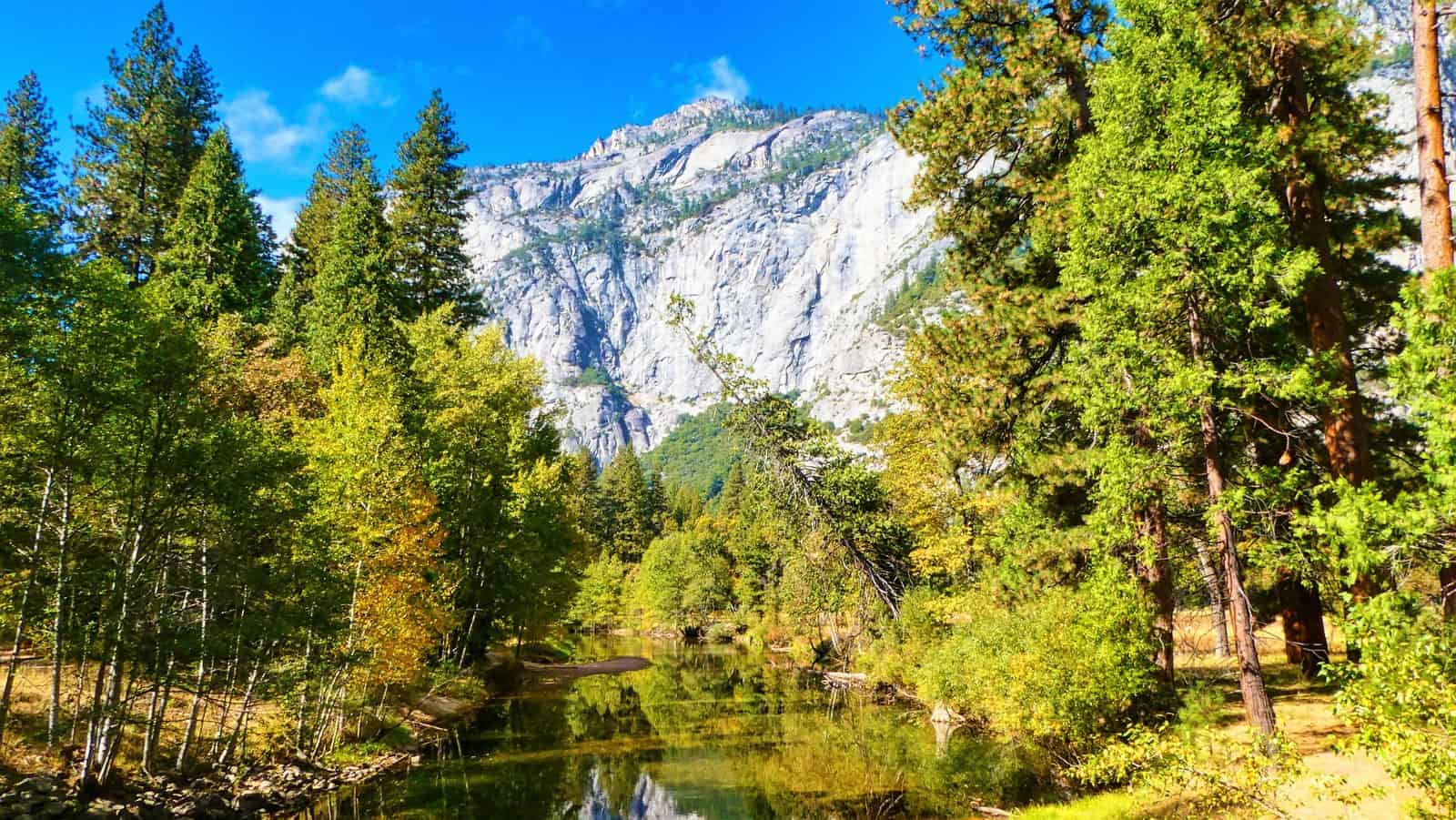 And even though Sequoia National Park is about a three-hour drive each way from Yosemite, we got up before dawn and drove there to see the magnificent giant sequoias.
An added delight was the small town of Mariposa, which offers great restaurants, unique shops, and even wine tasting.
We have put together a great list of things to see and do when planning a trip to Yosemite. Our list includes where to stay and where to dine. We have also included some unique lesser known activities that will make your trip truly memorable.
Tenaya Lodge a Destination Unto Itself
First, we recommend staying at Tenaya Lodge in one of their Explorer Cabins. Located near Yosemite National Park's south entrance, Tenaya Lodge is so much more than a hotel. Tenaya is a destination unto itself.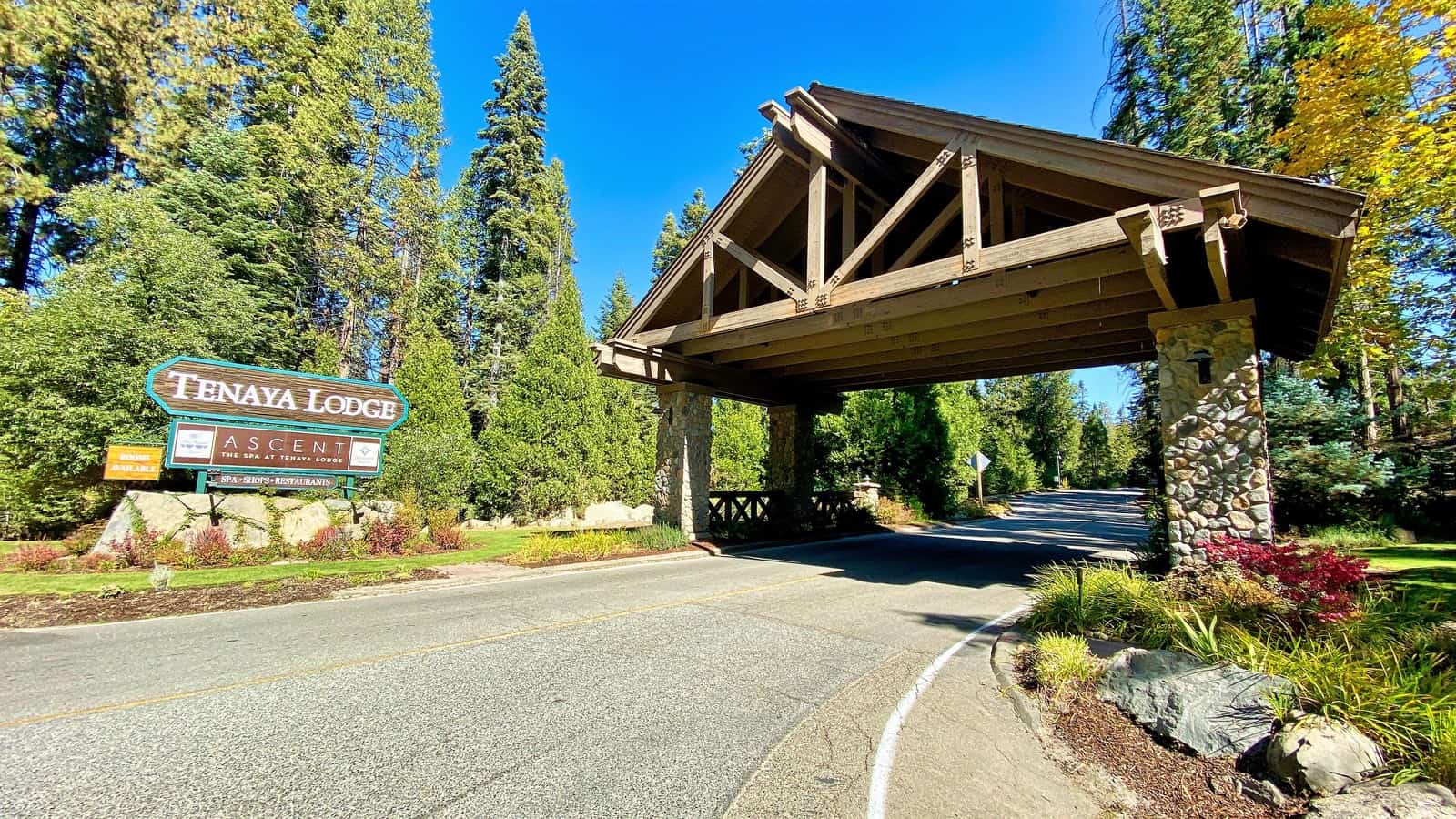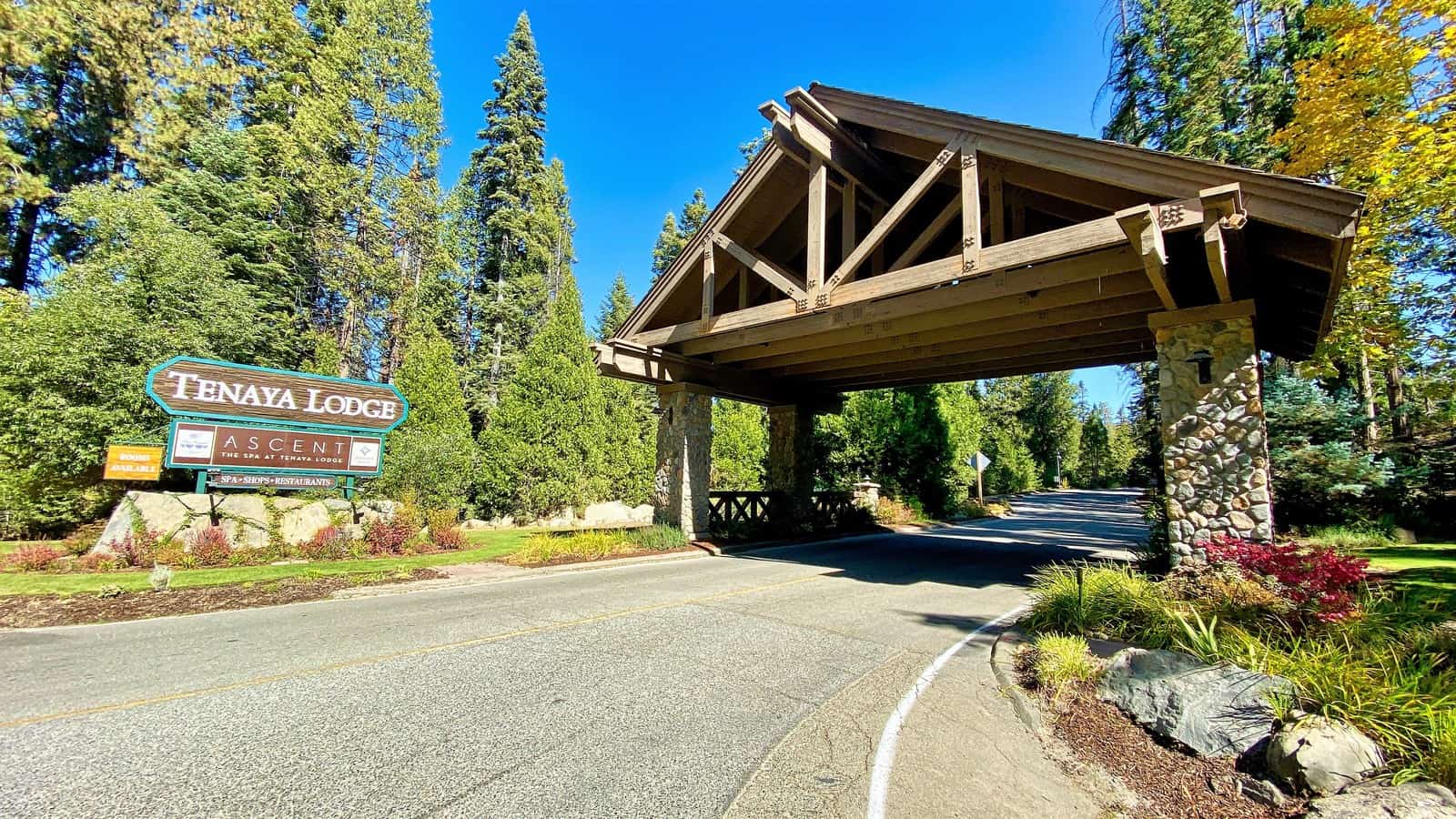 When we travel, we put a lot of emphasis on where we stay. We like some space to spread out. We always look for a couch or two comfortable chairs as a minimum. I sleep longer than Keith. He likes to get up, have a cup of coffee and read in the morning, so we need space for him to do this while I sleep.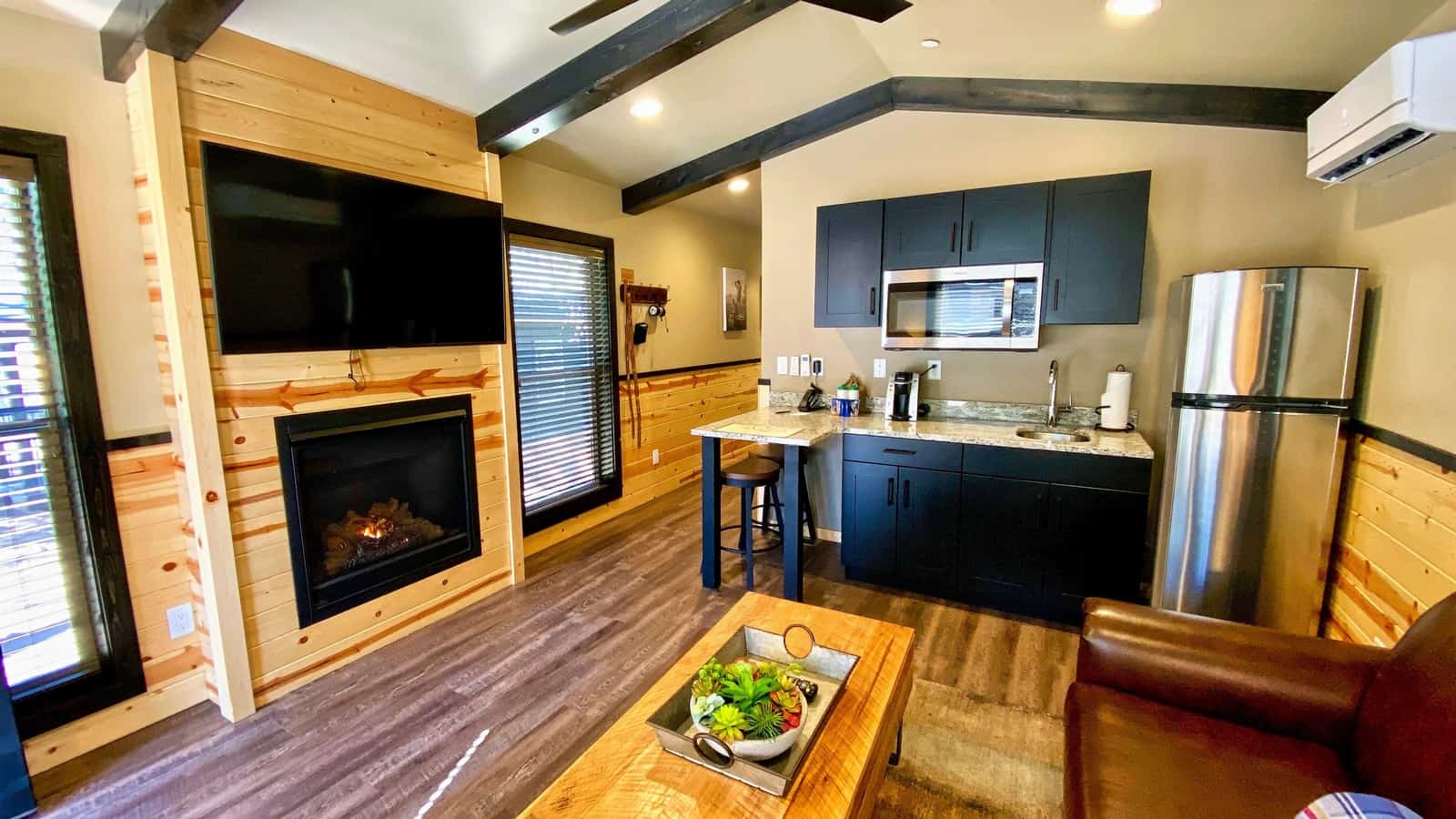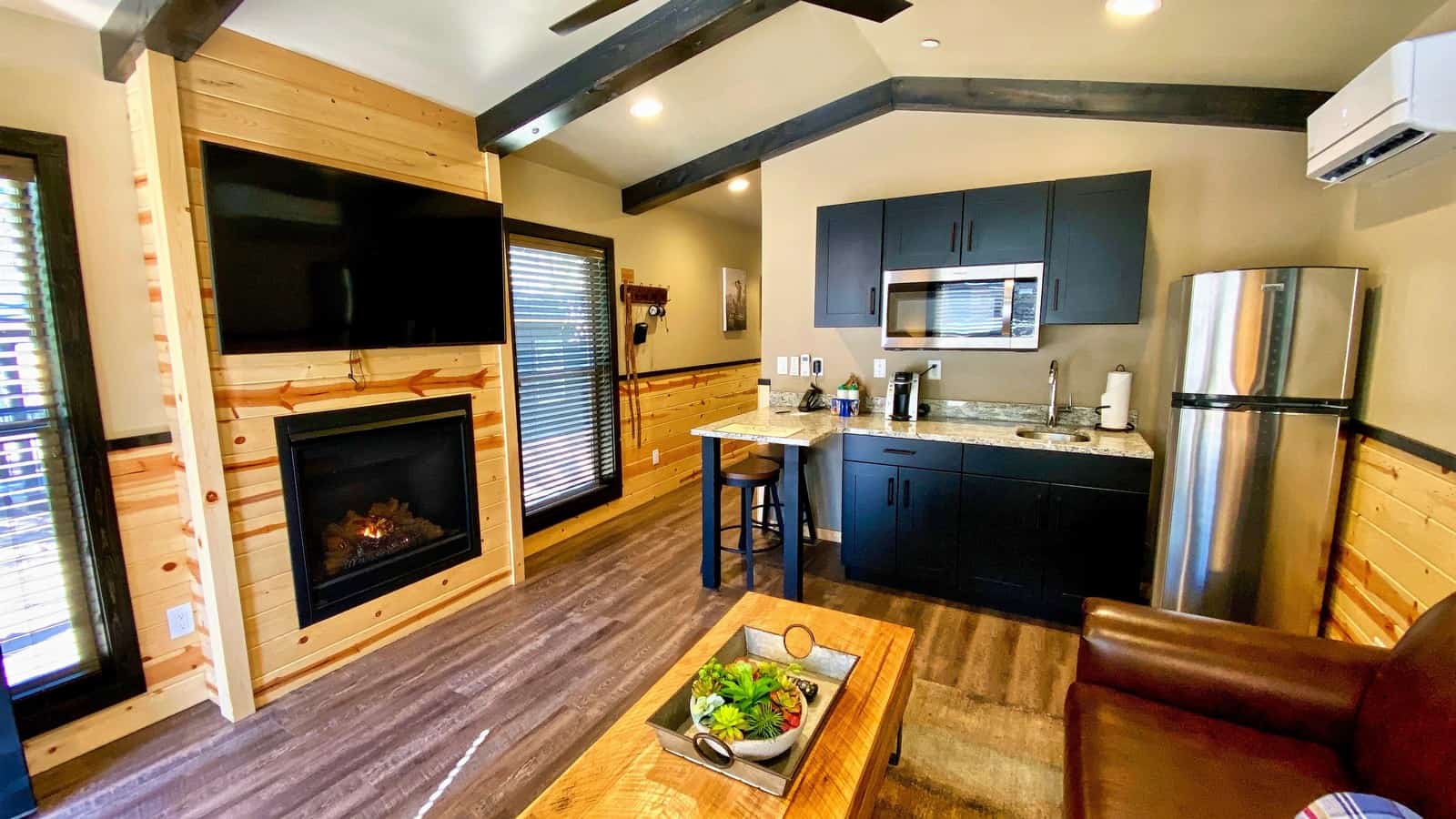 Cabins at Tenaya Lodge
With the Tenaya Lodge at Yosemite cabins, you get plenty of space and a private deck that overlooks the beautiful woods and possibly the creek surrounding Yosemite. Our cabin overlooked the creek. The cabins offset from one another, so you do not see your neighbors. They have a feeling of tranquillity. Plus, from the cabins, there is a trail leading to the river where there are adirondack chairs so you can sit by the river, take in the fresh mountain air and enjoy the sounds of nature.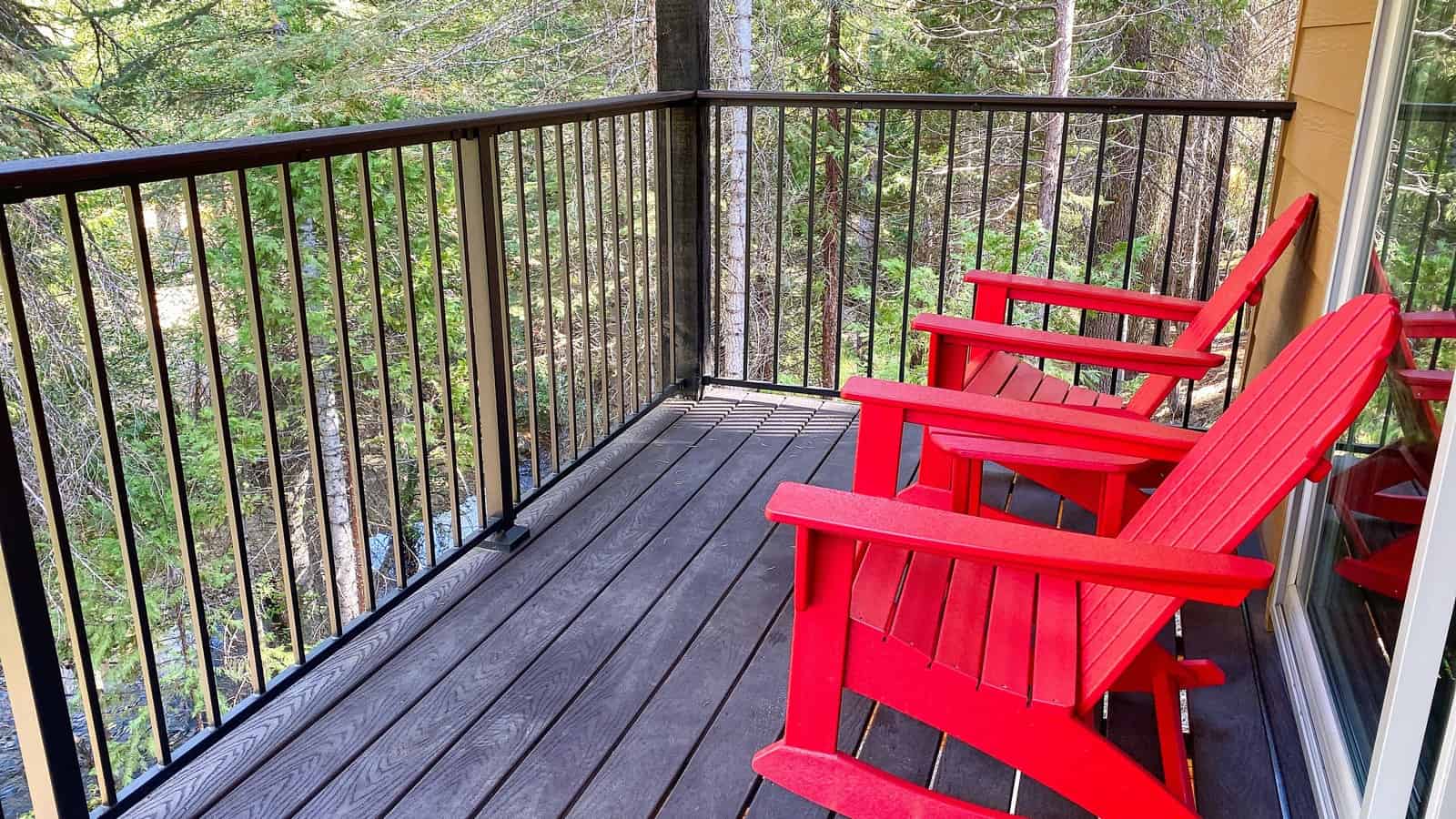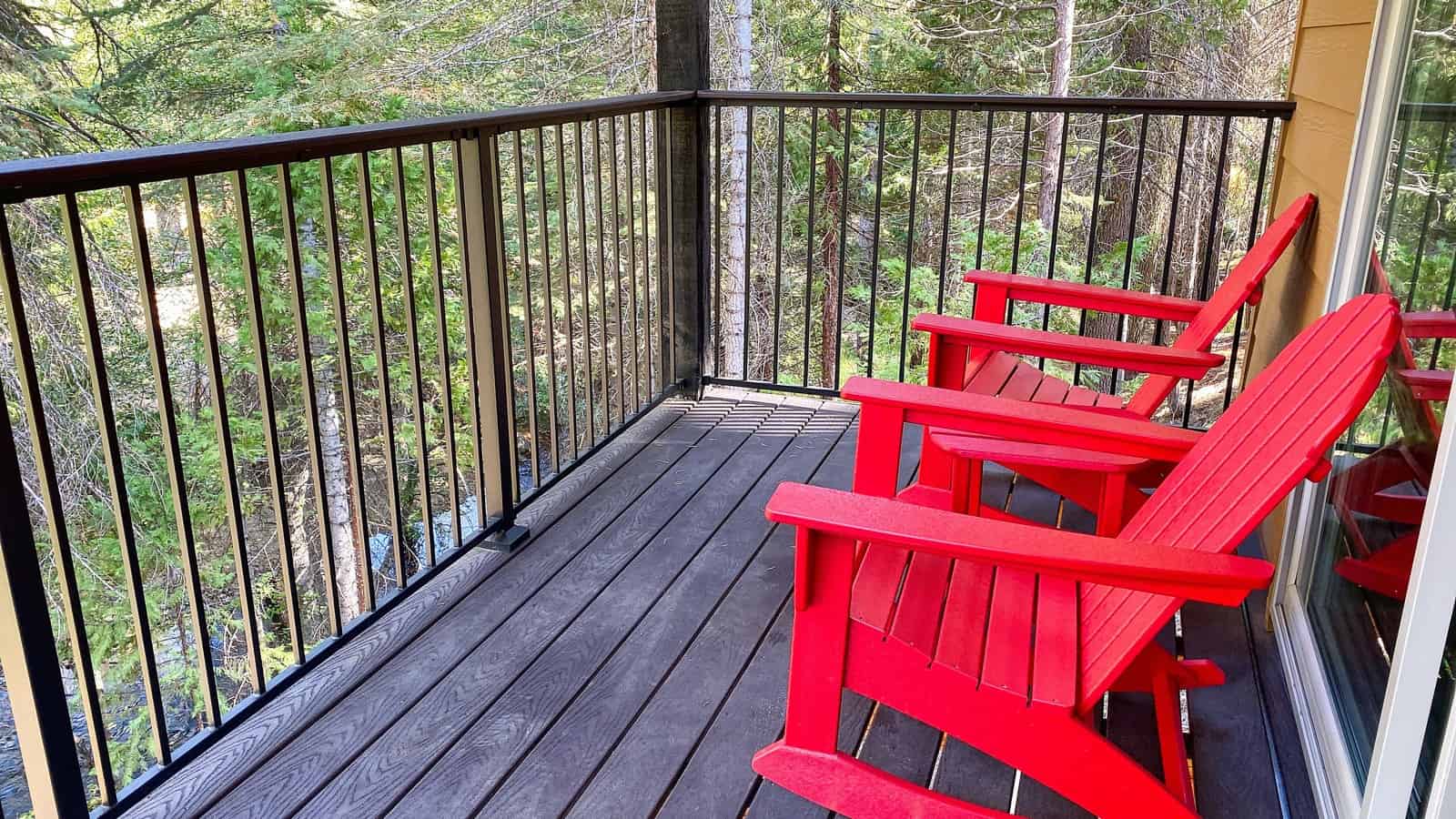 If needed, they have ADA cabins that are slightly larger than the rest to accommodate wheelchairs. Our cabin had two bedrooms, a large bathroom with a walk-in shower, a living room, and a covered porch to relax on and take in the smell of the pines and a huge porch off our master bedroom. We also had a wet bar area with a small fridge and freezer, microwave, and a Keurig coffee maker. There are no stove or cooking utensils in the cabins.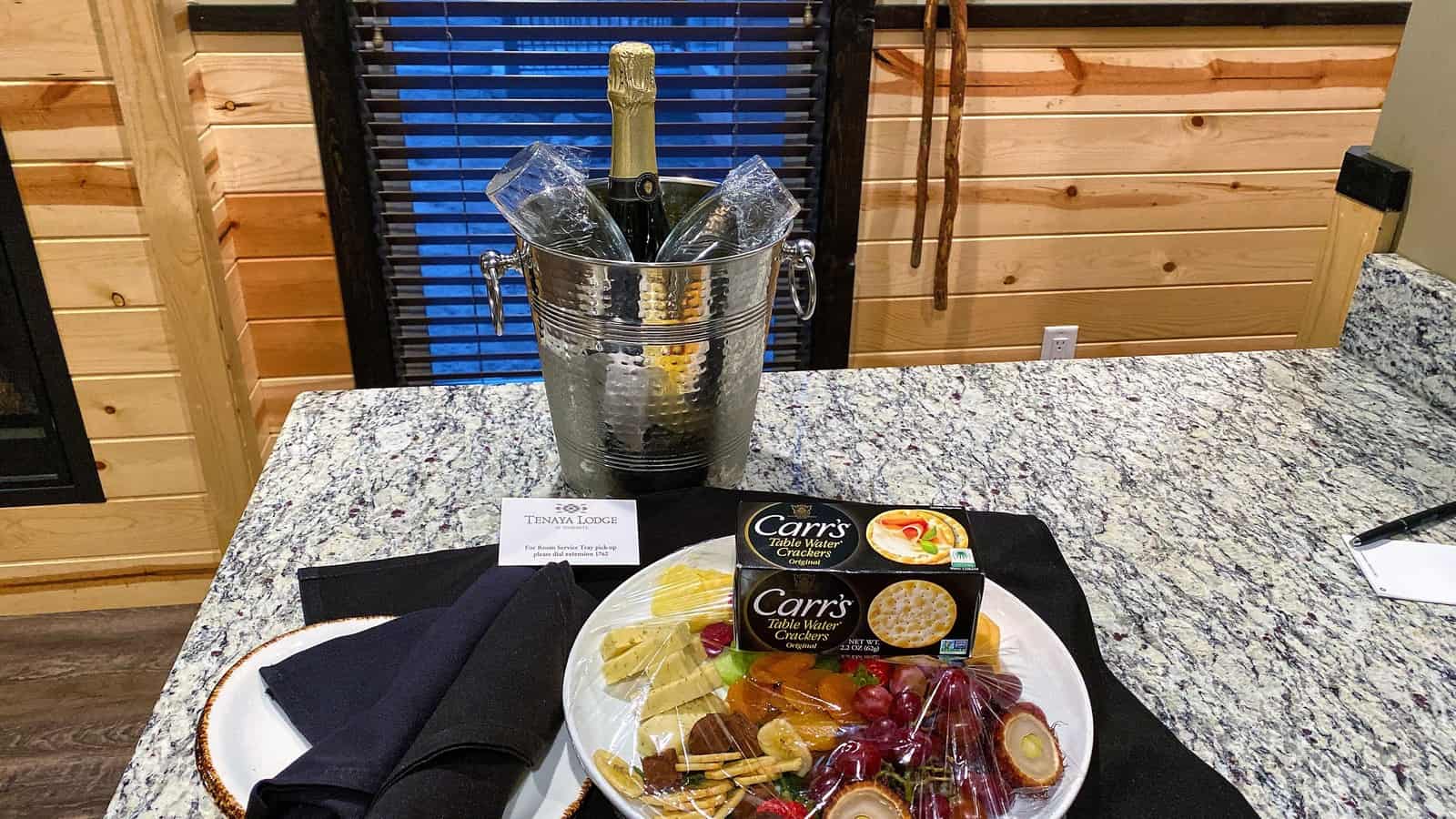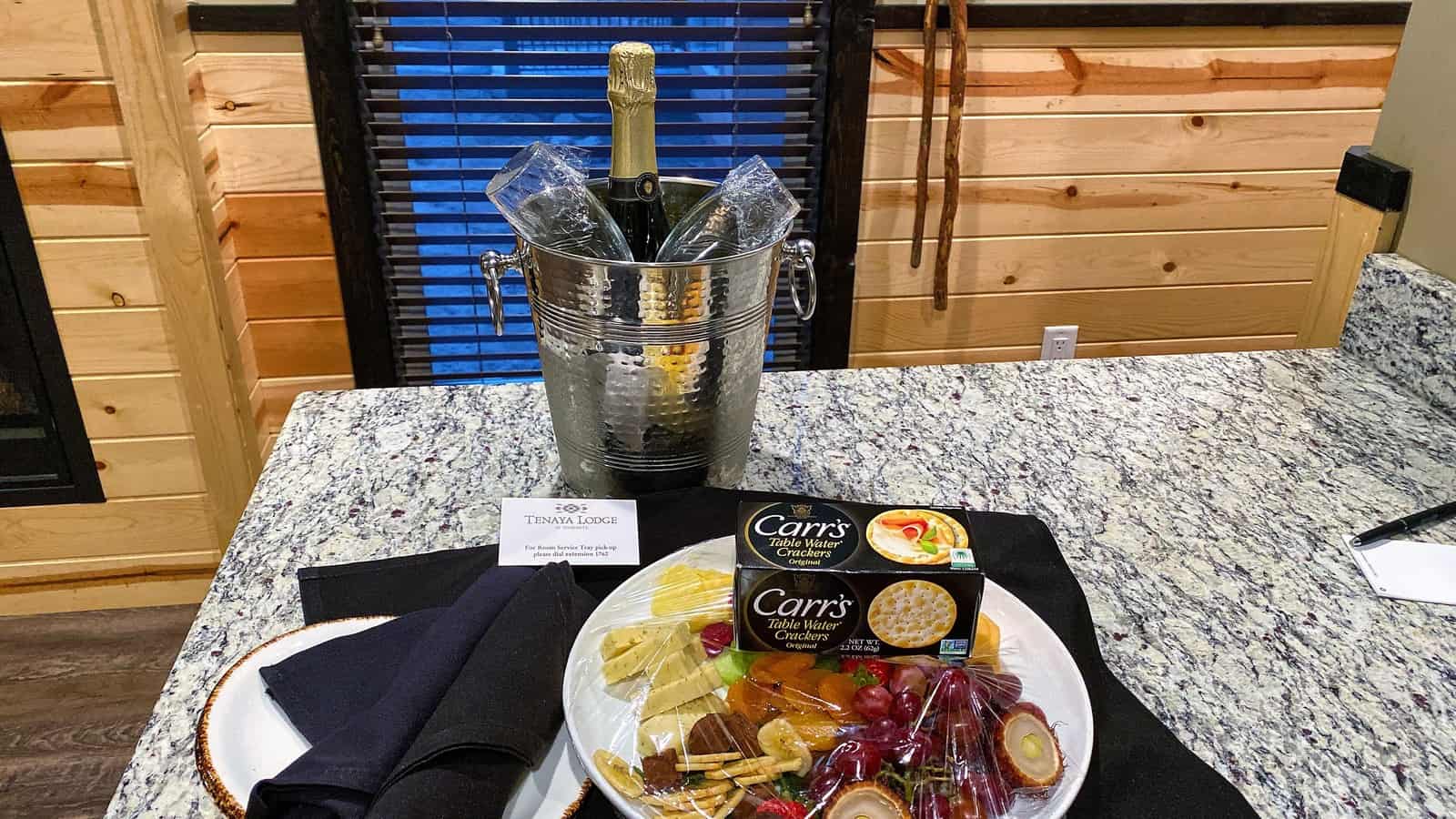 Every evening they light campfires where you can roast marshmallows and make smores with supplies that Tenaya provides.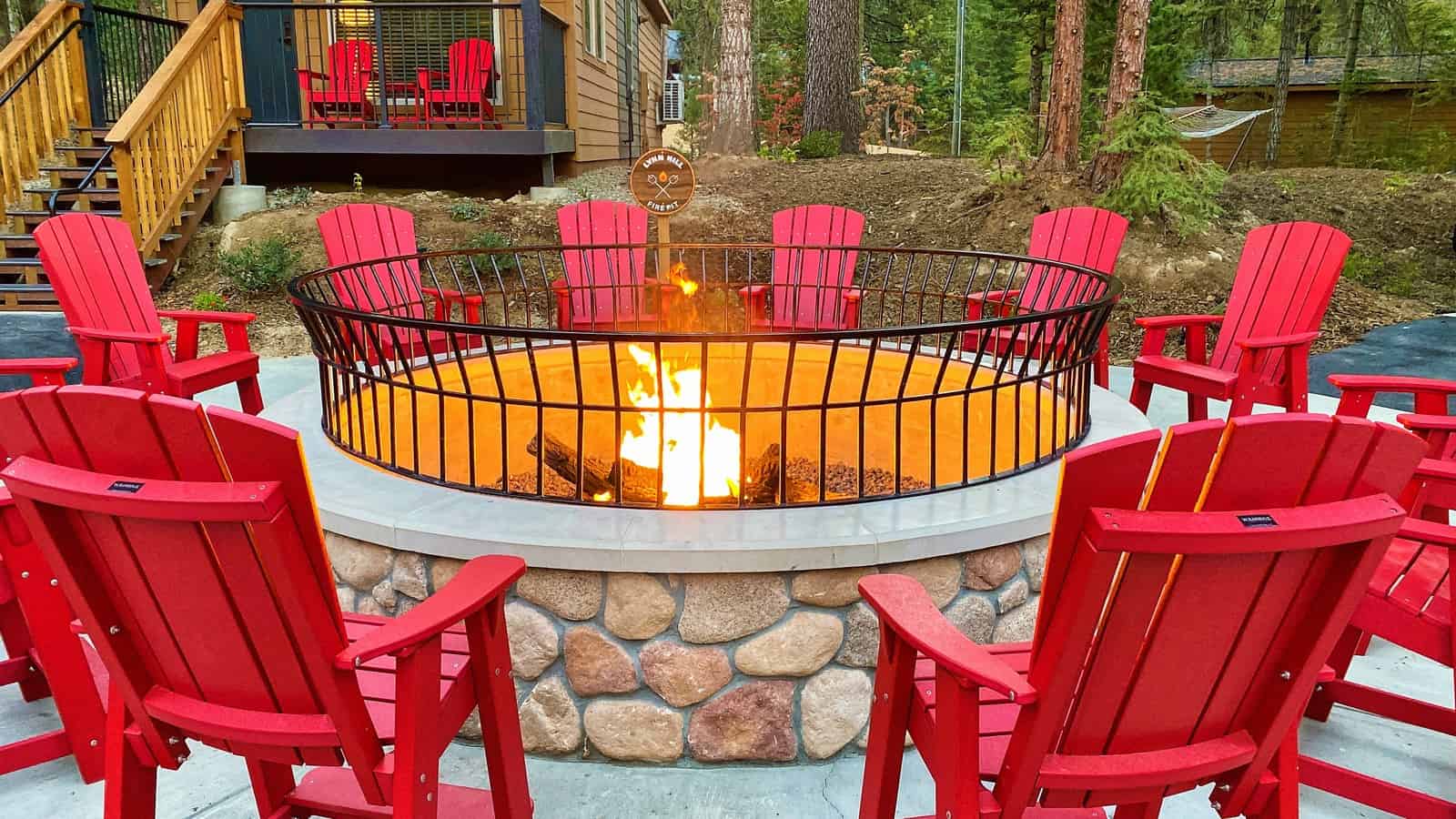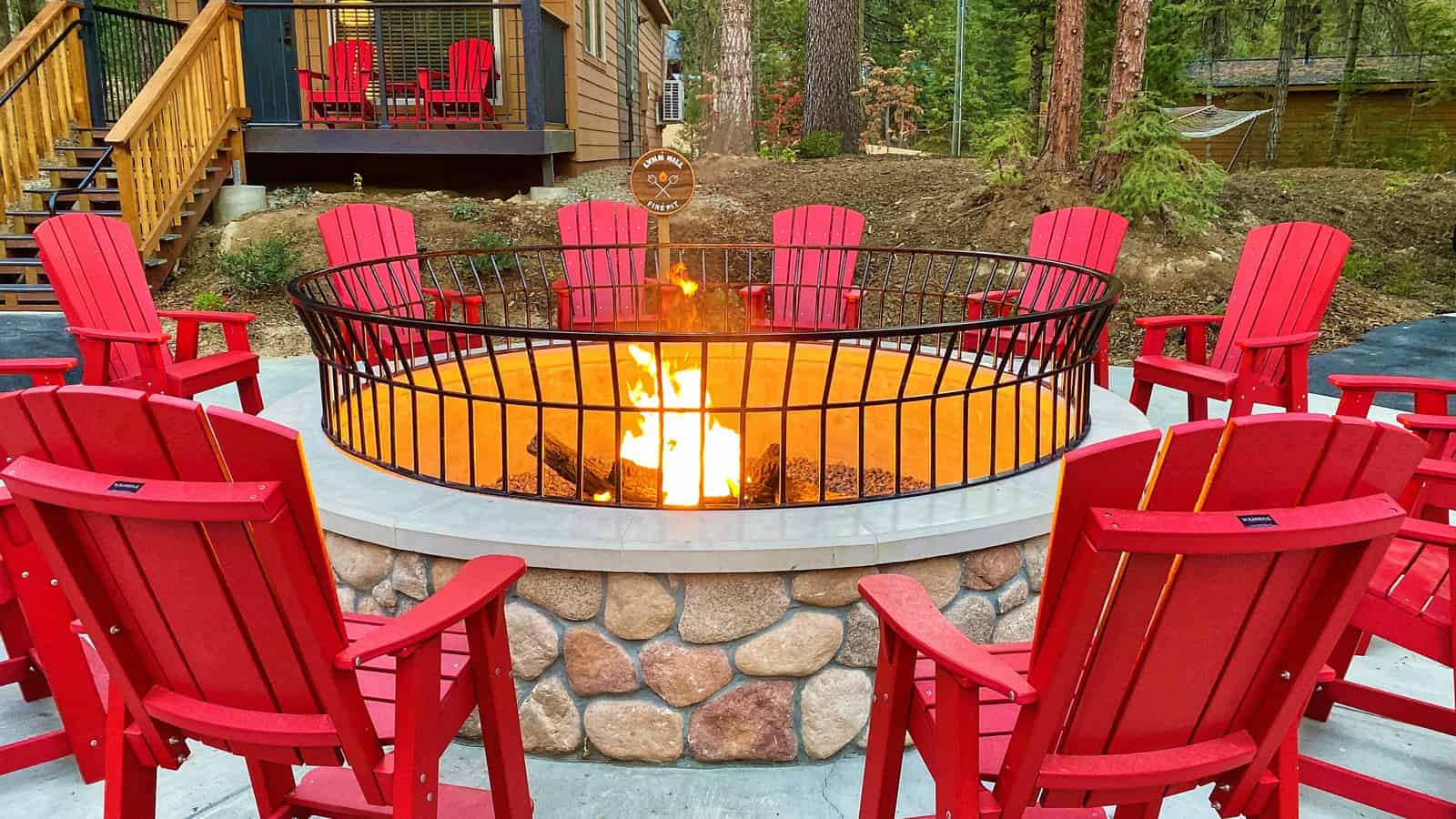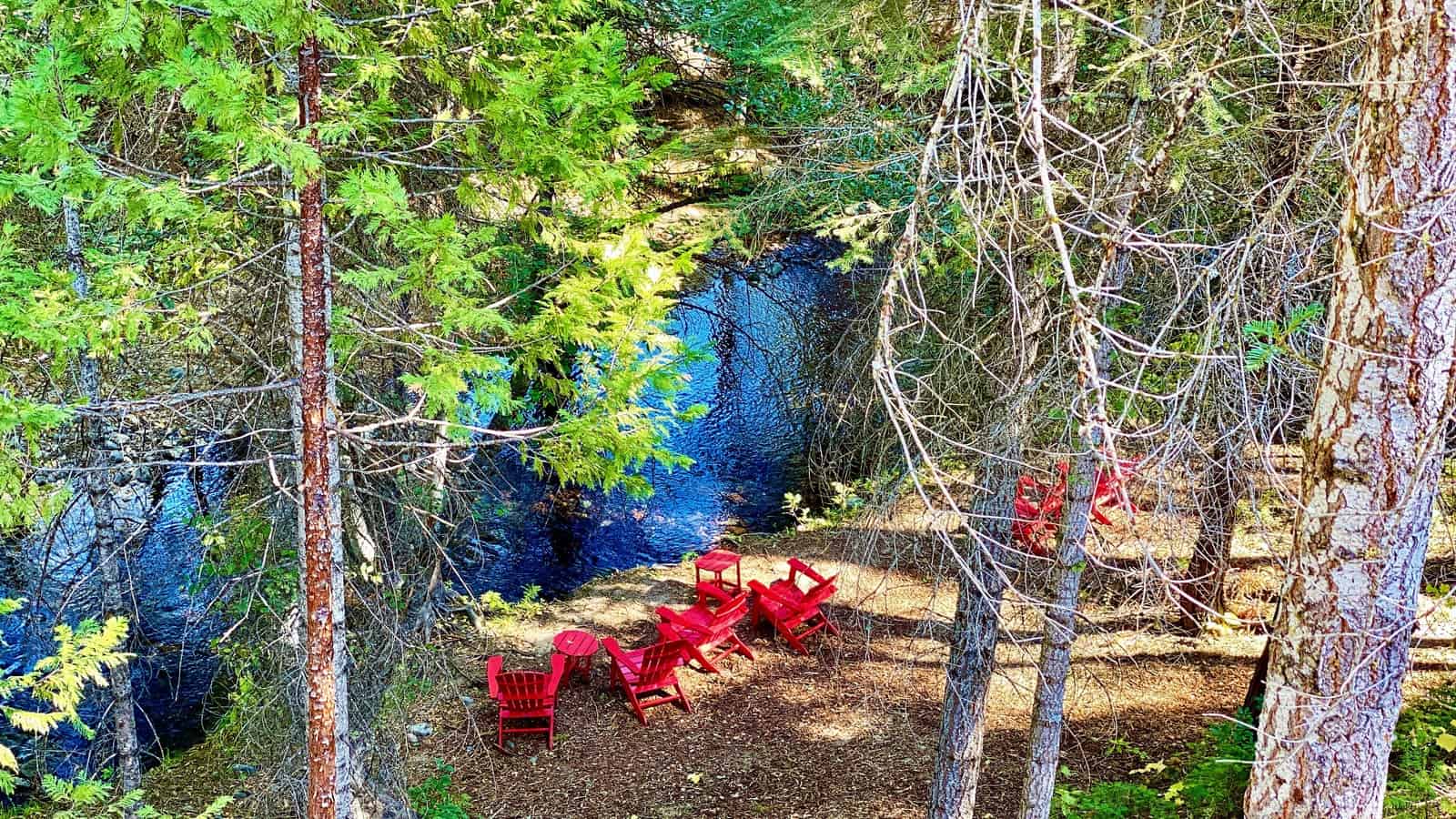 The Lodge
When you stay in the cabins, you have access to all the resort amenities, including restaurants, pools, spas, activities, and more. The cabins are about a 10-minute walk along a quiet path to the main lodge. Or, if you'd prefer, they will shuttle you to the lodge.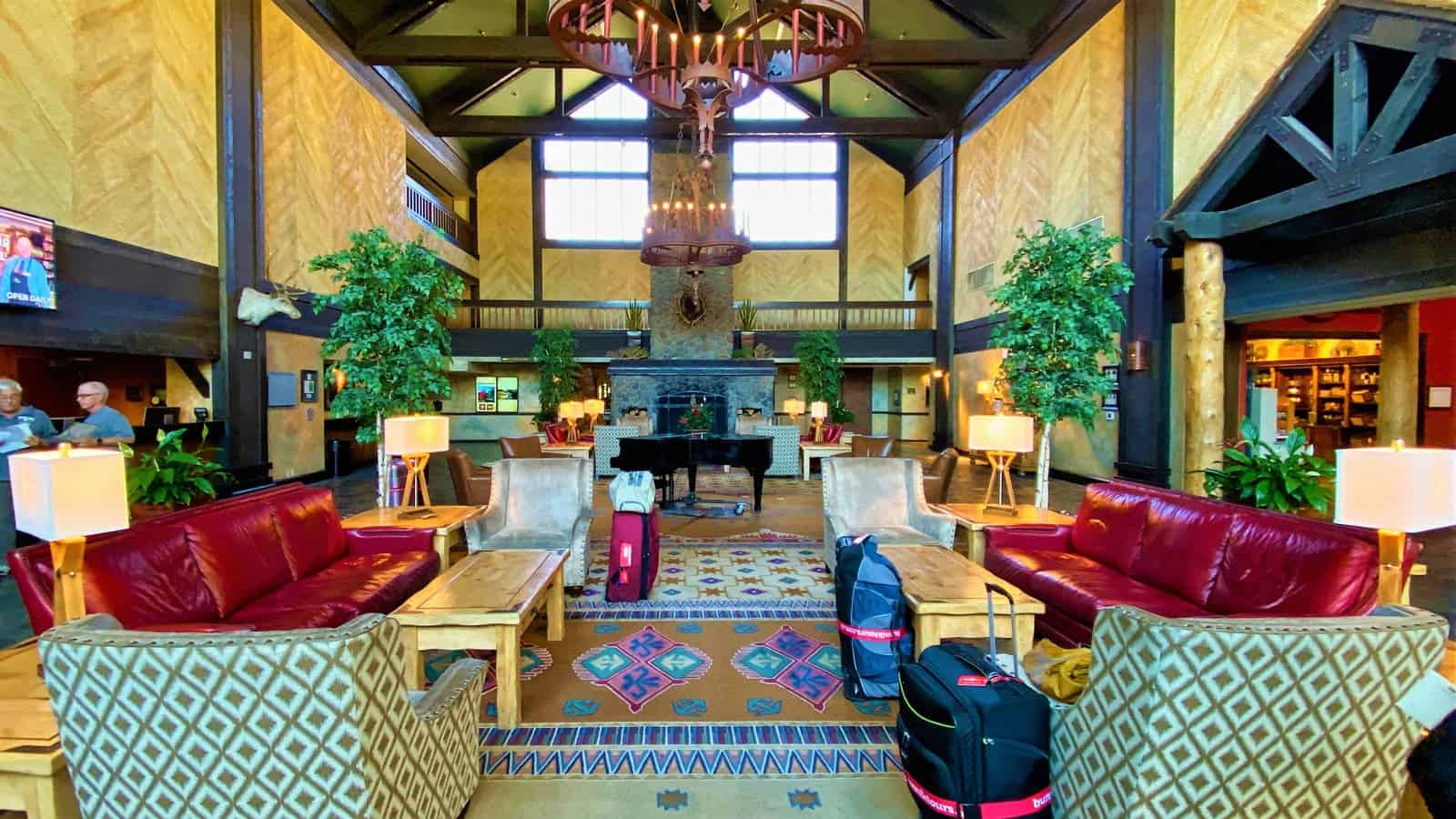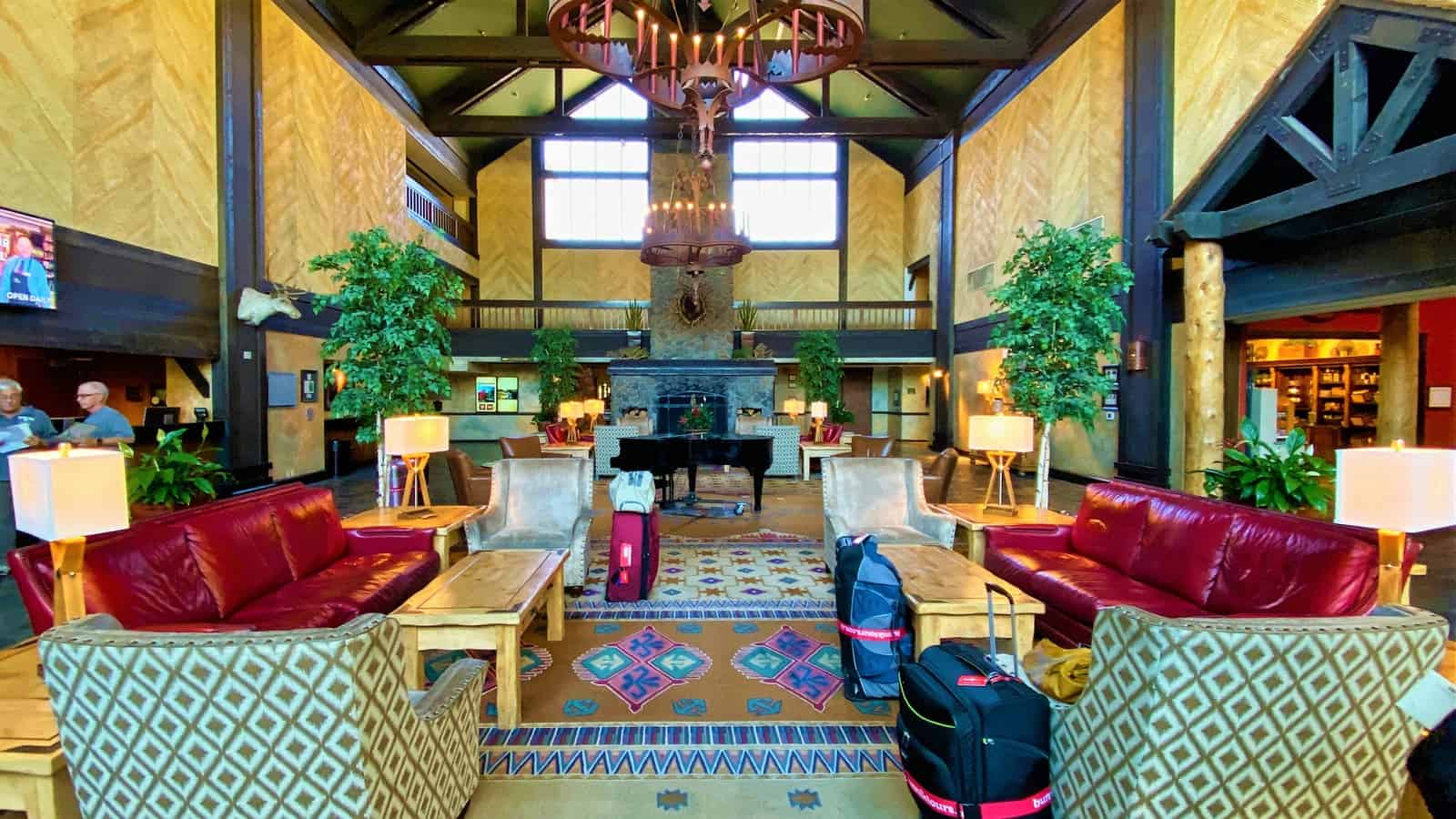 We took a complimentary nature walk with a Tenaya guide through the Sierra National Forest from the lodge. Our guide was knowledgable about the plants and animals of the area as well as the history. The hike he took us on was about 1.5 miles on and off forest trails.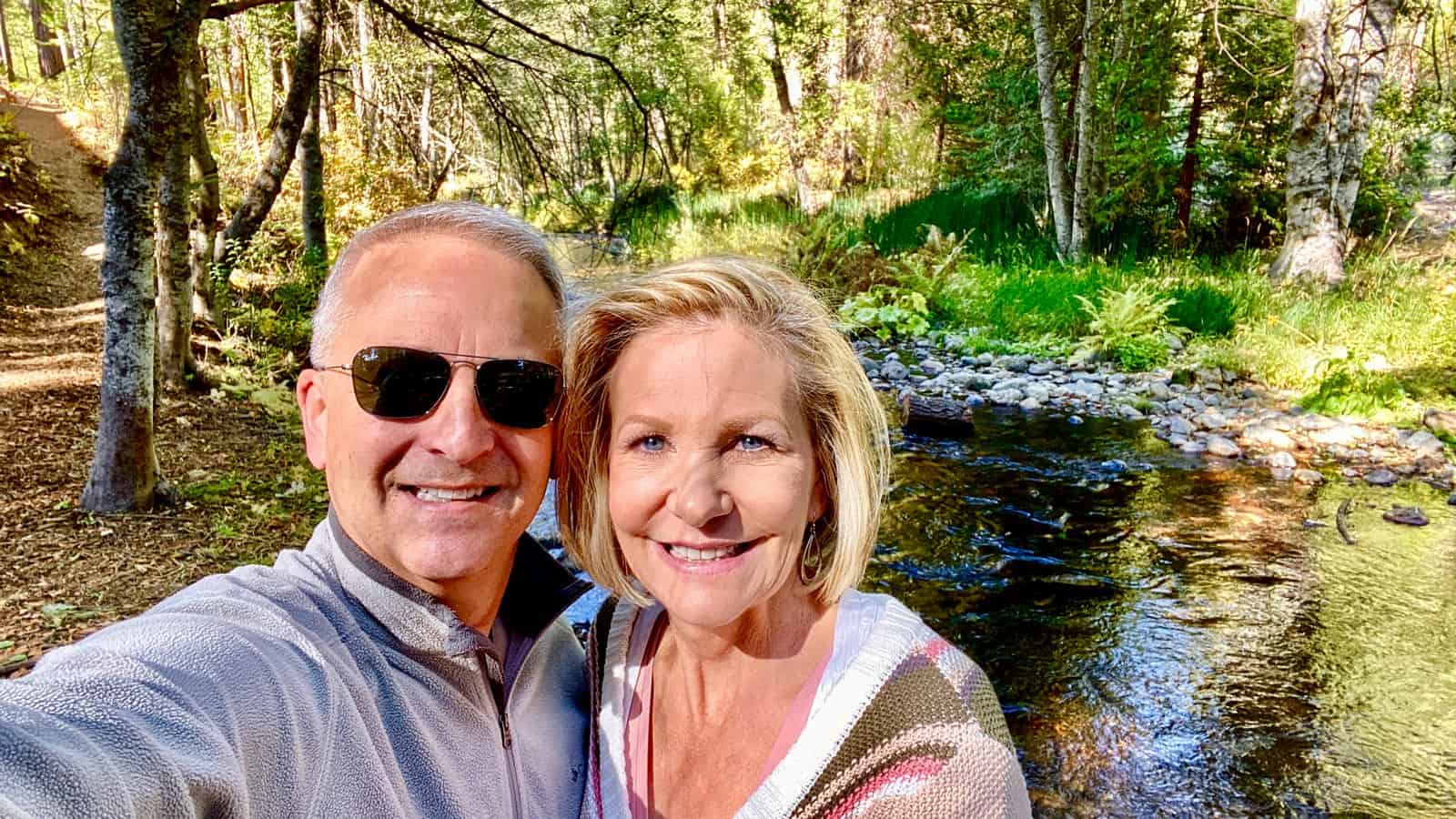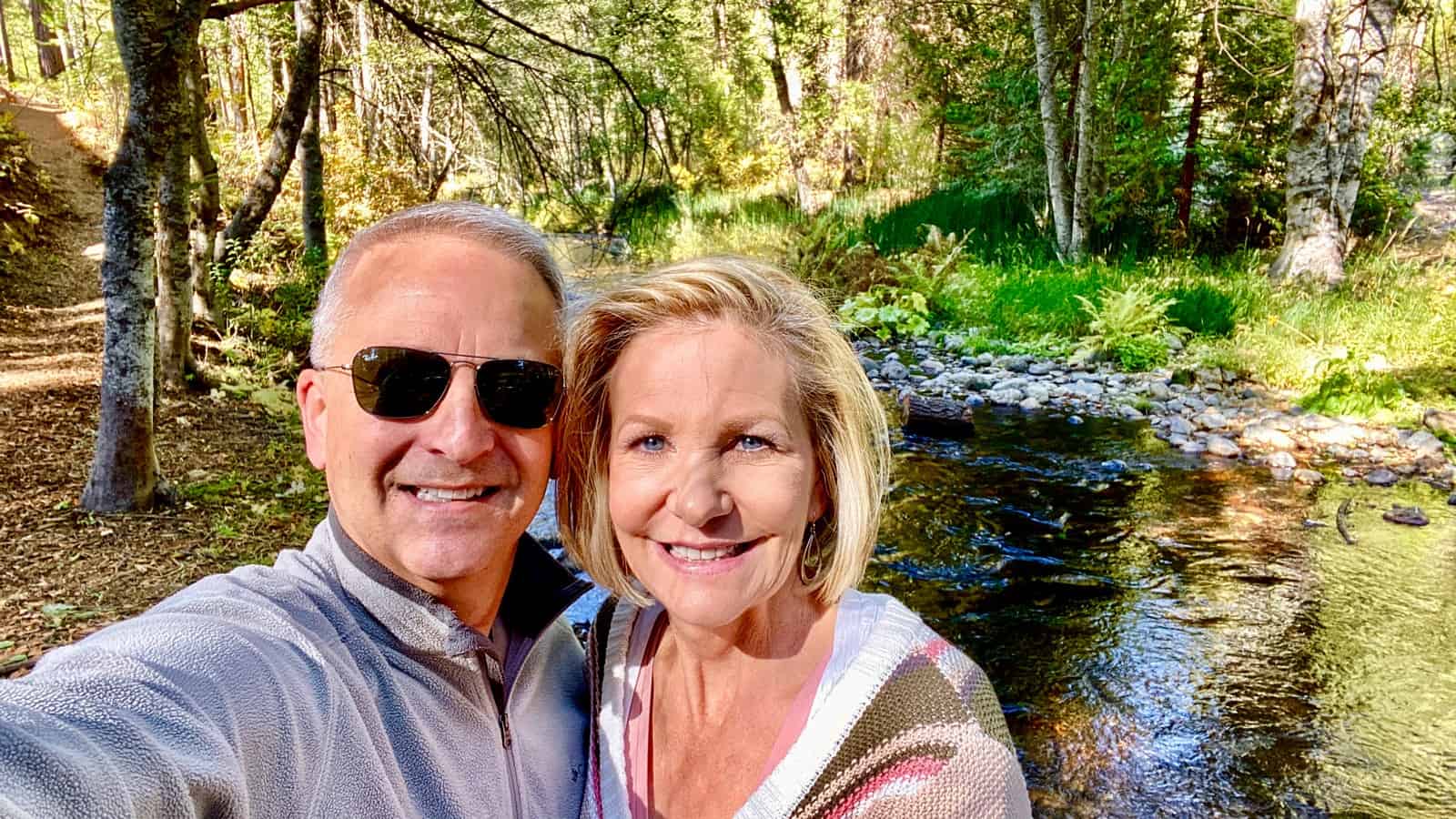 Guests of the cabins have access to Ascent Spa's fitness room, steam rooms, and dry saunas. Additionally, at the lodge, you have access to the game room, featuring a pool table, Xboxes, air hockey, and evening popcorn.
For a nominal fee, the resort offers many other activities. Keith and I took an archery lesson during our visit. We hiked from the lodge to a secluded area where we met our instructor. After a short safety course, we began to shoot. And, in no time, we had mastered our bows.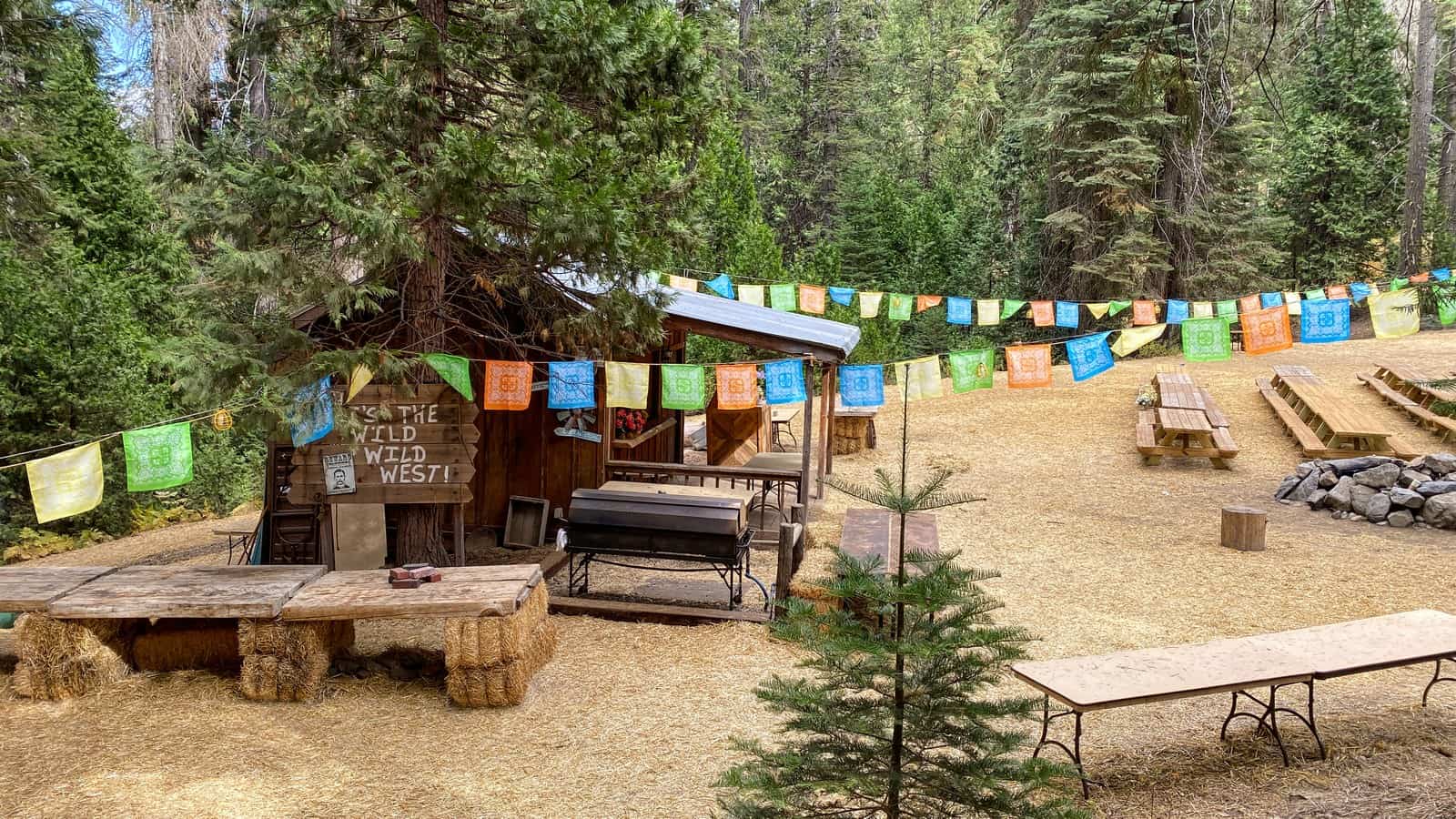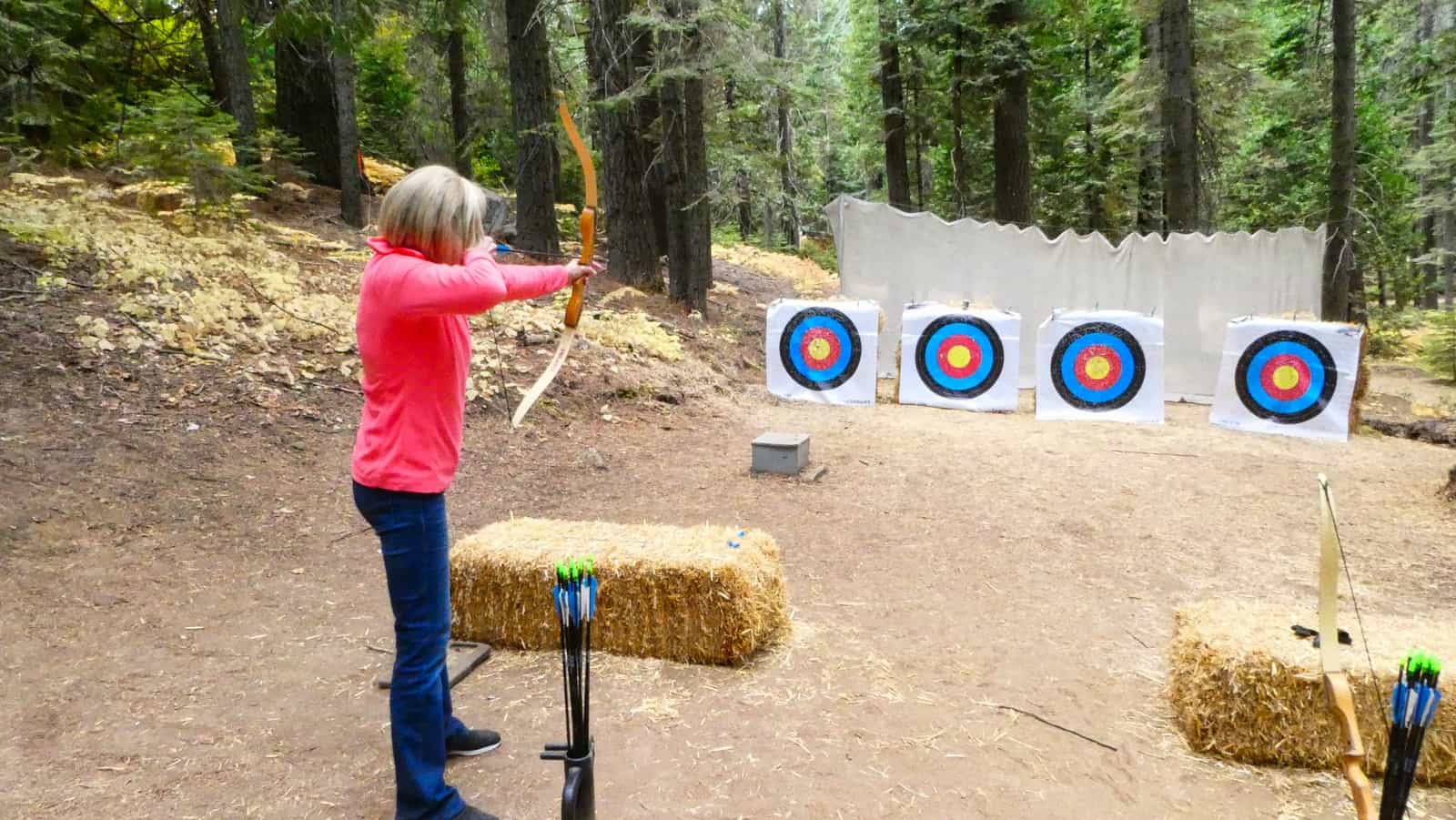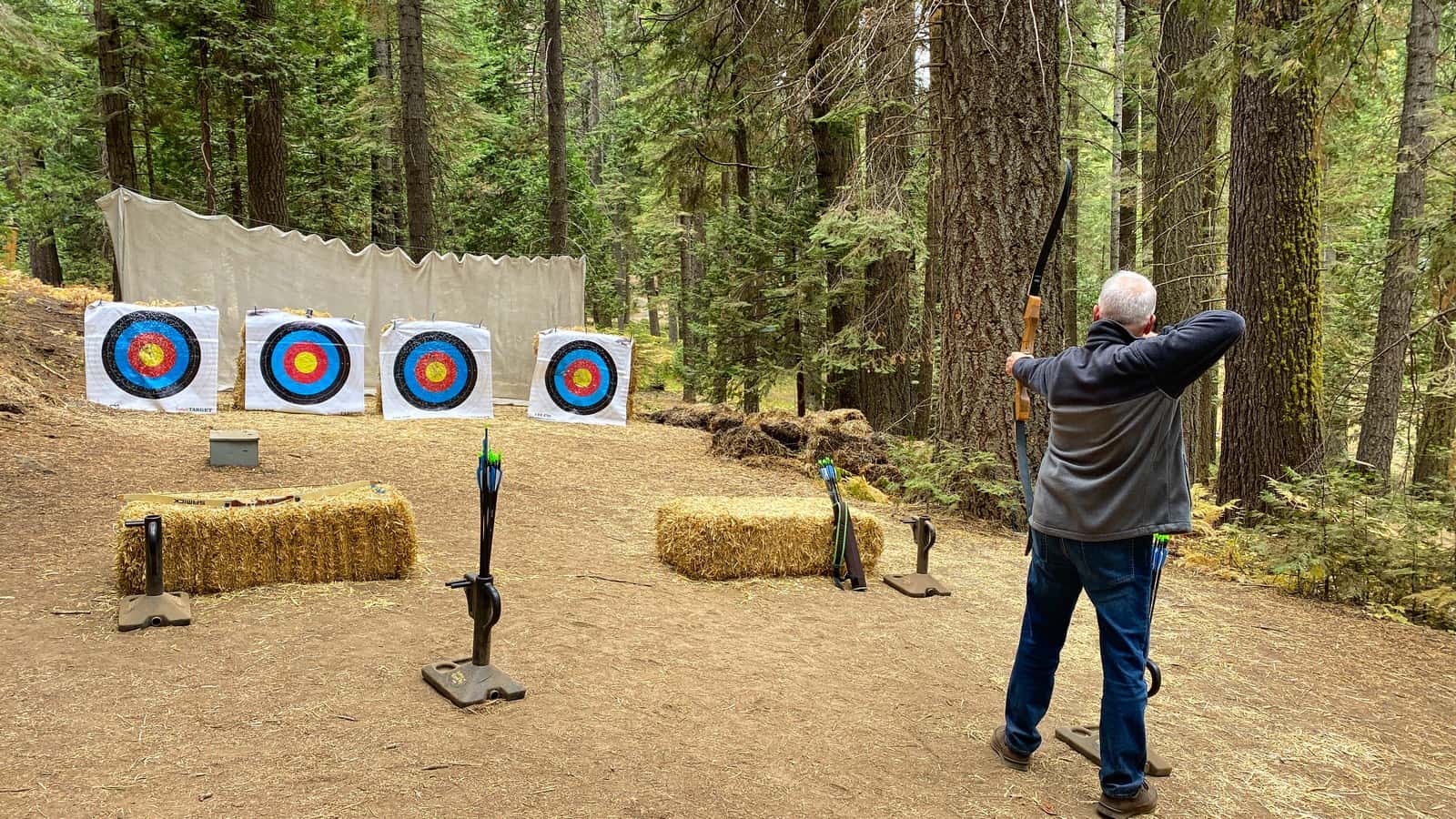 Food and Drink at Tenaya
Every morning we had a lovely breakfast buffet in the Jackalope's Bar & Grill. In the late afternoons, we returned to Jackalope's Bar & Grill to relax and have a cocktail or glass of California wine. We enjoyed our bartender Anthony so much that we returned both nights we were there for dinner. Jackalope's offered made-to-order grilled burgers, sandwiches, healthy salads, gluten-free, and most important for Tina, vegan options.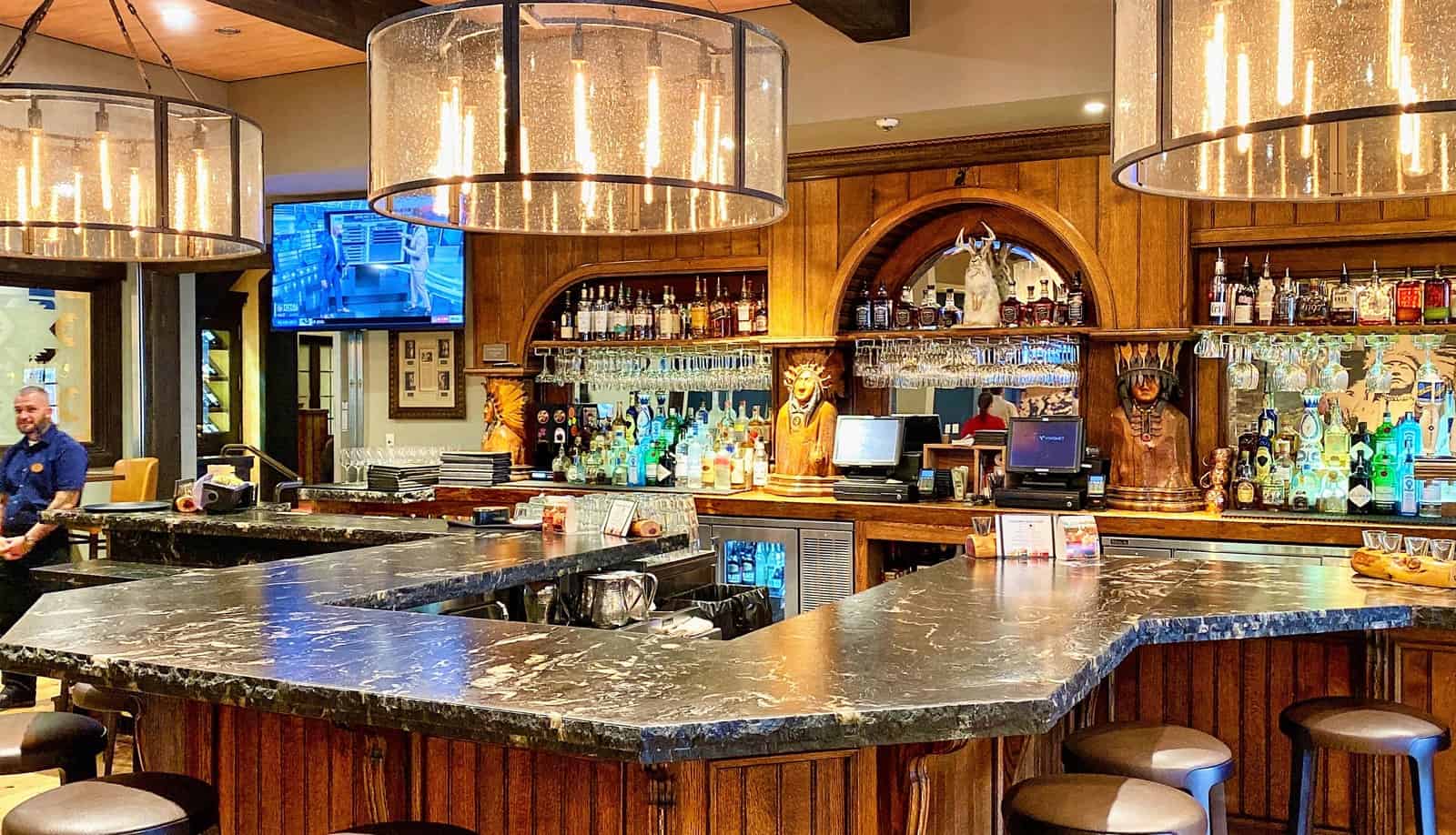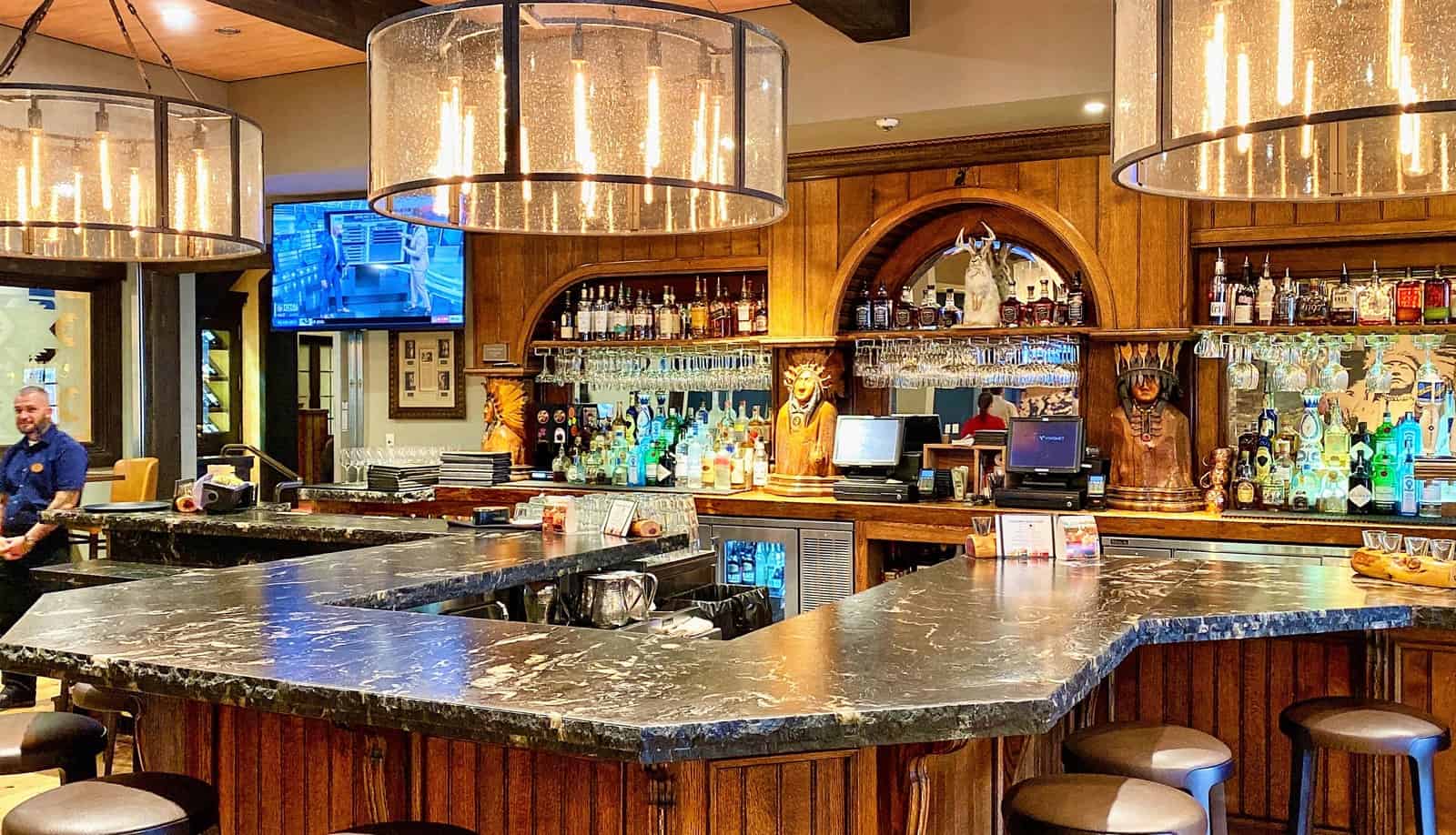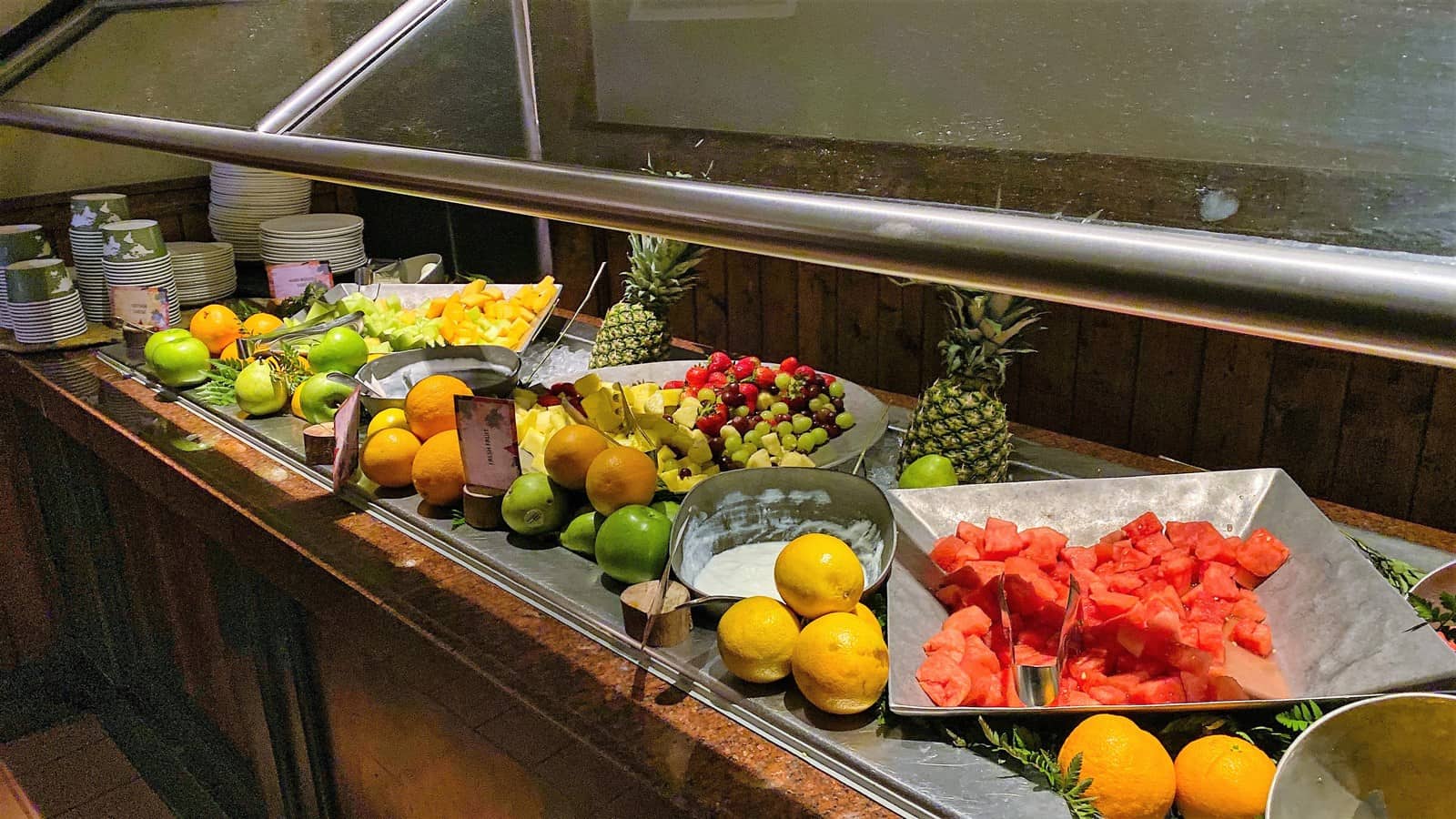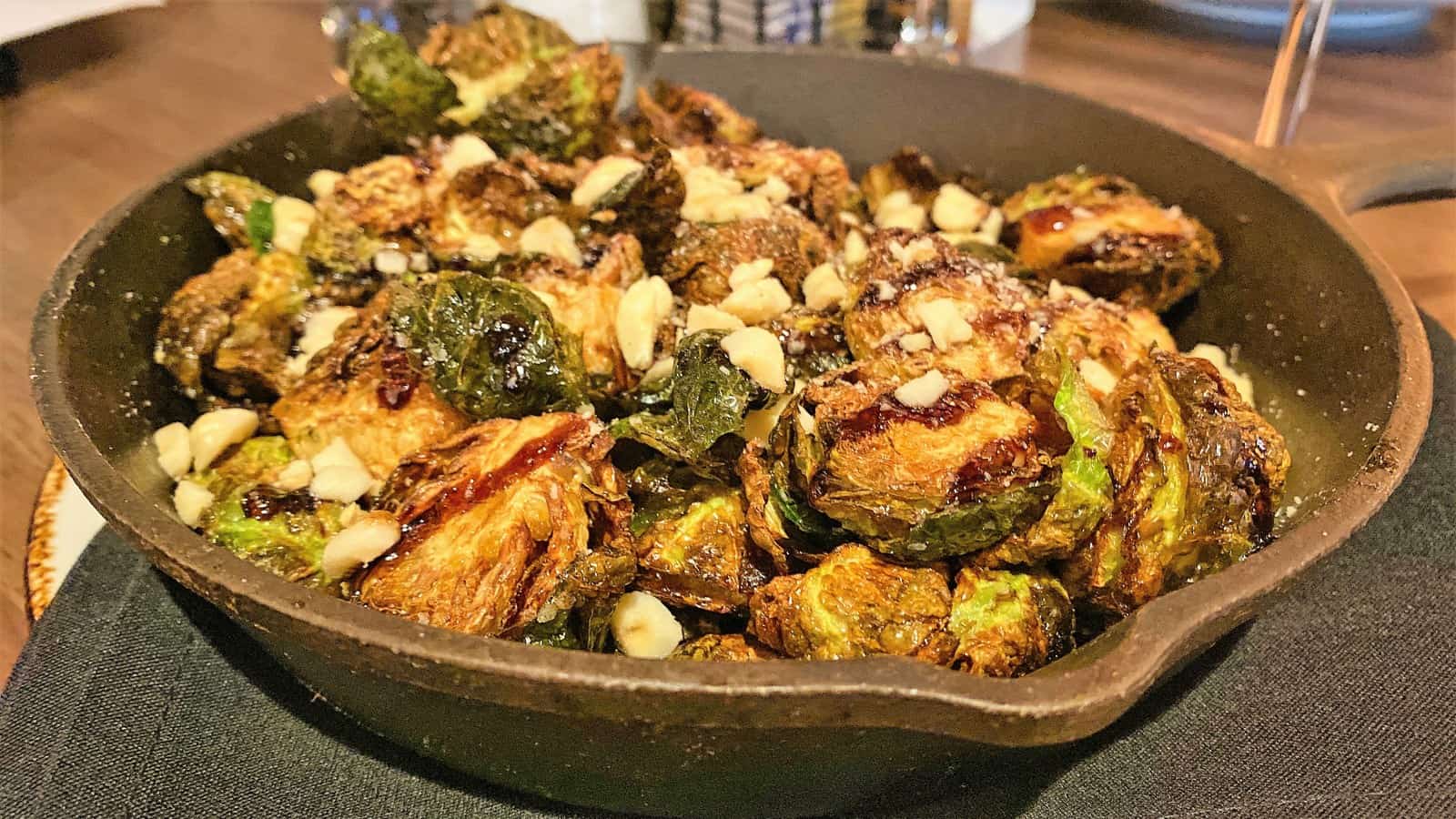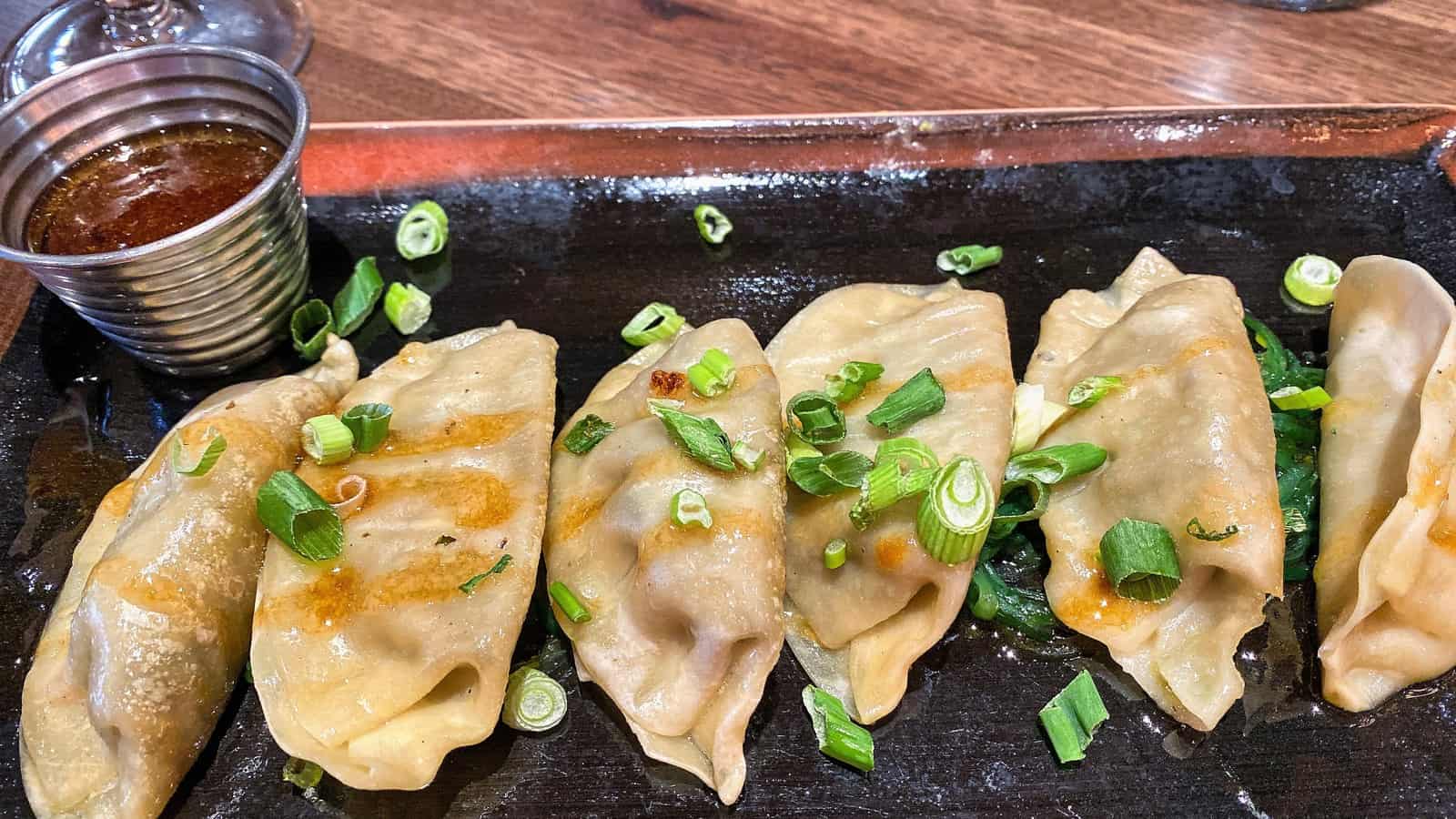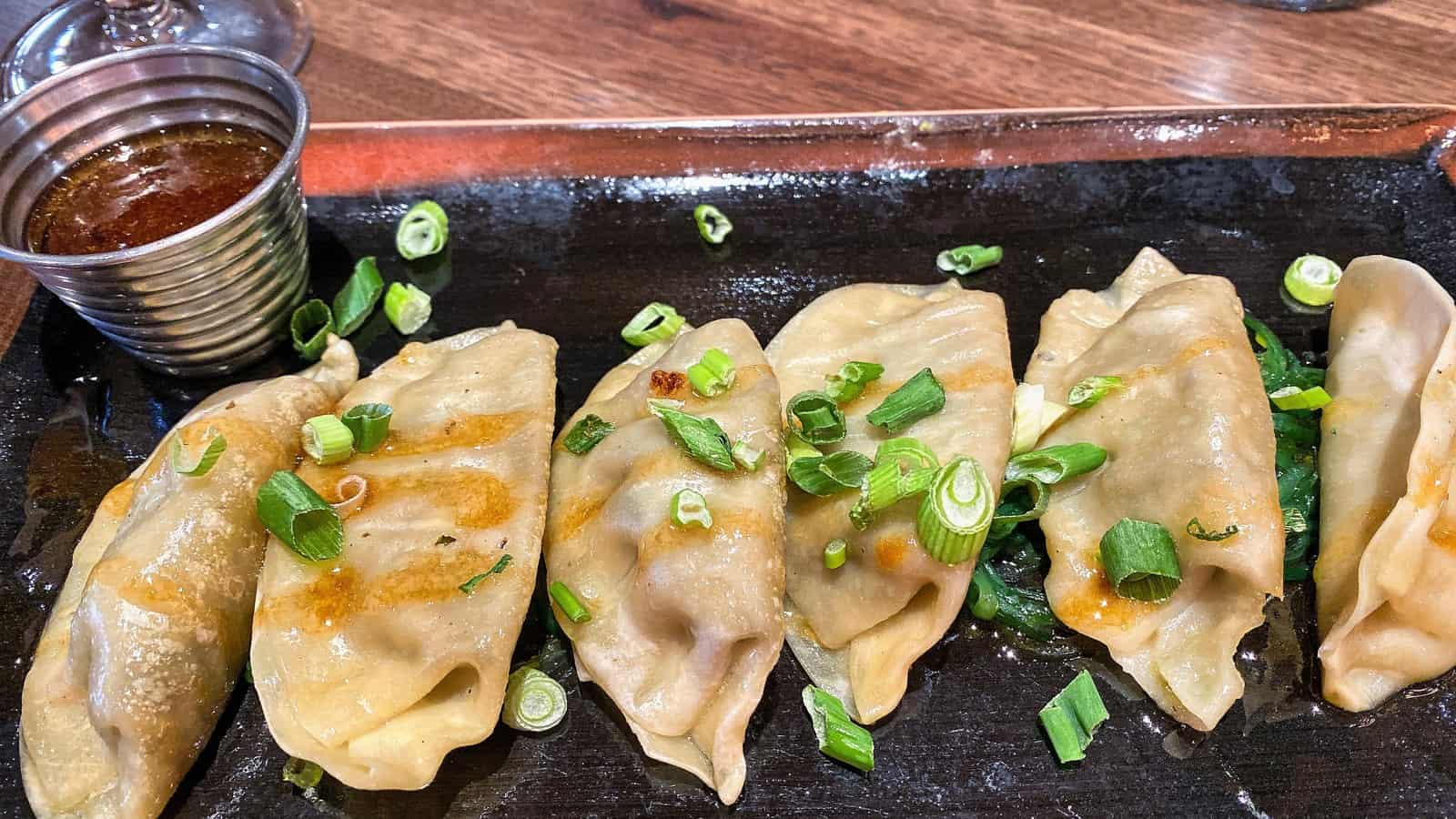 If you are looking for more up-scale dining, Tenaya has Embers. Embers is a classic mountain dining experience with modern touches where you can dine in a warm but classy dining room.
Take a Tour of the Yosemite Valley Floor
For your first day in Yosemite, we recommend taking a guided bus tour of the Yosemite Valley Floor. On tour, you will learn about the history, flora, and fauna throughout the Park. You should purchase your tickets in advance as these tours fill up fast. Depending on the time of year and weather, you will board a tram or bus and pick up your tickets at the Yosemite Valley Lodge, main lobby.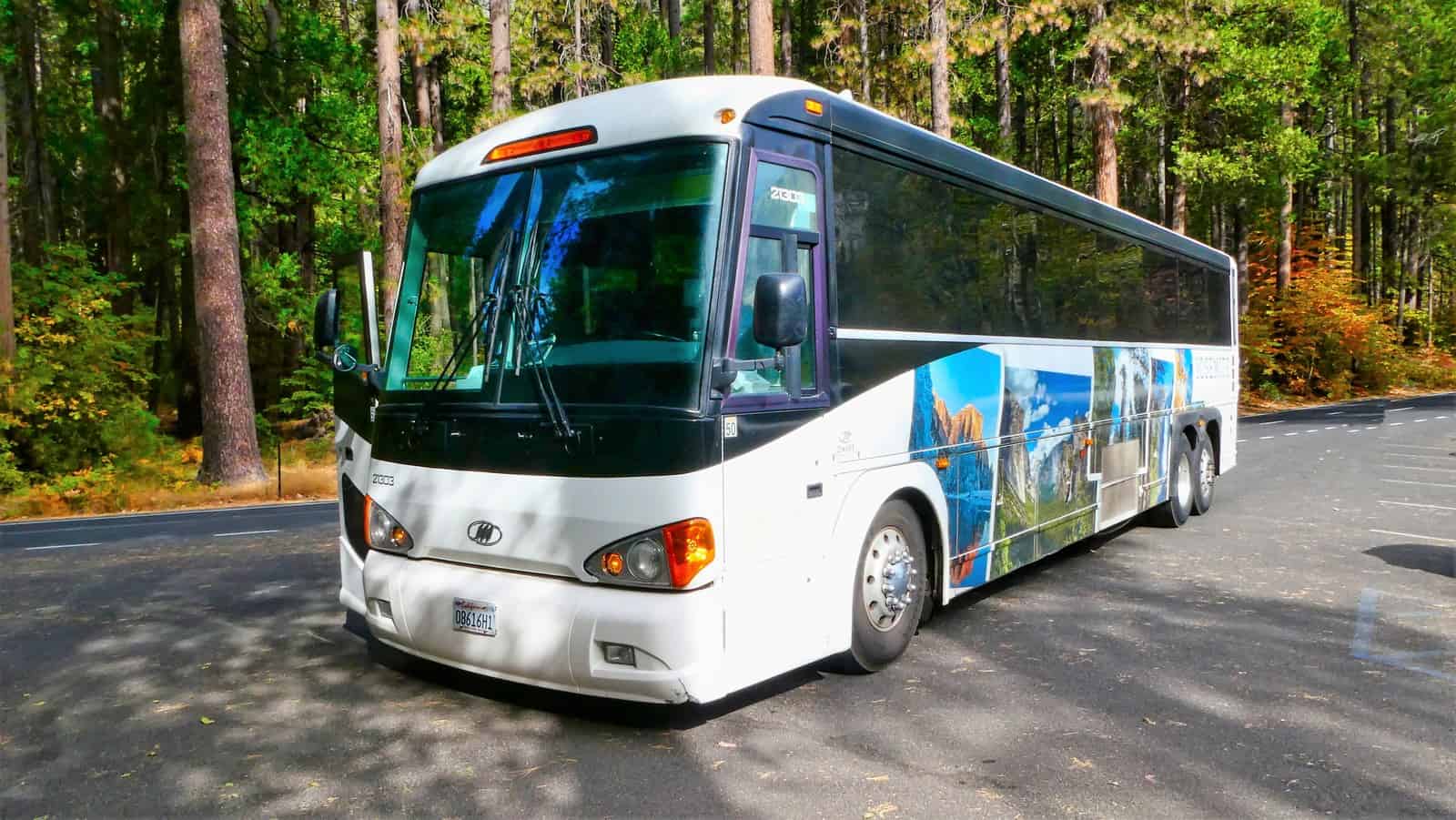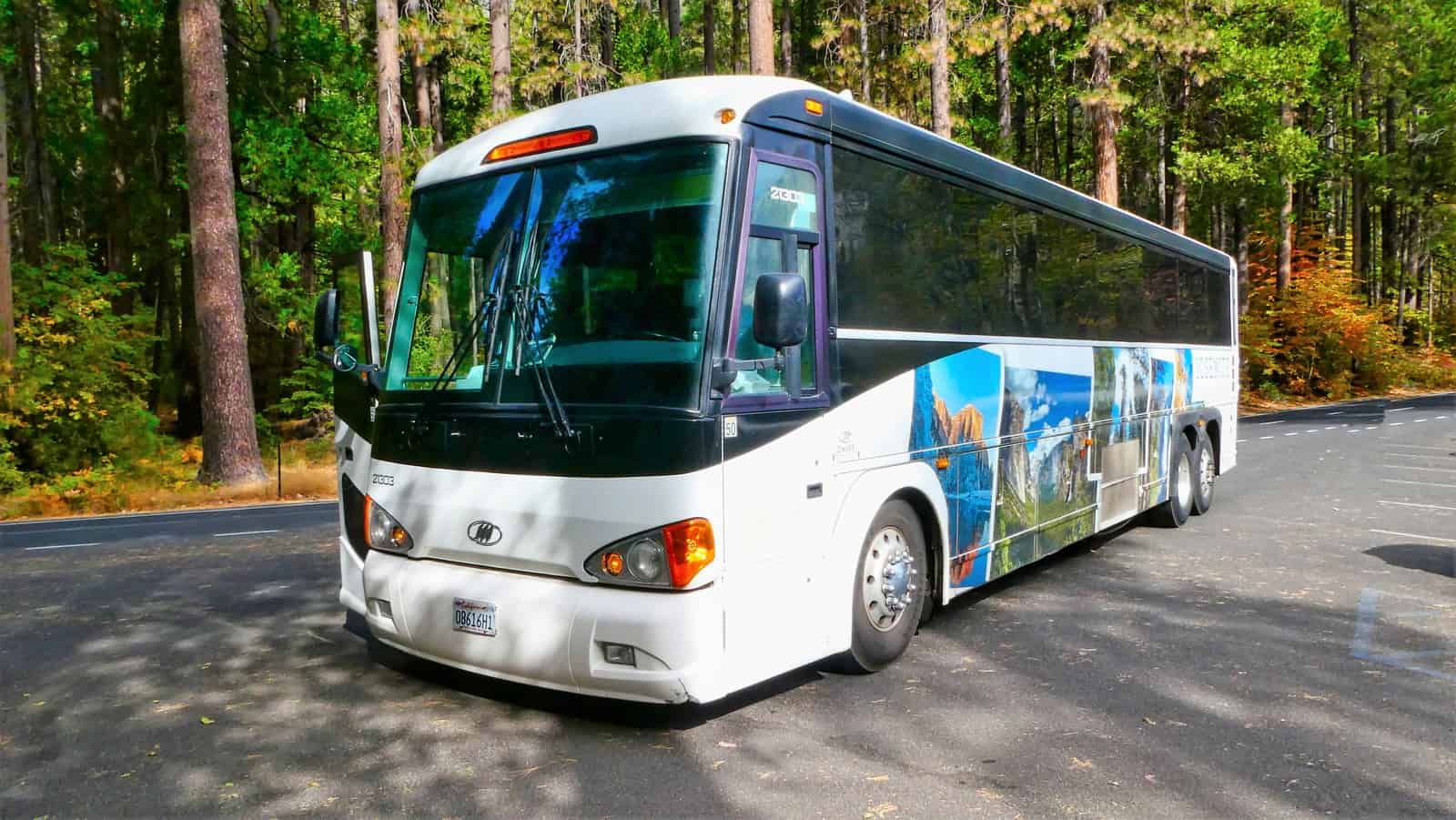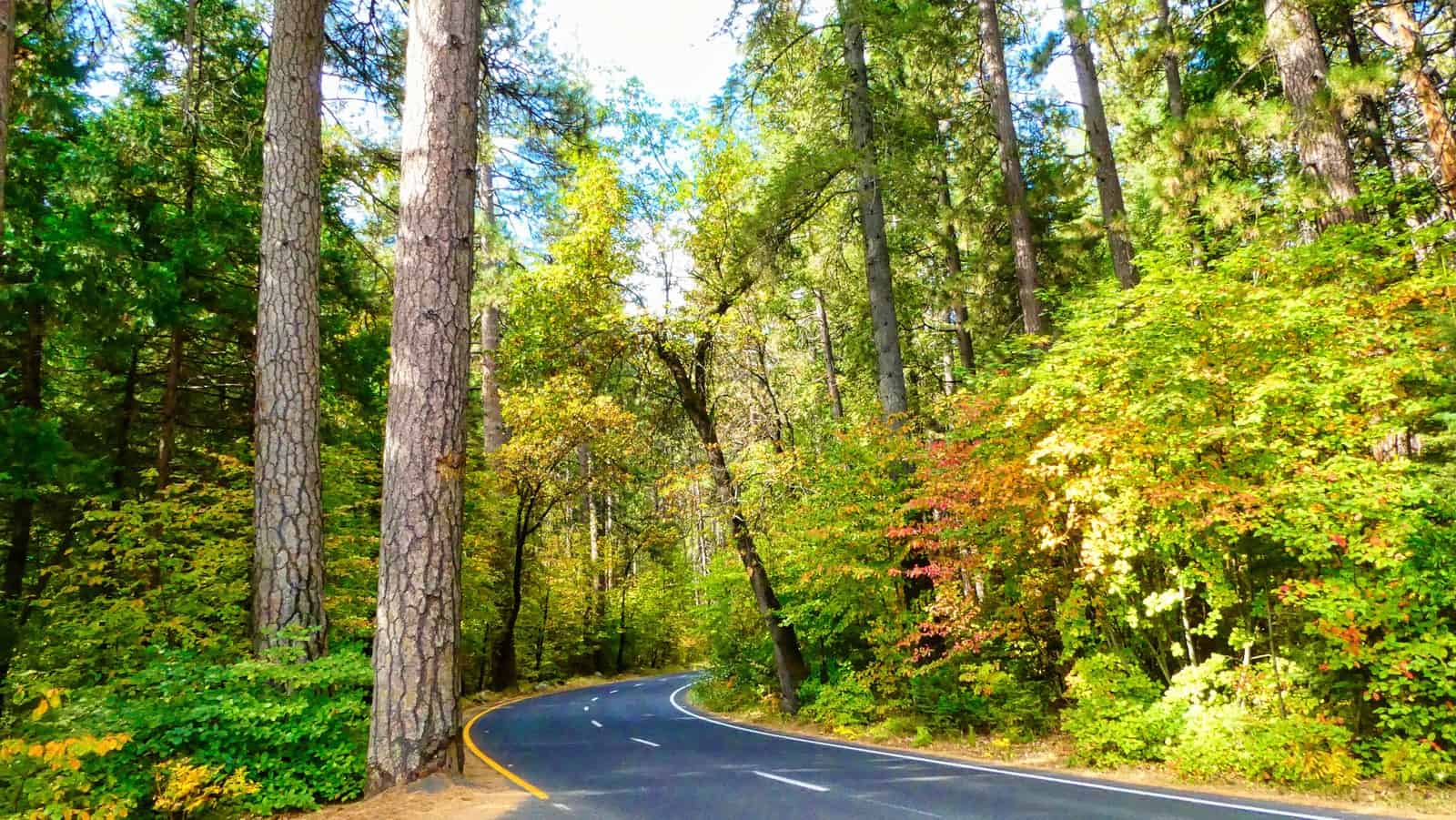 On our tour, we visited the famous El Capitan. When the bus stopped, we needed to look up, way up! El Capitan is a mountain that rises about 3,000 feet above you. Our guide pointed out that if you look closely, you could see climbers on the face. Seeing the climbers gave us a sense of the scale. Looking for the tiny bits of color on the vast mountain face was difficult. There really was no way to see them with the naked eye. Our guide pointed them out, and then we used the zoom on our cameras to see them.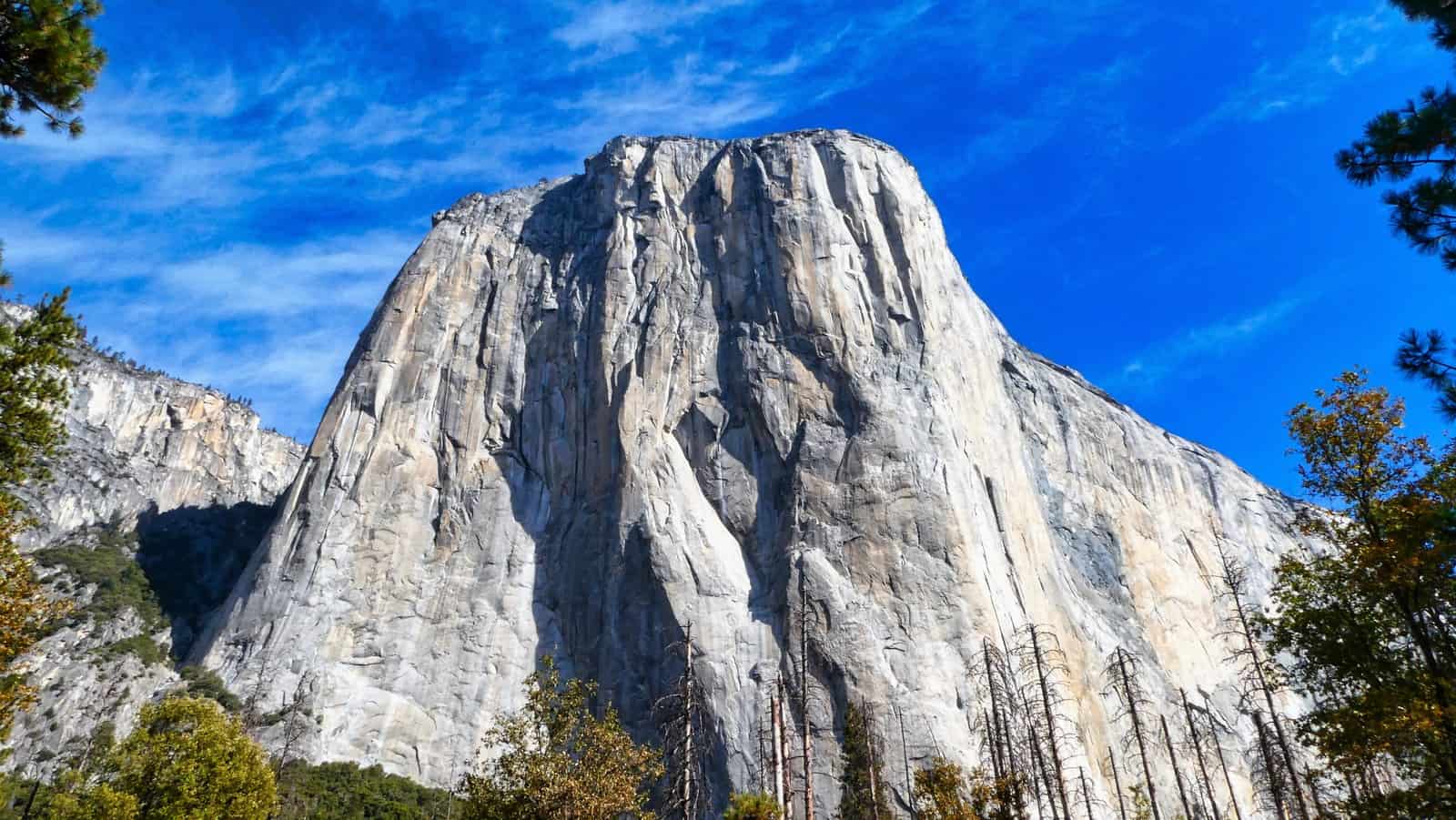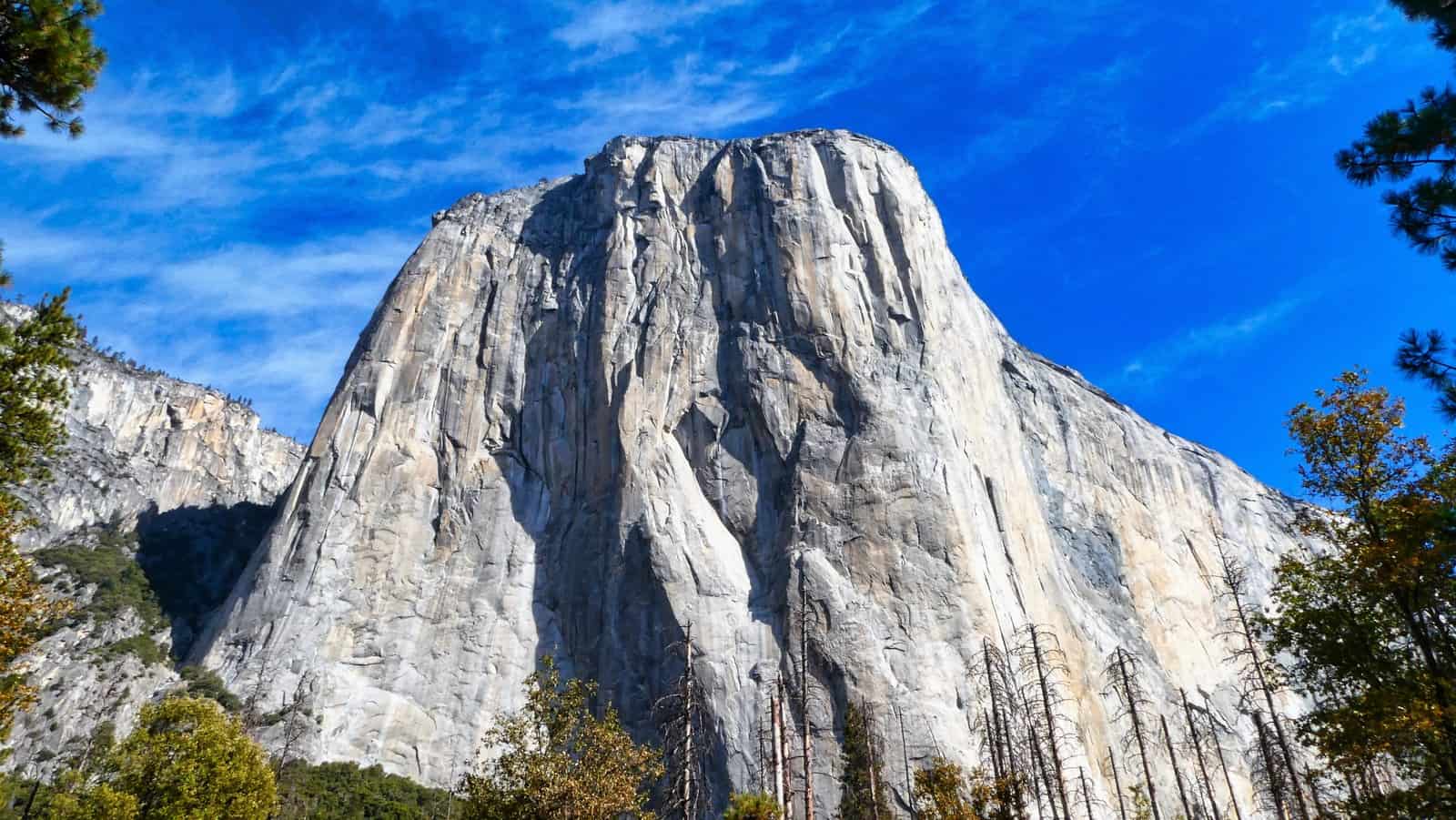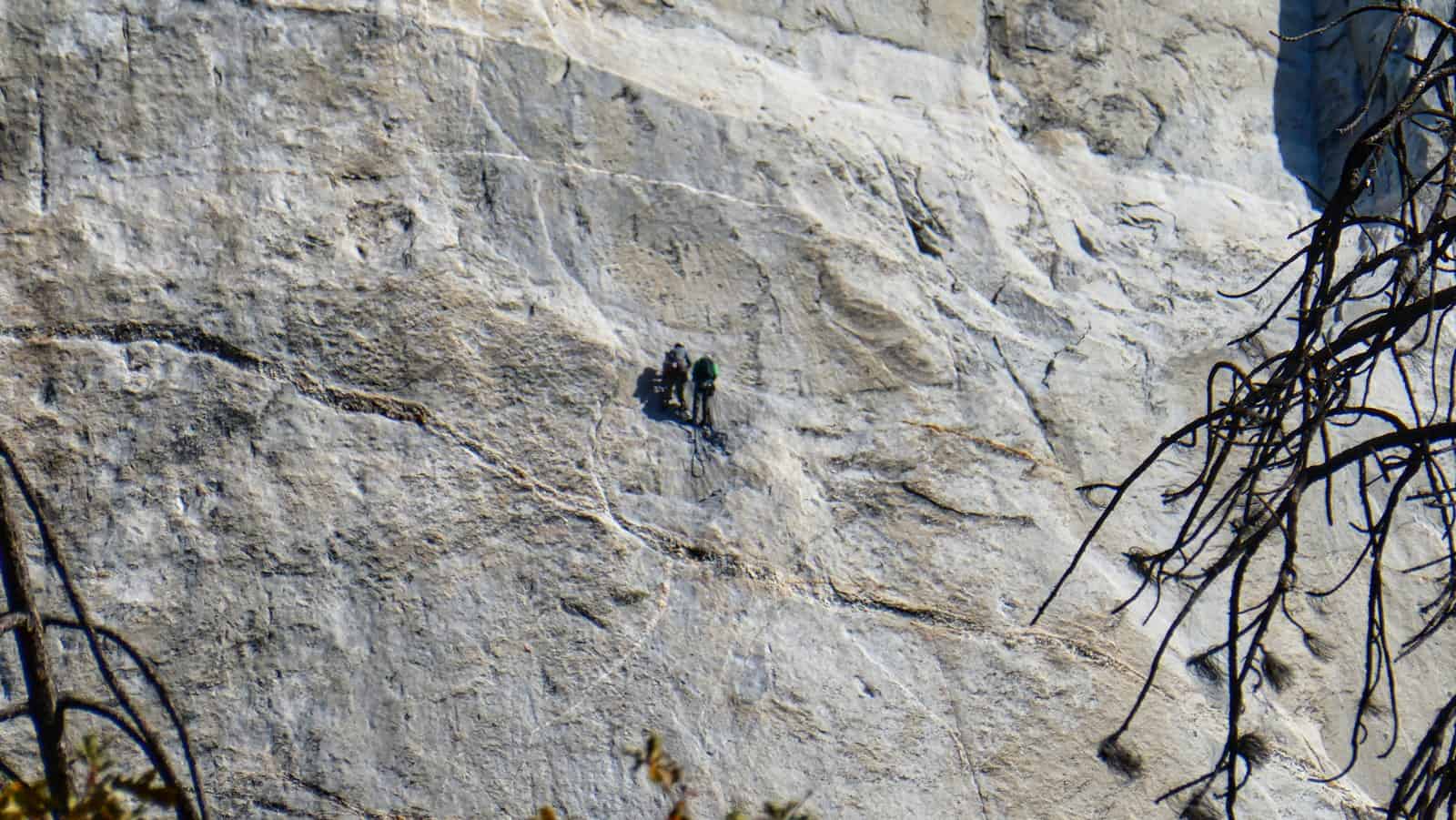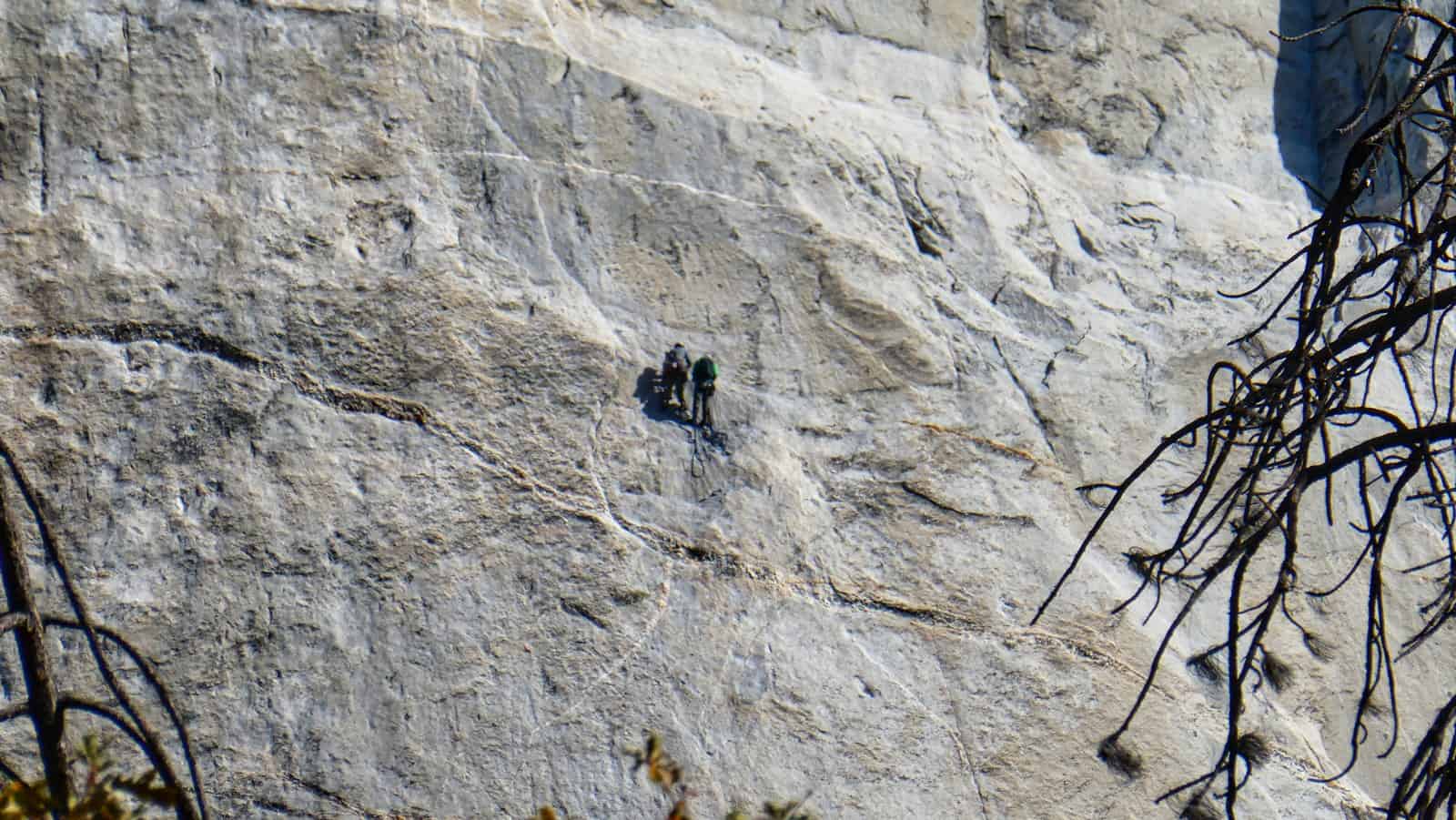 We also visited Half Dome, and one of the most-photographed sites in Yosemite, Valley View. It was here in Valley View that Ansel Adams took his famous picture.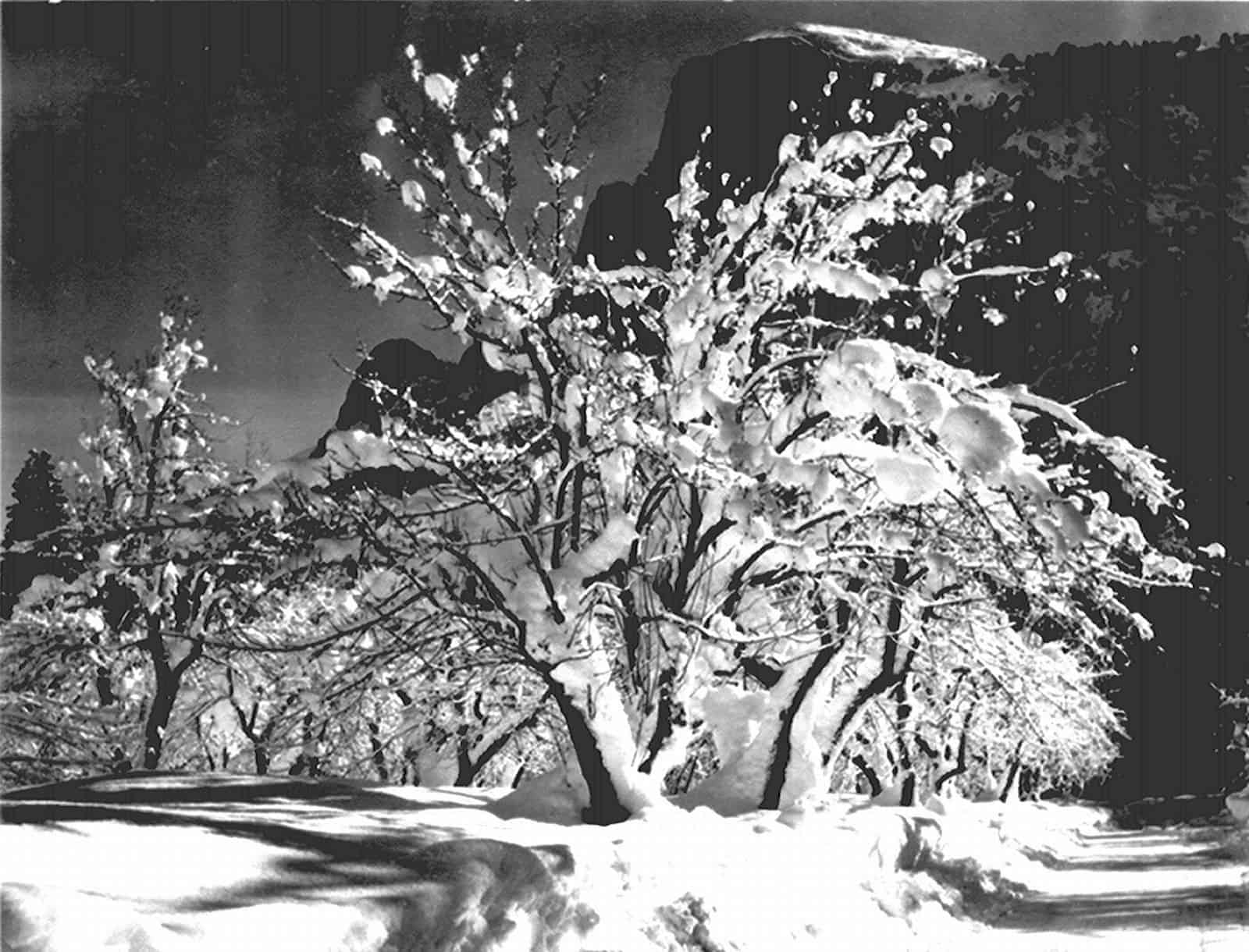 We visited Cook's Meadow for spectacular views of Yosemite Falls and Half Dome. This part of California is so incredibly beautiful that everyone should visit.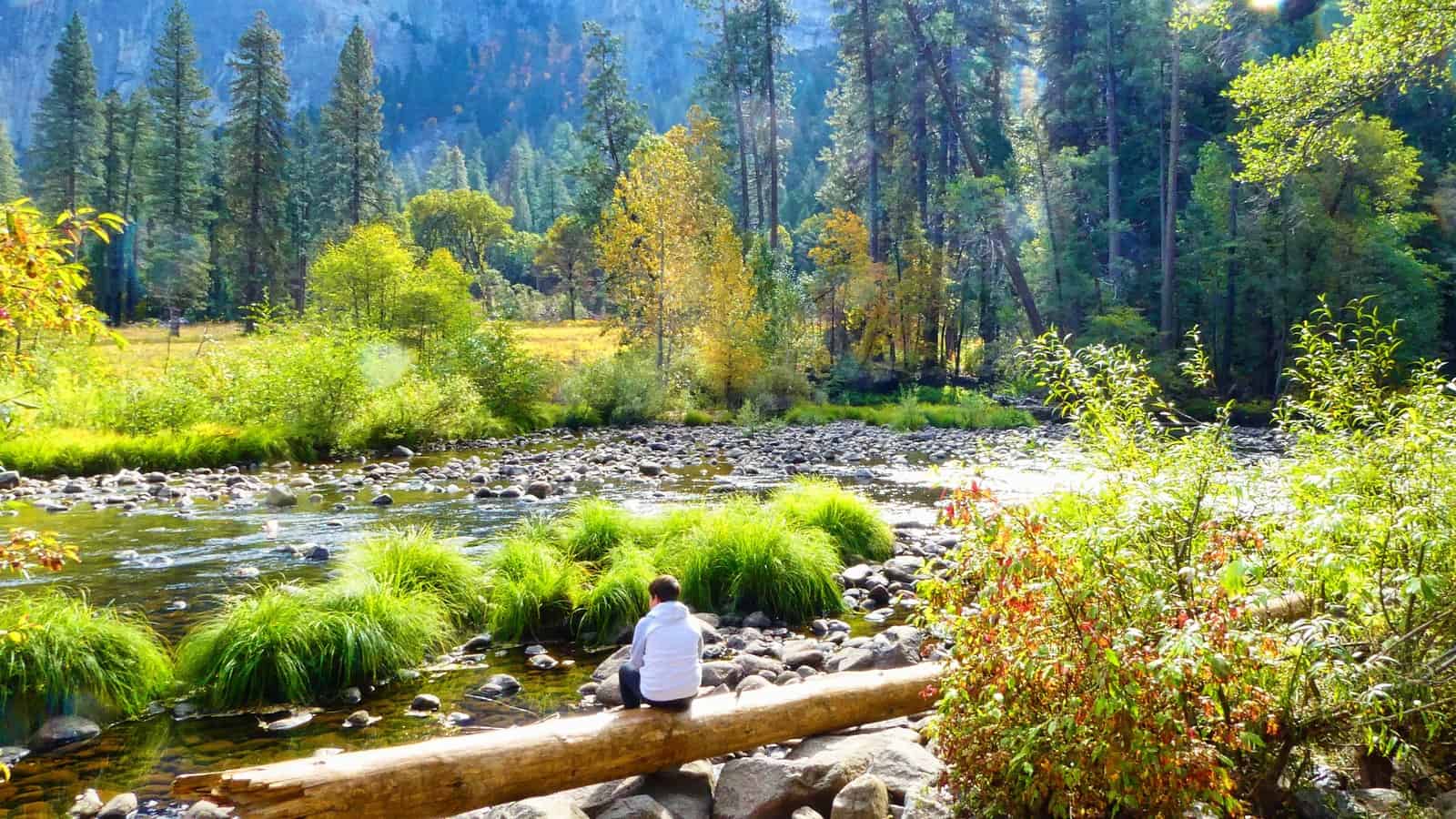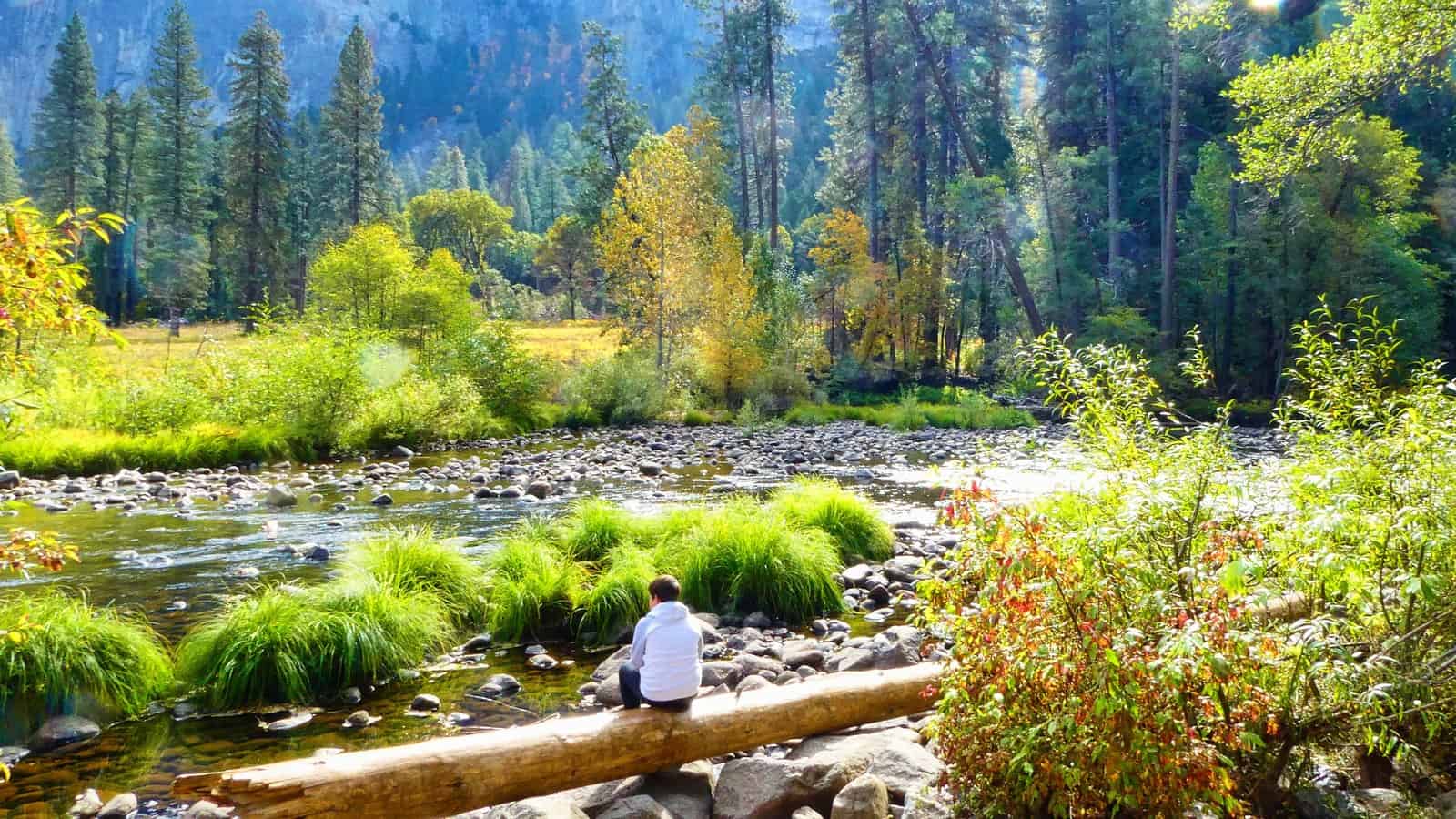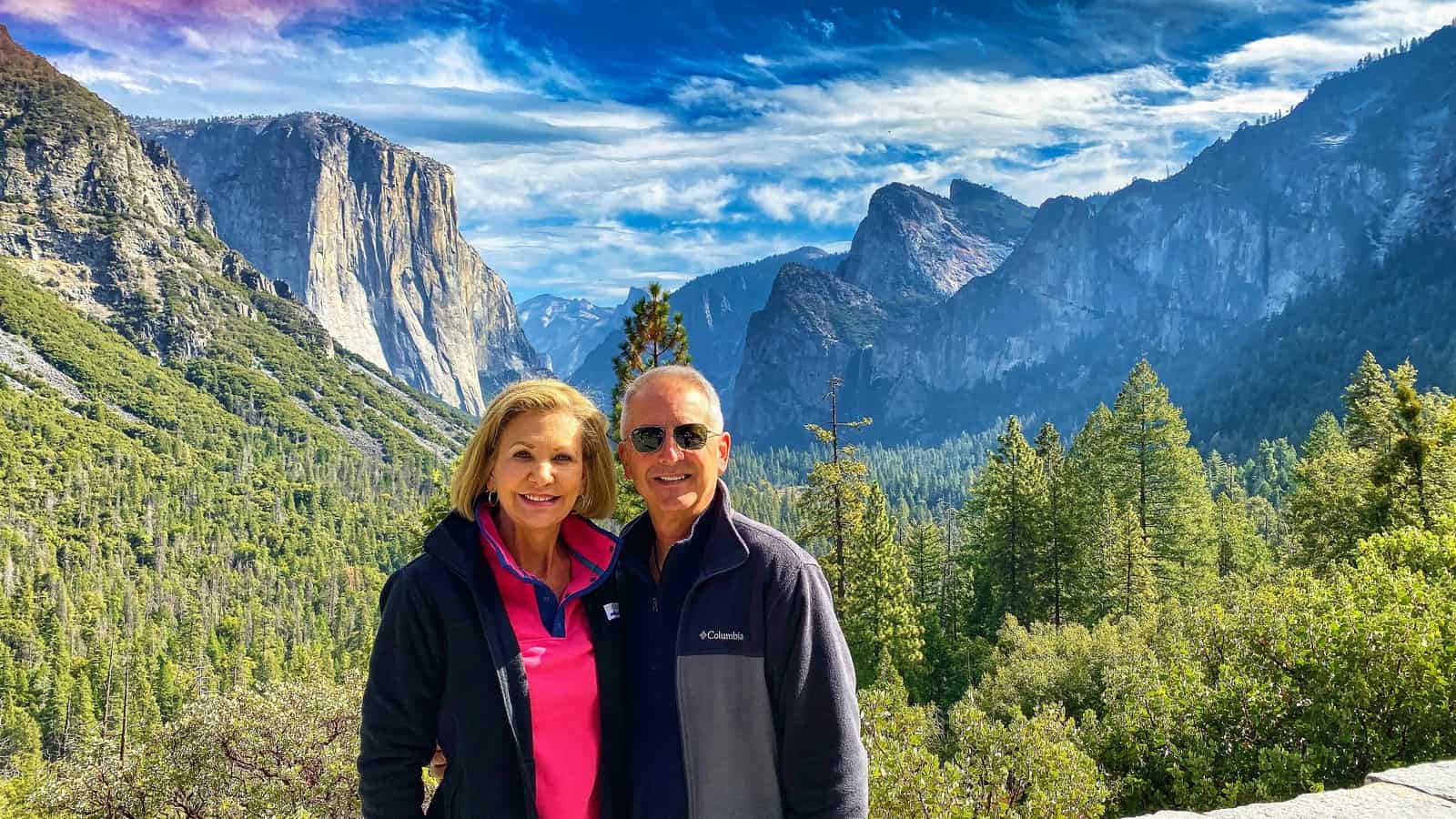 Lunch at the Ahwahnee
After your tour, we recommend having lunch at the lovely, historic Ahwahnee Hotel. The Ahwahnee shines as Yosemite National Park's distinctive, elegant hotel. The Ahwahnee designed to complement its natural surroundings, highlighting Yosemite Falls, Half Dome, and Glacier Point is a must-see. The hotel is listed on the National Register of Historic Places.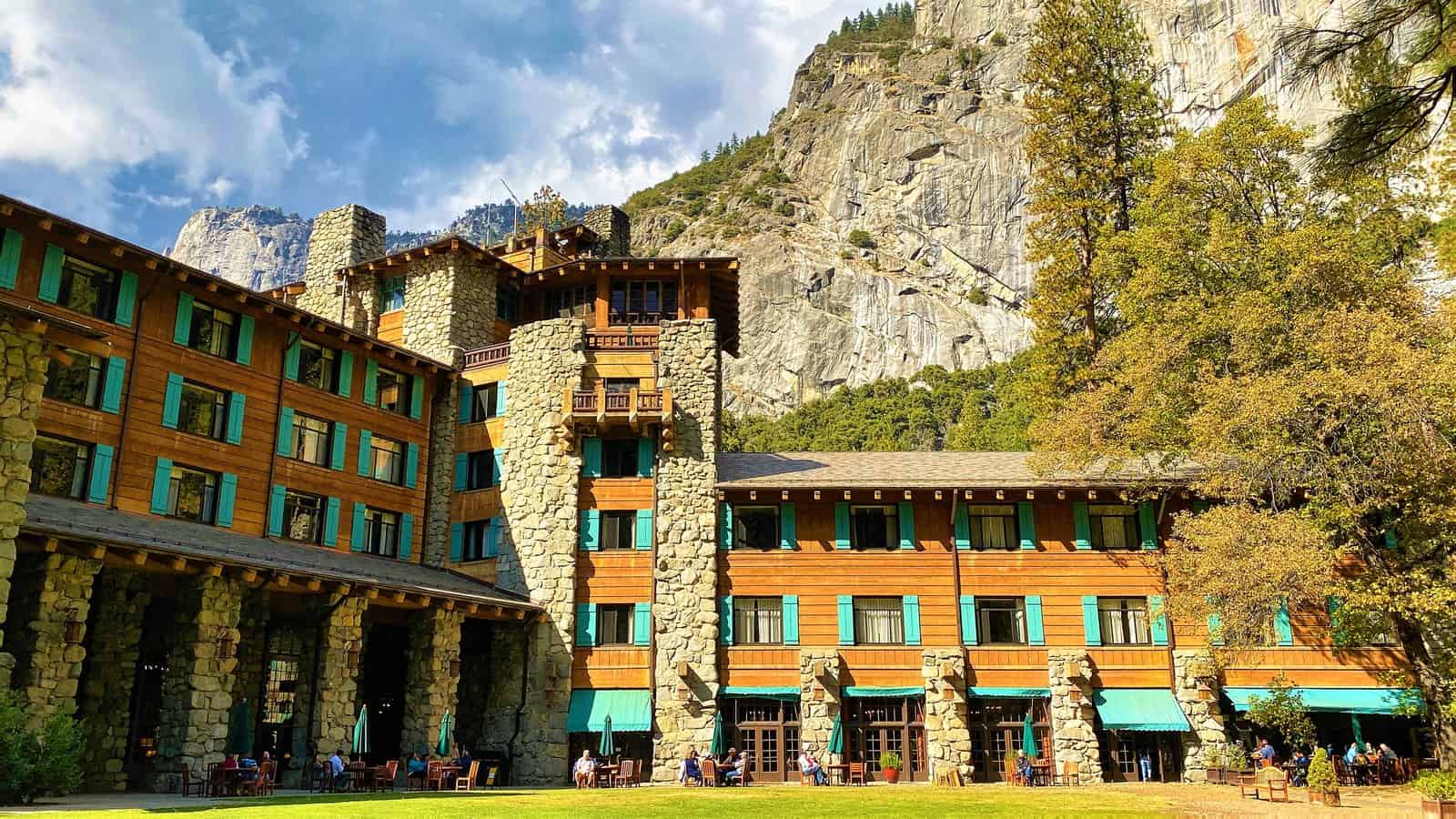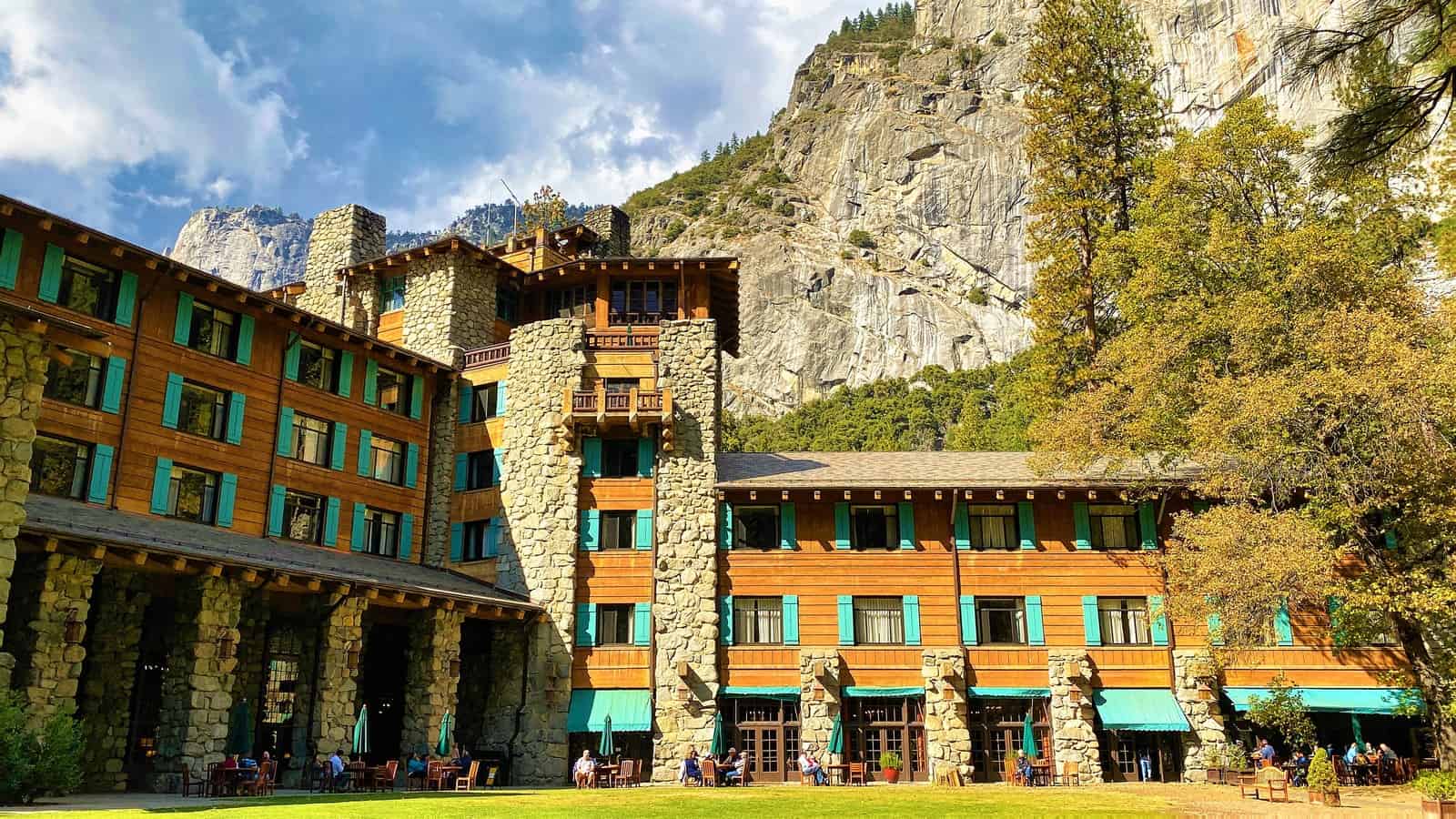 The Ahwahnee Dining Room, with its 34-foot high ceiling and massive windows, provides amazing Yosemite views. From the minute you walk in and see the stunning interior design and architecture of the room, you will feel its lavish grandness. There are massive stone pillars and de-barked sugar pine columns that alternate with the immense 24-foot windows giving the room its grand look and feel.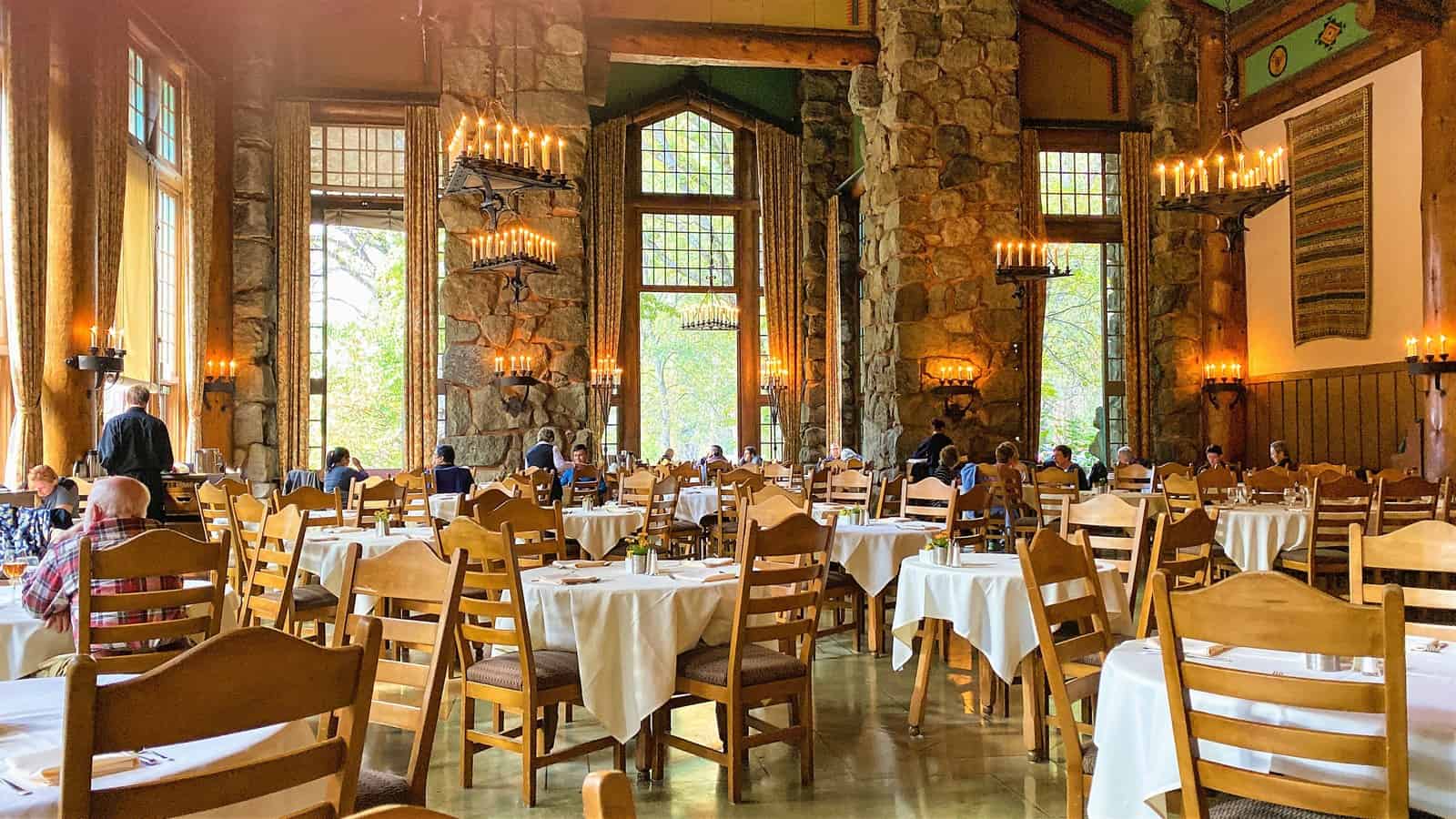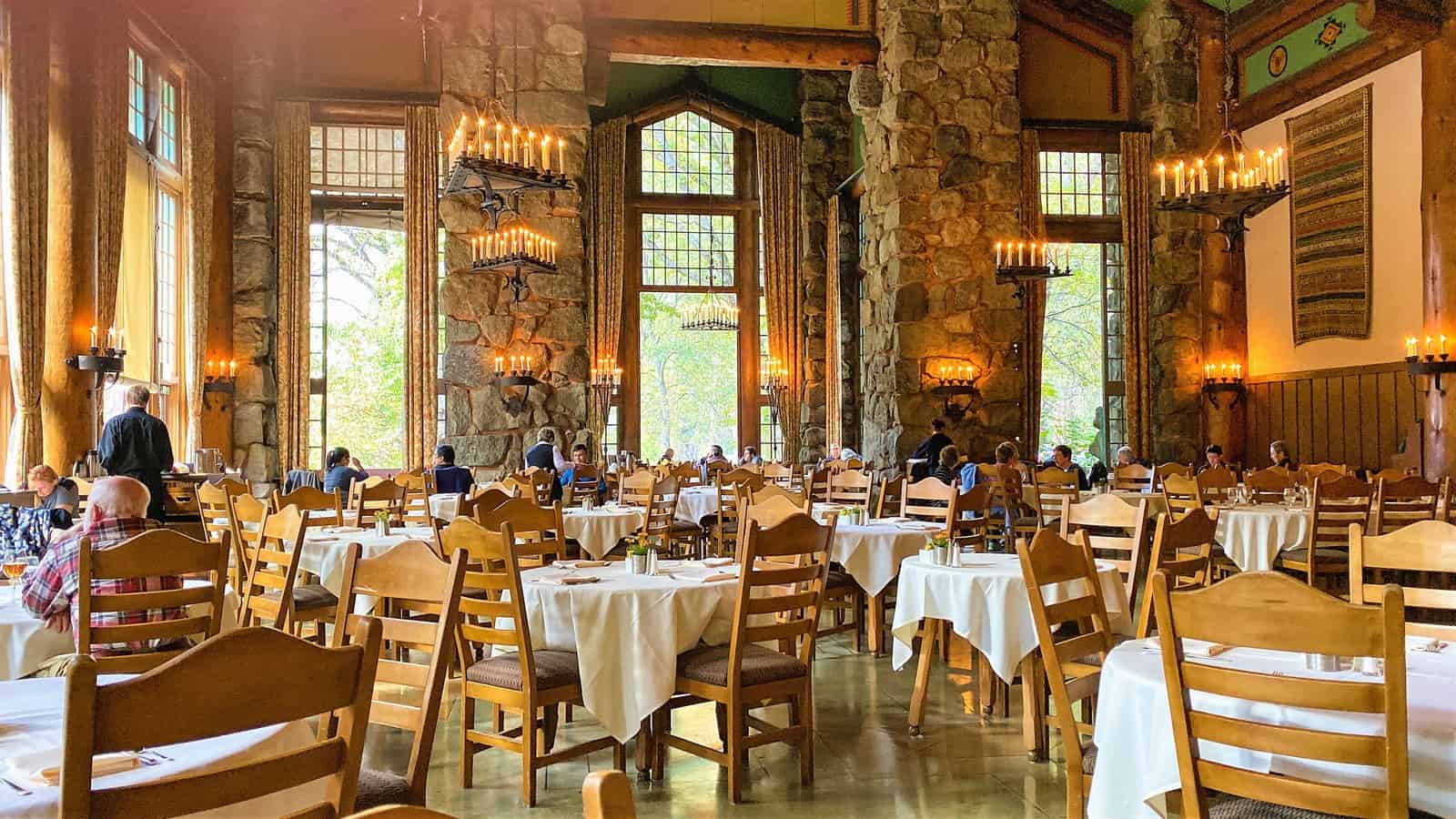 For a starter, we had the butter bean hummus dip and homemade bread. For my lunch, I had the chilled roasted autumn vegetable wrap, and Keith had the Veggie burger on a Brioche Bun with portobellos, lettuce, onion, tomato, and pickle. For dessert, we shared the boysenberry pie with chantilly cream. Everything was delicious.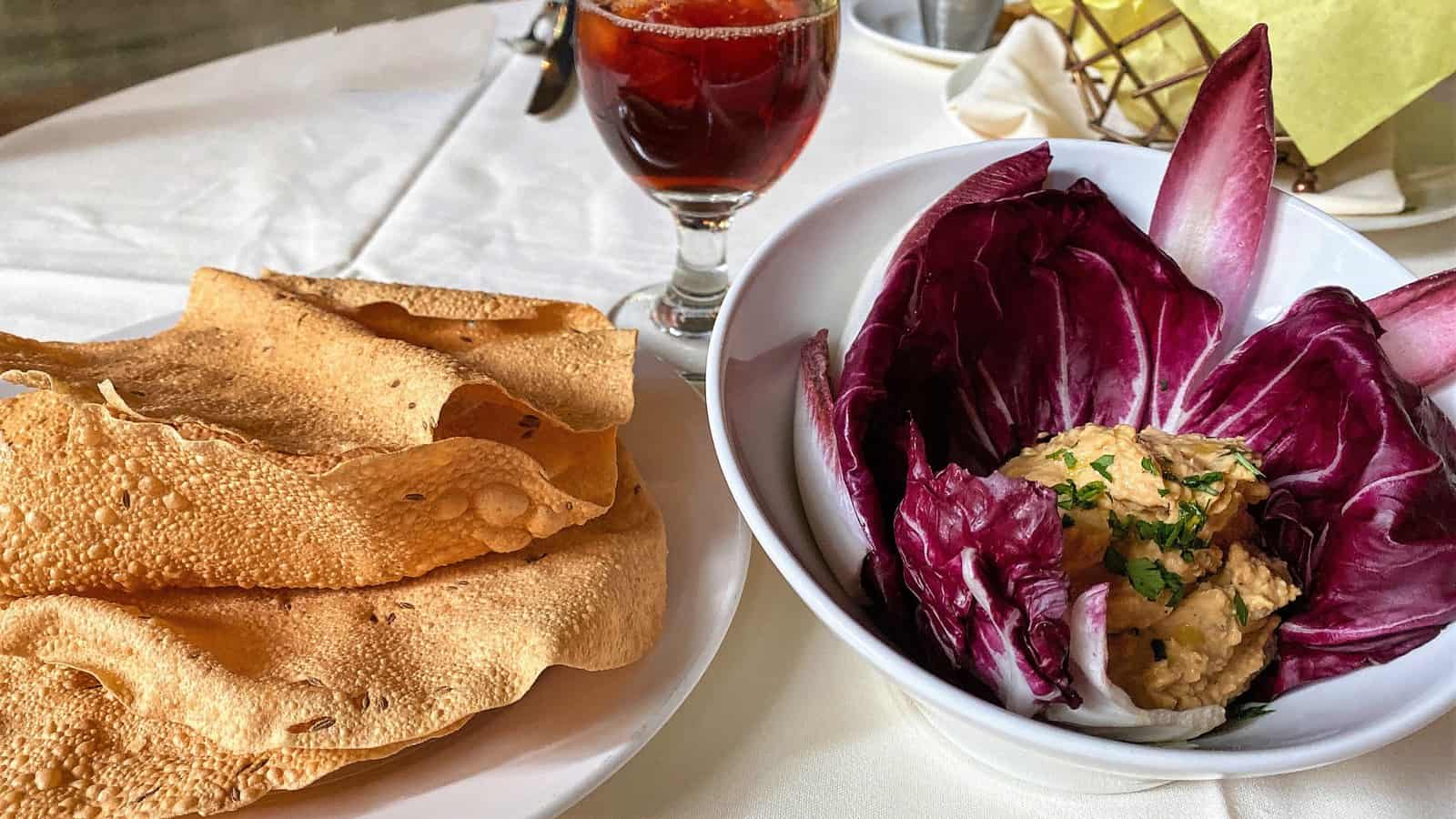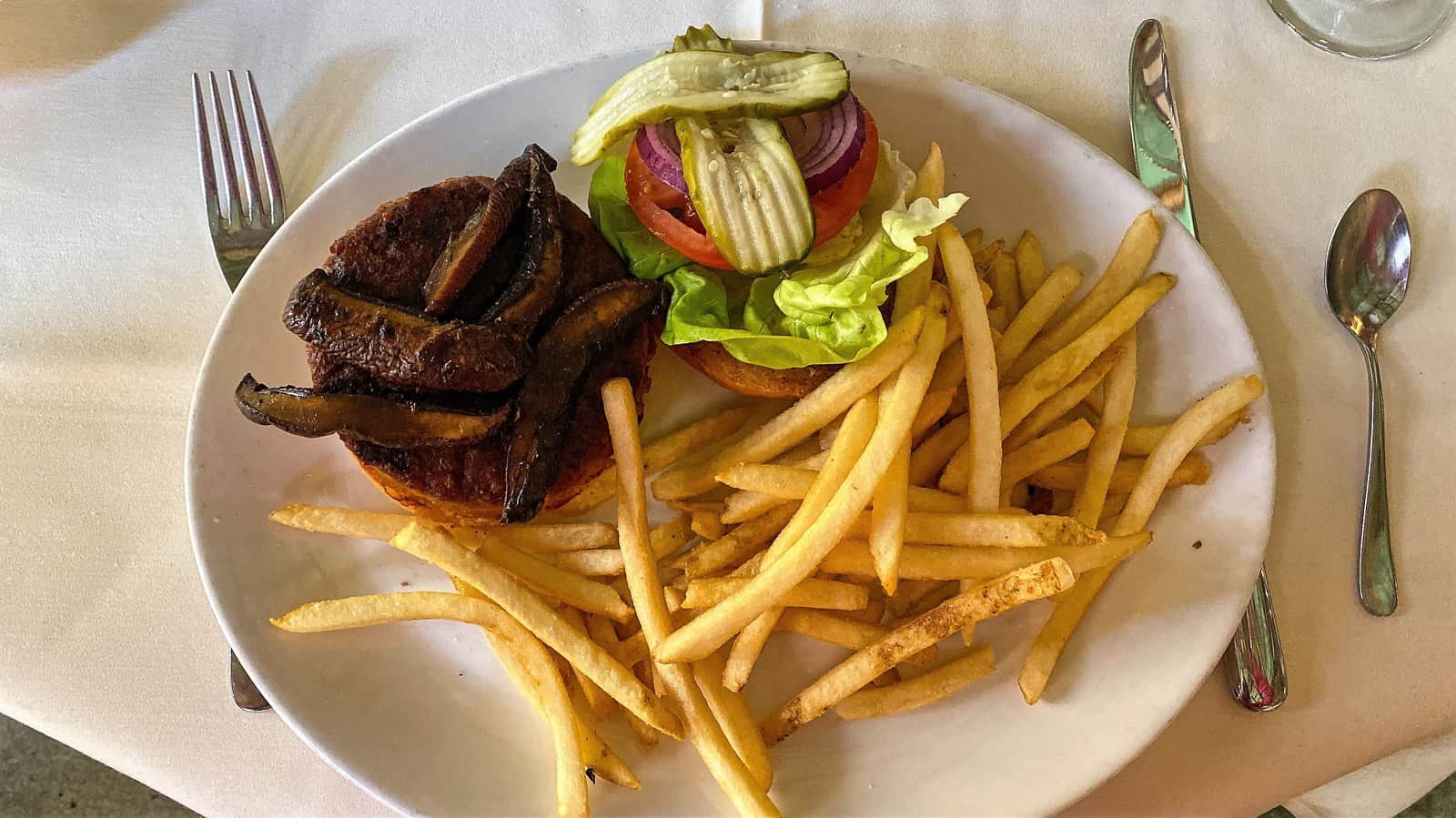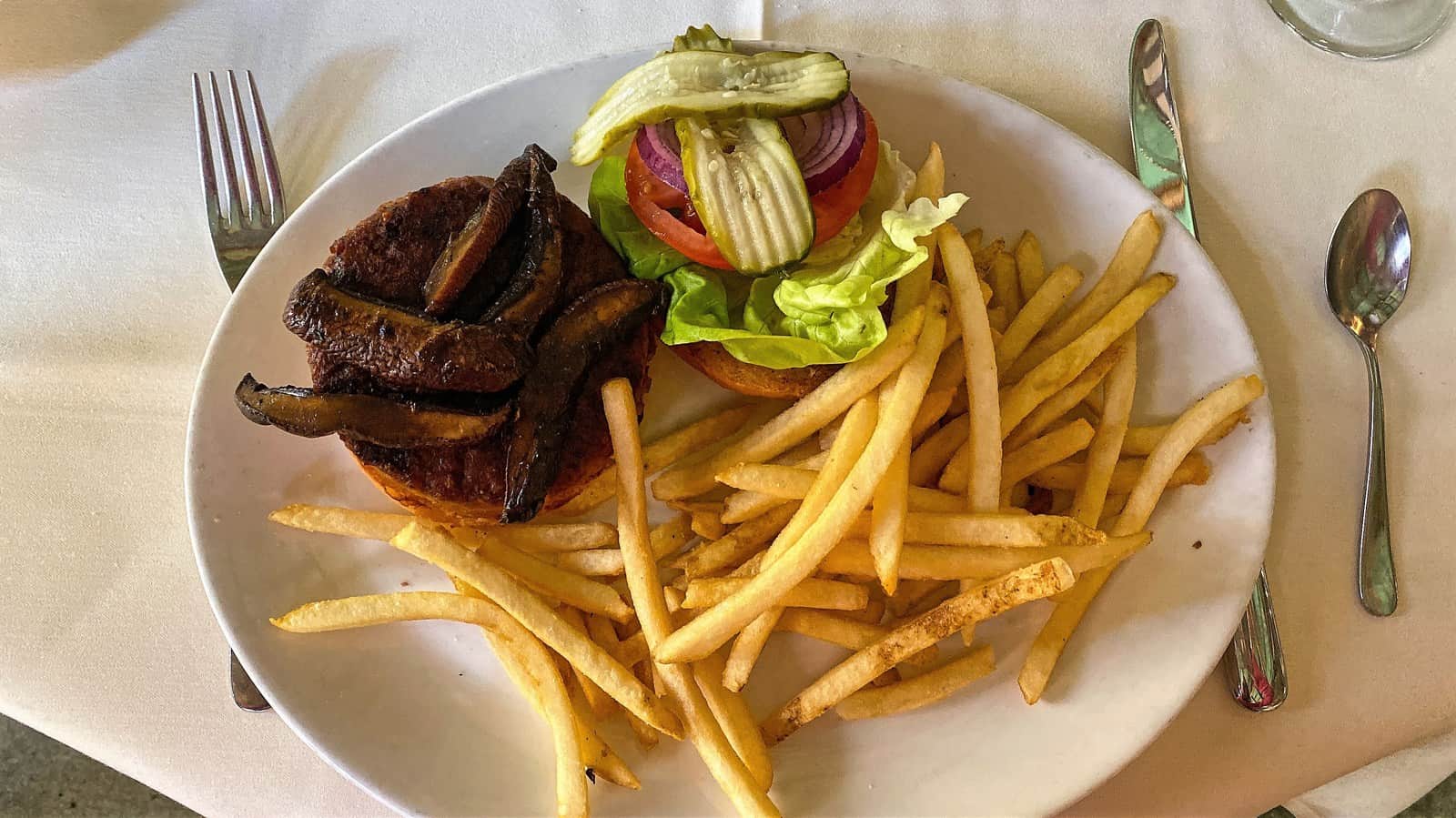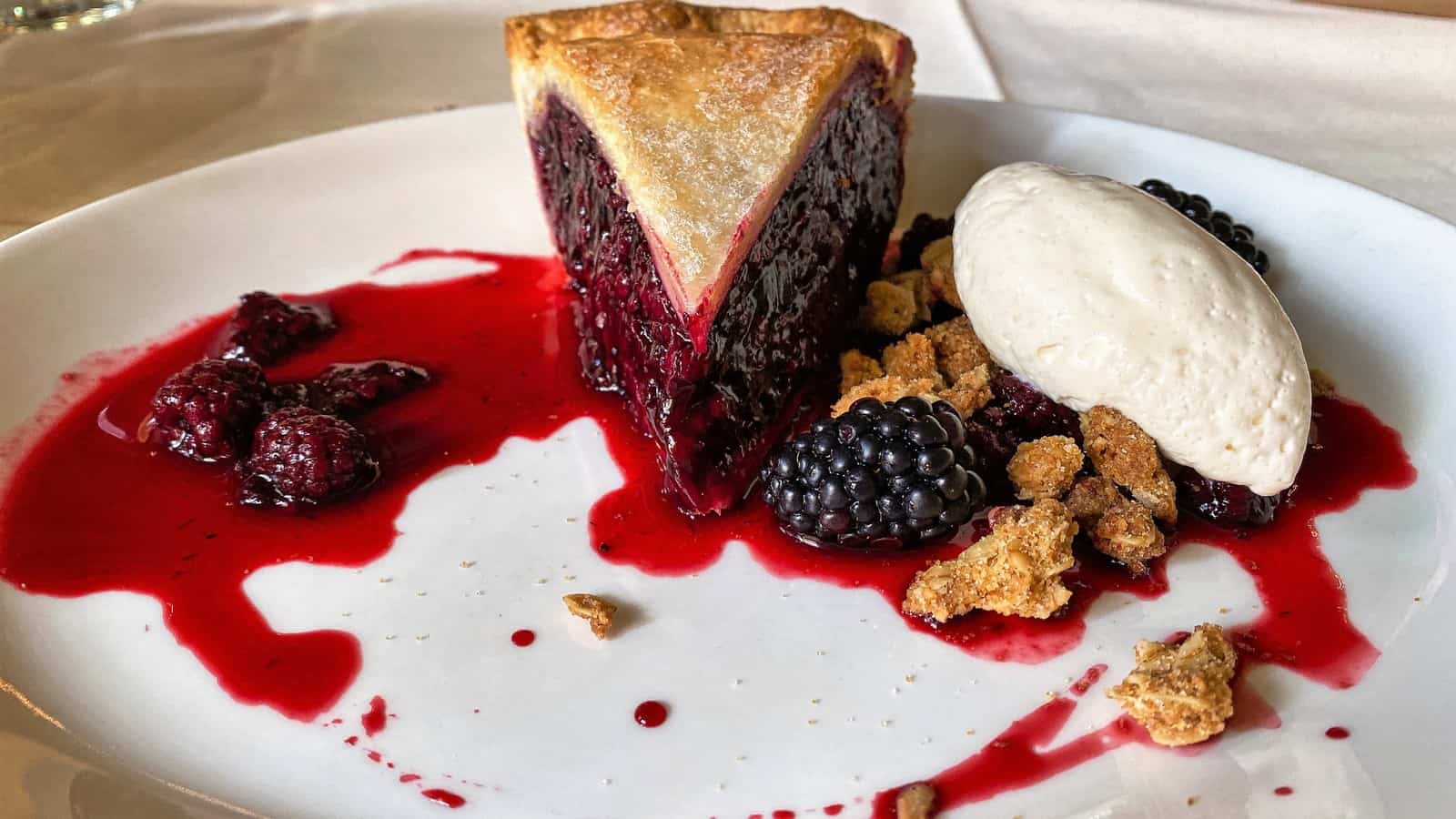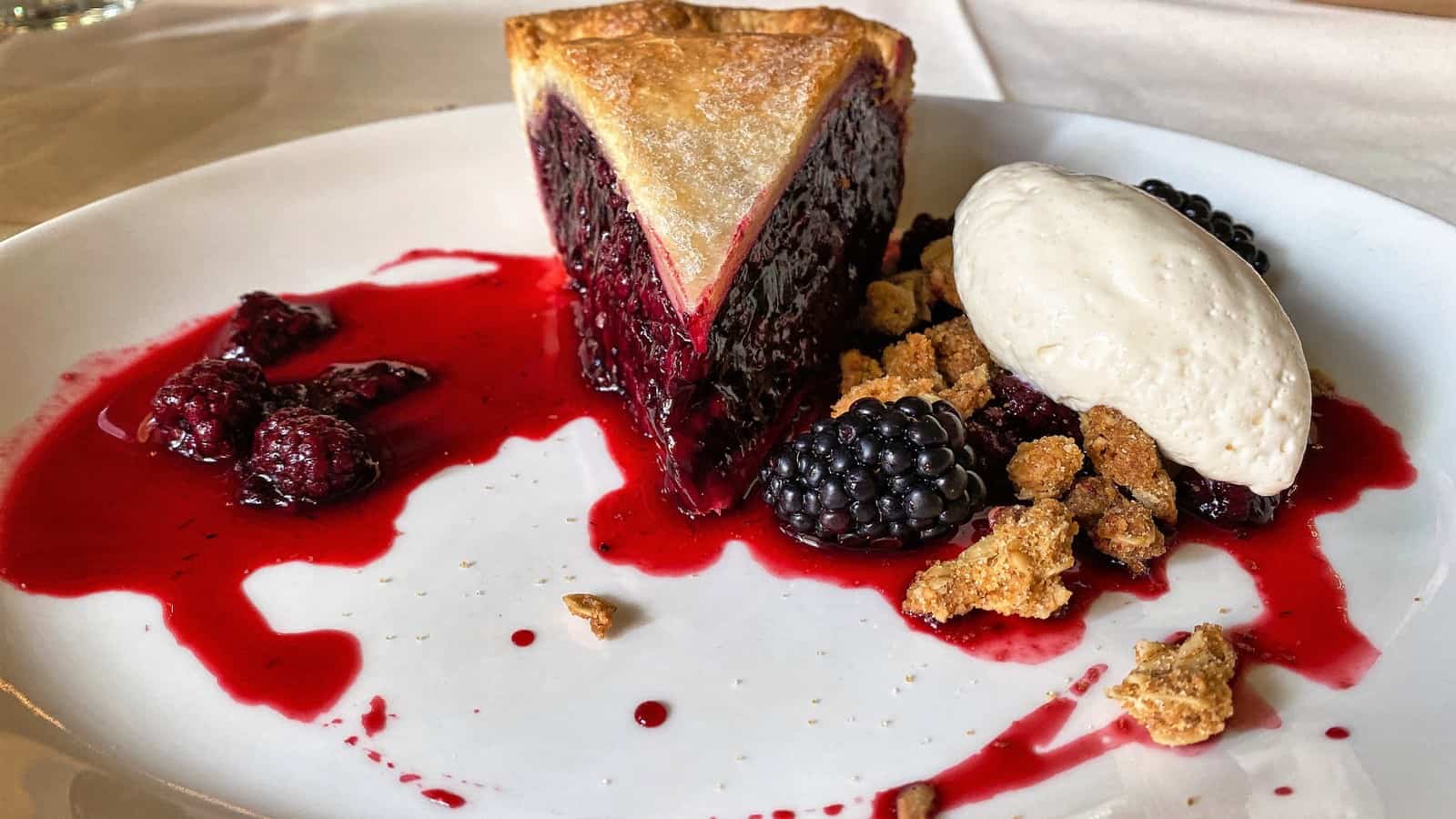 Discover the History of the Ahwahnee by Taking a Tour
After lunch, take a docent lead tour of the hotel and immerse yourself in the history and meaning behind the Ahwahnee. You will discover the connection between the Ahwahnee and the movie the Shining. Plus, the hotel's common areas are full of Yosemite artifacts.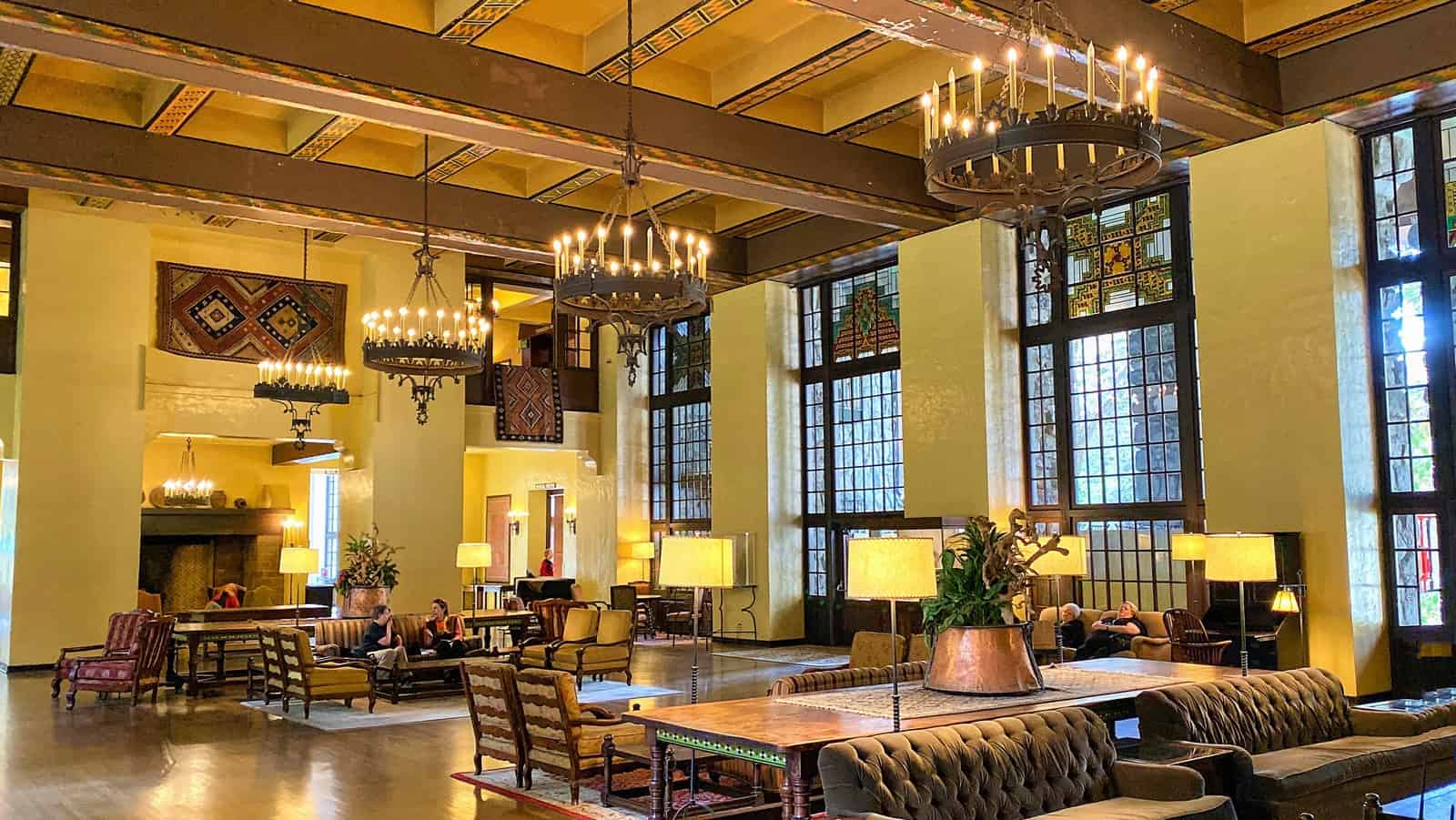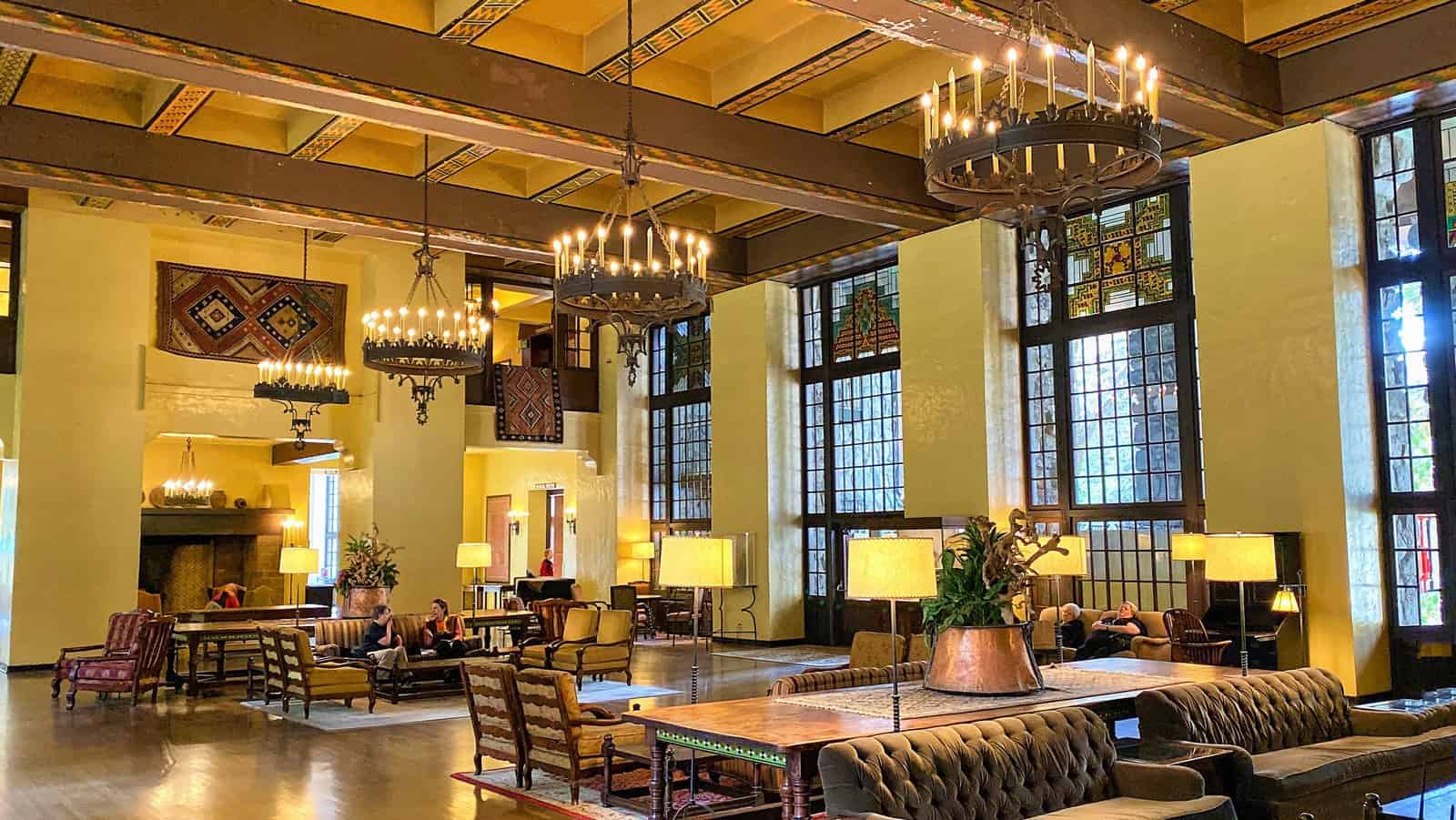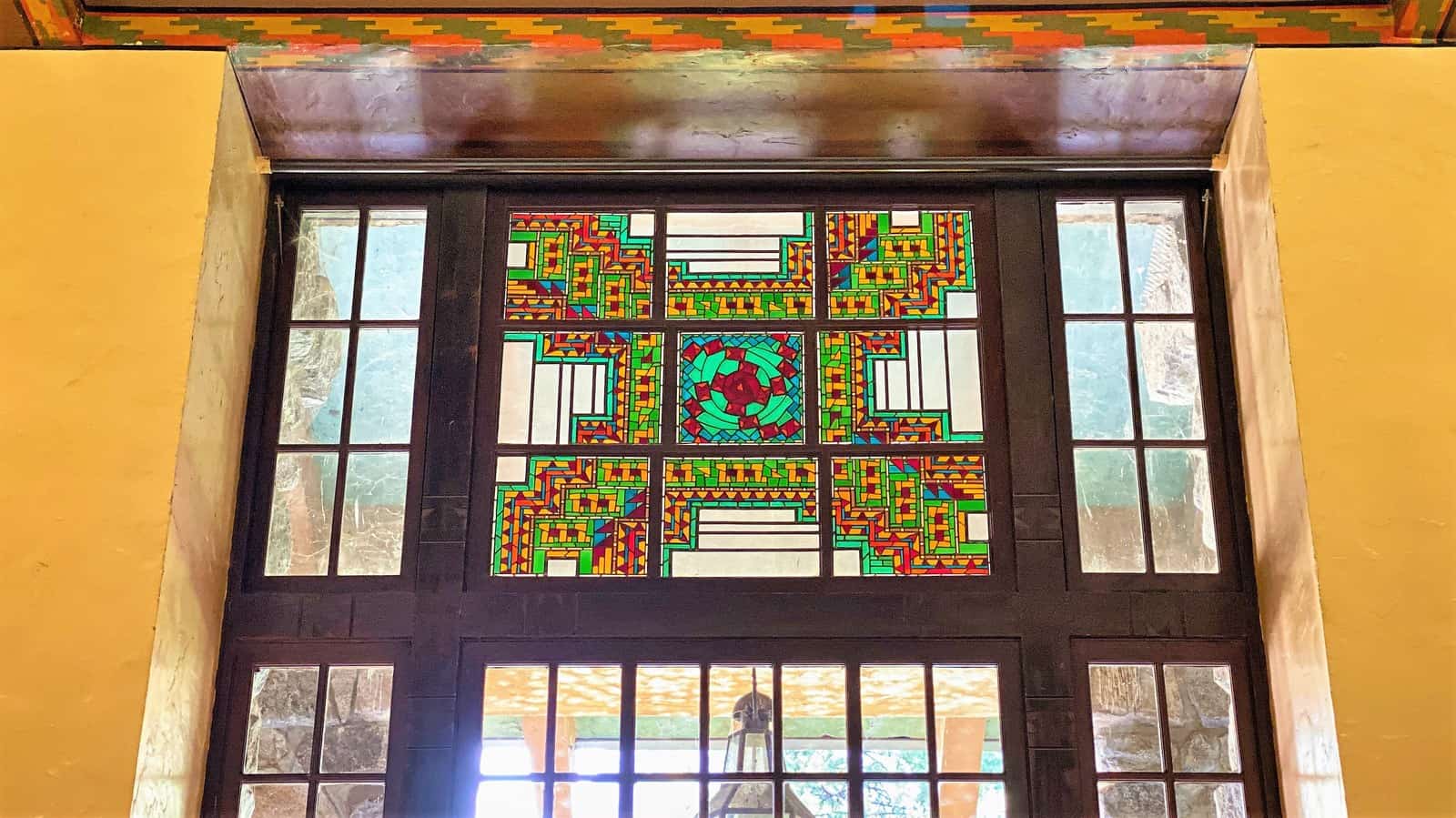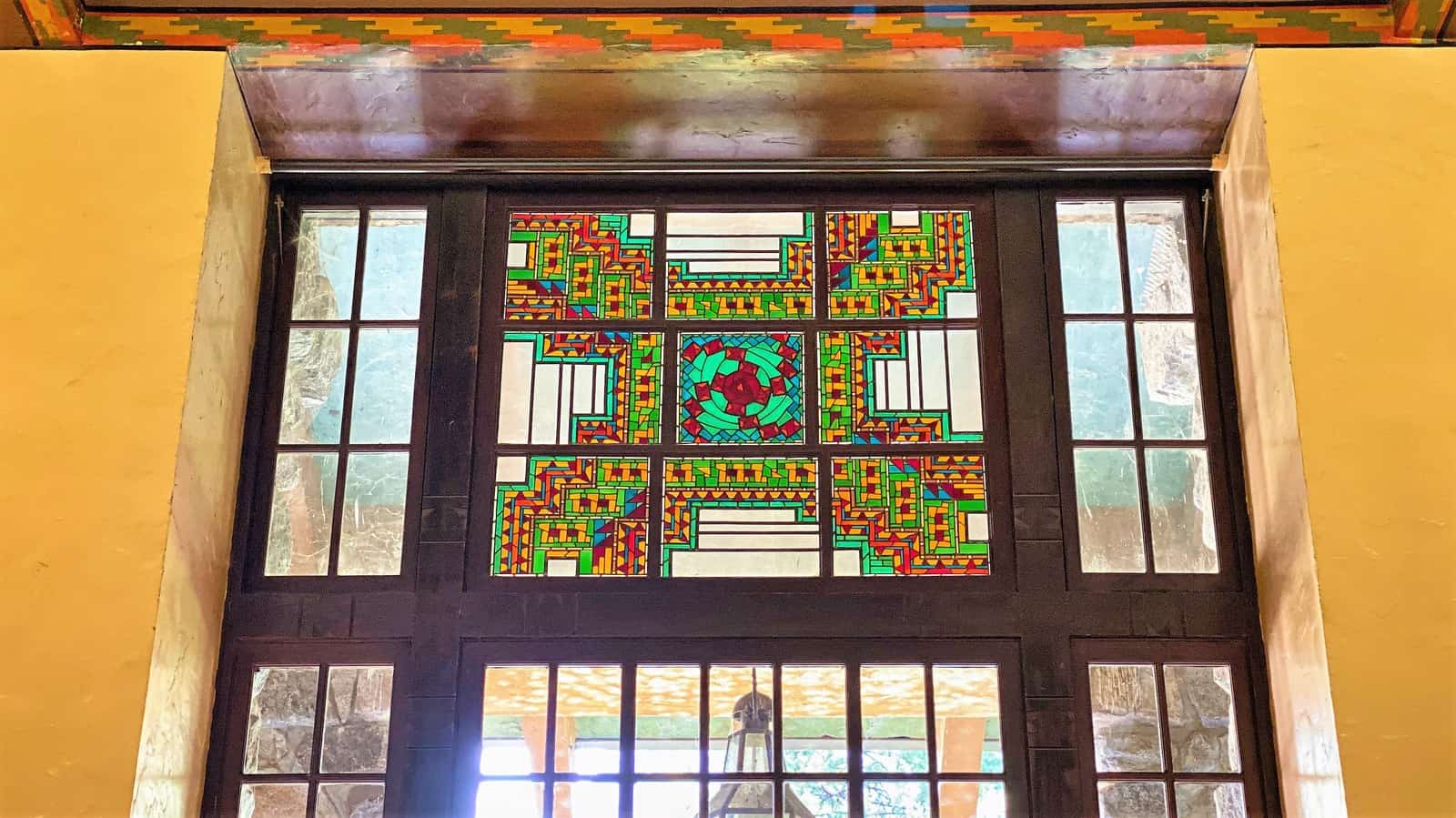 The Victorian-era Wawona Hotel
If you love historic hotels, you must stay at the Wawona Hotel located inside Yosemite. The Wawona is one of California's original mountain resort hotels. The Victorian-era Wawona Hotel, originally established in 1856, is a National Historic Landmark.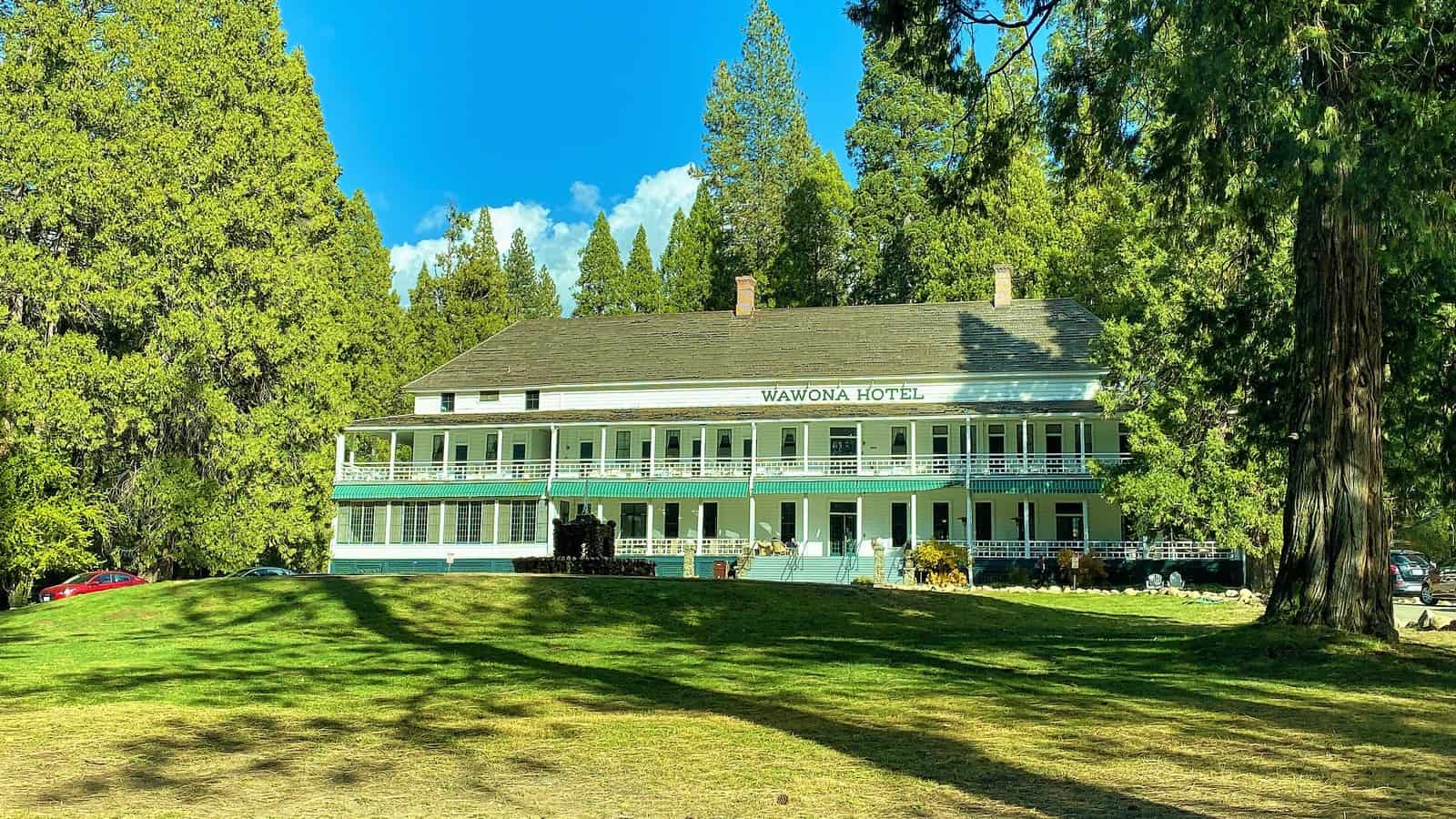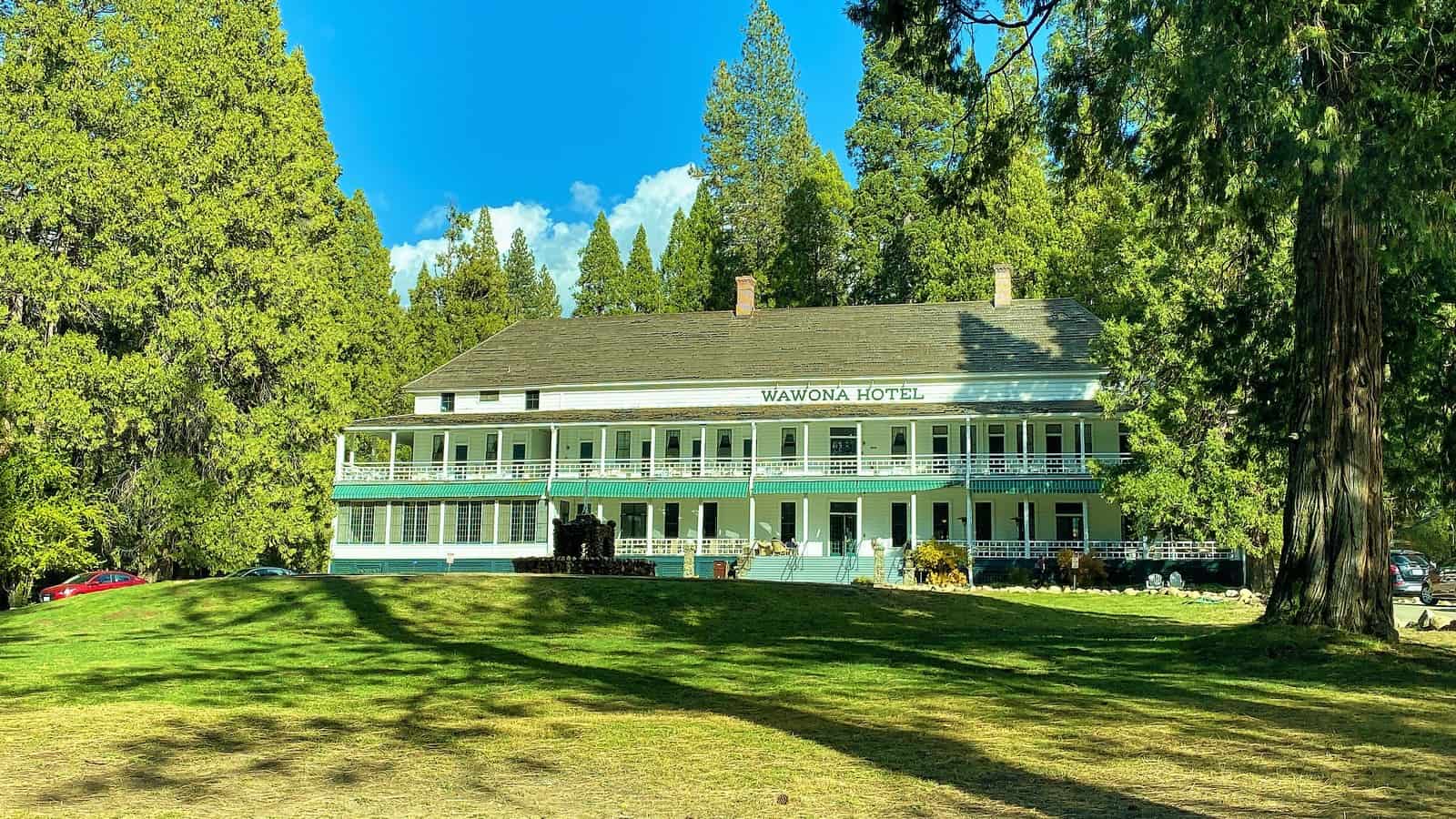 The Wawona's authentic Victorian architecture features beautiful white buildings, classic verandas surrounded by the lush nature of Yosemite. The Wawona Hotel rooms feature antique furnishings and authentic period decor.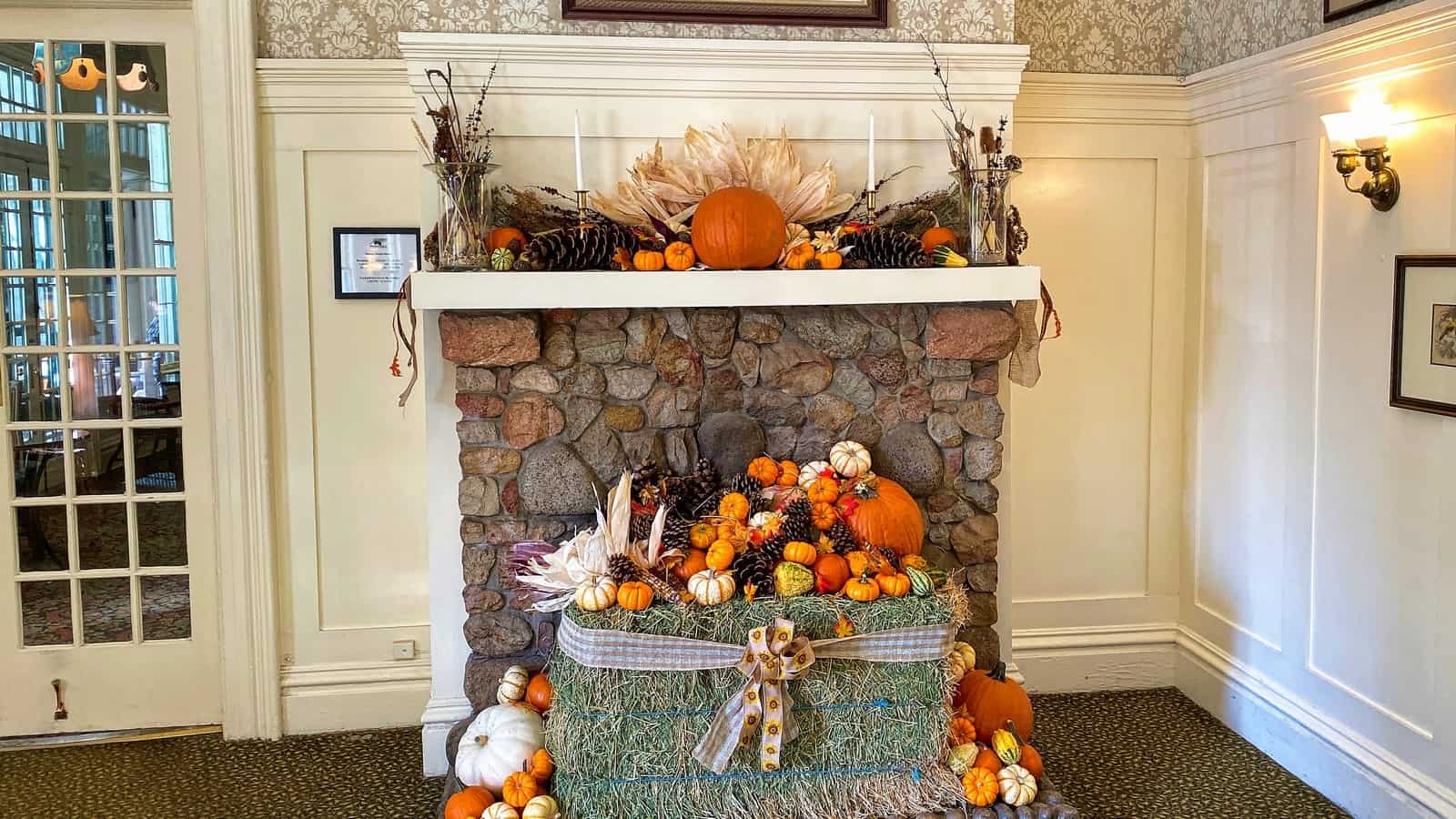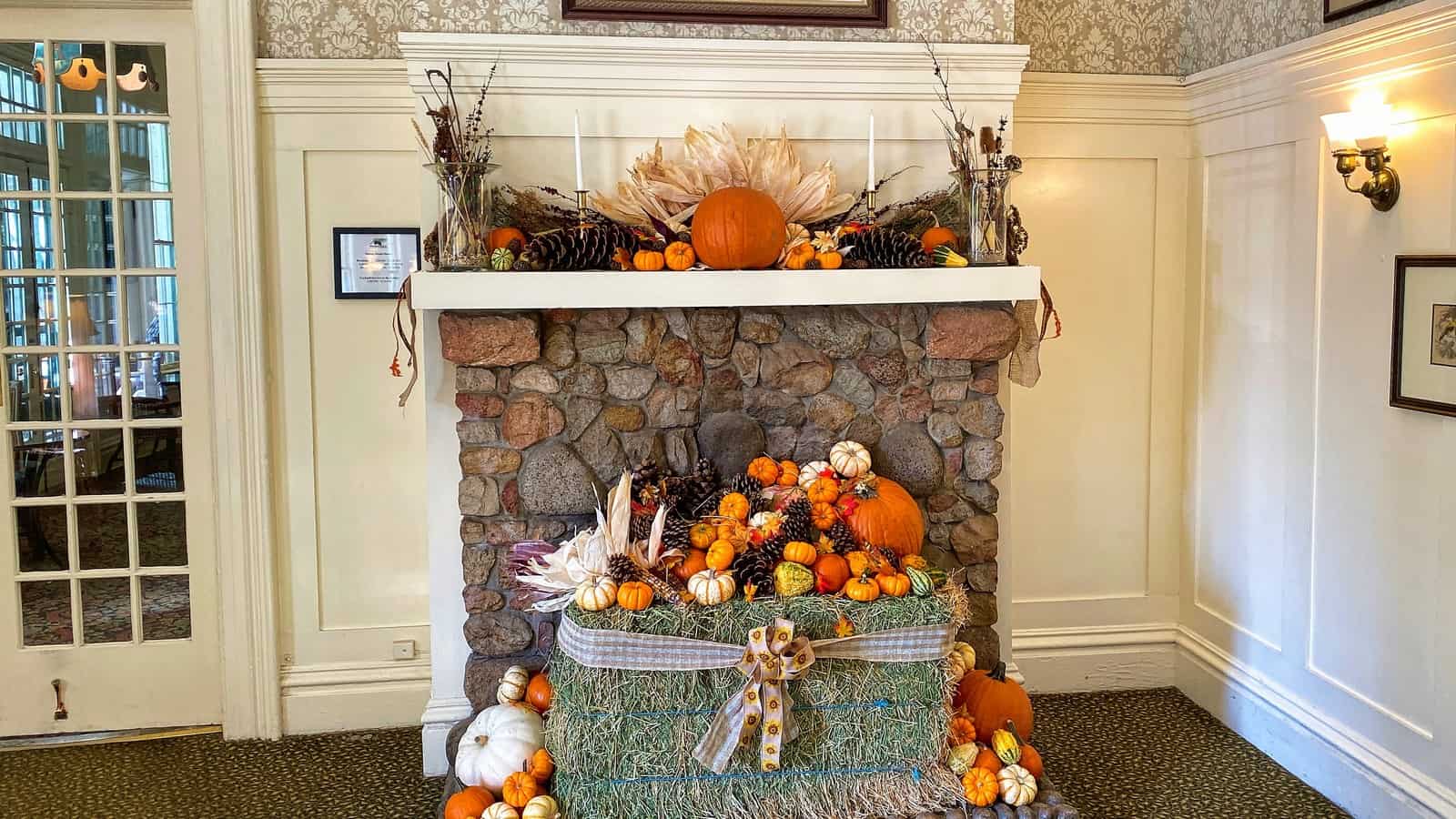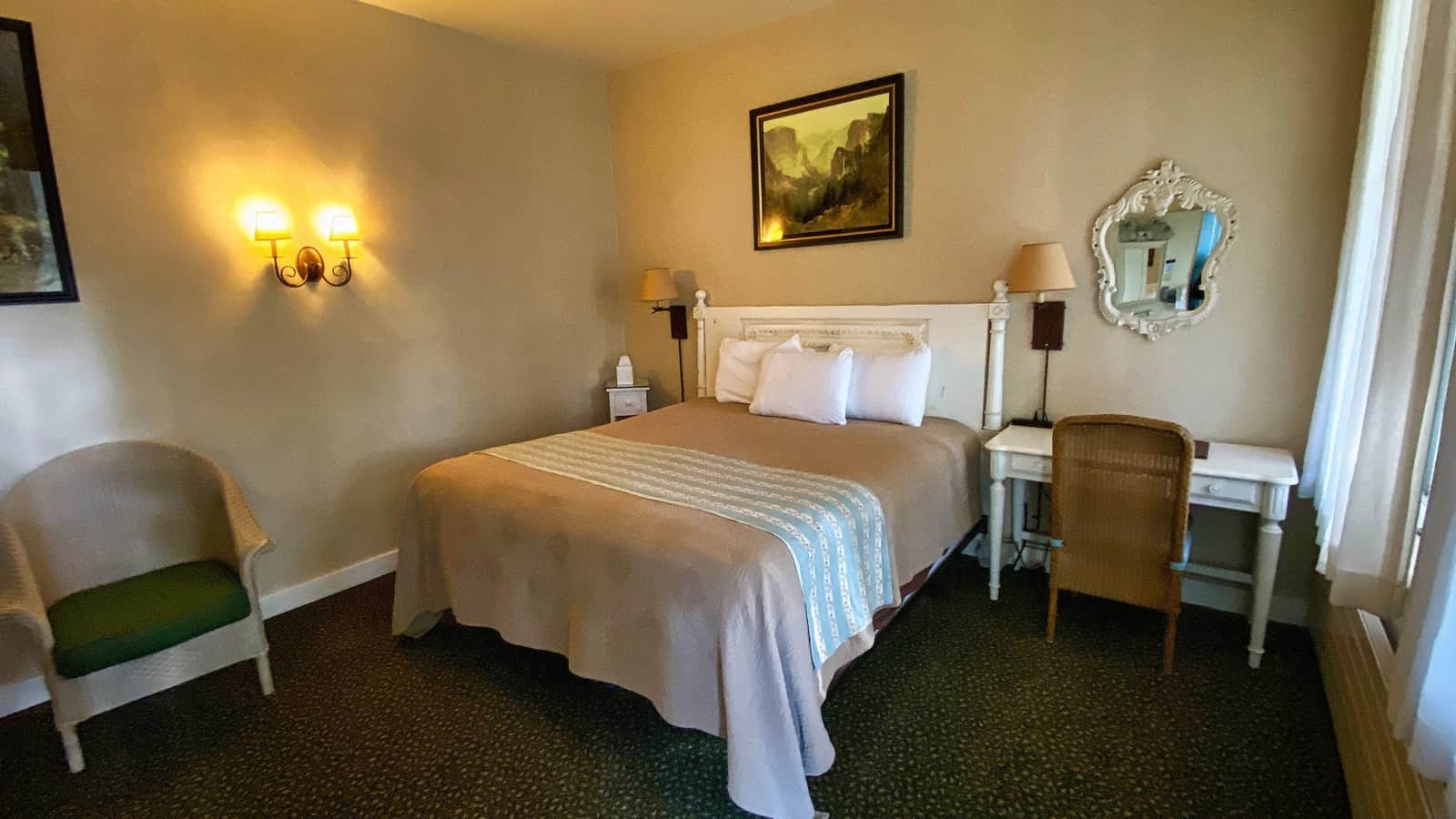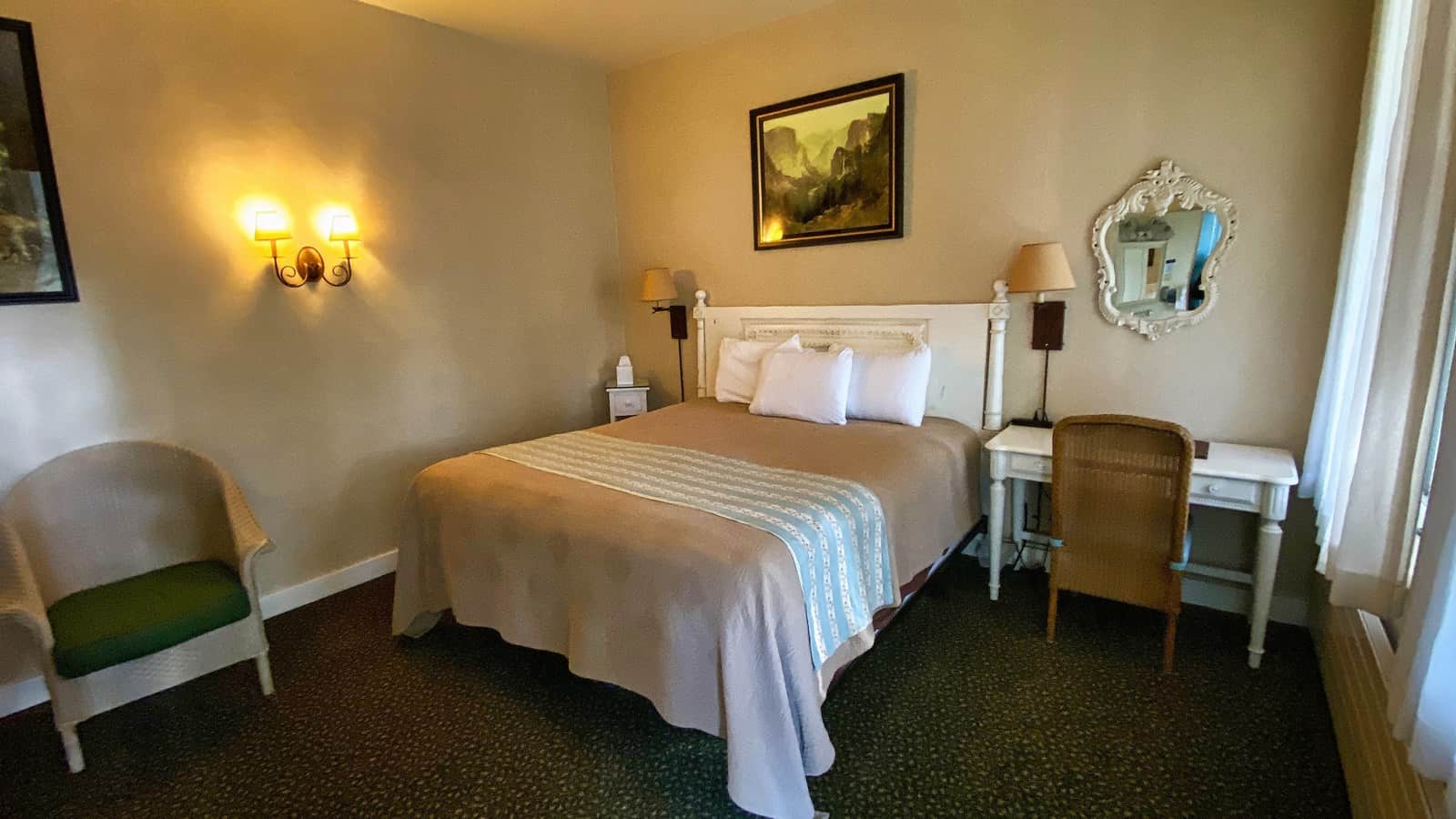 In the evenings, you can enjoy the music of Tom Bopp in the Wawona parlor. Musician and historian Tom Bopp has entertained and educated Yosemite's guests since 1983. His interest in Yosemite's cultural history led him to develop several interpretive events for the park. In 2008, Tom was awarded the annual Yosemite Fund Award in recognition of "the significant effort he has made to enhance the value of Yosemite National Park as a national treasure."
Visit the California State Mining and Mineral Museum
The next morning we recommend heading to the town of Mariposa. For your first stop, visit the California State Mining and Mineral Museum.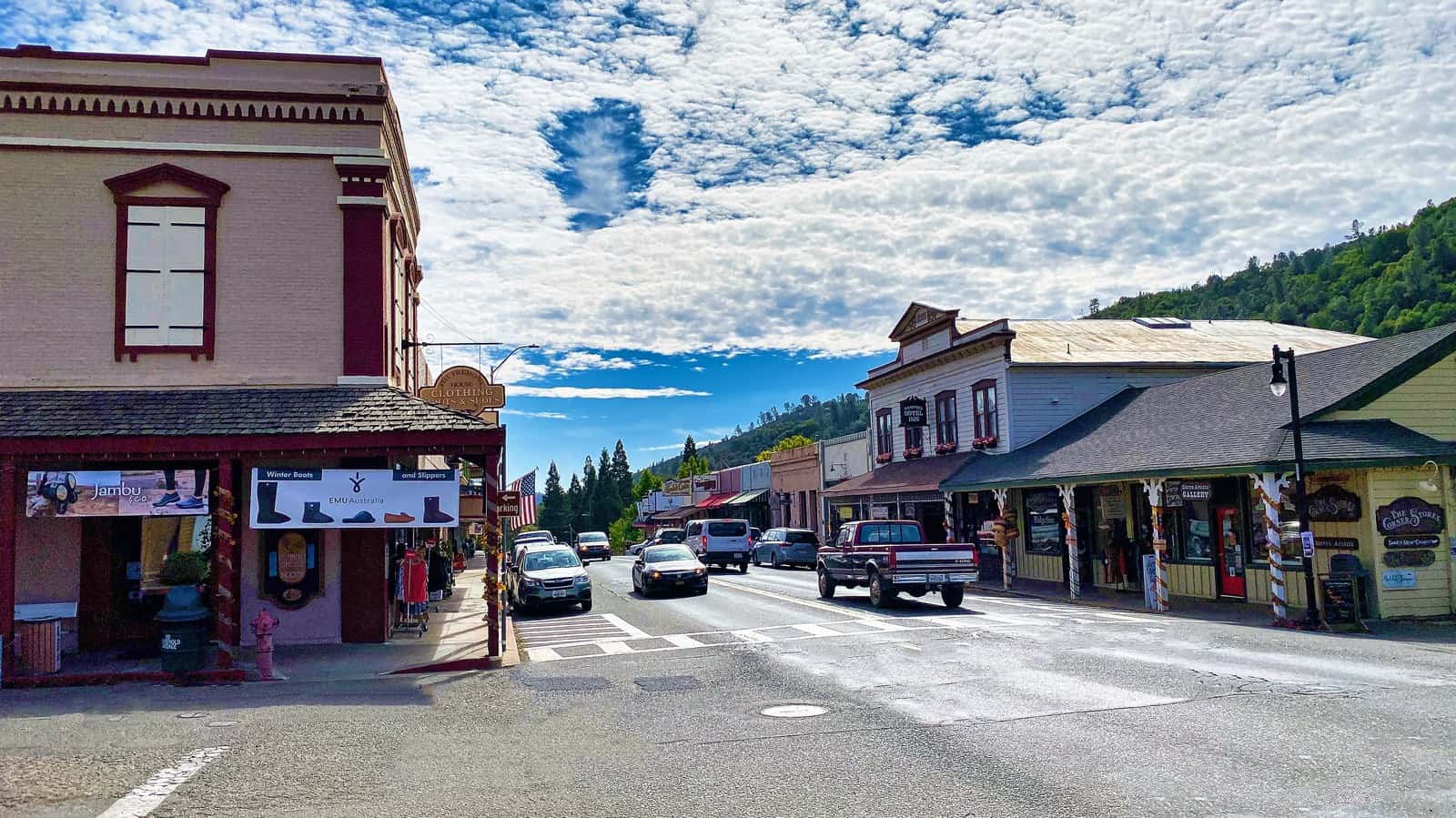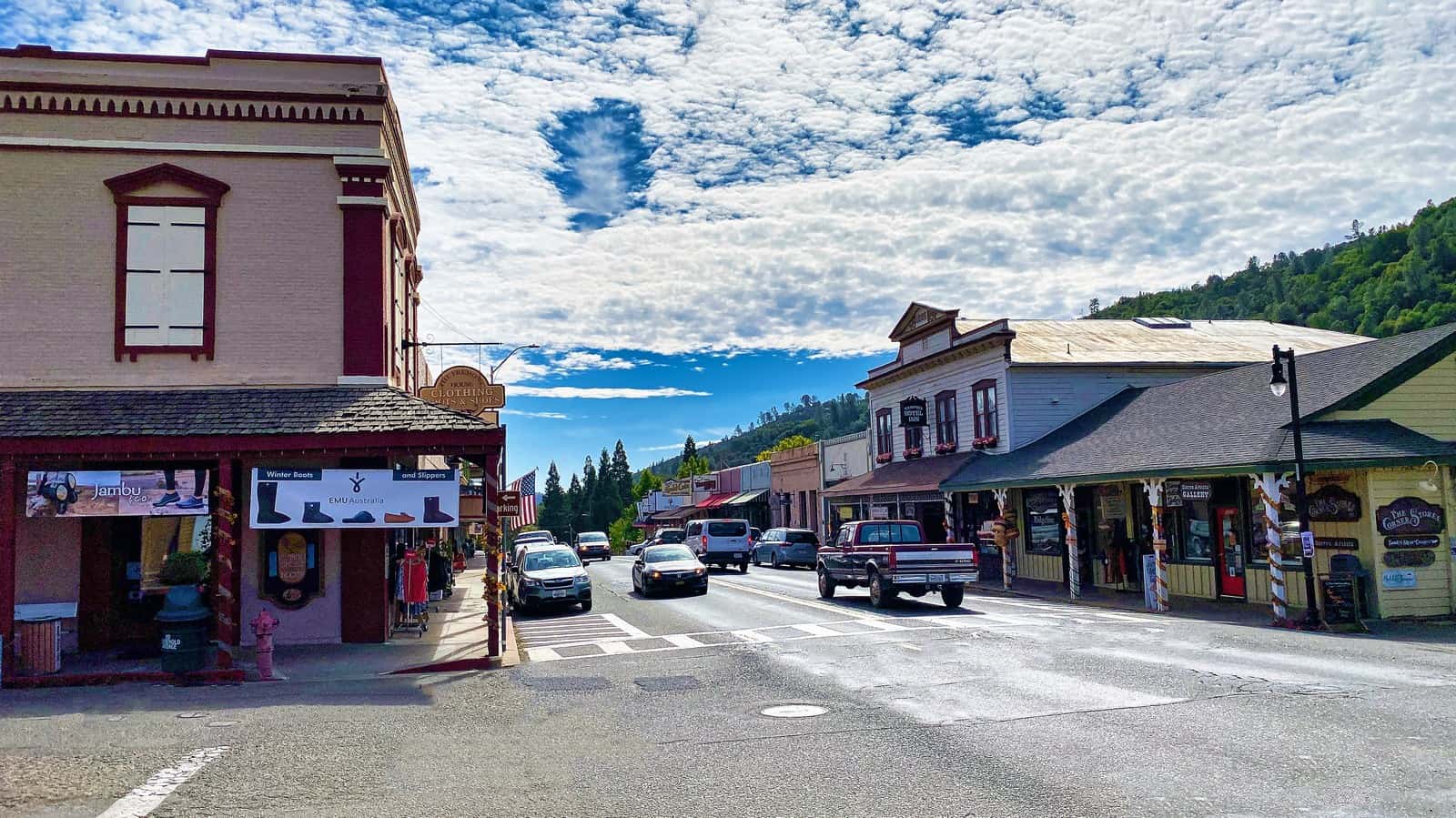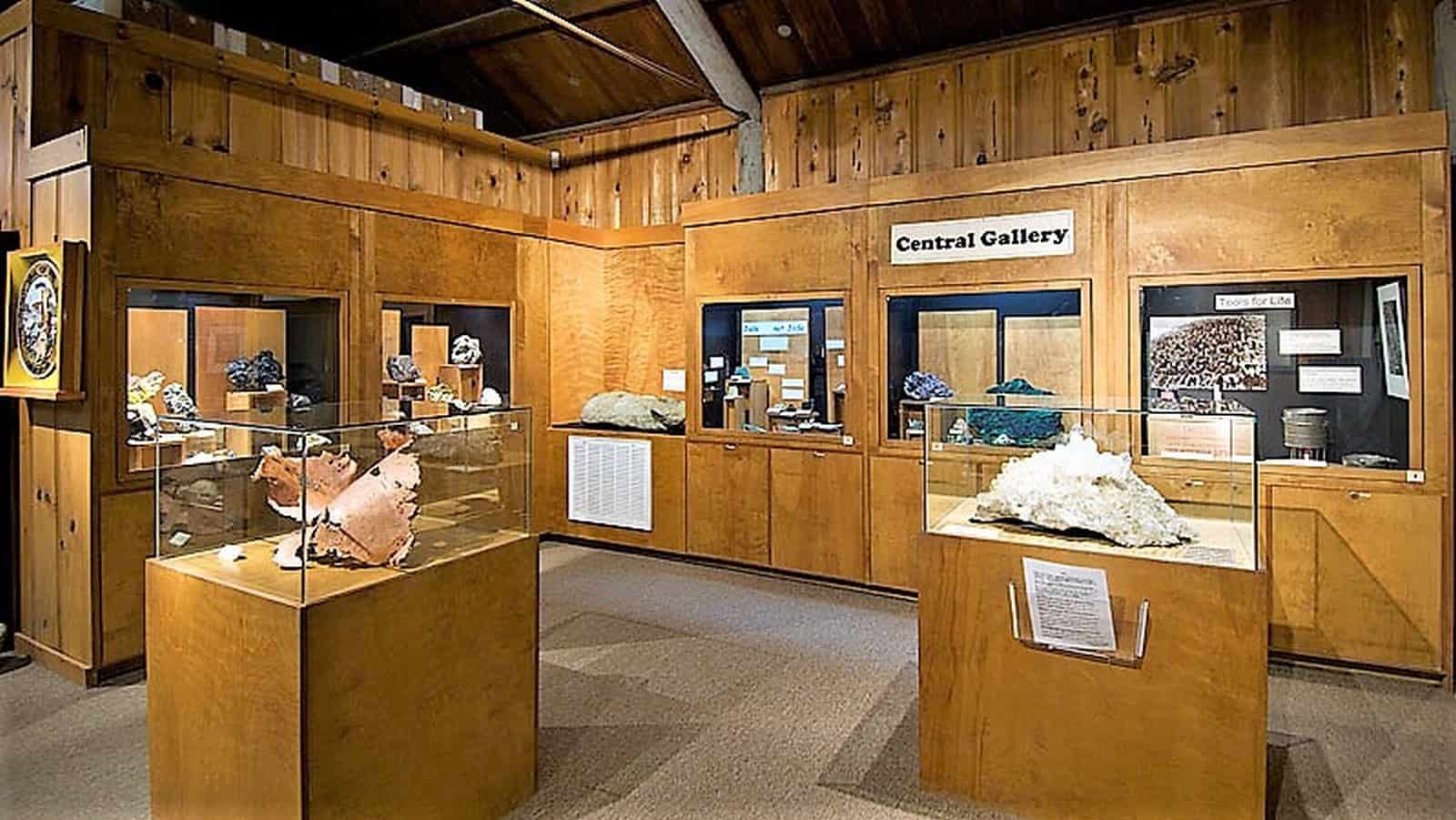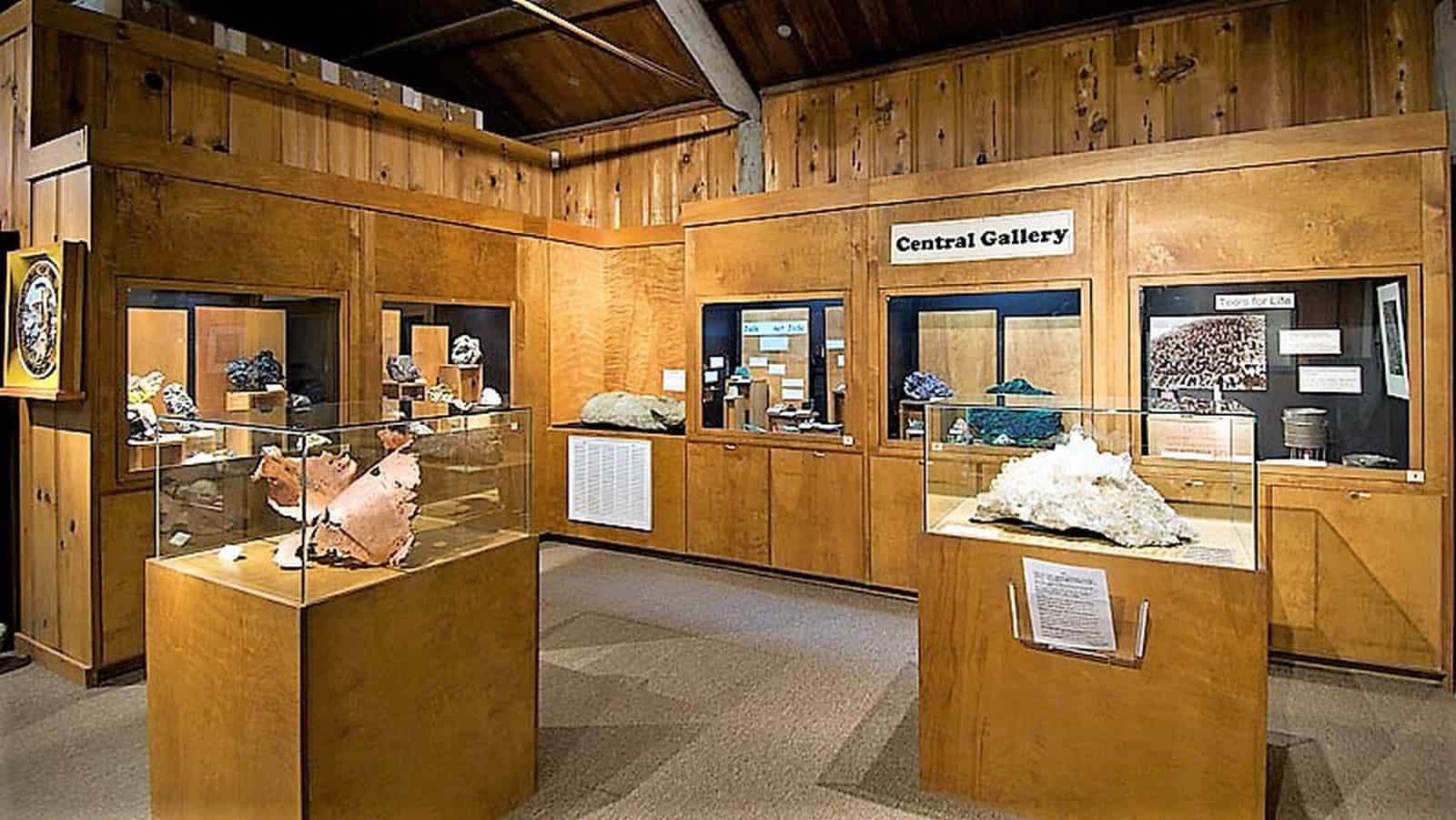 "There's gold in the hills of California!" These words echoed around the world in 1848 and started a mass migration to the wilderness of California. Gold seekers came from every part of the world and from every walk of life to sift the streams for gold. In time, there were machines in the mountain to help with the search for gold. Many mining camps turned into boomtowns. Today there is still gold to see in the foothills of the Sierra Nevada, at the California State Mining and Mineral Museum, in the charming and historic town Mariposa.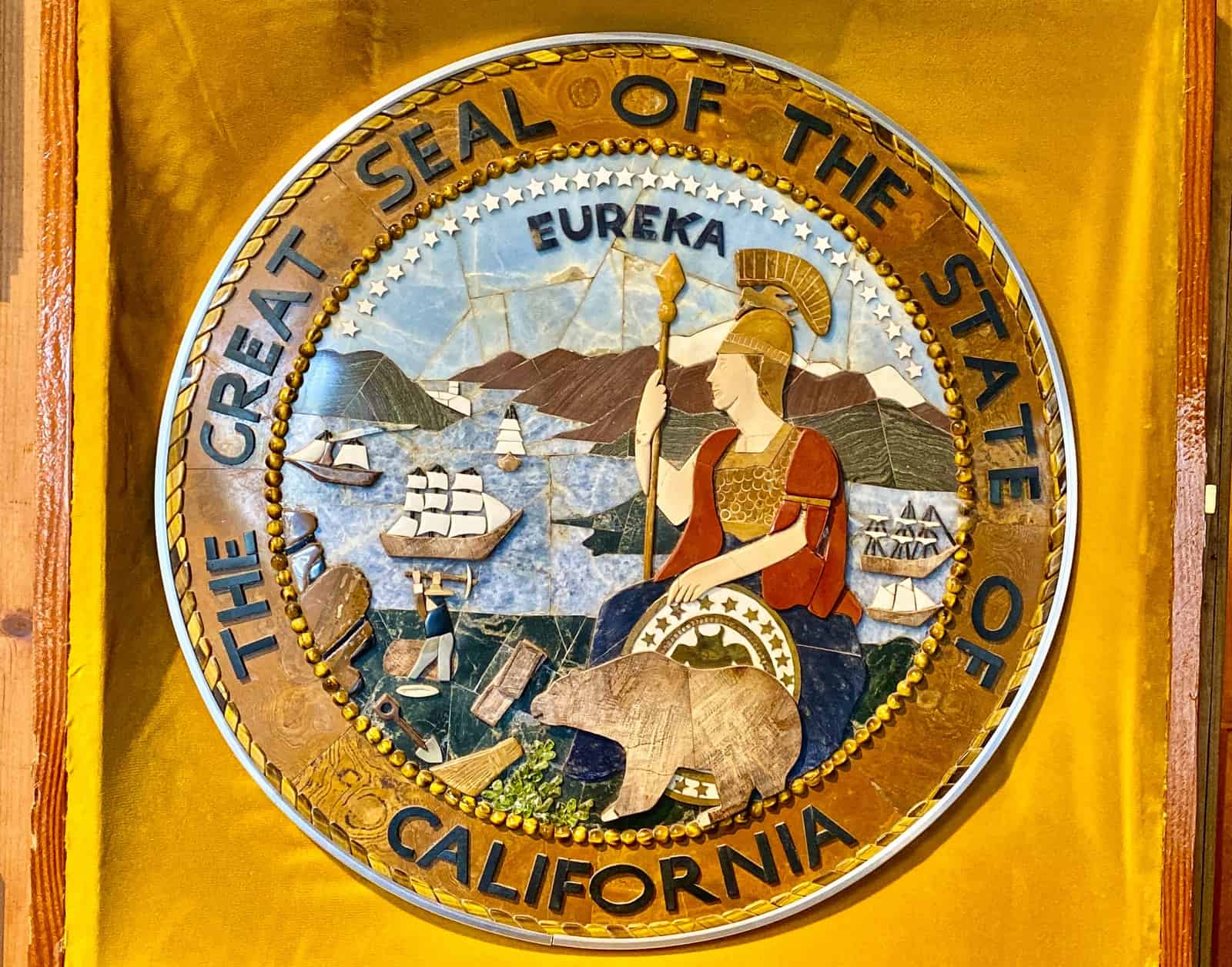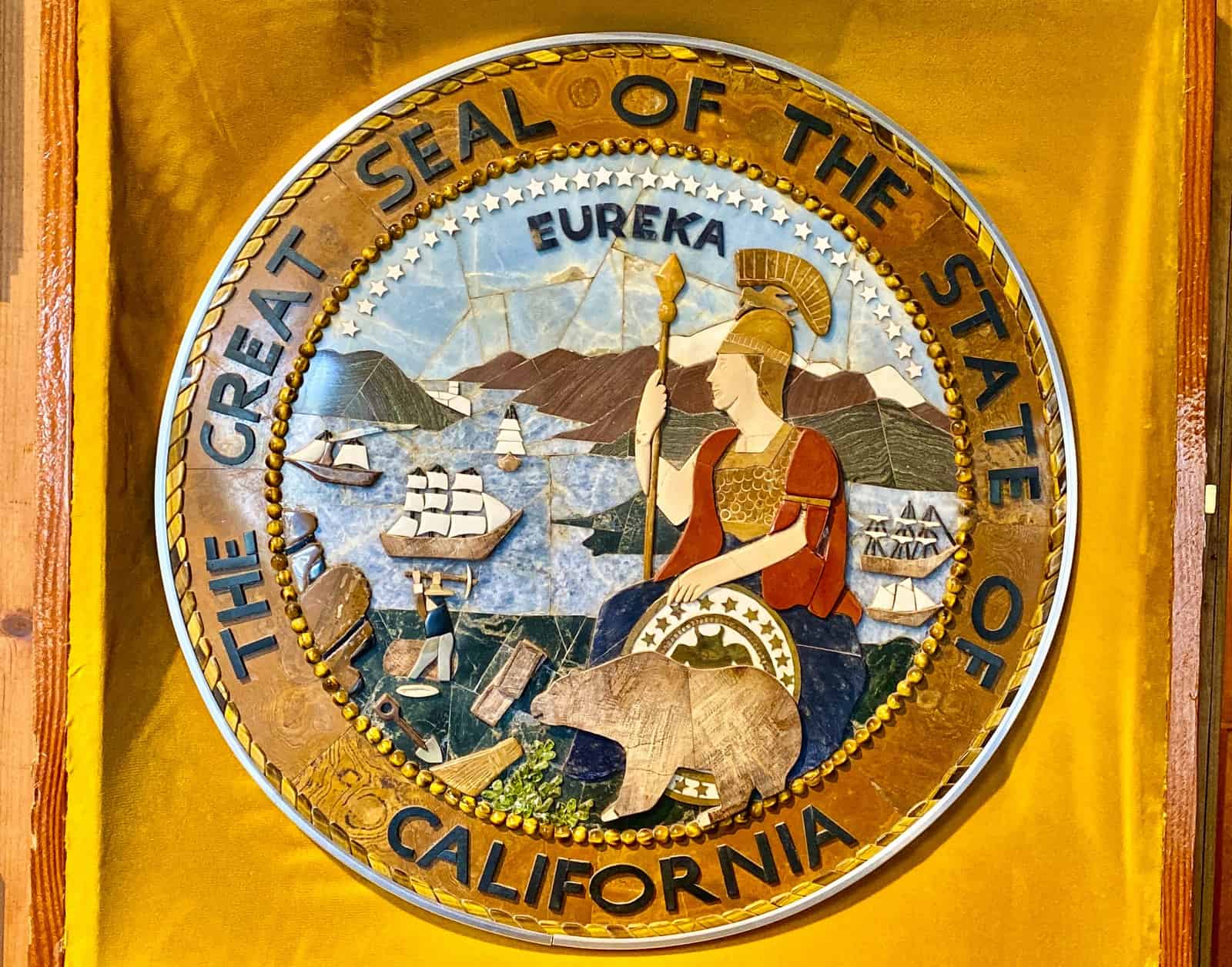 The collection at the museum, which began in 1880, contains over 13,000 items, including mining artifacts, rare samples of crystalline gold in its many forms, as well as beautiful gem and mineral varieties from California and the world. The collection moved to Mariposa in 1983 after residing in San Francisco for over 100 years. The museum became a state park in 1999. You don't have to be a rock hound to enjoy this museum. If you're into crystals like Keith, you'll enjoy the visit too.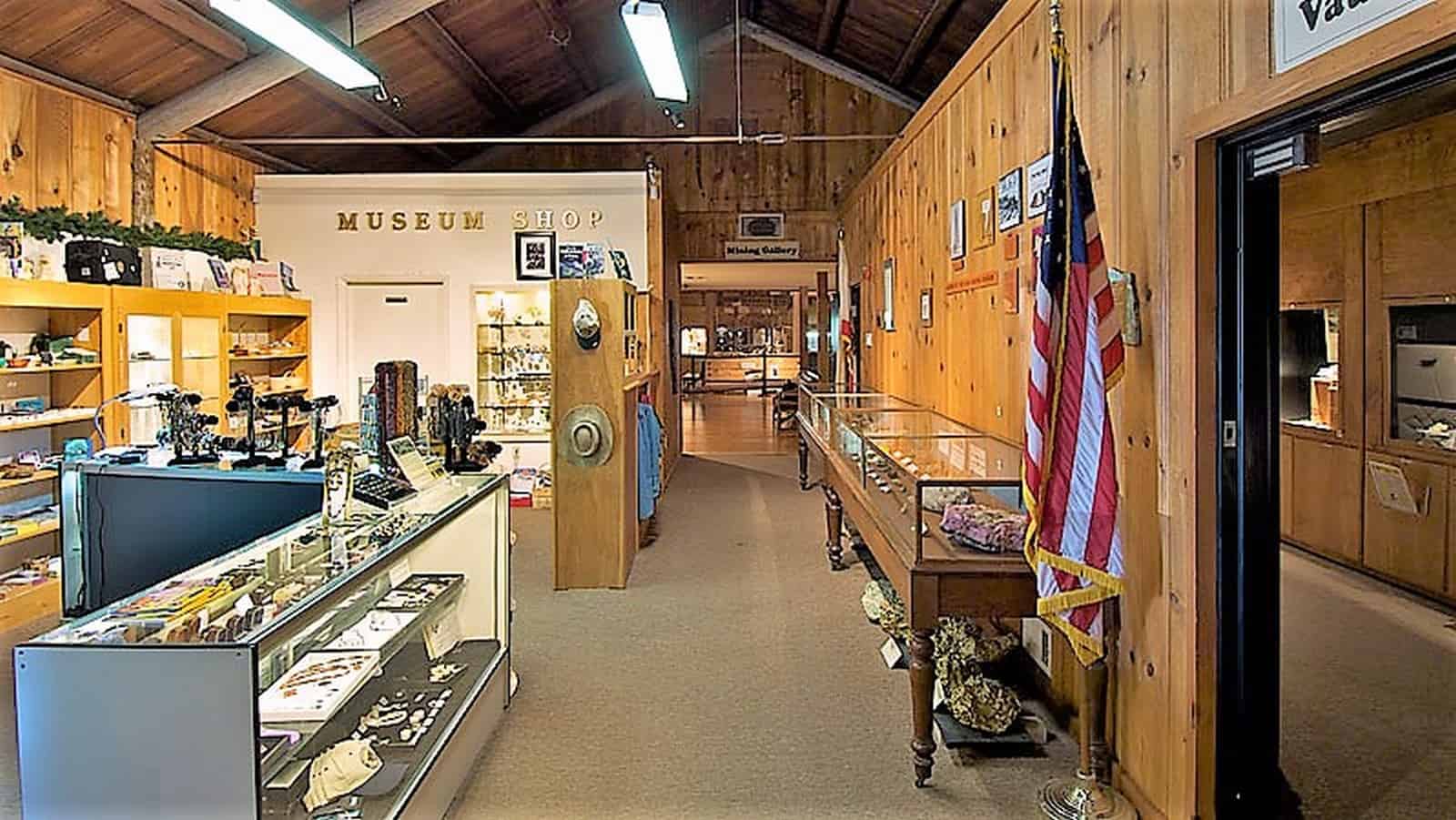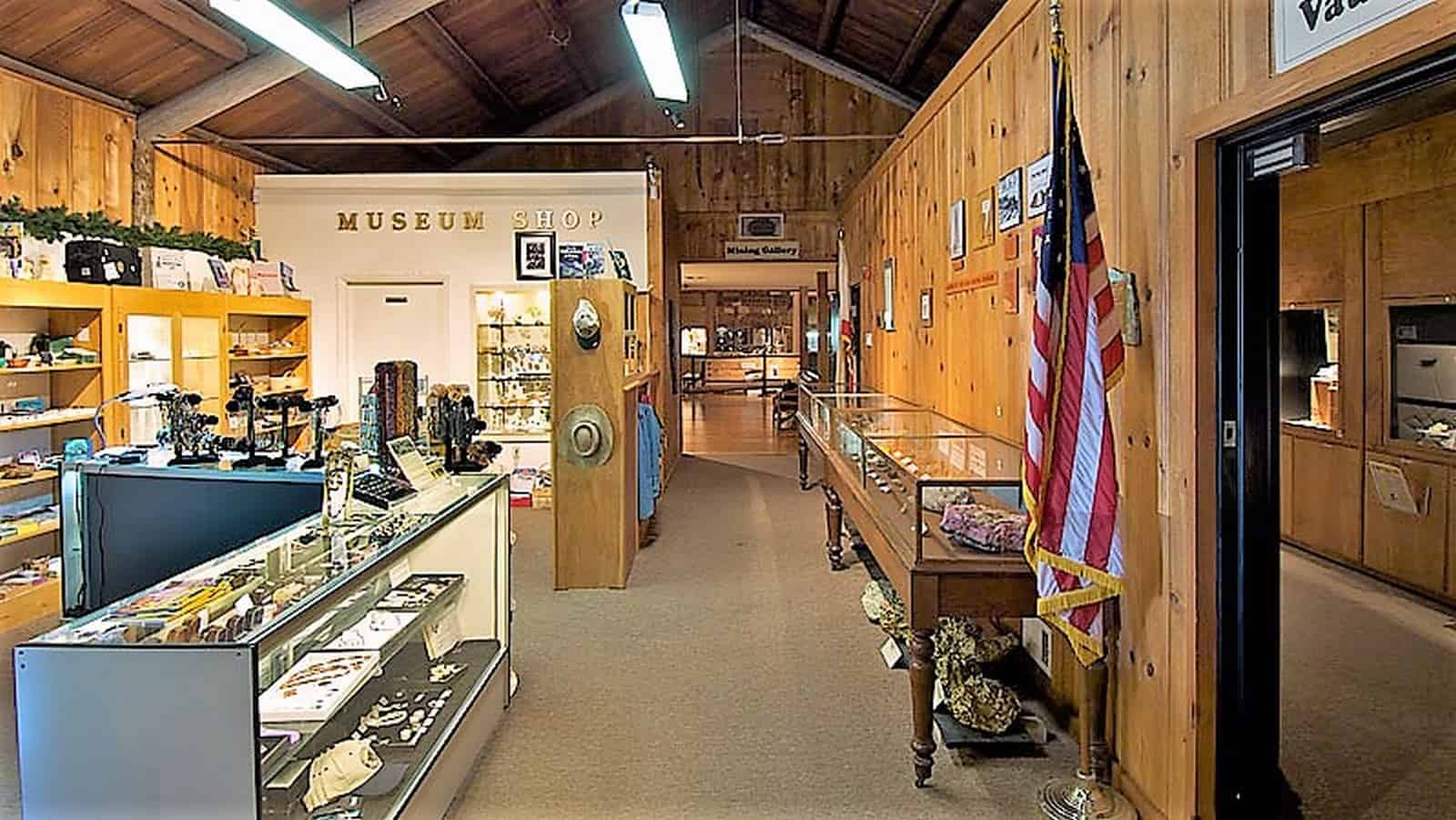 CostaLivos Olive Oil and Balsamic Vinegar
After visiting the museum, visit CostaLivos Mountain Gold Olive Oil in downtown Mariposa to taste artisan olive oils and balsamic vinegars. CostaLivos olive grove, located in the western foothills of the Sierra Nevada mountain range, is family-owned. They carefully tend to their olive trees to produce the highest quality fruits, then handpicked and cold-pressed the olives to yield the most flavorful extra virgin olive oils.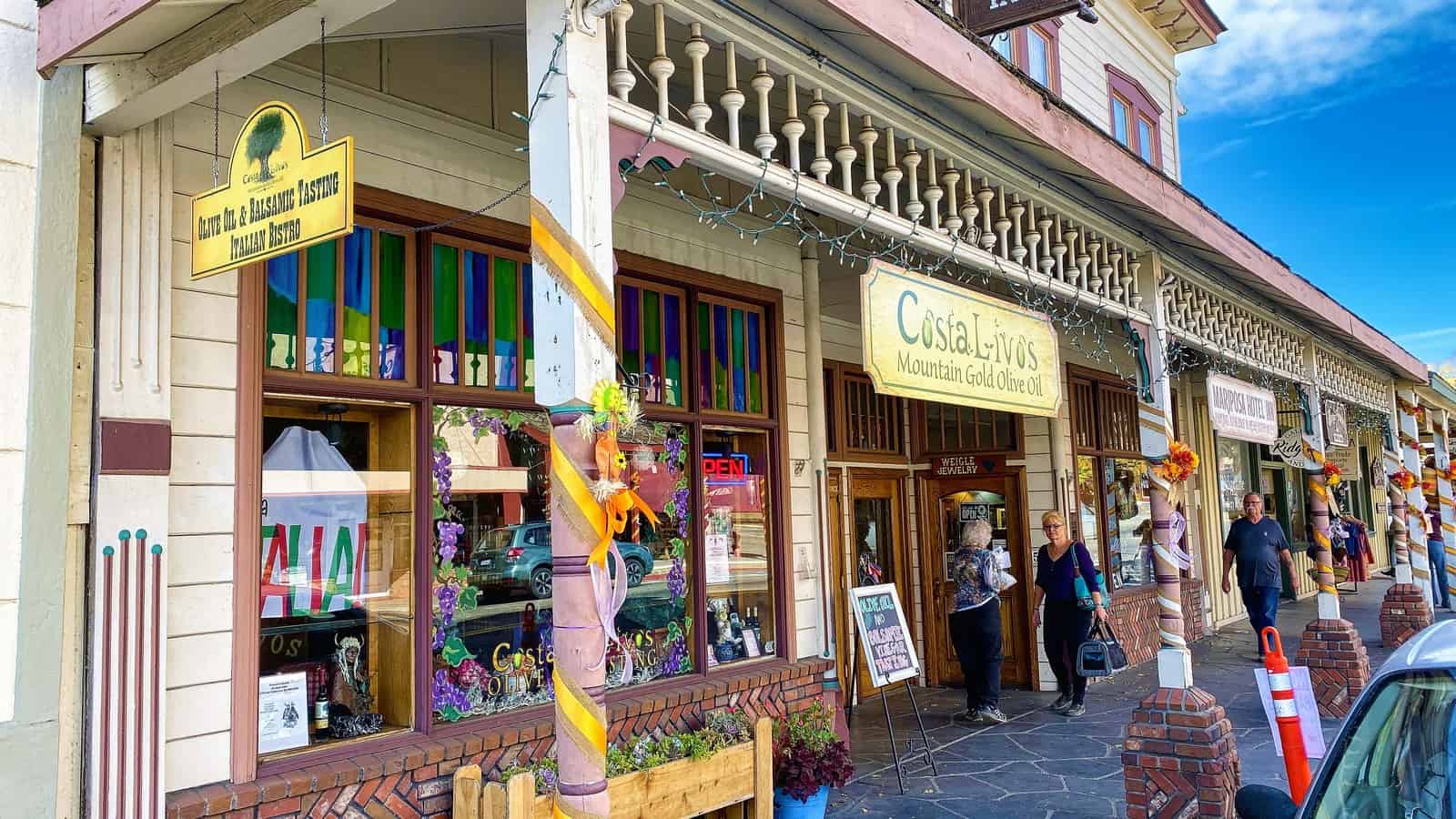 We tasted many oils and balsamic, and our favorite combination was the garlic olive oil and the reserve caramelized onion balsamic. These are the ones we bought and brought back to Ecuador.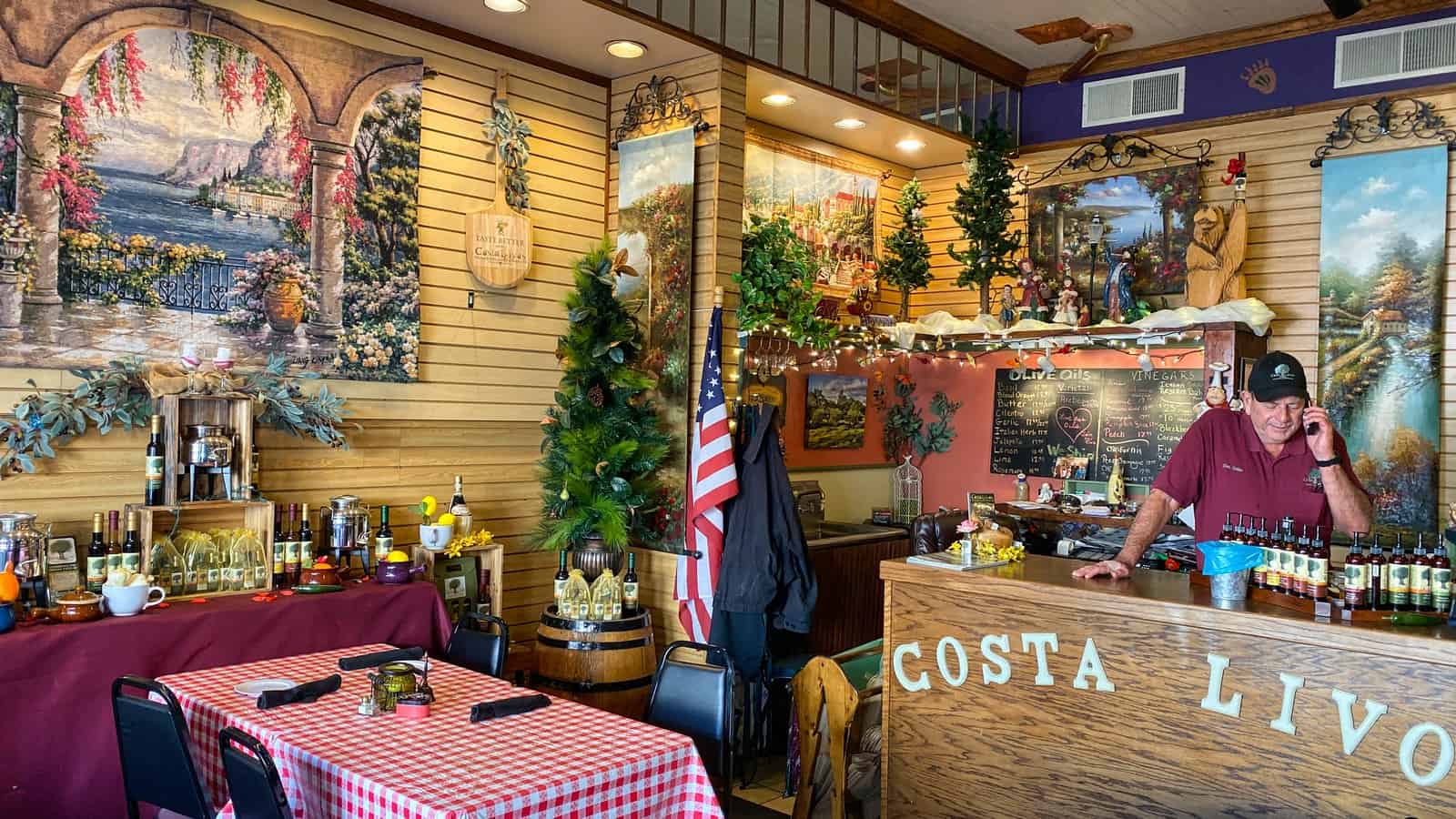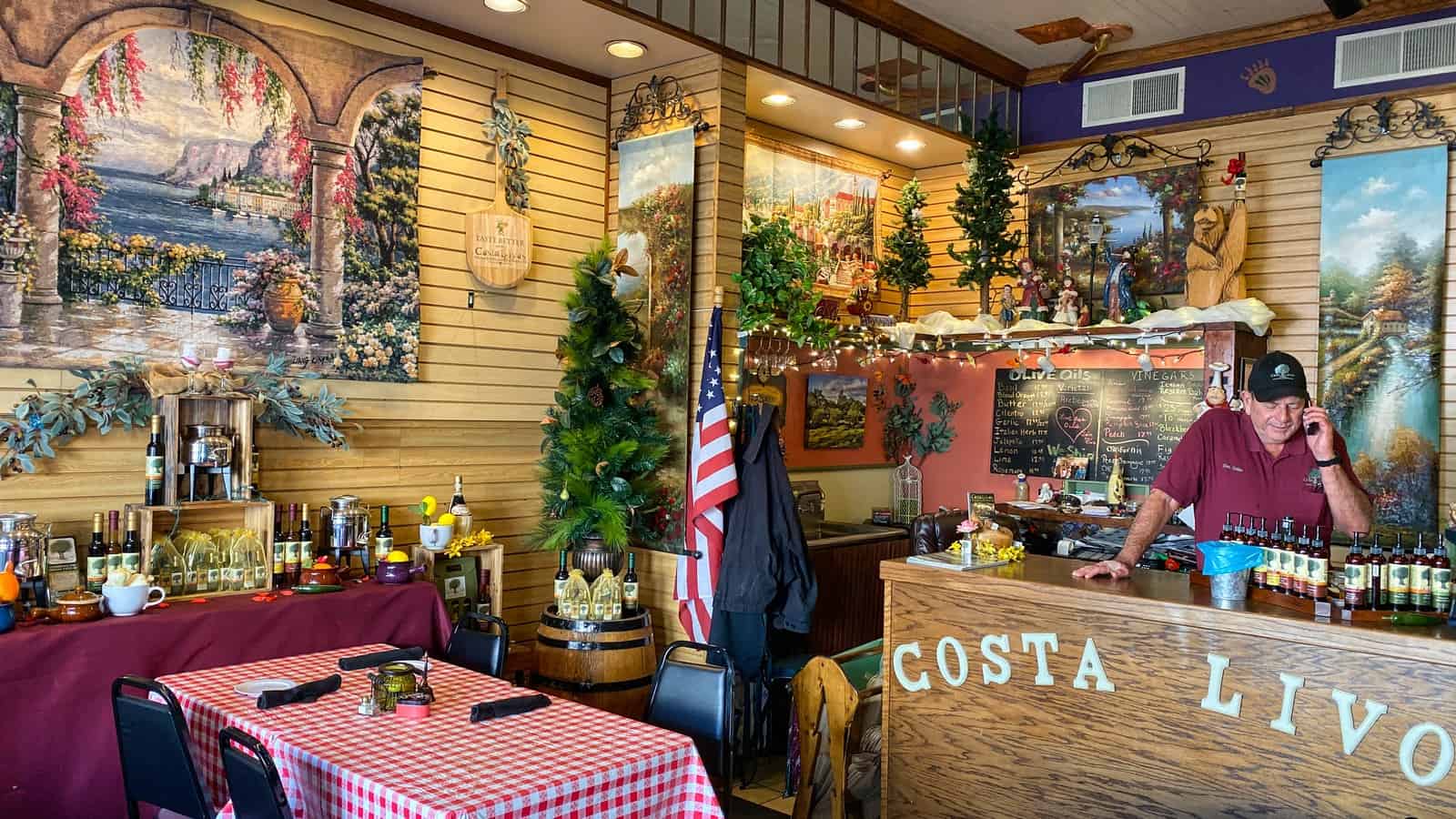 Likewise, if you are hungry, stay and dine at their restaurant, La Cucina. At La Cucina food is prepared in the Italian family food tradition.
Lunch at 1850 Restaurant
We recommend having lunch at 1850 Restaurant, also in downtown Mariposa. 1850 is a restaurant and brewery owned by local Mariposa residents.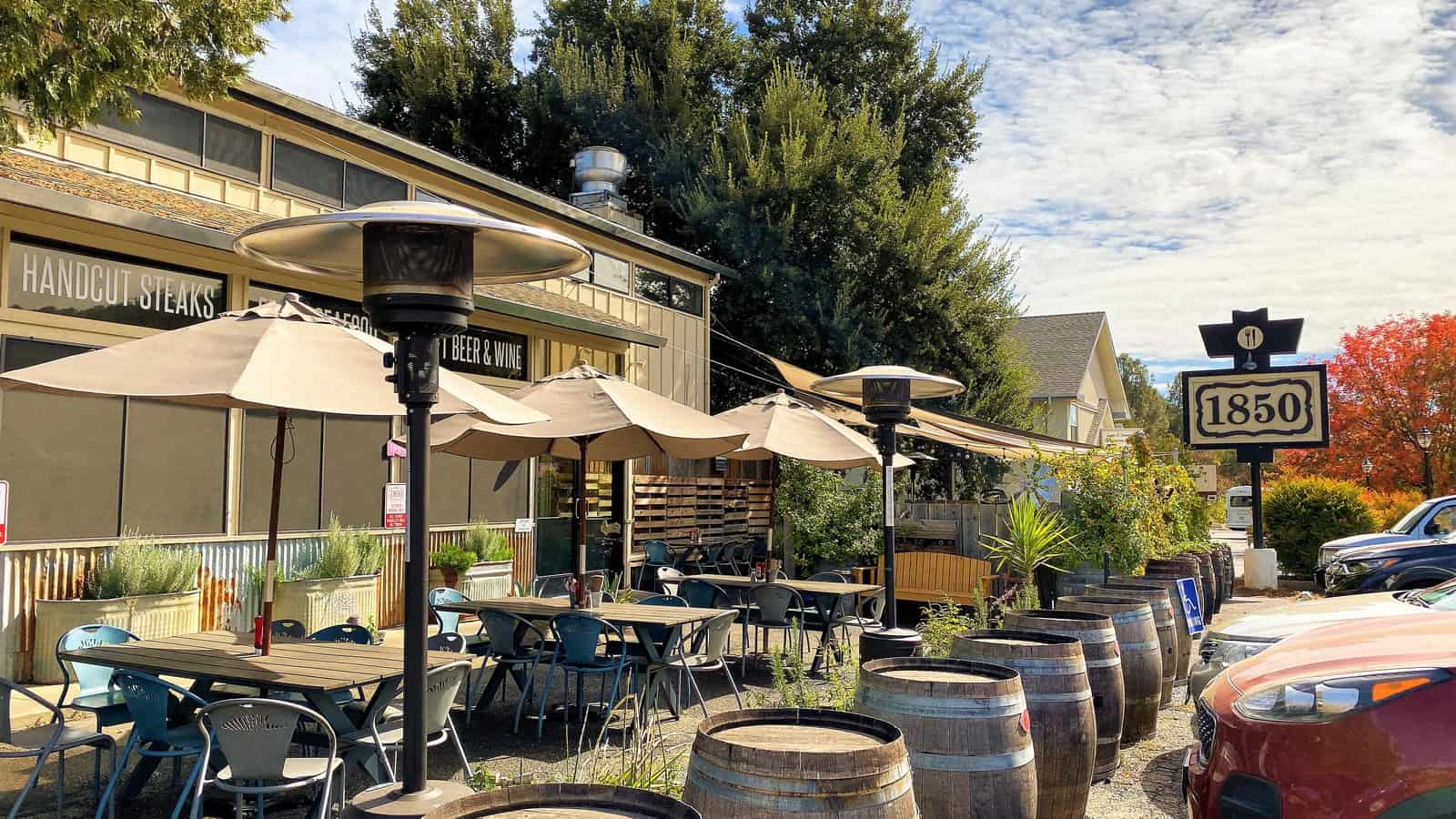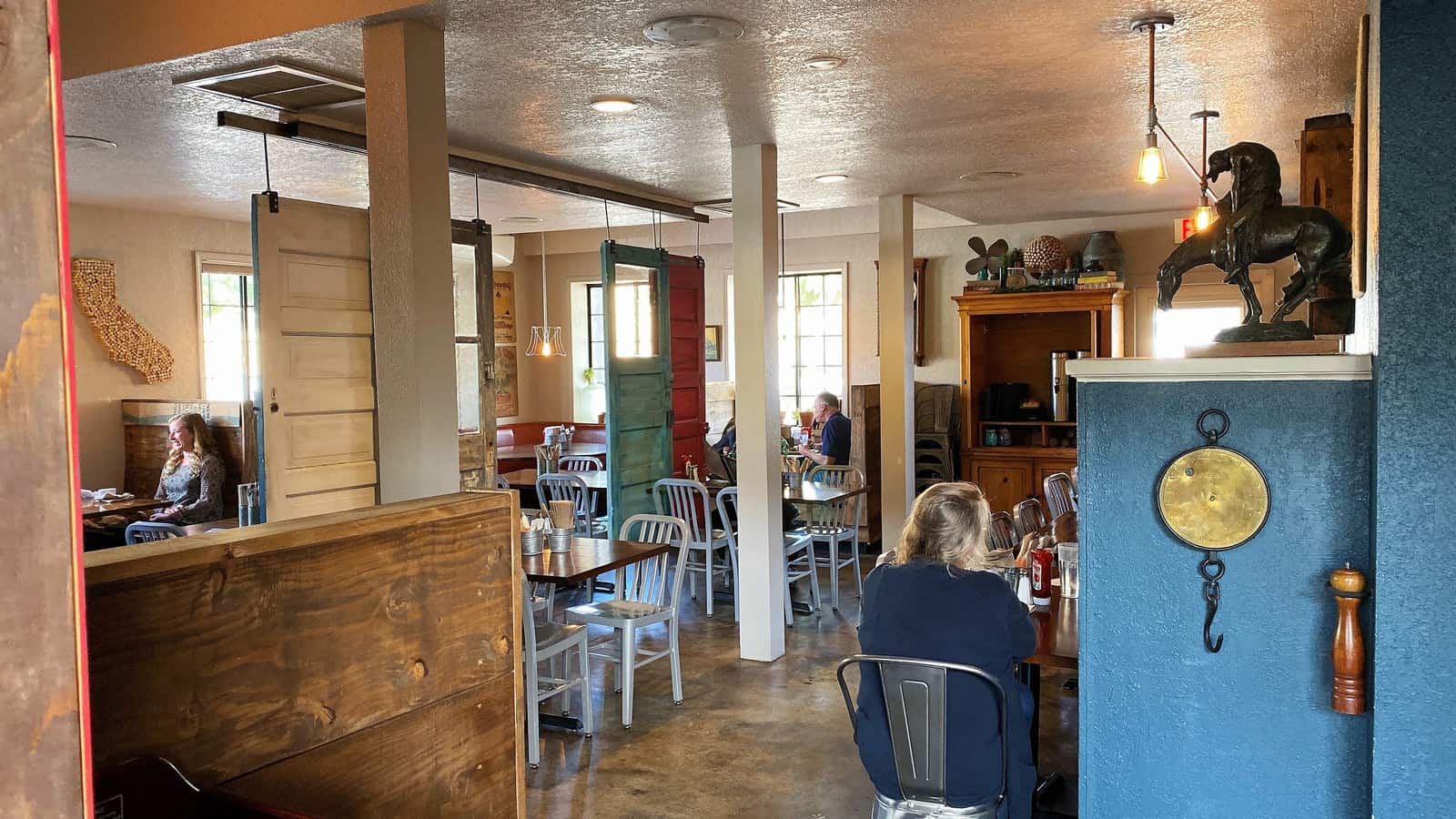 The name 1850 comes from California and Mariposa's history. 1850 was the year California became the 31st state of the United States. Additionally, in 1850 Mariposa became the largest of the original California Counties. At the 1850 restaurant, Keith had a delicious tri-tip stew and Tina had an organic salad with lots of fresh veggies.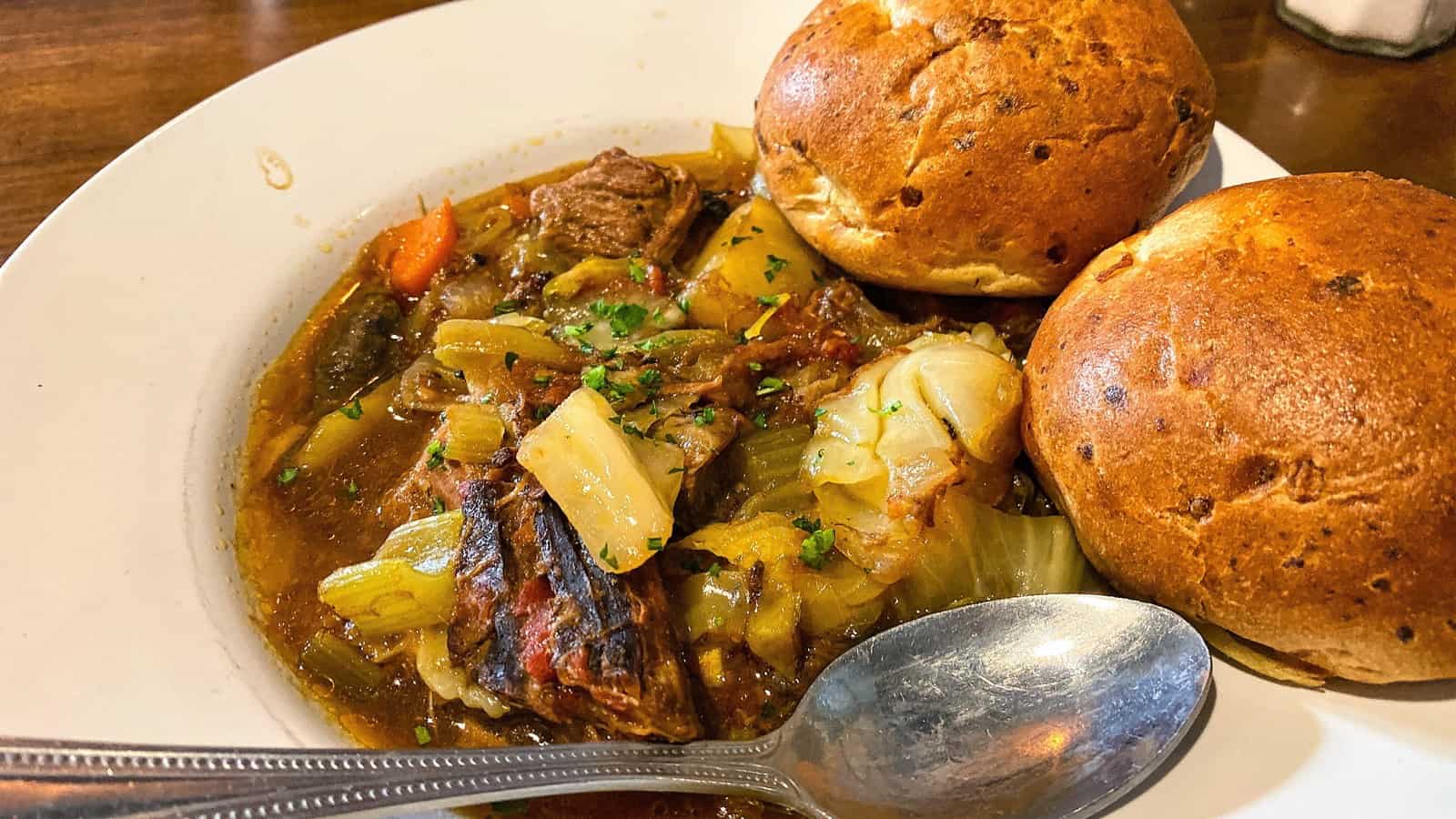 Taste Wine at Casto Oaks
After lunch while still in the wonderful downtown of Mariposa, stop at Casto Oaks Fine Wine and Art to do a wine tasting. The tasting room is inviting and doubles as a wine lovers shop. They sell everything wine.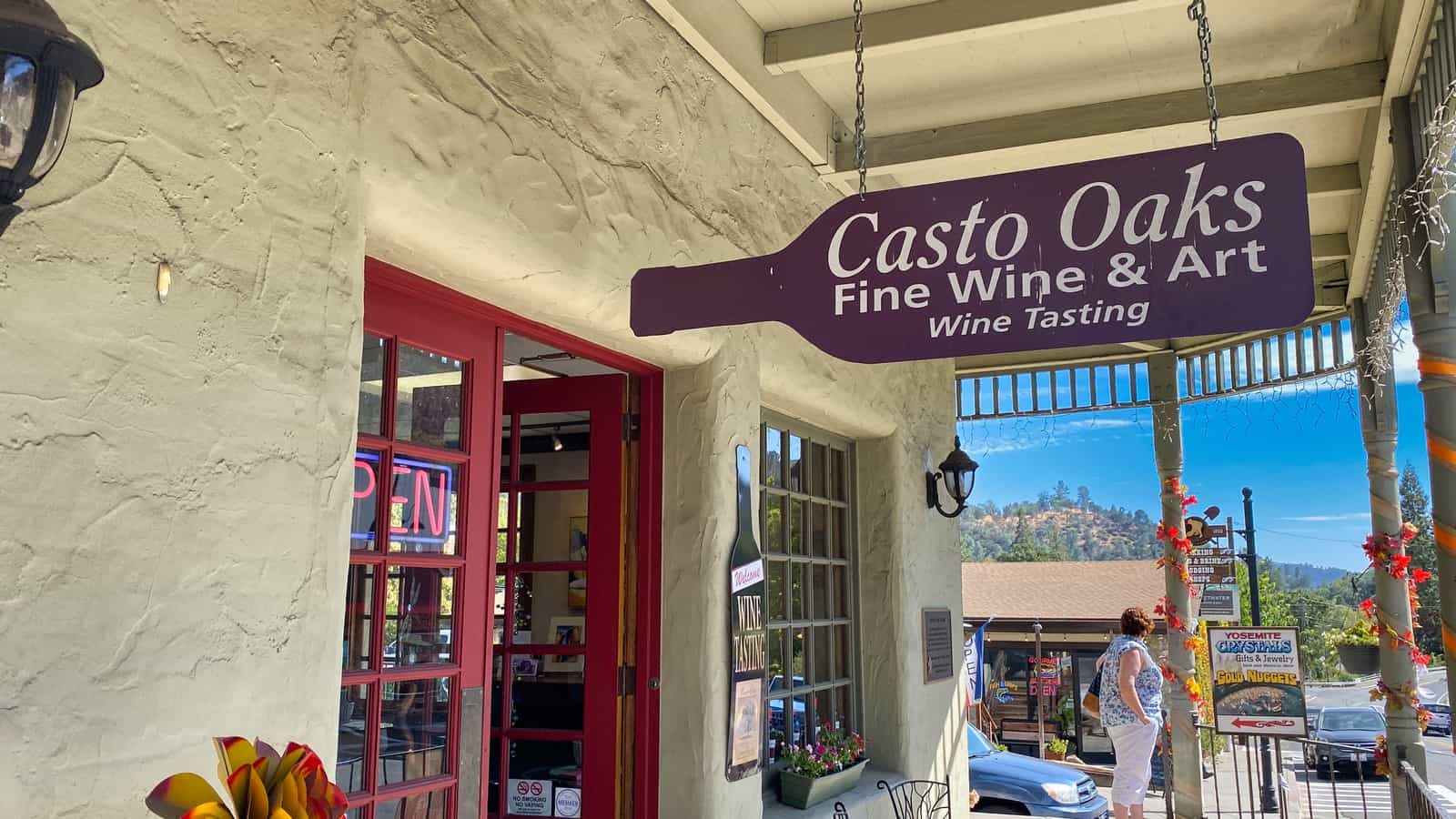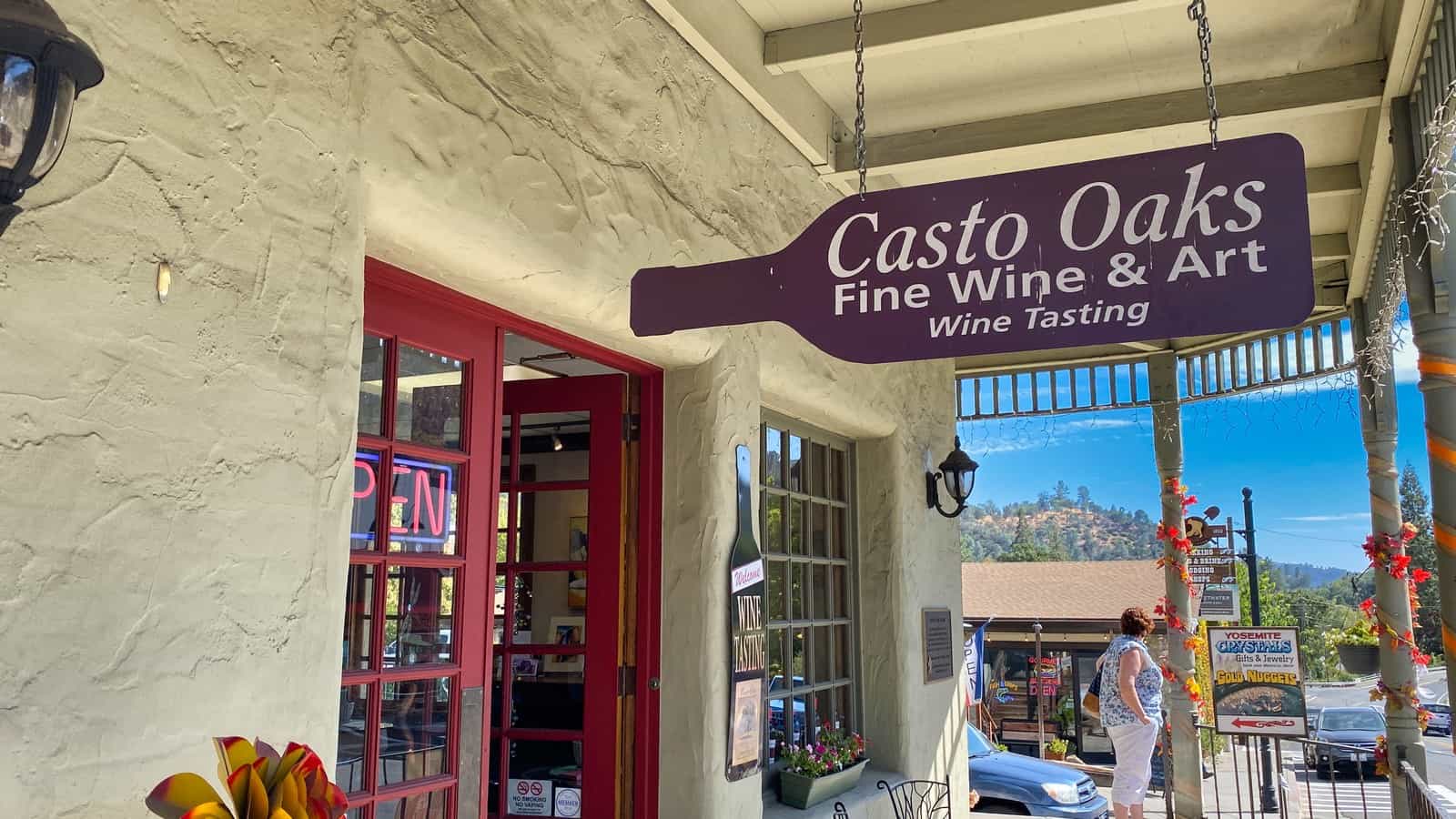 Casto Oaks is a six-acre vineyard located in Mariposa. They are a boutique winery producing between 800 and 1,300 cases of wine per year.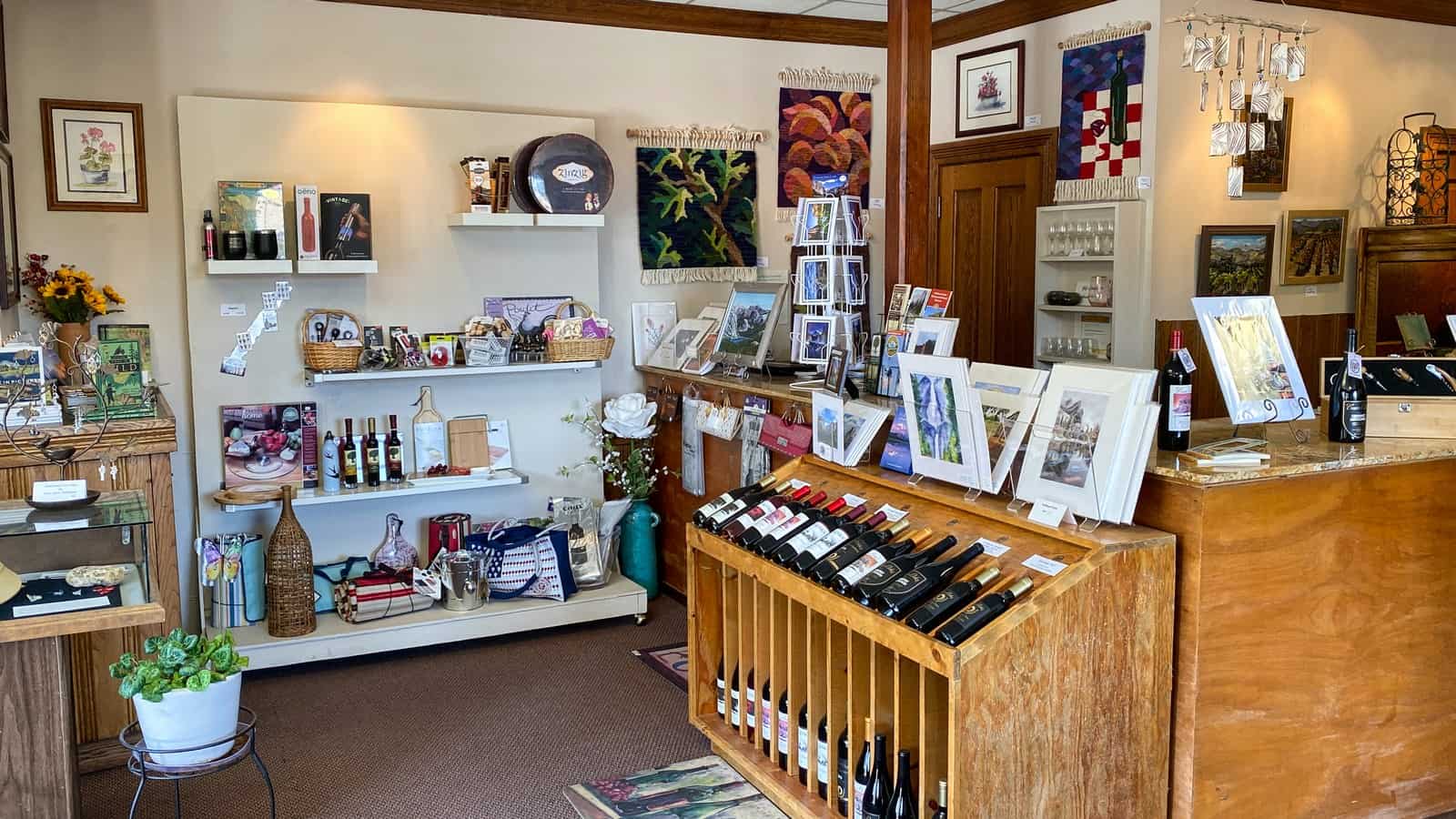 Today the vineyard and winery are run by a grandma and grandson duo. Their classic varietal is Zinfandel, but they've also planted sections of Cabernet, Cabernet Franc, and Merlot. Casto Oaks wishes to craft their version of world-class Bordeaux style Cabernet blends.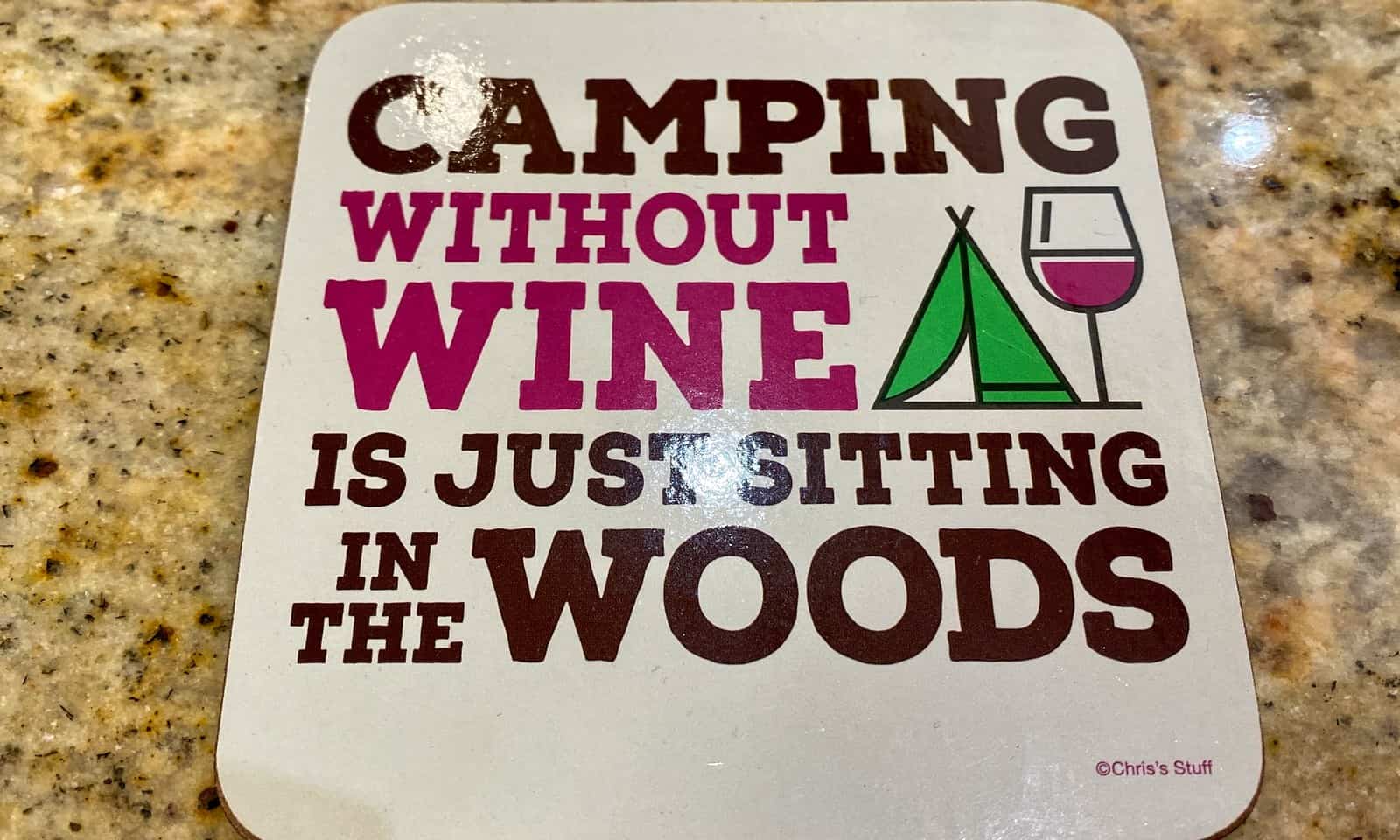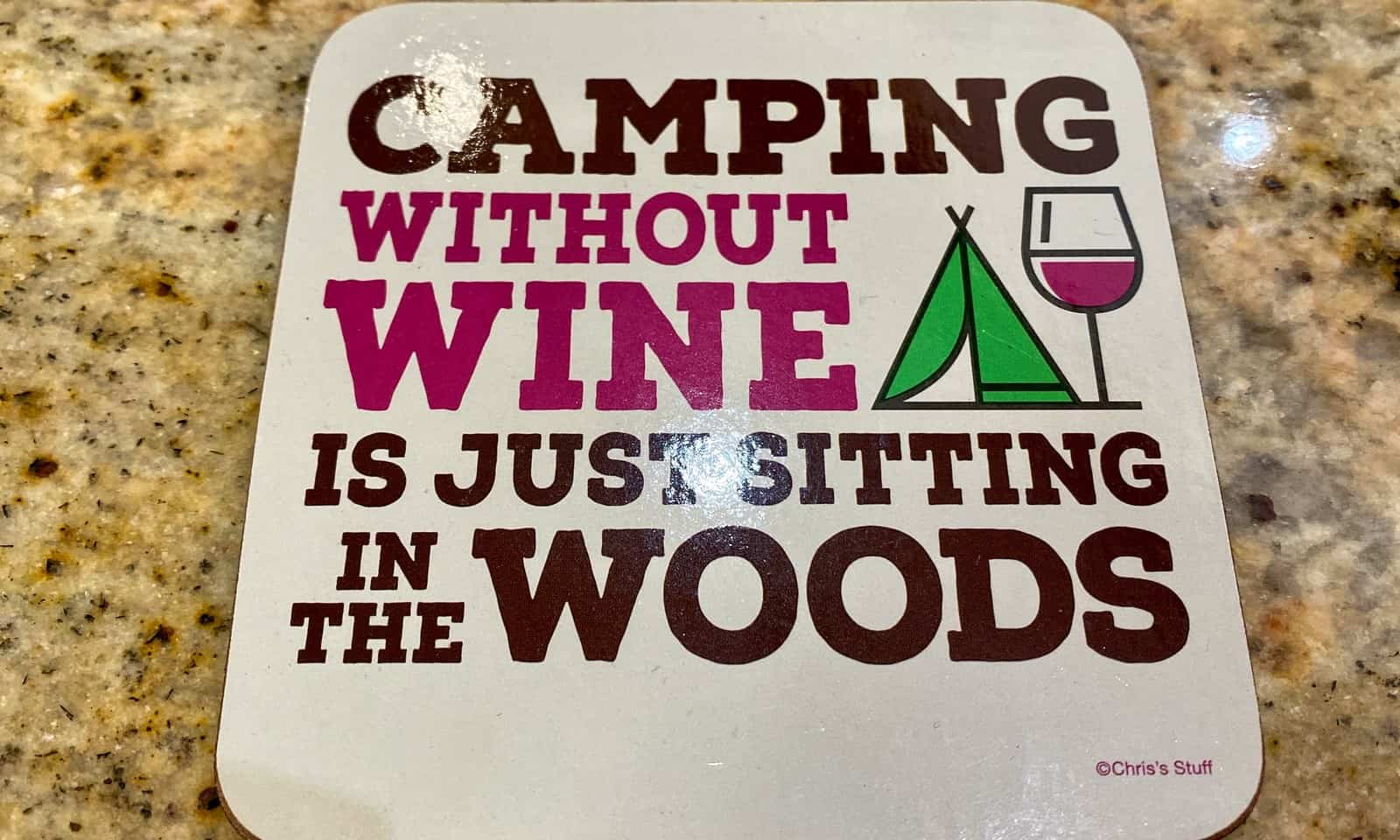 Visit Butterfly Creek Winery
Lastly, take a ride out of downtown to the valley and stop at Butterfly Creek Winery and taste wine with owner Bob Gerken. The drive to this winery is pretty.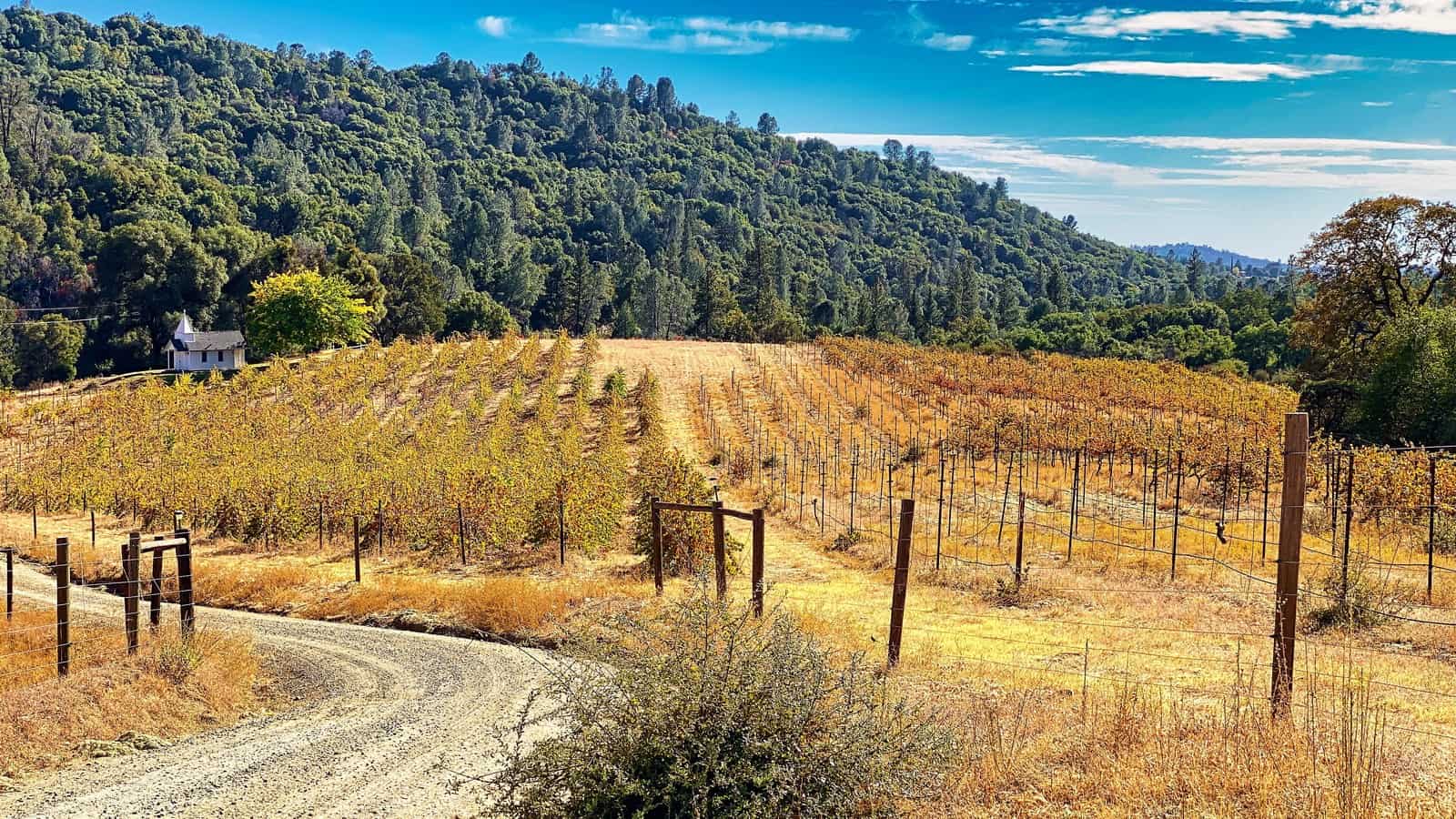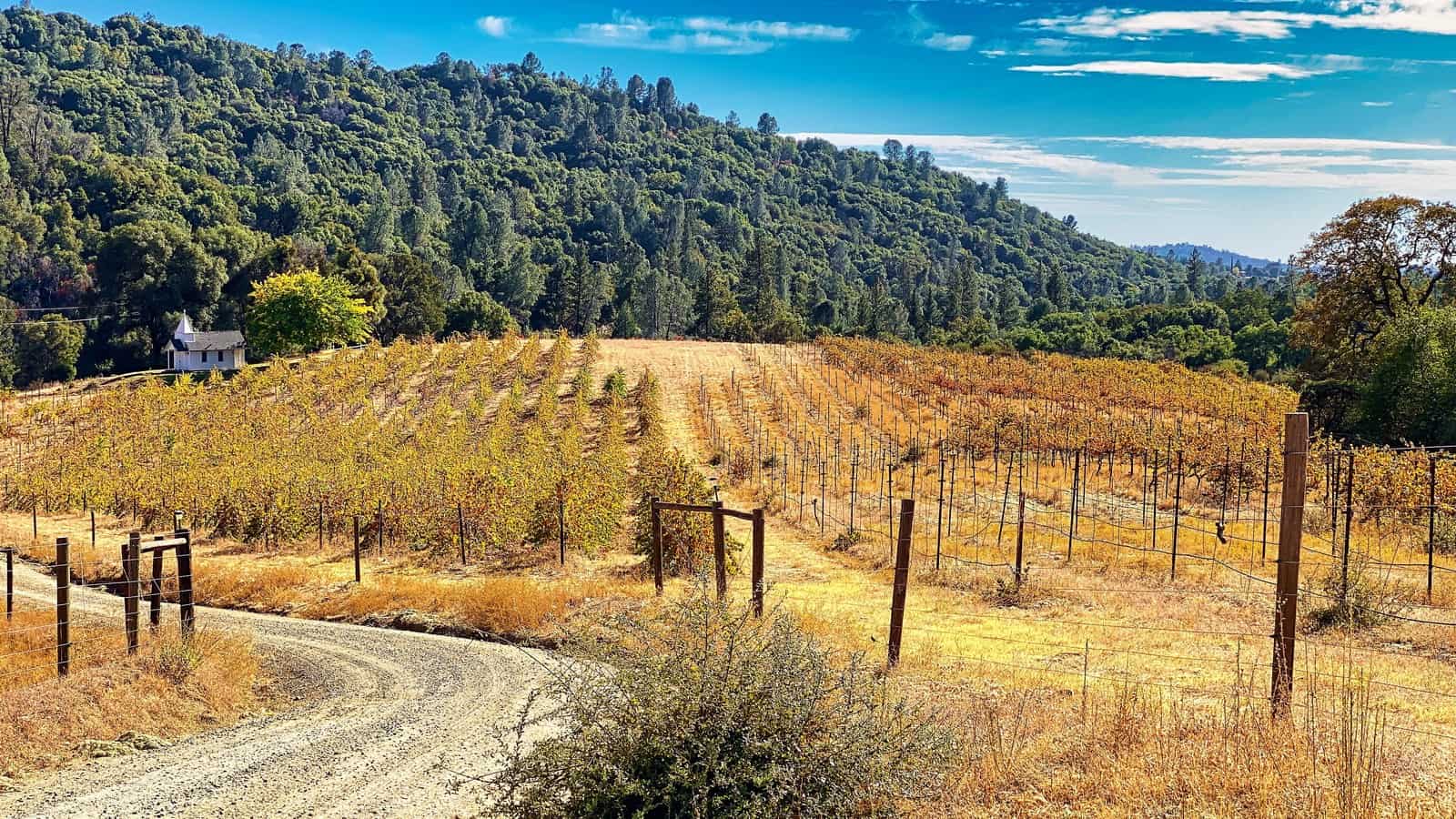 Butterfly Creek Winery and Vineyards is set on 200 acres adjoining the Sierra Foothills. You can taste wine in their cozy tasting room or their picnic area. Likewise, you can plan to bring a picnic lunch and dine next to the bubbling Butterfly Creek.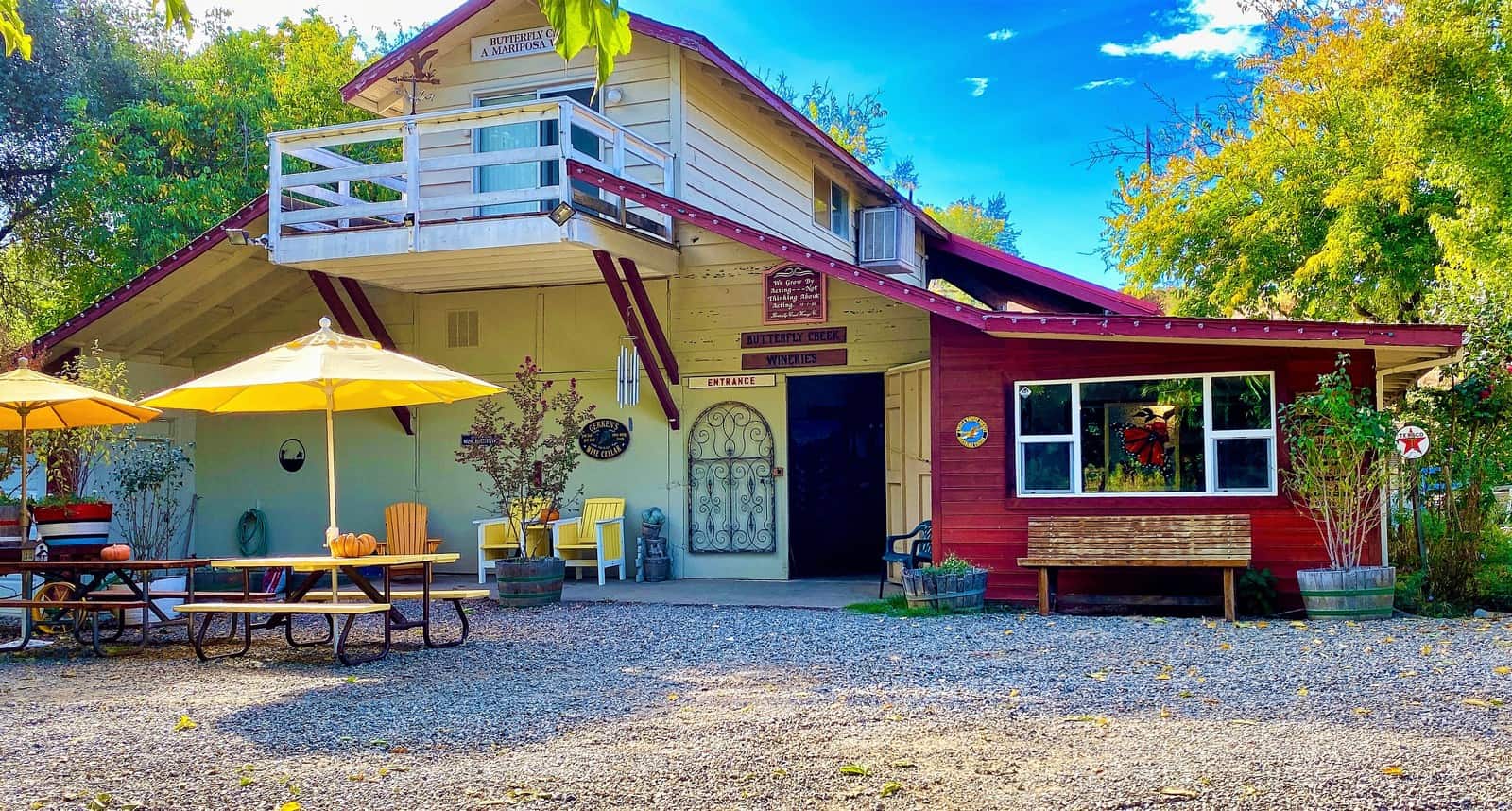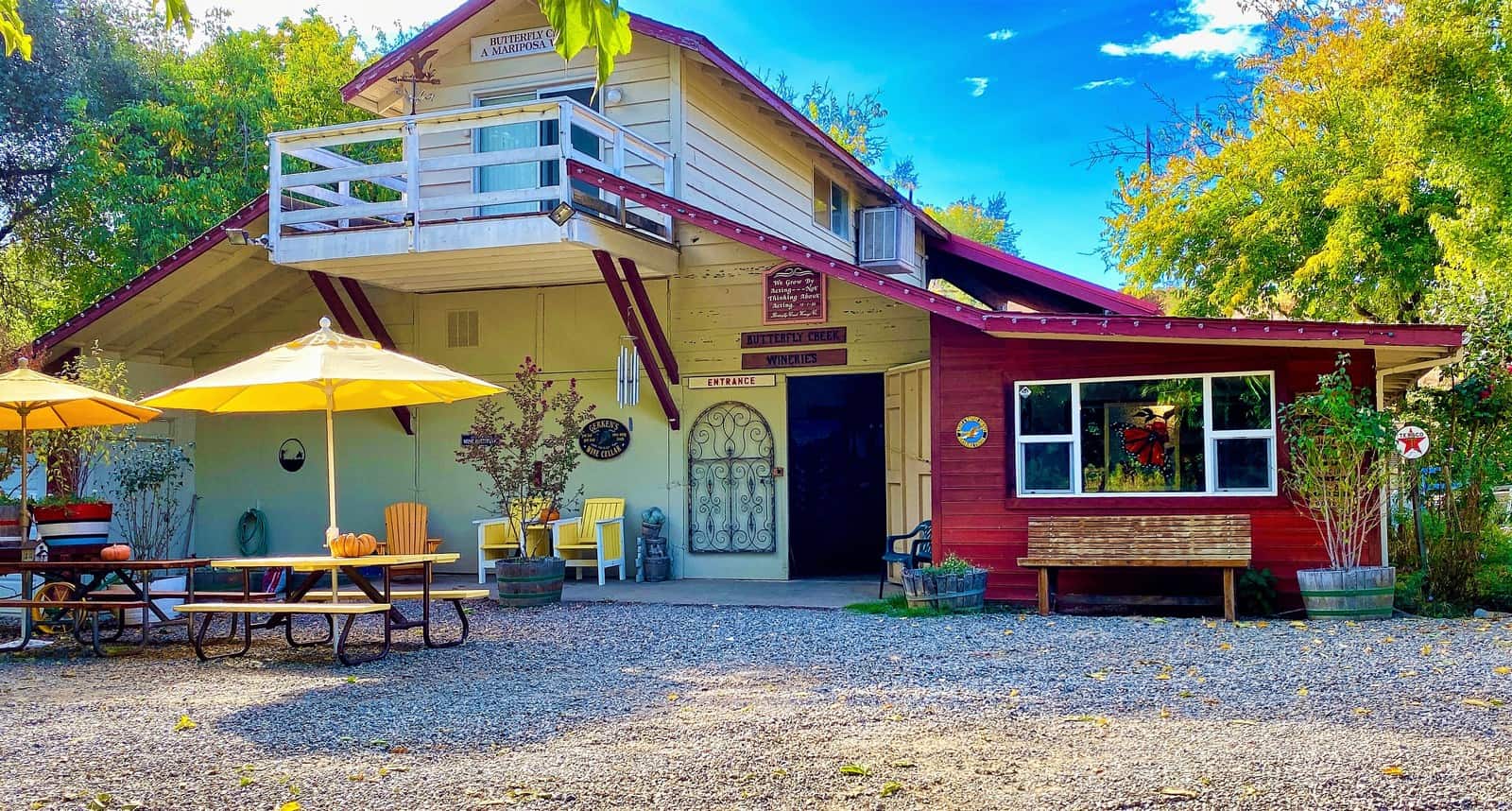 The owners of Butterfly Creek Winery have grown grapes since the 1970s on 200 acres abutting the Sierra Foothills in Mariposa. The winery is open Tuesday through Sunday for tastings of their Cabernet Sauvignon, Merlot, White Merlot, Zinfandel, Campfire Red, and Chardonnay. Tours are available as well.
When we arrived, two friendly dogs greeted us. Bob, the owner, came to greet us too. Bob is a friendly, outgoing guy. While we tasted his wines, he talked about his hiking experiences in Yosemite as well as his wine. They have a small shop in the tasting room with lots of local food products for sale.
The labels of the Butterfly Creek Wines designed by Bob's sister are beautiful!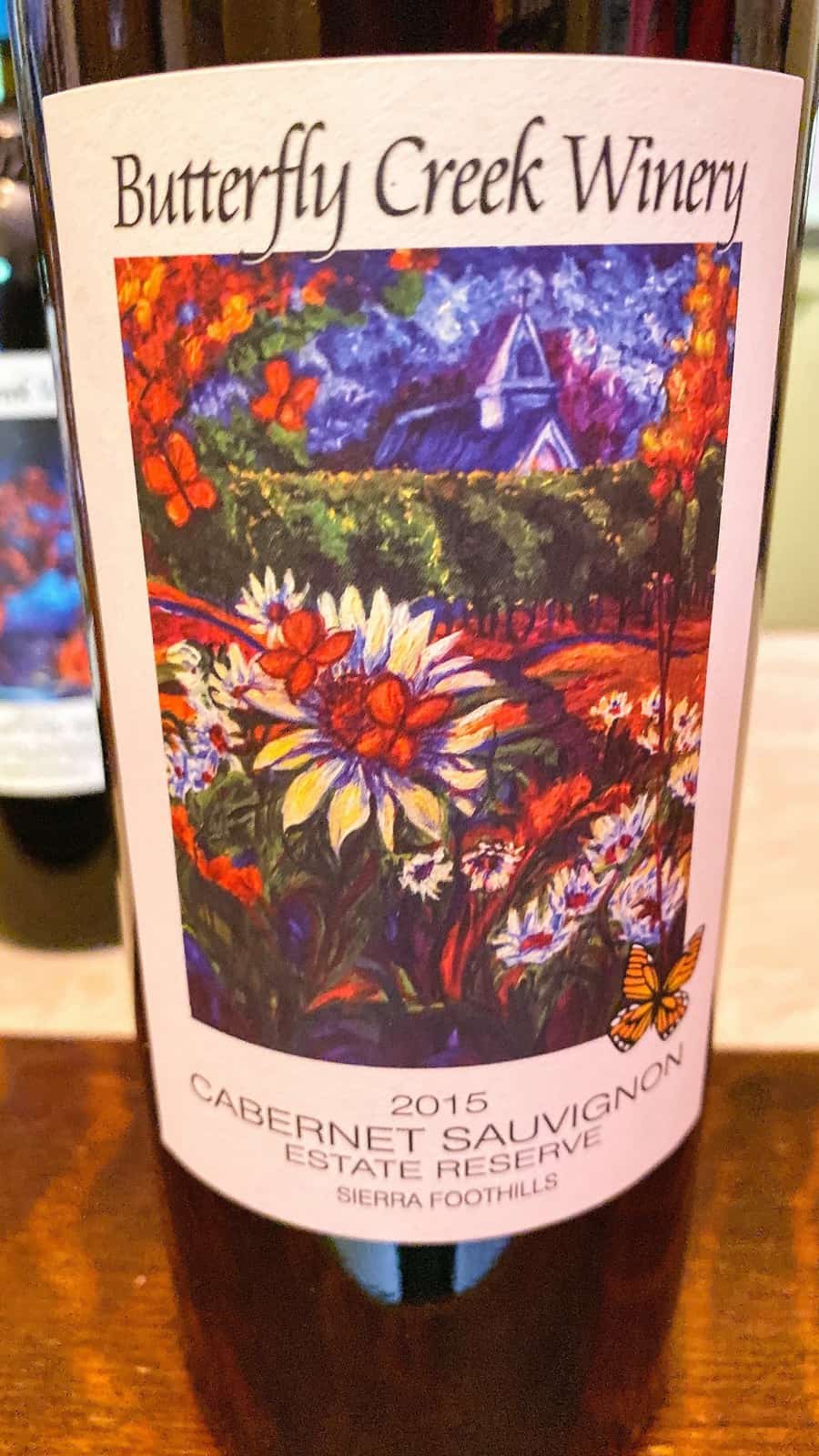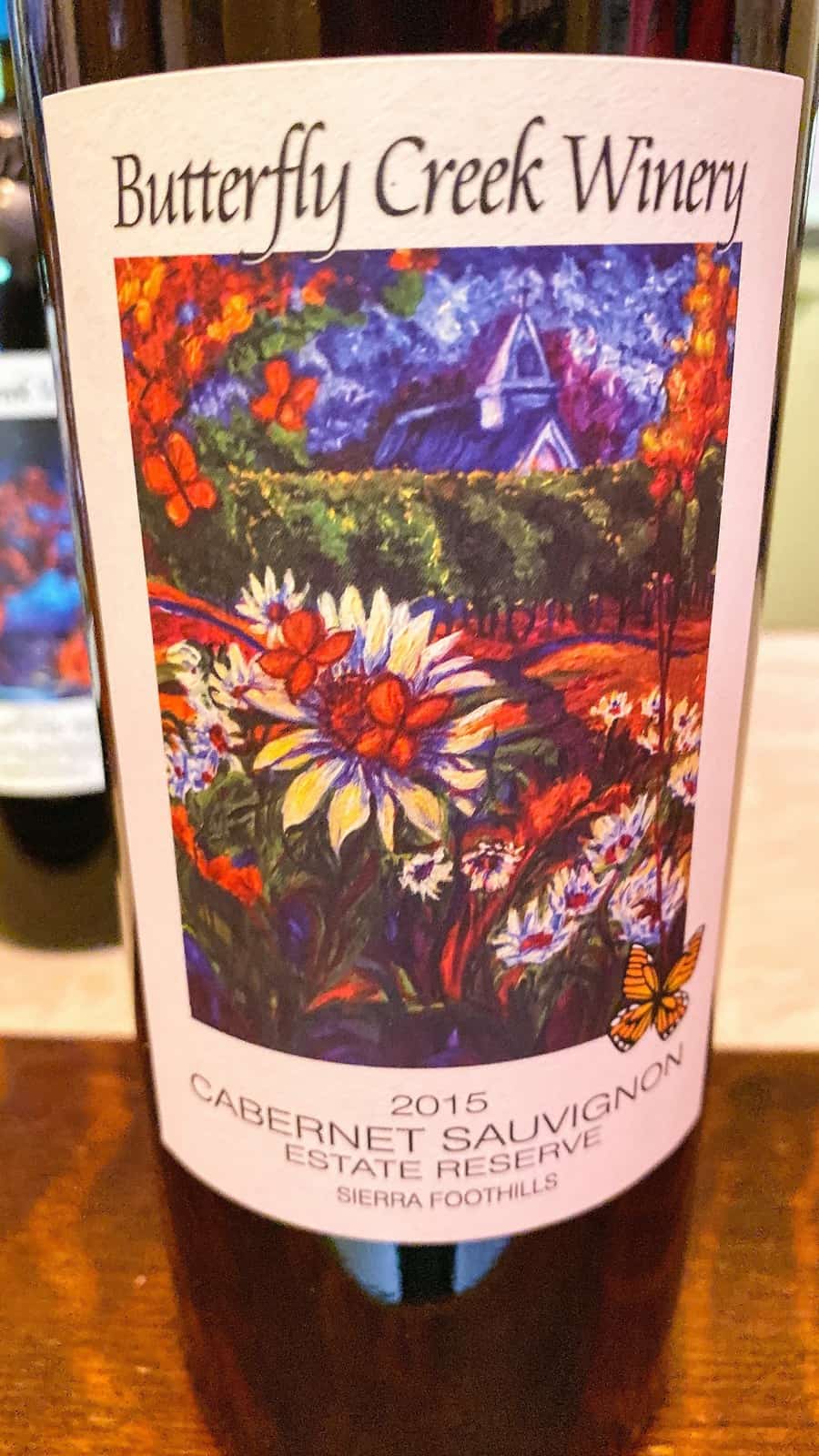 After tasting wine at Butterfly Creek and talking with Bob, the dream of us owning a winery reemerged. Then Keith reminded me that we are technically retired.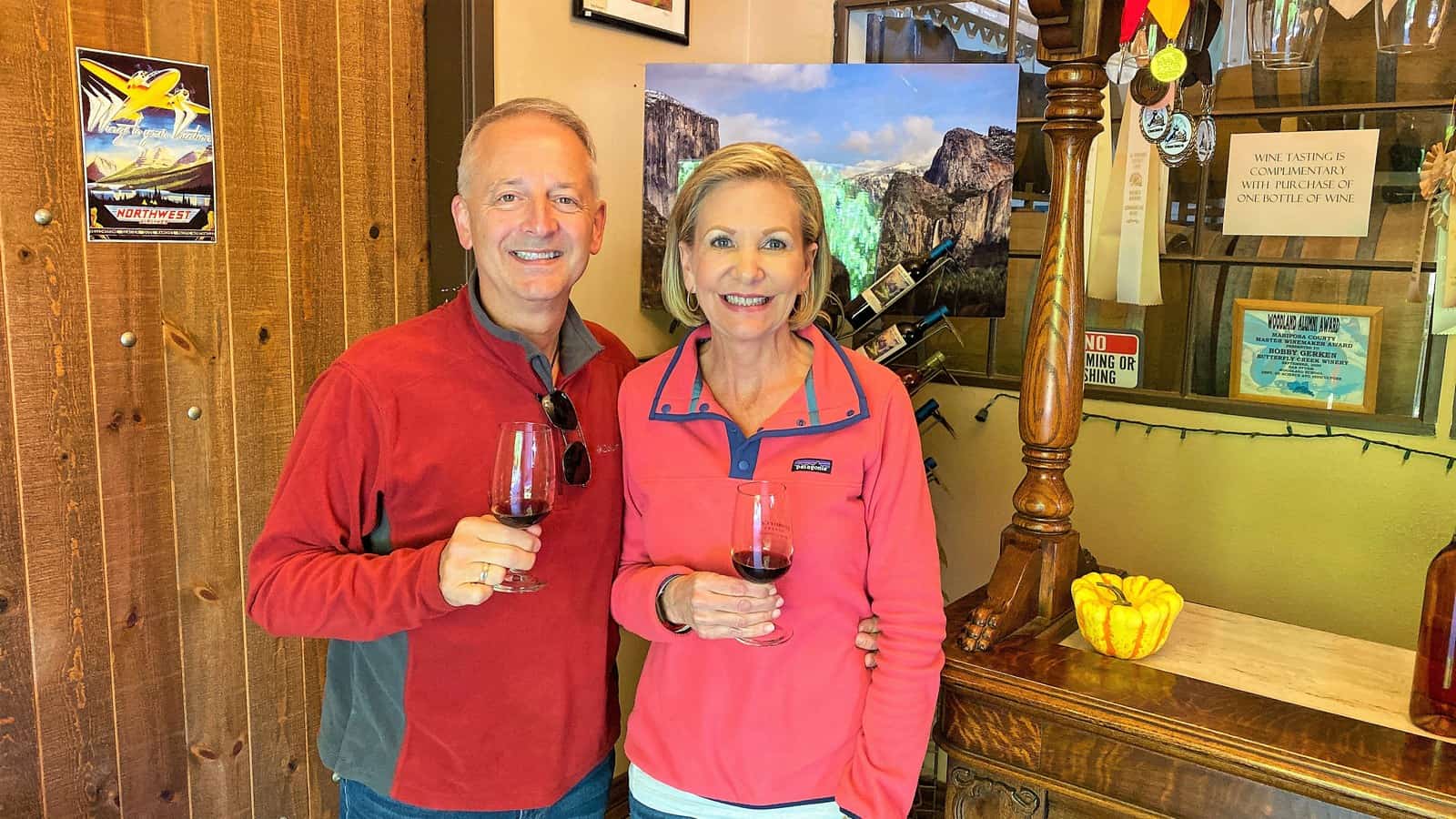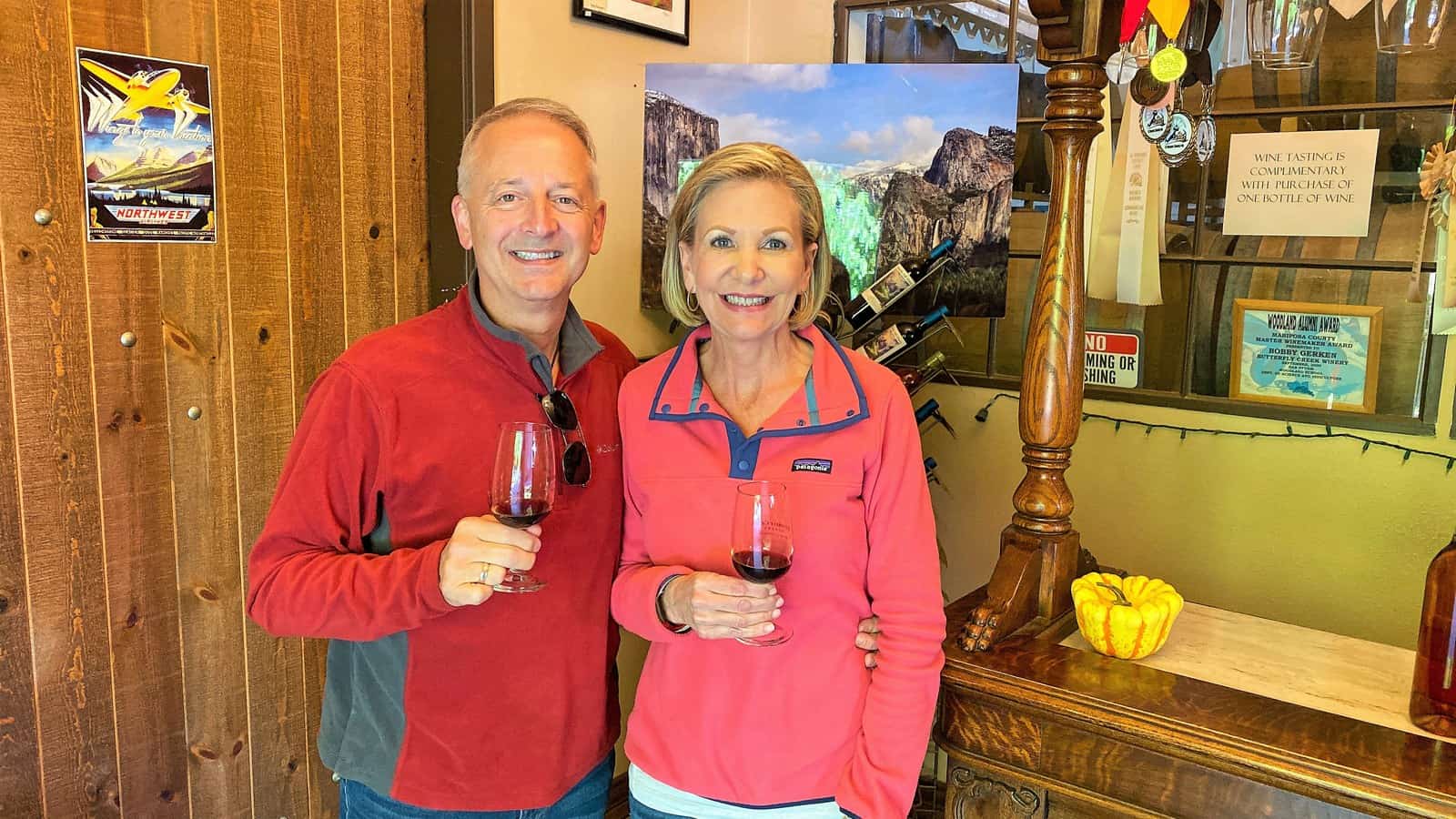 Make Sure to See Sequoia National Park
After visiting Yosemite, we became increasingly itchy to see Sequoia National Park. So Keith and I left our hotel a couple of hours before dawn and began the three-hour drive to Sequoia National Park. Before I go on, I need to see the drive was worth it. As we drove, we traveled steep highways from the almost hot, sunny foothills up into the cold forests and sequoia groves. We arrived in the park early on a cold morning. The weather was dry, but the temperature was below freezing and we only had lightweight jackets. The early arrival resulted in us only seeing a handful of other visitors, so we were able to see everything we came there for quickly on a brisk walk.
Sequoia and the adjacent Kings Canyon National Park have huge mountains, rugged foothills, deep canyons, vast caverns, and the world's largest trees.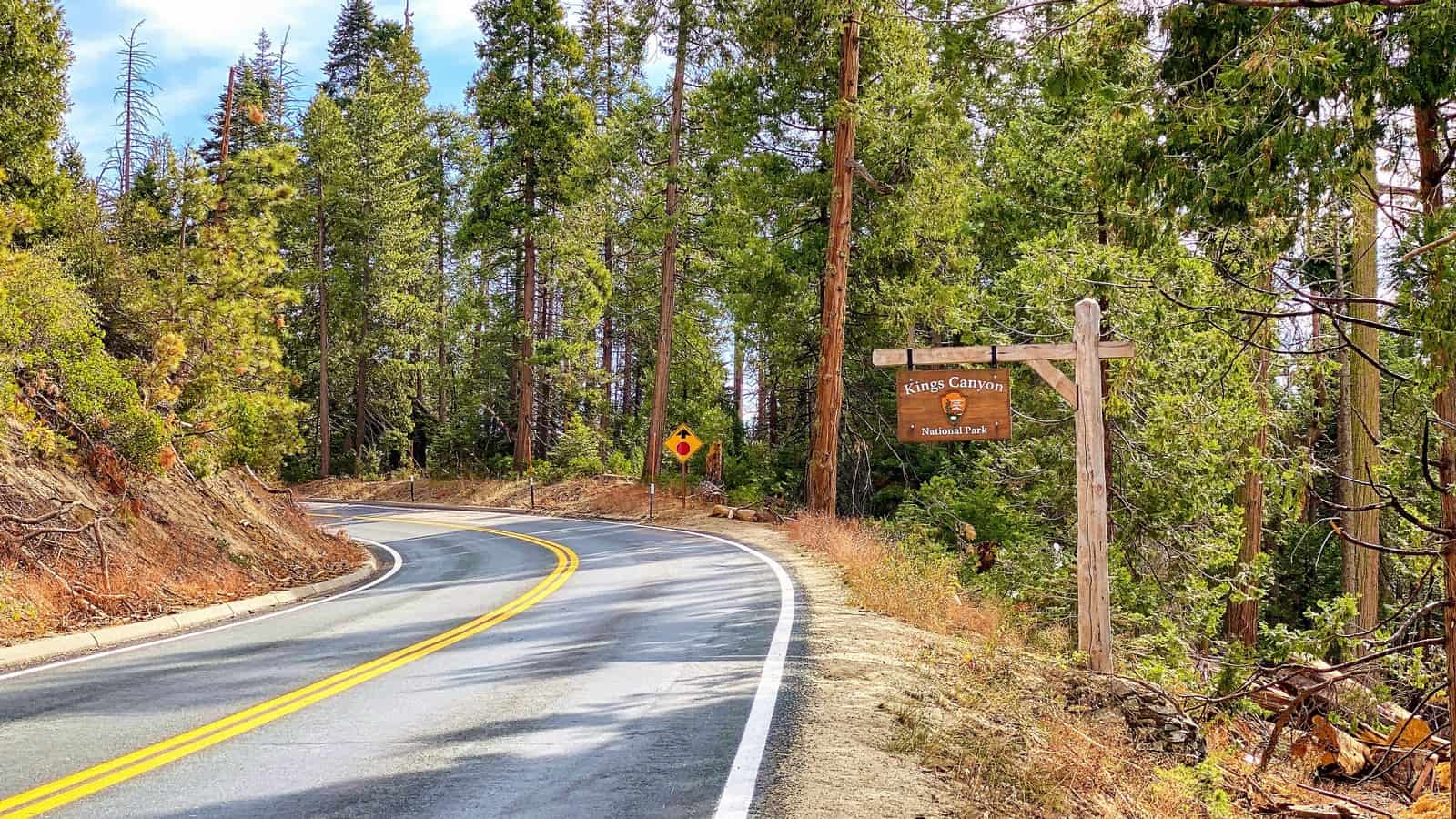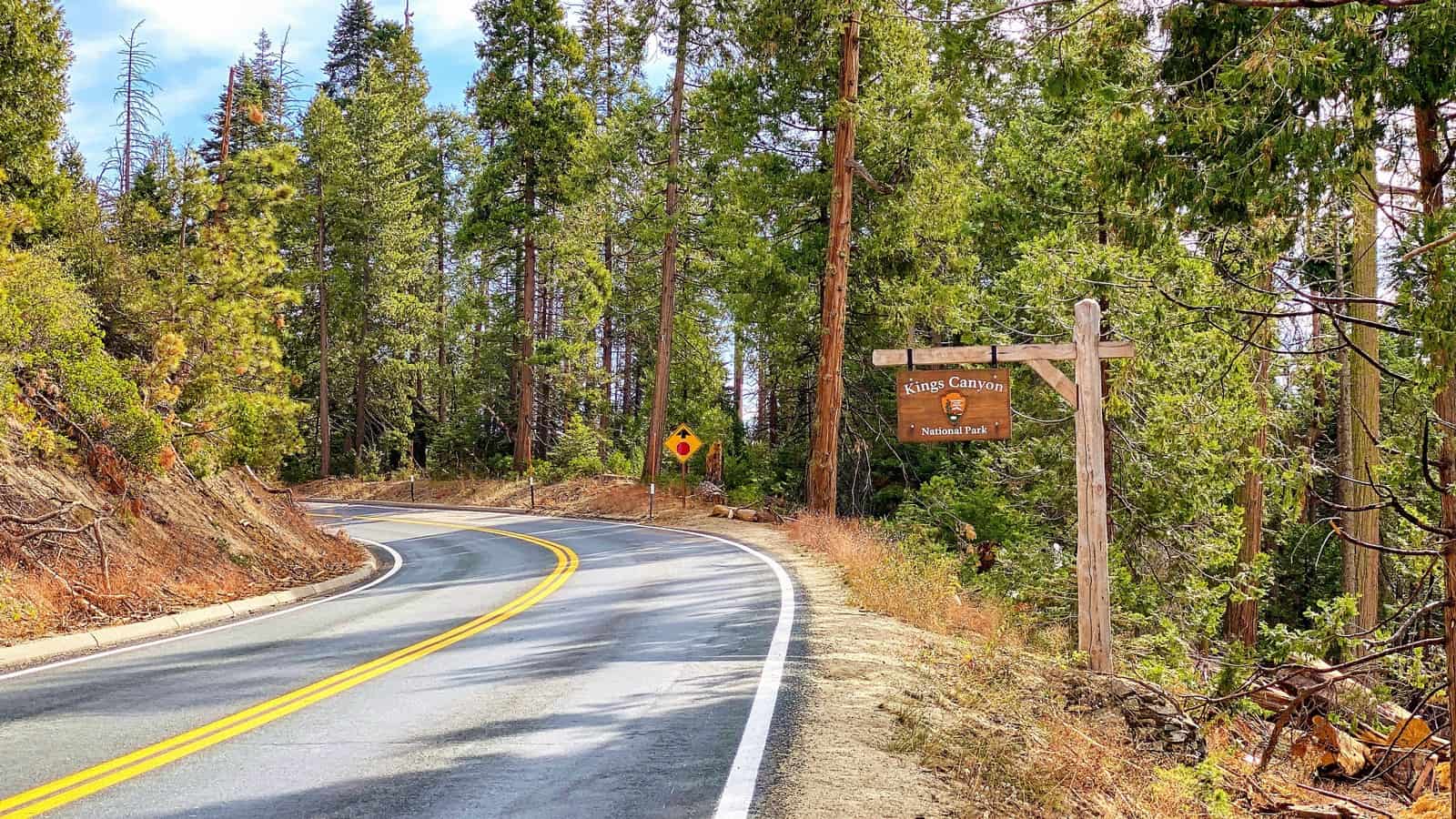 Sequoia is notable for its giant sequoia trees, including the General Sherman Tree, the largest tree on earth (the largest living thing on earth by volume). General Sherman grows in the Giant Forest, which holds five of the ten largest trees in the world.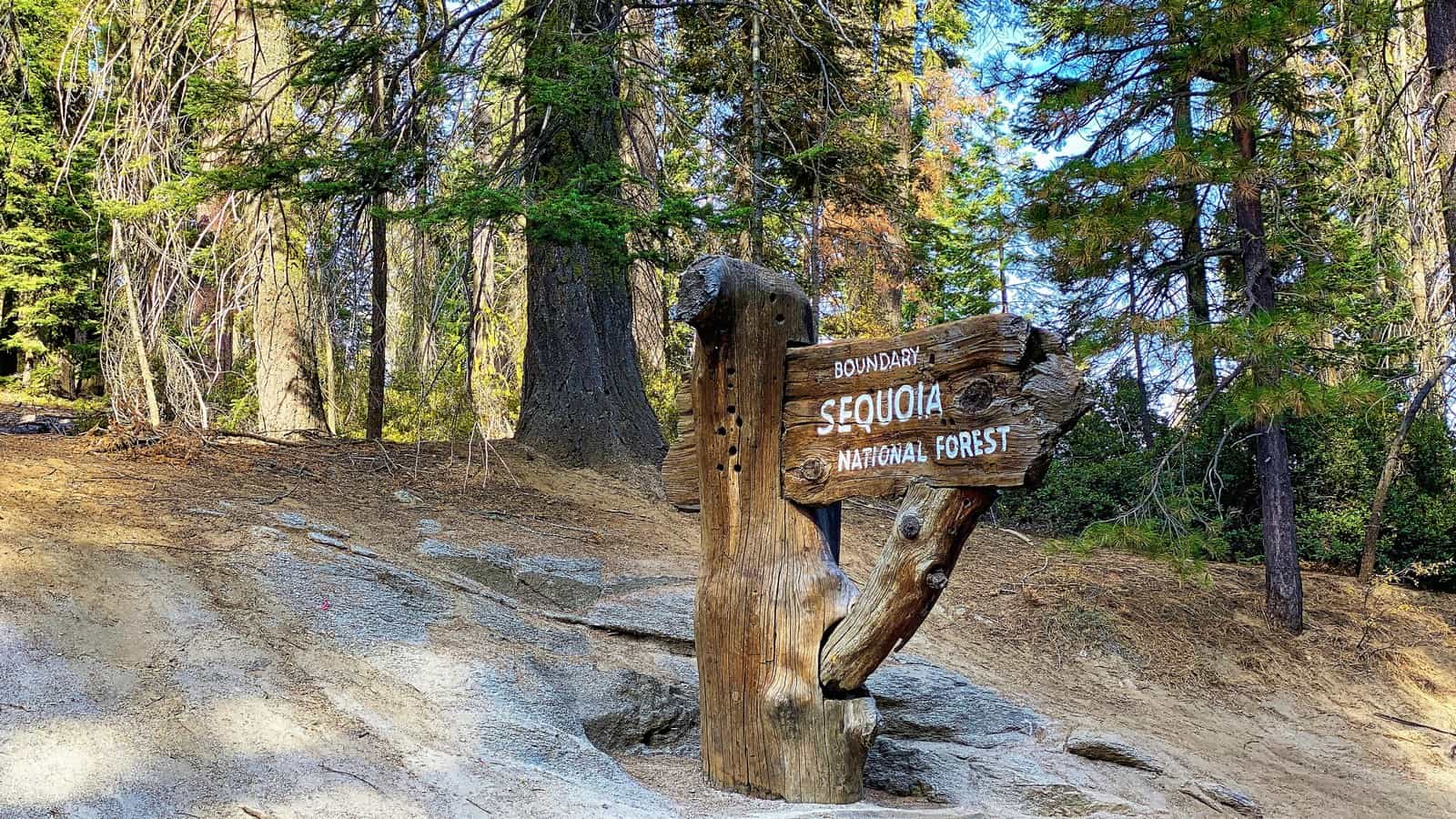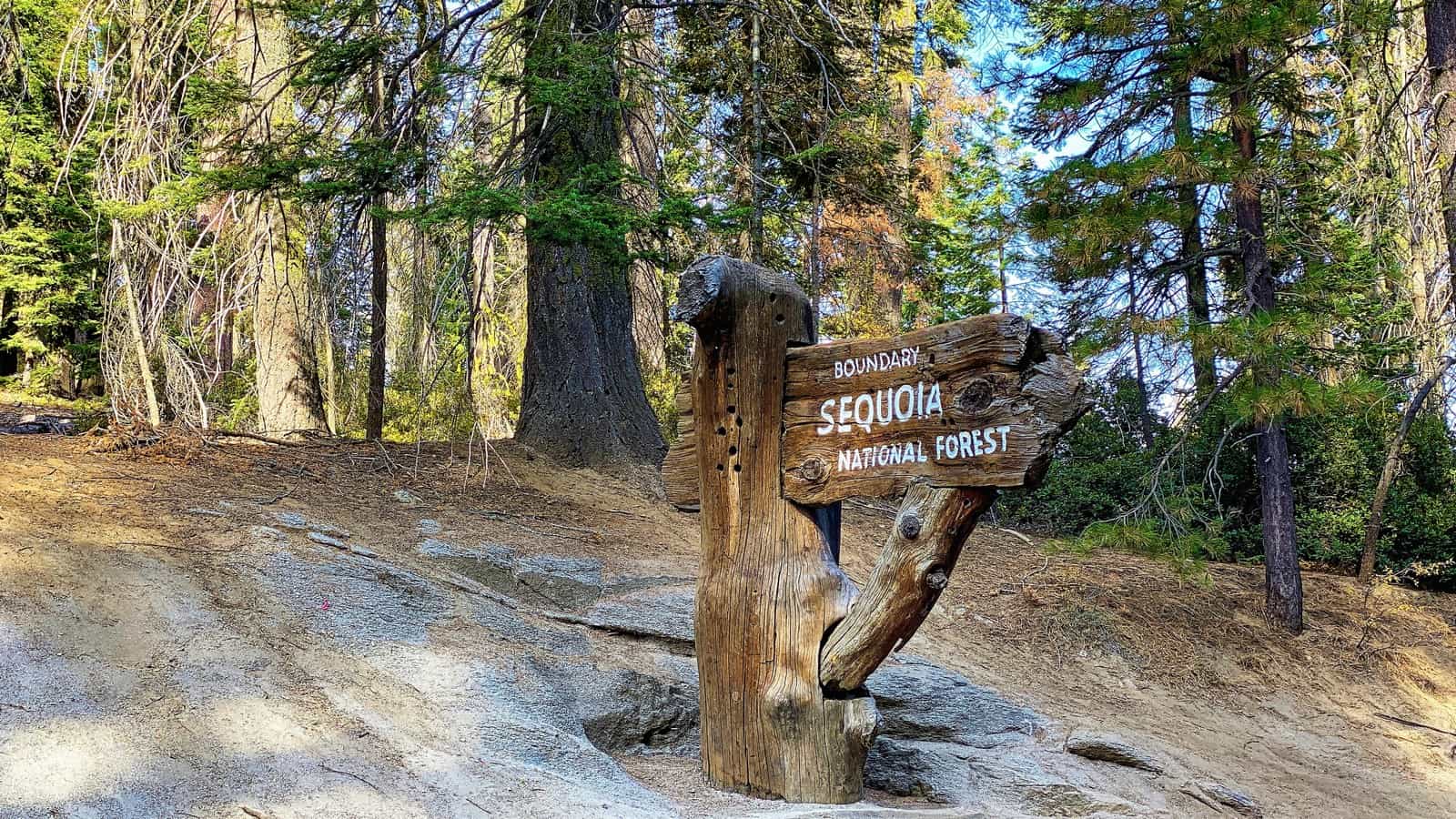 The General Sherman Tree
When you visit the park, we highly recommend taking the Congress Trail. The Congress Trail is a paved loop that starts at the General Sherman Tree, the largest in the world, and goes about a mile south to an inspiring collection of immense and unusual clusters of sequoia. We thought the Congress Trail is the best in the park to see so many big sequoias in such a short distance.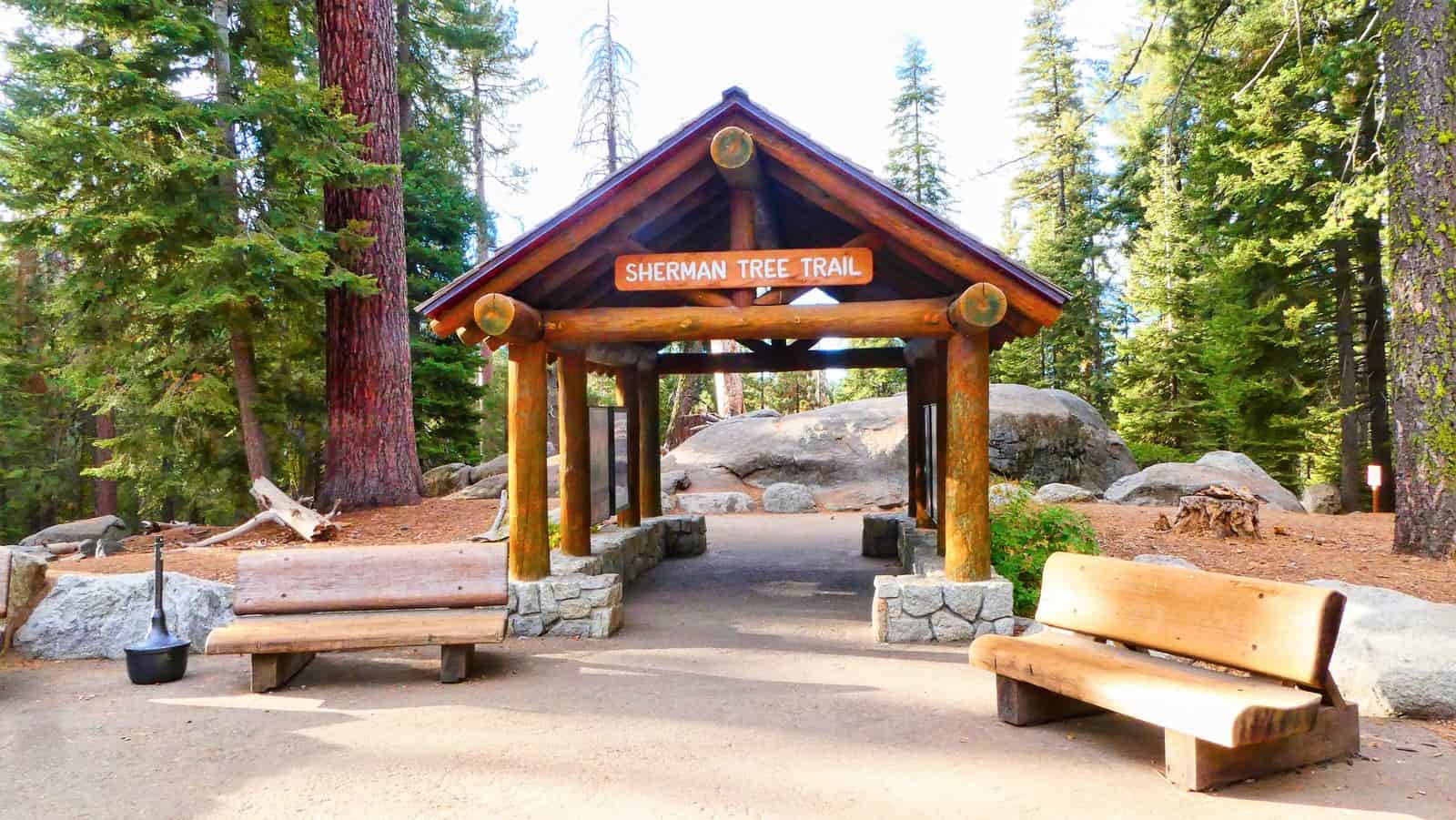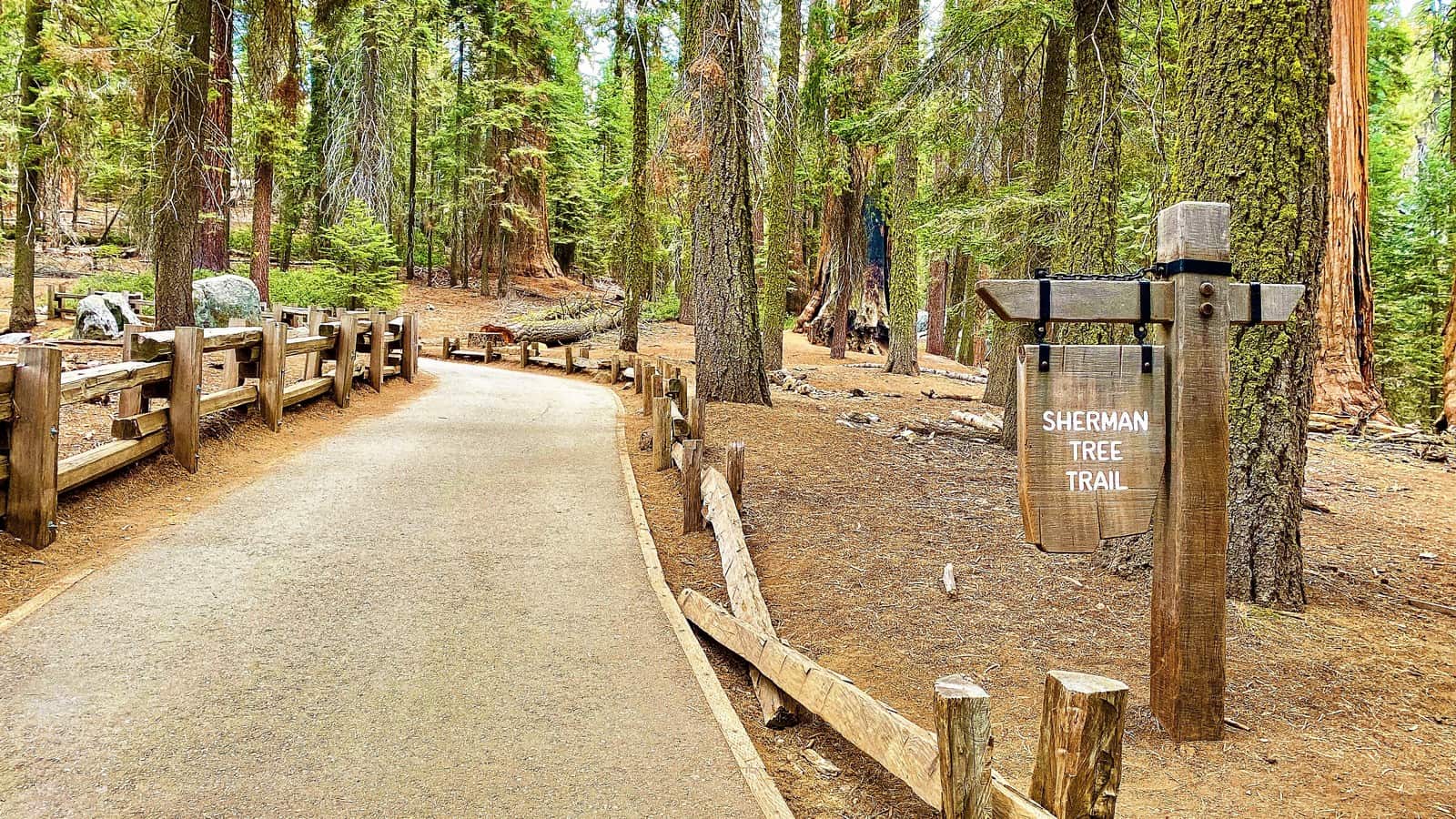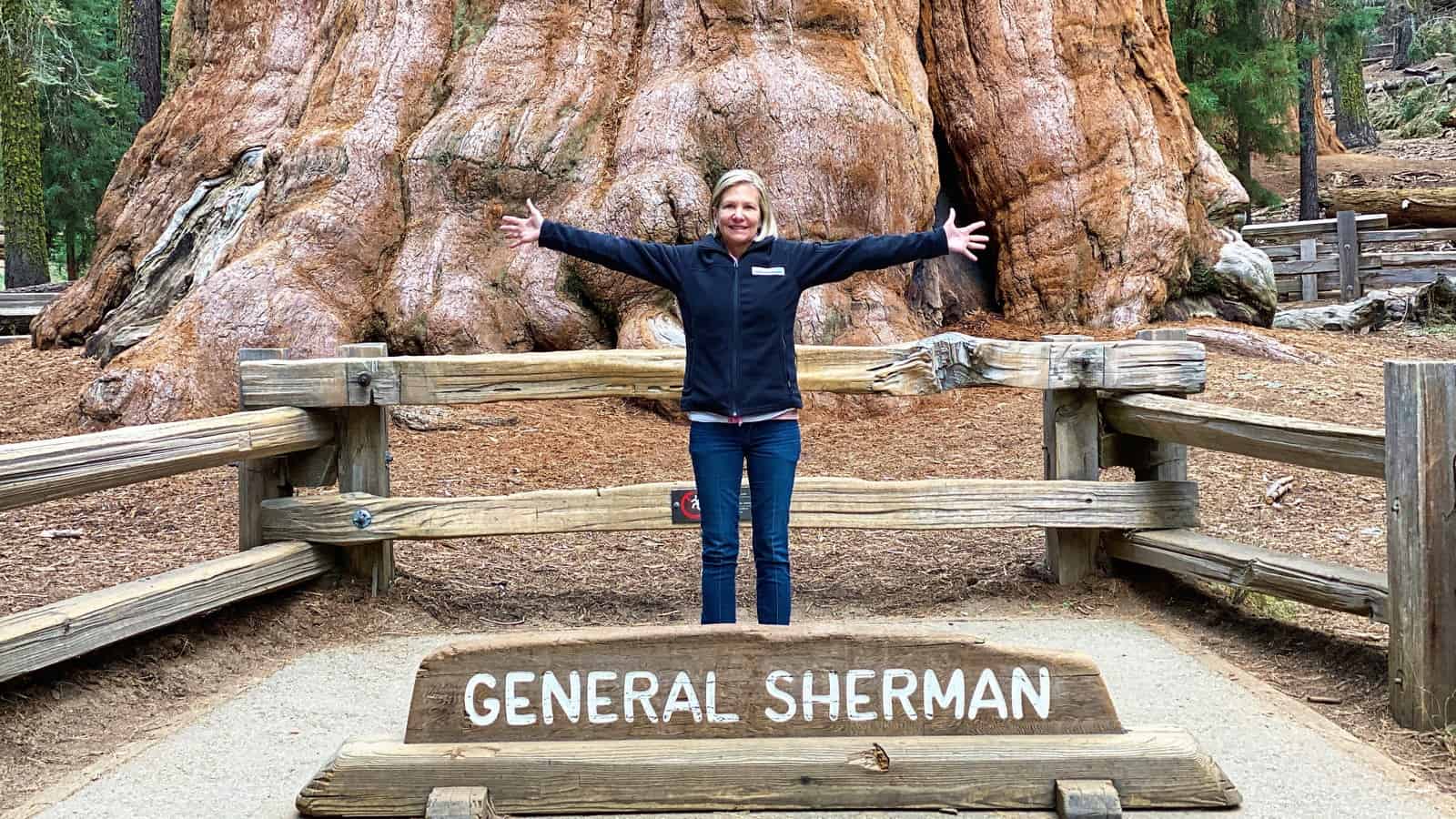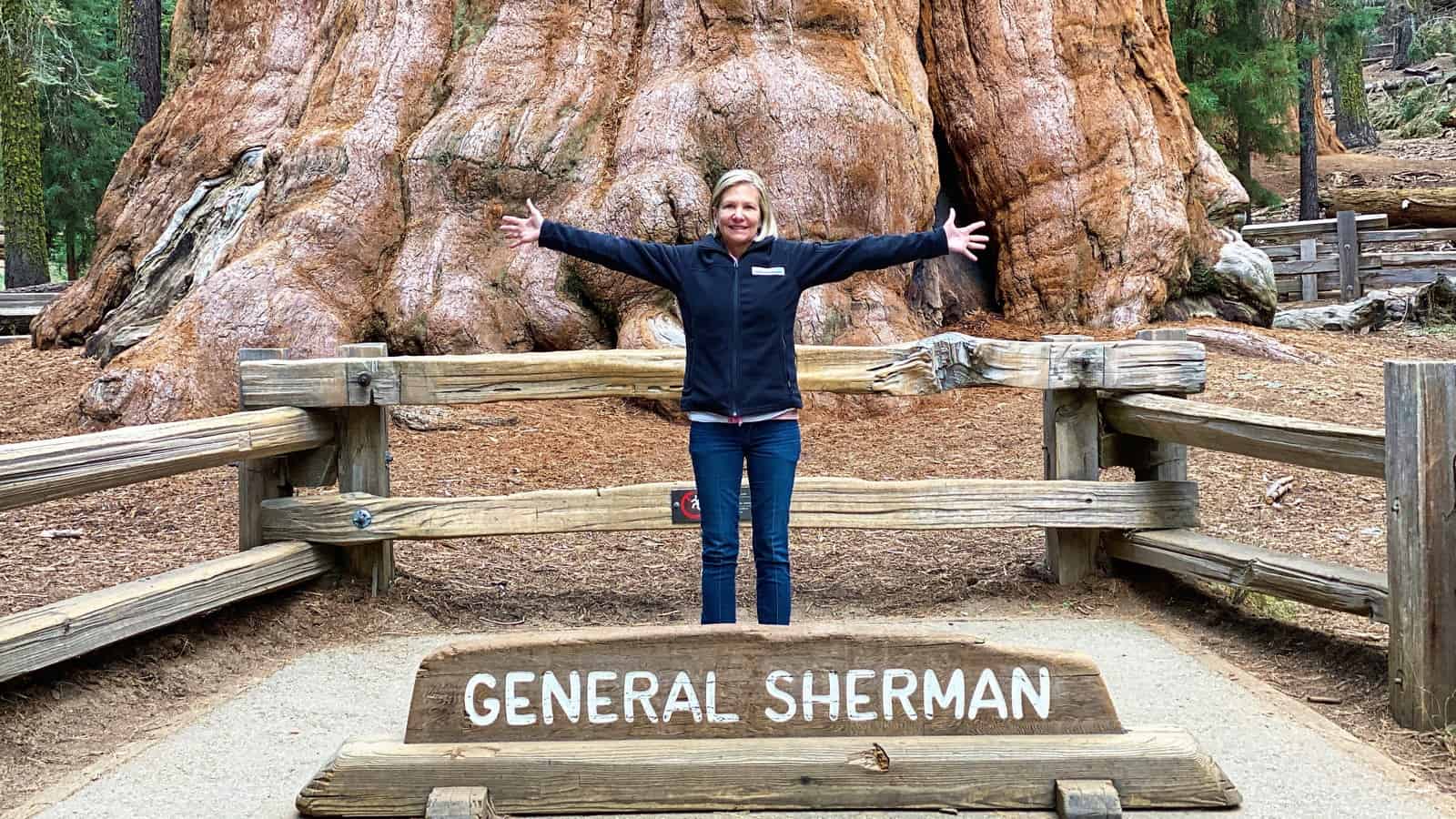 You really must walk among these trees to fully appreciate their majesty.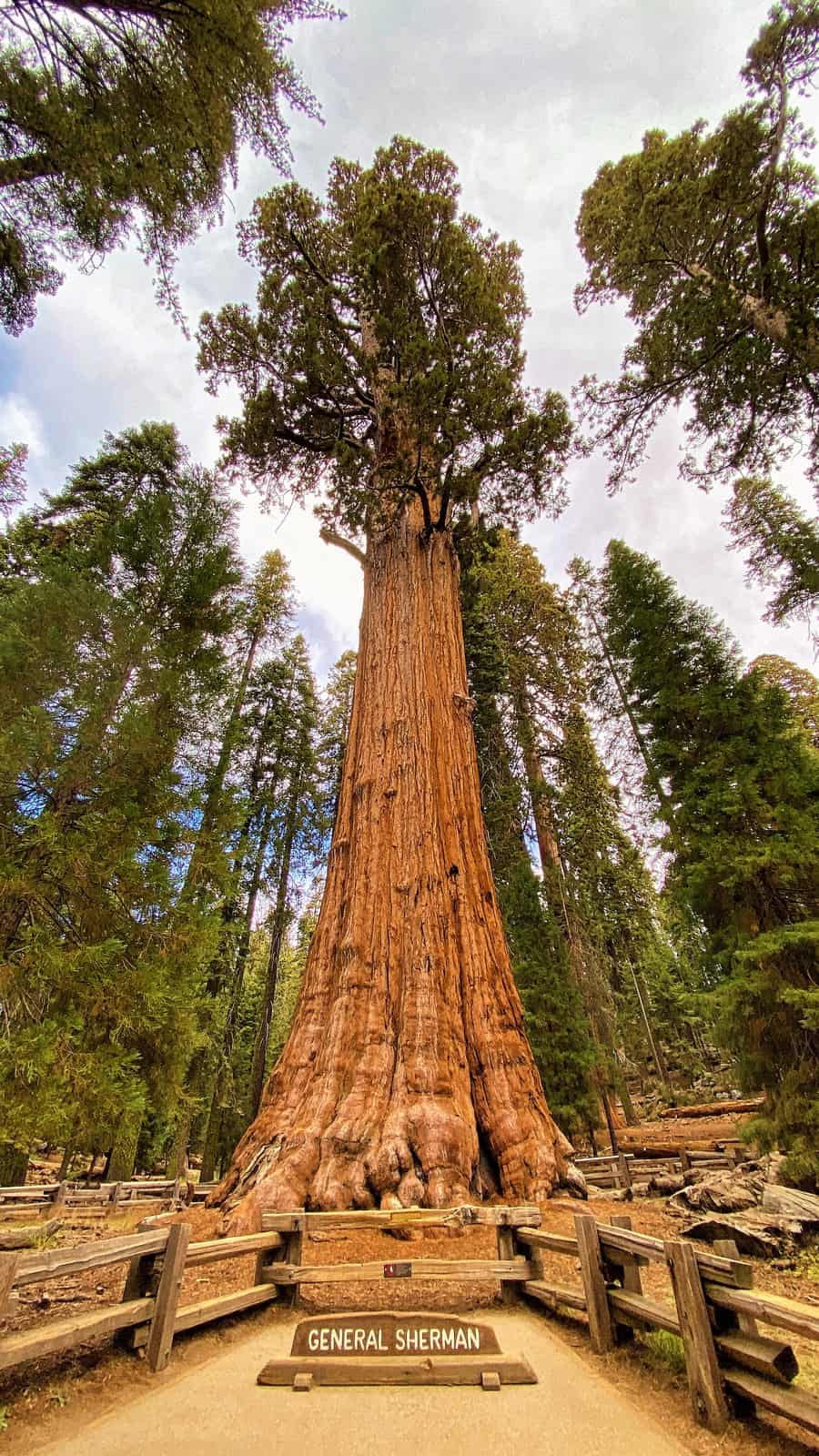 Also, don't miss seeing the tough Twins. Most sequoia trees owe their lives to fire. Firstly, fire provides rich soil for the seedlings to grow. Later fire will come again and wipe out other trees that were competing for sequoia's sunlight. These two sequoias are quite possibly twins. They each have fire scars at their base. One has a healed scar. The bark almost covers the scar now, insulating the wood from further fire damage. The scar on the second tree is still charred, and the wood exposed. Hopefully, fire does not return soon to this area, or this scar may not have time to heal like the other one.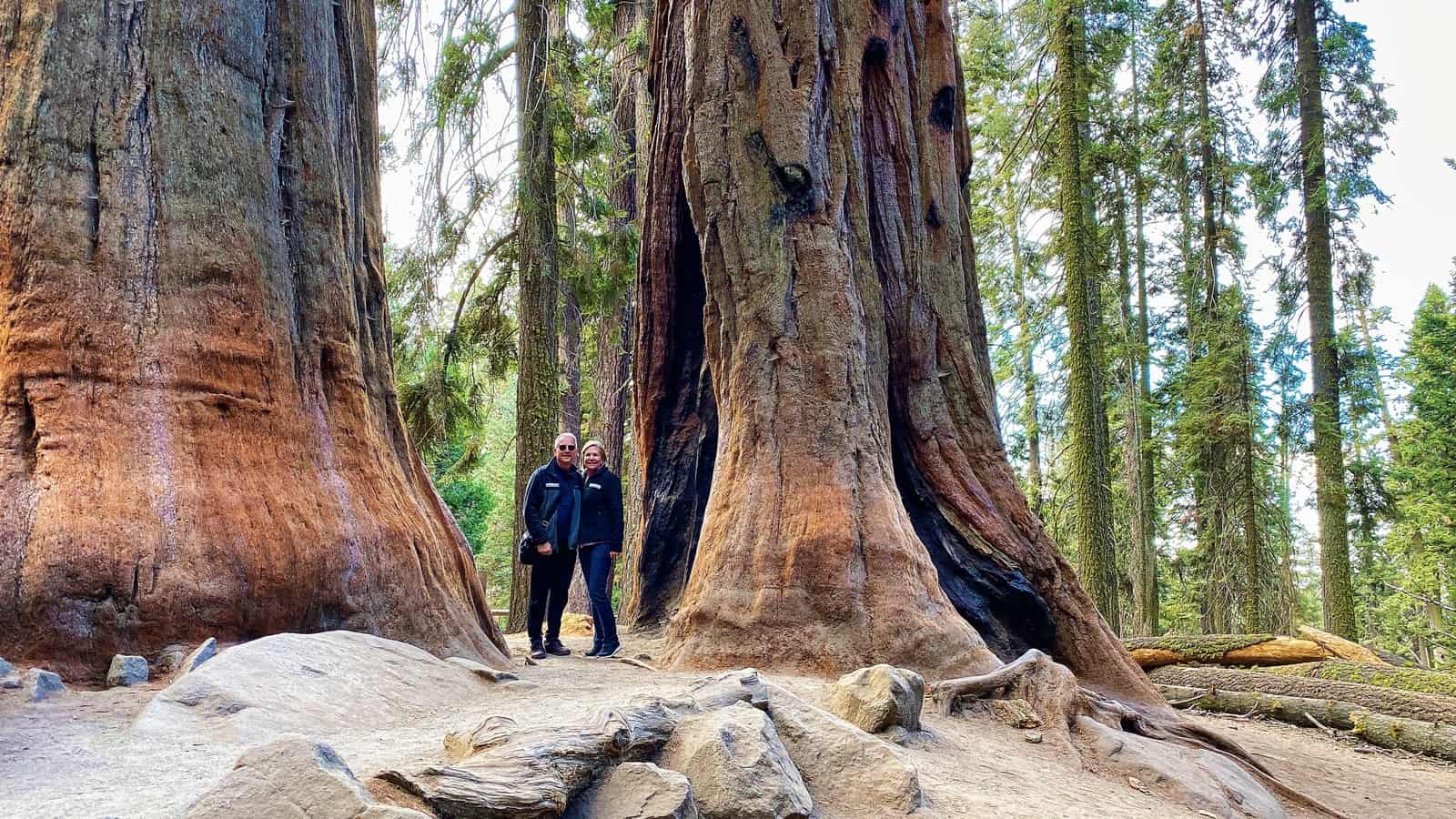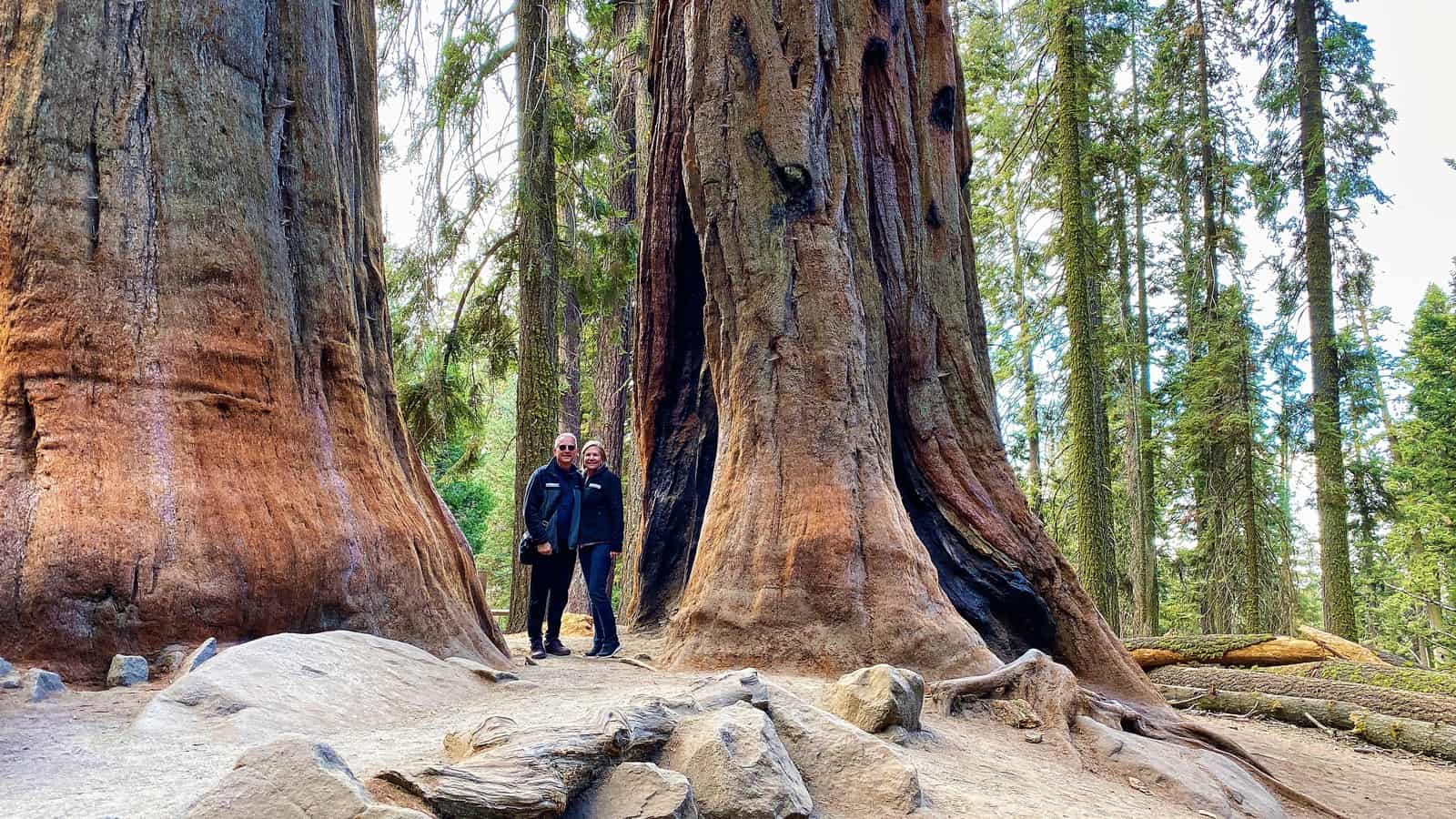 We also drove through King's Canyon National park. Kings Canyon National Park is adjacent to Sequoia National Park in California's Sierra Nevada mountains.
Visit Yosemite, Sequoia and the Charming Town of Mariposa
Yosemite and Sequoia Parks are simply awe-inspiring. The town of Mariposa is welcoming and offers great dining and interesting things to do. You can easily spend a long weekend visiting these areas, but a week would be even better.
Be sure and check out our other California adventures.
QUICK ANSWERS
Where is the biggest tree in the world by volume?
The biggest tree in the world by volume is in Sequoia National Park and is the General Sherman Tree. It comes in at 52,500 cubic feet in volume. It is estimated to be 2000 years old and is 274.9 feet high.
---