California, making almost ninety percent of American Wine, is the leading wine-producing state in the US. A Temecula wine getaway is the perfect way to spend a weekend away from many places but especially San Diego and Los Angeles. There is something for everyone when it comes to Temecula wine. In Temecula, you can find almost every type of wine, from Chardonnay and Cabernet Sauvignon to Syrah, Zinfandel, Grenache, Sangiovese, Tempranillo, and Merlot. Also, you will find lesser-known varietals like our favorite white, Viognier.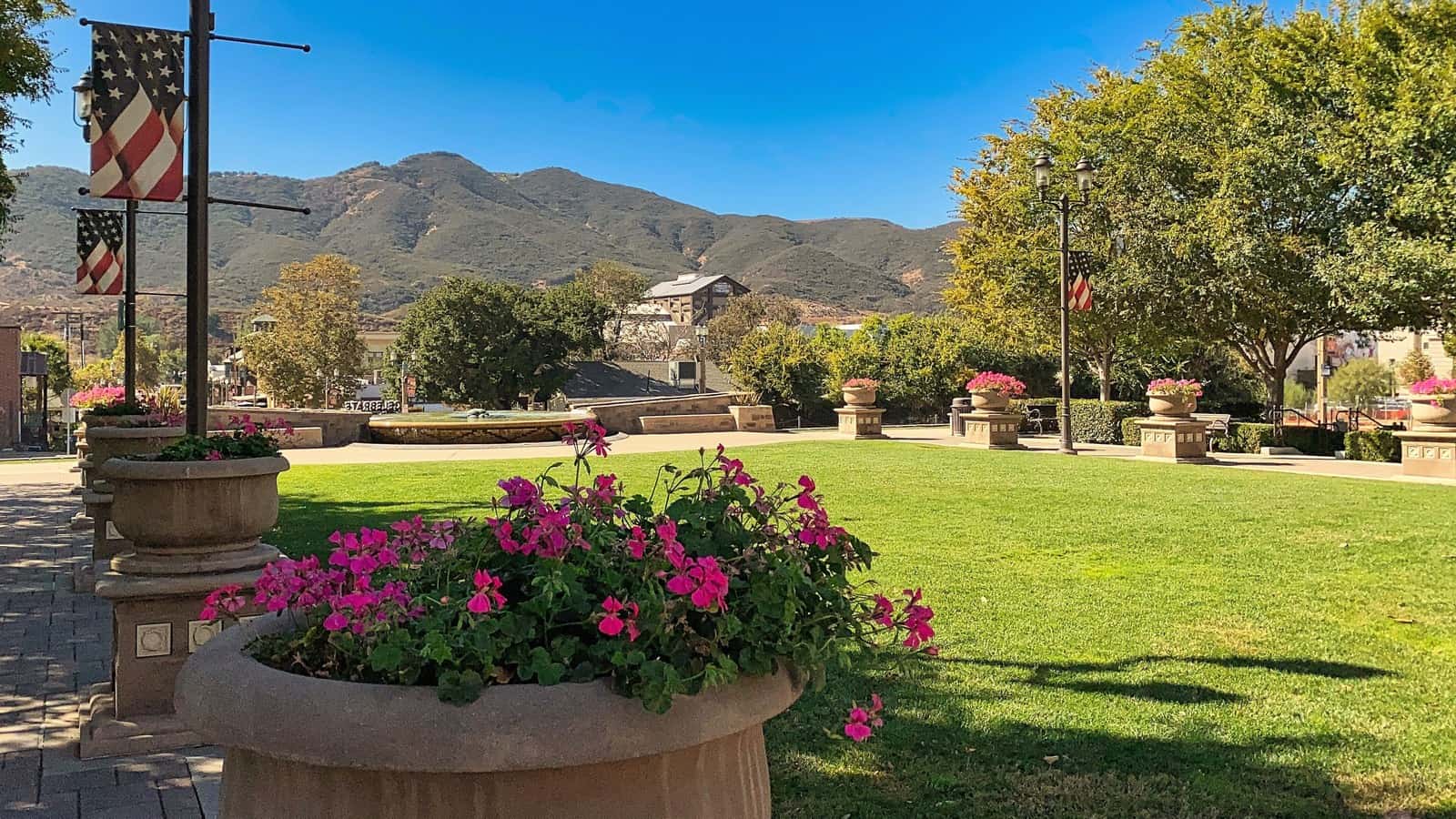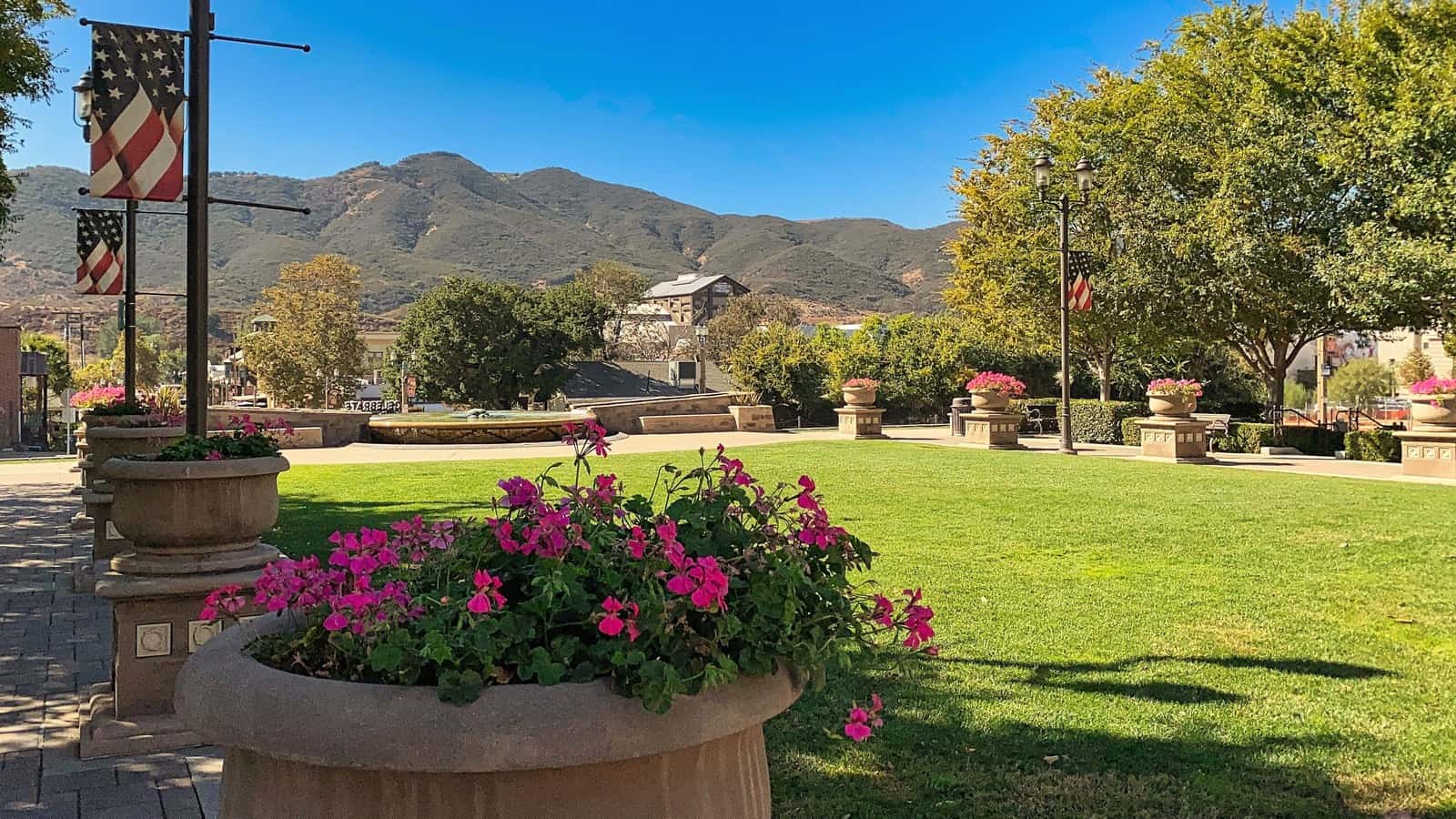 When you first think of Temecula, you might think it is too hot to grow grapes, but Pacific Ocean winds and fog cool this warm region. The vines begin their day with a morning mist, followed by a hot sun, then cooled by the breezes and the crisp desert nights. Today, thanks to more than 40 wineries and their multifaceted tasting rooms, Temecula is producing and serving world-class wines.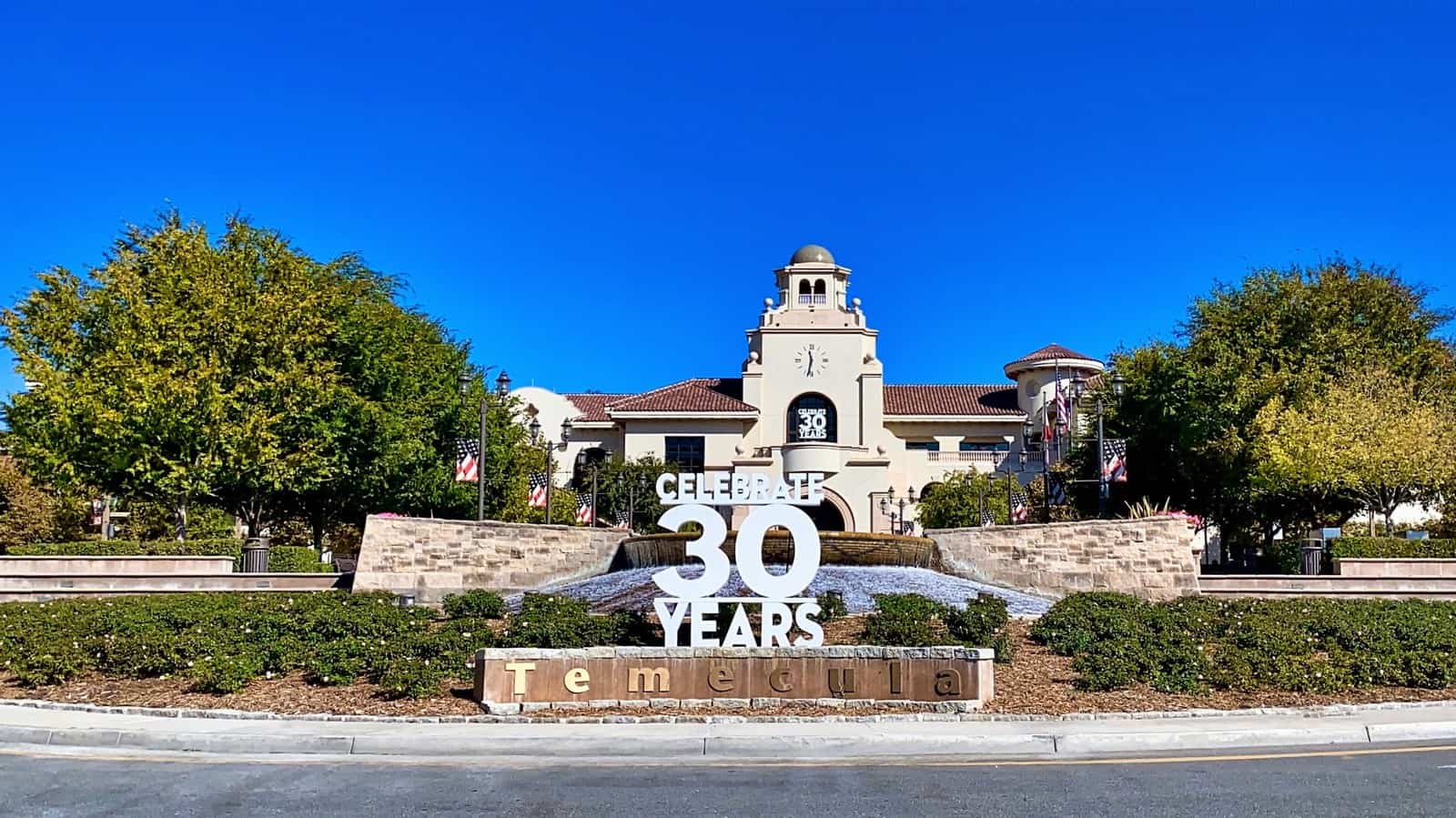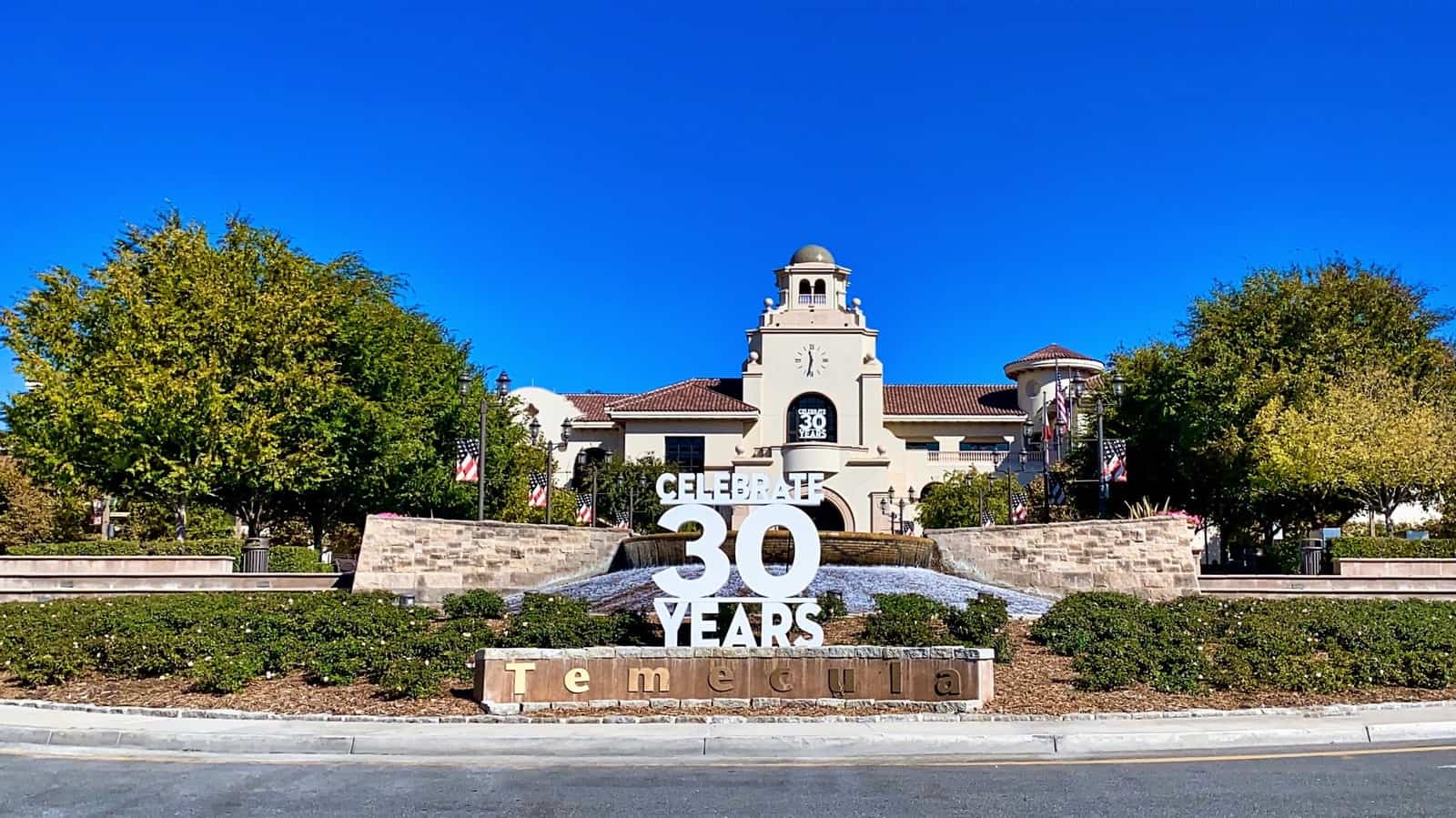 In addition to Wine, Temecula also has a quaint downtown filled with shops and fantastic restaurants. Moreover, hot air balloon rides and horseback riding are non-wine mainstays that make Temecula standout. We have some recommendations on where to taste wine, where to dine, where to fly, and where to stay so that you can have a great weekend getaway.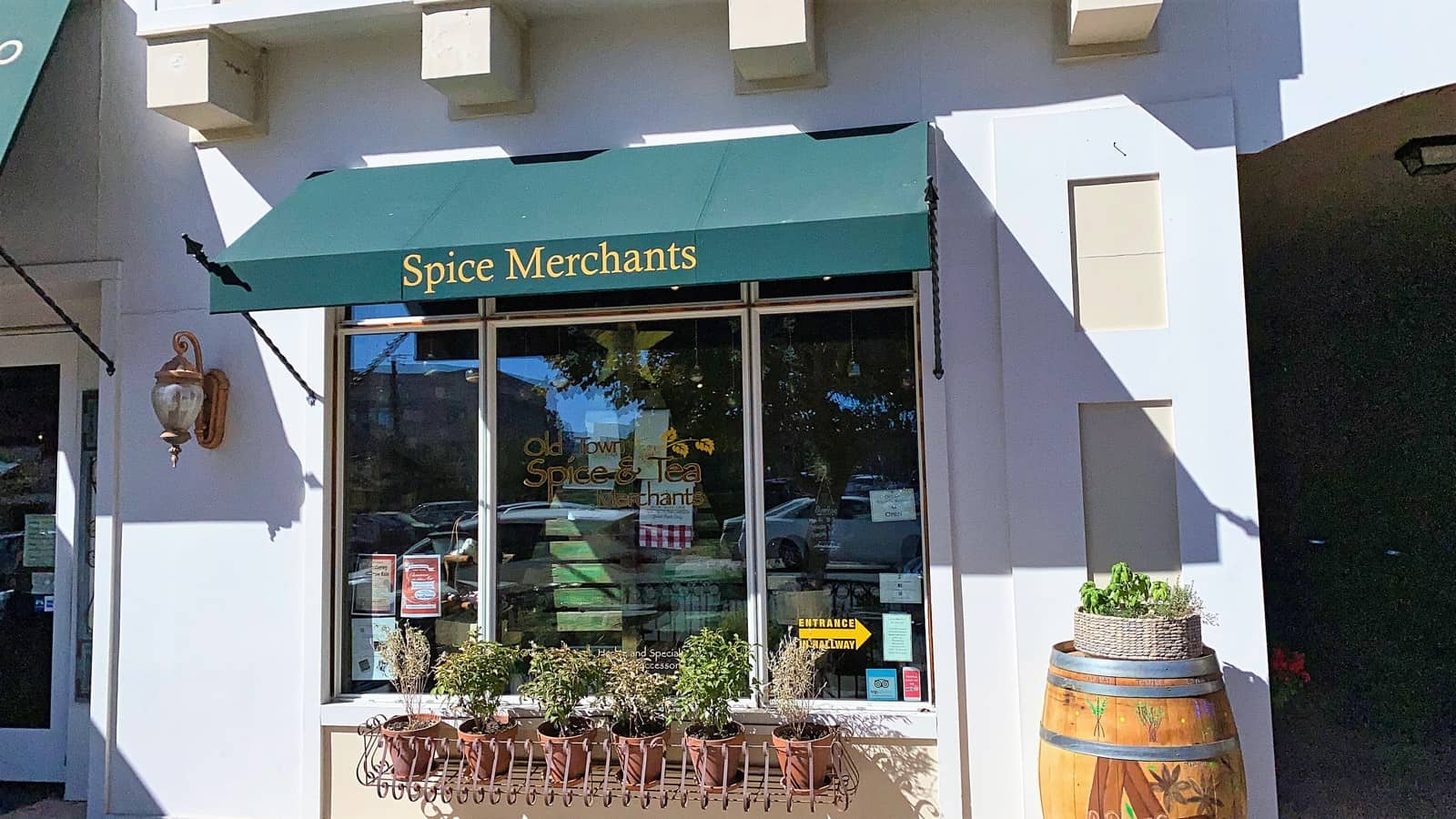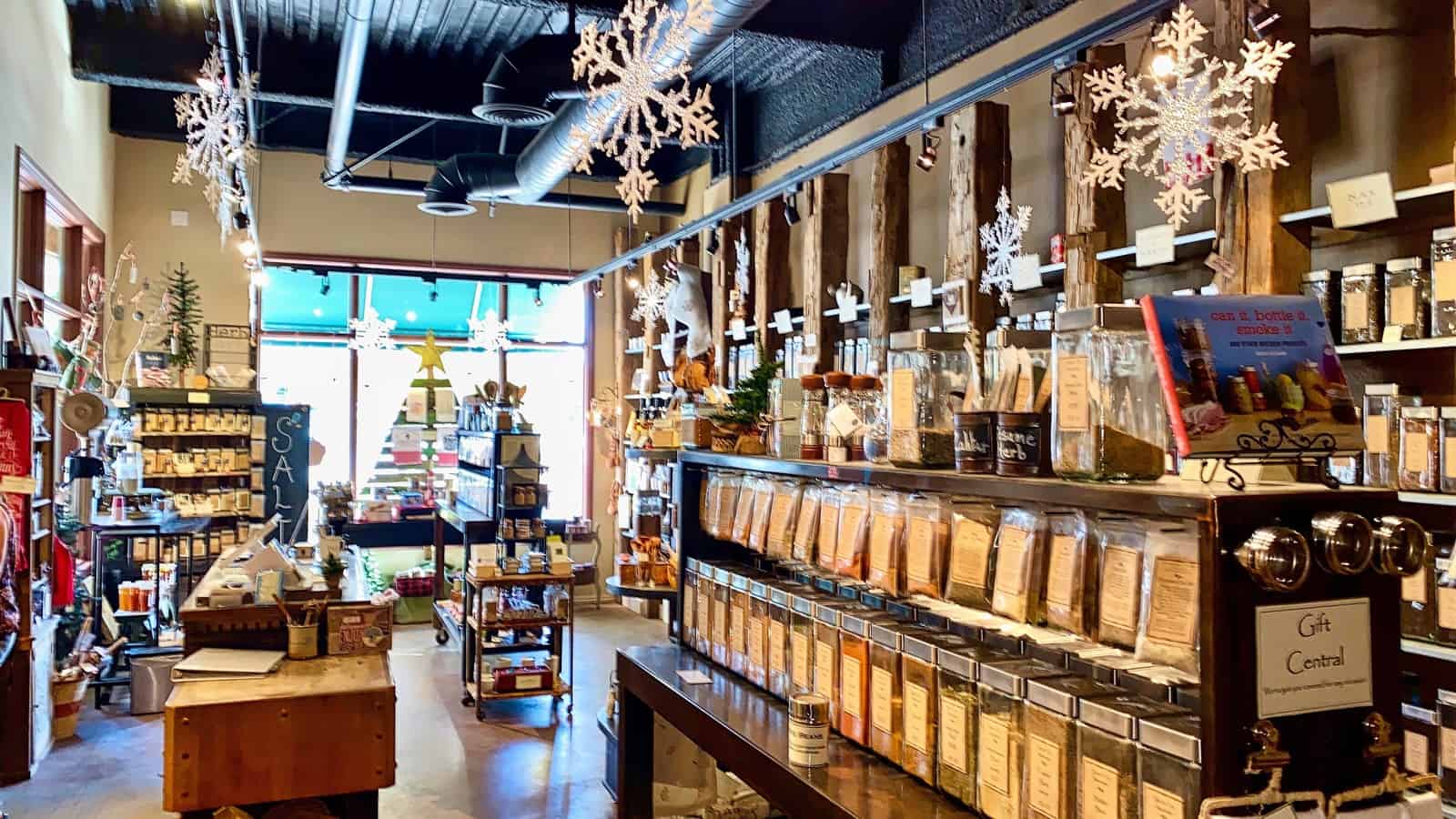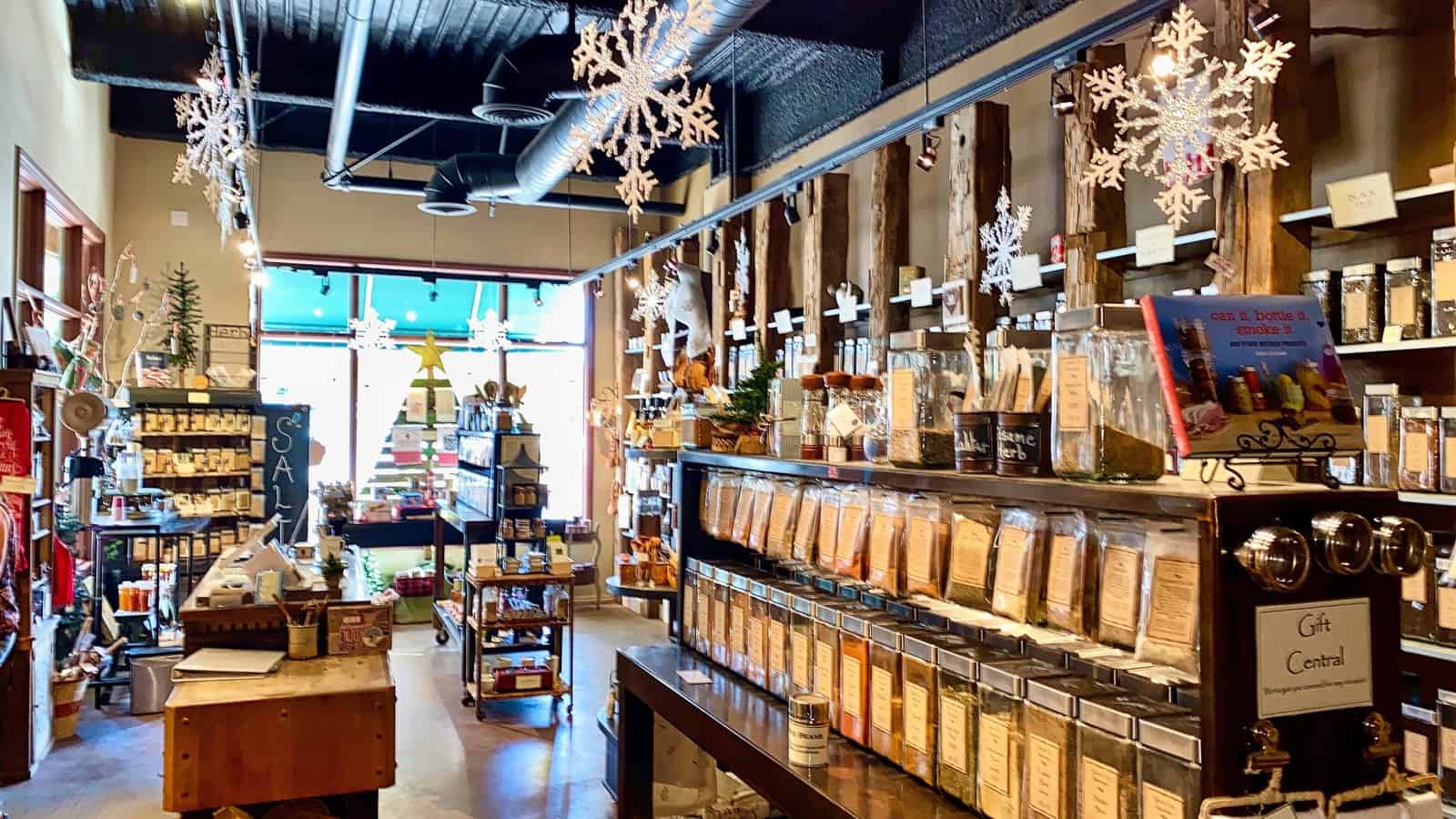 Temecula Wine
Most of the Temecula wineries are located just off Interstate 15. Along Rancho California Road and De Portola Road, you will find the highest concentration of wineries. Because Temecula is a rather new wine region, a lot of thought went into its planning. Therefore, the drive between wineries is often very short. You can visit many wineries in just one day. However, to really enjoy a Temecula wine getaway, we recommend at least two days.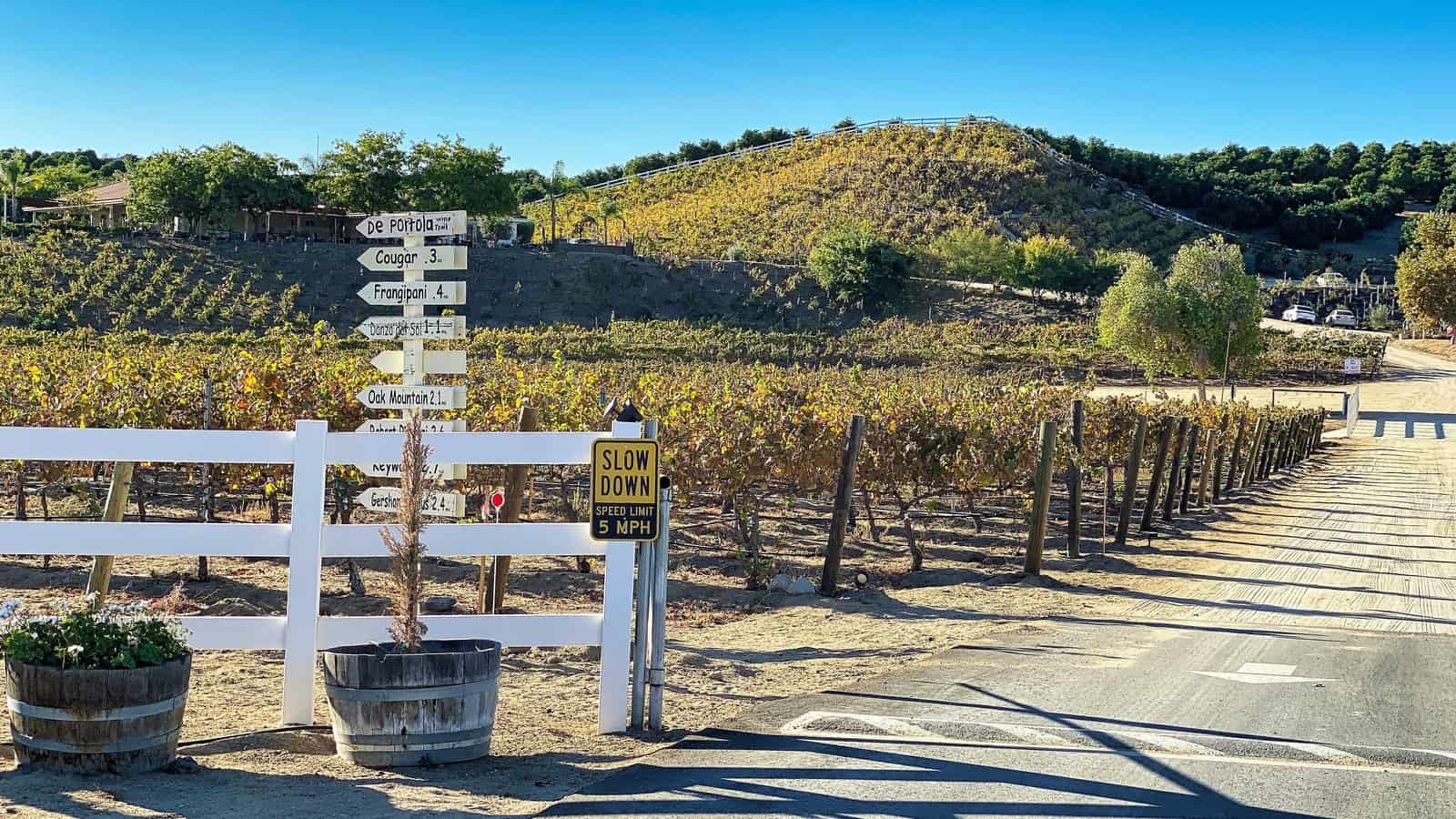 Where to Taste
Motorcycles and Wine
Founded in 1997 by Argentinian-born Marcelo Doffo, family-owned Doffo Winery is a boutique winery producing small lots of handcrafted wines, such as Malbec, Zinfandel, and Syrah.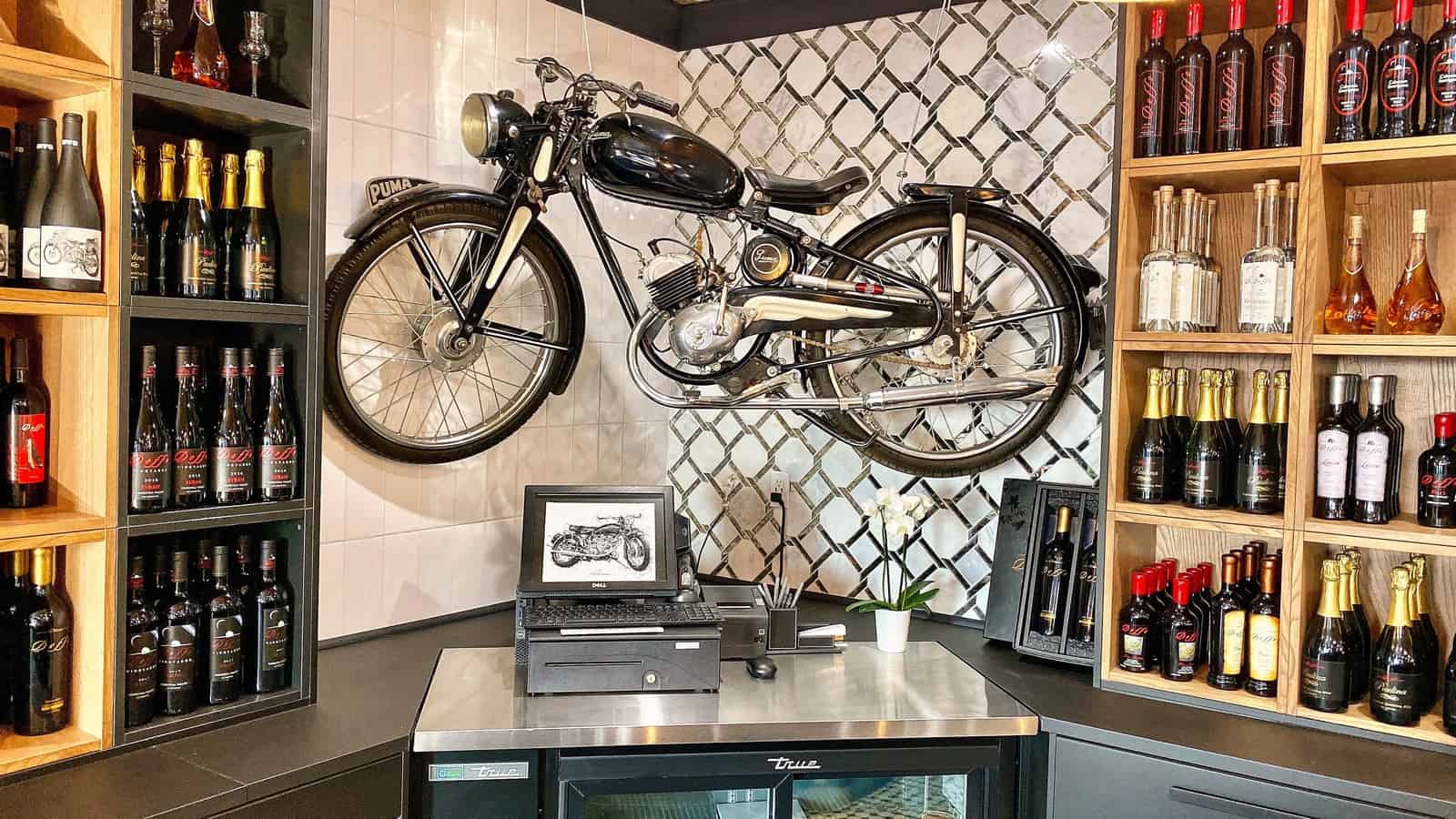 When visiting, be sure to check out the MotoDoffo Vintage Motorcycle Collection in the barrel room, containing over 200 scooters and motorbikes. After establishing Doffo Winery, Marcelo, who loved motorcycles since he was a kid, set out on a quest to find and restore those very motorcycles that fascinated him as a child. In the years since, the MotoDoffo Vintage Motorcycle Collection has grown to include motorcycles and scooters from around the world.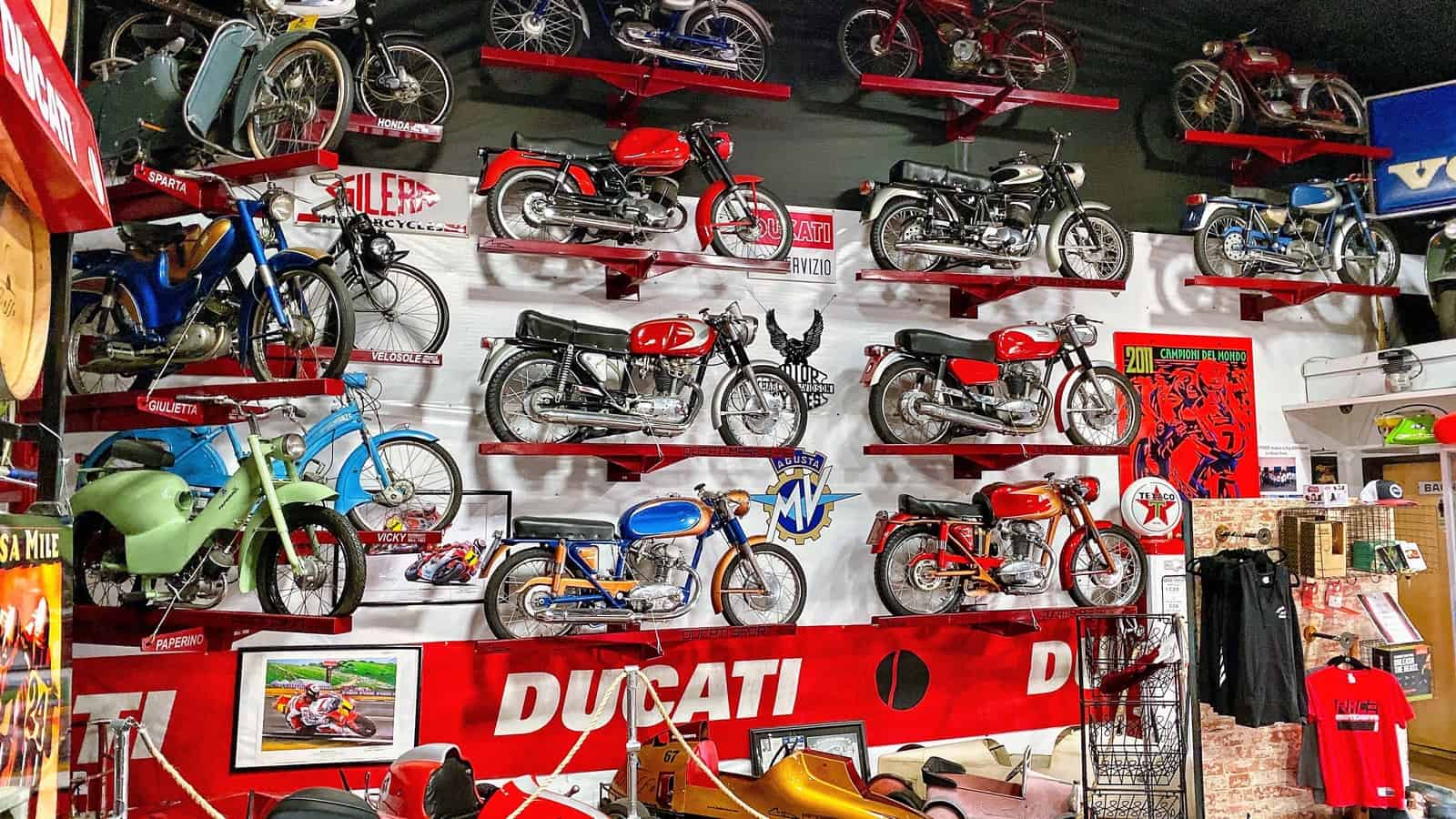 To combine their love of motorcycle and wine, they created an annual MotoDoffo wine, a Malbec-forward red blend. Then with a growing interest in the motorcycle collection, the Doffo Family decided to create MotoDoffo Wines brand. Each year the winemaker releases three unique red blends.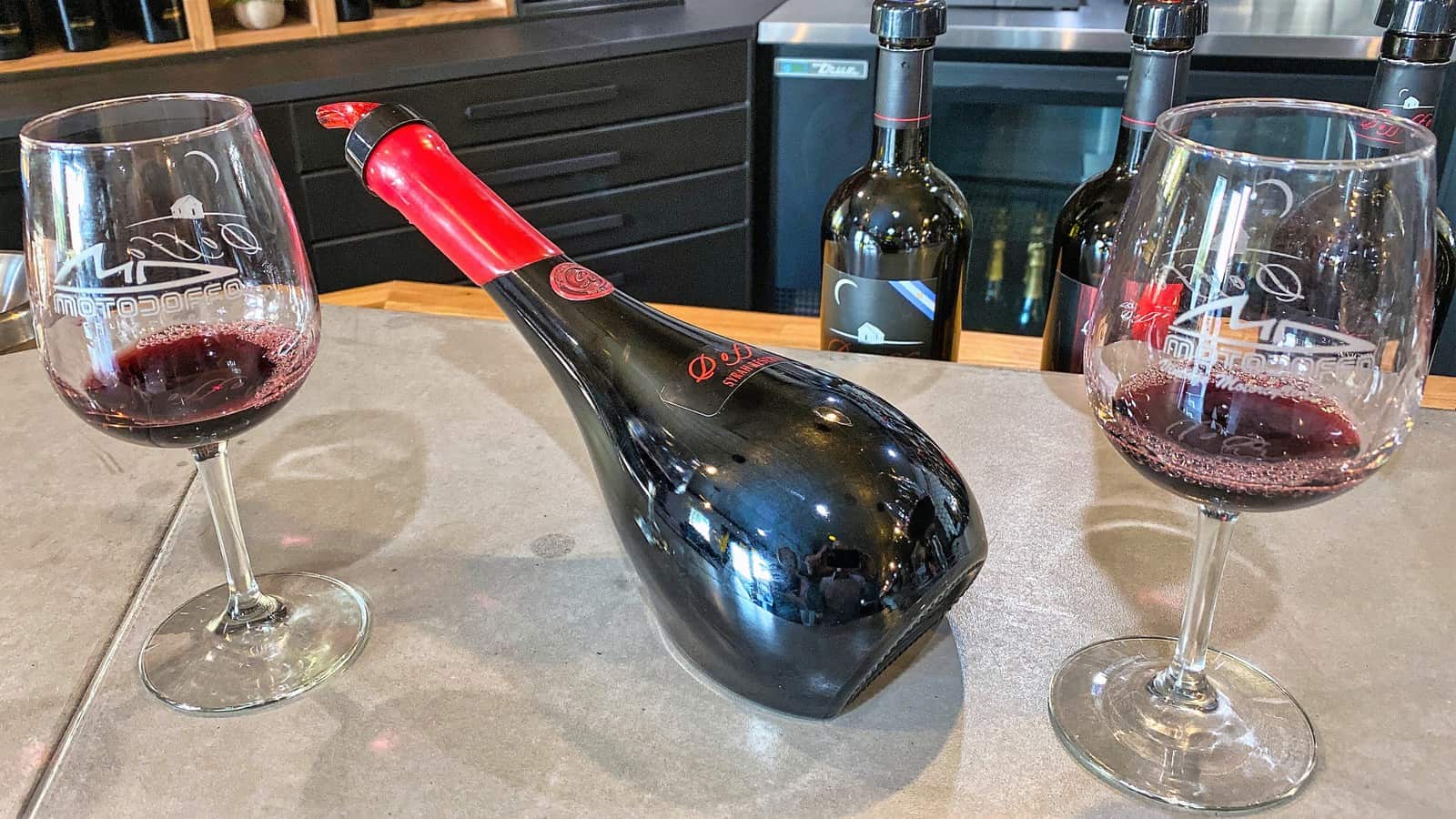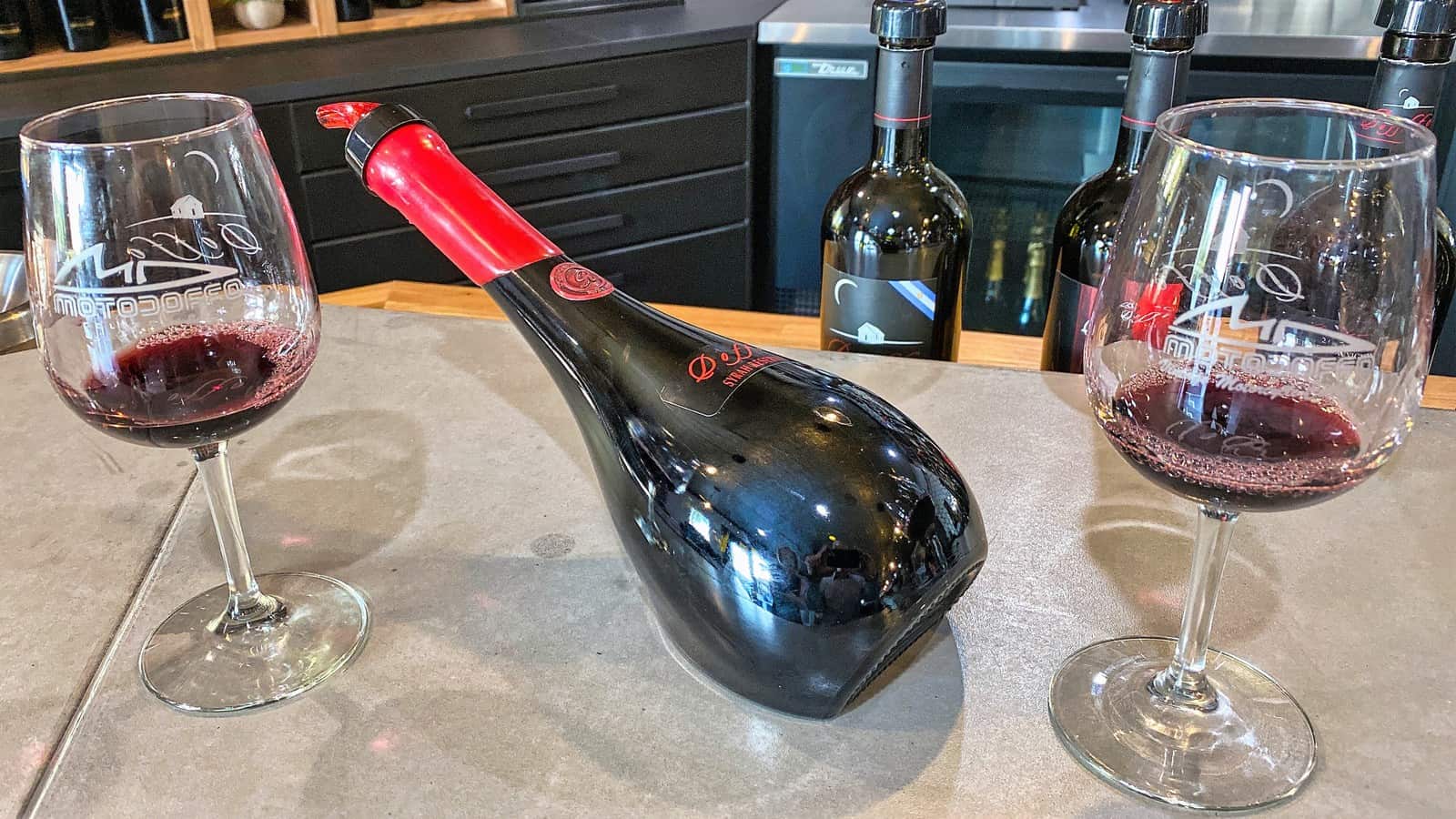 Doffo is a family winery with a lovely welcoming tasting room. While you taste wine, you can peruse their gift shop and apparel. Our wine server knew everything about the winery and the wines making him a great host!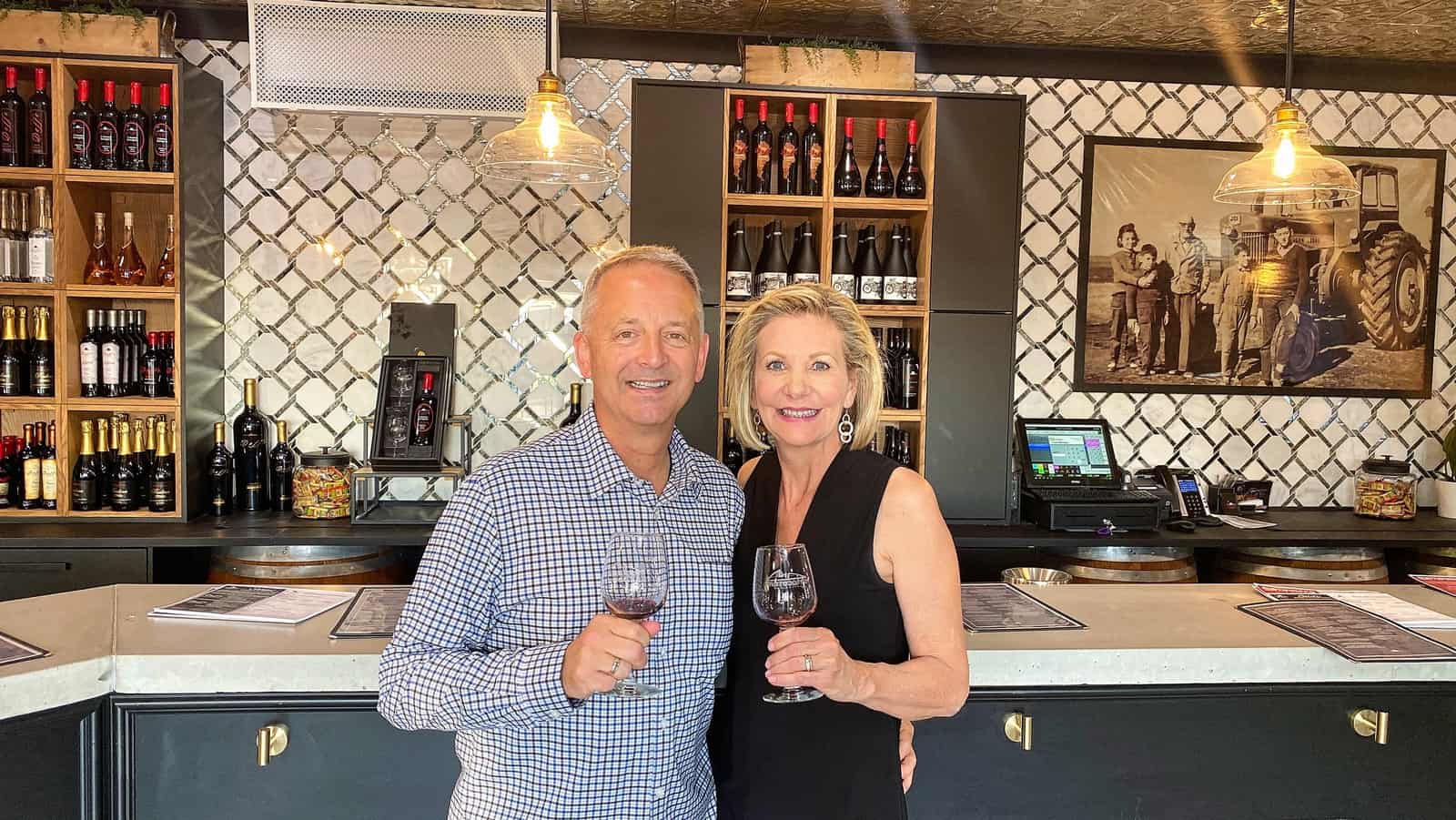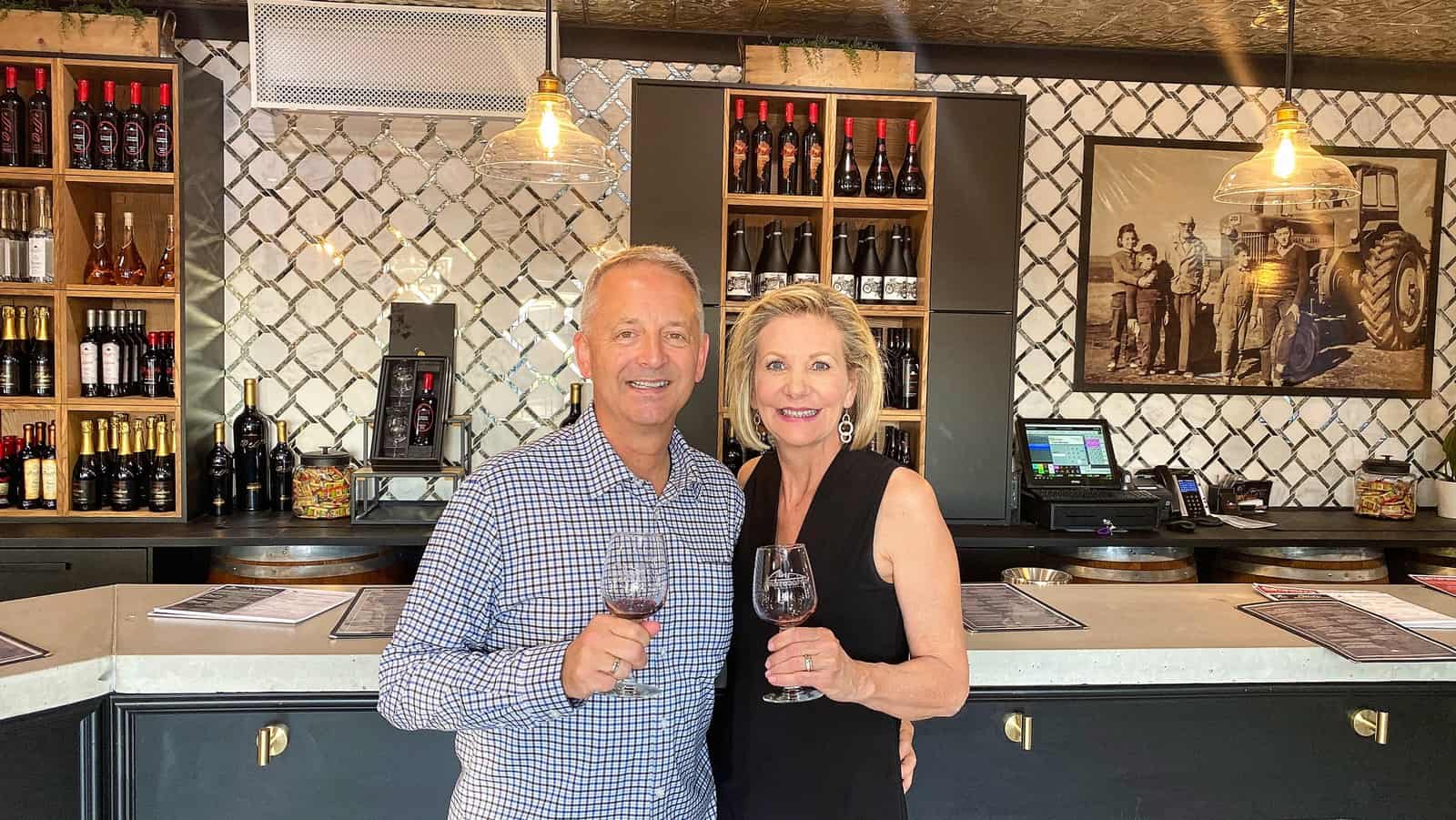 Have Fun at Fazeli Cellars Winery
Fazeli Cellars is a state-of-the-art winery nestled in the picturesque rolling hills of the De Portola Wine Trail. The architecture is stunning, and the views breathtaking, but it's the wine that will keep you coming back.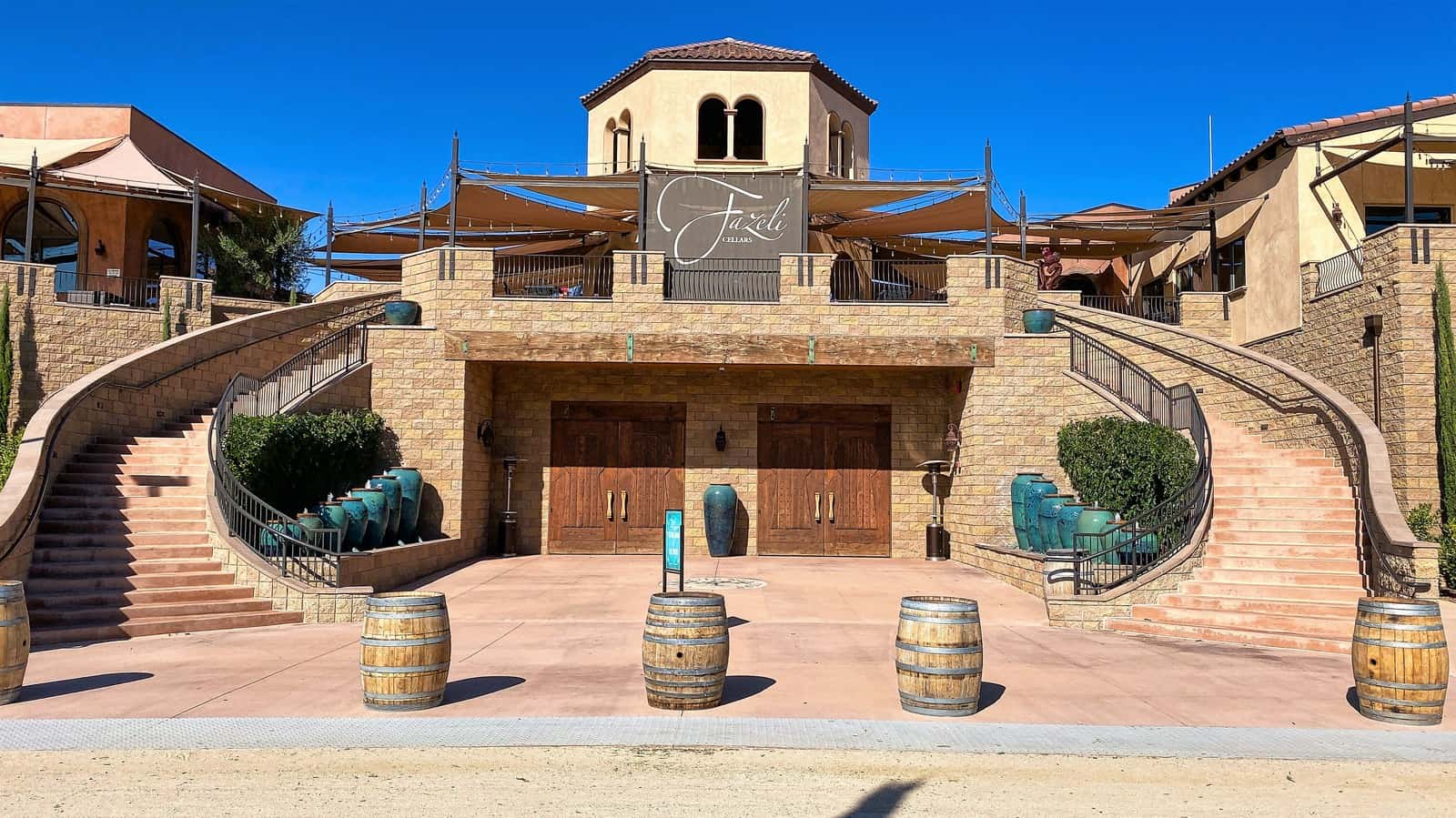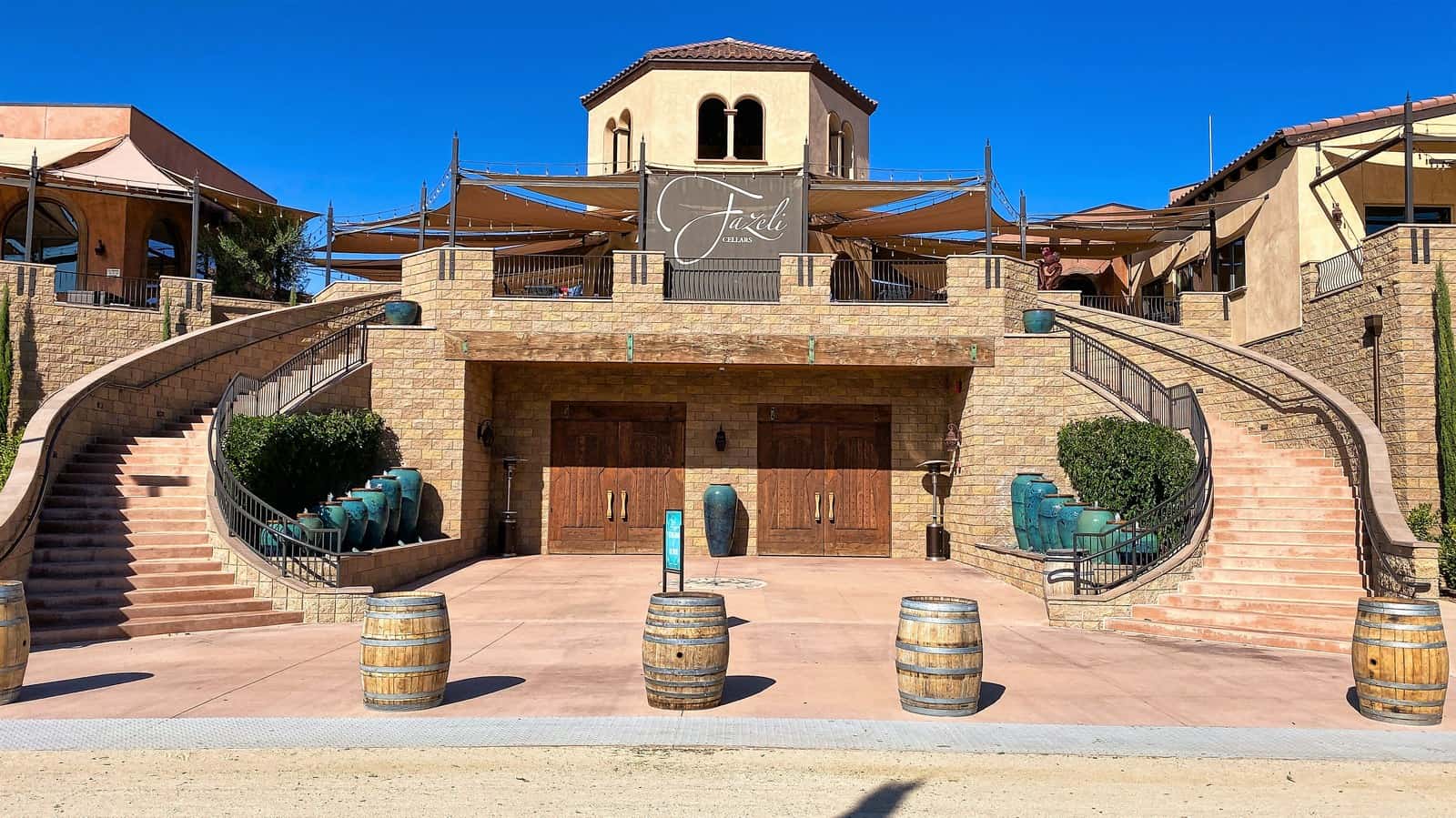 Fazeli is the realization of a life-long passion by the owner BJ. We had the pleasure of tasting wine and having lunch with BJ. BJ is Persian. He has poured his heart and soul into creating a winery that not only reflects pride for his Persian culture but also treats guests like family. His objective is to make sure that all of his guests are having fun. BJ is a fun-loving person, so a good time always ensues. He regularly features special events like salsa night, as well as live music every Saturday and Sunday afternoon.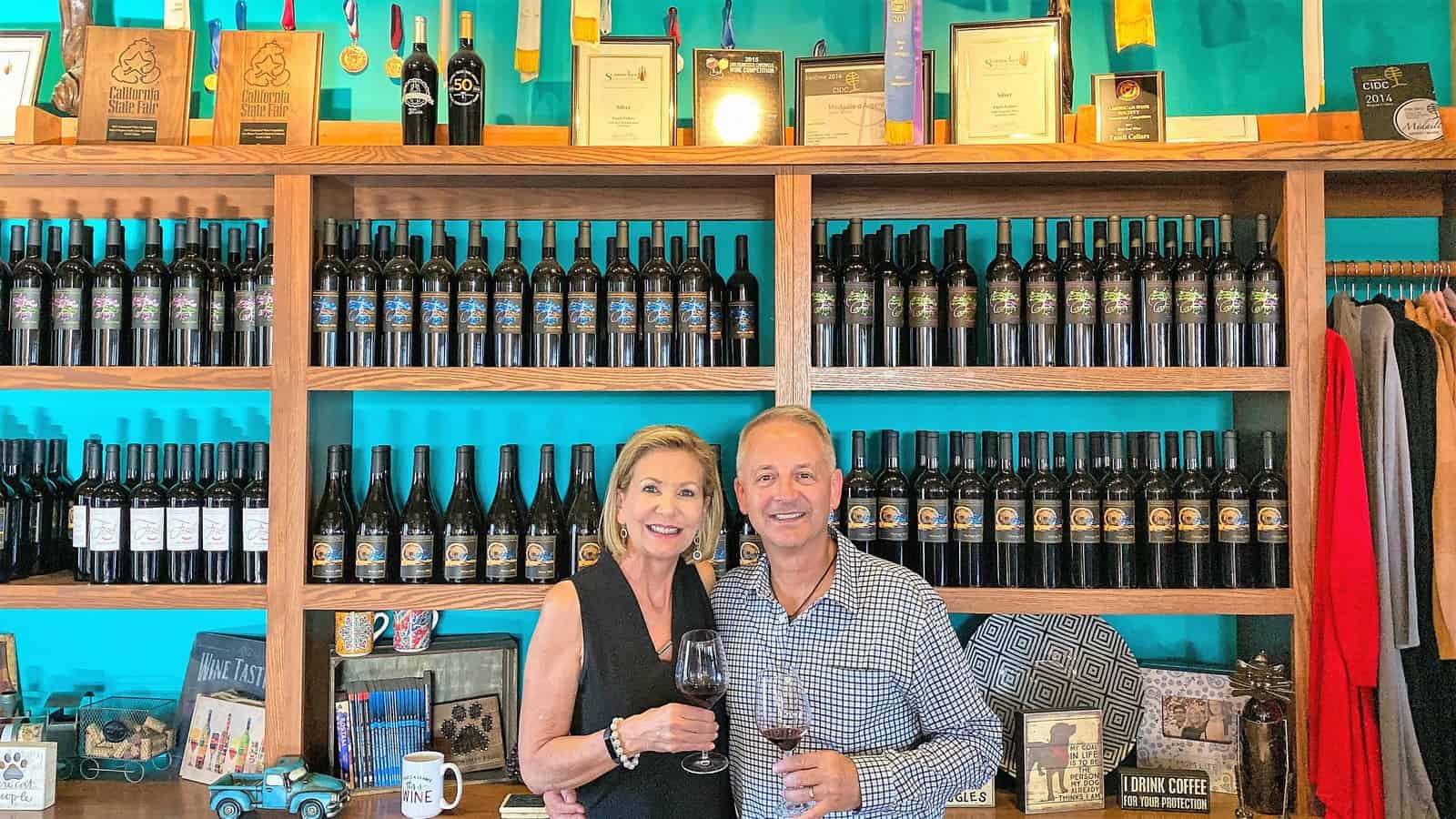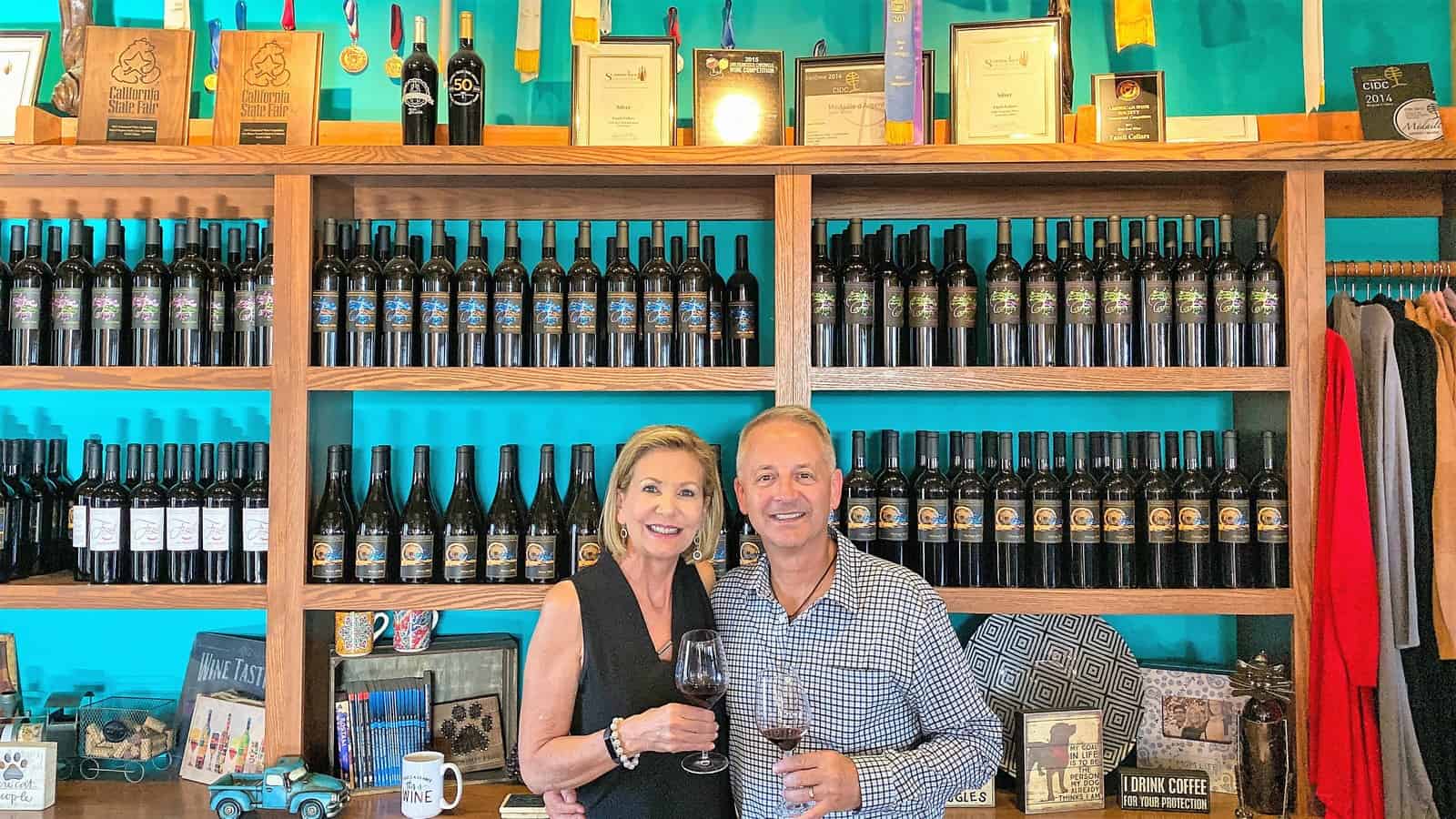 At Fazeli, they produce more than 20 varietals of boutique wines from Cabernet Sauvignon to Sauvignon Blanc, Petite Syrah to Mourvedre, and Viognier to Chardonnay.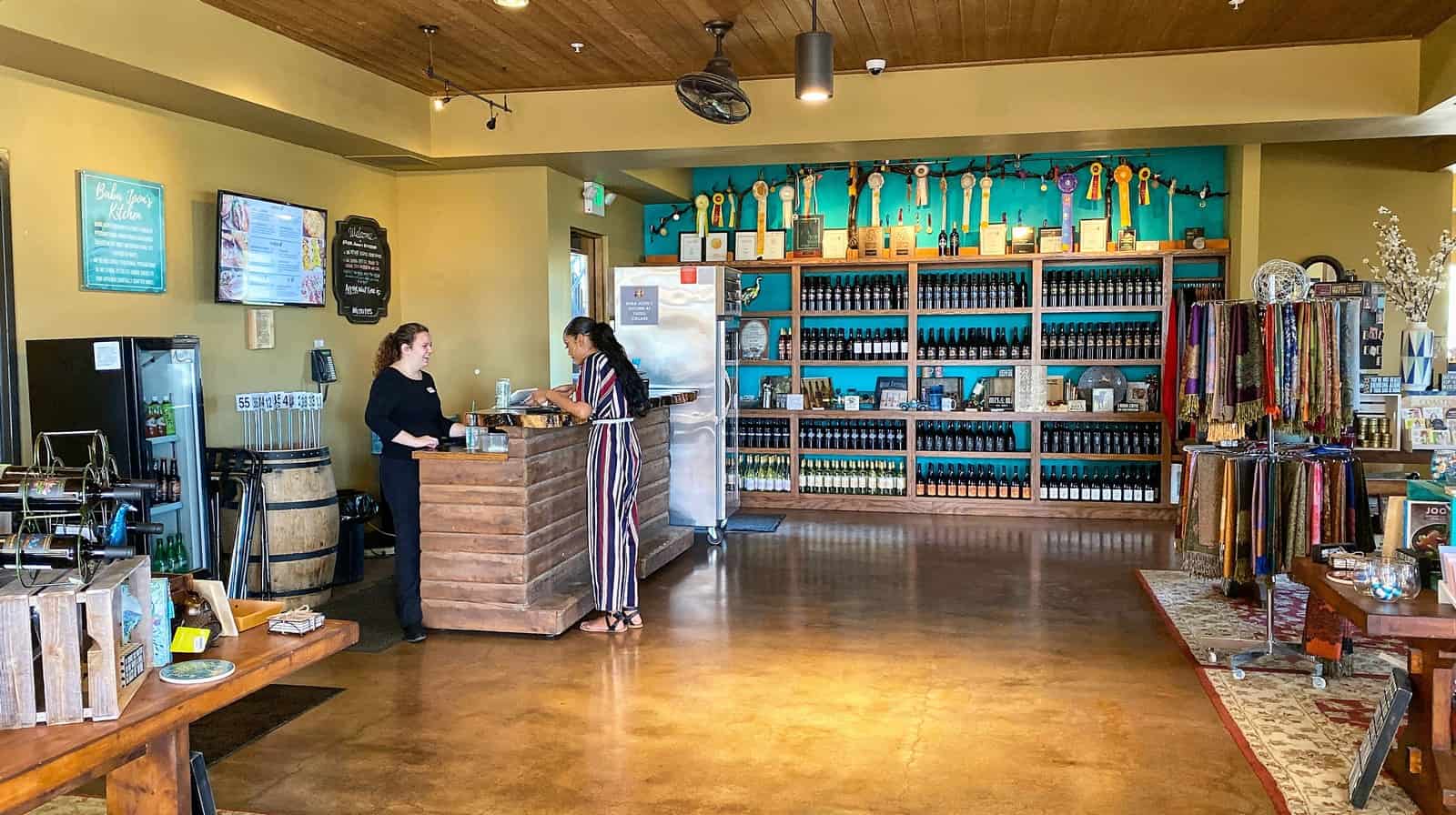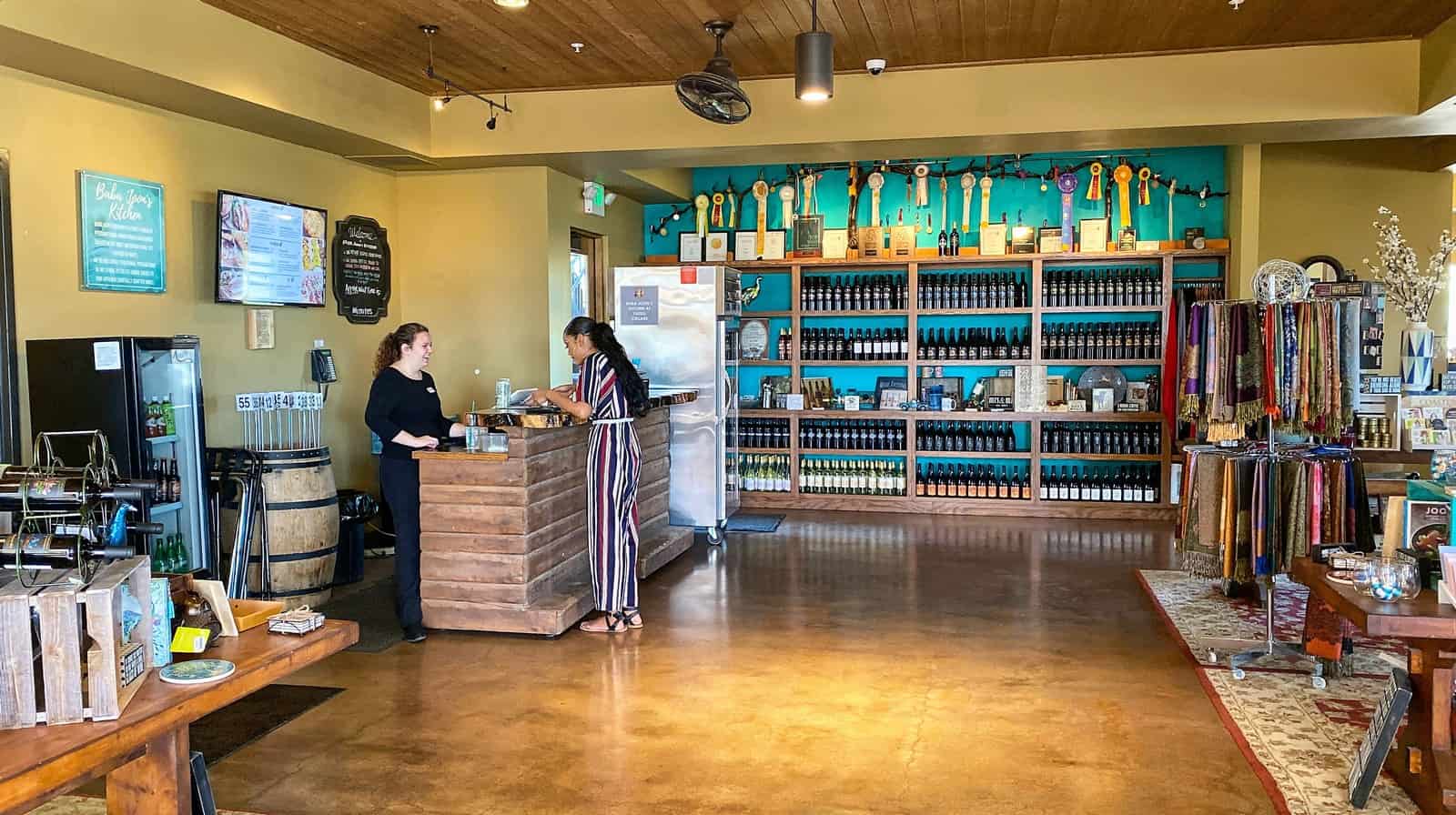 The grand tasting room highlights Moorish architecture mixed with a contemporary California setting.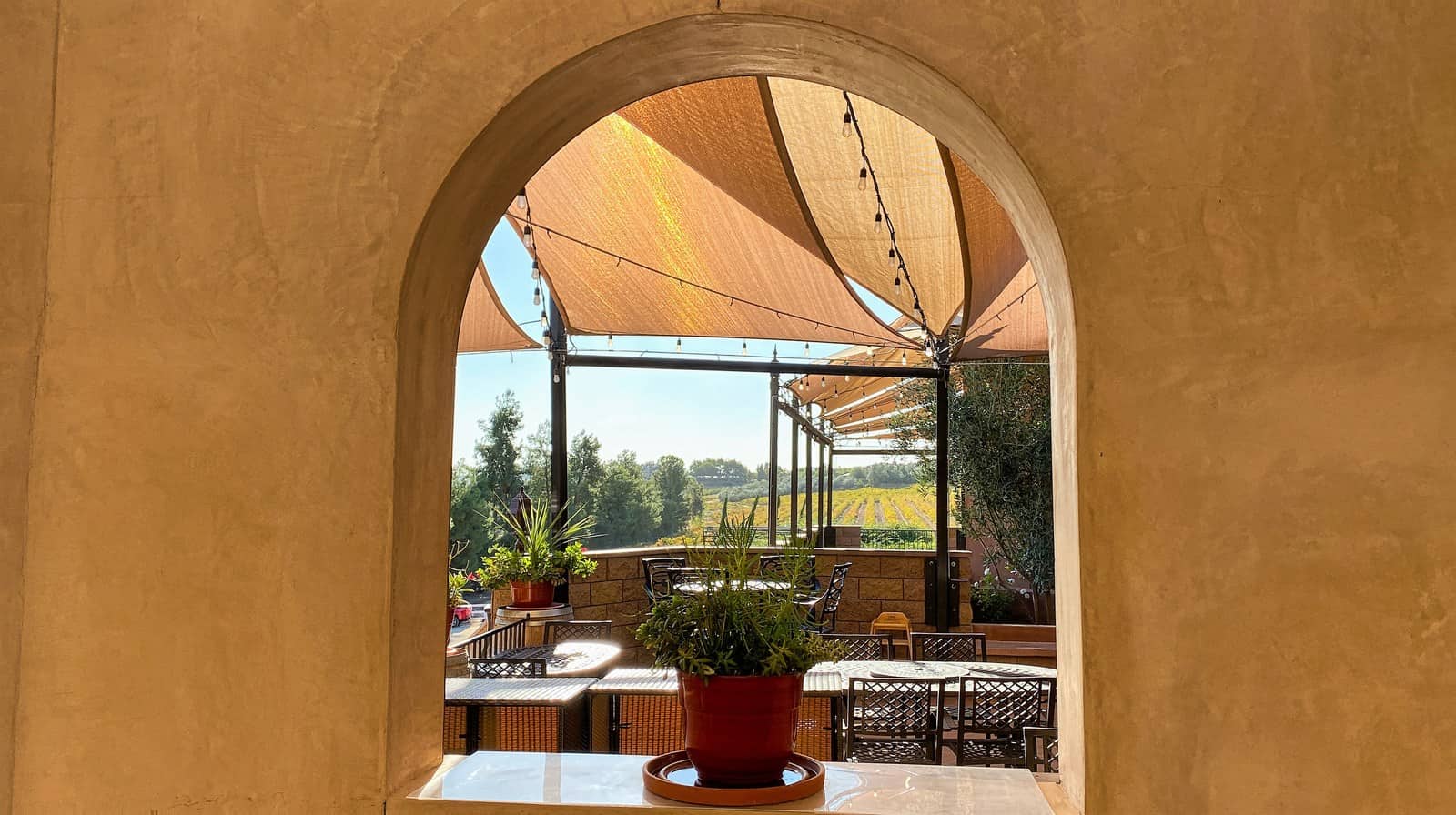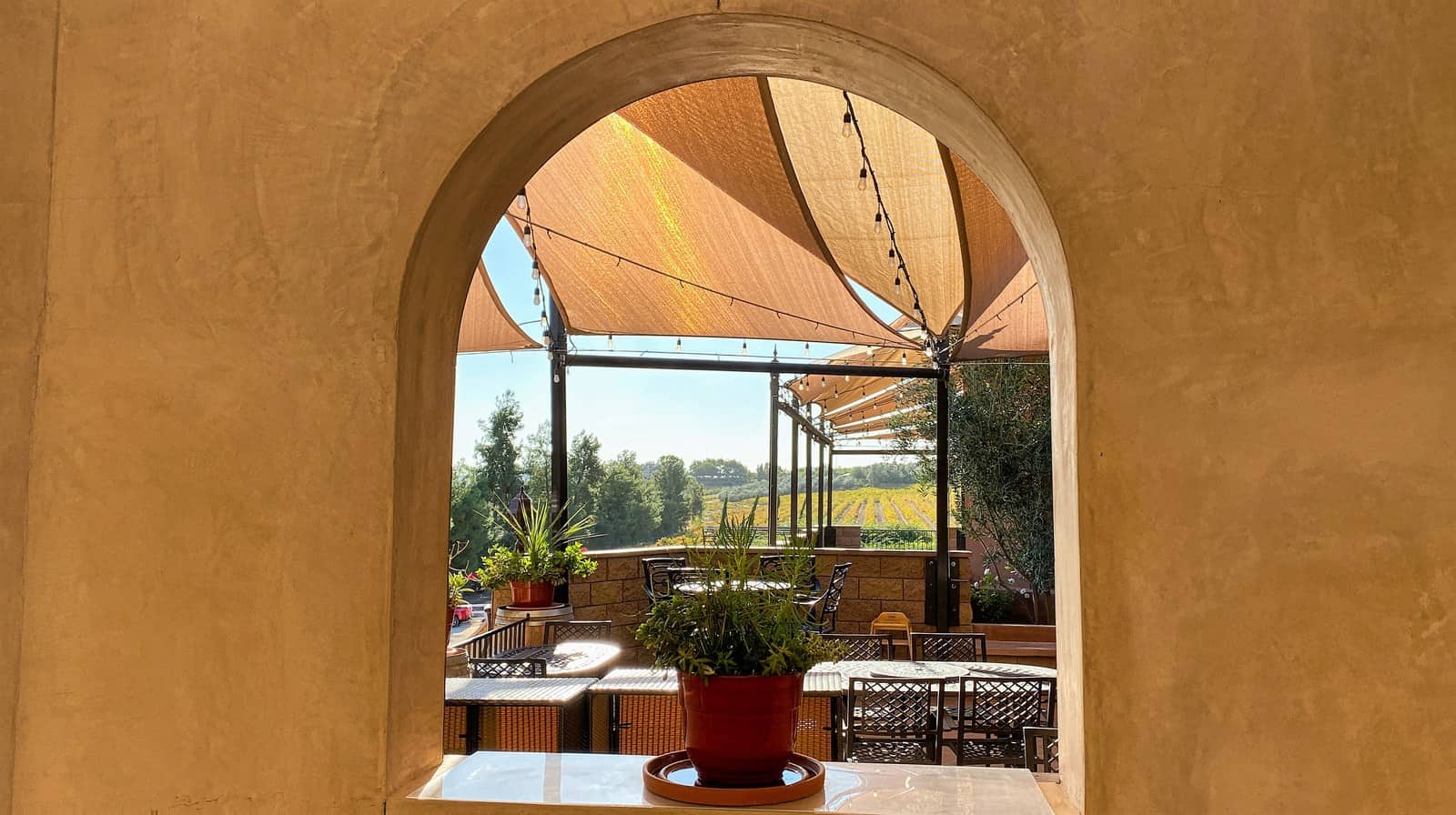 We tasted wine and enjoyed a lively conversation with BJ on the patio. We also enjoyed a fantastic Mediterranean-Persian fusion lunch where we had Fava bean hummus and walnut Panar. Keith had Gyro tacos, and I had a salad with mandarin oranges. We loved BJ's stories as much as the food.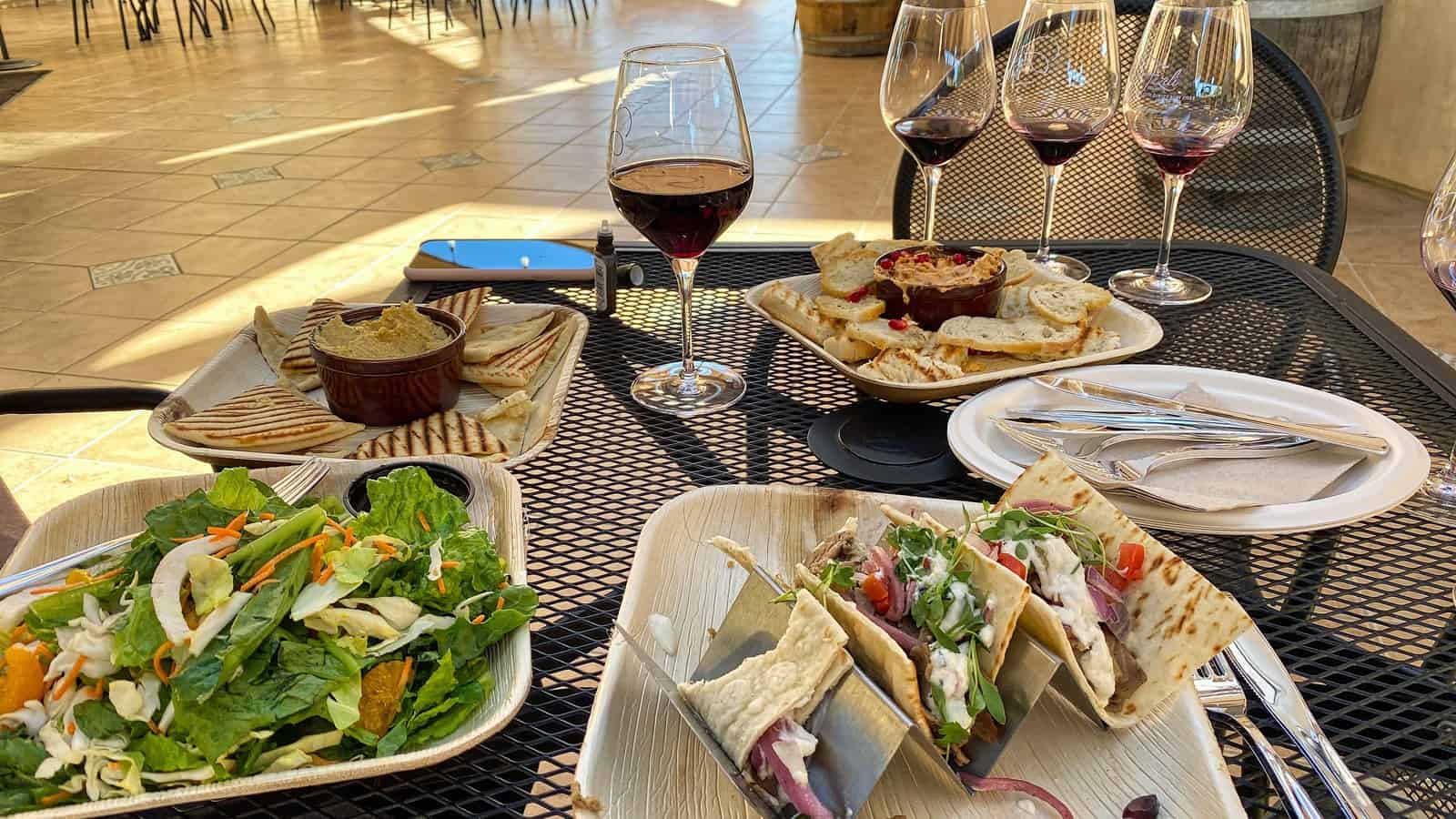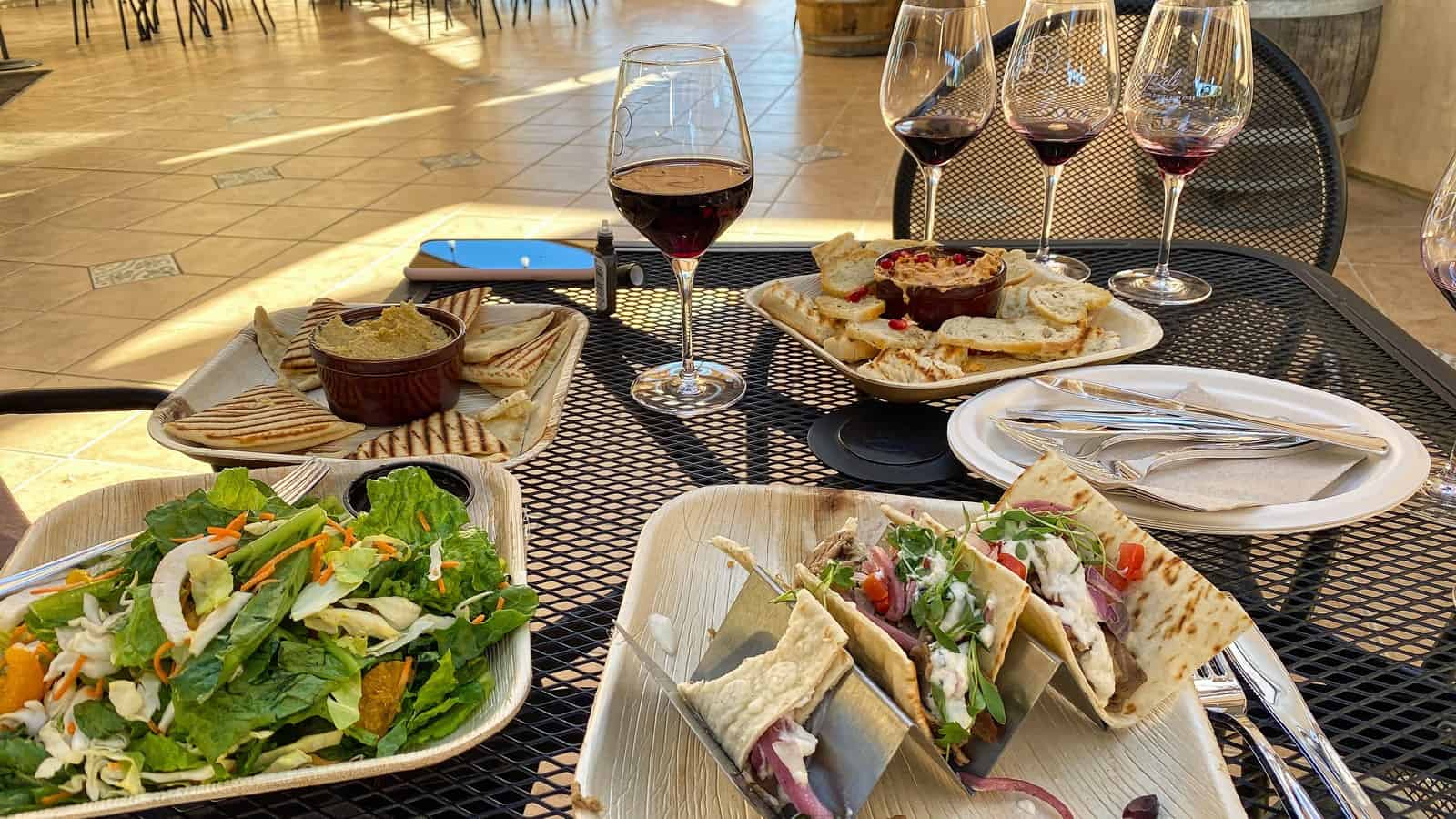 Masia De La Vinya
As part of a great Temecula wine getaway, we recommend Masia De La Vinya. Maria De La Vinya is a 10-acre vineyard and boutique winery thoughtfully designed to offer a casual, comfortable wine tasting experience with picturesque views of their vineyard, the mountains, and the valley. Masia De La Vinya means manor house of the vineyard. They make southern California Spanish wines.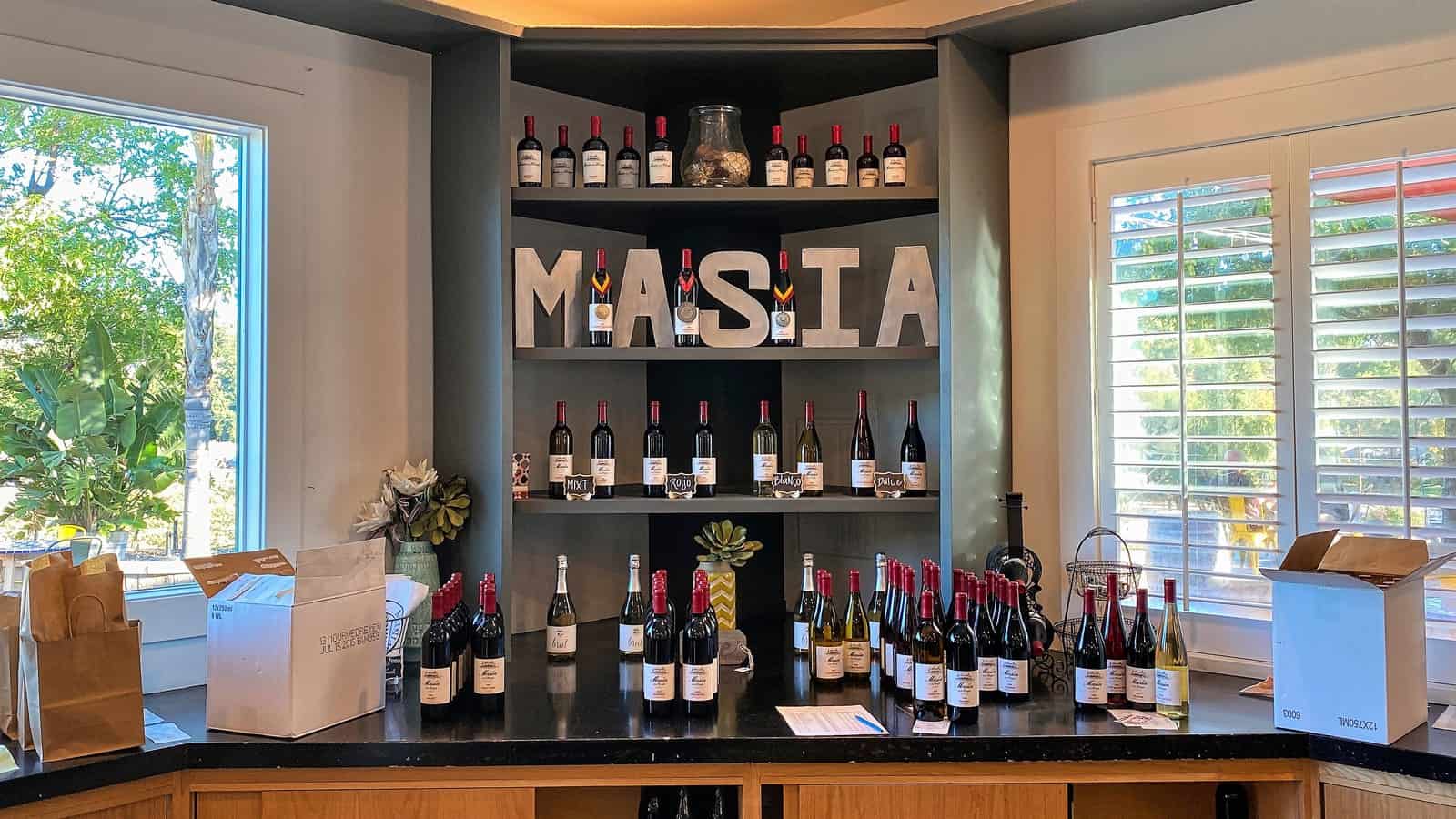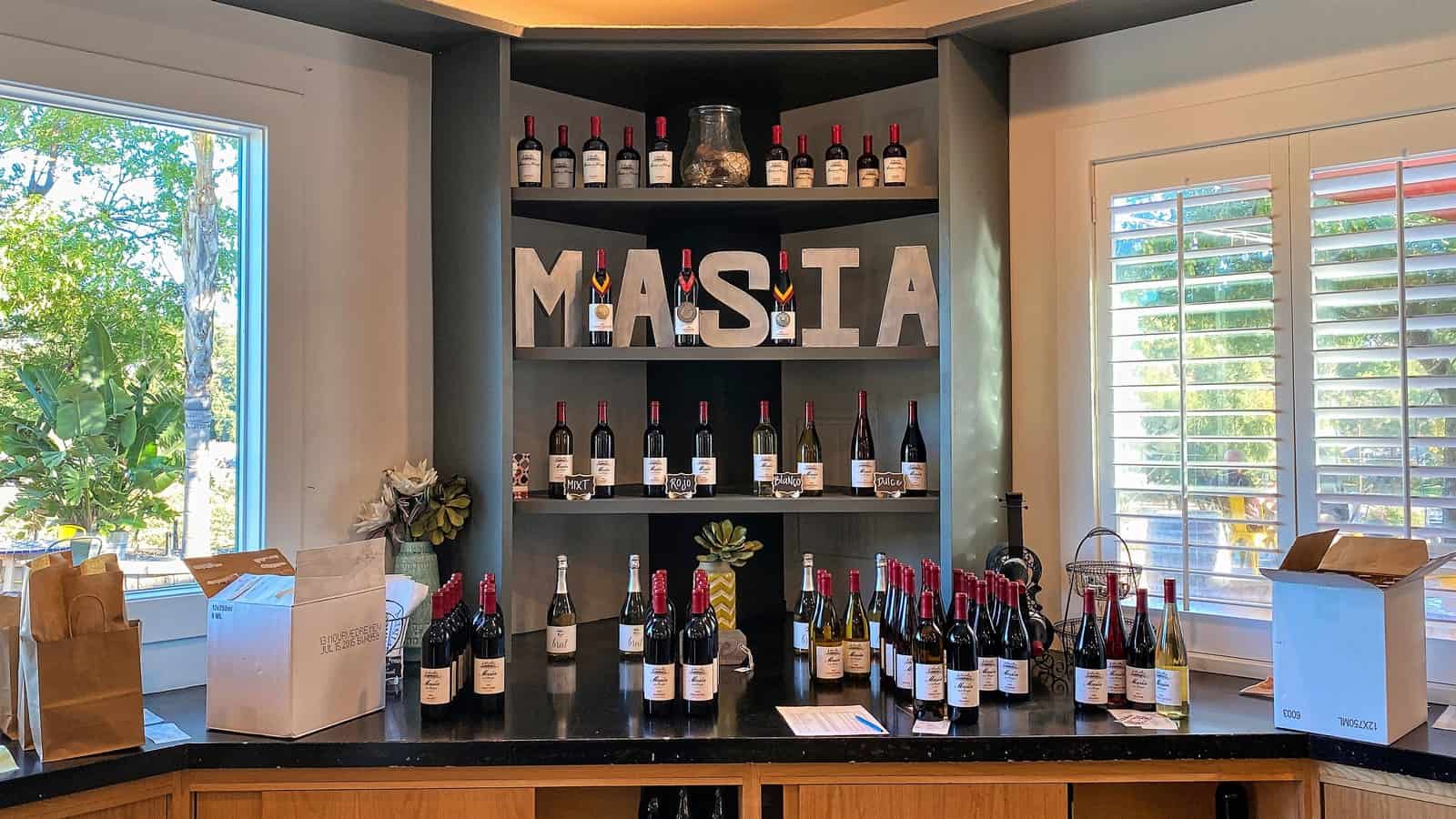 We recommend you do their Vintner's seated tasting. Sit and enjoy a relaxed tasting experience in a lovely country chic room. Your host will guide you through the history and menu as you sip some of the best Temecula wine paired with amazing accouterments. We loved the experience; we learned much more than the usual counter type interaction.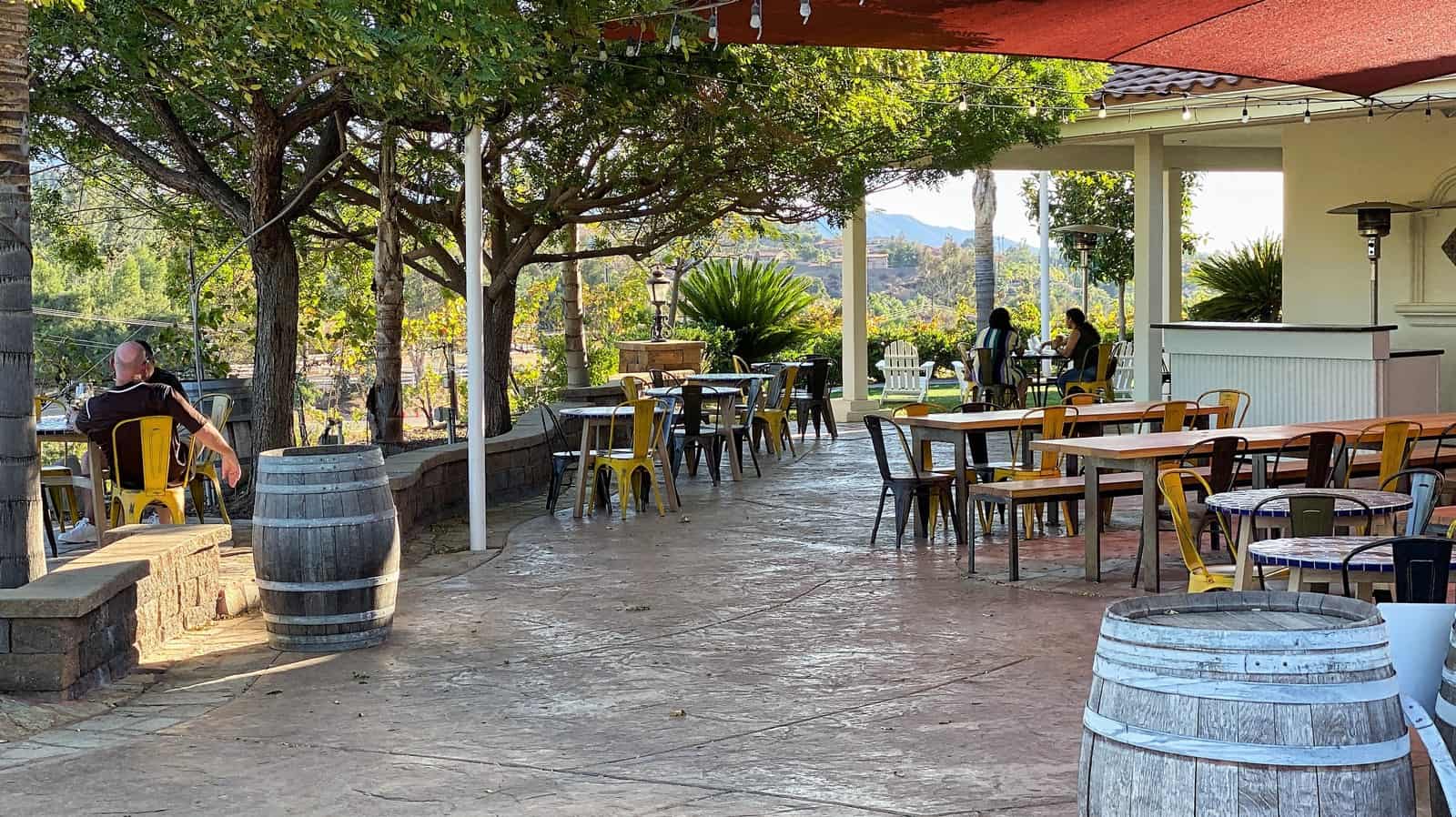 The wines are traditional Spanish styles and simplistic. The winery is personal and quaint, perfect for a more intimate experience away from the crowds.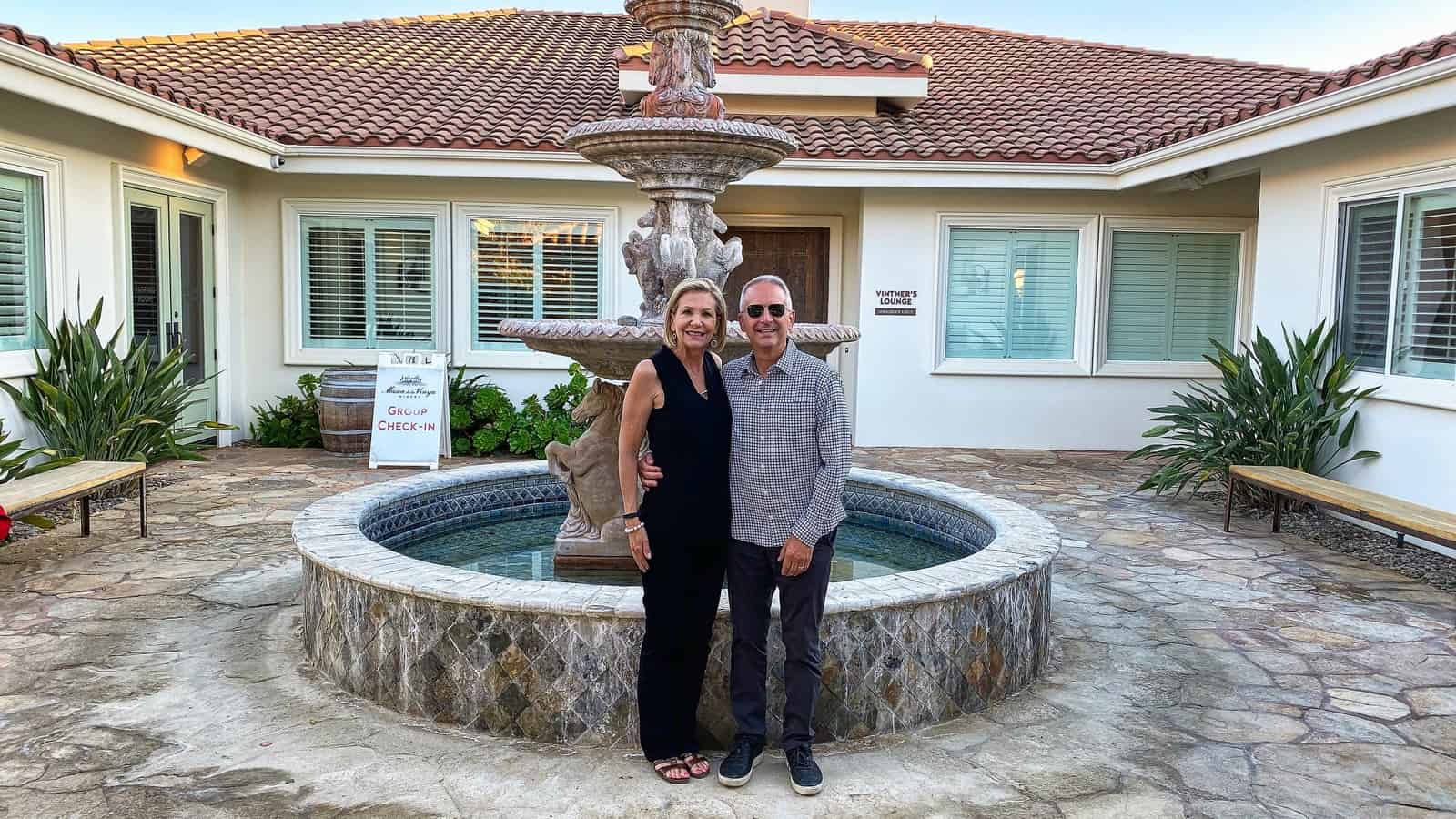 Palumbo Family Vineyards & Winery
Lastly, we recommend visiting the Palumbo Winery. Palumbo is a family-owned and operated artisanal winery. They have 13 acres of grapes and produce 2500 cases per year.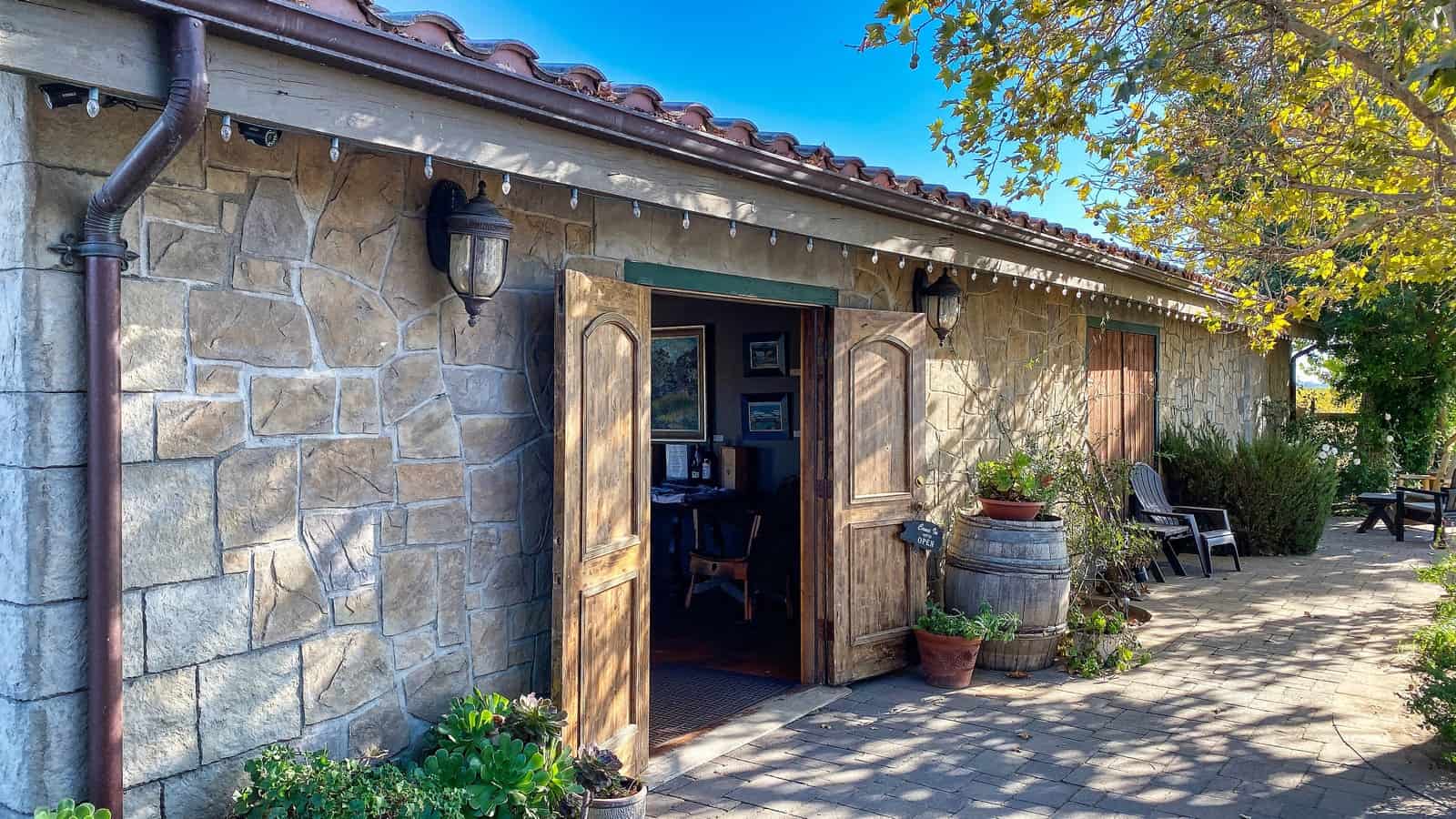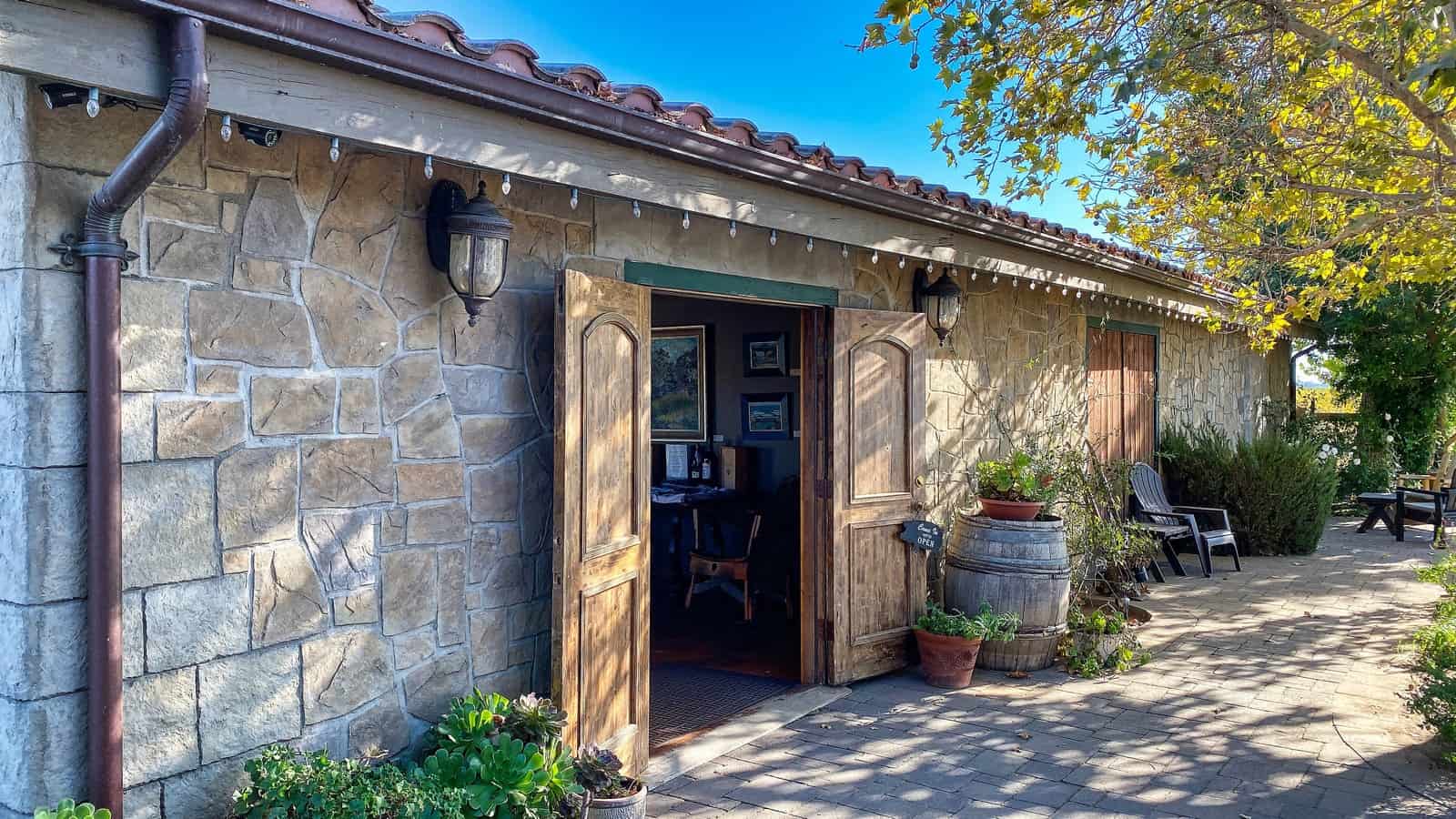 Nicholas Palumbo, the winemaker, believes in creating wine only from what the family grows. He believes there are only two ingredients in making fine wines, the grapes and the barrels it ages in. Palumbo specializing in full-bodied reds. Palumbo has an indoor tasting bar and an outdoor patio. The vibe is friendly and casual.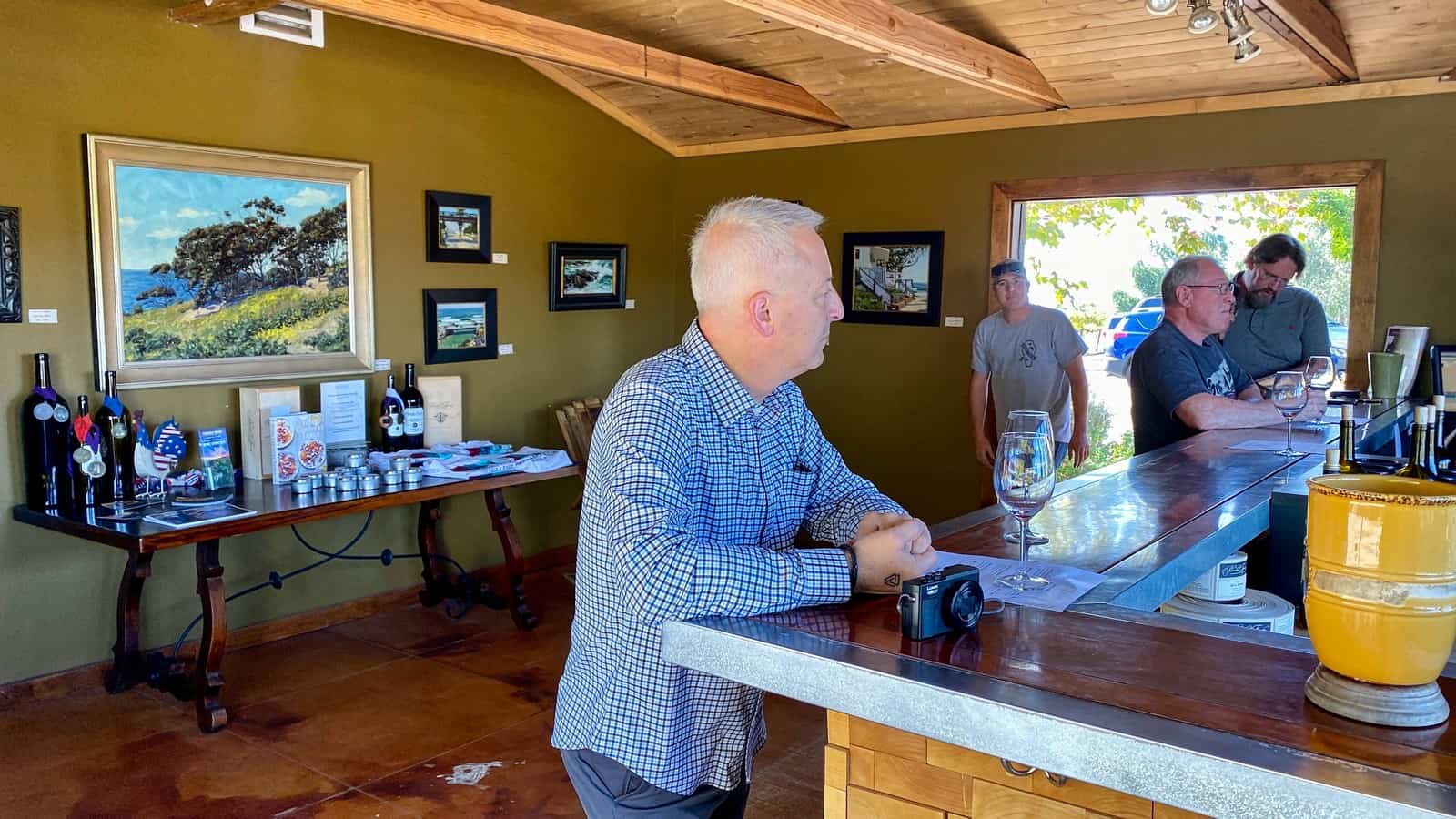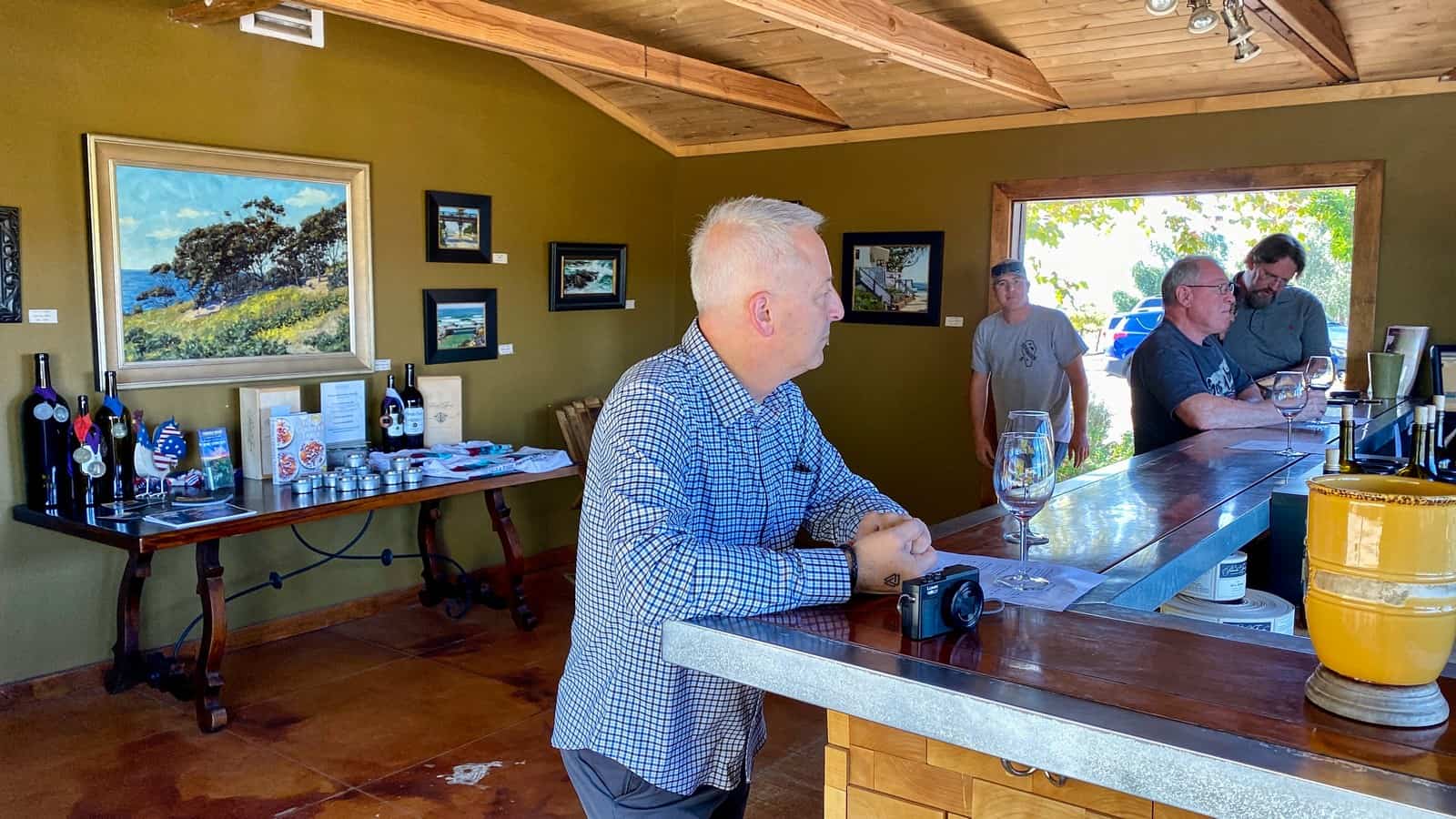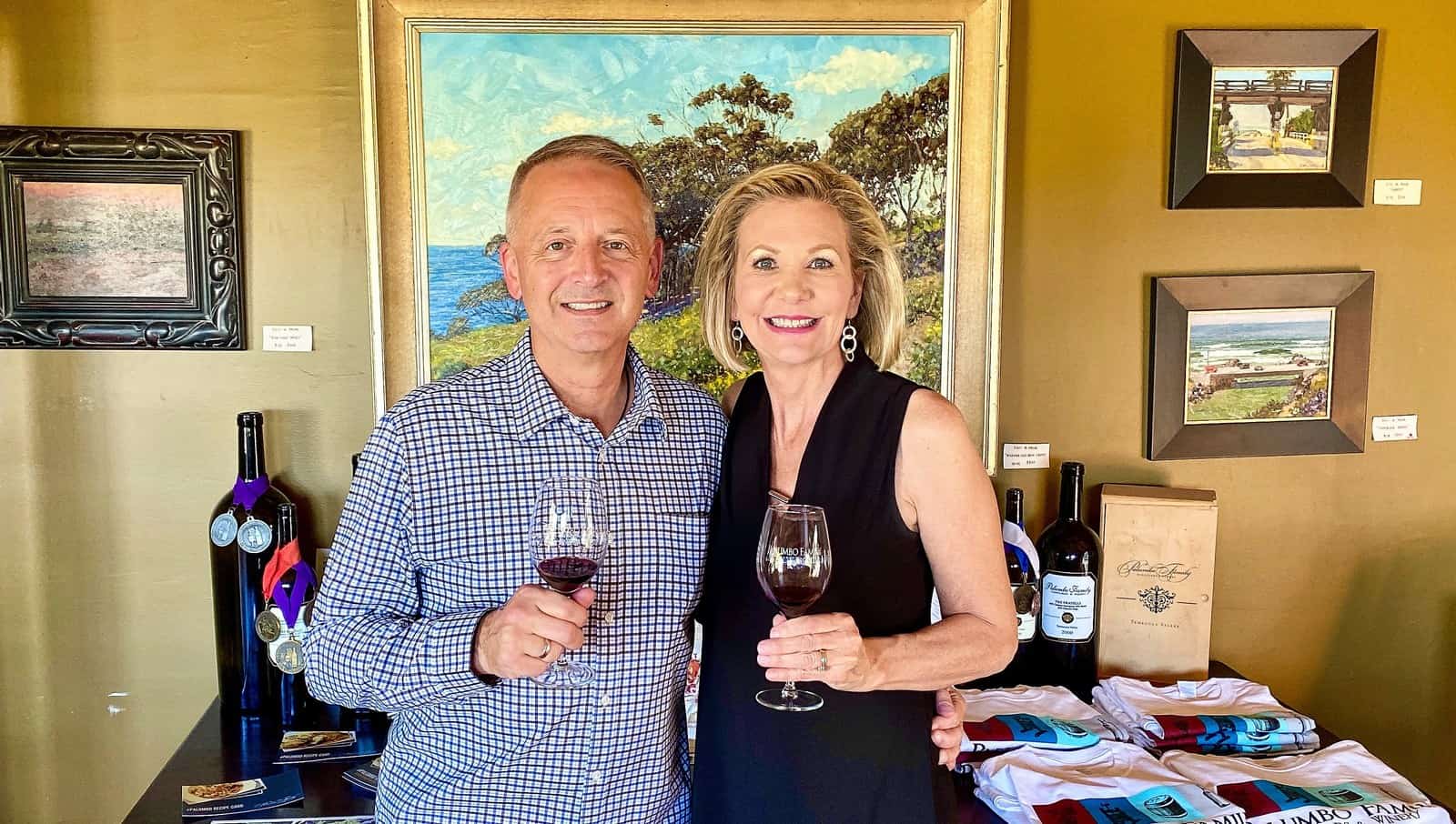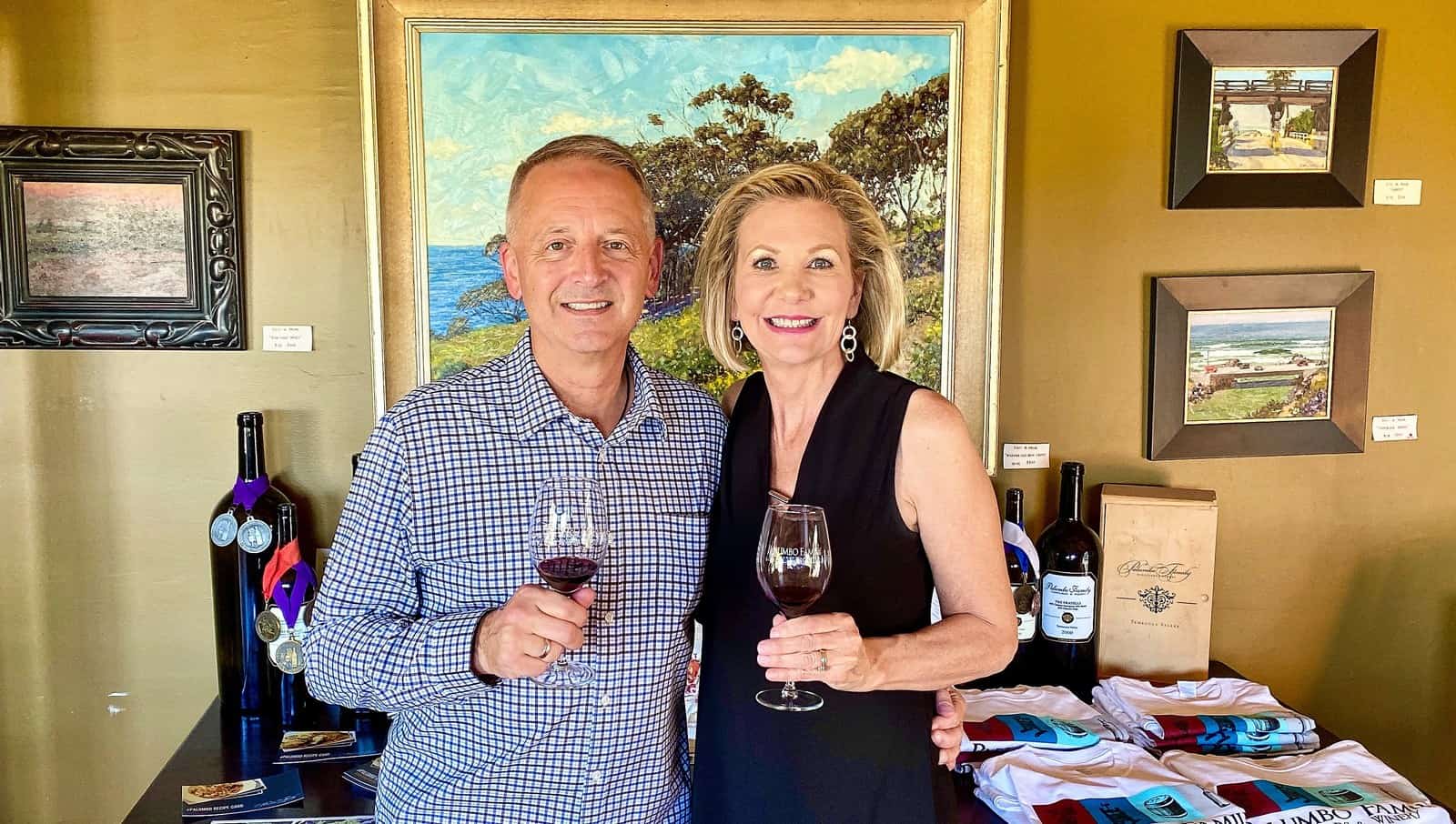 Where to Dine
For a Once-in-a-Life-Time lunch, Goat, and Vine
Our first dining recommendation is for lunch at The Goat and Vine. Make sure to make a reservation at this is a popular place, and once you eat there, you will know why. Not only is the food remarkable, but the service and friendliness are outstanding.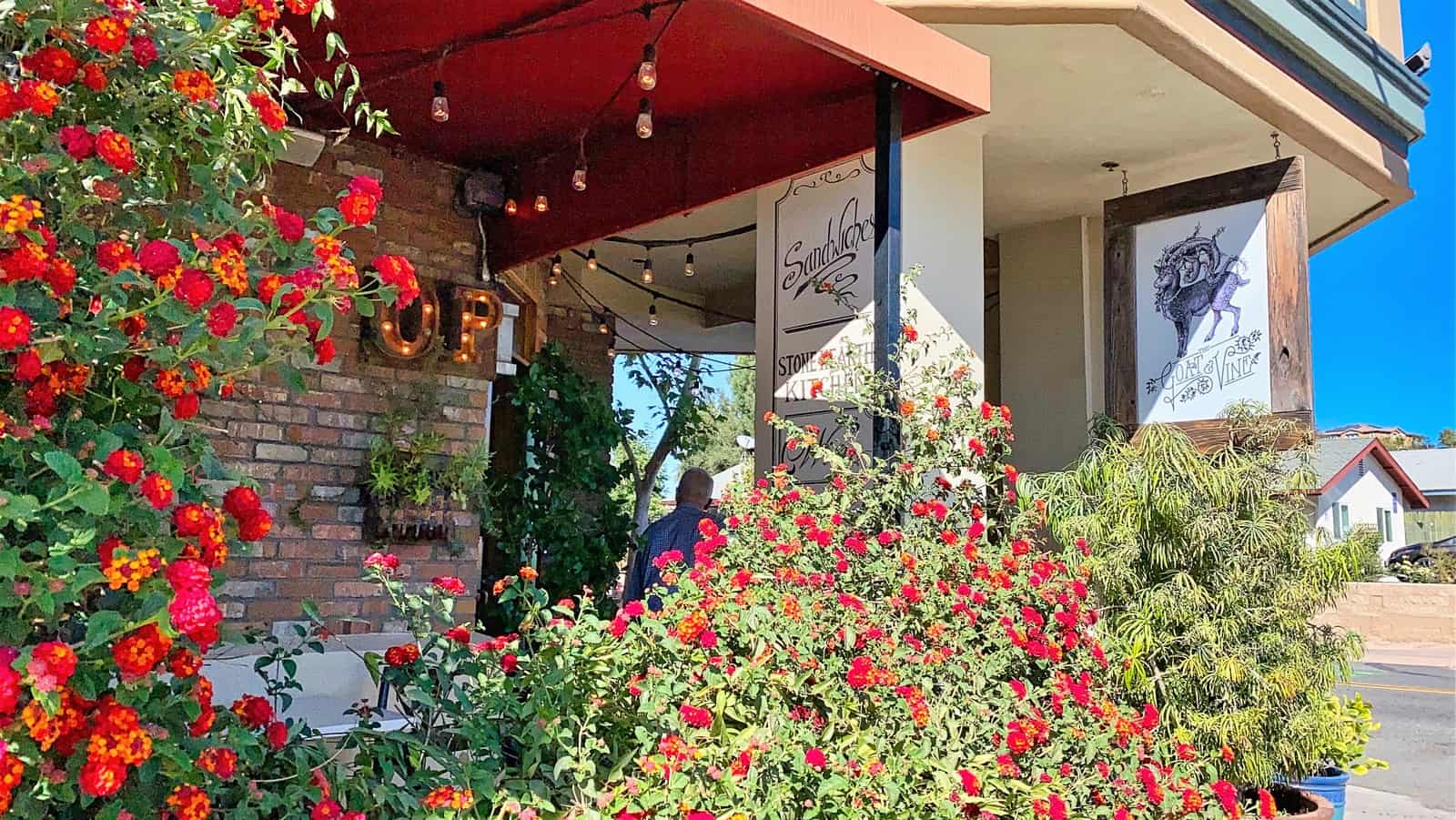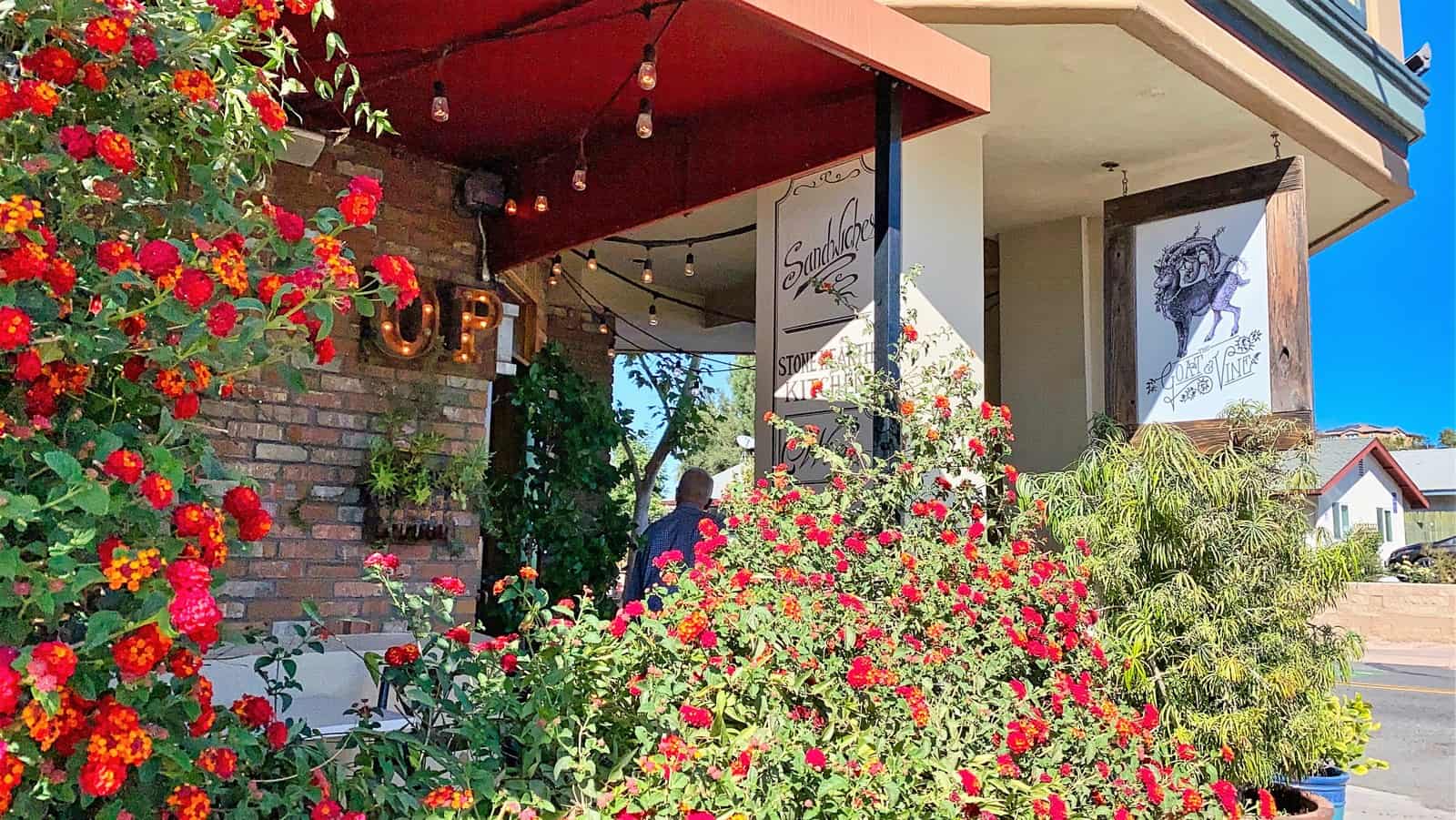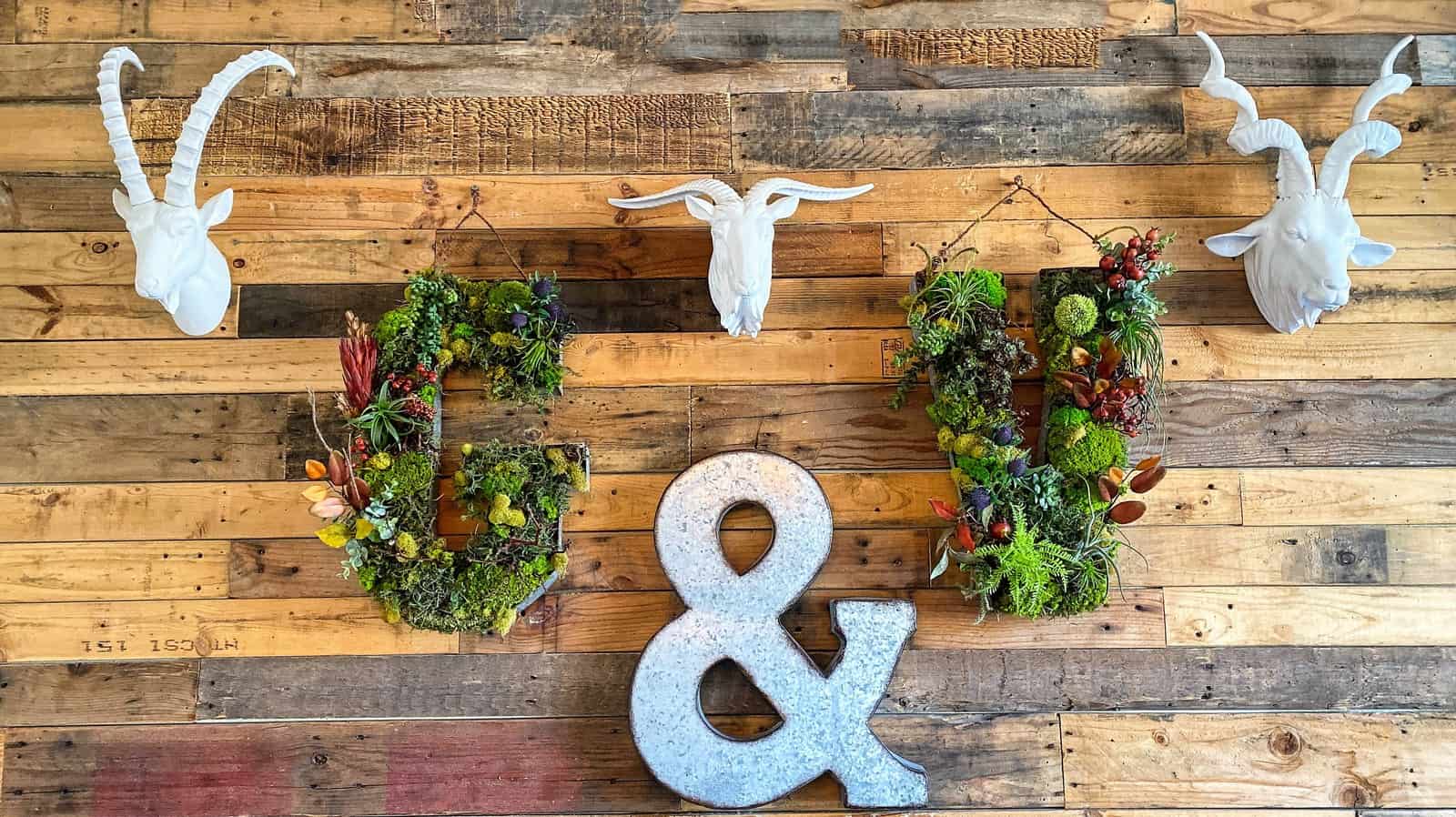 On their website, they say that their goal is for their customers to have lasting memories of their experience. It worked for us because we will never forget this restaurant or its food. The options are unique and tasty. The vibe is chic casual, lively, but not too noisy. At Goat and Vine, they believe that food is a love language, and I guarantee you this was evident. Our server was extremely knowledgeable when we ask questions. The manager made her way around to each table to check on everyone's experience and to just chat.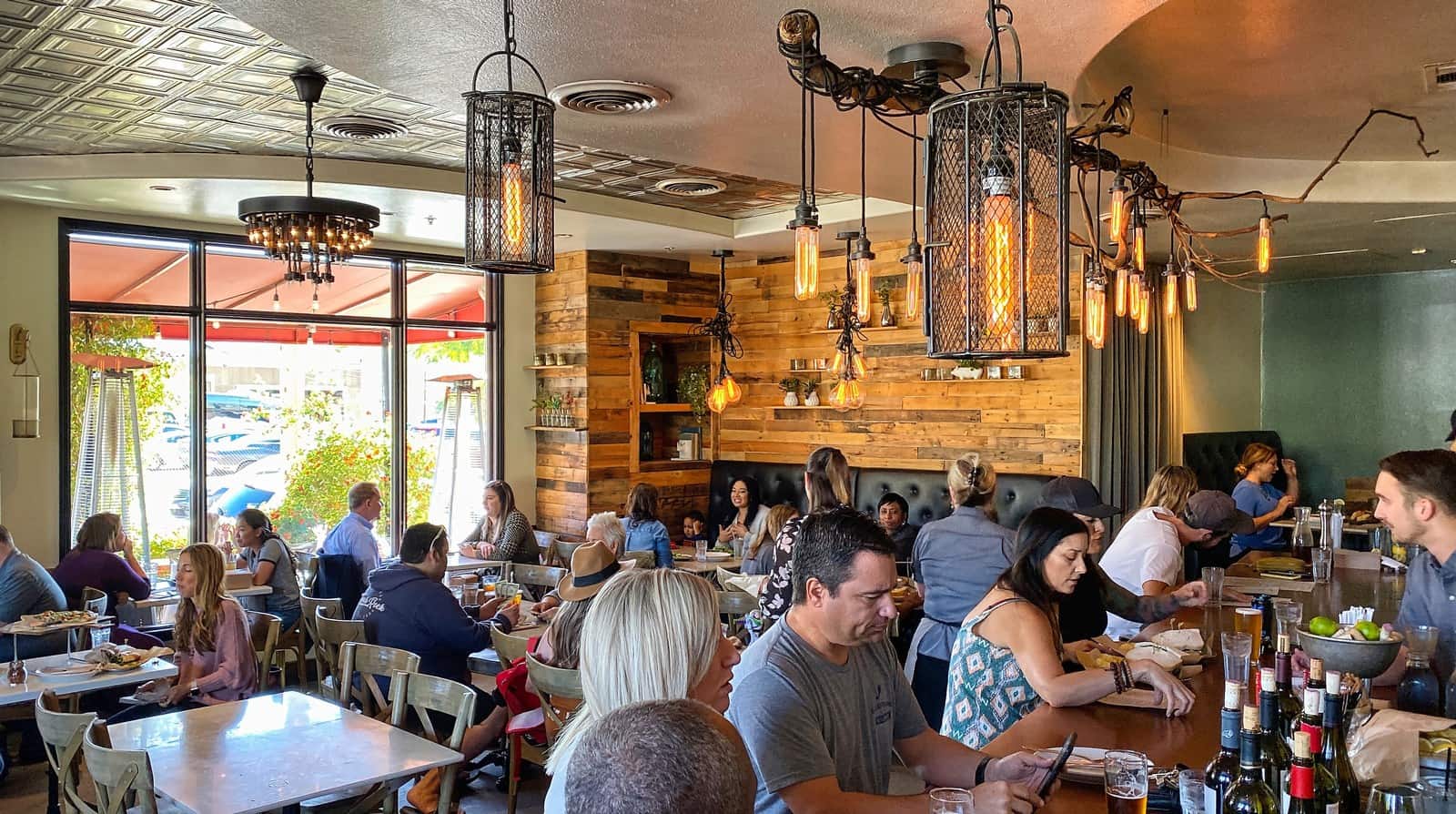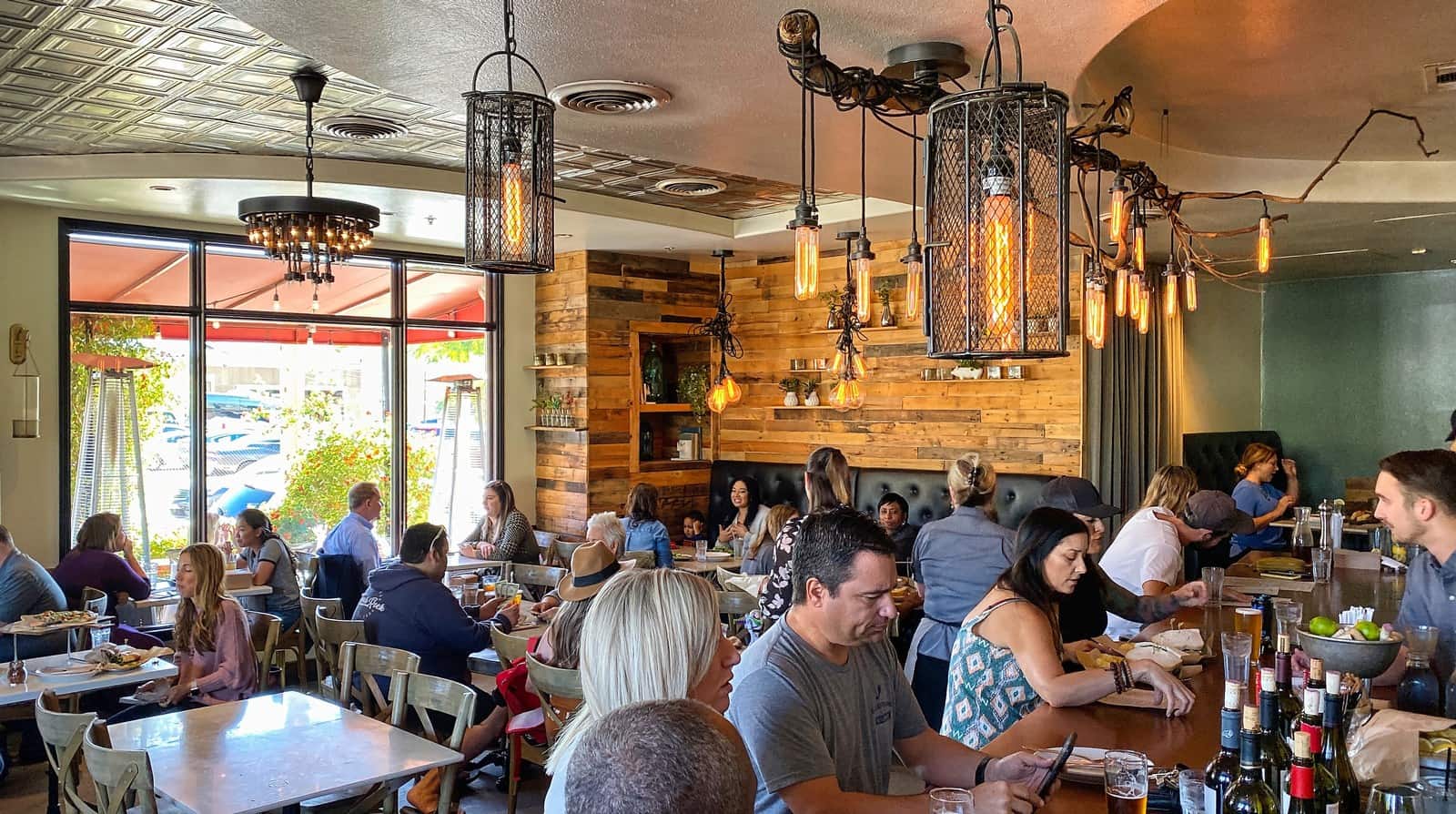 I had the Whole Garden. A sourdough sandwich with sun-dried tomato hummus, cucumber, onion, avocado, spinach, field greens, tomatoes, sprouts, and green monster vinaigrette. Yum! Keith had the Goat and Vine Salad. Seasonal greens, arugula, fresh berries, a goat cheese medallion encrusted with caramelized pecans, green onion, grape tomatoes, topped with champagne vinaigrette. We could not resist dessert, so we had a Jacked Cappuccino Ice Cream Cake. It was an Oreo crumb crust layered with caramel drizzle and coffee ice cream marbled with fudge and macadamia nuts, topped with house-made Baileys whipped cream, and finished with even more caramel drizzle and Oreo crumbs. Needless to say, we left stuffed. Everything we had here was unique, which we loved.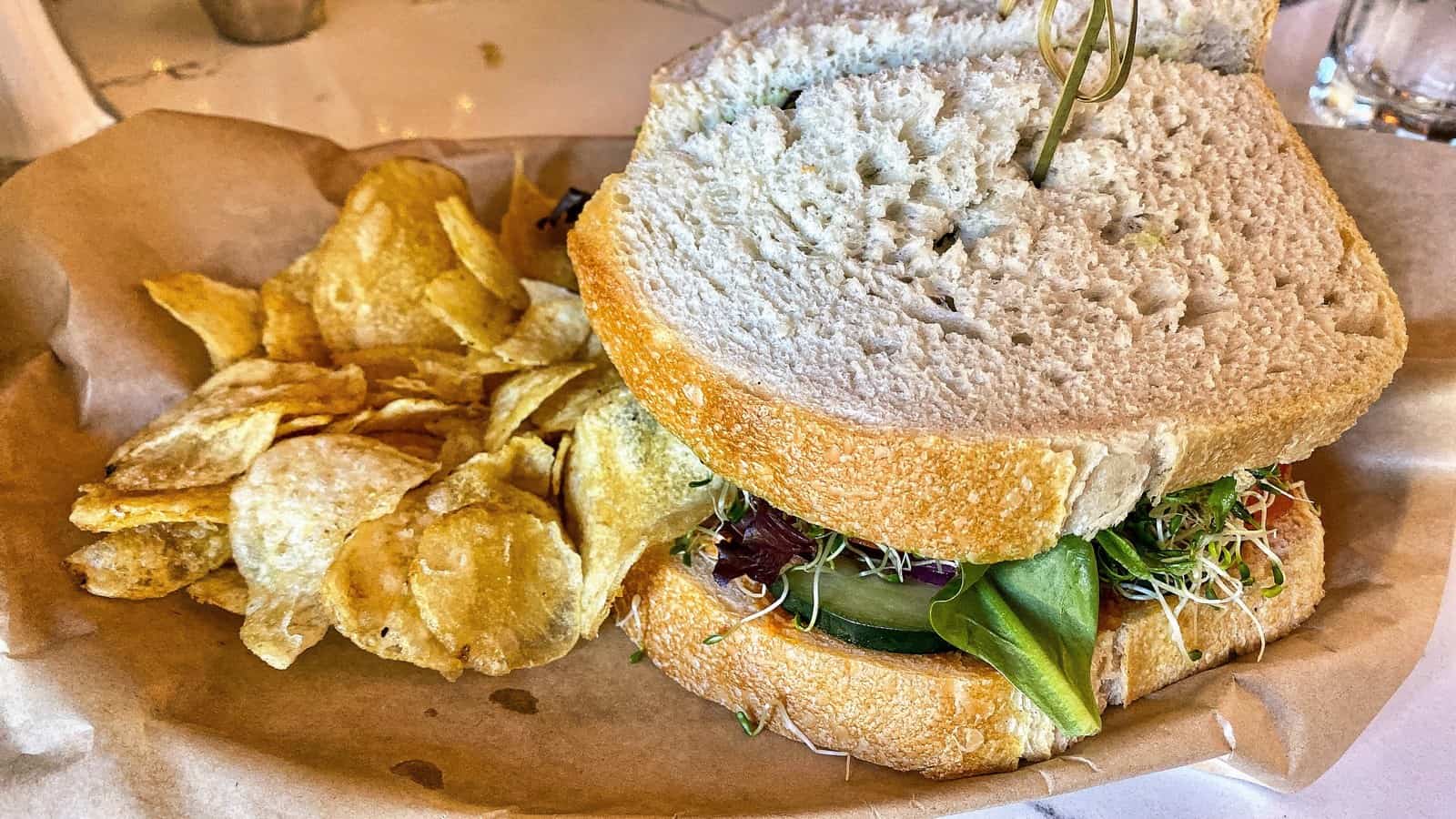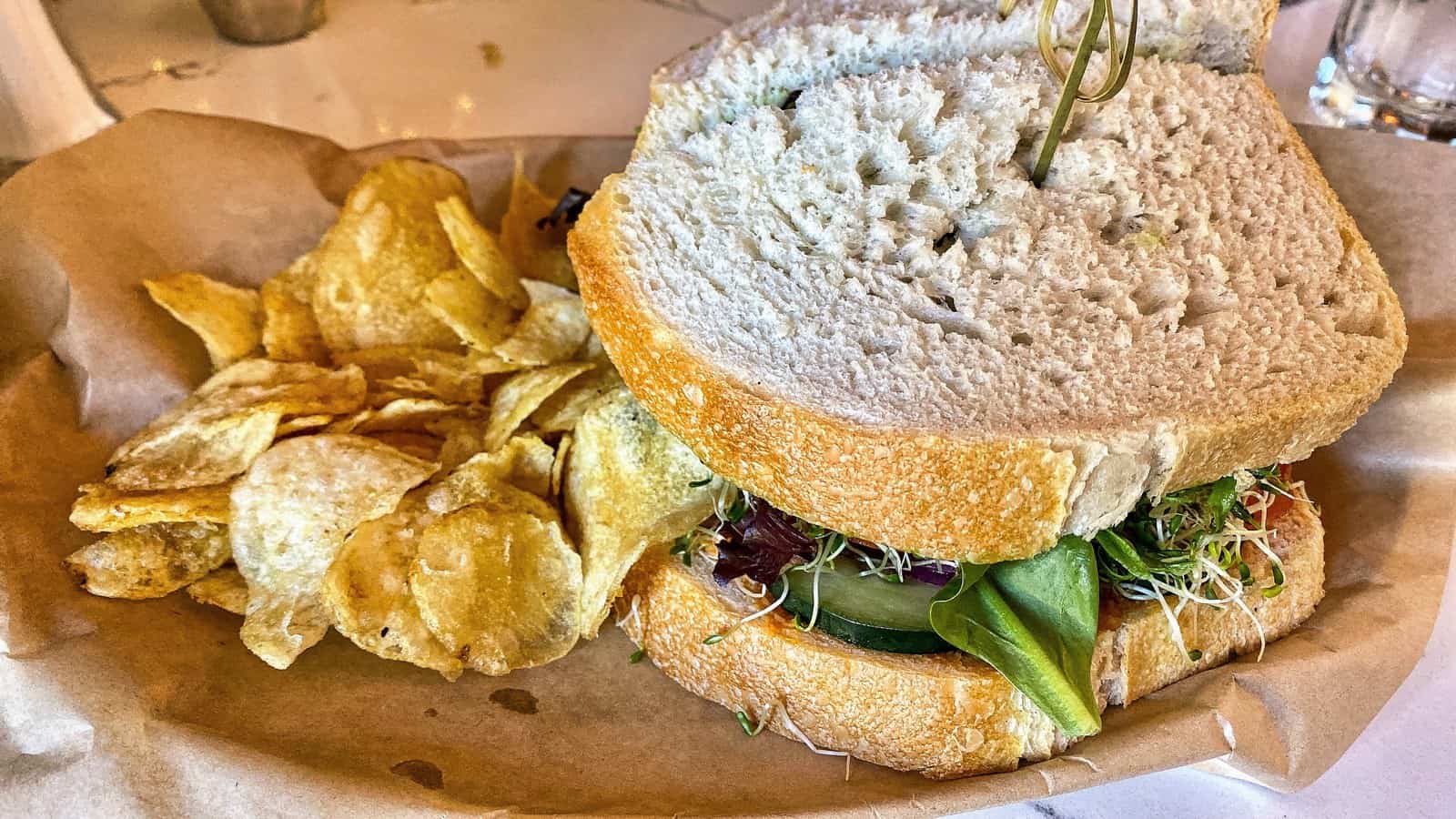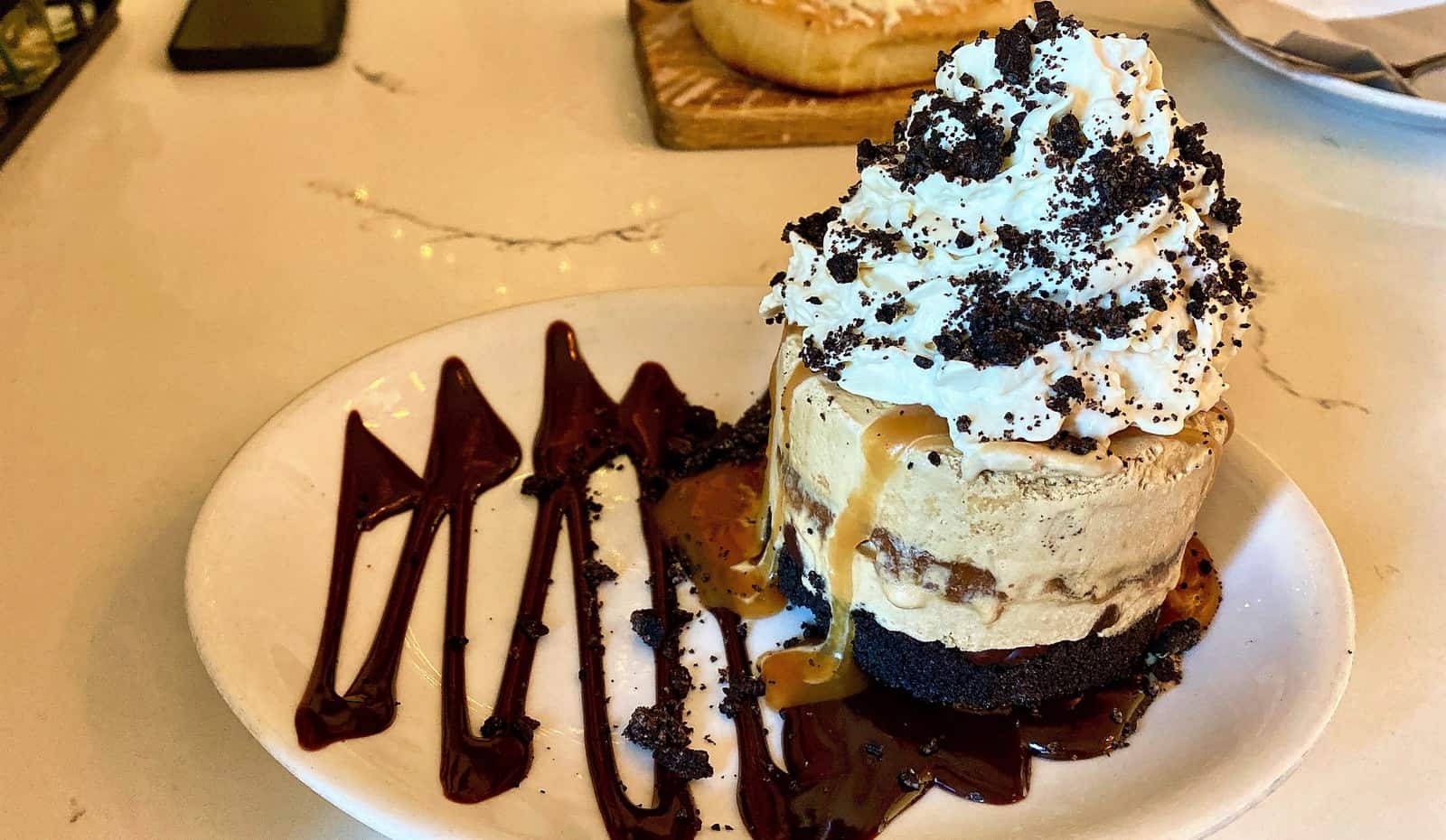 Have a Fresh, Clean and Sustainable Meal at E.A.T Marketplace
The next day we started with an amazing breakfast at E.A.T Marketplace. EAT serves clean local food for all. They have food for everyone, including carnivores, vegetarians, vegan, gluten-free, and paleo diners! EAT Marketplace is an Artisan Eatery with locally inspired cuisine. They serve sustainable and locally grown foods.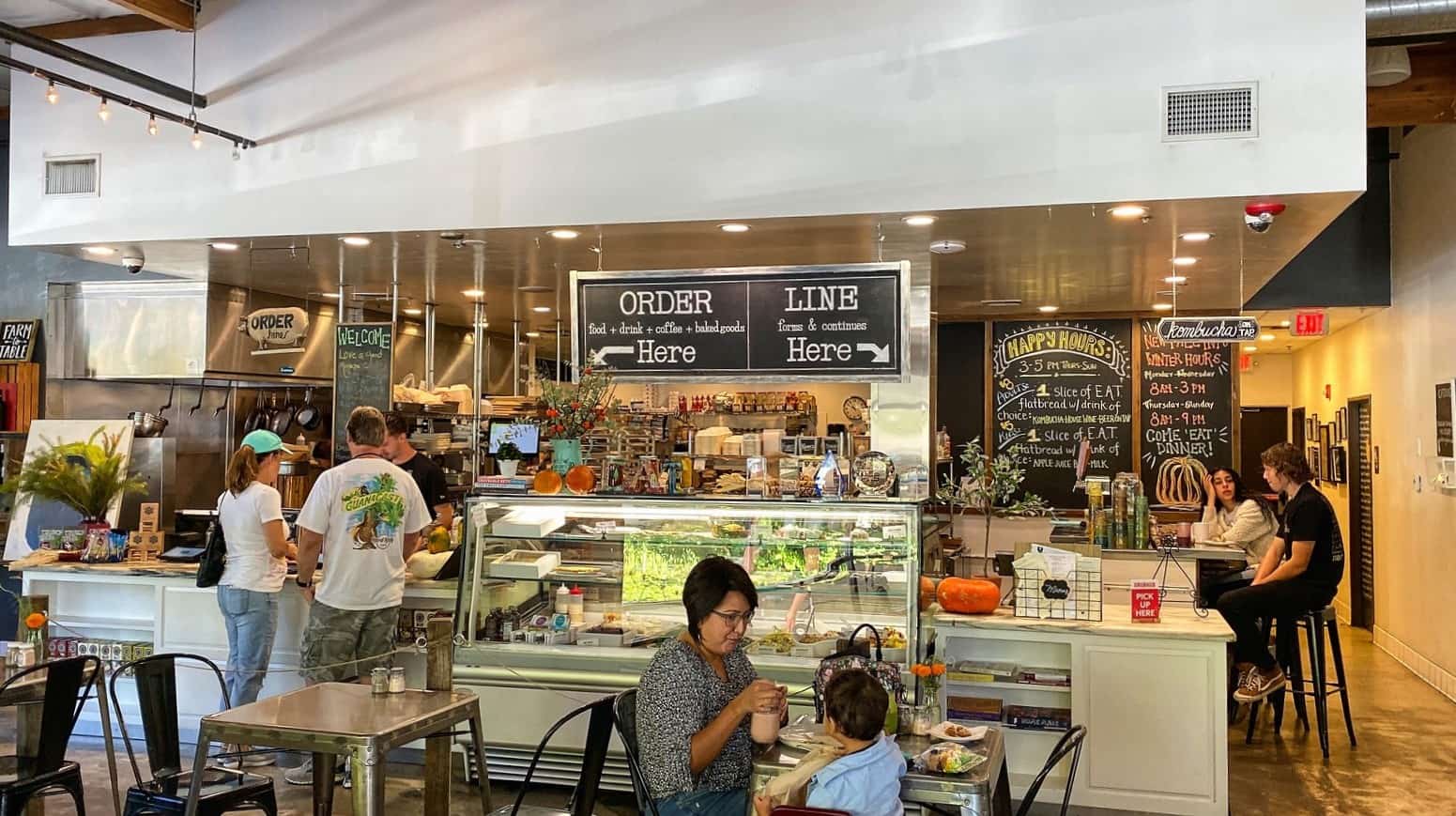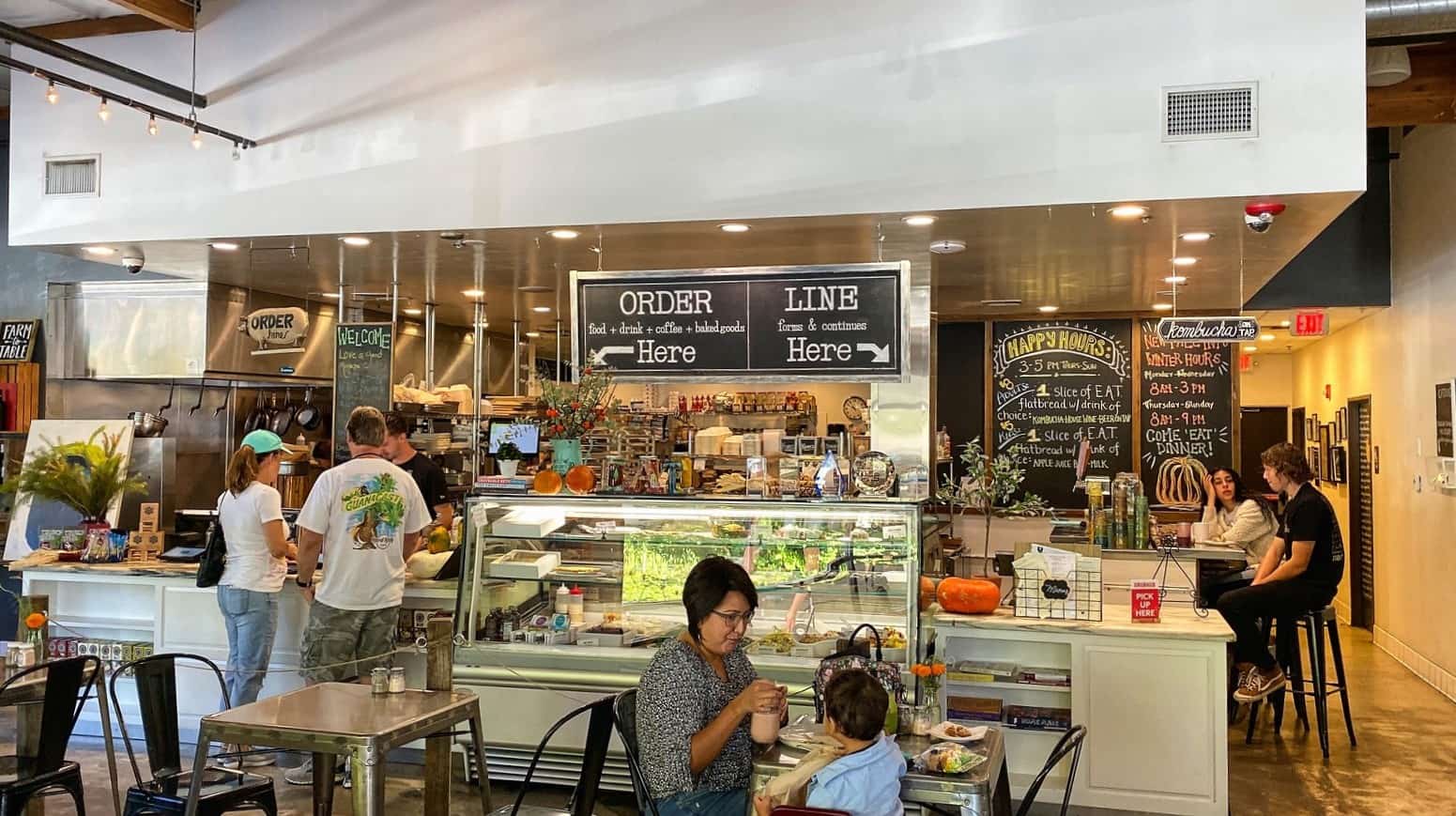 As many of you know, I eat a whole food plant-based diet, basically vegan. I loved the freshness of EAT. I had the Plant-based Rancheros. The flavor was great; I gave up nothing by having this dish vegan. Keith also ate vegan; he had the Avacado Toast and a cappuccino. Of course, I had some of his too. Everything was phenomenal.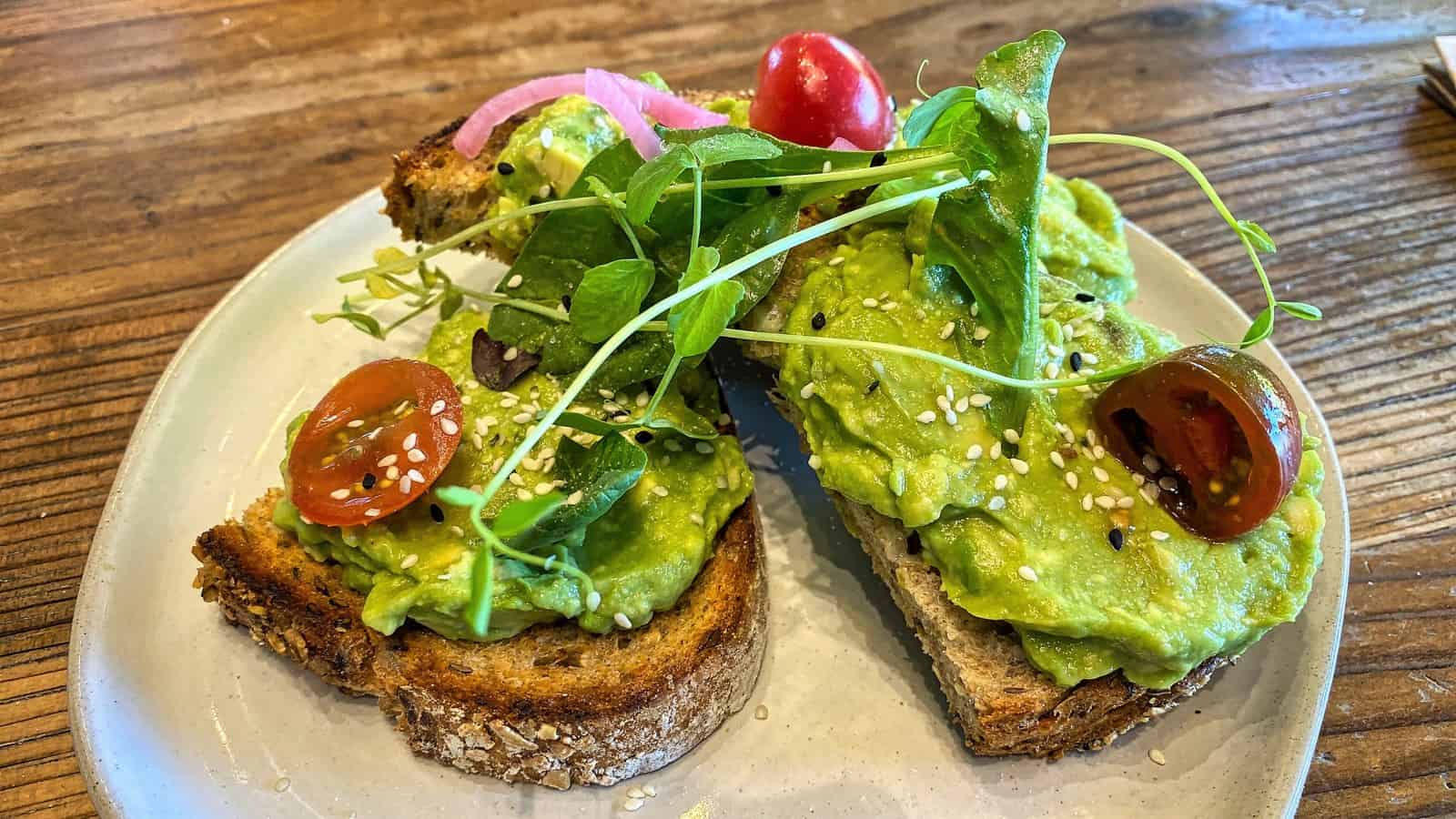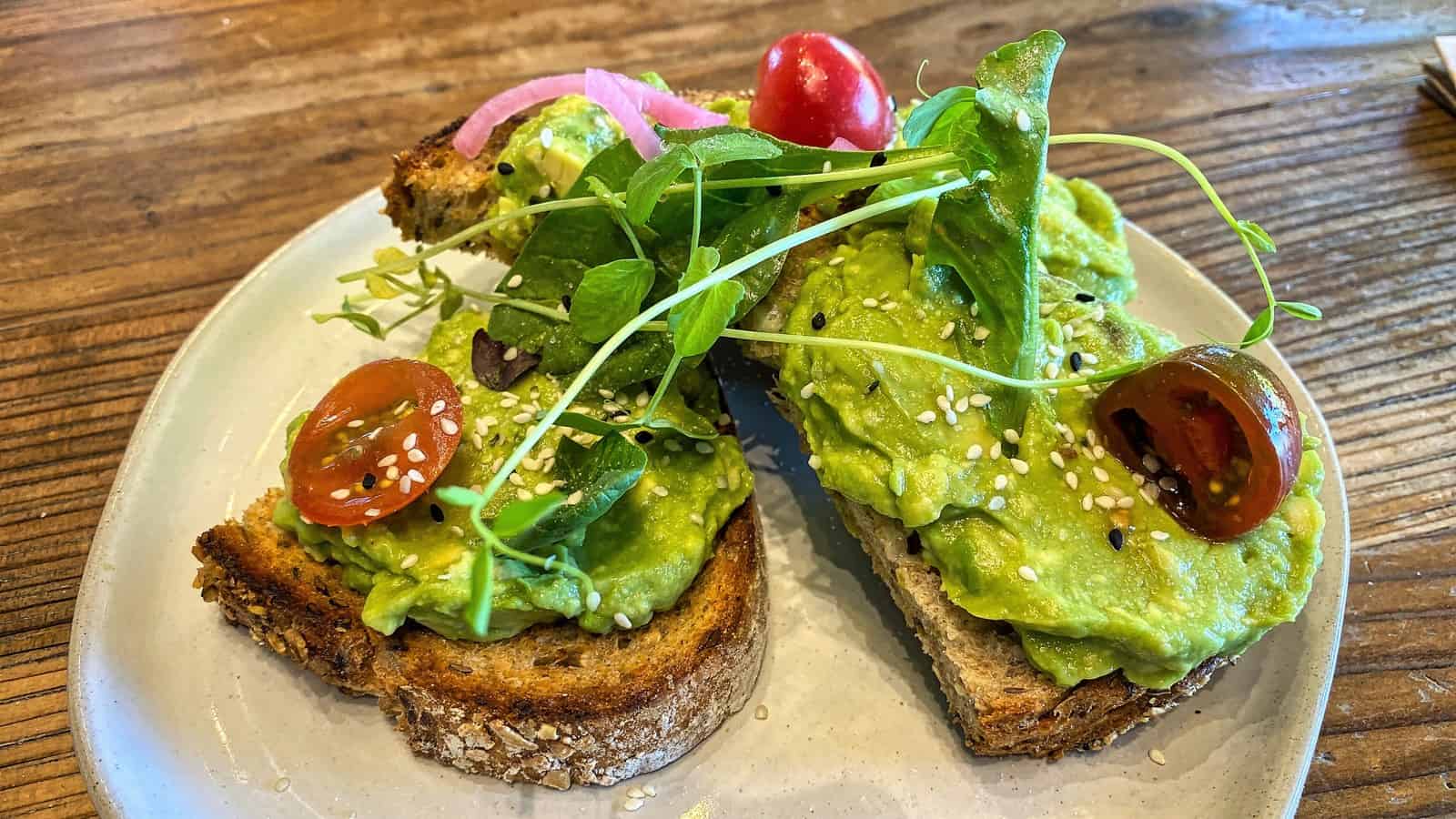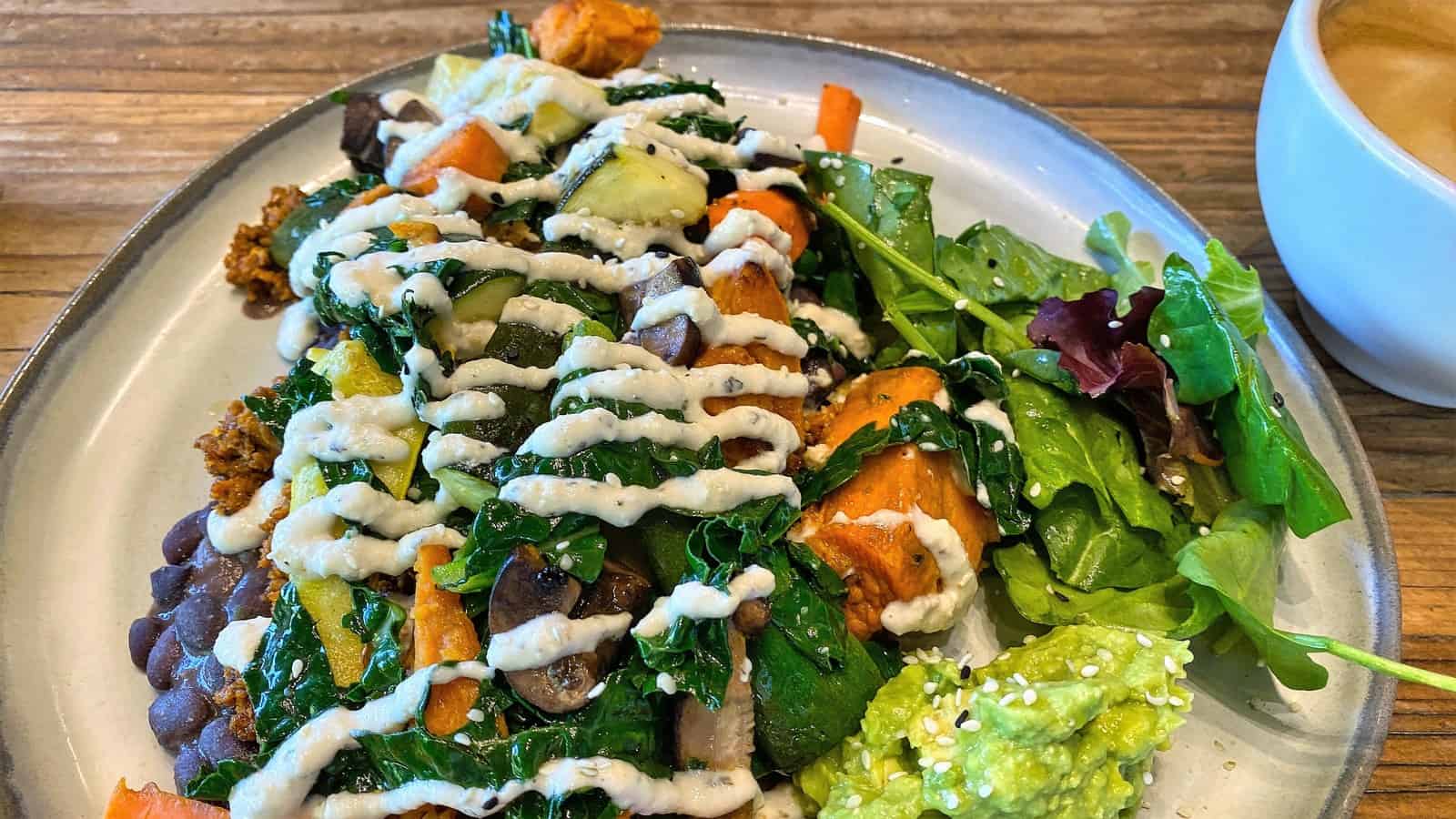 We also met the chef and owner, Leah Di Bernardo. She shared her life long love of food, love of the environment, and people. Sometimes the experience of meeting someone is as good as experiencing the menu; this was one of those times.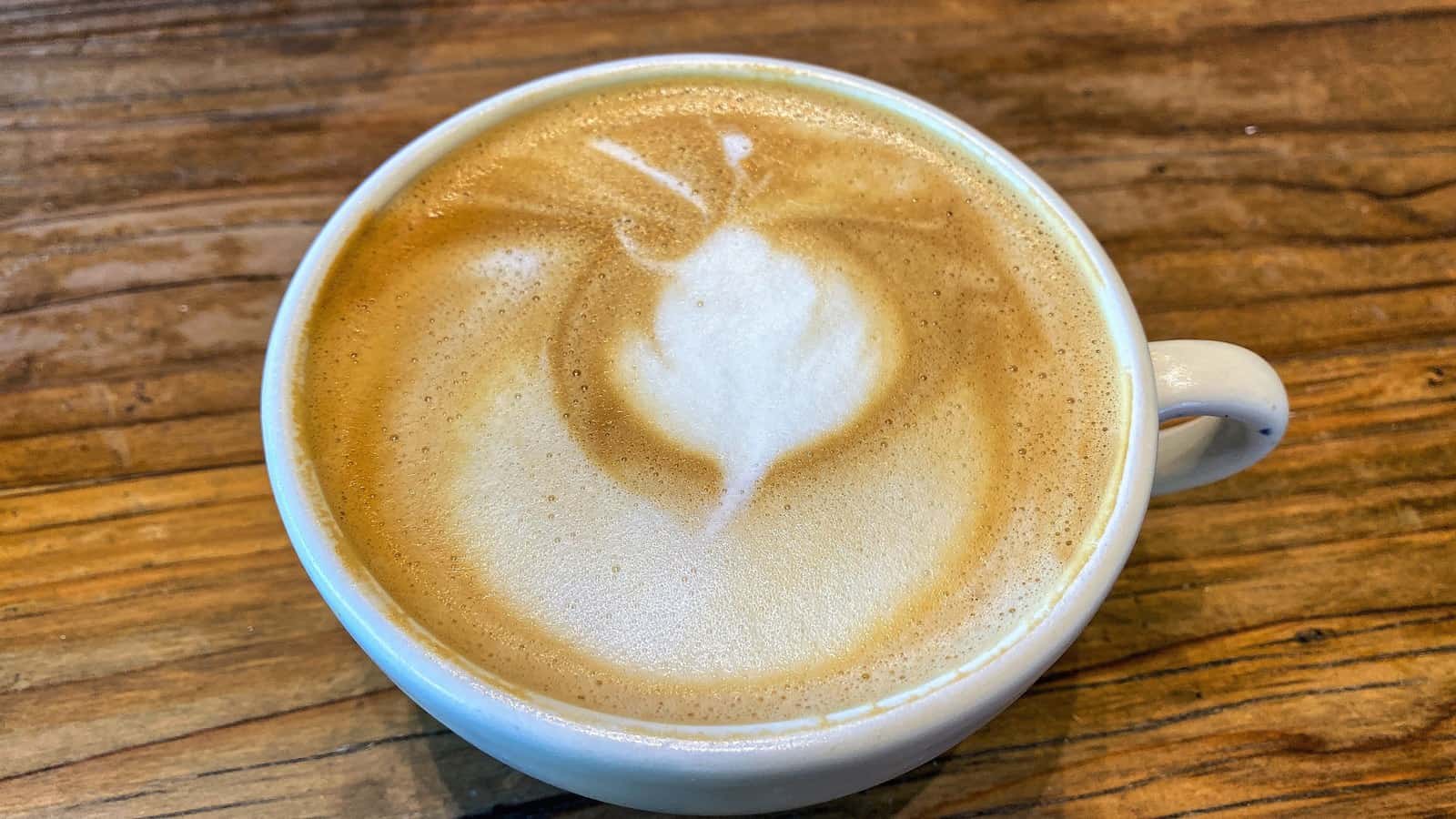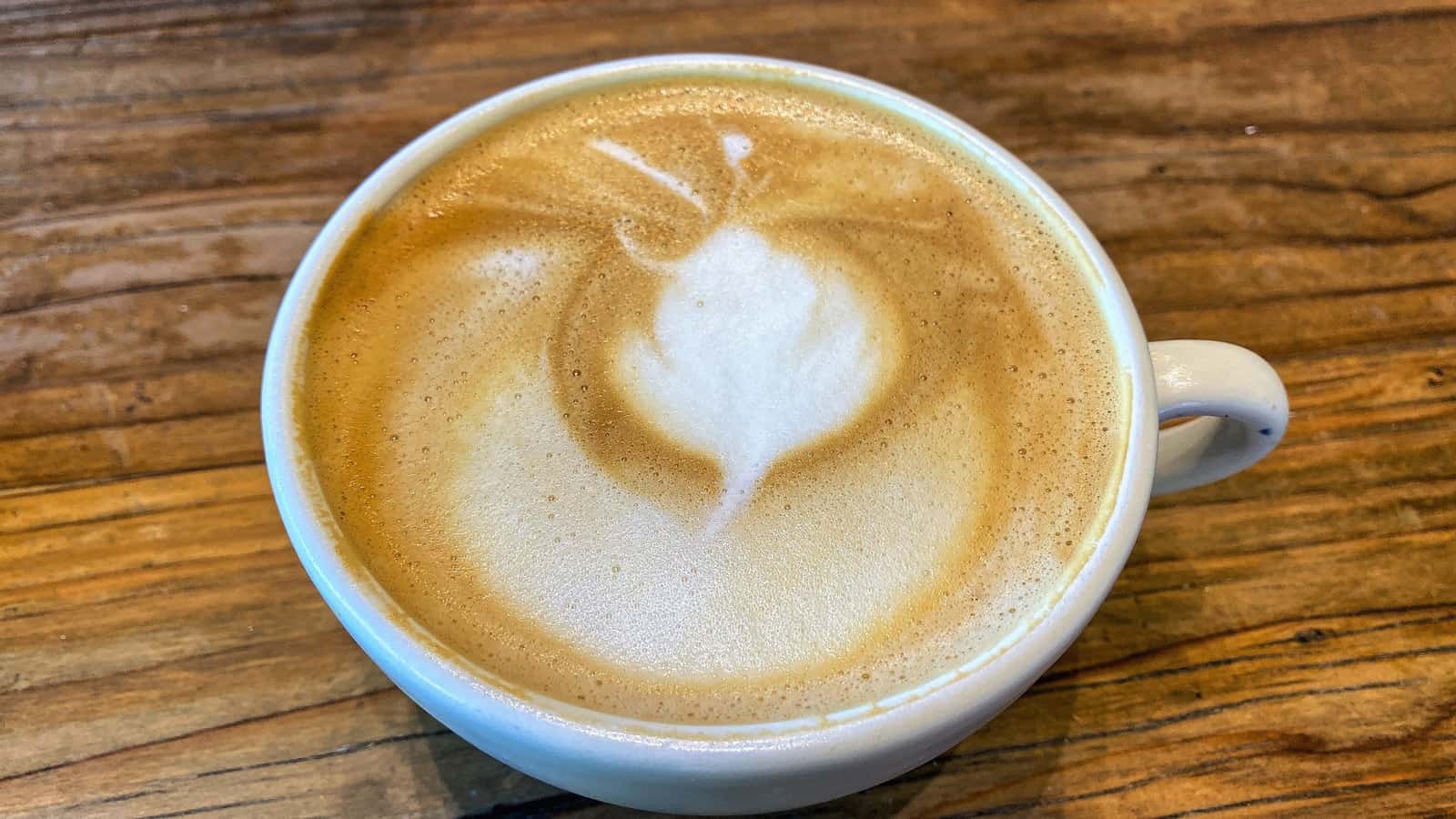 Wine and Music with a View
For one of your dinners, we highly recommend visiting Lorimar Vineyards and Winery. In addition to fantastic food and Wine, Lorimar has live entertainment every Friday, Saturday, and Sunday. And, since you will most likely arrive before sunset, they have captivating views of the Temecula Valley.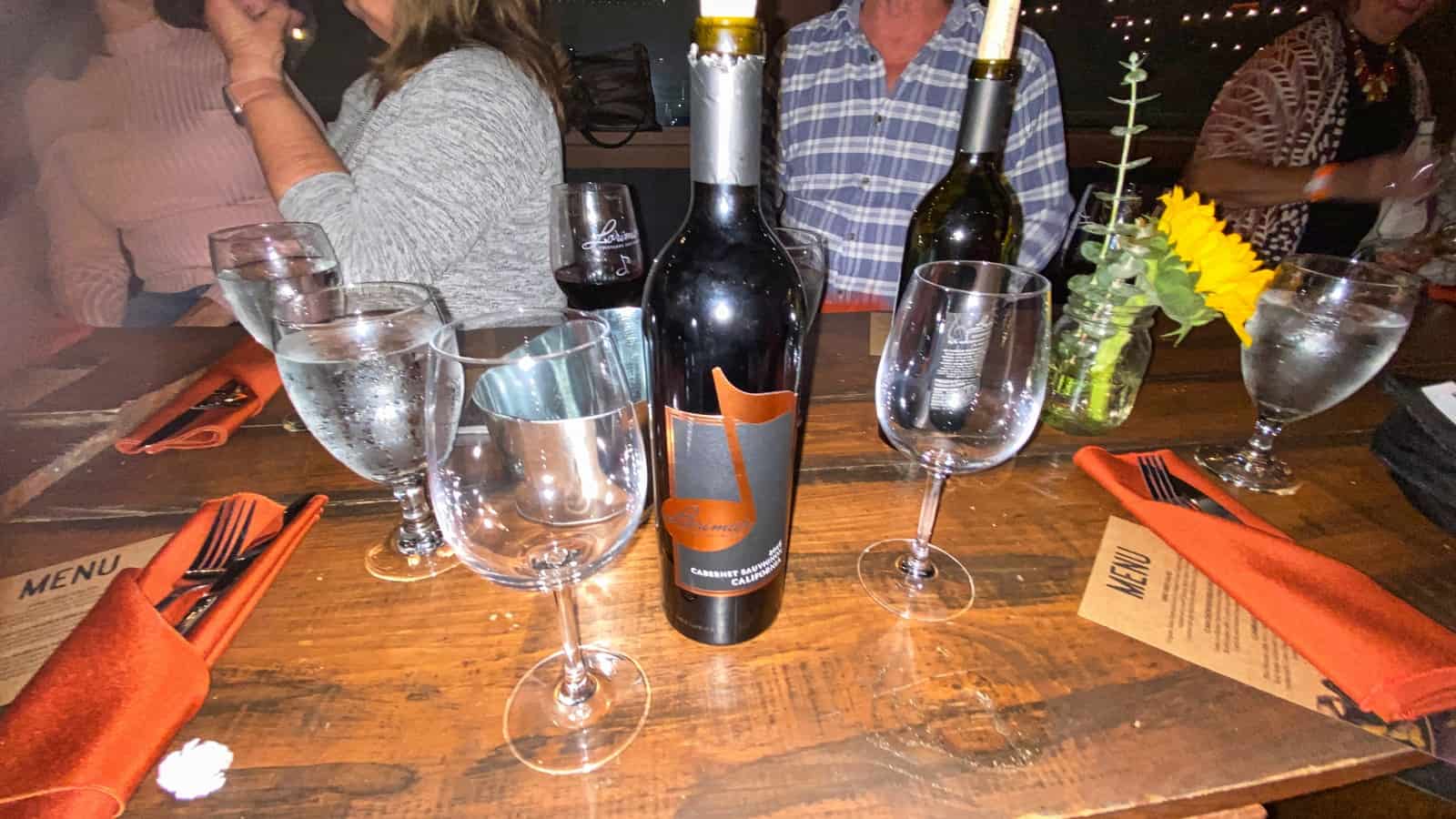 Lorimar wines are handcrafted and fruit-forward. Temecula's Mediterranean climate is an asset to Lorimar, with the Pacific ocean breezes reaching their vines. Additionally, because the soil is decomposed granite and clay, it drains well and is ideal for moisture retention to the deeper roots. Lorimar uses all of these particular characteristics to produce award-winning wines.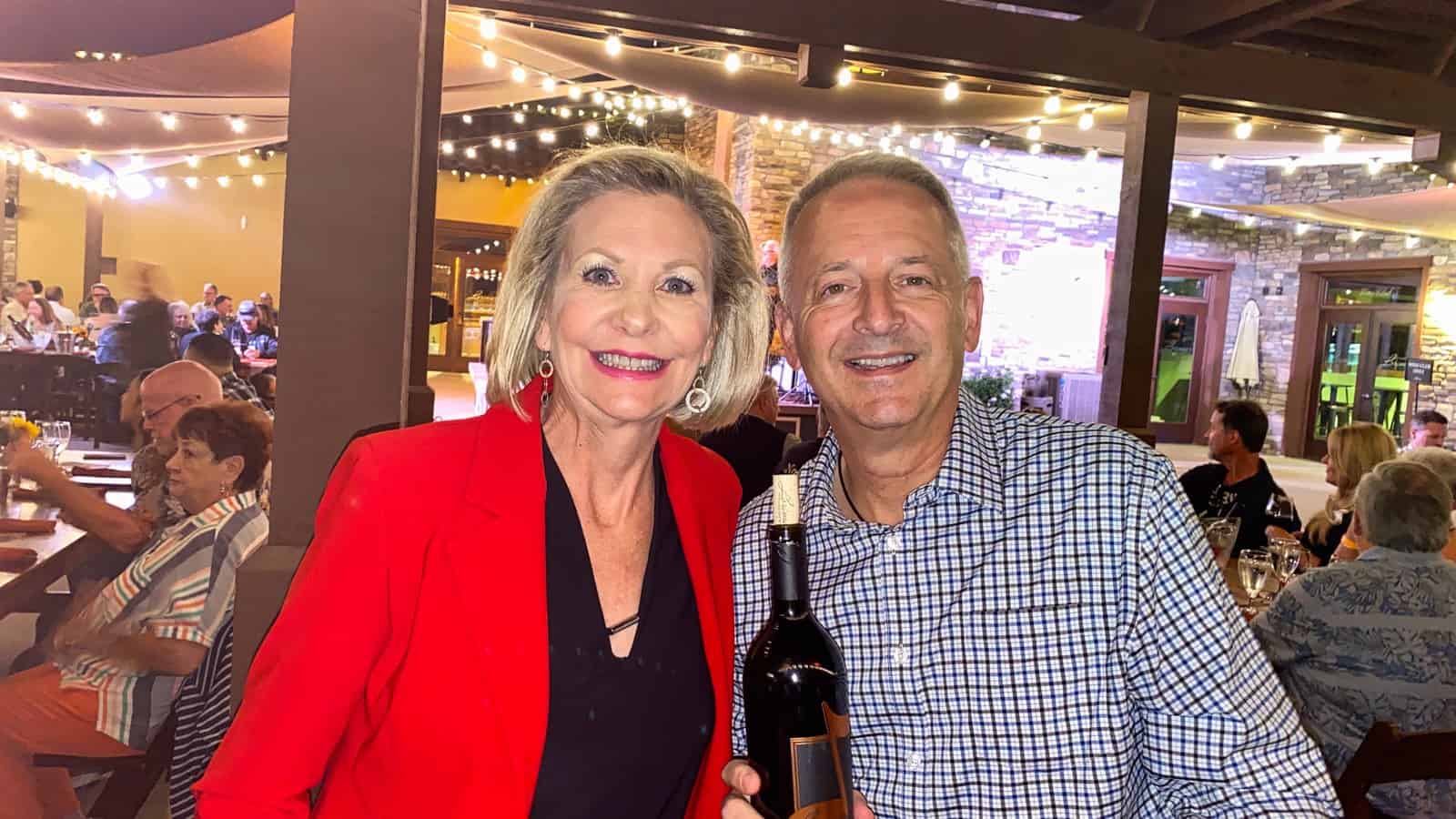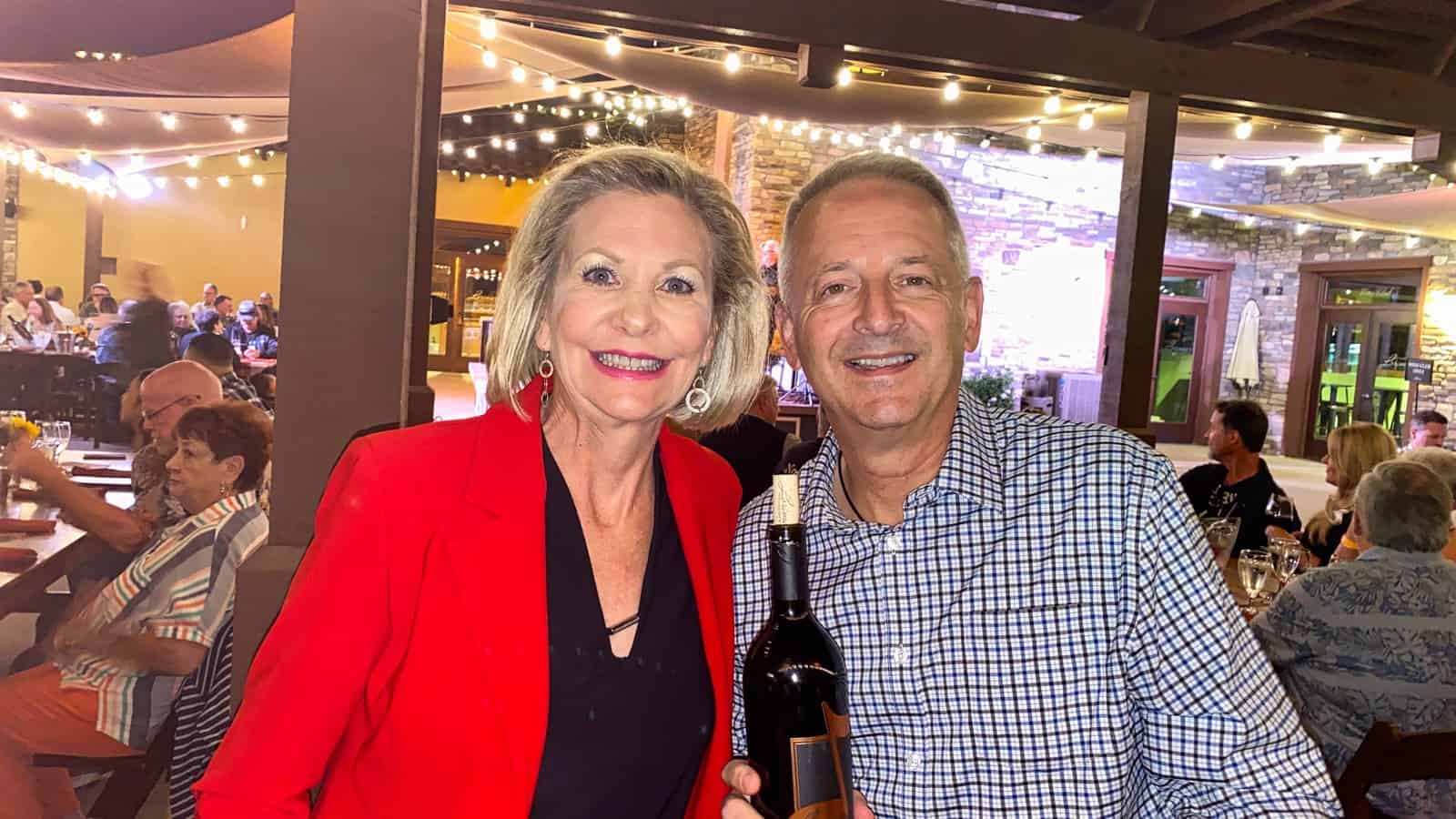 But alas, Lorimar is more than a place to taste great wine. The owners and brothers share a passion for music, hospitality, culinary, and performing arts, so entertainment and great food are essential at their winery.
Lorimar opened with a tasting room in Old Town Temecula. Then in 2012, they opened their beautiful Tuscan style tasting room in the heart of the wine country.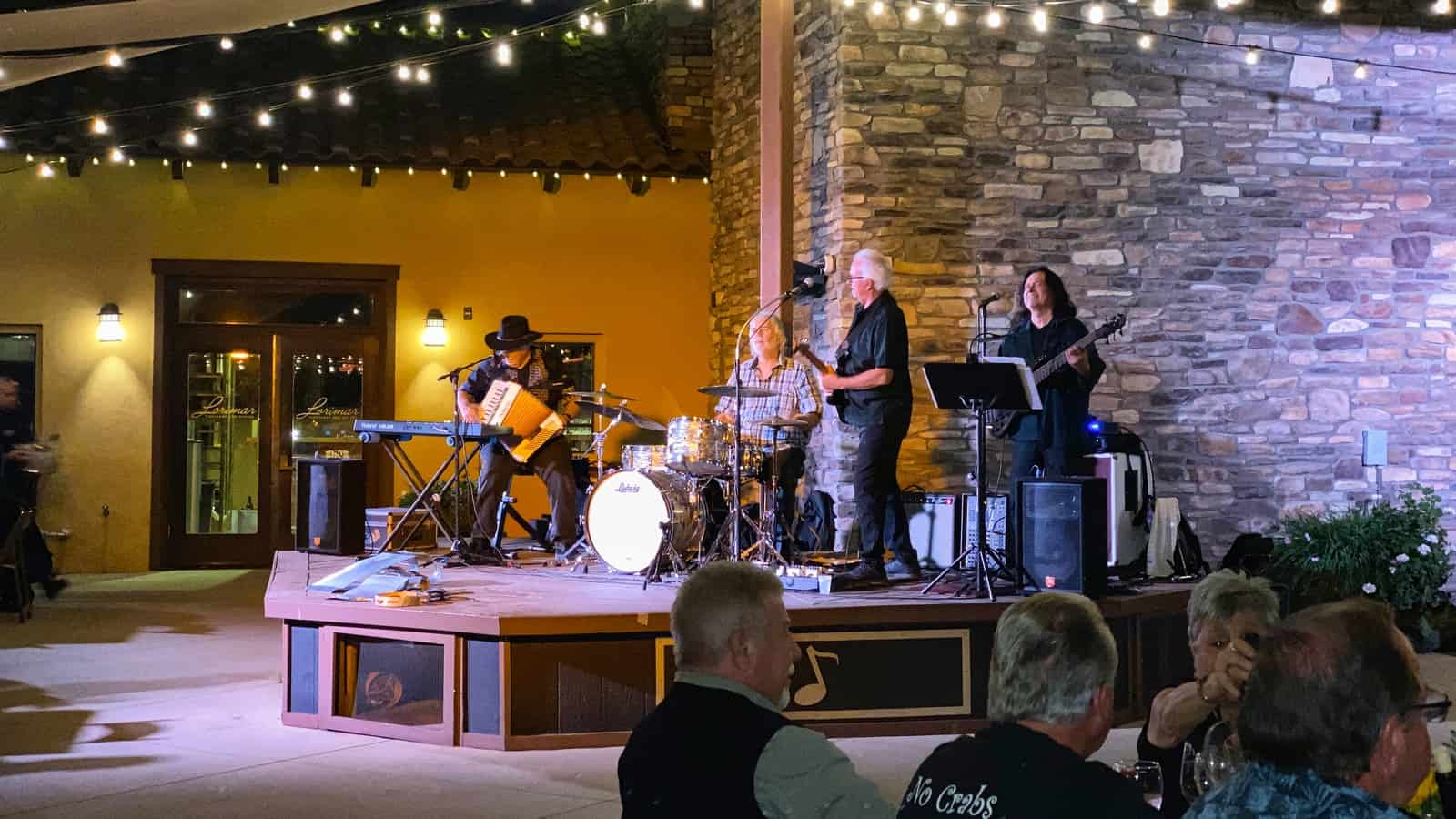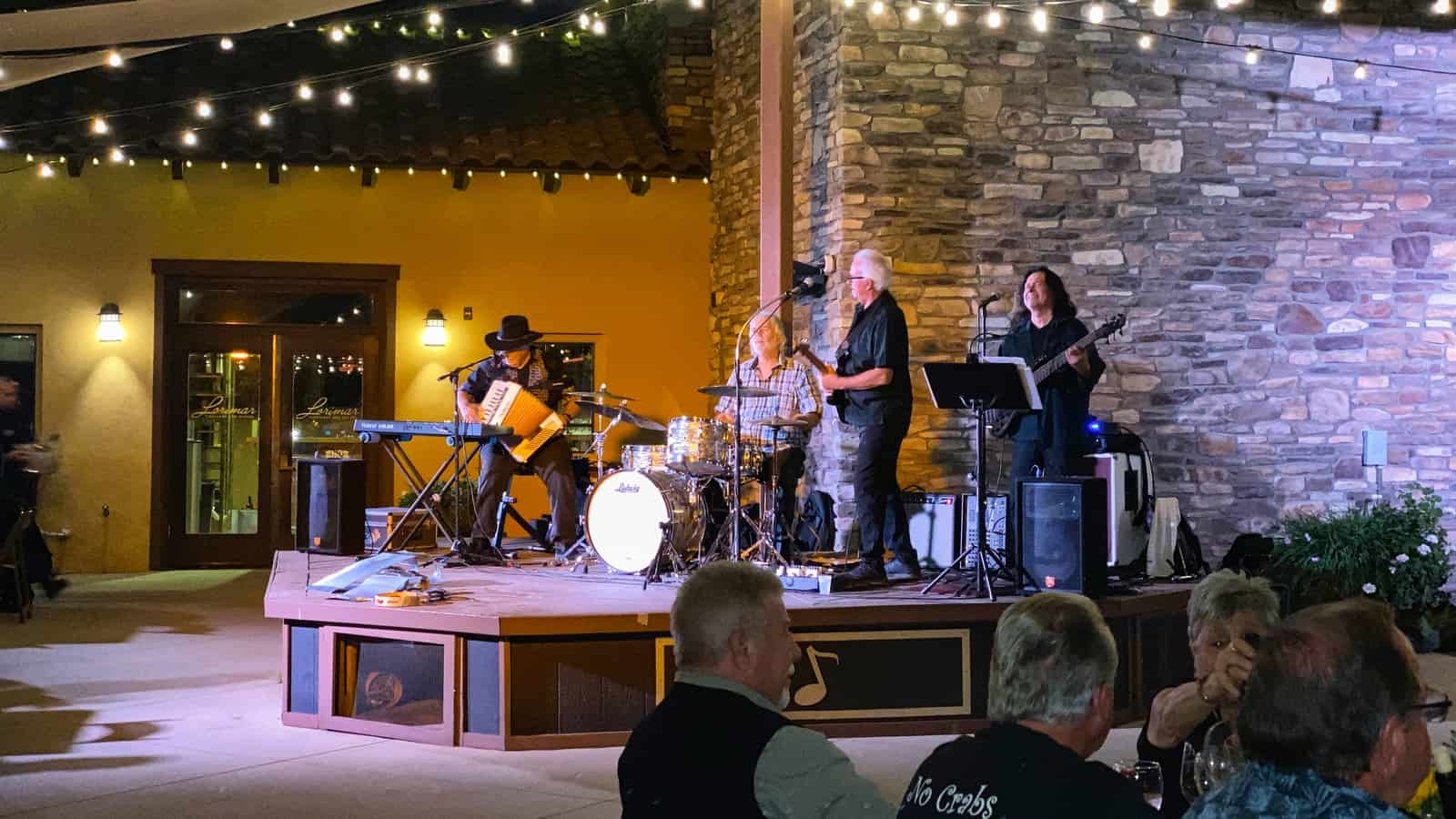 As for our delicious dinner, we attended their lobster clam bake. We started with clam chowder in a bread bowl and a salad. Next, we had chicken, shrimp, and corn on the cob. Following that course, we had clams and then a lobster tail. It was a seafood feast! While we ate, we listened to a band that played music from the 70s and 80s. Best of all, we had a fantastic Lorimar Cabernet Sauvignon with our meal. Seafood may call for white, but we love reds and were in the mood for a bold one.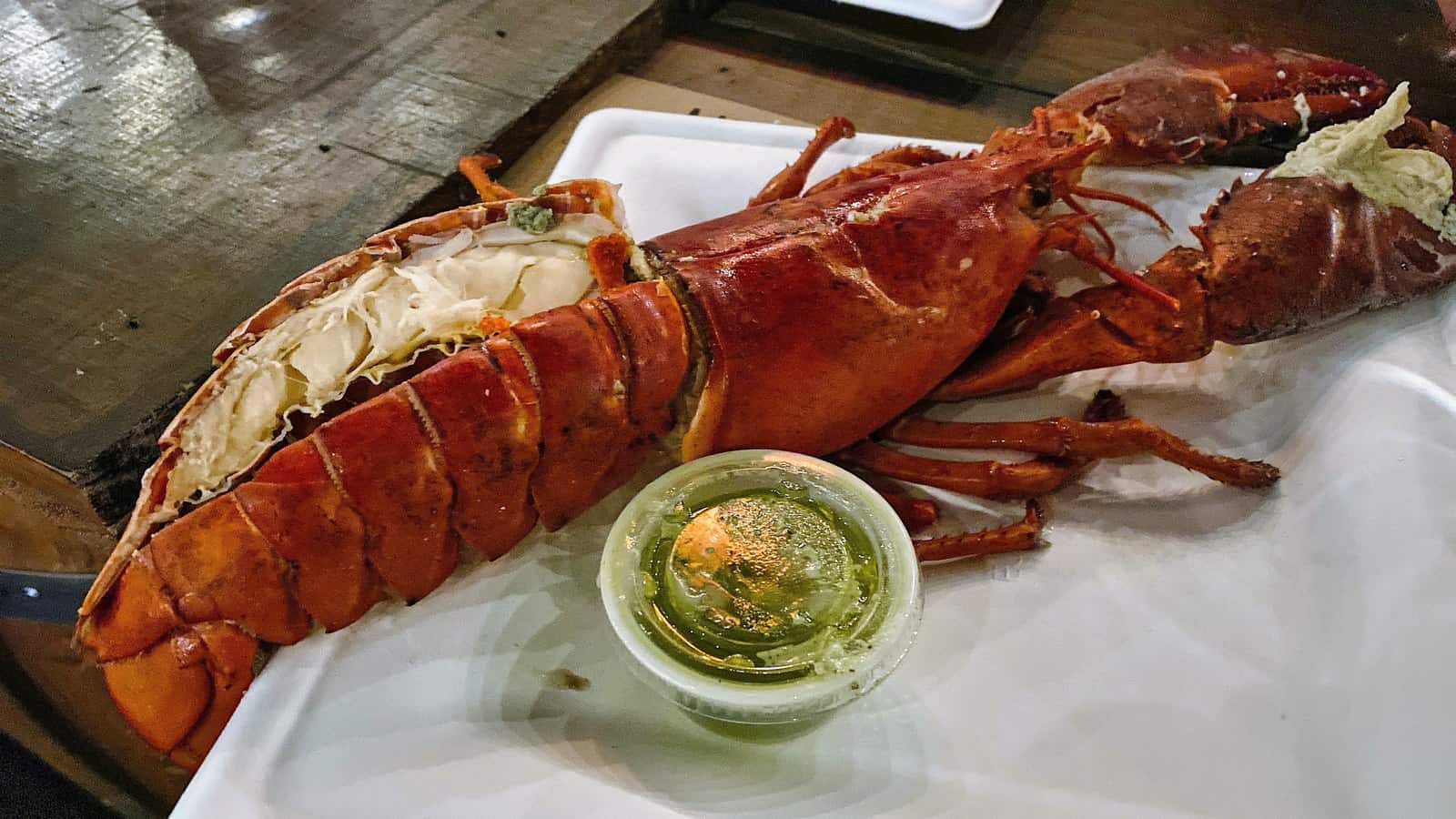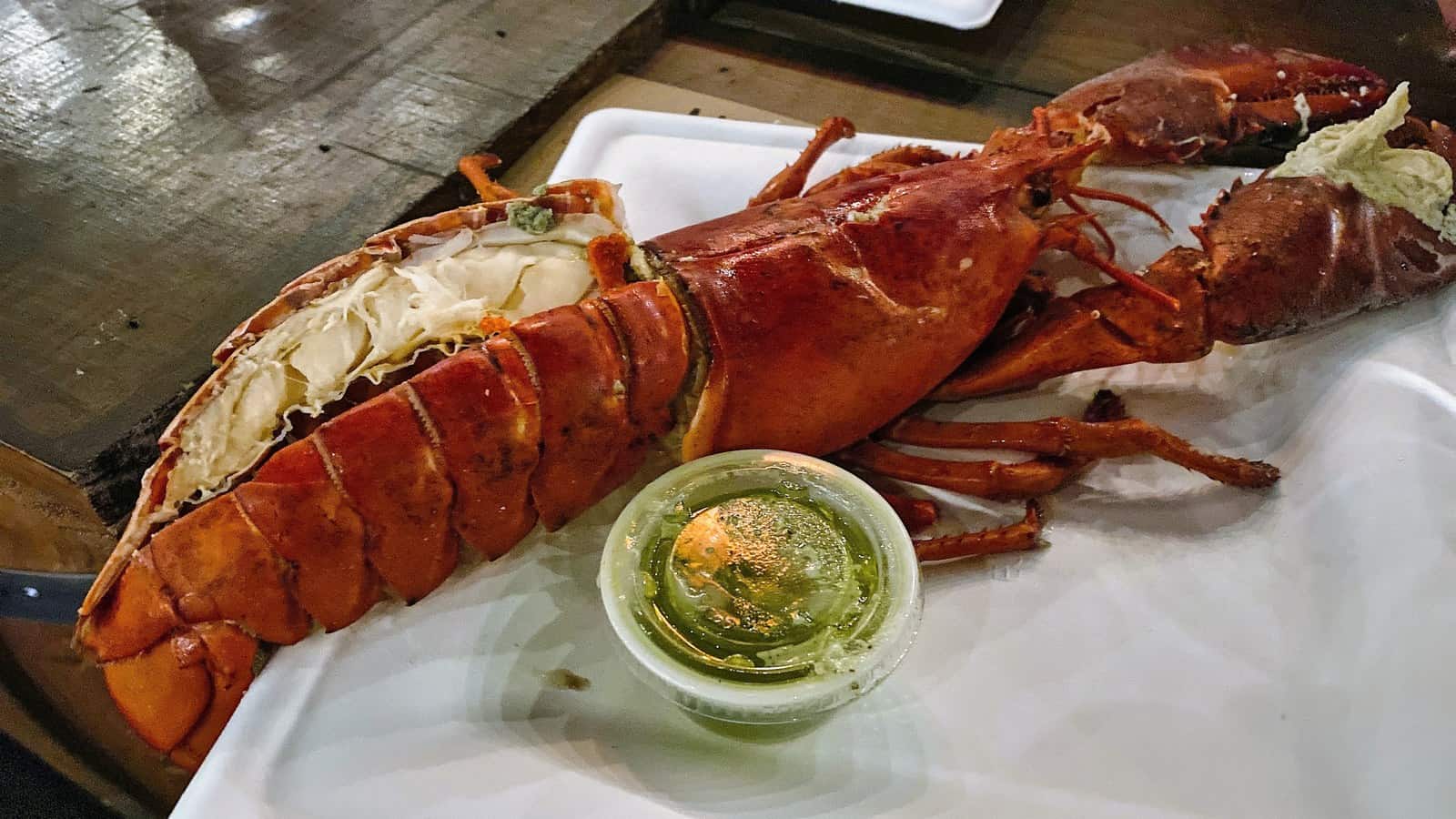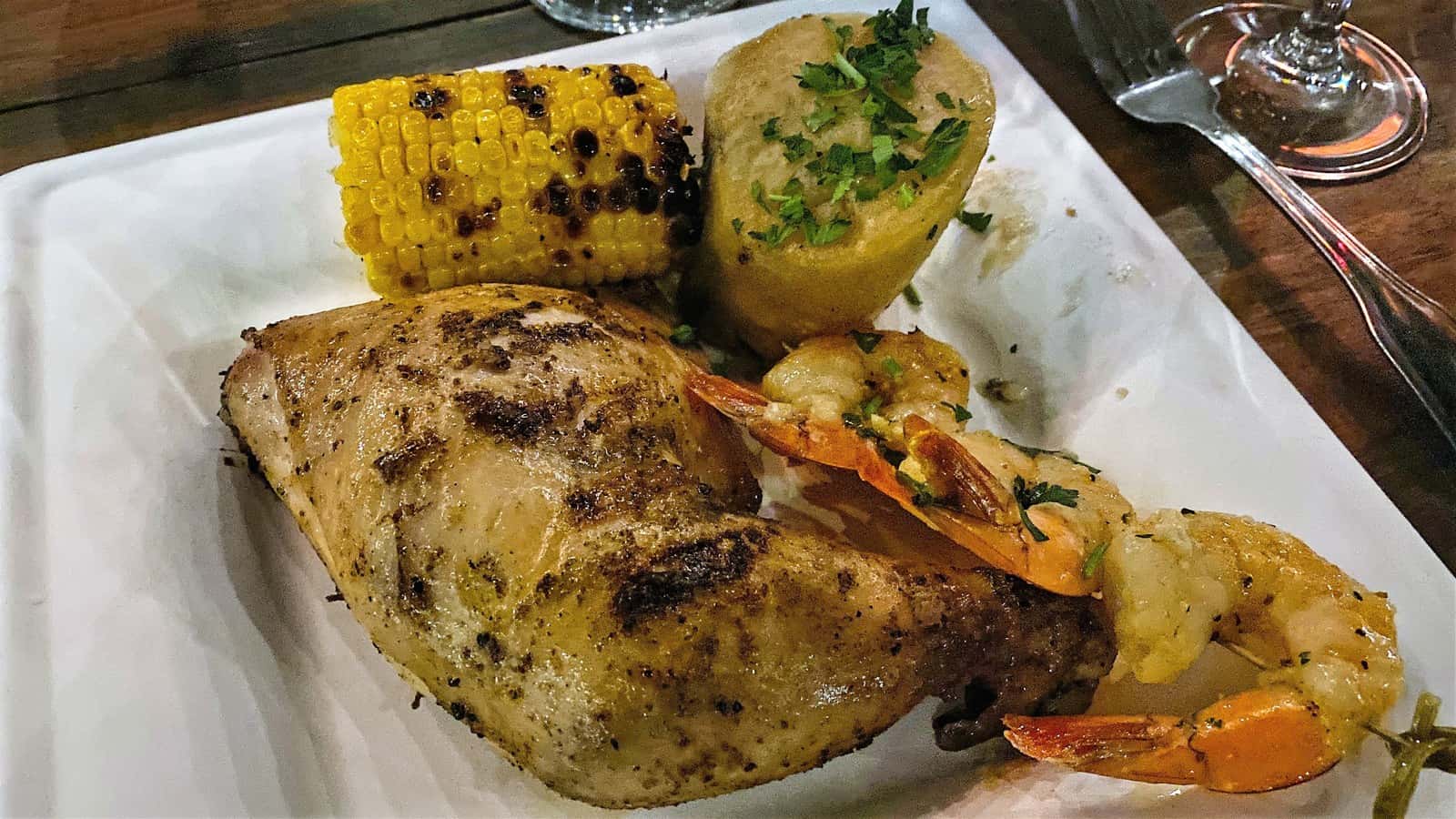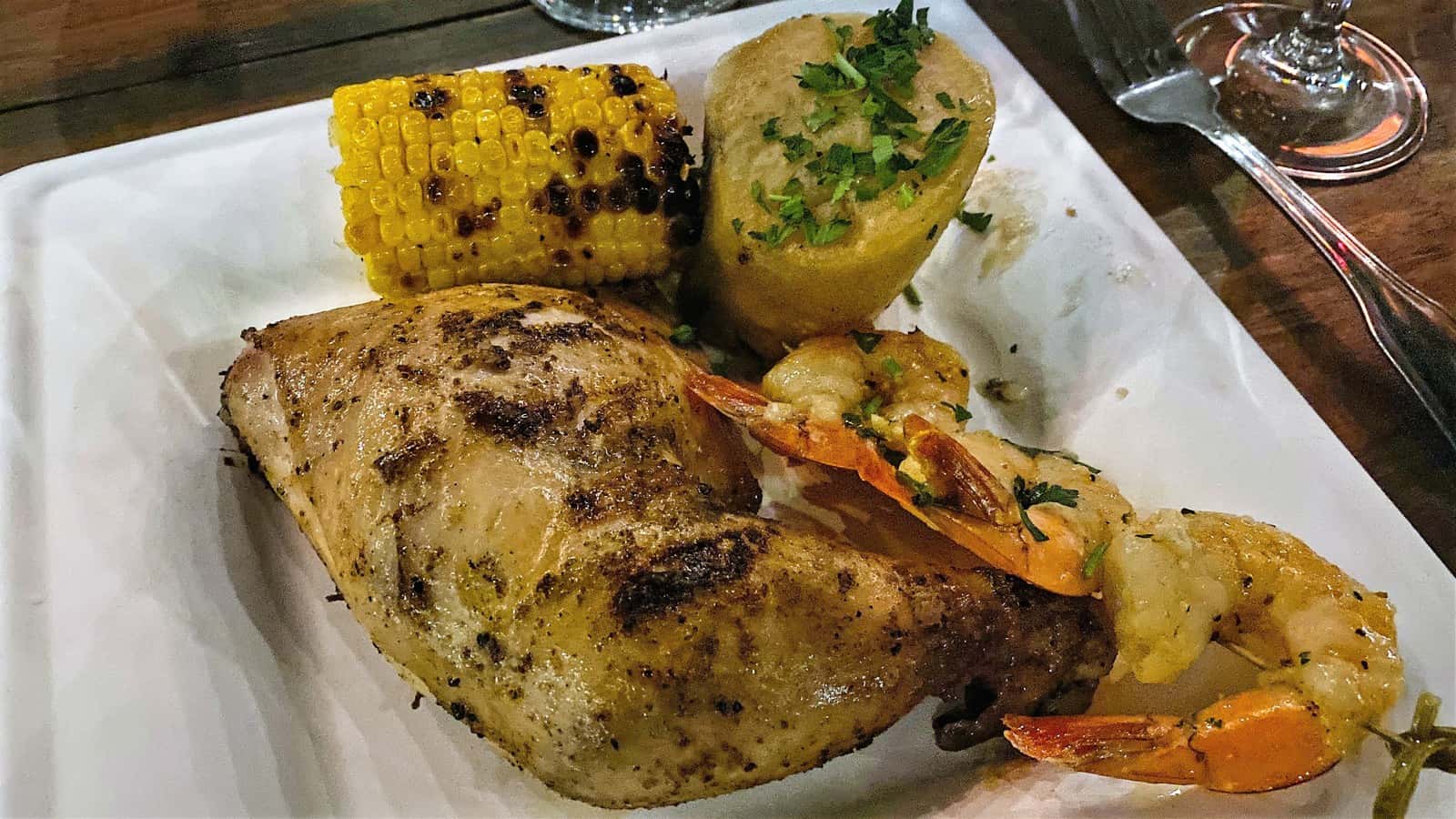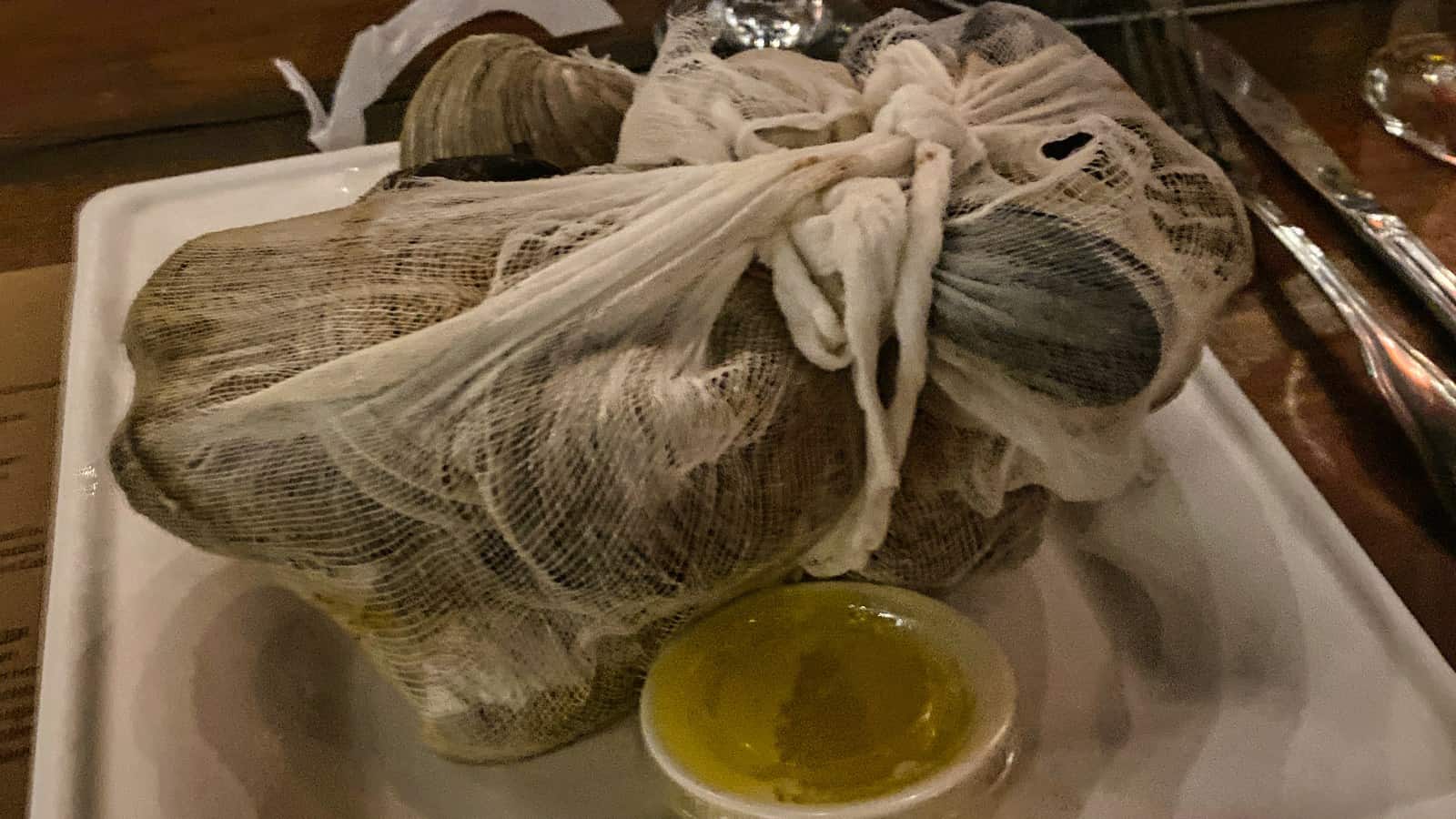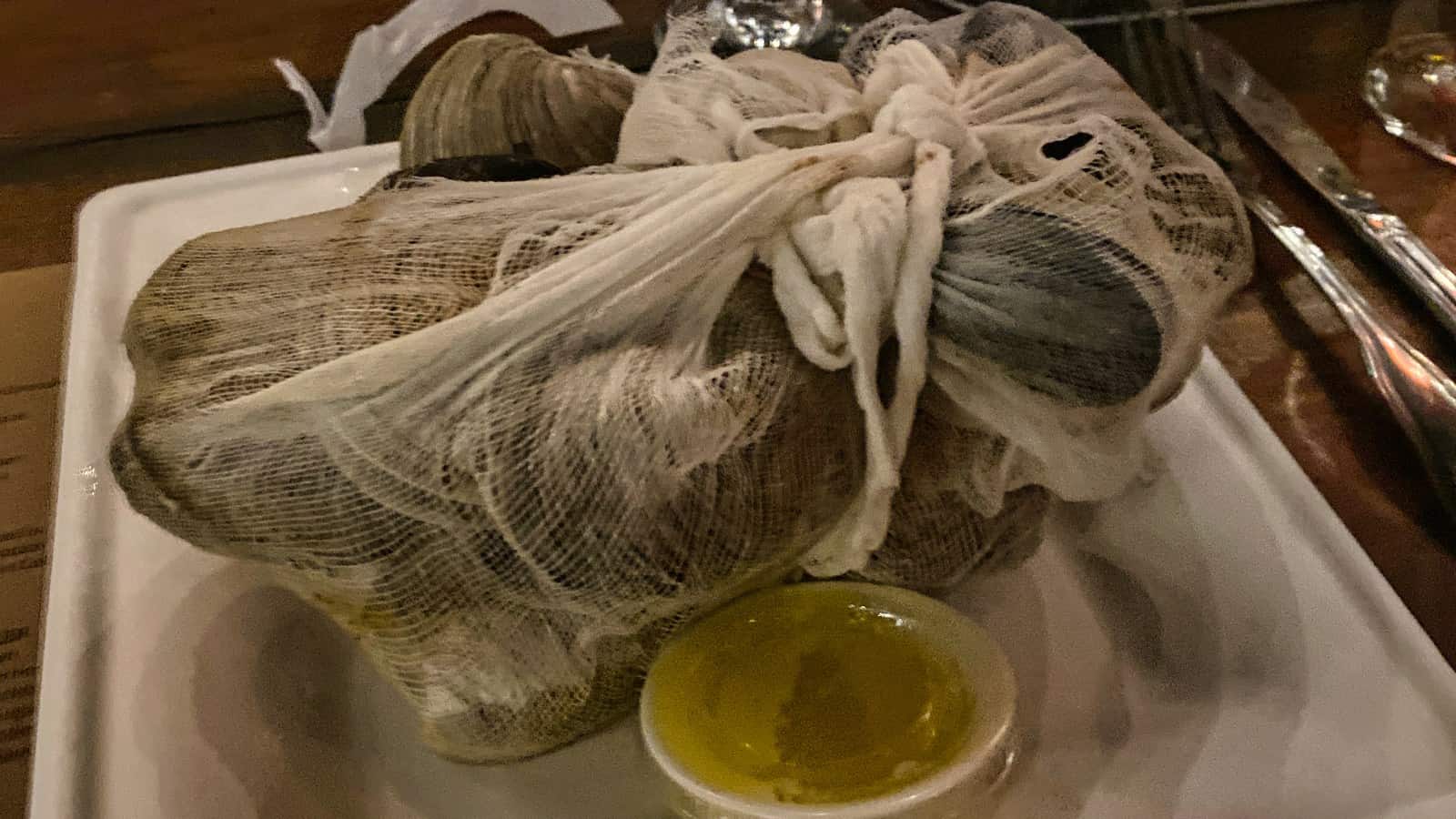 Wilson Creek Winery and Creekside Grille
Wilson Creek Winery is another great dinner option in Temecula. Their restaurant is The Creekside Grille. They, too, have great food to complement their fantastic wine. The seasonal menu offers a taste of local Temecula farms. The vibe is relaxed and unpretentious. Oh, and we can't forget the views, they are lovely.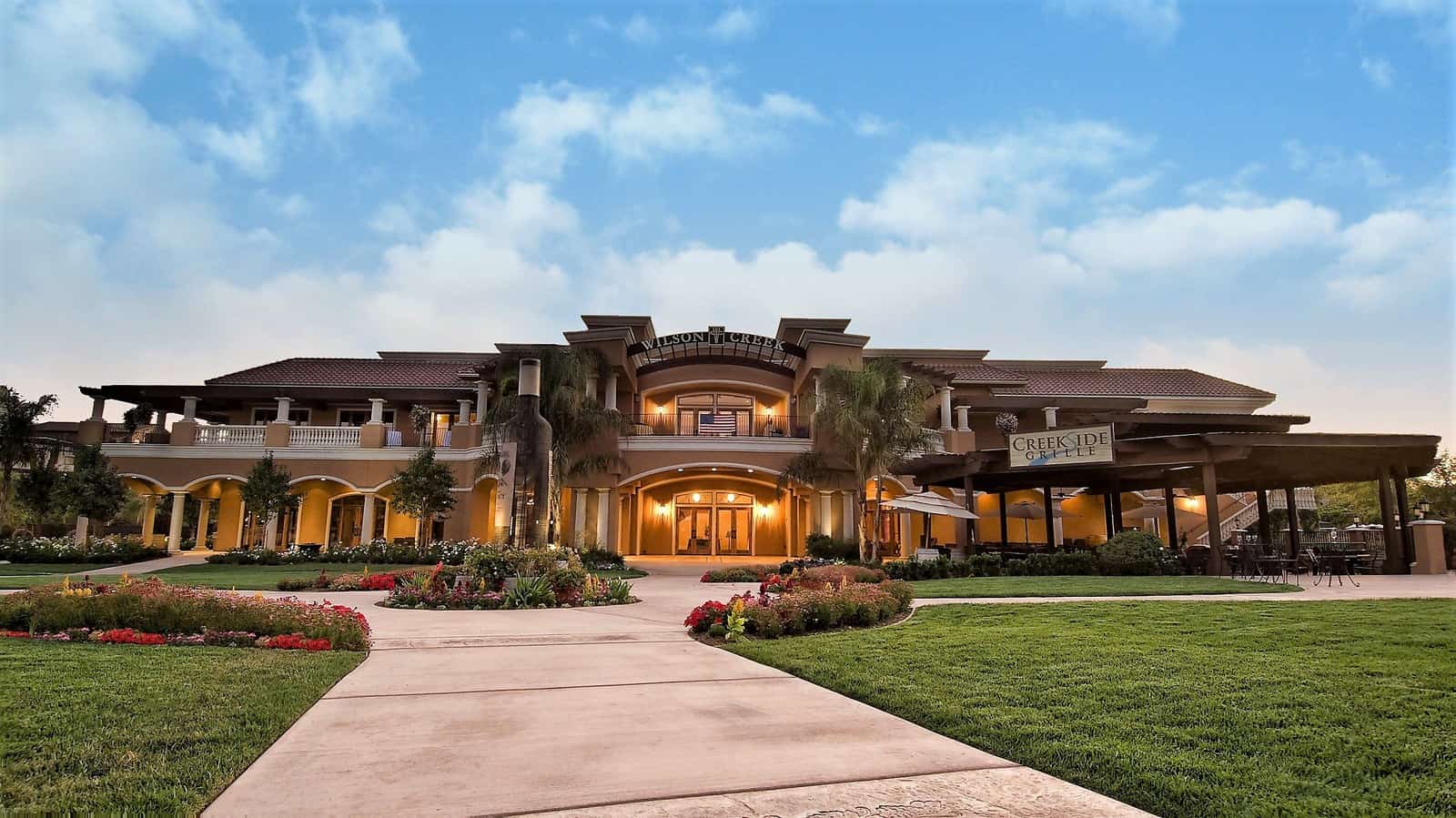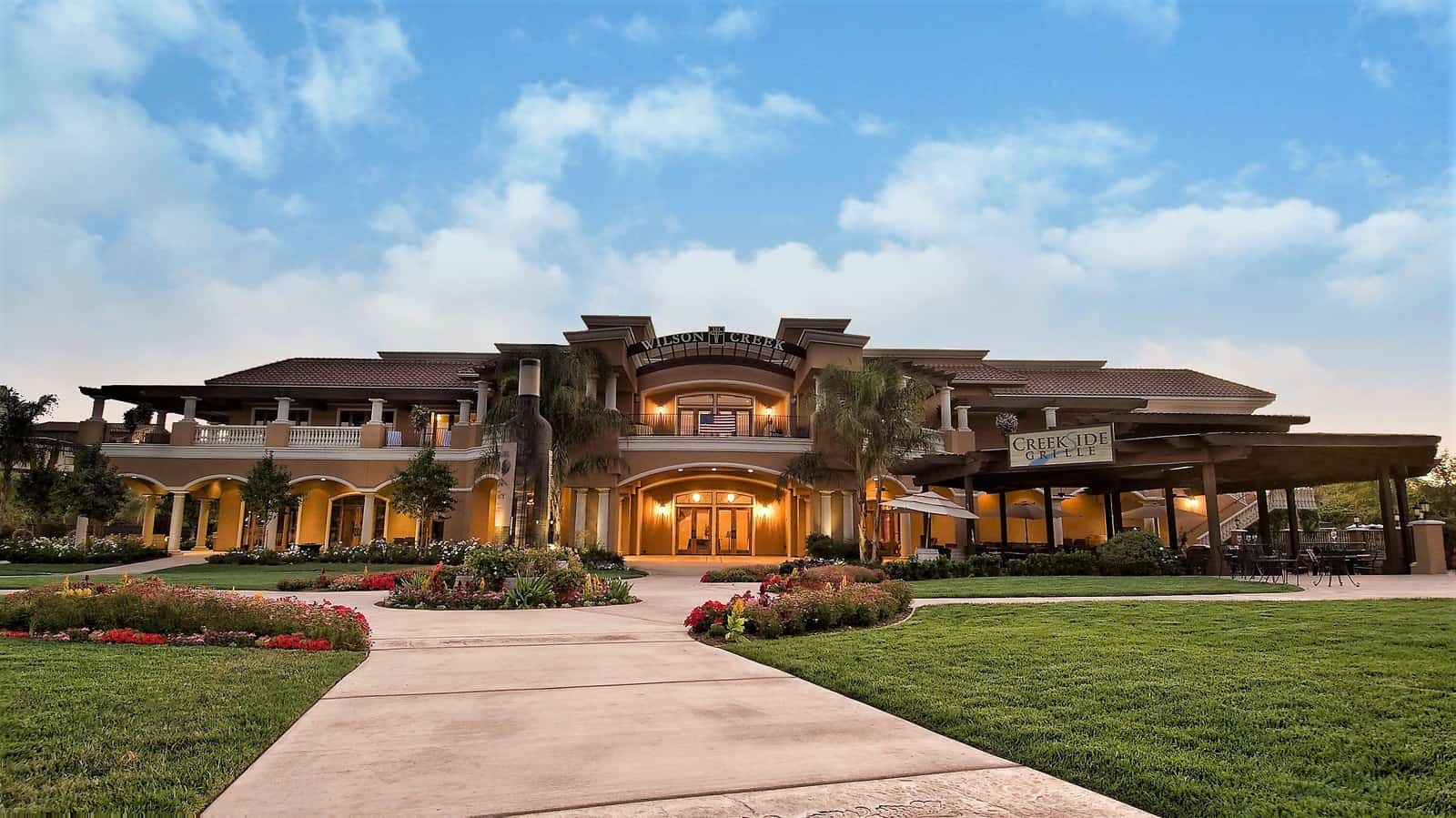 Additionally, Wilson Creek offers an expansive area under big beautiful trees where you can bring a picnic lunch. This garden area is open on a first-come, first-serve basis.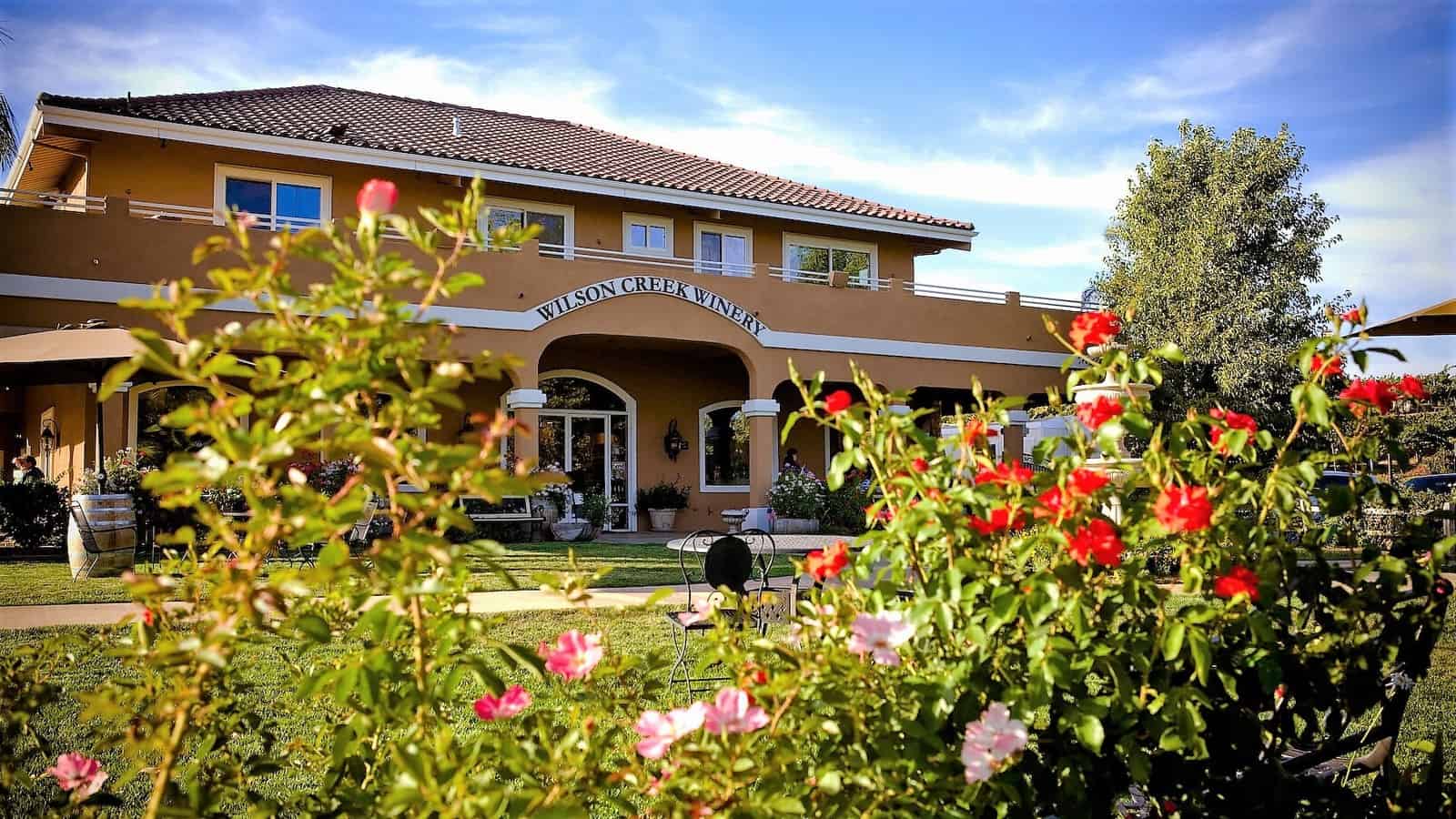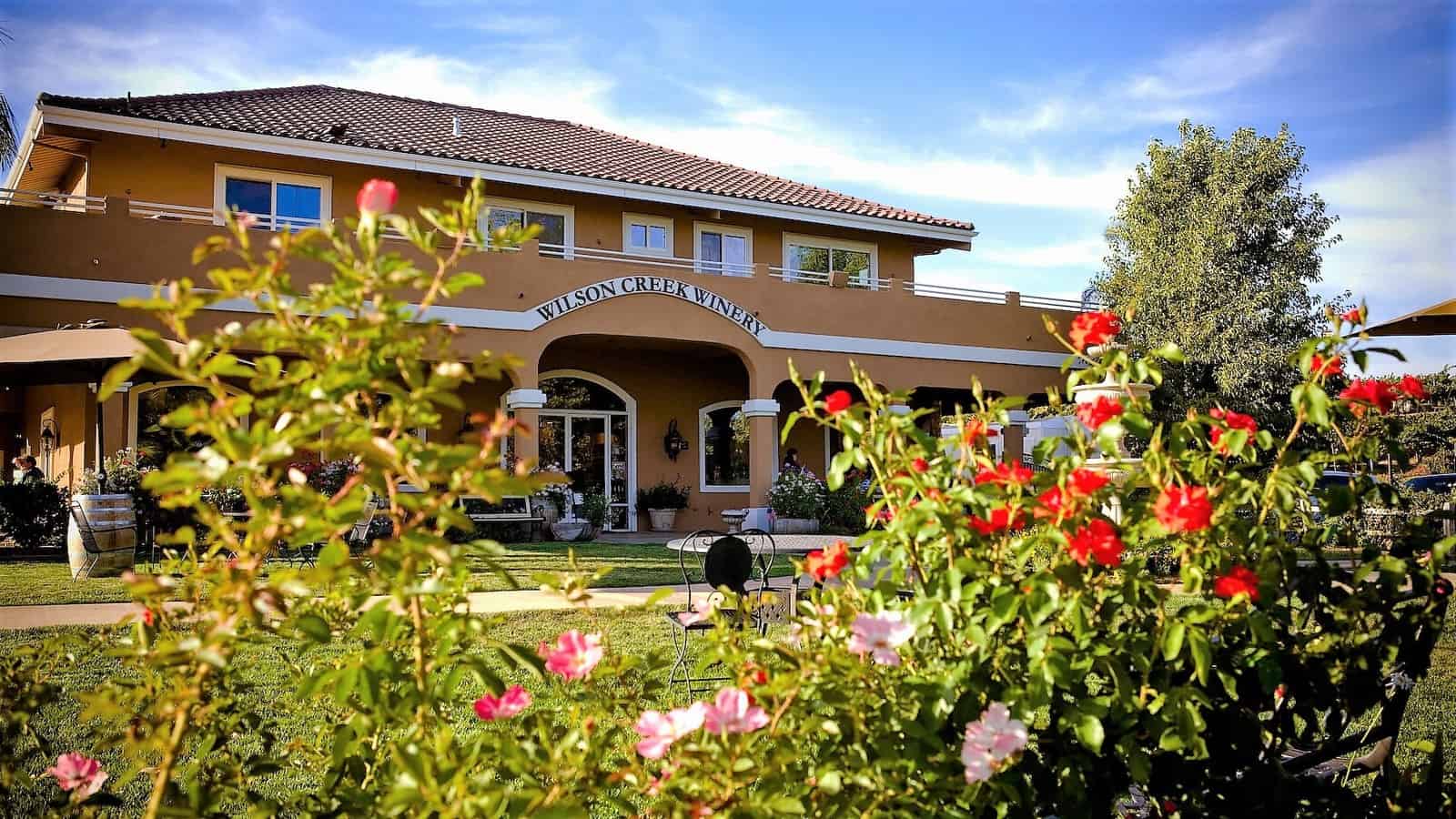 Most people think that Temecula is too hot for bold red wines, but there are many wineries now producing amazing reds, and Wilson Creek is one of them. They also produce whites from dry to sweet with exciting varietals such as Viognier.
At Wilson Creek, the goal is for you to feel like family. The Wilson family is large, and it's not uncommon to find one or many of the Wilsons on the property since its family-run. They love their daily routine of meeting guests, sharing a glass of wine with them, and welcoming them into their extended family. And, if you want to see what goes on behind the scenes, they offer a one-hour wine tasting/winery tour.
If Wine Isn't Enough…
Fly Over the Vineyards
A visit to Temecula would not be complete without taking a dawn hot air balloon ride. Temecula is all about wine, but did you also know they are well known for hot air balloons too? We recommend California Dreamin' Balloon Adventures for the opportunity to get an aerial view of Temecula in one of the Vindemia balloons.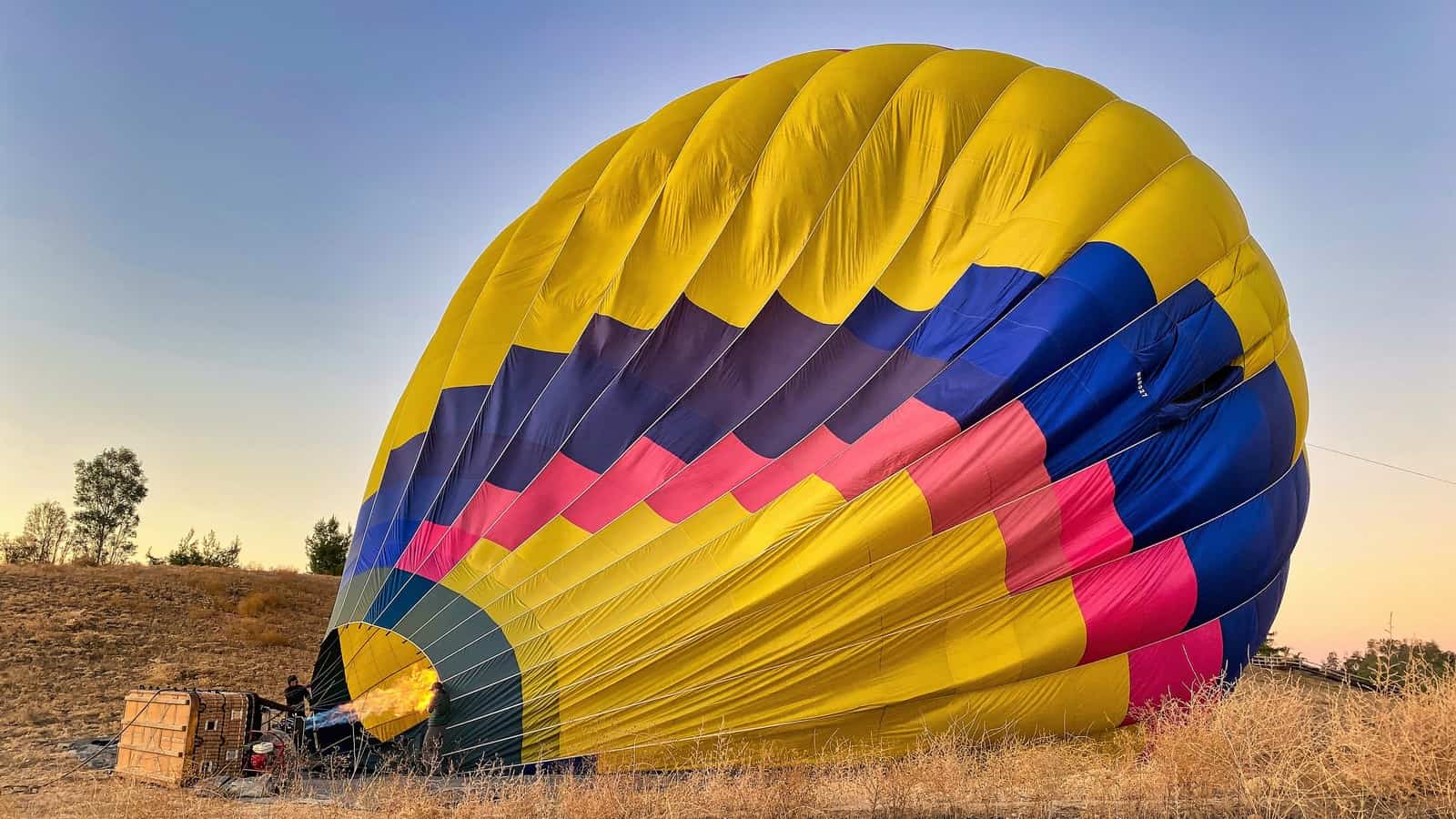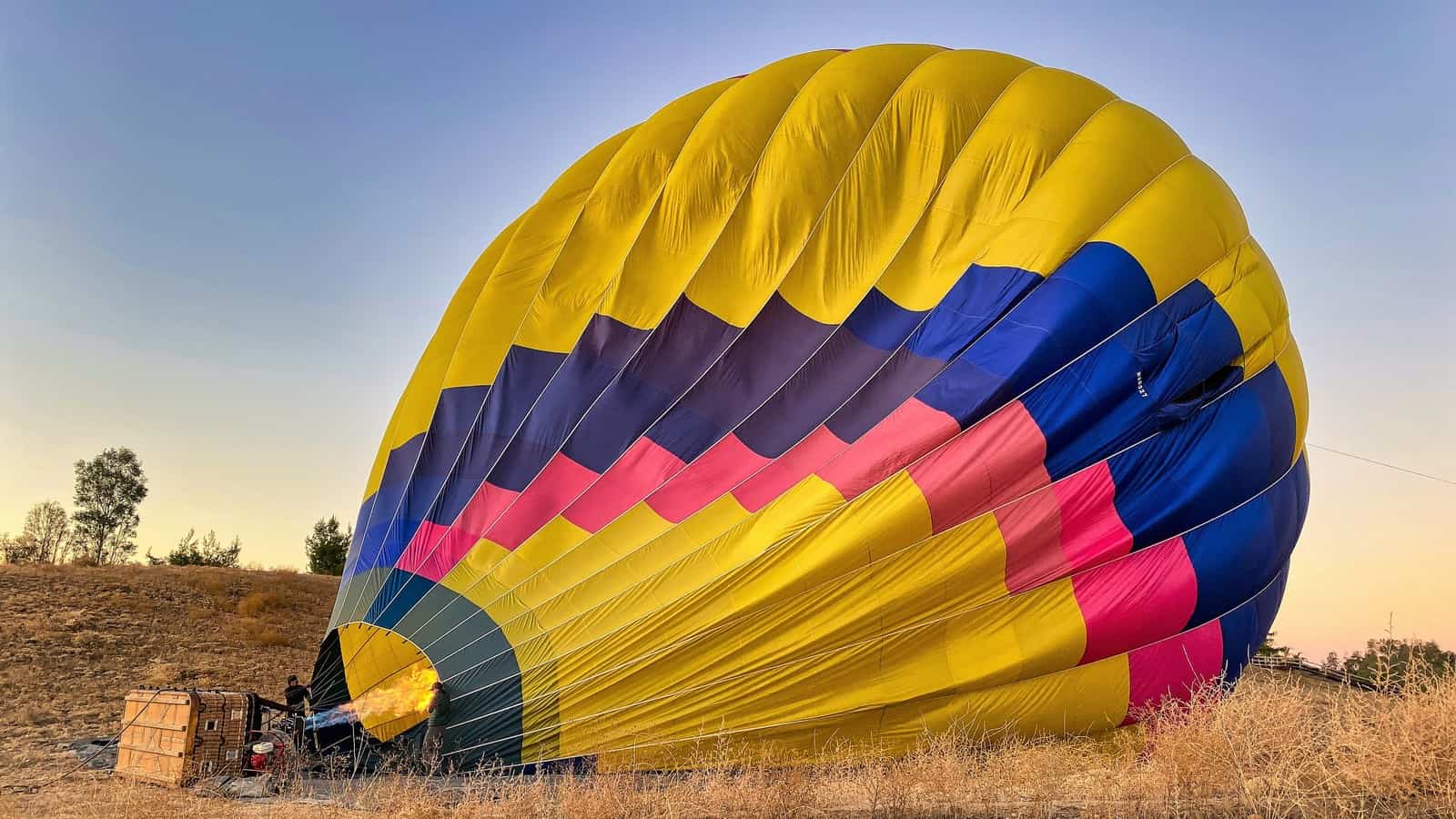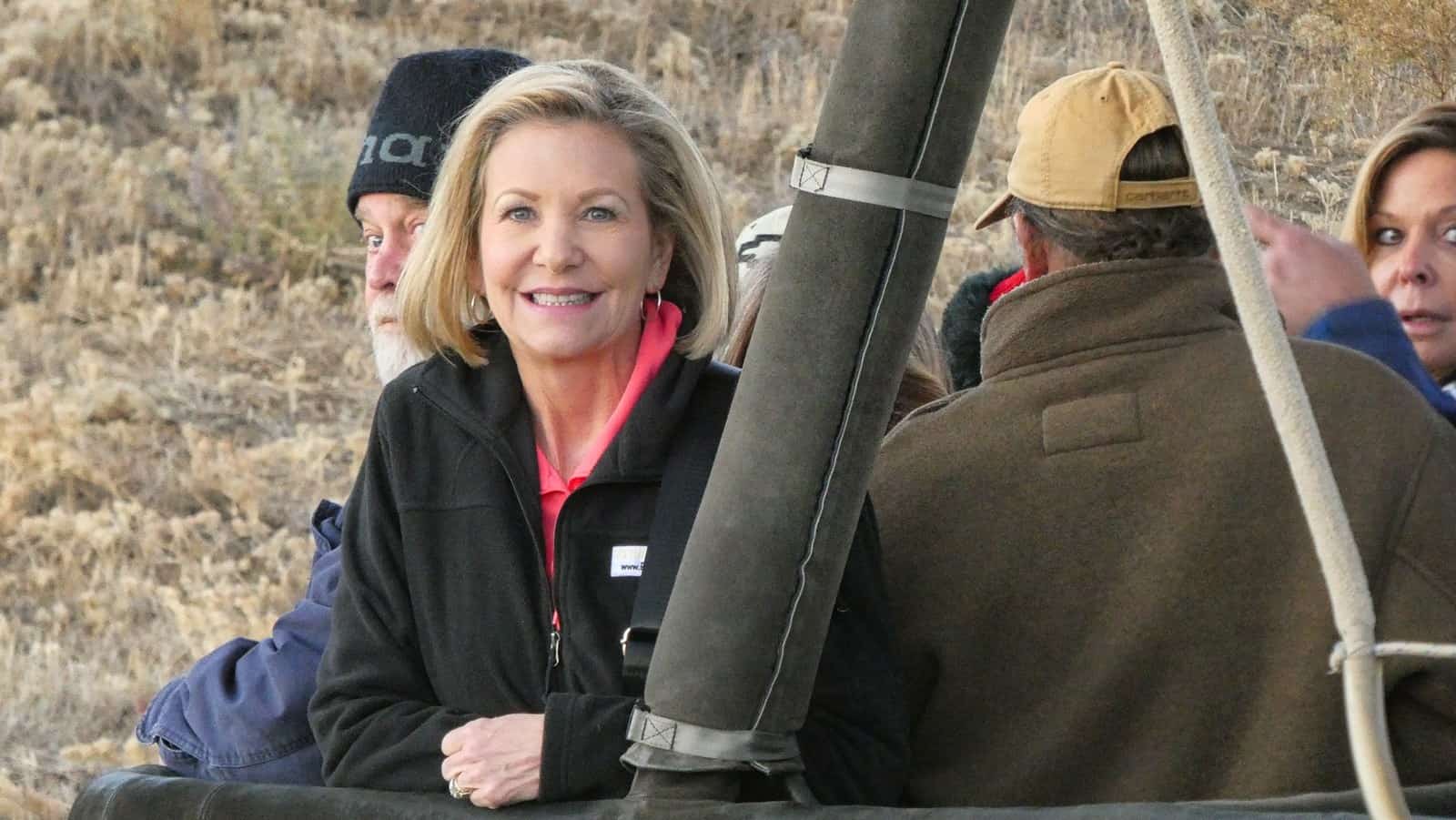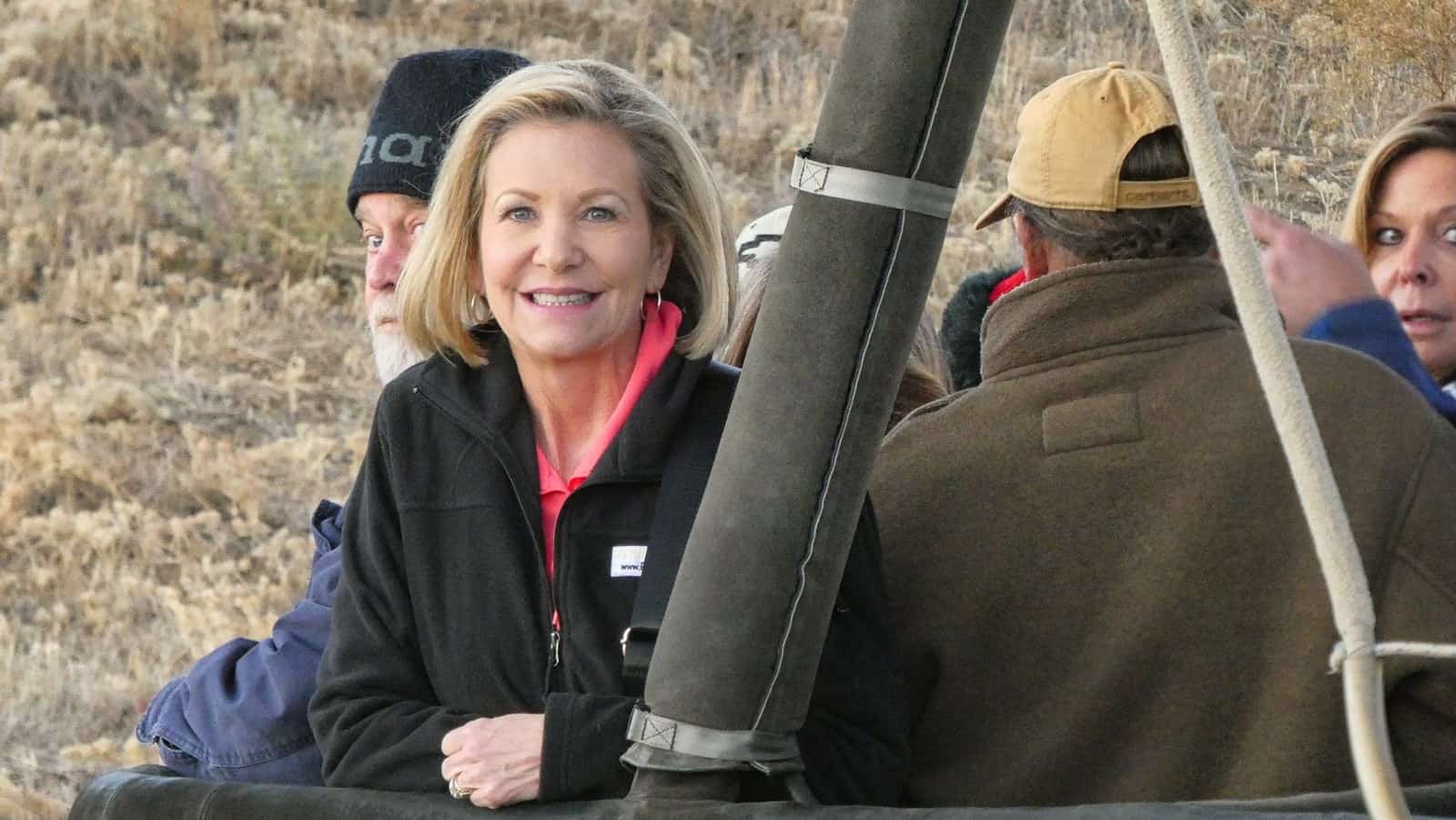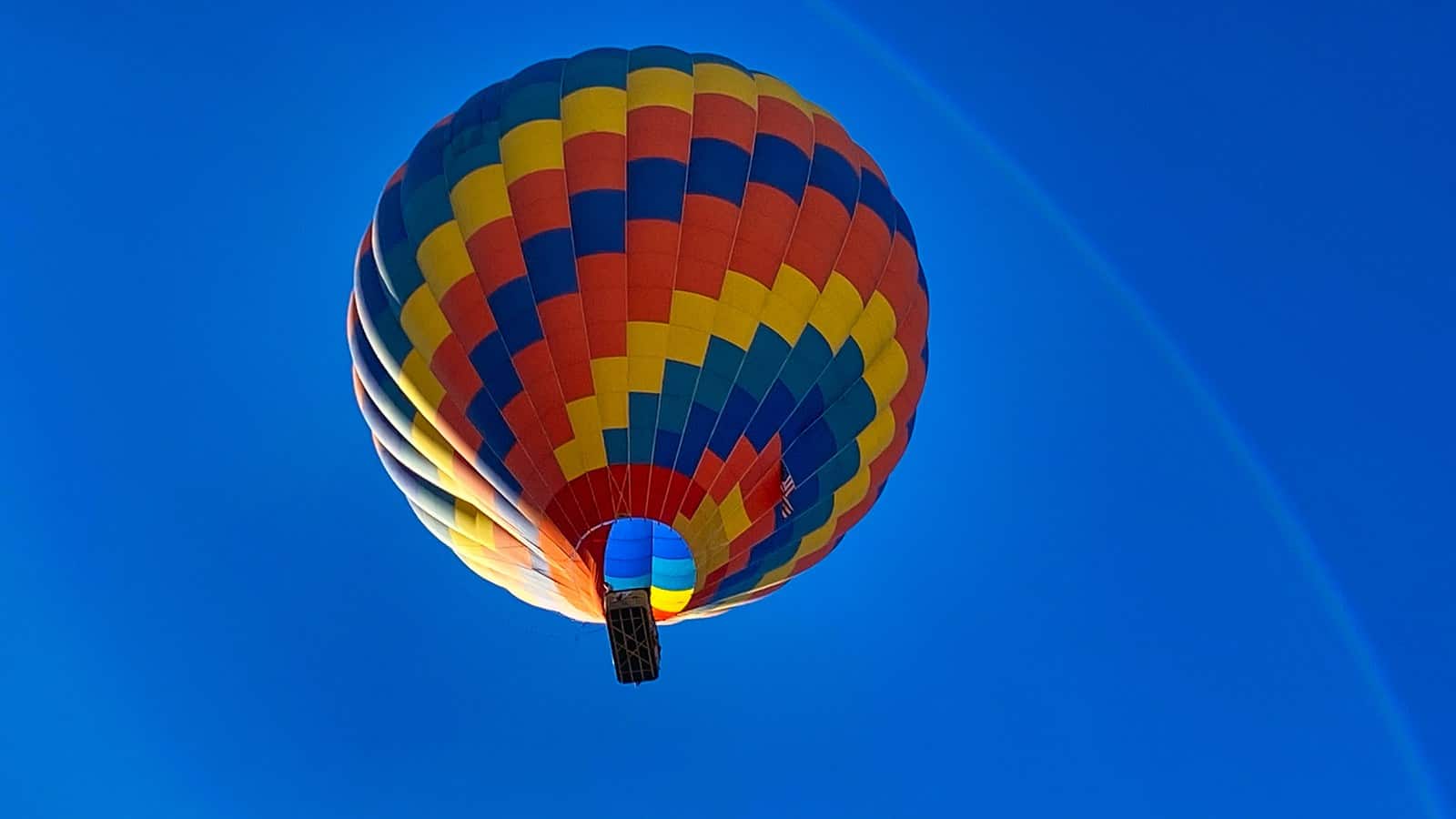 We took the sunrise flight. You will take off from the Vindemia Vineyards and soar to magnificent panoramic heights, enjoying a spectacular morning above Temecula Valley. After your trip, a European style breakfast awaits you in their rose garden, featuring gourmet coffee, champagne mimosas, fresh strawberries, cheeses, locally baked breads, and two-for-one wine tasting vouchers at Vindemia Winery.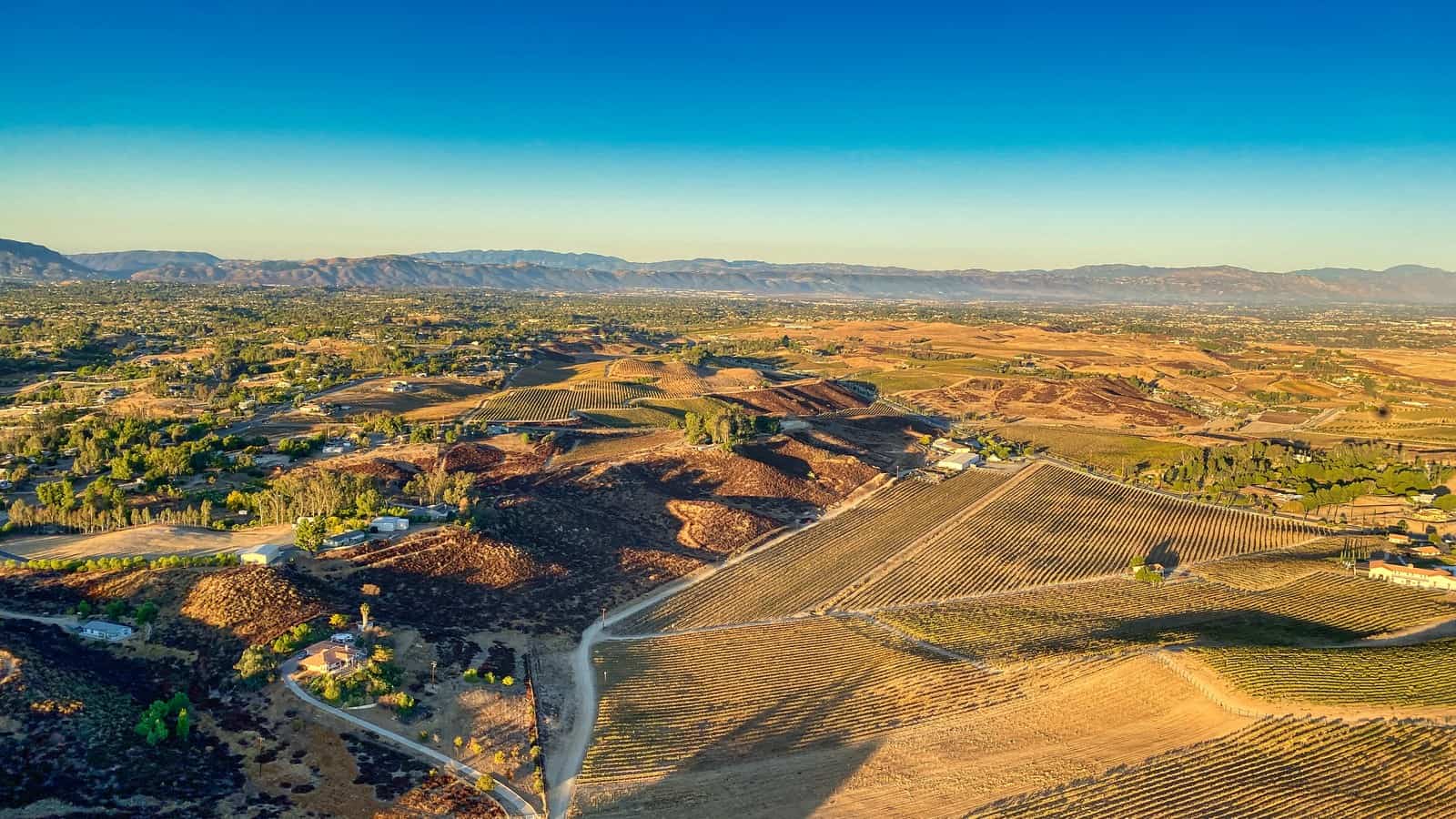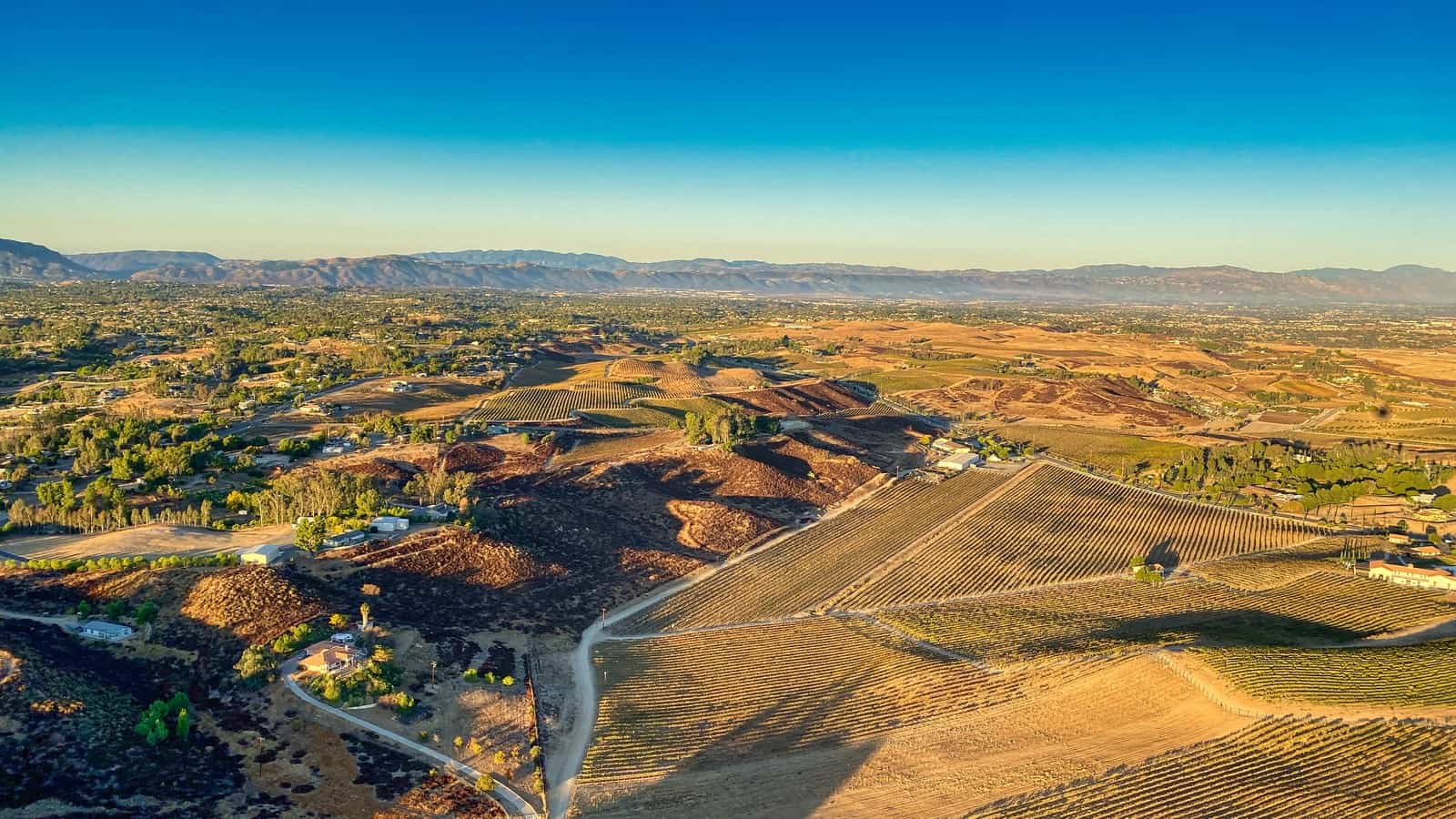 Again, like many wineries in Temecula, this is a family-run vineyard, and we enjoyed the chance to meet many of the family and talk about Temecula and our shared love of wine. It was a memorable and exciting morning!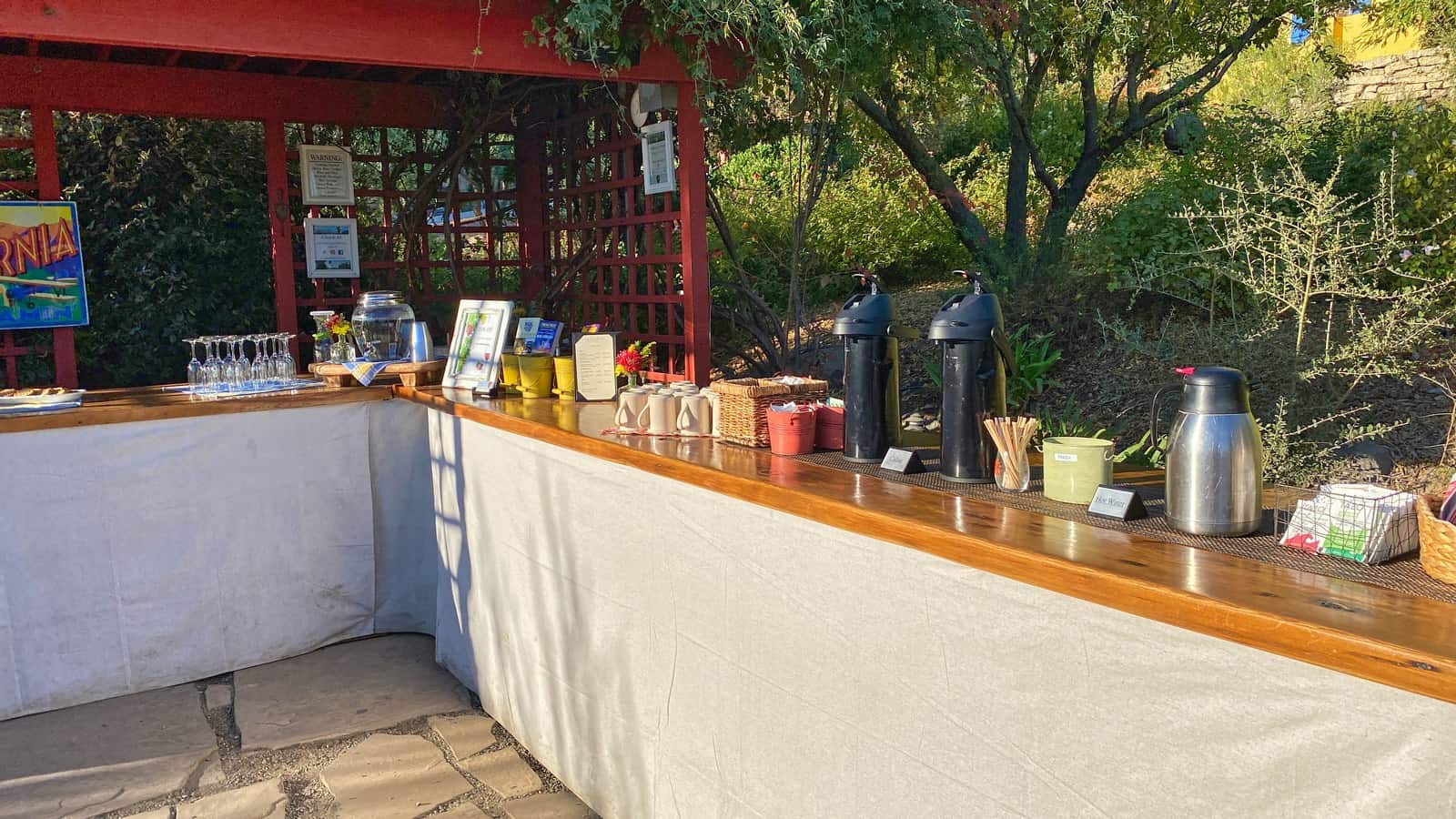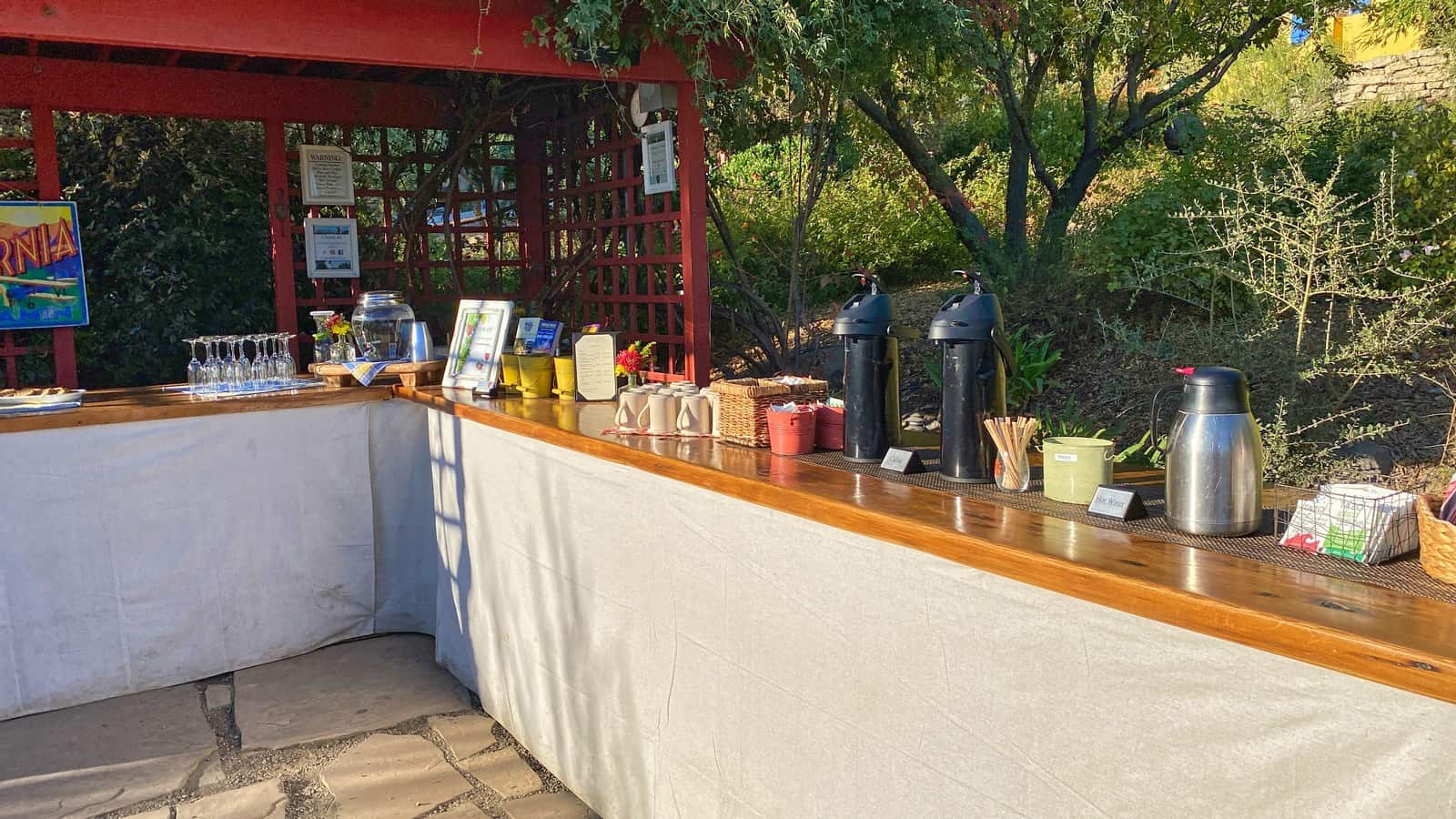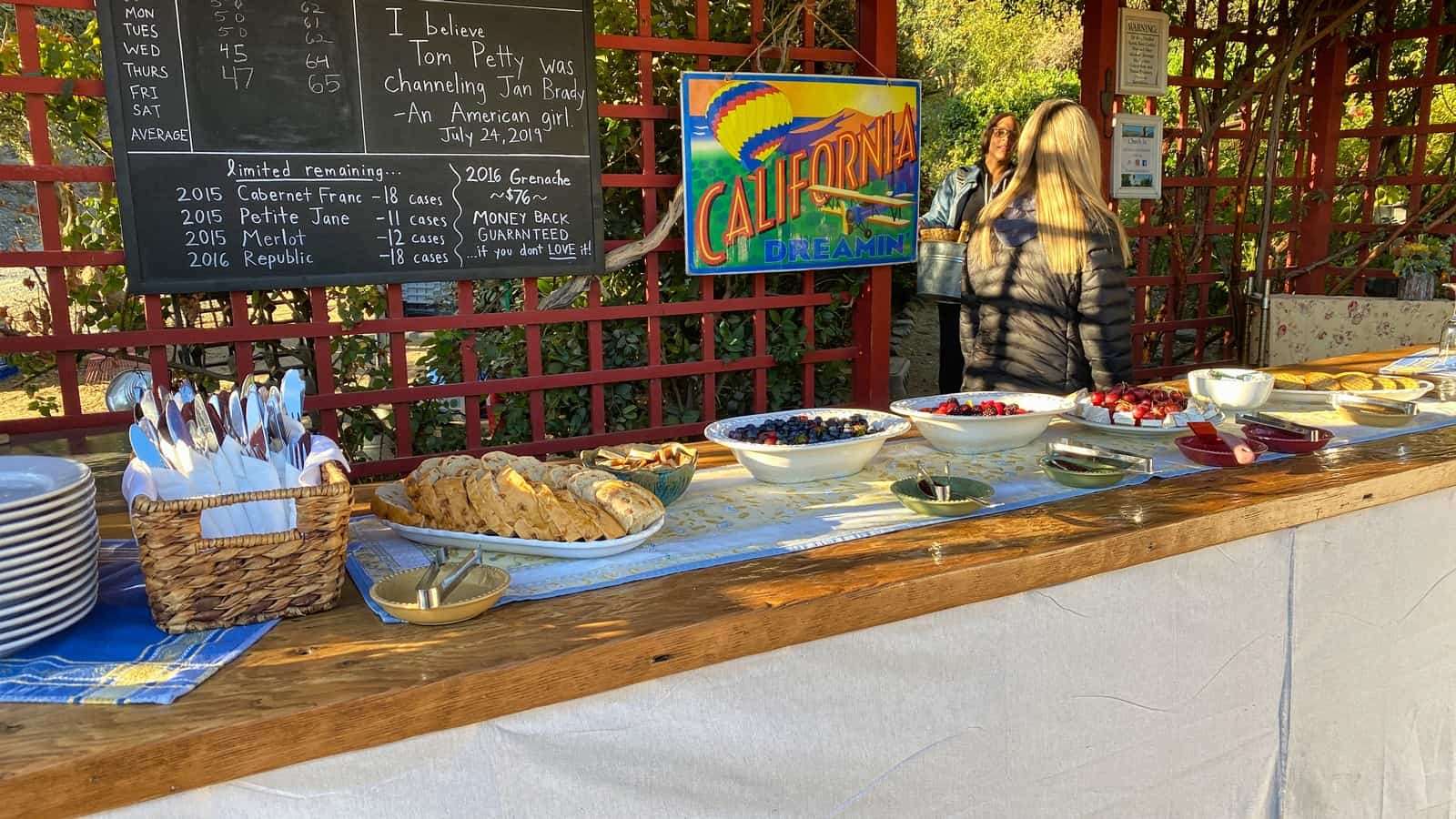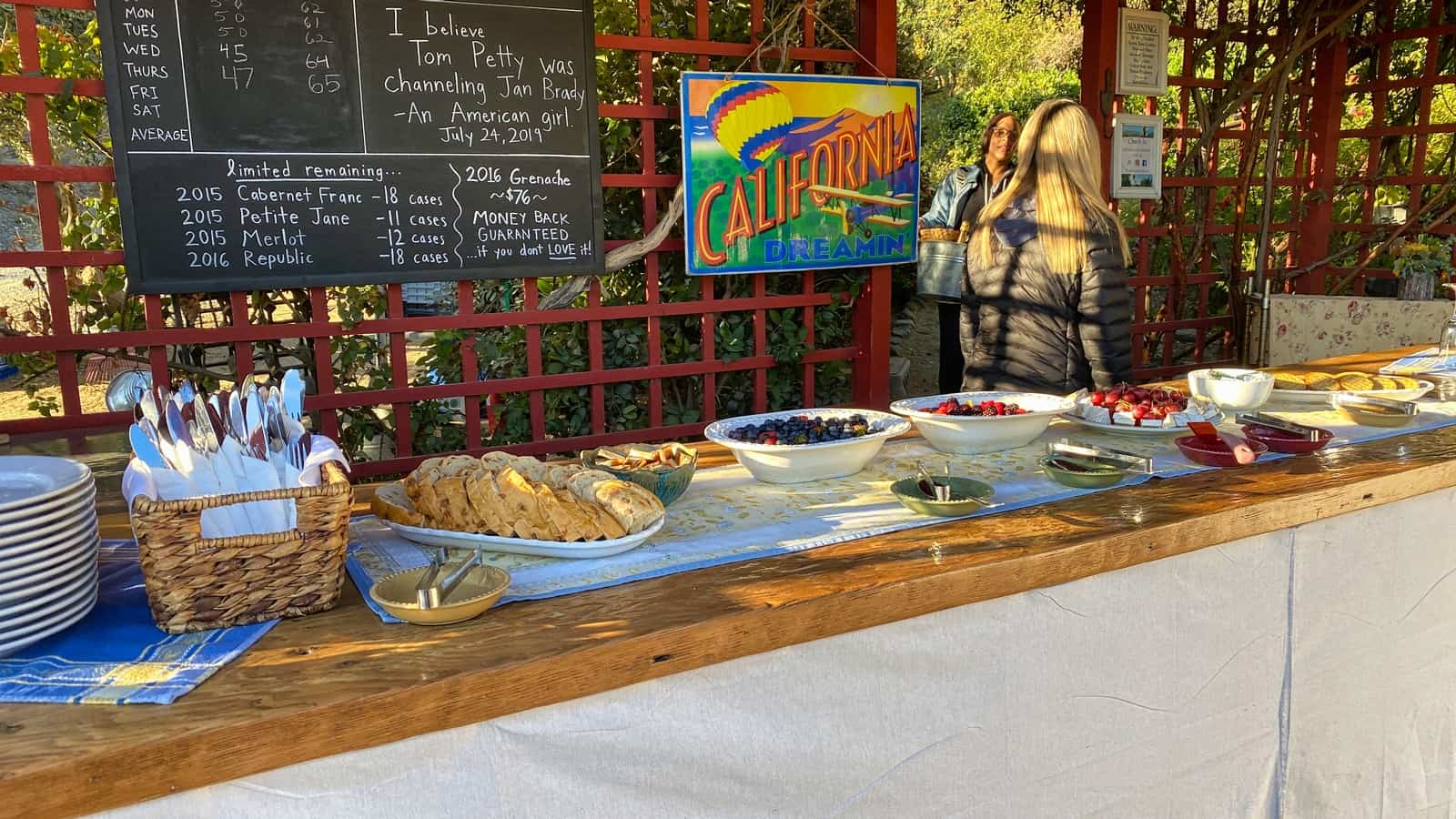 Take a Ranch Ride
Another truly memorable experience is a ride at Green Acres Ranch. Green Acres has called Temecula home since 1957. We went for a western-style ranch ride and tour of their 50-acre working horse ranch. The two guides that were with us were knowledgeable about Temecula and the history of the farm. We got a behind the scenes look at the daily activities of a working ranch. Emphasis is on the interaction between person and horse.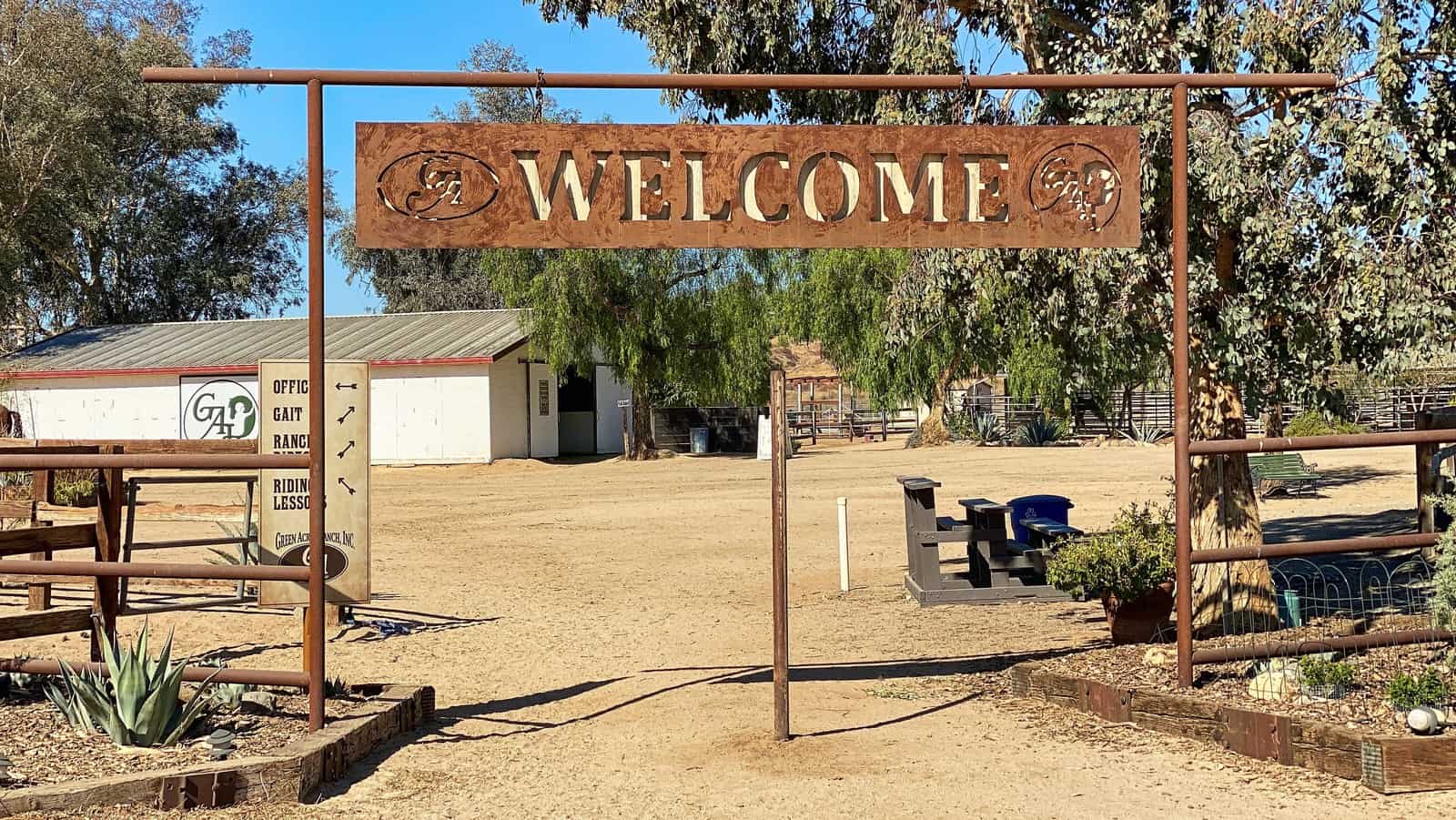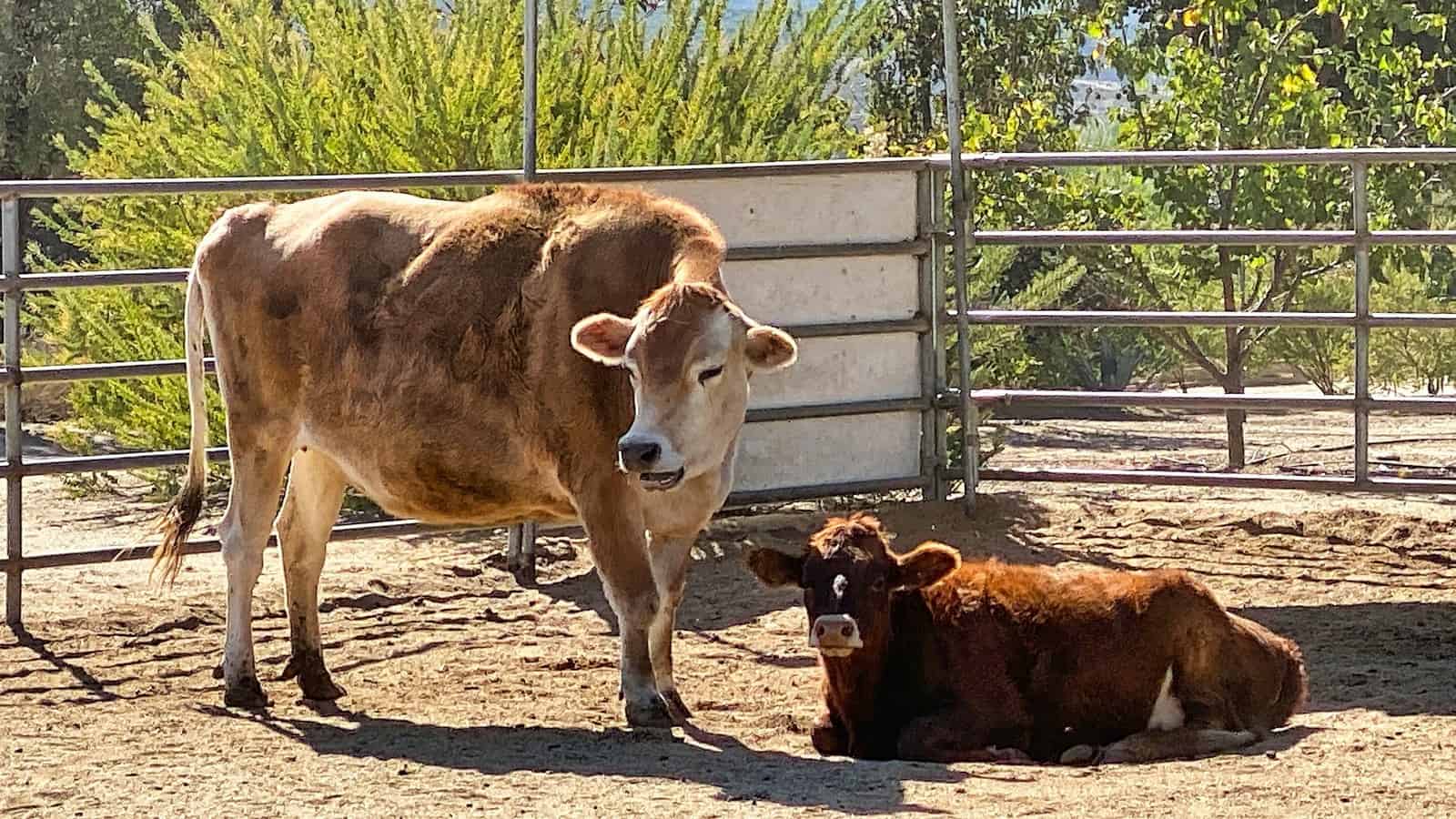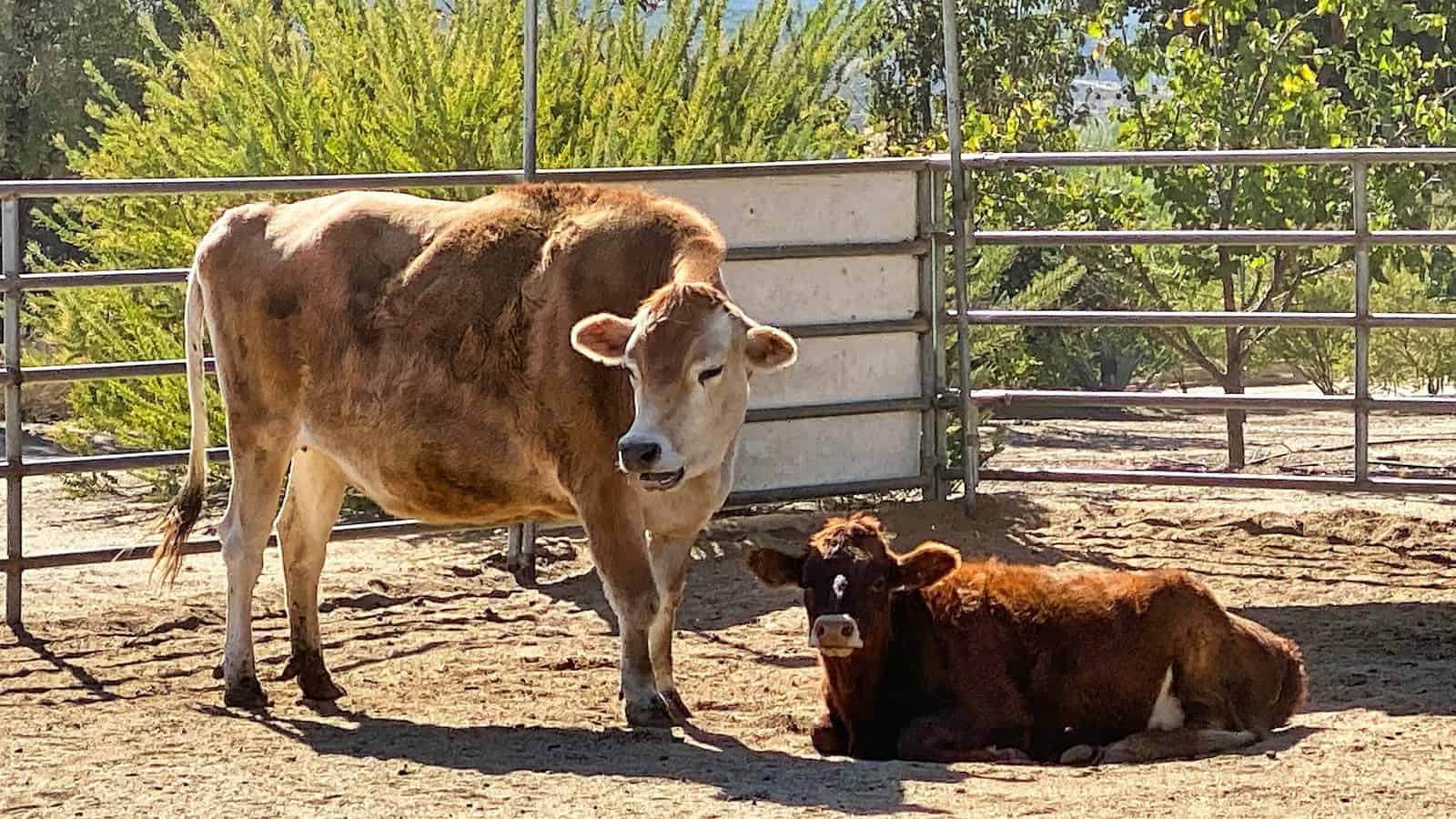 The ranch offers rides with a reservation seven days a week. Safety of you and the horses is paramount, so you will complete a mandatory riding and safety demonstration before your ride. Children over seven years of age are welcome to ride. A ranch ride is an excellent family activity to take the kids on when parents want to do a wine tasting weekend with their family. In addition to ranch rides, Green Acres offers Horseback Riding & Wine Tasting packages.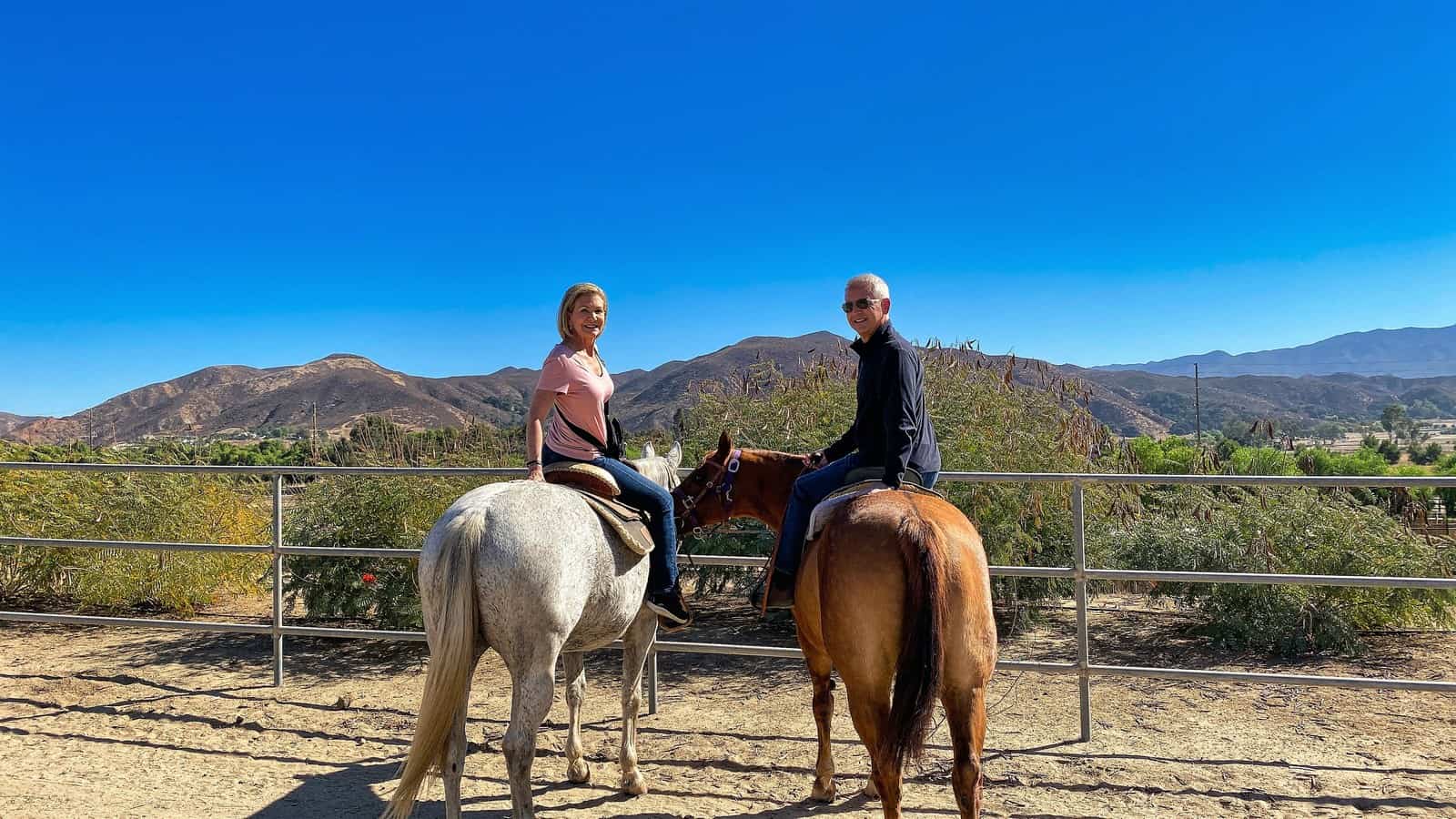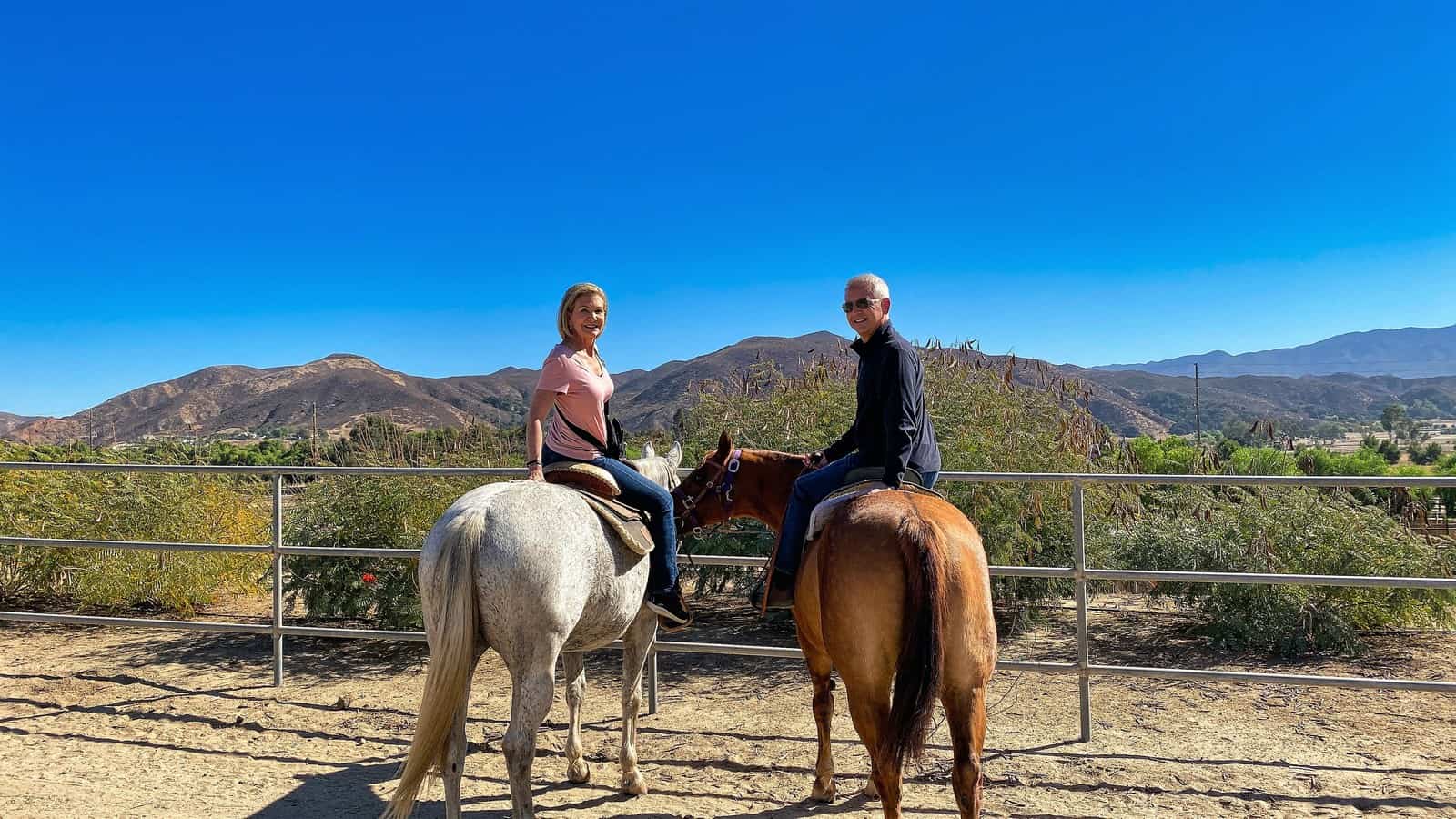 Where to Stay in Temecula
Finally, you will need a place to stay while visiting Temecula, and we recommend Temecula Creek Inn. Temecula Creek Inn is slightly away from the vineyards nestled in the rolling hills of Temecula under the shade of large oak trees. The sprawling, secluded property is also a golf course and a real escape from your daily routine.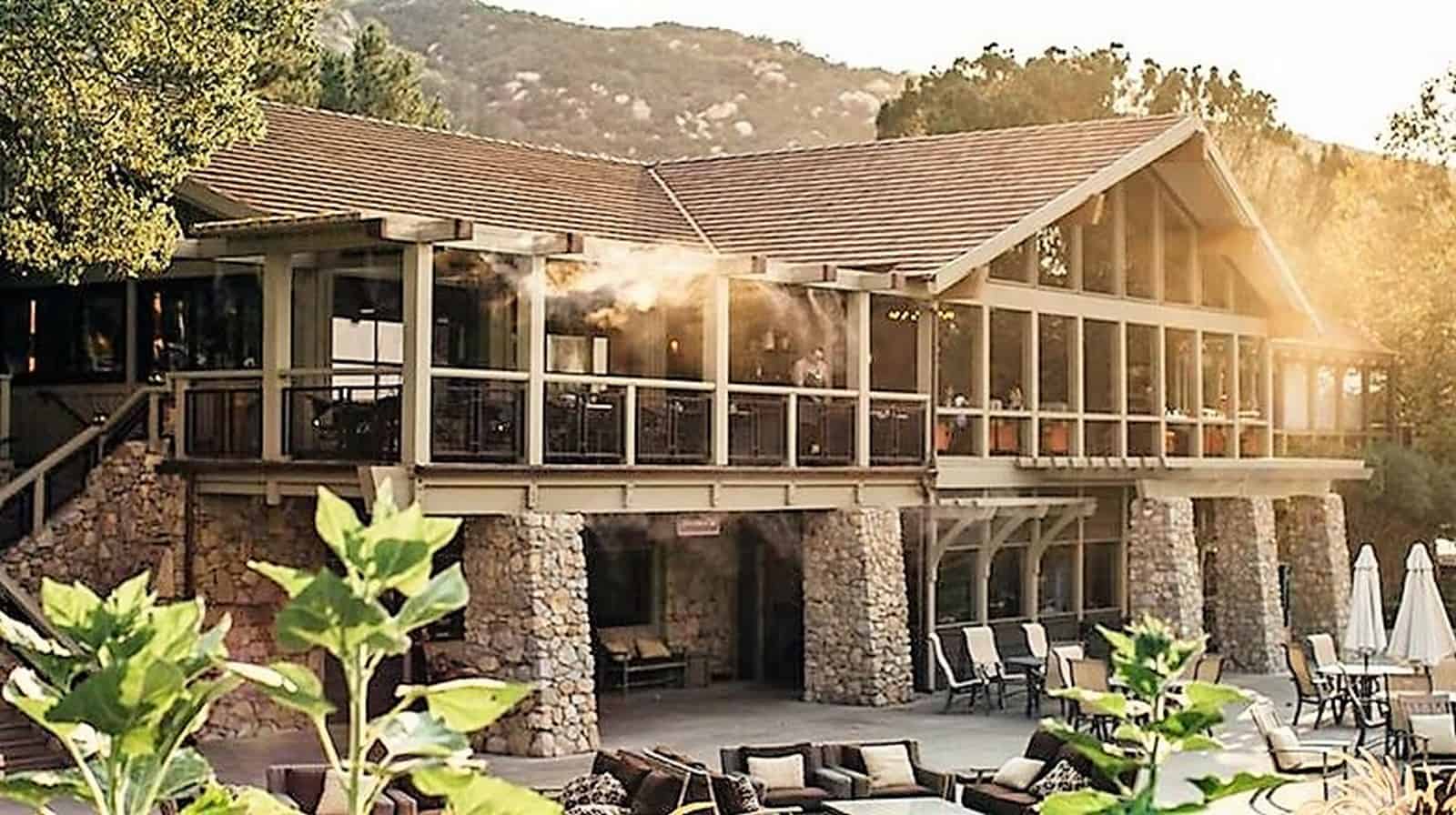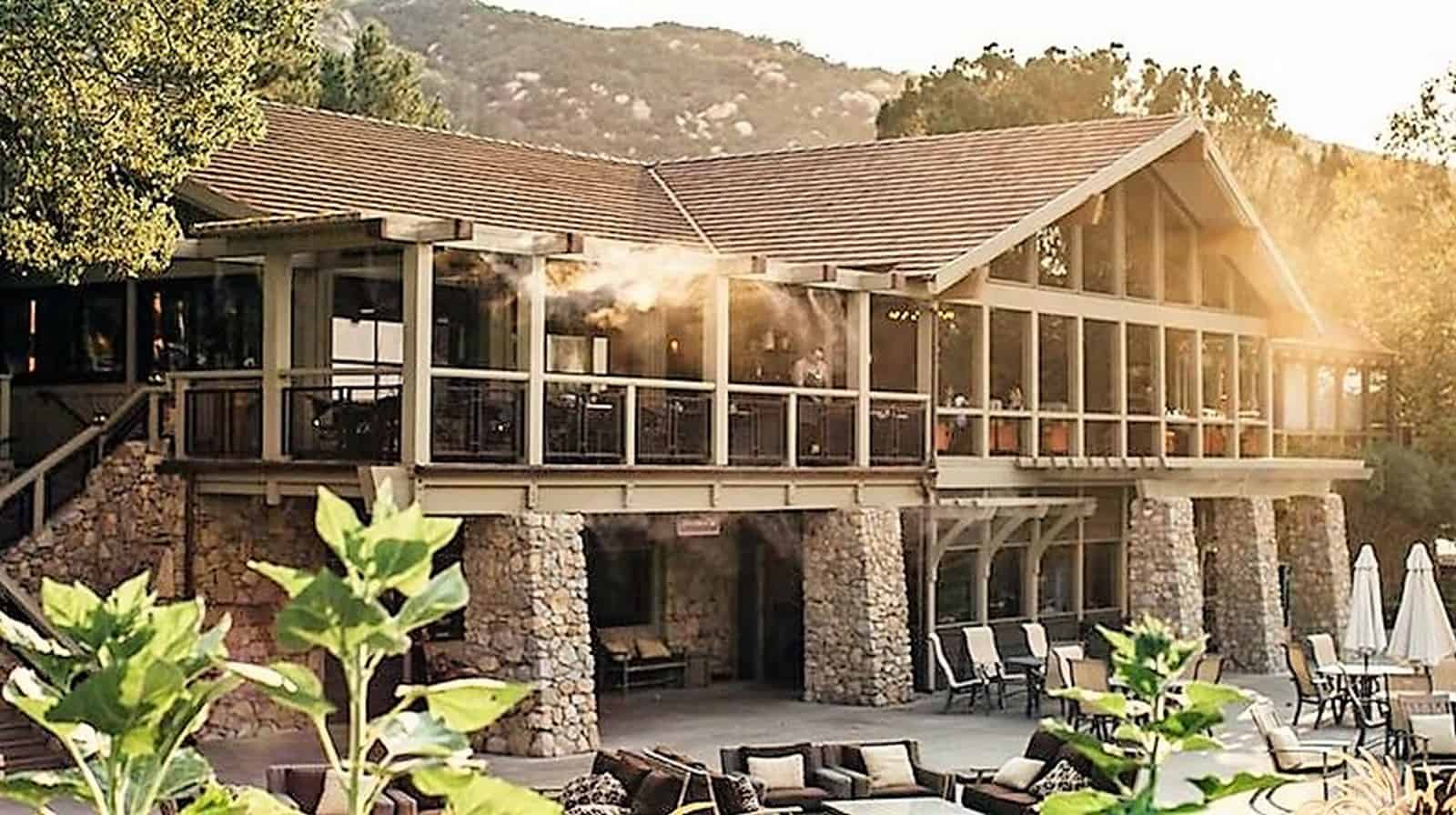 We found our room to be very spacious; It had a wet bar, refrigerator, and a coffee and tea station. The bed was great. The bathroom was large. We had a balcony that overlooked the golf course and the Santa Margarita Mountains, and where we enjoyed a glass on Zinfandel while watching the sunset. And best of all, in the morning, we ordered a farm-fresh breakfast delivered to our room. We did not have time for a swim, but the inn also has a sizeable out-door swimming pool and a fitness center.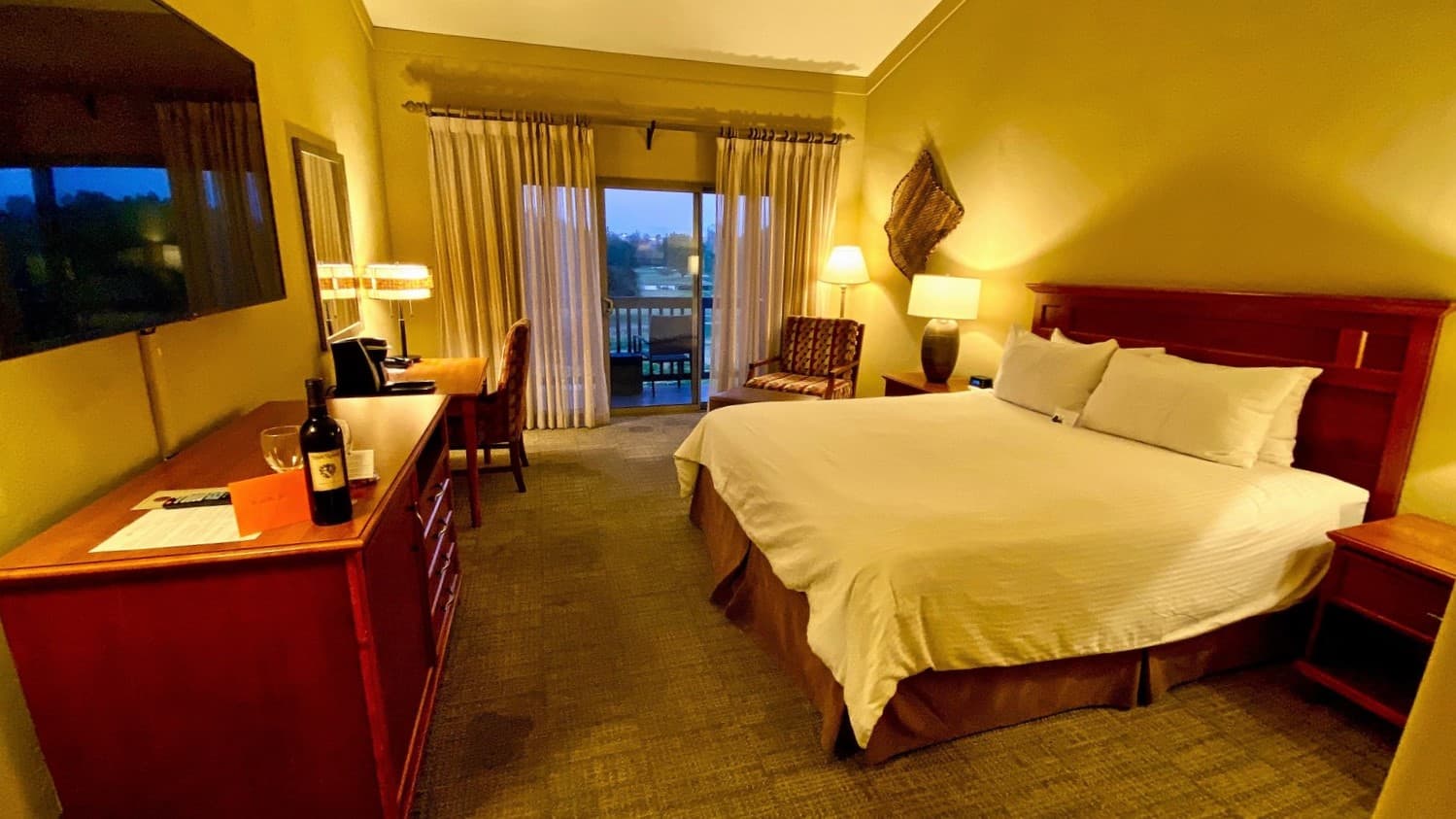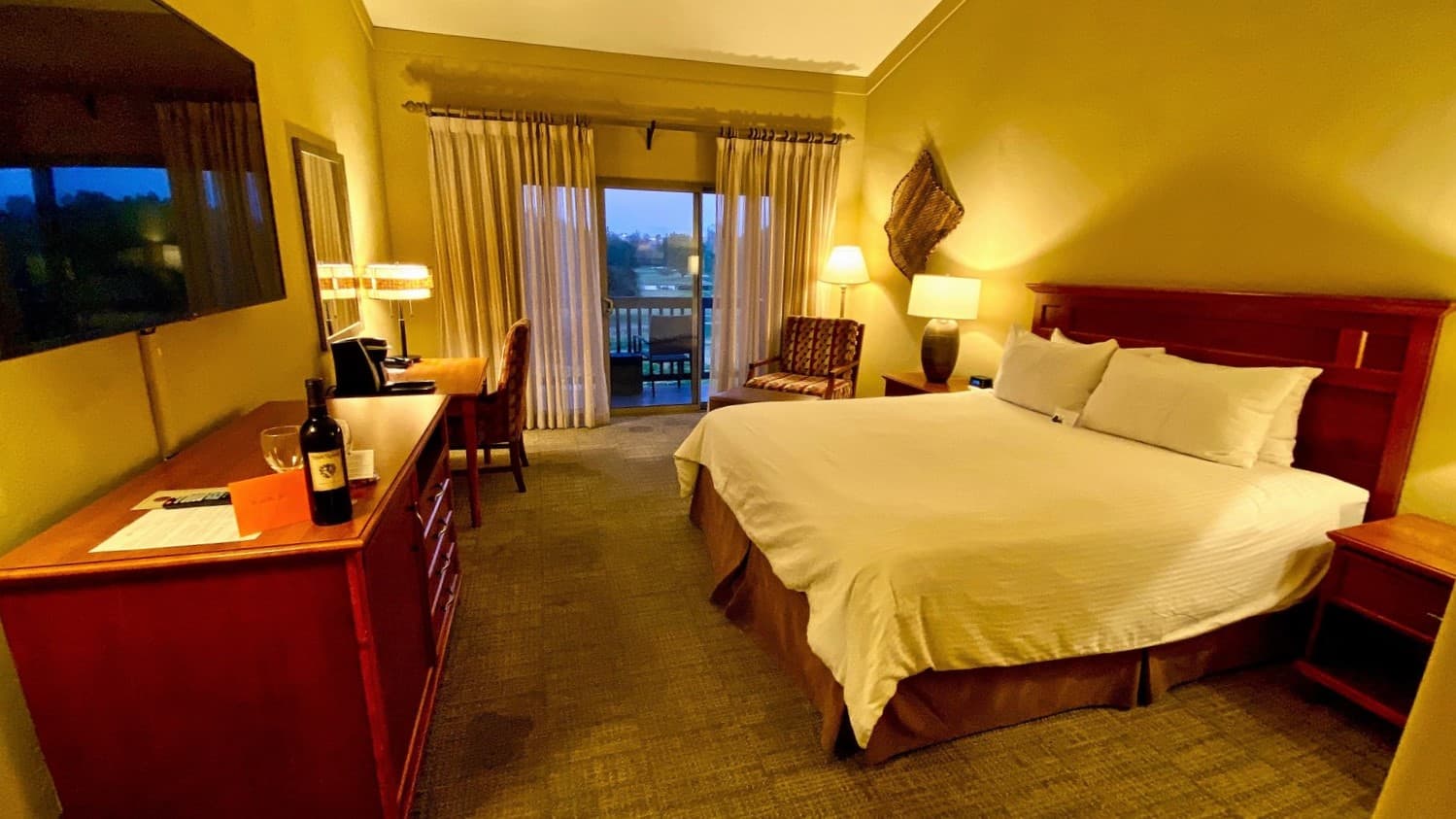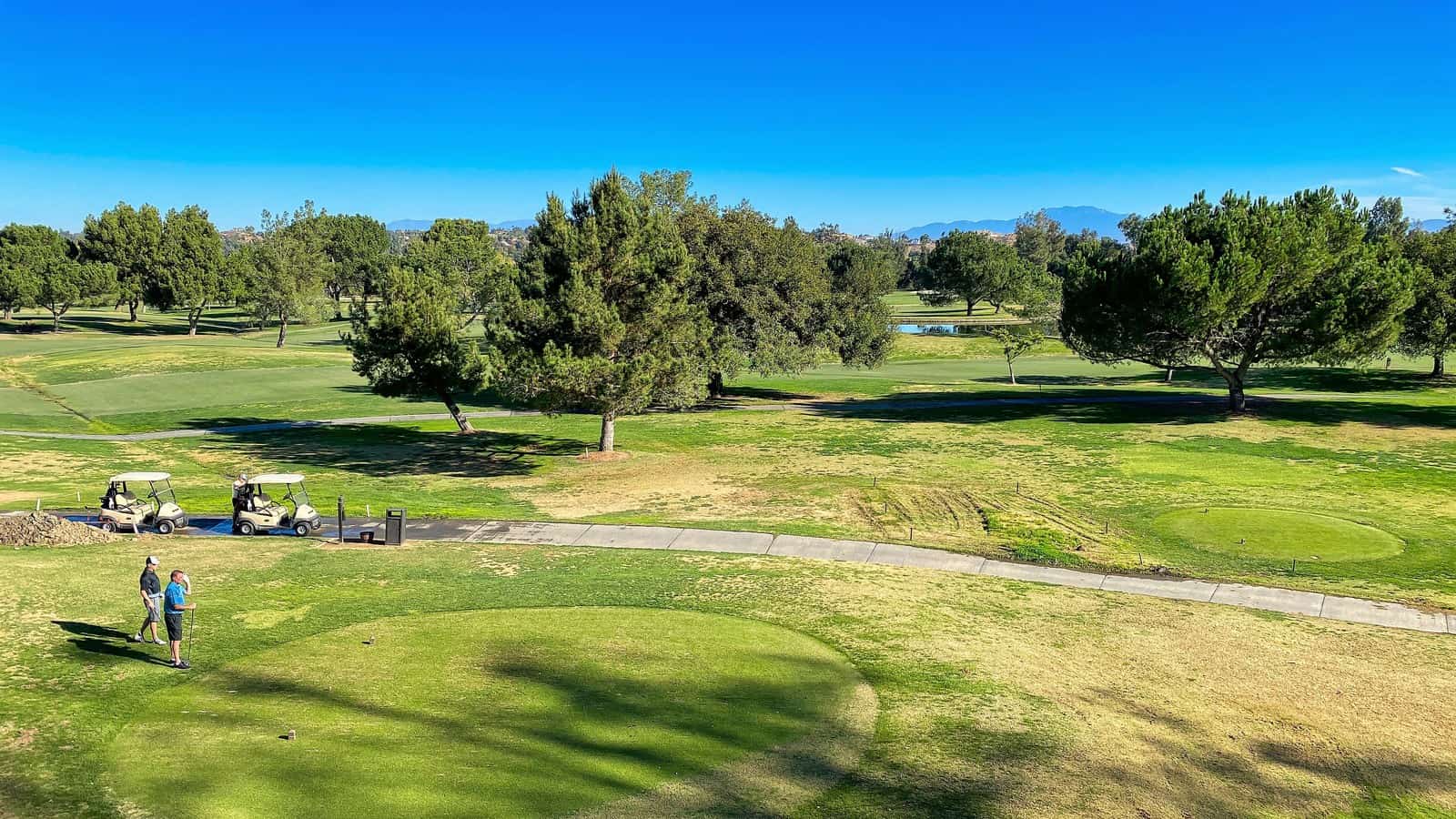 If you love golf and wine, the Temecula Creek Inn will be your dream getaway.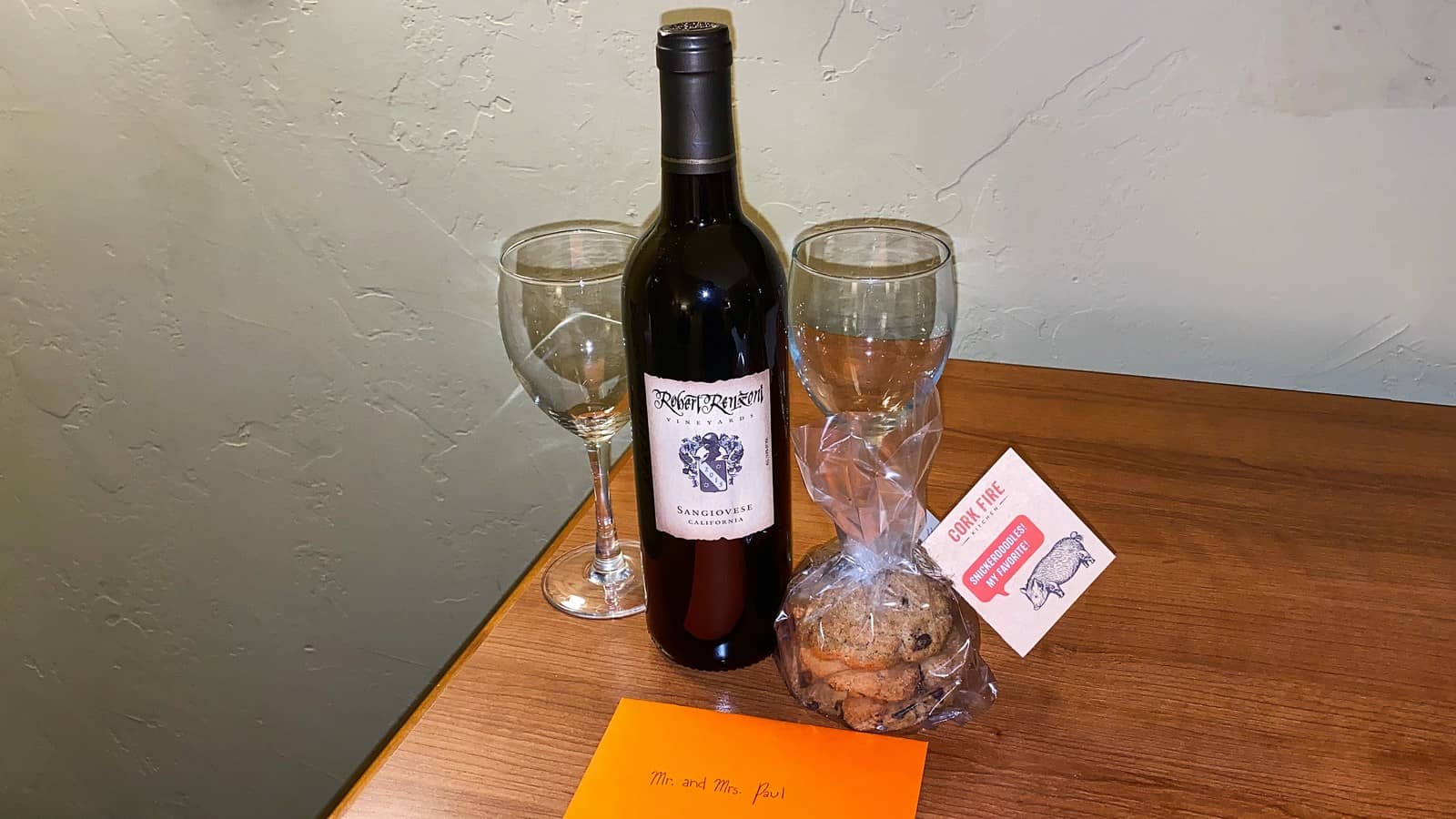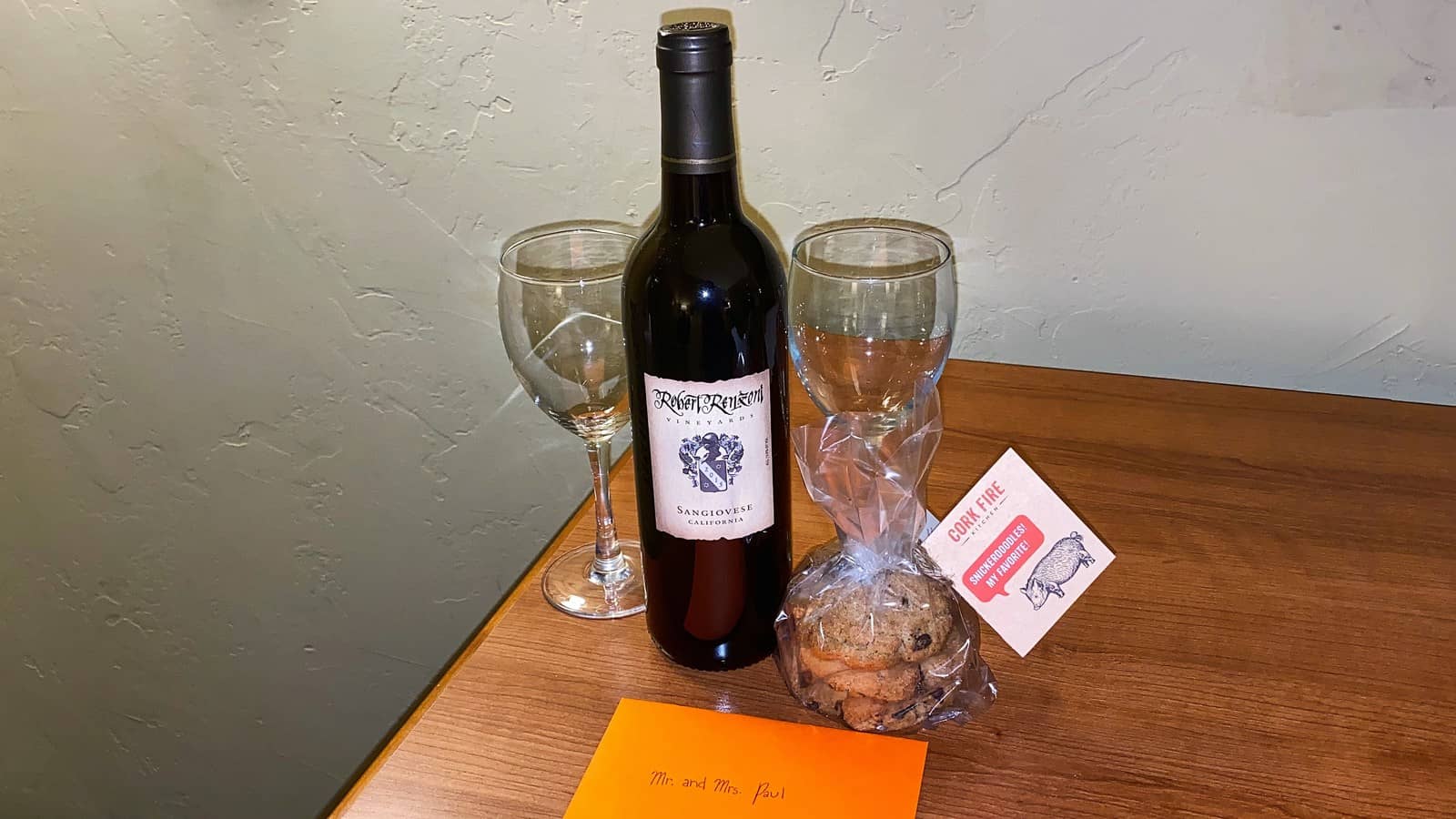 You will Love Your Temecula Wine Getaway
With its close proximity to both San Diego and LA, Temecula is a great place for a wine trip. Temecula wine has come along way, and the Temecula Valley holds its own against many of the more famous wine destinations in California. Temecula offers much more than wine; there is also a charming downtown, shopping, great restaurants, ballooning, horses, and even golf. Temecula is a destination with something for everyone.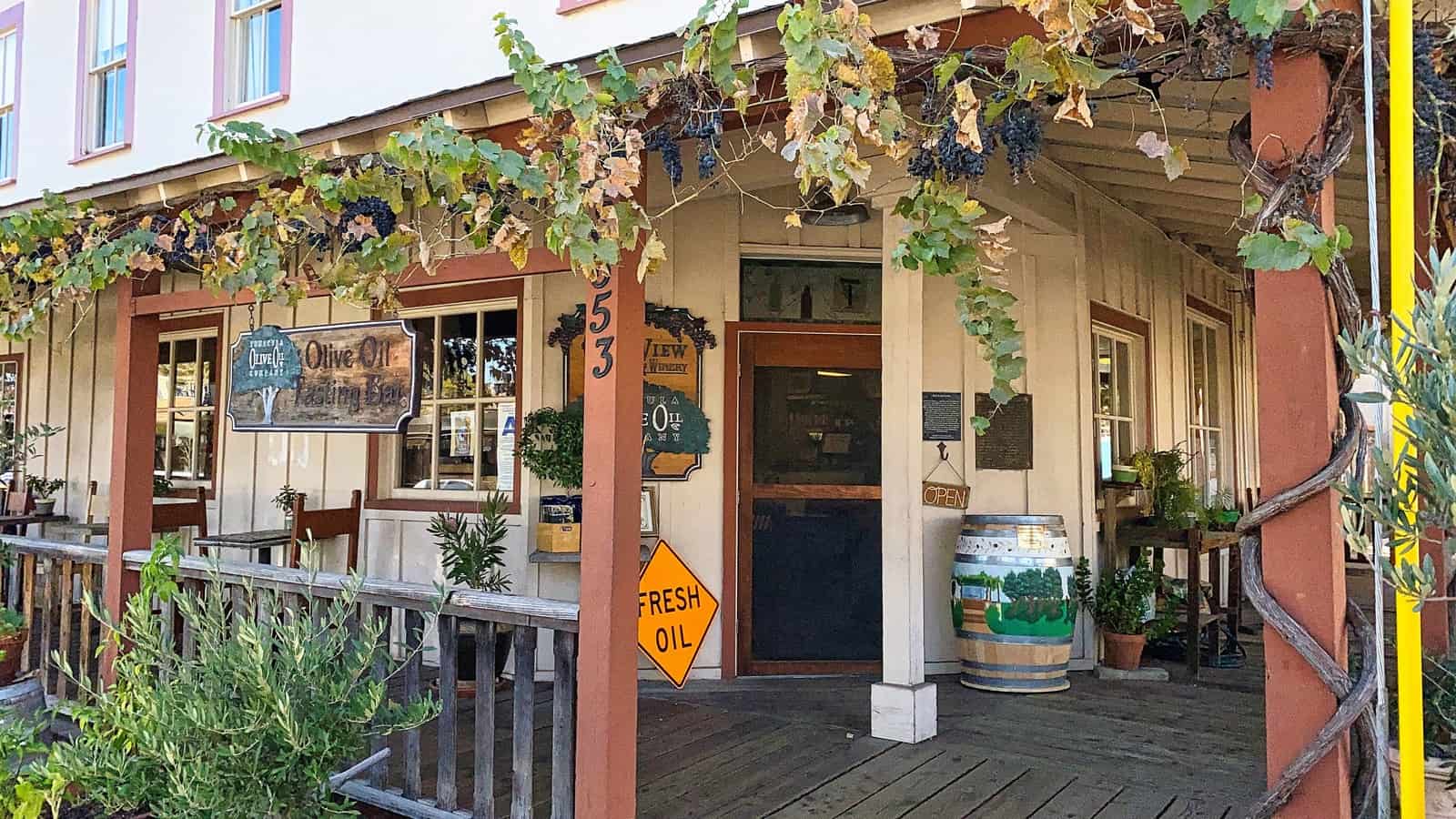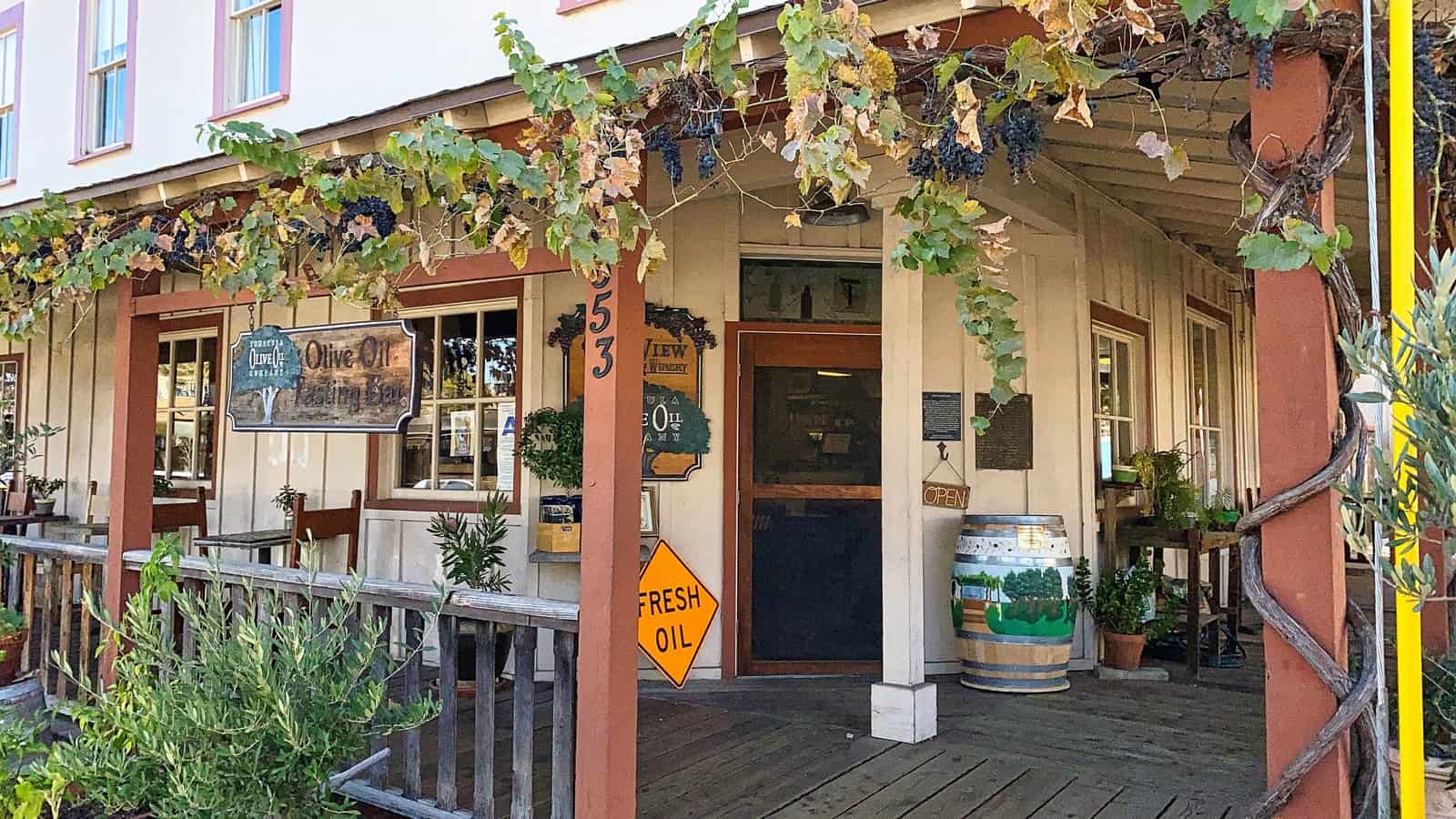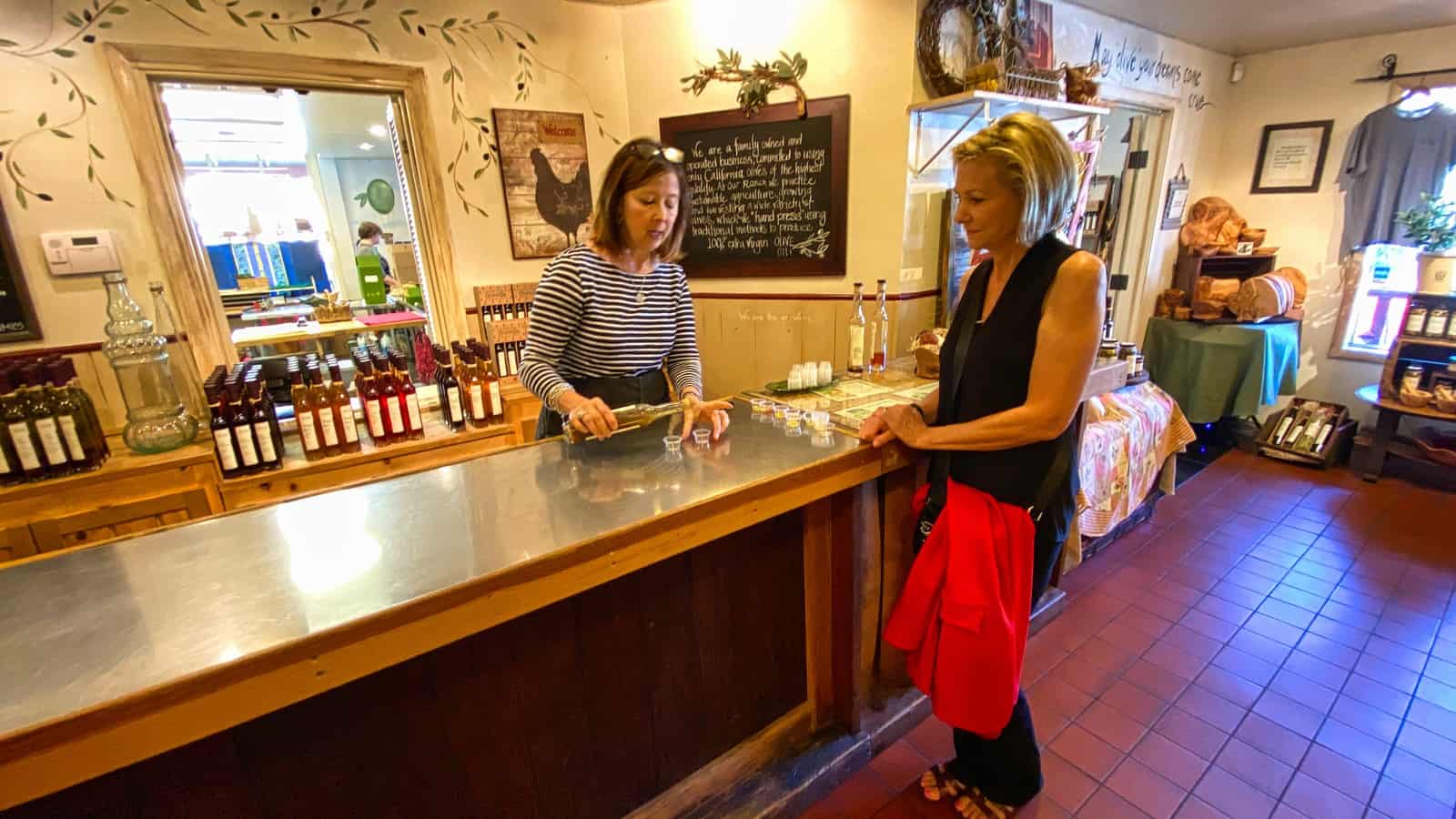 Be sure to read our article on neighboring San Diego and all it's great wine.
QUICK ANSWERS
What is the only city in California to retain its aboriginal name (same name before the colonists)?
Temecula California is the only city in the state to retain its aboriginal name.
---