Perched on a wave-carved bluff, squeezed between dense forests and a restless sea, you will find Mendocino, California. Undeniably, Mendocino is a charming, tranquil little town with breathtaking oceanside views. In truth, the beauty extends outside the city to the whole county. But, Mendocino is known for more than its stunning Pacific Ocean coastline, it also has great wine. Mendocino wine is a lesser-known wine gem.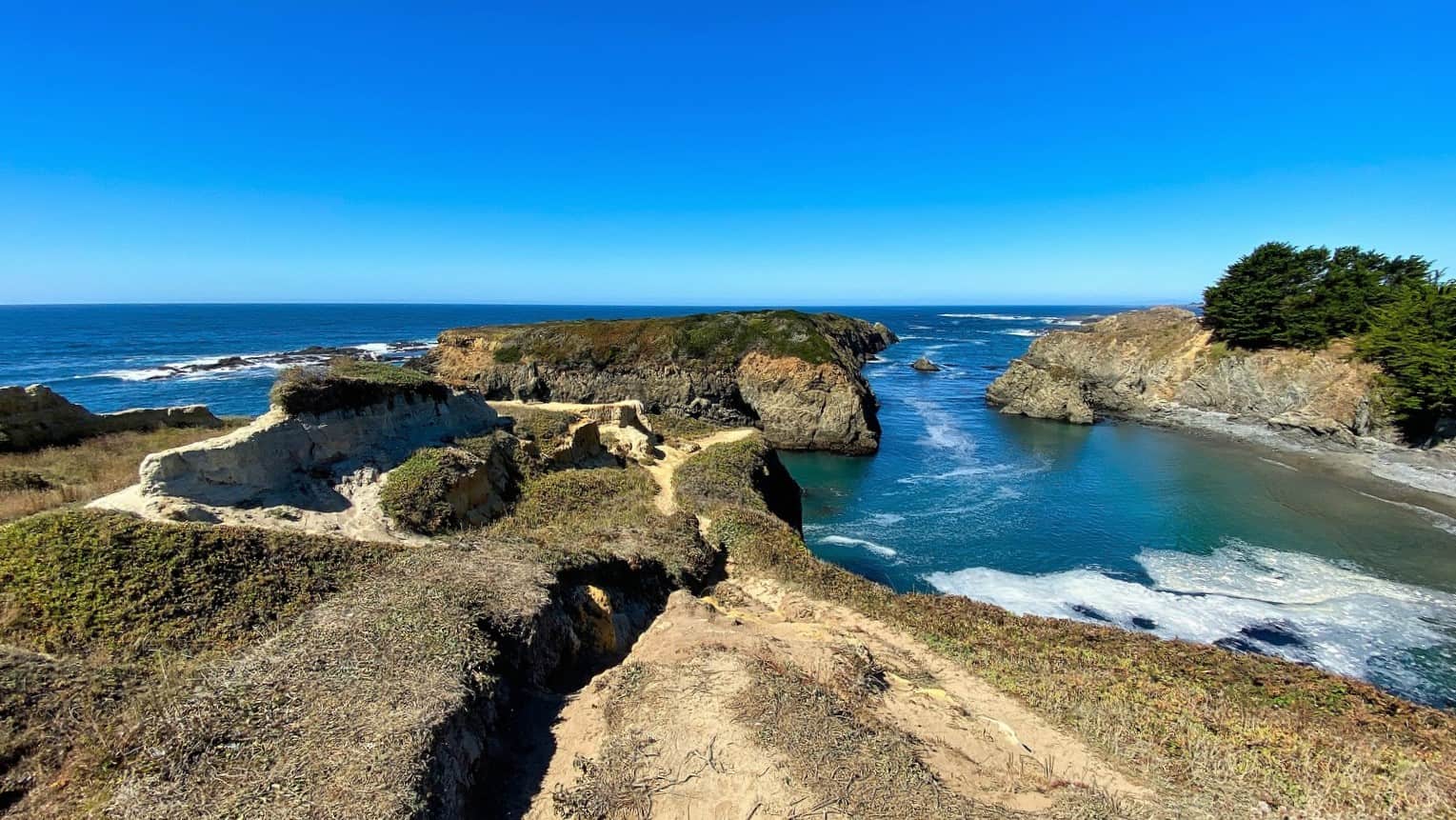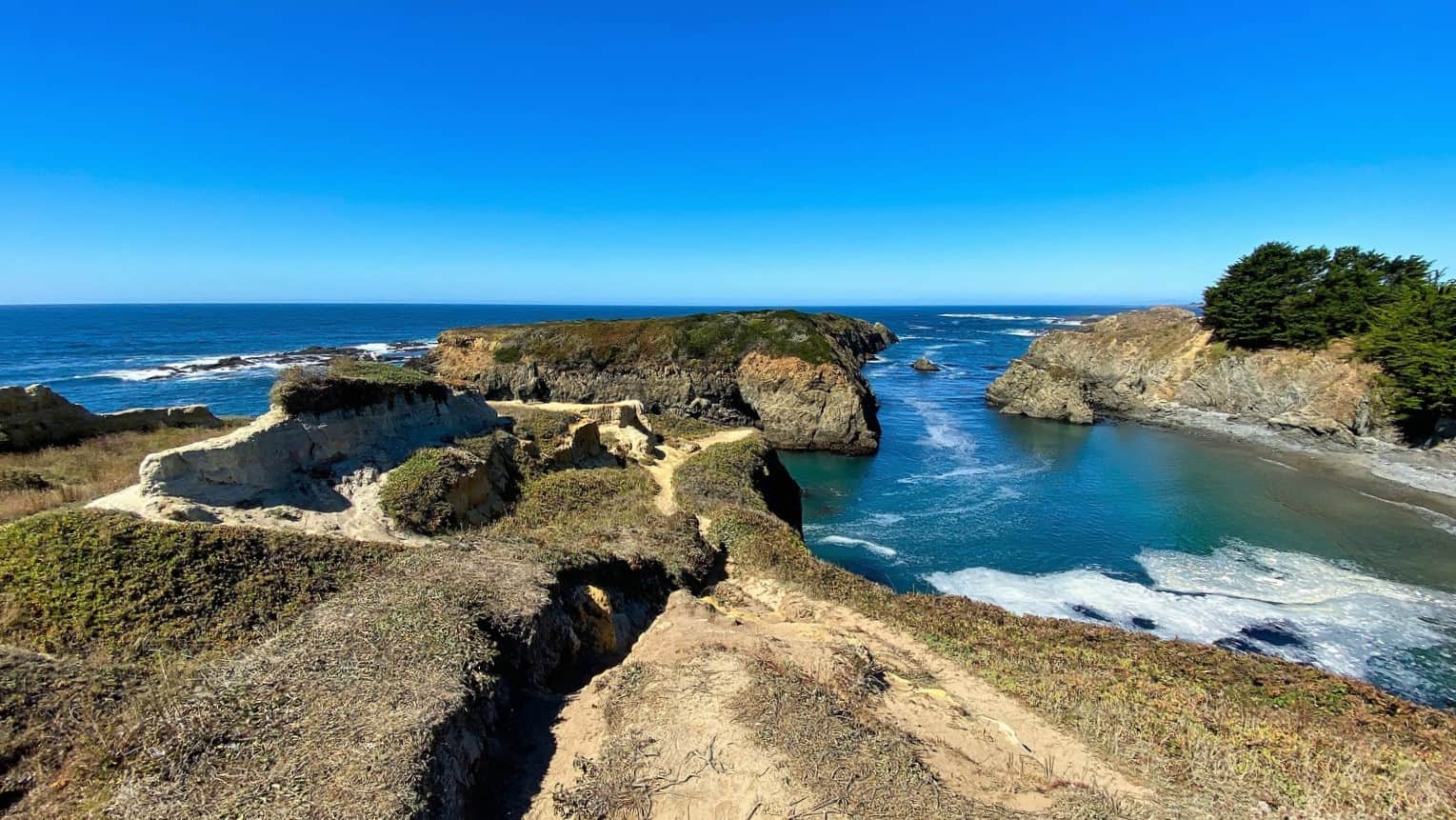 Mendocino is part of the North Coast AVA. What makes this area so picturesque is its extraordinarily varied climate. So, Mendocino wines come from California's most climatically diverse wine-growing regions. What kind of wine is Mendocino known for? We will get to that in a few minutes, but first, let's explore the wine, the charm, and the beauty you will experience in the area.
Artevino, Where Art, Wine, Dreams and Reality Meet
We traveled to Mendocino from San Francisco, and we must say that the road to Mendocino may be as enchanting as the destination itself. Accordingly, we drove through wonderous mountains on winding roads with views ranging from the sea to farms and vineyards.
When you reach Mendocino, our recommendation for the first stop in the area is to visit Maple Creek Ranch and Winery to taste Artevino wine. Tom, the owner, found this place while on a motorcycle trip around Mendocino county. He was a notable artist from Marion County, California looking for a less hectic lifestyle when he found this place in the Anderson Valley.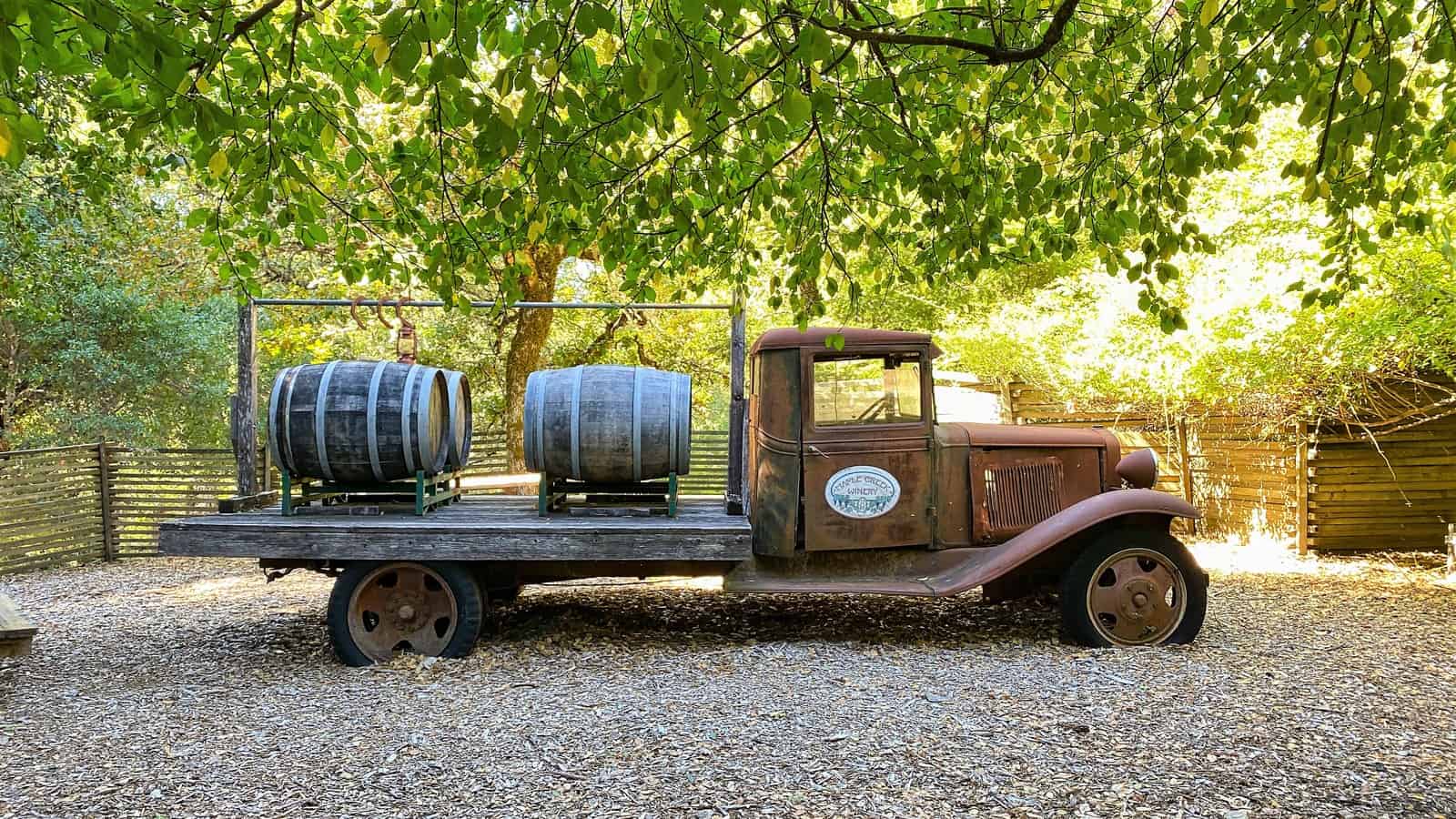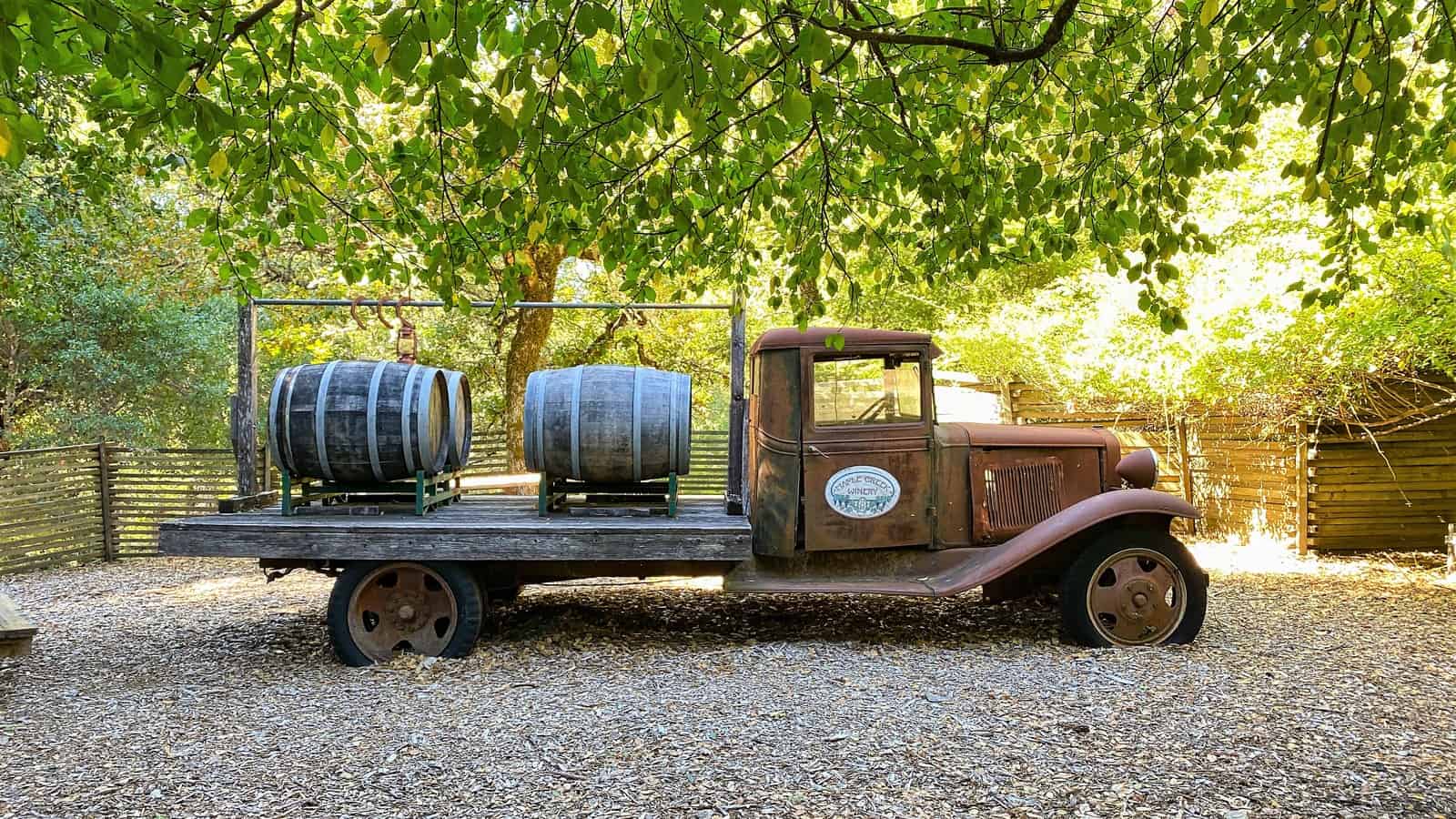 Tom knew a bit about wine. As a hobby, Tom's grandfather made wine in his basement. Subsequently, Tom was always interested in his grandfather's winemaking. Later, as an internationally known artist, Tom designed wine labels for Far Niente, Dolce, Nickel & Nickel, EnRoute, and Bella Union.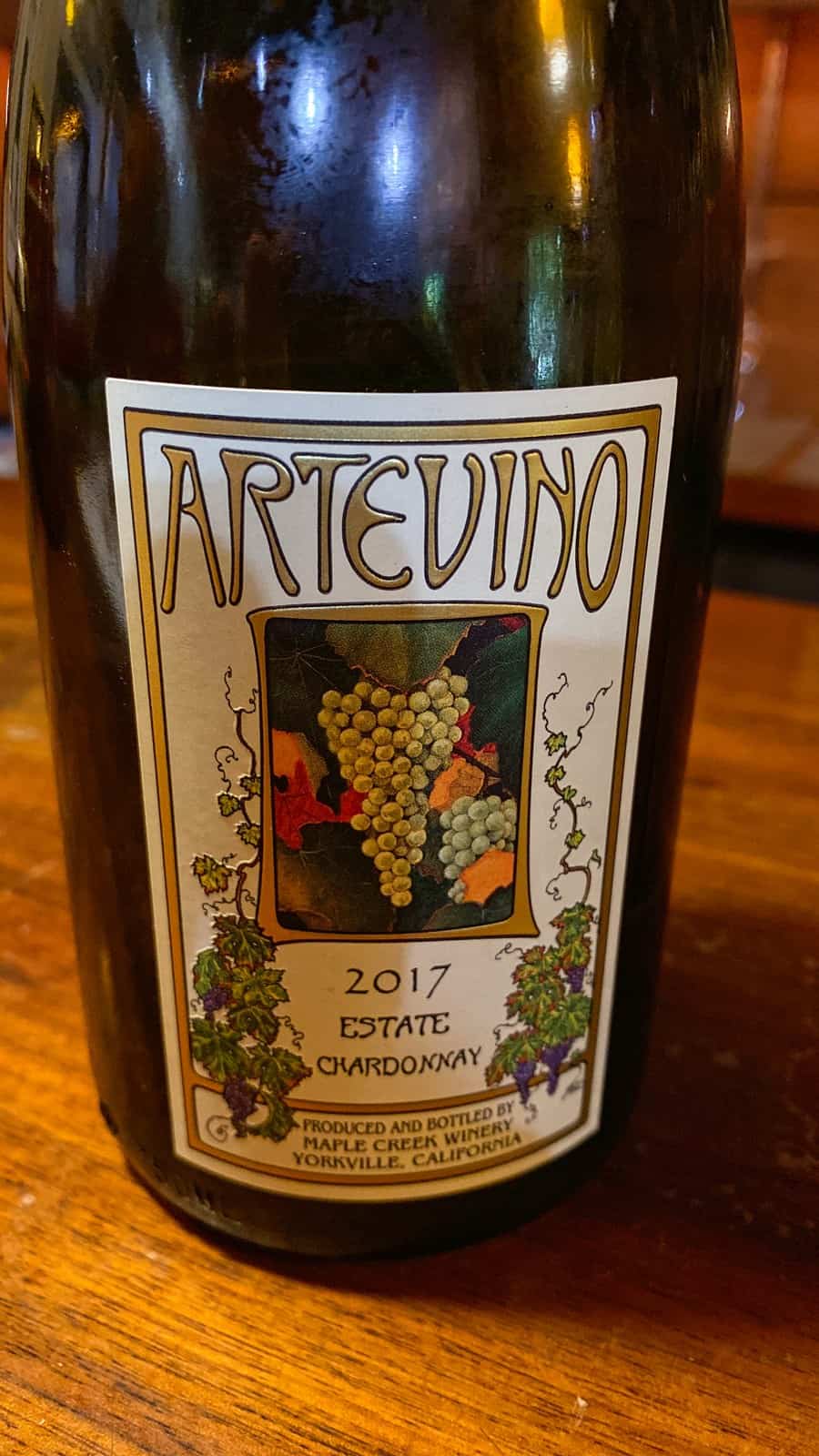 13 Acres of Vines
With 13 acres of vines, Maple Creek Winery grows estate varietals, including Chardonnay, Pinot Noir, Merlot, Flora, and Symphony, using sustainable practices. Prior to our visit to Maple Creek, we had never heard of Flora and Symphony grape varietals. Thus, these grapes grow best with hot days, cool nights, and rocky soil. Additionally, some Mendocino County Zinfandel grapes are used to complement the estate grapes.
You will love the drive to Maple Creek. You will drive past vineyards and orchards. The country views are so pretty it will be hard to believe you are only a little over three hours north of San Fransico.
When we arrived at the tasting room, Buster and Posey, the Australian Shepherds winery dogs, greeted us.
For our visit, we tasted wine with Houston Johnson, the tasting room manager. The tasting room adorned with Tom's artwork is bright, warm, and welcoming. So much so, there were other guests there who we struck up a conversation with us that said this was a great winery and that they were long-time wine club members.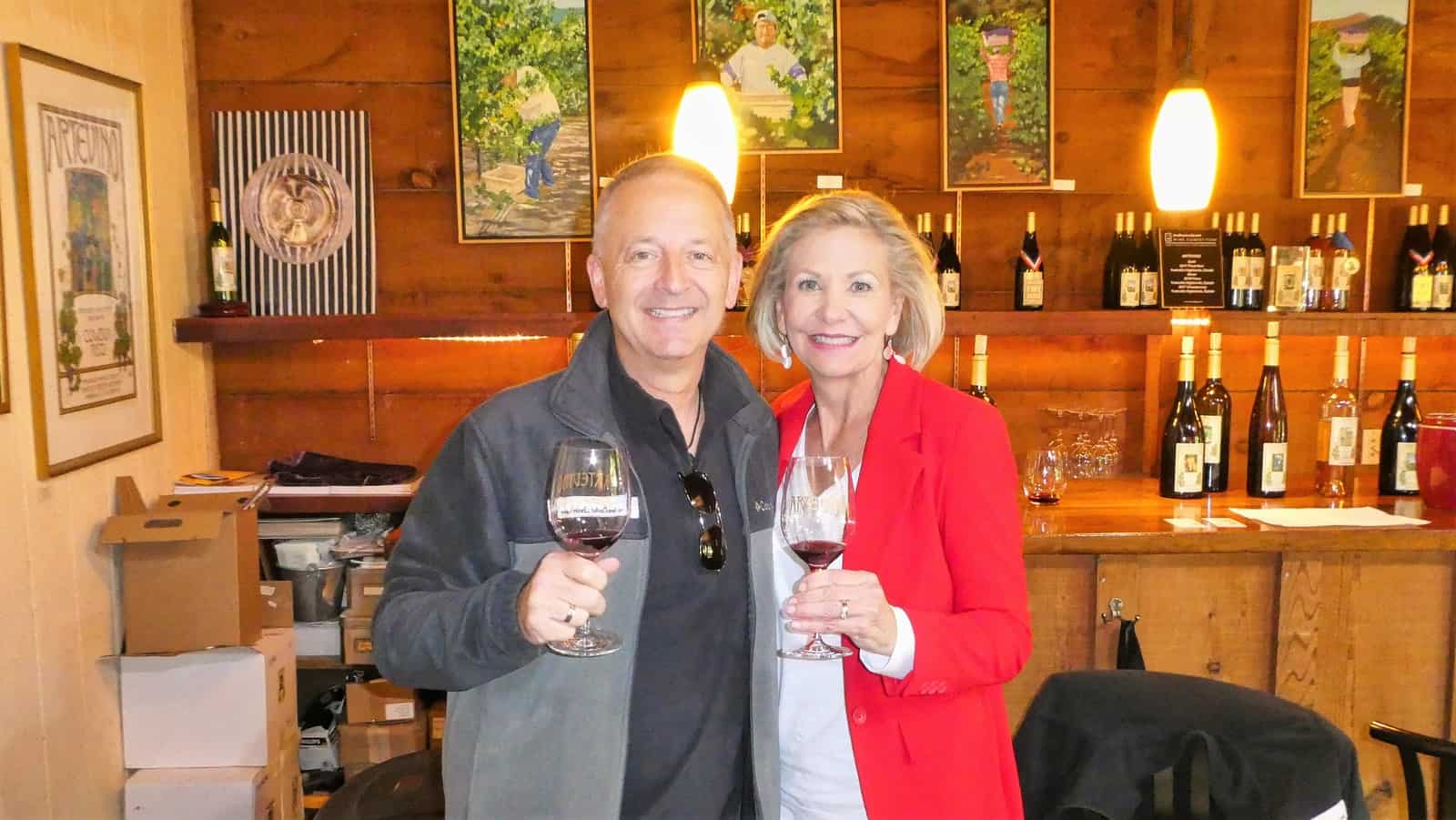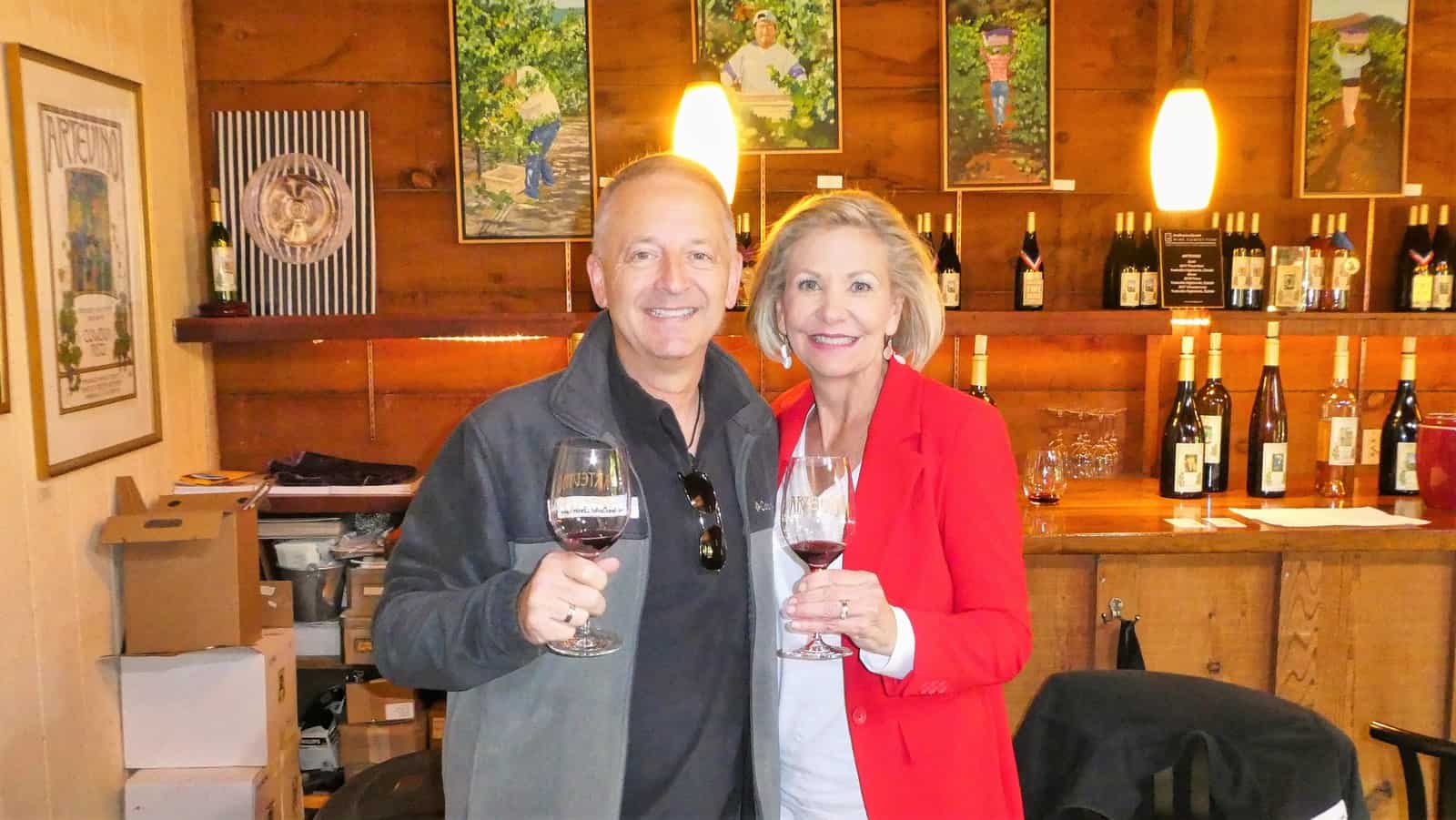 Houston was knowledgeable about the wines as well as the surrounding wine county. We enjoyed his company and some great wines.
Lula Cellars, Good Stewards of the Land
After Artevino drive to Lula Cellars. Lula Cellars is another boutique winery located in the revered Anderson Valley. Lula's focus is on estate and Anderson Valley Pinot Noirs and single-vineyard wines from the greater Mendocino County.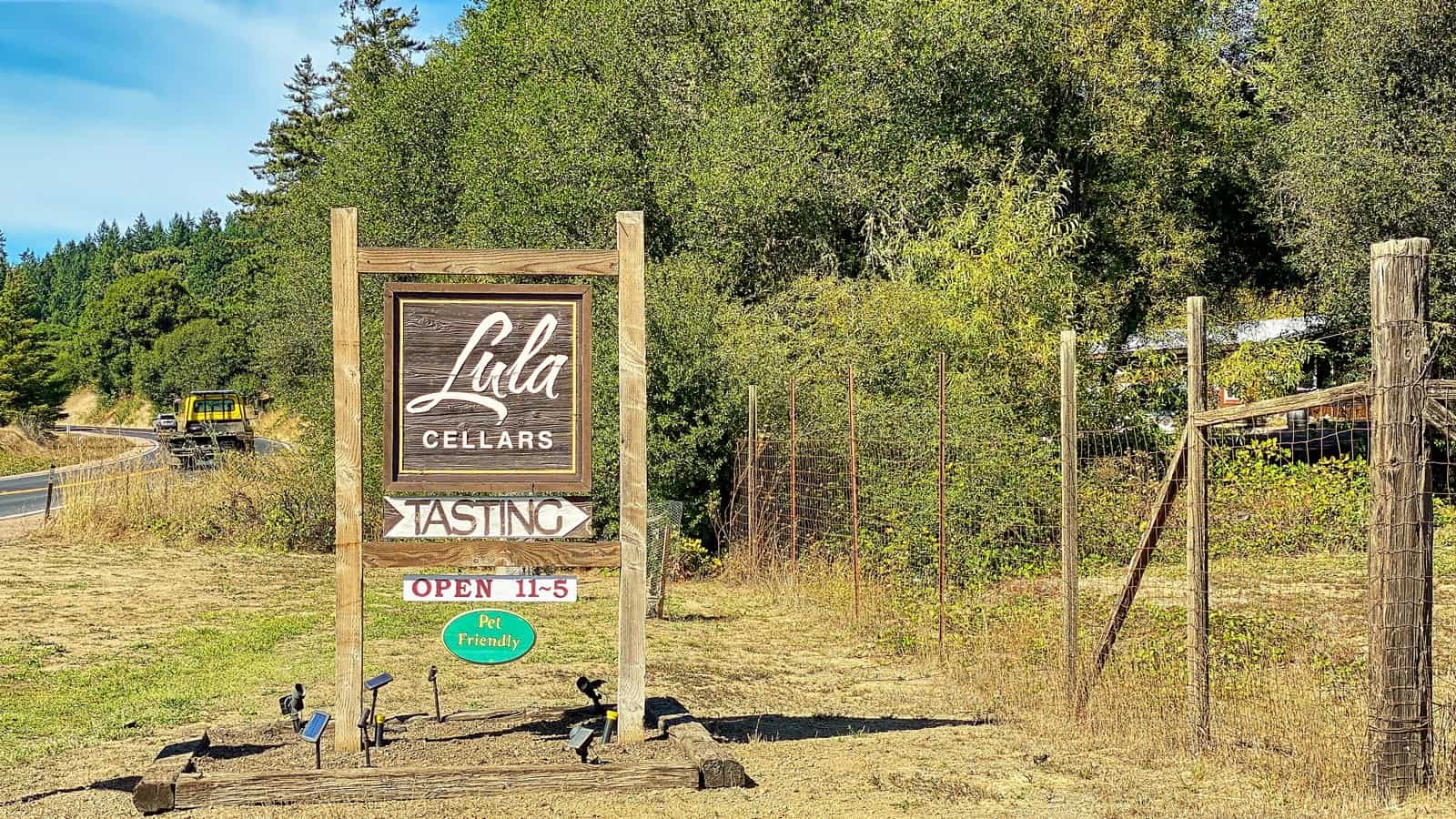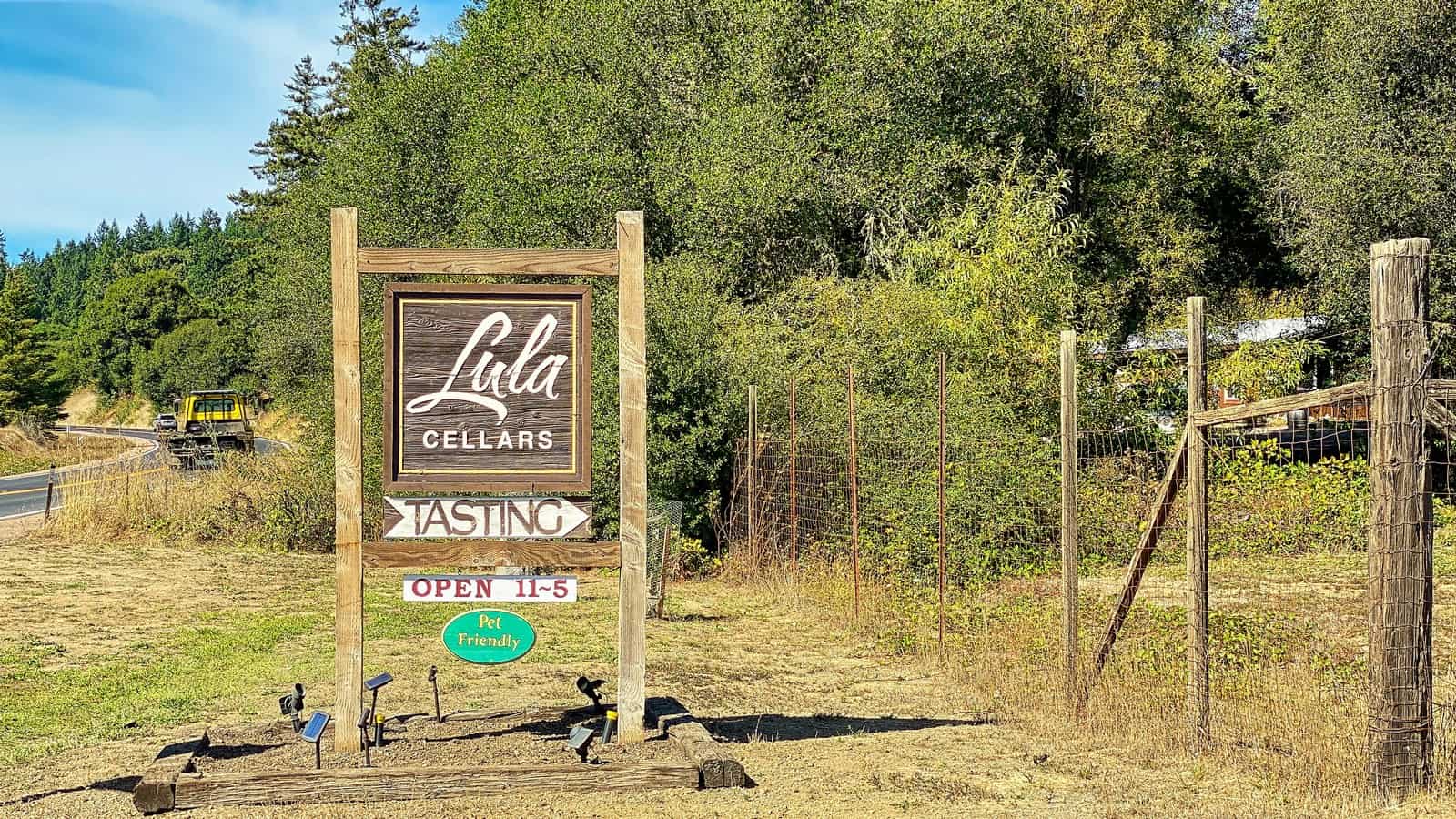 The vibe at Lula Cellars is very relaxed and lively. Dan, the owner, and Gary will entertain you. Watch our video to see for yourselves. Dan is also a great storyteller of local history.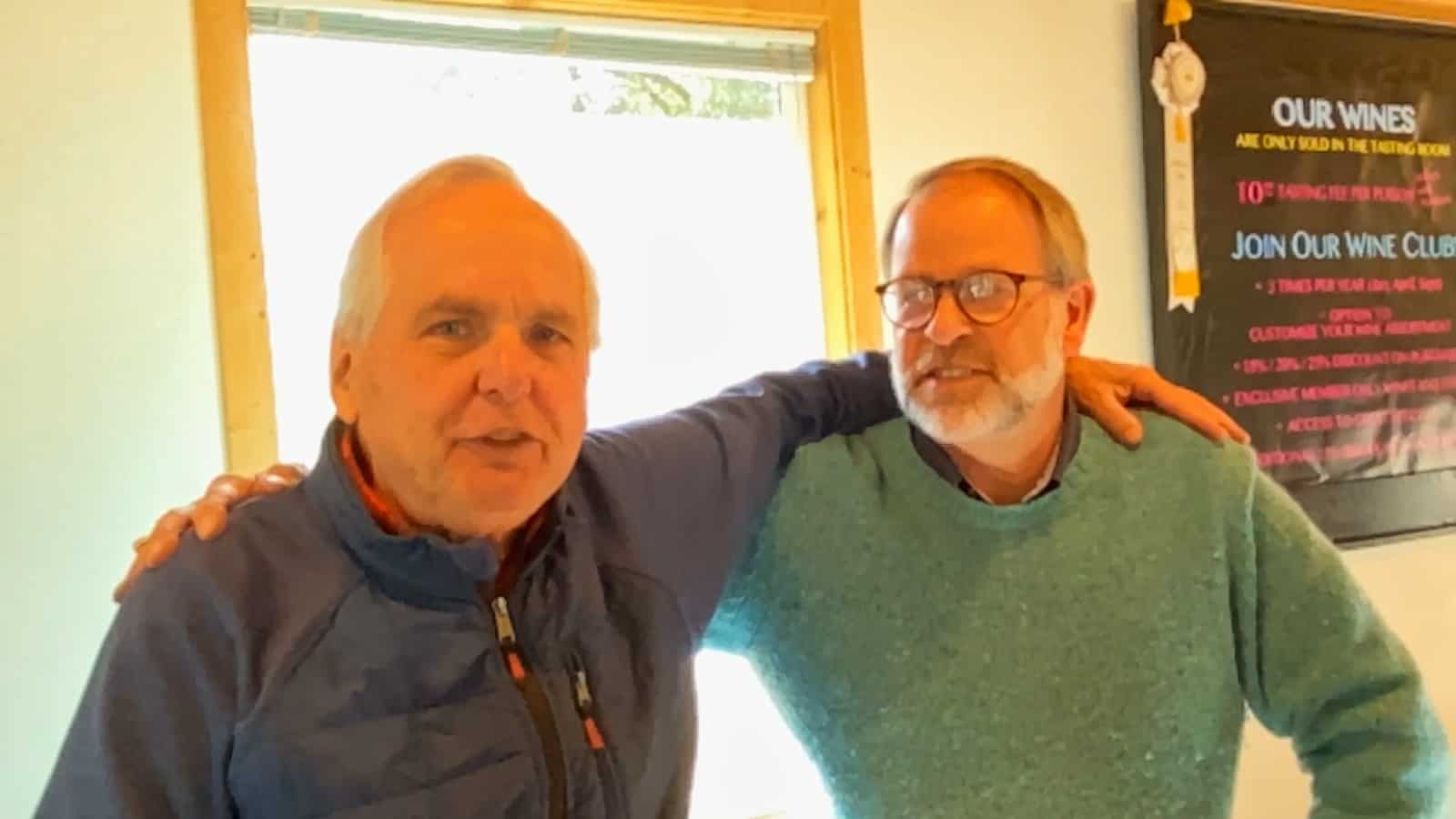 Conversely, here, you will find a wine dog, this one named Honey. In fact, at Lula Cellars, they love dogs and encourage you to bring your fur baby with you to taste wine as they are pet-friendly. Their saying is "Pooches and Pinot, what could be better"?
At Lula Cellars, they practice dry farming. Dry farming means they grow their grapes without irrigation. Subsequently, Dan believes this is good for the planet and the wine. Growing vines without added water forces the vines to be more self-sufficient. So the plants must send roots deep into the soil to find the water and nutrients it needs. Dan says this farming method makes his vines more resistant to disease.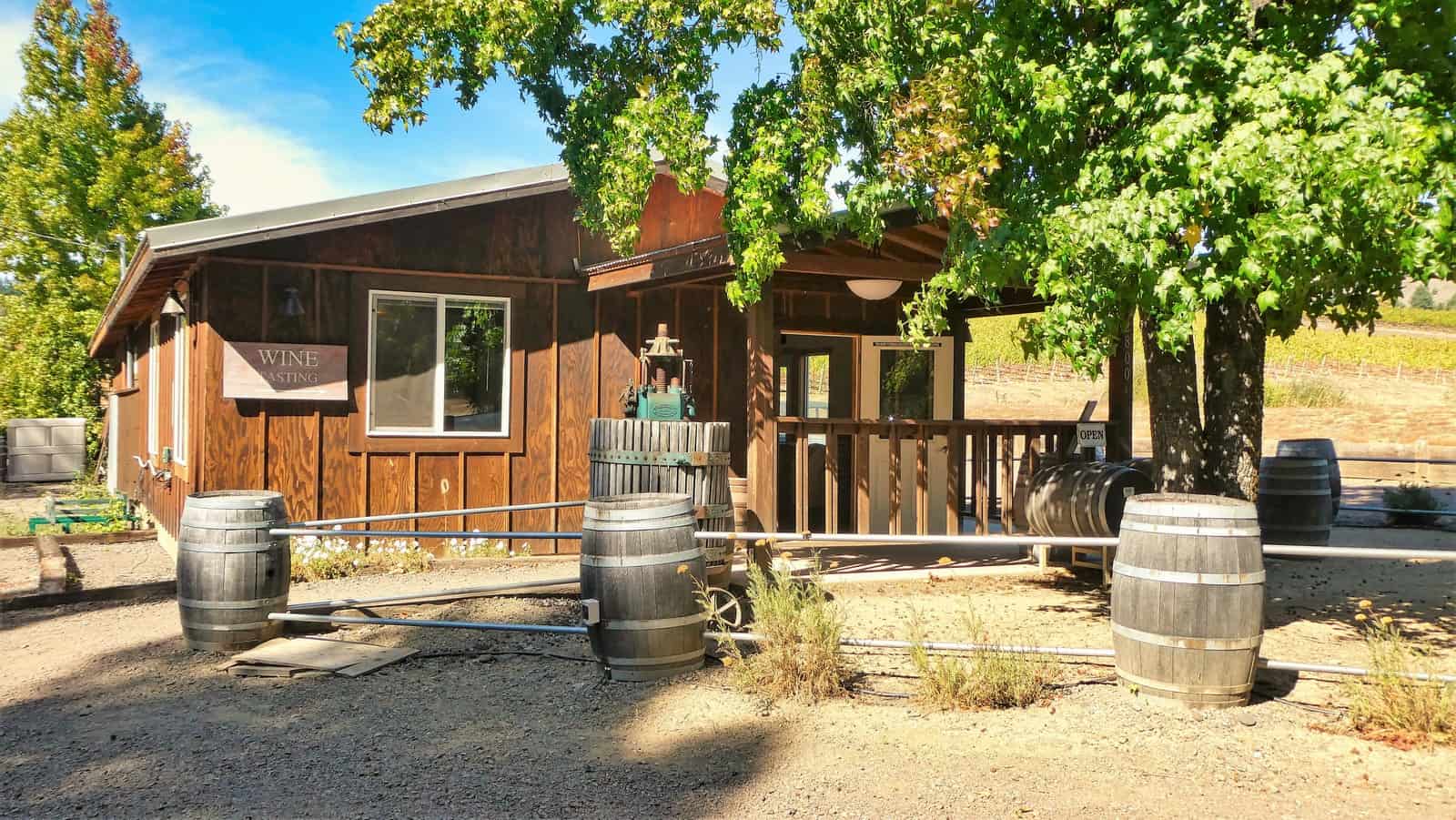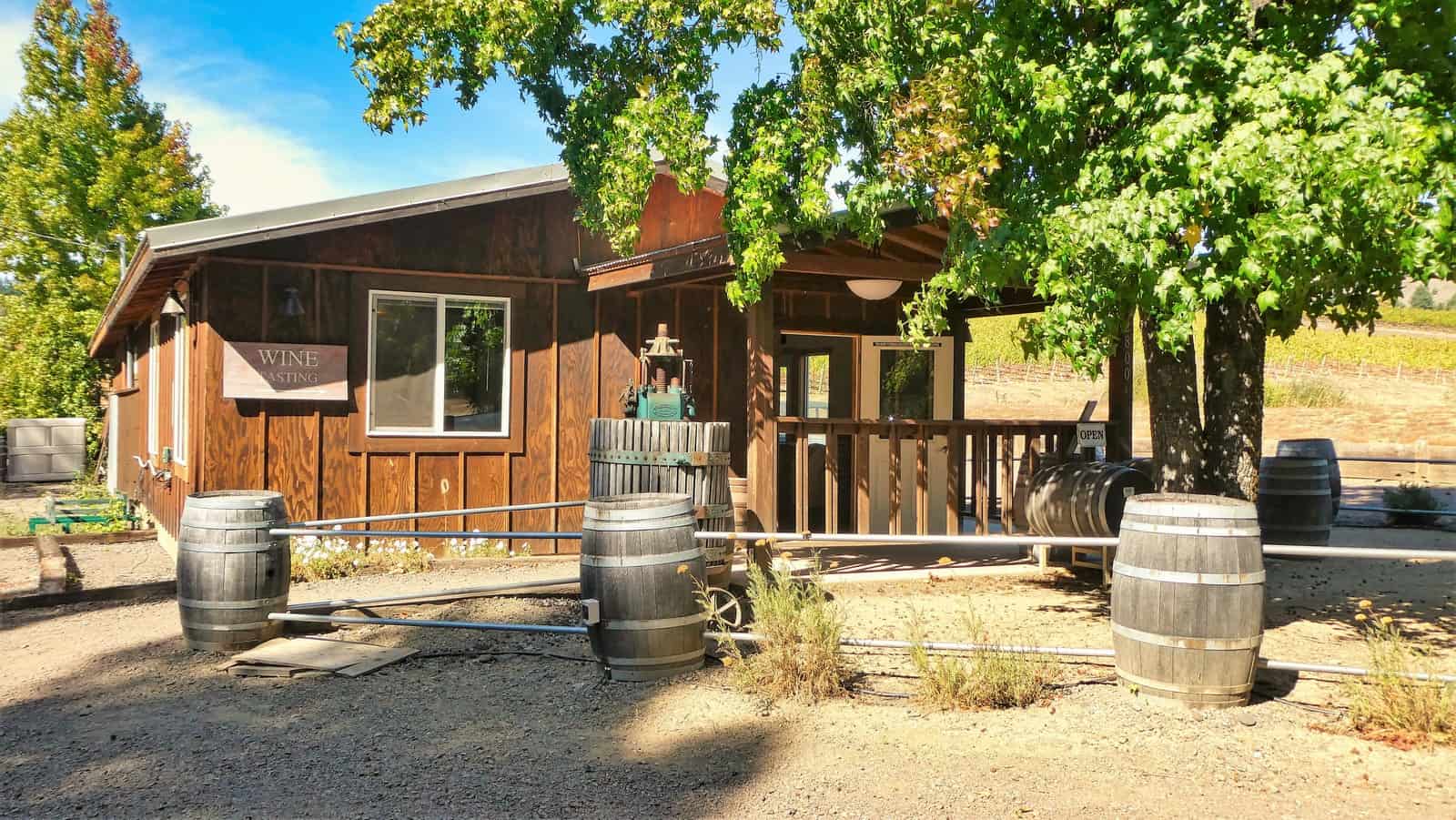 In addition to the 22-acre Lula Cellars Estate Vineyard, they also have the Costa Vineyard and Peterson Vineyard in the coastal town of Little River.
We enjoyed our visit to Lula Cellars tremendously. But what was even more enjoyable was drinking a bottle of Lula wine back home in Cuenca, Ecuador!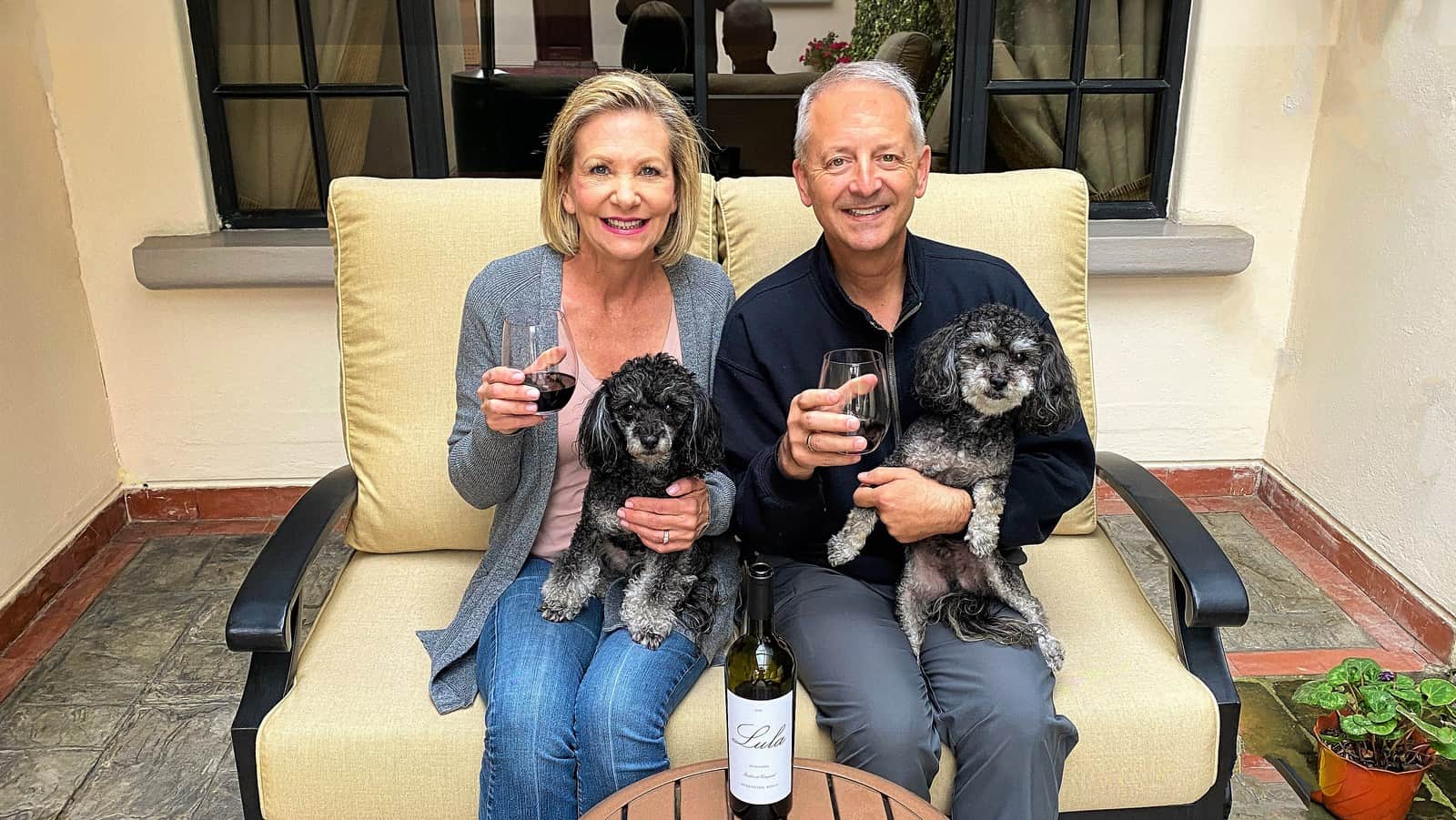 Wine Lovers Stay at the Beautiful Brewery Gulch Inn
The Brewery Gulch Inn is a boutique inn that blends seamlessly with its natural surroundings. The elegant inn overlooks Smuggler's Cove.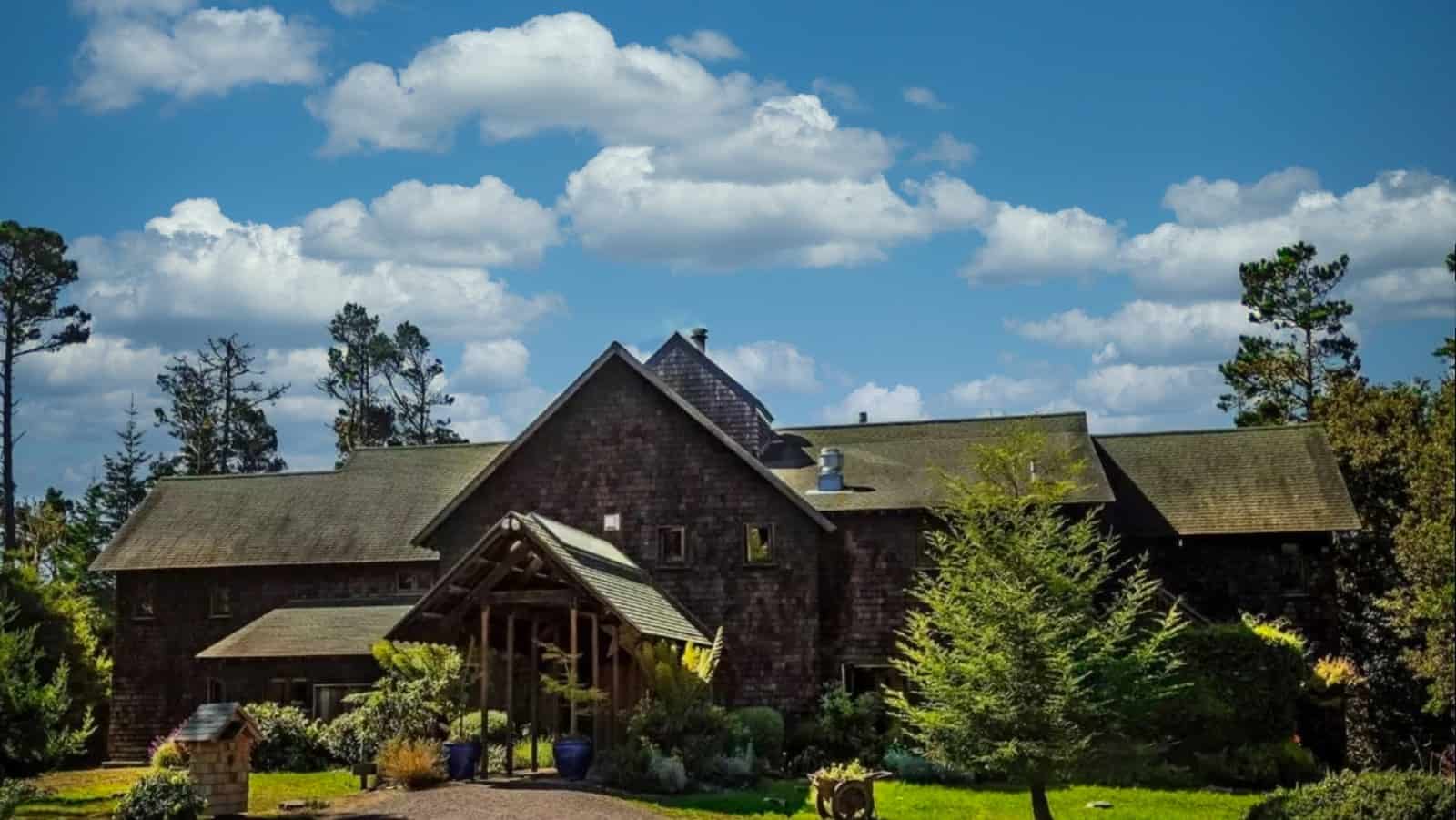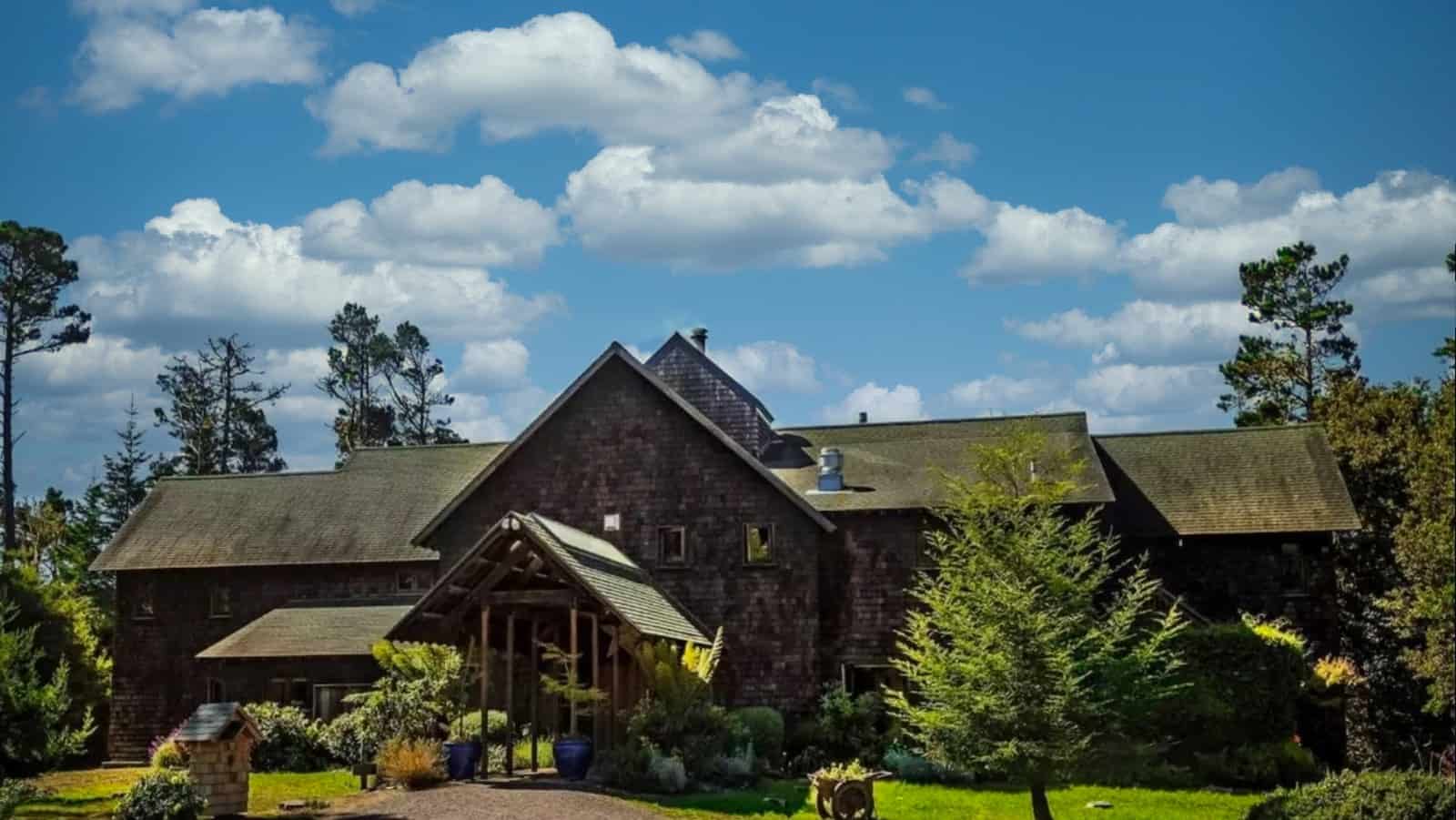 As you walk into the inn, you immediately see the great room with its four-sided glass and steel fireplace. Unlike most lobbies, this gathering place with its overstuffed furniture is almost always in use; it's the heart of the inn.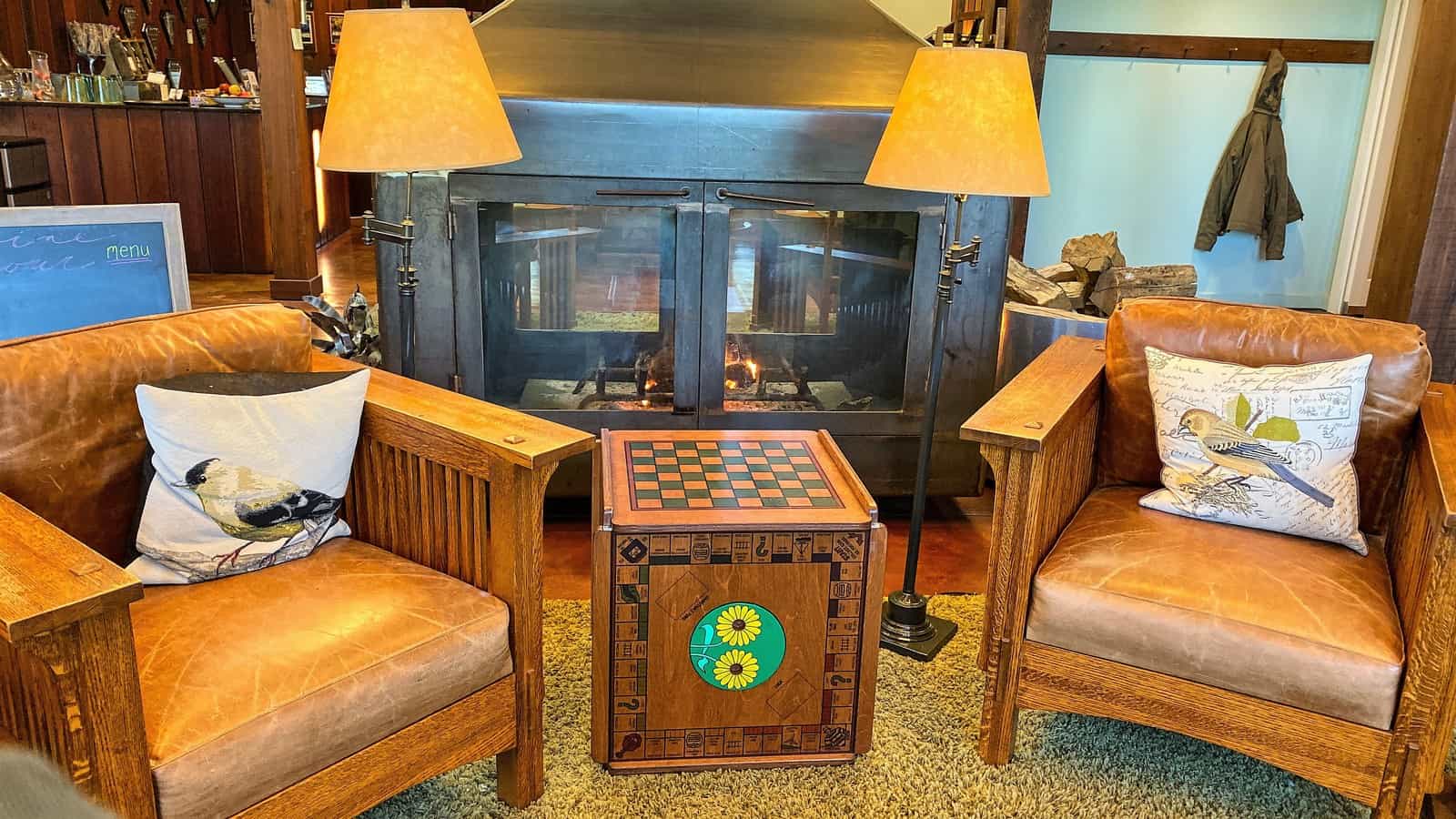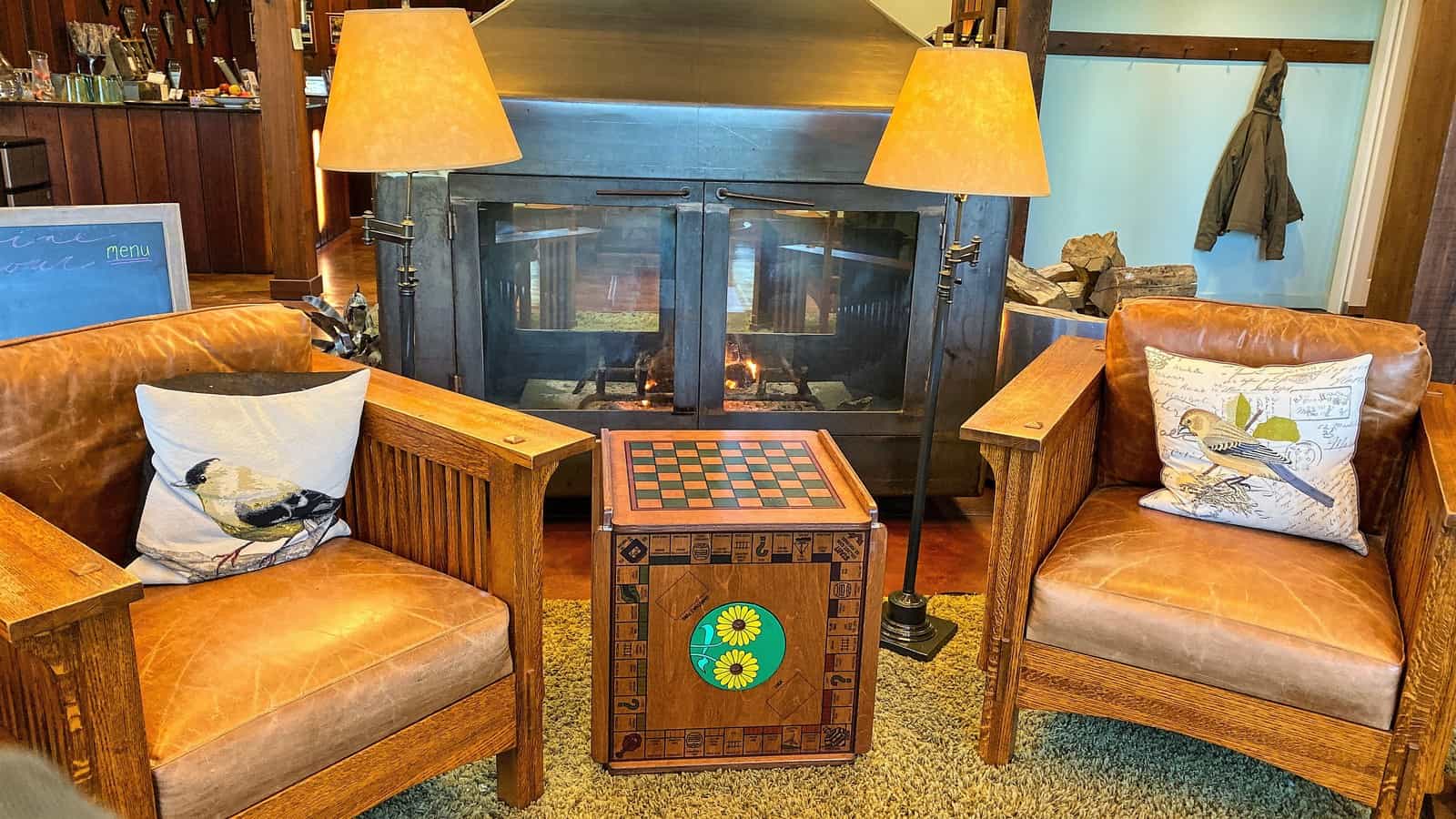 The inn has 11 rooms or suites. Our room was the Raven, a second-floor corner king room with French doors that open to a private balcony and ocean view. There was also a fireplace with two club chairs and a writing desk. Our large bathroom had a two-person soaking tub with a shower, and the toiletries were Molton Brown bath products, which I love. Like we often say, where we stay is as important as where we are visiting. Certainly, we could see coming to Mendocino just to stay at the Brewery Gulch Inn.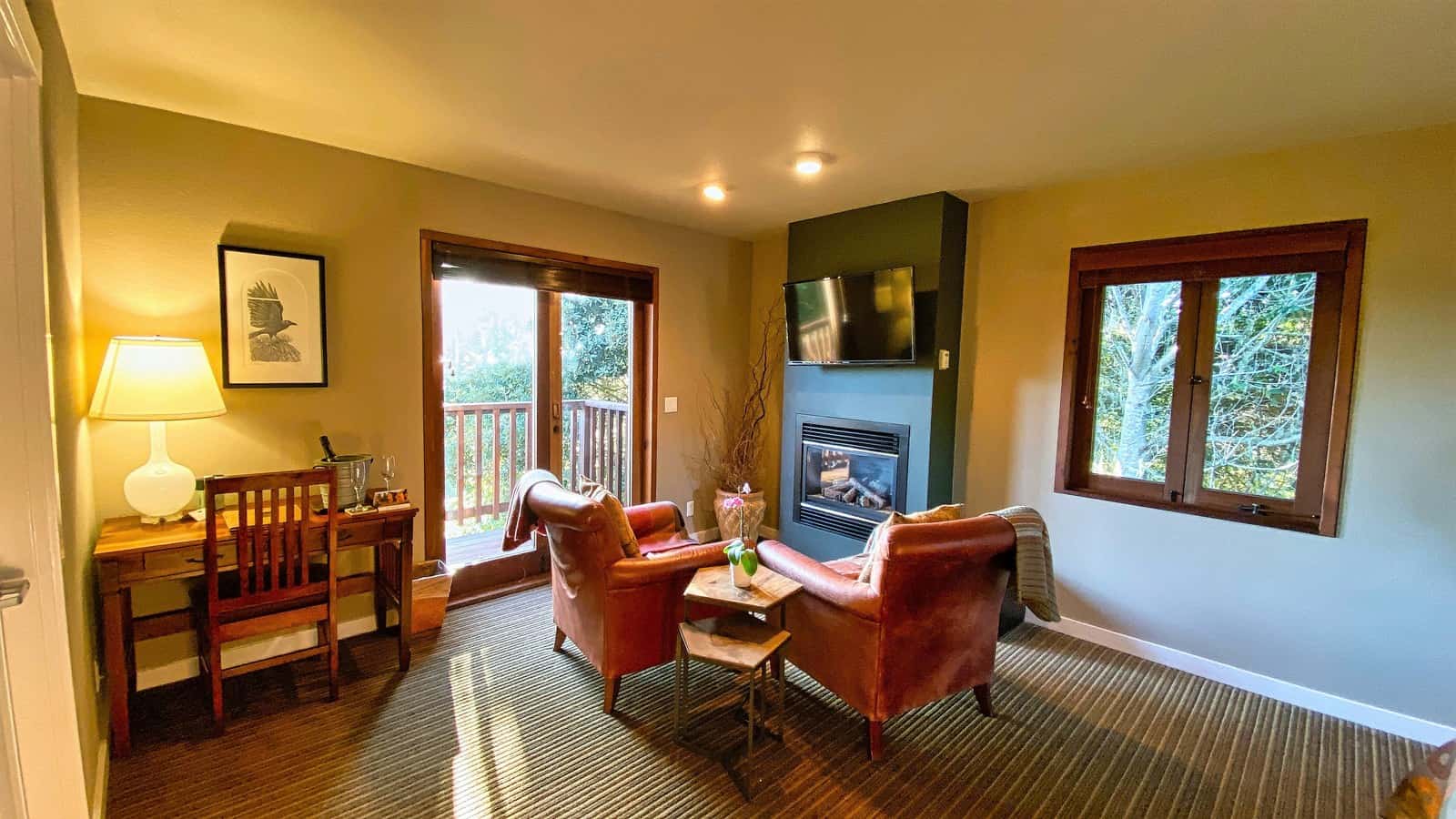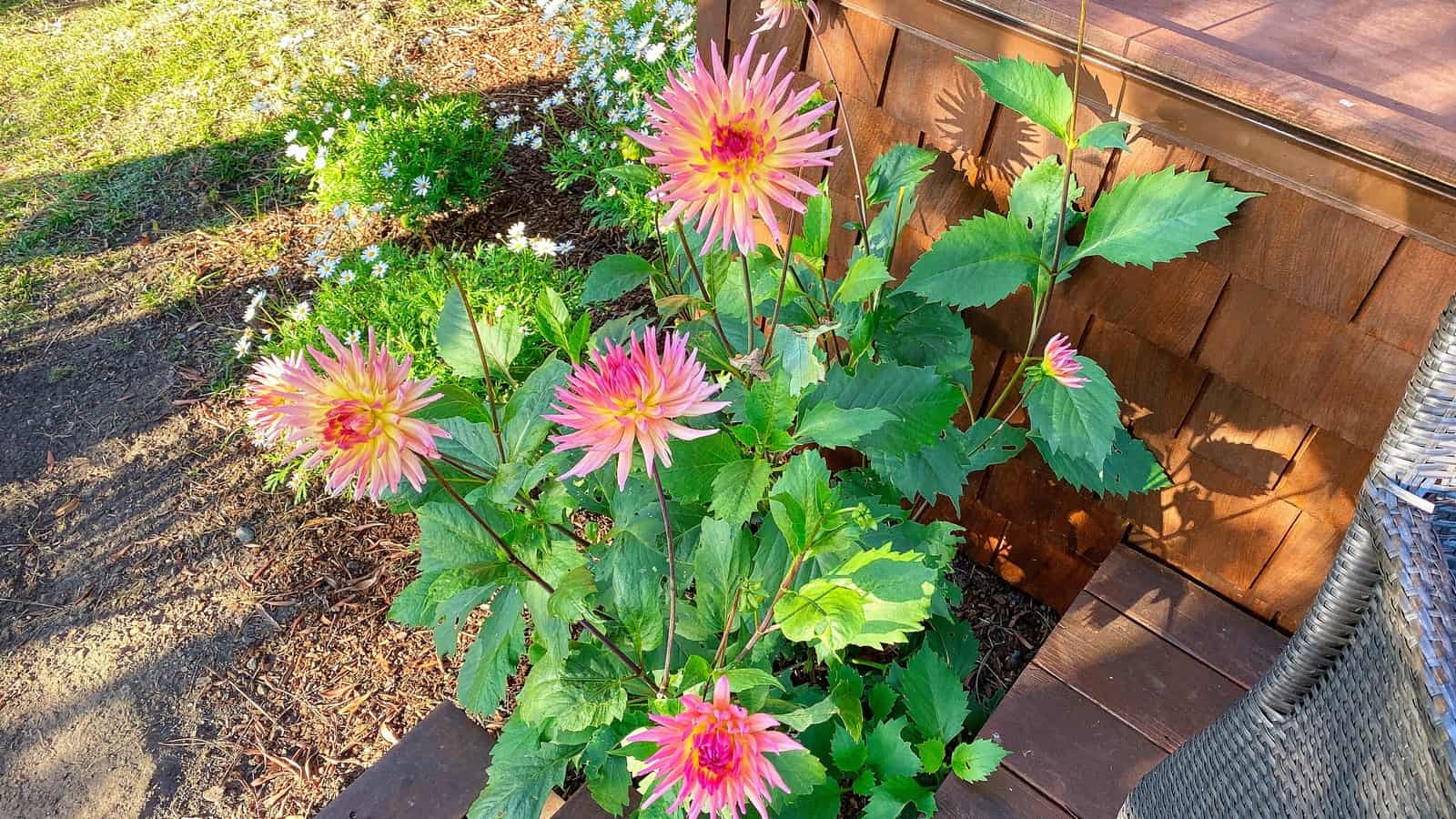 Throughout the day, a large selection of teas, coffee, along with some fresh pastry and fruit, are always available on the sidebar in the great room. Also. there are books, DVDs, and games for use anytime. Additionally, the great room opens to a beautiful outdoor patio with bird feeders and amazing views. Watching the sunset over the ocean and the birds flitting to and from the feeder on the deck is an experience you won't want to miss.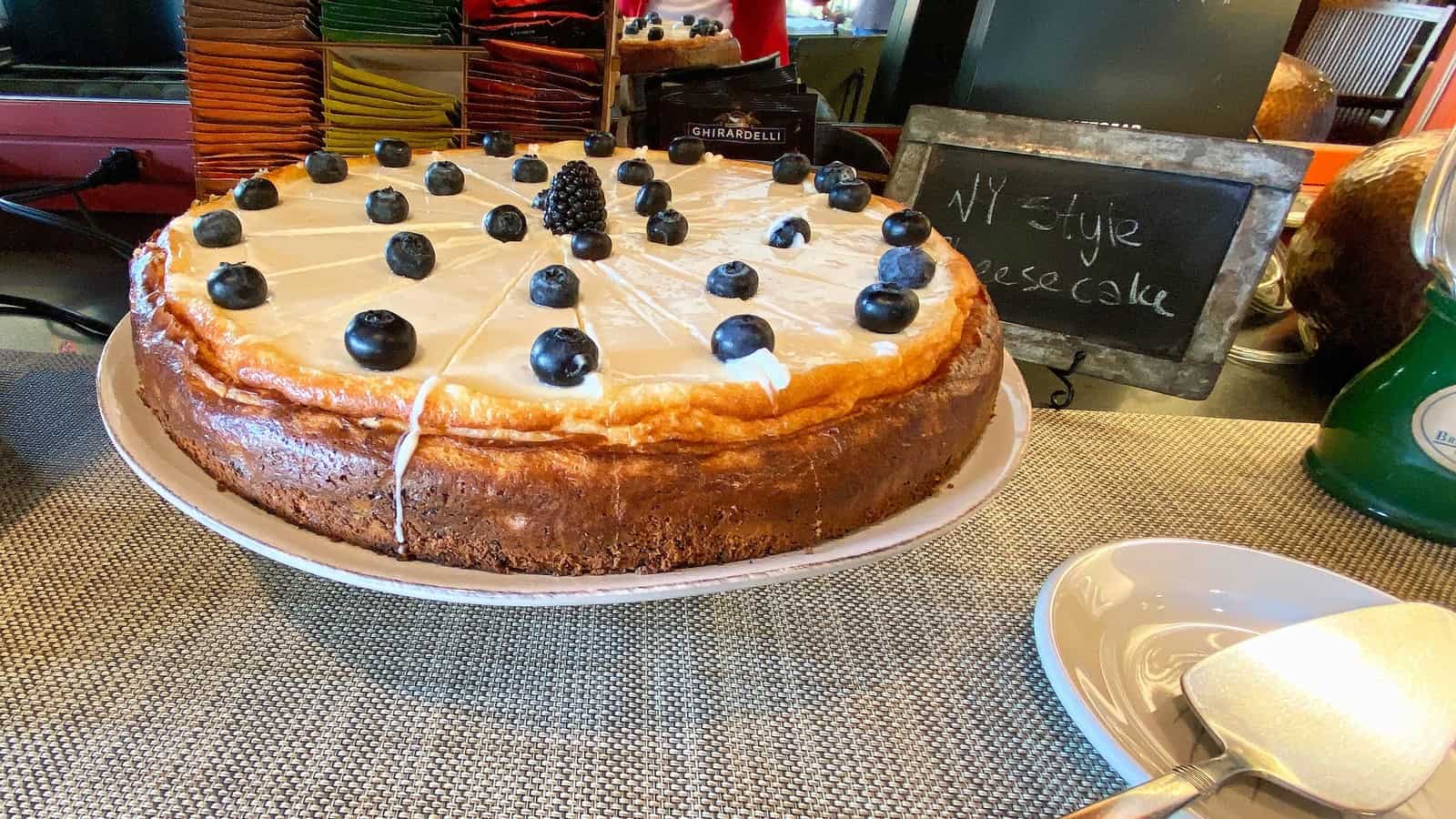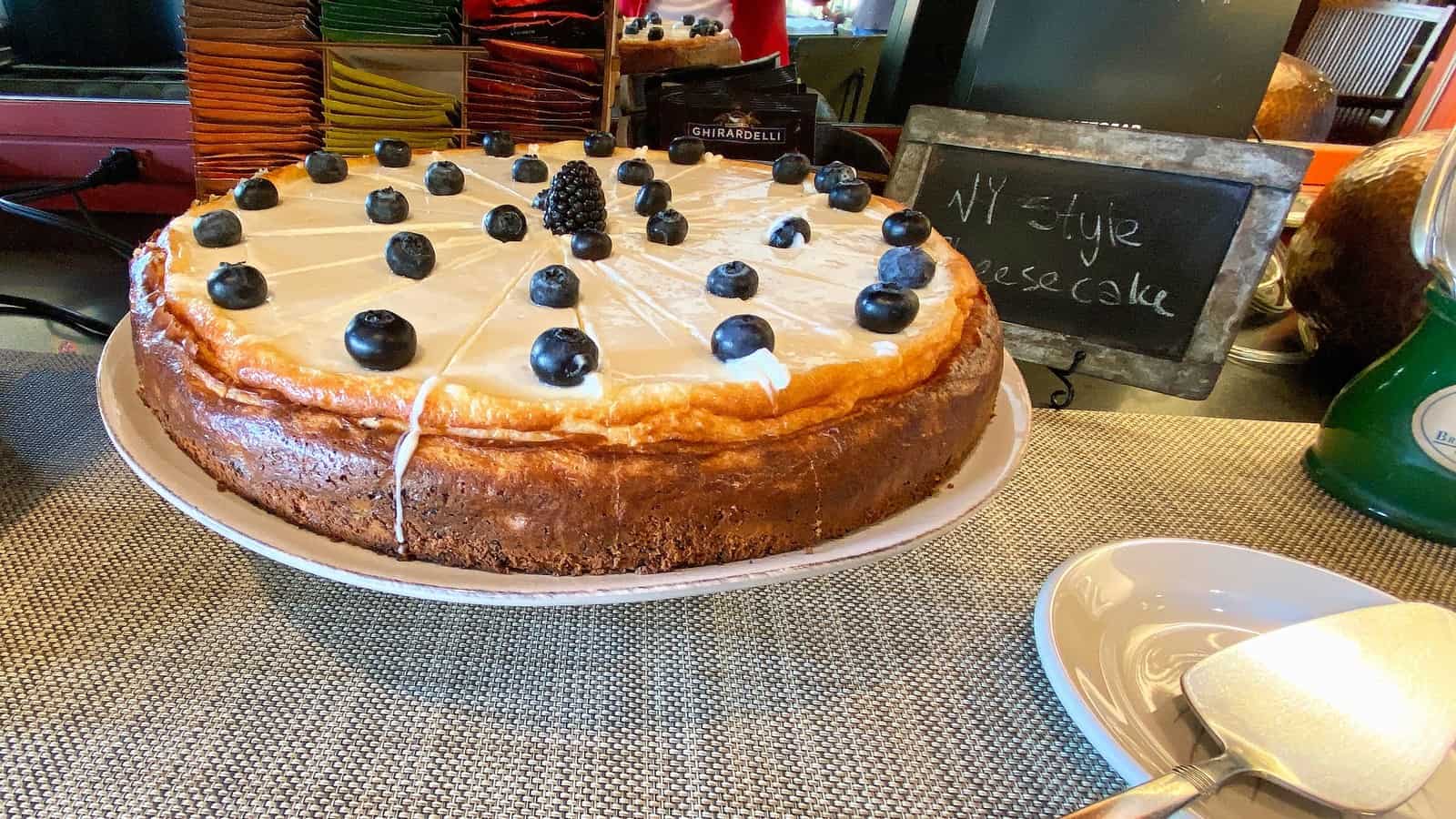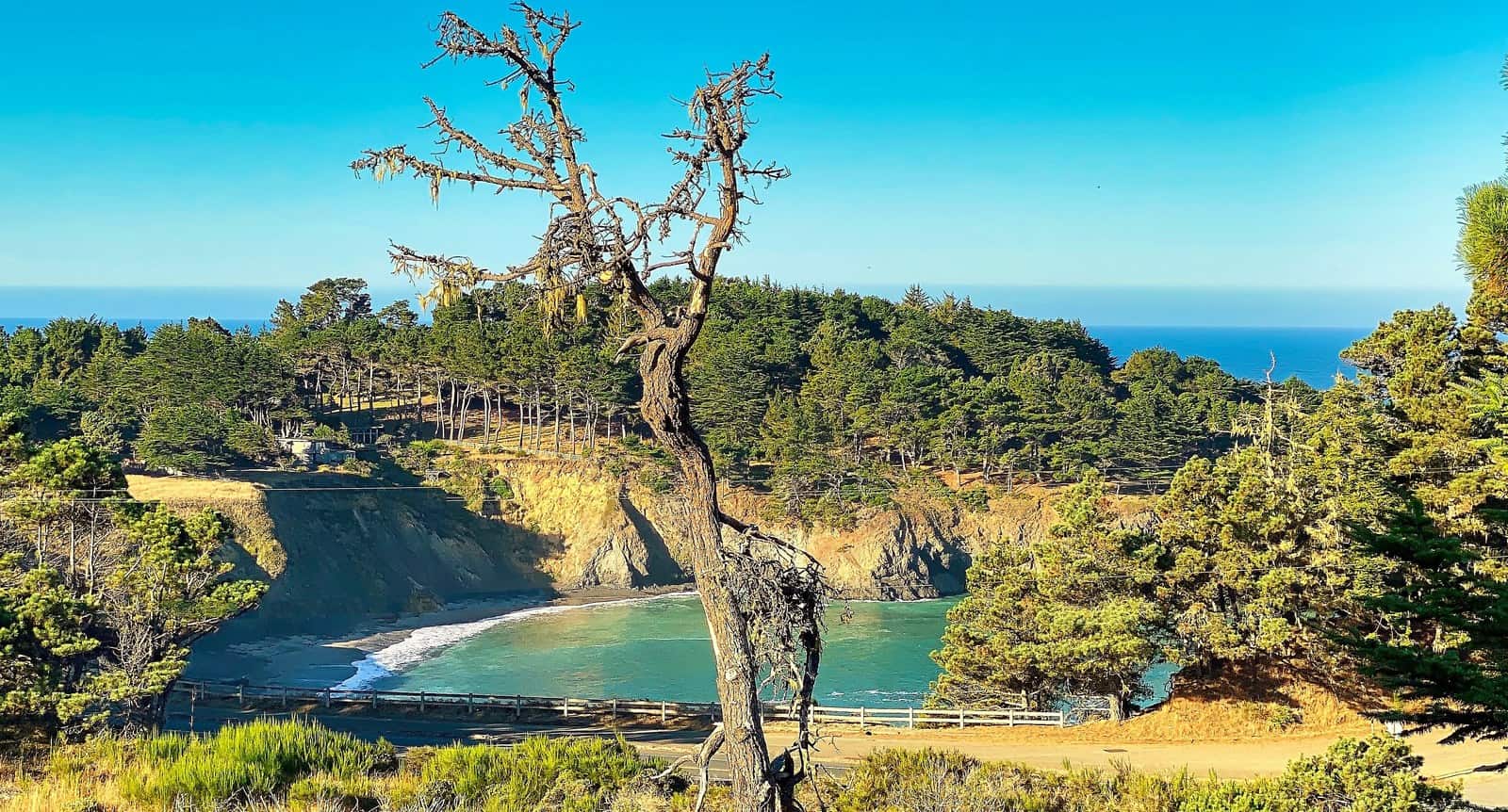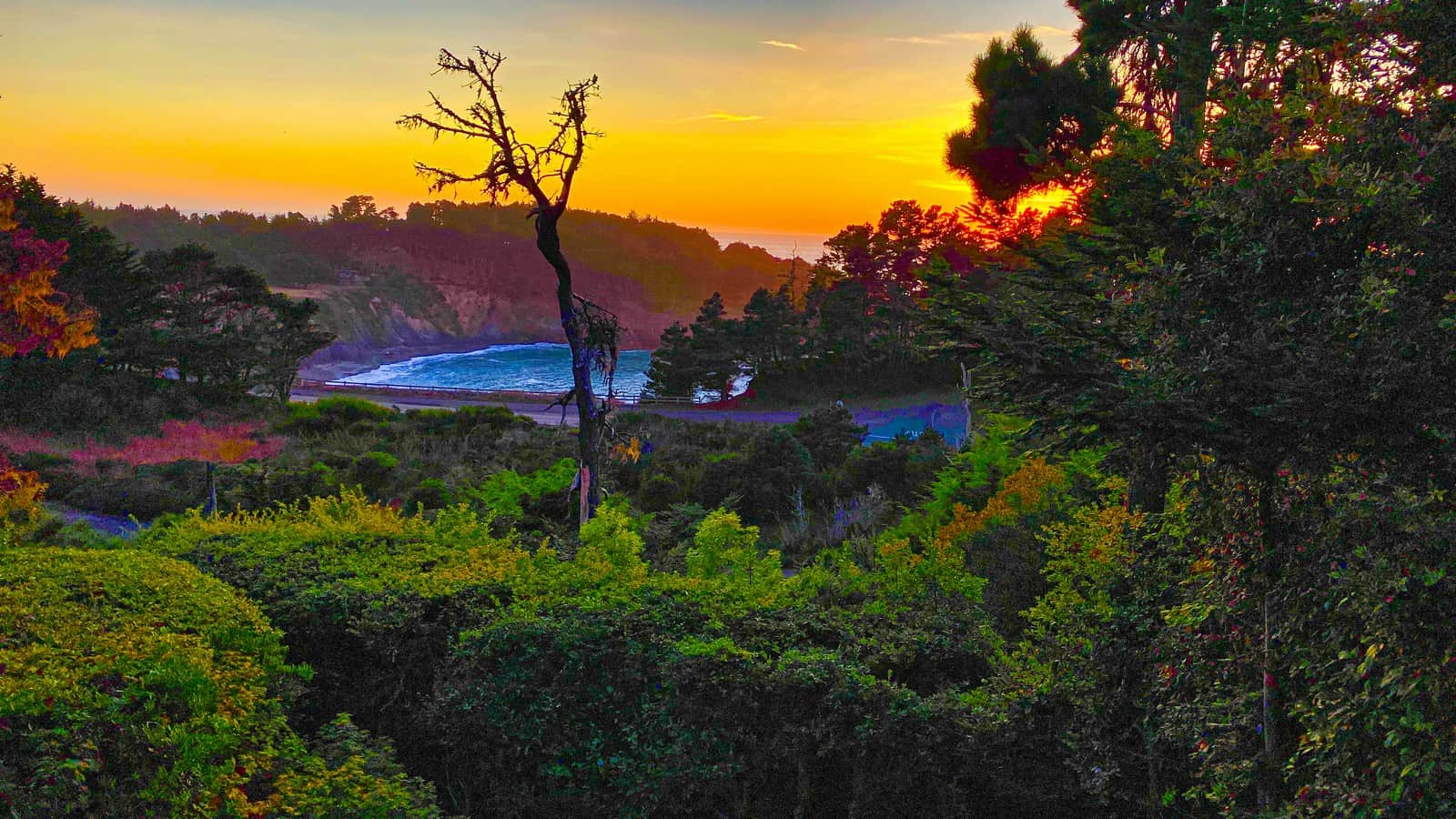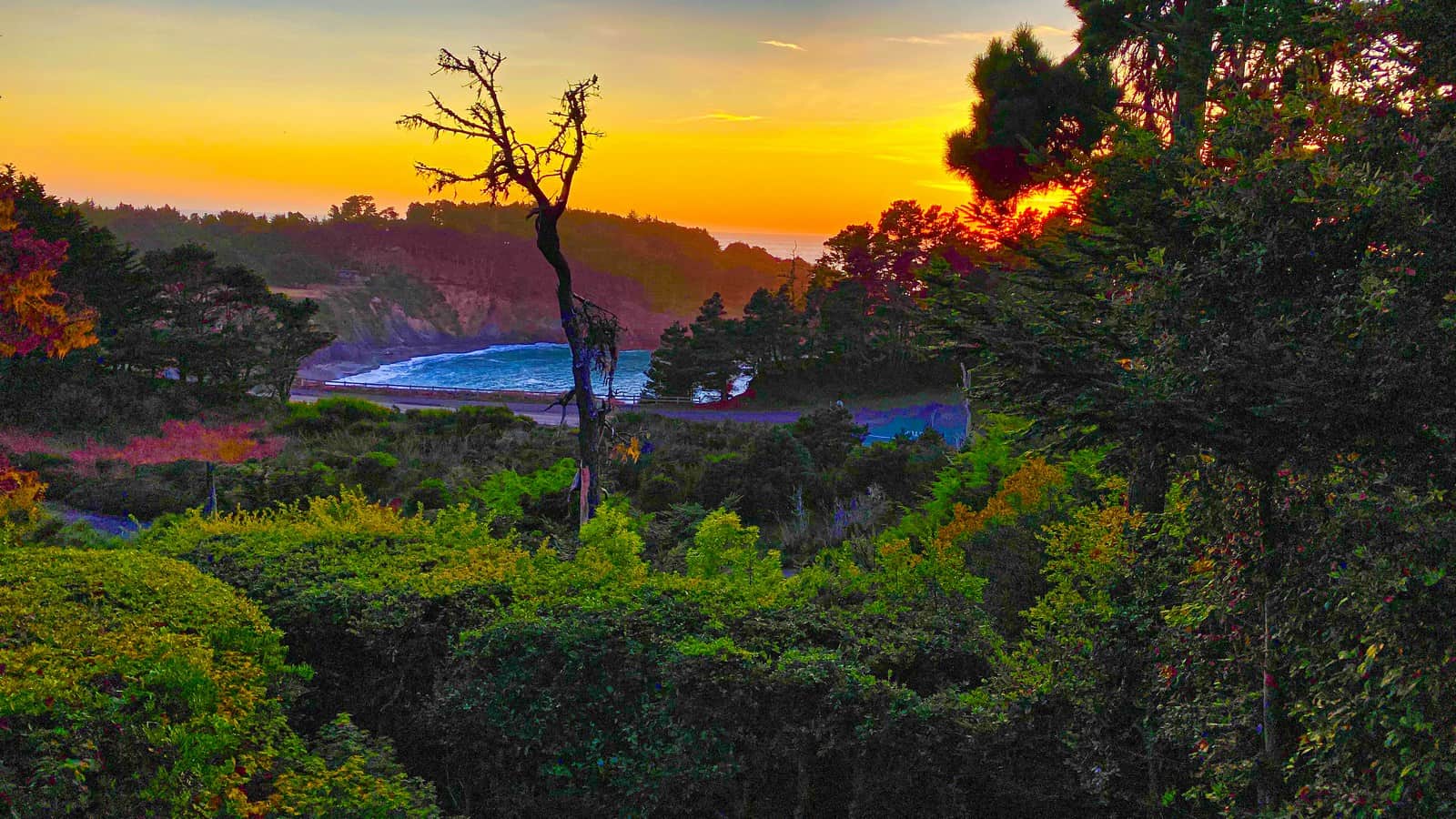 Most important all guests enjoy a gourmet, cooked-to-order breakfast, evening wine, and a light dinner buffet. The chef uses organic and locally sourced products for their farm-to-table meals. Thus, the evening wine hour is a great time to get to know other guests and make new friends.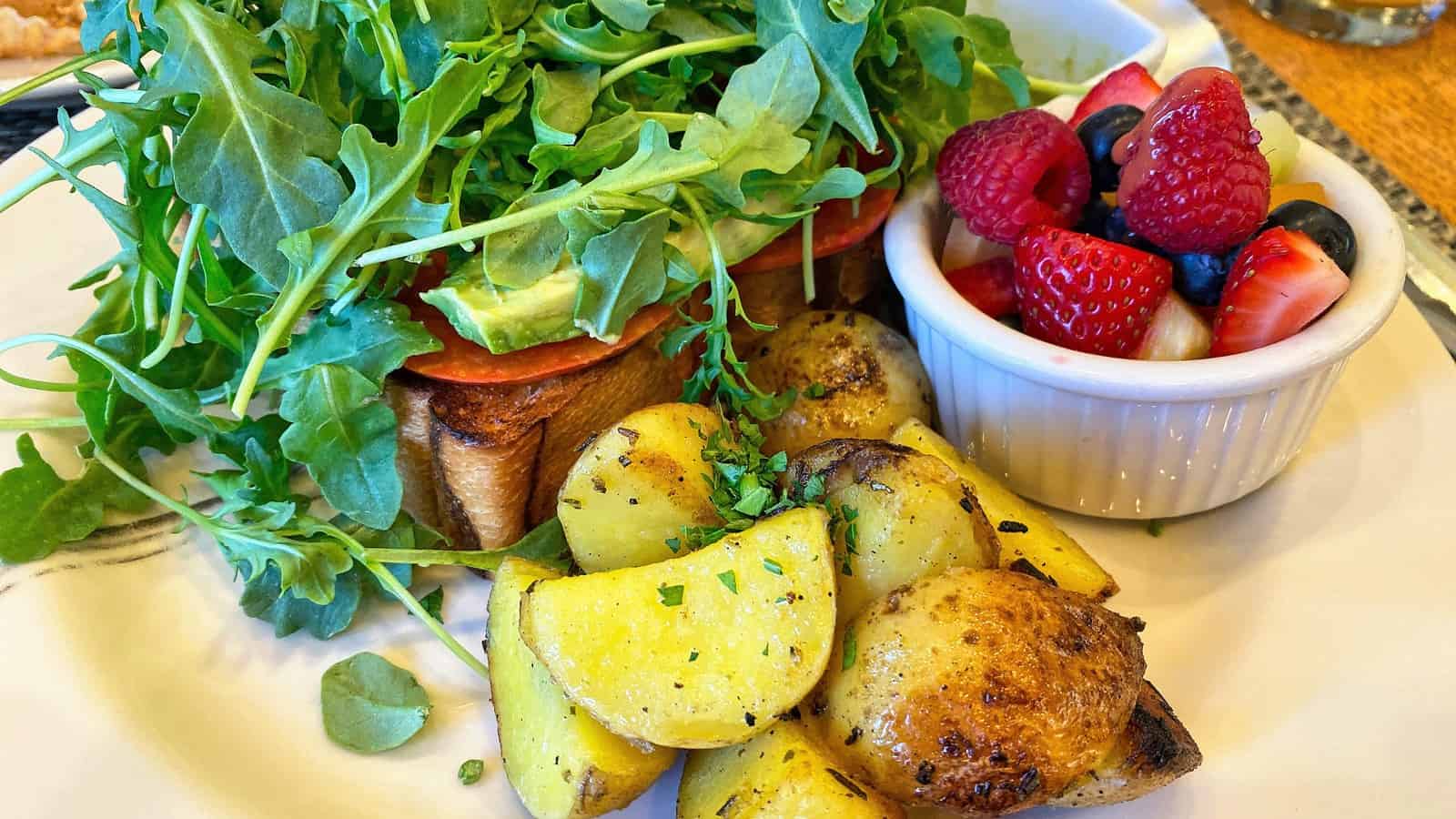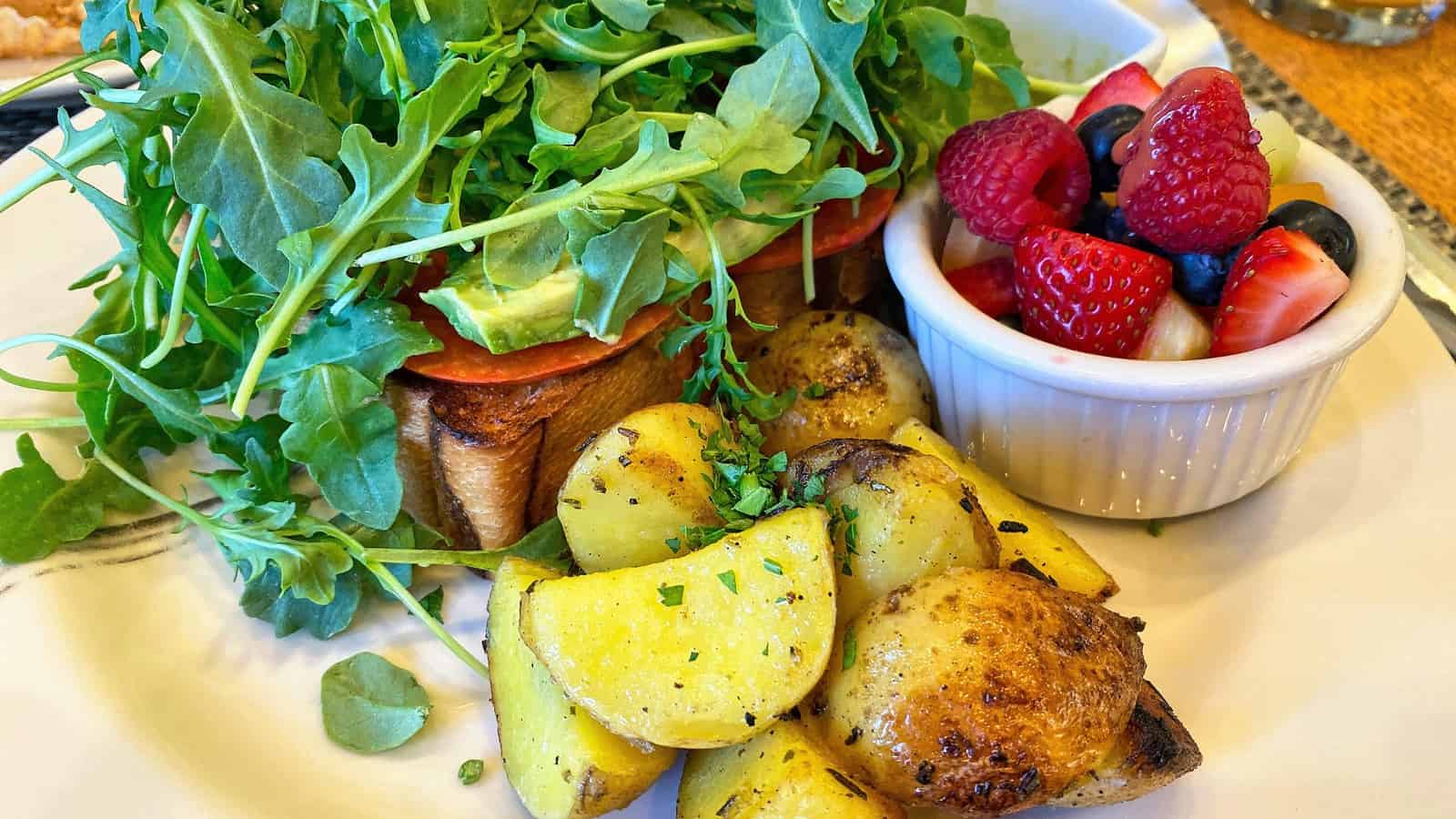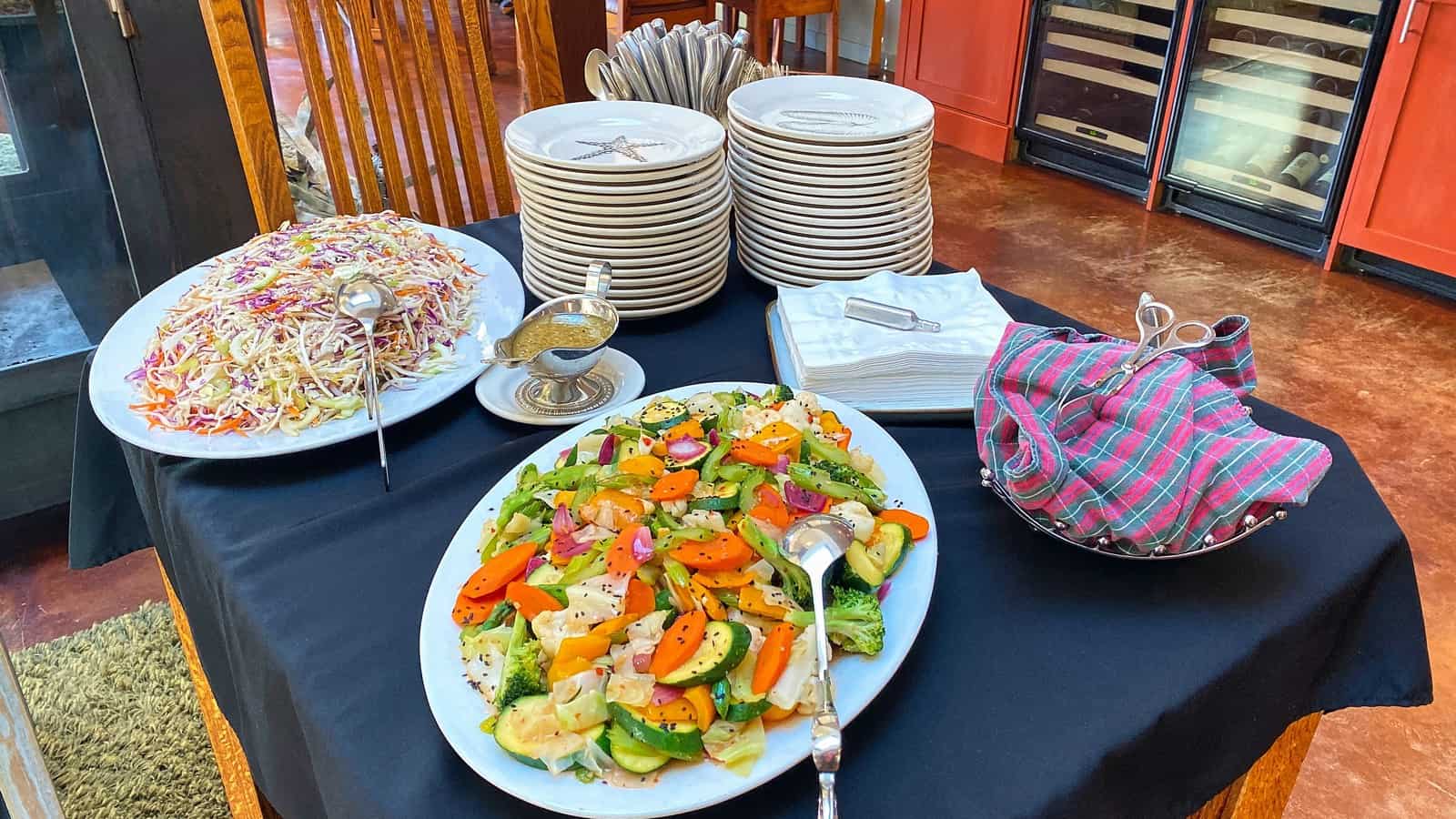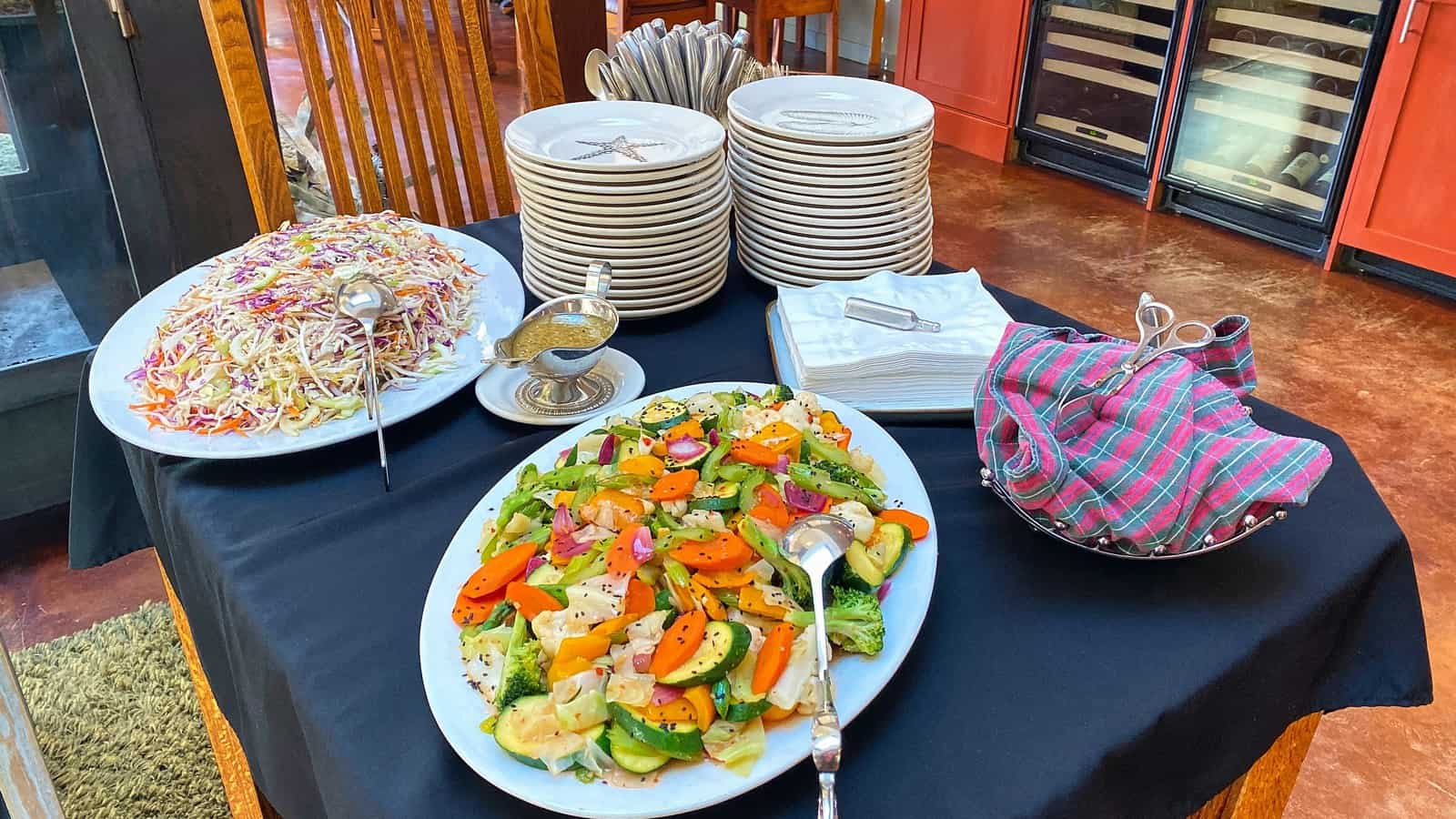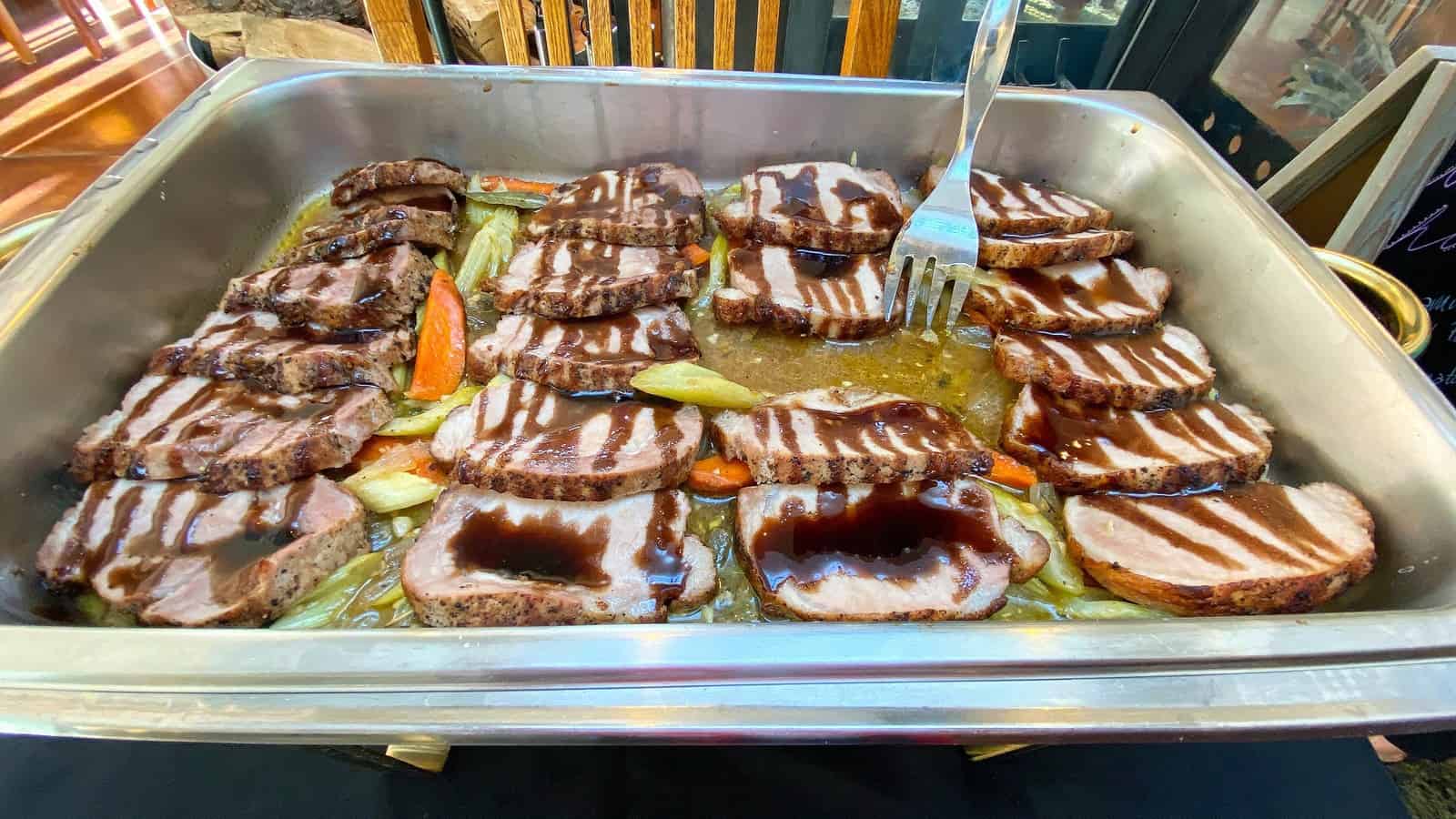 With its amazing hospitality and wonderful gourmet food, It was hard to leave the Brewery Gulch Inn when our stay was over.
Skunk Train
To really experience the charm of Mendocino Country, take a ride on the Skunk Train. As you board the train, you step back in time. That is because this same train has made its way through the redwood groves of Mendocino since 1885. You will travel over trestle bridges, through spectacular tunnels, and into the heart of the Noyo River canyon. Evidently, locals say the views have remained largely unchanged for well over a century.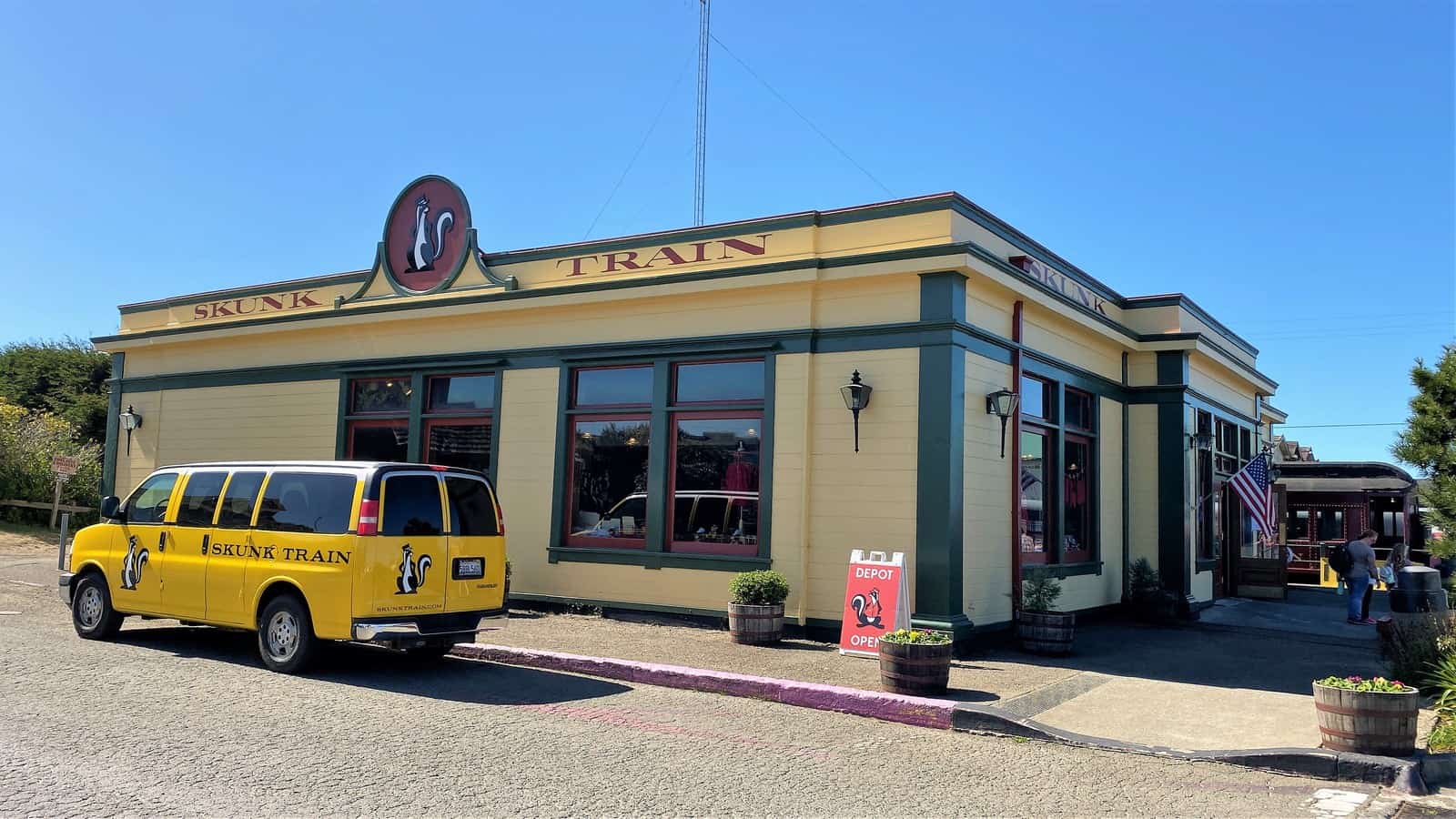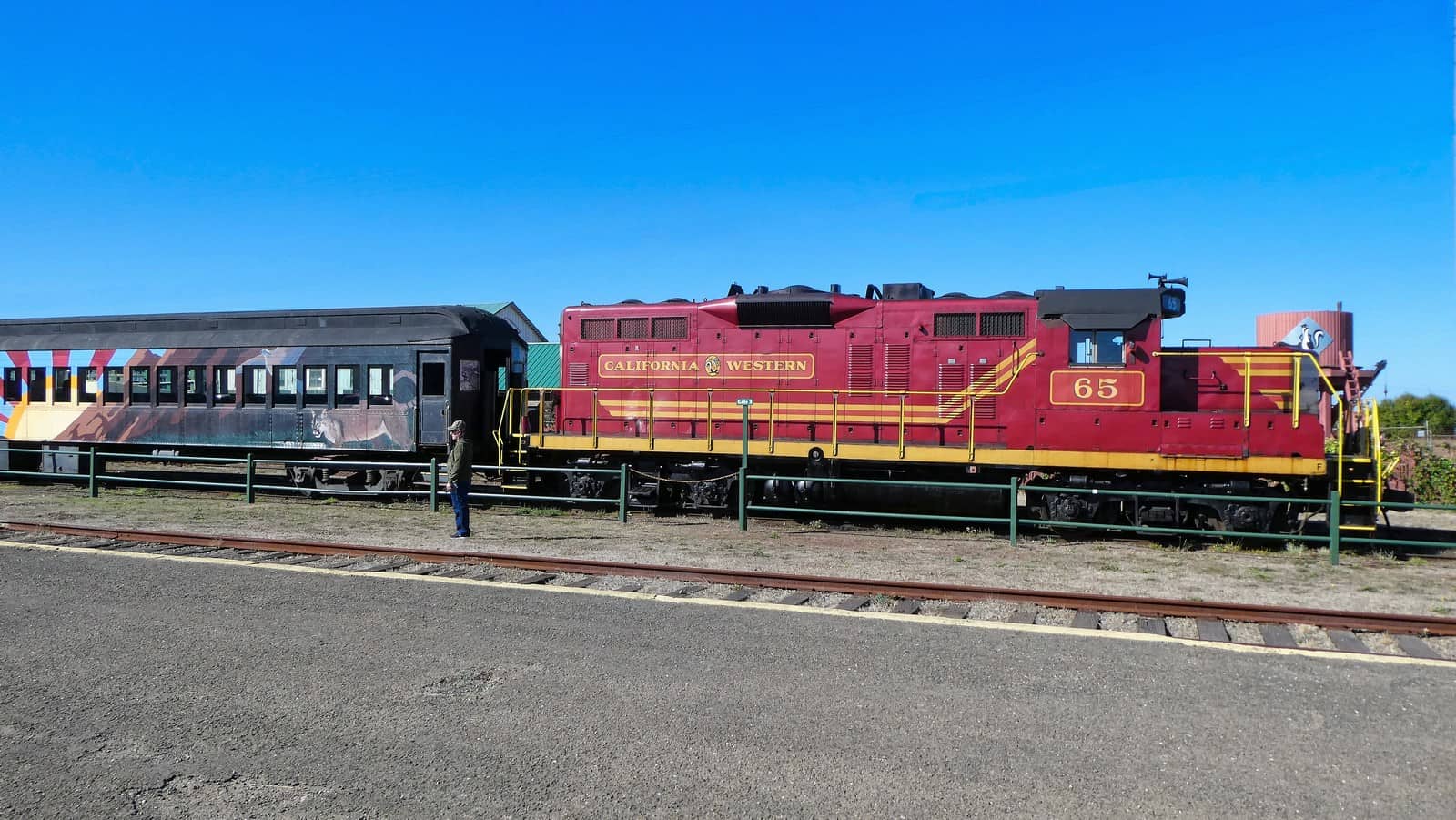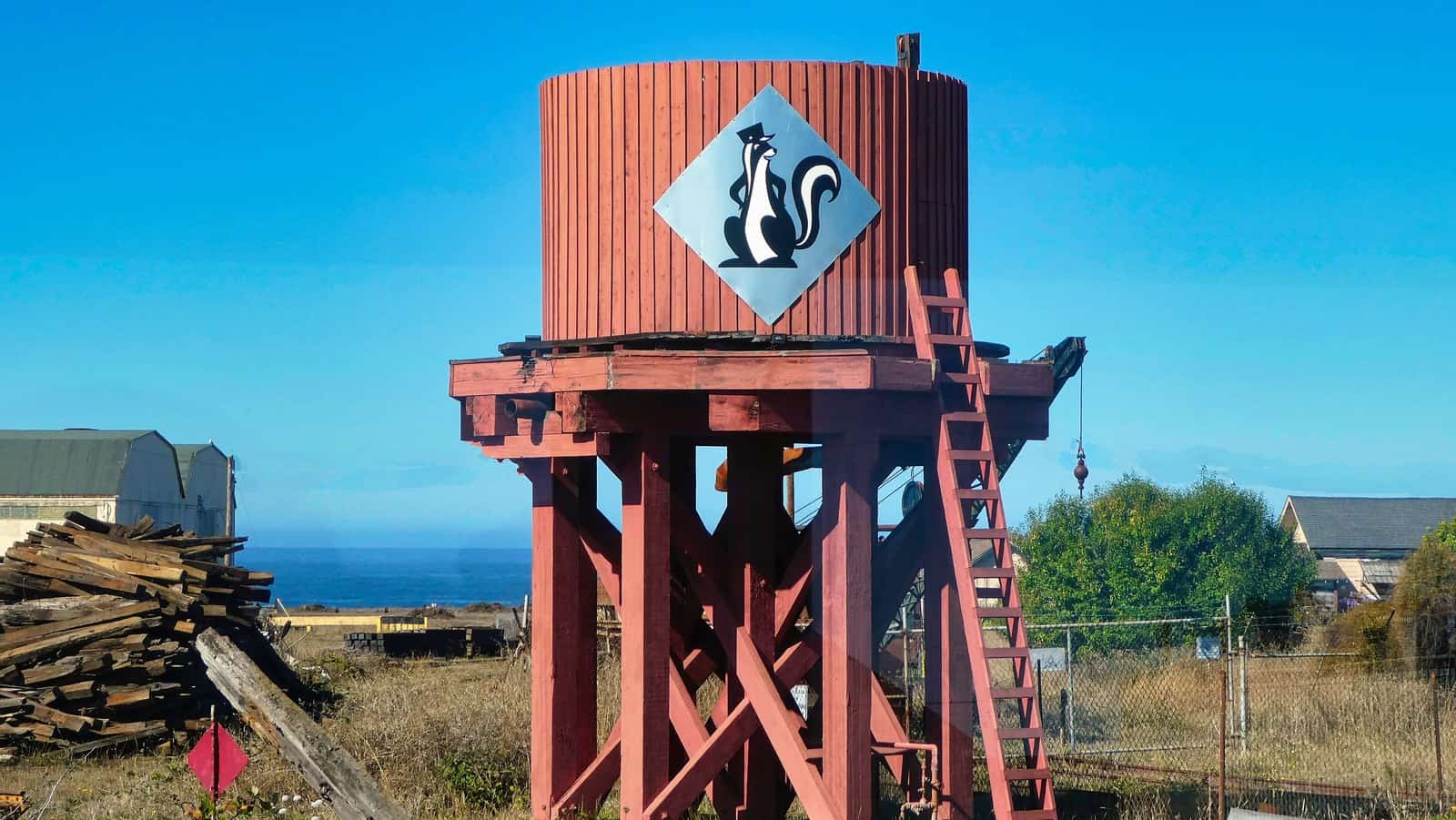 The Skunk Train is a heritage railroad, running from the railroad's headquarters in the coastal town of Fort Bragg to the interchange with the Northwestern Pacific Railroad at Willits.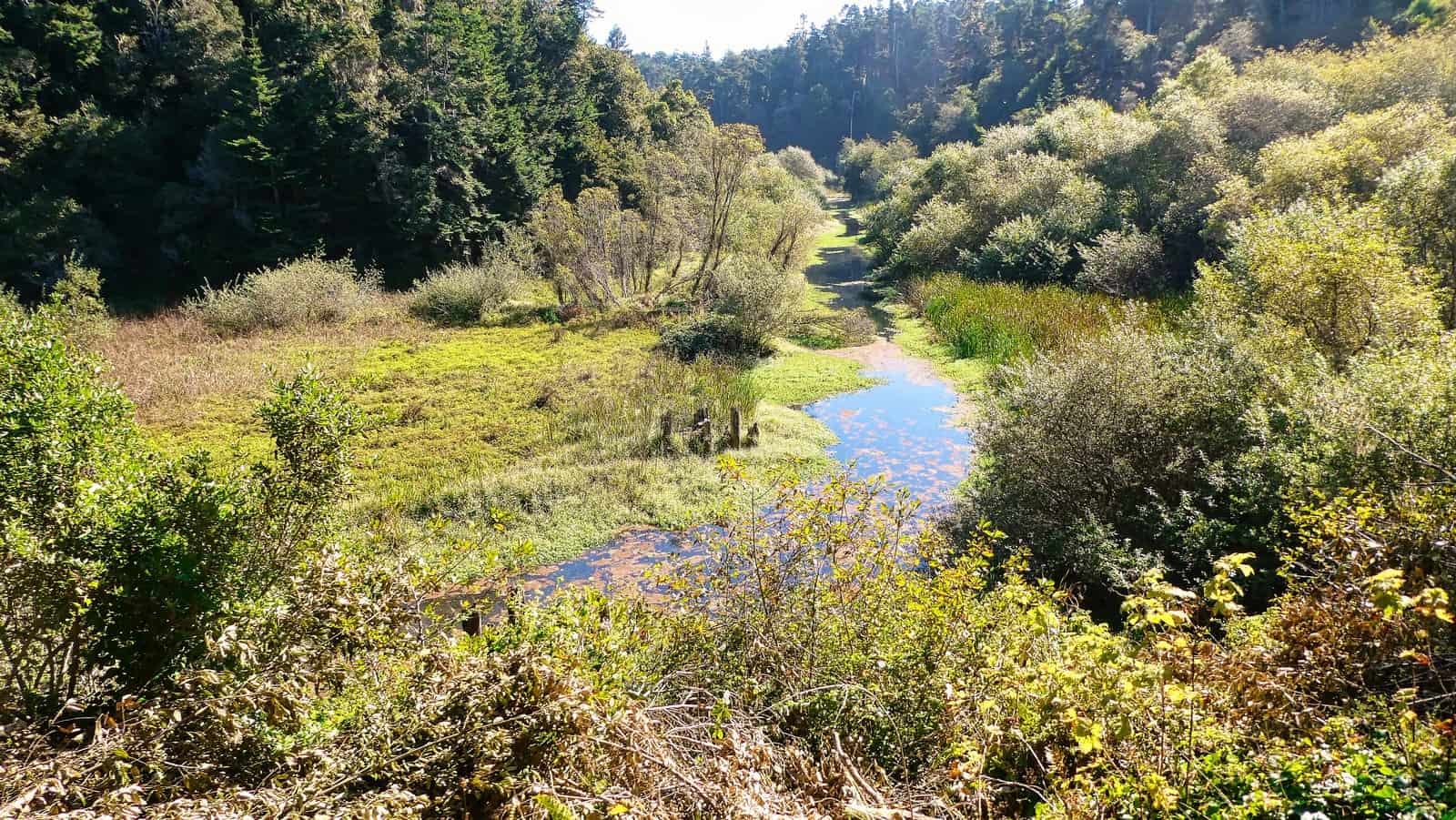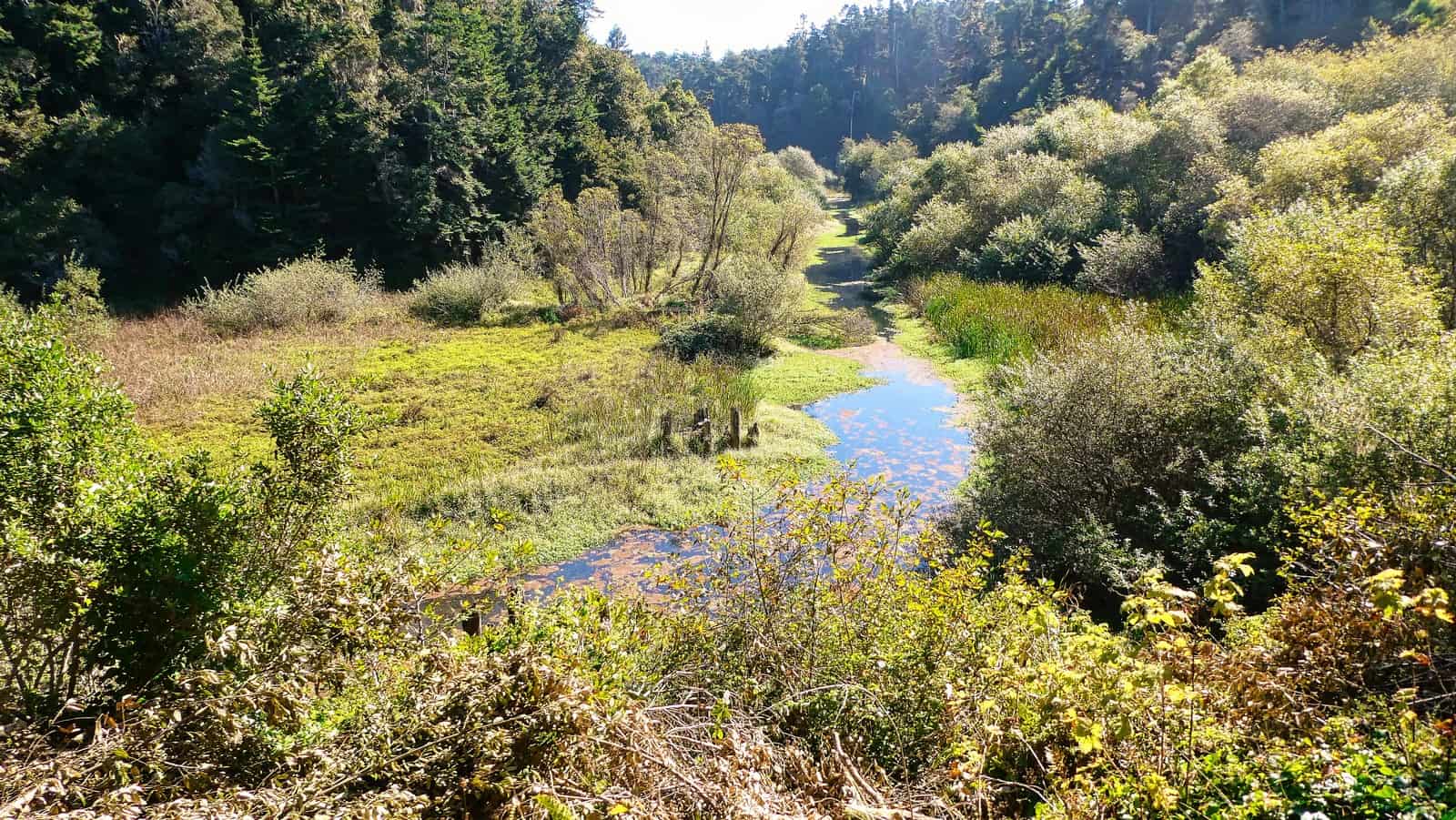 Accordingly, the railroad was originally built by the Fort Bragg Redwood Company to bring redwood logs to Ft Bragg.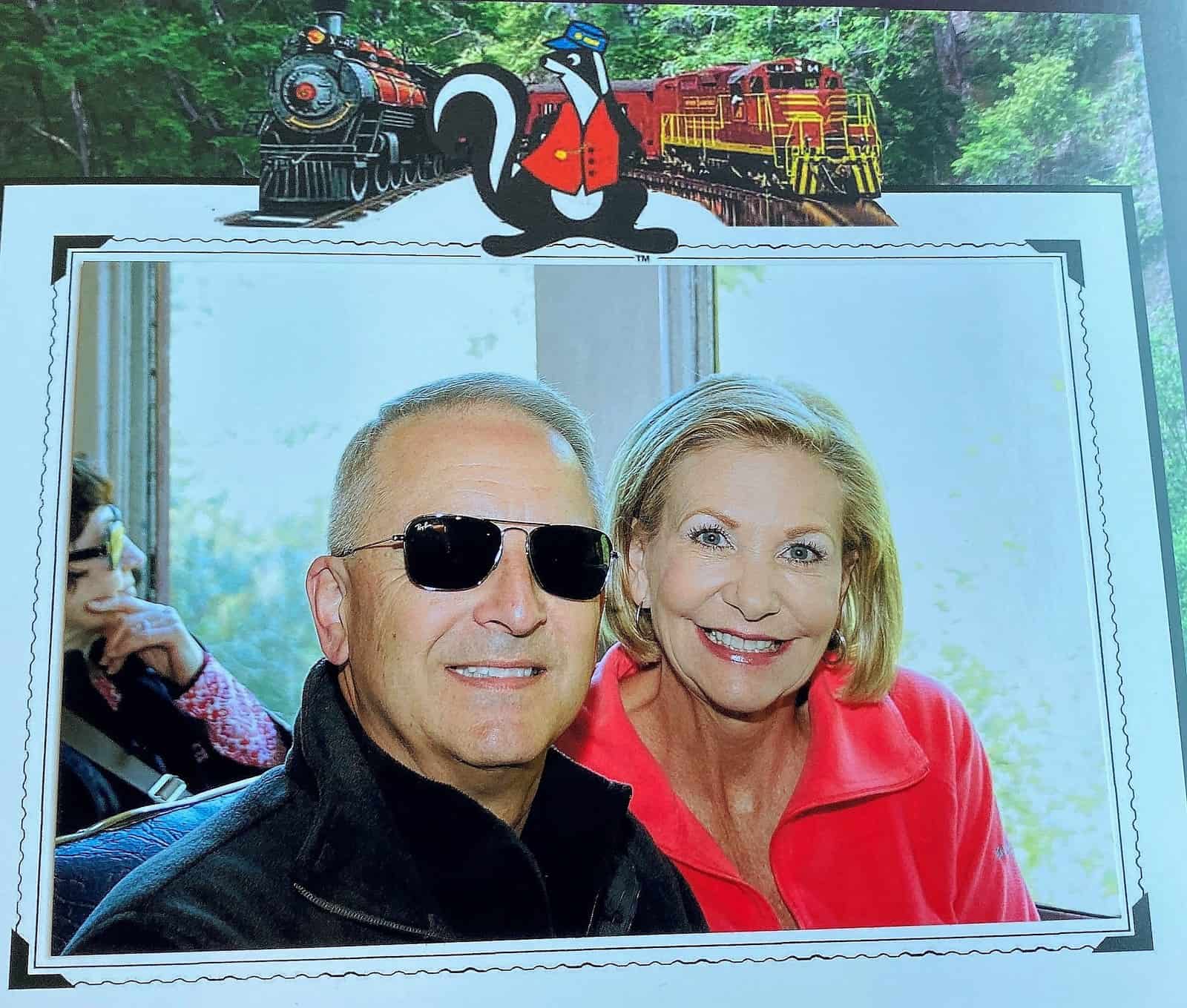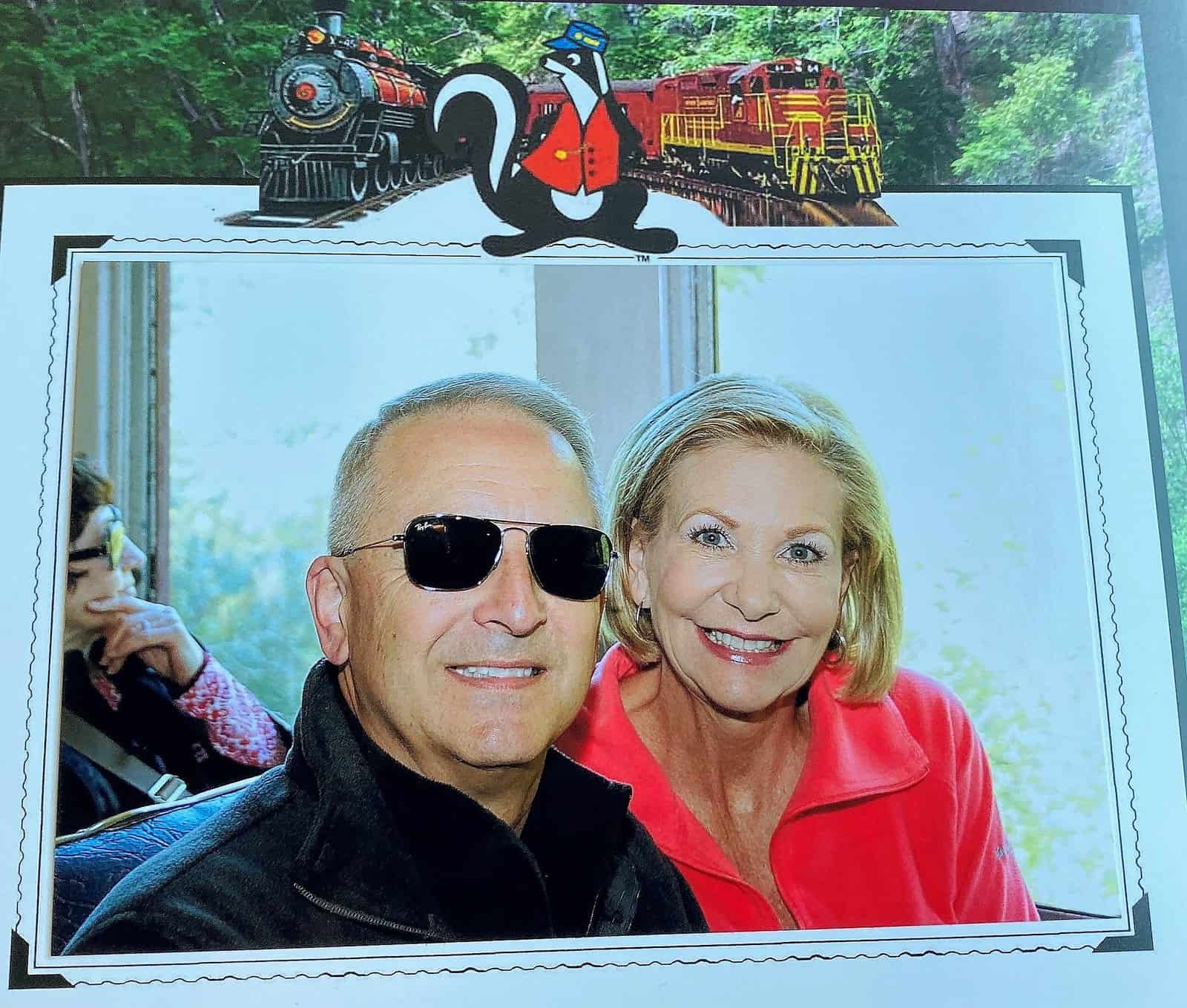 Finally, after your ride on the train, you will have complimentary entry into the Model Train Museum located behind the depot. The Model Train Museum is small, but they have several trains running along intricate tracks through villages throughout. The docents working at the museum are eager to talk and tell the story of each train.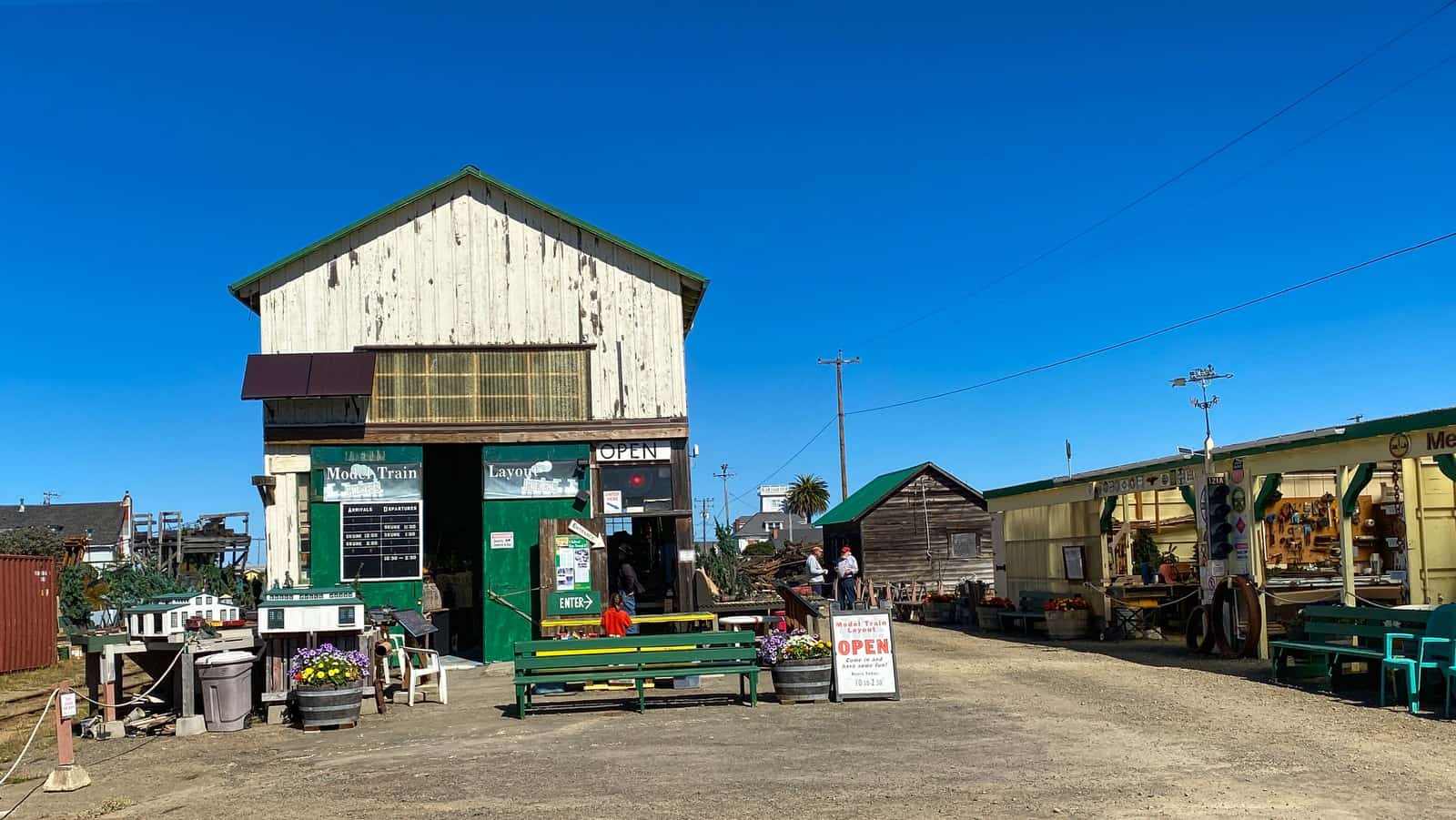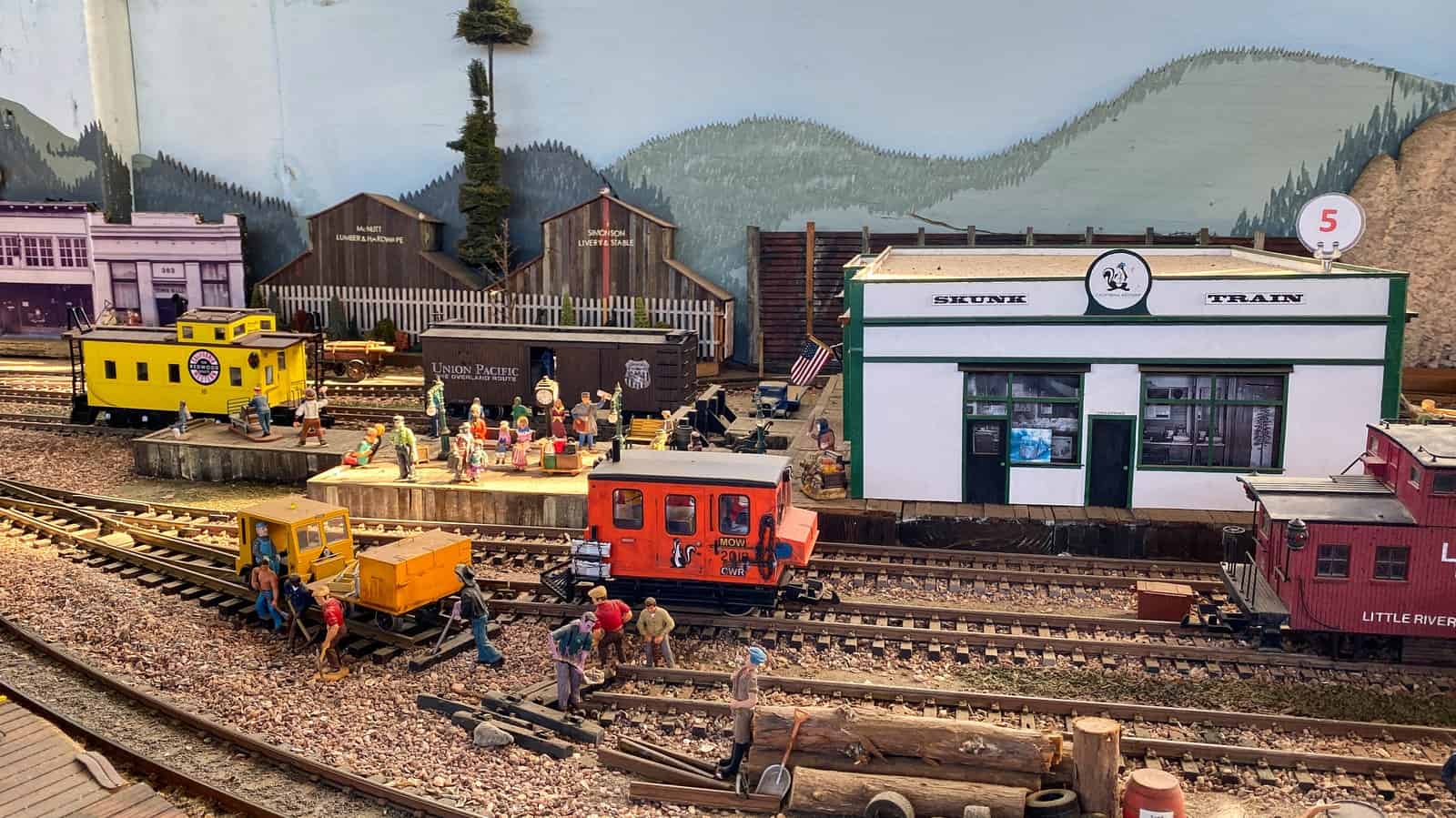 Fort Bragg, Spoiler Alert it was Never a Fort
Interestingly, Fort Bragg began before the American Civil War as a military garrison, not a fortification. Fort Bragg, like Mendocino, has picturesque coastal views. There is a charming historic downtown filled with restaurants, boutiques, and galleries that are unpretentious. Fort Bragg has a unique character due to what remains of its historic Victorian-era architecture and traditional downtown buildings of the 1860s to the 1930s.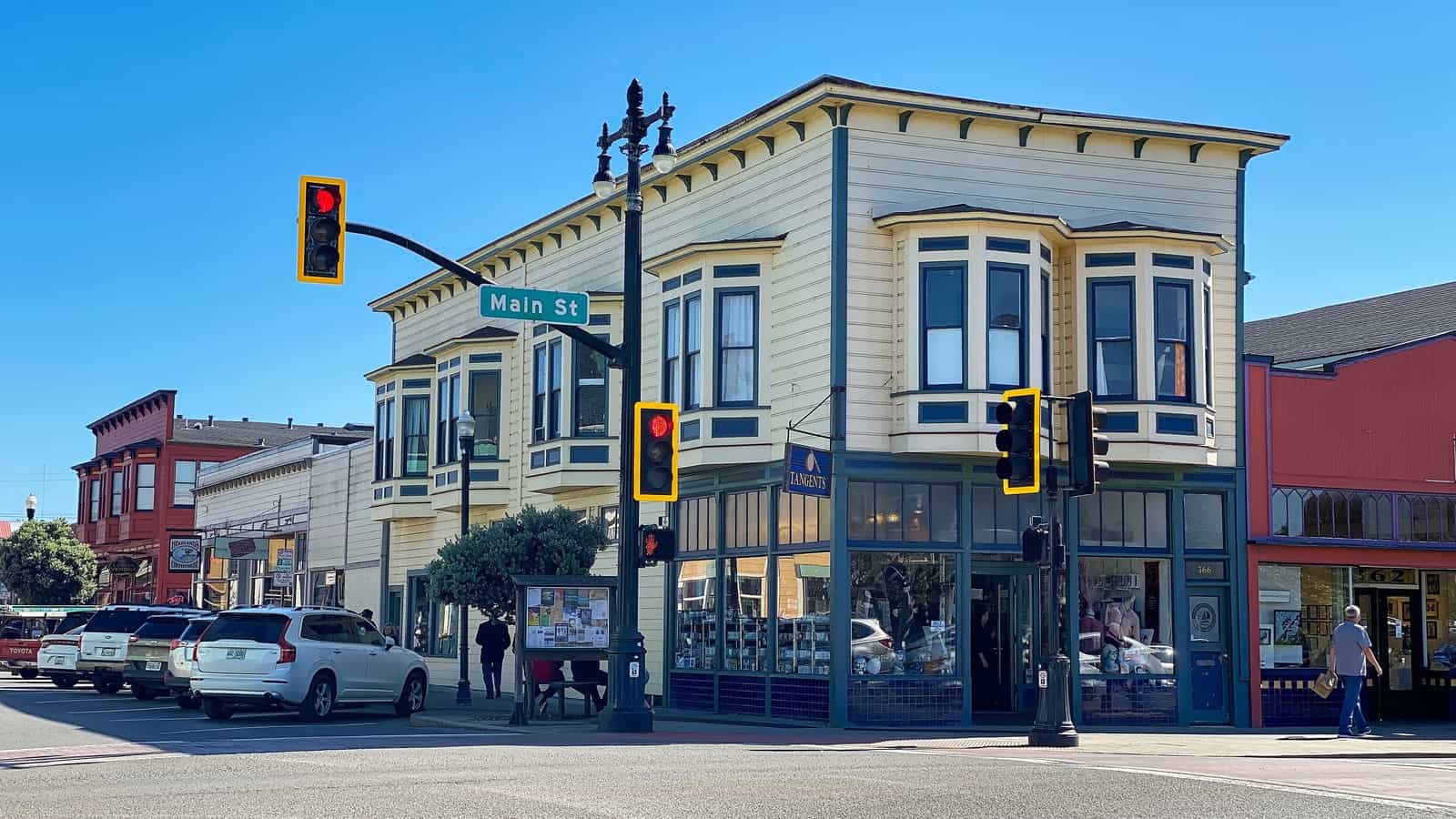 Wild and Untamed Mendocino
After riding the Skunk Train and a visit to Fort Bragg, take a trip to downtown Mendocino. Undoubtedly, with its dramatic setting overlooking a steel-blue sea, the coastal town of Mendocino is breathtaking. You might think of Cape Cod or another New England hamlet when you first visit Mendocino. Maybe this is because many of the early settlers to the town were New Englanders, as was true with many older Northern California logging towns. Amid this dramatic landscape lies the seaside downtown and its many shops and restaurants.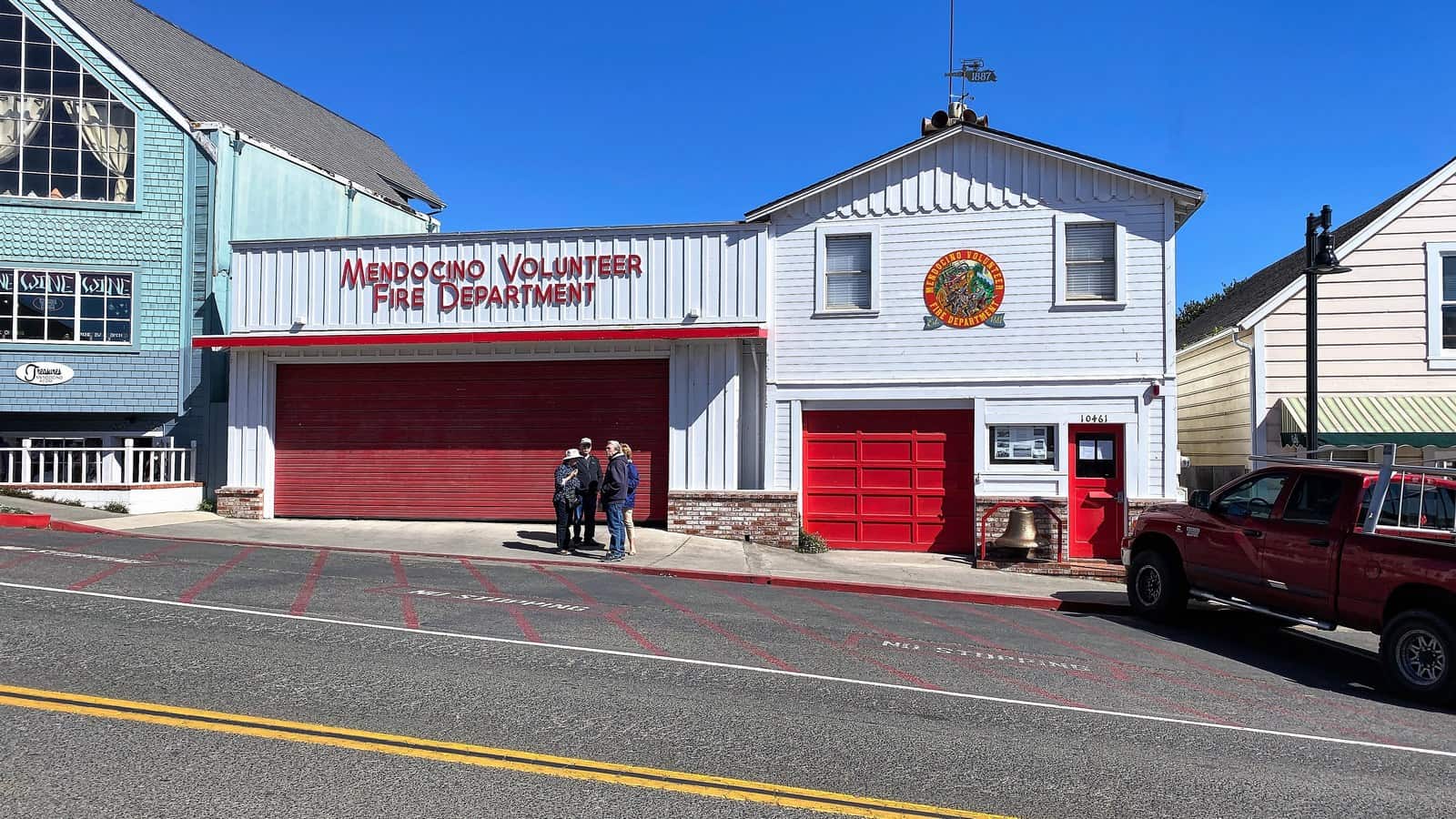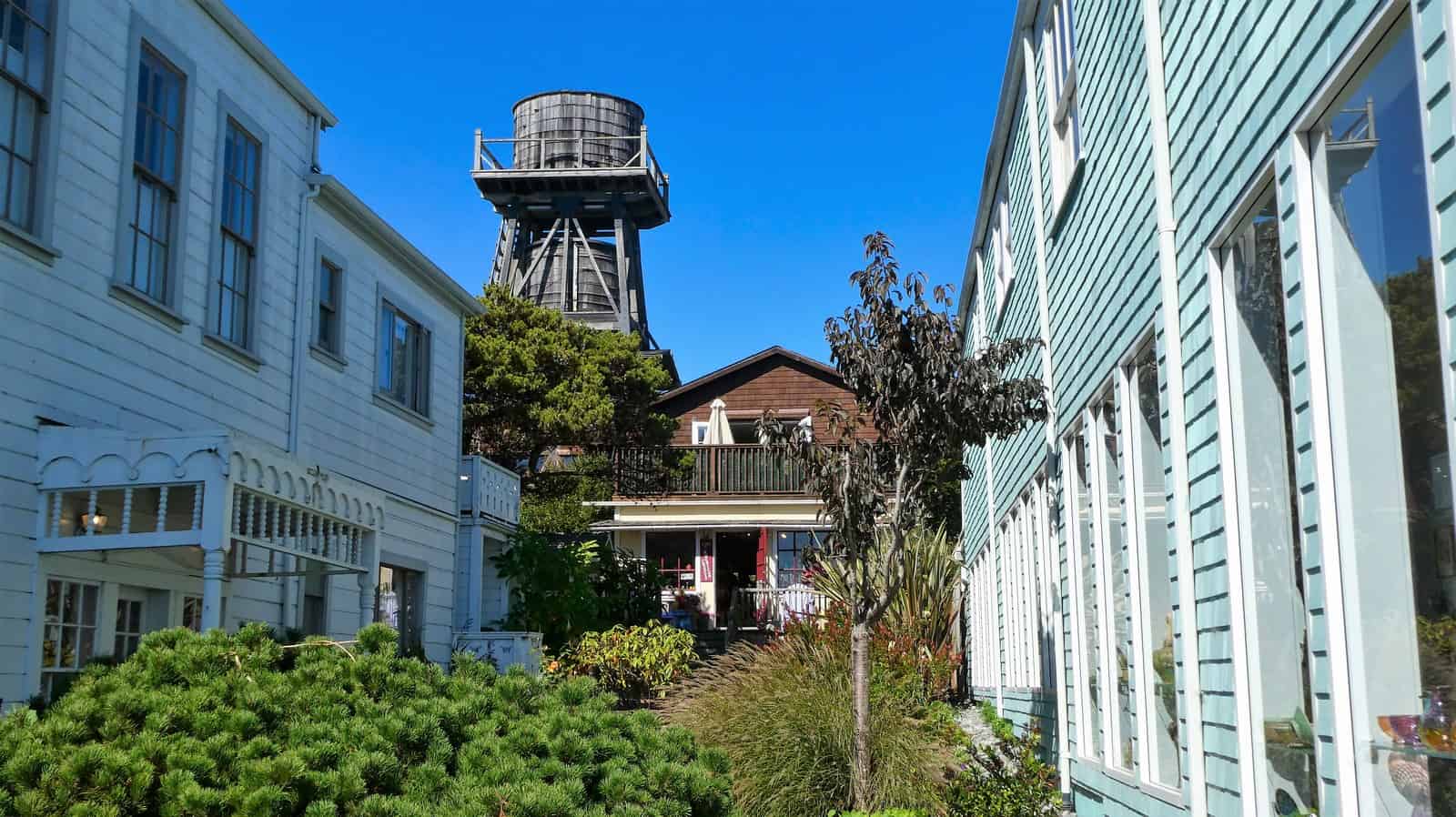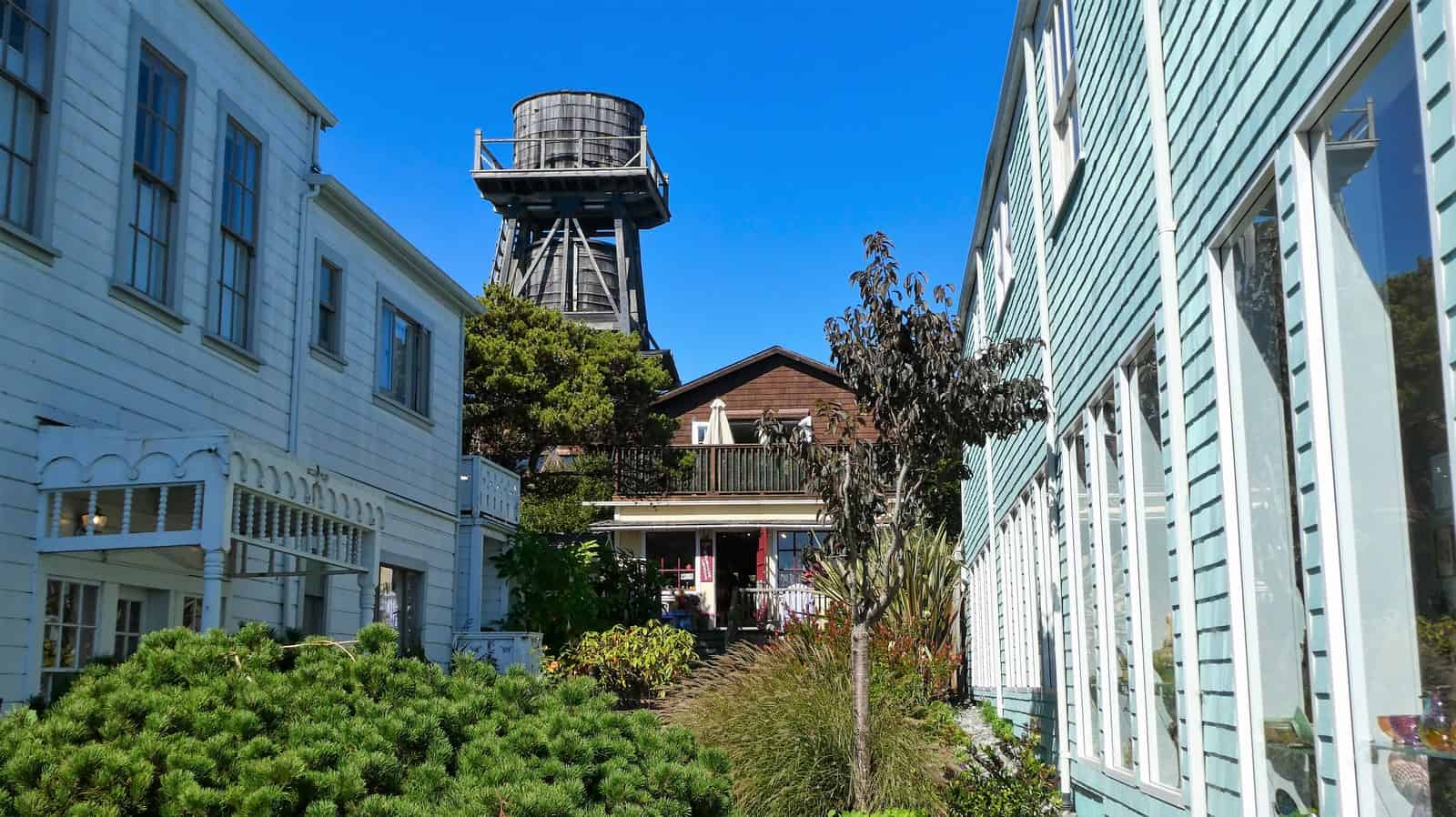 Mendocino has many Victorian homes painted in Easter-egg colors. Also, Mendocino's Main Street lined with unique shops is a shopper's delight. Hence, there is a one of a kind toy shop, several gift shops, a wine shop, a chocolatier, and a bookstore and much more.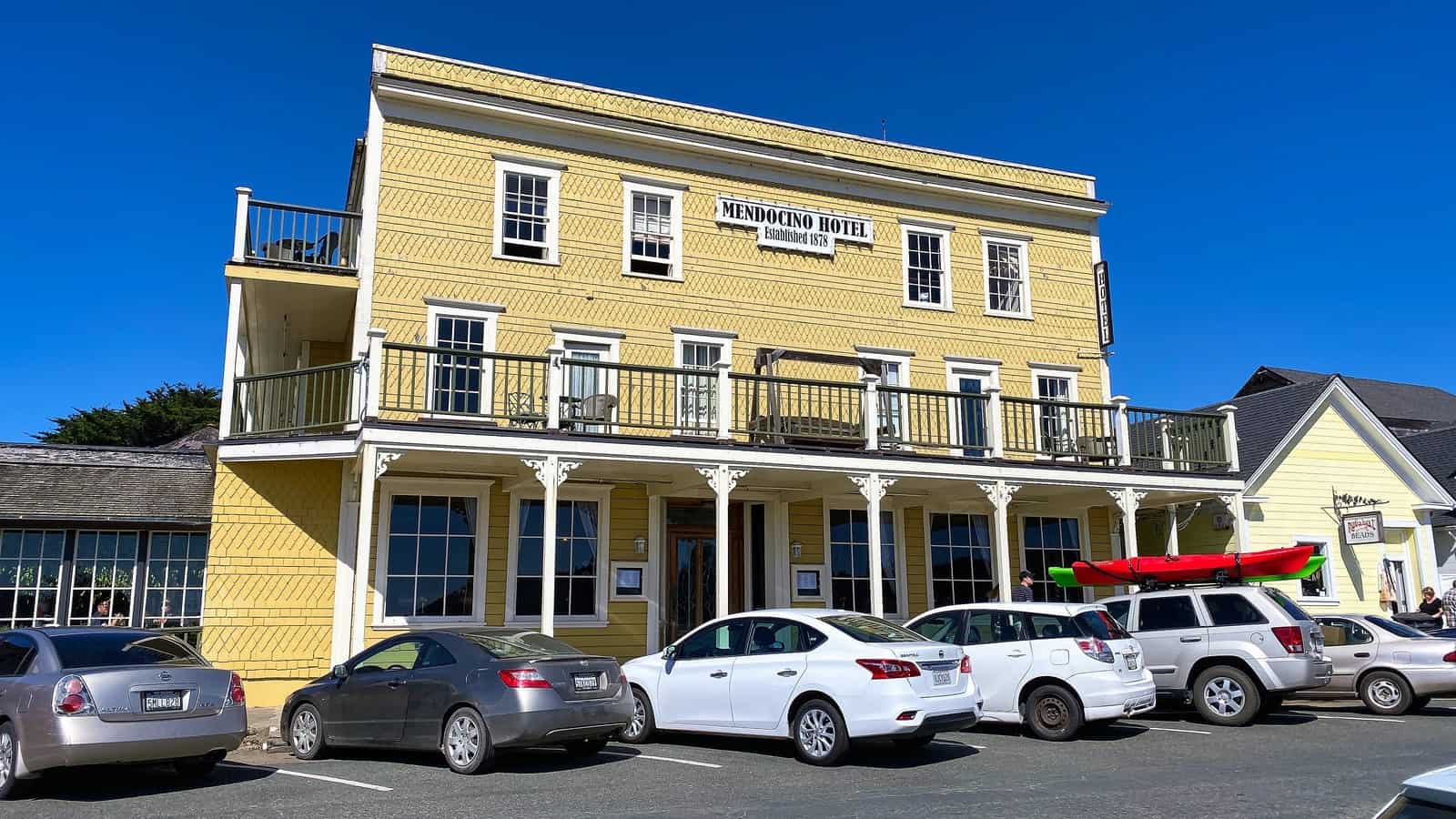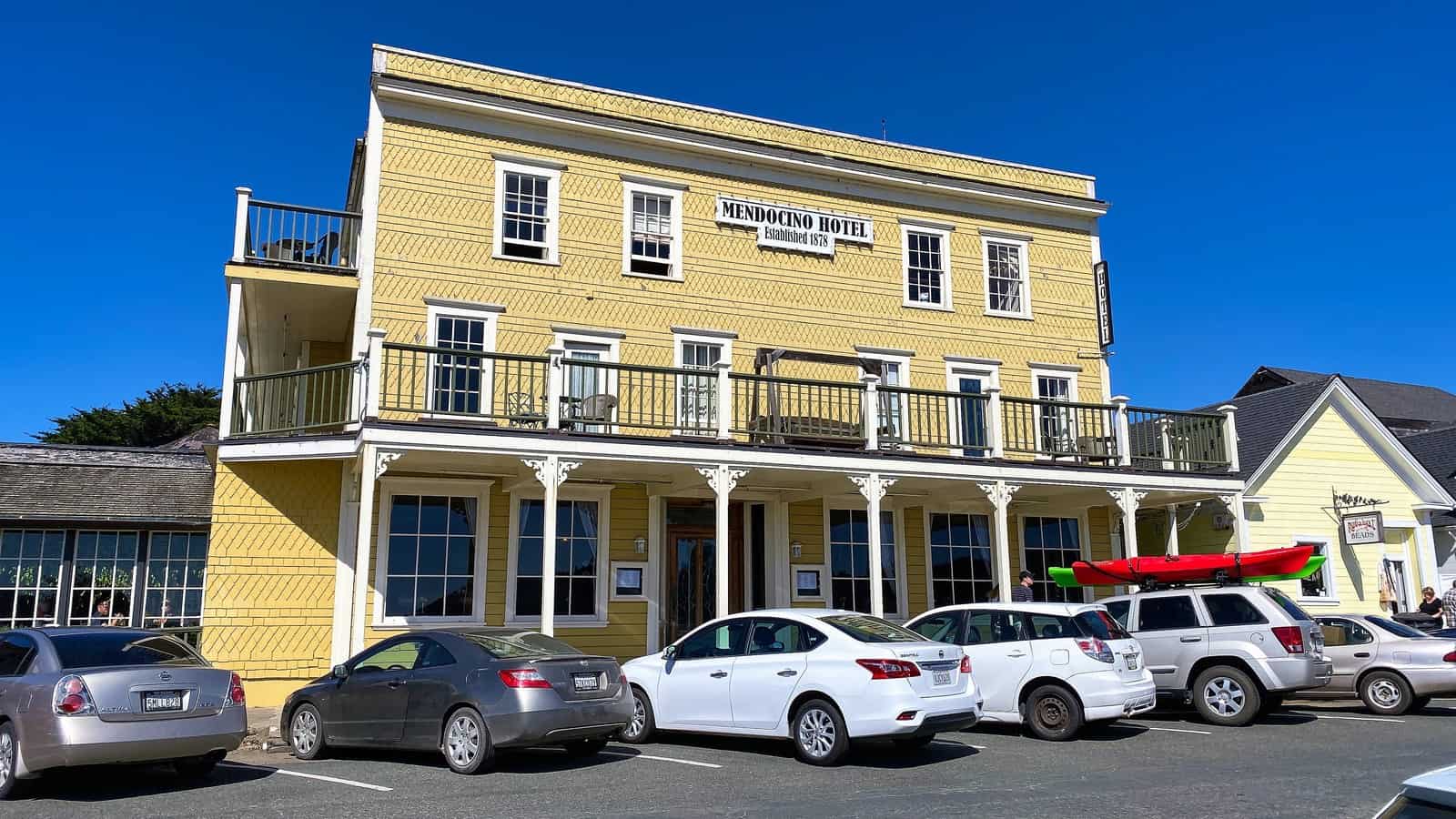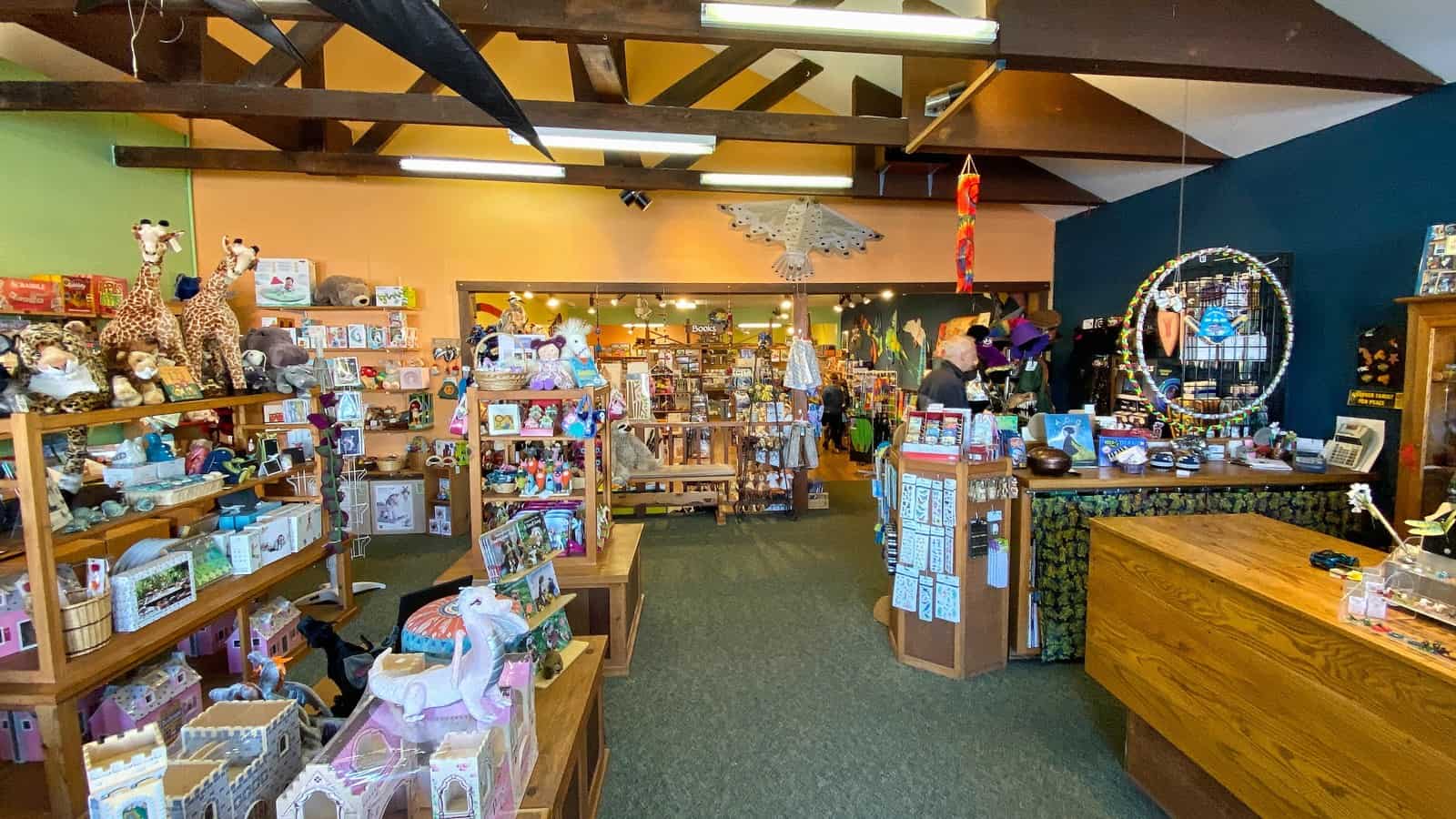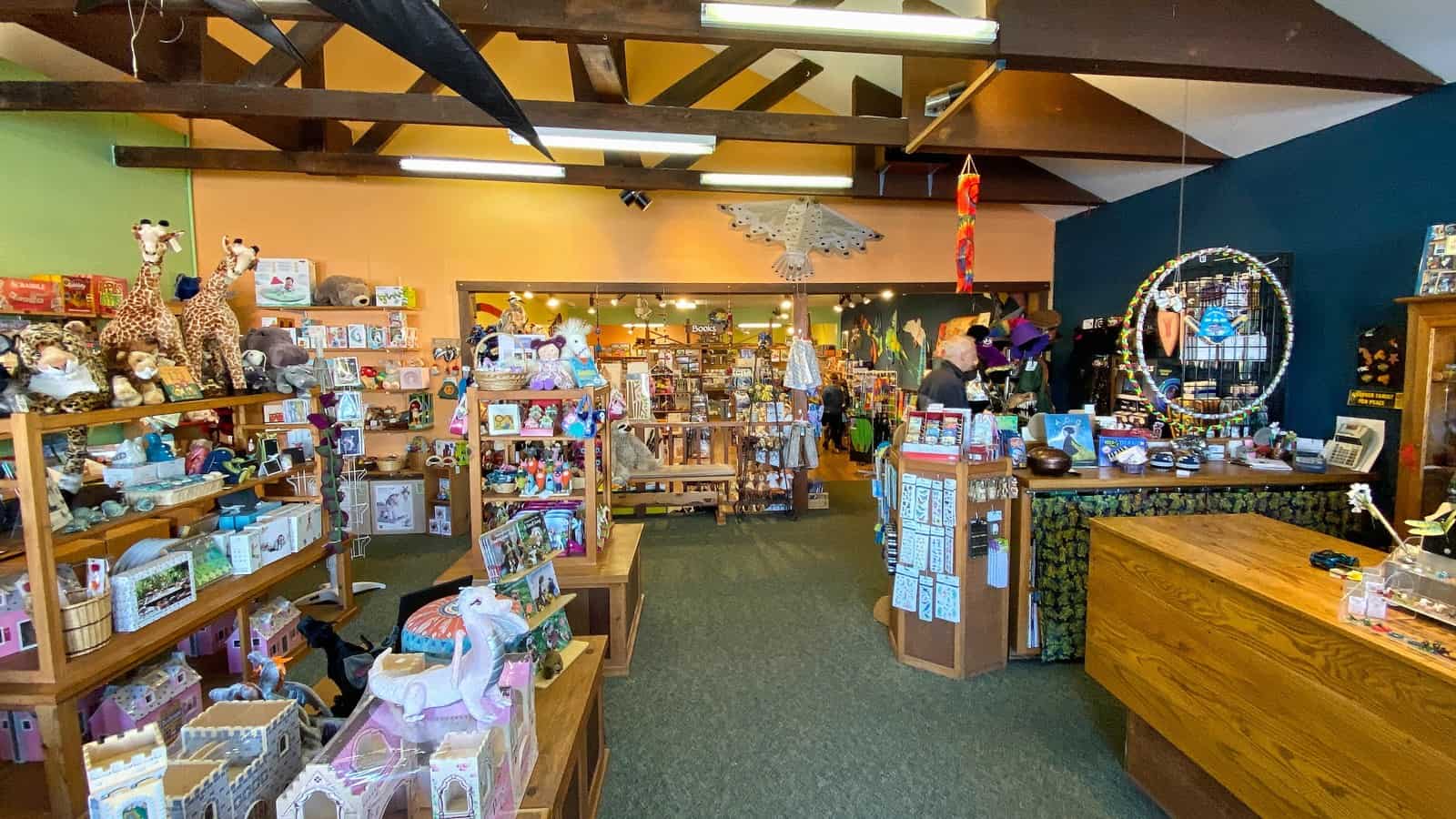 Furthermore, on the seaside of town, there is a visitor's information center with a small museum inside depicting the logging and lumber days of its past.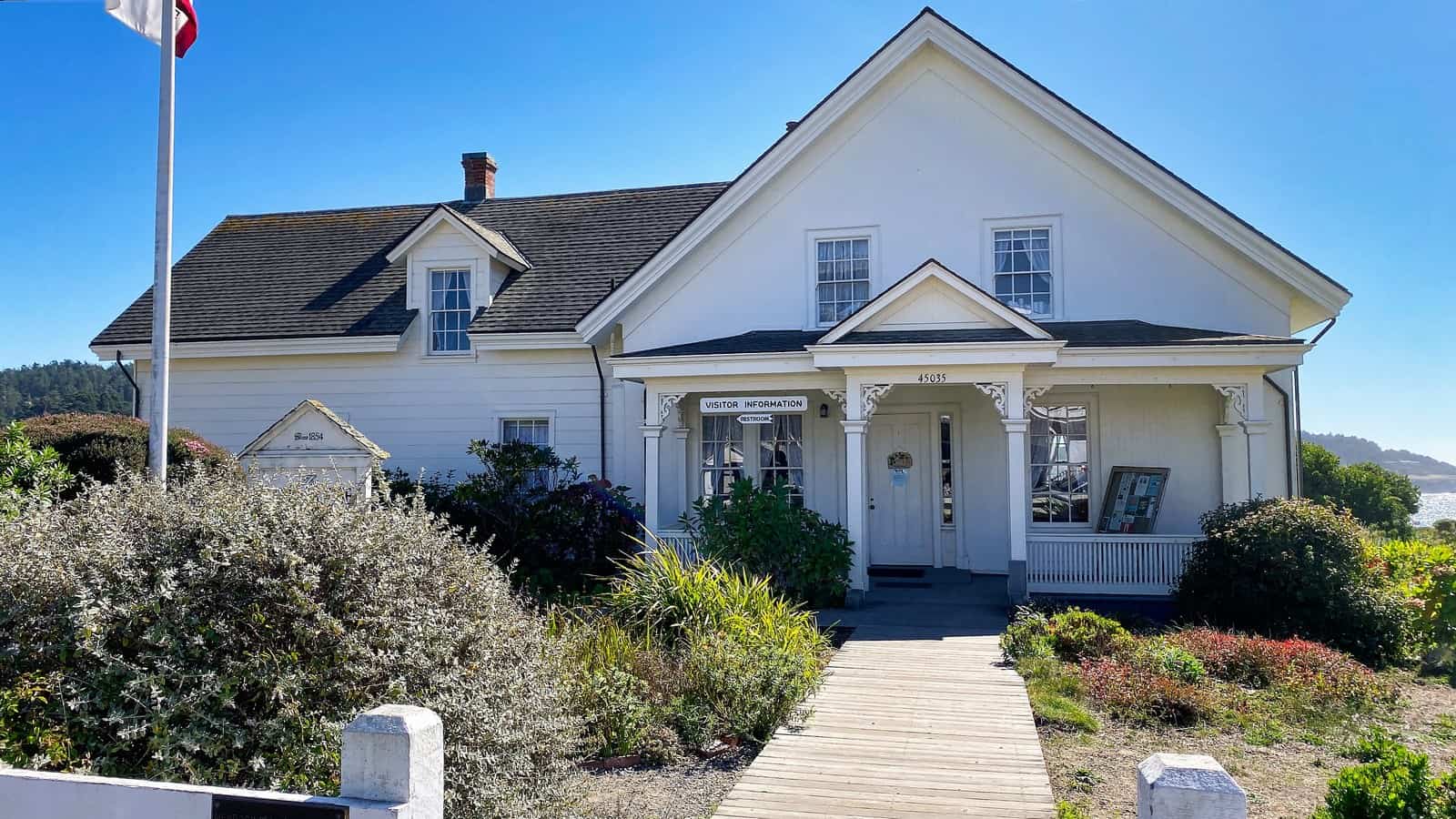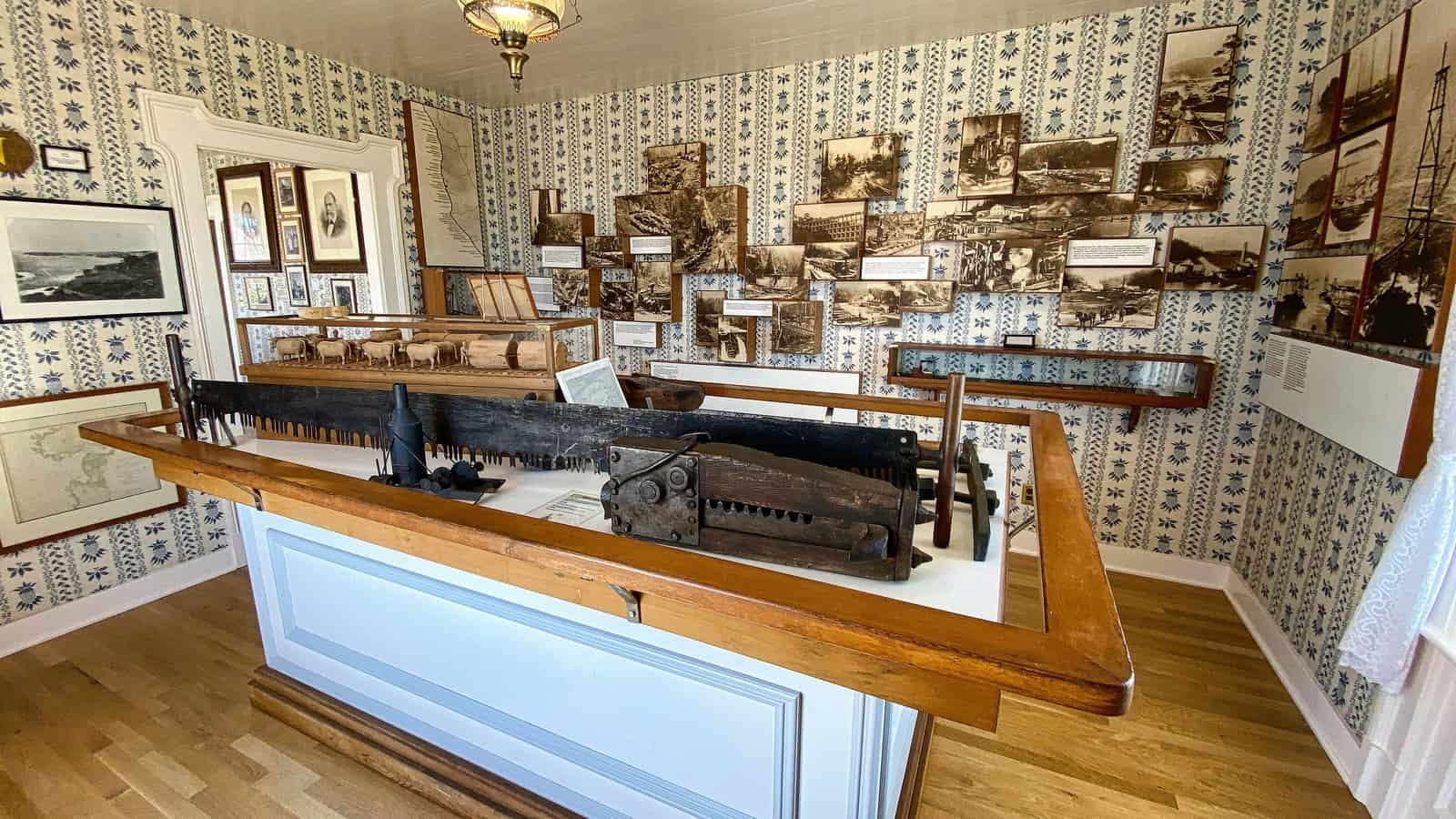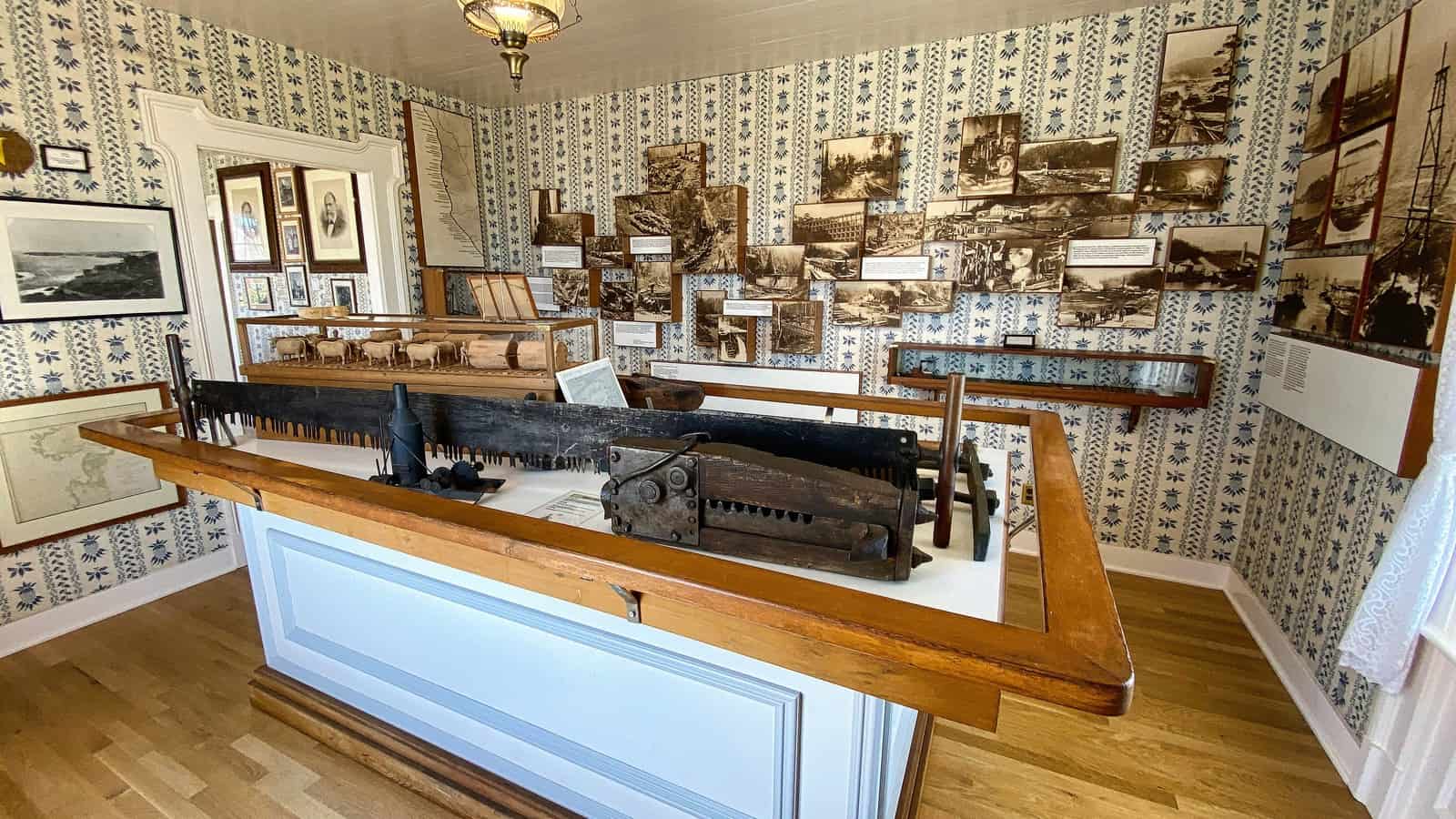 While walking in Mendocino, we saw this cool vintage 1969 Volkswagen Beetle parked along the road most likely owned by one of the town residents.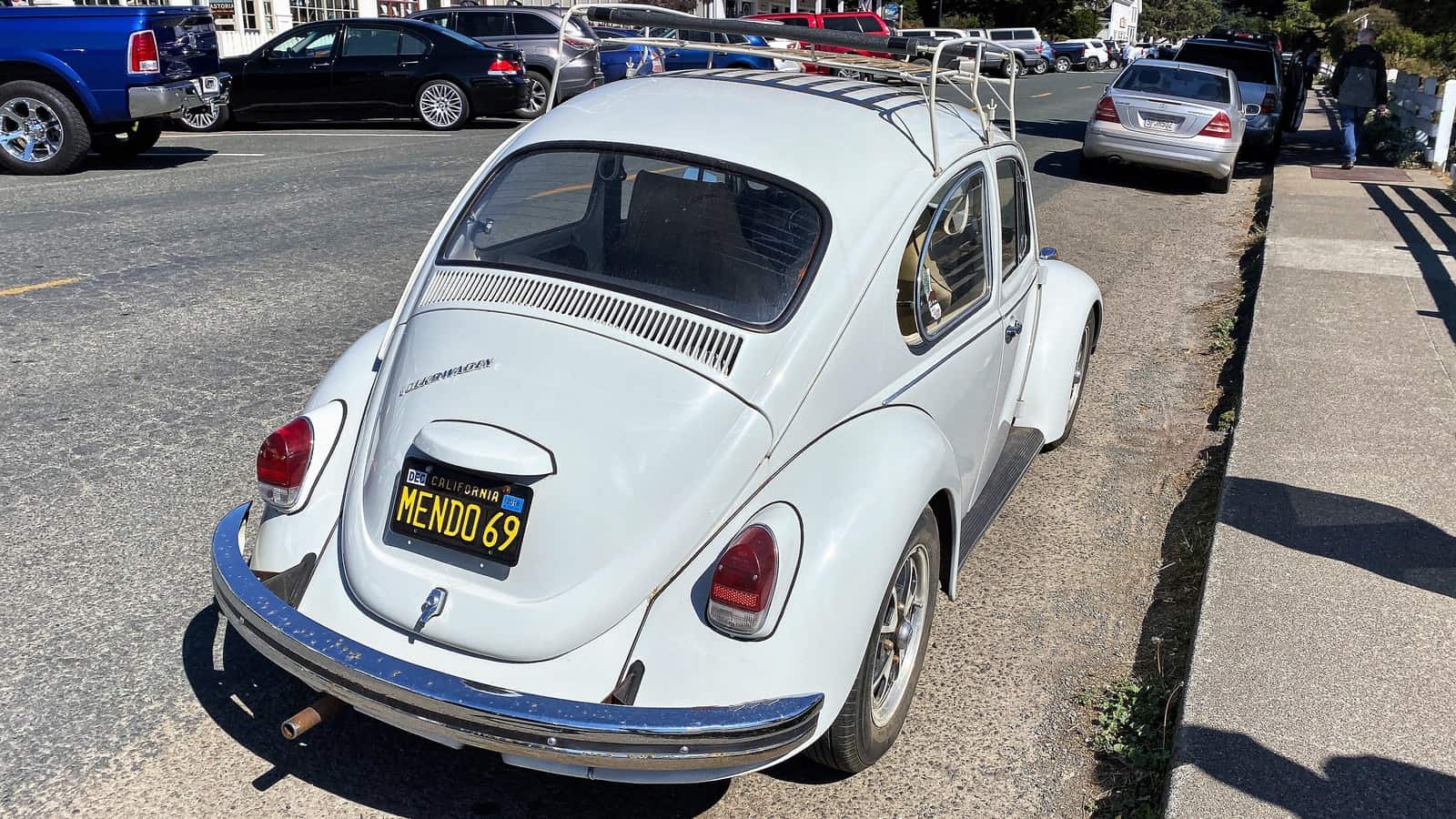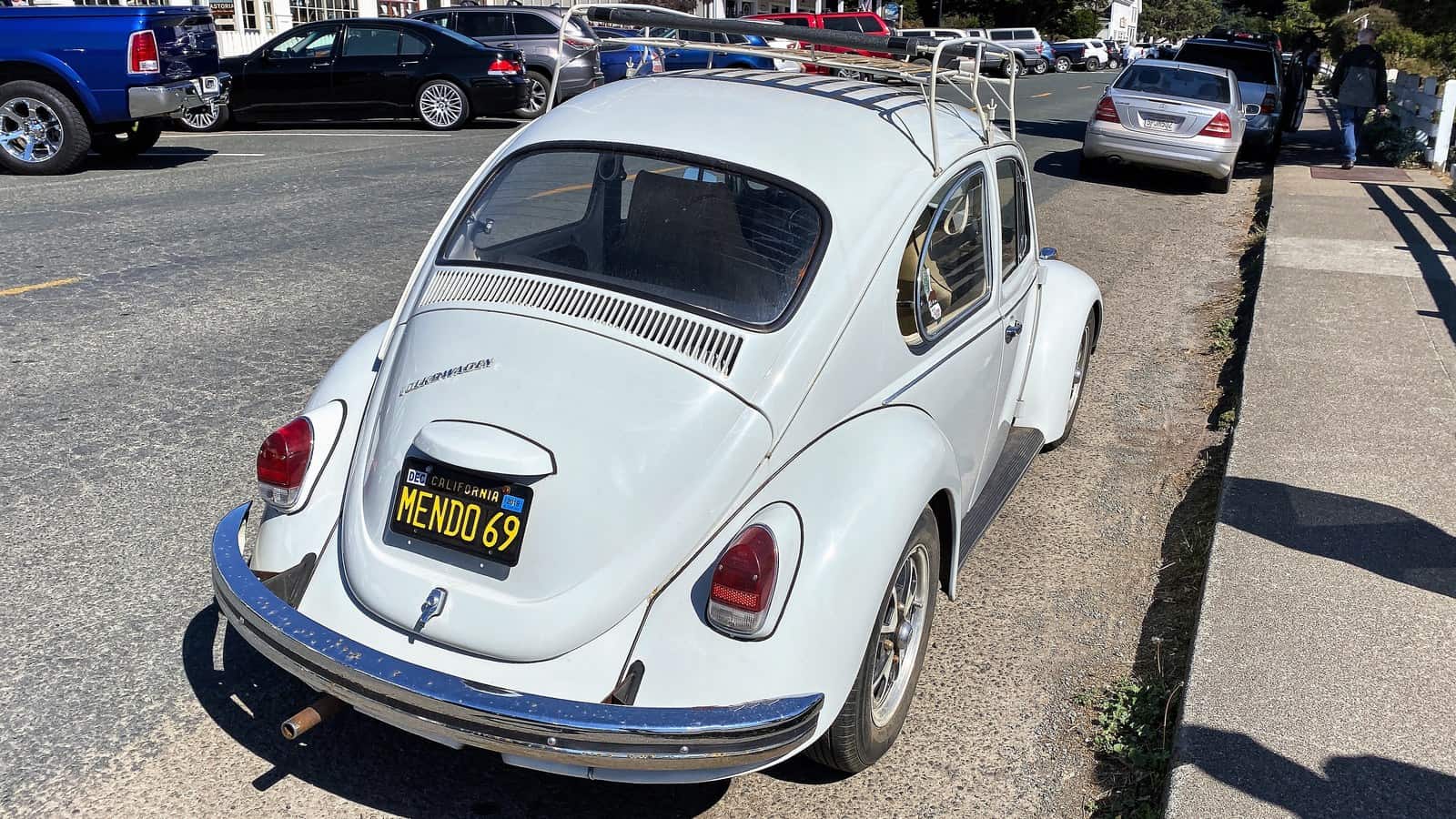 Earlier, remember, at the beginning of this post, I ask you what type of wine Mendocino is known? Well, Mendocino is one of the leading wine growing regions for organically produced wine grapes. Thus nearly 25% of the grapes for Mendocino wine are organic.
Awe-Inspiring Mendocino Headlands, State Park
Lining the edge of the town of Mendocino is Mendocino Headlands, State Park. Before leaving Mendocino, we recommend visiting this state park. The wildflowers and scrub of this state park blanket the edges of town, where gentle trails and rugged coastline lead to quiet beaches. Subsequently, Mendocino Headlands State Park surrounds the picturesque Village of Mendocino on three sides.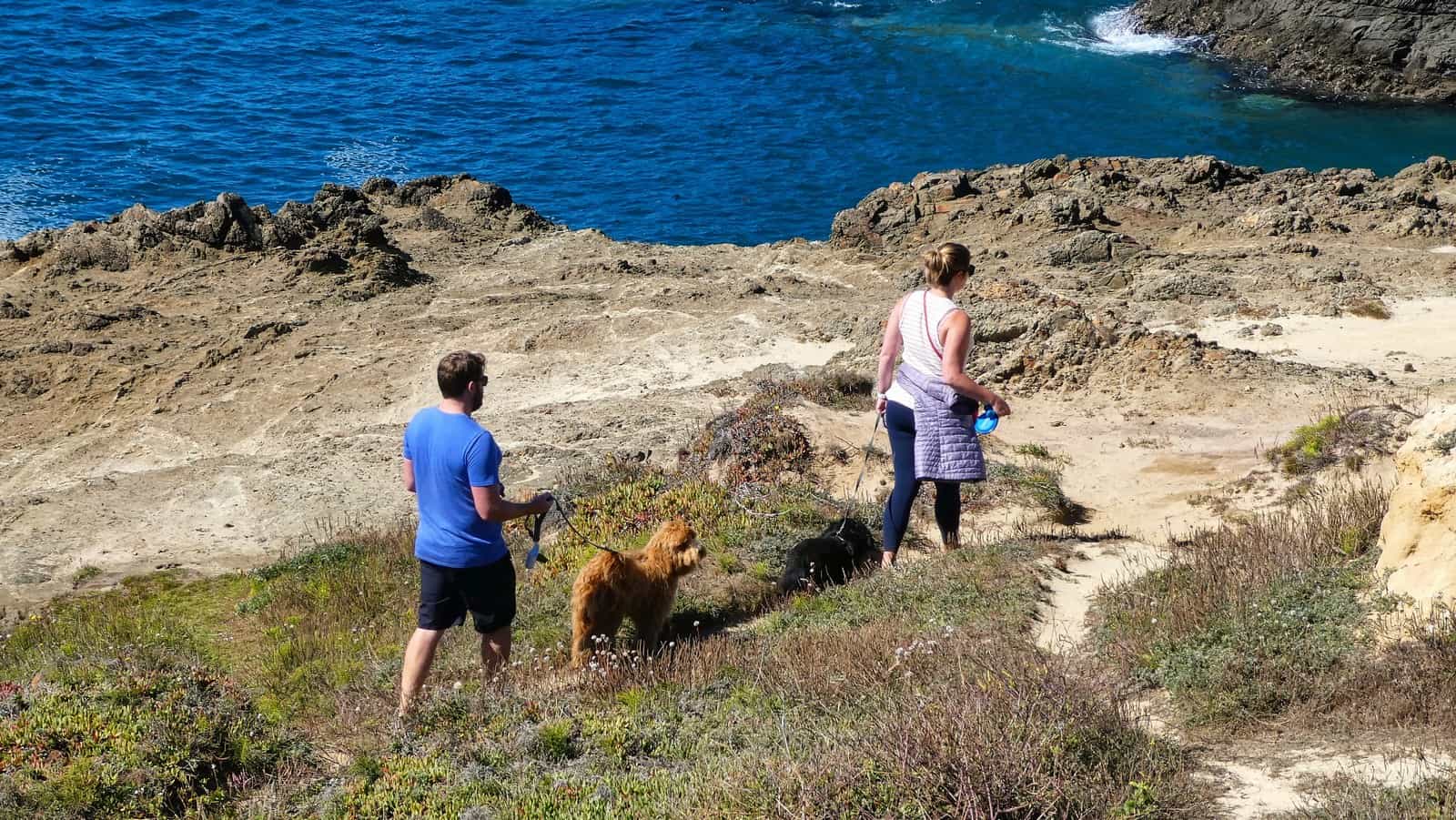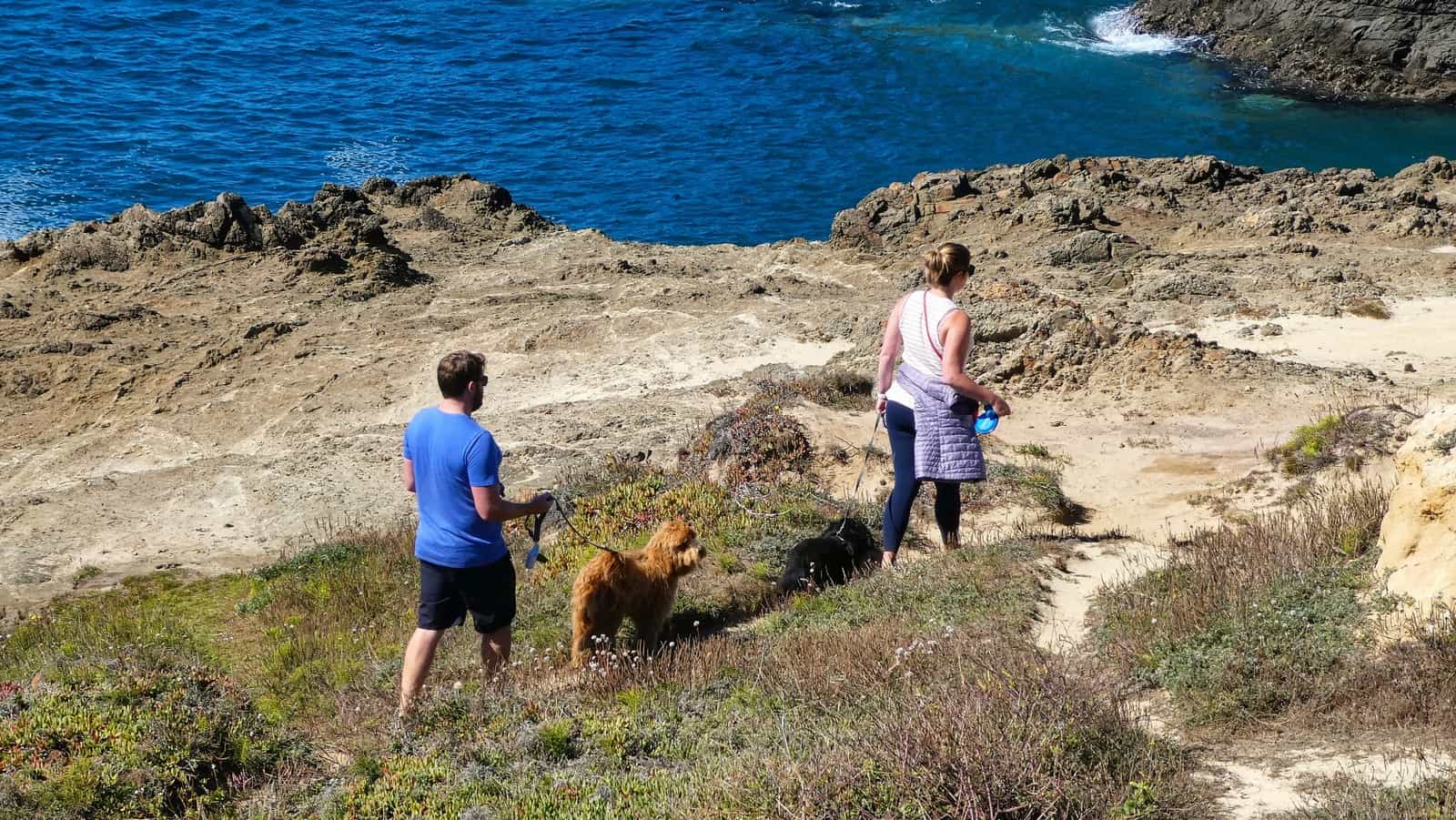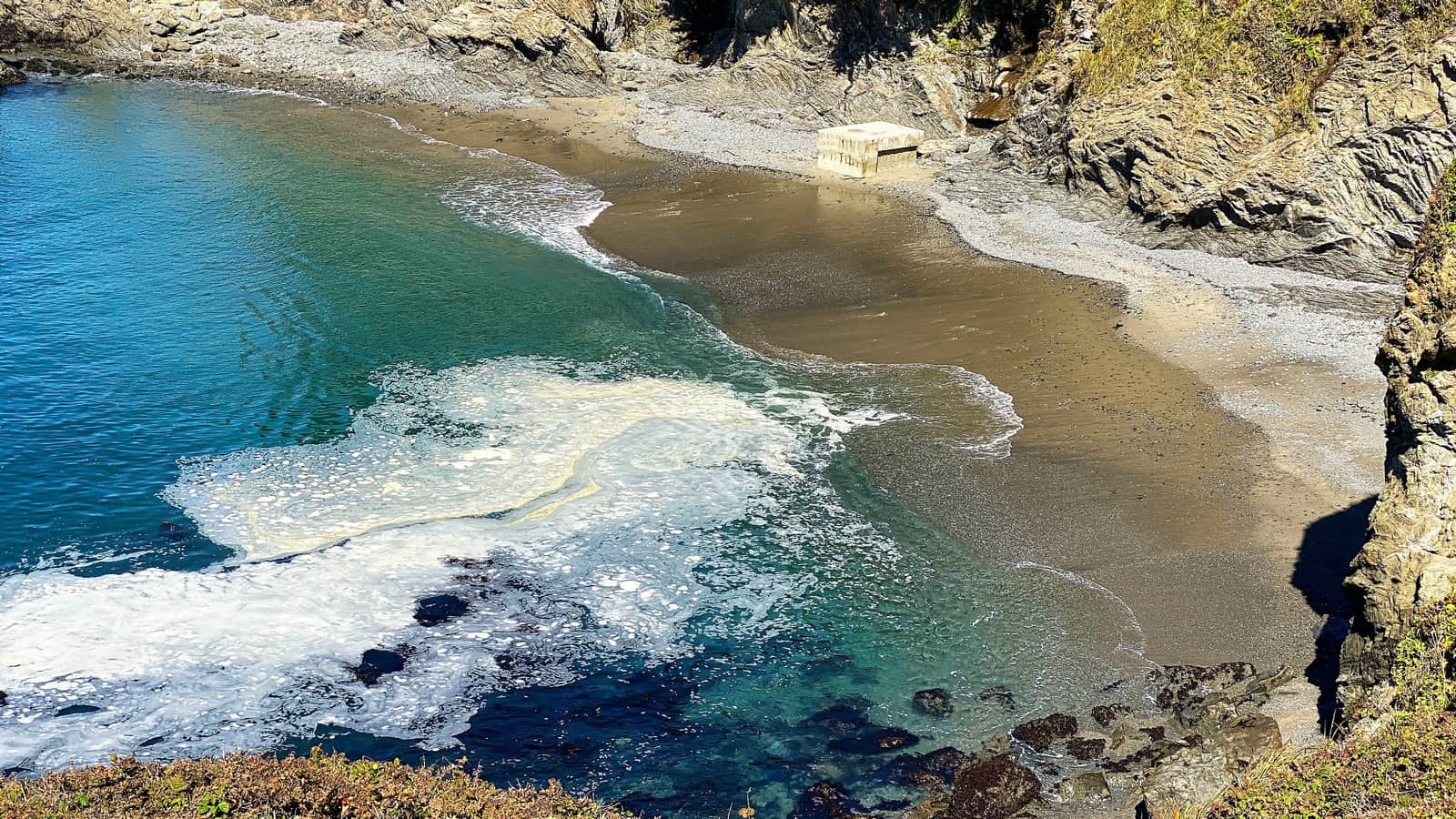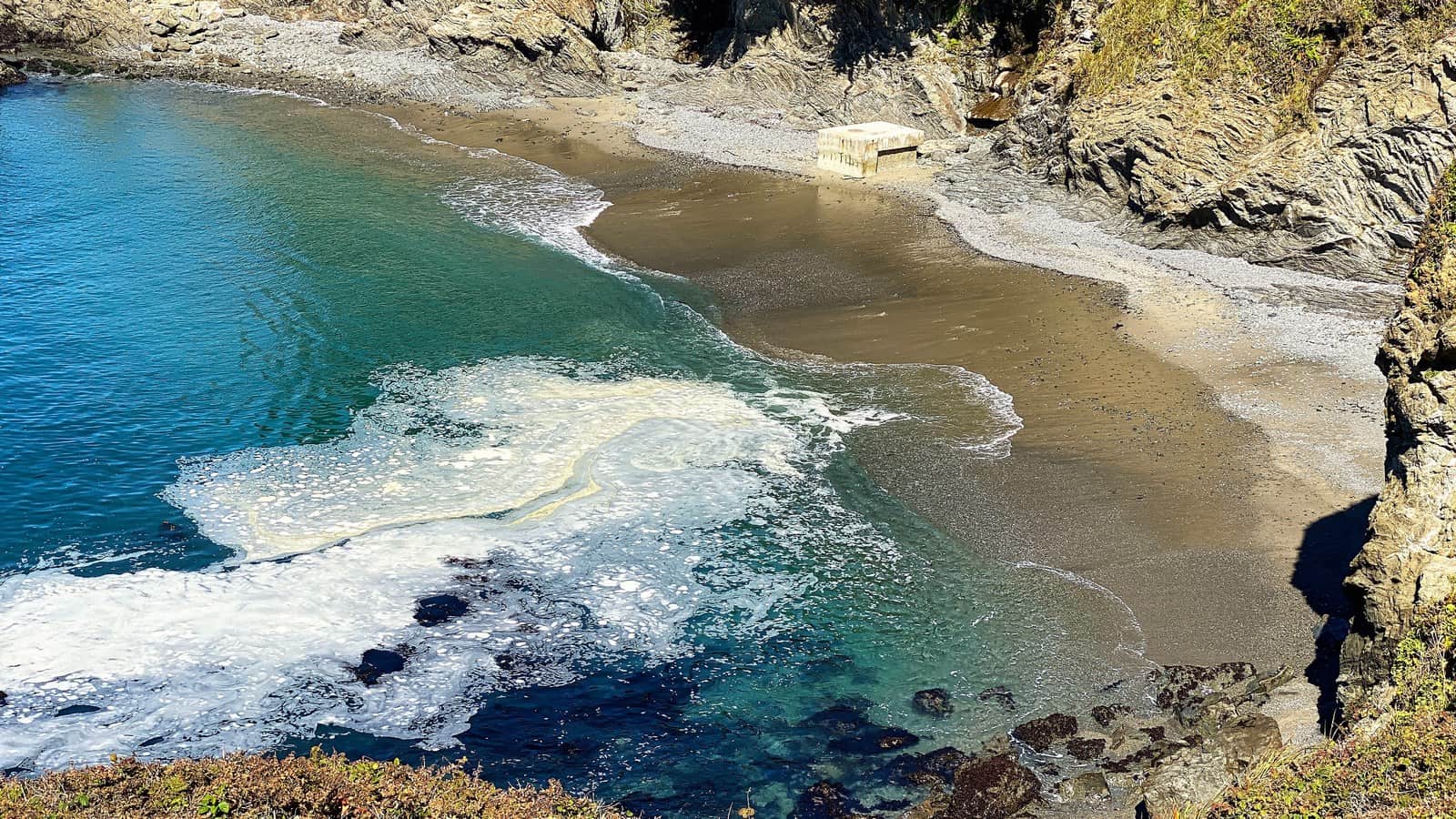 Capturing the scenic wonders of the bright blue skies against the rugged shoreline was a photographer's dream. Undoubtedly, we know you will enjoy it too.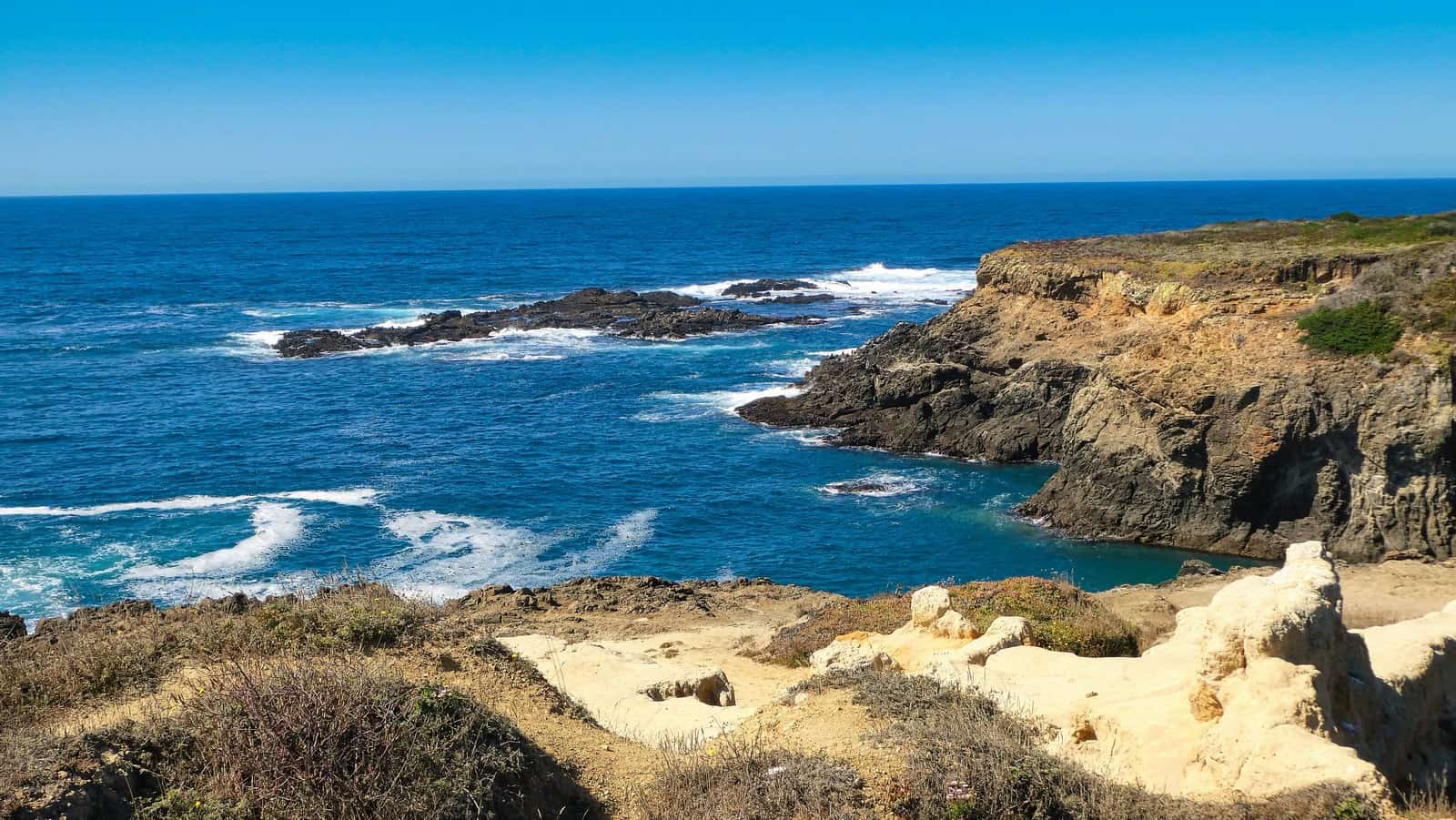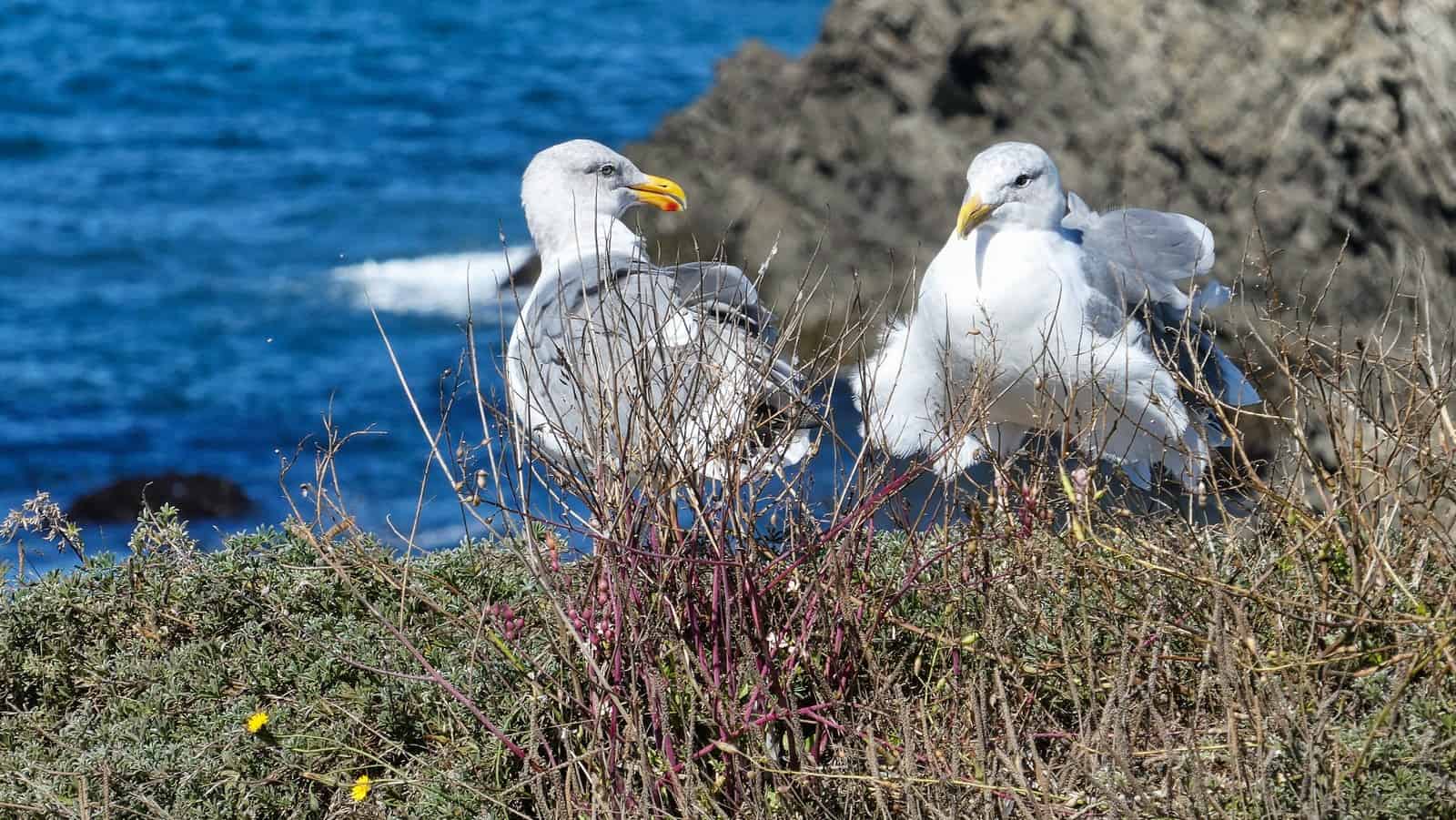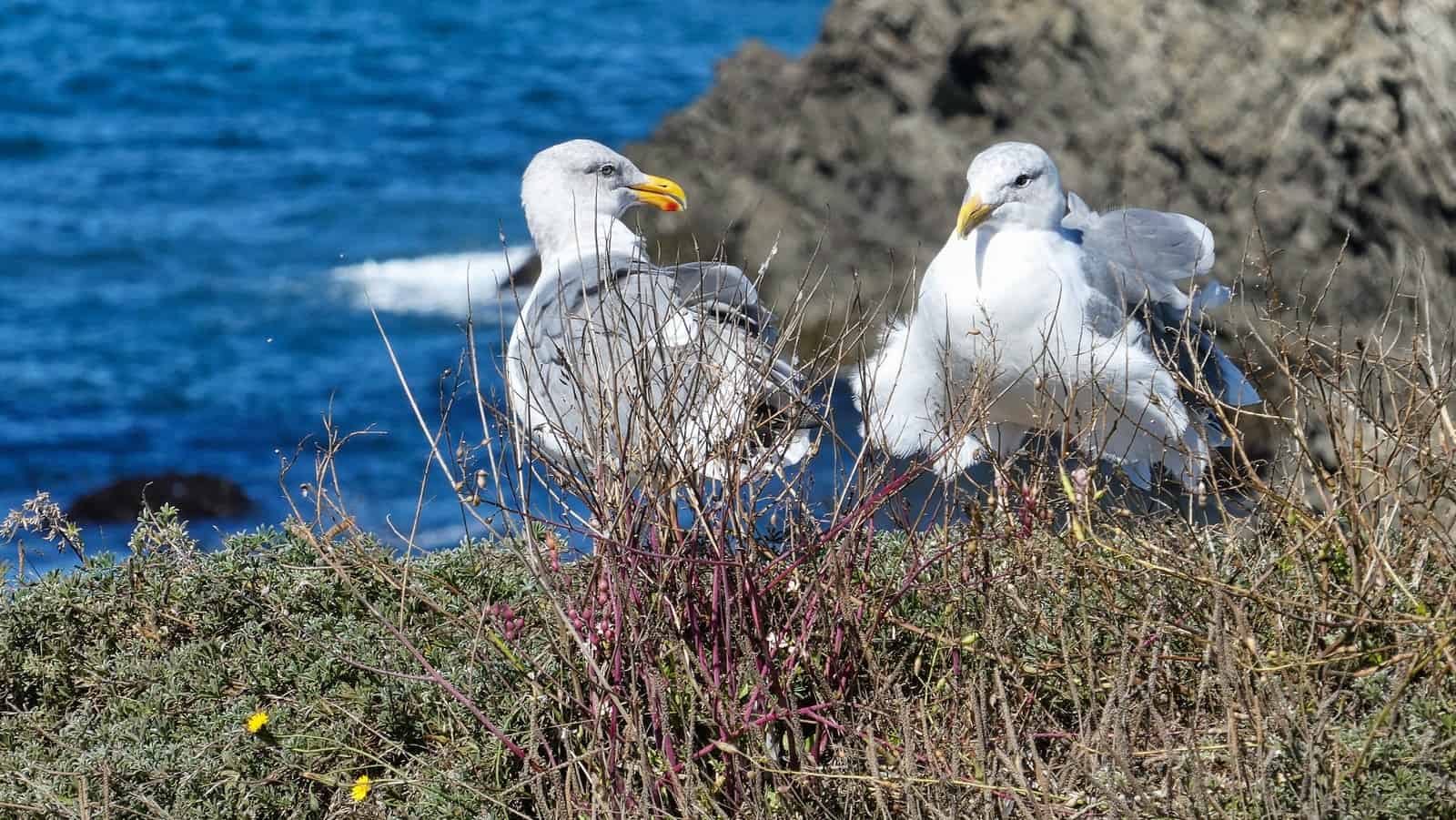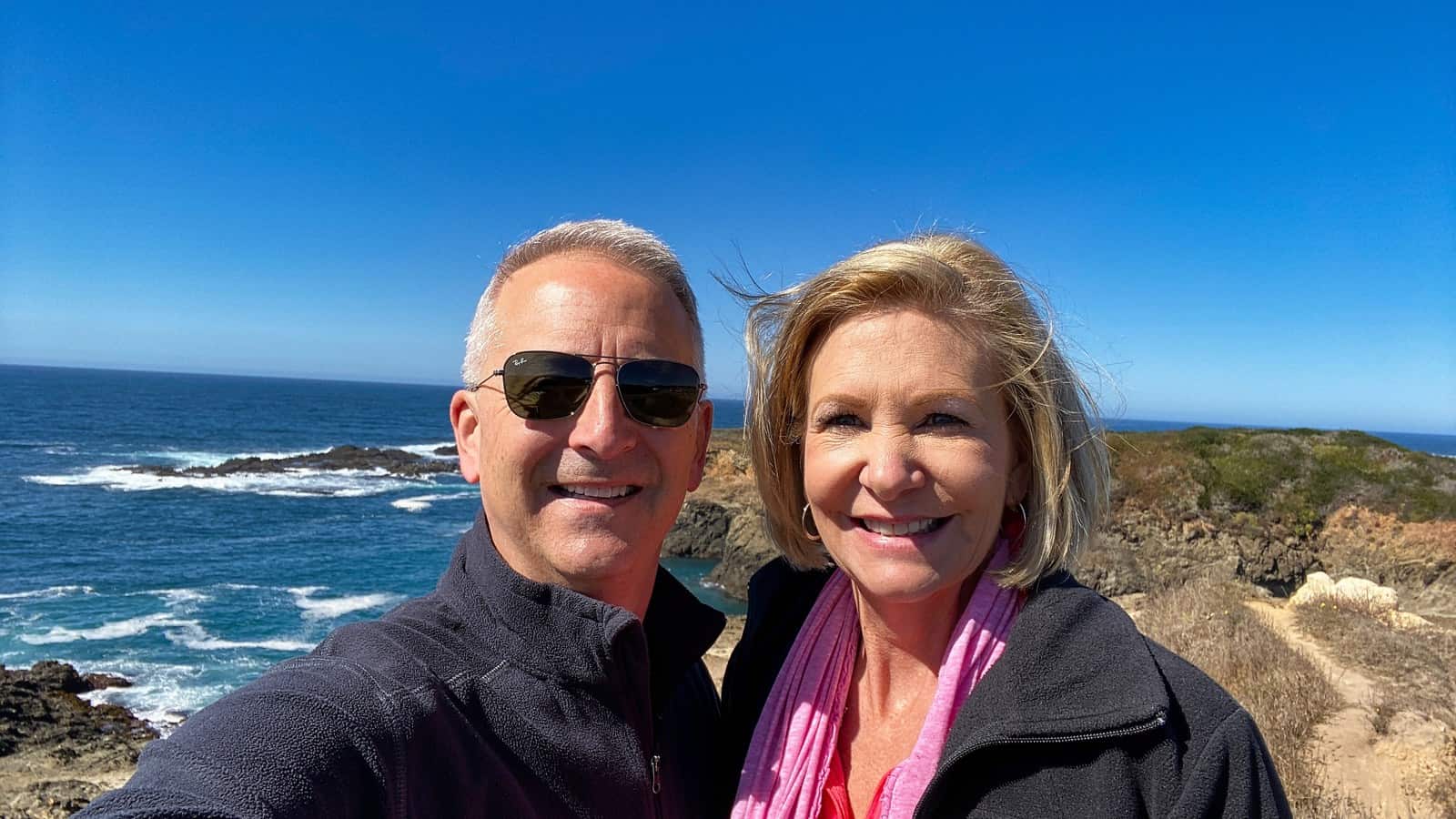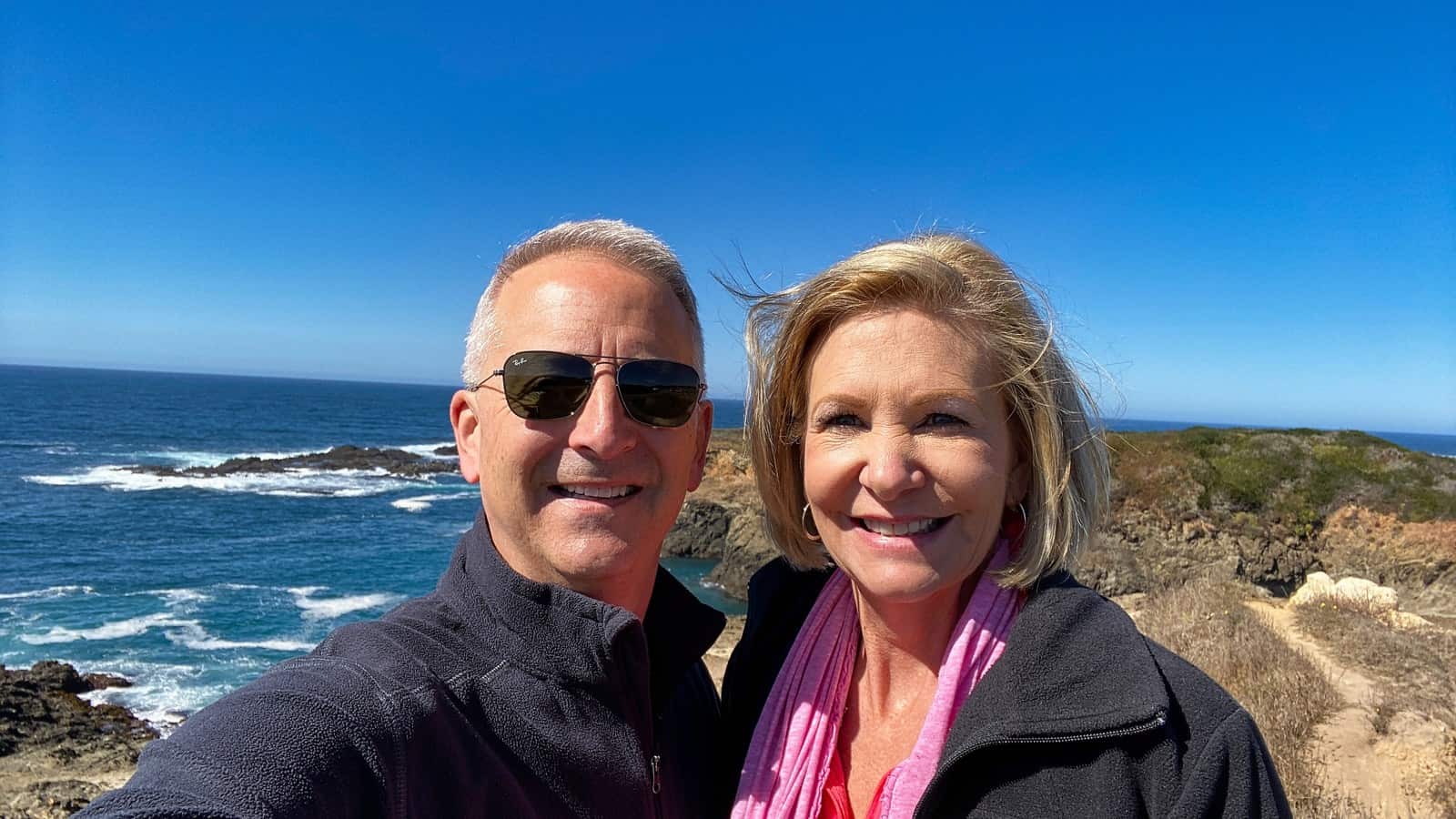 Pennyroyal Farm
For something different when it comes to Mendocino wine, visit Pennyroyal Farm. Pennyroyal is a creamery and a winery. The name Pennyroyal comes from the wild mint that thrives in the vineyards.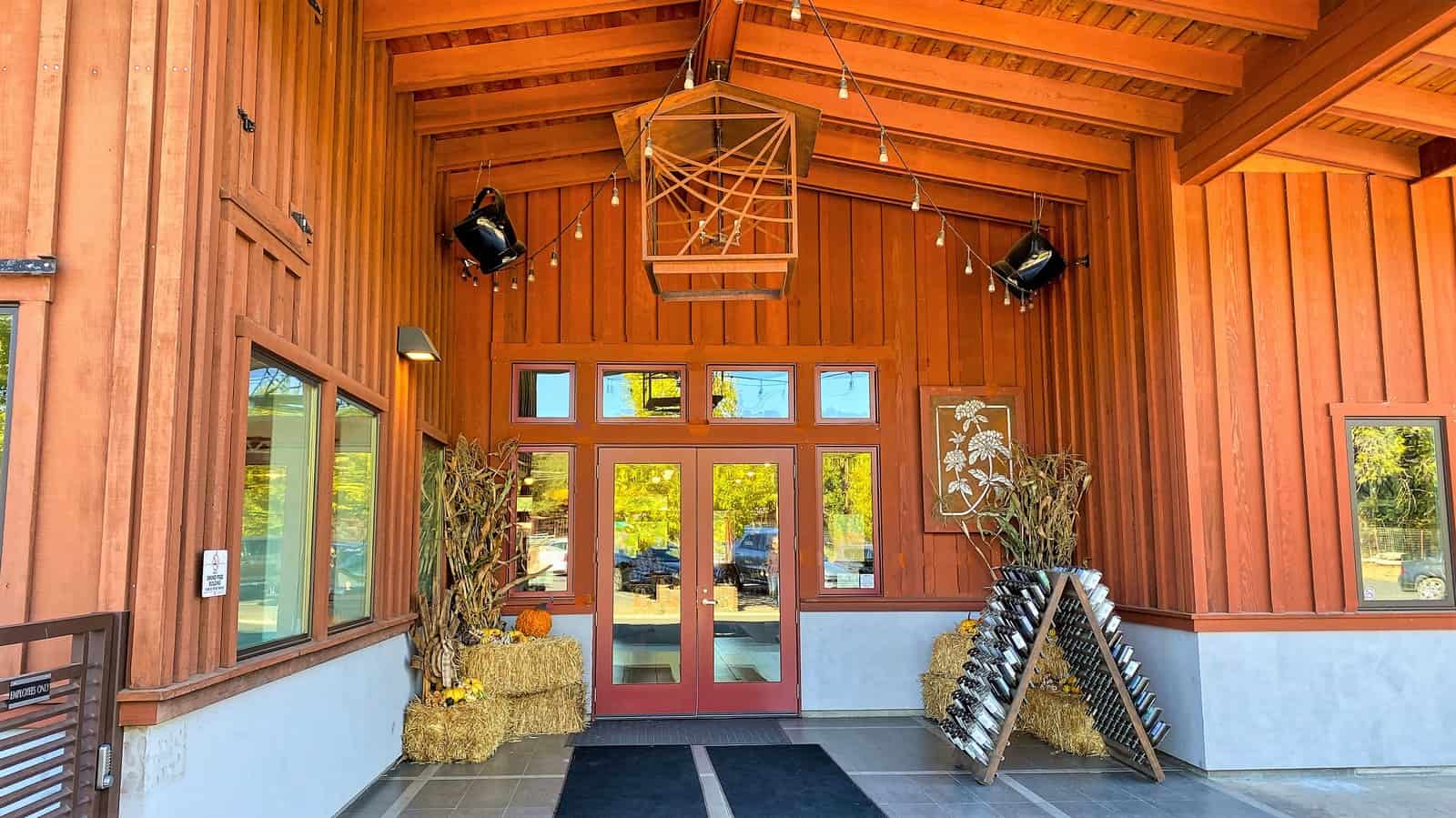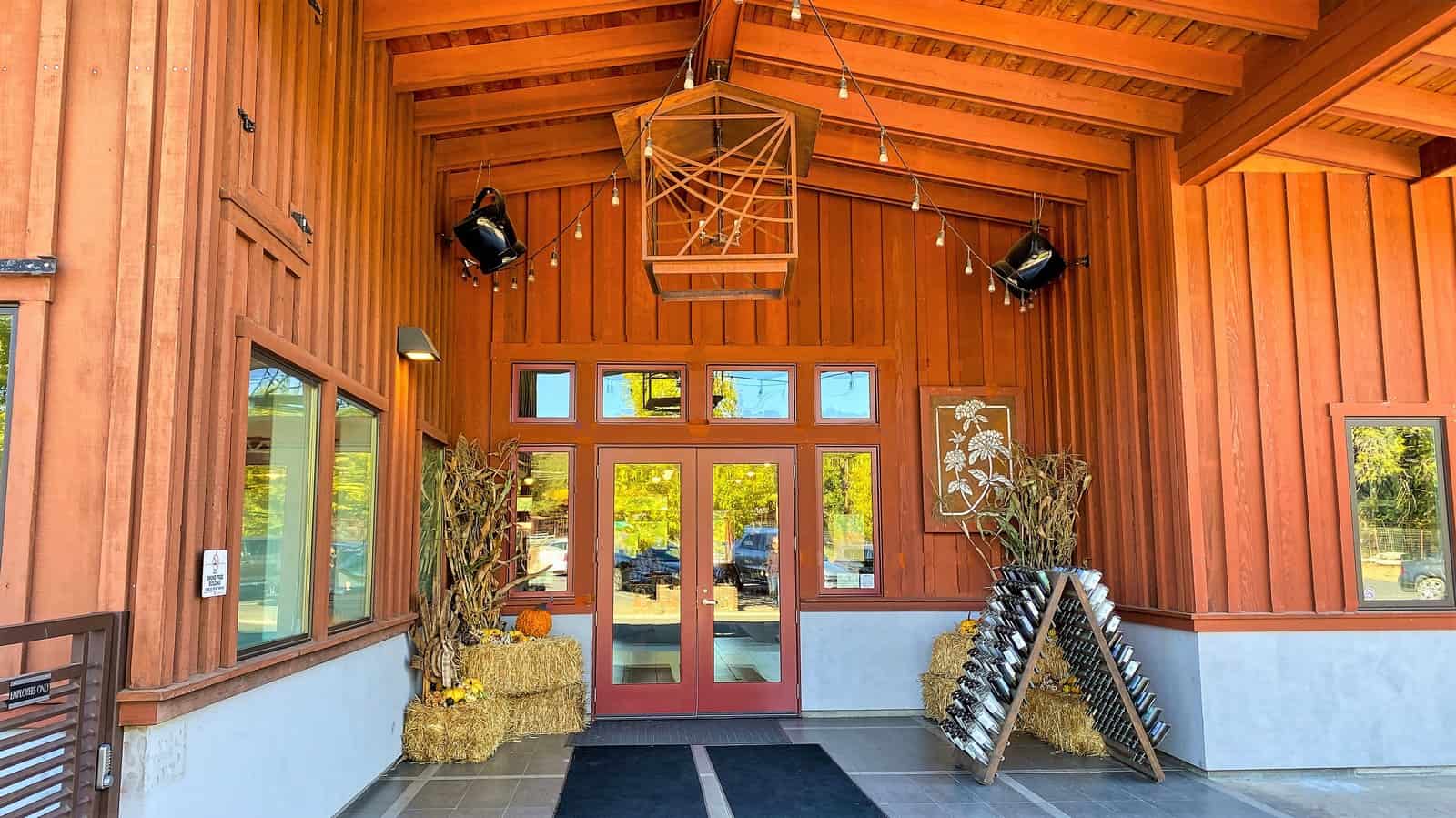 Pennyroyal Farm is a sustainable farm committed to modern farming practices. Thus, it is designed to minimize fossil fuel use and maximize the symbiotic interactions of diversified crops and animal husbandry. It is a minimum-waste farm. They have solar panels on the barn to use the sun's energy. And have goats and sheep not only to produce cheese but also to produce enough manure compost for fertilizing the vineyards.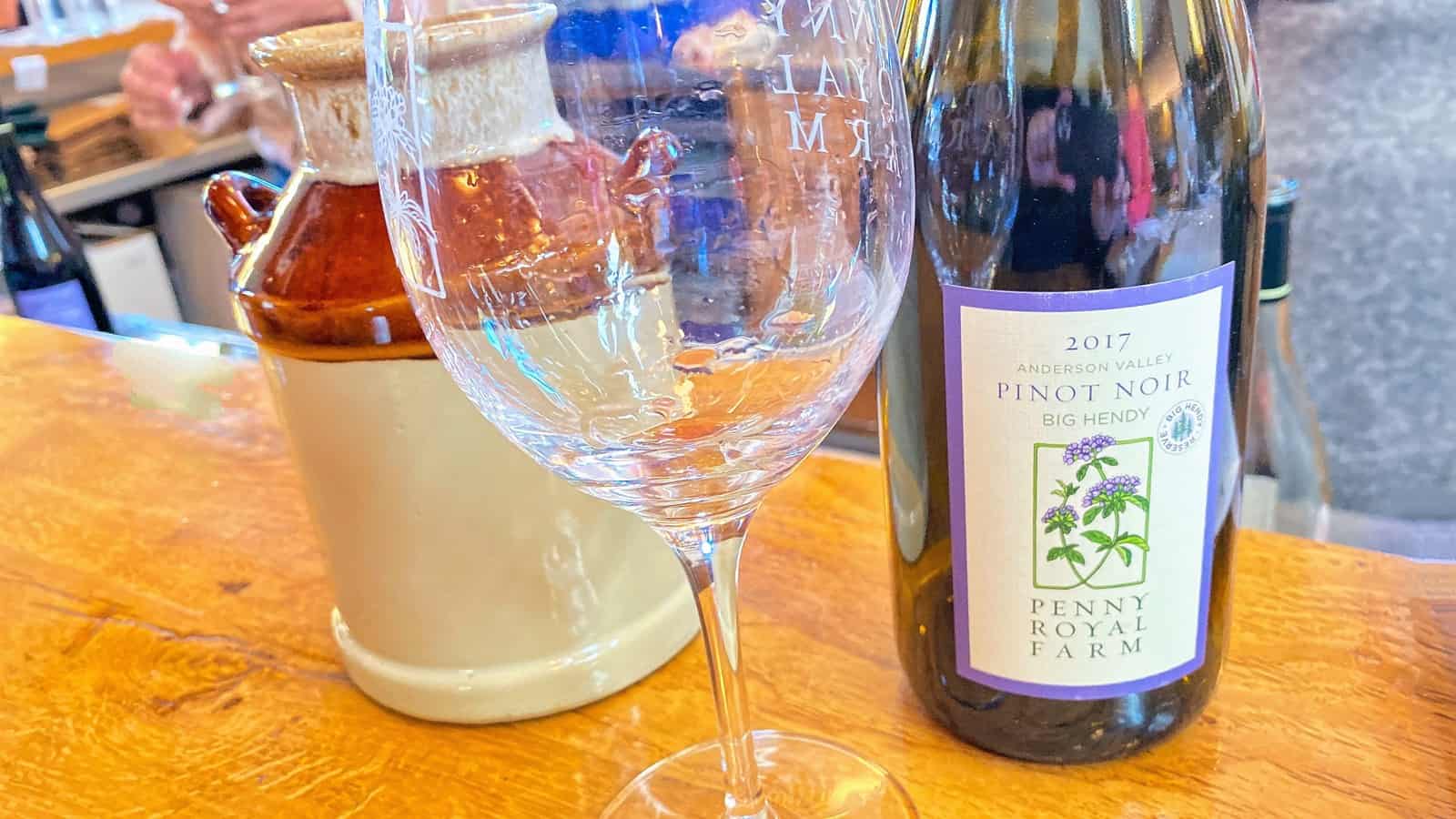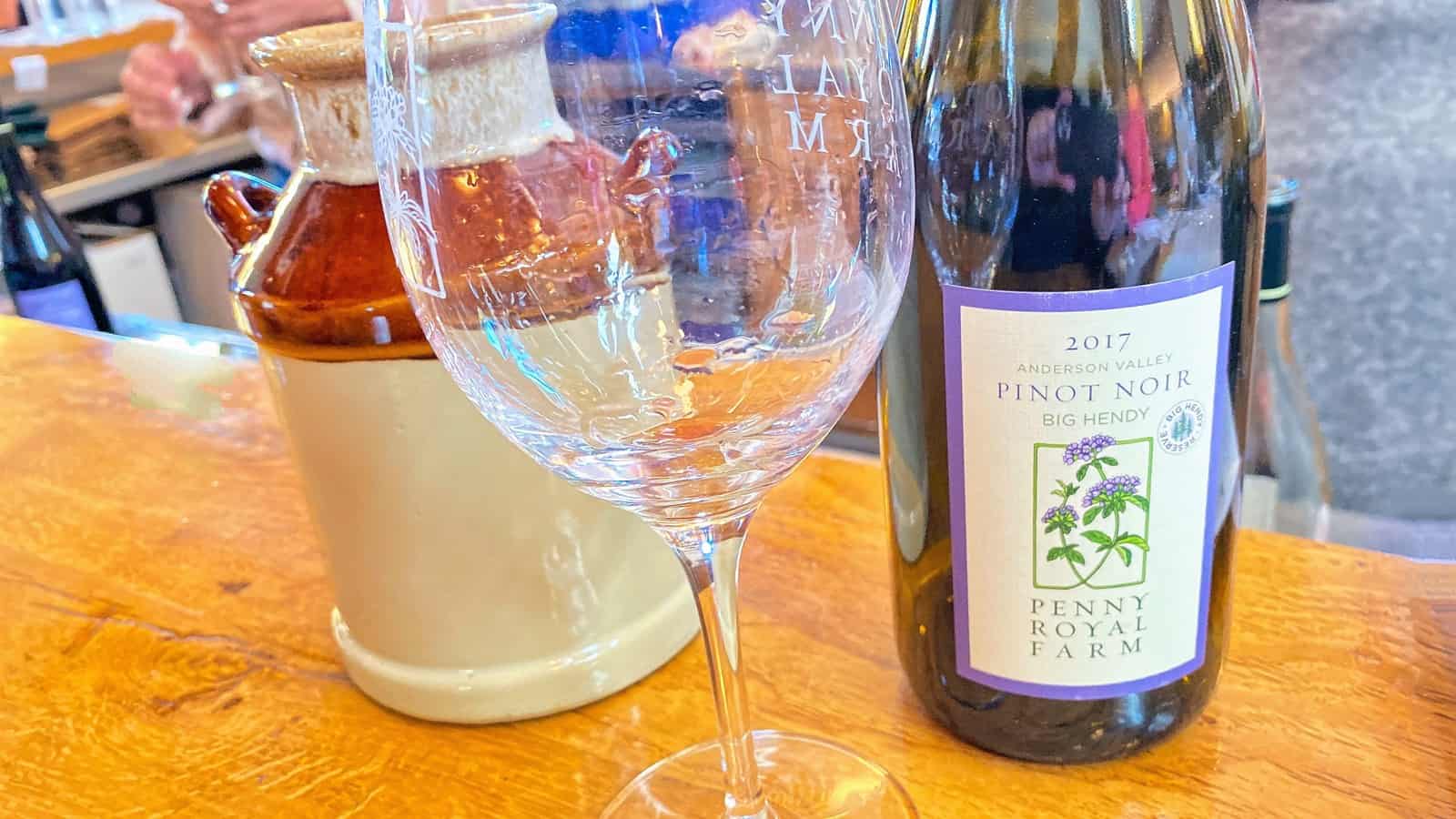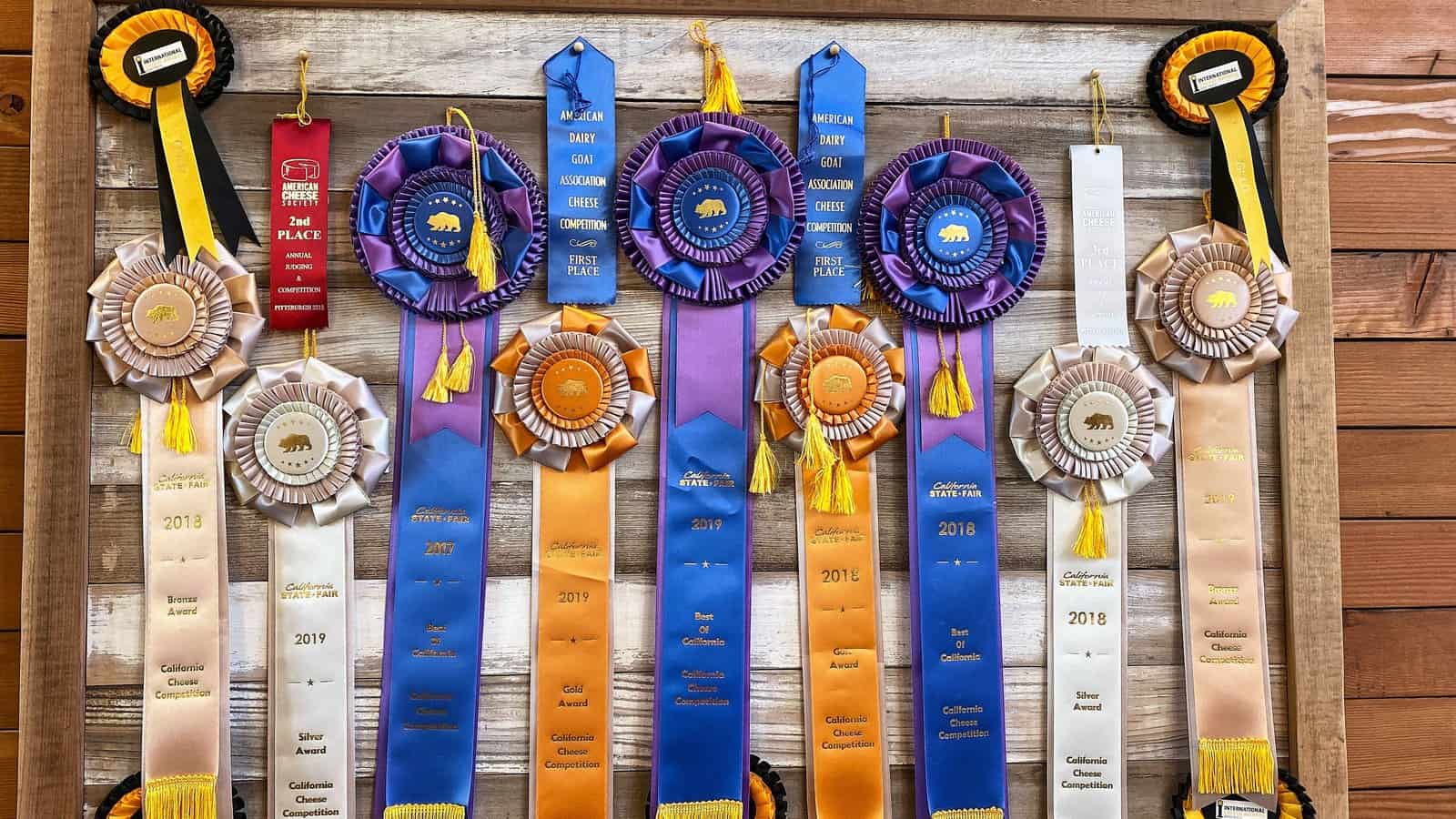 The cheeses they produce are seasonal. So, we did a wine tasting paired with the seasonal goat cheese. We chose this winery to see their farm animals. Additionally, they offer a farm tour that includes a visit to the goats and sheep. Unfortunately, when we arrived, we were too late for the tour. We did get to see some of the retired goats living out their golden years on the farm.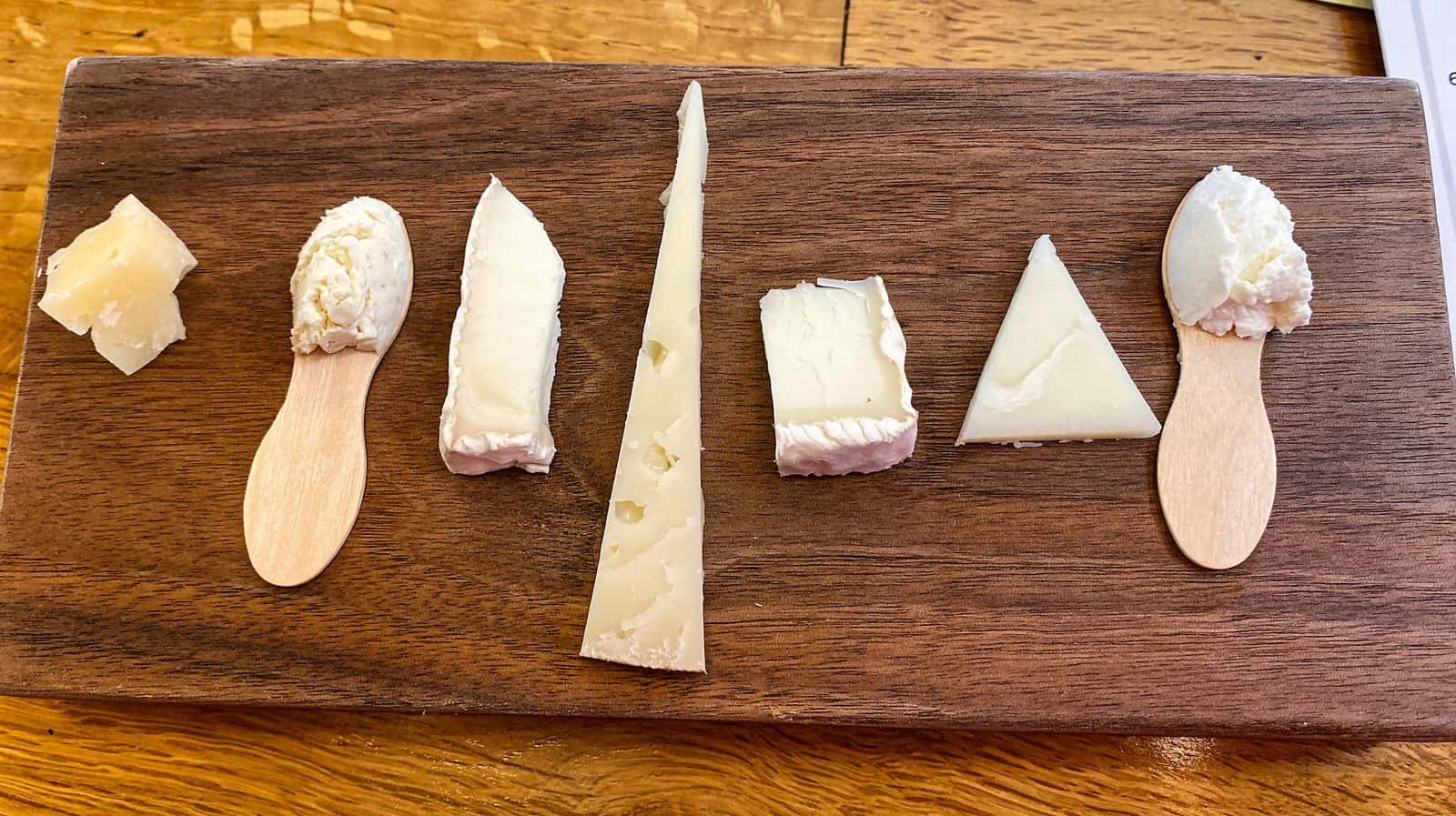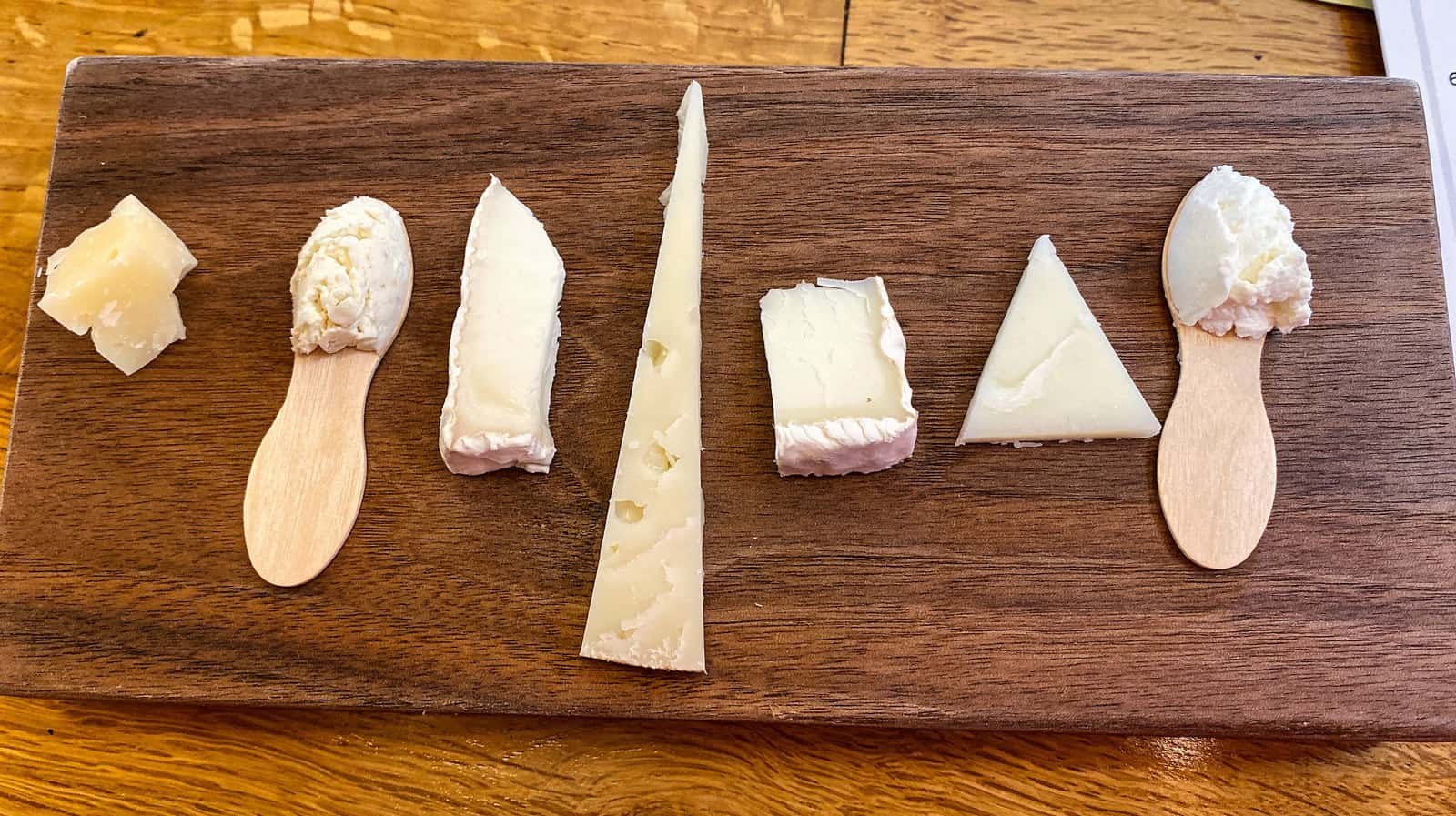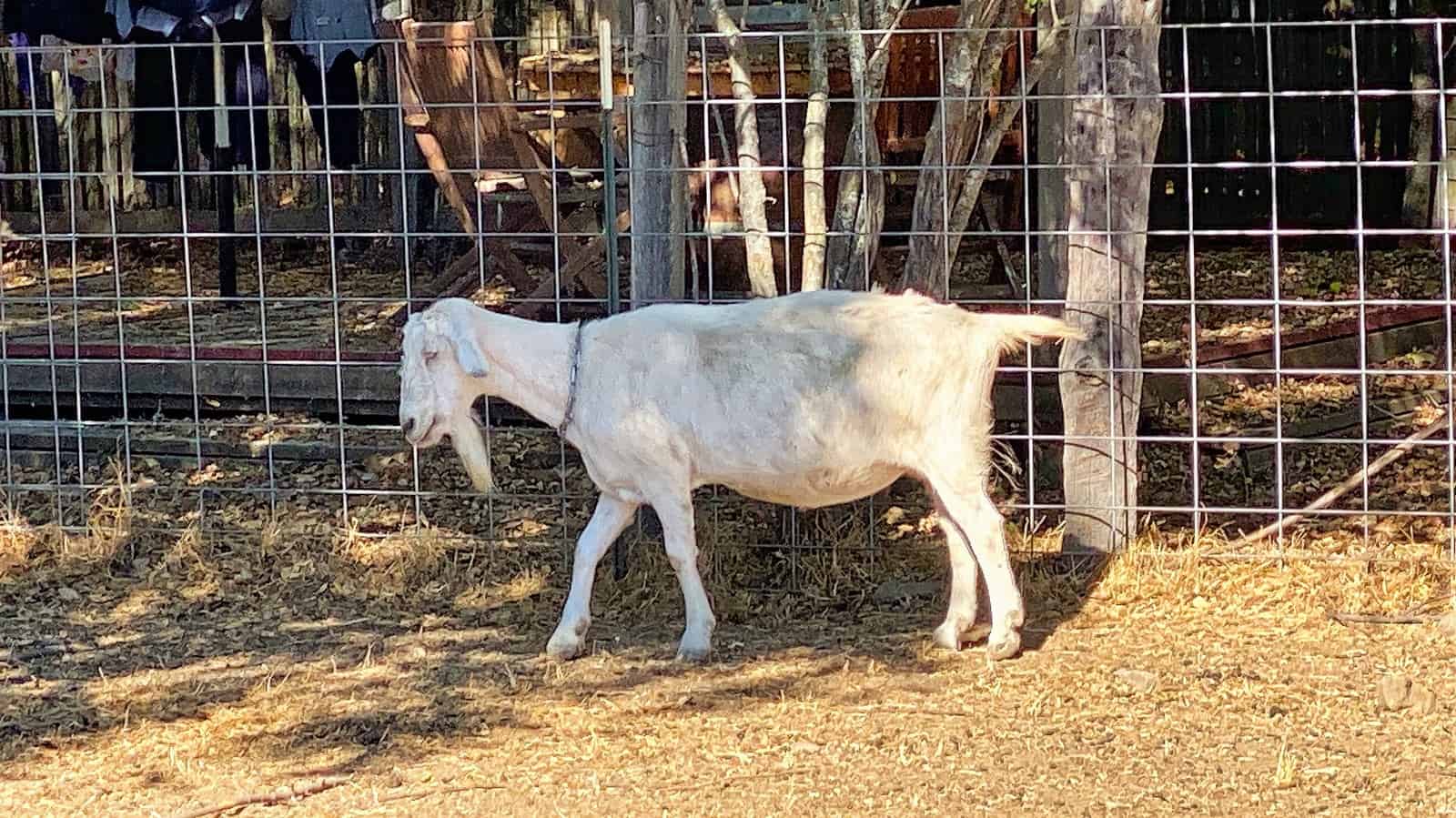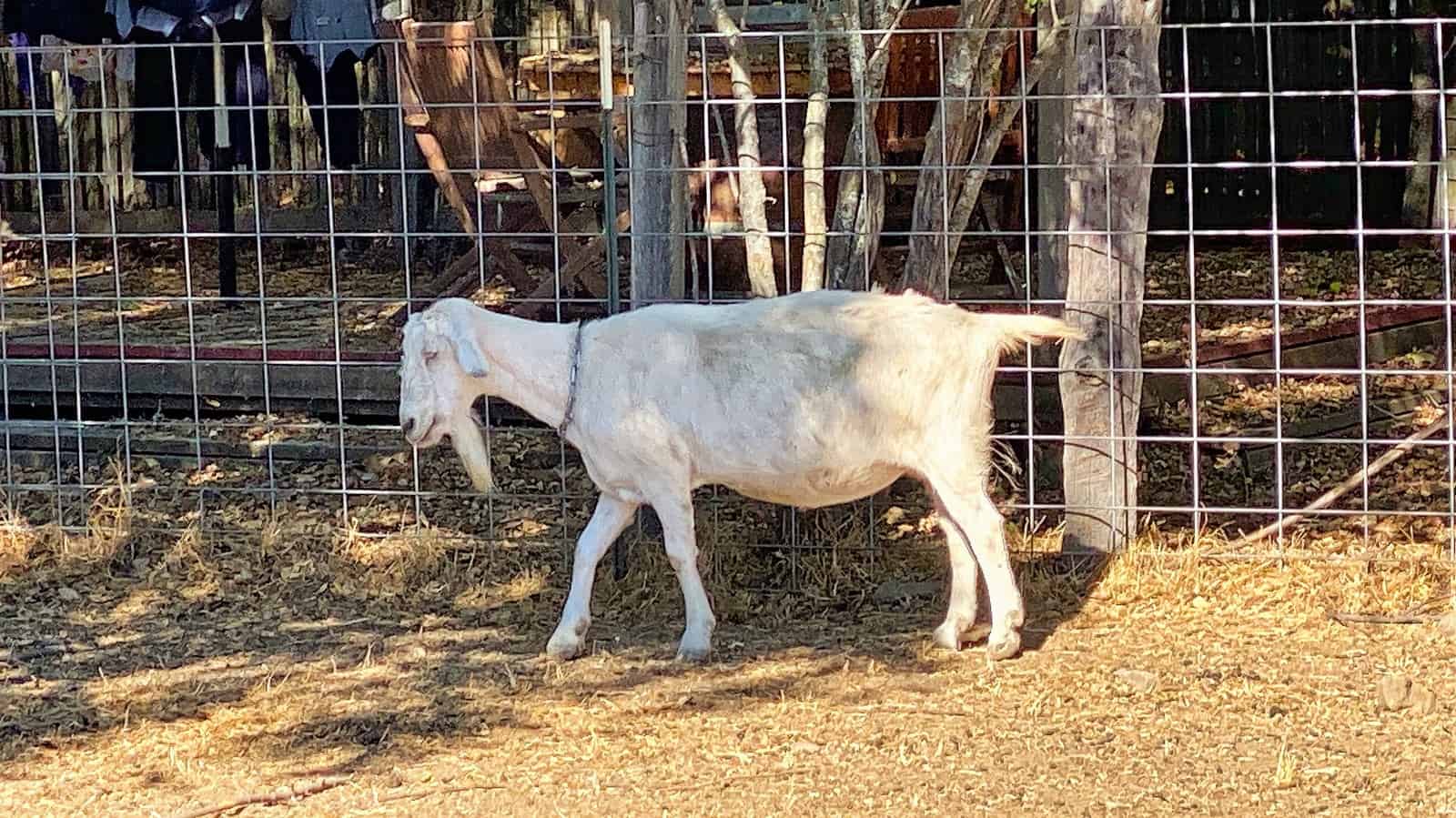 Mendocino Wine
Undeniably, Mendocino is full of history, breathtaking coastal views, and wine. We love reds, and we found them in Mendocino wine. Surprisingly, everything from full-bodied reds to Pinot Noir. Each busting with flavor that only extreme weather can produce. We came for the wine but fell in love with the scenery.
To read more of our California wine road trip, see where it started in San Francisco.
QUICK ANSWERS
What was the first county in the United States to ban GMO's?
Mendocino County, California, was the first county in the United States to ban the cultivation, production or distribution of GMO's
Where was Murder She Wrote filmed?
The fictitious town of Cabot Cove is actually Mendocino although it was supposed to be somewhere in Maine.
---