Paso Robles is a charming city perfect for a wine getaway. Located halfway between Los Angeles and San Fransico, Paso Robles is California's fastest-growing wine region. But what makes it a perfect town for a getaway is that it is home to artisan winemakers, farmers, and chefs. Additionally, there are a couple of wonderful places to stay to make your Paso Robles Wine getaway magical.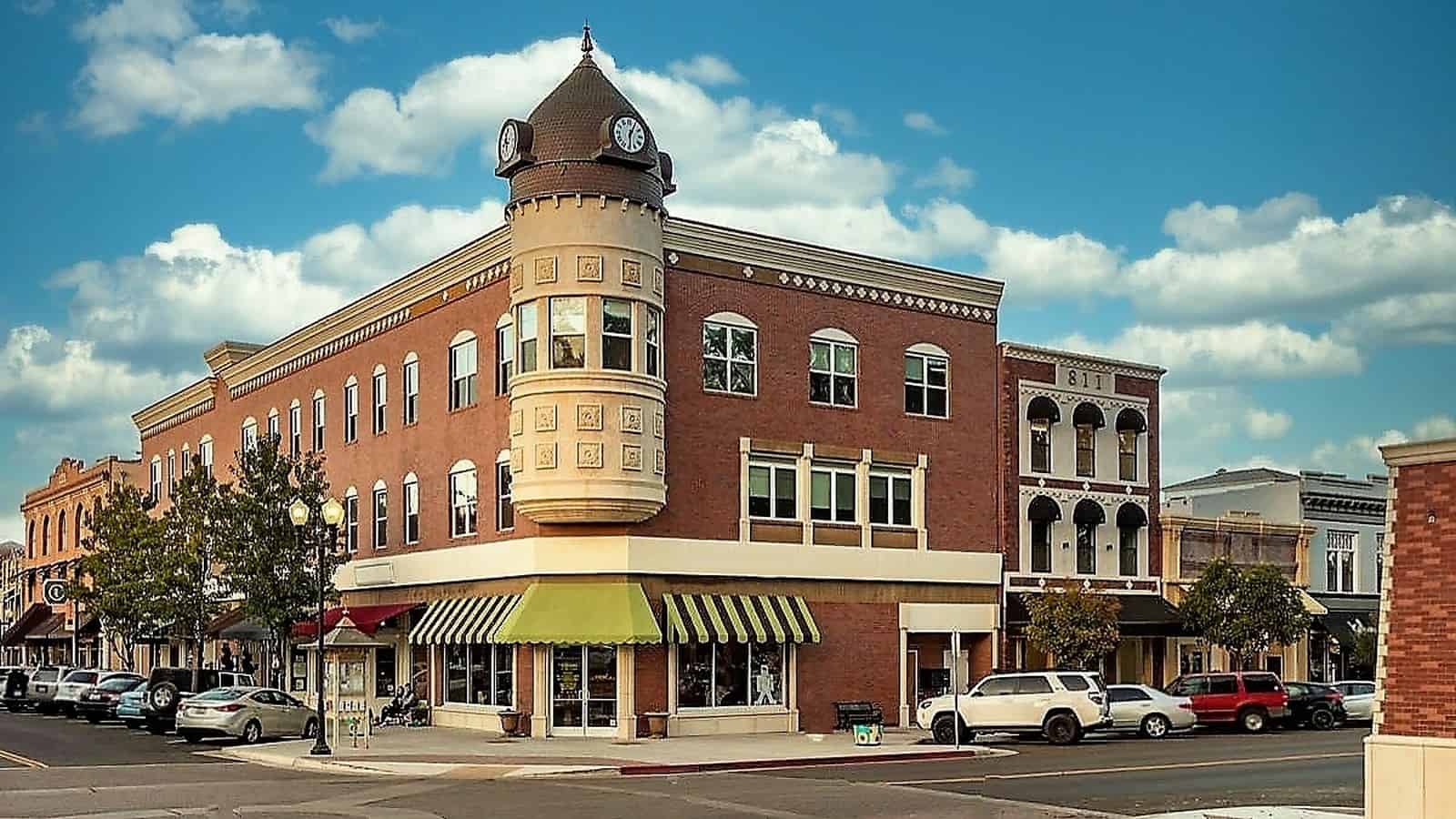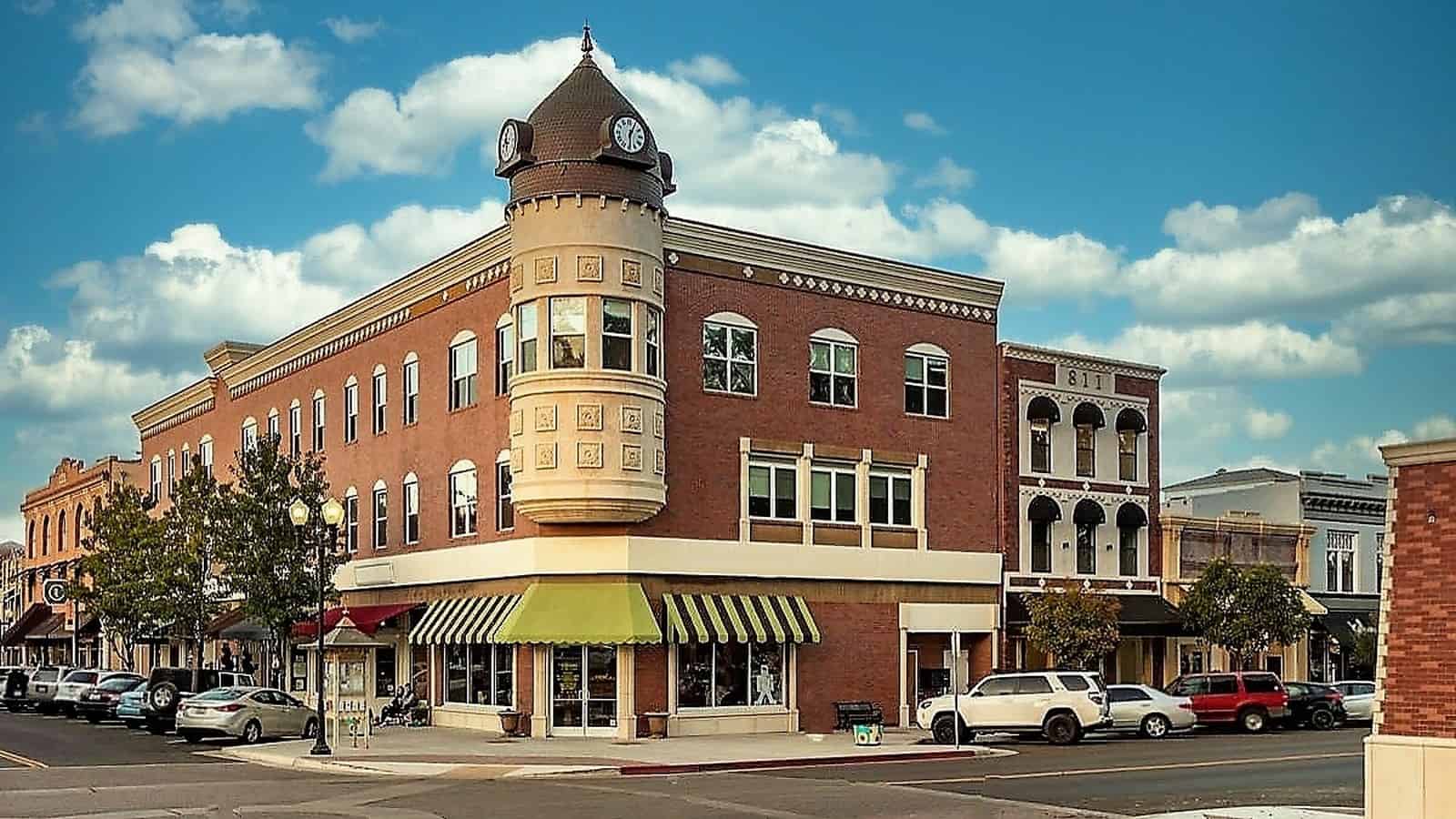 Paso Robles has a historic downtown square with wine and olive oil tasting, shopping galore, and unique restaurants. Plus, there are a lot of wineries within a short distance from town. We love to travel, but we also love wine. Anytime we can combine the two, we are in a happy place. Also, we appreciate an amazing place to stay while getting away. So, we put together a list of where to stay, dine, and most importantly, where to taste wine in Paso.
The Allegretto – A Sanctuary Hotel with Excellent Service, Beauty but Also Heart
Our first recommendation is to stay at the Allegretto Vineyard Resort. The Allegretto is a 5-star spiritual and emotional haven, not just a hotel. We would return to Paso just to stay there again. The Allegretto, located on 20 acres of winding walking paths, manicured Mediterranean gardens, vineyards, olives, and fruit orchards, is breathtaking.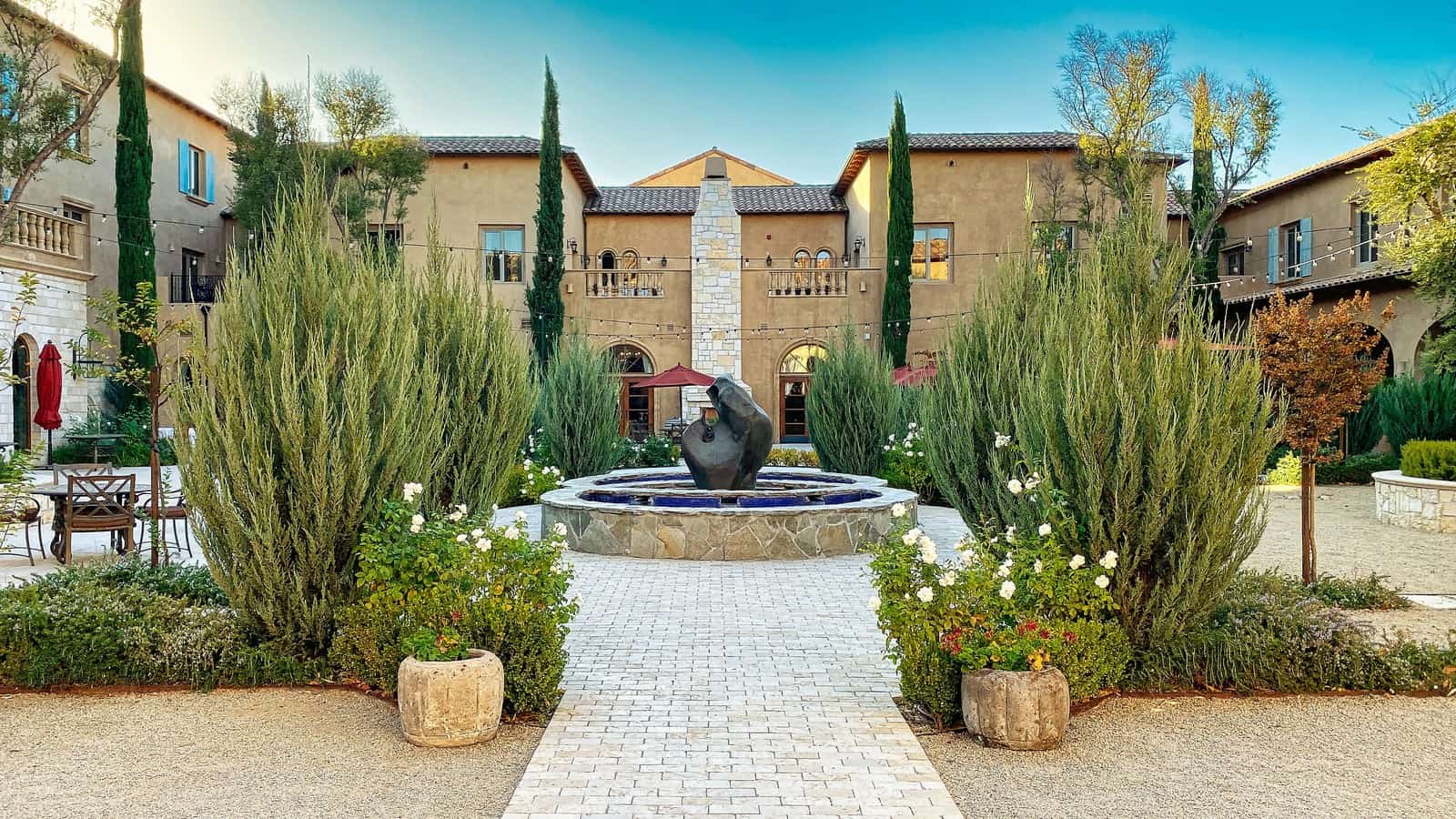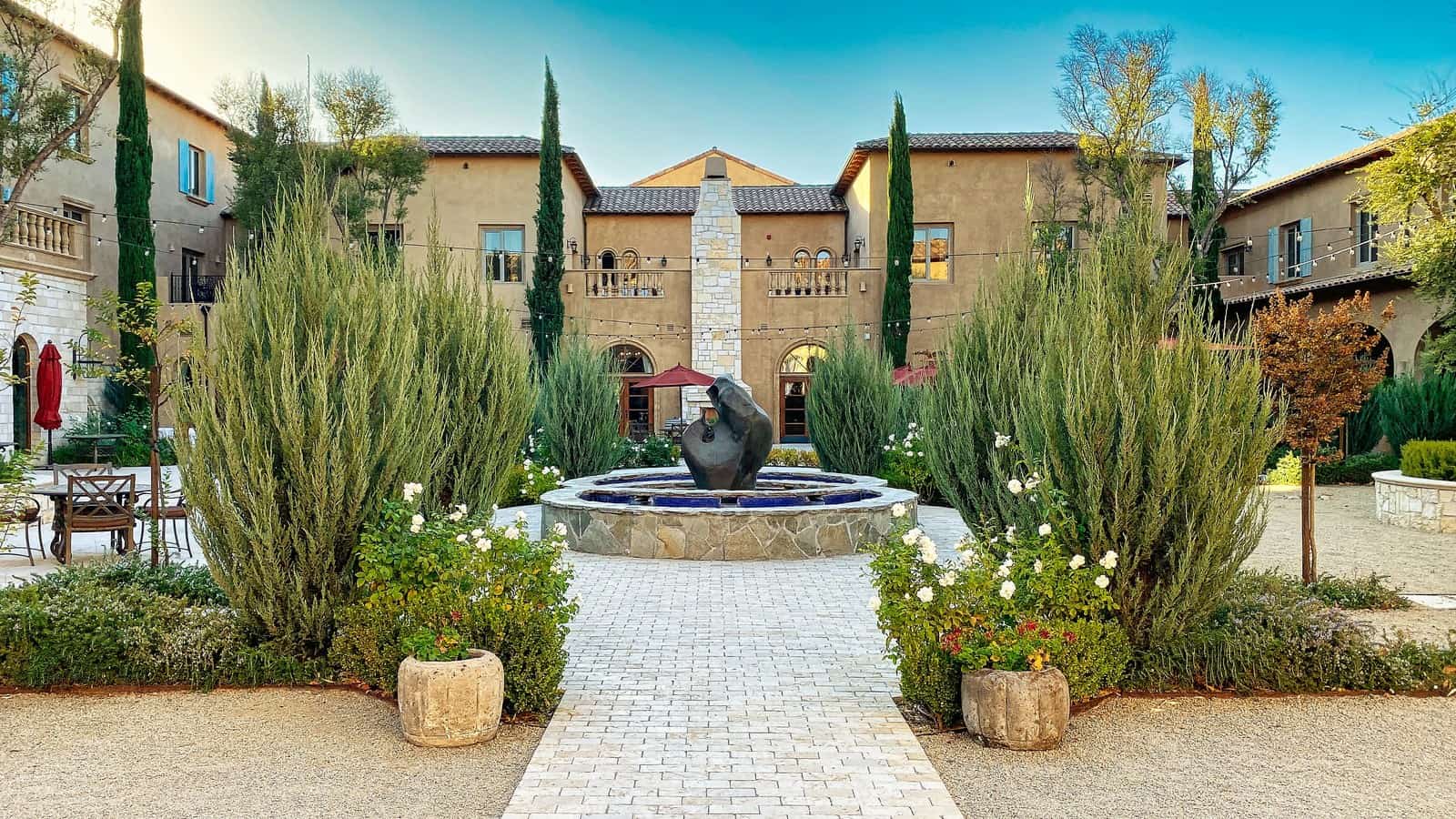 The Allegretto is the dream of Douglas Ayers, the owner. He hopes that his resort will inspire visitors to dream and imagine more. He filled the Allegretto with art and artifacts from multiple cultures, faiths, and centuries to highlight what is common between all humans. Doug grew up in California and studied religion and music at the University of Sothern California. He traveled the world, studying various religions in search of spiritual direction. The name refers to the cheerful musical tempo, and Doug hopes that a stay at the Allegretto will be a joyful one.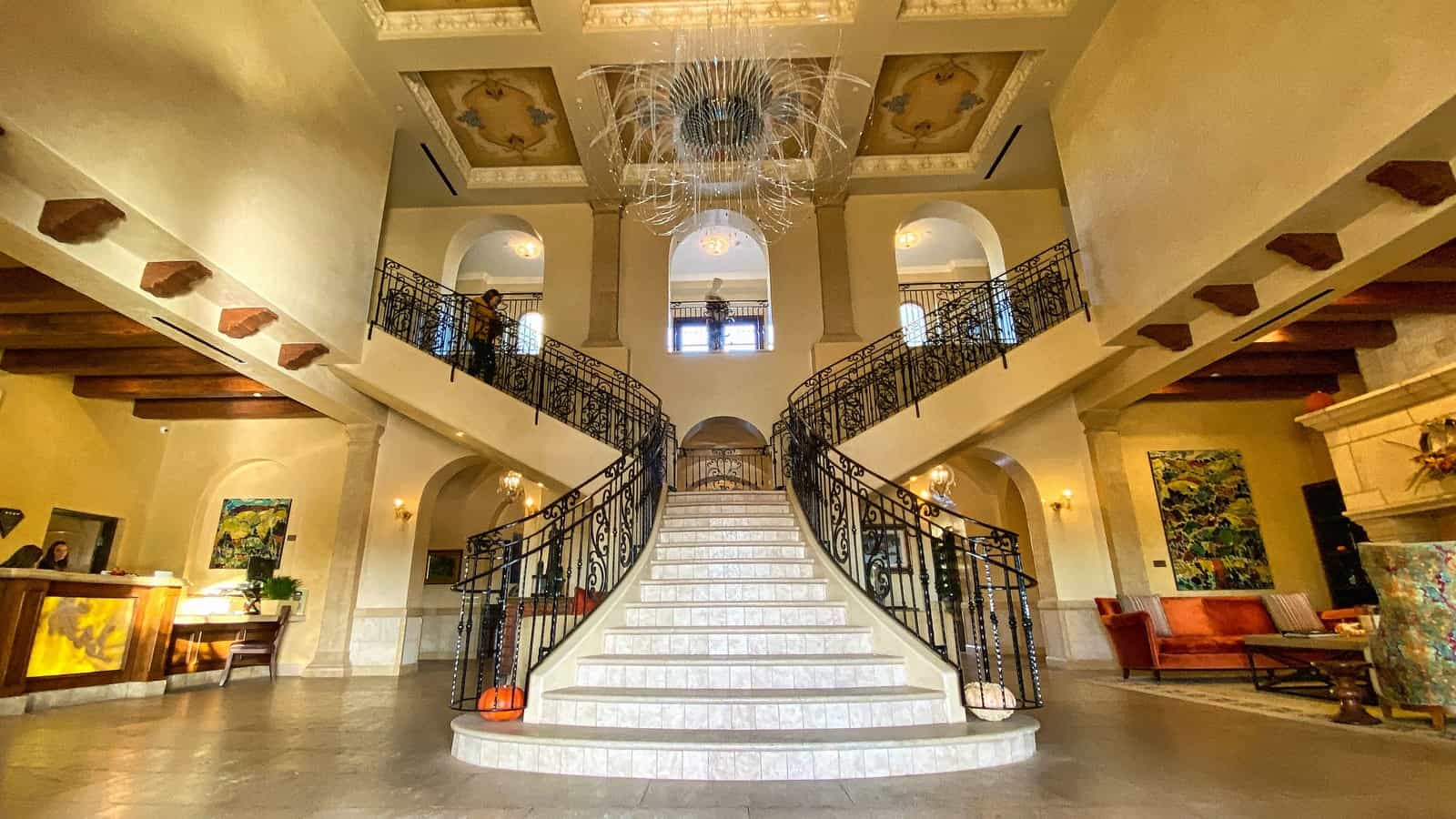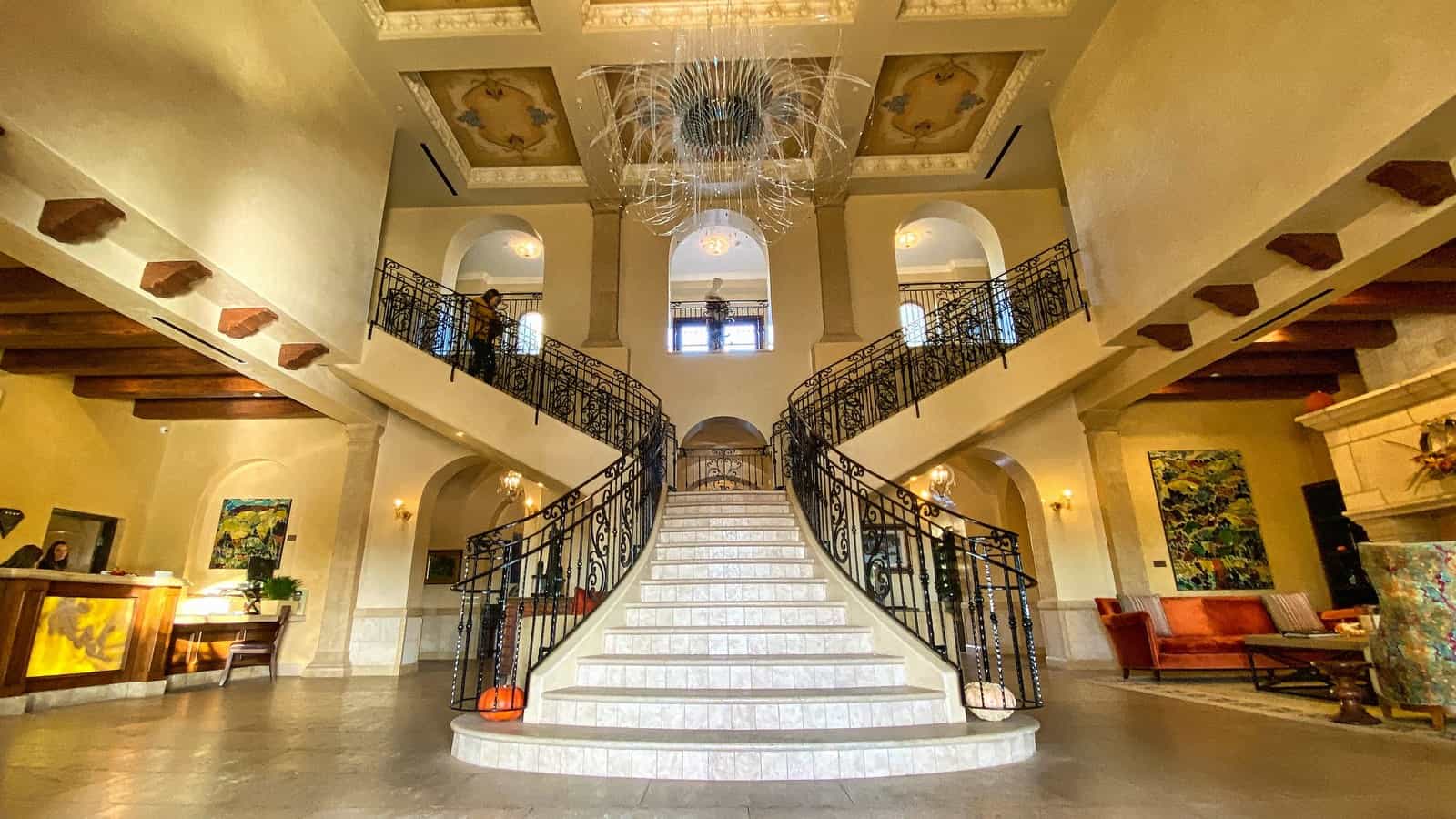 The Allegretto has a Tuscan flair. It is rustic yet elegant. The Allegretto uses simple lines with lots of beautiful woods and stone reminiscent of Italy. It's common areas feel like you are in the living area of an upscale Tuscan home complete with fireplaces. Also, just like in a home, the halls are filled with photos of Ayer's family history. These photos tell the story about a family that has given much to its community.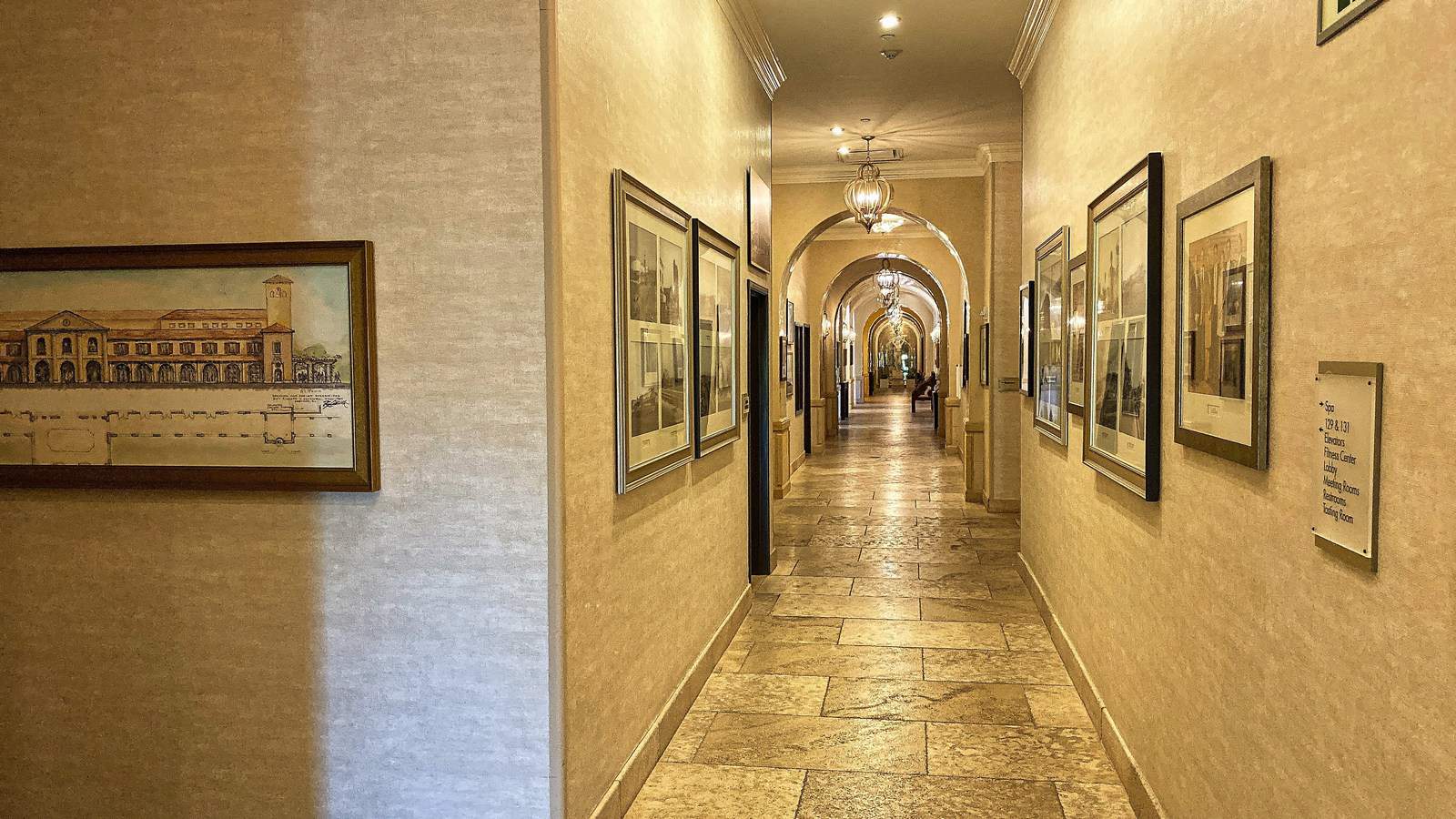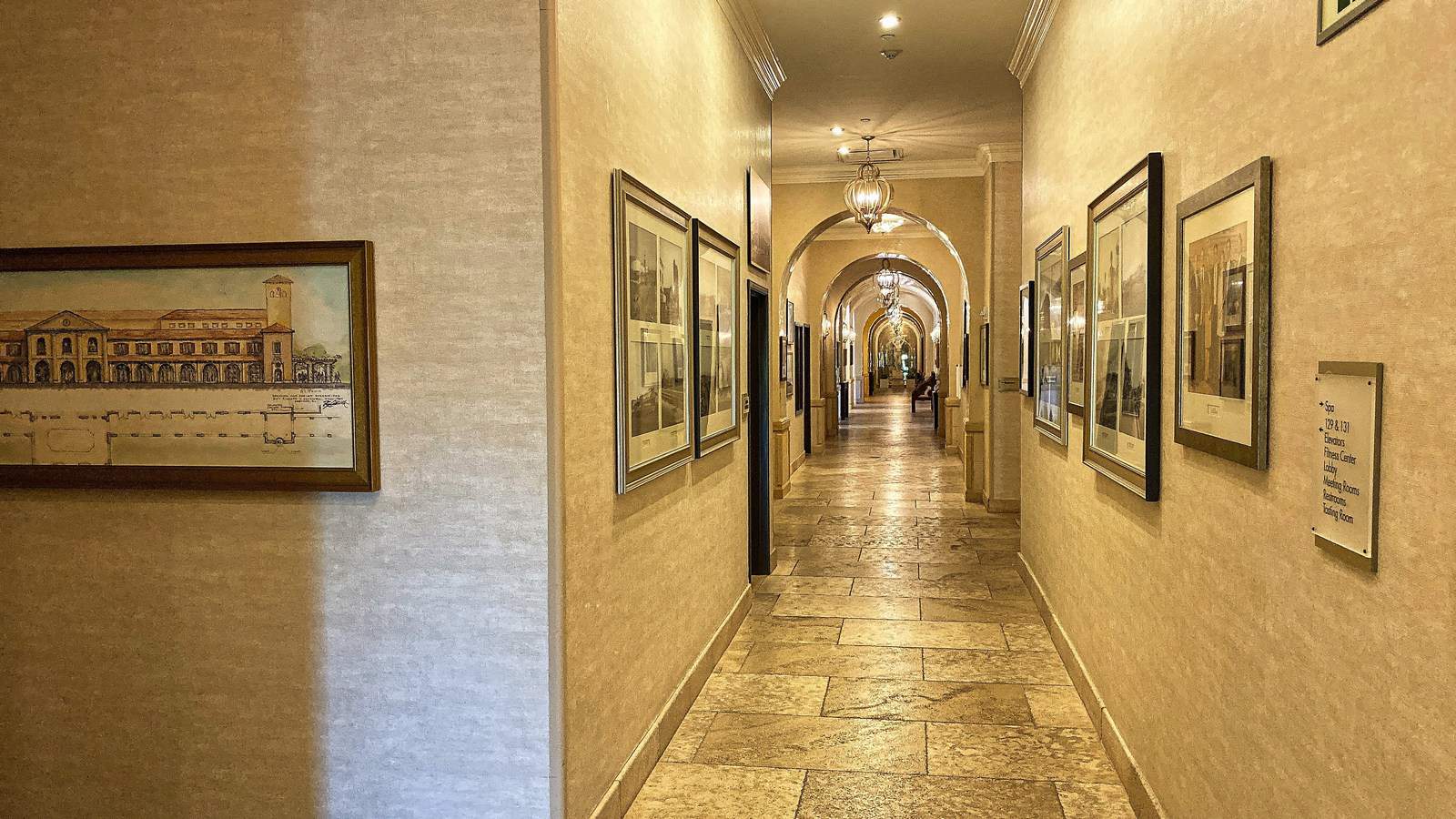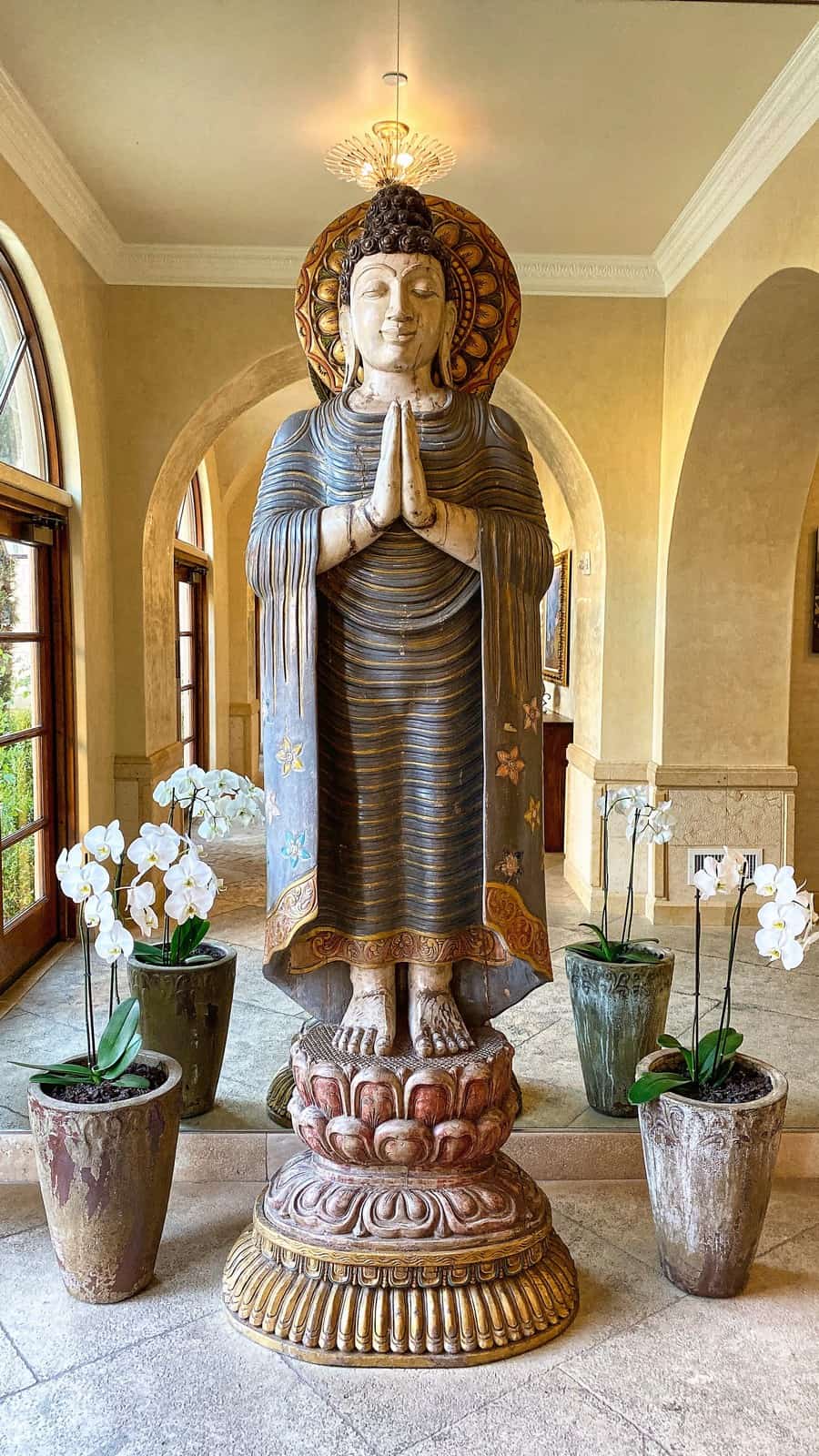 Our Prelude King with Terrazza Room
Our room was a Prelude King with Terrazza. The large room had vaulted ceilings, a desk, coffeemaker station, sofa, and a cocktail table.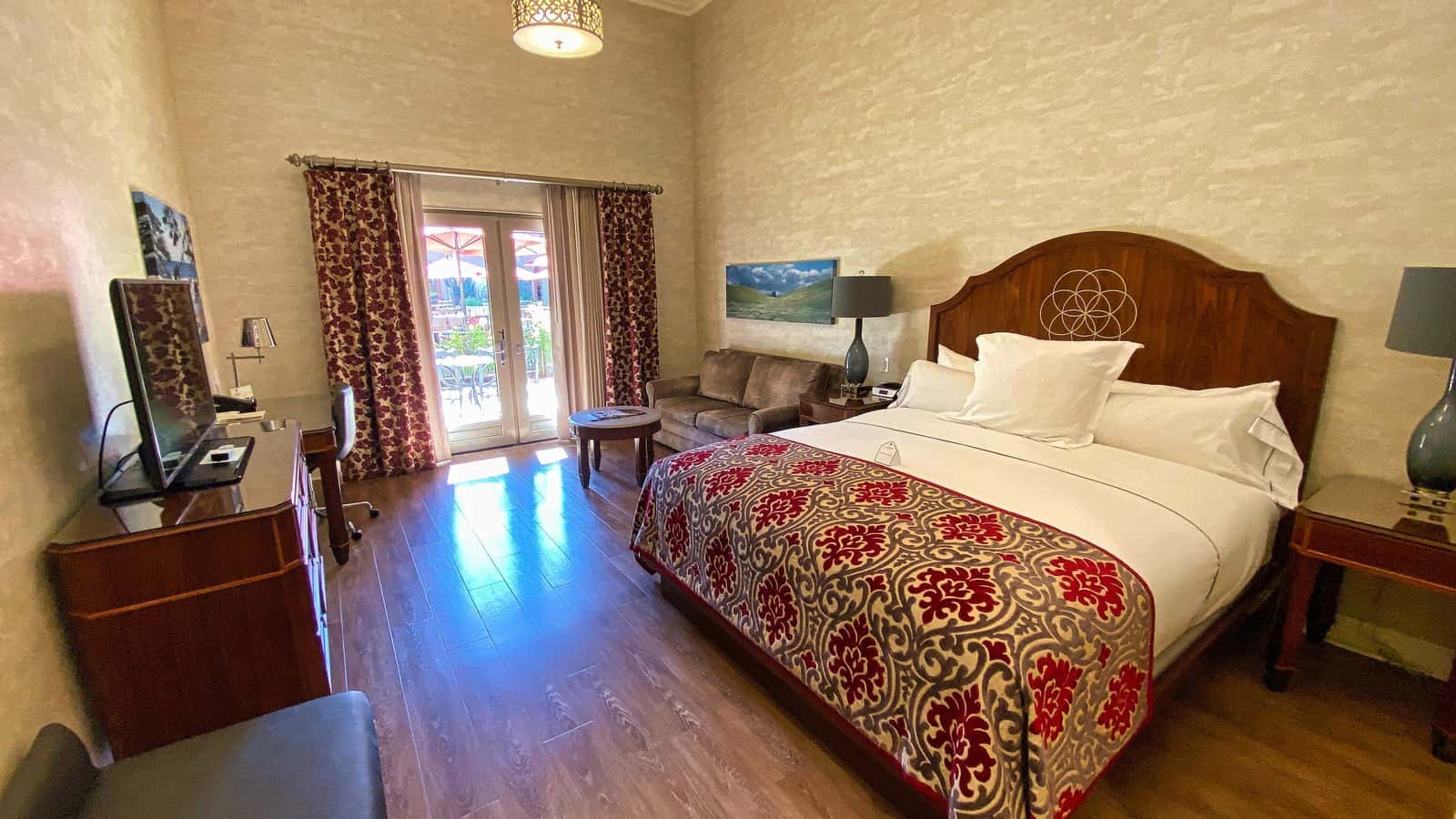 The luxurious room had glass doors that opened on to the tranquil courtyard. The bathroom was very large and featured custom bath amenities. The charming yet chic décor made the room truly feel like a sanctuary. Also, the resort has a great pool perfect for the Paso climate. If you are looking to get outdoors but don't want the full sun, they have lovely, well-appointed cabana you can reserve.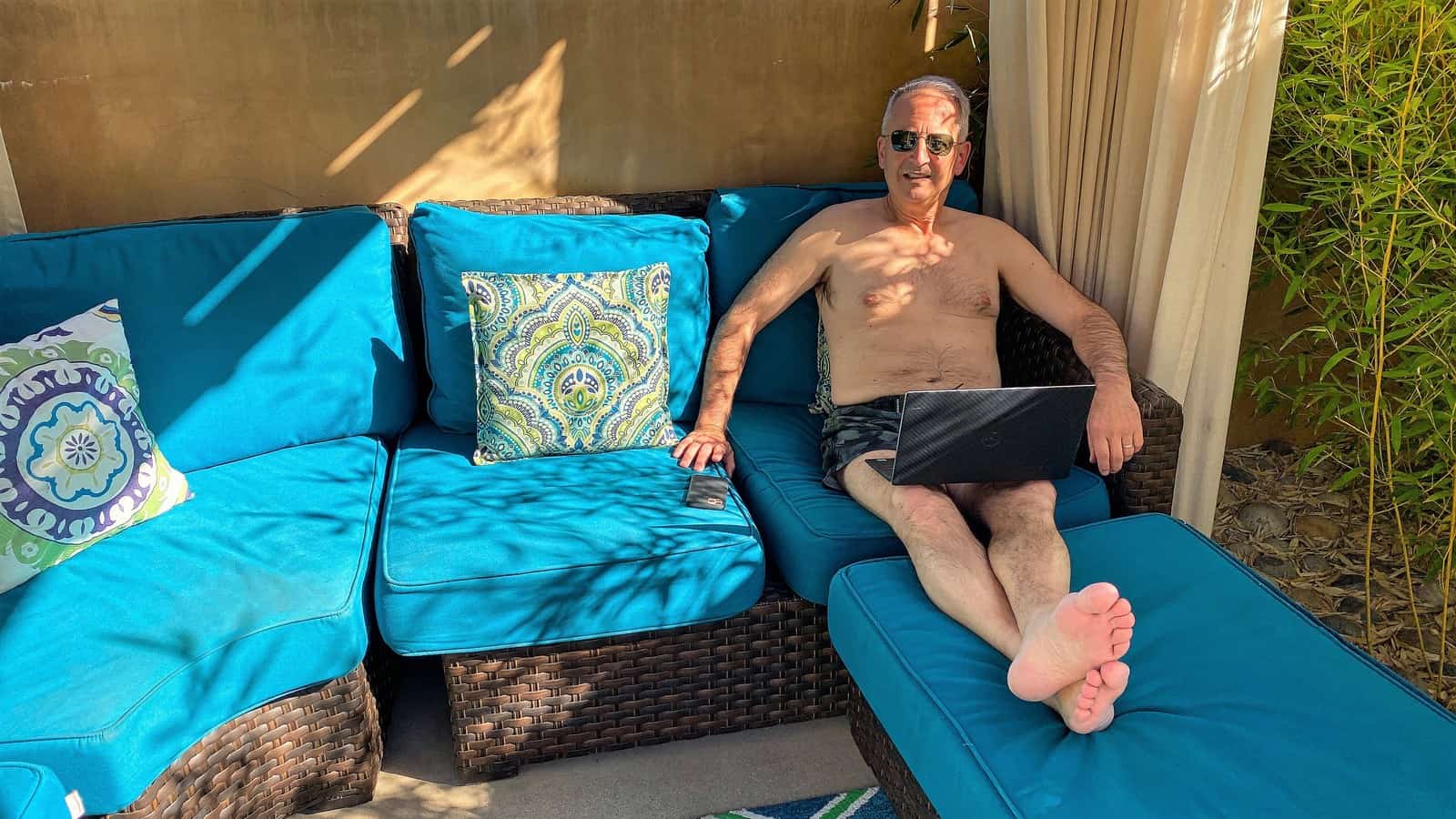 Surprisingly, the resort has a sonic labyrinth that invites visitors to become more mindful as they wander around its circular paths and listen to soothing, motion-activated tones. Additionally, there is a French-inspired abbey and serene garden walking paths that also encourage guests to slow down and reflect.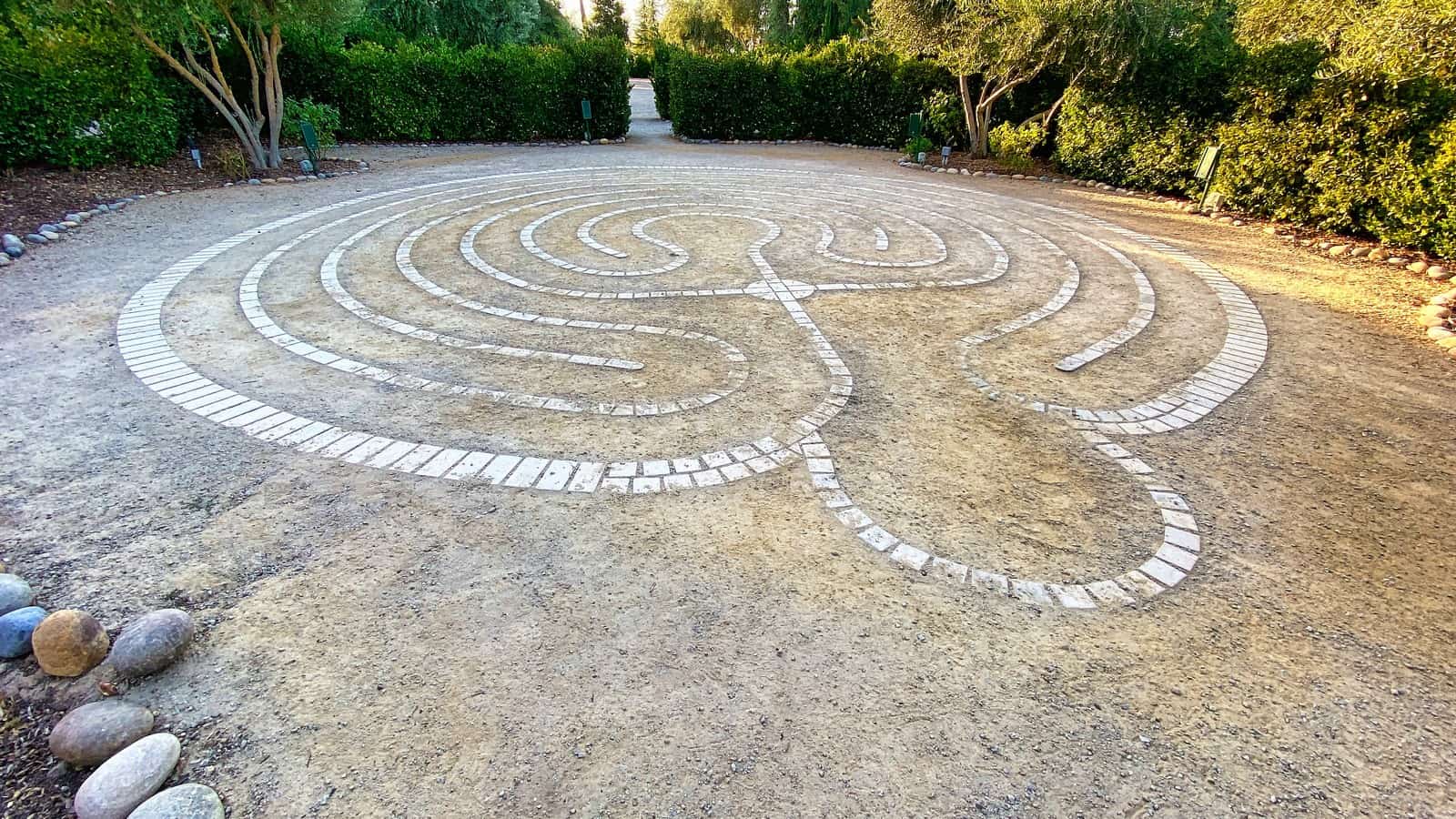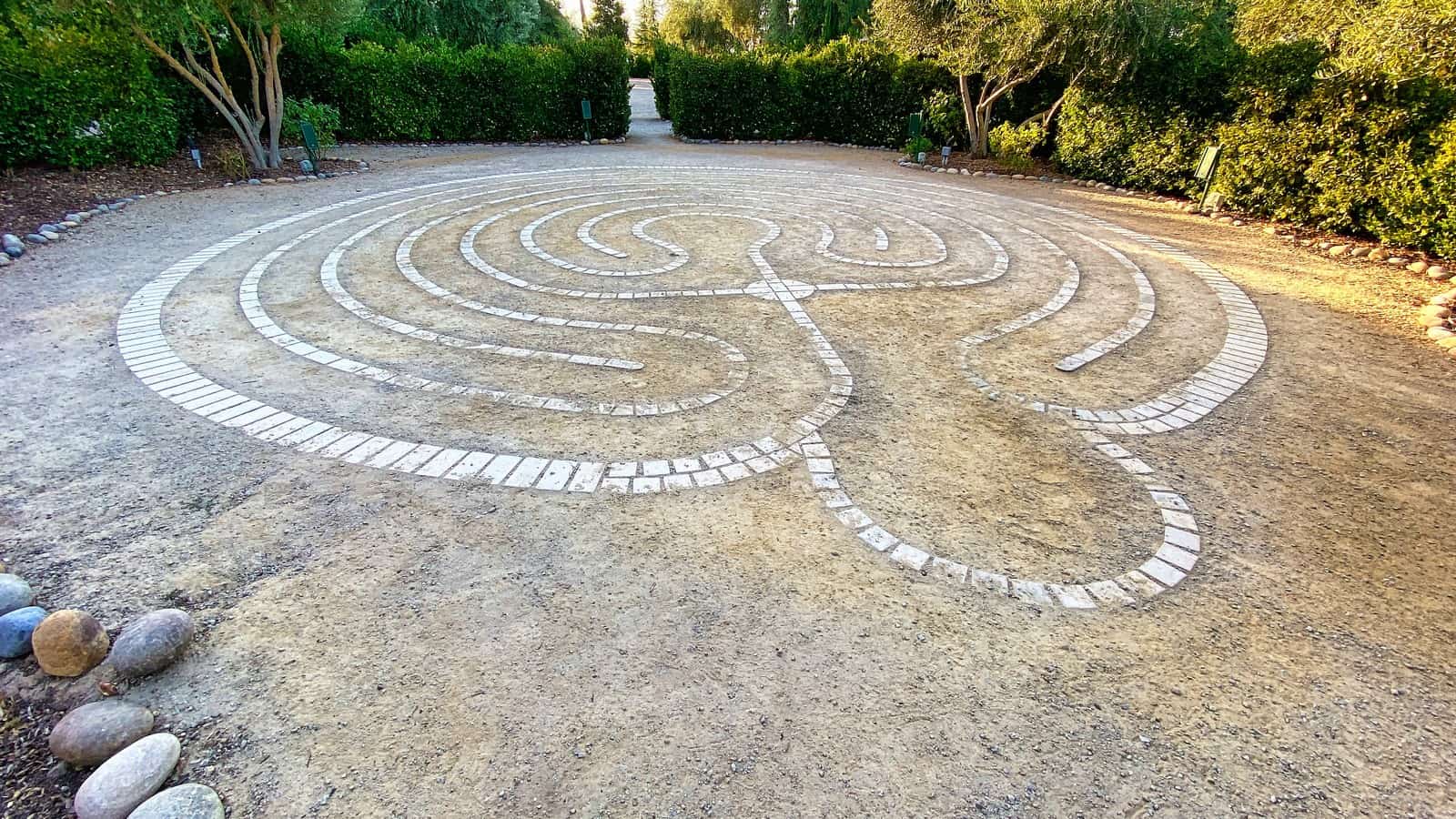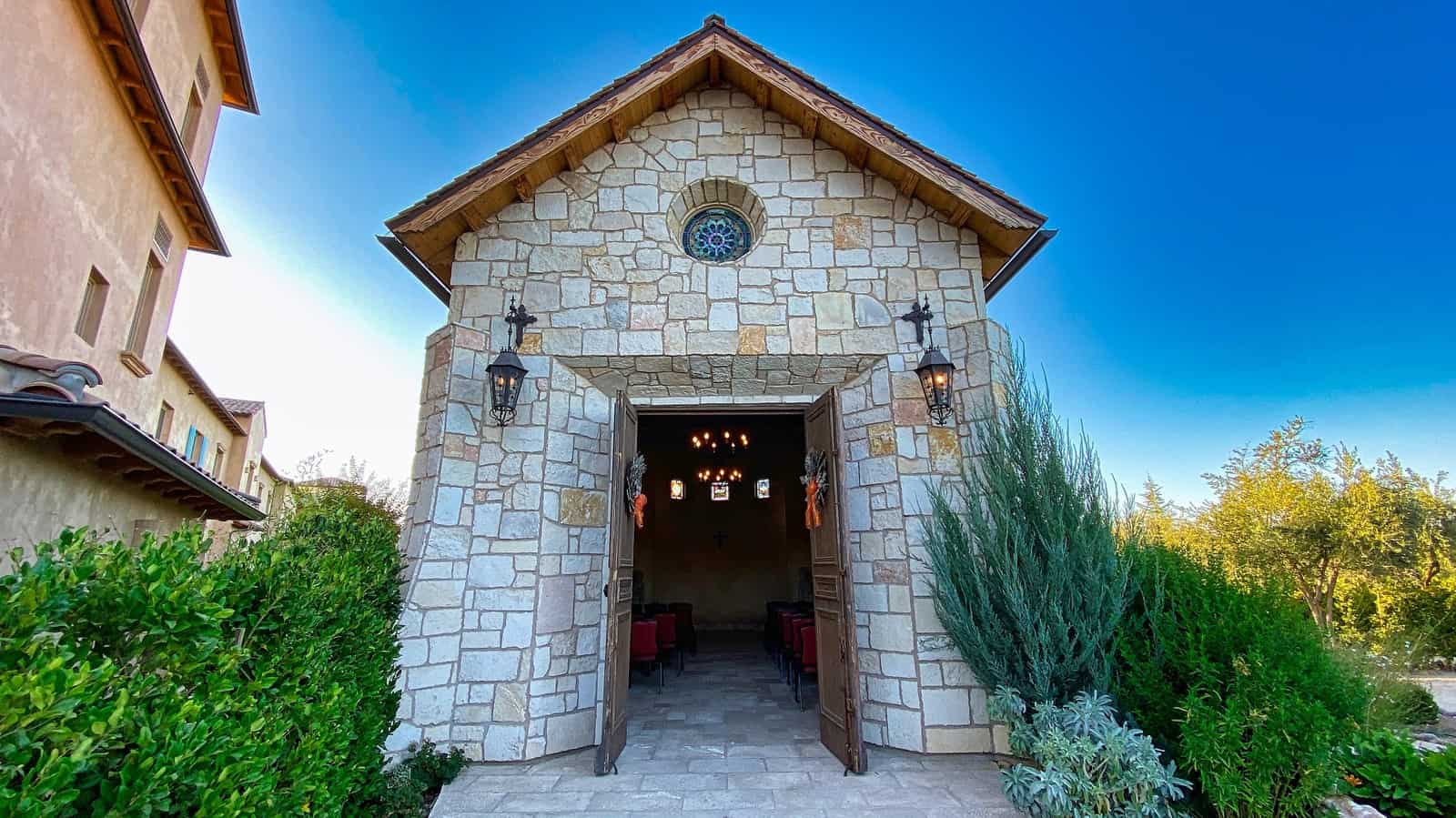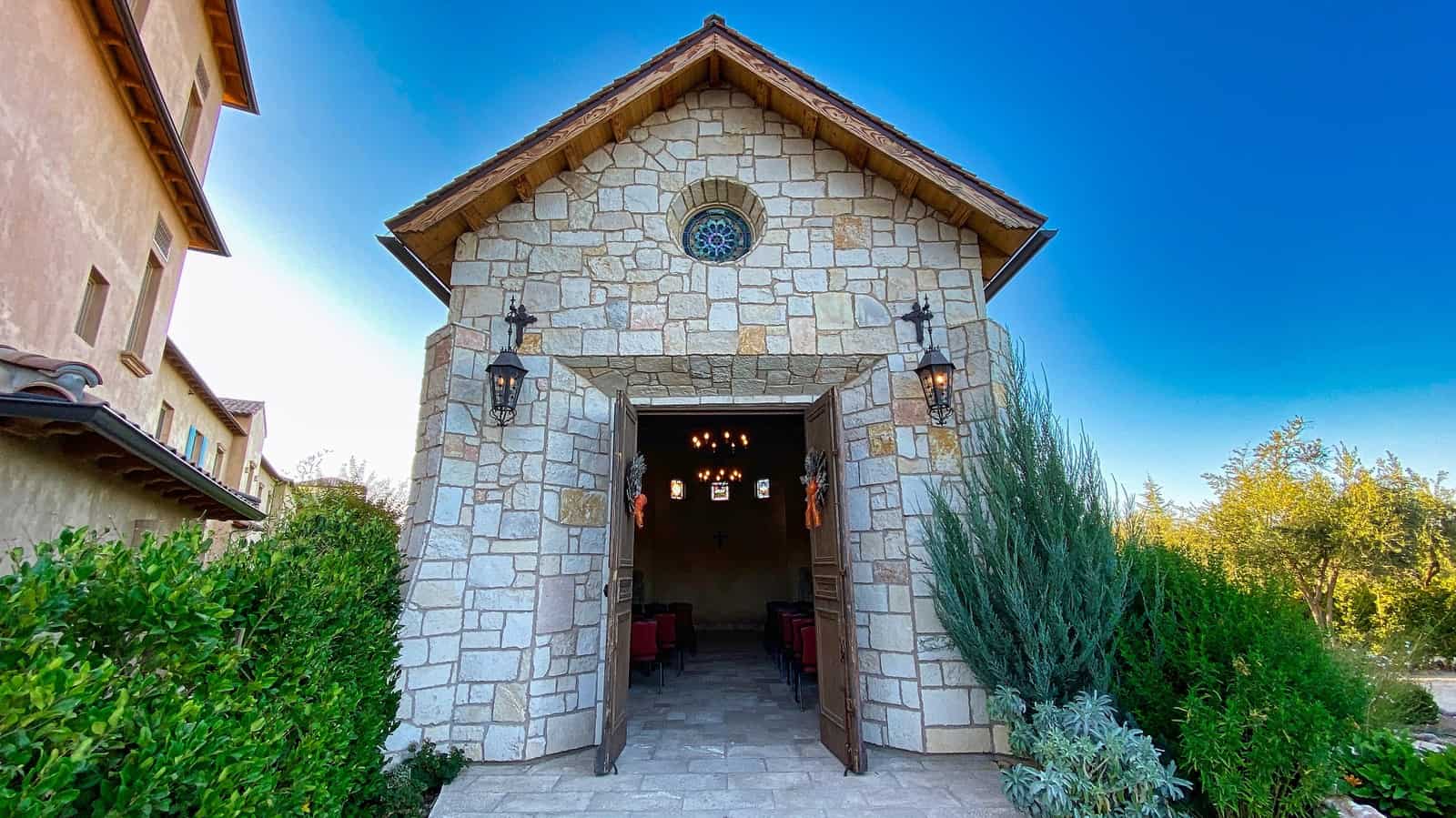 In the morning we got a made to order breakfast that was delicious. They even made a special vegan breakfast for me.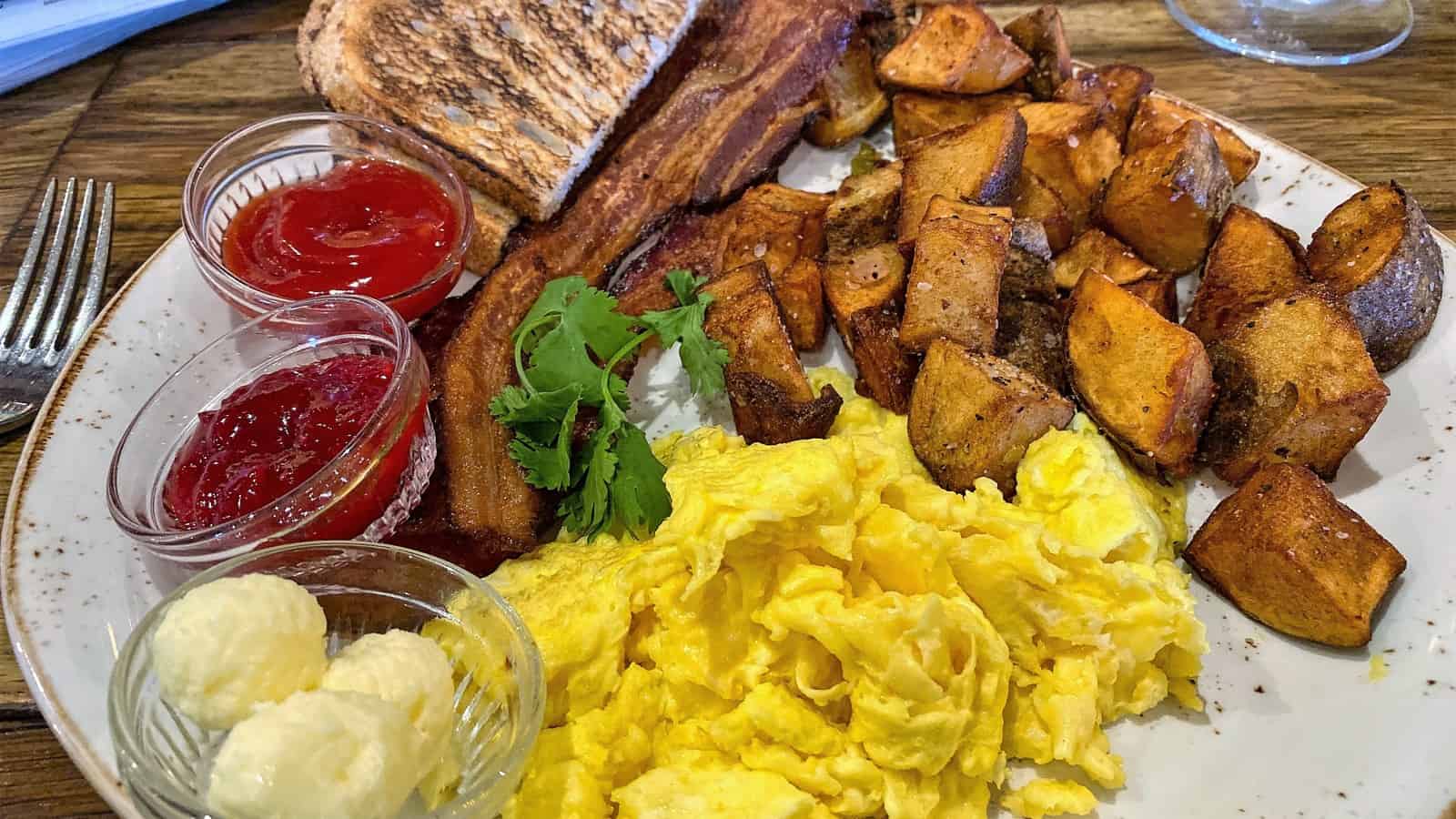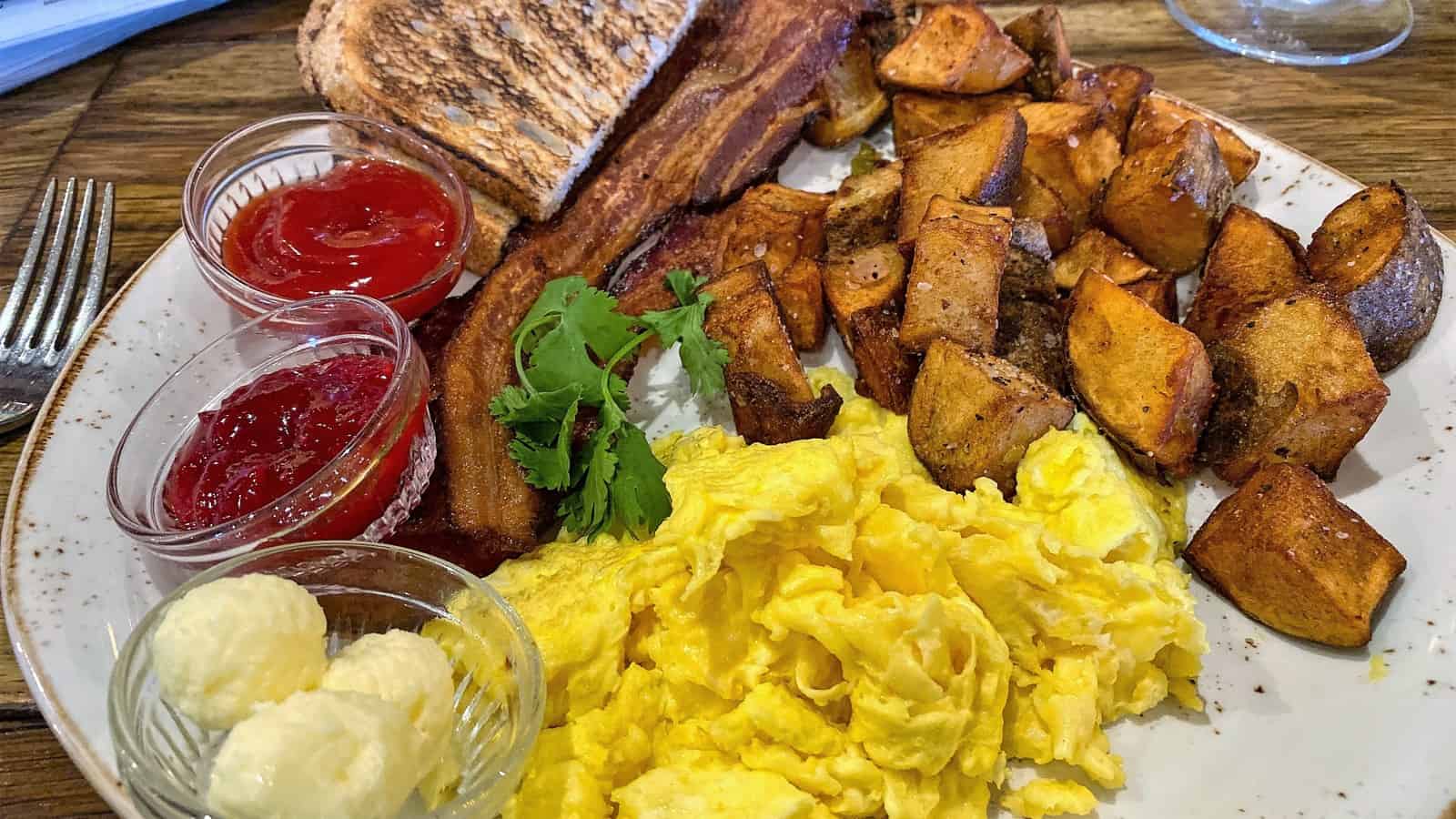 Enjoy Award-Winning Wine, Unique Art, and Magnificent Views
Now, if all of that were not enough, you can also enjoy Paso Robles wine at the Allegretto tasting room located inside the picturesque resort. You can taste their estate and single-vineyard wines sourced from the vineyards surrounding the tasting room, as well as wine from a west-side vineyard in the Willow Creek District. If the weather is nice, which it is most of the time in Paso, enjoy your wine outside in the courtyard.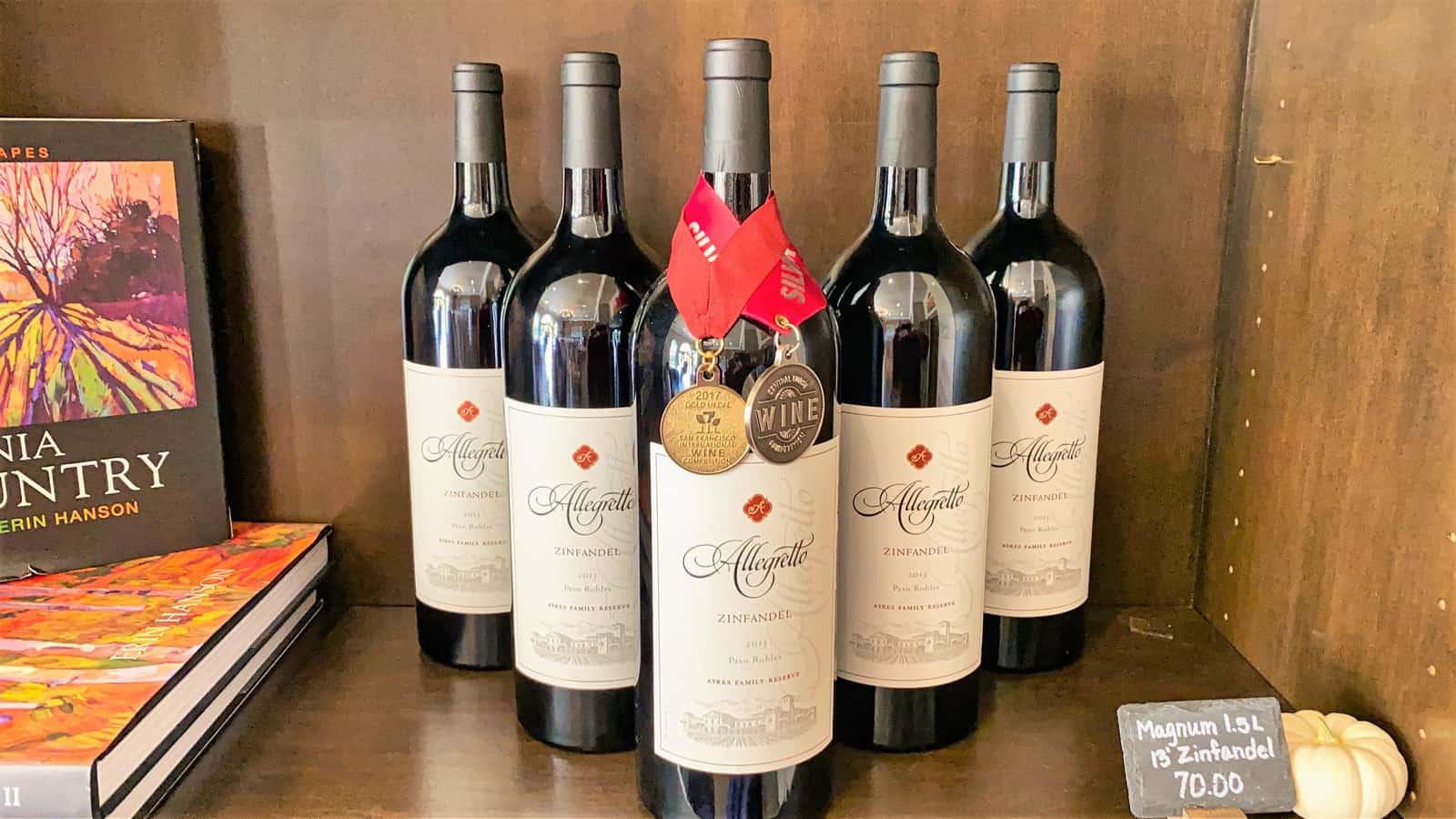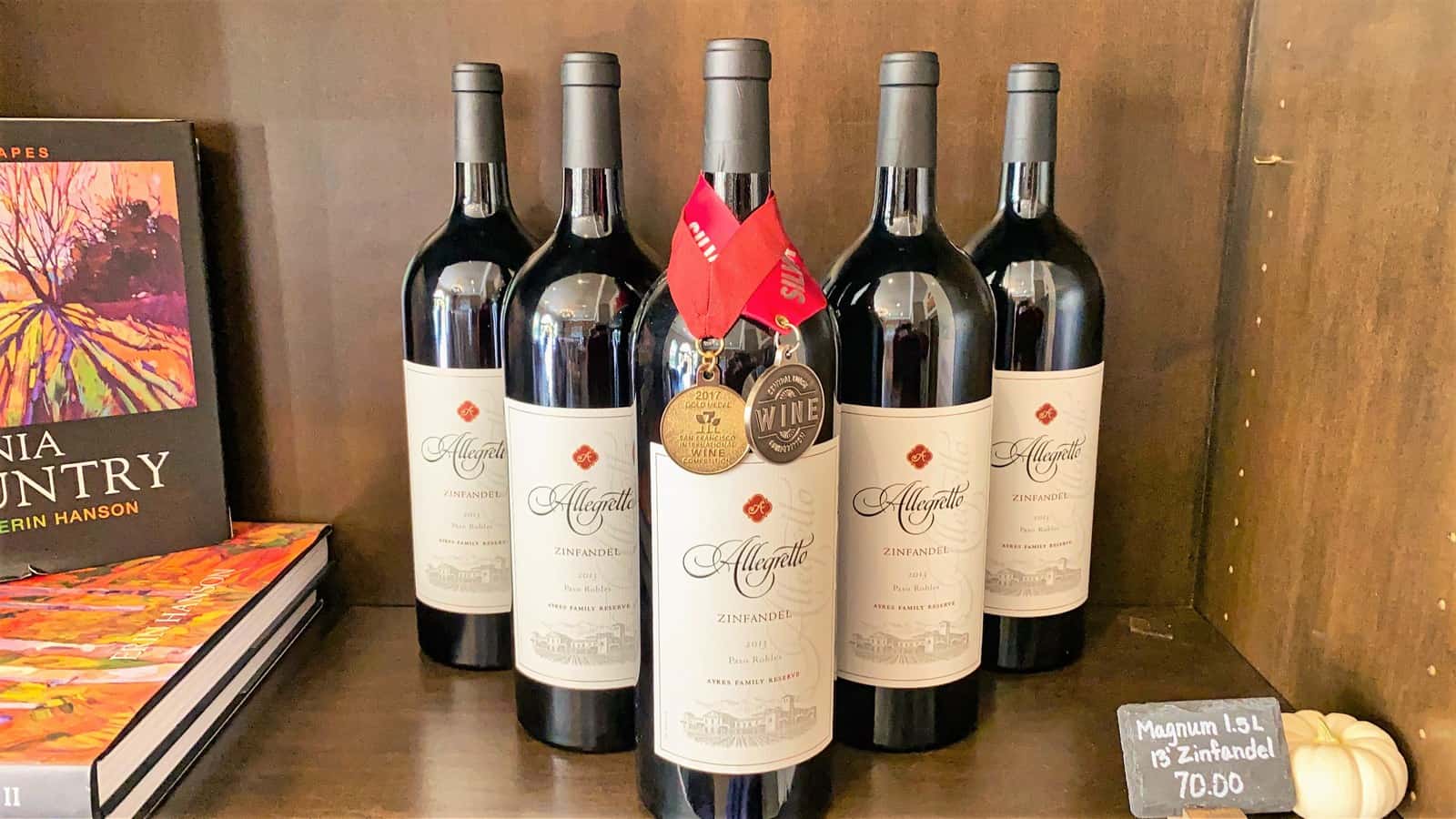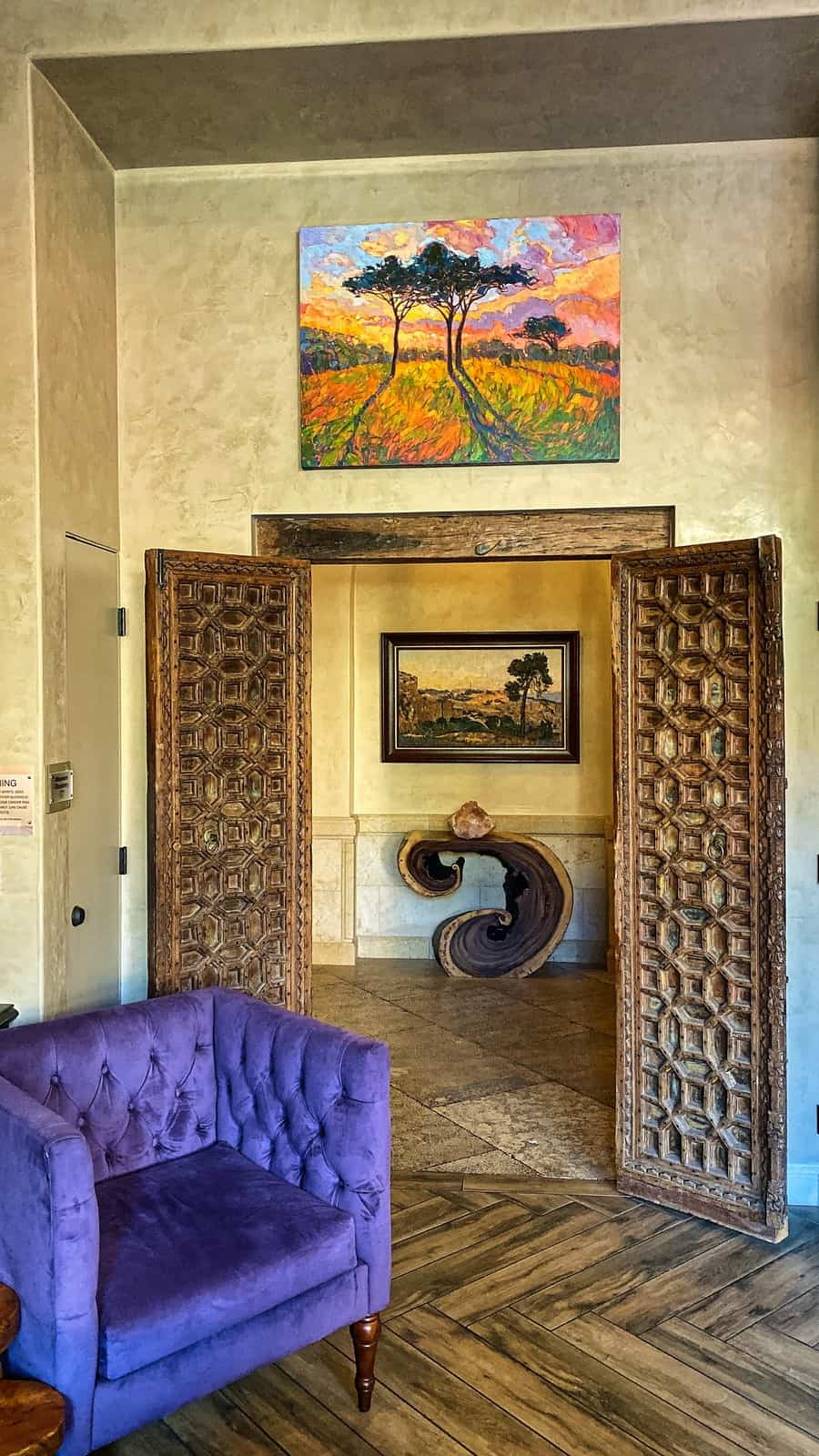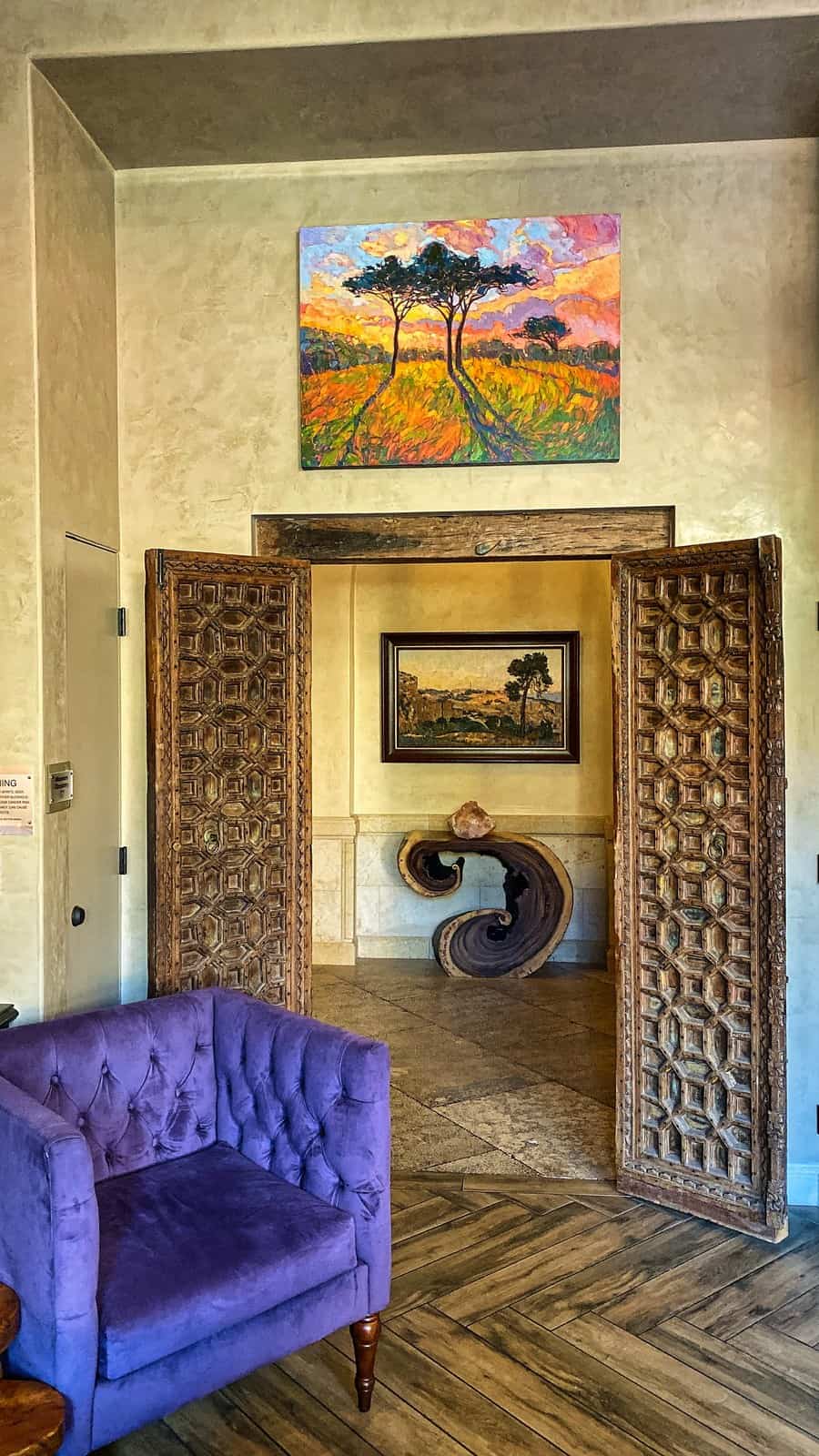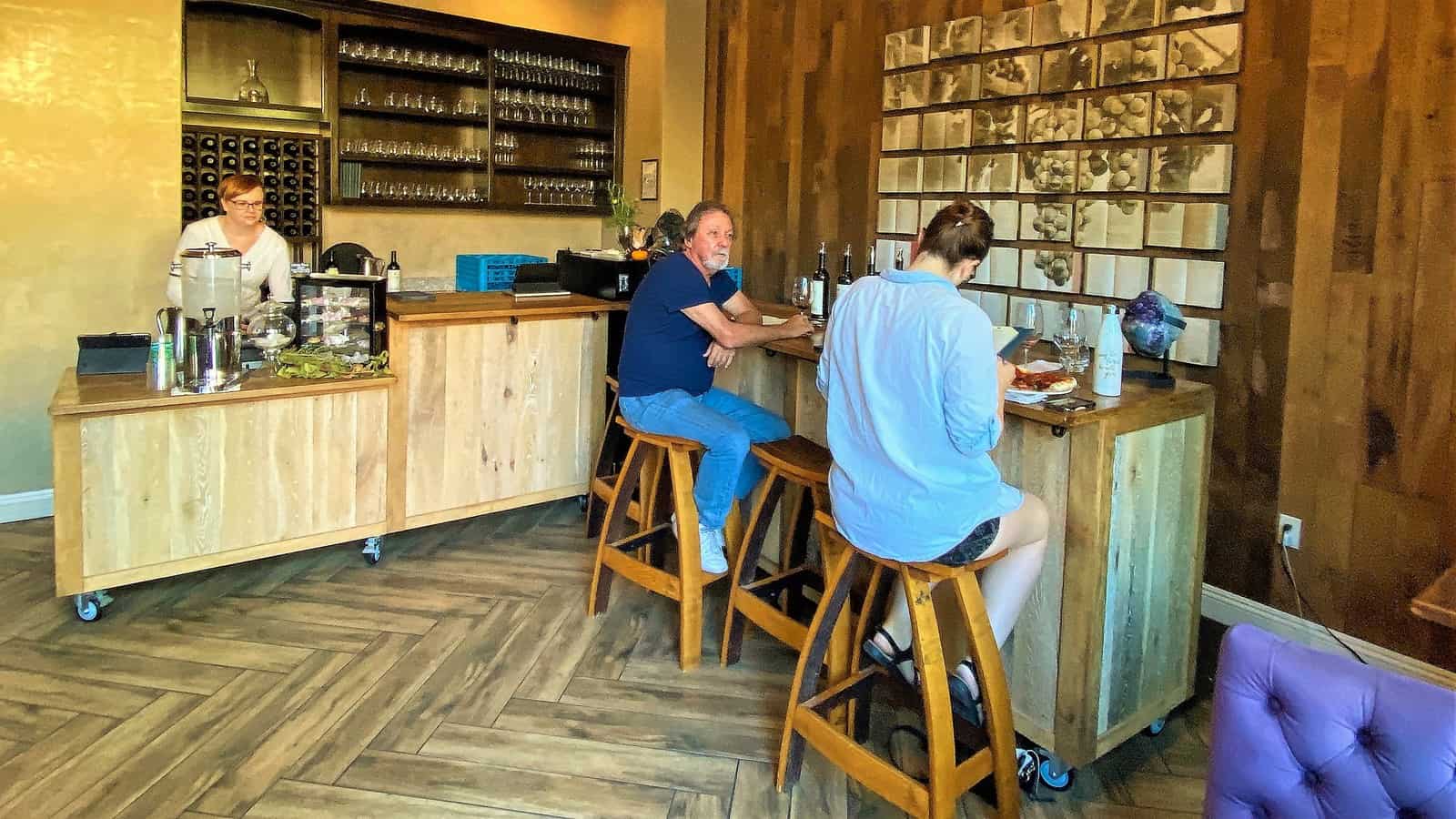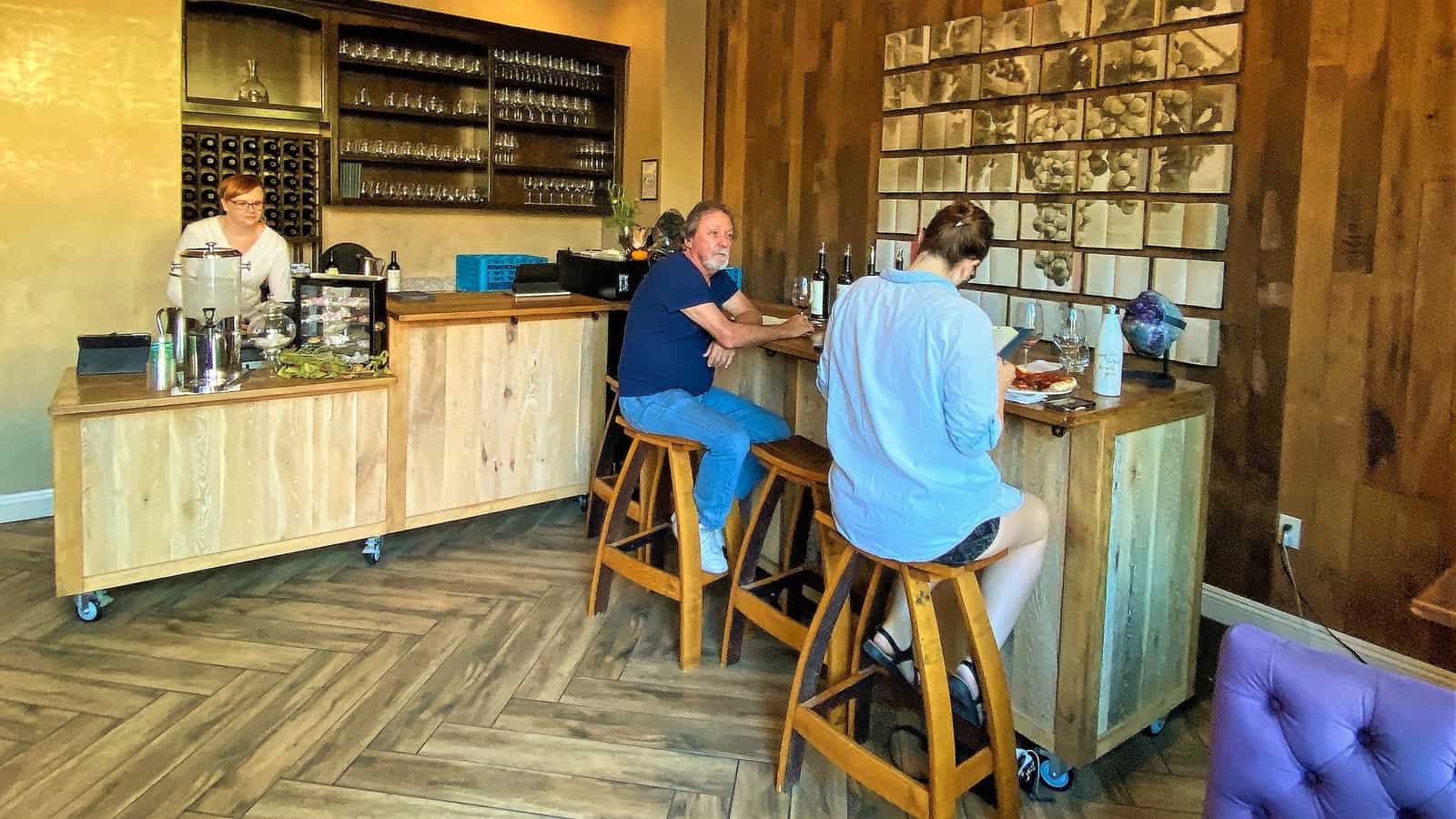 We enjoyed our wine in the courtyard as we had an interesting conversation with Doug Ayers. We both share a love of travel and a love of wine.
Paix Sur Terre Meaning Peace on Earth
Our first wine Paso Robles wine tasting recommendation is for Paix Sur Terre Wines. Mourvedre is the favorite wine varietal of the owners of the winery, Ryan and Nicole Pease. So when they decided to start making wine, naturally, Ryan and Nicole started with the varietal they love. Additionally, Paix Sur Terre produces small lots of Syrah, Grenache, and Mediterranean-style whites from carefully selected vineyards on the west side of Paso Robles.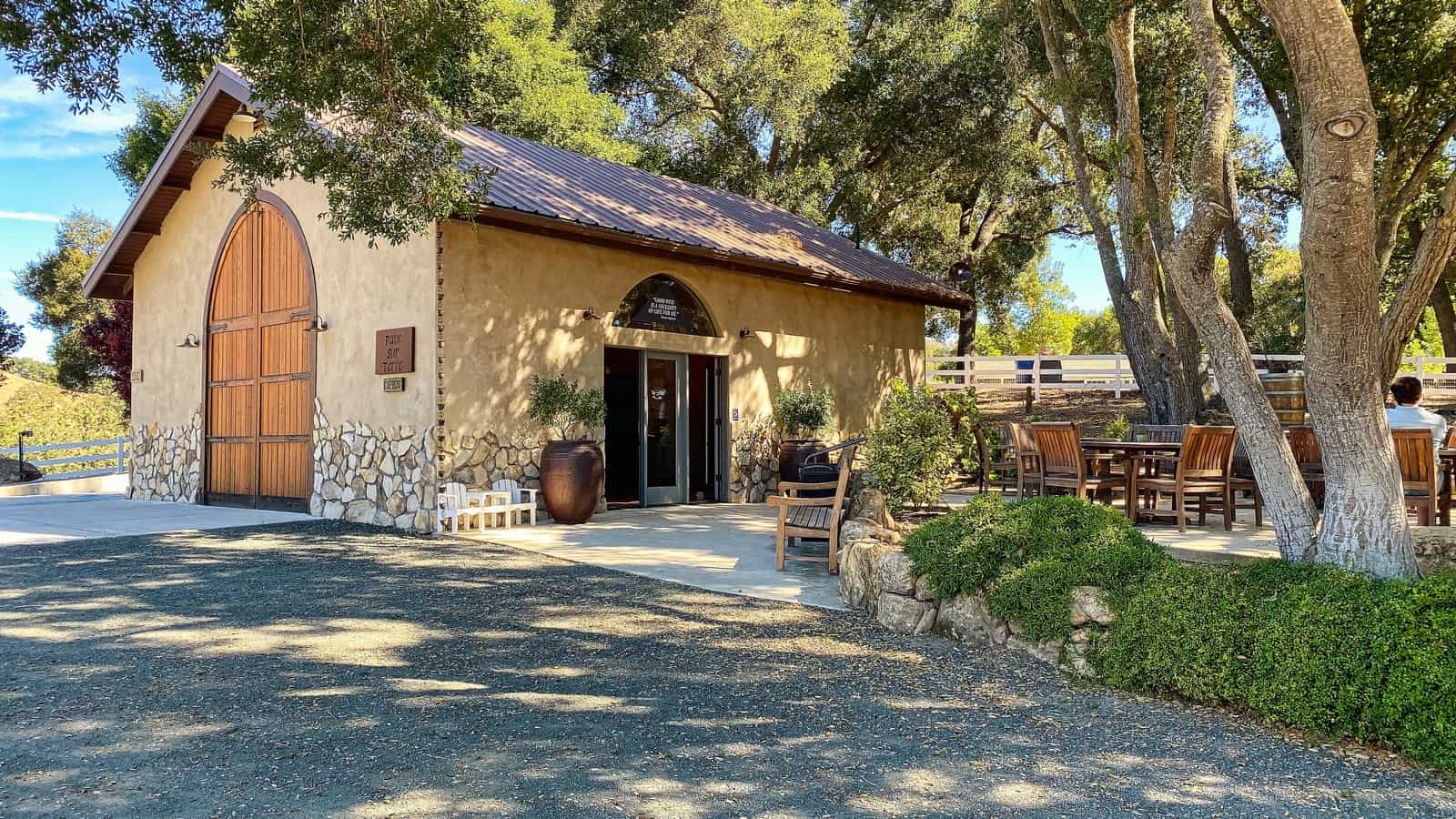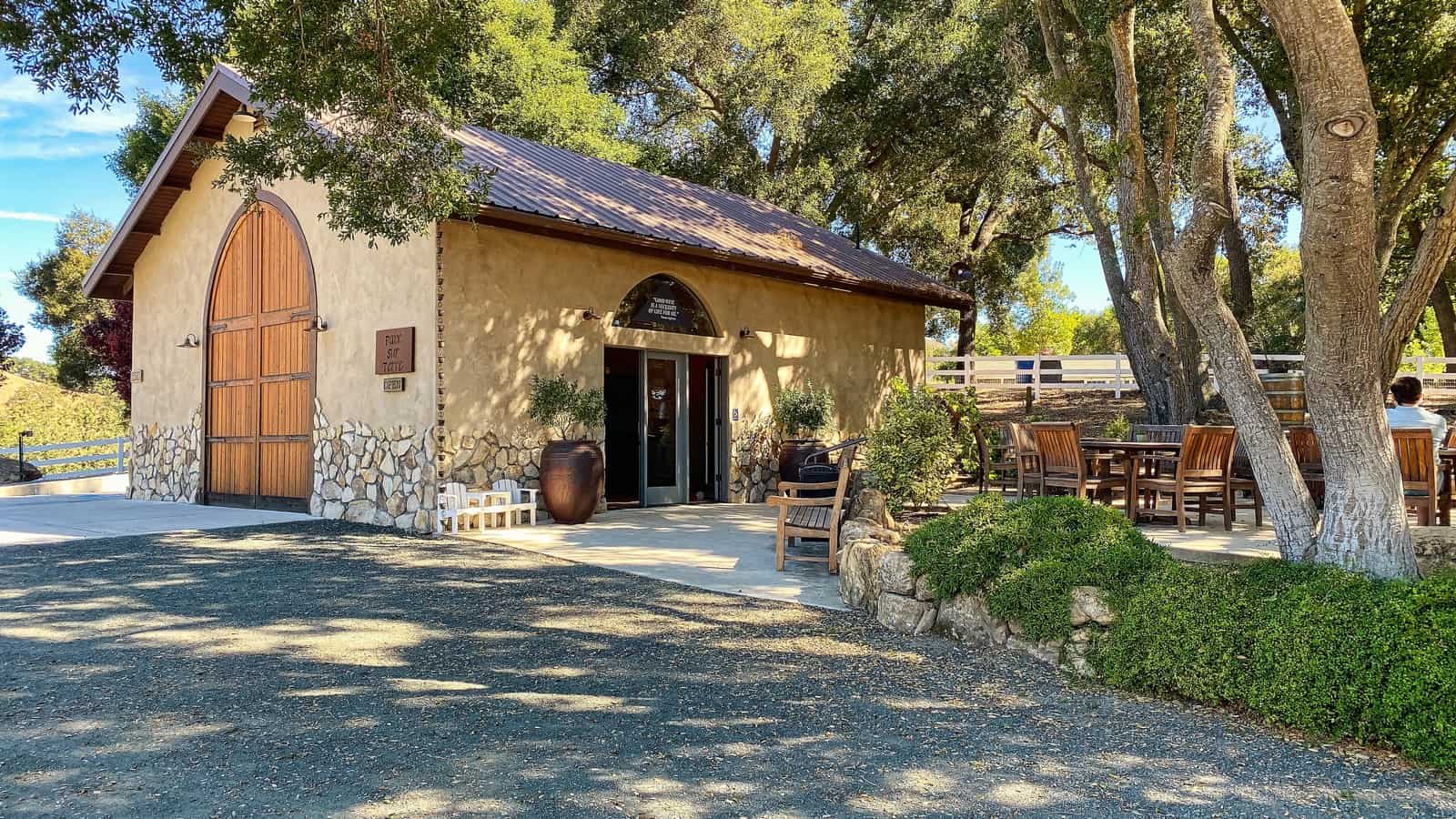 The name Paix Sur Terre is French for Peace on Earth. The Pease's have created their little spot of peace on earth. What makes this winery distinctive is they are focusing on unique varietals not found anywhere else in Paso Robles.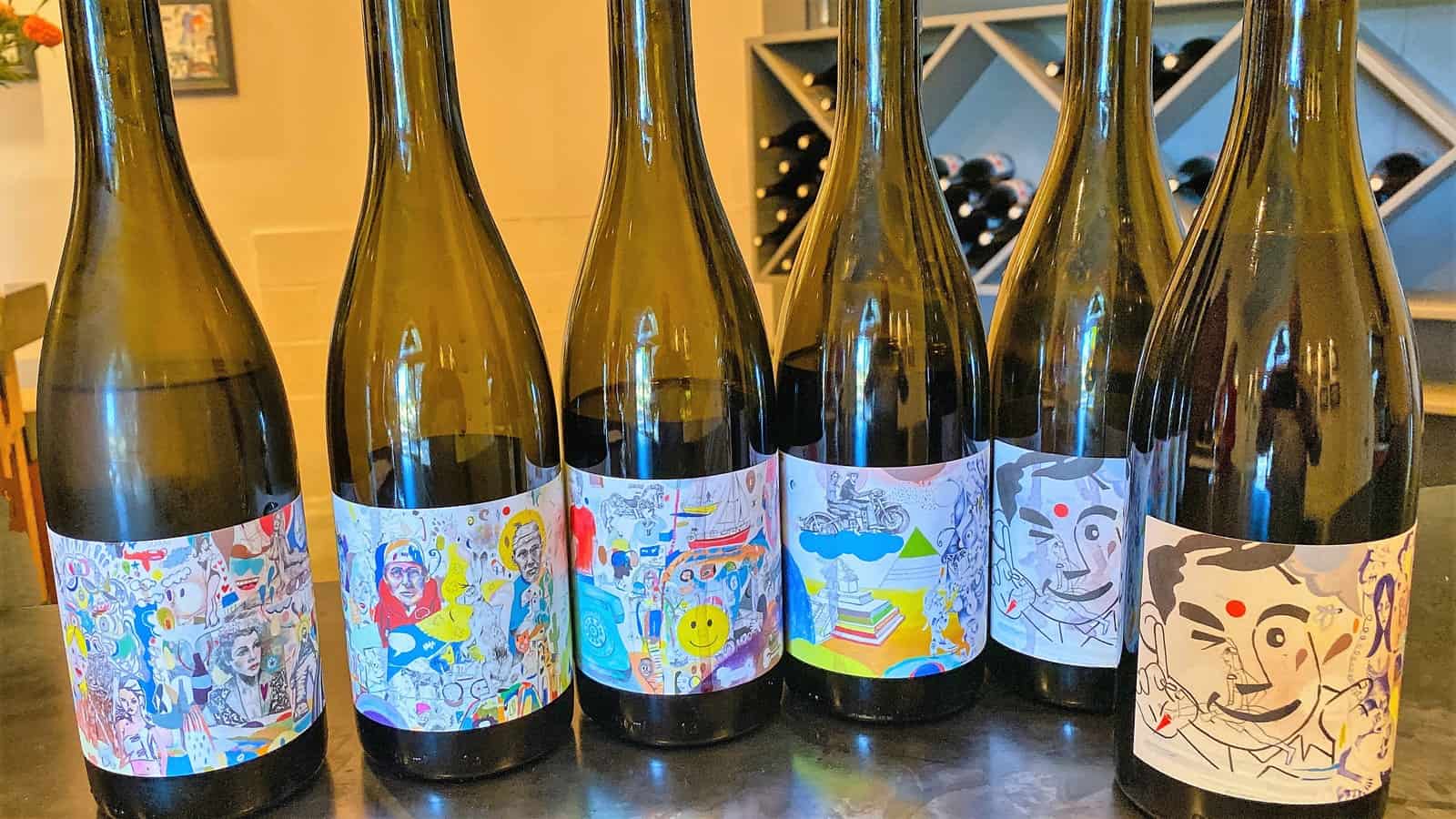 Paix Sur Terre has a great tasting room. If the weather is nice, you should take advantage of their outdoor seating area. It is a great location on the top of a hill to enjoy your wine.
Ryan also makes wine for Grey Wolf, another winery we will recommend later.
The colorful and unique labels for Paix Sur Terre, are created by friend and abstract artist Jon Blythe. He produces a new piece of art for each Paix Sur Terre wine. His art is distinctive, just like the wine at Paix Sur Terre.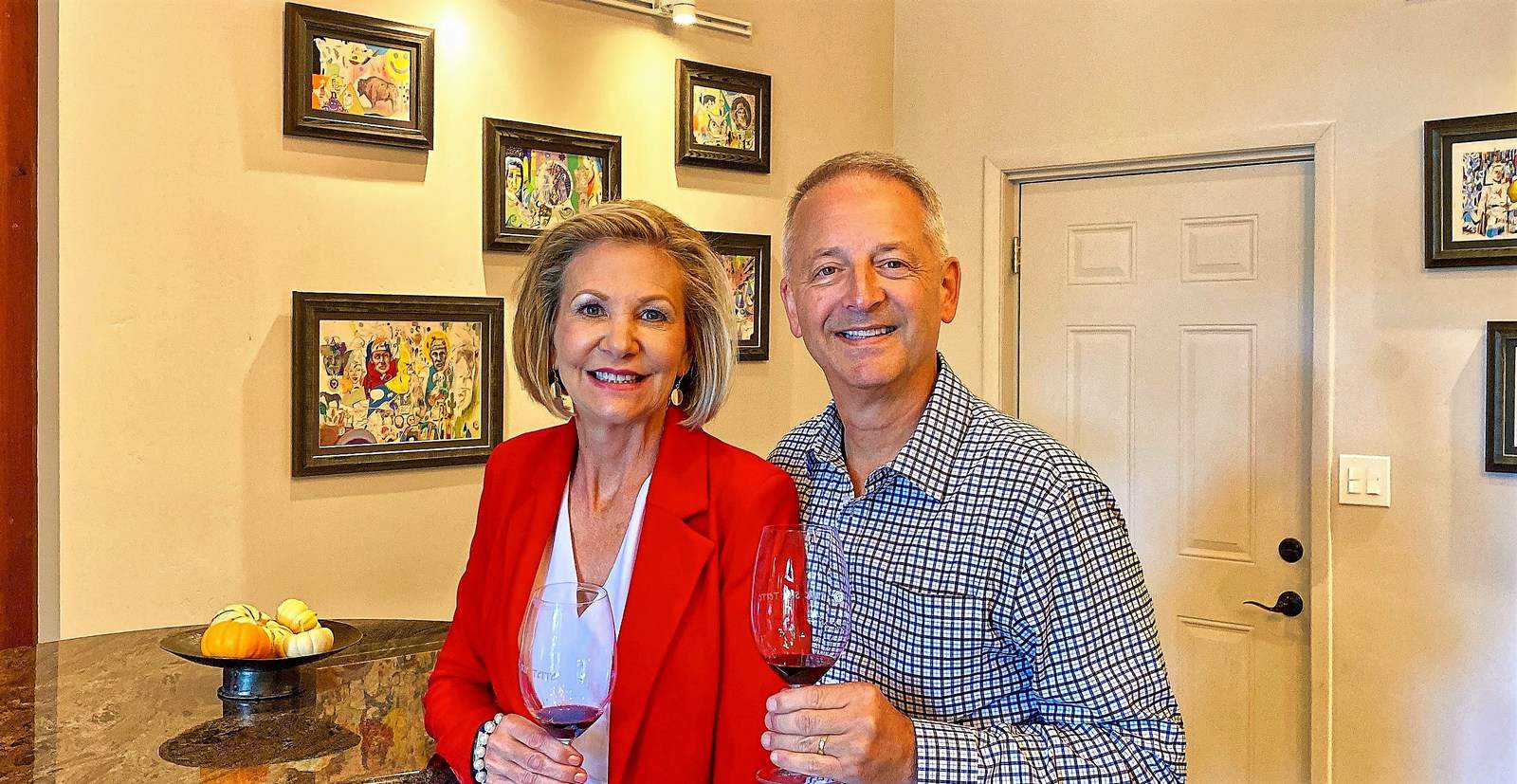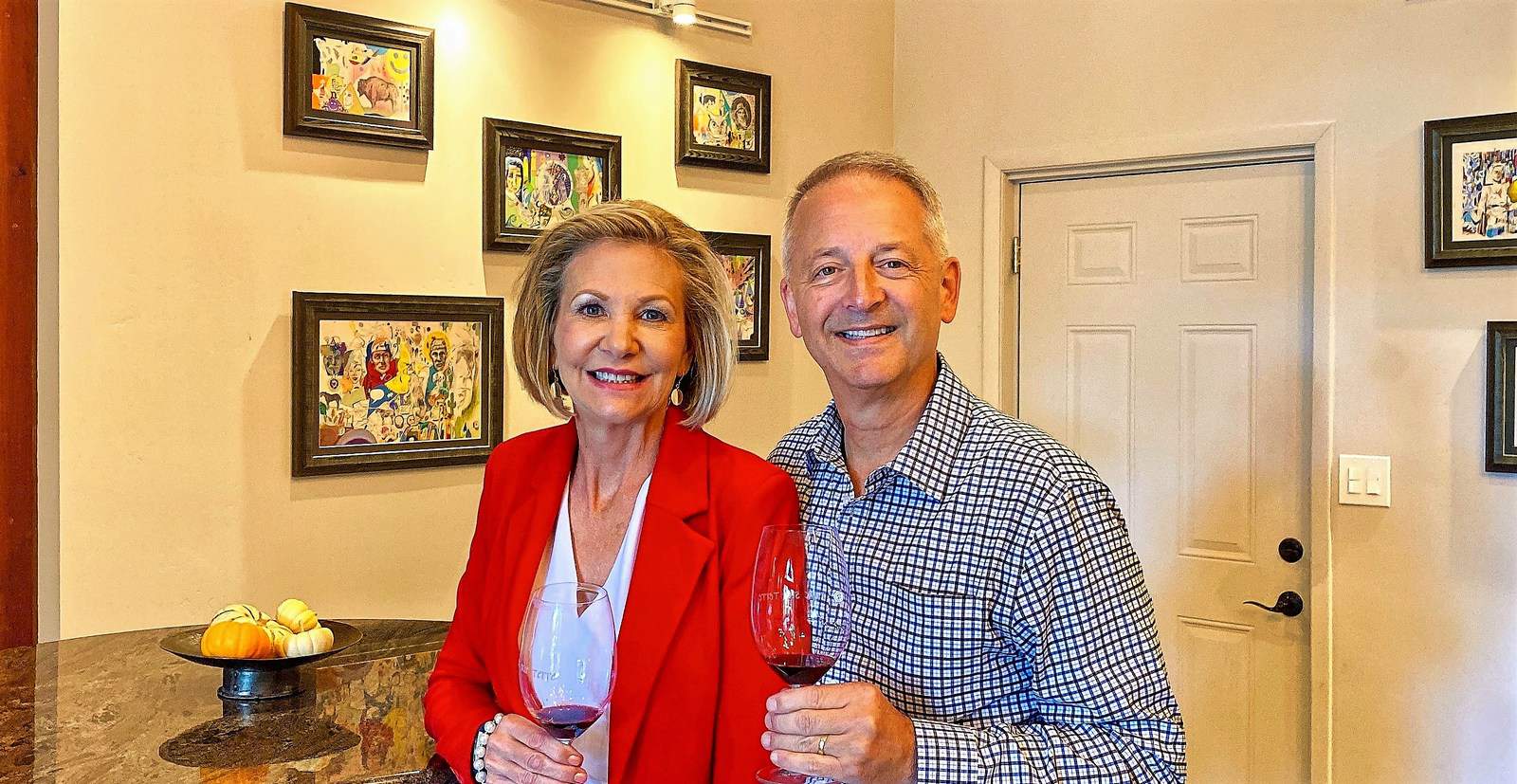 Rangeland Winery
Next for wine tasting, we recommend Rangeland Wines. They are a family-owned winery. The drive to Rangeline on the winding road through the countryside of Paso is worth making. The views at Rangeland are breathtaking, and it's a great place to relax and enjoy wine.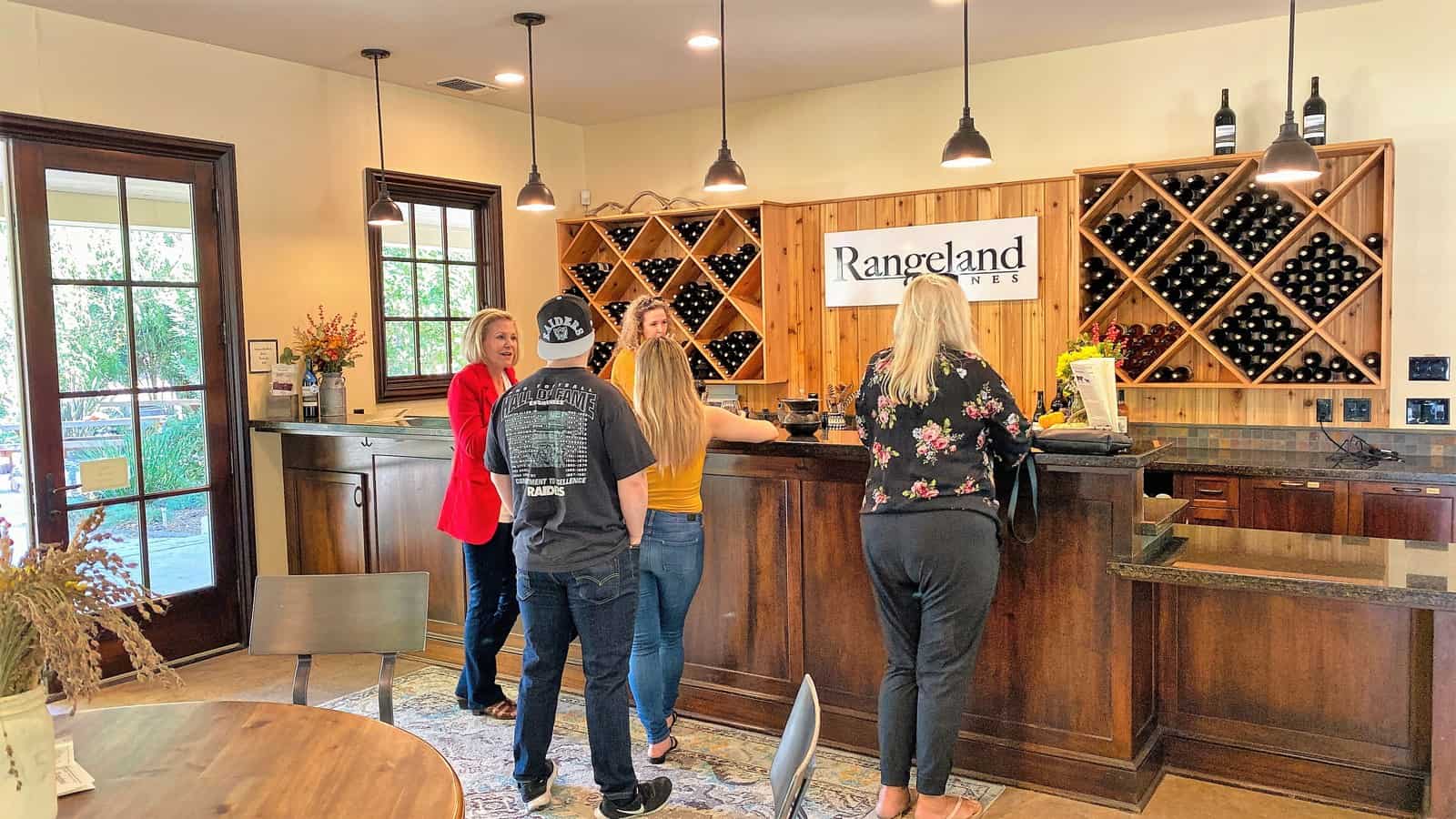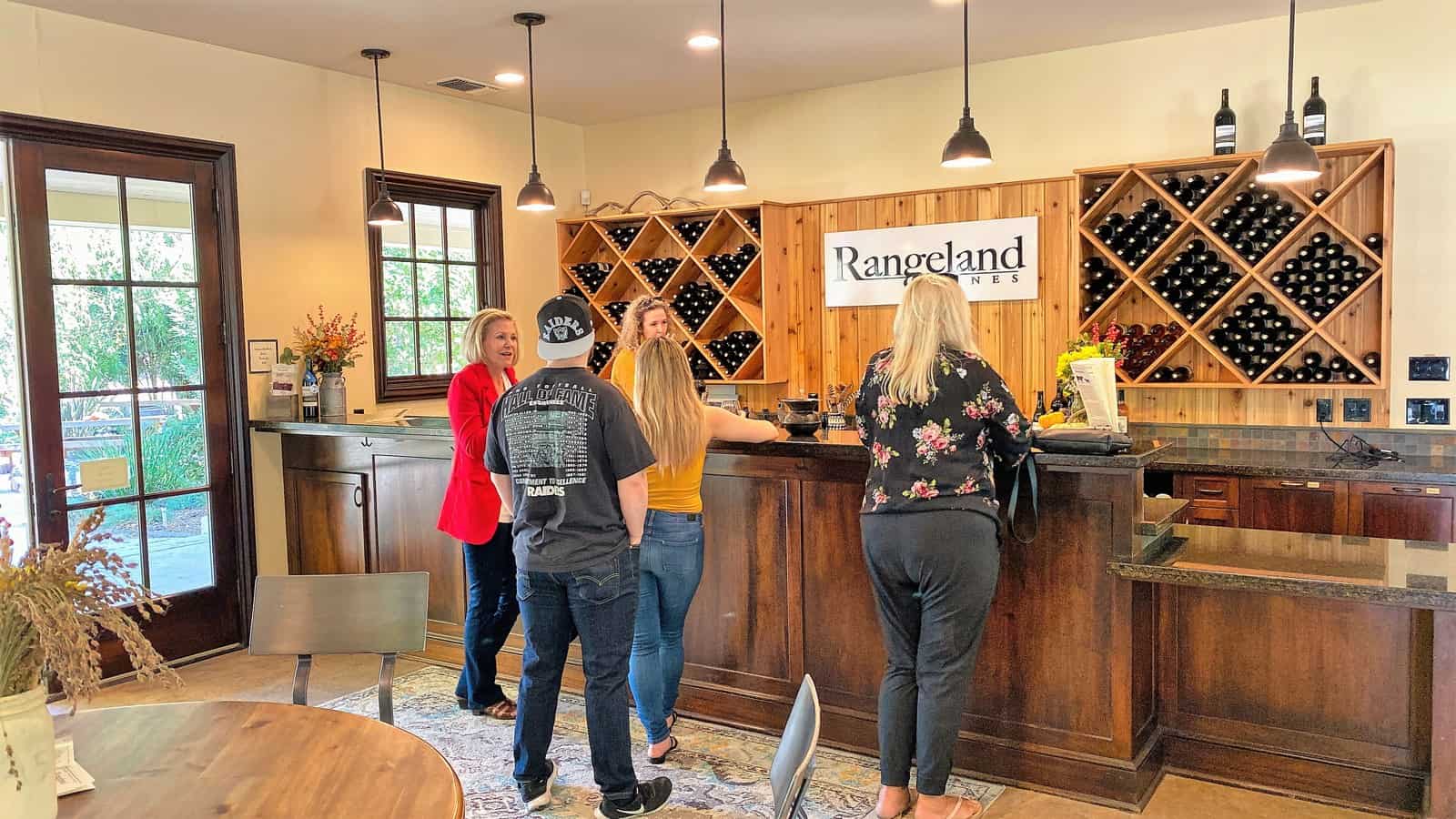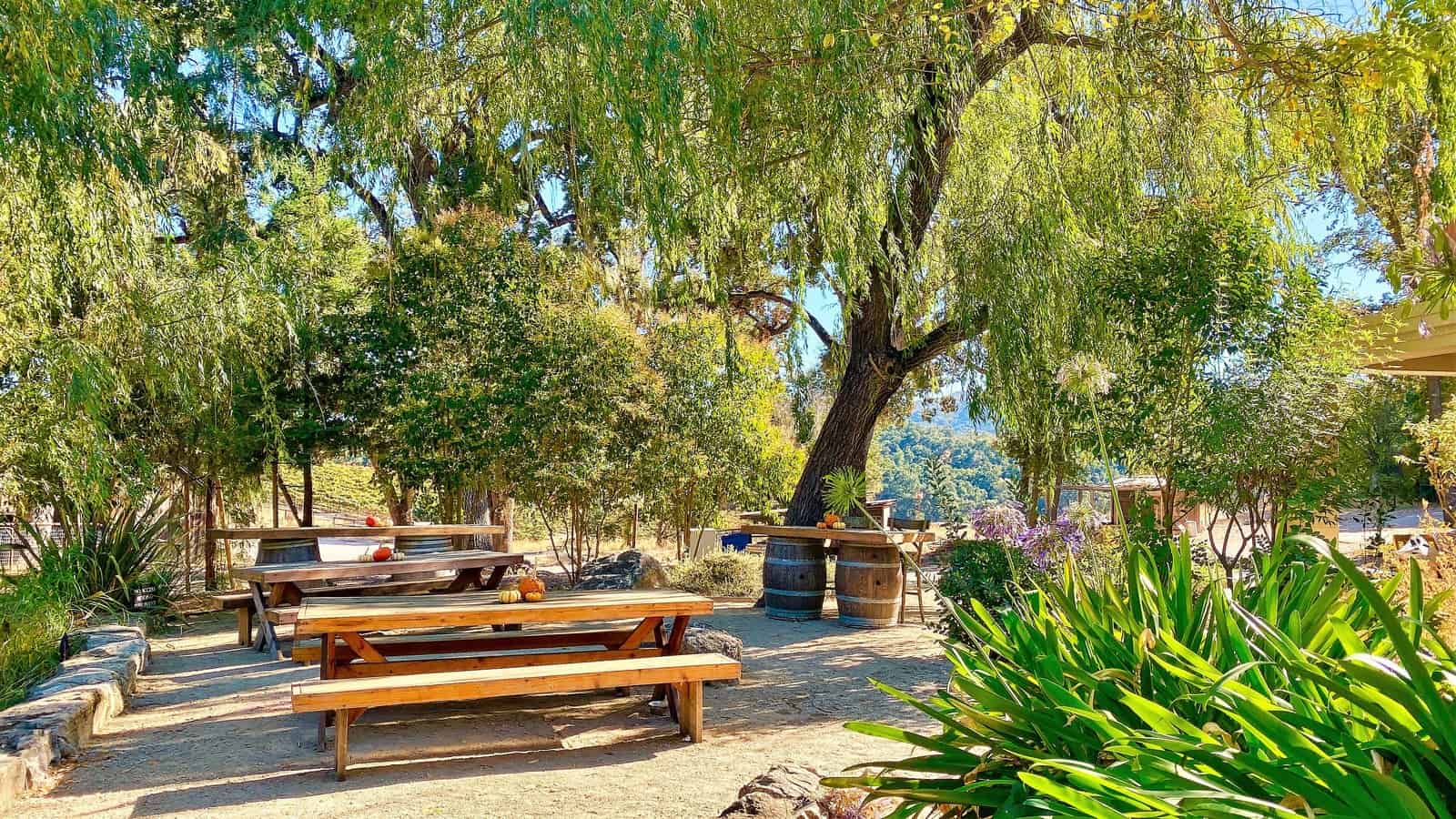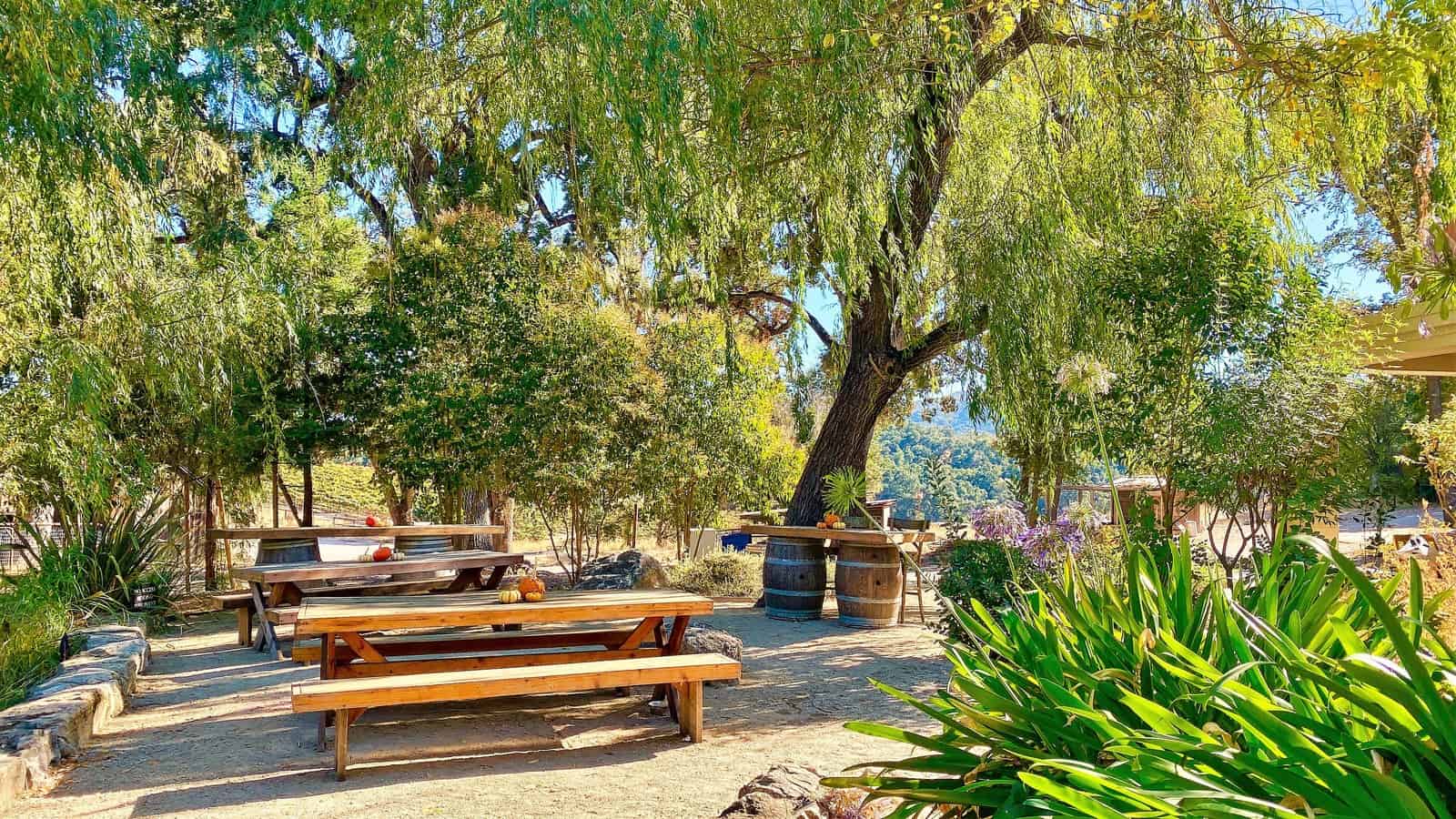 Their grapes are grown in the limestone hills in the far west of the Paso Robles appellation. They like to say that their wines are "field crafted," which means their fruit is carefully grown and vinified naturally.
I love wine, but wine does not really love me! I get headaches after the second glass of wine and well before I ever feel even tipsy from drinking. On my way to the US for this trip, I found and procured Drop It wine drops. Drop It reduces tannins and sulfites in wine. It is natural and easy to use. I just added a few drops to each tasting or glass of wine I had, and for me, it worked. Yeah! There are two different kinds of Drop It for wine, one for tastings and one for glasses of wine.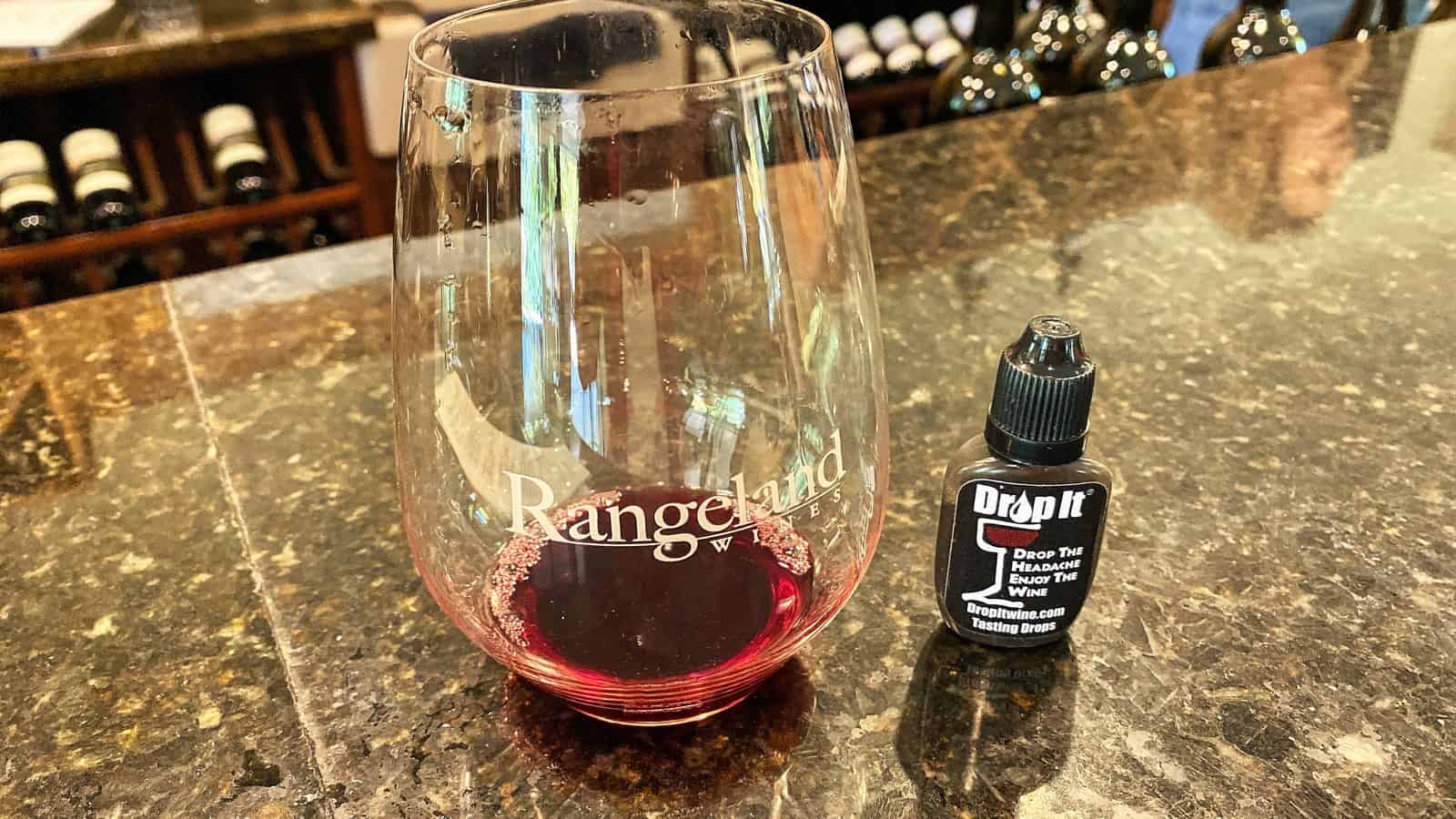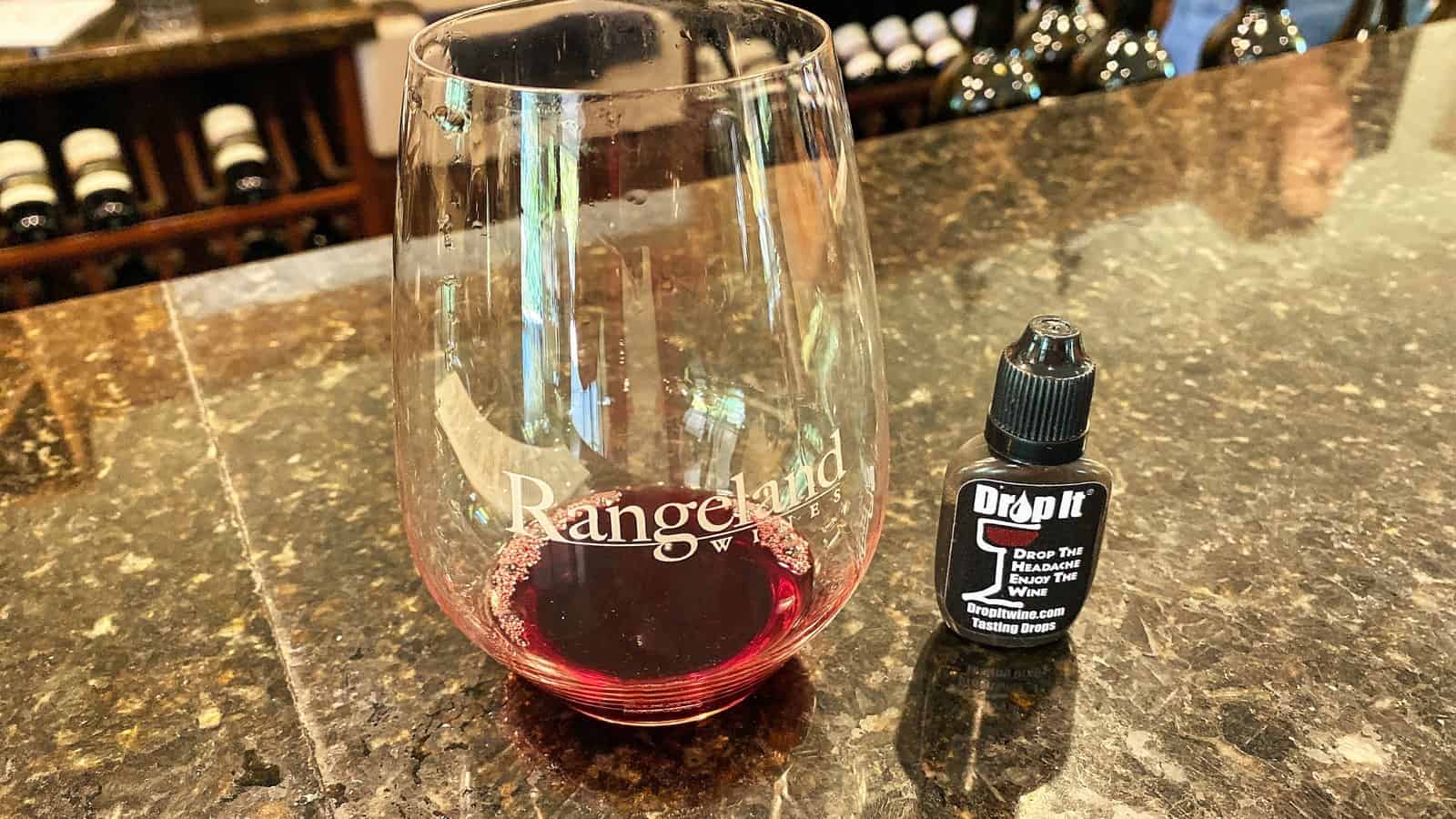 As we tasted wine, we also looked through the unique gifts that were for sale. Out on the patio, we saw chickens out for a stroll.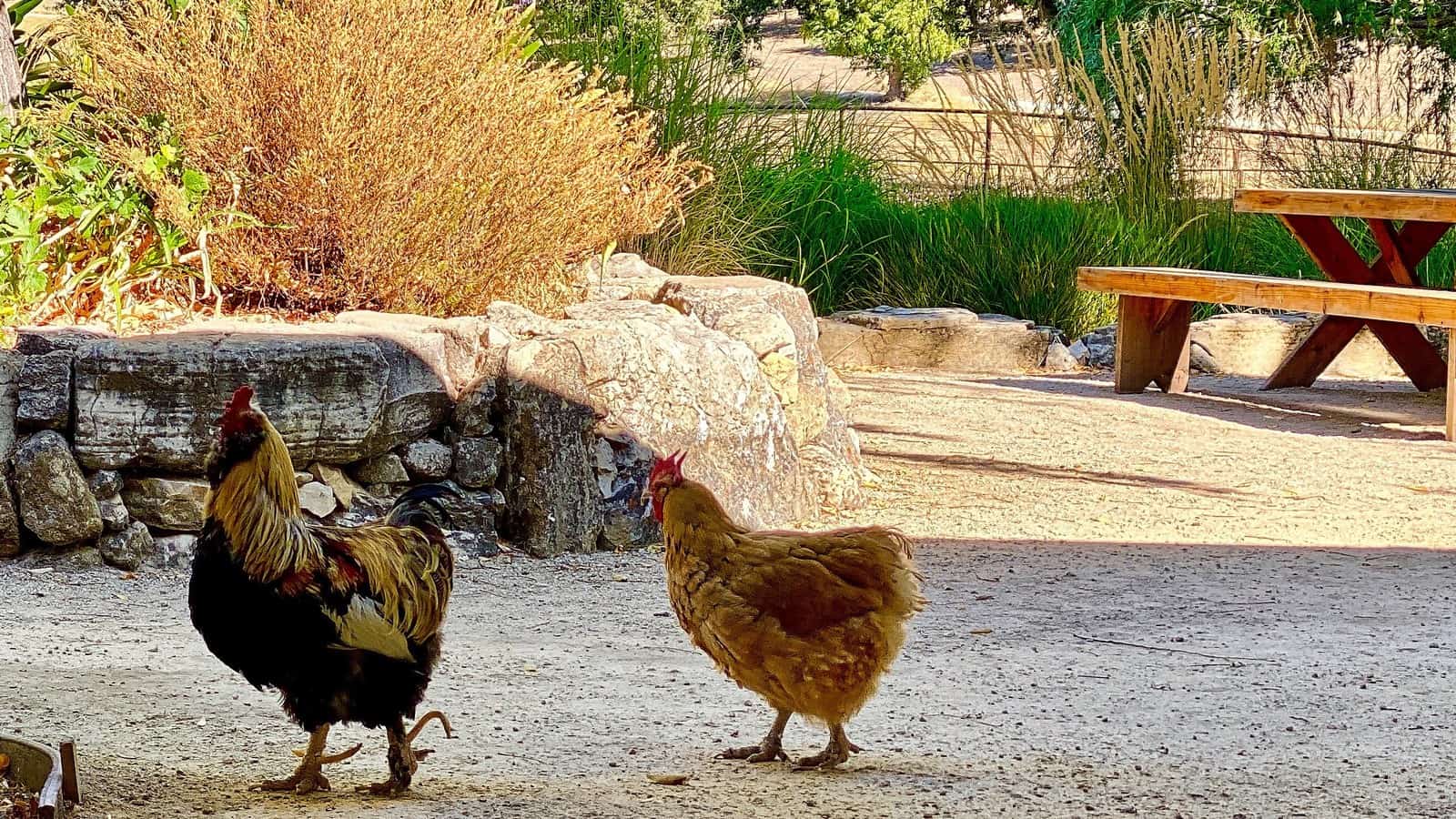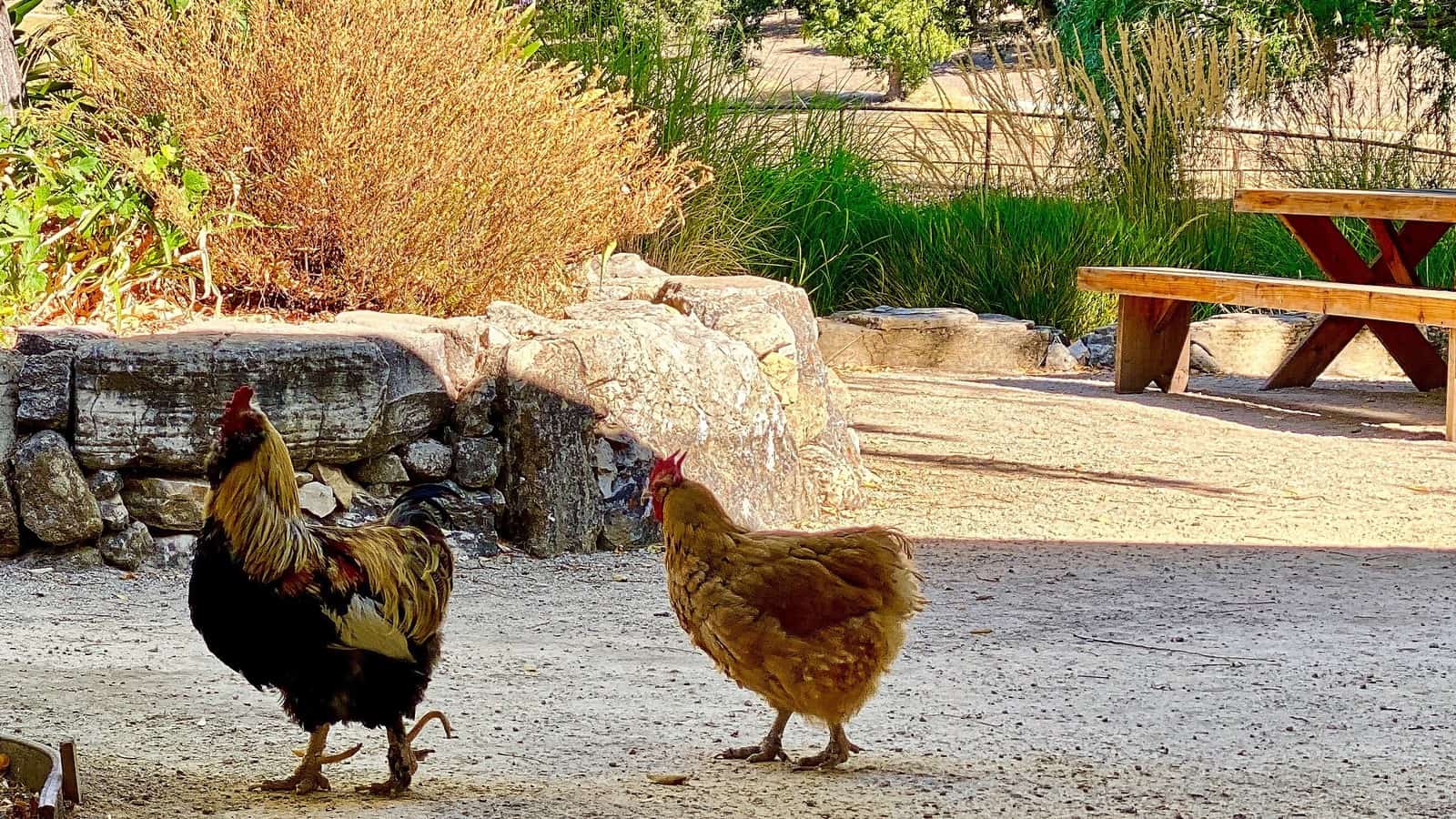 The winery is not certified organic, but they do their best to be sustainable and organic. Two hundred sheep share the ranch with the vineyards at Rangeland. They help with mowing and fertilizing.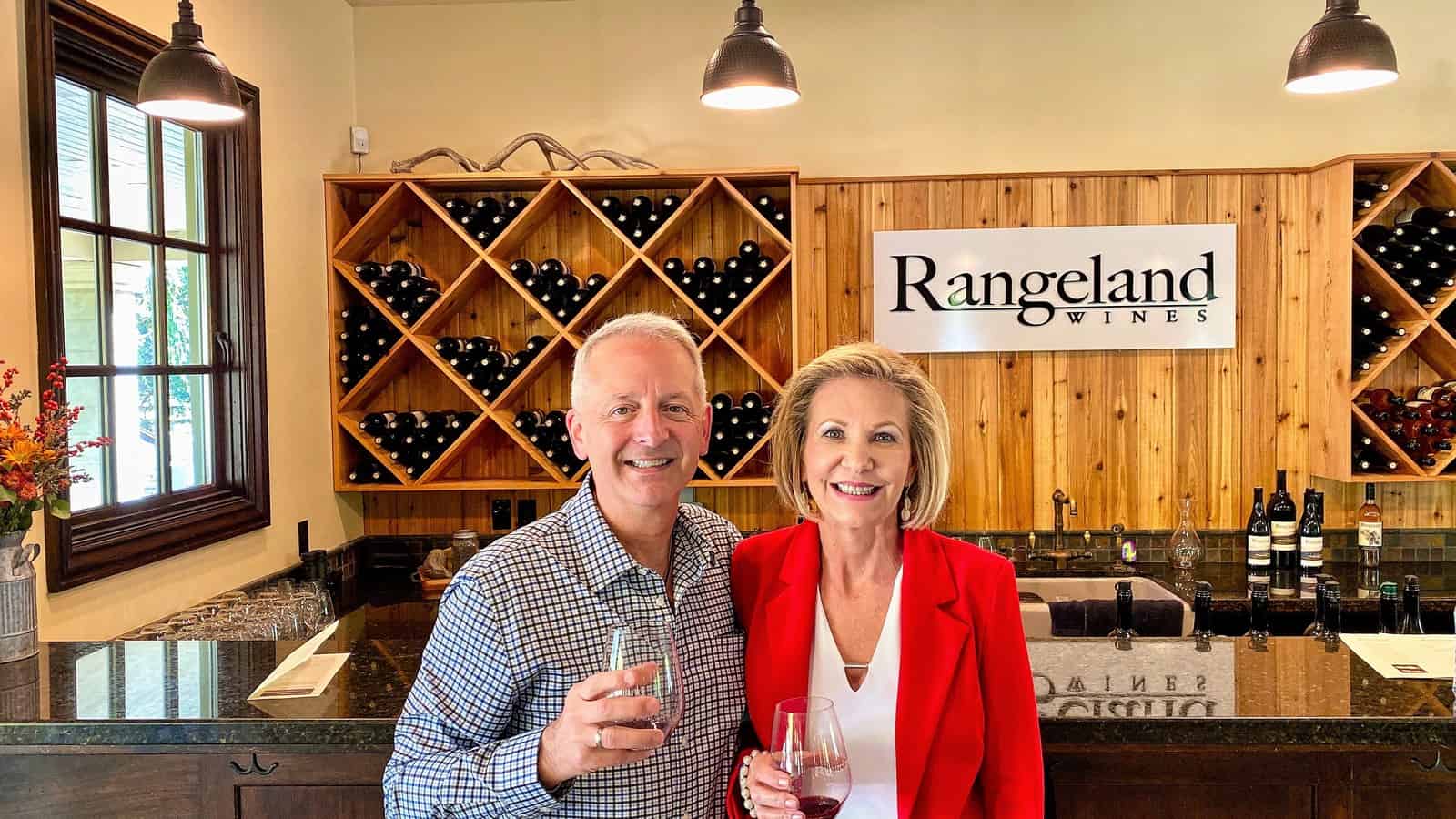 A Quick and Hearty Dinner at La Mexicana
On our first day, we did not start wine tasting till lunchtime, so we skipped lunch. But, that meant we were hungry early, so we found a cute Mexican restaurant, La Mexicana, where we ordered a hearty dinner.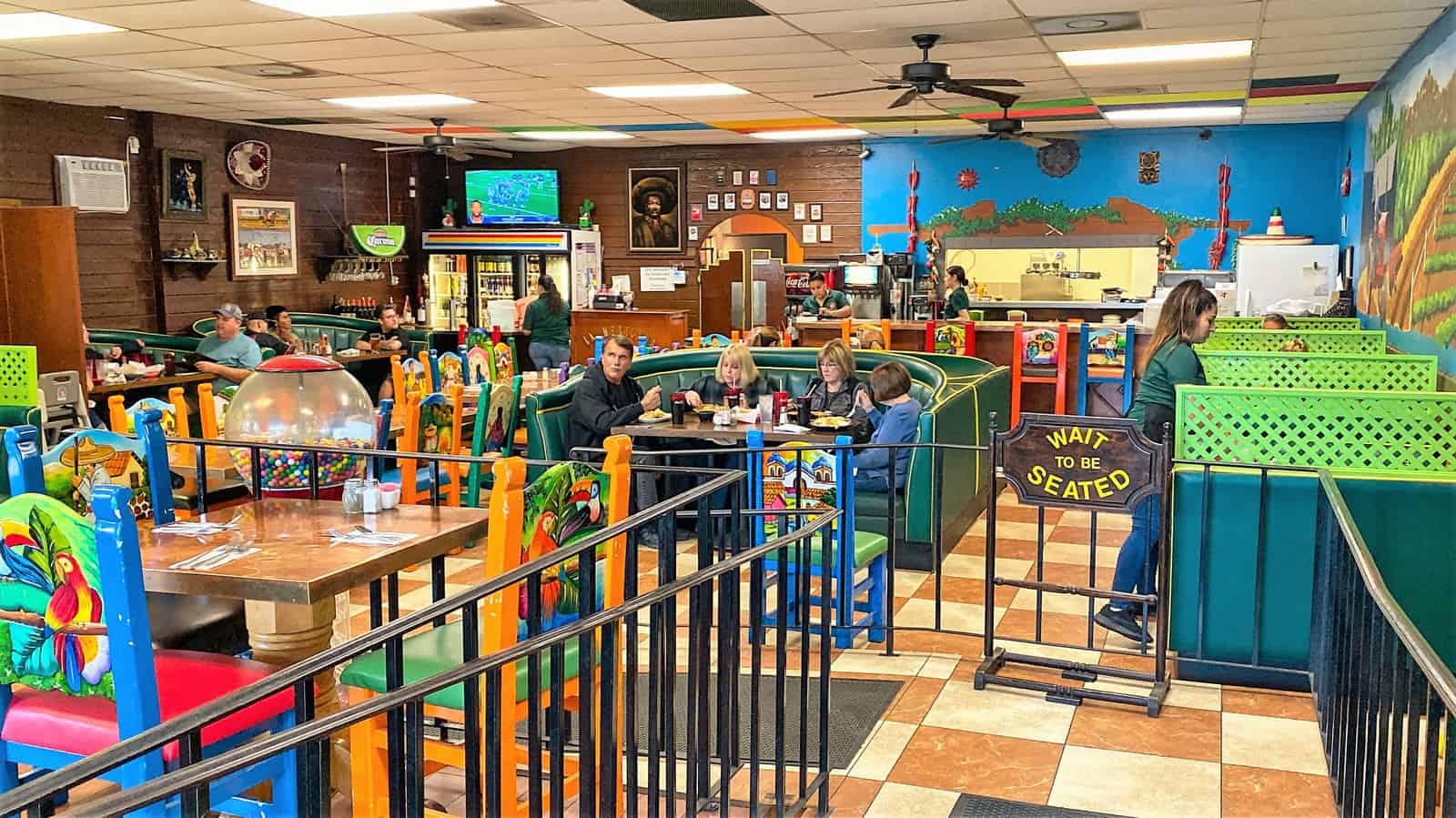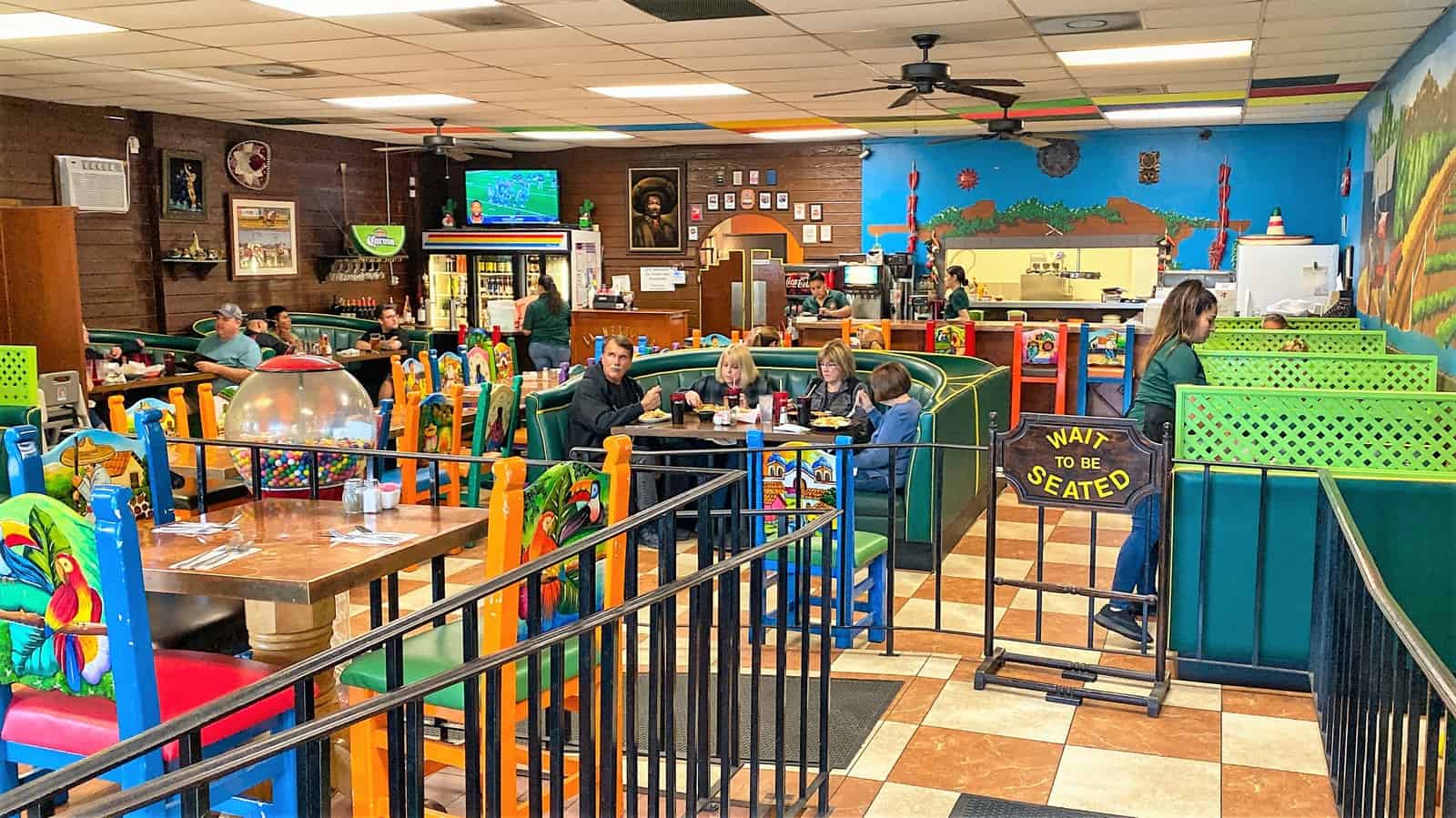 Nestled in downtown Paso, the décor of La Mexicana is bright and fun. La Mexicana has great service and even better food.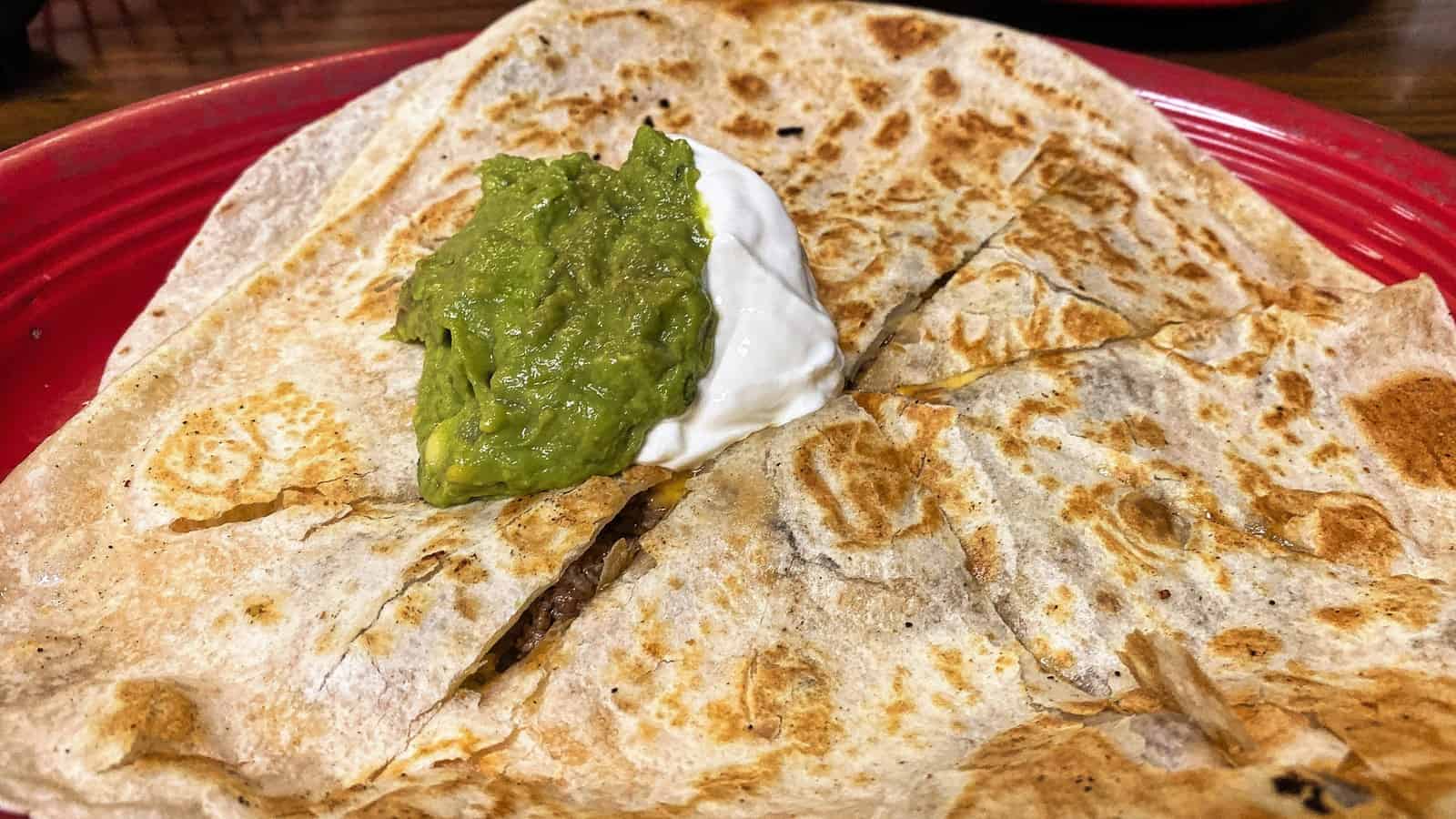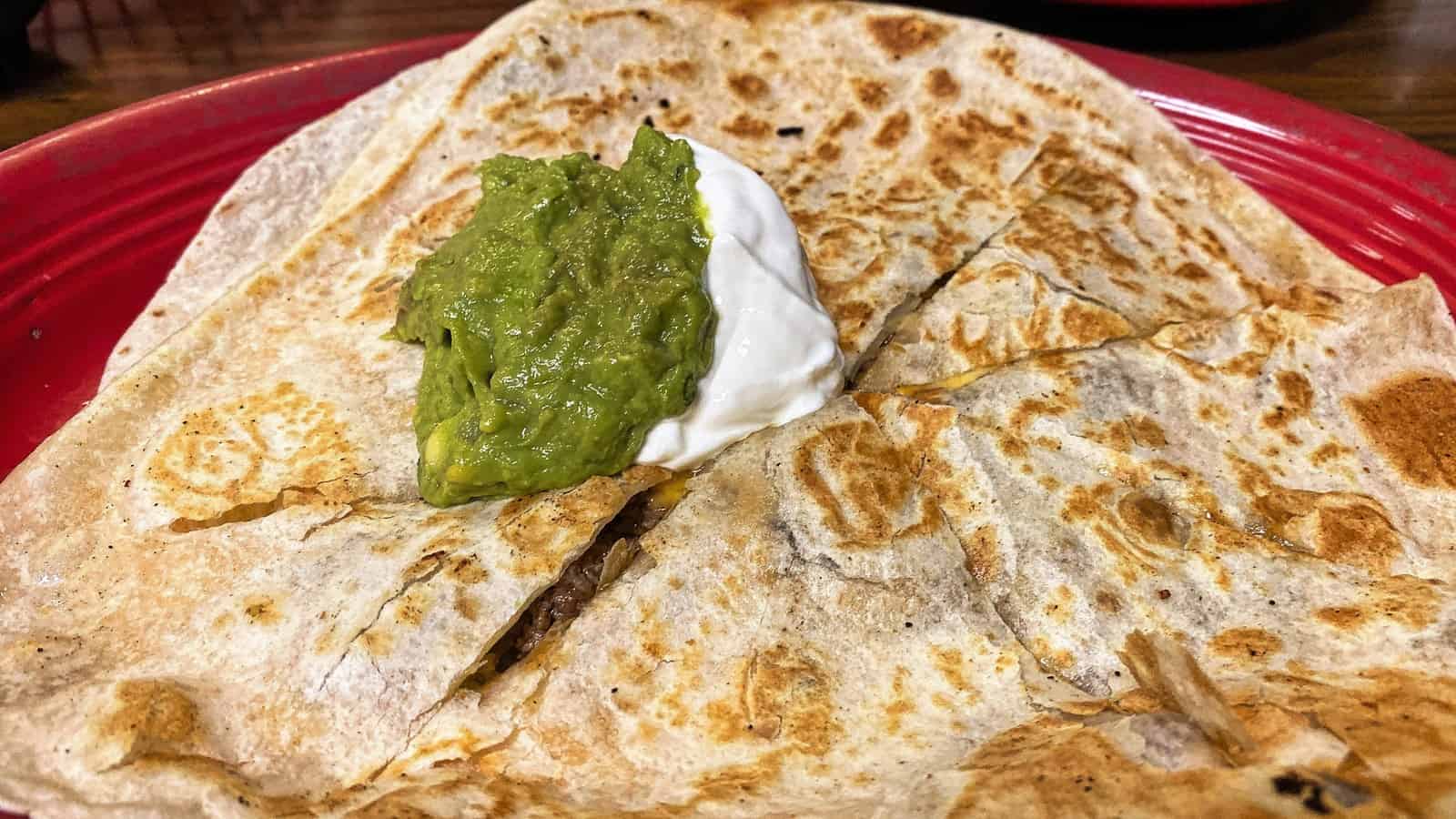 Grey Wolf Cellars Offering Wine, Food and Spirits
We suggest beginning day two with a Paso Robles wine tasting at Grey Wolf Cellars. Grey Wolf Cellars is a boutique winery. They have a distinct style of wine, sourcing from dry-farmed vineyards in the Paso Robles Willow Creek, Templeton Gap, and Adelaida District AVAs. In case you are not familiar with dry farming, it refers to crop production during a dry season. Dry farming utilizing the lingering moisture in the soil from the rainy season. Dry farming works to conserve soil moisture during long dry periods primarily through a system of cultivation, surface protection, and the use of drought-resistant grape varieties.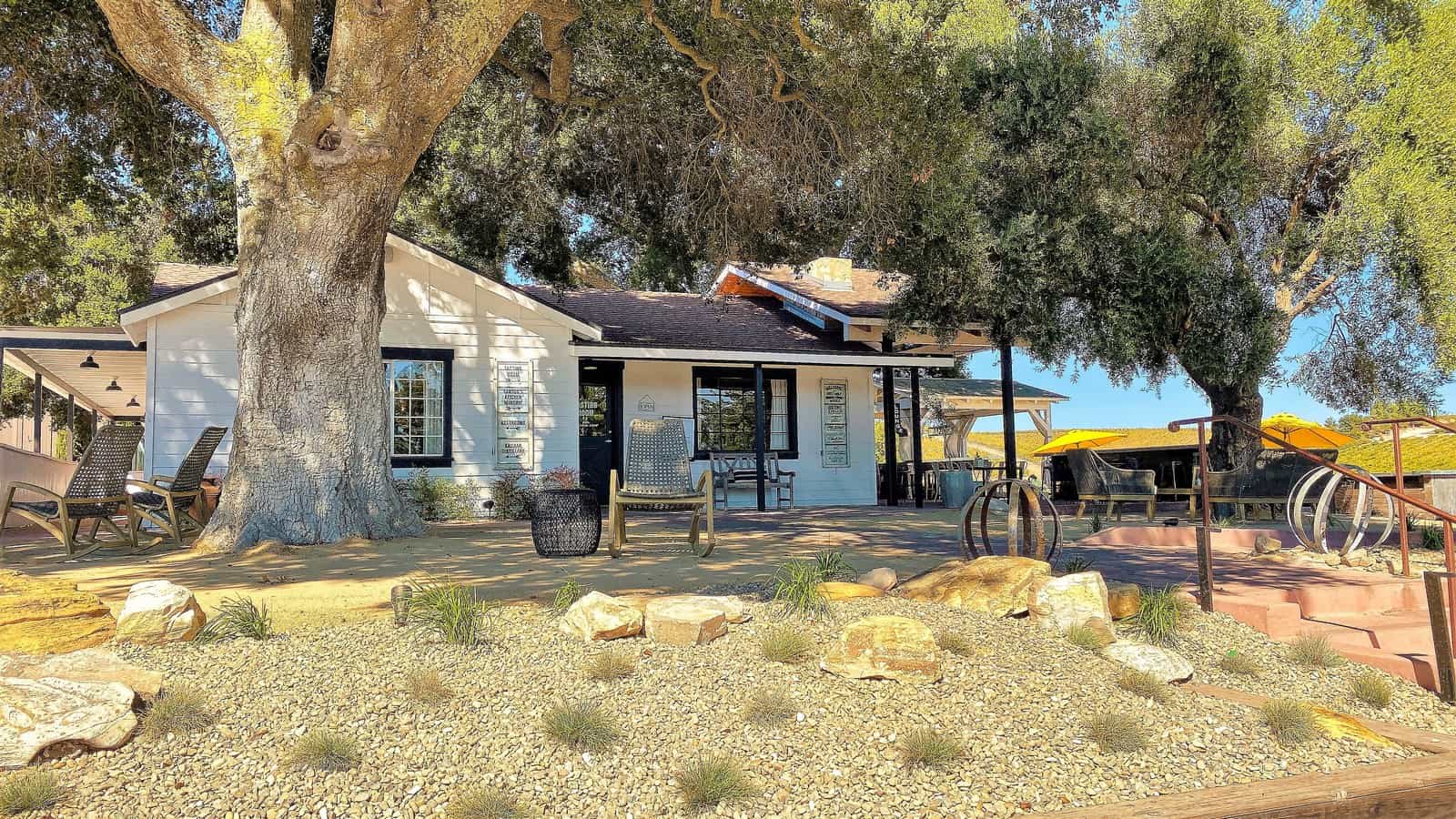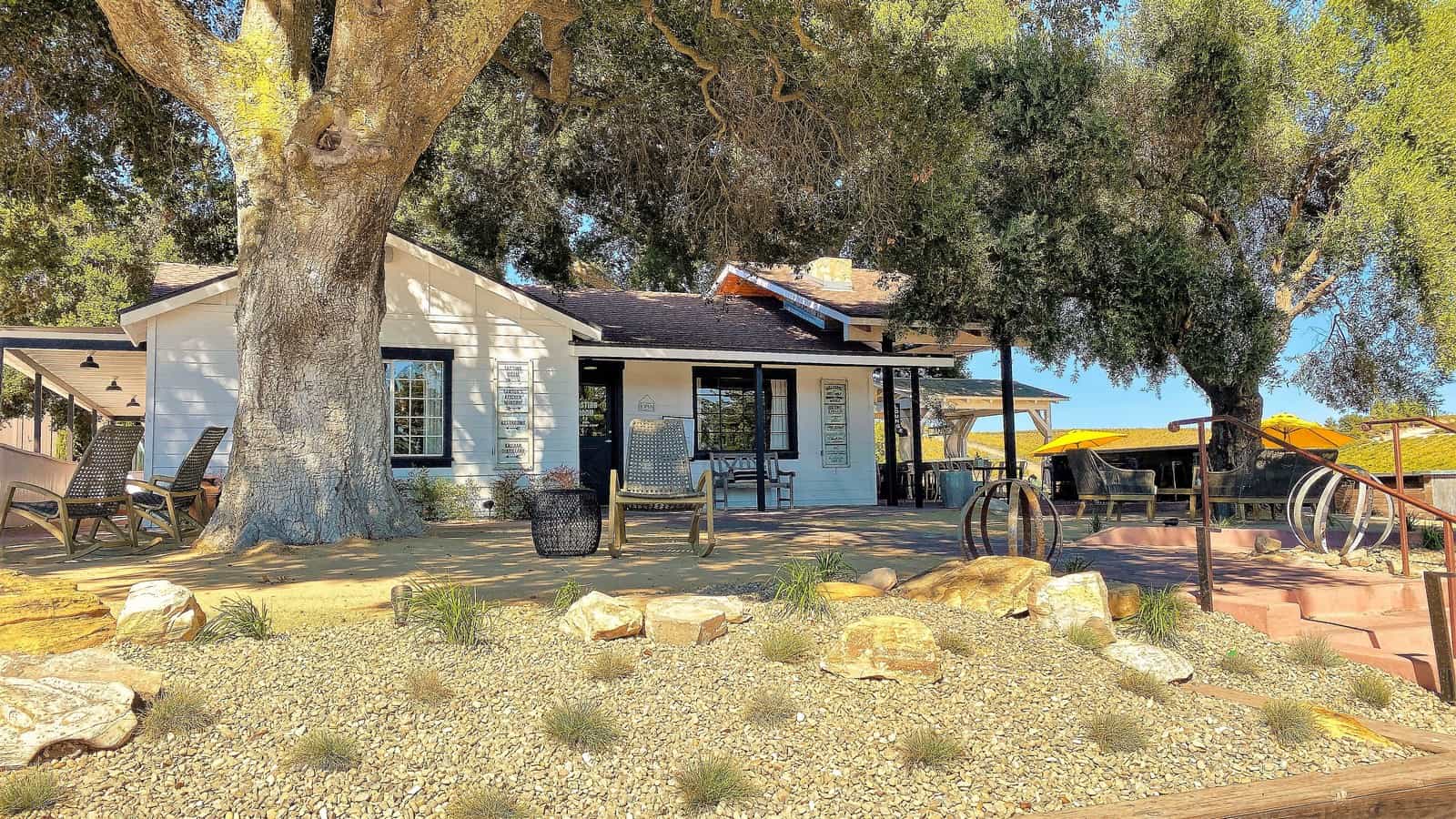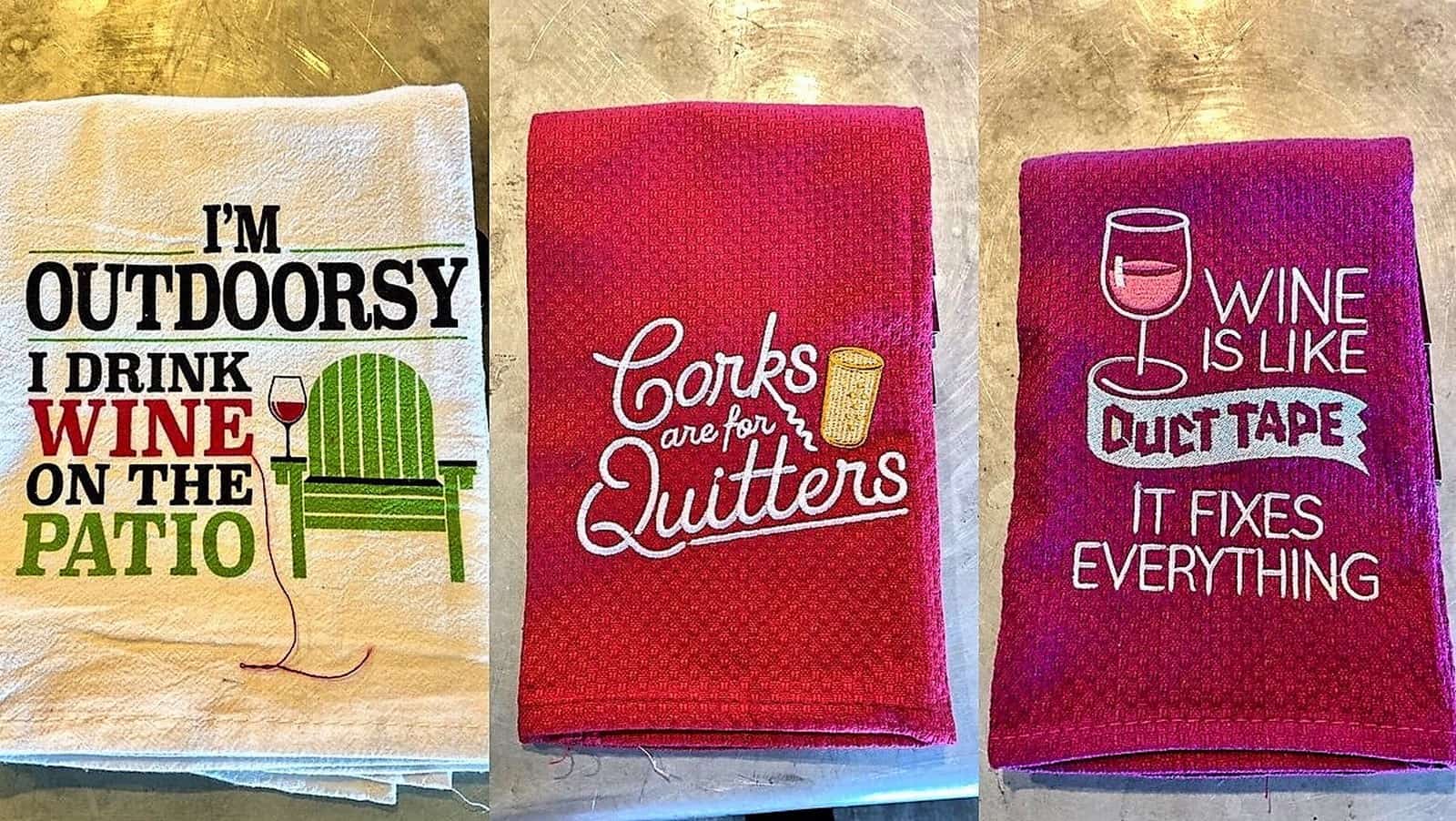 The family that started and still owns the vineyard is the Barton family. Their other wine label is called Barton Family Wines. Barton Family Wines focuses on hand-crafted wines from specific sites. They utilize a specific selection of wine varieties, including the heritage varietal Zinfandel, the classic Bordeaux varieties like Cabernet Sauvignon, and both red and white Rhone varietals.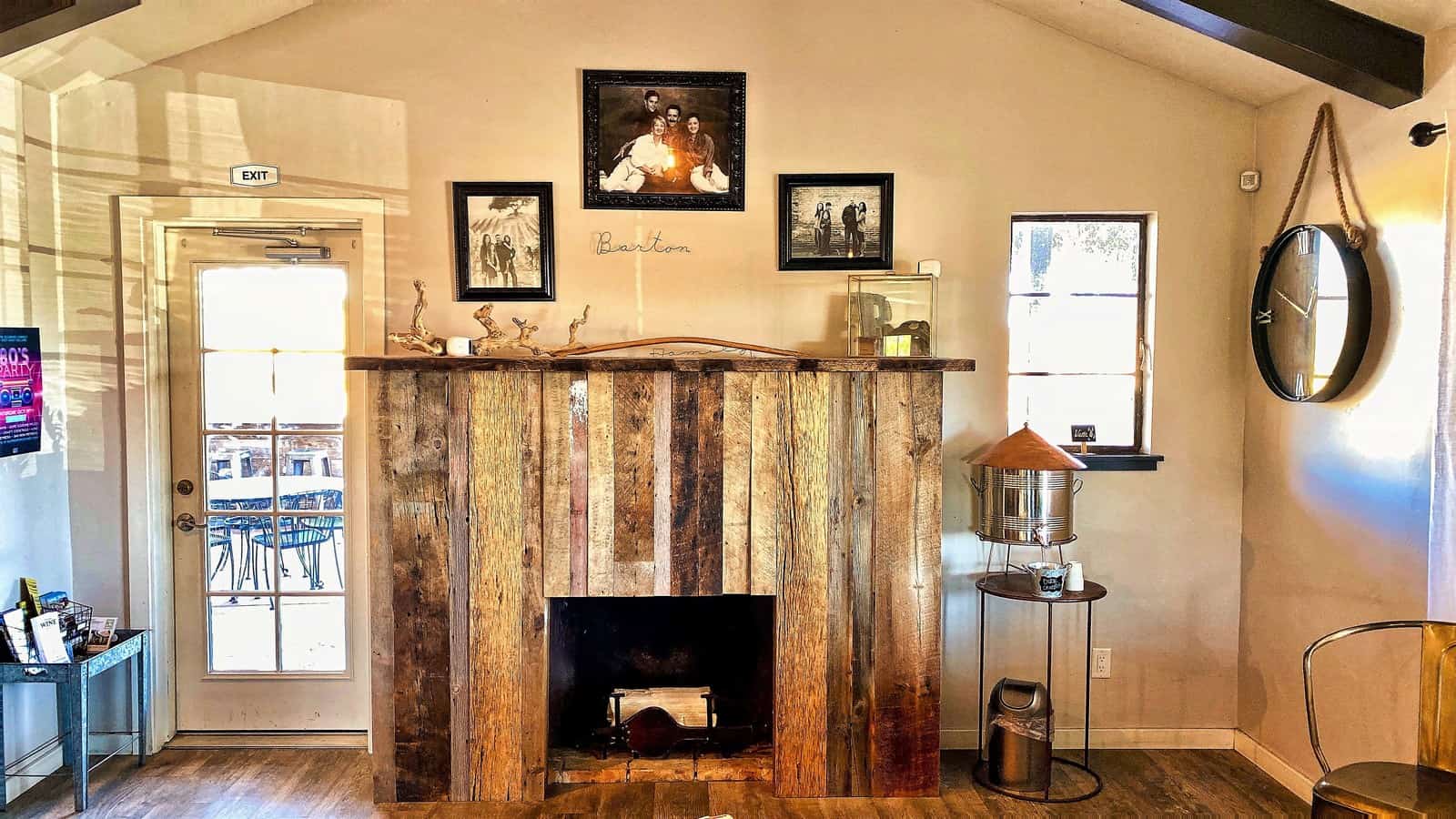 The tasting room is a lovely urban farmhouse. Grey Wolf has a restaurant offering farm-to-table casual cuisine. Also, there is a distillery on the property offering tastes of rye whiskey, bourbon, and gin in a spirit's social room.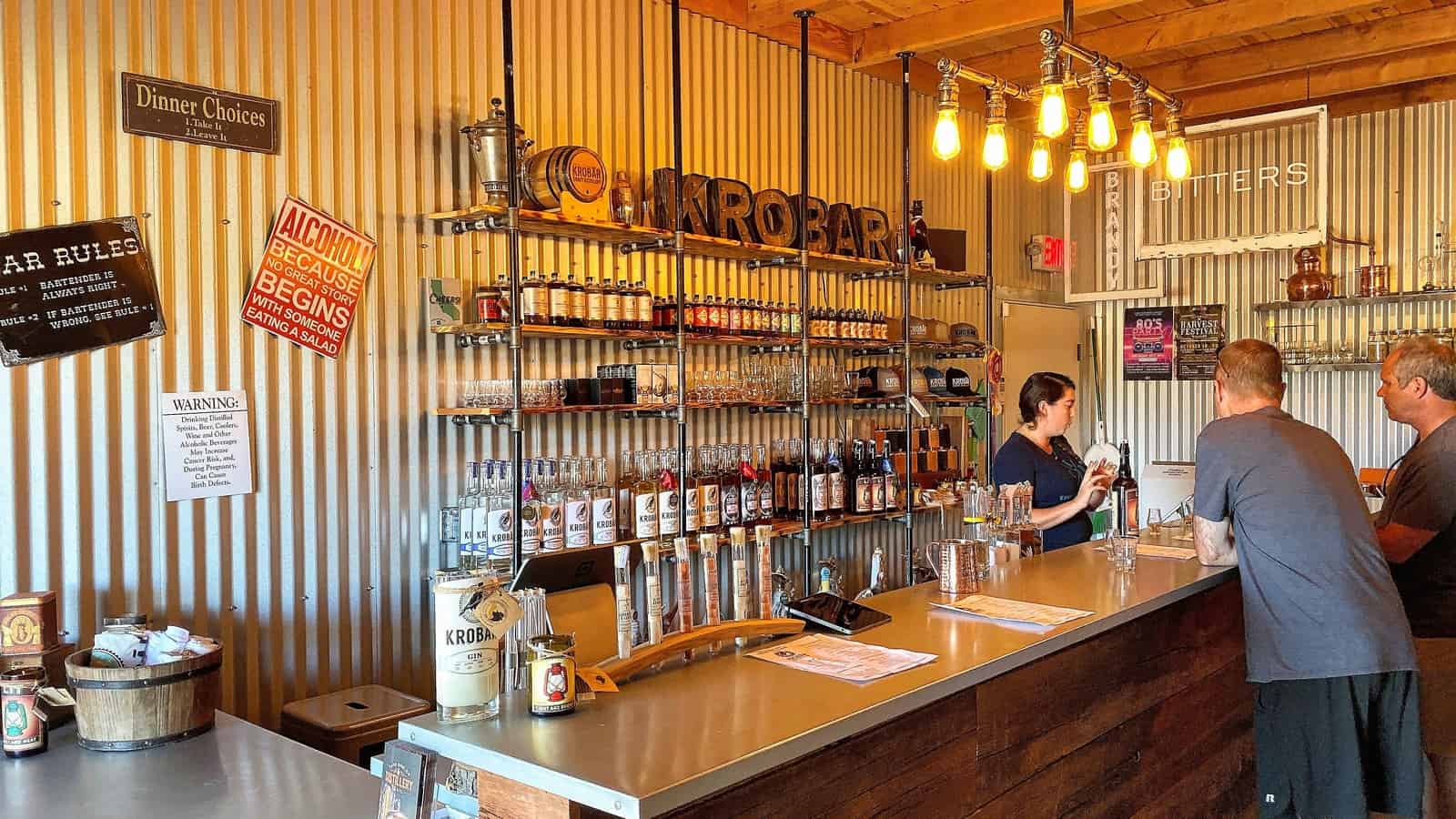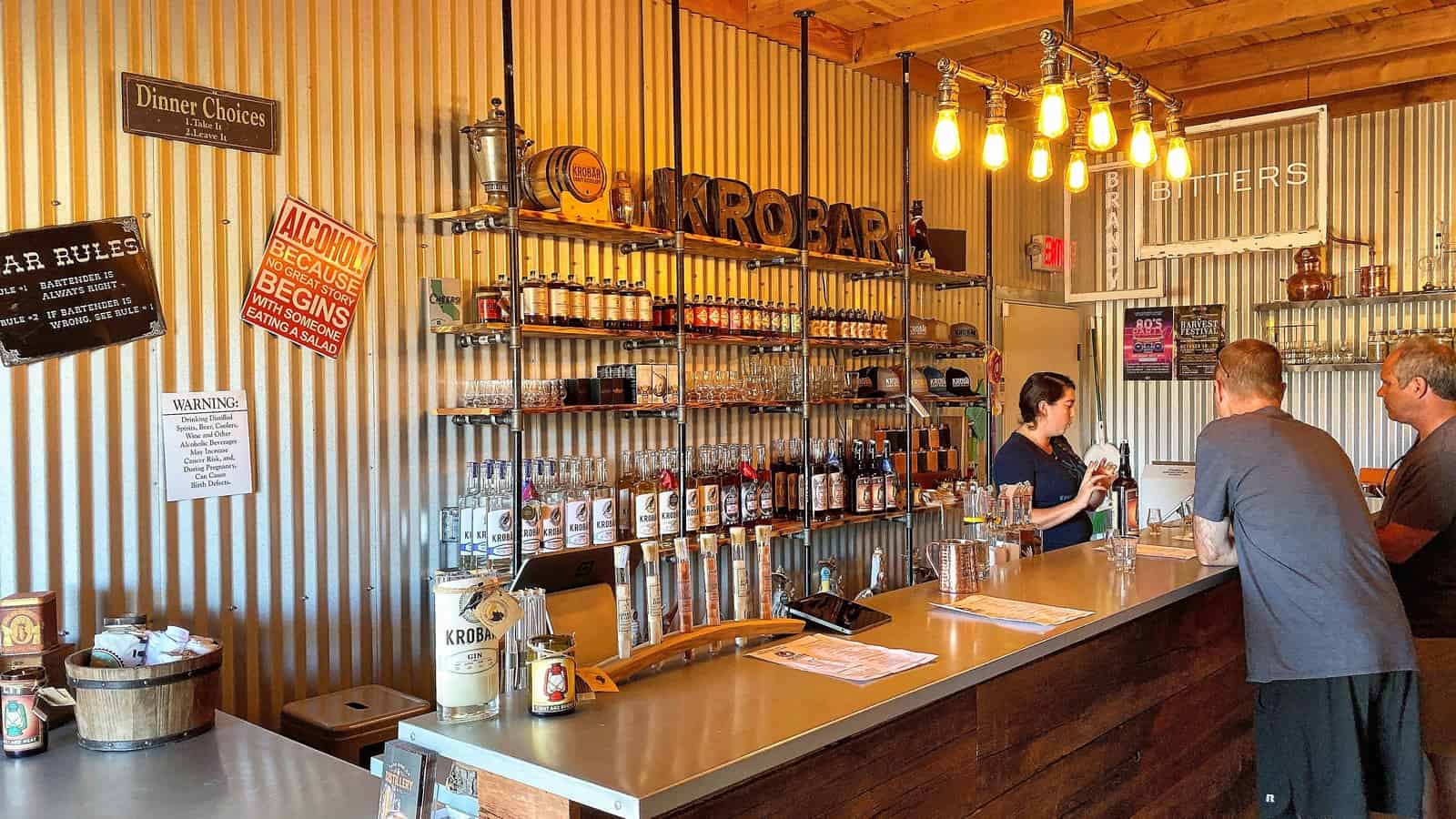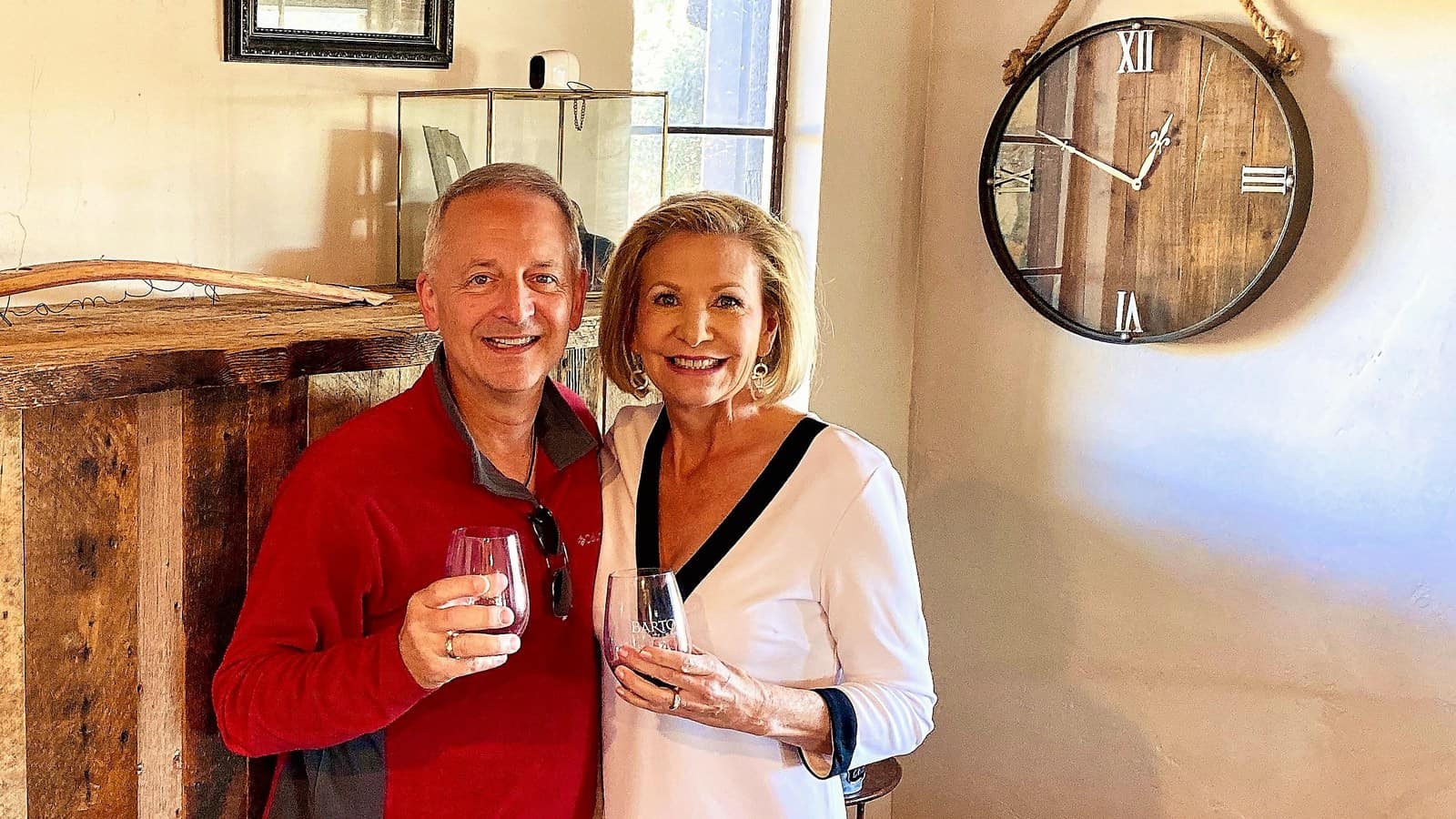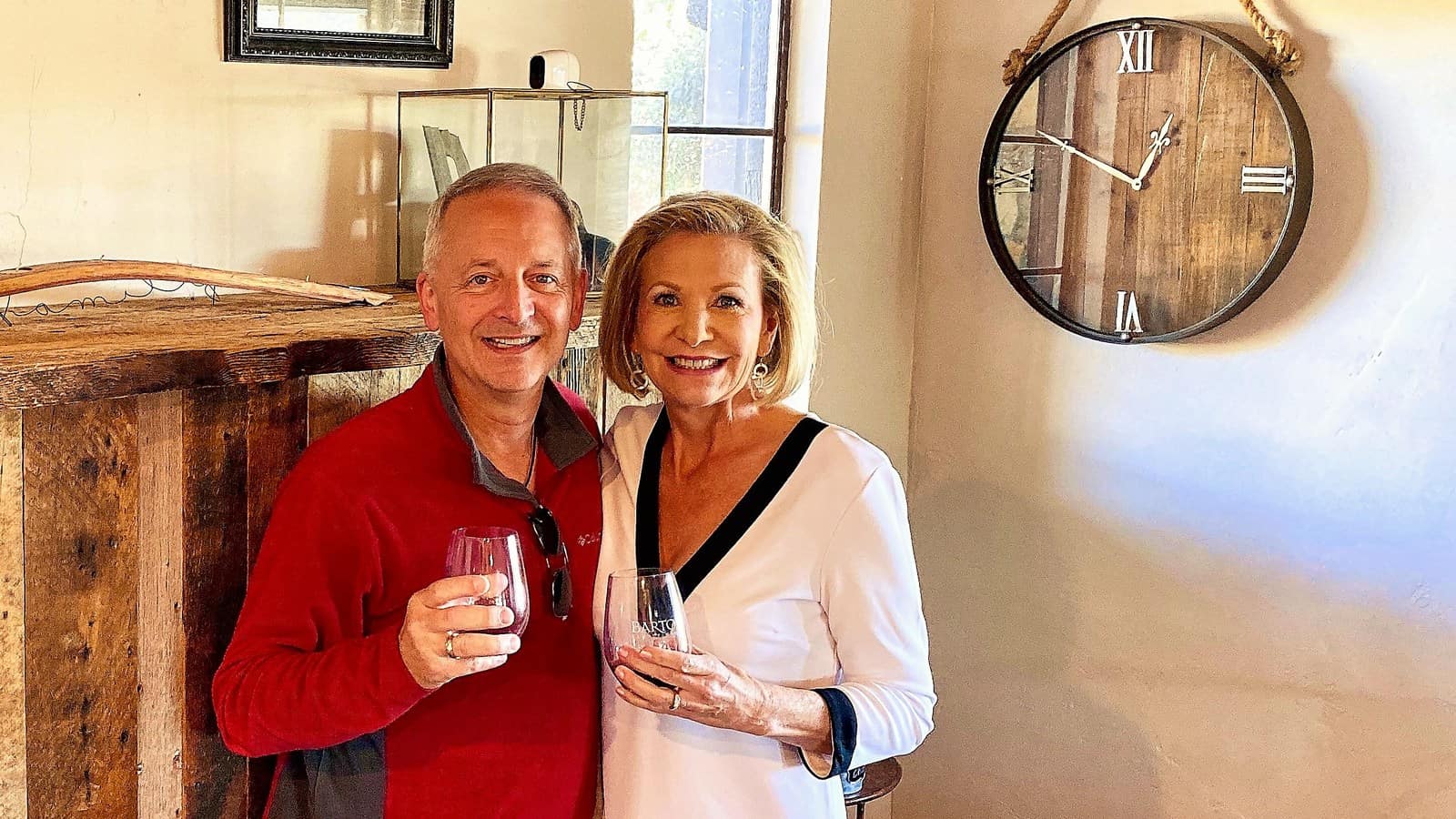 Pin-up Art, Wine, Port, and Spirits
Next, we recommend a two-for-one by visiting Per Caso Cellars and PasoPort Wine Company owned by Steve Glossner and his wife, Lola. Steve owns PasoPort, and in 2014 PasoPort acquired Per Caso Cellars. Steve was the winemaker at Per Caso since its beginning.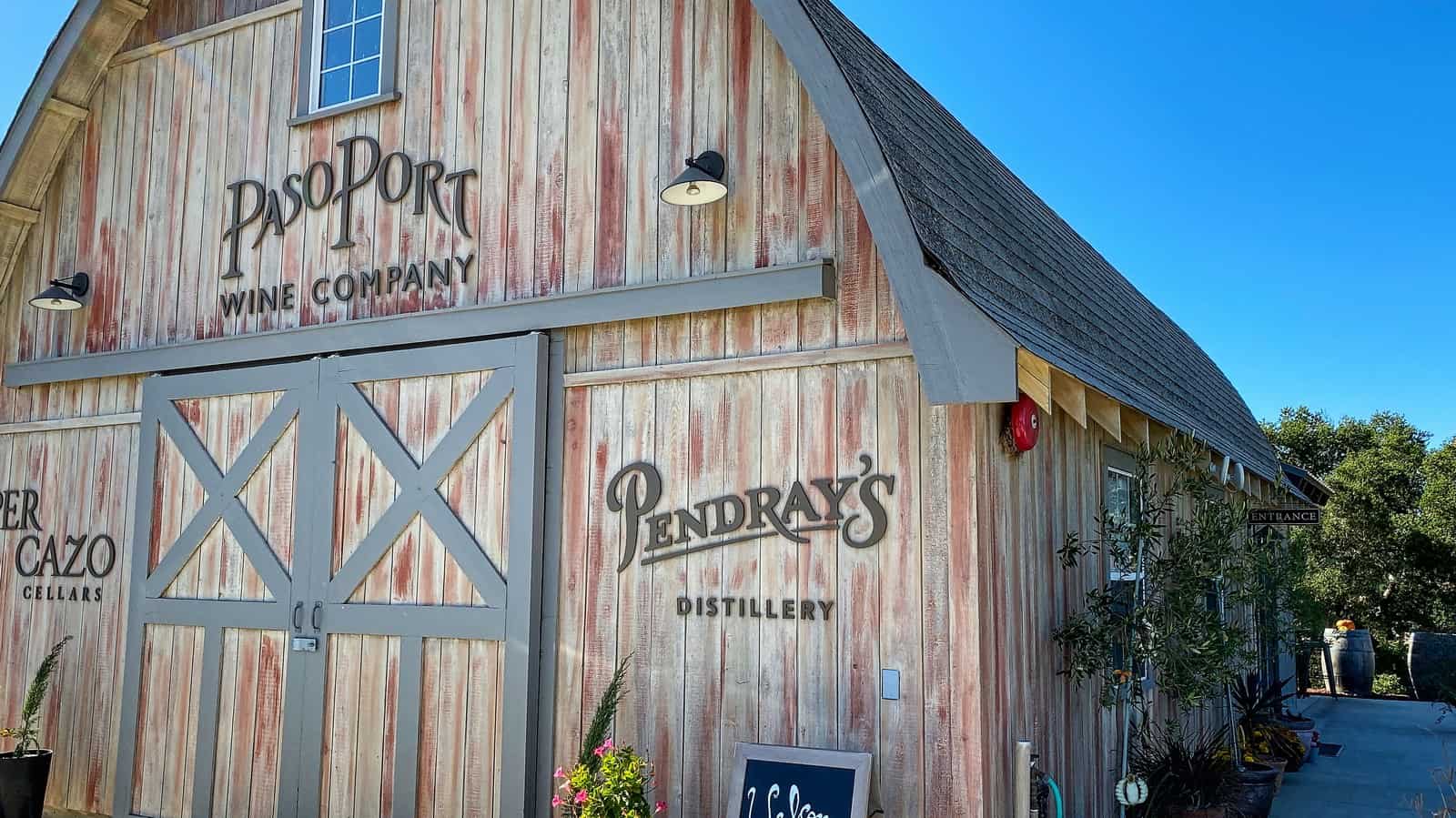 PasoPort is a ten-year-old family winery that produces about 1500 cases focusing on port-style wines. The bottles adorned with original artwork in the 1940s and 50s' Pin-up' style art are gorgeous. So why this form of art? Well, the answer is two-fold.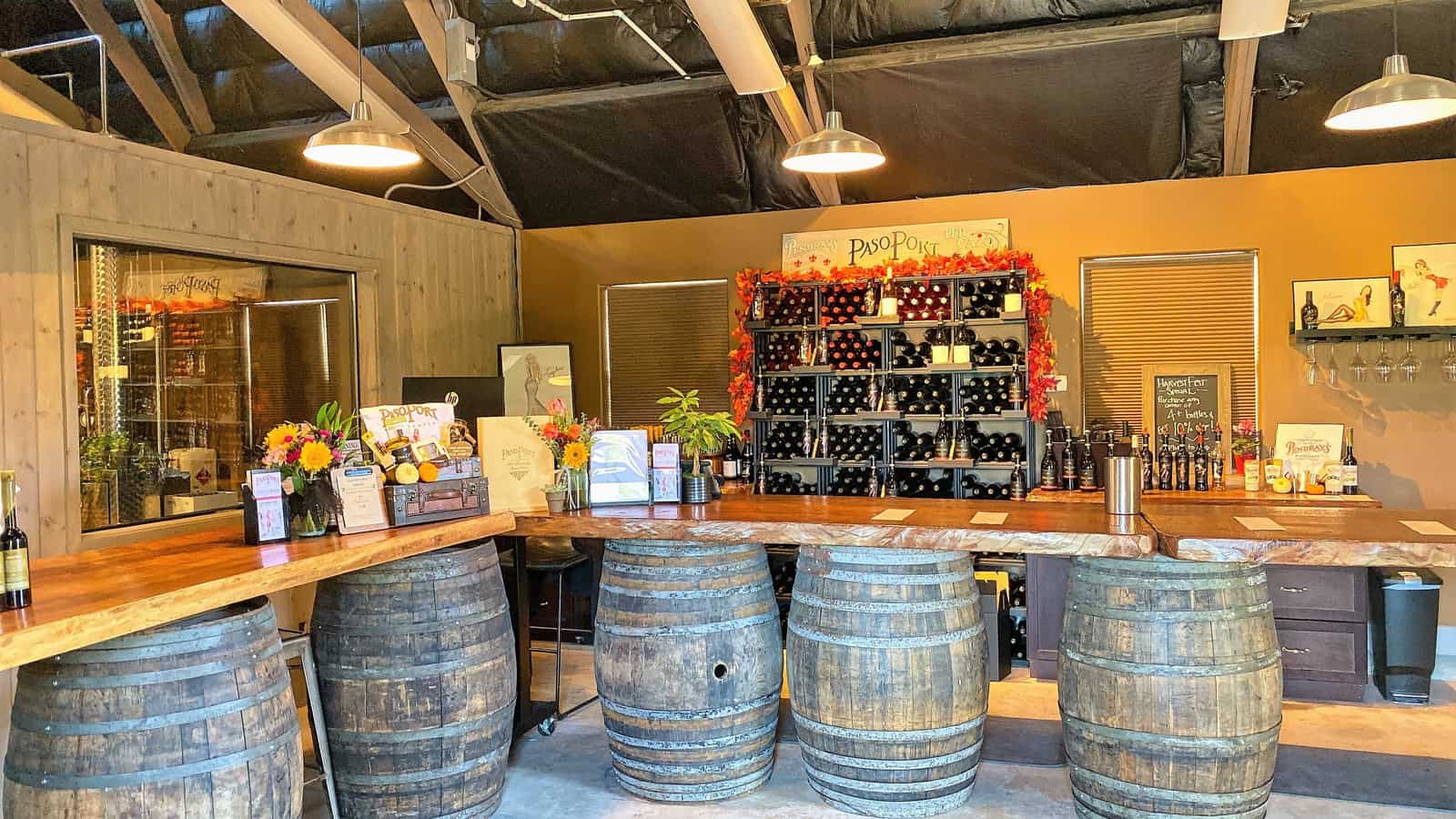 Port wine is from Portugal, and as of 2006, port producers outside of Portugal can't reference port on their labels. However, there is a grandfather clause that basically says if you had the word port on your label before 2006 and you don't change anything except the vintage date, you can continue to use it. So Steve was left trying to compete with those who were still allowed to use the word port.
Dessert wines and ports became popular in the 1940s in the US and at the same time in Europe. During this time, pin-up art identified dessert wines. So, Steve thought this would be a creative way to make his wines stand out. We think he and Lola have succeeded.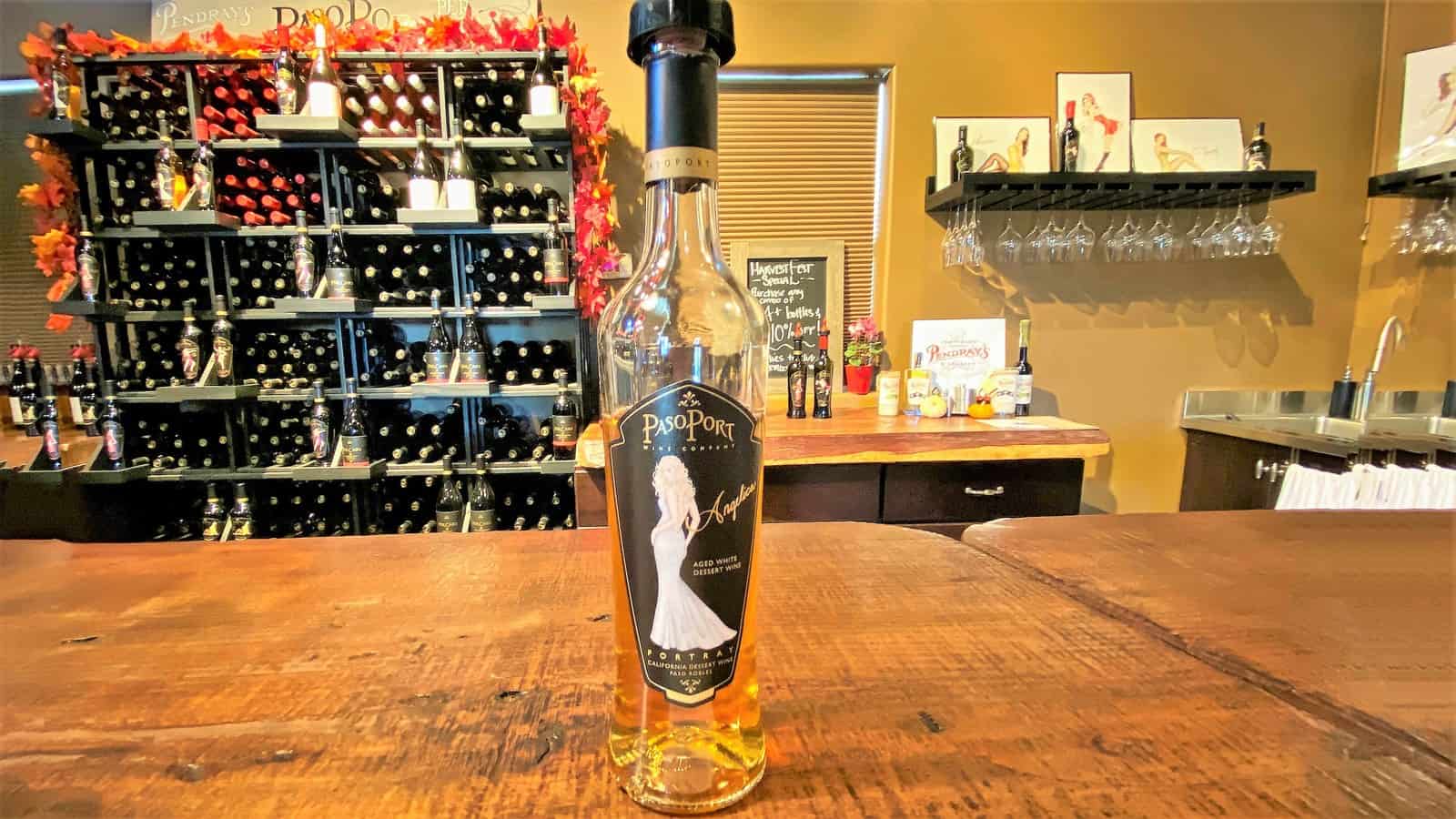 We enjoyed tasting wine, port, and even a spirit with Lola in their charming tasting rooms. They also have a wonderful outside area for tasting with great country views.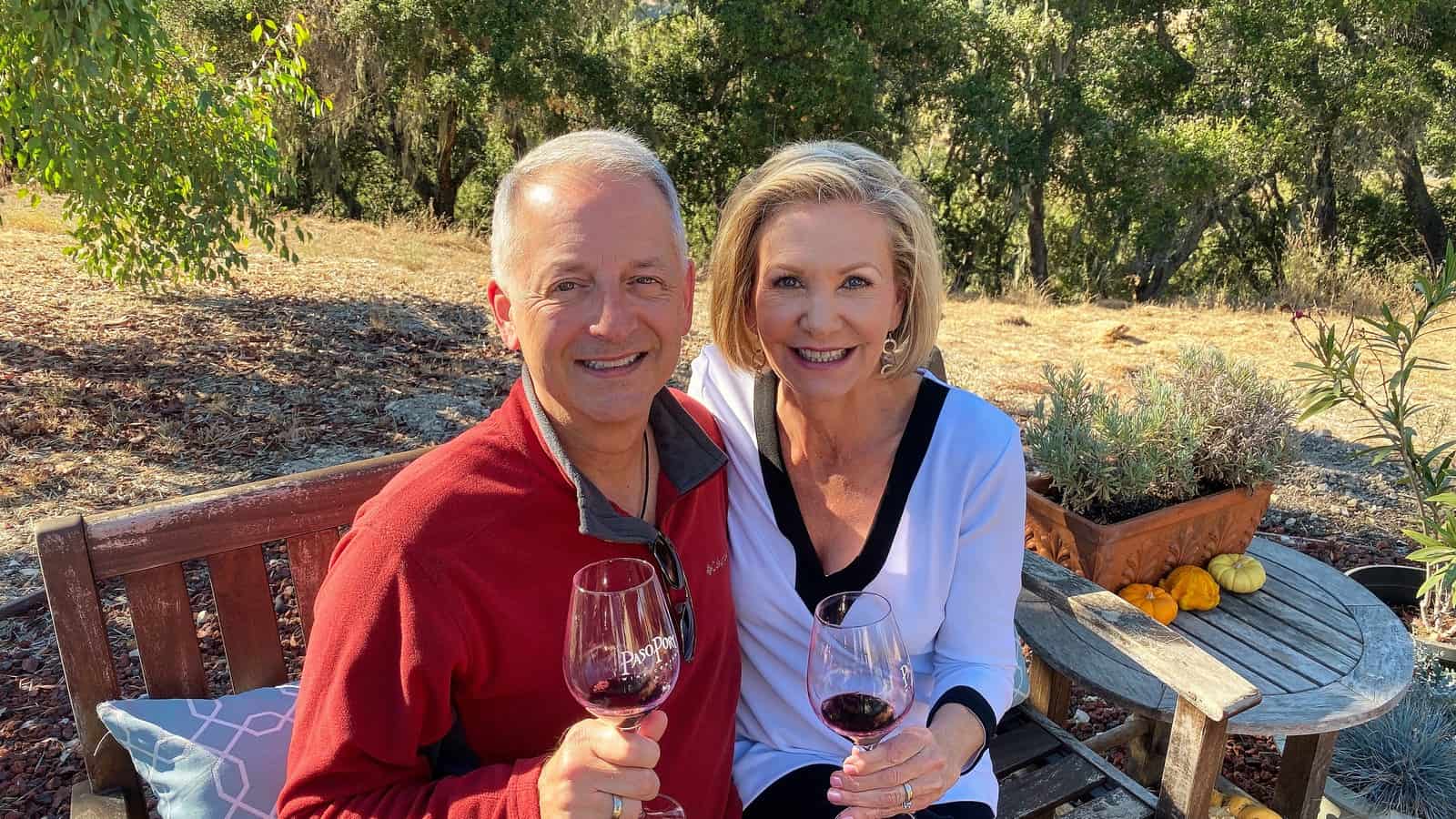 Cello Ristorante & Bar
For dinner, we recommend staying at Allegretto and having dinner at their Cello Ristorante and Bar. Cello Ristorante & Bar is an upscale yet casual Mediterranean-inspired restaurant. At Cello, they produce Northern Italian dishes made from regional ingredients, a wide-ranging wine list, chef's garden-inspired craft cocktails, and artisanal beers in an atmosphere that is warm and joyous.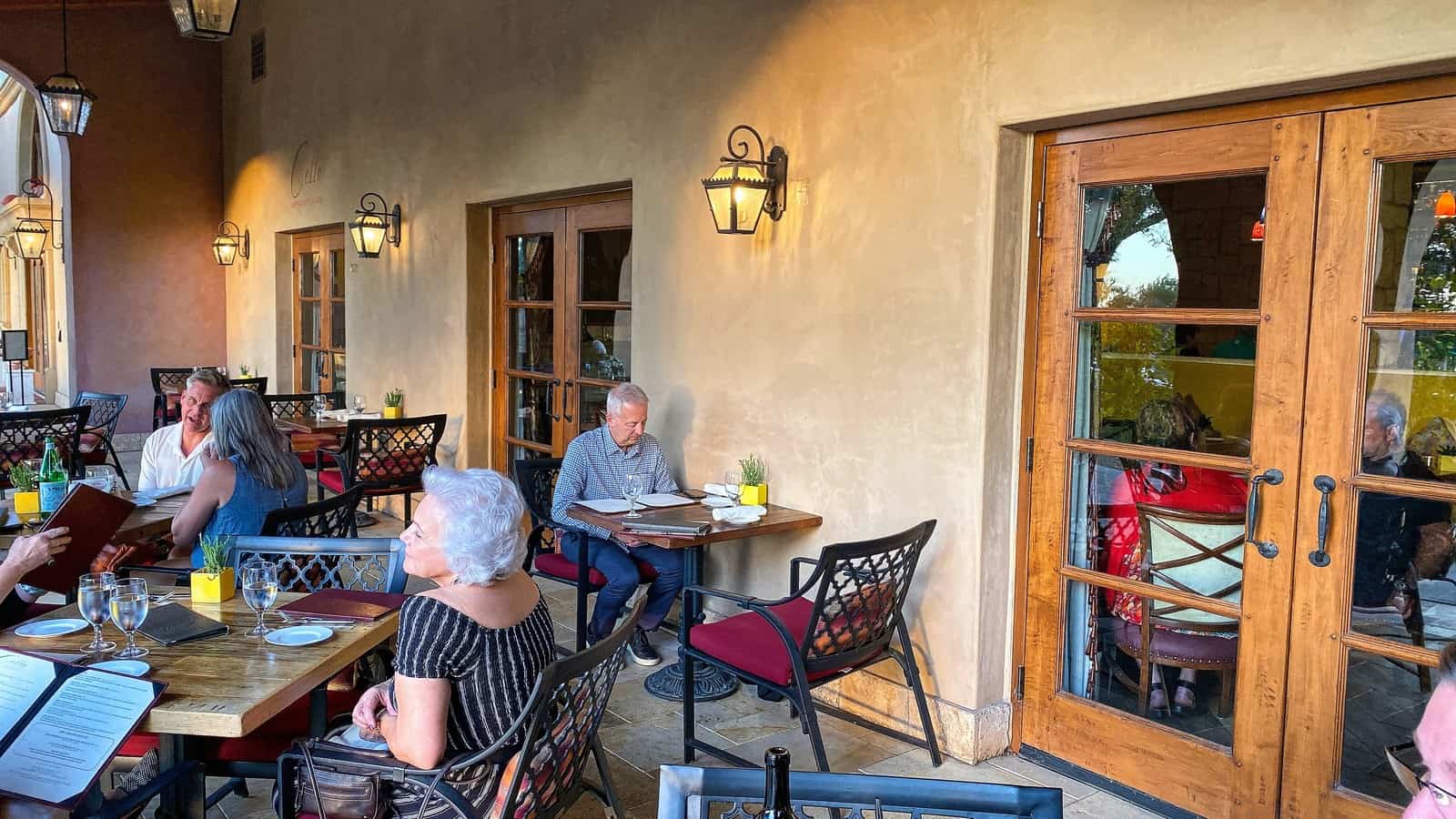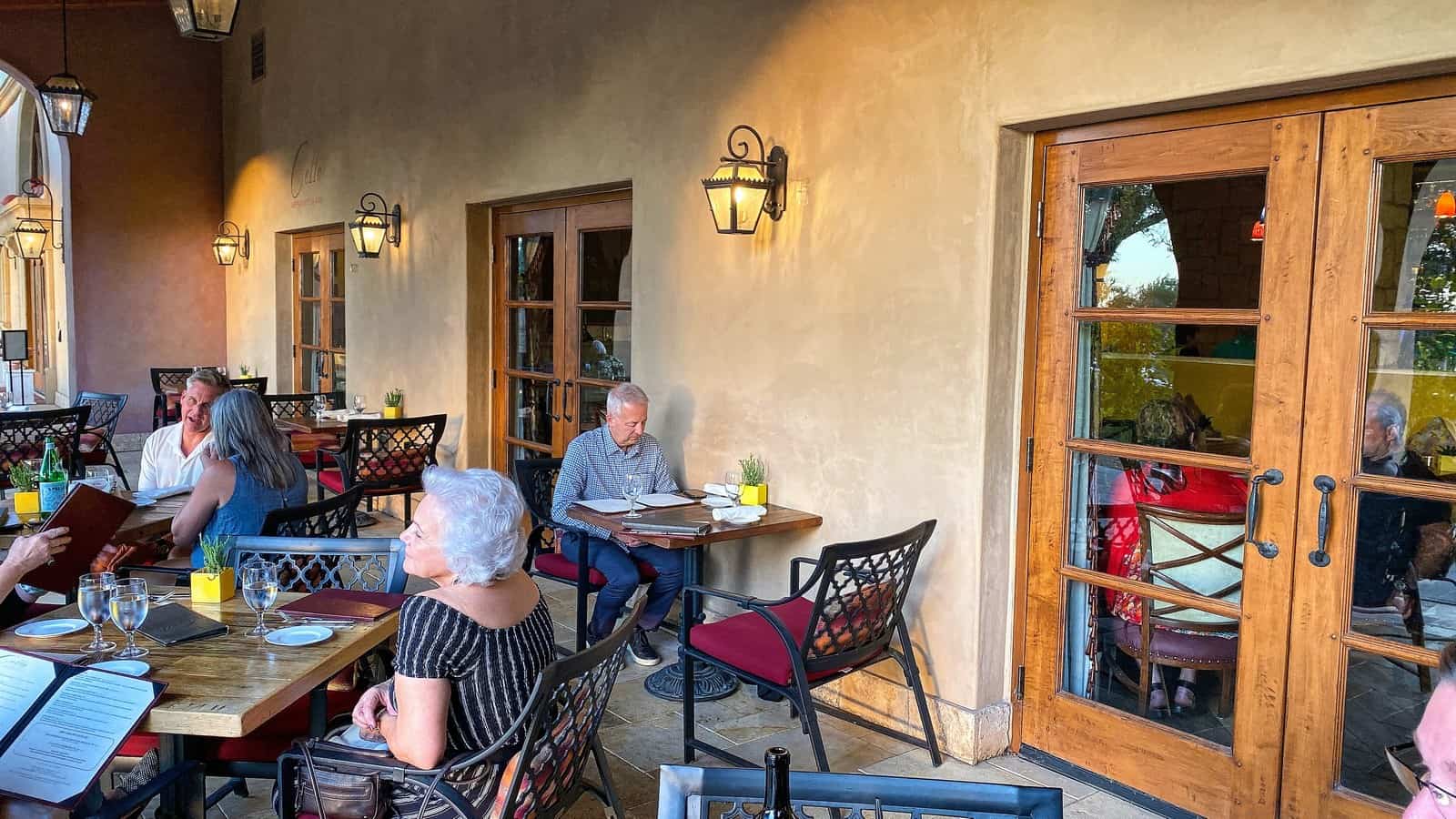 In addition to the Mediterranean dining room, they also have French doors that open onto a patio. The patio with iron fire bowls and bocce ball courts takes full advantage of Paso's beautiful warm evenings in summer and heated for cozy al fresco dining in the winter.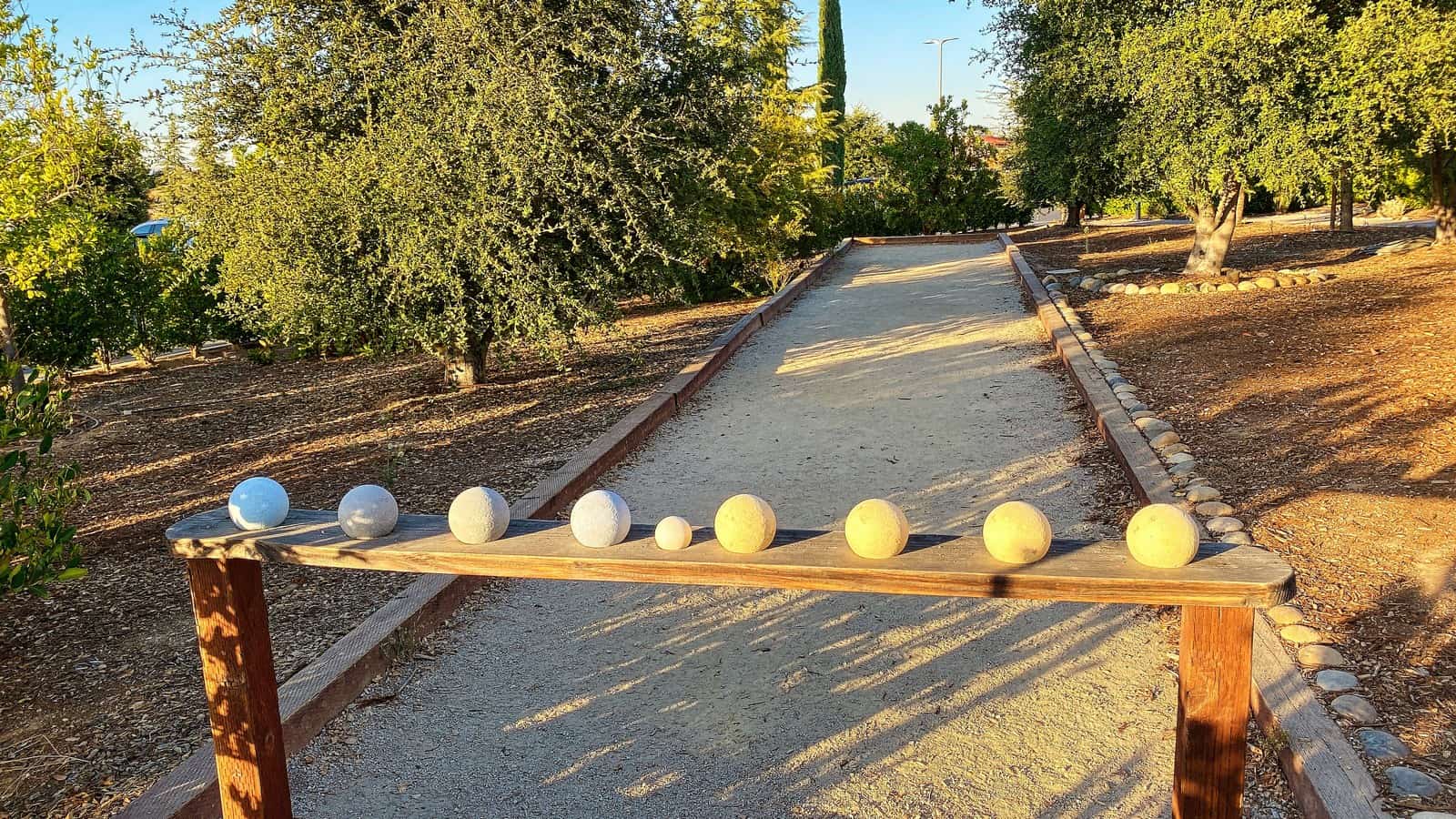 We enjoyed our dinner on the patio. We can tell you the restaurant was packed, so it was not just guests eating here but Paso Robles locals as well.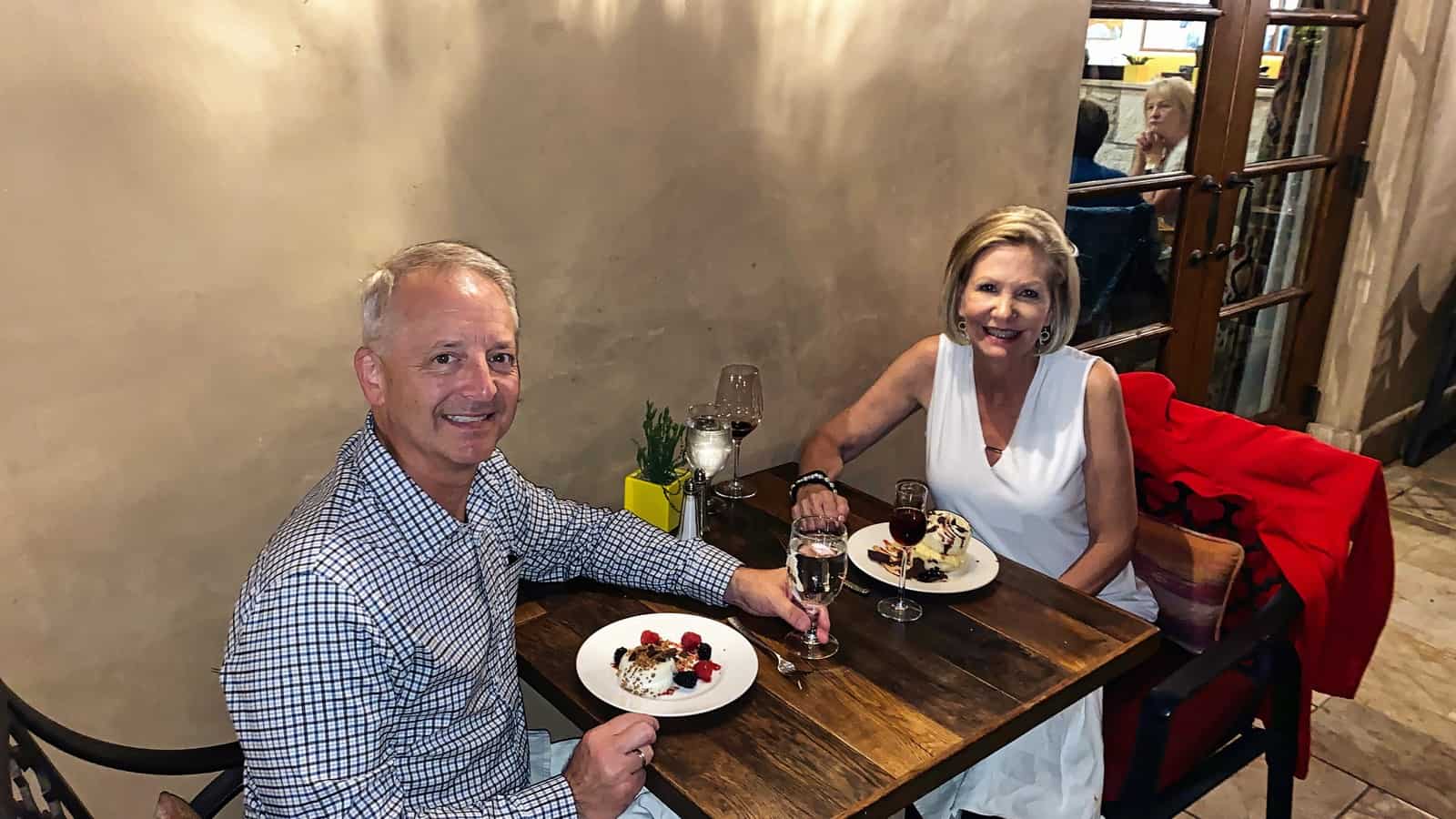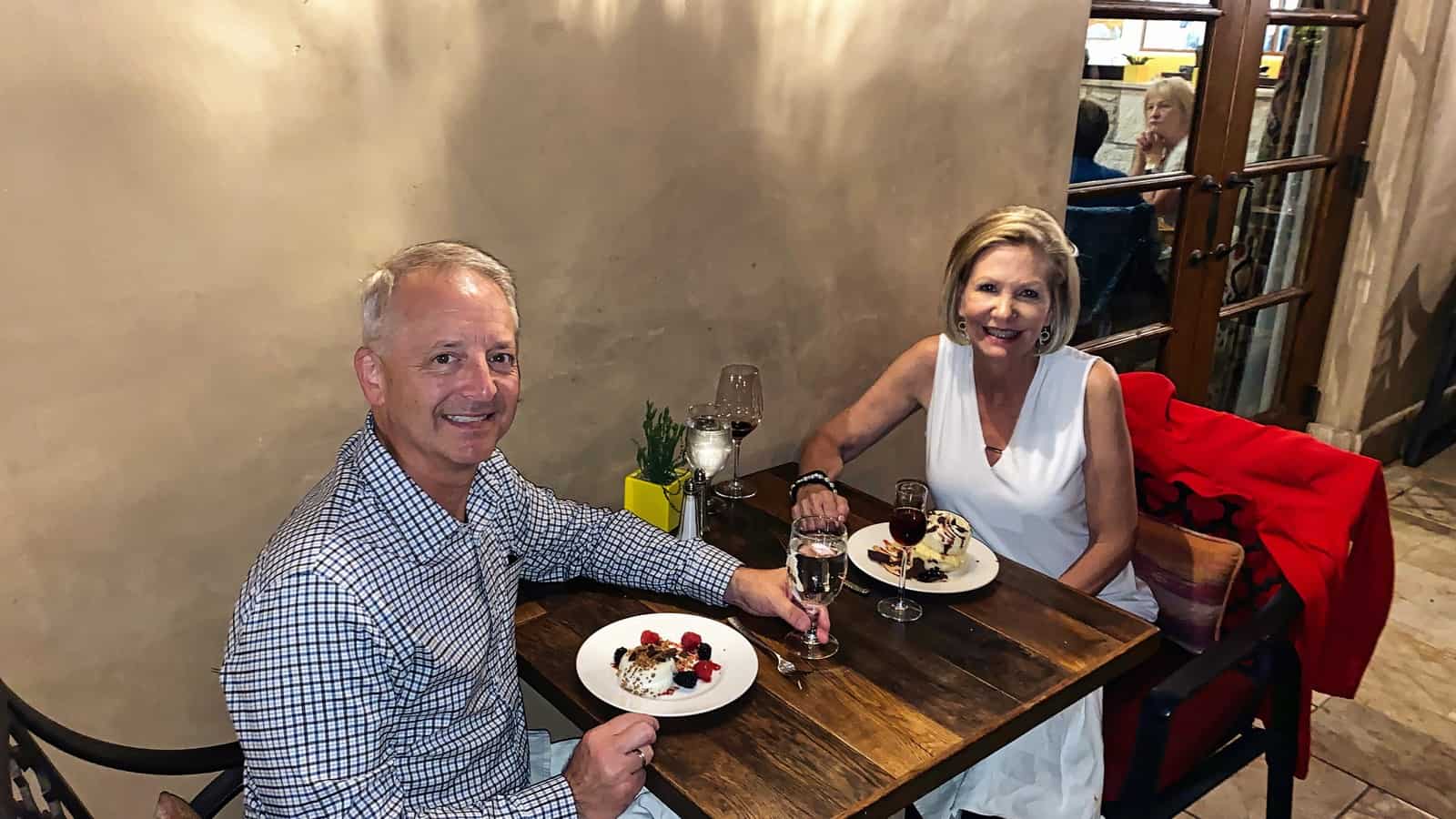 We each enjoyed a lovely glass of Paso Robles wine and two different salads as starters. Keith had a pasta entrée, and we shared a margarita pizza. For dessert, we had a delicious panna cotta and lemon cake.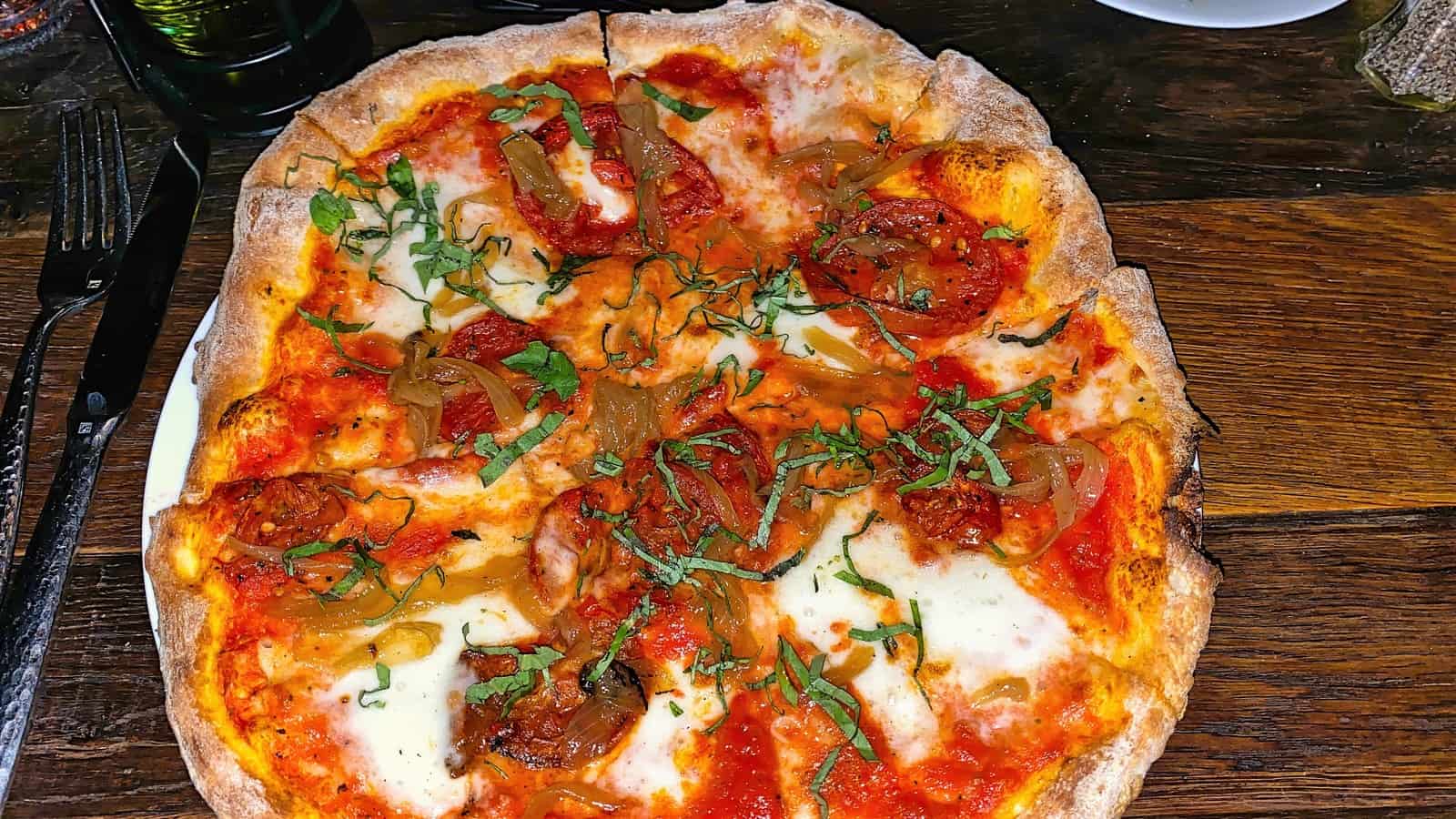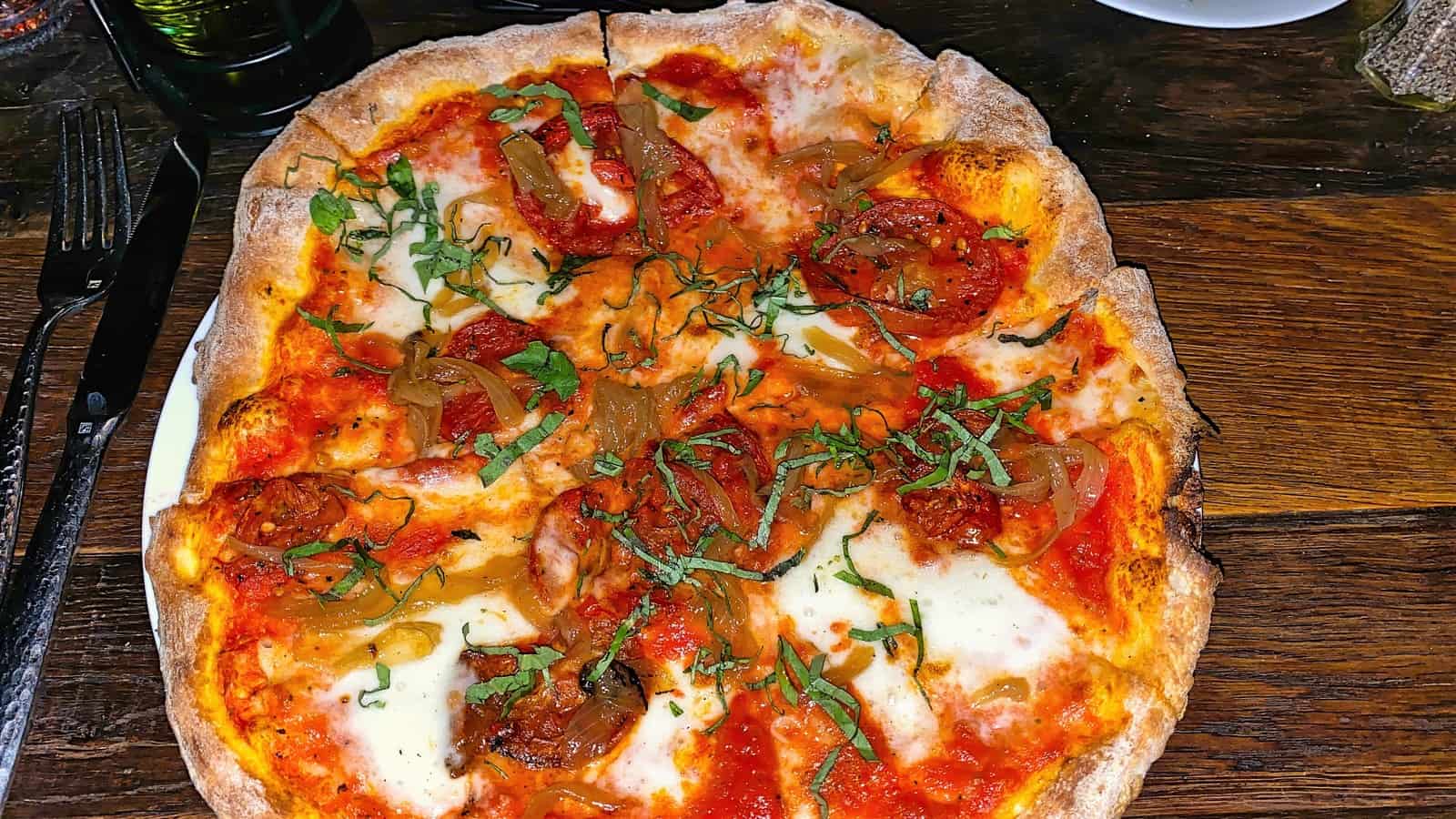 The Picollo, Small Yet Mighty
For another great hotel for your Paso Robles wine tasting, stay in the heart of Paso's downtown at The Piccolo. The Piccolo is an intimate 24-room boutique hotel in the heart of historic Paso Robles. Why the name Piccolo? A piccolo is a small flute that plays the highest notes in an orchestra. In like manner, the Piccolo aims to deliver service, accommodations, and an experience at an octave higher than other hotels. Pun on words intended.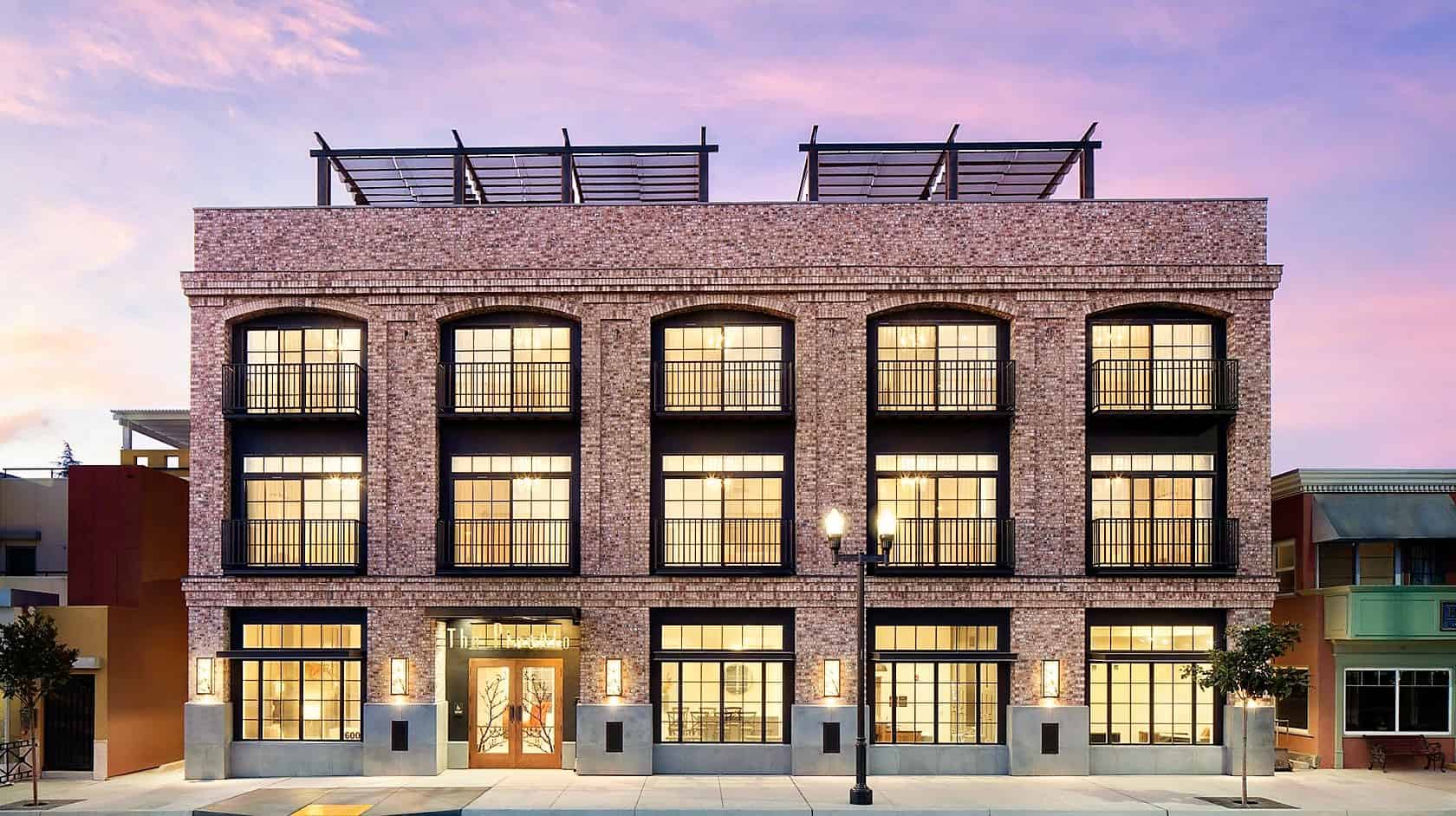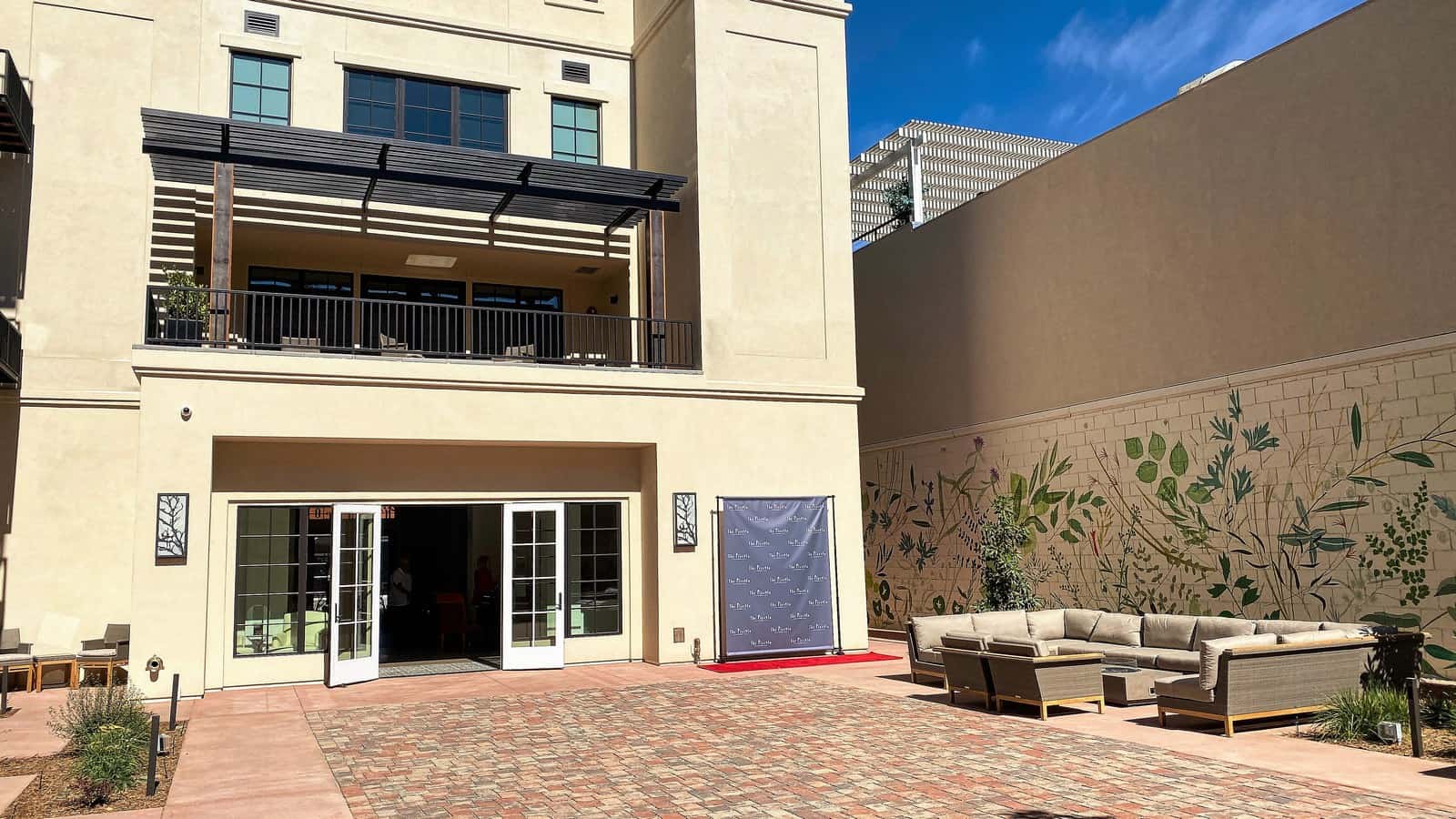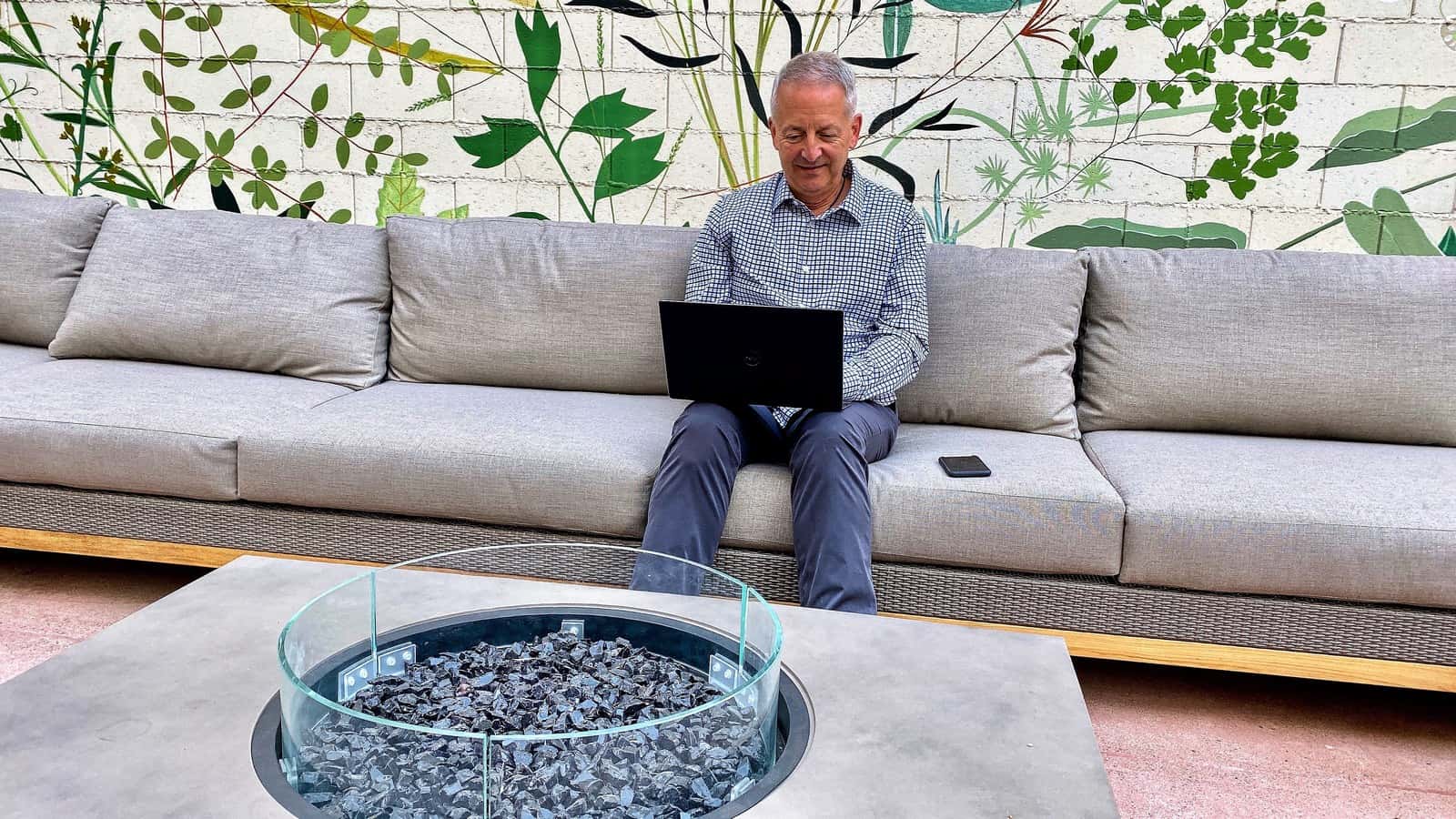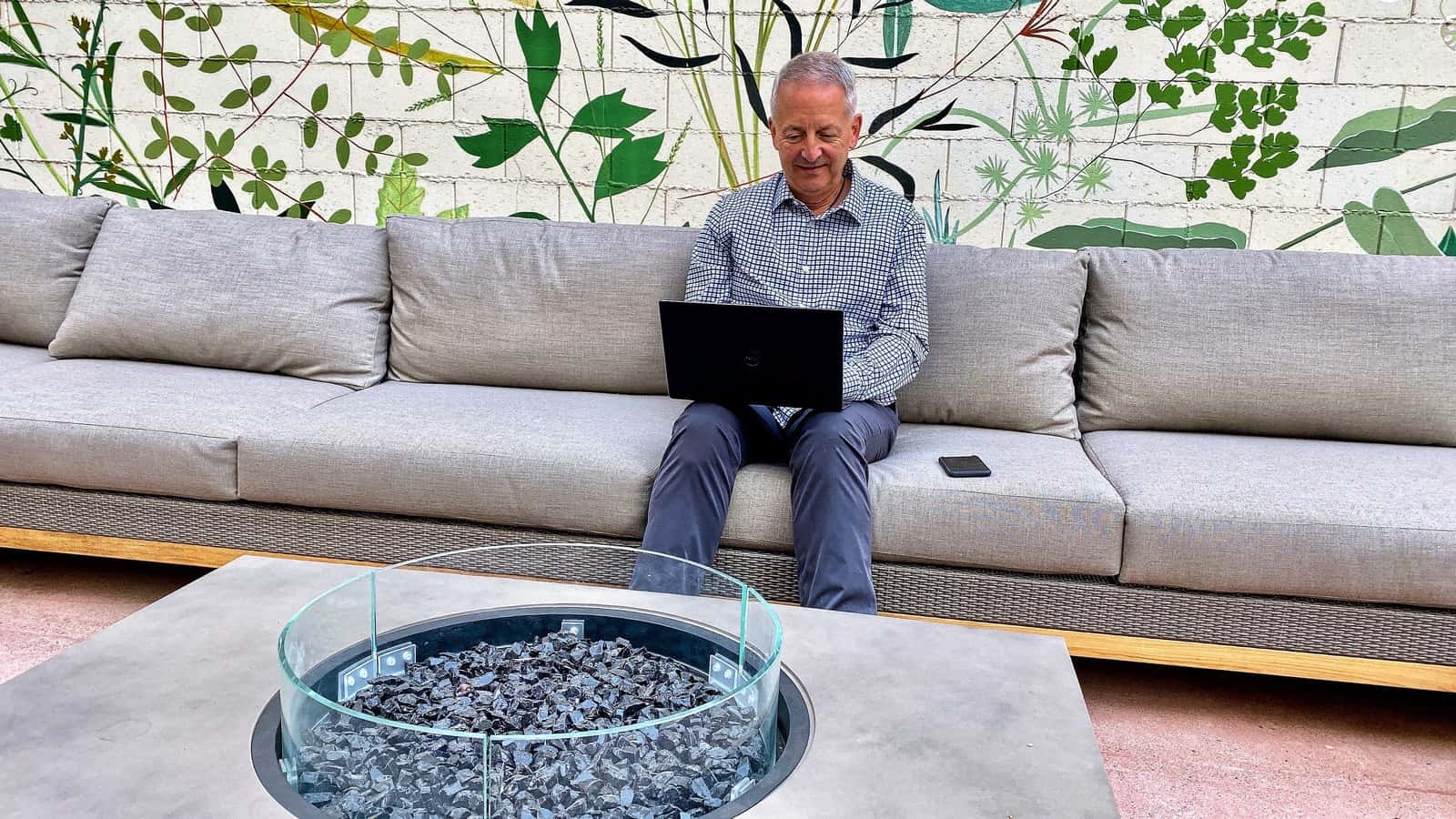 We stayed in a luxury king room on the first floor, so we had access to the patio with some comfy chairs. Each room exemplifies modern, authentic Paso Robles. Our room had floor-to-ceiling windows, an exposed brick wall, uniquely crafted furniture, sliding barn-style doors, simple yet interesting chandeliers, a Keurig coffee maker, and a wine fridge. The room had a rustic charm with a classy, urban vibe.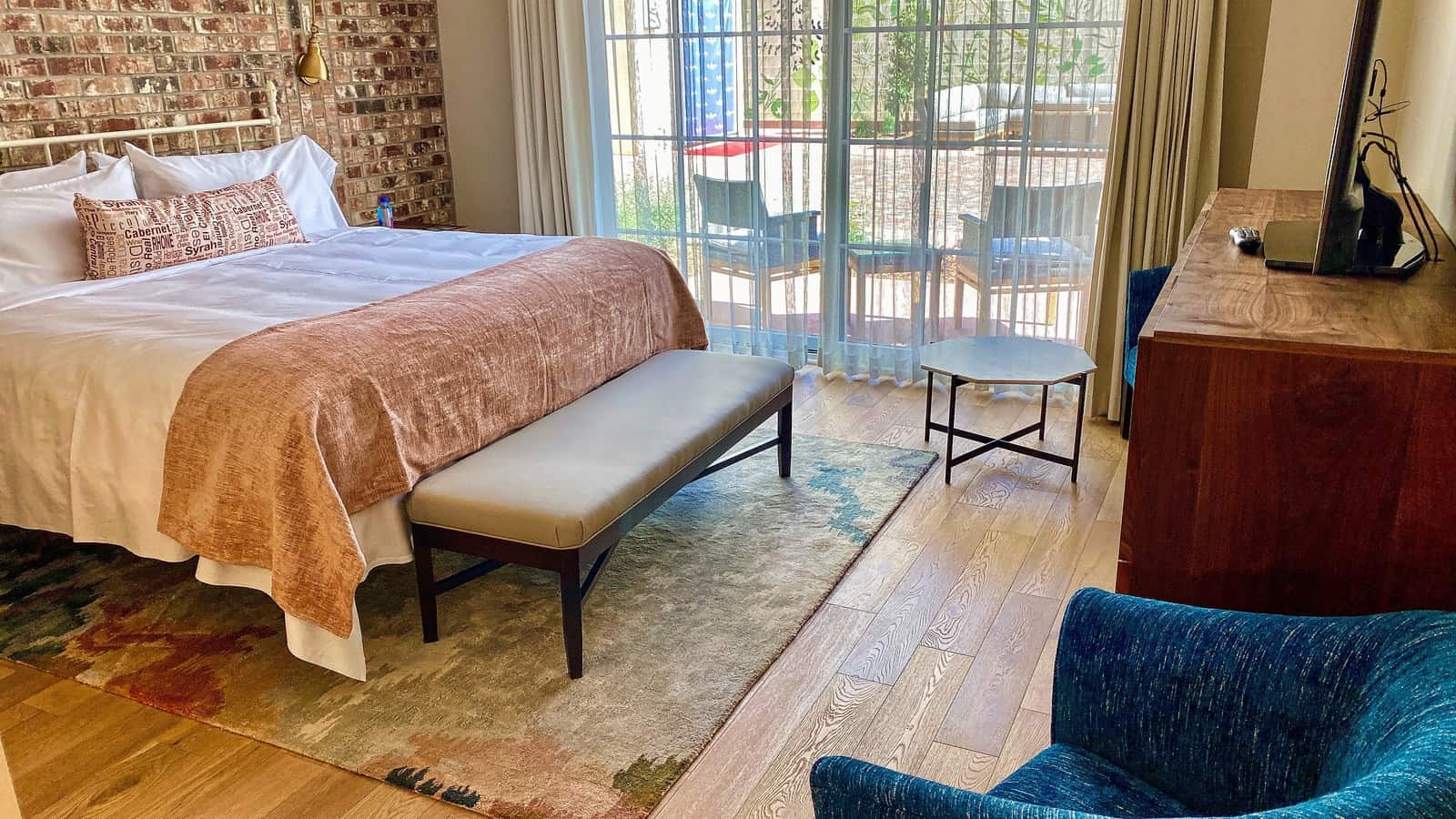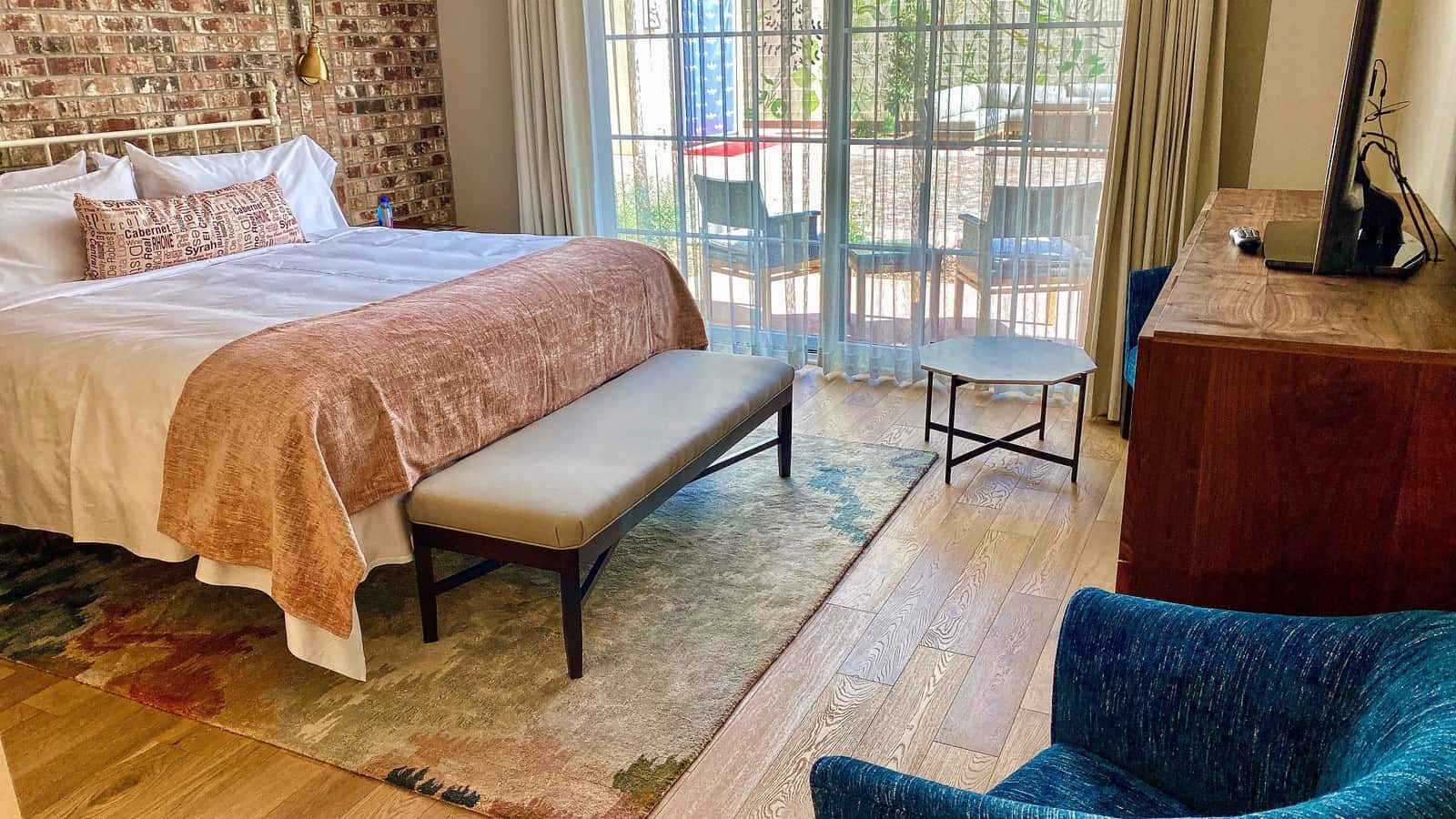 If you need more room, The Piccolo has the Somm Suite, which features one King bedroom, two bathrooms, a Juliet balcony, and a fashionable living space complete with a sofa bed, wet bar, and dining area.
A Rooftop Bar with a View
Additionally, the Piccolo has the Tetto, a rooftop bar where you can take in views of downtown while enjoying a local wine or a craft cocktail. We enjoy drinks at the Tetto and made some new friends while sitting at the bar.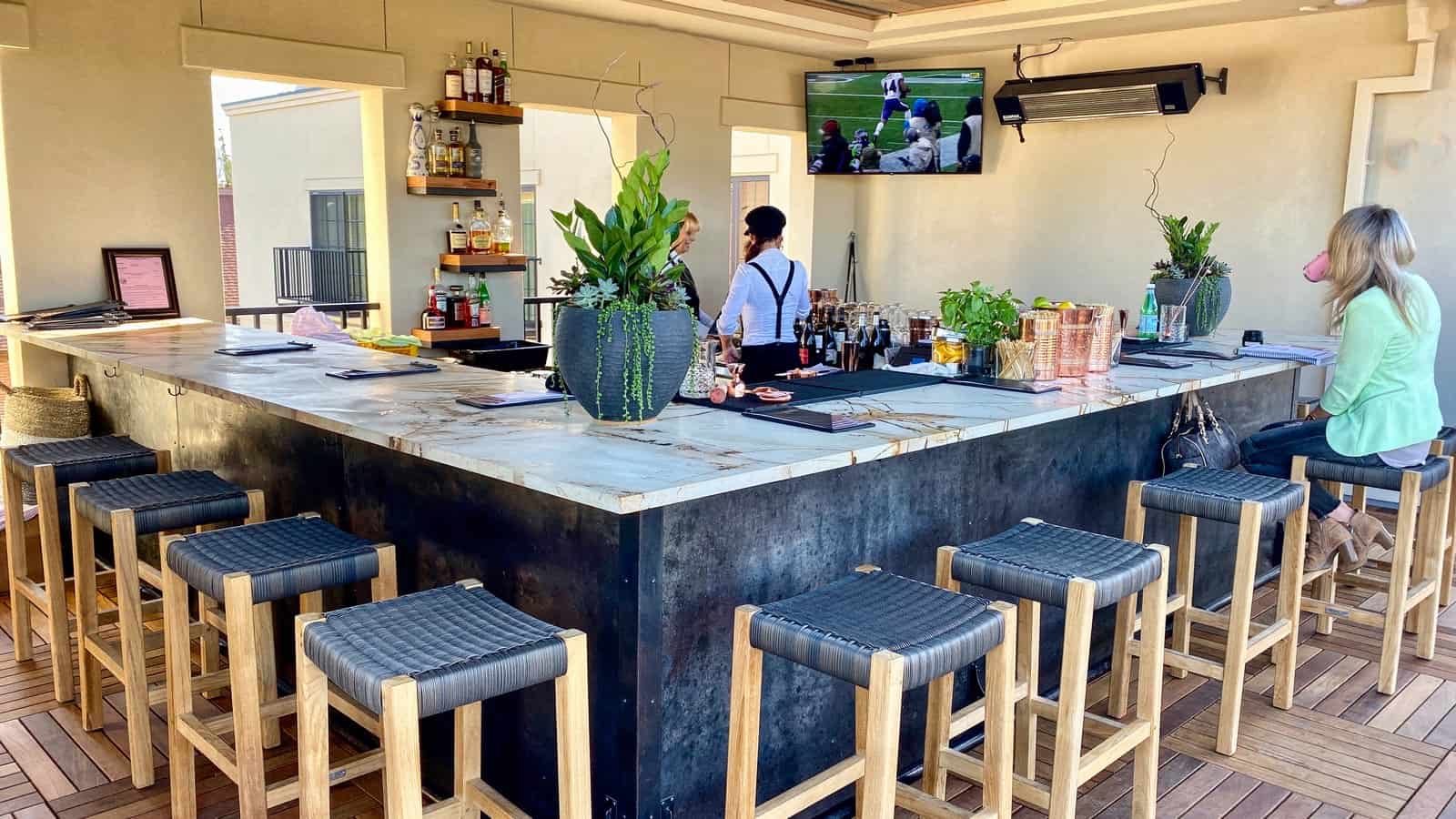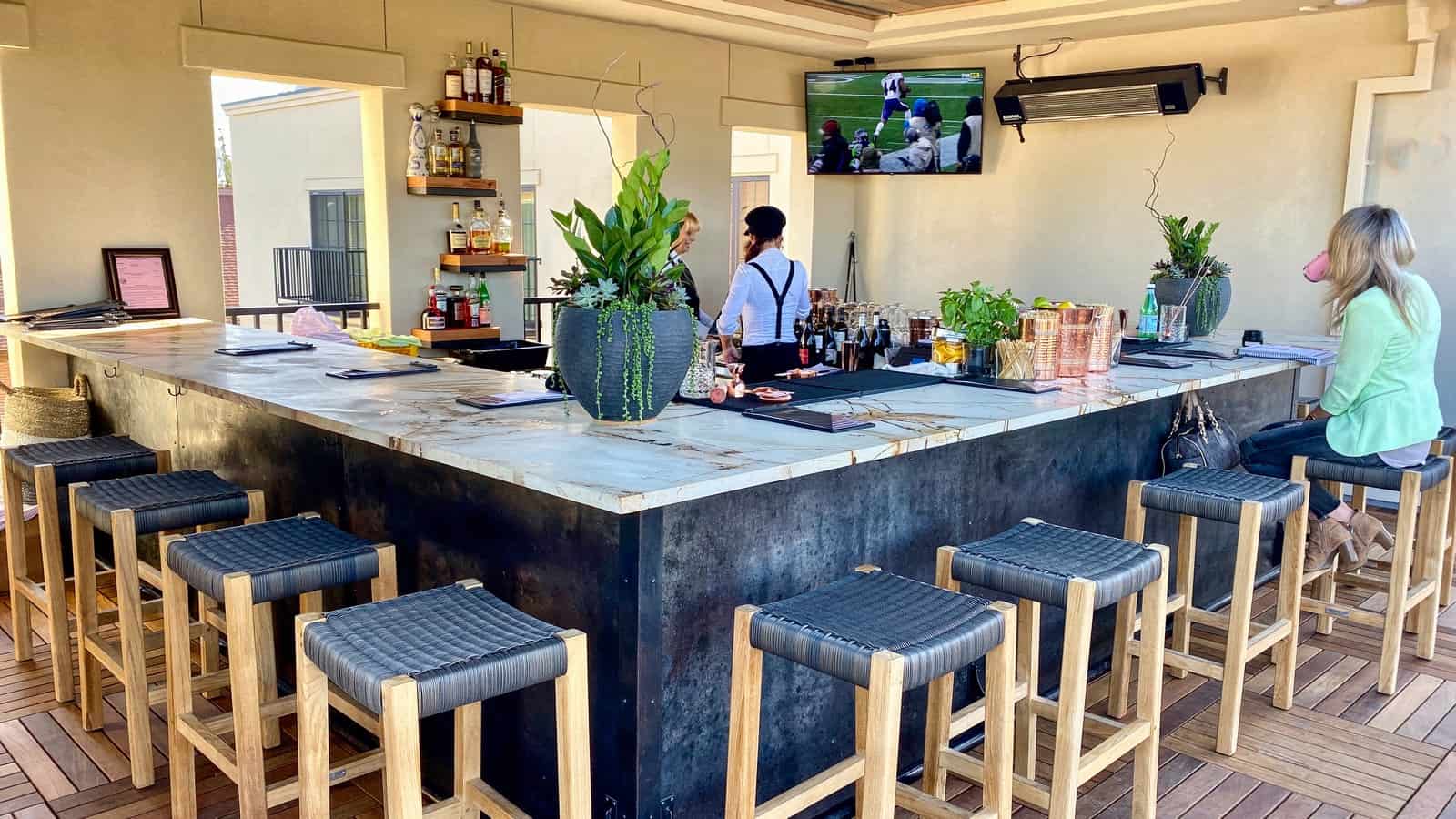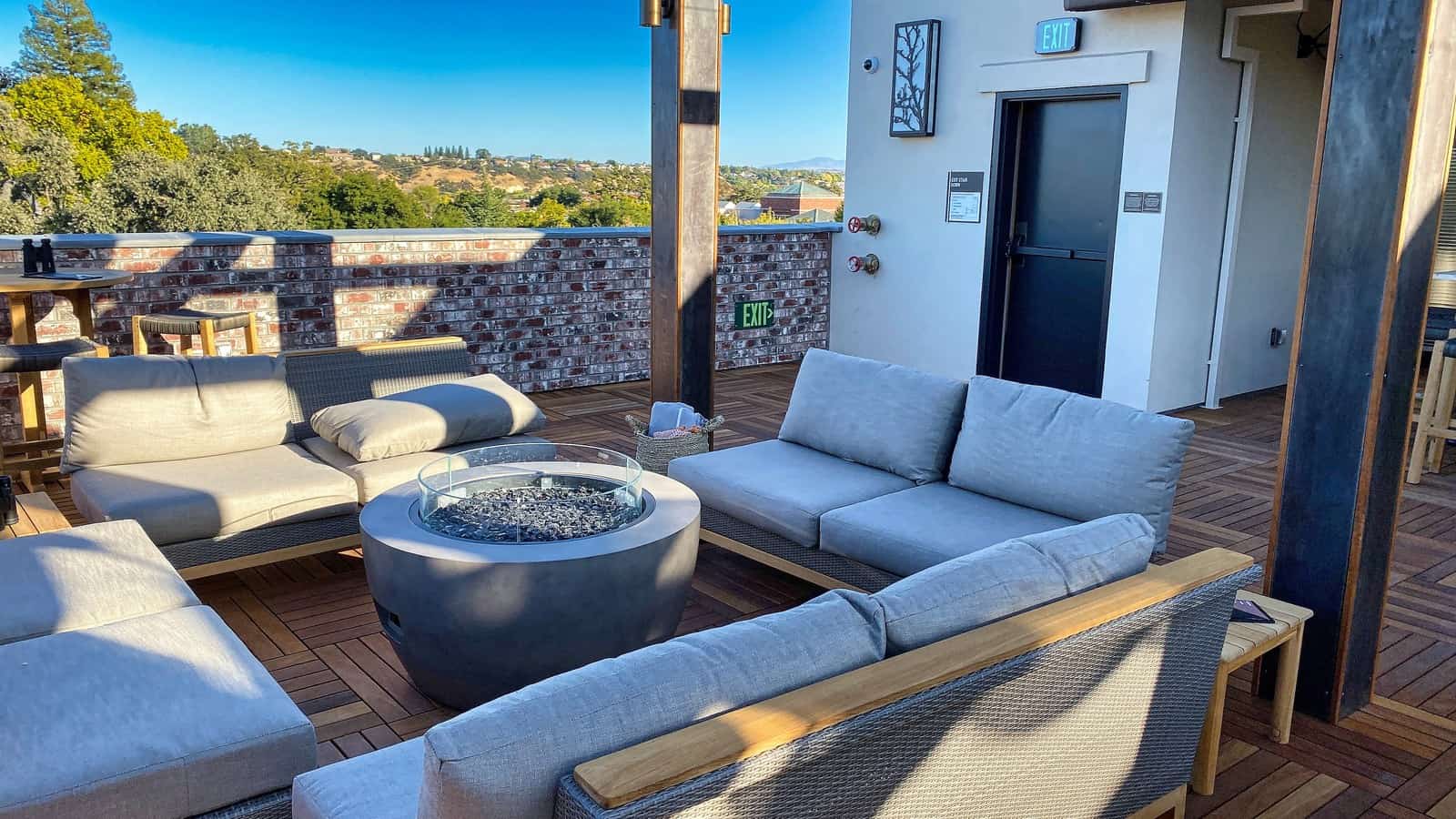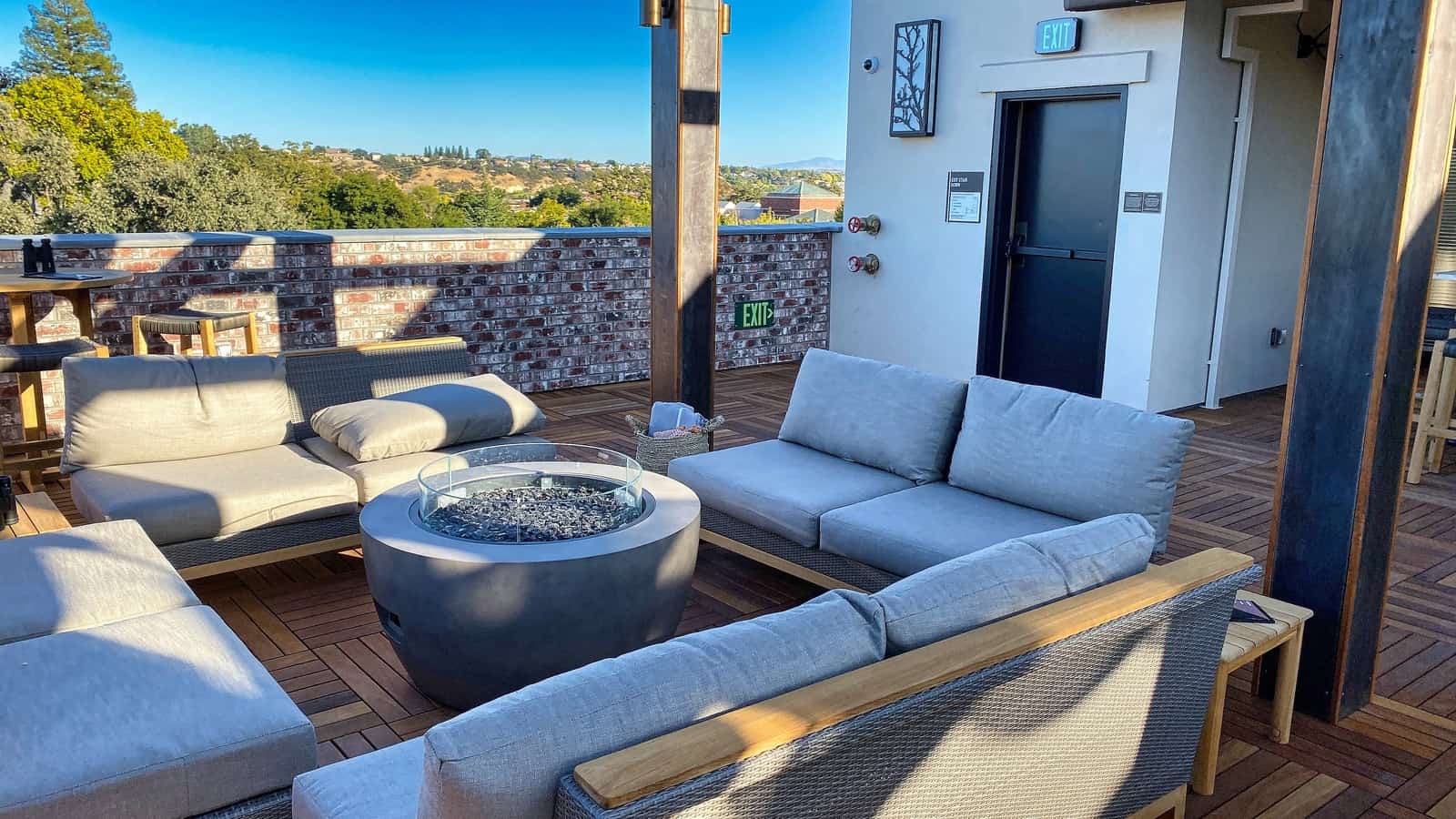 Accordingly, if you are a champagne lover, you will love the Monet Chardon vending machine in the lobby. Don't worry about teens buying champagne. Guests must purchase a vending machine token from the front desk. There are two choices of champagne; Monet Imperial and Rose Imperial. We could not decide, so we got one of each!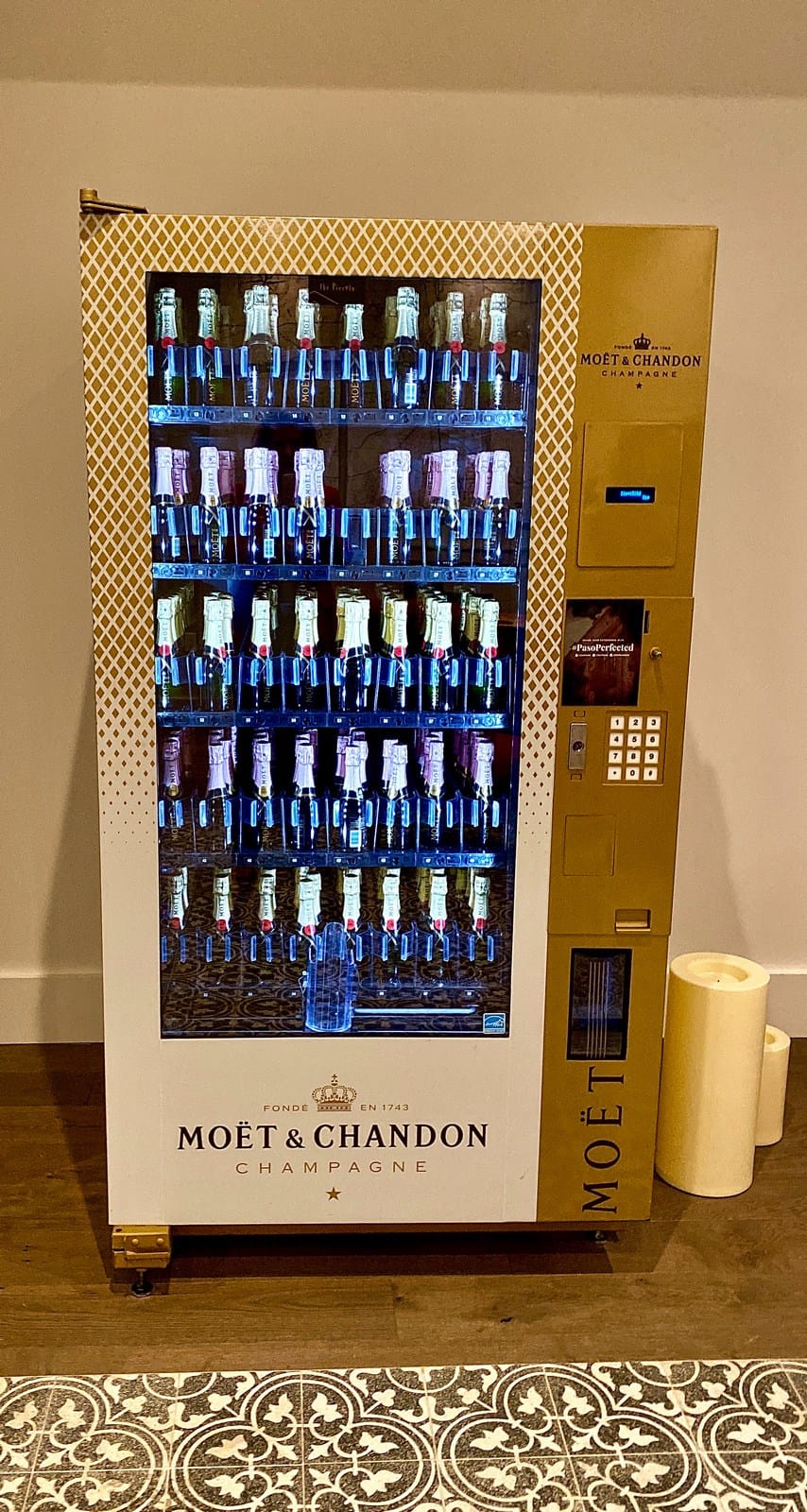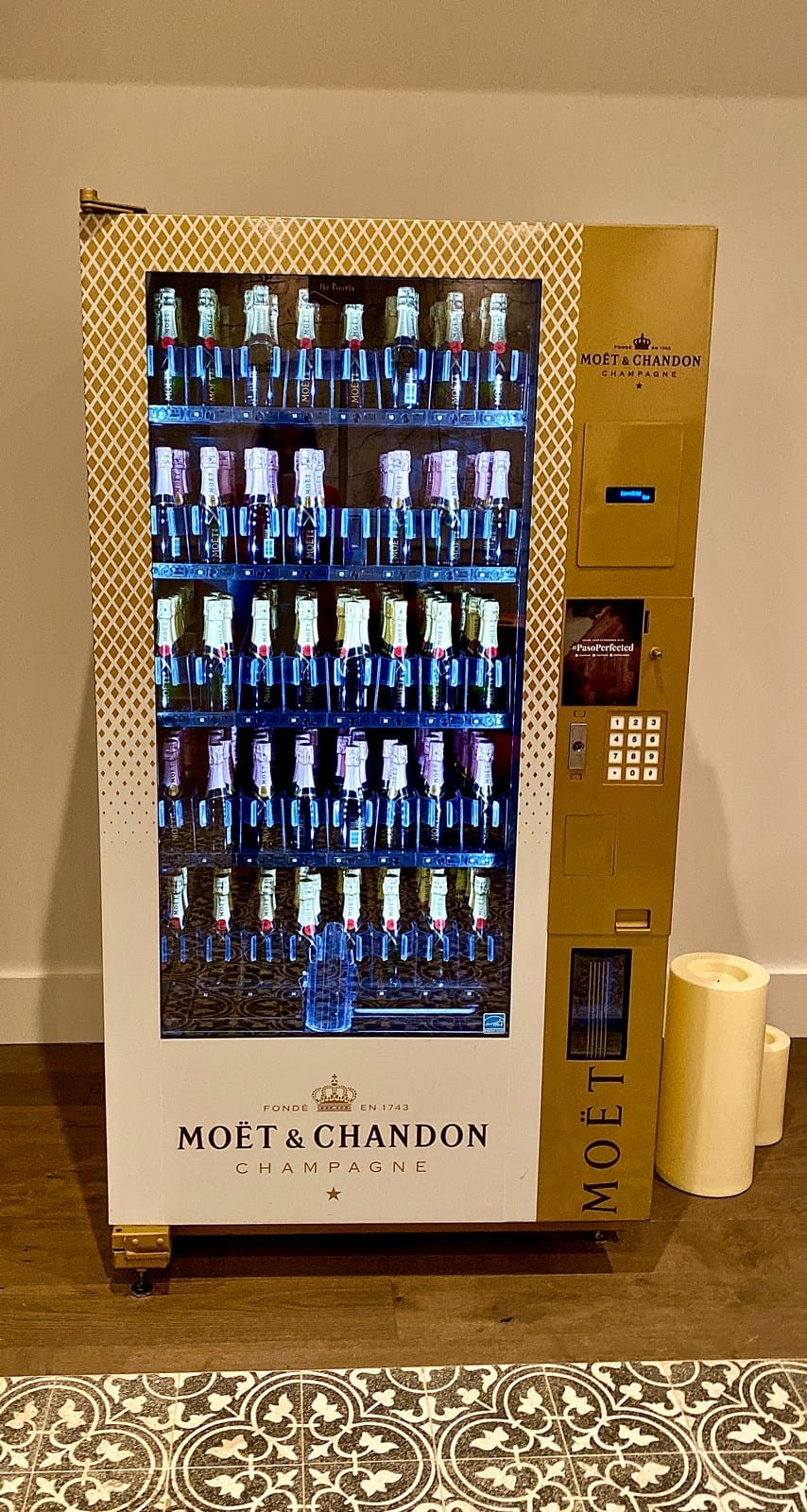 Unquestionably, the Piccolo is another great place to stay while visiting Passo to enjoy Passo Robles wine.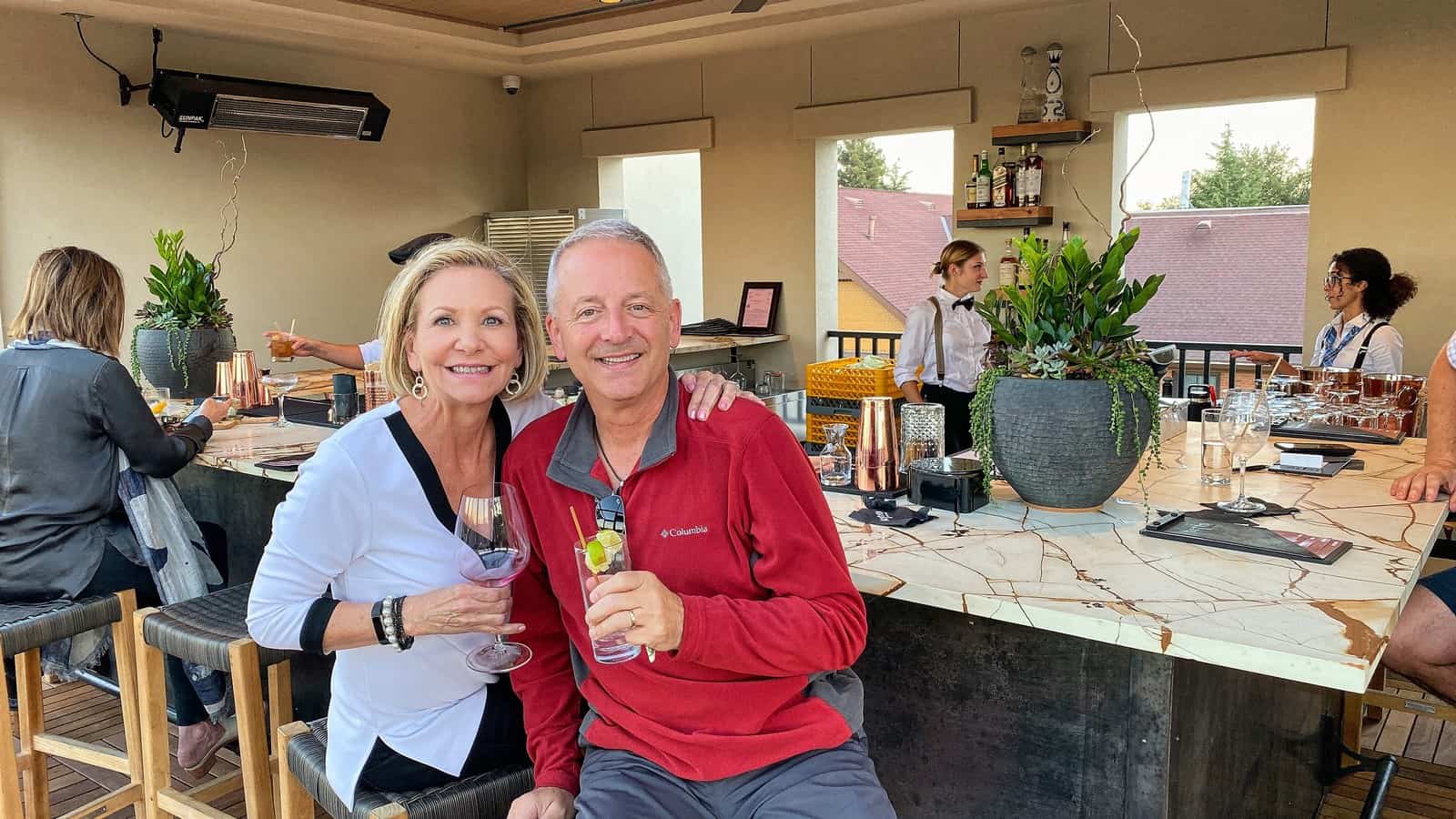 The Best Lunch at Thomas Hill Organics
For one of the best lunches you'll ever have, stop by Thomas Hill Organics also in downtown Paso. Thomas Hill Organics is a farm-to-table restaurant devoted to serving creative, organic gastronomy and highlighting unique wines from the Central Coast. The menu at Thomas Hill reflects what is available locally. We are sure people visit Paso to dine at Thomas Hill Organics, it is a destination in itself.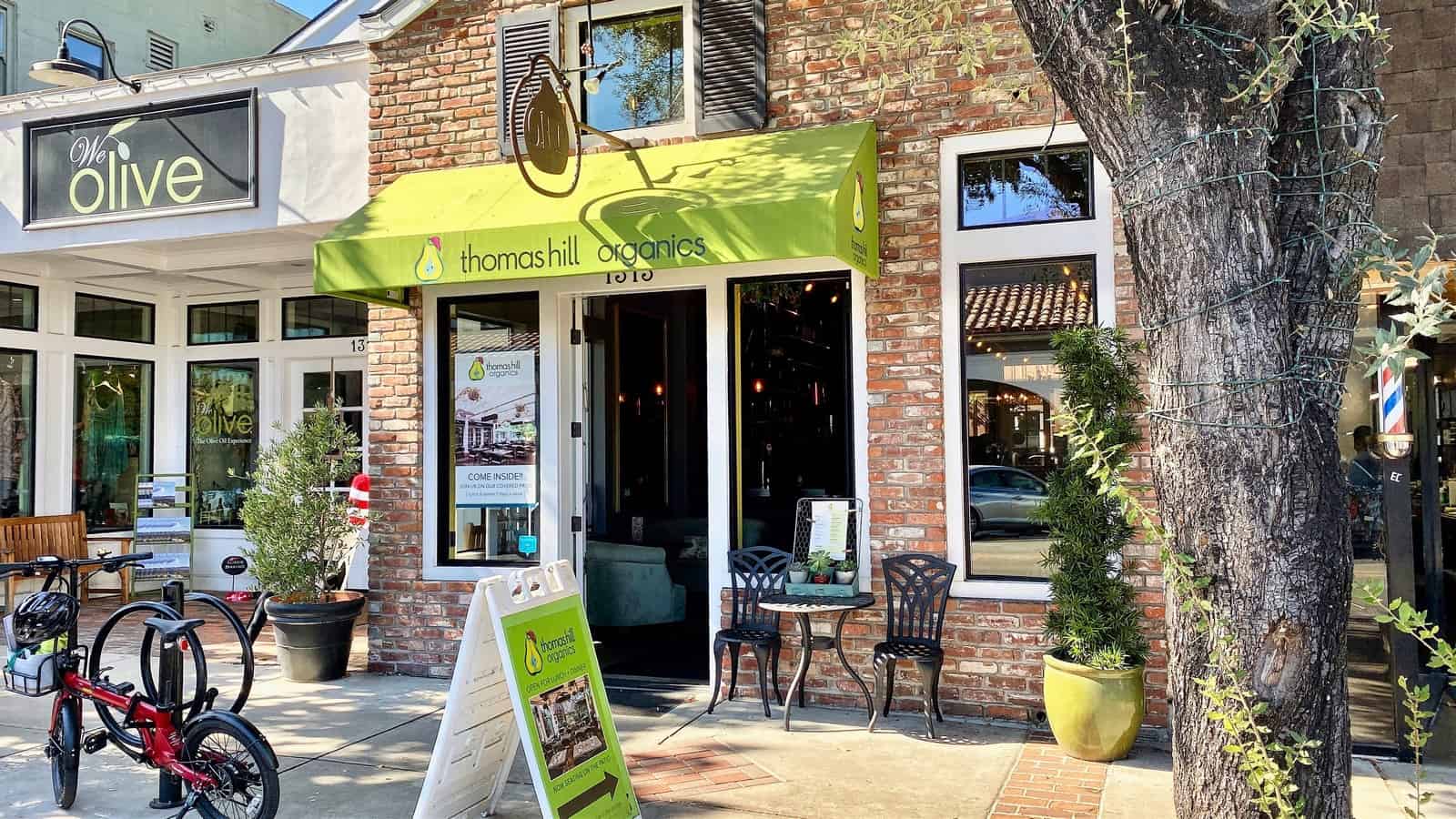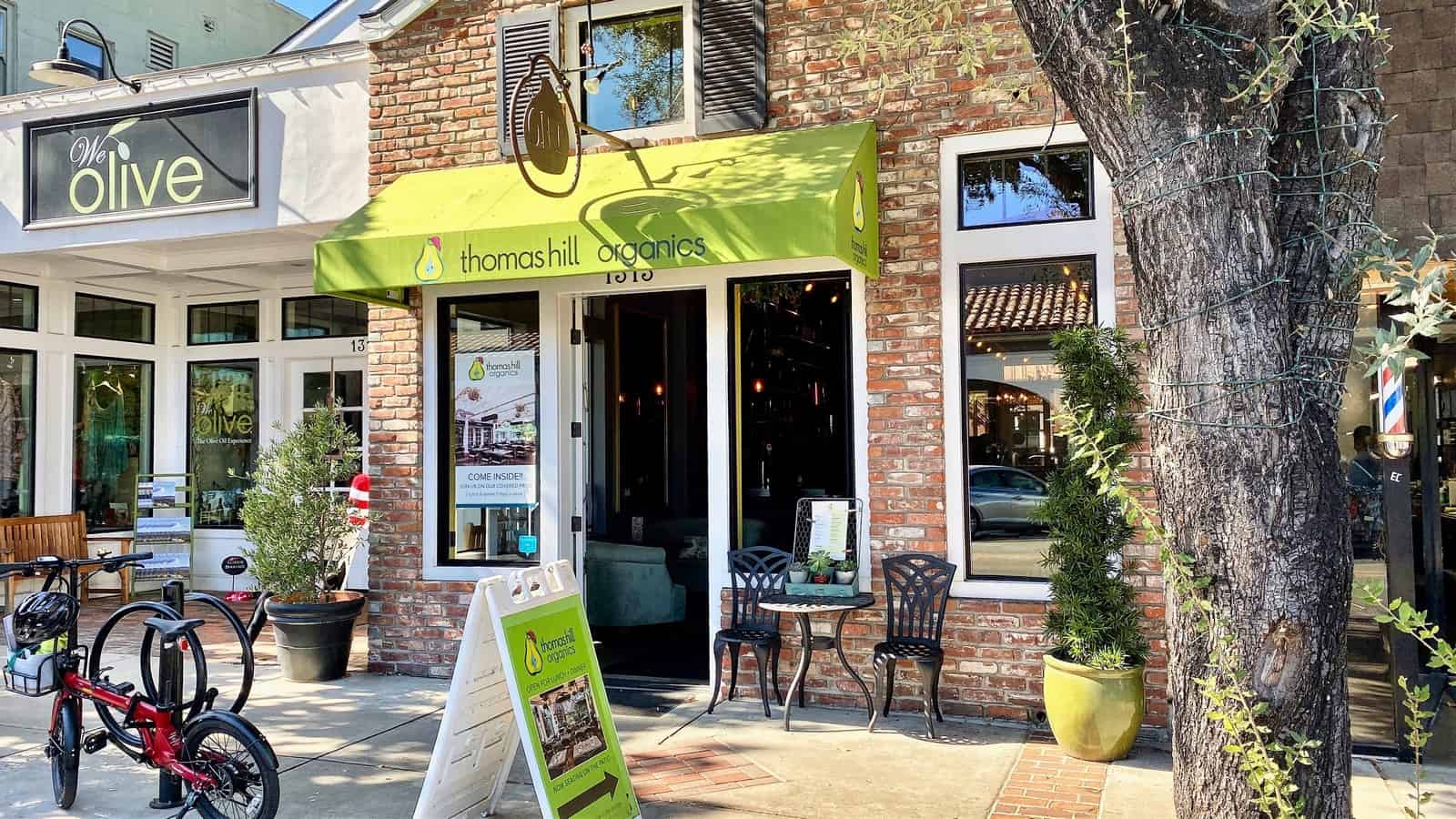 In addition to a great wine list, Thomas Hill has a great tea menu, and since we were going to be doing a lot of wine tasting, I decided to have an herbal tea. I chose the Apricot Escape; it was divine.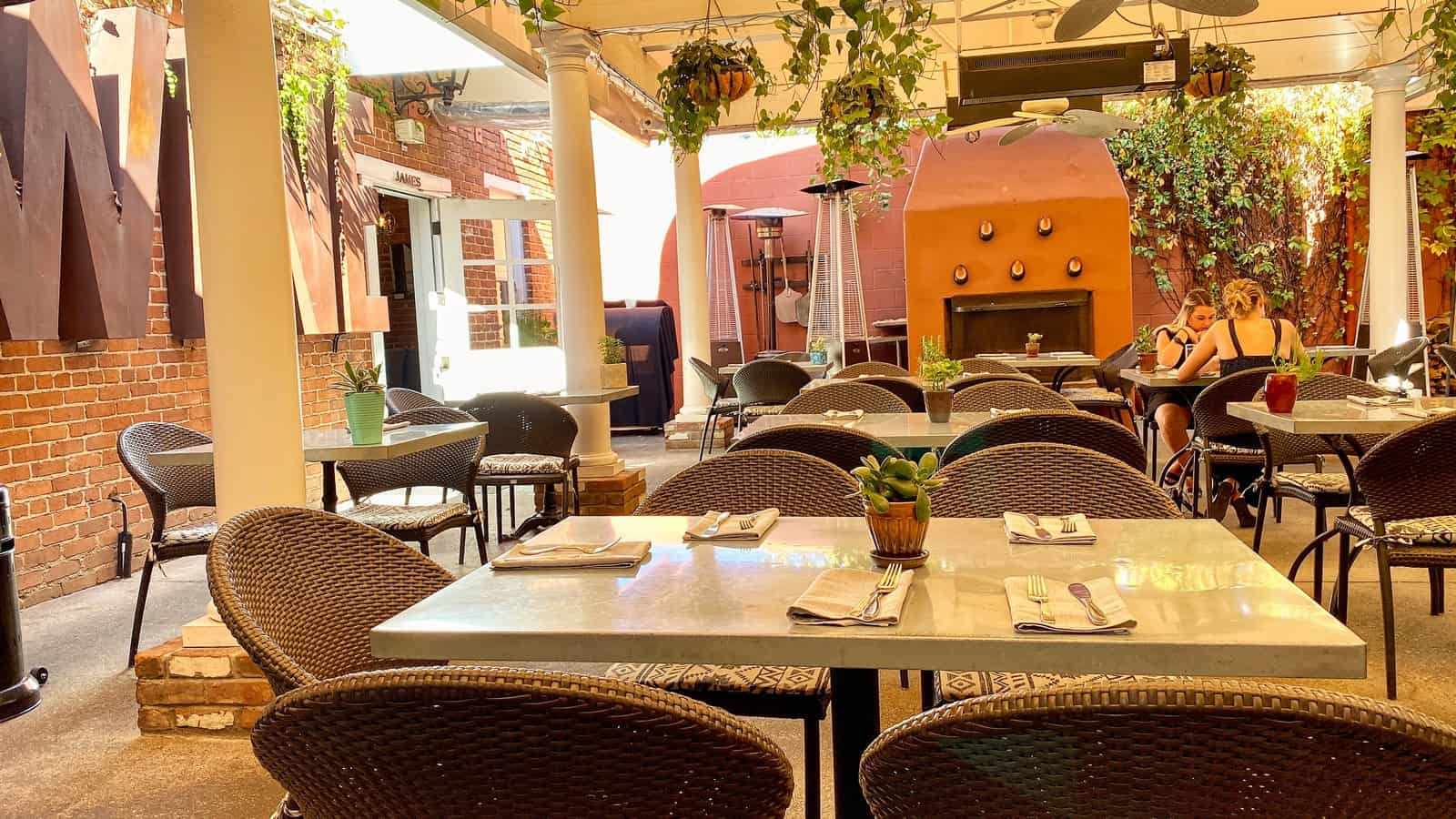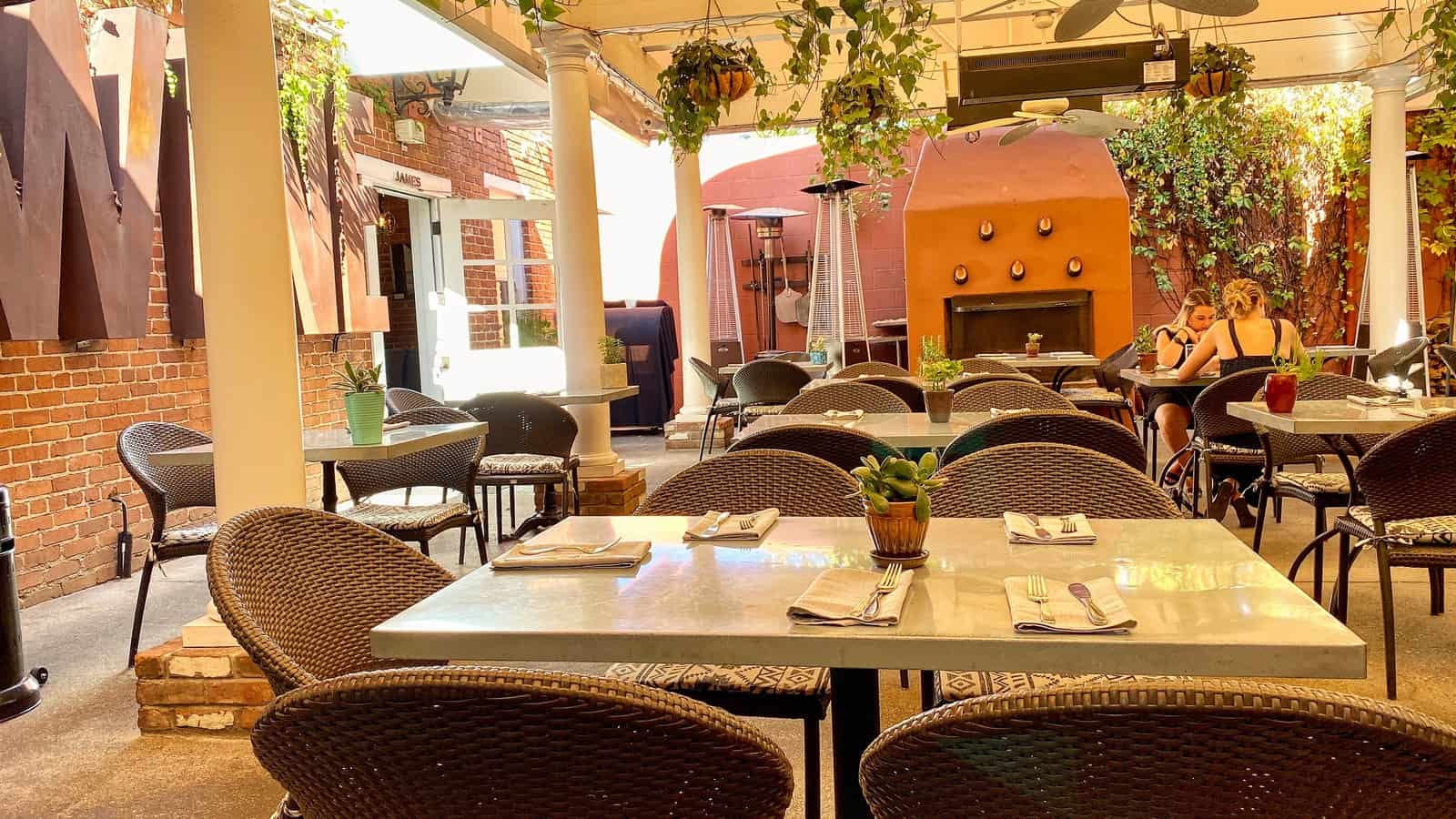 As a starter, I had a roasted baby beat salad with pumpkin seed granola. It was amazing! For my entrée, I had black lentil tacos with a carrot puree, candied watermelon, cilantro, and a vegan cream sauce.
Keith had cured smoked salmon and avocado toast on sourdough with a poached egg, an herb radish salad, and crispy shallots.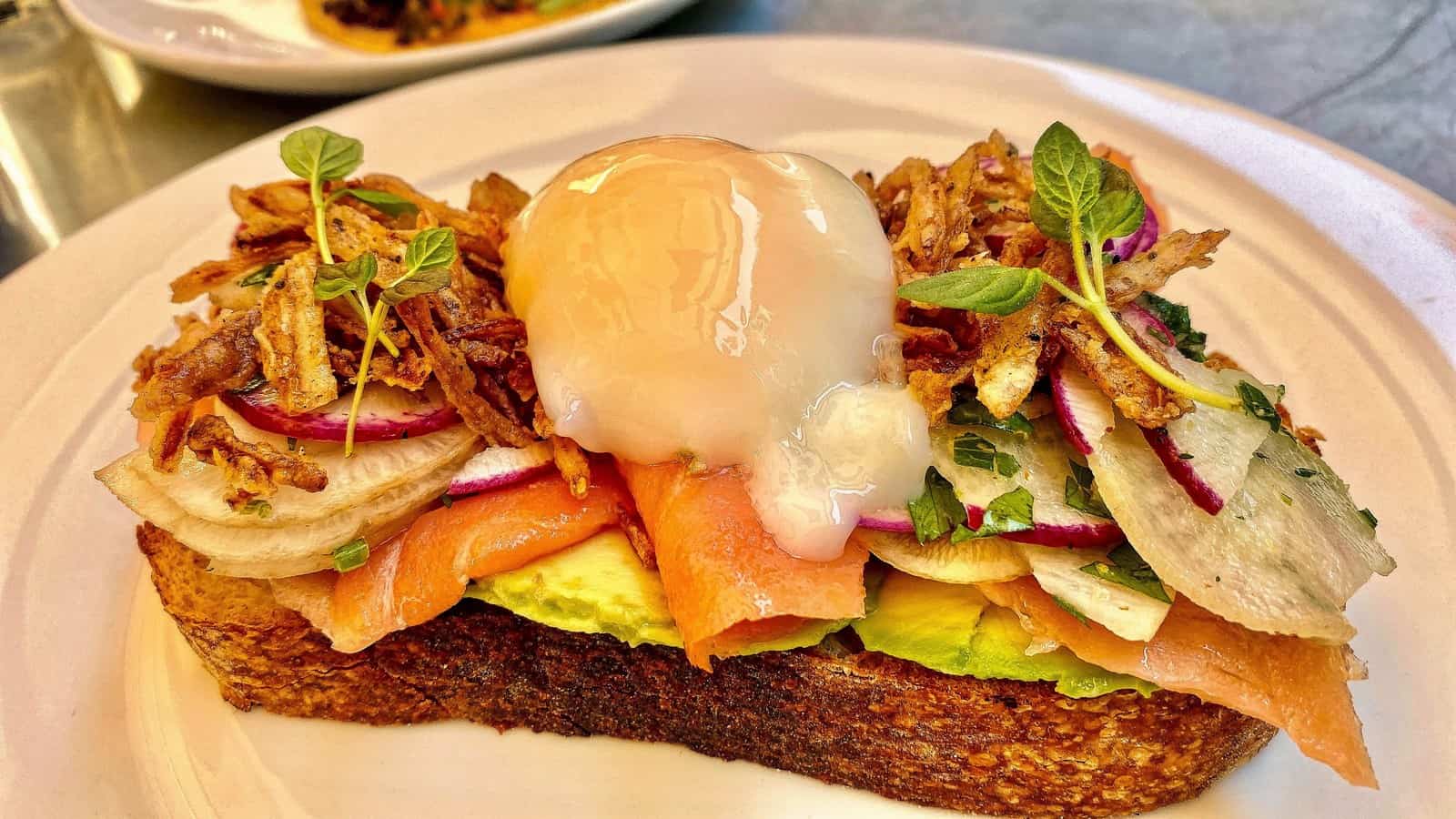 After all of that, we could not resist dessert. Both of our desserts were plated with fresh figs as they were in season.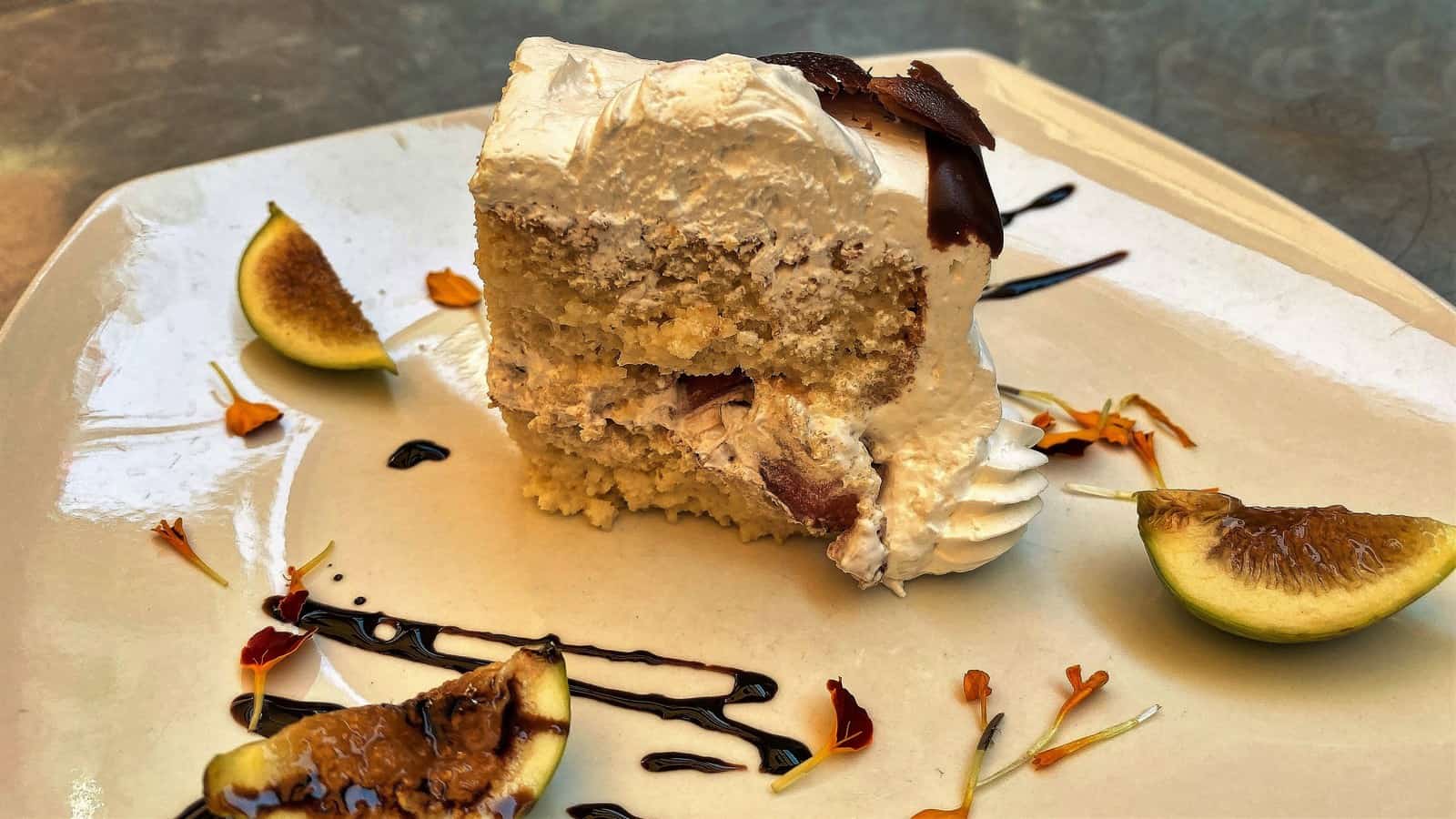 We had the amazing chance to talk with both the owner and the chef about sourcing food from the central coast of California, health, and travel. Don't miss eating here while visiting Paso Robles.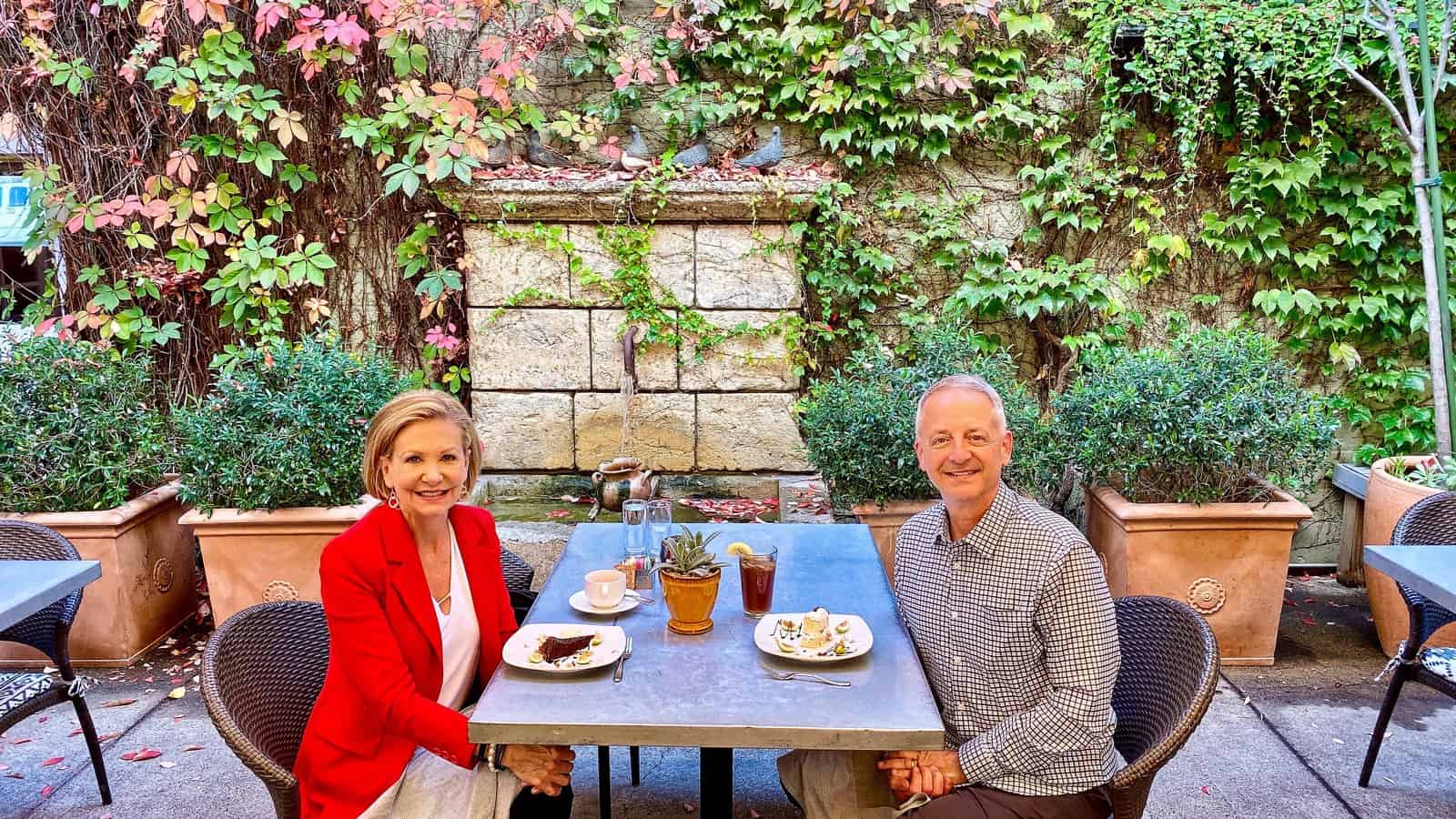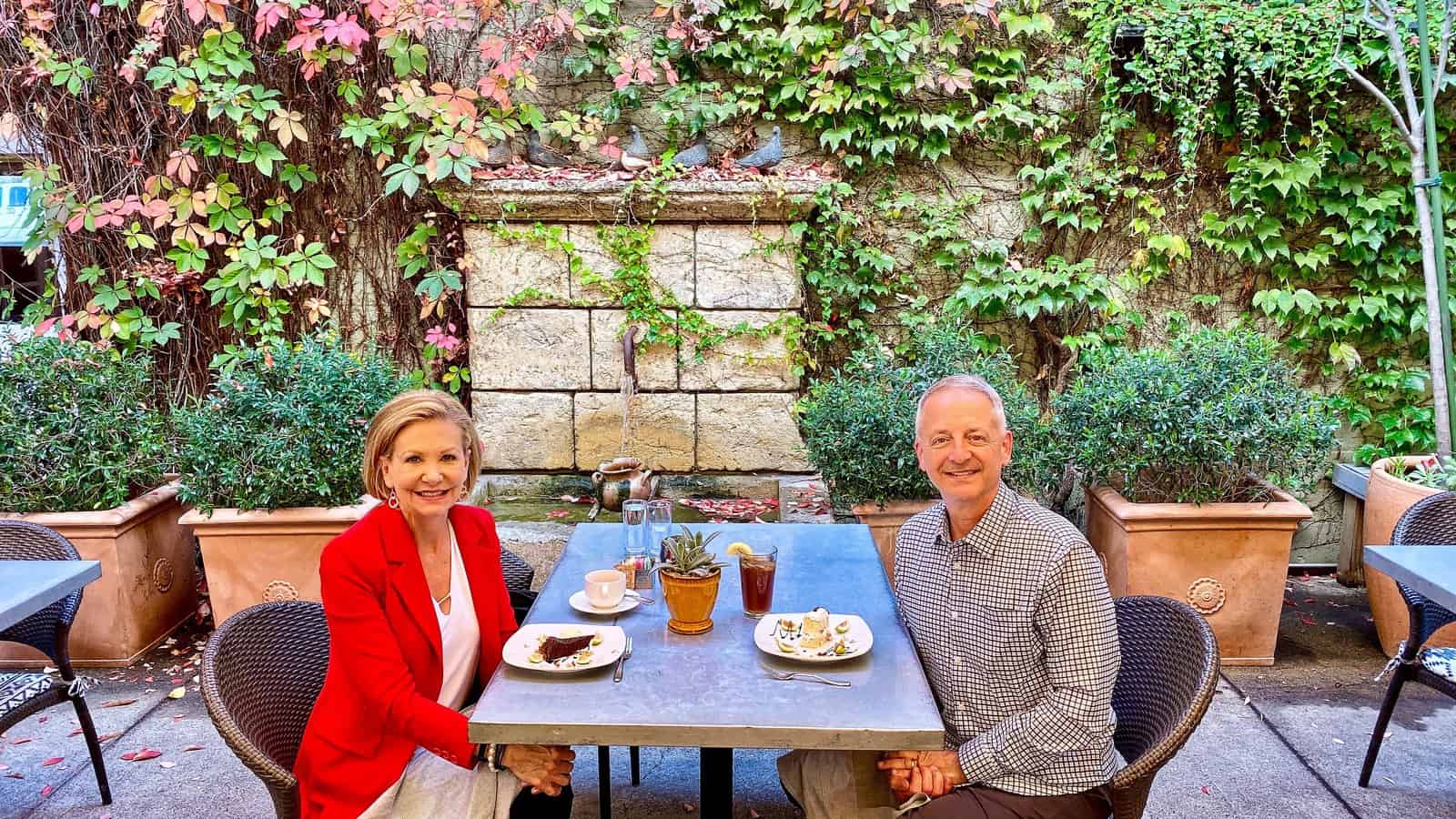 Visit Eberle Winery's Caves
Afterward, we recommend visiting the iconic Paso Robles winery, Eberle Winery. Eberle is an over 40-year-old Paso winery owned by Gary Eberle. Eberle is one of the top award-winning wineries in the US and ranks in the top 10 of gold medal award-winning wineries in the country. Whether its football or making wine, Gary strives to do his best; more on that in a minute.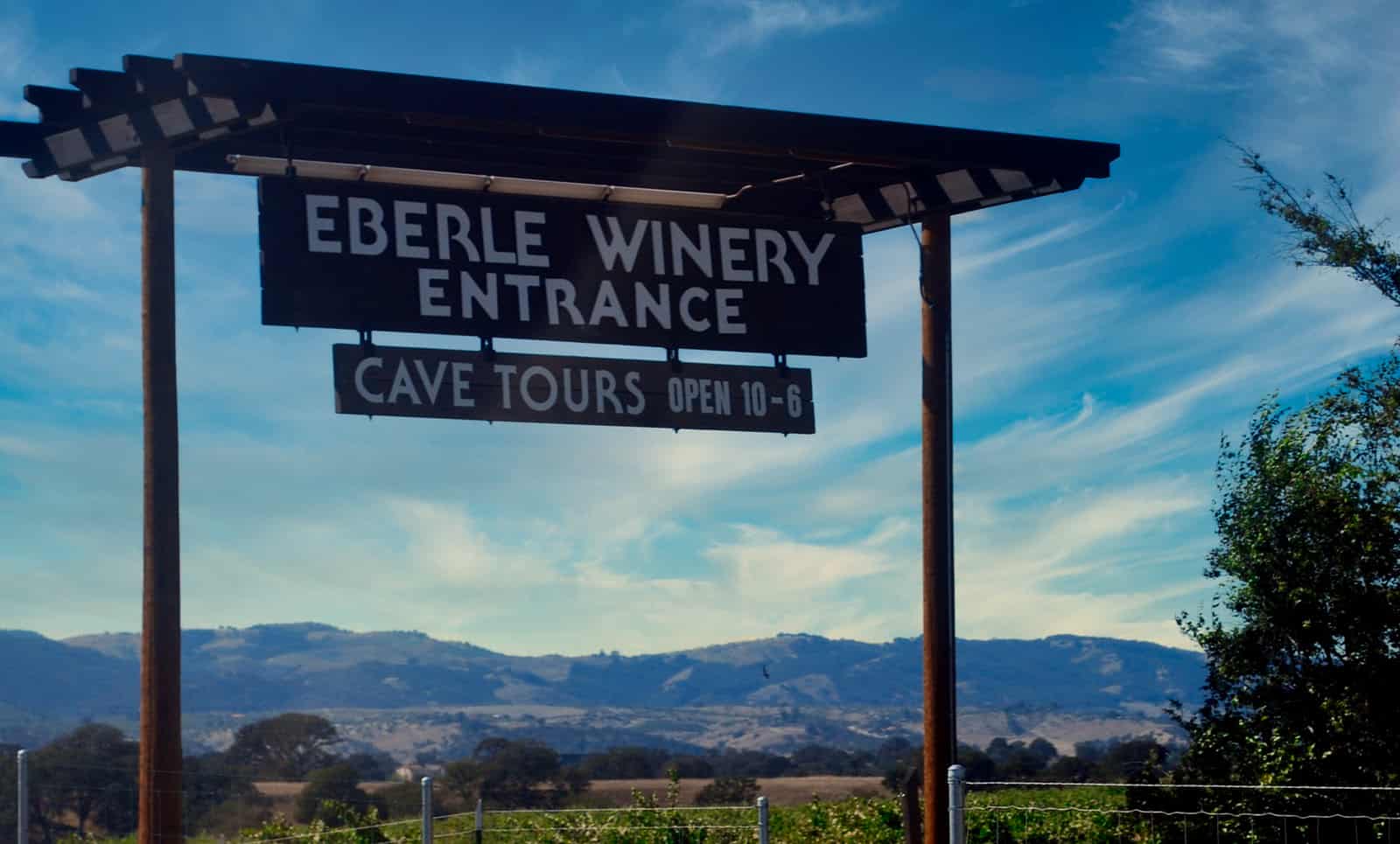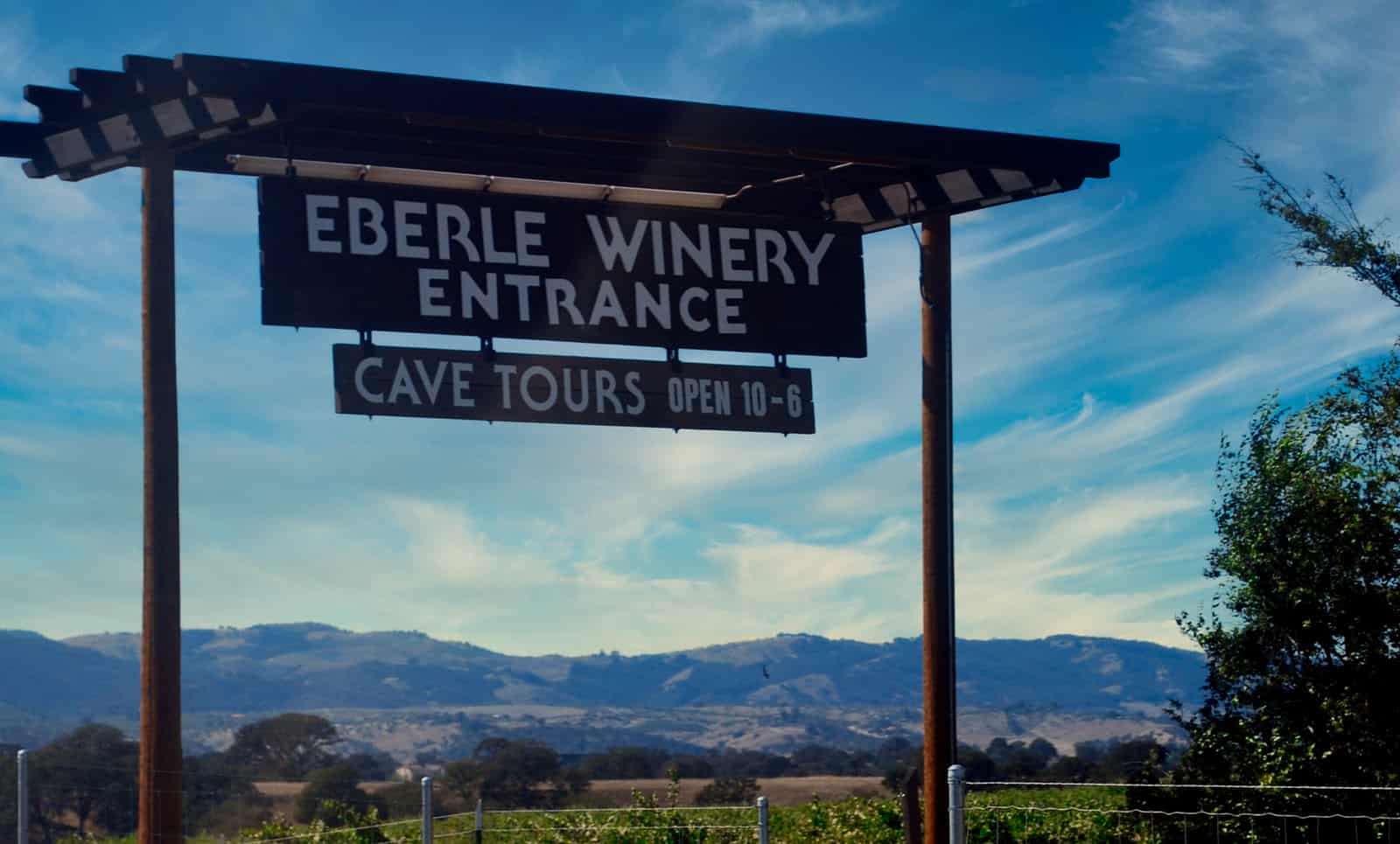 Gary was instrumental in founding the Paso Robles Wine Appellation in 1983. The accolades and awards go on and on, but the best thing to happen to Gary, as Gary says, was meeting his wife, Macy. He and Macy have built Eberle into what it is today.
As part of our tasting, we had a private tour of the winery, the caves, including the barrel and production rooms. Gary was the first to build caves in Paso Robles, which he completed in 1999. He has 16,800 square feet of caves holding up to 2,700 barrels. He decided to put in the caves because they are a perfect place to age wine. The cave's natural temperature is between 59-64 degrees. The Eberle Caves also feature the stylish Wild Boar Room, where winemaker dinners take place. Eberle Winery offers cave tours daily.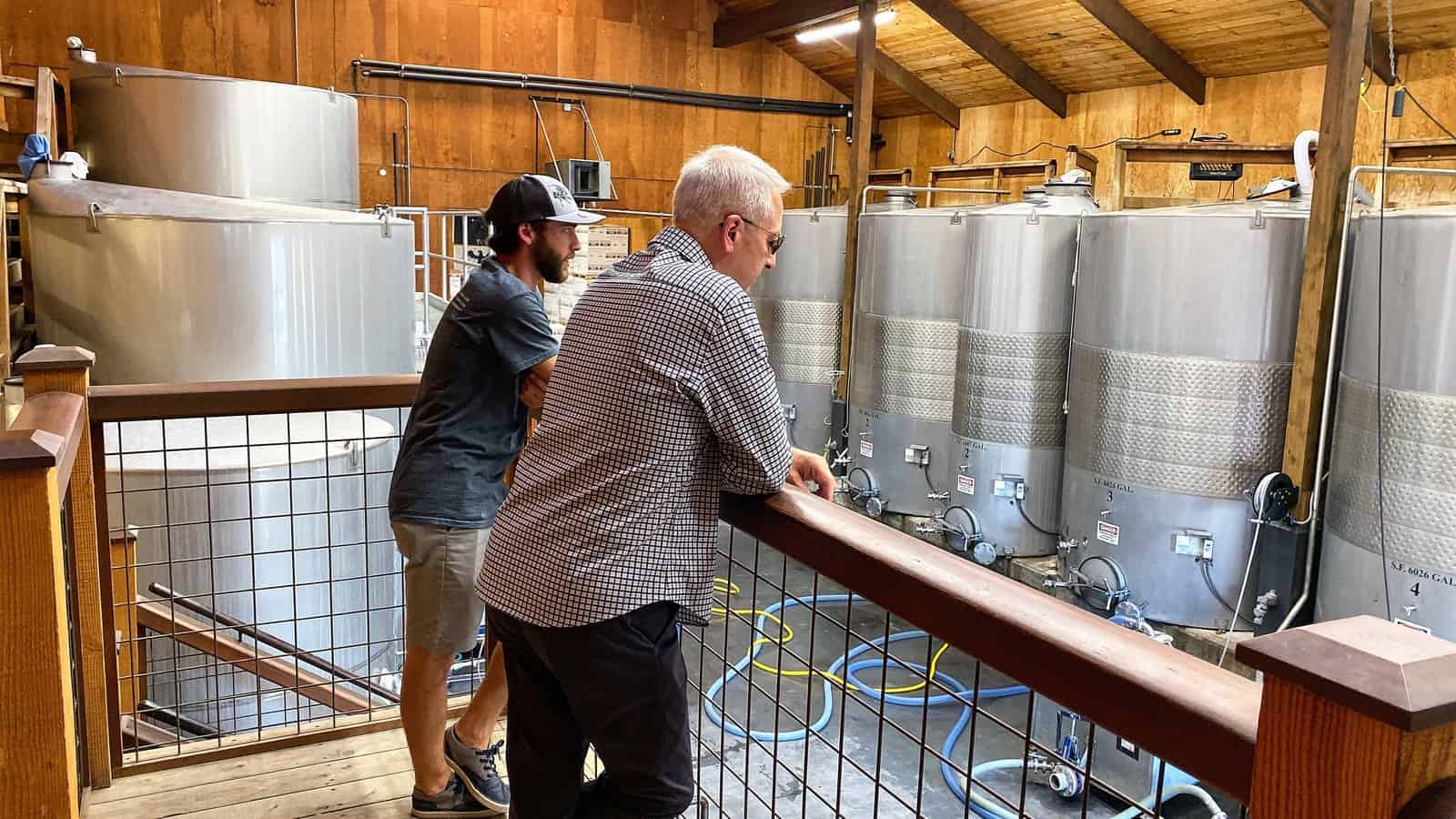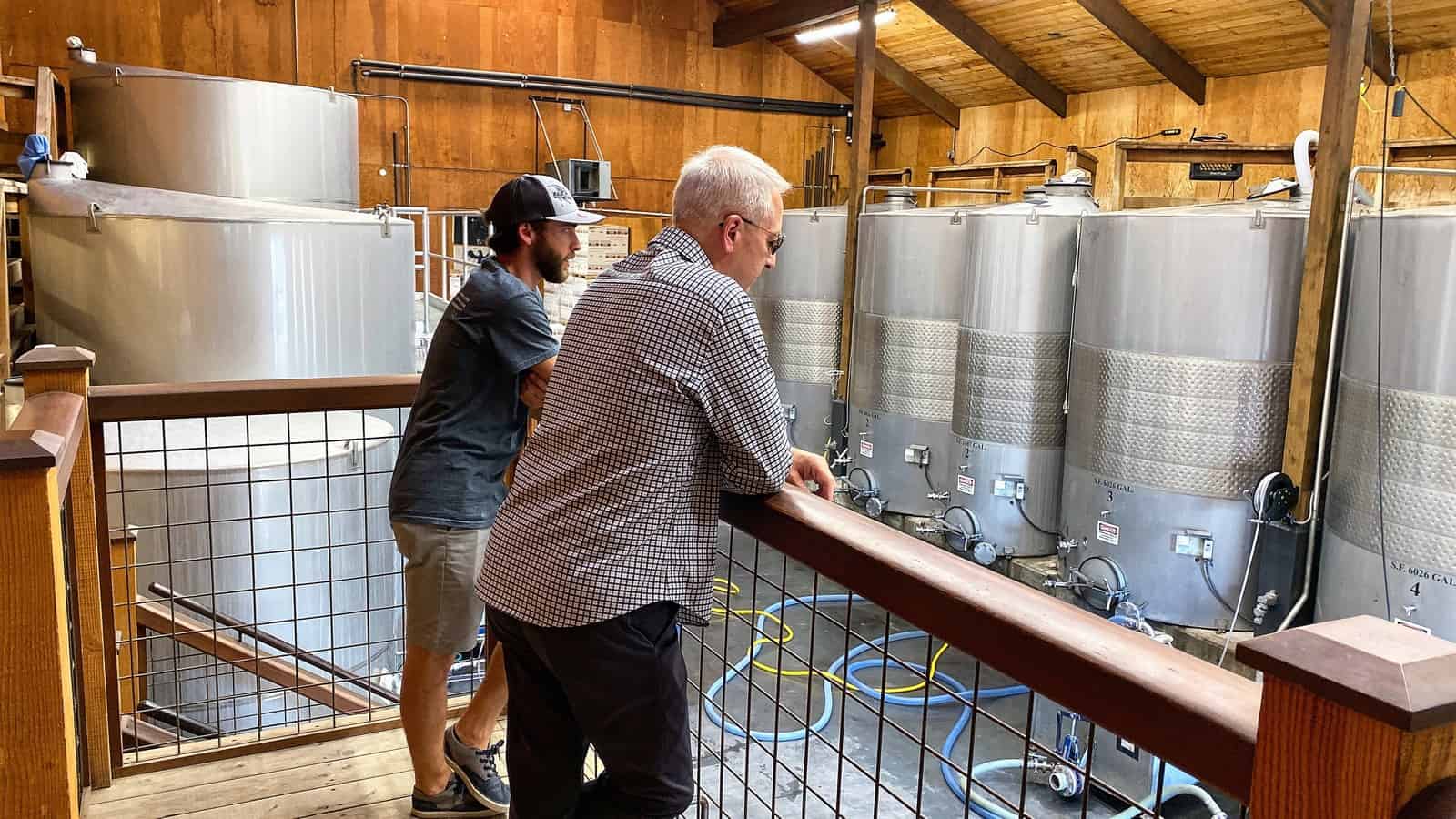 Meeting Gary Eberle was a Treat
We enjoy meeting winery owners and love hearing their stories. So, if you are as fortunate as us, you will meet Gary Eberle, and hear his story from genetic science to the science of wine. Gary grew up in Pennsylvania. He was a great football player, and so he was awarded a football scholarship to Penn State to play football. He earned a Bachelor of Science in biology, then attended Louisiana State University for a graduate degree in cellular genetics. His success earned him a National Fellowship to Charity Hospital in New Orleans, where a professor introduced him to Bordeaux wine. That was all it took. Gary was enamored. He had to learn more about wine. One year later, Gary was enrolled at UC Davis to study wine. After receiving his degree in Enology, he headed to Paso Robles, where he acquired 64 acres and began his winery.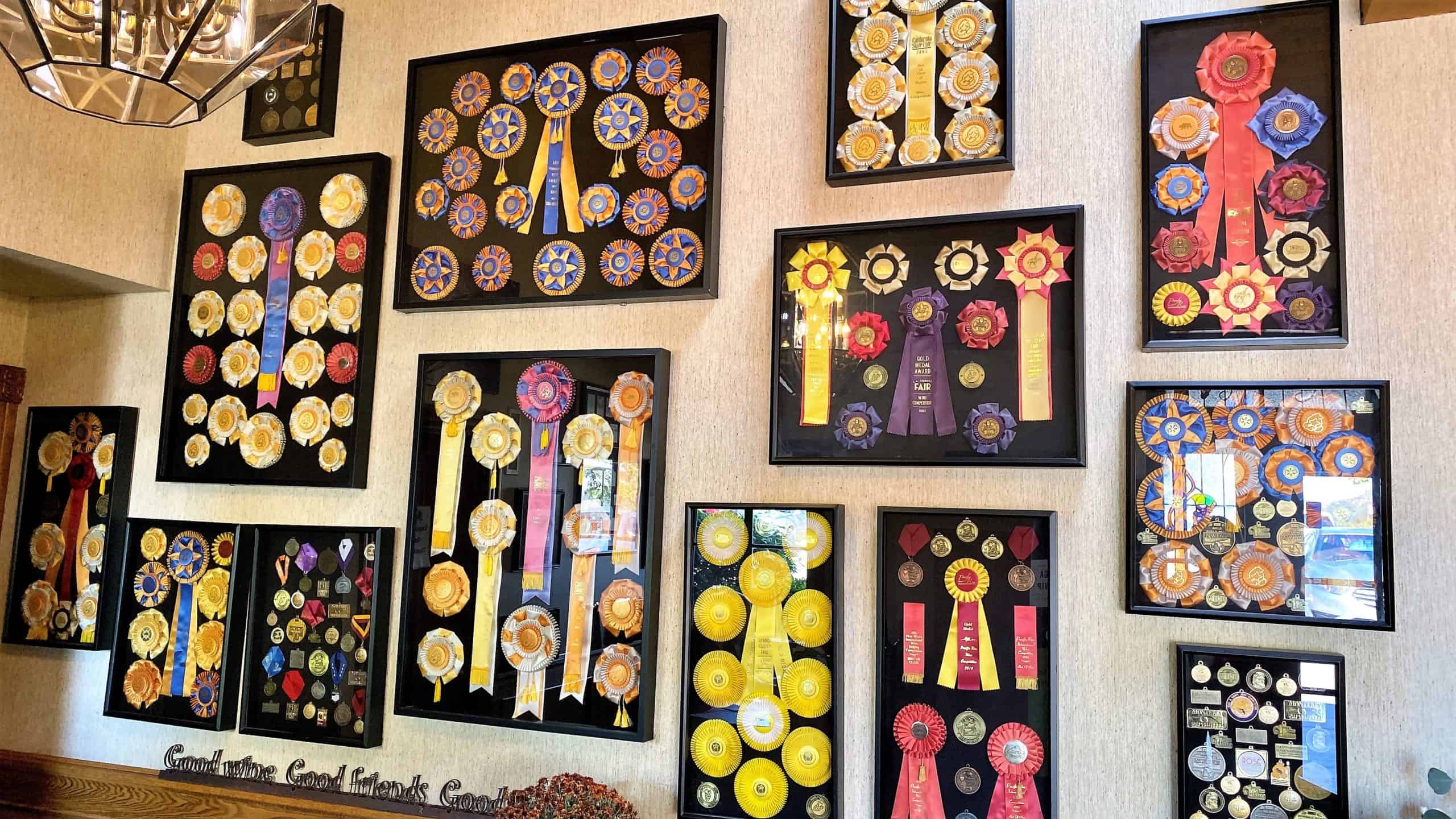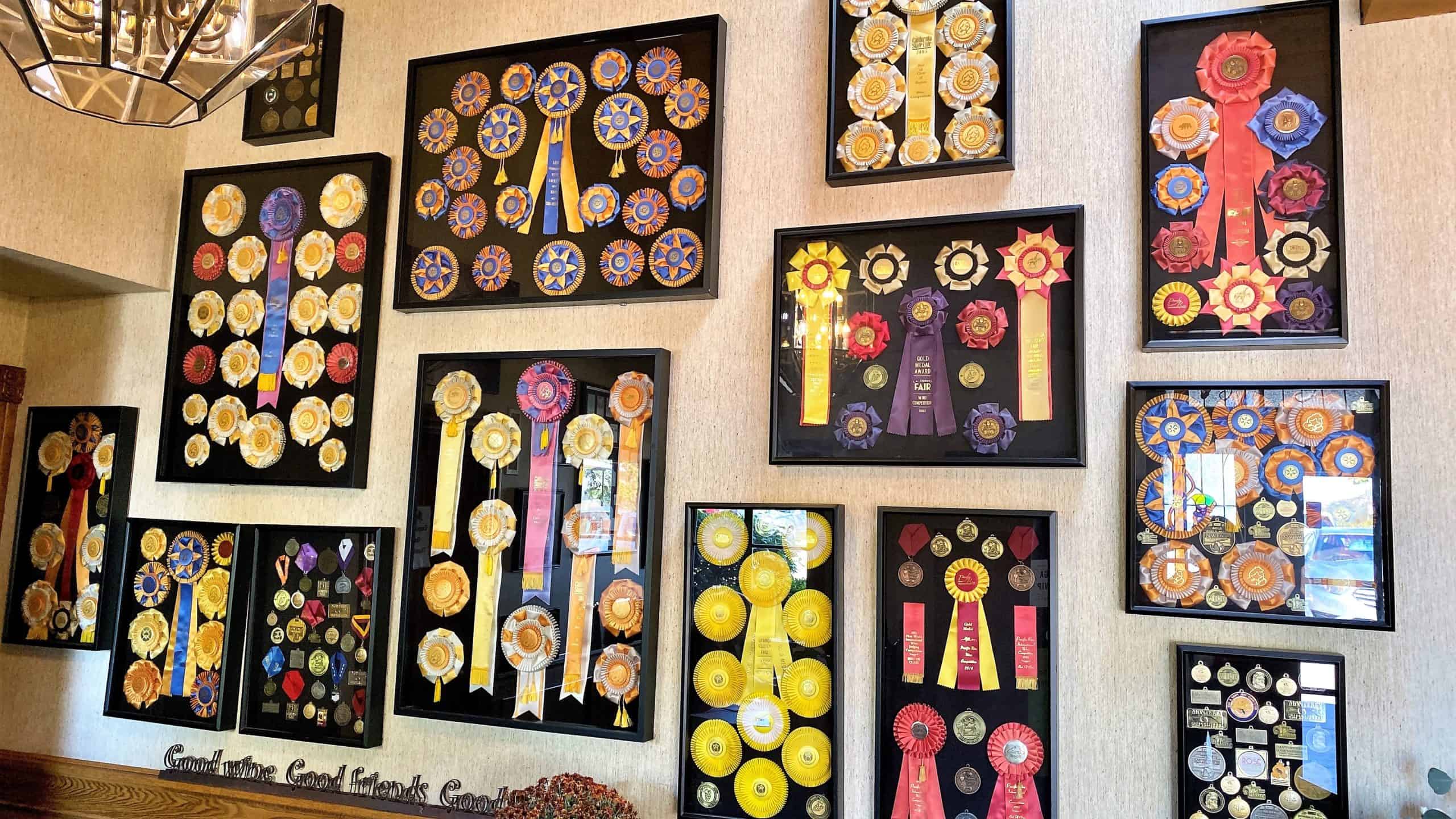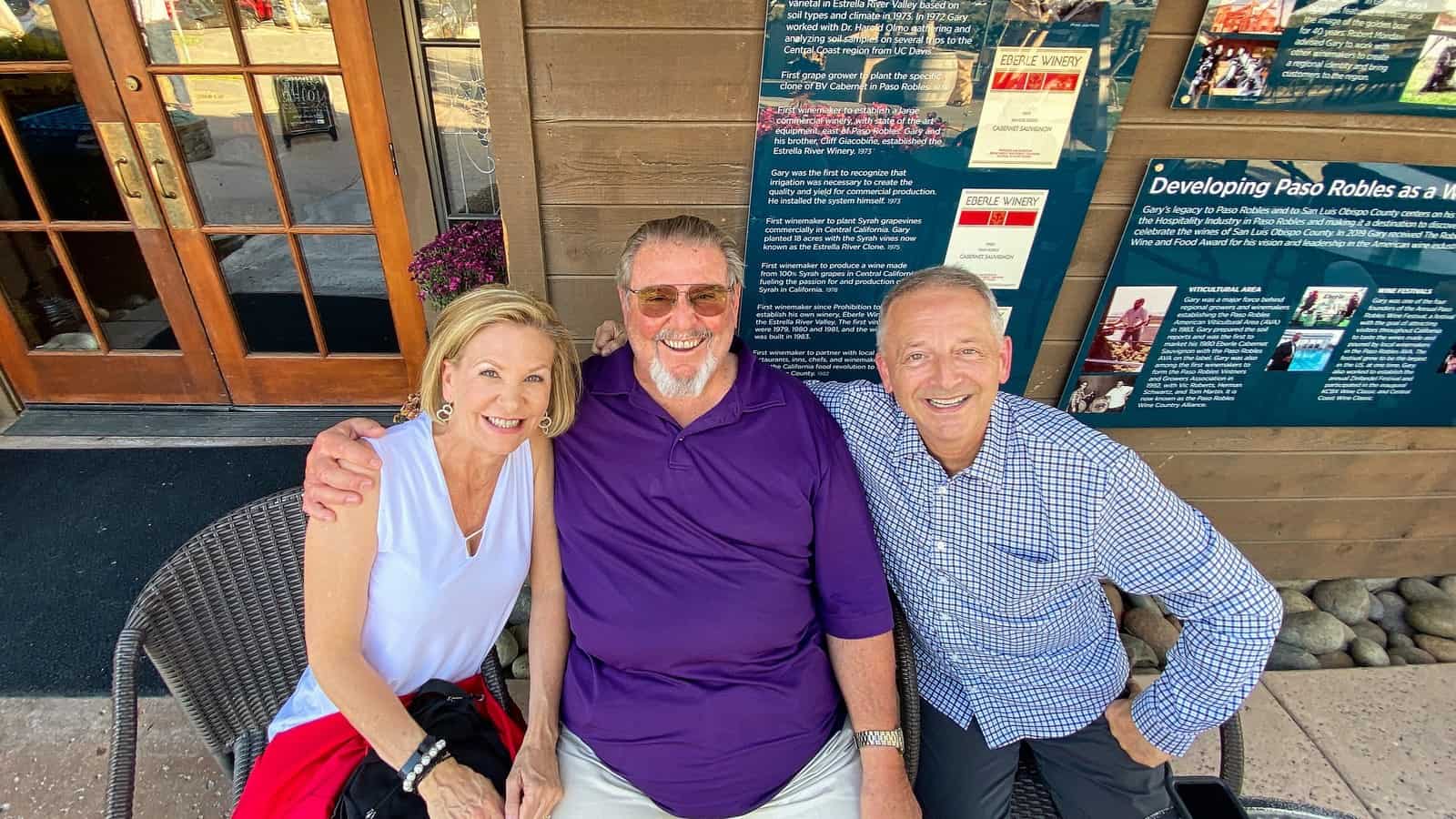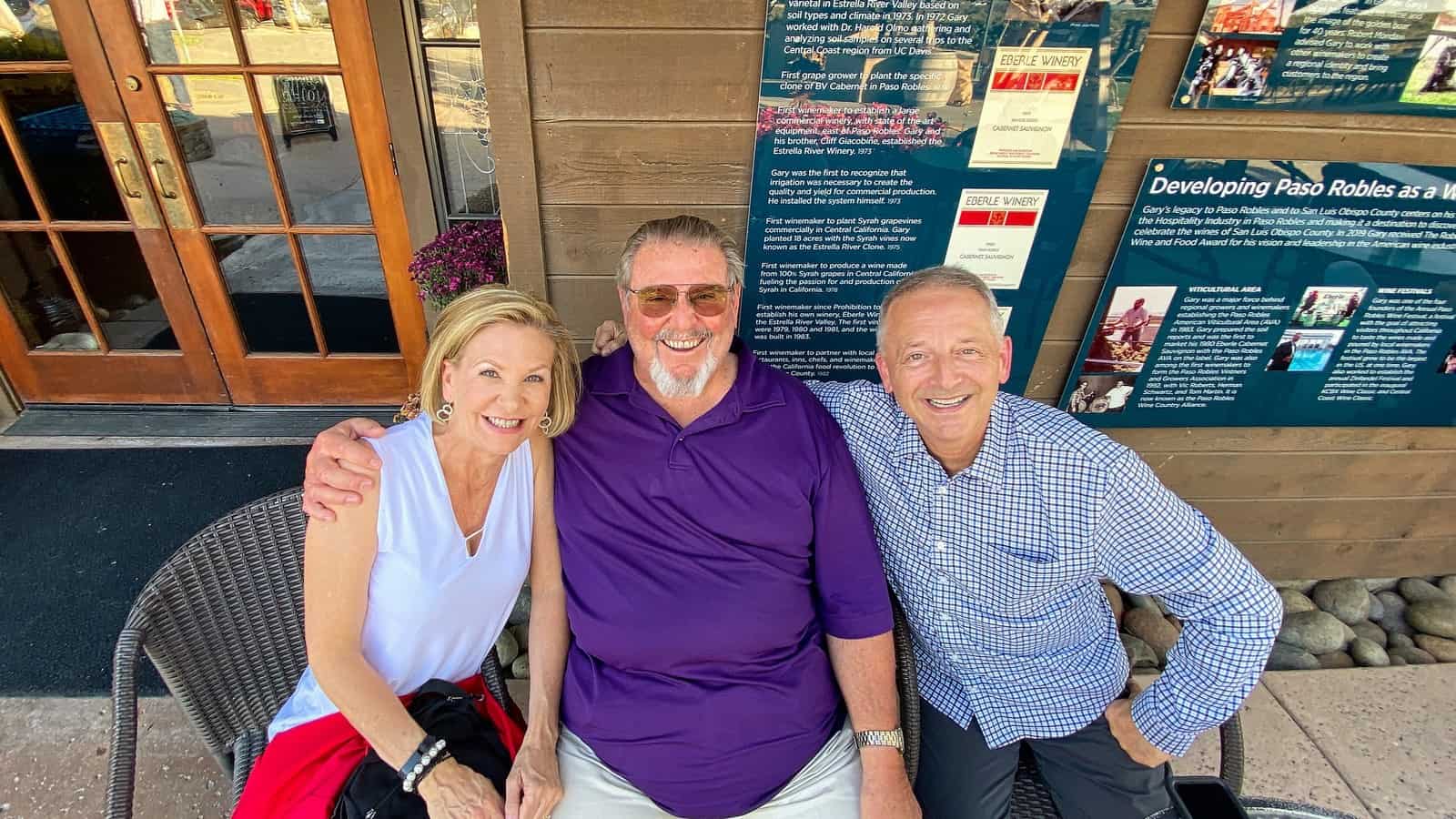 In addition to regular wine tasting, Eberle offers private tastings in their VIP room, located in the caves, with a private tasting attendant and a selection of artisan cheeses to enjoy with your wines. Oh, and here is another fun fact. Chris Eberle is the winemaker at Eberle, and he is not related to Gary!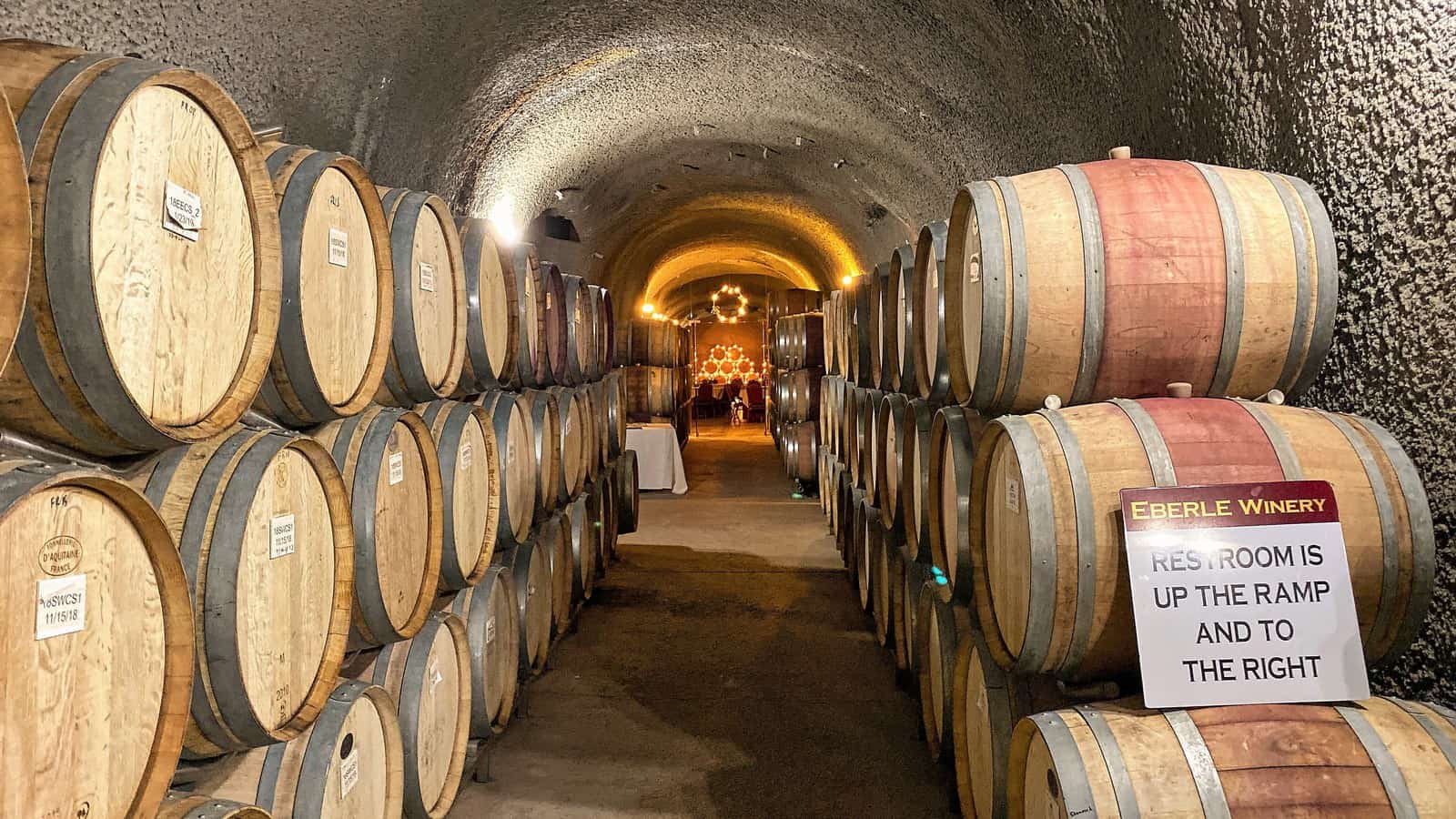 Chris began his winemaking at Eberle but left to get a world view of winemaking. Chris spent time expanding his winemaking knowledge in South Africa, Germany, New Zealand, Australia, and France. Currently, Chris is back at Eberle challenged by seasonal climate change in Paso, but producing award-winning once again.
Have Lunch and Taste Wine at Cass Winery
Our next stop on our Paso Robles wine tour was to Cass Winery to enjoy a wine tasting with lunch. Cass became a winery in the early 2000s. Cass is open daily 11-5 pm. You may opt to taste at the bar, sit outside in their shaded veranda, or do a tableside tasting with lunch as we did. The tasting room is surrounded by Rhone vines, massive oak trees, and a quaint Chef's Garden.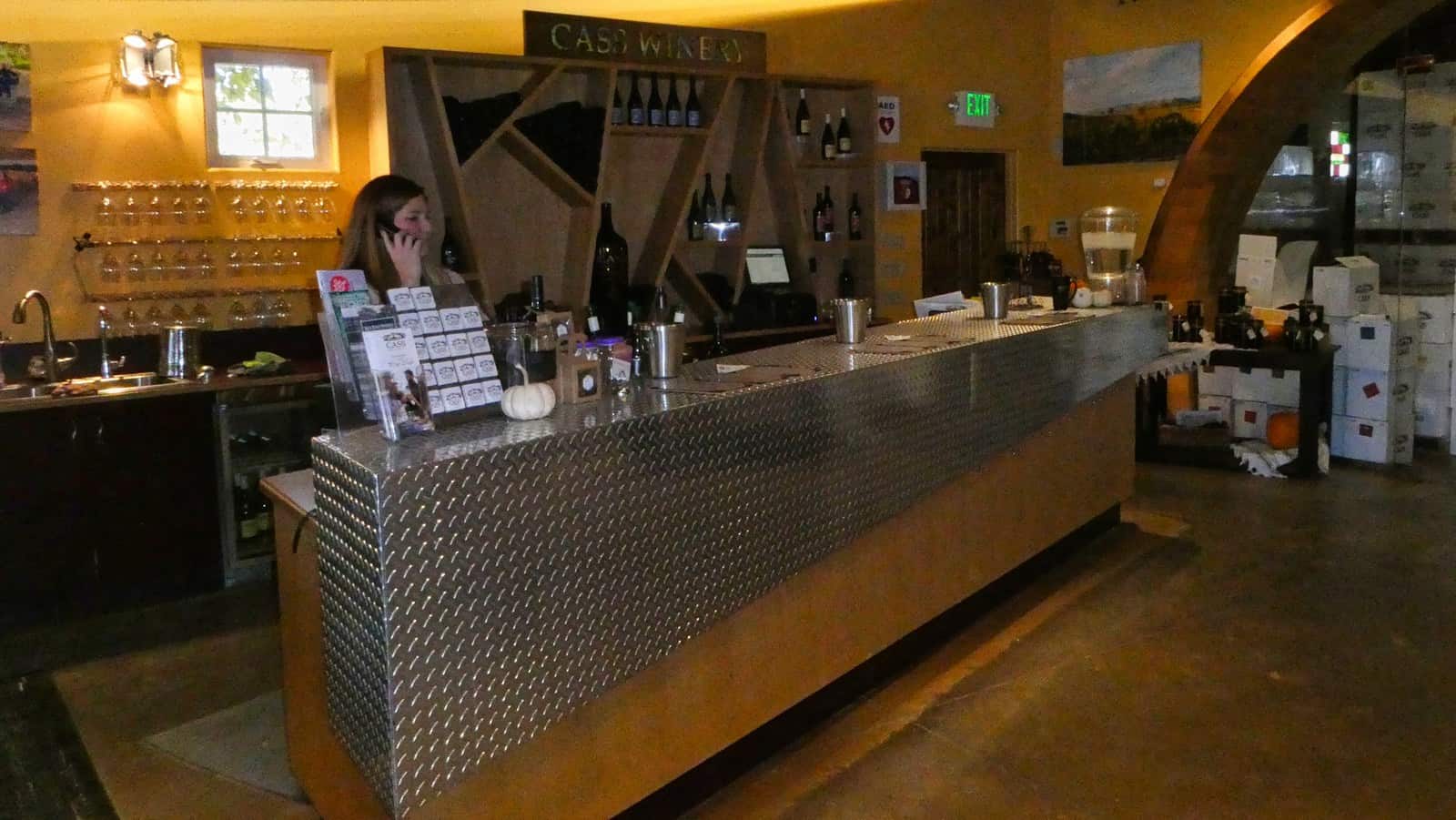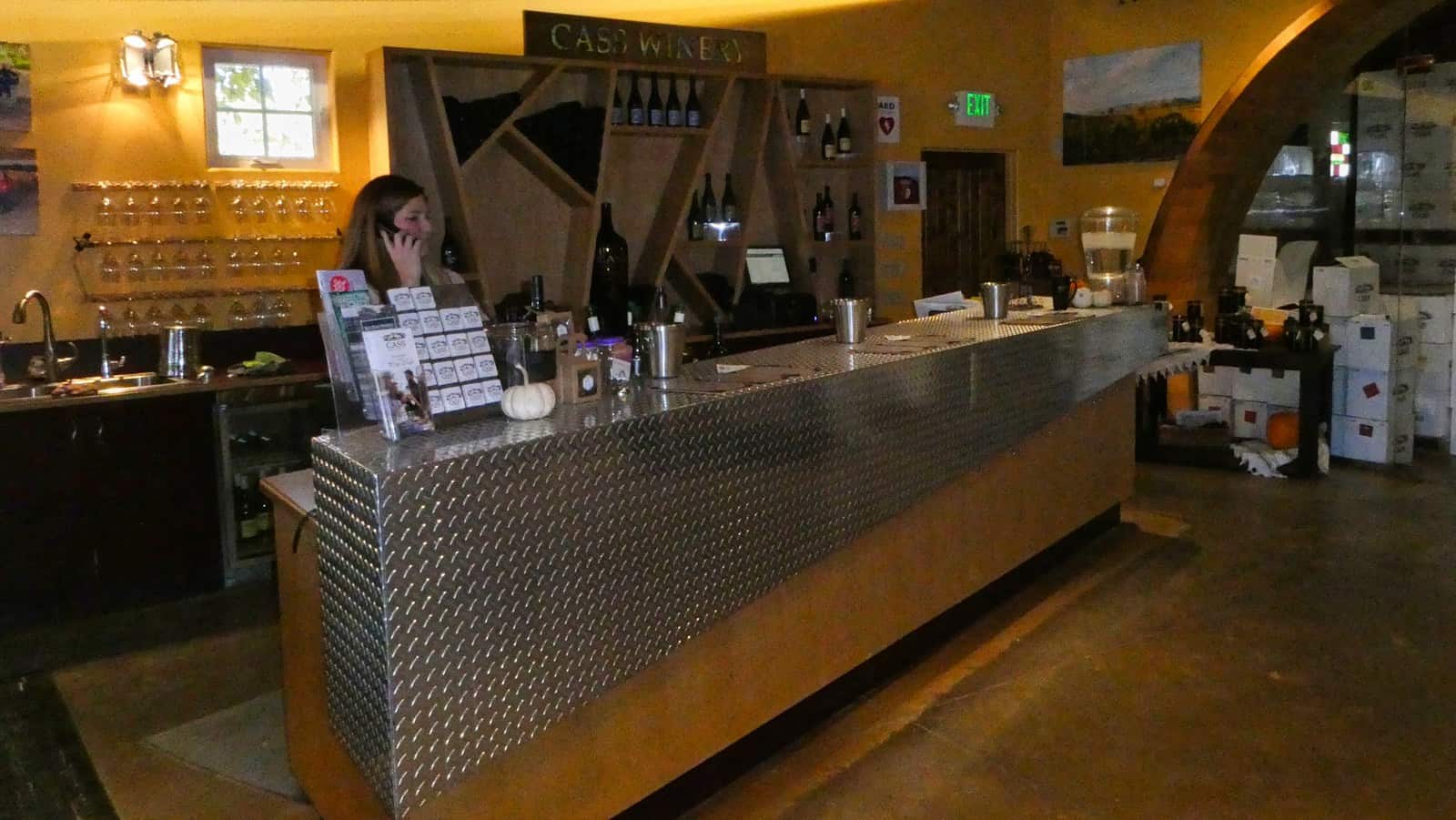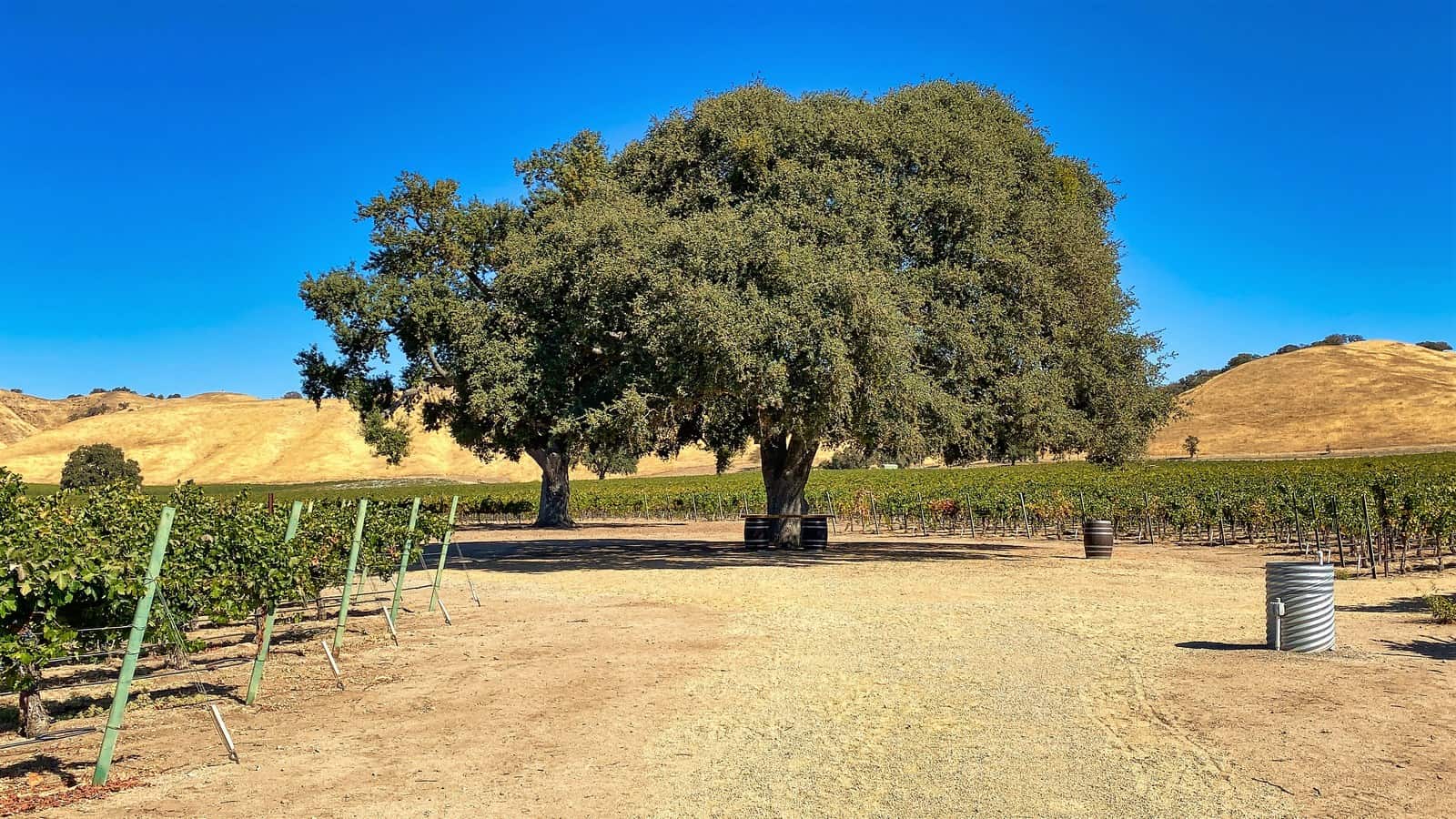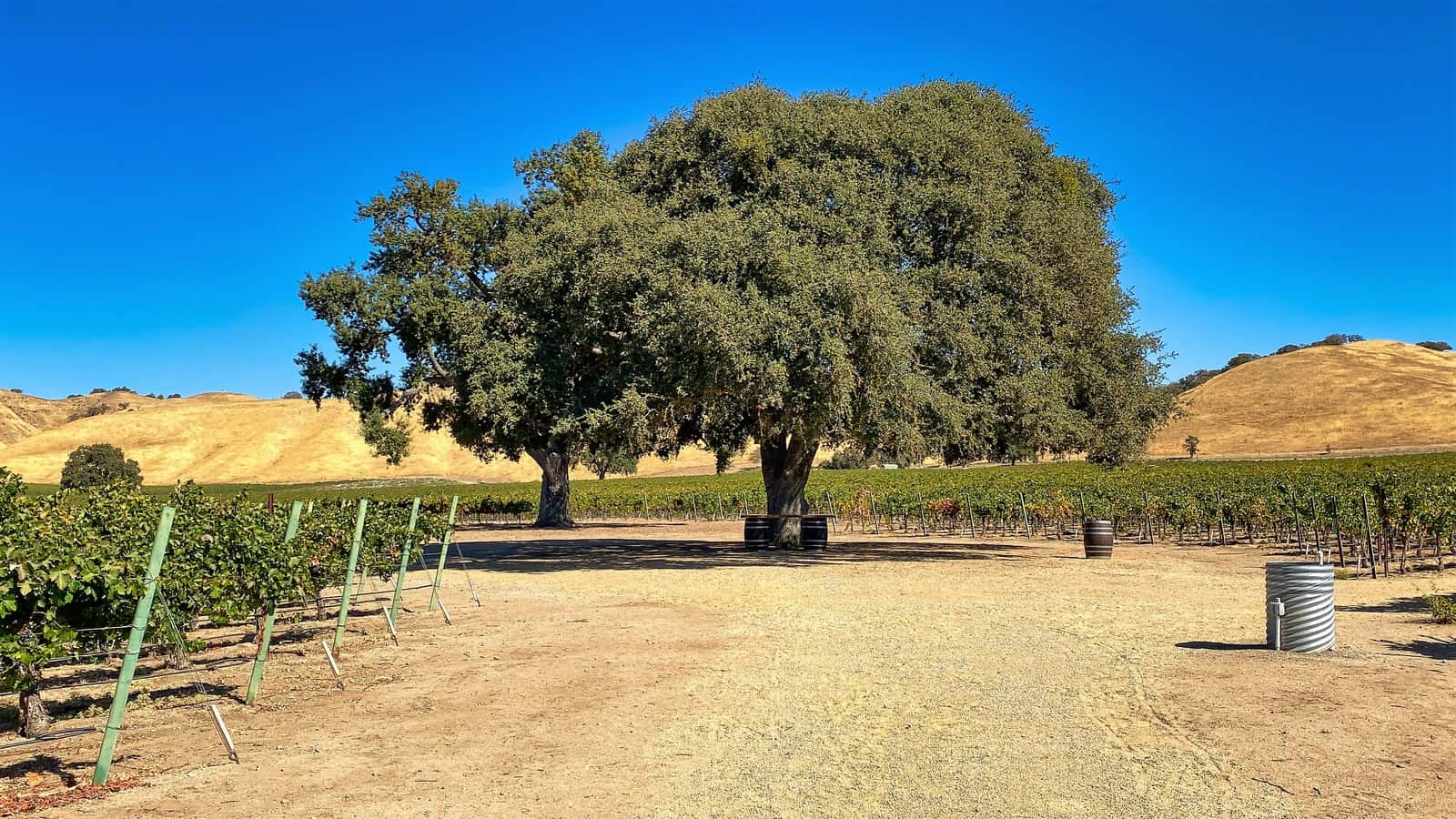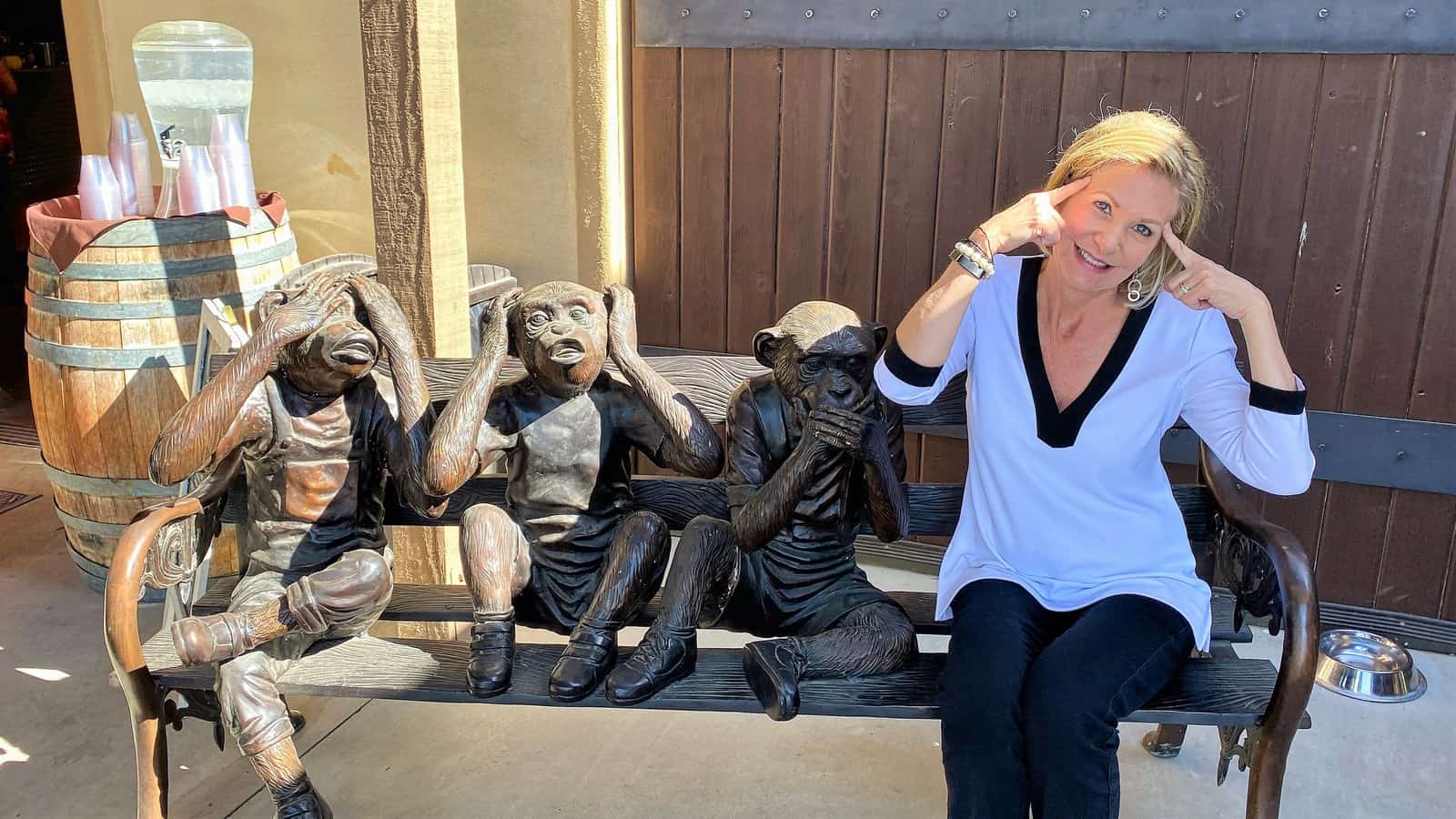 The food was fantastic, as was the wine. Someone had recommended Cass to us for lunch, and they said to have the garlic parmesan chips. We ordered those as a starter, and they were yummy. Keith had the California-style crab cakes with a salad, and I had the Mediterranean Falafel Sandwich.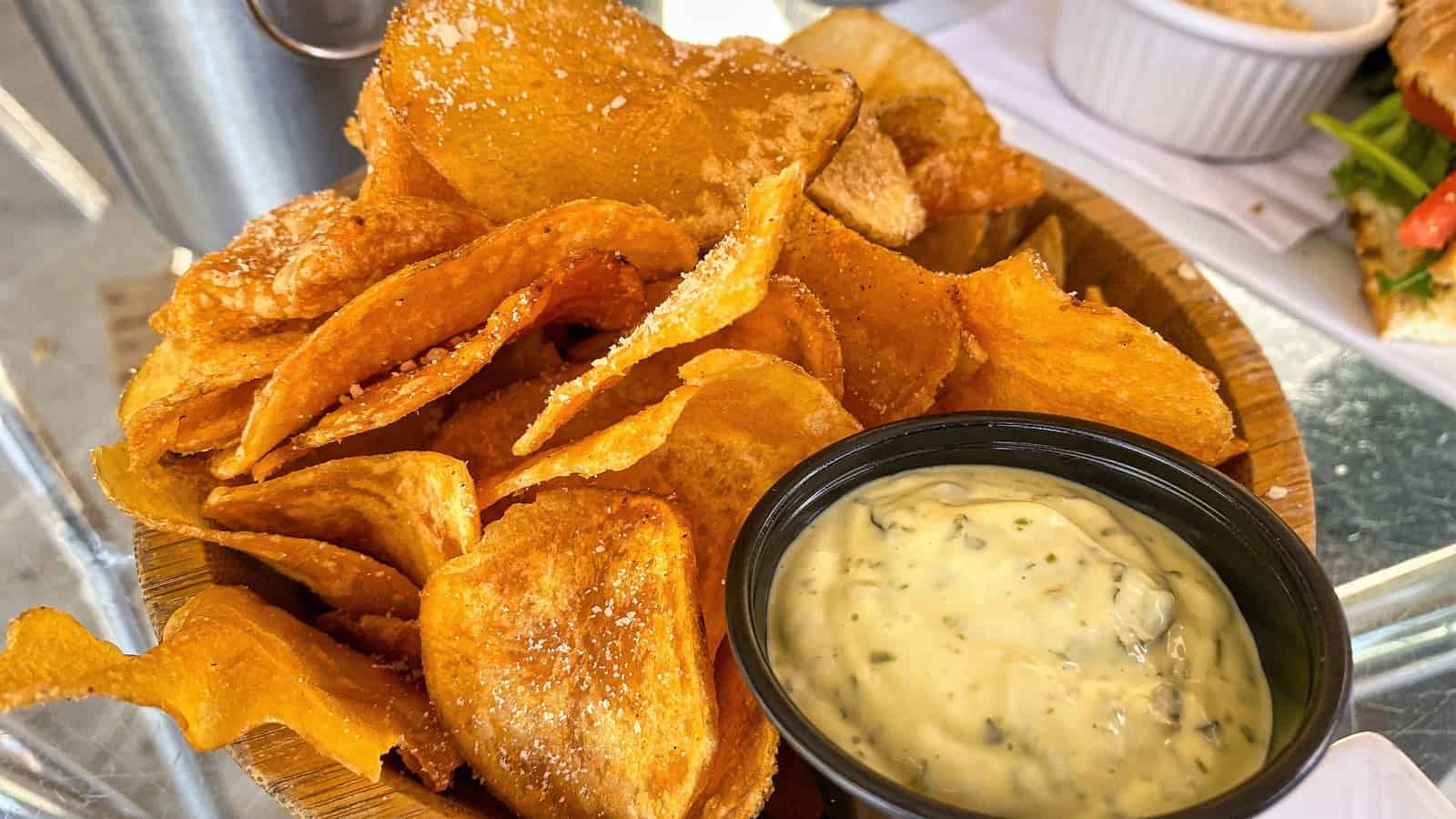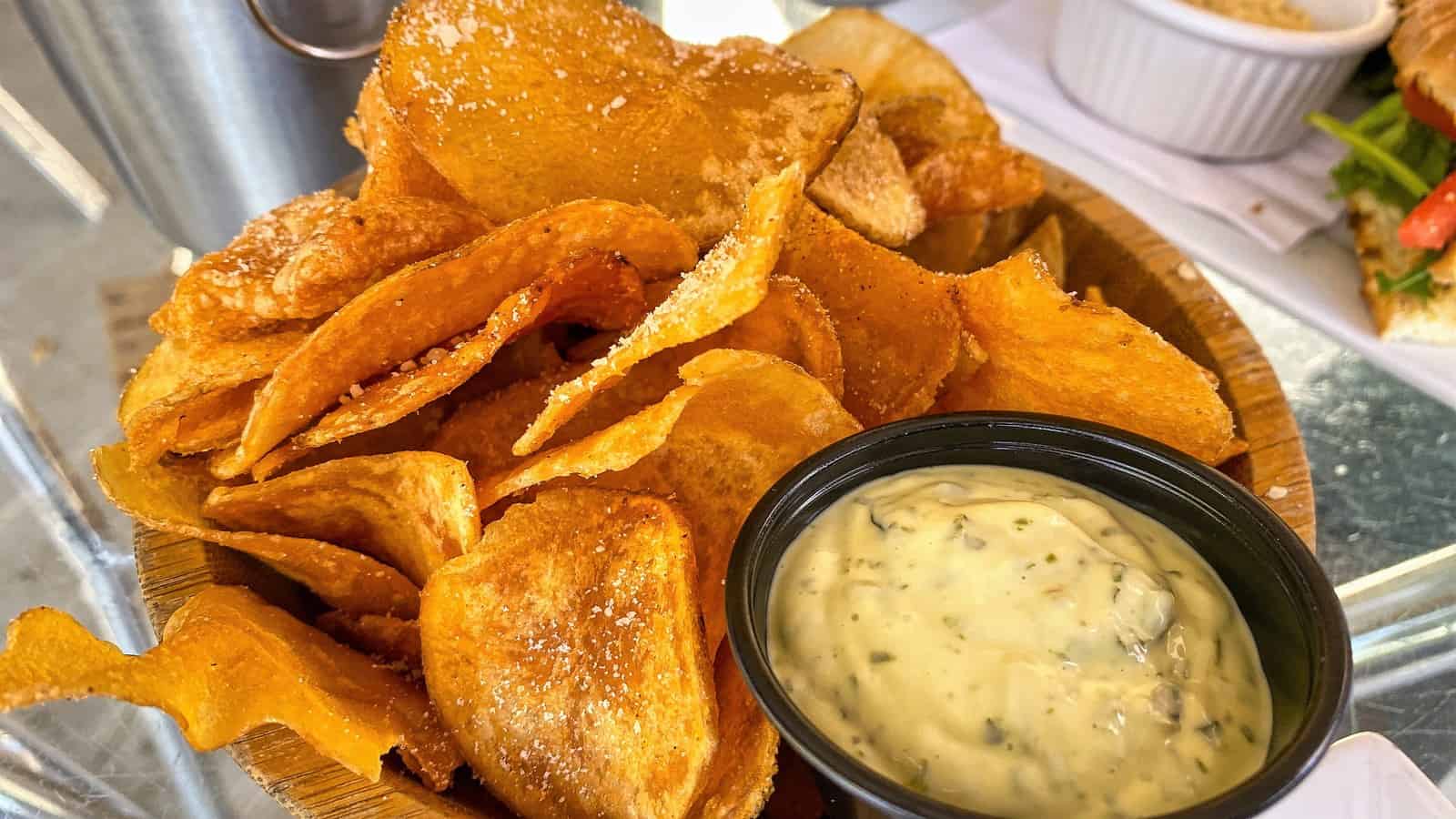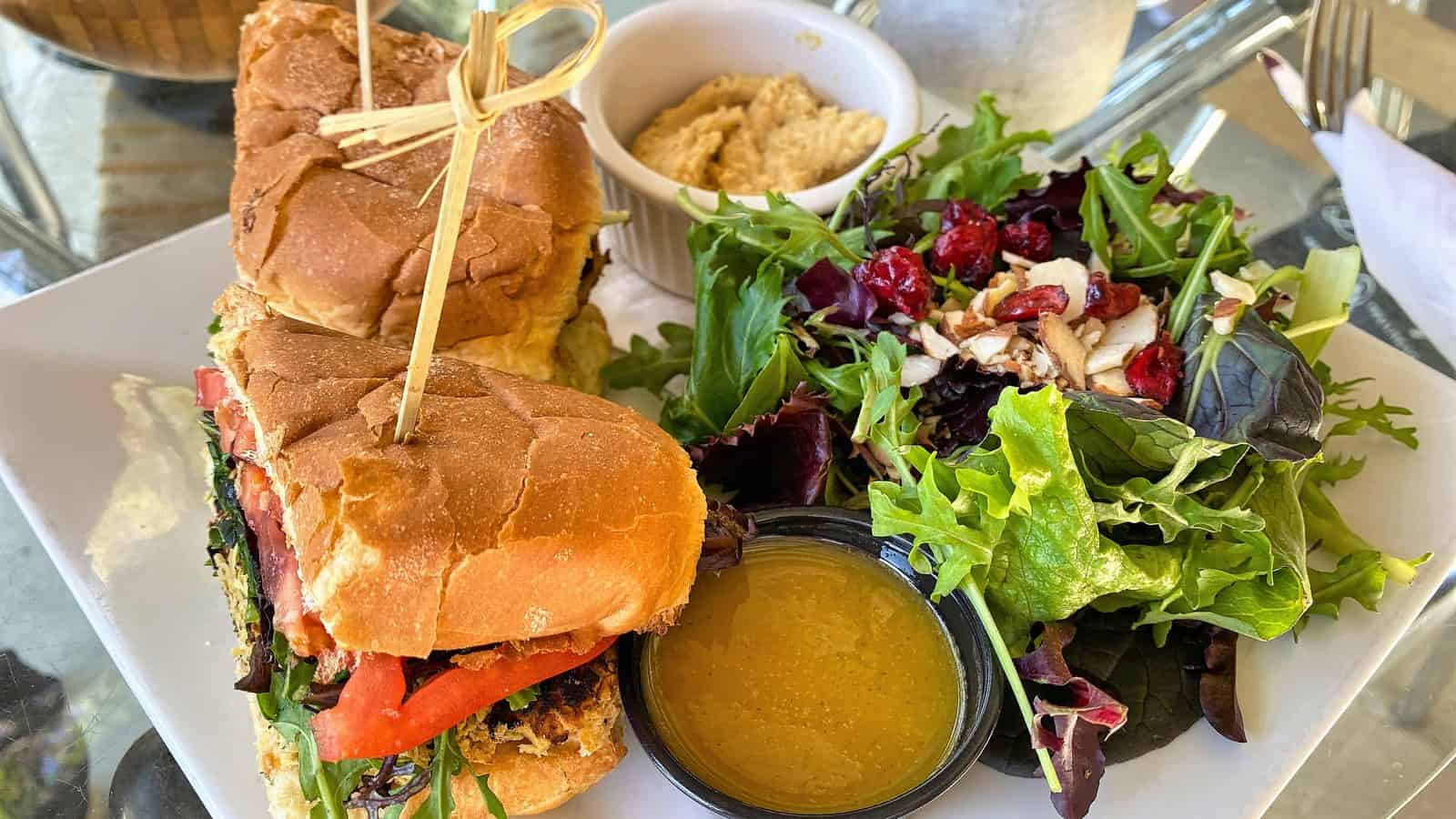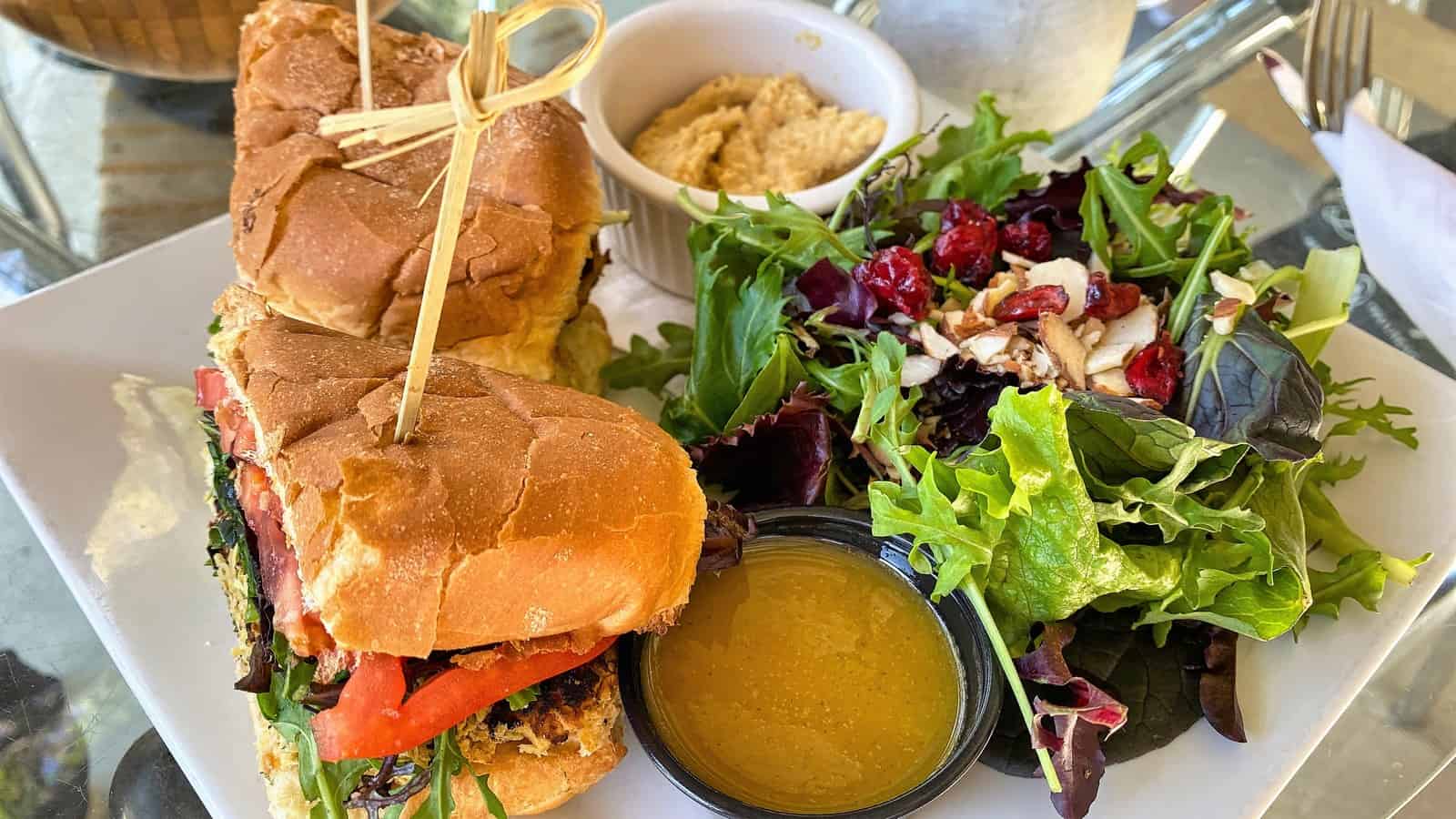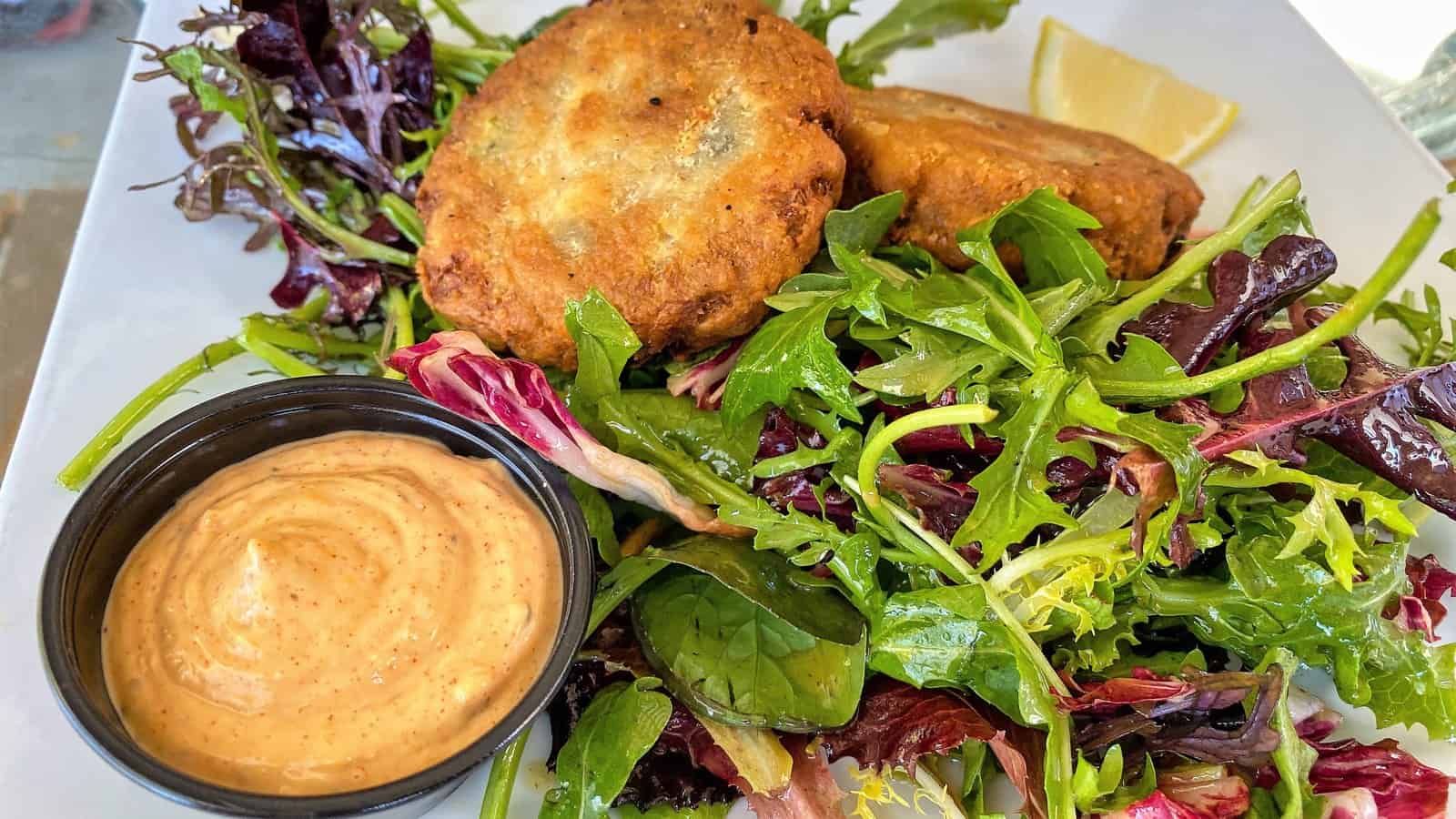 After lunch, we had a quick tour of the Geneseo Inn. A bed and breakfast retreat nestled in the middle of the Cass vineyards. Geneseo is a green inn, fashioned from recycled steel shipping containers and local building materials. The color scheme for the exterior blends into the vineyard. This is yet another unique option as a place to stay in Paso.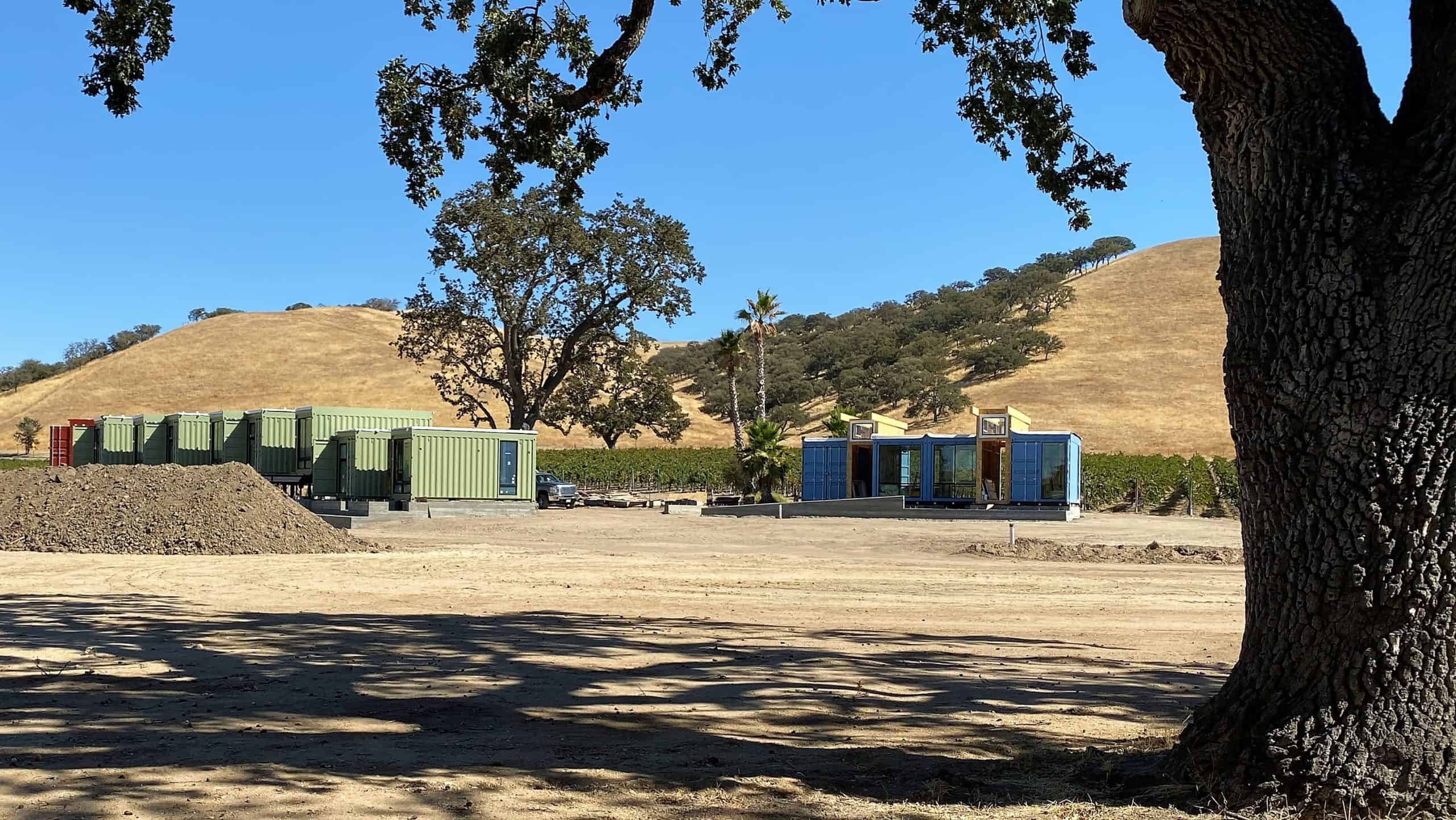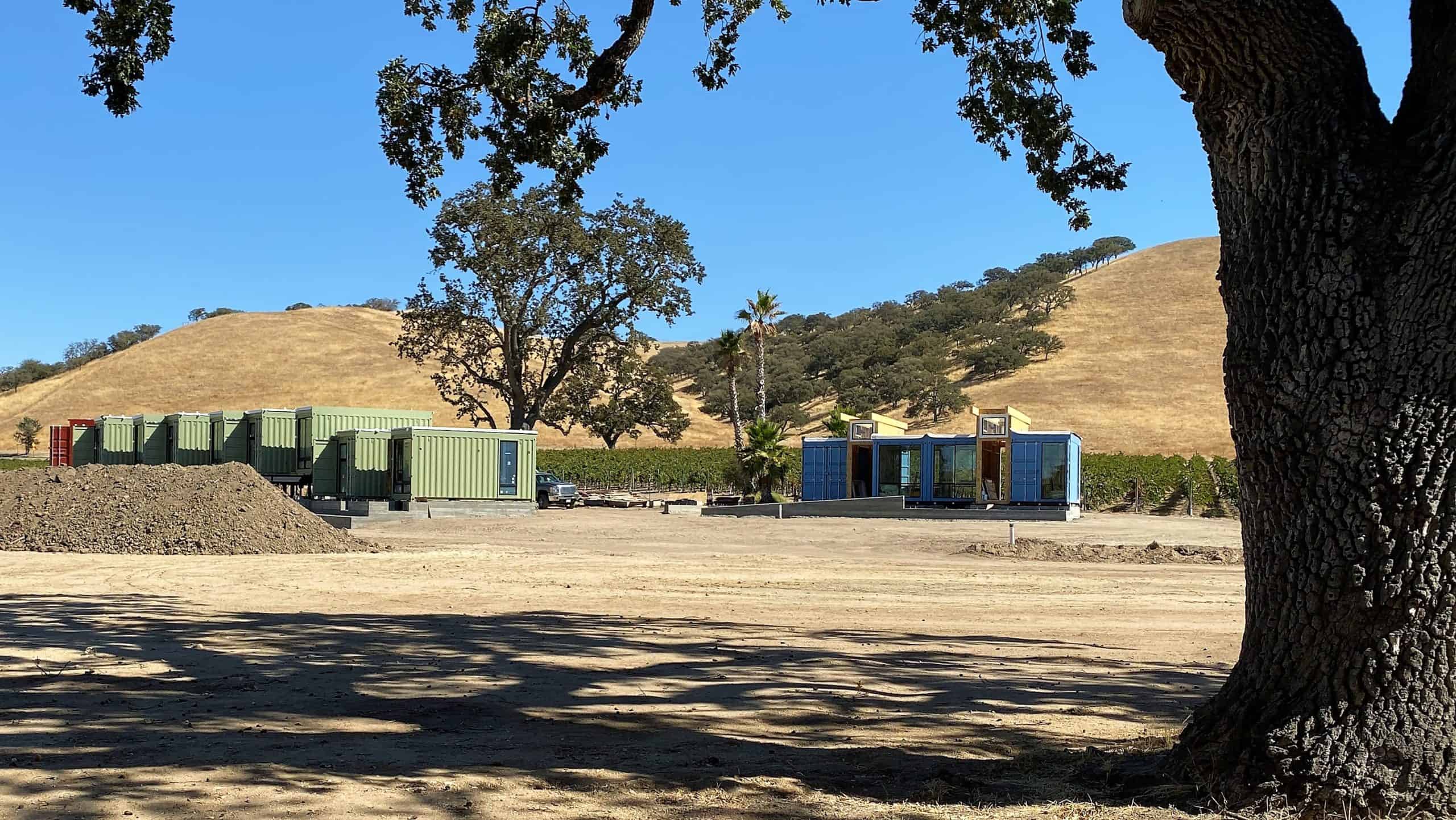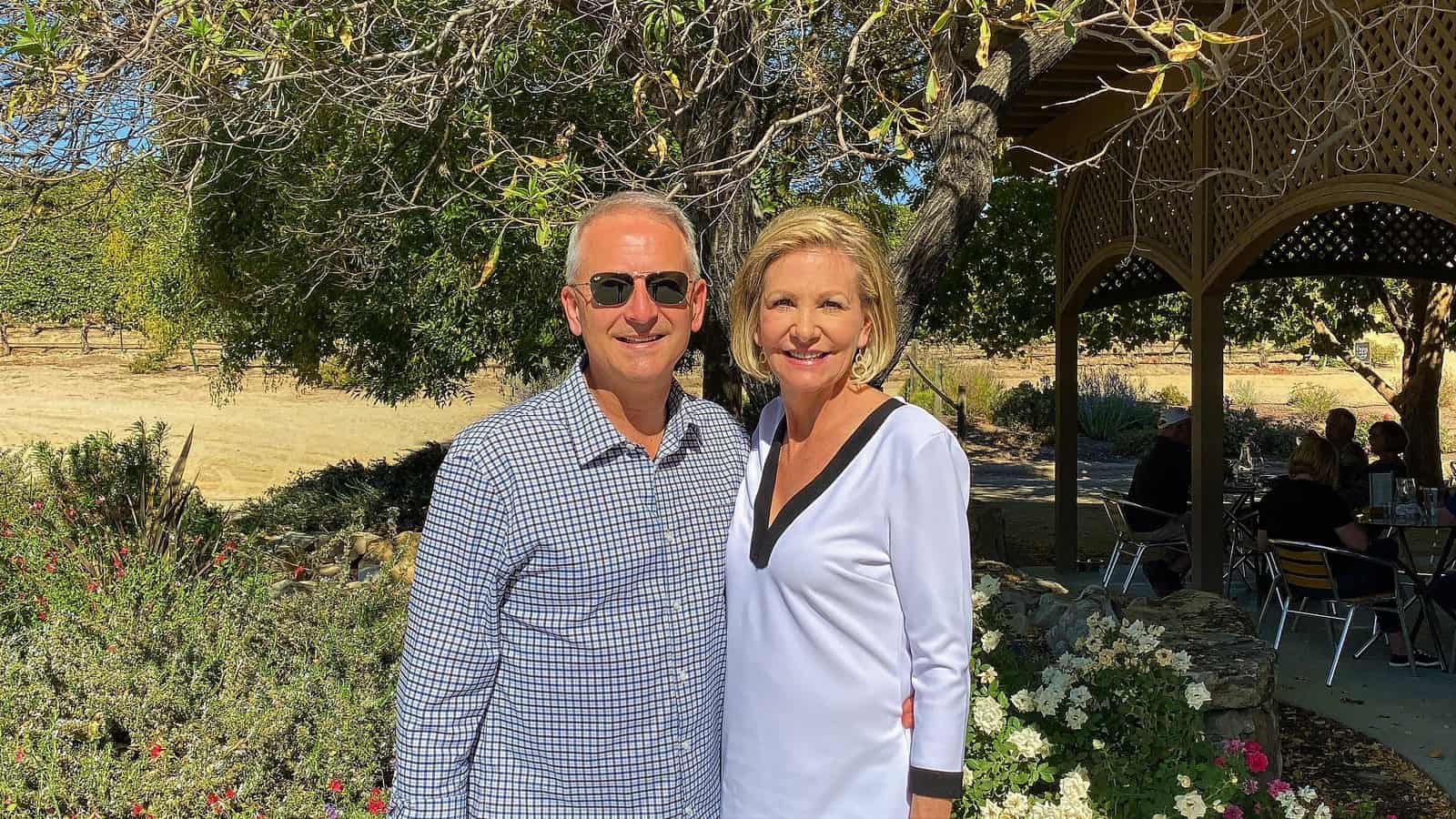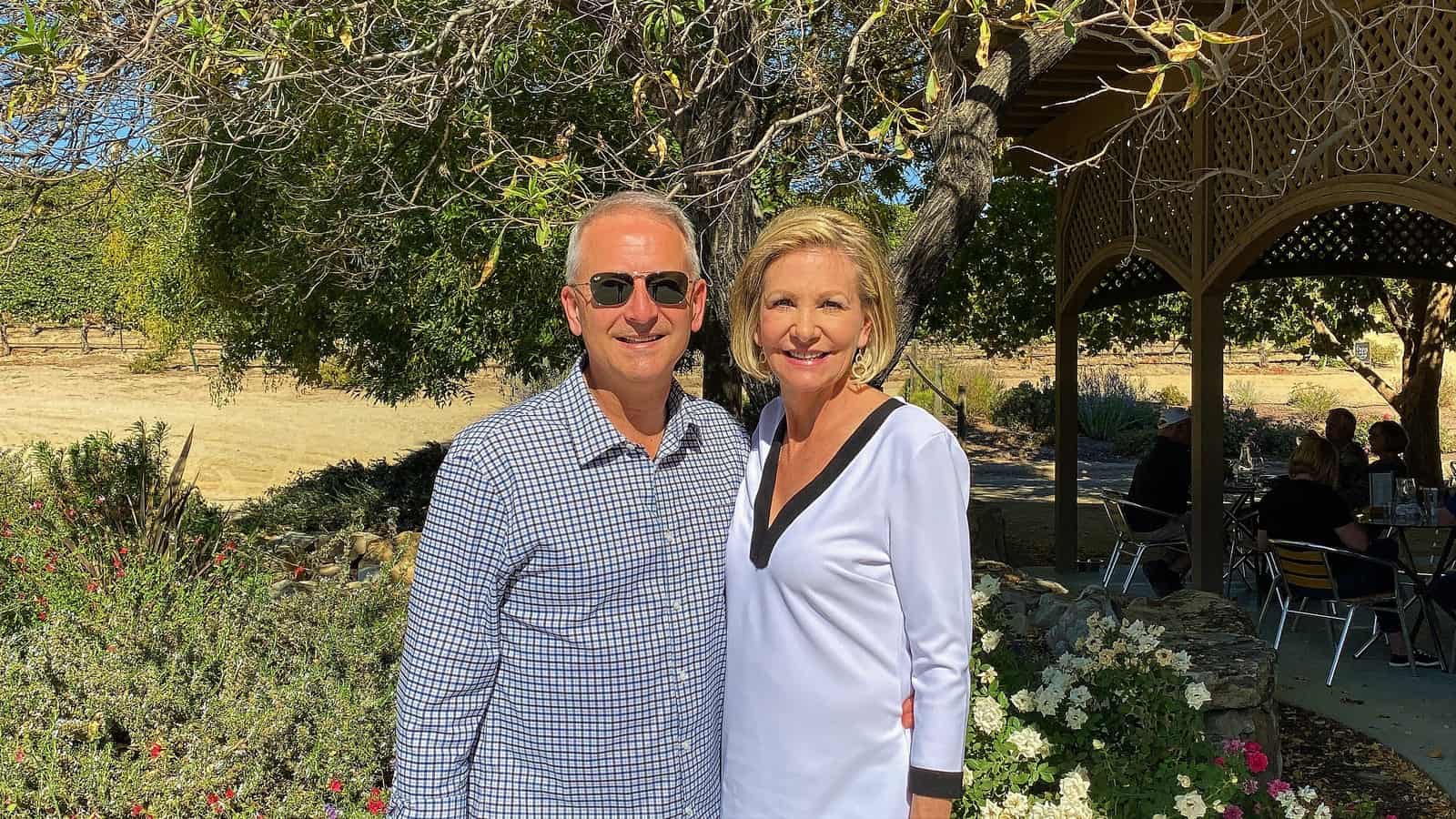 Visit Chateau Margene for Outstanding Cabs
We also recommend visiting Chateau Margene. Chateau Margene produces highly rated luxury Paso Robles Cabernets. Additionally, they produce Bordeaux style blends from the Paso Robles region.
At the tasting room, you can also taste their Mooney Family, Pinot Noir from the Santa Lucia Highlands, Roxo Cellars, port-style wines, and El Pistolero. Chateau Margene's 9-acre vineyard is organic and sustainable. All of the grapes harvested are handpicked and hand-sorted before destemming. All fermentation is in small open-topped bins. They produce between 2,500 – 3,500 cases annually, all sold directly to customers in their tasting room. Chateau Margene's estate tasting room is open Friday through Monday from 11:00 to 5:00.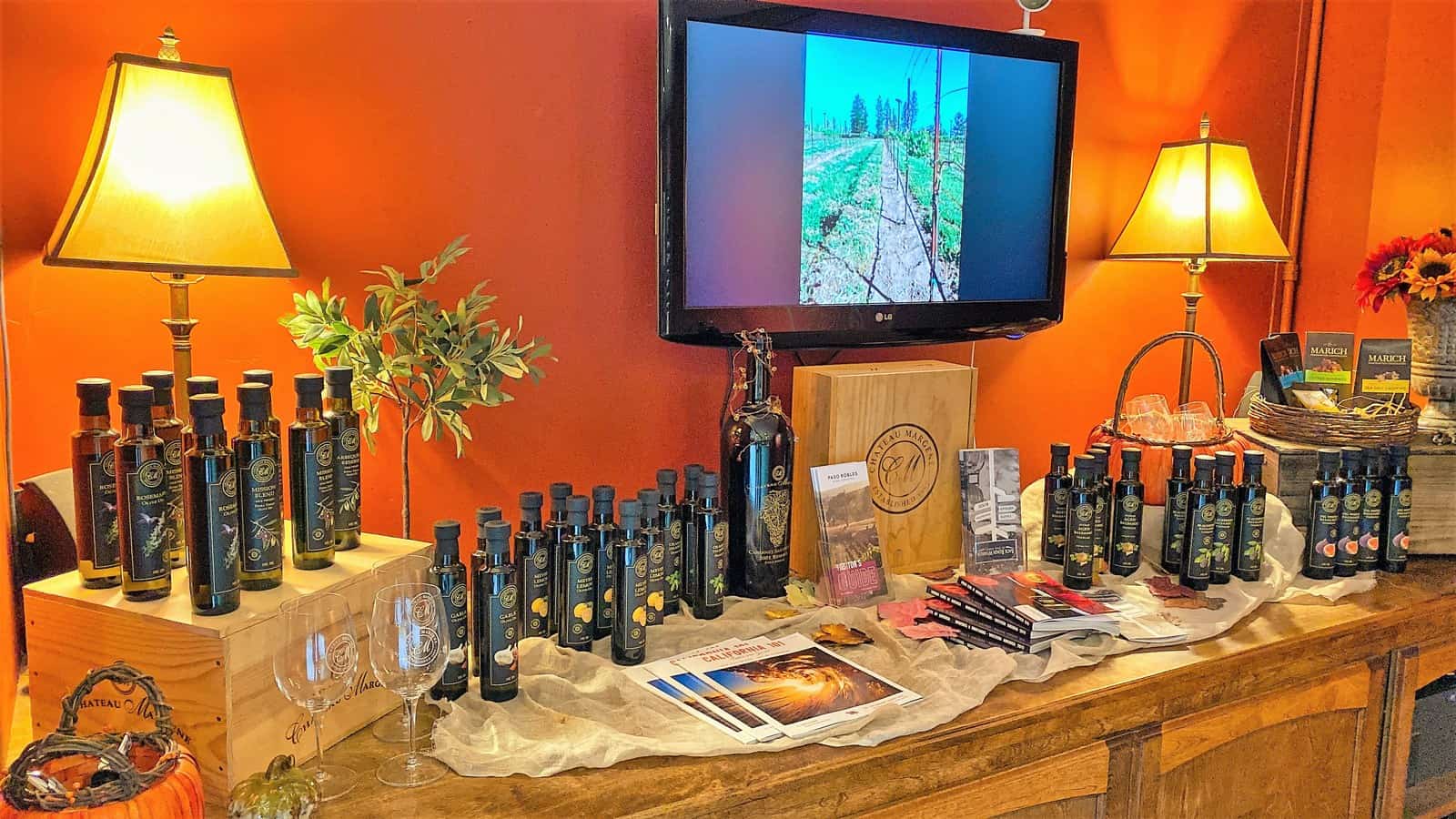 We love cabernets, and Chateau Margene's were smooth, bold, and lots of character. We tasted the wine with Michael, the owner, on a perfect Paso afternoon. We sat on the patio overlooking the Vineyard.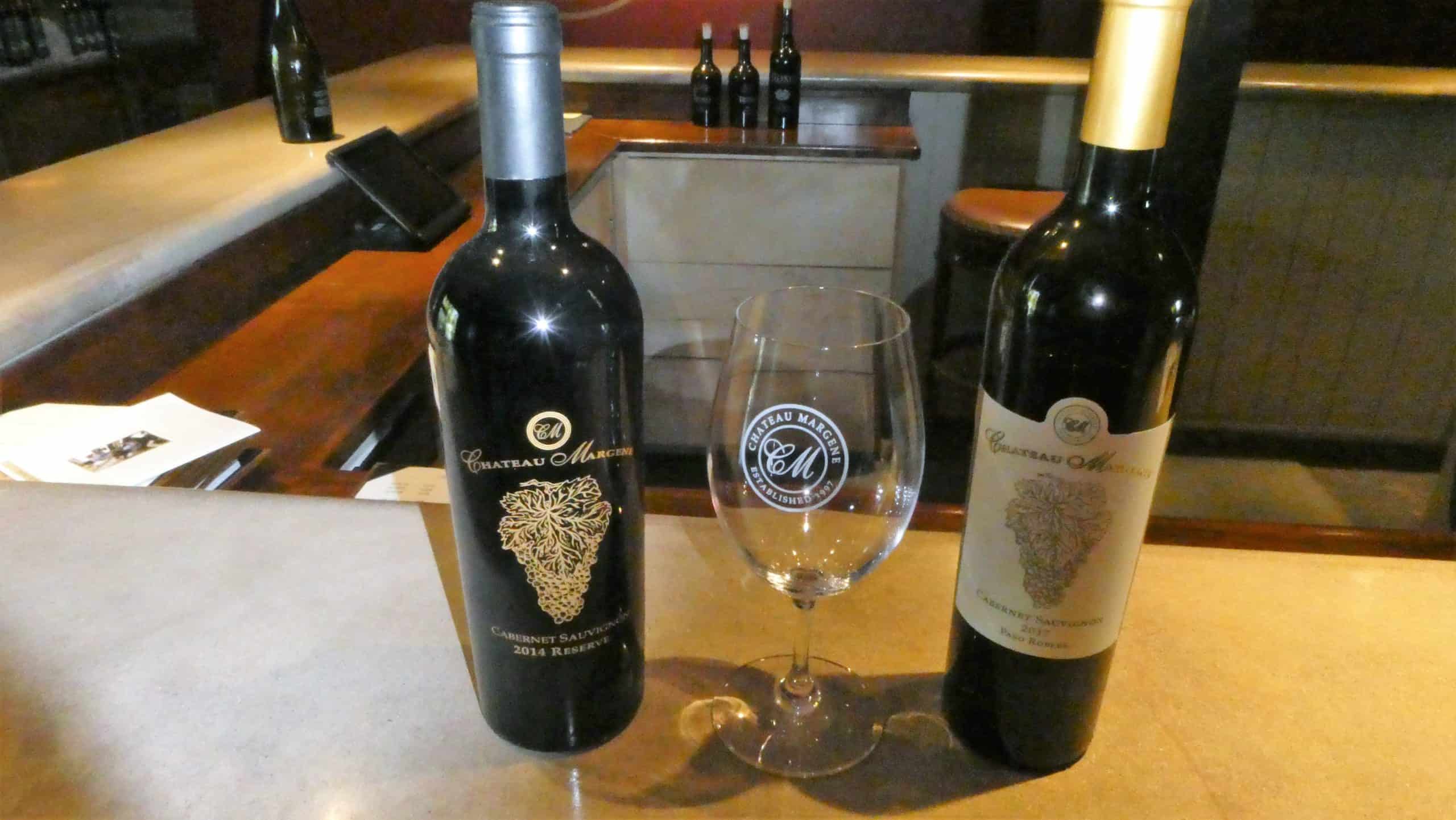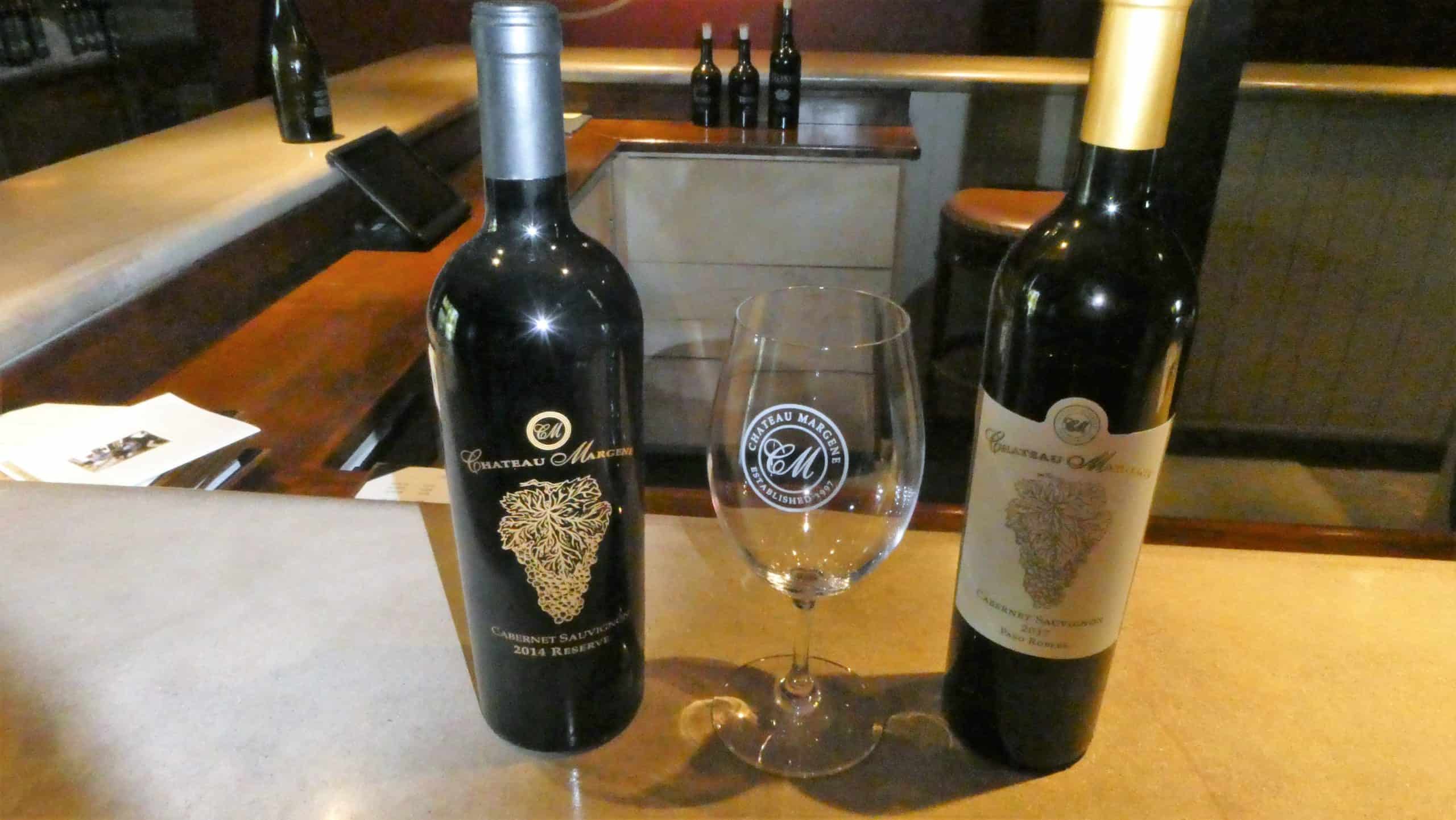 We love meeting winemakers or the vineyard owners to hear their stories. By and large, a major ingredient in winemaking is the story that goes with it. Michael used to be in IT, that is until he caught the wine bug. He admits that he knew nothing of winemaking, but, like many of us, he had a dream of owning a winery and vineyard. Nonetheless, in 2001 Chateau Margene bottled the first of their estate wines.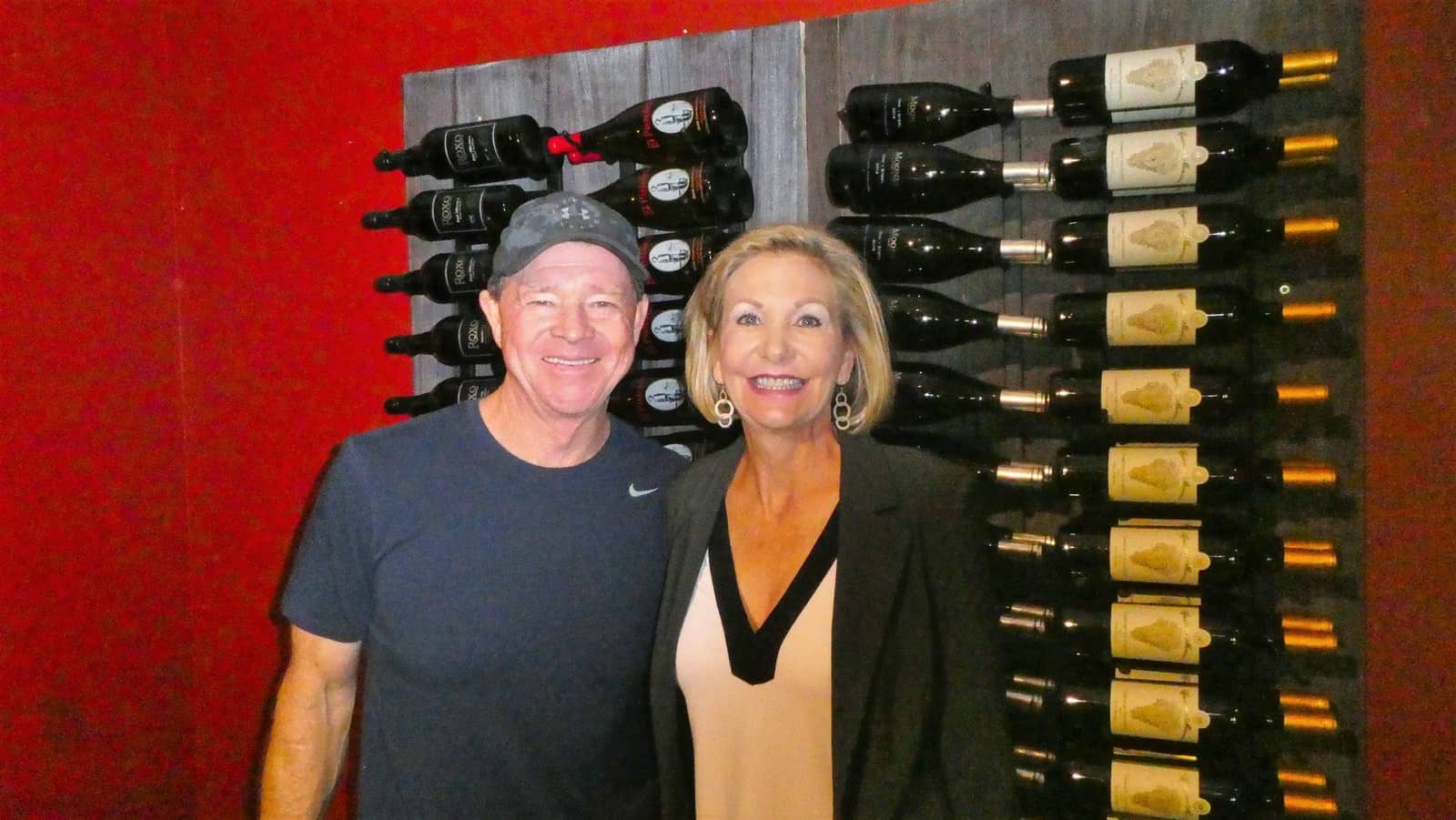 Bandits, Guns and a Mexican Land Grant
There is a story behind the name of the El Pistolero wine label, and as that name suggests, there was a pistol involved. You see, Michael is a seventh-generation Californian. Over a hundred and fifty years ago, Michael's family held a 32,000-acre Mexican land grant in the San Luis Obispo area. The back label of this wine recounts the story. But from what I recall, the story included a bandito, derringers, land trouble, and revenge.
Today the El Pistolero brand is exciting wine at a great value. El Pistolero currently comprises two releases: a Cabernet Sauvignon blend from Paso Robles and a Pinot Noir from the Santa Lucia Highlands.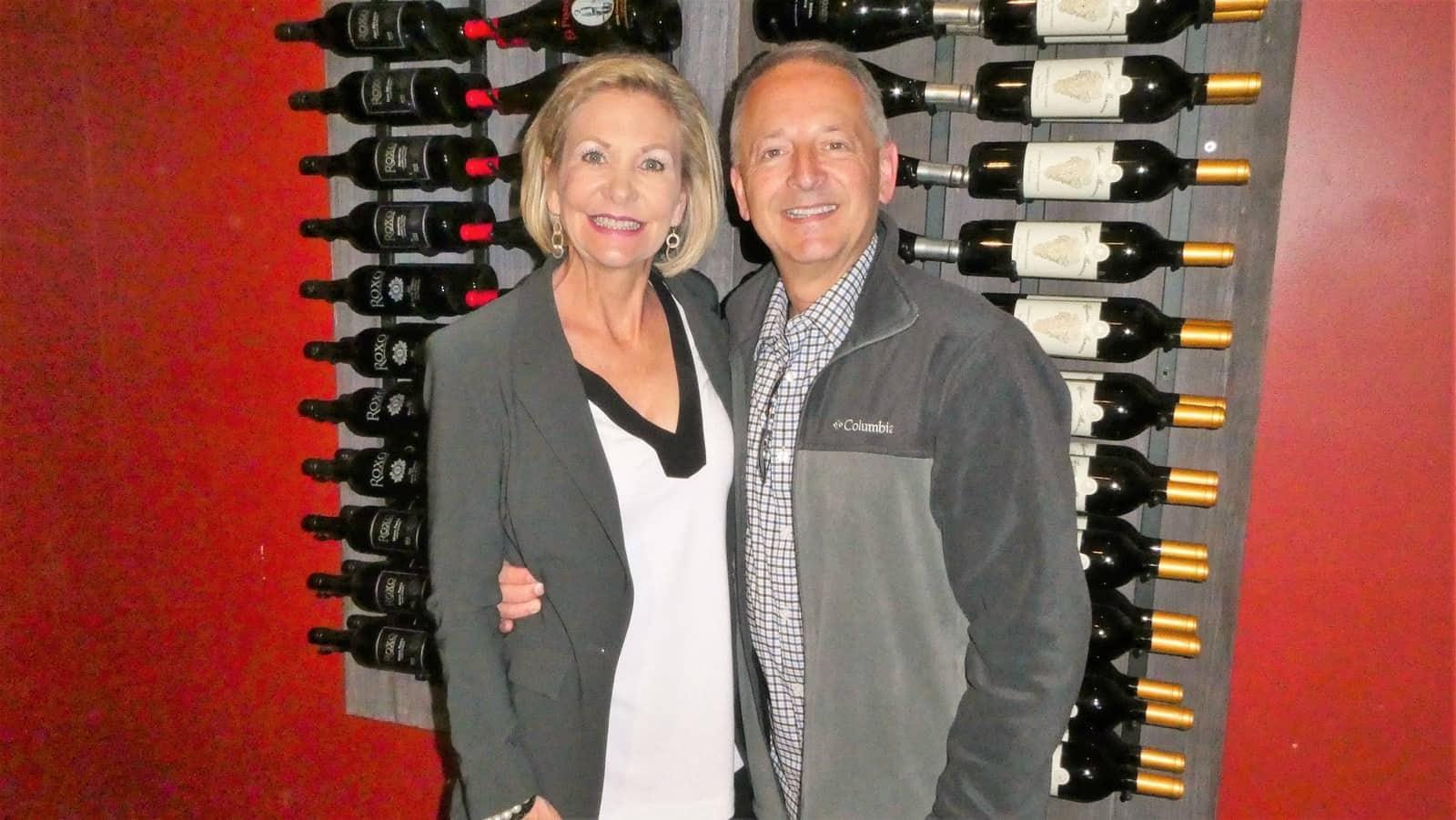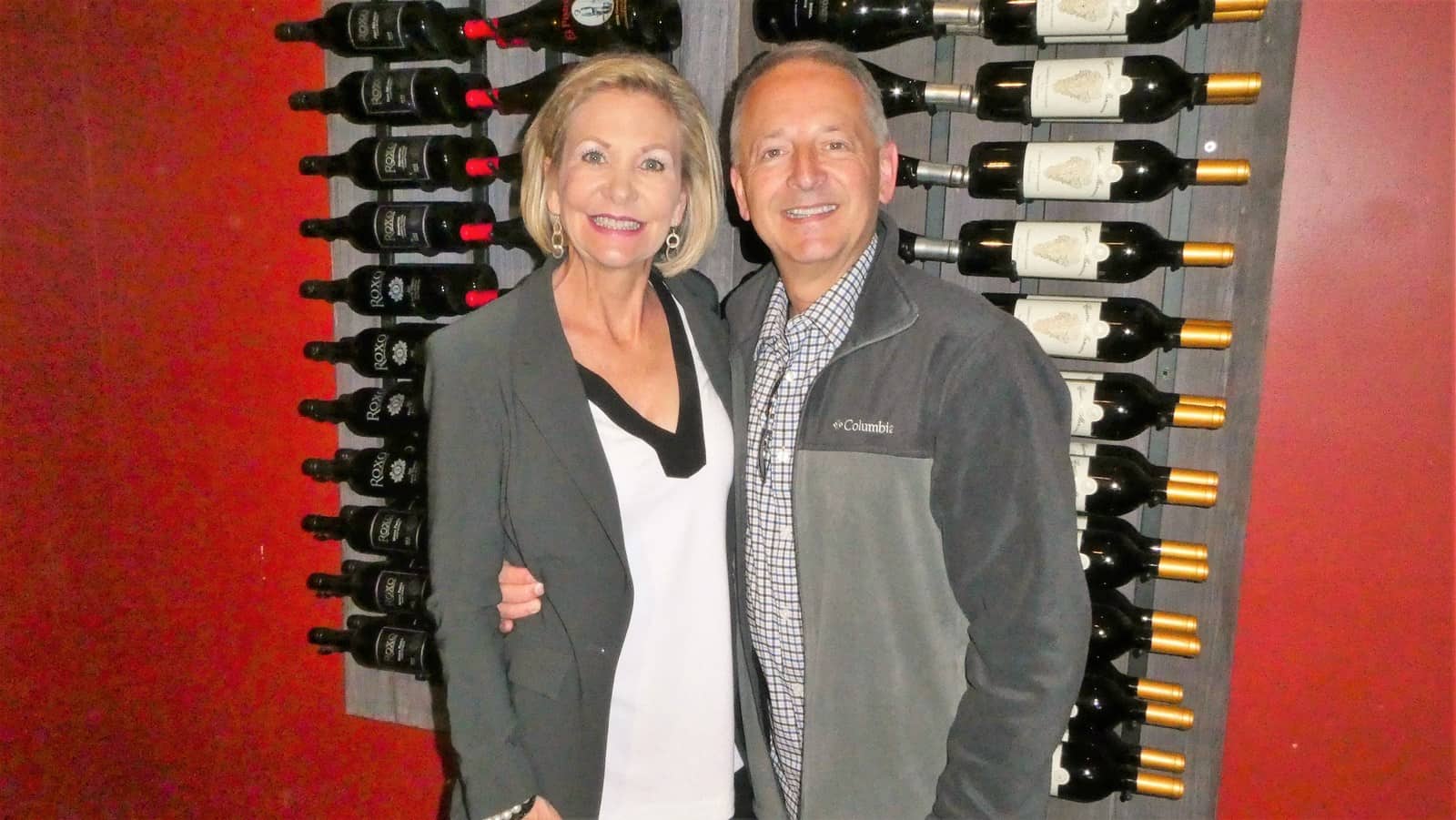 Experience Sensorio
Last but definitely not least, you simply must experience Sensorio. Sensorio is Bruce Munro's sculptural light composition called Field Of Light at Sensoio. It's a 15-acre walk-through artwork display on rolling hills with an array of over 58,800 stemmed spheres lit by fiber-optics.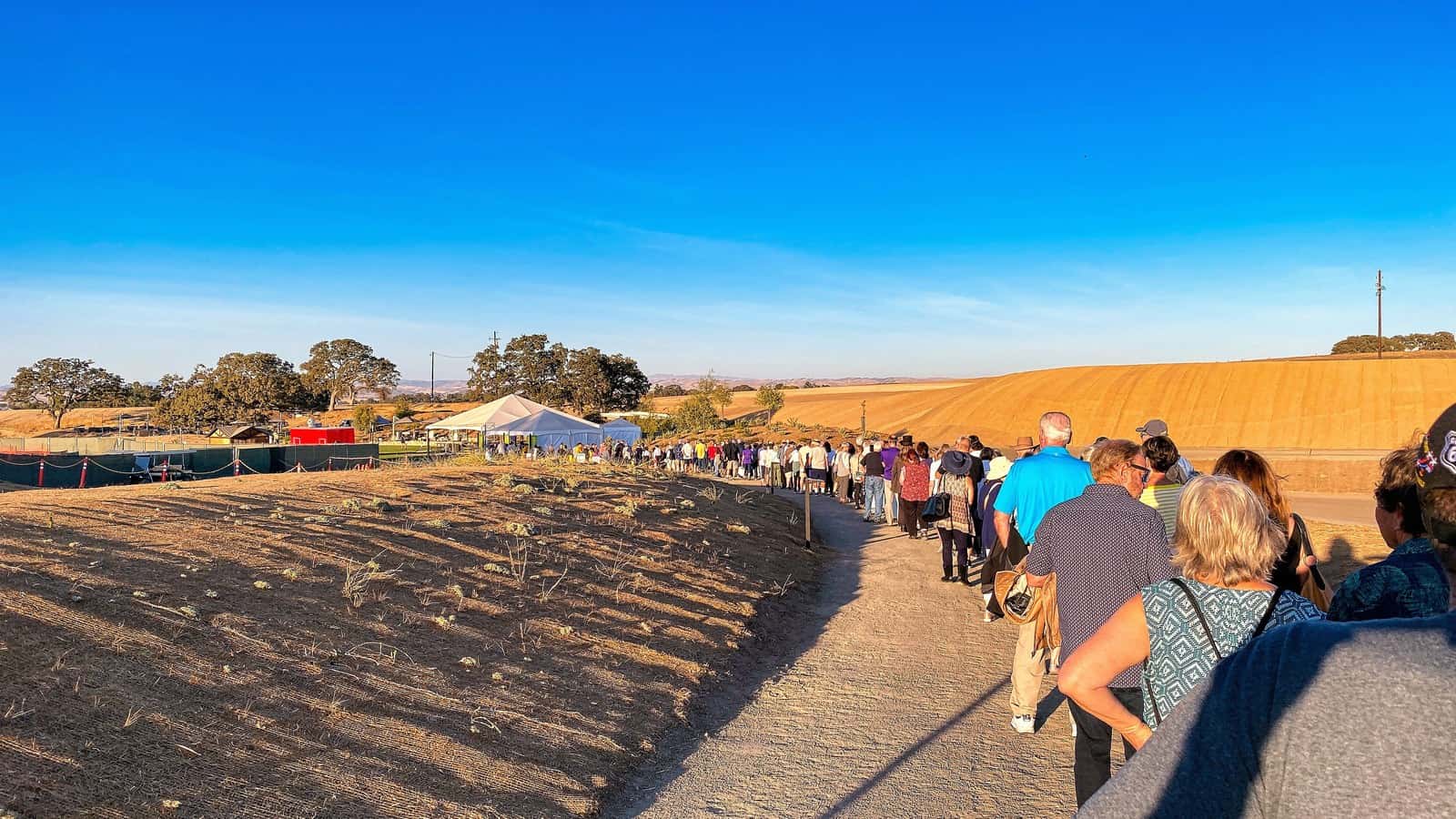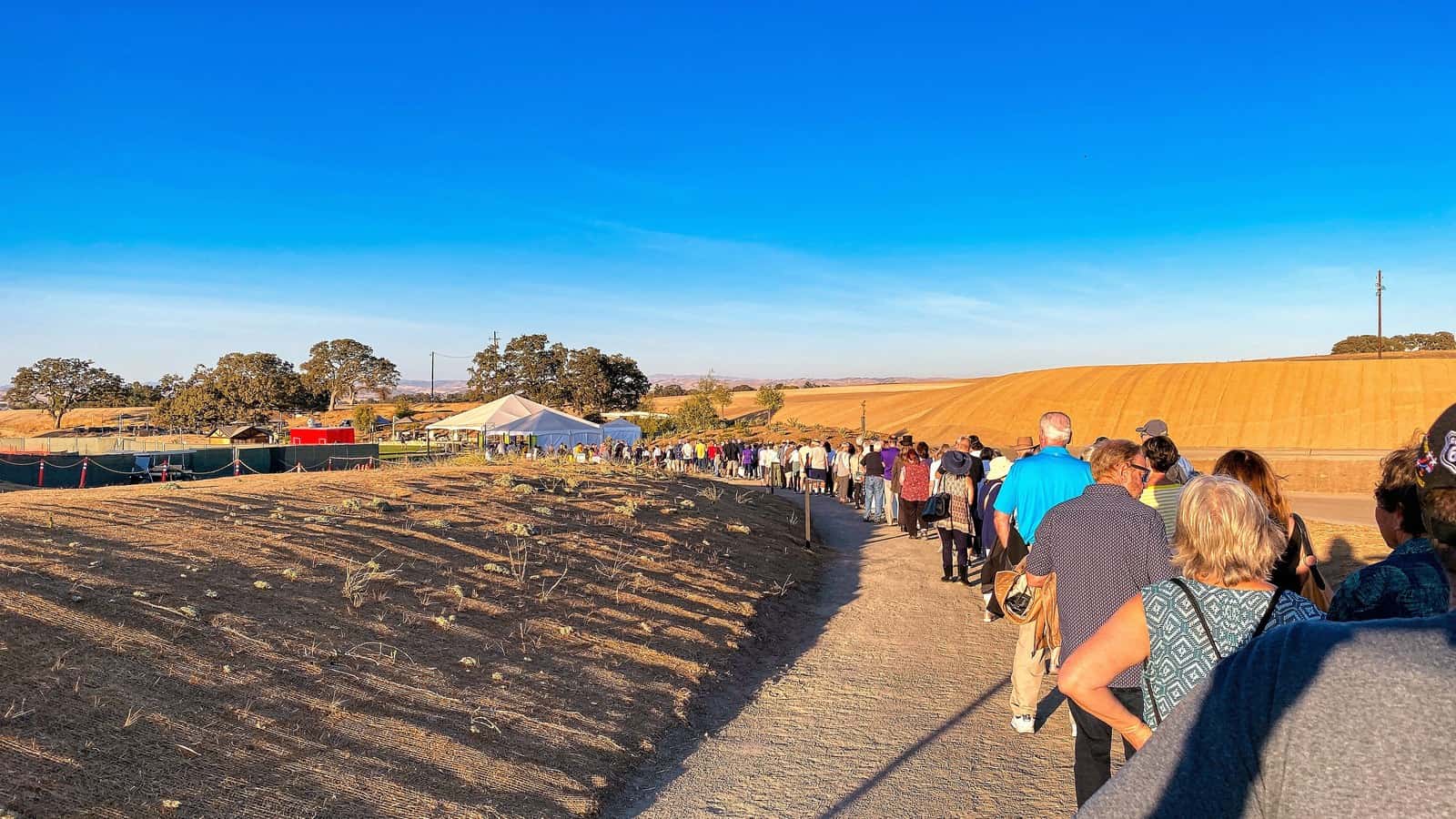 We enjoyed small flower-like fiber-optic lights, gently illuminating the landscape in subtle blooms of morphing color and music.
We had reserved VIP tickets, so when we arrived, we made our way to our seating area. With our tickets, we would sit on the private terrace overlooking the lights. When dinner was ready, we picked up thermal bags with our meals inside. And of course, there was wine.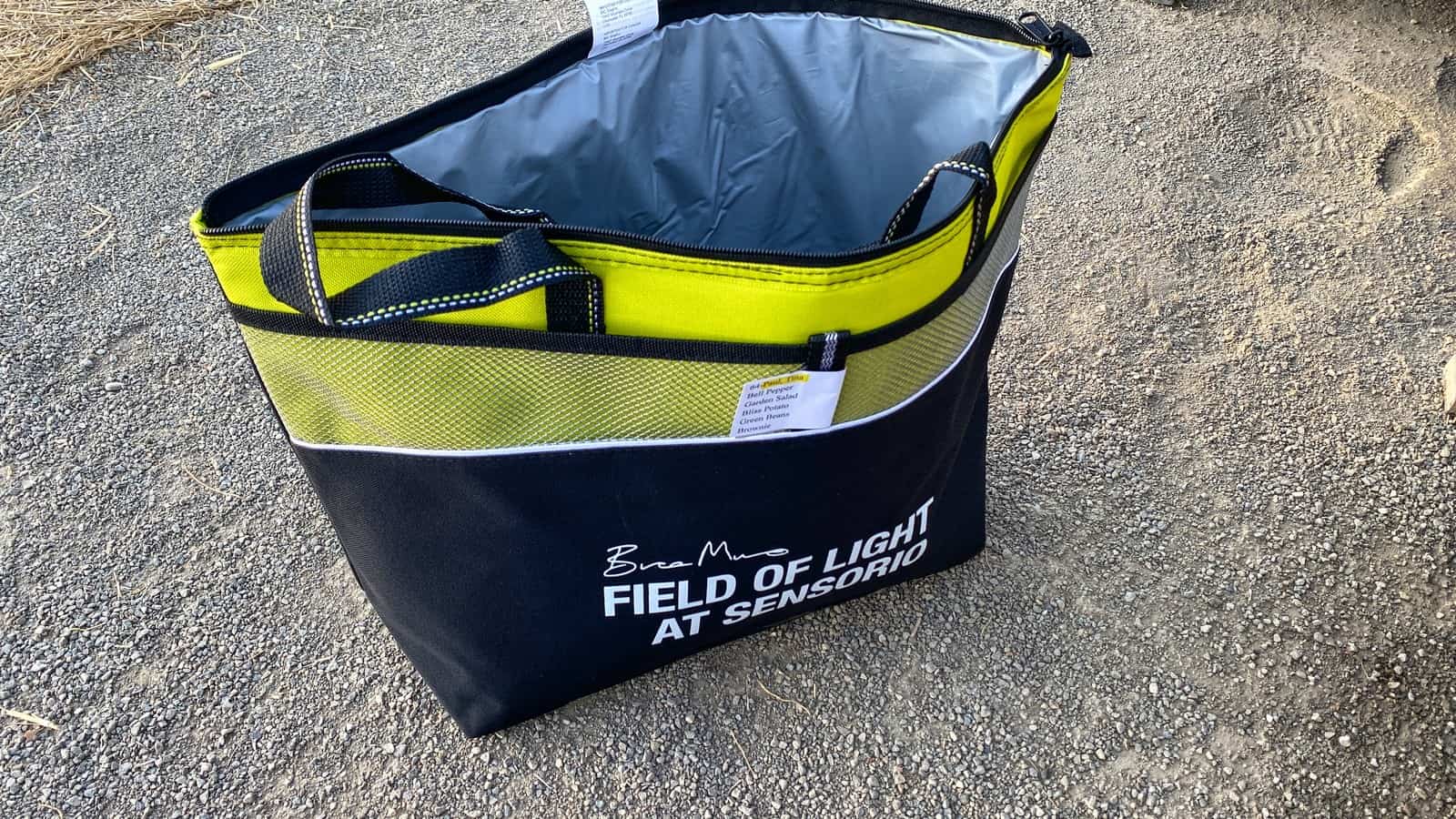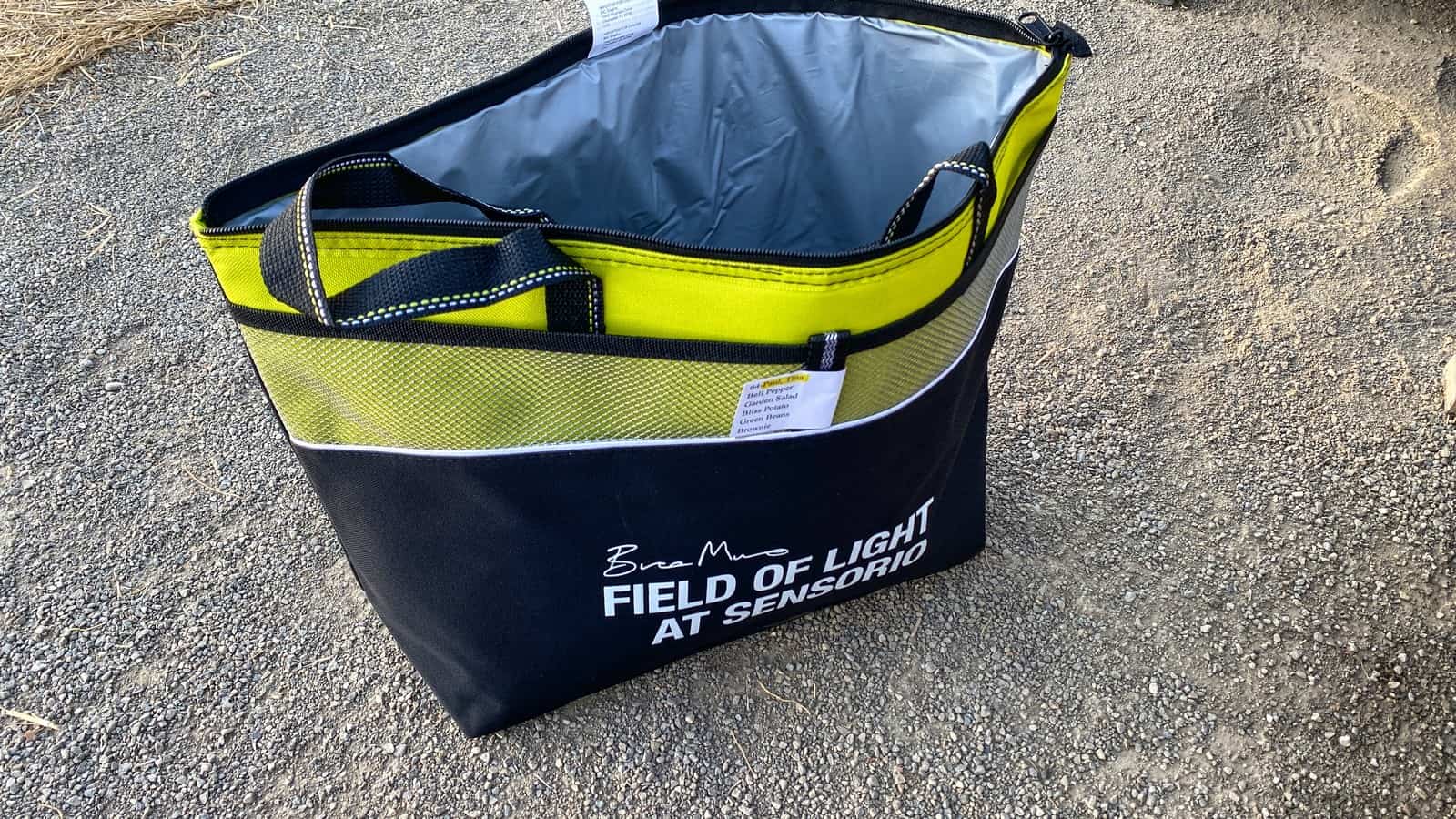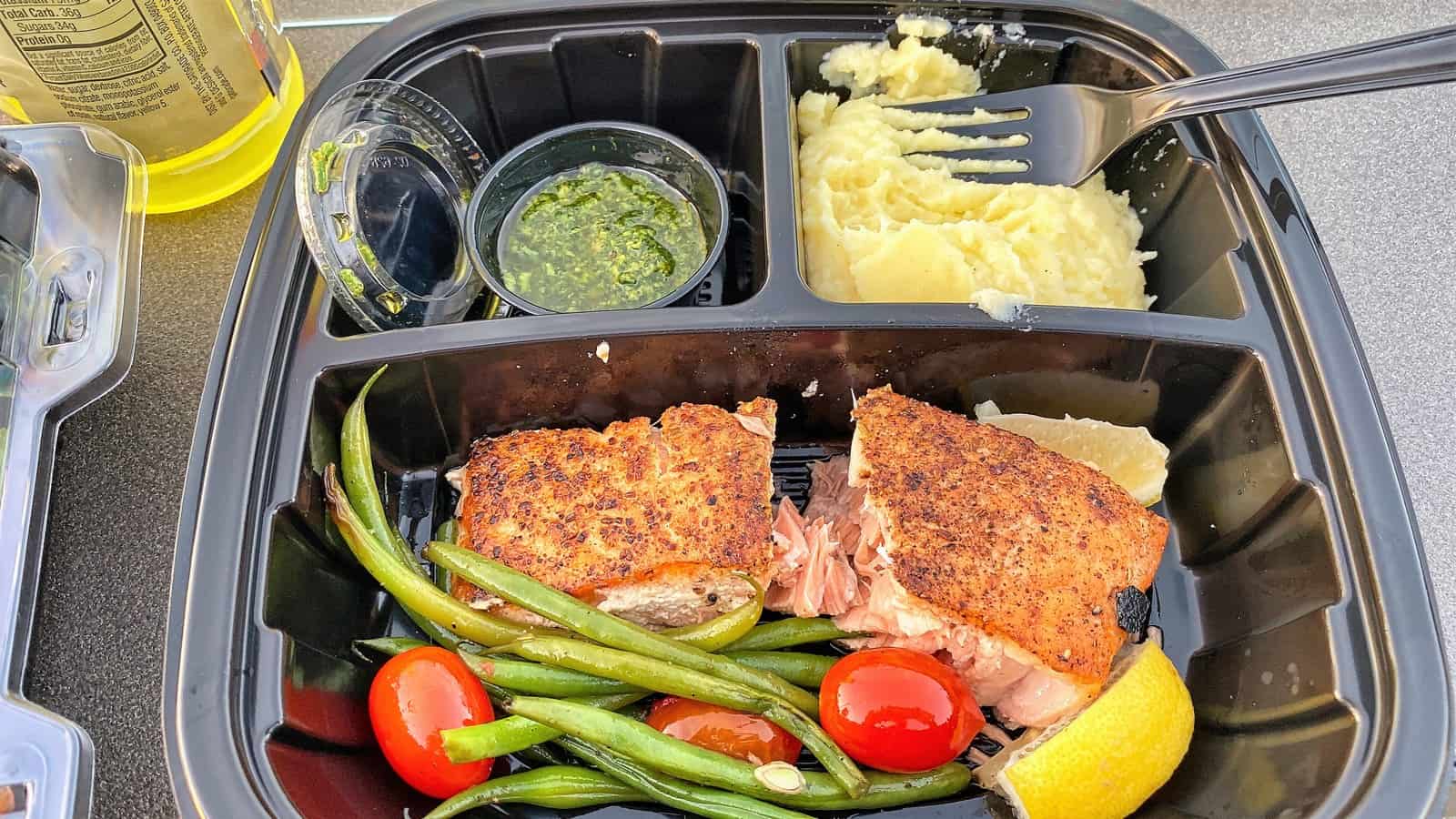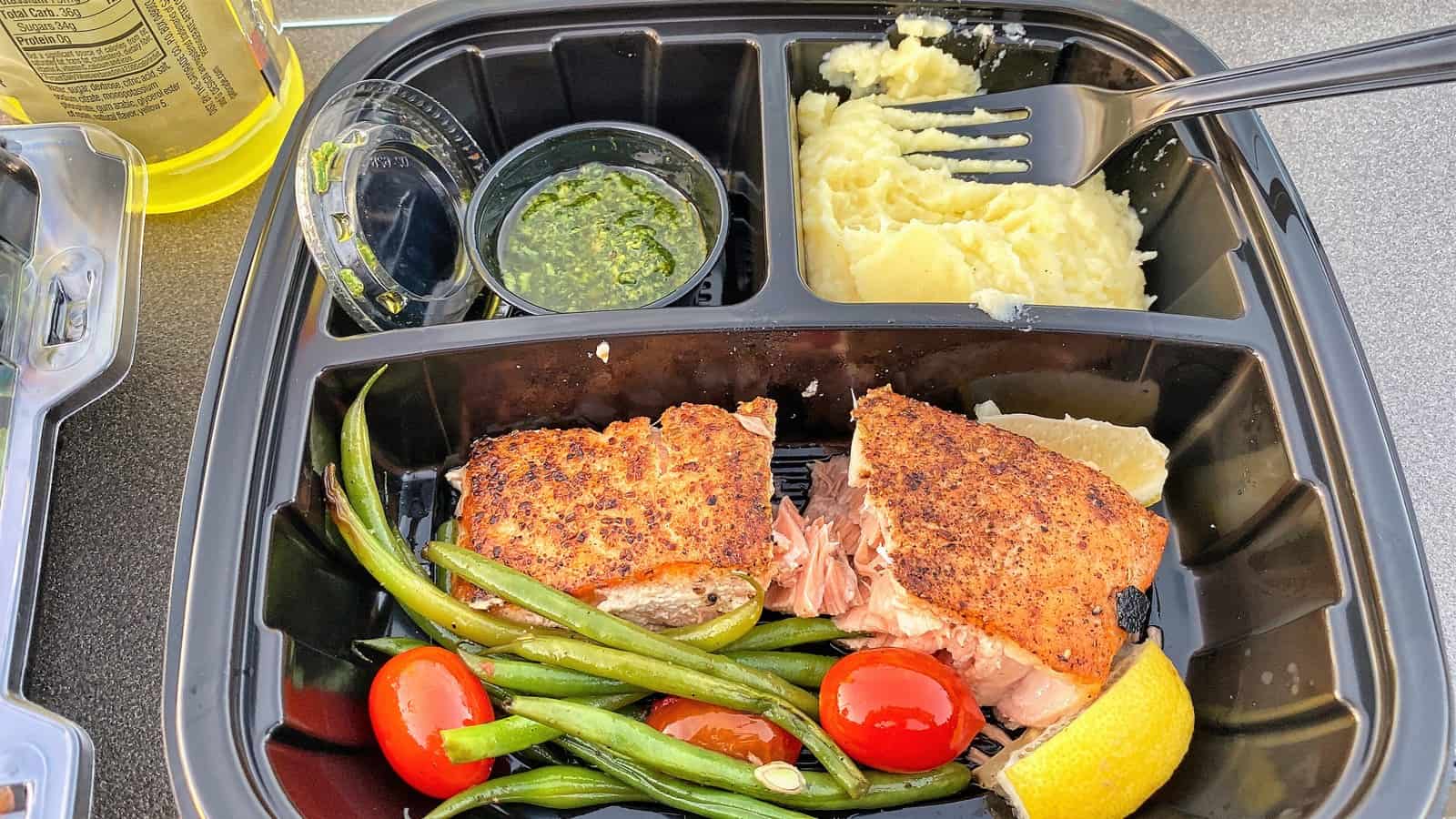 As the sunset, the lights began to come on. As the lights got brighter, music played and the lights danced to the music. The experience was captivating. We did our best to capture the moment in photos.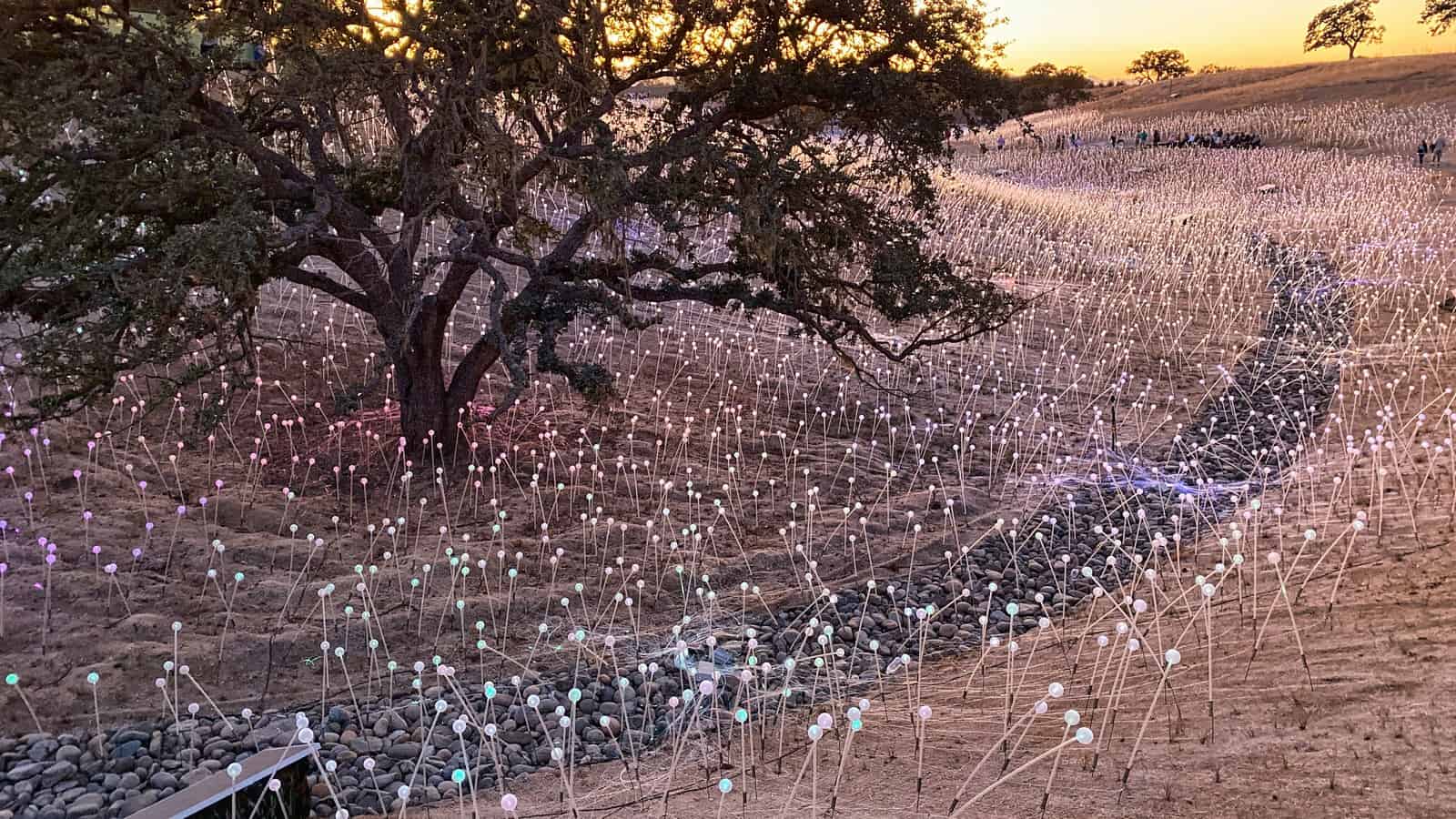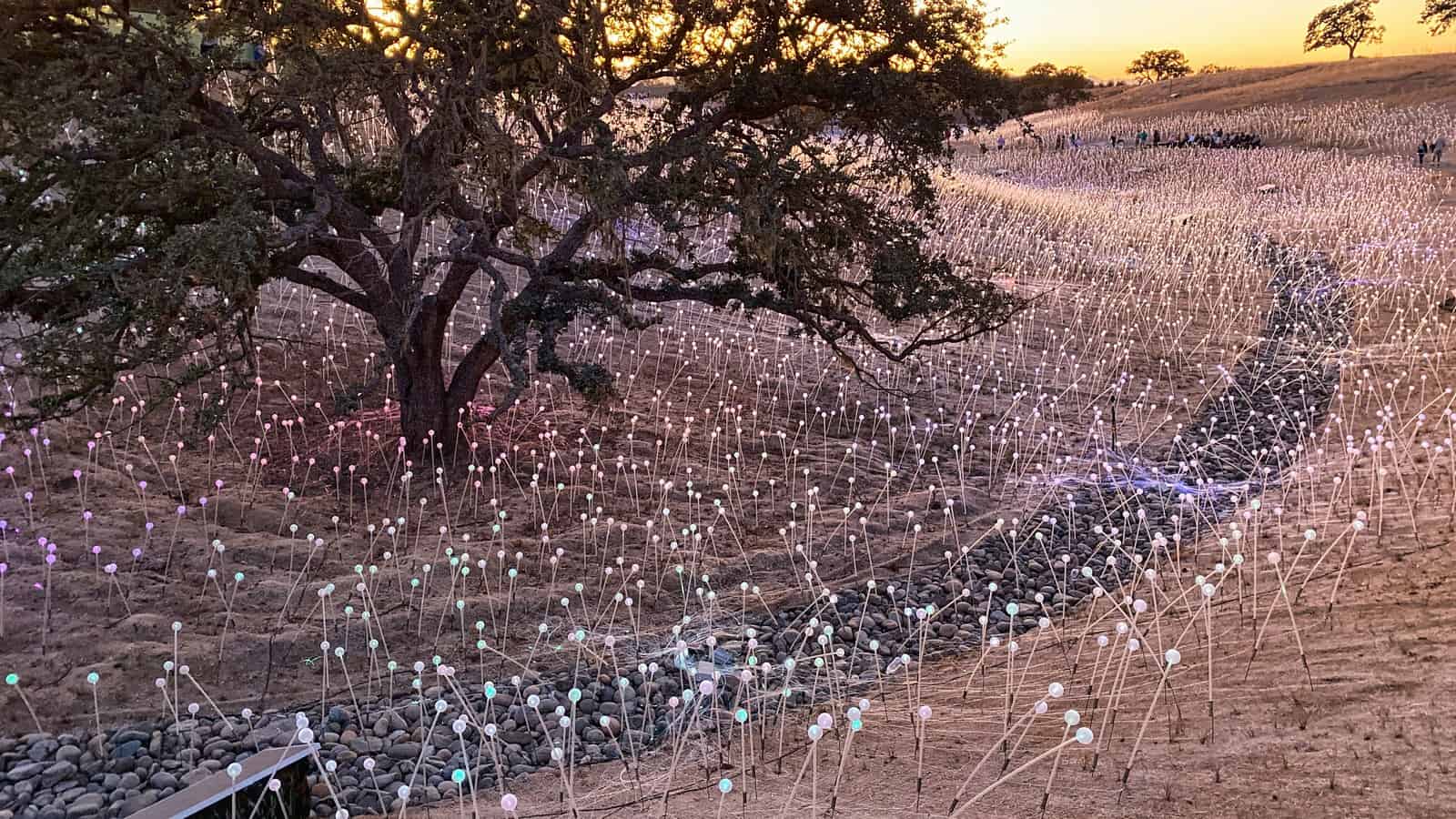 It was a unique intersection between art, technology, and nature. We loved our view from the terrace, but we also walked along the path that meandered through the lights.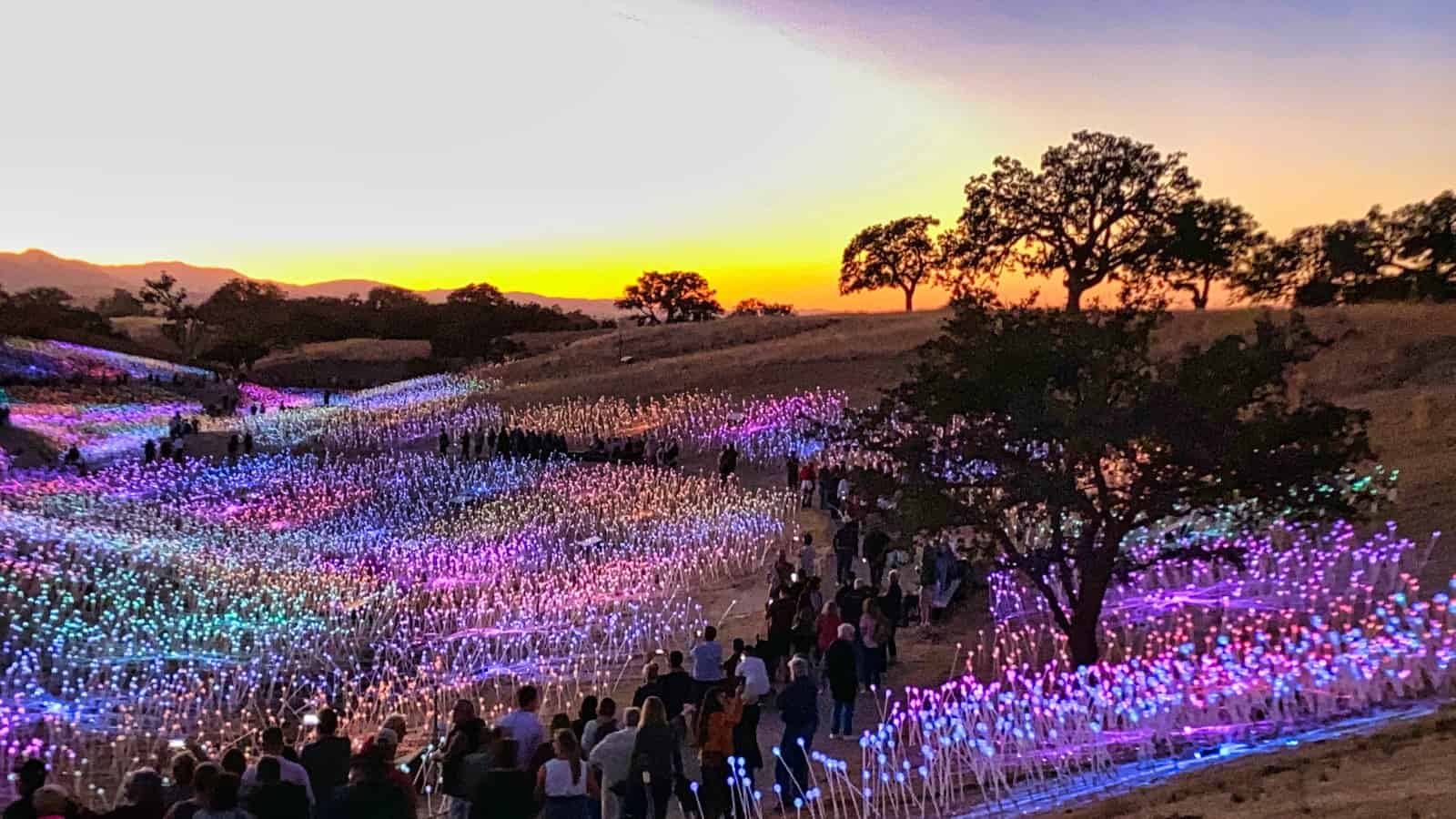 The whole amazing exhibit was powered by solar. Munro's work has been called "a light safari in wine country" by The New York Times. It was the perfect ending to a Paso Robles Wine tasting getaway.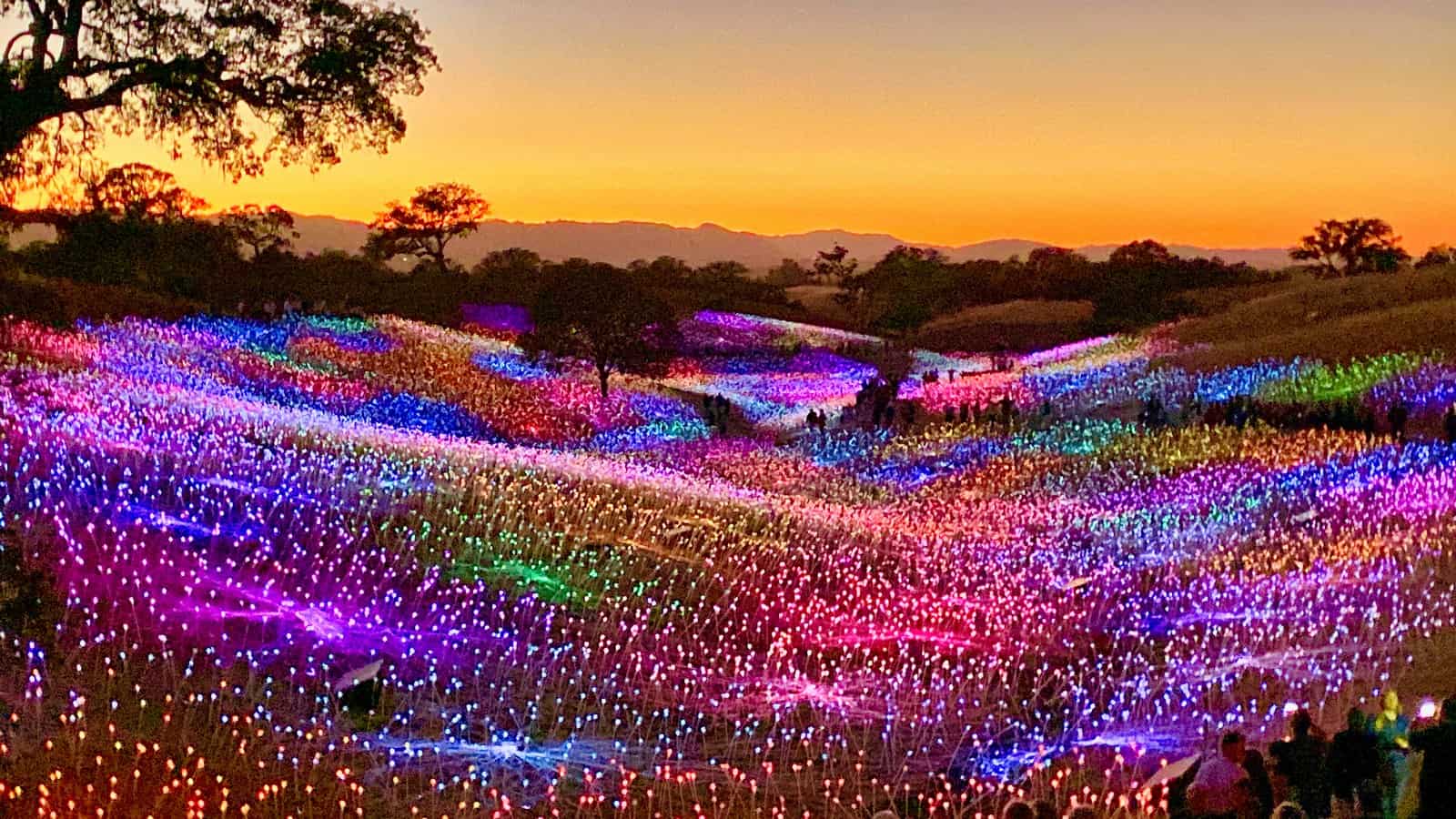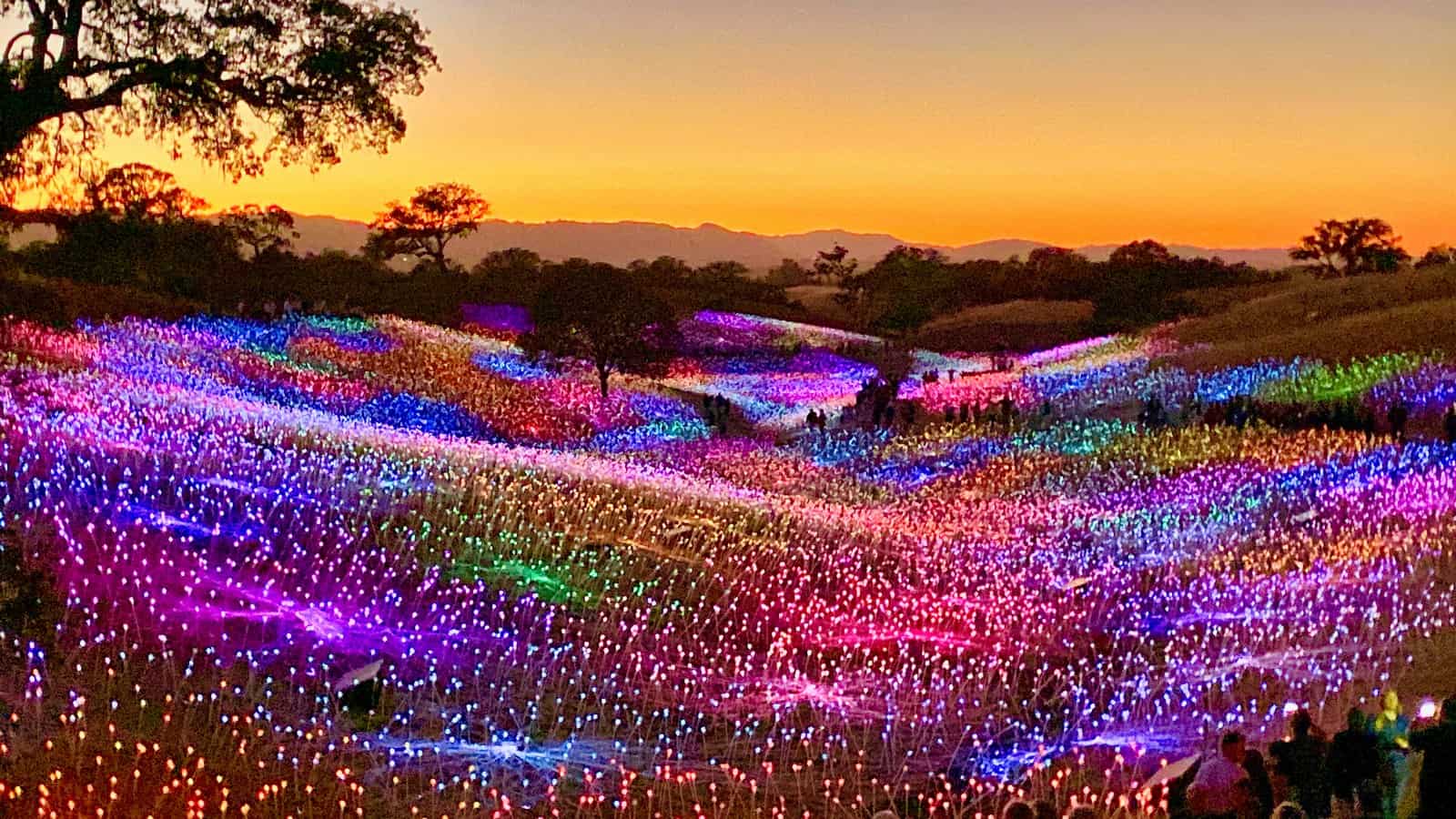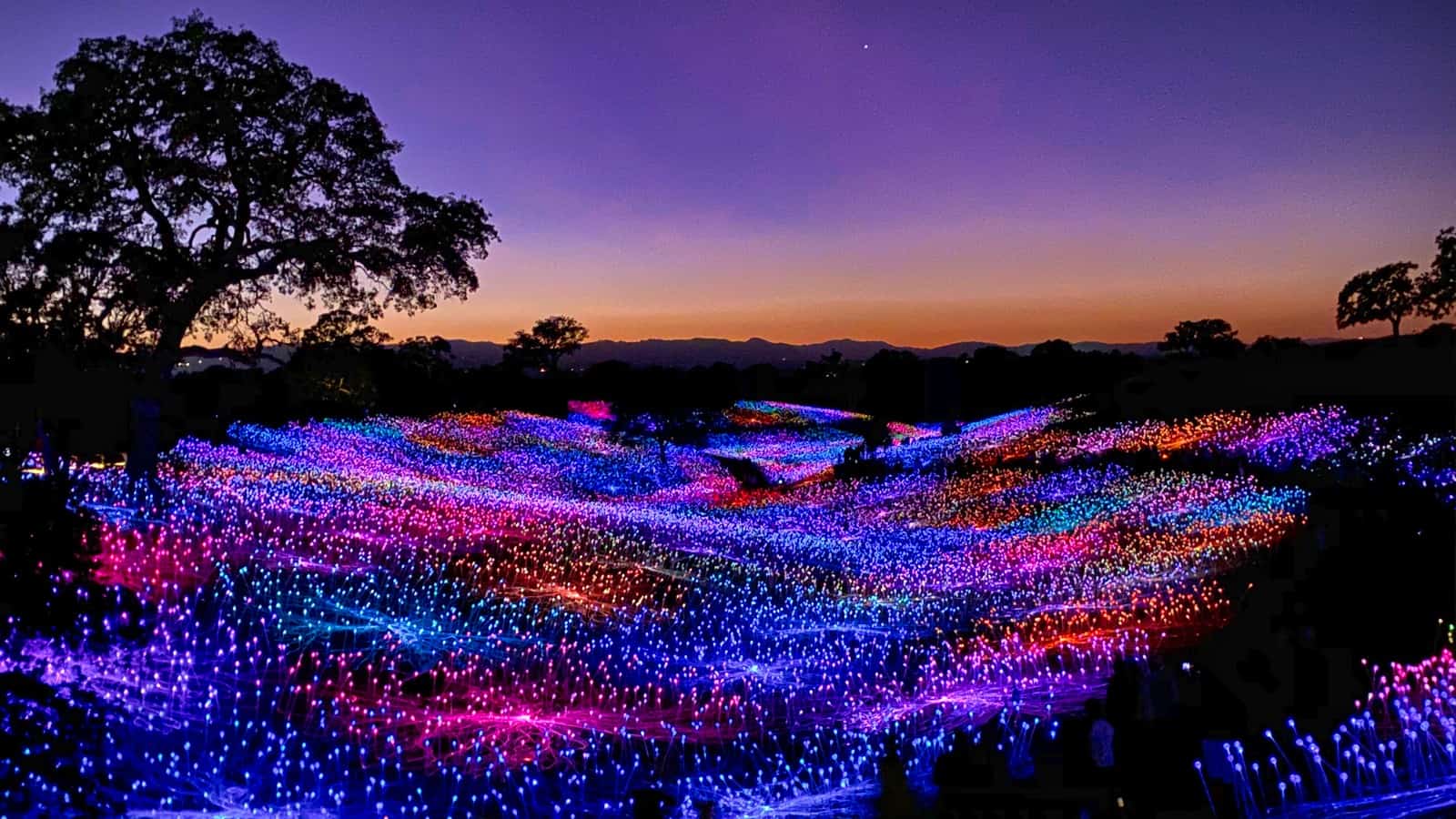 As of this post, this exhibit will likely have moved on but check the internet for its new location. Also, check to see what is new and amazing in Paso Robles.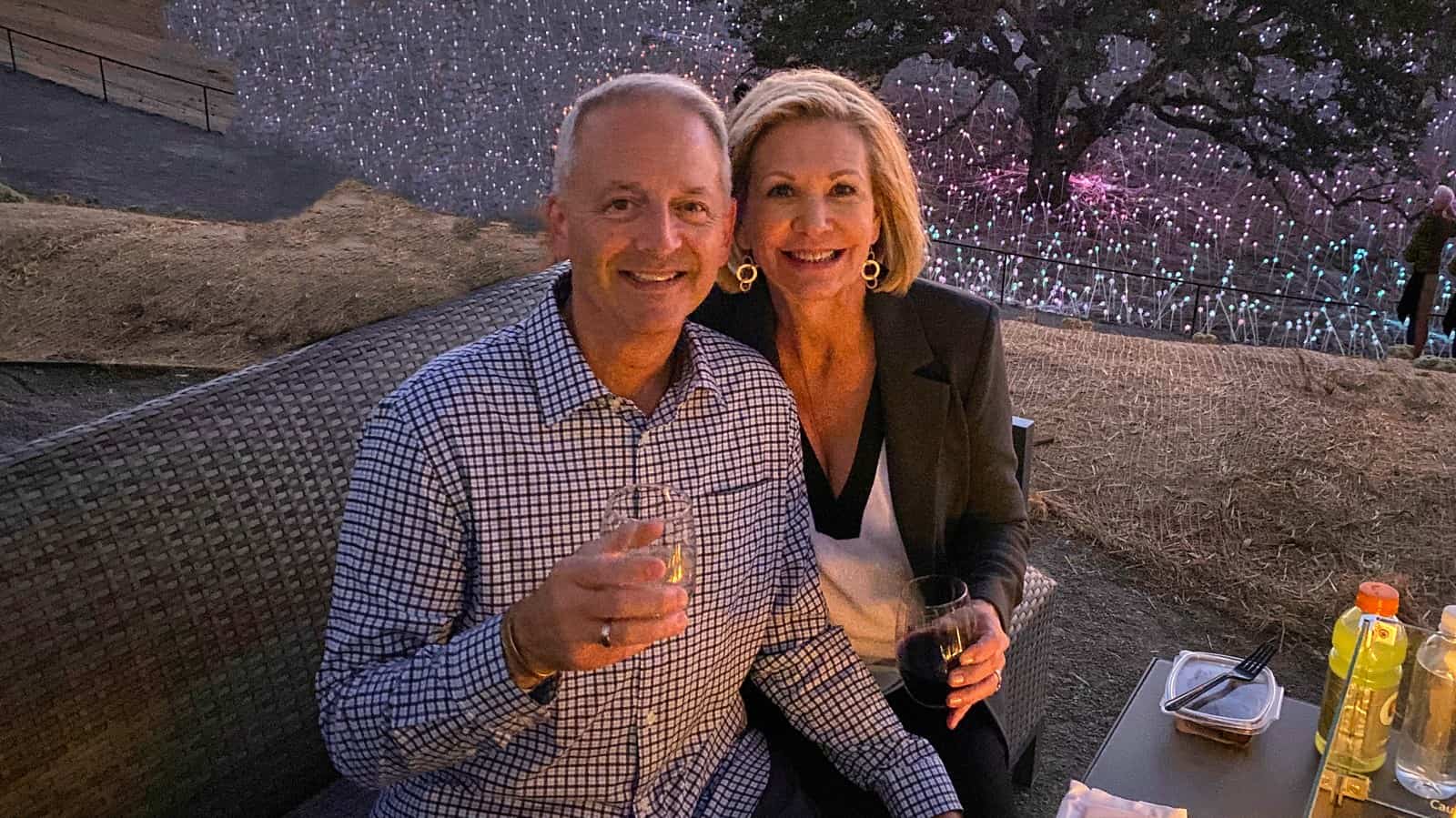 Paso Robles Wines
Paso Robles wine tasting rivals Napa and Sonoma, plus the city has a charming downtown. Also, there are several great places to eat and wonderful places to stay. Paso Robles is the perfect place for a couples, friends, or girls getaway.
QUICK ANSWERS
Are there boutique wineries in Paso Robles?
Of the over 200 wineries in Paso Robles, two-thirds of them are considered boutique wineries producing less than 5000 cases of wine per year.
---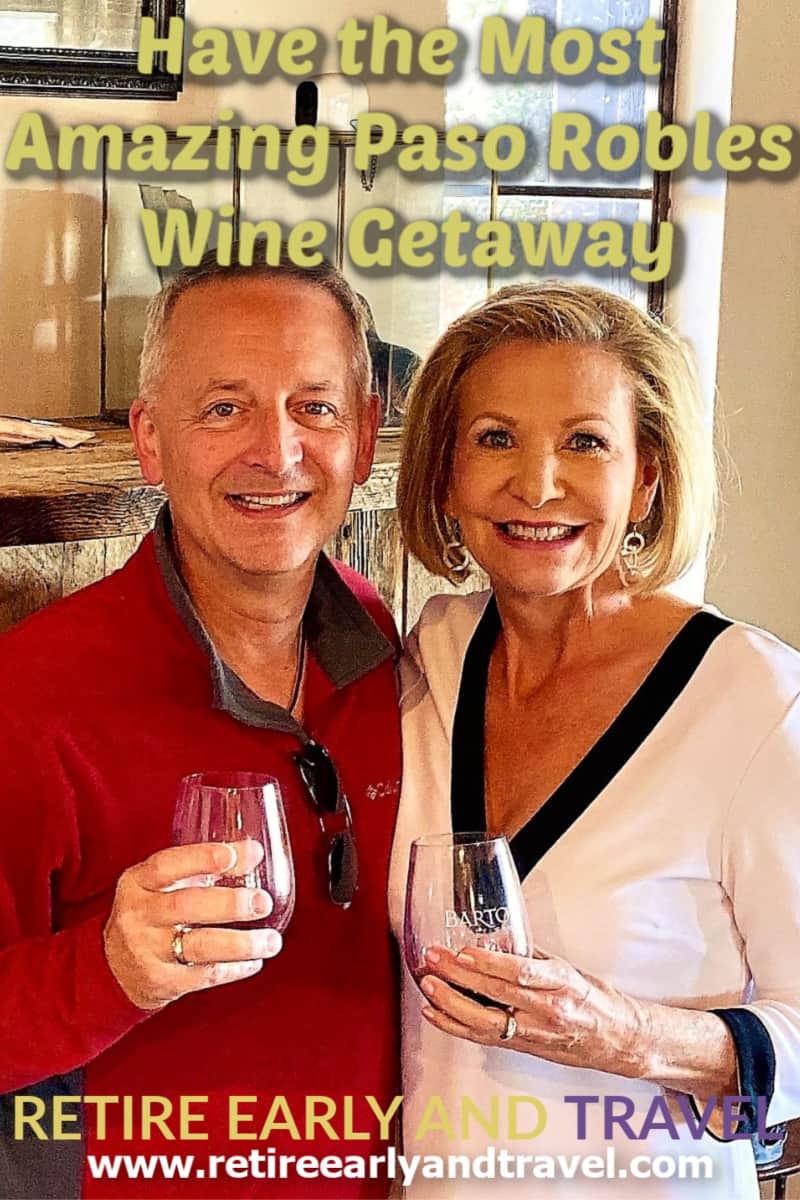 Be sure and check out our other wine tours in California such as the beautiful northern California Mendocino