When you think of California wine, you don't usually think of San Diego wine, but San Diego county, with its Mediterranean climate, has many excellent wineries. San Diego is a perfect getaway destination from almost anywhere. San Diego has an international airport, it is close to another California wine destination called Temecula, and it is less than three hours from Los Angeles. Unlike much of southern California, San Diego is not sweltering hot even in the summer months. If you love wine and travel, you must check out San Diego County wine.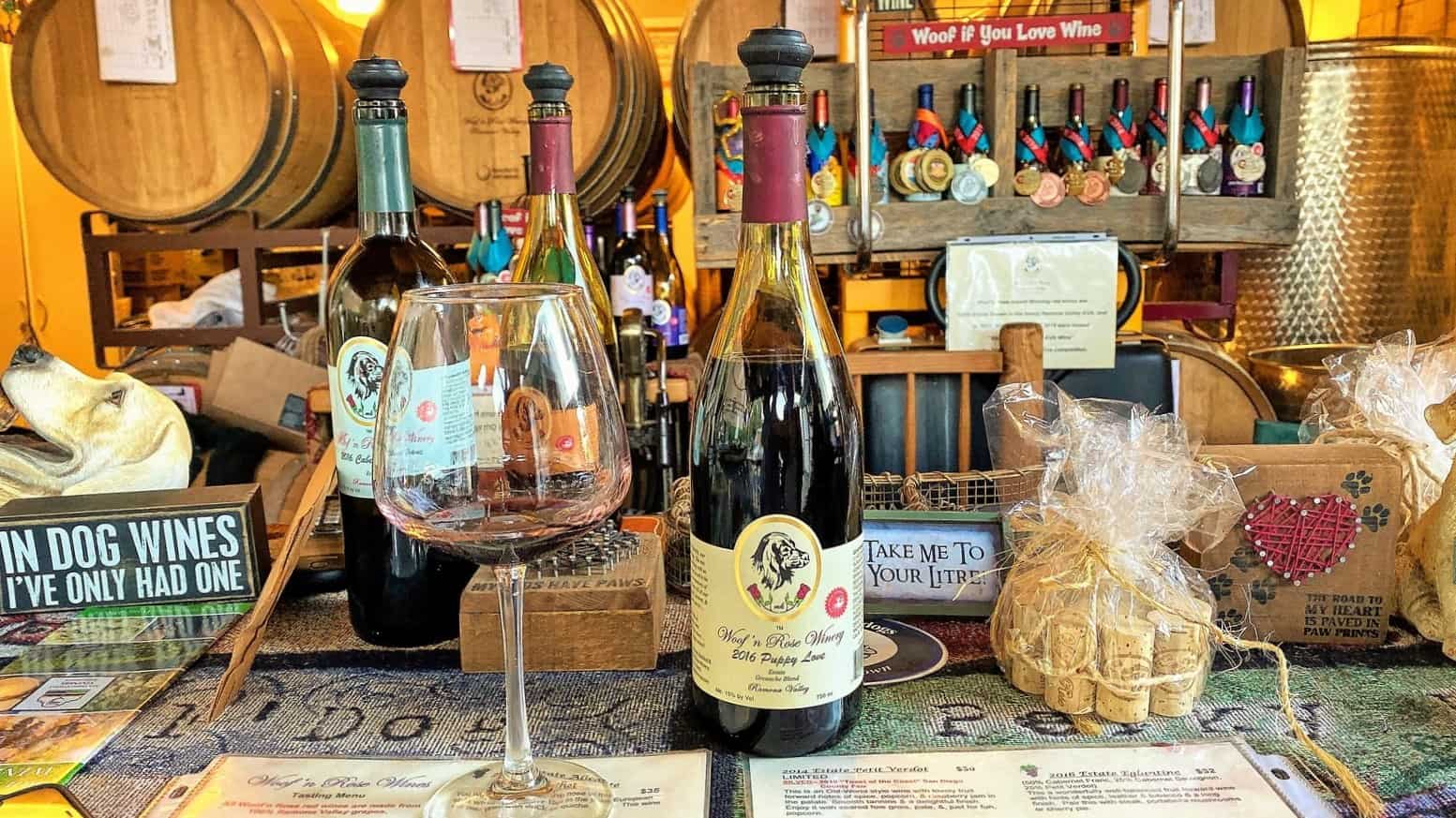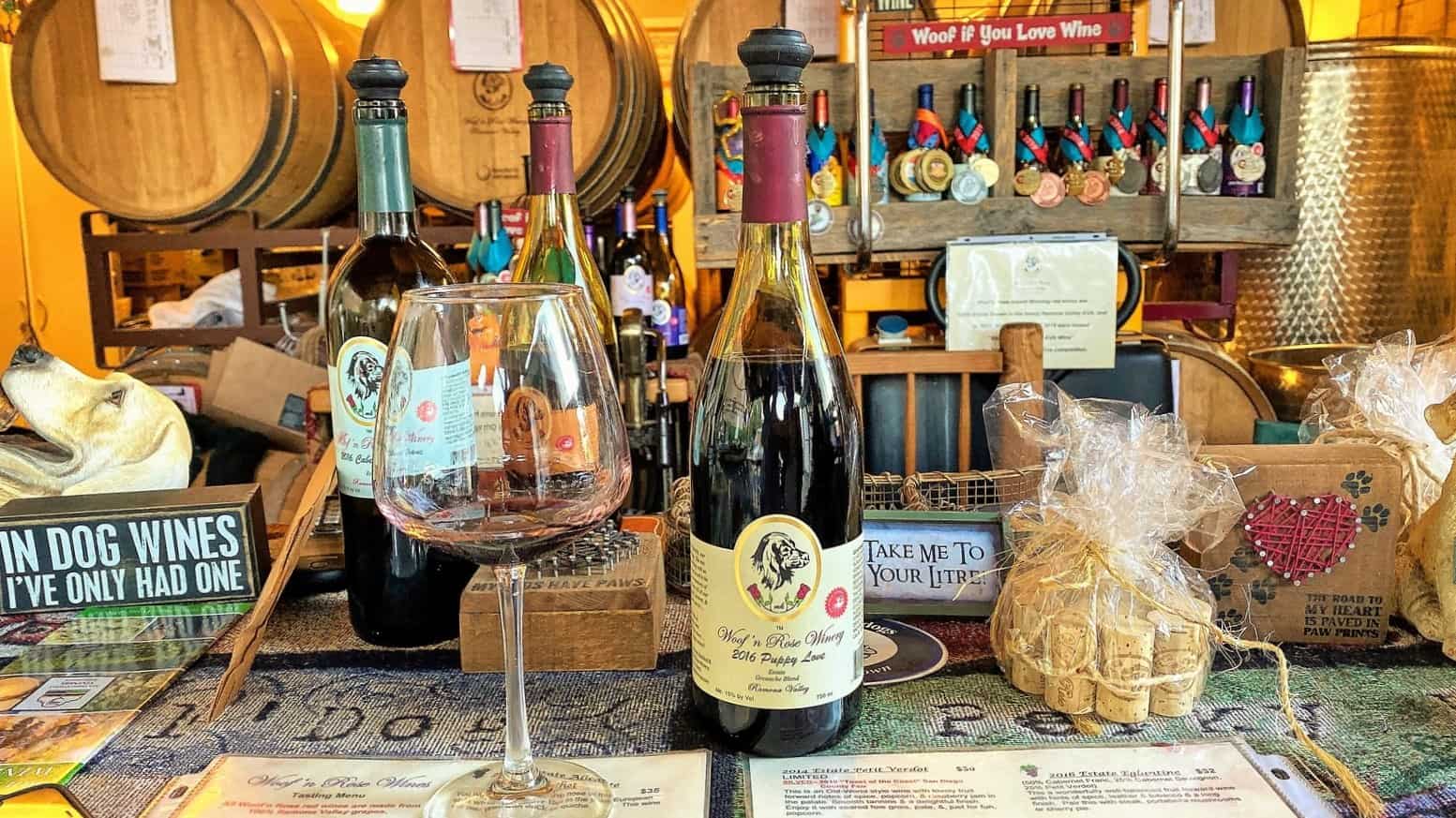 San Diego Wine AVAs
You may not know, but there are about 200 AVAs in the U.S. Three of them are in San Diego County. The largest of these, the South Coast AVA, stretches from Malibu to the Mexican border. Contained within this vast area are several smaller AVAs, two of which are in San Diego County. The older of the two, the San Pasqual Valley AVA, is one of the oldest AVA designations in America. San Pasqual is about 9,000 acres of total area and located on the banks of the San Diego River near Escondido, California. The other local designated area is the Ramona Valley AVA, which is about 89,000 acres, surrounding the town of Ramona.
As we said above, San Diego's Mediterranean climate, characterized by hot days, cool nights and ocean breezes, plays an essential role in making San Diego a phenomenal place for grape growing. France's Rhone varietals like Syrah, Petite Syrah, Marsanne, Roussanne as well as Southern Italian varieties like Sangiovese, Montepulciano, and Barbera grow well here.
In addition to San Diego wine, there are many other great activities, some one-of-a-kind, to do in San Diego. If you want an authentic taste of San Diego, you must visit the wine region and spend some time in the city downtown.
The Wineries We Visited and Loved
First, we want to introduce you to the wineries that we visited and recommend you visit. We think the San Diego wine region is a hidden gem. Most of the wineries are small, family-owned, and operated. So you will get a chance to talk to the owners and winemakers. If you ever dreamed of owning a winery, San Diego wineries seem more obtainable than wineries in most wine regions. We rekindled our dream of opening a small winery while we were there.
From Hobbyists to Boutique Winery at Highland Valley Vineyards
The first winery we recommend is Highland Valley Vineyards. Highland Valley Vineyards is a boutique micro-winery nestled on the edge of the gorgeous Highland Valley and San Pasqual Valley in the San Diego foothills. This hillside vineyard grows Bordeaux variety grapes producing award-winning, robust red wines.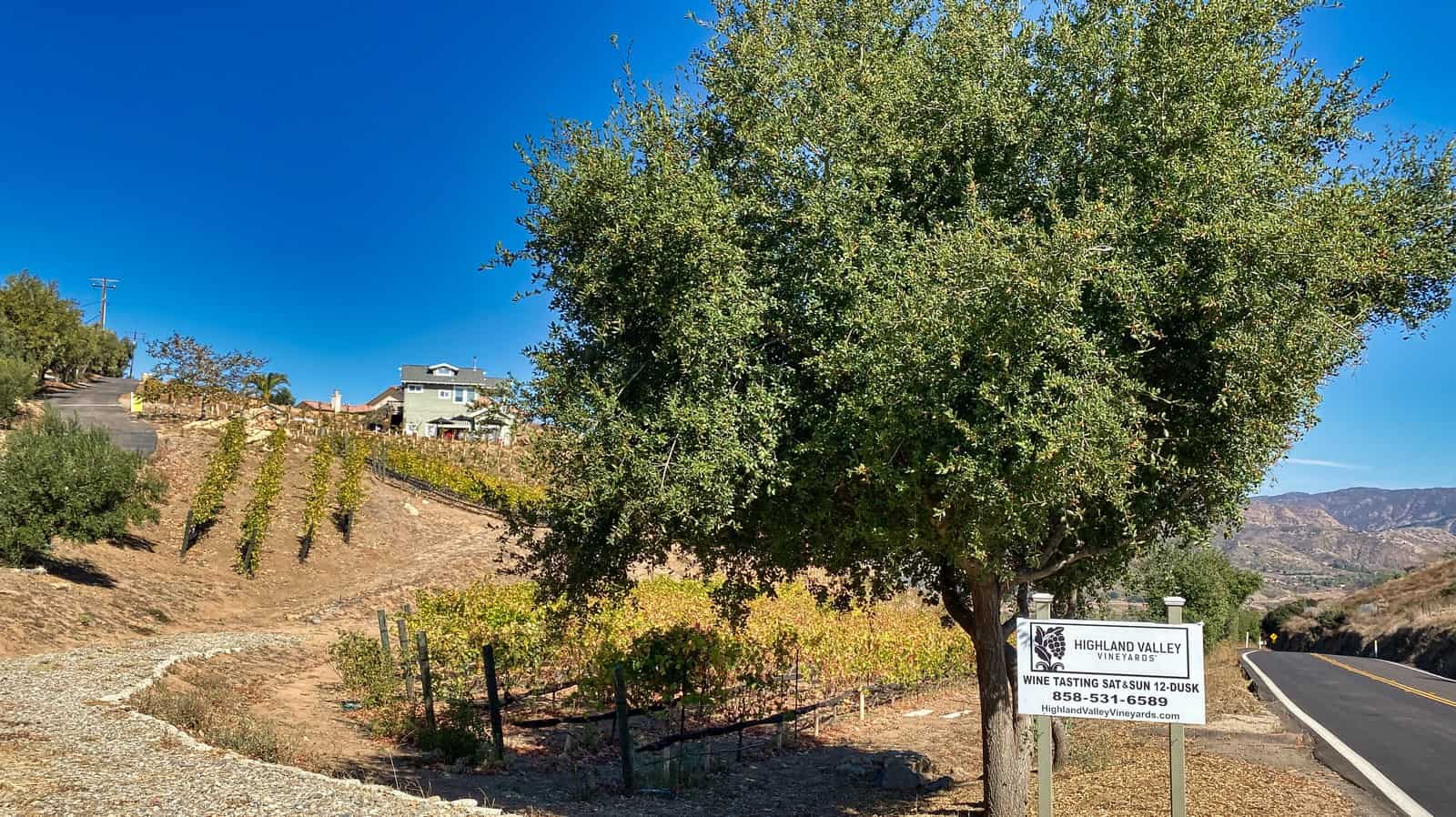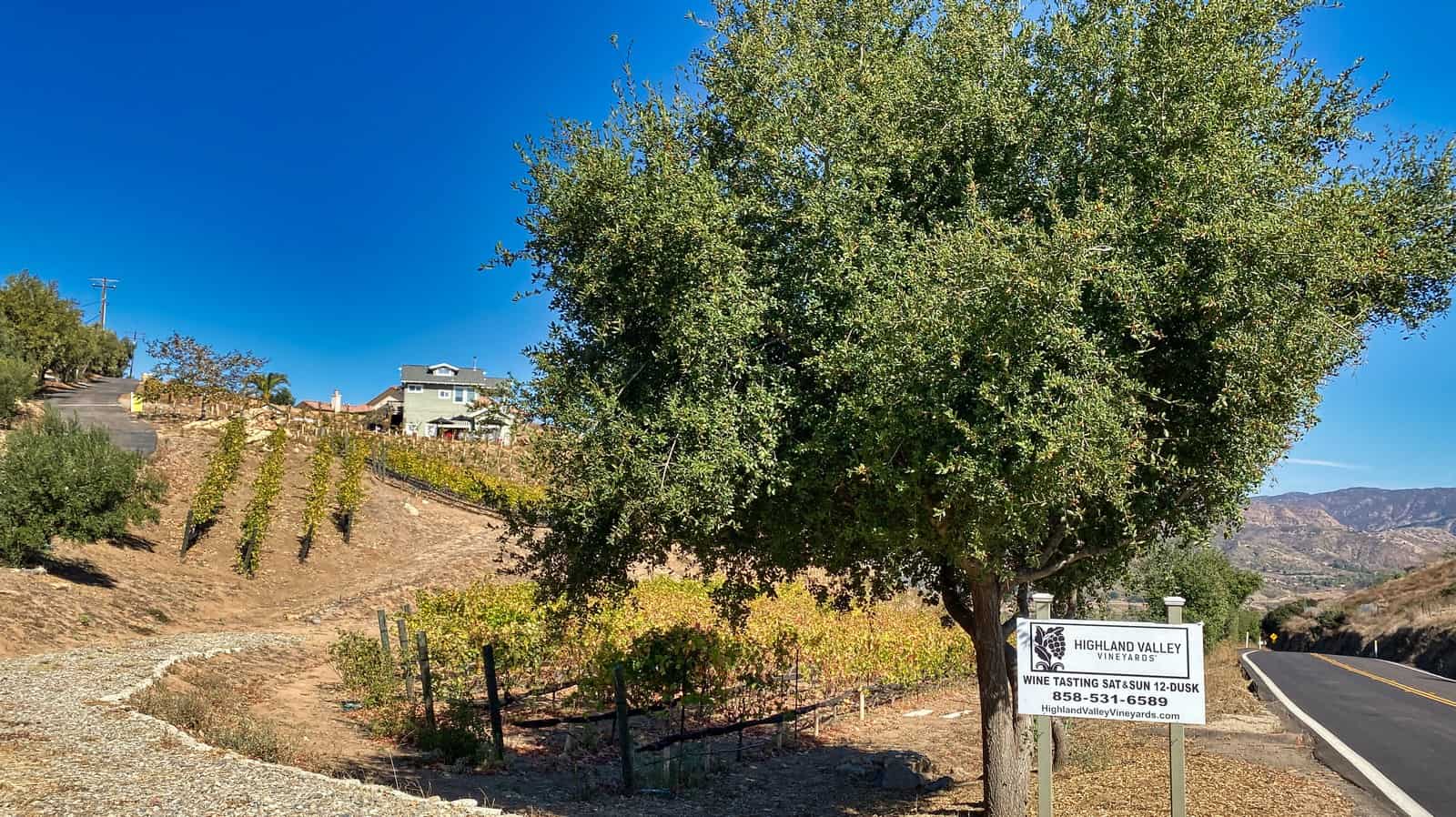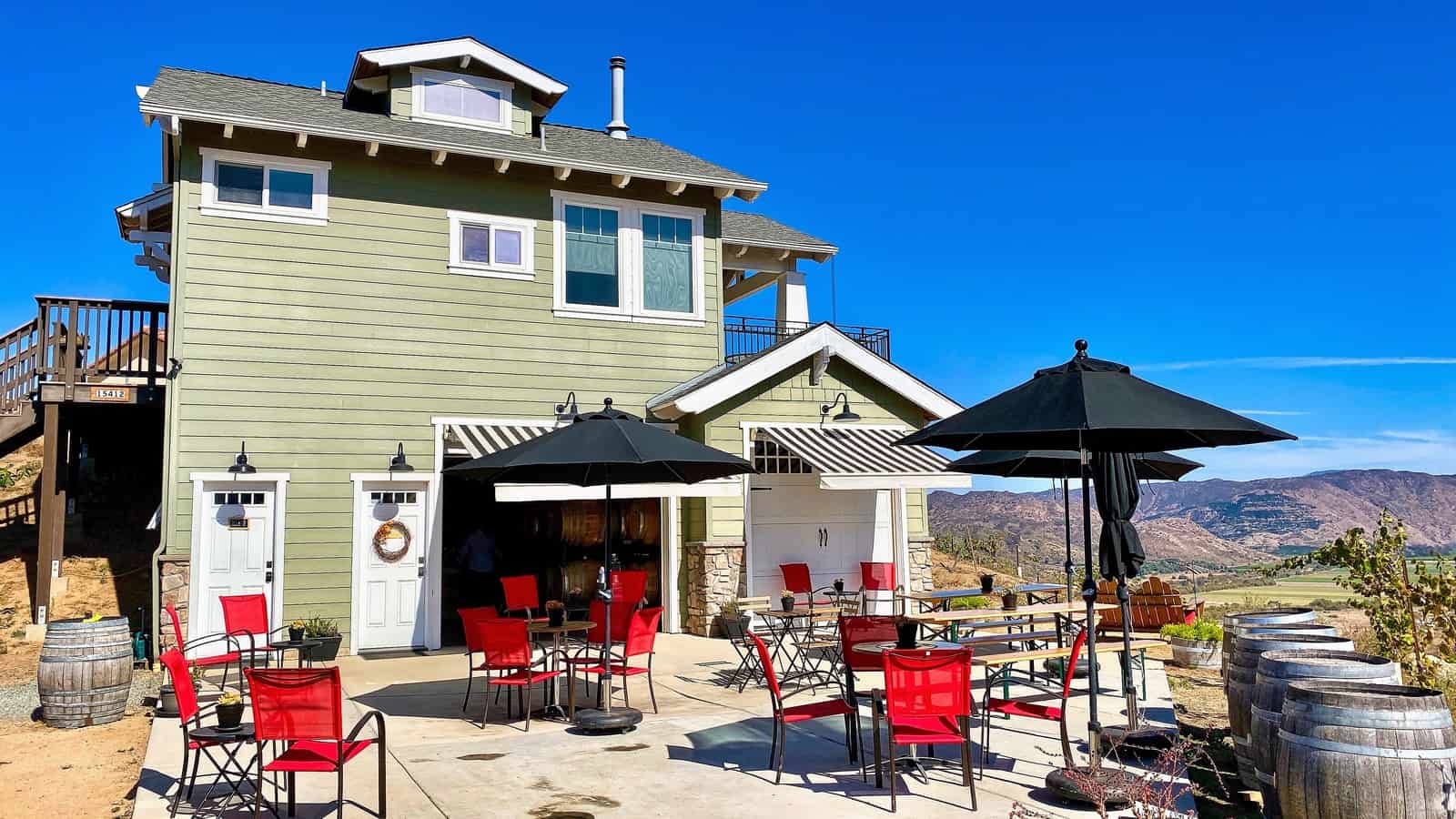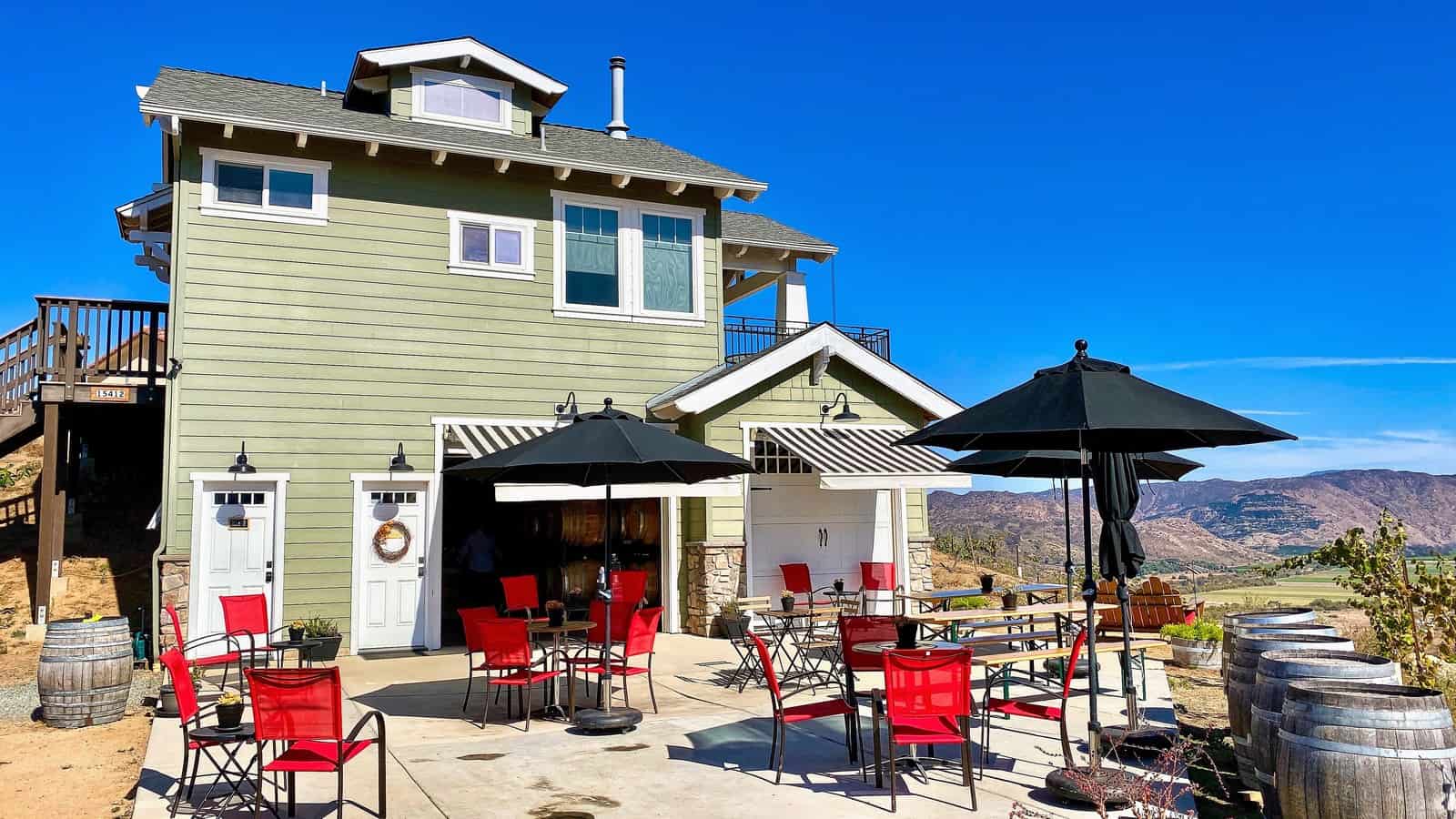 The vibe at Highland Valley is casual. You can taste at the tasting counter inside or enjoy your wine at one of the outdoor tables with cute red umbrellas that provide sun protection. Highland is the kind of place to spend the whole afternoon.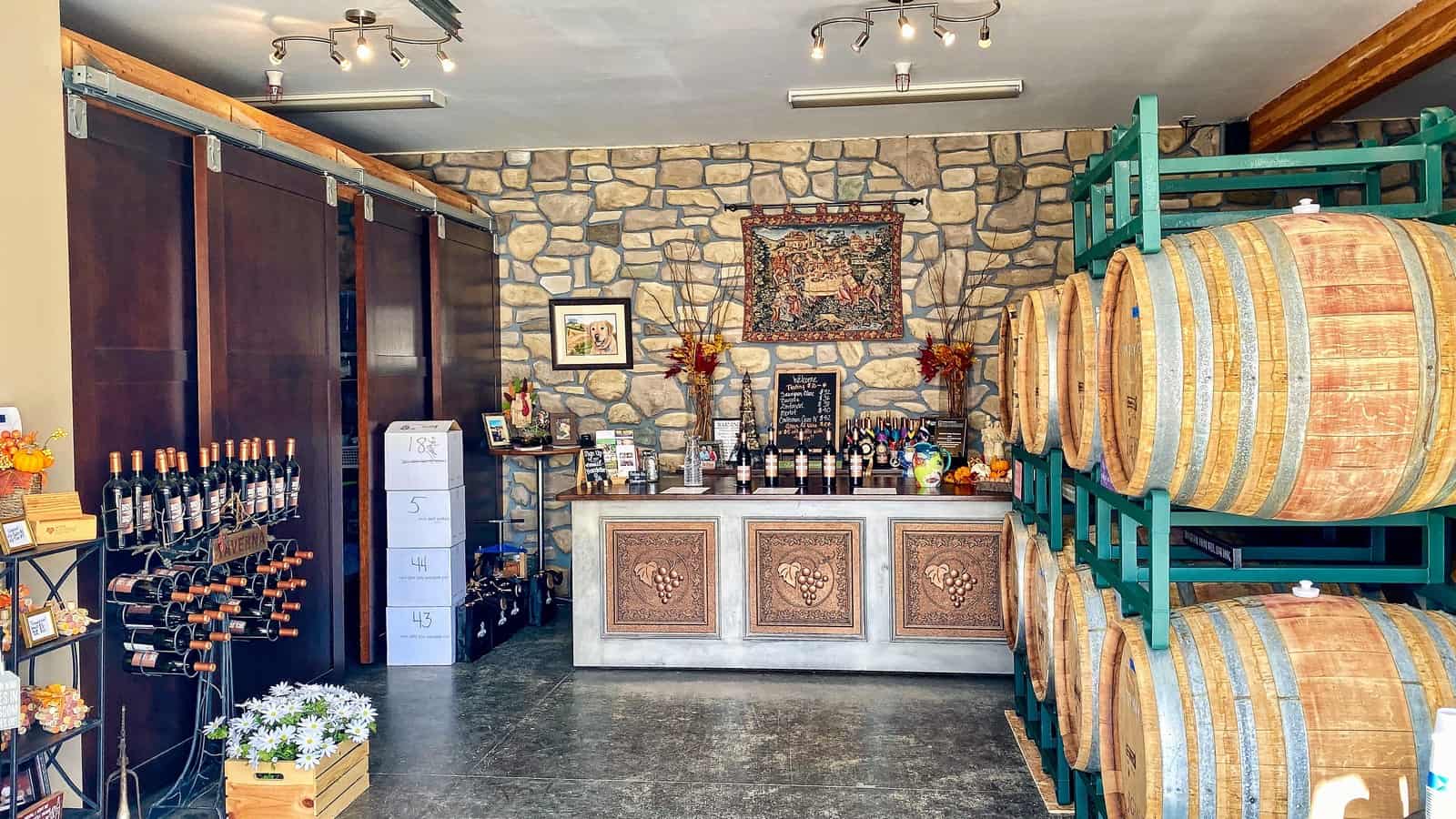 We met and tasted wine with Ray and Jeannine, the owners and winemakers of Highland. Their story begins as a landscaping project. They bought Zinfandel vines to plant alongside their home. Once they were producing grapes, they bought the equipment and became hobbyist winemakers. Then Ray attended classes at a local community college and from UC Davis.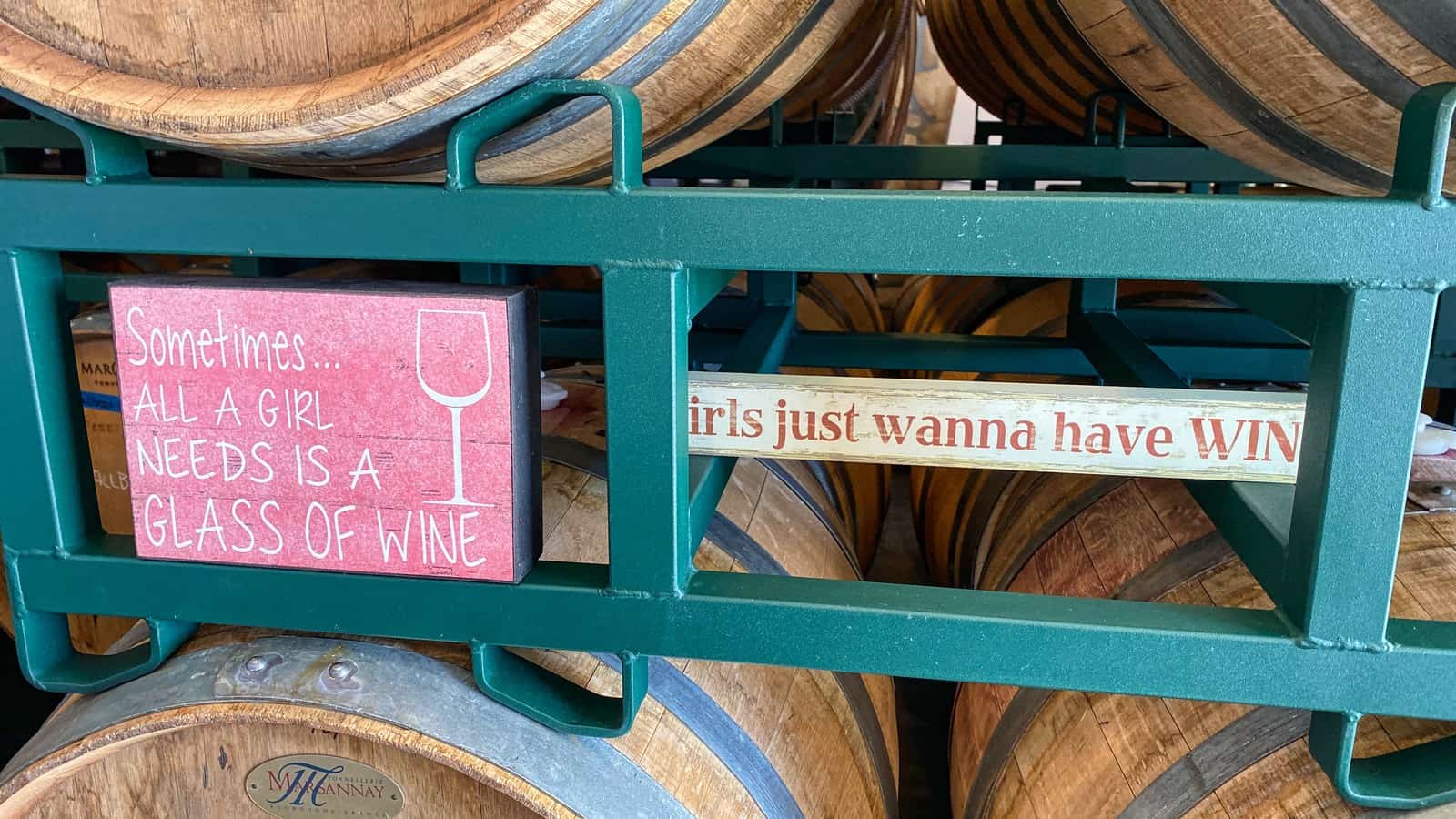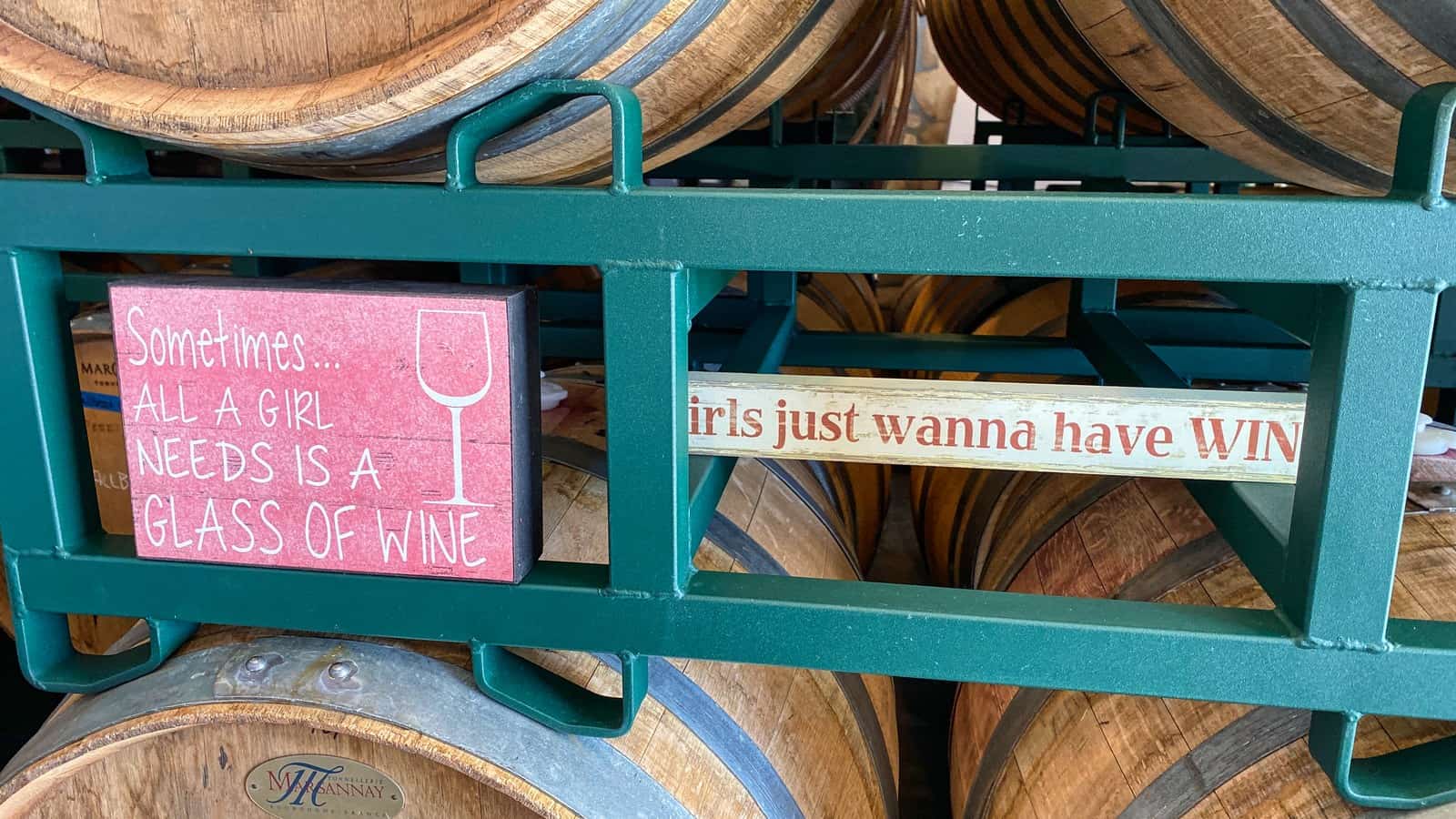 In 2009 they began building Highland Valley Vineyards, and since grapes have grown on the land for about 100 years, as a nod to the era, they made the winery in 1920s craftsman-style.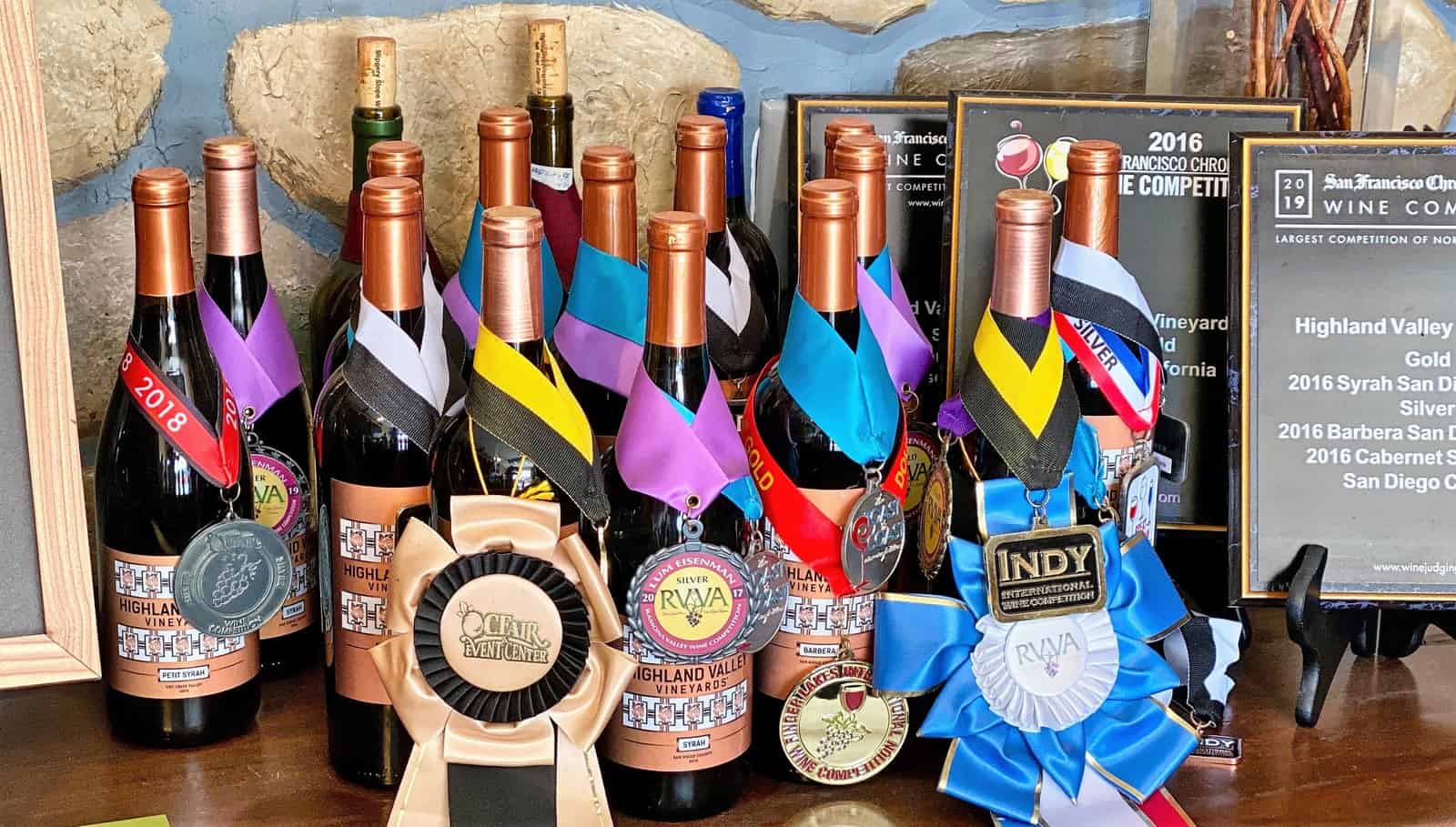 Our favorite was the Craftsman Cuvee. We liked it so much we brought a bottle back to Ecuador with us. We enjoyed it even more here at home since we can't get California wines in Ecuador.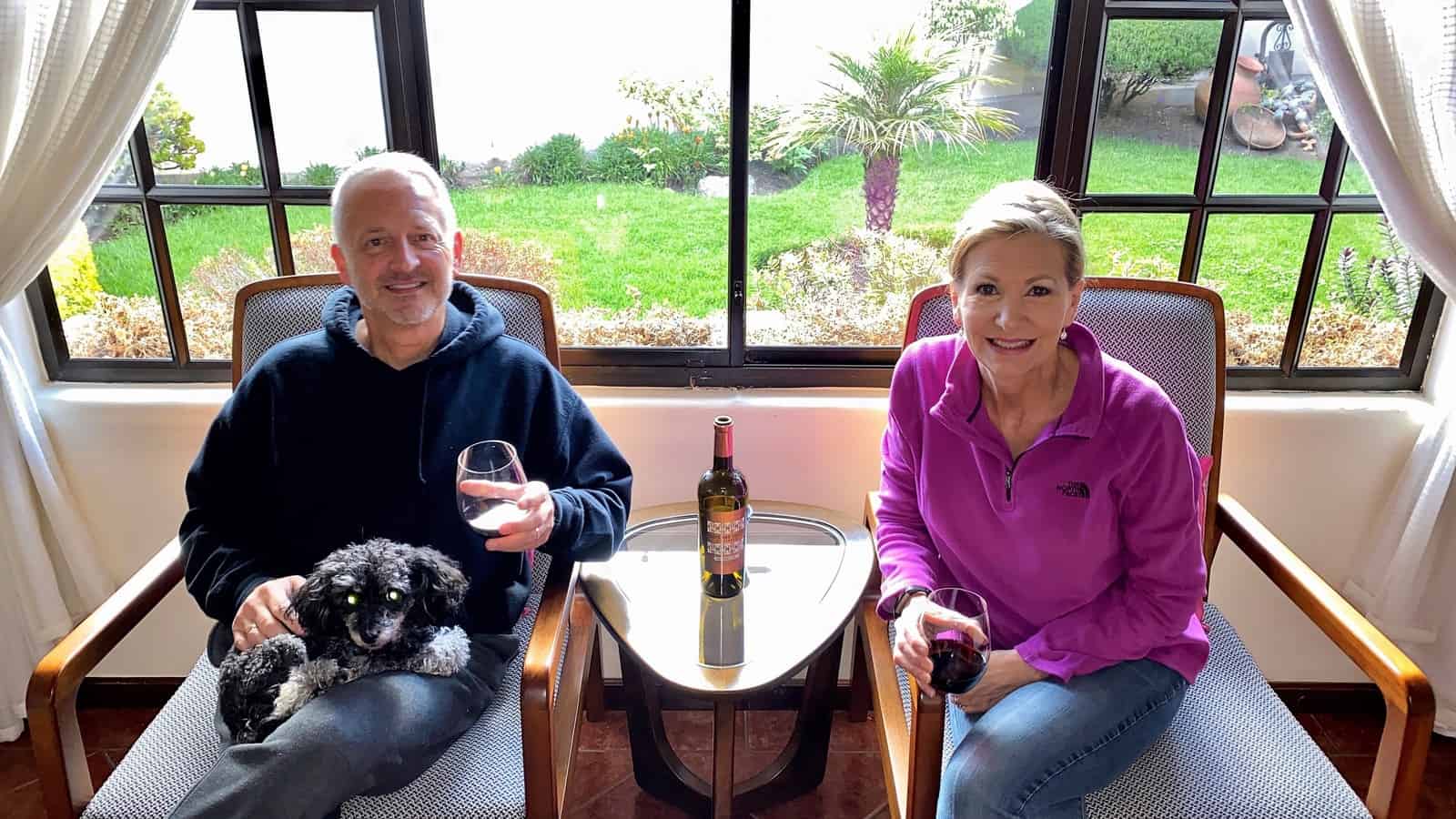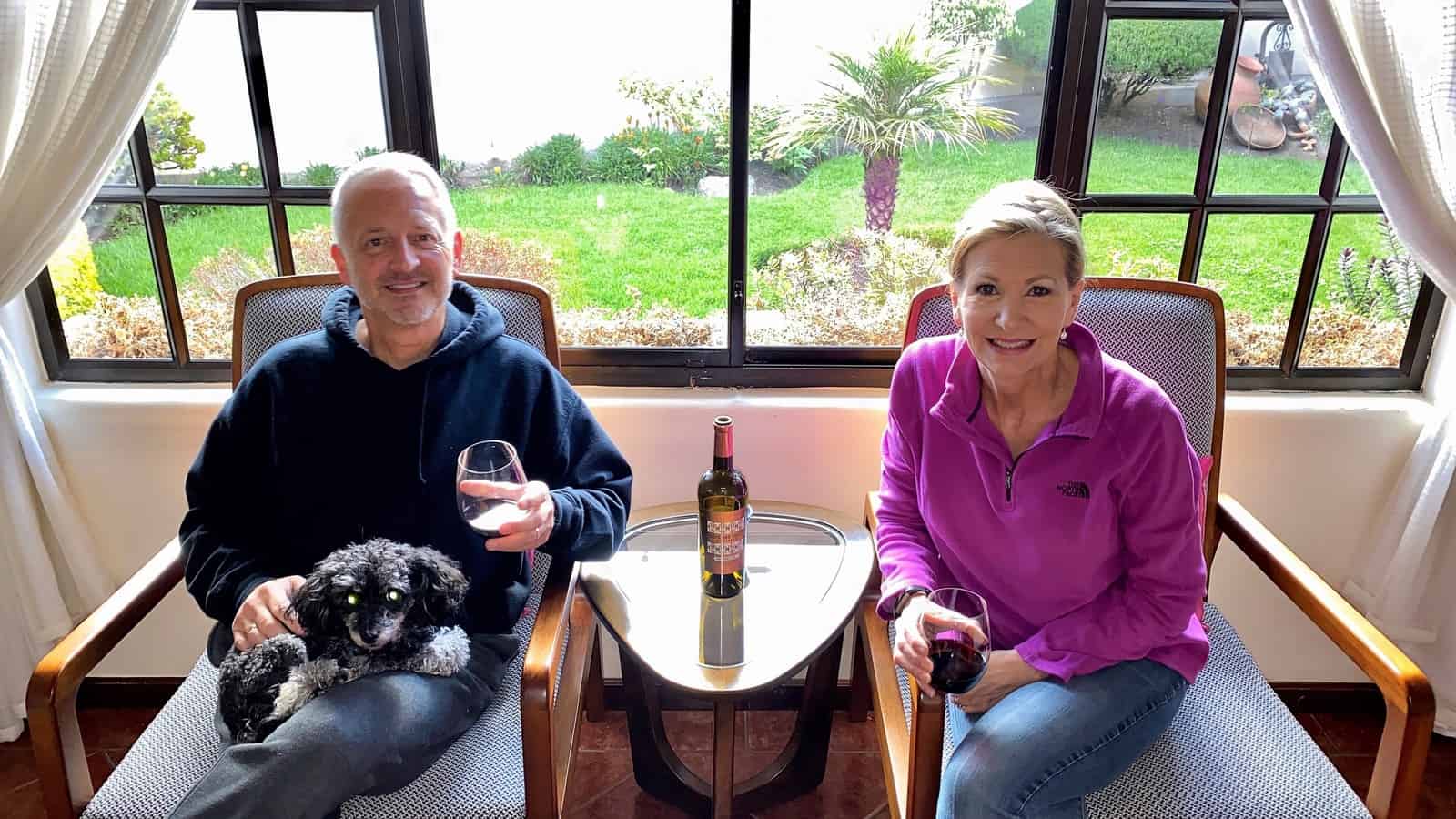 Shop, Dine and Taste Wine
After Highland Valley, head to Bernardo Winery in the small town of Rancho Bernardo for a fantastic lunch and great wine. Bernardo Winery is San Diego's oldest winery, Bernardo is way more than a winery. Its a village of one-of-a-kind shops, a restaurant, a coffee house, and beautiful gardens. Bernardo is also family-owned; for three generations, the Rizzo family has produced wines at the Bernardo Winery using San Diego grapes.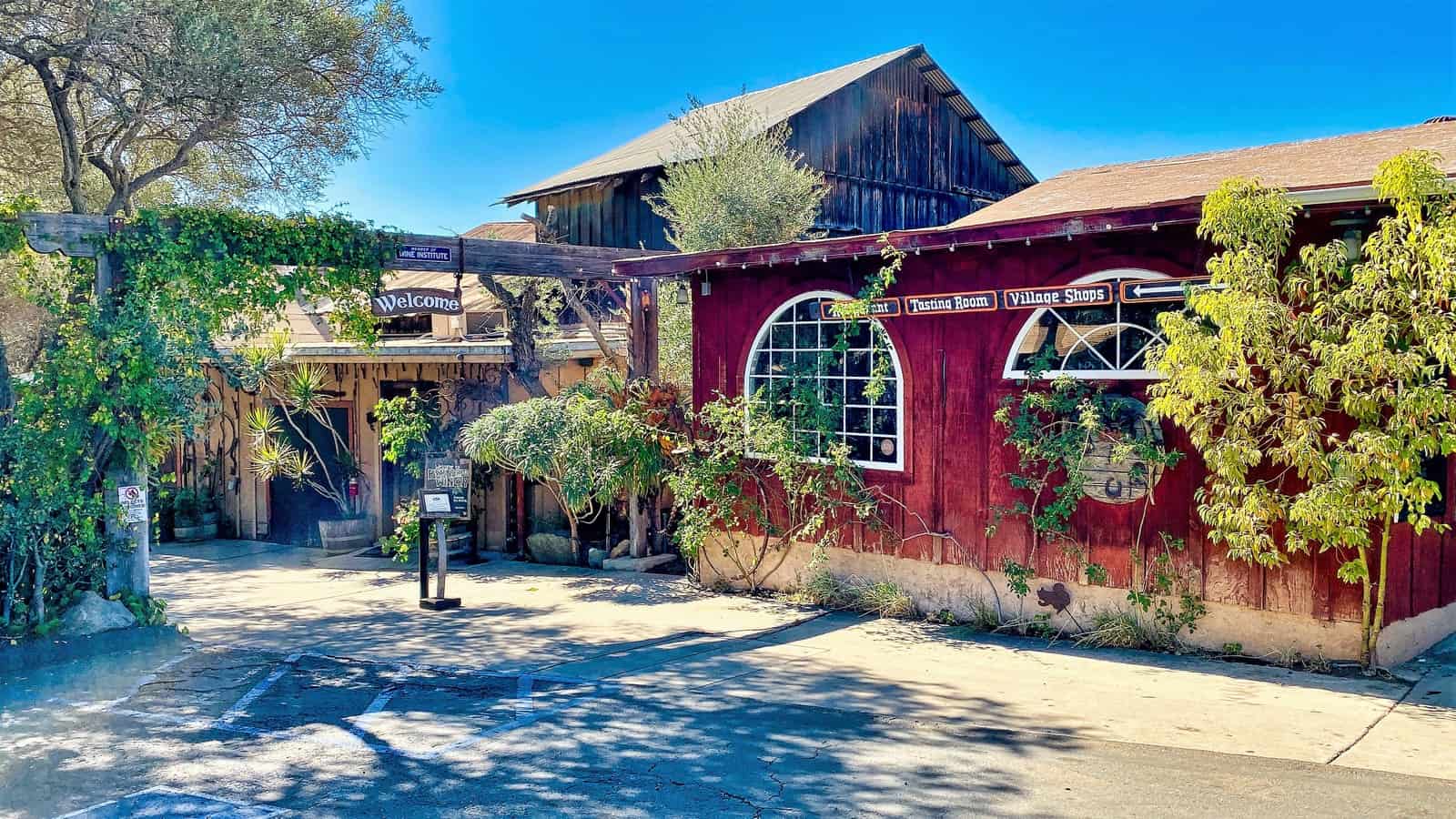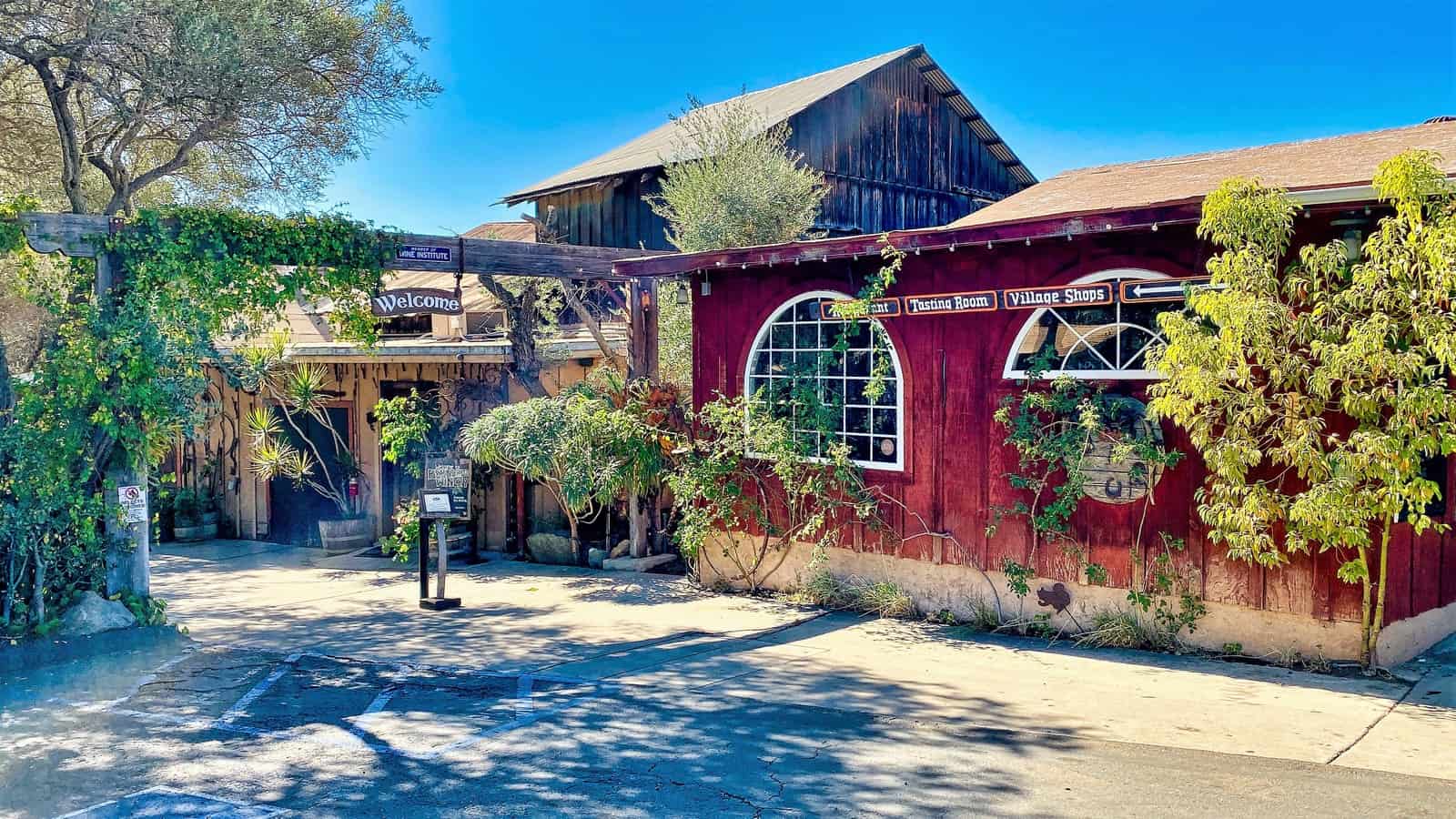 The missionaries established Bernardo's early San Diego wine production. And in time, they moved into growing Italian varietals as well as Spanish and French varietals. Today a centuries-old barn has been updated into a modern winemaking facility.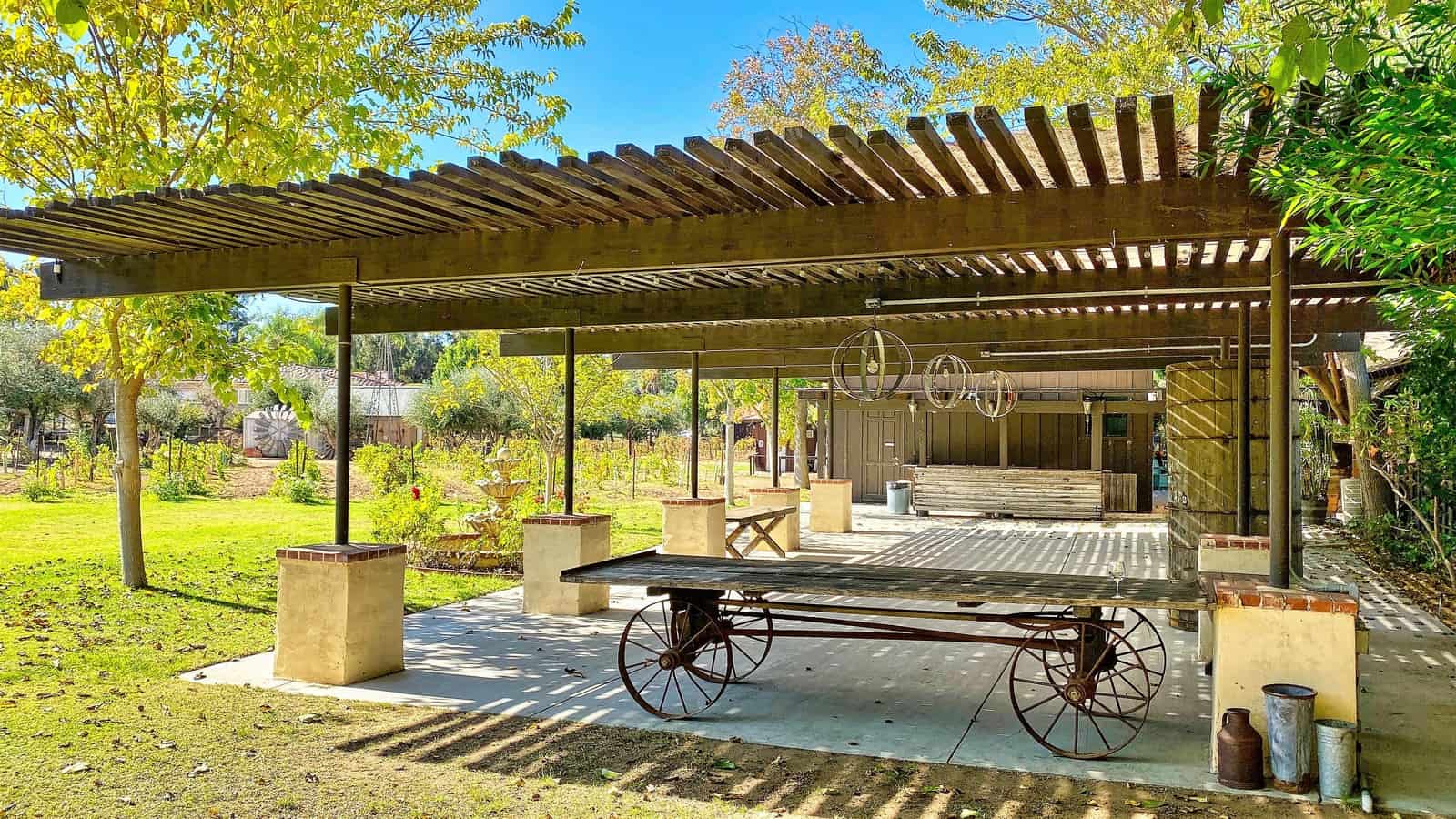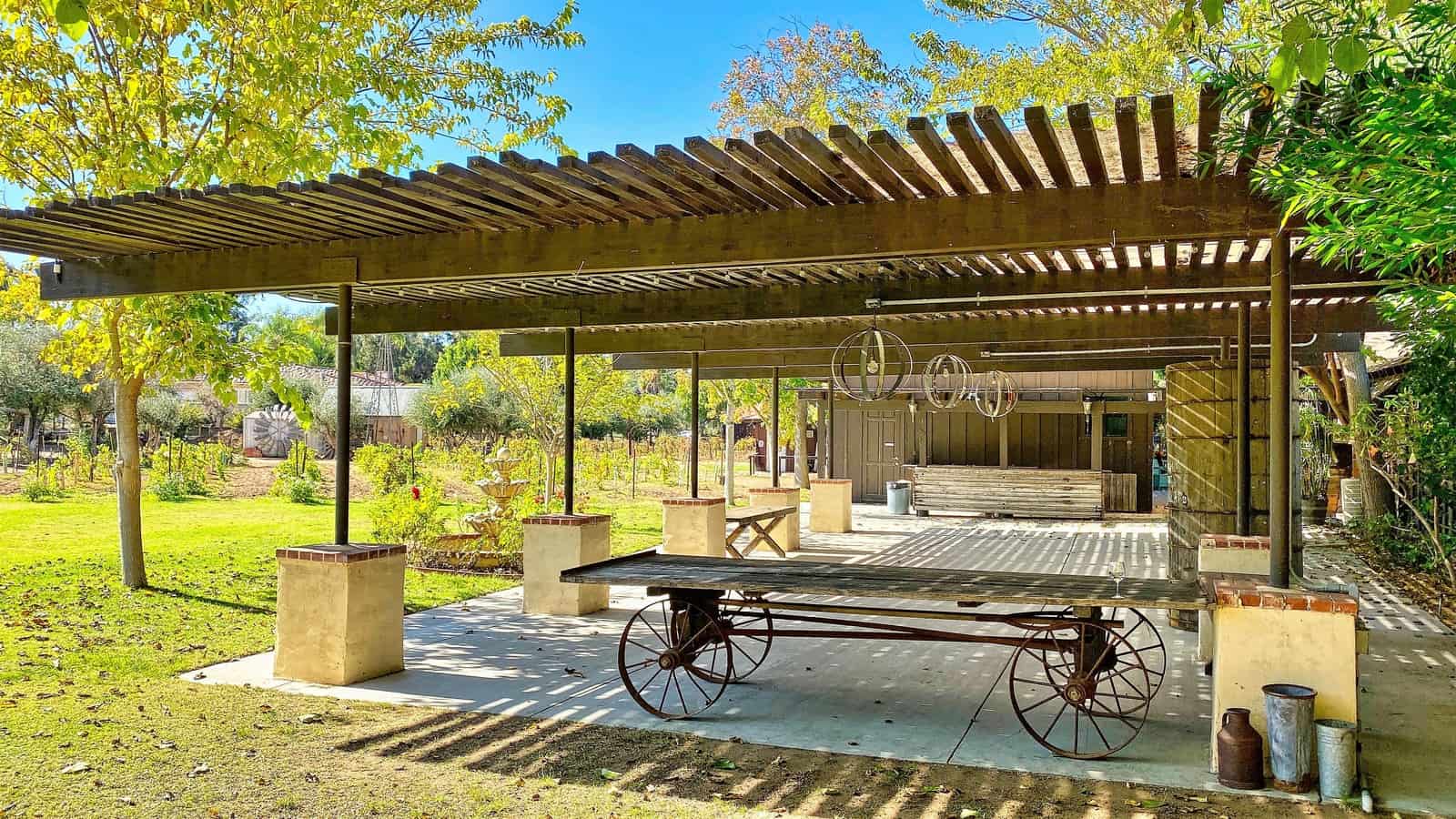 You want to go to The Bernardo Winery Kitchen for lunch. Our lunch was terrific. Ross Rizzo, the winemaker, and the owner had lunch with us and afterward took us on a tour of the shops and grounds.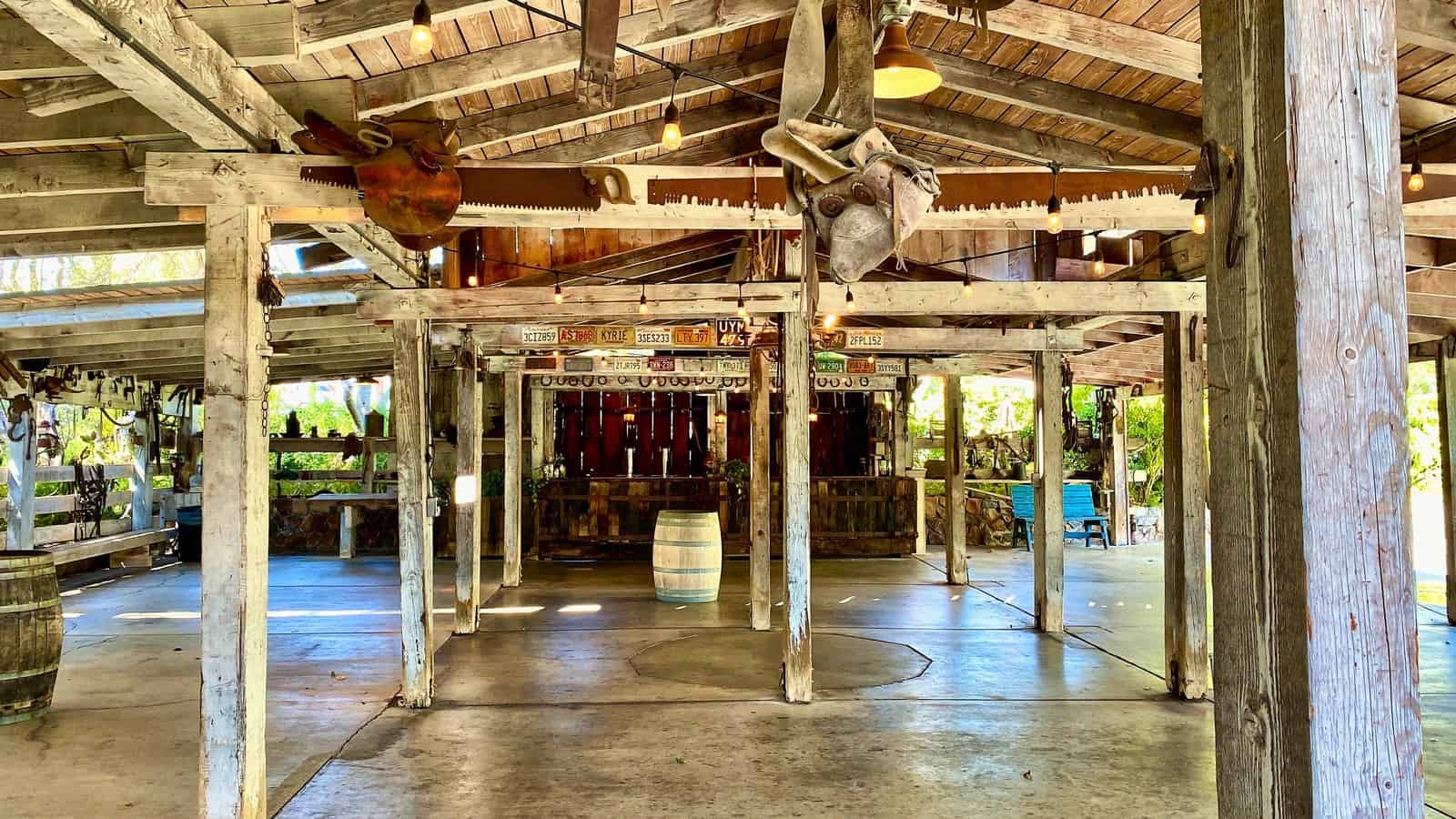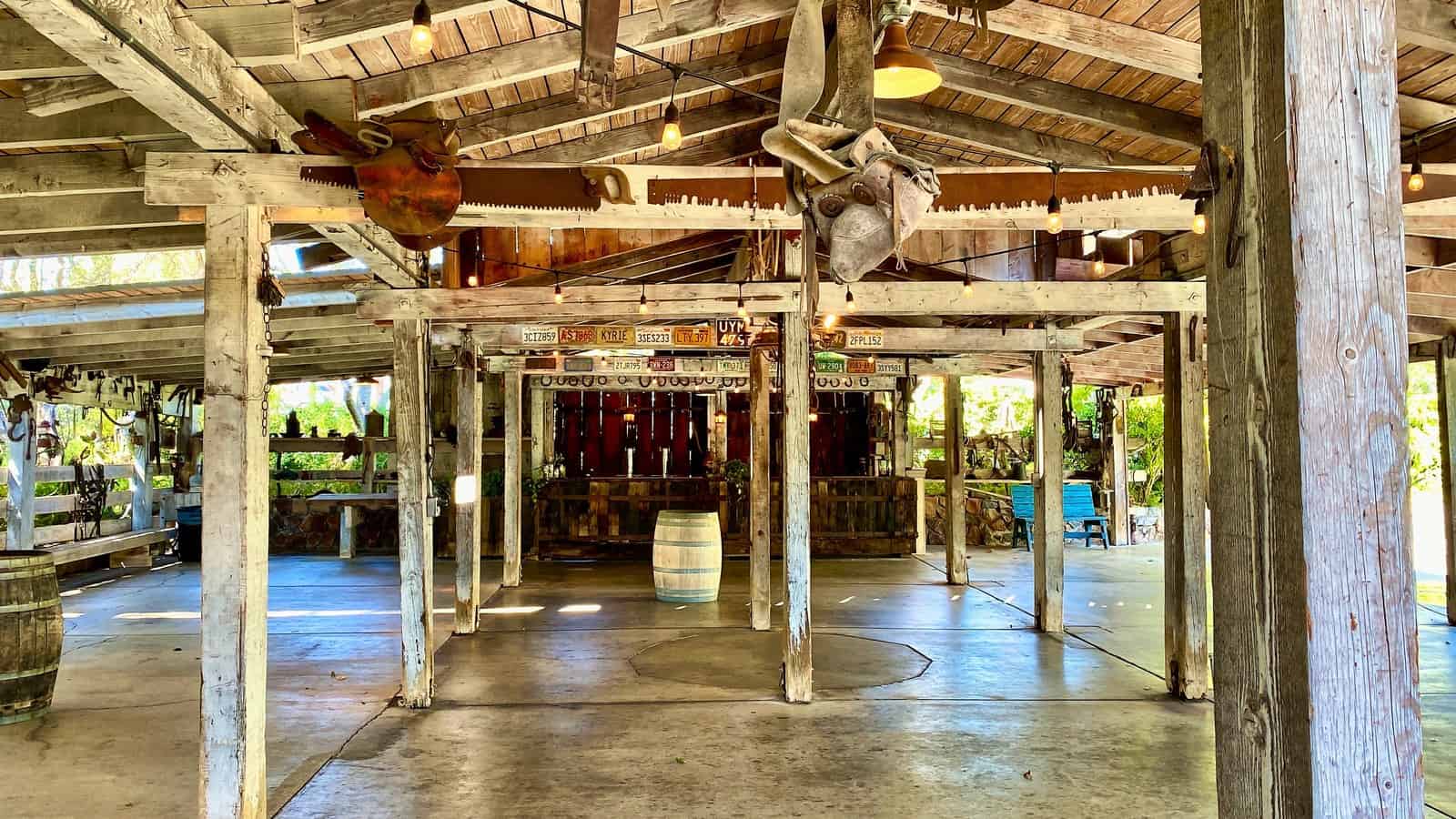 We started with a tasty hummus, olives, and crostini appetizer. Then, Keith had a Spring Basil Pesto Chicken, and I had a vegan Tomato Sugo Pasta and a salad. Everything was so good. They make their pasta fresh each day.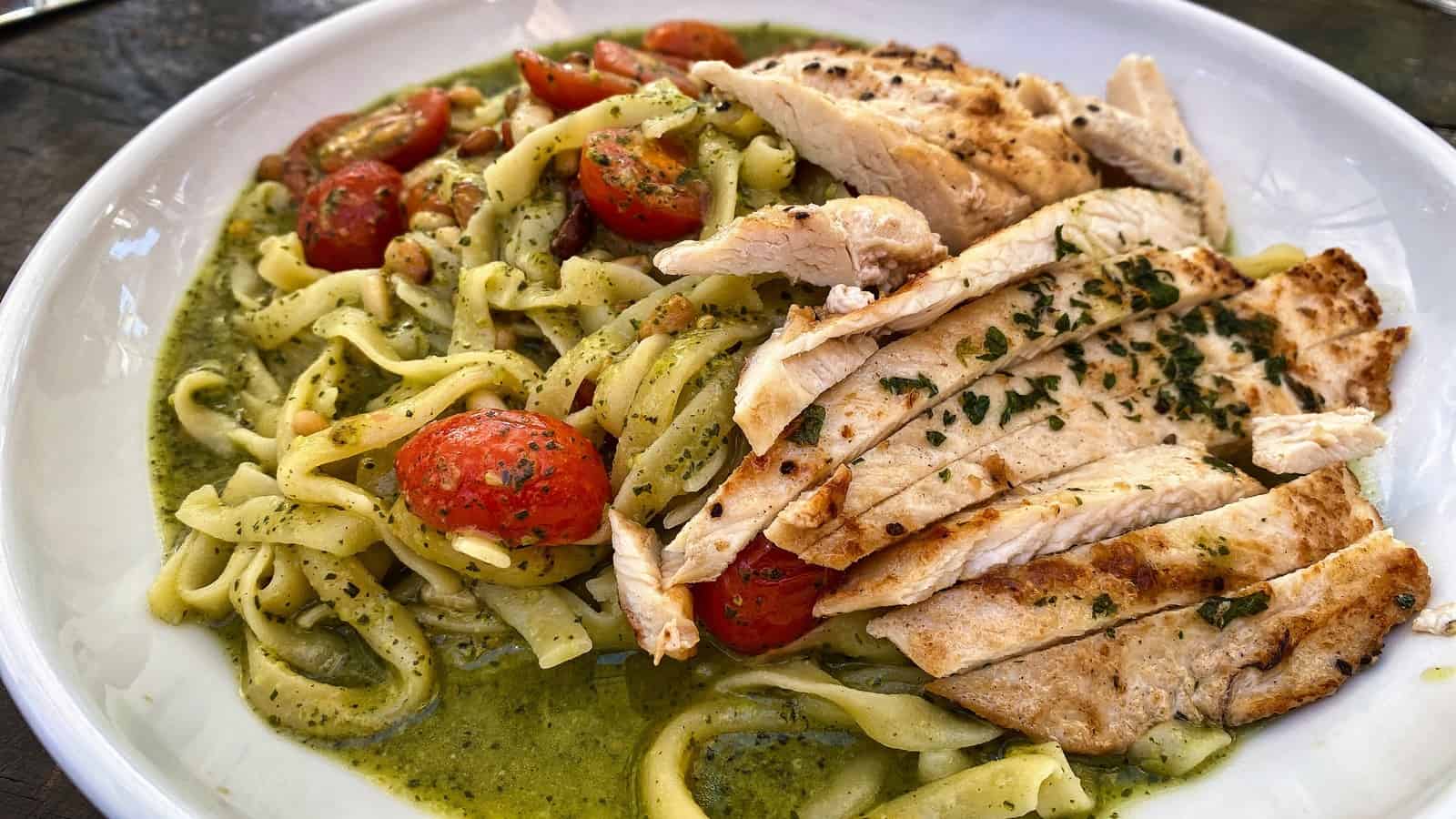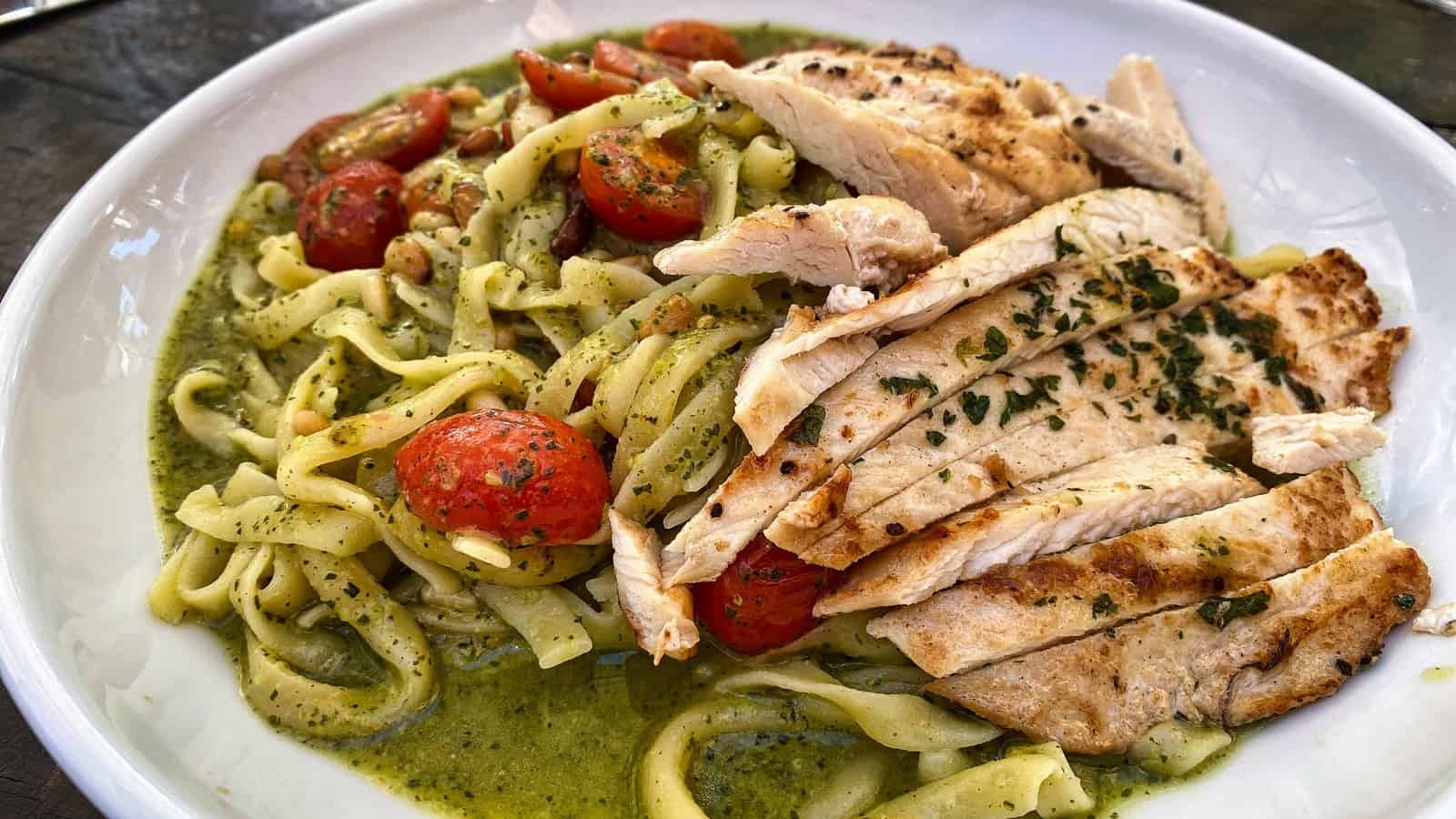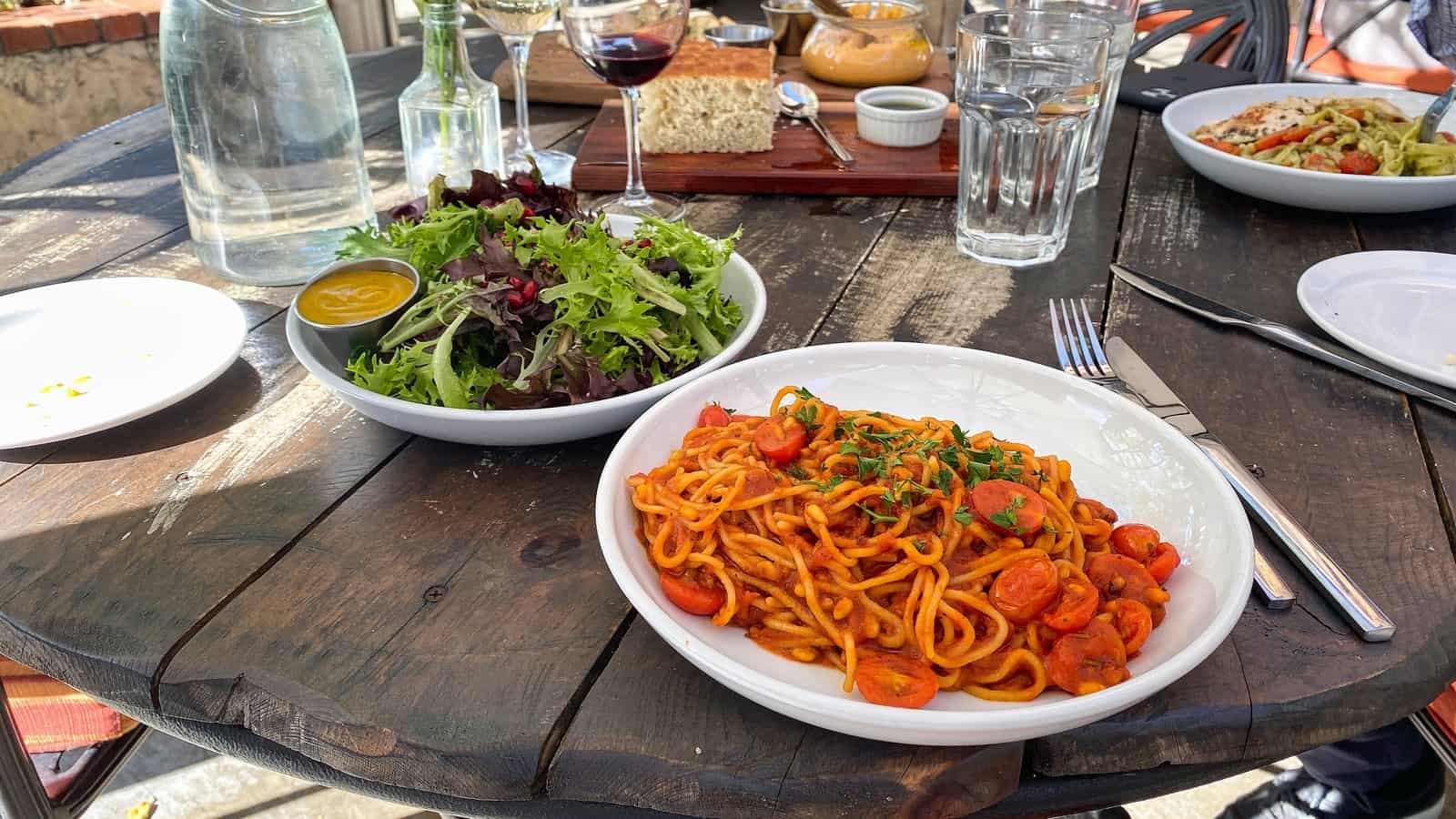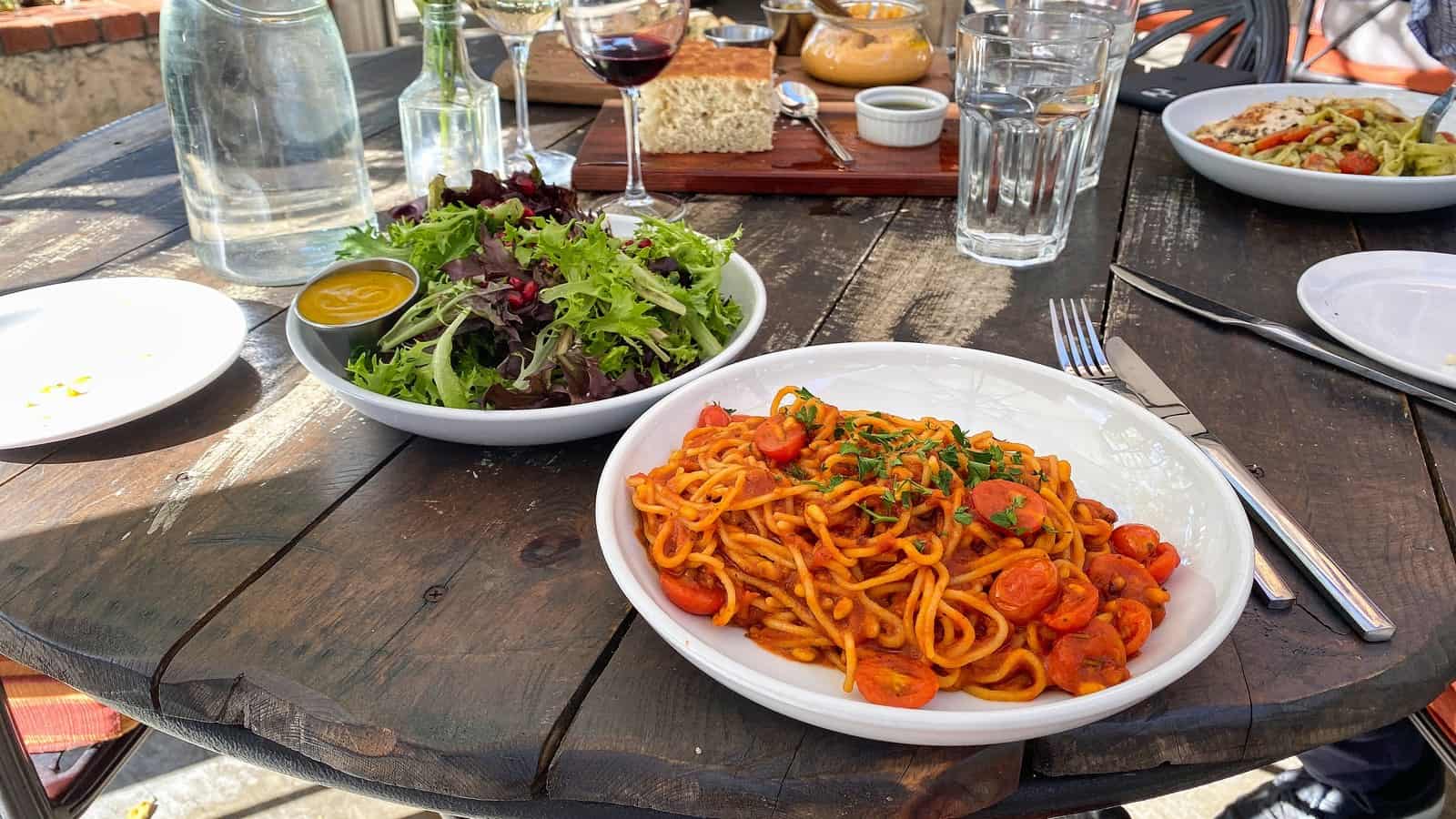 To finish off a fantastic lunch, Ross treated us to a glass of one of his vintage Ports. And it was fantastic.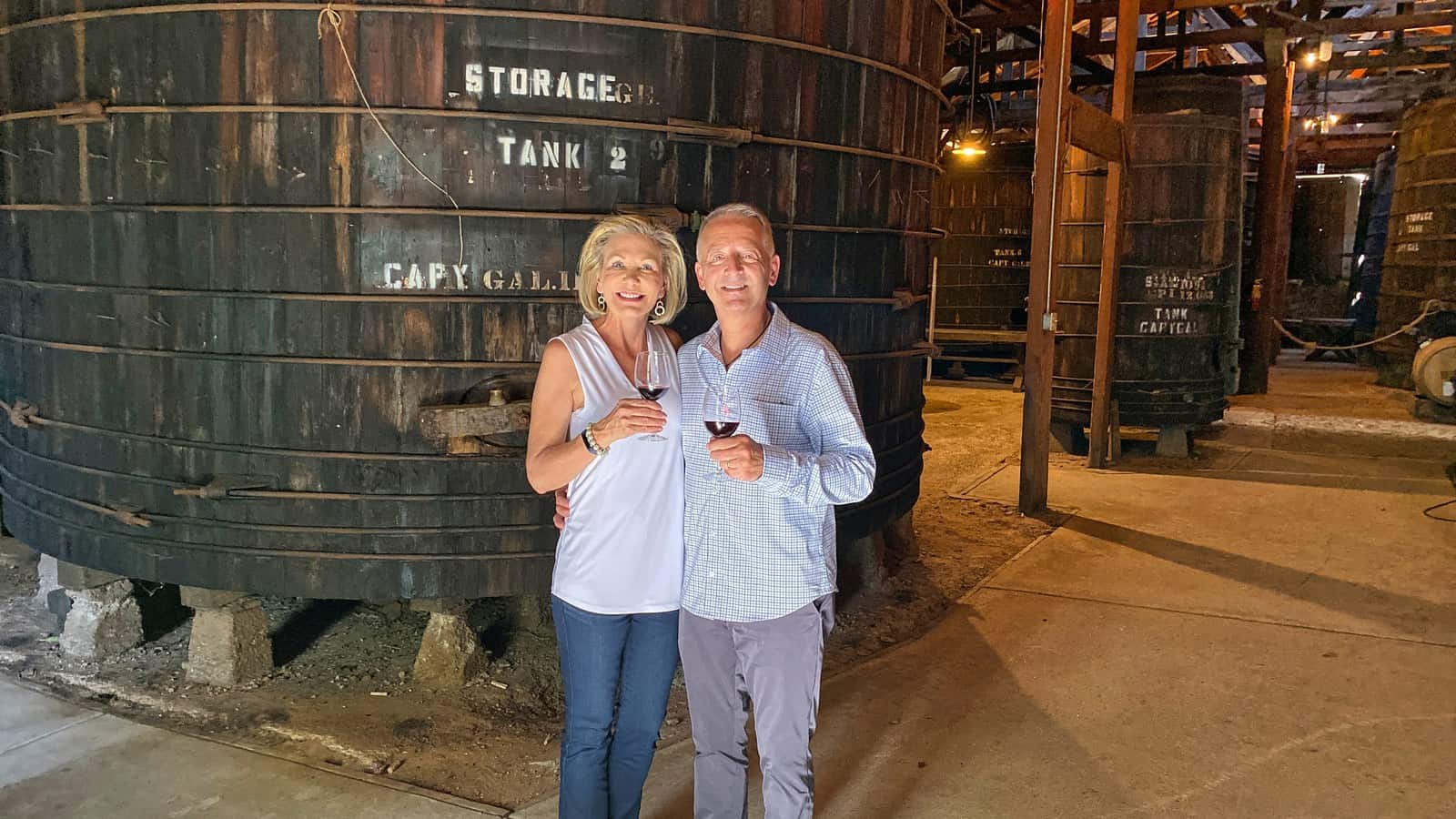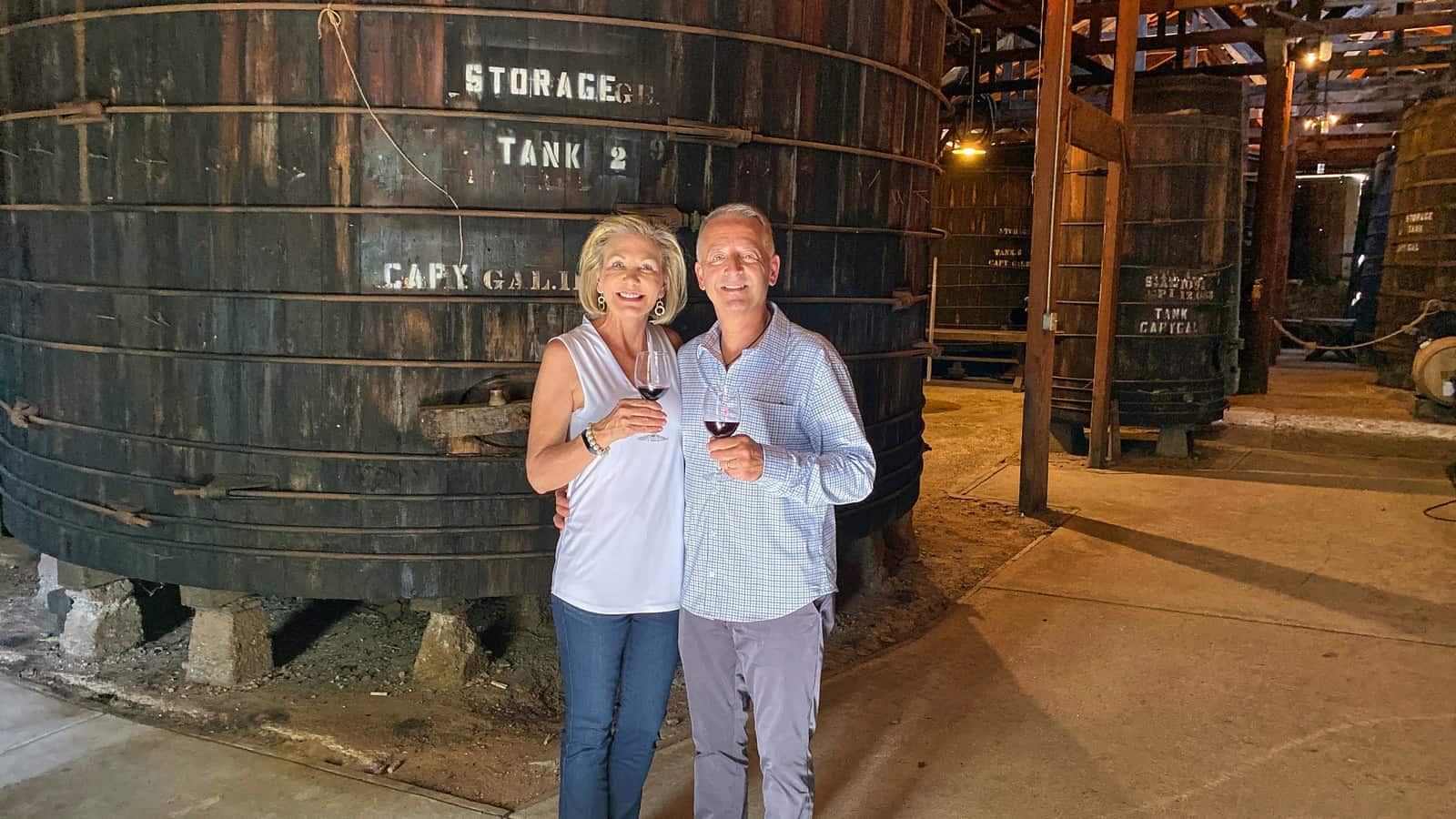 Hungry Hawk
Next for San Diego wine head to another boutique winery in the San Pasqual Valley, Hungry Hawk Vineyard. Hungry Hawk, owned by Ed and Jeannine Embly, opened their tasting room 2014. The winemaker is Ed and Jannine's son Mike. Embly uses a mix of American, French, and Slovakian oak to bring out different characteristics in his wines.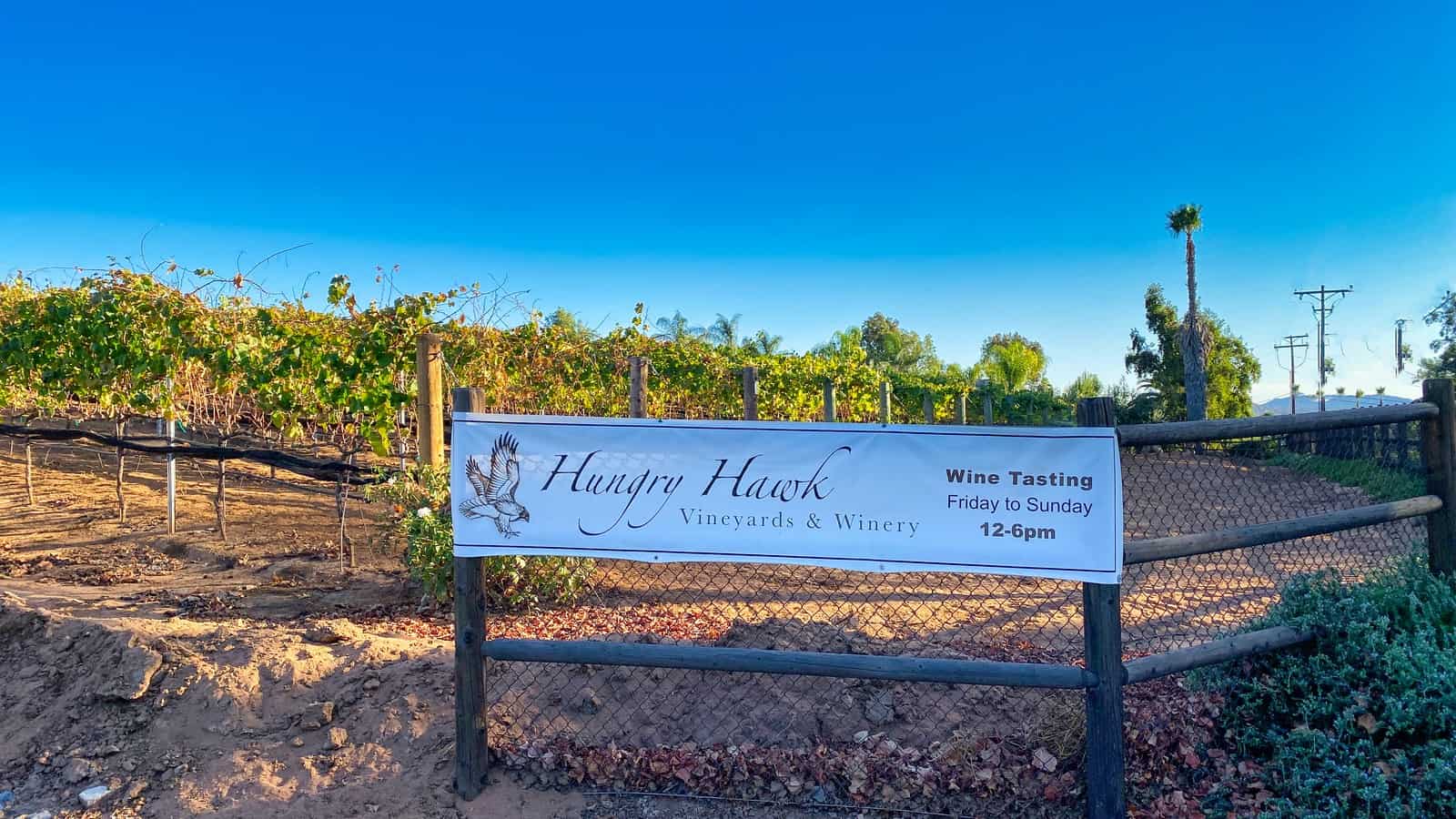 We tasted wine with Ed. The vineyard grows 15 varietals. The red varietals include Cabernet Franc, Cabernet Sauvignon, Grenache, Malbec, Merlot, Mourvèdre, Petite Sirah, Sangiovese, Syrah Noir, and Tempranillo. The white varietals are Albarino, Chardonnay, Pinot Gris, Sauvignon Blanc, and Viognier. Additionally, Hungry Hawk makes a blueberry wine.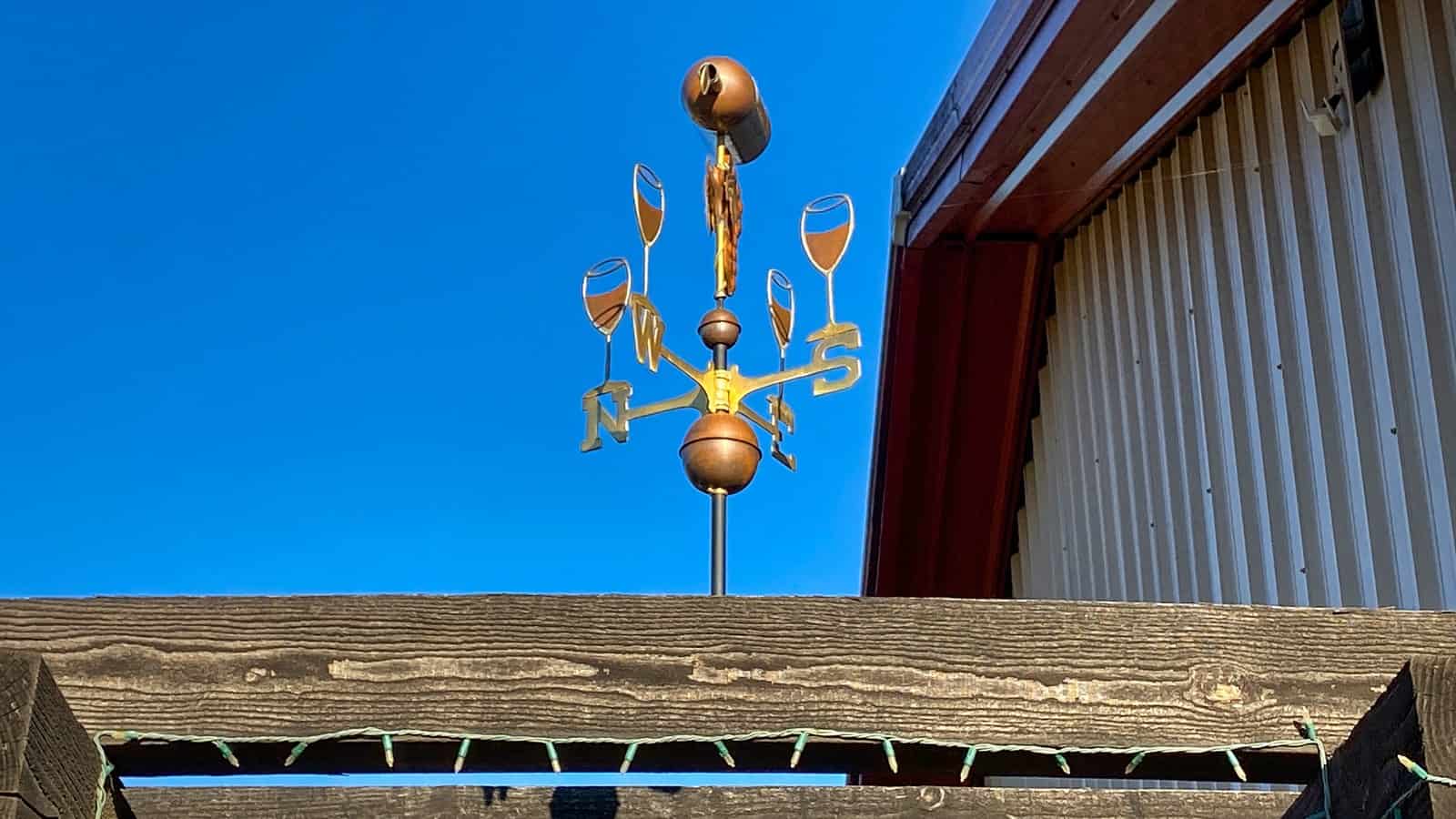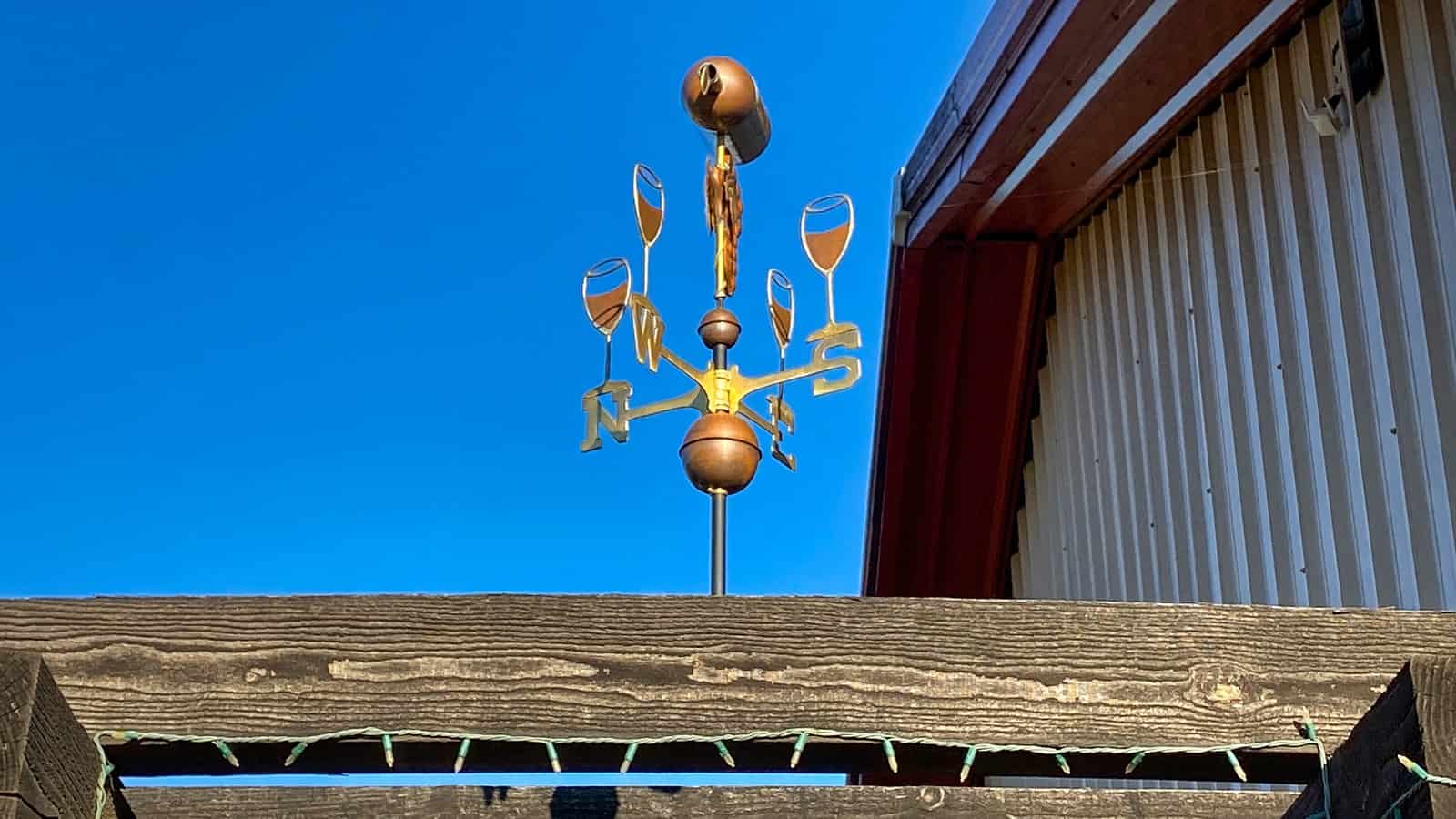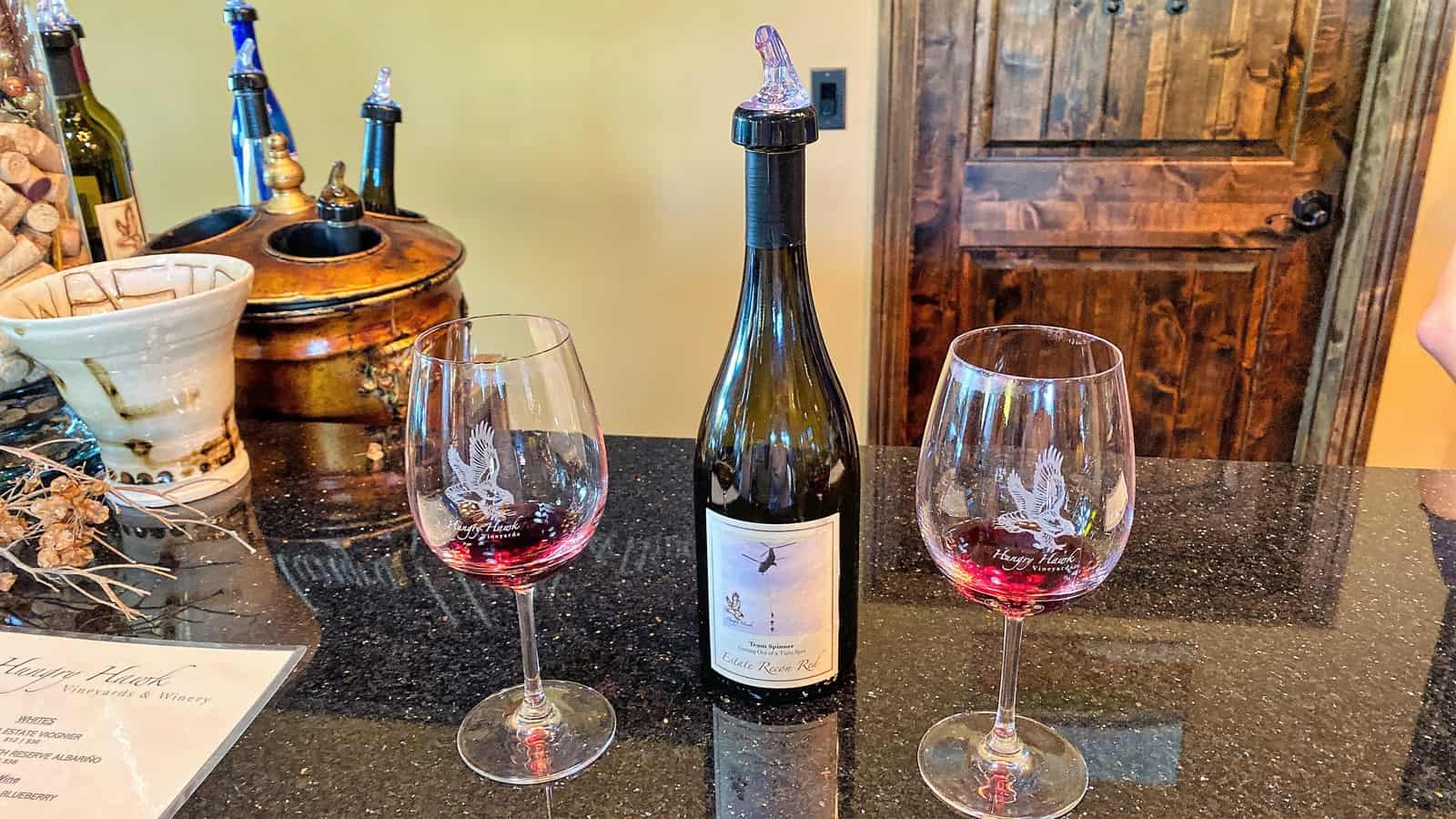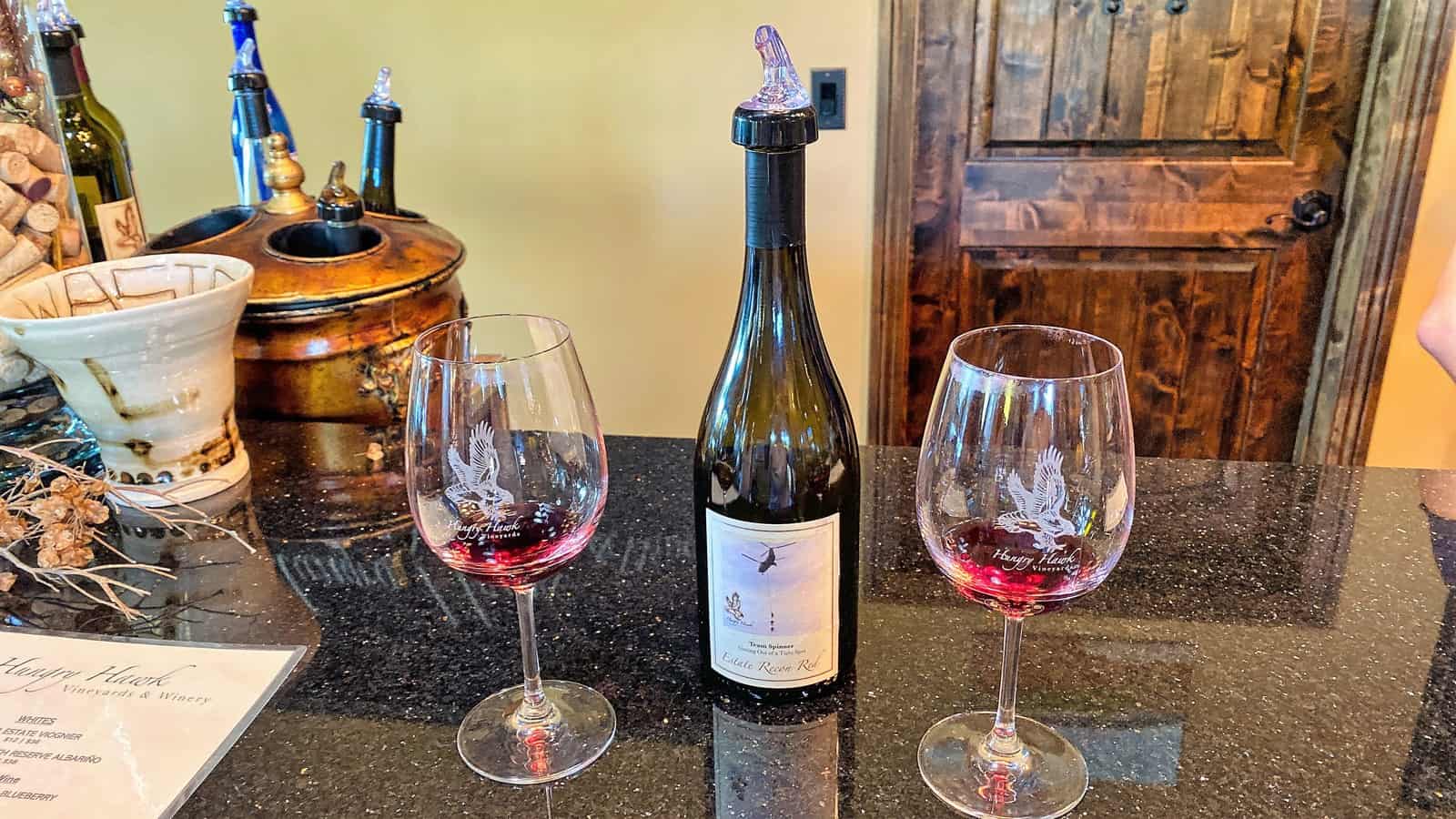 After enjoying wine in the tasting room, we took some snacks and a glass of wine out onto the winery's sprawling patio to enjoy the picturesque views of the San Pasqual Valley.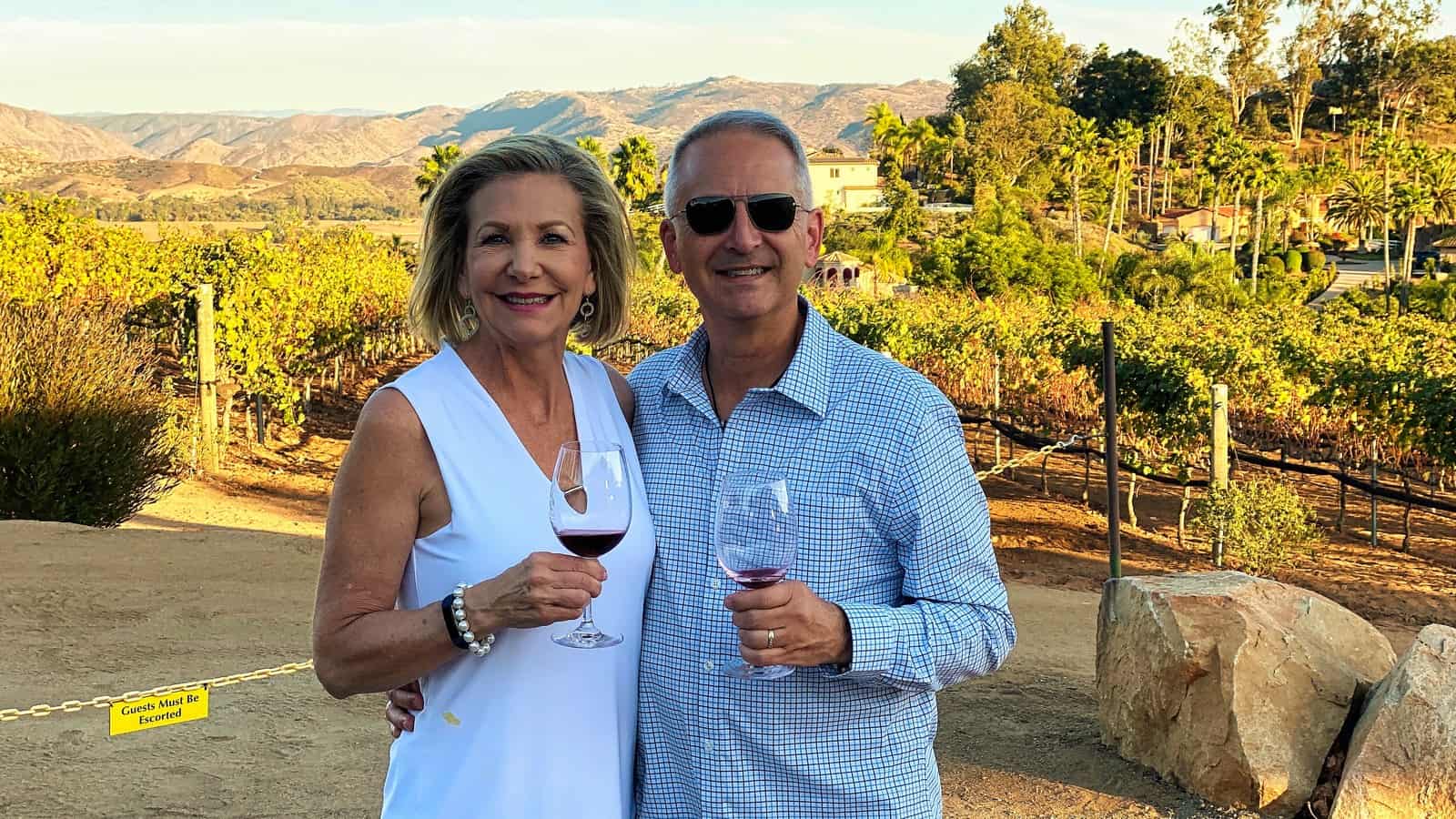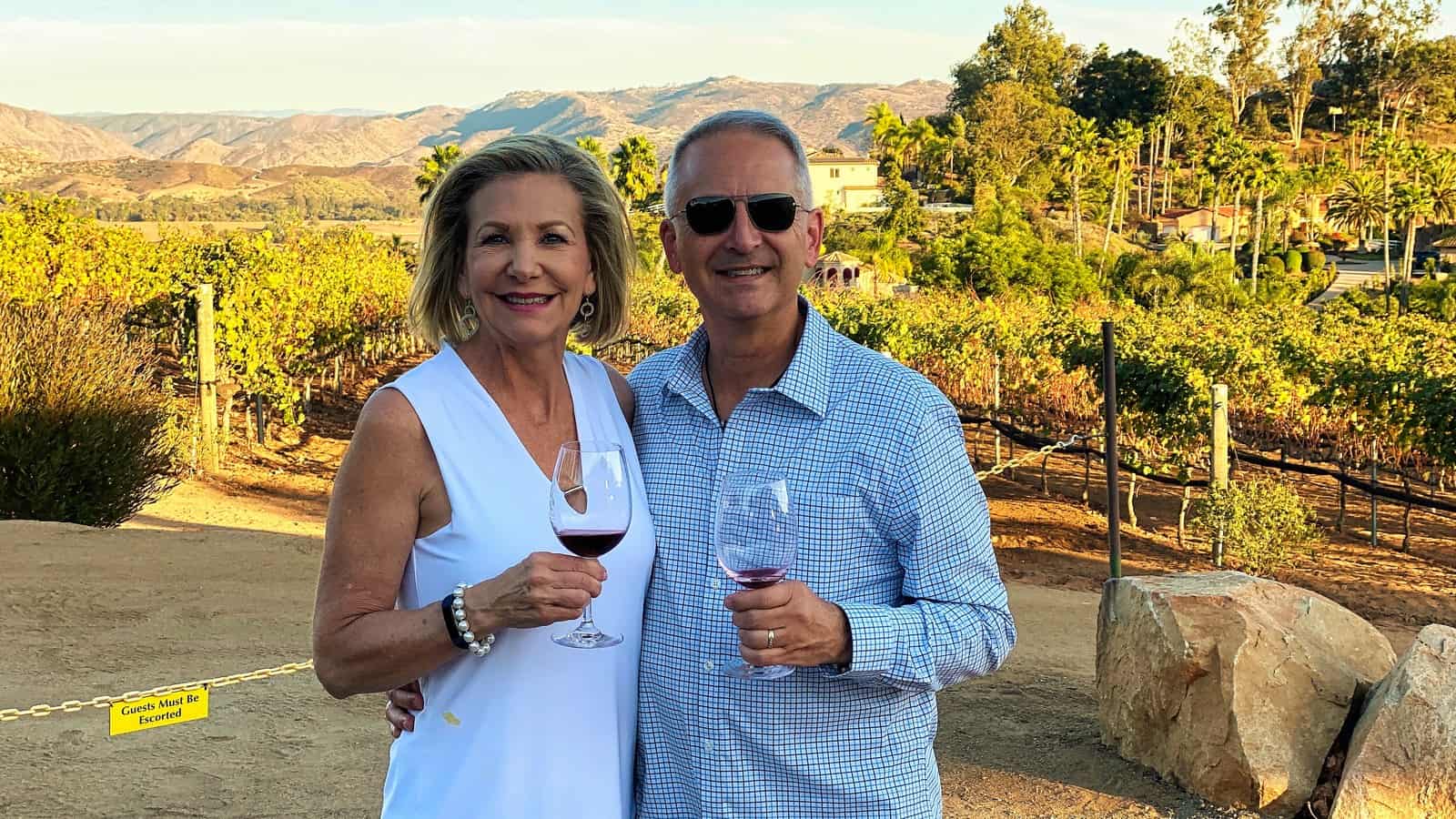 Forgotten Barrel
Forgotten Barrel, is another winery you must visit, and one with a story to tell. Rodger Grove, the owner of Forgotten Barrel, purchased the historic Ferrara Winery in 2016. The Ferraras are one of the oldest grape-growing, winemaking families in San Diego County. Roger renovated the Ferrara winery and reopened it as Forgotten Barrel the year after he bought it.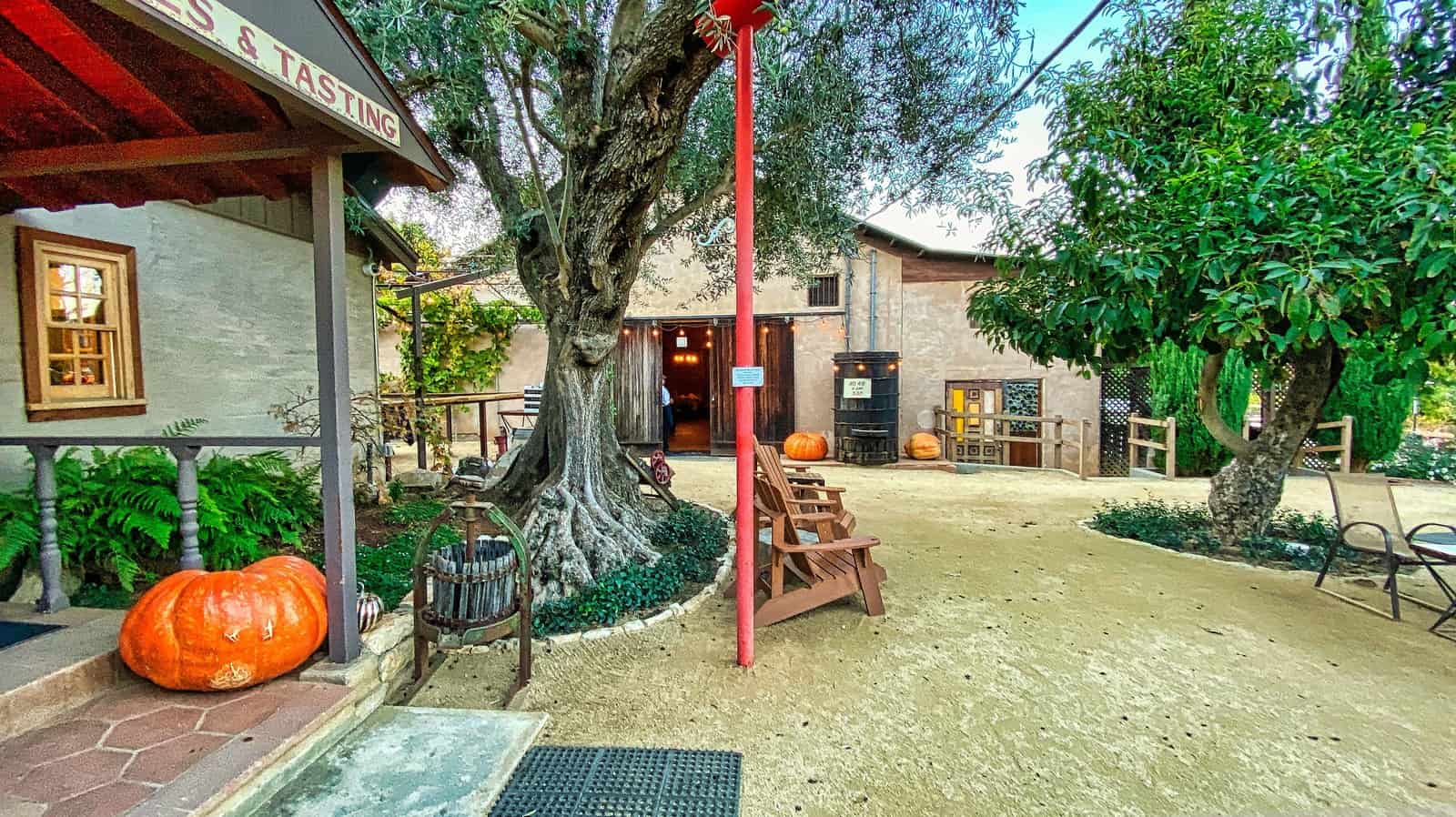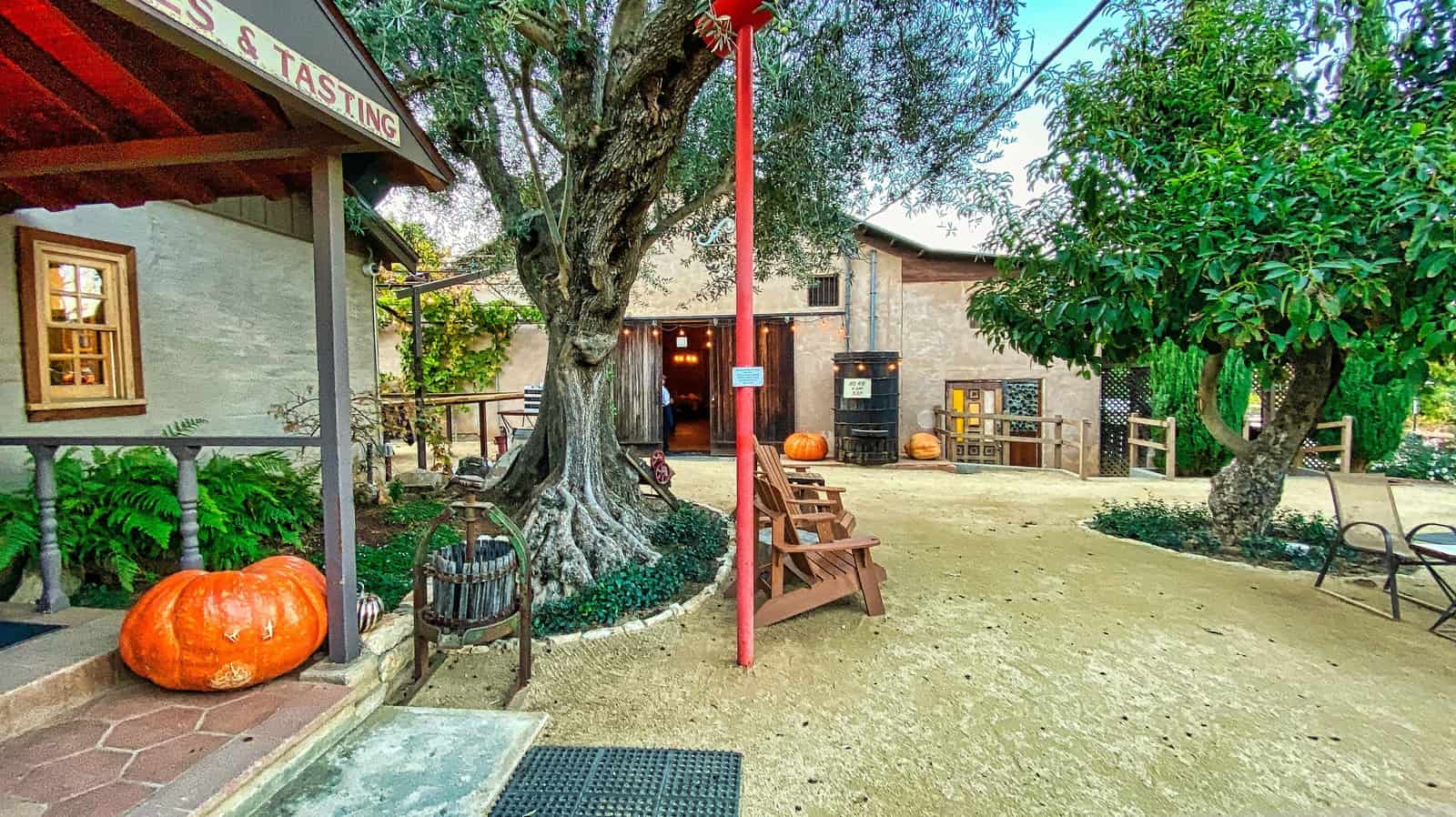 Forgotten Barrel is a tranquil, rustic hideaway. The winery offers a wide selection of premium handcrafted wines using not only San Diego County grapes but also Napa, Sonoma, and Central Coast fruit. Forgotten Barrel is the perfect place to meet some other wine lovers while in the area or for an ideal place to gather with friends and family.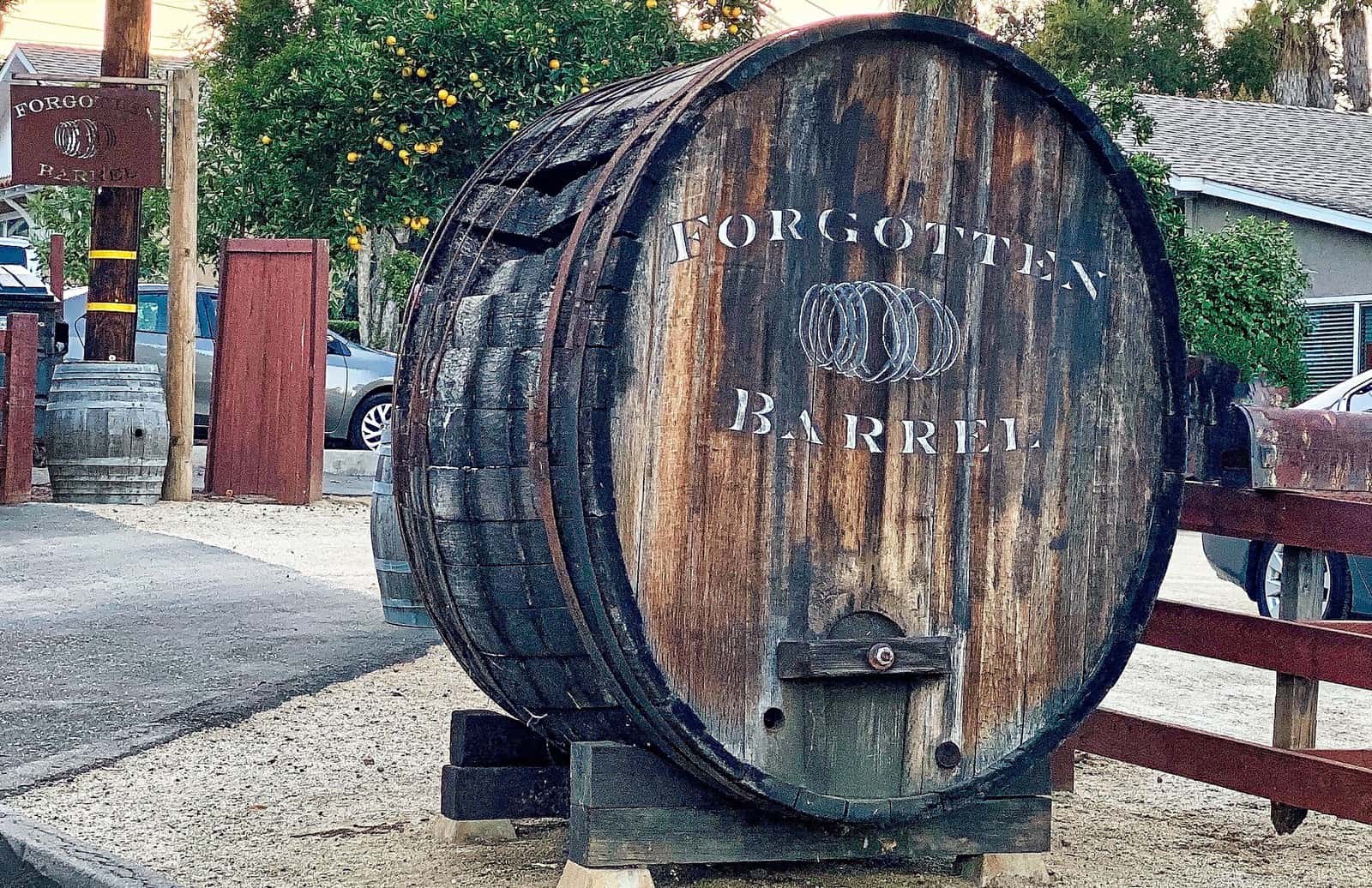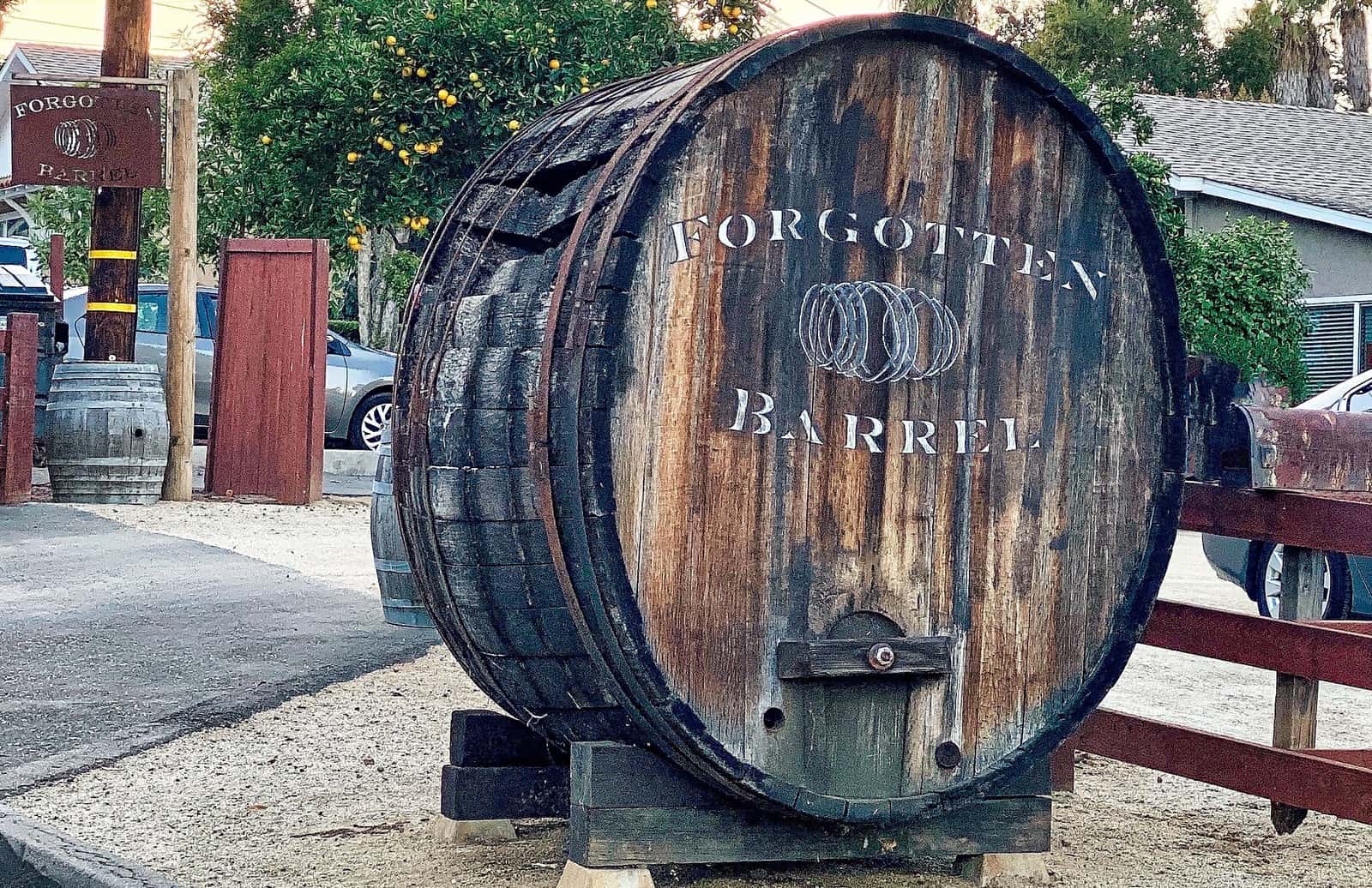 Keith and I did a wine tasting and tour with Roger, the owner. We visited some historic buildings and a beautiful barrel room. We listen to his story of transitioning from real estate to vineyard owner. Roger's vision for the winery was to preserve its historical presence.
The vibe of Forgotten Barrel is friendly, rustic-casual with open-beamed ceilings and large tasting counters. Forgotten Barrel makes some great wine, especially their Cabernet Sauvignon Reserve, but they also make a fantastic Tawny Port called Legacy Port. Legacy has a rich golden-brown color and that brown sugar, nutty flavor that only comes with many years in the Barrel. This tawny port was by far our favorite at Forgotten Barrel.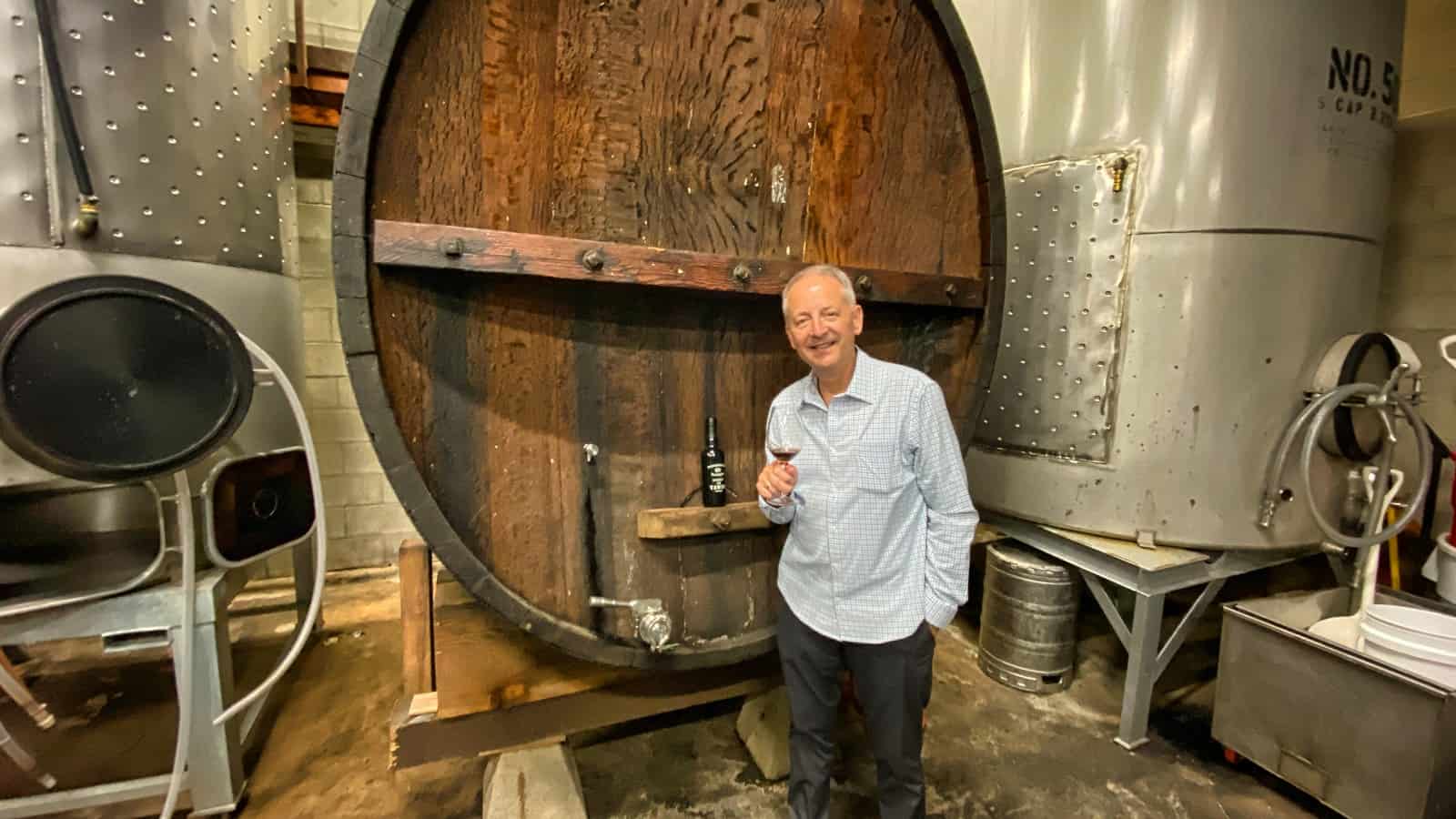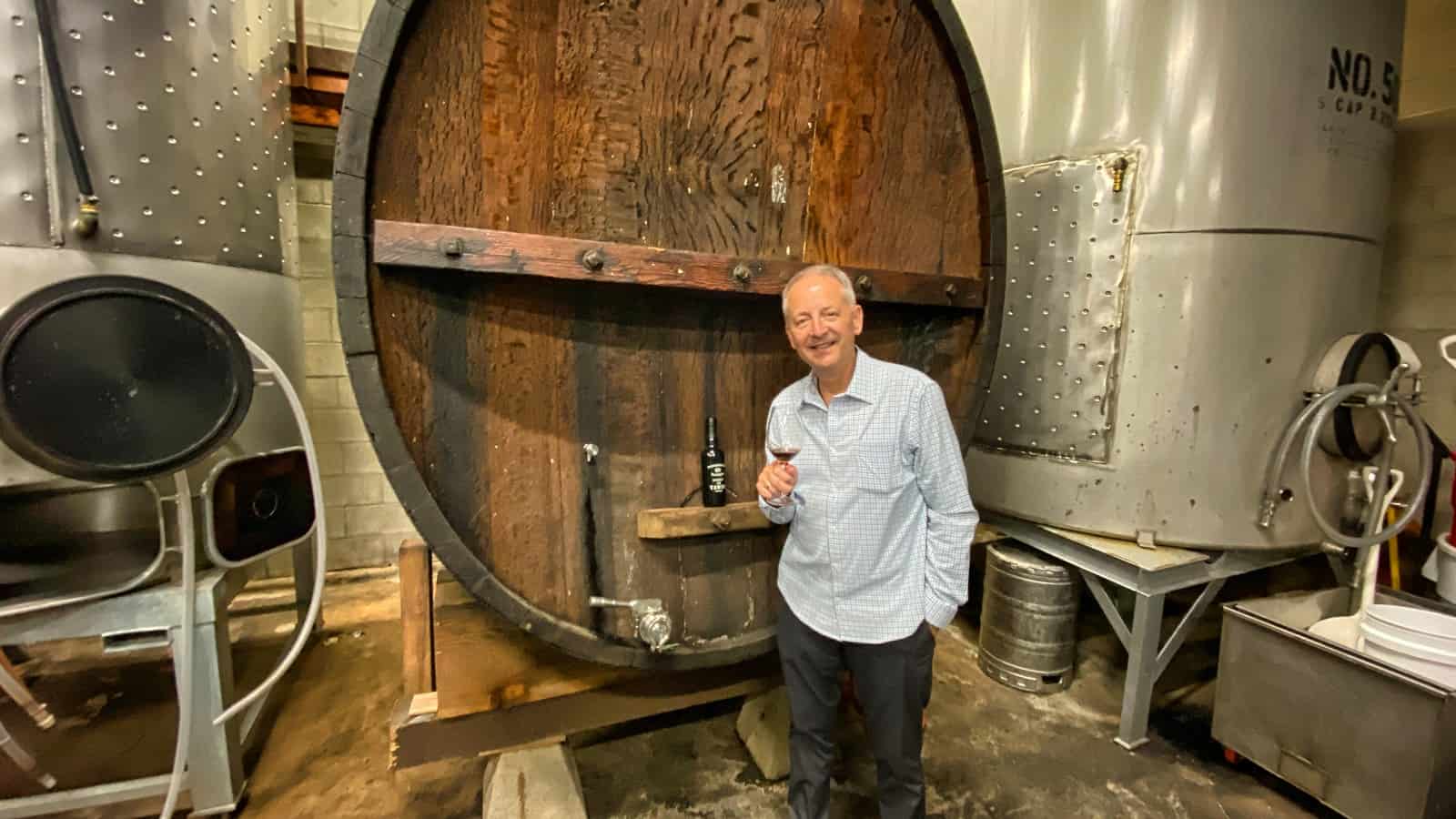 Ramona Ranch Vineyards
Another boutique winery you must visit is Ramona Ranch Vineyards. Ramona Ranch is in the heart of the Ramona Valley American Viticulture Area (AVA). The tasting room is quaint, and the views are picturesque.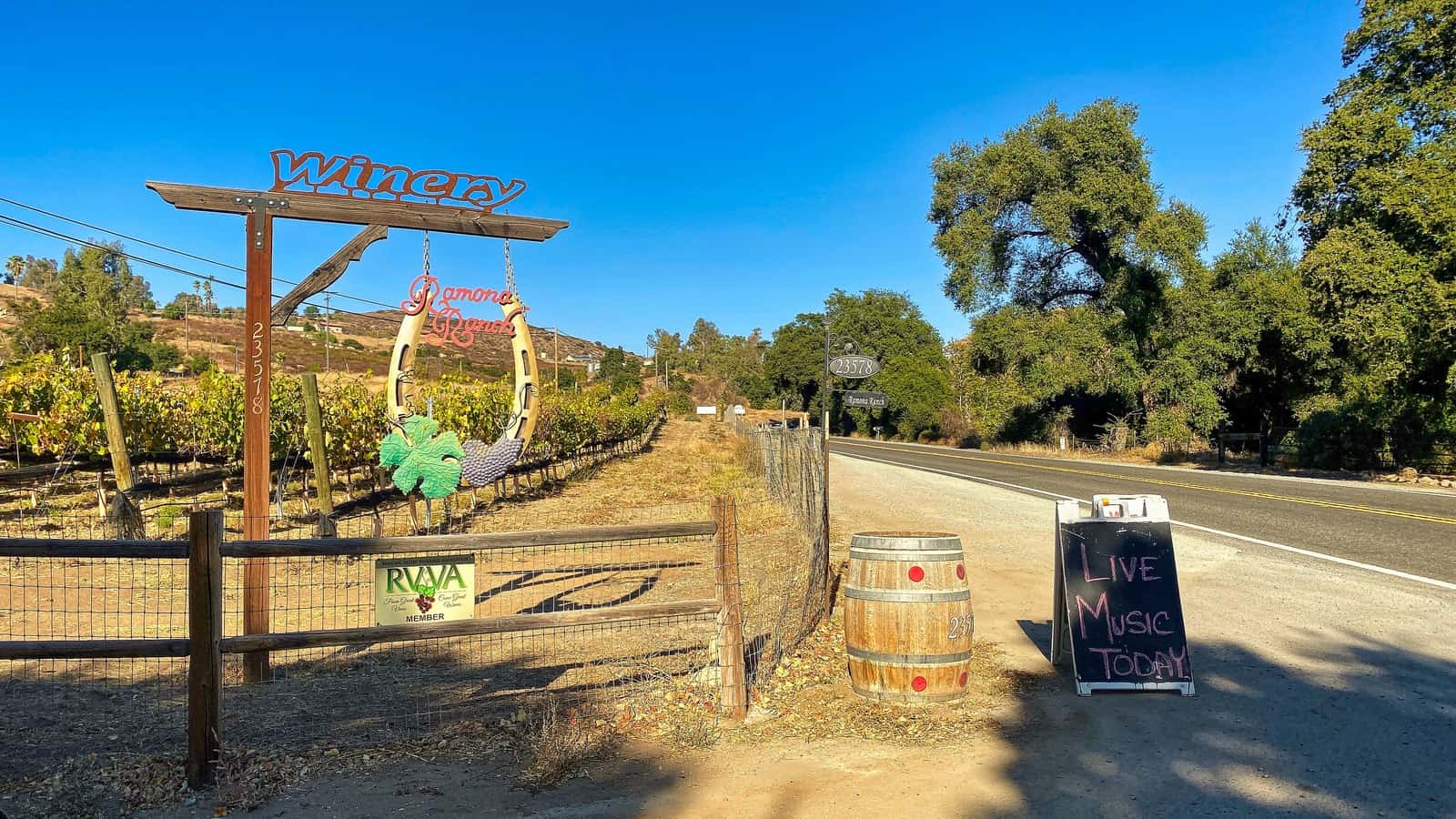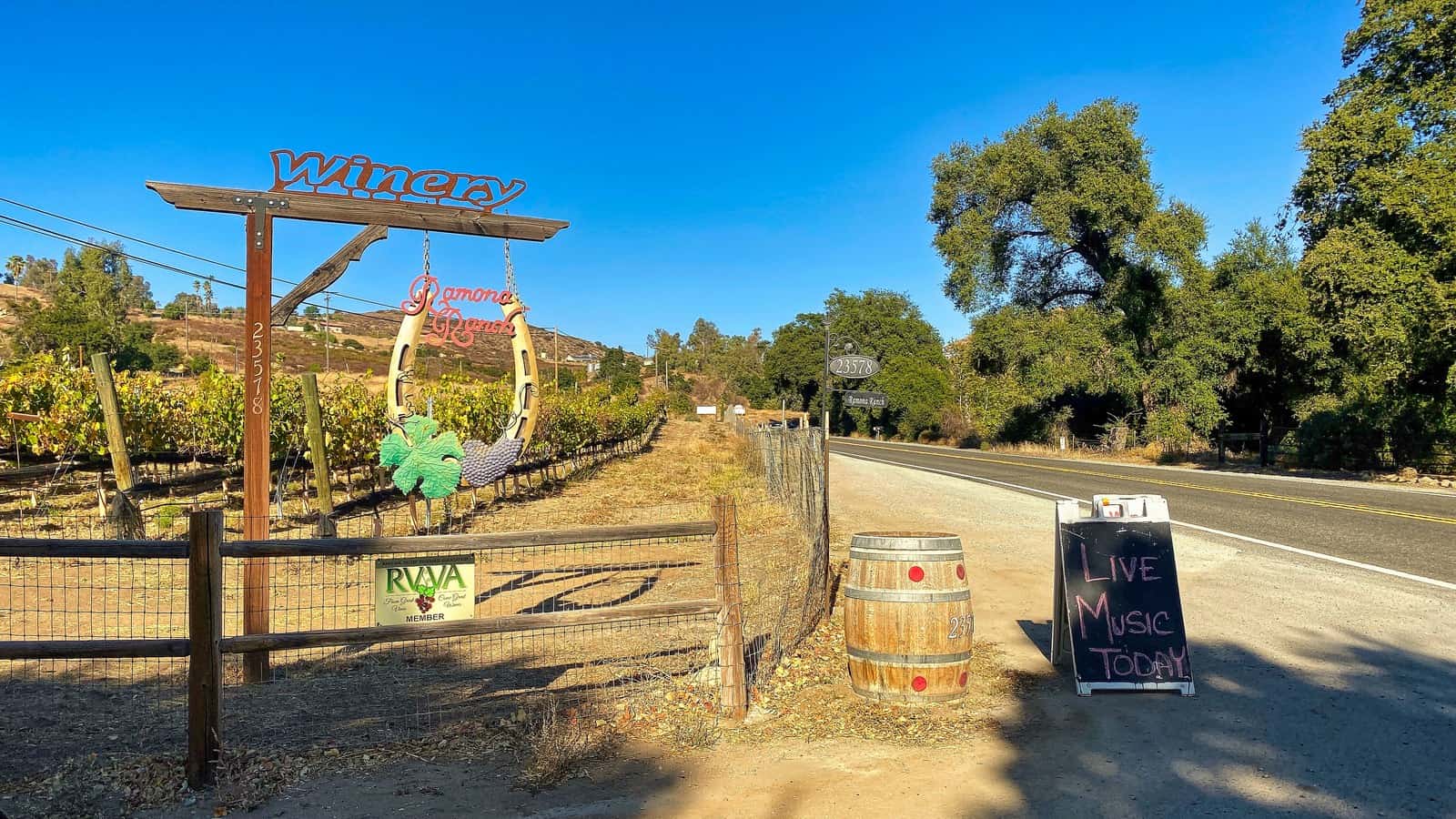 Ramona Ranch produces wine from both Estate and local Ramona vineyards. They make white, red, and dessert wines. There most unusual wine is a 100% Estate Tannat, dark wine with the rich flavors of plum and cocoa.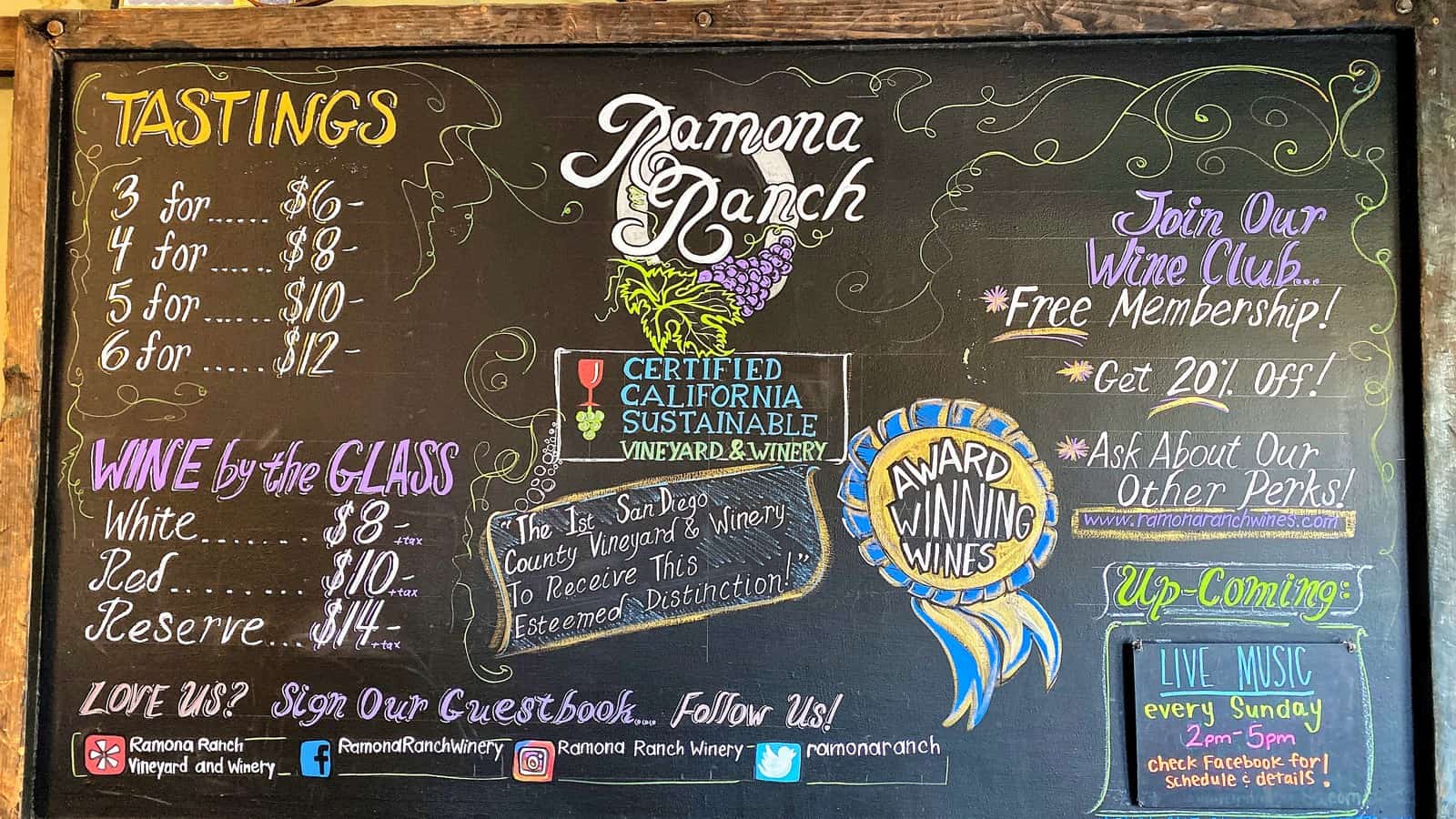 In addition to grapevines, Ramona Ranch also has horses, chickens, goats, and steer. Ramona Ranch Vineyards is a sustainable farm. They planted insect, bird, and butterfly zones. Additionally, they have owl boxes and native, drought-tolerant plants to make the winery inviting to wildlife.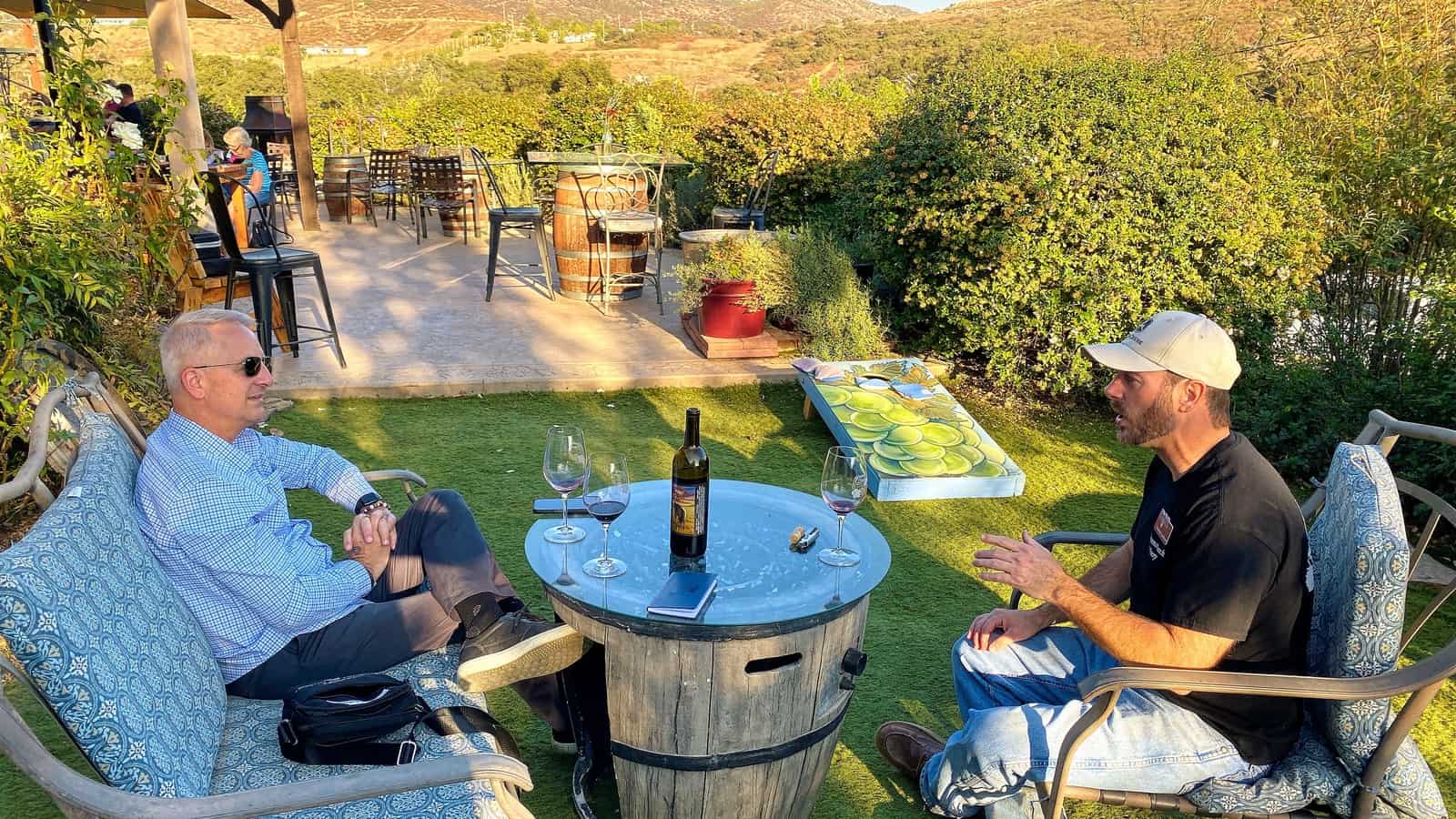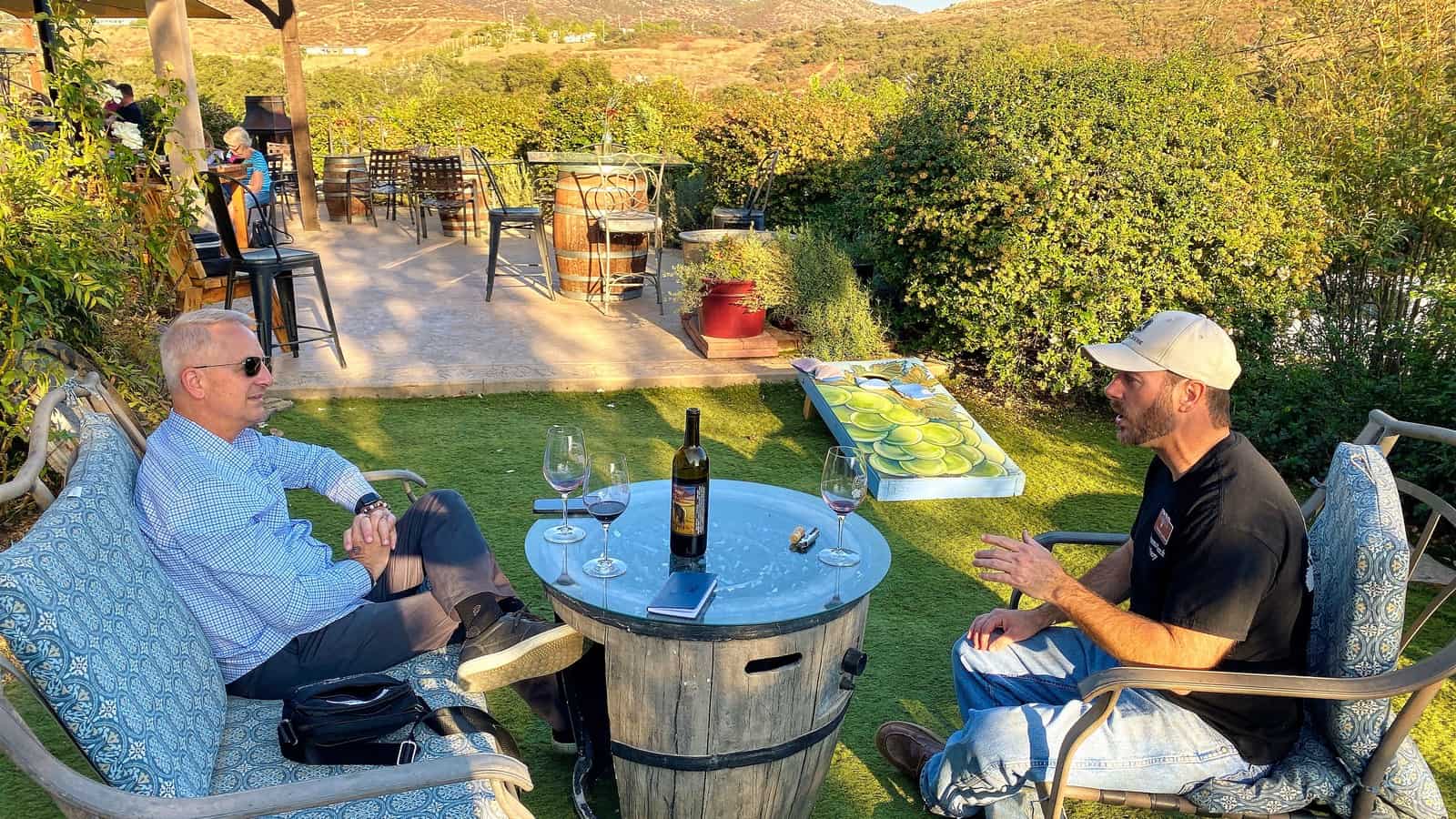 Orfila Winery
Your next stop should be Orfila. Orfila Winery has been the San Pasquel Valley since 1994 and in the years since have won both national and international awards. Wine production in San Pasquel Valley dates back a long time. Priests in 1769 planted the first vines. Grapes have been growing at this vineyard since 1973 when it was San Pasqual Winery and later Thomas Jaeger Winery. Orfila Vineyards and Winery began in 1993 when Proprietor Ambassador Alejandro Orfila purchased the Thomas Jaeger Winery.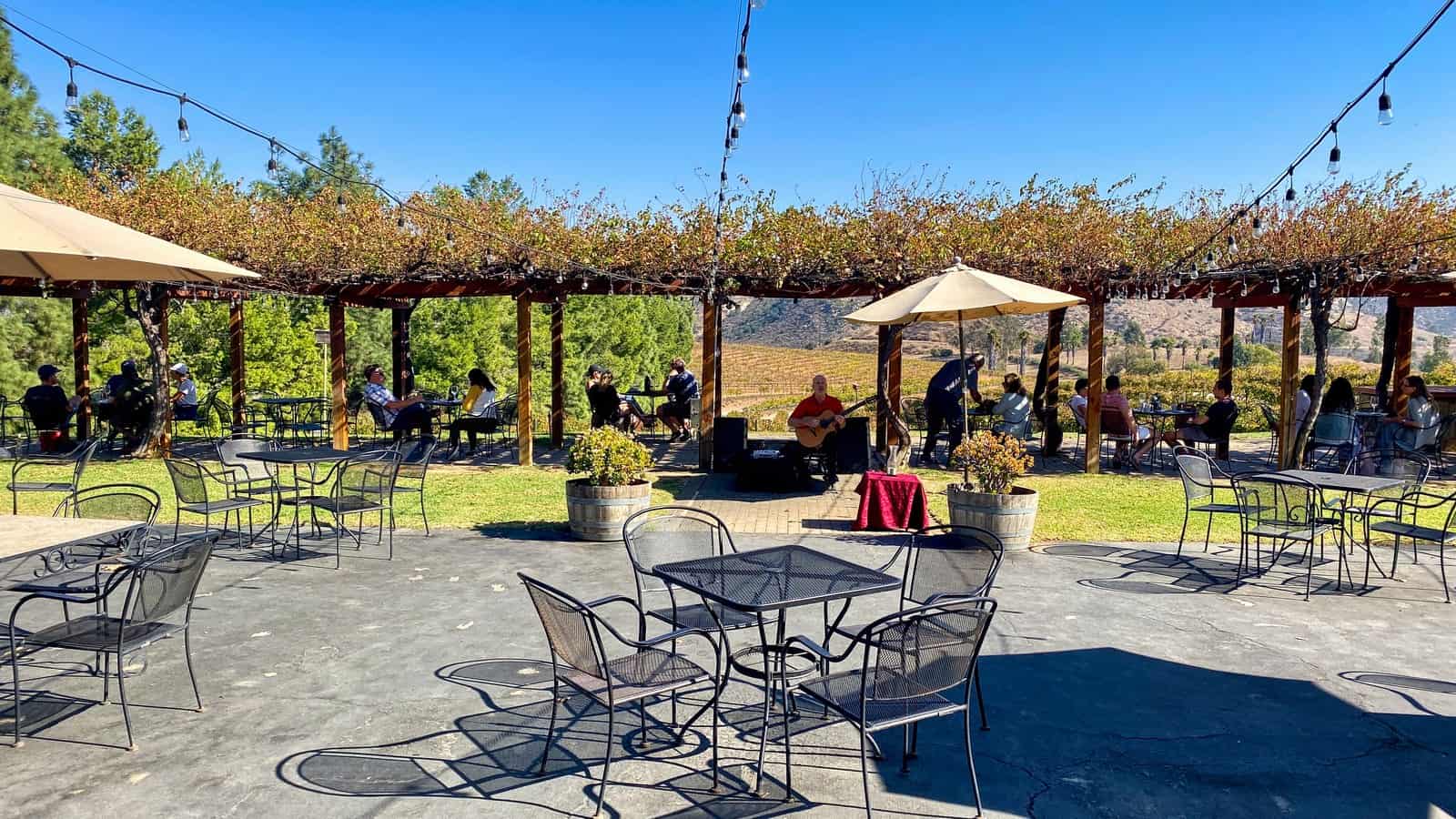 The tasting room and patio overlook the lovely 70-acre estate. They have a tree-lined leisure area complete with picnic tables.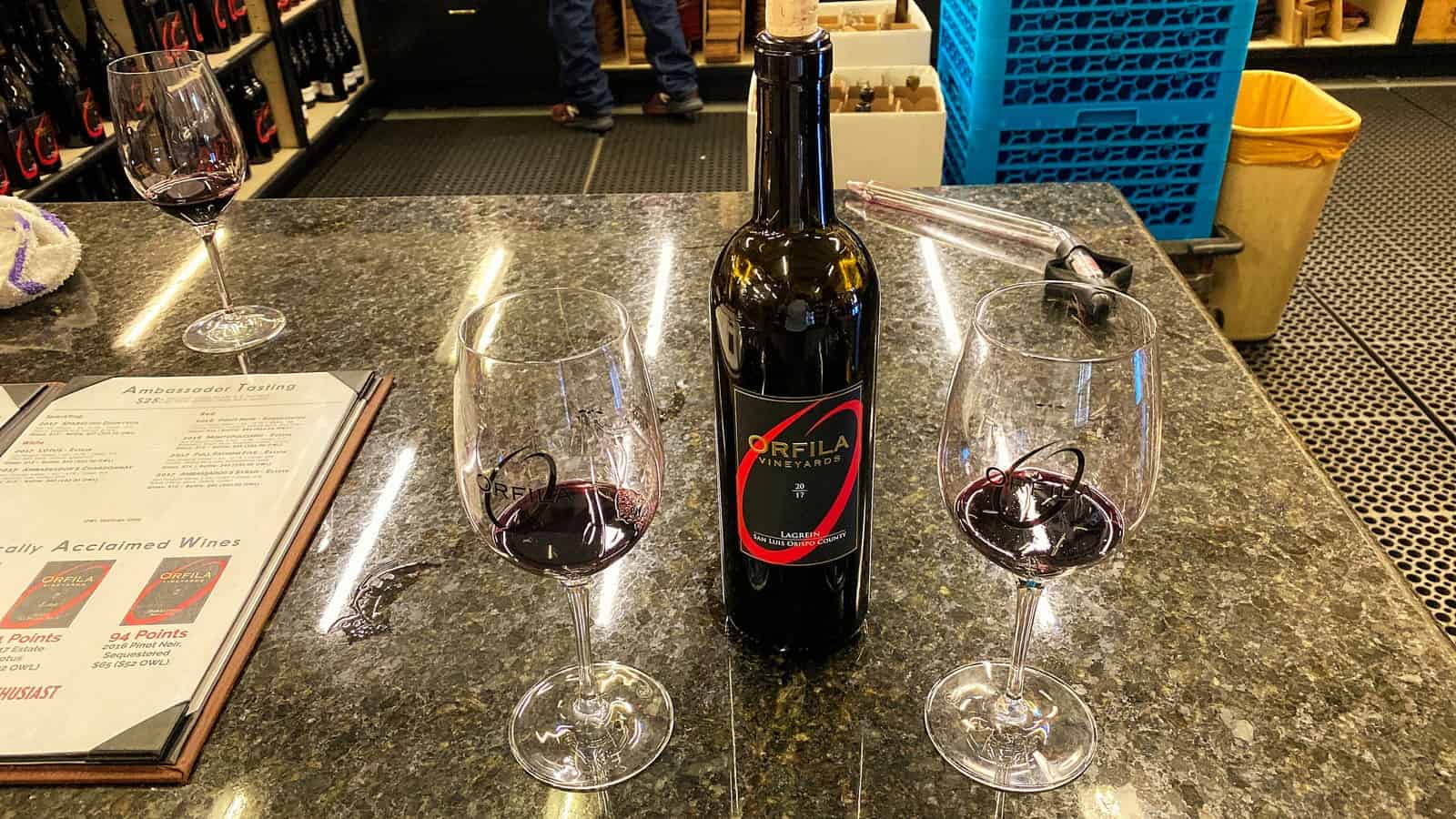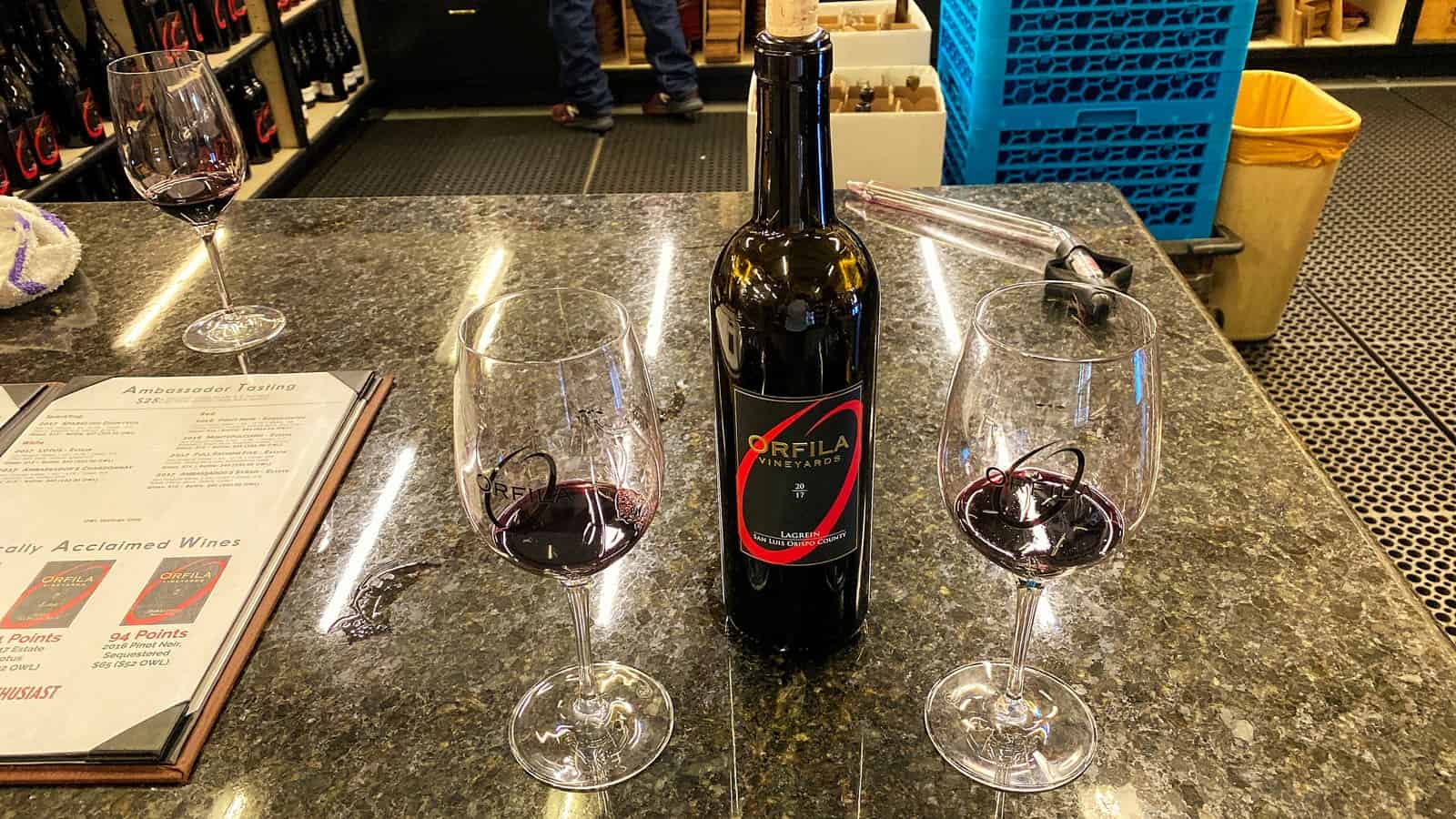 Orfila produces wines using Italian and French varietals, including those from the Rhone Valley, Burgundy, and Bordeaux.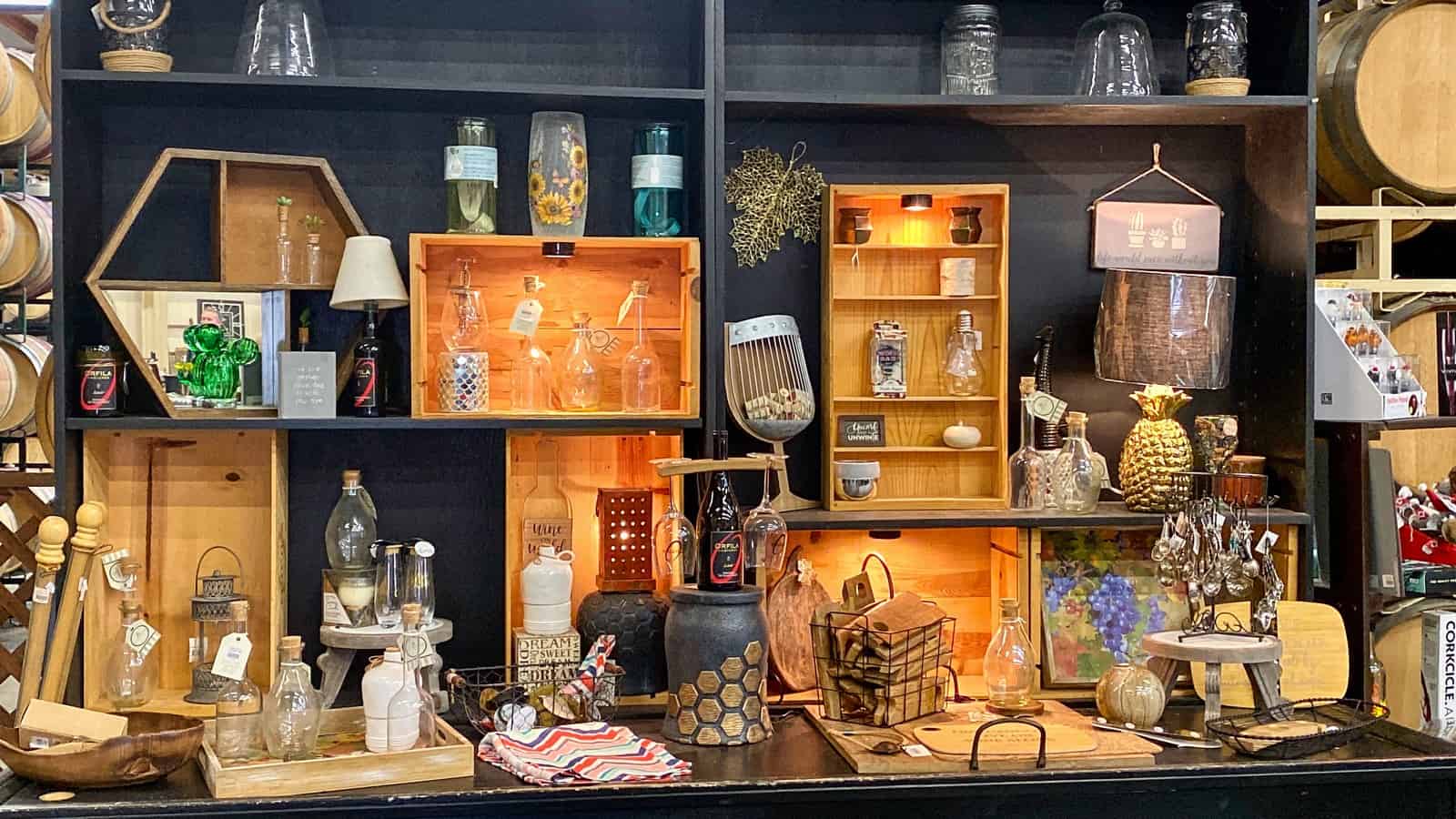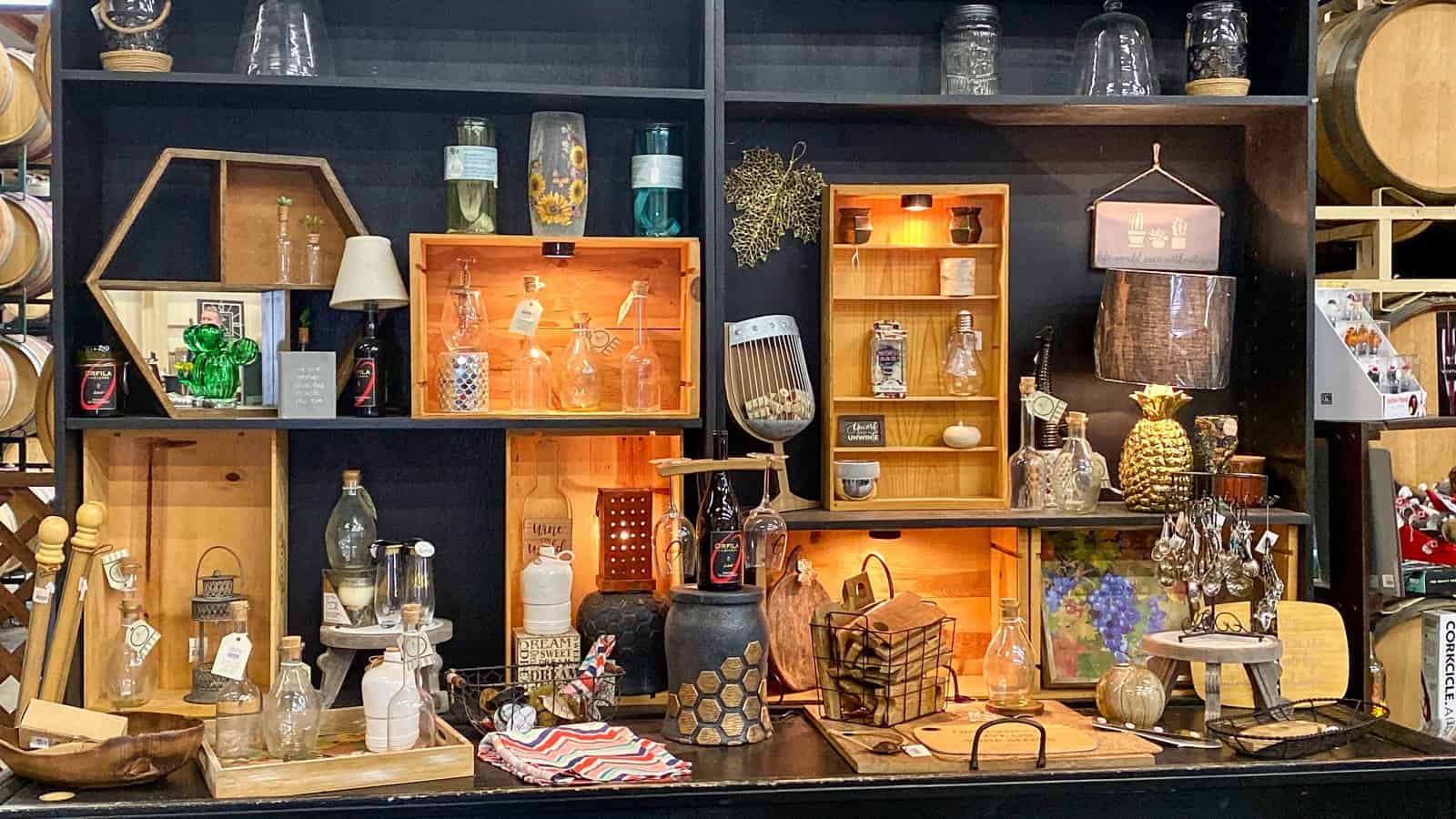 We did a great tasting with Justin Mund, the winemaker. Justin brought us up to speed on the history of the winery. Also, Justin gave us a tour of the vineyards. Orfila also has a great little museum in the tasting room. After the vineyard tour, we moved to the barrel room and did several barrel tastings. Justin was a great host and very knowledgable.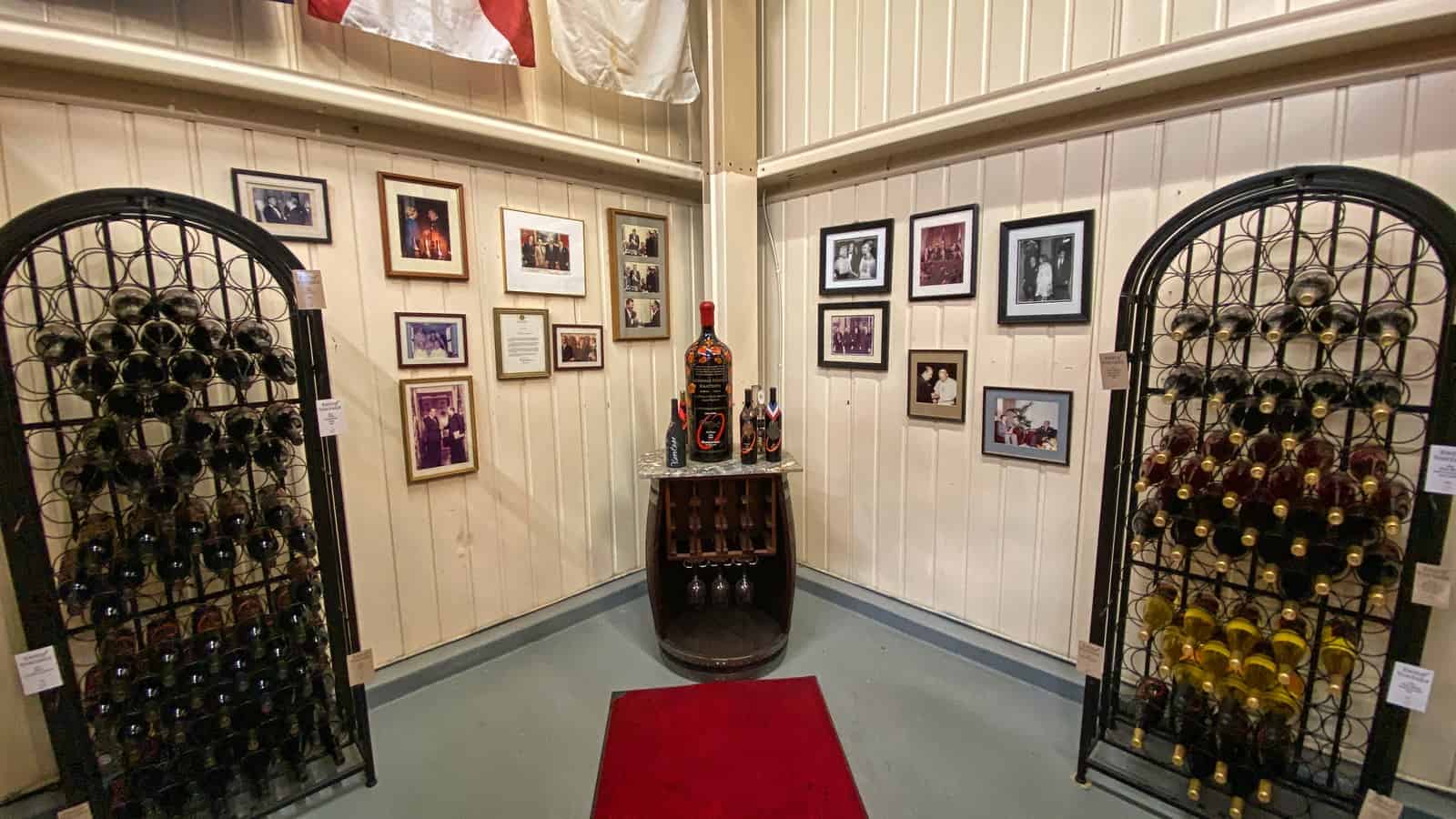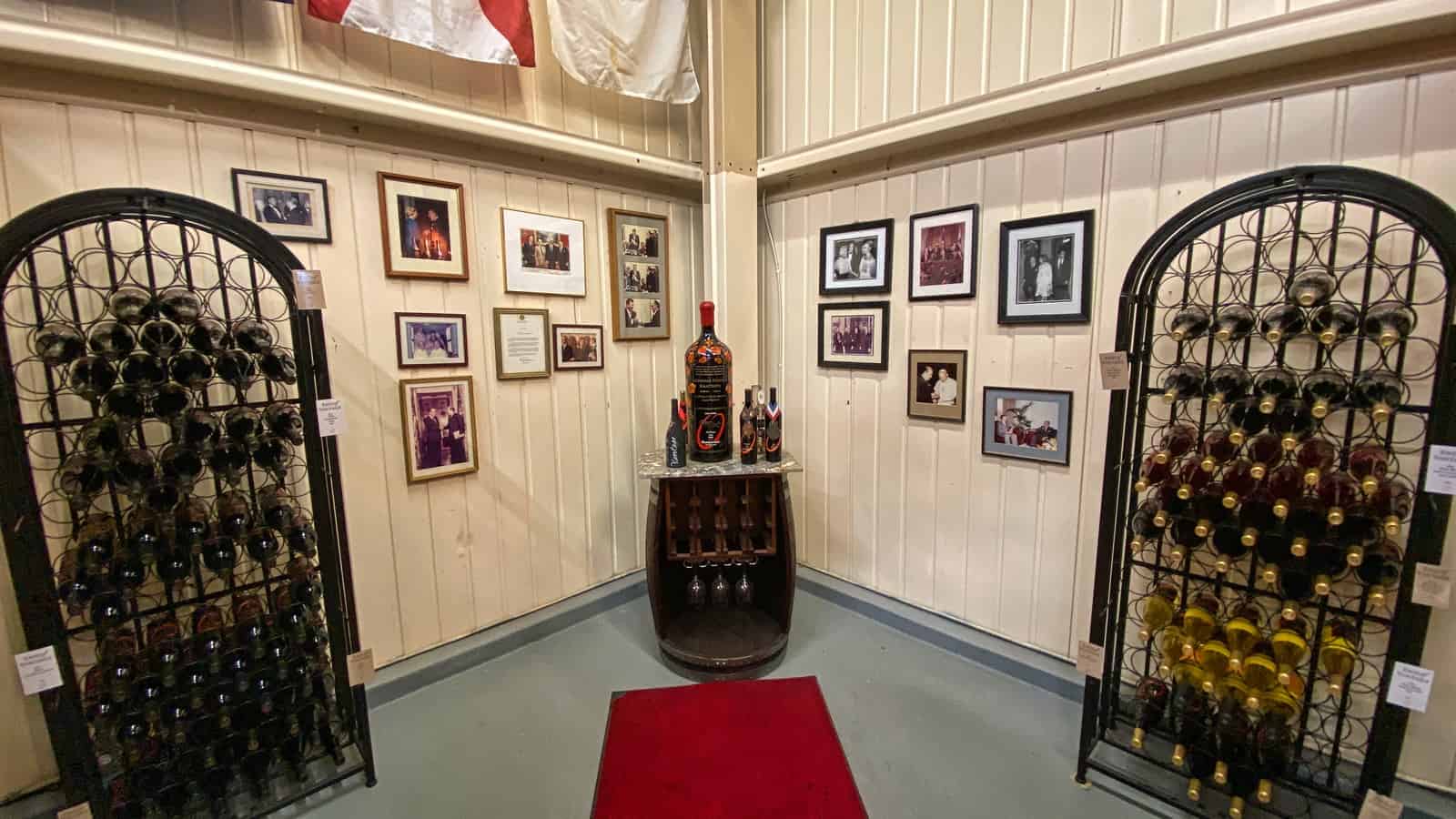 We brought back some bottles of Orfila and enjoyed some Southern California wine in our home in Ecuador with friends.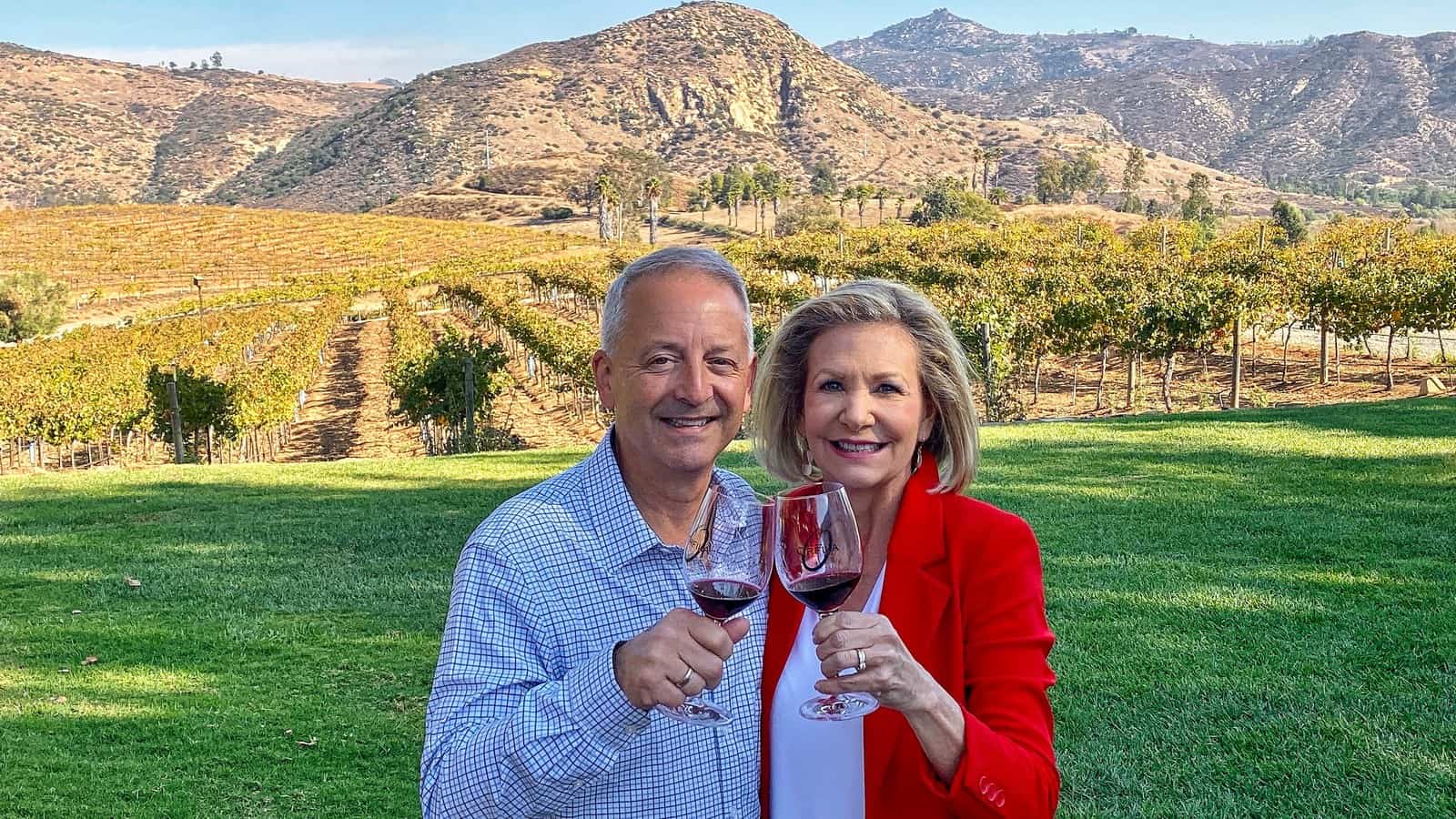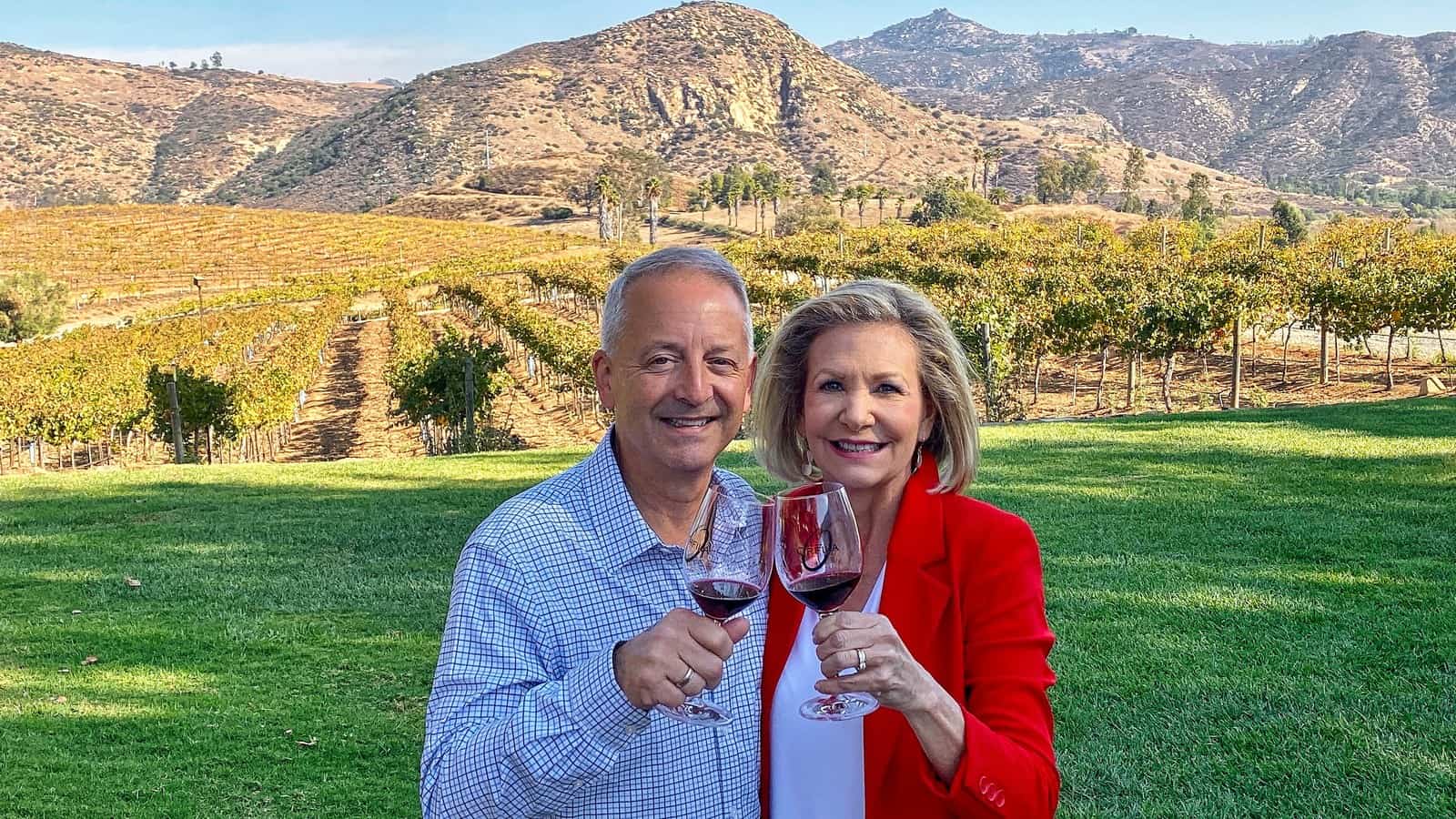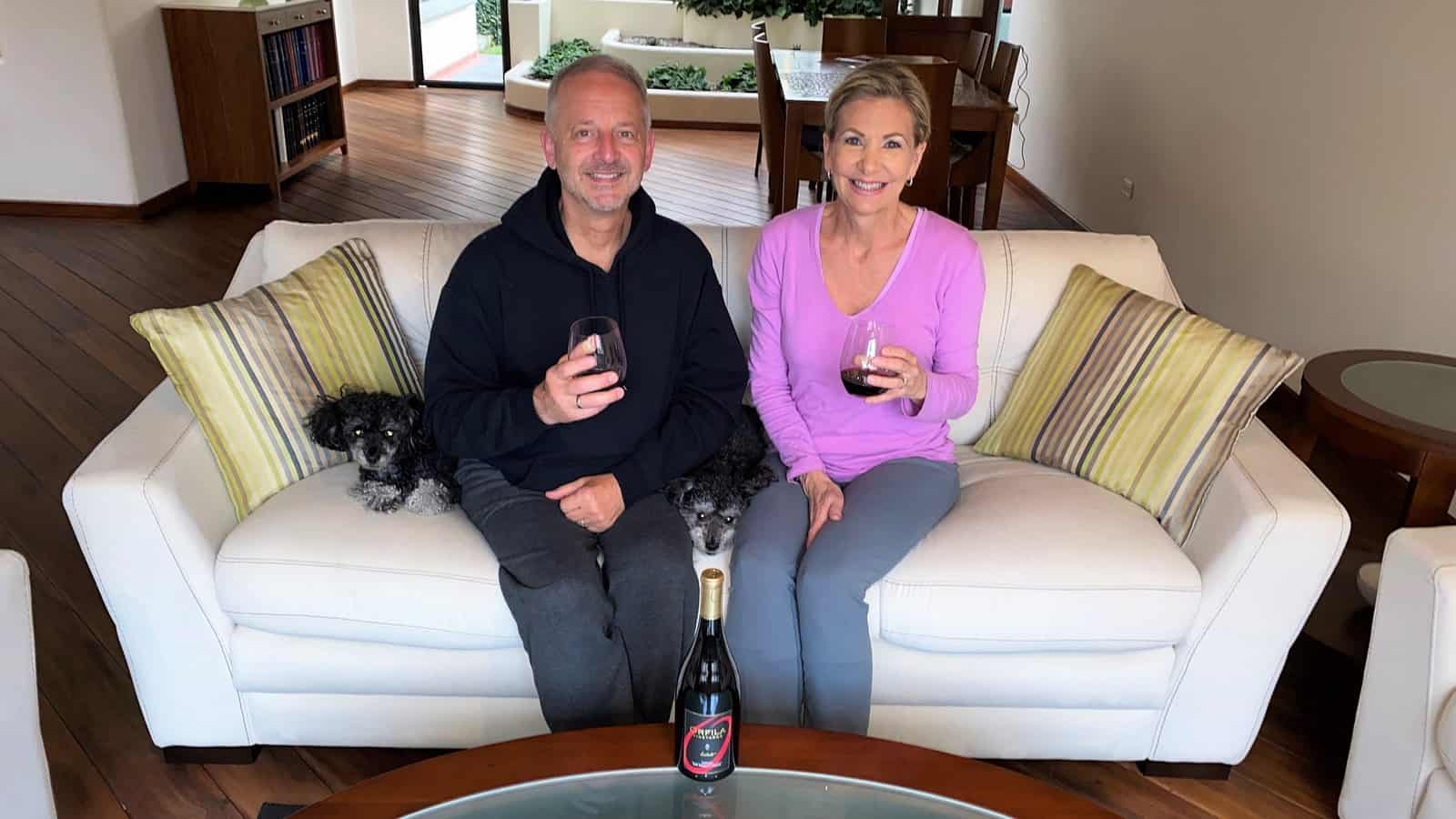 Woof'n Rose Winery
Our last winery recommendation is for Woof'n Rose Winery. Wine tasting at Woof'n Rose is on a covered outdoor patio that they refer to as the tasting veranda. This veranda overlooks the beautiful Woof'n Rose vineyards and the Ramona Valley.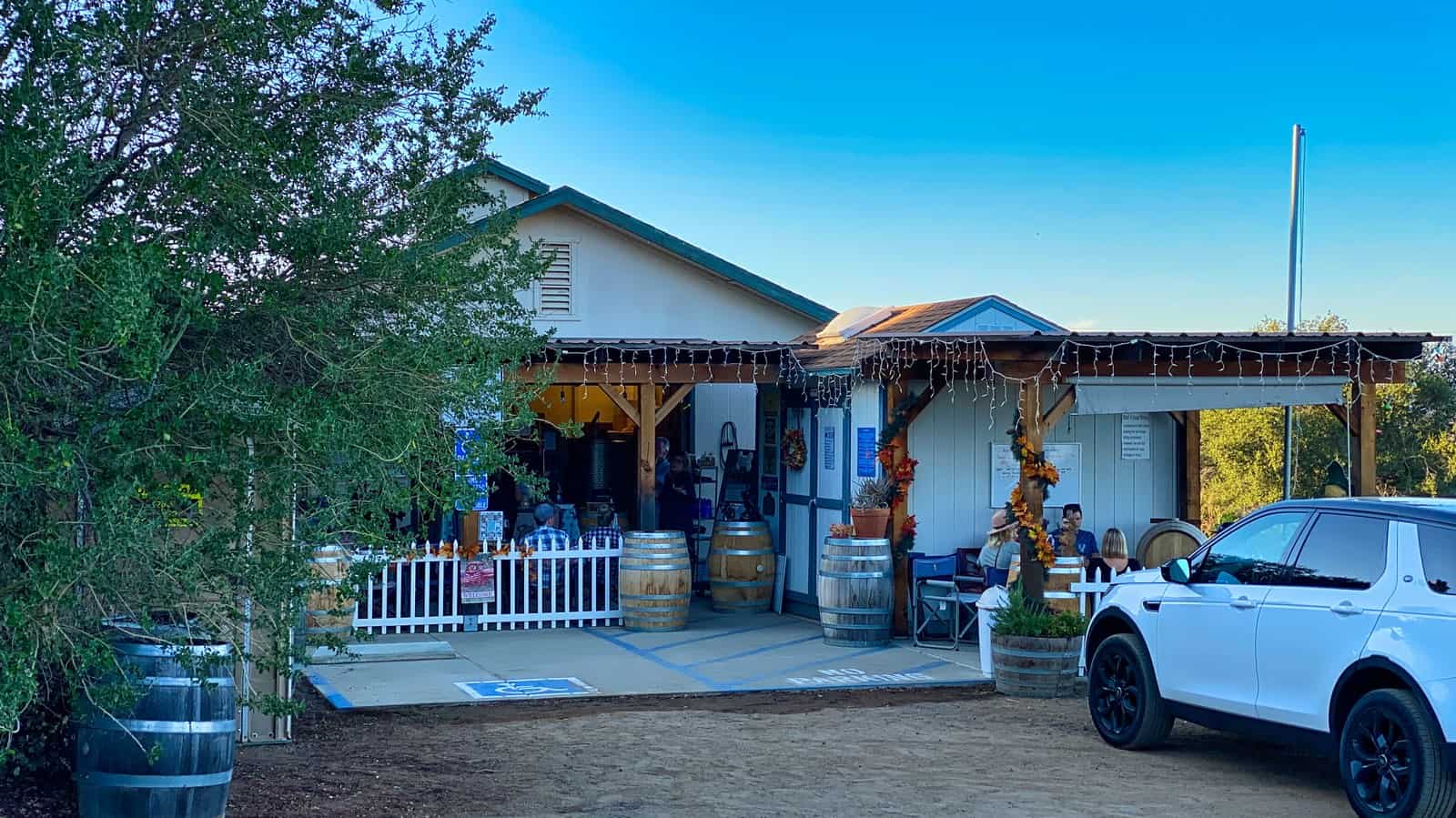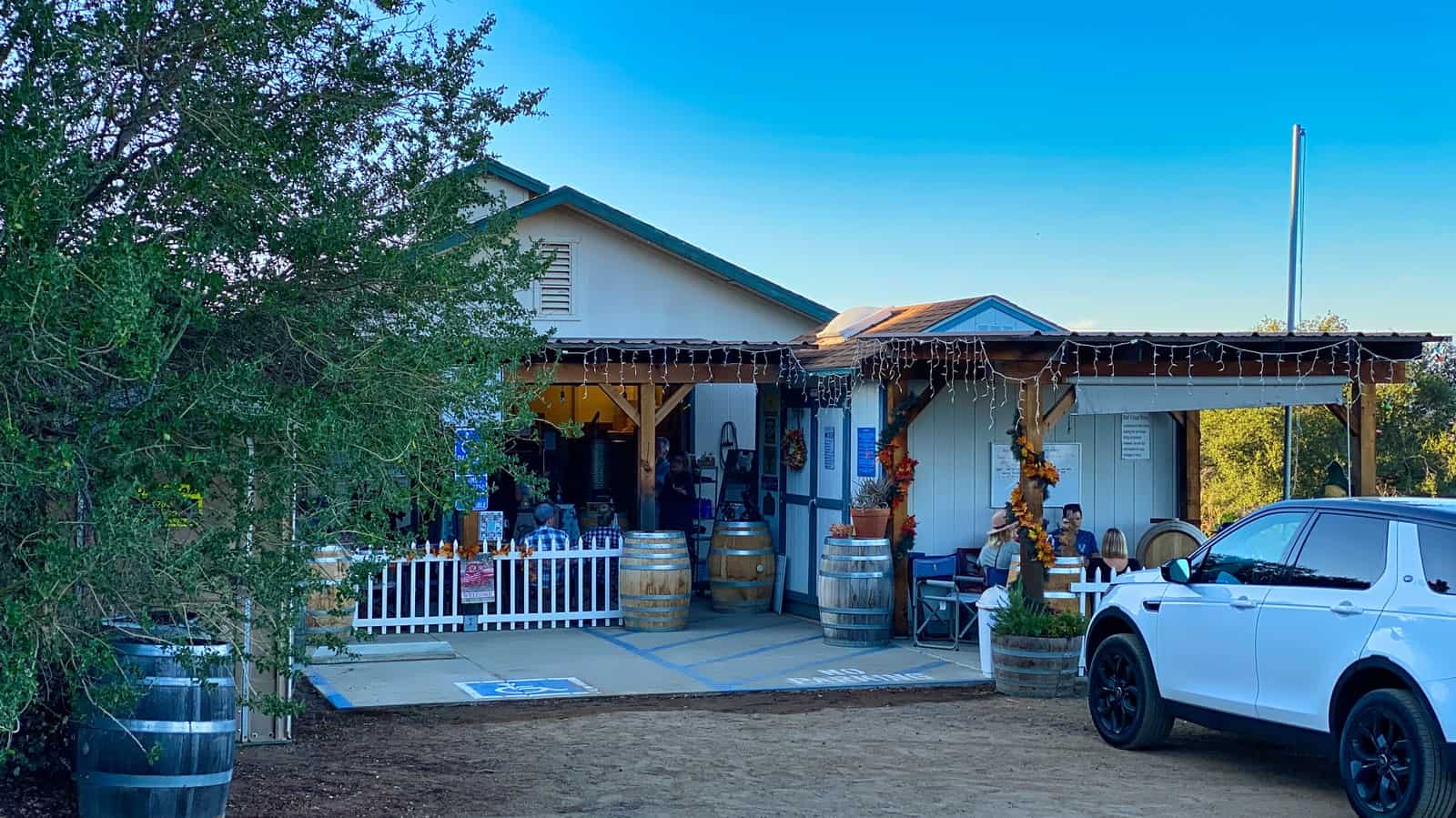 Woof'n Rose Winery makes red wines from grapes grown in the Ramona Valley AVA. They also make one white wine, an Albarino, similarly from Ramona Valley fruit.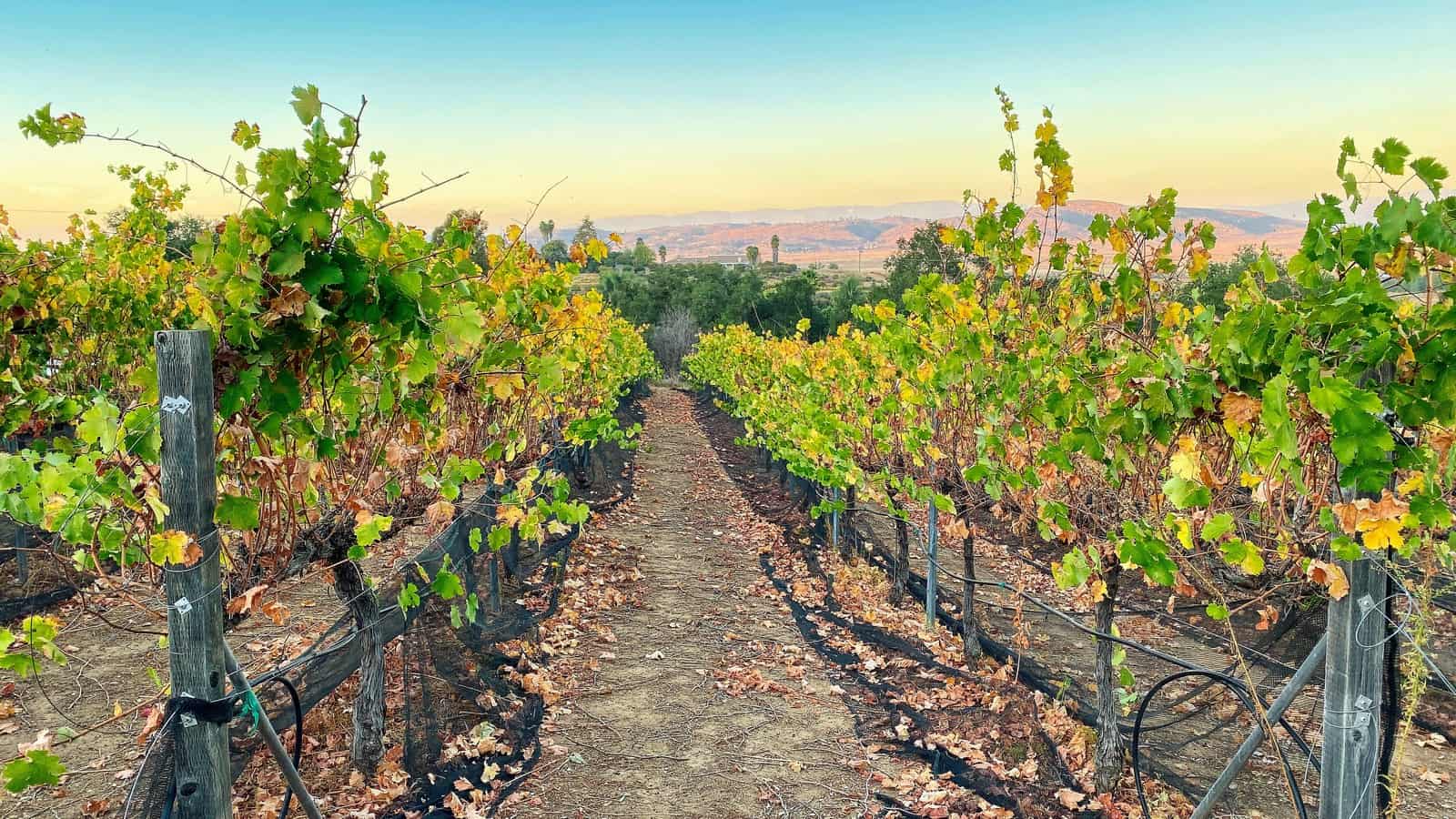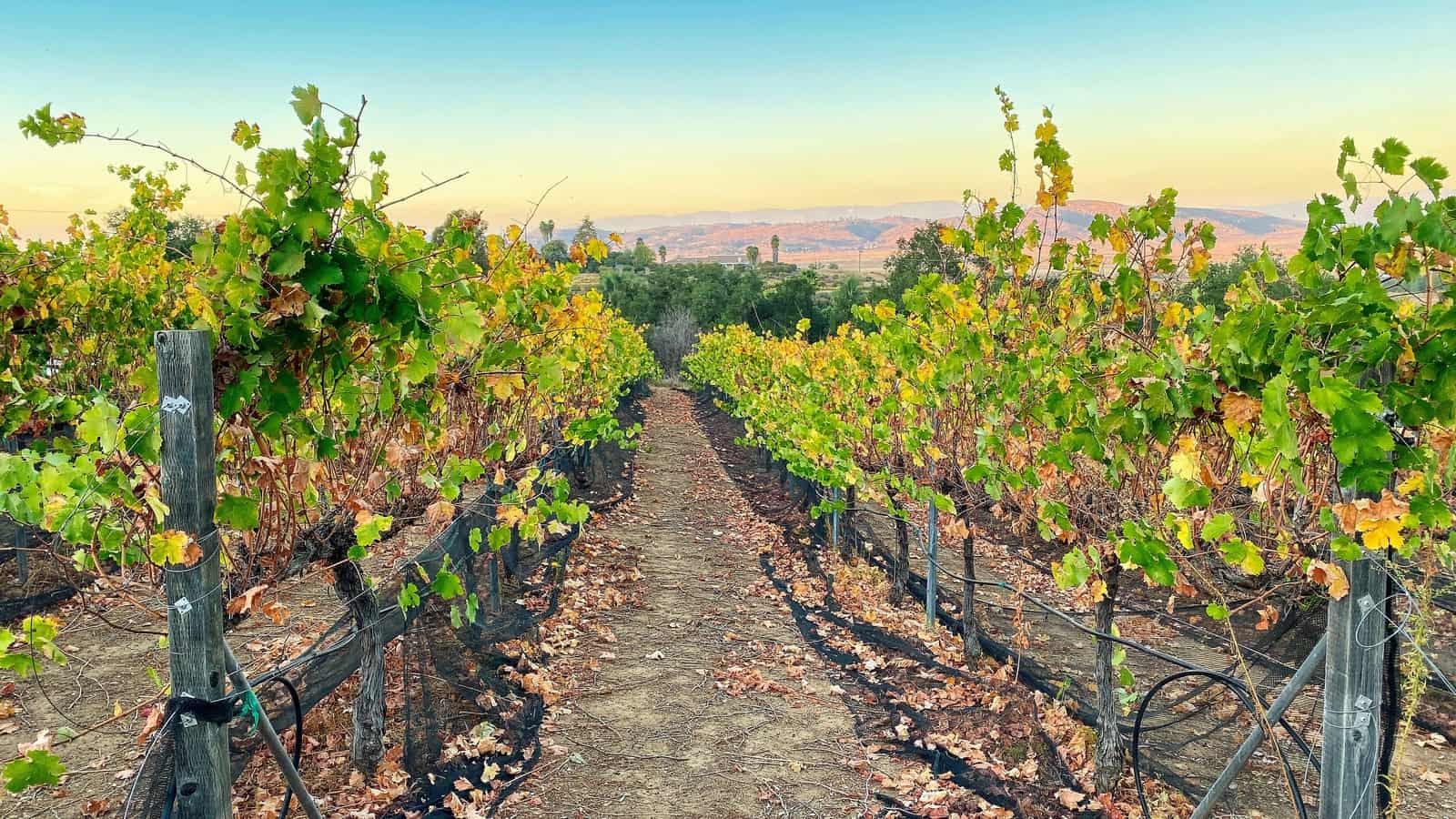 If you haven't guessed, Steve and Marilyn, the owners of Woof'n Rose, love wine and anything related to winemaking, dogs, and roses, hence the name Woof'n Rose Winery. On many days Steve and Marilyn will be at the tasting veranda pouring wine and talking with guests.
We were fortunate to meet Steve and Marilyn on the afternoon of our visit. We learned that Woof'n Roses estate wines use only estate grapes. Additionally, small lots of grapes from neighboring vineyards are incorporated to make other Ramona Valley designated wines.
The Woof'n Rose Tasting Veranda is open any day of the week by appointment and usually is open weekends, from 11 am till 5 pm, however, even on weekends, we recommend that you call and make a reservation.
San Diego Harbor Tour
There are lots of things to do besides taste wine in San Diego county. If you want the best view of San Diego, you have to get away from the shore. So, while in the city, consider a San Diego harbor tour. We recommend Flagship Cruises and Events. On the cruise, you will get a seaside view of the city and learn about its history from a local guide. The tour takes you under the iconic Coronado Bridge, past many military ships, Seaport Village, Shelter Island, Point Loma, and other waterfront landmarks for an in-depth look at San Diego's scenic beauty. Additionally, there is an opportunity to see marine life up-close.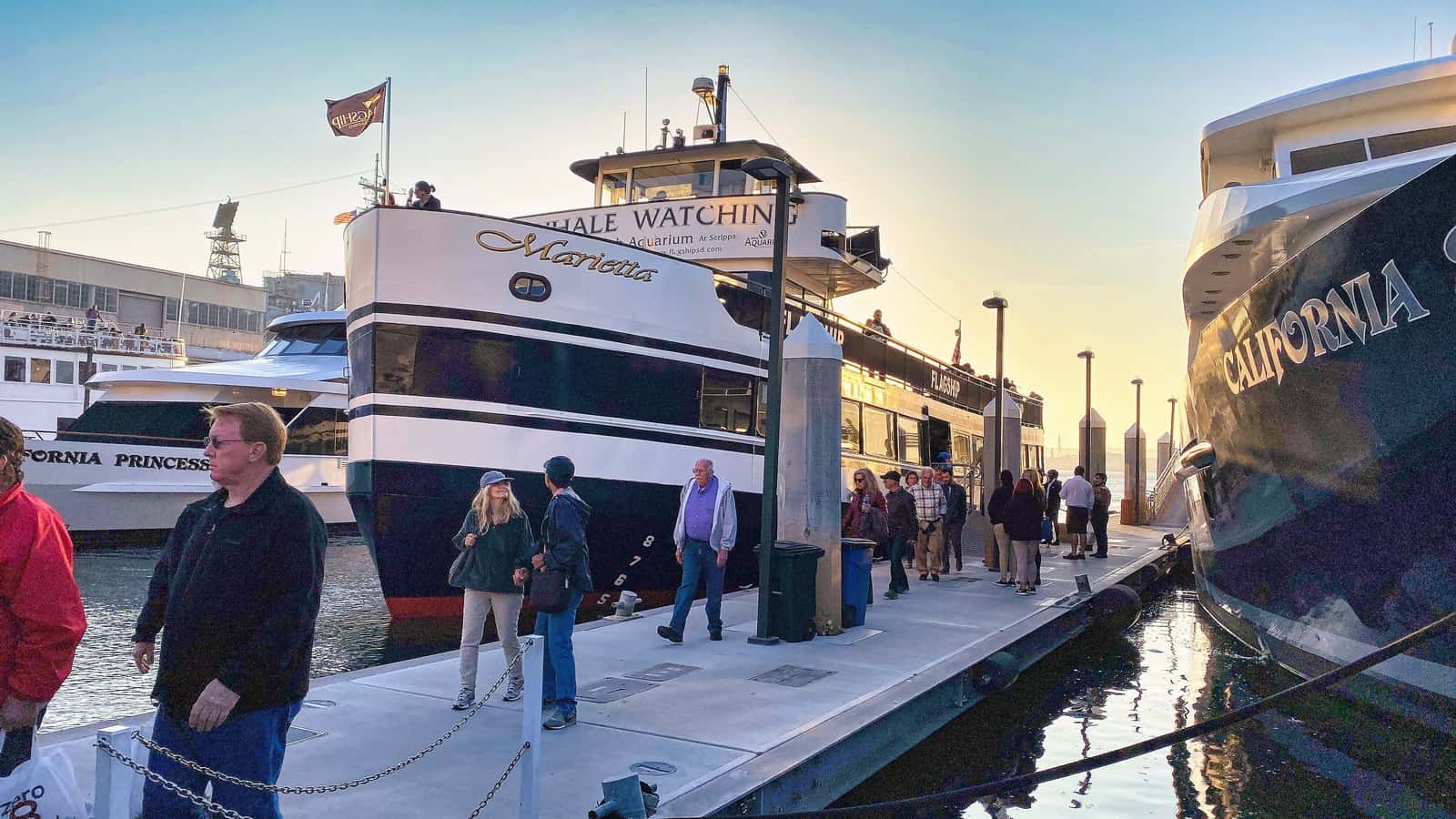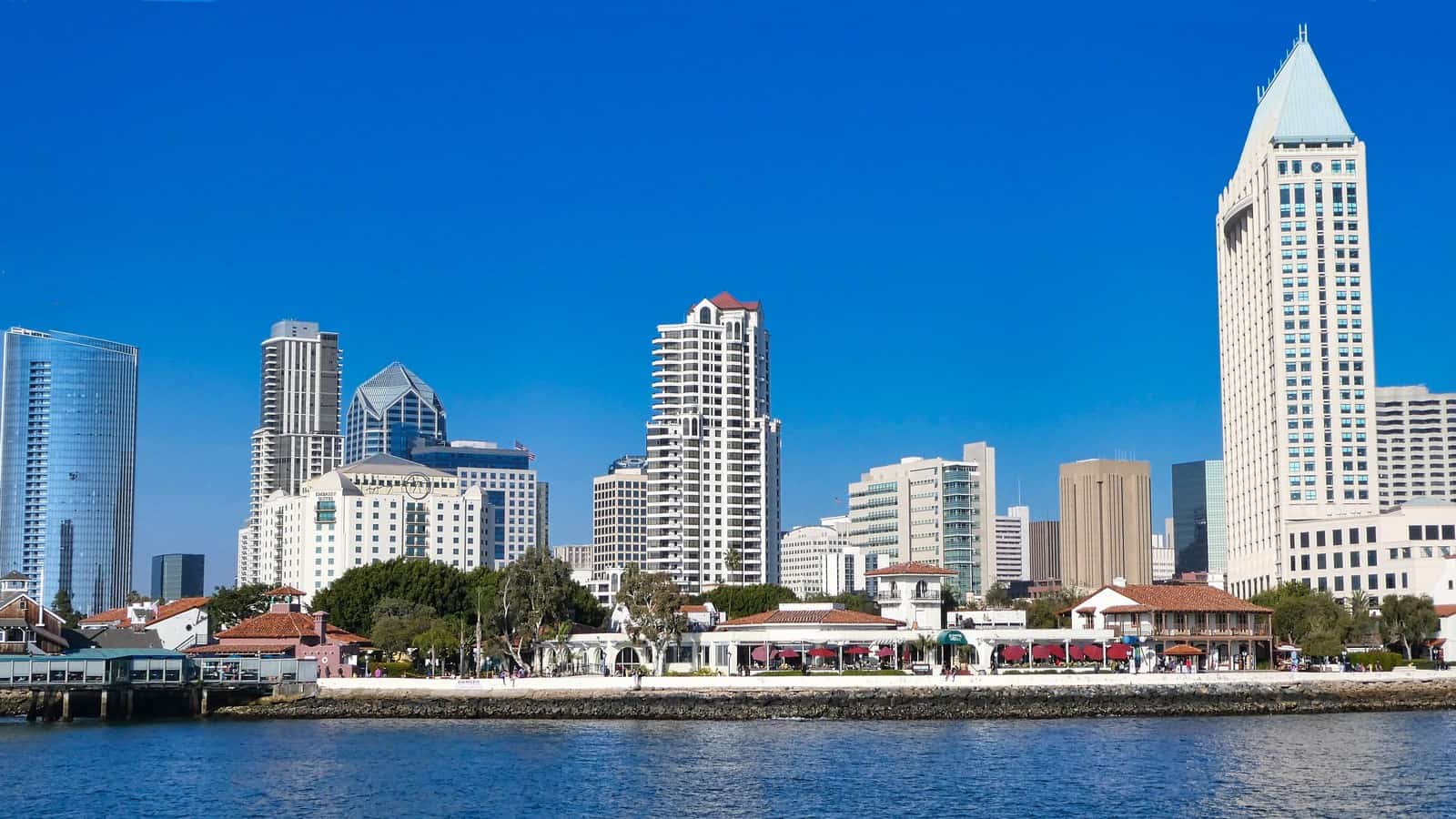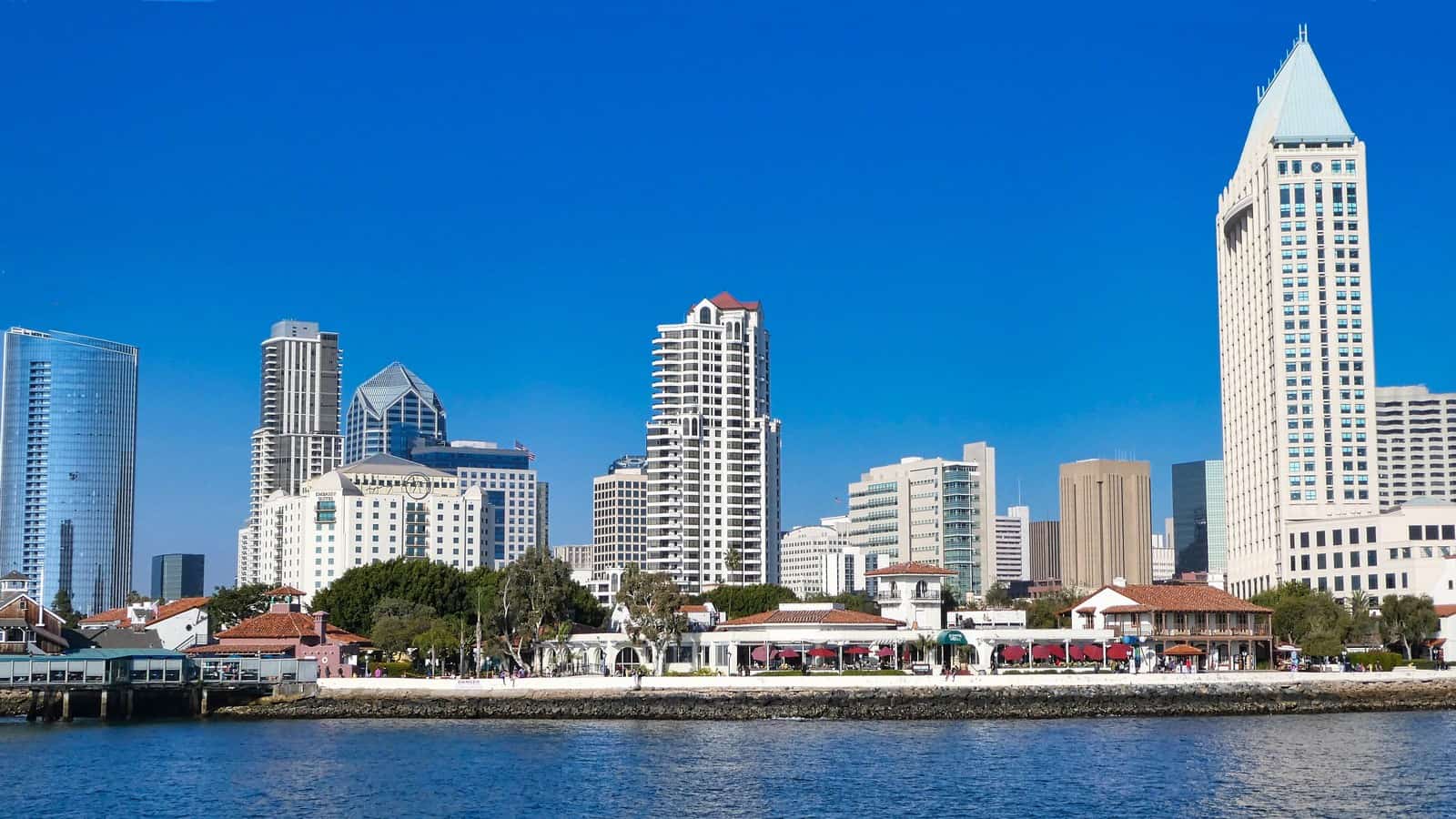 Flagship's history dates back almost as far as San Diego itself. For over one hundred years, they have been in shipbuilding, tug operation, salvage, shipping, sport fishing, and of course, ferry service and then providing tours and entertainment on the bay.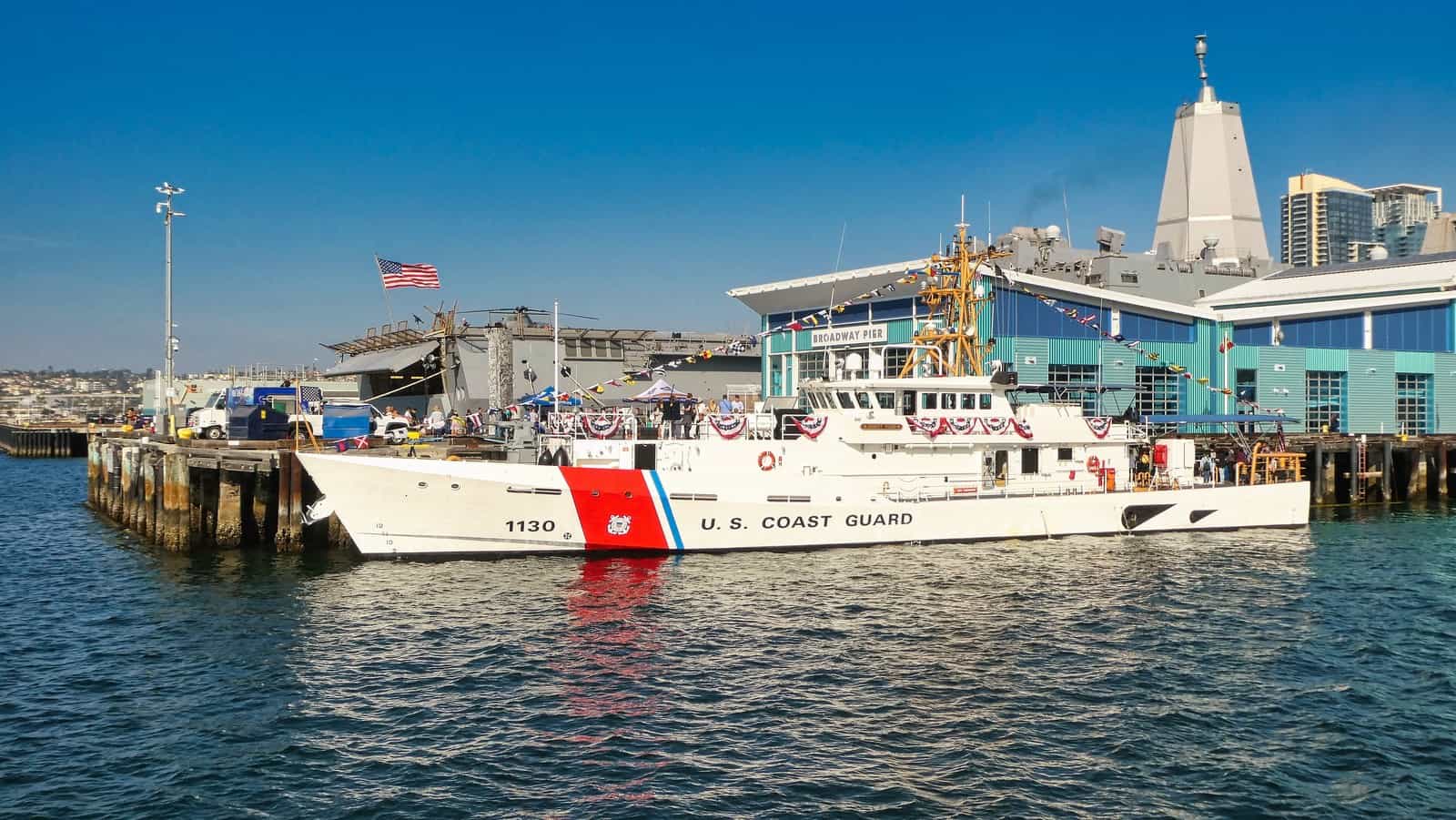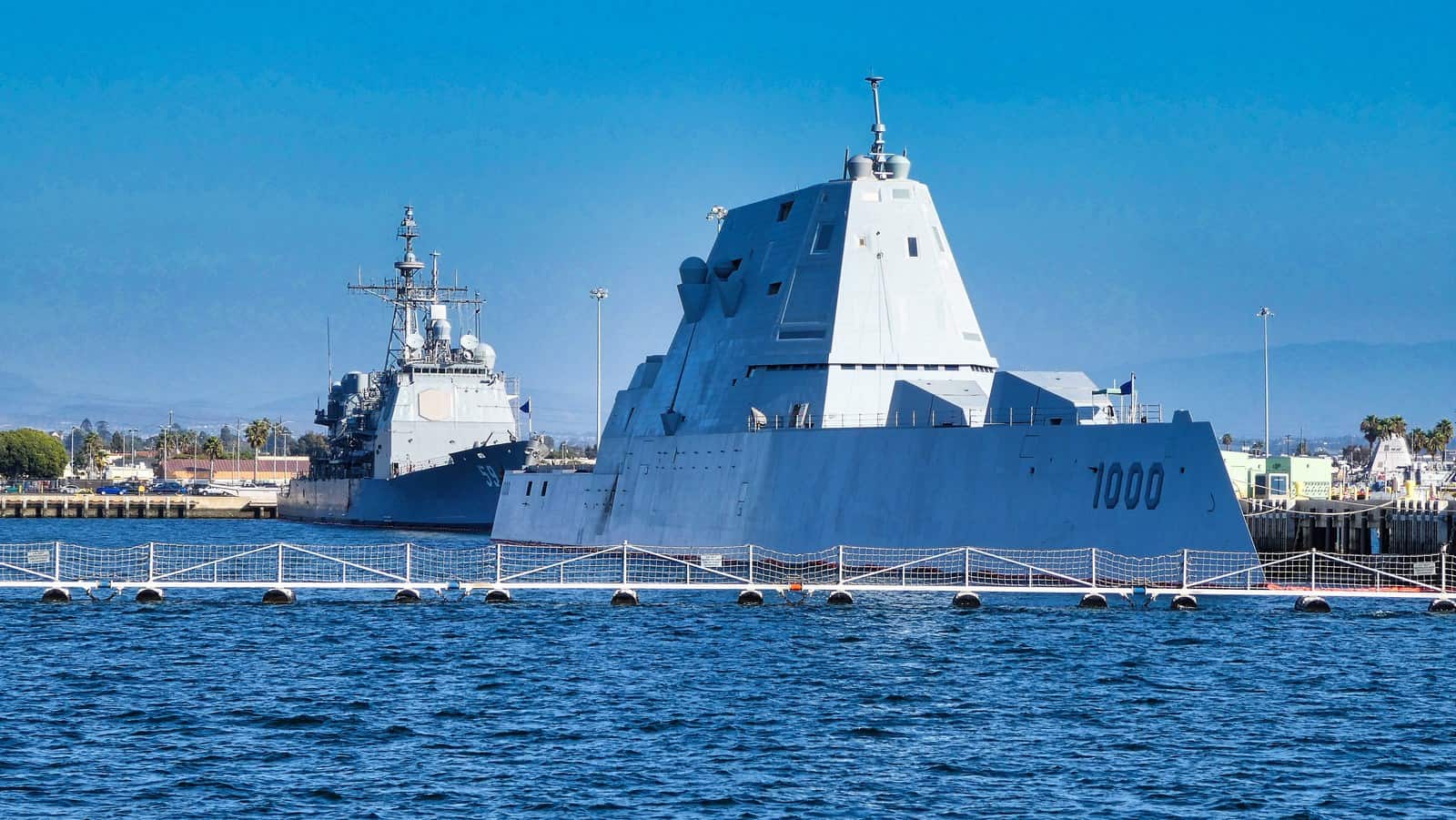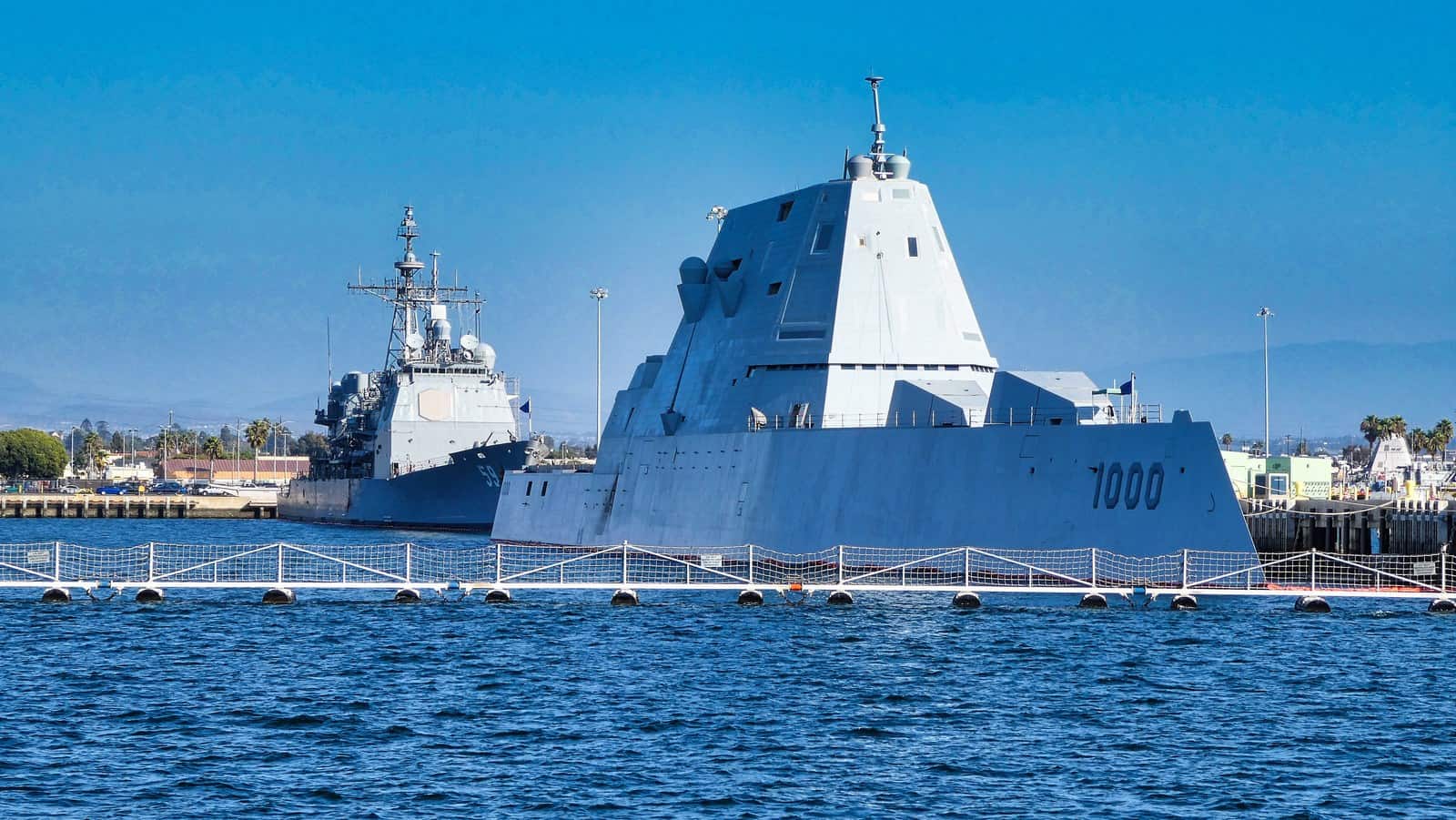 The ships feature an open-air observation deck and an onboard snack bar serving snacks, soda, beer, wine, and cocktails.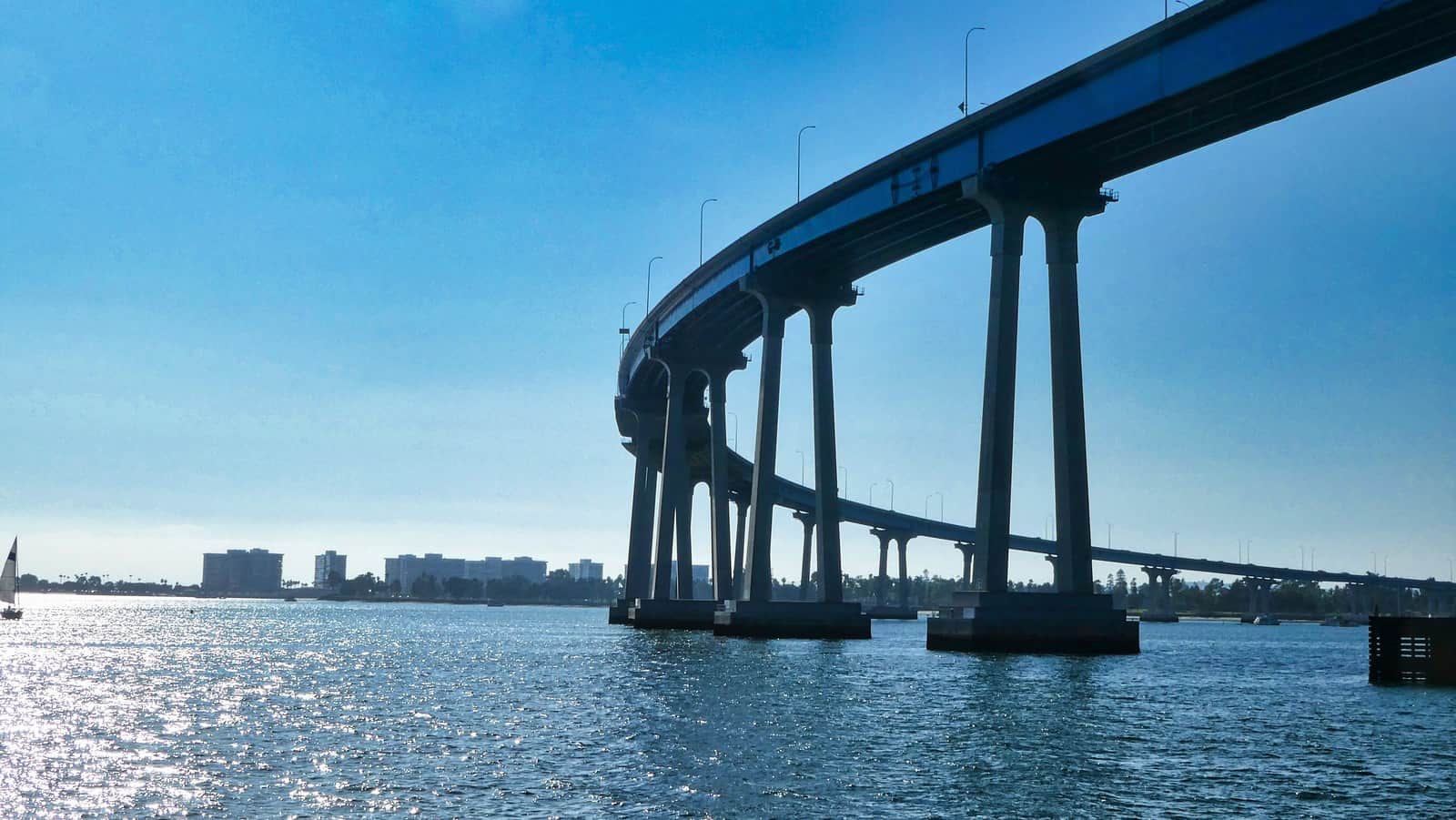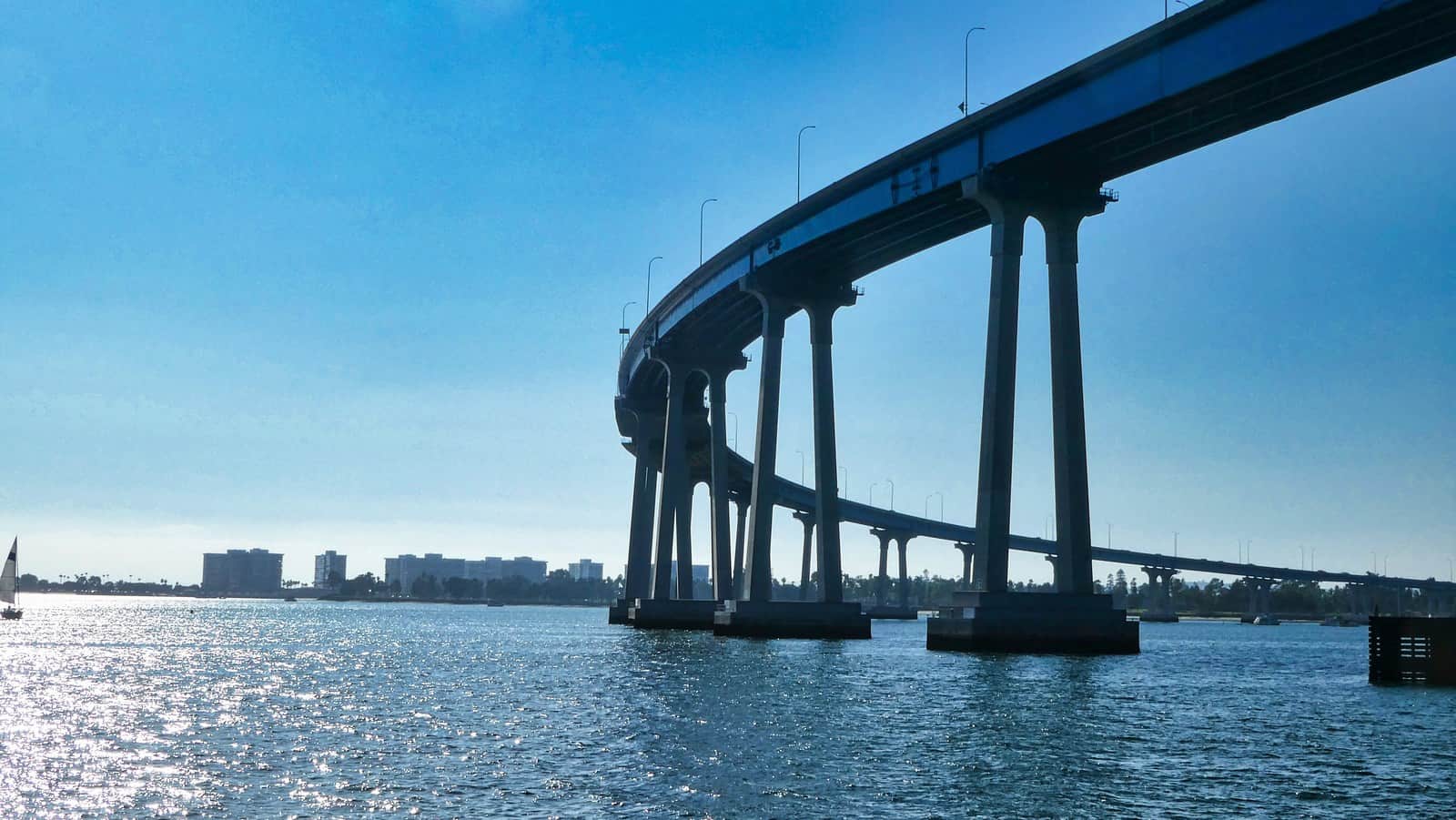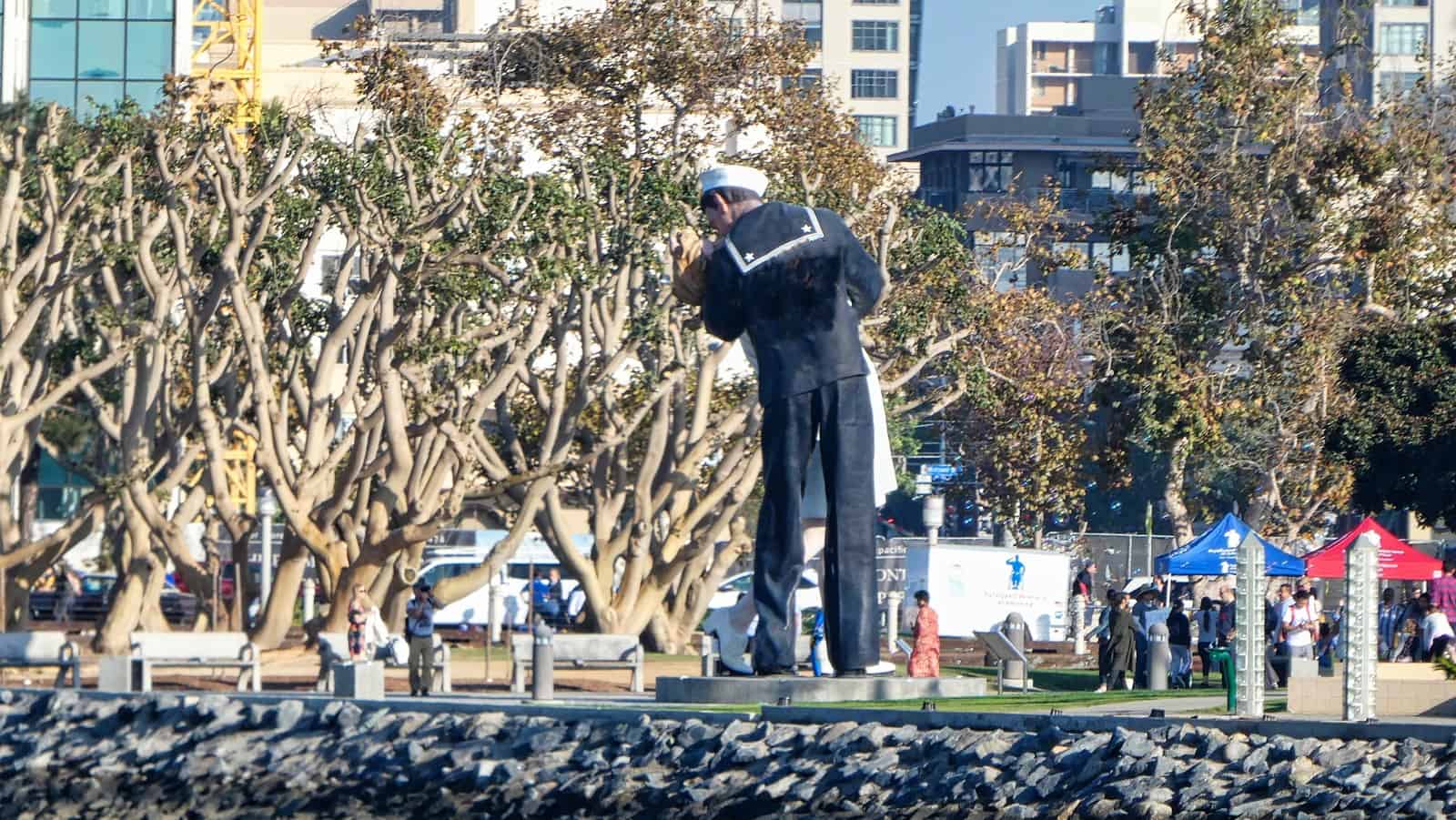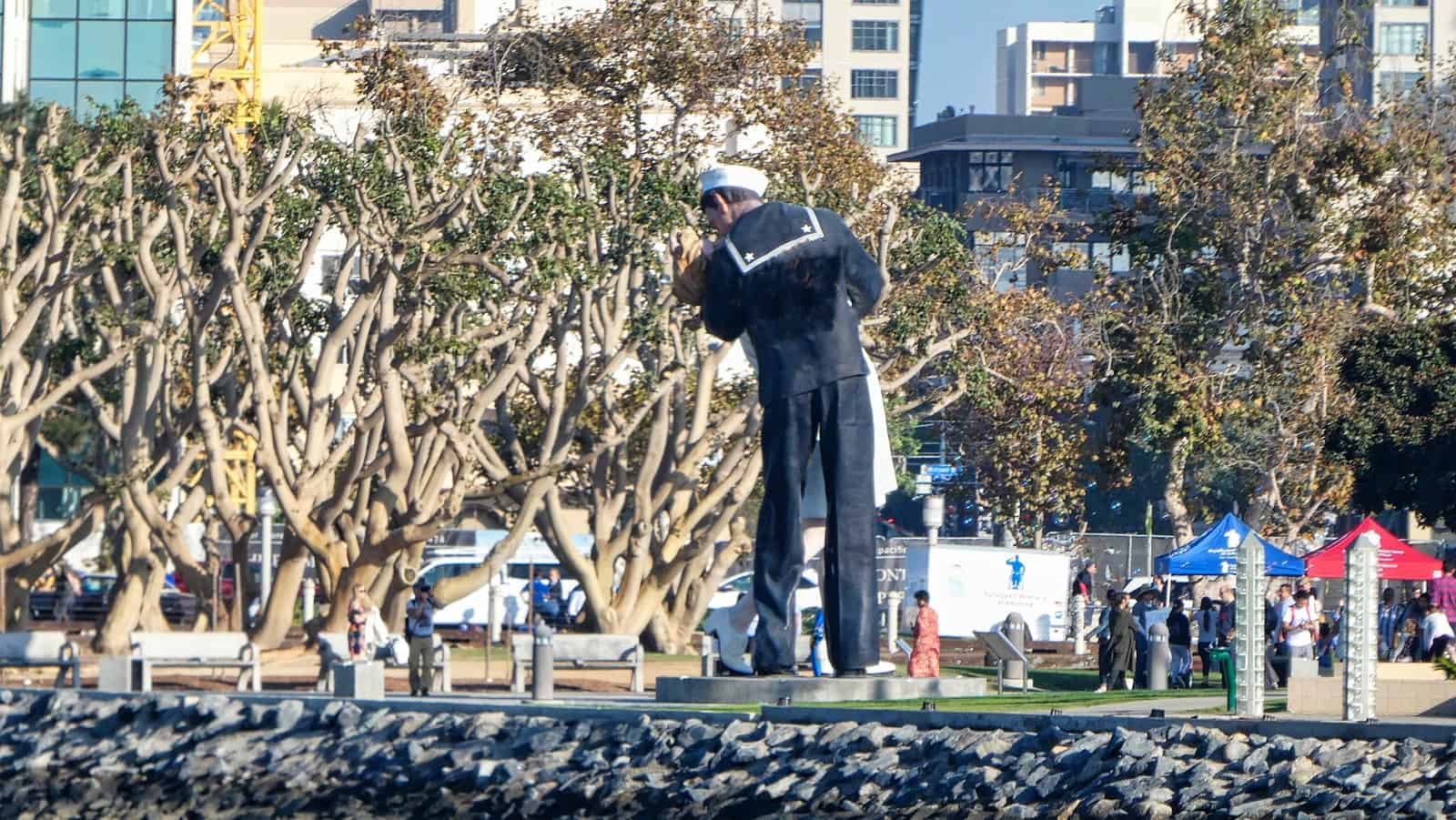 San Diego Old Town State Park
Visit San Diego's Old Town State Park to experience the history of early San Diego. Touring the park, you will get a feel for life in the Mexican and early American periods of 1821 to 1872.
In 1769 San Diego became California's first Spanish settlement with the construction of a mission and fort. Later, it became part of the newly made Mexican government before gaining statehood in the United States after the Mexican-American War.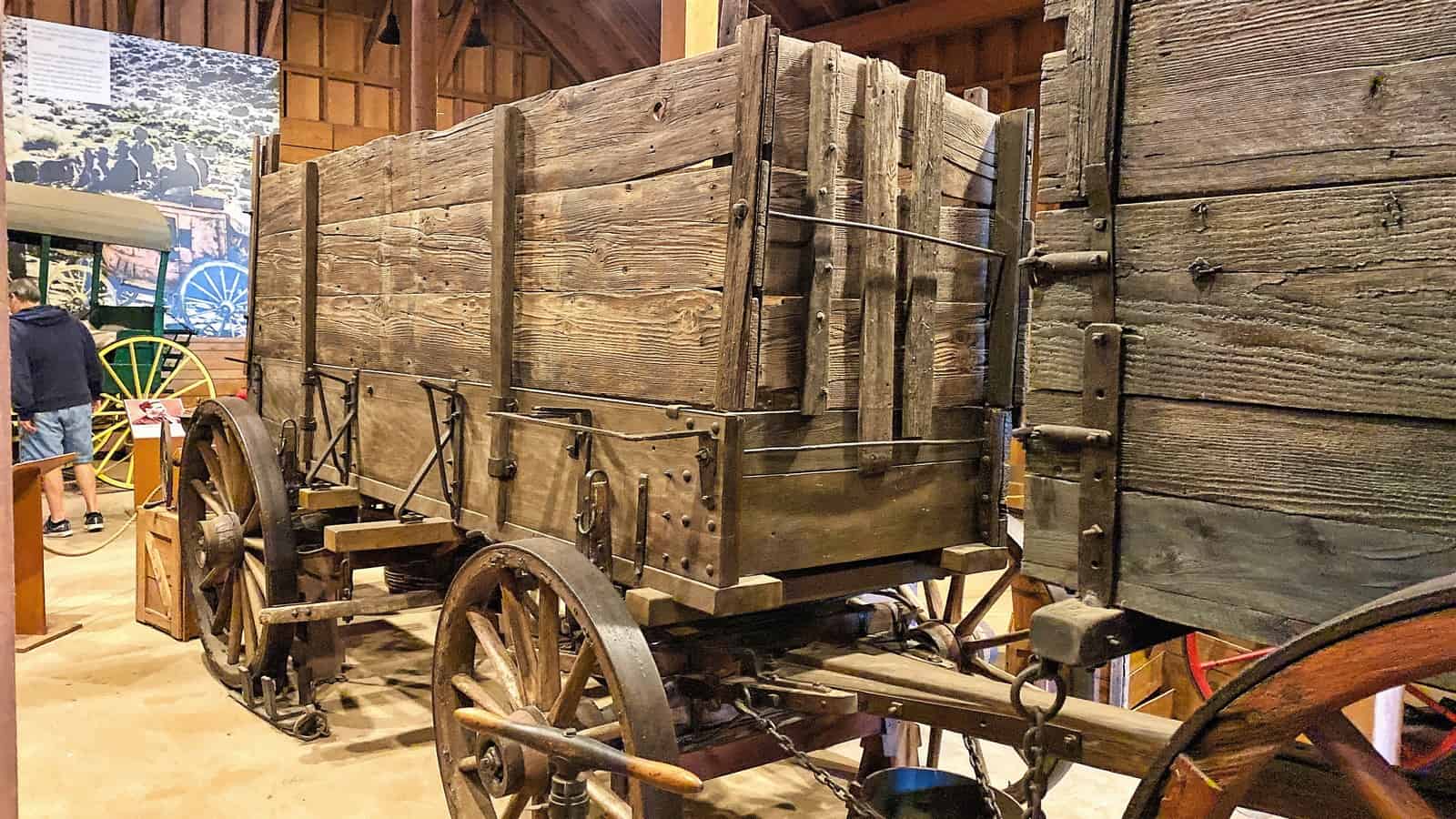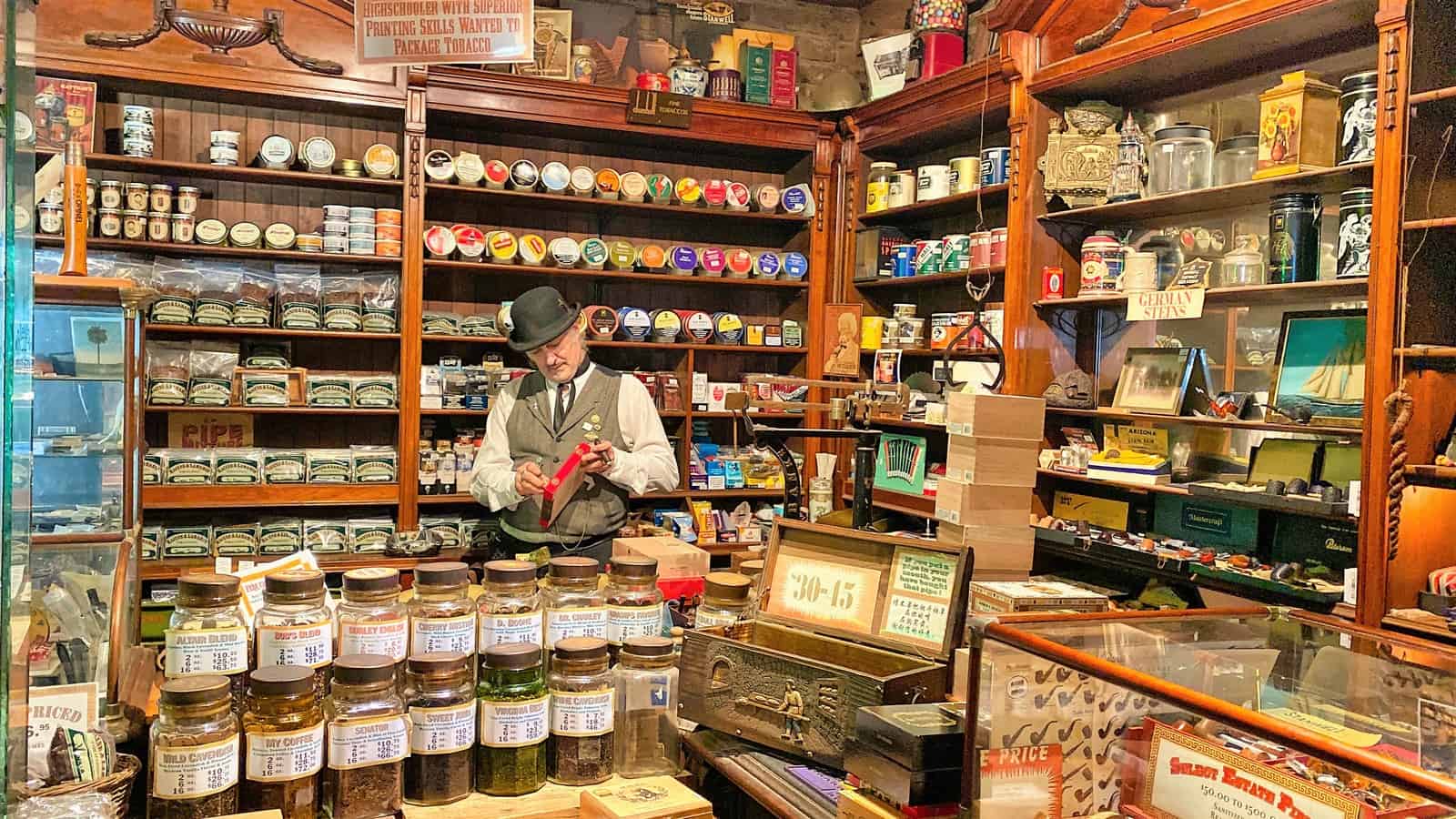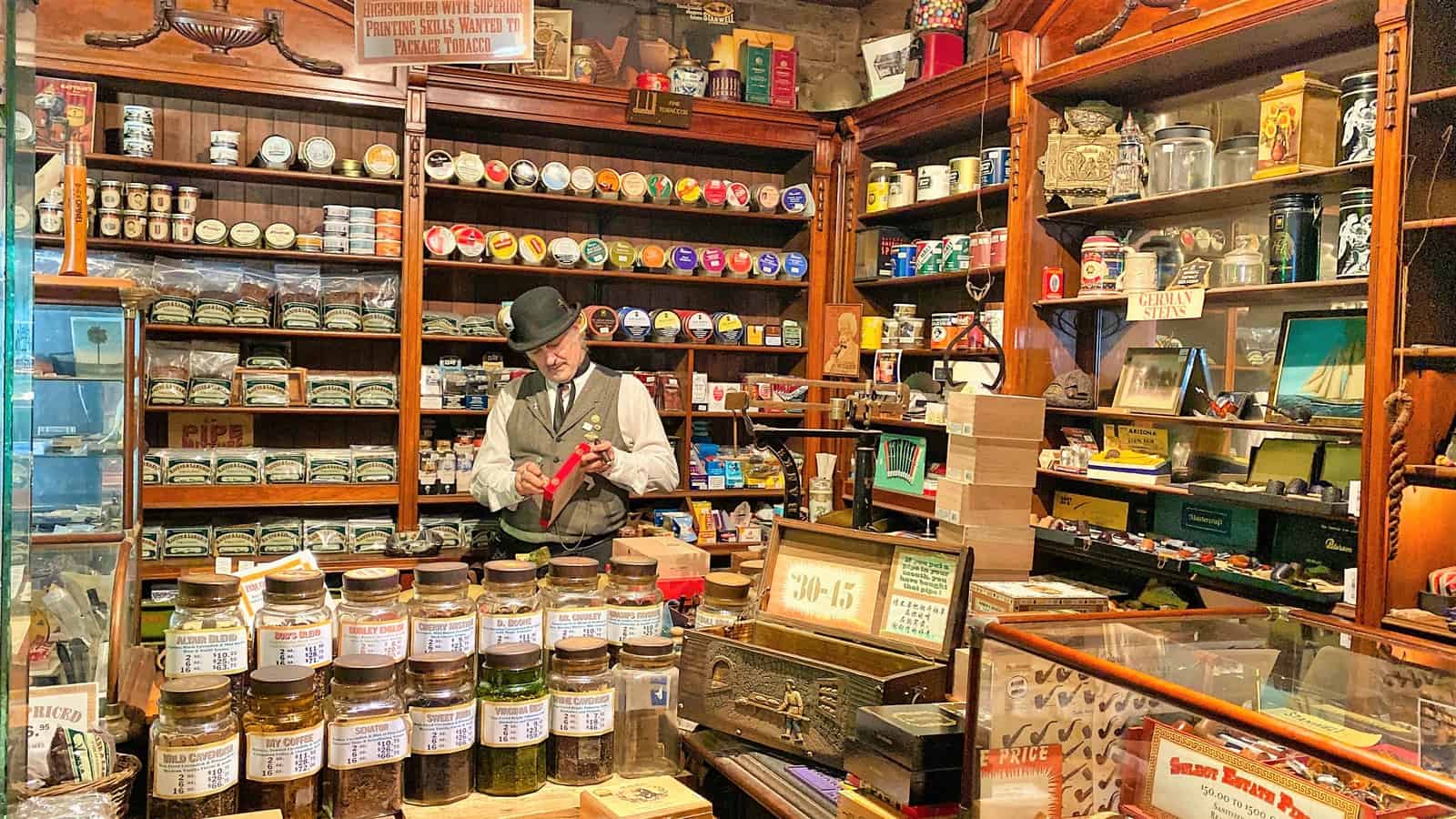 The park is primarily restored original historic buildings, along with early twentieth-century buildings designed in the same mode. Five original adobe buildings are part of the historical park: these five buildings house museums, retail shops, and several restaurants.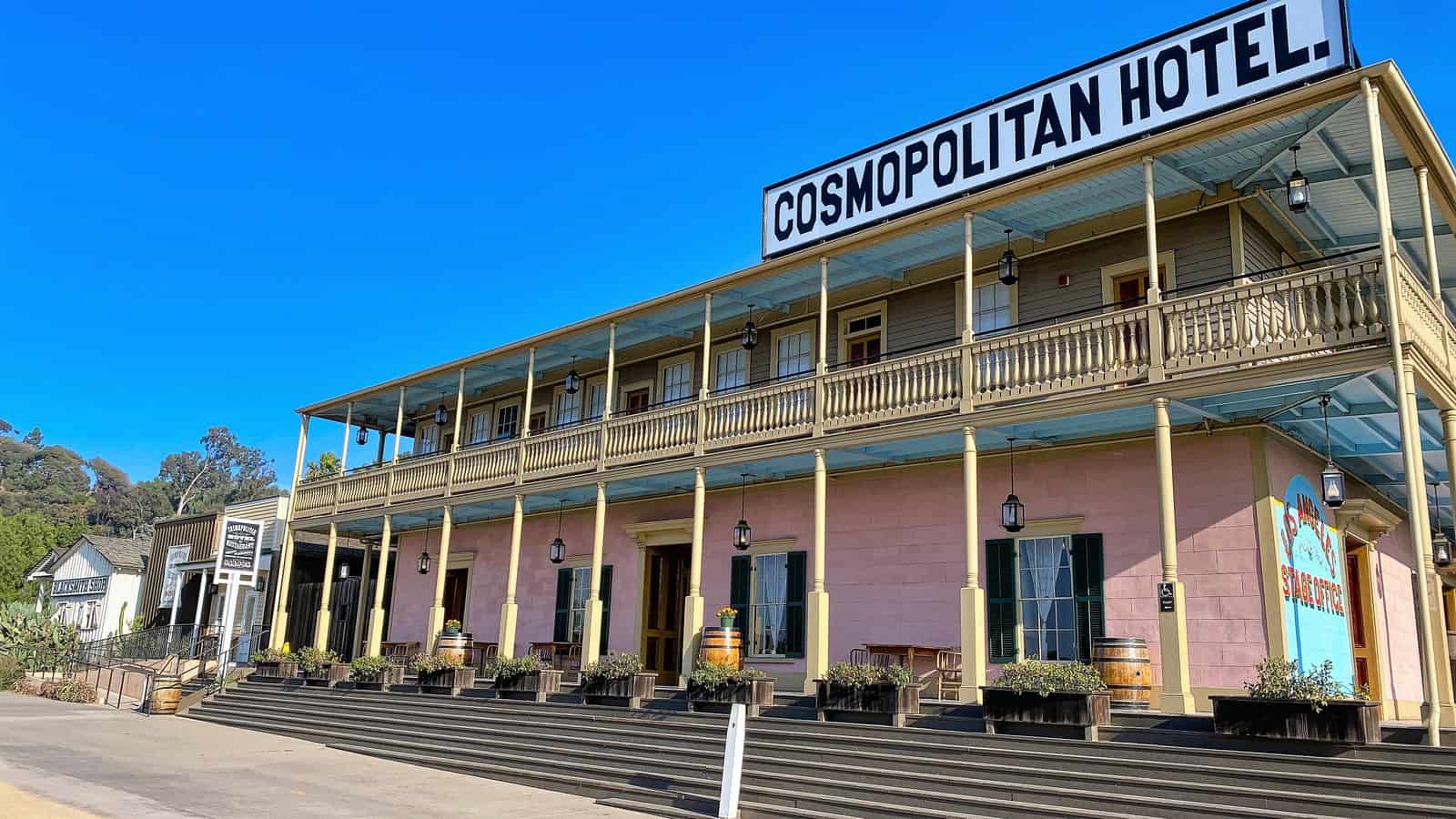 When you visit, you can also experience a working blacksmith shop, enjoy music, and engage in activities that epitomize early San Diego.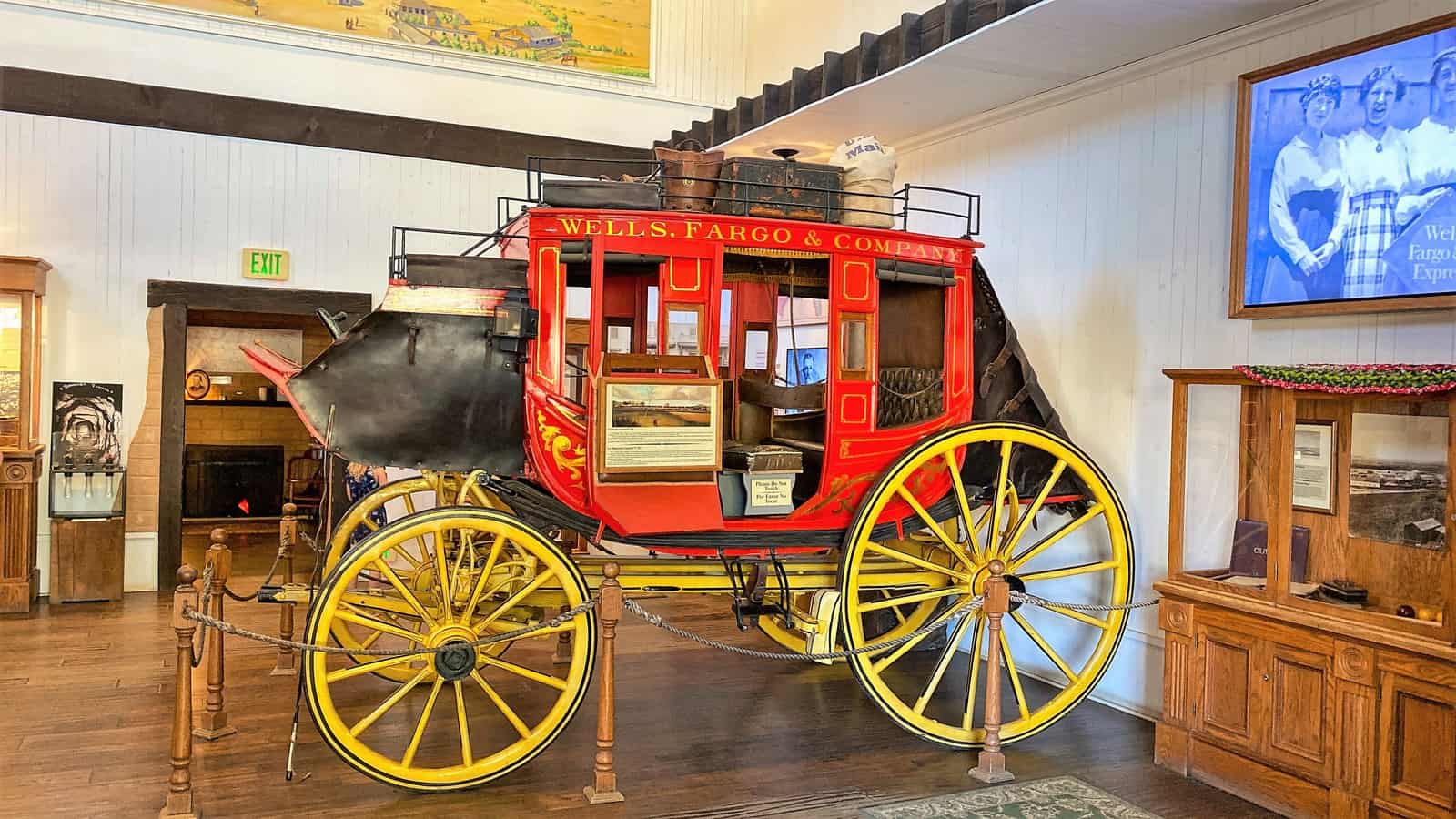 San Diego Old Town Mexican Café
While visiting San Diego's Old Town State Park, you have to have lunch or dinner at San Diego's Old Town Mexican Café to try their handmade tortillas. They have served authentic Mexican food since 1977. An attraction unto itself in Old Town San Diego is watching the ladies make tortillas handmade from scratch.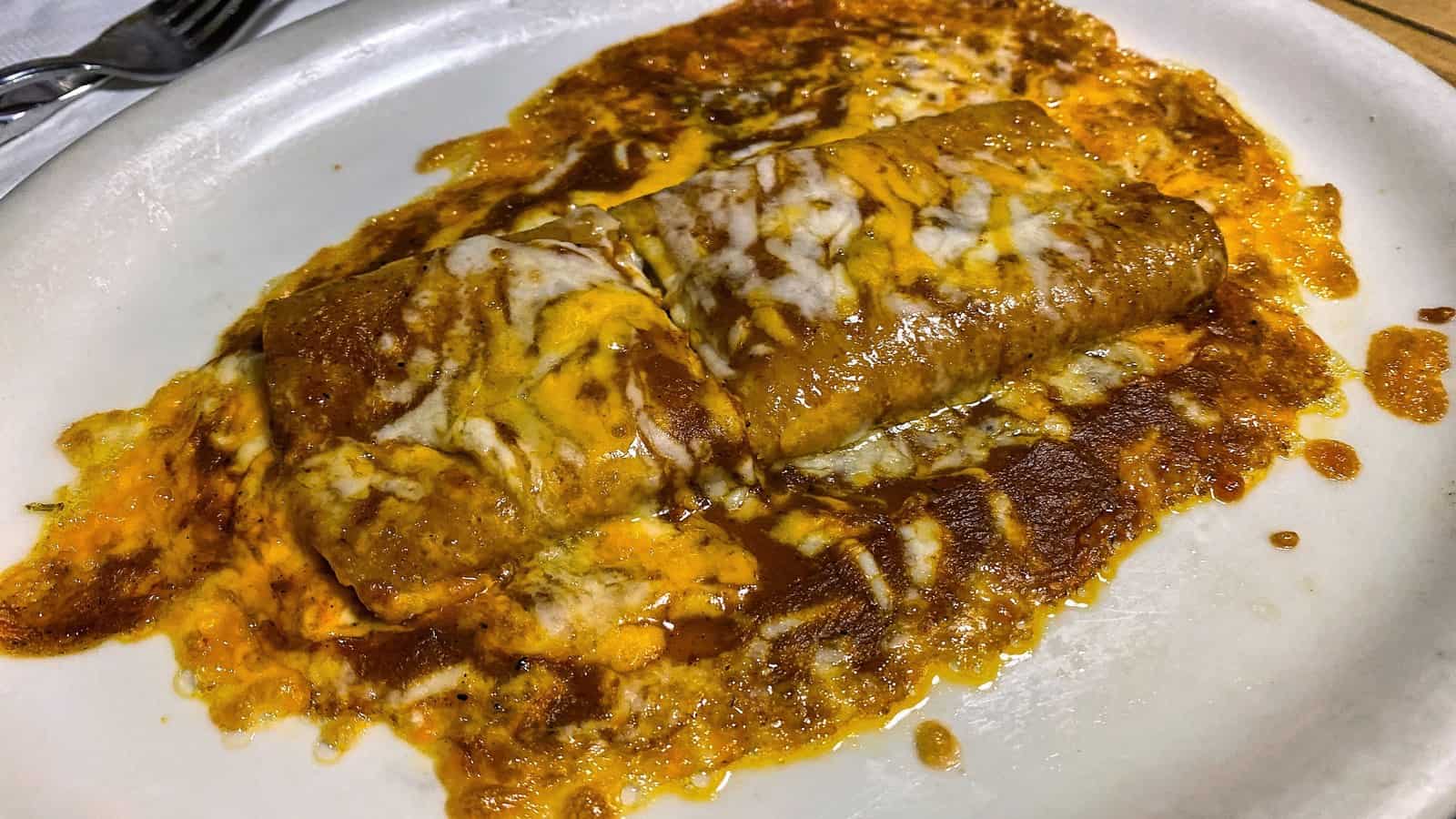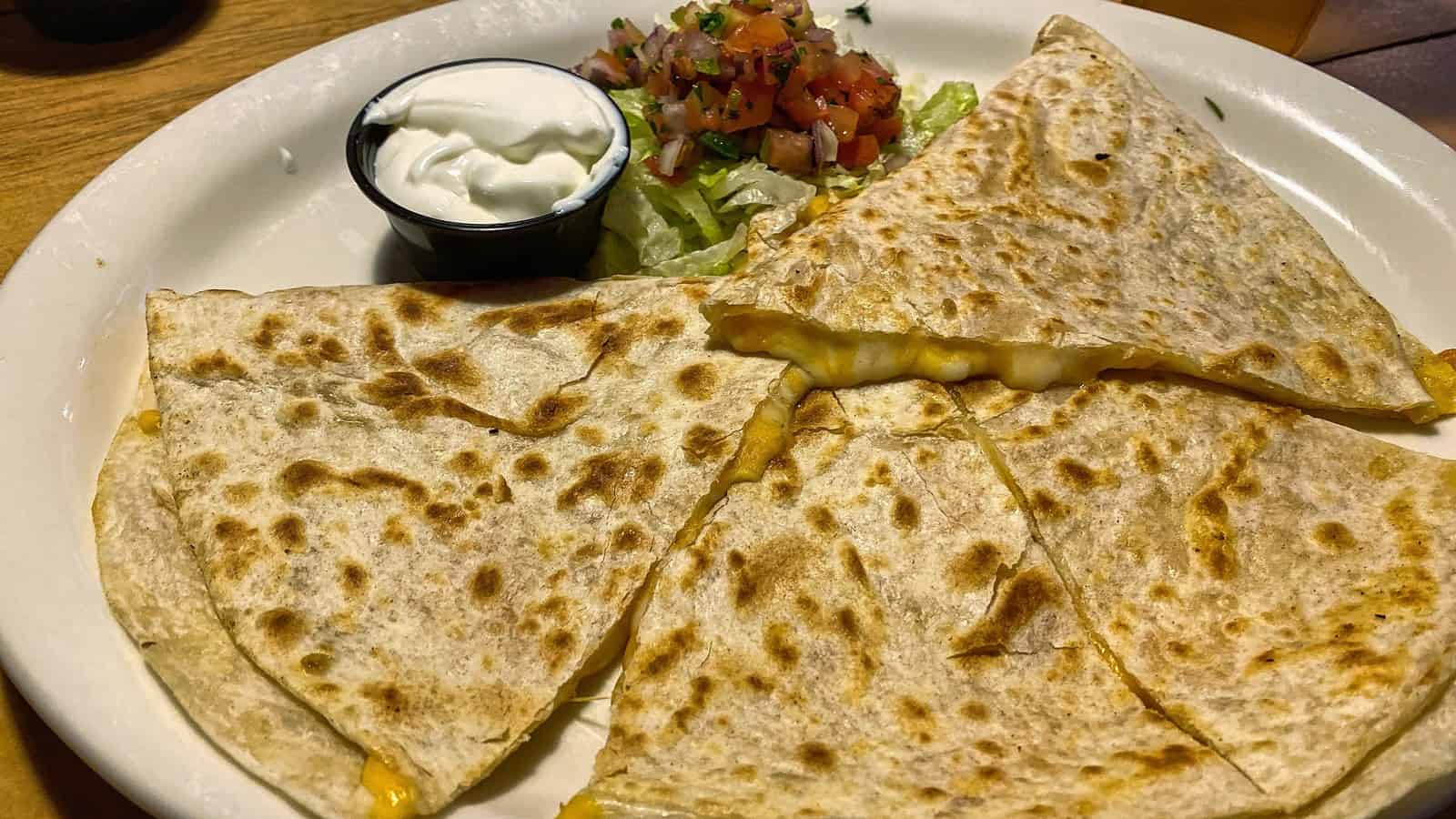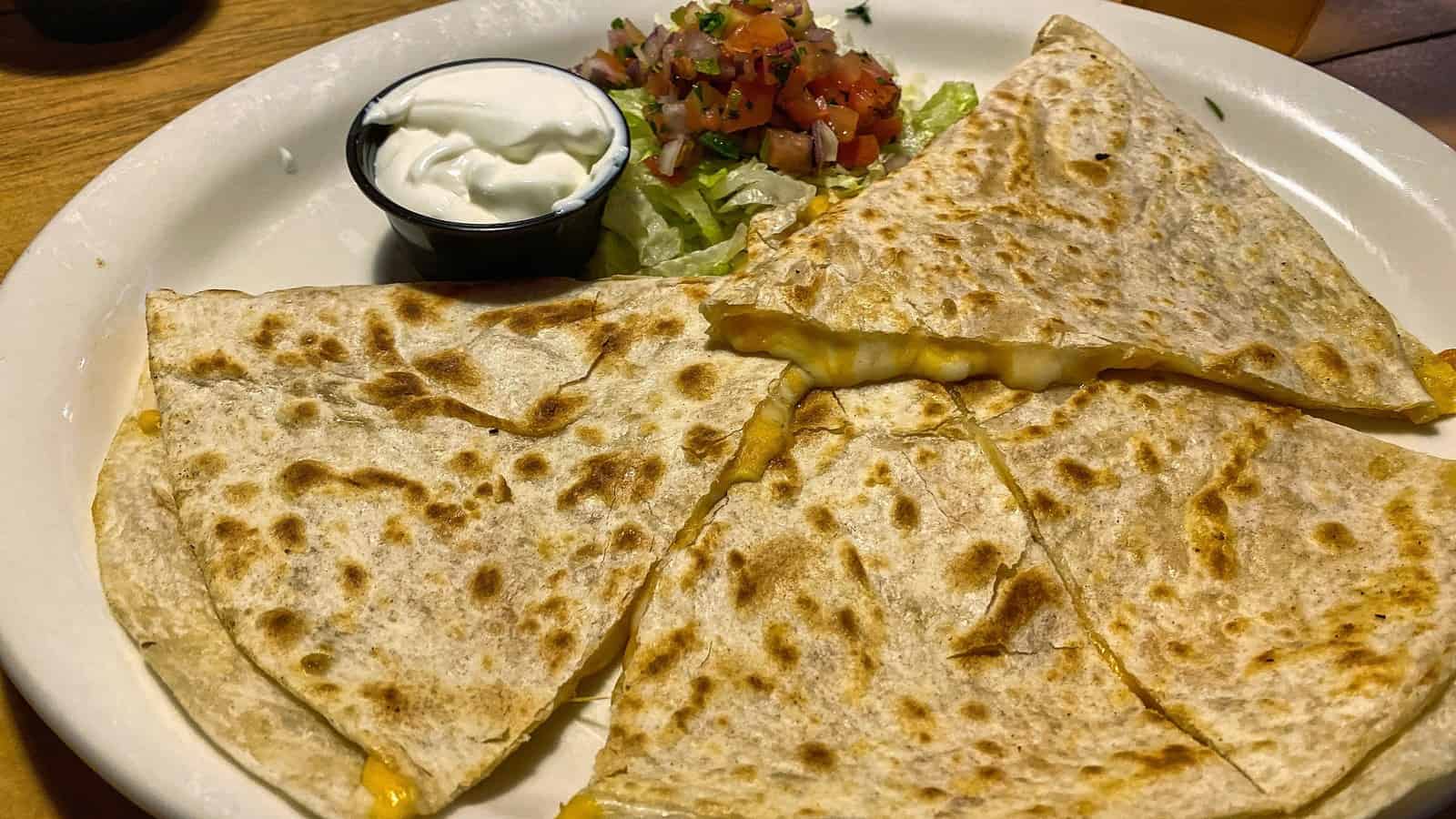 Old Town Mexican Café's tortillas are so popular that we have two kitchens devoted to making both flour and corn tortillas. One is at the front of the restaurant where you can watch the tortilla making from the street or inside as you wait for a table. The tortilla ladies, as they are known, make approximately 3000 corn and 5600 flour tortillas a day.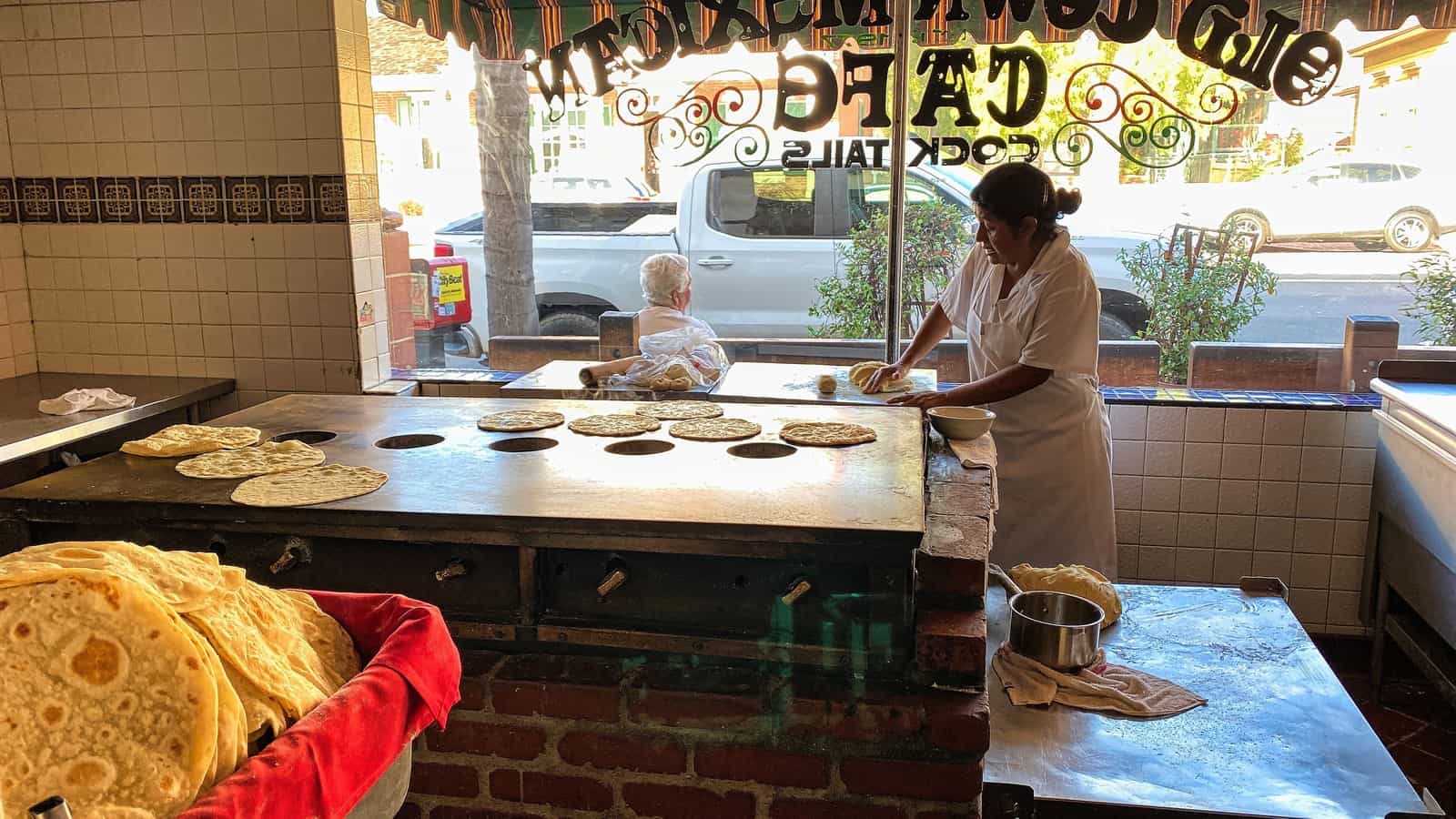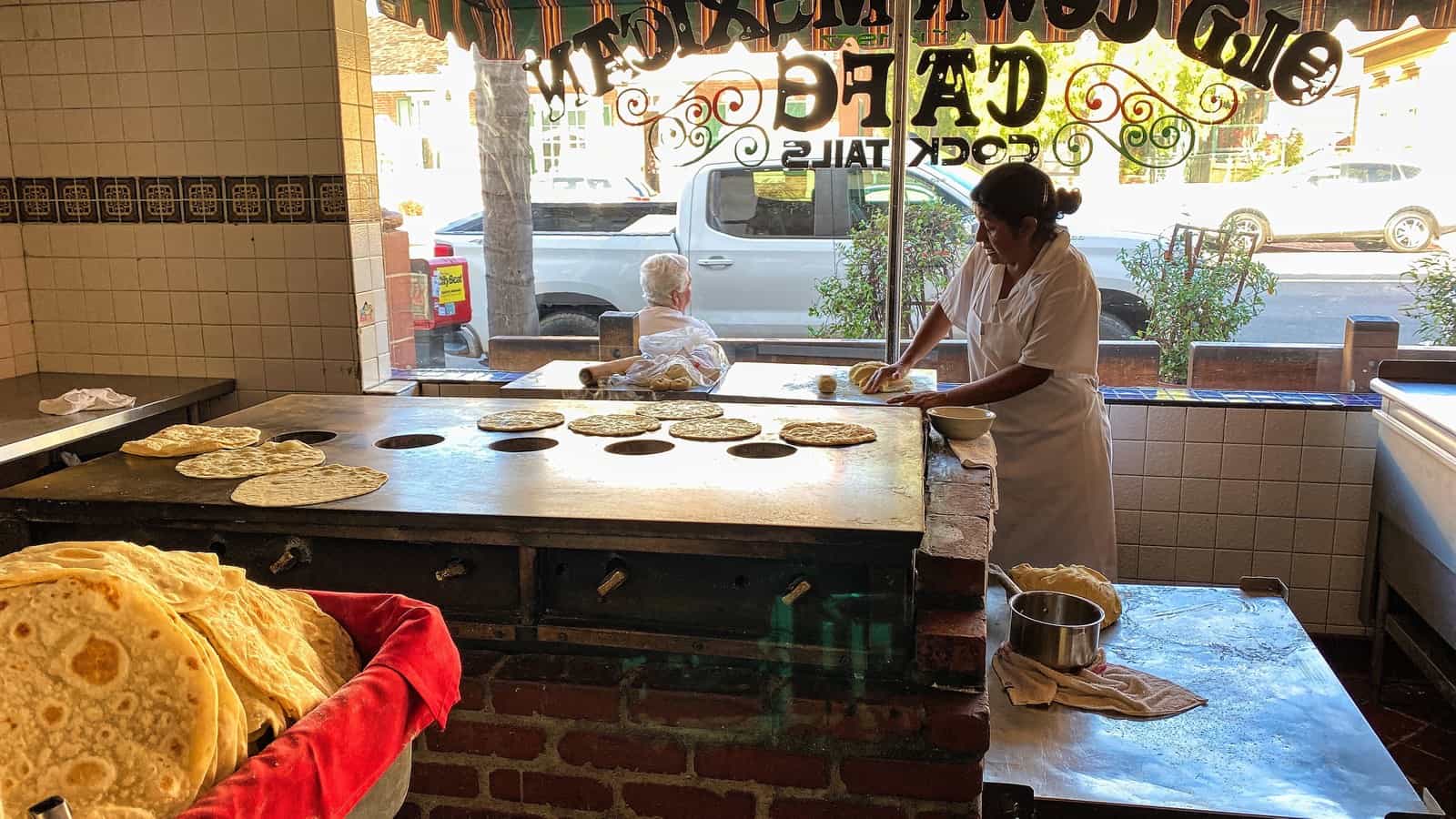 USS Midway Museum
A visit to the USS Midway is something that you can only do in San Diego. Keith was 8 years in the Navy, so he did not want to miss the opportunity to tour the USS Midway. This museum allows you to learn more about the historical significance of the USS Midway aircraft carrier by visiting all its various areas. Admission includes a self-guided audio tour. The audio tour brings Midway's history to life.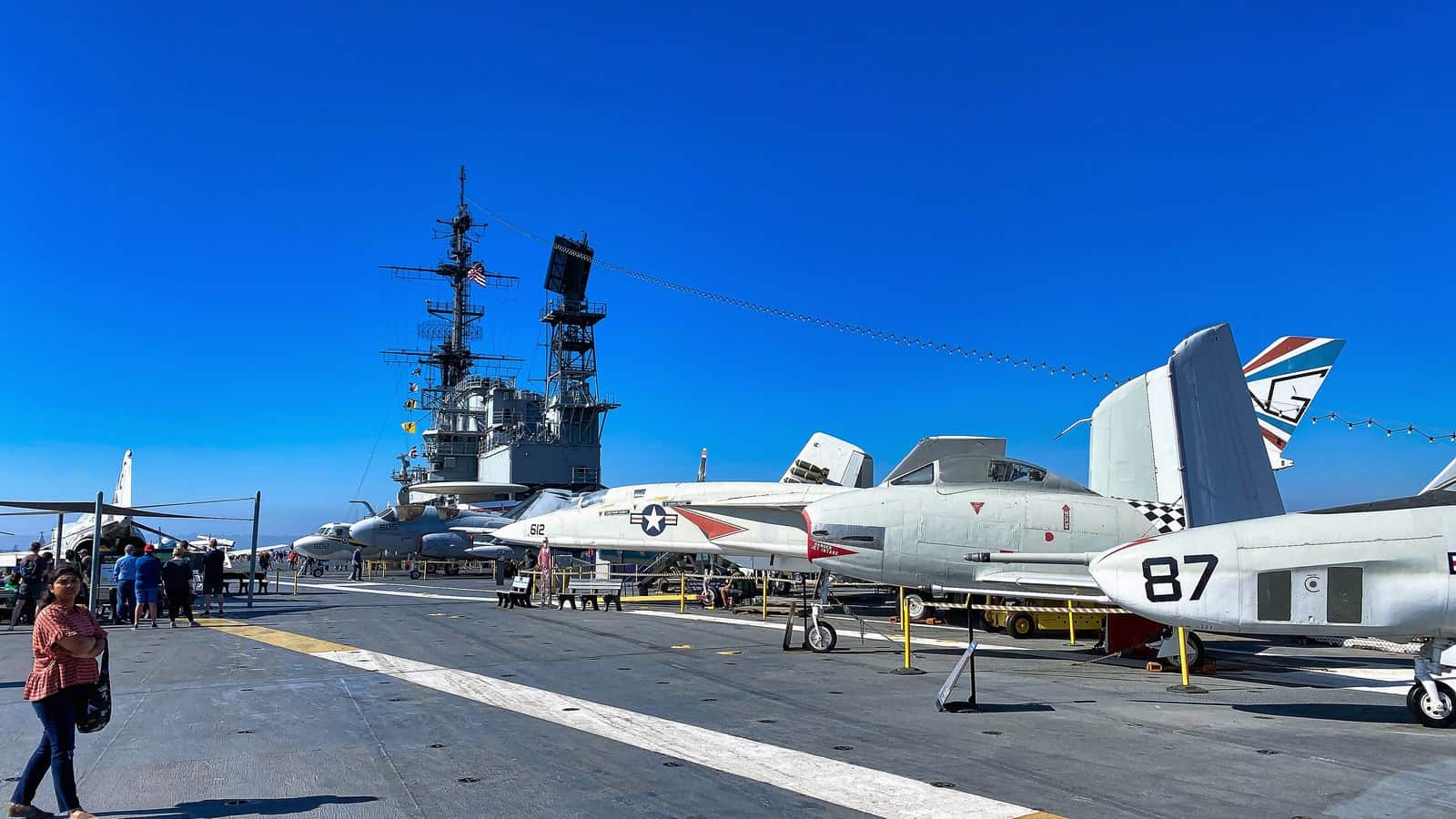 After you visit the Midway, you will know what it was like to live onboard a floating city at sea. The flight deck is exciting. While on the flight deck, listen to Midway pilots describe what it was like to fly the more than 20 aircraft on the flight deck off of this floating airport. You can also visit Admiral's & Captain's Country and pilot Ready Rooms.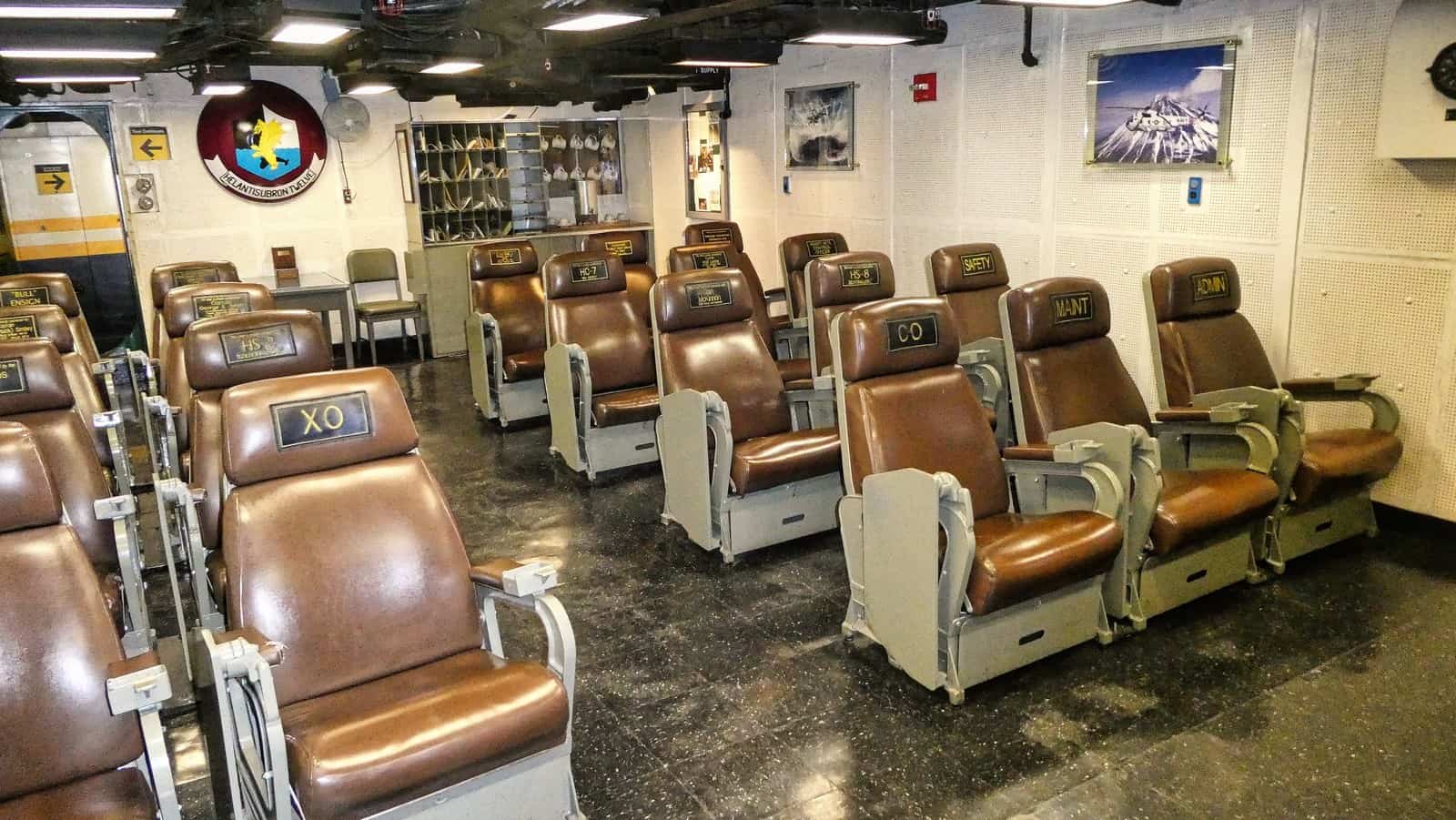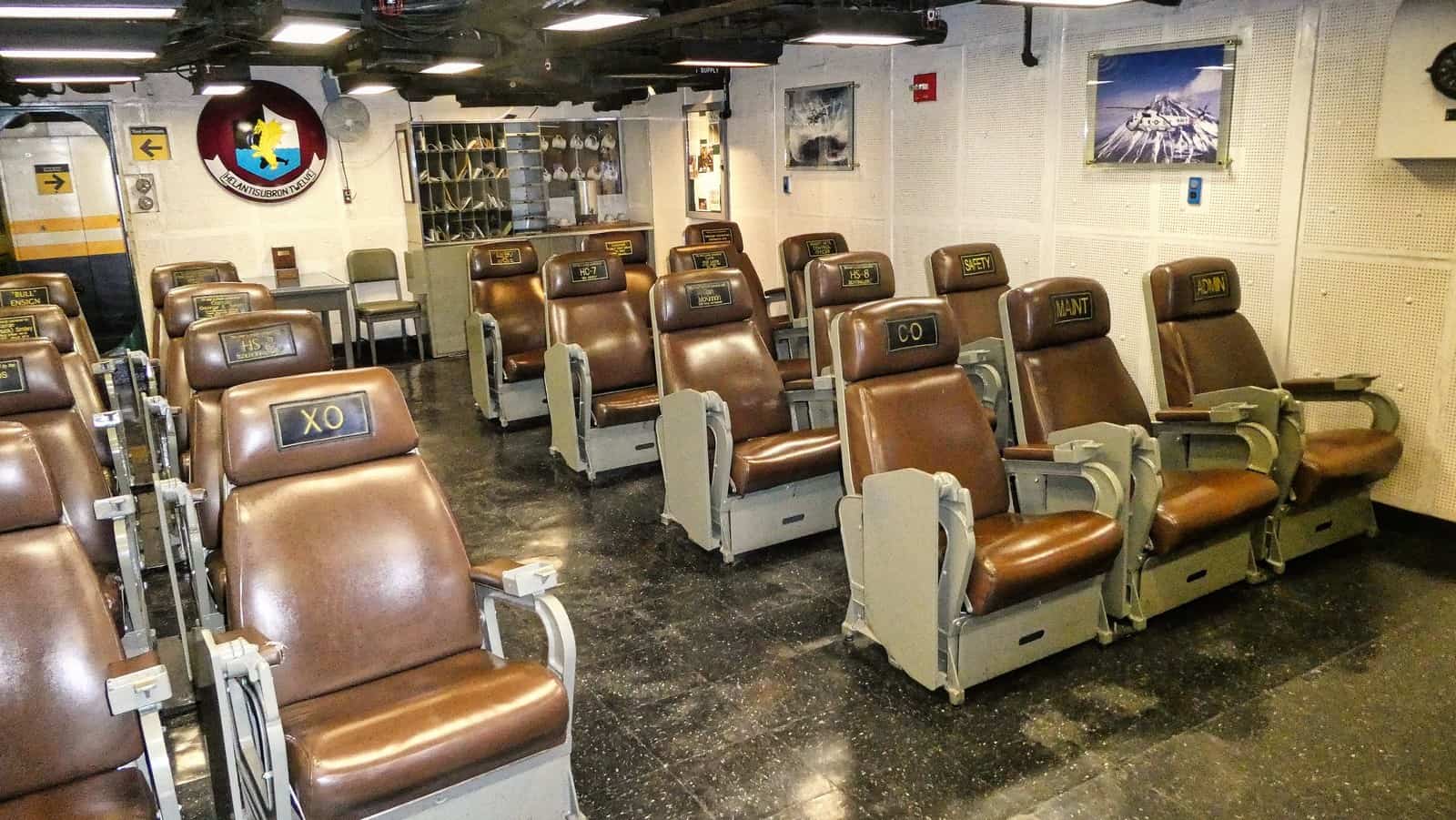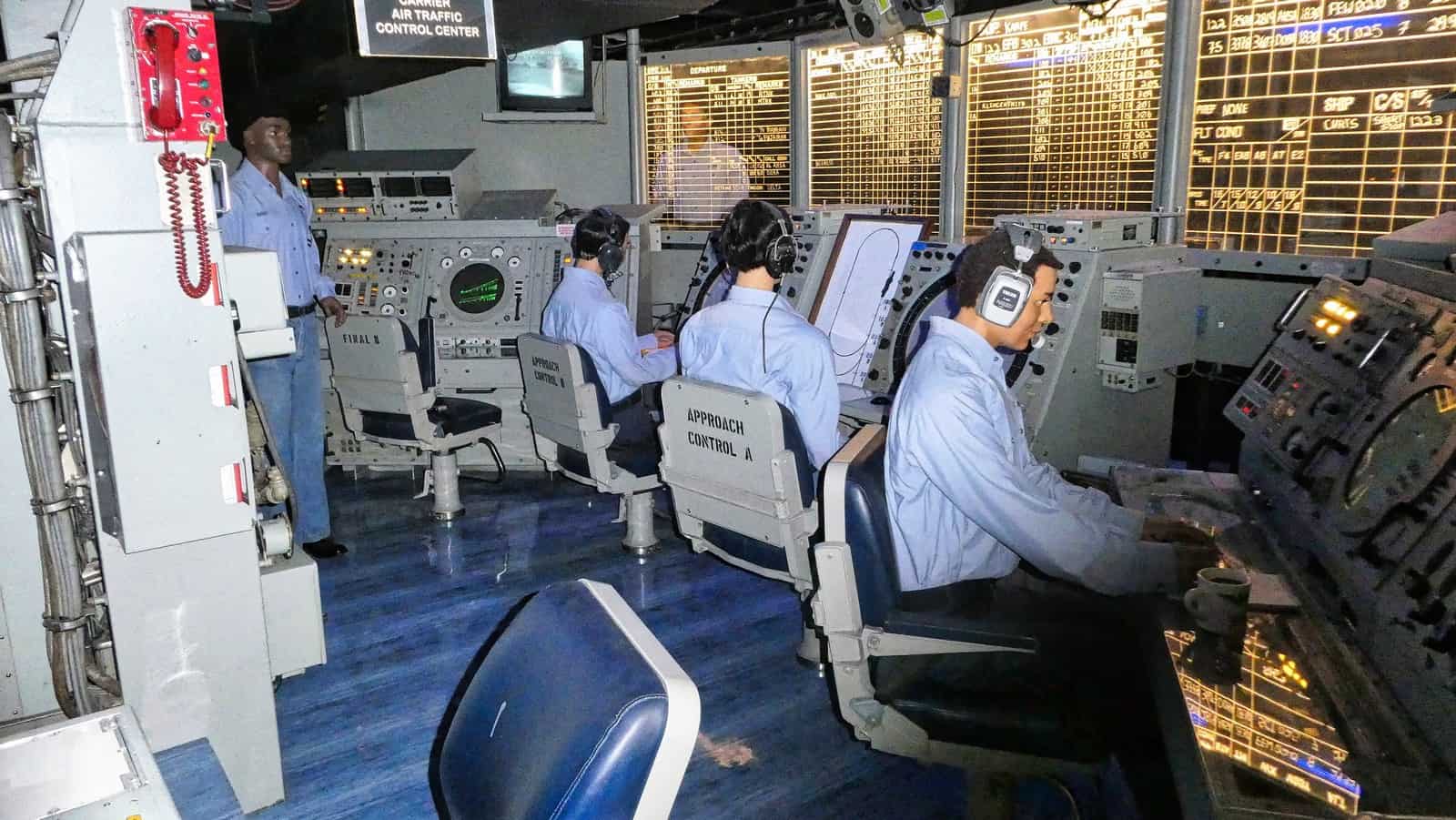 On the Hanger Deck, you will hear what it was like to drop anchor, sleep in an enlisted sailors' bunk, or fly a WWII aircraft from Midway sailors. Below deck, you can explore the Sick Bay, the Galley, Laundry, and the Engine Room, all while listening to Midway sailors describe their daily life aboard.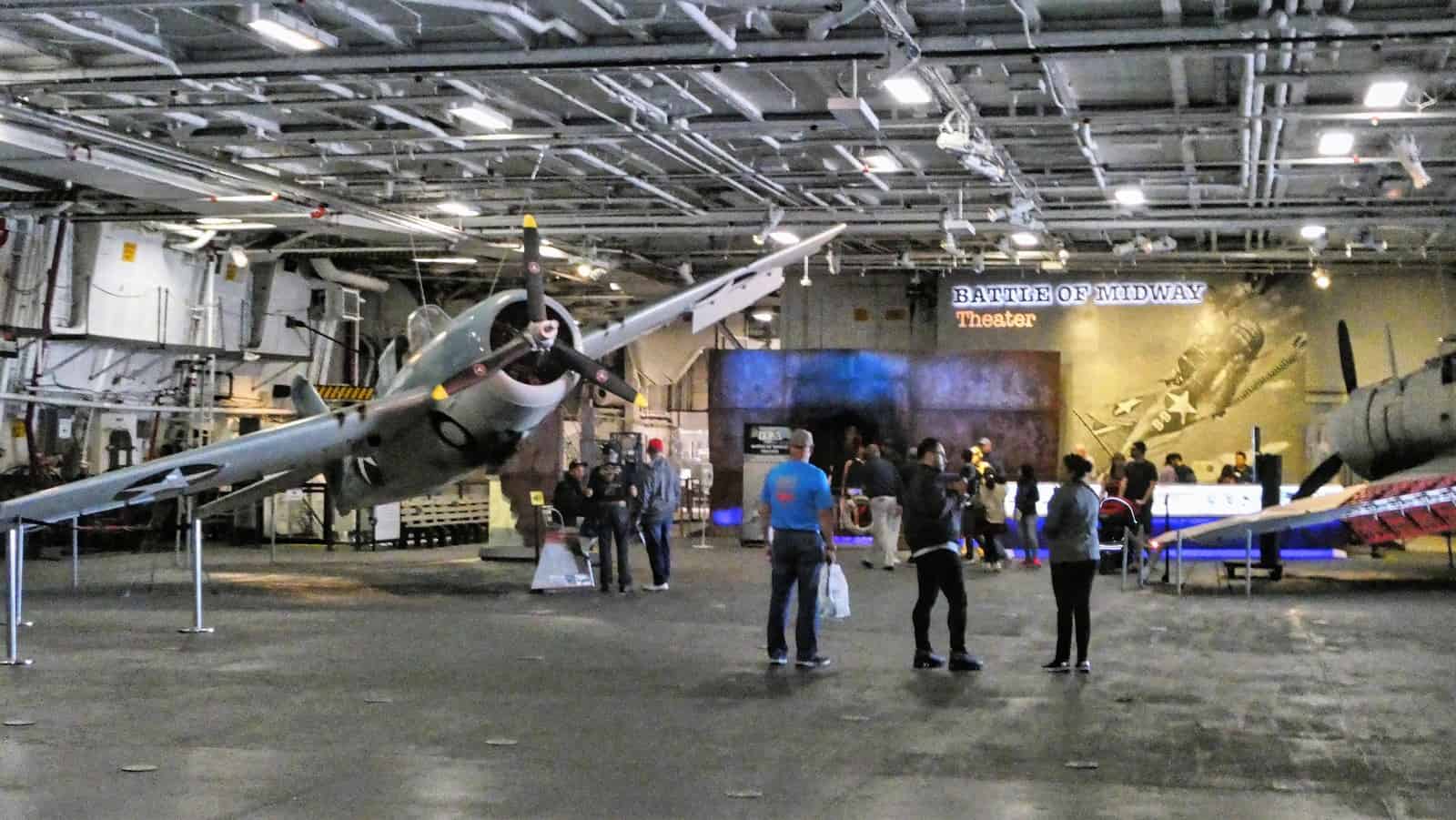 Visit the Romantic Gaslamp Quarter
A visit to San Diego would not be complete without a visit to the historic Gaslamp Quarter, with its Victorian-themed buildings and dozens of shops and nightclubs. It's an over sixteen block historical neighborhood in Downtown San Diego. You will see great examples of Victorian and Art Deco architecture.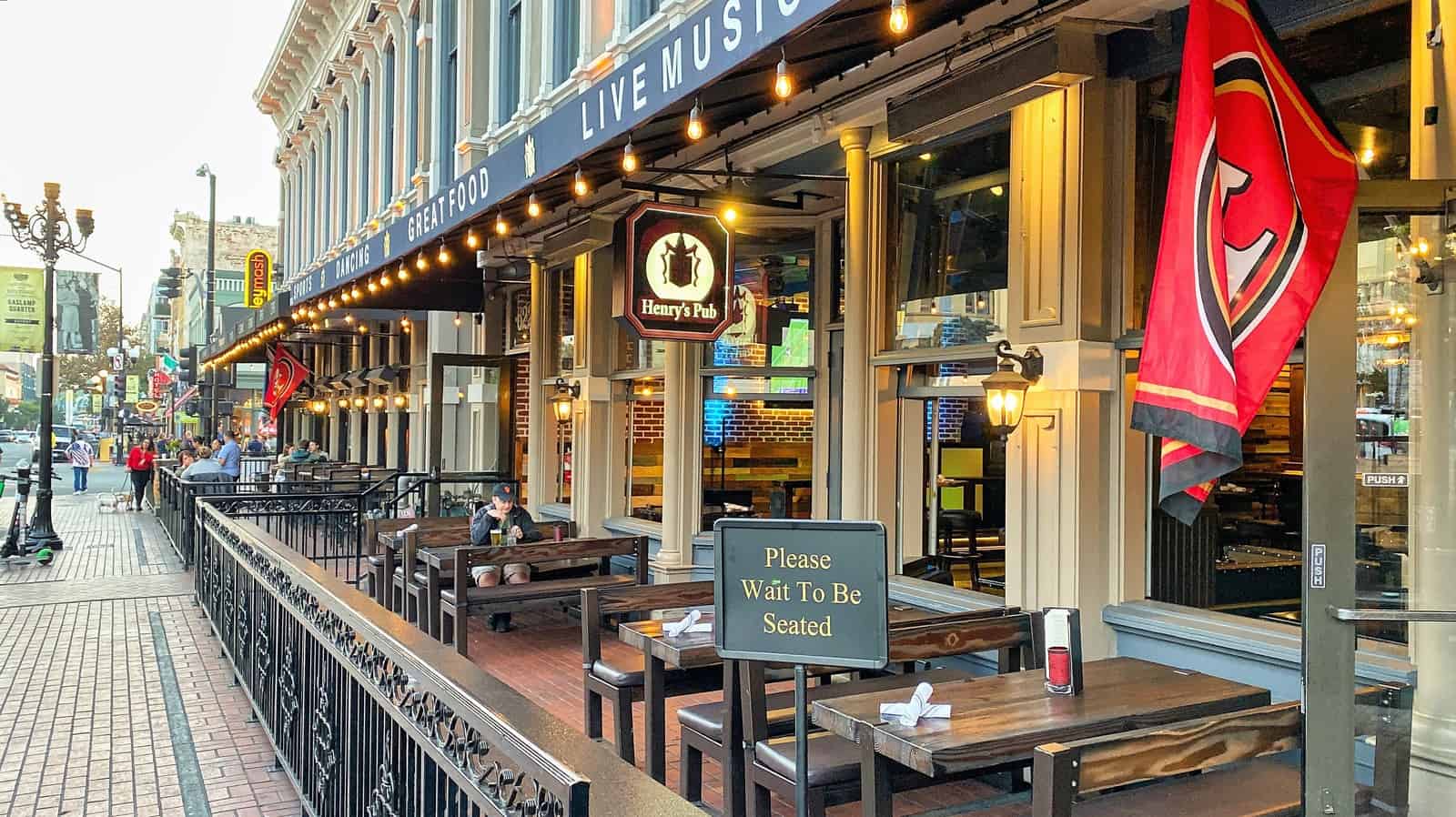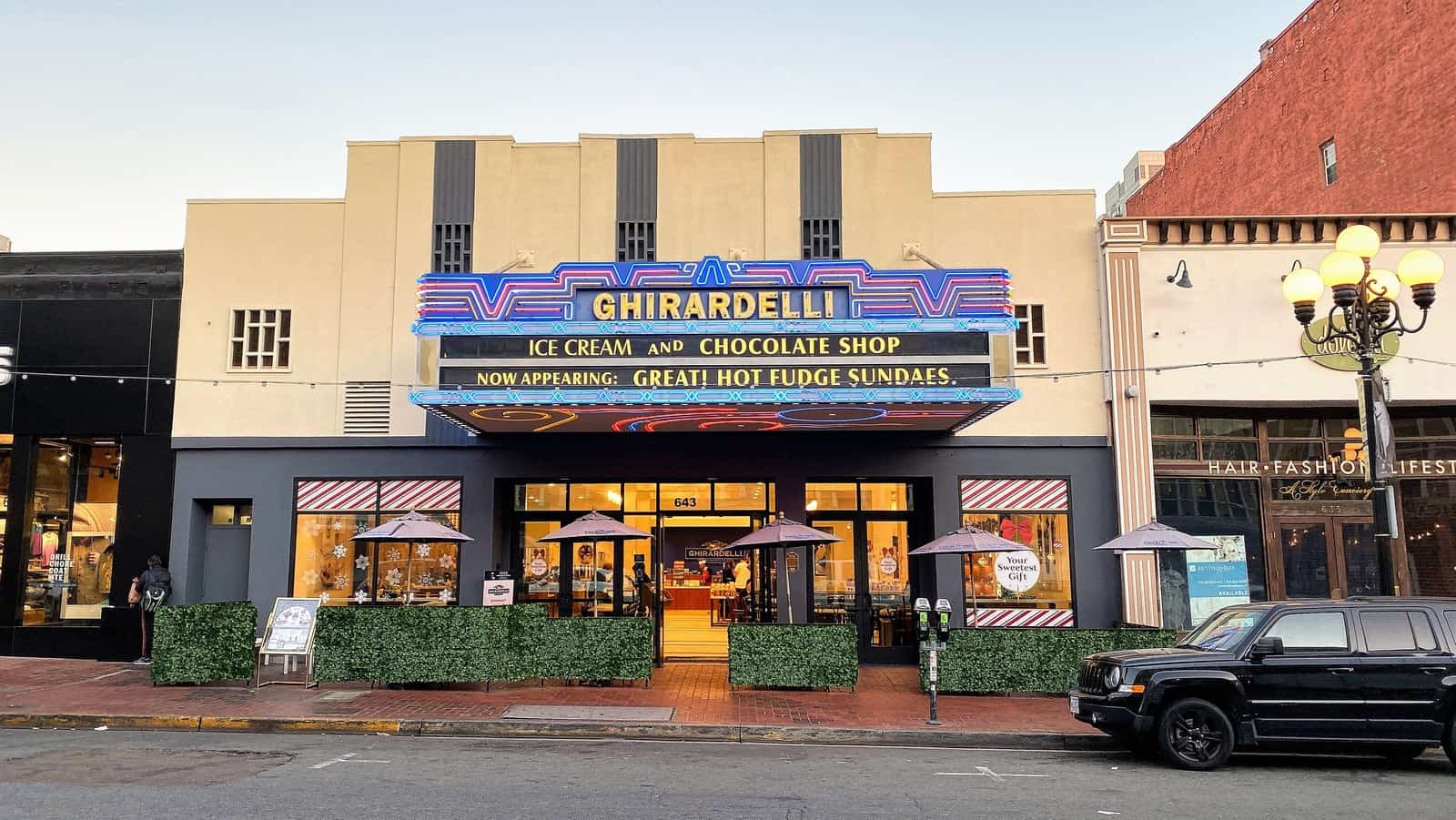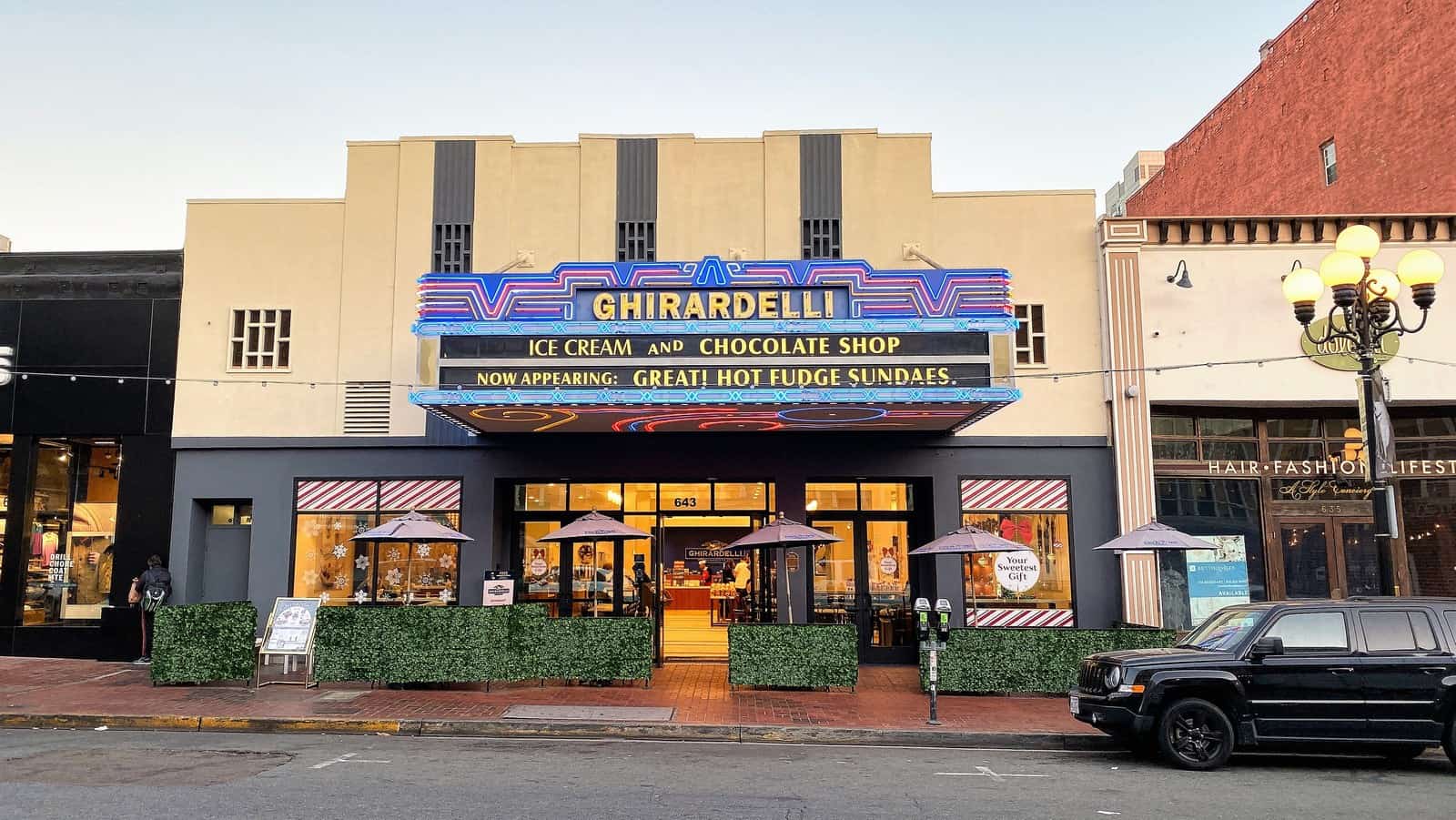 Old Town Trolley Tour San Diego
Last but not least, we recommend taking the Old Town Trolley Tour. This tour highlights the best of San Diego, not just Old Town, on a 25-mile journey. We love taking trolley or bus tours in any city in the world that we visit. A ride around hop on hop off tours like this one gives an excellent overview of the city. Best of all, it is all narrated, so you know what you are looking at, and you hear the history. Every seat on the trolley has a great view.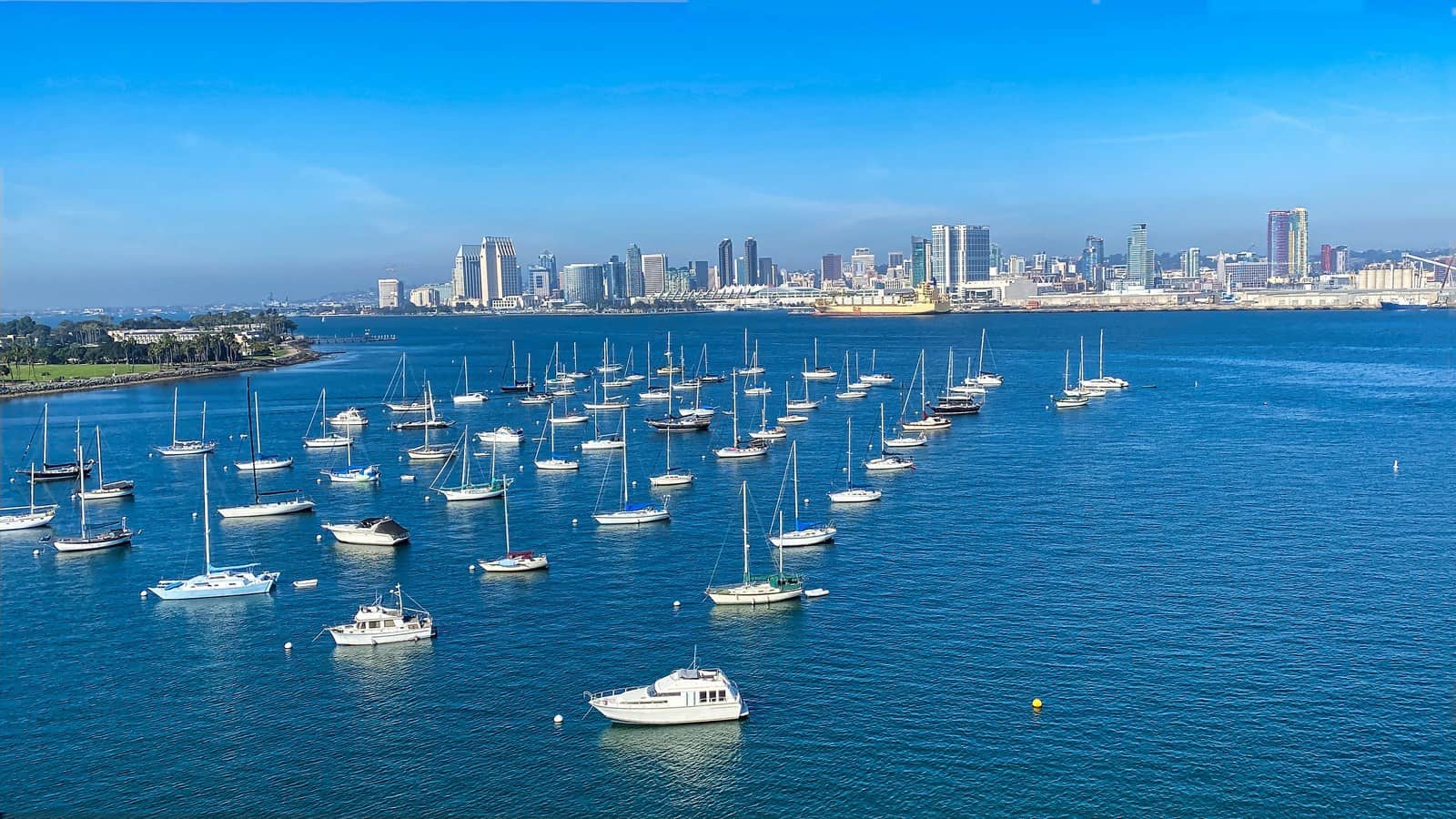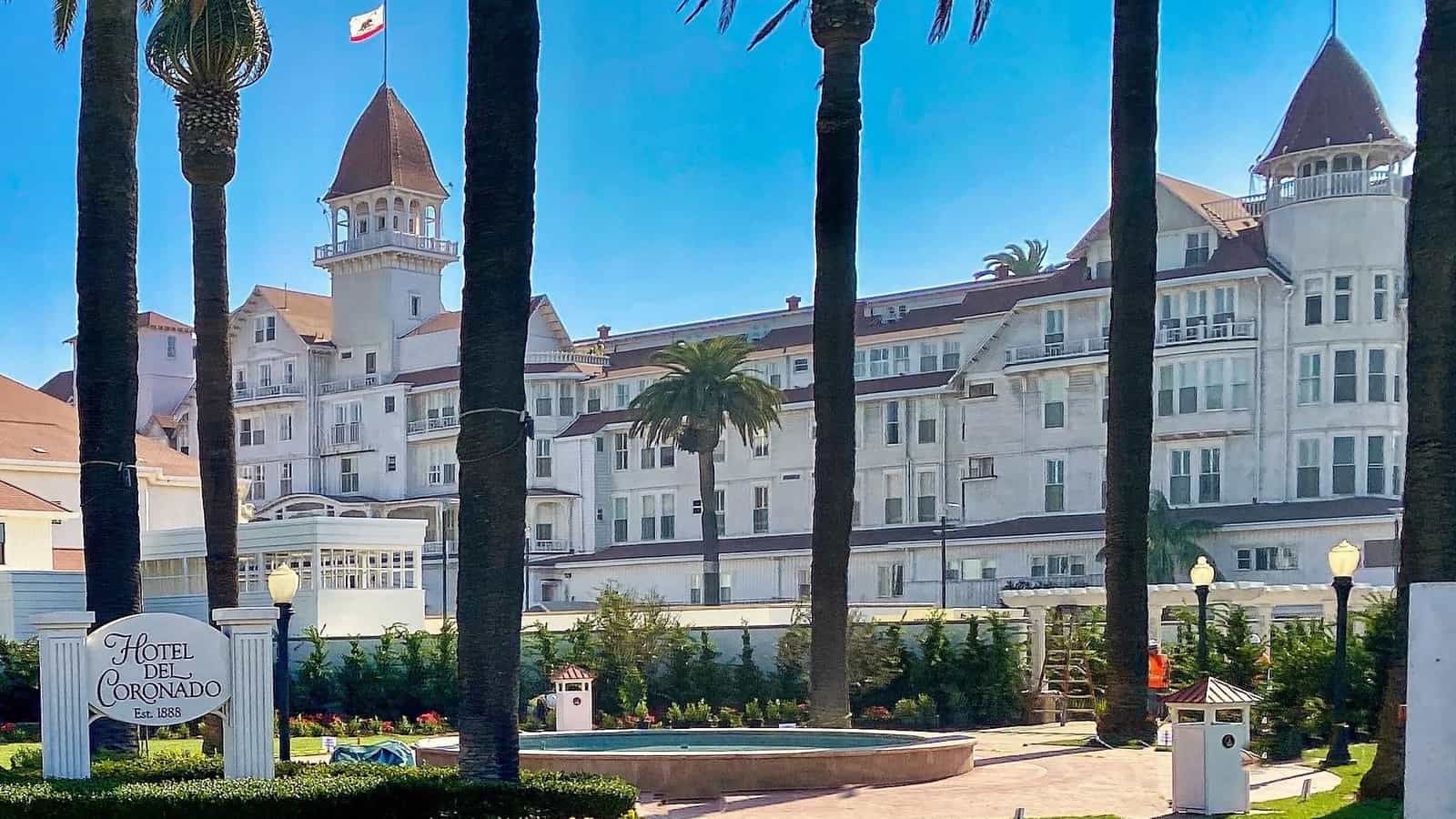 Your tour of San Diego will include a ride over the Coronado Bridge to Coronado on a continuous loop visiting 12 neighborhoods with 12 destination stops. Our guide added interesting trivia and humorous stories along our trip.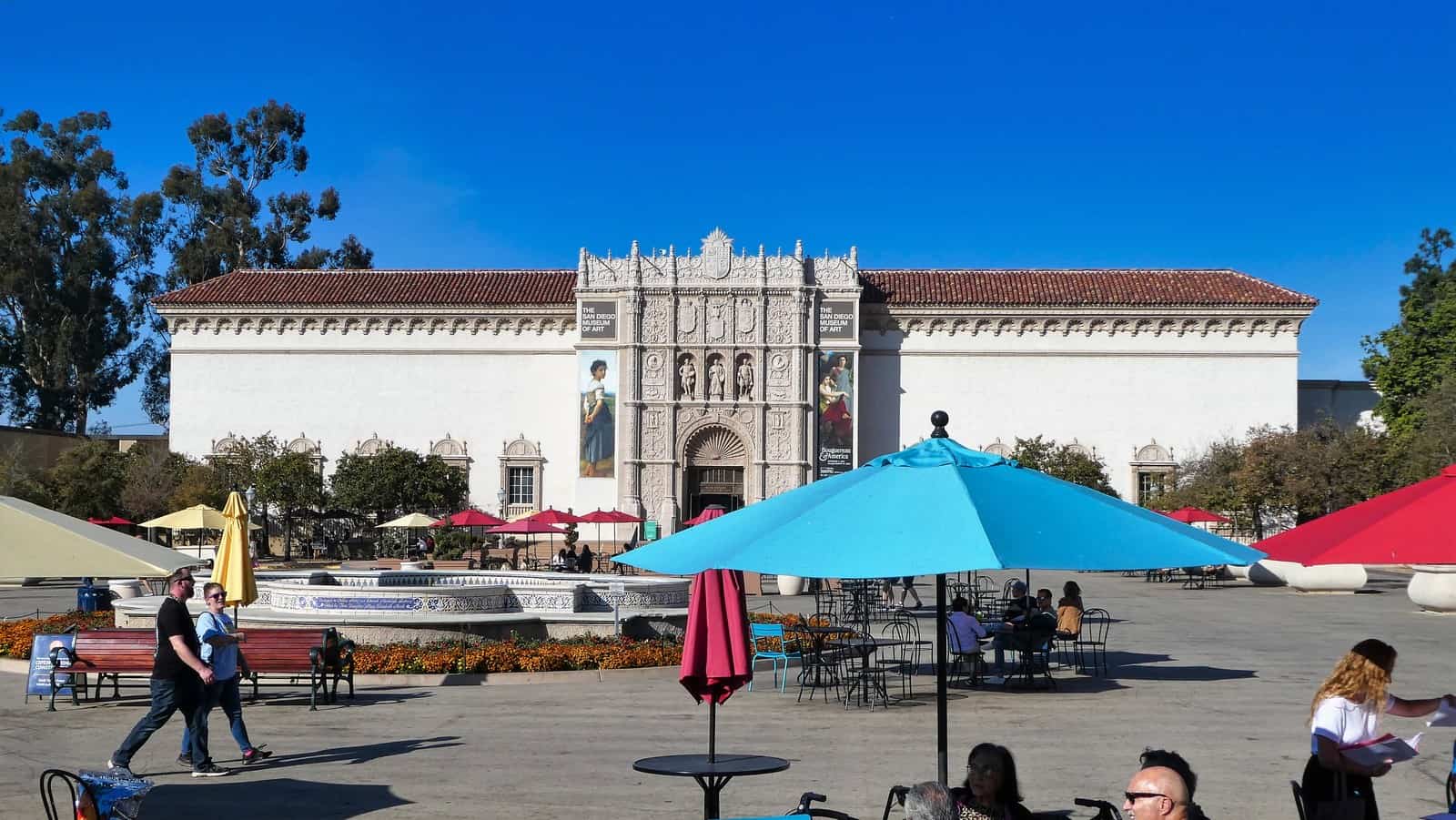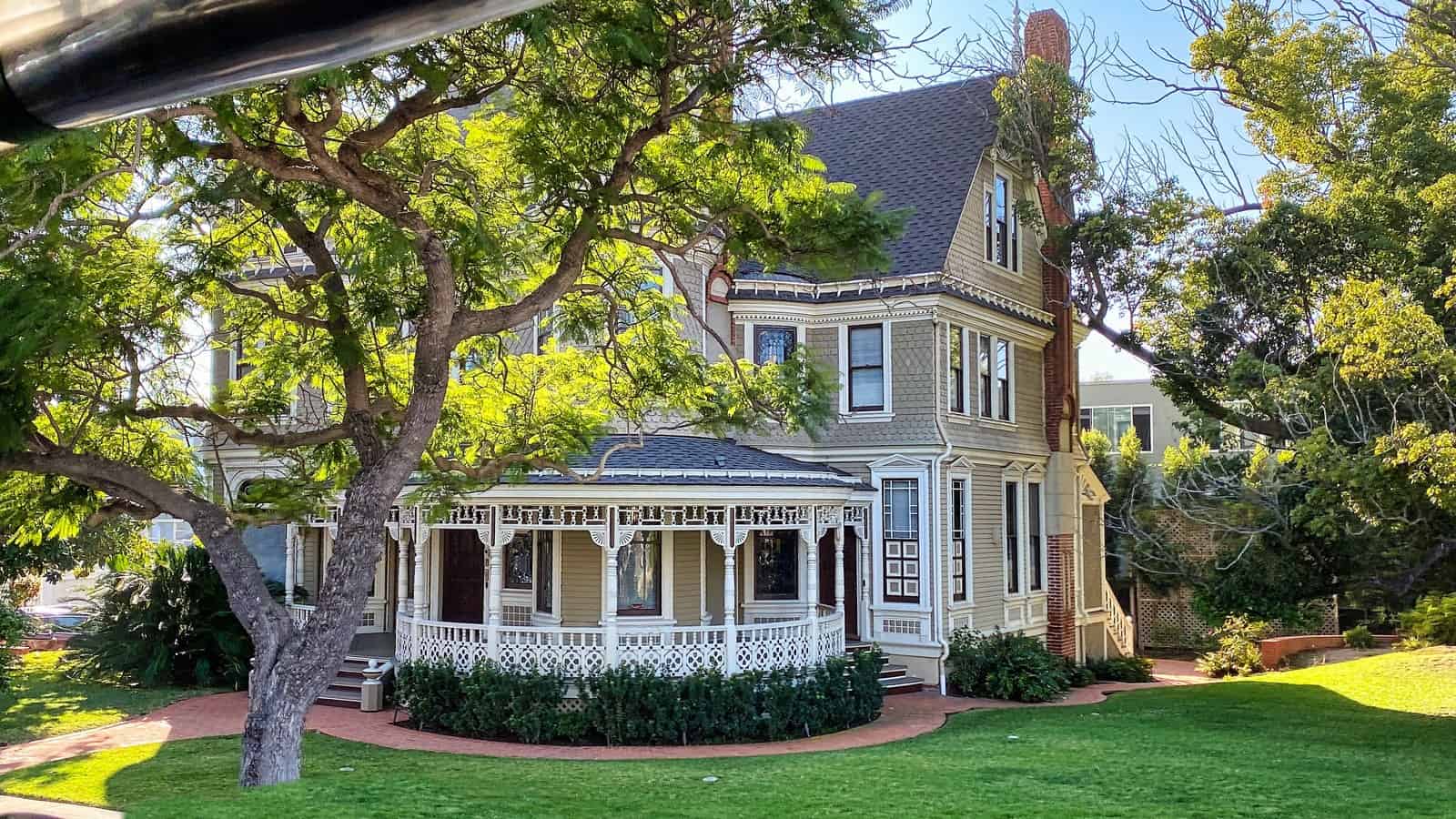 For Wine, Culture and History Visit San Diego
Known for its warm climate, San Diego is a fantastic city for a getaway. From San Diego wine to history, this area of Southern California offers so much to do. The wineries in San Diego are charming, unpretentious with world-class wine. The San Diego harbor is home to a large active naval fleet, with the USS Midway, an aircraft-carrier-turned-museum, open to the public. San Diego is California's second-largest city, but it does not have that big city feel. The laidback attitude of San Diego makes it an inviting town.
QUICK ANSWERS
What famous spray oil was invented in San Diego?
WD-40 was invented in San Diego in 1953
What is the busiest single runway airport in the US and the 2nd busiest in the world?
San Diego International Airport is the busiest single runway airport in the US and the 2nd busiest in the world.